I've long had a fascination with the Triumph Speed Twin, or as it's sometimes known to disambiguate it from historical models with the same name, the Triumph Speed Twin 1200.
The Speed Twin 1200 is one of the more recent models based on the Triumph 1200 platform that launched with the Bonneville T120, Bonneville Bobber, Speedmaster, and Thruxton 1200. Triumph later added the Scrambler XC / XE and the Speed Twin to the line.
The Speed Twin is a stunning bike. It sits somewhere between the Bonneville and the Thruxton — more aggressive than the Bonnie but not as sporty (or high-end in componentry) as the Thruxton RS.
But in striking this balance, the Speed Twin also manages to get dazzlingly good looks. It just looks so right. Let's look at it right now: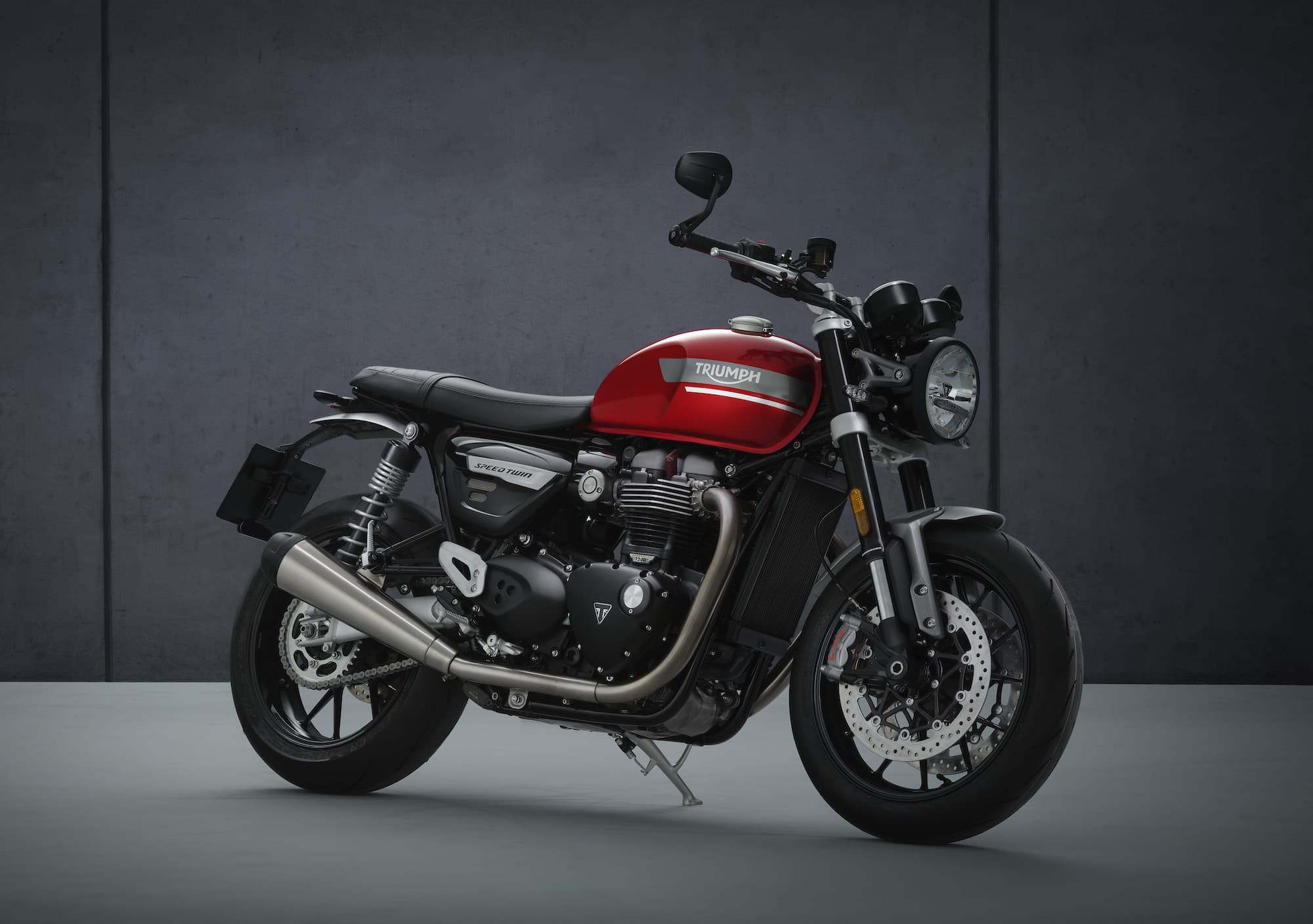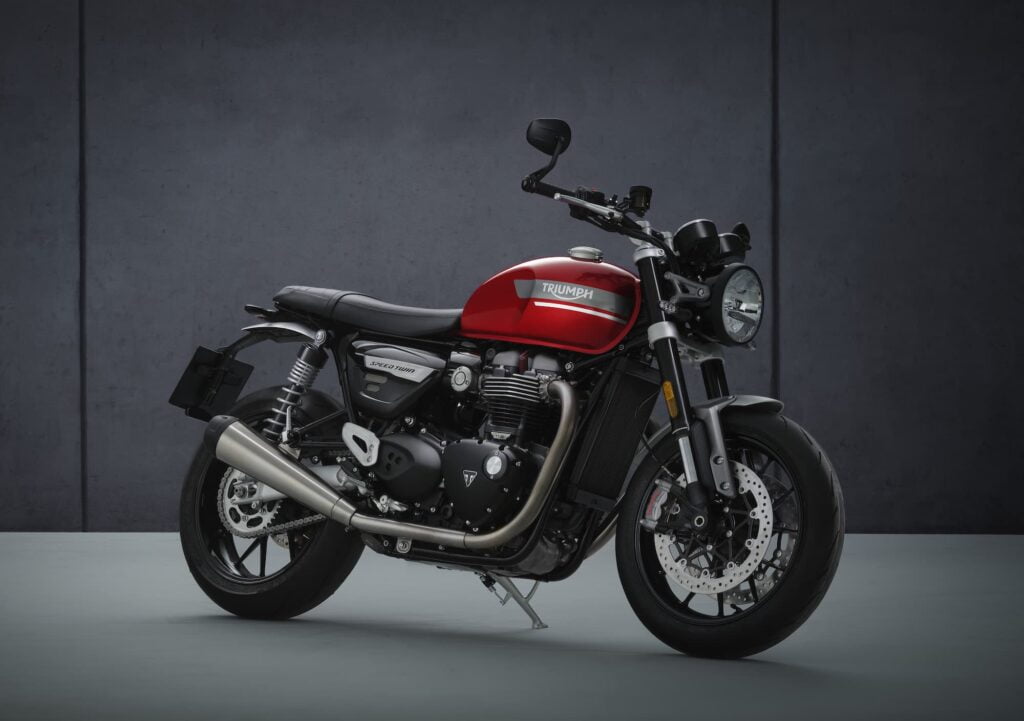 If only looks were everything.
Of course, I wasn't intrigued by the Speed Twin just for the looks. I'm not that superficial. I was also curious about the 1200cc (well, 1197 cc) parallel-twin motor with a 270-degree crank, the moderately low weight, and the standard riding position.
In my constant internal battle between the juvenile "sport bikes 4 lyfe!!" and the grumpy old man who wishes he were in an SUV, nakeds/standards are the eternal peacemakers.
But despite its promise, riding the Triumph Speed Twin was an odd experience. I had high expectations, fuelled by experience with Triumph motorcycles, poring over reviews, and a lofty price tag, that ultimately weren't quite satisfied.
Coming from a background of sport bikes and naked bikes, I thought I'd share my impressions of the Triumph Speed Twin for anyone considering one, because my experience seems to be at odds with the reviews out there that have generally positive opinions.
Hopefully some of the below reflections help you, no matter which side of the fence you're on!
Caveat — Overall, I didn't like the Triumph Speed Twin. So, this isn't your average bubbly moto journo's review, half written off the press release.

Whenever I write a non-ebullient review, I get a share of people telling me I've missed the point or that I'm just not the target market. Sure, of course that's true. I want to answer this by saying of course, the Speed Twin is overall a great bike. There's so much to love. I can see how people would adore owning one and riding one. If I had no options, I'd never be upset, and I'd customise it to make it my own.

It's just that in this golden age of many motorcycle options (what a time to be alive!), high standards, and also how much one can buy in this price range, there are bikes that are better and worse suited for each individual's personality and ride style. I'm trying to offer here a review that might help some people who share my characteristics understand that a Triumph Speed Twin may not be for them.
Are you obsessed with motorcycles?
Well, I am. That's why I created this site — as an outlet. I love learning and sharing what others might find useful. If you like what you read here, and you're a fraction as obsessed as I am, you might like to know when I've published more. (Check the latest for an idea of what you'll see.)
Ride the Triumph Speed Twin's Spec Sheet
You can't ride a spec sheet (definitely not in this case) … but here it is, so you can rev the snot out of it and kick the virtual tires. Here are the most important specs for the Triumph Speed Twin.
Component
Spec (2019)
See below for 2021+ spec
Engine
1197 cc liquid-cooled parallel twin with a 270-degree crank, SHC, 4-valve per cylinder. Big bump over the 900cc of the Street Twin.
Bore/Stroke
97.6mm / 80mm (see our bore/stroke guide)
Compression ratio
11.0:1 (moderate/not too aggressive)
Max power
71.5 kW/96 hp @ 6,750 rpm (Decent power at quite low RPMs for a naked/sport bike)
Max torque
112.5 Nm / 83 ft-lb @ 4,950 rpm (quite low); Cycle world measured peak torque at 3,500 rpm.
Drive
6-speed gearbox, chain drive (par for the course, but not a shaft drive like the BMWs)
Core ride electronics
Traction control (switchable), riding modes, standard ABS, LCD gauges
Front suspension
Non-adjustable KYB cartridge forks, right side-up (not inverted)
Rear suspension
KYB twin shocks with adjustable preload
Front brakes
Twin 305mm discs, Brembo 4-piston fixed calipers, standard ABS
Wet weight
216 kg (476 lb), weighed by Cycle World (3kg lighter than the Thruxton)
Triumph Speed Twin core specs
2021 Triumph Speed Twin changes
In 2021, Triumph dated the Speed Twin. The core of it stayed the same, but they re-tuned the engine and improved some of the parts, including the suspension and brakes.
Here's what changed between the 2019 and 2021 Speed Twin:
| Part | 2019 Speed Twin | 2021 Speed Twin | Notes |
| --- | --- | --- | --- |
| Peak Power | 71.5 kW / 97 PS / 96 bhp | 73.6 kW / 100 PS / 98.6 bhp @ 7250 rpm | A few more horsepower up top |
| Peak torque | 112 Nm / 82.6 lb-ft @ 4950 rpm | 112 Nm / 82.6 lb-ft @ 4250 rpm | Peak torque lower in the rev range |
| Compression ratio | 11.0:1 | 12.1:1 | |
| Front suspension | 41mm conventional cartridge forks (non-adjustable) | 43mm Marzocchi USD (non-adjustable) | Better, but still not adjustable |
| Front brakes | Twin 305 mm discs, Brembo 4-piston calipers | Twin 320mm discs, Brembo M50 4-piston radial monoblock calipsers | Superbike spec! The 1299 Panigale had these calipers |
| Tyres | Pirelli Rosso Corsa 3 | Metzeler Racetec RR | |
| Wheels | 7-spoke cast aluminium wheels | 12-spoke cast aluminium | |
2019 vs 2021 Triumph Speed Twin
Triumph also added a bunch of aesthetic things to the 2021 model, including stainless steel upswept mufflers, and metallic and graphic details.
What the Triumph Speed Twin is like to ride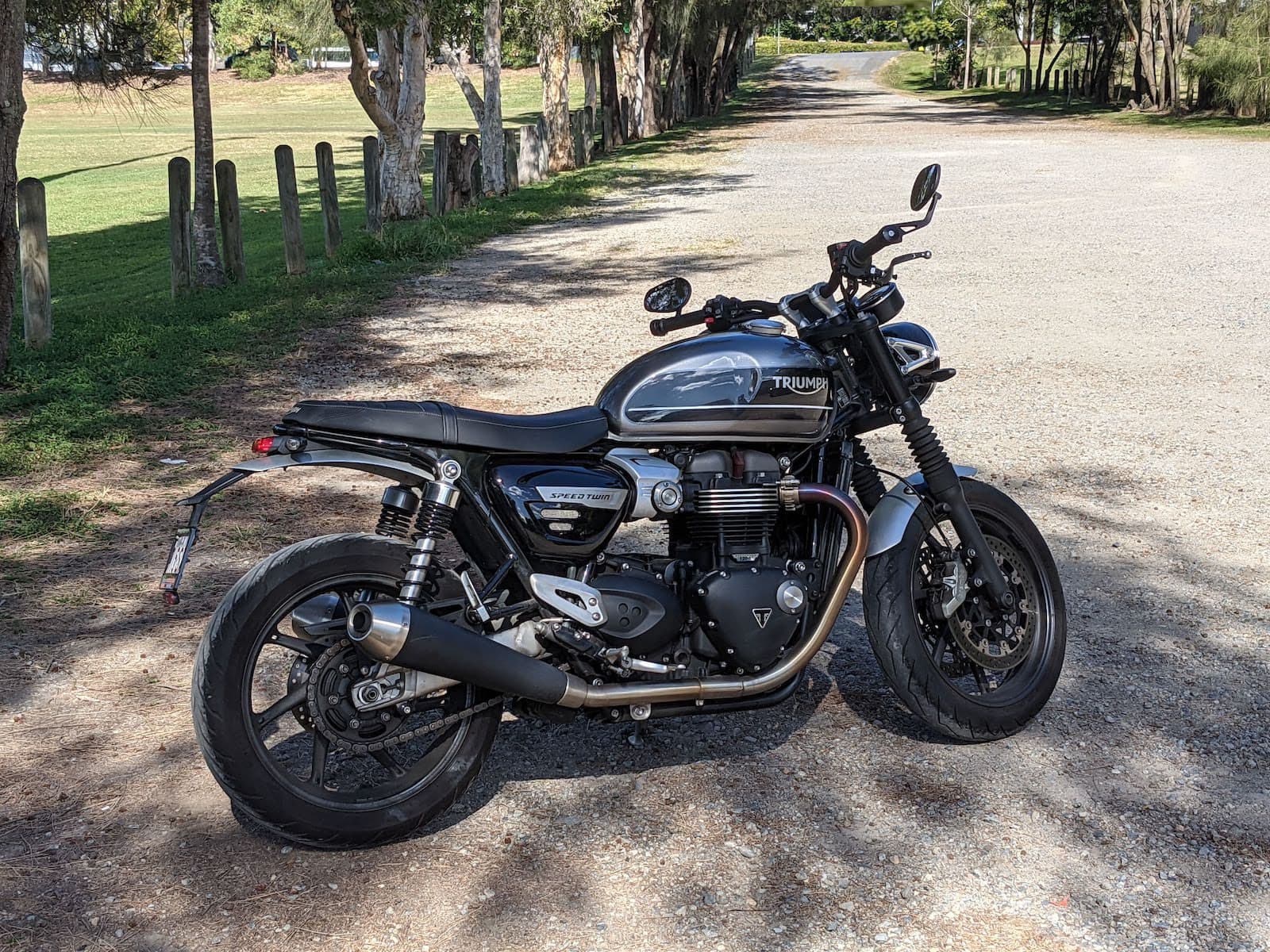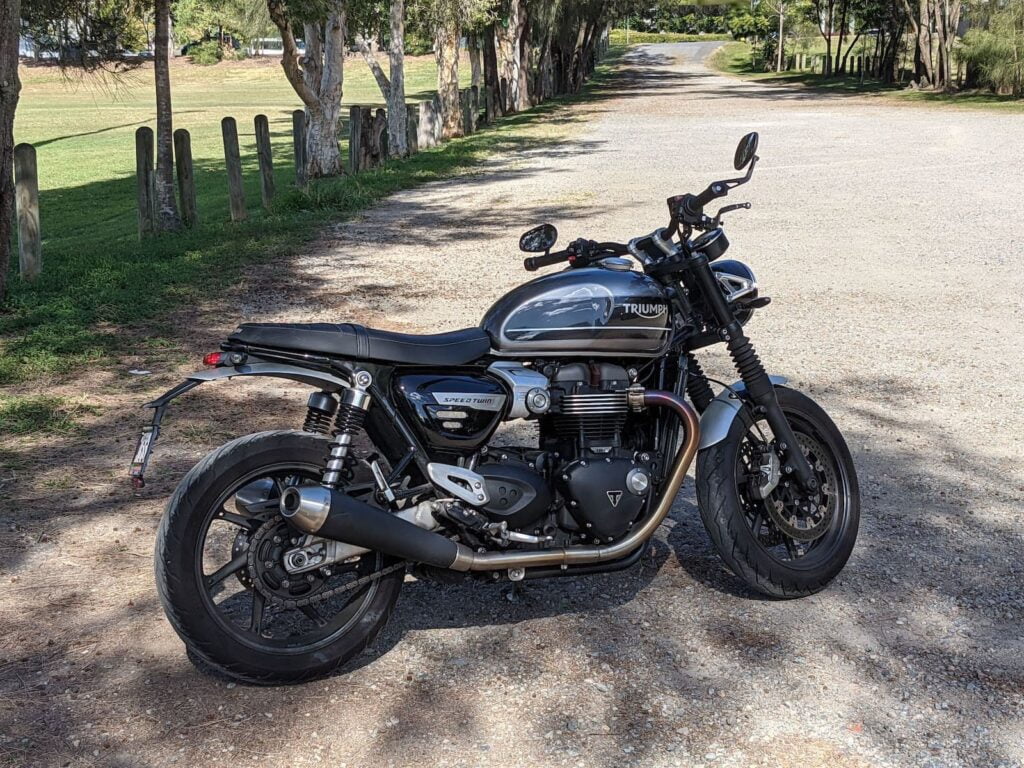 Considering what it is like to ride the Triumph Speed Twin is a complicated question. I'll answer it by describing the character of the engine, and riding position, and handling, and how suitable it all was to a range of riding conditions.
Let's talk first about the engine.
Anyone who has ridden the old EFI Bonneville or Scrambler, or the newer 900cc liquid-cooled engines, and still had a bit of a need for speed may have thought "Well, that's very nice. Now, give me one of those with more of everything!!"
The 1200cc parallel twin is Triumph's answer to that request for more. It's a big-bore water-cooled parallel-twin engine with dual overhead cams, fuel injection, and a sophisticated computer that lets you have a smooth but engaging ride. And of course, it keeps the 270-degree crank for that balance between smooth and lumpy that makes modern Triumphs such a joy. (Here are a bunch of other motorcycles with parallel-twin 270-degree cranks.)
My first attraction to the 1200cc engine was the torque curve and power band. This is an engine that makes most of its torque from about 3000 rpm. And while it has redline of a technical 8000 rpm, power starts dropping around 7000, leading to a natural shift point of somewhere around there when you're riding it hard.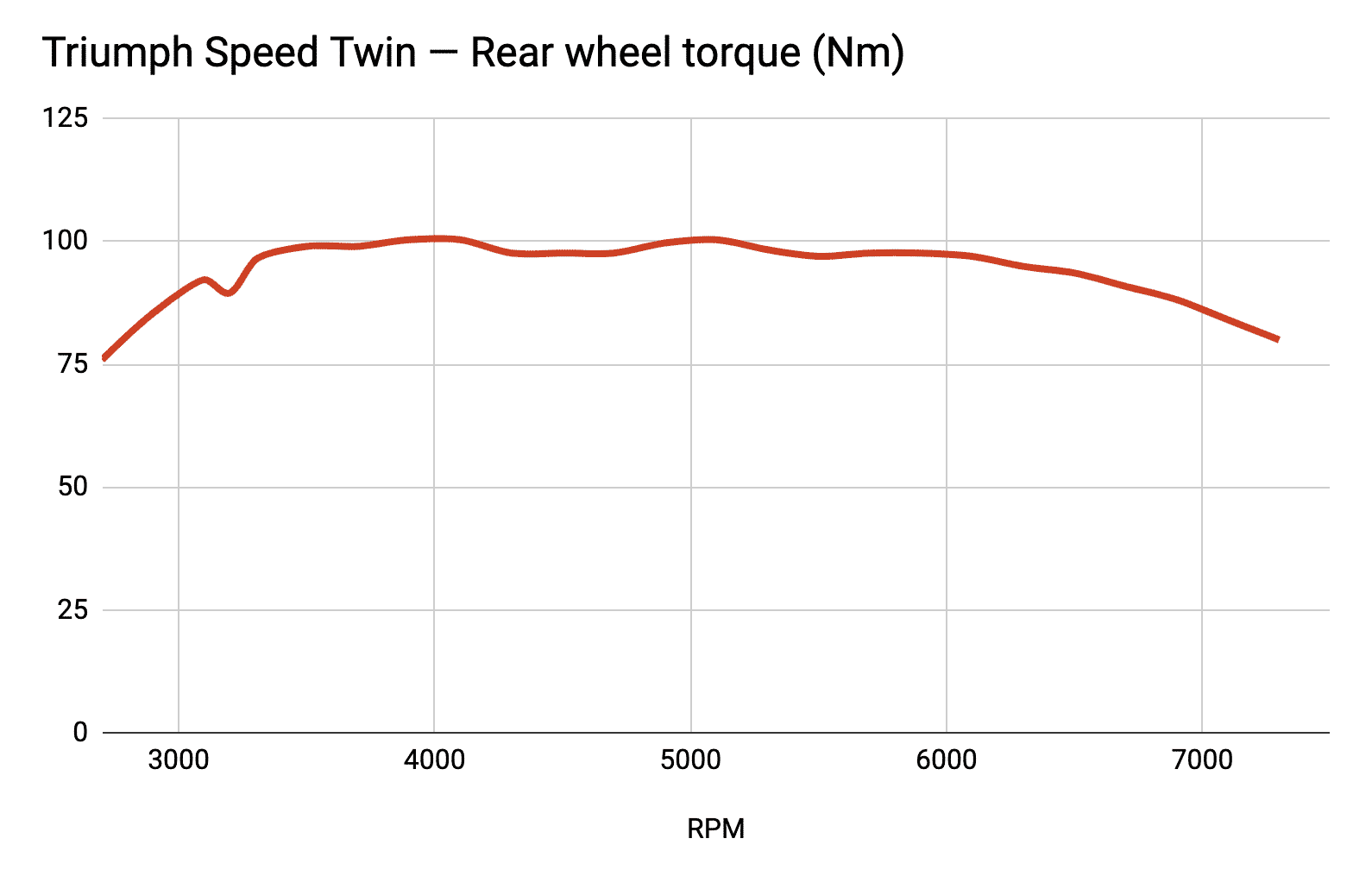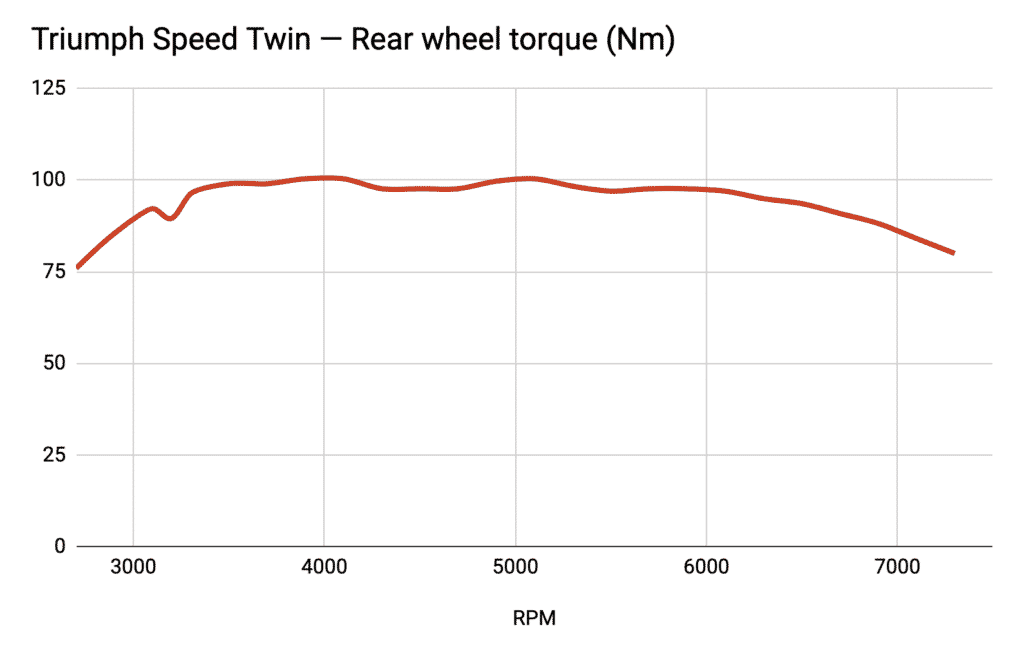 The attraction of this is that in everyday riding, I'm rarely above 10,000 rpm. So, my 600cc sport bike, while fun, is most suited for the track. And I'm not quite at cruiser territory where I want to just lump around and short shift — my ideal powerband is to rev up to around 10K RPM with a decent amount of torque to have fun on the way, without waiting for a small engine to spool up. Could the 1200cc plant from Triumph be "the one"?
Not quite. Even though I was attracted to the not-too-narrow and not-too-wide powerband, in reality, I ended up riding it around 5-6,000 rpm casually around town for it to feel alive. This is fine, but it's alarmingly high (I can tell, as it's above the middle part of the gauge). It was odd. It didn't feel fast.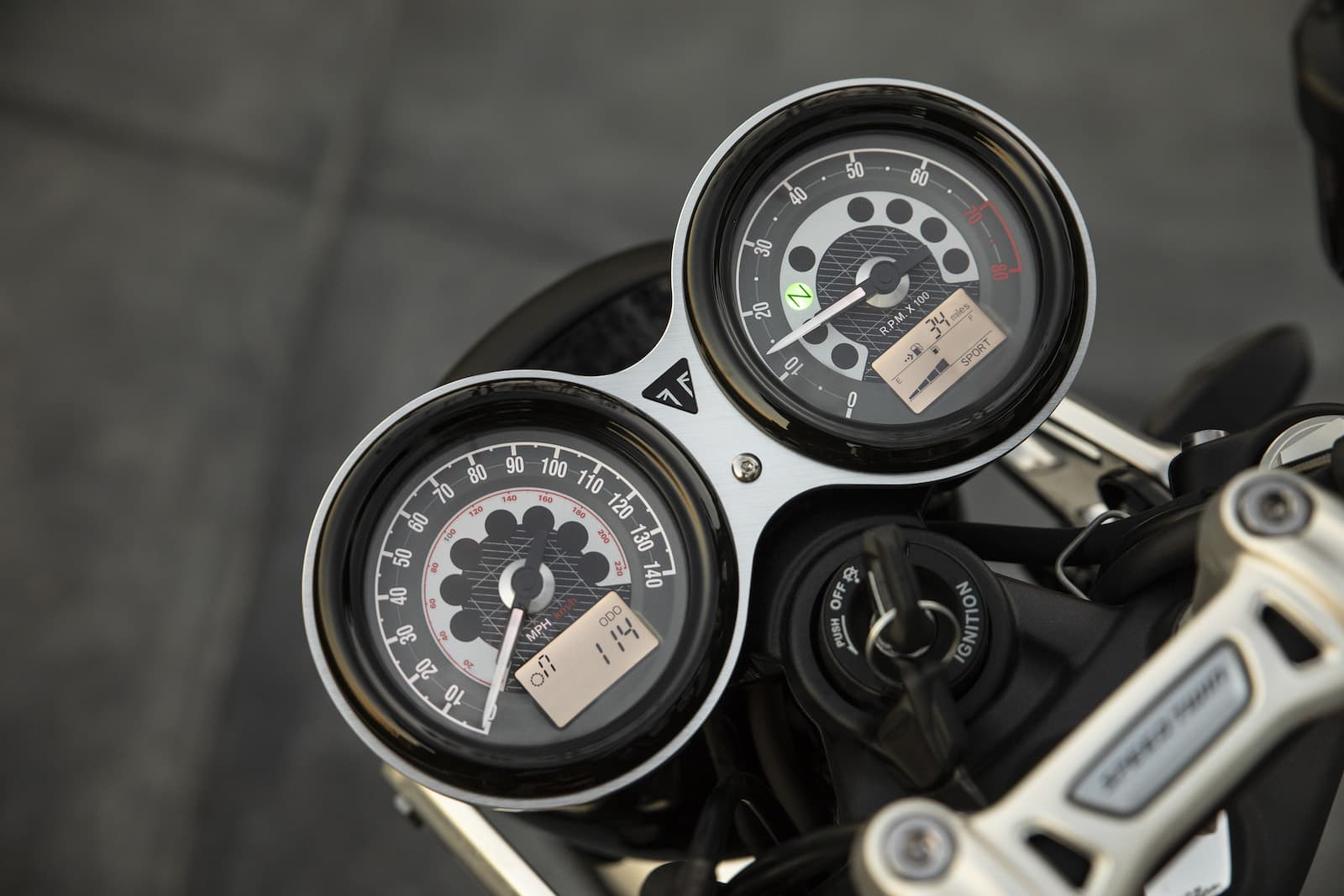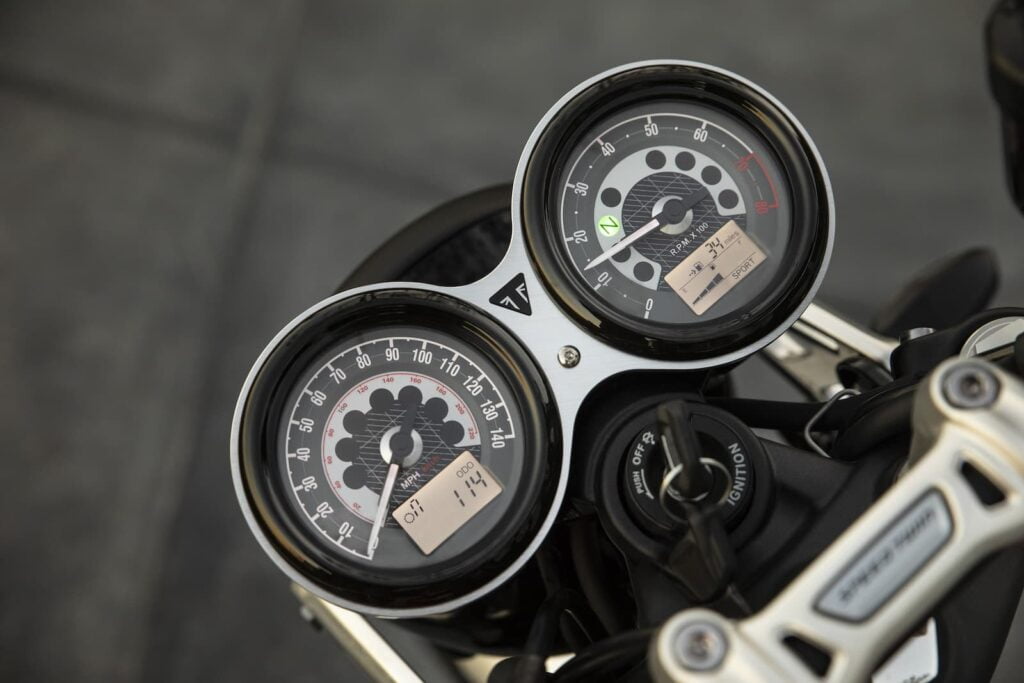 Of course, the Speed Twin did have lots of torque. At anywhere above 4,000 rpm I could grab the throttle and feel the weight tip back. Power wheelies are easy in first and not difficult in second gear. I didn't have to downshift in everyday riding, though I couldn't quite lug it around in high gears and low RPMs, like I can with four-cylinder naked bikes. (It didn't stall, but it grumbled a bit.)
Riding the Speed Twin reminded me, oddly, of the Indian Scout Bobber that I had taken for a ride a couple of months earlier (and which, similarly, I couldn't stop looking at). Very similar amount of torque, very similar amount of fun. On a bobber/cruiser it felt more appropriate.
So, the engine from the Triumph Speed Twin is — for me — OK. Not bad, but definitely not "the one" that I was looking for.
On to the sound, the visceral feeling. A bike like the Triumph Speed Twin is more about that.
Even in stock form, the note from the exhaust is great. It's easily audible at 60km/h and with my earplugs in (and I use moulded earplugs), without being obnoxious like a Harley with slash-cut pipes. I'm writing this from a café where I literally just saw a Triumph Speed Twin go past and it's very acceptable and public-friendly. From the seat, the vibrations are pleasant without being juddering.
I would call the character of the Speed Twin's engine "lively" and "engaging", without being "rev-happy" — a description I'd reserve for the triples in Triumph's line-up.
On the other hand, the liquid-cooled parallel twin doesn't have the brutal character of a Ducati V-twin (especially an older air/oil-cooled one), nor does it have the animal kick of BMW's air-cooled boxer engines.
Now let's talk about riding position of the Triumph Speed Twin. It's pretty upright. But it's not as upright as a Bonneville T120. And it's slightly canted forward, but it's not as forward-leaning as a Thruxton 1200. All these motorcycles share the same engine block, but with slightly different tunes (biases towards power and torque), and with different seating positions.
| Spec | Bonneville T120 | Thruxton R/Speed Twin | Thruxton RS (2020+) |
| --- | --- | --- | --- |
| Peak power | 57.8 kW (79 hp) @ 6550 rpm | 71.5 kW (96 hp) @ 6750 rpm | 77 kW (103 hp) @ 7,500 rpm |
| Peak torque | 105 Nm (78 ft-lb) @ 3500 rpm | 112 Nm (83 ft-lb) @ 4950 rpm | 112 Nm (83 ft-lb) @ 4,250 rpm |
| Compression ratio | 10.0:1 | 11.0:1 | 12.066:1 |
Different power/torque biases of the 1200cc parallel twin
Here's the bad news though — the riding position of the Triumph Speed Twin feels "not quite right". It slants you forwards so that you slide into the tank, but the tank is so narrow that there's not much to stop you there.
And there's a slight lean forward to the handlebars (I'm 182 cm / 6 feet tall and have fairly standard torso/leg proportions), but you can't grip onto the tank with your knees (as one does in standard sportbike riding position), so you inevitably have to lock your elbows and weight your wrists. Which is bad.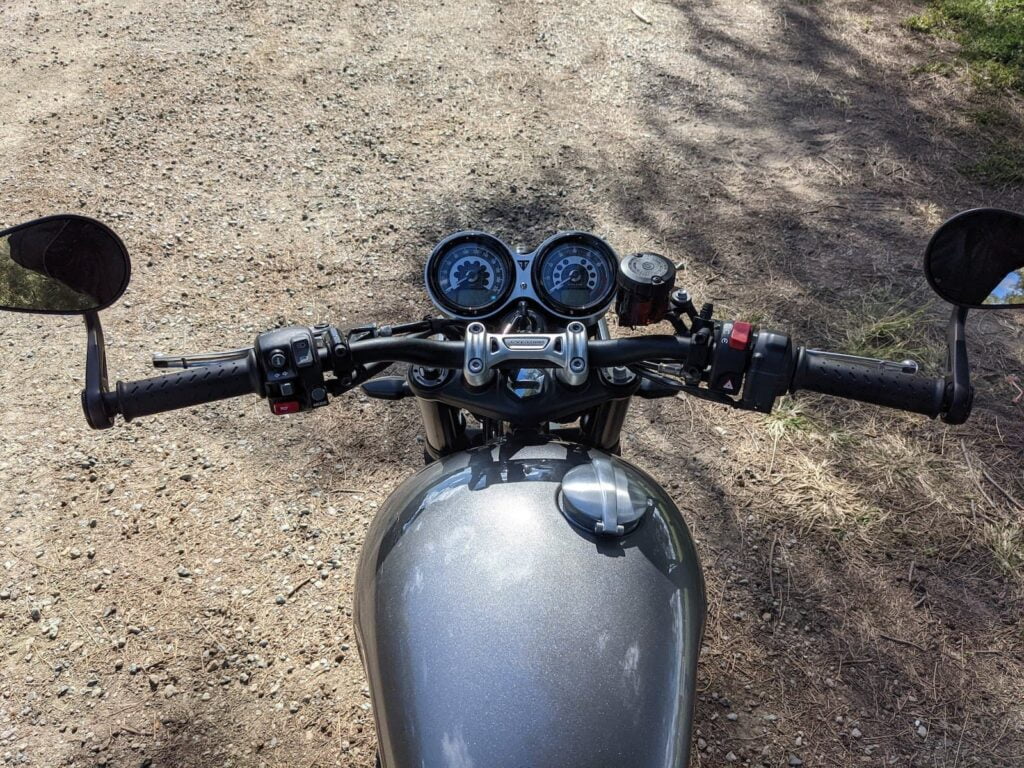 The easy answer, of course, is to accelerate a lot so that the weight isn't on you. Or ride constantly above 100 km/h or 60 mph so that the wind holds you back. But that seems a cop-out for a bike and motor that could have been very fun on windy roads, if it weren't for having to hold yourself up on your wrists.
On to handling. The Speed Twin does fine around town, but you can tell that this is no sport bike.
I mean, you can tell the suspension of the Speed Twin isn't a sport bike's suspension before you even leave the parking lot. What kind of premium bike doesn't have adjustable forks, and only has preload adjustability in the rear shock? It's… disappointing (not "shocking". I'm trying to maintain some self-respect here.)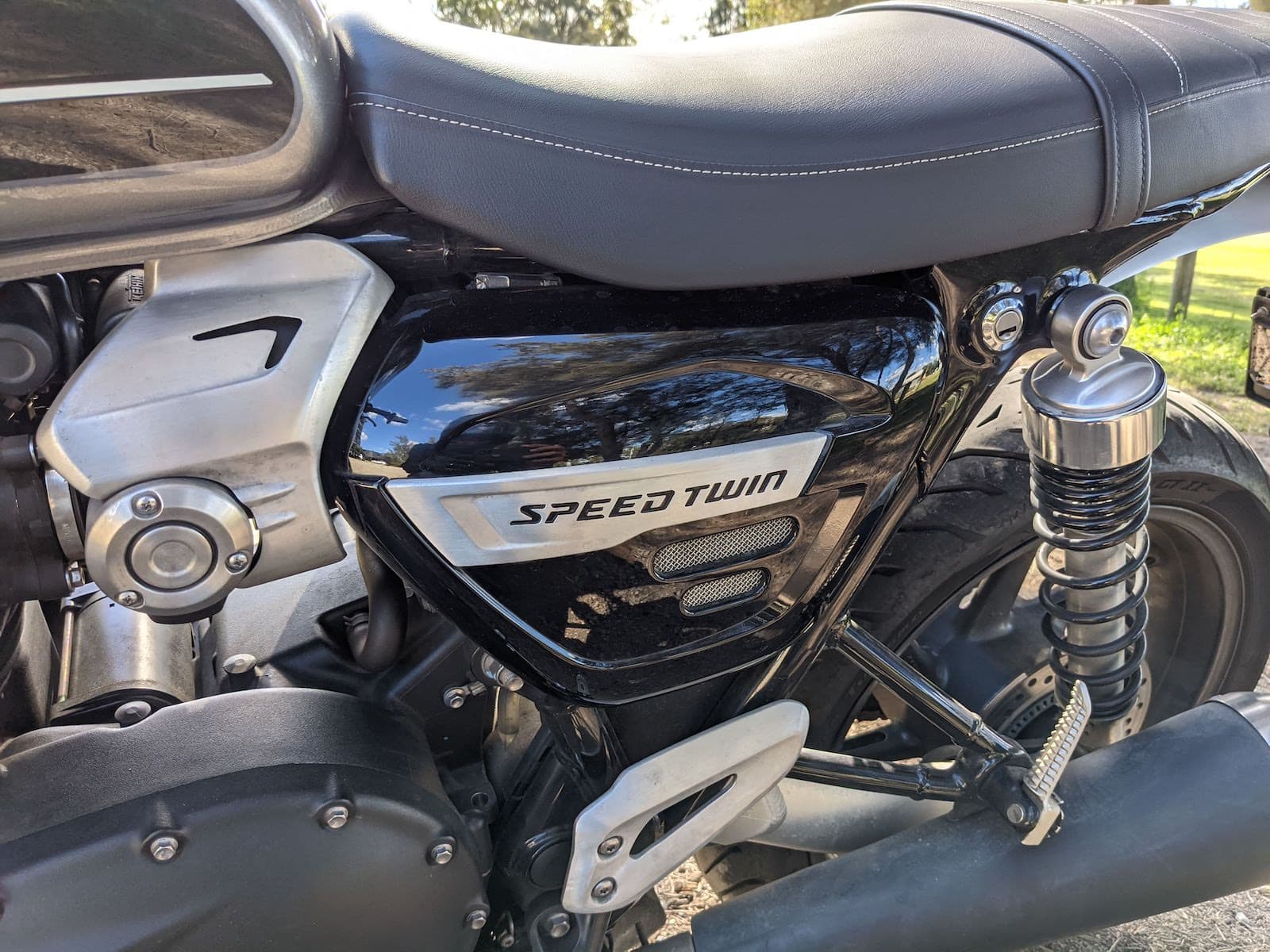 The suspension of the Speed Twin is what I'd call adequate to blast about on, but not to corner too aggressively. In this regard, it's quite similar to the Street Twin or older 865-engined non-premium Triumphs. How this translates to riding on the road:
When braking hard, you'll get dive.
When cornering hard, you'll get a bit of wander.
These are more noticeable to people who (like me) are used to sporty naked bikes or outright sport bikes. But if you're coming from a cruiser, you'll likely feel right at home.
If you are concerned about the Triumph Speed Twin's handling, the answer, just looking through forums (like this thread at TriumphRat) is to modify both the front and rear suspension. People often replace the rear shocks (Nitron, Öhlins), and the springs and oil in the front shocks, sometimes upgrading to a fancy cartridge kit.
So, what's the Triumph Speed Twin good at? Exactly that — blasting around town.
There's a certain joy in having a midrange-happy upright motorcycle on which to snarl through traffic, get to the gym, get to a cafe (yes! I do go to cafes on motorcycles), and maybe not feel like you have to dress the part by wearing full race leathers.
Because the riding position of the Triumph Speed Twin isn't one I'd get comfortable on for long distances, riding around town can be a joy because you're always moving around in the seat. The engine is fun to keep alive in the 3-6,000 rpm range.
When I hit dirt roads on the Speed Twin, I never felt like I was too out of place… I almost wanted to spin the rear wheel a bit and do dirt-bike style turns (before I remembered how heavy the damn thing was, and that a small risk of dropping it onto a bar-end mirror was too much).
The Speed Twin is happiest above 60 km/h (40 mph). Below that, I found the fans often come on (it just bugs me, even though it's normal function, just as it bugs me when it happens on my laptop), and my wrists get sore.
But above 60km/h (40 mph) — particularly beyond the traffic, in the little hills — the Speed Twin starts to make more sense. There's less pressure on my wrists, as the wind is keeping me up, as is the acceleration. It's still not the perfect bike. I just wish the tank was wider and the weight of the bike was a little lower (both in number and in how high up it is) for it to feel really sporty.
Mostly, when trying to pull any sporting performance out of the Speed Twin, I think "hmm, maybe what I need is a Speed Triple".
Maintaining the Triumph Speed Twin
Overall, maintaining the Triumph Speed Twin is pretty easy.
It's liquid-cooled, so you have to change the coolant every four years.
It has a chain drive, so you have to keep it clean and lubed.
You have to inspect and adjust the valves every 16,000 km, but that's not too hard as there's just one cylinder head, one camshaft, and two pistons.
See here for the full maintenance schedule for the Triumph Speed Twin, plus guidance on what parts to get.
Alternatives to the Triumph Speed Twin
After riding the Speed Twin, my mind obviously turned to a few alternatives. What else is out there that gives me a pleasant, mid-range powerband, a bunch of tech options, and style?
Here are the main contenders.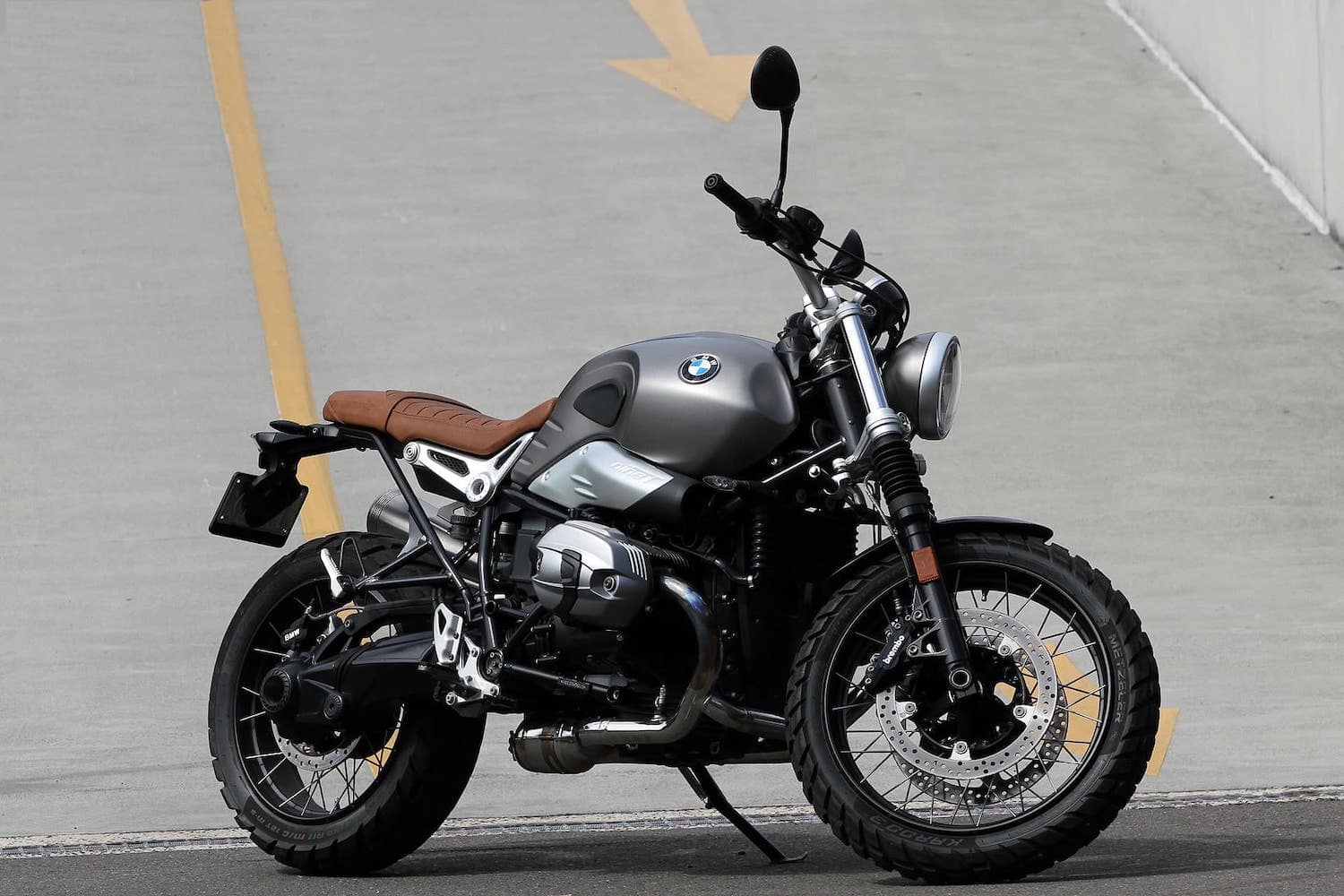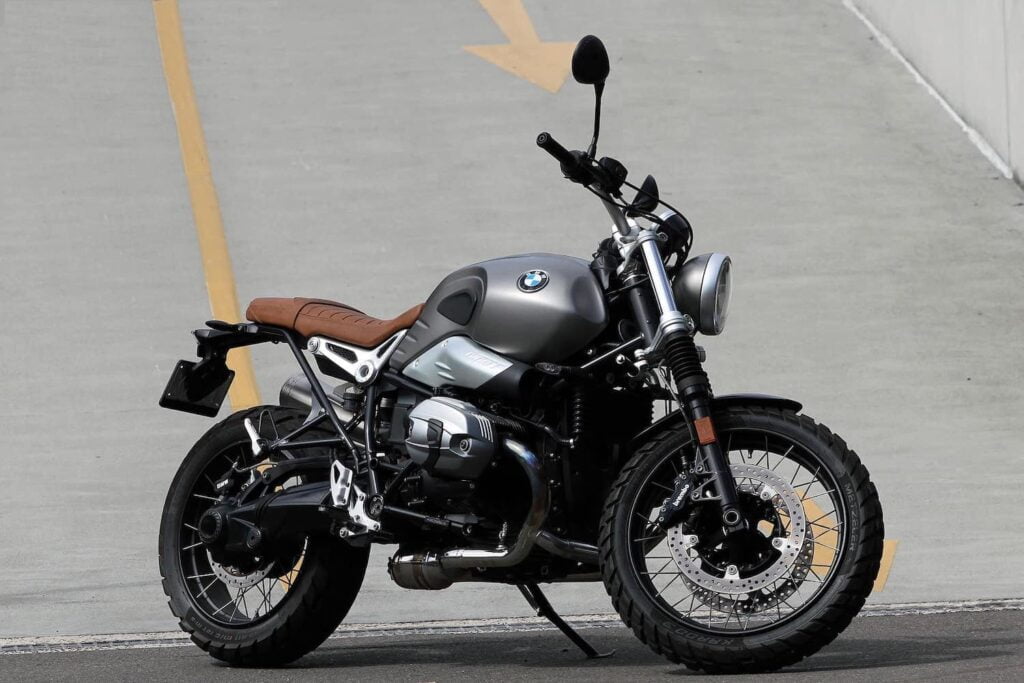 BMW R nineT — More power (82 kW / 110 hp), an air-cooled bike with shaft drive, and the 2021+ models have cruise control and an IMU. The R nineT makes a bit less torque early on, but has a lot more top end. Plus, the full-spec (not Pure, etc.) R nineT has fully adjustable suspension.
The R nineT is the clear class leader in the "retro naked" category. They're also a lot more expensive, and being air-cooled, have shorter 6000 mile / 10000 km valve inspection intervals (though they're easy to do). My favourite bit is they kick over when you grab the throttle. The R nineT is alive!
Read the buyers guide to the R nineT range here.
Ducati Scrambler 1100 — Second in line is the Scrambler (which is a whole line of motorcycles, ranging from street to sport, despite the "Scrambler" name). Also using an air-cooled retro engine, the Scrambler has a chain drive, just like the Speed Twin.
The Scrambler 1100 is down on power (64 kW/86 hp), but also lighter weight at 206kg wet — and it wears it well, feeling a lot lighter. The Scrambler 1100 has an IMU for cornering ABS, but no cruise control. The Scrambler 1100 has 7,500 mile/12,000 km valve inspection intervals, and a desmo service isn't cheap, or it's a several hour job.
Read our guide to the Scrambler 1100 here.
The Triumph Street Twin (from 2023 the Speed Twin 900) — that's right, the little sibling to the Speed Twin 1200 is a worthy contender. A lot of people (including me) like it more. It just seems to aim lower and hit the mark.
It could be lower expectations I have of a smaller bike, but those are informed by Triumph's market positioning and the price they set — I just like the 900! It's fast (enough), it's friendly, and it doesn't fail to meet a high standard that would be set by a higher price.
The Japanese retro nakeds are all more "sport naked" rather than "retro". I could list the Yamaha XSR900, the Honda CB1000R, and the Kawasaki Z900RS, and the Suzuki Katana, but they are all just a lot more aggressive with their 3-4 cylinder engines, liquid cooling (which the Speed Twin has, I know, but it tries to hide it away), and usually higher power outputs. But they're great bikes (I'd rather be on one of those).
Wrap up — Did I miss the point of the Speed Twin?
The cruel thing about a beautiful bike that's not a bad bike is that I really want to like it. So, when I step off it and think "Hmm, not for me" I can't help but wonder: Is my opinion wrong?
I don't think so. After all, I know what I like. But I've asked around (ok, looked around in forums), trying to get the general feeling for who likes the Triumph Speed Twin. Here's what I've figured out.
If you're coming off cruisers or other old Triumphs, then you're probably going to like the Speed Twin. It gives you a sporty engine, good handling and generous cornering clearance, and lots of visual presence.
If you come off other standards like the R nineT, then it's really just "pick your poison". It's often brand loyalty; you'll pry a BMW/Triumph/Ducati out of a certain kind of rider's cold, dead hands.
If you're coming off sport bikes or sporty nakeds, then you're probably going to feel like the Triumph Speed Twin is slow and ungainly. Unless you're willing to slow down (and we all do at some point… right?) or invest in suspension then it's unlikely to be for you.
Hopefully that's some guidance for you.
Here are a couple of other pics of this beauty to round this article out.