There are certain phases many of us motorcyclists go through. The sportbike phase, the tourer phase, the cruiser phase, the supermoto phase, the tourer phase, and finally the "forget everything else, I just want to fling around a postie bike like a lunatic" phase (or is this just people I know?).
Anyway, every time I arrive at a new phase, I wonder: Why did it take so long to get here? Often, I hear people say things like "My only regret is I didn't do this sooner." I've heard this for so many kinds of bikes.
That's how I got to the Indian Chief, the 2022 model to be precise. I'm trying to shortcut the next few phases and end up at the destination. And a bad-ass cruiser is definitely one of those endpoints.
The 2022 Indian Chief is exactly that. It's bad-ass. Harley-Davidson still lead with style, but the Indian Chief has a design all of its own — it's like nothing else out there right now.
The 2022 Indian Chief is physically redesigned compared to the earlier generation of Polaris-I-mean-Indian Chief, but it has the same Thunder Stroke motor that it's had since 2014 when it was first introduced.
Visually, the 2022 Indian Chief is a massive difference. Every time I look at the new Chief, I think "That's a motorcycle." There are few bikes that make me double take to the same degree, and they're all on my shortlist. I know, Harley-Davidson makes a bunch of attractive bikes, and they're standard-setters, and the BMW R 18 follows closely behind.
But the moment I set eyes on the 2022 Indian Chief in the flesh, I was in love. It's in my list of the most attractive motorcycles of 2022, and I just wonder how Indian can beat it in the future.
In deciding whether the new Chief is the bike for me, I wanted to know
Is the Indian Chief the *best* cruiser I could be buying?
What makes the Indian Chief special?
What are the differences between the Indian Chief model range?

Is Indian going to stick around for a while? They're a young company, if you look closely and don't believe the "Since 1901" hype…

What's the competition for the new Indian Chief?
Anyway, here are those answers (and more).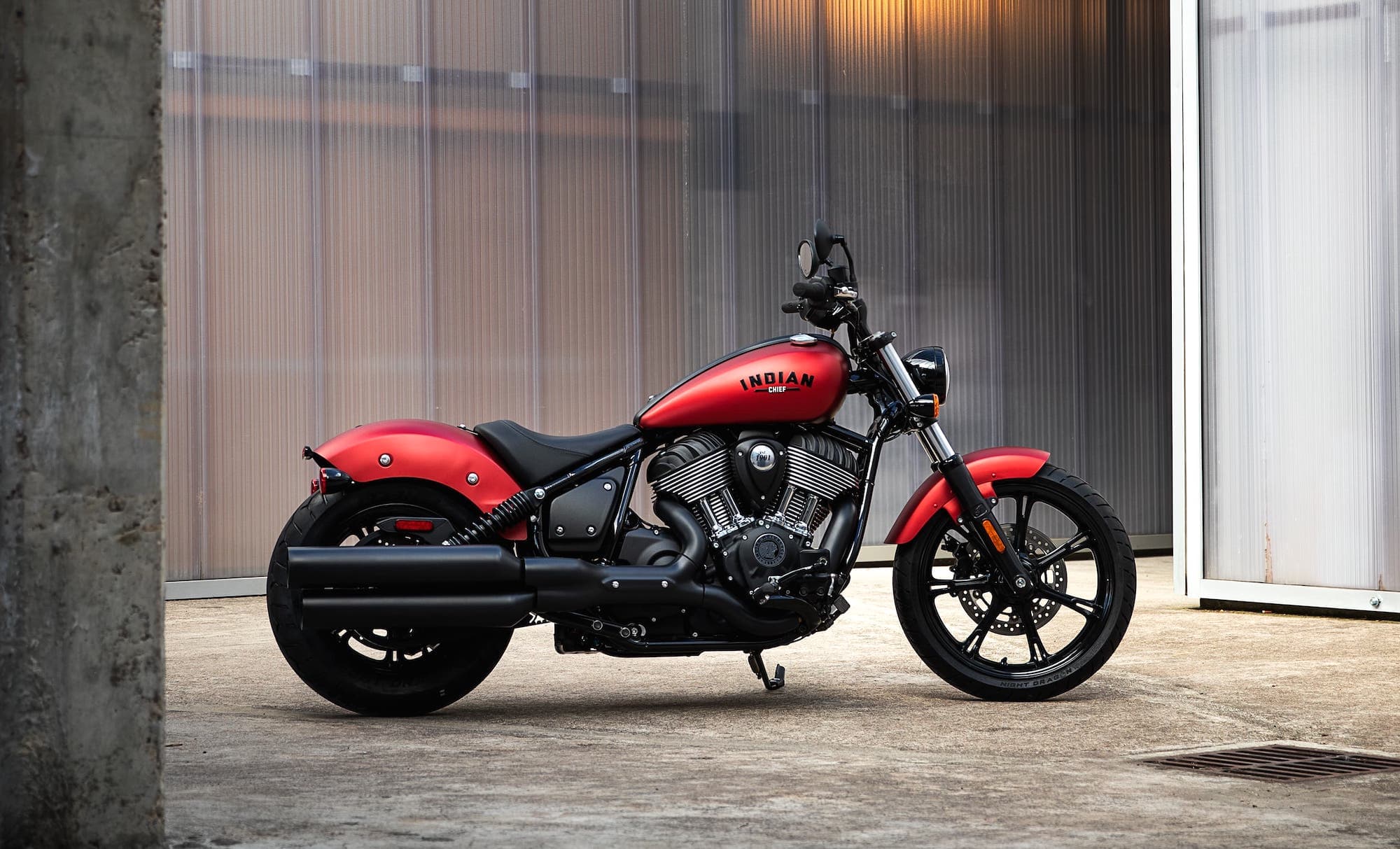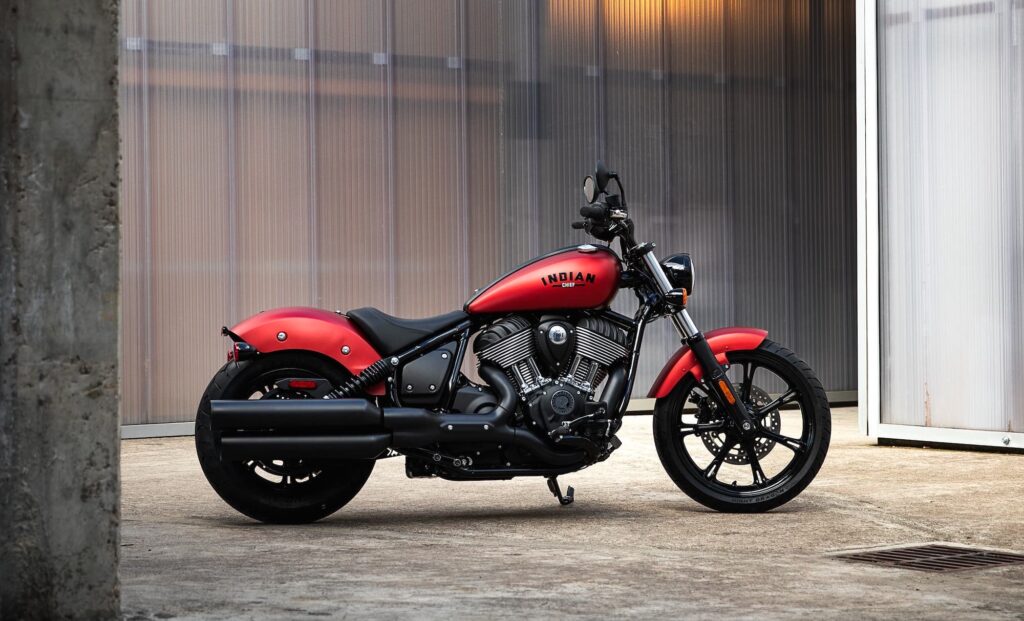 Are you obsessed with motorcycles?
Well, I am. That's why I created this site — as an outlet. I love learning and sharing what others might find useful. If you like what you read here, and you're a fraction as obsessed as I am, you might like to know when I've published more. (Check the latest for an idea of what you'll see.)
Core Specs of the Indian Chief (2022+)
OK, before getting too far, these are the specs of the Indian Chief in a nutshell, minus the boring bits, plus some commentary by yours truly.
The Indian Chief range comes in two family groups — the standard and the "Dark Horse" variants which have the slightly larger but also higher-compression motor.
The non-Dark Horse isn't available everywhere. For example, in Australia, you can only get the Indian Chief Dark Horse.
| Model | Indian Chief 2022 specs | Notes |
| --- | --- | --- |
| Engine | Thunder Stroke 111 / 116 (see below for differences) | |
| Engine configuration | Air-cooled V-twin, 2 valves per cylinder, air-cooled, hydraulic lifters, throttle by wire | Very old-school… with some modern bits. TbW is new for 2022. |
| Final drive | 6-speed, final drive | |
| Wet weight | 304 kg / 670 lb | Not "too" heavy |
| Front suspension | Telescopic fork, conventional, 132 mm / 5.2 in travel | |
| Rear suspension | Dual shocks, 75mm / 3 in travel, preload adjustable | |
| Display | Analogue / Digital, or Optional Round TFT "Ride Command", touch-activated (see below) | TFT "Ride Command" new for 2022 |
| Ride aids | ABS, Cruise control (standard), 3 ride modes | No TC |
Core specs of the Indian Chief (2022)
OK, so what are the differences between the 111 and 116 motors? Not much!
The 116 motor is a slightly bored out 111 motor with a higher compression ratio. But both are air/oil-cooled and make similar torque at similar engine speed.
Spec level
Standard
Dark Horse
Engine name
Thunder Stroke 111
Thunder Stroke 116
Capacity
1811 cc / 111 ci
1890 cc / 115 ci
(not a typo!)
Bore / Stroke
101 x 104 mm (3.976 x 4.449 in)
103.2 x 104 mm (4.063 x 4.449 in)
Compression ratio
9.5:1
11.0:1
Redline
5400 rpm
5400 rpm
Peak torque @ rpm
121 ft-lb @ 3200 rpm
126 ft-lb @ 2900 rpm
Display
Analogue + LCD
Round TFT (Indian "Ride Command" system)
Specs of Thunder Stroke 111 vs 116
A Brief History of the Indian Chief
Indian is a brand that has a long history… on paper. But in reality, it has gone through so many phases that it's really quite a young company.
I don't need to rehash what you probably already know or could look up, but the first motorcycles under the Indian brand were made in 1901. The current company — which is completely different — makes a big deal out of that historic connection.
The thing is, the brand had some LONG breaks in the period since 1901, and the company is now totally different. It has different manufacturing facilities, different owners, and a very different line-up.
There are some very, very old motorcycles with the name Indian Chief attached to them. In fact, Indian has been making a motorcycle named the Chief since 1922, and it kept that model name alive until the company went bankrupt post-WWII.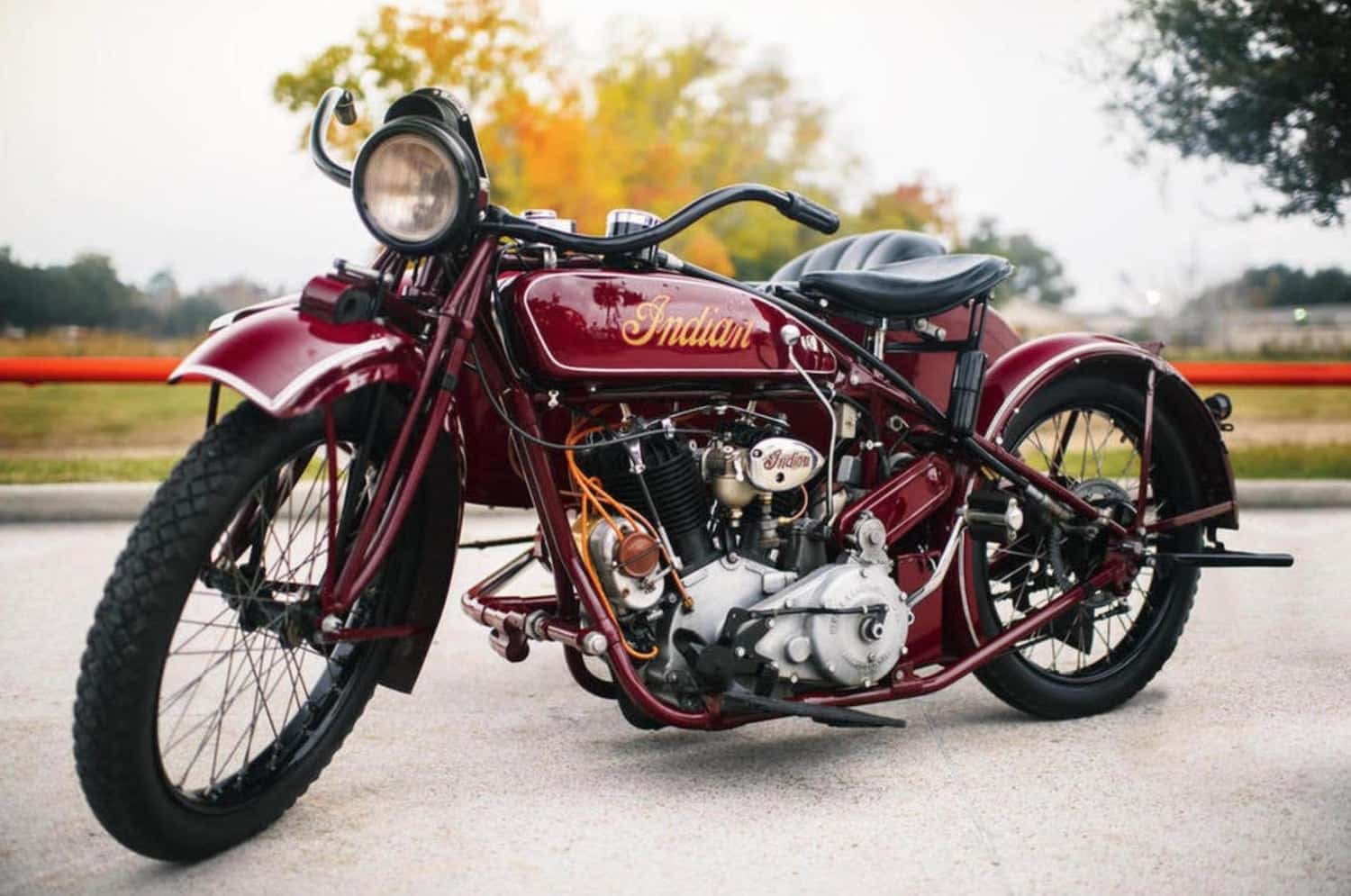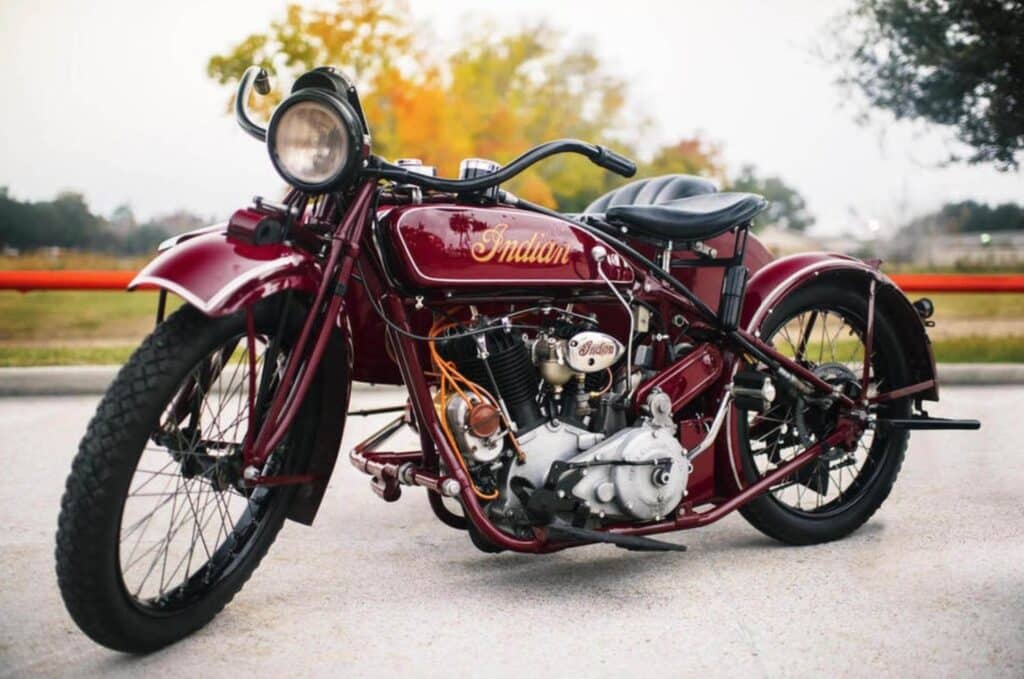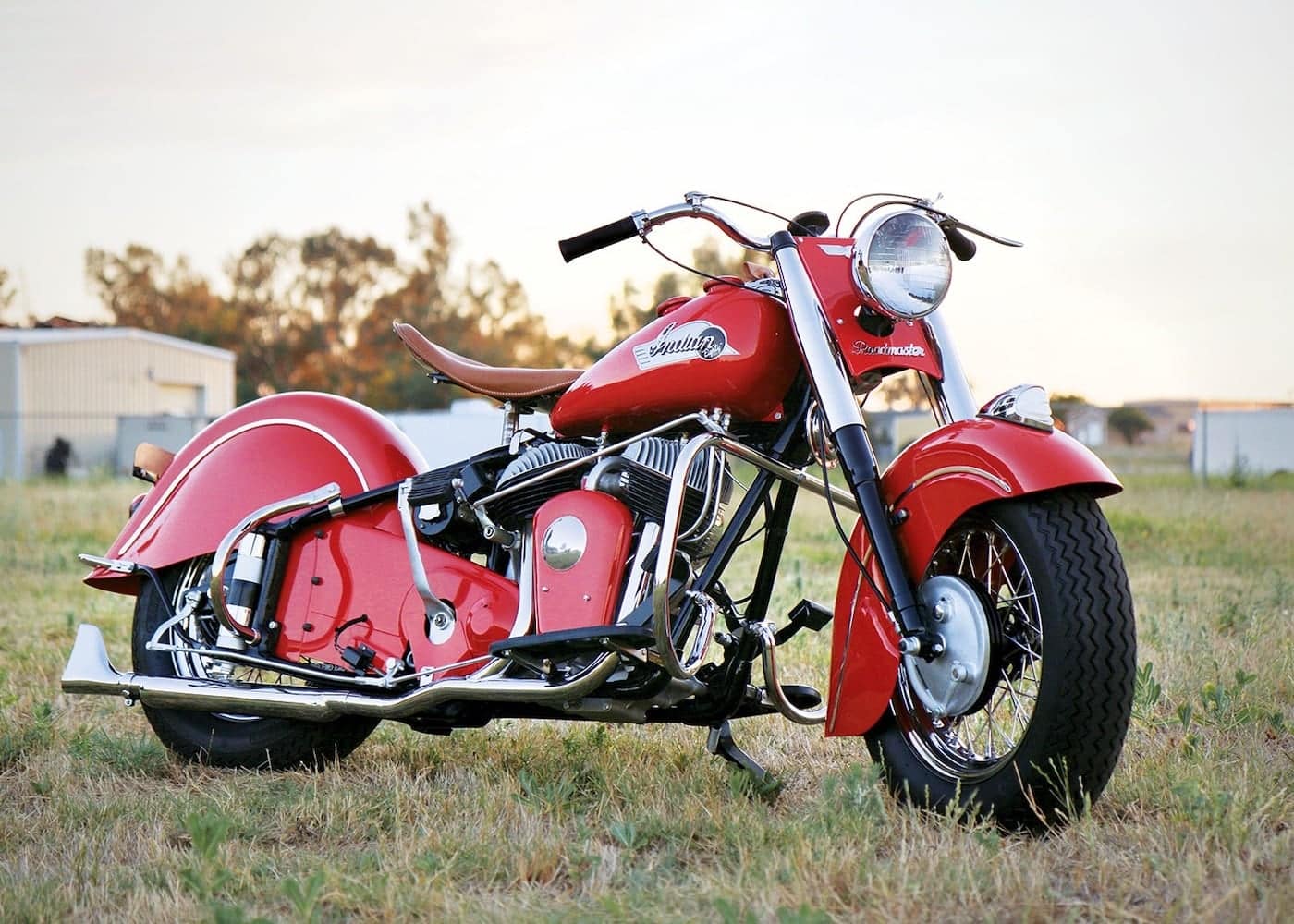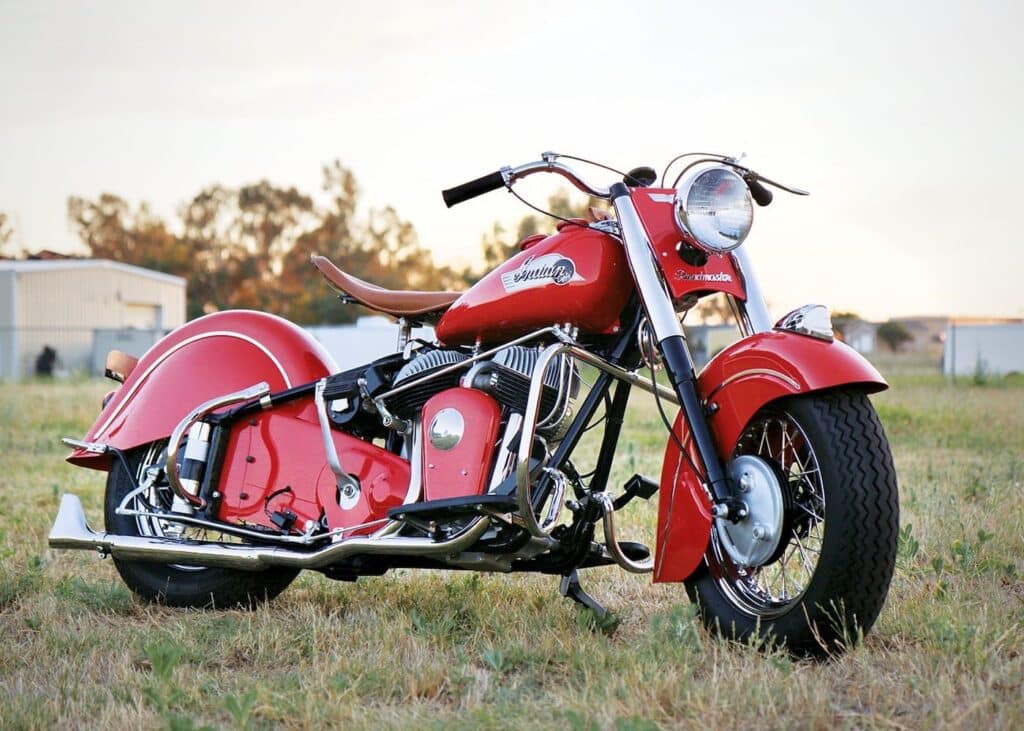 Any semblance of the first phase of the Indian Motorcycle Company went into bankruptcy post World War II, and since then basically has mostly just been a brand that various other owners over the decades tried to attach to other imported or rebadged motorcycles. A few tried to manufacture motorcycles under the Indian brand, but none ever went into production.
Then, an earlier version of Indian's revival released a Chief in 1999 using initially a clone of a Harley-Davidson Evolution engine, and a few years later with Indian's own 105 ci / 1721 cc Powerplus engine (not related to the current liquid-cooled PowerPlus).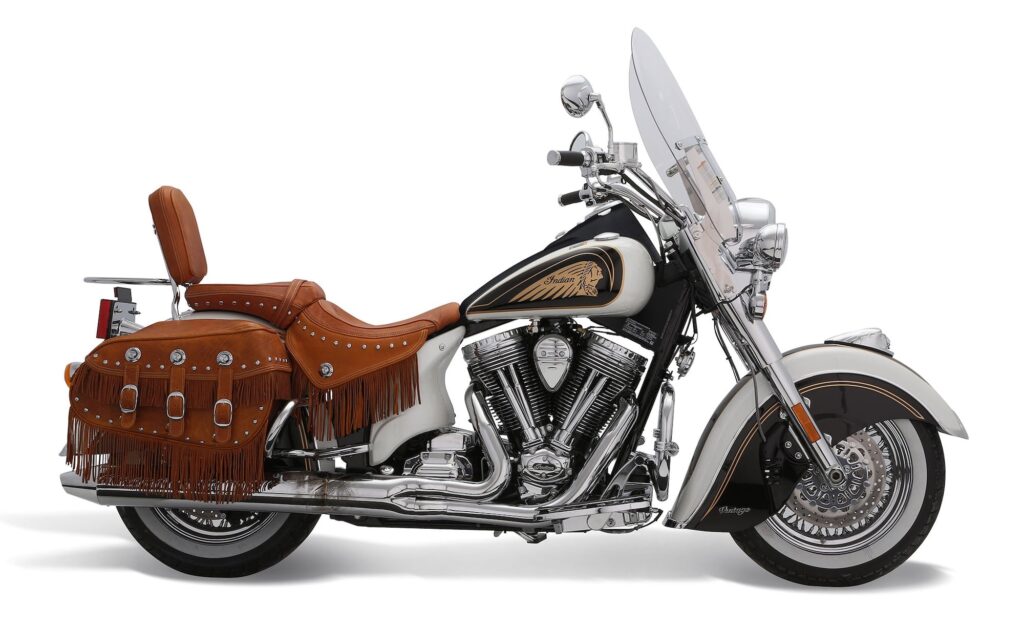 After various entrepreneurs tried to build Indian motorcycles (none of them going into production), Polaris, a vehicle manufacturing company previously known mostly for ATVs and snowmobiles (and more recently, motorcycles), acquired the Indian brand in 2011.
Polaris is a big company. They've been making ATVs, snowmobiles, and boats for decades. They actually are the company that started the Victory motorcycle brand in the late 90s to compete with Harley-Davidson and cash in on the American-made cruiser market.
People (including me) loved Victory motorcycles, so we were pretty sad that Polaris wound down the Victory brand to focus on the Indian brand in 2017. But they had good reason for this decision. Basically — the Indian brand took off in a way that they realised Victory never would.
So the Indian motorcycle brand as we know it has only existed for around ten years.
Anyway, after buying Indian in 2011, Polaris launched their first new model under the Indian brand— the new Indian Chief line-up — at Sturgis in 2013.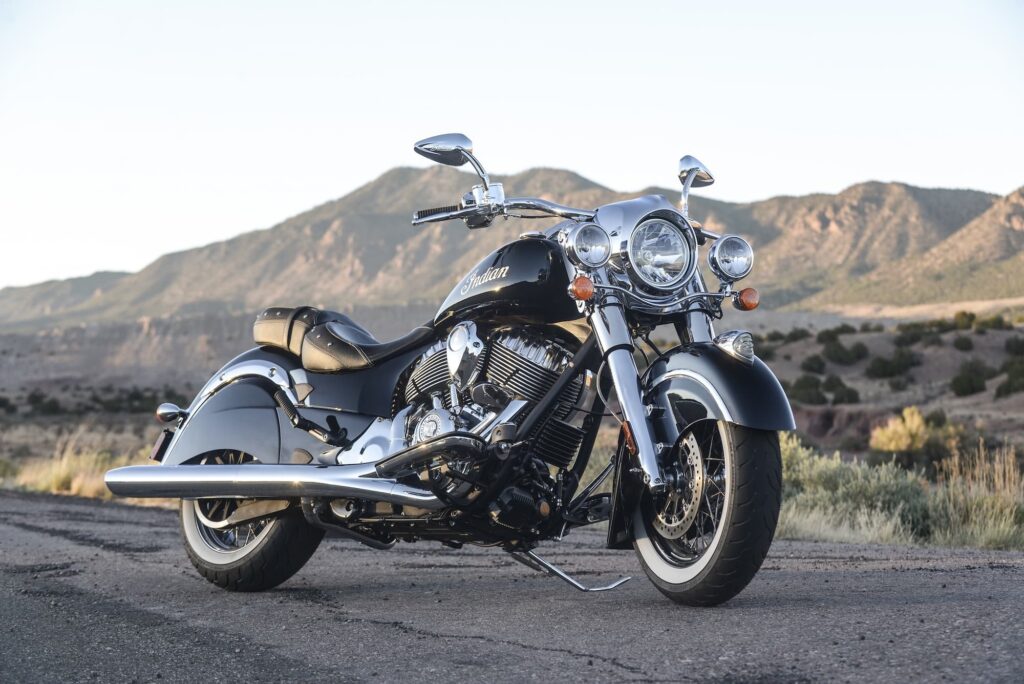 The 2014 Indian Chief has the 111 ci / 1811 cc Thunder Stroke 111 motor. It looks like the early Power Plus of the 1940s-era Chief, but it's totally modern, with fuel injection, throttle by wire, and maintenance-free hydraulic lifters.
Indian launched three variants of the Chief: The Classic, a basic cruiser, the Vintage, a soft bagger, and the Chieftain, the tourer with hard bags, an audio system, and even a power windshield.
In 2020, Indian announced a new motor — a bored-out, higher compression ratio of the Thunder Stroke 111, the Thunder Stroke 116. It's largely the same motor, but higher performance. Indian first didn't give this to the Chief Dark Horse, but as of 2022, the Chief Dark Horse also gets the larger Thunder Stroke 116 engine.
But that's not all. The Indian Chief 2022 is a fairly comprehensive redesign of the Chief as it was made from 2014-2021. Let's look at what makes the 2022 Indian Chief special.
What makes the 2022 Indian Chief Special?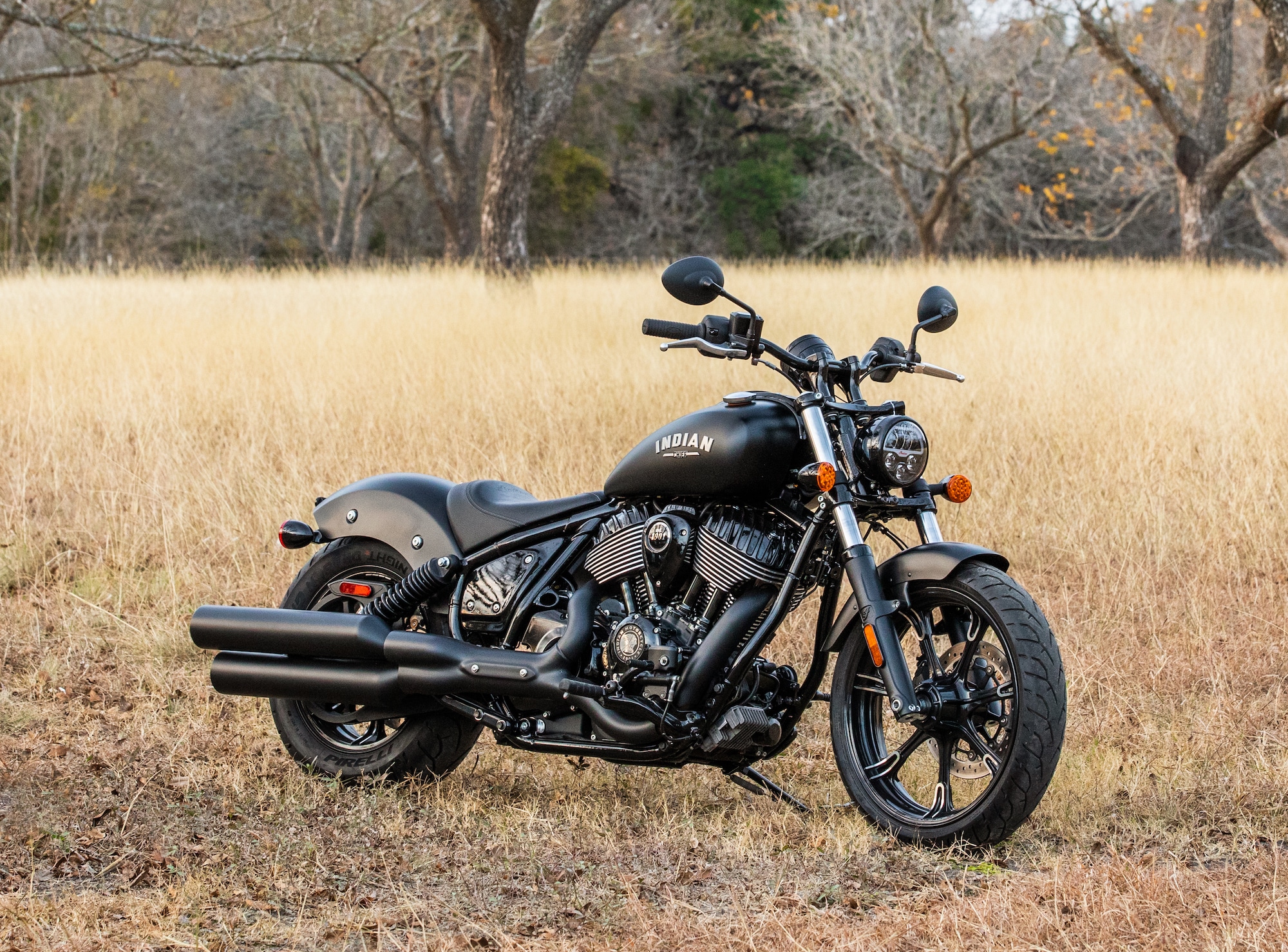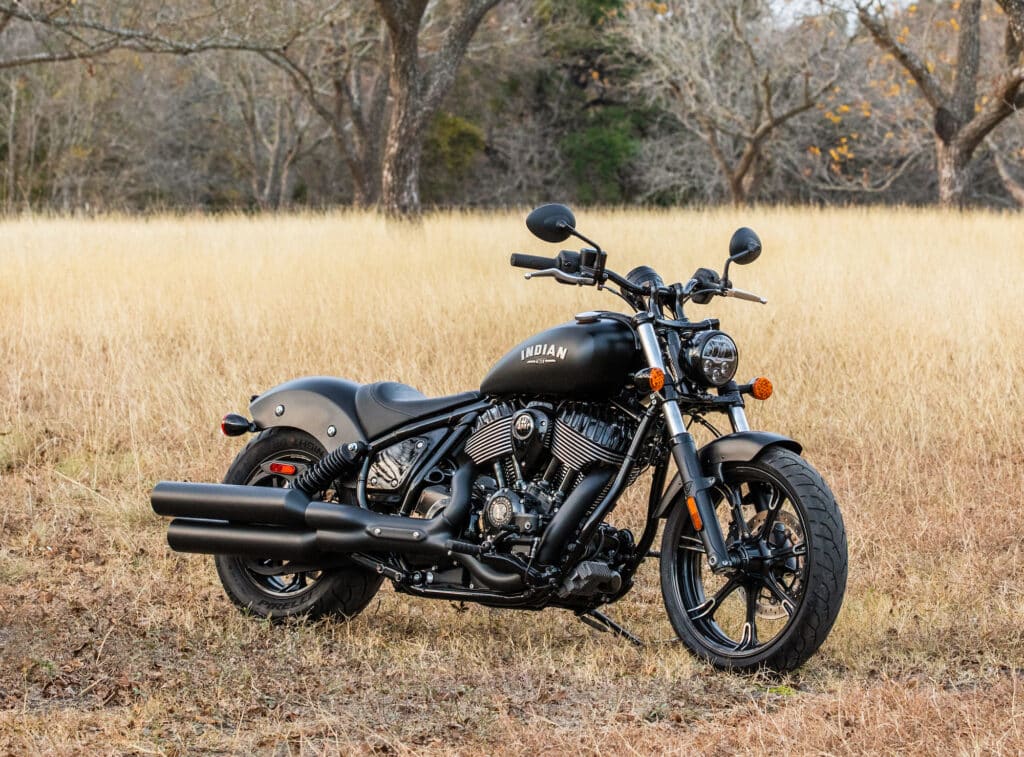 There are a lot of cruisers out there, and many have survived basically intact for generations.
So what makes the 2022 Indian Chief special? Why this model, and not the 2021 Indian Chief, or why not any other in the Indian line-up?
Well firstly, as I noted in my brief history above, Indian (in its current form) has only been making bikes since 2014. That's less than 10 years. So you can't just go pick up a vintage Indian — well you can, but it will have nothing to do with the current bikes other than a logo.
To consider what makes the 2022 Indian Chief Special, we have to answer:
Why the Indian Chief, in an abstract sense?
Why this Chief, and not the outgoing 2014-2021 generation of Indian Chief?
Why the 2022 Indian Chief and not another cruiser, like a Harley-Davidson, or maybe the BMW R 18?
Firstly, why get a bike like the Indian Chief? This is a question I struggle with. Because every other bike I've ridden has been "better" in some ways, and often in multiple ways. So why don't those other bikes feel as good as the Indian Chief?
The Chief is a large-capacity air-cooled cruiser. As a cruiser, it doesn't have a "purpose" other than to look and sound cool and take the rider wherever they want to go feeling that way.
I mean, the Indian Chief doesn't have a purpose in that it's not an adventure bike, a touring bike, or even the optimal commuter (too heavy, too big, too thirsty). The Indian Chief weighs over 670 lb (over 300 kg), which makes everyday low-speed work a bit laborious. Besides, even though it's small for a cruiser, it's still huge. If you want a commuter, it's not an obvious first choice, unless your priorities are 5% "practicality" and 95% "awesome".
But for many people, "awesome" is the main priority. I mean I do like to think of myself as adventurous, but that's usually when I get to an accidental long and winding dirt road and don't want to turn around. For rides like that there are bikes like the BMW R 1200 GS or the Honda Africa Twin (or many others).
Most of the time, though, the main reason I ride is to make something boring — everyday travelling around a city and its surrounds — into something much more fun.
And yes, cruisers like the Indian Chief are fun. Look, the first time I sat on an Indian Chief, I felt like putting on my sunglasses. I asked my other half to take a photo of me (bless her, she came down to the store with me). I managed to not put down my shades. I have a modicum of self-respect.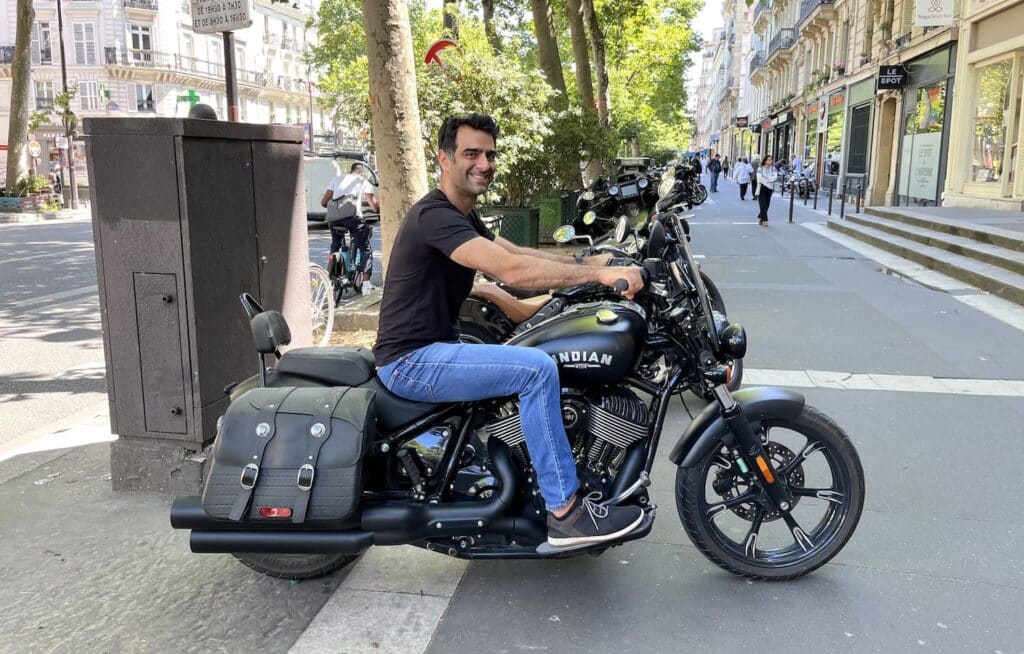 OK, so that's why we like cruisers. Once you start to look a little closer, you do start to ask yourself whether the Indian Chief is actually a *good* motorcycle. I mean, let's look at the bits and pieces it has.
Firstly, that engine. Yes, it has a ton of torque… around 120 ft-lb or 160 Nm from 2000 rpm, with a lot of it right off idle.
But remember, party's over by about 5000 rpm. And there's gearing involved, and a heavy ~670 lb or ~300 kg + lot of metal to pull along. So in reality, shocking as it may seem, you can accelerate (in terms of g-forces) just as quickly on a Yamaha MT-07 — a bike with a third of the engine capacity.
Yes, the MT-07 has the same amount of pull on your arms. But it feels very different, needless to say. Whereas the Chief is roaring from basically idle and letting you know it's there, the MT-07 needs to be up in the 3500-7000 rpm part of the rev range. And just like on an MT-07, on the Chief you'll have to shift a couple of times before you get to highway speeds, in part because the big twin redlines much earlier.
All this is to highlight that you don't ride a big air-cooled V twin because you want a fast bike. Even in Indian's line-up, there are faster bikes — the FTR, or the Challenger if you want to step up the budget a bit. Those have liquid-cooled, higher-revving, and higher-power engines.
See my discussion of air-cooled vs liquid-cooled motors for more detail here on why liquid cooling may not be so bad.
No, you get a bike like the Indian Chief because it looks and feels great to ride.
If you want to go fast, of course, there are performance mods galore. Hotter cams, improved filters and tunes… there's a lot more to squeeze out of this motor.
What else — the suspension on the Indian Chief is nothing to write home about. Its purpose is to keep the wheels on the ground, but you're going to have to dodge potholes and be careful over speed bumps. At least, I learned to! The fork tubes have a beefy 46 mm diameter. The fork type is conventional (i.e. not an inverted or upside-down fork) and it's not adjustable. Which is also a blessing, as it's one fewer thing to adjust.
At the rear there are twin shocks. Again, they're functional, but the limited travel (3 inches / 75 mm) and the fact that you're in a spine-erect riding position means that you'll tend to opt for smoother roads, or to accept bumpiness as part of the bike's character.
And like on many cruisers (even high-performance ones like the Harley-Davidson Sportster S), the Indian Chief just has one front brake caliper. At least it's a four-piston caliper on a floating rotor.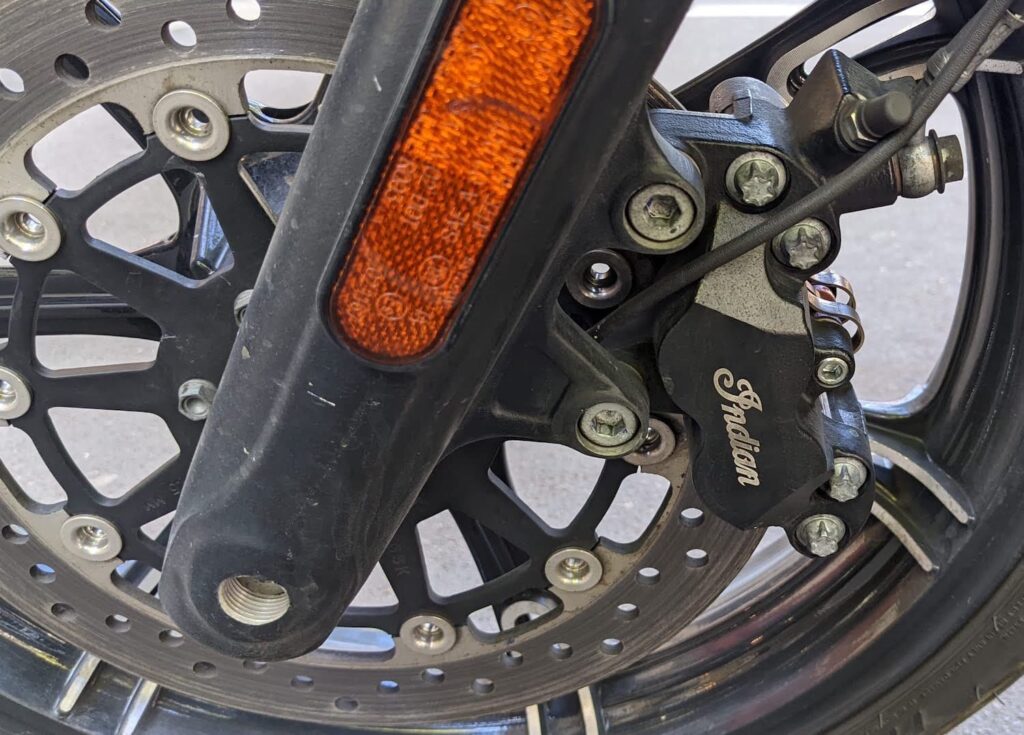 You're not likely to ever find the limits of the braking under normal use — this isn't a track bike! But if you're coming off even a vaguely sporty bike of any kind with twin discs and four-piston calipers, you'll notice the brake grab isn't quite as impressive.
There you go — in terms of base specs, the Indian Chief isn't going to impress. So — why do we buy old tech bikes? Great question…
Riding the 2022 Indian Chief — Why Old Tech is Sometimes OK
If you look at it dollar-for-dollar (or pound-for-pound, or lakh-for-lakh), you could spend as much as you'd spend on the 2022 Indian Chief and get a brand new:
High-end, 200+ hp superbike, like the BMW S 1000 RR, one of the fastest, most well-respected superbikes, complete with every ride safety aid and even cruise control and heated grips
A modern retro roadster like the Kawasaki Z900RS SE, which turns heads, but has a very modern engine and high-end real performance parts
A top-spec middleweight adventurer like the KTM 890 Adventure R, which has performance and quality everywhere
I could go on. There are pros and cons to each of the above suggestions, but it's just illustrative that you could get among the "best" of many categories of bike for the same price as you'd pay for the heavy, low-tech, low-spec 2022 Indian Chief.
So why would you even look at the Indian Chief? Well firstly, many would find it hard to get past the above. But for those who do, it's a combination of the style and the ride.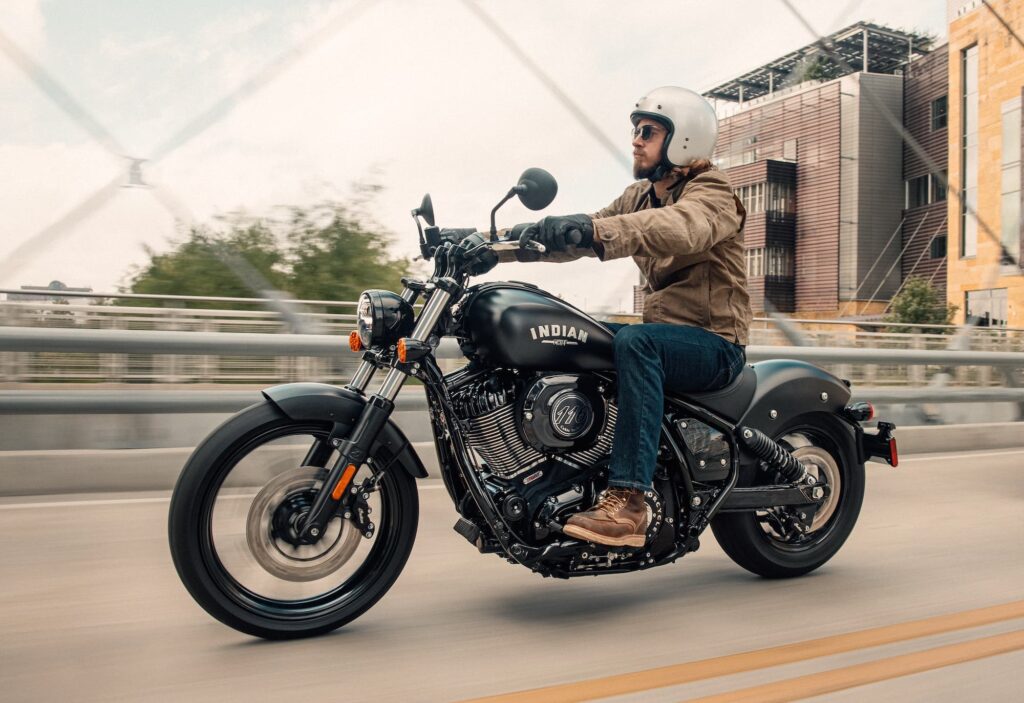 The style is the part that's the first you notice, most important to many, hardest to defend, and also most gnarly to challenge.
Spending big dollars on a cruiser is similar to why some people may spend a lot of money on a very fancy sofa that's super comfortable, looks "just right" in the living room, and will last for many years to come.
If it's a long time since you've shopped for sofas… just believe me, as someone looking to furnish a house right now, they quickly get very expensive.
But once you sit on the right sofa that looks and feels right, it's very hard to go back to another one. You don't want to spend thousands of dollars and regret not spending a little more!
That's what it's like shopping for cruisers.
The second part of why you'd pick the Chief is the ride. It's a combination of the feel and the sound.
If there's one thing you should remember before test-riding the Indian Chief it's: put it in "Sport" mode!
As a modern motorcycle, the 2022 Indian Chief has a lot of tech that its predecessors didn't even dream of, like a ride-by-wire throttle for example. But that doesn't get in the way of it feeling like an old-school cruiser.
If you're used to sport bikes, like I am, then getting onto a cruiser — even one with mid-controls — is an unusual feeling.
Firstly, the Chief is heavy. I've ridden my share of heavy bikes, from big sport tourers to baggers and cruisers like the Chief. With most modern cruisers, I have the same experience — I get on and rock it side-to-side and think "Cripes!", tentatively walk it to the kerb, not want to drop someone else's bike… and then once I pull away, the speed vanishes. (OK I might fumble a bit with the foot controls, but once I find them, I feel comfortable.)
Anyway, like most other heavy bikes, the Chief feels heavy at low speeds. Anything over light jog pace and it's fine, though.
Secondly, I do tend to get caught off guard by the way a cruiser revs. I felt this with the very first cruiser I rode — a Yamaha Bolt. I got to about 5000 rpm and thought "wait… that's it?"
Yes, that's it. They don't really go much further. The Indian Chief is just like this. At first, it feels like someone's ending the party prematurely. But it's actually part and parcel of the whole ride experience — because riding the Chief isn't a frenetic, hurried experience — it's pretty chill.
Even my air-cooled Ducatis revved higher. They also had a lower, sportier bar, plus rear-set controls. That's why the Ducati Monster is such a blast to ride. Hammer them down and they're really rewarding.
But the Indian Chief isn't a bike you ride "Hammer down". I mean you can, but it's not one that eggs you on like even a sporty cruiser does! So if you're after a bike to really just mellow out and enjoy the feeling and sound — the Chief (or a bike like it) is your best port of call.
Indian, like Harley-Davidson, doesn't talk about power (other than for its liquid-cooled engines). It sells the Chief on torque. So what's the torque like?
In a nutshell, torque is ample and fun, and "rip your arms off" strong very briefly until you hit the limit, which will be in under two seconds. It's a cruiser, so you short-shift it… even if you're really on the hammer, you'll shift at least twice before freeway speeds. That's what it's like.
It feels more powerful than the Scout, but not stratospherically so, especially as you're not likely to be wide-open-throttle on both bikes most of the time. Essentially, I wouldn't pick the Chief because of its power, but more because of the way it feels when riding at different speeds, which is fantastic.
The Modern Indian Chief line-up
This was quite hard to put together. For some reason, on the Indian website, there's no comprehensive Indian Chief brochure! I had to make this myself.
It's important to note that all the motorcycles in the Chief line-up come with standard cruise control, ABS, LED lighting, and ride modes. They all have the same suspension and brakes, too. But a bunch of other things change.
For example, while I really like the mid-controls on the Chief, only the base model Chief and Dark Horse get this feature.
The Dark Horse variants aren't just styling — they also get the bigger engine and higher tech. But yes, they are also blacked out in style. In some markets you can only get Dark Horse, by the way.
See the below pics for an overview of the three styles: base Chief, Bobber, and Super.
Model
Chief
Chief Dark Horse
Chief Bobber
Chief Bobber Dark Horse
Super Chief
Super Chief Limited
Style
Cruiser
Cruiser
Bobber
Bobber
Soft bagger with shield
Soft bagger with shield
Bars
Drag
Drag
Mini Ape
Mini Ape
Swept back
Swept back
Footrests
Mid-mount
Mid-mount
Forward
Forward
Floorboards
Floorboards
Engine
TS 111
TS 116
TS 111
TS 116
TS 111
TS 116
Wheels
Cast, 19-inch front wheel, 16-inch rear
Cast, 19-inch front wheel, 16-inch rear
16 inch wire front and rear
16 inch wire front and rear
16 inch wire front and rear
16 inch wire front and rear
Instruments
Analog / LCD
4-inch / 101 mm TFT Ride Command
Analog / LCD
4-inch / 101 mm TFT Ride Command
Analog / LCD
4-inch / 101 mm TFT Ride Command
Colors
Black Smoke
Alumina Jade Smoke
Stealth Gray
Black Smoke
Alumina Jade Smoke
Stealth Gray
Black Metallic, Ruby Metallic
Black Smoke
Titanium Smoke
Sagebrush Smoke
Black Metallic, Pearl White
Black Metallic, Blue Slate Metallic, Maroon Metallic
Wet weight (full tank)
670 lbs / 304 kg
670 lbs / 304 kg
694 lbs / 315 kg
694 lbs / 315 kg
739 lbs / 335 kg
739 lbs / 335 kg
MSRP (USD, 2022)
$14,999
$17,499
$16,499
$19,499
$18,999
$21,499
The Indian Chief line-up (including Bobber and Super Chief, and Dark Horse and Limited variants)
2022 Indian Chief vs 2023 Indian Sport Chief
For 2023, Indian announced the 2023 Indian Sport Chief. At first blush, this is a bike that addresses a few things that might make people hesitate about dropping coin on the 2022 Indian Chief.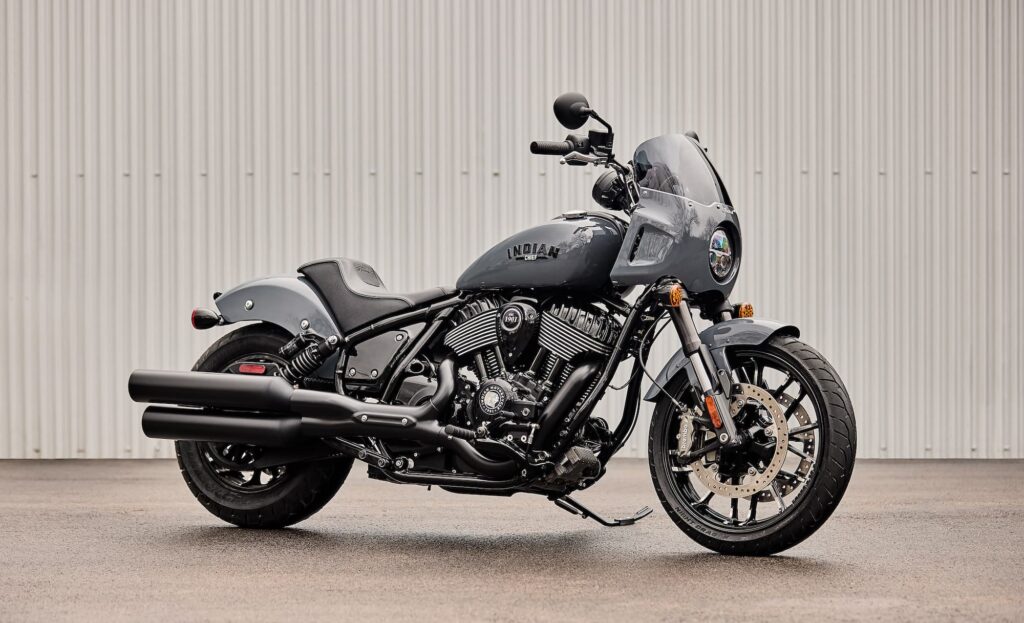 The core of the Sport Chief is much the same as the Indian Chief "Dark Horse" spec — it's the same classic cruiser powered by the Thunderstroke 116 motor.
But the Indian Chief Sport gets a few handy upgrades, summarised below.
| Part | Indian Chief (2022) | Indian Sport Chief (2023) |
| --- | --- | --- |
| Front fairing | None | Quarter fairing |
| Front brakes | Single 300 mm disc, 4-piston caliper | 2 x 320mm semi-floating discs, Brembo 4-piston radial mount calipers |
| Front suspension | 46mm conventional fork, 5.2 inches travel | KYB 43mm inverted fork, non-adjustable |
| Rear suspension | Dual shocks, adjustable preload, 3 inches travel | Dual FOX Piggyback shocks, adjustable preload, 4 inches travel |
Indian Chief vs Indian Sport Chief — Core Spec Changes
In short, the Sport Chief is now a worthy competitor to the Harley-Davidson Low Rider S in terms of specs.
Alternatives to the Indian Chief
I rely a lot on expert opinions here. When I don't know something, I go ask! So I went around to people asking them why they'd go with an Indian vs one of the alternatives.
The most obvious alternative to the Indian Chief is another motorcycle from Indian or something from Harley-Davidson. The most obvious comparison would be one of the cruisers from the 2018+ Softail line, like the Harley-Davidson Low Rider S.
There's just no similar large-displacement cruiser available from any Japanese brand right now. Suzuki does still sell the M109R new, but it's just quite a different kettle of fish, with its shaft drive, liquid-cooled, and a focus on power.
Comparing the Indian Chief to a Honda Rebel 1100 or a Ducati XDiavel doesn't really make sense, either. Even Moto Guzzi doesn't make the California right now.
At a stretch, we can compare the Chief to the BMW R 18, which I'll do just because!
Then there's the Indian Scout, e.g. in Rogue form. I think anyone looking at the Chief is going to look at the Scout next to it and think… hmm. Maybe the smaller one.
| Motorcycle | Indian Chief (116) | H-D Low Rider S (2022 spec) | BMW R 18 | Indian Scout Rogue |
| --- | --- | --- | --- | --- |
| Engine name | Thunder Stroke 116 | Milwaukee-Eight 117 | Big Boxer | 🙁 |
| Engine type | Air-cooled V-twin, 2 valves per cylinder | Air-cooled V-twin (Milwaukee-Eight), 4 valves per cylinder | Opposed Boxer-twin | Liquid-cooled V-twin, DOHC 4 valves per cylinder |
| Displacement | 115 c.i. (1890 cc) | 117 c.i. (1923 cc) | 110 c.i. (1802 cc) | 1133 cc |
| Compression ratio | 11.0:1 | 10.2:1 | 9.6:1 | 10.7:1 |
| Peak torque @ rpm | 162 Nm (120 lb-ft) @ 2900 rpm | 169 Nm (125 lb-ft) @ 3500 rpm | 157 Nm (116 lb-ft) @ 3000 rpm | 98 Nm (72 lb-ft) @ 5900 rpm |
| Rev limit | 5400 rpm | 5200 rpm | 5750 rpm | 8300 |
| Final drive | Belt | Belt | Shaft | Belt |
| Front suspension | 46mm conventional fork, 132 mm / 5.2 in travel | 43mm cartridge inverted fork, triple rate spring, 5.1 in(130mm) travel | Conventional fork, 4.7 inch travel | 41mm Fork, 4.7 inch travel |
| Rear suspension | Twin shocks, preload adjustable, 75 mm / 3 in travel | Hidden monoshock, 4.4 in (112 mm) travel | Central strut, 3.5 inch travel | Dual Shocks, 2 inch / 51 mm travel |
| Front brake | Single 300 mm semi floating rotor, 4-piston caliper | Twin 300 mm discs, 4-piston calipers | Twin 300 mm discs, 4-piston fixed calipers | Single 298 mm disc, 2-piston caliper |
| Rear brake | 300mm floating rotor / 2-piston caliper | 292 mm disc, 2-piston caliper | 300 mm disc, 4-piston fixed caliper | 298 mm disc, 1-piston caliper |
| Wheel sizes | 19 front / 16 rear | 19 front / 16 rear | 19 front / 16 rear | 16 front / 16 rear |
| Wet weight | 670 lb / 304 kg | 679 lb / 308 kg | 761 lb / 345 kg | 546 lb / 248 kg |
| Instruments | 4 inch TFT, touch, "Ride Command" + Bluetooth | Analogue tacho + LCD info | Single analogue + LCD | Analogue + LCD |
| Ride aids | ABS, ride modes, cruise control, keyless | Optional ABS, keyless | ABS, ride modes, ASC, cruise, keyless, heated grips | ABS only |
| US MSRP, 2022 | $17,499 | $17,530 | $17,495 | $9,999 |
Alternatives to the Indian Chief
Harley-Davidson Low Rider / S (or another Milwaukee-Eight)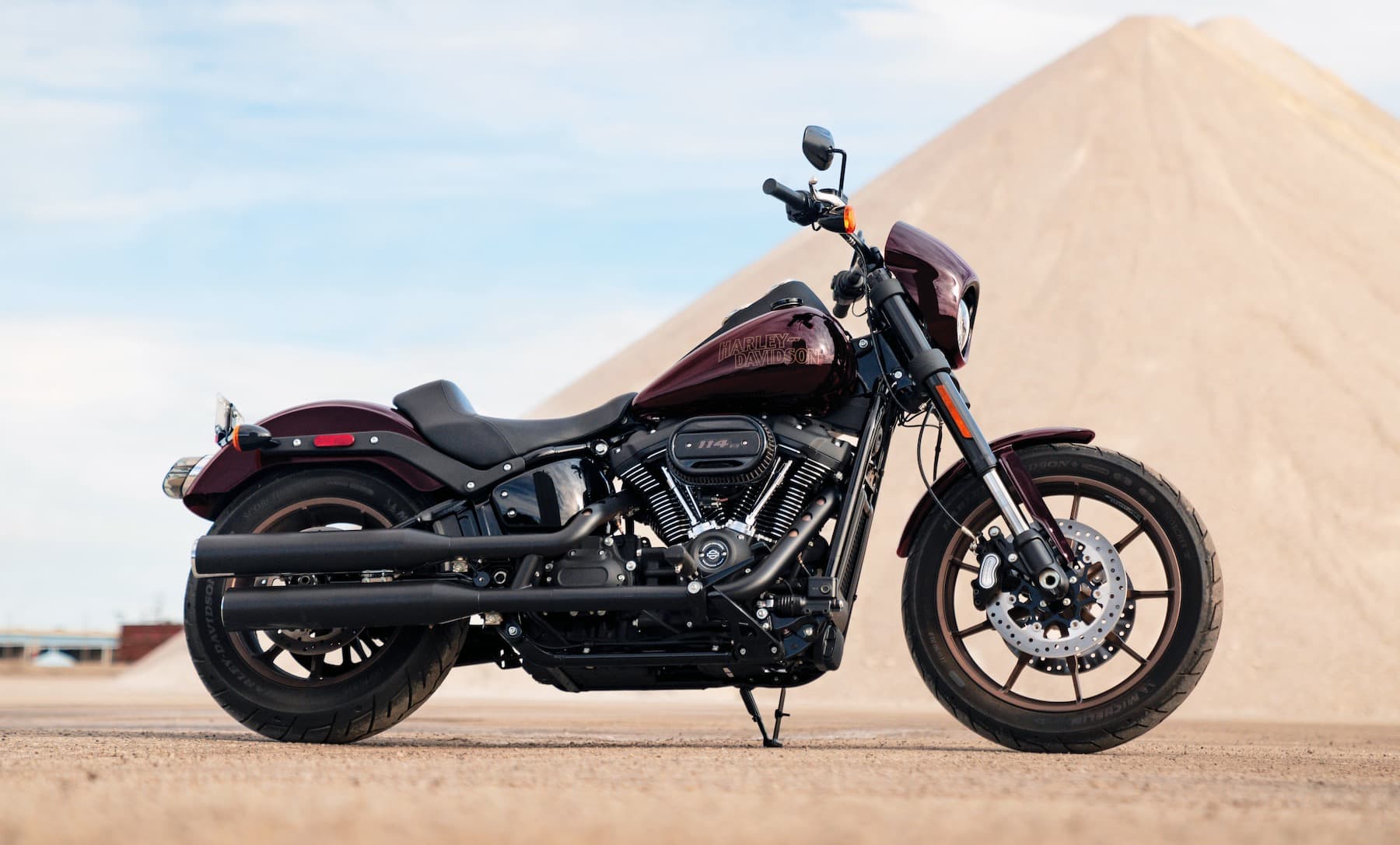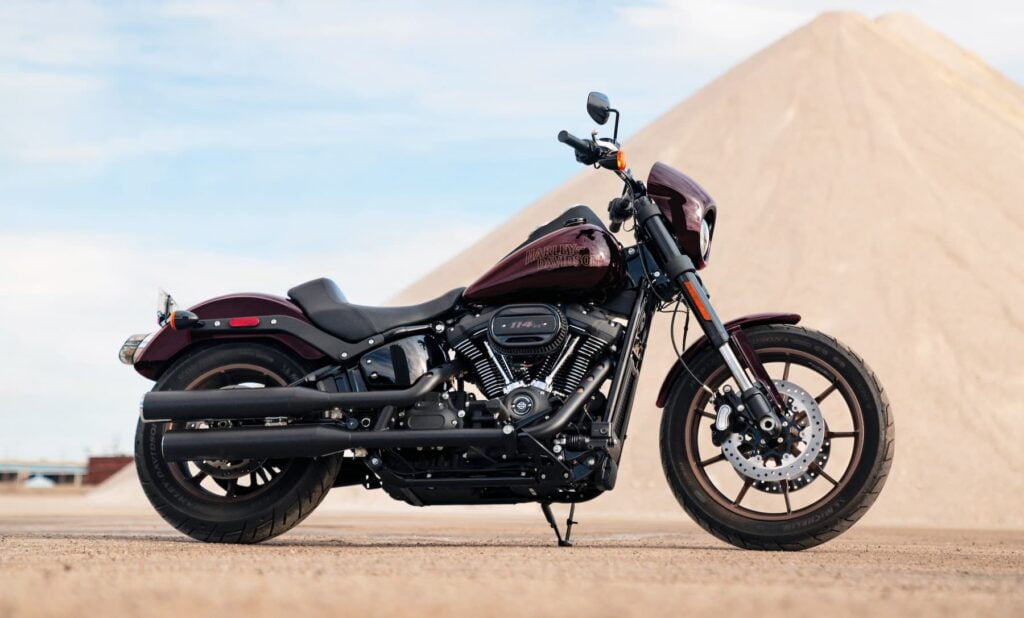 The first obvious alternative to the Indian Chief is the Harley-Davidson Low Rider and Low Rider S (which has some up-spec ride gear). As of 2021 you can only get the Low Rider S (or ST from '22), but you could get the Milwaukee-Eight Low Rider base spec from 2018-2020.
Another similar comparison would be the Softail Standard, but I'll take the Lowrider S as an alternative because it's similarly priced.
The Harley-Davidson Low Rider S differs from the 2022 Chief in a couple of ways.
In terms of spec, the Low Rider compared well with the Chief, and the Low Rider S compares well with the Sport Chief. If you want inverted forks and double disc brakes up front, you can have it from either brand.
Of course, then you have to think about how much you'll actually need this braking power. Having more discs / calipers doesn't mean it'll stop quicker… it just means it'll cope better with aggressive riding, which most cruiser riders only do occasionally.
But primarily, Harley-Davidson has a clear and indisputable advantage in brand recognition, dealer network coverage (in the US particularly, but also globally), and resale value retention. Indian's very good in resale value, but there's just not enough history to really compare them.
Indian dealers are great too — but there are far fewer of them.
Secondly, if you want to do things like make intake, exhaust, tune, and cam upgrades, there are very clear upgrade paths for the Harley-Davidson and many mechanics who know what they're doing with them. The whole "Stage 1, Stage 2" language is something I just don't hear when talking about anything other than Harleys (maybe other cruisers, and by ex-Harley riders).
Finally, the Harley-Davidson has a different aesthetic. The Chief has a kind of sporty cruiser feel to it, whereas the Low Rider S has what Harley calls its "California" cruiser style. It's a bit intangible, but that's what the luxury cruiser segment is really about.
The ride position is slightly different on both. I prefer that of the Chief, for being a bit more aggressive, but different people will feel them differently. Anyway, bars are one of the first things to be swapped out on many cruisers.
In terms of sound — both are winners. The stock exhaust sound is great on both bikes. If you want to chop them off, that's your call. Things get very loud very quickly!
One interesting way in that the Chief is clearly a step-up from the Harley-Davidson is in its instruments. The Chief Dark Horse / Limited variants have a four-inch touch screen that is a blend of classic and modern. Meanwhile, the new Low Rider S has everyone talking because Harley-Davidson finally decided to mount the gauge where you can easily see it.
Some people will say there's a difference in "reliability". I think this isn't the right path to go down. Even though Harley-Davidsons are widely lambasted as "unreliable", a large part of reliability comes down to modifications done, maintenance done on schedule, and sky-high expectations from what is often a very expensive machine, and other things that affect bias. It's something I mention in my article on reliability of motorcycle brands.
But most critically, Indian just doesn't have enough history for us to say that they aren't long-term reliable. Nor does the Milwaukee-Eight engine. Ask again in 10 to 20 years.
I've never had a Honda leave me stranded. But there's also no Honda that's quite as cool as most bikes from Harley-Davidson — definitely nothing they sell these days. (The Fury is cool, but it's old and it's not my kind of cool, and Honda isn't making anything else like it right now.)
BMW R 18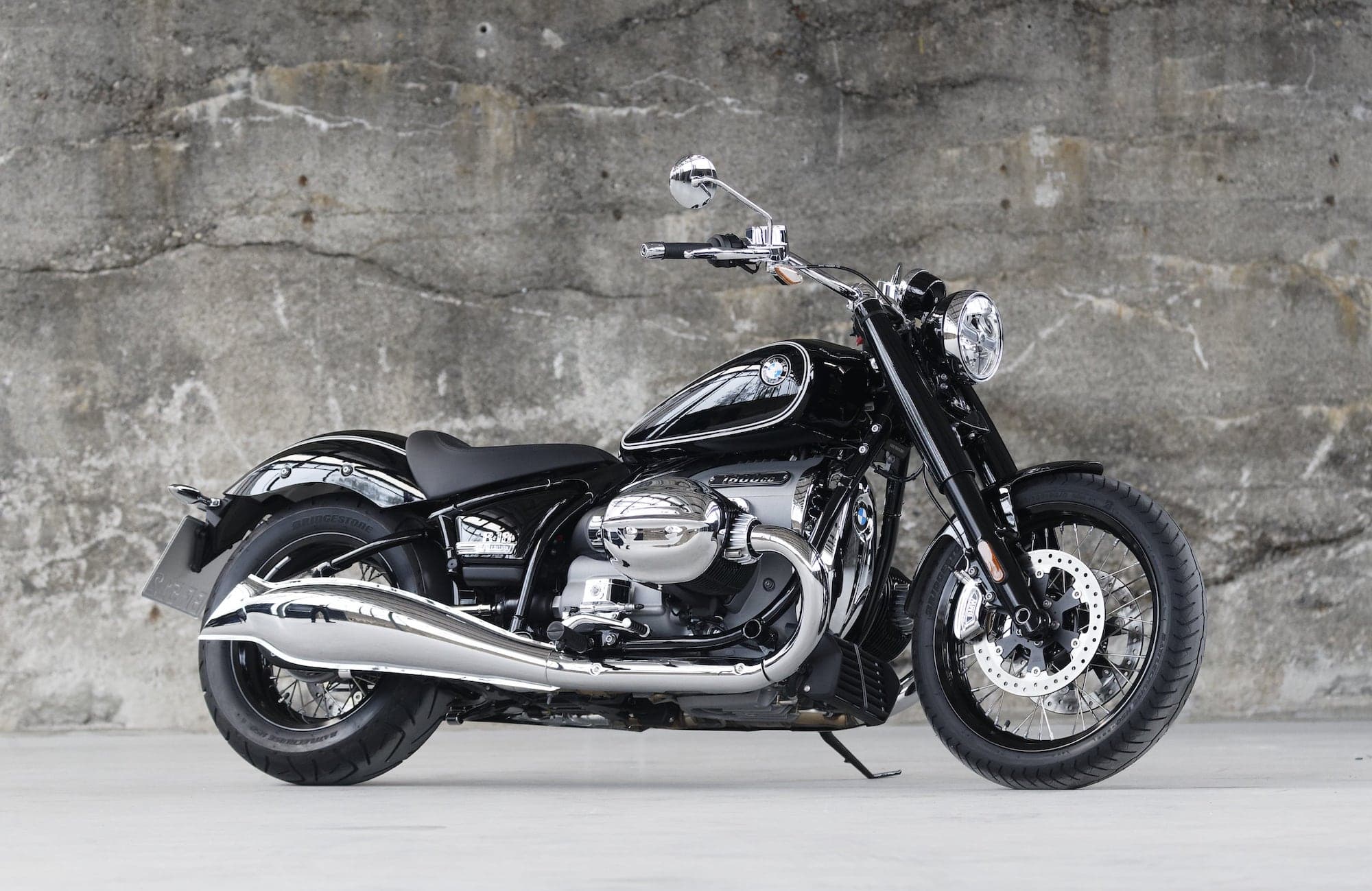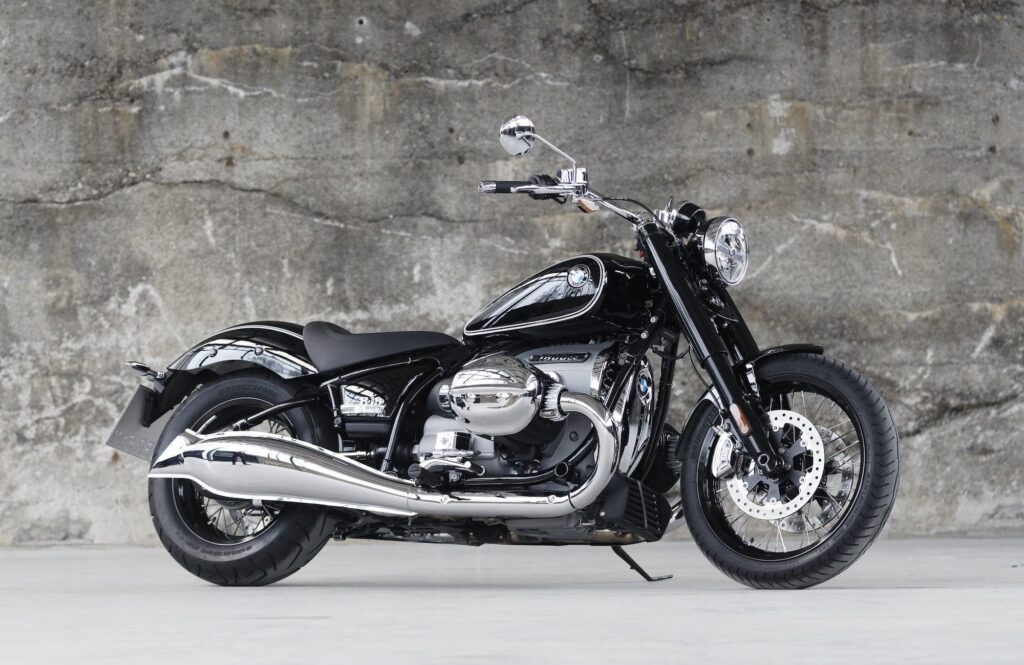 If you're looking for a big, shiny, high-quality, heavy, high-torque but low-power cruiser from any other brand, the BMW R 18 is an interesting suggestion. If you're a BMW guy or a "European bikes only" kind of person, the R 18 may be for you!
The BMW R 18 has a massive 1802 cc opposed twin (a "boxer"), the same format of engine used in a plethora of other motorcycles from BMW.
But unlike most modern BMW boxers (other than the heritage-inspired R nineT line), the R 18's giant boxer is still air/oil-cooled. Oh, and the R 18's motor is the biggest boxer they've ever made… and also in the same size class as many big cruiser motors out there from Harley-Davidson, Indian, and Moto Guzzi.
The cylinders sticking out the sides of the R 18 are truly shockingly large. I couldn't help but wonder if they'd scrape against the ground. They don't (unless you're doing something very wrong) — but still, the R 18 has pretty limited cornering clearance.
Aside from the motor and brand, some things that make the R 18 unique are
The shaft drive — even lower maintenance than the belt drive on most cruisers
Twin front disc brakes — bringing the (heavier) cruiser to a halt a bit more firmly (though they lack in feel if you push them hard)
Hidden bits of technology, like traction control and standard heated grips, and standard cruise control (these days, though not originally)
Needless to say, BMW has a lot of experience making motorcycles. BMW has a reputation similar to Harley-Davidson for reliability, which you can take any way you want (yes, they'll fail sometimes, but so does any bike — take care of yours, don't expect that paying more leads to perfection, and it should be as reliable as you can reasonably expect).
Aurally, the BMW has a smoother sound than either then Indian Chief or the Harley-Davidson Milwaukee-Eight bikes. It has a definite "blat" to it, without as aggressive a bark as you might have come to expect.
One thing I don't like about the R 18 is it's a little too easy to scrape at low speed if you're used to sharper-steering bikes. Sure, on big sweepers (where it likes to live) it's fine, but in city riding or around roundabouts, it scrapes. You have to get used to it, go slower, or position your body to avoid it if you can. (Tip from the dealer to avoid scraping: make sure you set the preload correctly, especially if you're taking a passenger.)
Finally, aesthetically, to my eye, the R 18 is not as jaw-droppingly cool as the 2022 Indian Chief. It's definitely good-looking; beautiful even. Just not as bad-ass.
Oh another final note — the R 18 comes in some pretty advanced options, including some that even have radar-sensing active cruise control, something that none of its direct competitors have! Of course, those variants (the Bagger and Transcontinental) are much more expensive.
Indian Scout Rogue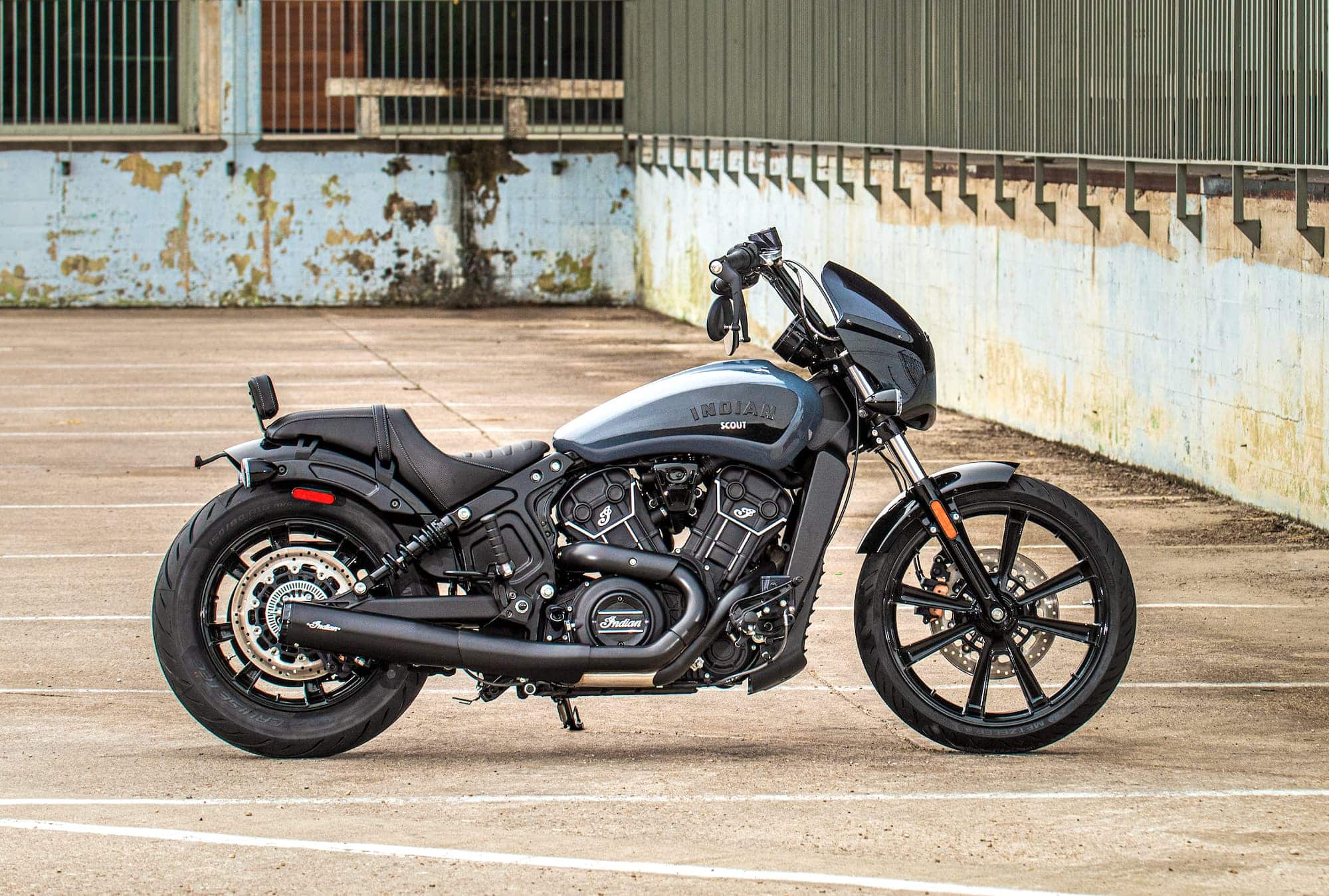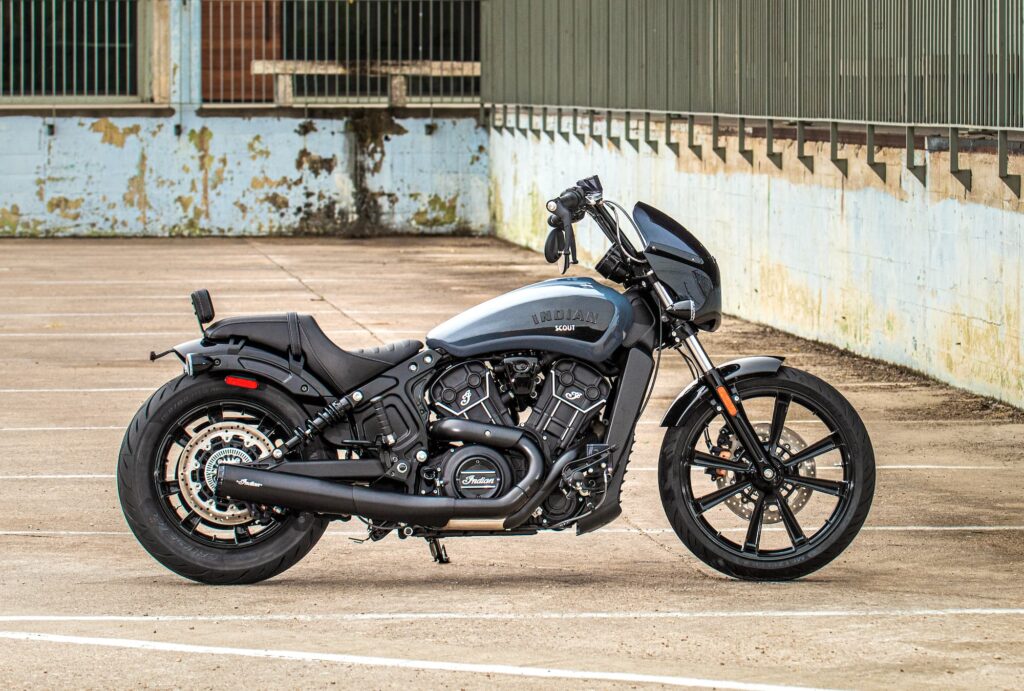 Finally, the Indian Scout — available as a Bobber, Rogue, and in other configurations I'm picking the Rogue, but you could really pick any.
On paper, I know… the Indian Scout isn't an obvious comparison for the big air-cooled twin that the Indian Chief is. But I feel it important to mention because you'll see them both at the dealership.
Since the Scout Rogue looks cool, performs well, is much cheaper, and is right there, next to the Chief, it's worth mentioning. Who wouldn't want to save around 40% of the sticker price and still have an awesome bike? This guy wouldn't.
First up, the Scout is a much smaller, lighter, and lower-capacity bike. But that doesn't make it small or slow by any means.
The 1133 cc engine in the Scout is liquid-cooled. That, plus the way it's designed, means you can rev the Scout a lot higher. But it has low-end torque, too. Plus, it sounds awesome. Look, I really like the Scout's motor. It's in a sweet spot that makes riding a blast. I think it might be my favourite engine in the "~100 hp street bike" category.
Still, liquid cooling means you have to have arguments on forums about the Best Coolant. (Or you can visit your dealership and pick up the recommended stuff!)
The second thing about the Scout is that it's generally a lower bike that has forward controls rather than mid-controls like the base model 2022 Chief. This means you'll get more of that cruiser feel, but you'll pay for it if you have a bumpy road.
Finally, all variants of the Indian Scout don't have a fairing or things like cruise control as options. It's a mid-range cruiser designed for short blasts. If you take it on a 1000-mile ride, you'll enjoy it, but you'll be outside the Scout's comfort zone.
So is the Indian Chief for Me?
I'll be honest — I couldn't decide to sell my two bikes just to get one Indian Chief (plus spare change for a track bike or something). Both my bikes give me a lot of what the Chief gives me — an engaging ride, cool factor, uniqueness, and enough comfort.
But the sticker price for new Indian motorcycles is a really big… sticking point. I'm not Jay Leno and my garage space and budget is limited.
The other problem is that the alternatives to the Chief are pretty compelling.
Yes, you pay more for the Harley-Davidson brand name. But you get a lot in return — dealer networks everywhere, passionate Harley-Davidson nerds filled with experience and even more opinion, and resale prices that don't drop dramatically and sometimes even go up.
The final problem with the Chief that even though the new Indian motorcycles have been around for nearly a decade now, I'm still not entirely sure what the future holds for them. Plenty of people fell in love with Victory motorcycles only to have the rug pulled out from under them, with support only promised until a certain point. If I buy a Harley or BMW cruiser I absolutely know I'll be able to find parts for that bike decades into the future.
So, for now, the two bikes I have better suit my riding style and the conditions around me. But if your circumstances are different, the Chief looks damn good.