The CBR600F4i is one of those cult sport bikes, a Goldilocks of sorts between sports performance and everyday comfort that has somehow stood the test of time without anything quite taking its place.
If you find one in good condition, not thrashed, and with low miles — they're a great sports bike with few parallels, especially in that price range!
For those of you who are worried about buying a 15-20-year-old sports bike and wondering "why the heck would I do that when for the same money I could have a near-new SV650?" well… here are a few reasons why.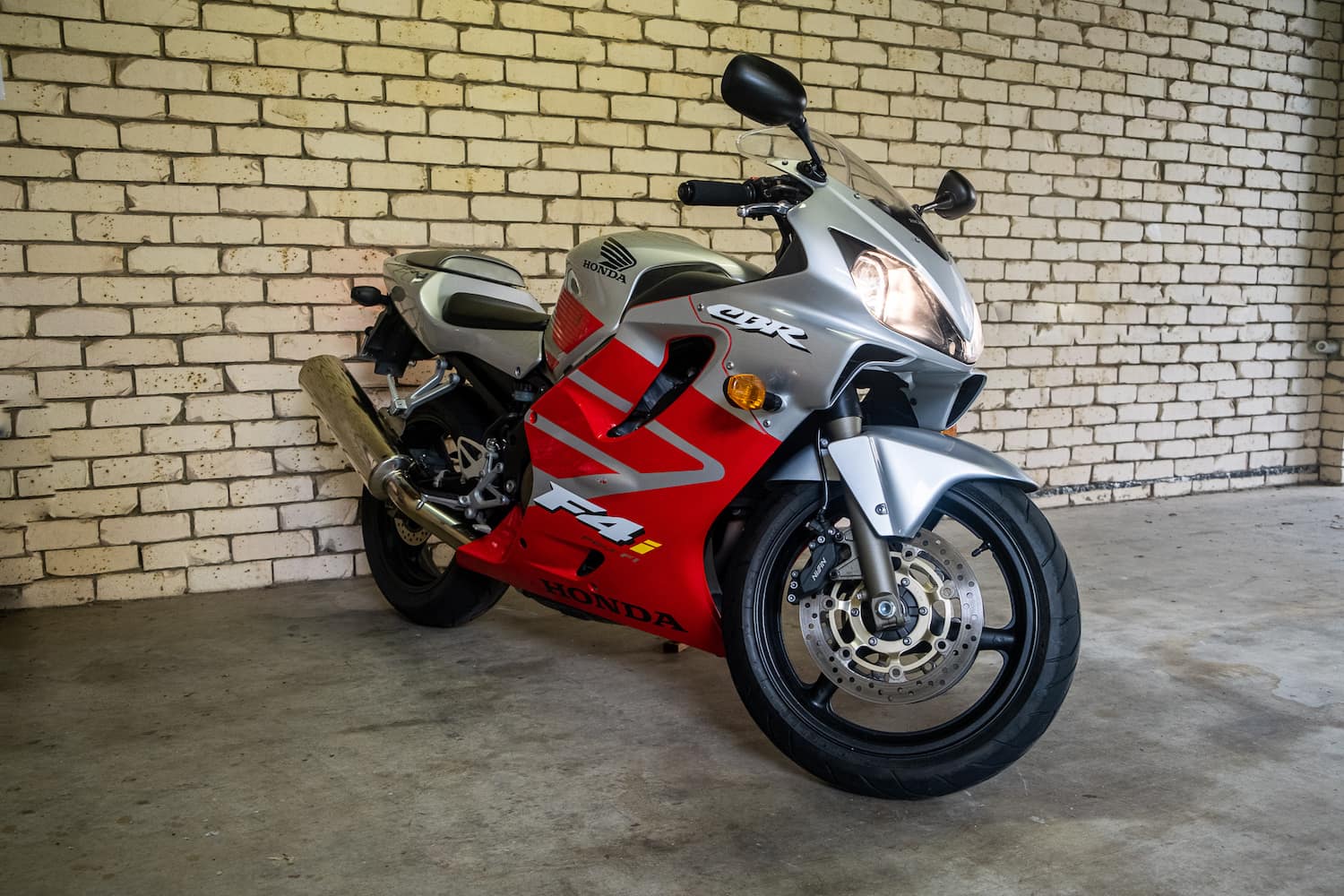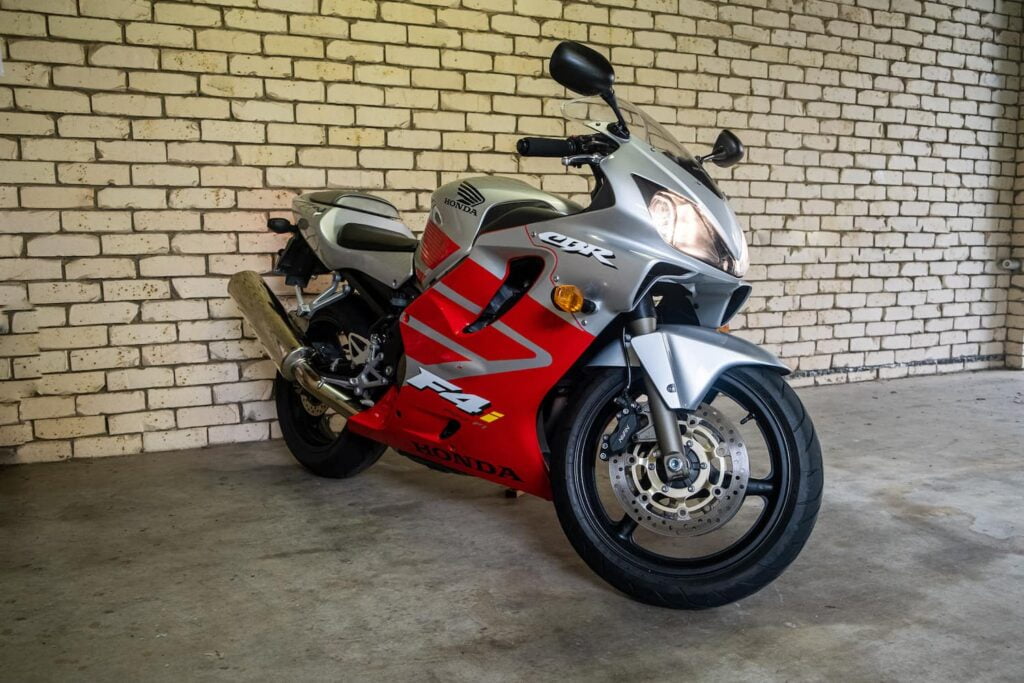 In the late eighties and through the nineties, Honda launched and iterated on its series of sportbikes for the everyday person — the Honda CBR600F series.
If you browse classifieds and see things like F2 or F4 and think "hey wait, what's the difference between these numbers? What changed? How is the F4 different to the F4i?" then you're in luck — you can read my buyers guide to the Honda CBR600F series, from 1988 until today, with the CBR650R, which shares the same spirit.
But if you're particularly looking at what I think is one of the very best in the series, then join me for a deeper look into the CBR600F4i.
Are you obsessed with motorcycles?
Well, I am. That's why I created this site — as an outlet. I love learning and sharing what others might find useful. If you like what you read here, and you're a fraction as obsessed as I am, you might like to know when I've published more. (Check the latest for an idea of what you'll see.)
Brief intro to the CBR600F4i
Briefly, the CBR600F4i is the fourth iteration of the CBR600F series, which started in 1988. The F4i is the minor update to the F4, but with added fuel injection and better suspension (fully adjustable cartridge forks) in the "Sport" version.
Like many motorcycles with fuel injection, it's slightly little hesitant in low RPM as it switches between open and closed loop. People often tune this out with a Dynojet Power Commander module. We all thought fuel injection would get better over time, but as emissions regulations get tougher, so does it get tougher to keep a fuel-injected engine from being twitchy!
The CBR600F4i was also temporarily the last of the CBR600F series before the more track-focused CBR600RR. Even the CBR600RR is pretty comfortable, but it got things like upside-down forks (after a couple of years) and a higher powerband that pushed it a bit more into track territory. All the marketing about the CBR600RR is track photography these days.
See our buyer's guide to the Honda CBR600RR, going over the generational changes.
A few years later, Honda re-introduced the CBR600F. But it wasn't quite the same — suddenly it was tame and lacking the energy of the previous F bikes.
Basically, the CBR600F4i was at this sweet nexus point where sportbikes were still comfortable, and yet just was modern enough to have fuel injection. Nice!
The Honda CBR600F4i — Quick specs and stats
Rather than give you a laundry list of specs, here's what I think are the key specs for the Honda CBR600F4i.
Spec
Details
Years made
2001-2006
Engine
599cc 4-cylinder, 4-valve/cylinder, liquid-cooled, fuel-injected
Power
80 kW / 109 hp @ 12500 rpm
Torque
56 Nm (48 ft-lb) @ 10500 rpm
Weight (dry)
169 kg (370 lb)
Weight (wet)
193 kg (426 lb)
Front suspension
43mm fully adjustable cartridge-type fork (conventional, non-inverted)
Rear suspension
Fully adjustable gas-charged remote reservoir
Front brakes
2 x 296mm discs, 4-piston callipers, axial mounts
Rear brakes
Single 220mm disc, 1-piston calliper
0-100 km/h
(~0-60 mph)
Around 3.1-3.5 seconds
Standing quarter mile
11.7 sec / 199 km/h (124 mph)
Key specs of the Honda CBR600F4i
What do those specs mean? Well, it's over 100hp and under 200 kg wet, which makes the CBR600F4i a pretty quick bike! Anything over 100 hp and not too heavy is quick (even the stout Indian Scout Bobber, which weighs in at 250 kg). However, the F4i does take time to get up there in the rev range — below 7000 rpm the torque is pretty mediocre. Like most 600s, you have to spool it up.
Let's look at the torque curve of the stock CBR600F4i engine.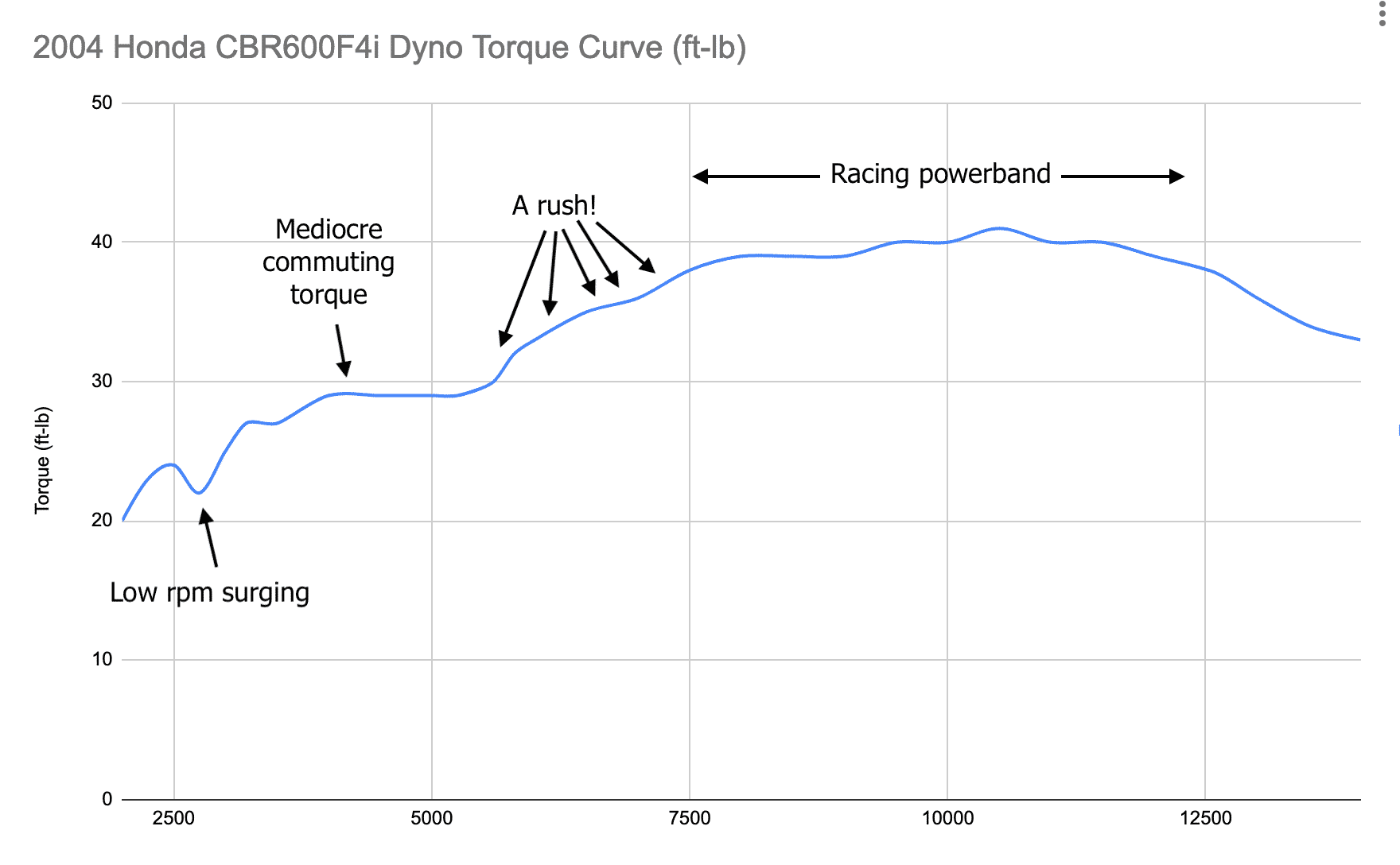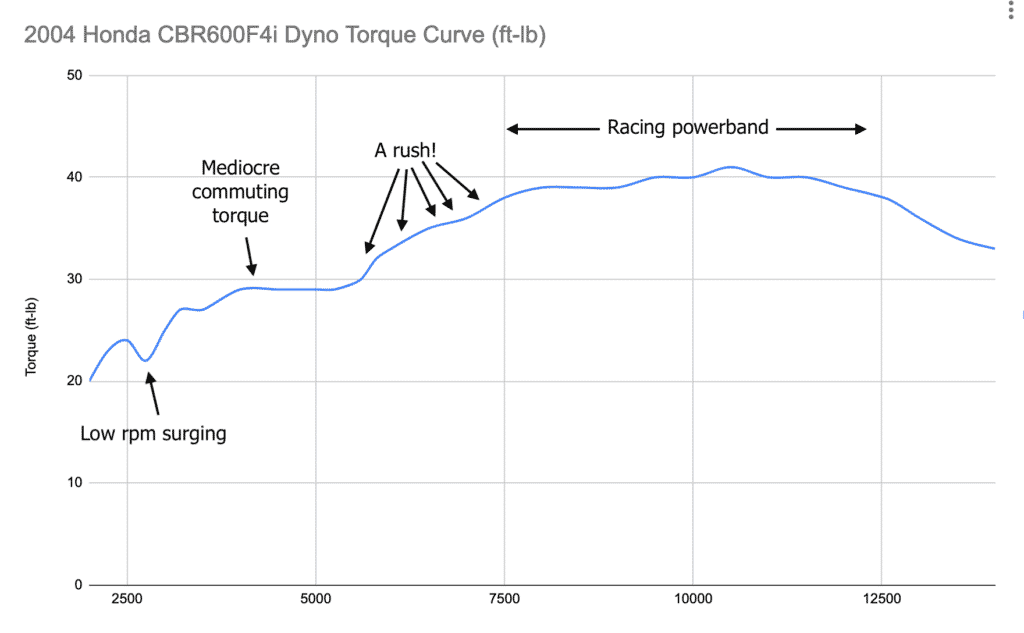 In the low rev range, the Honda CBR600F4i surges a little as it tries to figure out what you're doing. "Are we accelerating? Why are we not accelerating? You want to keep a constant 2500 rpm?? Have you SEEN this bike?". It doesn't seem to get it. This makes it a bit delicate to ride under 3,000 rpm, or even 4,000, which makes low-speed turns slightly dicey. (You can tune this out. In some cases, an old bike might just need new plugs.)
There's a moderate flat torque curve under 6000 rpm, at which points it starts to race upwards. This is where you get that jet turbine "whoosh!!" feeling common to many 600s that makes them such a rush to ride. The front lifts slightly (or dramatically, if you're stunting), and you know you're on a sportbike.
Above 8000 rpm, the CBR600F4i is really roaring. It keeps a pretty flat amount of torque up to 12500, where it begins to taper off. If you're keeping it spooled up, that's the place to be. Oh — it'll do over 100 km/h or over 60 mph in first gear.
What the CBR600F4i is like to ride
You can't read a spec sheet, but I want to put some of those numbers in context.
I've already talked about the powerband. What does it mean in reality?
What is commuting on the CBR600F4i like?
When you're commuting around city streets, the CBR600F4i is really easy to pilot. It's quite narrow, and so lane splitting is easy. The mirrors give good visibility (bless you Honda, you do know how to make functional mirrors).
Because the bars are a little higher than modern 600s and the tank is a little shorter, it's pretty easy to switch between upright position and tuck. Scoot your bum forwards and straighten your elbows and you're up; push your bottom backwards and bend your elbows and you can quickly lose track of how fast you're going.
When commuting, you're unlikely to escape into the warp speed section of the torque band, and it's OK. There's enough torque. You have about as much torque as a Kawasaki Ninja 400 or a Honda CBR500R in the peak of their power bands (except you have it lower down), and you'll stay there until you hit the rush at 6,000 rpm or so — which in first gear is 50 km/h (~30 mph).
Many people who commute on a CBR600F motorcycle change the gearing, which is quite easy. A common gearing change is to go down one tooth in front and then up two teeth in the rear (-1/+2). If your chain and sprockets are due for a change, go this way!
See our guide to math for motorcycle gearing, including our own calculator (where you can do the math yourself).
Navigating city streets is a little trickier than on a naked bike (like its stablemate the Honda Hornet 600, a.k.a. the CB600F) because of the clip-on handlebars which make low-speed turns a little more difficult. Once you get used to them, they're fine for ducking in and out of traffic. You get the narrowness advantage, after all.
But doing things like U-turns is tougher. It takes a bit more precision and poise, and more controlled trail braking than it does on a naked bike with its larger turning circle and more upright position.
The clip-on handlebars get a bit buzzy. I've had buzz on motorbikes of all sizes, price ranges, and vintages, and I find this to be towards the buzzier end of the spectrum. Reviewers love to say "it's because it's a 4-cylinder" or whatever, but honestly, buzz is just a fact of life unless you have a giant motorbike whose chassis absorbs it all (in my experience). Some grip puppies will sort you out.
But is the CBR600F4i comfortable?
Everyone is worried about commuting on a sportbike. And rightly so! Your feet are higher up and your body is canted forwards onto the narrow handlebars. There's more strain on your lower back and on your wrists.
That said, the CBR600F4i is more comfortable than modern motorcycles of the same class. Take a look at the riding position of the CBR600F4i next to a modern Yamaha R6 and you'll see that there's an obvious difference in the clip-on height:


As you can see, compared with a more modern sportbike, the CBR600F4i has
Higher bars — 2-3cm (about an inch) higher
Slightly lower seat
Slightly lower foot-pegs
The latter two differences are smaller, though, and could be remedied by using bar-risers on an R6, which are available, but could cause clearance issues (it's never perfect).
The F4i is essentially like a modern R6 or CBR600RR that has been equipped with a 20-25mm bar riser (like HeliBars). Of course, you could put bar risers on an F4i and then you have a bike that's even more comfortable!
I've seen the F4i advertised as "Sport Touring", even, by dealers. I don't think I'd go that far. I mean you can tour on anything and sport on anything… but the CBR600F4i is just better described as a "sport bike that is more comfortable than most".
Secondly, let's talk about handling.
The CBR600F4i is moderately quick by modern 600 standards, but is a little on the heavy side. Since I'm writing this in 2021, it's reasonable to consider you may be buying any other 600cc class bike released in the last 20 years. Twenty years!
To put the weight in perspective, here's what a few motorcycles of the same class and rough price range weigh (fully fuelled)
Our hero, the 2001-2006 CBR600F4i: 193 kg
2015 FZ-09: 187kg (similar power, but much torquier down low, and the weight seems lower down, too)
2013 ZX-6R 636: 192 kg, and also comes with ABS — a bit more expensive. (See the model history here.)
2002 Honda CBR954RR: 192kg — lighter than the CBR600F4i, with inverted forks, and more powerful, and with more torque down low
In other words, if you want balls-to-the-wall power and a classic design, then get the CBR954RR — if you can find one. They're pretty rare. I missed one six months ago and don't know when I'll see one again. And the modern FZ-09 is frankly a little insane, a "hooligan" bike.
Back to what the CBR600F4i is like to ride. One thing that makes the CBR600F4i particularly amazing as a used bike is the suspension. The front suspension is made of large cylinder (43mm) fully-adjustable cartridge forks, and the rear is a remote-reservoir fully adjustable shock! Most bikes that aren't full race spec don't have that level of adjustability.
Even though they're "conventional" forks (not inverted), the handling has a lot of potential — even in stock form. The only thing to bear in mind is that it's likely in a bike this old that the suspension fluid hasn't been changed in ages, the seals may be shot, and the forks may be pitted. So change the fluids (Honda recommends SS-8 or other 10W suspension fluid, fix the seals if necessary, and get the suspension set up for you.
It's not to say that it can't be made to turn quickly. Keep the bike in good condition and it'll be very capable at turning, more than I am!
What is the engine of the CBR600F4i like?
Many people accustomed to bigger bikes and bit open roads will think a 600 is small. But that's probably before they've ever sat on one wound up to 8000 rpm with the throttle wide open.
Frankly, that amount of power is more than anyone needs in anything on the road. It's just unnecessary. It's also completely awesome. Above 8000 rpm there's a howl from the intake and the exhaust, even when both are stock (which they are on mine). You do not need an aftermarket exhaust on this, unless you are doing a full build perhaps, or the weight matters.
Some people think 4-cylinder engines don't have character. I was definitely indoctrinated this way when I was young, but bikes like the Hayabusa and the F4i helped me realise that no; some 4-cylinder engines are boring, but some are firecrackers. It really just depends on the tune and the purpose of the bike. The hotter cams and more aggressive tune of a Honda CBR600F4i make the engine feel very different to the one in a more sedate bike like the Honda CBR650F (one of the descendants of the F4i but on the "street" side).
The pistons in the Honda CBR600F4i's engine are small, but there's still a lot of engine braking, particularly in the lower gears. I never felt it lacking in this. I've ridden plenty of twins in the 1000-1,00cc range, and didn't feel like those had a dramatic amount more engine braking.
What I really enjoy about smaller sport bikes is that you have to work them a little harder than a litre bike or a standard. You have to keep them higher in the rev range to keep them singing, which means paying attention to your RPMs and your gears. It keeps me a lot more engaged, which makes a ride much more therapeutic. I don't play music in my helmet while riding the F4i, unless I'm on the boring straight road bits.
But the thing that's wonderful about the 6,000 rpm+ rush is also the thing that's difficult. In everyday commuting, one is rarely at revs that high. If you let yourself get there in first gear, you'll already be past suburban speeds (at 7,650 rpm in first, you're at 60 km/h or 40 mph). The gearing, therefore, really is optimised for going fast and keeping the revs on the boil at high speed. (Have a look at my guide to motorcycle gearing, plus my own Google Sheets calculator to better understand the day-to-day gearing.)
So I have to ask myself a question: Do I want to under-use this bike 95% of the time to really use it just 5%? Or should I be optimising my motorcycle choice for that other 95%? A lot of this is to do with where I live right now, where speed limits are low and police are quite draconian. A sportbike is a ticket to … speeding tickets.
(Or should I change the chain and sprockets?)
When I cheekily have it up there for some of my riding, it feels incredible. I loved every moment of it. But I am always on high alert.
But if I were in the US or Europe (which most people reading this website are), I would love to fling this classic sportbike through back roads at ridiculous speeds. I still do it, sometimes.
Standard colour schemes for the Honda CBR600F4i
The CBR600F4i came in these colour schemes. Different colour schemes were released in different years. There are so many! Collect them all!
There are actually even more colour schemes out there, I think. I keep seeing new ones.
Note that some of the above have a joined seat, and some have a separate seat. The separate seat is the "Sports" version. You could get both in many markets, but in Australia we only got the Sports.
The most popular colour scheme among modern collectors is red with black injection. But they're hard to come by.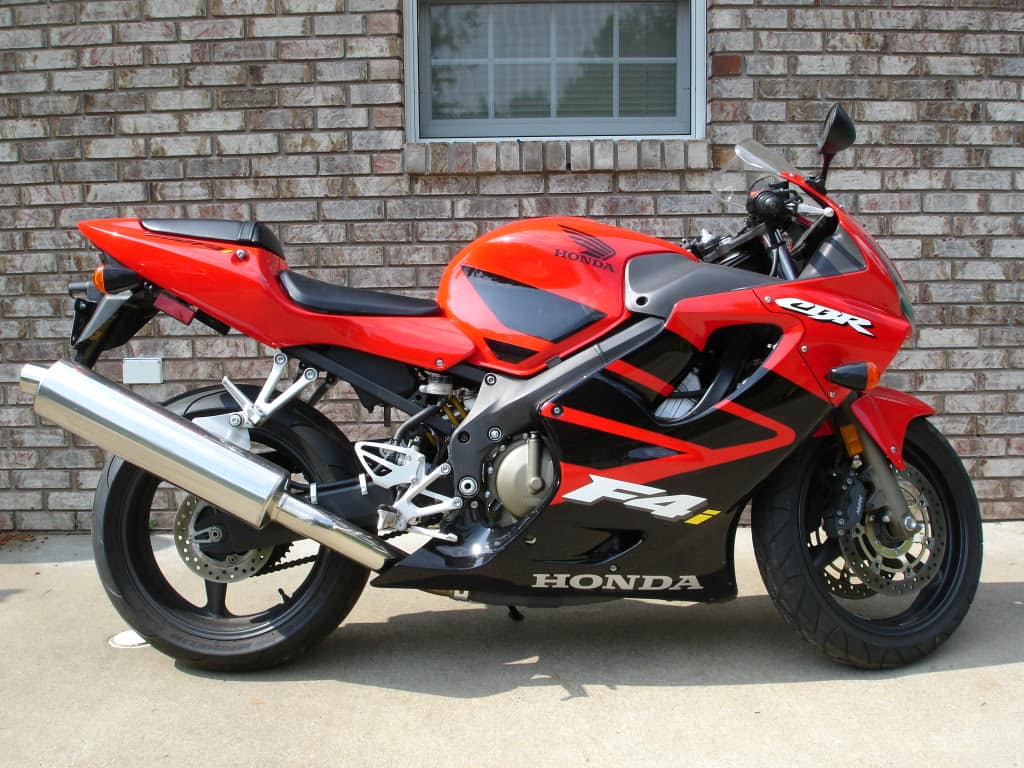 I think they were popular back in the day, as I still see them for sale (implying many were sold). However, they may also be aftermarket body kits.
I think every colour scheme for the CBR600F4i looks great! I'd also be quite partial to a yellow and black one.
What to look for in a used CBR600F4i
I've looked at a lot of bikes. Firstly, it's worthwhile going over a used motorcycle inspection checklist like the one I use.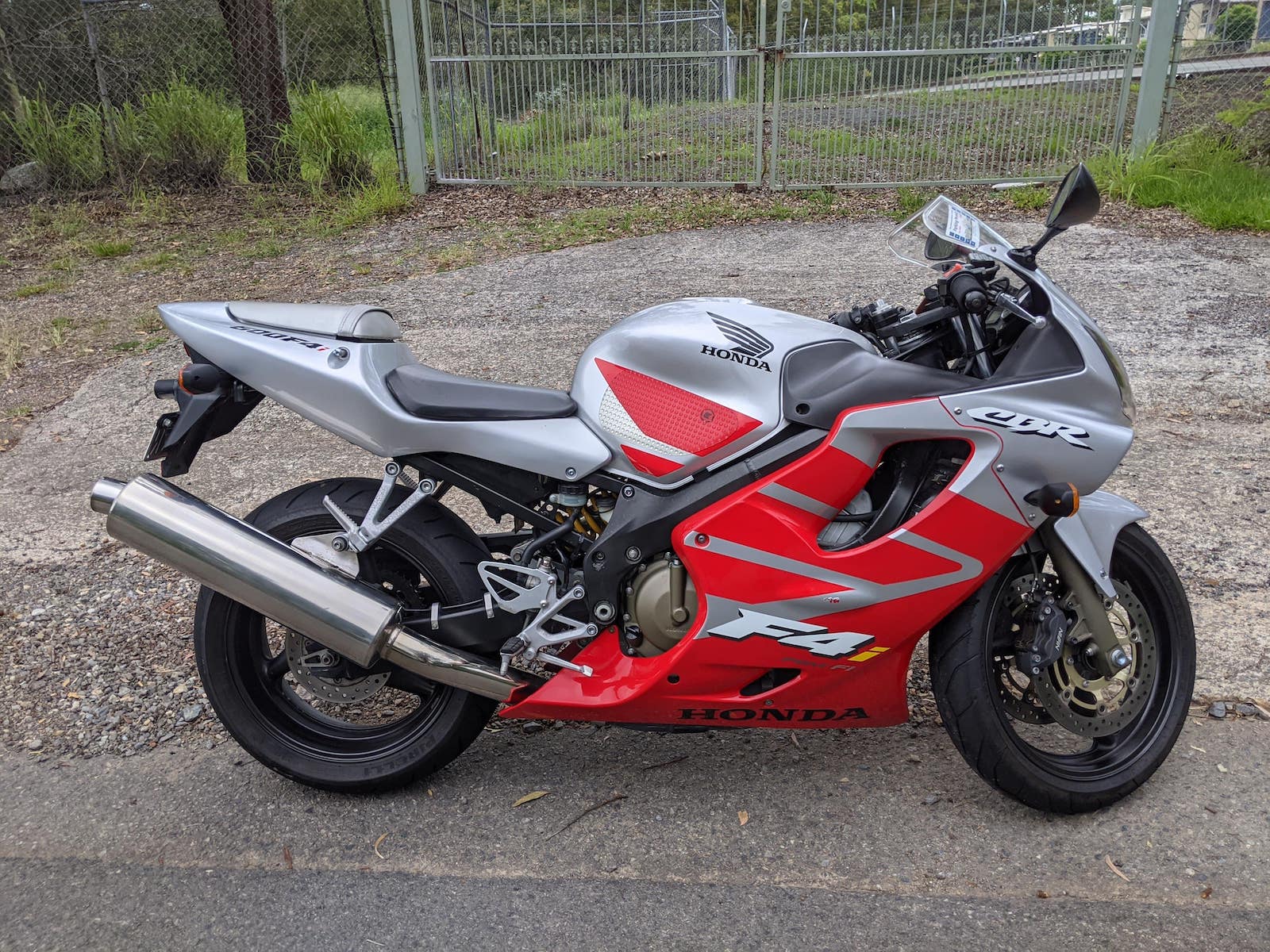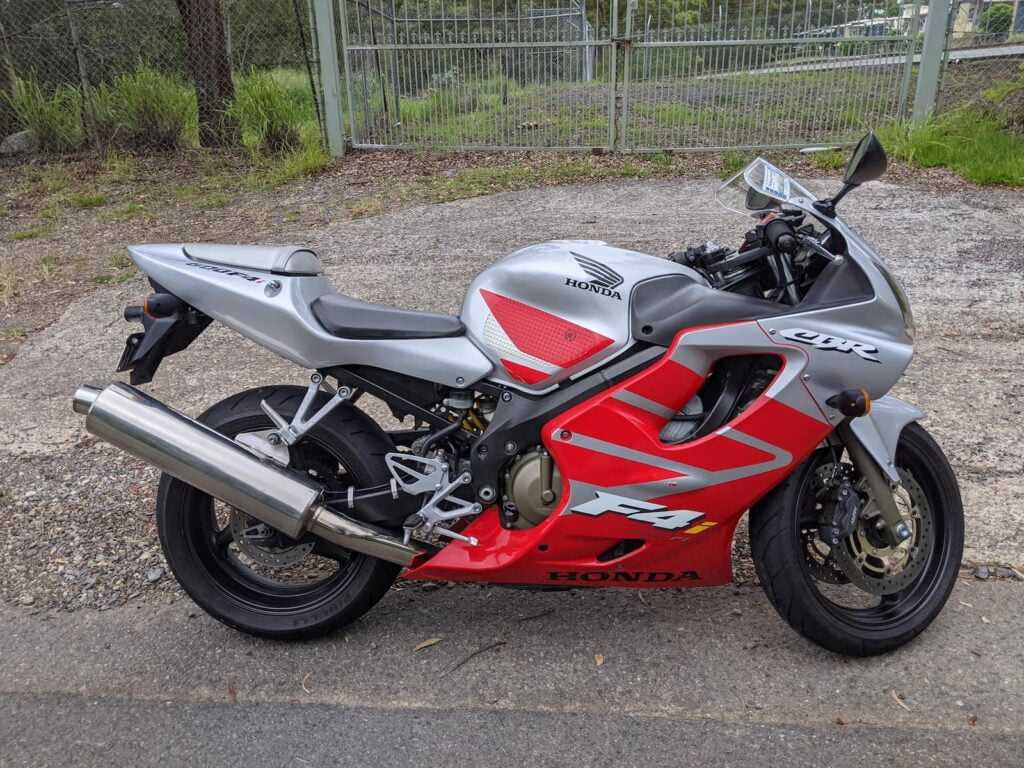 Because the CBR600F4i is relatively old now — up to 20 years old — there are some general things to watch for that can happen to old bikes. These are common on bikes I inspect, and they include
Leaky fork seals — luckily an easy fix on an F4i as they're conventional forks (it must be easy, as I did it myself)
Old fork oil (owners tend to not do this after a while)
Failing rear suspension (if it's squeaky or squishy)
Sticky chain, worn sprockets
Some bit of the charging system gone (especially the regulator/rectifier) — make sure the headlight doesn't dim as you run it, and take a multimeter and test the charging system if you can.
Old tyres — one I inspected had tyres that were nearly 12 years old. Somehow it passed the inspection anyway.
Old brake lines that may be brittle
Rust/gunk in the tank
Evidence it has been tracked. Tracking a bike sometimes is fine. A good owner will tell you they did. But if they try to lie about it and you see beaded up rubber or holes to pin down bolts, then it's a bit of an indictment of the driver.
Fluids that haven't been replaced in a while (brake, oil, etc.)
That's a long list of things to check on an F4i, or on any motorcycle.
Specific to the CBR600F4i, check for:
A noisy cam chain: Do you hear a rattling from the engine? Typically on engines over 40,000 km (or 25,000 miles), the cam chain gets noisy. People solve this by installing a manual cam chain tensioner. You really should do this, because if the chain skips a tooth it's trouble, and if it breaks the party's over.
Low rpm fuel surging: Do you struggle to keep a constant speed when going around slow corners? Surging is now your enemy! The trick is to either get a fuelling re-map or to keep the throttle on the boil.
As for why surging happens — read about it in my motorcycle fuel injection FAQ.
Apart from that, the CBR600 engine block is known for being very clean. Things like failing engine gaskets and oil leaks are not commonly cited as problems.
Common problems with the CBR600F4i
Even if when you buy your F4i there's nothing wrong with it, here are the problems that might occur while you own it.
The good news is that every single one of these "problems" is a cheap and easy fix. None of them is a crazy endemic problem like the tendency of the Ducati 1098S to spin a main engine bearing.
Working on the CBR600F4i is also quite easy, all things considered. Yes, there are fairings to remove. But without doing that, you can lift up the tank like a naked bike. You can't do this with most modern sport bikes!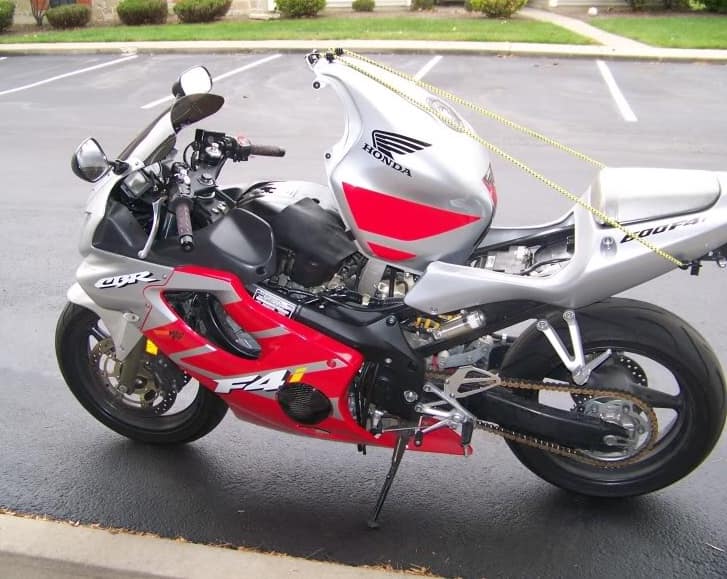 Cam chain looseness/noise/rattle — People commonly complain about cam chain noise on many old Hondas. The fix is always the same — replace the chain and/or tensioner. It's a cheap part and about 2 hours of labour. Many owners do it themselves.
Fuel pressure regulator fails — The FPR failing means the injectors will have too much fuel pressure behind them (rather than the 50 psi spec) and flood the engine. You'll notice this as your bike running too rich (smoke), fuel smell in the exhaust, or just the bike not starting at all. A replacement FPR is a trivially small amount of money and you don't have to open the engine to replace it.
Crank angle position sensor — Also known as the rotation sensor, the crank position sensor senses the rotation of the engine to help with timing. They are an inert piece but can get fouled up by time or many engine revolutions. Again, a cheap and easy fix — I did one recently on a different motorcycle and wrote up the repair guide.
The regulator/rectifier fails — This isn't Honda-specific, but Honda owners seem to think it is. The regulator/rectifier takes the stator coil's AC current and converts it to DC current to charge the battery. When it fails, your battery may not charge. It may also take out the battery if it allows high voltage spikes to hit it. If you notice a problem with the charging system, replace it quickly — again, cheap and easy fix.
Final thoughts — Buying a CBR600F4i
Just a few years ago, the CBR600F4i was more common — plentiful, almost.
These days, in most major markets, a good one seems to come up once every few months at most. So you have to really be looking for this model and then wait for the right one. In the meantime, a dozen good SV650s, ZX-6R 636 sport bikes, and Yamaha R6 motorcycles will cross your path and it'd take a determined collector to wait for the F4i!
But if you do wait, you won't be disappointed.