This is a brief history of greatness — The Honda CBR600RR, from 2003 until today.
The other day when visiting a local dealer, I saw something that caught my eye: a 2017 Honda CBR600RR.
On a misguided (but awesome) quest to rediscover my riding youth, I thought — maybe a sport bike is what's in order. The classic "oh no, I'm old" motorcycle choice these days is a BMW R 1250 GS. Great bike, but there will be time for that later.
On the other hand, one of the most youthful, impractical choices is a supersport bike in the 600cc class. They're fast, they're exciting, and for many people, they're hell on your back and wrists. Many riders complain that they're impractical but addictive. The Yamaha R6 is the pinnacle of these right now, but others in the class are almost identical, and even have a few pros and cons.
It was while pondering a supersport that I saw this red and black 2017 Honda CBR600RR at a dealership and thought: it's time to give one of these a spin.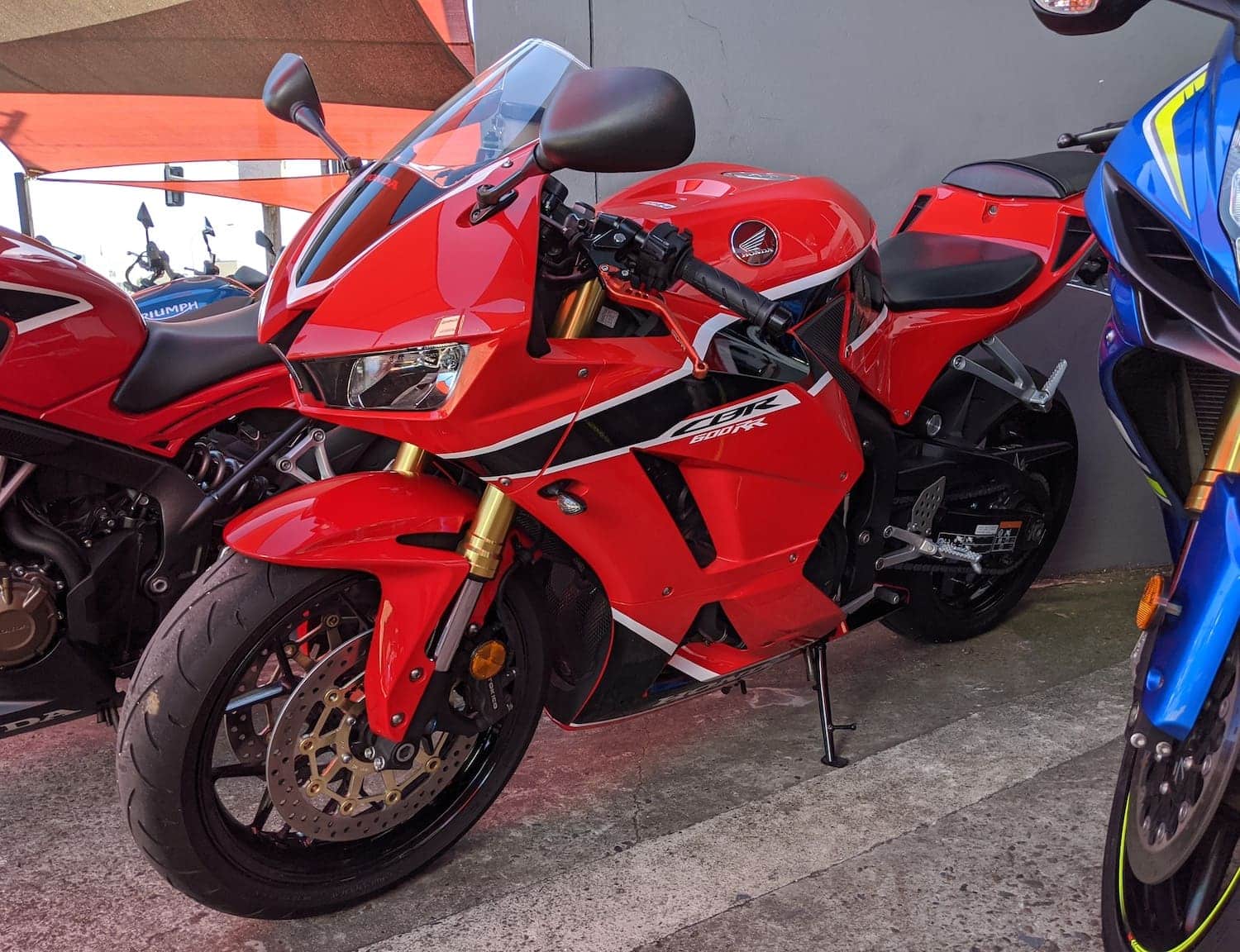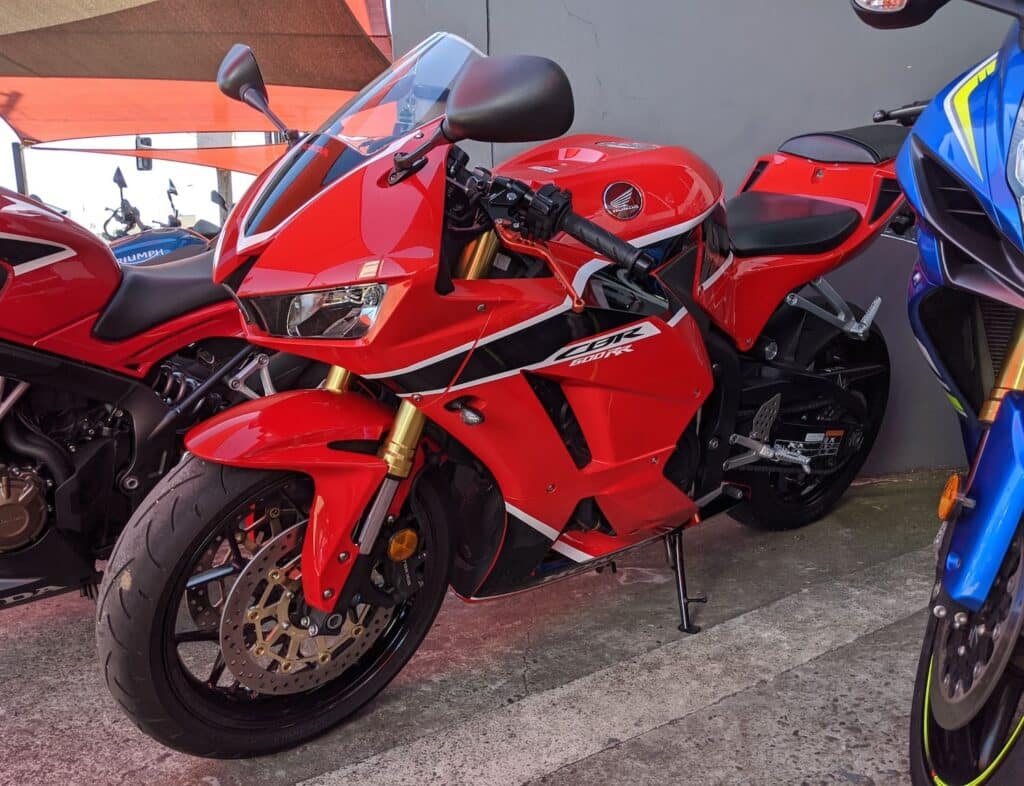 Doing my research on which model of CBR600RR to buy and what to look for, I decided to put up my notes for others to use. Enjoy!
Spoiler — I did eventually get a sportbike (and have since been through several). I did regret not getting this CBR600RR as their prices just keep going up!
Are you obsessed with motorcycles?
Well, I am. That's why I created this site — as an outlet. I love learning and sharing what others might find useful. If you like what you read here, and you're a fraction as obsessed as I am, you might like to know when I've published more. (Check the latest for an idea of what you'll see.)
About the Honda CBR600RR generally
In a nutshell, the CBR600RR is the more track-focused version of Honda's earlier CBR class.
Before the RR (which stands for Race Replica) Honda had the original series of the CBR600F (see that article for my long guide to that series of motorcycles). Honda later re-released the CBR600F in 2007 in much more muted form — those are low-spec streetbikes.
The original CBR600F (often referred to as the CBR600F, F2, F3, F4, and F4i) was a series of "balanced" sports motorcycles. They was supposed to be race-able with their modestly high-revving engine and clip-on bars, but still comfortable enough for daily use.
But in 2003, Honda decided to split out its 600-class motorcycles into two families: the street-friendly F series and the track-oriented RR range. That was when the CBR600RR was born.
Since 2019, in the street-oriented class we have had the Honda CBR650R, a street-oriented sports motorcycle that looks great has reasonably comfortable but somewhat sporty clip-ons, and a high-revving engine that produces 94hp. Many (including me) think it's a callback to the Honda CBR600F4i of 2006, a motorcycle that captured the balance for many (including for me, which is why I bought one).
I'd buy the CBR650R in a heartbeat. I planned on buying a CBR650R, as I wrote in that article. Unfortunately, in Australia (where I was for a while), the CBR650R is only available in restricted form — half the horsepower. C'mon, Honda (Australia)!
But Honda still produces the CBR600RR… though things have changed slightly since the first incarnation. Not much. But slightly.
Yes, the Honda CBR600RR of today is very, very similar to the original 2003 Honda CBR600RR. It looks very similar. But it's lighter, has more mid-range torque, and has optional ABS.
Despite those changes, one thing that hasn't changed for the Honda CBR600RR is that it's the lowest-power in its class. I'm not sure why — but Honda faithful often explain this kind of thing away by saying that Honda motorcycles are more driveable on the street, whereas other brands sacrifice this for track capability. This trade-off usually means a smoother powerband that doesn't give a torque (and power) surge at higher RPMs that other motorcycles might do.
Aesthetically, most modern sport motorcycles have a lot in common, but one thing that the CBR600RR has retained even until today is the under-seat exhaust.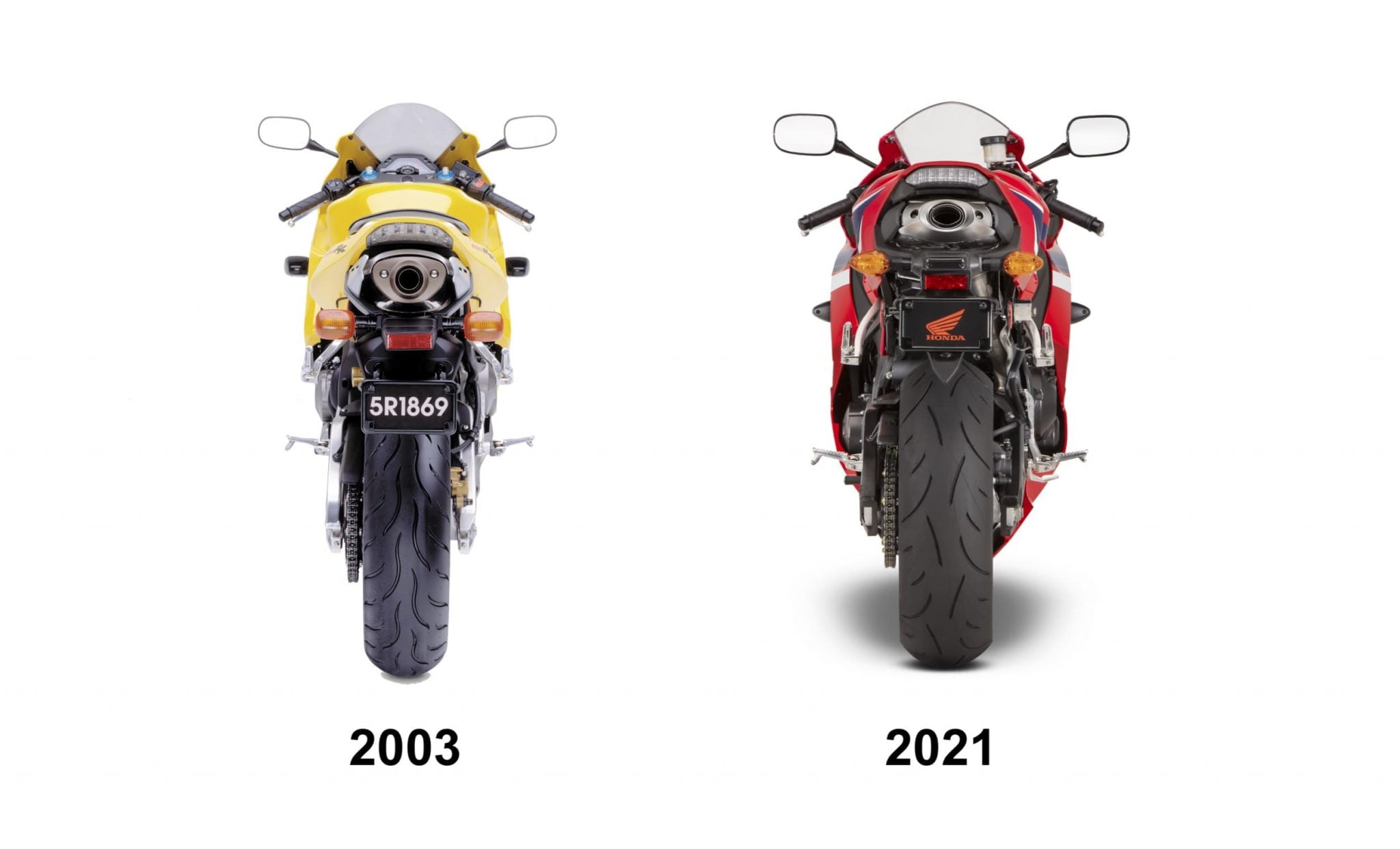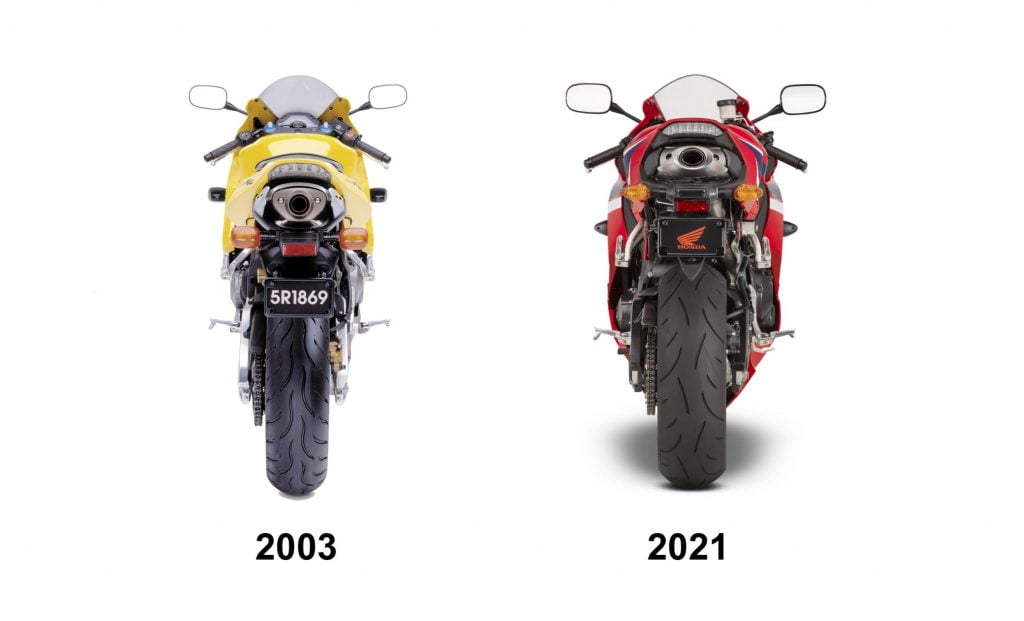 Many other sportbikes abandoned the under-seat exhaust to reduce weight and to bring mass closer to the centre. But that under-tail exhaust sure does look good!
What's the CBR600RR like to ride?
Despite being a (relatively) high-powered race-oriented sport bike, the Honda CBR600RR is actually very easy and forgiving to ride. In its class, the CBR600RR is still the most comfortable sport bike, and it has been for all its life (in my opinion — every person's body is different).
The position on the RR is sporty, but not what I'd call extreme. This is helped by the fact that the tank is relatively short which means that you don't HAVE to be crouched down over the tank to reach the grips.
I'm six foot/183cm tall and I find it easy to keep looking forward. Of course this depends on arm and torso length too, but let's say that I'm fairly median-proportioned (not lanky, not stocky).
By comparison, the Kawasaki ZX-6R is a bit more aggressive (but still overall comfortable and very ride-able every day), just because it's longer, and the Yamaha YZF-R6 is more aggressive still.
Aside from the position, the seat on the RR has decent padding, and the leg placement doesn't require extreme flexibility.
The torque and power curve of the CBR600RR show how approachable it is.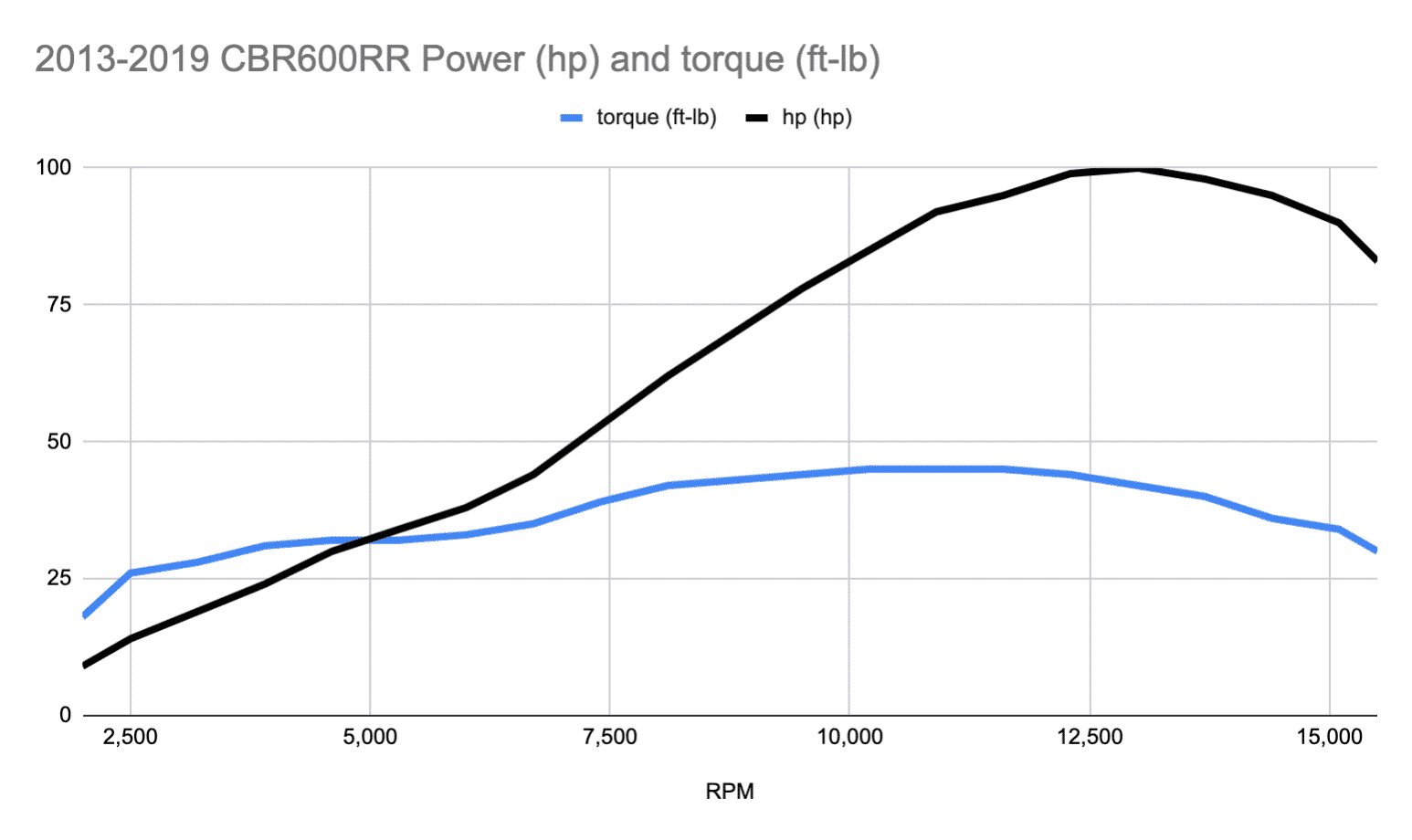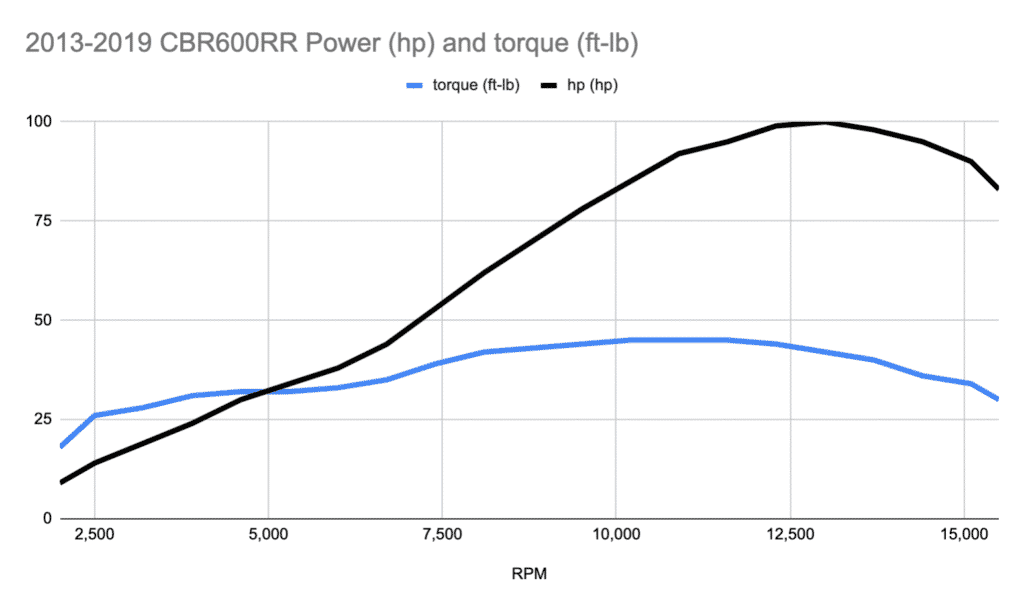 Basically, this is how power on the Honda CBR600RR (the most recent street-legal spec) is delivered:
Torque has a bottom plateau of around 35-40 ft-lb from 2000 rpm up to about 6000
There's a higher plateau of about 45 ft-lb from 7,500 to above 13,000 rpm
Redline is at 15,500 rpm (but you'll probably shift before then)
In the lower part of the rpm range, torque is lower than other 650cc contemporaries like the SV650, that quickly reach the 40-50 ft-lb. But it's not low. You can just choose to hold the throttle open and rev it out if you want to.
I've always found Honda four-cylinder motorcycles of any class (naked, sportbike, mid-size, litre-class) to be very easy and predictable to ride. They're hard to stall, easy to launch, and easy to live with. Some people describe this as "boring". I think of it as a motorcycle that gets out of your way and lets you do what you want to do.
Also, nothing is boring about the scream of a four-cylinder engine at 10000+ rpm. I don't get sick of it.
For comparison, look at the torque curve of the Yamaha R6: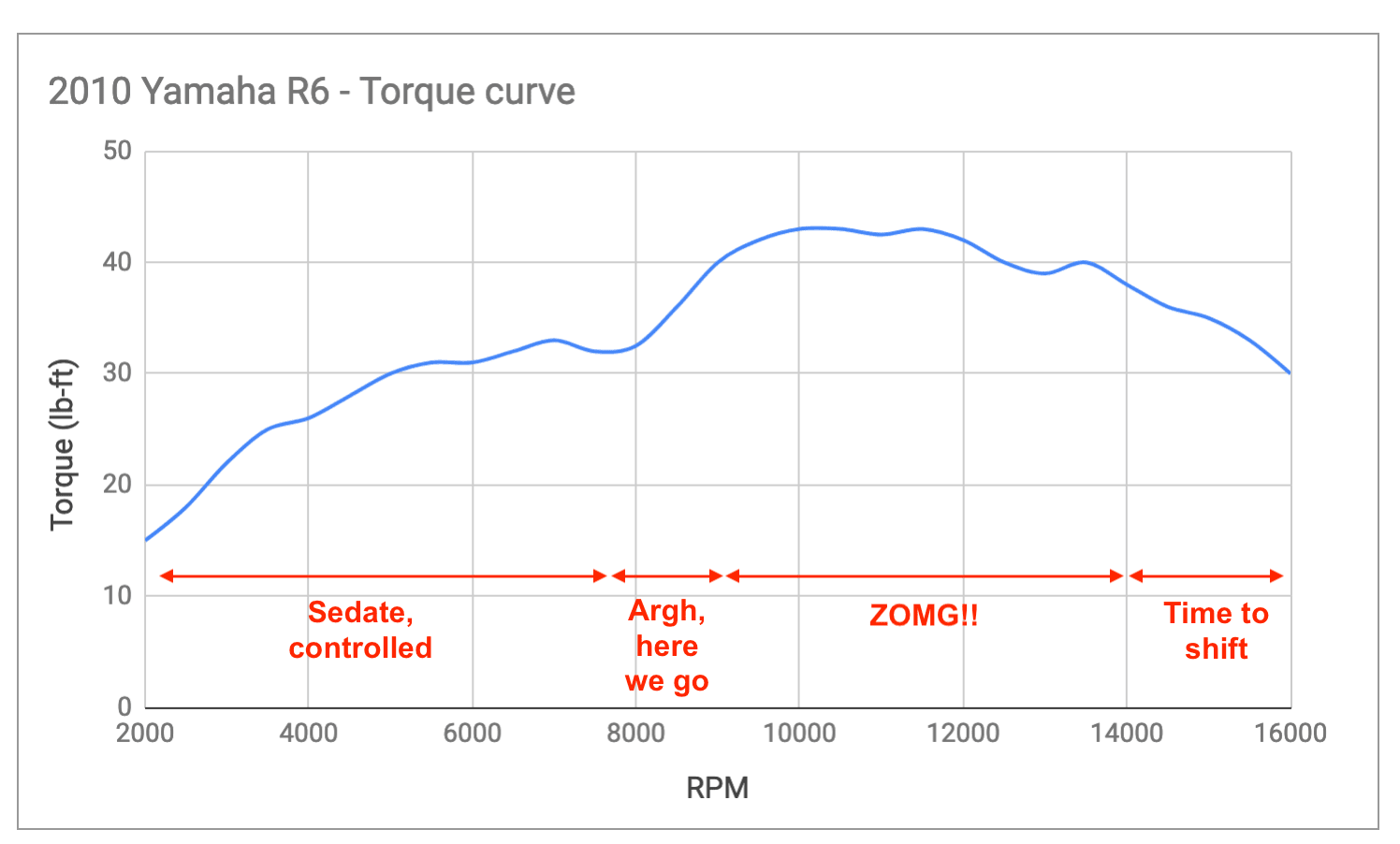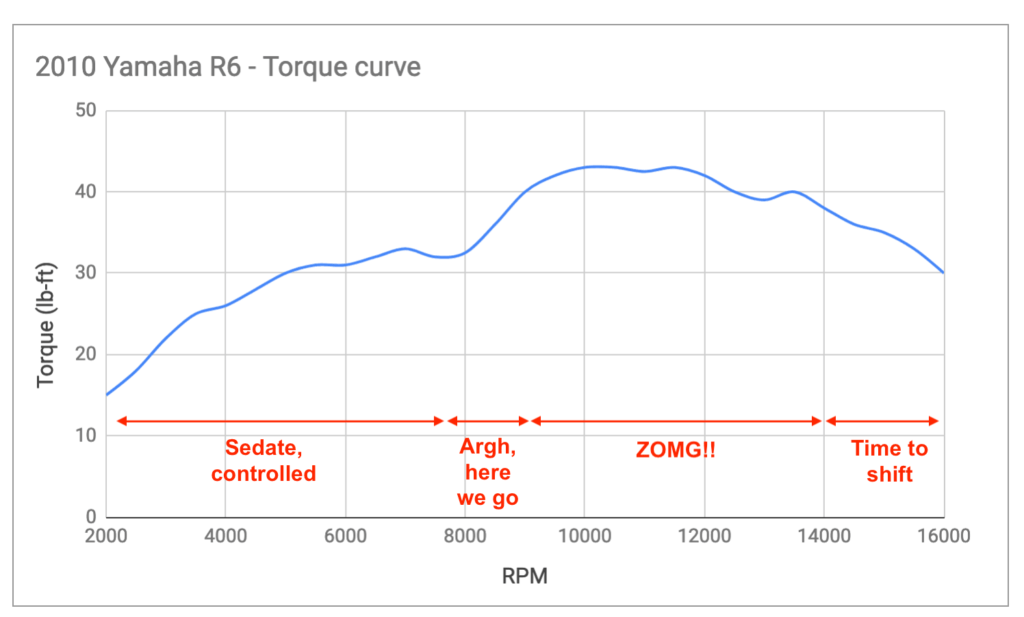 On the R6 (and the GSX-R600 while we're at it) there is a huge jump in torque from 8,000 rpm. It's like a turbo. Yeah, it's fun, and cool in the right hands (look at all that torque!), but it's definitely harder to ride well.
Yes, the Honda's flattish torque curve and vibration-free ride lacks the character of a big twin (including those from Honda), but that's what's great about the CBR600RR: you can poke around town on it, and you can fang it out on the back roads if you want, too.
The only thing I WOULDN'T choose to do on a CBR600RR is an all-day ride across varying terrain. Unless I was up for an arbitrary challenge!
How the CBR600RR compares to competitors
The major competitors for the CBR600RR are the other hot six hundreds: the Suzuki GSX-R600, the Yamaha R6, and the Kawasaki Ninja ZX-6R.
For most of the life of all those motorcycles, the CBR600RR has had the least power.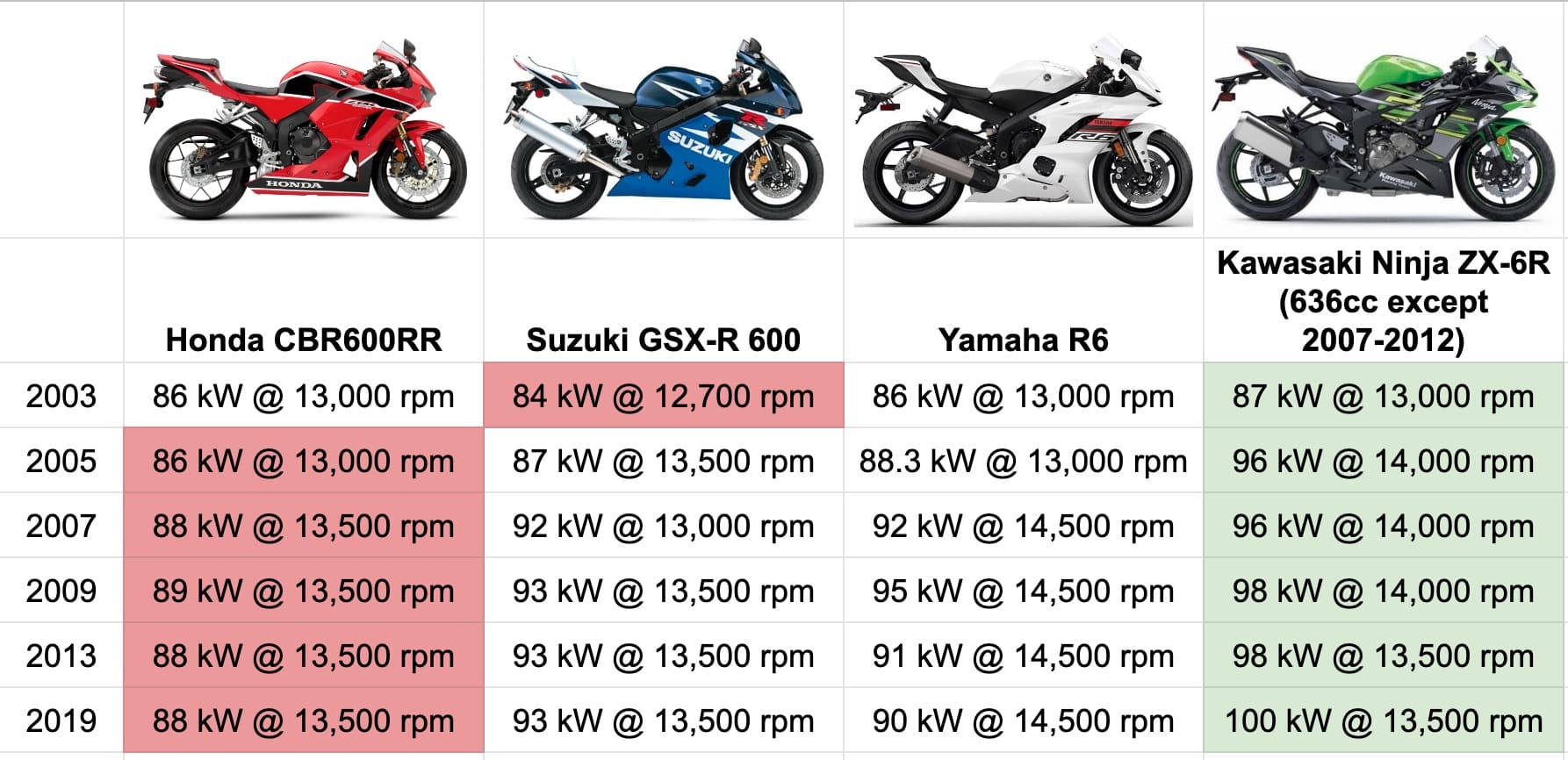 A lot is similar about every motorcycle in the class. Aside from wanting the standard track weapon (the Yamaha R6 for some time), people tend to buy new motorcycles because of a brand preference, styling, a good deal, or even just a colour.
A few notes about each of the major competitors:
The Kawasaki ZX-6R has, for most of its life (other than an interlude period between 2007-2012), had a "cheater" 636cc displacement. This explains how it manages to have class-leading power… even though that's only ~5% more ccs! The Kawasaki has also had more electronics available for longer. I find many used models from the early 2010s with both ABS and the "KTRC" package — traction control with ride modes. People may scoff at this and say that you don't need traction control on a relatively low-torque motorcycle, but it can presumably come in handy at lean on a wet track. (See the Kawasaki ZX-6R buyer's guide here.)
The Yamaha YZF-R6 is the often-quoted favourite for track racing. Obviously, you can track any of these motorcycles and it'll be largely up to the racer (and how they've modified their motorcycle). But this is just what people suggest on forums and on Reddit. The Yamaha R6 also has the least forgiving riding position and suspension of the four.
The Suzuki GSX-R 600 is a fine motorcycle that has been undeservedly mired by a bit of a "bro" culture, like the Subaru WRX. Still, if all your friends have Gixxers and you want one, then get one! But the exhaust sound can make me turn my head, and the graphics on the newer models always keeps me looking.
I usually buy motorcycles used. Of the above, my personal preferences are the Kawasaki ZX-6R 636 and the Honda CBR600RR. I shop between the two on price, condition, and whether they have ABS — I'm not invincible and I like to have it.
Honda CBR600RR Model History In a Nutshell
Here's a table summarising the model history of Honda CBR600RR.
I won't repeat what's the same between all of them — they're all powered by a 599cc inline four-cylinder engine that's liquid-cooled and has fuel injection, and all have a six-speed transmission and a chain final drive.
The engines internals did change significantly, but they all also had a bore and stroke of 67.0 x 42.5 mm (through to the 2021 model).
Because of the fundamental similarities, they're not different enough for me to call them "generations". If you look at other bikes like the Honda FireBlade, generations were very different — different engine configurations, capacities, and tech. The CBR600RR evolved more gradually over a constant foundation.
But here's what's different about each one. I've boldfaced incremental changes.
Years
2003-2004
2005-2006
2007-2008
2009-2012
2013-2020
2021+
Engine tech (new for each year)
Oxygen sensor (2004)
–
Knock sensor
Ram air
–
–
RbW, power modes
Compression ratio
12.0:1
12.2:1
12.2:1
12.2:1
12.2:1
12.2:1
Front suspension
Conventional 45mm cartridge fork
41mm HMAS inverted cartridge fork
41mm HMAS inverted cartridge fork
41mm HMAS inverted cartridge fork
41mm inverted Showa Big Piston Fork
41mm inverted Showa Big Piston Fork
Rear suspension
Unit Pro-link HMAS shock
Unit Pro-link HMAS shock
Unit Pro-link HMAS shock, lightened linkage
Unit Pro-link HMAS shock, lightened linkage
Unit Pro-link HMAS shock, lightened linkage
Unit Pro-link HMAS shock, lightened linkage, revised internals
Front brake
2 x 310mm discs, 4-piston axial-mount calipers
2 x 310mm discs, 4-piston radial-mount calipers
2 x 310mm discs, 4-piston radial-mount calipers, radial master cylinder
2 x 310mm discs, 4-piston monoblock radial-mount calipers, radial master cylinder
2 x 310mm fully floating discs, 4-piston monoblock radial-mount calipers, radial master cylinder
2 x 320mm fully floating discs, 4-piston monoblock radial-mount calipers, radial master cylinder
Instruments
Analogue + LCD
Analogue + LCD
Compact analogue + LCD
Compact analogue + LCD
Compact analogue + LCD
TFT
Ride aids
Self-control
Your wrist
Luck
Optional C-ABs (not often chosen as it's heavy)
Optional C-ABs
ABS, IMU, TC, assist/slip clutch, QS option
Wet weight (claimed)
202 kg / 445 lb
195 kg / 431 lb
188 kg / 415 lb
187 kg (412 lb) (sans ABS)
186 kg / 410 lb sans ABS
194 kg / 428 lb
(ABS standard)
Model history — core specs of the CBR600RR
There's more detail on each one below.
Honda CBR600RR Model History — 2003 to Today
The following sections take you through the history of the CBR600RR (summarised in the table above).
It's interesting to see how little has changed aesthetically. Of course, it'd be hard to find an older CBR with paint in as good condition as a new one!
2003-2004 Honda CBR600RR — The Original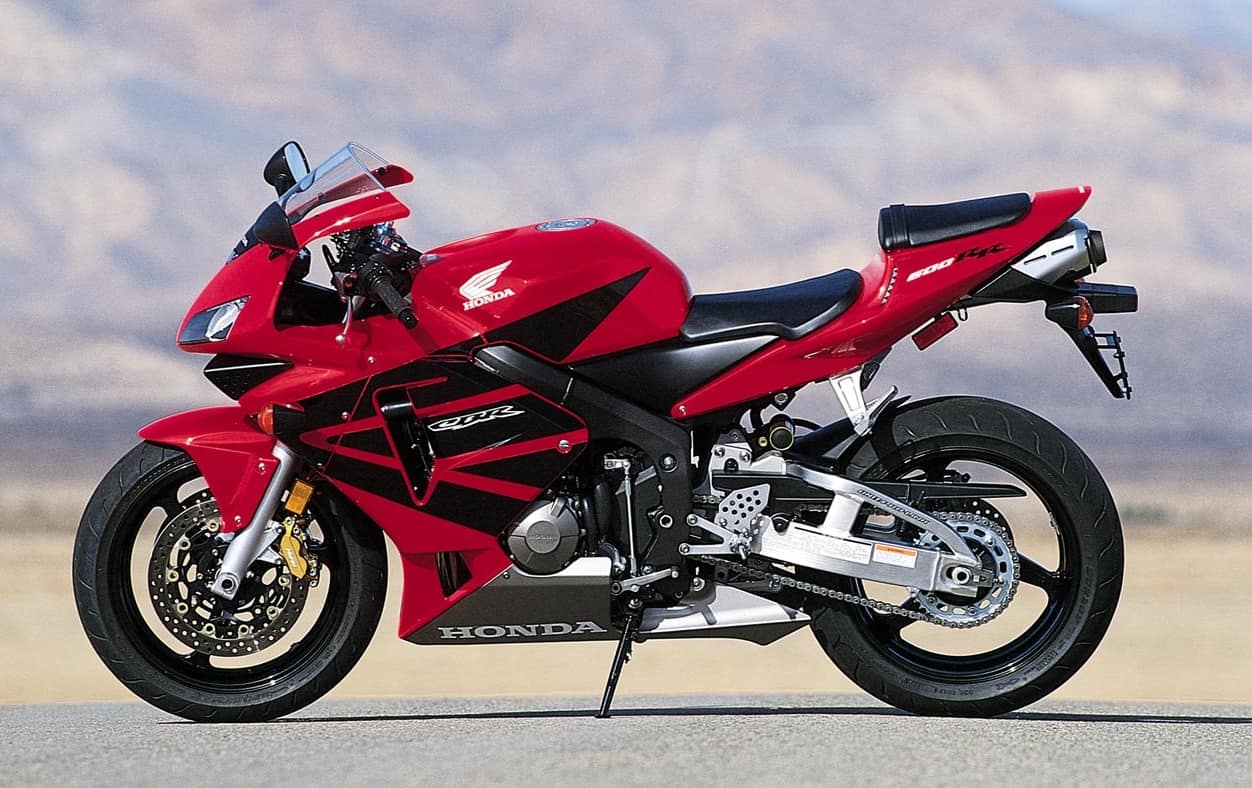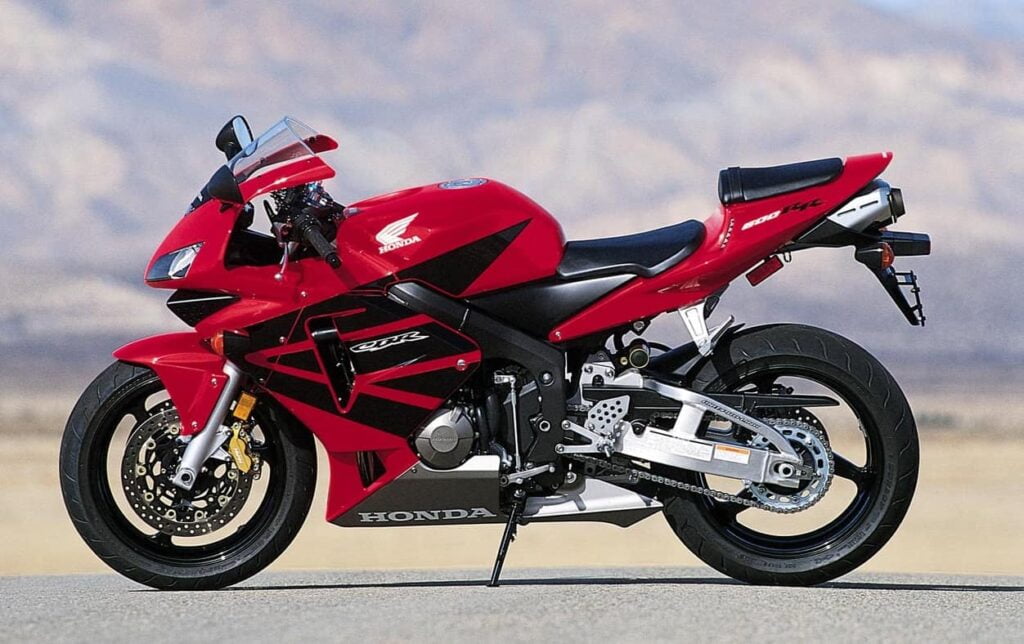 Specs for the original 2003/2004 Honda CBR600RR:
79.9kW (107.2 hp) @ 13500 rpm (rear wheel)
61.6 Nm (45.4 lb.ft) @ 11000 rpm (rear wheel)
Brakes: Dual four-piston calipers, axial mount
202 kg / 445 lb (heavy compared to later bikes)
The first CBR600RR was the first Honda to use Unit Pro-Link rear suspension, a variant on the single rear shock absorber with the upper mount connected to the rear swingarm subframe to help isolate undesirable forces transmitted to the steering head.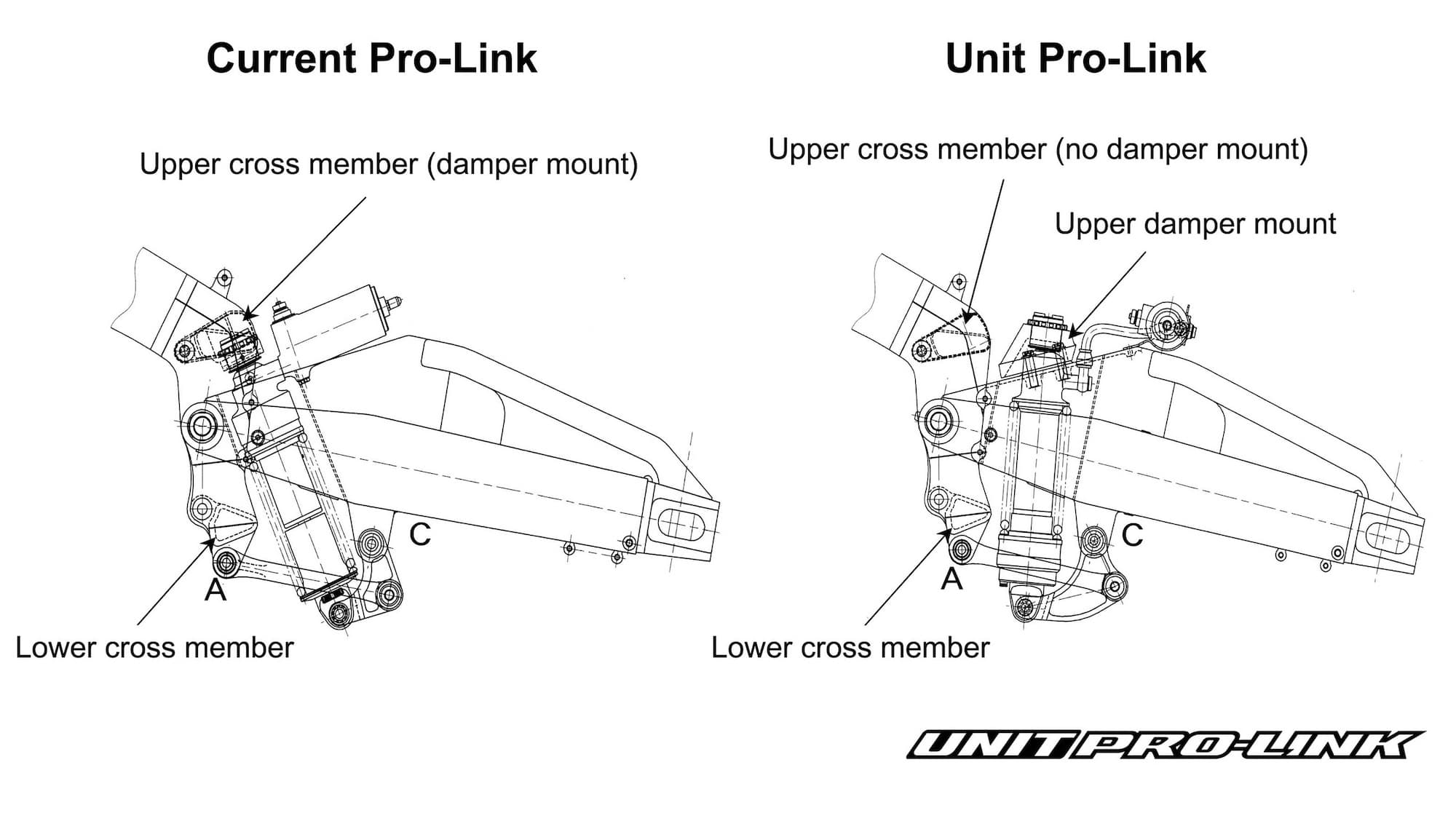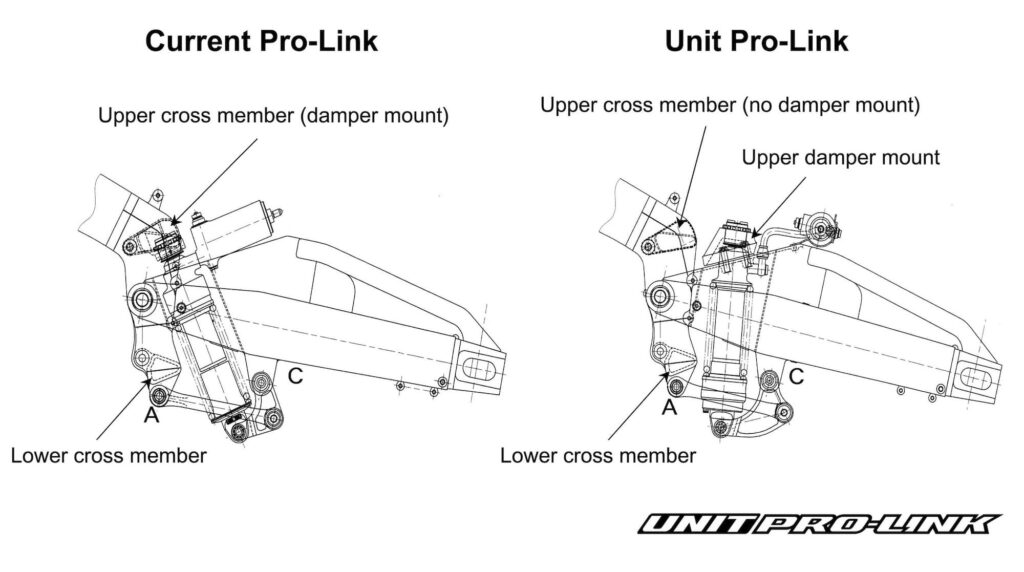 It also was the first to use Honda's Dual Stage Fuel Injection (PGM-DSFI). Both these were taken from the RC211V MotoGP bike.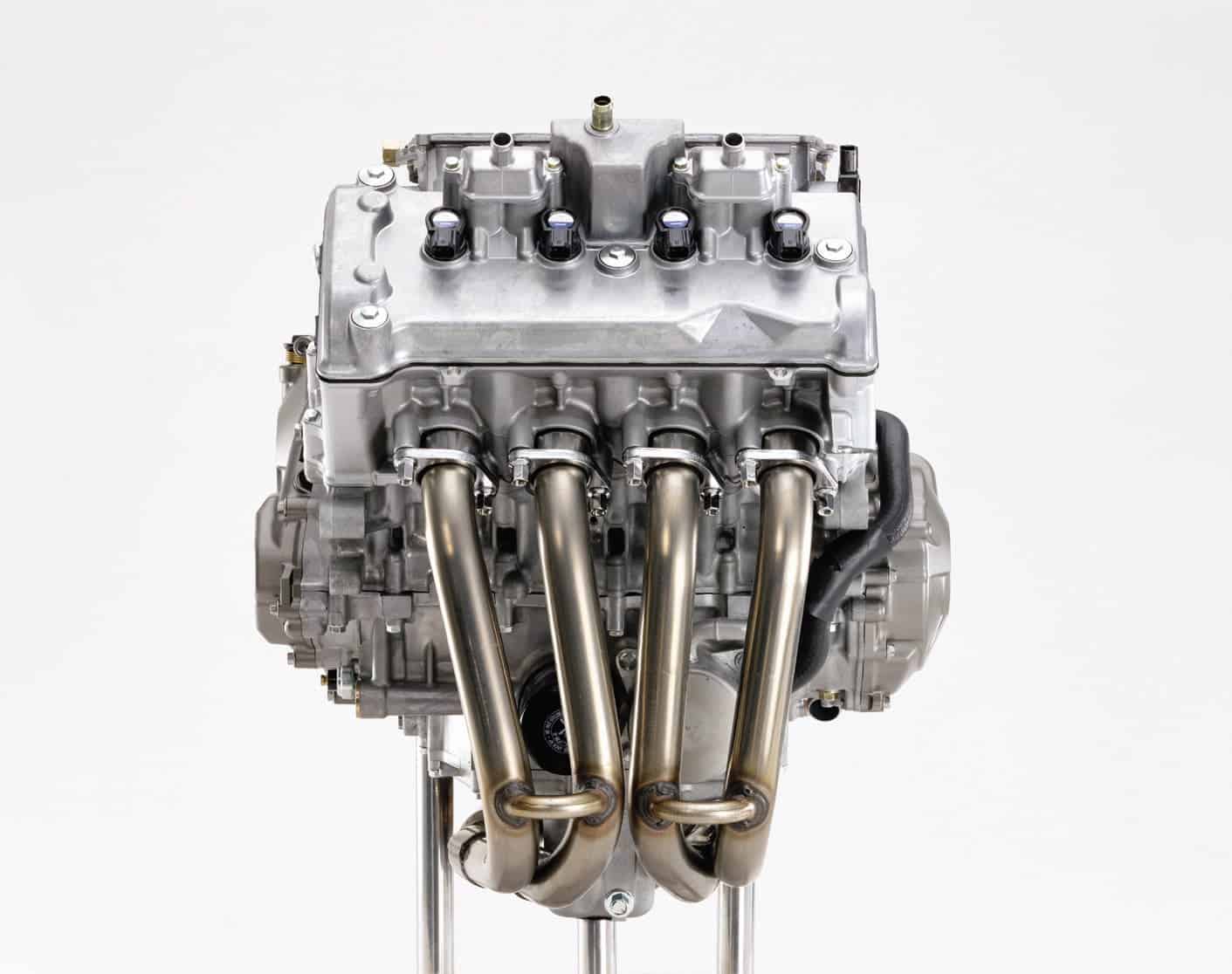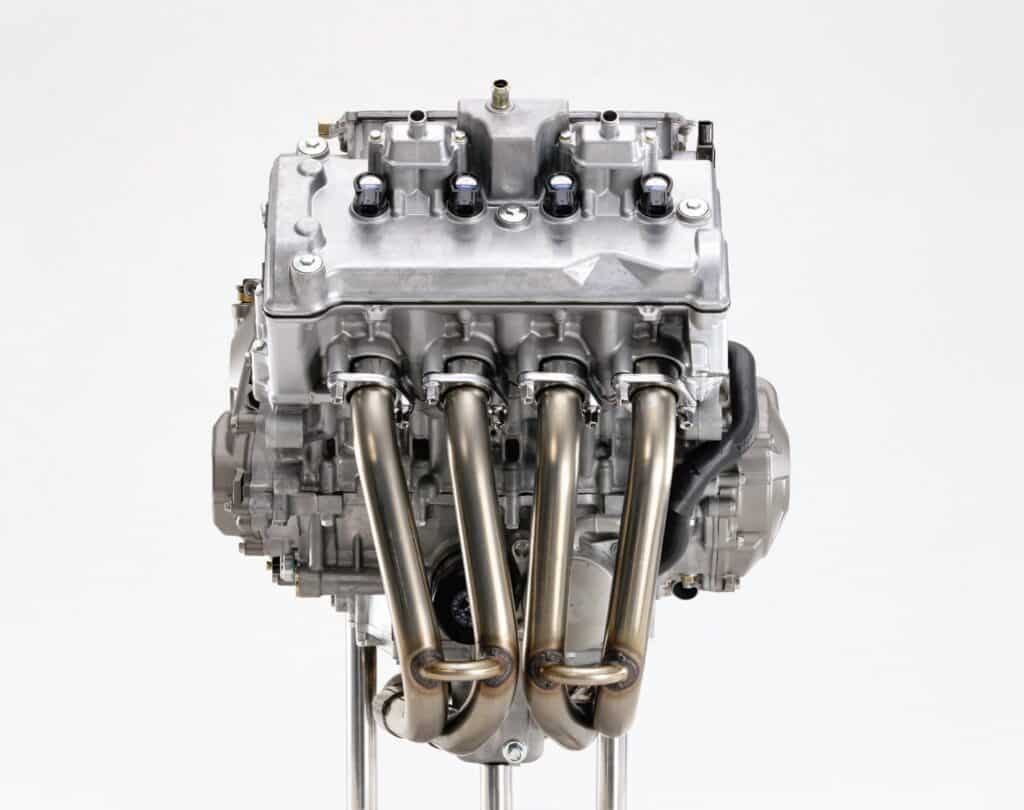 You can pick the early first-gen CBR600RR from the conventional fork set-up — i.e. they didn't even have upside-down forks (USD forks as they're known colloquially).
Secondly, the original CBR600RR has axial mounted calipers. All later-generation CBR600RRs had radial-mounted calipers.
They're collectable from a historical perspective, but most people would prefer the later generations' forks and brakes.
2005-2006 Honda CBR600RR Gen 2 — More mid-range, lower-weight, USD forks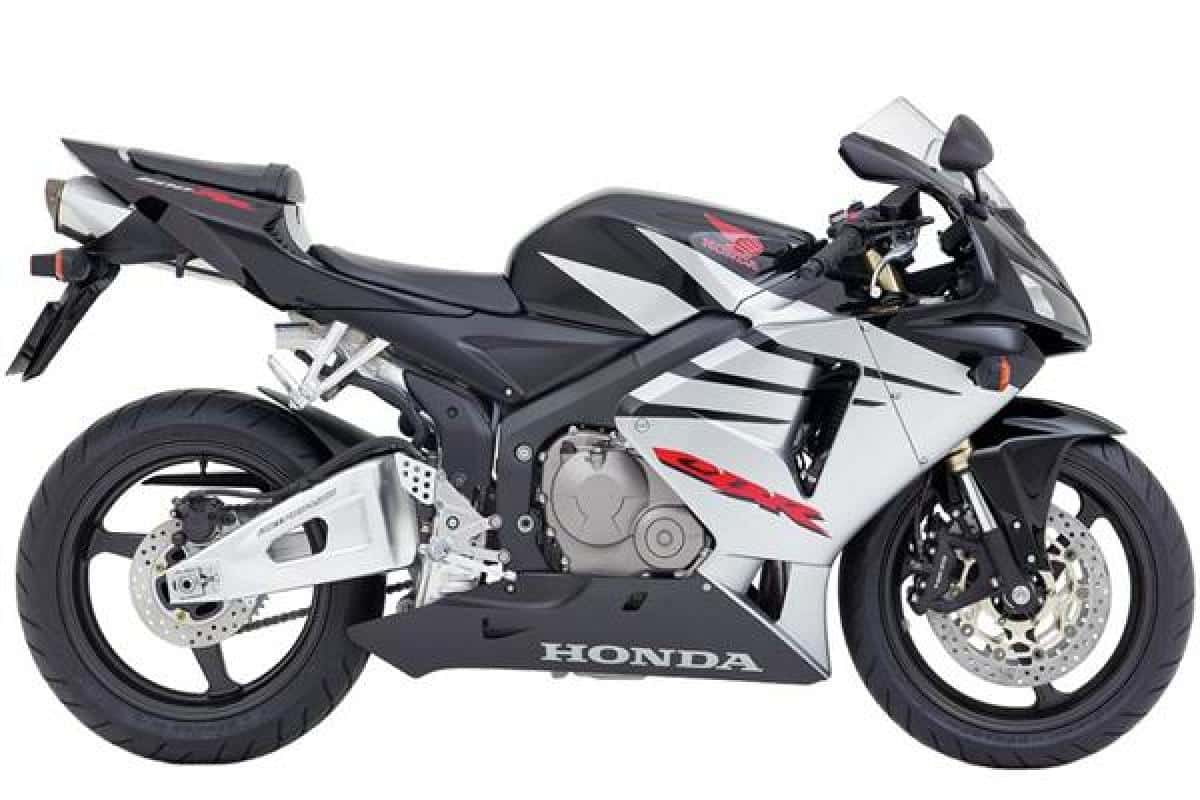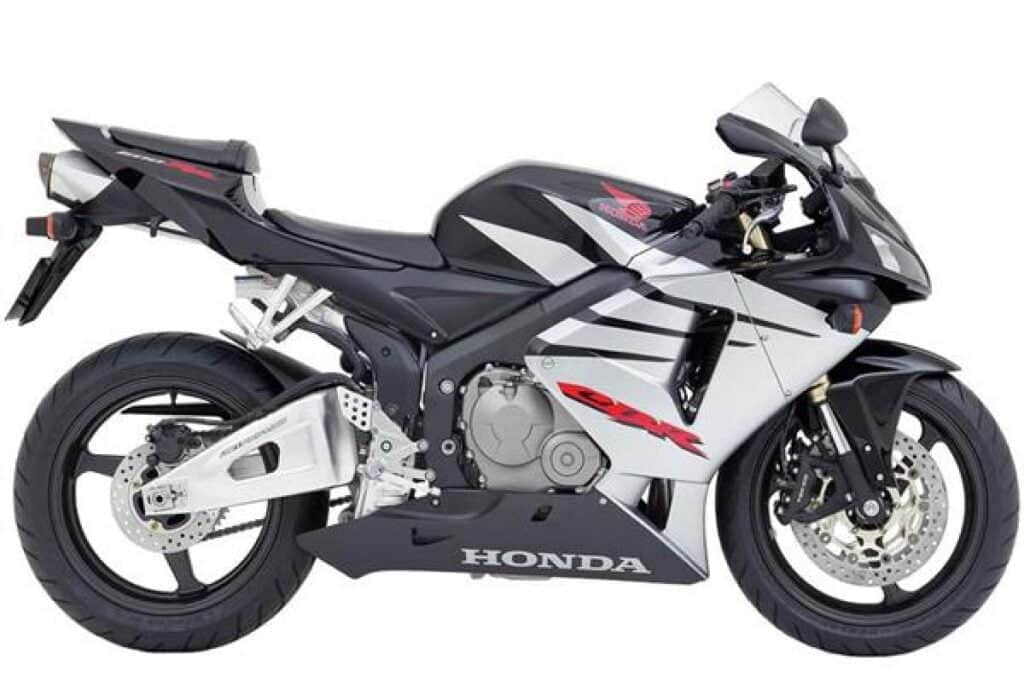 78.7 kW (105.6hp) @ 13,500 rpm (rear wheel) — slightly less (1 kW/1.5 hp) power, but with a re-tune for more mid-range power
65.2 Nm (48.1 lb.ft) @ 10,750 rpm (rear wheel) — slightly more (2 Nm/3 lb-ft) torque, and slightly lower in the rev range
Better brakes: Dual radial-mounted callipers, upgraded
Lower weight: Wet weight of 195 kg (431 lb) (about 5% lighter)
Improved front suspension: Adjustable inverted forks (USD forks) for lower unsprung mass
Inverted forks, finally! These are de rigueur on sportbikes these days, so it's nice to see them even on this early CBR600RR.
See here for a discussion of suspension tech, including the benefits of upside down forks on unsprung weight.
Peak claimed is lower, because of more of an emphasis on torque in the power band.
The weight was reduced from a redesigned aluminium frame, swing-arm, rear shock.
2007-2008 Honda CBR600RR — Lower weight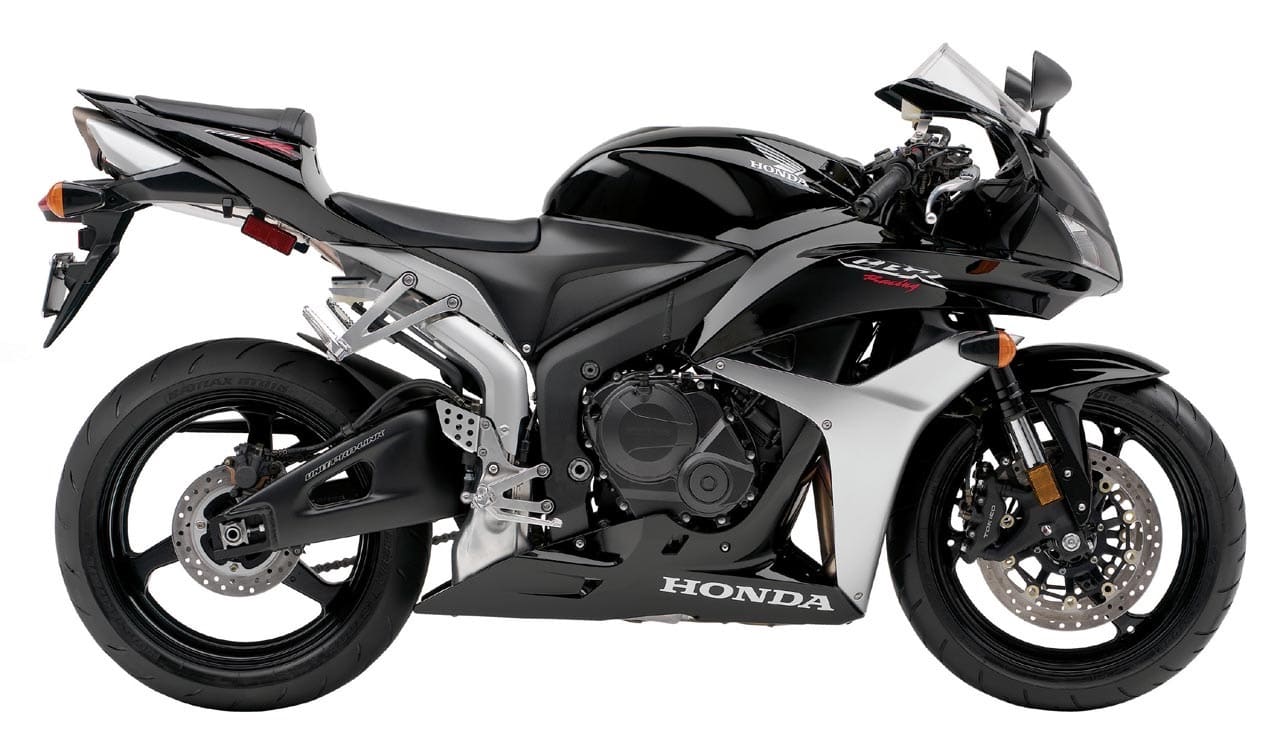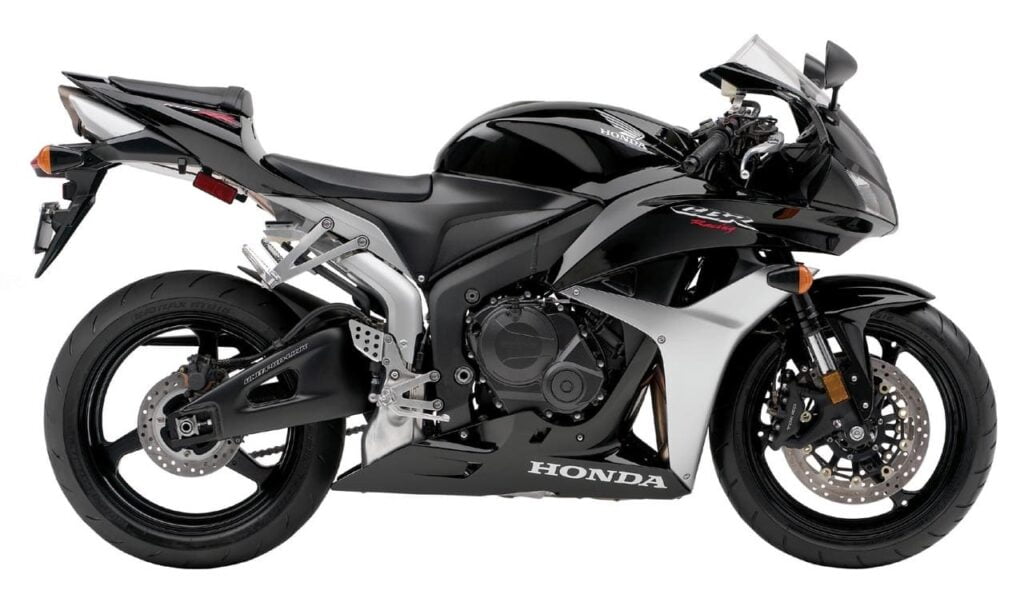 This was a bigger redesign than then 2005-2006 design aesthetically.
Similar power: 78.7 kW (105.5 hp) @ 13,500 rpm at the rear wheel
Similar torque with 62.5 Nm (46.1 lb.ft) @ 12,400 rpm — slightly lower than 2005-06, but higher than 2003-04
Lower weight: 188 kg / 415 lb wet (about 5% lighter again)
To reduce the weight, engineers redesigned the engine. They re-positioned internal components to be able to reduce the motor's length, width, and height, and thus reducing the weight.
The 2007 Honda CBR600RR has a slightly shorter wheelbase, too — 20mm shorter (1,370mm vs 1,390mm in previous RRs).
Because of the lower weight and the introduction of USD forks in the previous gen, this 2007-2008 generation is one of the first popular ones people target.
2009-2012 Honda CBR600RR — ABS (optional)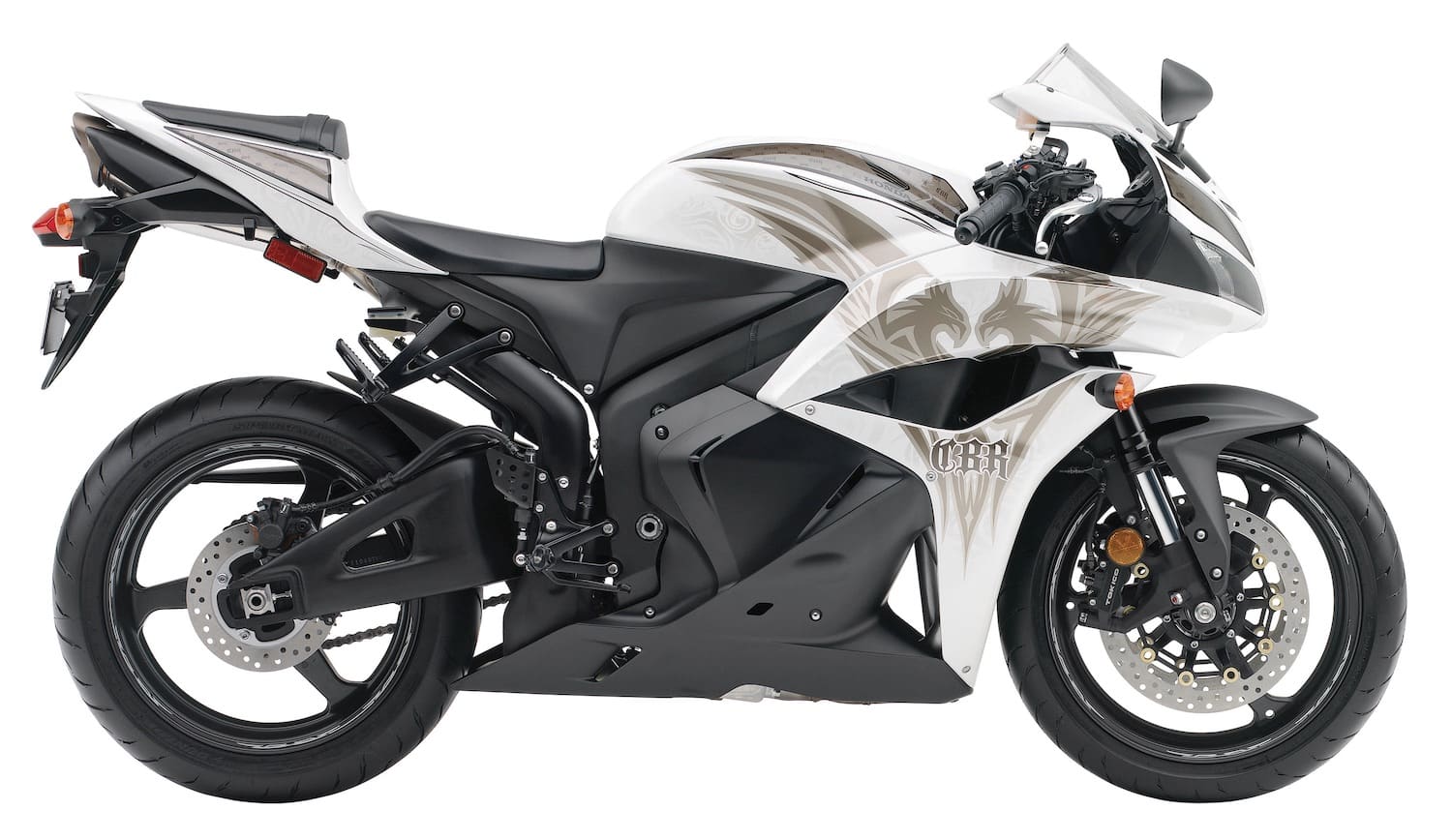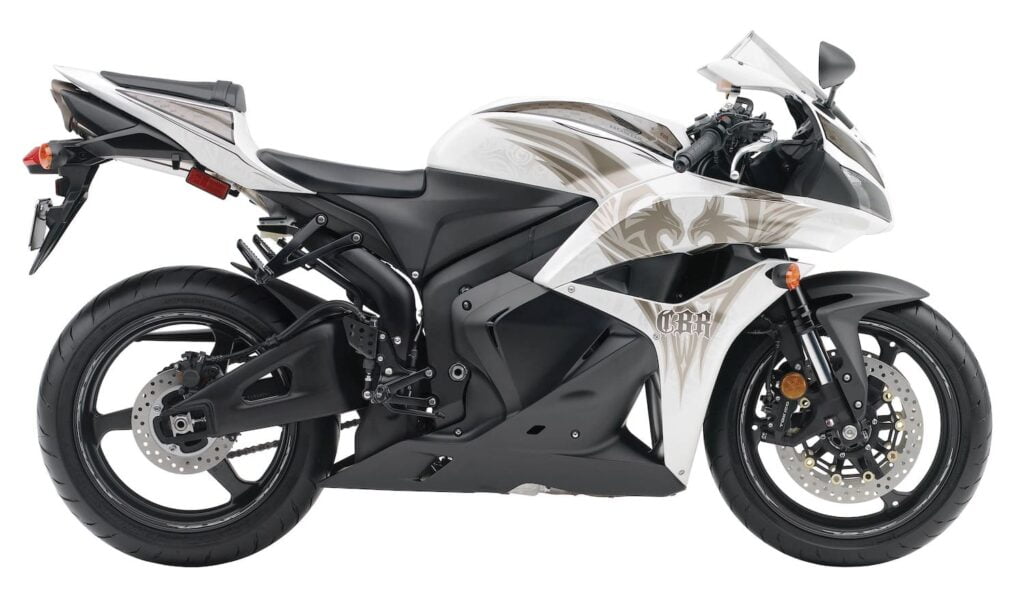 Major changes in the 2009 CBR600RR
Slightly higher power: 74.3 kW (99.6 hp) @ 13500 rpm at the rear wheel
Same weight (roughly): 187 kg (412 lb) wet weight without ABS (some journals reported a difference of a few lbs)
Increased torque at mid-range (8-12,000 rpm), with a 3.5% increase at 10,000 rpm
Optional combined ABS under the model CBR600RA.
New high resistance valve lifter and a popup valve system inherited from the larger Honda CBR1000RR
Fairings were modified to enhanced stability and reduce noise levels.
The biggest change for the 2009 CBR600RR was ABS, which Honda made available as an option.
Combined ABS (sometimes called C-ABS) is a combination of combined braking, anti-lock braking, and brake-by-wire.
Most people didn't choose ABS as an option because it added a huge 22 lb (10 kg) to curb weight. Because people tend to race the CBR600RR, ABS wasn't seen as a popular option. Thus, it's hard to find on the used market.
These days (in the 2020s and onwards), ABS is both an unavoidable regulatory necessity, and demands only a small weight increase. It's standard on the latest model 2021+ Honda CBR600RR.
2013-2020 Honda CBR600RR — Re-tuned, better suspension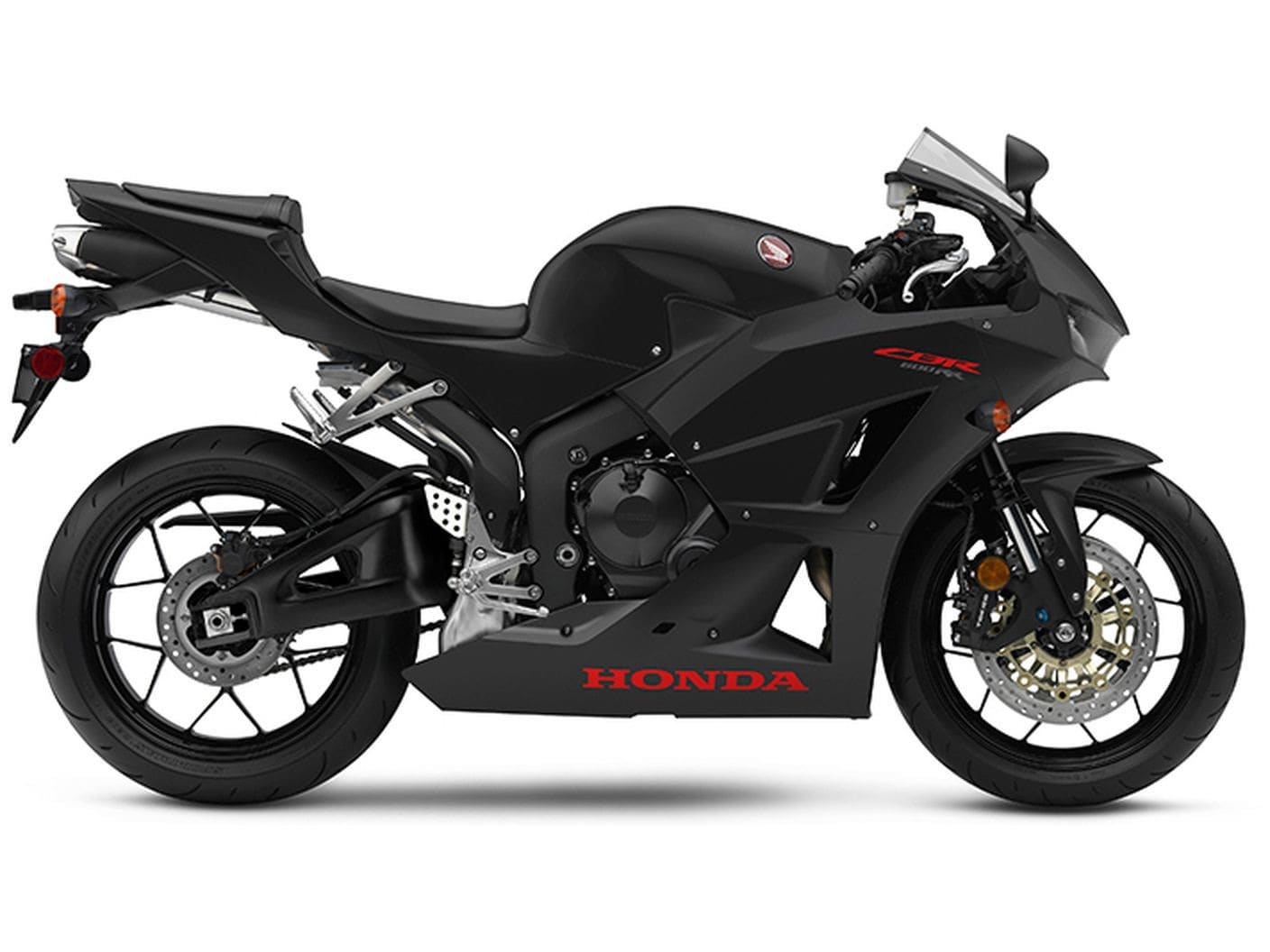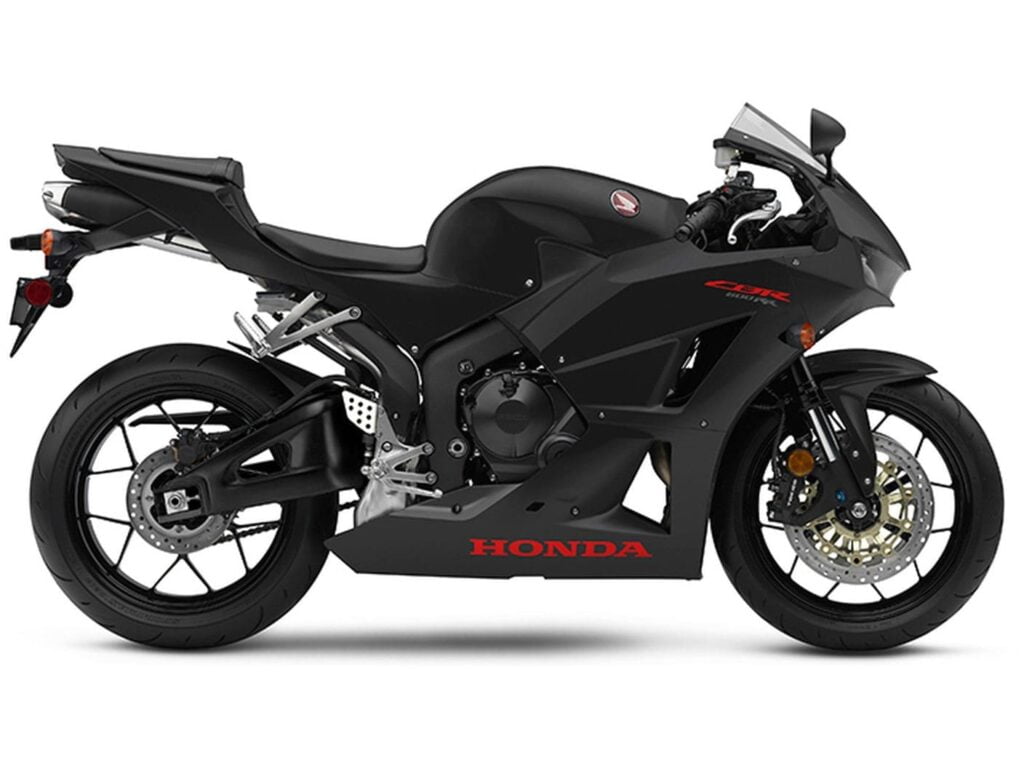 The CBR600RR of 2013 is the last one you can buy at a reasonable price. Honda didn't actually introduce much in the 2013 model year, and nothing changed between 2013 and 2020 other than a few colour options.
The changes made in 2013 to the Honda CBR600RR were:
Similar power specs, but lower down: 75 kW @ 12,500 rpm. A redesigned, relocated ram-air system and an ECU tune gives more mid-range and better responsiveness.
Similar wet weight: 186kg (410 lbs) without combined ABS
Optional ABS (actually C-ABS) — not available in all colors in early years. Also, again, it wasn't very popular
12-spoke lightweight wheels
Better ram air air system to increase torque
Revised ECU settings
Larger Showa "Big Piston Fork" (41mm), improving handling
Honda did improve the suspension of the 2013 Honda CBR600RR, introducing Showa Big Piston Fork tech. They also worked to keep the weight down. If you take it to a track, you can further reduce this weight by getting rid of emissions components that you need to keep it road legal.
Because of the relatively young age of the 2013-2020 Honda CBR600RR, and the fact that so much was done to improve the suspension and reduce the weight, this is the model I'd buy today.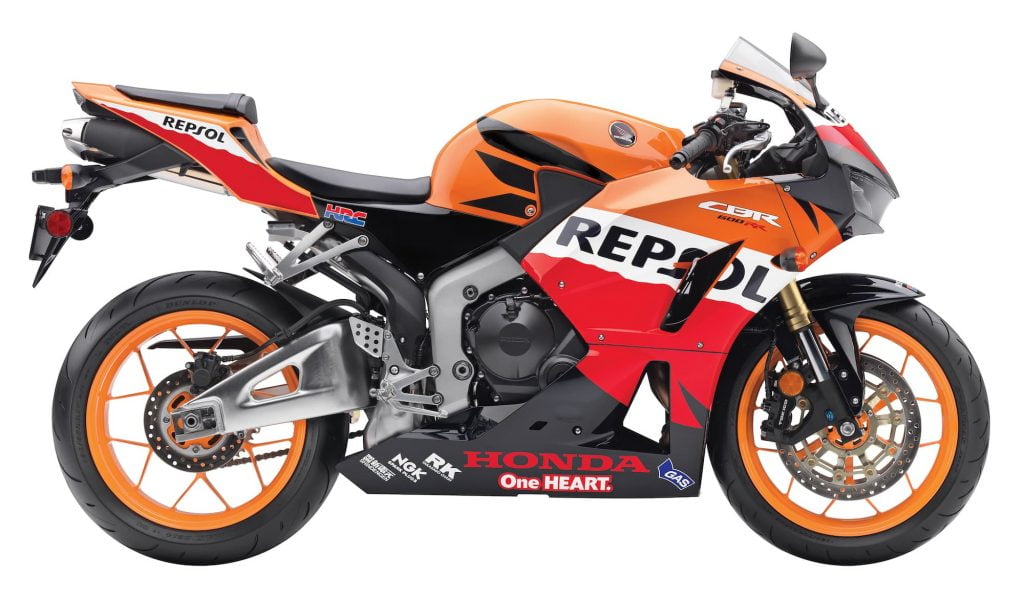 The mid-range torque and lower weight means this is one of the fastest CBR600RRs tested, with Cycle World getting a 0-100 km/h in 2.9 seconds.
Honda stopped selling the CBR600RR in Europe and the UK after 2016 due to EURO4 emissions regulations. But it was available in other places until 2020, after which it was replaced by the 2021+ Honda.
Even though the 2013 Honda CBR600RR still had legions of fans, those fans did start asking questions like "Why does this still not have an an assist/slipper clutch?"
The 2021+ Honda CBR600RR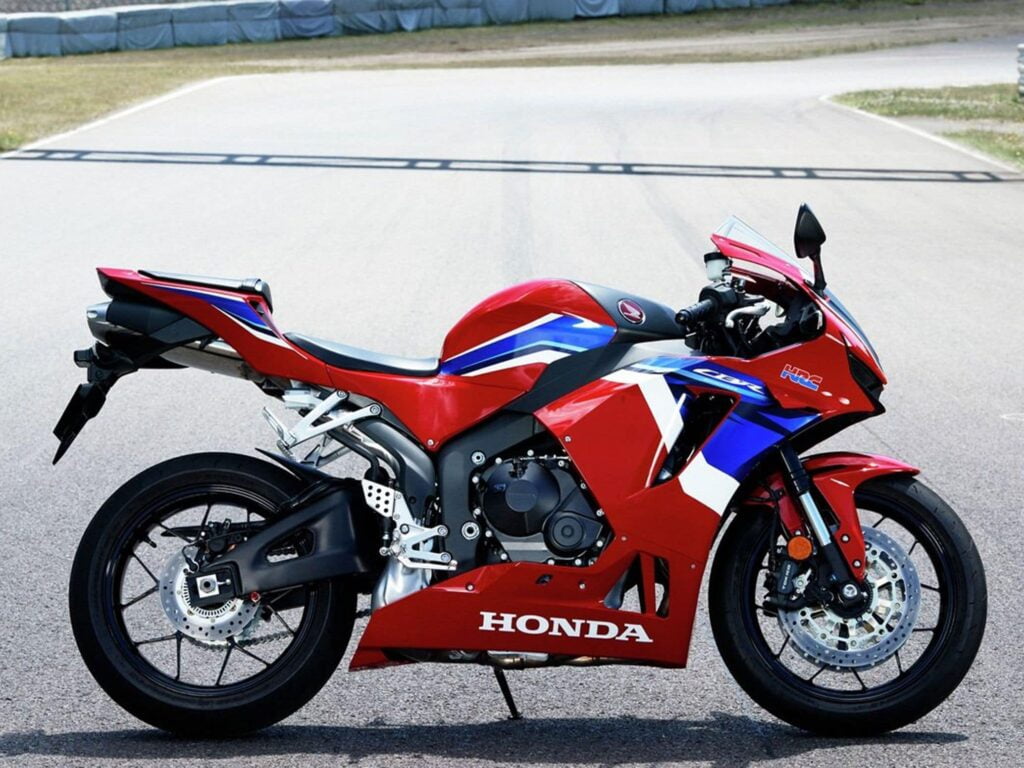 Finally, in October 2020, the rumours of the return of the CBR600RR realised, and Honda launched a new CBR600RR in 2021 — but it never made it to the US or to Europe.
The new CBR600RR makes slightly more power, slightly higher up — typical of the trend of motorcycles under strict emissions regulations, squeezing everything they can out of an engine.
The new CBR600RR looks pretty awesome! Unfortunately, it won't come to most parts of the world. And in places where it's available, it's quite expensive. For example, in Australia, the same money would get you a BMW S 1000 RR or a Yamaha YZF-R1. You'd have to be very committed to the 600-cc class to make that choice.
The new 2021+ CBR600RR has an upgraded electronics package, including a full IMU, giving lean angle-aware ABS and traction control. This comes straight off the CBR1000RR-R. The 2021 Honda CBR600RR also has a new TFT display, slip-assist clutch, an optional quick shifter, and LED lighting.
The updates to the CBR600RR are overdue, in my opinion, but come too late and at too high a price.
For more details on the 2021 Honda CBR600RR look at my full take on it.
Common problems on a CBR600RR (and what to look for)
There are no special known long-term issues with a CBR600RR.
When buying a used CBR600RR, look for the same things you'd look for on any used motorcycle — evidence that one has been cared for well and has all its service and renewables up to date.
Check out my own used motorcycle inspection checklist. I still use it and update it as of 2021!
Given that they're sport bikes, people actually crash CBR600RRs before the engines actually die.
Also given that they're fun motorcycles typically owned by a younger crowd, pay attention to fork seals and steering head bearings — if they've been wheelied a lot, these will be bad.
Finally, if you get one from the earlier generations, make sure the charging system is OK. If the regulator/rectifier hasn't ever been replaced, assume that to be in your future. It's not a "known issue", it's just something that dies over time on any motorcycle.
If the battery has recently been replaced (something often said in ads), then it might have been a bad R/R that fried the battery, and it might happen again — so check the R/R has been tested/replaced too.
What's next?
I've been scouring classifieds to find a reasonably priced, good example of a CBR600RR — but they're thin on the ground.
In fact, good machines, in general, aren't being sold — maybe because sellers know that buyers are also scarce.
Still, I'll keep my alerts alive and wait to see what I can pounce on. My ideal is a 2013+ ABS-equipped model with great paint, less than 30,000 km, fully serviced, and for less than A$7,000. Is that even possible? I'm sure it will be.
Alternatively, I may be OK with a track-only one with all the bits upgraded.
In the meantime, I found a CBR600F4i which was my first 2021 project.