Apocalypse motorcycles (that you can actually buy and aren't crazy expensive one-off specials) that'll never give up, that are easy to run, and that you can still have a laugh on.
We're not quite in a zombie apocalypse with the 2020 COVID-19 coronavirus pandemic, but there IS a chance there will be riots, food shortages, and maybe war.
I'm not much of a survivalist "prepper" at all, except when it comes to having just the right motorcycle. I seem to be always thinking (irrespective of any impending apocalypse): "What's the best motorcycle for this situation?" And, ladies and gents, the following is my list of what I think you can ride in the apocalypse.
And I know, I just said that there are good reasons to not ride in the apocalypse. But sometimes you have to ride, like:
To get essential supplies
To help someone in need
To work as an emergency services worker
To flee the city which is falling into ruins
Because it's fun (j/k… but you'll enjoy it)
Are you obsessed with motorcycles?
Well, I am. That's why I created this site — as an outlet. I love learning and sharing what others might find useful. If you like what you read here, and you're a fraction as obsessed as I am, you might like to know when I've published more. (Check the latest for an idea of what you'll see.)
What This List of Apocalypse Motorcycles is NOT
Firstly, isn't a list of cool one-off specials, things that are hard to buy, or military-only vehicles.
Other lists of motorcycles tend to include crazy, outlandish motorcycles, one-off specials, or things you can only get for military use.
Those are all cool to look at but you can't buy them, so what's the point?
Just one example — the Ducati TerraCorsa. Extremely cool, but you probably can't afford one.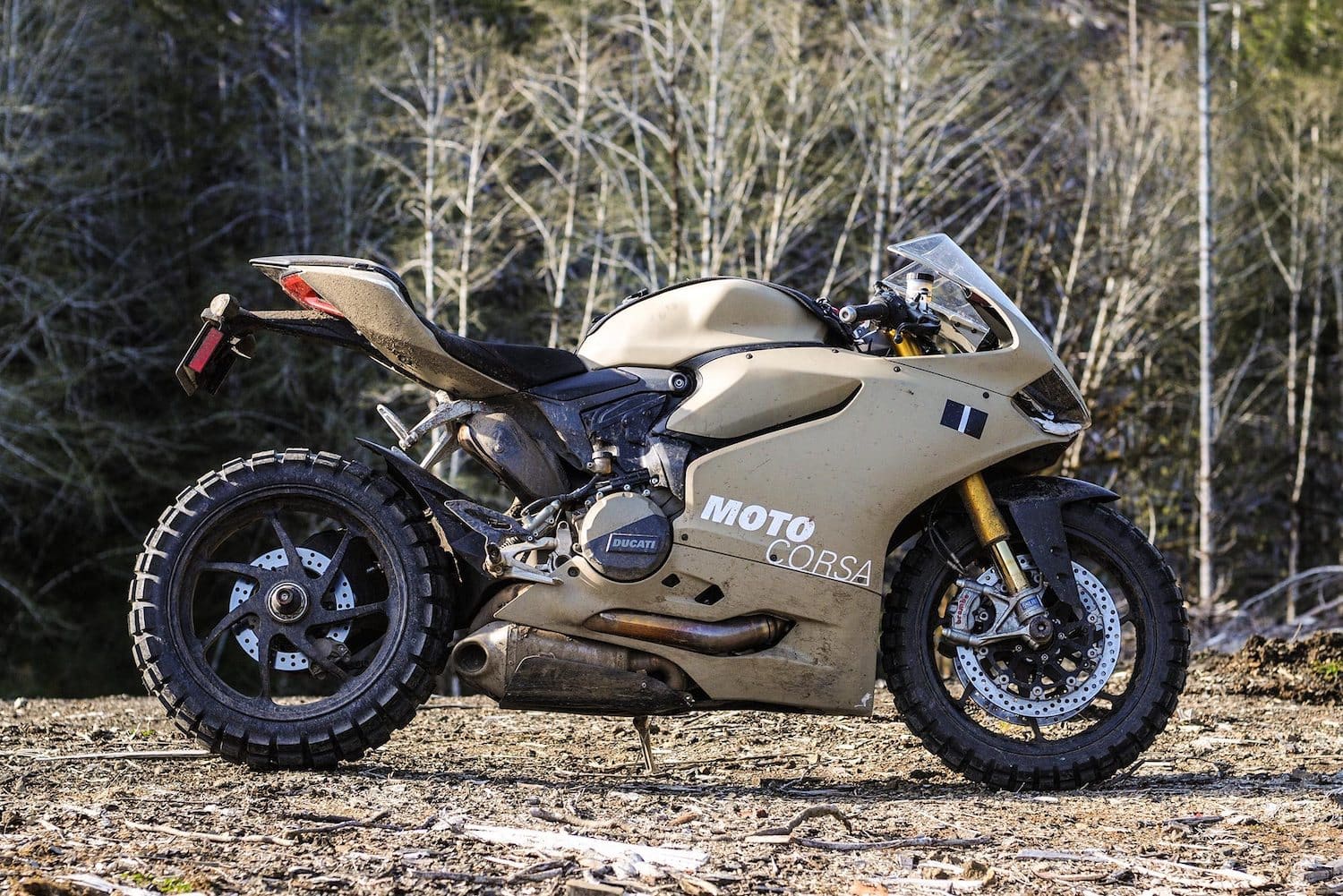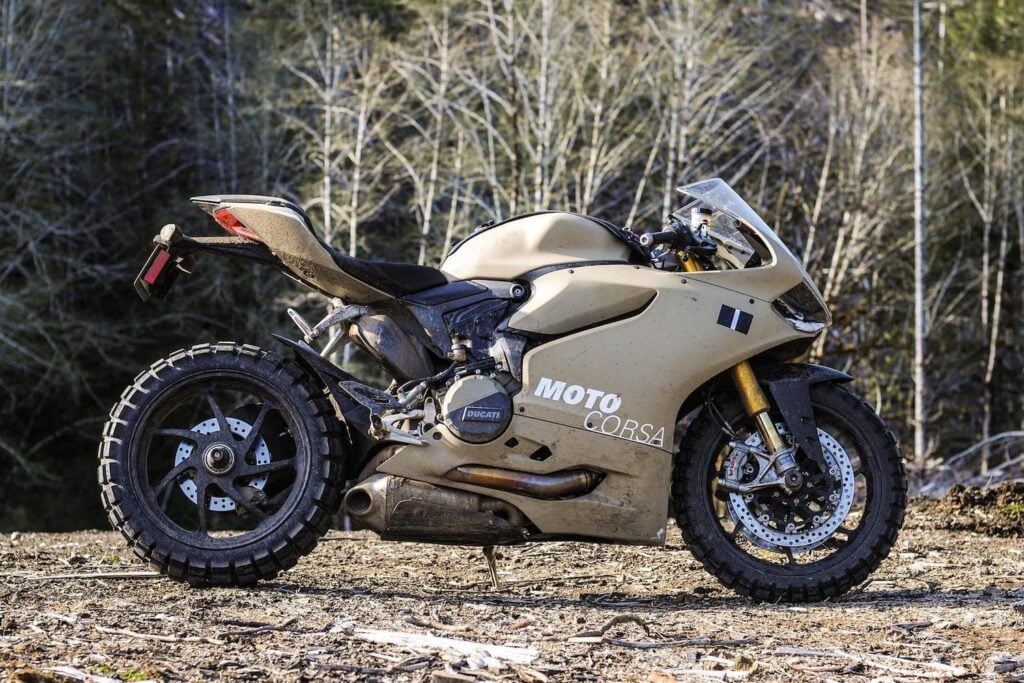 And yeah there's a diesel version of the KLR650 which is super cool, but it's military-only. You might be able to get one at some ex-military auction but I wouldn't count on it being in steady supply.
Secondly, this isn't a list of expensive and complicated motorcycles.
Anyone can throw $20K at a dealer and buy a Multistrada or BMW R1250GS an then another $10K of accessories.
If your computer doesn't fry, that motorcycle might last a really long time. It's even possible for you to do your own valve service on the R1250GS thanks to the fact that those valve heads stick out so far! And other service on them isn't too hard.
But I like to make escaping the apocalypse accessible to the average Joe (or Jane, or جواد or 周). So I'm trying my best to keep this sub-US$5K — used.
Kawasaki KLR650 (or another Adventure-Ready 650cc Thumper)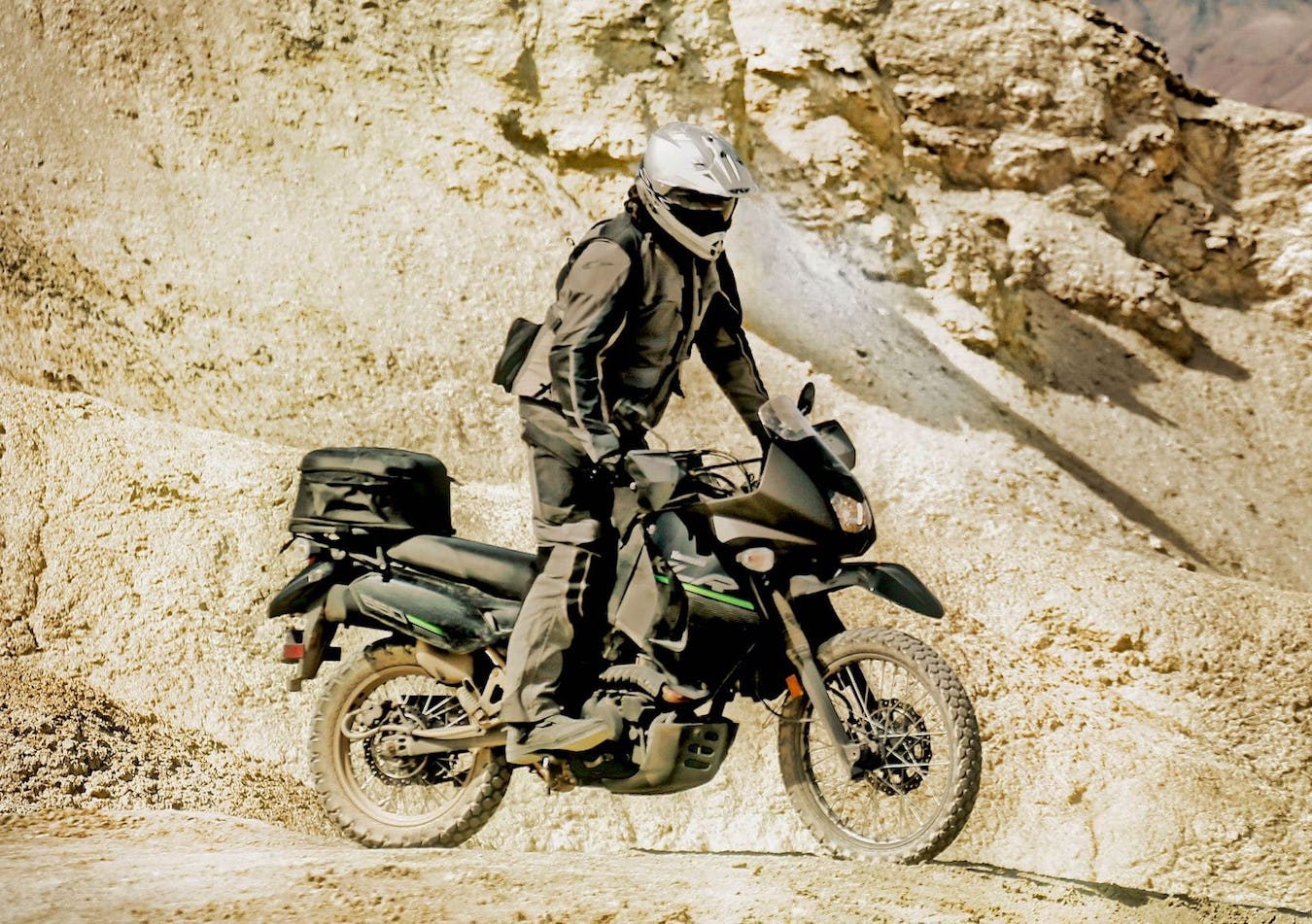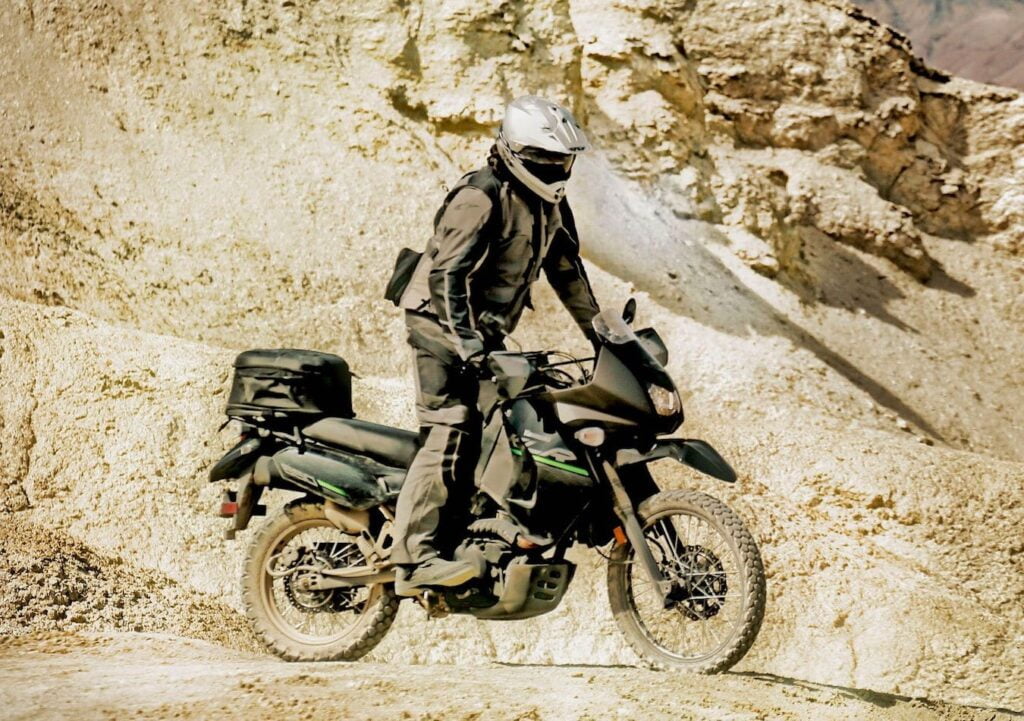 Discontinued in 2019, the venerable Kawasaki KLR650 is one of those adventure motorcycles that never dies.
Well, it dies sometimes. But it's so damn easy to work on that that's OK.
In truth, any of the big thumpers could be OK for this task. The Yamaha Ténéré 660Z is a great option — especially as it's fuel-injected (mechanics love fuel injection because they never have to touch it). Unfortunately you can't get the Ténéré 660Z in every market.
The reasons I love the KLR650 for an apocalypse motorcycle are
It's often described as "indestructible" physically and internally. You can drop it, crash it, ride it all day at 110 km/h and it'll keep going.
It's built very simply and it's easy to service. It's a carburettor-driven single cylinder motorbike with a chain.
It goes really far. The KLR is the only 650cc thumper that's built for range. It has reasonable efficiency and a really big gas tank.
Also, they look like something out of Mad Max.
That said, a KLR650 is not the most exciting beast. People describe it as a tractor, and who drives a tractor for fun?
Other options that are all really good are the Suzuki DR650 and the Honda XR650R — but you'll have to give them at least a long-range tank, and maybe some other things like screens and hand-guards.
But any 650cc thumper will do fine on the highway and be able to take you off-road wherever you want.
Suzuki DL-650 V-Strom, a.k.a. the "Wee-Strom"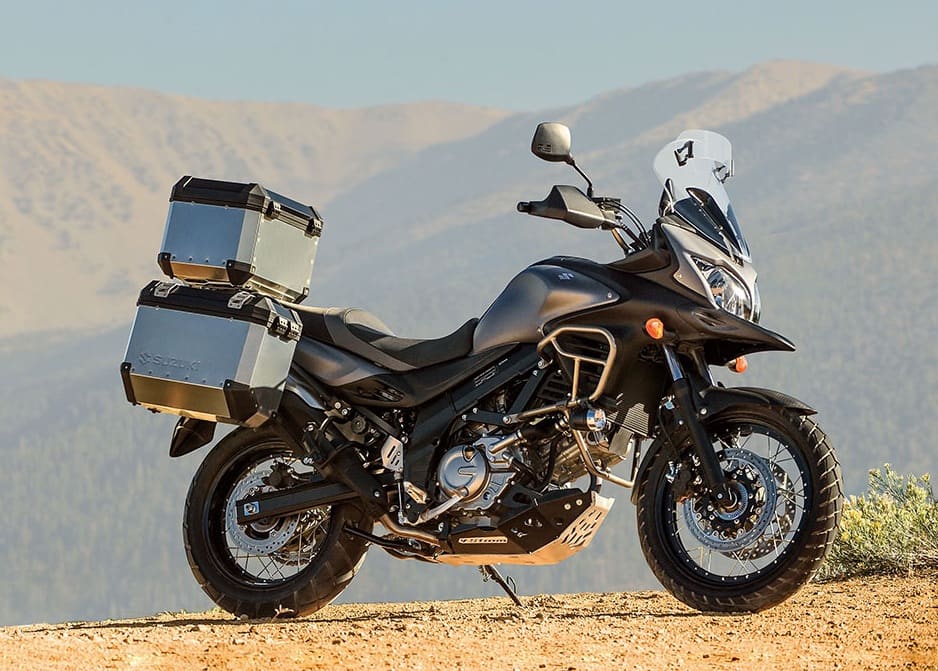 Weird choice. But the DL650 V-Strom is one of the favourite motorcycles of people who do the Iron Butt distance challenges for five reasons:
It's comfortable
It has enough power for any normal situation
You can pack a lot of luggage on it
It has really long range
It's comfortable.
Seriously. The seat on a V-Strom, coupled with its upright riding position, make it like sitting on the perfect office chair.
The other thing about the V-Strom 650 is that it's not ridiculously heavy. They weigh 220kg (just under 500 lbs) wet — with all fluids and a full tank of gas — and so they're far under other adventure tourers like those from BMW or even Honda (like the Crossrunner or the Goldwing).
The benefit of not being too heavy is that you are more able to take the V-Strom 650 on dirt roads and fire trails without worrying too much. I've seen one in the mountain roads of Colombia. It wasn't quite as agile as the 200cc dirt bikes around it, but I'm sure those wouldn't keep up on the highways between cities, either. Nor be as comfortable.
The more recent V-Strom 650 models can be had for very little — less than US$5,000 — even if they're the XT option with wire-spoked wheels, bash plates, and crash guards. Pretty great value.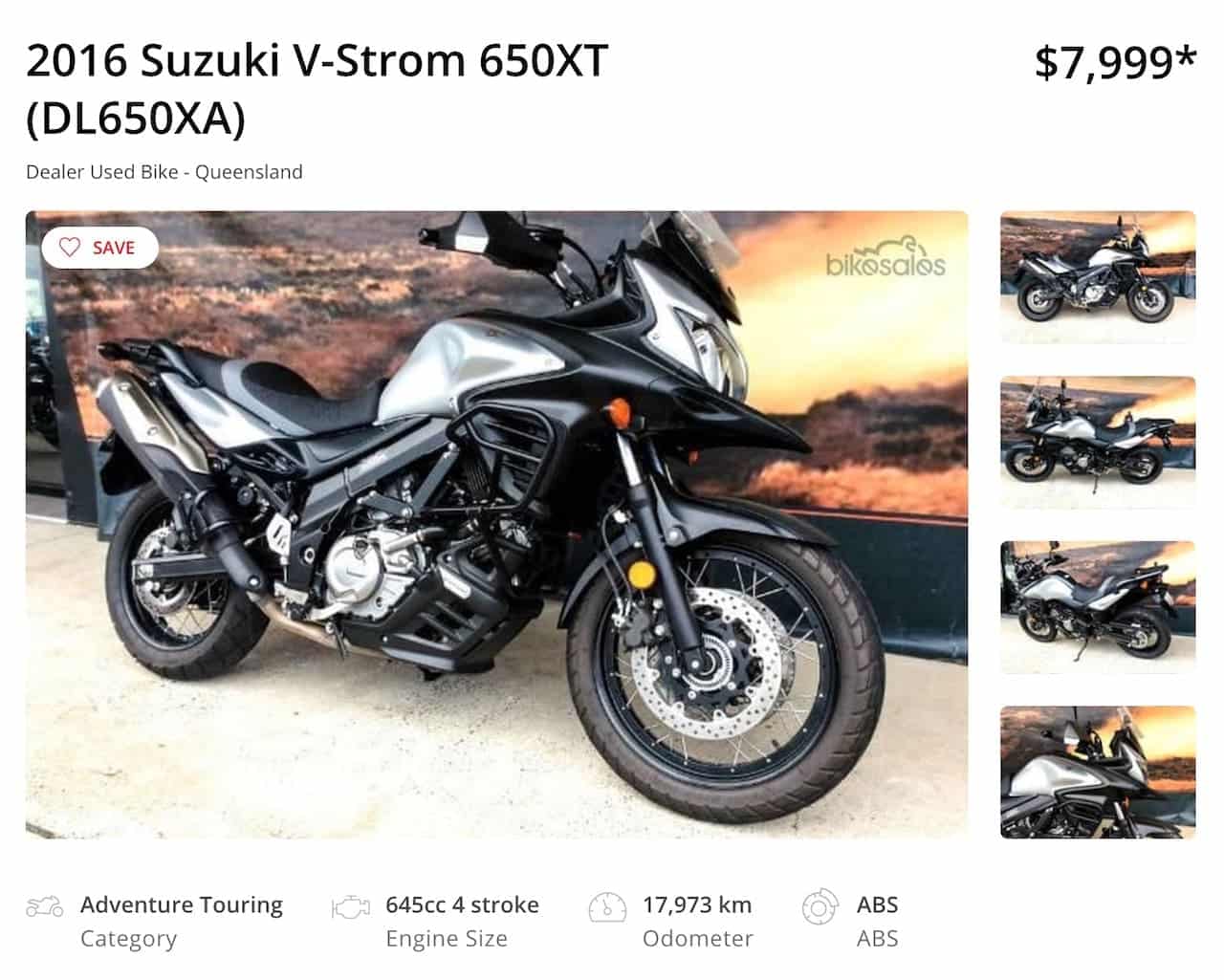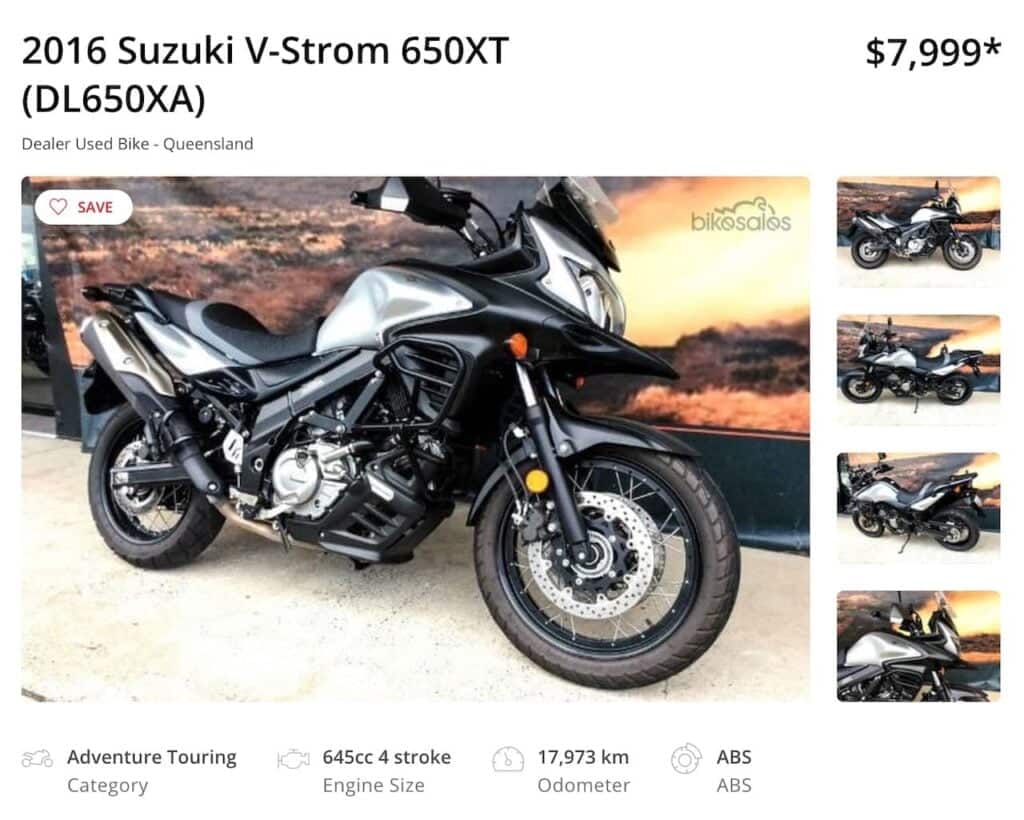 Another similar motorcycle that's a contender in this category is the Kawasaki Versys 650.
The Versys 650 shares a lot with the V-Strom 650. They develop a similar amount of power and are both very versatile motorcycles.
In some ways, the Versys 650 is a BETTER apocalypse motorcycle. The parallel-twin engine has even more of a reputation for being unbreakable.
But the general consensus is that the V-Strom 650XT is the better off-road motorcycle, with its spoked tyres, better protection, and larger front wheel, so it's my pick of the two in this category.
I wrote this article before the Ténéré 700 became a motorcycle that's available everywhere. I'd wait a bit for any teething issues to be sorted out, but it's another contender again.
Honda CB750 Nighthawk (or another UJM without the self-adjusting valves)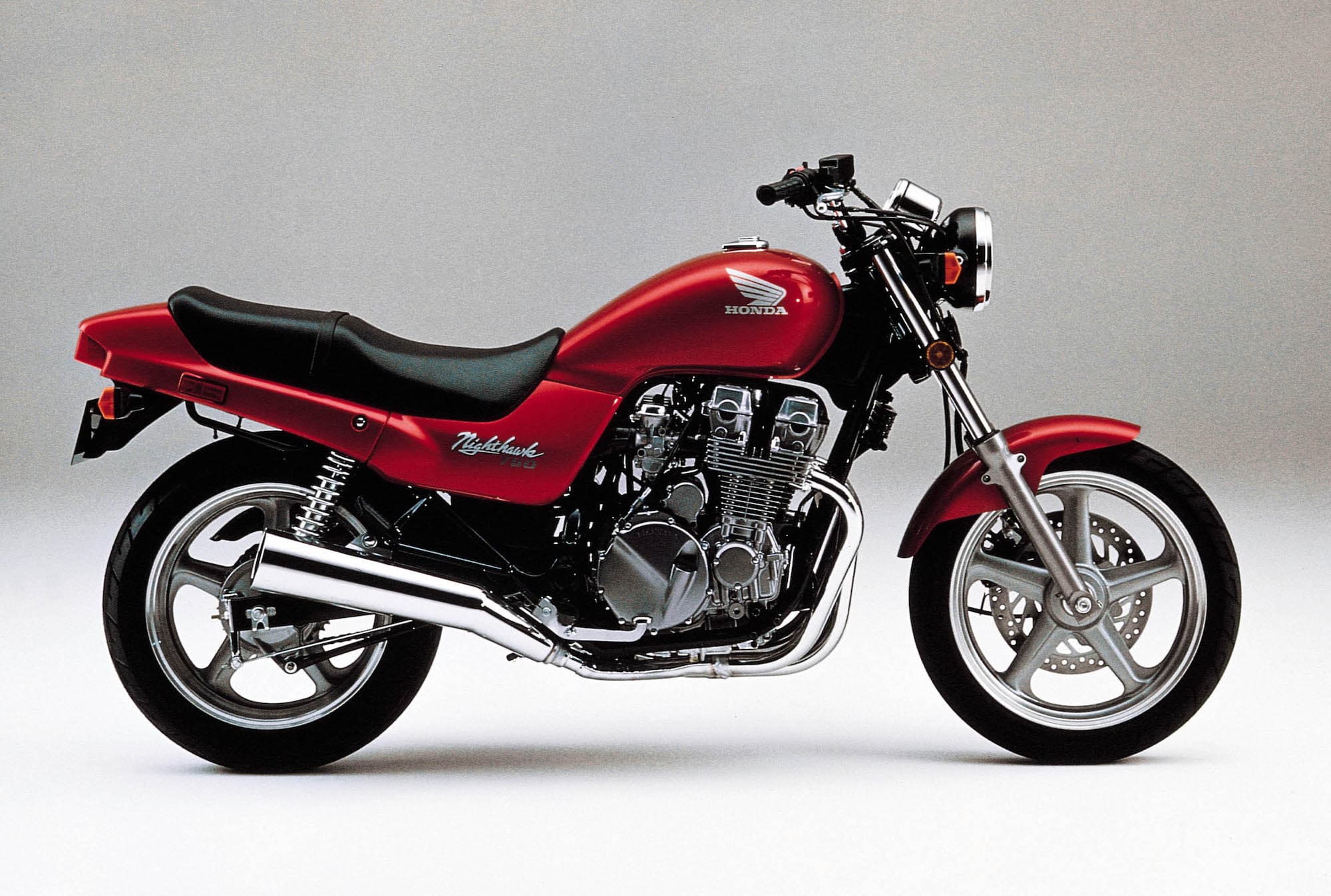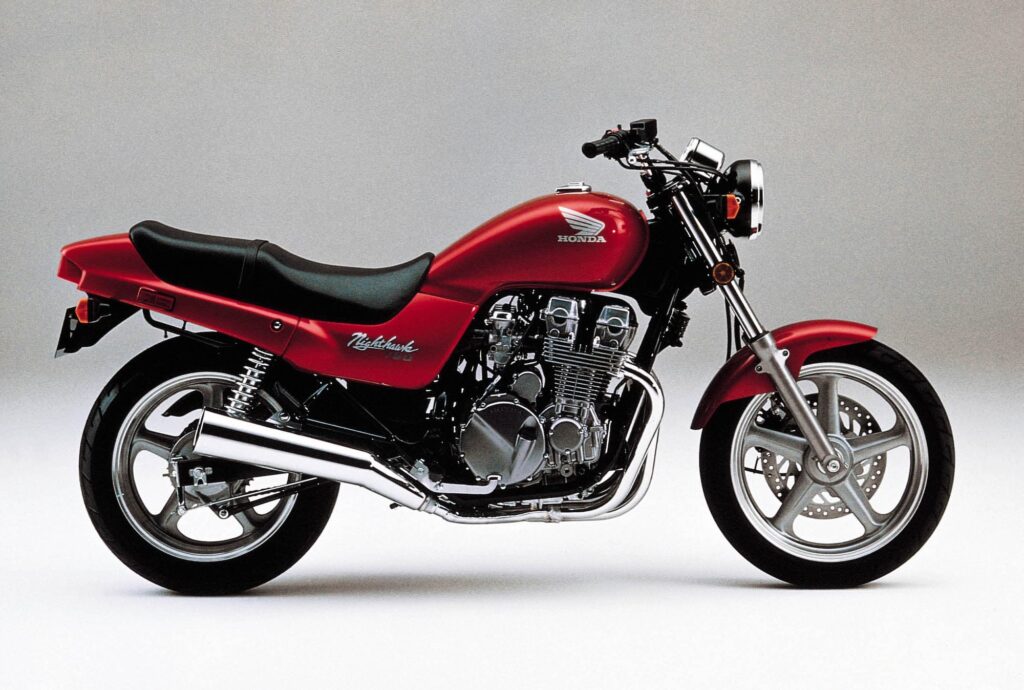 If they still made the Honda CB750 Nighthawk, I'd buy them new. Alas, they only made them from 1991-2002 (with a couple of gaps in production in the middle).
Earlier versions of the CB750 don't have the feature I'm interested in which makes them unbreakable… see below.
The Nighthawk may seem like an odd choice of motorcycle for the apocalypse. Why the venerable Nighthawk? It is a modestly powered, cheaply built motorcycle… but that's exactly it.
Maintenance on the Honda Nighthawk 750 is "pretty much just change the oil until the apocalypse" for one very special reason — it has self-adjusting hydraulic tappets. In simpler terms, you never have to open it up to adjust the valves.
This is a huge rarity in motorcycles. It's also true on Harley-Davidson motorcycles, as well as on large-capacity cruisers from Japanese manufacturers. But most of those don't rev very high. The CB750 Nighthawk revs until 10,000 rpm!
The apocalypse isn't just about off-roading. There are plenty of roads. And anyway, an off-road motorcycle is any motorcycle you choose to take off a road.
Plus, the Nighthawk 750 still has those handsome UJM looks that people these days call "retro". But I just call it a motorcycle.
To an extent, you can put any other UJM in this list. Preferably fuel-injected, but air-cooled. But every 20,000 km or so of escaping the apocalypse you'll have to do a valve job.
Why nothing else?
There are many other motorcycles you could add to this list that rarely die and are easy to fix.
People love Harley-Davidson motorcycles because they're built very simply. Also, many of them look great — I'm a huge fan of the aesthetics of the Breakout, for example (which is why I think it's one of the best-looking motorcycles of 2020).
But H-D's motorcycles are usually expensive. It's just hard to find a decent one for under $5K. Because they're cool and in demand.
The same can be said for any "big rig" touring motorcycles… they're either cheap and already have a bunch of kilometres on them or they're not cheap. The Kawasaki Concourse, the Yamaha FJR1300, the Honda Goldwing, any of the big H-D tourers… big and expensive or old and long in the tooth. It's a shame!
That said, there are definitely more to add to this list. It's a little subjective, but if you have any suggestions of "I can't believe you omitted this" I really want to hear about it because I might learn something new.