After my well-received and highly subjective! post of the best looking motorcycles of 2019, I thought I'd update it with what I thought were the best looking motorcycles of 2020. These are the instant classics that I just can't take my eyes off — and I suspect you can't either.
These are motorcycles that not only look the best but perform well. These days, there aren't really any "bad" motorcycles. But these ones tick all the boxes.
Sometimes, if a motorcycle has been good looking for a while, if there has been some update, I include it.
People ride motorcycles for many reasons. Some for the ride, some for speed, some for the vibrations under the seat of the pants, and some for the adventures they bring. But for me, a lot of the pleasure is aesthetic: the sound, the image. I like to look at a motorcycle and for my heart to start racing.
See the all the lists of best-looking motorcycles if you want to look at other pretty pictures:
These are the motorcycles that get my heart racing. (Something missing? Let me know.)
Are you obsessed with motorcycles?
Well, I am. That's why I created this site — as an outlet. I love learning and sharing what others might find useful. If you like what you read here, and you're a fraction as obsessed as I am, you might like to know when I've published more. (Check the latest for an idea of what you'll see.)
Suzuki Katana — A Refresh of the 80s Classic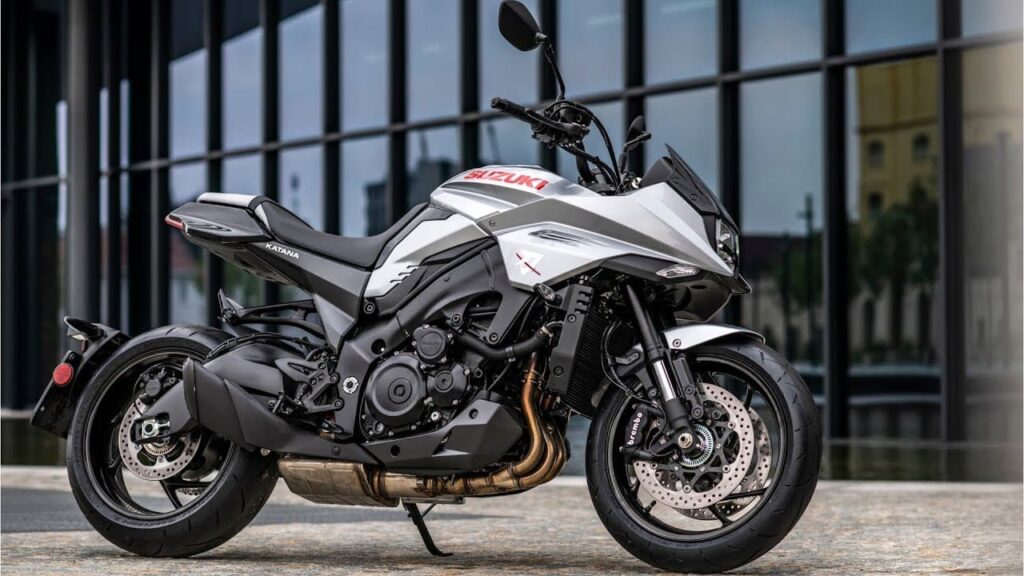 The new Suzuki Katana is a retro homage to a classic 1980s design: the 1981 Suzuki GSX1100S Katana. But obviously as time has passed a LOT has changed.
The 2020 Suzuki Katana has a 999cc four-cylinder engine pushing 148 hp (110 kW), with traction control, ride modes, and ABS, making it an easy motorcycle to ride.
It's based on the Suzuki GSX-S1000. But aside from the visuals, they have a few other differences too. The motor and electronics are the same, but the riding position is different — the GSX-S has a sportier position with lower, narrower bars and a lower seat. The GSX-S is also 5 kg (11 lb) lighter despite having a much bigger (5L / 1.3 Gallon) tank.
But if it's style you're looking for, the Katana is the only choice!
I'm impressed with how much of the 80's vibe the modern Katana has kept while totally upgrading the look and engine at the same time. They've made some important improvements, including a more aggressive angled seat and a cleaner tail section. I like it a lot!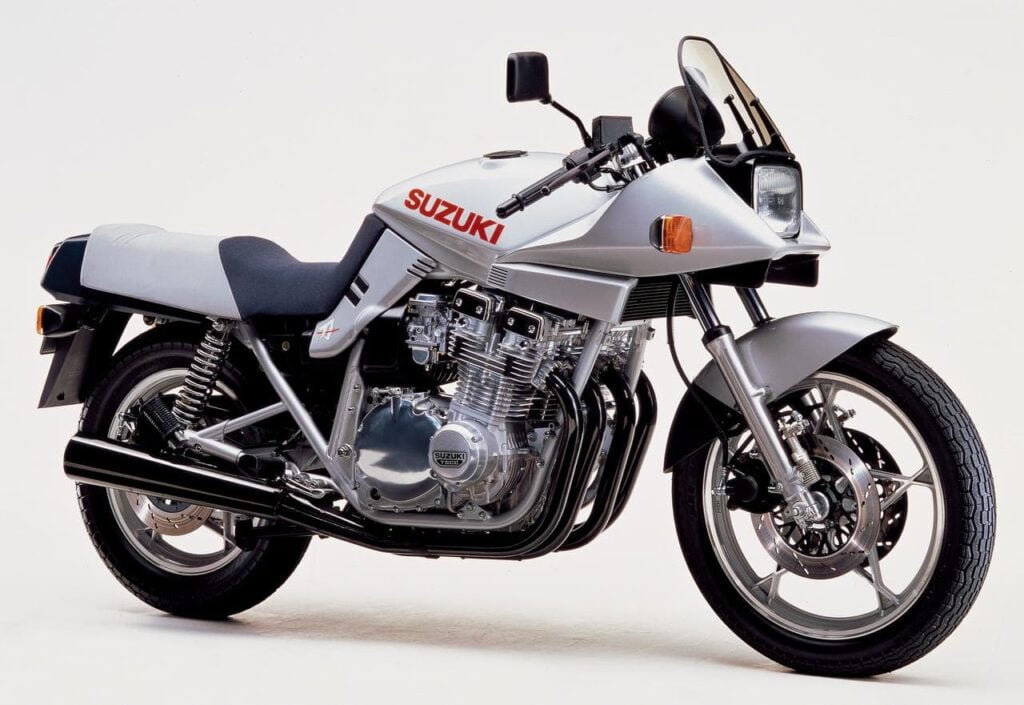 Kawasaki H2R — Should be illegal (and on streets, it is)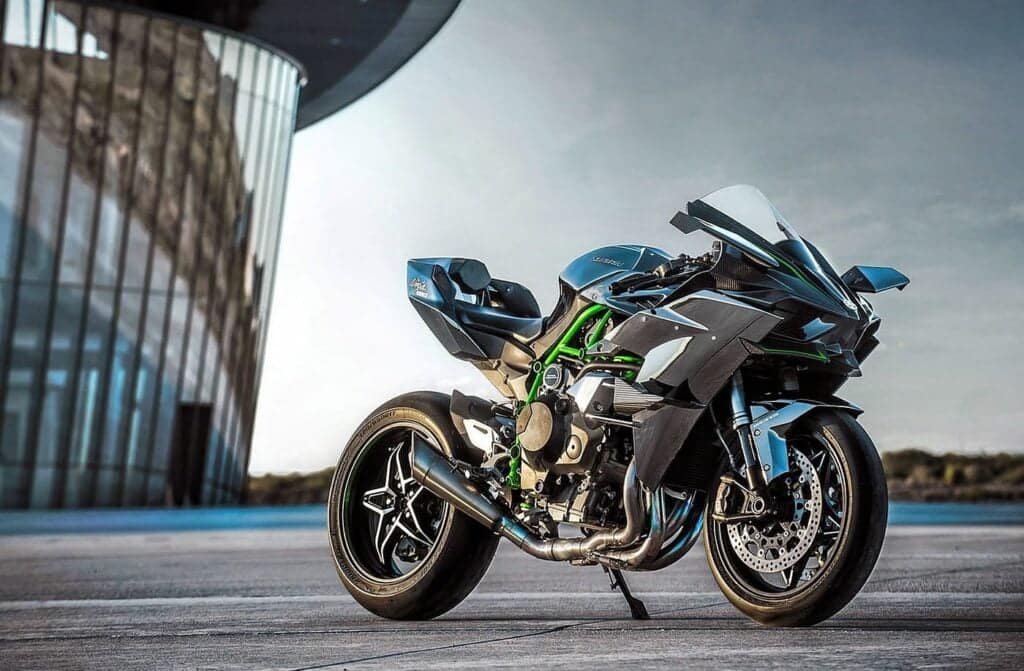 The Kawasaki H2 range of motorcycles is great. Most of them are road legal, all of them are awesome, but it's the race-only H2R that really makes you sit up and pay attention.
Whenever I walk into a Kawasaki dealership and I see the H2 anything (if I'm lucky there might be an H2R on display), I say "ye gods!" and wonder what it would be like to ride.
It'd be ludicrous. The H2R has a facade that looks like it literally eats anything in front of it in an unquenchable thirst for thrust. It produces about 50% more power than anything out there that's street legal, with 230 kW (310 hp) at the crank.
It's also highly exclusive. You have to pre-order them. You can't get parts for it unless you're a certified owner. Basically, don't touch it; don't even look at it.
I wouldn't actually buy this, I'd buy the H2 SX SE+, probably with luggage. And not in Australia, where exceeding the speed limit by a hair gets you fines, "demerit points", and side-eye from judgy family members.
See my guide to the Kawasaki H2 range of supercharged motorcycles here.
Yamaha Ténéré 700 — the CP2 from the MT-07 in an adventure chassis
The Ténéré 700 has been eagerly awaited ever since Yamaha started teasing it in 2016 as the T7 concept at EICMA.
For many people, The Ténéré 700 represents the ultimate balance between fast, lightweight, and off-road capable, something you can use both on the highway and once you decide to leave it.
It packs the 689cc motor from the full-powered Yamaha MT-07, which produces some 55 kW of power (75 hp) with its 270-degree crank, making a burbling sound reminiscent of a liquid-cooled V-twin. The "CP2" engine is a highly-praised engine for its power delivery, character, and sound. Yamaha also claims it is the most reliable engine available.
But it's the looks of the Ténéré 700 that put it on this list. It looks angrier than any other middleweight off-road-ready motorcycle on the market, mostly because of its smaller size. The only comparison I would accept is the larger Honda Africa Twin (below).
Surprising to many in the US who never had the smaller Ténéré 660Z, it was already a really good-looking dual sport machine.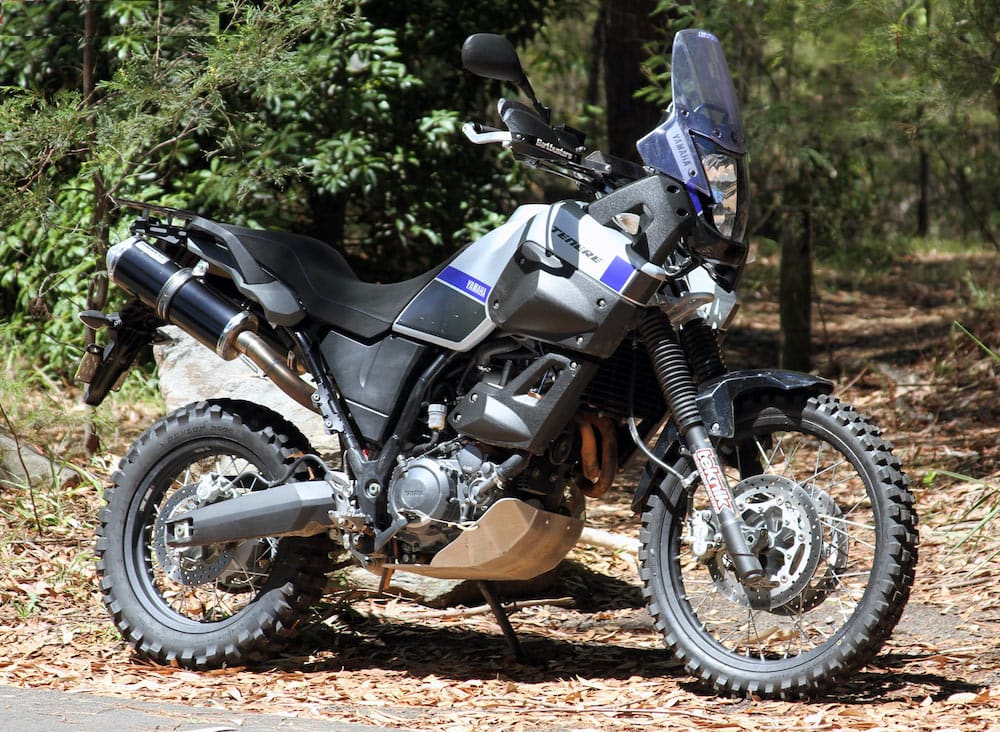 Triumph Rocket III TFC — the largest capacity motorcycle ever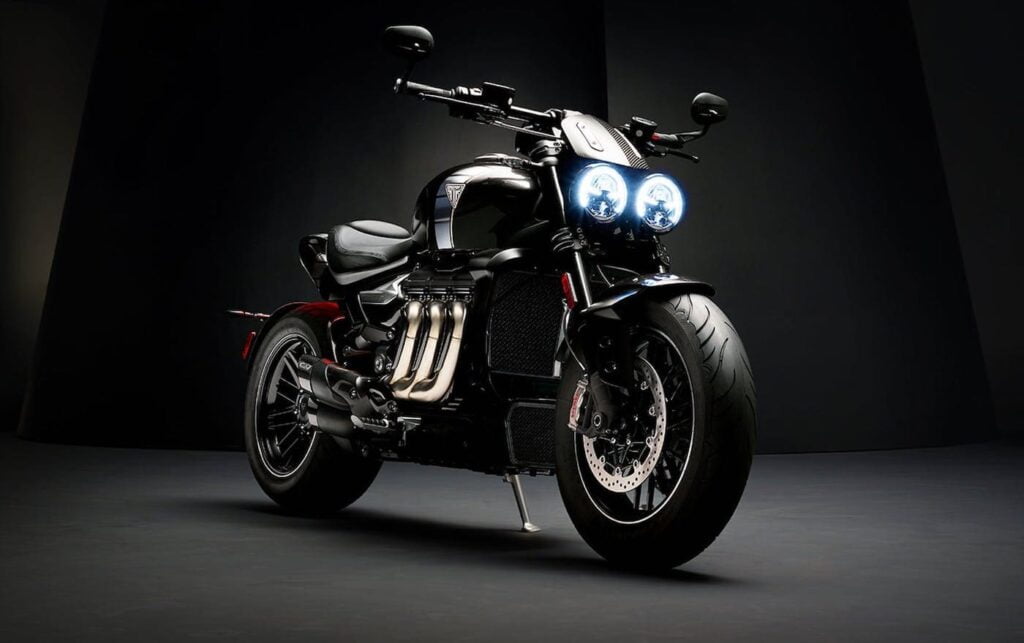 The Triumph Rocket has always been a particularly striking motorcycle, and the limited-edition TFC version (with only 750 produced) is even more so, with its 200 cc larger engine (as if you needed more), Arrow silencers and carbon fibre details.
In base form, the Triumph Rocket III is a 2,300cc three-cylinder motorcycle that weighs over 350kg (nearly 800 lbs) that produces what I think is the most torque out of any motorcycle I've ever seen a spec sheet for — 225 Nm (165 ft-lbs)!
Unlike its most direct competitor, the Ducati XDiavel, the Rocket isn't really a machine to go around corners at speed. The Rocket drags footboards easily, per a friend who took one on a test drive. But if you want to in a straight line on the biggest motorcycle engine (on one of the best-looking motorcycles) in the world, this is the machine for you.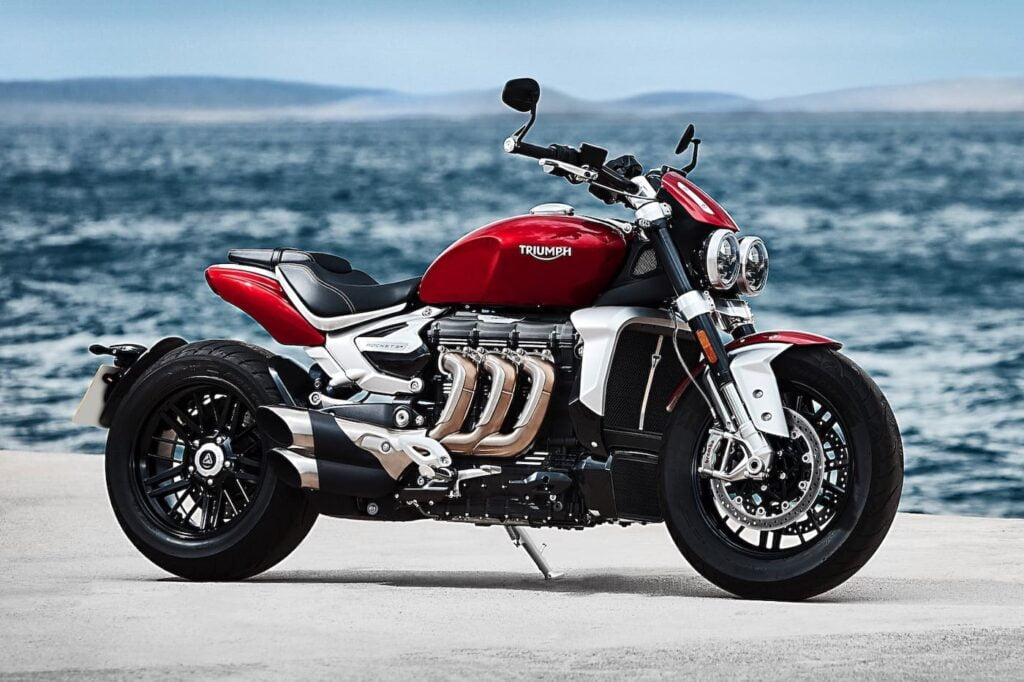 Ducati Streetfighter V4 — a Panigale without fairings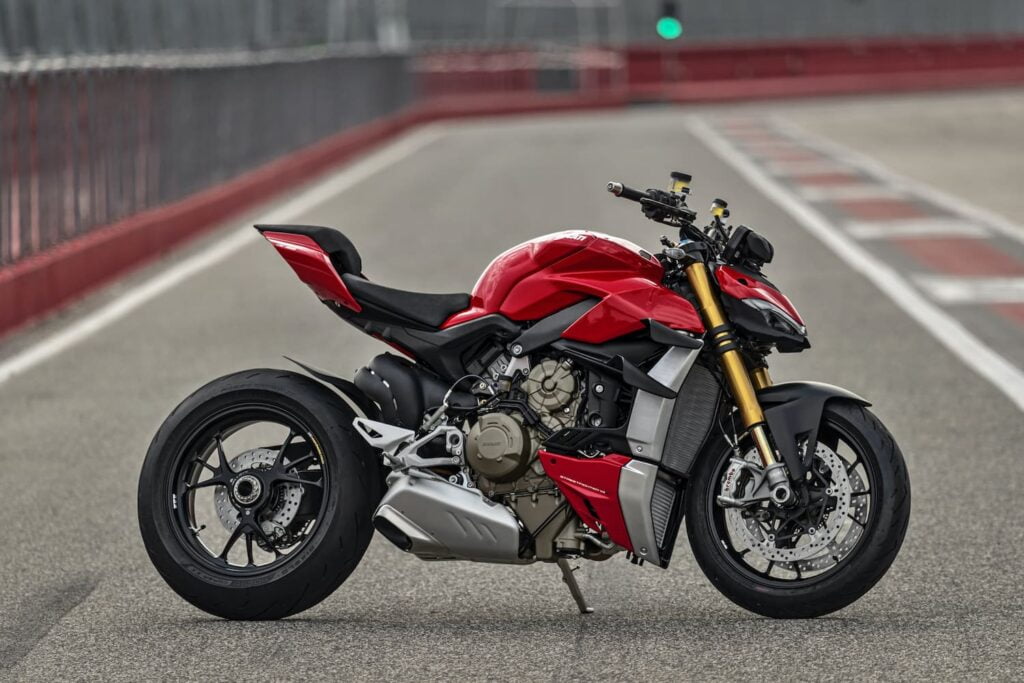 Any list of beautiful motorcycles will have a Ducati in it — if not several.
One of the stars of the 2020 lineup is the Ducati Streetfighter V4, the naked incarnation of their Panigale V4. This motorcycle actually won a vote at EICMA for the "Most Beautiful Motorcycle", so it's not just my arbitrary opinion.
Aside from being a looker, the Streetfighter V4 is also just a bonkers motorcycle. It's the Panigale V4 without the fairings, retaining the its 1103cc engine making a peak of 156 kW (210hp) in a sub-200 kg (439 lb) chassis. The engine is only slightly lower power than that in the Panigale V4, losing only a few horsepower.
The Streetfighter V4 comes with the usual suite of Ducati rider aids to make sure you get the power to the ground without dying too quickly. Personally, I'd pick the V4 S over the base model, for the semi-active Öhlins suspension and forged-aluminum Marchesini wheels.
Indian Scout Bobber — get looks everywhere you go!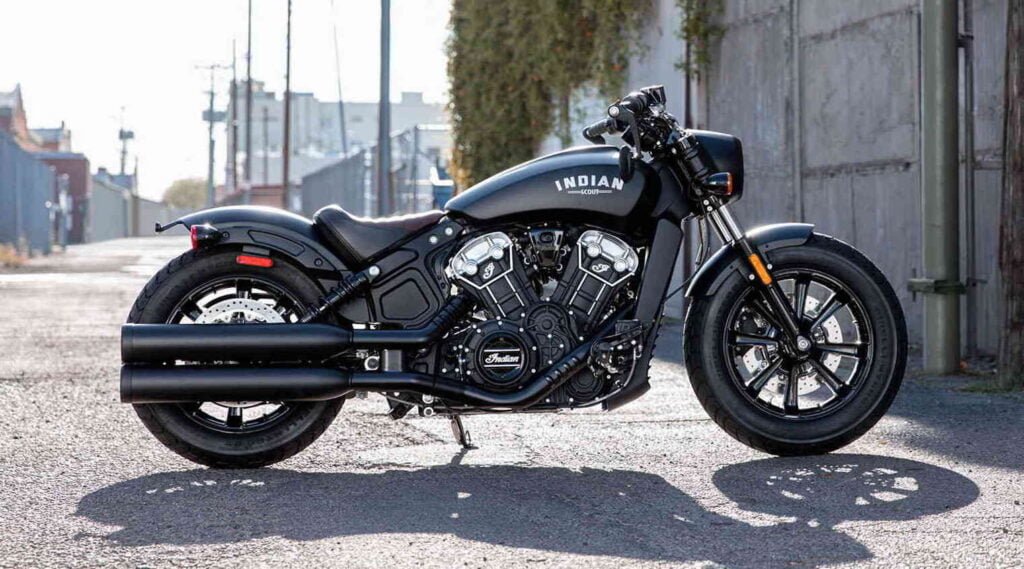 The 2020 lineup from Indian is amazing, but nothing really gets my attention like the simple awesomeness of the Indian Scout Bobber — especially blacked out like this one.
To be fair, Indian launched the Scout Bobber in 2017. But I omitted it last year, and so thought I'd throw it in this year. Because I can't stop looking at them.
The most wonderful thing about Indian, I think, is the exhaust burble in totally stock form. I've heard a lot of stock motorcycles that sound good. Without brand or style prejudice, Indian is one that always makes me double take.
The Scout's engine is itself pretty special. The Indian Scout Bobber (and the regular Scout) makes 74kW (100 hp) from its 1133cc 60-degree V-twin engine, which is liquid-cooled and has a dual overhead cam. The engine has a very different character to engines in other cruisers. Peak torque comes at 6K rpm and the redline is north of 8k (though you shift a little lower, in practise). All these figures are higher than a Triumph Scrambler!
It still has a wet weight of 255kg (554 lbs), but like most low cruisers, you don't feel it when riding it (or even sitting on it).
See my review of the Indian Scout Bobber (and the rest of the range) here.
Suzuki V-Strom 1050XT Adventure — Big Bird (not for everyone)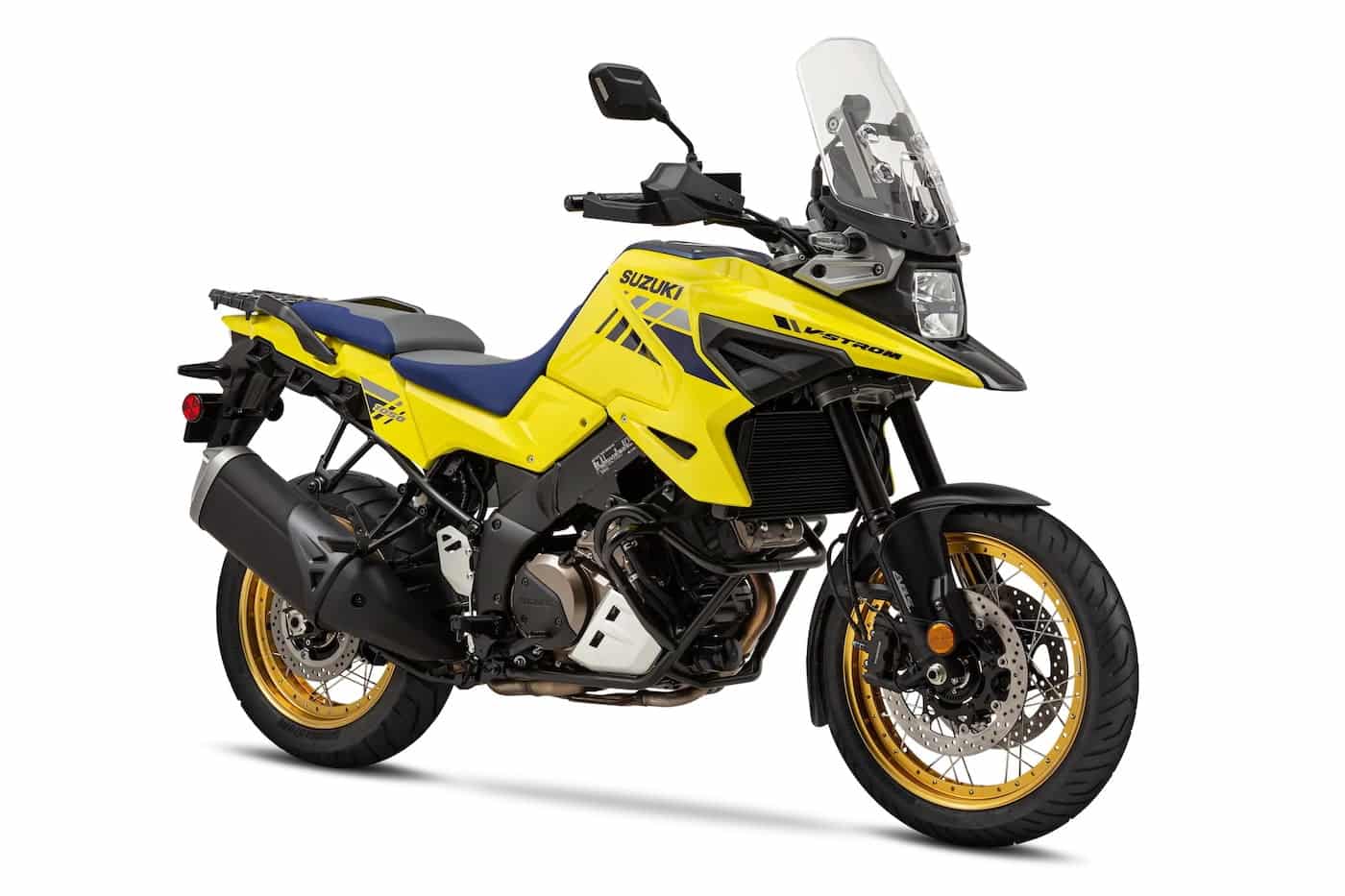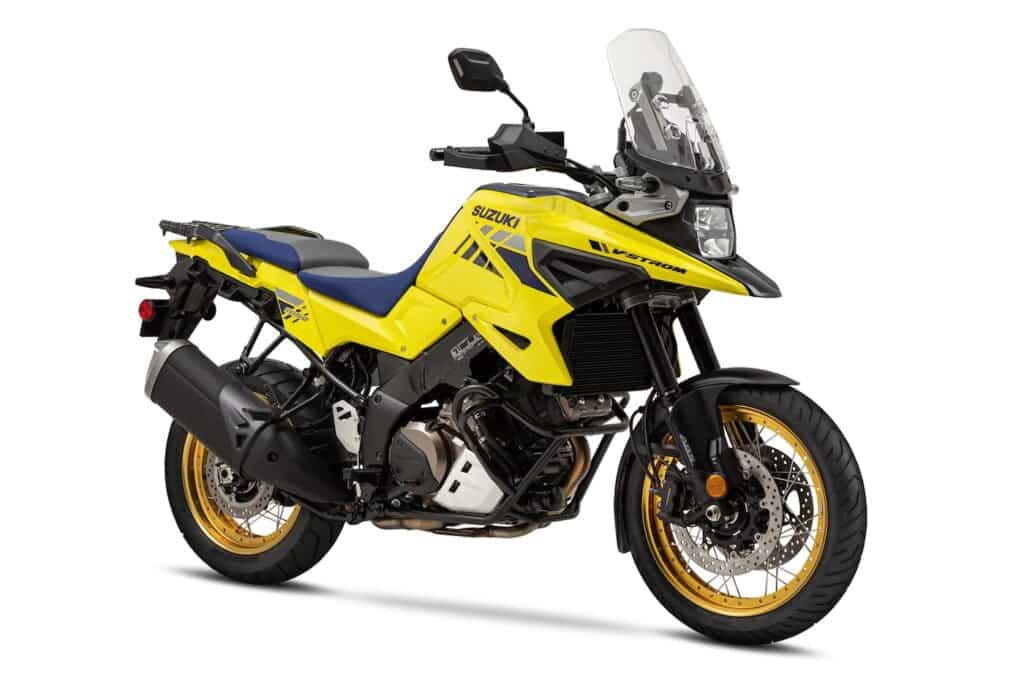 A V-Strom?? In a list of beautiful motorcycles? Yep, I'm doing it.
Sometimes I want to praise a designer for going their own way and staking their own design territory rather than hawking others. Because the V-Strom is a competitor to the universally admired BMW GS adventure bikes, it's interesting to me that not only do they look quite different, but that Suzuki is pushing them even further apart.
The V-Strom was always an acquired taste. It's an incredible motorcycle to own, either in 650 or 1000cc variants. It used to be that the 650 was better, but these days people say the 1000 has gone past it (but it's a subject of regular fights on ADVrider and the like). People praised them for function over form, or "functional design". Both sound great (and feel great under the seat of the pants), too, even with a stock exhaust!
But the 2020 version of the V-Strom is actually cool to look at. It echoes the 1980s, as well as Suzuki's smaller DR line, complete with Big Bird yellow. It looks a lot like the DR200 I did rider training on in the US!
Furthermore, Suzuki is updating the 1000 version of the V-Strom to 1050 (in name… capacity stays the same at 1037cc). You'll get a bit of a horsepower bump, but that's also to compensate for a heavier exhaust system that is compliant with EURO-5 emissions standards.
Other major improvements include electronics, including a 3-axis IMU, otherwise known as lean angle-sensitive ABS, or cornering ABS.
Honda CRF1100 Africa Twin — Everyday Dakar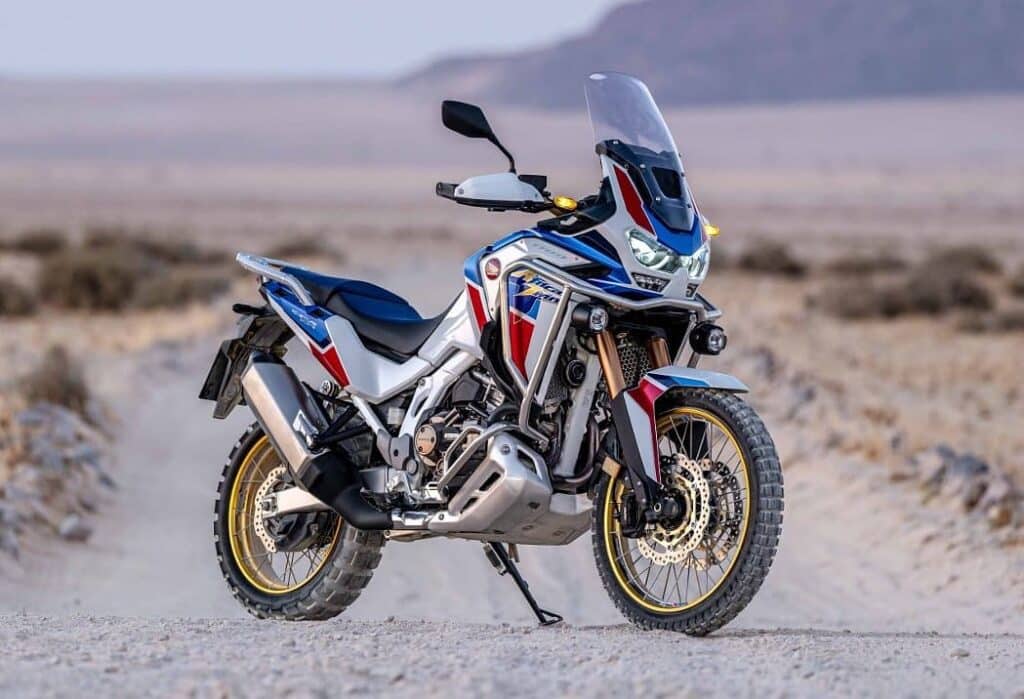 The Africa Twin is one of the coolest motorcycles out there now — and not just because it's called "Africa" (something that will always sing to me ever since I spent some time there learning Swahili).
The Africa Twin came out in 2016 in its original incarnation, a re-release of the original Africa Twin from many years back, a V-twin powered mixed-use motorcycle that was way ahead of its time.
The CRF1100 is a big update, though. Honda increased the engine capacity, gave it lots more low-down torque, added lots of cool electronics (like cruise control and cornering ABS), and somehow made it lighter in the process. The base model 2019 CRF1000L Africa Twin (non-DCT) weighed 230 kg (506 lb), but the 2020 base model weighs 226 kg (498 lb).
The Africa Twin in 650 and 750cc formats was one of the original adventure motorcycles — way before the current adventure craze. The XRV750 Africa Twin was based on the NXR-750, which won the Paris-Dakar rally four times in the late 80s.
But things have changed a lot since then. While the original XRV650 and 750 were powered by V-twins, fed by carburettors, and made 50hp or less, the newer CRF1100 uses a 1084 cc parallel twin (but with a 270-degree crank, for epic sound/power delivery benefits) producing over a hundred horsepower.
See also: Motorcycles with a 270-degree crank
Many reviewers of the Africa Twin (from the 1000cc models) say that the Honda is better at off-roading than its heavier and more powerful competitors from BMW and KTM.
Something else that differentiates the Africa Twin is the optional DCT — which basically means automatic transmission. Naysayers throw up their hands, but here are arguments for DCT that all come from much more experienced riders than me:
Shifting isn't what everyone really wants to do. Some people want to just go on adventures, or tolean through corners.
You can still shift using the hand controls.
Other shifting technologies like slipper clutches, quick-shifters, and so on have a similar impact.
It's one less thing to bend or break if/when you crash.
Riding in difficult off-road terrain is MUCH easier if you're not worried about shifting
Personally, I'm a fan. Nobody I know cares how I shift a motorcycle. I also wouldn't care what they think anyway.
I've also always loved the parallel-twin 270-degree configuration, like on my Triumph Scrambler. It sounds great and there's only one head to open when it's time to do valve adjustments, which tend to sneak up on you.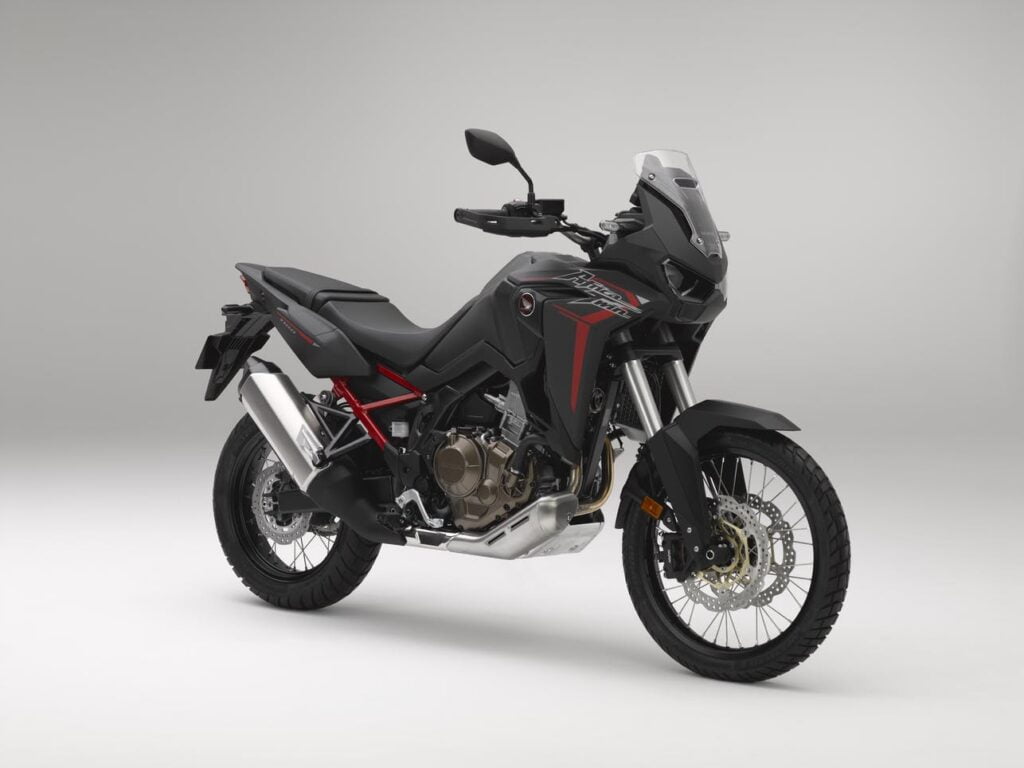 I'll probably get one of these to ride around Arnhem Land. In matte black, thanks.
KTM 890 Duke R — that hot Super Duke look in a mid-size package
KTM broke out of its "big single" format with the 790 a couple of years ago.
Until then, their middleweight naked was a 690cc thumper in a more road-going chassis than their enduro models.
But the 790 gave them a parallel twin, and the 890 is another extension.
The 890 Duke has an 890cc* parallel twin engine (with a 270-degree crank, for added drool-worthy sound and possibly torque delivery enhancement) that produces 99 Nm (73 lb-ft) and 89 kW (120 hp) of power. It comes with a full electronics package — traction control, stability control, lean angle-sensitive braking, and an optional quick-shifter.
The KTM 890 Duke, unfortunately, omits the dead-sexy single-sided swing-arm of the Super Duke. (So why not just put in the Super Duke? Because the 890 has more to it that's new. And I'm a sucker for a middleweight. But nobody is denying that the Super Duke is and always has been a stunner.)
See here for all the other middleweight naked sport bikes available.
* You may sarcastically think "wow, thanks for the info about the capacity, because it wasn't obvious", but European manufacturers have this weird tendency to only vaguely correspond numbering with engine size. Some models of Ducati 916 have a 955 or 996cc engine, for example. Keeps me on my toes.
Harley-Davidson Breakout 114 — hard to pick just one Harley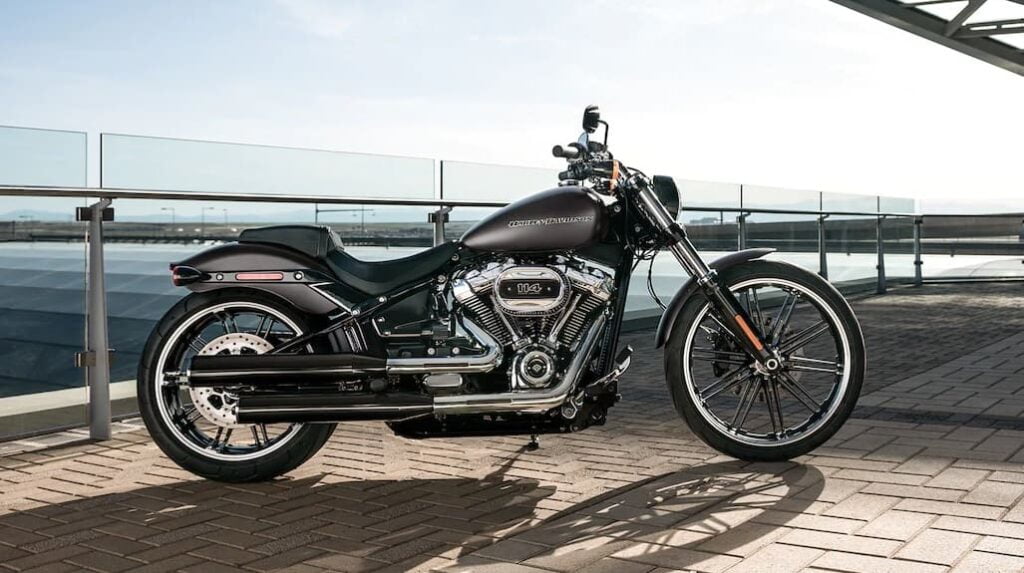 You can't have a list of great-looking motorcycles without a Harley-Davidson. And one of the best-looking they have is the BREAKOUT. (That word just deserved all-caps, italics, and bold-face!)
The Harley-Davidson brand is divisive, with some people saying they'd never be a "Harley rider", associating H-Ds with loud exhausts, belligerent riders, low top-end power, poor cornering ability compared to sportbikes, and unreliability.
But none of that is true of the brand overall.
You don't have to have a loud exhaust or be an angry rider.
Further, Harley Davidson motorcycles don't perform like sportbikes, but they still lean more than most average Joes or Janes ever will in city driving, and produce torque down low where most (not all) riders spend most of their time.
Finally, modern Harleys aren't any more unreliable than other major non-Japanese brands including Ducati or BMW — whether you get a lemon is just luck of the draw. But don't let recency or confirmation bias mislead your inner statistical engine.
Anyway, on to the Breakout: This has a 1868cc or 114 cu. in. engine that makes 114 lb-ft (154 Nm) of torque and 93 hp (69 kW). Peak torque is at 3000 revs, while the engine tops out just shy of 6000.
The Breakout is still heavy though. Even though the 2020 model is 17 kg lighter than the previous, at 305 kg wet, you really have to haul the things around corners. Slow-speed manoeuvring is also tough. And when cornering, don't go too hard — the maximum lean angle is only 27 degrees.
Another two things that don't change about Harley-Davidson is that a) they generally have lower-tech engines, and b) they're expensive. But they do keep their value better.
Still, it looks mean as anything, and that's what this list is about.
There have been other awesome models of Harley-Davidson Breakout aside from the 114. See the complete guide to the Harley-Davidson Breakout here.
Brands missing from this list — The "Also Rans"
You might note nothing on this list from Kawasaki, BMW, Moto Guzzi, or Royal Enfield.
This isn't because they don't produce some amazing motorcycles. I'd give a right foot for any one of them (because I can still ride without a right foot…)
But those brands haven't produced anything strikingly different in the last few years.
Moto Guzzi's design language has been the same for so long that it doesn't deserve a special mention. Yes, they're doing it right, but nothing is new.
BMW (which was on my list of the best-looking motorcycles of 2019) hasn't yet released its R18 1800cc opposing twin cruiser. It's still a concept. I'm waiting, though.
Finally, Royal Enfield did some minor aesthetic upgrades on the Himalayan and its other models. They're just keeping up with the Joneses though in terms of design with their other models. The RE motorcycles are outstanding value for money, but not independently drool-worthy.