In 2018, when Ducati released the Ducati Panigale V4, their first V4 motorcycle, ending a very long period in which they had exclusively made V-twins (or L-twins, as they call them), it brought a lot of excitement into the V4 category of motorcycles.
But aside from the cost, the Panigale V4 wouldn't be my first choice of commuter. Luggage would ruin its lines, and I'd spend most of my time below its powerband.
Luckily, the Ducati Panigale V4 is not the only motorcycle with a V4 engine that you can buy. What really surprises me is that not only are there a few other motorcycles with V4 engines, but that some are still available on the used motorcycle market — for very reasonable prices!
So here's a list of all the V4 motorcycles that have been in production for the last few decades. You might have heard of the more usual suspects, but I'm hoping that you'll be surprised by at least a few.
Here they are.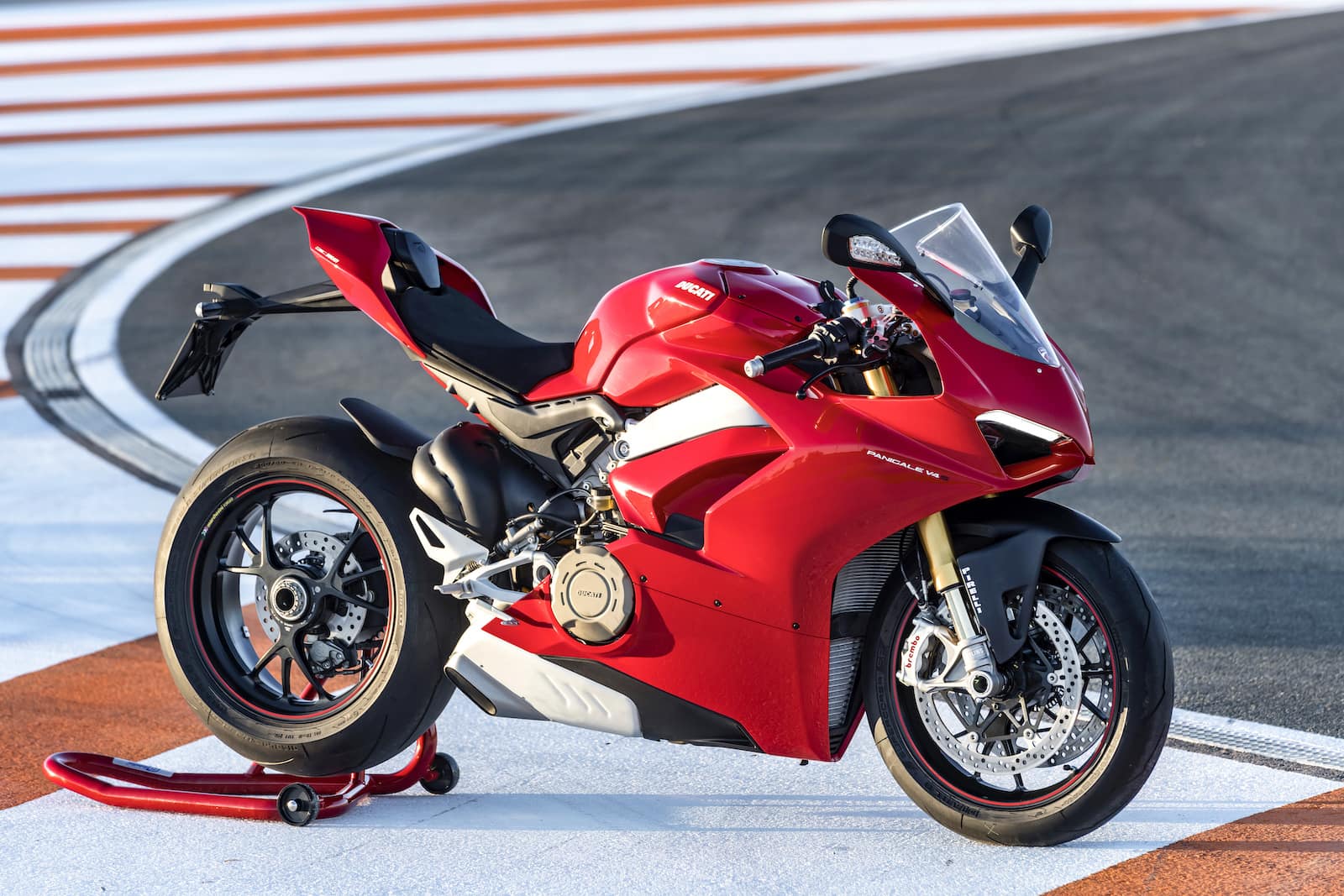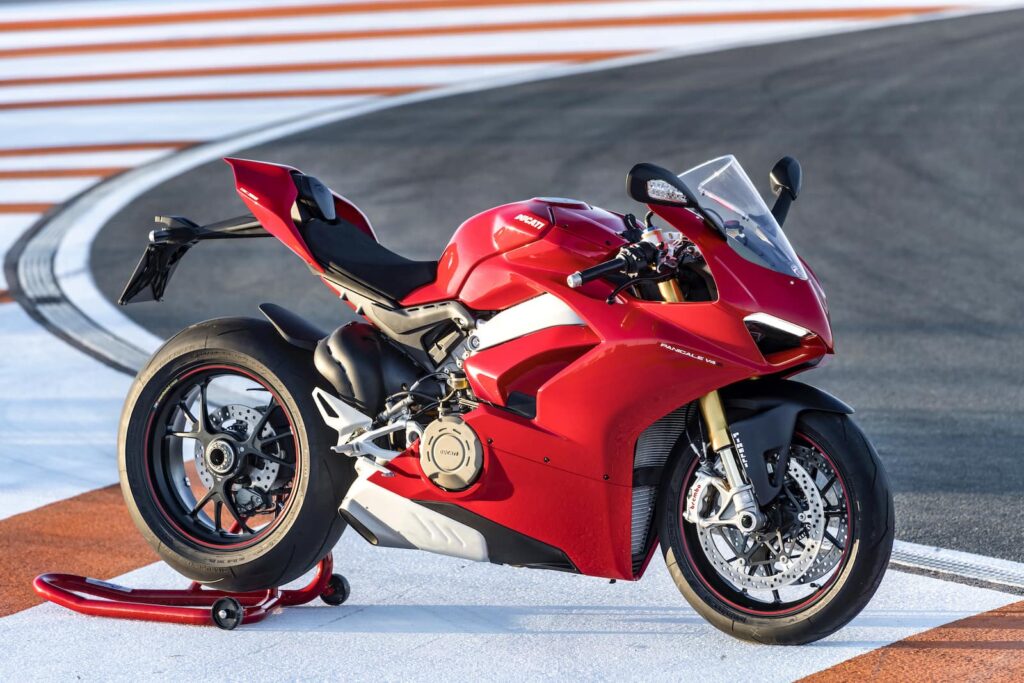 Are you obsessed with motorcycles?
Well, I am. That's why I created this site — as an outlet. I love learning and sharing what others might find useful. If you like what you read here, and you're a fraction as obsessed as I am, you might like to know when I've published more. (Check the latest for an idea of what you'll see.)
All the V4 Motorcycles — In a Nutshell
There's something special about the way a V4 motorcycle sounds and feels. It has a little bit of the animal of a V-twin, but the smoothness of a V4. In the motorcycle world, I think of it the same way I think of a V8 engine in a car. It's something special!
But one rarely sees V4 motorcycles in production these days. In fact, there are very few, and to my knowledge, they're only the highest-end motorcycles — the Panigale V4 and the Aprilia models, the RSV4 and Tuono V4, plus a few others.
So I got to thinking — what other V4-engined motorcycles are there out there? And are there perhaps some made by non-Italian manufacturers, for which service and parts might be cheaper and more available?
The surprising thing (to me) is just how many V4 motorcycles there are out there in used bikes. And the fact that most of them don't come from the two brand superstars Ducati and Aprilia, but in humbler motorcycles from Honda and Yamaha. And be ready… there are a lot of Honda motorcycles in this list!
So while V4 elicits "Panigale V4" from obsessives like me, I also know that Honda was making V4 engines since the eighties, and that Yamaha and Honda have put V4 engines into muscle bikes, cruisers, and sport-tourers.
Even Aprilia has been making a V4-equipped superbike for far longer than Ducati. Ducati partly received a lot of attention because people think "Ducati = V Twin", and breaking from that mould was big news for a small manufacturer. But they definitely weren't the first to experiment.
Here they are — all the V4 motorcycles (that you can reasonably buy).
Updates — early 2023 I've re-arranged this to be in alphabetical order, added some of the newer Ducati motorcycles, and also added in the Norton RSV4.

More updates mid 2023: Added the as-yet-unreleased CFMoto 1000RR.
Aprilia RSV4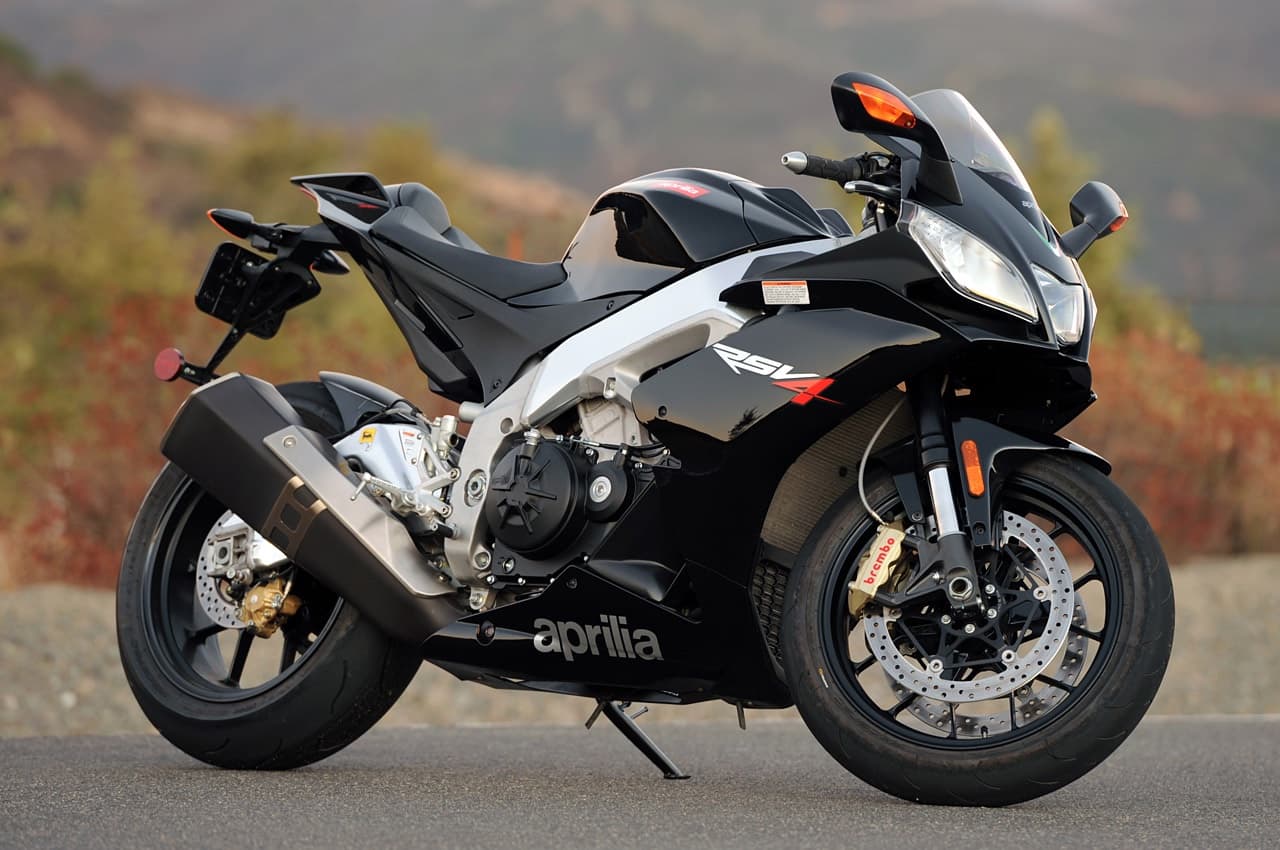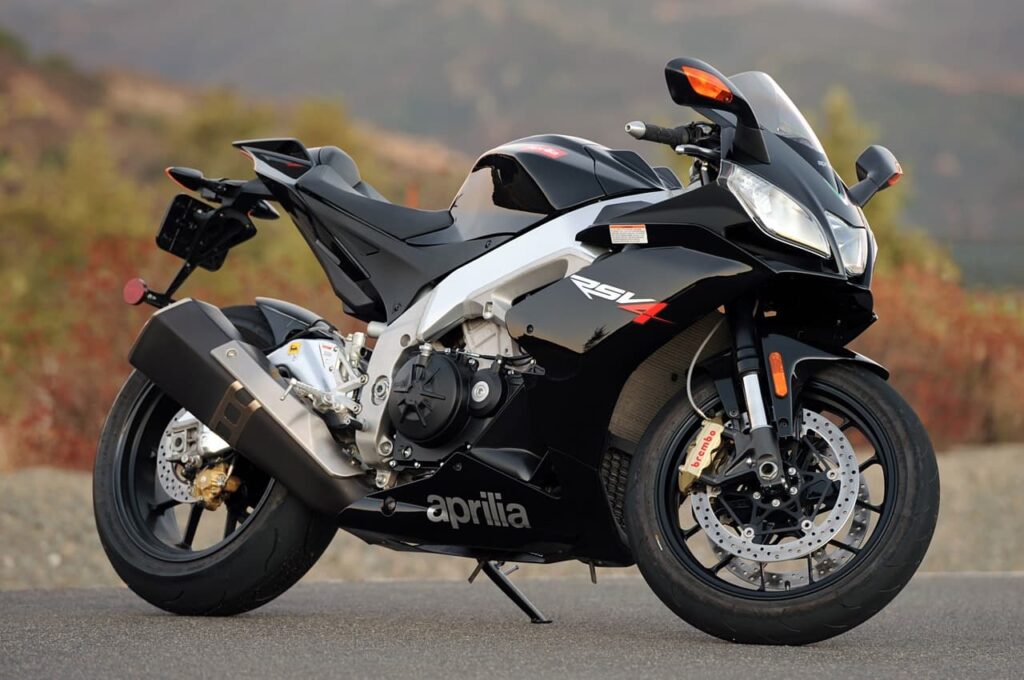 Firstly, I can't go without mentioning the Aprilia RSV4.
While much fanfare was made about Ducati making a V4, their fellow Italians were making V4 superbikes nearly a decade earlier.
Aprilia released the first RSV4 in 2008, replacing the V-twin equipped RSV1000R. That first version RSV4 had a 999.6cc 65-degree V4 engine that made 150 kW (201 hp) @ 13,000 rpm, though substantially less at the rear wheel (114 kW or 153 hp), suggesting maybe Aprilia was a little ebullient in their claims.
Still, the Aprilia RSV4 is a superbike that many think of as being the "if you know, you know" best-sounding motorcycle on the planet. Many people cite the Aprilia V4 motor as being the sweetest-sounding motor around, with some stiff competition the 2009+ Yamaha's YZF-R1 and its crossplane inline four (the CP4).
Aprilia Tuono V4
Aprilia launched their Tuono V4 in 2012, using the same engine as in the RSV4 but with a more bottom-end-oriented tune.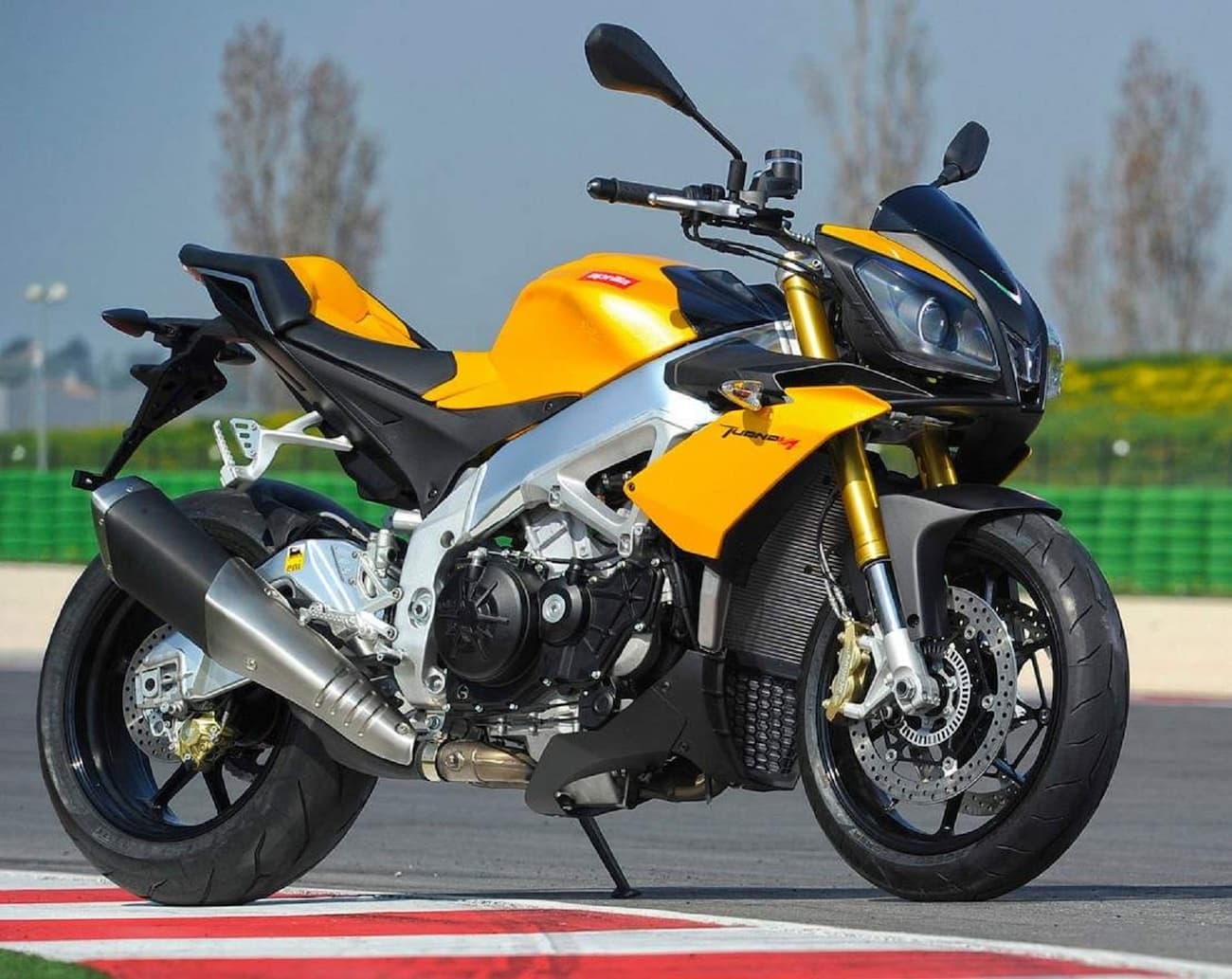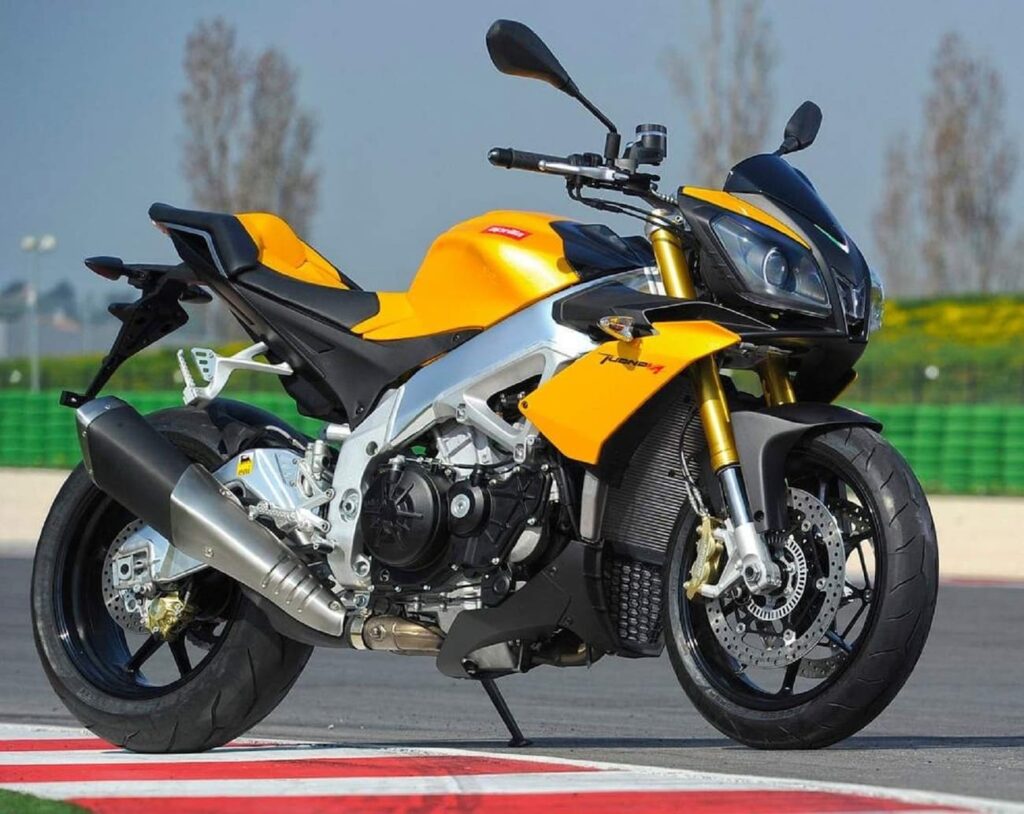 Like the RSV4, the Tuono V4 is a kick-ass, balls-to-the-wall V4-powered everyday street bike.
Aprilia makes an RSV4 and Tuono V4 today. They've bumped the displacement closer to 1100cc for both their V4 motorcycles.
Ducati Desmosedici RR
Quick disclaimer: The Desmosedici RR is more expensive than a Panigale V4, so this is hardly an alternative to a Panigale. But I had to include it, because it's so cool.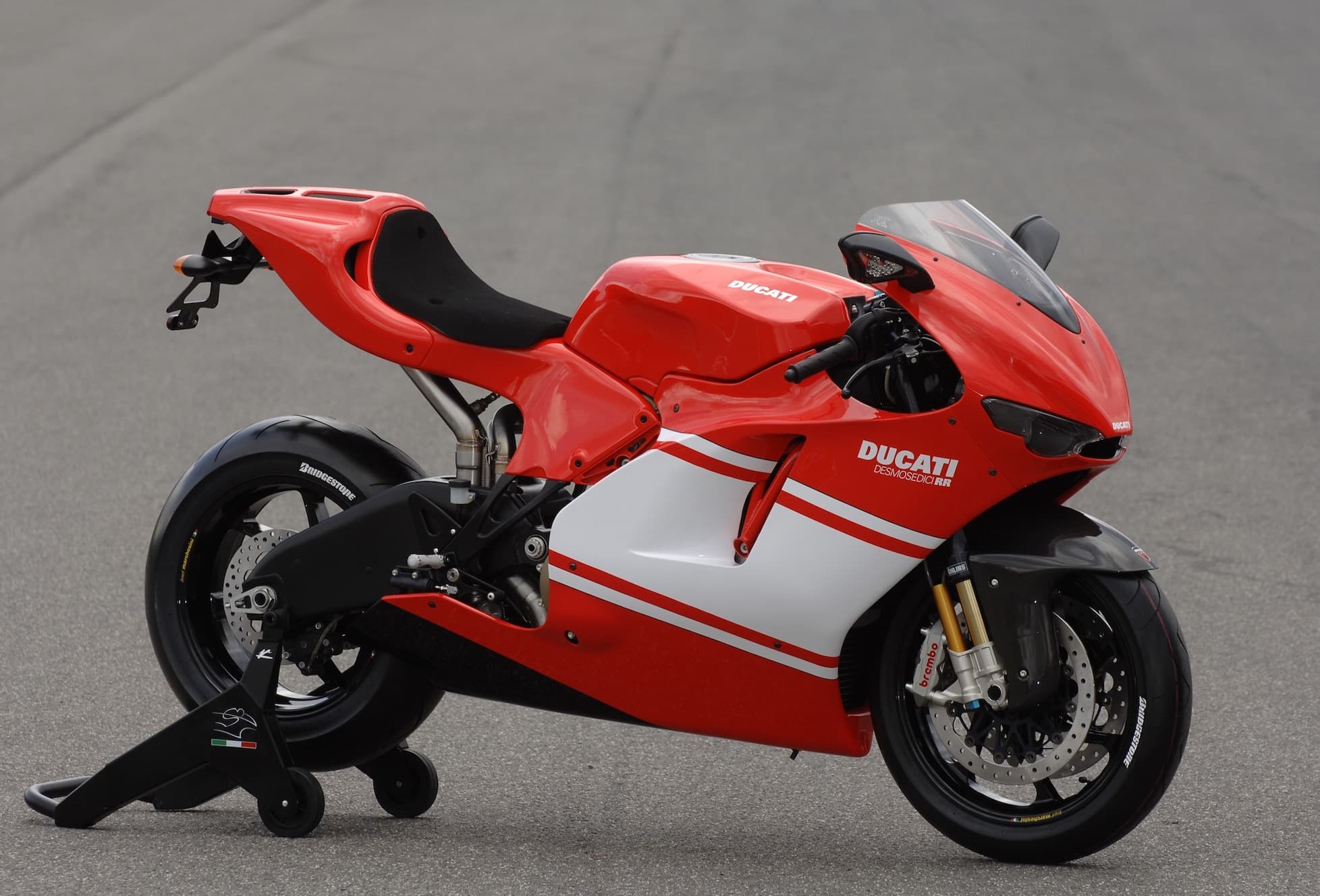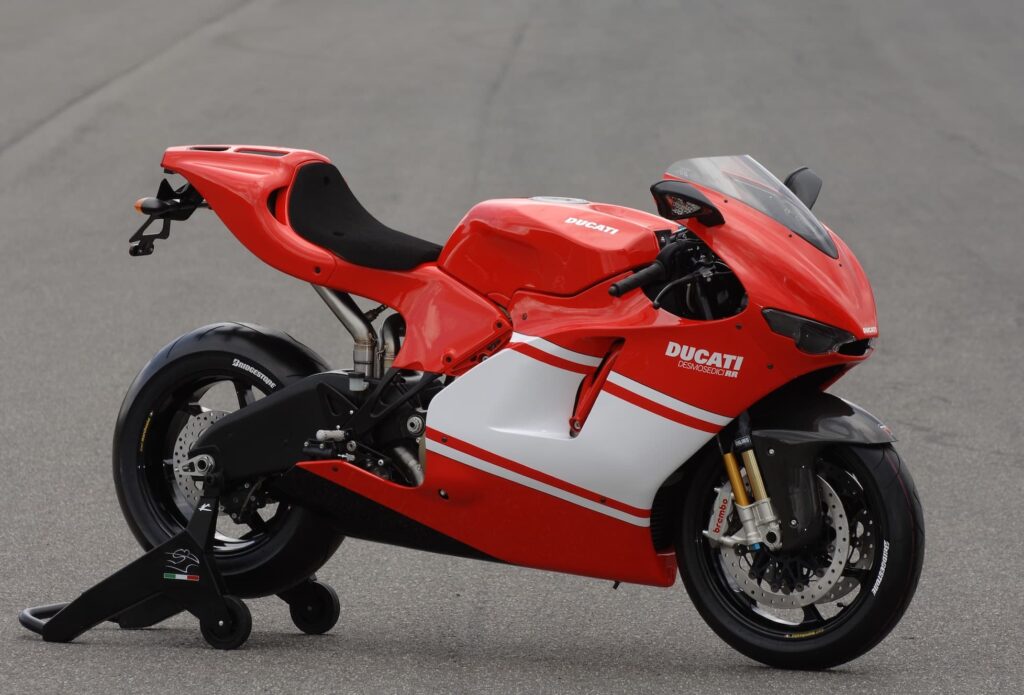 The Ducati Desmosedici RR was an early experiment in V4 motorcycles that Ducati made in 2007-2008. Ducati only made 1,500 road-legal models to homologate their MotoGP race bike. They retailed for an insane US$72,500, and the price has mostly gone up since then (I've seen them sell for over six figures USD).
Like many Ducati motorcycles, it screams "LOOK AT ME!" But interestingly, it has a few things different to the other racing motorcycles of the time (the 1098R, for example) — like a double-sided swing-arm, more reminiscent of the Ducati 999 or the later 899.
You really need to listen to the Desmosedici RR. Even laptop speakers can't hide how insane it sounds.
Unfortunately, the Desmosedici RR is nearly unobtainable. The collectors who own them ask for higher and higher prices.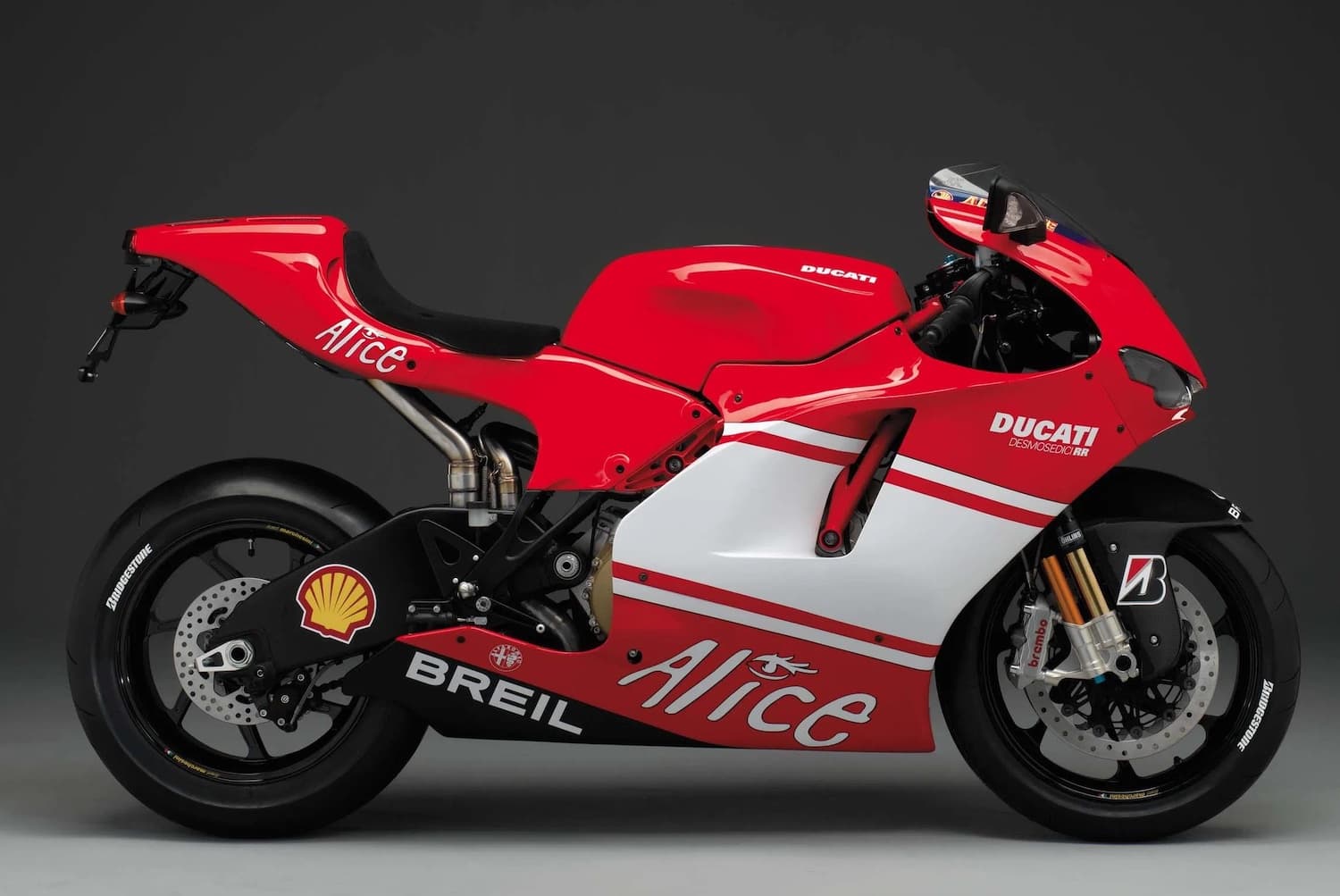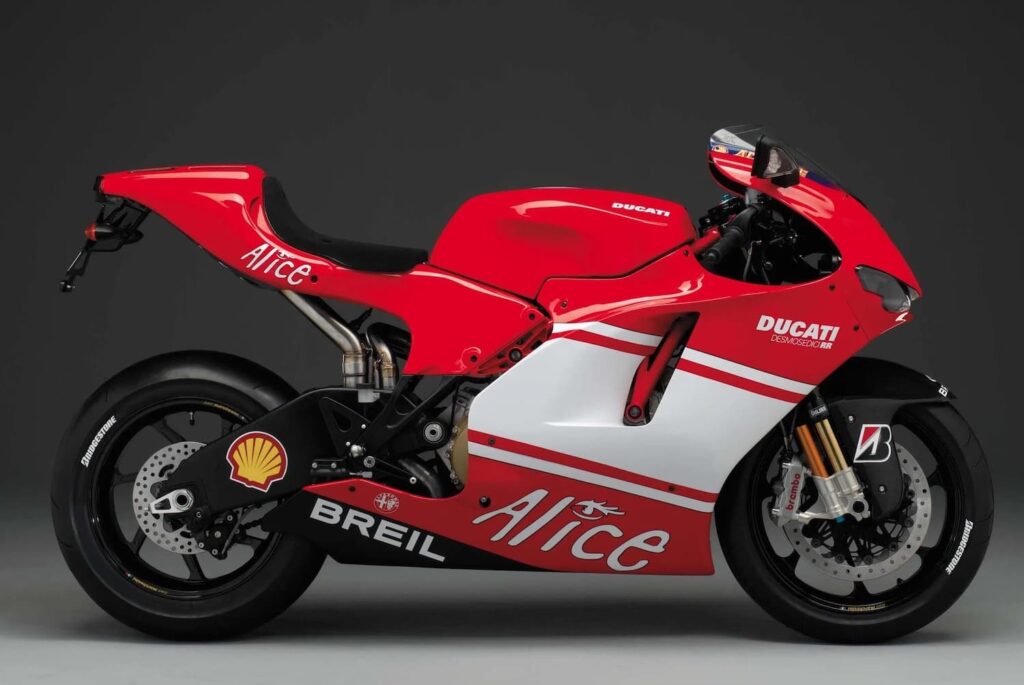 You can occasionally find a Desmosedici RR up for sale on auction sites like BringATrailer.com. For example, this one.
Ducati Panigale V4 (2018+)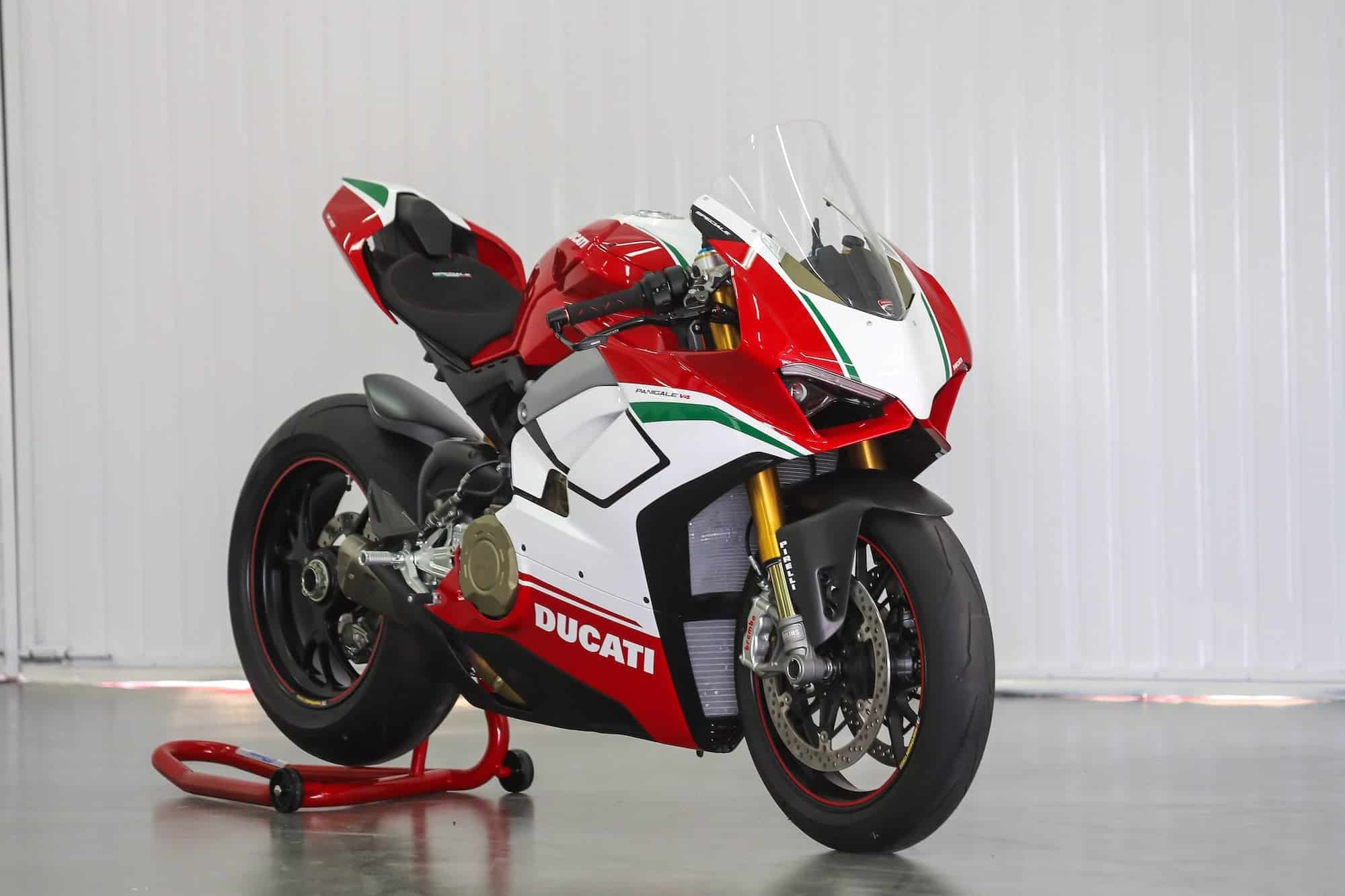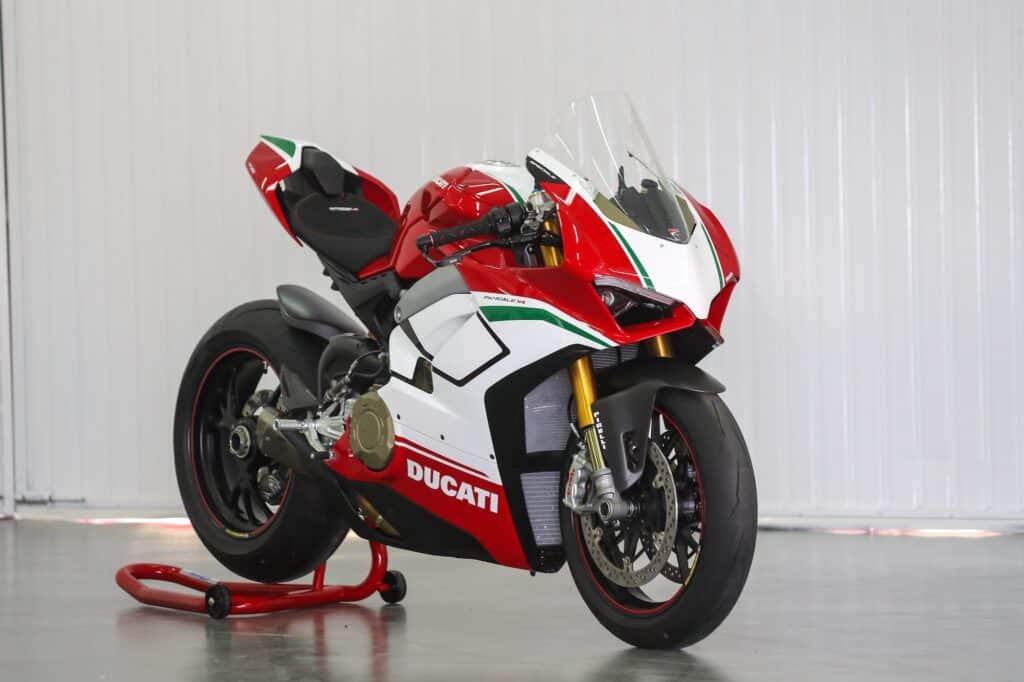 I initially wrote this list as a series of alternatives to the then-expensive and very exclusive Ducati Panigale V4. But as time has gone on, the Panigale is starting to be vaguely affordable, as they've been around for a number of years now!
The Ducati Panigale V4 is an incredible sounding machine, and it owes that partly to its V4 engine. It's definitely one of today's most iconic V4 motorcycles. Every time hear one go past, I think "Ye gods! I have to have a motorcycle that has that visceral, animal sound!"
The heart of the Panigale V4 is the Desmosedici Stradale V4 motor. It's based on the MotoGP motor from the Ducati Desmosedici, but in road-going form.
The Desmosedici Stradale is a 90-degree liquid-cooled V4. Other than the R form, it has a slightly greater displacement than its MotoGP inspiration, with 1103 cc of displacement. In original trim, the Panigale V4 made 155 kW / 210 hp at 13,000 rpm.
The Panigale V4 R has a smaller 998 cc Desmosedici Stradale motor, making peak torque higher up and peaking at higher power.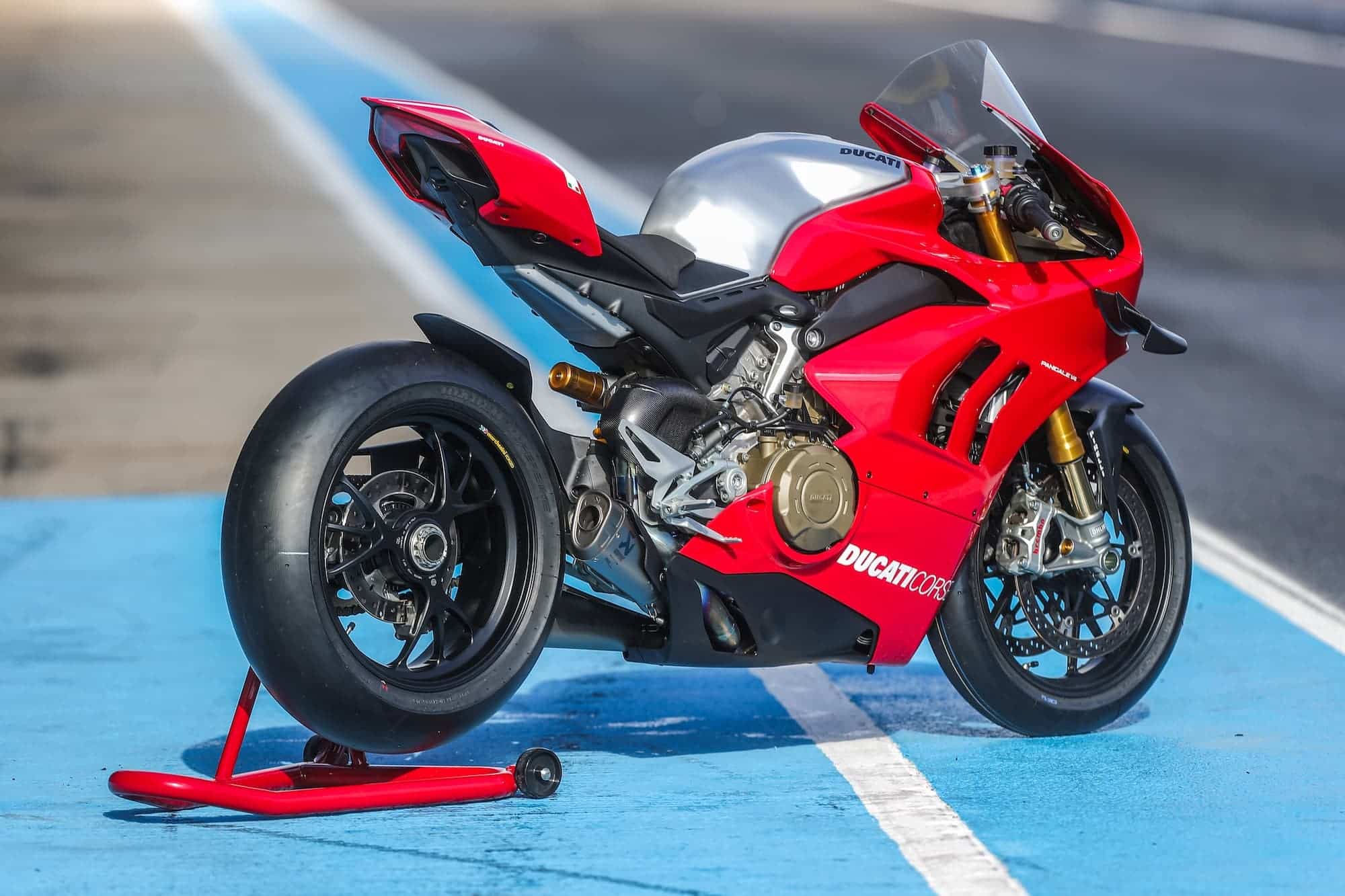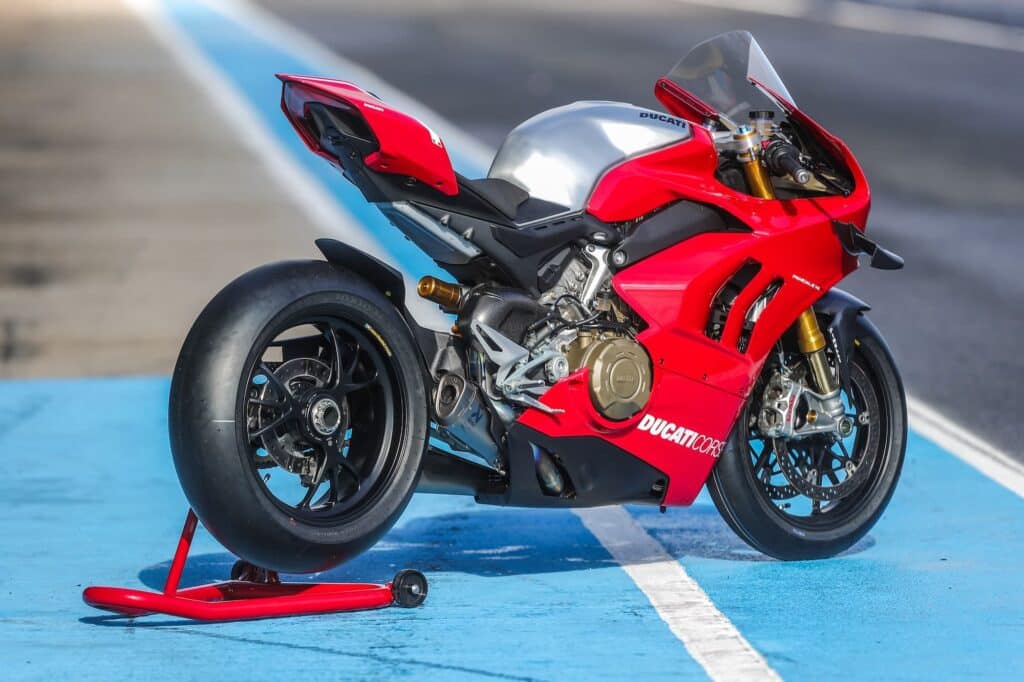 Ducati Streetfighter V4 (2020+)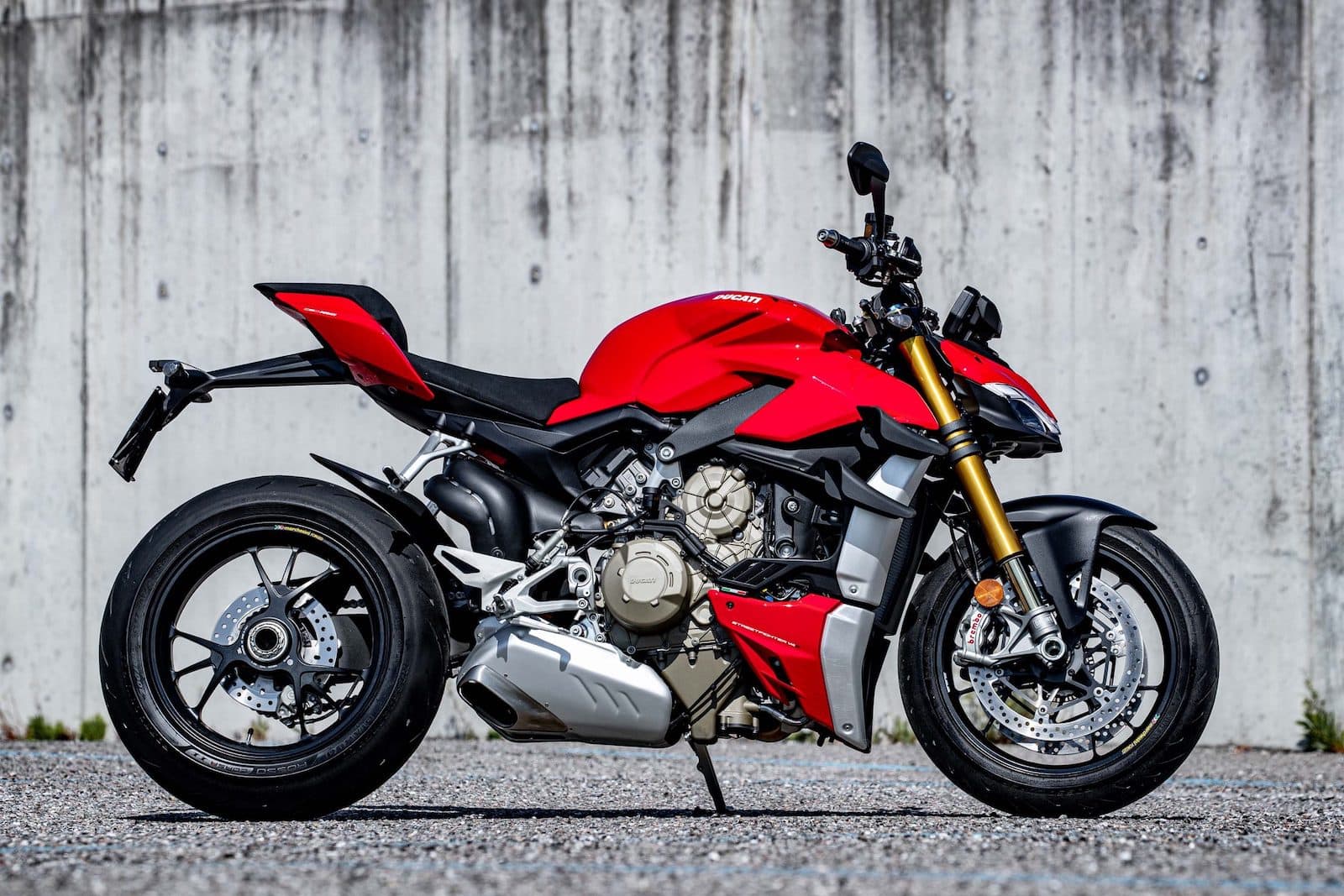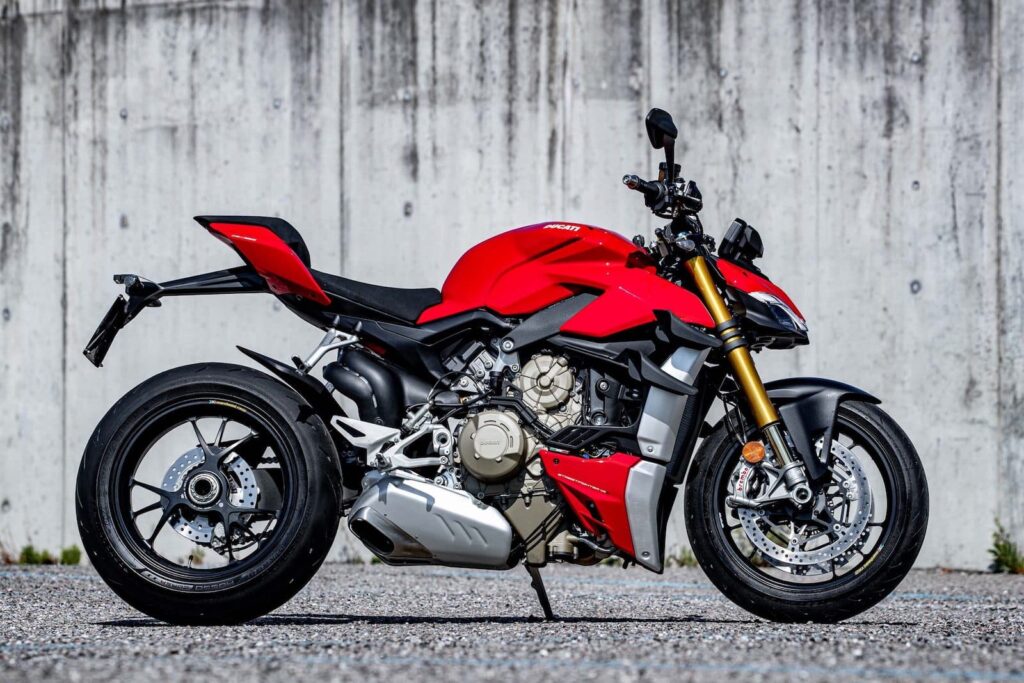 The Ducati Streetfighter V4 has the same basic motor as the Panigale V4. In fact, it is barely detuned, if at all — it could be just different breathing that least to its very slightly muted peak power and torque.
The Ducati Streetfighter V4 is already available in a number of different setups, including S, SP and SP2 trims. But they all share the same Desmosedici Stradale motor with peak power of 153 kW / 208 hp at 12750 rpm.
See the full Ducati Streetfighter buyer's guide.
Ducati Multistrada V4 (2019+)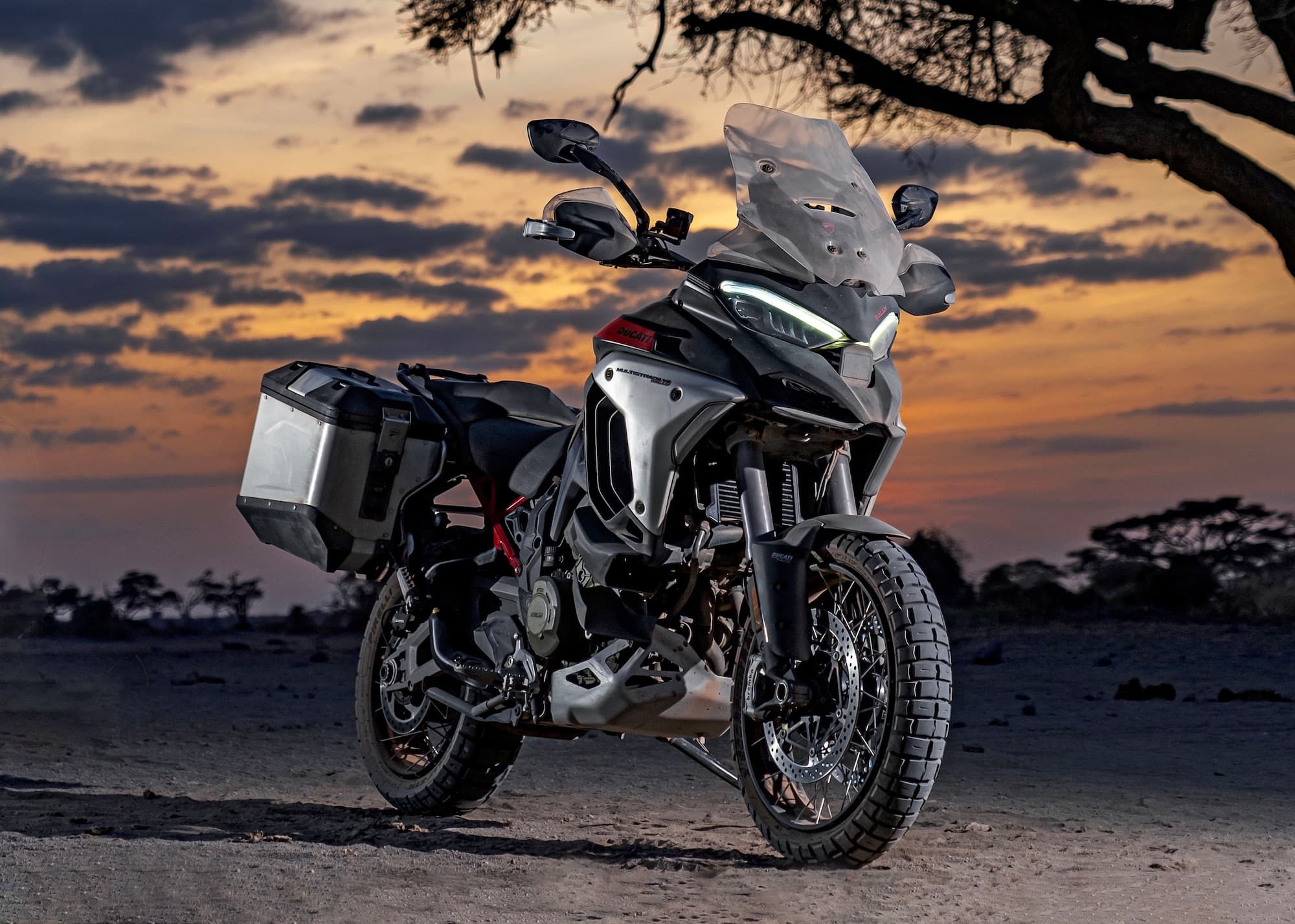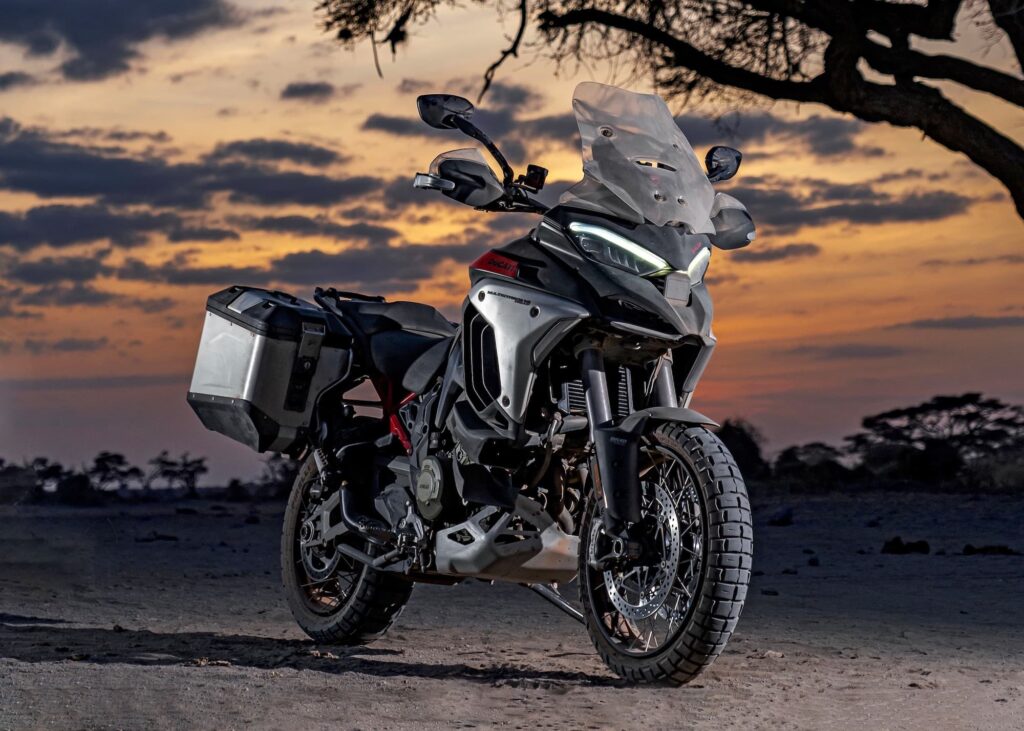 Shortly after Ducati released the Panigale V4, they released the Ducati Multistrada V4.
The Ducati Multistrada V4 is based on the V4 Granturismo engine. In the past, Ducati Multistrada models were been based on detuned versions of their street or sport bikes (until the 1262, anyway). But the V4 Granturismo motor is quite different, much more so than having a 2mm larger bore than the Panigale to give it a 1158cc capacity.
Yes, it's a V4, and yes, it has 70-degree offset counter-rotating crank pins that help with handling of the big bike. But the V4 Granturismo engine has a conventional valve train — no Desmodromic valves. This means that servicing it is not just easier (fewer clearances), but it comes up much less often — every 60000 km / 36000 miles, over twice the service interval of Ducati's superbikes.
And anyway, the engine is hardly "detuned", making a peak of 125 kW / 170 hp at 10750 rpm. This is a fast adventure sport tourer!
Ducati has released more motorcycles with this same motor, including the Ducati Diavel V4, and the more offroad-oriented version of the big Multi in Rally spec (pictured above).
Ducati Diavel V4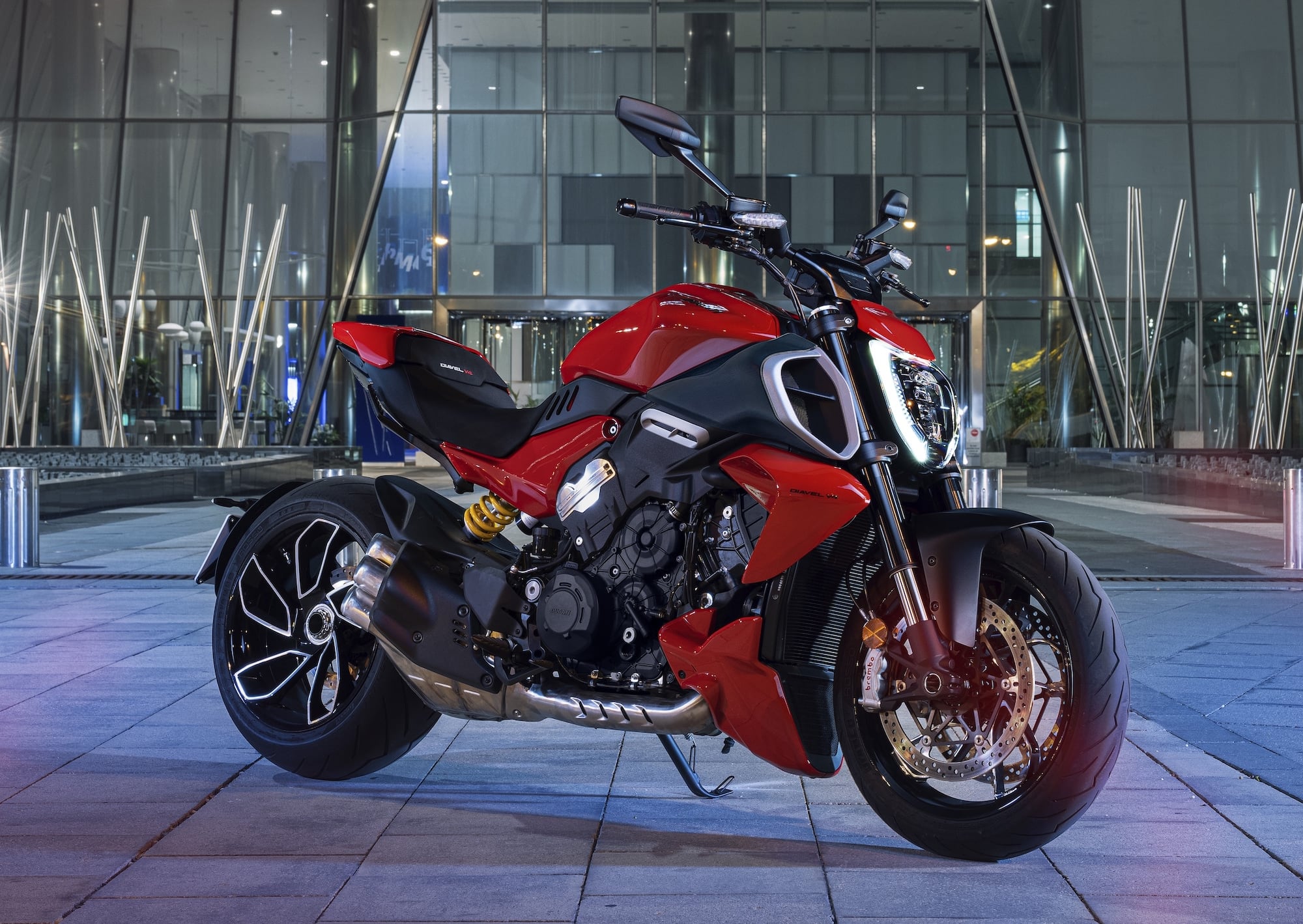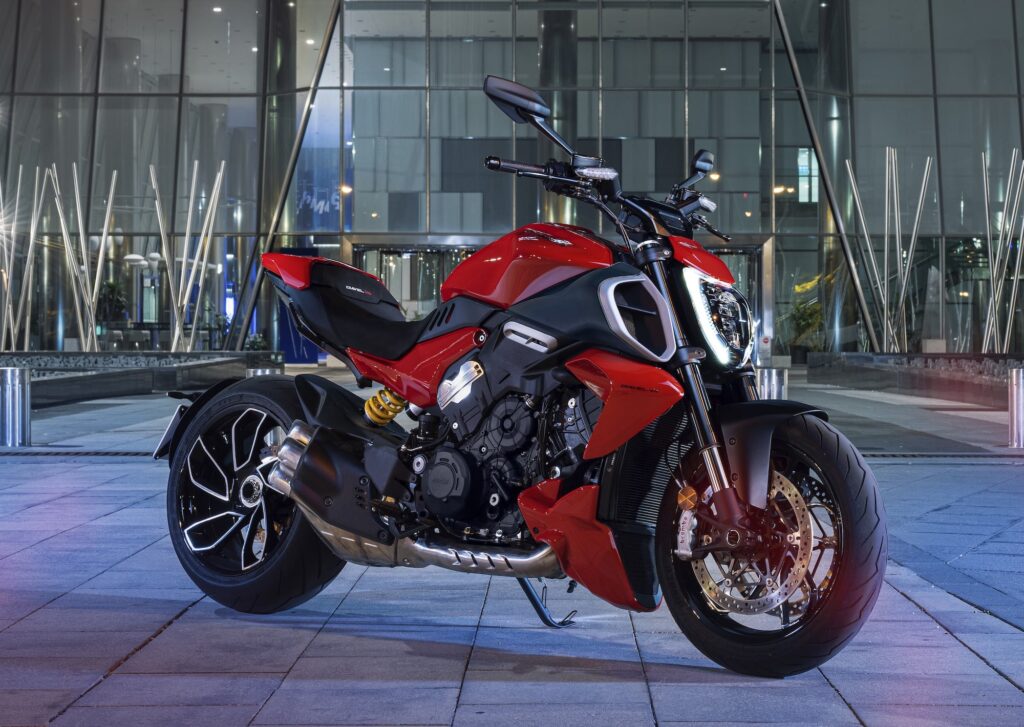 Ducati released the Diavel V4 in late 2022 for the 2023 model year.
The Diavel V4 has the engine in the basic same state of tune (a couple of quoted horsepower less, but that's a rounding error in practise), but with a very different kind of motorcycle wrapped around it — a comfortable somewhat cruiser-ish standard riding position. It shares the same long service interval as the Multi V4.
See the Ducati Diavel buyer's guide / model history here.
My personal prediction is that we'll see a Ducati Monster V4 based on the same motor in a year or two. Watch this space!
Honda CTX1300
Honda released the CTX1300 in 2014. It's a V4 motorcycle that's a cruiser, and a bagger, and a tourer, and also just something highly unusual for anyone who wants to cruise/tour/bag with something highly unusual.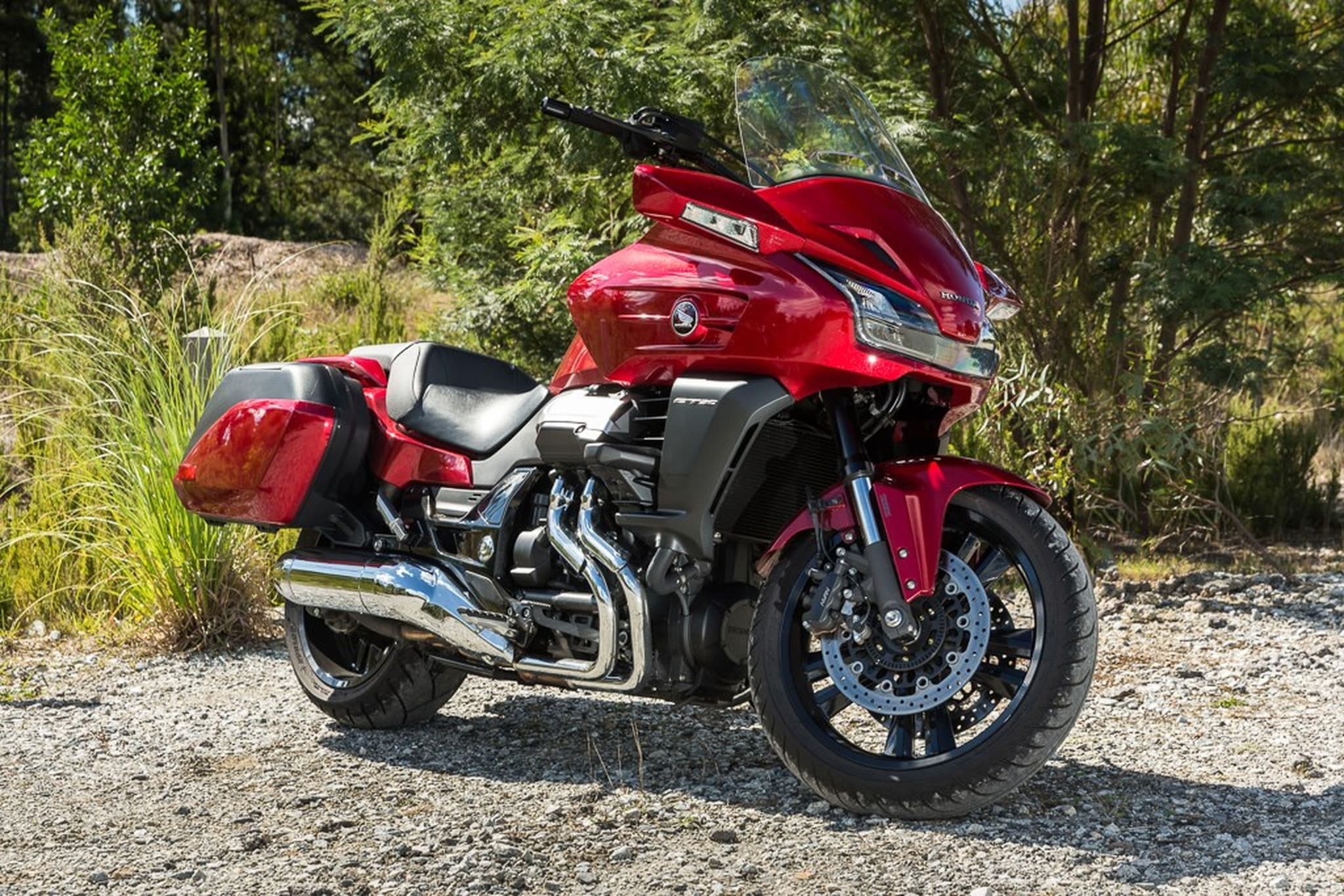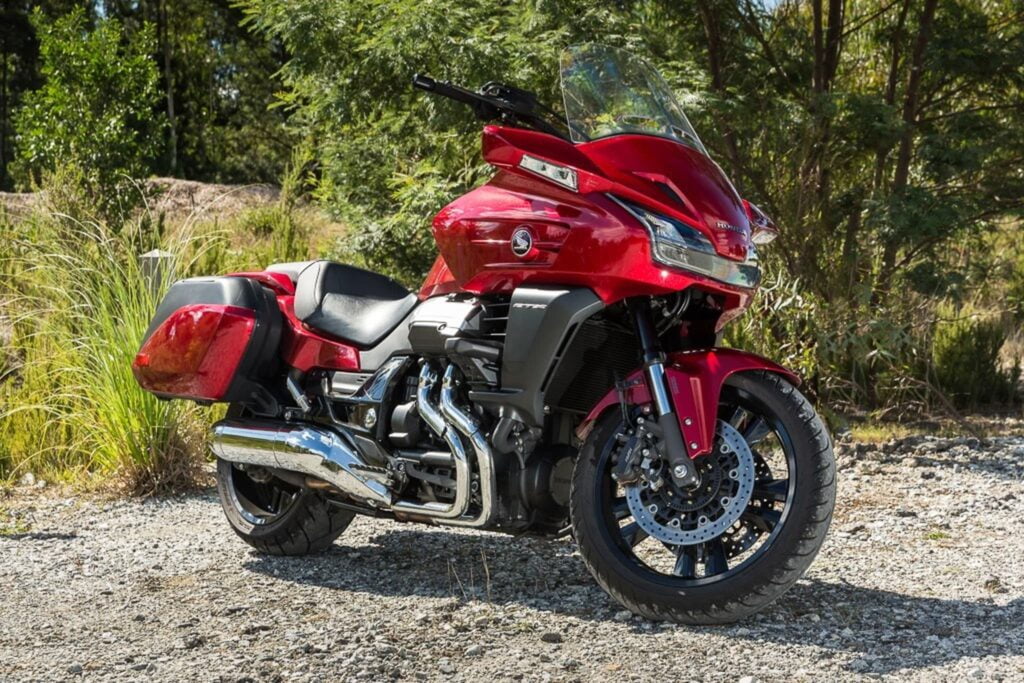 The Honda CTX1300 is the kind of futuristic cruiser towards which I'll gravitate when my back finally can't take any more sports bikes, bobbers, or even standards.
The CTX1300 uses the 1261 cc V4 engine from the ST1300, but in different tune, for lower-down torque. It's a 90-degree water-cooled V4 with double overhead cams and four valves per cylinder, putting out 62 kW (84 hp) at 6000 rpm and 106 Nm at 4500 rpm.
It puts its power through a five-speed gearbox and a shaft drive.
It's an easy bike to ride, with a low centre of gravity, but the CTX1300 isn't that fast. Part of the problem is that it isn't that powerful, and part of the problem is that it's heavy — 338kg wet, in Gold Wing territory.
But it does have a Bluetooth-equipped stereo!
See more about the Honda CTX1300 here.
Honda VFR and RVF series (VFR750, VFR800, VFR1200, VFR800X, VFR1200X)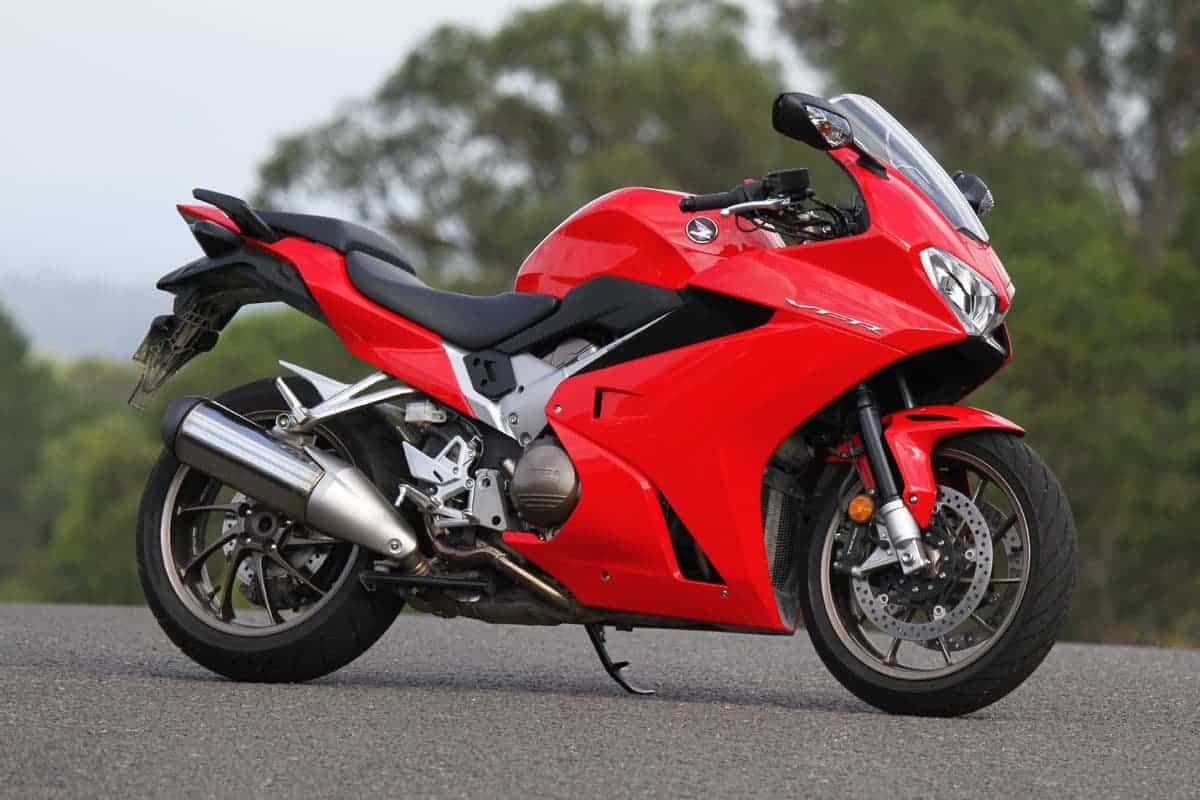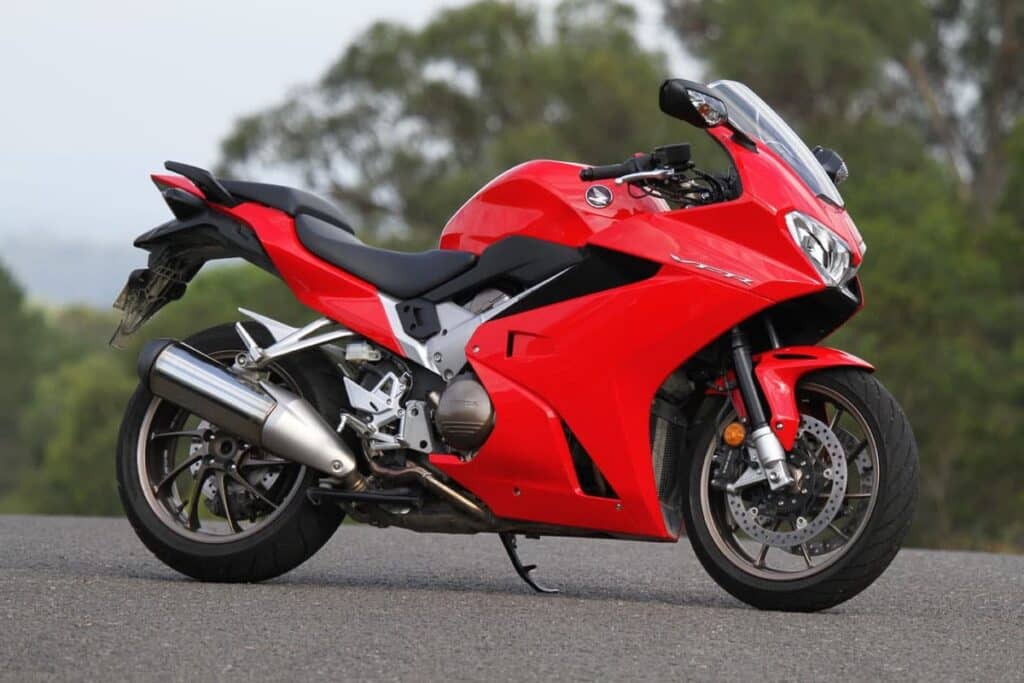 Honda has been making V4 motorcycles for the mass market for decades. There are many, but I think the VFR800 is one of the most widely available, most recognised models.
In fact, before the VFR800 there were other V4 motorcycles that Honda made, like the VF750. But those are basically museum pieces now — very rare, and owned by collectors or people who are obsessive about them (or totally destroyed and in need of repairs). Even the VFR750 is quite long in the tooth, and early model VFR800s are usually quite high mileage.
So let's start with the VFR800 — first released in 1998, the VFR800 has gone through many phases of evolution. Honda called the VFR800 the "Interceptor" in the US, and stopped selling it in the late 2000s for a period, before the 8th gen came out in 2014.
1998- 2001 — gear driven cams, fuel injection
2002-2005 — chain-driven cams, VTEC, but kind of abrupt (but also cool if you like a "turbo" feeling)
2006-2008 — smoothed-out VTEC, and the sexy 2007 anniversary edition
2009-2013 — C-ABS as an option
2014-2017 — Re-designed dash, standard ABS, Traction control
See the full Honda VFR history and buyers guide. It goes back to the VFR750 as well.
In general every year VFR has its quirks, but I tend to like the most recent one. It just comes with so much (in the Deluxe model, which is standard in some places) — traction control, heated grips, a lovely dash, a willing engine and gearing that makes sense for a wide variety of riding conditions, ABS as standard, and really nice paint. Oh, and a centre-stand.
Alongside the VFR800 was sold the VFR800X Crossrunner, a more upright adventure-touring kind of motorcycle. It didn't look as nice, but they're amazing to ride according to the owners.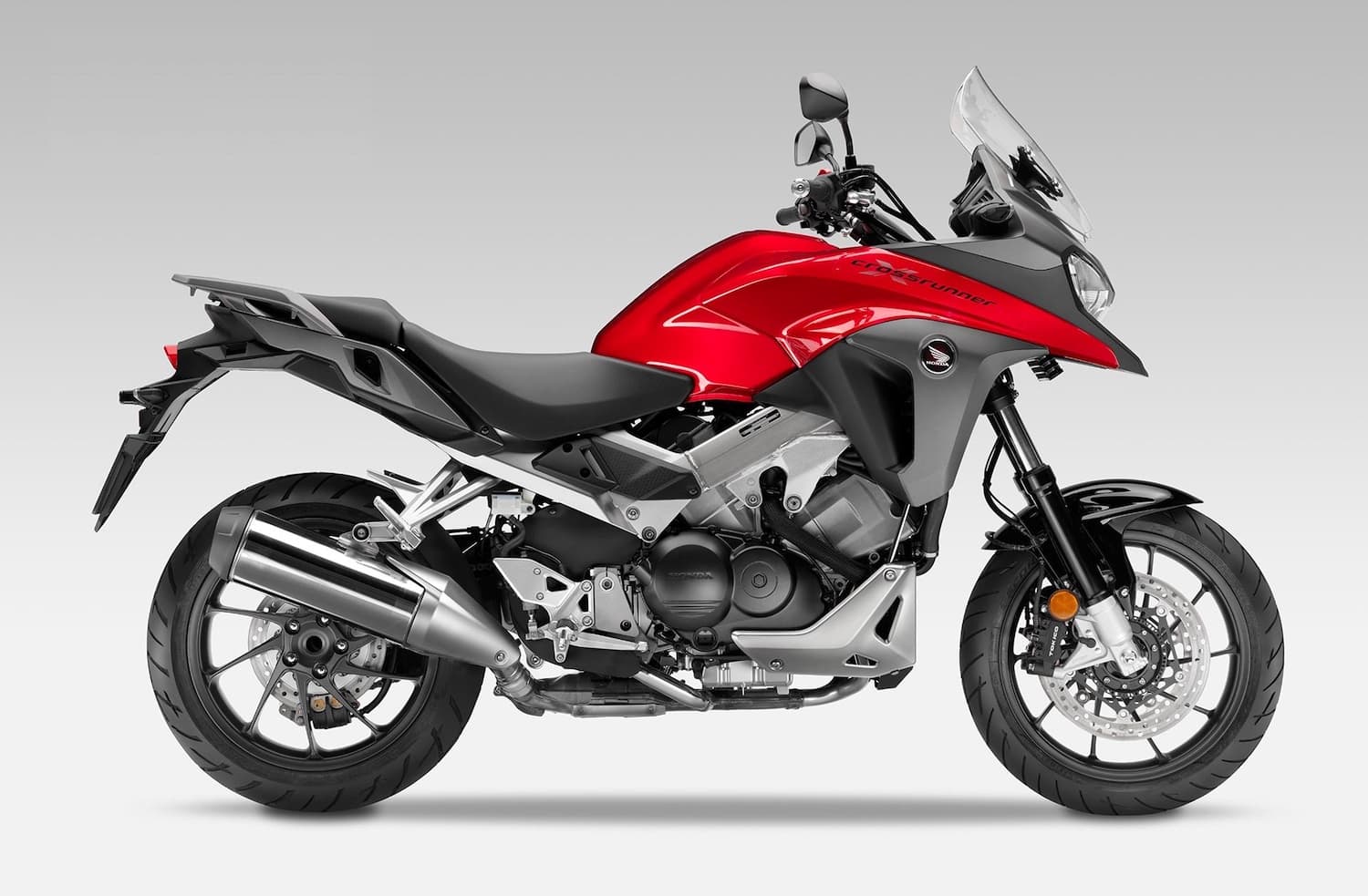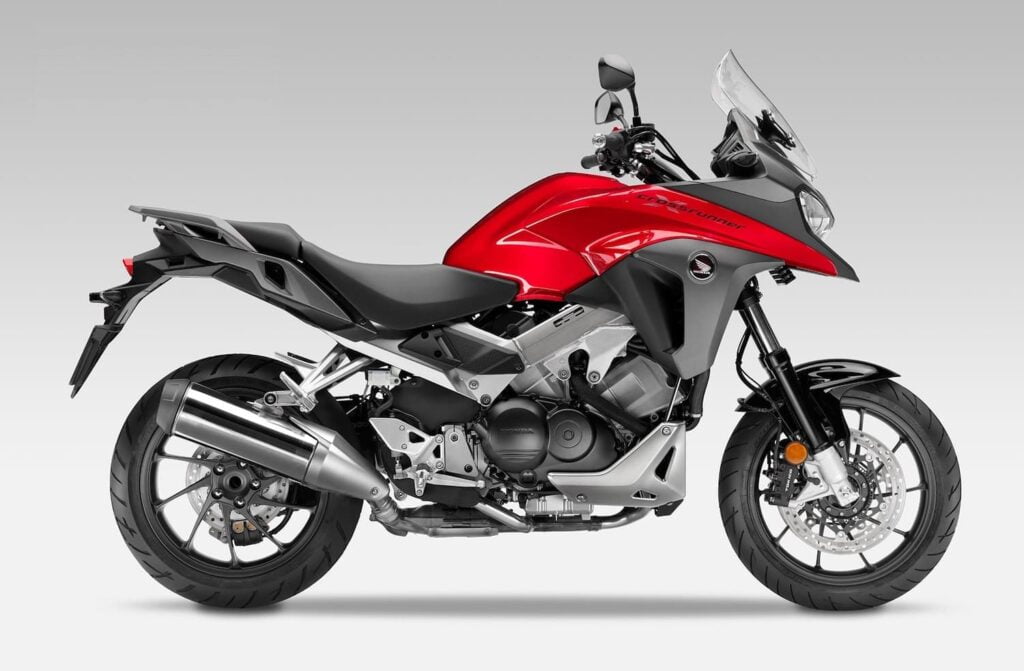 Honda also released some larger-capacity, much more powerful, and heavier models — the VFR1200 and VFR1200X, which made north of 150 HP, had a shaft drive, and are more oriented towards long-range travel. These never sold as well, and remain bikes loved by a few and simply not purchased by many.
The VFR1200 / X models were part of a niche generation of heavy, high-power motorcycles (like the BMW K 1300 S, Suzuki Hayabusa, Kawasaki ZX-14R) which have their fans, but who are small in number and all preferred their own brands for some reason: BMW because BMW, the Hayabusa because it's a iconic classic, and the ZX-14R because it's the most powerful.
Honda also had a few 400cc engines in this V4 class — like the VFR400 and RVF400. These were only made in the nineties, and are pretty unavailable these days (unless you're willing to spend collector money, and get something shipped). But they're nice to look at, so here's a picture here.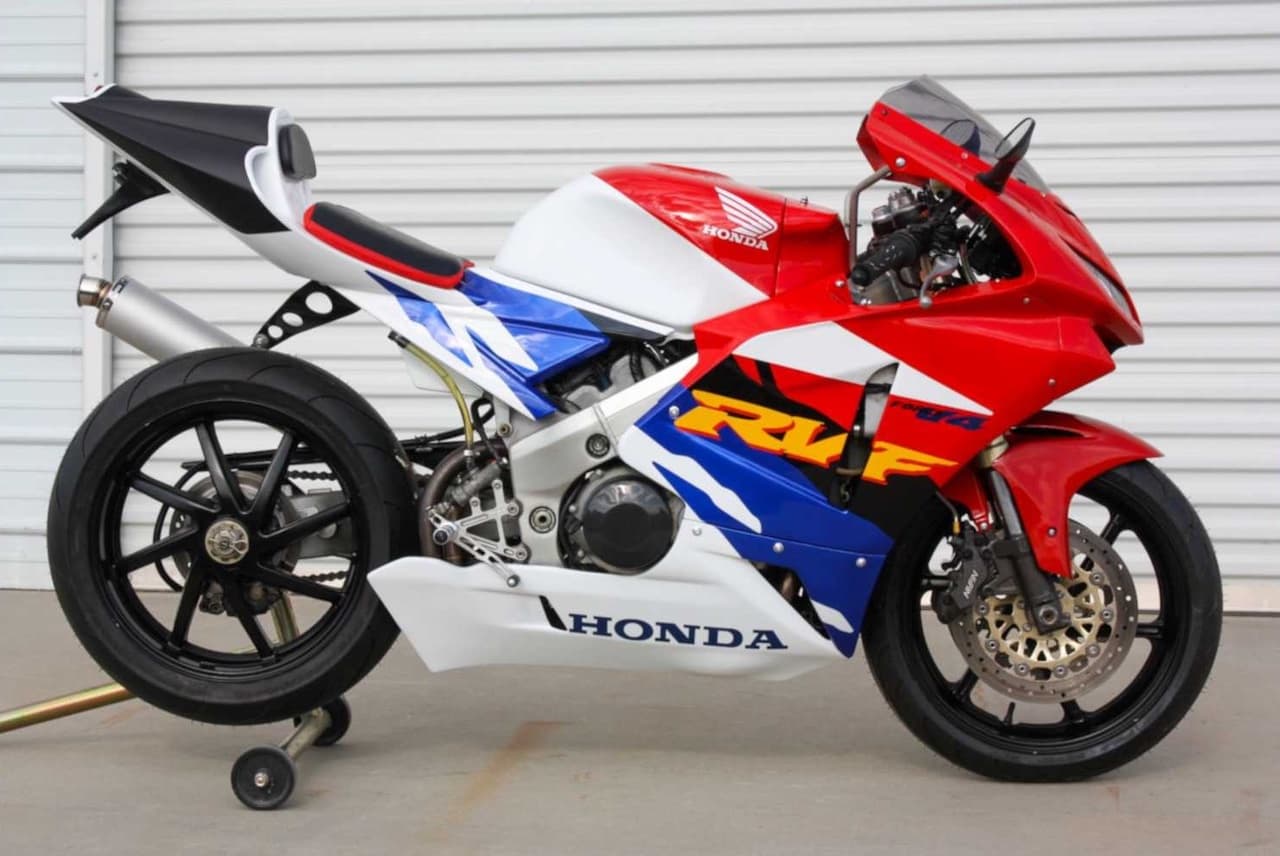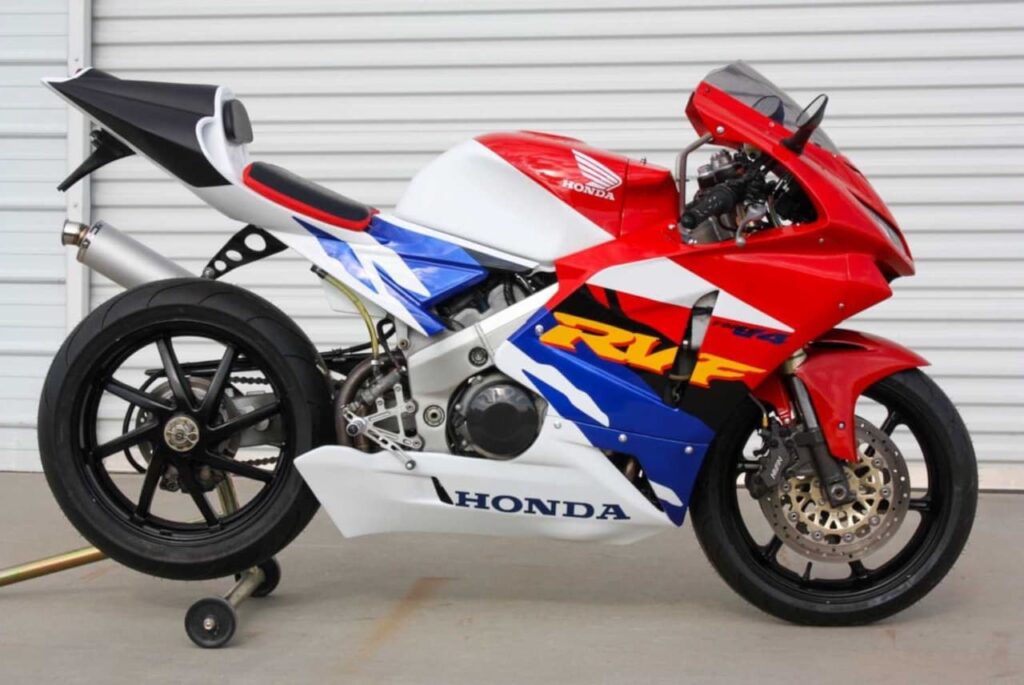 Side note — Honda's older VF line
There are a few older Honda VF motorcycles that you can buy that have V4 engines. They're getting a little long in the tooth, and so it's hard to get parts for them (particularly if you have internal engine problems), but that's nothing that the avid collector would be fazed by!
These include the Honda VF400 (that an enthusiastic owner wrote in about), the VF750, and the VF1000.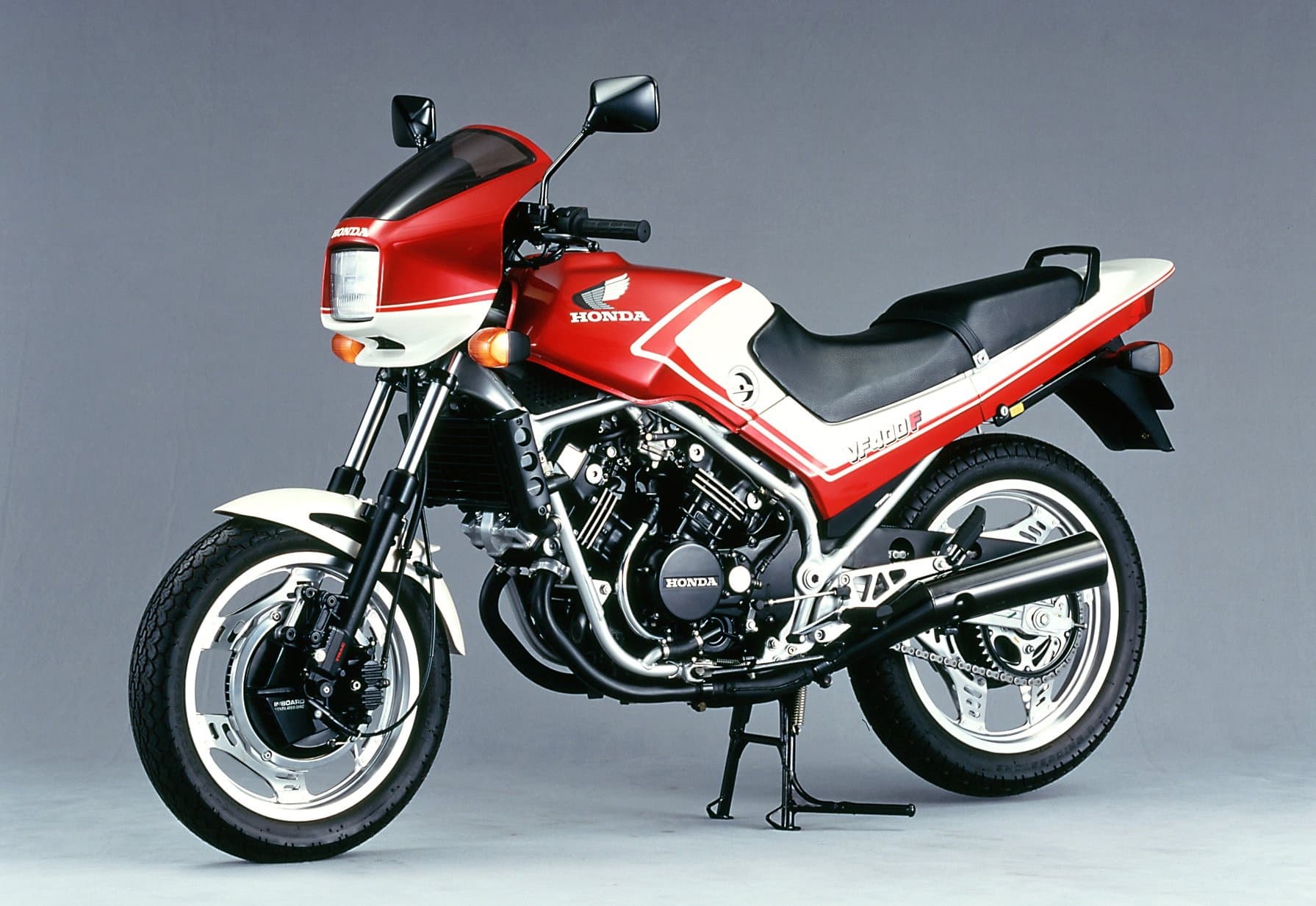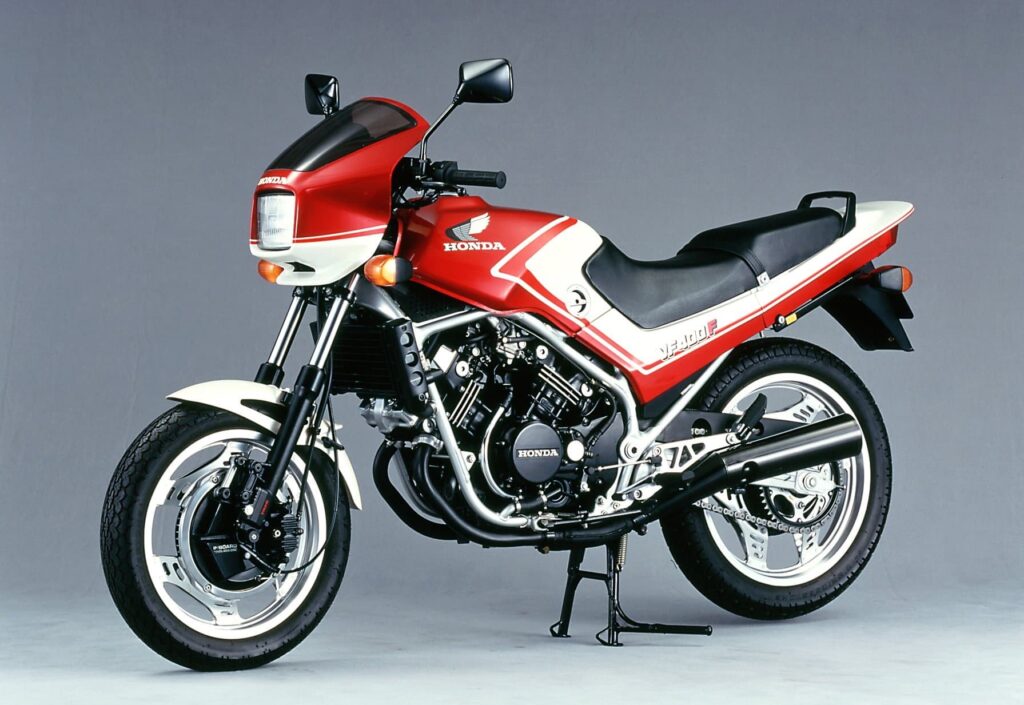 The Honda VF400F in particular looks like a cracker of a bike. It's powered by a 399cc liquid-cooled V4 and makes healthy peak power of 56 hp / 41 kW at 12500 rpm, with peak torque reaching 27 ft-lb / 36 Nm at 10500 rpm.
It also has some interesting features like air-assisted front and rear suspension and Honda's TRAC (torque-reactive anti dive control) system, though the forks may need rebuilding to get the most out of this system.
Honda ST series — ST1100 and ST1300 (a.k.a. Pan-European)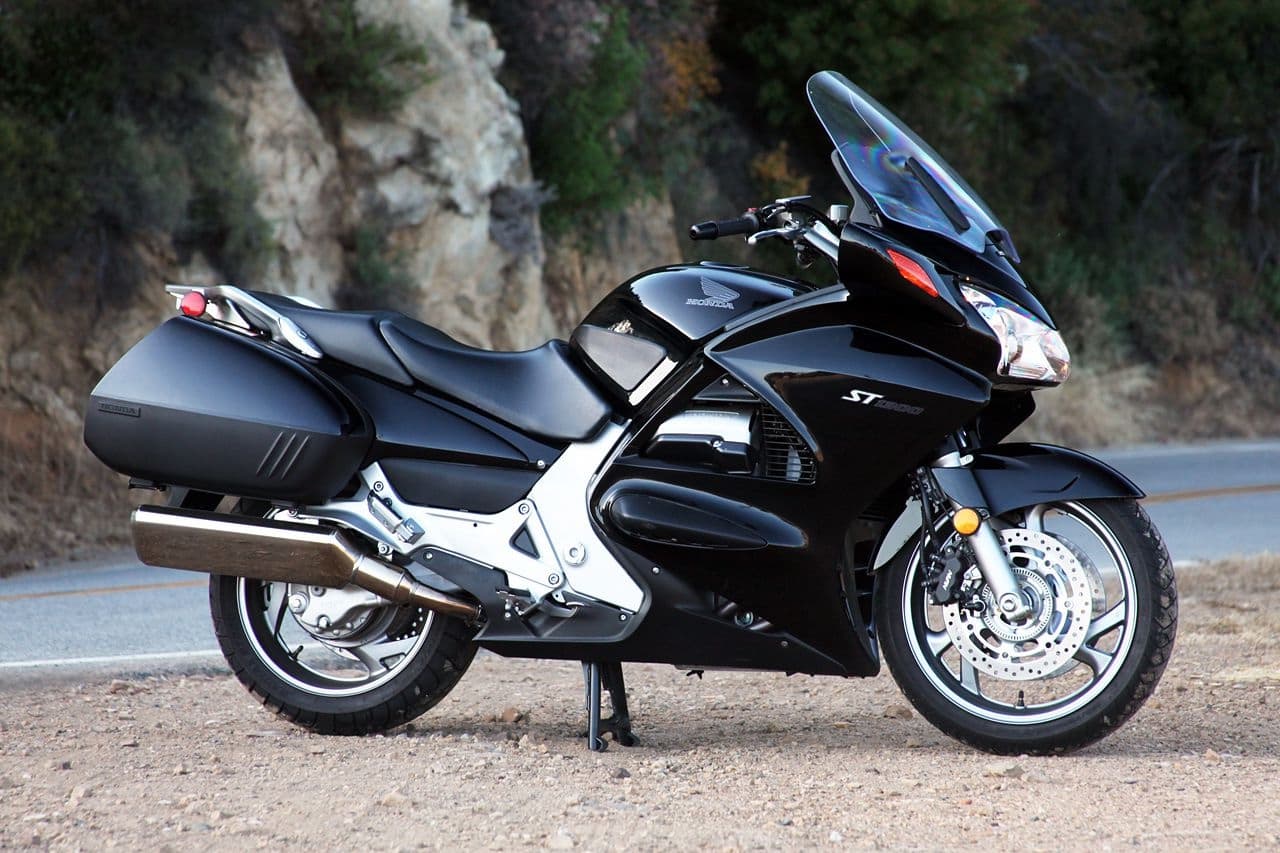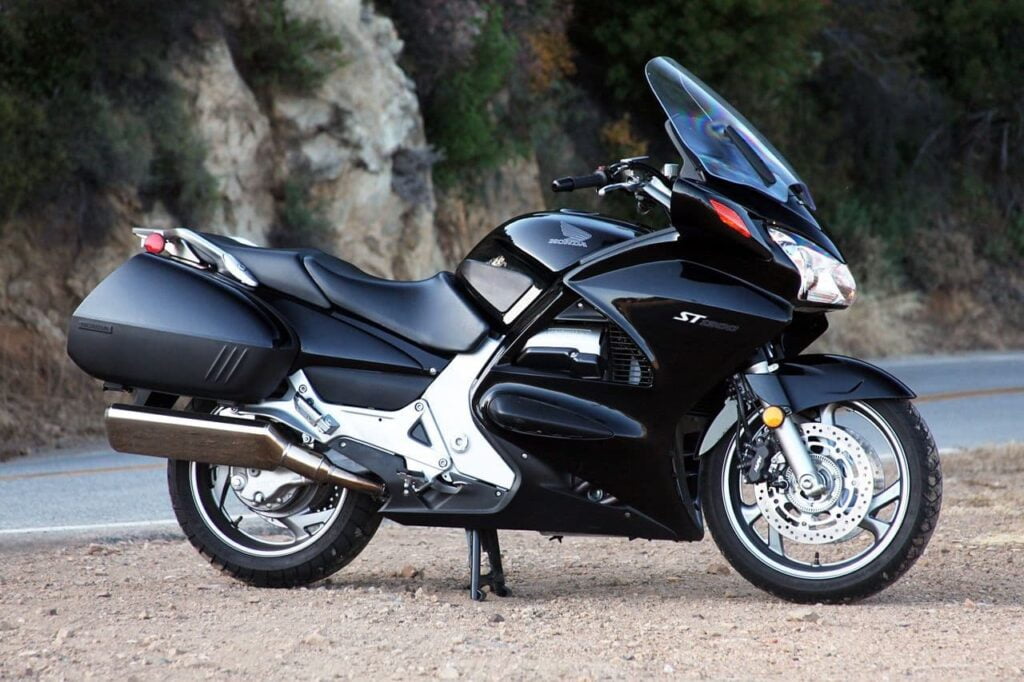 Aside from the VFRs, which are "sport touring" to many, Honda had some much more touring-oriented motorcycles, the ST1100 and ST1300, both of which are now discontinued.
Honda released the ST1100 in 1990, and replaced it with the ST1300 in 2002. Since that's already pretty old and people tend to pile the miles on these (or thrash them, if they're ridden by police!), let's just talk about the ST1300.
The Honda ST1300 has a 1261cc longitudinal V4 engine that made 87 kW (117 hp) at 8,000 rpm and 117 Nm (86 ft-lb) of torque at 6,500 rpm — though a lot of that torque is available lower.
The ST1300 was popular with police all over the world. A lot of the high-mileage STs you'll see on the market are ex-police. They're usually well serviced, but also beaten to death by cops who rev them hard all the time (according to service technicians I've spoken to).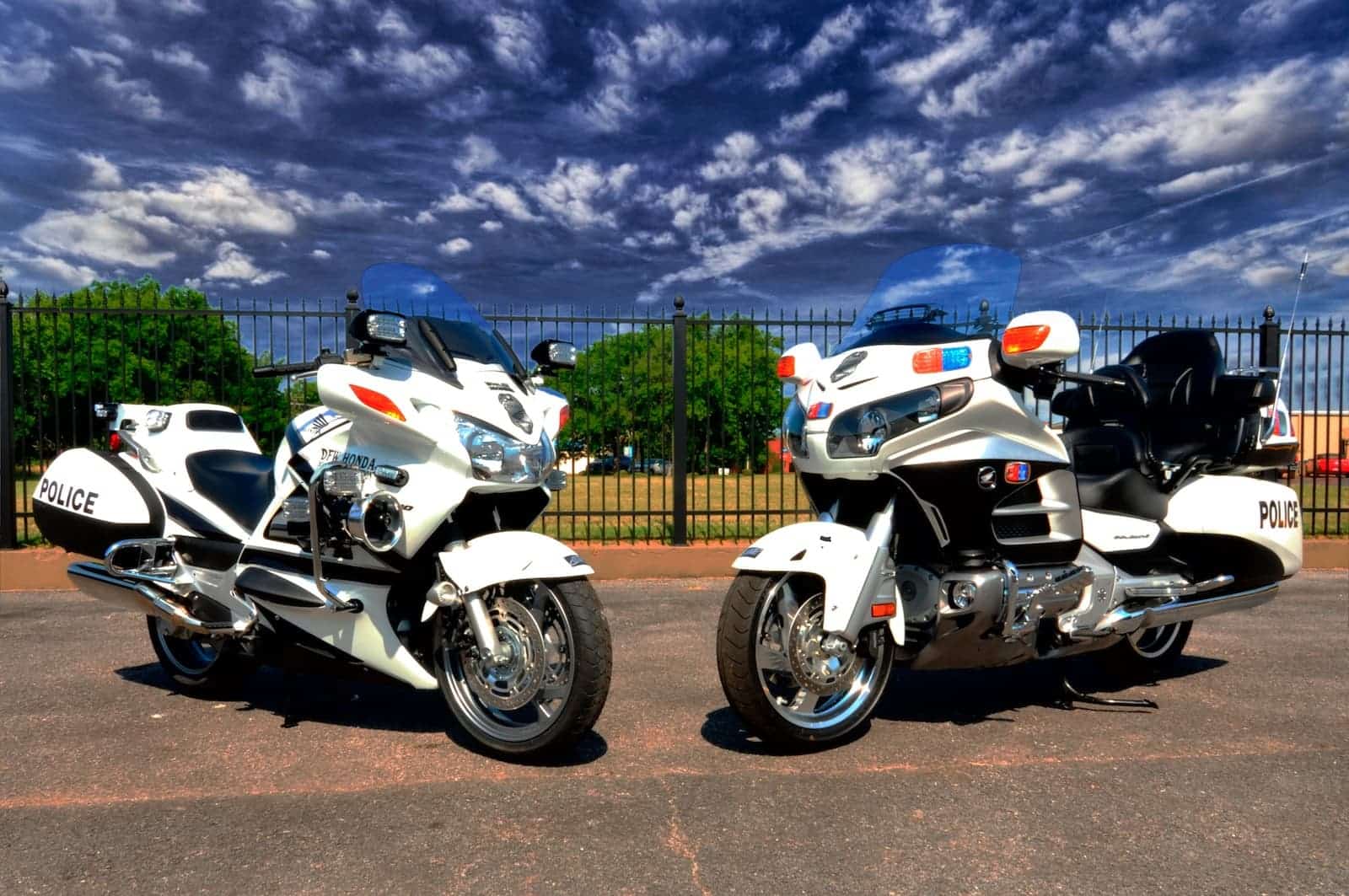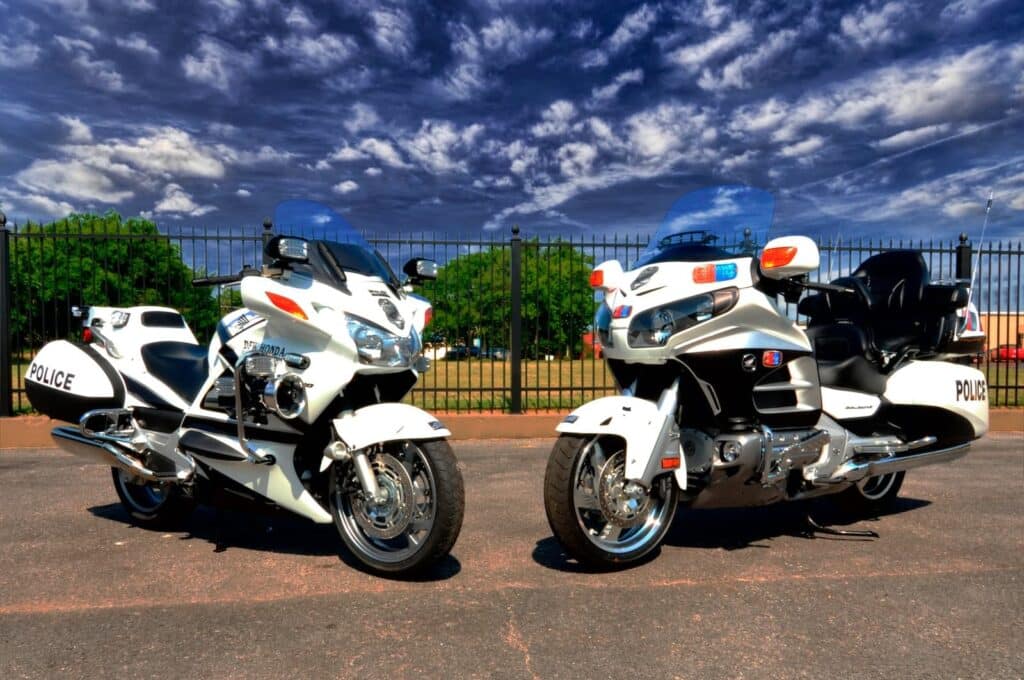 Still, the Honda ST1300 is a fast, reliable, and very comfortable bike, with just enough V4 character to keep you entertained.
Honda VF750C Magna
The Honda VF750C Magna was (is) a V4 motorcycle in a cruiser body. Honda made the VF750, a.k.a. the Honda Magna, between 1982 and 1988, and later between 1994 and 2003. The Magna thus predates the now more well-known VF750F Interceptor, the predecessor to the VFR750F.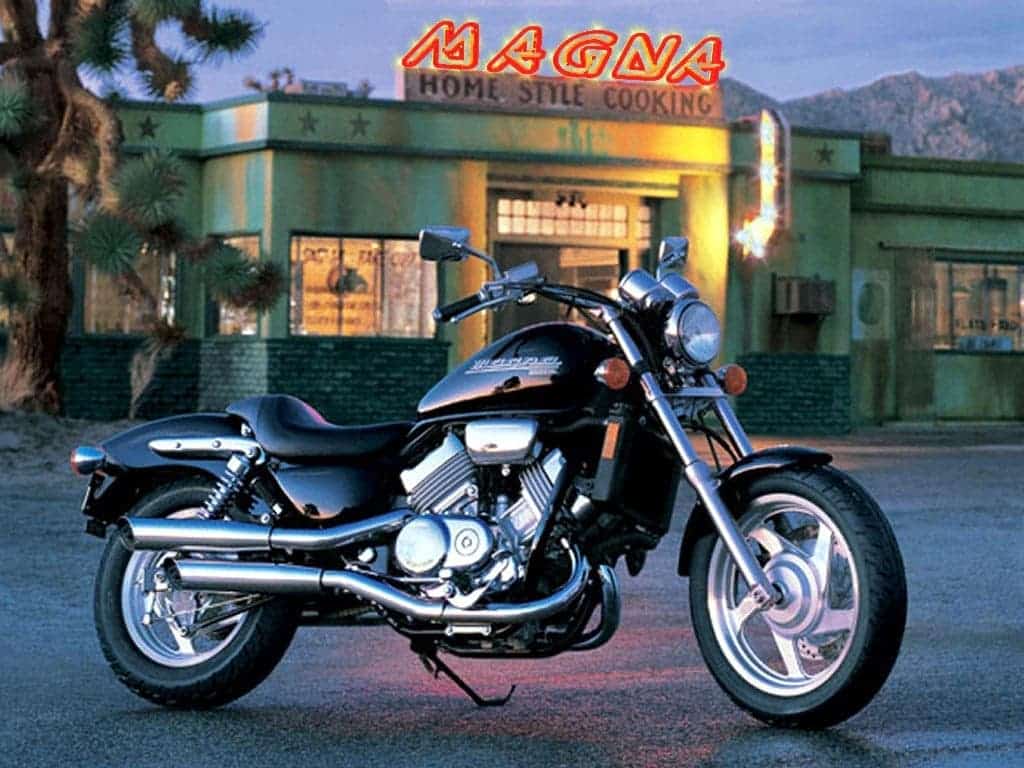 The Honda 750 Magna has a liquid-cooled 748CC V4 engine with cylinders 90 degrees apart (like a Ducati's L configuration), each with its own Keihin 34mm carburettor. The engine breathes through four valves per cylinder operated by overhead cams.
The Honda VF750C Magna may be a cruiser, but it revs all the way to 9700 rpm — very high for a cruiser! It makes 58 kW (79 hp) at 9500 rpm, and puts it all through a hydraulic clutch, six-speed transmission, and a shaft drive. Not even the more modern M109R has a hydraulic clutch!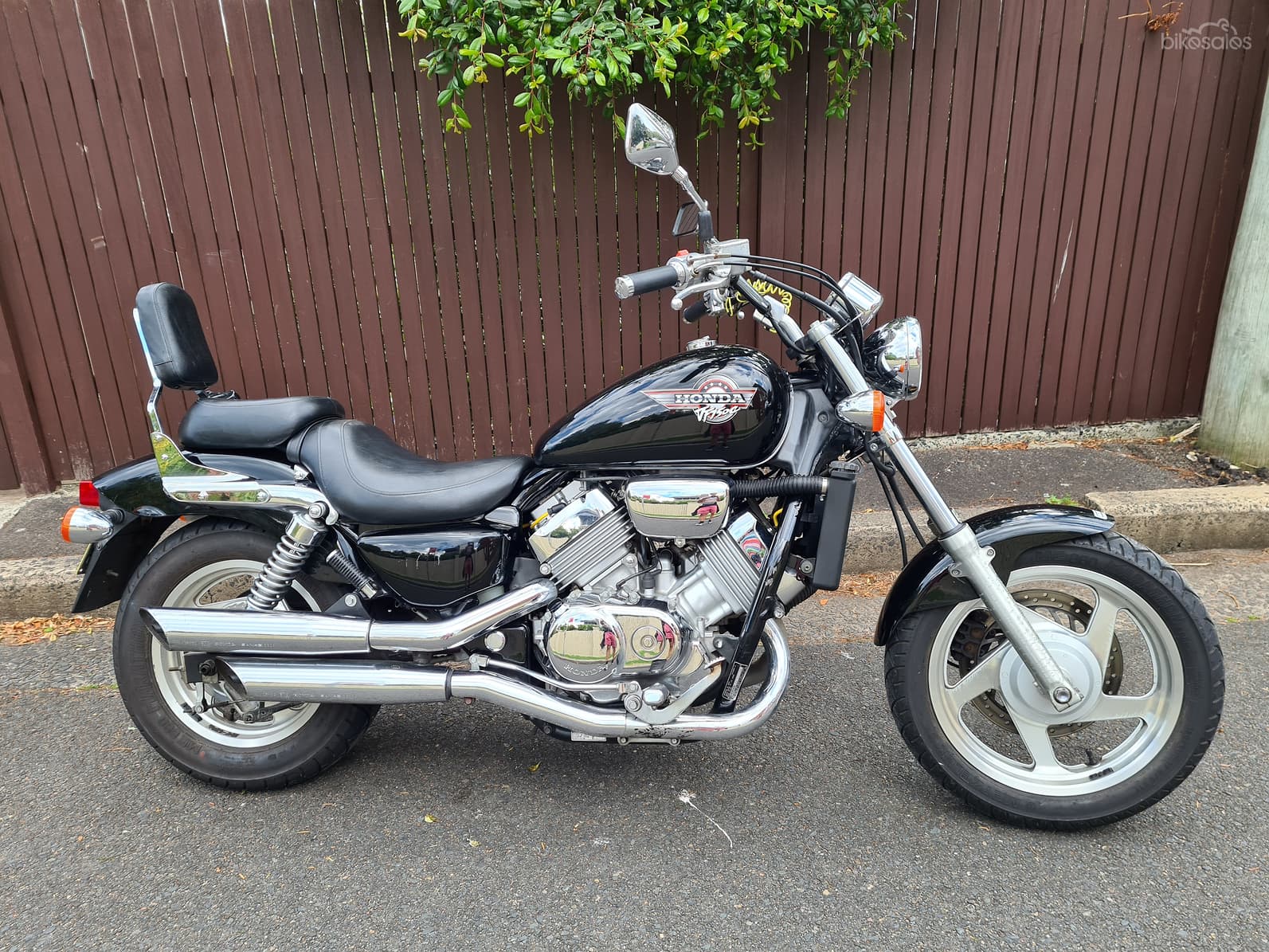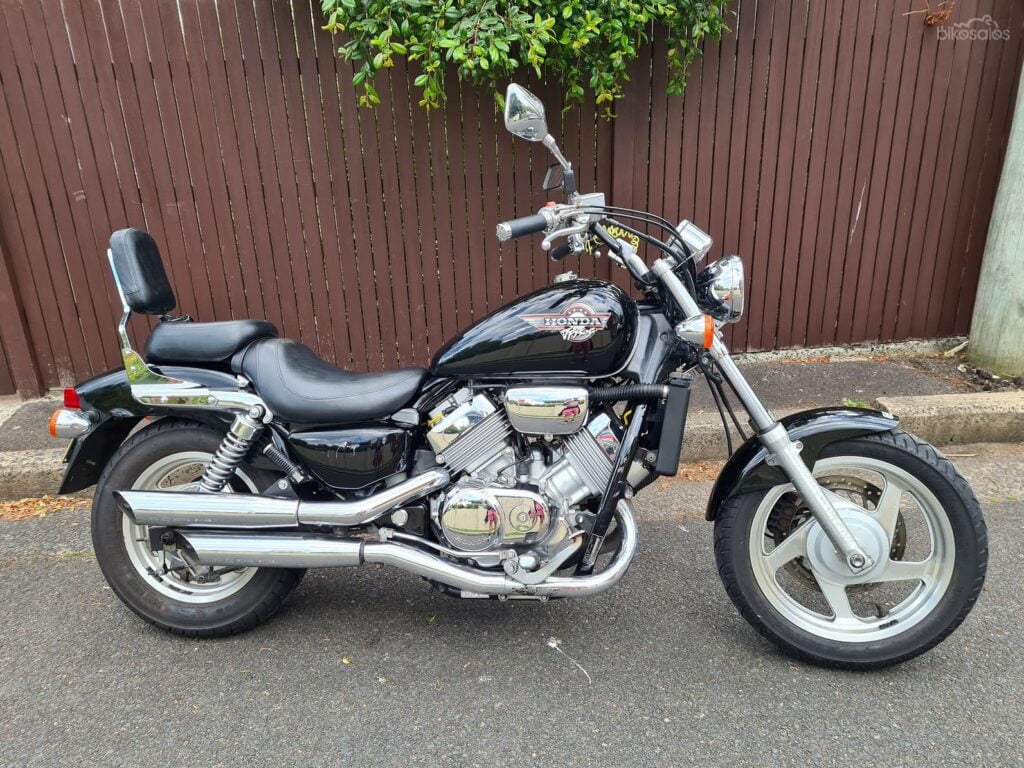 The Honda Magna isn't just a high-RPM motorcycle. It has plenty of torque down low from just 3,000 rpm, and it pulls all the way to the redline.
You can still find some Honda VF750C Magnas around, and generally they haven't been thrashed — because they're cruisers. You might need to clean out the tank and carbs, though.
Norton V4SV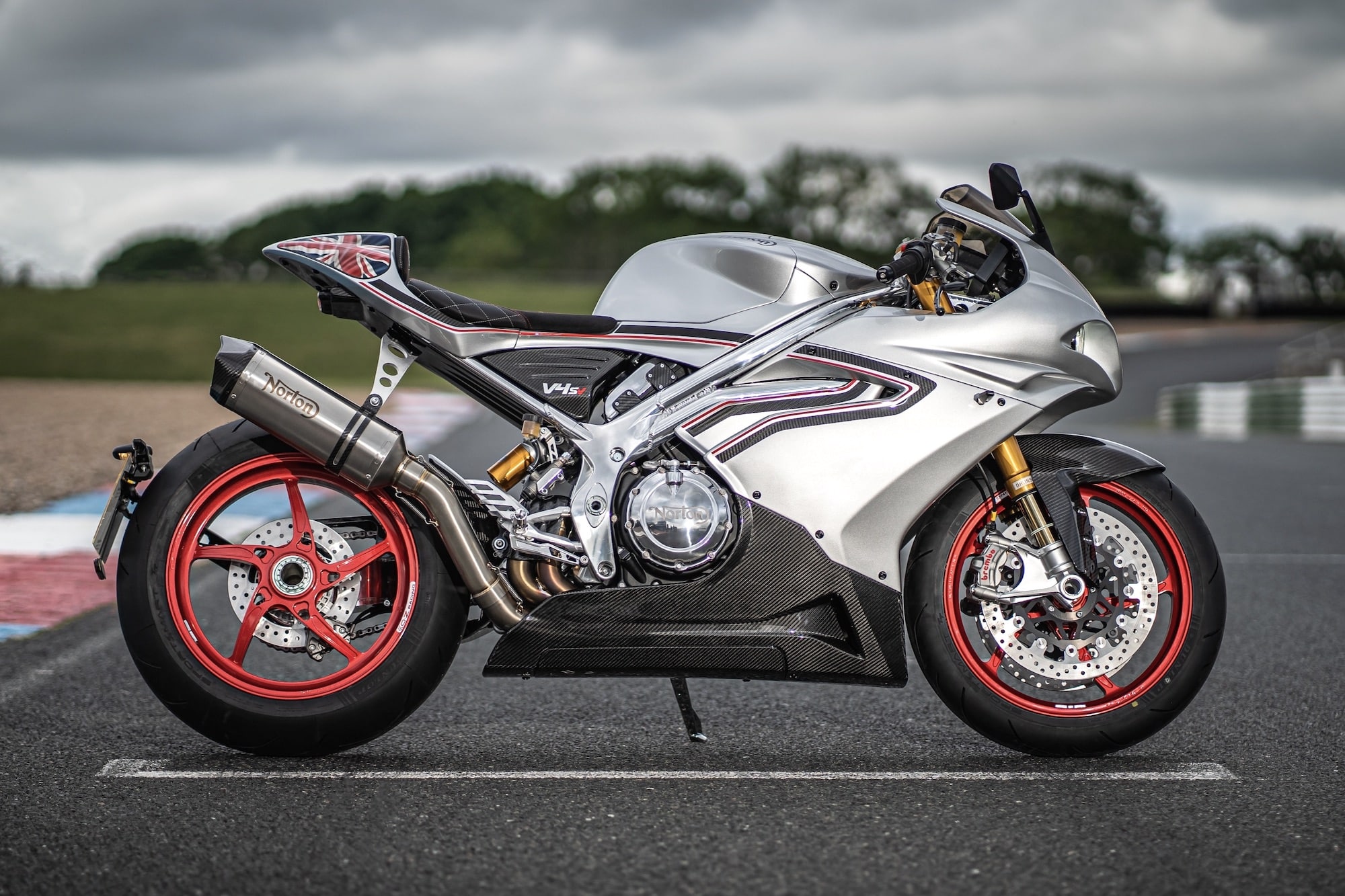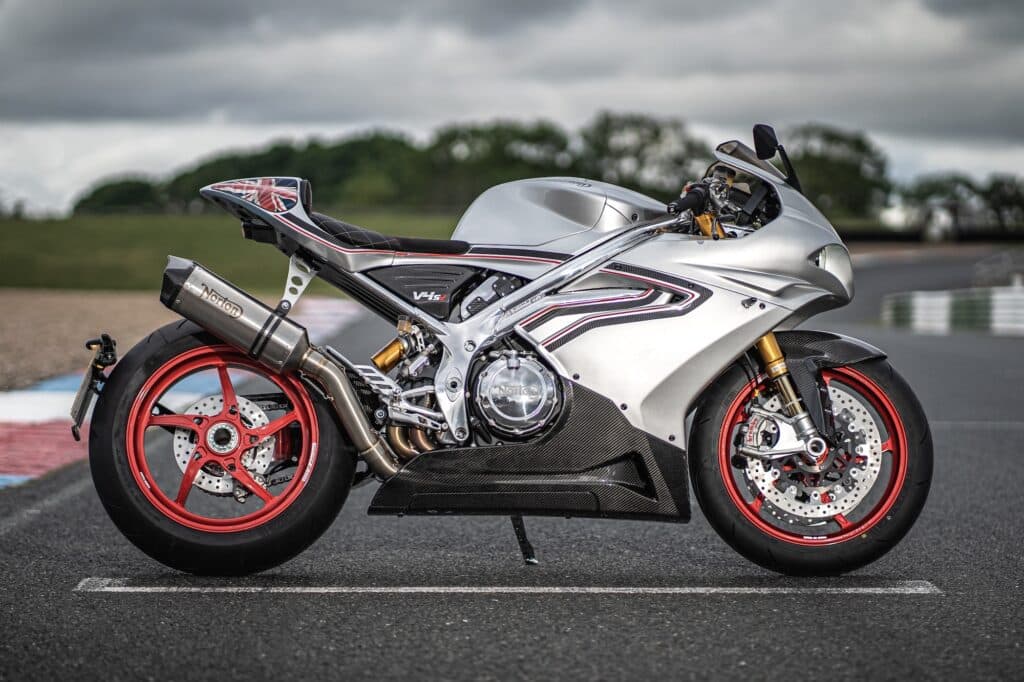 Norton has been going through several phases of resurrection lately. But amidst it all, it has been producing some stunning looking bikes, all with V4 engines at their core.
Norton produced limited runs of the V4 RR and V4 SS under previous ownership. But that bike had many problems (35 cited by regulators) that resulted in a recall. Unfortunately, by the time the recall was issued, the company had already gone into liquidation.
Under the new ownership of Indian company TVS Motor, Norton has issued the V4SV. Obviously the V4SV is based on the previous V4 models, but Norton has replaced and upgraded so much of it — over half the components — that it's essentially an all-new bike.
The heart of the V4SV is a 1200 cc72-degree V4. With a 13.6:1 compression ratio, it makes a claimed 136 kW / 185 hp at 12000 rpm, with peak torque of 125 Nm / 92.2 lb-ft at 9000 rpm. It has Öhlins suspension front and rear, and Brembo M50 calipers on 330 mm discs up front.
As cool as it'd be to have a British Norton-branded V4-powered sportbike is that it's lacking in specs compared to the similarly priced Ducati Panigale V4 SP2 (the highest-spec Panigale you can buy!) — it's down on power, on suspension spec (not active), brake spec (M50 vs Stylema), and maybe even reputation for reliability. Ducati has been at this for a while, after all.
But still, it's a Norton, so worst case scenario, you can store it in a crate and sell it at auction in the future, and at least brake even.
Norton has also teased a cafe racer based on the same motor, the V4 CR, but I don't think anyone has seen it yet.
Suzuki Madura GV700 / GV1200 (1985-1986)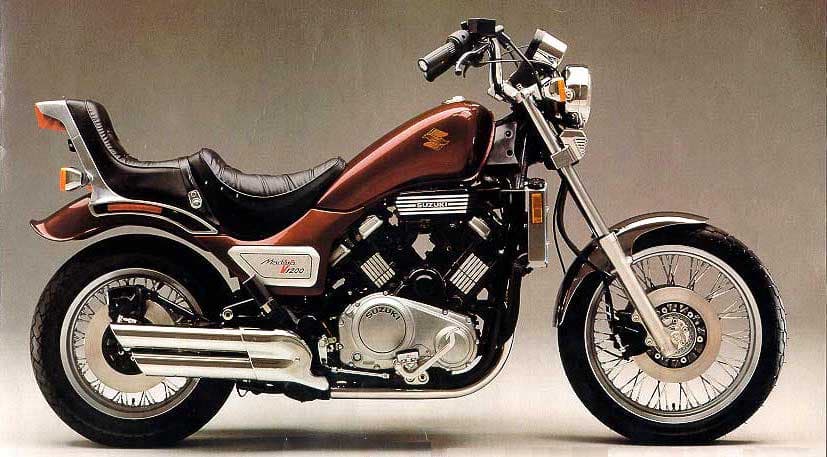 One motorcycle I didn't know about until a reader told me (thank you) is the Suzuki Madura, sold in 1985 and 1986. It's a response to the Honda Magna, above. They are very rarely sold (I have never come across one in a lot of casual browsing).
The Suzuki Madura is powered by a liquid-cooled dual overhead cam 16-valve 82-degree V4 engine. The GV1200 has 1165cc capacity, and makes a claimed peak power of 85 kW / 117 hp — now THAT'S impressive in a cruiser. Final drive is a shaft, and the forks and shock are air adjustable.
In a test done by Cycle magazine in 1984, the big Madura managed to do a 0-60 mph in 3.6 seconds. Impressive!
If you can't get your hands on the GV1200, then the GV700 looks interesting too, a similar motorcycle with a smaller but still willing 698cc V-Four.
Yamaha Royal Star XVZ1300
Aha, here's one you didn't know about. Did you know that Yamaha made a V4 engine cruiser motorcycle? Well, I didn't.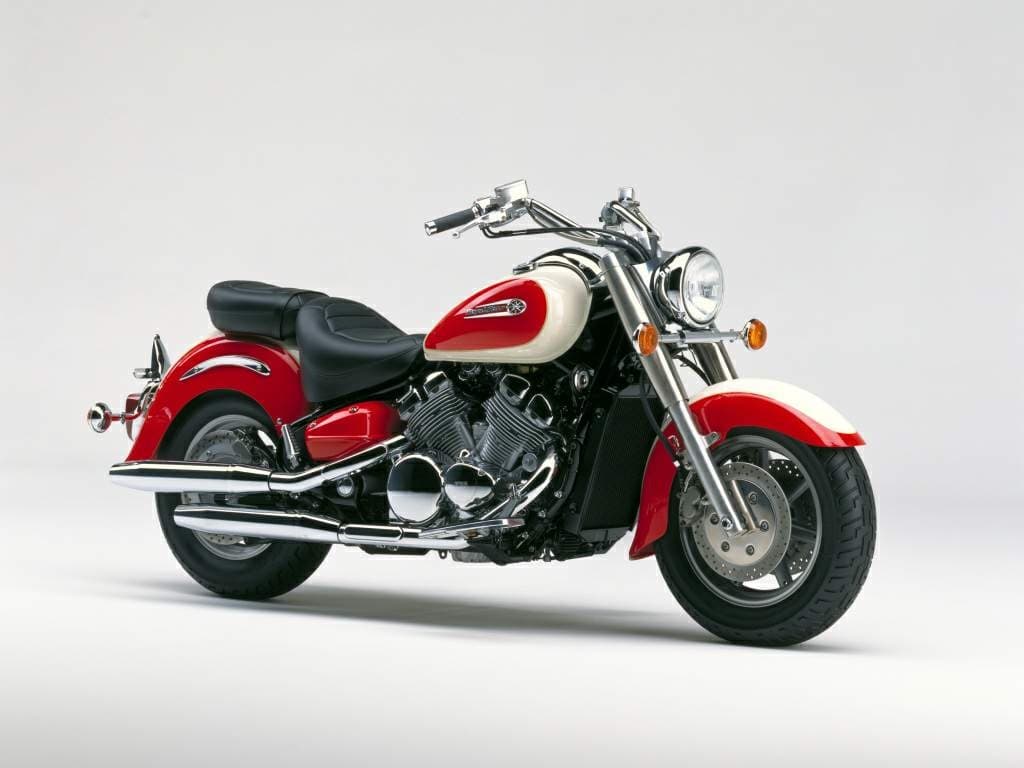 Not just that, but it made it twice. In fact, the first V-Max got its engine in 1985 from the earlier Yamaha Royal Star Venture, which Yamaha produced between 1983 and 1993.
But it's the second Royal Star XVZ1300 v4 motorcycle that you can reasonably buy. Yamaha released the second one in 1996, and produced it up until 2013, in both cruiser format (the Royal Star) and touring format (the Royal Star Venture).
The Royal Star (and Royal Star Venture) has a liquid-cooled 1,294cc (79 cubic inches) V4 engine fed by four carburettors (one per cylinder). It has four valves per cylinder, overhead camshafts, and a compression ratio of 10:1. The final drive is by shaft. The whole thing is quite advanced and powerful.
Recent models have a CD player … and earlier ones had a cassette player. If you don't know what that one is, then we're of different generations.
Yamaha V-Max and VMAX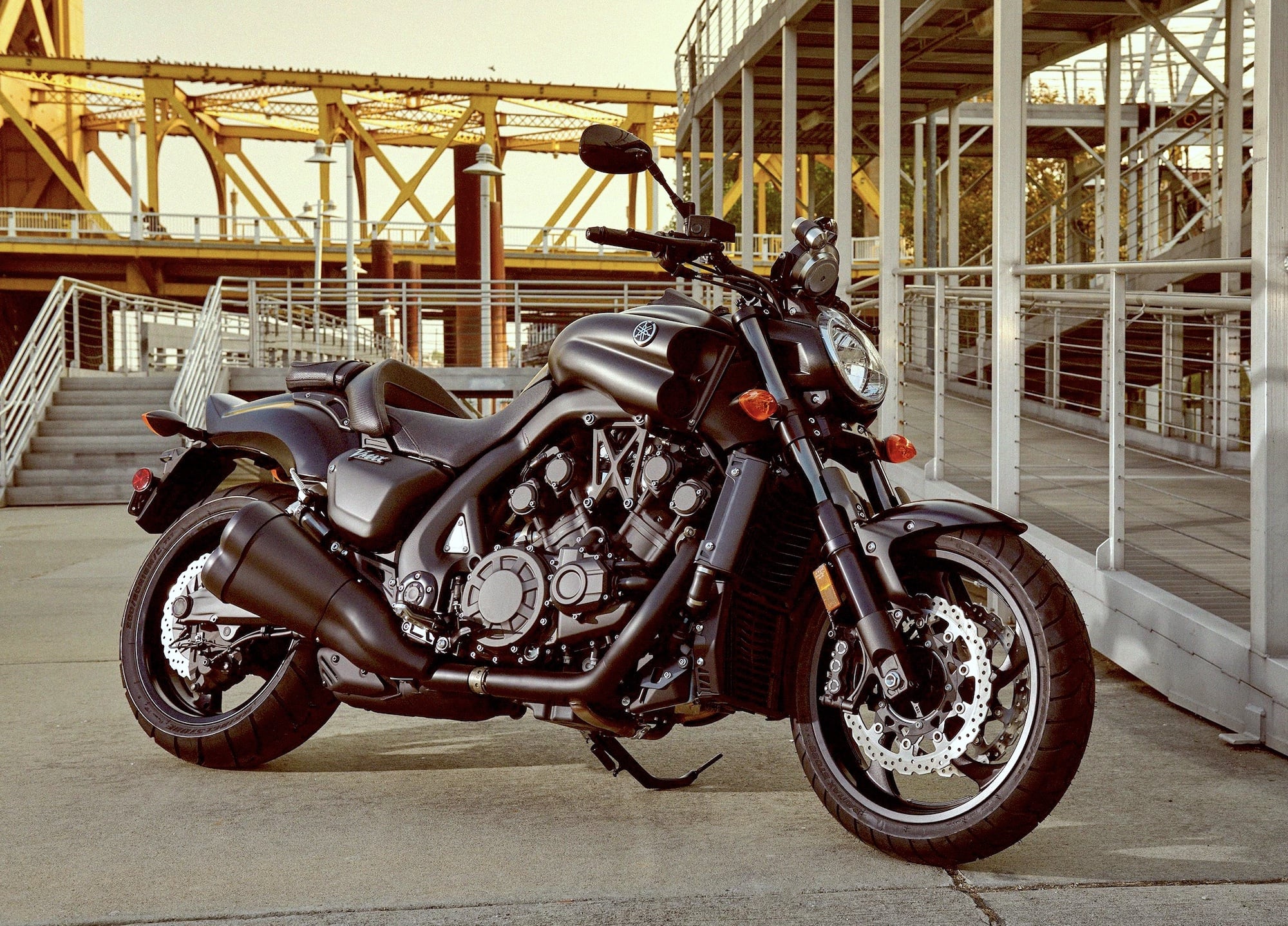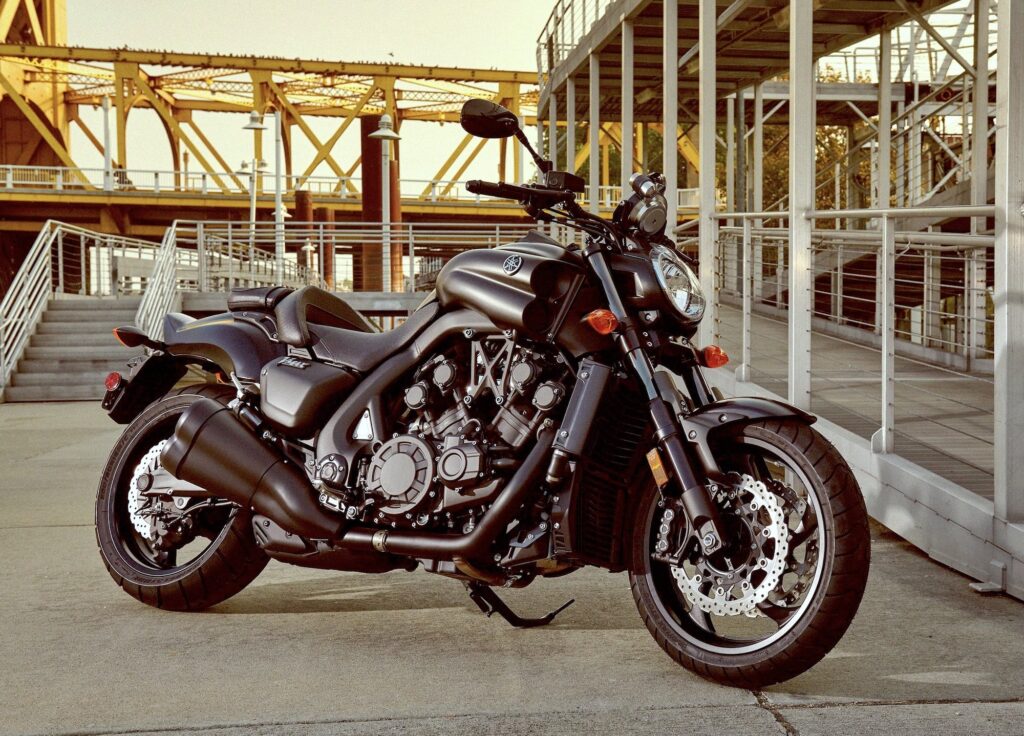 The earlier V-Max 1200 (VMX1200) and the later VMAX 1700 (VMX1700) are a pair of bonkers (the earlier more bonkers, the latter one less so in some ways) motorcycles that are geared for just one thing — straight-line power.
The first-generation V-Max (made from 1985-2008) had an 1198cc V4 engine based on the earlier Yamaha Star Venture tourer — but tuned for a lot more power.
It's definitely a "cult" bike because of its roar and its arm-wrenching torque. That said, the V-max was never known as a handler. People use the words "wobbly" and "vague" to describe it.
The second-generation VMAX (slightly renamed), released in 2009, has a 1,679 cc liquid-cooled 65 degree V4 DOHC engine that makes a totally unreasonable 147 kW (197 hp) and ridiculous 167 Nm (123 ft-lb) of torque. It's basically a show model — full-throttle on the VMAX would be a long burnout or a death sentence without traction control. That said, if sub-10 second quarter-mile times are your thing, the Yamaha VMAX is the V4 motorcycle for you!
Other Motorcycles
A few people have suggested I include the Yamaha YZF-R1, which since 2009 has had the CP4 "Crossplane" motor. It's not a V4, so it's not in this list, but I do appreciate that the firing order gives it a very V4-like sound and feel. It's really a thing of its own, and now that I've mentioned it, go read the Yamaha YZF-R1 buyer's guide to see how the motorcycle evolved over the years.
CFMoto has filed patent applications for a V4-powered superbike that makes over 200 hp at the crank. Motorrad online has a video showing it ride past, glorious noise filling the air. More info when it's officially announced.
Aside from that, I don't think we'll be seeing many more V4 engines in the future. The Ducati V4 Granturismo may make it into more body types, but aside from that, these days the trend is towards fewer cylinders, not more.
But maybe I'll eat my words!