This is just a quick article comparing the big thumper motorcycles — the Yamaha Ténéré XT660Z, the Kawasaki KLR650, the Suzuki DR650, the BMW F650GS/G650GS and the Honda XR650R as an adventure travel motorcycle.
Considering riding around Australia begets the question: Which thumper motorcycle is best?
There are many contenders for bikes that can take you around the big brown land. I know personally of people who've done it on a variety of machines, even the humble Suzuki DL650 V-Strom.
But there's something about the purity of riding a big thumper. They're so simple. They're reliable. They're easy to fix — just one cylinder, one spark plug, one intake. They're also lighter and much better equipped for off-roading.
For a more comprehensive look at adventure travel middleweight motorcycles (mostly parallel twins on the market these days), see here.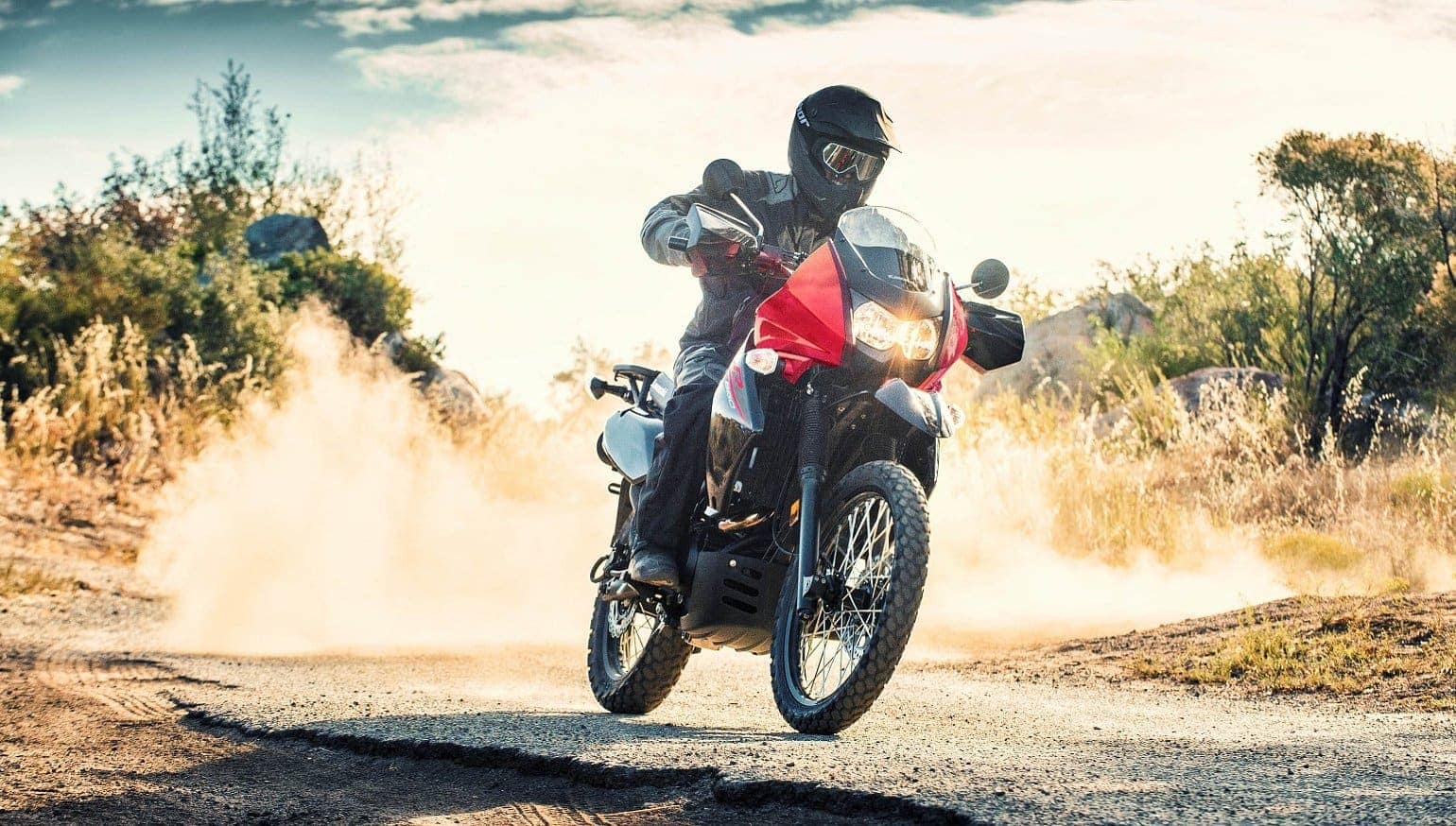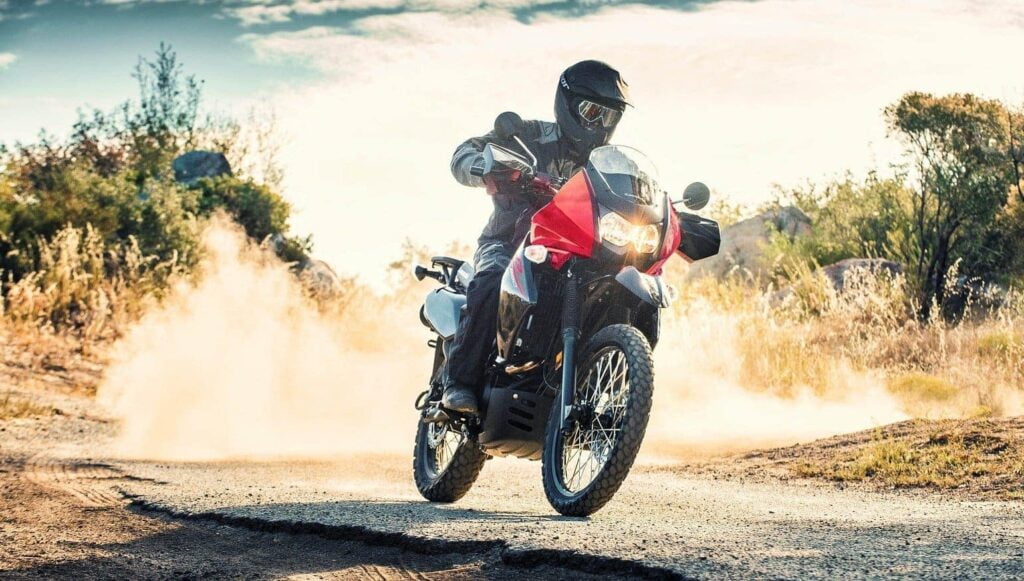 So which is the best thumper motorcycle for adventure travel? I'm specifically going to look at a very special class of thumpers — the "Big" Thumpers, all 650cc.
These are all great options. But they all have different positives and negatives and it's fun to compare them all.
---
Are you obsessed with motorcycles?
Well, I am. That's why I created this site — as an outlet. I love learning and sharing what others might find useful. If you like what you read here, and you're a fraction as obsessed as I am, you might like to know when I've published more. (Check the latest for an idea of what you'll see.)
What Big Thumper Motorcycles Have in Common, and What Makes Them Different
The most obvious thing these motorcycles all have in common is a big, single cylinder engine.
They're very similar engine-wise. The capacity is always around 650cc (give or take), and they all produce around 35-45 kW (40-60hp), and 40-50 Nm (30-40 ft-lb) of torque. The motors are generally unexciting, though there's at least one that's more exciting than the others.
All these big thumper motorcycles (or "thumpers") have upright positions, wide handle-bars, big front wheels for crawling over rocks, and top speeds of somewhere around 160 km/h (100 mph).
They can all do mixed duty of off-road and on-road, but some are more predisposed to one over another. For example, people would prefer the KLR650 over the DR650 for highway work, and vice-versa for going over rocks.
These big thumper motorcycles do differ in a few important ways, though. I'll list these out below.
Fuelling. Some of them are fuel-injected. The majority are carburettor-fed, even in their later days.
Cooling. Some of the motorcycles are water-cooled, and some are air-cooled. Air cooling is simpler with less parts to go wrong/fix but water cooling means you can last longer in very hot climates.
Fuel tank size. If you want to go a long way, you need a lot of fuel. The range is massive — the KLR has twice the capacity of the stock XR.
Weight. For a variety of reasons (farkles, design, amount of fuel), there's a weight difference of 50kg or 100+ lbs between the heaviest and lightest of the bunch. Also, some are described as being more "top-heavy" than others.
So I'll mention those differences below.
Nonetheless, as I mention in the sum-up, you're likely to like any one of the following motorcycles. They all can take you to pretty much the same places, just with a bit more or less ability in different places, and perhaps with more or less style.
Enjoy reading!
Kawasaki KLR650 (1987+) — The Old War Dog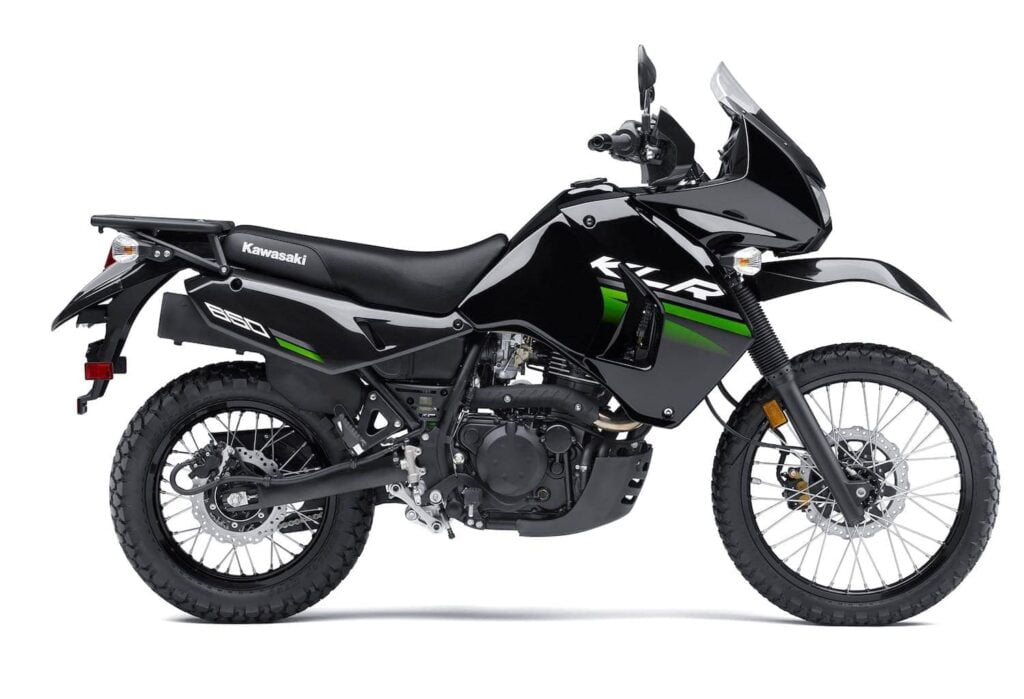 Carburettor-fed (pre-2019), Fuel-injected (2021+)
Water-cooled
33 kW (44 hp)
194+ kg wet (partly from a larger tank, more standard off-road equipment); heavier as you add things like panniers, protection
22-23L litre (5.8-6.1 gallon) tank
Comes standard with belly pan and hand guards
The KLR650 is — or was, until it was discontinued in 2019 (after being made nearly unchanged for three decades) — the old war dog thumper motorcycle of adventure tourers. Then Kawasaki brought it back for 2021 as a fuel-injected model.
I really like the cockpit of the carburettor-era one. Those dials make me feel like I'm in an old fighter plane.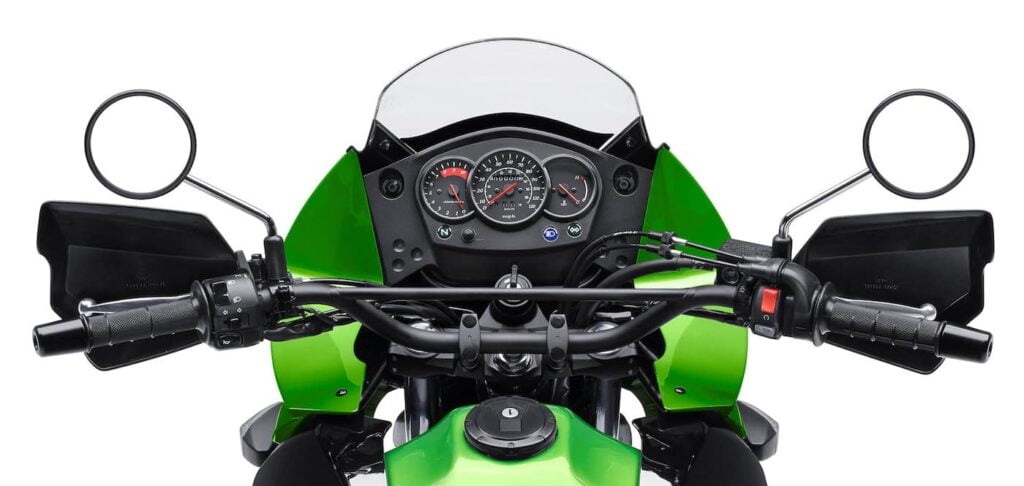 Many riders will tell you that the KLR650 is not really a "dual sport" motorcycle because it's more built for the highway than going off-road compared to its other brethren.
This is mostly because of how heavy it is. At 196 kg (432 lbs) wet — for the carburettor version — it's no lightweight! The 2021+ model is heavier, and it just goes up from there as you add protection, luggage, and of course the rider.
But as I noted above, some of that extra weight is from the fact that the KLR comes with standard fairing, protection, and fuel-carrying capacity than the others in the group. Out of the box it's ready to go a long distance.
That said, the KLR is definitely more off-road biased than its sibling in the Kawasaki stable, the Kawasaki Versys 650. That's a great motorcycle and it won't lose its footing on a dirt road, but without specialist tyres and suspension it won't go over gnarly rocks easily. The KLR will manage, especially with a skilled pilot.
The downsides of the KLR are that it's often described as "unexciting". It depends on your definition of excitement, though. If excitement is going anywhere, the KLR is it.
But man are people passionate about the KLR. Here are some random quotes from forums:
"If I could only own 1 bike, the KLR it would be." AdvRider
"Hearing the distinctive tweet from the exhaust of a KLR riding by immediately transports us back to memorable adventures, carefree days and campfire nights." Rider
"The KLR is close to perfection." AdvRider
"I rode a KLR, and fell in love with it." RideApart
"I can't remember a time when a KLR was not a comforting option that was always a good buy." Revzilla
You owe it to yourself to test-ride one and see for yourself.
Yamaha Ténéré XT660Z (2008-2019) — The Modern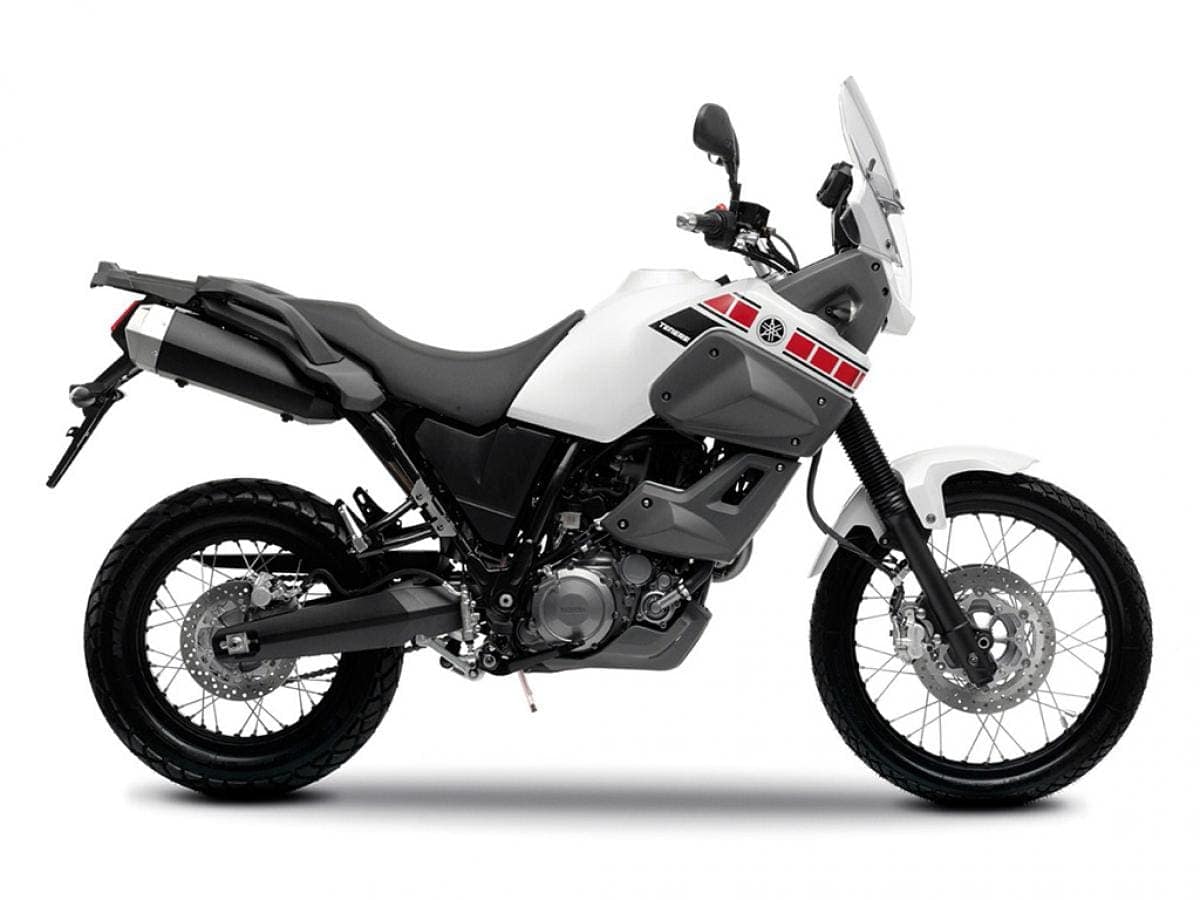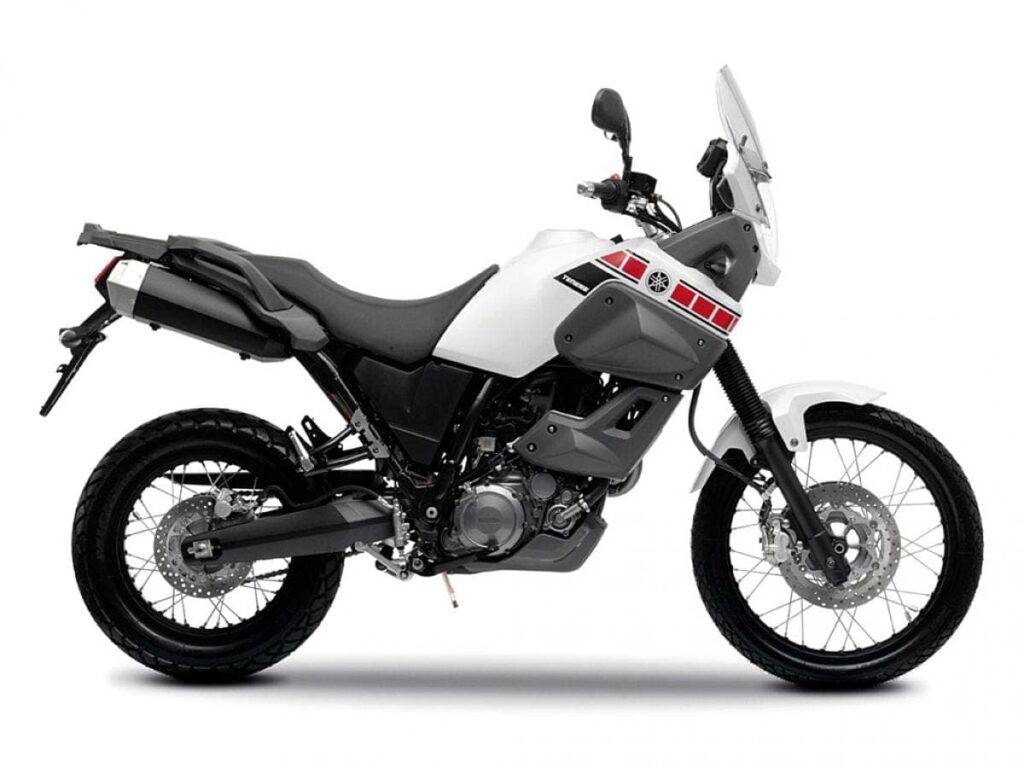 Fuel-injected
Water-cooled
35 kW (47 hp)
181 kg / 399 lb wet
23 litre tank (6.1 US Gal)
ABS optional
I swear under my breath every time I type the word "Ténéré". Só mány áccénts. But I have to get through this section because this is a great adventure thumper motorcycle!
Firstly, the XT660Z isn't available in the US. It's available in Australia and in Europe/the UK. Sorry, my American friends. But you get Yellowstone, Yosemite, and Zion national parks, so fair's fair. Also, you do get the new parallel twin-powered Ténéré 700.
The Yamaha XT660Z Ténéré is the single cylinder adventure motorcycle that was the predecessor to the parallel twin version we all know and love. It's less well-known, but it's an excellent bike — super agile, capable, comfortable, and reliable.
If you want a bit more street bias (but still a motorcycle with huge ground clearance and the ability to go almost anywhere), check out the XT660R. It's a similar motorcycle but with street tyres, less protection, and only one brake disc. The thing is, the XT660R is often significantly cheaper so you can get one for less and then build it up.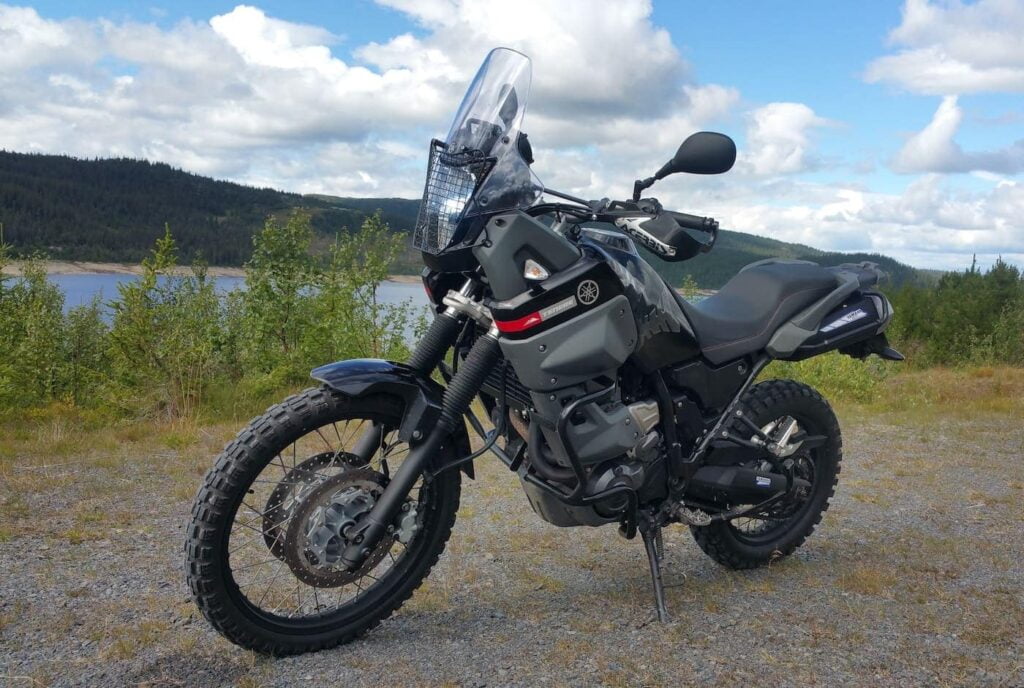 What I really like about the Yamaha XT660Z:
It's fuel-injected. This means that as you change altitude you don't have to worry about changing the mixture. Fuel injection is also just a lot more maintenance-free than carburettors — ask any mechanic how often they have to work on one versus the other.
It's easily the most attractive motorcycle on this list. It's as good-looking as the much newer 700.
It comes with optional ABS. A little harder to find, but a nice option.
The XT660Z is a bit more expensive than other, older bikes on this list. But deservedly so.
BMW F650GS (2000-2007) and G650GS (2008-2016) — The Affordable Beemer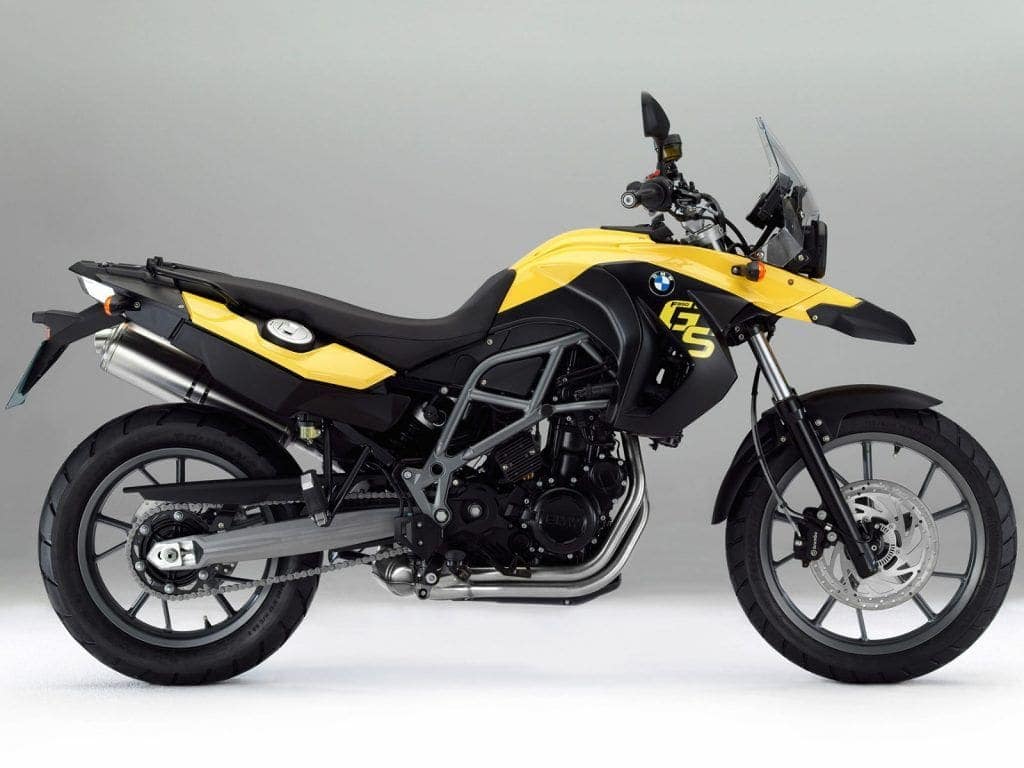 Fuel injected
Water-cooled
35 kW (47 hp)
192 kg wet
14 litre tank
ABS optional (!)
The BMW is the heaviest of the lot. But it's also a BMW, and it comes with a lot of things to make adventure travel more enjoyable.
First thing first — pay attention to what year F650GS you buy. The specs of the motorcycle changed a lot suddenly in 2008, when the F650GS became powered by a parallel twin and also became a quite different motorcycle. In that year, the G650GS became the new name for the F650GS.
If you're ever unsure, just make sure that it's a thumper and you'll be set.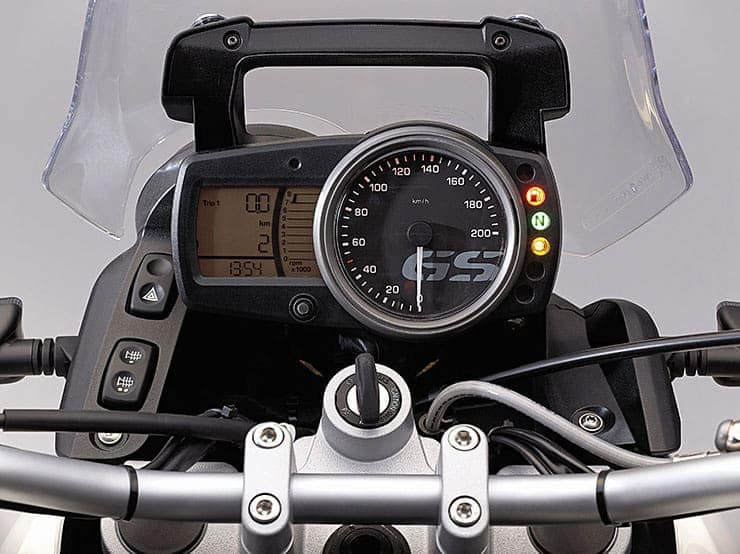 The thing I can't get away from is that the BMW F650GS and G650GS are very good-looking motorcycles — particularly the F650GS Dakar and the G650GS Sertao.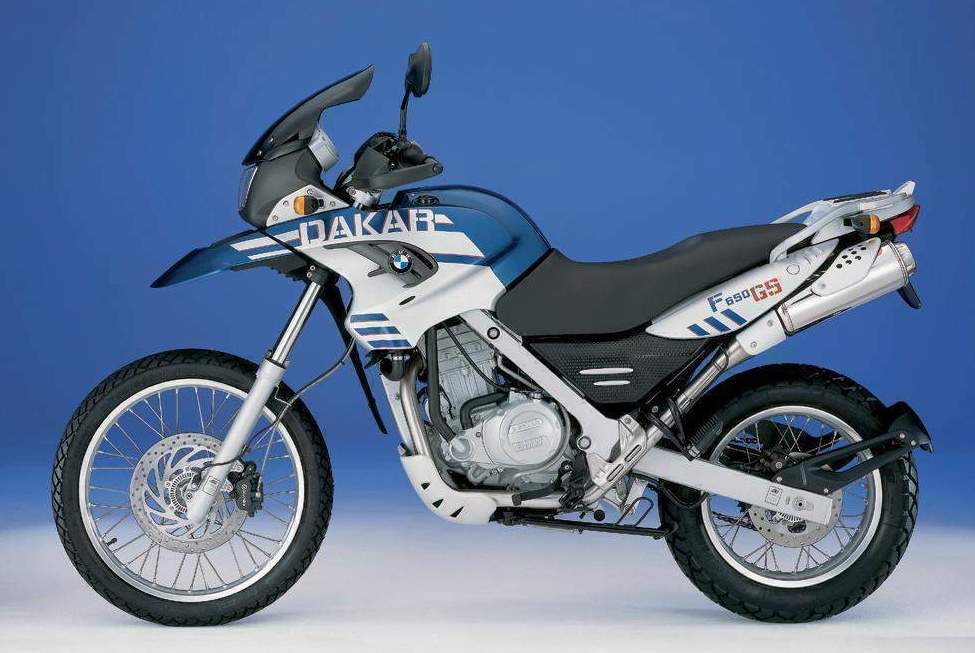 The BMW F650GS is a fine motorcycle, but it's the least popular of the thumpers because it's one of the heaviest — heavier than the KLR650 fully-loaded if you factor in the fact that the KLR comes with much more gas capacity.
BMW motorcycles also have more expensive parts. This is important even if you do your own maintenance.
However, being a BMW, the motorcycle has probably been more taken care of than others on this list. This is personal, anecdotal experience… but when I check out a used BMW I often find log books with stamps from dealers showing it has been serviced at the most expensive places possible. They usually have been more babied too, probably because people are afraid of repair costs.
Honda XR650R (2000-2007) — Dirt Bike with Potential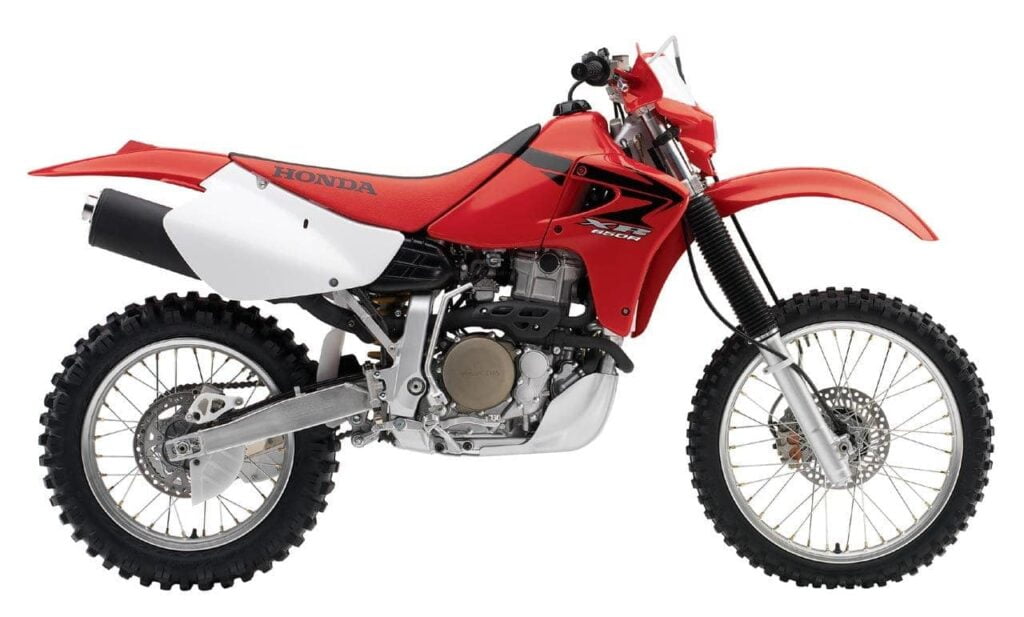 Carburettor-fed
Water-cooled
45 kW (61 hp)
144 kg wet weight
10 litre tank
The Honda XR650R is NOT the same as the XR650L. The XR650L is simpler and lower-powered. The most important differences are that the XR650L is lower powered and is air-cooled rather than water-cooled.
In the US, the XR650L is (unfortunately) much more available. The XR650R is not even street legal in stock form. (Notice the pic above doesn't have mirrors.) So when you see one for sale in the US, make sure it has been made street legal if you want to take it on adventure travel.
So if you're in the United States, the XR650L might be your own option. I won't go into the pros and cons now, but basically, it's a lot like the DR650 below. It's fine, but it wouldn't be my first preference.
On the other hand, the Honda XR650R is the highest power AND the lowest weight of any motorcycle in this list. Although that low weight is partly because it doesn't have anything to make it road legal! Mirrors, for example…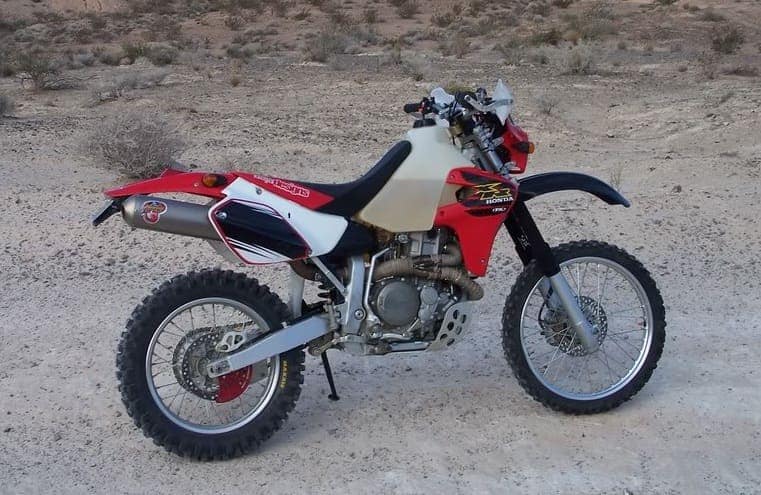 Further, the XR650R has extremely limited tank capacity. Ten litres won't get you far — probably 100 miles or so (160km roughly). So you will definitely need a long-range gas tank or to carry additional fuel.
My personal thought would be if you're going to buy the XR650R, then buy one that is fully modified for long-range travel, to save you the expense and time of modifying it. This would include
Windscreen
Belly pan
Long-range gas tank
Crash guards
And hopefully a nice exhaust and re-jet just for even more power.
Suzuki DR650 (1990-present) — Mostly a dirt bike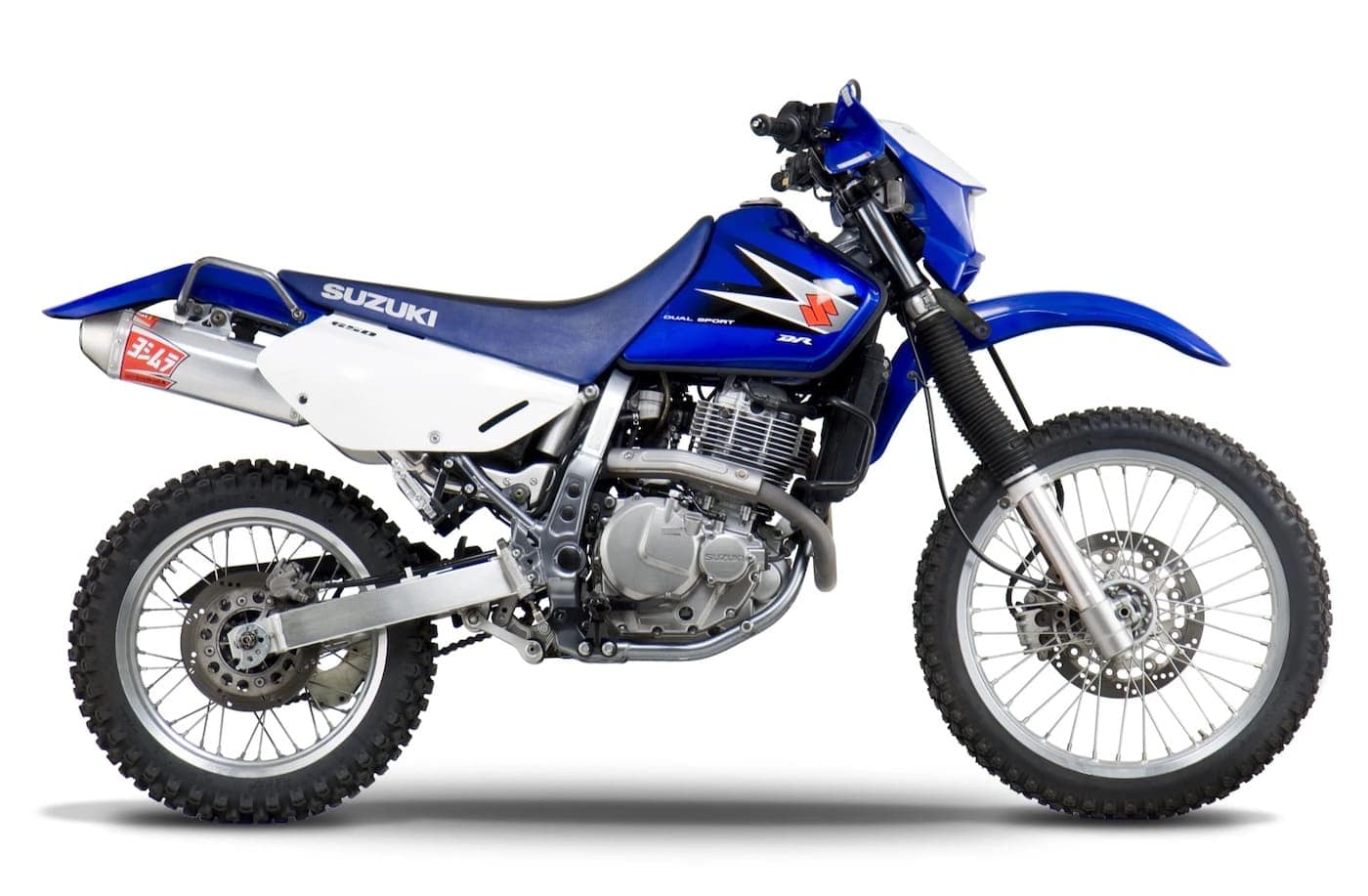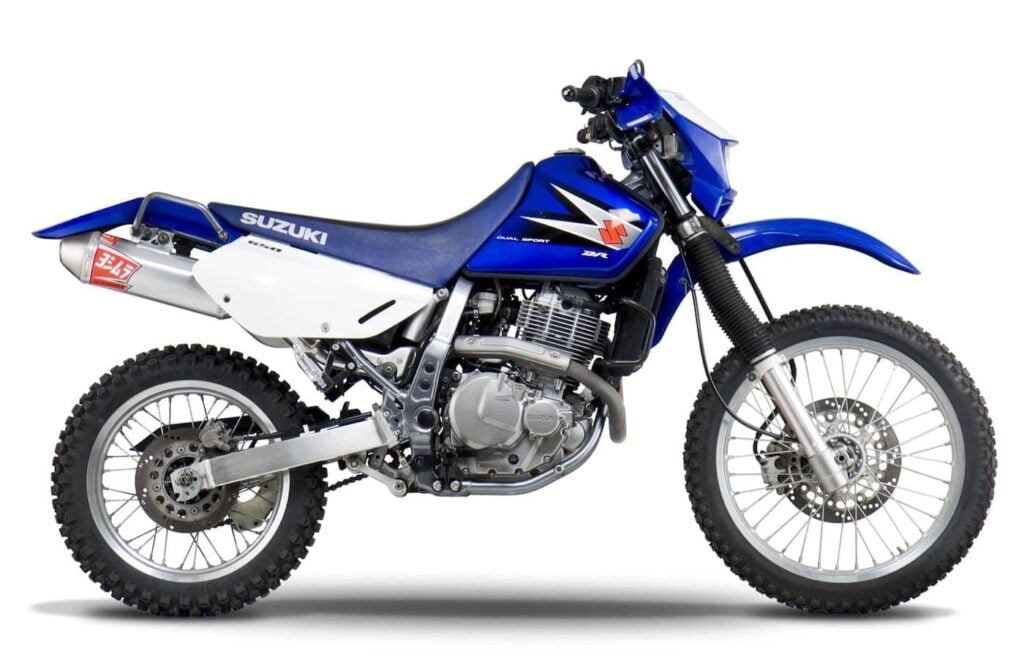 Carburettor-fed
Air-cooled
34 kW (46 hp)
166 kg (366 lb) wet
13 liter tank
The DR650 is, like the XR650L (not the XR650R), an air-cooled dirt bike. That said, many people love the DR650 as a long-range adventure bike and there are easy-to-find reports of people who have gone around the world on them.
It's easy to equip the Suzuki DR650 for long-range travel. You have to make sure it's got the same modifications as the XR650:
Windscreen
Belly pan
Long-range gas tank (this is the only mandatory one)
Crash guards
Even so, it's a slightly heavier and lower-powered motorcycle than the XR650R, which at least is water-cooled. So while this is a fine motorcycle, all things considered it wouldn't be the first on my list of preferences.
Amazingly for a carburettor-fed engine the DR650 is still in production though not in every market. Quite a feat.
Sum up: Which is best?
Any of the above motorcycles can do long-range adventures. You're likely to be happy with any well-presented good example that you find somewhere convenient to you.
In other words, I'd pick a good deal for a BMW over a crappy KLR, even if in general (all other things considered) I'd rather have the KLR.
My personal preference out of the lot is the Yamaha XT660Z. Fuel injection goes a long way towards reliability — again, ask any mechanic how often they have to fiddle with fuel injection versus carburettors and the difference is all you have to hear.
The XT660Z is handsome, too. And it comes with optional ABS — and I can't see much of a downside to ABS, as long as you switch it off for off-road riding.
My second preference would be a fully farkled Honda XR650R. I've always thought these were really handsome bikes. Even though they're carburettor fed, people describe the motor as actually exciting. Unfortunately, they're pretty hard to find used… maybe because people love them!
Third preference would be a KLR650. They're just so well-loved. I have a suspicion I'd be a great eccentric old KLR lover in my older age. Not just yet, though.
For now, I'm still hooning around on my Ducati Hyperstrada 821. I doubt I'll take it off-road. But I enjoy being on road, too.