When the Z900RS was released, certain journals mentioned that it had design elements that hearkened back to the "Eddie Lawson Replicas" of former times, starting with the Z1 a very long time ago.
Being not that old (but no spring chicken), Eddie Lawson isn't a familiar name to me. So I thought: who is this Eddie Lawson? Why are there motorcycles built to replicate his bike (or perhaps him, like a Madame Tussauds wax figurine perhaps)? And what were these mythical bikes?
This is everything I found out — how the Eddie Lawson replica motorcycles originated, and how they brought us to the Kawasaki Z900RS today.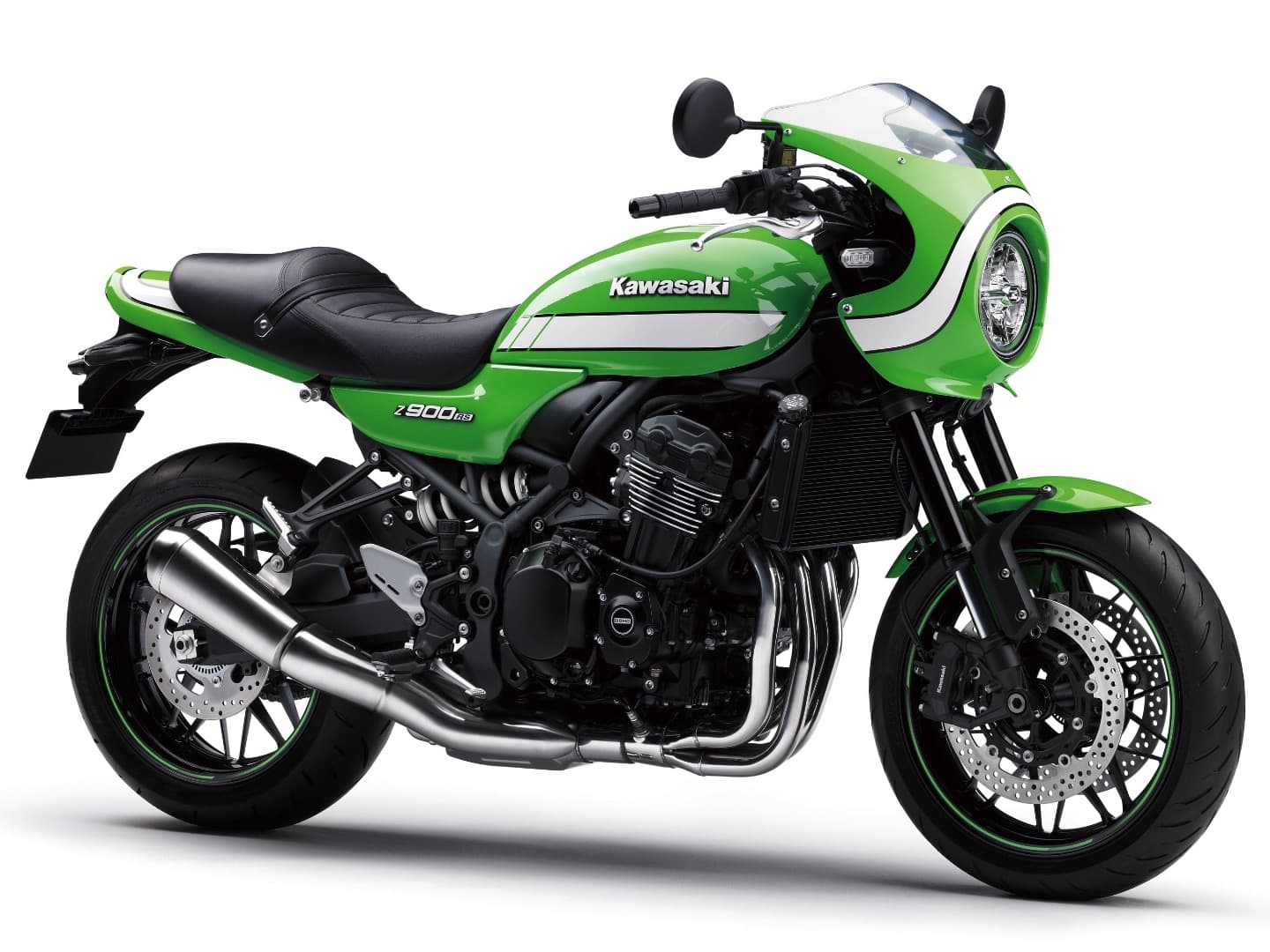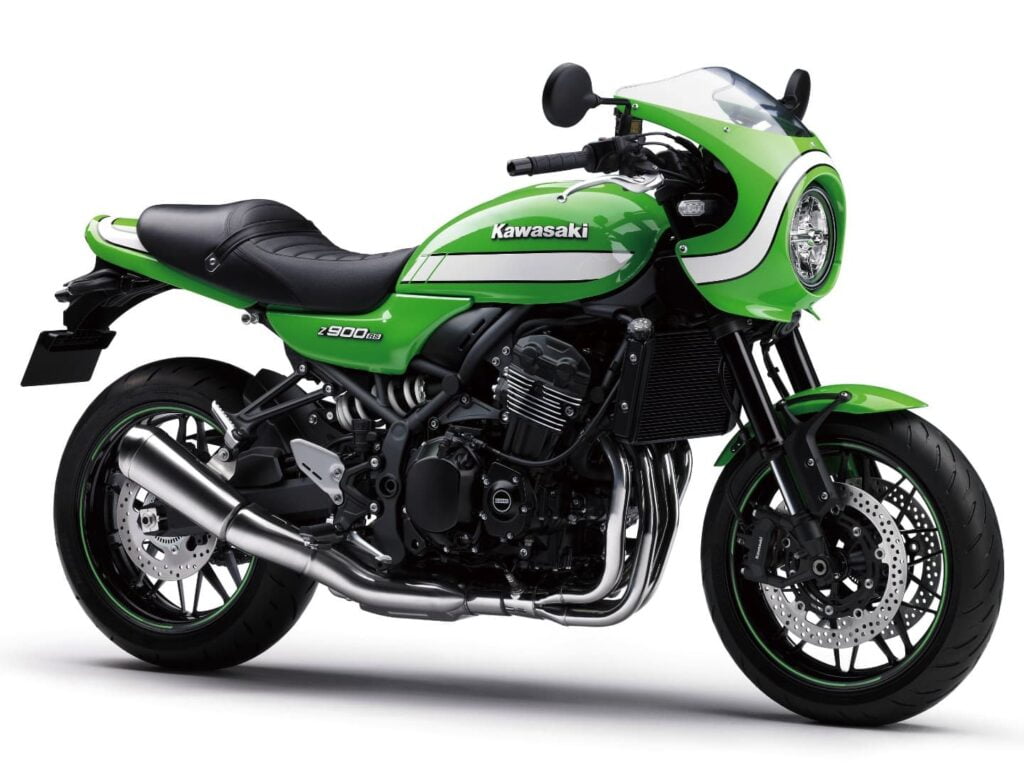 There are certain facts in life we accept as being true by virtue of themselves. Mandarin is the most-spoken language in the world. Humans need oxygen to live. Kawasaki motorcycles are green. (Well, many of them are.)
Kawasaki motorcycles have been the "green" brand for longer than I have been alive (and that's a very long time).
Whether the association was an intentional branding decision against its major competitors — Honda's red, Yamaha's blue and Suzuki's… also blue? or just something that happened over the passage of time, I can't be sure.
But the association between the colour green and Kawasaki is strong, and is extremely evident in one of Kawasaki's most well-known legacy of motorcycles: the Eddie Lawson Replicas, and the bikes inspired by this line.
The Eddie Lawson Replicas were a series of road racing motorcycles that Kawasaki. These motorcycles defined their racing brand — and to my eye, their aesthetic image — like no other motorcycle. This was the series modelled after the motorcycle that Kawasaki's in-house racer, Eddie Lawson, rode to superbike history in 1982: the KZ1000R.
The KZ1000R itself came into existence in part thanks to the legacy left by the first great Kawasaki big four, the Z1. After Eddie Lawson rode to victory, first came the replica of his KZ1000R, then the ZRX1100 built in its image over a decade later, then the improved ZRX1200R, and finally the recent Z900RS.
Each of these "Eddie Lawson" motorcycles is stunning and a piece of history. Let's examine them one by one.
Are you obsessed with motorcycles?
Well, I am. That's why I created this site — as an outlet. I love learning and sharing what others might find useful. If you like what you read here, and you're a fraction as obsessed as I am, you might like to know when I've published more. (Check the latest for an idea of what you'll see.)
The Predecessor to the Eddie Lawson Replica: The Kawasaki Z1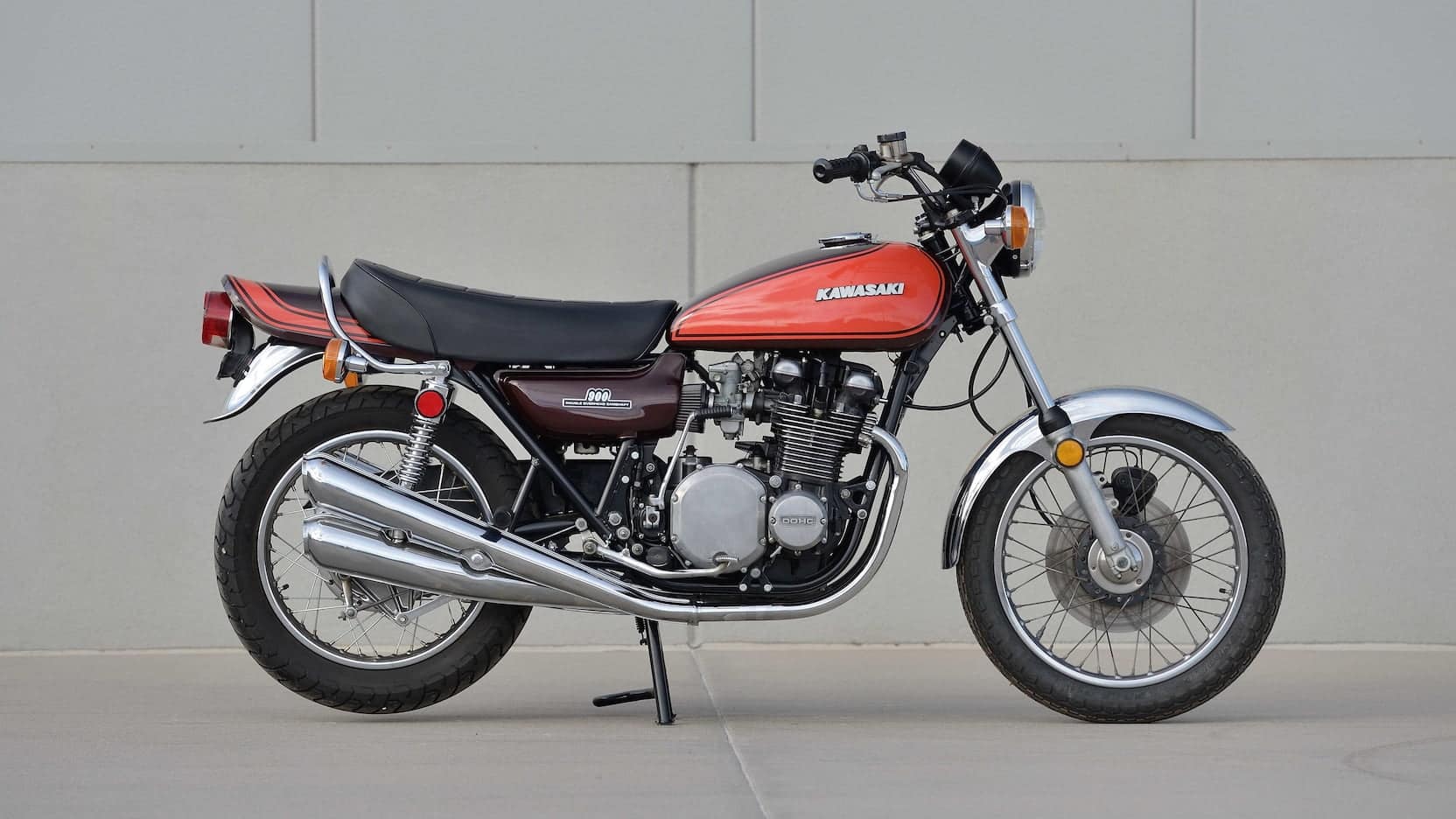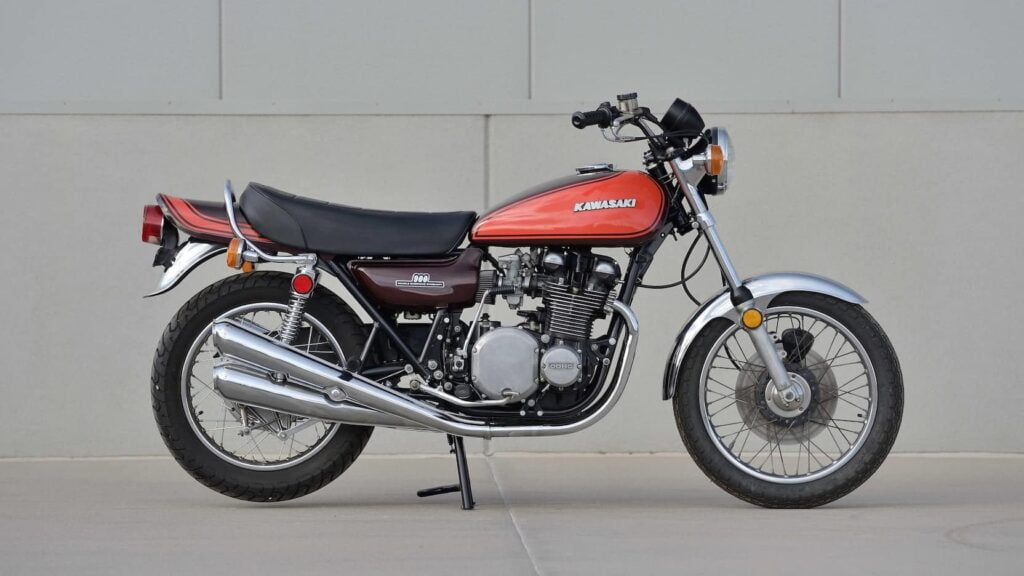 The Kawasaki Z1 was where it all started for Kawasaki. It was the beginning of a new age. The Z1 was commissioned by Green HQ as a 750cc in 1967.
Then in 1968, Honda released the iconic CB750, changing history. A fast four! Upright! Decades later, the CB750 is still a favourite of motorcycle builders and collectors (though they're in dwindling supply).
When Honda released the CB750, Kawasaki went into disarray. They couldn't release an identical capacity bike! They went back and retooled to later release the Z1 in 1972.
If I were there, I'd have chastised them (because I'm so influential as a blogger and sometimes corporate strategist). There's nothing wrong with releasing a motorcycle just like a competitor. Product releases can't and shouldn't be delayed by years in today's cut-throat environment — but that was a different time, before the age of private equity, sky-high equity expectations, and leverage. Consumer product cycles were slower.
In retrospect, you can argue that they made the right decision. Kawasaki, by delaying release of the Z1, chose its own destiny and brand identity.
The Kawasaki Z1, when released, was a thing of beauty and entirely unique for its time, notable for using a double overhead cam shaft in a production motorcycle, the first to do this at reasonable cost (i.e. not an MV Agusta).
Together with the CB750, the Z1 helped popularise upright inline-four motorcycles, paving the way for a slew of motorcycles becoming known as UJMs ("Universal Japanese Machines") in the 1980s.
I haven't ridden a Z1 myself, but people who did own them regret selling them. They were very fast for their time. If you want one these days you'll want one properly restored, usually with upgraded suspension reflecting modern demands. And you'll pay a lot.
If you're still looking for a Z1, you'll have to buy from a restorer. Try the Z1 Forums in the US, or setup a watcher on eBay. They show up but are priced to reflect the effort put into restoring them.
The Original "Eddie Lawson Replica": The Kawasaki KZ1000R (1982-3)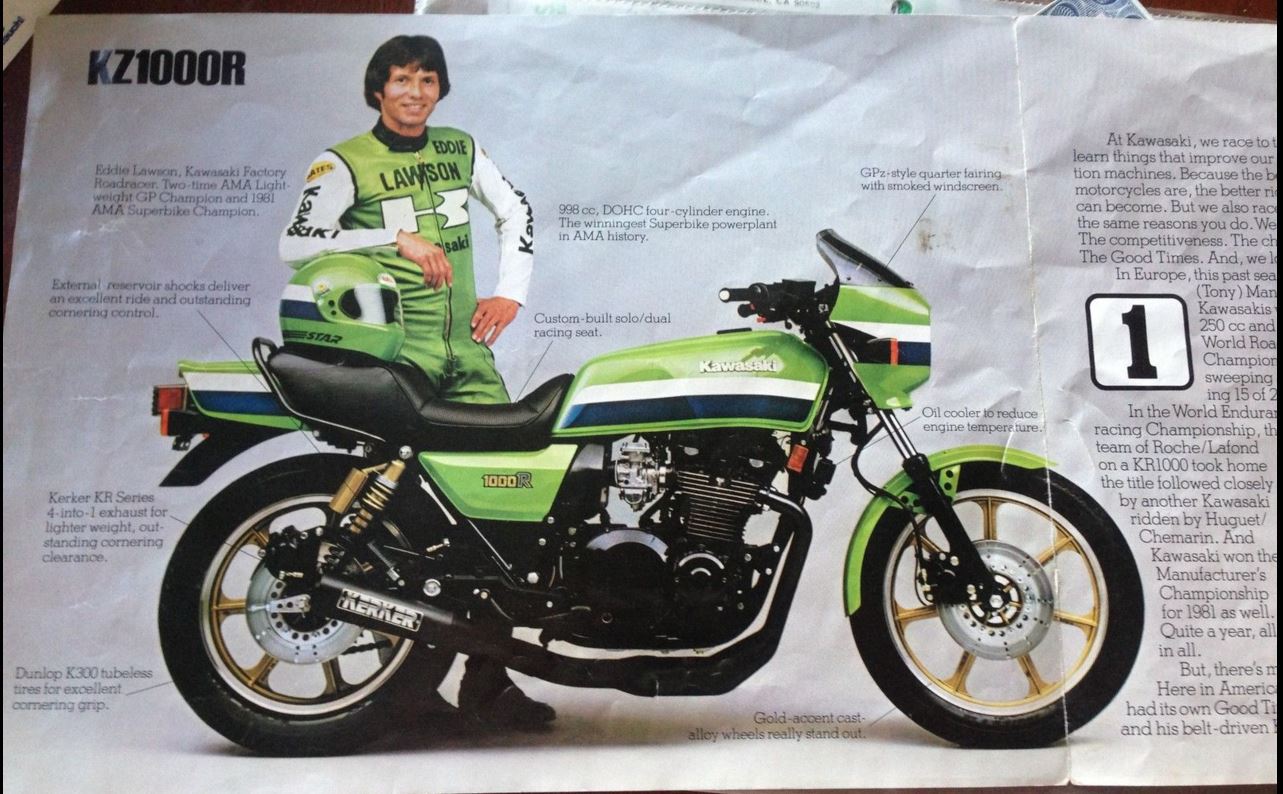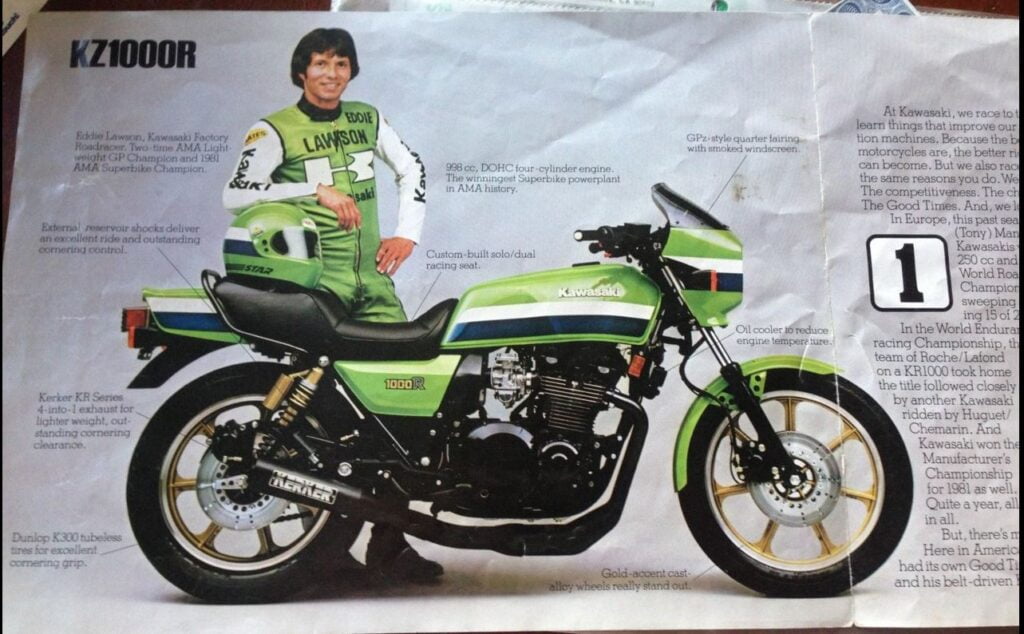 Motorcycle racing rules changed in the early eighties, introducing the Superbike class. Basically, huge motorcycles. This created a sudden vacuum into which Kawasaki confidently strode with its KZ1000R, a huge 998 cc four-cylinder motorcycle that was going to help redefine history.
Eddie Lawson, Kawasaki's in-house racer, rode a modified Kawasaki KZ1000R to Superbike victory in 1982, giving way to a legendary design that would bear his name as the "Eddie Lawson Replicas" for decades to come.
It was a worthwhile name to bear: Eddie Lawson was one of the greatest racers of all time. He won the 500cc World Championships four times in the 1980s. When he retired from Grand Prix racing he ranked third of all time with 31 victories.
The Eddie Lawson Replica ("ELR") Kawasaki KZ1000R was the same as the base model KZ1000R, but modified to be like the one that Eddie Lawson rode to victory. This meant it got:
A special Kerker exhaust,
Adjustable rear suspension, and
(critically) A striking green paint job to replicate the one Eddie Lawson rode.
The original KZ1000R was popular enough (it was even a police bike in some places!) but the green one was the truly beautiful one.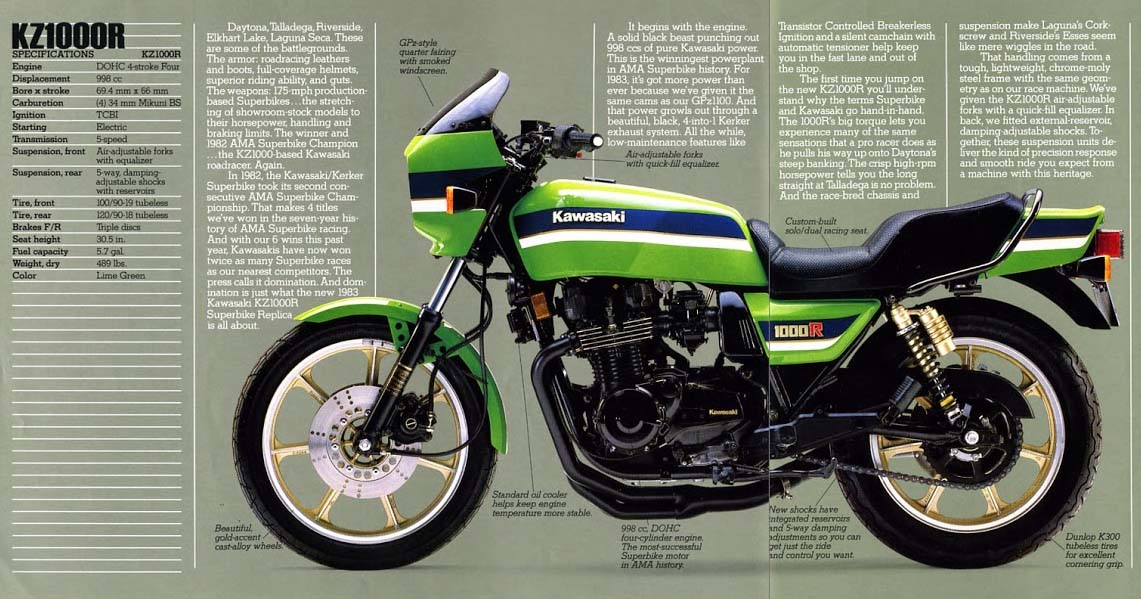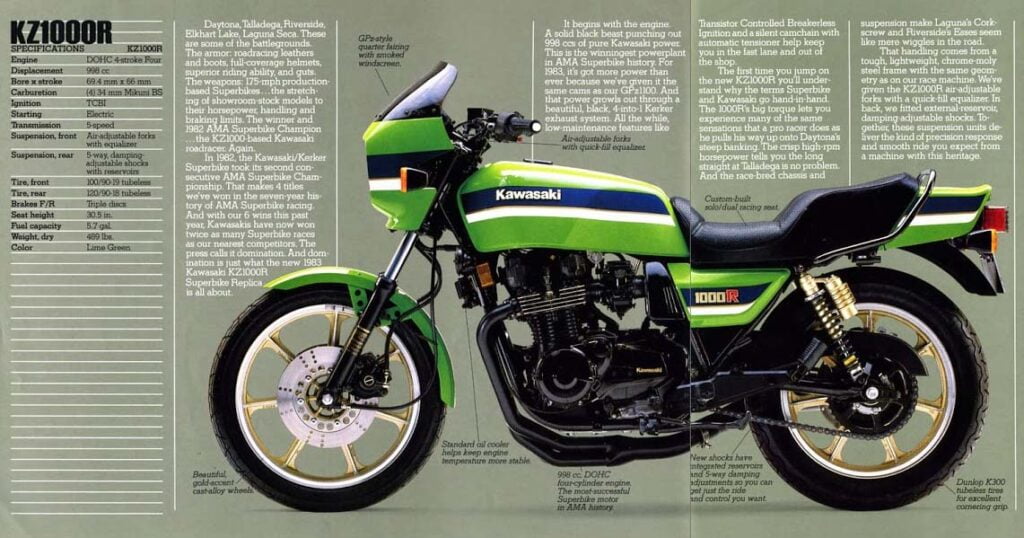 The Eddie Lawson Replica model was made only in 1982 and 1983 and in limited quantities of 750 total. People around the internet often lament having sold them because they've gone up in price quite a lot! Not matching inflation, so if they sold them to buy Apple stocks that would have been a much better idea, but still, it's rare for a motorcycle's value to go anywhere but down.
The standard Kawasaki KZ1000R produced around 80 hp at production, and the modified Eddie Lawson Replica turned that up to a more respectable 102hp. It's not much to carry around the 500 lb+ wet weight, but who'd be riding around a collector's item like this, other than to shows?
The KZ1000R Eddie Lawson Replica is now a collector's motorcycle and is effectively unavailable outside fancy vehicle auctions where it'll cost a lot more than its technically more capable successors.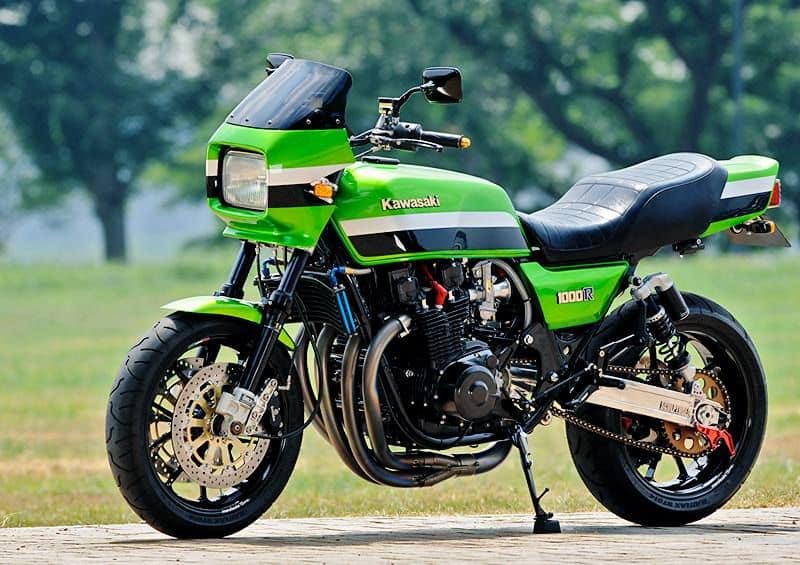 The second Eddie Lawson Replica: The ZRX1100 (1997-2001)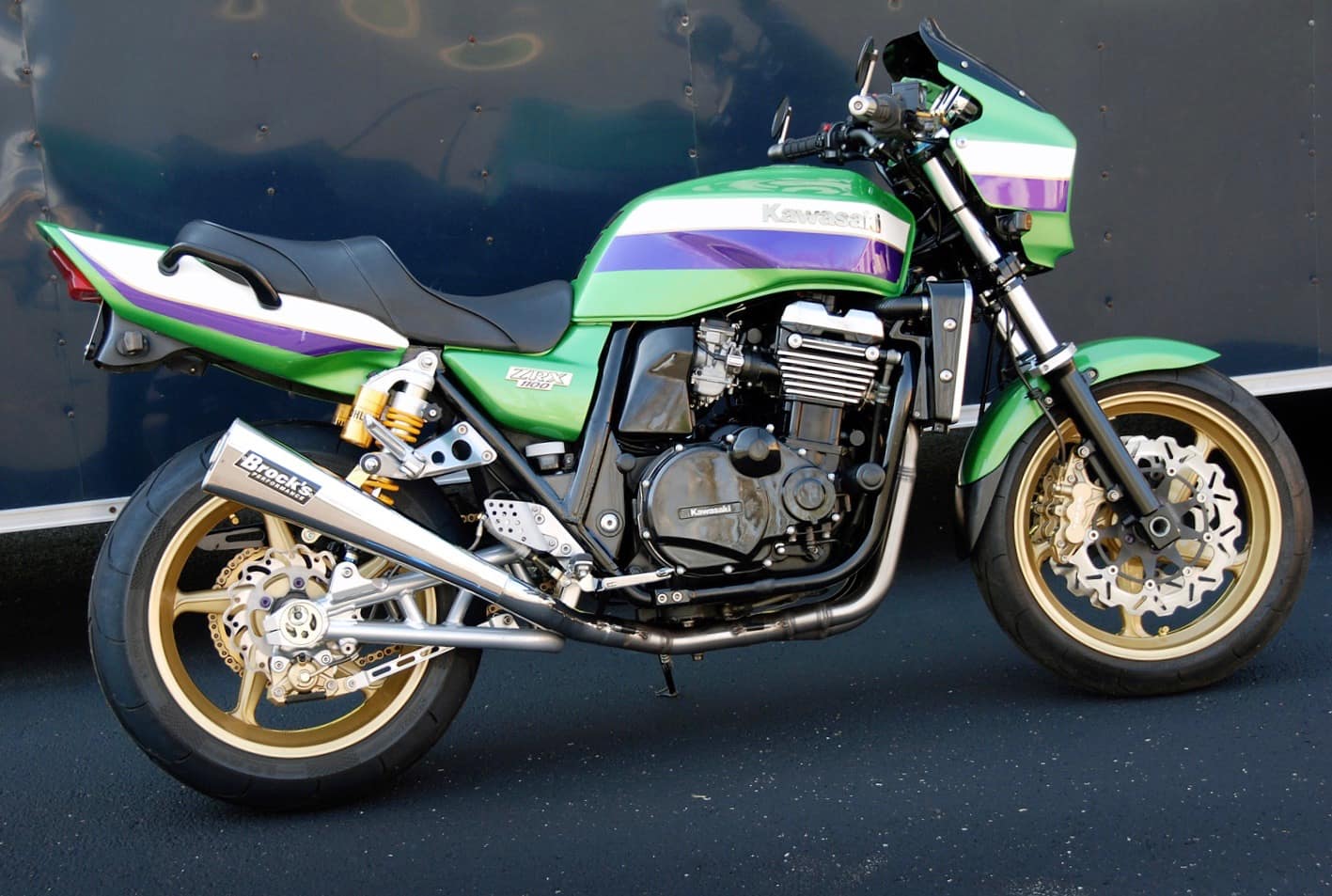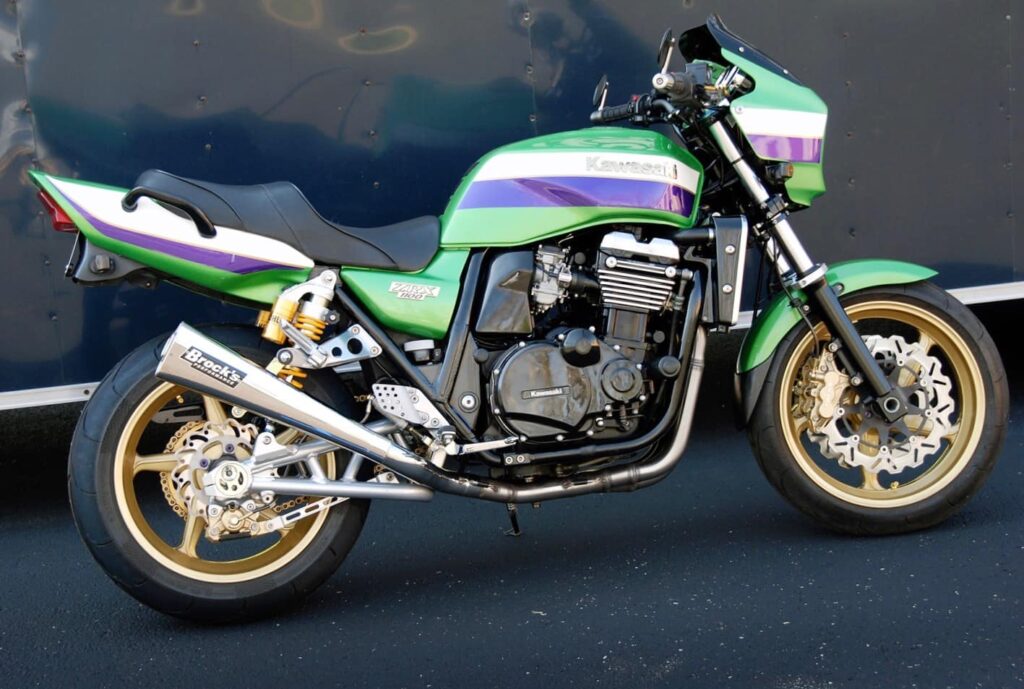 In the late nineties, naked motorcycles started becoming popular, on the back of the success of the Ducati Monster. These naked motorcycles slightly redefined the UJM "standard" theme.
How were "naked" motorcycles of the nineties different from the "standard" motorcycles of the eighties? The handlebars were lower, engines were more powerful, suspension more firm and they were overall slightly faster.
Anyway, the ZRX1100 was built as a homage to the Eddie Lawson Replica. Yes, it was also sold in black and other colours, but who cares, we're here for the green one!
The Kawasaki ZRX1100 was made from 1997-2001 and sold in the US only from 1999. The US has long been a tough market for Japanese bikes with more niche appeal, like big-bore inline four-cylinder bikes (e.g. the XJR1300).
The 1052cc engine of the ZRX1100 cranked out 96hp (72 kW) and 69 ft-lb (94 Nm), which was fine, but really isn't that much considering the combination of the heavy steel frame and engine that put this motorcycle over 250kg wet. The engine came from sportbikes (the ZX-11) but was re-tuned for more mid-range. Few people will throw these around at the 200+ km/h that they can do.
The torque for the ZRX1100 comes on low, reaching near peak levels around 3,500 RPM and staying there until close to the redline. Opening up the exhaust and intake and retuning it does wonders — I've read reports of horsepower and torque numbers being sent up by 25% without much difficulty.
You can still easily buy a Kawasaki ZRX1100 on Craigslist in the USA. They're more rare in Europe and Australia.
The Third Eddie Lawson Replica: The ZRX1200R (2001-2007)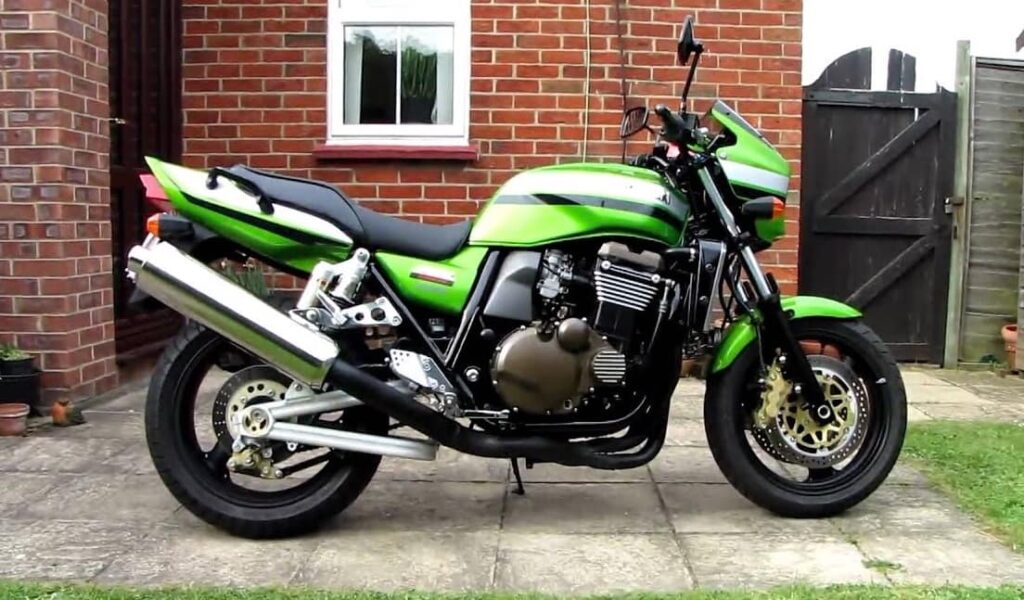 Engine: Inline four cylinder, dual overhead cam, 1,164cc, carburettor-fed
Power: 91 kW (122 hp)
Torque: 109 Nm (81 ft-lb)
The ZRX1200R built on the success of the ZRX1100 and made some huge improvements to make it really sing. It was sold in Japan from 2001-2007, but in the US it was only sold until 2005.
Worldwide, there were three variations on the ZRX1200 – R, S, and N — but the ZRX1200R was most common in the US.
Kawasaki increased the engine to 1,164cc, increasing the power 122 hp (91kW) with 81 ft-lbs (109Nm) of torque. Again, torque comes on early, and this can easily pull in top gear from around 50km/h (30mph). Fuel is delivered by four carburettors. Unlike its contemporary competitors (the Yamaha XJR1300 and Suzuki GSX1400), this motorcycle never got fuel injection.
And unlike most sportbikes, the Kawasaki ZRX1200R had handlebars. This is no cafe racer with clip-ons. The position is lower than most "standards", though.
The Kawasaki ZRX1200Rs received huge critical acclaim, and not just because of the way they look. They were often the favourite when compared to similar motorcycles of the era — mostly not available in the US.
The only criticism of the ZRX1200R was soft suspension (a criticism I read of nearly every motorcycle, honestly, possibly indicating a disjuncture between journalists and everyday riders), which is easily rectified with a few simple modifications, including better springs, gold valve emulators and heavier oil (or just fresh oil! this is no spring chicken), and just a better pair of rear shocks.
Like many motorcycles, the ZRX1200R sounds like a lawnmower stock, so I wouldn't buy one unless it had an exhaust fitted. The Kerker aftermarket exhaust is a favourite balance of performance and sound. Make sure it also comes with a rejetted carburettor.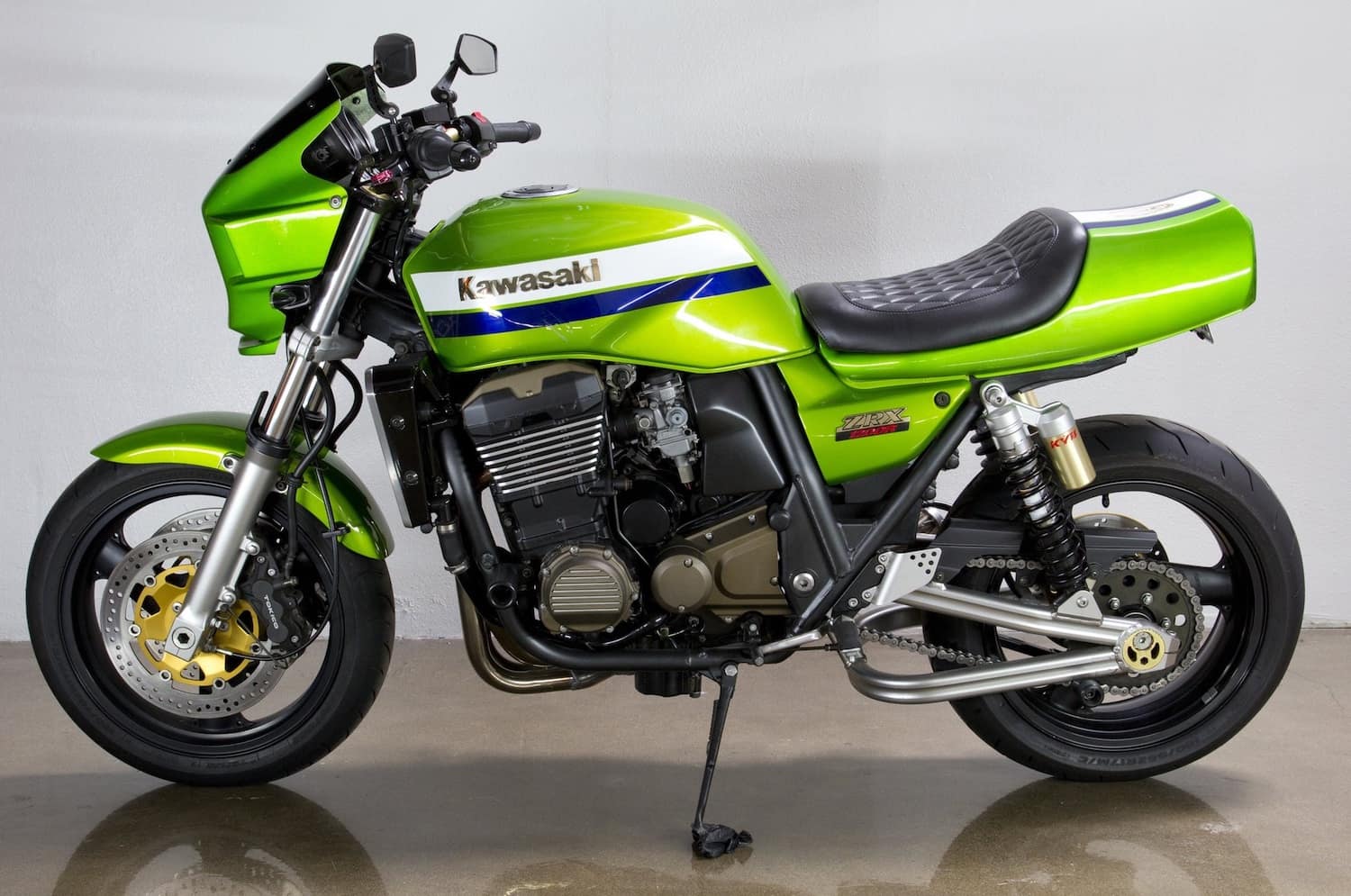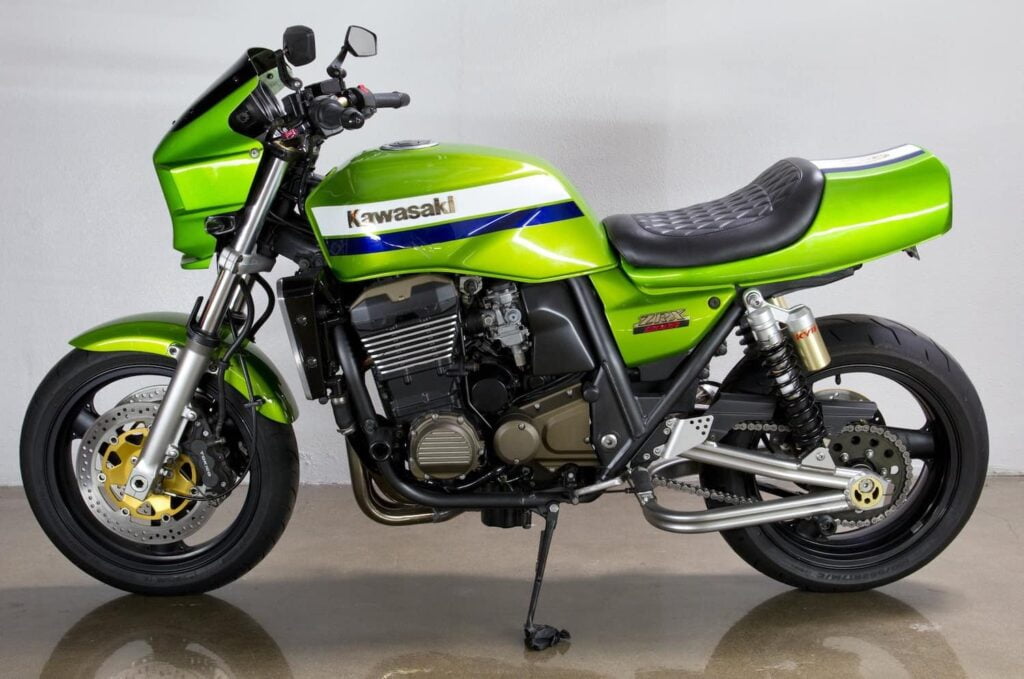 You can still get the ZRX1200R in the USA, Australia, and Europe. There are usually a few hanging around on Craigslist in the major cities. Unfortunately, most of them are relatively high mileage (50K miles is quite common), and green is rare and will cost you an extra $1000 or more. I saw one go in San Francisco for $4,000 in 2018, and it sold within hours of being listed. They're special.
In every market, people who own ZRX1200Rs know they're special and collectable and will charge a slight premium for them considering their age, particularly if they're well-maintained. There's nothing wrong with this — but when you're paying US$4-5K for a bike, just be aware of all the other bikes you may not be getting for the price.
The Japan-only ZRX1200 DAEG (2008-2016)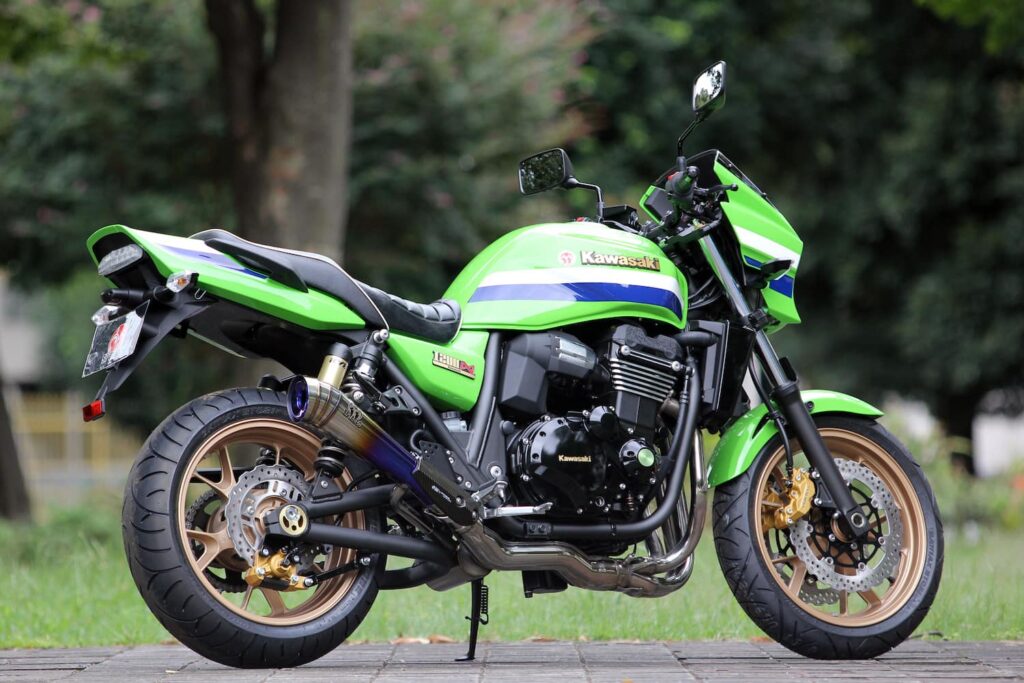 In 2008, the ZRX1200 was updated with fuel injection. Kawasaki also decided to stop exporting them outside Japan for some economic reason that makes me really mad.
The ZRX DAEG had significant changes that, in US trim, would have provided an increase in performance not only from the engine but from the braking system and the chassis.
The new ZRX finally got fuel injection, along with porting and valve work in the engine department, a new exhaust system and a six-speed transmission (the old bike was a five-speed). They added new Tokico four-piston brakes squeezing a pair of petal-shaped front rotors measuring 310mm and a single piston/250mm rotor combo in back.
They also improved the steering geometry, suspension and swingarm. Damn! I have half a mind to import one.
The ZRX1200 DAEG ended production in 2016, with tightening global emissions standards killing it off.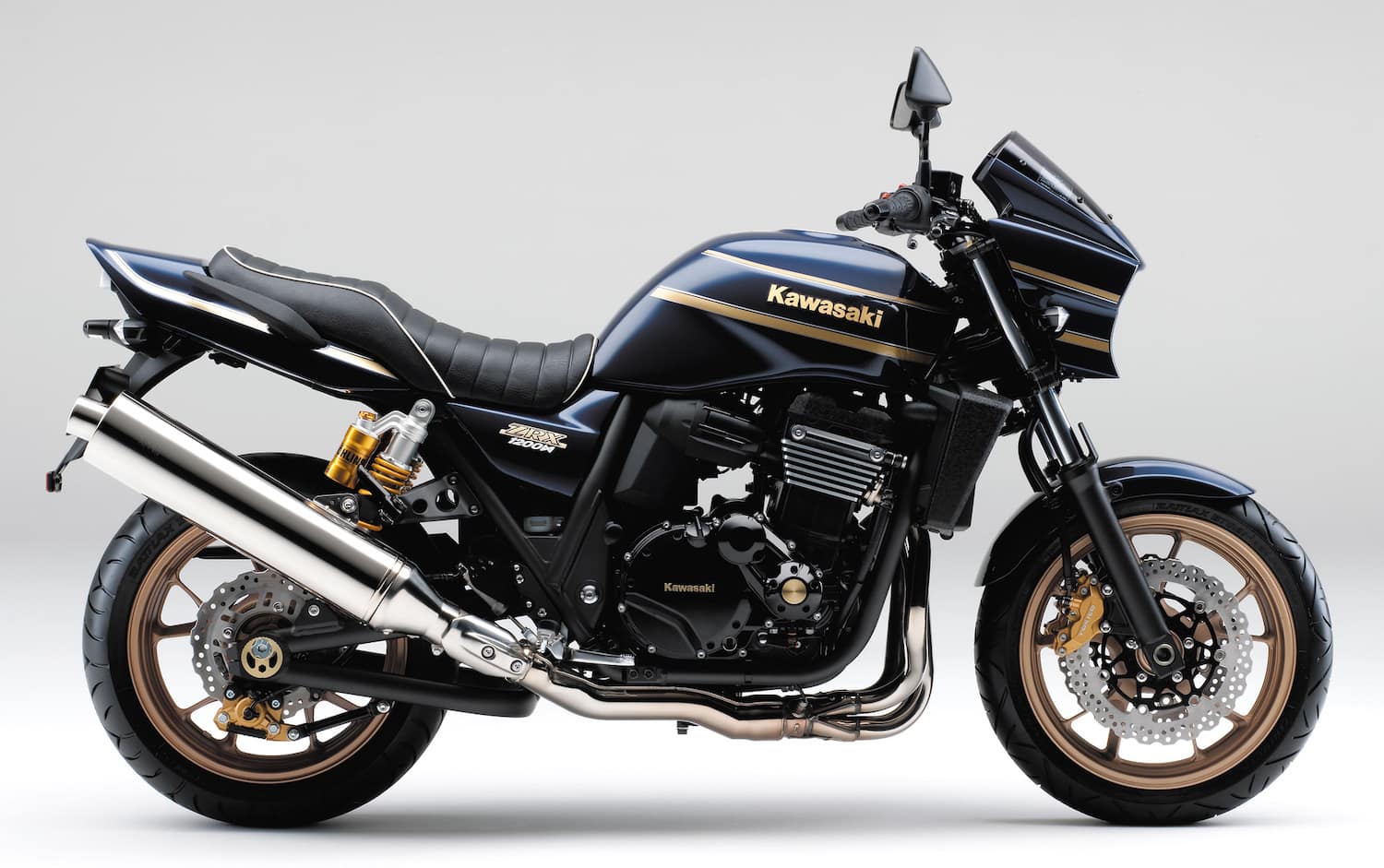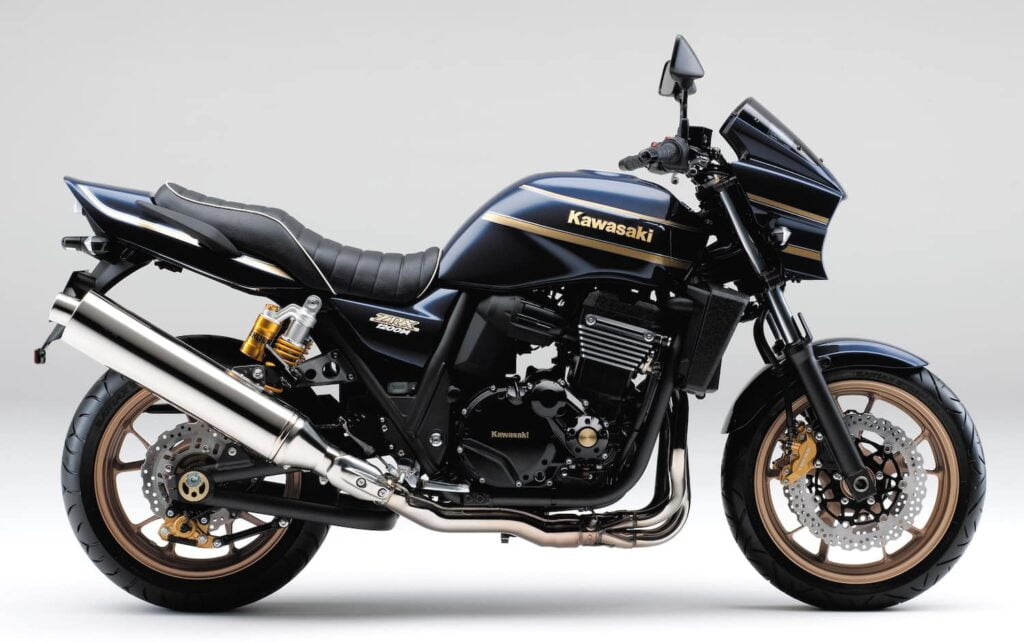 The Kawasaki Z900RS Café (2018-present): The Modern Classic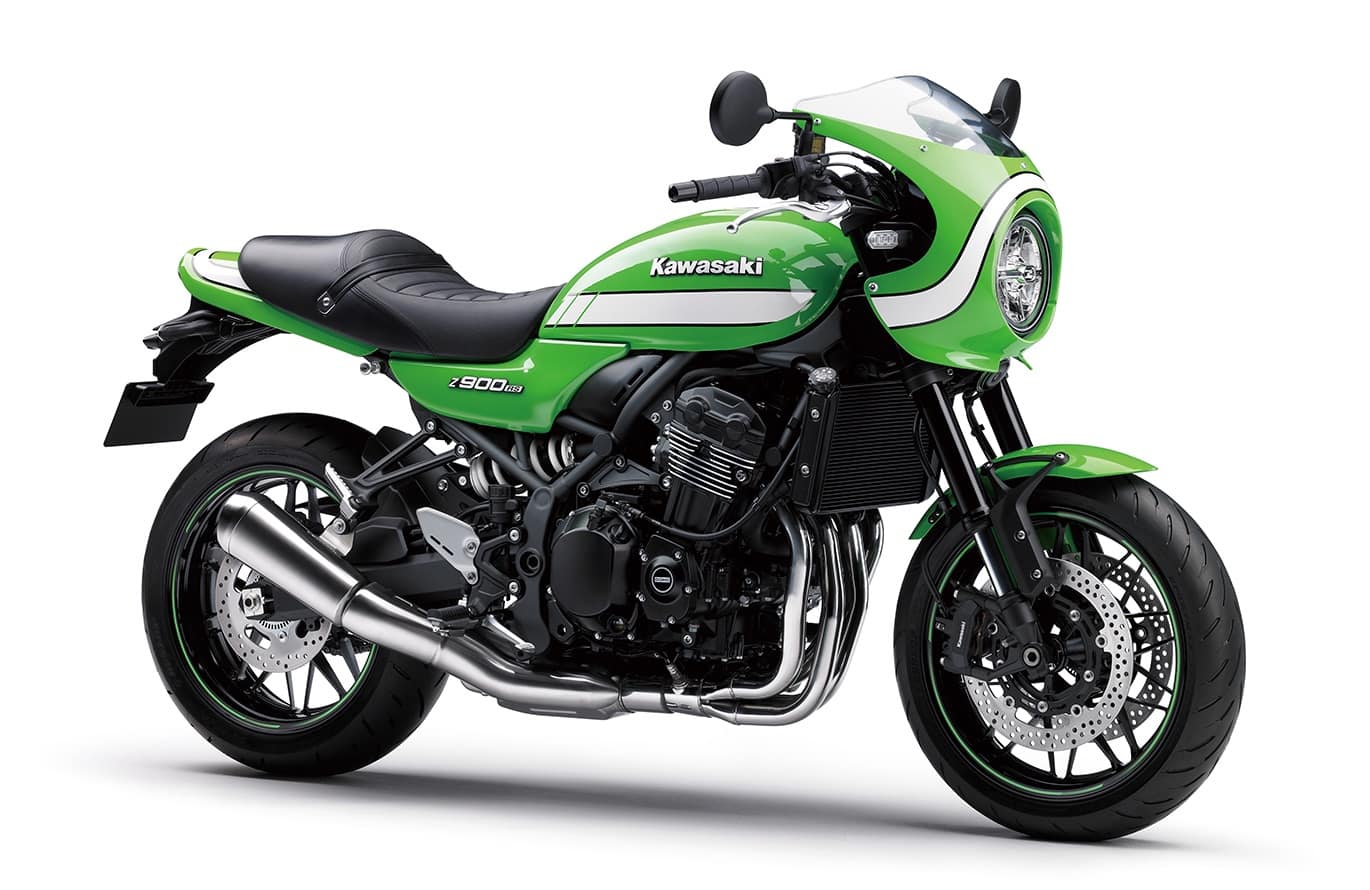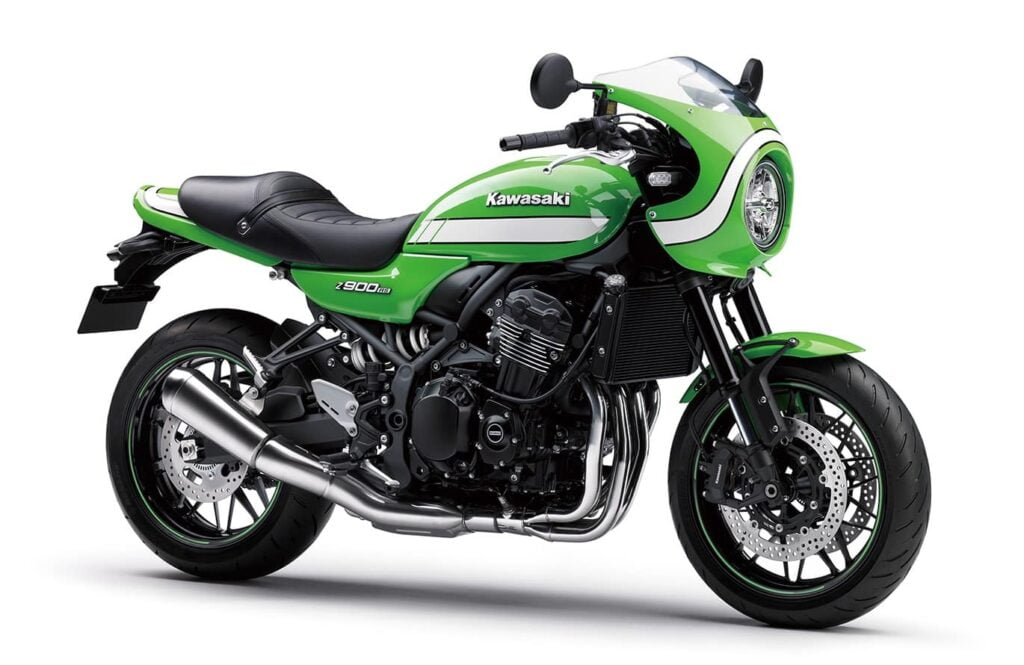 In 2017, Kawasaki released its most modern incarnation of Kawasaki four-cylinder motorcycles: the Kawasaki Z900RS.
The Z900RS got a great reception from motorcycle journalists and new owners alike. Apart from being beautiful to look at, the Z900RS is amazing to ride. So much so that if I had to buy a new motorcycle this would be one of the leading contenders (and it always is in the mix).
Bikesales in Australia called the Z900RS the "motorcycle of the year". Cycle World in the US called it the "best-looking motorcycle of the year". High praise. (Here on this site, I called it one of the best-looking motorcycles of 2019.)
Even the occasionally cantankerous (sorry) Lemmy of Revzilla liked it: "I like it. I like it a lot. This bike's going to hit the right notes for a lot of riders, from duffers to serious go-fast riders, second-bike buyers right up to salty old-timers, ages 25 to 75." In some other place (that I can't find) he said it was one of his picks for the bike of the year.
The Kawasaki Z900RS' 948cc engine throws down 110 hp (82 kW), with 73 ft-lbs (98 Nm) of torque maxing out at a relatively high 7700 rpm. It weighs 215kg wet, which is a bit heavier than liter-bikes, but not much. It's fairly standard for a … standard.
They actually took the motor from the relatively similar (but more modern-looking) Z900, another standard/naked, but de-tuned the delivery for more low-end grunt. This cost top-end horsepower, but again, why would you take this anywhere near its theoretical top speed? Unless you're as aerodynamic as a supercar it'd be fairly pointless.
If you're interested, I did a deep dive into the Z900 vs the Z900RS to look at all the spec differences to help you decide. In short, the Z900 is pretty tantalising if you feel like going faster and saving a third of your money, if you don't value style as much.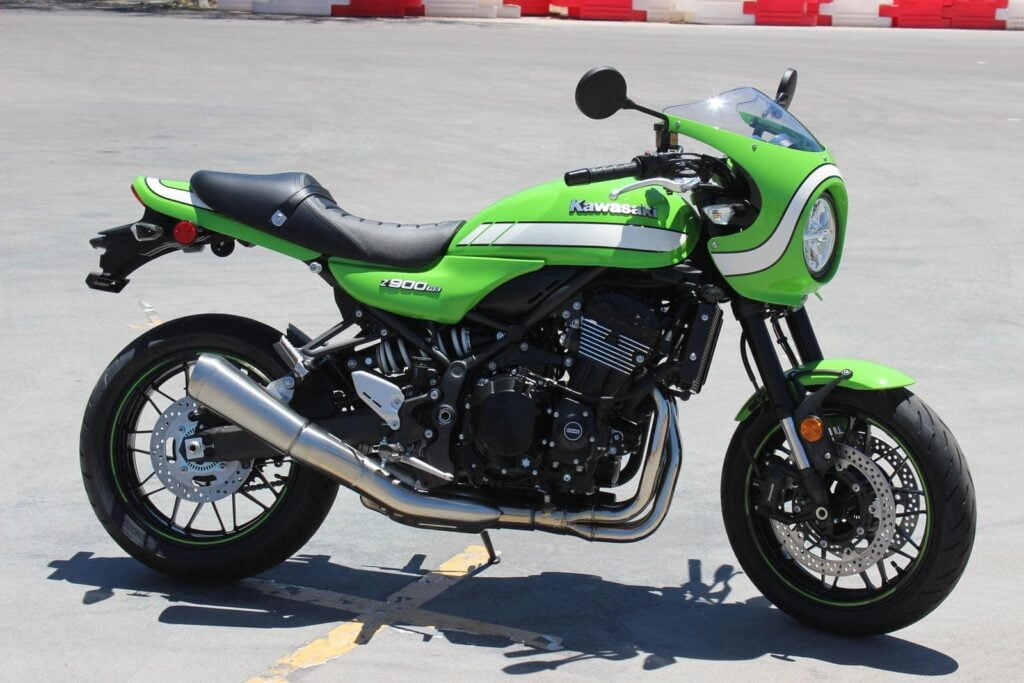 But what's the Z900RS like to ride? It's fast. It's comfortable. It is modern.
The difference between the Z900RS and the ZRX1200R is that the former feels like a modern, revving sports motorcycle, but the latter feels like a heavy standard.
If you buy a ZRX1200R, you'll probably be buying one with upgraded exhaust (Kerker, usually), a re-jet of the carburettors, and some upgraded forks. All those are basically necessary to make the motorcycle feel modern, fast motorcycle, but nothing will take away from its weight.
If you get a Z900RS, you'll pay a lot more of course, but you'll get all that and a lighter motorcycle.
The only downsides to the Z900RS is that it lacks a little — or a lot — compared to its competitors. Compared to most modern sport bikes (e.g. the BMW S 1000 R), it's heavier, less powerful, and doesn't have niceties like cornering ABS or cruise control.
But that's not really what the Z900RS is about. It's meant to be a more easy-going bike, and it relies on aesthetics more than almost anything else.
The Kawasaki Z900RS, especially the green Café variants (there are a few different colour schemes), is undoubtedly a future classic. If you need any other reasons to get one, this is it!