The Yamaha MT-09 / FZ-09 is one of this generation's great motorcycles. I'd almost call it under-appreciated, despite the fact that it's so popular, because in my humble opinion, it deserves to be even more popular. It's just a great bike, and not enough people know it, so here is me waxing poetic about it.
OK, enough subjectivity! The Yamaha MT-09 has existed since 2014. It's a middleweight naked sport bike powered by Yamaha's three-cylinder engine that they name the "CP3", "CP" standing for "CrossPlane", a common word that Yamaha has co-opted for its three main motors (CP2 for the twin, CP3 for the triple, and CP4 for its inline-four).
Since its launch, the Yamaha MT-09 has always been known for having outrageous performance for the dollar. The engine is phenomenal. Unfortunately, for early models, it was widely acknowledged that the chassis couldn't keep up and that the tune was too aggressively lean.
But if you're looking at the MT-09, you're probably wondering (as I did, and still do)
What's the deal with all the names?
How did the MT-09 / FZ-09 change over time? Argh, so many incremental updates, some unique to Europe, and so on
How does the MT-09 compare with the Tracer 900 and the XSR900, which share its motor?
What does maintenance look like?
What are some alternatives to the Yamaha MT-09?
OK, let's go.
Updated in Nov 2023 for the 2024 MT-09 / MT-09SP, with a ton of significant changes, like cruise control on the base model, and Brembo Stylema calipers on the SP.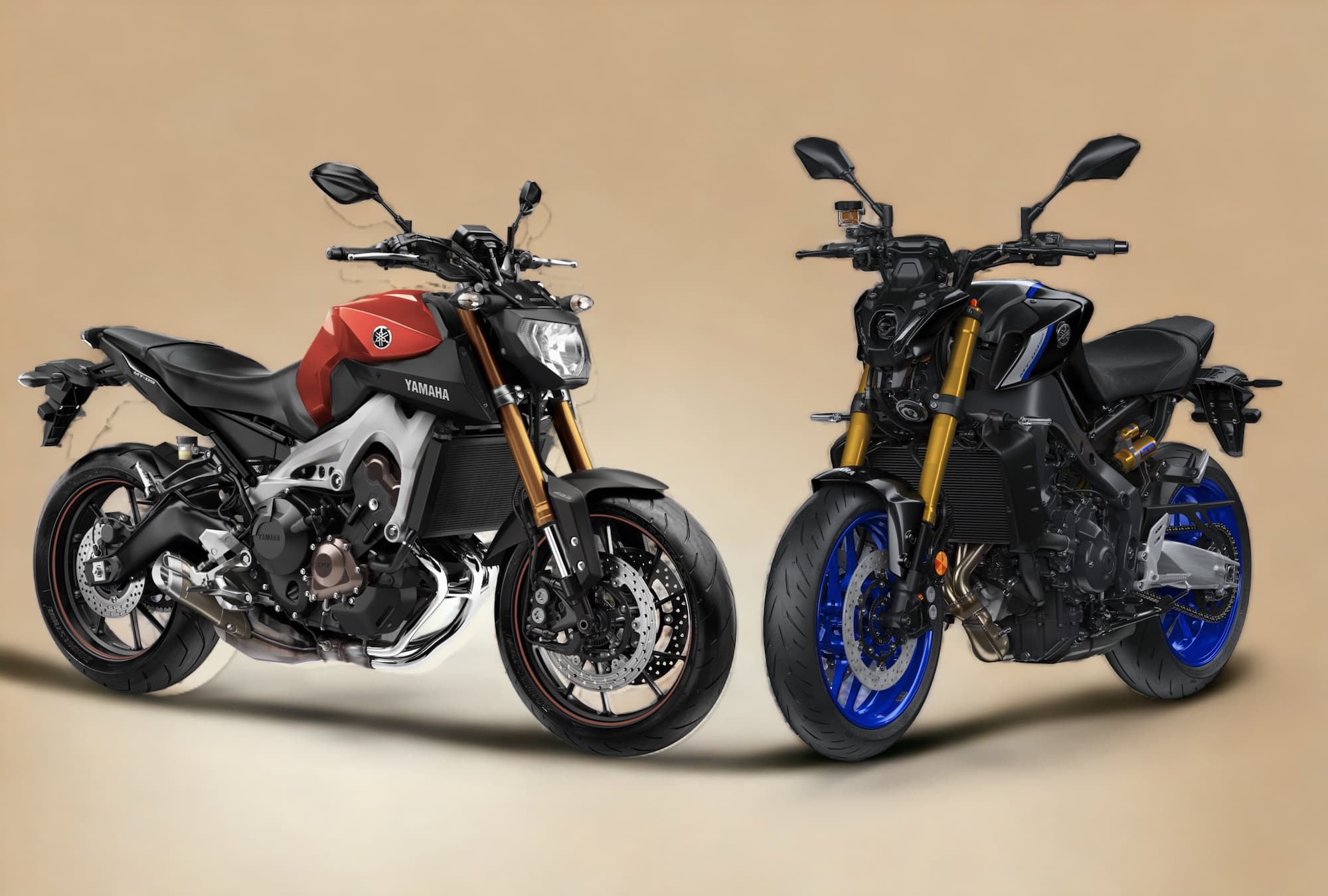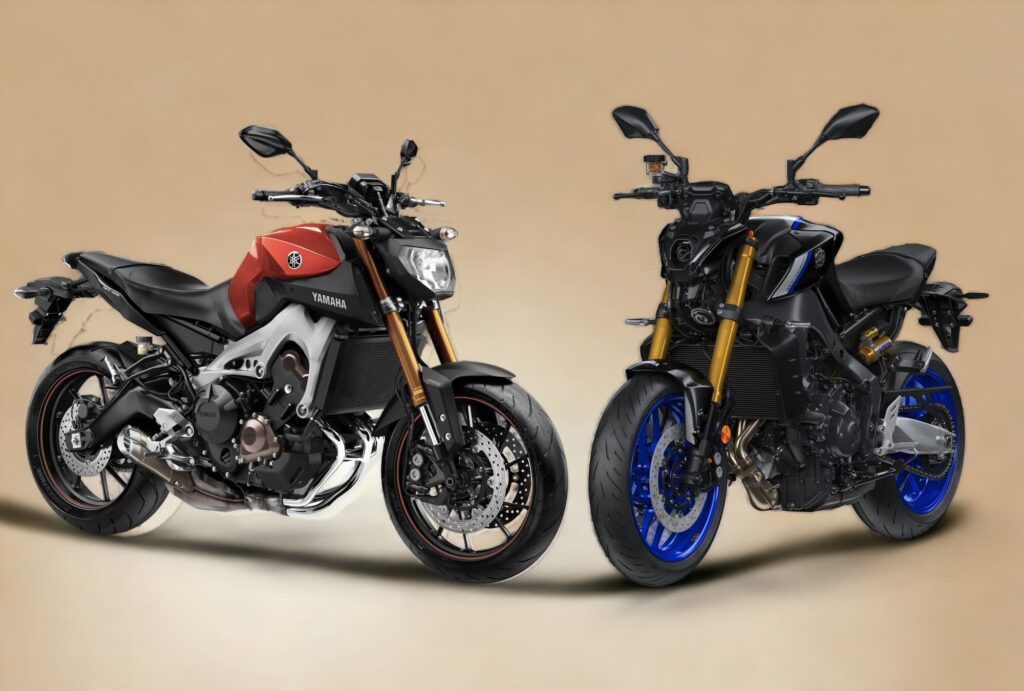 Are you obsessed with motorcycles?
Well, I am. That's why I created this site — as an outlet. I love learning and sharing what others might find useful. If you like what you read here, and you're a fraction as obsessed as I am, you might like to know when I've published more. (Check the latest for an idea of what you'll see.)
Before the Yamaha MT-09 — How did we get here?
OK, firstly let's go over a bit of the history of Yamaha naked sportbikes, for some historical context. No bike exists in a vacuum, and if it did, it wouldn't be going anywhere quickly…
When it arrived in late 2013, the first Yamaha MT-09 was quite a surprise, because it was so different from what most manufacturers were doing in the middleweight segment.
Yamaha has made lots of middleweight sporty nakeds in the past. The earliest one in modern history (an arbitrary point in time that I choose to define) is the 1998 Yamaha FZ6 Fazer, which was only available in European and Japanese markets.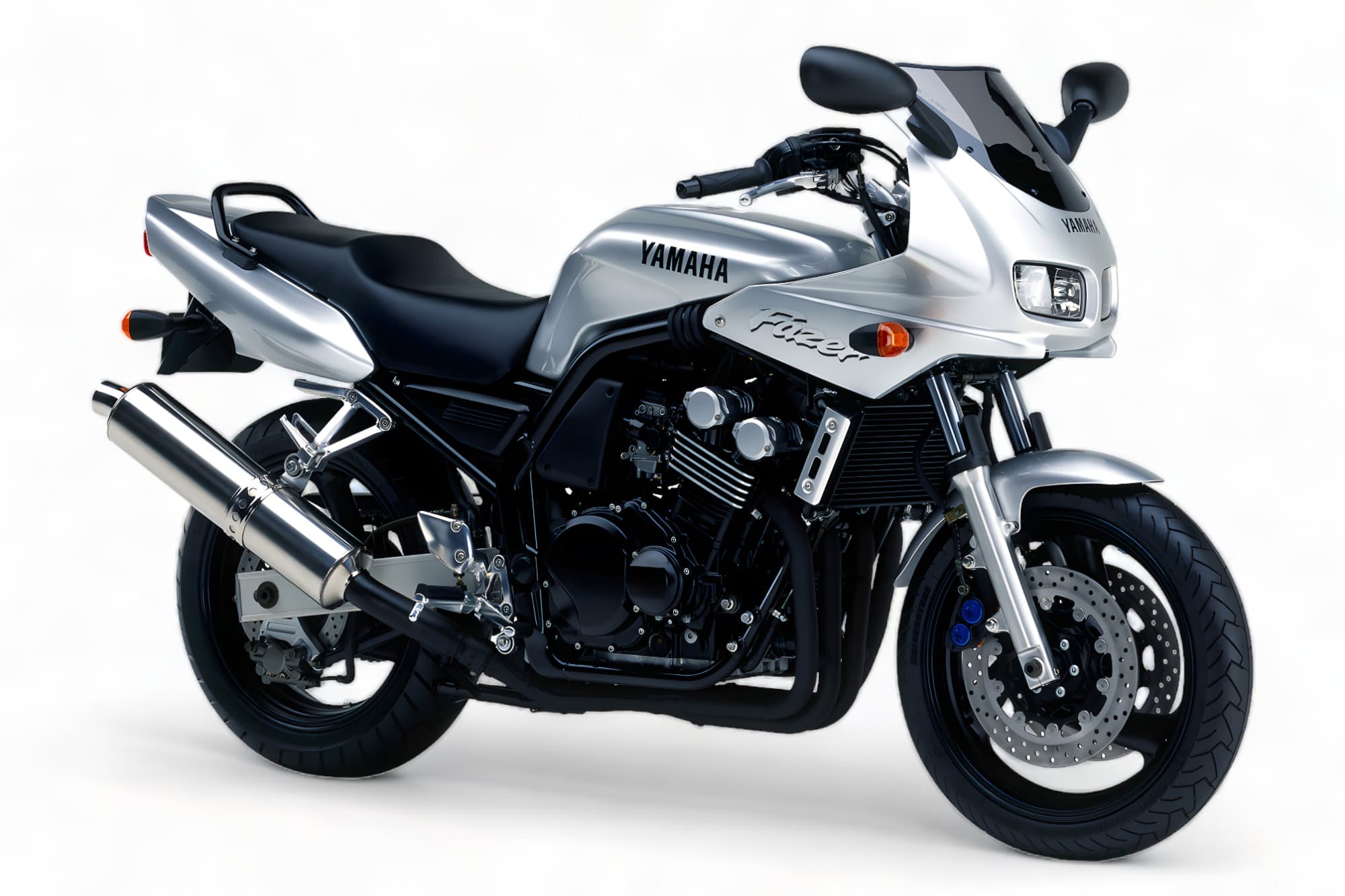 The Yamaha FZ6 Fazer was based on the carburettor-fuelled inline four-cylinder motor from the Yamaha YZF600R Thundercat, the predecessor to the Yamaha YZF-R6. Yamaha took that motor, re-tuned it for torque, and put it in a much more approachable upright motorcycle format, complete with a simpler twin downtube frame, replacing the "Deltabox" of the YZF.
Even though the FZ6 Fazer's engine was detuned, it was still a high-revving, sporty bike, making a healthy 95 bhp / 69 kW at 11500 rpm.
These days, there's nothing too special about the original FZ6 Fazer, other than the fact that it'd be an economical used buy, and still very light on fuel — you'd get over 300 km on the tank. It's comfortable, quick enough, and easy to work on.
But the original FZ6 Fazer did set the tone for the classic FZ split personality: "Jekyll under 7000 rpm, and all Hyde above", as a reviewer on MCN put it.
From the 2004 model year, Yamaha shook things up with the new Yamaha FZ6, and FZ6 Fazer when it comes with a little fairing. This one made it to the US, to the Antipodes, and to most of the world.
Yow! Or is it just me that says "yow" at the FZ6 Fazer's good looks? Well, I stand by my exclamation, anyway. The revised Yamaha FZ6 / Fazer has a lot going for it: a better fox-eye headlight look that looked current until some time in the mid-2010s (and doesn't look bad now), an under-seat exhaust, stainless steel headers, and a sportier, lighter frame.
It also comes in two formats — naked and semi-faired.
But of course, the star of the Yamaha FZ6 / Fazer is the engine. The engine in the Yamaha came from the newer fuel-injected Yamaha YZF-R6 — again, de-tuned, with a lower compression ratio of 12.2:1 (vs 12.4:1), and with milder cams and breathing. The FZ6 also came with a lower-cost, simpler form of fuel injection, which is nonetheless welcome for anyone who doesn't want to maintain carburettors.
The net result is good power of 98 hp / 72 kW at 12,000 rpm. Like the previous generation, it really wakes up in high revs — this is another wolf in sheep's clothing.
A less sexy but important change is the frame in the FZ6 / Fazer, a die-cast twin-spar frame that has no welds (it's bolted together around the steering stem), which is stronger than the previous gen's while also weighing 4 kg / 9 lb less. Still, the FZ6 is no lightweight, its curb weight being slightly north of 200 kg / 440 lb.
Somehow, the formula for the FZ6 (and even FZ6 Fazer) is "just right" for a lot of people — it's powerful, light enough, comfortable, and just exciting to ride, even if that ride is the everyday commute. If you don't want the all-out power of the 2nd gen Yamaha FZ1, then this is probably the bike for you.
Then, from 2011, Yamaha replaced the FZ6 with the Yamaha FZ8, and its sibling the FAZER8 (with a fairing), which didn't make it to the US.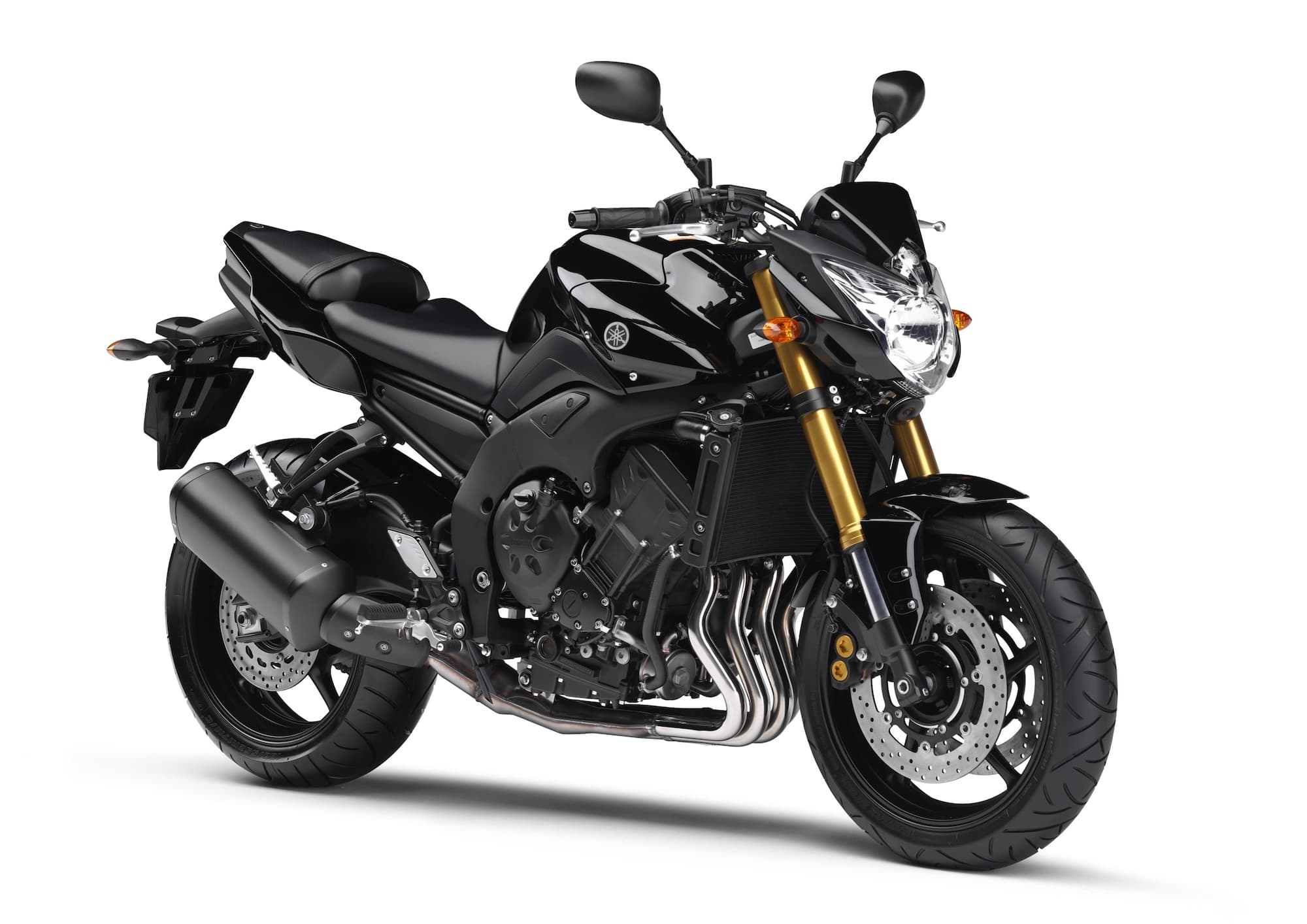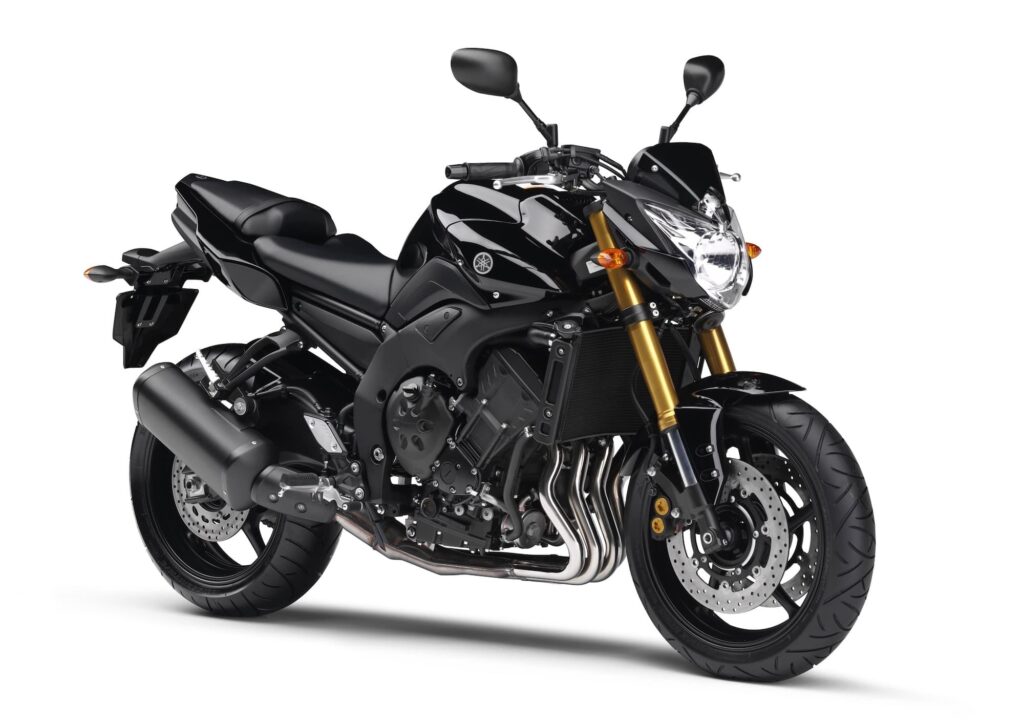 Like the FZ6, the FZ8 is the little sibling to the FZ1. But the difference between the FZ6 and FZ8 is that the FZ8, like its big sibling, is also based on the YZF-R1.
The engine in the FZ8 is a 779 cc inline parallel four-cylinder engine that's essentially the 998 cc FZ1 engine but with a narrower bore. Yamaha also made a host of other requisite changes, including giving it an all-new four-valve cylinder head (the FZ1 has a five-valve-per-cylinder head), shorter lift and duration camshafts, and different intake funnels. The intended is to give the FZ8 a broader powerband, suitable for a middleweight commuter
And the end result is good. The FZ8 makes more peak power than the FZ6, and more torque everywhere. It still has a top-end rush, though not one as pronounced as that in the FZ6. Depending on your priorities, that could be either a pro or a con. But for most people doing the everyday commute, it's a pro.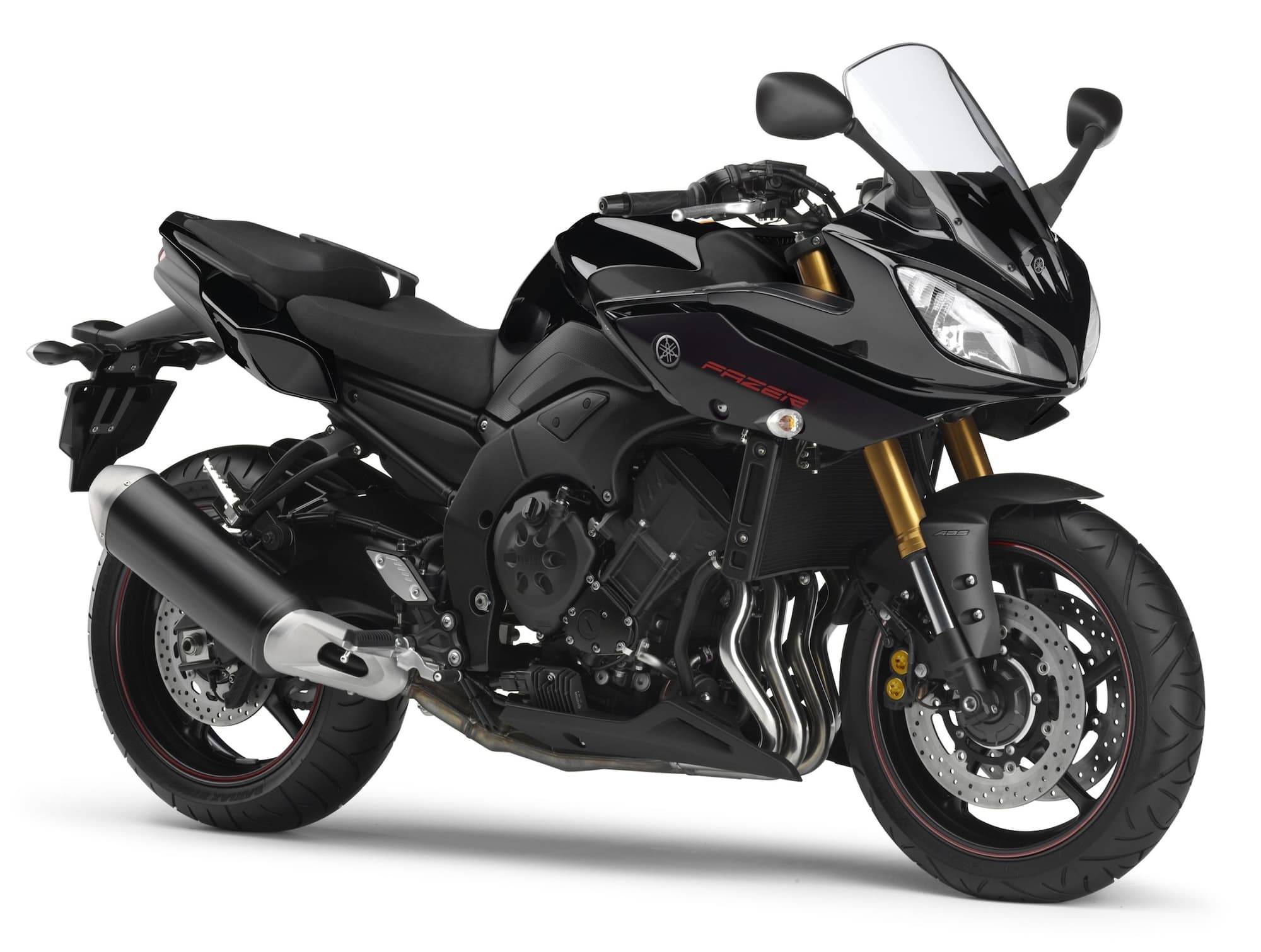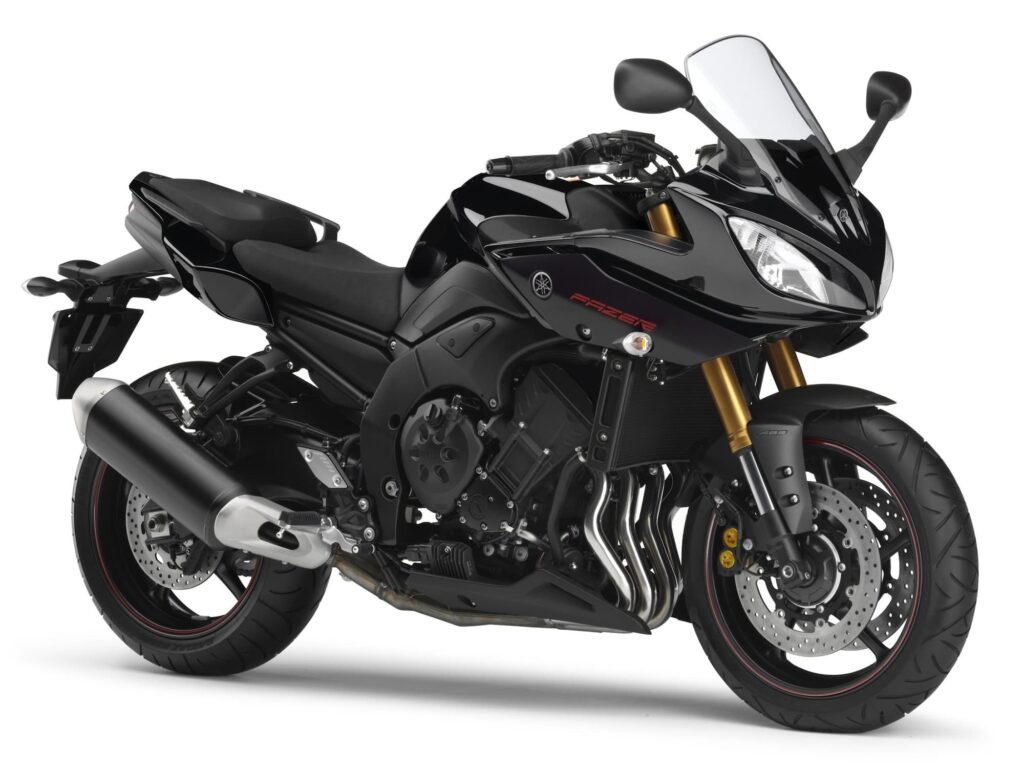 It's inevitable that you'd compare the FZ8 and the FZ1, though. The FZ1 weighs around only 9 kg / 20 lb more, but makes nearly 50% more power! So why would you opt for the FZ8, other than for price? Yamaha says you would because it feels a lot lighter, from the lighter crankshaft and the thinner rear tire.
As good as all these bikes are if considered in a vacuum, it's hard not to notice the weight having crept up over time. This is where the first-gen FZ-09 came in and shook everything up.
Brief timeline of the MT-09 / FZ-09 / Tracer
Before we get into the model guide, let's look at a brief timeline of the FZ-09.
Because Yamaha has messed with the naming over time, I've included how the name has evolved and become standardised.
The years below are for model year of release, not of announcements (which are typically late the preceding year.)
Model
Year
FZ-09 / MT-09
MT-09 Tracer / J-09 / Tracer 900
XSR900
2014
Yamaha released the first FZ-09. In Europe, it was known as the MT-09.
2015
Yamaha updated the throttle map / fuelling (and also had issued a tech bulletin for the 2014 model year).
Yamaha released the MT-09 Tracer (Europe / Australia), a.k.a. FJ-09 (North America).
2016

Yamaha introduced 3-way traction control (Europe only).
Yamaha renamed the MT-09 Tracer to the Tracer 900, but in Europe only.
Yamaha released the first XSR900 in 60th anniversary yellow / black colors.
2017
Yamaha gave the MT-09 / FZ-09 a look refresh, with a fully adjustable front fork, ABS, assist/slipper clutch, and quick shifter.
3-way traction control came to the US model.
Yamaha also gave the FJ-09 / MT-09 Tracer / Tracer 900 the assist / slipper clutch, as well as three-mode traction control (upgraded from just on/off).
2018
Yamaha also released the up-spec MT-09 SP with up-rated suspension.
Yamaha released the Tracer 900 GT, the updated fully-loaded Tracer with cruise control and a new cluster.
2019
Yamaha standardised naming world-wide as the MT-09.
Yamaha standardised naming as the Tracer 900.
2021
Yamaha released the 890 cc MT-09 and MT-09 SP
Yamaha released the 890 cc Tracer 9 and the Tracer 9 GT with active suspension.
2022
Yamaha released the 890cc 2nd gen XSR900.
2023
Yamaha released the Yamaha Tracer 9 GT+, with adaptive cruise control, but not in the US. (The GT remained available.)
2024
Both models of MT-09 get a revised look, a Brembo master cylinder, and a 5-inch TFT display. The base model gets cruise control, and the SP gets Stylema calipers and "Track" riding modes.
The Yamaha Tracer 9 GT+ becomes available in the US.
Yamaha releases the XSR900 GP, the retro sport bike.
Yamaha MT-09 / Tracer / XSR900 timeline
Engine Generations
There have been two primary versions of the Yamaha CP3 motor that has powered the FZ-09 / MT-09 and the XSR900.
Rather than repeat these differences ad nauseam below, I'll mention them here, plus some notes.
Item
First gen CP3
2nd gen CP3
Notes
Years
2014-2021 (MT-09)
2021+ (MT-09)
2nd gen is 2022+ on the XSR900
Capacity
847 cc
890 cc
Some sources say 889; bore and stroke calculates to 890
(see formulas page)
Bore / Stroke
78 x 59.1 mm
78 x 62.1
Slightly longer stroke
Compression ratio
11.5:1
11.5:1
Same, surprisingly
Peak power
84.6 kW / 115 PS / 113 bhp @ 10000 rpm
87.5 kW / 119 PS / 117 hp @ 10000 rpm
Bit more
Peak torque
87.5 Nm / 64.5 lb-ft @ 8500 rpm
69 lb-ft / 93 Nm @ 7000 rpm
More torque, lower down
Peak RPM
11300 rpm
10600 rpm
Per various sources (Ivan's performance, dyno readings)
Yamaha CP3 engine generations
OK, let's look at the specific generations of the Yamaha XSR900, below.
1st gen Yamaha FZ-09 / MT-09 — 2014-2017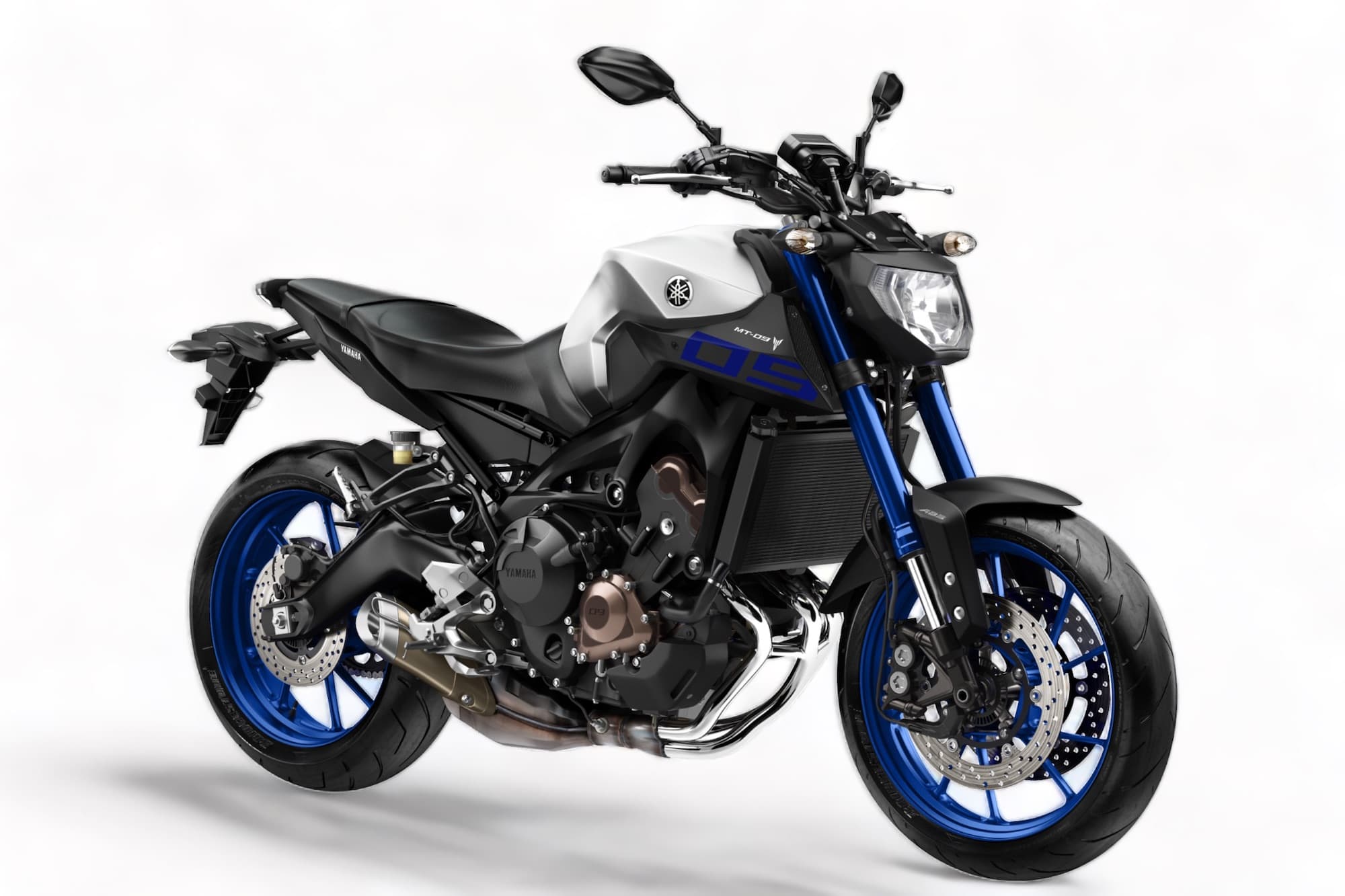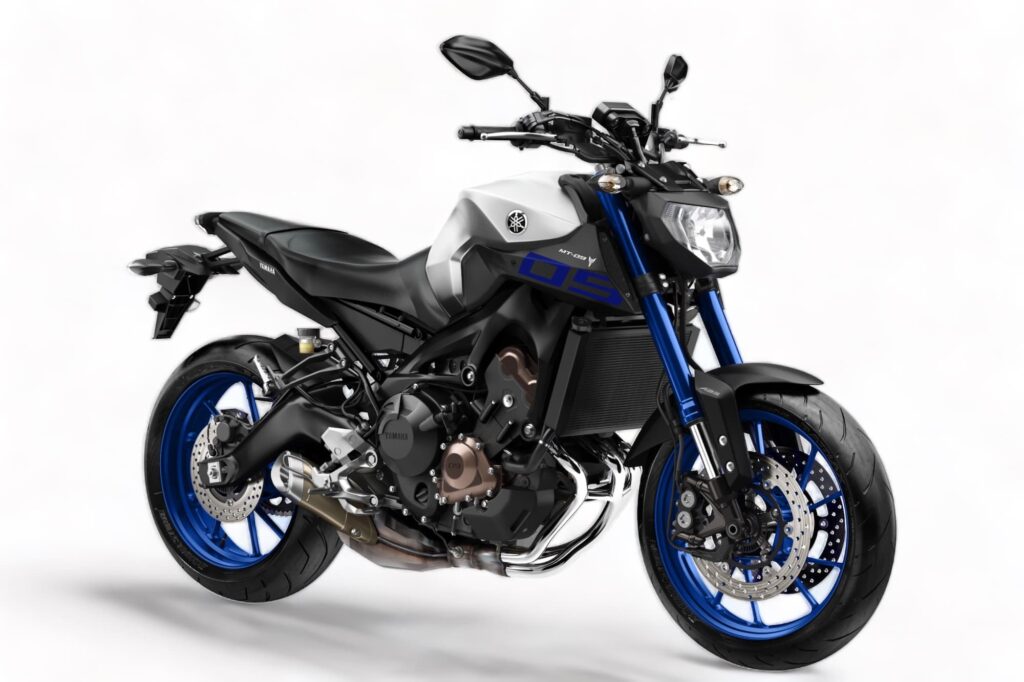 Yamaha announced the first generation FZ-09 in mid-2013 in Huntington Beach, California for the 2014 model year.
The Yamaha FZ-09 was a big departure from the FZ8. It had a three-cylinder engine, was much lighter, and only came in naked format worldwide.
Here's how the two stack up on paper:
Item
Yamaha FZ8
Yamaha FZ-09
Engine
Inline four
"CP3" Triple
Capacity
779 cc
847 cc
Peak power
78 kW / 106 hp @ 10000 rpm
85 kW / 115 hp @ 10000 rpm
Peak torque
82.4 Nm / 60.8 lb-ft @ 8000 rpm
64.5 lb-ft @ 8500 rpm
Front suspension
43mm KYB inverted fork, non-adjustable
41mm KYB inverted fork, preload / rebound adjustable
Rear suspension
YHSJ shock, preload-adjustable
KYB shock, preload / rebound adjustable
Front brakes
2 x 310 mm discs, Sumitomo monoblock calipers
2 x 298 mm discs, 4-piston calipers
Wet weight (full tank)
467 lb
414 lb
(Not a typo!)
Yamaha FZ8 vs FZ-09 specs
Yes, the FZ-09 makes more power and more peak torque, but the craziest difference is the weight — the Yamaha FZ-09 is over 23 kg / 50 lb lighter. That's a huge difference! Granted, a few of those kg is attributable to the smaller tank (14L vs 17L), but still. The FZ-09 is, and feels like, a MUCh lighter bike.
The Yamaha FZ-09 / MT-09's biggest selling point was the price. In the US, it was under US$8,000, which is in "cheap first bike" territory. To get this much bike at so low a price was incredible, and they flew off the shelves. Only the following year's MT-07 was stiff enough competition for it.
Of course, the first-gen Yamaha FZ-09 isn't without its bugbears. The suspension is too soft (a common complaint about cheap road bikes), and the throttle in A mode was too twitchy for many, meaning small movements can cause abrupt changes in throttle.
Not everyone agrees that it was a problem, and some people think you just have to be smooth with the throttle. And for those who do agree, many solve it with a band-aid solution like a throttle tamer (which puts a cam on the throttle pulley to change the rate at which the throttle cable is pulled to a non-linear rate). But the accepted route is a dyno tune.
Yamaha themselves recognised the problem with throttle response though, and revised the mapping for the 2015 model year, and even issued a tech bulletin to re-program the YCC-T mapping in the ECU for 2014 model year FZ-09 / MT-09 models. However, people say despite this, it's still twitchy, and you need to get a tune.
The 2016 model year in Europe got standard traction control and ABS. But this didn't come to the US until the 2nd gen MT-09.
2nd gen Yamaha MT-09 — 2017-2020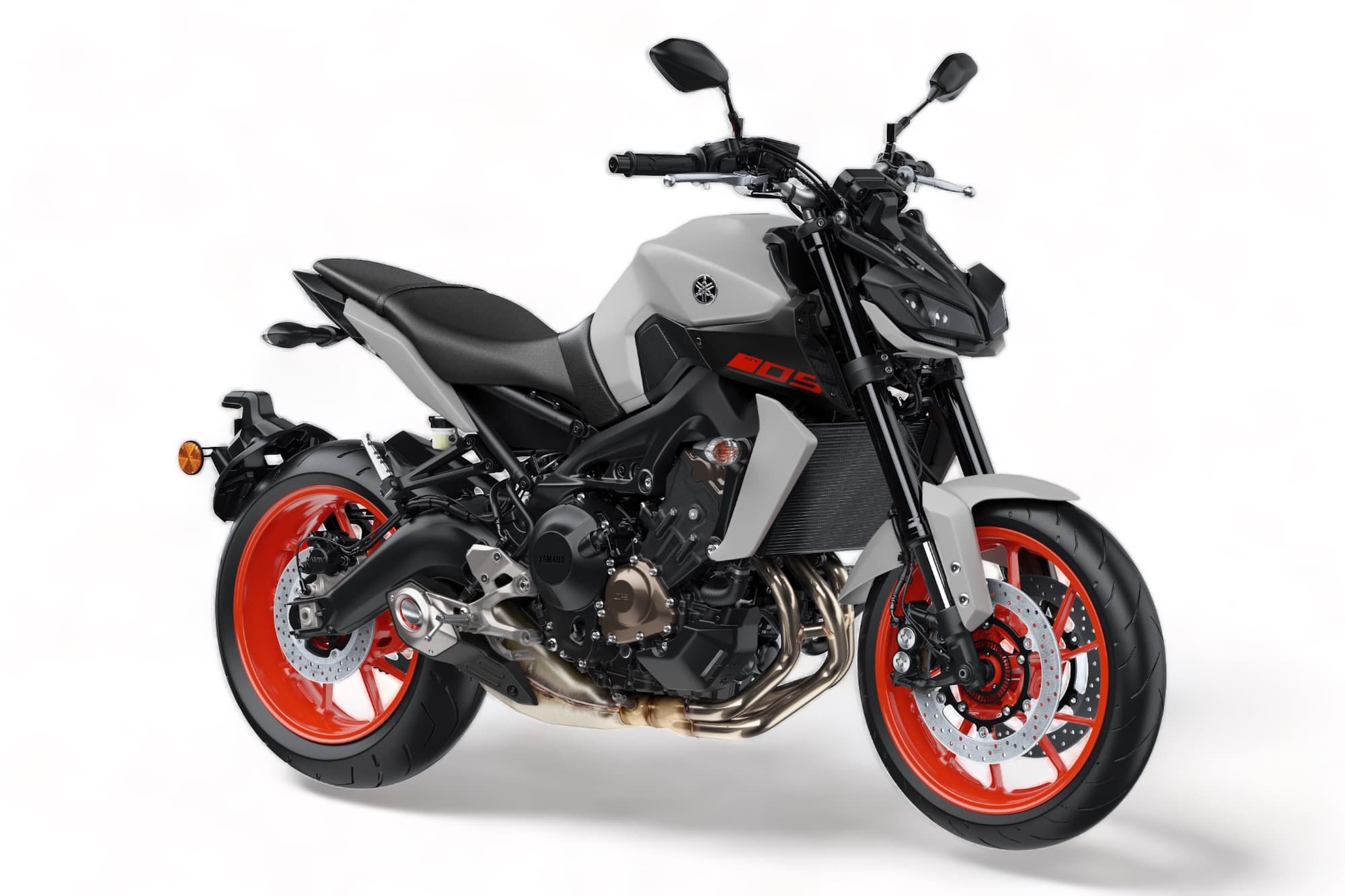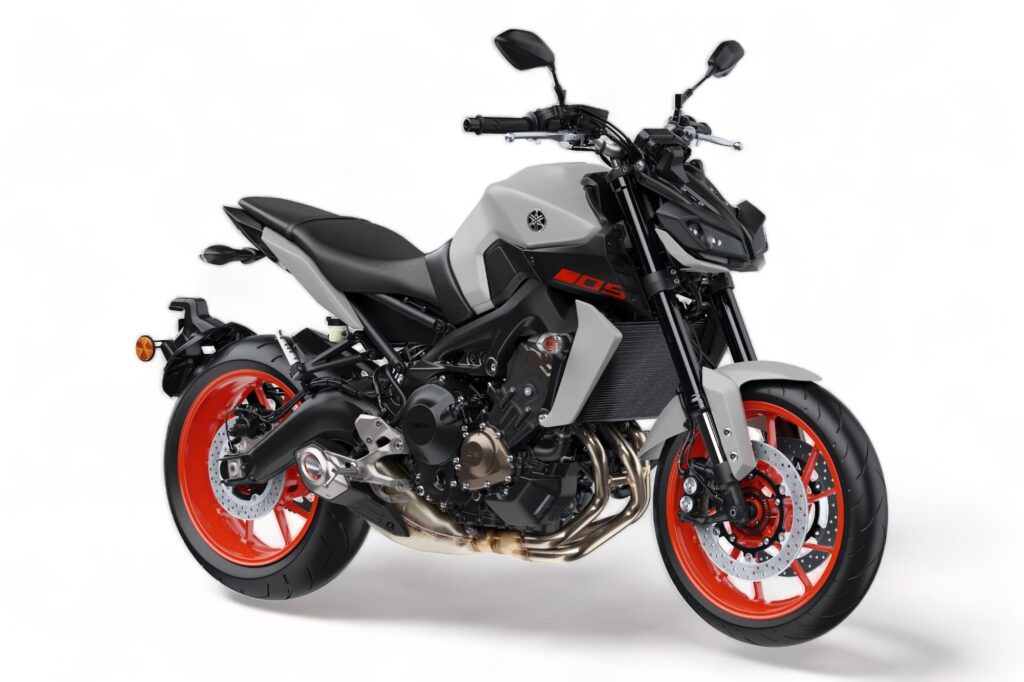 In October 2016, Yamaha announced changes to the 2017 model year of the Yamaha MT-09.
The headline change is the look. Yamaha gave the MT-09 a fox-eye look, with a four-globe LED headlight. It also came in a few cool new colour schemes, with more to come over the next few years (see a gallery below).
Complementing the headlight look is the wheel-mounted tail light and licence plate holder. I like these, because they tidy up the tail, but not everyone likes them, I understand.
Yamaha also gave the new 2017-2020 FZ-09 / MT-09:
A fully adjustable 41mm KYB inverted fork. You adjust rebound damping on one fork leg, and compression damping on the other
A standard quick shifter
An assist/slipper clutch.
The 2nd gen MT-09 is much the same bike as the first, but with problems mostly ironed out. It's also just a way classier-looking ride.
I really like the 2nd gen MT-09. But just make sure you adjust the suspension if you take it for a ride. It's so light, and the suspension is so adjustable, that it makes a huge impact on your ride experience.
Yamaha MT-09 SP (2018-2020)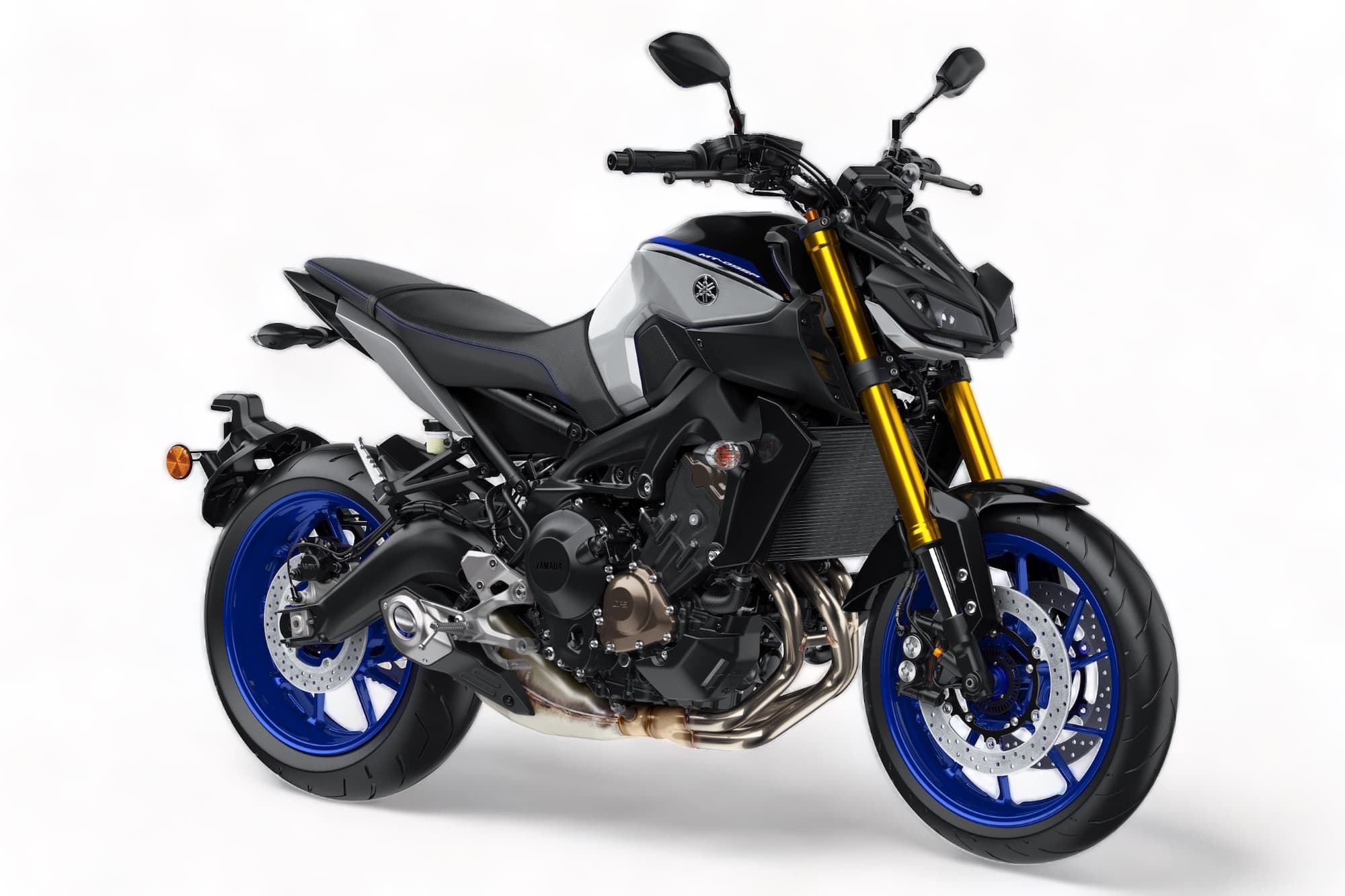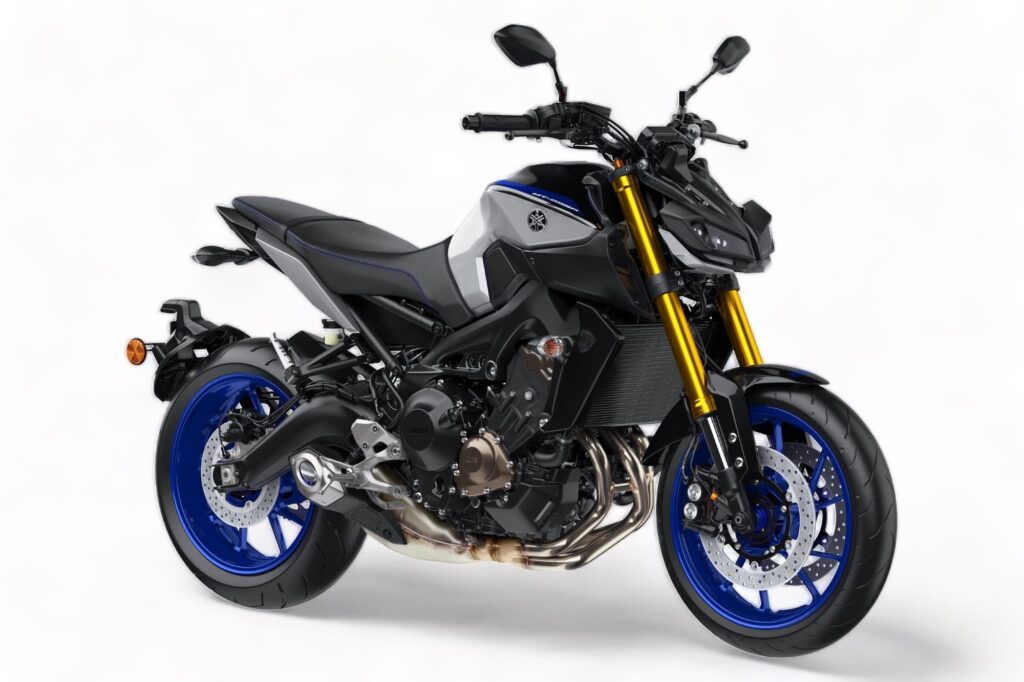 Yamaha announced the MT-09 SP at EICMA 2017 for the 2018 model year.
The 1st gen MT-09 SP shares the same foundation as the MT-09 base model — the same 847 cc CP3 engine, same power, and same chassis.
But the MT-09 SP gets a few new trick components, including
Improved fork: A fully adjustable fork, still a KYB inverted unit, but on which both legs can be adjusted for rebound and compression damping, rather than individually like on the base model 2017 refresh of the MT-09.
Improved shock: An Öhlins shock with remote adjuster
Silver and blue colours, exclusive to the SP
Blue stitched seat seams
The improved suspension is welcome. These days, if you're after a 2nd gen Yamaha MT-09, I'd look around for an SP, just for that Öhlins rear shock. As these bikes are all already ageing, the price difference isn't shocking, anyway.
3rd gen Yamaha MT-09 (2021-2023) / MT-09 SP, 890 cc (2021+)
The 3rd gen Yamaha MT-09 represented a huge change for the MT-09. It was then that Yamaha introduced the 2nd gen CP3 engine, with 890 cc capacity, more top-end power, and much better fuelling / torque all across the rev range.
See here for what changed with the 2021 Yamaha MT-09.
But that's not all Yamaha changed. From my perspective, what Yamaha really created with the third-gen MT-09 was the first MT-09 that was well-balanced off the shelf. Nothing surprises in the MT-09's package: the engine, chassis, suspension, and brakes all work together perfectly. Plus, it's light as a feather. It's really one of the best stock bikes I've ever ridden.
The 3rd gen Yamaha MT-09 and MT-09SP also both come with a six-axis IMU, giving them both cornering ABS and traction control. It's a nice bit of tech that has been creeping down from high-end motorcycles to more mid-range ones. It's nice that the standard MT-09 gets it, too. (See here for other motorcycles with an IMU.)
Yamaha refreshed the MT-09SP at the same time. The MT-09 SP gets the same treatment that the earlier one does: improved front suspension (with rebound and compression damping adjustable in both fork legs), an Öhlins shock, and cruise control.
The Yamaha MT-09 SP is such a well-put-together package that I felt invincible on it. I had torque everywhere, and yet it was light enough that I could stop it if I realised I did something stupid. It gave me what I thought of as "god mode", which I wrote about here. It's not the only bike that gives me that feeling, but it's one of the cheapest ones that does.
The only thing for which I can criticise the 2021+ MT-09 is that front headlight look. It's not to everyone's taste. Actually, the whole bike looks a bit busy. I prefer the 2017-2020 MT-09. But then, you can't see it when you're riding, and I didn't even consider what people thought of the look, because I had such a great time on it.
4th gen Yamaha MT-09 / SP (890 cc) (2024+)
Yamaha has updated both the base model MT-09 and the MT-09 SP for 2024 (cheekily right before the 2023 EICMA slew of announcements), going back somewhat to the streetfighter lighting design of the 2018 revision, combined with the projector headlight. It looks great, especially with the light on! (see the image below).
On both models, the changes include
A 5-inch TFT display, updated from the 3.5-inch display on the 2021 revisions
A new airbox designed to accentuate intake roar (taking a cue from Kawasaki maybe?)
The third-generation quick shifter
A Brembo radial master cylinder, similar to the 2022 XSR900
Two custom modes in addition to the three base ride modes
To the base model 2024+ MT-09 SP, Yamaha added:
Cruise control — which was previously only on the MT-09 SP, as well as on the 2022 XSR900
A more forward stance, thanks to a tank and headlight that sits lower, giving more range of motion in the handlebars. The handlebars are adjustable, too
A USB-C socket under the seat
4 kg more / 8 lb more weight. Not sure where it all came from!
And to keep the 2024+ MT-09 SP differentiated, Yamaha made some changes there too, adding:
Brembo Stylema calipers — a huge upgrade, even though the base model / previous gen ADVICS radial-mount calipers were already very good. But Stylema brings the MT-09SP into the same class as top-end motorcycles.
Four extra "Track" modes, in addition to the two "Custom" settings the base model has. You can choose more refined settings, including brake management, and brake control. You can even disable rear ABS.
The TFT display has an exclusive "Track" theme.
Refined KYB fork and Öhlins shock
Smart key (keyless ignition)
Yamaha MT-09 vs Tracer 900 / XSR900
You might inevitably compare the Yamaha MT-09 with the Tracer 900 / Tracer 9 and the XSR900. (See the evolution table way above for how those names all evolved, because they overlap and change by region to a really annoying degree.)
In a nutshell:
You pick the MT-09 (especially the SP) if you want a bare-bones, functional, but very high-end middleweight sport bike on which you can do everything from commuting to work through to losing your license on one wheel.
You pick the XSR900 if you're a bit hipster and want it to look old-school, in a new-school kind of way, and don't mind giving up the SP's suspension. There's no shame in wanting a sweet-looking bike. (Not everyone agrees it looks good; some think it's a bit of a messy hodge-podge of styles)
You pick the Tracer 900 / 9 if you prioritise function over form (it doesn't look bad, though, especially in red), and want niceties like wind protection, luggage, cruise control (from 2019 onwards — earlier than the other models), and active suspension (from 2021 onwards), or even radar-assisted adaptive cruise control (in the GT+).
That last point bears mentioning again — the 2023+ Tracer 9 GT+ (2024+ in the US) is one of the very few motorcycles with adaptive cruise control, which actively slow down if there's a slow-moving vehicle in front of you. It's also the cheapest one as of that model year, though I'm sure that won't be the case for long.
Notes on Maintenance for the Yamaha FZ-09 / MT-09
One of the nice things about the MT-09 / FZ-09 — in fact, about many Yamaha liquid-cooled motorcycles in general — is the wide major service intervals.
You do change the oil every 4000 miles / 6000 km (or every 6000 miles / 10000 km in European manuals), which is fairly standard.
But the valve service interval is every 26 600 miles / 42000 km (or 40000 km in the European manuals), which is very wide apart.
Further, the valves rarely need adjustment. So that time-consuming service is mostly checking the clearances.
See the full maintenance schedule for the 2021 MT-09 here.
Alternatives to the Yamaha MT-09
If you're after a motorcycle like the MT-09, then you're probably interested in other high-end middleweight naked sport bikes.
Here's a slider of your options below. You can also look at our middleweight naked sport bike comparison for crazy amounts of detail.
Aprilia Tuono 660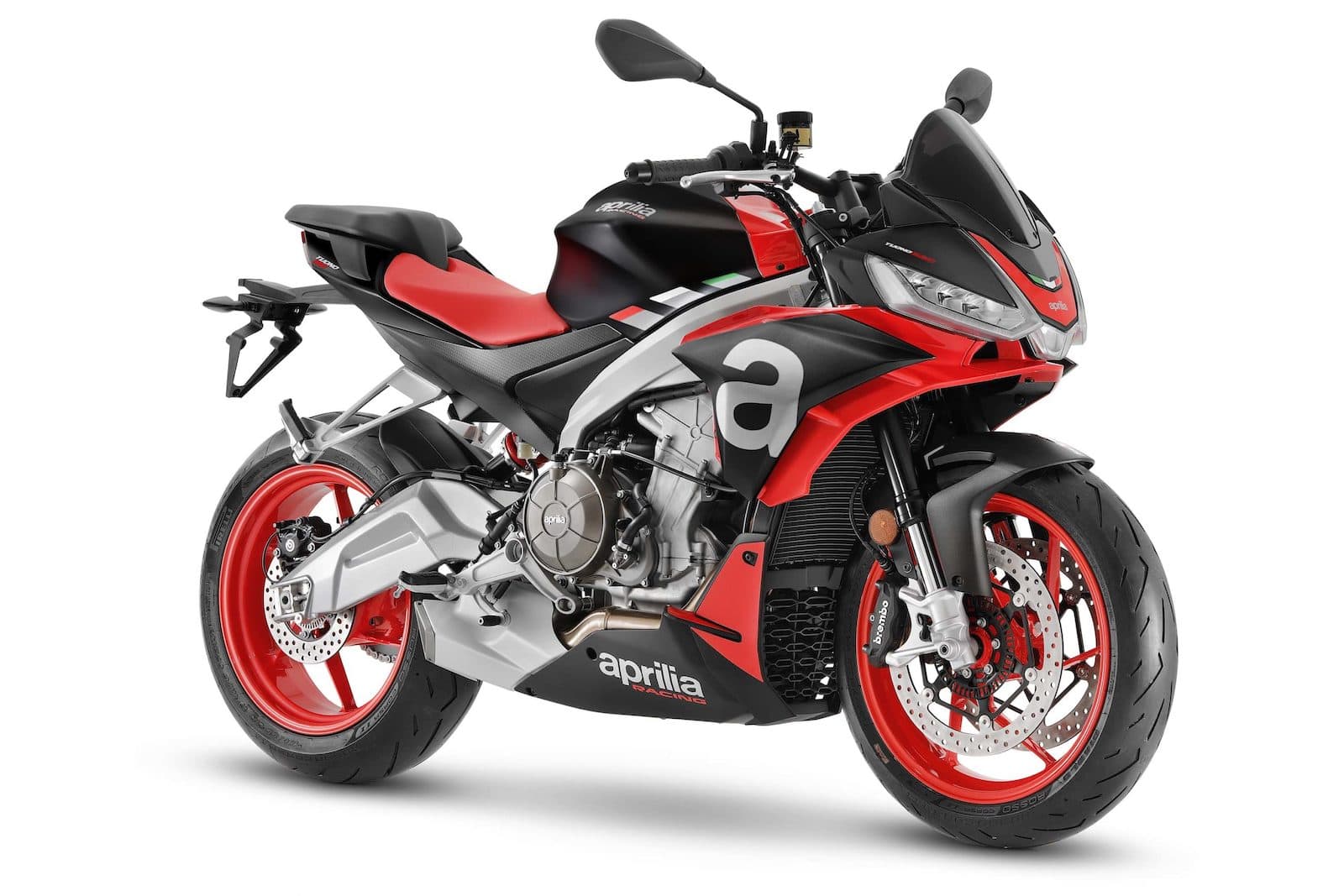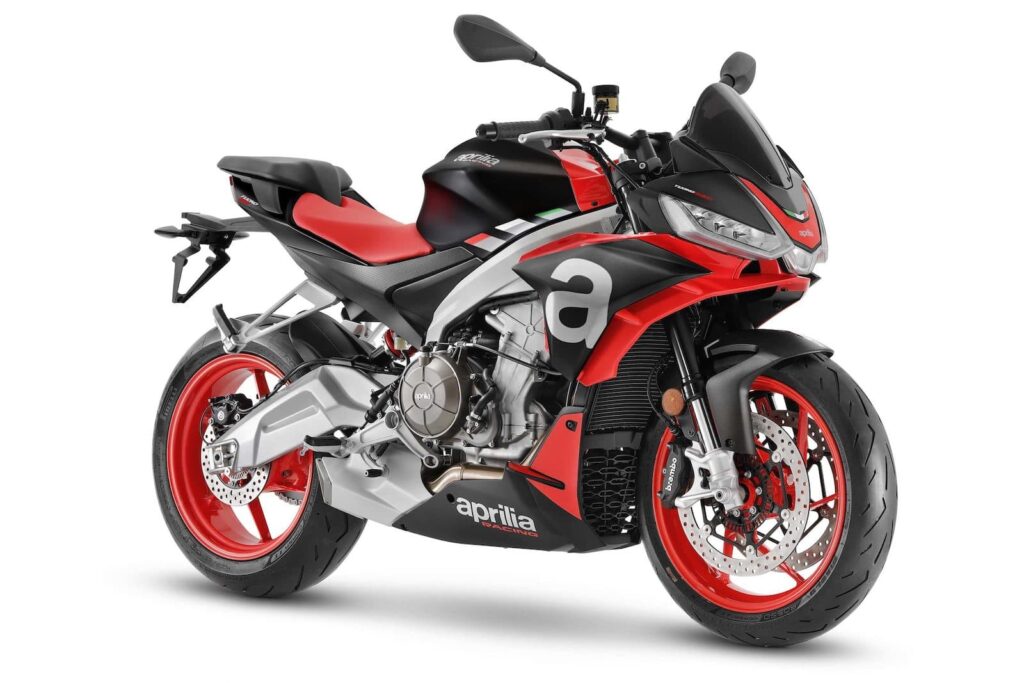 The Aprilia Tuono 660 is one of three motorcycles in Aprilia's high-end middleweight 660 range, along with the RS 660 and the Tuareg 660. The Tuono is the naked-ish sport bike. It definitely has a fairing, but it has handlebars and puts you in an upright position. The Tuono 660's parallel twin makes a peak of 100 hp / 73.5 kW @ 10500 rpm and has a satisfying sound to it. While it's "middleweight" in capacity, that's a bunch of power, and the Tuono comes with many ride aids, including cruise as standard, plus an optional quick shifter and cornering ABS (both of which are standard on the RS 660).
BMW F 900 R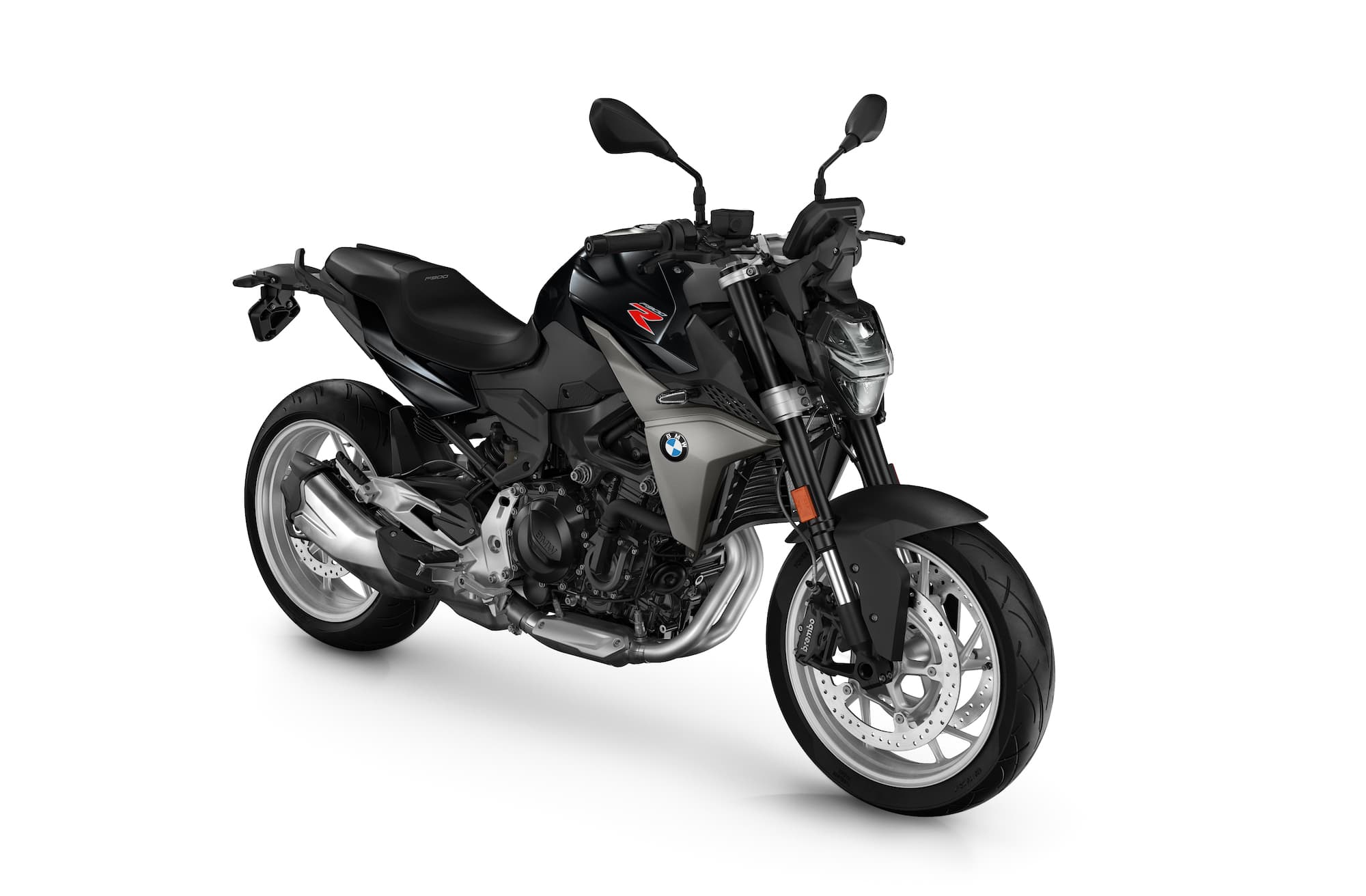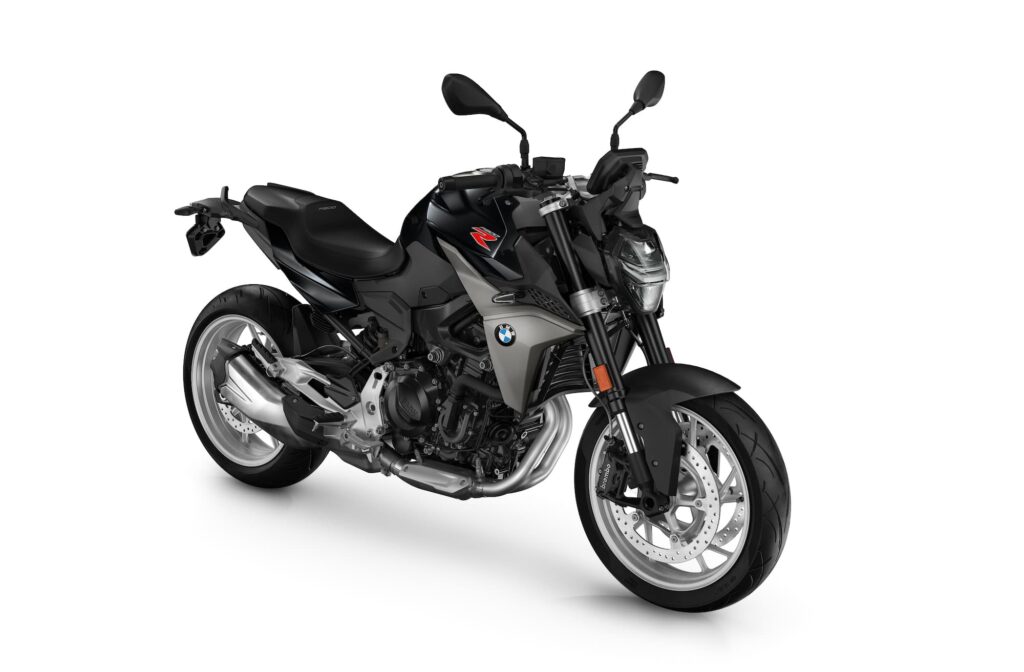 The BMW F 900 R is BMW's "upper middleweight" 895-cc parallel-twin motor-powered standard sport bike. It's not as furious as most other bikes in its class, but it is relatively high-end (once you add in all the options), with cornering ABS, cruise control, keyless ignition, an up/down quick shifter, and even an adaptive headlight. The engine, which has a 270-degree crankshaft, has a lot of burble to it — at least one author has heard one at the lights and thought it was a Ducati L-twin, doing a double take when he realised he was wrong…
Ducati Monster 937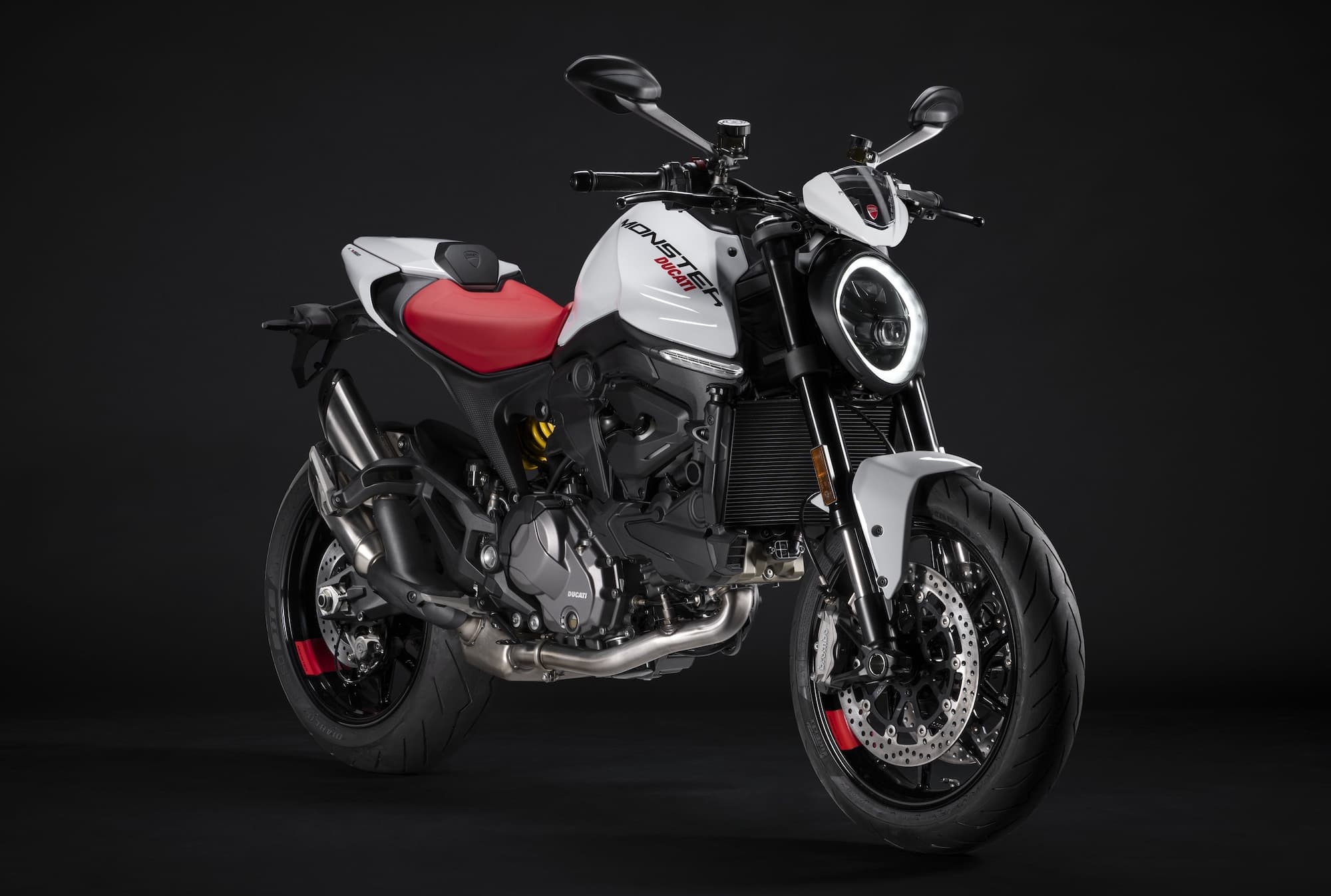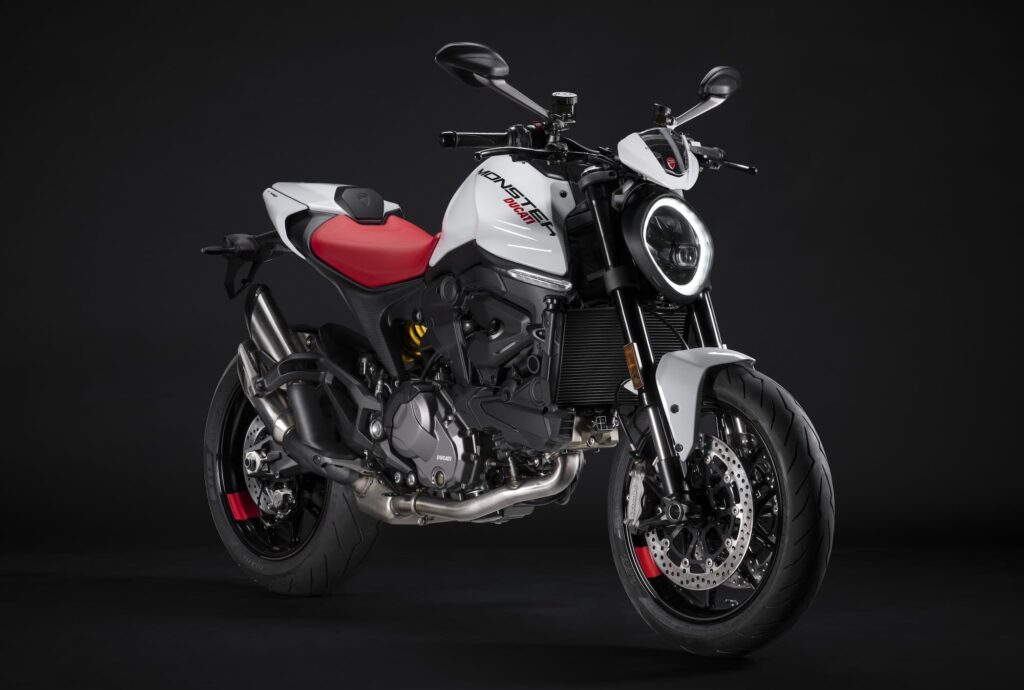 The 2021+ Ducati Monster (informally known as the Ducati Monster 937) is Ducati's naked sport bike powered by the 937 cc Testastretta 11-degree engine. It has a lightweight "Front Frame" and is the lightest Monster ever — and one of the lightest bikes in its class. The 937 cc motor is well-loved, with torque everywhere and a lot of character despite the best efforts of emissions regulators. The 2021+ Monster comes with a controversial design (double-sided swing arm, no trellis frame), and is loaded with ride aids, but lacks cruise control.
KTM 890 Duke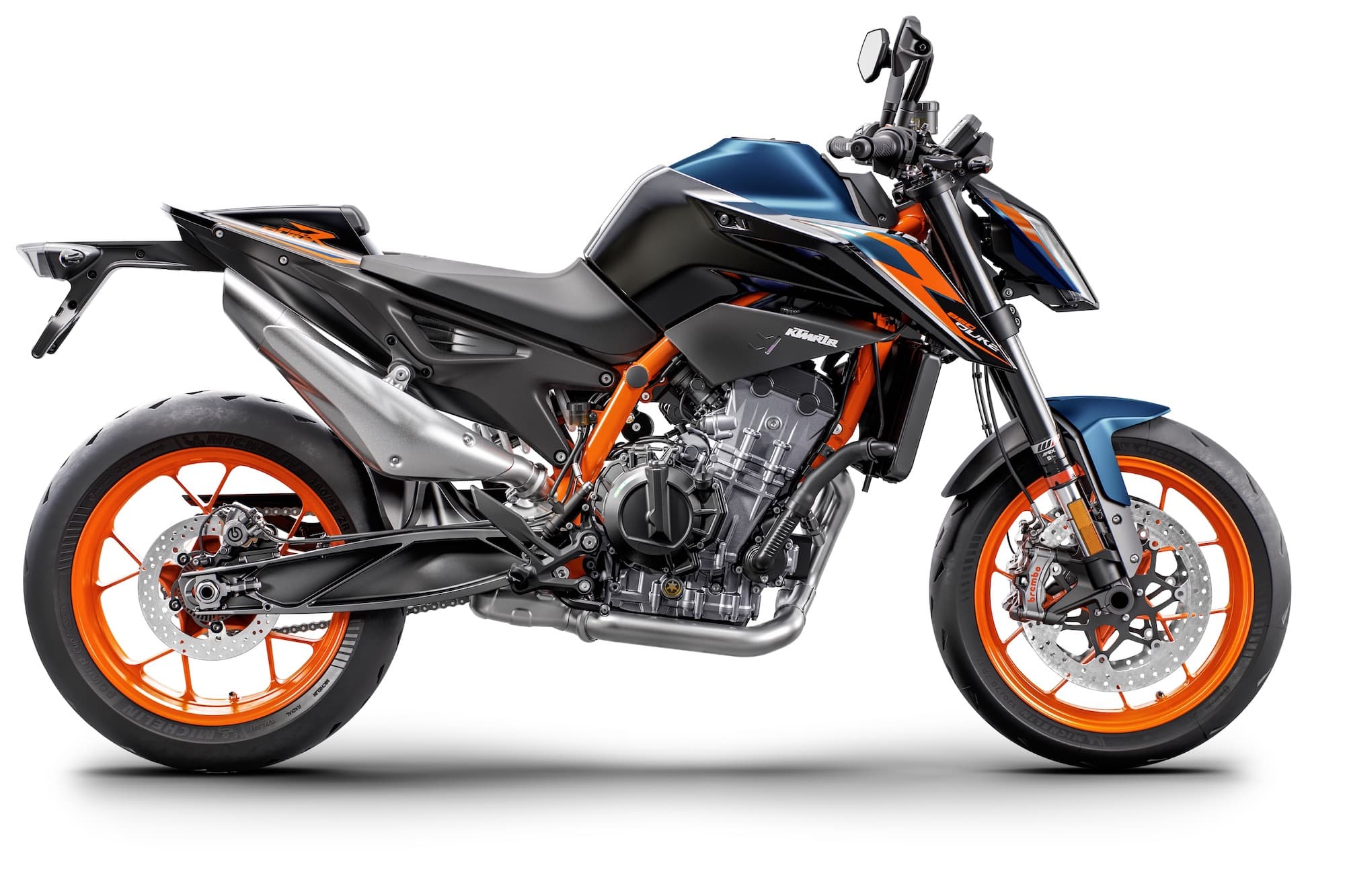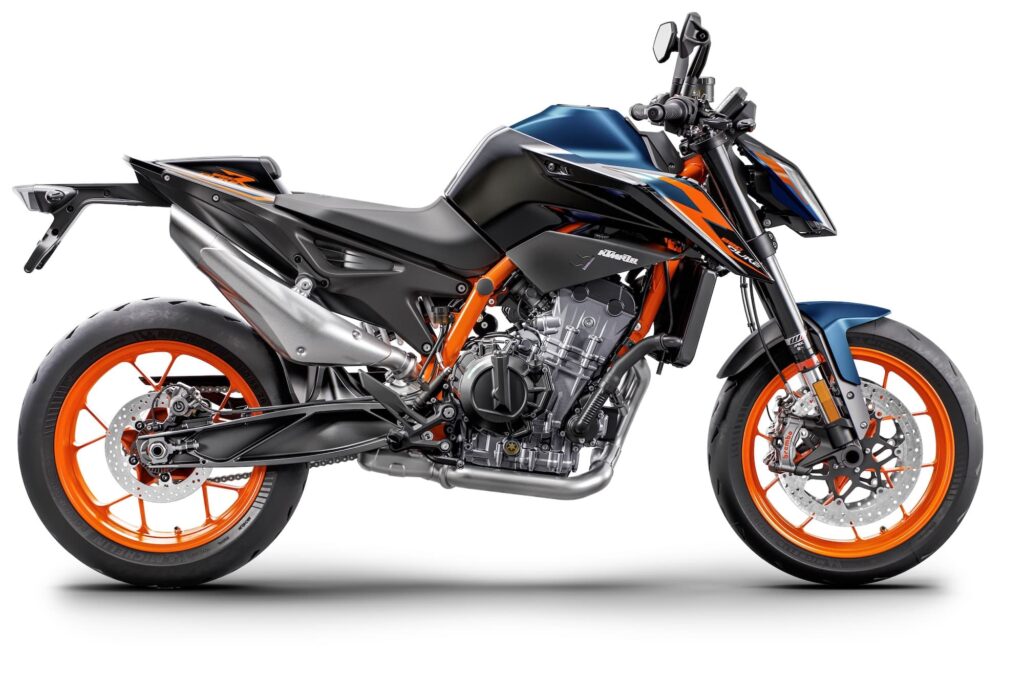 The KTM 890 Duke R, "The Super Scalpel", succeeds the brief-but-popular 790 Duke. It's KTM's character-rich parallel twin (with a 270-degree crankshaft) in a naked chassis. The 889 cc engine in R spec makes 89 kW / 121 hp at 9250 rpm (slightly lower 85 kW / 115 hp in the non-R), with torque everywhere. The R spec has fully adjustable WP APEX front and rear suspension (with high-speed and low-speed compression settings at the rear) and Brembo Stylema brakes. It has high-level electronics, with ride modes, cornering ABS, traction control, an optional quick shifter, and even the option of deactivating rear ABS.
Triumph Street Triple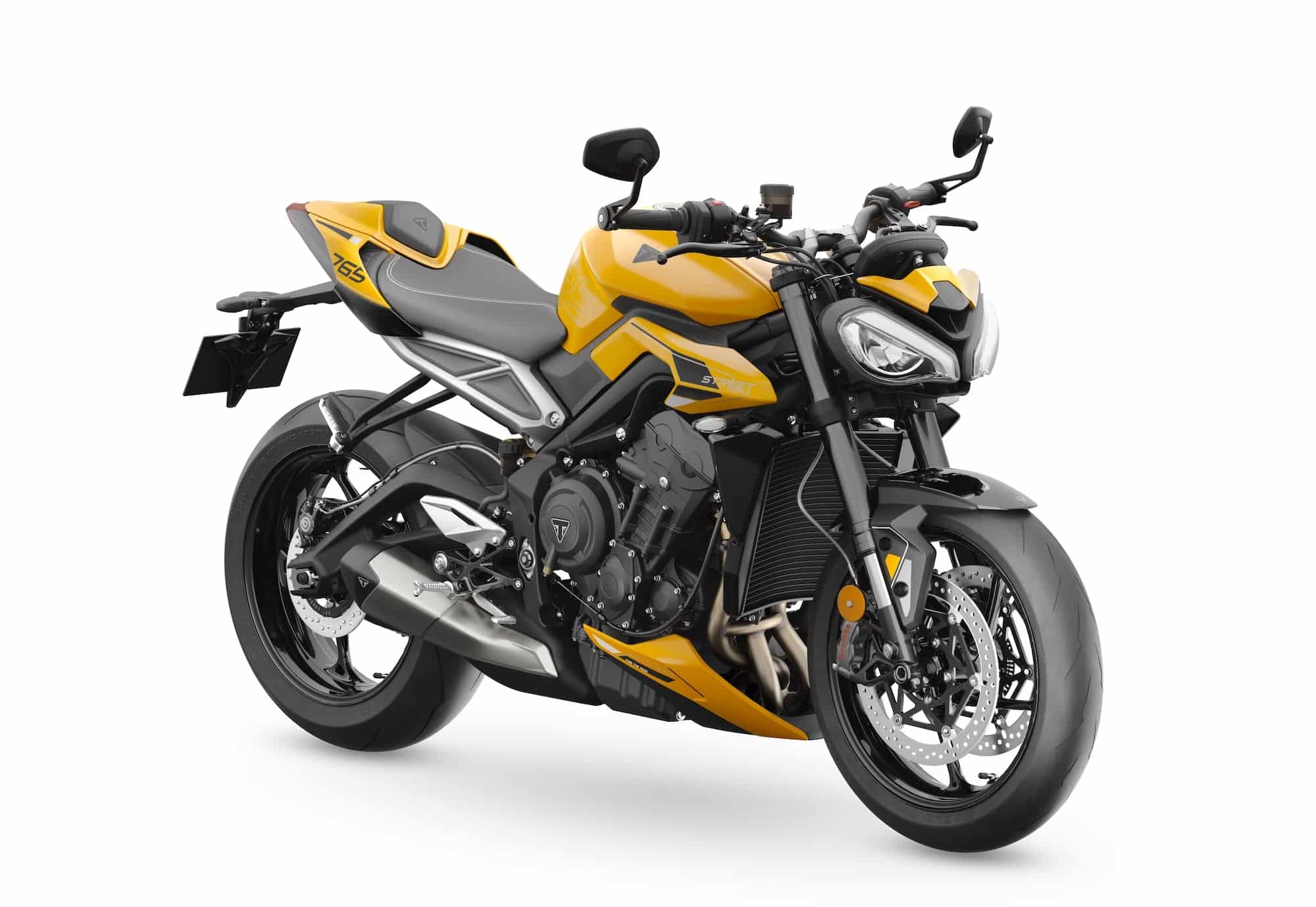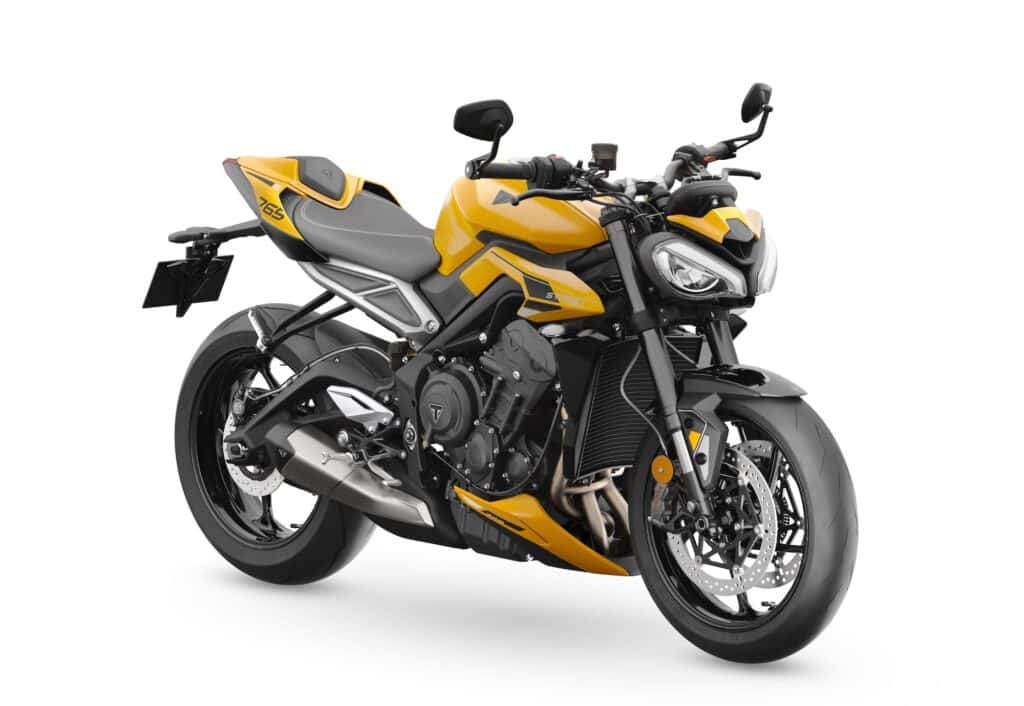 The Triumph Street Triple RS has been Triumph's accessible but high-power middleweight sport motorcycle since 2017. With its 765 cc engine, it makes 90 kW / 123 hp at 11700 rpm (from the 2017 model; slight adjustments since for emissions), and has fully adjustable "Big Piston Fork" front suspension, with an Öhlins shock at the rear. Brakes are Brembo M50 units, which are the same as on the original Ducati 1199 Panigale. From 2023 onwards, it gets Brembo Stylema calipers (Ducati Panigale V4 spec), and more optional electronics (including cruise control). See here for the full Triumph Street Triple buyer's guide.
Yamaha MT-09 / SP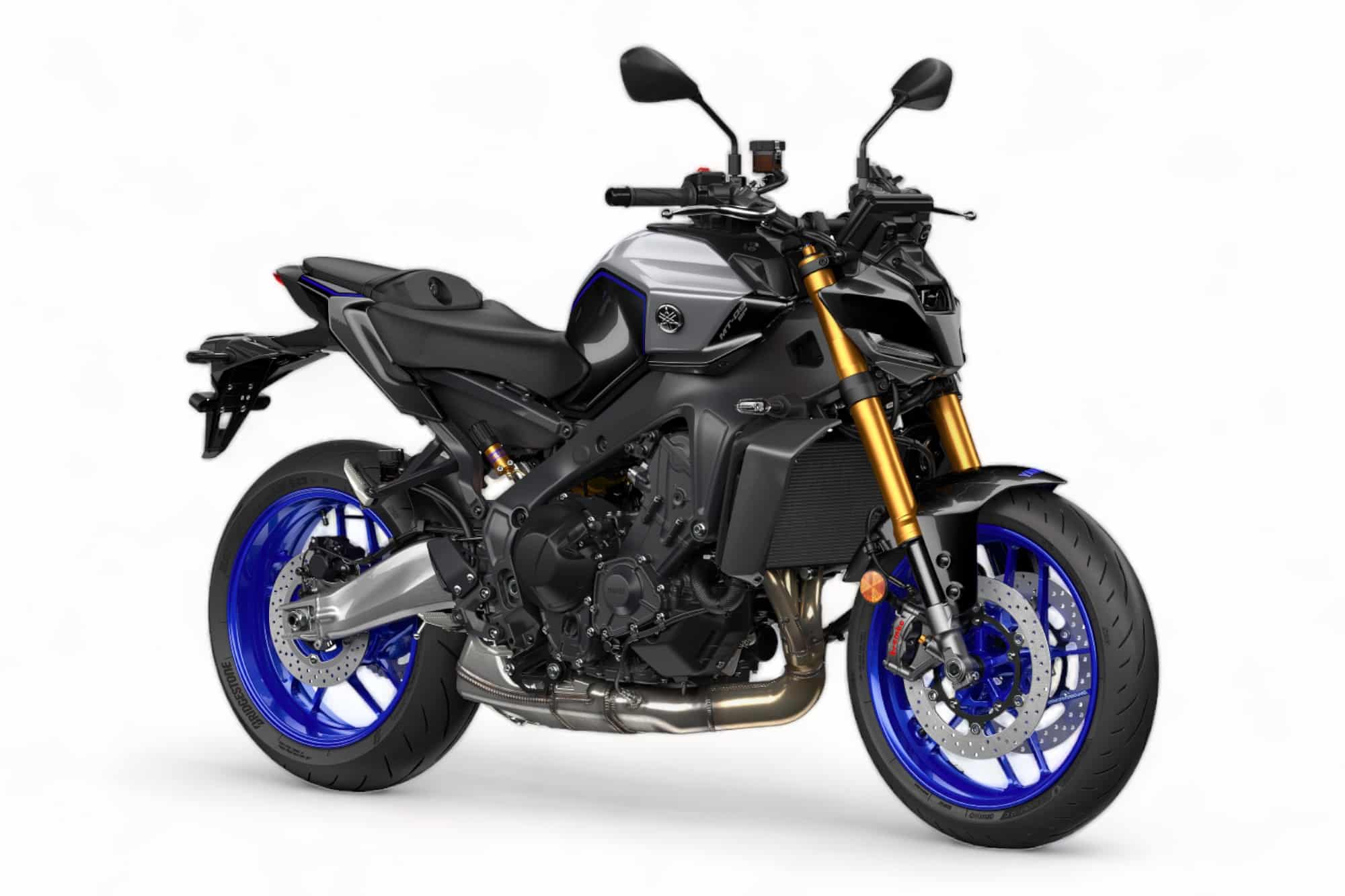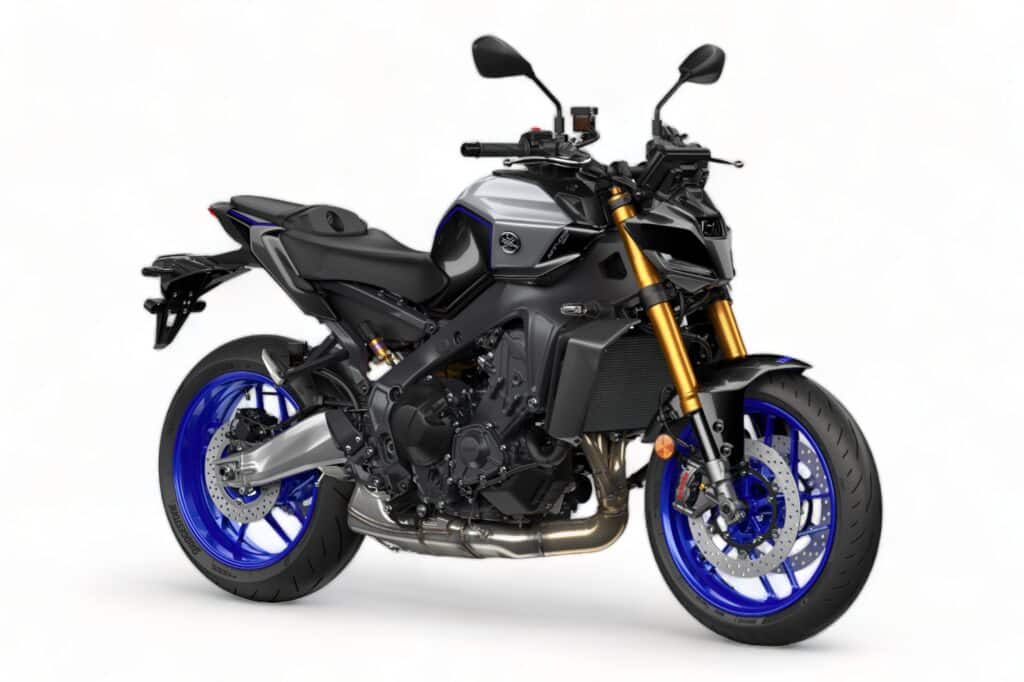 The Yamaha MT-09 SP is Yamaha's top-spec middleweight. Its headline is the bigger 890 cc three-cylinder engine (up from 847 in the 2014-2020 spec), making peak power of 87.5 kW / 119 hp @ 10000 rpm. It comes with everything — cornering ABS, cruise control, and Brembo Stylema calipers. The best part is how light the SP is, with 194 kg / 425 lb of wet weight. (The 2021 version is some 4 kg / 9 lb lighter.)
The base-spec MT-09 gets the same engine, but not as fancy suspension or brakes, and the 2021-2023 model doesn't have cruise control (but the 2024 base model does). (See here for the full Yamaha MT-09 buyer's guide from 2014 to today.)
Yamaha XSR900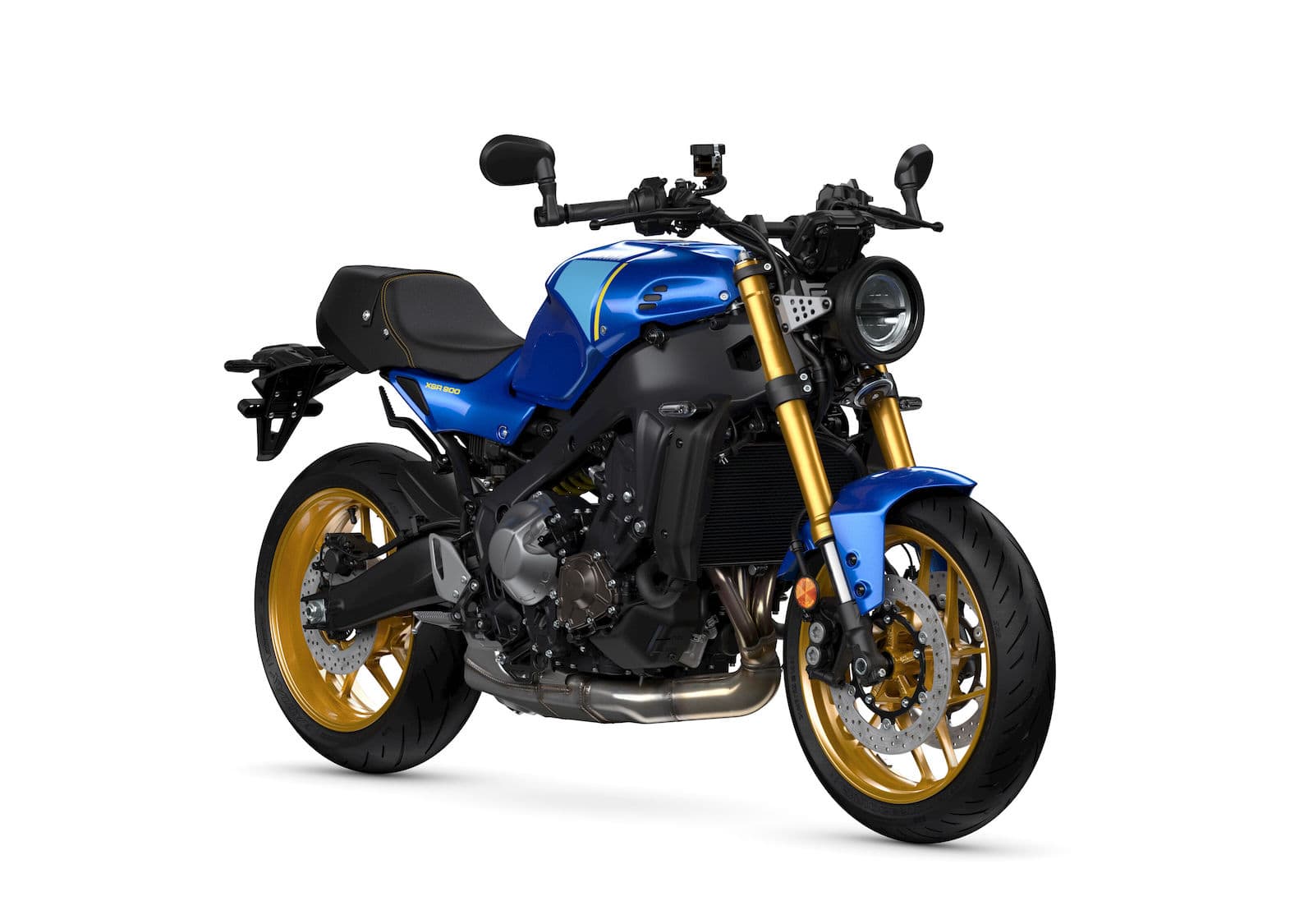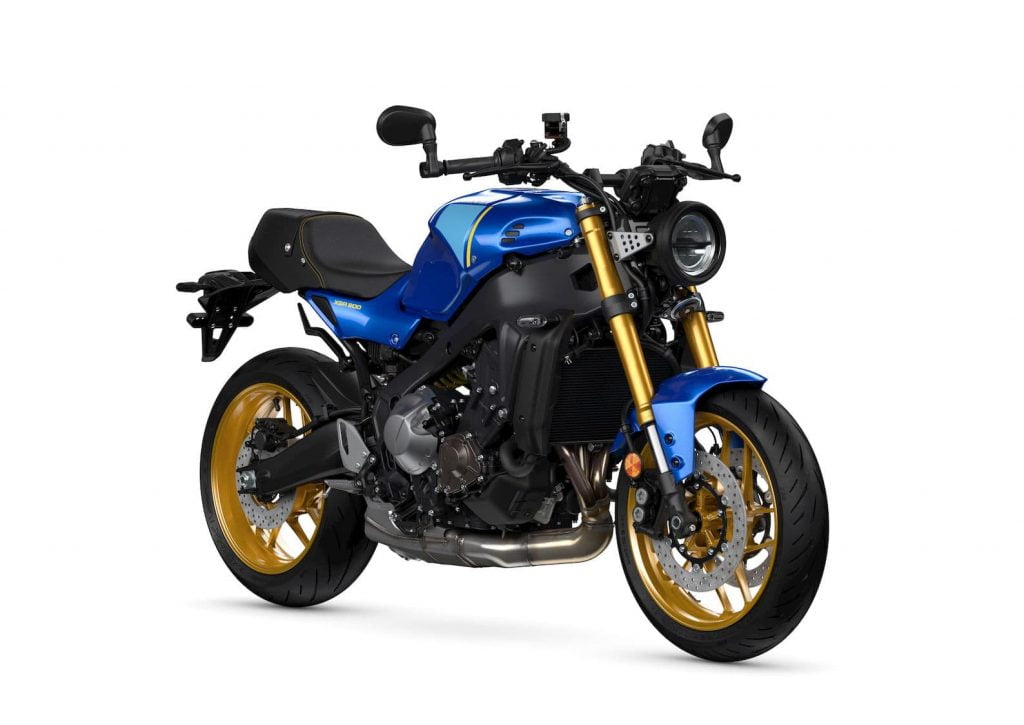 The Yamaha XSR900 is much like the MT-09 (see previous panel), but with more retro styling. It shares the same 890 cc three-cylinder engine with its nice balance of character and smoothness. The suspension is similar to the base model MT-09 in terms of spec, which is great, but the XSR900 comes with cruise control. One of the best bikes of the decade!
Wrap up
In many ways, the Yamaha FZ-09 / MT-09 is an iconic bike. Yes, it's common, but that's because it's such great value — new or used. For the money, you get a great engine that's loved by everyone, and depending on generation, you get either adequate or great suspension, too.
The only bugbear with earlier models is that you might need to tweak the fuelling, or get the suspension looked at for the very early ones. But they're cheap enough that if you have the patience, you can budget those kinds of revisions in.
The fact that there's so much competition in the 100-120 hp middleweight sport bike category is just one indication of how great a category it is. If it weren't for wind blast on long-distance rides, it'd be the only one for me. I really recommend you check it out and see if you can make it work, too.