The Ducati Monster 937 (officially just called the Ducati Monster, but informally called the 937 to distinguish it from other generations) is the latest in a series of motorcycles that span three decades and that defined and continued to define the naked sport motorcycle class.
Ducati launched the Ducati Monster 937 for the 2021 model year. The 2021+ Ducati Monster replaces the Ducati Monster 821 (which had that explicit name) as well as the air-cooled Ducati Monster 797 (which, looked at another way, you could say is being discontinued). In fact, it also replaces the Ducati Monster 1200, but the door is open for Ducati to introduce another big-bore Monster in the future.
The Ducati Monster 937 uses the 937cc L-twin "Testastretta 11-degree" engine that's also seen in the Ducati Hypermotard 950 and a few other Ducati motorcycles. In the 2021+ Ducati Monster 937, the engine makes 82 kW (111 hp) at 9250 rpm, with torque peaking at 93 Nm (69 ft-lb) at 6500 rpm.
It shares the same maintenance features as other Testastretta 11-degree engines, like having to check the Desmodromic valve clearances, and having to replace the cam belts every five years.
Ducati has since released other spec levels of the Monster 937, like the Monster SP and the Monster 30th Anniversario. They have some unique parts (see below) but overall, maintenance is the same.
Note: Motofomo is reader-supported. If you buy some of the products that we link to, we may earn an affiliate commission, which otherwise goes to the marketplace (e.g. Amazon).
Are you obsessed with motorcycles?
Well, I am. That's why I created this site — as an outlet. I love learning and sharing what others might find useful. If you like what you read here, and you're a fraction as obsessed as I am, you might like to know when I've published more. (Check the latest for an idea of what you'll see.)
About the Ducati Monster 937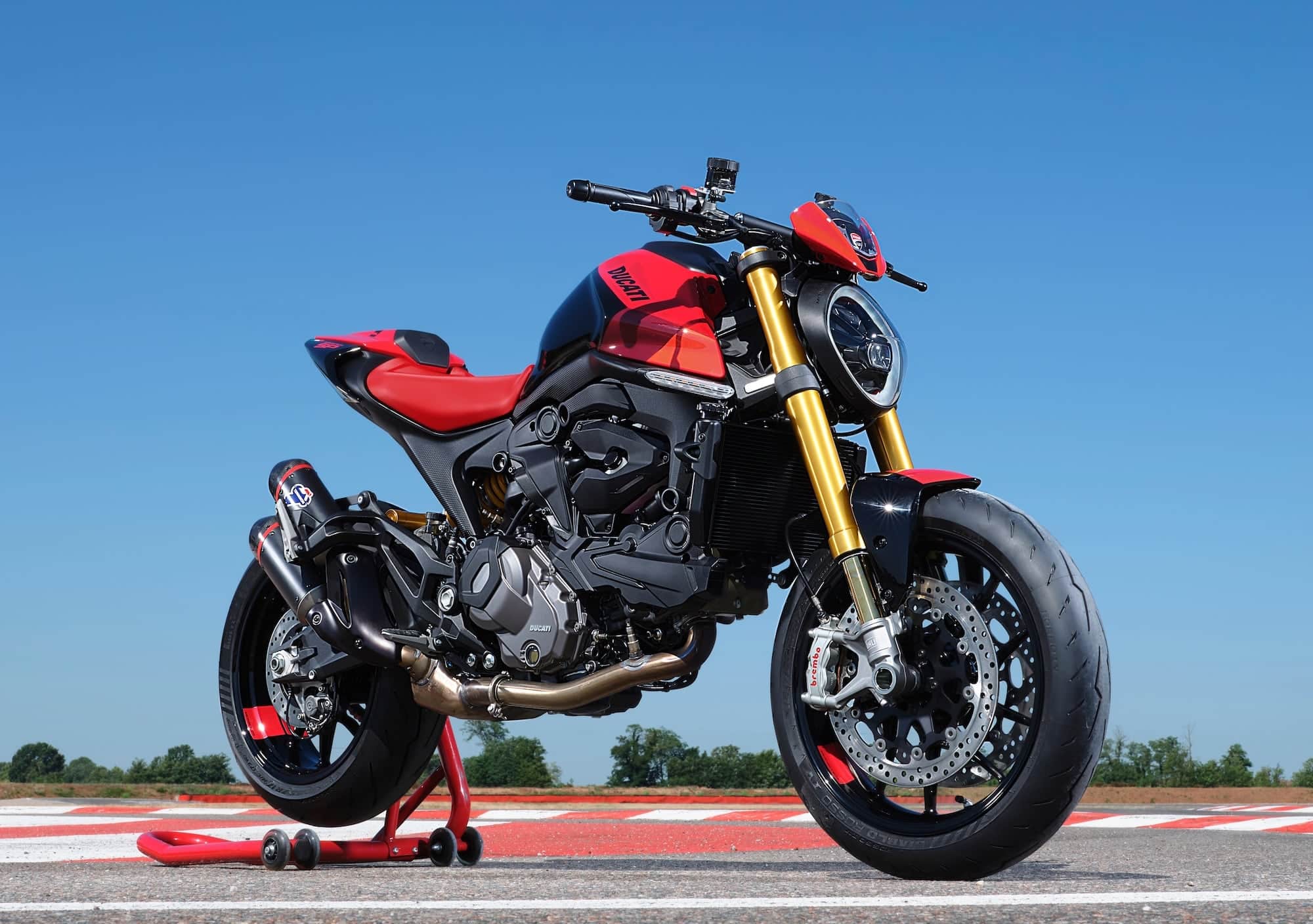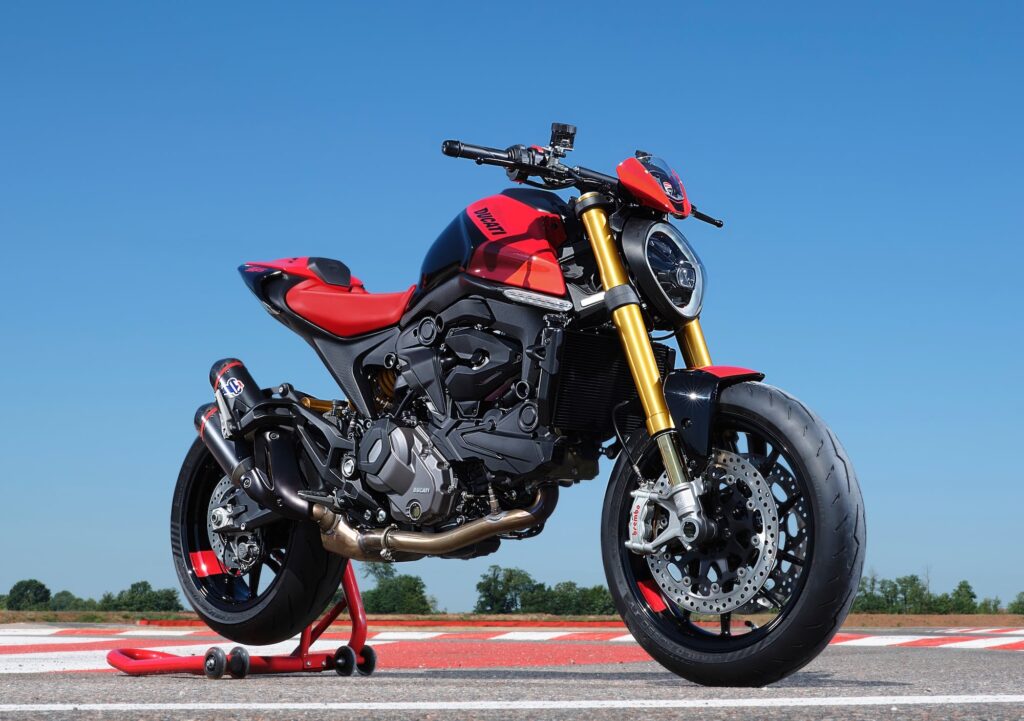 The 2021+ Ducati Monster "937" is the latest in a 30-year run of naked sport bikes that started in 1993 with the Ducati Monster 900.
It has the same basic concept — a feisty middleweight motor in a naked sportbike chassis. Back in the 1990s, this was a very innovative concept — an aggressive, sporty naked bike. But in the 2020s, this is no longer the case, and the Monster 937 has a lot of company in the class!
For many years, the Monster was known for having first and air-cooled engine in a trellis frame with a dry clutch, and then after adopting liquid cooling and a wet clutch, at least a trellis frame. But the 937 says goodbye to all of that, with the trellis frame being replaced by a much lighter design that Ducati calls the "Front Frame".
Although all the changes have been gradual, and at its core, the Ducati Monster remains the same thing — a stripped-back (relative to its class) naked sport bike. It's not a fairing-equipped supersport bike, nor is it a tourer. But you can buy this engine in both those configurations!
For interest, I think it's cool to compare the original 1993 Ducati Monster 900 to the modern Ducati Monster 937.
Actually, the engine displacement of the original Monster 900 is quite close to that in the Monster 937. But everything else has changed — more power, more
| Model | 1993 Monster 900 | 2021 Monster 937 |
| --- | --- | --- |
| Frame | Chrome-molybdenum steel trellis | Aluminium alloy "Front frame" |
| Engine | Air/oil-cooled Desmodue, belt-driven cams | Liquid-cooled Testastretta 11-degree, belt-driven cams |
| Displacement | 904 cc | 937 cc |
| Valves | 2 per cylinder, Desmodromic actuation | 4 per cylinder, Desmodromic actuation |
| Peak power | 59 kW / 80 hp @ 7000 rpm | 82 kW /111 hp @ 9250 rpm |
| Clutch | Dry | Wet |
| Ride aids | None | Cornering ABS / TC, ride modes, etc. |
| Service intervals | 6000 mile / 10000 km oil change and valve clearance check, belt replacement every 2 years | 9000 mile / 15000 km oil change, 18000 mile / 30000 km valve clearance check, belt replacement every 5 years |
Changes between the original Monster and the 2021 Monster
The original Ducati Monster is often called a stripped-back "parts bin special". I've always considered this to be a bit unfair; after all, most popular motorcycles share components with other motorcycles.
The 2021 Ducati Monster with the 937-cc engine replaces the Ducati Monster 821. The 821 had many modern elements already — it already had liquid-cooling, a wet clutch, ABS, and many other features that made it thoroughly a motorcycle of today. But it still had a hint of a trellis frame, an iconic feature not just of Ducati Monsters, but of most Ducati motorcycles in recent years — until the Superleggera broke tradition with its "Monocoque" chassis.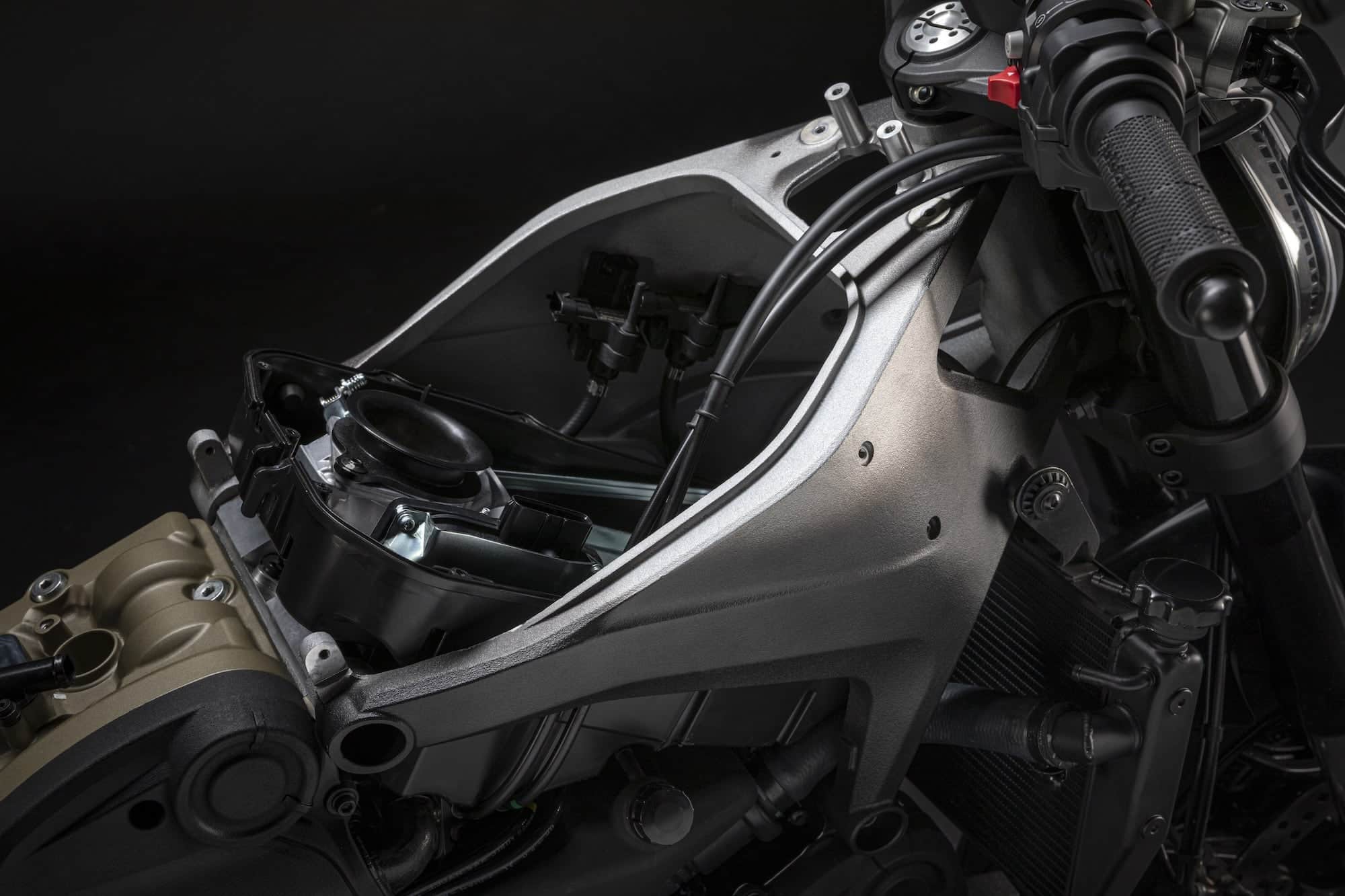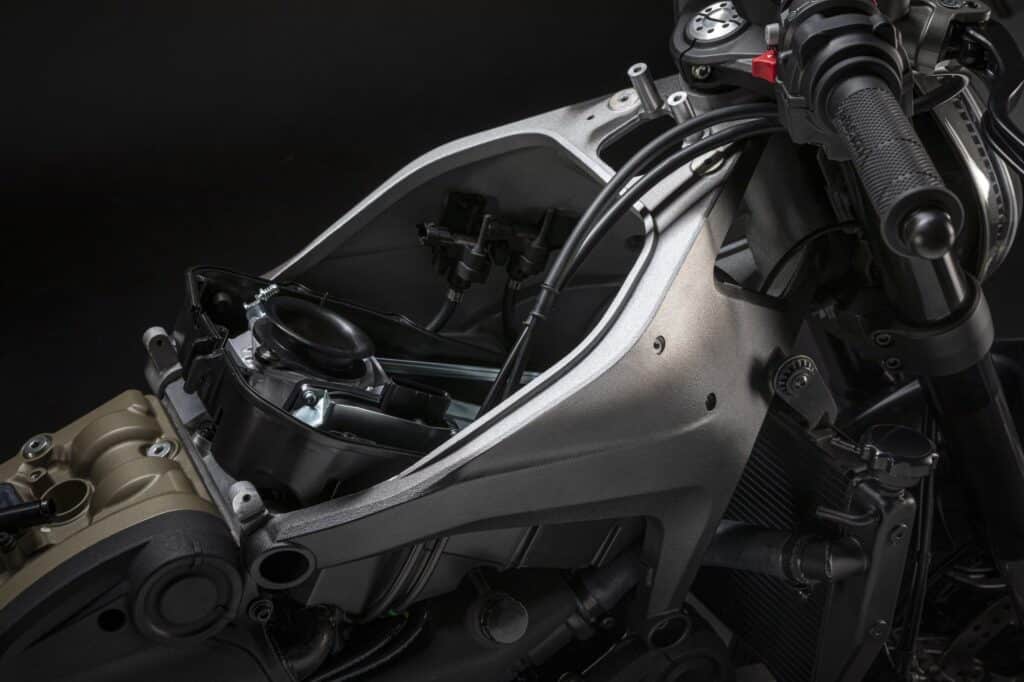 Ducati released the "front frame" concept first on the Ducati Panigale V4 superbike. It's similar to a monocoque (single-piece) frame in that it is built mostly in one piece, and designed to optimise rigidity and weight. Like on the Panigale V4, the frame is made of aluminium.
The impact on weight savings is significant — the frame is 4.5 kg or 10 lb lighter than the trellis frame on the 821 model.
Aside from the frame, Ducati has shed weight in other parts of the Ducati. The 937 cc engine is 2.4kg lighter than the 821cc version. Ducati lightened the rear subframe as well as the wheels (and the wheels on the Anniversario are even lighter).
So Ducati managed to drop the total wet weight of the 2021 Monster from 206 kg / 454 lb to 188 kg / 414 lb — a shocking drop, making the Monster 937 one of the lightest in the middleweight sport bike class. It's now right up there with the Triumph Street Triple, a bike always known for being the lightest bike in the middleweight sport bike class.
Ducati goes even further in spec and weight-savings with the up-rated versions of the Monster.
For 2023, Ducati released the up-spec Ducati Monster SP, with a number of updated parts, including Öhlins suspension, Brembo Stylema calipers (same as those on the Panigale V4), and Pirelli Diablo Rosso IV tires. Ducati manages to shave off another 2 kg / 4 lb of weight, thanks in large part to the lithium-ion battery (which you can get for the earlier model, too).
And for 2024, Ducati released the limited edition Anniversario in celebration of the 30th anniversary, which comes with Italian flag-based colours (red, green, and white), plus with some extra tasty bits. The headline improvement is the forged wheels, which reduce weight by another 2 kg / 4 lb — and where it counts most, in un-sprung mass.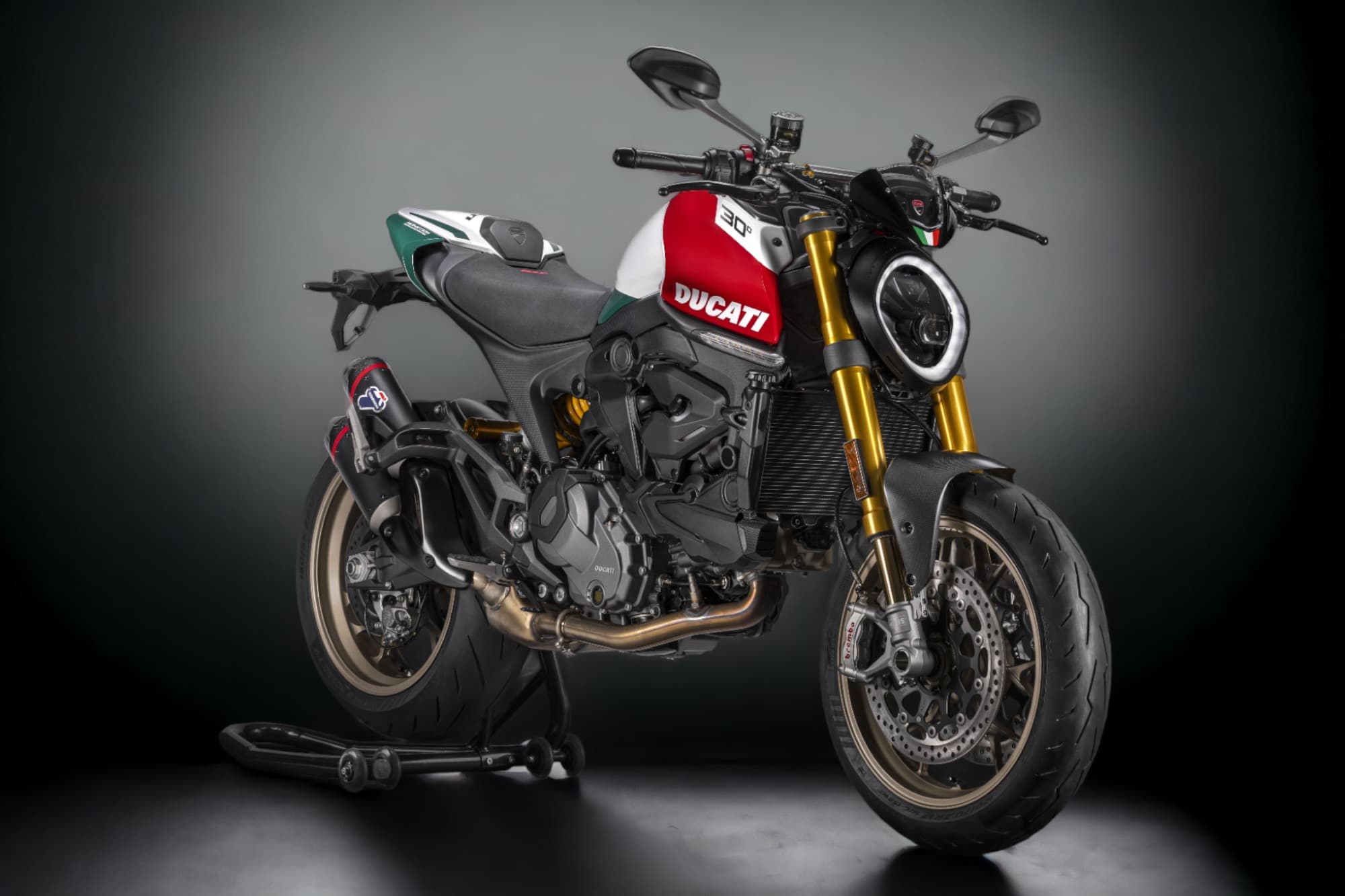 Ducati Monster 937 Specifications
For your reference, here are the core specifications for the Ducati Monster 937. These are shared by all the modern variants.
Item
Specs
Notes
Engine type
Liquid-cooled Testastretta 11-degree L-twin, Desmodromic valve actuation, belt-driven cams
Same engine concept shared by Ducati's middleweights (see alternative section below)
Capacity
937 cc
Bore x stroke (mm)
94 x 67.5 mm
Compression ratio
13.3:1
Fuel requirement
Premium
95 RON
(Standard European "Super". Called 91 pump octane in US)
Peak power
82 kW / 111 hp @ 9250 rpm
Peak torque
93 Nm / 69 lb-ft @ 6500 rpm
Transmission
6-speed, chain
Front suspension
Varies by trim — see below
Base model is non-adjustable
Rear suspension
Varies by trim — see below
Front brakes
All share 320mm discs. Caliper spec varies by trim — see below
Wet weight
Light! (see below)
Ride aids
All models have quick shifter, cornering ABS, ride modes, and TC as standard.
No models have cruise control
Ducati Monster 937 specs
Model variants of the Ducati Monster 937 (Suspension, Brakes, Weight)
At launch, there were just two model variants of the Ducati Monster 937 — the Monster and the Monster +. The "plus" model comes with a few extra cosmetic goodies — a flyscreen and a passenger seat cover.
But Ducati launched the Monster SP for 2023, and the Monster Anniversario for 2024. Most specs stay the same, but the SP and Anniversario are respectively steps up.
Here's how the Ducati Monster SP compares in spec to the Monster base model, and how the 30th Anniversario goes further.
| Part | 2021 Monster / Monster+ | 2023 Monster SP | 2024 Monster 30th Anniversario |
| --- | --- | --- | --- |
| Front suspension | 43mm USD fork, non-adjustable | 43mm USD Öhlins fork, TiN treatment, fully adjustable | 43mm USD Öhlins fork, TiN treatment, fully adjustable |
| Rear suspension | Monoshock, preload adjustable | Öhlins monoshock, fully adjustable | Öhlins monoshock, fully adjustable |
| Wheels | Light alloy cast | Light alloy cast | Forged (1.86 kg / 4.1 lb lighter) |
| Steering damper | No | Yes | Yes – Öhlins |
| Brake calipers | Brembo M4.32 | Brembo Stylema | Brembo Stylema |
| Tires | Pirelli Diablo Rosso III | Pirelli Diablo Rosso IV | Pirelli Diablo Rosso IV |
| Muffler | Standard | Termignoni | Termignoni |
| Battery | Standard / Maintenance free | Lithium-ion (1.7 kg / 3.8 lb lighter) | Lithium-ion (1.7 kg / 3.8 lb lighter) |
| Curb weight | 188 kg / 414 lb | 186 kg / 410 lb | 184 kg / 406 lb |
Ducati Monster 937 vs SP vs Anniversario spec
Using the Ducati Monster's Screen and Controls
All specs of the Ducati Monster 2021+ model share the same 4.3 TFT display and banner features, so controls for all of them are largely the same.
To access the ride modes, you use the mode / enter button on the left handlebar, plus the up and down buttons on right above it. You can change the ride mode while moving, but you have to close the throttle (and release the brake) for the mode to engage.
Hold down the mode/enter button, then use the up/down control, then press the mode/enter button again.
The ride modes are customisable in the settings menus.
In the Ducati Monster SP, Ducati renamed Touring and Urban to Road and Wet. But per the manual, the base settings are the same.
Power mode
Engine
(Power)
ABS
(1-3)
DTC
(1-8)
DWC
(Off-4)
Sport
High
2
3
2
Touring (base model) / Road (SP)
Medium
3
5
3
Urban (base model) / Wet (SP)
Low
3
8
4
Ducati Monster 937 ride modes
Note that
You can't disable ABS or DTC, but you can disable DWC.
ABS level 1 and DTS level 1 aren't by default associated with any ride mode.
The quick shifter is on by default, but you can disable it for a specific ride mode if you want.
The Ducati Monster 937's up/down quick shifter is designed to work above 2500 rpm. Below that and it behaves unpredictably.
Ducati Monster 937 Service Information
The below information comes from our sister website, maintenanceschedule.com.
Like most Ducati motorcycles with the Testastretta 11-degree engine, the Ducati Monster 937 has service intervals of 9000 miles or 15000 km, at which point you change the oil and filter, check and clean the air filter, and do a host of checks on the chassis and wearable components for leaks and wear.
See here for a guide to Ducati motorcycle engines, from Desmodue onwards.
The major service interval for the Ducati Monster 937 is 18000 miles or 30000 km, when you do a full Ducati "Desmo" service, including changing the timing belts and checking the valve clearances.
Since the Monster SP's 937 engine is a 4 valve-per-cylinder design with Desmodromic timing, there are 8 clearances per cylinder and 16 total. Also, needing to change an opener clearance usually means you have to change a closer, and vice versa, per Ducati.
Aside from that, the Ducati Monster 937 needs periodic replacement of the timing belts (every 5 years per the schedule), even if you don't do mileage.
Finally, the Ducati Monster 937 has clutch fluid as well as brake fluid, so change them at the same time.
Ducati Monster 937 Maintenance Schedule
Below is a clarified version of the maintenance schedule of the maintenance schedule from the manual.
Ducati separates out "customer" items and "dealer" items, but we've recombined these into one schedule, then separated out regular "inspection" items.
Daily Inspection Checklist
This is the daily inspection checklist for the 2021+ Ducati Monster 937. Do this before every ride.
Many of these items you'd naturally do by starting to ride, e.g. confirming that the lights, brakes, and clutch work. But you should specifically check the fluid levels periodically.
The manual suggest you do these items every 1000 km / 600 miles, or 6 months — whichever comes earlier.
Ducati Monster 937 regular / pre-ride maintenance
Check the engine oil level
Check brake fluid level
Check tyre pressure and wear
Check the drive chain tension and lubrication
See below for chain tension measurement
Check the brake pads. If necessary, replace, contacting your dealer if necessary.
Regular maintenance for the Ducati Monster 937
Major Items Maintenance Schedule
Below is the service schedule of major items for the Monster 937.
The major "Desmo service" intervals for the Ducati monster SP is every 18000 miles / 30000 km.

Notes:
Observe the earlier of time-based or distance-based service intervals. For example, change the oil every 2 years or 9000 miles / 15000 km, whichever arrives earlier.
Keep following it in the pattern shown beyond the end of the maintenance schedule.
If you ride your motorcycle aggressively or in untoward conditions (e.g. off-road or in mud, rain, or on dirty roads, in stop-start traffic, or in cold weather without giving it time to warm up), you may have to service your bike more often.
| Km x 1000 | 1 | 15 | 30 | 45 | 60 | |
| --- | --- | --- | --- | --- | --- | --- |
| Mi x 1000 | 0.6 | 9 | 18 | 27 | 36 | Every |
| Perform annual service checklist (see below) | ✓ | ✓ | ✓ | ✓ | ✓ | Year |
| Change engine oil and filter (SAE 15W-50 Jaso MA2, e.g. Shell Advance 45 Ultra 15W-50, or Mobil 1 15W-50) | ✓ | ✓ | ✓ | ✓ | ✓ | 2 years |
| Check and clean air filter | | ✓ | ✓ | ✓ | ✓ | 2 years |
| Change air filter (DNA P-DU10E22-01) | | | ✓ | | ✓ | |
| Change timing belts (Part 73740251B) | | | ✓ | | ✓ | 5 years |
| Check and/or adjust valve clearance | | | ✓ | | ✓ | |
| Change spark plugs (NGK MAR9A-J) | | | ✓ | | ✓ | |
| Change coolant (ENI Agip Permanent Spezial) | | | ✓ | | ✓ | 4 years |
| Change front fork fluid (Shell Donax TA) | | | | ✓ | | |
| Change brake and clutch fluid (Castrol DOT 4) | | | | | | 2 years |
| Check front and rear brake disc and pad wear. Change if necessary. | | ✓ | ✓ | ✓ | ✓ | Year |
| Check rear brake disc screw tightening (by removing the rear wheel shaft in case of brake disk retaining screws requiring the use of hexagon wrench) | | | ✓ | | ✓ | |
| Check the cush drive damper on rear sprocket and lubricate the rear wheel shaft | | | ✓ | | ✓ | |
Maintenance schedule for the Ducati Monster 937
Annual service checklist for the Monster 937
This is the list of items to check. It's separated out for ease of reading.
Notes:
Items marked [D] are those that dealers must do unless you have the official gear ("DDS").
Items marked [NBI] aren't necessary at break-in
Annual service checklist — Ducati Monster 937
[D] Read error memory with DDS 3.0 and check technical updates and recall campaigns on DDS
Check wear of chain, front and rear sprocket, and final drive chain elongation, tension, and lubrication. Record detected elongation value
See below for specs
Visually check the front fork and rear shock absorber seals
Check brake and clutch fluid level
Note: Fluid level drops as brake pads or clutch wears
[NBI] Check the proper tightening of the front and rear brake calliper bolts and the front brake disc bolts
[NBI] Check front and rear wheel nuts and rear sprocket nut tightening
[NBI] Check the tightening of frame fasteners to engine, swinging arm, and rear shock absorber
[NBI] Check wheel hub bearings for play
[NBI] Check steering tube bearings for play
Check the freedom of movement and tightening of the side stand
Check that all gaiters and flexible hoses in view (e.g. fuel, brake and clutch hoses, cooling system, bleeding, drainage, etc.) are not cracked, are properly sealing and positioned
Check free play of rear brake lever and lubricate the levers at the handlebar and pedal controls
Check the free play of the cable clutch lever (where present)
Check tyre pressure and wear (see below for specs)
Check the operation of all electric safety devices (clutch and side stand sensor, front and rear brake switches, engine kill switch, gear/neutral sensor)
Check lighting devices, turn indicators, horn and controls operation
Final test and road test of the motorcycle, testing safety devices (e.g. ABS, DTC, and VHC), electric fans and idling
Visually check the coolant level and sealing of the circuit
Softly clean the motorcycle
Service coupon registration with turning off of Service warning light on instrument panel with DDS 3.0 and filling in of the on-board documentation (Service Booklet)
Dealer maintenance schedule table for the Ducati Monster 937
Measuring chain tension / elongation on the Monster SP
It's important to regularly check the chain tension and wear level. See the below notes.
To check the tension, push down on the chain and release it. Then measure from the centre of a link pin to the end of the sliding shoe on the swingarm. The distance should be 53-55 mm under static no-load conditions.
If it's not, the manual recommends you get a Ducati service centre to service your bike.
Tyres sizes and pressures for the Ducati Monster
The Ducati Monster 937 base model ships with Diablo Rosso III tires, while the SP and Anniversario ship with Pirelli Diablo Rosso IV tires.
The manual for the Ducati Monster 937 specifies the following tyre sizes and pressures (for all models).
Wheel
Tire size
Tire pressure (cold)
Front
120/70 ZR17 M/C 58W
2.3 bar / 33 psi (rider only)
2.5 bar / 36 psi (with passenger)
Rear
180/55 ZR17 M/C 73W
2.5 bar / 36 psi (rider only)
2.9 bar / 42 psi (with passenger)
Ducati Monster 937 tire sizes and pressures
Of course, these are base specs, designed for tire longevity. You should adjust pressure as suits your riding style.
Tightening Torque specs
Below are torque specs that are publicly available. These come from the service manual.
Item
Nm
lb-ft
Engine drain bolt (with magnet)
20
15
Oil mesh filter plug
42
31
Spark plugs
12
9
Oil filter (cartridge)
Use engine oil on seal
12
9
Brake disc fastener
30
22
Front brake caliper fastener (both sides)
45
33
Front wheel nut
63
46
Rear brake caliper to holder screw
25
18
Rear brake disc fasteners
25
18
Rear axle nut (right side nut; Loctite on left)
145
107
Handlebar lower U-bolt to steering head fasteners
45
33
Steering head on fork fasteners
24
18
Front sprocket fastener
186
137
Rear sprocket fasteners
46
34
Ducati Monster 937 torque specs
These are from the Ducati Monster workshop/service manual, which someone kindly uploaded to Google Drive. (See this thread on ducatimonster.org).
Here are just the torque specs so you can search for more.
Alternatives to the Ducati Monster 937
The Ducati Monster 937 is in a busy crowd of high-end naked sport motorcycles. Here they are.
See more about them in our guide to naked sport motorcycles here.
Aprilia Tuono 660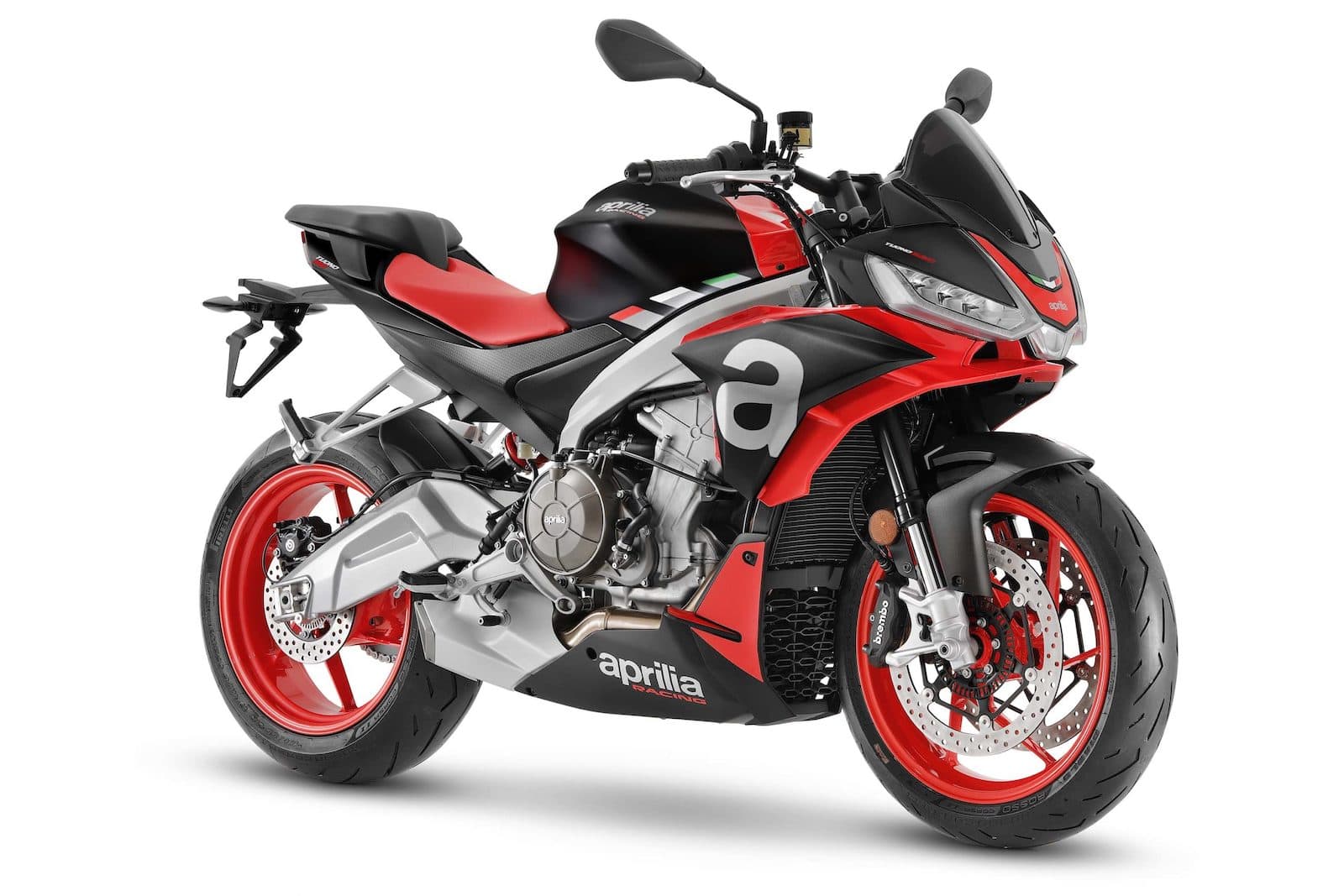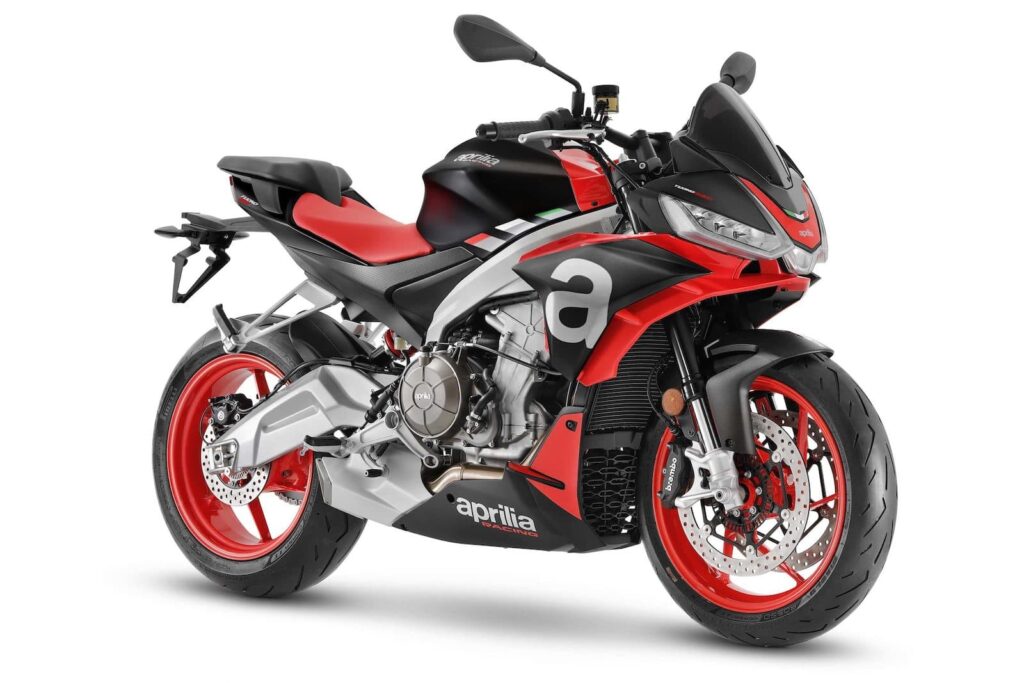 The Aprilia Tuono 660 is one of three motorcycles in Aprilia's high-end middleweight 660 range, along with the RS 660 and the Tuareg 660. The Tuono is the naked-ish sport bike. It definitely has a fairing, but it has handlebars and puts you in an upright position. The Tuono 660's parallel twin makes a peak of 100 hp / 73.5 kW @ 10500 rpm and has a satisfying sound to it. While it's "middleweight" in capacity, that's a bunch of power, and the Tuono comes with many ride aids, including cruise as standard, plus an optional quick shifter and cornering ABS (both of which are standard on the RS 660).
BMW F 900 R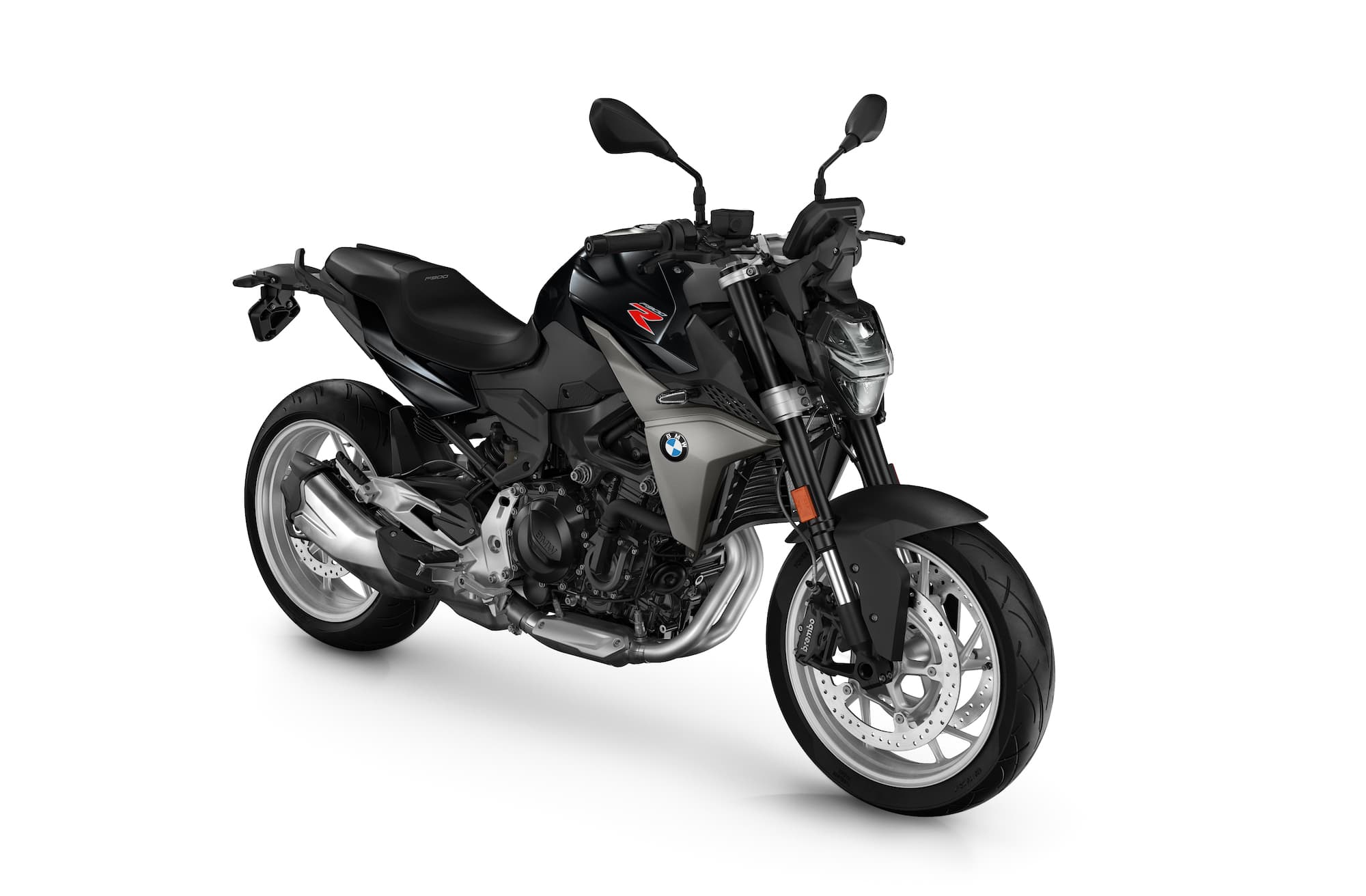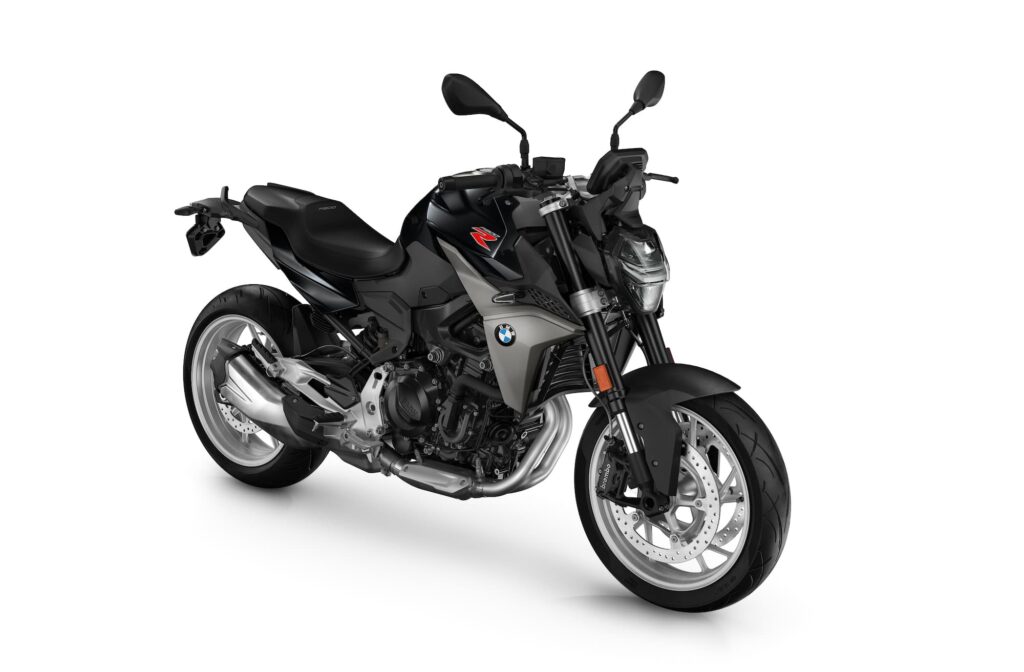 The BMW F 900 R is BMW's "upper middleweight" 895-cc parallel-twin motor-powered standard sport bike. It's not as furious as most other bikes in its class, but it is relatively high-end (once you add in all the options), with cornering ABS, cruise control, keyless ignition, an up/down quick shifter, and even an adaptive headlight.
Ducati Monster 937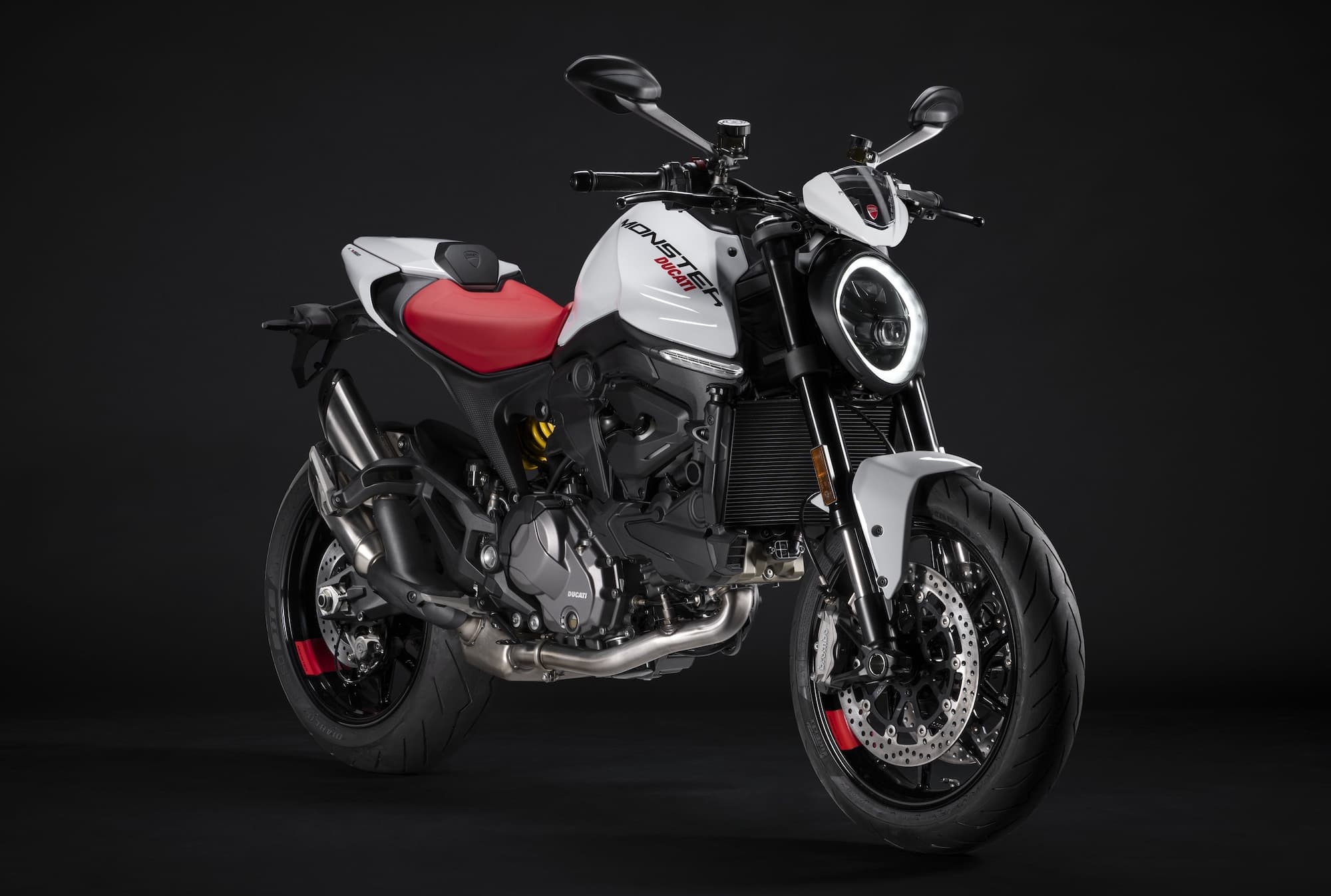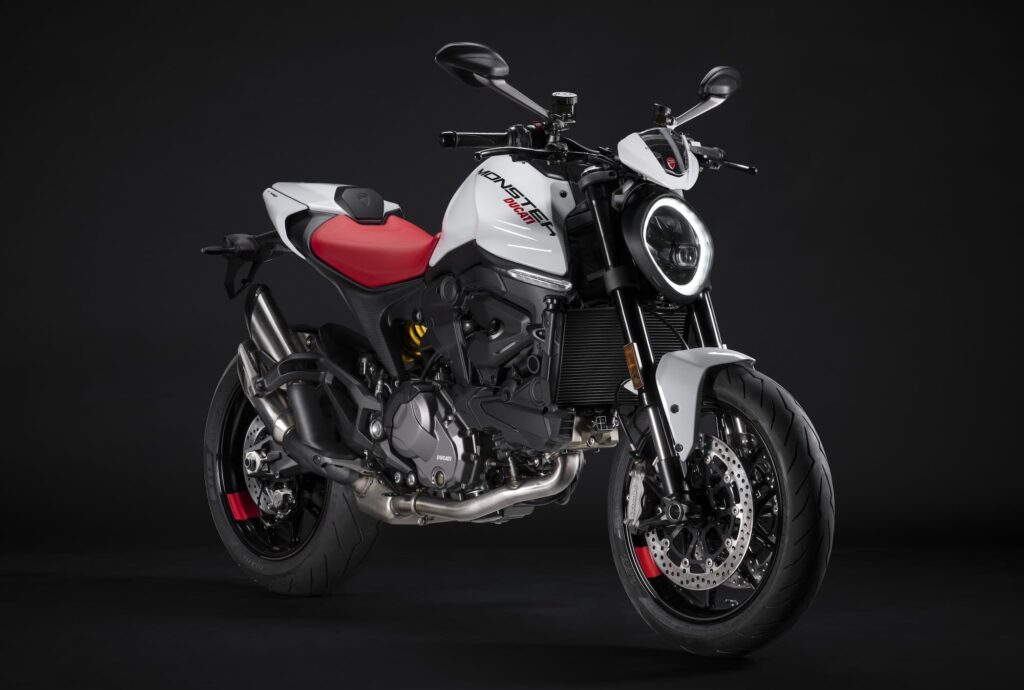 The 2021+ Ducati Monster (informally known as the Ducati Monster 937) is Ducati's naked sport bike powered by the 937 cc Testastretta 11-degree engine. It has a lightweight "Front Frame" and is the lightest Monster ever — and one of the lightest bikes in its class. The Monster comes with a controversial design (double-sided swing arm, no trellis frame), is loaded with ride aids, but lacks cruise control.
KTM 890 Duke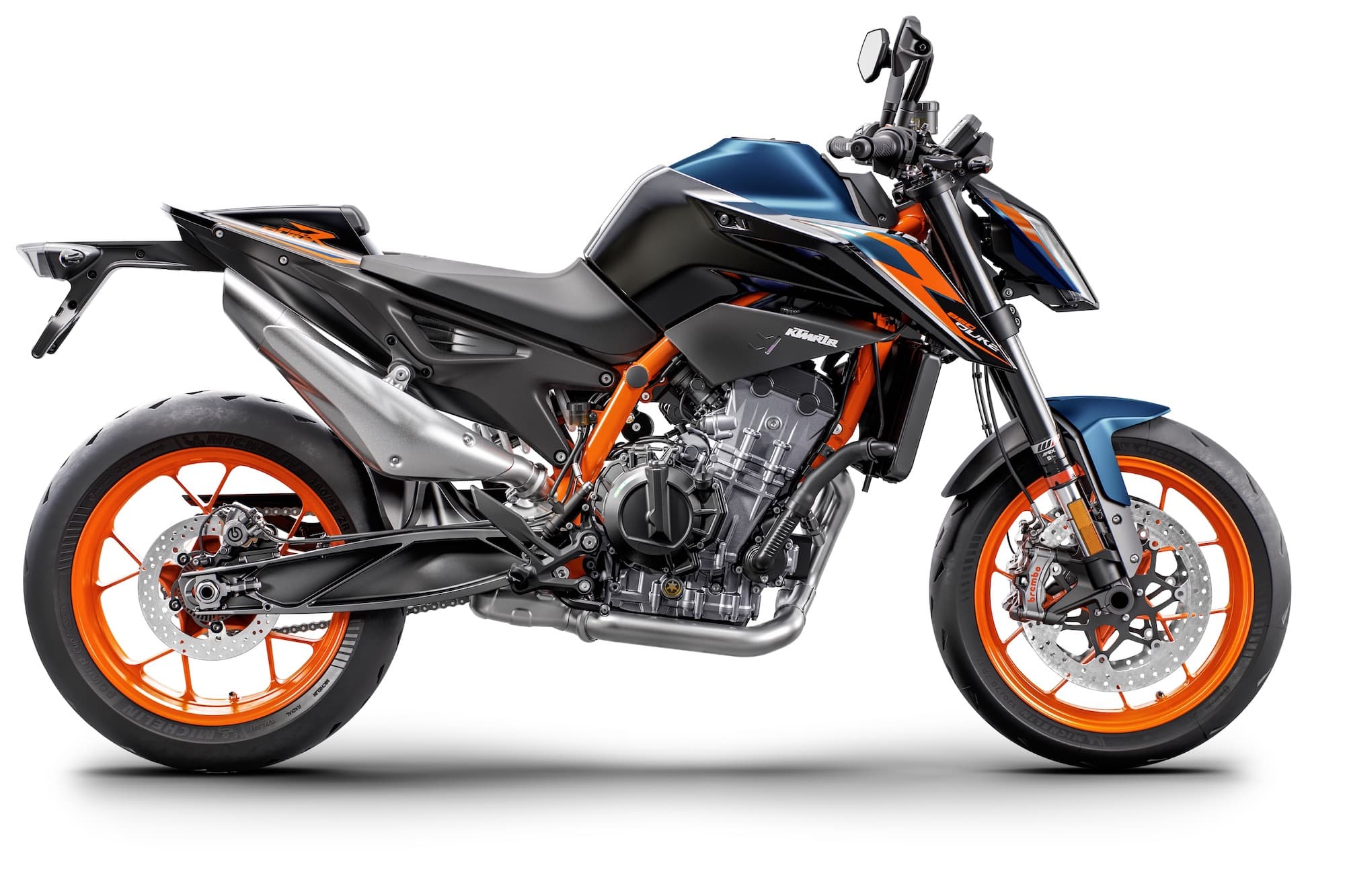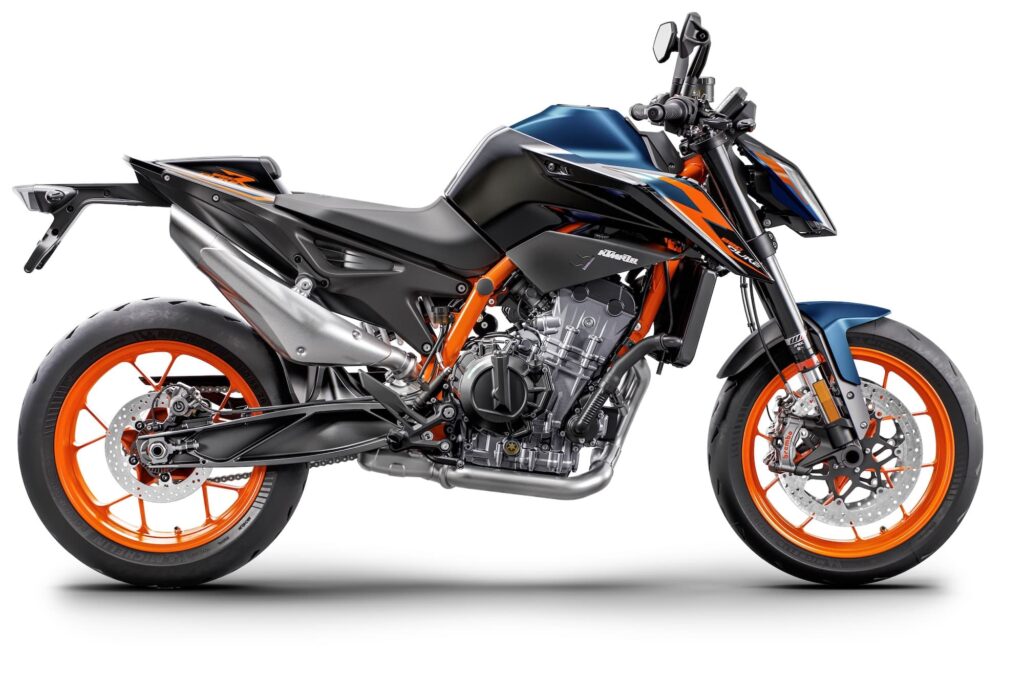 The KTM 890 Duke R, "The Super Scalpel", succeeds the brief-but-popular 790 Duke. It's KTM's character-rich parallel twin (with a 270-degree crankshaft) in a naked chassis. The 889 cc engine in R spec makes 89 kW / 121 hp at 9250 rpm (slightly lower 85 kW / 115 hp in the non-R), with torque everywhere. The R spec has fully adjustable WP APEX front and rear suspension (with high-speed and low-speed compression settings at the rear) and Brembo Stylema brakes. It has high-level electronics, with ride modes, cornering ABS, traction control, an optional quick shifter, and even the option of deactivating rear ABS.
Triumph Street Triple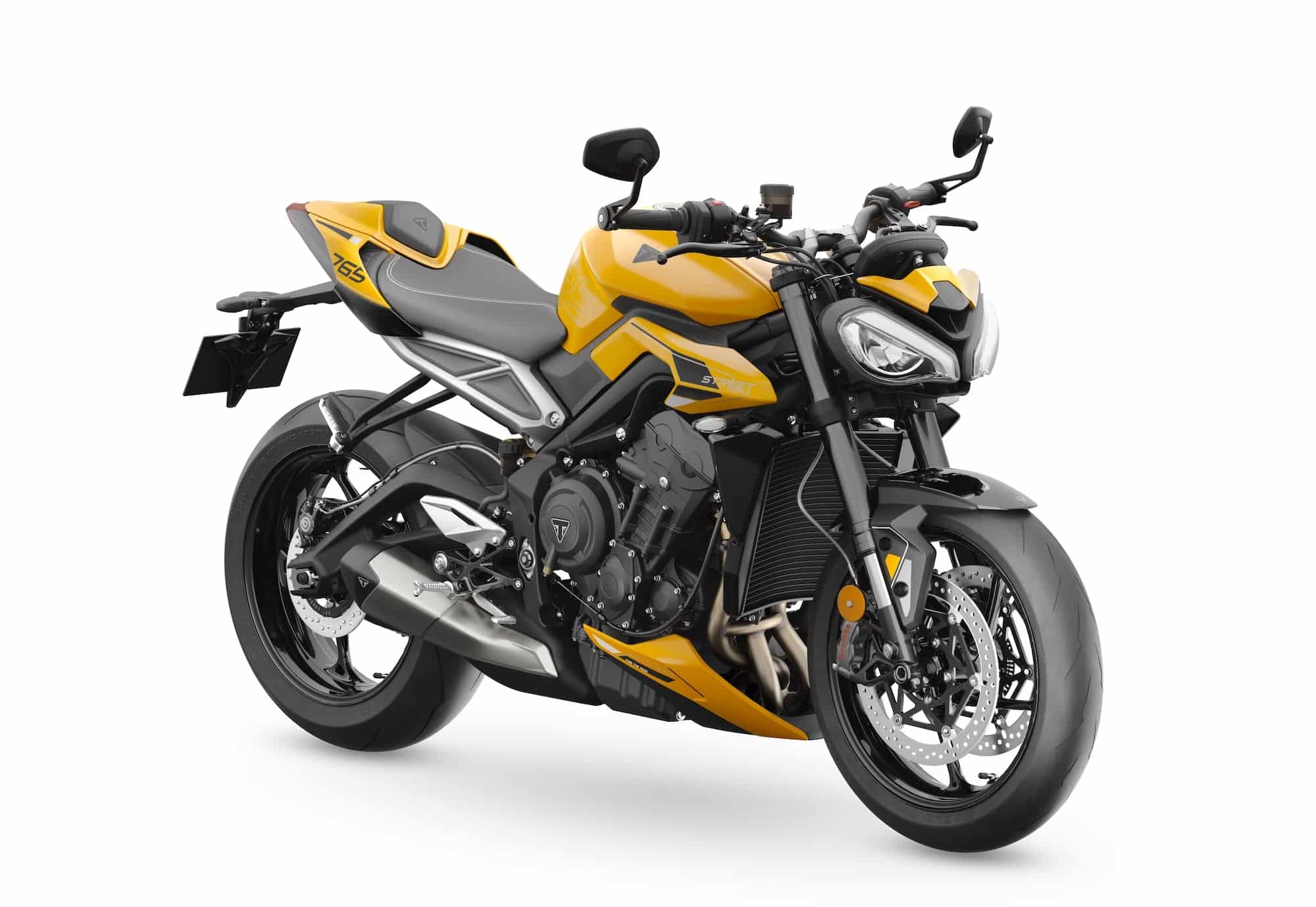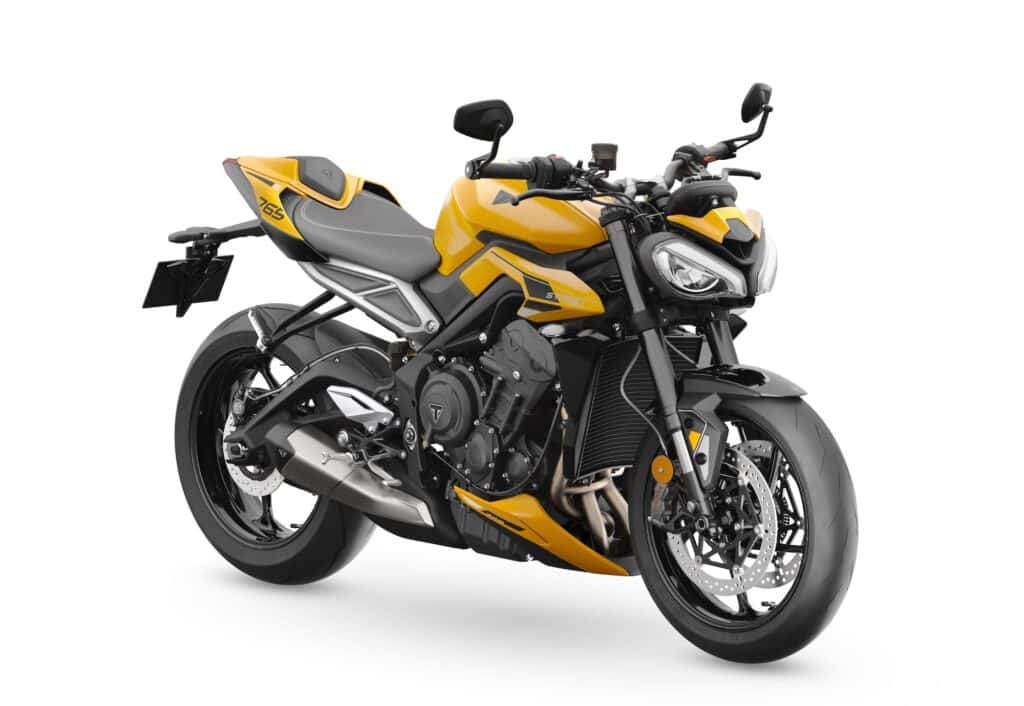 The Triumph Street Triple RS has been Triumph's accessible but high-power middleweight sport motorcycle since 2017. With its 765 cc engine, it makes 90 kW / 123 hp at 11700 rpm (from the 2017 model; slight adjustments since for emissions), and has fully adjustable "Big Piston Fork" front suspension, with an Öhlins shock at the rear. Brakes are Brembo M50 units, which are the same as on the original Ducati 1199 Panigale. From 2023 onwards, it gets Brembo Stylema calipers (Ducati Panigale V4 spec), and more optional electronics (including cruise control). See here for the full Triumph Street Triple buyer's guide.
Yamaha MT-09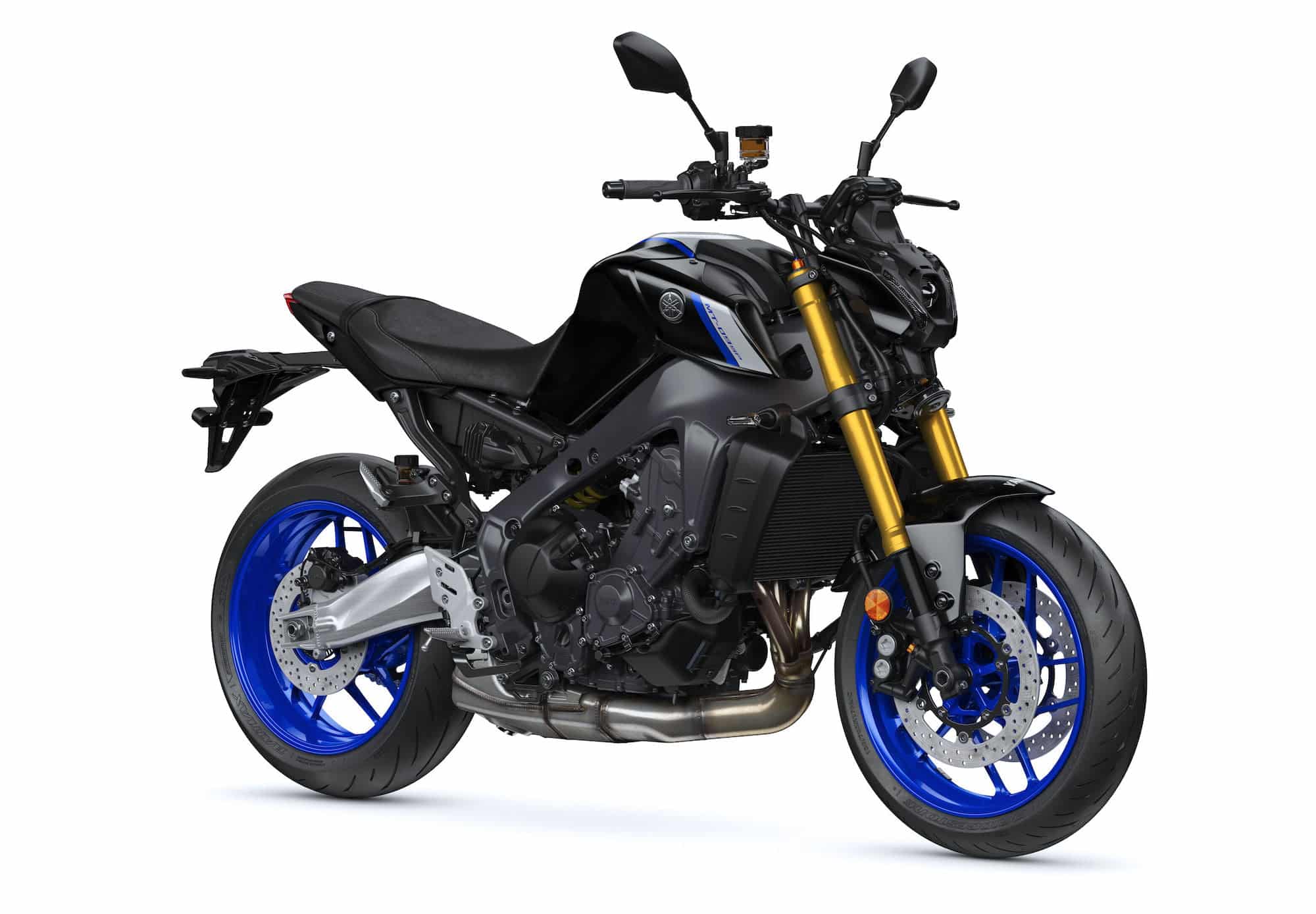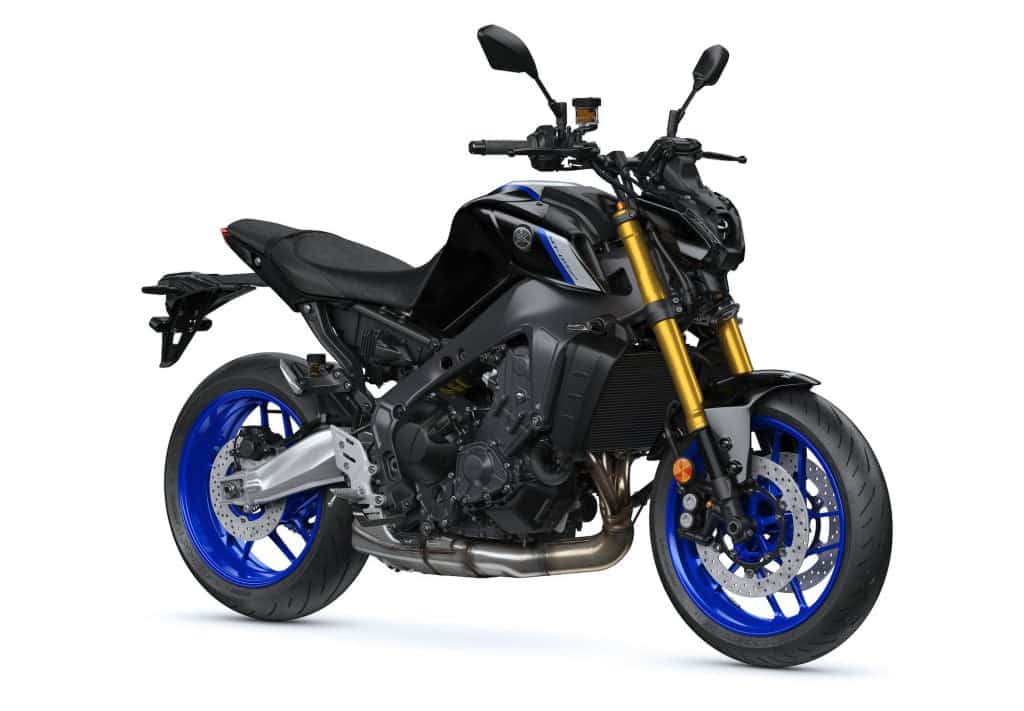 The Yamaha MT-09 SP is Yamaha's top-spec middleweight. Its headline is the bigger 889 cc three-cylinder engine (up from 847 in the 2014-2020 spec), making peak power of 87.5 kW / 119 hp @ 10000 rpm. It comes with everything — cornering ABS, cruise control, and Brembo radial-mounted calipers. The best part is how light the SP is, with 189 kg / 417 lb of wet weight. The base-spec MT-09 gets the same engine, but not as fancy suspension, and loses cruise control.
Yamaha XSR900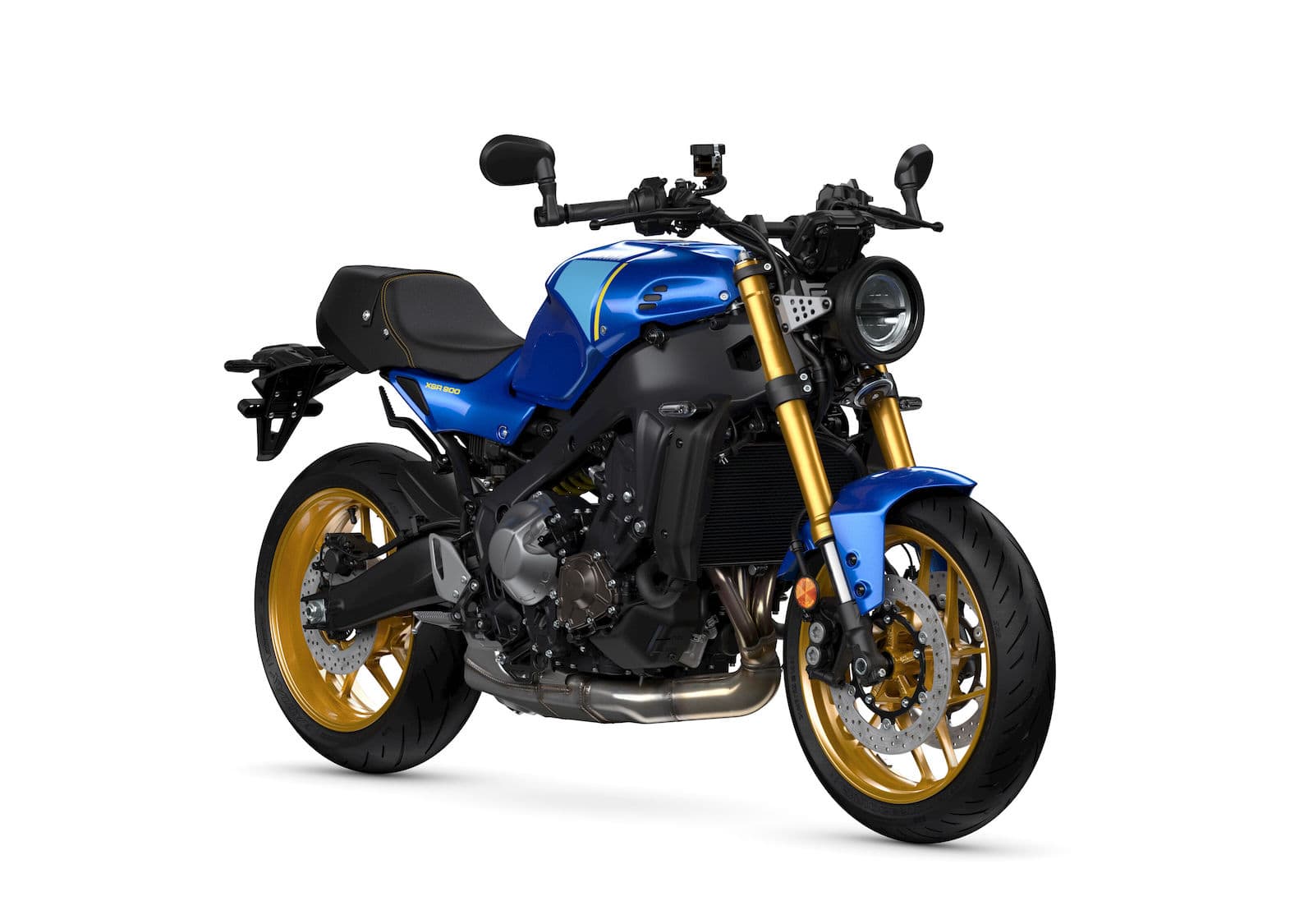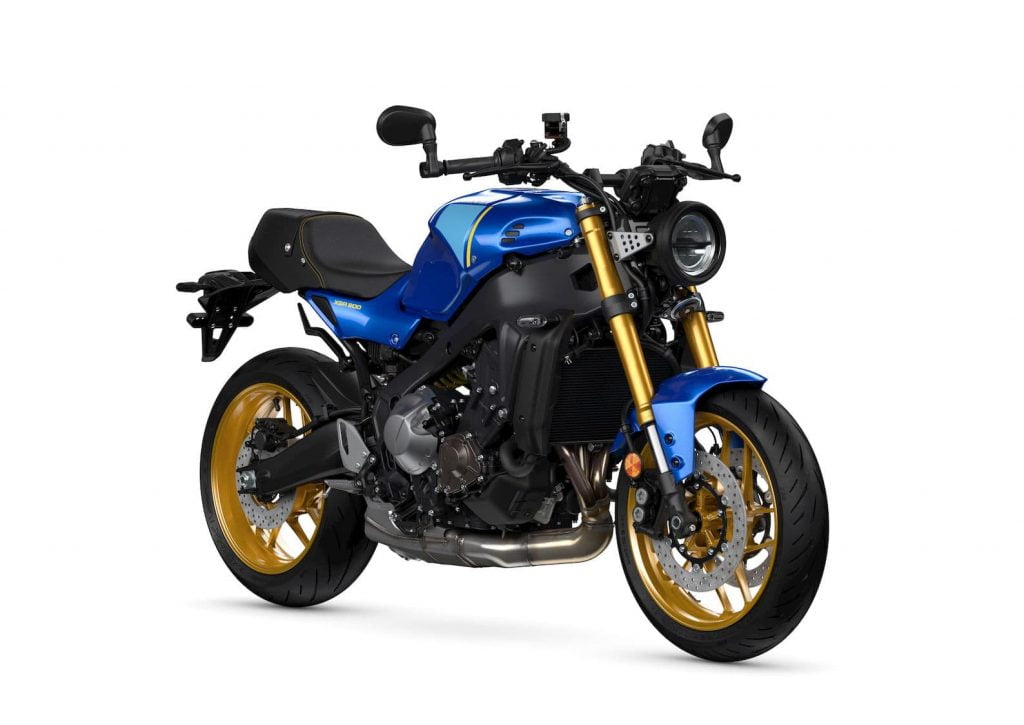 The Yamaha XSR900 is much like the MT-09 (see previous panel), but with more retro styling. It shares the same 889 cc three-cylinder engine with its nice balance of character and smoothness. The suspension is between the MT-09 and SP in terms of spec, and the XSR900 comes with cruise control. One of the best bikes of the decade!
Other Related Motorcycles
If you're interested in the Ducati Monster 937, you're probably also considering other motorcycles with the 937 Testastretta 11-degree motor. There are no less than five motorcycles with the same motor! These have the same engine with much the same spec in terms of power delivery. But the gearing, riding position, and general attitude of the bike give all these machines different personalities.
Ducati DesertX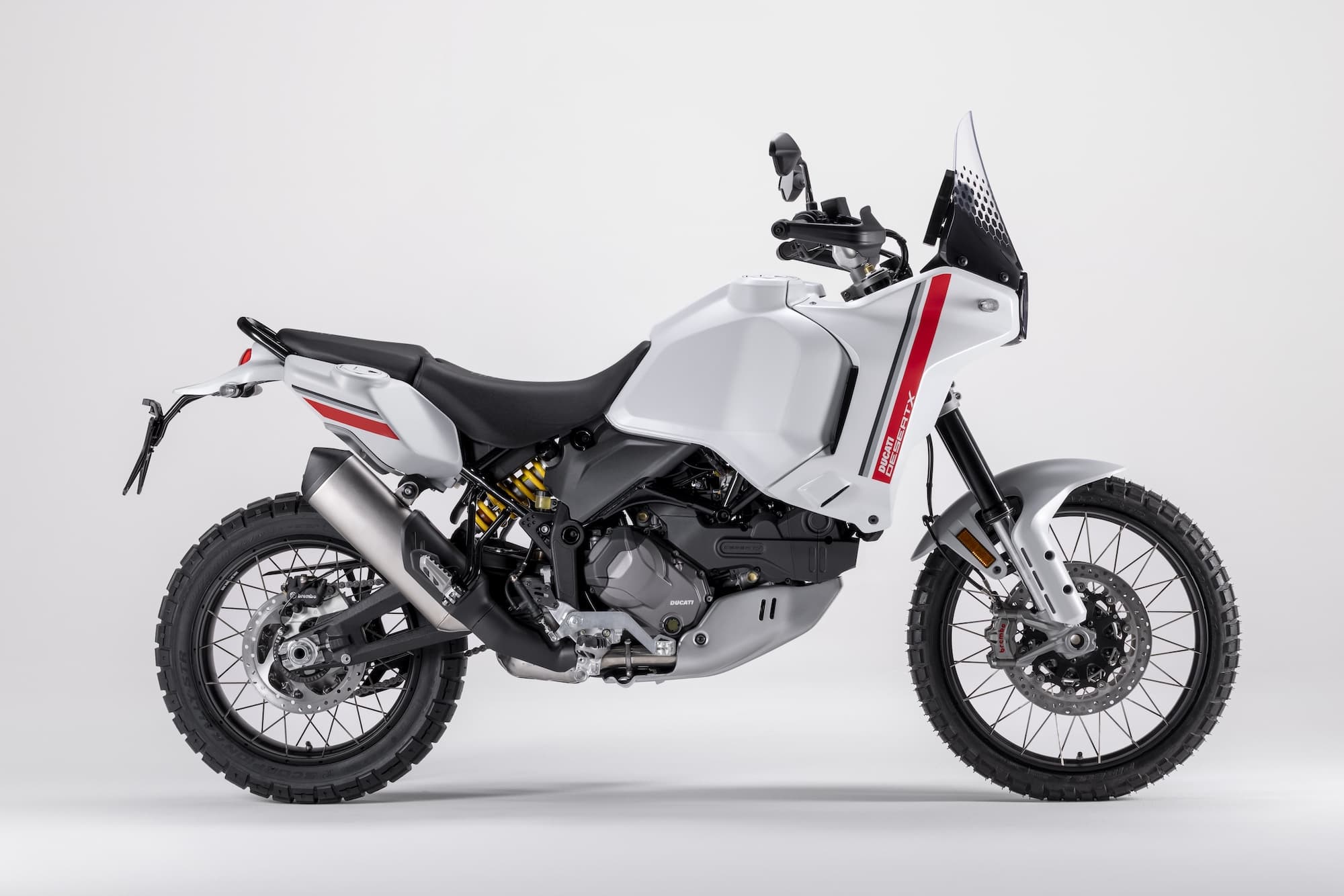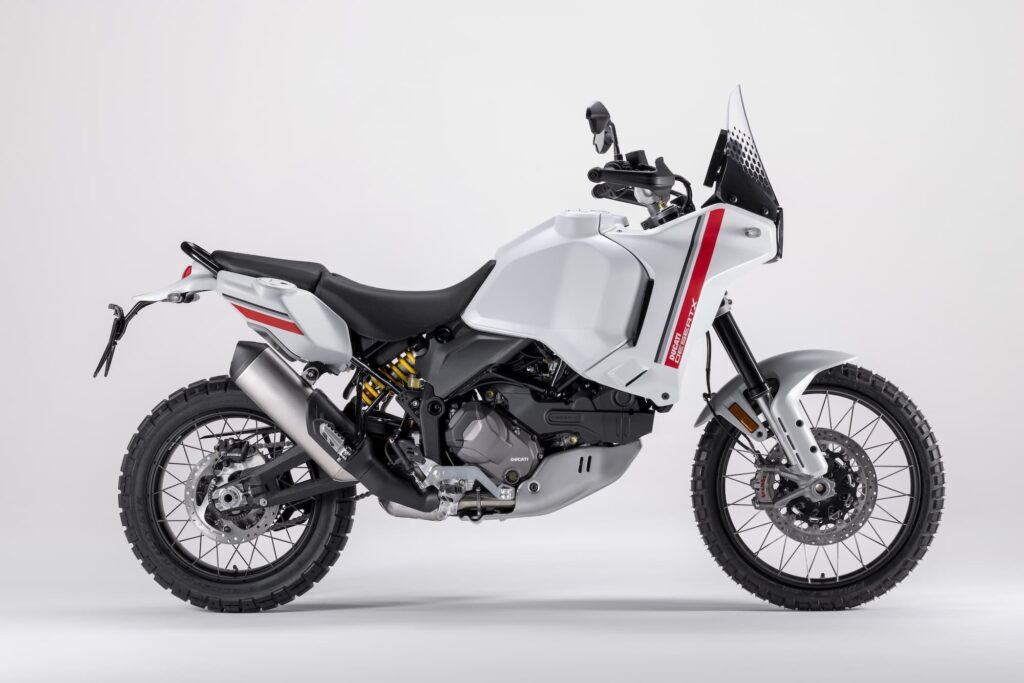 The Ducati DesertX (see here for what makes it different) is Ducati's first enduro motorcycle in a very long time. It uses the same 937-cc Testastretta 11-degree engine used in other Ducati middleweights, but this motorcycle is kitted out for off-road performance. The DesertX has a 21-inch front wheel and spoked rims, plus long-travel suspension, and every ride aid you could need. It's geared a little lower for better low-speed off-road handling. Plus, it looks fantastic, with retro double front headlights.
Ducati Hypermotard 950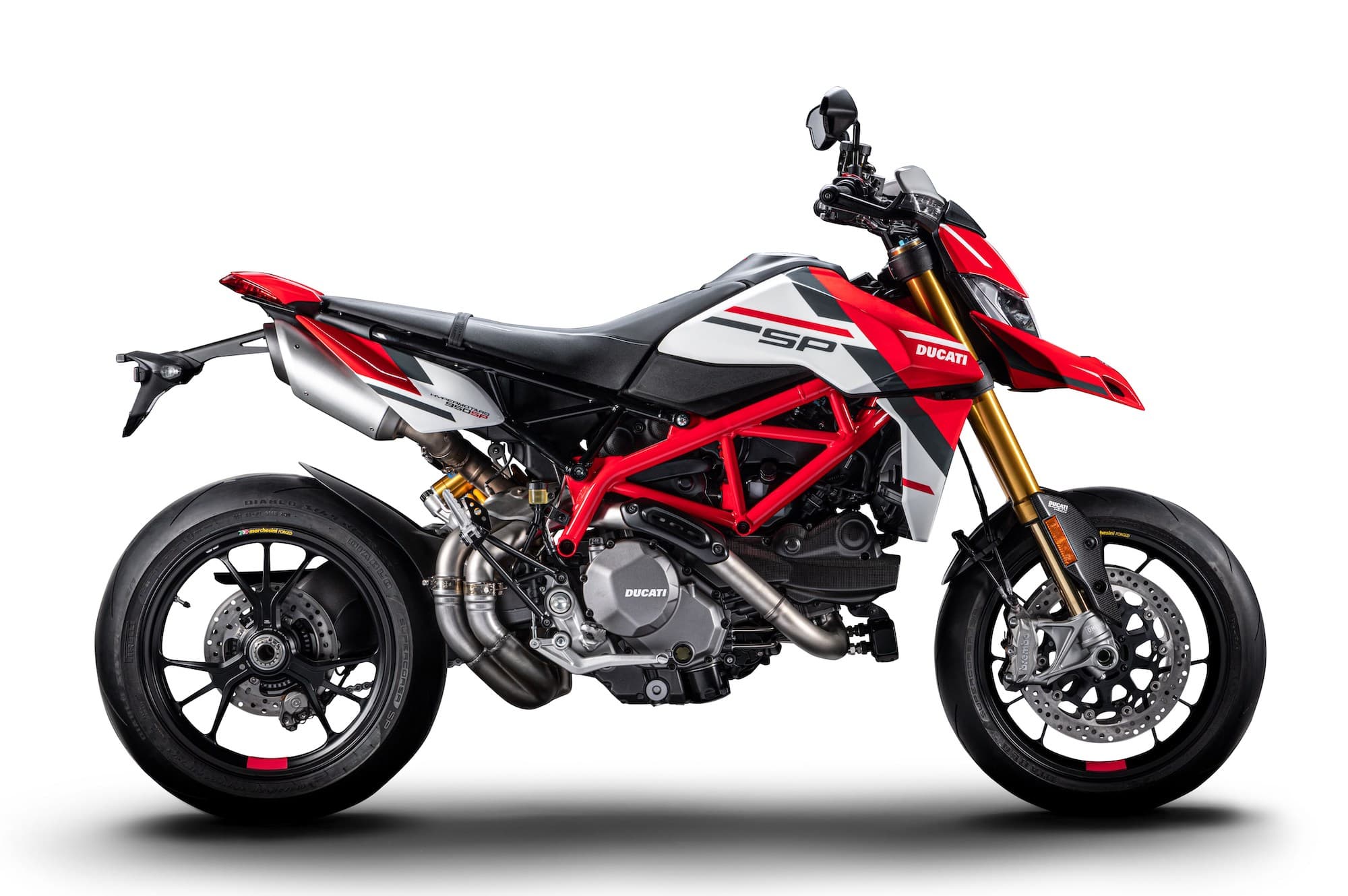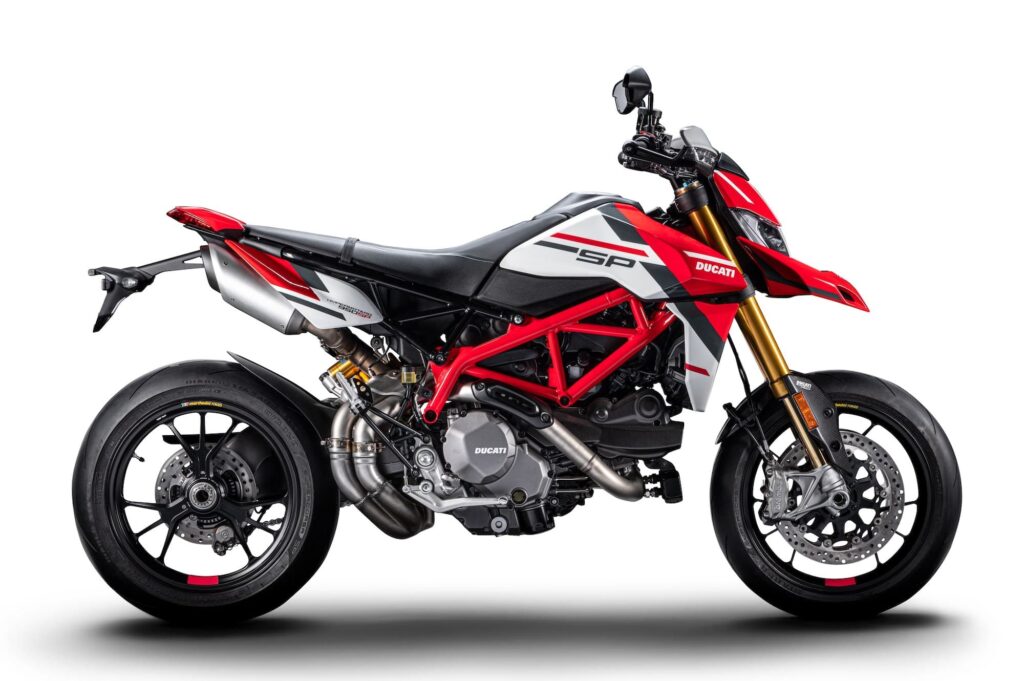 The Ducati Hypermotard was the first bike to have the 937 cc Testastretta-11 engine. The Hypermotard is a niche pursuit — an upright sport motorcycle with a dirtbike-like commanding seating position, 17-inch rims, and high-end everything. A lot of fun, but not very versatile — you could commute with it, if you want to do so on one wheel…
Ducati Multistrada V2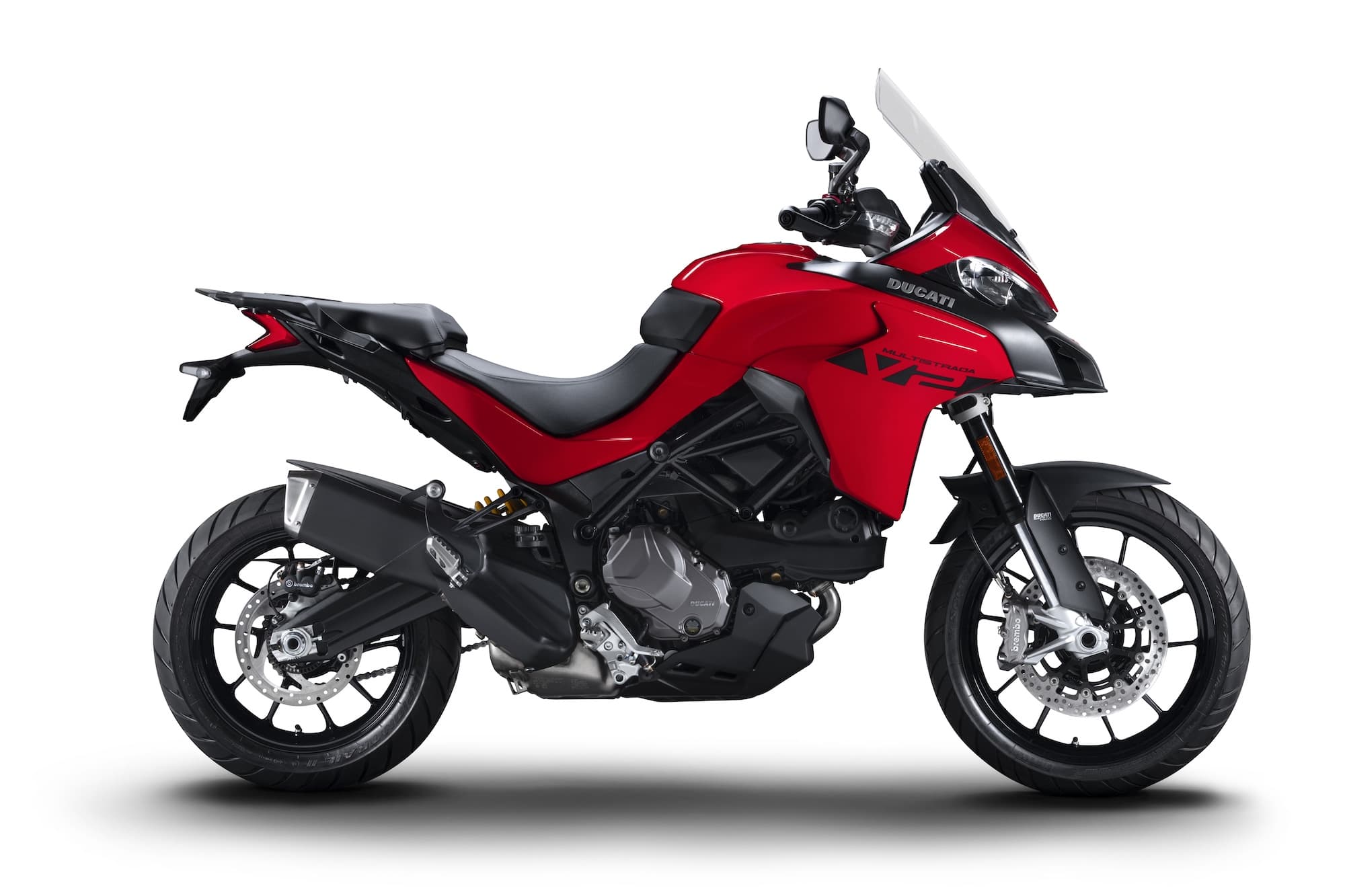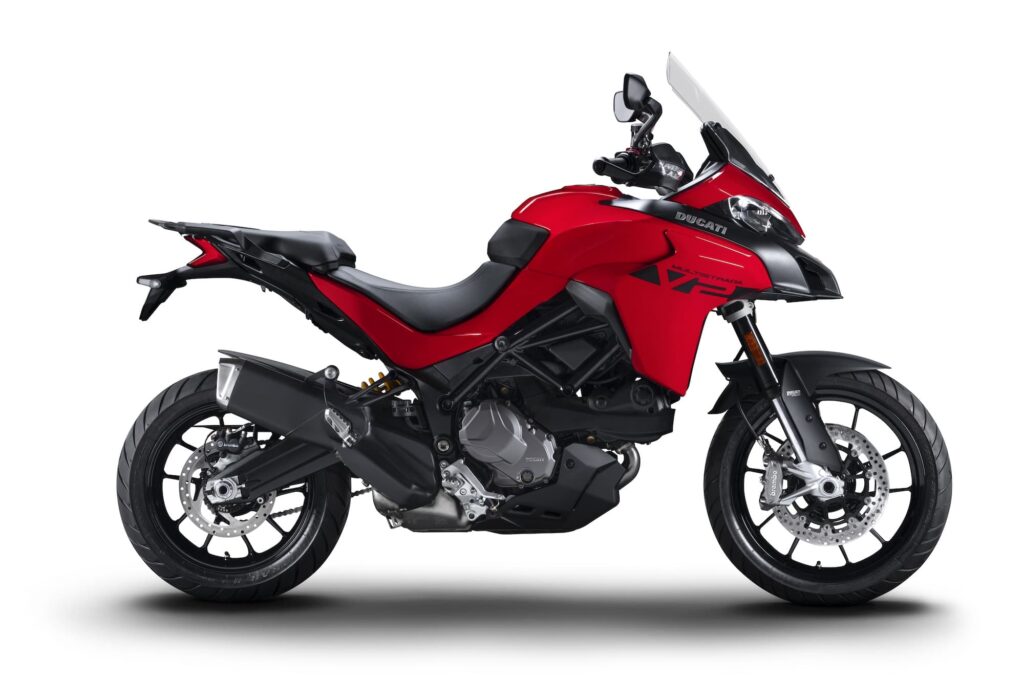 The Ducati Multistrada V2's line started with the Multistrada 950. It has always had the 937 cc Testastretta-11 engine. Like other Multistradas, it's a mostly road-oriented sport touring bike, with plenty of power for most roads, and nearly all the same tech as its bigger siblings (minus the super-advanced suspension), without the weight and cost of the bigger, more luxurious V4 model.
Ducati Monster 937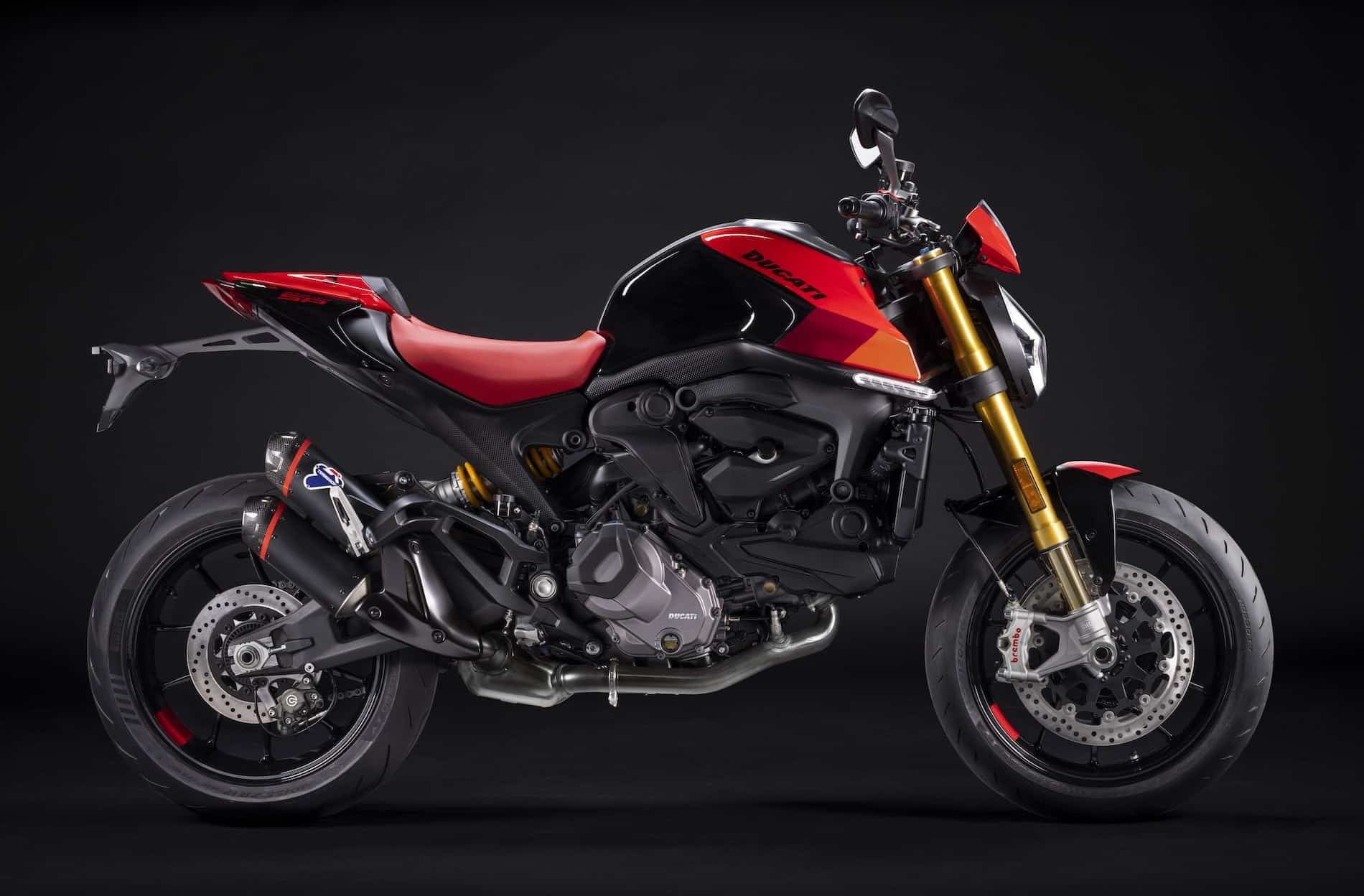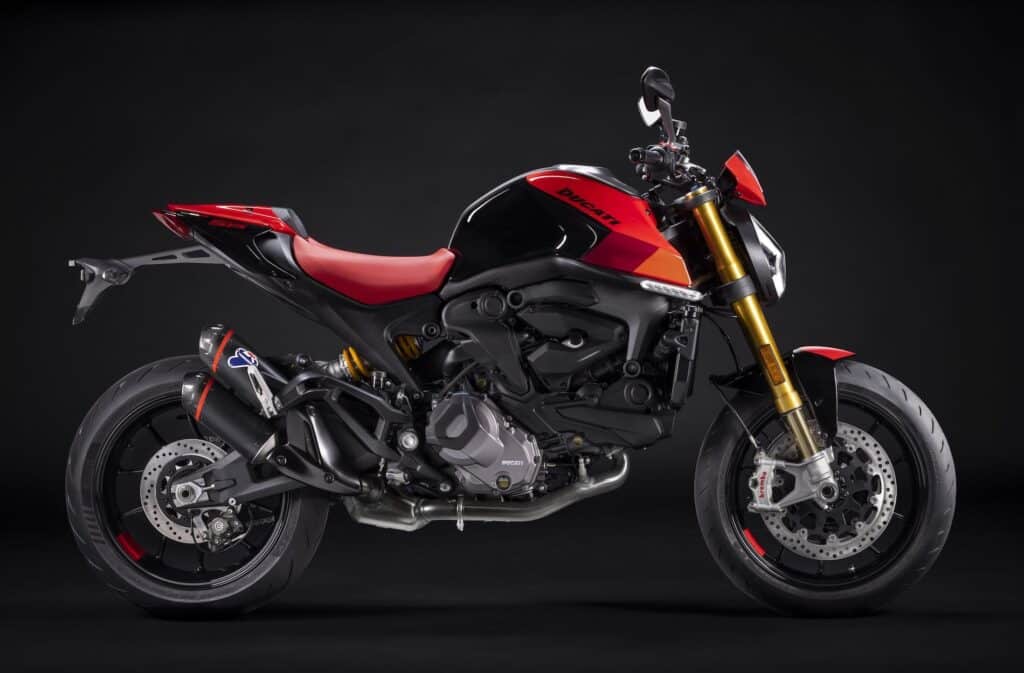 The Ducati Monster 937 is Ducati's refresh for the Monster 821. It's a naked sport bike with the 937 cc Testastretta-11 motor. The Monster 937 dropped the trellis frame for a lightweight "front frame", annoying fans but reducing the weight to a very competitive level. The higher-spec SP (with Öhlins suspension and Stylema calipers) is even lighter, and the Anniversario goes even further. The 2021+ Ducati Monster 937 is also the first middleweight Monster with an IMU.
Ducati Supersport 950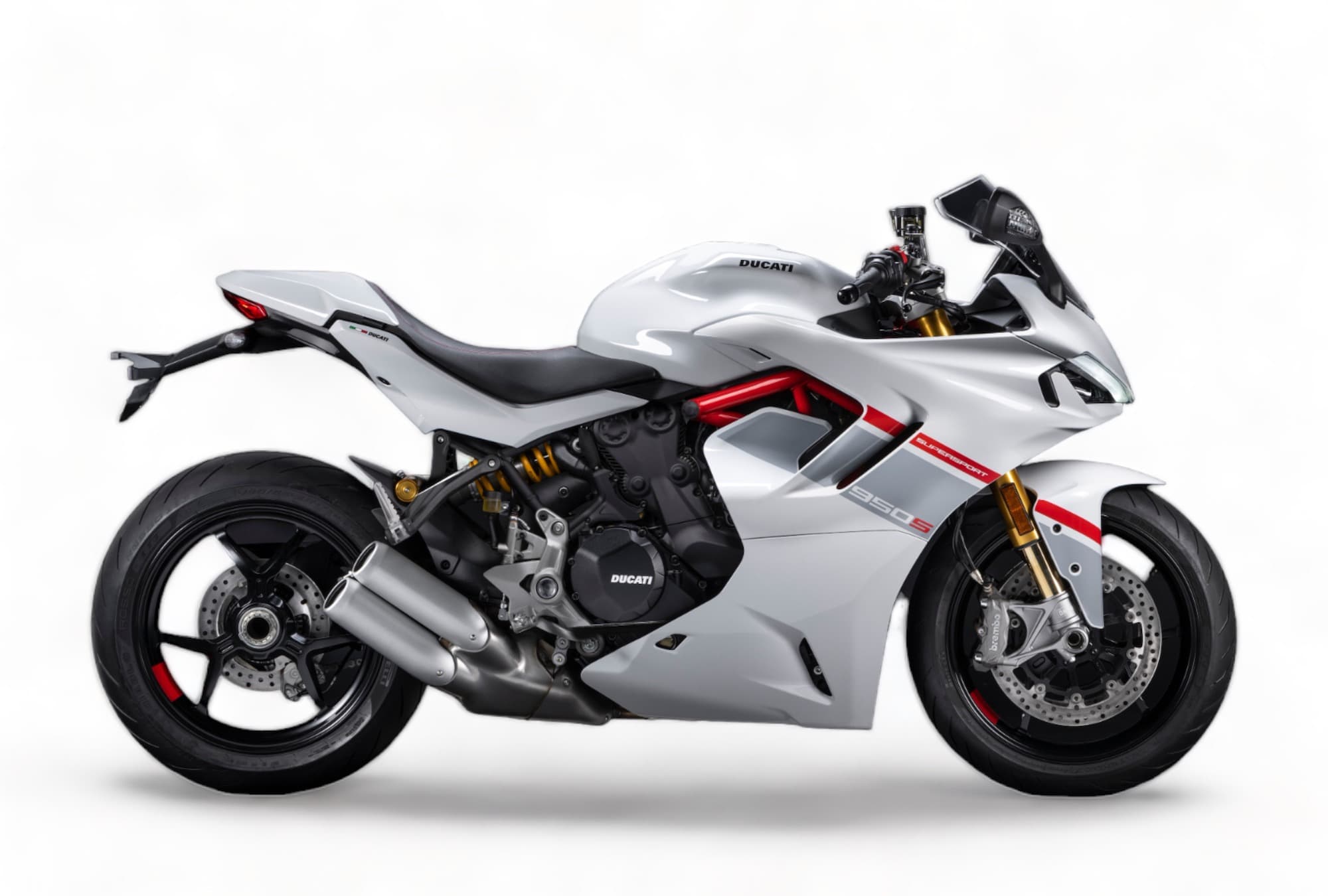 The Ducati Supersport 950, the update to the Ducati Supersport (with no number), is a full-fairing middleweight sport bike with Ducati's 937 cc Testastretta 11-degree motor. It is less committed than a Panigale, but still more forward-leaning than most middleweight motorcycles. It's one of the few middle weight Ducati bikes with a gorgeous single-sided swingarm. The 2021-spec gained cornering ABS, but lacks cruise control, which some people like.
Reference — Owner's Manual Screenshots for the Ducati Monster 937
The above information came from the owner's manual for the Ducati Monster (base model, SP, and Anniversario), as well as from press releases, the service manual, and more.
See below for screenshots of the maintenance schedule from the manual.
You can download a copy from the Ducati website here.