One of my first and most enduring loves was the Ducati Monster. Mine was a 900 — carburettor-fed, of the very first generation, a bike I had lusted after for two solid decades. It grabbed me from the first time the seller started it up and I heard it roar. And when I sold it, I regretted it nearly instantly.
I've wanted to recapture the experience of the Monster 900 for a long time. The Monster 900 isn't blazing fast, but nor is it slow. Its handling was fine, but the turning circle was annoyingly wide. And, of course, like any old motorcycle, it was a cantankerous old beast, and bits on it tended to go every now and then — which is why I sold it at one point, after fixing the stator and doing the belts and timing, when everything was working.
So it was with cautious anticipation that I grabbed the keys to the Ducati Monster 797. Air/oil-cooled, about the same amount of power, and very few whizz-bang tricks added… Could this be what I had been missing?
There have been a few other bikes I've fallen for along the way since my first Monster, of course. But it was only recently that I was able to try what I think — aside from the sportier incarnations of the Scrambler 1100 — is the closest thing to the classic Ducati Monster: The Ducati Monster 797.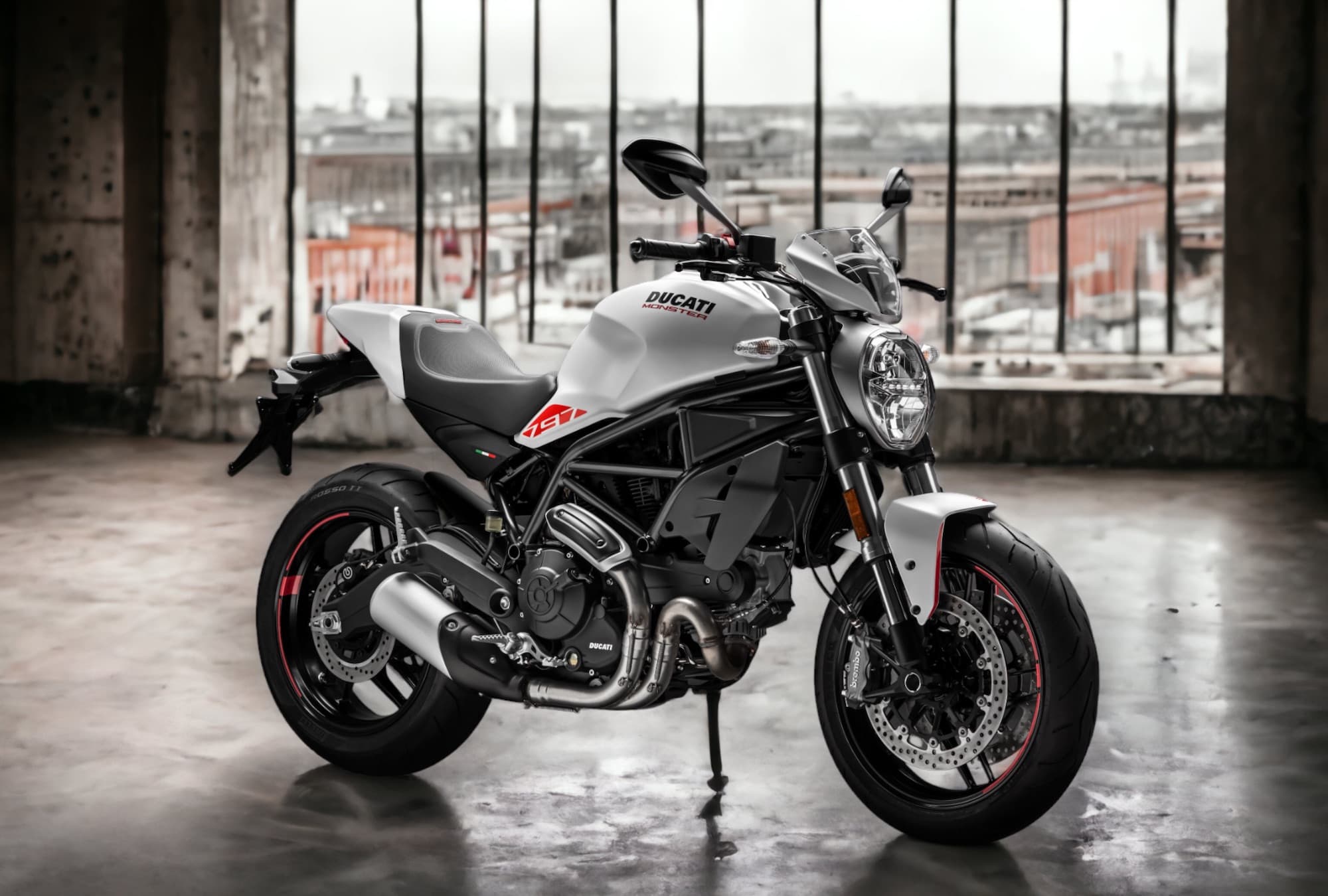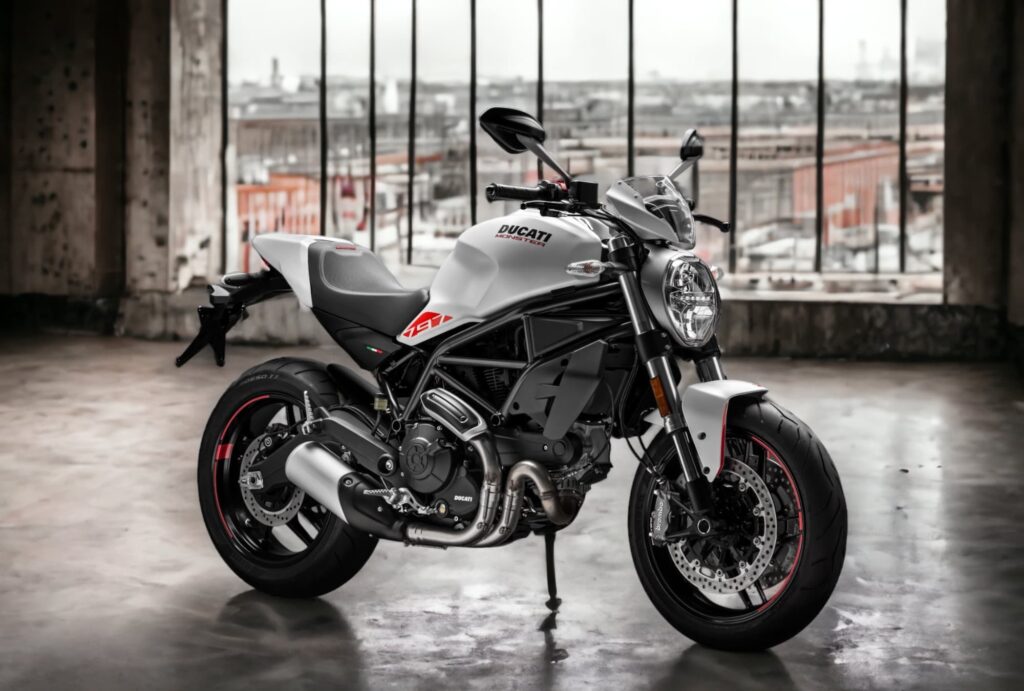 Are you obsessed with motorcycles?
Well, I am. That's why I created this site — as an outlet. I love learning and sharing what others might find useful. If you like what you read here, and you're a fraction as obsessed as I am, you might like to know when I've published more. (Check the latest for an idea of what you'll see.)
Just What Is the Ducati Monster 797?
What is this thing? How does the Ducati Monster 797 fit in with the motorcycling landscape in general, and also within the Ducati line-up?
Let's start with quickly saying what it is: the Monster 797 is mostly old, with a bit of new… but not too much. Just enough to get it legal.
The engine is fundamentally old. It's the same 803 cc engine that we saw ages ago on the Ducati Monster 800 one and a half decades prior, and which we've since seen on a whole bunch of bikes, including the smaller Ducati Scrambler (a.k.a. the Scrambler 800).
The engine is a "Desmodue", a two-valve-per-cylinder, Desmodromic-timed, air/oil-cooled L-twin (that's a V-twin canted forward… which some other brands do too, by the way) with belt-driven cams that makes a very middleweight-y amount of power — roughly as much as a Suzuki SV650, just with more bottom-end grunt.
There's more on the engine below so you can understand that word salad.
But there are other aspects of the bike that are newer. The Monster 797 has ABS, of course, though no traction control or ride modes. The display is LCD, and you can even optionally get the Ducati Multimedia System so you can connect it to your phone (but I haven't tried this). It comes with an under-seat USB port.
And the brakes are sport bike spec, with twin 320 mm discs, and Brembo M4.32 calipers. Not bad!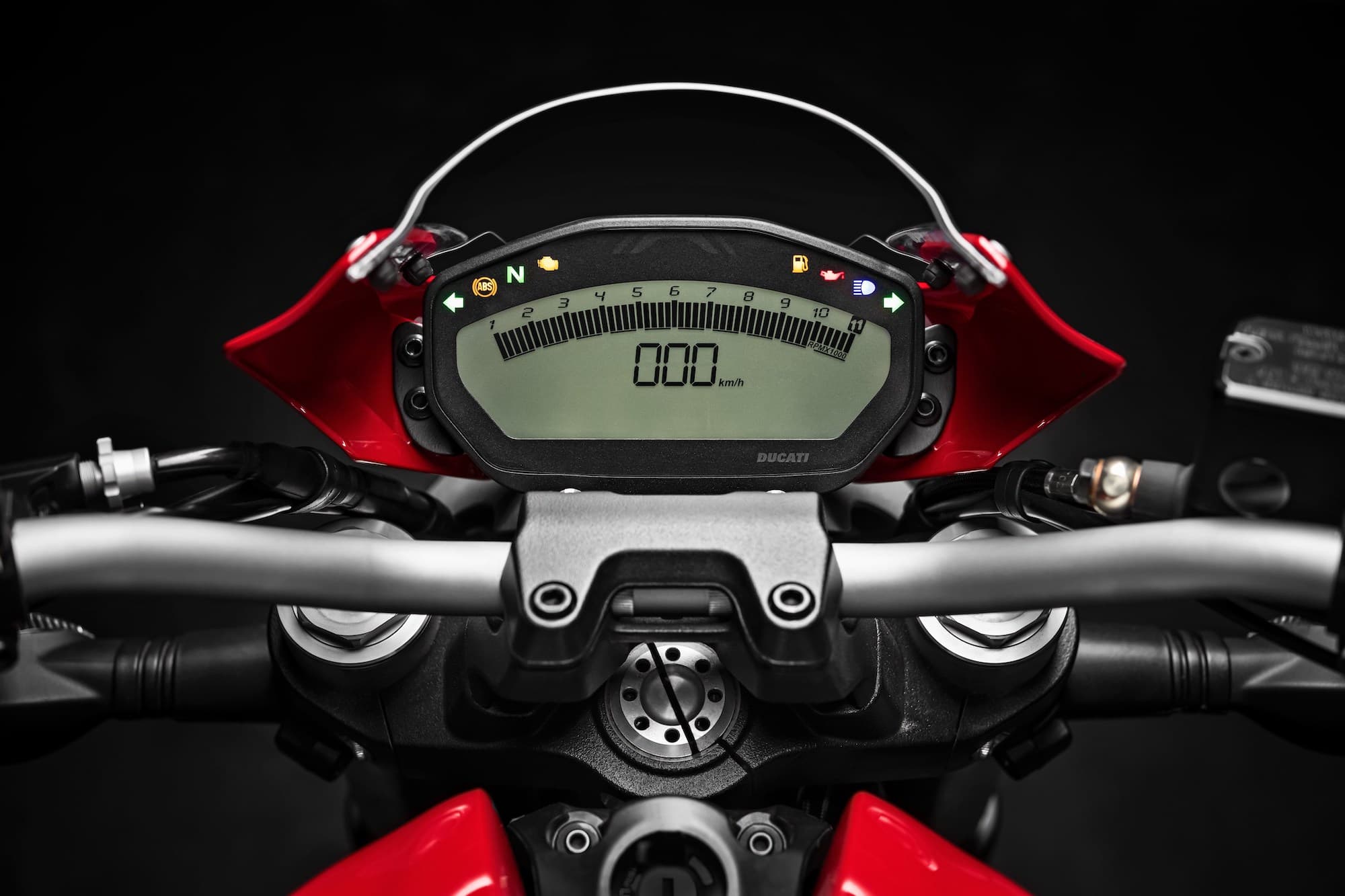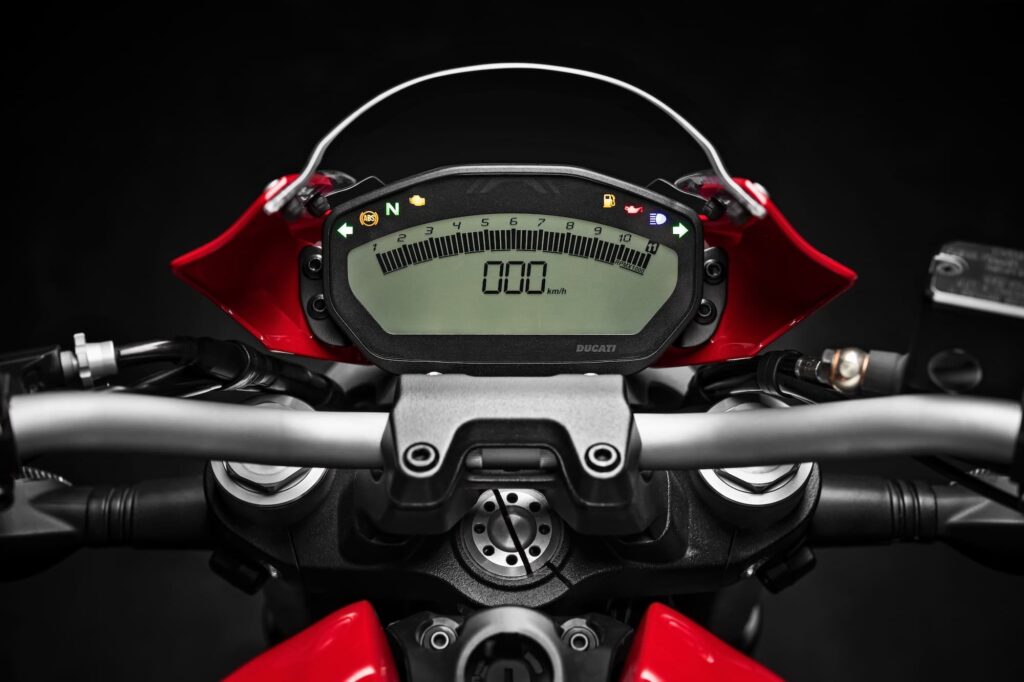 There are weird bits that are neither here nor there. The clutch is cable-operated, rather than hydraulically like on Monsters of old. I'm agnostic about this; I don't care. And the light is not a round unit, like on Monsters of old, but rather has a more modern oval shape.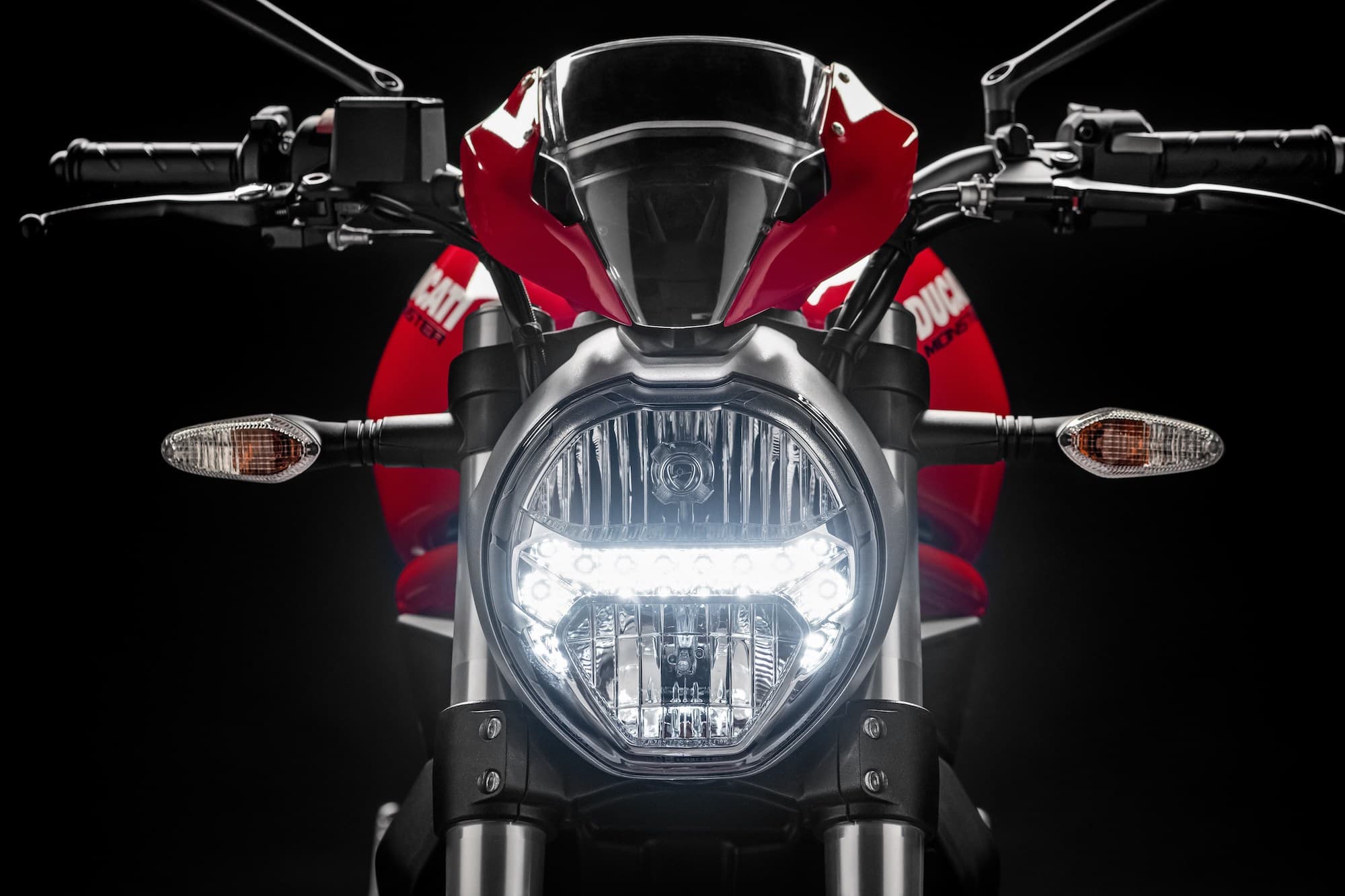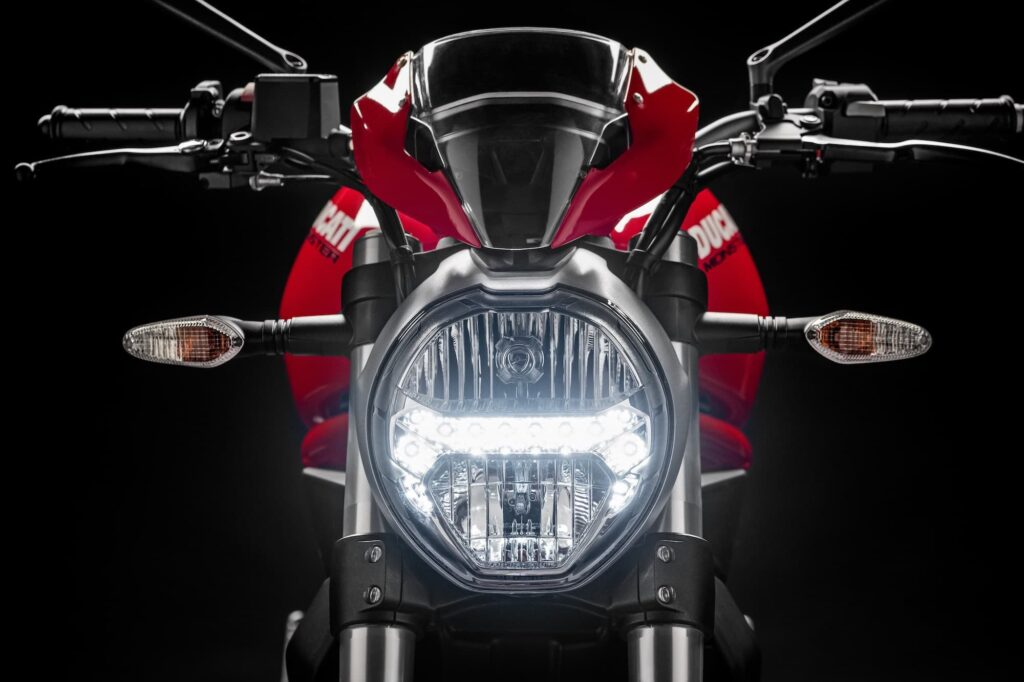 Basically, I'd think of the Monster 797 as a Monster 800 in new clothing. Which is a shame, because the Monster 800 was a handsome thing! (See a pic of it below in the "alternatives" section.) But of course, the Ducati Monster 797 is still very handsome — it's one of those bikes I tend to look back at as I walk away. For me, that's a requirement for any bike. (Luckily, it's pretty hard for me not to have that relationship with a motorcycle.)
Ducati sold the Monster 797 contemporaneously with the Ducati Monster 821 — in base trim and "Dark Stealth" up-spec trim — as well as the Monster 1200 (base, S, and R), and the Scrambler 800. All of these could potentially be alternatives you'd consider, especially as they'd be sitting new on the same showroom floor.
Of course, those Monsters are more expensive, too. Ducati has, ever since the first generation, always sold lower-power, lower-spec Monsters (the 750 and 600 of the first gen — even a 400 in some markets) as entry tickets into the Ducati line. Supposedly, the 821 is the lower-power alternative to the burly 1200.
But the problem is that the Ducati Monster 821 is not an entry-level bike. It's powerful, premium, and expensive. Ducati needed something simpler with the Monster brand on it — thus, the 797.
Someone considering the Ducati Monster 797 would necessarily have to be interested in a Monster with a lower-power, retro-feeling engine, and also be willing to tolerate the shorter maintenance intervals. This makes sense on paper, but it's a tough sell. There are just so many directions one could go — faster, newer, more offroad-y (like the Scrambler Desert Sled), bigger… We're spoiled for choice! No wonder the 797 was retired when the 821 was (it wasn't just emissions regulations, as Ducati managed to keep the Scrambler 800 alive).
Despite being somewhat of an awkward middle child, there's just so much to love about the Ducati Monster 797. Even if there are "better" bikes around, it's still a very good bike, with a great motor for everyday fun (especially when the exhaust is woken up with aftermarket bits), easy handling, and zero complications. This is not a bike you'll ever be on the side of the road with as you fiddle through menus adjusting various parameters. Because there are no parameters, and no menus!
If you tend to opt for simplicity, then the Ducati Monster 797 might be your style.
More on the "Desmodue" engine in the Ducati Monster 797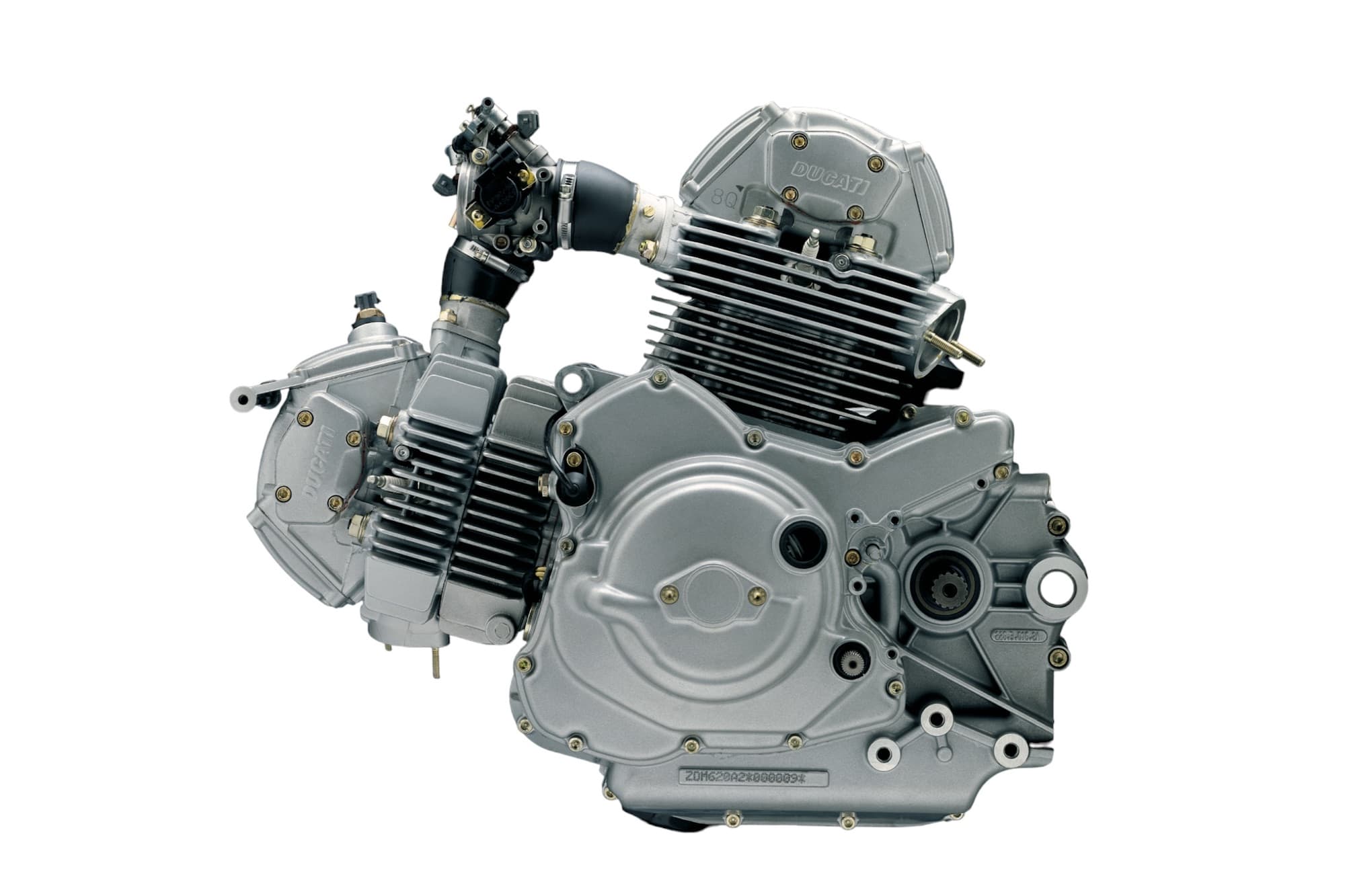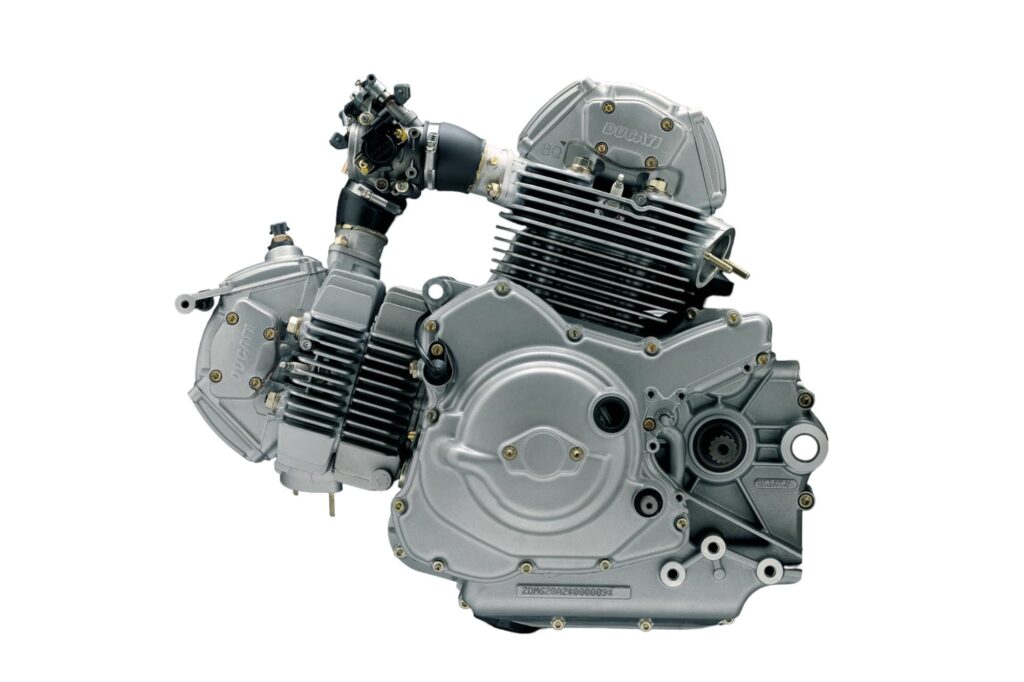 Here's an overview, very briefly, of the main characteristics of the Desmodue motor in the Ducati Monster 797. This applies to every engine from the original Ducati Monster up until the Ducati Monster 1100 (excluding the Superbike-powered S4 line) as well as to the Supersports (900 / 750, 1000DS / 800) and first-series Multistradas (1000, 620, and 1100).
See here for a guide to Ducati motorcycle engines, from Desmodue onwards.
L-twin: This is what Ducati calls the forward-canted V-twin. Angling it forward helps keep the wheelbase shorter. The Suzuki SV motorcycles also angle their V-twin engines forward.
Two valves per cylinder: The vast majority of modern motorcycles use four valves per cylinder. Moto Guzzi, who tend to also do things an "older" way, still make two-valve bikes, as do Royal Enfield. Four valves generally means better breathing, as it's easier to control a greater amount of airflow, and generally leads to higher-power motors.
Desmodromic: This means that the valves are not just opened by camshafts, they're also closed by them. On the majority of engines, valves are opened by a camshaft, then closed by a spring. Ducati used to use desmodromic design because it let the bike perform more predictably at high RPM. This is no longer an advantage. Ducati is also moving away from desmo, e.g. in its V4 Granturismo engine, starting from the Multistrada V4.
Air/oil cooled: The motor is air-cooled, but the oil also plays a role. In the 797 motor (and other 800-series motorcycles), there's an air/oil heat exchanger (a radiator) to cool the oil. Air-cooled engines tend to need more frequent servicing, which is one reason why the Desmodue motor has very short 7500-mile / 12000-km valve service intervals.
Belt-driven camshafts: Most motorcycles use chain-driven or gear-driven camshafts. Belts are lightweight, but they wear quickly — you have to replace a Desmodue engine's timing belts every five years or every two services.
A further word on the maintenance intervals of the Ducati Monster 797 bears mentioning.
Firstly, most modern motorcycles have much wider maintenance intervals. The Suzuki SV650's valves only need looking at every 15000 miles / 24000 km — that's twice the service distance. And the Yamaha XSR700's valves only need a look-see every 26600 miles / 42000 km. That's around 3.5x the service interval!
Secondly, when you check a Desmodue engine's valves, there's often one out of spec. It just seems to be a feature of Ducati engines. Like most modern bikes (other than Royal Enfield or Moto Guzzi), Ducati uses a shim-and-bucket valve adjustment system, which is fiddly and involves swearing (also known as "math").
Finally, remember that each valve has an opener and closer. When one is out of spec, the other one is too. Ducati says as much in their manual.
So, what do you get for all this toil? Well, you get character, and loads of it. It's up to you to decide whether it's worth the trade off.
Specs of the Ducati Monster 797
You can't ride a spec sheet, but maybe numbers get your juices flowing.
| Item | Monster 797 Spec (Metric / Imperial) |
| --- | --- |
| Engine type | L-Twin, two Desmodromically actuated valves per cylinder, air/oil-cooled cooled |
| Engine capacity | 803cc / 49 cubic inches |
| Peak power | 54 kW / 73 hp @ 8250 rpm |
| Peak torque | 67 Nm / 49 lb-ft @ 5750 rpm |
| Front suspension | 43mm Kayaba USD fork, non-adjustable |
| Rear suspension | Sachs monoshock, preload and rebound adjustable |
| Front brakes | 2 x 320mm / 12.6 inch semi-floating discs, radially mounted Monobloc Brembo M4.32 calipers |
| Rear brakes | 245mm /9.6 inch disc, 1-piston caliper |
| Display | LCD |
| Ride aids | ABS, Servo-assisted slipper clutch |
| Wet weight | 193 kg / 425.5 lbs |
Specs of the Ducati Monster
The Monster 797 has the same engine as in the:
Ducati Monster 800
Ducati Monster S2R800
Ducati Monster 796 ("just one different"!)
Ducati Supersport 800
Ducati Scrambler 800
Ducati Hypermotard 796
I mean, come on! Severn motorcycles with the same engine, and roughly the same power delivery, changing only for emissions changes over the years??
Look at how different the bikes are:
I just think it's interesting. Ducati has gotten a lot of mileage out of that motor!
Riding the Ducati Monster 797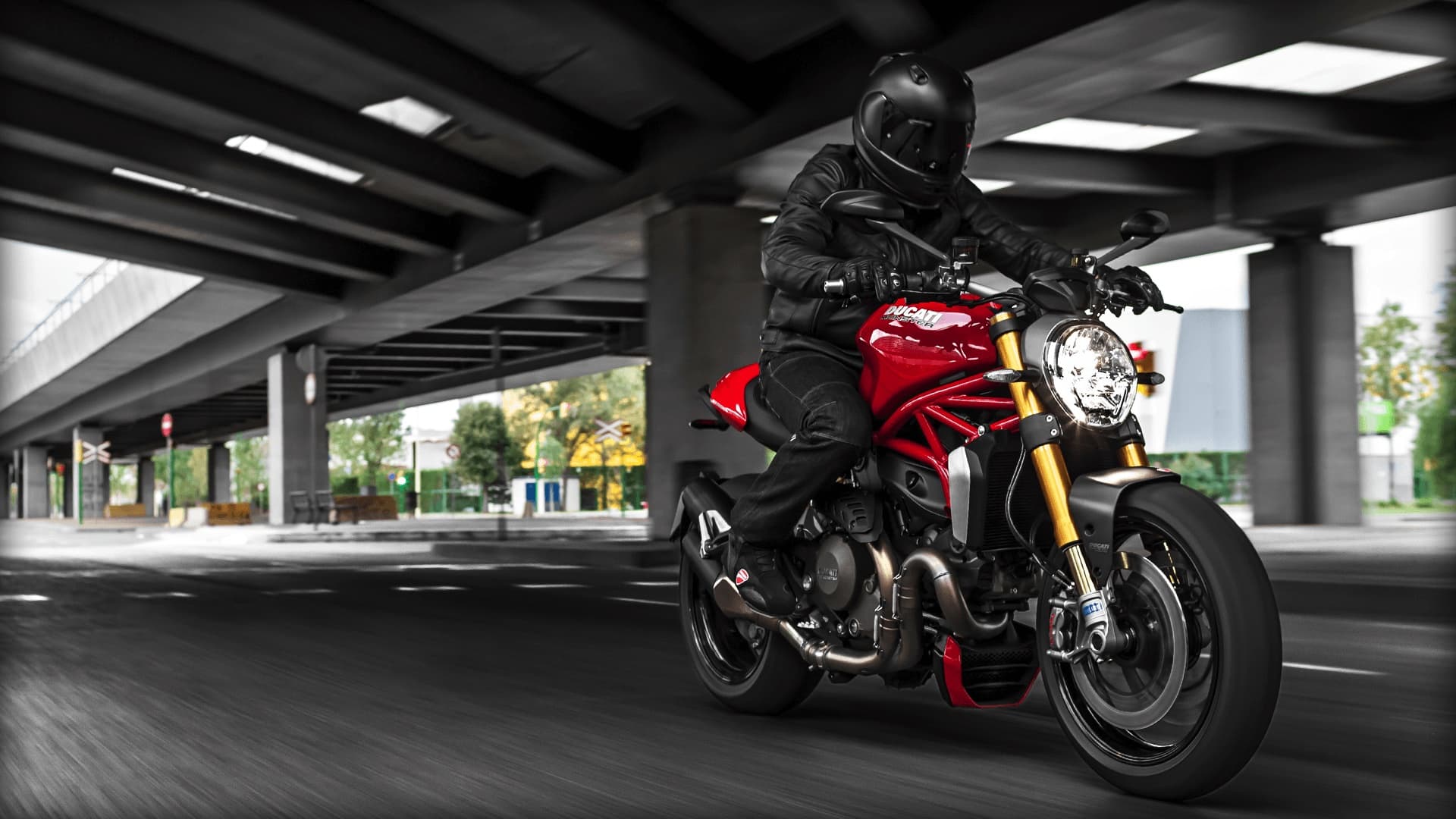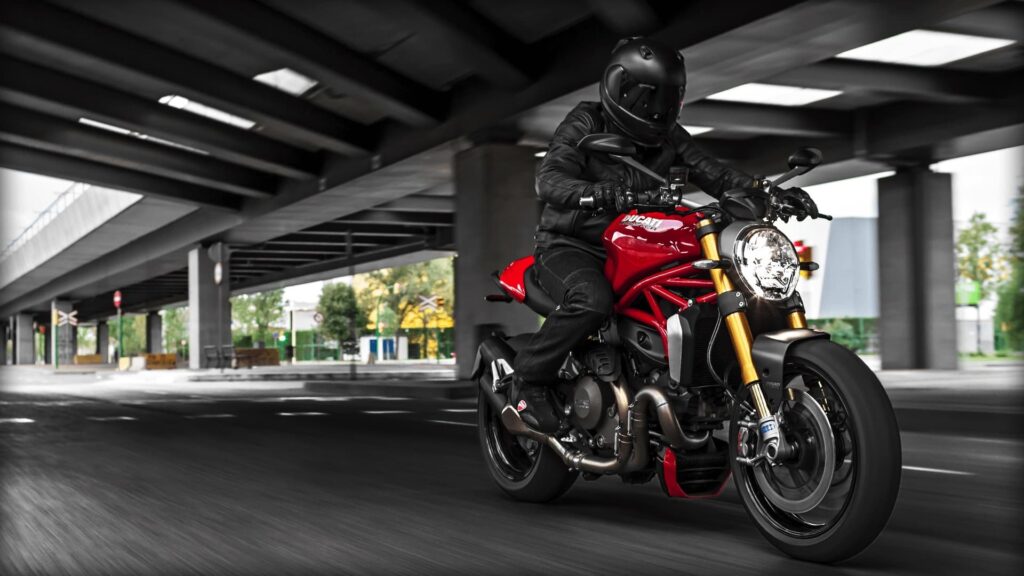 OK, let's get to riding.
I came to the Monster 797 fully cognisant of the fact that it's a middleweight naked. It wasn't going to melt my face off with acceleration, nor was it going to be particularly fun over 120 km/h / 70 mph for extended periods.
I've ridden lots of naked motorcycles over the years, and they're one of my favourite classes, despite the drawbacks of no protection. I may have the wind in my face, but on the plus side, I have the wind in my face. Naked bikes feel cool to me. They're also a good compromise between sporty and comfortable. And they're lightweight, but because there's not much stuff on them, not because there's a ton of expensive carbon fibre.
I do try to like adventure bikes and cruisers. But adventure bikes make everything feel too easy and cruisers always seem weird to me, like a position I have to force myself to get used to. It's interesting to me that people think of that as the status quo, and think sport bikes are uncomfortable. Different bodies!
Anyway, like I said, I knew all that. My main questions were:
Was this thing going to feel cool? Was the exhaust going to growl? Would it shake and bark at me? Was the riding position going to give me a commanding feeling?
Was the handling / turning circle going to be improved over my old Monster 900?
More of a personal question: Have I outgrown this amount of power being enough?
OK, let's get riding.
First up — the Ducati Monster 797 does not sound as loud and aggressive as Ducati Monsters of old. In part, I can't blame the 797 for this, because emissions regulations have had their way with the industry. The whole bike is necessarily mild — fuelling, ignition, and exhaust.
Another reason for this is that the 800-class of motorcycles all have wet clutches. So they can never have that "shaking bag of nails" sound that a bona fide Monster 900 or 1000 could have.
But that doesn't change my situation. I can still always go buy a used Ducati of yesteryear. I can even throw a couple of grand at it to fully freshen it up. Then I get all the character and noise of old — minus ABS, and maybe minus a bit of modern styling (which you can take or leave).
Anyway, that's the description of the noise it makes if that's important to you. Frankly, sometimes noise gets old. And you can't hear it once the wind is in your ears anyway.
With the above disclaimer — the Ducati Monster 797 still does very much sound like a modern Ducati L-twin. And what's important to realise is that a lot of the muting happens not just in the muffler, but also in the catalytic converter… so a decat / minimalist slip-on (if that's legal / advisable in your neck of the woods) REALLY wakes it up.
I really like the riding position on the Monster 797. You're canted forwards a little bit, and the bars are comfortable but not super wide. It's a bike that's designed to give you just enough comfort without making it feel like a lounge chair.
Secondly, the ride. The Ducati Monster 797 rides really well!
Basically, it rides exactly as you think a premium (but not super-premium) middleweight sport naked should. The 800-class motor has enough torque to make it really easy to blast out of corners at speeds of up to 100 km/h / 60 mph without thinking about it too much. The motor peaks in torque roughly midway through the rev range, but really, it has it everywhere.
The Monster 797 weighs just 193 kg / 426 lb wet (with a mostly-full tank of gas). That, plus handlebars, make it very easy to handle around corners. It has torque everywhere, just not up top, making it very easy to pilot. It's much like higher-power sport bikes, like its bigger sibling the Ducati Monster 821, minus a couple of thousand rpm of top end.
The suspension is basic, but not cheap. On some low-end bikes — even on some Ducatis I've ridden — forks can be bouncy, bottoming out easily, and manage to be uncomfortable at the same time. The Monster 797 has an inverted 43mm fork, which are, again, terms you'll see on a superbike's spec sheet. There's no adjustability, but assuming you're roughly within a standard deviation of average rider weight, they perform really well and never feel cheap. (If you are a lot bigger or smaller, then you might have to get the fork resprung.)
On the rear, you can at least adjust for preload and rebound damping. Bear in mind that you will need a C-spanner to adjust the preload — there's no hydraulic adjustment knob.
People tend to say "raw" a lot when describing riding experiences. What's also happening is that motorcycles are getting more and more "stuff" — not just emissions control equipment, but also safety equipment.
So what's rare these days is for a motorcycle to actually lack enough things to make that description of "raw" accurate. Well, the Monster 797 is one of the last raw sport motorcycling experiences you can have. It has no ride aids other than the APTC clutch and ABS. There are no ride modes, the throttle is a cable type (no ride by wire), and there's no traction control. Drop the clutch and the rear will spin. It's good fun.
The engine has a great amount of pull and power for midrange-driven corner shenanigans. And what helps with that is the braking. The Brembo M4.32 calipers are radially mounted monoblock calipers that are same brakes fitted to many superbikes. Like, for example, a late-2010s Suzuki GSX-R1000. They're good brakes! Good brakes mean predictable stopping, which adds to confidence, and means lower stress hijinks.
But it seems like Ducati still hasn't resolved the problem that plagued me with my original Ducati Monster — the turning circle. You don't really worry about it usually. But because I'm used to having just a few degrees more, there are jarring low-speed moments when I hit steering lock and risk dropping the bike if it catches me by surprise. It happened to me once with my original bike. If you're testing a 797, proceed with caution at low speeds!
In terms of how fast it feels, the Monster 797 definitely is quick. It's about as quick as any other motorcycle I've ridden in the class, the only difference being you do run out of runway a little early. The engine has a hard redline at 9200 rpm, at which point you're only going around 45 mph / 75 km/h. So, you do have to shift a couple of times to get to freeway speeds. I enjoy shifting, luckily.
I generally don't ride bikes like this much above that speed for long (maybe along a little road to see what it's got). Yes, this bike will do 140 mph / 200 km/h. But why would you?
The Monster 797 comes with an APTC clutch, which the first-generation Ducati Scrambler didn't (they rectified it later). This means the clutch is easy to use, and low-speed work is not difficult to perform.
See the Ducati Scrambler 800 buyer's guide for more information on their generational changes.
So, that's all it really… there's not much more to the bike. The engine is fun, the handling is good, and it does what its told. There are some things missing from the Ducati Monster 797 that I'd have maybe wanted, like a fuel gauge or range indicator. But I've done without them before, and was fine to do without them on the 797.
Alternatives to the Ducati Monster 797
To my mind, there are four main alternatives.
Alternative 1: An older Monster with the same motor.
The easiest alternatives to the Monster 797 would be the Monster 800, Monster 796, or Monster S2R800. They're all dang good-looking bikes, too. I think I'd place the S2R800 up top.
They all have the same motor, with fuel injection, though it's a little noisier and raspier in these older Ducatis. Ain't nothin' wrong with that. They also all have an APTC clutch, a trellis frame, and similar suspension specs — a 43mm non-adjustable inverted fork, and a shock adjustable for preload and rebound damping.
Here's how they shake up in a nutshell.
| Model | Monster 797 | Monster 800 | S2R800 | 796 |
| --- | --- | --- | --- | --- |
| Front brake | 2 x 320mm discs, Brembo M4.32 Monoblock / Radial | 2 x 320mm discs, Brembo 4-piston 30/34 calipers (Axial) | 2 x 300 mm discs, Brembo 2-piston 28mm calipers | 2 x 320 mm discs, 4-piston Brembo P4.32 calipers (Axial) |
| Brake actuation | Cable | Hydraulic | Hydraulic | Hydraulic |
| Swing-arm | Double-sided | Double-sided | Single-sided | Single-sided |
| ABS | Yes (global) | No | No | Optional |
| Final gearing (Other gearing same) | 15/46 | 15/42 | 15/42 | 15/39 |
| Rear wheel size | 5.50 x 17 inch | 4.50 x 17 inch | 5.5 x 17 inch | 5.5 x 17 inch |
| Rear tire profile | 180/55 ZR 17 | 160/60-VR17 | 180/55 ZR 17 | 180/55 ZR 17 |
Comparison of the major Monsters with the 800 motor
Those specs are straight out of the user manuals and press docs.
What's really surprising to me is that the gearing changes so dramatically. The Monster 797 has a full 7 extra teeth on its rear sprocket!
Alternative 2: A Ducati Scrambler 800
The next thing you might be thinking of would be a Scrambler 800. It's not a Monster, but that's ok… right?
See the Ducati Scrambler 800 buyer's guide.
You're either a Ducati Scrambler guy, or you're not. Or you haven't found the right Scrambler yet. There are so many! It's quite dizzying to get your head around it all.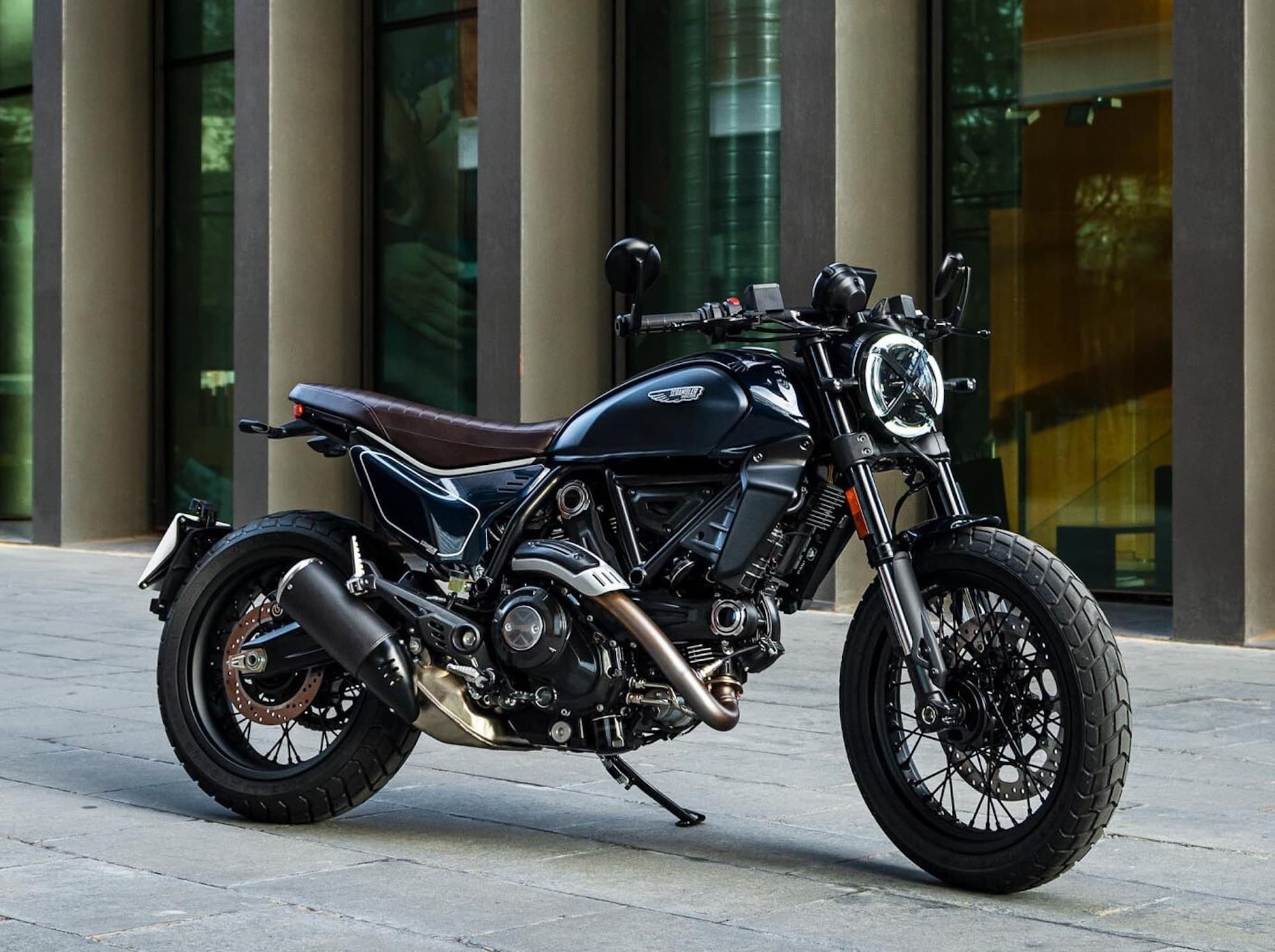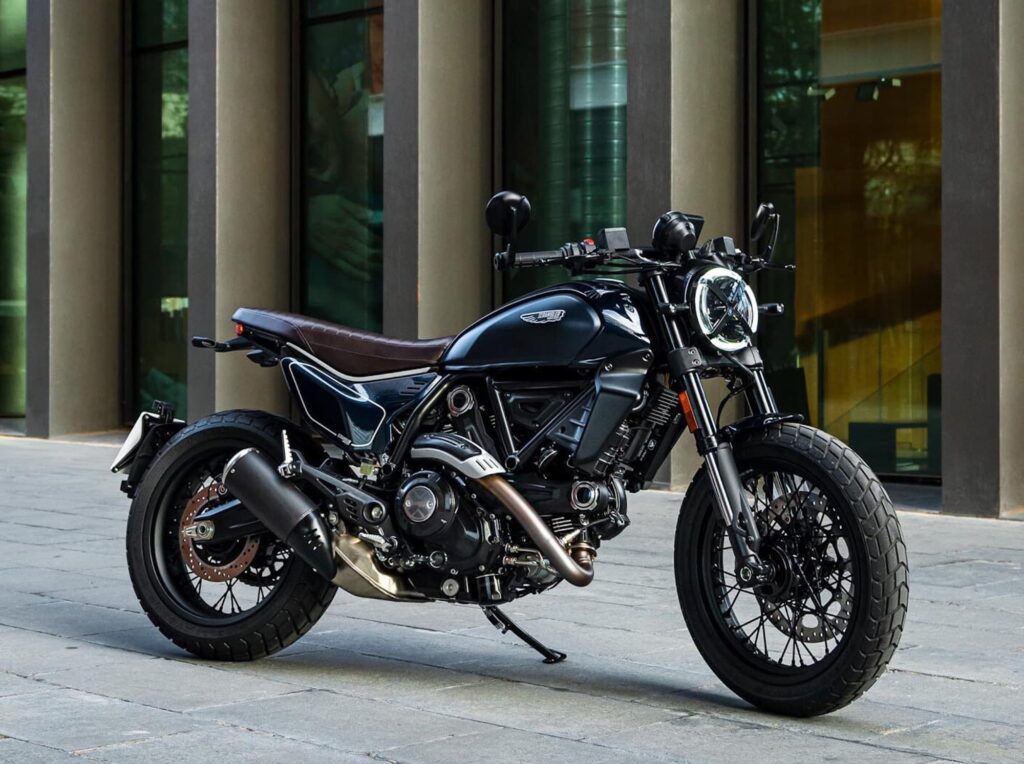 They all have the same motor, but then they also all just have one disc brake.
Where they differ is in
The suspension setup
Wheel size (front and rear)
Front handlebar position (from low to high) — the base Scramblers feel smaller
A few other minor specs like things being standard, or being able to deactivate ABS on the Desert Sled
One major development, I think, is that since 2019, the Scrambler 800 has had cornering ABS standard, and since 2023 you could get a quick shifter. This makes them pretty advanced motorcycles — despite the air/oil-cooled engine.
The Scrambler 800 was comparatively priced at the time, but newer models are much more expensive.
Alternative 3: Another middleweight sport bike, which is a very popular category these days.
The last and final alternative is a middleweight sport bike. If you think of one in roughly the same power / weight category, then… there are still SO many options. I'd start by looking at twins (because you're here for twins, right?), then I'd narrow it down further by going into the "heritage-inspired" class, which would be the
Kawasaki Z650RS
Suzuki SV650
Yamaha XSR700
These are all handsome bikes. You can't go wrong with any of them. But in brief here's how they stack up
Firstly, they're all great bikes.
The Kawasaki Z650RS wins on style (I think) and tech. It has twin gauges and a slipper clutch.
The Suzuki SV650 is the only actual V-twin. It wins on legitimate heritage — this is the same basic motor that the SV650 has been using for over two decades. Also, it really has a lot in common visually with the Monster 797.
The Yamaha XSR700 wins on motor character. With a slip-on, they're swoon-worthy.
Really, they're all great bikes.
All of these win over the Ducati Monster 797 in terms of service costs because their service intervals are 2-3.5 as wide as the Ducati's and they're all generally known for being very reliable.
In reality, this is a very narrow list. It's a burgeoning category.
See our full middleweight naked sport motorcycle guide for more.
Wrap up
So, where does that leave you? It seems we're spoiled for choice in this category, which is probably why Ducati killed off its Monster 797. You can no longer buy an air-cooled Ducati Monster.
This doesn't mean the Ducati Monster 797 isn't worthy of love. Far from it! It's a great bike, loads of fun, good looking. The ideal thing to do is to never have to service it. So do what I do — Rent one. Rent one on Riders Share (that link gets you a discount) and let someone else deal with the maintenance. There are relatively few on there, though. I rented mine through a company in Italy called HP Motorrad.
Or find a friendly dealer to let you take a test ride. Let me know how much you enjoy it.