An honest long-term review of the Ducati Hyperstrada 821 from the perspective of an owner.
I've owned the Ducati Hyperstrada 821 for a few months now — enough to have had its share of problems (it's not new, obviously), to have enjoyed the good bits, learned what I needed to modify, and know what can't be improved.
I bought it almost on a whim. I mean, I knew a lot about Hypers before I bought it. I had read glowing reviews of how they're grin-inducing and how you can wheelie out of every corner and they're the perfect everyday machine. It's all true. So much so that I just decided I can't possibly sell this thing! (I was considering replacing it with something better for dirt, but I think I'll just add, not replace.)
Overall — the Ducati Hyperstrada 821 is a hugely under-valued bike. By which I mean: you can buy them used cheaply and get a lot of value for money.
Here's why.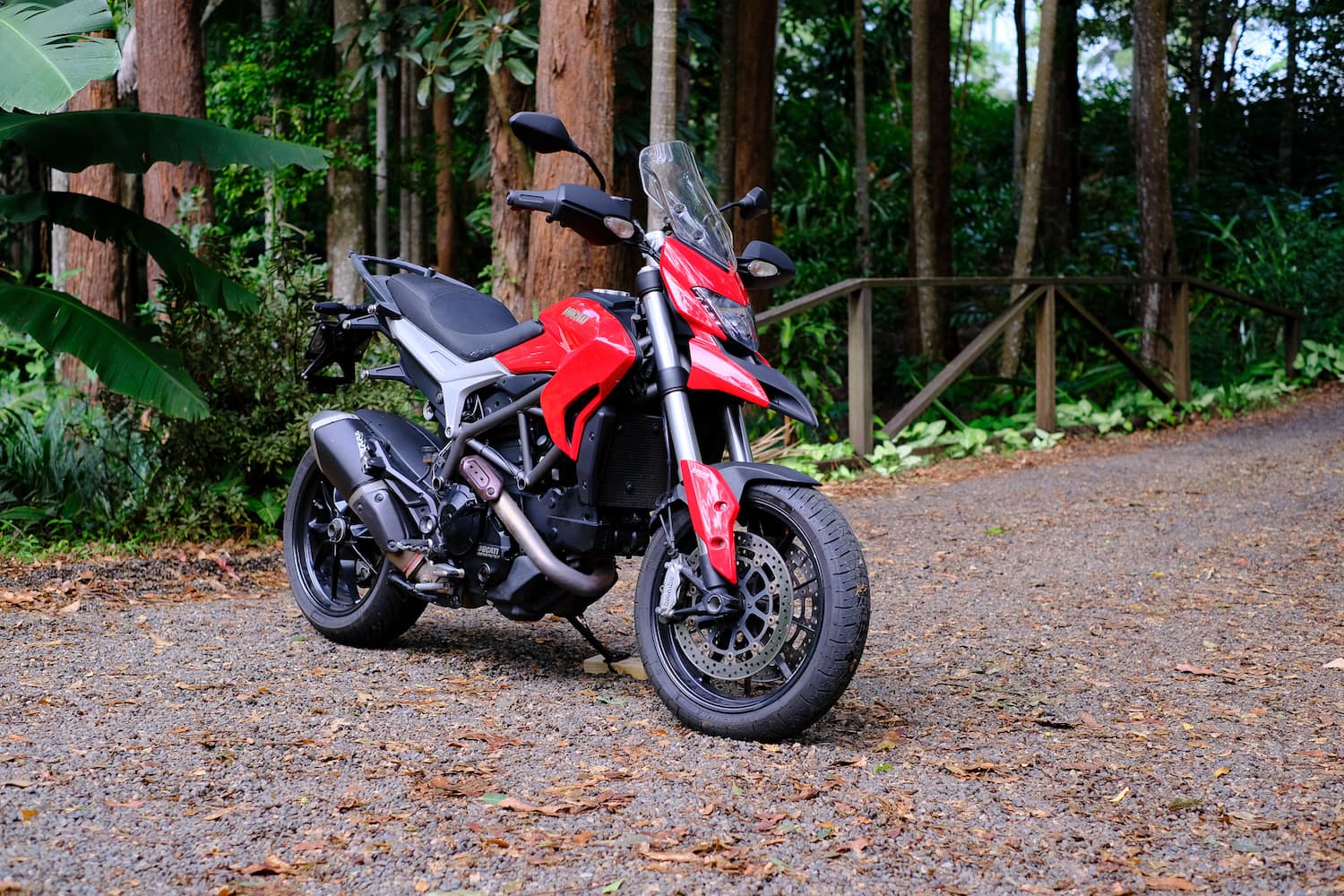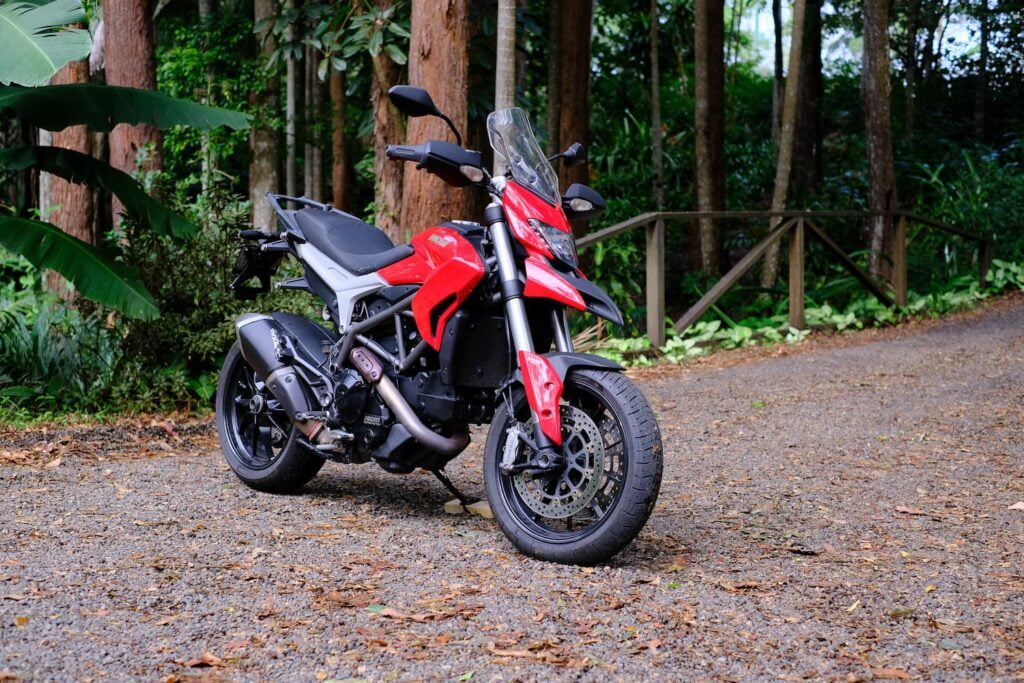 Are you obsessed with motorcycles?
Well, I am. That's why I created this site — as an outlet. I love learning and sharing what others might find useful. If you like what you read here, and you're a fraction as obsessed as I am, you might like to know when I've published more. (Check the latest for an idea of what you'll see.)
Quick Honest Review of the Ducati Hyperstrada 821
The Hyperstrada has pros and cons. I have no vested interest (other than selling it at some point) so I'll lay them out of the table.
In a nutshell, the pros of the Ducati Hyperstrada 821 are that it's:
Fun in a variety of everyday conditions: very rideable at city traffic speeds, all the way up to bad freeway speeds, and useable on dirt
Easy to handle: So easy to put around corners, do u-turns, lean into turns at speed… just so much easier than a superbike.
Appropriately powered: Not underpowered, not overpowered; not highly strung like a superbike, nor sluggish like a learner's bike can be at freeway speeds. Ample power at every level, but it's never screaming at you
Comfortable: You could sit on it all day!
Safe: It has a FULL DUCATI SAFETY PACKAGE. This means traction control, ABS, and ride modes, all on a pretty affordable machine.
Well-equipped: With panniers, windscreen, hand-guards and a centre-stand, it has everything you need from a practical perspective.
Of course, not everything is perfect. The Hyperstrada 821 does have a few weird points, and those are worth mentioning.
Common complaints about the Ducati Hyperstrada 821 are…
Grabby clutch (2013-2014): In stock trim, the clutch is really grabby. This is also true of the Hypermotard. It has to be resolved with an aftermarket clutch pack.
Poor fuelling down low: Like many fuel-injected bikes, the 821 tends to surge at low throttle. This has to be solved by adding either a fuel controller, doing a remap, or adding an interface to the oxygen sensors like a Rapid Bike Easy as I did.
Tall: The Ducati Hyperstrada is TALL. This causes tears in the seats as people swing a leg over (or just through regular abrasion).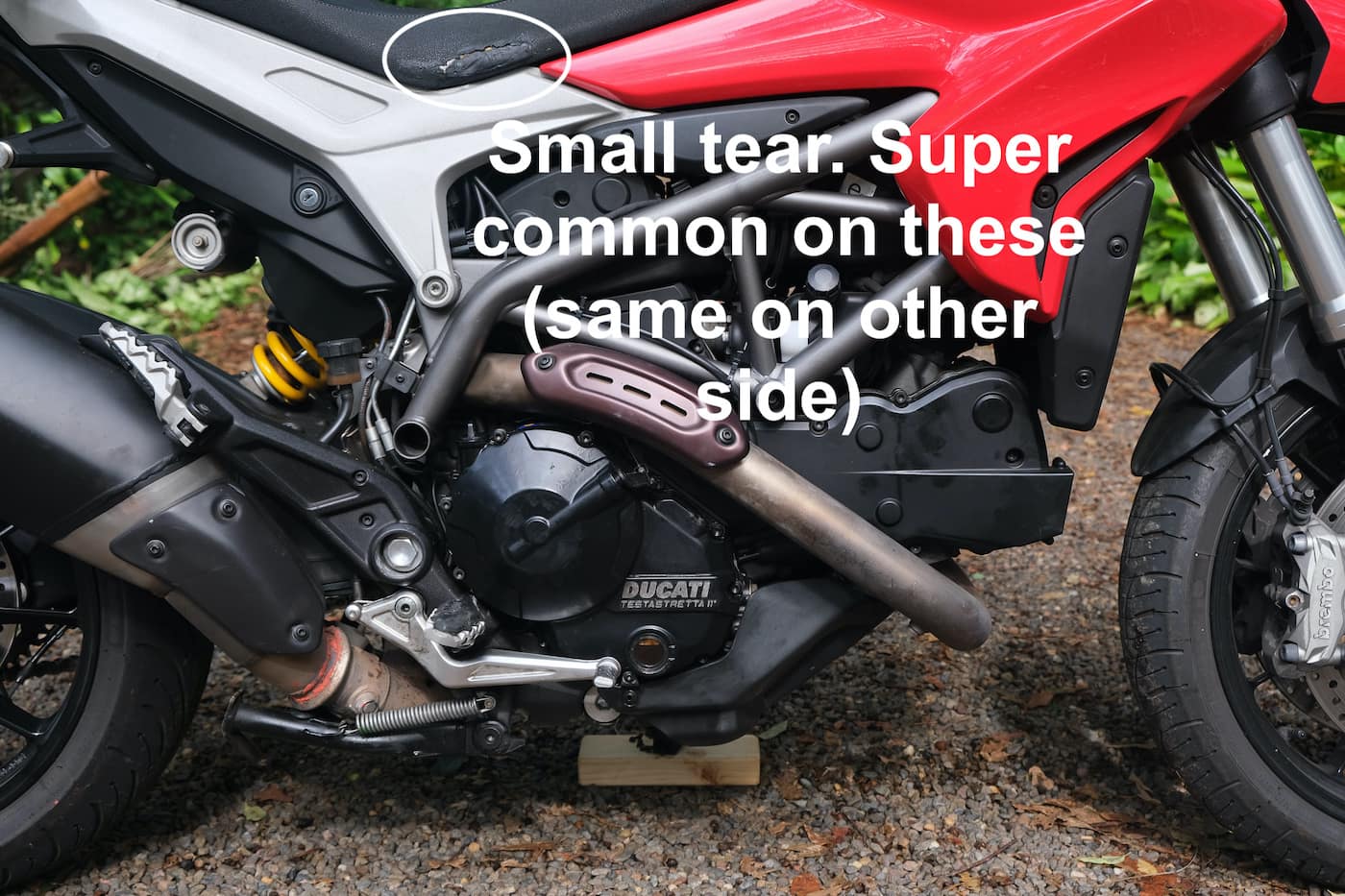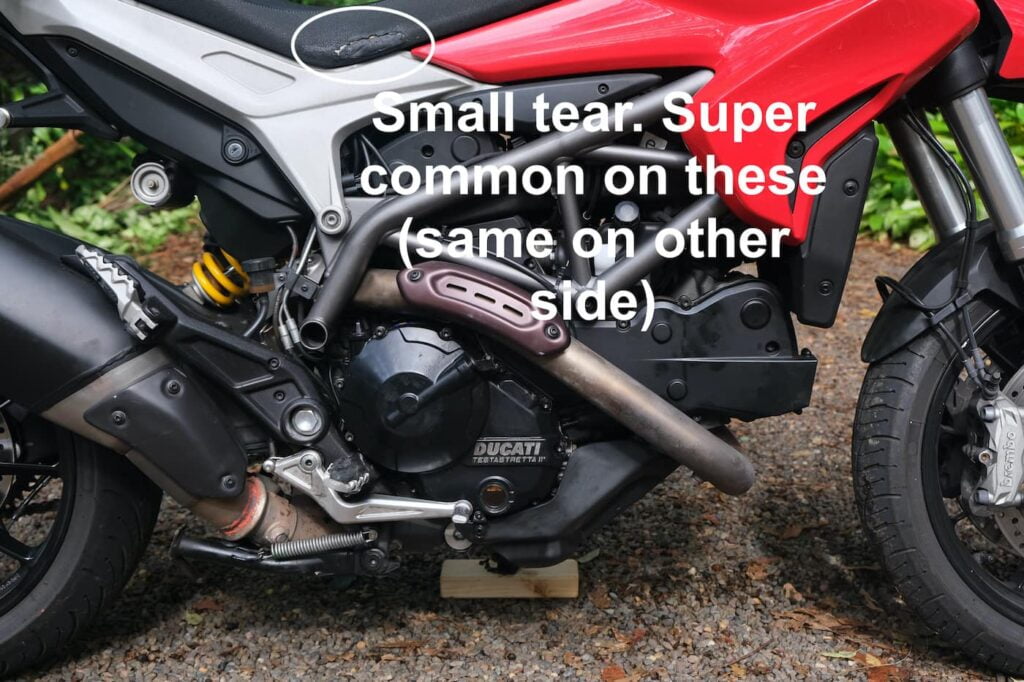 I have no other complaints. OK, it looks a little weird. It's definitely not the most attractive Ducati in the world (that's things called Panigale). But it isn't as ugly as the ugliest, either… that would be my old 2003 Ducati Multistrada.
The Hyperstrada is the "Practical Ducati" (that's also awesome)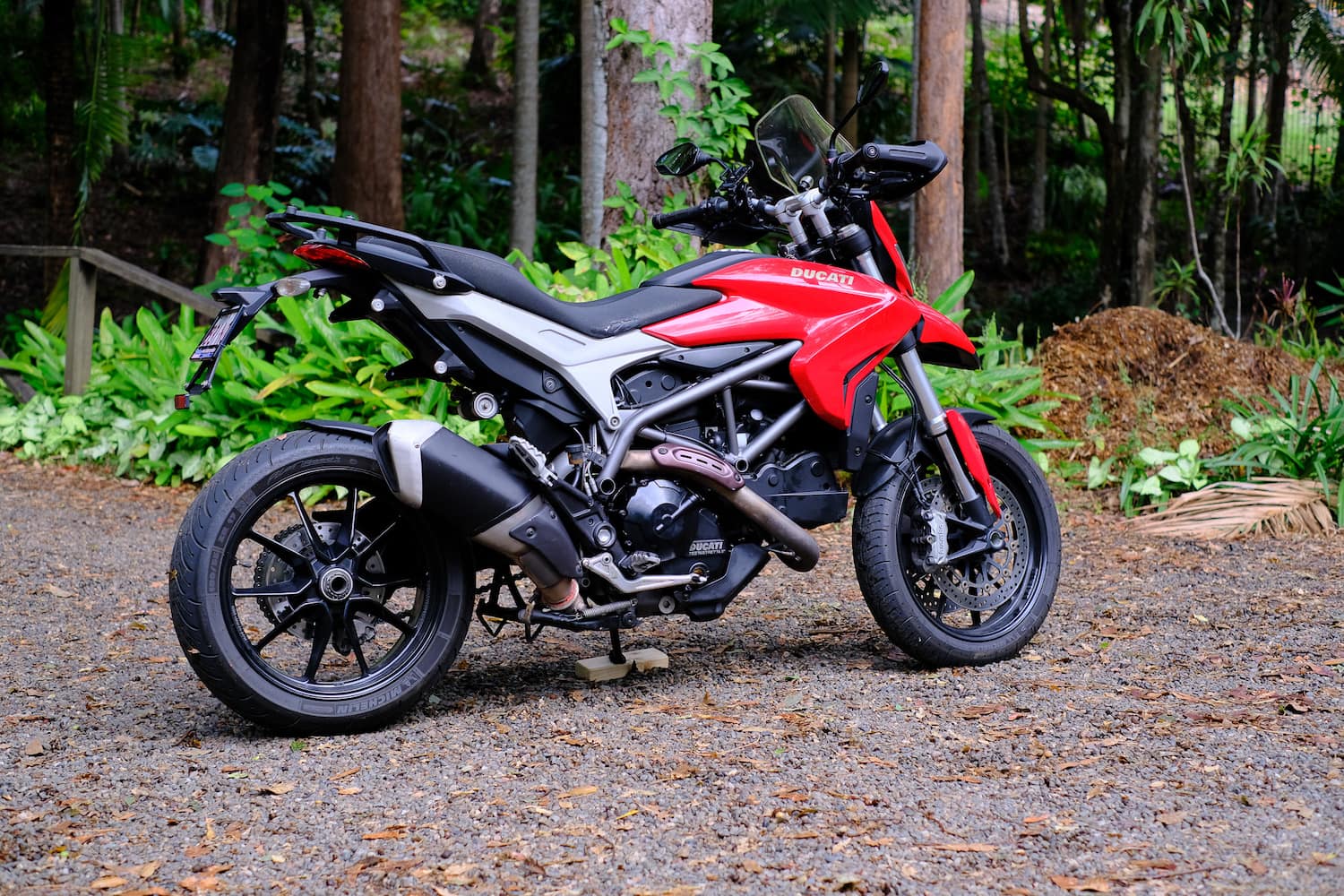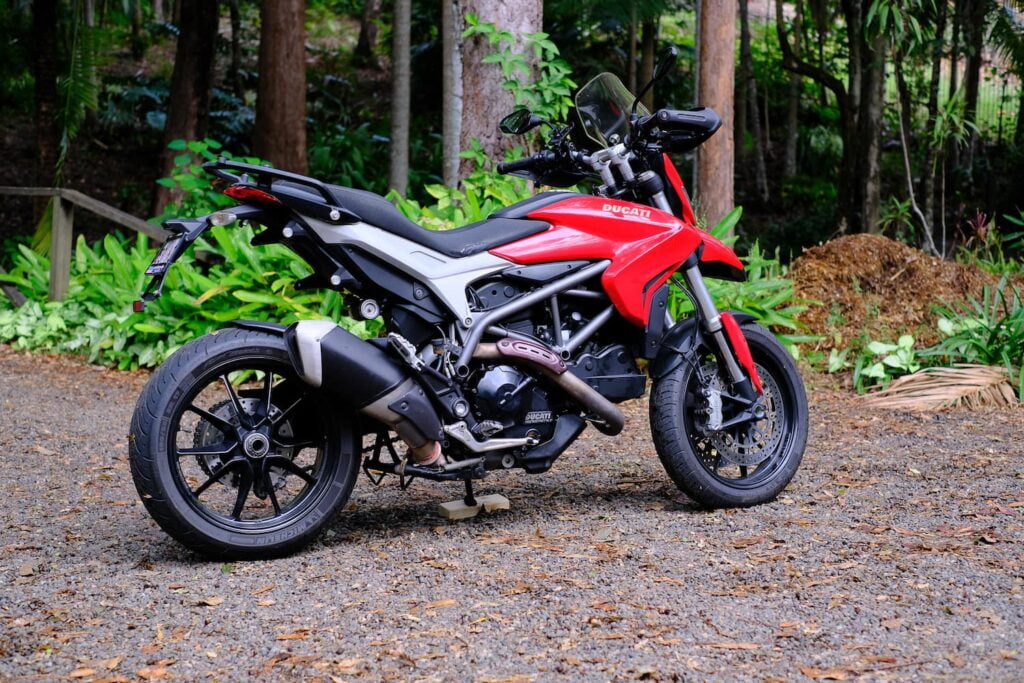 Ducati motorbikes aren't meant to be practical.
I should know this. My other bike is a 1098S. I can't see out of its mirrors. It gets hot all the bloody time. It doesn't like to go slow, or do u-turns, and it eats tyres for breakfast, lunch, and dinner.
The Superbikes, like most motorcycles of its generation, had aggressive 12,000 km/7,500 mile service intervals — thankfully slightly above the 10,000 km/6,000 mile intervals of my older Ducati Monster… but not much!
(But I don't care, because I love the bloody thing to death.)
The Hyperstrada, on the other hand, is everything that the the 1098S is not.
Firstly, the Testastretta 11 degree engine — that's the jewel of the thing. You get a really flat torque curve from right down low. It doesn't make you feel like you're going to stall it, and it easily flies up to the rev limiter, wherever that is (somewhere north of 10,000 rpm… I rarely go there).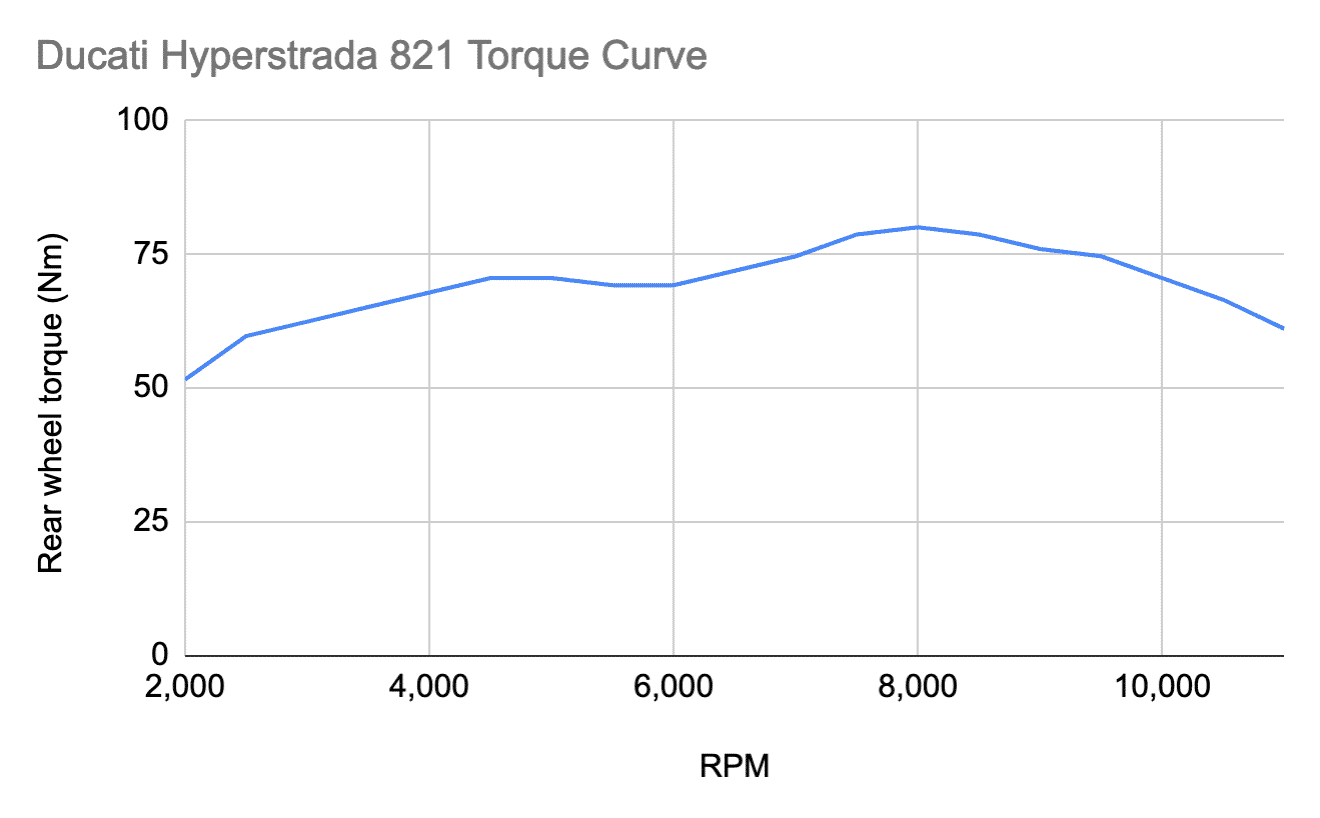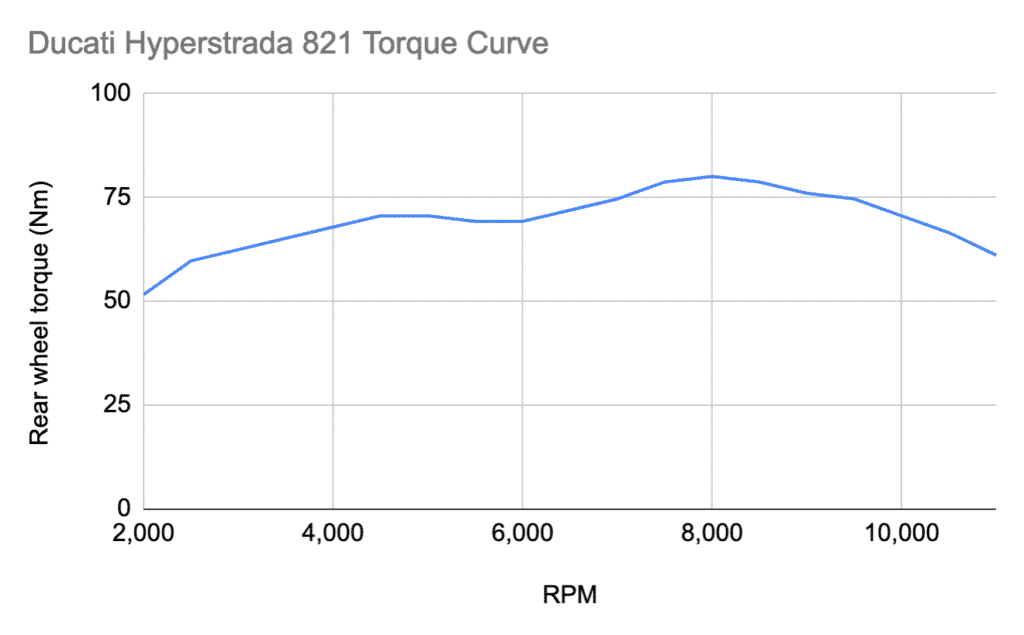 It's the same engine that is in the Ducati Monster 821, a bike I got to ride years after owning the Hyper 821.
Looking at the torque curve above you can see that it definitely does peak at 8,000 rpm (it always depends on your scale). So it's worthwhile revving it up there. But you don't need to; there's PLENTY of torque below, especially for the weight.
The engine doesn't get hot. It rarely needs to be serviced — the service intervals are a massive 30,000 kms between valve services; the belts have to be checked every 15,000 kms or five years. It's such a relief.
Secondly, the Hyperstrada is so easy to ride.
Riding the Hyperstrada 821 is EASY
Just like the Hypermotard on which it's based, the Ducati Hyperstrada has wide handlebars covering a wide turning circle, sporty tyres, easy-to-manage suspension, and electronics to stop you from dying.
I've ridden a lot of motorcycles over the years. The two motorcycles that I think were the easiest to ride ever were the Honda Hornet 919 (I think I miss it and want another one!) and the Harley-Davidson LiveWire, which of course doesn't even have gears to shift.
But as far as Ducatis go, this Hyperstrada is definitely one of the easiest to ride. I believe this is partly just because they got easier to ride as time went on — e.g. a modern Multistrada or Scrambler is also pretty easy — but also because of the layout.
When I went on my test ride, I noticed it did have some surging problems and the clutch was terrible. More on that below — they're problems you can fix. But despite this, once it was going I could see how easy it was to put where I wanted to put it, and that's why I bought it.
Riding the Hyperstrada up winding mountain roads is where you really realise how much fun it can be. Keeping it singing between 70 and 100 km/h is glorious — the exhaust note is invigorating and the engine has torque over a wide band that doesn't make you shift any more than you want to.
Riding back down the mountain roads also isn't so bad. Usual,ly I don't like being forward over handlebars when riding down a mountain road (especially when the road is wet), but being more upright like you are on the Hyper makes it less stressful.
Is the Hyperstrada an Adventure Bike? (Or an off-road bike?)
The Hyperstrada 821 (and all other models) is upright enough that it's almost an adventure bike.
The "strada", after all, reminds you of the Multistrada. And isn't that an adventure motorcycle?
Firstly, anything can be an adventure bike. You can have adventures on a 150cc Jawa, a Harley Sportster, or whatever you like.
But politics and definitions aside, according to modern definitions, the Hyperstrada is not an adventure bike. The wheels are small, like a sport bike. It's a bit too heavy. I mean, it's an adventure bike in that anything is an adventure bike, but it's not an adventure bike next to a KLR650.
But what I like is that you can ride the Hyperstrada 821 on dirt. I wouldn't seek out dirt and fire roads on it… not without getting off-road tyres, anyway. But in Australia, dirt roads are common. When I get to them I don't freak out the way I do on sportbikes.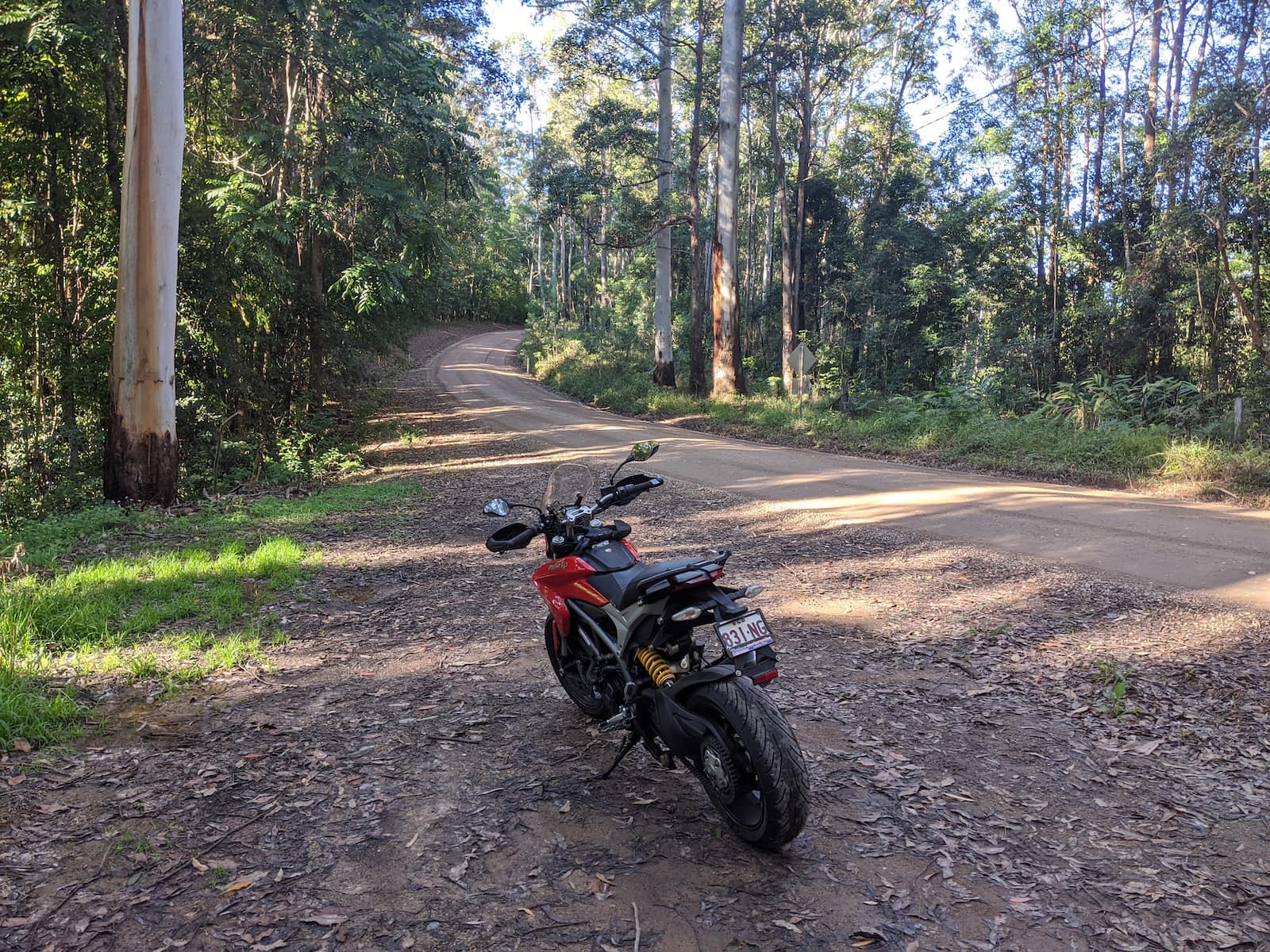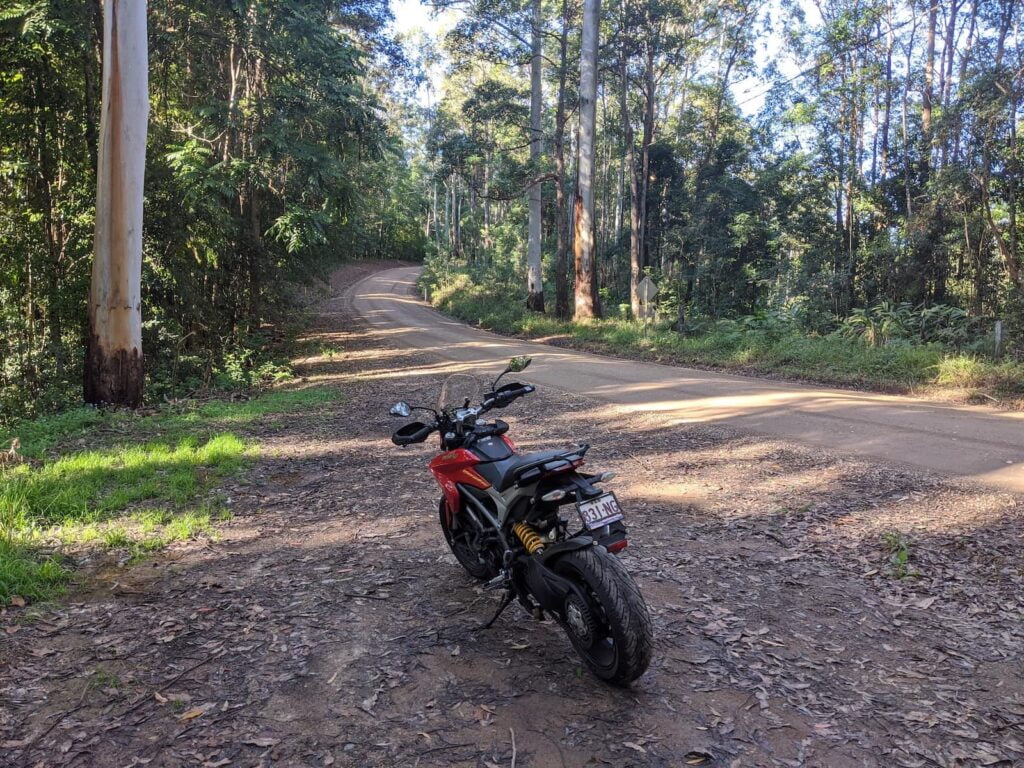 When you have an upright seating position and wide handlebars, you feel comfortable in many situations, including dirt. I've taken the Hyper down dirt roads and never panicked, like I did on my sport bikes. It wasn't really fun — limiting myself to 40 km/h on a sport bike isn't "fun" to me — but it was passable.
I turned around and went back, though.
Despite this praise, it's not all roses. There were some things I had to do to the Hyper just to make it rideable.
Must-do mods on the Ducati Hyperstrada 821
I'm not talking about a Termignoni exhaust (something I usually look for on a used Ducati… this one was cheap enough for me to not worry). The Hyperstrada 821 and Hypermotard 821 actually suffer from two critical flaws that are so bad that many called them a "lemon" and "unrideable" when new.
The Grabby Clutch of the Hyperstrada 821 and Hypermotard 821
The first, and most glaring problem with Hyper 821 is the grabby clutch.
When you first get one, you'll notice that is' basically impossible to ride. It'll either wheelie at stop lights or stall… or you'll launch so slowly you'll wonder: what's the point of this?
The solution is to either replace the clutch pack with a 2015+ one, or to add in an anti-judder kit. I did the latter. It already had an Adige clutch pack in there, after all. Look at my how-to on how to install anti-judder springs.
I can't stress enough that fixing the Hypermotard/Hyperstrada 821's grabby clutch is absolutely mandatory. Without it, the motorcycle is ridiculously unpleasant to ride.
The Hyperstrada 821's Poor Low-RPM fuelling
The second problem with the 821 is poor low-RPM fuelling.
The Hyperstrada 821's fuelling was so bad, for me, that it prompted me to write a whole article on how open- and closed-loop fuelling works, because it was so confusing to me why it ran so badly at low throttle.
There are various solutions to this, including getting a full re-map of the stock ECU (not sure if that's possible on the Hyper, to be honest), installing a full fuel controller like a Power Commander or a Rapid Bike, or installing an interface between the oxygen sensors and the stock computer.
I chose the last path because it's not expensive and it's easily reversible. The most renowned maker of oxygen sensor interfaces is Booster Plug. However, someone recommended Rapid Bike Easy, so I bought one of those.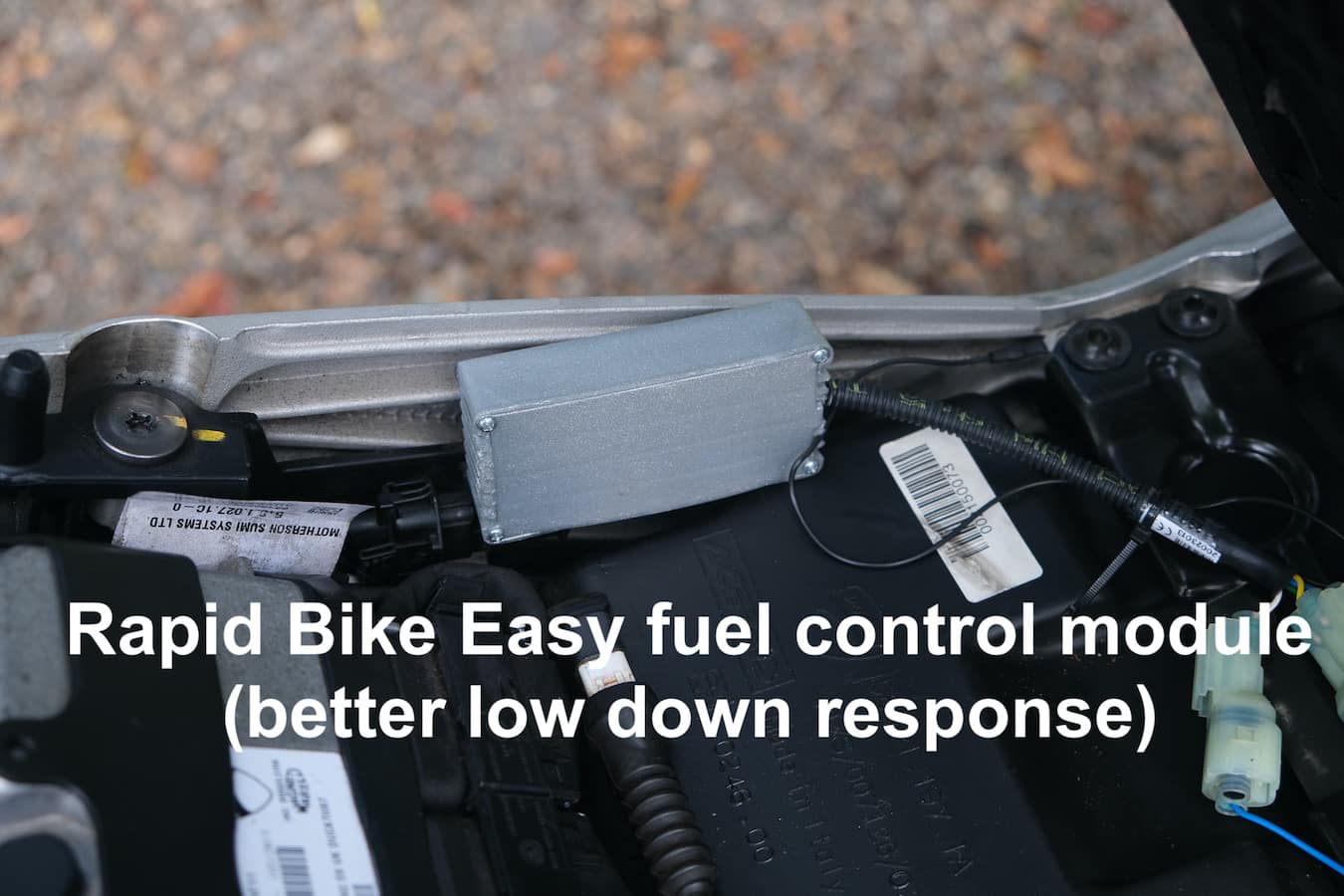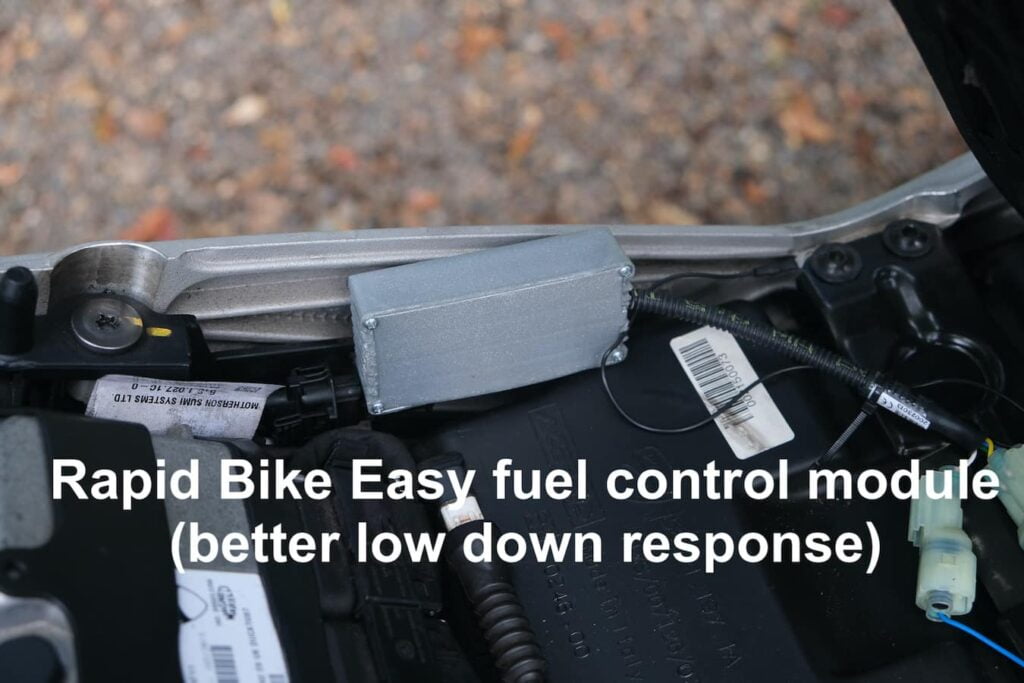 Apart from that, there's a very important recall that the Hyperstrada 821 faced: a CAN bus filter.
In stock form, the coils create unwanted voltage spikes that put a lot of stress in the ECU. When the ECU fries you get a series of errors that owners comically (and tragically) call the "Christmas tree of death".
The recall ensures that a filter goes between the coils and the ECU to filter out the voltage spikes. Do a search on Hyperstrada.com to find various threads about it about it (here's one).
Not sure if you've had yours done? Advice on that thread: "Remove the front fairing and windshield mount (8 screws total) and you can see it right in front. A small plastic brick about 2cm square and probably wrapped in tape. Very easy to spot."
I didn't need to, as checking the VIN at a dealer showed the recall had been done.
Replace the failing starter motor
One thing I didn't mention when I originally published this review, but which I learned later (to my chagrin), is that the starter motor absolutely must be replaced.
I've put more detail in my article on must-do mods for the Hyperstrada, but essentially, you'll notice that your Hyperstrada has an old-style starter motor if it is kind of hard to start. It may not start on the first turn of the crank. It's a far cry from your other motorcycles "chigachigachiga-whirrrrr!" instant startup. You think "Ducatis must be like this", but you're wrong: the starter motor is inefficient and draws too much current. Worse, one day it'll fail and it might leave you stranded.
I knew this. But I took my chances, not replacing the motor (it's an expensive job), thinking I could push-start it if it really did fail. I listened to the Ducati-certified mechanics who said "the battery is low" or "you're using 98 fuel, use 95". They were wrong. I also didn't realise that the starter motor failing would take out my starter relay with a current surge and make push-starting impossible. Sad face.
So, learn from my lesson (and from many others) — replace your starter motor. Otherwise, it's a ticking time bomb. Took less than 2,000 km of ownership for it to happen to me.
Aside from that, just make sure that your belts are replaced every 5 years (they don't have to be done every 2 years — ask any Ducati tech and they'll tell you a story about how other Ducatis with the exact same belts have a 5-year interval), and get your valves serviced every 30,000 km, and you're sweet.
The Fans and the Community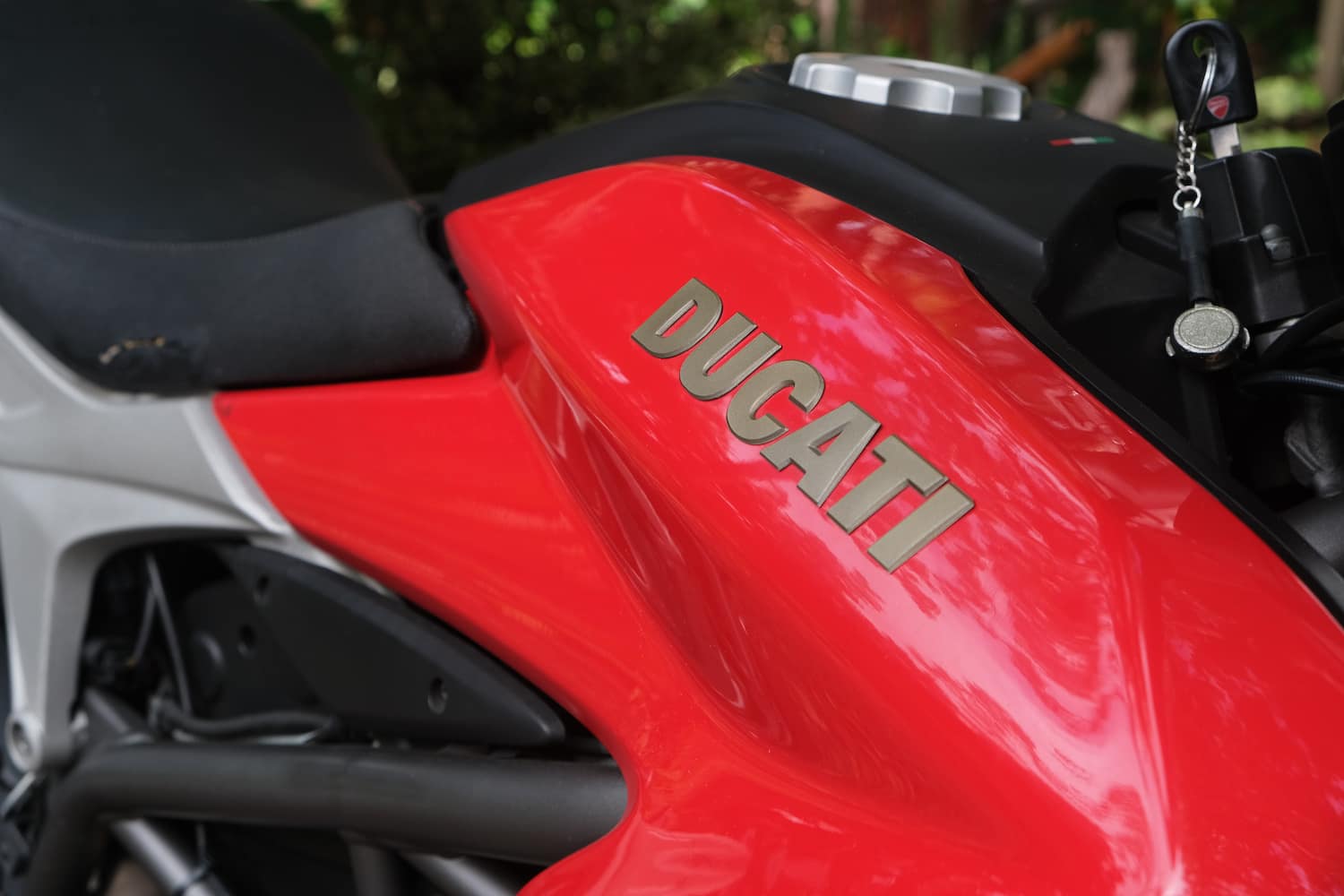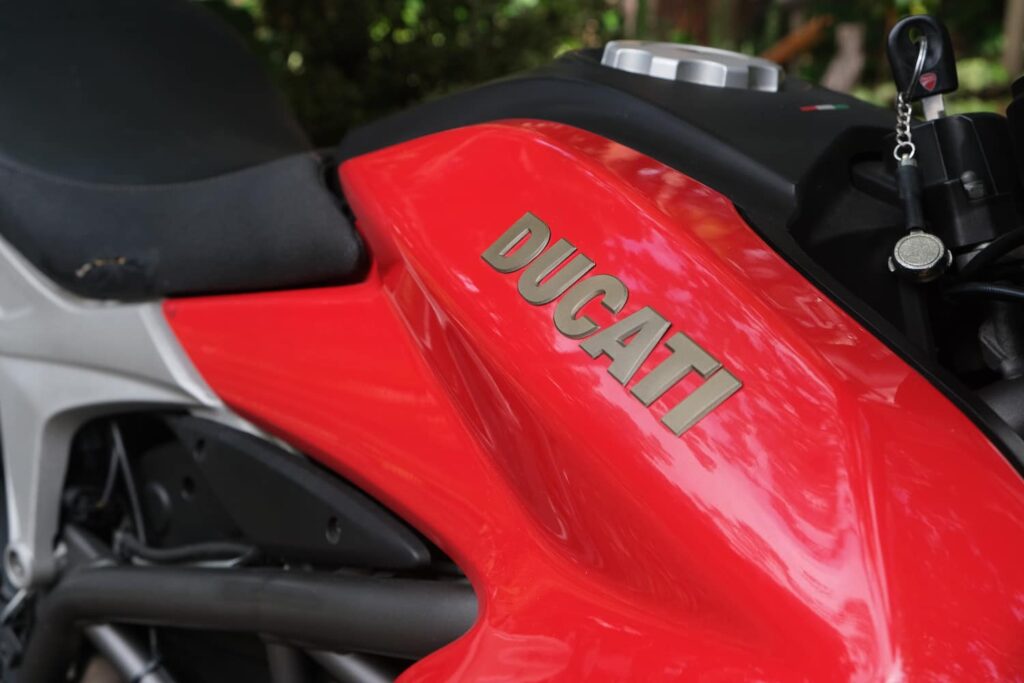 One thing I like about the Hyperstrada 821 is that it has a raving fan base.
Go to Hyperstrada.com and you'll see… those guys are insane. They're very knowledgable about every bike released since the original 1100 through to the most recent ones.
It's important to realise that it's Hyperstrada.com. In other words, the owners are fanatical about the touring version, not the motard! This is notwithstanding the fact that most parts are 100% interchangeable. I just think it's interesting that it's the 'strada version that got the biggest enthusiasm.
There are a few other motorbike cult followings — maybe hundreds. They all come with their own forum of lunatics. I usually gravitate towards those motorbikes that have raving communities. I'm glad to see that the Hyperstrada is among them.