I recently had the pleasure of flinging a Ducati Monster 821 around northeastern Italy with reckless abandon and wanted to jot down these notes about what it was like.
Before riding the Monster 821, I had certain preconceived notions about it. I thought of it as a little step-sibling to the Monster 1200, for starters. I thought it'd be my old Hyperstrada 821 in naked bike format. And I thought it'd be heavy compared to most middleweight sport bikes, because that's what Ducati told us since they released the newer, much lighter Monster.
Yes, the Monster 821 is all those things, but like with most Ducatis, there's much more to the experience of riding a Ducati Monster 821 than can be summarised in a few pithy statements.
I'll explain here:
What exactly is the Ducati Monster 821? How did we get here?
The model variants and the two sub-generations — what changed
What it's like riding the Monster 821 — my unedited opinions
Alternatives to the Monster 821 (other middleweights of the day)
Plus whatever else occurs to me. Enjoy!
Are you obsessed with motorcycles?
Well, I am. That's why I created this site — as an outlet. I love learning and sharing what others might find useful. If you like what you read here, and you're a fraction as obsessed as I am, you might like to know when I've published more. (Check the latest for an idea of what you'll see.)
What is the Ducati Monster 821? How did we get here?
Saying "Ducati" and "Monster" always generates a lot of excitement, especially around Ducati Monster faithful. People have all kinds of ideas about what a Monster "should" be. So it's interesting to look at a bit of the context — just what is a Monster, and how does the 821 fit into the line-up?
The Ducati Monster line started in 1993. The very first Ducati Monster was the Ducati Monster 900, also known as the M900.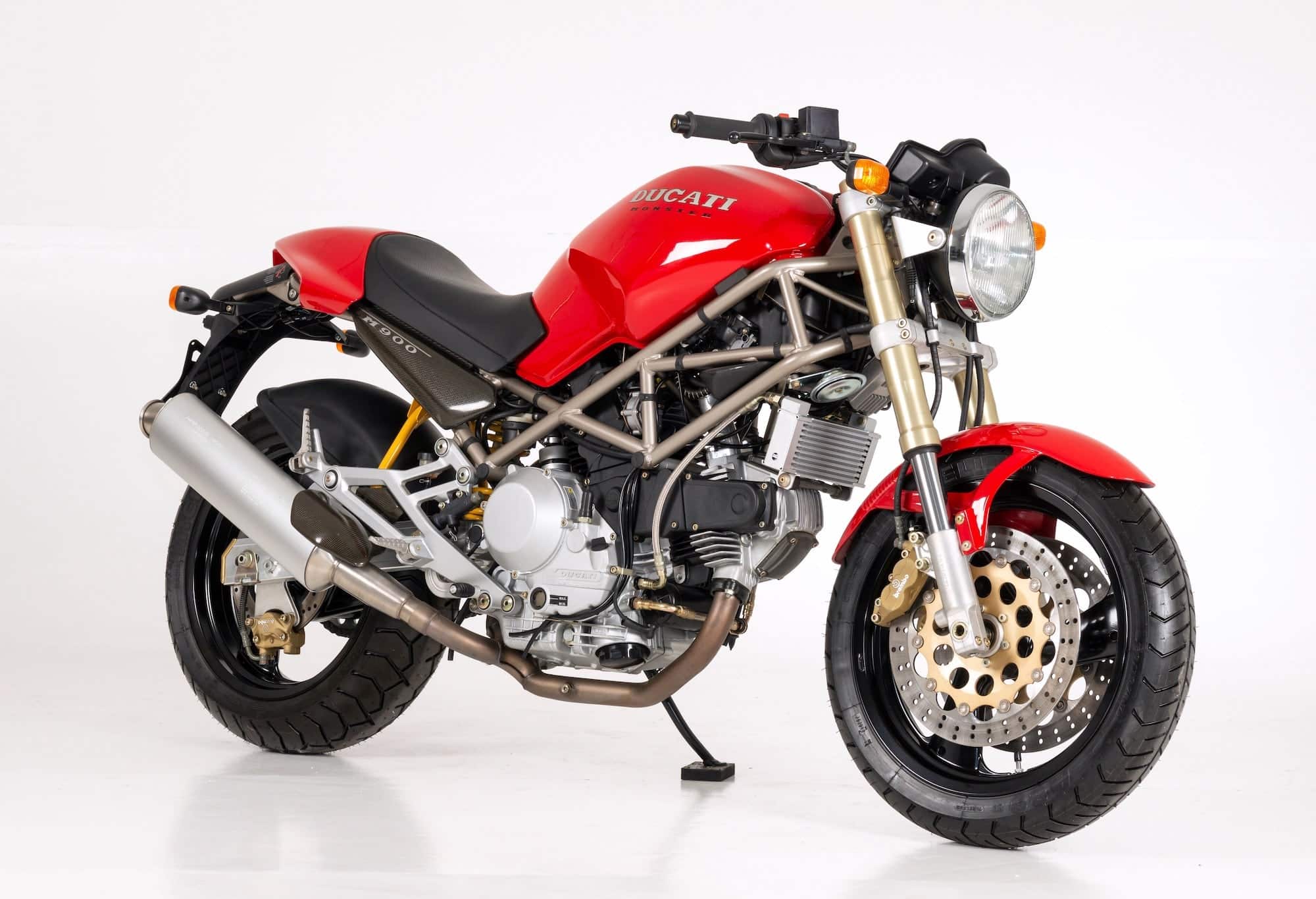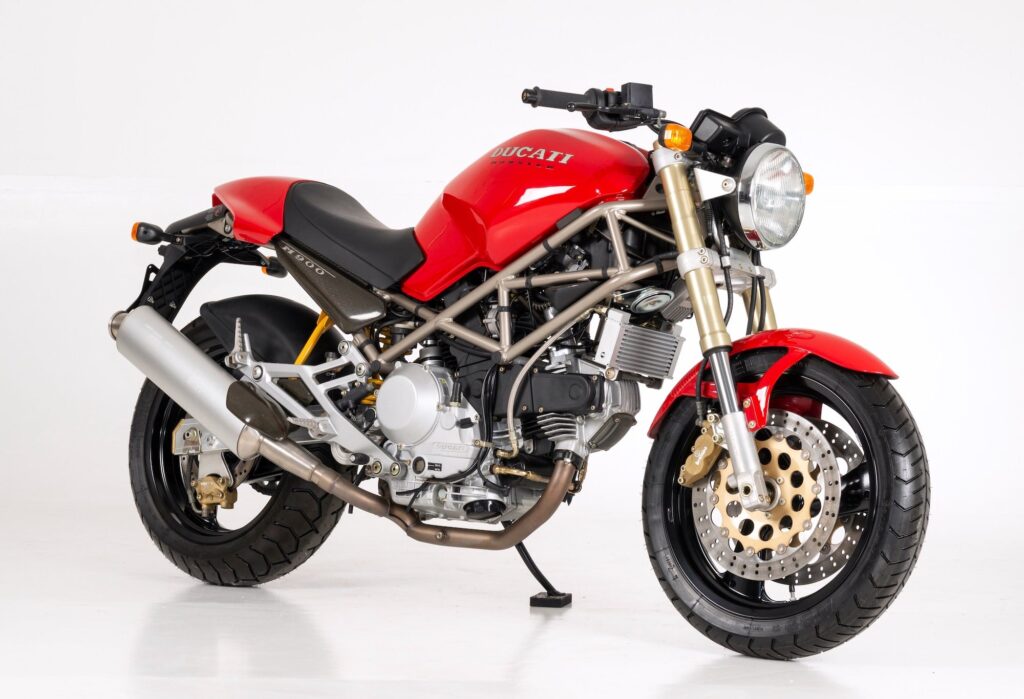 The Ducati Monster 900 is often chided as a "parts bin special". But I think that's a bit unfair. Most motorcycles (not all) are bits of other motorcycles — an engine from here, a frame from there — cobbled together into a new design, and it doesn't always work.
But the Monster 900 worked. The exposed trellis frame (the grid-shaped pattern of square and diagonal tubes) and all the angles just really flow together. Plus, the sporty riding position and the engine really gelled well together.
I had a Monster 900, and it's one of the bikes I recall the most fondly. It made a booming sound, handled easily, and was a lot of fun even at what you'd call "sane" speeds. Every time I write this, I think another one — or something very much like it — must be in my future again.
The Monster 900 was air/oil-cooled (see the little oil cooler up front), carburettor-fed, and obviously devoid of ride technology. It didn't even have a stock tachometer. But it did have a few nice bits, like big twin disc brakes and an inverted fork at the front, though with no adjustability. The M900 was also quite heavy.
But Ducati had a winner. The style, the engine, and the chassis came to redefine the sporty naked segment, and it's still one of the most popular ones today, especially for new riders.
The Ducati Monster evolved over the years. Ducati expanded the engine size to 1000 and 1100 (using their names, not the exact number of cubic centimetres) and added fuel injection, culminating in the Ducati Monster 1100.
In parallel with the big Monsters, Ducati made a little Monster line. It went as little as 400 in the early years — though that didn't last.
So the Monster 900 was sold alongside the 750 and 600, the 1000 was sold alongside the 800 and 620, and the 1100 was sold alongside the 796 and 695/696 (with some overlap).
In the early 2000s, Ducati said "Hey, let's make these faster", and made the unholy matrimony of a Ducati chassis and a superbike engine, starting with the 916 motor in the Ducati Monster S4.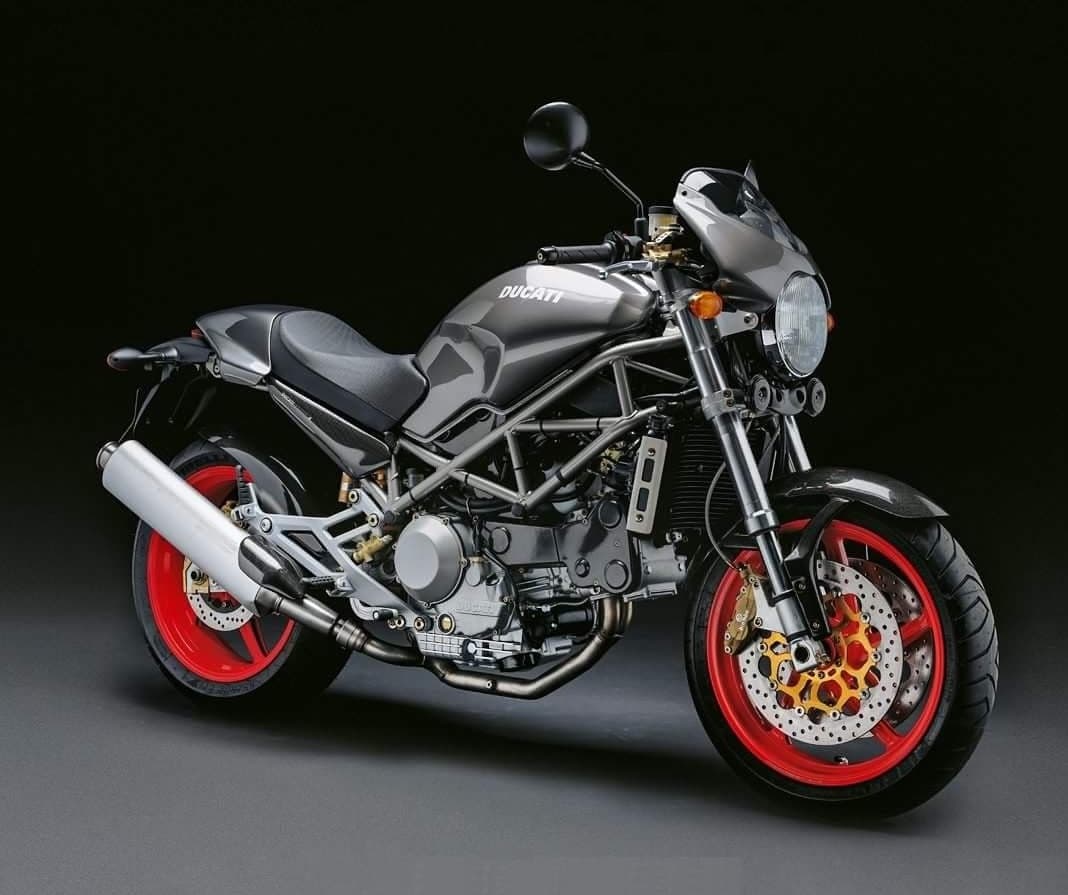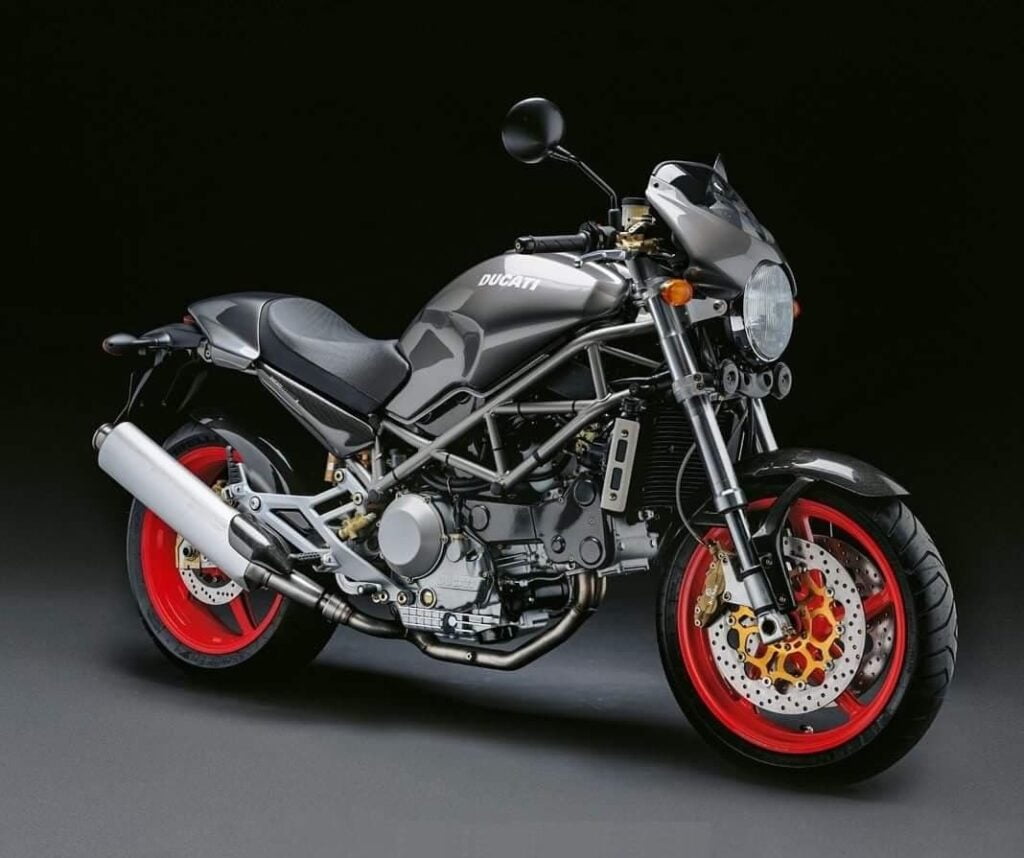 Ducatisti cried foul. "Hey, get that radiator outta here!" But it was too late — they were too good. These bikes were a lot more powerful, and ended up also being super attractive. These days, the Ducati S4Rs is appreciating in price, especially in premium colours like the "Tricolore" colour scheme. Frankly, you'd be lucky to even see one.
The S4R line became the Streetfighter line, which is much more explicitly a go-fast motorcycle. (See the Streetfighter model guide.) Meanwhile, Ducati riders had smelled the benefits of liquid cooling — more power! — which gave way to the Testastretta-11 generation of Ducati Monsters.
So, Ducati replaced the Monster 1100 in 2014 with the Monster 1200, using the 1198 cc also superbike-derived Testastretta-11 engine. The Monster 1200 is divisive — great bike, a stomper, but some think it's too heavy. Still, the longer-legged Monster riders welcome it (See the Monster 1200 guide). And from 2015, Ducati released the Monster 821 — also using a Testastretta-11 generation engine, but in a smaller format, mounted to a smaller bike.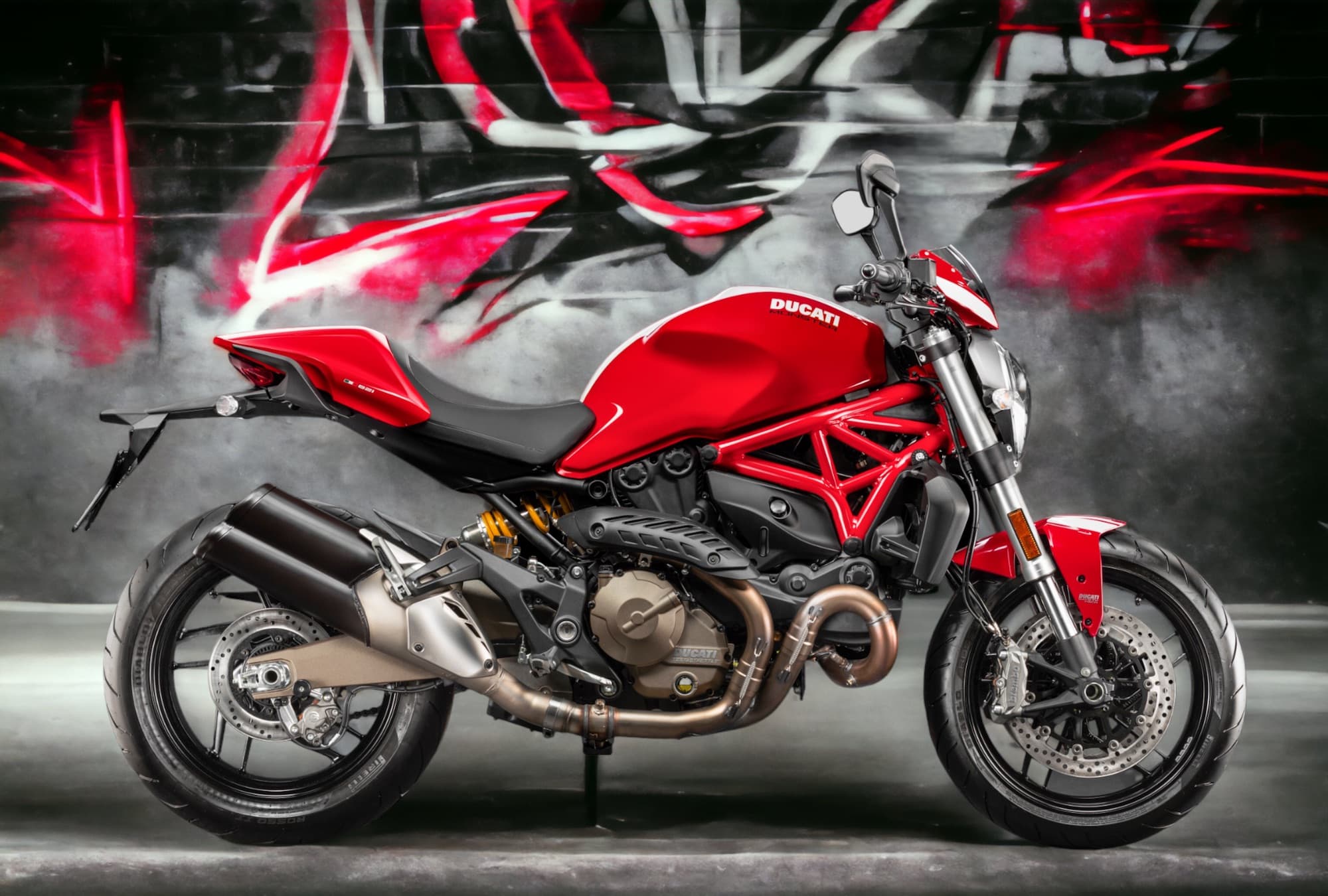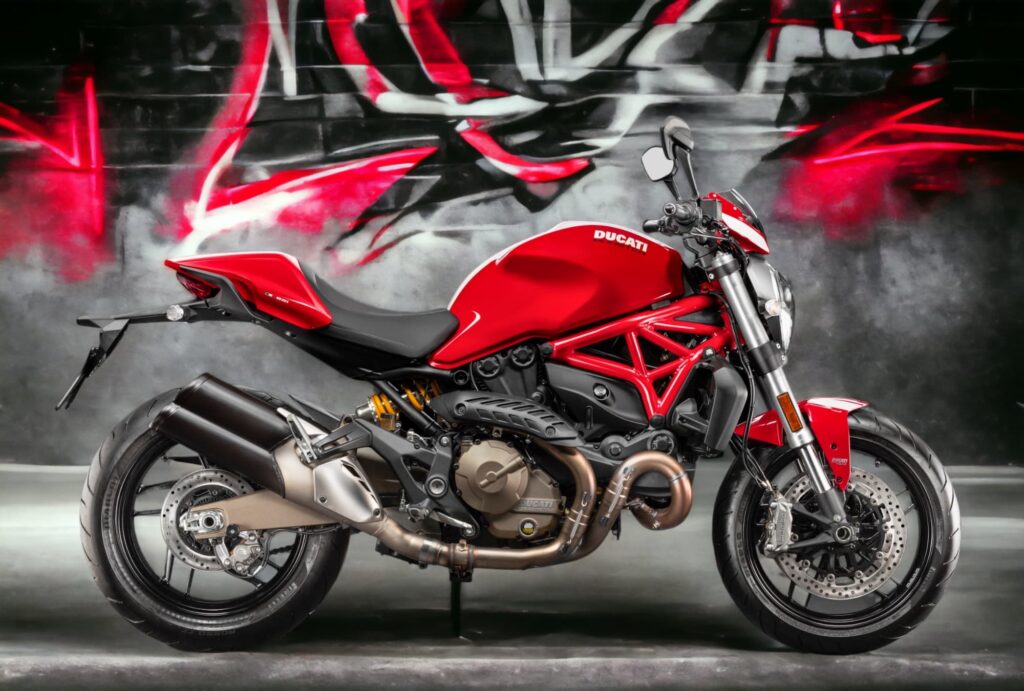 It's also interesting to note what other stuff was happening in the motorcycle world around the time of the Monster 821.
Yamaha released the MT-09 (first known as the FZ-09 in the US) in late 2013. (See the MT-09 model guide.) The Yamaha MT-09 turned the world on its head for having a kick-ass engine at a very affordable price — even if the chassis couldn't quite keep up. But that was partly because the FZ-09 was so light — it just danced about with the lightest touch of the throttle.
Other manufacturers had all been making liquid-cooled middleweight bikes for years. Triumph's Street Triple, the Kawasaki Z800, and Suzuki GSR750 — just to name a few — were all in the 100+ horsepower range. So Ducati's middleweights were sorely lagging in peak power.
What's more, other manufacturers were known for having much lower service requirements than a Ducati. Ducati service has always been expensive because of branding, the premium charged by technicians, and the complexity of valve jobs (there are more clearances to check, and it's a fiddly job on older bikes). But Ducati has been hard at work to remedy this image.
The Testastretta 11-degree engine was a leap forward in terms of maintenance costs with around 2.5x the time needed between valve services. This brought it to around the "median" range for regular Japanese naked sport motorcycles. Valve service intervals tend to be between ~25,000 and ~40,000 km, so Ducati's 30,000 for the Testastretta 11 is very normal.
Ducati Monster 821 Specifications
Here are the core specifications for the Monster 821, along with some notes. See the section further below for variants of the Ducati Monster 821 line.
Item
Specs
Notes
Engine type
Testastretta 11-degree, Liquid-cooled L-twin, Desmodromic 4-valve per cylinder
Same generation of engine as the 1200 and 937
Capacity
821 cc
Bore x stroke (mm)
88 mm / 67.5 mm
1.75 mm longer stroke than the 796 (803 cc)
Compression ratio
12.8:1
Premium fuel needed
Peak power
81 kW / 112 hp @ 9250 rpm
(80 kW / 109 hp for 2017+ Euro 5 version)
Peak torque
89 Nm / 66 lb-ft @ 7750 rpm
(86 Nm / 64 lb-ft 2017+ Euro 5 version)
Front suspension
Inverted 43mm fork
Spec Varies — See below
See fork spec guide
Rear suspension
Sachs rear shock, preload / rebound adjustable
Front brakes
2 x 320 mm discs, Brembo M4.32 calipers (Radially mounted / Monoblock)
See brake caliper spec guide
Wet weight
~205 kg / 453 lb (Curb weight)
Heavy for a sporty middleweight
Ride aids
Ride modes, Power modes, ABS, Traction control
Ducati Monster 821 specs
Ducati Monster 821 Generations / Model Variants
Ducati actually released the Monster 821 in two distinct generations: 2015-2017 and 2018-2020, the latter generation released in late 2017. The 2018-2020 model dropped a few peak horsepower due to emissions constraints, but it's not a significant amount.
Visually, they're near identical, but a few little things changed. Note the exhaust, should the Monster you're looking at be stock.
Below is a table showing the core things that changed between the generations.
| Item | 2015-2017 Monster 821 | 2018-2020 Monster 821 |
| --- | --- | --- |
| Peak power, base trim | 82 kW / 112 hp @ 9250 rpm | 80 kW / 109 hp @ 9250 rpm |
| Display | LCD | TFT |
| Quick shifter | No | Optional (Standard on Stealth) |
| Colours | Red, Black, Grey | Red, Yellow, Dark Stealth (for Stealth version) |
| Special versions | Dark, Stripe | Dark, Stealth |
Ducati Monster 821 generations
If you're still not sure which one you're looking at, look for the TFT display on the later gen!
In parallel with this generational change, the Monster 821 also came in higher-spec Stripe and Stealth specs. (The Dark is the same as base spec, just… darker.)
The "Stripe" and "Stealth" spec Monster 821 came with a fully adjustable fork. The Stealth, the pinnacle of the line, also came with a standard up/down quick shifter.
| Model | Monster 821 (base model) / Dark | Monster 821 Stripe (2015-2017) | Monster 821 Stealth (2018-2020) |
| --- | --- | --- | --- |
| Front suspension | 43mm Kayaba USD fork, non-adjustable | 43mm Kayaba USD fork, fully adjustable | 43mm Kayaba USD fork, fully adjustable |
| Rear suspension | Sachs rear shock, preload / rebound adjustable | Sachs rear shock, preload / rebound adjustable | Sachs rear shock, preload / rebound adjustable |
| Quick shifter | Optional (2018-2020) | No | Standard |
| Fly screen | Optional | Standard ("Nose fairing") | Standard |
Monster 821 base / dark model vs Stripe / Stealth
What's it Like Riding the Ducati Monster 821?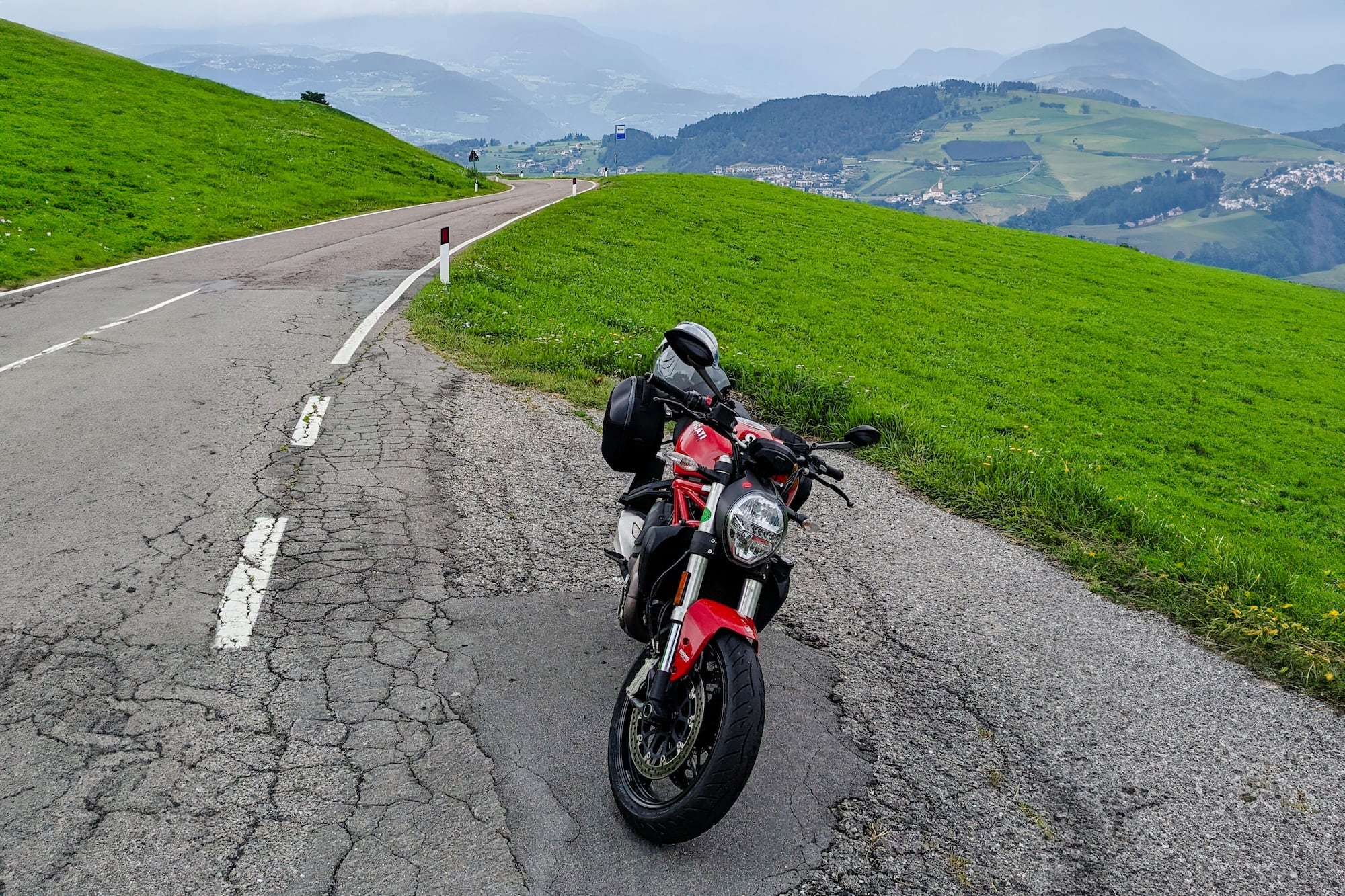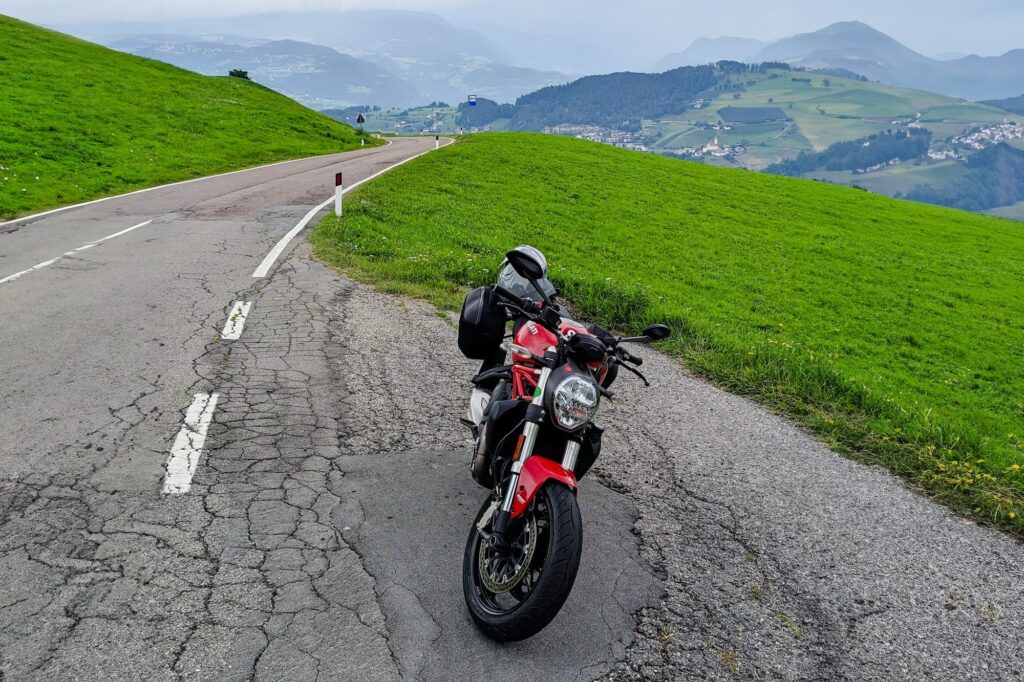 I've ridden a ton of naked motorcycles in a wide variety of situations, so I've come to develop my own personal taste for what makes a "good" bike that I like. That said, of course, this is entirely subjective — what I experienced is just how it suits me.
Let's break this down into several sections: Comfort, performance, character, and everyday usability.
Firstly, comfort. Naked bikes are the best. Up to about 120 km/h or 70 mph, they give you an unparalleled view, lots of control over direction, and that feeling of being in the elements that a windscreen can only take away from.
I've long been a fan of naked motorcycles, since my very first motorcycle. I like hunched-forward sport motorcycles for the feeling they give me, but my right wrist tends to go numb after around 20 minutes of riding (see? I said subjective!) so they're mostly good for track days for me. Alas, I know that wrist pain and back pain are something most ageing motorcyclists complain of — I'm not alone there. (So, ride sport bikes while you can!)
But it's not just the riding position of naked bikes that I like. I appreciate that manufacturers tune them for low-down torque, so you can enjoy them from 4000-8000 rpm, and not just above. The Ducati is one of these bikes. It has an engine that has echoes of superbike engines, but it's actually usable all the time.
Next, performance. There are two aspects to this — power, and weight.
Yeah, it has plenty of power. The front wheel gets light in the first gears without even trying — you have to hunch down over the bars to keep it down. It'll do 100 mph / 160 km/h very easily, with the only downside being wind. But that's why I like naked bikes… the wind keeps me from getting TOO crazy…
But performance isn't just about power. It's also about how appropriate it is for the weight.
I've ridden lighter bikes than the Monster 821, to be honest. It's definitely immediately heavy the moment I get onto it — around 20kg / 50 lb heavier than other bikes of its class.
So for its ~80 kW / 110 hp — which is plenty of power for everyday riding — the Ducati Monster doesn't give me that feeling of invincibility that a lightweight motorcycle does. Motorcycles like the Triumph Street Triple, Yamaha MT-09, and even the later-generation Ducati Monster 937 all are almost toy-like in how light they are. The Monster 821, on the other hand, feels sturdy for a middleweight, like a mid-sized pit bull ready for action.
That said, it's not altogether a bad thing. I rarely felt like the weight of the Ducati Monster 821 was an encumbrance. It just was present, and went hand in hand with the character of the machine.
If I owned the Ducati Monster 821 long-term, of course, I'd do something about the weight. There isn't much to strip off, but I could work on the exhaust, remove a few unnecessary bits, and maybe take off the passenger seating.
Next, character. What's a Ducati if not a characterful motorcycle?
The Ducati Monster 821's V-twin is an engine familiar to me. I've used it in another configuration — the Hyperstrada 821 — and so I'm used to its muted but meaty rumble. Even with stock exhausts, the 821 engine has a really nice burble to it that never sounds boring. I often would be riding through country towns and I stayed in campsites at night, so I didn't want to wake up the dead, anyway.
The one thing that bothers me about the 821 engine, though, is that it struggles down low. Why does it only become smooth over 3,500 rpm? This isn't the 1990s. It's a fuel-injected engine with four valves per cylinder. I've ridden plenty of smooth twins, enough to know that twins don't have to be like this.
"It's a Ducati," people sometimes tell me. "It doesn't like going slow." Well, I know, I've had a bunch of Ducatis, and also, I don't like going slowly either. But sometimes I'm navigating hairpin switchbacks in the Alps with a car coming the other way and I just can't go fast. Sometimes I'm in traffic. Sometimes I'm trying to park at a pizza restaurant. At all those times, I kind of hate the "character" of the 821 engine.
OK, I'm being dramatic. I've had far worse low-speed motorcycles — like my Multistrada 1100, or even the same-engined Hyperstrada 821. I stalled those bikes at the traffic lights a few times, trying to find a sensible rev range and also the friction point at the same time. I never came close with the 821. The discomfort I'm expressing is more… it didn't sound like it was happy.
Whether this is a problem for you depends on where you tend to ride and what patience level you have, and how much you like feathering the clutch to do things like U-turns. I suppose I've been spoiled by triples and even fours on motorcycles that are so smooth that they barely need to leave 4th gear at any speed most humans would could need.
But chalk that all up to character and it's OK!
On to everyday usability. Aside from chugging at low RPMs, I think the Monster 821 is a very usable bike.
It has lots of steering lock, which makes it easy to manoeuvre at low speeds. It's a far cry from my early Monster, which had such a shallow turning circle that I would sometimes accidentally hit the stop at low speeds.
In traffic, it never got unbearably hot, and I was riding in summer. Of course, I never stayed in traffic long (why would I, on a motorcycle, in Europe where I can lane split to my pleasure?)
The position over the bars, relatively low seat, and general stance made every kind of riding a breeze. Can't speak enough for it!
Maintenance / Reliability
I'll keep this brief — Ducatis have a reputation for being an unreliable brand, but reality is more complex than that.
Yes, owning a Monster 821 is more expensive than owning any of the alternatives below. But it's not that bad.
The Ducati Monster 821 has 9000 mile / 15000 km service intervals between oil changes. That's quite wide! And the 18000 mile / 30000 km valve service intervals are par for the course, and a huge step up from Ducatis of the past.
The most expensive thing about the maintenance is that some mechanics are scared of Desmodromic valve actuation systems. It means more clearances, and on a V-twin, it's a bit fiddly. That, and Ducati-certified mechanics tend to charge more, because they can. So fewer mechanics that cost more tends to increase the price of repairs and even preventative maintenance.
But those services don't come up that often, and maybe you want to do your own work, so the difference in service requirements isn't staggering.
See more in the maintenance schedule on our sister site.
As for reliability — well, any brand can break down. I've been left stranded by my share of Ducatis. But the Monster 821 ironed out many of the problems with the 821 motor in the Hypermotard / Hyperstrada, and in general, it's not a bike that I feel is unreliable. On forums (e.g. this thread) I don't see complaints about the motorcycle being fundamentally unreliable.
Happy to hear your personal experiences, though.
Alternatives to the Monster 821
Because the Monster 821 is no longer made, I think it's fairest to compare it to a few other sporty middleweight naked bikes that are no longer made. Here are a few ideas.
Kawasaki Z900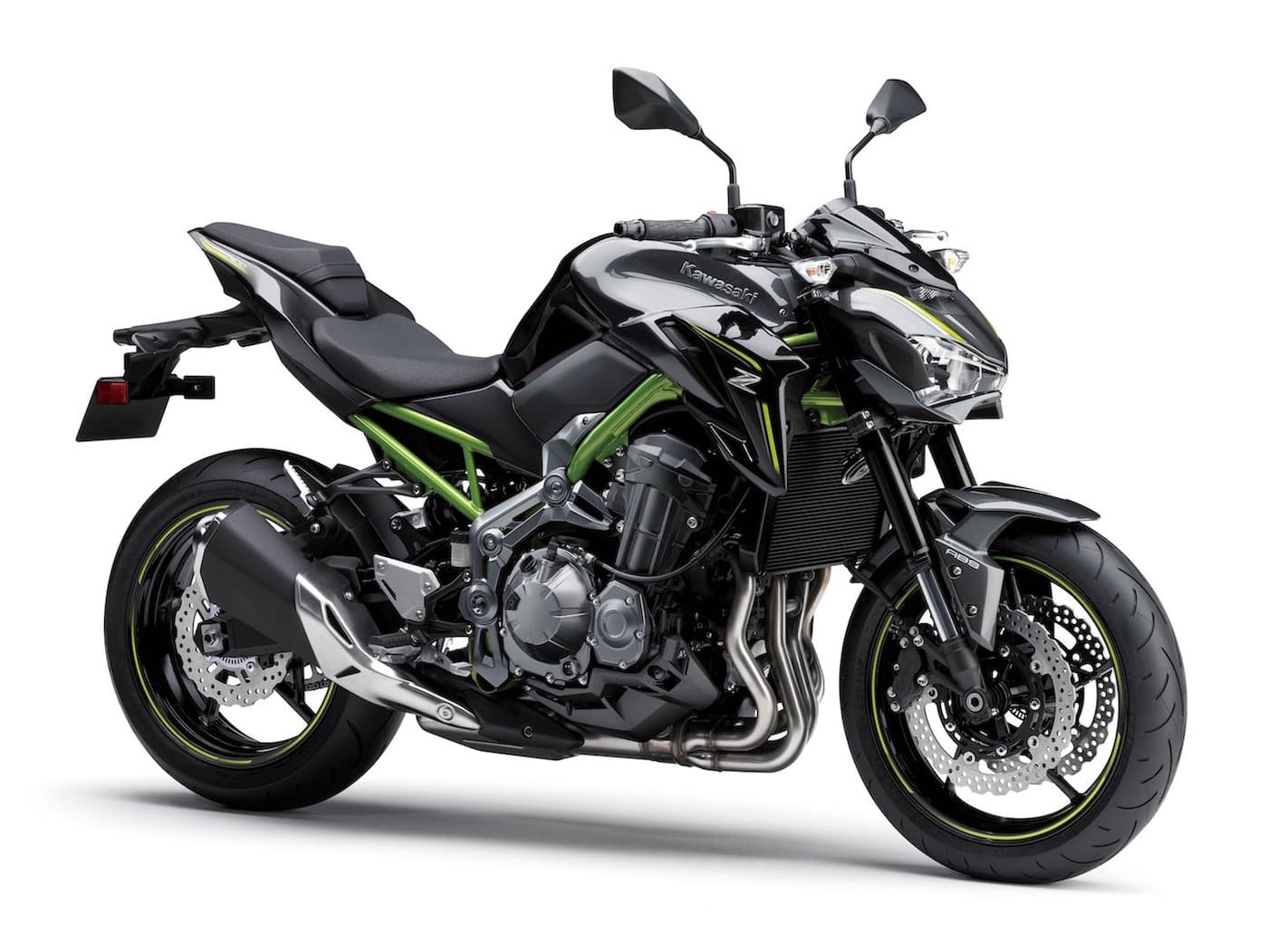 Kawasaki makes the last inline-four middleweight that's still being actively updated. It's a really awesome bike — affordable, easy to ride, with kick-ass engine that makes a great how.
Yes, I'm a fan of four-cylinder bikes. Not all of them. But those that are tuned to give you a bit of the jollies… well, I like 'em. The Z900 is one of those.
The Kawasaki Z900 doesn't have all the whiz-bang tech of the later-gen sport bikes, but that's what keeps it affordable. Its 948 cc engine makes an impressive 91 kW / 125 hp at 9500 rpm, and is perfectly in balance with the chassis, suspension, and brakes, making for a well put-together package.
I might just like underdogs, but I think the Z900 doesn't deserve to be one.
Suzuki GSX-S750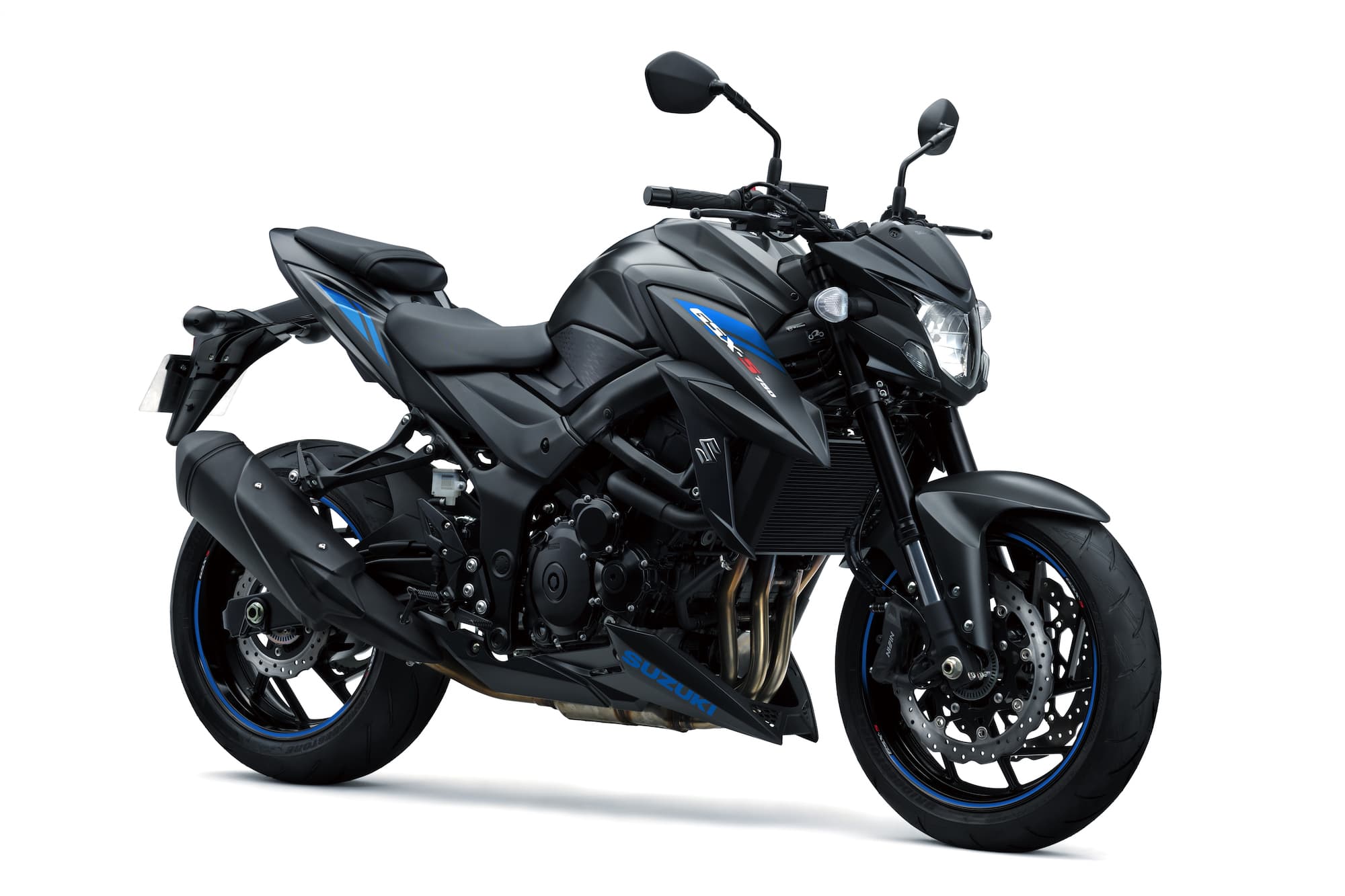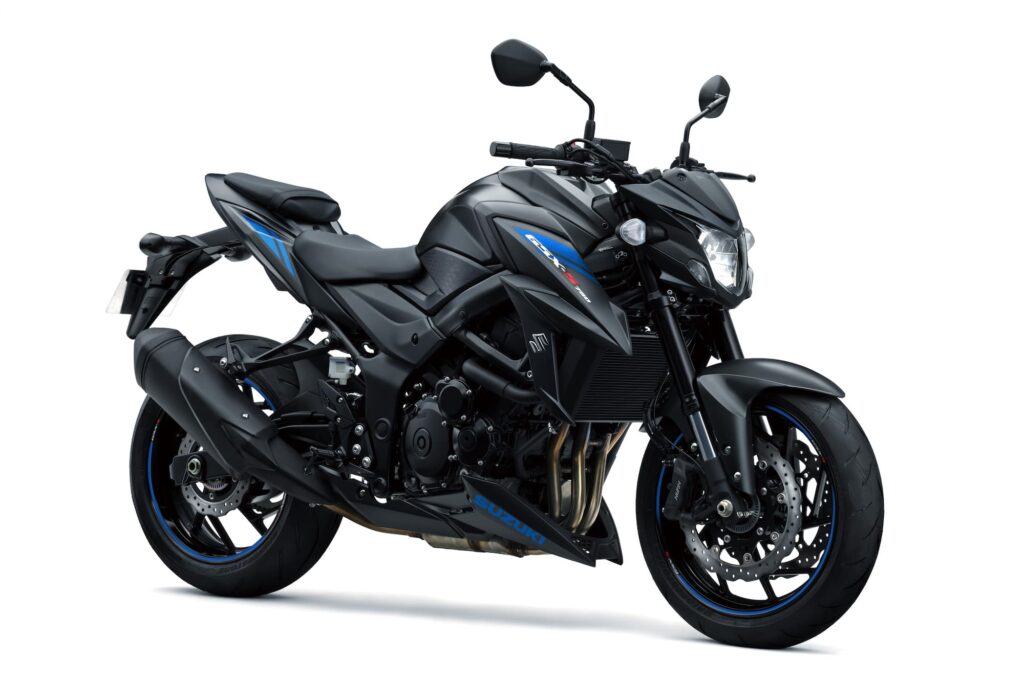 The Suzuki GSX-S750 is on its last legs. It'll be discontinued any day now, possibly while I'm writing this very sentence. (… Nope, not yet!)
The GSX-S750 is also a four-cylinder sport bike, but I don't expect it'll be one that Suzuki makes for long — the GSX-8S seems to be moving in on its turf.
It's based on a mid-2000s GSX-R750 four-cylinder engine, but of course, detuned for naked sport bike. Its 749cc inline four makes 84 kW / 113 hp at 10500 rpm, which is good, of course, Its non-adjustable suspension is fine for everyday use, and the Nissin radially mounted four-piston calipers will do everything from street sport to track day riding.
Suzuki hasn't updated it in a while, though, so its LCD isn't very sexy. But still, this is an everyday gixxer for whose who want that very thing.
Triumph Street Triple 675 / 765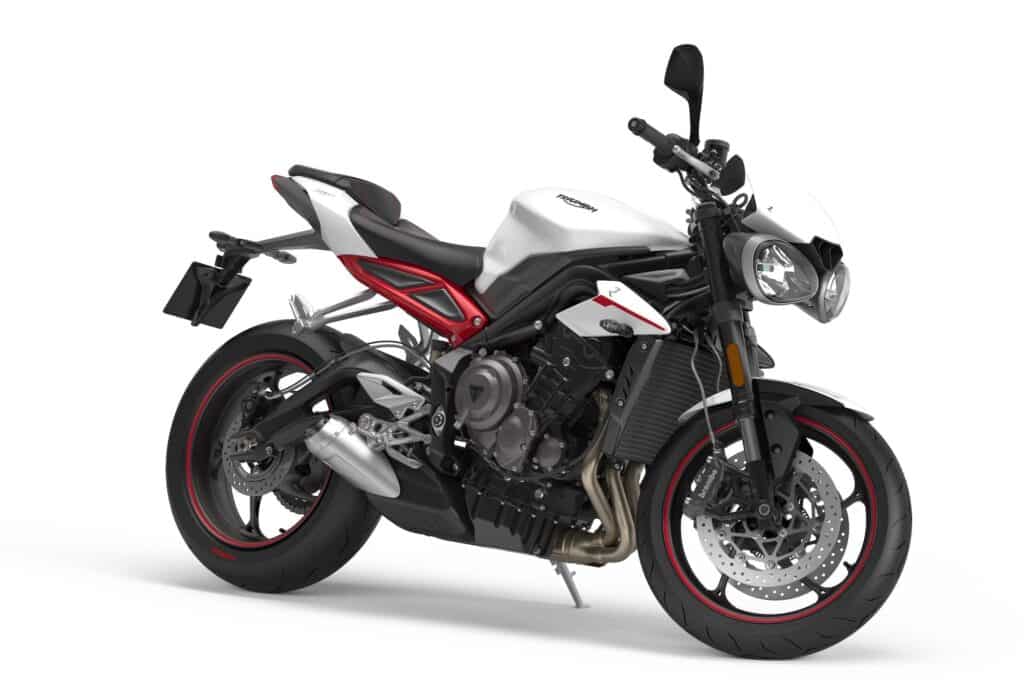 Triumph has been chasing lightness with the Street Triple for decades now, and every generation of the Street Triple improves in some way — unless you really do want the twin round front headlights of the earliest gens (I do like them).
The 2017 Triumph Street Triple R in particular gives you a LOT of bang for the buck, and its buck is rapidly declining. Its 765 cc inline-four makes 87 kW / 116 hp at 12000 rpm, with a lovely flat torque curve that's easy to manipulate for all kinds of riding. It makes slightly less power than the RS, but few would notice.
The Street Triple R comes with separate-function KYB adjustable suspension, Brembo M4.32 calipers, and a TFT display. There are also, of course, ABS and ride modes, too.
Yamaha MT-09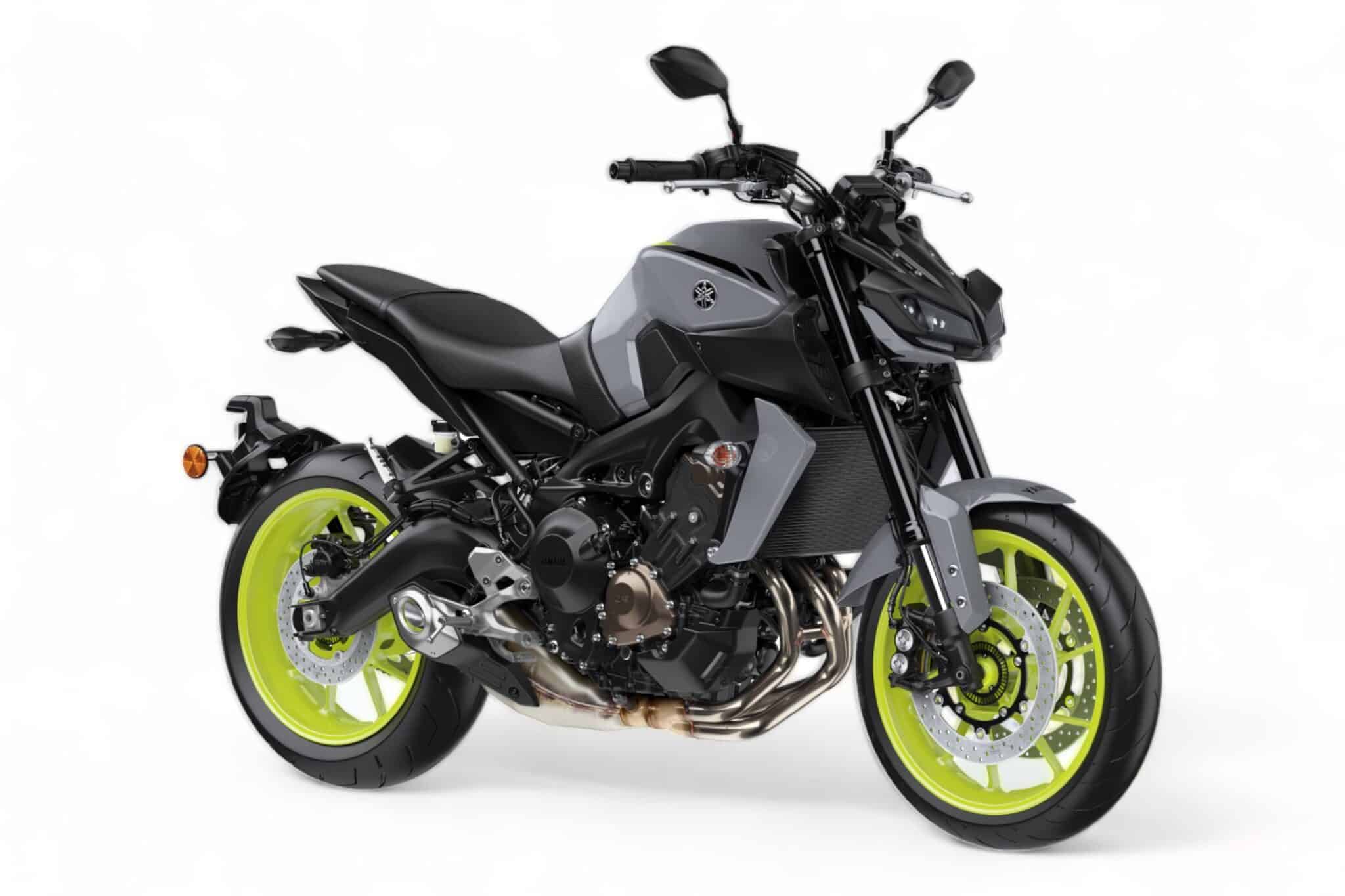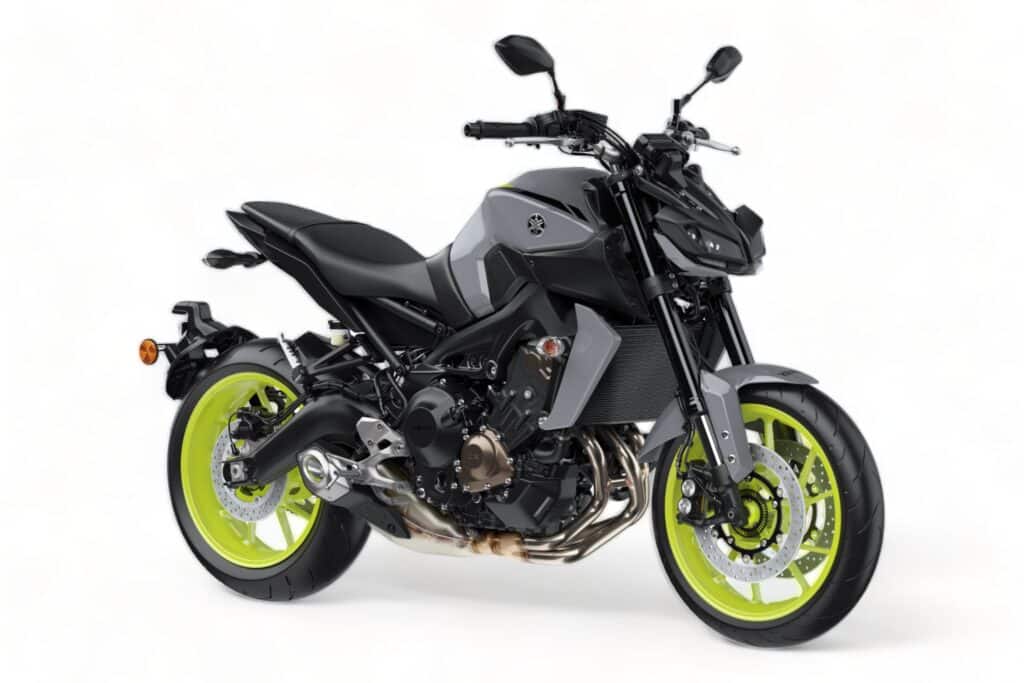 Finally, the Yamaha MT-09, otherwise known as the FZ-09. Above is a model from the 2018 revision.
The earlier MT-09 has an 847 cc three-cylinder engine. It makes a meaty 85 kW / 114 bhp at 10000 rpm, and like the Street Triple, makes torque everywhere.
Yes, there are complaints about the MT-09's soft suspension and on/off throttle response in A mode. But it's so cheap — especially used — that some attention to the suspension and maybe a tune (or even just a Booster Plug) would be easy to budget, if you have the patience to do it. And you'd be rewarded with an excellent bike.
After the Ducati Monster 821 — the 937
2021 Ducati Monster, informally known as the Ducati Monster 937, is a huge step up from the 821. It's a bit more powerful, but much lighter, with some ride aids that bring it into the 2020s including cornering ABS and traction control (but no cruise control).
The Monster 937, actually just known as the "2021 Ducati Monster", replaced the trellis frame of the Monster 821 with the "Front Frame" of more recent Ducati Superbikes, replaced the 821 Testastretta-11 motor with the 937 motor that powers a number of other Ducati middleweight motorcycles, and replaced the Monster 1200 altogether.
The 2021 Monster also said goodbye to other elements of Ducati styling like the single-sided swingarm (a feature of the 1200).
What we get, in return, is a modern sport bike that's very lightweight, enough to compete with the modern Triumph Street Triple and the Yamaha MT-09.
But it does leave people wondering "What even is a Ducati Monster?" Well, the answer is plain: it's a high-performance naked sport bike. You can give up some of the performance and choose an older, more characterful bike if you want — plenty of people do. The Monster 937, though, is one that's able to keep up with the modern age.
Wrap up
The Ducati Monster 821, now that it's no longer the latest thing, is a tough bike to actively suggest. On the one hand, it has so many compelling alternatives, even from within the Ducati stable (the updated Monster 937). On the other hand, it's not so old and laden with character that I'd find it easy to recommend next to, say, a carburettor-fuelled Monster 900. It's a little neither Arthur nor Martha, which is why I say I feel a bit "stuck in the middle" in describing it.
So why get the Monster? Because it's still a great bike! It's not the fastest, nor the lightest, nor the angriest, nor the smoothest, but is from a generation of Ducati motorcycles that at least did everything right in that it didn't do anything brazenly wrong. It's a bike you'll definitely enjoy, as I did, even though it's not the one for me.
If you come across one, hopefully the above will give you a bit of insight into what they're like to ride and help you choose the right models.