In November 2023, Royal Enfield released their updated Royal Enfield Himalayan.
A lot has changed in the Himalayan, and if you're in the market for an entry-level but highly capable adventure motorcycle, the newer Himalayan (unofficially the Himalayan 450) may be for you.
Below I'll go over the changes to the Royal Enfield Himalayan, including in the
Engine
Suspension
Ride aids and technology, and
Maintenance requirements
And of course its looks. Let's go!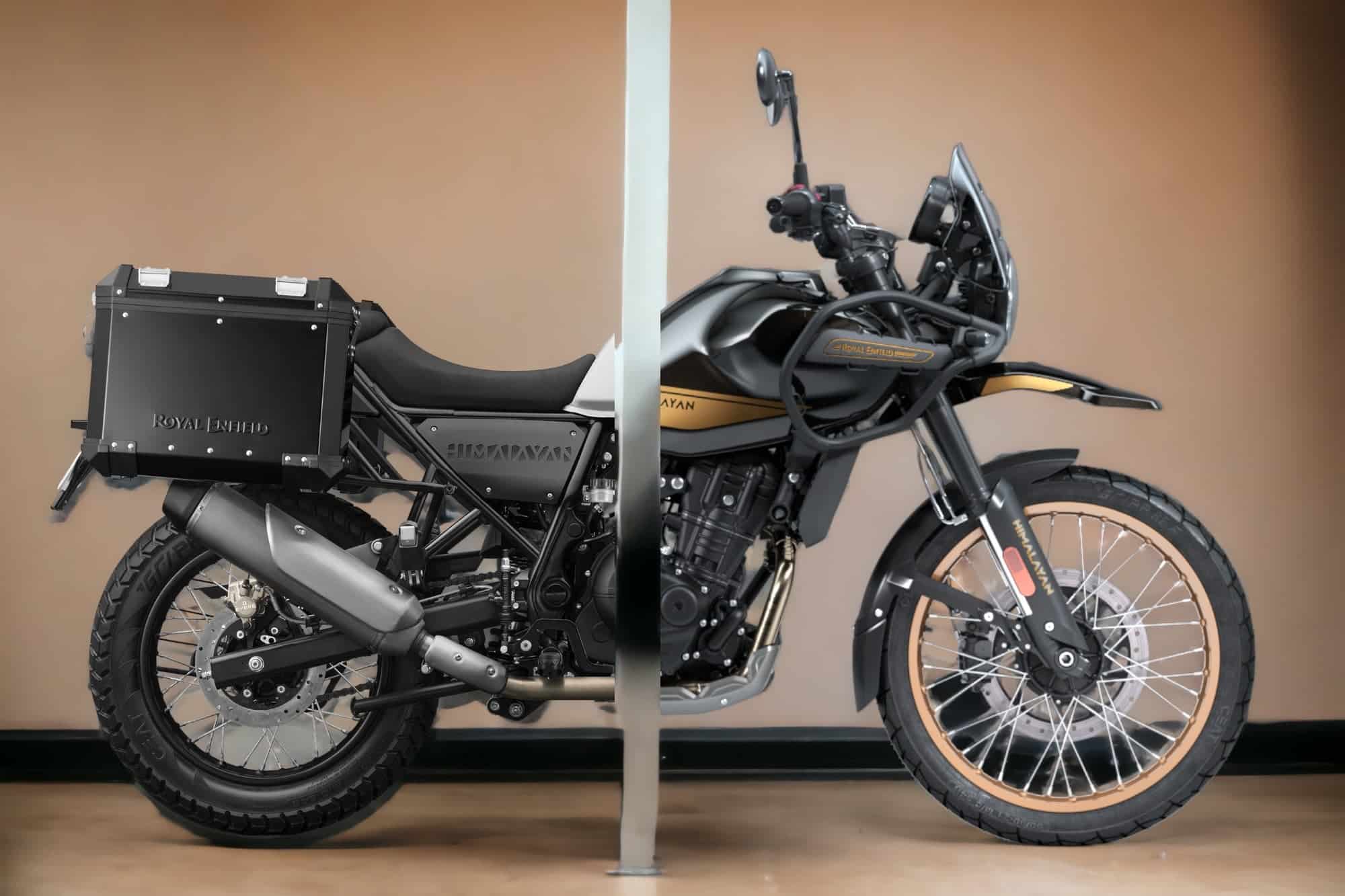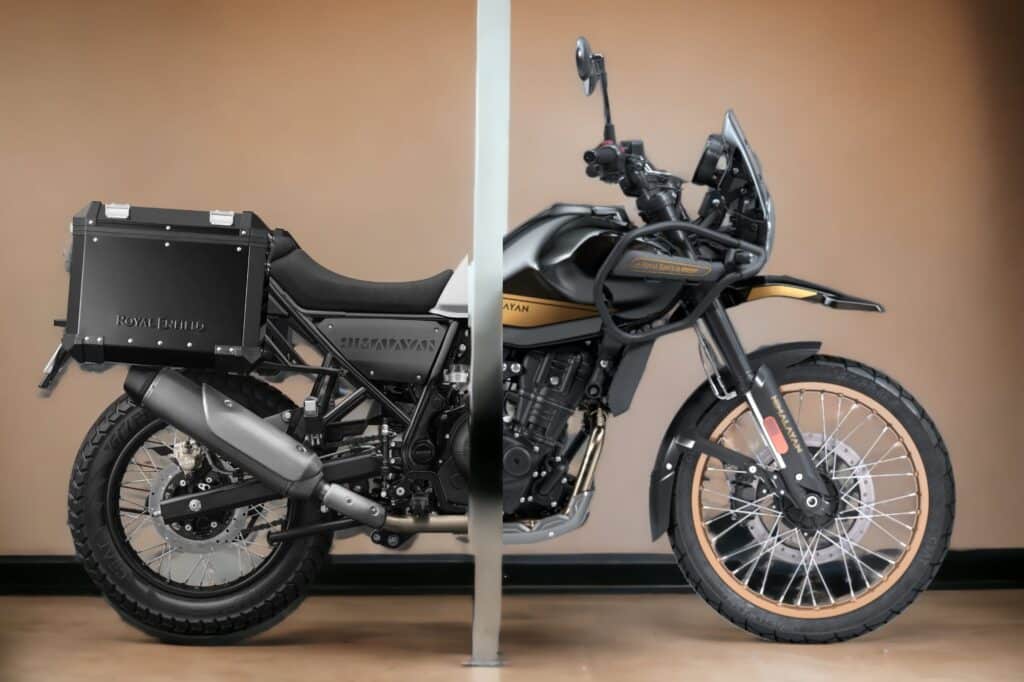 Are you obsessed with motorcycles?
Well, I am. That's why I created this site — as an outlet. I love learning and sharing what others might find useful. If you like what you read here, and you're a fraction as obsessed as I am, you might like to know when I've published more. (Check the latest for an idea of what you'll see.)
Overview of the Changes in the Royal Enfield Himalayan
Firstly, the Royal Enfield Himalayan has only been called that — the "new" Himalayan. There was no Himalayan 410, nor is there a Himalayan 450 now.
Despite this, there have been a host of changes.
You can see the changes in the Royal Enfield Himalayan just from looking at it. The new Himalayan is much more modern. The old blocky design is gone; the new Himalayan looks much more like a modern motorcycle. Whether this is a good thing or a not so good thing is up to you…
But of course, the changes aren't skin-deep. Royal Enfield has released with the new Himalayan a whole new generation of engine. It's called the Sherpa 450 and it's a huge leap for Royal Enfield, with liquid cooling, four valves per cylinder, and wide service intervals. Again, as to whether everyone wanted that, I'm not sure. Superficially, they're good things, though.
There's more, though. Royal Enfield has updated many components of the chassis, and even the ride aids, introducing for the first time navigation supported by Google Maps. Pretty cool! Just don't stray somewhere that it's not supported…
Let's start by looking at the engine, and then work our way through the other important changes to the 2024 Royal Enfield Himalayan.
Engine Changes — More Everything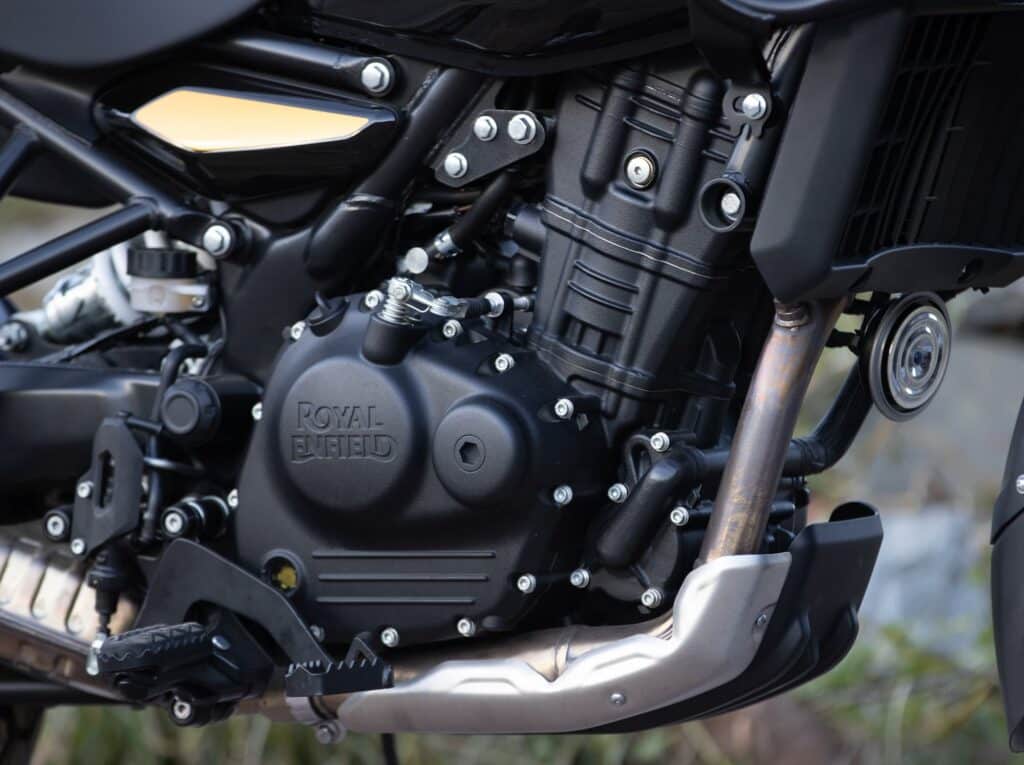 Here's a summary table of the changes to the 2024 Royal Enfield Himalayan.
Item
Himalayan 410
Himalayan 450
Notes
Engine
"LS410": 411 cc Single cylinder, SOHC, 2V
"Sherpa 450": 452 cc single cylinder, DOHC, 4V
Whole new generation of engine
Cooing
Air
Liquid
Allows higher compression ratio
Compression ratio
9.5:1
11.5:1
Bore / Stroke
78 x 86 mm
84 x 81.5 mm
Mildly undersquare in 410, mildly oversquare in 450
Valve service interval
Every 3000 miles / 5000 km
Every 6000 miles / 10000 km for first two services
Thereafter 12000 miles / 20000 km
Reasonably wide.
Source
Valve adjustment style
Screw / locknut
Shim under bucket
Much more fiddly, but you do it less often
Peak power
18 kW / 25 hp @ 6500 rpm
29 kW / 40 hp @ 8000 rpm
60% more power. Not bad! Similar to KLR650
Peak torque
32 Nm / 24 lb-ft @ 4250 rpm
40 Nm / 29.5 lb-ft @ 5500 rpm
Transmission
5-speed
6-speed
Engine spec changes, Royal Enfield Himalayan 410 vs 450
The all-new engine in the 2024 Himalayan is what Royal Enfield calls the "Sherpa 450". It's a 452 cc liquid-cooled engine that runs a higher compression ratio, makes 60% more peak power, and has much wider service intervals.
The new Sherpa 450 engine is a modern unit with everything you'd expect in an engine with today's technology. It has four valves, dual overhead camshafts, and valve service intervals of 12000 miles / 20000 km. These are par for the course; the 2-valve, SOHC, air-cooled LS410 was very old-fashioned.
Of course, that was the charm of the LS410 for many users. Yes, valve services were so frequent that the likelihood of having to do one on a long trip was significant. But it was also very easy to do, with screw-and-locknut adjusters and two valves. Experienced owners could do the job in under 15 minutes.
Without having seen the service manual for the new bike, if the DOHC / 4V setup is like most other motorcycles, then doing a valve job on the Sherpa 450 will involve removing the timing chain, making sure not to mess up timing, removing the camshafts, and swapping out shims, being careful to not drop anything into the crankcase. It's not a hard job, but it's fiddly, and I'd recommend that most people do it with an experienced friend the first time.
The benefit of the modern tech (liquid cooling and better breathing) is that the Sherpa 450 pulls all the way to the redline, and makes enough power to let you (reportedly) pass other vehicles on the highway with much more confidence.
Finally, the rest of the drivetrain is also upgraded — there's a slipper clutch and a six-speed transmission.
Style changes
The old Royal Enfield Himalayan had a robust, if somewhat blockish style. It was designed by Pierre Terblanche, and it showed — it's a classic, good-looking motorcycle.
The new Royal Enfield Himalayan looks a lot more modern. It's nice to look at, but not as distinguished as the former model. If I may editorialise… the former Himalayan is a Jeep Wrangler, whereas the new one is more akin to a Jeep Cherokee.
Still, you can make up your own mind on this front. Look at the below pics.
Chassis upgrades
Aside from the engine, Royal Enfield made a lot of changes to the chassis and surrounding components of the new Himalayan 450.
Below is a summary of the specs of the chassis components, both those that stayed the same and those that improved.
| Item | Himalayan 410 | Himalayan 450 | Notes |
| --- | --- | --- | --- |
| Front suspension | 41mm fork, 200mm travel | Showa 43mm USD, 200mm travel | |
| Rear suspension | Monoshock, 180mm travel | Showa monoshock, 200mm travel | Longer 20mm travel |
| Front brakes | 300mm disc, 2-piston caliper | 320 mm disc, 2-piston calliper | Larger disc |
| Front wheel | 90/90-21 | 90/90-21 | |
| Rear wheel | 120/90-18 | 140/80-17 | Fatter rear tire |
| Fuel tank capacity | 15L / 3.9 US Gal | 17L 4.5 US Gal | 280+ mile / 450+ km range per RE |
| Wet weight | 199 kg / 439 lb | 196 kg / 432 lb | Slightly less weight |
Spec changes, Royal Enfield 410 vs 450
The old Himalayan had conventional (non-inverted) forks, whereas the new Himalayan has an inverted fork with a guard for the inner tube. An inverted fork means less unsprung mass, which helps wheels be responsive to bumps.
See here for the guide to front suspension technology, explaining the benefits of various elements of fork specs.
The new Himalayan has Showa-brand suspension components with roughly the same suspension travel as the former, though the shock does have more travel.
One nice improvement is in the tank size. There's only 2L (about half a gallon) more, but combined with the "eco" ride mode, this means a total fuel range of around 280 miles / 450 km on one tank. This means that you'd only have to refill three times if attempting the Iron Butt Challenge!
Ride aid changes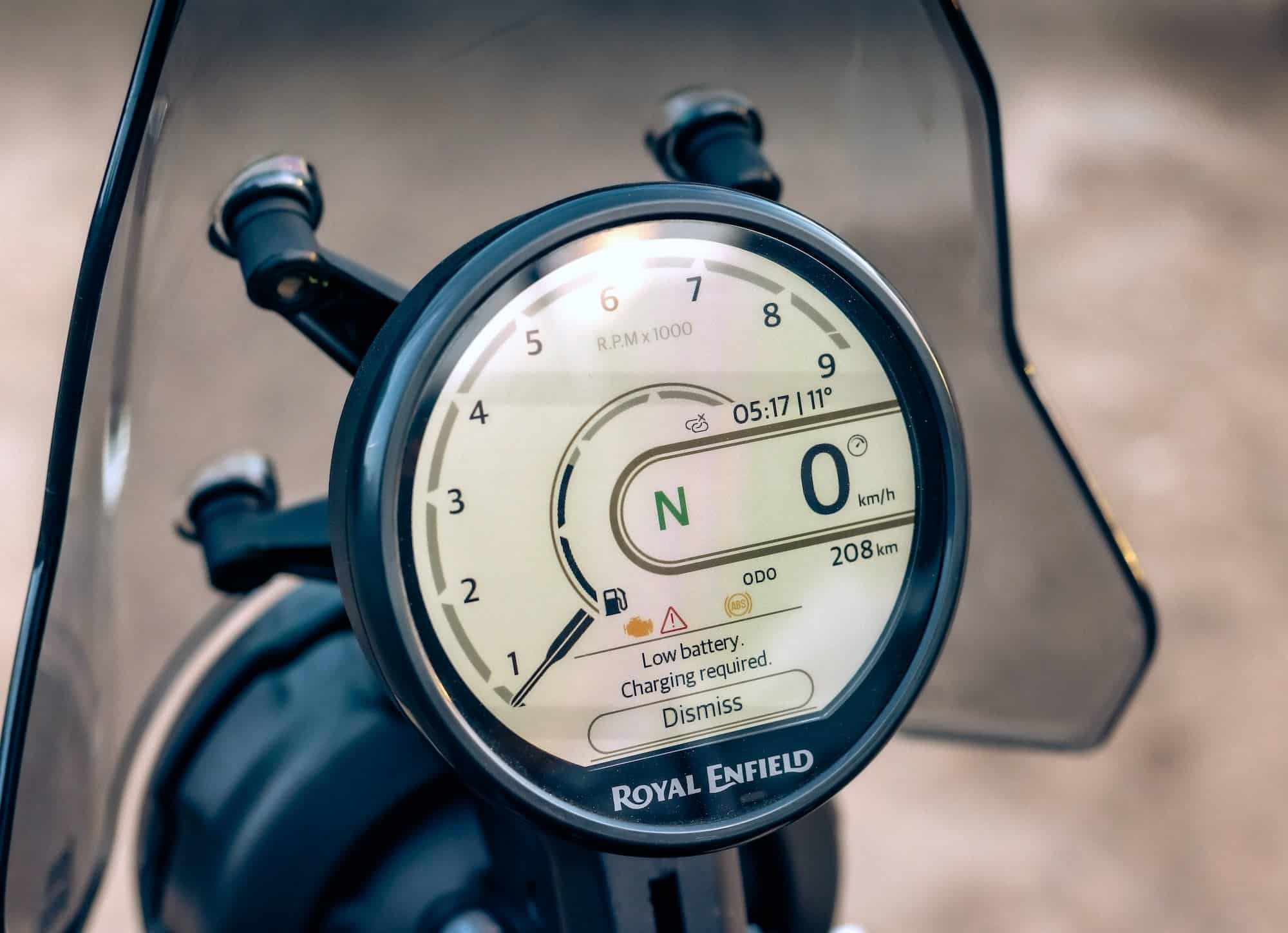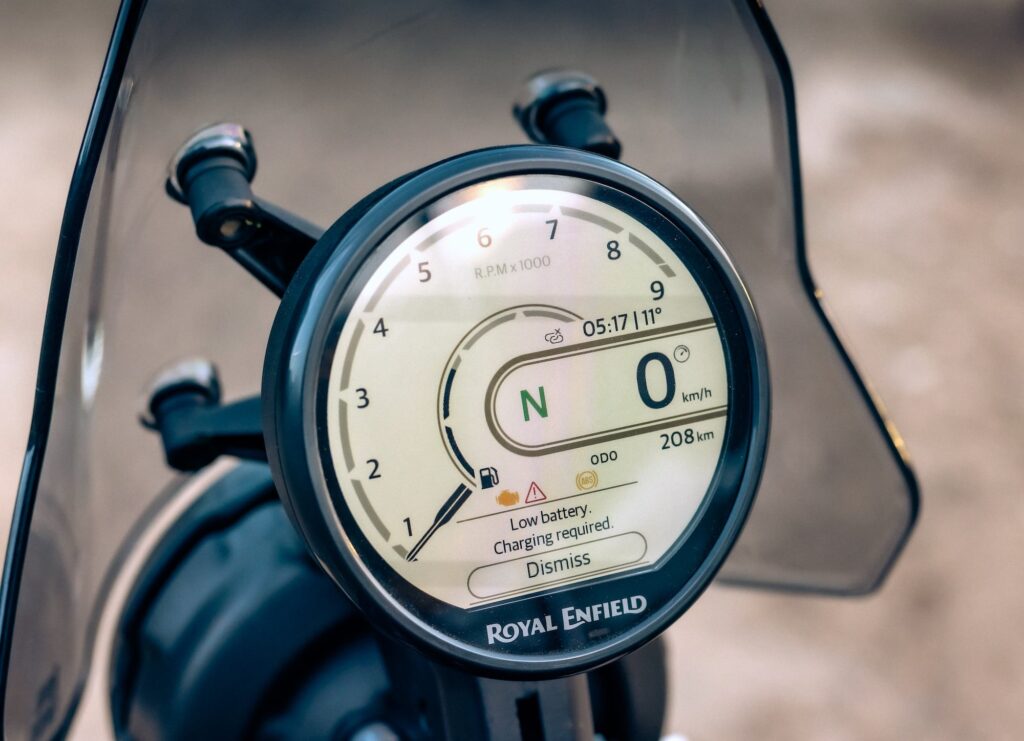 Finally, Royal Enfield significantly updated the ride aids and general level of tech on the Himalayan 450. Still just ABS, mostly, but there are some other nice bits.
| Item | Himalayan 410 | Himalayan 450 | Notes |
| --- | --- | --- | --- |
| ABS | 2-channel | 2-channel | Same |
| Throttle | Cable | Ride by wire (2 power modes) | There's an "eco" power mode in the 450 |
| Clutch | Regular | Slip / Assist | Allows for being clumsy with clutch / throttle |
| Navigation | "Tripper" | Google Maps | Better navigation |
Spec changes, Royal Enfield 410 vs 450
It's interesting to see an "eco" power mode on the ostensibly generally economical new Himalayan. One would question whether it's necessary, other than just being a technological flourish. But if it really does extend range, then I can see its utility.
The Google Maps-assisted navigation is a first for motorcycles in general.
Competitive Landscape in Small Adventure Motorcycles
It's interesting to note that the competitive landscape for entry-level adventurers is expanding. Royal Enfield has upped the ante with the new Himalayan, but there are new contenders in the entry-level adventure motorcycle market, too.
The main noteworthy competitor is the CFMOTO 450MT, also announced as a new model for 2024.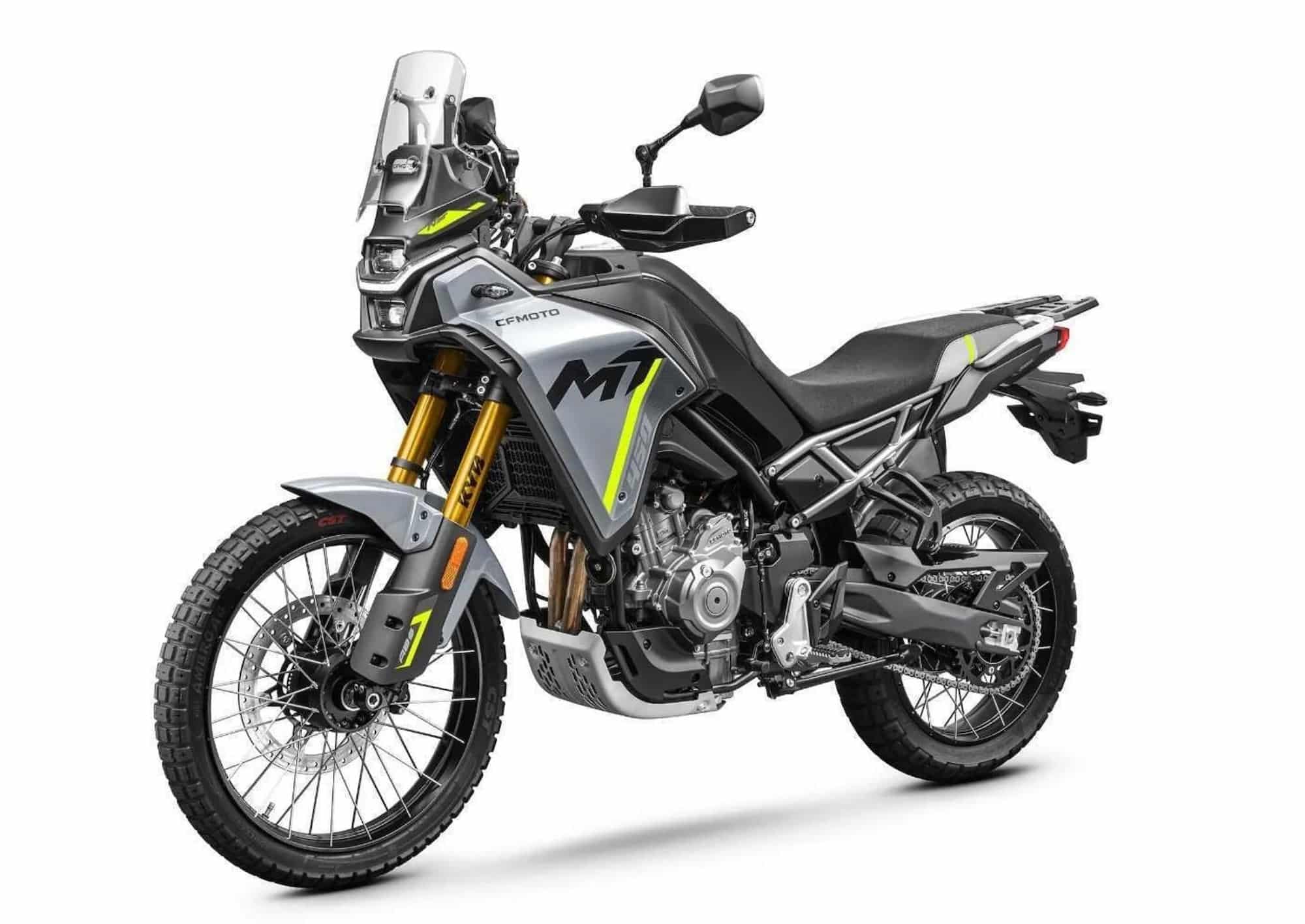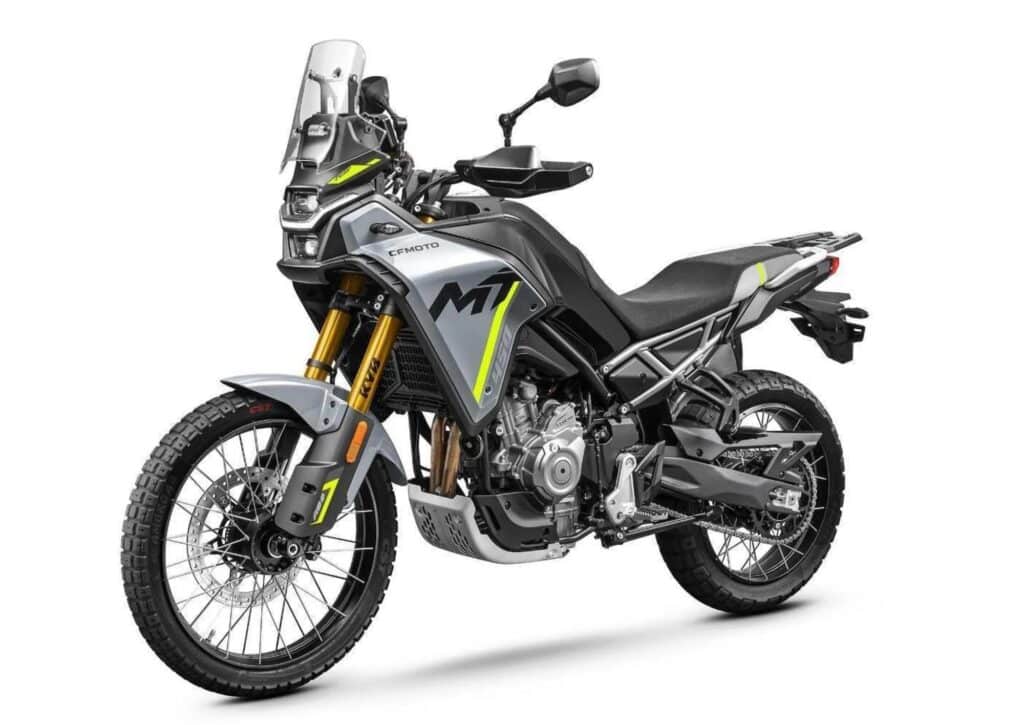 The CFMOTO 450MT is the answer to what people have been asking from Kawasaki for years: "Please upgrade the Versys-X 300 with a bigger motor." Plus a whole lot more.
The CFMOTO 450MT is powered by the same 449.5 cc 270-degree parallel twin engine as in CFMOTO's 450 sport bikes (the 450SS/SR and the 450NK), but tunes the engine for slightly lower power (a peak of 32.5 kW / 44 hp @ 8500 rpm), but with peak torque coming on 1000 rpm earlier.
The KYB suspension gives the 450MT 200mm (7.9 inches) of travel at either end — good for a middleweight!
The 450MT is mid-spec on ride aids, but you can disable the rear ABS with one button on the handlebar, which is really what a lot of riders want. It does have a 5-inch curved TFT with Bluetooth connectivity, though.
There are only two downsides to the 450MT. The first is that like the Himalayan, the CFMOTO 450MT isn't that lightweight — it has a quoted 175 kg (386 lb) dry weight, or around 190 kg / 420 lb ready to ride. This is around 40 kg or nearly 90 lb heavier than the Honda CRF300L Rally, for example. Yes, the Honda is lower in power, but it's a pretty well-liked lightweight adventurer.
The second is that CFMOTO carries with it the baggage of being a Chinese brand. I don't want to get too much into politics here (I've lived in China, speak Mandarin, and have many Chinese friends who are open-minded and worldly), but China carries baggage with it. There's a lot of misinformation and xenophobia, which is terrible, but the unfortunate consequence is that having anything with Chinese branding is going to arouse negative comments. It goes far beyond comments on quality. I should know; every time I publish anything about China I get quite a few unsolicited opinions in my inbox.
Other than that, there's the Honda CRF300L Rally, which is much more "dual sport" (with long-travel suspension and a very lightweight engine), the KTM 390 Adventure, which in recent versions comes with spoked rims, and the Kawasaki Versys-X 300, which is much more road-oriented, and in need of an update (people have wanted at least the newer 400 engine, let alone the 451 from the 2024 Kawasaki Ninja 500, for years).
Honda also has re-released the "Dominator" motorcycle with the NX500. It's powered by the parallel twin engine that powers the CB500X, the Rebel 500, and others. But it's a barely-dressed-up CB500X, so not a serious contender as an adventure motorcycle compared to the above two.
Overall
I'm really intrigued by this new upper-middleweight class of adventure motorcycles, and I'm sure we'll see more and more entrants in the coming years. My hopes would be for an Aprilia one based on the 457 engine, and an updated Versys-X with the 500 engine.
Because Royal Enfield has started modernising their motorcycles (liquid cooling! Wasn't sure the day would come so soon), the playing field is starting to become more level, and you'd be less likely to choose an RE motorcycle because of old-world charm.