There's a lot that's tempting about the 2021+ Triumph Trident 660. It's an affordable, good-looking, modestly powered motorcycle with a cracker of a three-cylinder engine — a "triple".
"A triple, eh?" you mumble. "Kind of like one of the other triples that Triumph makes?" Kind of, yes. But not exactly the same.
For those who don't know much about three cylinder engines — well, they're all different. They're not all necessarily exciting.
But Triumph has a bit of a reputation for creating lively triples that have a gentle chortle at idle but a wailing howl on song. This has been true of the naked bikes (Speed / Street Triple) and sport bikes (the Daytonas), and it's also true of the Trident — to a degree.
I also always find it interesting to look a bit into motorcycles and see what inspired them. This isn't the first Trident ever. In fact, it's the third (roughly, if you do a bit of generous grouping).
So, in contemplating the Triumph Trident, I wondered:
How has the Triumph Trident changed over history? How different is the modern one from the models that inspire it
What makes the Triumph Trident special?
What's the Trident like to ride?
How does the Triumph Trident compare to other motorcycles of its class, like the Street Triple?
Here's everything I found.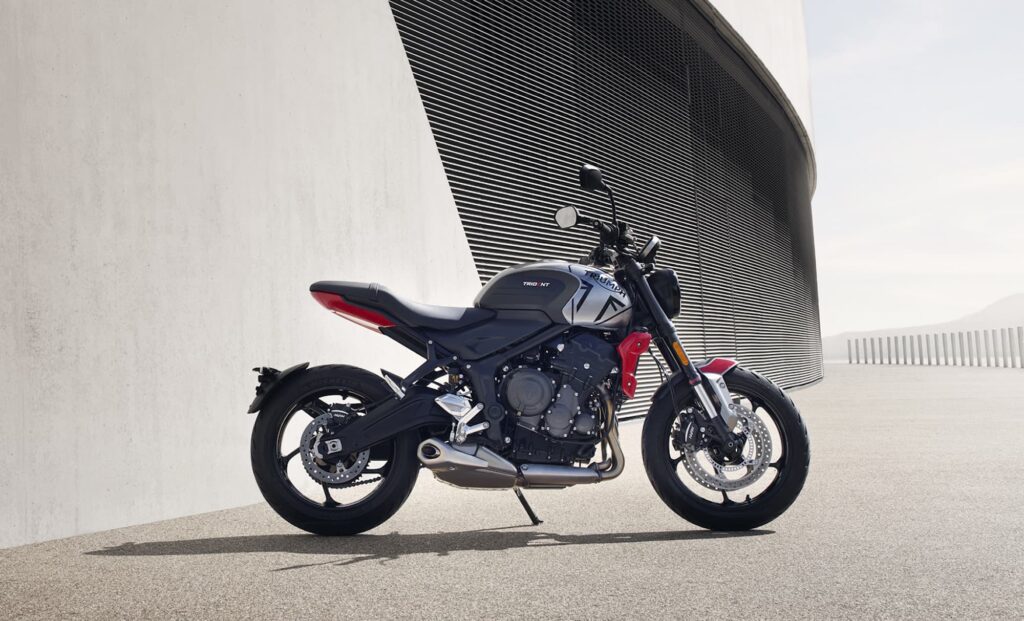 Are you obsessed with motorcycles?
Well, I am. That's why I created this site — as an outlet. I love learning and sharing what others might find useful. If you like what you read here, and you're a fraction as obsessed as I am, you might like to know when I've published more. (Check the latest for an idea of what you'll see.)
Core specs of the Triumph Trident
Before diving in very far, let's look at the core specs of the Triumph Trident 660.
You can't ride a spec sheet, which is why I offer some context as we go.
Part
Triumph Trident 660 spec
Notes
Engine type
Inline three-cylinder "Triple" liquid-cooled 12-valve
Like the Street / Speed Triple range
Capacity
659
Learner legal in Australia, NZ (in restricted power
Bore / Stroke
74.0 / 51.1 mm
Same as Street Triple 660 (Aust / NZ), based on the 675 engine (NOT the Street Triple S)
Compression ratio
11.95:1
Modestly aggressive
Peak power
60 kW / 81 PS / 80 bhp @ 10 250 rpm
A2/LAMS: 35 kW / 47 PS / 46 bhp @ 8,750 rpm
More power than most competitors in the middleweight segment
Peak torque
64 Nm (47 lb-ft) @ 6 250 rpm
A2/LAMS: 59 Nm (44 lb-ft) @ 5 250 rpm
Makes over 90% torque between 3000-9000 rpm
Front suspension
Showa SFF USD, non-adjustable
Standard street spec, but not sportbike spec (no adjustability)
Rear suspension
Showa monoshock, preload-adjustable
Decent, standard street spec
Front brake
Twin 310mm discs, Nissin two-piston calipers
Console / display
Colour TFT
Nice to have a colour TFT
Safety equipment
ABS, TC
Standard; the top-end bikes have an IMU
Wet weight
189 kg / 417 lb
Quite light
Core specs of the 2021+ Triumph Trident 660
A Brief History of the Triumph Trident (1968-today)
Even though the Trident is related to past Tridents in name only, it's nice to know where the inspiration came from.
Triumph has been making motorcycles with the "Trident" name for a long time — since 1968.
The thing that the Triumph Trident has always had in common is that they've been upright standard motorcycles with three-cylinder engines.
But a lot has changed about the Trident. In fact, a lot has changed about the manufacturer Triumph in general! No less than an entire change of hands, new factory, and fundamentally new strategy under the new Triumph.
In brief, there have been three generations of Triumph Trident — the first original(s), the second one produced at Hinckley, and now… the 2021 Triumph Trident 660
The Original Triumph Trident/BSA Rocket III
The first Triumph Trident was also known as the BSA Rocket III… not to be confused with the current and previous Triumph Rocket 3 / III, which are cruisers.
BSA owned Triumph at the time (they merged in 1951), so they were allowed to sell the same thing under two brands — although BSA used a forty-pound heavier frame for some reason.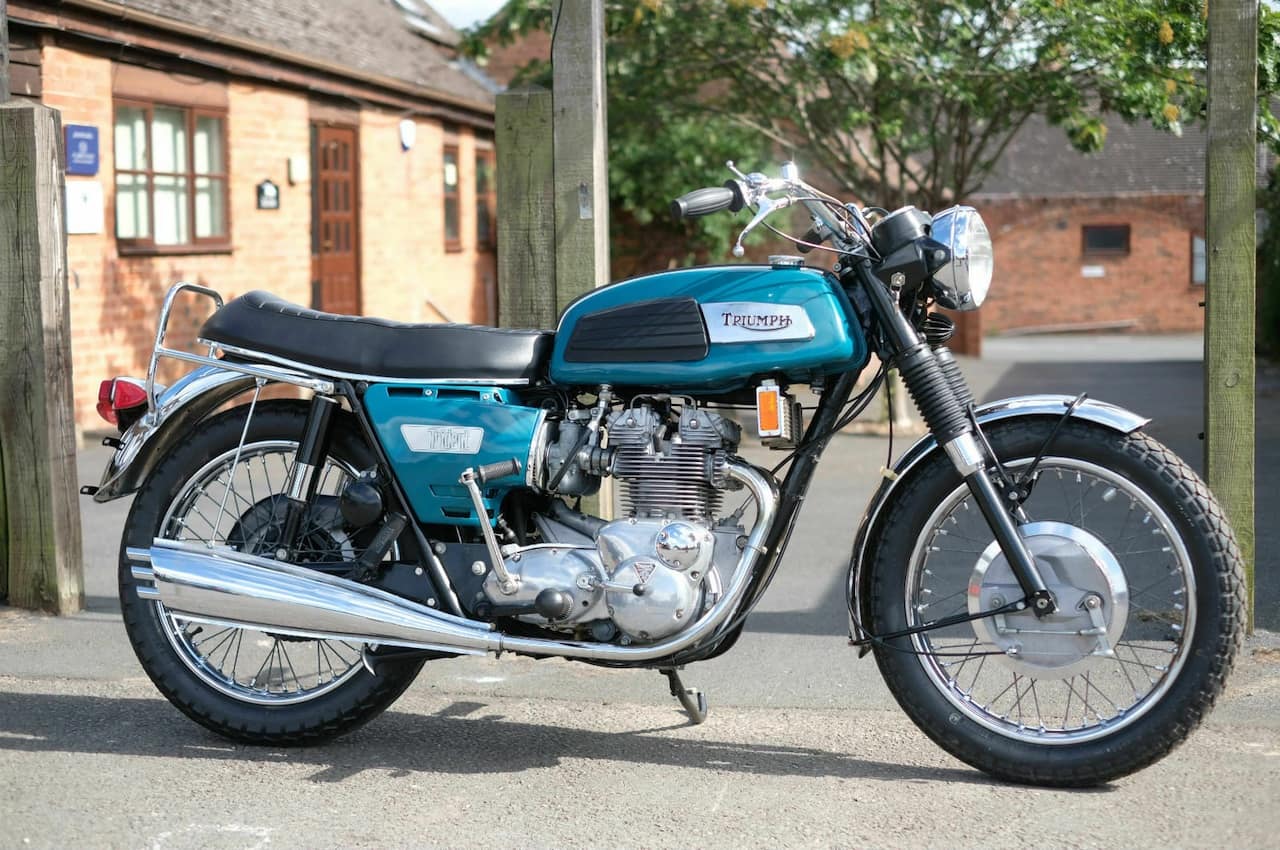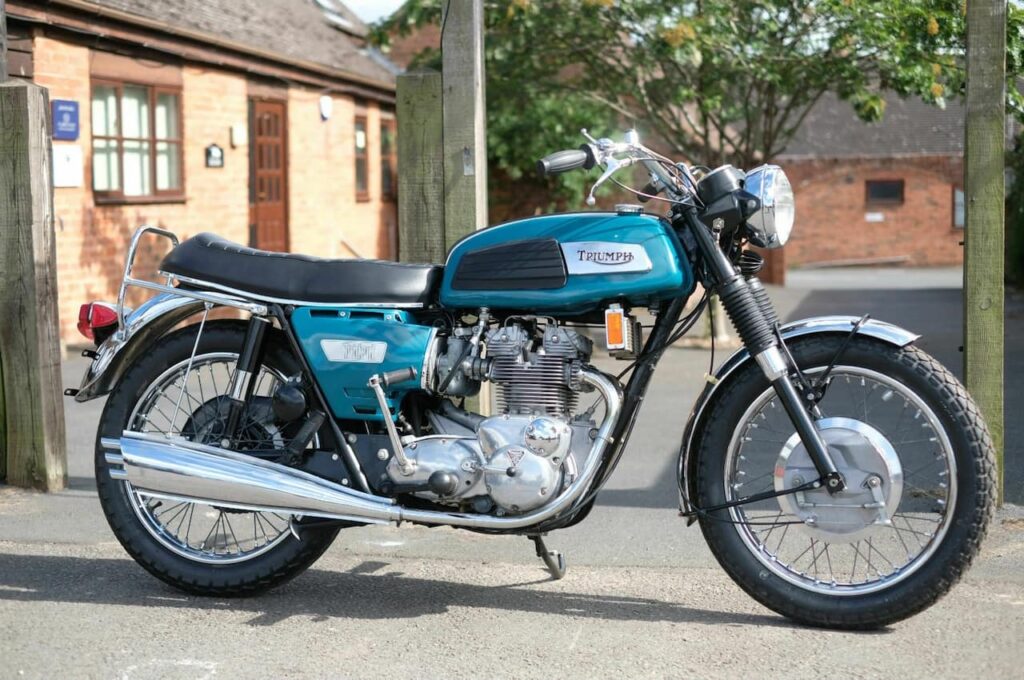 The first Triumph Trident was available to the US market from 1969. It was a three-cylinder 740 cc upright standard that produced 43 kW (58 hp) at 7 250 rpm, and could reach a top speed of 185 km/h (115 mph), though I'm sure only the bravest would take it that far.
For context, 740 cc was huge at the time. I know, I know, these are the days in which forum dwellers ask "Is an R1 a good first bike, I'm afraid I'll grow out of an R6". So this was a big change from the lower-power twins. Other brands did similar things at the time, with Honda releasing its CB750-four in 1969.
Triumph upgraded the first Triumph Trident between 1969 and 1975. Along the way, the Trident evolved to:
The T150V from 1971 model year: Receiving a five-speed gearbox (oh did I mention the earlier one was four-speed?) as well as a front disc brake (yes! the front was a drum previously!)
The T160 in 1974, with electric start, more power thanks to a higher compression ratio (9.5 vs 8.25:1), a new steel frame, front and rear disc brakes, shorter and steeper front forks, a longer swing-arm, and left-foot gear change.
Triumph produced the T160 for over a year, ending manufacturing in 1976. But still, they were very well loved — the T160 was (and is) a favourite for racing.
The Second, now "Hinckley" Triumph Trident
Triumph folded due to difficulty in competitive pricing for various reasons I'll go into another day. John Bloor bought the rights to the brand in 1983, and in the late eighties started making motorcycles under the Triumph name again.
The second Triumph Trident was manufactured by the new Triumph Motorcycles Limited at Hinckley.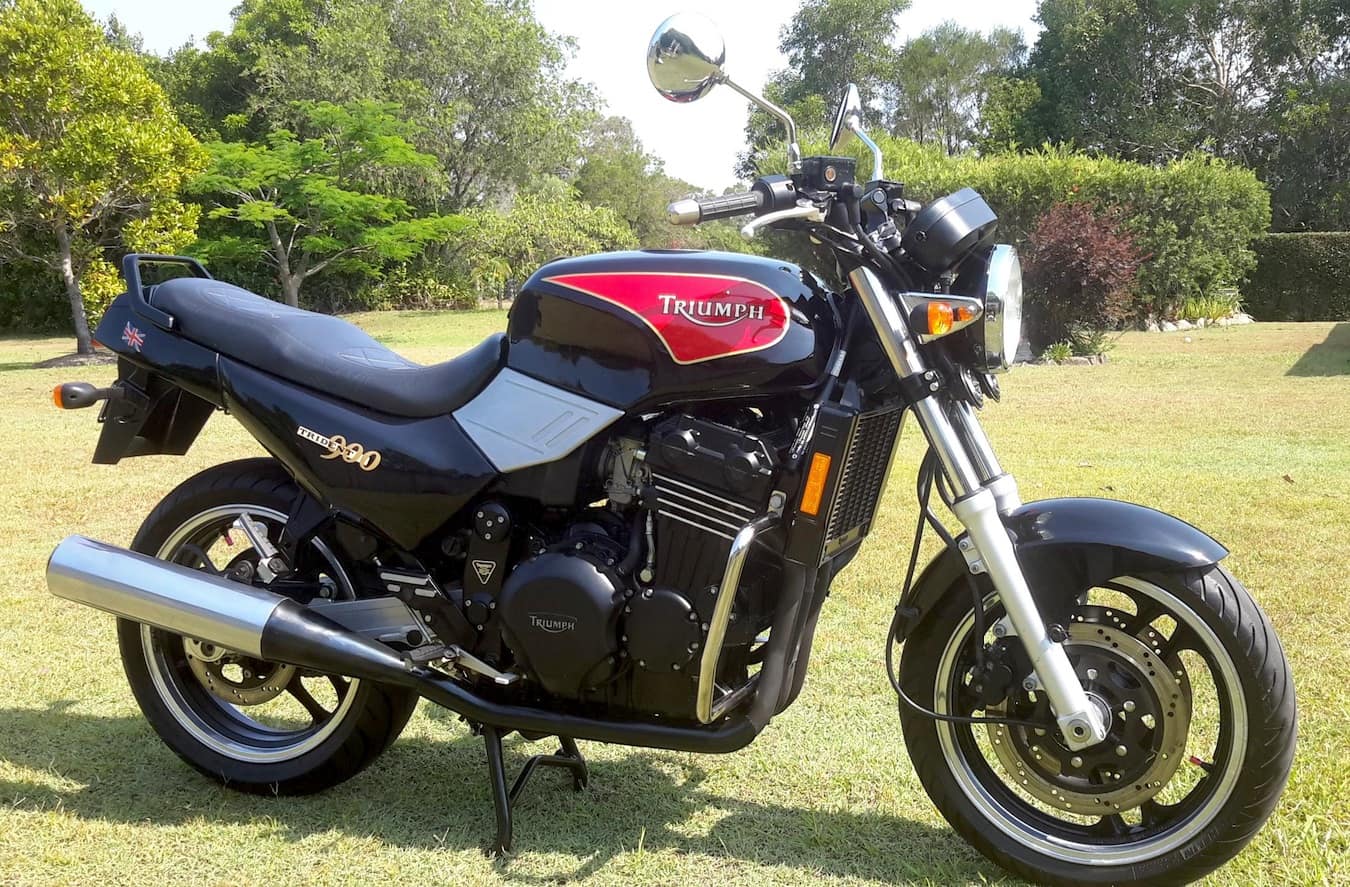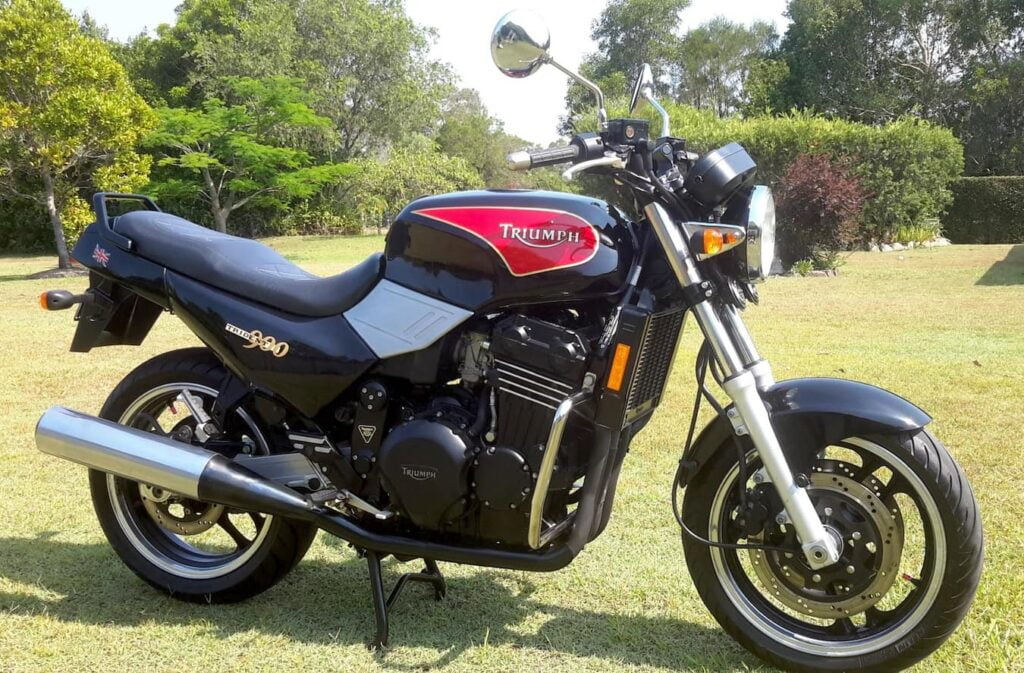 Triumph launched the second generation Triumph Trident motorcycles in 1990. Triumph made these from 1991 to 1998 and marketed them as relatively affordable naked bikes, an emerging trend.
Triumph made the second-gen Trident as both 749 cc and 885 cc, called the Trident 750 and the Triumph 900 respectively. Both these engines have liquid-cooled DOHC engines and very similar frames and specs.
The smaller Trident 750 actually produces nearly as much power as the 900… but you have to rev it more to get to that peak torque. The Trident 750 makes a peak of 72 kW (97 hp), and peak torque of 66 Nm (49 ft-lb) at 8500 rpm, pushing a wet weight of 230kg.
But the larger Trident 900 was the one to go for — the same engine, but with a longer stroke, and tuned for mid-range grunt. People describe it as being over-engineered, basic, and very reliable as well as being affordable.
The Triumph Trident 900 produces a pretty compelling 73 kW* (100hp) for an upright standard, with a decent (for the time) 235 kg wet weight. The engine produced peak torque of 83 Nm (61 ft-lb).
* Even though those were the reported specs, I suspect it produced about 10% more, because dyno tests showed it had 70 kW of power at the rear wheel.
Naked bikes weren't actually as popular in the early nineties — they were seen as looking like UJMs and indistinguishable from the likes of the CB750 or CB900, bikes which had pedigrees in racing and a reputation for indestructibility.
But affordable bikes are always popular. So by keeping the Triumph naked, offering uncomplicated non-adjustable suspension, using a basic frame, and having the relatively distinguishing feature of a triple kept, Triumph kept the Trident interesting for many as an entry-level bike.
Triumph ended manufacture of the second generation Triumph Trident 750 and 900 in August 1998.
The 2021 Triumph Trident 660 — What has changed, and what makes it special?
Well, quite a lot has changed in 23 years of motorcycling since the end of the manufacturing run of the Triumph Trident in the 1990s.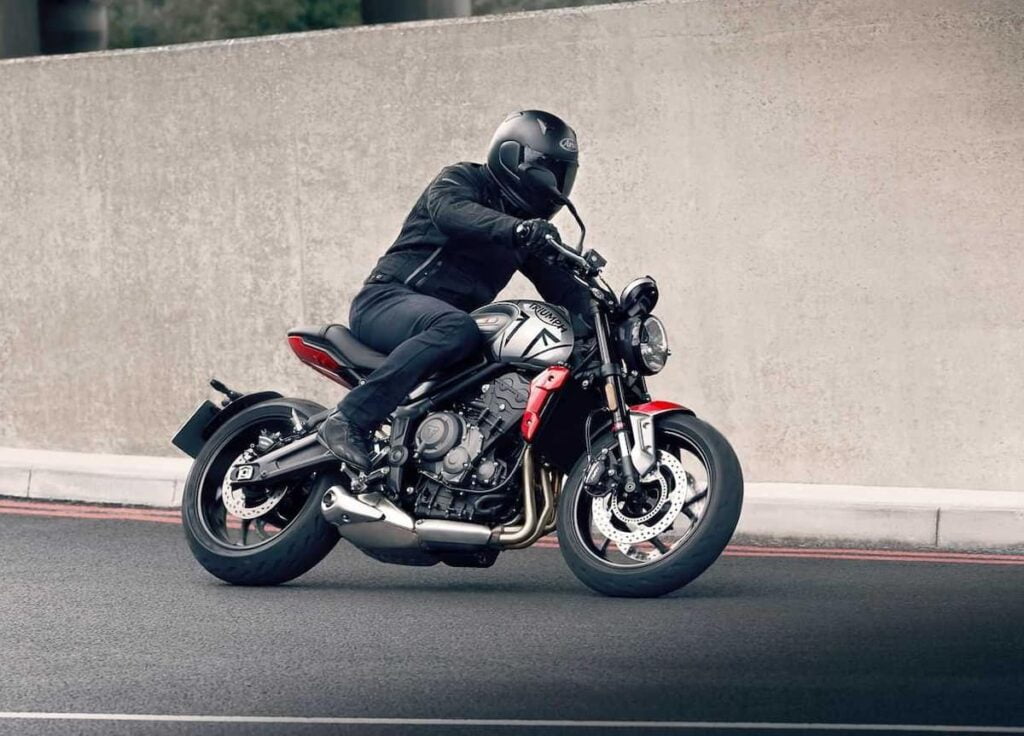 In a nutshell, as far as similarities go, the 2021 Triumph Trident is still an entry-level three-cylinder standard motorcycle.
Note: By entry-level I don't necessarily mean learner-approved. Europe gets an A2-version one and Australia gets a LAMS-approved one, but there is a full-power version for most markets. In a nutshell, the 2021 Triumph Trident is meant to compete with the Yamaha MT-07 and Suzuki SV650 — affordable, modestly powered and specified bikes that can do a bit of everything.
But pretty much everything else has changed in the new Trident. Needless to say, after over two decades, the modern 2021+ Triumph Trident is an all-new motorcycle.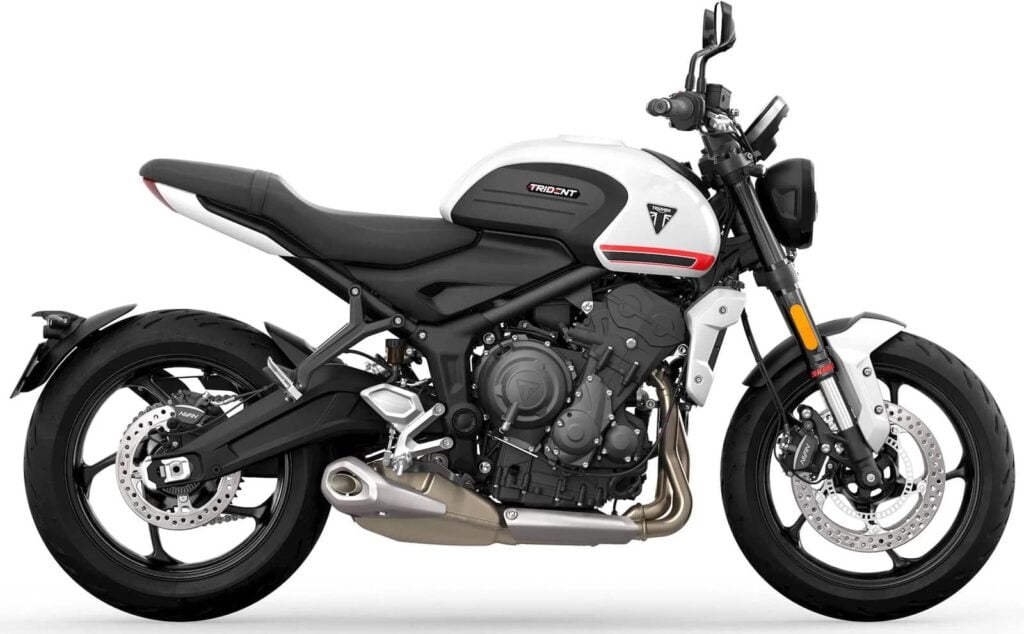 Here's what's the same between the old and new Triumph Trident:
Still a three-cylinder upright standard entry-level bike.
Non-adjustable suspension (other than pre-load for the rear)
Steel frame and swing-arm (rather than aluminium)
Simple brakes (twin-piston front discs)
No IMU
In that sense, the new 2021 Trident fits the same market rubric as the old one — an affordable three-cylinder bike.
Here's what's new about the 2021 Triumph Trident:
New, smaller engine — 660cc triple
Less power, more revvy — 60 kW (80 hp) at 10 250 rpm, and 64 Nm (47 lb-ft) at 6 250 rpm. Triumph says 90% of peak torque is available from 3 600 rpm.
A lot lighter — 189 kg fully fuelled
ABS and traction control with two ride modes (road and rain)
Modern electronics — TFT display, and Bluetooth connection for the phone.
Optional quickshifter!
So what makes the Triumph Trident 660 special? Quite a lot!
See here for all the other middleweight naked sport bikes available.
The three things I think make it quite unique are:
The three-cylinder engine
The stock slipper clutch and optional quickshifter
The TFT display and Bluetooth connectivity
More info on all these below.
About the Triumph Trident 660's engine
The Triumph Trident's 660 triple engine is "all-new", according to Triumph.
It's different from other Triumph 660 engines they've produced, like in the Street Triple 660 (a 659 cc engine based on the 675 engine) and the Street Triple S (a 660 cc engine based on the 765 engine). Though it does share some components and general specifications with the 675-derived engine.
Here's how they compare:
Spec
Trident 660
Street Triple 660 (675-based, LAMS-only)
Street Triple S (765-based)
Capacity
659
659
660
Bore / Stroke
74 / 51.1
74 / 51.1
76 x 48.5
Compression ratio
11.95:1
12.85:1*
12.2:1
Peak power
Full: 60 kW / 81 PS / 80 bhp @ 10 250 rpm
Restricted: 35 kW / 48 PS / 47 hp @ 8750 rpm
Restricted only: 41 kW / 55 hp @ 9300 rpm
Full: 70 kW / 95 PS / 94 bhp @ 9000 rpm
Peak torque
64 Nm / 47 ft-lb @ 6 250 rpm
Restricted: 59 Nm @ 5250 rpm
55 Nm / 40 ft-lb @ 5155 rpm
66 Nm / 49 ft-lb @ 9250 rpm
Comparing the 660 engines for the Triumph range. *: The quoted compression ratio on Triumph's website is 12.85:1, but this is the same as the full-power version. Some other specs were incorrectly quoted as being for the low-power 660 when they were also for the full-power version, so I'm not confident in this one being correct.
Based on this, you can see that the Triumph Trident 660 shares the same engine layout as the original Street Triple 660, which itself was a shorter-stroke version of the Street Triple 675.
Triumph upgraded its Street Triple 675 to 765 from 2017, so the Trident 660 is a way of keeping the older engine block alive.
There is of course a difference in tuning between the engines and other changes. The quoted compression ratio is lower (with the above caveat — I'm not sure of the compression ratio of the Street Triple 660), and the power in restricted form is also lower. The Trident 660 is Euro 5 compliant, too.
And the engines, while similar in overall spec, don't look the same or share many fundamental parts.
If you're interested in a Triumph Street Triple 660, see our buyers guide.
Triumph Trident 660's ride aids
Another thing that makes the Trident 660 special is the ride aids for an entry-level bike.
All new bikes these days come with ABS. And while you'd expect ride modes and traction control on higher-end bikes, the Trident 660 has them too.
On top of that, what's really impressive is that the Trident 660 comes with an assist/slipper clutch (which only a couple of other bikes in its class have) and even an optional quickshifter.
The only bike that has the Trident 660 beat in terms of base ride gear is the Tuono 660 — which has a sticker price that's around 30-50% more than that of Trident in most markets. (And the Tuono 660 beats it considerably, I should point out, with a six-axis IMU and even cruise control.)
The Triumph Trident 660's TFT display
Finally, the Triumph Trident 660 has a pretty unique round TFT display and (optional) Bluetooth connectivity.
Relatively few bikes in this class bother with a TFT — most brands have been dawdling in implementing one. The Kawasaki Z650 in recent years has one, though, but it has unique in the "budget" middleweight class in that regard.
The connectivity module lets you do a lot of things with your phone while keeping it safely stored and charging. You can do all the normal stuff, like take phone calls (assuming you have a Bluetooth helmet) and control music.
What's really interesting is that you can even use the TFT display to control a GoPro to change camera mode, take photos, and start and stop recording. Features for moto vloggers!
Riding the Triumph Trident 660
Riding the Triumph Trident 660 starts with what I call the "approach". It's why I think the aesthetics of a motorcycle are important.
As I walk up to any bike, I want to do so with a sense of anticipation. The bike has to look like how I want to ride, and later, the bike's ride has to perform as how I think the look implies.
It's a bit hard to explain, but the reason I think a bike's aesthetics are important is essentially why we like nice-looking objects — houses, cars, bridges — even though when we're using them, how they look doesn't matter.
Not everyone agrees. Some say (correctly) that you can't see a bike while you're riding it. But I think about it anyway.
The Triumph Trident 660 is a great-looking bike. Not just for its price range; it's a great-looking bike, period.
Others in its class all have a particular aesthetic. A few others, including the Yamaha XSR700 (based on the MT-07), the Honda CB650R, and the Kawasaki Z650RS (based on the Z650), all hace a retro-inspired look, too.
Once you get to the Triumph Trident 660 and fire it up (with a key!) you're greeted by the attractive TFT display, and a steady idle from the three-cylinder engine. And you're off.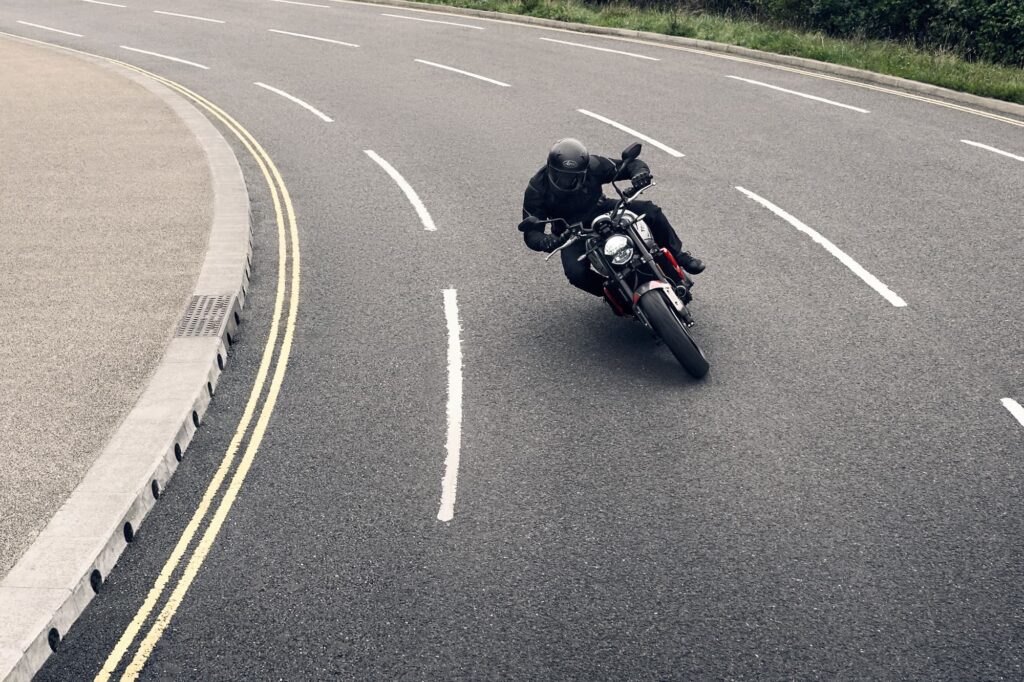 On the face of it, riding the Triumph Trident 660 is much like riding many other middleweight standards. It's easy to ride at all speeds and never feels fussed.
But there are two important differences: 1. That three-cylinder engine and 2. That three-cylinder engine!
Sure, it's just a 660cc triple, which is smaller than the last generation of Street Triple, already the smaller of the Triumph triple line-up. Power specs are lower than any generation of non-restricted Street Triple, too. But still, it's not to be sneezed at.
You can talk specs and features all you like, but there's one thing that's absolutely magical about the Triumph Trident 660 and that's the way the engine delivers power. There's a magical, almost mythical plateau of near peak torque for most of the (quite wide) rev range.
Triumph isn't the only one who does this. It may be the secret sauce of three-cylinder engines. Triumph gets similar results from the way they've tuned the Street and Speed Triples, and Yamaha achieves something very similar in their (slightly bigger) middleweight MT-09 and Tracer 900.
Anyway, even though the headline figure of claimed torque is that it peaks at 6250 rpm, dyno runs show that the Triumph makes basically that peak amount of torque from as low as 3000. And it holds it up to 9000.
It's not a huge torque figure — engine capacity does play a role. But the gearing of the Trident means that you never feel like thrust is lacking.
If you're absolutely hammering it (and at one point, you will be), you can get to about 40 mph / 70 km/h in first gear before you hit the rev limiter, and to a shade over 60 mph / 100 km/h in second. And that whole charade will take about 4 seconds if you're a slow shifter.
By the way, you'll have trouble keeping the front wheel down if you're accelerating that hard. You need to be crouched forwards! The Trident wheelies without much trouble in first and second gears.
In "normal" riding, you'd have shifted to third or fourth by the time you're at even low highway speeds. Given it's a naked bike, that's not where you'd like to stay for long, anyway.
The Triumph Trident 660 is happiest in the middle zone of riding, anywhere from 30-130 km/h (or above, if you're on a private road). I've seen videos of people taking them to 200 km/h. Not something I'd do on a test ride!
In terms of handling, the two things in the Trident's favour are that it's quite light, and that it has competent — if simple — suspension.
Most bikes in the class have non-adjustable suspension, with just preload adjustability in the rear. The Trident is the same.
But the Trident does have a Showa fork that's upside down, which gives it better front-end grip (as the lighter unsprung mass means the wheel can move around more freely).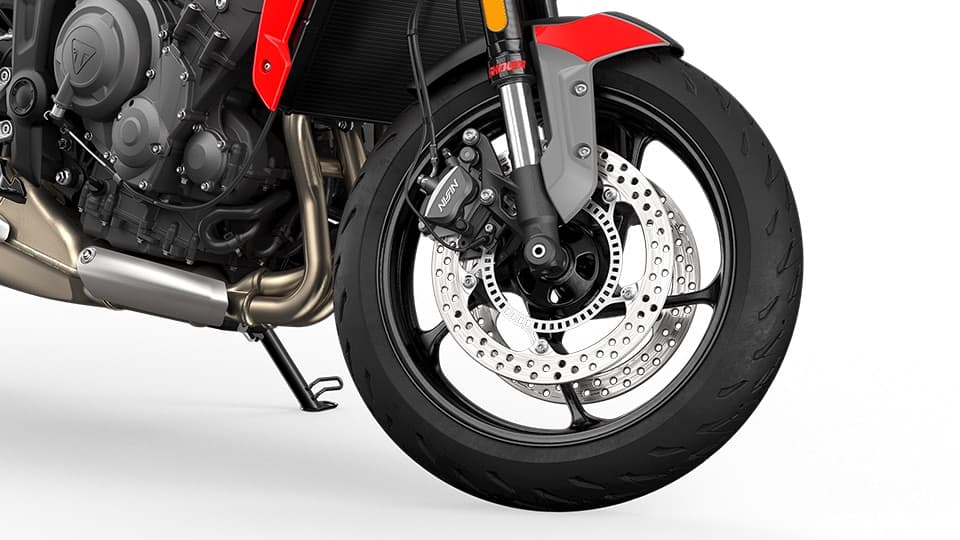 It's hard to get exactly a sense of what the benefit of a USD fork is in everyday riding at moderate speeds. But it's good to know that the spec isn't the same basic spec (non-inverted) as a cheap bike from another brand.
When riding the bike every day, the Trident feels very balanced — it's super confidence inspiring. It's an excellent choice as a first bike. The combination of a bike that's hard to stall, easy to lean, and light enough to not drop willy-nilly means that new riders would feel pretty at ease. You can flat foot the Triumph Trident 660 even if you're of moderate stature of ~165 cm (~5'6) according to many riders, meaning this has a very accessible height.
Alternatives to the Triumph Trident 660
If you're considering buying a Trident, then you're probably wondering what else is out there that's like it.
For me, this means bikes that are affordable, lively, and sporty without being higher-powered. This means the Suzuki SV650, the Yamaha MT-07 and the Kawasaki Z650. I'll also include the Aprilia Tuono 660 as even though it's much higher spec and expensive, it does show an upper end to this middleweight market.
I can't really include anything from Ducati. The Monster 937 has a much higher capacity engine, and is a more powerful, more advanced a motorcycle.
What all the included bikes have in common is that they're middleweight standard sportbikes with a powerband that makes them fun for everyday riding without being as focused as a supersport bike or as large as an adventure bike.
Apart from that, they vary significantly in their engine design, chassis/ride gear, and also technology. They're mostly in the same price bracket, other than the Tuono 660, which is significantly more expensive.
Apart from the RS660, you can buy most of these bikes used for significantly less. If you're after a first bike that is cheap enough to drop without weeping, then a used MT-07, SV650, Z650 / ER-6n, or CB650R / CB650F may be a better ticket.
Alternatives to the Triumph Trident 660 — In a nutshell
Here are all the main alternatives to the Triumph Trident 660 in one table of the main specs.
See here for all the other middleweight naked sport bikes available, including the high-end ones.
Model
Triumph Trident 660
Suzuki SV650 (3rd gen)
Yamaha MT-07 (2021+)
Kawasaki Z650
Aprilia Tuono 660
Honda CB650R
Engine type
660cc inline three-cylinder
645cc 90-degree V-twin
689cc parallel twin, 270-degree offset
649cc parallel twin, 180-degree offset
659 cc parallel twin, 270-degree offset
649cc inline four
Peak power
60 kW / 80 bhp @ 10250 rpm
56 kW / 75 hp @ 8500 rpm
54 kW / 72 bhp @ 8750 rpm
50 kW / 67 bhp @ 6500 rpm
70 kW / 94 bhp @ 10500 rpm
70 kW / 95 CV / 94 bhp @ 12000 rpm
Peak torque
64 Nm / 47 lb-ft @ 6250 rpm
64 Nm / 47 ft-lb @ 8100 rpm
67 Nm / 50 lb-ft @ 6500 rpm
66 Nm / 49 lb-ft @ 6500 rpm
67 Nm /50 lb-ft @ 8500 rpm
64 Nm / 47 ft-lb @ 8500 rpm
Front suspension
Showa SFF USD, non-adjustable
Conventional telescopic, preload adjustable
Conventional telescopic
Conventional telescopic
41mm USD fork, preload / rebound damping adjustable
41mm USD
Rear suspension
Showa monoshock, preload-adjustable
Single shock, preload adjustable
Single shock, preload adjustable
Single shock, adjustable preload
Monoshock, preload/rebound damping adjustable
Showa single shock, preload adjustable
Front brake
2 x 310mm discs, Nissin 2-piston calipers
2 x 290mm discs, Dual 4-piston Tokico calipers
2 x 298mm discs, 4-piston calipers
2 x 300mm discs, 2-piston calipers
2 x 320mm discs, 4-piston radial calipers
2 x 310mm discs, radial-mount 4-piston calipers
Display
TFT, Bluetooth connectivity
Monochromatic LCD
Monochromatic LCD
TFT, Bluetooth connectivity
TFT
Colour LCD
Ride aids
ABS, TC, 2 ride modes, slipper clutch, optional quickshifter
ABS, low-RPM assist
ABS
ABS, Assist/Slipper clutch
ABS, TC, 5 x ride modes, wheelie control, cruise control, optional quickshifter
ABC, TC, Assist / Slipper clutch
Curb weight
189 kg / 417 lb
198 kg / 437 lb
184 kg / 406 lb
187 kg / 412 lb
183 kg / 403 lb
202 kg / 445 lb
Variants with same engine
Tiger 660 (Adventure Sport)
SV650X (Sport / Cafe Racer)
V-Strom 650 (Adventurer)
YZF-R7 (Sport)
XSR700 (Retro)
Tenere 700 (Adventure)
Tracer 7 (Adventure Sport)
Ninja 650 (Sport)
Versys 650 (Adventure Sport)
Z650RS (Retro)
Aprilia RS 660 (Sport)
Tuareg 660 (Adventure)
Honda CBR650R (Sport)
Triumph Trident 660 alternatives
Suzuki SV650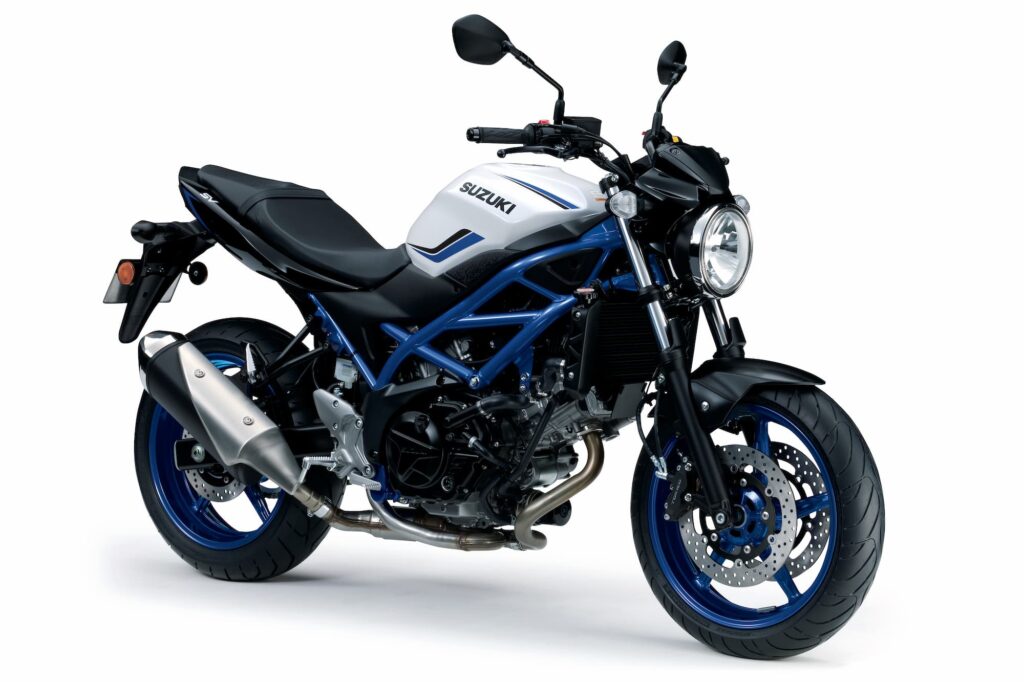 The Suzuki SV650 is a classic middleweight. It's a bike that has inspired a lot of competition — and it has been going strong for some two decades!
Since the beginning, the SV650 has always followed the same formula – a simple 645cc 90-degree liquid-cooled V-twin that puts out the perfect amount of power for everyday riding.
The modern SV650, now in its third generation, has simple but capable equipment, including preload-adjustable suspension on both ends and twin front brake discs with 4-piston calipers.
It's not just commuters and everyday scratchers that love the SV650 — it's also a popular bike to build for track days and racing (of course, people modify the suspension, brakes, and remove a lot of road-going gear for the purpose).
If you want the burble of a twin, then the SV650 is the bike you want.
Yamaha MT-07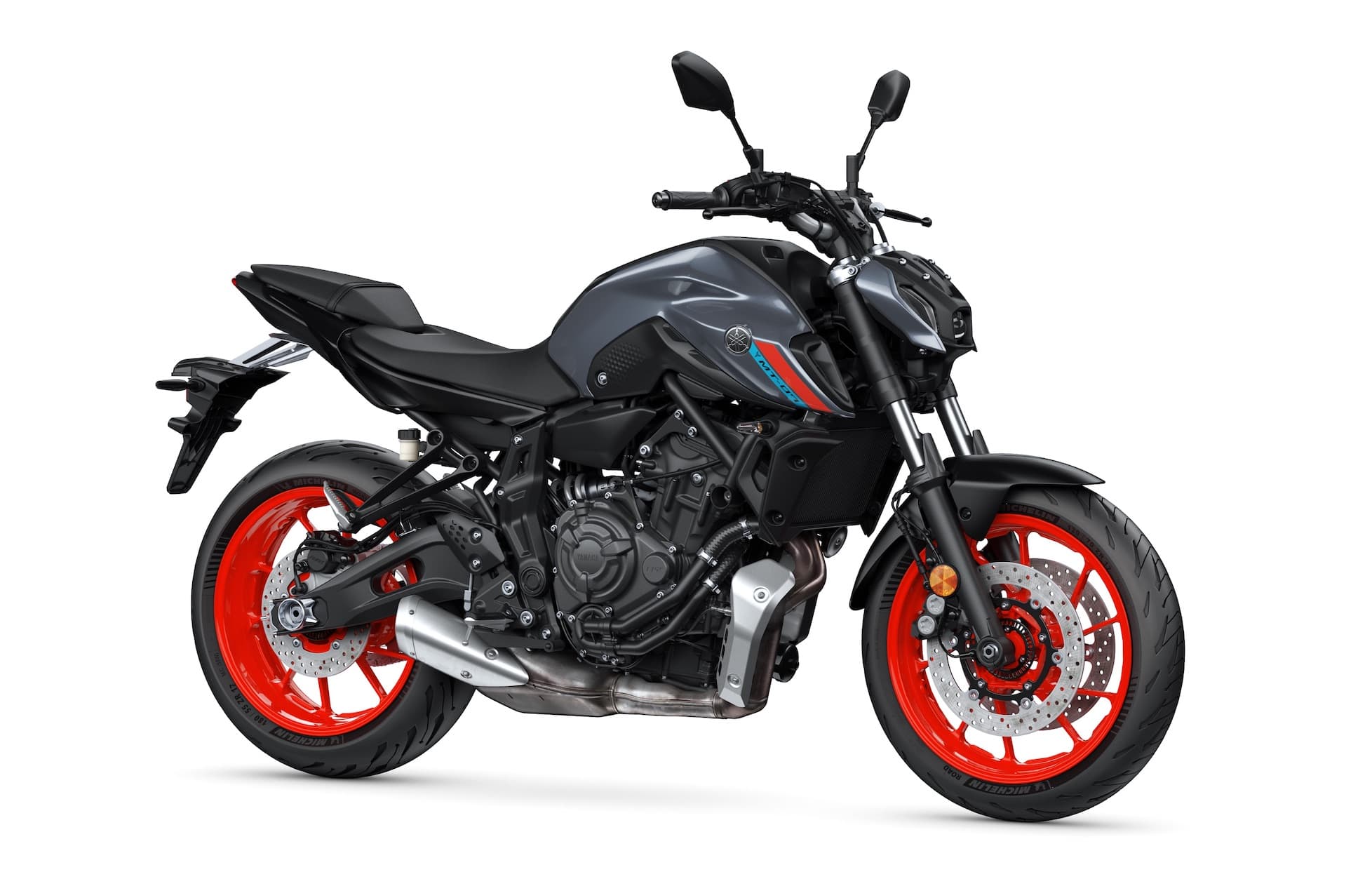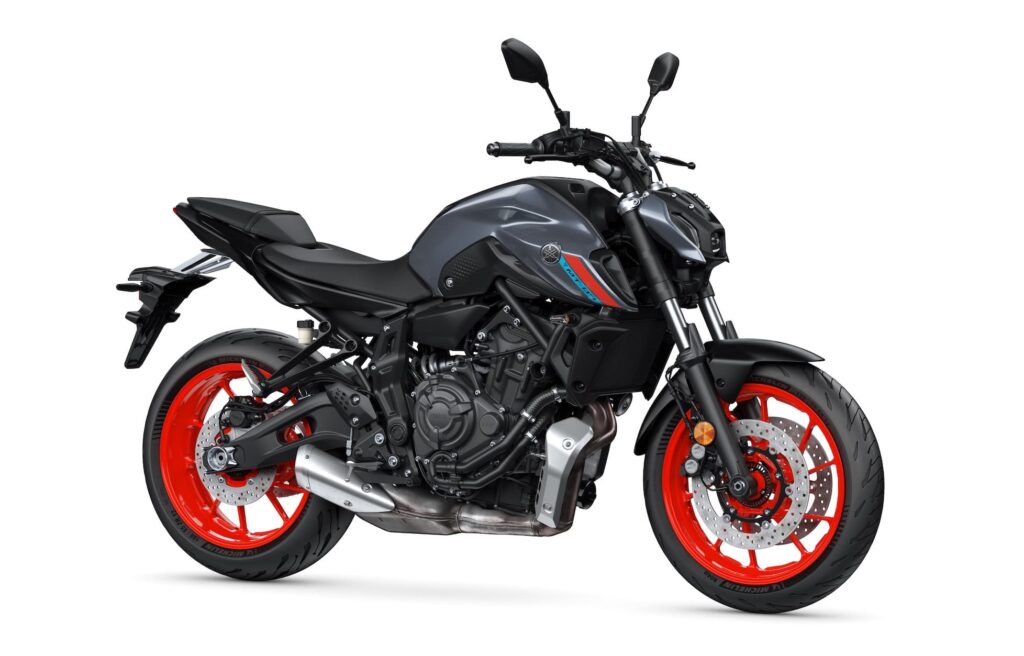 The Yamaha MT-07 (formerly known as the FZ-07) almost needs no introduction. It's a bike that many people love as much as (or more than) the SV650, even though it hasn't been around as long.
It's much the same concept of bike — a lightweight and simple road-going bike with a 689 cc parallel twin that puts out the right amount of power for a wide range of riding, from everyday city work to short freeway stints (before you get blown off the top) to track days.
The parallel twin engine is very "V-twin-like" due to its 270-degree crankshaft offset, meaning the firing order is bang-2-3-bang-5-6-7-8 (in a 720 degree rotation because of the 4-stroke engine).
Like the Suzuki SV650, the MT-07 is modestly priced and well-loved. You can also spend more and get one the same engine in a few other bikes, including the very nice-looking Yamaha XSR700, which is much the same bike but in a retro-inspired package.
Yamaha motorcycles have very wide service intervals and also have a reputation for reliability. And this is PARTICULARLY true of the two-cylinder engine in the MT-07 — the CP2.
If you want a middleweight hooligan bike that will never die unless you kill it, you want the MT-07.
One note — because the LAMS restrictions in most states of Australia / NZ also restrict maximum capacity to 660 cc, the LAMS version of the MT-07 has a slightly smaller 655 cc engine as well as detuning to reduce the power and improve the mid-range torque. Other than that, the low-power version is the same.
Kawasaki Z650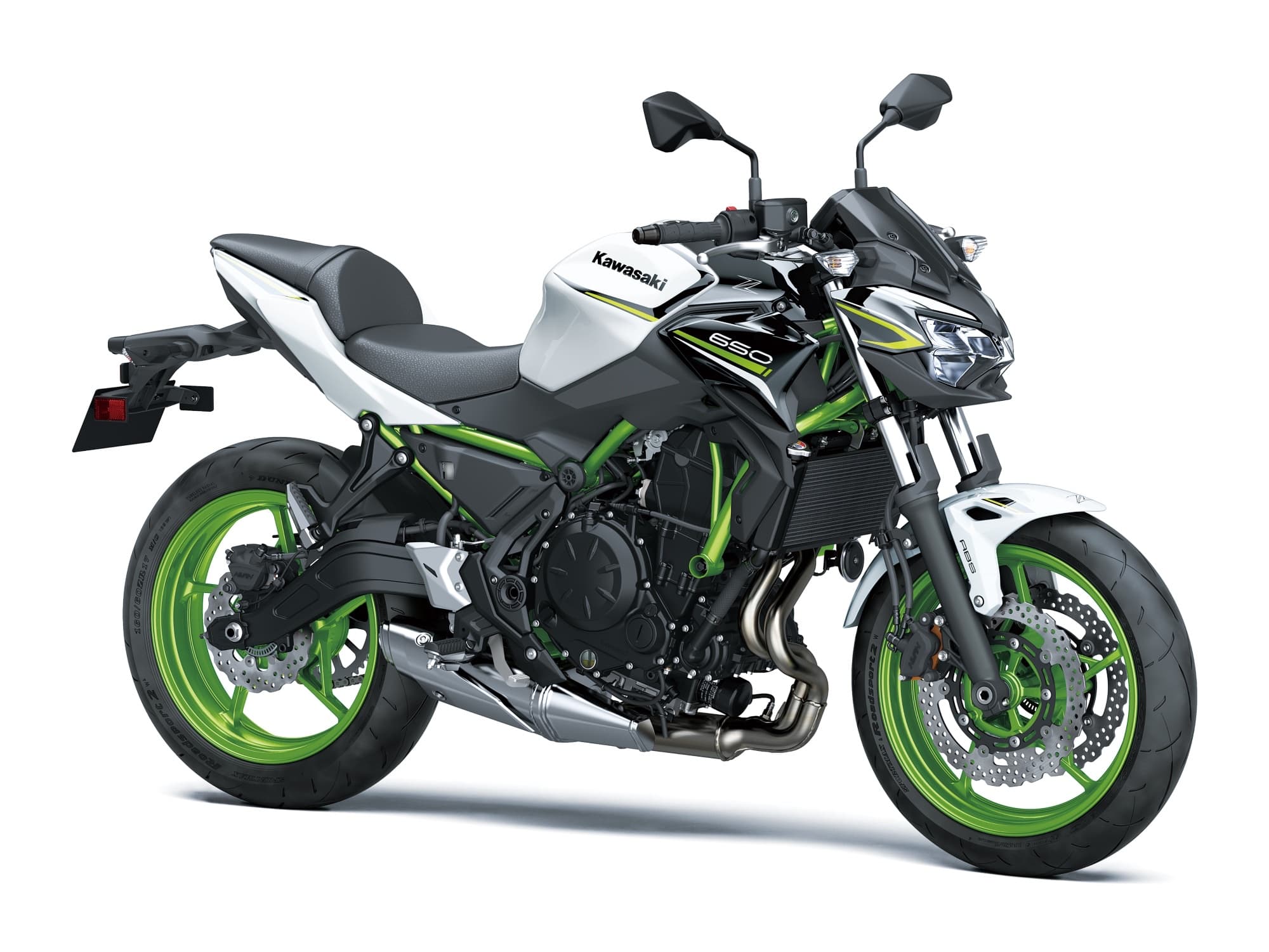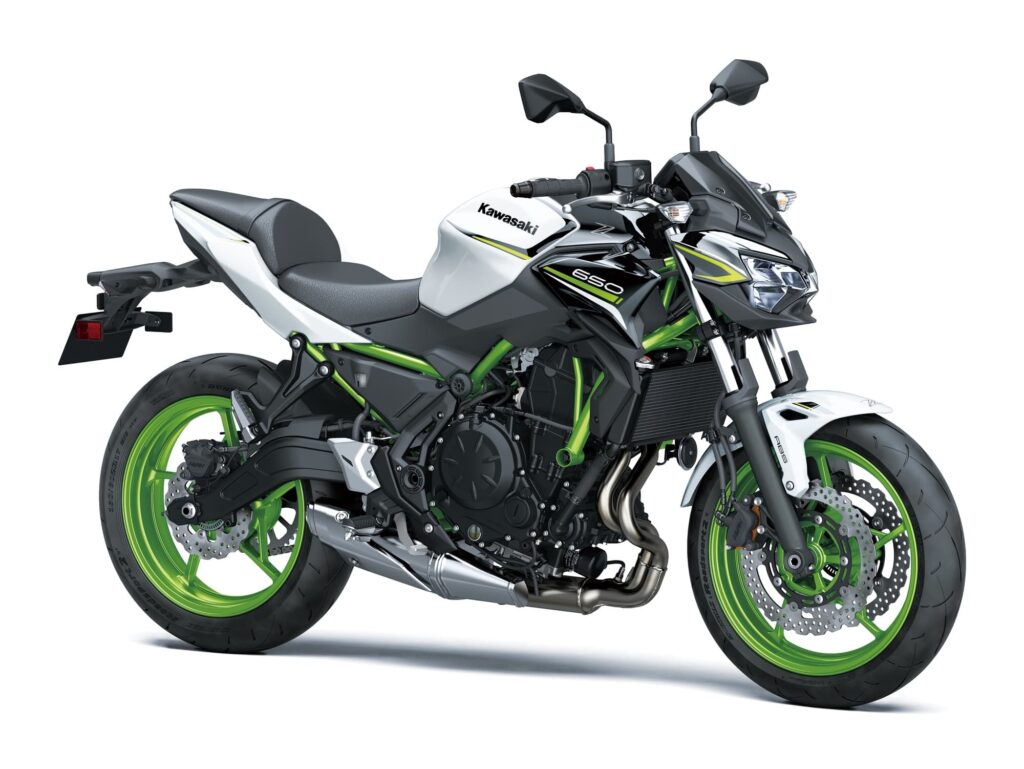 The Kawasaki Z650 is the naked version of the Ninja 650. They're quite similar, as the Ninja 650 has a very comfortable riding position despite having fairings that make it look like a sport bike.
The Kawasaki Z650 is quite like the MT-07 in that it has a parallel twin engine. But it has a different character, in part due to the firing order of the engine, with 180 degrees between each cylinder rather than 270 like the MT-07.
Nonetheless, riding the Z650 is similarly rewarding. It's easy at every sane speed, fun on winding roads, and a common base for cheap and cheerful track work. One small advantage that the Z650 has over the MT-07 is that it comes with a slipper clutch stock since the 2017 model.
Kawasaki also makes a Z650RS, which is much the same bike but in a more attractive, retro-inspired package.
The 650 twin engine in the Z650 and Ninja 650 is famously bulletproof. Most of these bikes are crashed or die of neglect before anything in them fails.
Aprilia Tuono 660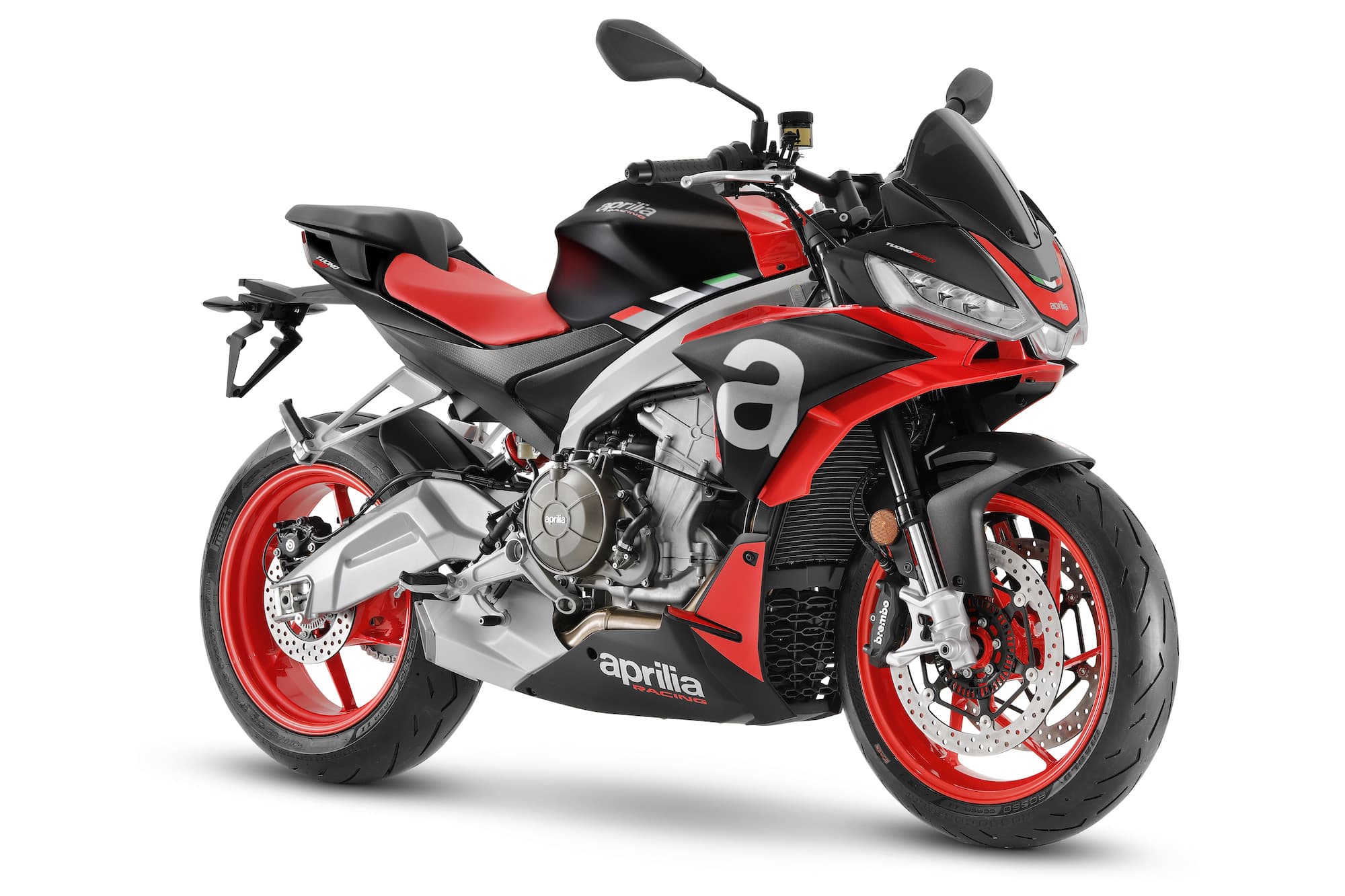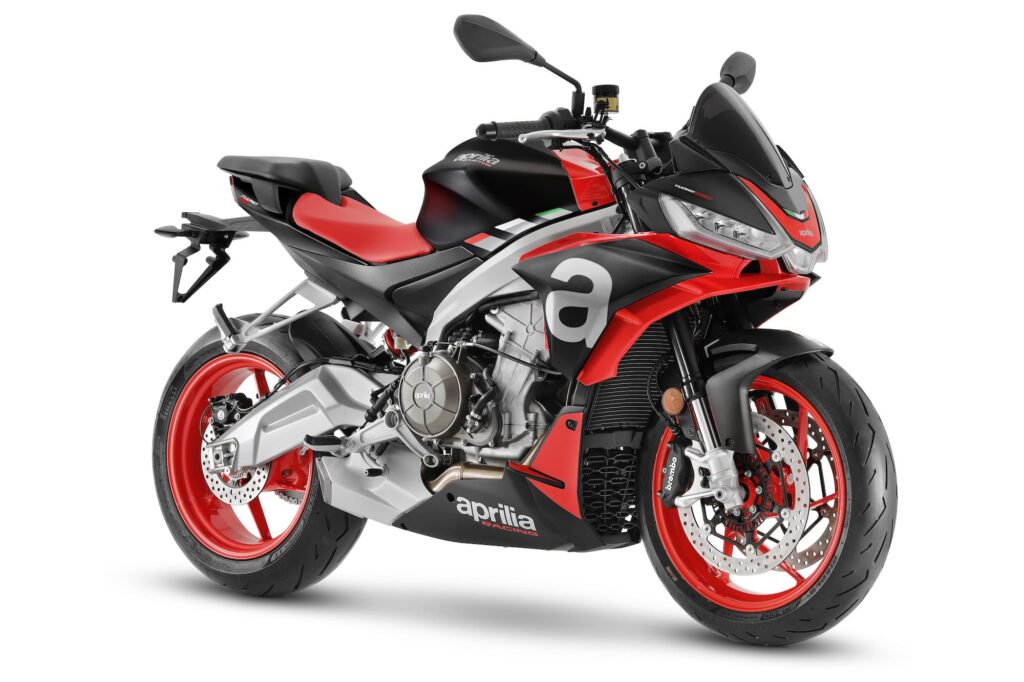 The Aprilia Tuono 660 is a newer, much higher spec, and much more expensive alternative to the Triumph Trident 660.
Aprilia makes sport bikes. They have barely dabbled in the middleweight segment. So the Tuono 660 (and its sportier stablemate, the RS 660) is new for Aprilia, and it has been very well received.
The Tuono 660 isn't a naked bike. It has a fairing, nearly as much as the RS 660 sportbike! But it does have handlebars and a more upright seating position.
What distinguishes the Tuono 660 from the Triumph Trident 660 is that Aprilia manages to squeeze more power out of a similar sized engine. The Aprilia's engine is also a twin, so has quite a different character.
The Aprilia Tuono also has a load more technology, including a six-axis IMU and even cruise control. Sadly, the quick shifter of its stablemate isn't a standard in all markets — but of course, it's an option.
Unfortunately, the early Tuono / RS 660s have already had issues that prompted a recall. Because the engine is in its new days, a factory warranty would put many people's minds at ease. So, given they're quite new and more expensive, this isn't a cheap option.
Here's a comprehensive overview of the differences between the Aprilia RS 660, Tuono 660, and Tuareg 660.
Honda CB650R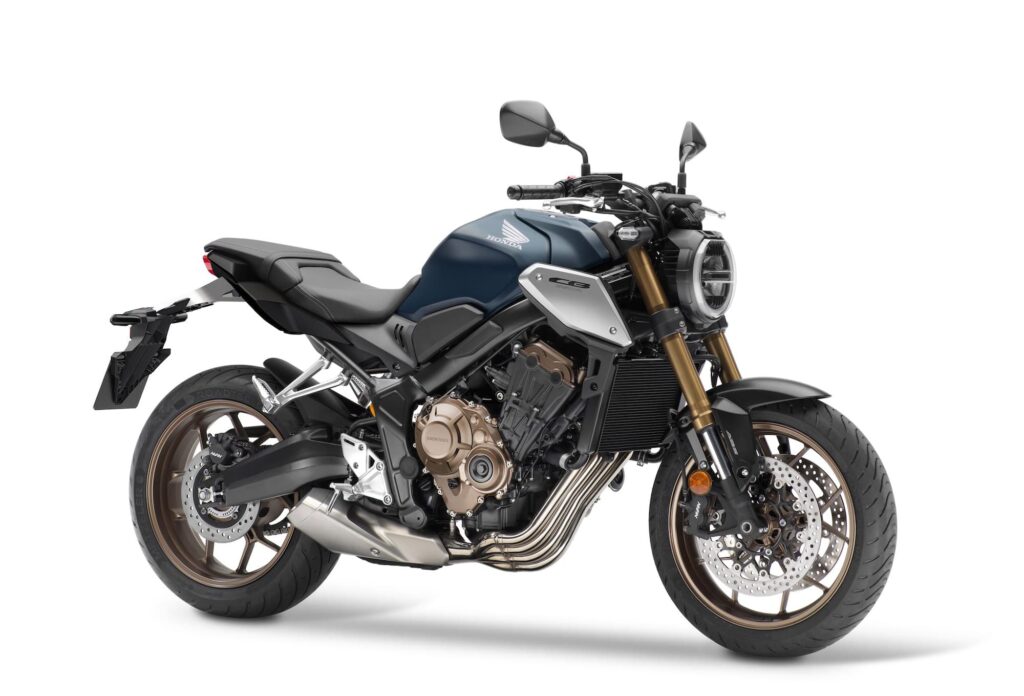 Finally, the Honda CB650R, the successor to the previous gen Honda CB650F.
The CB650R is also unique in this class of middleweights for having a four-cylinder engine. These days, most middleweights make do with two.
The Honda CB650R has a lot to like about it. It has inverted Showa forks, four-piston Nissin calipers, snaking exhaust headers (reminiscent of many Honda four-cylinder bikes of the past), and classic-but-modern good looks.
The engine is a peach, too. In full power form it makes 70 kW (95 PS / 94 hp). But it's a little more top-end focused than most middleweight engines, giving a bit of a top-end rush. It's not like a 600cc sportbike, but it is there nonetheless. Then again, that's something I really like about the Honda CB650R!
Lastly, like most bikes from Yamaha, the Honda is famously reliable.