Triumph just released (today) the 2021 Triumph Trident. But this isn't the first Trident ever. In fact, it's the third (roughly, if you do a bit of grouping). So — how has it changed, and what makes it special?
Are you obsessed with motorcycles?
Well, I am. That's why I created this site — as an outlet. I love learning and sharing what others might find useful. If you like what you read here, and you're a fraction as obsessed as I am, you might like to know when I've published more. (Check the latest for an idea of what you'll see.)
A Brief History of the Triumph Trident (1968-today)
The thing that the Triumph Trident has always had in common is that they've been upright standard motorcycles with three-cylinder engines.
In brief, there have been three generations of Triumph Trident — the first originals, the second ones produced at Hinckley, and now… the 2021 Trident.
The Original Triumph Trident/BSA Rocket III
The first Triumph Trident was also known as the BSA Rocket III… not to be confused with the current (and previous) Triumph Rocket III, which is a cruiser. BSA owned Triumph at the time (they merged in 1951), so they were allowed to sell the same thing under two brands — although BSA used a forty-pound heavier frame for some reason.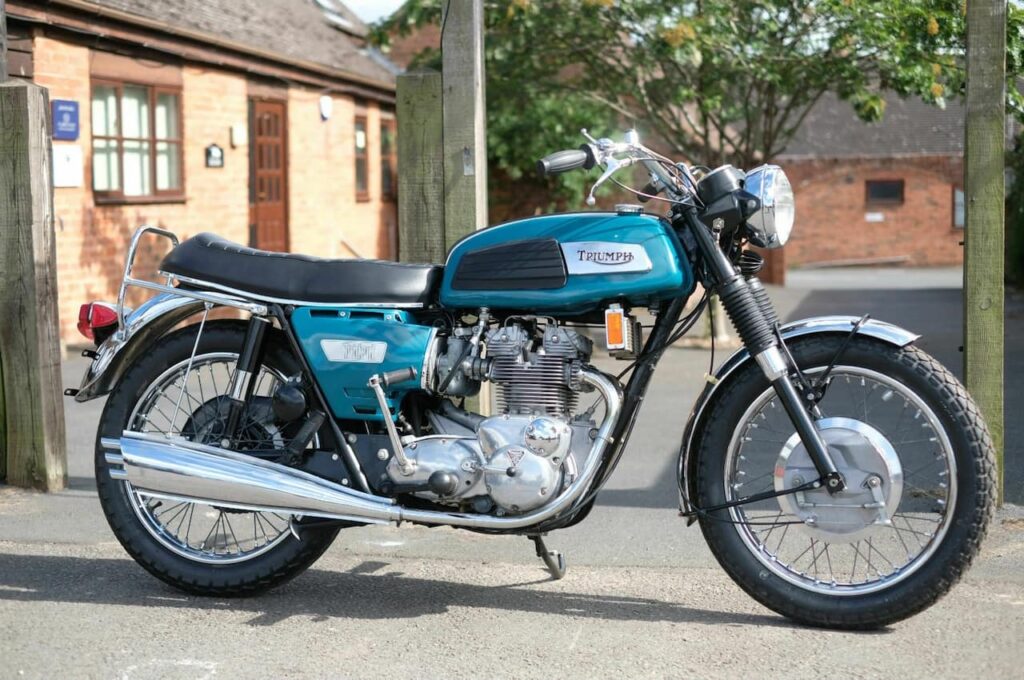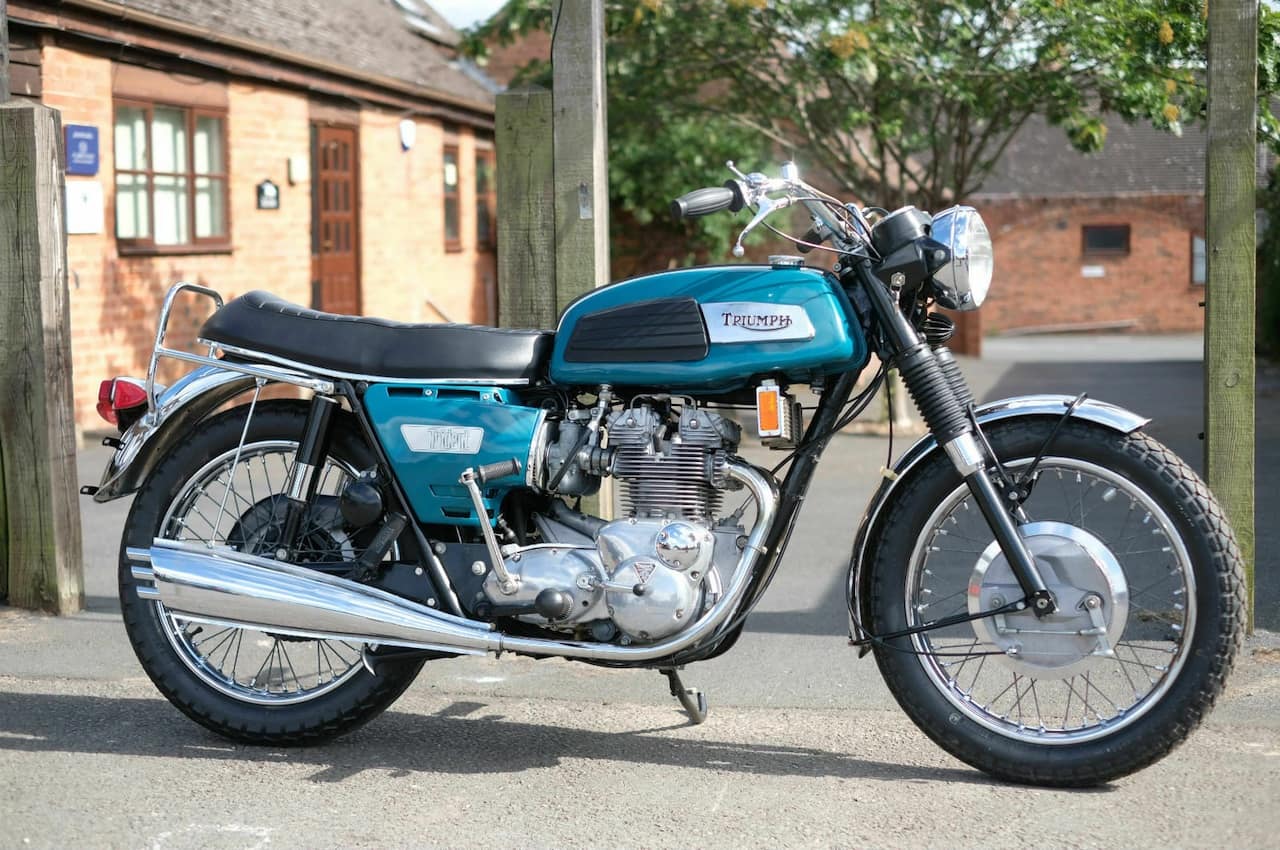 The first Triumph Trident was available to the US market from 1969. It was a three-cylinder 740cc upright standard that produced 43 kW (58 hp) at 7,250 rpm, and could reach a top speed of 185 km/h (115 mph), though I'm sure only the bravest would take it that far.
For context, 740cc was huge at the time. I know, I know, these are the days in which forum dwellers ask "is an R1 a good first bike, I'm afraid I'll grow out of an R6". So this was a big change from the lower-power twins. Other brands did similar things at the time, with Honda releasing its CB750-4 in 1969.
The first Triumph Trident was upgraded gradually between 1969 and 1975, gaining along the way
The T150V from 1971 model year, receiving a five-speed gearbox (oh did I mention the earlier one was four-speed?) as well as a front disc brake (yes! the front was a drum previously!)
The T160 in 1974, with electric start, more power thanks to a higher compression ratio (9.5 vs 8.25:1), a new steel frame, front and rear disc brakes, shorter and steeper front forks, a longer swing-arm, and left-foot gear change.
The T160 was produced only for over a year, with manufacturing ending in 1976. But still, they were very well loved — the T160 was (and is) a favourite for racing.
The Second "Hinckley" Triumph Trident
The second Triumph Trident was manufactured by the new Triumph Motorcycles Limited at Hinckley.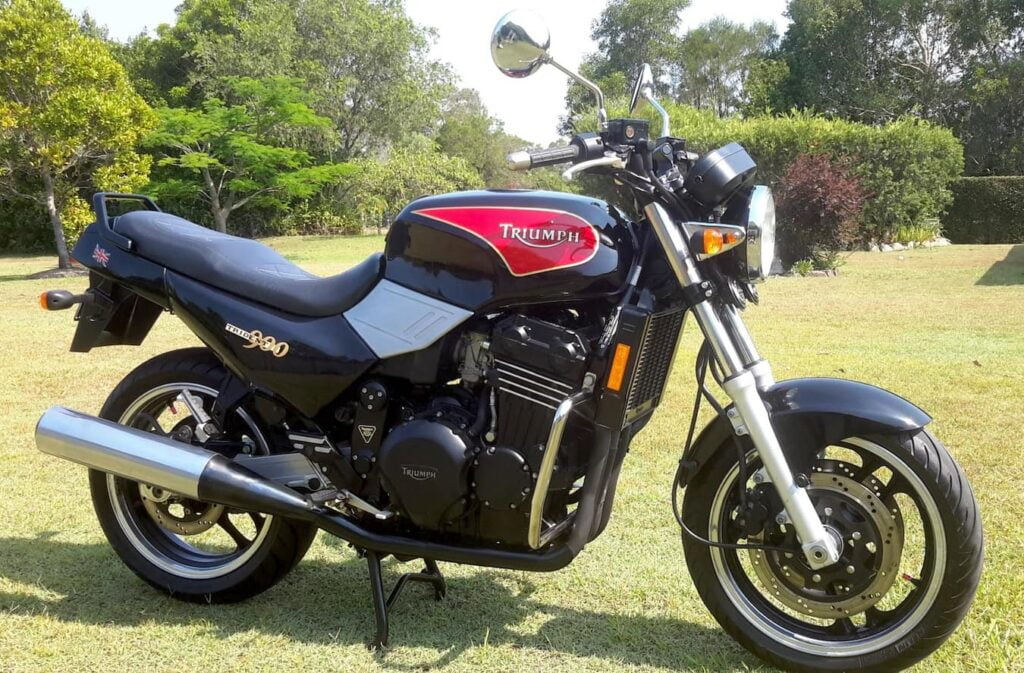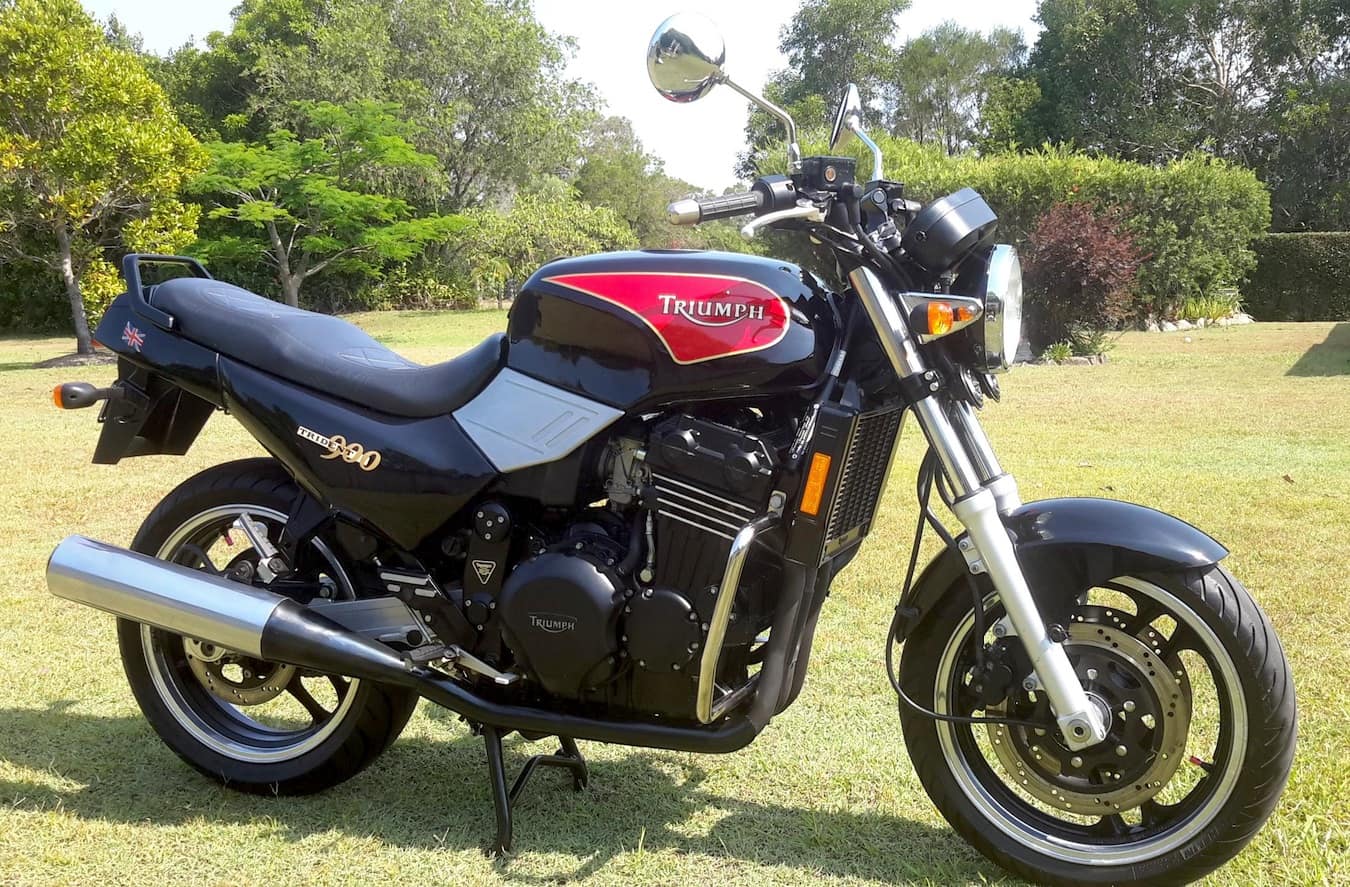 The second generation Triumph Trident motorcycles were launched in 1990 and made available froom 1991 to 1998.
They were avilable as both 749 cc and 885 cc, called the Trident 750 and the Triumph 900 respectively, and both featured liquid-cooled DOHC engines and very similar frames and specs.
The smaller Trident 750 actually produced nearly as much power as the 900… but you had to rev it more to get to that peak torque. The Trident 750 made a peak of 72 kW (97 hp), and peak torque of 66 Nm (49 ft-lb) at 8,500 rpm, pushing a wet weight of 230kg.
But the larger Trident 900 was the one to go for — the same engine, but with a longer stroke, and tuned for mid-range grunt. People describe it as being over-engineered, basic, and very reliable as well as being affordable.
The Triumph Trident 900 produced a pretty compelling 73 kW* (100hp) for an upright standard, with a decent (for the time) 235 kg wet weight. The engine produced peak torque of 83 Nm (61 ft-lb).
* Even though those were the reported specs, I suspectit produced about 10% more, because dyno tests showed it had 70kW of power at the rear wheel.
The second-generation Hinckley Trident was an affordable naked bike. Naked bikes weren't actually very popular in the early nineties — they were seen as looking like UJMs and indistinguishable from the likes of the CB750 or CB900, bikes which had pedigrees in racing and a reputation for indestructibility.
But affordable bikes always are. So keeping it naked, and offering uncomplicated un-adjustable suspension, using a basic frame, and having the relatively distinguishing feature of a triple kept the Trident interesting for many as an entry-level bike.
The second generation Triumph Trident 750 and 900 were ended in August 1998.
The New 2021 Triumph Trident — What has changed?
Well, quite a lot has changed in 23 years of motorcyling.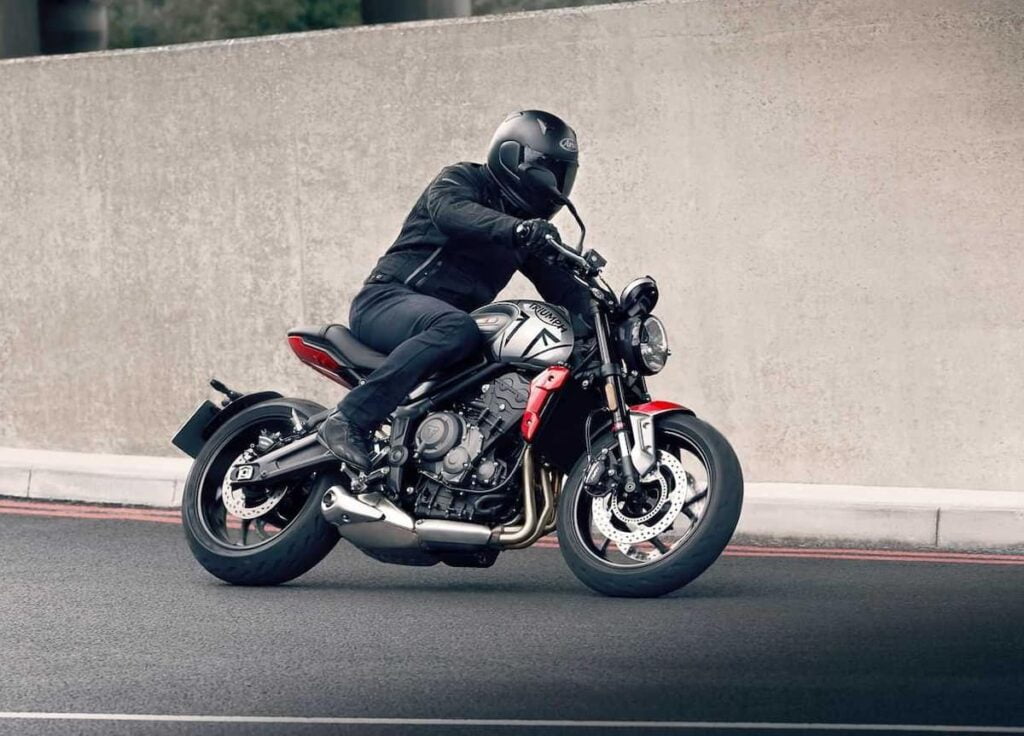 In a nutshell, the 2021 Triumph Trident is still an entry-level three-cylinder standard motorcycle.
By entry-level I don't necessarily mean learner-approved. Europe will get an A2-version one and Australia will get a LAMS-approved one, but there will be a full-power version for most markets. In a nutshell, it's meant to compete with the Yamaha MT-07 and Suzuki SV650.
Triumph's "other" small triple, the Street Triple, is a 765cc engine these days. It used to be 675cc but has gone through a few generations of upgrades. The 2017+ Street Triple RS makes 90 kW (121 hp) at 11,700 rpm, which doesn't really sound entry-level (though it does sound like a lot of fun).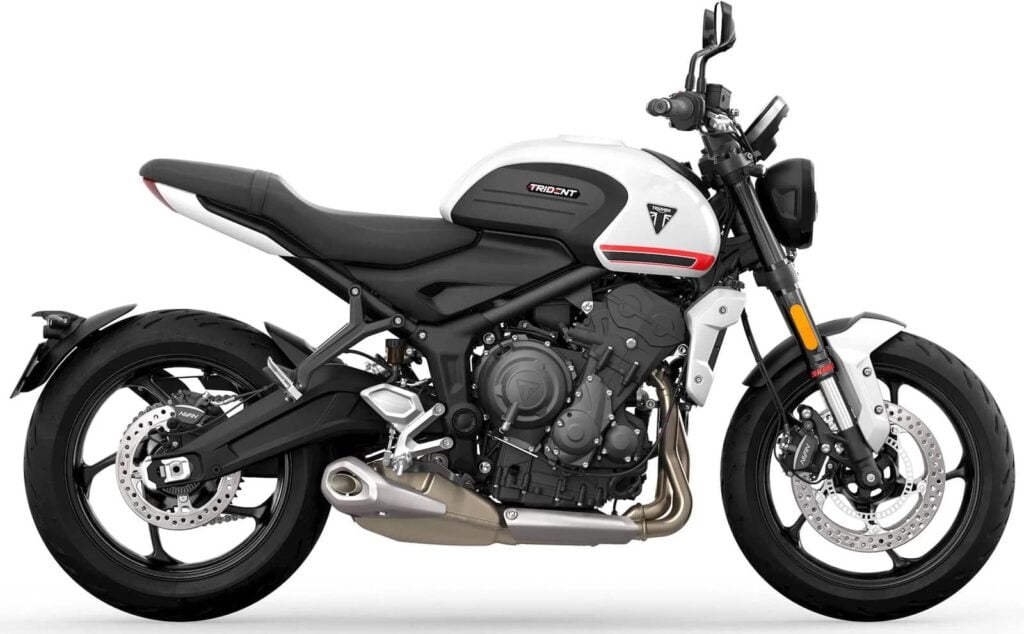 Here's what's the same
Still a three-cylinder upright standard entry-level bike.
Non-adjustable suspension (other than pre-load for the rear)
Steel frame and swing-arm (rather than aluminium)
Simple brakes (twin-piston front discs)
No IMU
Here's what's different in the 2021 Triumph Trident:
New, smaller engine — 660cc triple, an evolution of the earlier 675cc design
Less power, more revvy — 60 kW (80 hp) at 10,250 rpm, and 64 Nm (47 lb-ft) at 6,250 rpm. Triumph says 90% of peak torque is available from 3,600 rpm.
A lot lighter — 189kg fully fuelled
ABS and traction control with two ride modes (road and rain)
Modern electronics — TFT display, and Bluetooth connection for the phone.
Optional quickshifter
The 660cc engine isn't entirely new. Some markets (e.g. Australia) have been using the 660cc version of the old 675cc engine for their entry-level Street Triple. In Australia, learner riders are restricted in engine power as well as capacity. It's pretty likely the Trident will make it to Australia as a learner-approved bike… so that peak horsepower level may come down from 60 kW (80 hp) to 41 kW (55 hp). Peak torque will be about the same; and if it's anything like the LAMS-approved Australian 660, torque will come on earlier (so it's a partial win!)
The 2021 Triumph Trident will be US$7,995 before on-roads in the USA. Given comparable prices by Triumph and others, I'd expect it to be around $10,995 in Australia for a LAMS-compliant version.