I really like Jeff Bezos' "Regret Minimisation" Framework.
It's basically this: pick the path that will least likely lead to a regret down the line.
It's how he chose to start his business. It's how I chose to not join the Air Force, and go travelling instead. It's how I decided to quit my job and become a blogger, too.
So as I sell down my motorcycle fleet to buy just "one" motorcycle, I have to try to look back at all my riding history and forward at all the history to come, and think: what am I going to regret buying (or not buying)?
What are the situations that would lead to regret?
Here they are.
Are you obsessed with motorcycles?
Well, I am. That's why I created this site — as an outlet. I love learning and sharing what others might find useful. If you like what you read here, and you're a fraction as obsessed as I am, you might like to know when I've published more. (Check the latest for an idea of what you'll see.)
Regret Minimisation and Motorcycles — In a Nutshell
I'd eventually regret not buying a bike that isn't something that:
All of that makes for a pretty restricted list of motorcycles.
I thought I'd share this framework. Everyone has different priorities. My own priorities shift constantly. You spend a while riding before you figure them out, and it's really hard to know what those priorities are before you start riding (other than it just being awesome). In the beginning, no bike is wrong; at the end, people like me become very hard to please!
If you like this way of thinking then I suggest you write down your potential regrets in a place where you'll never forget them (like on this blog), then always look back at that list before you go buy another bike.
So what are the contenders, given all my potential regrets? See my list at the end.
And then there's the counter-argument — just buying something you want.
On my list of awesome, berserk bikes I should one day own
This is the toughest criterion — so I'm putting it first.
Simply put, there's a list of awesome bikes I want to have owned. I don't need to own them all, but I want to have owned them. Maybe for a year at a time. Maybe longer!
Each of them can have a time and place in my life. There might be a time I commute a lot, and get X. There might be a time I live in a country where I can ride faster, and I'd get Y.
Here's just a few examples of bikes I want to (or already have) spent significant time with
Ducati Monster — ticked that off early, but it'll be back!
Triumph Scrambler — parted ways too early (when I left a country)
Harley Davidson V-Rod (already out of my price range!)
Suzuki M109R
More Ducati Superbikes
KTM Super Duke R — seems over the top, but everyone loves it. Or anything with a 1290 motor.
Suzuki Hayabusa
BMW S1000RR
Yamaha R1 2015+ — before my back doesn't let me
Kawasaki Z900RS Café
BMW R1250GSA (I can leave this for later… I think they'll be making them for a while)
Honda Goldwing (By the time I get this they'll be electric)
and many others
Every bike on this list can give me that indescribable feeling — heart palpitations, a visceral feeling of joy. There may be others. I'm looking forward to finding them.
"I hate to see you leave…"
For example, there's a certain feeling of berserk-ness that I get from my current ride, a Ducati 1098S.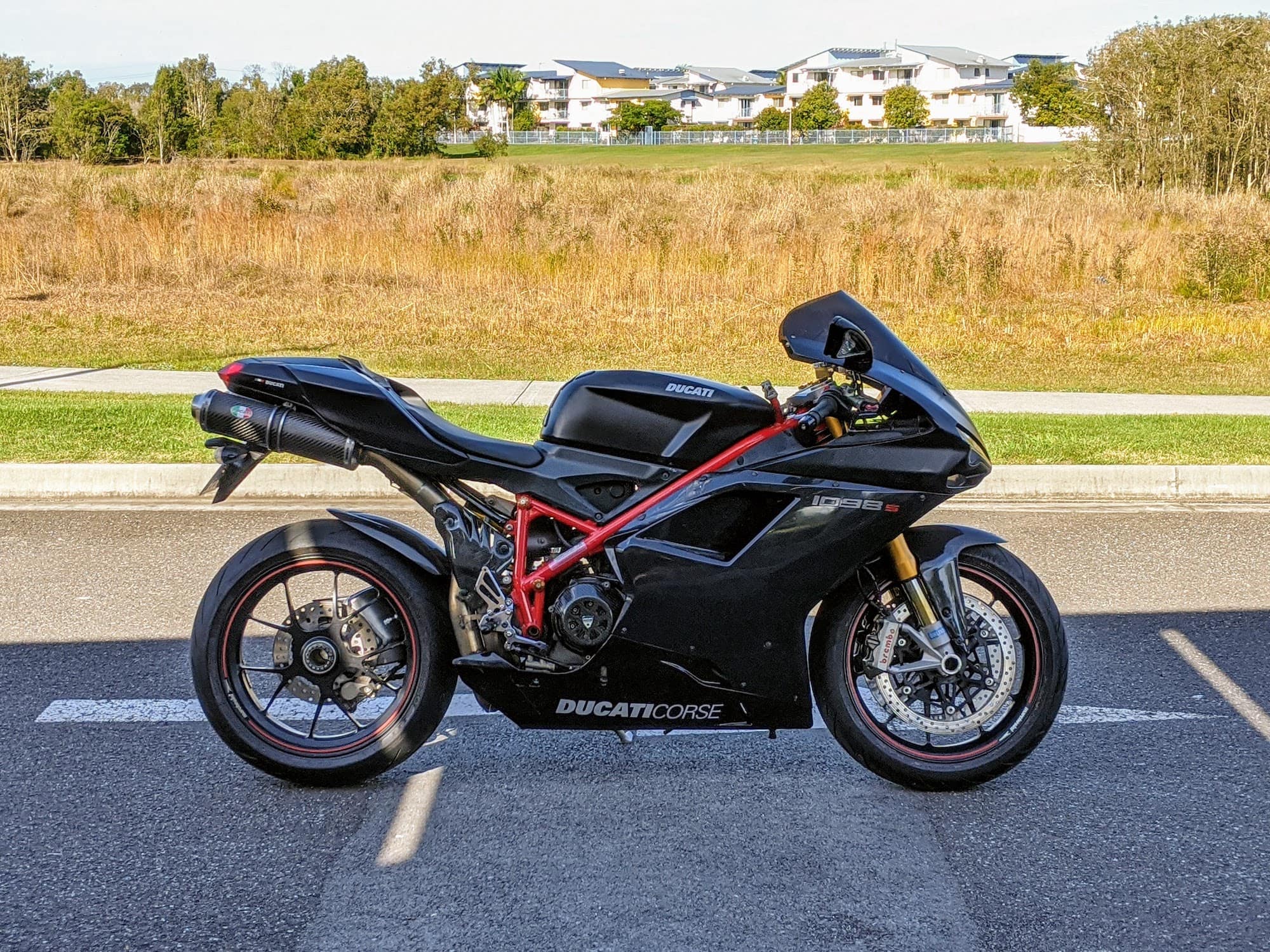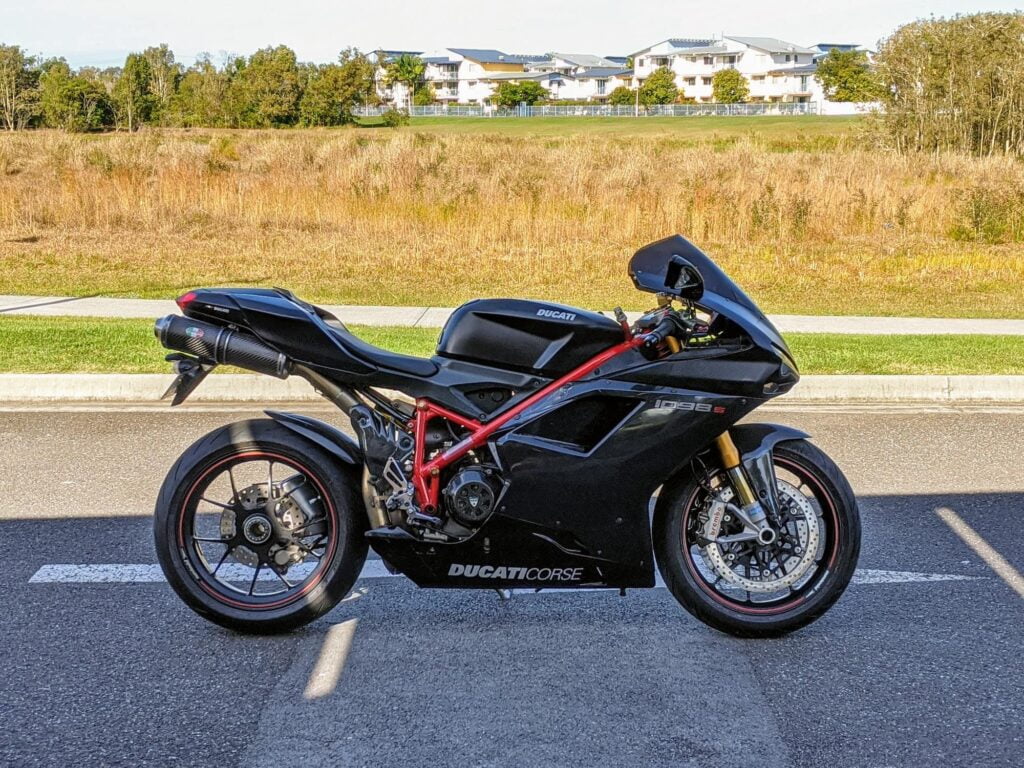 The Ducati 1098S I currently own is mental. Every time I hear it roar over just 40 km/h, something inside me melts. It's crazy. It awakens me like nothing else.
I have ridden just a few other bikes like this in my riding life: a Ducati Monster 900, a Triumph Scrambler 900, and a Suzuki Hayabusa.
On all these motorcycles, I hated to leave them behind. I didn't want to see them leave. It was a combination of looking, sounding, and feeling awesome.
Other, more boring bikes I've ridden… I can't even remember what it was like to ride them. Like my Honda Hornet 919, or a Kawasaki Versys 1000 I recently test rode. They left me with a "meh" feeling. In some ways you could say they "got out of the way and let me just ride", but I think I'm looking for more than just that.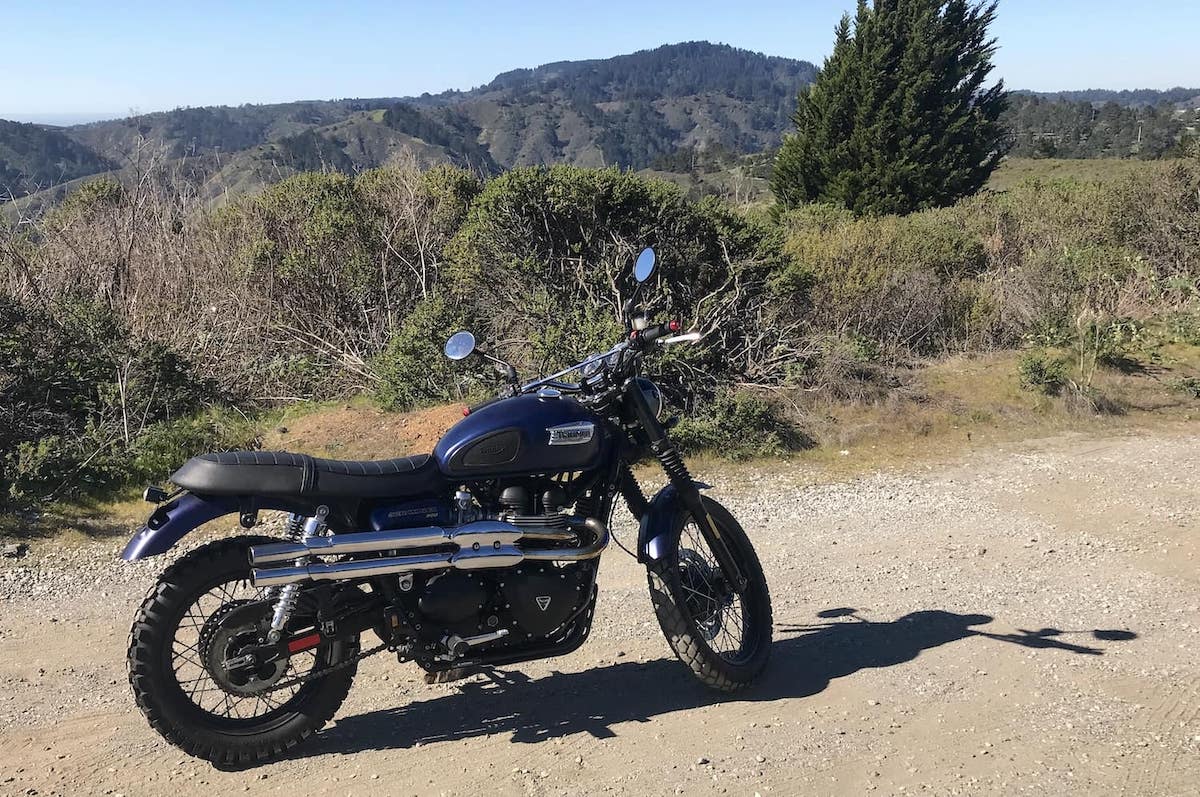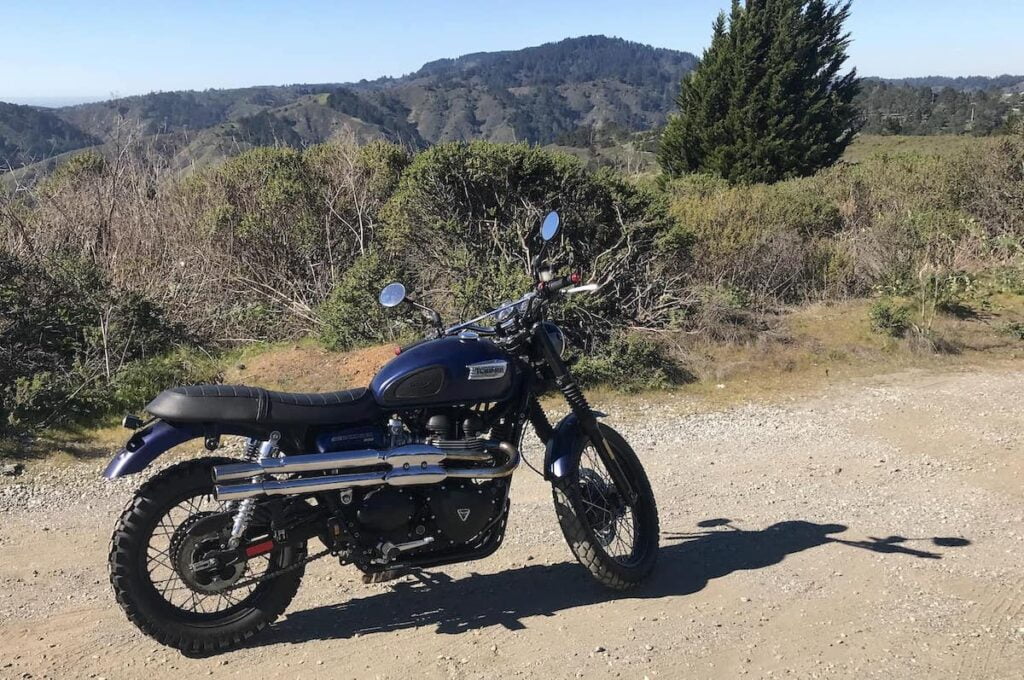 I had to sell my 2014 Triumph Scrambler even though I loved every minute of riding it. I sold it as I was leaving the country. But I told myself: I'd own one again, one day. (Except they're expensive to service, which is another important criterion for me.)
Tough as Nails and Reliable as Hell
I'm tired of motorcycles breaking down and leaving me stranded (👀 Ducati). For me, regret kicks in the moment I am stranded. Regret minimisation means avoiding being stranded.
I'm also tired of motorcycles needing one piece replaced that costs unnecessary hundreds of dollars, in part due to constant updates and a scant aftermarket (👀 Triumph). Regret minimisation means not spending $450 on a tachometer.
For me, a great motorcycle is one I can just jump on and know it'll go. I'll have serviced it regularly, so the chain will be OK and the fluids up to date.
I do like spending time in the garage. But mostly, I like to do my own maintenance and various upgrades — not diagnosing what has gone wrong on an aging bike that has been through ten different pairs of hands. I mean, that's fun, just not for my one motorbike.
But I shouldn't have to worry about errant computer failures, sensors failing, or things like a pending spun crankshaft bearing on my Ducati superbike.
Ducati motorcycles need frequent belt changes and valve inspections (that regularly result in valve adjustments). It's too much.
Aprilias too. I love them to bits. I have a Tuono on my dream bike list, or even the new RS660. But they have too much baggage (known for being unreliable) and I'm just too scared to take one around Australia.
Triumph motorcycles have electrical problems. This can range from the benign loose wire to something stopping working and preventing the whole thing from starting. E.g. in EFI twins, the speedometer is an integral part of the CAN bus and the motorcycle won't start without it. Damn!
That said, Triumphs are fairly easy to repair, if you want to pony up the price for the parts. And they look so damn good.
Another contender is a BMW. BMWs are a mixed bag. The big oilheads and waterheads are NOT known for being reliable overall. But it's really the little things, like key fob failures, that leave people standed. The donk itself is good for 100,000+ kms. Again, if you want to pay for the parts, then a BMW is a contender.
So I'd really like my dream bike to be a Honda, Yamaha, Suzuki, or Kawasaki. But I'm open to being convinced otherwise.
Just a note — not every Japanese bike is reliable. Africa Twins have known to be somewhat problematic, for example.
A motorcycle that's easy to service
When a motorcycle is easy to service, my mind is at ease. I know what to look for, how to get to it, and what tools to take with me on the road.
But some motorcycles are just hard to service.
Take my old Ducati Multistrada 1000DS. To get to the valves to do an inspection and service, you had to remove the tank, which was REALLY hard! (it took me a couple of days and asking around to figure out how to do it)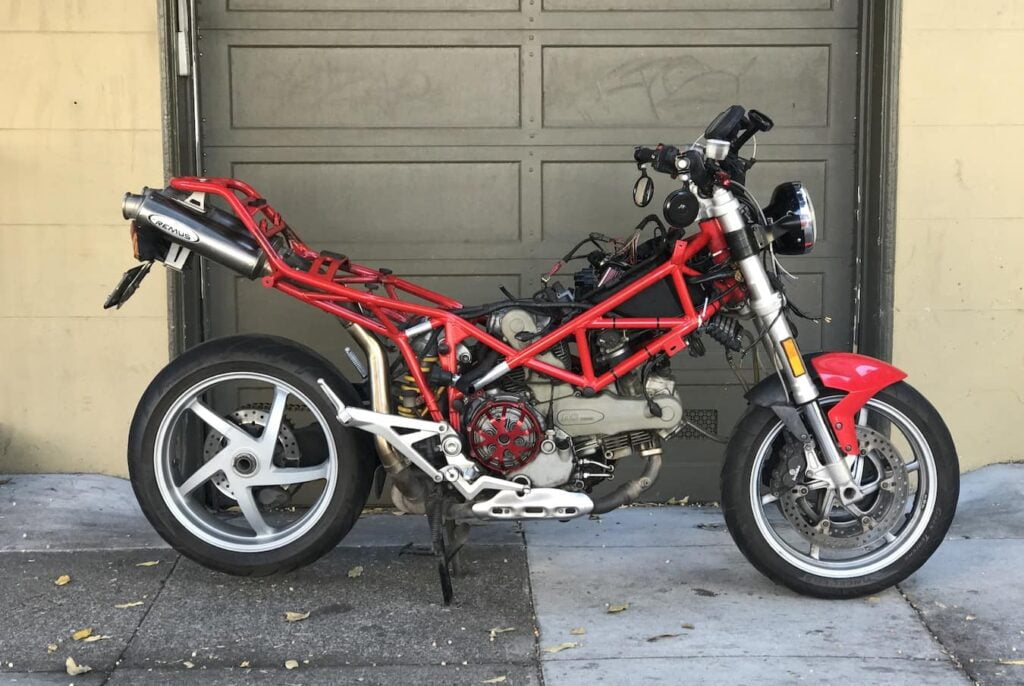 The Honda Africa Twin from 2016 is also hard to service — even changing the air filter is hard on that one. This is frustrating to many because when you ride off-road, changing the air filter is a thing you do regularly.
There are a number of things that make a motorcycle hard to service
Fairings — removing fairings doesn't have to be hard, but the more you remove them, the more the chance you lose a bit or something breaks and it never goes back the same way again.
Having to remove the tank to do anything — the ideal thing is to be able to raise the tank on a hinge, like on many standard motorcycles
Tubed tyres — I prefer tubeless, unless I had a dirt bike (which I don't)
V-configurations of engines — I don't like having more than one head to crack open to check the valves
High-maintenance things like chains, radiators. They're not hard to service, per se, but they're just more things to service.
So what's the ideal? A naked bike with an in-line or parallel engine, air cooling, and shaft-driven. I can't think of anything like that out there! The closest is perhaps BMW boxer motorcycle like my R1200S — at least it was easy to get to the cylinder heads.
Comfort for long distances and dirt roads
I don't mind a sport position. I actually quite like it!
But even if I don't mind, I don't look forward to going a long distance in a sport riding position. So I have learned to really value a comfortable motorbike.
There's other stuff I don't really about riding a sportbike for long distances. One of these is the fact that I'll square off the tyres — which are often really expensive sport tyres. Right now on my 1098S, I'm rocking Pirelli Diablo Rosso III tyres. They're not designed for rain, and they only last maybe 3-4,000 kilometres!
I do, on the other hand, greatly look forward to going for a long ride in the sport-touring position (like my old BMW R1200S), or at least the "gently inclined forward" position (think Street Triple). That's one reason I considered a Hayabusa — though ultimately, I think it's not the right bike for Australian speed limits.
In a previous version of this list, I mentioned that I value wind protection. I do — but I since discovered custom-moulded earplugs, and it has been lifechanging.
Still, the idea of riding without earplugs is tantalising.
I suffer from tinnitus. I've had it for as long as I remember — probably childhood. For me, it's like a dull hissing sound in the background.
When I get hit by sustained wind noise over a long period of time it annoys me so much that it really takes away from what should be the joy of riding.
Unfortunately, this makes riding bikes like the 1098S a chore that I have to endure rather than something I can really "lean in" to.
Finally, a word on dirt roads and an upright seating position.
I'm not an off-road rider. The most I go off-road is when I get to the kind of road where you need a 4WD car.
But more commonly, I ride roads that just randomly become dirt roads.
Riding a sportbike on dirt roads is scary. And avoiding roads just because they're dirt roads is annoying! I want to be able to ride through, get to the other side, and keep loving life.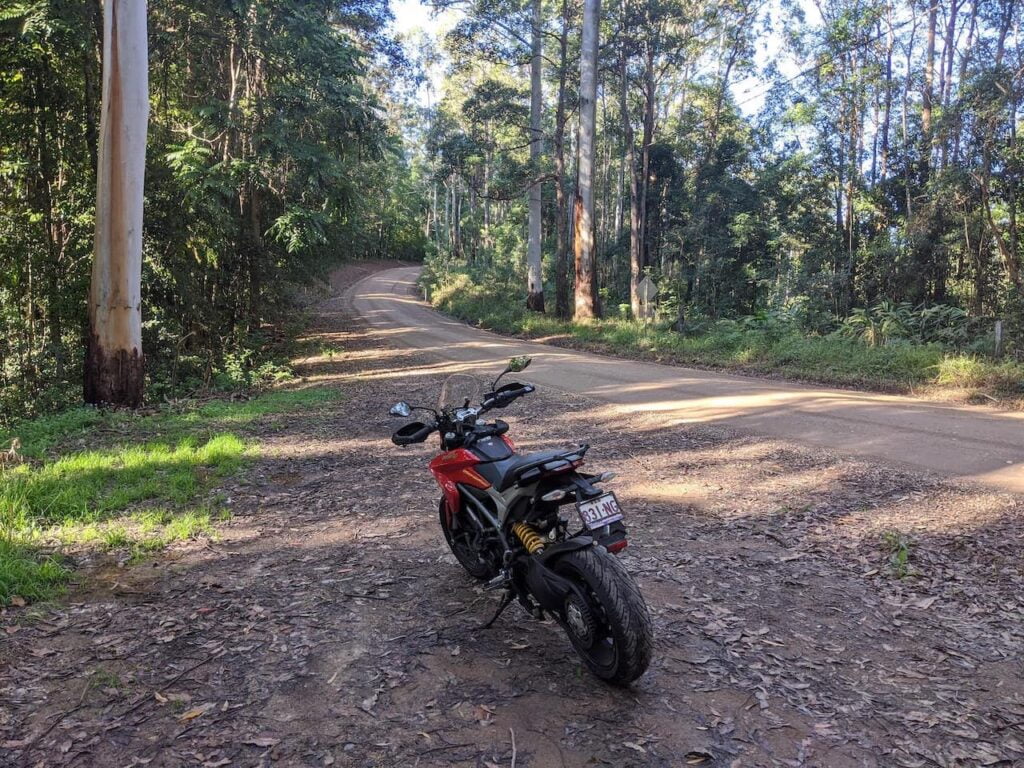 In Australia, Google Maps regularly takes me to roads that are just dirt roads. It may just show a winding road where the speed limit is 60 km/h, but where the implied average speed (from time to destination) is 40 km/h.
It's why I bought a Ducati Hyperstrada. I ultimately didn't keep the Hyperstrada 821, because it was too expensive and stressful to keep.
What I liked about that bike was that it was a "go anywhere" kind of machine. Definitely a road bike. I mean, it had sport tyres. But it was lightweight and had an upright seating position, so when I hit a dirt road I didn't panic — unlike how I feel on bulky sports bikes with no rider aids.
You can take any motorcycle off-road, of course. I mean, you can ride a Harley Sporster off-road. You can even ride a Panigale off-road — I once saw one with ridiculous tyres on it.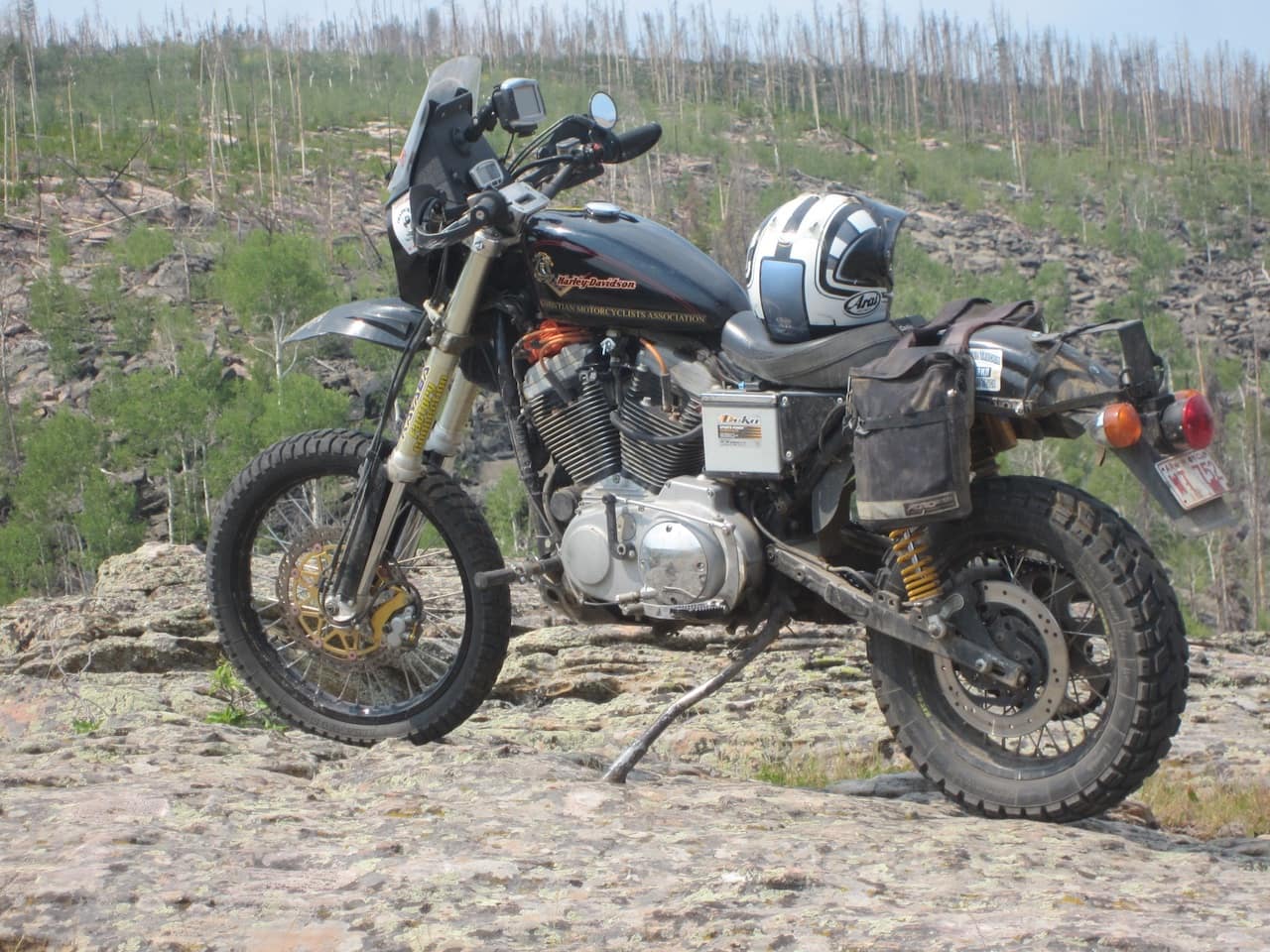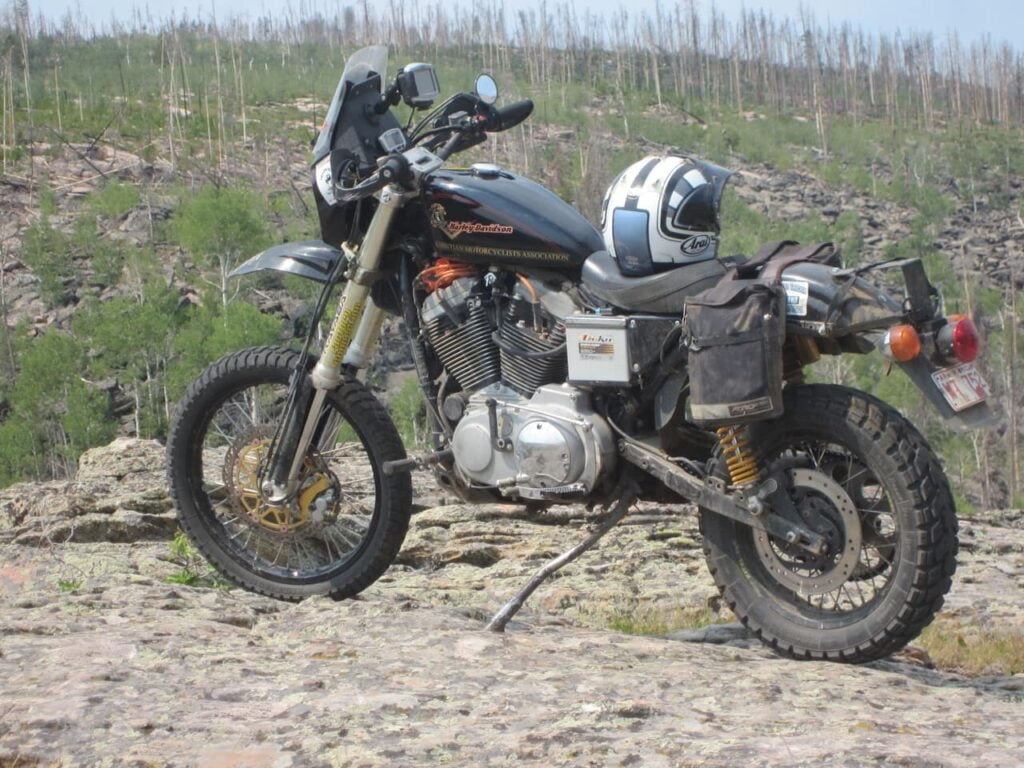 Still, riding some bikes off-road would stress me out. For me, this includes bikes that are sport bikes and don't have any kind of traction control.
The Hayabusa, for example, doesn't have traction control AND is a sportbike. So while it meets pretty much every other criterion, it can't be that bike.
Comfort electronics to make a bike an all-rounder — ABS, Traction Control, and Cruise Control
There are a few bits of comfort electronics that make riding distance and in the rain a lot easier, and these are ABS, traction control, and cruise control.
I'd say that minimum spec for a modern motorcycle to be safe riding in unsafe conditions is traction control and ABS. A nice-to-have that's easily obtainable is cornering ABS.
This excludes most motorcycles pre-2012 or so (when traction control really became popular). Wanting cornering ABS excludes most motorcycles other than those released after 2017 or so — with very few exceptions. In fact, only the premium motorcycles seem to have it.
So a starting point would be my list of motorcycles with cornering ABS, and to work down from there.
Seeing cornering ABS in action is pretty amazing. You go around a corner, grab a handful, and just coast safely to a stop.
Of course, regular ABS is already pretty good. In a world where not every motorbike may fit every criterion, I may make do with regular ABS.
On cruise control — I first tried cruise control on the Tracer 900. I ultimately didn't fall in love with that particular bike, but I really, really enjoyed cruise control!
Cruise is one of those things that just makes me more likely to get on a bike and ride. If a bike has a few things that make life easier — like cruise control, luggage, and really wide service intervals — then I'm more likely to do things like go an hour away for an errand.
Cruise control is becoming increasingly common on motorcycles. A few motorcycles that are and affordable and which have cruise control are:
2016+ Yamaha MT-10 — This one caught me by surprise!
2015+ BMW S1000RR — ditto. A sport bike with cruise??
2018+ Yamaha Tracer 900GT — these have had them standard for longer than the competition
2019+ Kawasaki Versys 1000
2020+ Africa Twin
2020+ V-Strom 1000XT
I went through every manufacturer and found a whole lot of unusual motorcycles with cruise control.
It IS possible to add aftermarket cruise control or throttle lock mechanisms. There's a range of options, from things that just add friction to the throttle, to systems that plug inline to the throttle. See our guide to throttle locks and cruise control mechanisms here.
My contenders
Below is a table my contenders.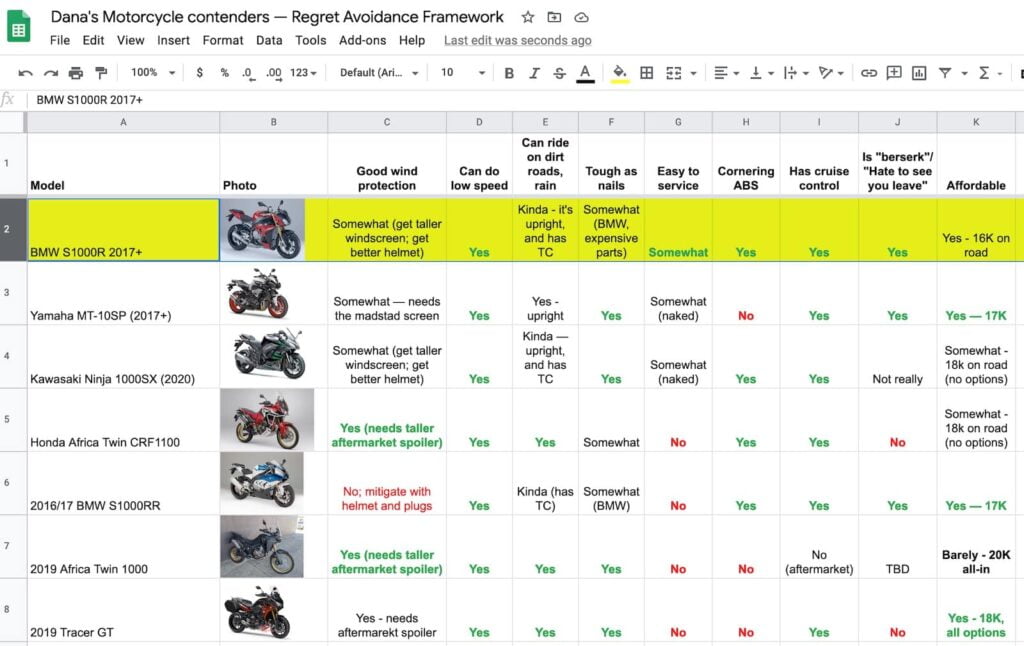 I considered all these bikes… but in the end, I could have included many more. In the end, I chose (and bought) a BMW S1000R. You can read my buyer's guide to the S1000R here.
Now that I have it… do I regret it? My only two concerns with the S1000R are that
It's too powerful for public roads (though at least it can do low speed easily), and
It does have that "BMW tax"… but also the BMW premium.
Apart from that, I love this bike. It's everything. It does everything perfectly. After riding it, I'm never annoyed. I've been annoyed in some way by every other bike I've had, so this is a welcome change.
But would I change it? Maybe. I am looking at the 2021 Yamaha MT-09. It doesn't have cruise control, though, so I'd be giving one thing up. It really is hard to fault the S1000R!
A counter-argument — Buying what you want
Some people read this and think "you can't buy a motorcycle with a spreadsheet!" and in many ways — maybe every way — they're right.
First, can I point out that part of the list above is something that gives you "that feeling". Without that element, it's a deal-breaker.
But in many ways, that's the only requirement. It comes down to two things — a) how important it is for you, and b) how much you use your motorcycle.
Like, if I have a motorbike that I just want to ride on some weekends for fun, and not even every weekend, I'd pick something more ridiculous. Suddenly something like a M109R is even a possibility — a motorcycle with no tech, no practicality, but loads of soul.
On the other hand, if I'm doing everything with my bike, then I'd be after something more like the Versys 650. The ultimate commuter, distance bike, and sport bike combined… or at least, one of the bikes in that category.
In the end, the framework above definitely won't work for a lot of people. I'm always interested to know how people buy bikes, so if you want to tell me, drop me a note.