Here's a working list of all motorcycles with "cornering ABS", a.k.a. an Internal Measurement Unit or IMU and lean angle-aware braking. It's now being updated for bikes available in model year 2024.
At some point in my motorcycling life when I was commuting a lot, I got really interested in "cornering ABS" that's present on some high-end motorcycles.
Then I realised that "Cornering ABS" is just one specific brand for a general concept which is to adjust the amount of braking to compensate for what the motorcycle is currently doing. And the good news is that there are increasingly many motorcycles — many of them much cheaper than new-ish high-end motorcycles — that have lean angle-aware ABS.
Some alternative names for cornering ABS are
Lean-angle sensitive ABS (my favourite generic term)
ABS Pro (BMW)
Or — Just having an Internal Measurement Unit or IMU (which doesn't always do the same thing — but usually does)
Disclaimer — Because specs vary by market, inconsistencies in "model years", and sometimes small variants in models, please confirm that individual motorcycles have cornering ABS before making a purchase rather than relying exclusively on this post.
You might also be interested in this guide to motorcycles with radar-assisted cruise control (adaptive cruise control).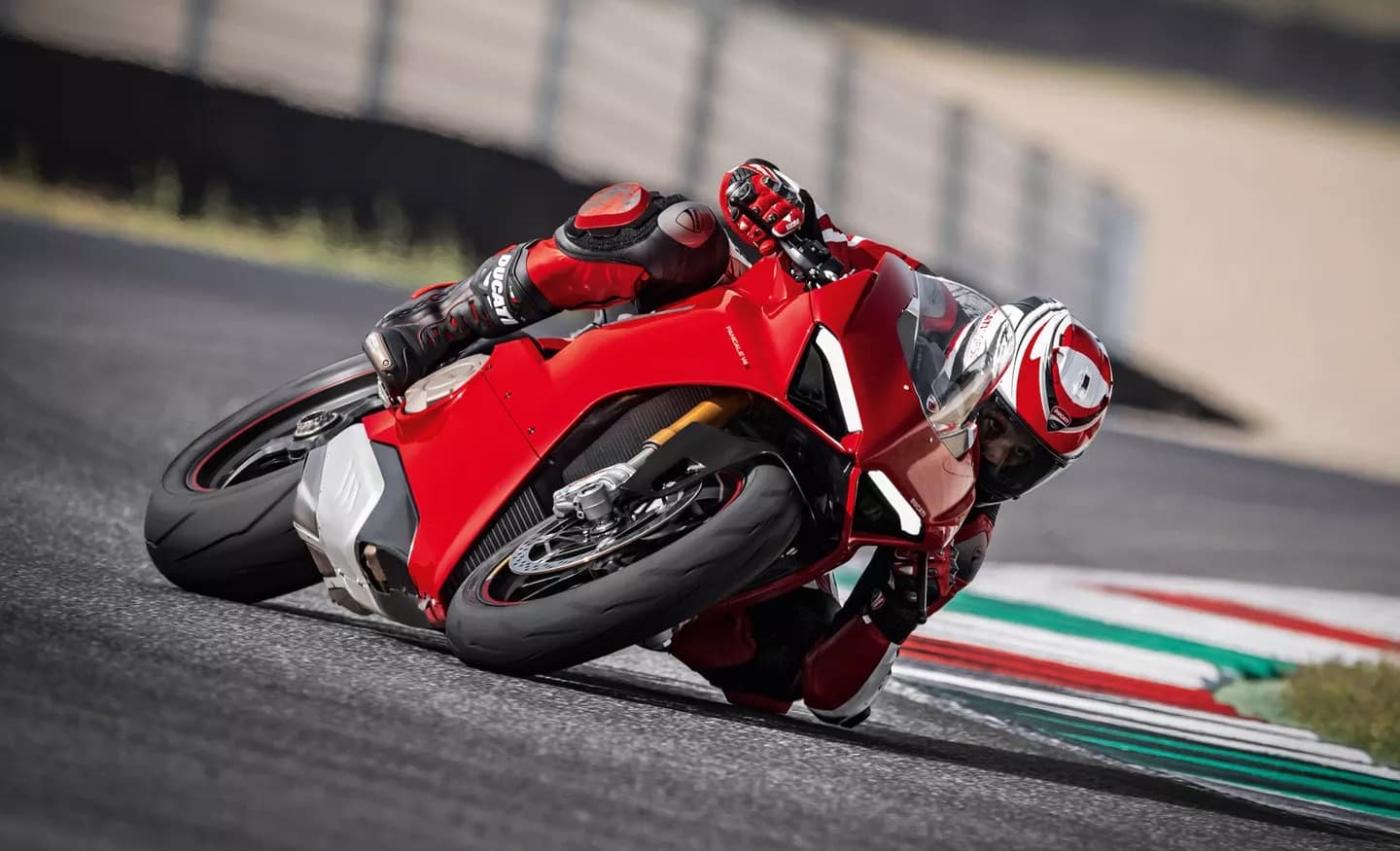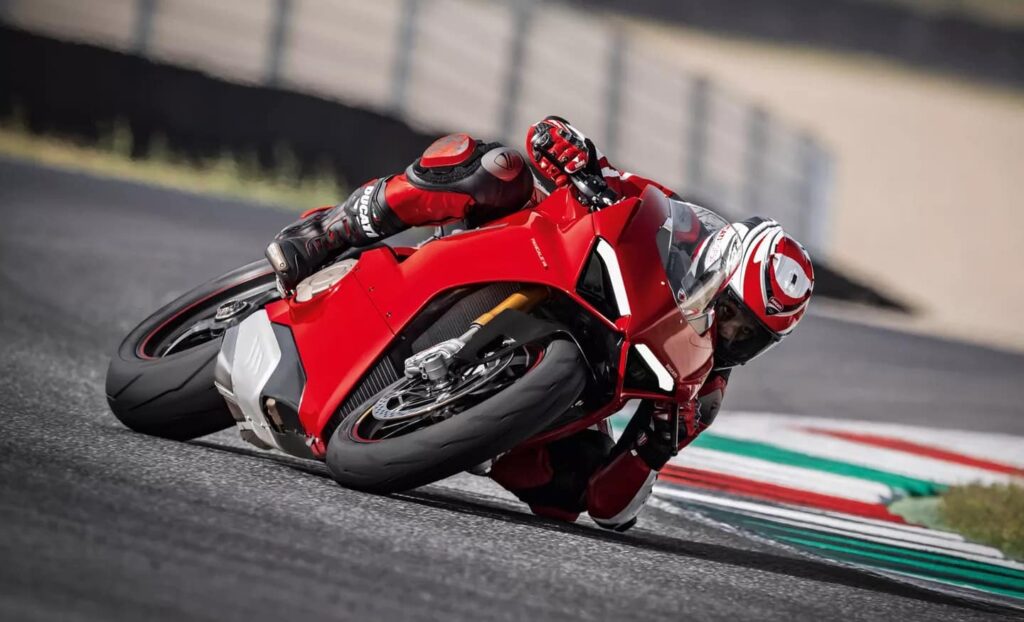 An IMU is actually an acronym for a suite of measurement controls. It's fed into a safety system that includes braking but also includes traction and wheelie control.
The various terms are almost synonymous because any motorcycle with lean angle-sensitive ABS has traction and wheelie control… though the converse is not true (there are many motorcycles with traction and wheelie control but without lean angle-sensitive ABS).
There are also motorcycles with an IMU but that don't detect cornering. They may, for example, only measure the change of balance between the front and rear tyres.
Knowing cornering ABS exists on non-Ducati brands I thought… hey, maybe there are cheaper motorcycles with lean-angle sensitive ABS on them!
There still aren't many motorcycles with cornering ABS though. So here are all the ones I've found.
Are you obsessed with motorcycles?
Well, I am. That's why I created this site — as an outlet. I love learning and sharing what others might find useful. If you like what you read here, and you're a fraction as obsessed as I am, you might like to know when I've published more. (Check the latest for an idea of what you'll see.)
Why an IMU/Cornering ABS?
In a nutshell — I want to ride fast bikes on the road and I want to live longer doing it. I like the freedom of the open road, but I don't need to arrive with wrist pain and stress to enjoy that freedom.
ABS is often described as the greatest safety invention in the last few decades (I can't see references for this, but it's often said). ABS prevents wheels from locking up by detecting when they've done so and modulating brake pressure at high frequency.
Basically, when your wheel skids (even for a fraction of a fraction of a second), ABS releases the brakes, and then re-applies the brakes. It does this hundreds of times a second — meaning it works far more quickly than you possibly can.
When you are going in a straight line and you grab a handful of the brakes, with ABS you stop very quickly — much more quickly than even if you used your hand.
The problem with ABS is that this also makes the motorcycle go upright. This puts you directly into the path of oncoming traffic, or other obstacles.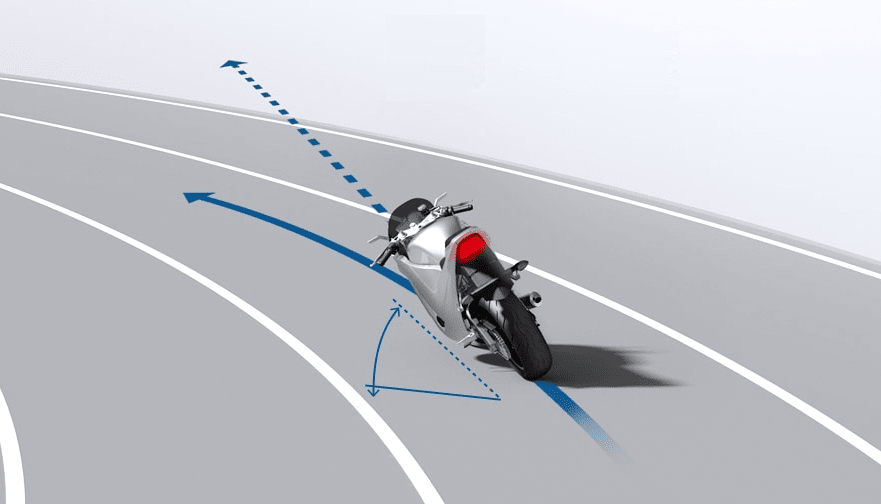 Lean-angle sensitive ABS adds to ABS by controlling the amount of braking depending on a number of factors including how far you're leaning, whether you're accelerating, and how fast you're going.
The goal of lean angle-sensitive ABS is to brake you as quickly as possible without dramatically changing your direction.
The effect of a good braking system is that at any point in time you can just grab a handful of brakes and let the computer do the thinking.
Different names for Cornering ABS by different manufacturers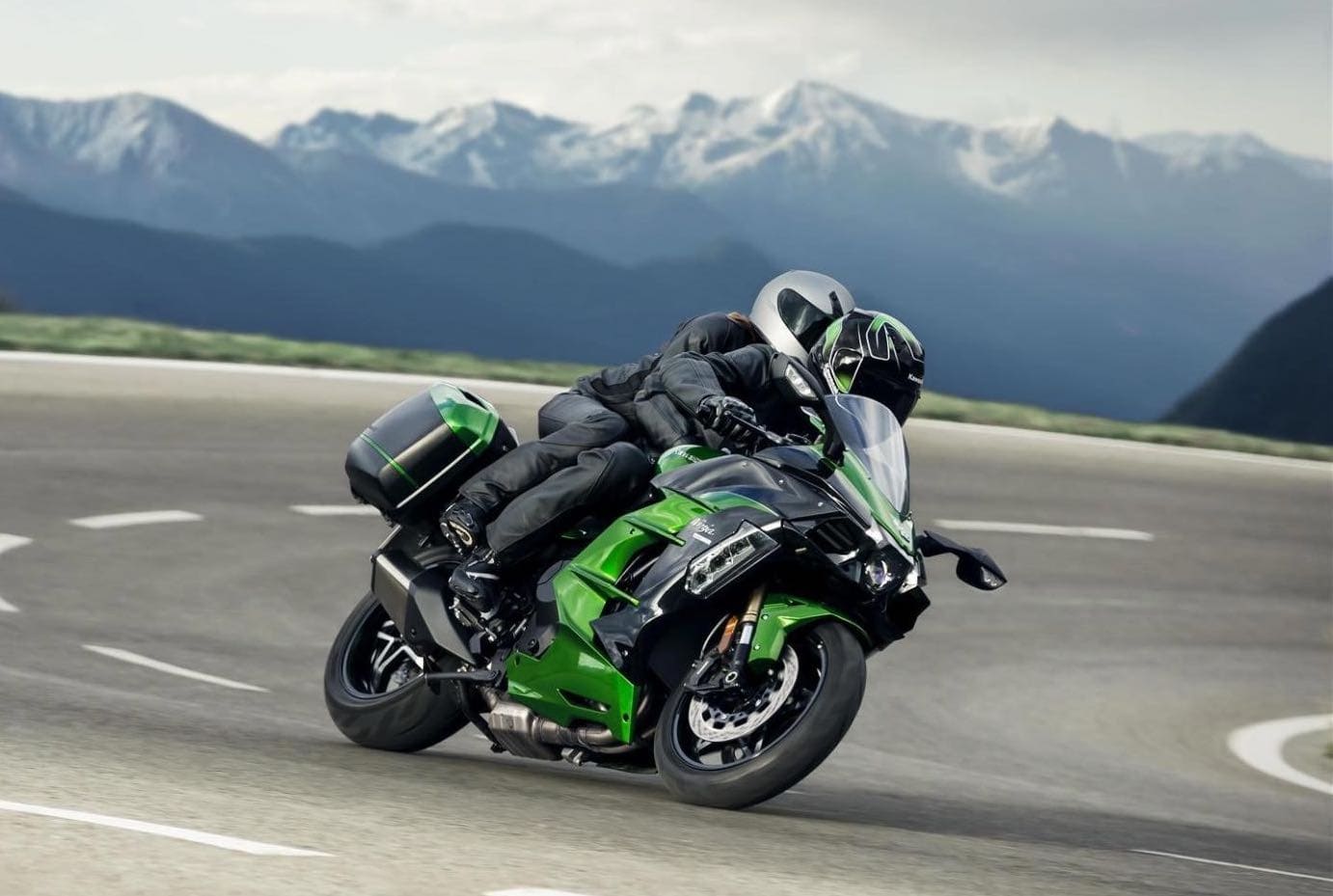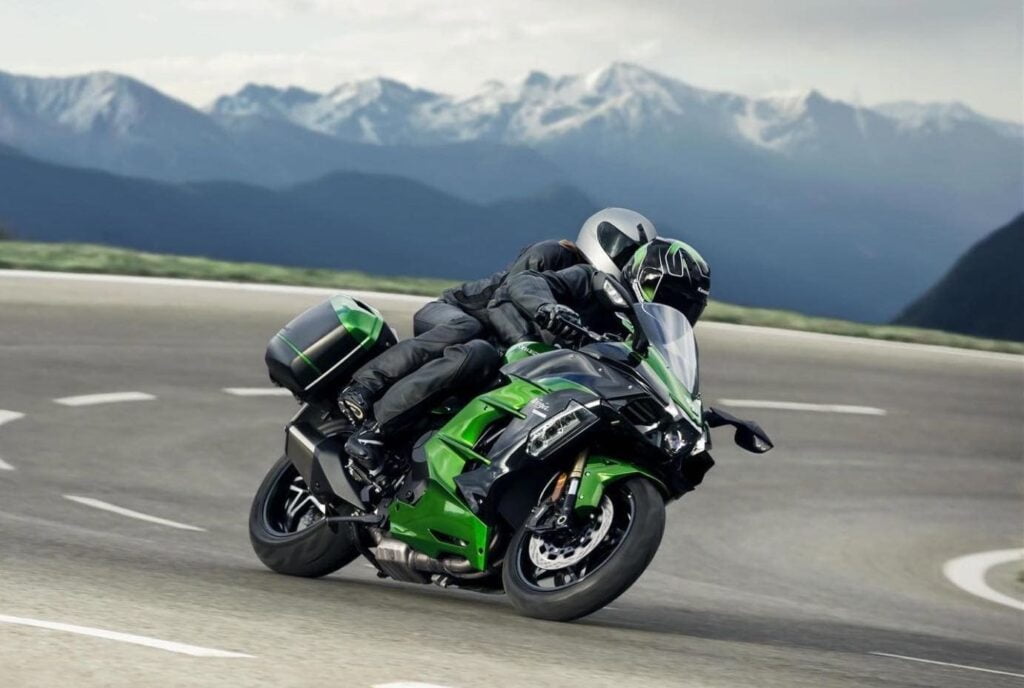 Different motorcycle manufacturers have different names for cornering ABS. Let's go through them! In alphabetical order:
Aprilia calls its system cornering ABS.
BMW calls it ABS Pro or ASC (Automatic Stability Control) in more recent (2019 onward) models. It was first available on the HP4 in 2013, but also became retroactively available for the 2012 BMW S1000RR.
Note — Some early BMW motorcycles have Race ABS. It's a bit confusing — see my explainer of Race ABS vs ABS Pro here.
Ducati calls their system Bosch Cornering ABS — although many other manufacturers also use Bosch systems. When it got upgraded to 6-axis, it became Bosch Cornering ABS Evo.
Energica uses the Bosch Cornering ABS 9.3 MP system, and just calls it that.
Harley-Davidson calls it Cornering Enhanced ABS (C-ABS). It's part of their suite of Reflex™ Defensive Rider Systems (RDRS), which has been rebranded RDRS Safety Enhancements.
Honda calls their system just an IMU, saying they have either a 5-axis or 6-axis IMU.
Husqvarna uses Bosch Cornering ABS and refers to it as such.
Indian Motorcycles calls it "Smart Lean Technology" and "Wheelie Mitigation".
Kawasaki calls their system the KCMF – the Kawasaki Cornering Management Function. It oversees many things, including braking.
KTM refers to it as Bosch's MSC — Motorcycle Stability Control. It's undoubtedly the same basic system as in other manufacturers with Bosch systems.
MV Agusta refers to their systems as a six-axis IMU and Continental cornering ABS.
Suzuki, like Honda, refers to their system as an IMU.
Triumph calls theirs Optimised Cornering ABS… not to be confused with all the others with lousy unoptimised cornering ABS (jokes).
Yamaha also calls their system an IMU, proudly calling it a 6-axis IMU.
Zero, like KTM, uses Bosch's branding of Bosch MSC — Motorcycle Stability Control.
Riding Motorcycles with Cornering ABS
The best part of riding a motorcycle with a good IMU (and associated cornering ABS and traction control) is that you can, in theory, trust a computer and accelerate and brake as hard as you want.
That is, if the stability system is working.
An IMU frees you up from the stress of worrying about gravel, pitch angle, speed and so on, and lets you just brake when you think there is danger.
The effect of this is that you spend less mental energy riding and can go longer distances more safely, and arrive fresher. It's a lot like cruise control in this respect.
Read next: A list of modern motorcycles with cruise control — the "unusual suspects".
If you want a fully manual experience, go and get a classic motorcycle and stay in control. Get one without fairings and with a bare-bones engine. That's an experience in itself.
But if you want to arrive fresh after a 12-hour ride (or even after a 1-hour race), get lean angle-sensitive ABS and whatever other electronics you can to help you.
Riding with an IMU is best when you change your riding style to suit. You trust the computer.
To accelerate, you can open the throttle and the front wheel will lift over every crest — but the anti-wheelie will bring it back down again.
To brake, you grab the brakes and the computer modulates the amount that you need, using as much braking power as is available to the motorcycle at any point. The effect is that to anyone but the most experienced of riders you get a shocking amount of grip and braking power, even in the wet, and even on slippery road.
You don't have to warm up the tires or warm up mentally. Your only task is to keep off zero-grip surfaces where the computer can't do anything — like ice. Or a lake.
On most motorcycles with an IMU you can adjust the intervention of the computer all the way down to zero. But many people get a rude surprise the first time they turn it off! Around race tracks, people always end up riding slower.
Motorcycles with Cornering ABS
Here's the list of motorcycles I've found with cornering ABS. There may be one or two others out there. I've done a LOT of Googling for this. If you find another one, please contact me or drop a comment so I can add it to the list.
Aprilia Cornering ABS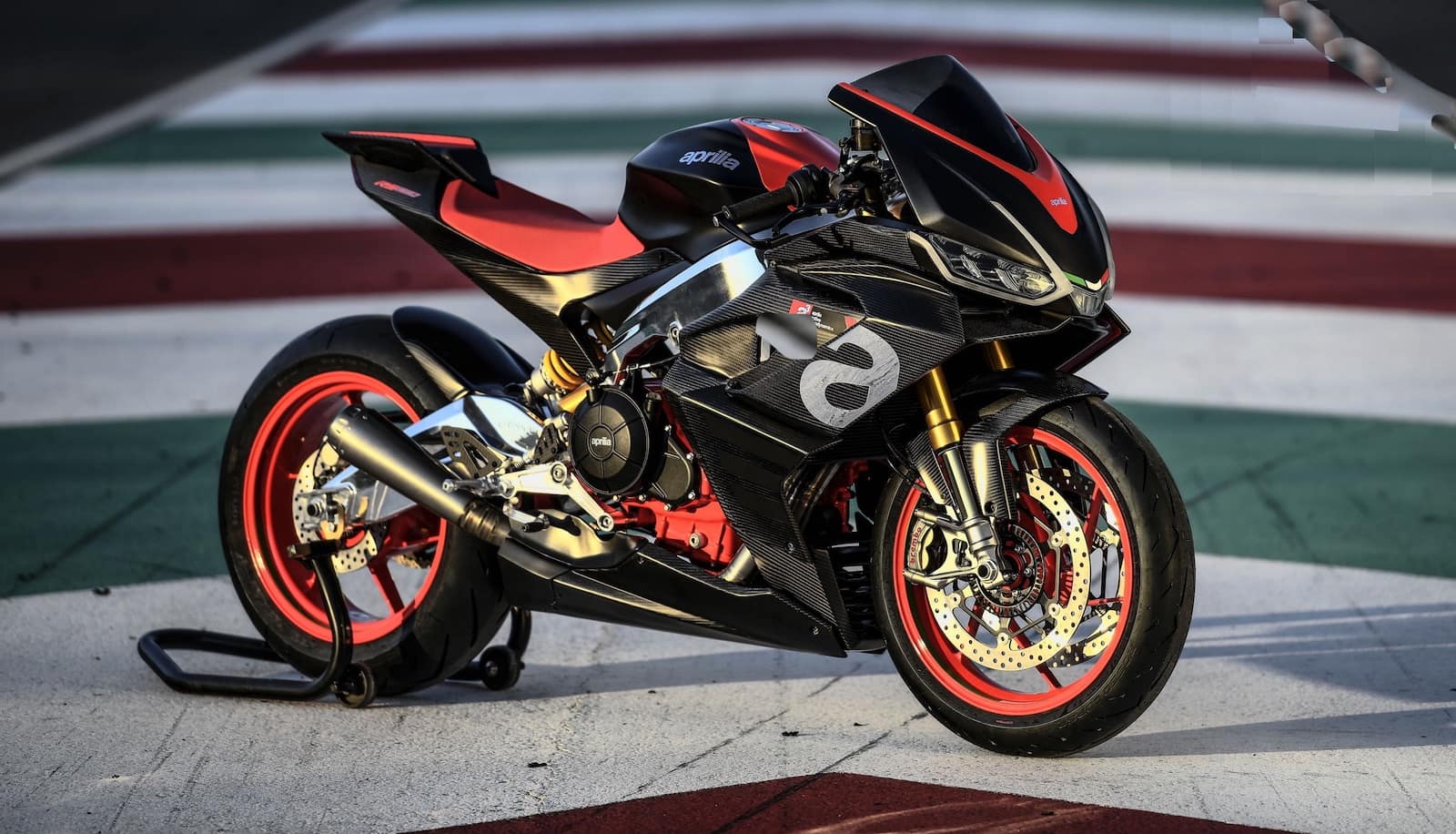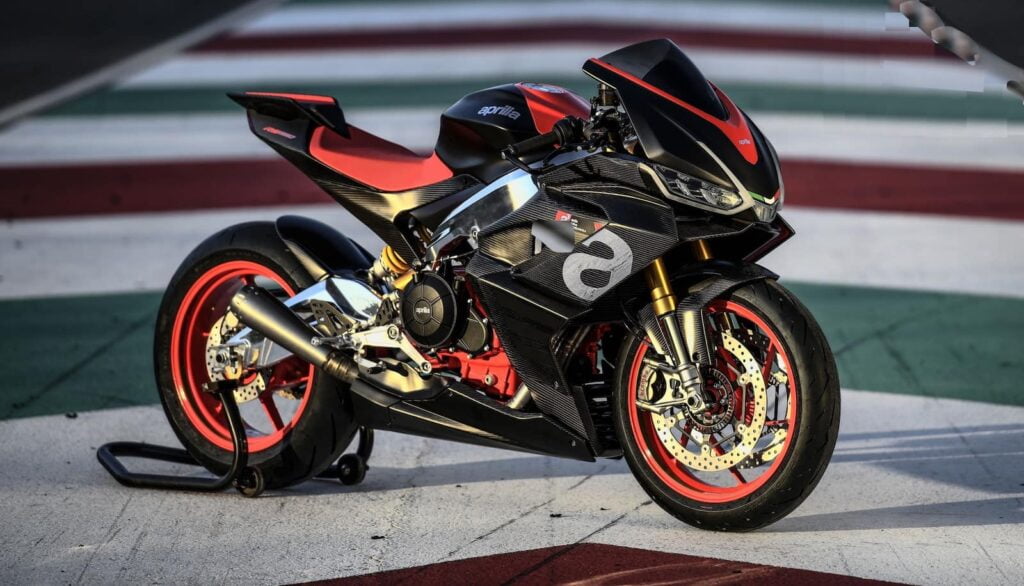 Aprilia has cornering ABS on the
2017+ Aprilia RSV-4
2017+ Aprilia Tuono V4
2021 Aprilia RS660 — standard six-axis IMU
2021 Aprilia Tuono 660 — optional
I really like that the RS660 and Tuono 660 (as an option), both middleweight motorcycles, will both have an IMU and cornering ABS. Makes them very tempting propositions. Note that the Aprilia Tuareg does not have cornering ABS, even as an option.
Both the RS660 and Tuono 660 have cruise control, too!
BMW ABS Pro/ASC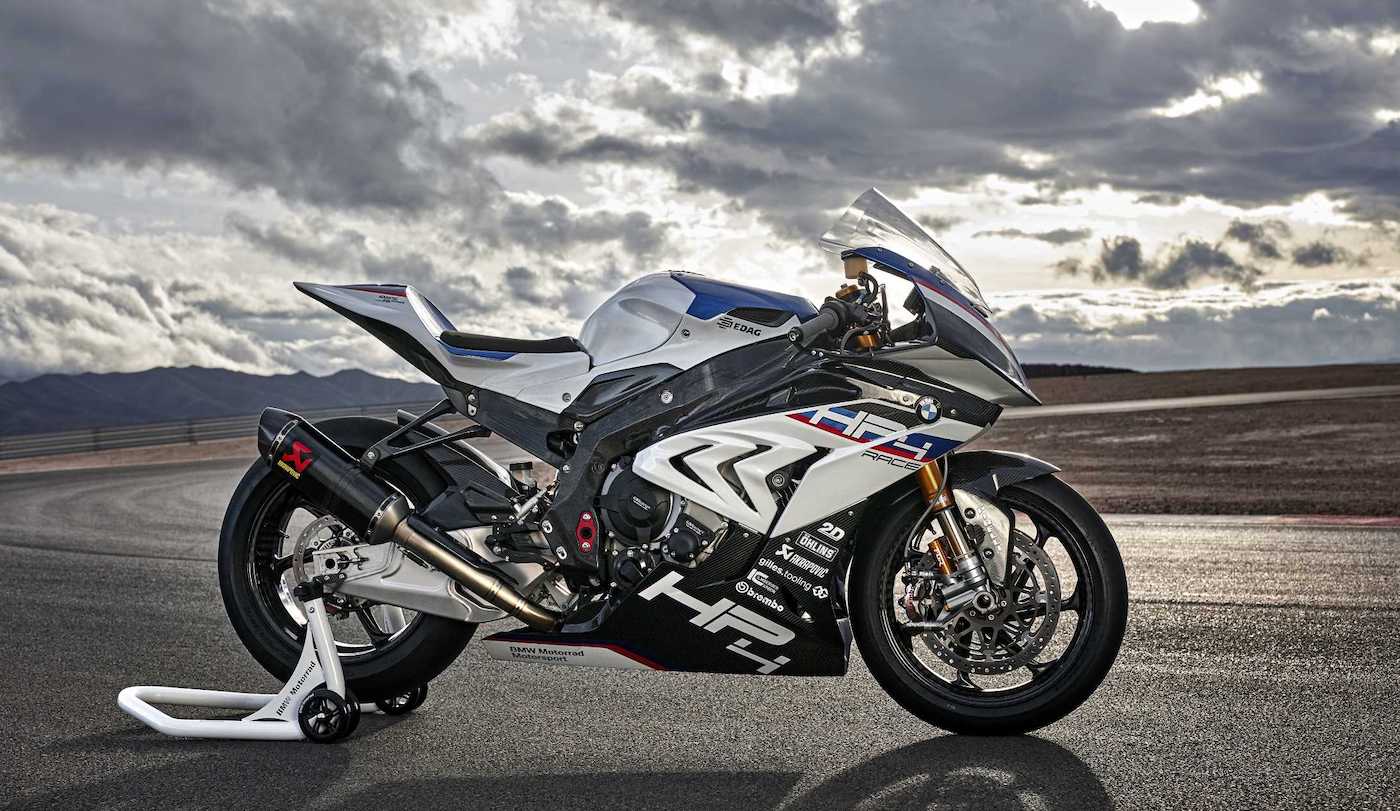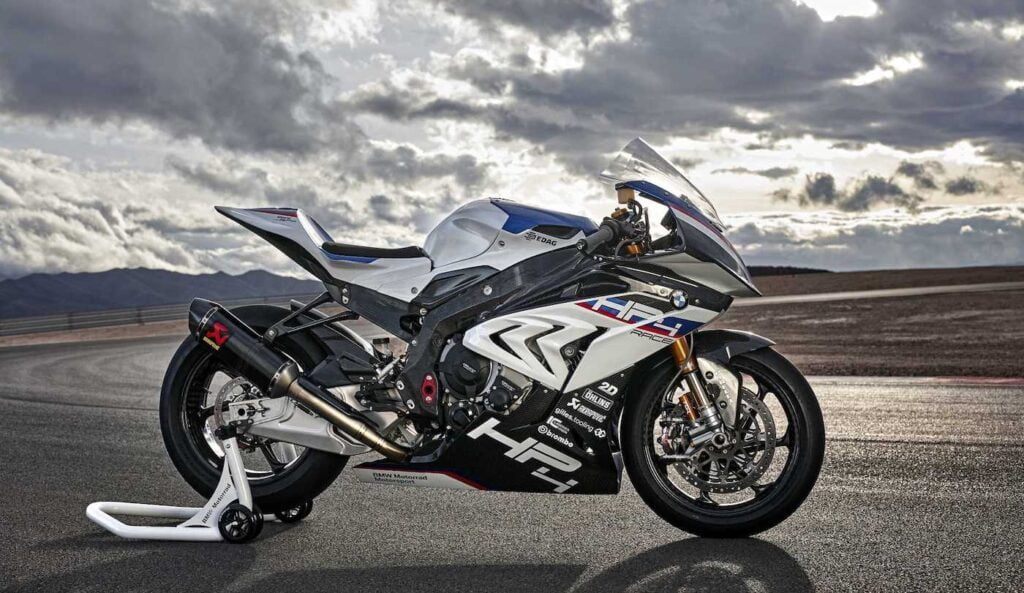 BMW was one of the earliest manufacturers with cornering ABS (what they call ABS Pro).
You can get ABS Pro on
2009+ HP4
2012+ S 1000 RR — thought it has to be retrofitted if it's not on there (will cost you at least US$300 – depends on where you are)
2015+ S 1000 RR as a factory option (or retrofitted)
2015+ S 1000 XR as factory option (see the BMW S 1000 XR buyers' guide)
2016+ K 1600 GT/GTL (standard)
2016+ R 1200 GS, GSA (option)
2017+ S 1000 R with Sport package (which is why I got one)
2019+ R 1250 R
2019+ F 850 GS and F 750 GS (standard equipment from mid-2020)
2020+ F 900 R SE/premium package (not the Australian F900R, sadly)
2020+ F 900 XR, F 900 R
2021+ R NineT range, even including the more bare-bones R NineT Pure
Increasingly from 2019/2020 onward, most high-end BMWs (but not all of them) have ABS Pro fitted. Even the 2021+ classic roadsters (the R nineT range) now have ABS Pro.
On some models, you have to opt for the "Dynamic package" or some similar up-spec package to get ABS Pro and other options.
Another similar term used in BMW motorcycles is ASC — Automatic Stability Control. It has a similar name, but ASC is more about limiting torque to prevent wheel-spin while accelerating rather than braking.
By the way, you may have heard of BMW Race ABS. It's different to ABS Pro — here's a quick explainer.
CFMOTO motorcycles with Cornering ABS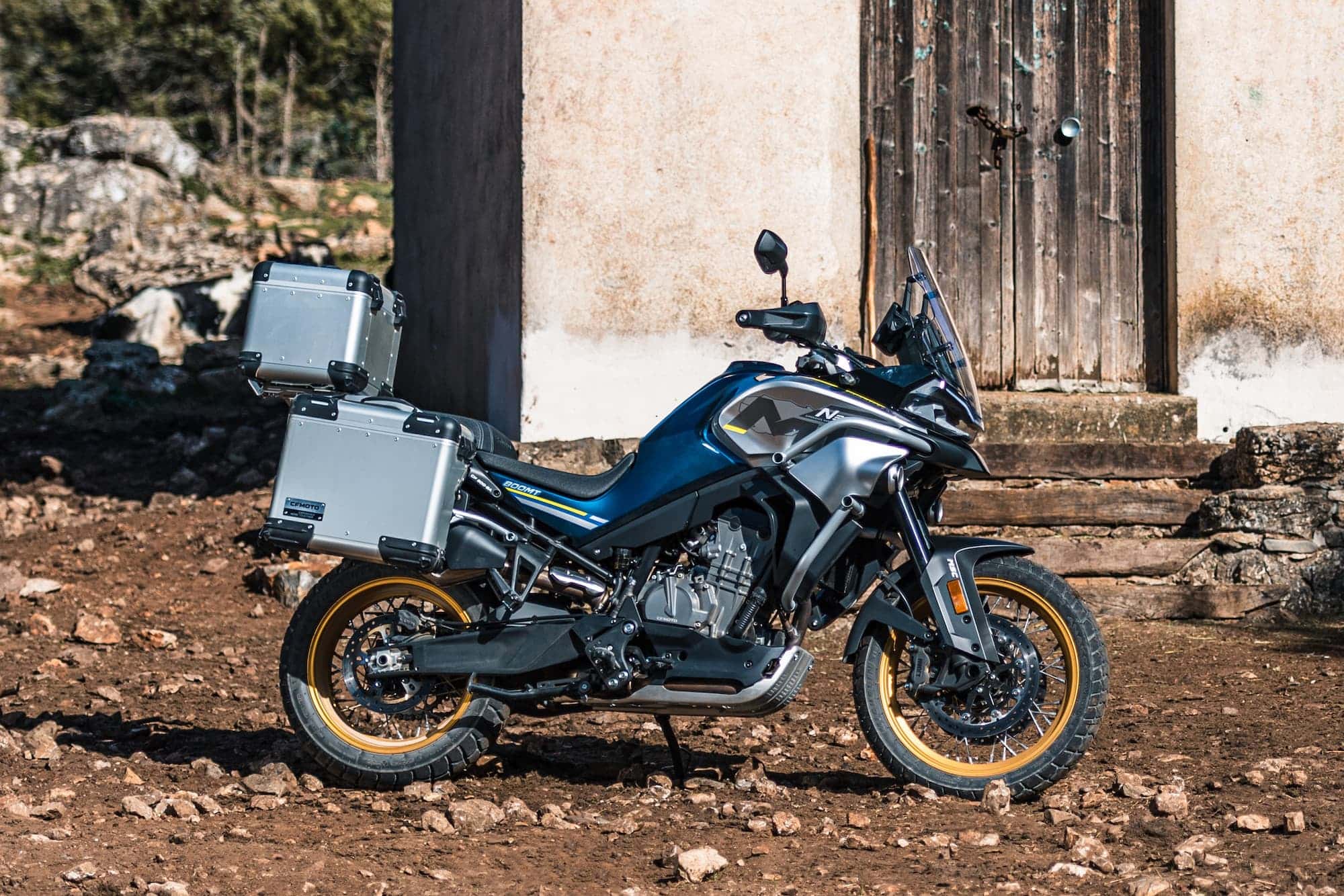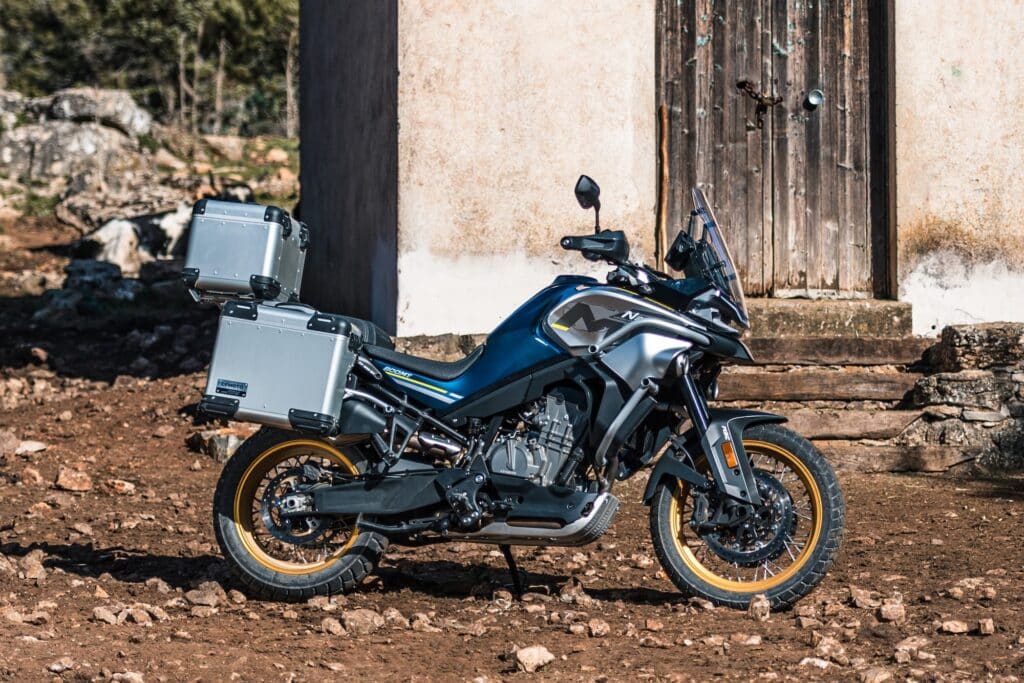 Some new models from Chinese manufacturer CFMOTO also have cornering ABS.
The two models that have it for now are their adventure sport touring bikes, the CFMOTO 800MT Sport and Travel, both of which are based on the KTM 790 platform.
The CFMOTO 800MT has the Bosch cornering ABS system. It's also loaded with other features and is one of the more affordable bikes you can get new with it — but you can only get it in a few markets (including Australia, luckily for them, as this is an ideal style of bike for the big brown land).
Ducati Cornering ABS Motorcycles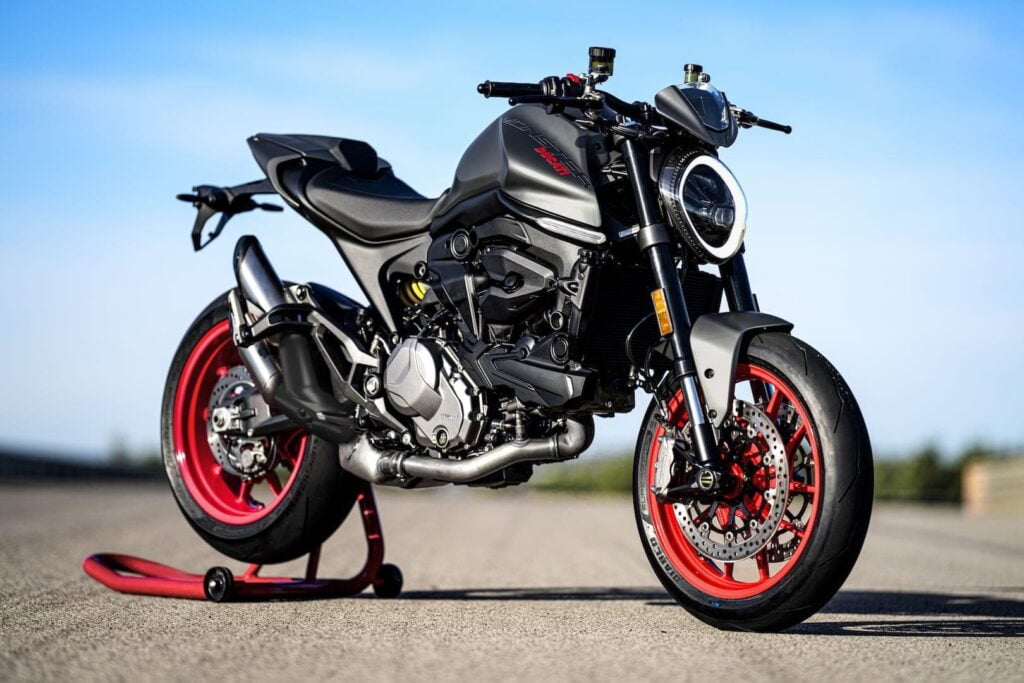 Ducati was another quite early manufacturer to fit cornering ABS to a lot of its models.
It's available as standard on:
2015+ Ducati 1299 Panigale
2015+ Multistrada
2016+ Ducati XDiavel (Diavel got it in the 2019 update)
2017+ Monster 1200 + variants
2018+ Scrambler 1100
2019+: Nearly all new Ducati models* including the ones you're about to tell me, like the Diavel 1260, Multistrada, Hypermotard 950, plus Scrambler models.
2020+ Ducati Streetfighter V4
2021+ Ducati Monster 937 (just called the "Ducati Monster / Plus", but informally known as the 937, as it replaces the 821)
2022+ Ducati Streetfighter V2
Even the 2019 Ducati Scrambler (800) has the full Bosch cornering ABS package on it! This makes Ducati Scramblers some of the highest safety per dollar motorcycles on the market.
* Some exceptions to the line-up: The entry-level Ducati Scrambler Sixty2 does not have cornering ABS, as didn't the smaller Monsters like the 797 and 821, which were discontinued after 2020 and replaced with the regular "Ducati Monster".
Energica motorcycles with Bosch Cornering ABS — Experia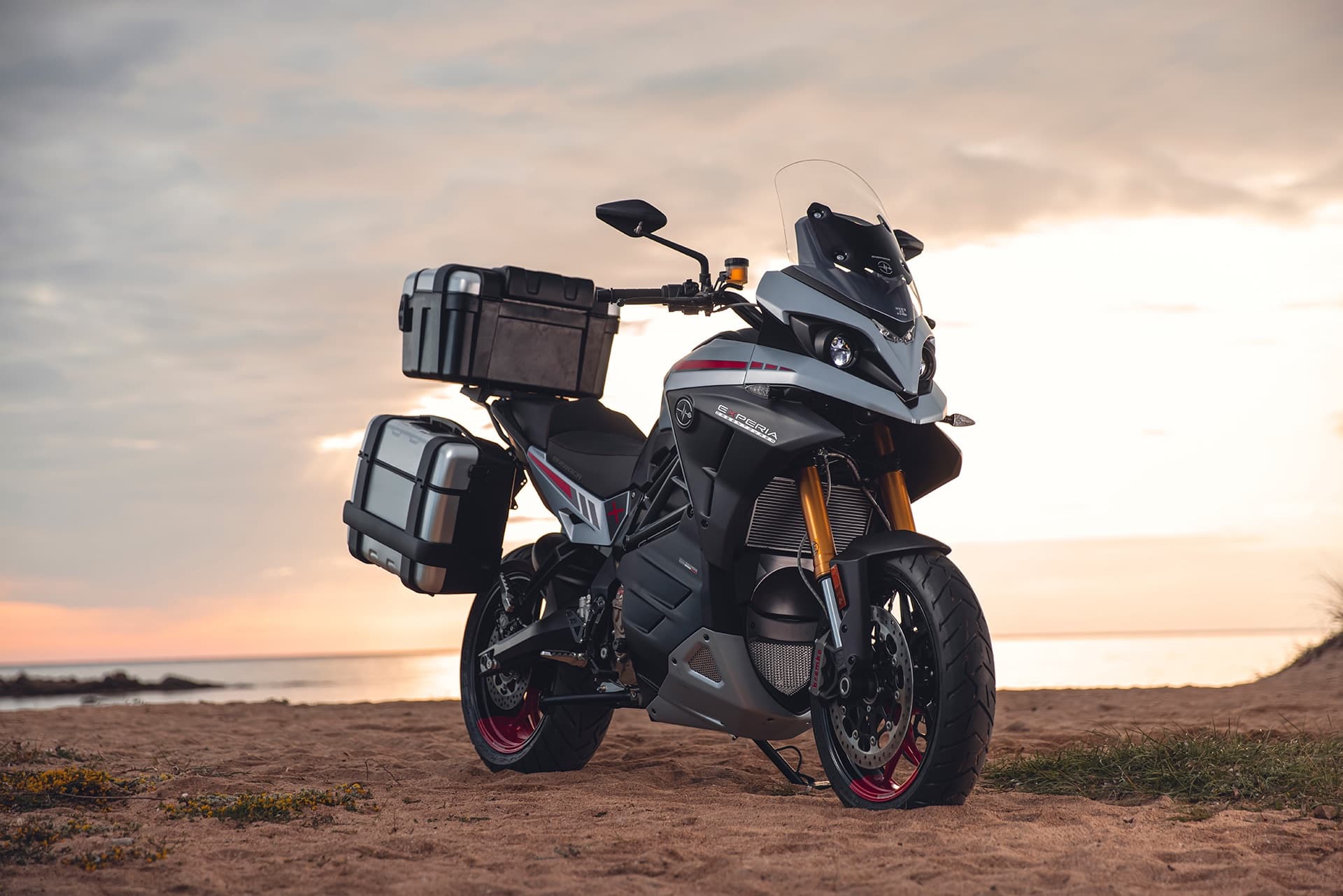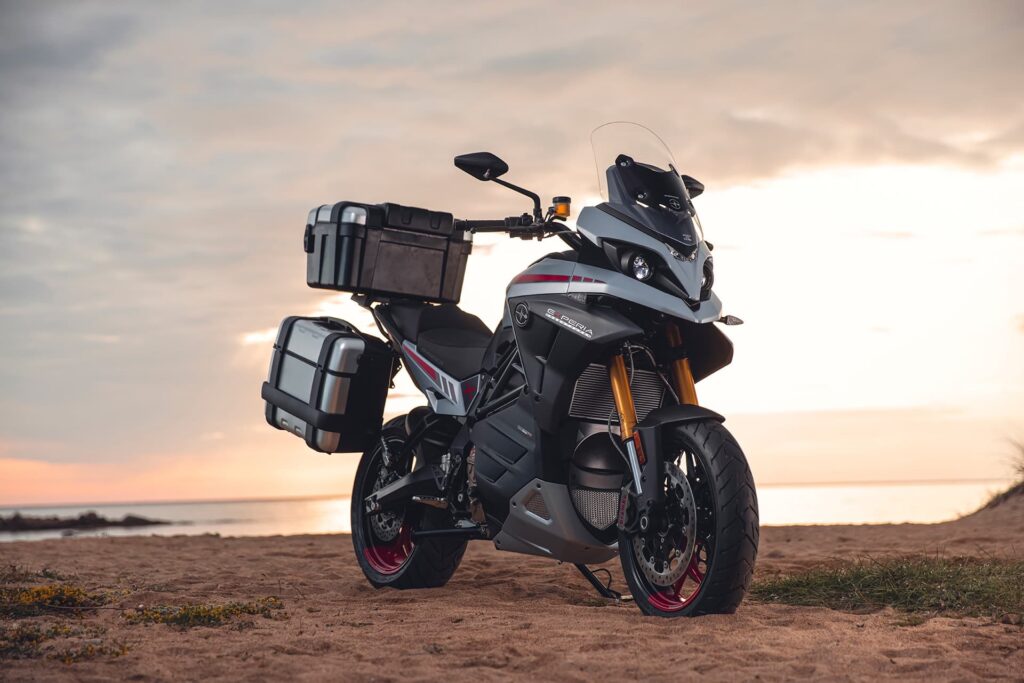 The 2022+ Energica electric adventure motorcycle, the Energica Experia, has cornering ABS. It uses the Bosch Cornering ABS 9.2 M3 system.
The Experia is a pretty wicked bike — if only it were available in more parts of the world (and a bit cheaper).
But an electric adventure tourer with claimed combined range of 256 km / 160 mi, Level 3 fast charge to 80% in 40 minutes, and enough performance to embarrass most people who have to fiddle with clutches and shift levers (0.60 mph / 0-100 km/h of 3.5 seconds) is pretty tantalising.
Yes, I like the vibes of an engine, but out in the wild, silence is nice, too.
Note: I've also heard that the other models (the Ego, Ribelle, and EsseEsse9) have cornering ABS, but the spec sheets just say they have "Bosch eABS", whereas Energica specifically mentions they have cornering ABS on the Experia and for no other model. I've written to the press office to ask.)
Harley-Davidson motorcycles with Cornering Enhanced ABS (C-ABS)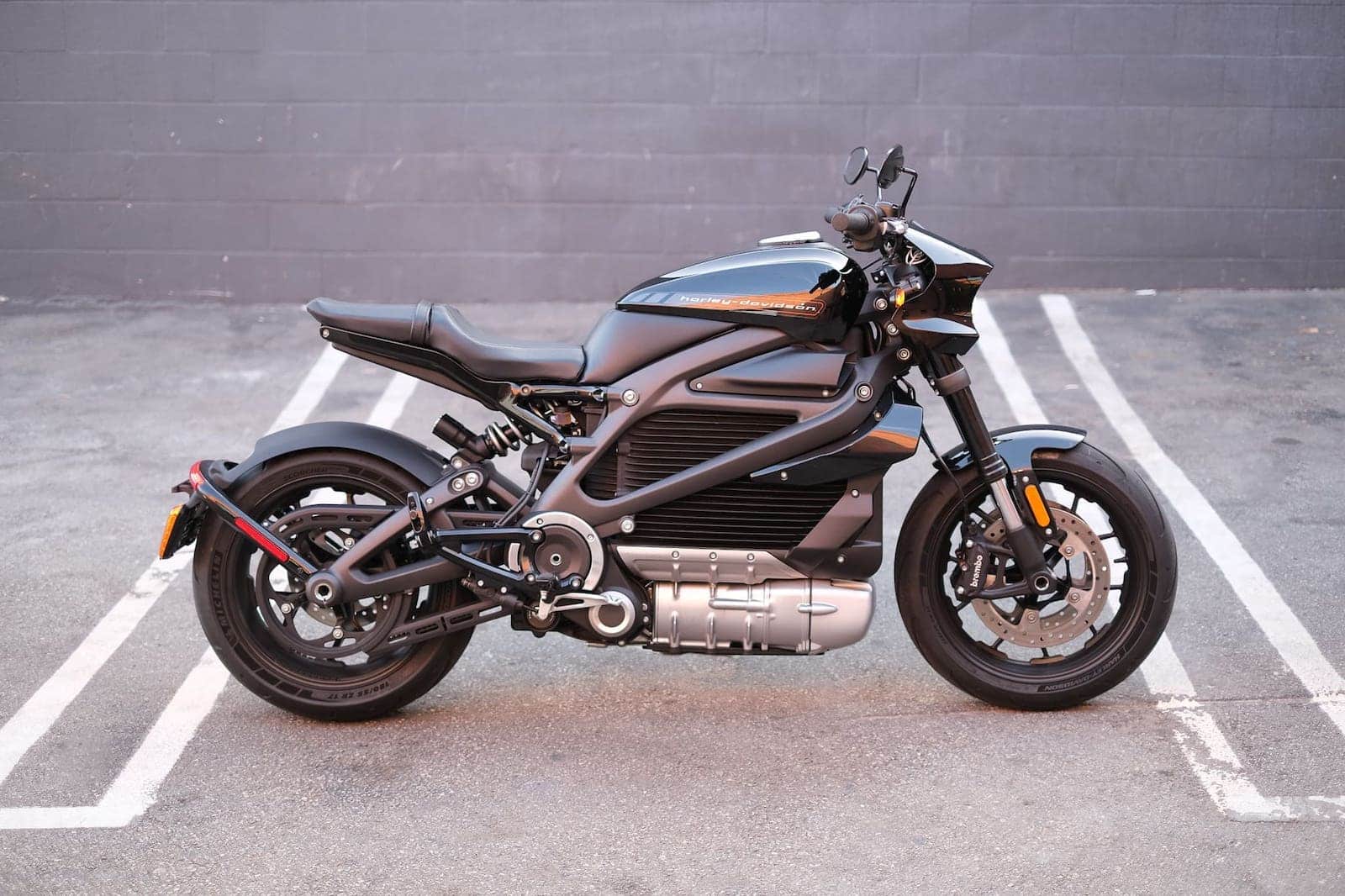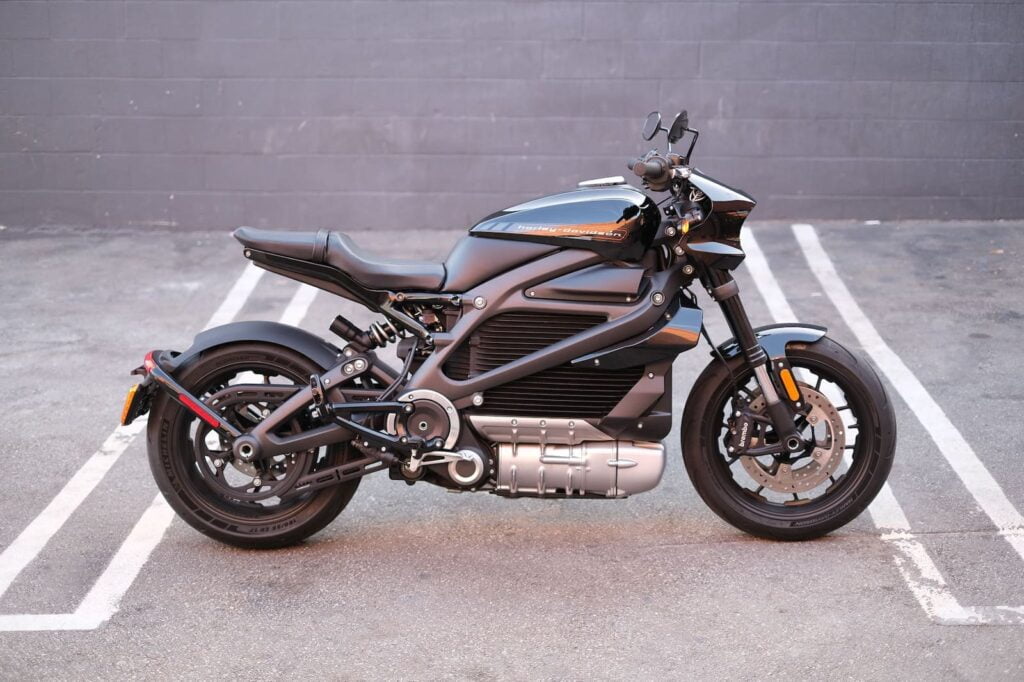 The Harley-Davidson LiveWire that I rode in early 2020 had cornering ABS. So I wondered whether any others in the line-up did… and yes, some do — starting from 2020!
Harley-Davidson C-ABS is standard on 2020 Harley-Davidson LiveWire. It's also standard on all 2020+ CVO, Police and Trike models (I had to think for a bit why you'd need it on a trike), and optional on all 2020 Harley-Davidson Touring models in the U.S. (except the FLHT, a.k.a. Electra Glide), and standard in some markets.
So this means it's optional (or standard in some markets) on the
2020+ Harley-Davidson Road King Special
2020+ Harley-Davidson Street Glide / Special
2020+ Harley-Davidson Road Glide / Special / Limited
2020+ Harley-Davidson Ultra Limited
The new motorcycles with the Revolution Max 1250 engine also come standard with cornering ABS. These include the:
Honda IMU-equipped motorcycles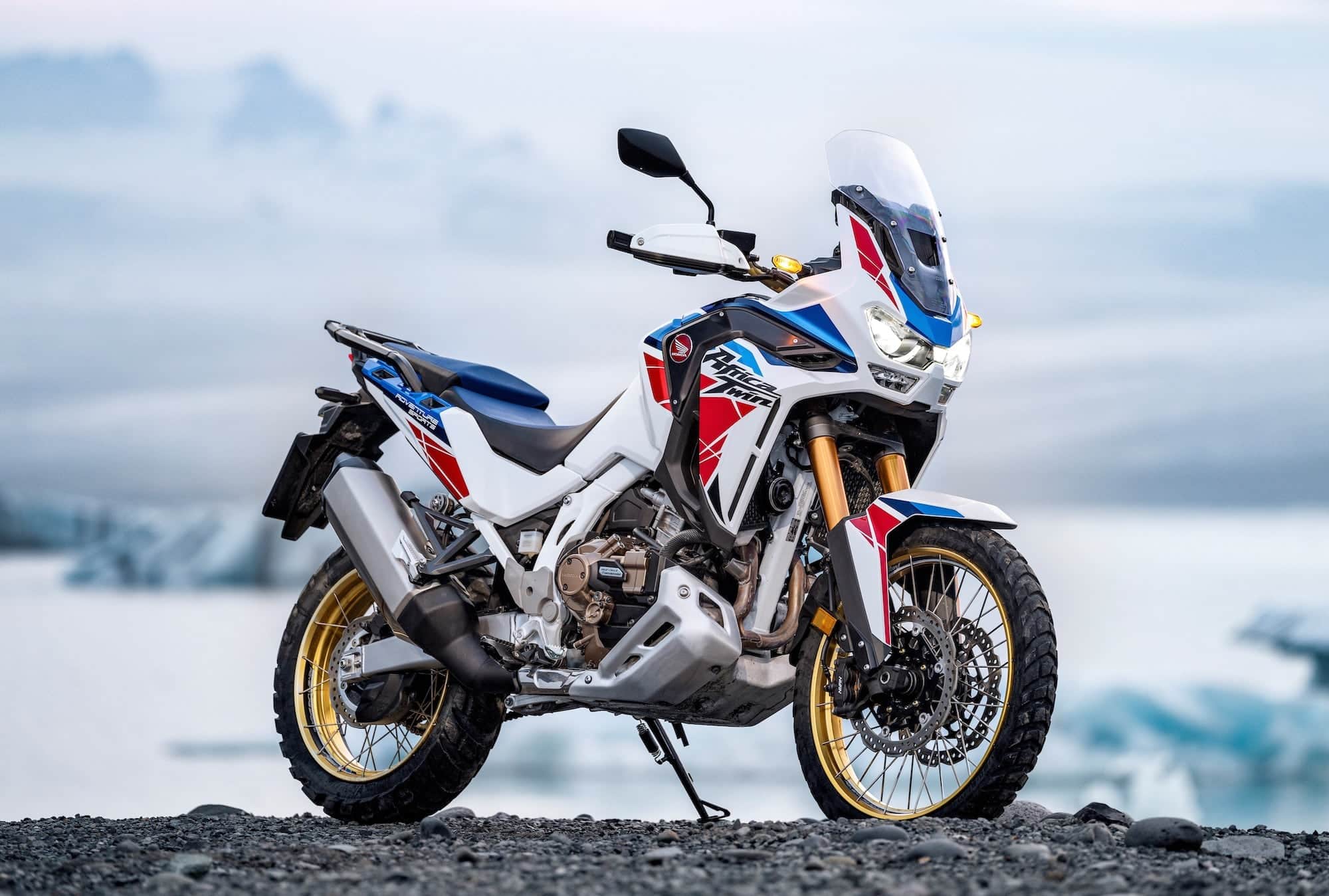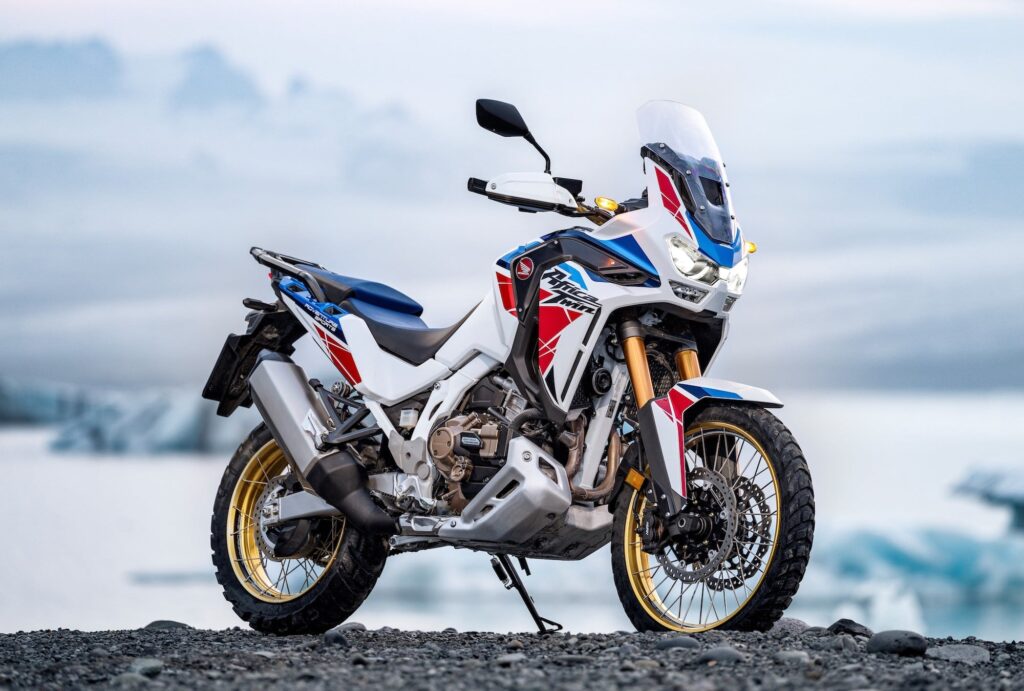 Honda has only a few motorcycles with an IMU and cornering ABS fitted. (They have a couple more with an IMU, but no cornering ABS.)
2017-18 Honda CBR1000RR – 5-axis IMU
2019-20 Honda CBR1000RR-R, SP – a 6-axis IMU (I guess that's the extra "R"!)
2020+ CRF1100L Africa Twin
Note — I corrected a previous version of this which listed the Rebel 1100 as having cornering ABS. It was based on some articles with incorrect info.
A couple of cheaper Honda motorcycles, the 2018+ CB125R and CB300R and the 2020+ CBR300R, have an IMU but not cornering ABS. Their IMU just detects pitch, and modulates brake balance under dive conditions — it's not quite cornering ABS.
Honda describes the smaller motorcycles' IMU as follows: "Both brakes are modulated by two-channel ABS that works through an inertial measurement unit (IMU) to give precise front-to-rear distribution of ABS operation, depending on vehicle behaviour." (Source). Still, a great safety feature for rookies and low-speed stop-start traffic work.
It's odd that the CB1000R and CB650R or CBR650R don't have any kind of IMU given that those low-end motorcycles do. I'm sure that will change, so I'll keep abreast of it.
The Japan / APAC-spec 2021 Honda CBR600RR has cornering ABS too, making it the first 600-class motorcycle with it (other than the more street-friendly Aprilia RS660).
Unfortunately, Europe and the US didn't get the new CBR600RR with an IMU and TFT. But the bad news for everyone is that it costs more than most litre-class motorcycles, so only the truly dedicated would opt for them anyway.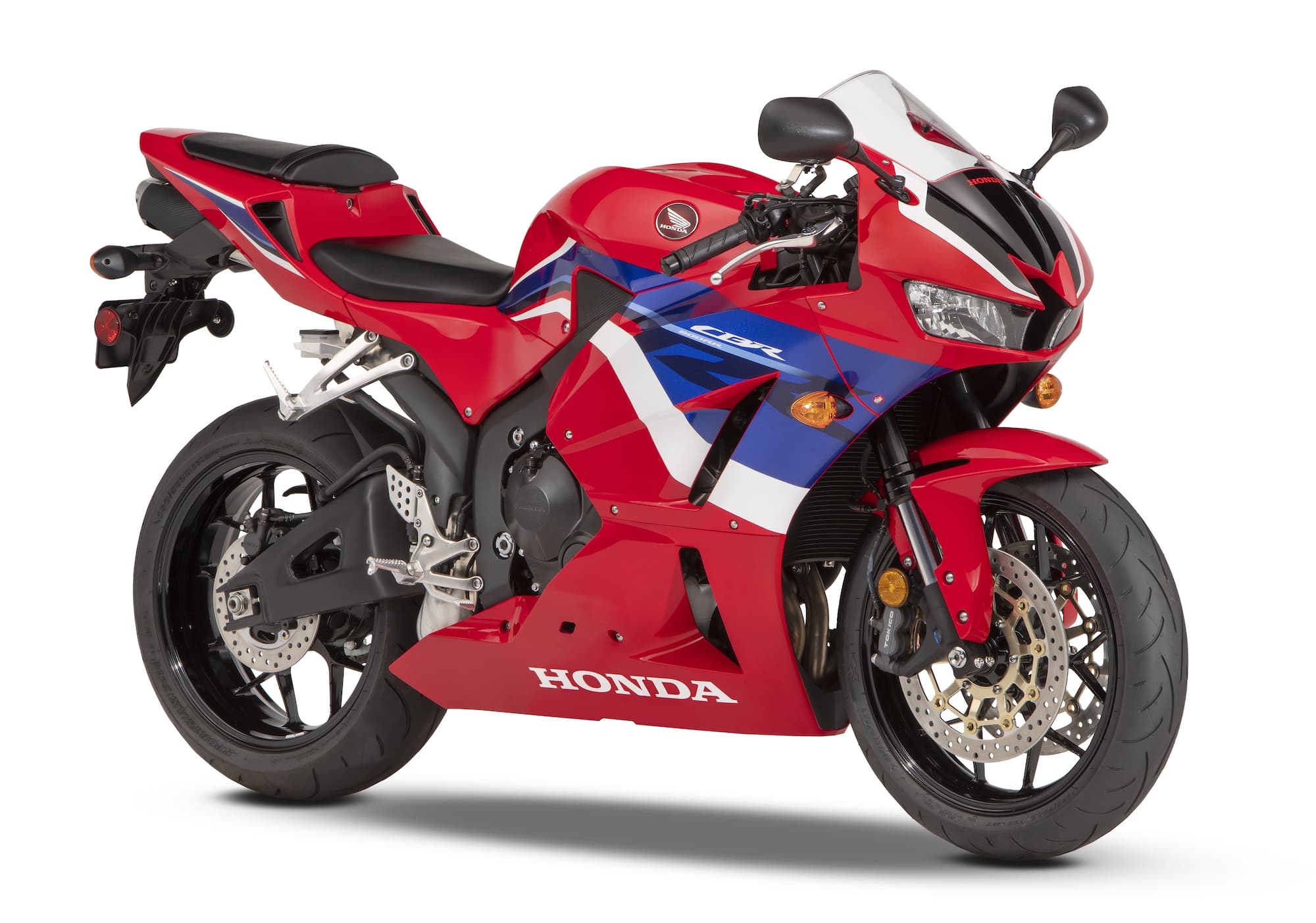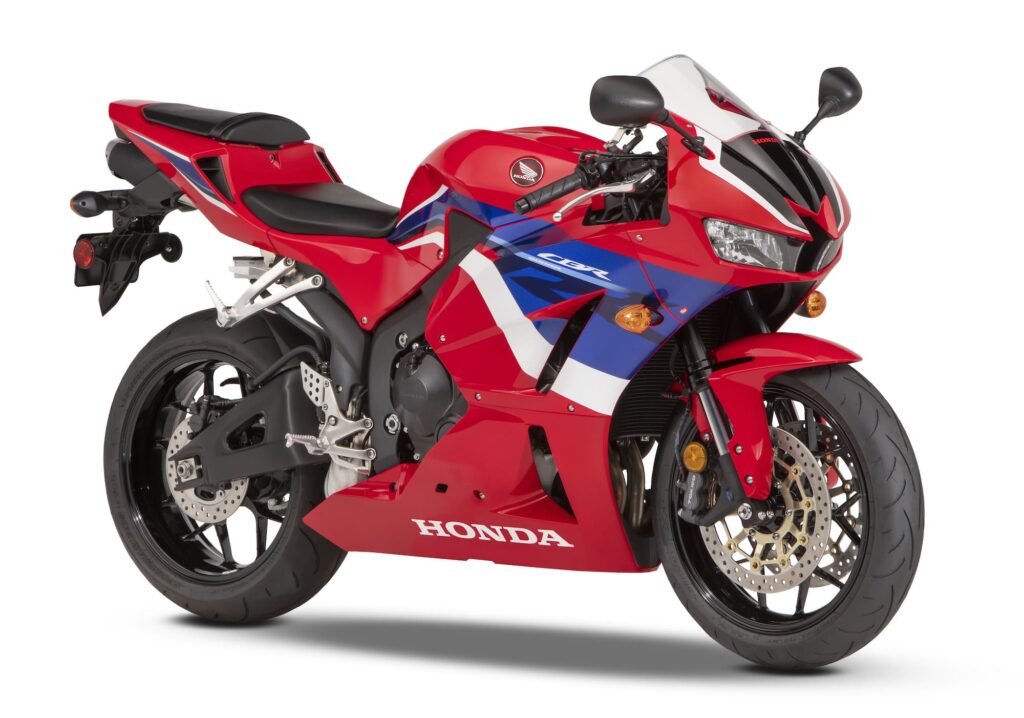 Husqvarna's Bosch Cornering ABS-equipped motorcycles
Husqvarna is also in on the game with its Bosch cornering ABS feature.
Husqvarna motorcycles with cornering ABS include
2020+ Husqvarna 701 Supermoto
2020+ Husqvarna 701 Enduro (and LR)
It seems the Svartpilen and Vitpilen road bikes don't have cornering ABS just yet, just entry-level Bosch 9M+ ABS, despite sharing the same 701 engine.
Indian motorcycles with Cornering ABS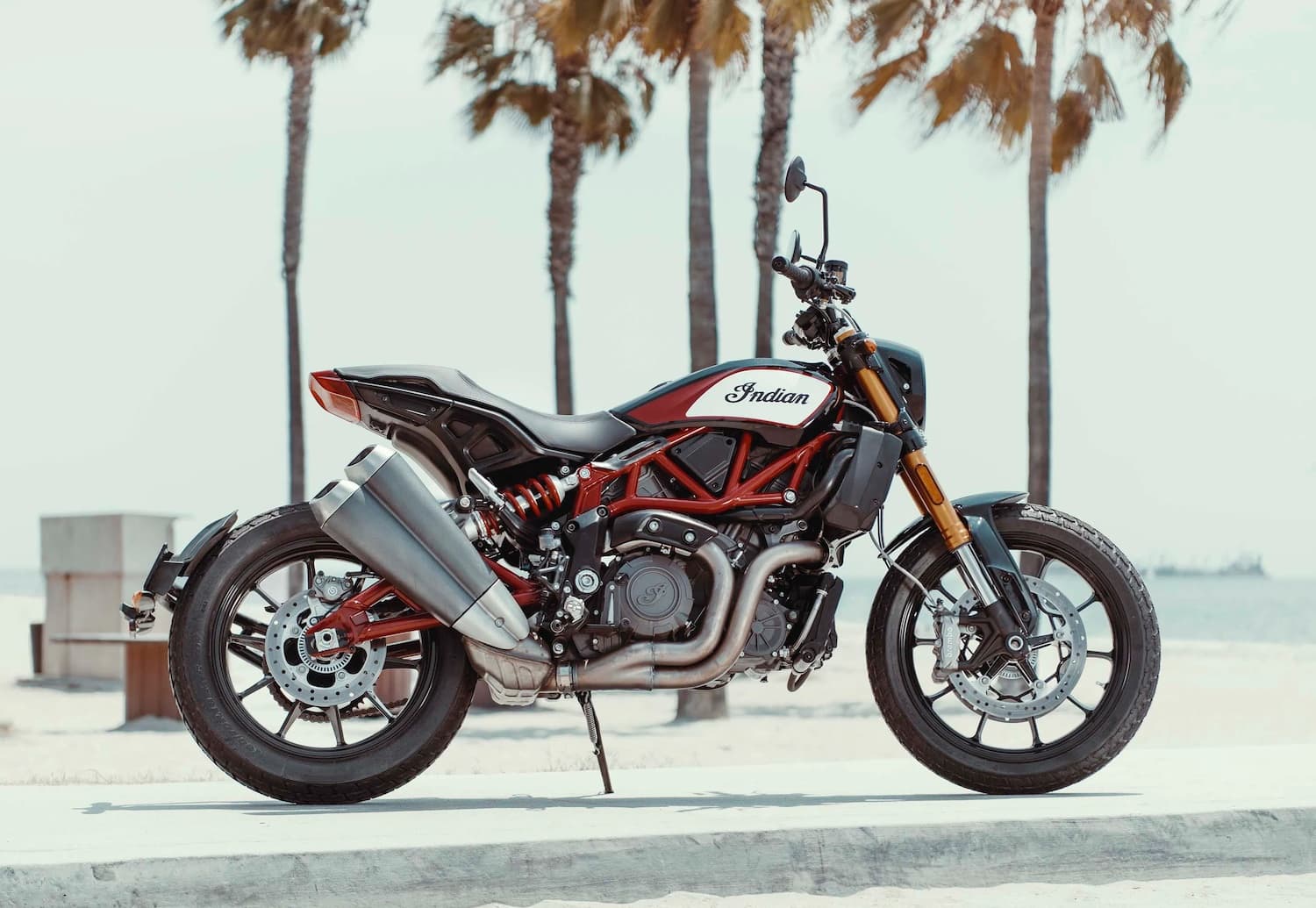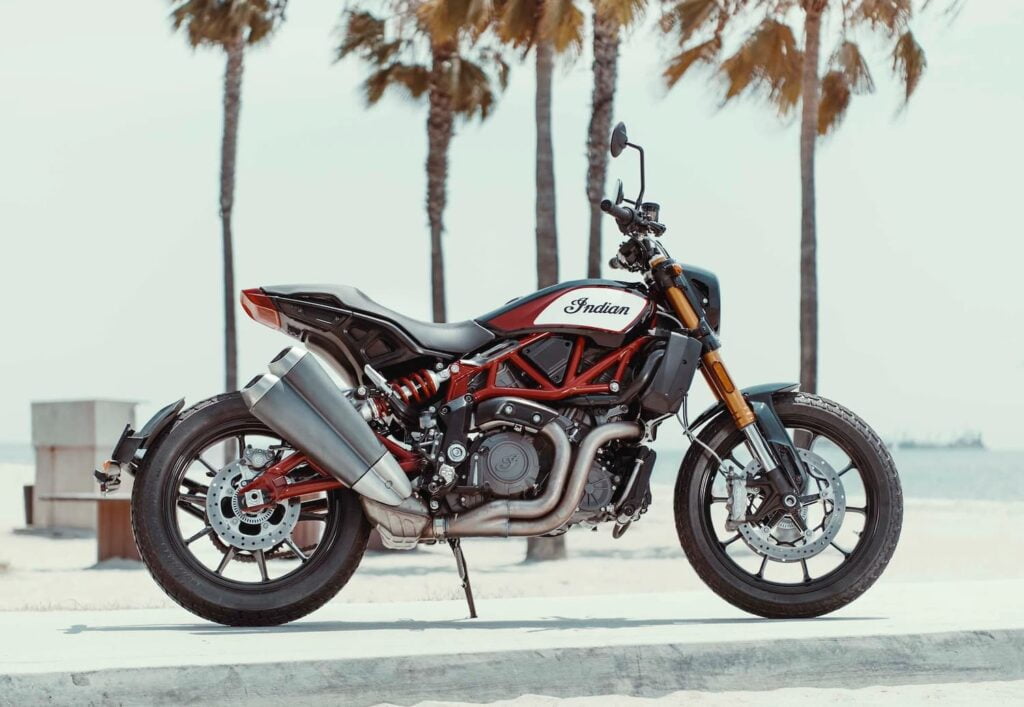 Indian has been doing great things since Polaris acquired them in 2011.
One of their recent successes is the flat tracker-inspired FTR range. The base model doesn't have it, but the S and R models have a 6-axis Bosch IMU that informs ABS, traction control, and other ride systems.
Here are the models of Indian motorcycles with cornering ABS.
2019+ Indian FTR 1200 S and R (not the base model, unfortunately). Indian calls it "wheelie mitigation"
2020+ Indian Challenger (including Dark Horse)
2022+ Indian Pursuit
On some Indian motorcycles it's offered as an option, or standard fitment with the premium packages.
Kawasaki KCMF-equipped motorcycles
You can get Kawasaki's KCMF (Kawasaki Cornering Management Function) package on the following motorcycles:
2017+ Ninja 1000/Z1000SX
2017+ Ninja ZX-10R
2017+ H2 SX (you'll really need it on this!)
2019+ Versys 1000 SE/LT
The Ninja 1000 is an affordable sport-touring motorbike that's really feature-packed. The fact that it has cornering ABS at that price point is really amazing. And since 2020 it has even had cruise control! (See our complete buyers guide to the Kawsaki Ninja 1000.)
Still waiting for it to arrive to the ZX-6R 636 — not yet, even though it has a fairly advanced safety package.
KTM Bosch MSC-equipped motorcycles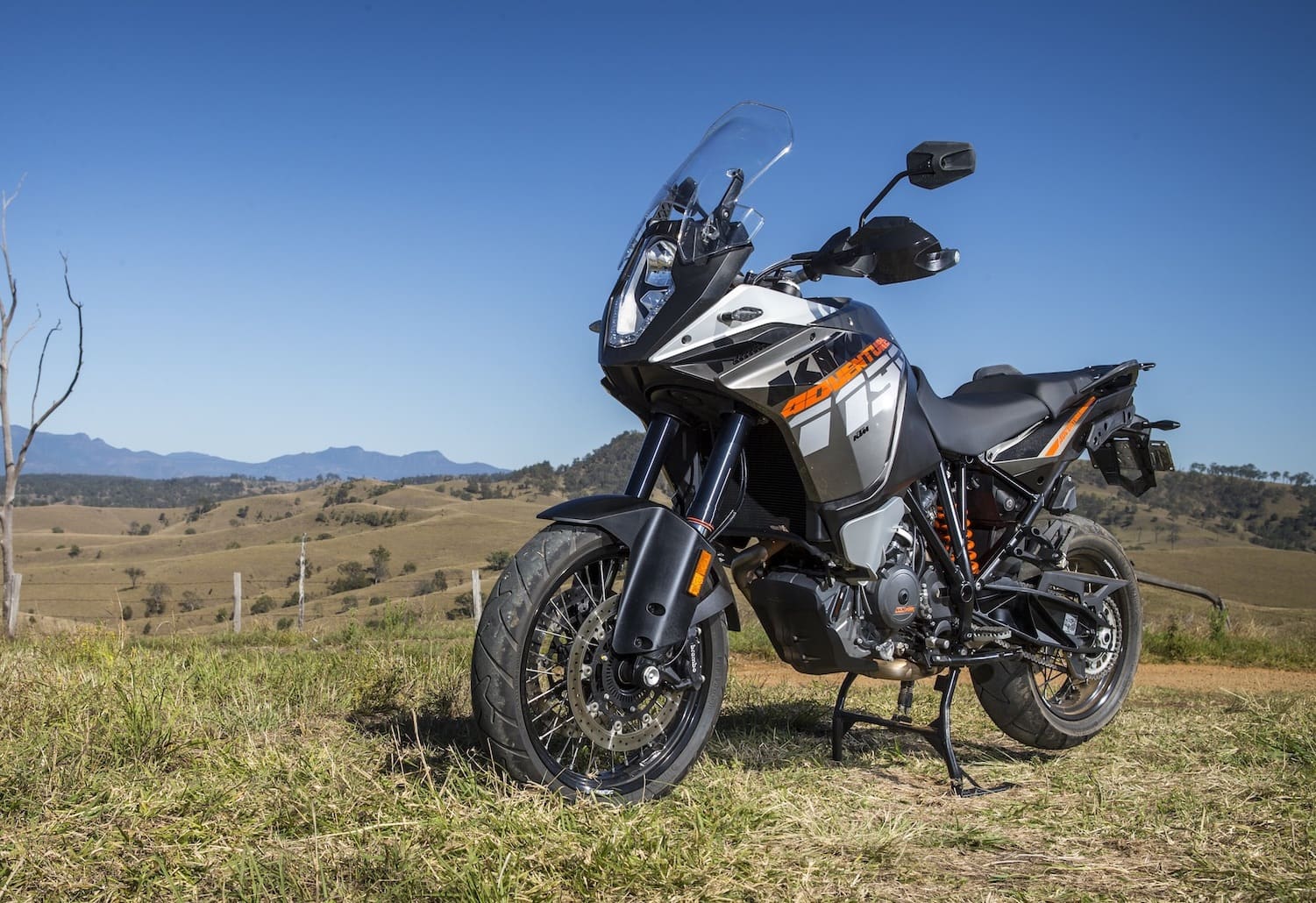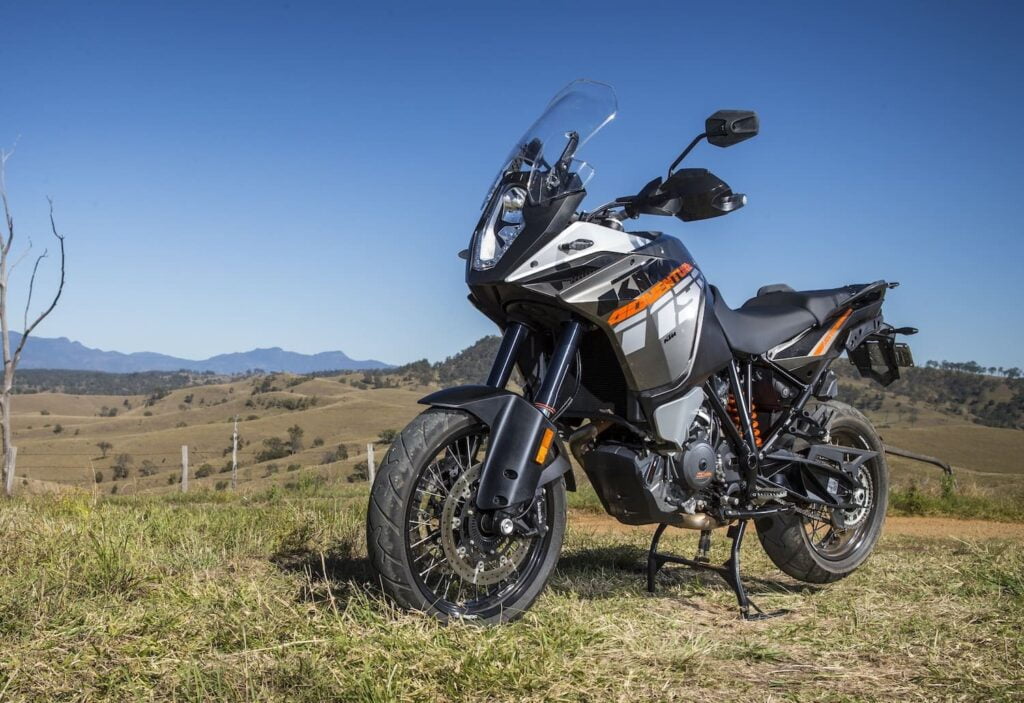 KTM has their MSC package on the following motorcycles:
2013 KTM 1190 Adventure R
2016+ KTM 1290 Super Duke GT
2017+ KTM 1290 Super Duke R (initially released in 2014, but with only standard ABS / TC)
2016+ KTM 690 Duke R (only the R)
2015+ KTM 1290 Super Adventure
2019 KTM 690 SMC R
2019 KTM 690 Enduro R
2019 KTM 790 Duke
2019 KTM 790 Adventure R
2020+ KTM 890 range (Duke, Adventure)
2020 KTM 390 Adventure
The 2022 KTM RC 390 and 2020+ KTM 390 Adventure both have an IMU which gives cornering-sensitive traction control and cornering-aware ABS. Pretty impressive that you can get such advanced rider safety aids in such affordable motorcycles.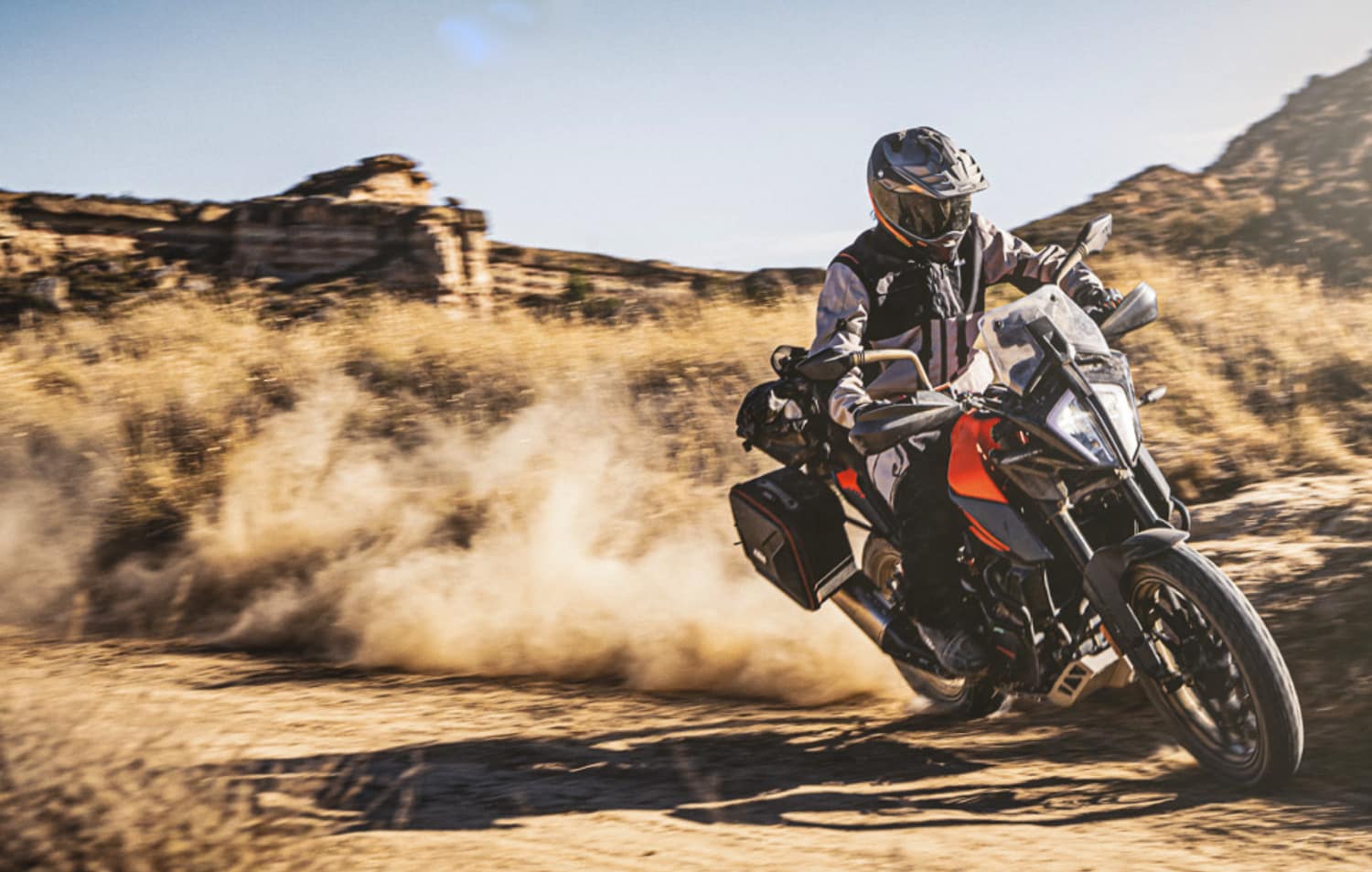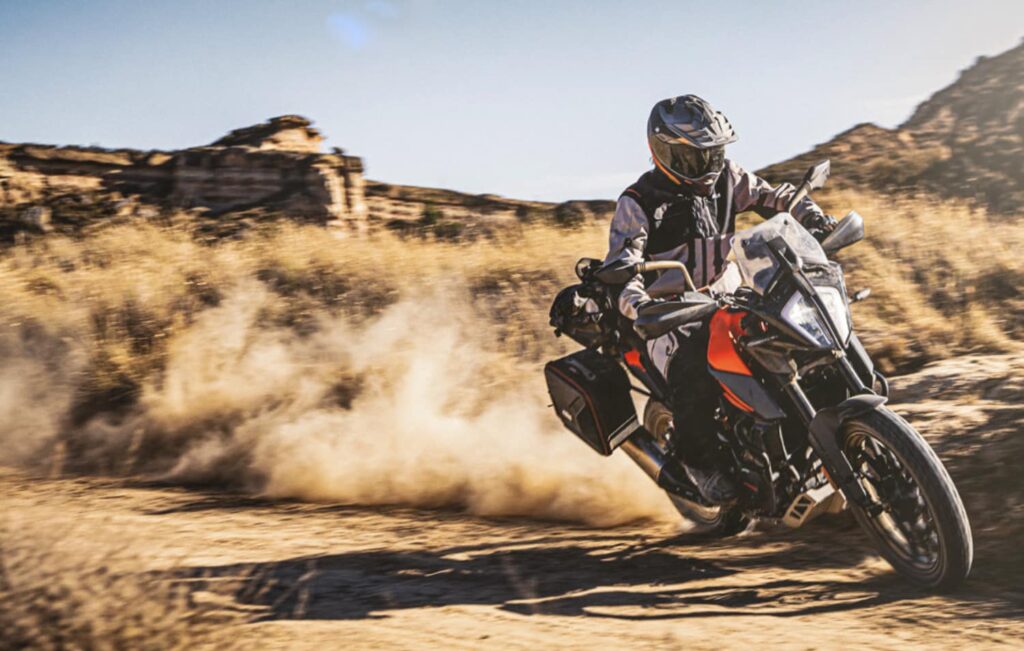 In the RC 390, you can turn rear braking off ("Supermoto ABS"). It's purportedly a track bike, after all.
While the KTM 390 Adventure and RC 390 both now have cornering ABS, the KTM 390 Duke still hasn't received it.
The KTM SMC R and the Enduro R have been around for a while, but they only got electronics in 2019.
The 2013 KTM 1190 Adventure R was one of the first motorcycles on the market with cornering ABS. This means it's CHEAP relative to its spec level! In fact, you can easily find these on the second-hand market with reasonable miles for under US$8,000.
MV Agusta motorcycles with an IMU and Cornering ABS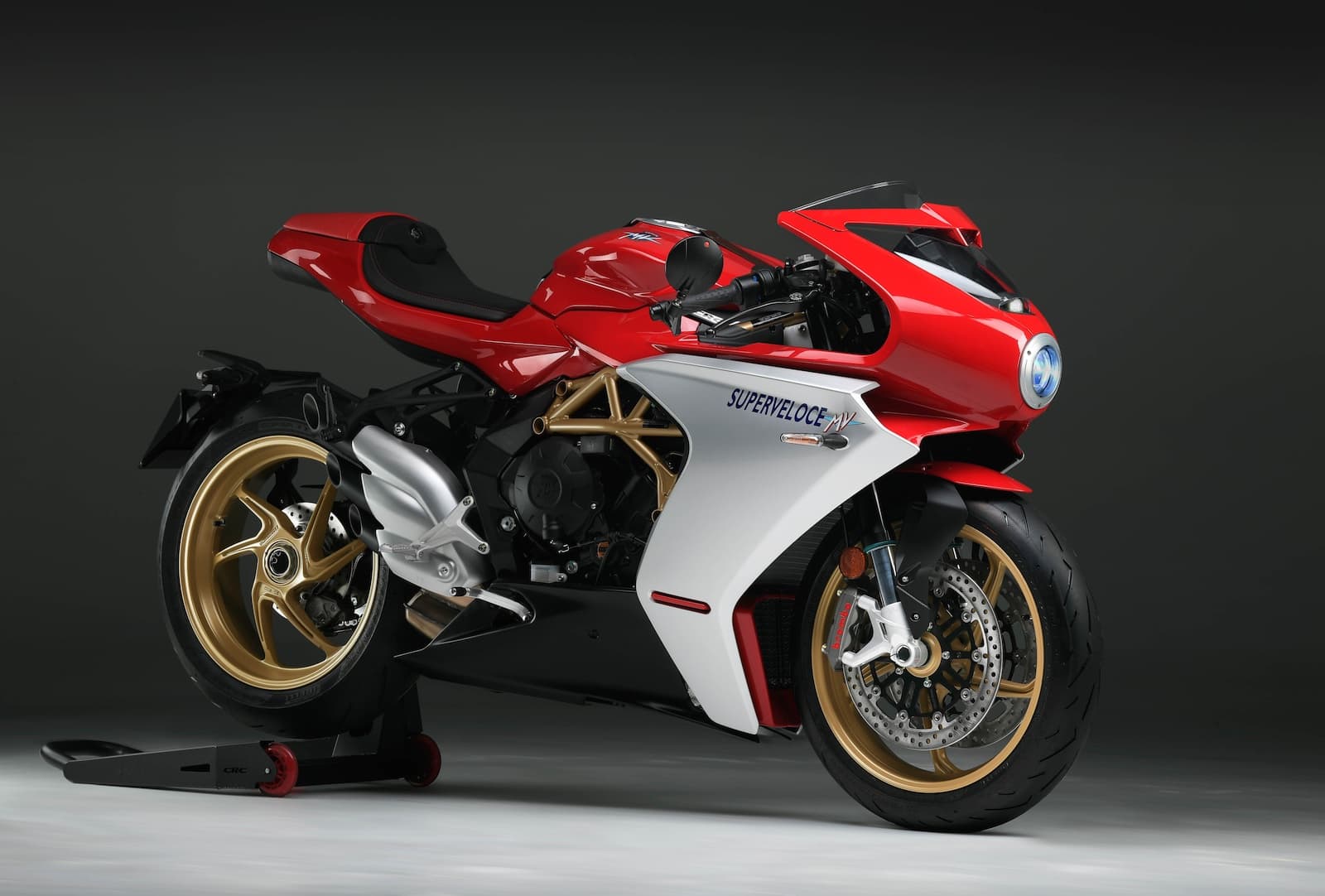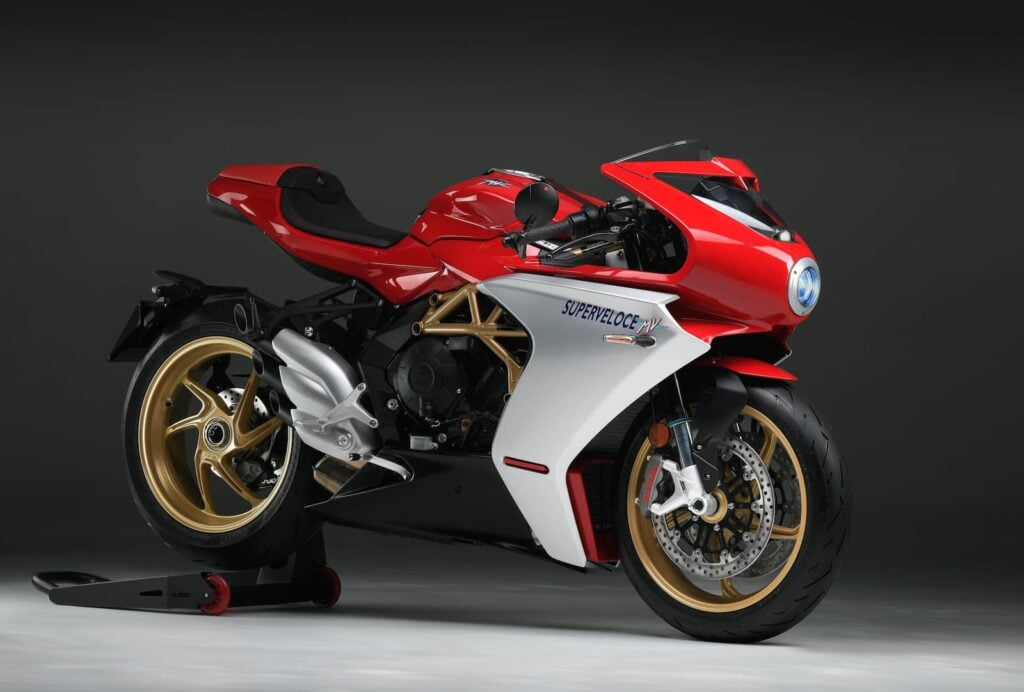 MV Agusta started putting cornering ABS on their motorcycles in 2019, though they haven't make much fanfare about it (it's not core to the brand of "motorcycle art", I suppose).
New MV Agusta models use a six-axis IMU and a cornering ABS system from Continental. These are the MV Agusta motorcycles with cornering ABS (for now, all their triples):
2021+ MV Agusta Turismo Veloce — The entire 2021+ model range (with the 5.5 inch TFT) has a Continental MK100 cornering ABS system.
2021 (mid-year) MV Agusta F3 — a middleweight supersport with cornering ABS, also MV's first supersport with it
2021 MV Agusta Brutale
2021 MV Agusta Superveloce (the original model did not launch with it)
Earlier models of MV Agusta had Bosch braking systems. Continental is the vendor for the cornering ABS systems though.
Suzuki motorcycles with an IMU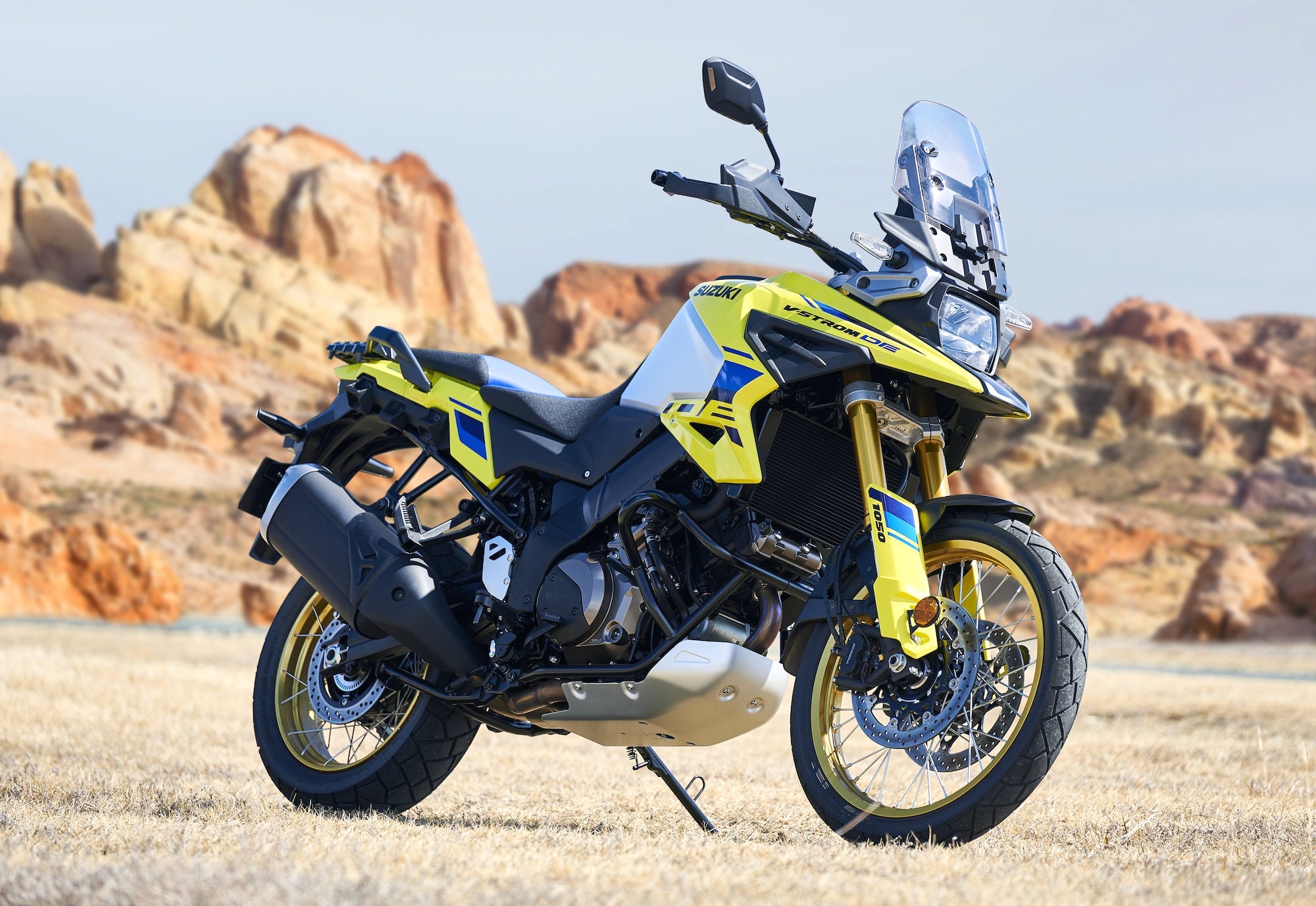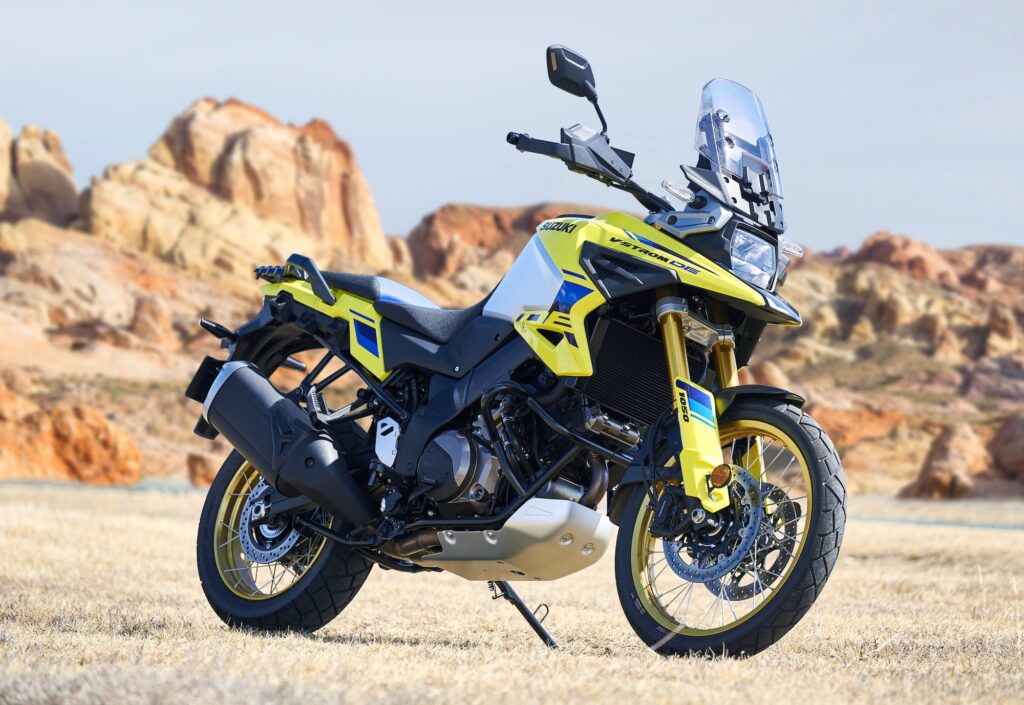 Suzuki first had an IMU on their 2017 V-Strom 1000 — but for braking only (i.e. it didn't do launch or traction control). Worth mentioning, but if picking up a V-Strom 1000, go just one year later to 2018.
Suzuki's list of bikes with an IMU is relatively short, but it's in their most premium models.
2017+ Suzuki GSX-R1000R. Note that the standard non-R does not have an IMU.
2018-19 Suzuki V-Strom 1000 and 1000 XT
2020 Suzuki V-Strom 1050 and 1050 XT (in my opinion one of the best-looking motorcycles)
2022+ V-Strom 1050DE
2021+ Suzuki GSX1300R Hayabusa (the new model released mid-2021)
(Meanwhile the Suzuki M109R doesn't even have ABS… but I still love the dang thing.)
Triumph motorcycles with Optimised Cornering ABS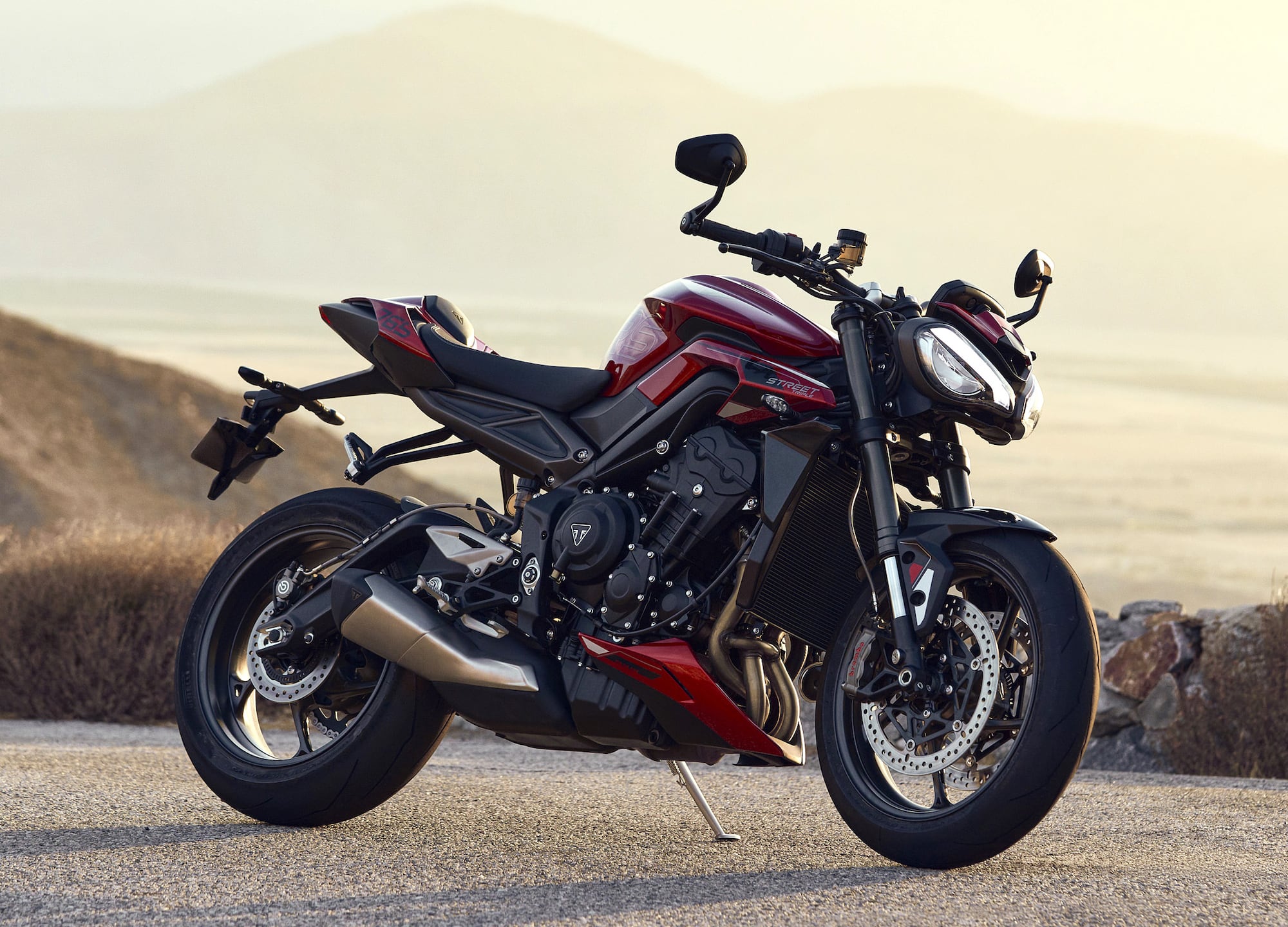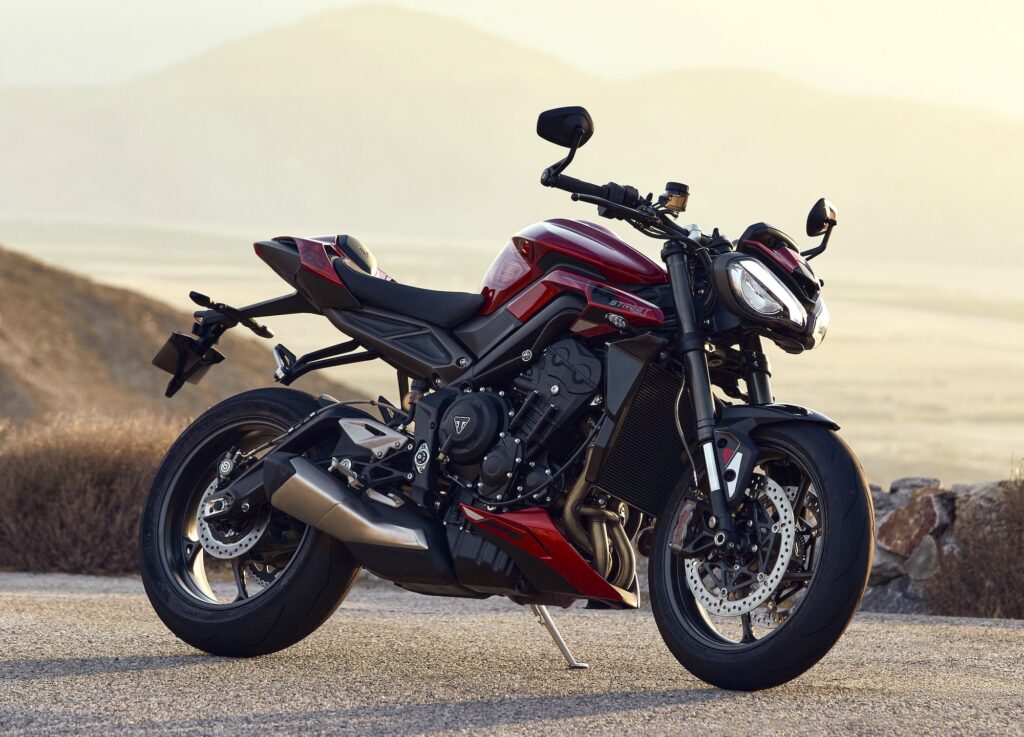 Triumph has Optimised Cornering ABS on their high-end models pre-2019, and from 2020-on, even some mid-tier models.
2017+ Tiger 1200 XR/XC/XCx/XCA (that's the whole Tiger 1200 line-up)
2017+ Speed Triple RS (not the S, nor the Street Triple)
2019 Rocket 3
2019+ Scrambler 1200 XE (not the XC, nor the Street Scrambler, and no other 1200-class models)
2020+ Triumph Tiger 900 Rally, Rally Pro, GT and GT Pro (the mid- and top-tier end of the Tiger 900 range)
2023+ Triumph Street Triple R, RS, and Moto2TM. A middleweight street bike with an IMU is pretty cool. See the Triumph Street Triple buyers guide to see how features have been added along the years.
Yamaha motorcycles with a 6-Axis IMU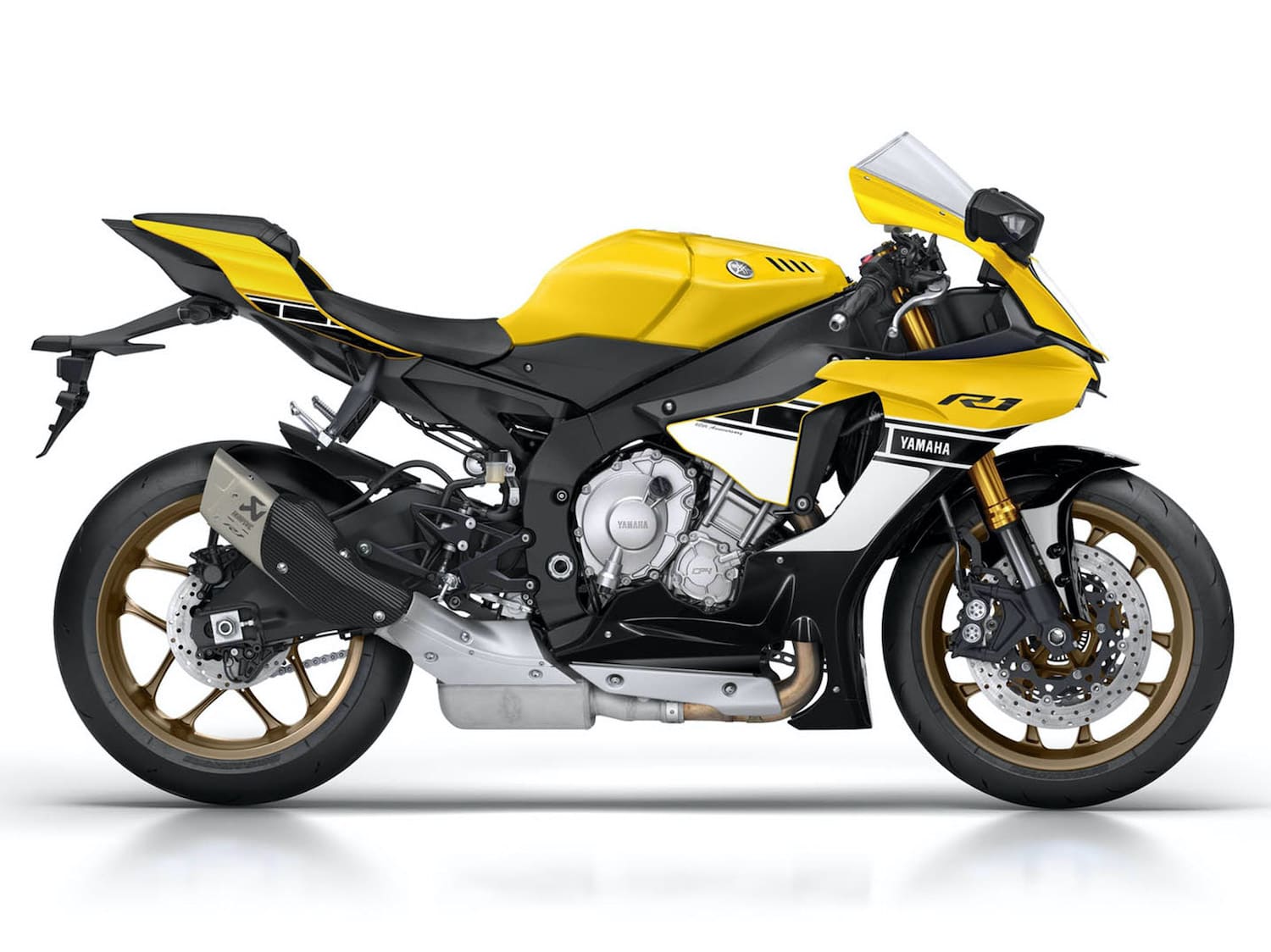 Yamaha motorcycles with a six-axis IMU and cornering ABS include:
2015+ Yamaha R1 (YZF-R1)
2021+ Yamaha Tracer 9 (a.k.a. the former Tracer 900, a.k.a. MT-09 Tracer, a.k.a. the FJ-09). This bike currently leads the way in tech, even getting radar-assisted cruise for the 2023 model year (Tracer 9 GT+ model only).
2022+ Yamaha MT-10 (finally!)
Yamaha first introduced their six-axis IMU on one motorcycle — the 2015+ YZF-R1/R1M. Luckily the 2016 model in Anniversary Edition colours (pictured above) is one of my goals motorcycles. I will own you one day when your price is less stratospheric!
Until 2020, the R1 was the only Yamaha motorcycle with cornering ABS. Even the Yamaha MT-10 didn't get cornering ABS until 2022, even though it has other unique electronics like cruise control.
But luckily, the revised 2021 Yamaha MT-09 — with an 890cc engine and increased output to 90 kW/120 hp (up from 86 kW/115 hp) — gets a full 6-axis IMU as well.
According to Yamaha, the new 2021 MT-09's IMU gives input to traction control, slide control, and front-wheel lift. Separately in their section on braking, they say the braking system gets data from the IMU.
The 2021 MT-09 has two braking intervention modes — BC1 and BC2. The BC2 mode "controls the brake pressure in addition to ABS and operates in situations where machine behaviour is likely to become unsettled, such as unavoidable panic braking mid-corner."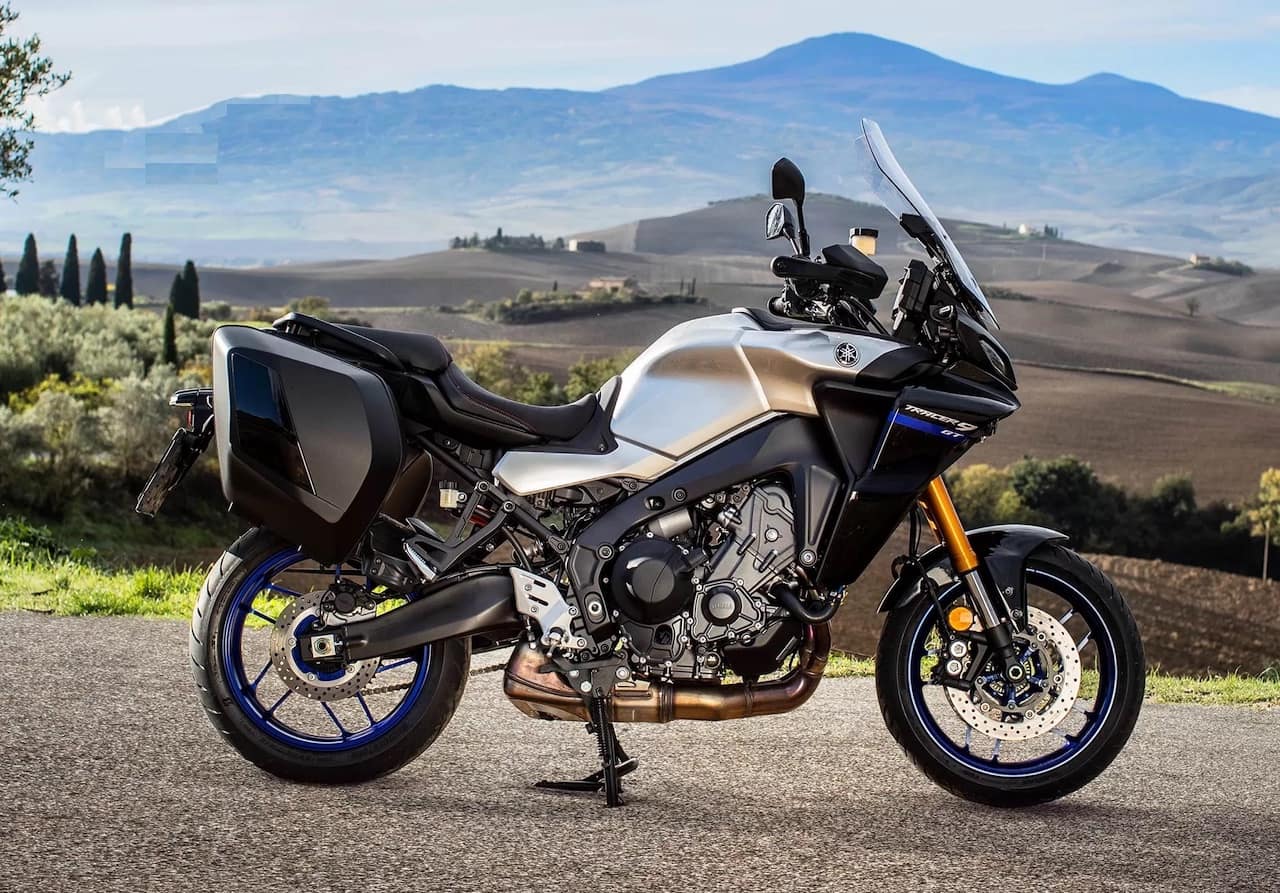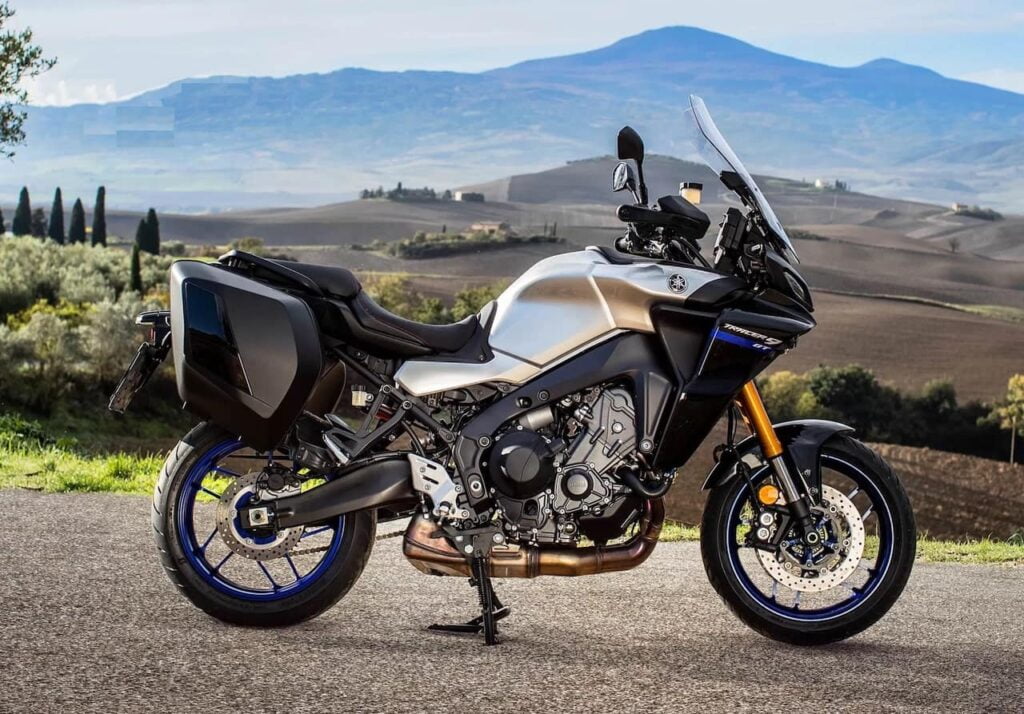 The 2022+ Yamaha XSR900 and Yamaha MT-10, both announced in November 2021, also have six-axis IMUs and associated rider aids.
Zero motorcycles with Bosch Cornering ABS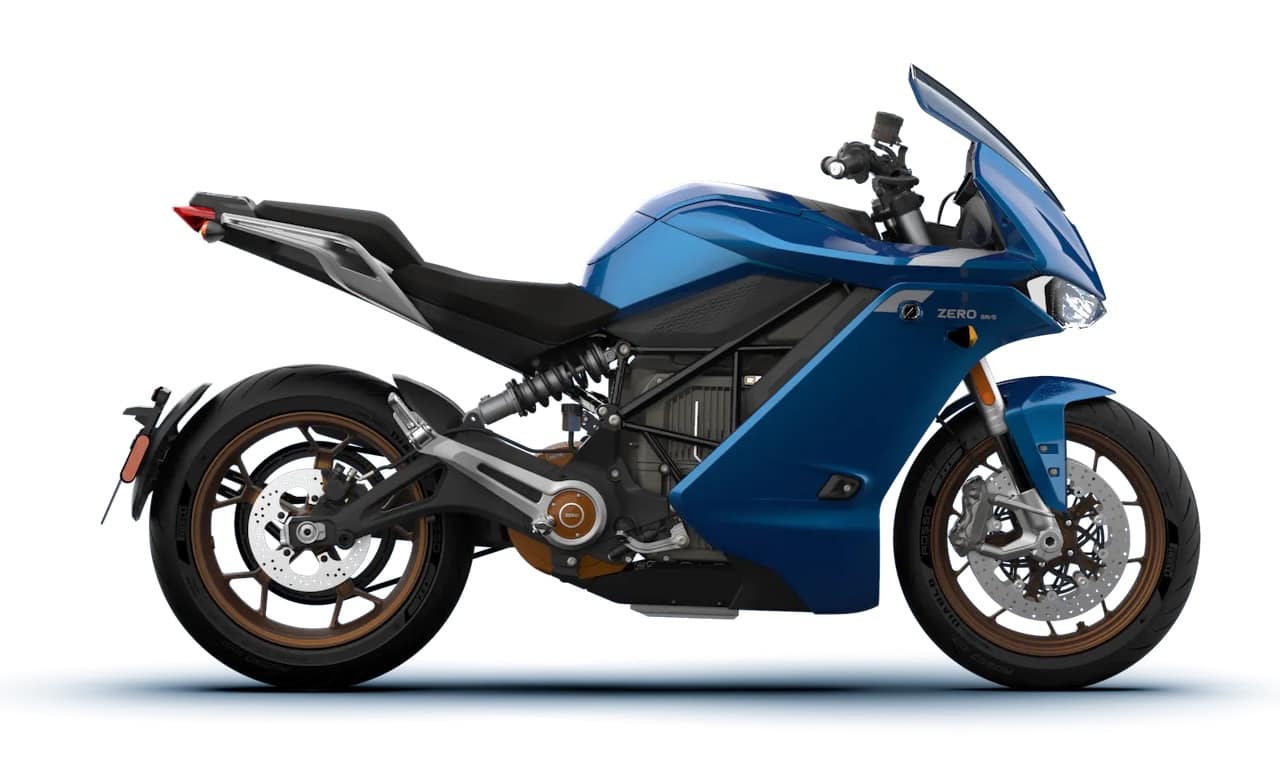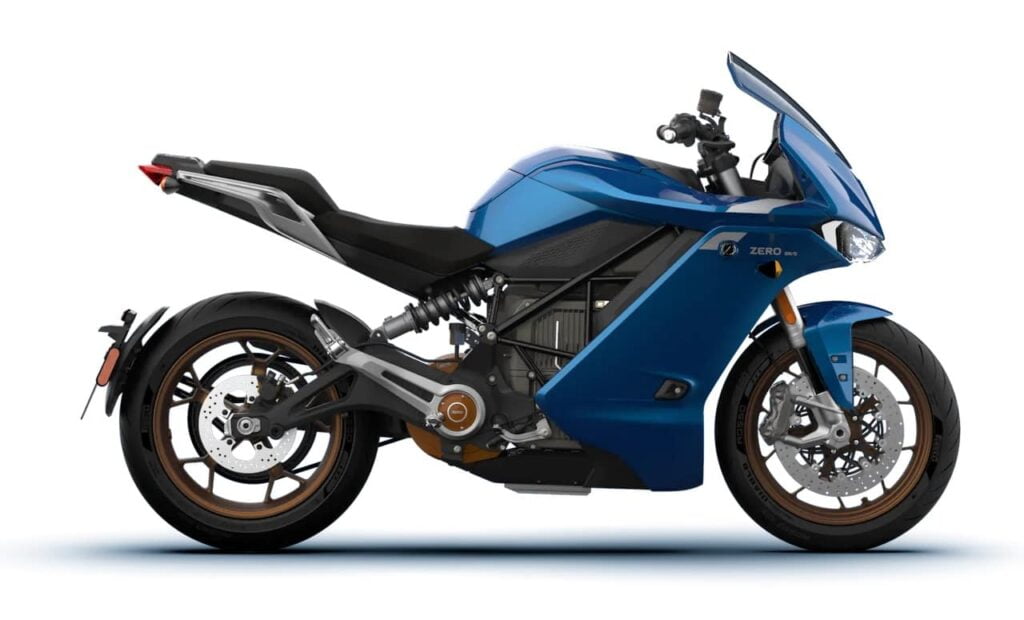 Zero first introduced Bosch Cornering ABS on their 2019 Zero SR/F (see my review).
They also have Bosch cornering ABS on the 2020 Zero SR/S, a very similar motorcycle, but with a fairing (and better mileage/range).
Cheapest motorcycles with Cornering ABS
Out of all the above motorcycles, here are the very cheapest motorcycles with cornering ABS/IMU fitted:
2020 KTM 390 Adventure and 2022 KTM RC 390: These two bikes are affordable, high-spec, and have cornering ABS as part of that spec.
2019+ Ducati Scrambler: You can get these on the road for about $10K.
2012+ BMW S 1000 RR — you can get these used for about $10K — make sure it has ABS Pro fitted (it's a retrofit). The more recent S 1000 R is also a good buy.
2021 CFMOTO 800MT: If you want to buy a KTM engine in CFMOTO clothing, the new 800MT is loaded with features and is very affordable considering (basically V-Strom 650 money).
2013 KTM 1190 Adventure: you can find them used for $8-9K, but there aren't many around.
Good hunting!