Over the (northern hemisphere) summer of 2023, I decided to rent some motorcycles in Italy. I was going to be staying there for a while (for work) and so thought it would be sacrilege to not take advantage of the many squiggly lines on the map.
It's hard to have a bad experience while renting a motorcycle to ride in Italy. And overall, people are on vacation and generally happy to be riding anything, and the roads are wonderful.
But as much as I loved my time riding, I think it's worth pointing out that I generally had a poor experience with the process of renting from HP Motorrad. I think others should be warned. The bike was good, the people were nice, and the range of bikes on offer is impressive. But the process was unapologetically chaotic.
Here's an overview, plus details of how the rental process went with HP Motorrad, and some suggestions for how I think they should improve.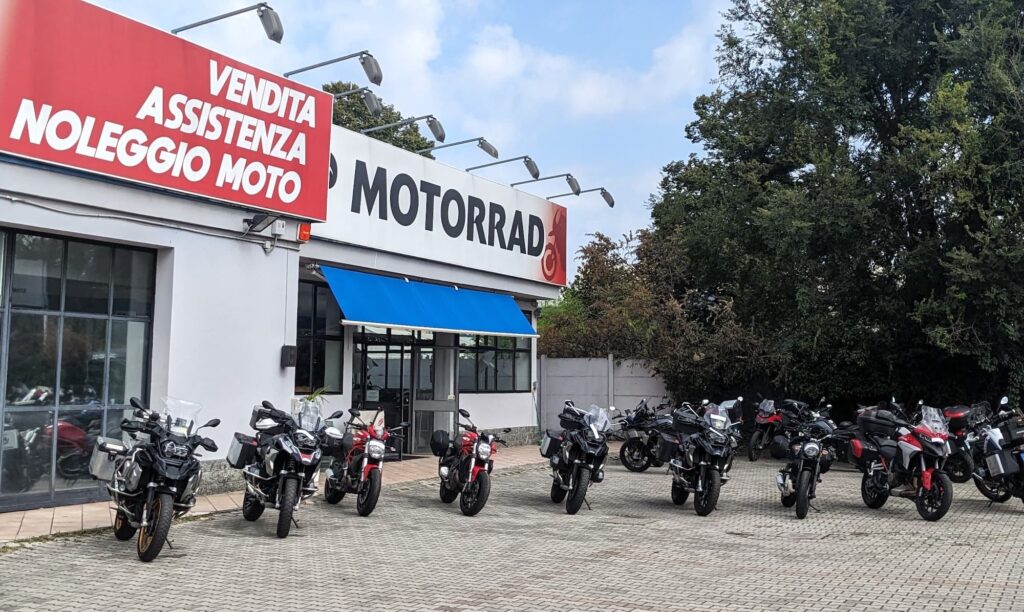 Are you obsessed with motorcycles?
Well, I am. That's why I created this site — as an outlet. I love learning and sharing what others might find useful. If you like what you read here, and you're a fraction as obsessed as I am, you might like to know when I've published more. (Check the latest for an idea of what you'll see.)
Overview of HP Motorrad's Rental Process
In short, while the staff were friendly enough and the bikes were great, the process of renting a motorcycle through HP Motorrad involved an unnecessary amount of to-and-fro — literally dozens of emails — multiple mistakes in the booking process, a lack of communication between people, and missed opportunities to improve the experience.
The good? The bike was great, and obviously the people were nice. From what I saw, the other bikes they had were great, too.
People from Italy, when hearing that any process is convoluted, generally say things like "Welcome to Italy!" or maybe "Welcome to Europe!" But this isn't really fair to the many Europeans I know who work hard in modern companies to make using their businesses smooth and effortless.
Because of the complexity of the rental, and the relatively high price for my frugal pockets, I would be cautious about using HP Motorrad's service again — as much as I'd love to throw a leg over most of the bikes in their fleet and enjoy those twisty roads again.
So I'm writing this to let you know that if you want to rent from HP Motorrad — plan well in advance, make sure to double-check every form they send you, and be prepared for ambiguity.
But if HP Motorrad wants to pay a tech operations expert to help them fix their business — well, I'm open to it! I'll even let you pay me in motorcycles…
Context — About me and Motorcycle Rentals
There are two things you need to know about me. Firstly, I've rented motorcycles several times, through different kinds of partners. Secondly, in my former life, I was an operations consultant to tech companies (in fact, I still do it sometimes). So I have quite high standards for how smooth operations should look, and limited tolerance for things not working, especially when I'm paying.
If a company does things like a) ask me for information multiple times, b) have unclear, muddy processes, and/or c) make mistakes and overcharge me, letting me find the mistakes, I get disappointed.
I've rented motorcycles in most countries and regions, including Southeast Asia, Central Asia, Africa, Latin America, the US, and Europe (previously, France and Spain).
In the more remote parts of the world, I do things by cash, of course, and it's quick and hassle-free.
In the US, I normally rent through a big rental company. The one I prefer is Riders Share. I also really like Twisted Road. Both of those companies have huge amounts of rental supply (particularly the former), clear processes and pricing, and there are no surprises.
In fact, renting motorcycles in the US with those companies is so easy that it's a core part of the experience I look forward to when I visit each year!
In Europe, I book through companies. In the past, I've had quite pleasant experiences with rental companies in France and Spain. I make a booking online for a quite reasonable price, show up, give them a credit card deposit and sign a form, and am on my way. Locamoto in Bordeaux was a particularly good experience — great stock, people, prices, and process. I used them a few times and I highly recommend them.
I was hoping for something like this in Italy. Either a well set-up company, or a peer-to-peer service like the ones in the US. But nobody has made it. I don't blame them; it's hard getting everything lined up — building supply, getting your website working, and having a competent insurance partner and customer service team.
There's no good peer-to-peer in Italy, so I tried out HP Motorrad. This is how it went.
Process of Renting a Motorcycle in Italy from HP Motorrad
A friend of mine (actually, a reader who wrote in… but anyone who does so becomes my friend) recommended HP Motorrad to me. At first blush, it looked good. Lots of supply. Clean website. Nice bikes.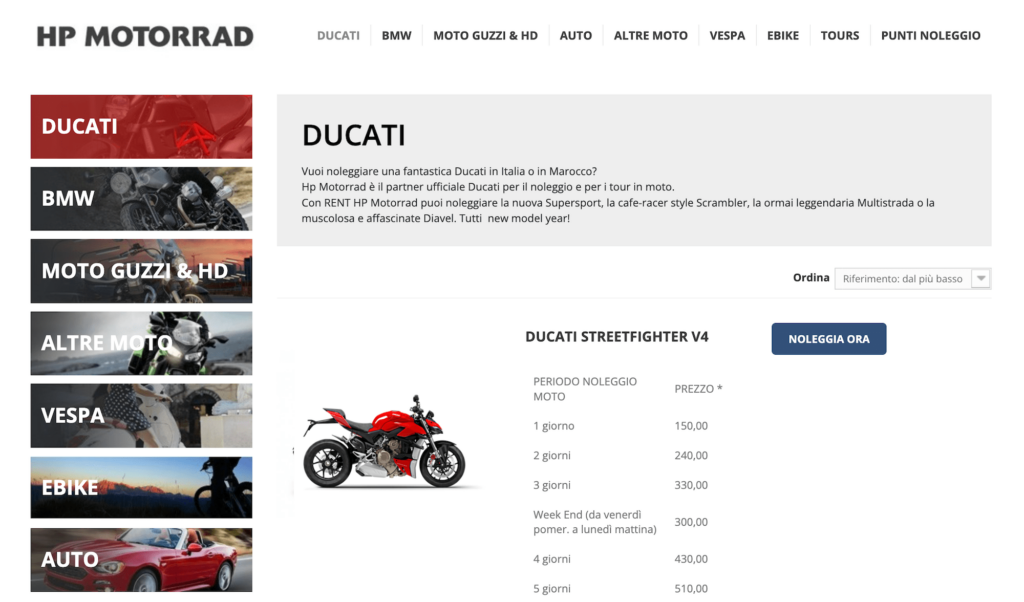 On HP Motorrad's website, you choose the bike you want and enquire. Even though the button says "Rent now", that's misleading — it's just a button so submit an enquiry. There are many more steps to go through to get a rental.
Here's the communications log of me renting a motorcycle in Italy with HP Motorrad. I've actually simplified the below somewhat because it's laborious otherwise. Some of this was user error, as I got lost in the process. But I'd expect a customer support agent to pick this up. That's what they're they're.
(Feel free to skim the below, it's painful and long…)
To start, I browsed the motorcycles available on HP Motorrad. Ducatis, BMWs, oh my! Prices looked fine, even though mileage was not included. I had to do some mental math to work out the cost per day of doing 200 miles — between 50 and 60 additional euros a day, depending on the motorcycle.
Clicking "Rent now", I made a booking for a bike in a certain period through a form for around 1.5 months in advance, but in high season.
They replied saying there were no motorcycles available in the period I requested, with no suggestions of what to do. What the..?
I asked if there were periods in which motorcycles were available.
Reply by email: I got some proposals for some semi-random motorcycles available at certain periods. What a strange process, I thought. None of those motorcycles were particularly appealing.
I asked what the price would be for renting one motorcycle in another period. I said "Any 4-day period between 30 July and 4 August". I specified naked sport motorcycles, to reduce the randomness of the offer.
I got a quote for a Ducati Monster 797 (hooray) for a 4-day rental in that period — 275 euros plus extras. I had to confirm the dates I wanted it.
I confirmed a date, but I made a mistake, requesting 30 August to 3 September, when I meant 30 July to 3 August (which was the period I had mentioned in the form).
They asked me for my name, phone number, and some other details that I had already provided in the form. Most bizarre was when they asked for my email, as we were corresponding by email.
I provided that info.
I was told they had sent me a link to complete the booking. After a day or so, I told them I hadn't received the link and asked them to send it again.
They sent it again and I received it.
I was filling it out and was about to sign it but I saw it was for the wrong period, August instead of July, and let them know.
They sent me a new form with the correct period. I received the new form right away, filled it out, and signed it.
I made the deposit payment.
I got a final booking confirmation. Unfortunately, it was for 10 am on 30 August to 10 am on 3 September — i.e., three complete days, not four, for which I had been quoted and paid. This was the first time I saw a time specified anywhere in the quotes. But I had been quoted for four days and paid for 4 days, which one would assume is 4 complete days — i.e., minimum from 10 am on the first day to 5 pm on the final. (I know I could have specified 30 August to 4 September, but because there were no times, that could also have been interpreted as 5 days. Because I said 4 days, I assumed they'd understand that as 4 x 24-hour periods.)
I contacted them to let them know of the mistake. It was now very close to the booking date so I didn't get an answer until the day before pickup.
They responded to say I could drop it off at 5 pm on the 3rd day.
I asked why I couldn't drop it off at 10 am the following day, for four complete days.
They responded that I could, but said that a while back I had mentioned wanting to drop it off on an afternoon (I had no recollection of this, as it was maybe 15 emails ago).
Are you still with me? Do you get the idea? It keeps going…
At some point, I got a separate email from someone saying that I might get a different bike — a Monster 821 instead of a 797. Fine with me, as the 821 is a "better" bike.
On collection day, I went to collect the bike. The rental contract said that it was for a Monster 797, with a certain license plate. But the license plate was on a Monster 821. Again, what the…
I informed them of this irregularity — I didn't want to get the wrong machine and be liable for a random extra charge.
But they didn't change anything on the paperwork. Oh well.
I took the bike, had a wonderful four days with it (though I didn't fall in love with the Monster 821 in an absolute sense), and returned it without a fuss. They were flexible on the return date, and the return was smooth, with no surprises.
Pricing / Mileage at HP Motorrad — Beware the Extras
On top of the complex process, the pricing on the page — while mostly transparent — is pretty high, and wasn't intuitive for me due to the way mileage is calculated.
I know, motorcycle rentals are expensive, and everything in Europe is expensive, so I'm not complaining about my expensive vacation. But I think people should know how HP Motorrad's pricing works with the mileage for a real rental.
Let's pick a 7-day rental, assuming you're a traveller. A mid-range Ducati, like a Multistrada 950 is 530 euros for that period, per HP Motorrad's website.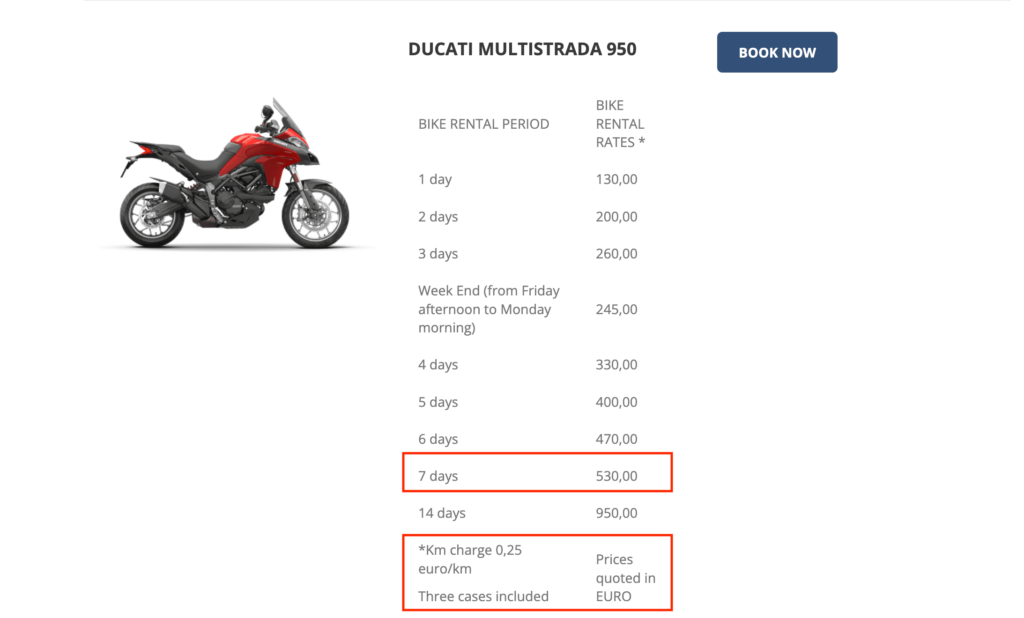 Then, on top of that, you have to factor:
Mileage of 0.25 to 0.30 euros per km. On a rental, you're probably travelling a fair bit. Let's say you do 250 miles or 400 km, which I think is a good day of fun, touristy riding. That's an extra 120 euros per day.
Insurance: 40 euros of premium insurance a day. You could get less, but vacations aren't for stress.
Rental gear — and they don't even include a phone mount (bring your own!)
So in total, you're paying 530 + (40 + 120) x 7 which is 1370 euros, or $1500 — for one week. Plus gas, and European gas isn't cheap (it has hovered around $2 / litre for premium for a while, or about $7.50 per US gallon).
Gas aside, the difference between 530 euros (web price) and 1370 euros (including mileage and insurance) is quite shocking. I always expect a few upcharges when renting a vehicle, but for it to go up by more than 2.5x is quite a surprise.
HP Motorrad does offer unlimited mileage, if you want. I'm unsure of what it is on each bike — it's not quoted on the page. But for instance, they quoted me 275 as a base price with 0.25 euros per km, or 580 for unlimited mileage, for a four-day period. That would mean (580-275)/0.25 or 1220 km total for unlimited mileage, or 305 km a day. Not bad. I took it.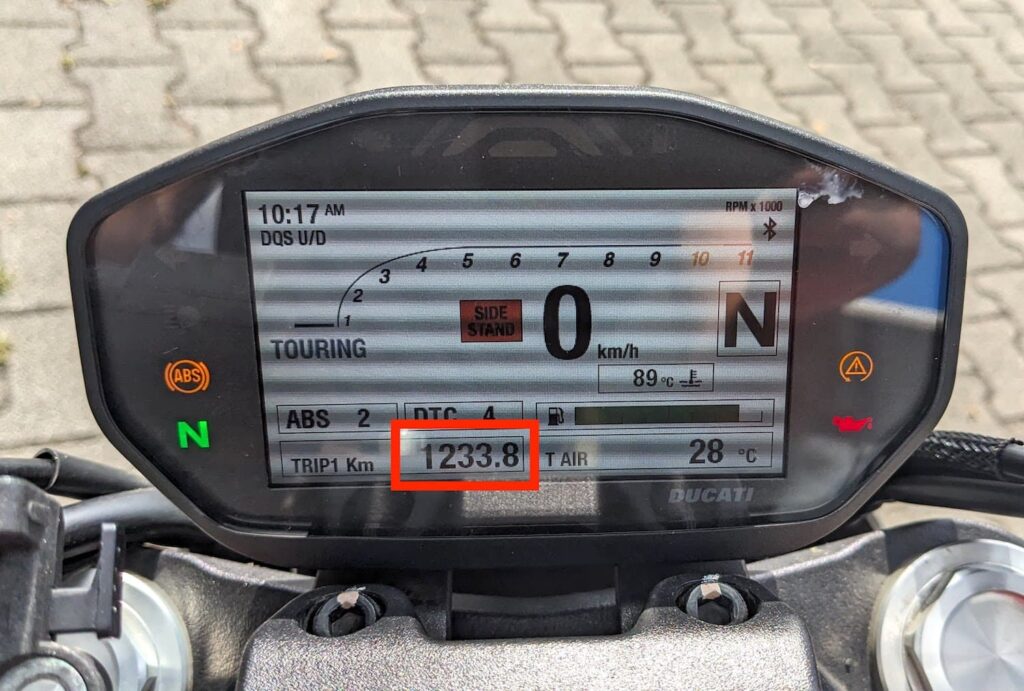 Turns out, after four days of riding on very winding roads for maybe 6-8 hours a day, I only barely made it to the point where unlimited was worth it. I think my average speed was 50 km/h, even though my top speed was a lot higher. Hairpin turns and winding roads aren't that fast, and they're tiring!
In the end, $1500 for a week of motorcycle riding is a lot. Browsing classifieds, I can find a decently fun but old bike for little more than that in Italy, where motorcycles are cheap. You could get something like a Honda CB600F and flog it to within an inch of its life and dump it, for example.
Of course, the reality is that you'd have to do that illegally, as it's impossible to register a motorcycle in Europe without permanent residency. There are some workarounds, but they're complex, and only worth the time investment if intending to ride for months — subject for another day.
The Machines and Fleet at HP Motorrad
HP Motorrad isn't just a motorcycle rental agency; they're a dealer. I didn't know this until I showed up to their showroom. So they have an excellent fleet of motorcycles.
While I stopped by HP Motorrad's Milan showroom, I saw many drool-worthy, late-model bikes, like multiple models of Ducati Multistrada V4S, BMW R 1250 GS Adventure, Aprilia Tuareg 660, Ducati Streetfighter, BMW S 1000 R, and many more.
The fleet is in great condition and ready to rock, with luggage to boot, and space for a satellite navigation unit on many models (even my humble Ducati Monster).
The motorcycle I ended up with, the Ducati Monster 821, was in excellent mechanical condition. It had a few blemishes, like a weird stain on the display (like glue?) and some scratches on the tank. They're minor quibbles I'd have been concerned about if buying it second-hand.
But for a rental bike, there was zero to complain about — the engine was flawless, the buttons all worked, the chain and tires were correctly adjusted, and the suspension seemed to be at the correct point (which is all the better, since you'd need a special wrench to adjust this one).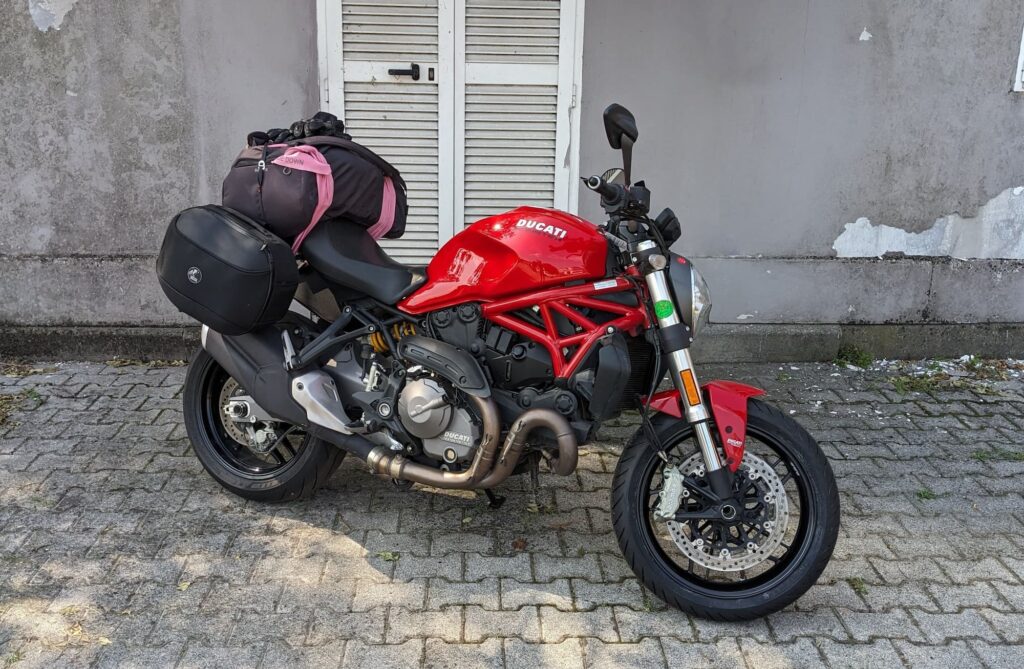 There are some amazing machines in HP Motorrad's line-up. But the caveat is that they're not available at every location, and you have to book many months in advance to make sure you get them. I suspect if you are booking for a long period (e.g. a few weeks) they would move motorcycles between locations, though (but I didn't ask).
I noticed other rider returning bikes when I picked mine up. I didn't hear anyone being upset.
If you do want to make sure you get a great bike at HP Motorrad, I would
Make a booking many months in advance, particularly for the summer period,
Be patient with the rental process, and
Be flexible with the bike that you want.
What Should HP Motorrad Do Better?
Below are some suggestions for how HP Motorrad could improve its booking process. If I were running a motorcycle rental business like HP Motorrad, this is what I'd do.
Have a very clear rental process. The website should tie to a back end and let you book a bike. Not just request one. The website should show what motorcycles are available where and for how much. I don't want to have a conversation about it with anyone.
Make pricing transparent. Provide a quote with "standard" insurance. Include mileage with pricing — a reasonable amount like 250 km per day.
Communications and modifications should be done without any emails — entirely through the app.
In reality, this is hard to do. I've seen some companies in Europe try, and fail. For example, Riderly in France has a website that has so many bugs that I eventually gave up trying to use it.
It makes me appreciate Riders Share and Twisted Road even more in the US. It's a tough market, but one that riders love. I like both those founders, too (see my interview with Guillermo here and my review of renting at Twisted Road here). Hopefully, their businesses will expand. And I'll help them, if I can!