If you're considering the Yamaha Ténéré 700, then you might be bamboozled by the model options available. Every time a press release comes out, they market it as all being "new" — when in fact some stuff might just be carried on from previous years, or even lacking compared to another model.
Since Yamaha launched the Ténéré 700 in 2019, it has already been upgraded, and several new model variants released, totalling five so far:
The T7 "base model" (2019)
The Rally (2020)
The World Raid (2022), and
The Extreme Edition (2024)
The Explore Edition (also 2024)
On top of that, the base model and Rally were upgraded in 2023 — but not in the same way in all markets! For example, not every market gets the colour LCD from 2023, but below is how they stand for the US. Just check with your local distributor first.
For those people a little confused between the variants, and wondering which are just fancy names or the base model with bolt-on bits, here's a model guide to the Yamaha Ténéré 700 so you can walk into your used bike sales appointment with knowledge in the palm of your hand.
You might also like this guide to middleweight adventure motorcycles.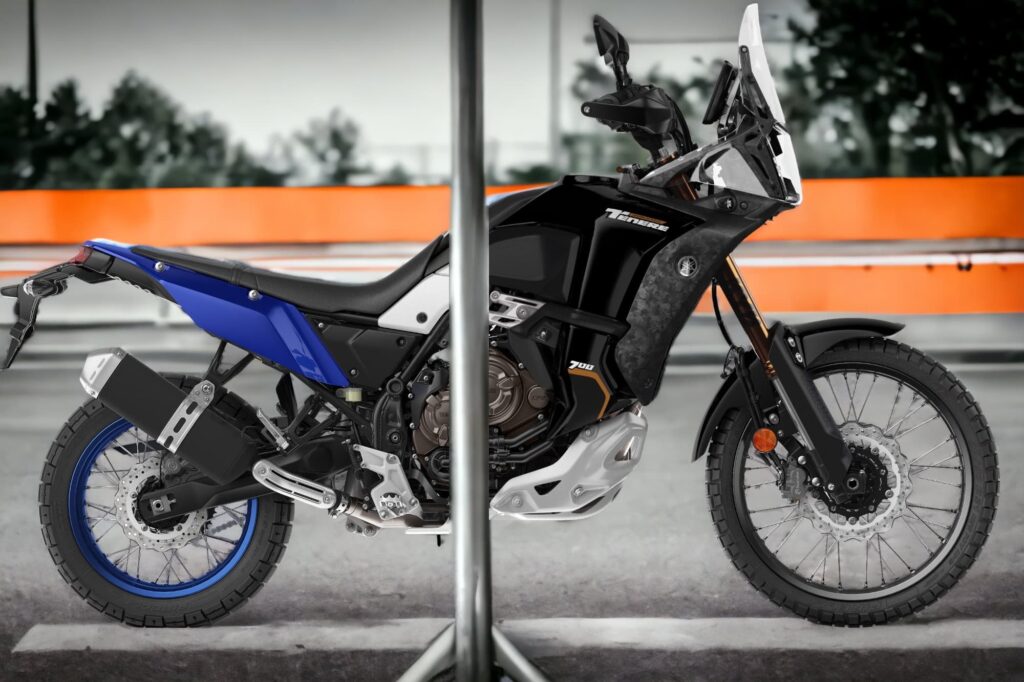 Are you obsessed with motorcycles?
Well, I am. That's why I created this site — as an outlet. I love learning and sharing what others might find useful. If you like what you read here, and you're a fraction as obsessed as I am, you might like to know when I've published more. (Check the latest for an idea of what you'll see.)
A Brief History of the Ténéré — How Did We Get Here?
Yamaha has been making the Ténéré since 1983, so they're no strangers to the adventure motorcycling world. Below is a very brief history of the Ténéré brand, skipping over a few models — I'm sorry! (More detailed history coming in the future.)
The first version of the Ténéré, a single-cylinder rally-oriented bike, had an over-bored XT550 mote, a 33-litre tank, and off-road styling that still looks amazing.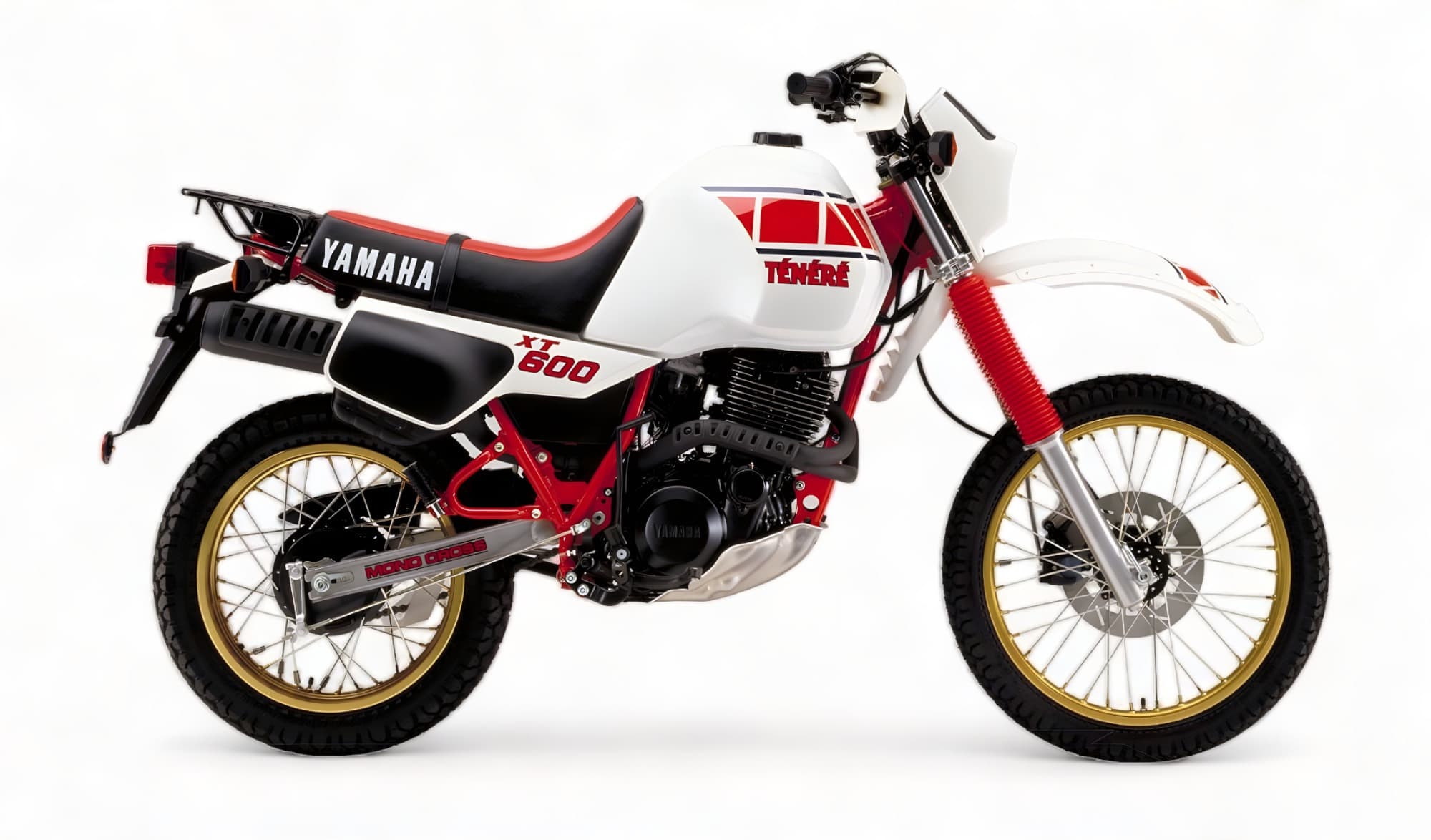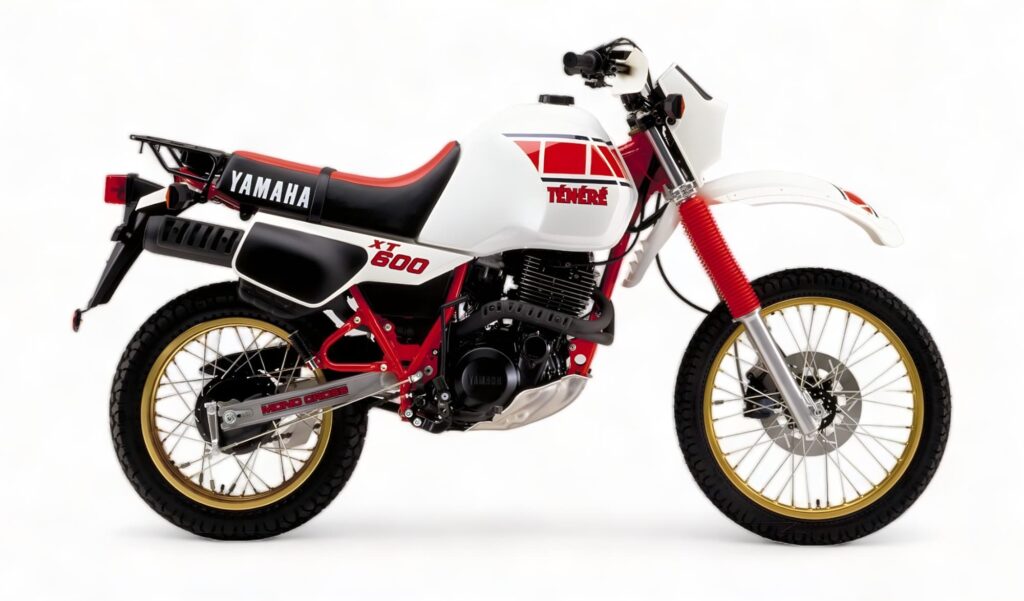 These days, the original Ténéré is a collector's item, and hard to come by.
Over the next few decades. Yamaha released iterations on the Ténéré. The first parallel twin was the 1989 XTZ750 Super Ténéré, which also has a large 26-litre tank.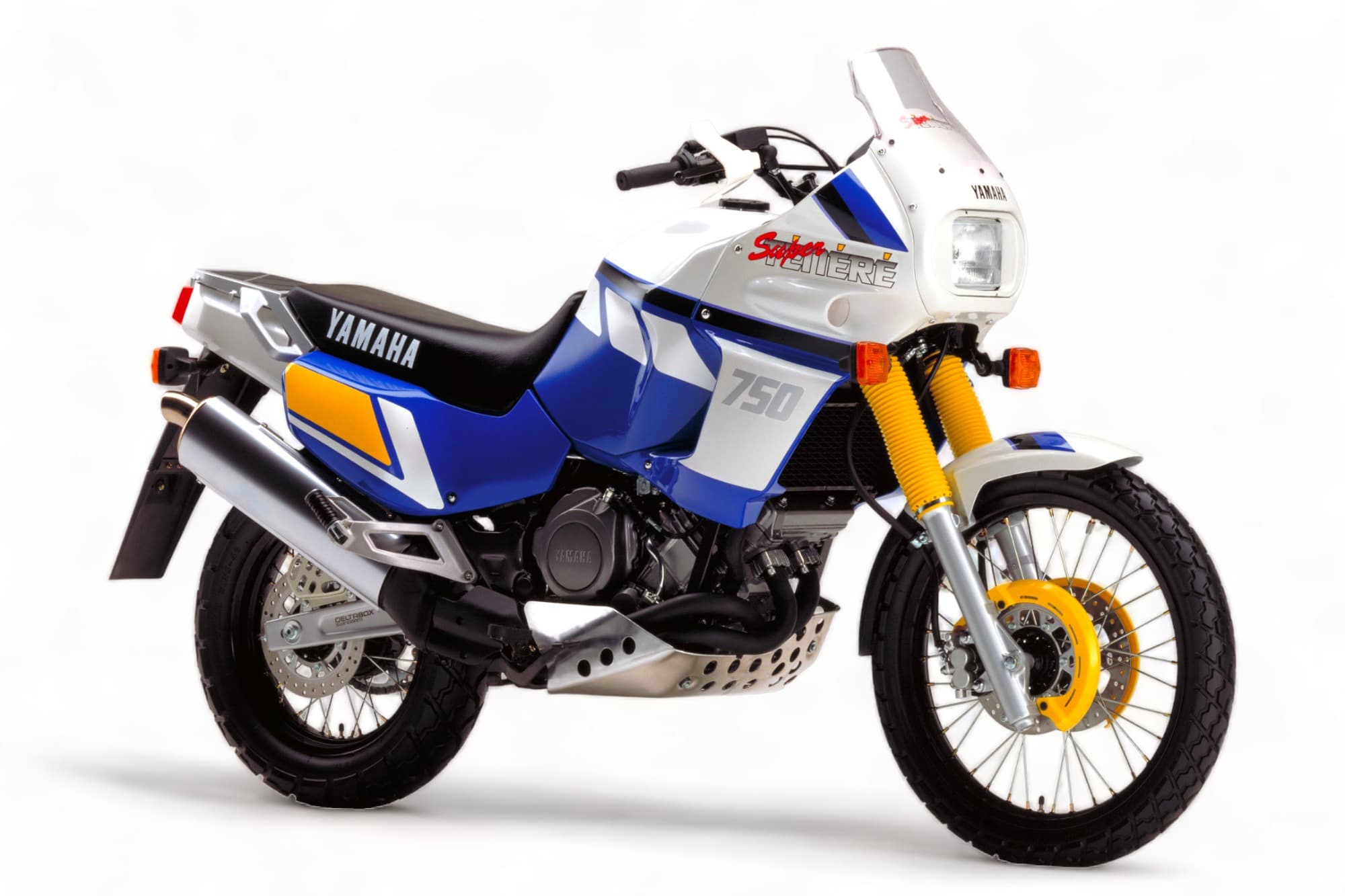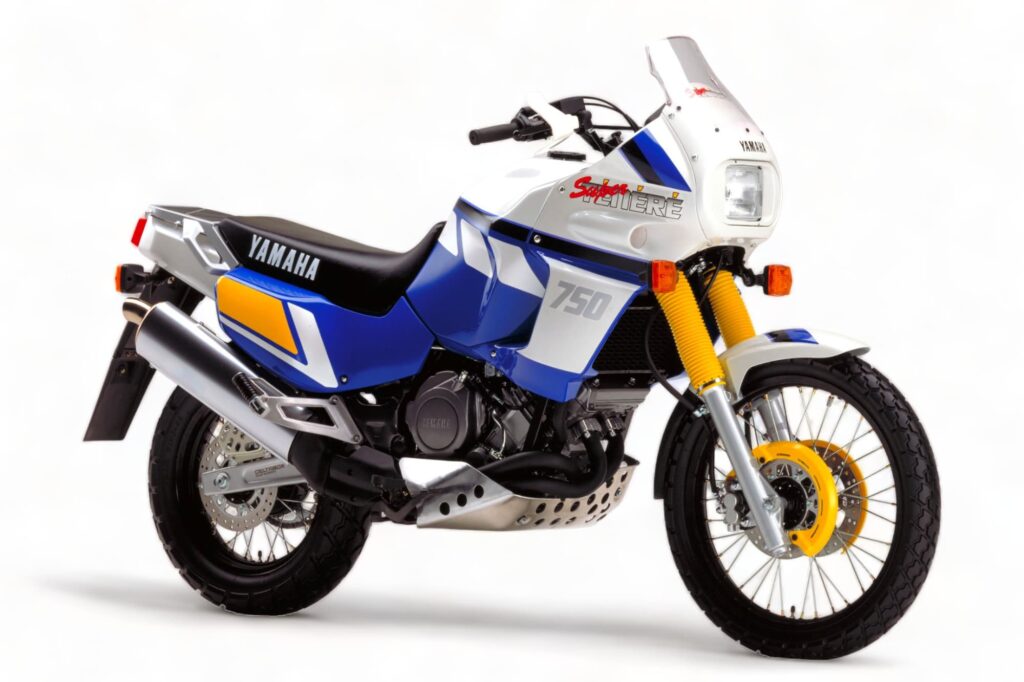 The Super Ténéré these days is the much larger and heavier XTZ1200, powered by a big and low-revving 1198 cc parallel twin, and putting power down via a shaft drive. It's a well-regarded adventure bike, but it hasn't been updated in a while, and the writing is on the wall for it.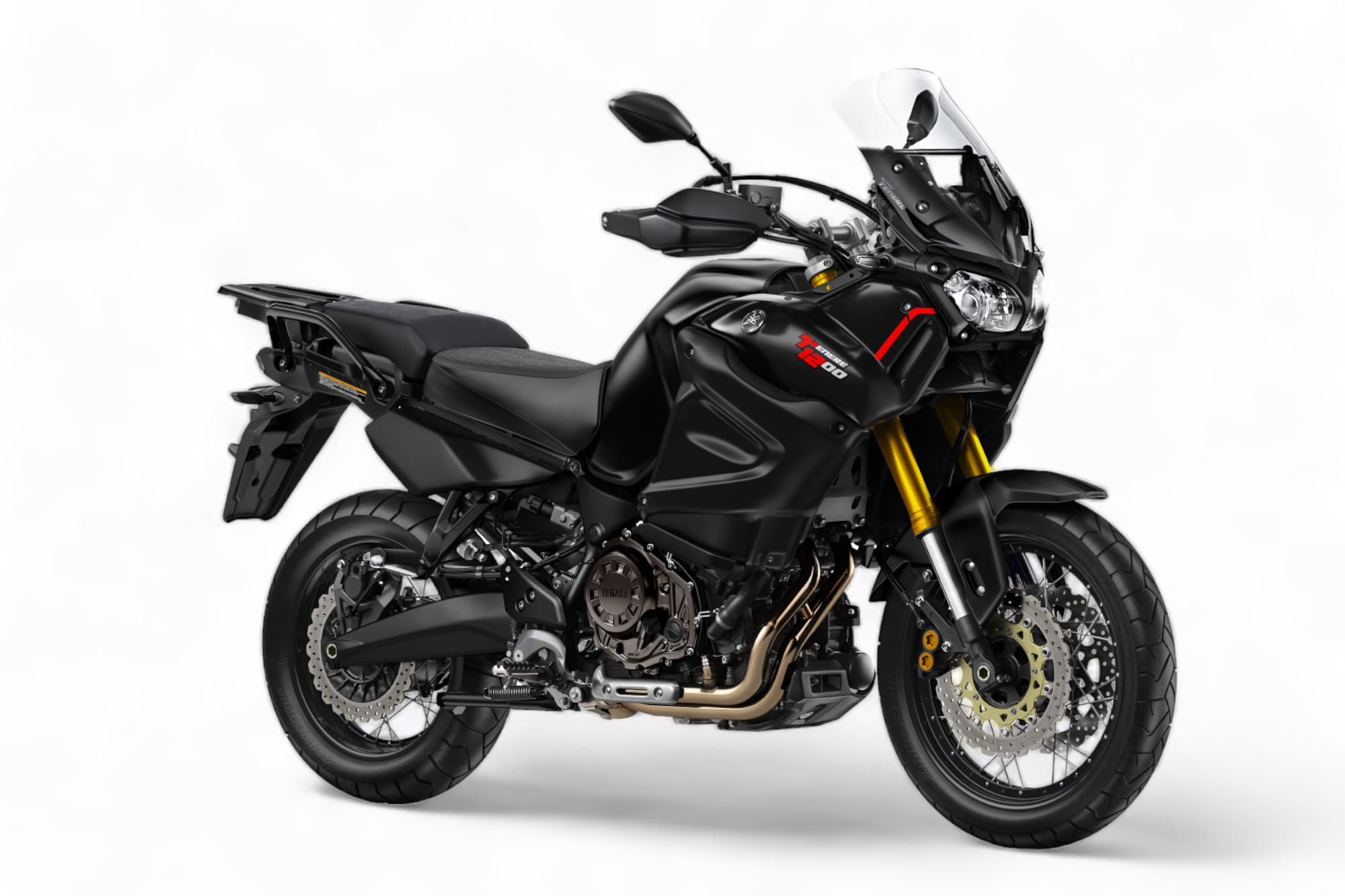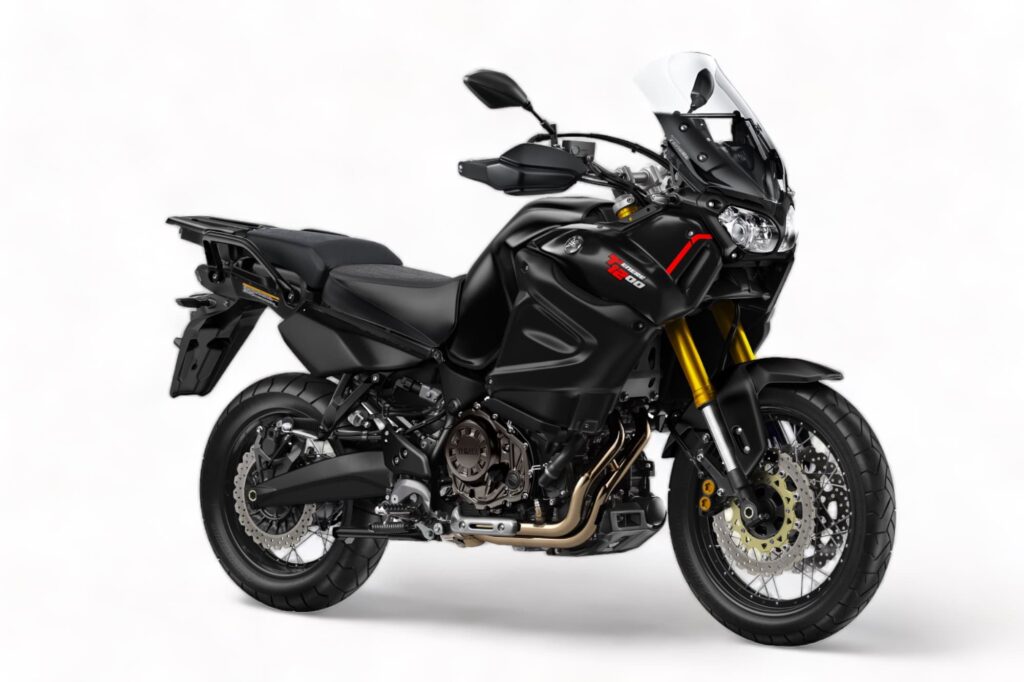 While the XTZ1200 is / was popular as a sleeper alternative to the BMW R 1200 GS, Yamaha went back to a single-cylinder for the smaller Ténérés.
They started with a five-valved carburettor-fuelled 660 in 1991, evolving into the fuel-injected XTZ660 single, the most immediate model in the lineup before the Ténéré 700.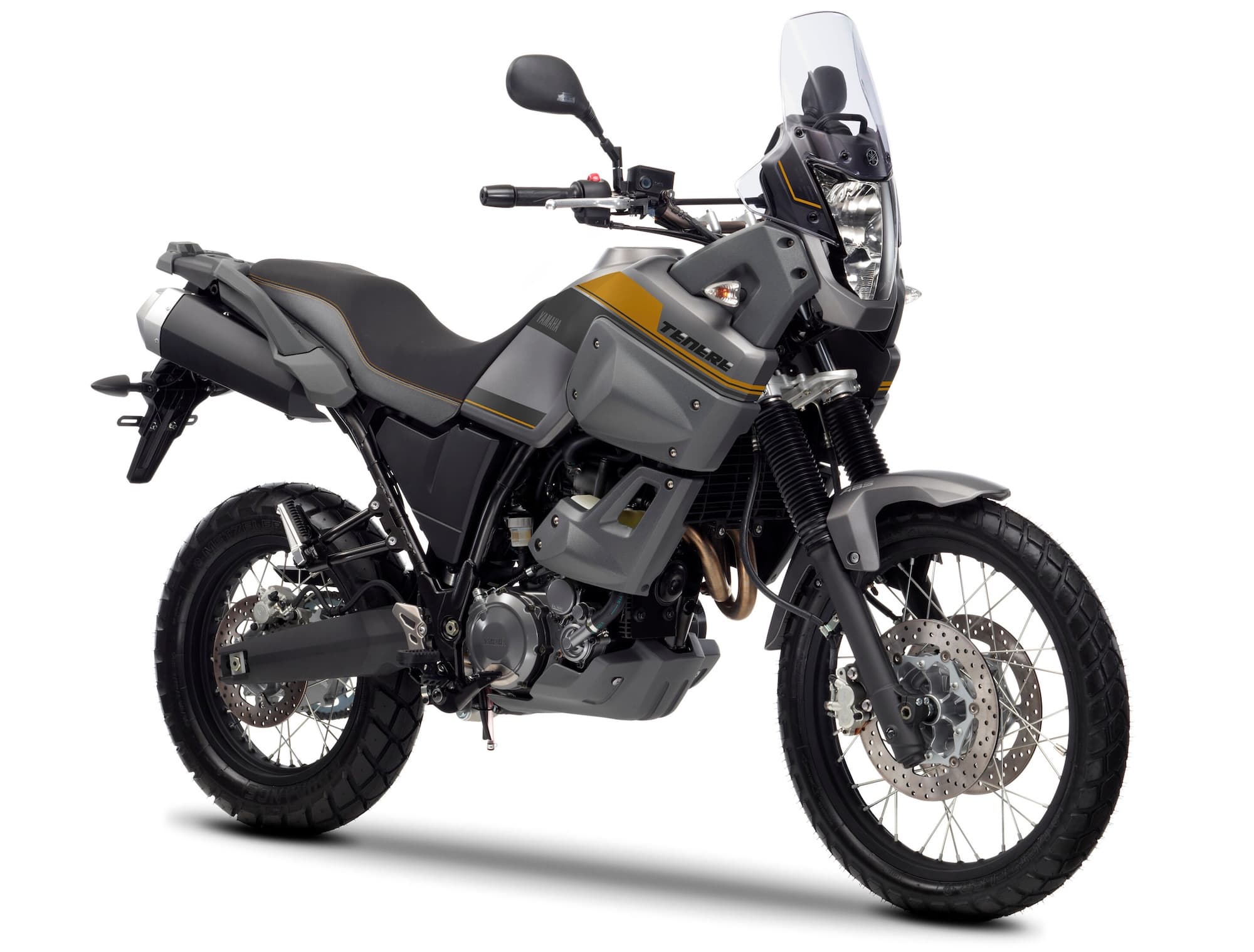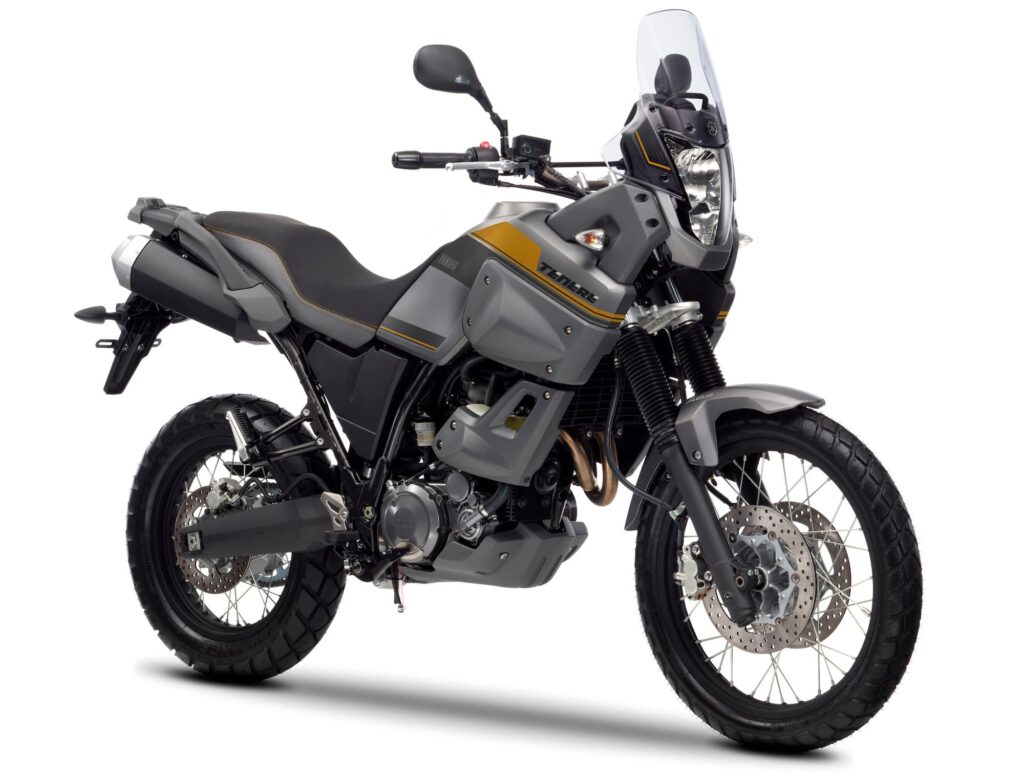 The XTZ660 Ténéré is a great bike, and a bit of a bargain buy if you can find them. They're reliable, powerful enough, and very versatile.
However, the single-cylinder Ténéré 660 wasn't available in every market, and was eventually discontinued for the Yamaha Ténéré 700.
Yamaha Ténéré 700 Shared Specifications
Here are the specifications for the Yamaha Ténéré 700 common to all the model variants, along with some notes.
Some items are different between variants — addressed below.
Basically, the engine hasn't changed since launch. But the suspension and electronics differ in the model variants.
Item
Specs
Notes
Engine type
"CP2", Parallel twin, 270-degree crank, DOHC, 4 valves per cylinder
Same as the MT-07, Tracer 700, YZF-R7, etc.
Capacity
689 cc
Bore x stroke (mm)
80.0 x 68.6 mm
Compression ratio
11.5:1
Front suspension
KYB 43mm USD
(specs vary)
Rear suspension
KYB monoshock, fully adjustable
Fuel requirement
"Regular" (i.e. not "Premium"), maximum 10% ethanol
* European manual requires 90 RON.
* US manual requires 86 Octane (R+M/2).
Peak power
54 kW / 9000 rpm
Peak torque
68 Nm / 6500 rpm
Transmission
6-speed, chain drive
Front brakes
Dual 282 mm discs, Brembo 2-piston calipers
Ride aids
ABS (Switchable from 2022/23)
No IMU, no cruise
Yamaha Ténéré 700 Specifications Shared
Yamaha Ténéré 700 Model Variants
Below is a summary of the model variants of the Ténéré 700.
Item
Base model
(2019+)
Rally
(2020+)
World Raid
(2022+)
Extreme Edition
(2024+)
Explore (2024+)
Front suspension adjustability
Rebound / compression damping
Rebound / compression damping
Fully adjustable
Fully adjustable
Rebound / compression damping
Front suspension travel
210 mm
210 mm
230 mm
230 mm
190 mm
Rear suspension travel
200 mm
200 mm
220 mm
220 mm
180 mm
Ground clearance
240 mm
240 mm
250 mm
260 mm
230 mm
(est.)
Steering damper
None
None
Öhlins
None
None
Muffler
Standard
Akrapovič
Standard
Standard
Standard
Fuel capacity
16L / 4.2 US Ga
16L / 4.2 US Ga
23 L / 6.1 US Ga, dual tanks
16L / 4.2 US Ga
16L / 4.2 US Ga
Instruments
LCD
2023+: TFT
LCD
2023+: TFT
TFT
TFT
TFT
Seat height
875 mm / 34.5 in
895 mm / 35.2 in
890mm / 35.0 in
910 mm / 35.8 in
860 mm / 33.9 in
Seat type
Standard
High rally one-piece
Medium-height seat
High rally one-piece
Standard
Ride aids
ABS
2023+: Switchable 3-mode ABS
ABS.
2023+: Switchable 3-mode ABS
3-mode switchable ABS
3-mode switchable ABS
3-mode switchable ABS
Quick shifter
2024+: Optional
2024+: Optional
2024+: Optional
Optional
Standard
Lighting
Standard
2023: Quad LED
Quad LED (from first version)
Quad LED
Quad LED
Quad LED
Skid plate
Standard
Heavy duty 4mm
3-piece aluminium
Standard
Standard
Radiator guard
No
Aluminium mesh
Yes
Aluminium mesh
No
Chain guard
No
Yes
No
Yes
No
Foot grips
Standard
Standard
Larger, removable rubber
Titanium, high-grip
Standard
Yamaha Ténéré 700 Model Differences
Below there's more detail for each model, plus a few pics.
Yamaha Ténéré 700 Base Model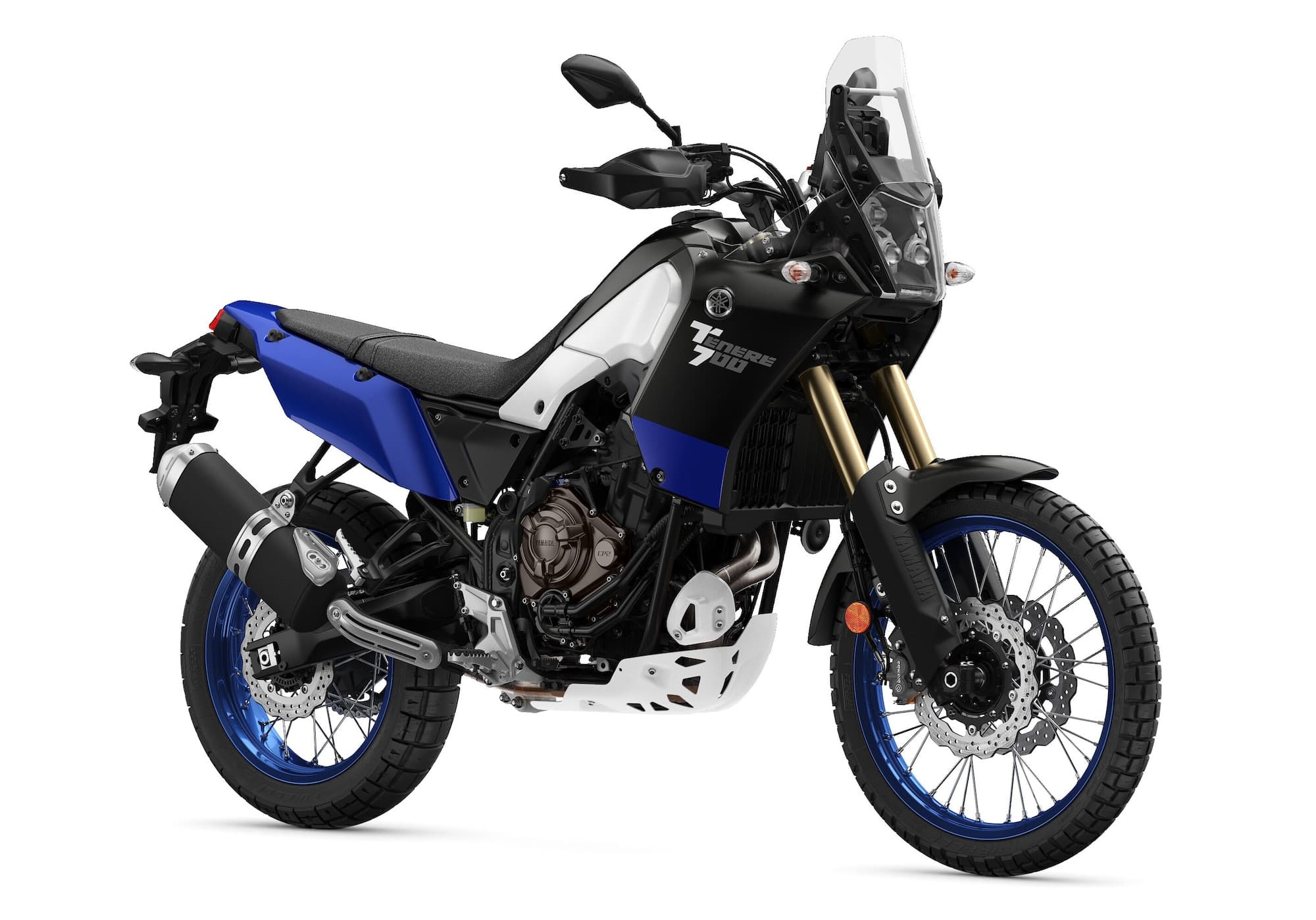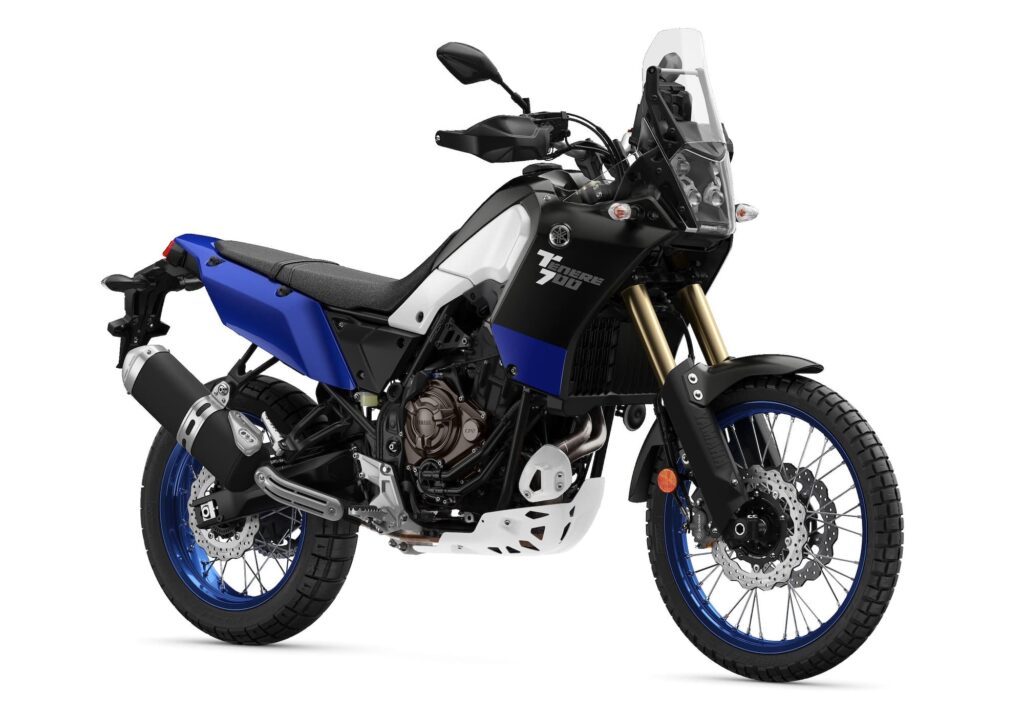 Yamaha released the base model Ténéré 700 in 2019. Of course, back then it was just the Yamaha Ténéré 700, not known as a "base model".
In essence, it's the CP2 motor that we all know and love from the Yamaha FZ-07 / MT-07, but with a chassis and setup more suited for off-road work.
The Yamaha Ténéré 700 didn't invent the middleweight adventure motorcycle category, but it definitely helped kick it into gear. It paved the way for many other manufacturers to release competing models in the subsequent years, leading to the competitive market for middleweight adventurers that we have today.
Out of the box, the base model Yamaha Ténéré 700 comes with good protection levels — hand guards, an engine guard, and fork protectors. But these are things that Yamaha upgraded in other, subsequent models.
Yamaha initially released the T7 with an LCD cluster, but upgraded it to a colour TFT unit from 2023 onward.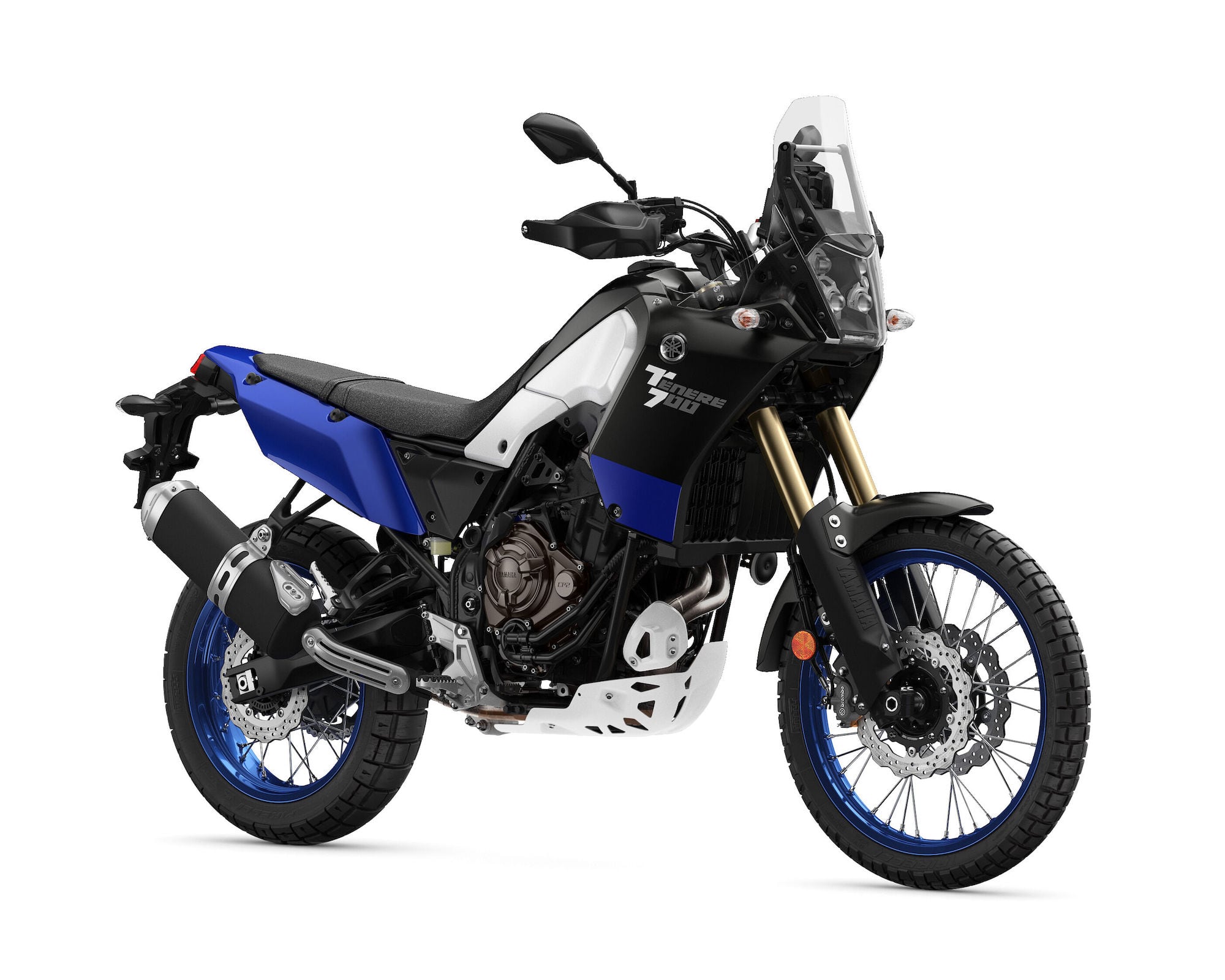 Another thing that changed is that Yamaha introduced standard 3-way switchable ABS from 2023 onward. So you can switch off rear ABS for off-road riding — but only on the more recent models.
Yamaha Ténéré 700 Rally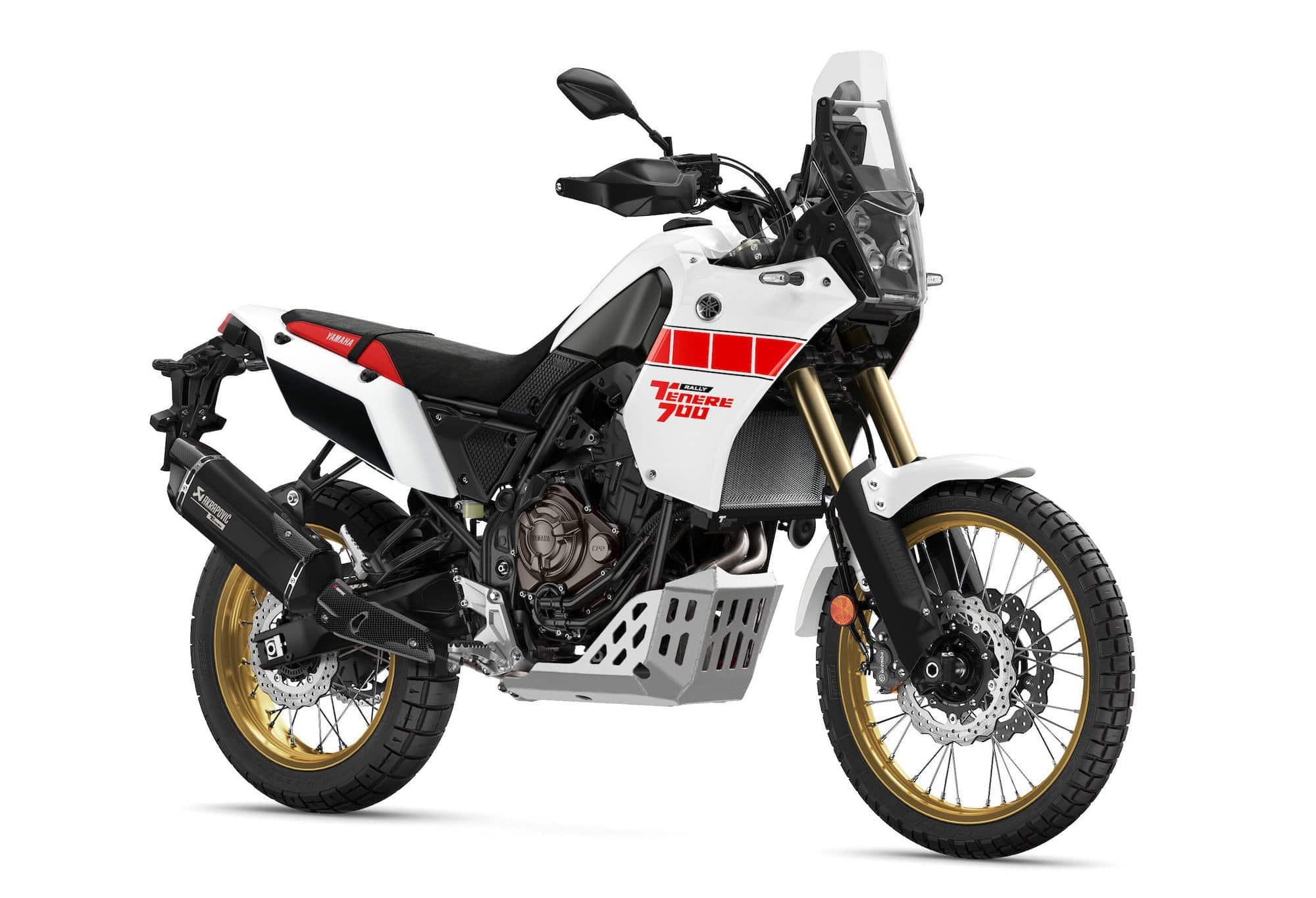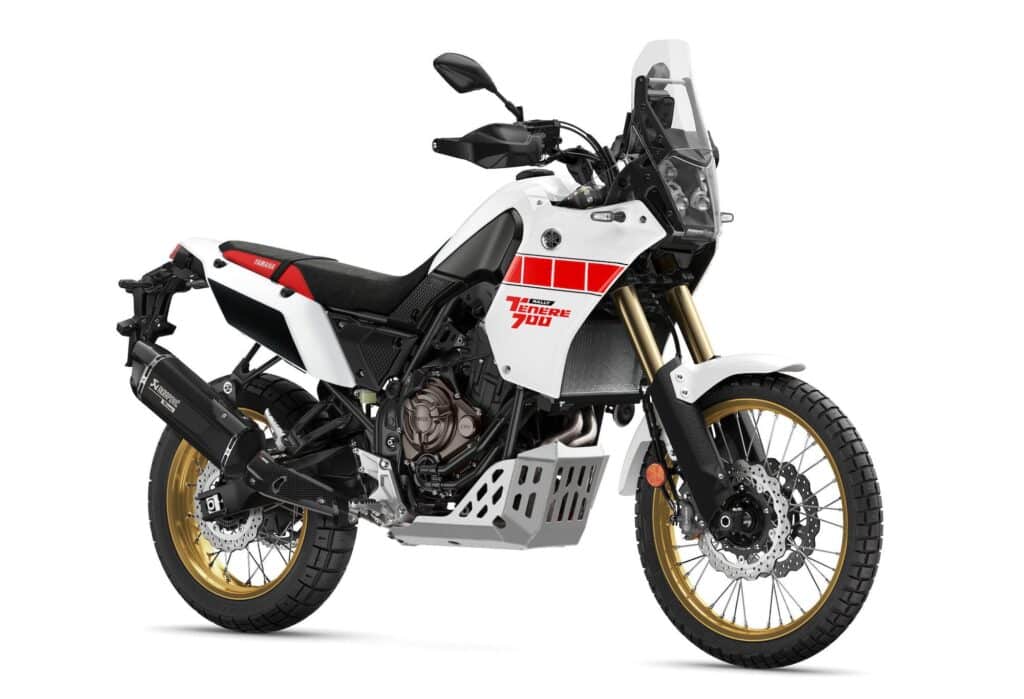 The Yamaha Ténéré 700 Rally is a base model T7 but with a bunch of more hardcore offroad-oriented equipment, plus a few upgrades.
From the first model year, Yamaha gave the Rally edition quad LED headlights. These trickled down to the base model by 2023.
The Rally also got
A heavy-duty skid plate
An Akrapoviç silencer
A radiator guard
A high rally seat (adding to base seat height)
The core of the Rally is the same as the base model, though — same engine, and same suspension.
In 2023, the Rally got the same updates as the base model — 3-mode switchable ABS and a TFT display.
Yamaha Ténéré 700 World Raid (2022+)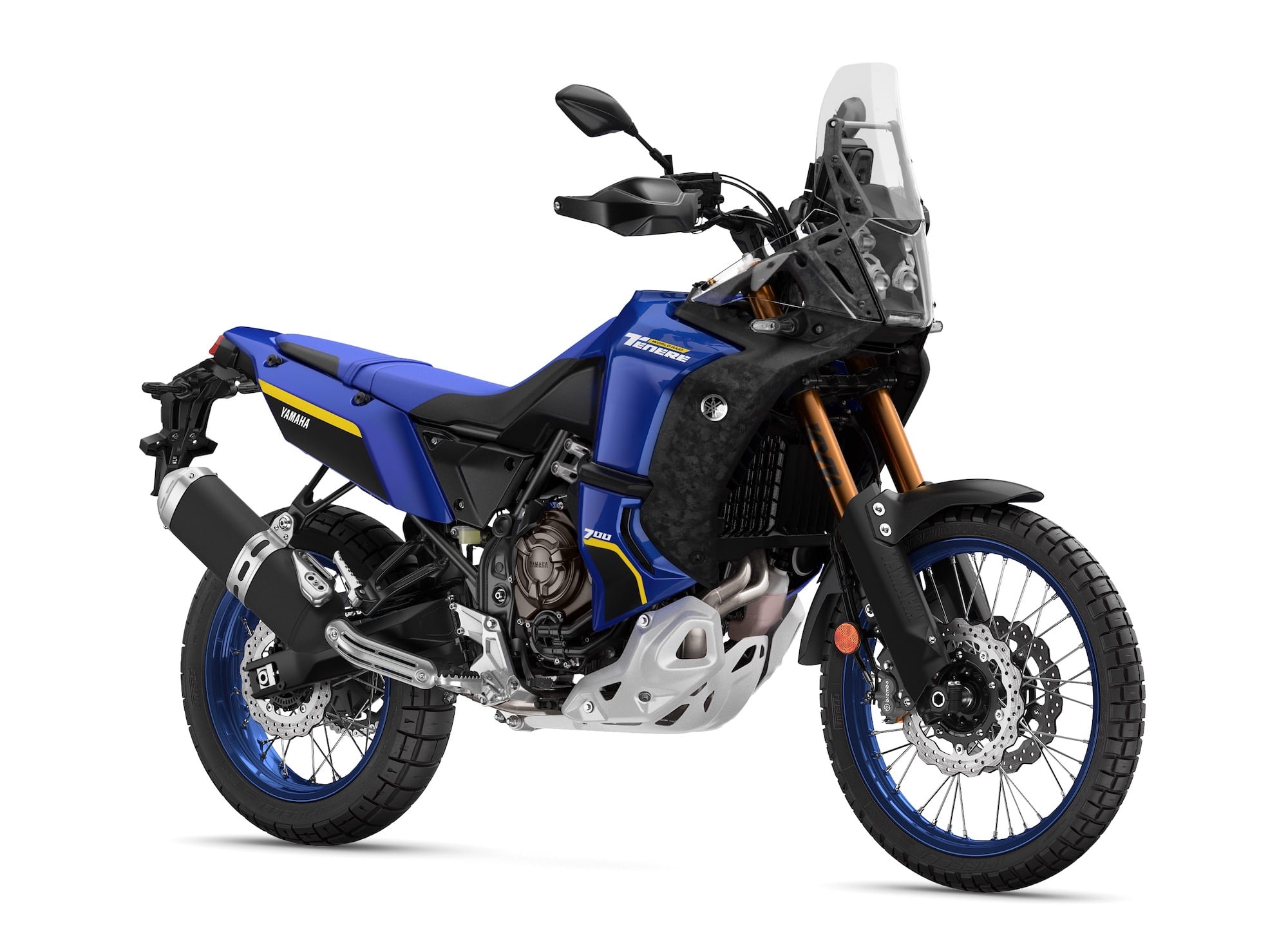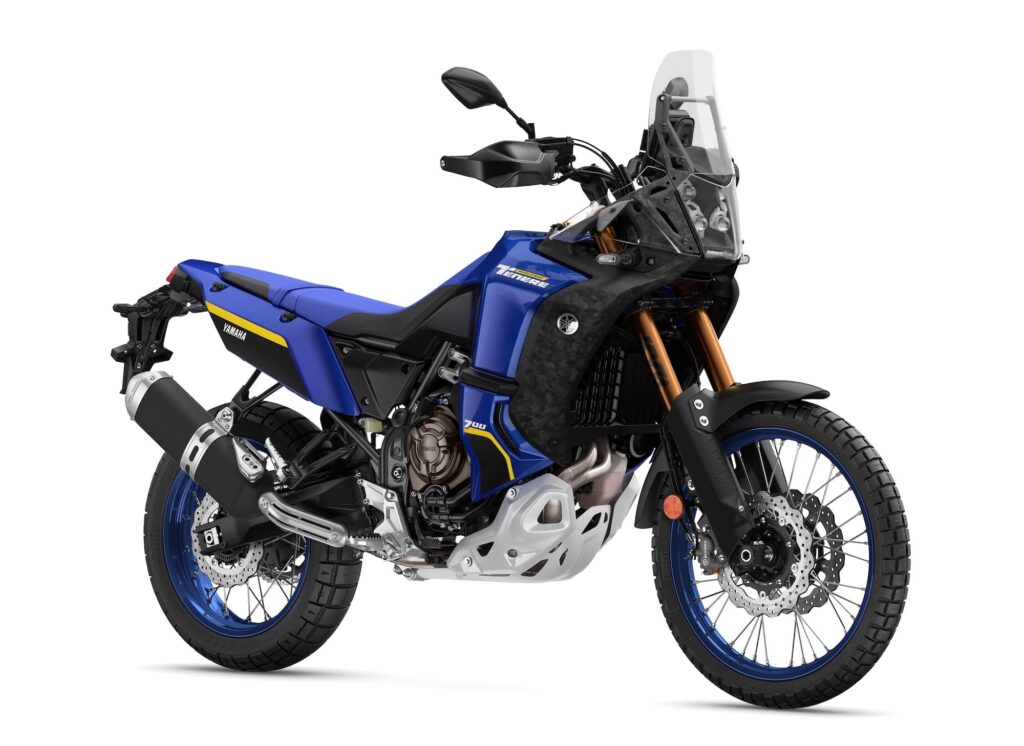 The World Raid is the premium, highest-spec model in the T7 line-up. It's also the most expensive, priced similarly to premium middleweight adventure motorcycles from other brands that come with a lot more tech.
The Yamaha Ténéré 700 World Raid has longer-travel suspension (with more adjustability) and a medium-height seat, which gives it even a higher seat height than the Rally.
The suspension isn't just higher; it's also more adjustable, and more resilient, with a coating intended to make it better able to withstand off-road gravel.
The World Raid also gets a 3-piece skid plate and a TFT display from the first model — others got it a year later.
However, the Yamaha Ténéré 700 World Raid doesn't have every option — there's no default Akrapoviç silencer, for example.
Yamaha Ténéré 700 Extreme Edition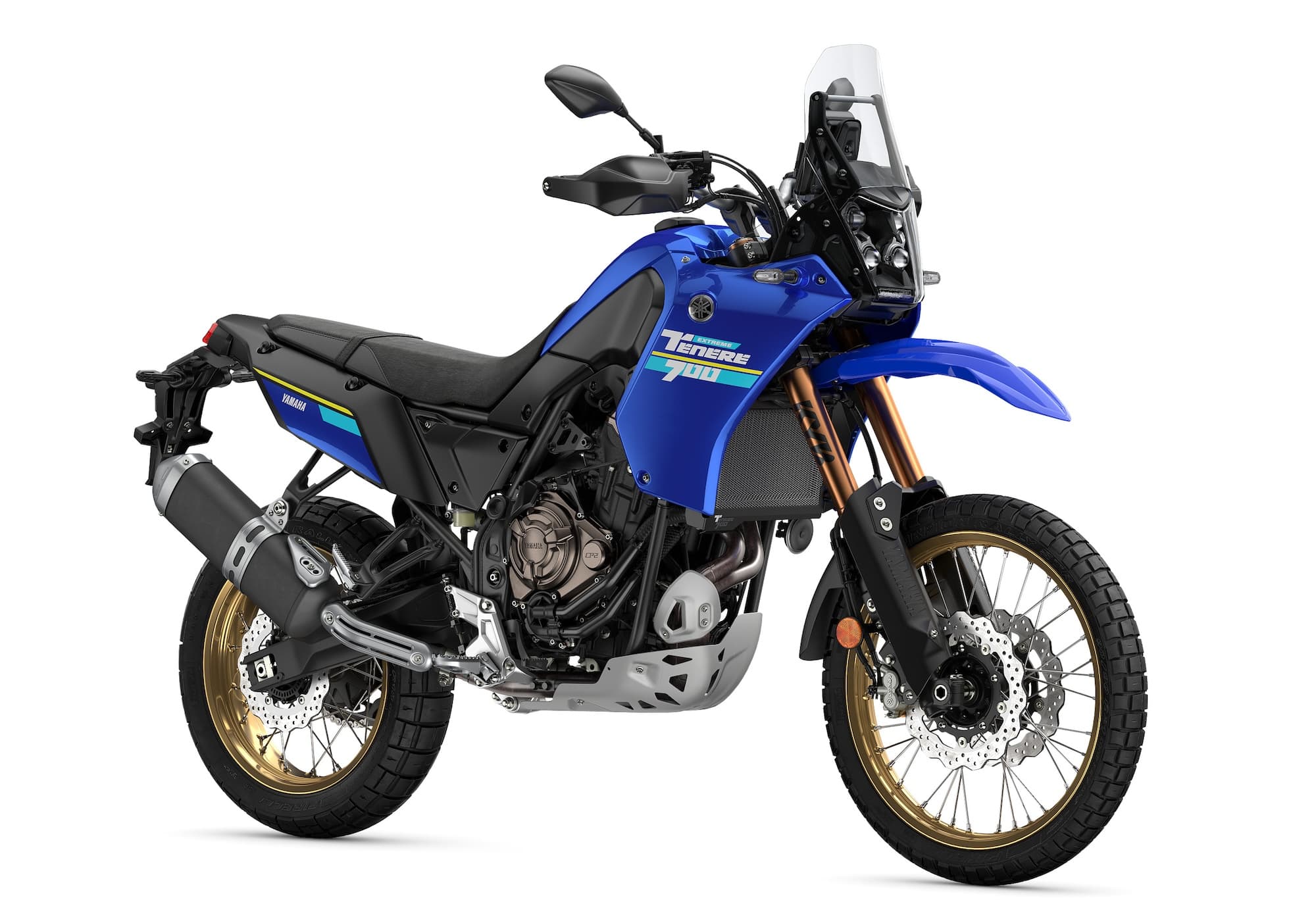 The most extreme edition of the Yamaha Ténéré 700 isn't the highest spec… but it does have the most extremely high seat.
The Extreme edition brings the long-travel suspension from the World Raid, and adds in the rally seat from the Rally model. This combination gives the Extreme the equal highest ground clearance, and the highest stock seat height.
The Extreme edition also has an aluminium radiator guard, special off-road footpegs (even grippier than those on the Rally), and gold anodized wheels, which look great with blue (but this is a bike you'll get dirty!)
But the Extreme doesn't get everything from the Rally — it lacks the long-range tank, the silencer, and the heavy-duty skid plate (it doesn't even have the skid plate of the World Raid).
Yamaha Ténéré 700 Explore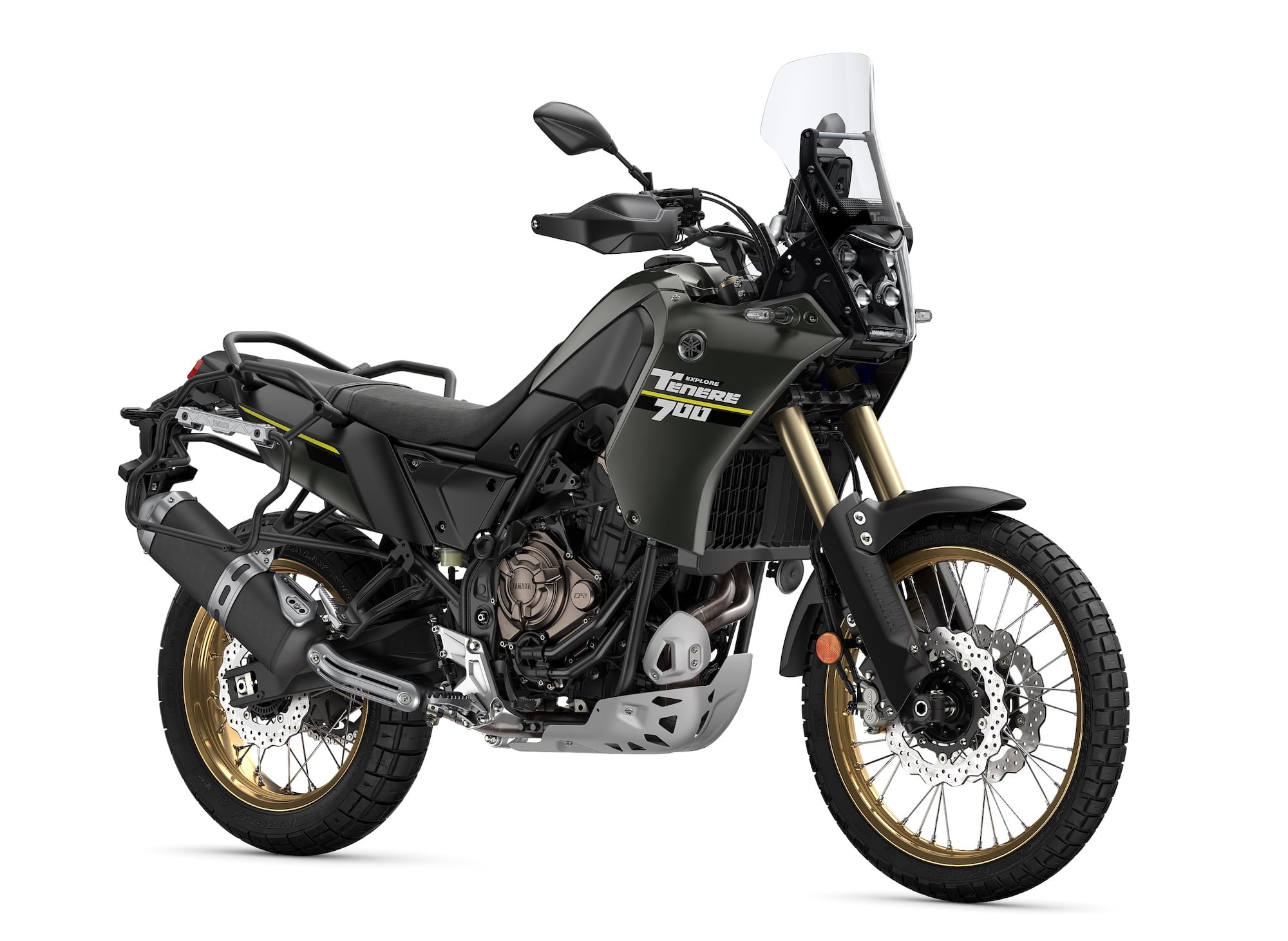 Also new for 2024, the Explore is designed for those who want to take longer adventures and might be spending more time on the road.
It still has a 21-inch front tire and only a 16L gas tank, but it has intentionally lower travel suspension for purportedly more comfort on long-distance rides. It also comes with side case racks as standard equipment — but you have to supply your own cases (or you might already have a set).
Due to its lower-travel suspension and standard seat, the Yamaha Ténéré 700 Explore has the lowest seat height of all the Ténéré 700 models. It's also less wide than the rally-style seats of some models. Thus, for those that are shorter stature, the base model T7 may be the best.
Similarly, the T7 Explore comes with a taller screen. Though there have been aftermarket screens available for a while.
The Explore edition is also the first version to come with a standard quick shifter, which was only optional on other models.
What the Yamaha Ténéré 700 Still Lacks
At the time of the latest update, the Yamaha Ténéré 700 lacks a few things that help its competitors stand out, including:
Cruise control (more common than IMU / cornering ABS)
An IMU / Cornering ABS (see here for a guide to motorcycles with the feature)
Active suspension (if present in any, it's usually only in the rear shock)
None of these necessarily makes the other motorcycles a "better" bike. For many, the appeal of a motorcycle like the T7 is that it has just the basics, and that it performs them well.
Still, since the above items are differentiators for other brands, and the Ténéré 700's price has soared with its popularity, it makes sense to note their absence.
Alternatives to the Yamaha Ténéré 700
This is quite a competitive market, with basically every manufacturer now clamouring for your middleweight adventuring wallet. Below is a slider of alternatives to the Yamaha Ténéré 700 for you to peruse.
Aprilia Tuareg 660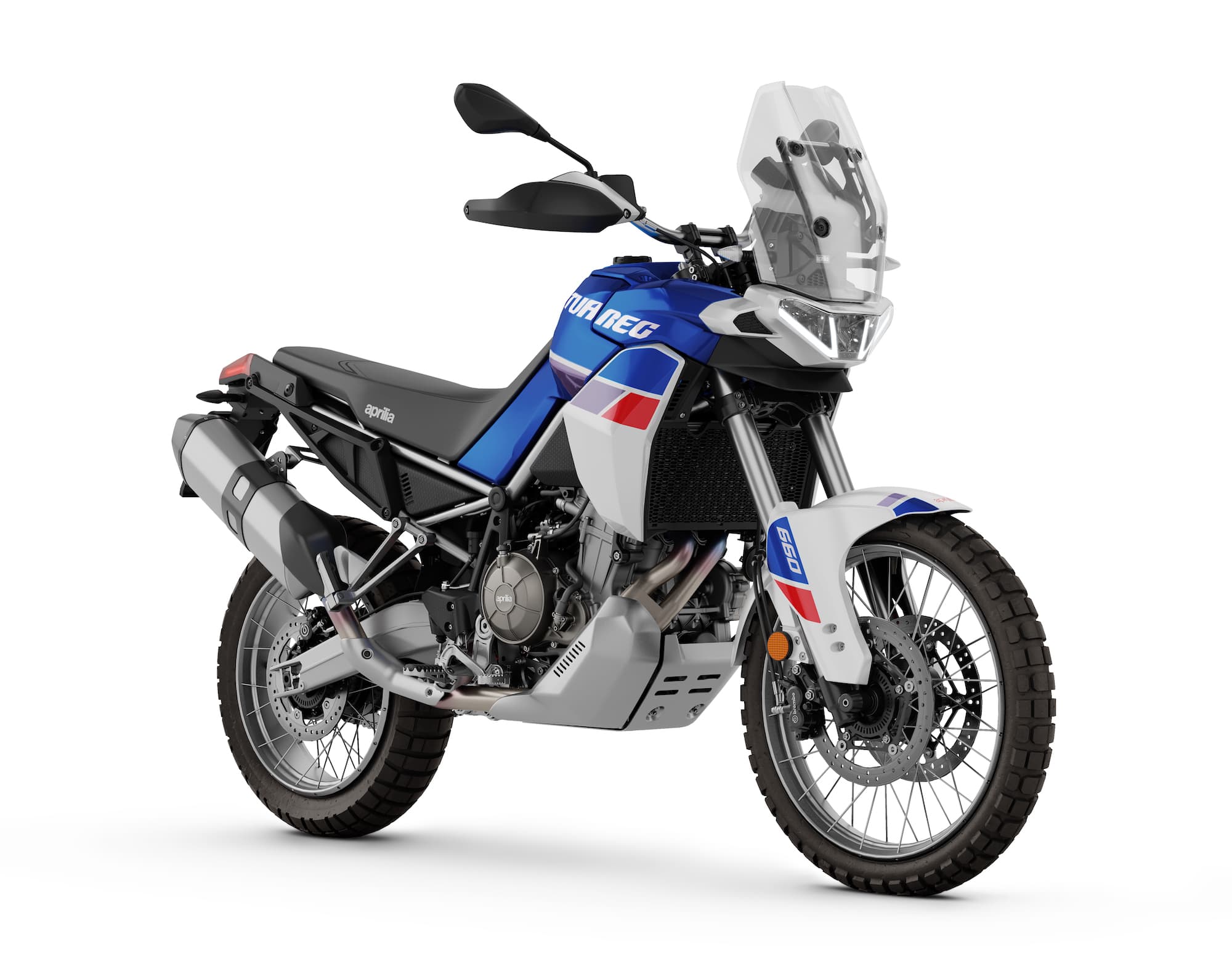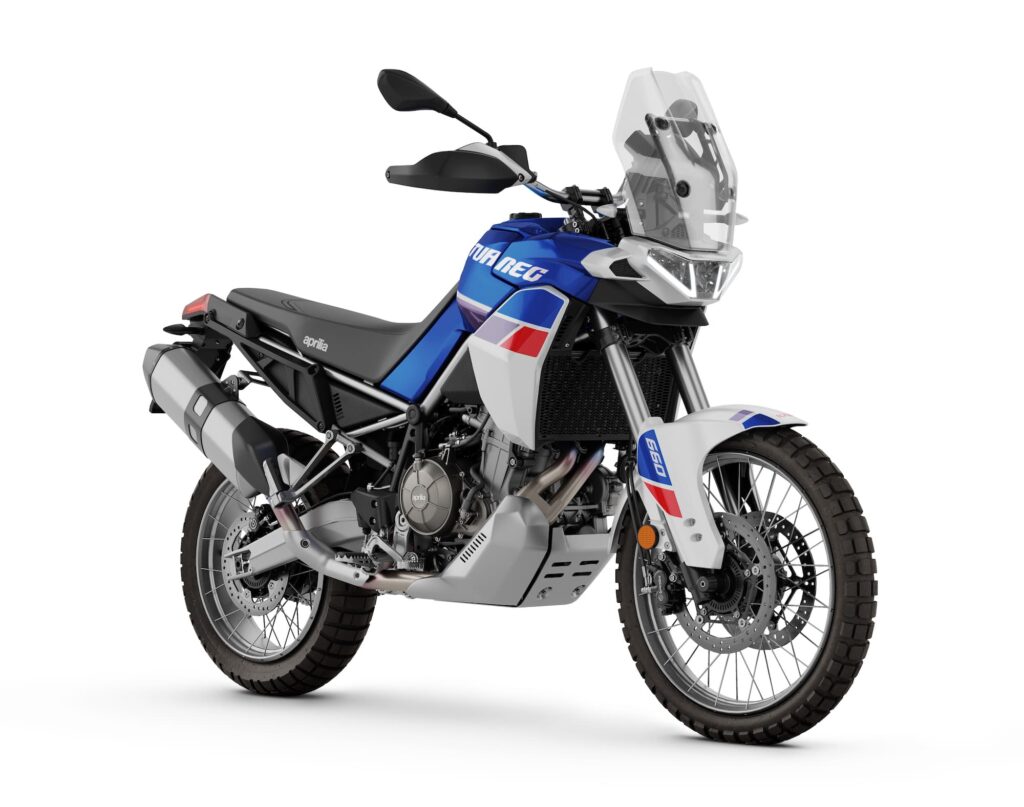 The Aprilia Tuareg 660 (one of the Aprilia 660 line) is a 2022 model. It uses Aprilia's basic platform that powers the RS and Tuono street/sport bikes, but the engine is de-tuned for mid-weight power. The Tuareg 660 is quite high-spec, with cruise control and high-end ride gear (but lacking an IMU), moderately powered (with a peak of 60 kW / 80 hp at 6500 rpm, and lightweight for its class.
BMW F 900 GS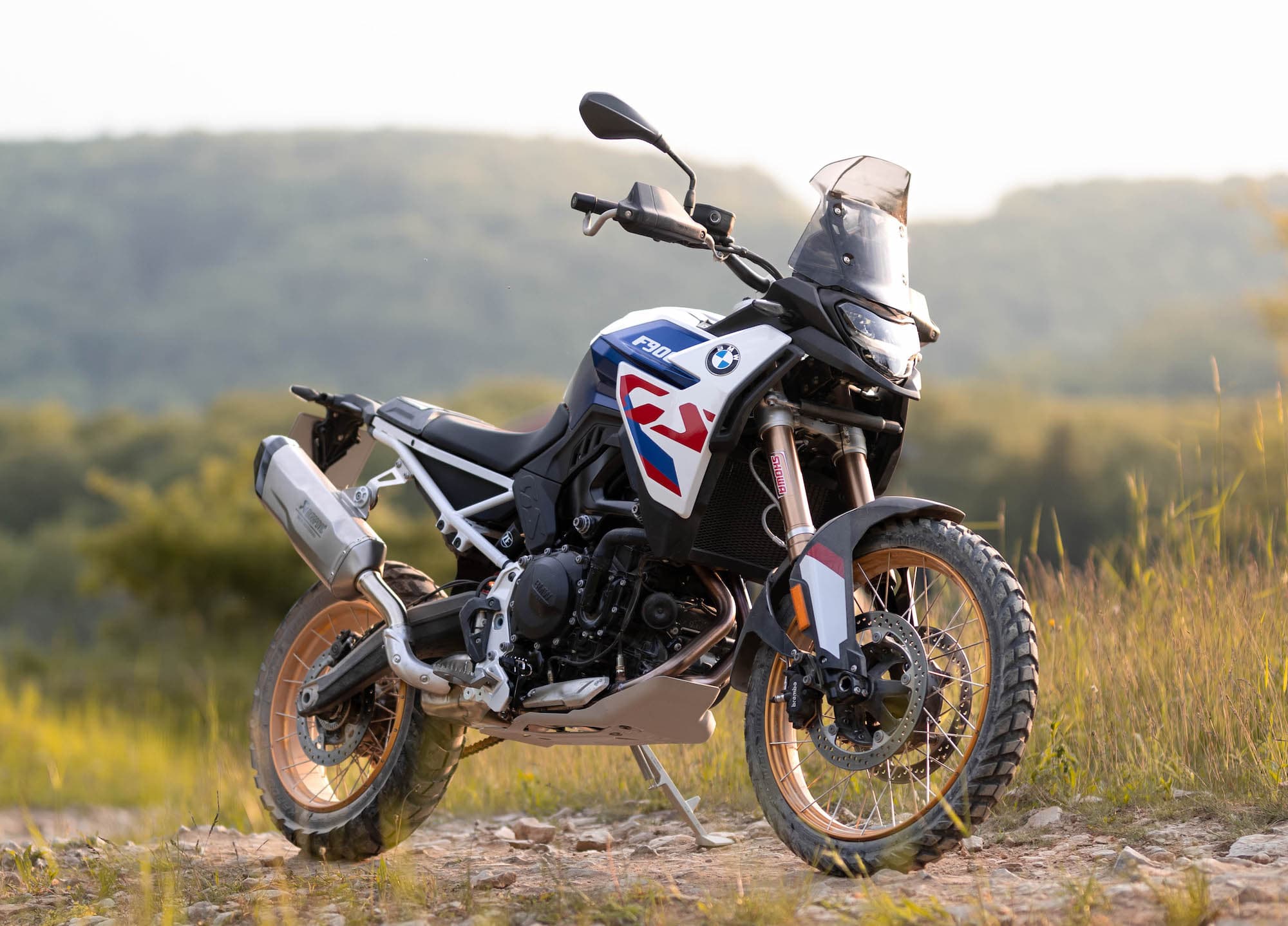 The BMW F 900 GS, taking over from the F 850 GS, is a do-everything vehicle. BMW riders often like the middleweight as the more capable all-round bike. The F 900 GS is It's powered by a spicy 895 cc parallel twin with a 270-degree crank that tops out at 77 kW / 105 hp at 8500 rpm. It comes with the kitchen sink of tech, including optional dynamic suspension.
CFMOTO Ibex 800 / 800MT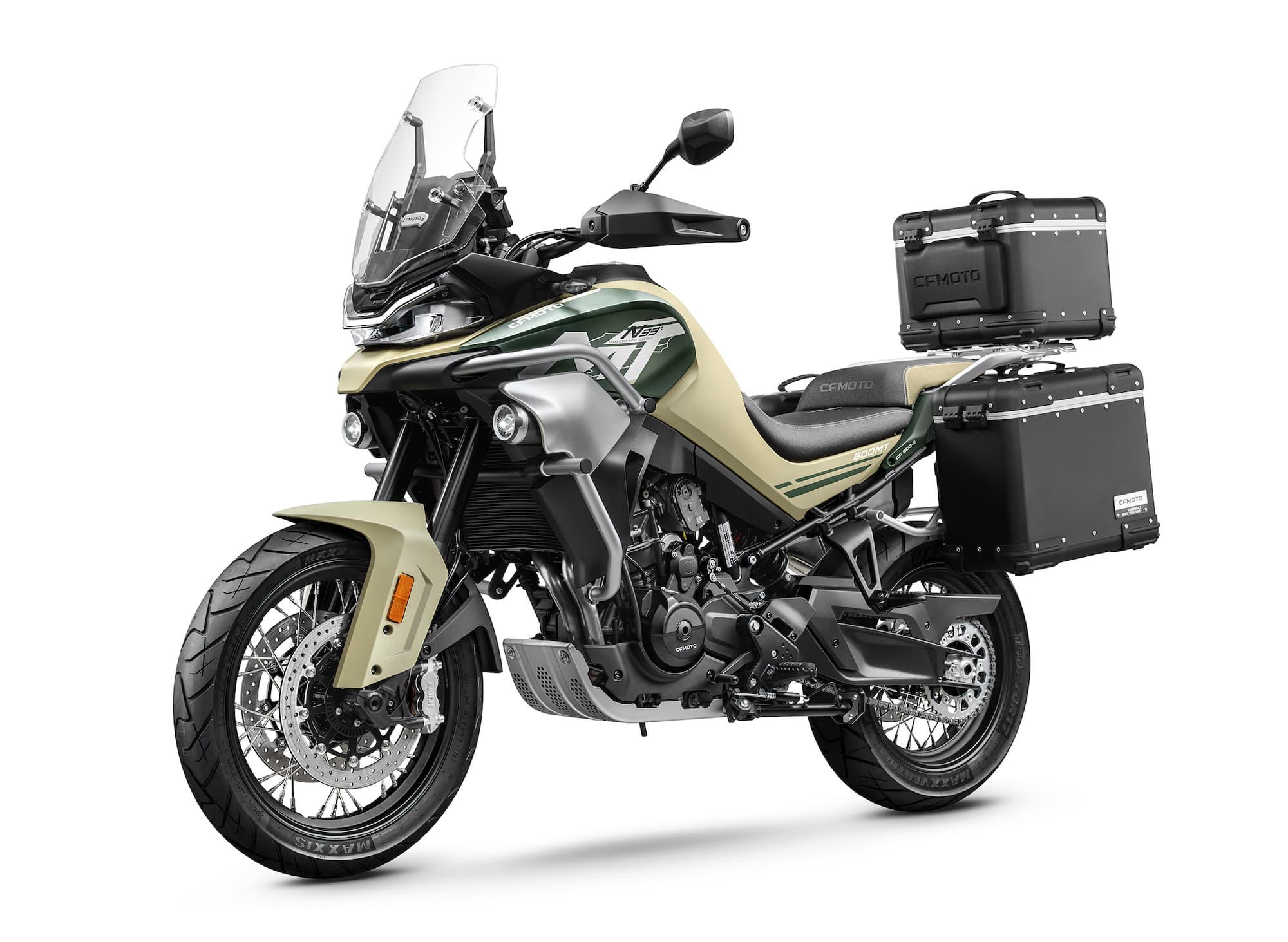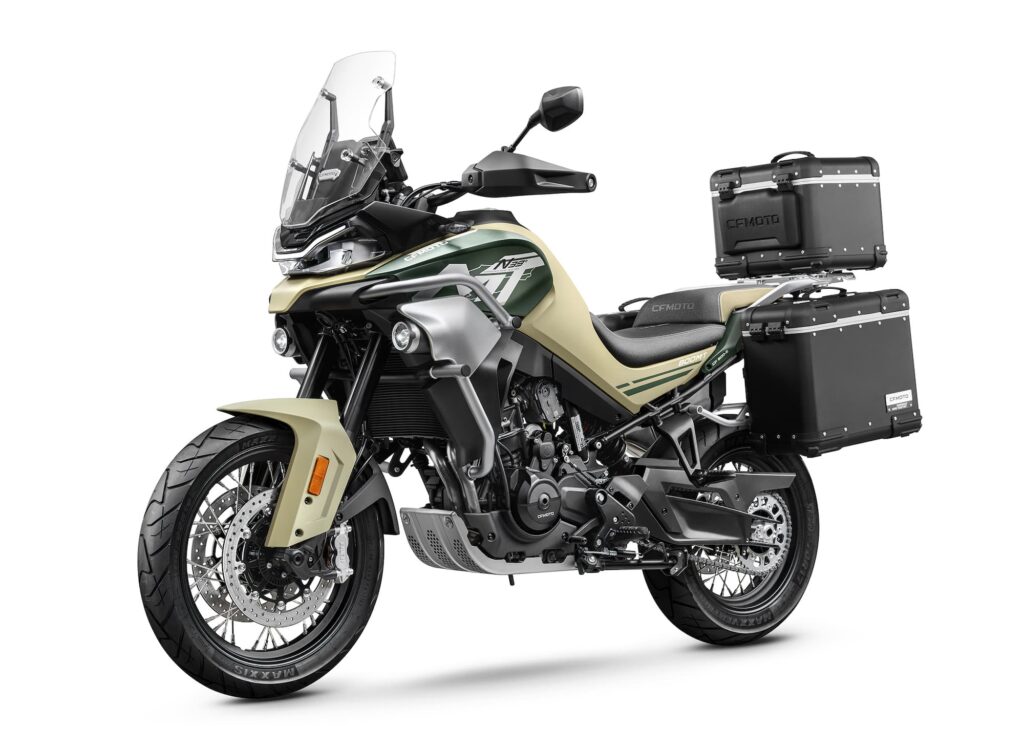 The CFMOTO Ibex 800 / 800MT is a middleweight adventure tourer powered by KTM's 799 cc parallel twin that they stopped using in western markets for a few years. The CFMOTO bike comes loaded with tech, including cruise and an IMU, and its engine is no slouch. Plus, it's very affordable — an equivalent motorcycle from a European brand usually cost 1.5x.
Ducati DesertX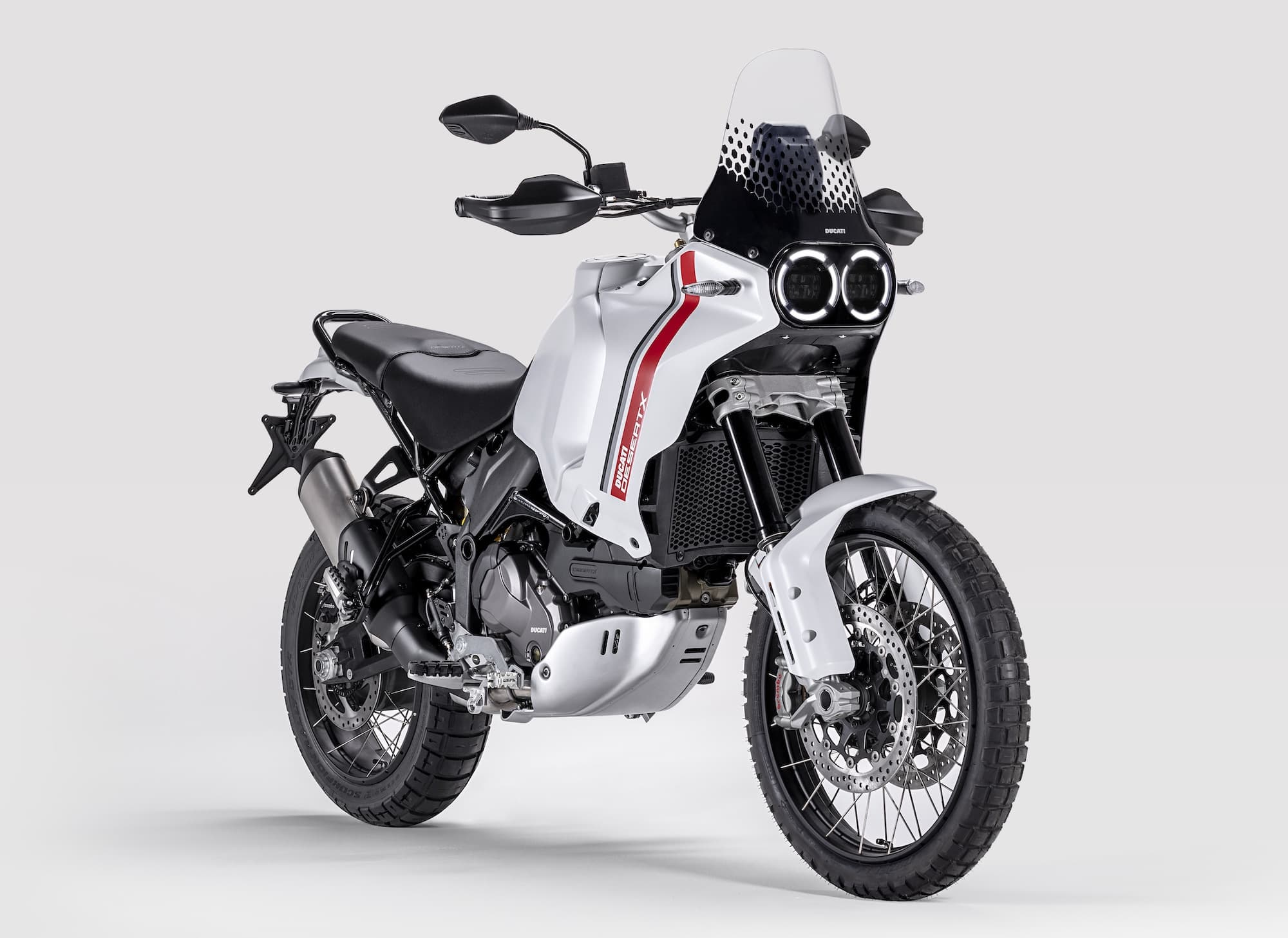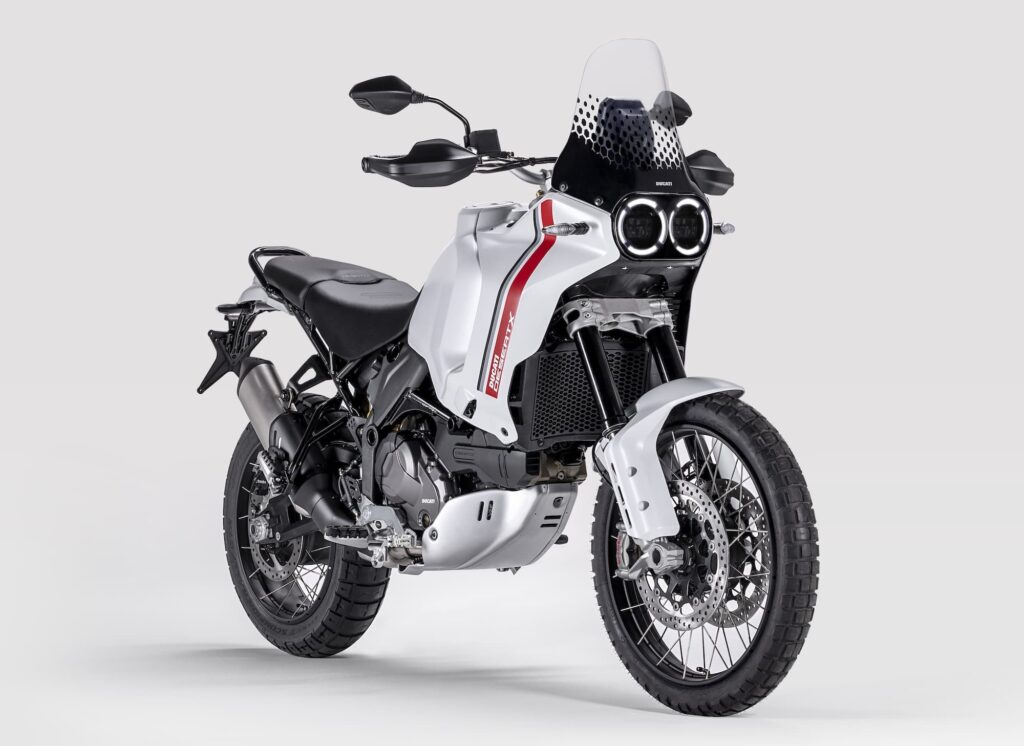 The Ducati DesertX is an offroad sporty adventure tourer based on the 937 cc Testastretta-11 degree engine that Ducati uses in many of its motorcycles, from the Supersport to the Multistrada V2. The DesertX has a 21-inch front rim, long-travel suspension, the full suite of ride aids, and killer (though sometimes divisive) good looks.
Honda XL750 Transalp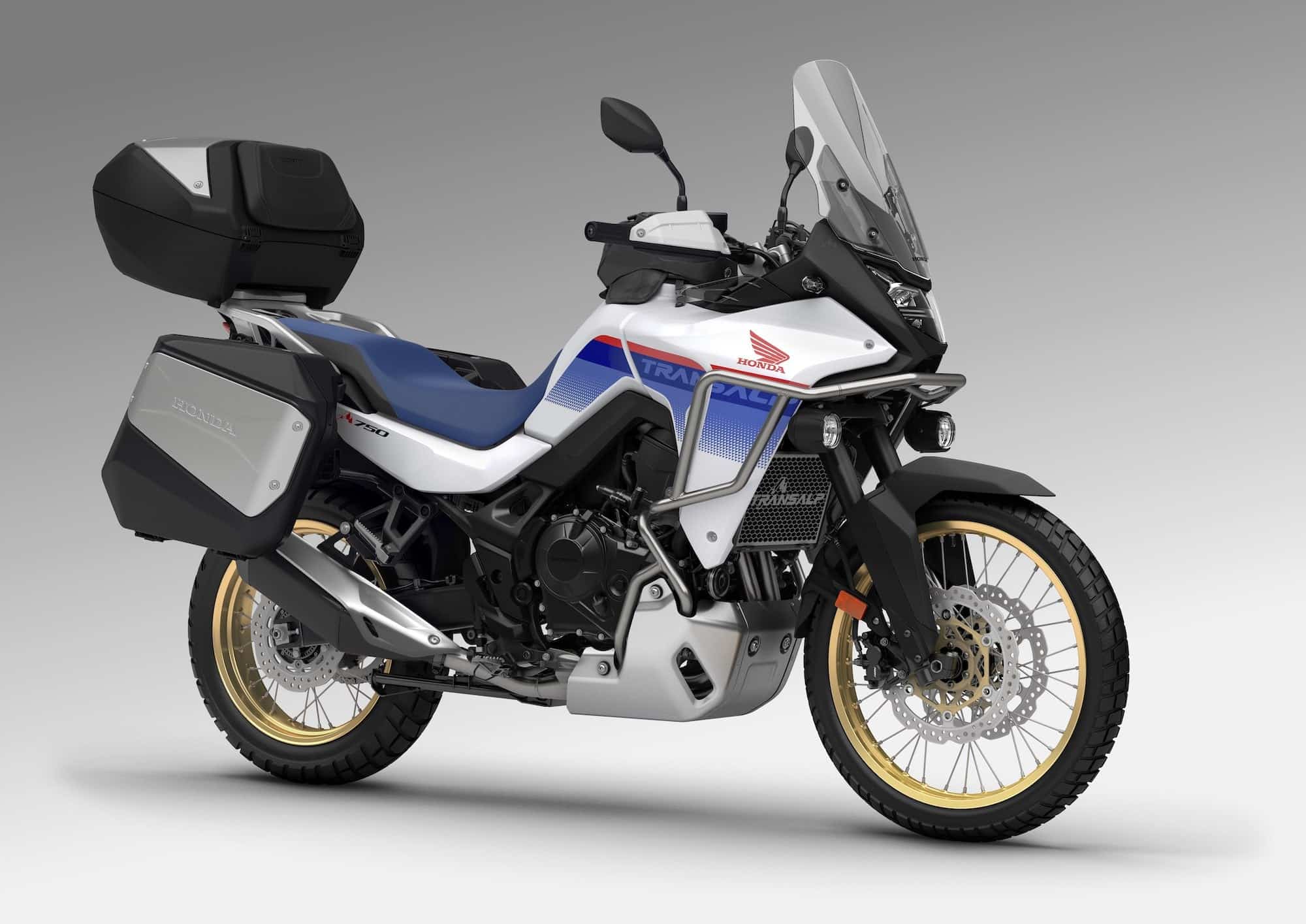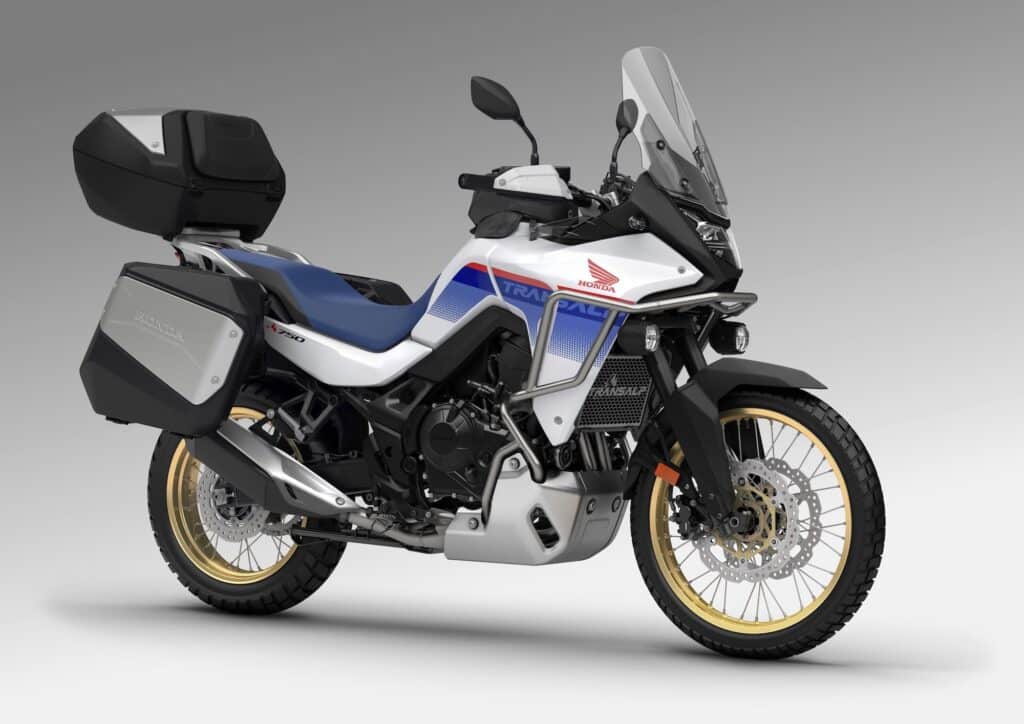 The Honda XL750 Transalp is a rebirth of the Transalp brand, which had expired a decade prior with the Transalp 700, a motorcycle veering more towards being a commuter. The XL750 Transalp has a new motor, a 755-cc parallel twin, and enough goodies (medium-long travel suspension, a 21-inch front wheel) to give it mixed-use pretension, without being a dedicated dirt bike. It's on the affordable end, so lacks some niceties like dynamic suspension or even cruise control.
Husqvarna Norden 901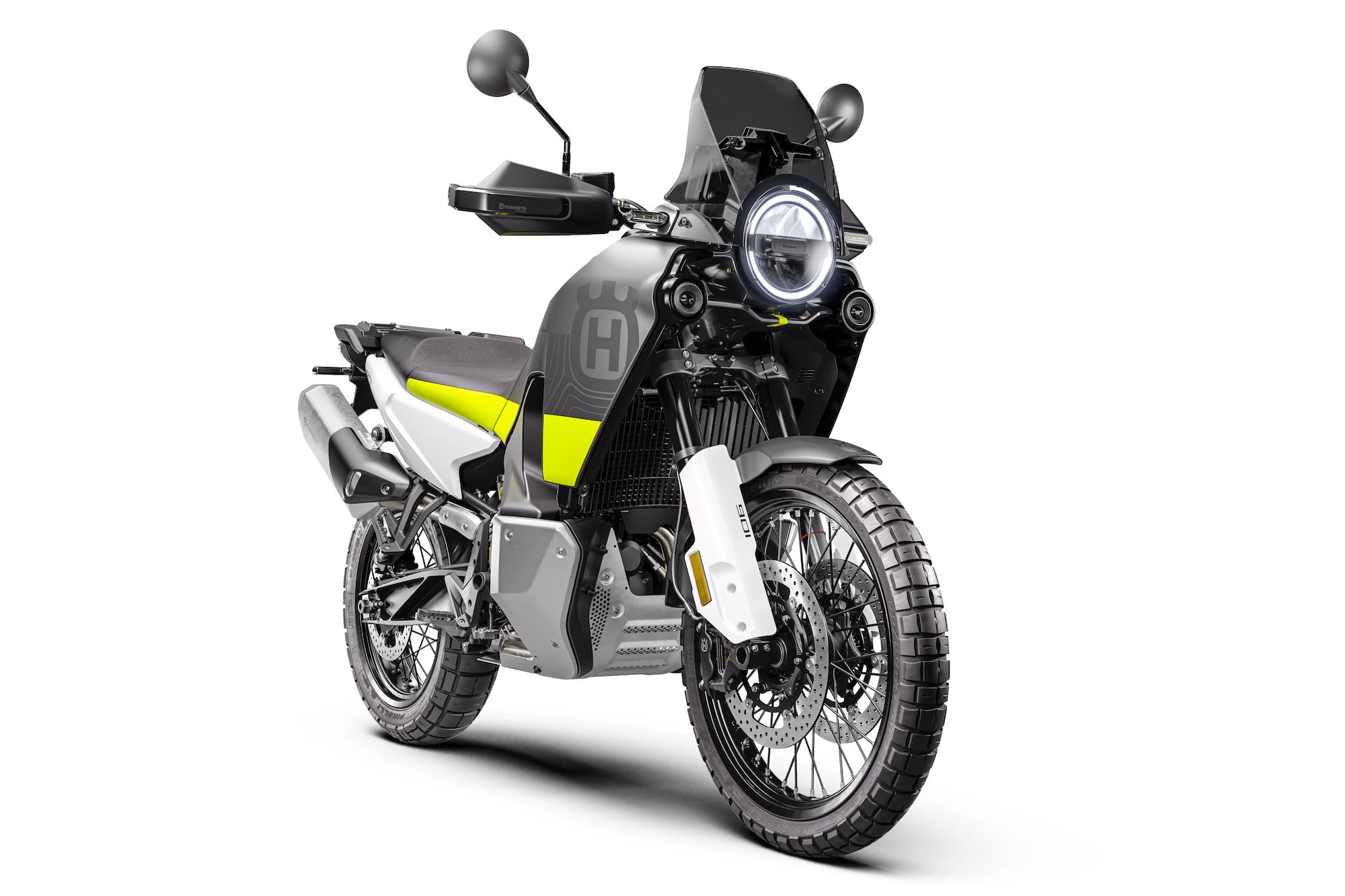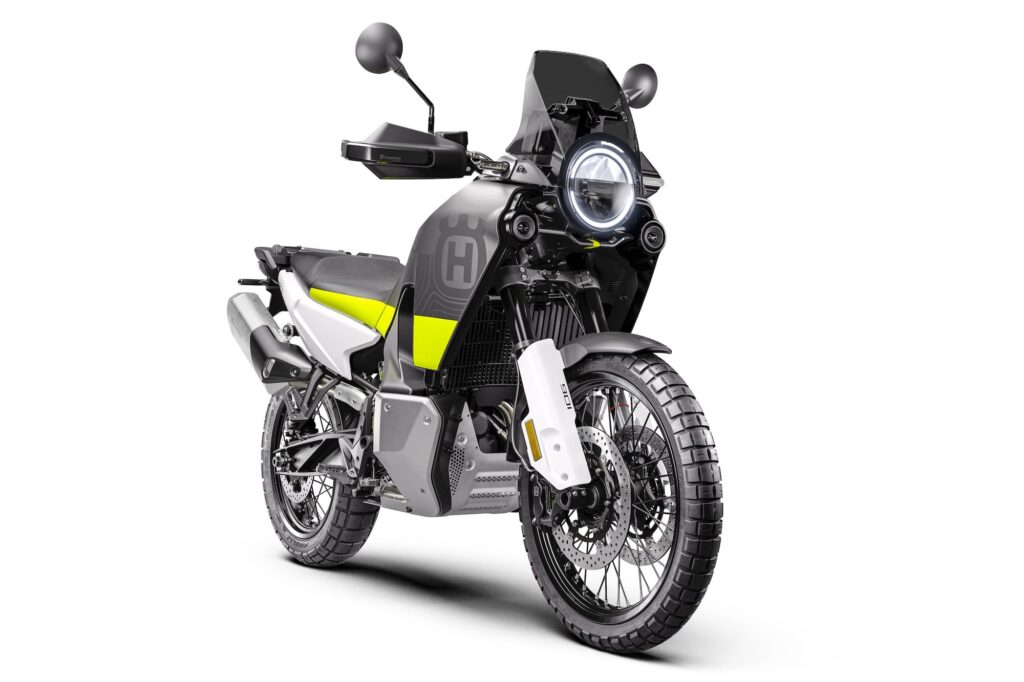 The Husqvarna Norden 901 is based on the same platform as the KTM 890 Adventure R, an 889 cc parallel twin with a 270-degree crankshaft. It has great specs, with long-travel (even longer in the Explorer edition), fully adjustable suspension, and ever ride aid you can think of. Plus, it looks cool.
Kawasaki KLR650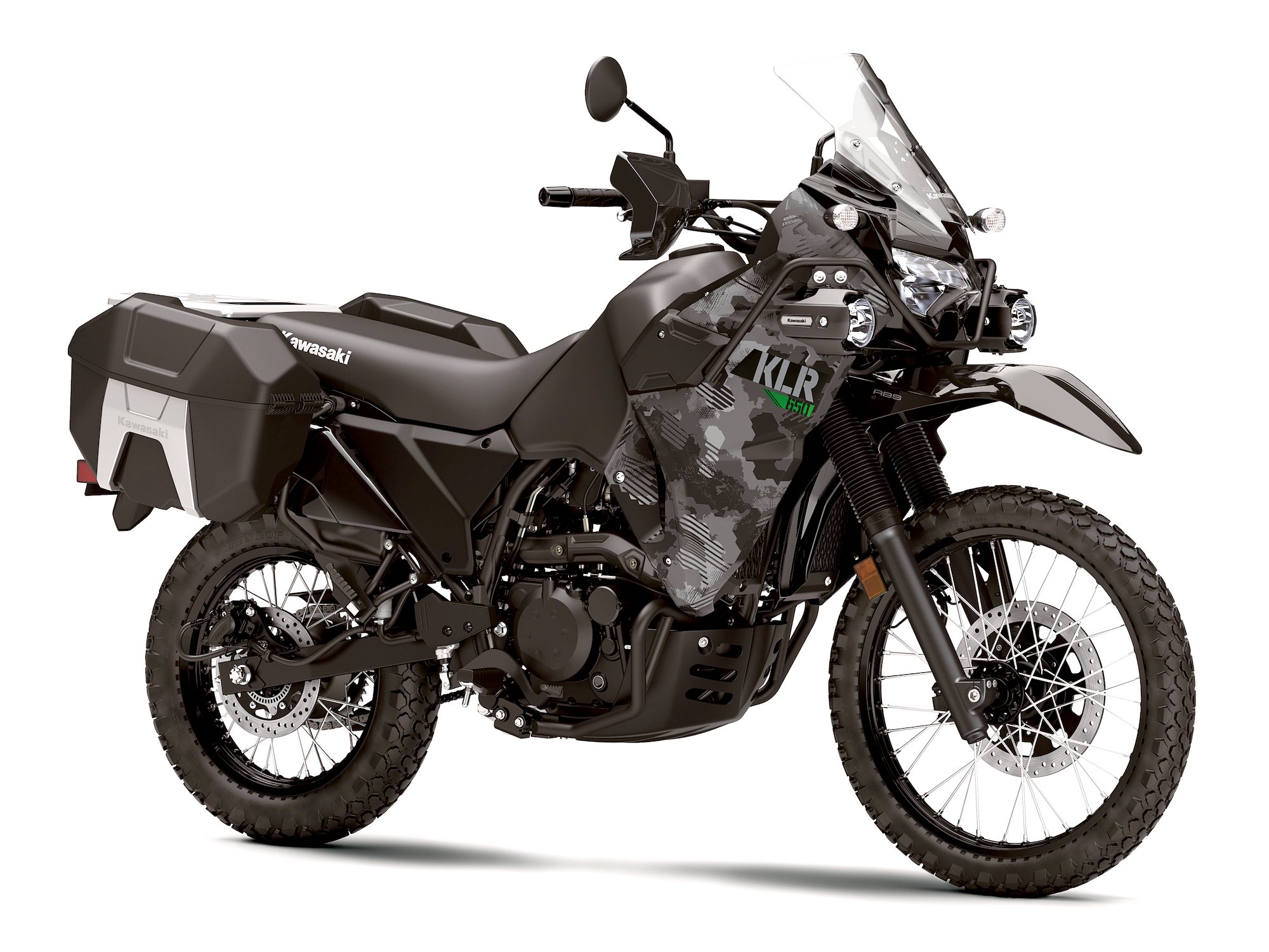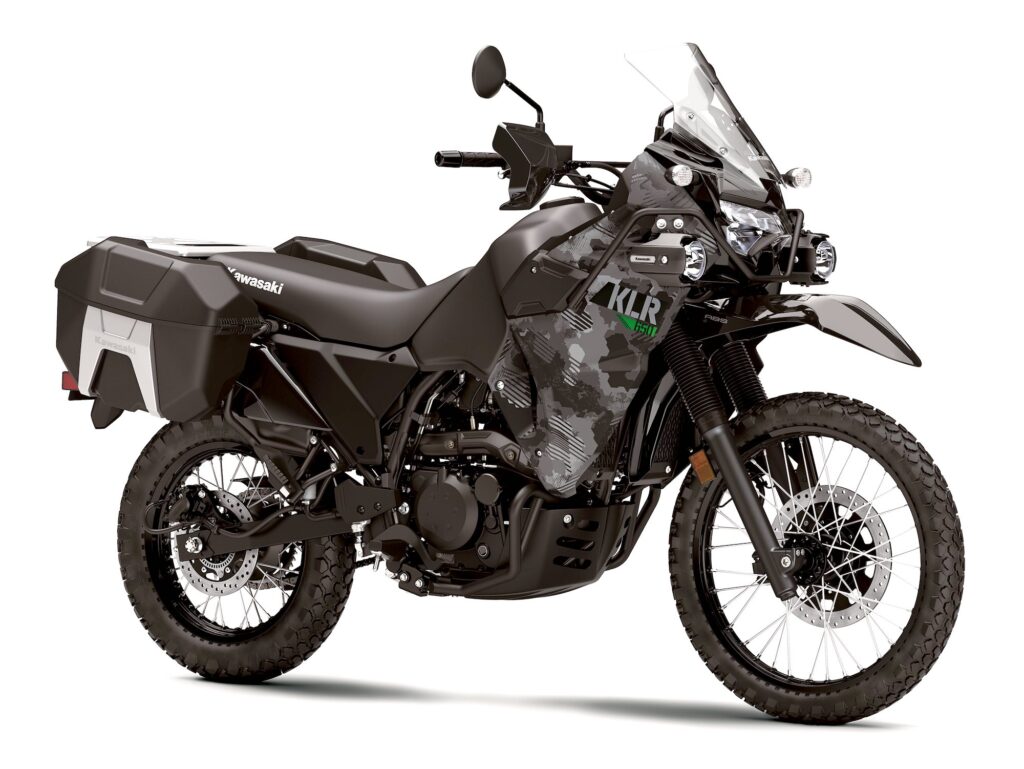 Kawasaki updated its iconic single-cylinder, low-power but unbreakable adventure motorcycle, the KLR650, for 2021 with fuel injection, ABS, and a digital display. It's still the same cheap, back-to-basics adventurer that will get you anywhere and back, though not too quickly. Its main selling point is that it's ready to rock right out the door for very little money.
KTM 890 Adventure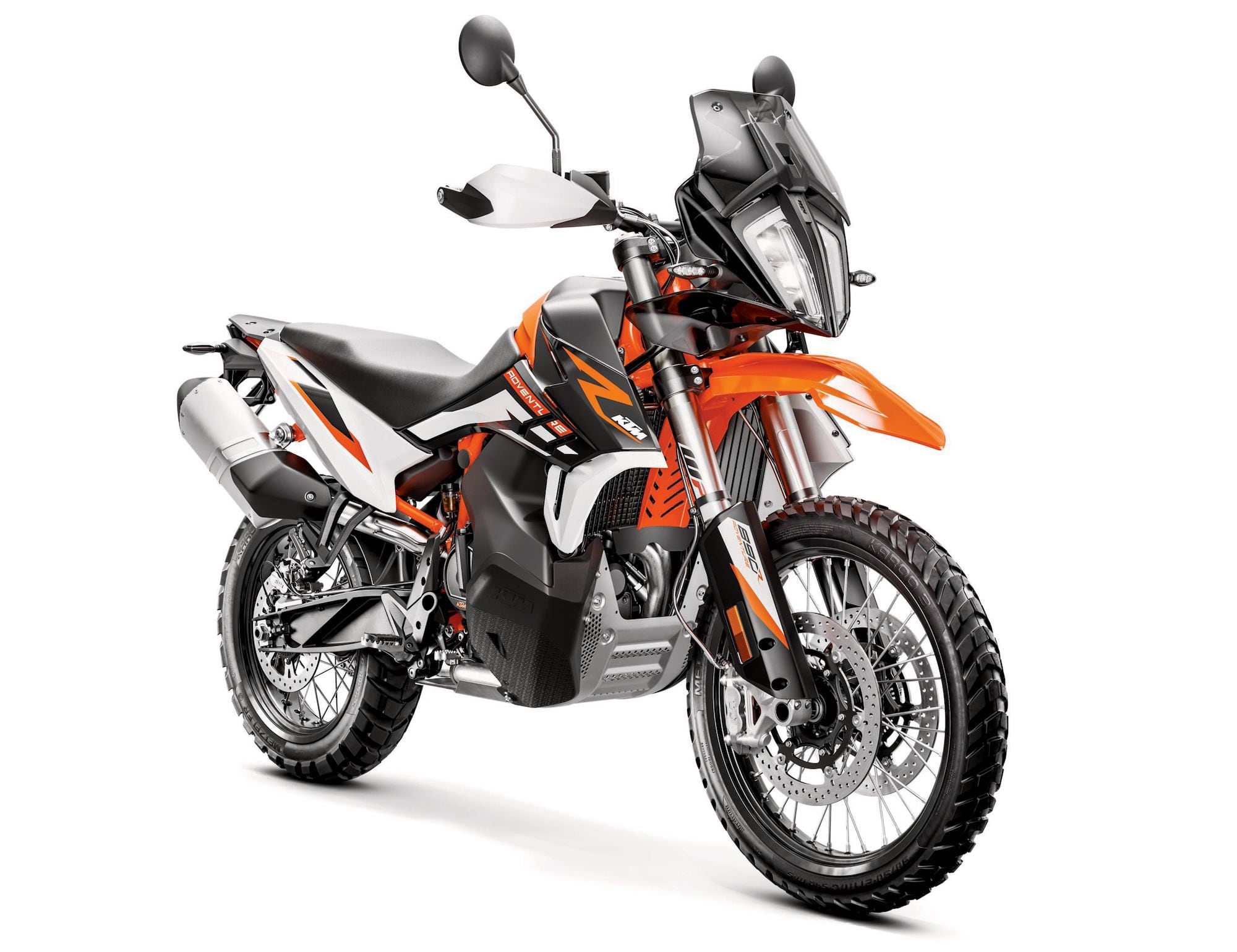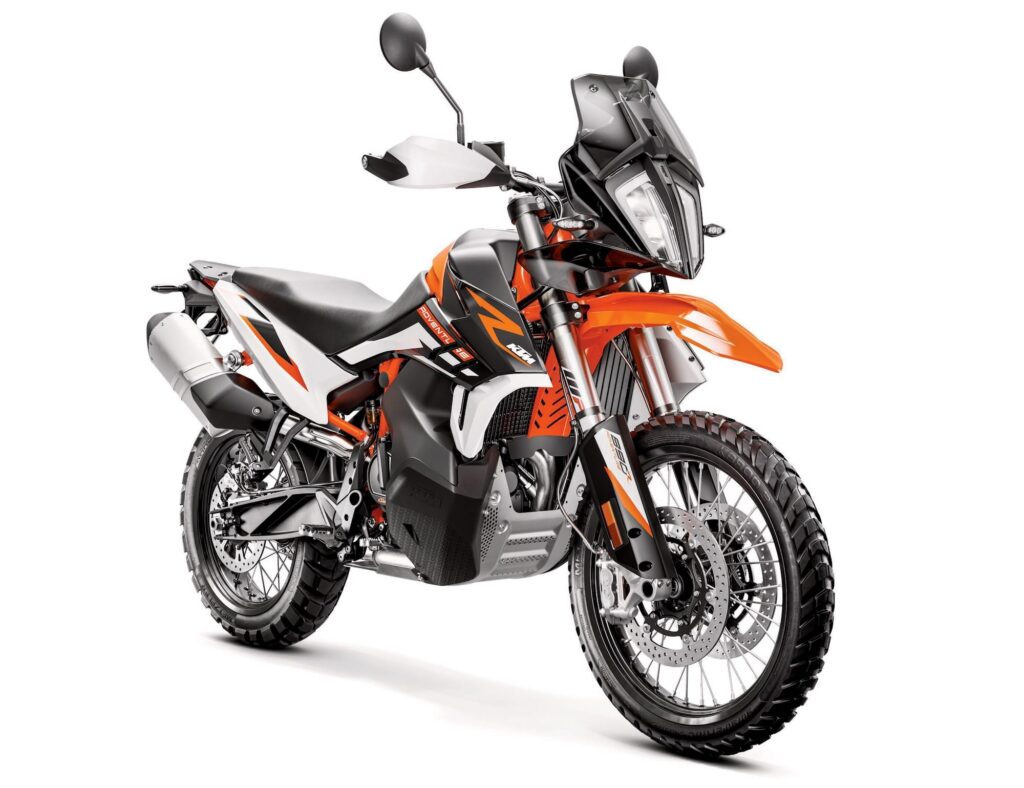 The KTM 890 Adventure R is the "Excitement" factor in the middleweight adventure motorcycle series. It has a sparkling 889 cc parallel twin (shared with the Husqvarna Norden 901), very long-travel suspension (longer than the non-R), and every kind of ride aid you can think of. Despite that, it's one of the lighter bikes in the range (though not by much). It's a fan favourite, but it's not cheap.
Moto Guzzi V85 TT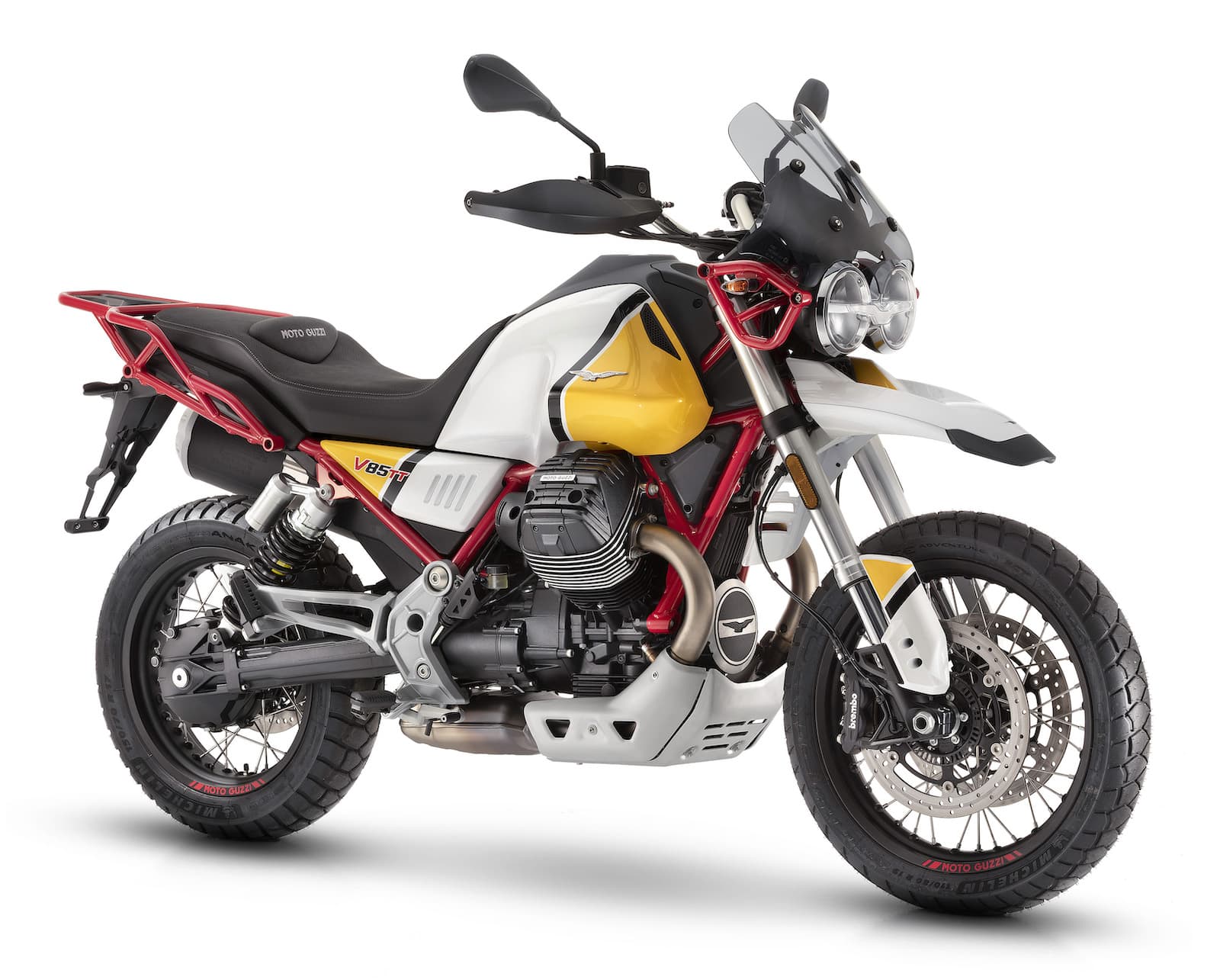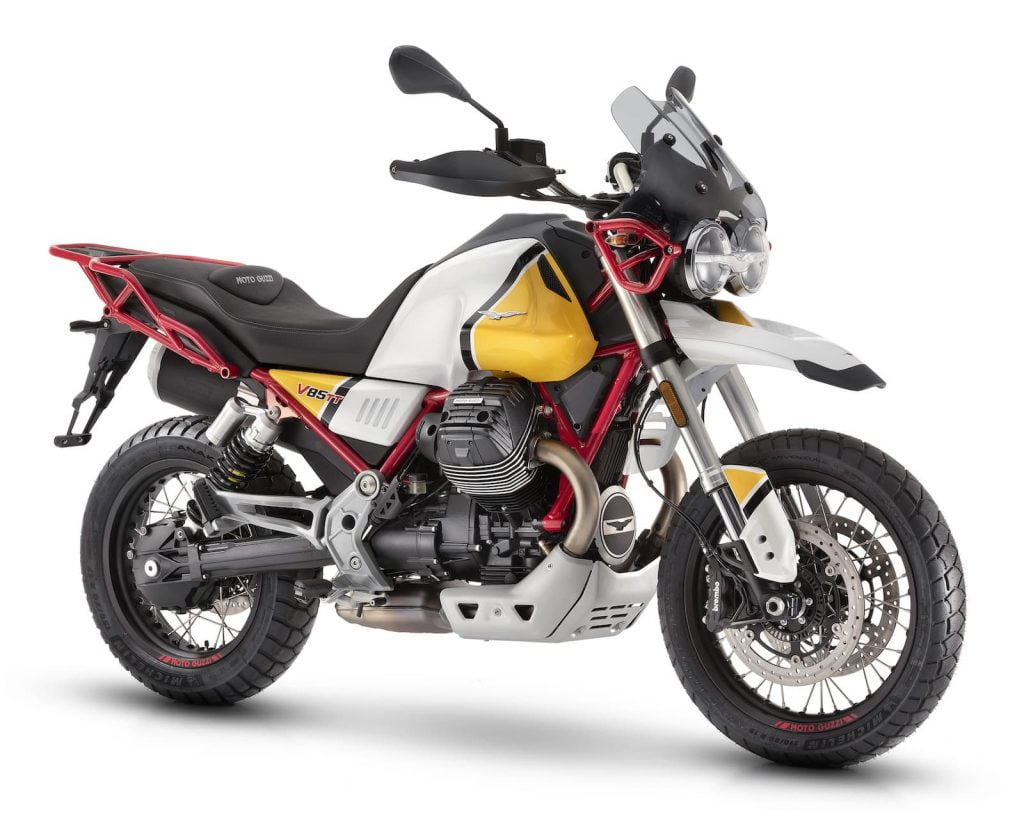 The Moto Guzzi V85 TT is an oddball bike, but it deserves to be included as it's just so interesting. It's powered by an air/oil-cooled longitudinal V-twin powering a shaft drive — this is the one you want if you don't want to be lubing your chain! It lacks many ride aids, but it has cruise control! Plus, it's very big on character and style. Finally, maintenance is easy, with pushrods and those big cylinders sticking out the side, and screw and locknut-style adjusters.
Suzuki V-Strom 800DE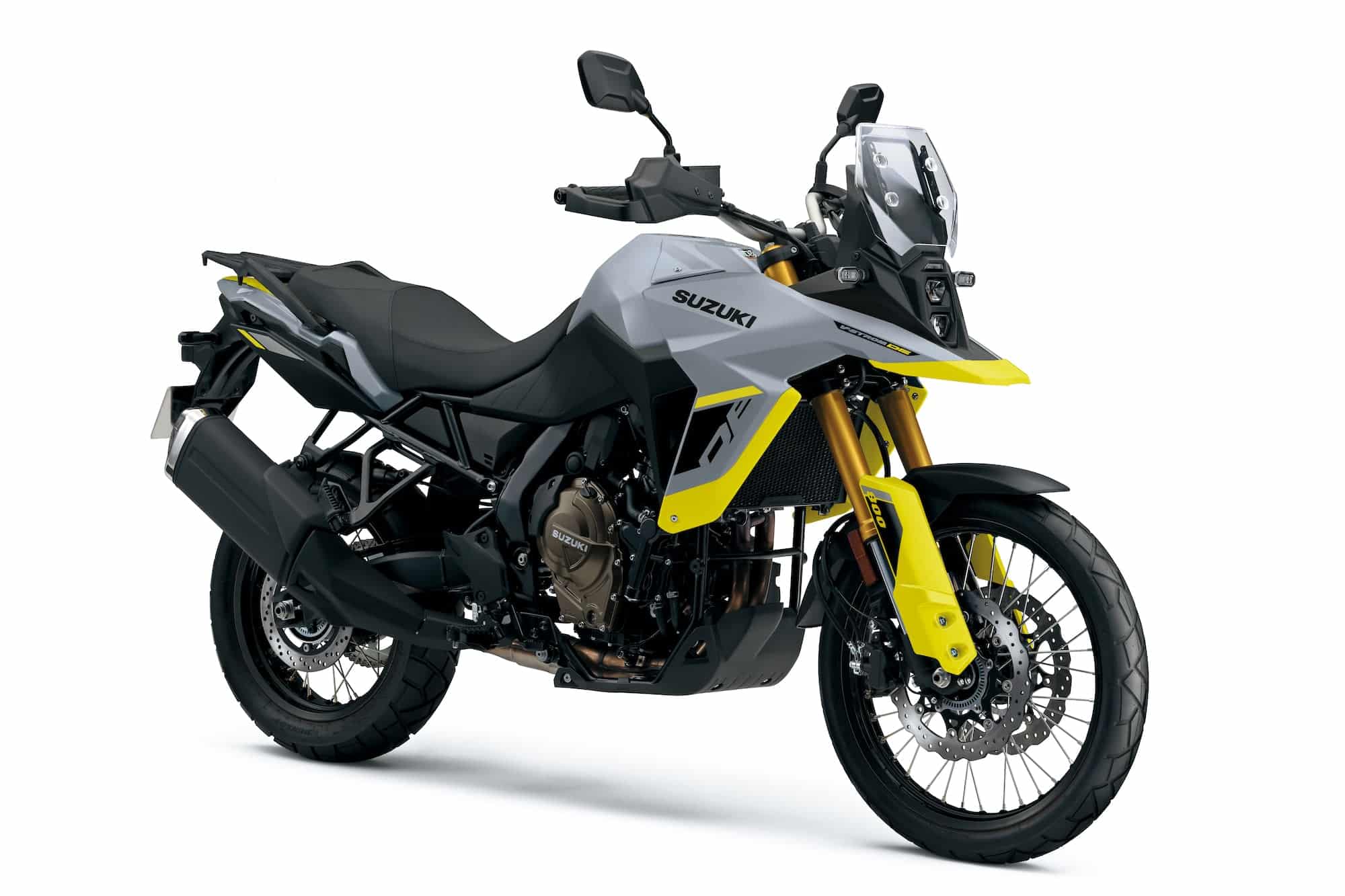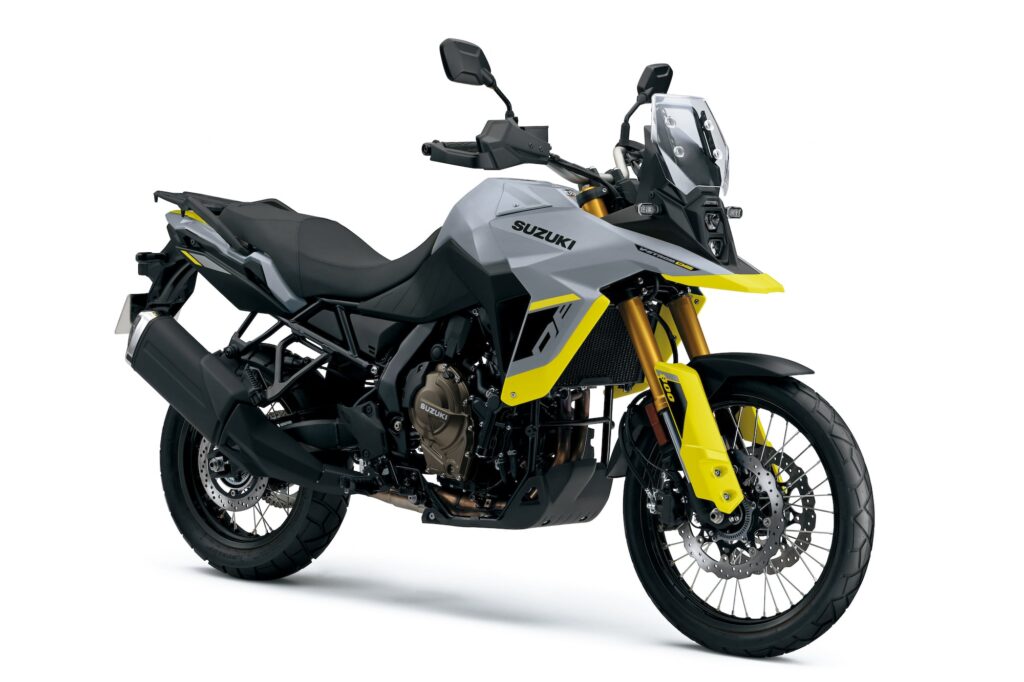 Suzuki updated their V-Strom for 2023 with the V-Strom 800DE, though it co-exists with the V-Strom 650XT (for now). The 800DE uses the same new sporty 776cc parallel twin as the GSX-8S, ditching the V engine associated with the series, and also earned a 21-inch front wheel, similar to its big sibling, the V-Strom 1050DE. It lacks an IMU and cruise, but the middleweight bike doesn't benefit from them as much as big-bore tourers might.
Triumph Tiger 900 Rally / Pro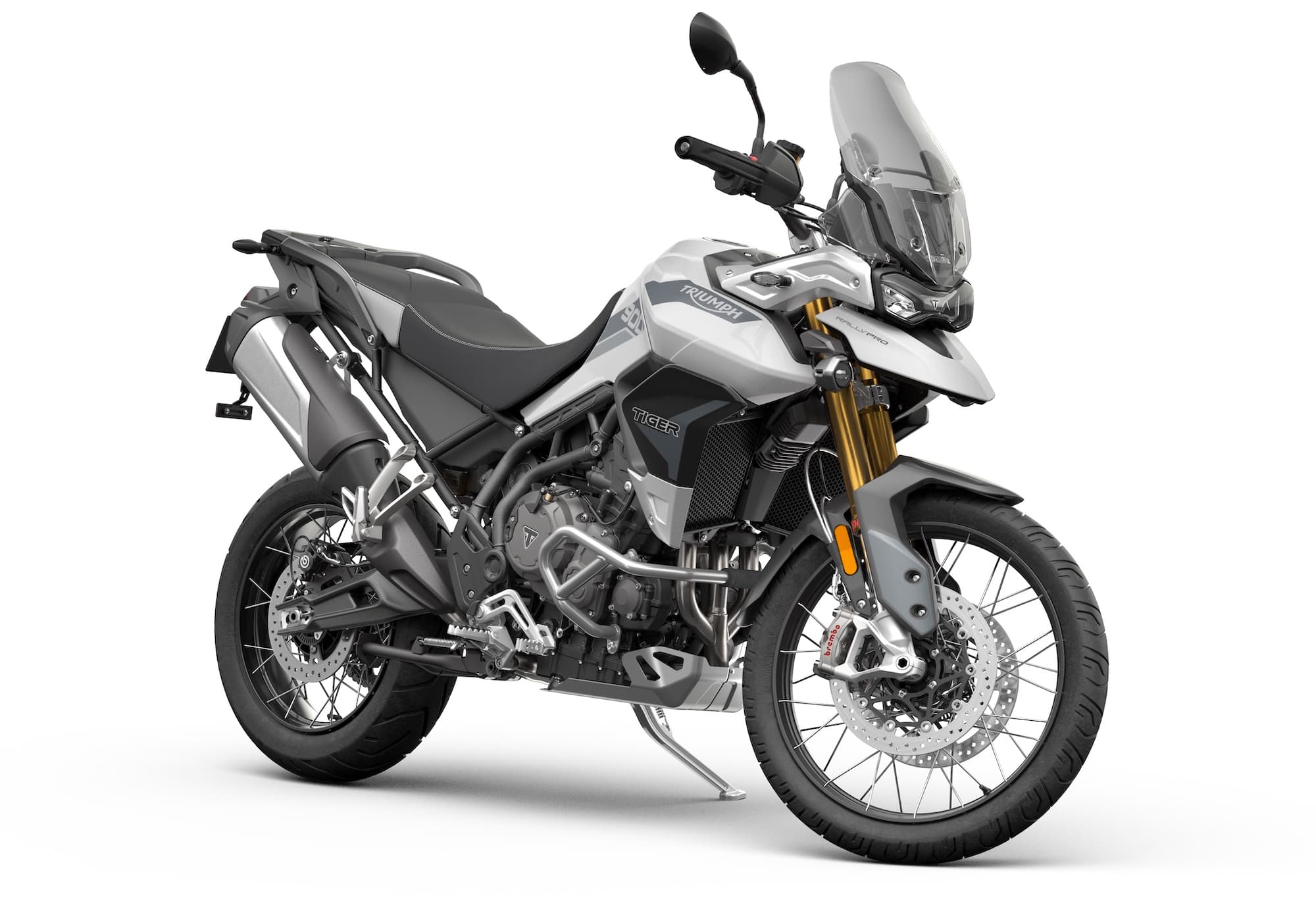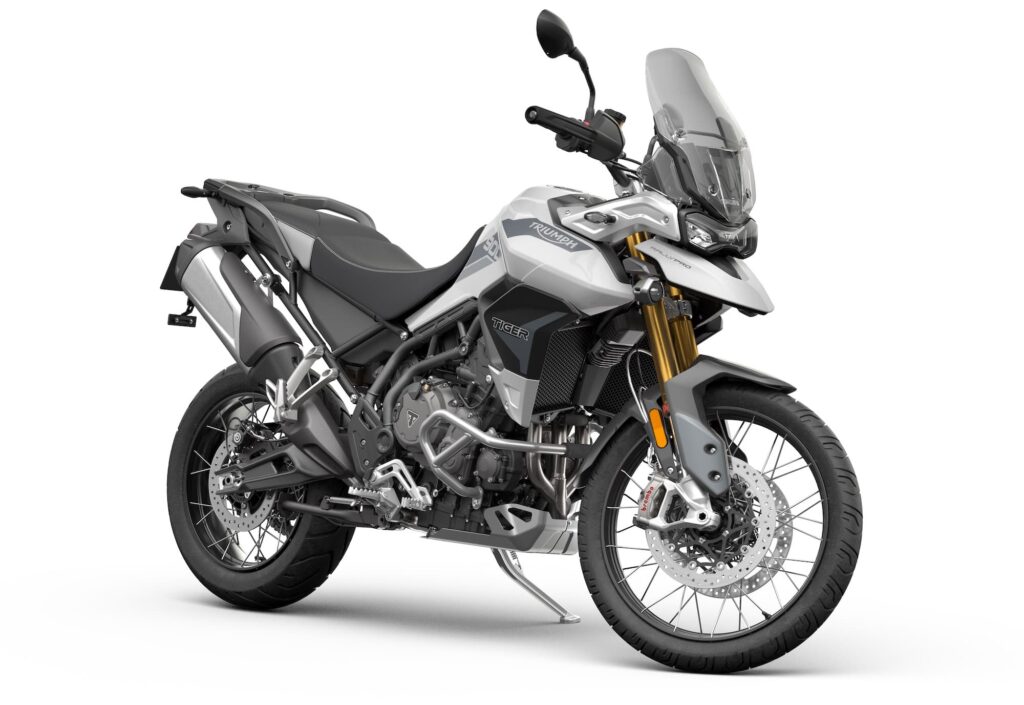 The Triumph Tiger 900 Rally Pro is the only middleweight adventurer to use a three-cylinder engine. The 900 Rally Pro is an update to the Triumph Tiger 800XE, but the 900 engine has a different, lower, more rumbling character. Aside from that, this is the same old luxury middleweight adventure bike, with every ride aid on the market available — even an optional heated seat.
Yamaha Ténéré 700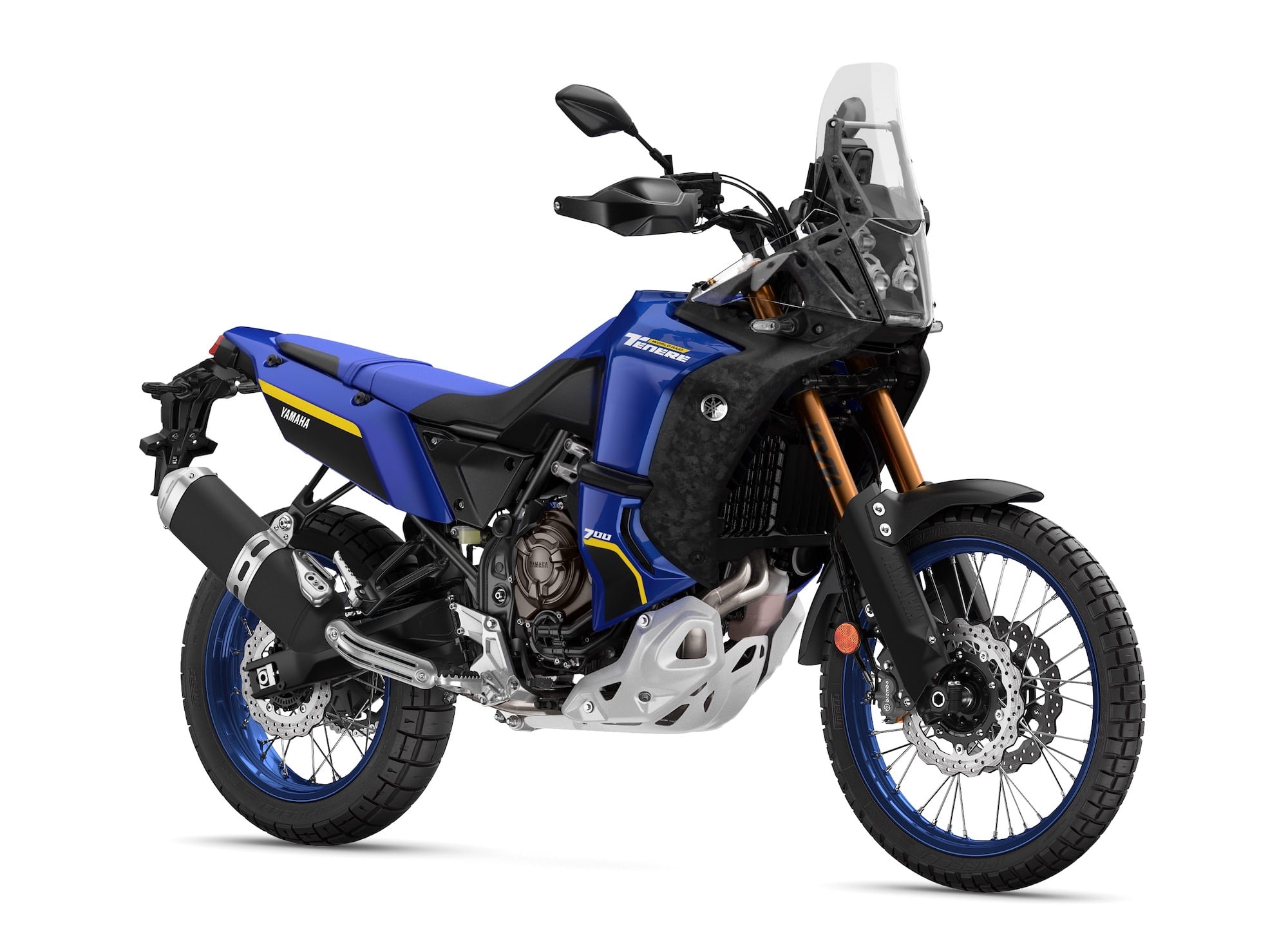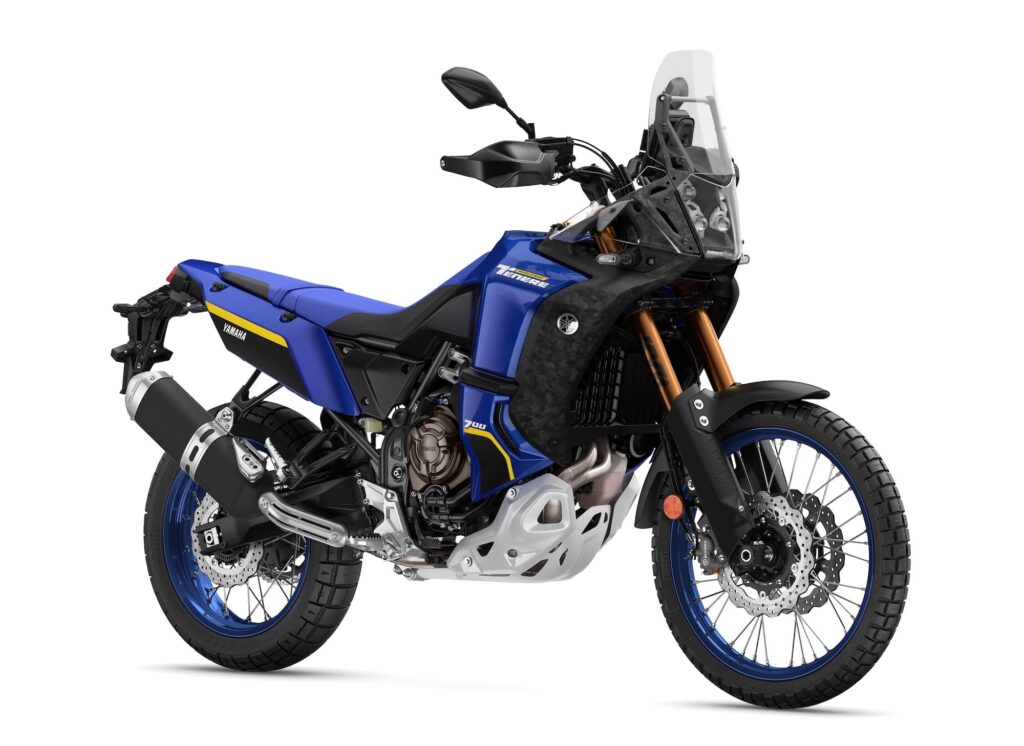 The Yamaha Ténéré 700 is an already-iconic middleweight adventure tourer, powered by the CP2 motor, a character-rich parallel twin we first saw in the Yamaha FZ-07. Yamaha blessed the T7 with an all-new chassis, long suspension (even longer in the World Raid edition), and classic good looks from the previous Ténéré 660. The Yamaha Ténéré 700 hasn't got much tech in it, but that doesn't stop people from loving it. See here for a full breakdown between the variants of the Tenere 700.