Sport tourers are having something of a revival of late, despite the attempts of "adventure" (or "upright") sport tourers to steal the show.
But no matter how comfortable those upright mile-munchers are, it's very hard to make them look "cool". Call me superficial for thinking about how a bike looks, if you will, but I partly can't help but think that way about sport bikes; they're all in my face in MotoGP and at track days.
When I see a racer get their knee down, I think "I want to feel like that", and imagine it at every instance. But no matter how fast I'm actually riding, it's very hard to do so atop a Multistrada or a BMW R 1200 GS.
I also know, though, from experience, that sport motorcycles wear me out after around 30 minutes of finagling their clutch in traffic, shaking my right hand to wake it up, and sitting upright to stretch my back. Some people accept the trade-offs with glee, and everyone has different roads around them and a different body to fit on the bike (shout-out to all my 60+ readers on Yamaha R1s and the like!), but I also know that my experience of finding sport bikes uncomfortable is not unique.
That's where sport tourers come in. Their clip-ons are just a little higher, as is their fairing, so you can sit up a little more and have a bit less wind on you. They have luggage options. Their service requirements are a little less intense, as the motors are less highly strung — but still very quick. And finally, they're quite a bit cheaper than the high-powered sport bikes of the day.
I'll look below at a few motorcycles from my personal golden age of motorcycling — the late 1990s / early 2000s, when there was fuel injection but not a massive amount of ride aids or emissions restrictions. These bikes feel and sound good totally stock. Even inline fours had more snarl to them!
Because decades have rolled on, I'll also briefly examine
Reliability and service requirements (based on "what they say")
Availability
Whether style has kept up with the times
Onward!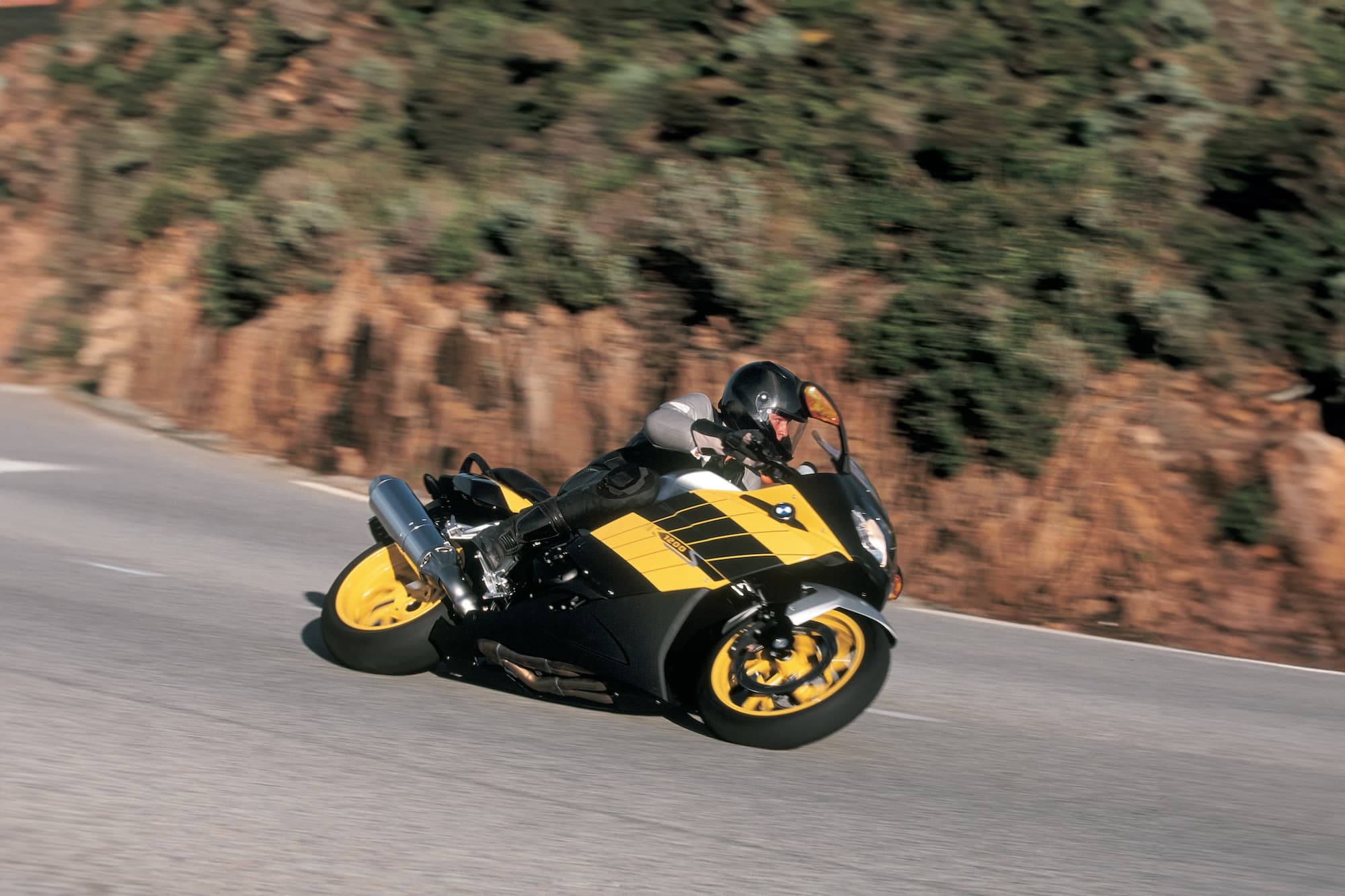 Are you obsessed with motorcycles?
Well, I am. That's why I created this site — as an outlet. I love learning and sharing what others might find useful. If you like what you read here, and you're a fraction as obsessed as I am, you might like to know when I've published more. (Check the latest for an idea of what you'll see.)
Classic Sport Touring Motorcycles — Summary
Below are the sport tourers that were available in the early 2000s. Sport tourers are still alive — but they rarely get all the glory.
Before we get into it — what is "Sport Touring"? It's a nebulous category that many define for themselves. Just like adventure bikes, you can sport tour on anything that's vaguely sporty. Early sport bikes are sometimes thought of as called sport tourers, just because they're more comfortable than modern ones.
But if you look at the below motorcycles, they're bikes that are somewhere between the ranges of "all-out speed, but in a degree of comfort", and the classic cop bike compromise of "all-day comfort, but fast".
So I'll exclude on the one hand bikes like the Hayabusa, Blackbird, and ZX-14R, and on the other hand the Concours, FJR1300, and ST1300.
Note: For some bikes below I've just picked one generation/model for this comparison, but there are other similar ones (e.g. you could pick a Ducati ST2 instead of an ST3). I note that in the sections below.
Item
Aprilia Futura RST 1000
BMW K 1200 S
Ducati ST3s
Honda VFR800 (5th gen)
Triumph Sprint ST (1050)
Years
2001-2003
2002-2008
2006-2008
1998-2001
2005-2010
Engine
Rotax 60-degree V-twin, liquid cooled, 4V per cylinder, DOHC
Inline four-cylinder, transversely mounted, 4V per cylinder, DOHC
Liquid-cooled Desmodromic V-twin, 3V per cylinder ("DesmoTre")
90-degree V4, DOHC, 4 valve per cylinder
Inline 3-cylinder, 4 valves per cylinder, DOHC
Capacity
998 cc
1158 cc
992 cc
781 cc
1050 cc
Peak power
84 kW / 114 hp @ 9250 rpm
123 kW / 167hp @ 10250 rpm
75 kW / 102 hp @ 8750 rpm
81 kW / 110 hp @ 10500 rpm
92 kW / 125 hp @ 9100 rpm
Final drive / Swing arm
Chain, single-sided
Shaft, single-sided
Chain, dual-sided
Chain, single-sided
Chain, single-sided
Suspension
Showa USD 43mm fork, rebound / preload adjustable
Sachs shock, preload/rebound adjustable
BMW Duolever front, BMW Paralever rear. Optional ESA (frequently fitted)
Fully adjustable inverted fork and rear shock
41 cartridge fork, conventional, preload adjustable, Monoshock, preload and rebound adjustable
45 mm fork, adjustable preload, and fully adjustable monoshock rear
Front brakes
2 x 320 mm discs, 2-piston calipers
2 x 320 mm discs, 4-piston calipers (see below for detail)
2 x 320 mm discs, Brembo 4-piston axial mount calipers
2 x 296 mm discs, 3-piston calipers
2 x 320 mm discs, 4-piston calipers
Weight (tank full)
243 kg / 535 lb
248 kg / 547 lb
231 kg / 509 lb
(+/-5%)
226 kg / 498 lb
241 kg / 531 lb
Sport tourers spec comparison, high level
Note that the quoted weight for the VFR800 5th gen was dry; people measured between about 225 kg and 235 kg, but everyone has different aftermarket accessories on there that add or reduce weight.
A lot is similar between the motorcycles. They're all pretty heavy (heavier than any litre-class sport bike), though the BMW K bike makes up for it a little with power output.
What's really different is the configuration engines. A V-twin, a desmo V-twin, a triple, an inline four and a V-four! And there's quite a range of capacity, too.
More details on all of these below.
Aprilia RST 1000 Futura (2001-2003)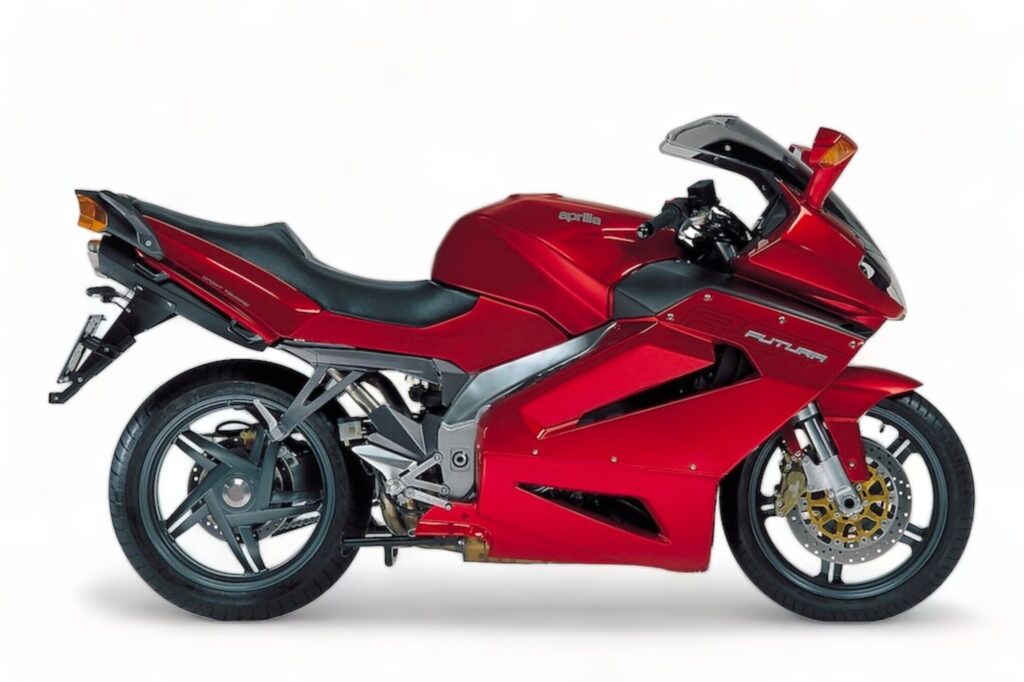 "What the **** is that?" you may be crying, as I first did. Partly because it looks great, and partly because I just don't see many Aprilia bikes on the road.
Aprilia motorcycles aren't the most popular brand in terms of numbers — heck, they still sell more scooters than they do big motorcycles. But they're awesome, and one of those brands that people say you have to have owned at least once in your life. A lot of owners rave about the V-twin and V-four engines as having loads of character and performance, as well as being very reliable (with one caveat, below).
In the early 2000s, there was one dominant motor at the top end — the Rotax-built V990, a 998 cc 60-degree liquid-cooled V-twin. Aprilia used it in their RSV Mille and subsequent bikes, the RSV-R Tuono, the Aprilia Caponord upright adventure bike, and the Futura sport tourer.
Aprilia de-tuned the RSV-R's motor slightly for the Futura. It still makes healthy peak power of 84 kW / 114 CV hp at 9250 rpm, right there in the sporty middleweight sweet spot — similar to today's Ducati Supersport 950, for example.
Decades after their release, there are very few Futuras for sale. But if you ask around, someone may want to part with theirs.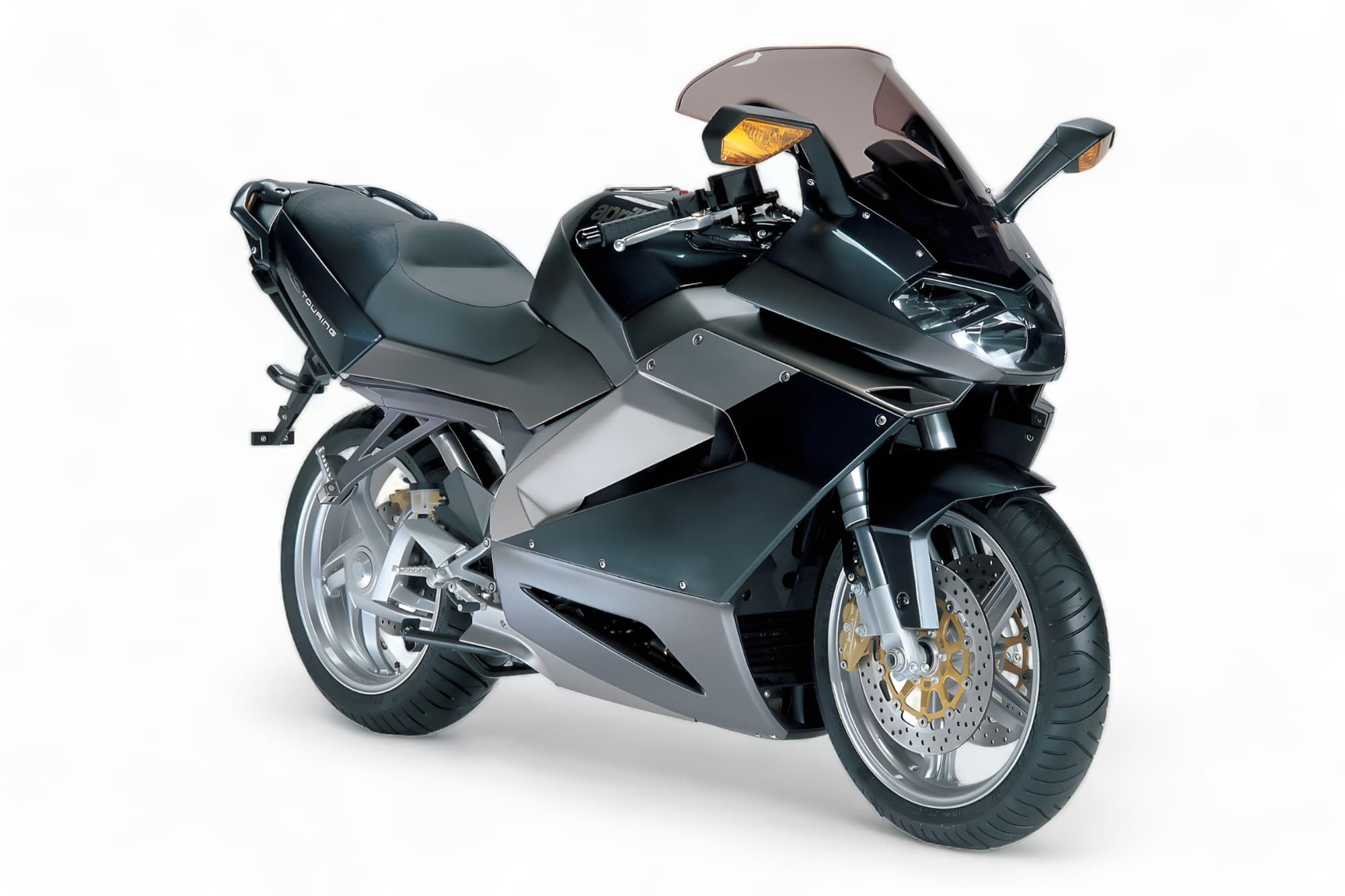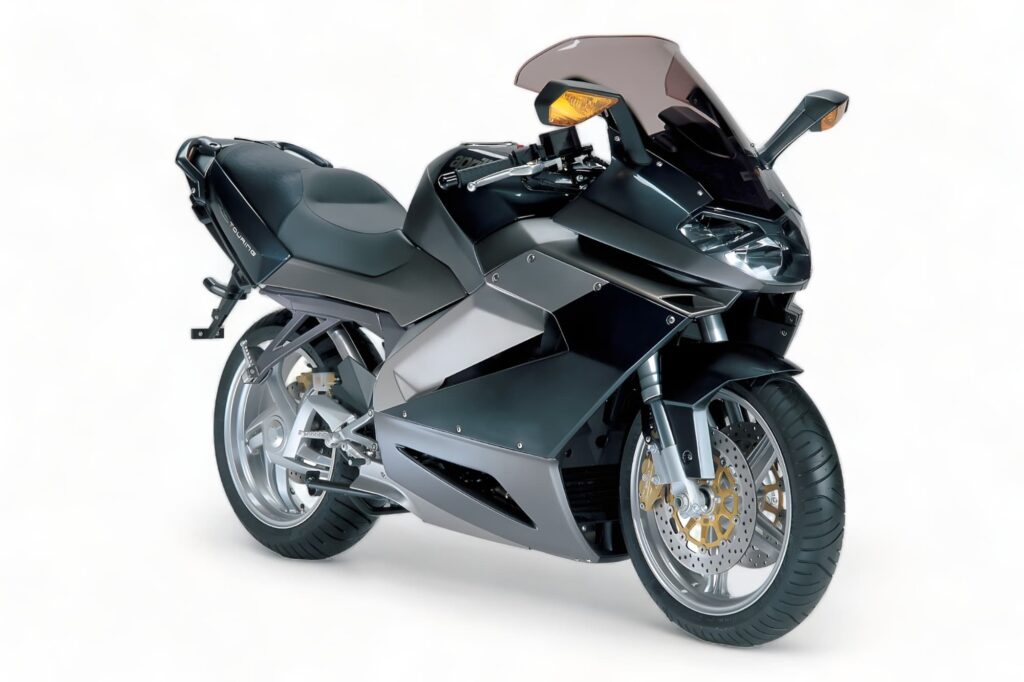 Look at that thing! A single-sided swingarm, inverted fork, and bright red paint… it means business. The angular styling of the early 2000s is perfectly captured in the Aprilia. Call me dated, but I don't think it looks dated.
One thing I particularly like is the dashboard / console of early Aprilia bikes. They look like those of 80s sport cars!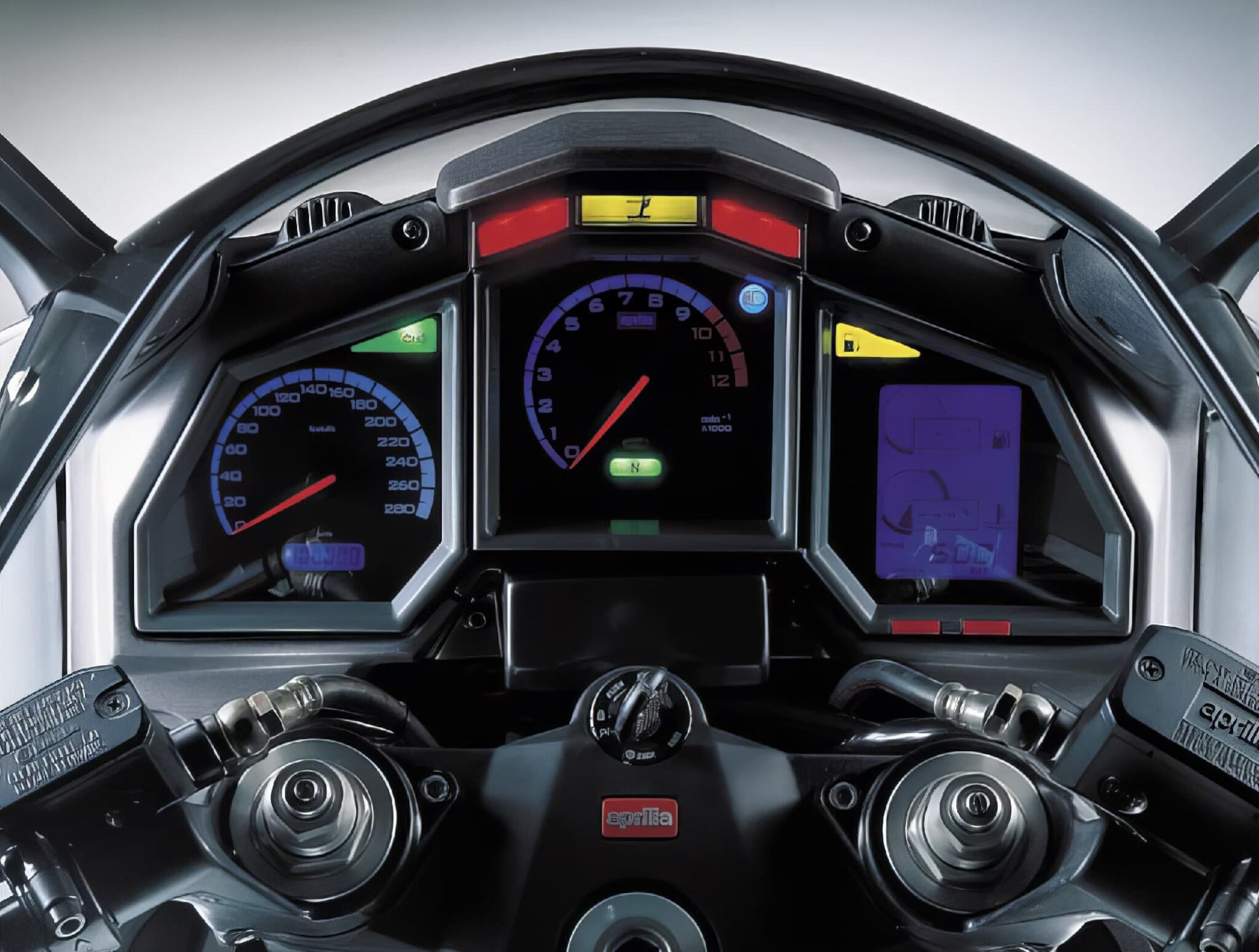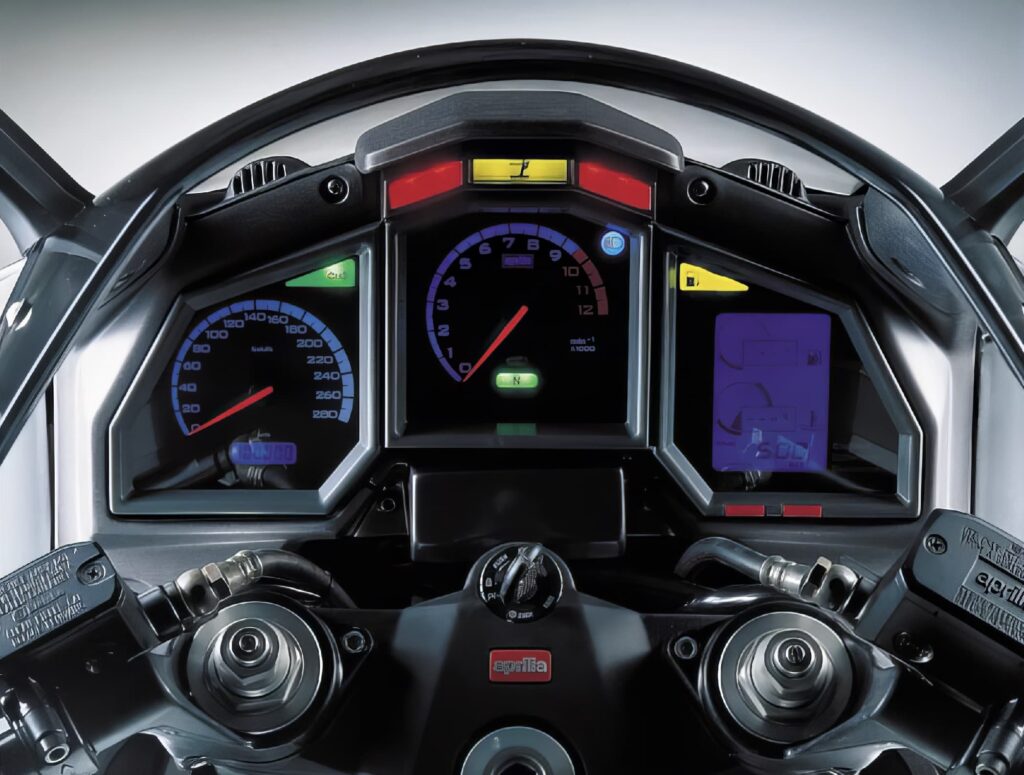 The main caveat for Aprilia V-twins is that there are frequently electrical gremlins. A combination of old wiring (not Aprilia's fault per se — the spectre of age doth come for us all) plus sometimes weird routing and cheap connectors mean that many an Aprilia owner has found erratic behaviour, like a bike that won't start or that dies on the highway. You have to develop comfort with a multimeter and soldering iron if you want to own an Aprilia — or buy one with the whole wiring loom replaced.
At least check that the "wiring mod" has been made — see here on the Aprilia Futura forum for details.
A second caveat is that parts are harder to come by for early Aprilia motorcycles, due to general low numbers for the brand in general.
But if you want an Italian motorcycle but don't want to pay for Ducati branding or Moto Guzzi "heritage" value, then Aprilia's the one for you.
BMW K 1200 S / K 1300 S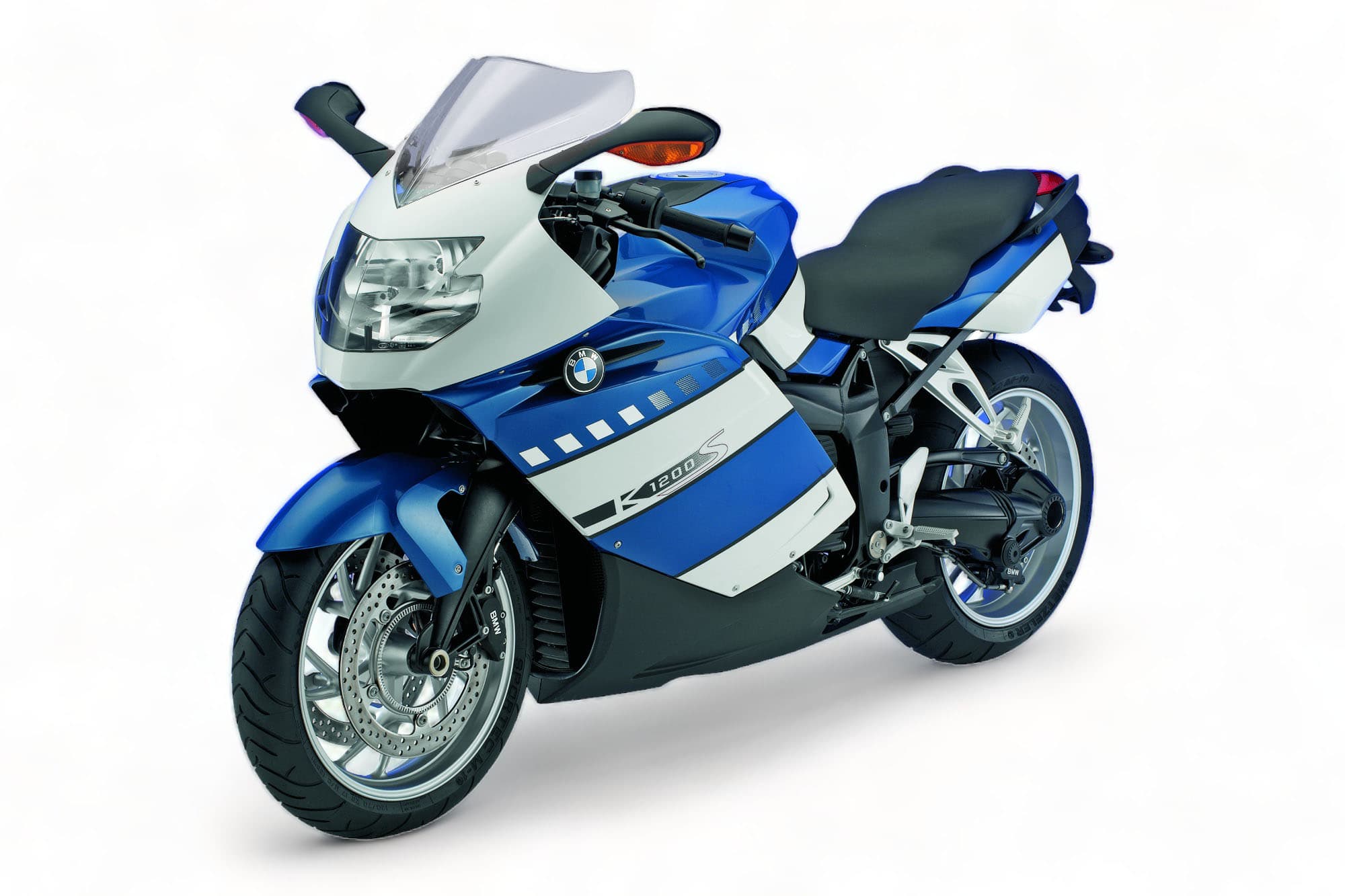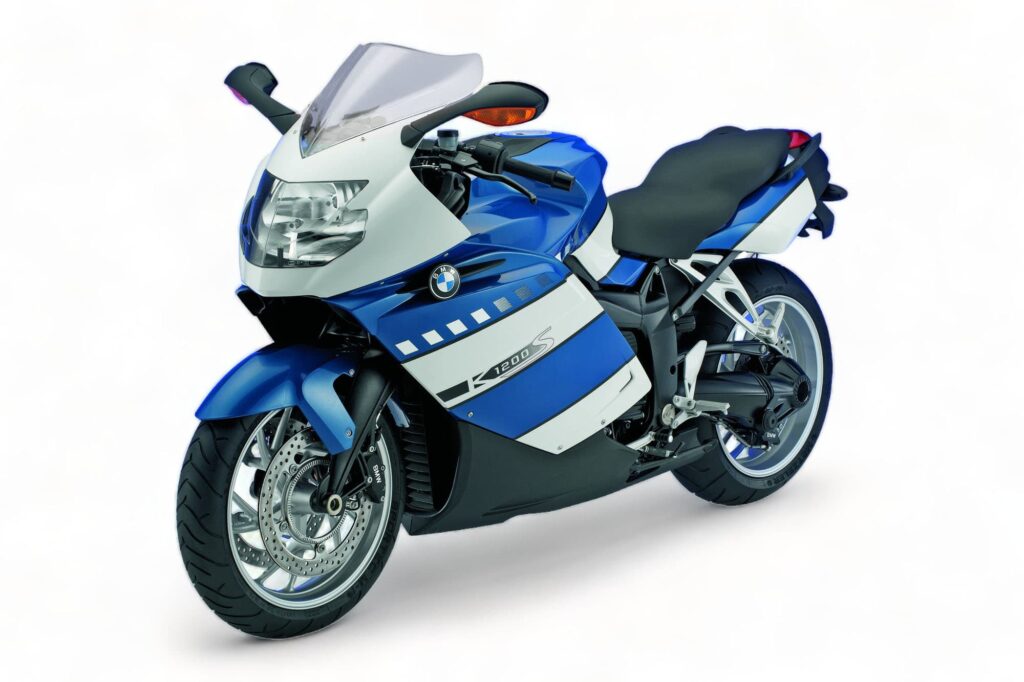 This might seem like an unfair entry, as it's in the territory of the Hayabusa and Honda Blackbird. But when BMW released the K series motorcycles, they did so because they wanted to release a fast bike that was comfortable, and not an all-out sport bike, because that no longer sold, per their boffins.
Of course, hindsight has proven them wrong, and hence the glorious modern history of the BMW S 1000 RR. But still, the K-series sport tourers have a place in many riders' hearts.
There have been K-bikes for ages, of course. However, they weren't all high-speed sport bikes. There was a transition period in the early 2000s where BMW gave up on the "flying brick" format of horizontal engines, and agreed that a transversely mounted engine made more sense. Enter the K 1200 S.
The BMW K 1200 S' engine is a stomper, making over 120 kW / 160 hp in base trim. Considering this bike is the same weight as others in its class, this power output made it blisteringly quick.
Of course, even though it's an inline four, BMW still does their own thing with the K-bikes. The engine is canted a quite intense 55 degrees forward, to keep weight low, and the final drive is still a shaft.
The BMW K 1200 S is loaded with tech. For a bike of this year, it's amazing that it came with not just standard ABS, but even optional electronic suspension adjustment. On top of that, it has a funky suspension setup (Duolever front, Paralever rear), which means it's very stable under acceleration and braking — which can be disconcerting for some riders, mind you.
In terms of maintenance, the shaft drive keeps it low. But there's still the valve service (every 18000 mi / 30000 km) valve service interval, which will sneak up on you. The BMW K 1200 S was one of the first bikes to have a CAN bus, which makes electronics diagnostics easier, in theory, with fewer wires to fail around the bike.
See more about the CAN bus here.
Despite this, the K 1200 S has been known by many owners as being a bike with several fundamental problems. It had the "whizzy" ABS brakes until mid-2006 (when it transitioned to Integral ABS II). When whizzy brakes fail, they leave you with residual braking only, which means it's very hard to stop. This means an expensive replacement bill, as repair options are few and dwindling.
A few other problems owners have cited are coils needing replacing (not hard, but access is), and ball joints on the front Duolever suspension.
If you want all that but less hassle, then come to the end of the 200s and get yourself a BMW K 1300 S, in which many problems from the K 1200 were rectified.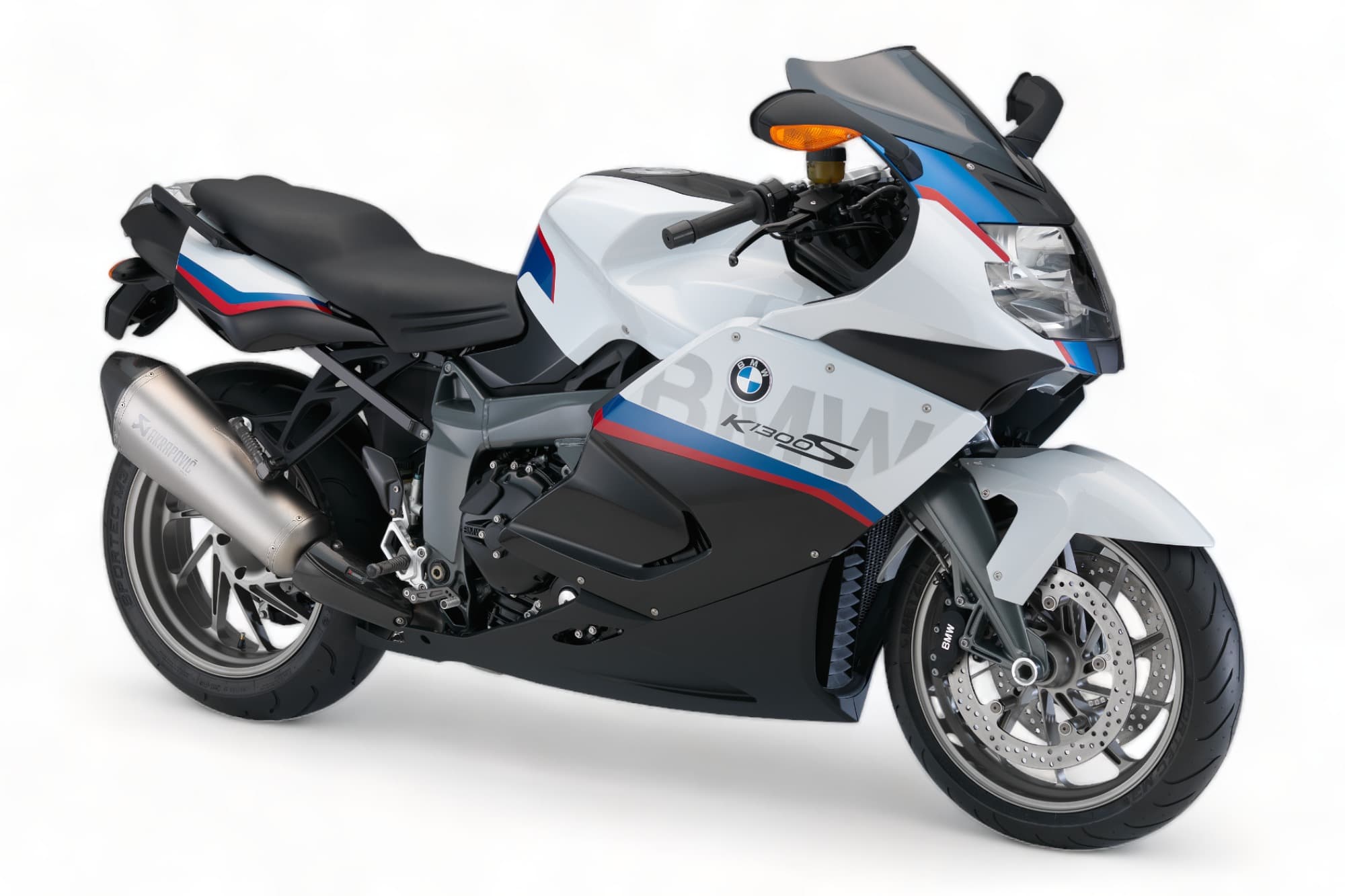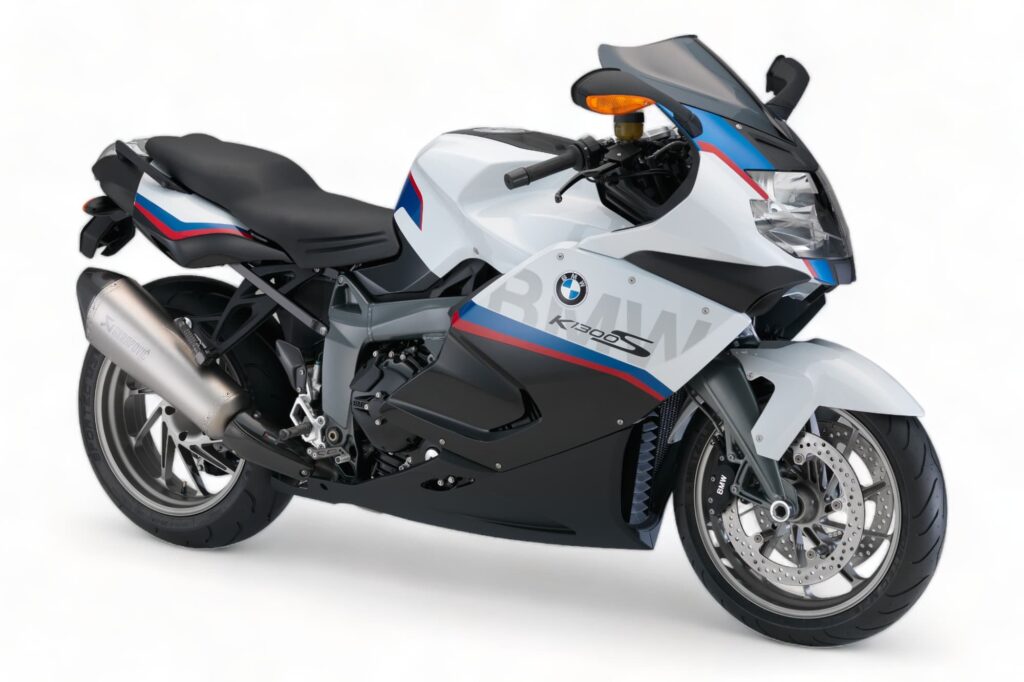 Ducati ST2 / ST3 / ST4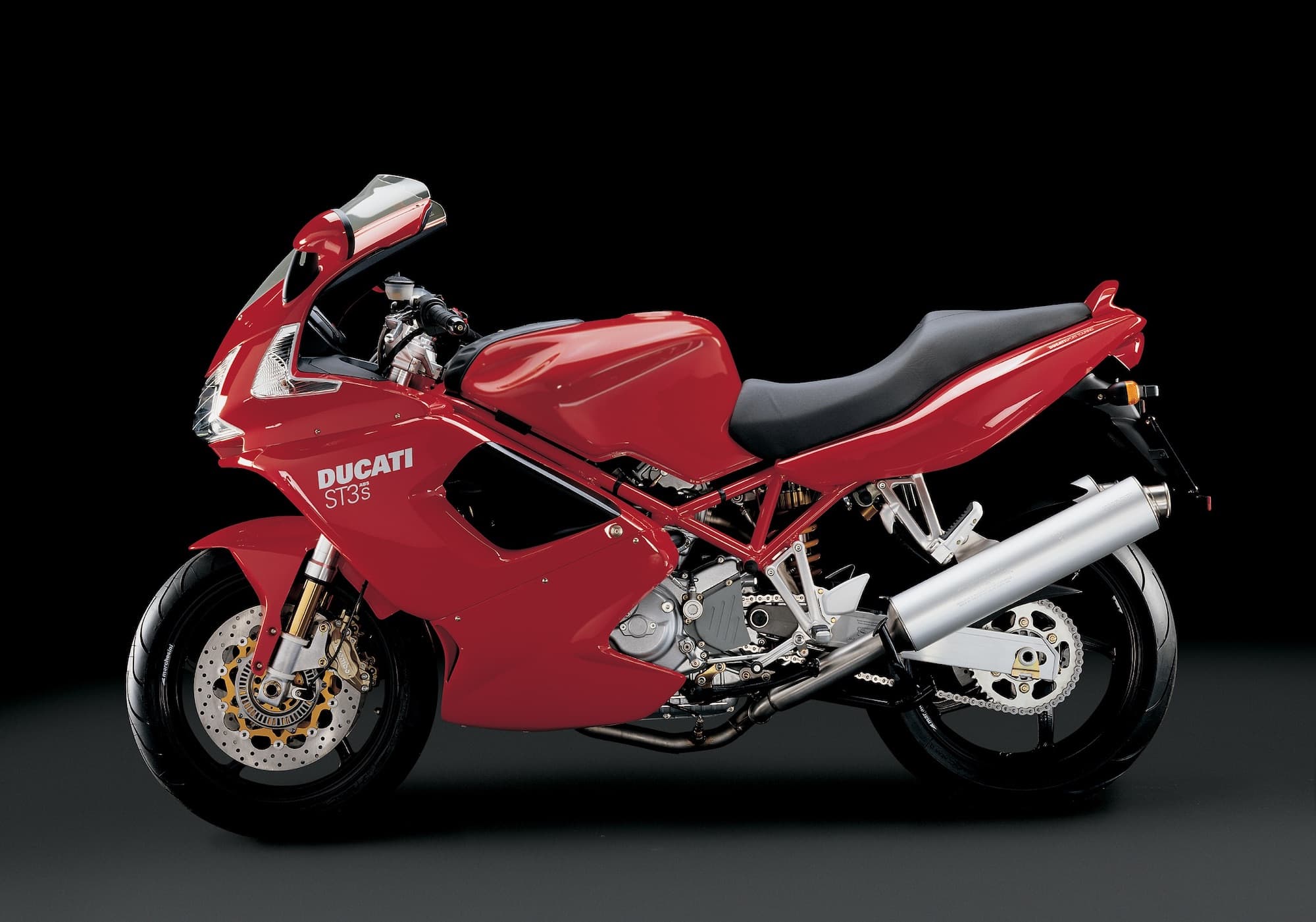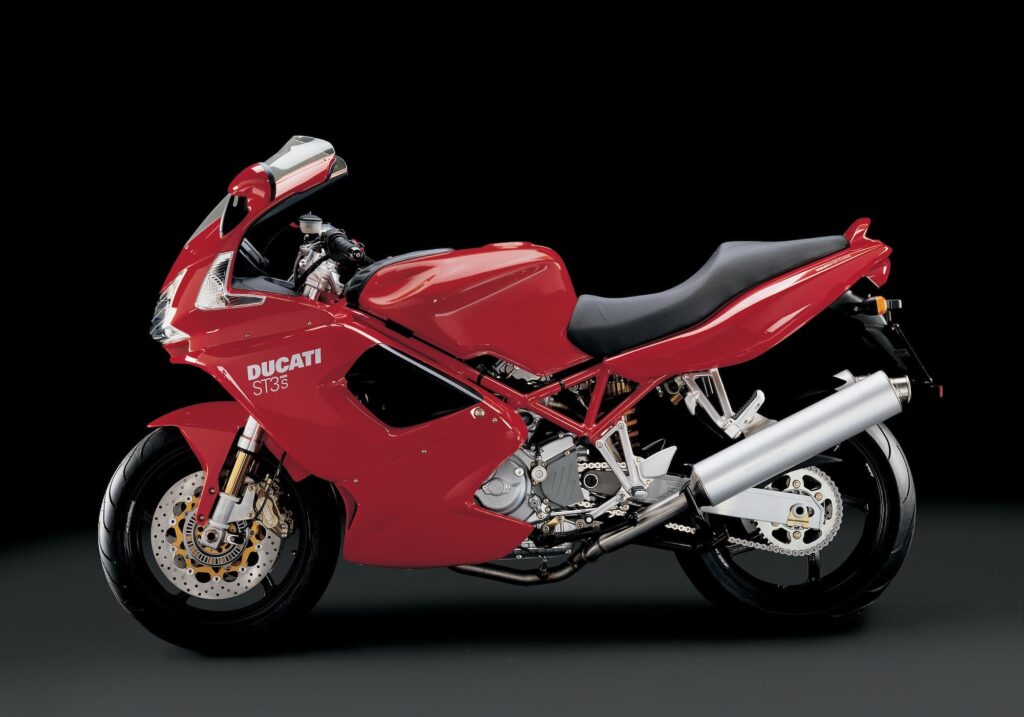 The Ducati ST (Sport Touring) series is a sleeper — superbike liquid-cooled motors shoehorned into a bike with a comfortable riding position and luggage options.
… Sleepers apart from the bright red or yellow, that is, or even the glossy black.
While the early ST2 and ST4 look a bit dated (the front headlight just looks a bit 90s), the ST3, ST3s, and ST4s still look great, if somewhat rotund by modern standards.
All the motorcycles are based on a 90-degree liquid-cooled V-twin. They all have somewhat different pedigrees, the ST2 coming from the air/oil-cooled twins but with liquid cooling (and a power bump), and the others coming from the superbikes, but with different heads.
The Ducati ST3 / ST3s is particularly odd, with the bottom end from the 992 cc Desmodue motors (e.g. in the Multistrada 1000DS), but with liquid cooling, and a 3-valve-per-cylinder head designed to be a compromise between 2-valve low-end grunt and 4-valve top-end performance.
See the guide to Ducati engine types and their names here.
The ST series generally are in good condition used, and sell cheaply, as they're kind of unsexy — but only in comparison to the sport bikes and nakeds. Personally, I think the STs are pretty good-looking for sport tourers.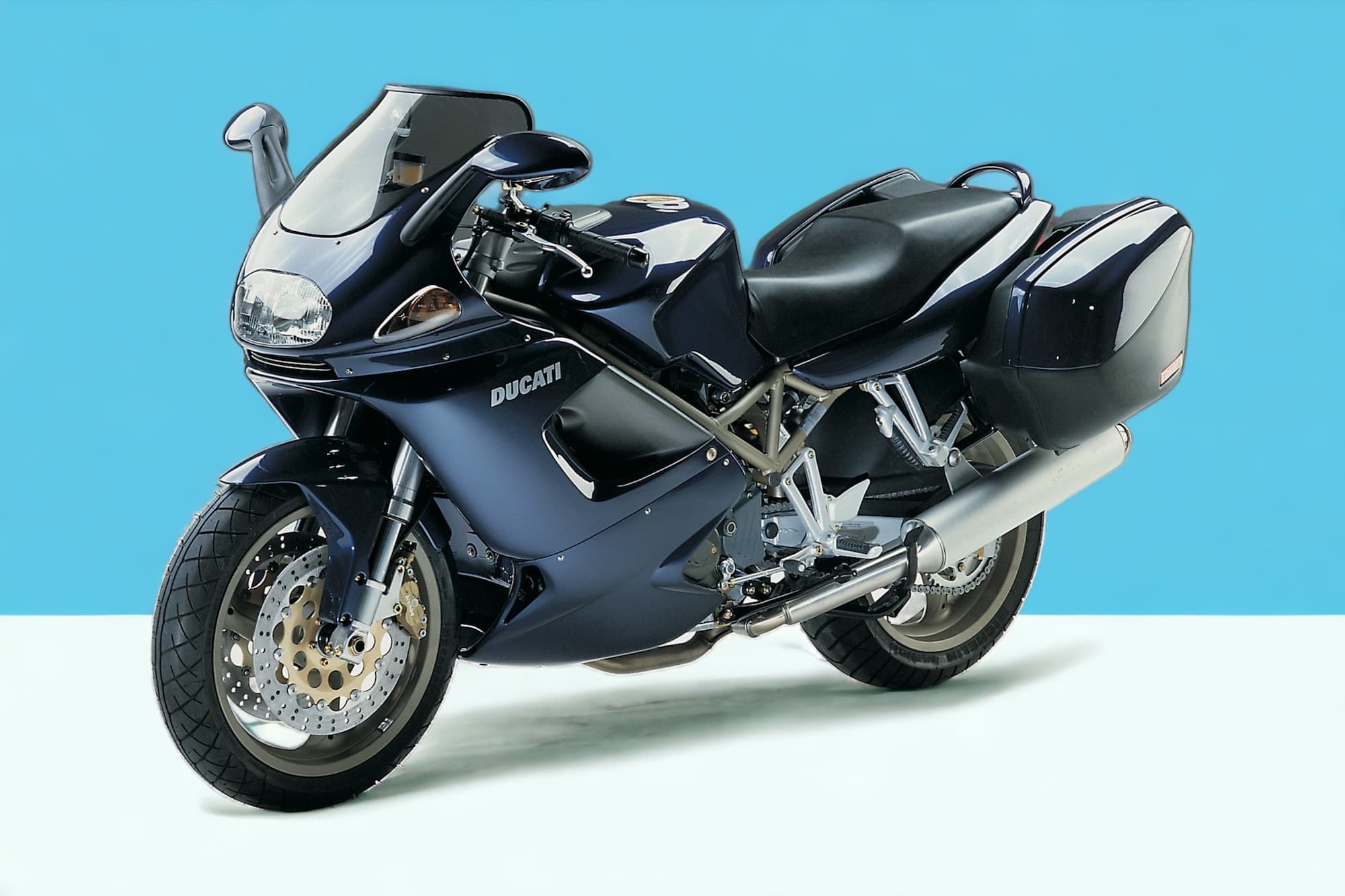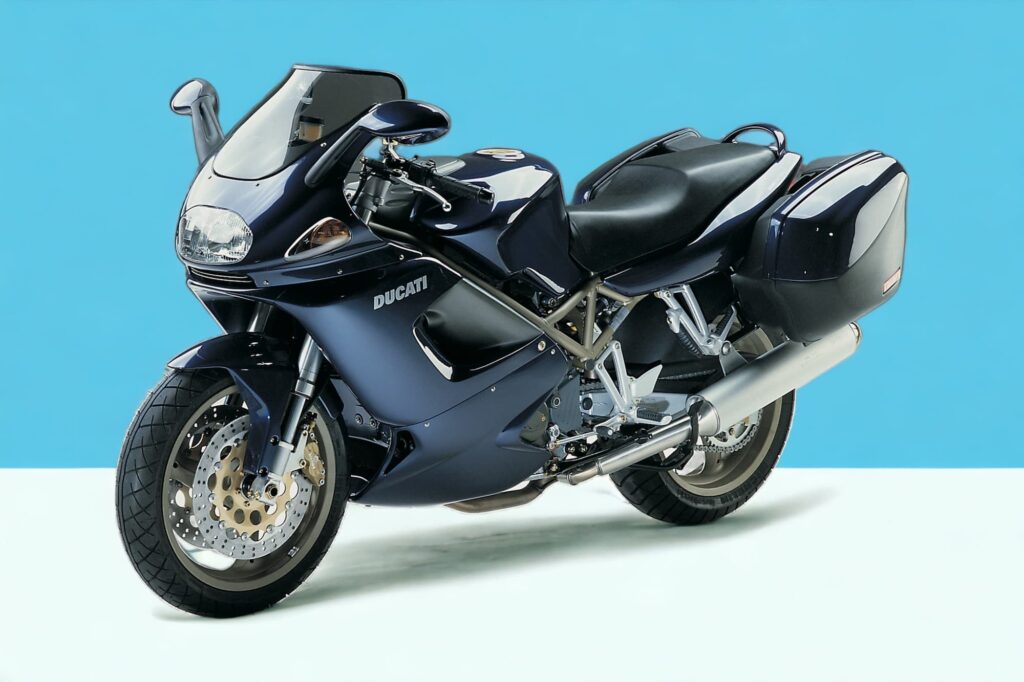 The only fly in the ointment of most early Ducatis is the desmo valve service interval and belt replacement schedule, which can add up to around a third of the price of a bike, every time, and they come up quite often (every 6000 miles / 10000 km).
On a sport touring bike designed for distance, this level of maintenance amounts to an expensive part of ownership. But at least it's doable by the home mechanic.
See here for a more complete guide to the ST series.
Honda VFR800 5th Gen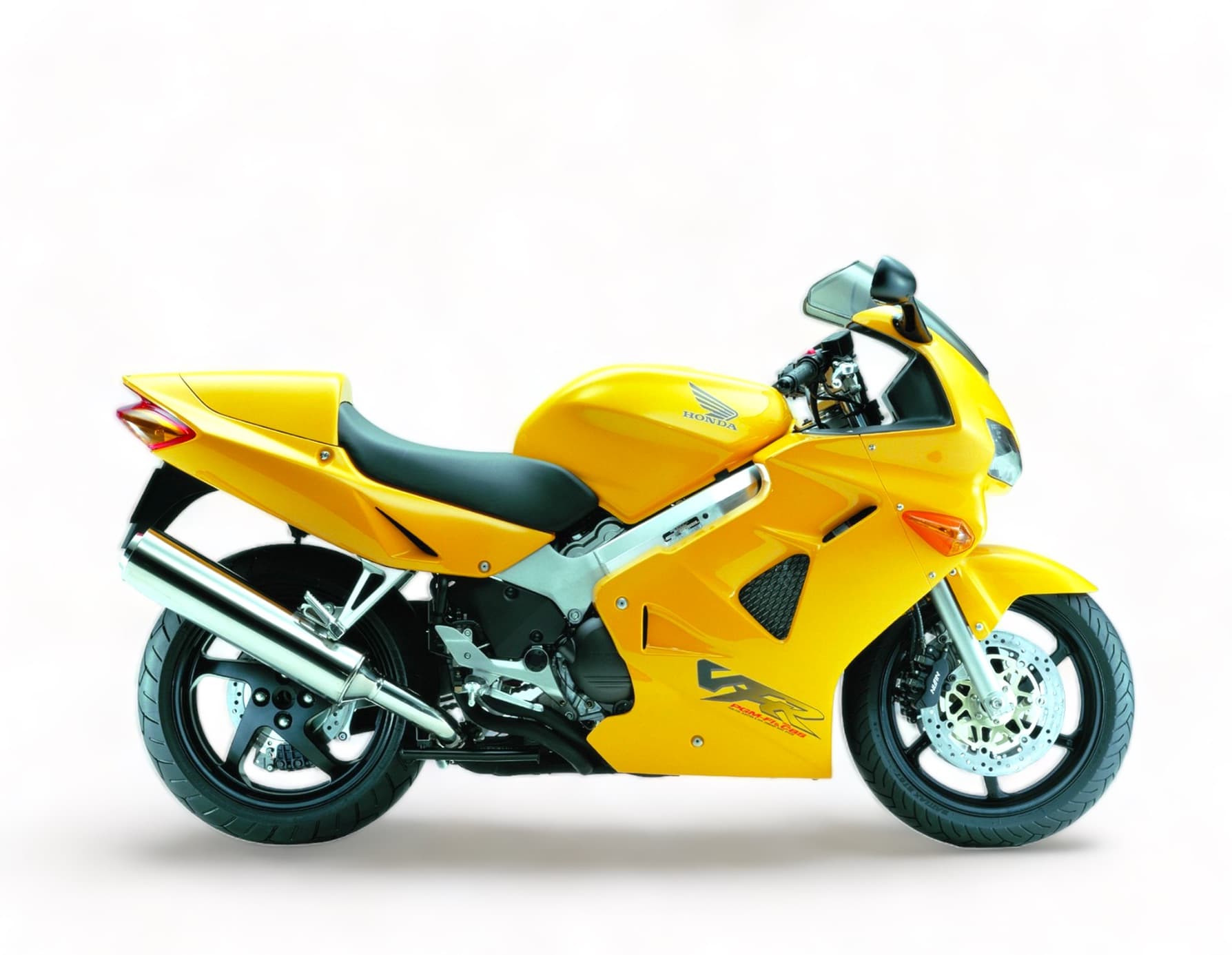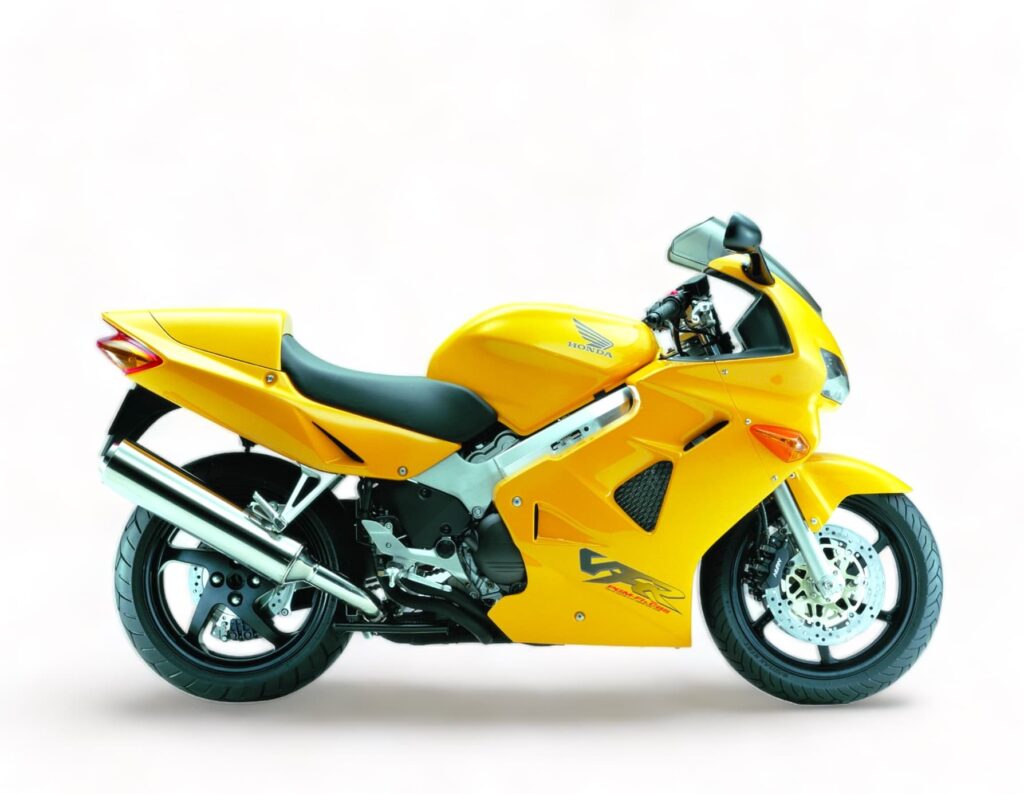 The Honda VFR800 is an iconic middleweight sport touring motorcycle that's adored by its passionate fanbase for being a bike that does everything well.
See the complete Honda VFR800 generation guide.
While it's thought of as a sport tourer, it only gradually evolved into that role, and it was never explicitly marketed as such; more as a do-everything sport bike. But being less sporty than the FireBlades, it became a sport touring bike by deduction.
The Honda VFR800 has style, a cool V4 engine, comfort, reliability, and enough speed… though it won't set speed records or scare you when you yank the throttle.
The VFR800's special sauce is the V4 motor — a rare thing in motorcycling these days, other than in very high-end, high-power motorcycles, like those from Ducati or Aprilia. The earlier gens had a lot more bark to them than the latest VFRs, which is what makes this gen and the 6th gen special.
In the Gen 5 VFR800, the 781 cc V4 makes a modest 81 kW / 110 hp at 10500 rpm, similar to later ones. It's definitely enough pep for most people. The roar of the 5th gen's engine makes up for the lack of absolute pull.
Many consider the 5th to be a sweet spot in generations — the first with fuel injection, but before too many emissions restrictions, and before VTEC interfered with power delivery in the 6th gen. In fact, the 1999 / 2000 model don't even have closed-loop fuel injection. Plus, the gear-driven cams make for a more interesting engine sound, and make valve service a little easier, as there's no timing chain to accidentally drop into the engine case securely fasten to avoid disasters.
The 6th gen is also a very cool bike, mind you, and only slightly less popular than the 5th. I'm a big fan of the 2007 Anniversary Edition with its tricolor fairing. VTEC is interesting, anyway, like a turbo, and Honda ironed it out in the later years of the bike.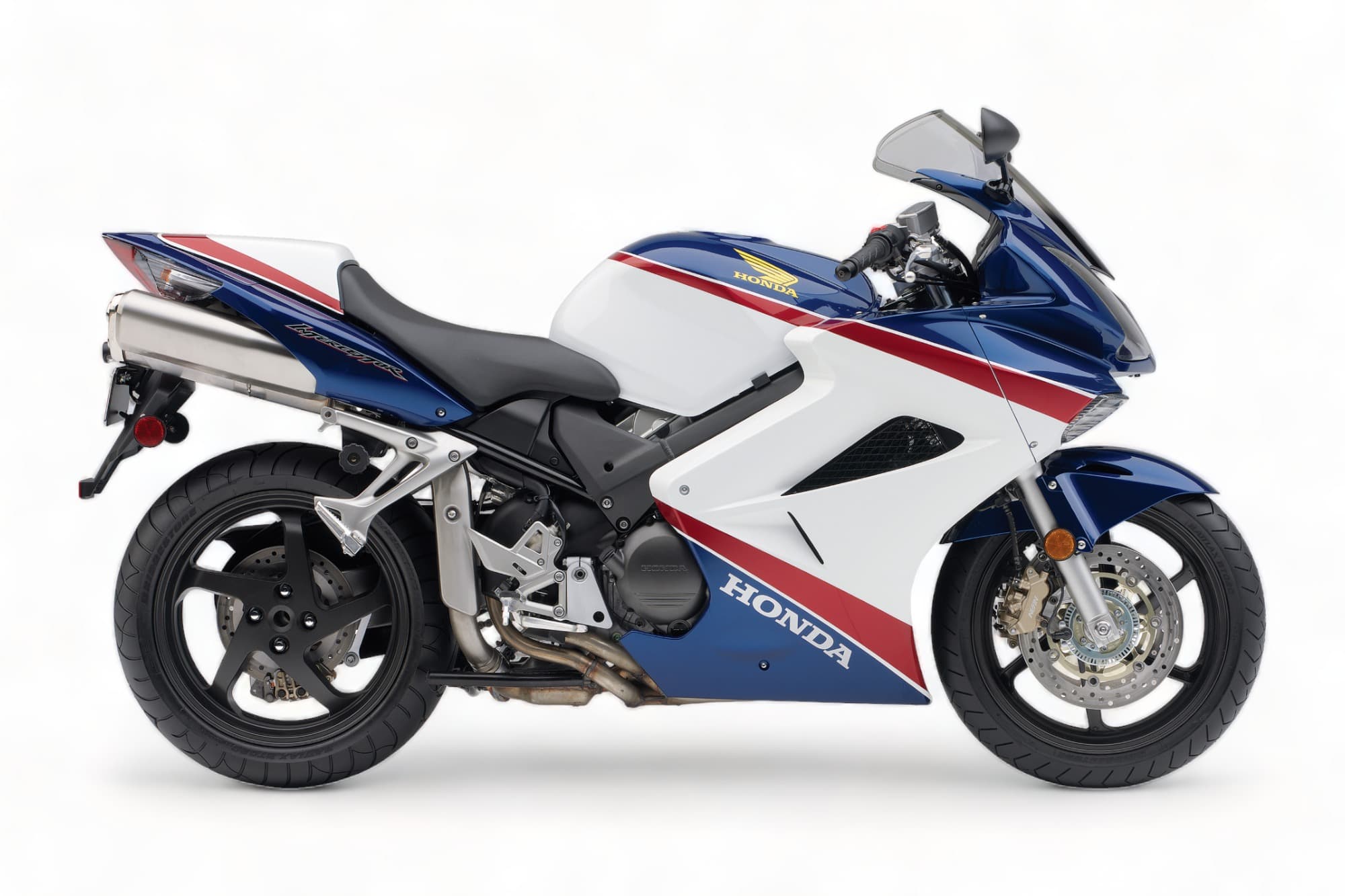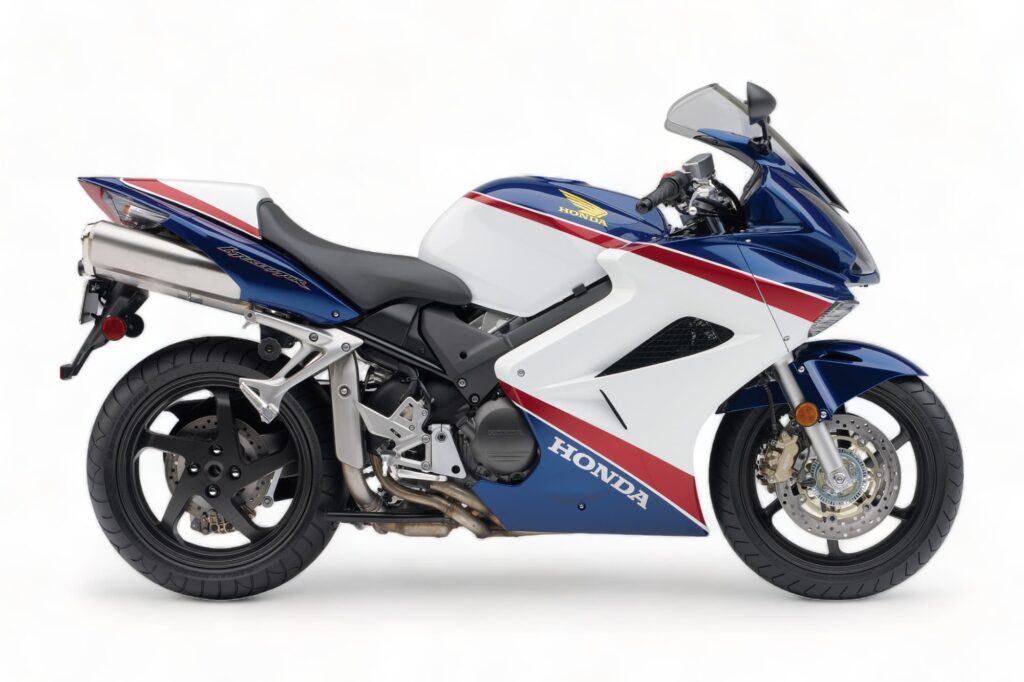 Honda also released a larger VFR1200X, which wasn't as popular as the 800, but which many enjoy as an alternative to the BMW K bike.
Triumph Sprint ST / GT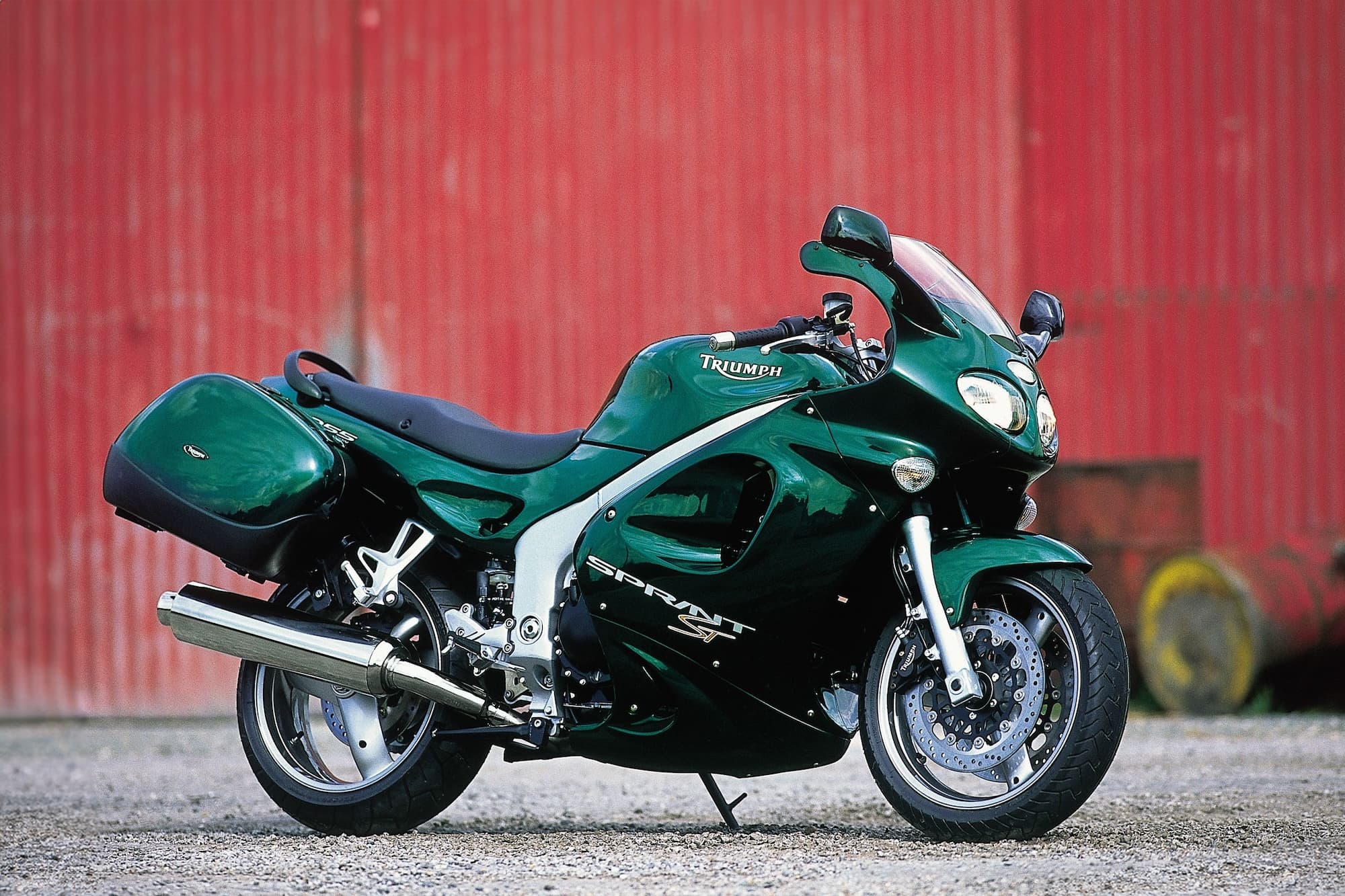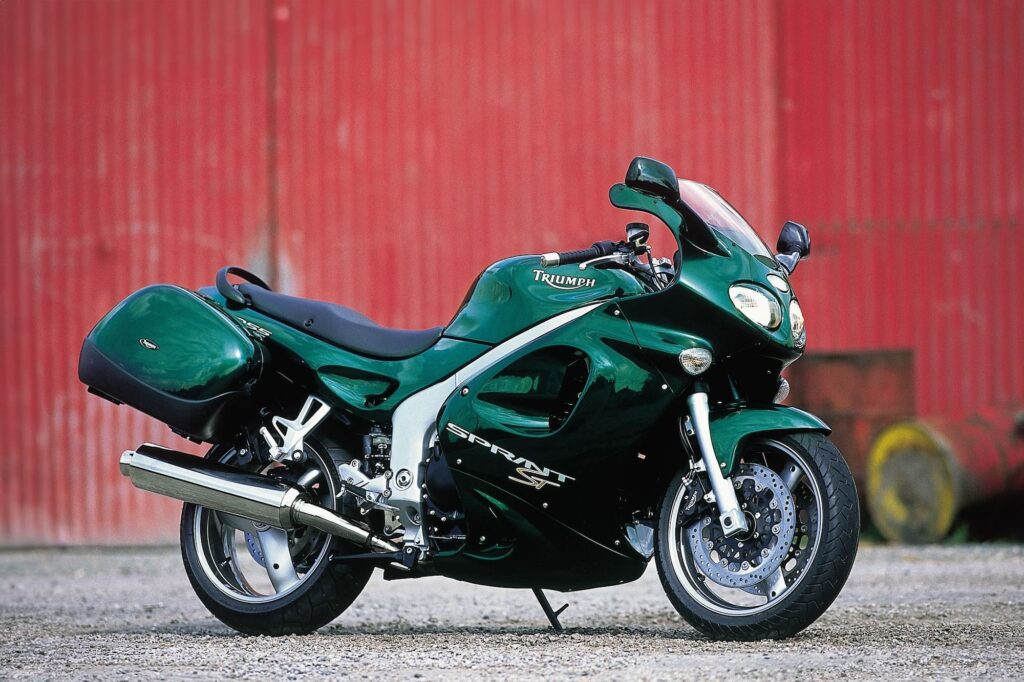 Triumph made the Sprint ST sport tourer between 1999 and 2010, originally with the 955 motor and a more bulbous fairing. With twin headlights, a single-sided swing arm, and dazzling colours, it still is eye-catching today.
The Sprint ST took the 3-cylinder 955 cc motor from the Daytona motor, retuned in the same way that it was for the Speed Triple and Sprint RS (the sportier sport tourer). It made a claimed peak of 80 kW / 110 hp at 9200 rpm — again, right in the middleweight sweet spot.
These early 3-cylinder motors were raging. Like four-cylinder motorcycles, the earlier triples had more bark and snarl to them. Emissions restrictions have quietened not just exhausts, but engine casing noise. Noise isn't always good, but for the lover of old tech, it's nostalgic. (I know, it can also get a bit old, especially when every noise could be a bad noise… "Was that one there before?")
But if we're going to look back decades, as we are, then the best period for the Sprint ST is from 2005 onward, when Triumph blessed the Sprint ST with the 1050 motor, the same as in the Triumph Speed Triple.
In fact, Triumph didn't even make a Daytona 1050. So from 2005 onward, the Sprint ST was the sportiest big-capacity motorcycle that Triumph made.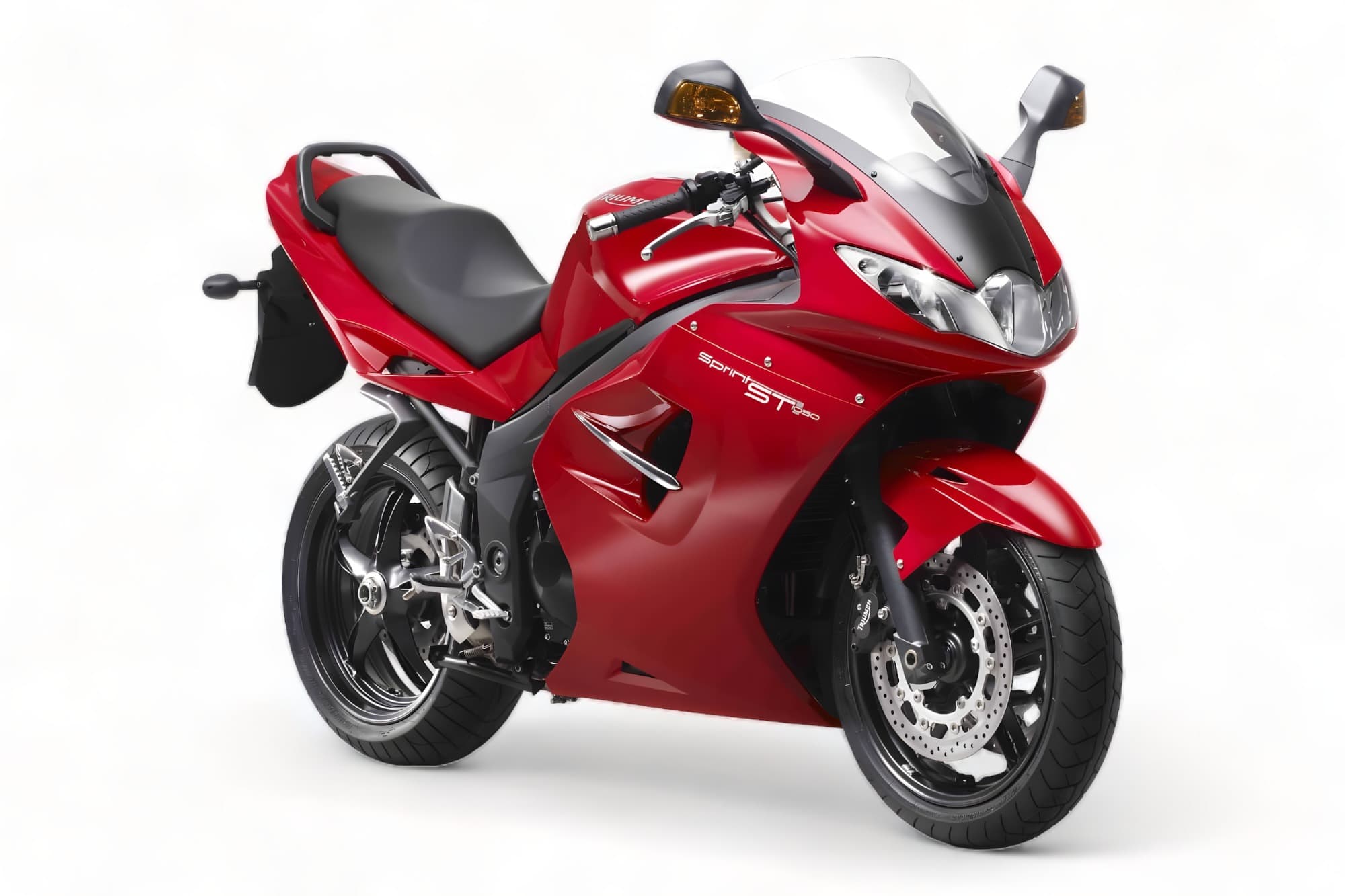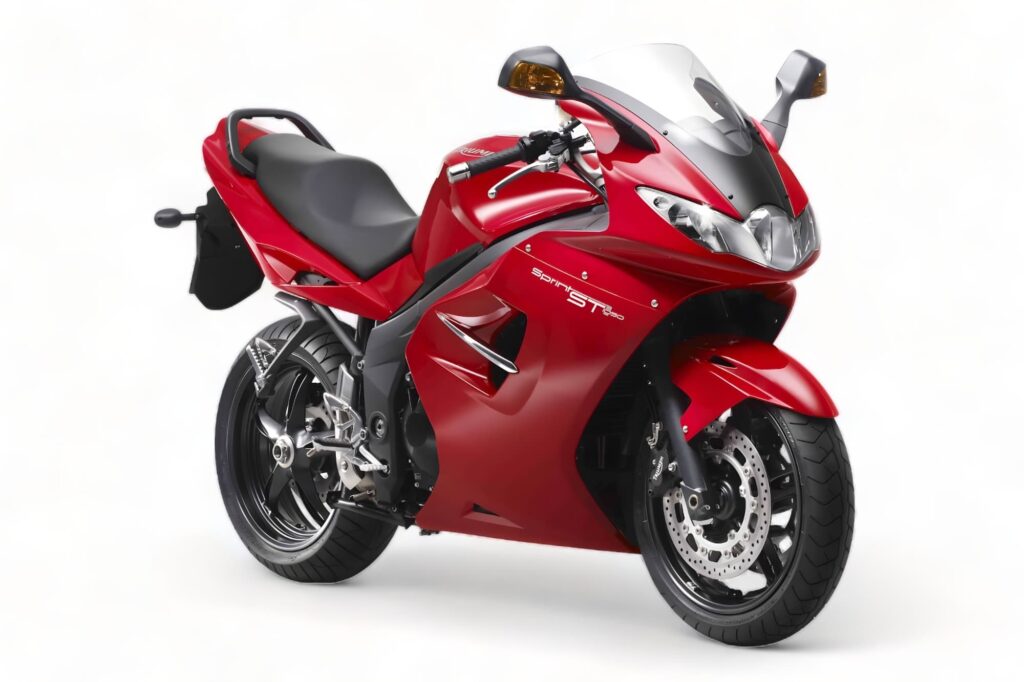 At the same time as upgrading the motor, Triumph significantly upgraded the look of the Sprint ST. So, the Triumph really has it all — good looks, power, character, and, according to many happy owners, reliability. The 1050 motor is legendary for having torque everywhere and a wonderful sound and feeling when it revs.
The main "known problem" I've dug up is an old-style regulator rectifier, which if burns out, can also take out the stator and battery (argh, has happened to me before, though on a different bike). So it'd be prudent to replace it — they're cheap, and generic ones can be fitted.
From 2011, Triumph upgraded the Sprint ST and released the Sprint GT. The GT has the same basic powerplant and much the same soul, and has much better storage, but loses the under-seat exhaust (cheers for rider and passenger comfort; jeers for style). Both bikes got marginally more power.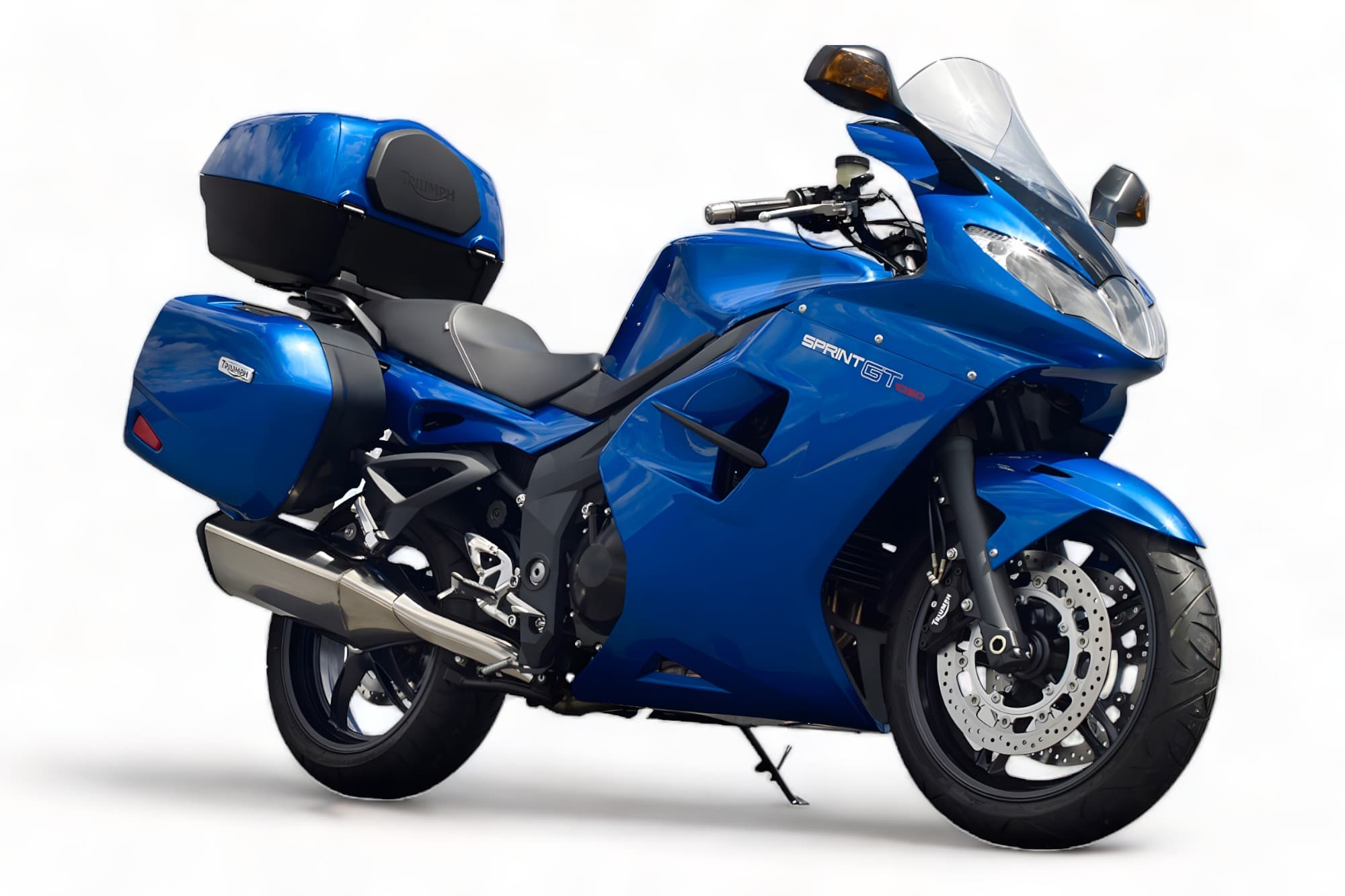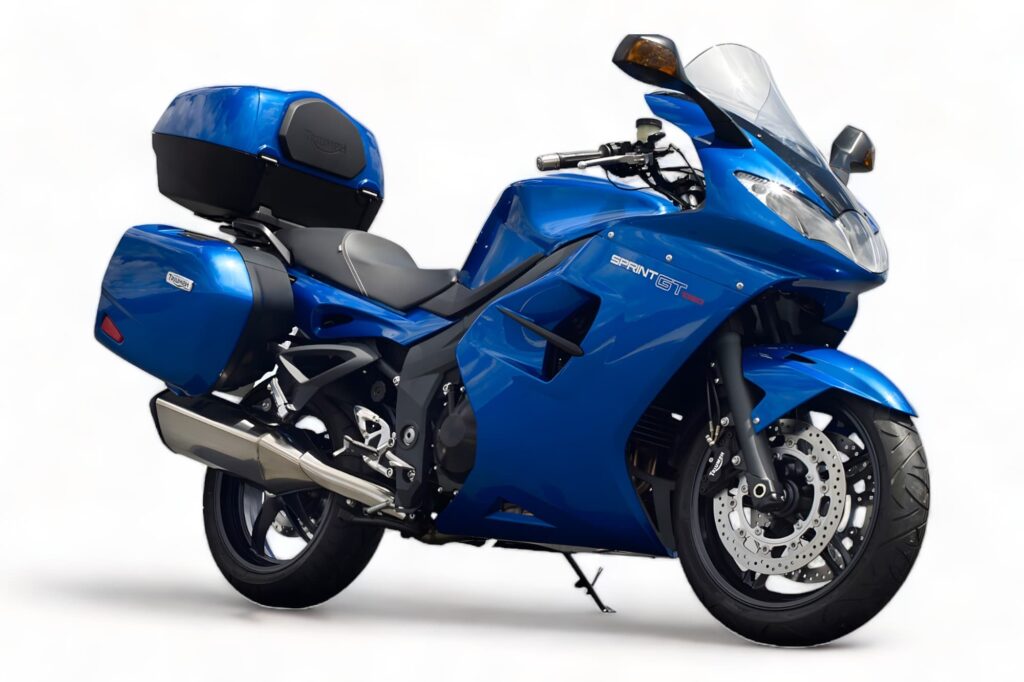 Wrap Up
While this is a nostalgic list about late 90s / and 2000s sport tourers, I'm happy to see they're making something of a revival. The class isn't dead, despite "adventure" (or "scrambler") being shoved in front of everything!
But I still like motorcycles from that era. Aside from being a little noisier and more unruly, they're undoubtedly cheaper. And many of them are still in good condition, and with the right preventative care (wiring, rectifiers, etc.), can still last a long time.
These days, there are still sport tourers, like are the BMW R 1250 RS, Kawasaki Ninja 1000, available since 2011, and the Suzuki GSX-S1000GT (a successor to the Suzuki GSX-S1000F, available since 2016).
It's just good to be able to look back and see that you can go back a couple of decades, save 75% of your purchase price, and — barring electronics — get most of what you can get new. Only with a little more nostalgia attached, for free.