In a rising tide of adventure tourers, cruisers, and extreme sport bikes, the Kawasaki Ninja 1000 (also known as the Ninja 1000 SX, Z1000S, or Z1000SX) is one of the last islands of true sport-touring still sold. Why? Because it's still one of the best sport touring bikes made.
The Kawasaki Ninja 1000 is fast without being "champing at the bit" fast, fully-equipped without being too heavy, and sporty while still being ride-all-day comfortable for most people. And it's really well-priced for what you get, either used or new.
So if you think sport touring might be your cup of tea, the Kawasaki Ninja 1000 SX is definitely worth a look, along with a few choice others in the segment.
But you would probably also be curious about the same things I was curious about when shopping for a Kawasaki Ninja 1000, including:
Is the Ninja 1000 SX sporty enough to keep you interested/excited?
How comfortable is the Ninja 1000's riding position? (can you really tour on it?)
What's the Ninja 1000's model history — how did it change year by year? And which is the best year to get?
What are some alternatives to the Ninja 1000, and how does it compare?
Read on for more of all of this.
Are you obsessed with motorcycles?
Well, I am. That's why I created this site — as an outlet. I love learning and sharing what others might find useful. If you like what you read here, and you're a fraction as obsessed as I am, you might like to know when I've published more. (Check the latest for an idea of what you'll see.)
Defining "Sport Tourer" — What's Happening to the Market?
Over the years, rider preferences have shifted, and the sport tourer market segment isn't as popular as it once was. Or maybe it has been redefined.
But what is a "sport tourer"? It's a poorly-defined term and encompasses a lot of bikes, but basically, sport tourer means something like "a sport bike that is also comfortable and well-equipped enough to go the distance".
This basically means
A powerful, revvy engine — over ~100 hp, and (hopefully) not too much weight
A forward-canted riding position (at least slightly)
Fairings to help you cut through the air and protect you from the wind and rain
Options for features like luggage, heated grips, and cruise control
Some classic models of sport tourers have been those that police have opted for, like the Honda ST1300 (no longer in production) and the Yamaha FJR1300 (still in production and still awesome). And another popular choice is the Honda VFR800, which ended in its 8th generation.
The reality is that you can tour on any motorcycle. You can google "touring on an x" where "x" is whatever model of bike you own, and you'll find someone who has asked the question, and lots of advice on how to do it — how to fit aftermarket luggage racks, a comfort seat, and bar risers.
People have toured on Panigales, 600cc sport bikes, and Honda Monkeys. Everything. Here's a guy who did the "Lap of Australia" on a Panigale, for example.
So why focus on a definition? Just because the manufacturers do sometimes try to make the thing that some people want, and the Ninja 1000 SX fits a lot of what a lot of people want — so much so that dealers often sell out of them and have to order them in for you. ("Demo stock? I'm afraid not," the dealer almost laughed at me in mid 2020. I just wanted a test ride, and they were all sold out.)
In the late 2000s and through the 2010s, sport tourers started to give way to adventure sport tourer motorcycles.
The "adventure sport tourer" typically has a slightly less top end-biased engine, and a much more comfortable riding position, almost like that of a dirt bike. Sometimes they come with a degree of off-road promise. Classic adventure sport tourers are the Kawasaki Versys 1000, Yamaha Tracer 900, or the more road-oriented configurations of the BMW GS (1100-1250) models, Africa Twin, and Ducati Multistrada (the earliest versions of which were much more road-oriented).
Adventure sport tourers are like the SUVs of the motorcycle world. They're a little different to sport tourers, which are like "grand touring" sports cars.
There's a lot of overlap, of course. All the above bikes — both sport-tourers and adventure sport-tourers — are comfortable (without being a lounge-chair like a Gold Wing), reasonably (but not outrageously) fast, and very good at handling (and just not the absolute best).
Of course, you can make any bike do anything, and I don't want to get caught up in definitions — but the above is a general guide.
The Kawasaki Ninja 1000 SX in a nutshell
In a nutshell, the Ninja 1000 SX is a comfortable, nearly upright motorcycle with a very powerful and sporty engine (most years around 105 kW or 140 hp) that revs willingly up to and past 10,000 rpm, lots of fairing protection, ample electronics to keep you alive, and many options to keep you comfortable.
Some photos of people riding the Ninja 1000 SX would have you thinking that it has the riding position of a sports bike, like the ZX-10R. It absolutely does not. Look at where the arms are on the rider and you'll notice just how bent the elbows are and how close the hands are to the top of the tank.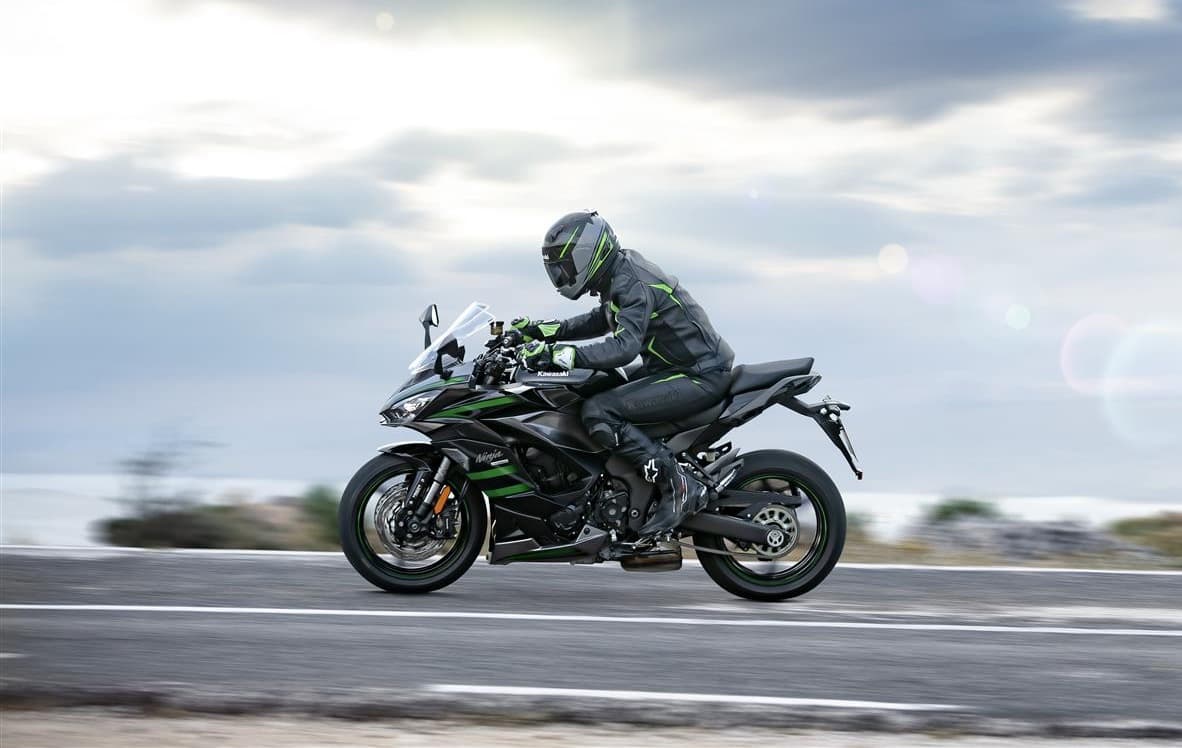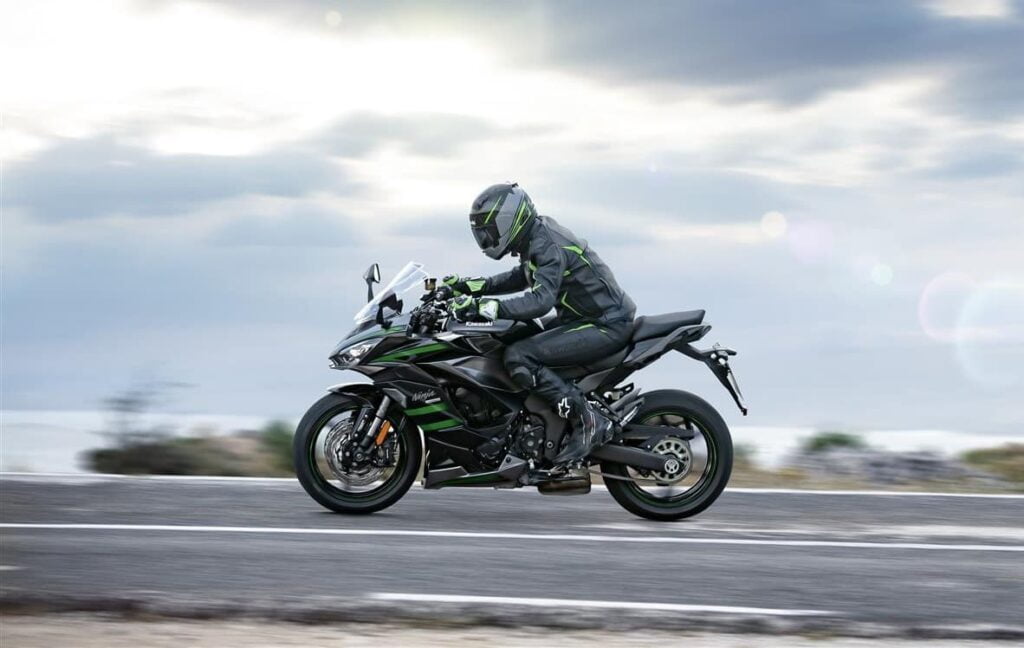 The reality is that the riding position of the Ninja 1000 SX is so comfortable that it can almost be jarring if you're expecting it to be sporty. It feels basically the same as a Ninja 400, just wider. Your arms are a little splayed out and there's almost no pressure on your wrists.
In other words, the Ninja 1000's riding position is so comfortable that you can hold it for many hours — which is exactly how it's designed.
The Kawasaki Ninja 1000 SX's engine and gearing favours low-down torque compared to a sportbike. It's tuned so that it can function in a few different gears from as low as 2-3,000 rpm, and it produces peak torque at around 9,000 rpm, which means you don't have to rev it to the moon before it's time to shift.
Riding the Kawasaki Ninja 1000
What the Ninja 1000 feels like to you depends on what you're coming from and what you're looking for.
To put it as broadly as possible — riding any generation of the Ninja 1000 is like riding a sportbike that's heavier and more upright, or like riding a more sedate naked bike with some wind protection.
Still confused? Maybe that's deserved, it's very hard to describe riding in words. But here's a bit more context.
If you're coming from a smaller bike, like the Ninja 650 — the Ninja 1000 will feel fast. It's only a bit heavier, but when you wind on the throttle and feel it reach past 6,000 rpm, you'll know that this is not a bike you can ride at max throttle in multiple gears in traffic. It'll feel just as comfortable, and have some options like luggage to make distance more practical.
If you're coming from a sport bike like the ZX-10R — the Ninja 1000 will feel a bit lazy and slow. The engine doesn't rev quite as freely, and the gearing is probably a bit taller. You also might be shocked by how upright it is, and wonder if that fairing can do anything (it can, but you don't tuck behind it).
If you're coming from a naked bike like the Z1000 — the Ninja 1000 will feel a little more sedate, thanks to its taller gearing, but a lot more protected, without sacrificing too much "zip".
I could go on, but that covers a few major use cases. Nobody would describe the Ninja 1000 as slow or a lousy handler, but there are definitely faster bikes and better handlers (that you don't have to push quite as hard into a corner) out there. And there are more comfortable tourers (like the Versys 1000) as well as livelier bikes (like the Z1000). Notice I'm using just Kawasaki examples — they make a very broad range of motorcycles!
Riding the Ninja 1000 is like riding a sport bike that's meant to be ridden every day. Unlike most modern literbikes, the engine's tuning and the bike's gearing means that you can short-shift it and ride it around in 3rd or 4th gears at urban commuting speeds.
You can do U-turns on the Ninja 1000 and leave it in first gear without having to feather the clutch.
Because it's a sportier bike than its more upright adventure touring sibling the Versys 1000, the Ninja 1000 still isn't really a bike I enjoy having on the highway. I can do it, and I could do it better if I had cruise control like on the 2020+ version (still haven't had the pleasure of a test ride). But I do feel like I want to take it off onto side roads and get it around some higher-speed bends.
But at least the Ninja 1000 isn't a bike where you feel like you're not getting the most out of it when just doing everyday riding. On a 1000cc-class superbike, in everyday riding, I feel like I'm doing it a disservice.
The Ninja 1000 is not a heavy bike, so once you get into the hills and have to lean it a bit, it complies with grace — even though you do have to give it a little more pressure, due to the weight and the position of the handlebars. But it's not a bike I'd choose to take to the track, other than to get to know it better or to have the odd bike out, for fun.
One of the feelings I came away from after riding the Ninja 1000 of a couple of generations is that it's easy. It kind of left me with a feeling of neutrality. If I didn't prod it, it didn't do anything, but if I grabbed the throttle or pushed on the controls it'd reward me with whatever I wanted it to do.
This sense of "easiness" is in contrast to riding a sport bike or streetfighter, where you're always hunched over and poised for action, even though you might not be in the right gear if you're commuting. It's also in contrast with traditional standard bikes, which aren't quite as compliant when you have to do something like brake or accelerate aggressively.
The danger of "easy" of course is that it can translate into "boring". If you're looking for excitement — the Ninja 1000 isn't a bike that naturally lights a fire in your belly like a hot-blooded sportbike. But if your fire is already there, it's not a bike that will frustrate you from being unable to fan the flames.
About the Kawasaki Ninja 1000's Engine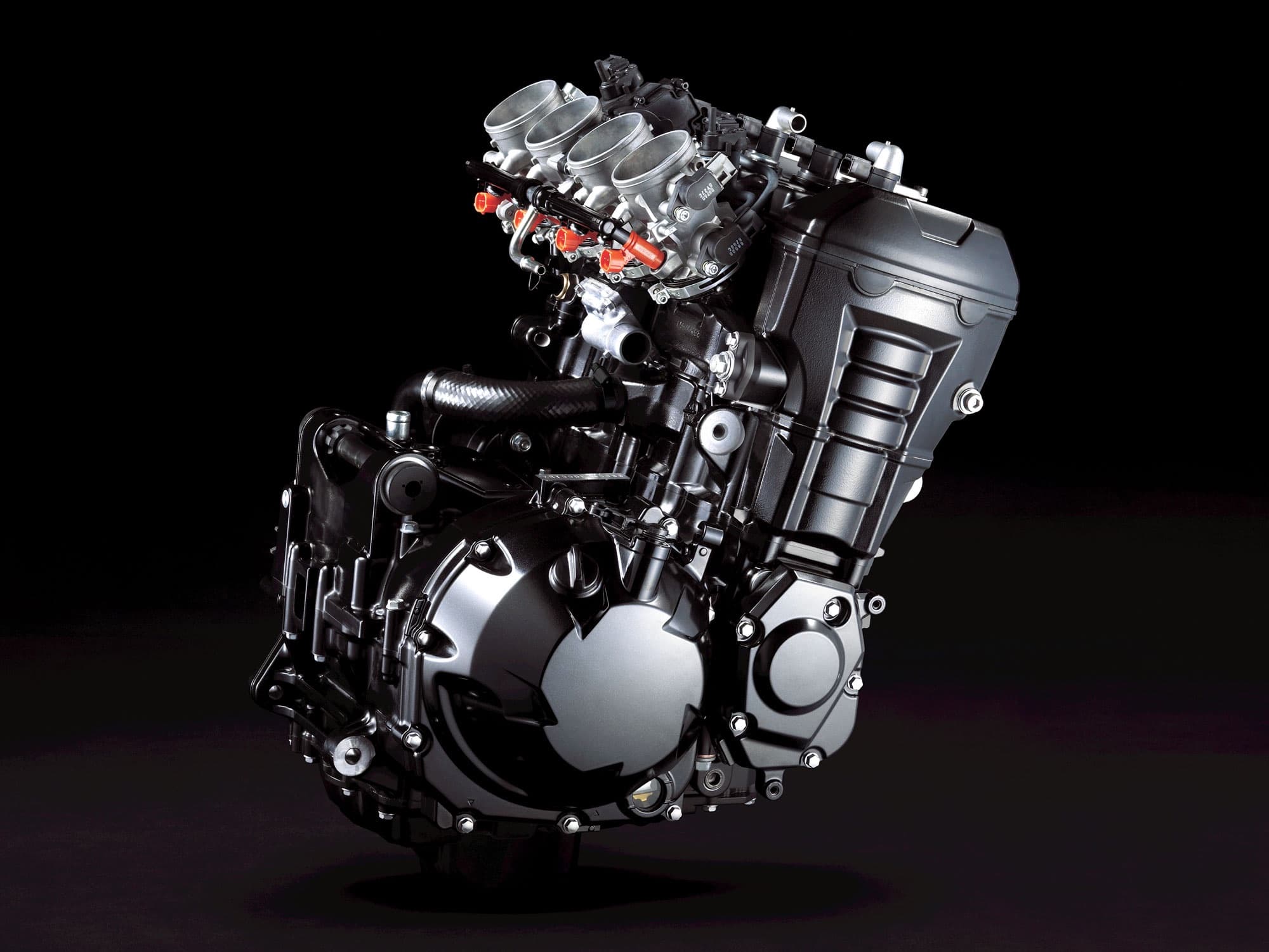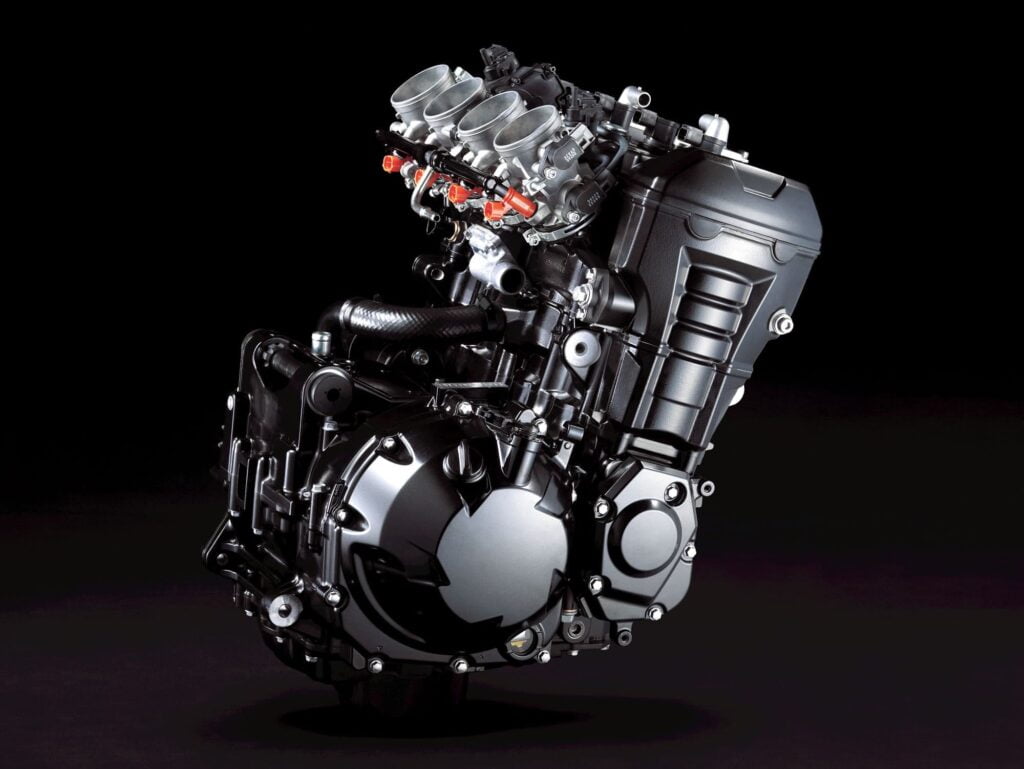 Since the first model released in 2011, the Ninja 1000 has always had the same engine: a 1043cc inline four-cylinder fuel-injected engine with dual overhead cams and four valves per cylinder. It has always made roughly the same amount of power — between 102-105 kW (135-140 hp), with roughly the same torque curve.
The engine hasn't changed dramatically since the first Kawasaki Ninja 1000. It always has had that capacity and format, made similar power and torque, had the same reliability, and behaved the same — though it has become smoother over time.
When building street-oriented versions of superbikes, manufacturers often start with a superbike engine. Then then "detune" the engine by changing the camshafts, intake and exhaust, and the fuelling to match. The base block is often left as-is, though sometimes with a few downgraded components (pistons, valve train etc.). This is the approach taken, for example, in the Yamaha MT-10, which has an engine block borrowed from the Yamaha YZF-R1.
As a result of "detuning", many street motorcycles make less top-end power than their superbike siblings, but have a lot more mid-range torque. This seems like a reasonable compromise for most people who rarely rev above 12000 rpm in everyday riding. But it leaves a small group grumbling that they're missing out on that soaring top end.
For a long time, Kawasaki has taken a different approach. Kawasaki prefers to increase the capacity for its street bikes so that it can extract more mid-range from them without sacrificing peak power.
The Kawasaki Ninja 1000's engine is the same as the one in the 2010 Kawasaki Z1000, though in a different state of tune. The engine was all-new from 2010. The previous two generations of Z1000 had used a bored-out ZX-9R engine, but the 2010-on Z1000 got an all-new block designed from the ground up to be for street riding rather than the track.
–> See our guide to bore, stroke, and engine displacement for longer discussion on how these parameters affect engines.
While it's an all-new engine block, Kawasaki treats it the same way as the previous generations of Z1000 engine: the engine has more displacement than the ZX-10R superbike, which means the motor can be tuned for mid-range torque as well as top-end power.
Since 2011, Kawasaki has updated the basic 1,043cc engine in the following ways:
2014: Revised intake cams, new cylinder connecting passageways, equal-length velocity stacks, digital timing advance, and spark plug-mounted ignition coils. An upgraded airbox and air filter fed it all.
2017: Revised ECU settings to take input from KCMF, secondary balancer on the crankshaft to reduce vibration, and downward draft throttle bodies
2020: Electronic throttle valves (to work the throttle by wire mechanism), staggered length intakes, and different cam profiles to minimise noise (for emissions compliance)
Those changes are important, and can generally be described as the block becoming more "refined" over time. Of course it's hard to compare old with new unless you have two engines that have been similarly broken in and maintained despite a ten year age difference.
Kawasaki Ninja 1000 Year by Year changes
Below is a summary table of the year-by-year changes to the Kawasaki Ninja 1000.
In the sections below I'll go into more detail on what changed.
Generation
Electronics
Engine
Brakes & Suspension
Exterior
Wet weight
First gen (2011-2013)
* Optional ABS
* EFI
* Base 1043cc inline-four, 102 kW (135 hp) @ 9,600 rpm
* Dual floating petal discs, radial-mounted 4-piston calipers
* Fully adjustable 41mm forks; single rear shock, preload/rebound-adjustable
* Adjustable windscreen
* Pannier options
* Limited mirror view view
231 kg (ABS)
2nd gen (2014-2016)
* Three-way traction control
* Two power modes
* Optional ABS (standard some markets)
* 105 KW (140 hp)
* More mid-range
* Induction noise improvements
* New radial-mount monoblock Tokico front brakes, optional ABS
* Remote preload adjuster
* Higher visibility mirrors, seat, cleaner fit panniers
231 kg, 242 kg with luggage
3rd gen Ninja 1000 (2017-2019)
* Standard ABS
* Six-axis IMU and cornering ABS/traction control (KCMF and KTRC)
* LED headlight
* 105 kW (141 hp)
* Secondary balancer shaft (smoother)
* Assist/slipper clutch
* Standard ABS
* Some complain of soft suspension
* Wider front fairing/taller screen
235 kg (518 lb)
4th gen Ninja 1000 (2020+)
* Cruise control
* TFT display, full colour
* Revised camshaft profiles with reduced tapped noise
* Two shorter 45mm intake funnels
* Single exhaust
* Shortened trail (98mm)
Revised fork internals
* Up/down quickshifter
*Adjustable windscreen
* Rotors are round (not petal style)
233 kg (514 lb)
Comparing core specs of the Kawasaki Ninja 1000
Gen 1 Kawasaki Ninja 1000 SX (2011-2013): The baseline
The first generation Ninja 1000SX was revolutionary for the sport touring market. It had relatively little competition at the time.
It was based on the engine from the 2010 Kawasaki Z1000, which was an all-new engine for the latest Z1000 (there was a 2009 Z1000 but with a very different engine and chassis).
But the 2011 Ninja 1000 wasn't just a Z1000 with a fairing. Below is a table comparing the first0gen Ninja 1000 with the Z1000.
| 2011 Ninja 1000 | 2010 Z1000 |
| --- | --- |
| 101.5 kW (136 hp) @ 9,600 rpm | 101.5 kW (136 hp) @ 9,600 rpm |
| 110 Nm @ 7,800 rpm | 110 Nm @ 7,800 rpm |
| High clip-ons, lower foot pegs | Handlebars, medium rear-set foot pegs |
| Large analogue tachometer + LCD | LCD dash |
| 41mm inverted fork, fully adjustable (but plusher) | 41mm inverted fork, fully adjustable (sportier) |
| 19 L tank (slightly more) | 18 L tank (slightly less) |
| 231 kg (509 lb) wet weight (heavier) | 221 kg (486 lb) wet weight (lighter) |
| 39 tooth rear sprocket (higher gearing) | 41 tooth sprocket (wheelies!) |
| 1450mm wheelbase | 1420mm wheelbase |
Comparing specs of the 2011 Ninja 1000 and the 2010 Z1000
Despite having the same engine, the original 2011 Kawasaki Ninja 1000 was not as lively as the 2010 Z1000. This is mostly down to a) the taller gearing and b) the softer, more distance-oriented suspension. Maybe a tiny bit due to the slightly shorter wheelbase, too.
In sum, the Z1000 is described by owners as a "wheelie machine", whereas the Ninja 1000 is not. (Not that you can't, though.)
The instrument dash is also a lot better on the Ninja, but that's because I'm a sucker for a huge tachometer, an attitude that won't age well with the dominance of TFT displays (like those on the Gen 4 Ninja 1000).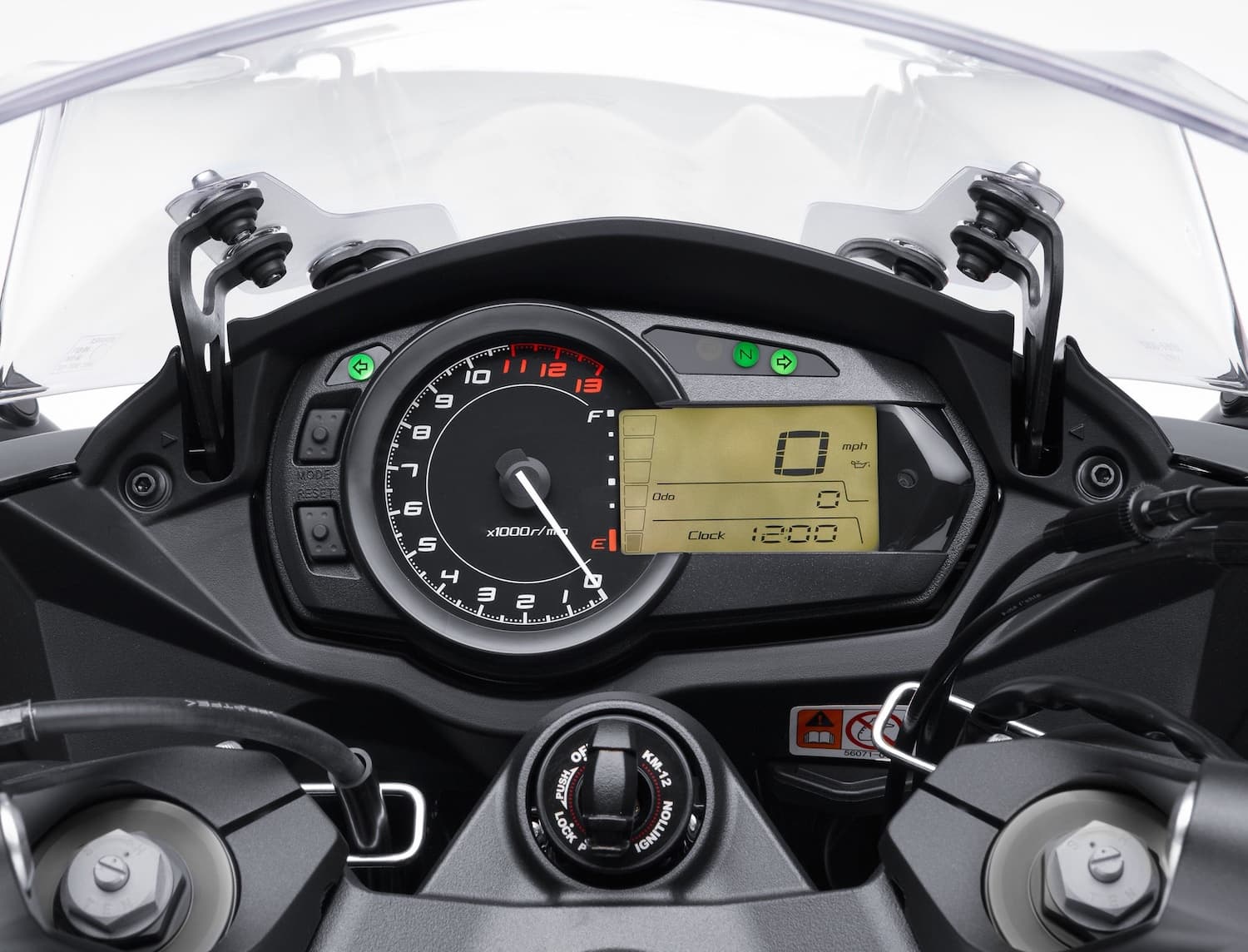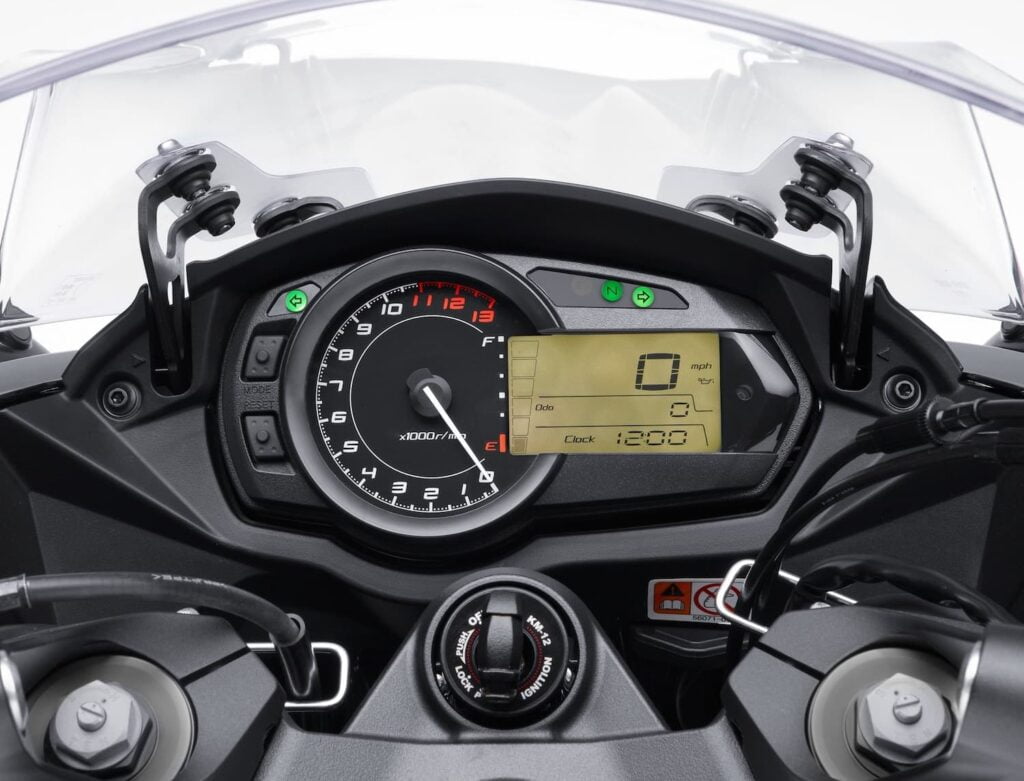 The Gen 1 Kawasaki Ninja 1000 arrived after the 6th gen Honda VFR800, a sports tourer with an almost cult-like following, was discontinued after the 2009 model year. So it arrived into a vacuum in the middleweight sport-touring segment.
Suzuki wouldn't launch its GSX-S1000 for a few more years, and Yamaha's FZ-1S was a more traditional naked bike.
Gen 2 Kawasaki Ninja 1000 SX (2014-2016): Traction Control
In 2014 Kawasaki updated the Ninja 1000 in a number of significant ways.
The 2nd gen Ninja 1000's major headline addition was three-stage traction control and two power modes as standard, and improved braking with ABS as an optional extra (it was standard in some markets).
But there were some other changes that came with the 2014-2016 2nd generation Kawasaki Ninja 1000. These were
A lightly massaged engine, delivering more low-end and mid-range torque (see the above section on the engine to see how the engine evolved)
A taller sixth gear, for better highway economy
Improved brakes — monoblock radial-mounted calipers
A 3% stiffer spring in the rear shock, and stiffer damping in the front shock
A remote rear pre-load adjuster (so you can easily adjust for luggage or a pillion without using special tools)
A new subframe for compatibility with new genuine luggage that's narrower and fits better, and can use the same key (1st gen required a different key)
Some external ergonomic improvements, e.g. with air intakes in the front of the fairing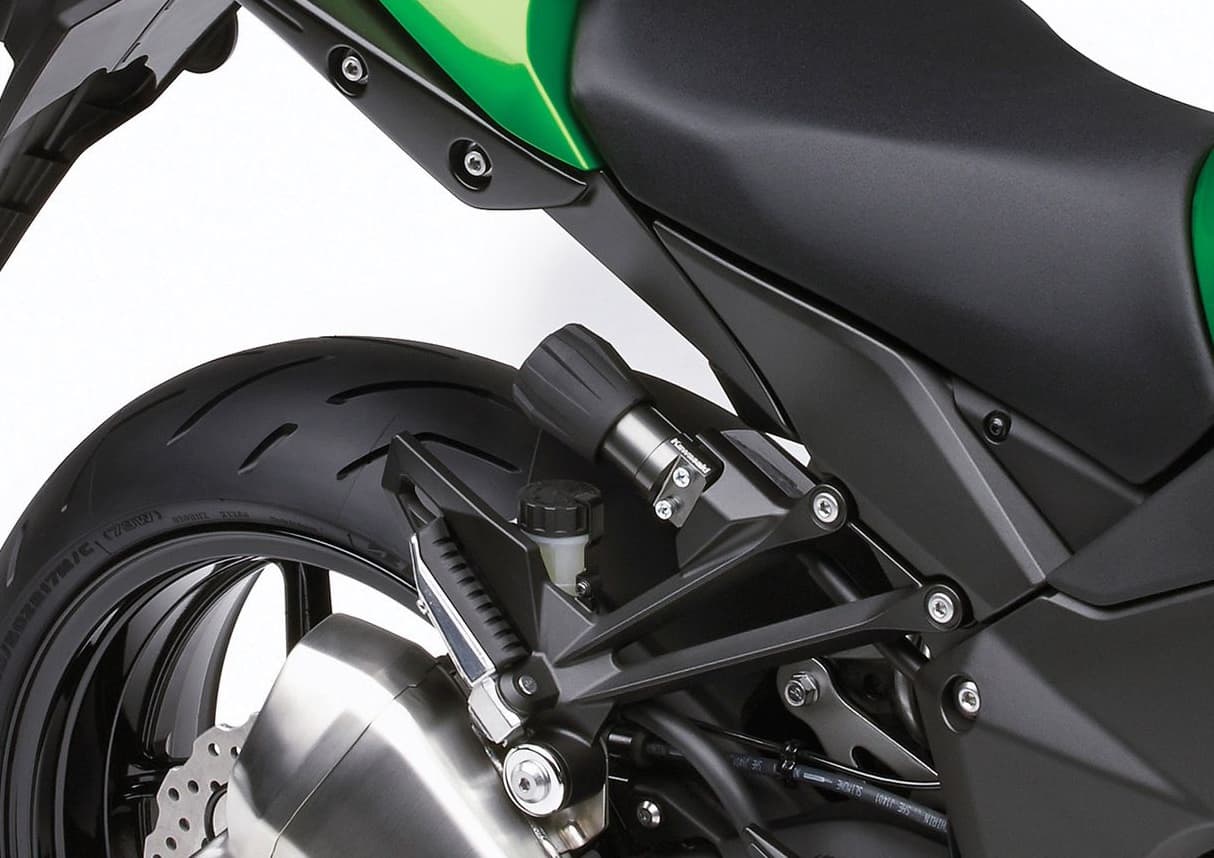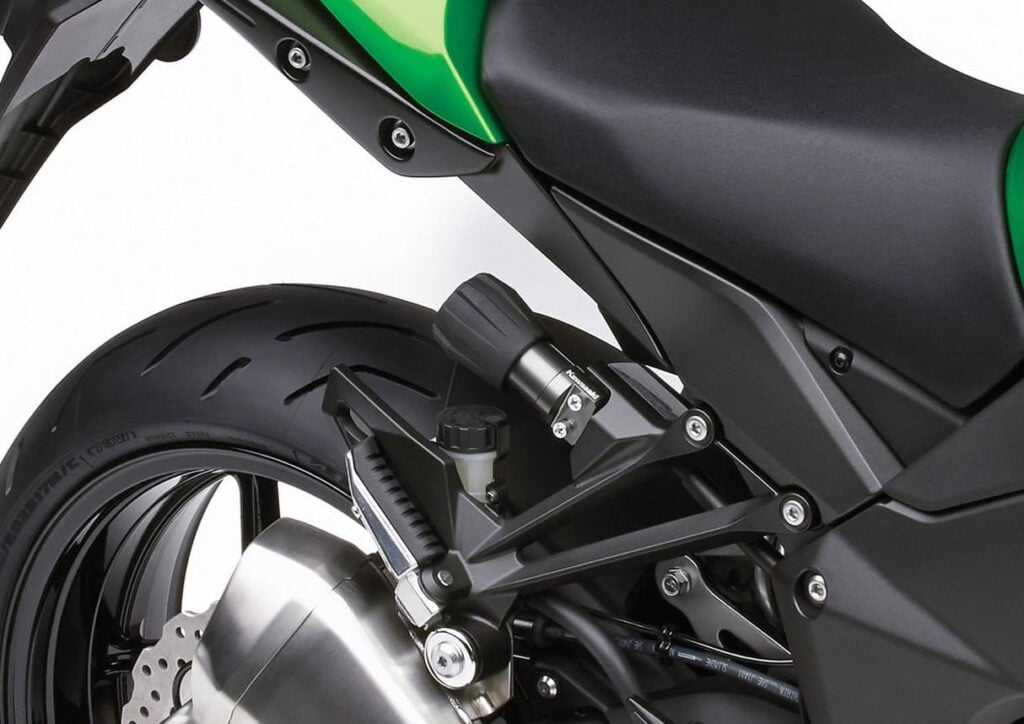 Otherwise, the 2014-2016 Kawasaki Ninja 1000 was the same comfortable sports tourer as the original.
Gen 3 Kawasaki Ninja 1000 SX (2017-2019): Six-axis IMU
The third gen Kawasaki Ninja 1000 SX brought it with some revolutionary changes (the IMU) as well as some steps that seemed not quite in the right direction.
The biggest change for the third generation Ninja 1000SX was the six-axis IMU that informs both traction control and ABS systems of the motorcycle's lean, pitch, and yaw.
Basically, this is "cornering ABS" or "lean angle-aware ABS". The reason this is important is that the Ninja 1000 was the first motorcycle in its category to get the feature. Yes, some high-end sport bikes from Ducati, BMW and Yamaha had it, but no Japanese-built consumer sport tourers had it.
–> See here for our list of motorcycles with cornering ABS/IMUs
Some people who reviewed the 2017-2019 Ninja 1000 complained about its suspension, saying its front-end is too light and that it takes "muscling" to keep it on its side in corners. But the majority of people who've ridden and owned the 2017-2019 Ninja 1000 says it handles as well as any previous or subsequent generation.
Here's the full list of the most important changes for the Gen 3 Kawasaki Ninja 1000:
Secondary balancer in the engine for even smoother power
Six-axis IMU for cornering ABS and lean angle-aware traction control (KCMF)
ABS is also revised with Kawasaki Intelligent ABS (KIBS), a smoother system
Revised display
20mm taller windscreen
Slipper clutch
LED headlamps that are very bright
Integrated front-end turn signals
Standard ABS in all markets
Redesigned bodywork (looking more like the contemporary H2 and ZX-10R)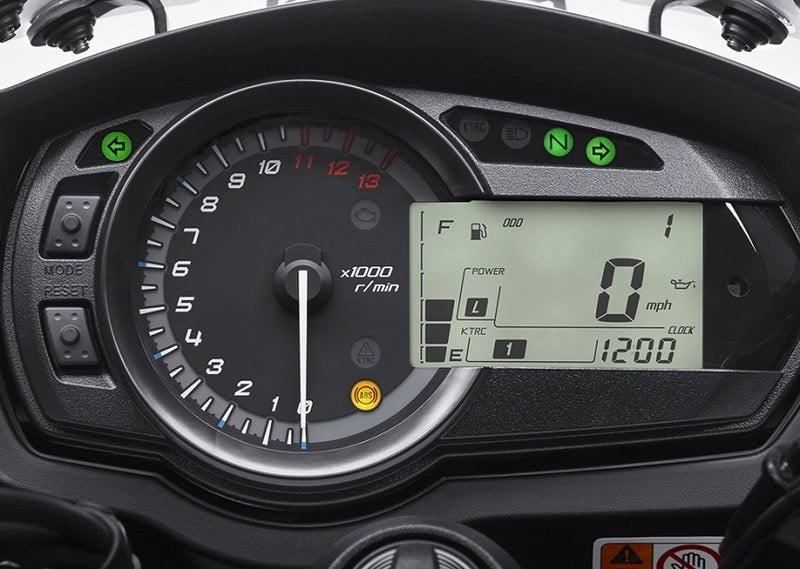 Gen 4 (2020+) Kawasaki Ninja 1000 SX: Cruise Control
In 2020, Kawasaki updated the Ninja 1000 again, adding cruise control! This was a notable absence on the 2017+ version which seemed to conspicuously omit this feature.
And just in case you thought the Ninja 1000 had gone soft — Kawasaki also added a standard two-way quickshifter, so it is a bike for truly every occasion.
Here's what's new for the 2020 Ninja 1000:
Full ride-by-wire with electronic throttle valves
Cruise control (as mentioned)
A custom ride mode
A full-colour TFT display with Bluetooth connectivity (so you can interact with it via the Rideology app)

A two-way quickshifter

Taller four-way manually adjustable screen (still small, but you can get a bigger one from Kawasaki)
A larger and more comfortable seat (for both rider and pillion)
The TFT display on the 2020+ Ninja 1000 SX comes with a cheeky little addition — a lean angle indicator! It's a live view showing you just what lean angle you got to. And in case you don't want to stare at the display during the ride (especially while leaning), it saves it so you can review your lean angle at the end of the ride.
So — cruise control AND a quickshifter. Lean angle logging AND a more comfortable seat. The 2020+ Ninja 1000 is somehow both more sports and more tourer.
What's the best year of Kawasaki Ninja 1000 to get?
The surprising thing is that prices are very low for early-model Ninja 1000s — which is great news because the engine is basically the same, they often come with panniers, and unlike other touring bikes (like older BMW R 1200 GS for example) they haven't all done crazy miles.
So you can pick up a 2011 Kawasaki Ninja 1000 for less than half what you'd pay for a 2021 model — for the same model and almost the same visual style. A 2nd gen is around half the price of a 2021 model.
For me, personally, because they're all relatively cheap and I think more about depreciation cost during my typical ownership period of 6-12 months, I'd probably get a lightly used 2020 model, the first year of the most recent generation. I really like electronic cruise control. If I don't have it, I feel like "this is fine", but when I do have it, life is grand.
–> Here are some other motorcycles that come stock with electronic cruise control — some of them surprising.
But there's no year with which you can go wrong. Just look for one that has had logbook service and you're golden.
Alternatives to the Kawasaki Ninja 1000 SX
To put the Ninja 1000 in context it's important to look at a few alternatives to it. There are other sport-touring motorcycles on the market, but which one you choose depends on some other general preferences.
In general I consider alternatives to the Kawasaki Ninja 1000 SX to be other "comfortable sportbikes" with engines that rev past 10,000 rpm, make more than 100 hp, have factory accessories (or standard inclusions) like luggage and cruise control, and have a riding position that's so easy you barely have to think about it.
Ducati Supersport / S and Supersport 950
The Ducati Supersport is Ducati's 2017+ entrant into the sport touring market, trying somewhat to recover the glory of their earlier mid-90s/early-2000s SS line, like the 900SS. Pick the Ducati if you love a V-twin, feel more sporty than sport touring, or just have a crush on the Italian brand.
The Supersport is, like its name implies, a pretty sporty bike. It uses Ducati's 4-valve 937 cc V-twin engine that makes 82 kW (110 hp) and has a wet weight of 210 kg (263 lb).
The riding position of the Ducati Supersport is not as extreme as what you'll get on a Panigale, but it's still quite sporty. I'd call this more of an "every day sport bike" than a "sport tourer". Nonetheless, you can get factory luggage for it, so clearly some people are doing distance on the Ducati Supersport.
The Ducati Supersport is more a "reasonable, non-extreme sport bike" rather than a tourer, though. It's also more expensive used or new.
Honda VFR800 2014+ (8th gen)
Honda's venerable VFR (see the VFR's model history and timeline) is a worthy Ninja 1000 alternative. Pick the VFR800 if you want a V4 that's a cult classic — they'll all go up in kilometres quickly.
The 8th gen VFR800 was of the last great sport-tourers, powered by a VTEC-actuated 16-valve 90-degree V4 engine. I owned an 8th gen VFR800 and really liked it for many reasons, but sold it because the 8th gen lacked the raw excitement I was looking for.
With clip-ons it has a truly comfortable riding position and the 2014+ 8th gen (that I owned) in Deluxe form (standard in most markets) comes with traction control, ABS, heated grips, and a centre stand.
But the VFR800 Deluxe is heavier than the Ninja 1000 at 239 kg (537 lb), less powerful (78 kW/105 hp), and the V4 lacks the fire of earlier generations.
Not made past 2017, these are cheaper, but longer in the tooth.
Kawasaki H2 SX
Yes, Kawasaki has its OWN competition for the Ninja 1000! Pick the H2 SX if you have the cash and want the very best and fastest.
The H2 SX (and SX SE, and SX SE+… see our guide to the Kawasaki H2 range) is a supercharged, very high-power, heavier, and very premium sport-tourer. It's more of a Hypersport machine, like the Hayabusa or ZX-14R, but it's worth mentioning just because in later versions it does come with cruise control and factory luggage options (and also, it's from Kawasaki so it's likely you'll see it in the same showroom).
The Kawasaki H2 SX comes with the kitchen sink — cruise control, an IMU, the lot. It's quite a bit heavier than a supersport bike like the ZX-10R, and definitely more oriented towards riding distances.
It's also much more expensive and exclusive, but better in every way, especially if you have roads that are suitable for its high speeds.
BMW R 1200 RS and R 1250 RS
Finally, BMW has been making sport tourers for a long time. They do a really good job. Pick the BMW if you like the brand (and the dealerships, which are always nice!), the feeling of a boxer twin, or (just) slightly less sportiness than the Ninja 1000.
While there are a few sport tourers in BMW's line-up, the R 1200 RS (and since 2020, the R 1250 RS) are the most comparable to the Kawasaki Ninja 1000.
The BMW R 1200 RS is powered by an air/oil-cooled or (since 2015, also with the R 1250 RS) air/liquid-cooled boxer twins, the same as you'll find in the R 1200 GS / R 1250 GS of similar vintages.
The R 1200 RS is about the same weight as the Ninja, but makes less power from its boxer twin. It's a comfortable bike, but seems less "sporty" than the Ninja 1000. The premium package comes with electronically adjustable suspension, but without it, the forks are non-adjustable. Cruise became an option from 2015 onwards.
Year for year, the BMW R 1200 RS is quite a bit more expensive than the Ninja 1000, too.
Buyers guide to the Kawasaki Ninja 1000 SX — What to look for when buying used
If you're looking for a used Ninja 1000 SX, first, go through the above generations and make sure that the bike comes with everything it's meant to.
Here are the top things to look for when buying a used Ninja 1000 SX. All of this comes after looking over a general used motorcycle inspection checklist, of course.
Check to make sure the bike starts when the engine is hot — not just cold. If it can't start when it's hot, it likely has a fuel vapor lock problem (which is luckily an easy fix — try opening the fuel cap, first)
Hesitates when you crank the throttle. The Ninja 1000 has a fuel line along the left that sometimes gets kinked when you lift and lower the tank. If you don't get to do a test ride, at least twist the throttle when it's warm and make sure it responds properly. You might have other issues in the fuel line, like a clogged fuel filter (which would go along with a dirty tank — part of the checklist above)
Fuel pump stays on when the bike is off — the fuel pump relay under the Ninja 1000's seat tends to get wet easily when washing the bike (which people do before selling it). Sometimes this means it won't start at all, but it also can result in the fuel pump staying on when it shouldn't be on.
Maintaining the Kawasaki Ninja 1000 SX
One of the best parts about owning a Japanese sport-touring motorcycle is the wiiiide maintenance intervals.
I've had a bunch of European motorcycles, and those damn service intervals always sneak up on me. It's partly my fault — I buy them used, and previous owners sell bikes cheaper when service is due.
The general gist of it is the same as most Japanese sport bikes
Keep the chain and exterior parts lubricated, especially if you ride it in the wet or the dirt
Change the oil, air filter, and spark plugs every 12,000 km (7,600 miles). Change the oil every year if you don't ride it that distance in a year.
Check the valve clearances every 24,000 km or 15,000 miles. But you'll rarely find them out of spec.
Change your brake fluid every, coolant, and rubber hoses every so often according to the schedule (every 2 years+ or some distance).
You can find the full maintenance schedule for the latest (and other generations) of Ninja 1000 here on maintenanceschedule.com.