I've got a soft spot for the Honda Hornets. I've ridden both and owned the 919 for a while. I've always enjoyed time on the 600 as it's a really well-balanced bike, and fun at a range of speeds.
And I've also got a soft spot for the Honda CBs in general. My first big bike was a Honda CB900, which was a big sibling to an evolution of the original Honda superbike, the CB750.
So, when Honda announced the new 2023 Honda CB750 Hornet at Intermot in October 2022, I thought: Just how does this new Honda CB750 Hornet stack up against other Hornets, or other similar CBs?
Both "Hornet" and "CB" have a lot of weight to their names. Especially "CB750". In fact, they both recall iconic bikes that many bike nuts have dedicated long restorations or conversions to.
But Honda hasn't made anything with either the Hornet brand nor the CB750 name in a while. So, I thought I'd go over a brief history of the CB750 as well as the Hornet, and look at how Honda combines both bits of heritage into this one bike, as well as how it's different.
In this guide, I'll go over
A very brief history of Honda CB four-cylinder bikes (it's a long and detailed history)
An intro to the Honda Hornet models (a subsection of the CBs)
How they both come together in the Honda CB750 Hornet (and how they don't)
Alternatives to the CB750 Hornet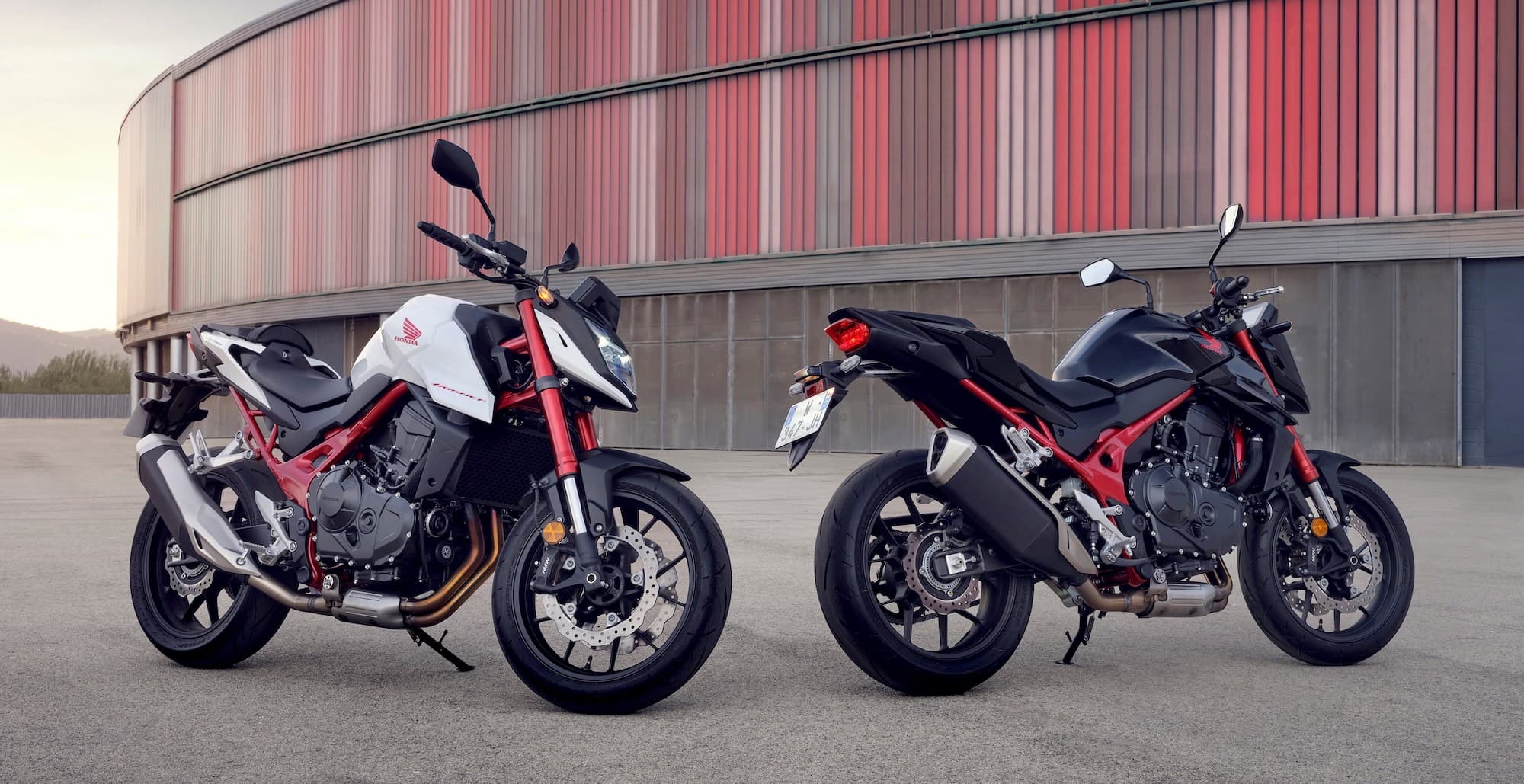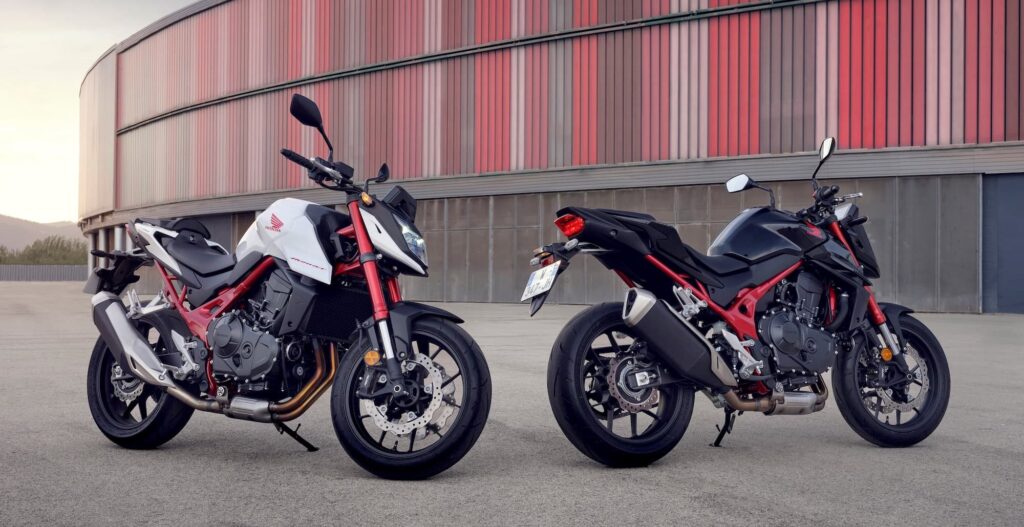 Are you obsessed with motorcycles?
Well, I am. That's why I created this site — as an outlet. I love learning and sharing what others might find useful. If you like what you read here, and you're a fraction as obsessed as I am, you might like to know when I've published more. (Check the latest for an idea of what you'll see.)
A Brief History of the Honda CBs
Honda has been around for a long time, but one bike that really put Honda on the map is the 1969 Honda CB750, which is the earliest connection to the CB750 Hornet that I dare to make.
The 1969 Honda CB750, known also as the Dream CB750 Four, was the original Honda "superbike". Honda introduced it in October 1968 at the Tokyo Motorcycle Show.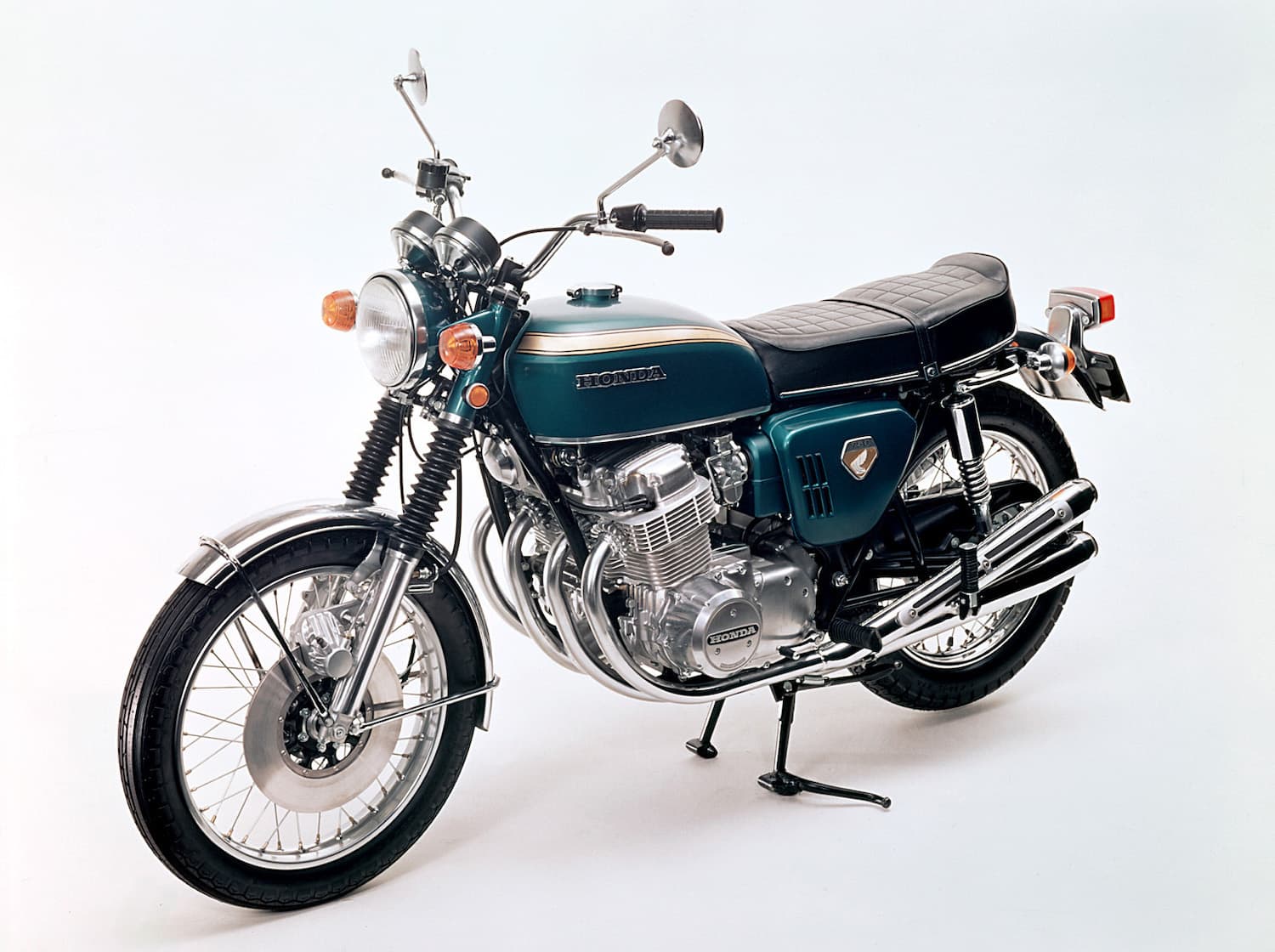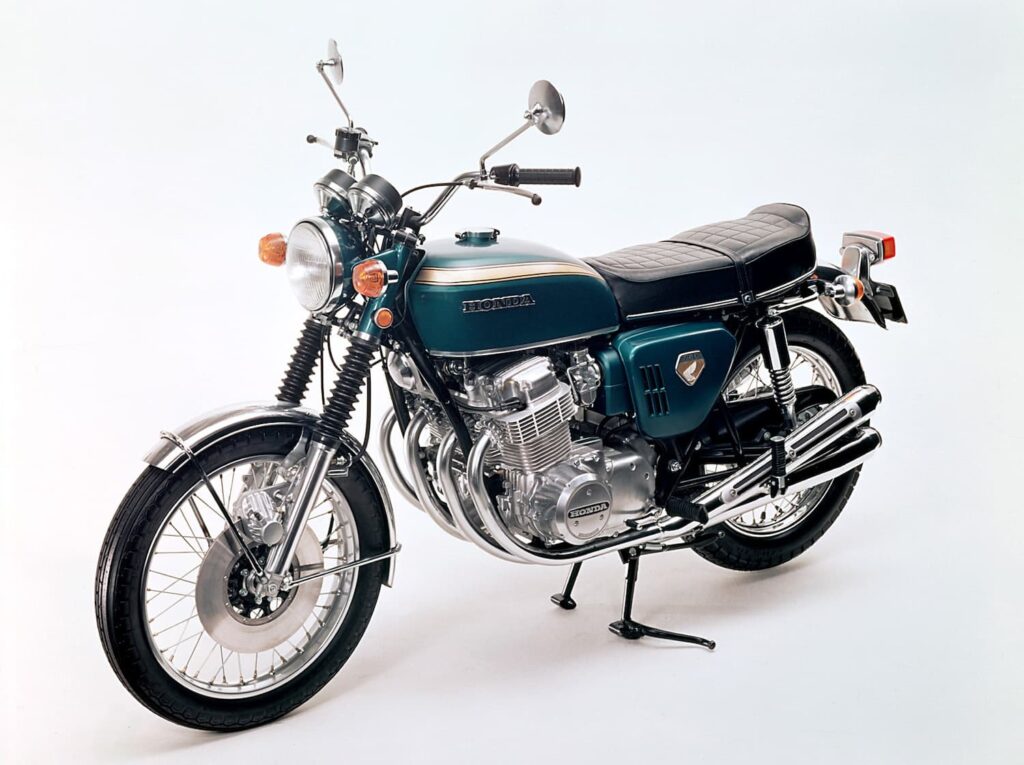 And wow, what a bike! It looked gorgeous then, and it has a lot of design elements that you'll recognise today. Sure, some bits of it look dated, like the big seat, and single front disc, but that's why the Honda CB750 (and the generations of it made in years afterwards) has been the basis for many a custom build featured on BikeEXIF or the like.
The original Honda CB750 was powered by an air-cooled 736 cc four-cylinder motor. It didn't even have an oil cooler. It has fairly simple components by today's standards, with a conventional fork (inverted forks weren't a thing yet), and non-perforated discs.
But the Honda CB750 Four was a big deal. Back then, 736 cc was a lot of displacement for a consumer motorcycle. It helped change the way people see Honda from a manufacturer of pedestrian small everyday bikes to a legitimate superbike manufacturer.
This is how I think of the original Honda CB line: Naked superbikes. Some get a fairing, but they start life as naked bikes and the fairing is added later. You'll see how this trend continues later — but it changed a bit in the 1990s.
The CB750 had a lot of special things: an electric starter, a hydraulic disc brake, and instantly classic good looks.
In fact, the CB750 Four was the first production motorcycle not just with a four-cylinder engine, but with a disc brake. There aren't many "firsts" like that left in the motorcycling world. So don't scoff at that single, unperforated disc; this was history being made!
The original CB750 is so iconic that it has inspired many generations of motorcycles since, including within Honda. Below is an image of a restored one (from the mid 1980s) in original spec / condition, part of Honda's marketing campaign for the Honda CB1100.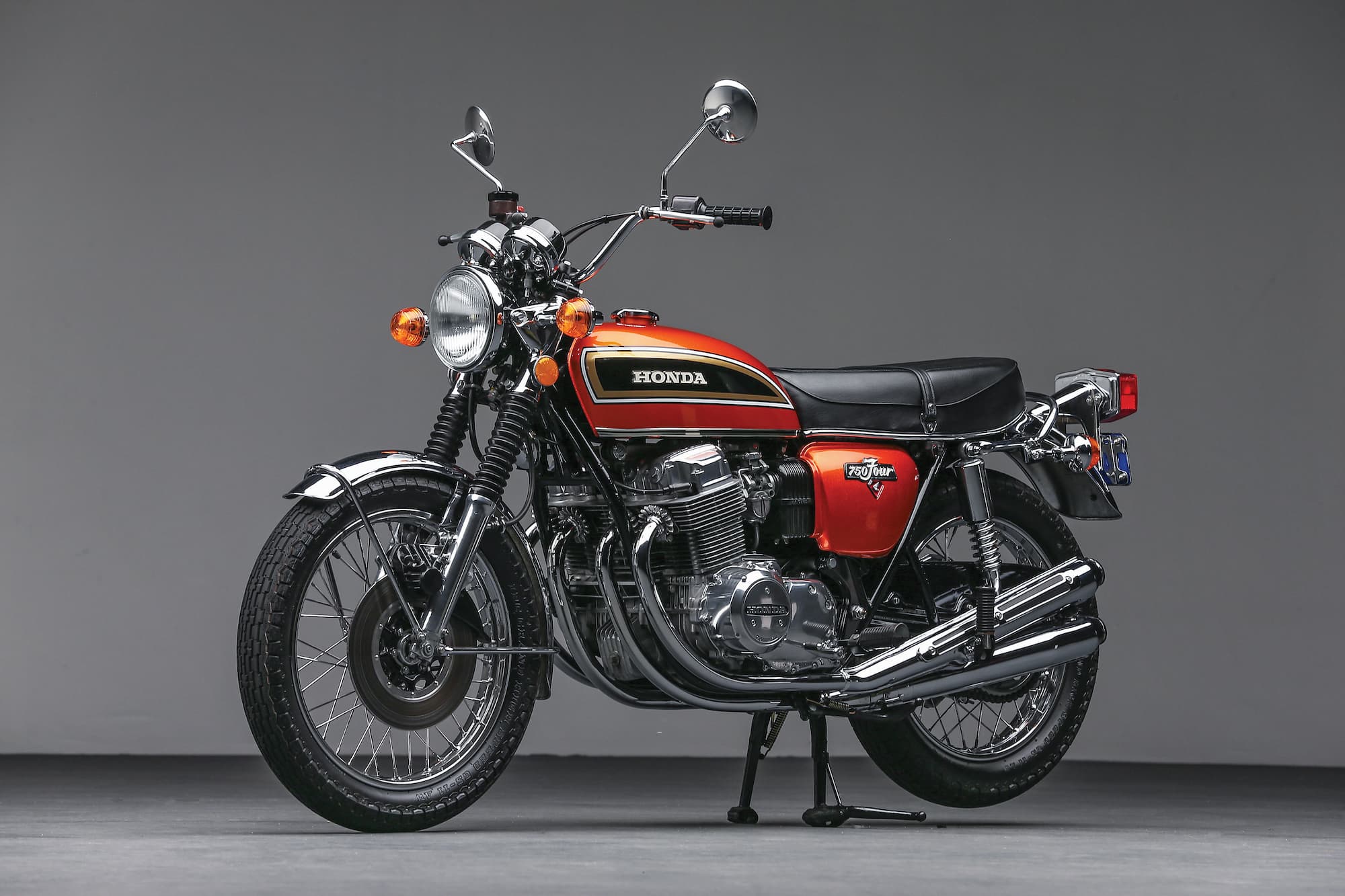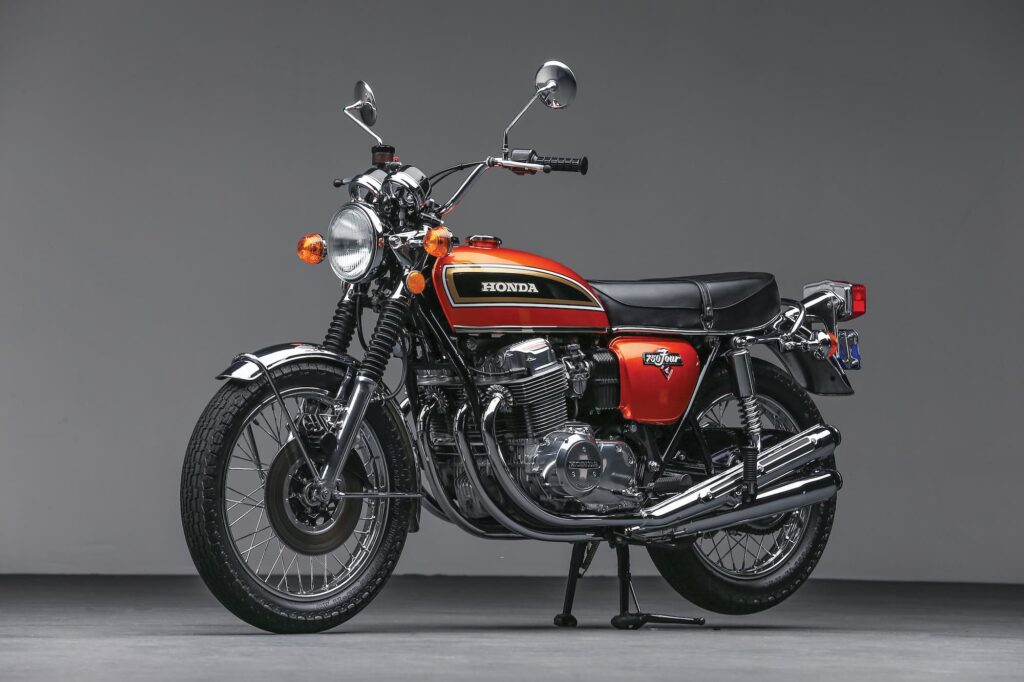 Honda's goal was to make the original CB750 a stable, easy-to-use high-speed bike (see this article from Honda for example). In fact, they claimed in the press that they wanted to make a bike stable at "between 140 and 160 km/h" (90 and 100 mph), with enough margin for manoeuvring in traffic. Try putting that in your marketing materials today.
Initially, Honda planned on making 1500 units of the CB750 a year. But the CB750 was so instantly popular that this figure became 1500 a month, and Honda had to double that again to 3000 a month — 24x the initial production estimates.
The way in which Honda was able to mass-produce the CB750 was to keep it simple. They used a two-valve-per-cylinder design and a single overhead cam, rather than the four valves and dual overhead cams of their race bike.
Honda initially built the early CB750 engines using permanent mould casting (sometimes referred to as "sandcasting" — see here for a discussion). But once they had to expand production in early 1969, Honda switched to die casting. The earlier so-called "sandcast" bikes are the super collectible ones, even though die casting isn't inferior by any means.
Over time, Honda iterated on the CB750, changing aspects of the visual design, and adding a rear disc brake in 1975 (replacing the drum), and a twin disc.
Honda even introduced its first beginner-friendly "Hondamatic" version between 1976 and 1978, which had a torque converter and a shift pedal — but with just two gears. It also had a lower power engine, lost the tachometer, and got a push-button parking brake that helped with hill starts.
In 1978, Honda released a revised CB750 for the 1979 model year, with a bigger 748 cc engine, dual overhead cams, and four valves per cylinder. This version also got a 15:43 sprocket ratio.
OK, that's enough about the Honda CB750 – for now. What about the other CBs? There have been so many. The next up was the Honda CB500, another four-cylinder air-cooled bike. There has also been a Honda CB400 (which survived and was iterated upon a lot more), a Honda CB650, CB900, and CB1000.
One that really catches my eye is the Honda Dream CB400 Four, the first in a long line of CB400 motorcycles, most of the recent versions of which never reached North America. (See this history of the CB400s.) Look at those snaking exhaust headers! Maybe it's just this photo's lighting, but that thing is shiny.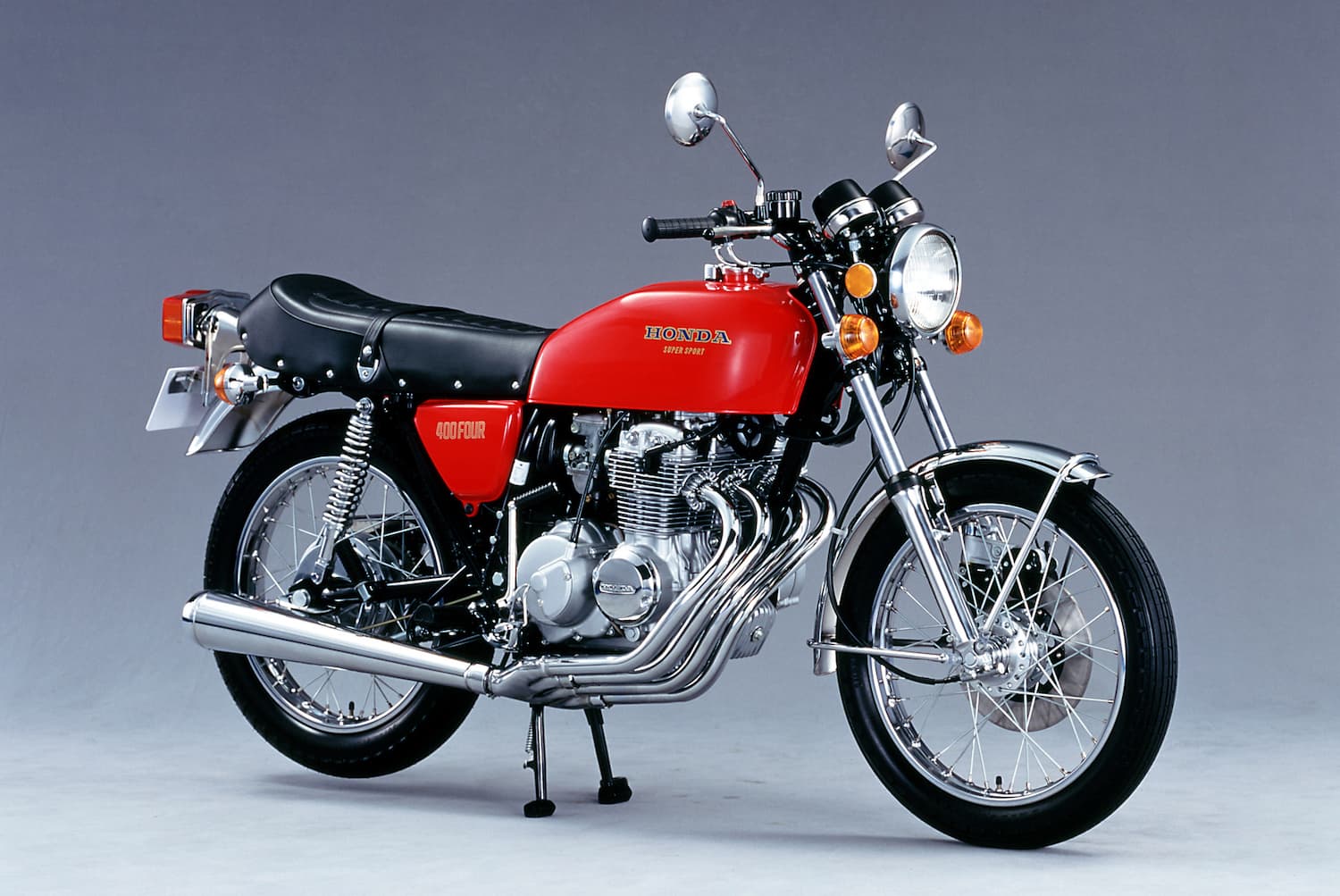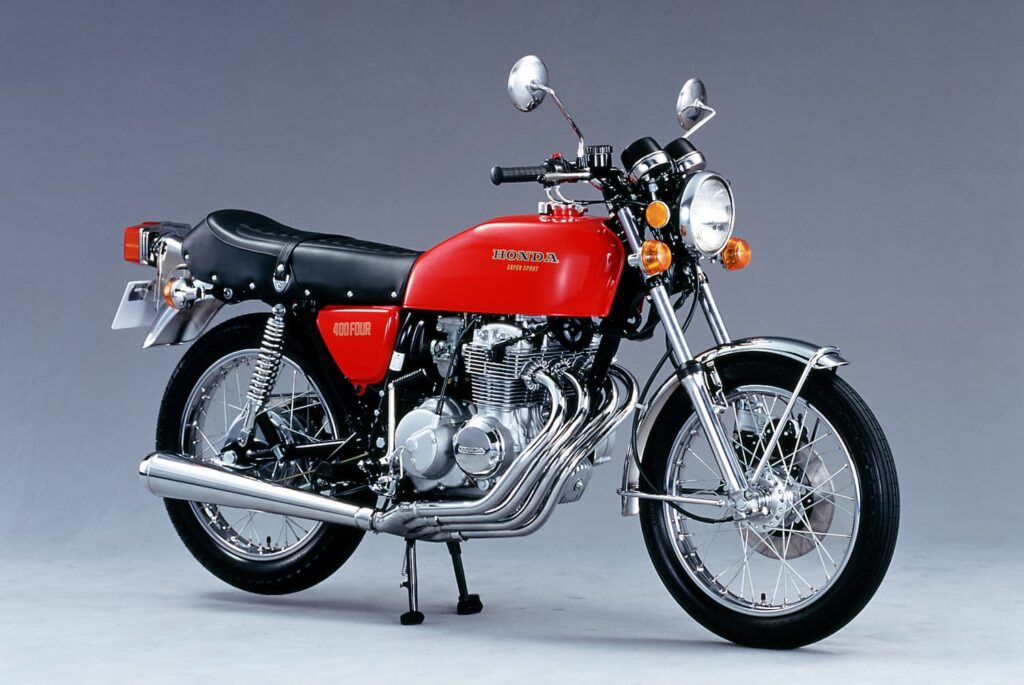 So these are the CBs. Even though they mostly share the same general concept of being a "sporty naked four-cylinder bike", there have been lots of variations between Honda CB models. Some have shaft drives, some have self-adjusting tappets, and some have liquid cooling. Some are sporty, and some are pedestrian. The name "CB" covers a very wide range.
For one fairly recent example see the Honda CB750 Nighthawk, a similar concept bike but with a more relaxed riding position — more "standard"-like.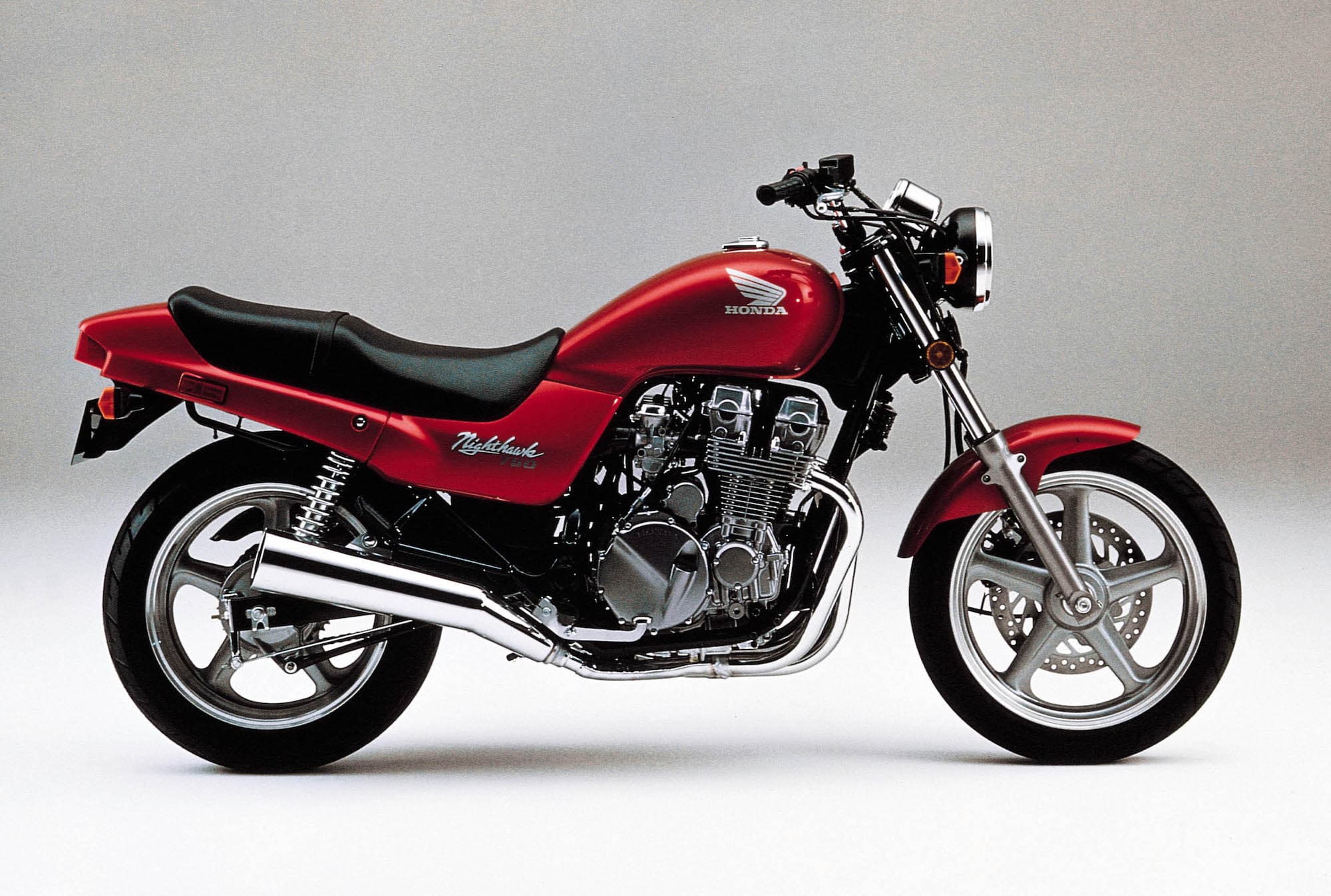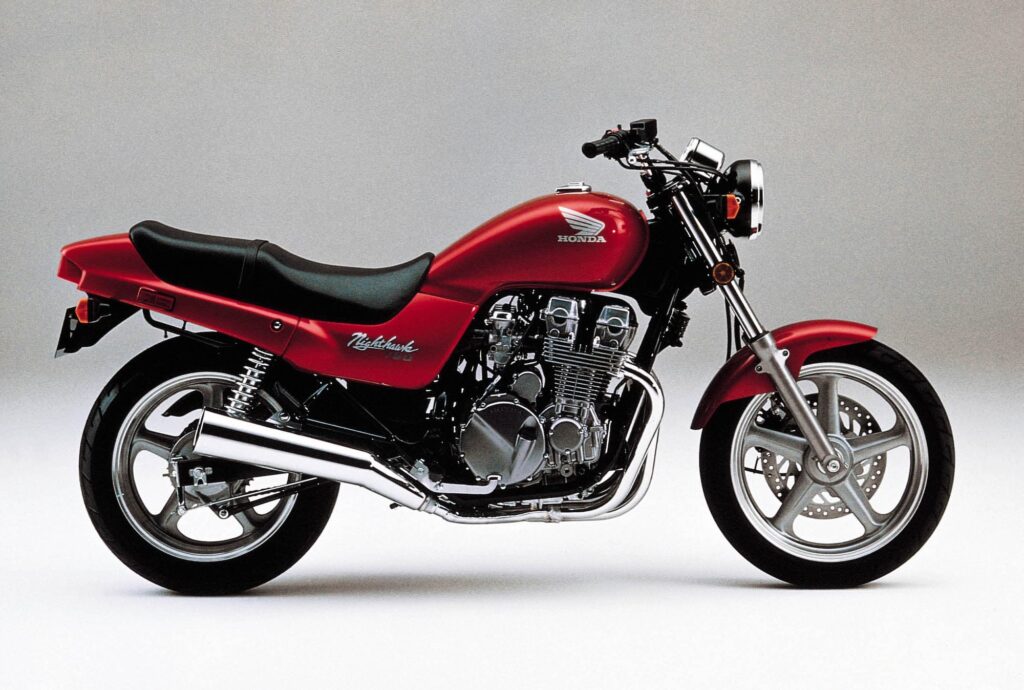 The most recent iteration of the CB750 Nighthawk, produced from 1991 to 2003, has self-adjusting hydraulic valves. This is the same tech that you find in big cruisers, mostly from Harley-Davidson and Indian, but also in a few other Japanese cruisers. It just means that you'll never have to do a valve inspection, one of the more technically challenging (and time-consuming or expensive) parts of regular maintenance for motorcycles. A few other Honda CBs got self-adjusting tappets, too, including the 1980s CB650 and CB700 models.
Honda made the most recent CB750 Nighthawk until 2003, with one last hurrah in 2007 with a Japan-only re-release.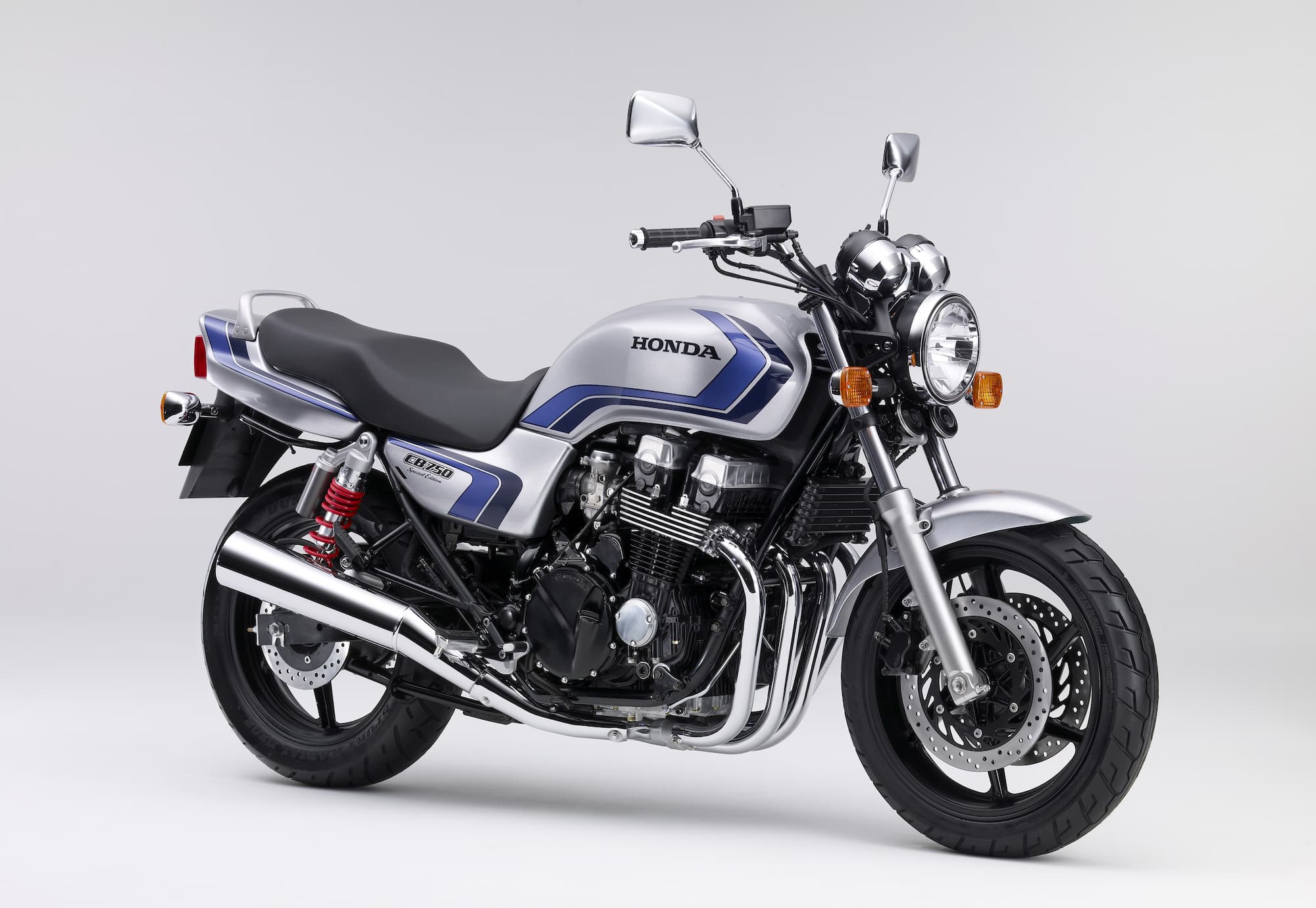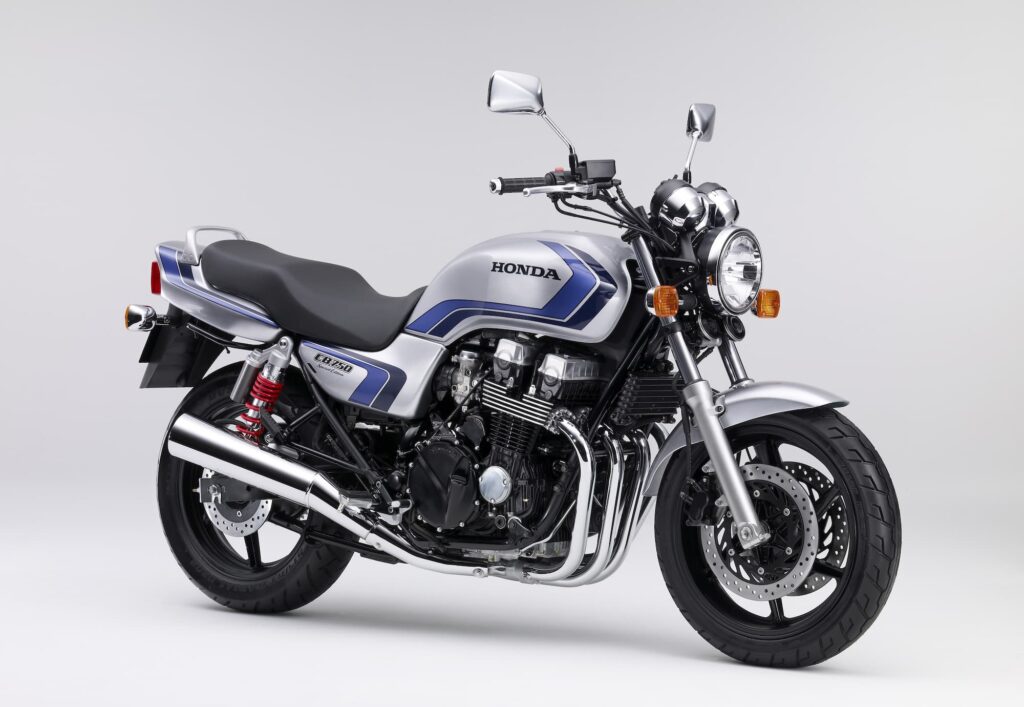 The Sportier CB line — The Honda Hornets
There's another side to the story — the Hornet.
Most people (including Honda's press) talk about the Euro-spec 2nd gen Honda CB600 Hornet (which the US didn't get) as the predecessor to the 2023 Honda CB750 Hornet. People think of the CB600 Hornet (either gen) as one of Honda's great affordable, reliable, and fun motorcycles. It's definitely all that.
The Honda CB Hornets are a bit different from the rest of the CB line in one way: The Hornets are the naked bikes with engines from full-fairing sportbikes. This is different from the other CB bikes, like the original CB750, who started life as a CB.
Honda made the first-gen CB600 Hornet, also known as the Honda 599 in the USA, between 1998 and 2006. It was based on a 599-cc liquid-cooled carburettor-fed inline four-cylinder engine. The bike was nothing fancy, but had just enough of everything (power, braking, suspension performance, looks) to be fun, while also not breaking the bank.
And that's the spirit of the Honda Hornet that Honda's trying to recapture with the 2023 Honda CB750 Hornet: A perfectly balanced middleweight.
See the other middleweight naked sport bikes you can buy (including the 2023 Honda Hornet).
But there were other Hornets, too! We just couldn't get them in every market. Australia and Asian markets were lucky enough to get the Honda CB250 Hornet, which has gear-driven cams and is a veritable riot, as are other 4-cylinder 250-cc bikes.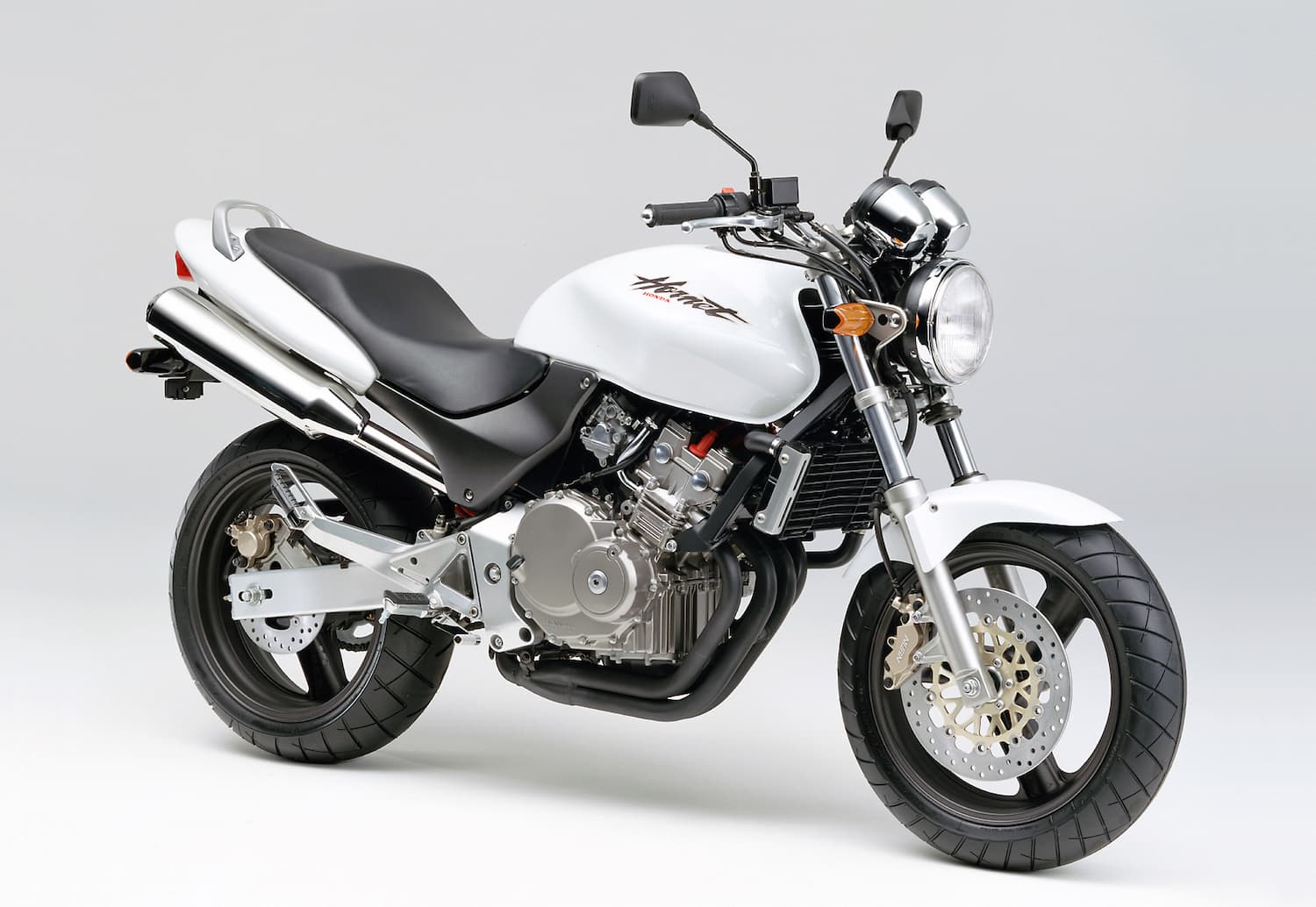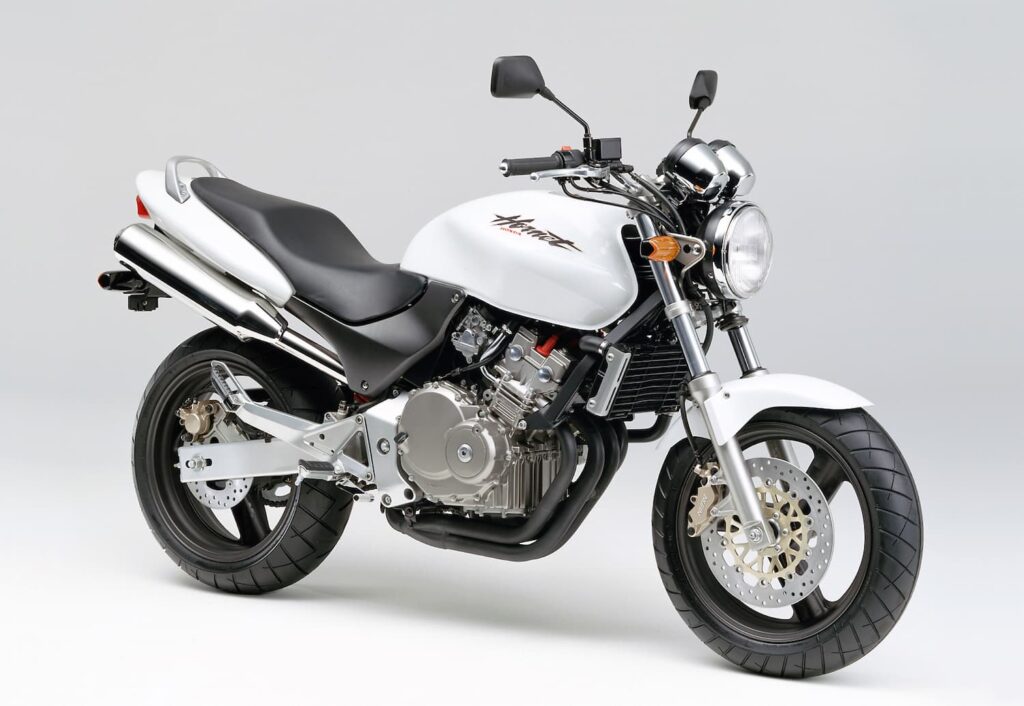 But the US didn't get this class of bikes in large numbers, with even only very limited CBR250RRs.
If you wonder "Why? Why didn't we get that pocket rocket?" Well, the US tends to have lots of big, fast roads in between the fun ones, and so running a small-displacement engine at high RPM just to keep up with 80 mph traffic gets old. This is my theory about why most Americans say "I wish we got these small bikes!" but in practice, usually end up with bigger bikes — these would only sell to the aficionados who have multiple bikes and want one for special purposes, like particular roads or tracks. But I digress.
Anyway, Honda made two little bikes with the name "Hornet". Honda then made two bikes based on a 650-cc engine that didn't get the Hornet name, but being the direct descendants of the CB600F Hornet, are quite similar. The Honda CB650R is especially very "Hornet-like", really.
All these motorcycles have in common an inline four-cylinder liquid-cooled engine with dual overhead cams and four valves per cylinder, so I won't labour that point in the specs.
Model
1st Gen Honda CB600F Hornets
Honda 919 / CB900F Hornet
2nd gen Honda CB600F Hornet
Honda CB650F
(non-Hornet)
Honda CB650R
(non-Hornet)
Years
1998-2006
2001-2006
2007-2012
2013-2017
2018+
Markets
Global
Global
Europe / Asia only
Global
Global
Engine displacement (cc)
600
919
599
649
649
Bore / Stroke (mm)
65 x 45.2
71 x 58
67 x 42.5 mm
67 x 46
67 x 46
Compression ratio
12.0:1
10.8:1
12.0:1
11.4:1
11.6:1
Fuelling
4 x 34mm carburettors
PGM-FI
PGM-FI, 36mm throttle bore
EFI, 32 mm bore
EFI
Peak power
71 kW / 98 hp @ 12000 rpm
81 kW / 109 hp @ 9000 rpm
75 kW / 102 hp @ 12000 4pm
64 kW / 86 hp @ 11000 rpm
70 kW / 94 hp @ 12000 rpm
Peak torque
66 Nm / 49 ft-lb @ 10000 rpm
92 Nm / 67 lb-ft @ 6500 rpm
64 Nm / 47 lb-ft @ 10500 rpm
63 Nm / 46 lb-ft @ 8000 rpm
64 Nm / 47 lb-ft @ 8500 rpm
Honda Hornet (+CB650F / CB650R specs)
The 1st gen Honda CB600F Hornet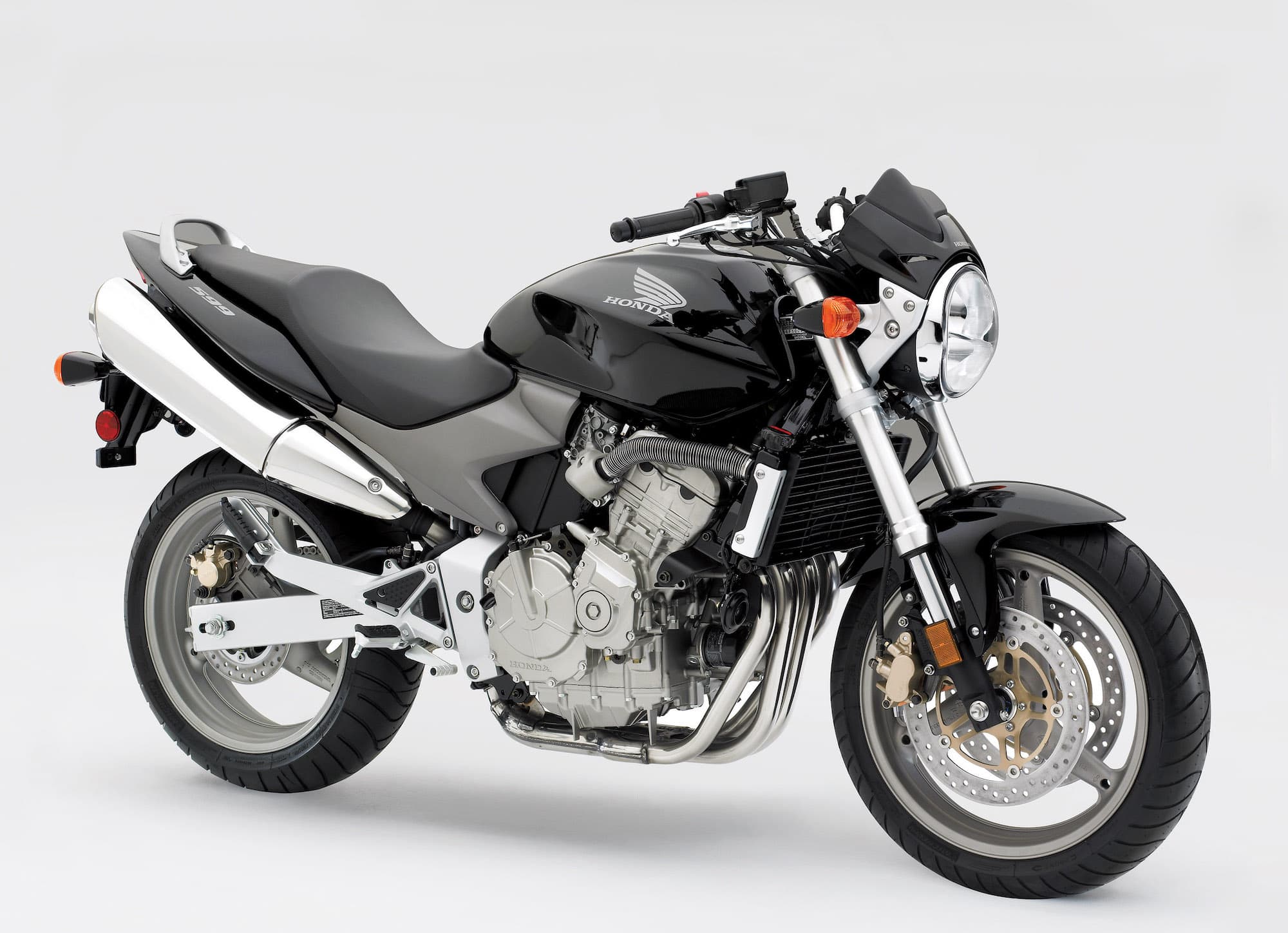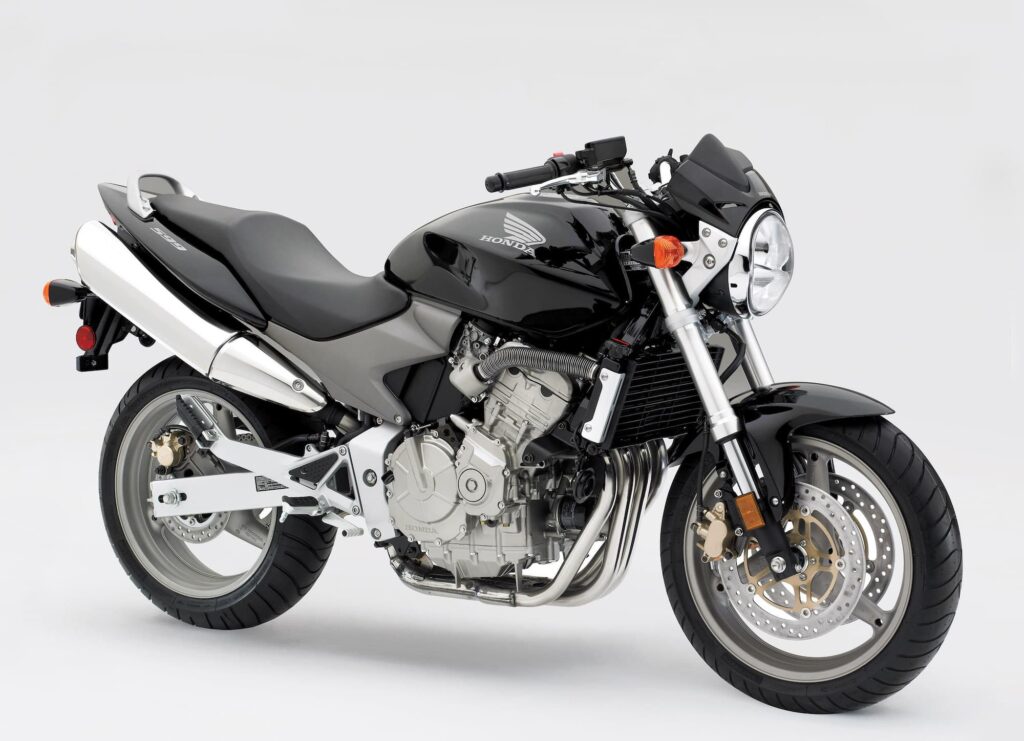 The most widely-known first Hornet is the Honda CB600F Hornet made from 1998-2006. In the US, this bike is also known as the Honda 599.
The Honda CB600 Hornet / 599 is powered by a 600-cc inline 4-cylinder engine. (Side note, I double-checked the displacement using the bore and stroke and my formulas, and now I really don't know why the US called it the 599!) The engine is liquid-cooled, carburettor-fed, has dual overhead camshafts, and four valves per cylinder. So it's pretty sporty and modern, aside from the carbs.
The engine in the 599 comes from the earlier carburettor-fed CBR600Fs, but it's in naked format: with handlebars (but relatively low and narrow ones) and no fairings. The engine is slightly detuned, but still good for around 98 hp (71 kW) at 12000 rpm, give or take. So, this is a high-revving engine — but it's still usable below 6000 rpm, just quite docile.
The combination of a sporty 4-cylinder 600 cc engine in a middleweight naked chassis is kind of magical. It makes for a bike that you can do a lot of different things with. It's easy to use at low speeds, fun and easy to navigate along tight roads, and a blast to rip through the revs on. As a special reward for revving the engine up, Honda's early 600 cc engines had both intake and exhaust howl that really rewarded you for getting above 8000. Which is easy to do in at least the first couple of gears.
But the icing on the cake was that the CB600F Hornet was also cheap. It had pretty basic components — carburettors in the time when most bikes were moving to injection, non-adjustable suspension, and of course no fancy electronics or any rider aids.
These days, you can still find them. But because they're a little old, a well-maintained one will set you back the same amount as many other bikes from 2000 to today — including its bigger sibling the Honda 919. So it's often overlooked.
This is the spirit that the 2023 Honda CB750 Hornet is trying to recapture: cheap, fun, and with multiple personalities. I personally had the pleasure of riding one while doing advanced rider training once. I had a blast on it!
Honda Hornet 900 / CB900 919 (2001-2007)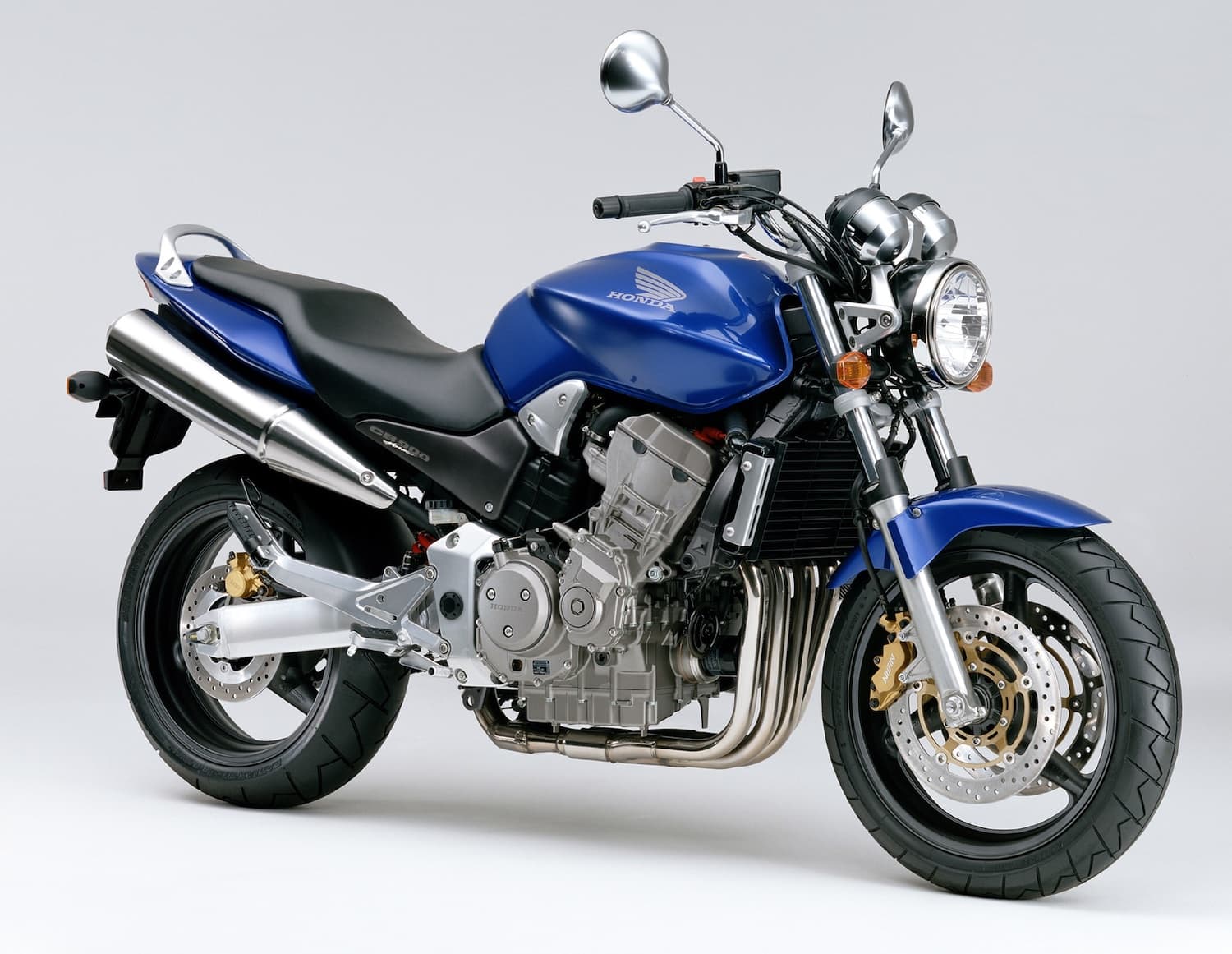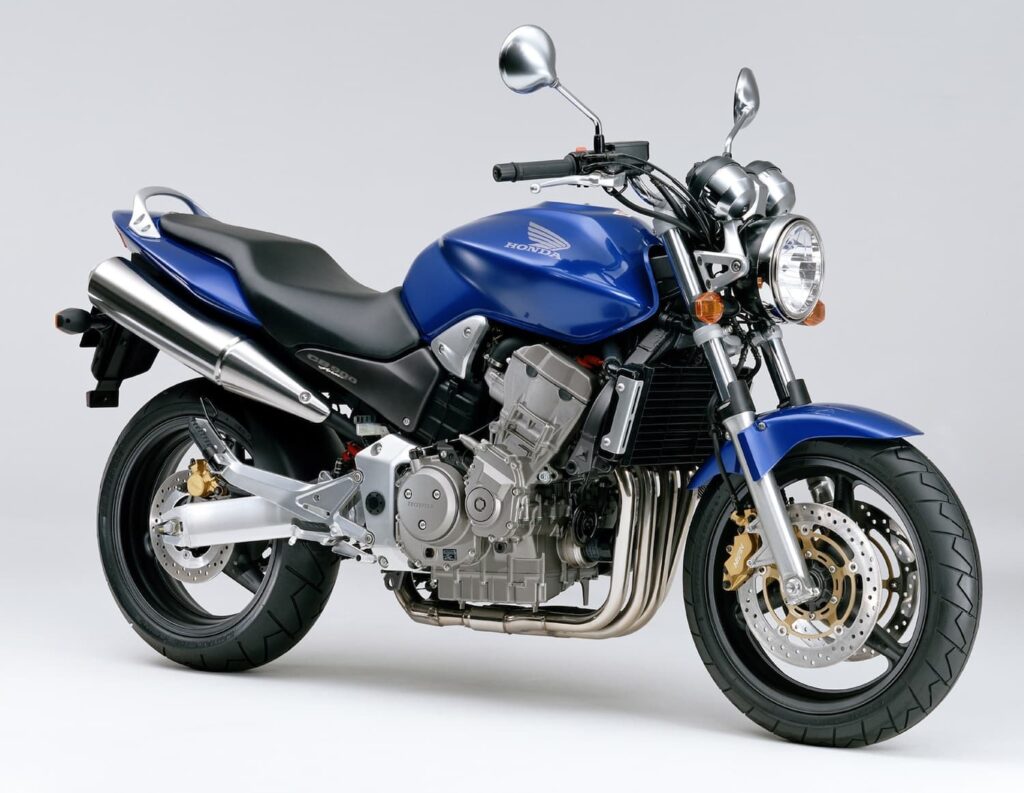 Something you may not realise is that the Honda CB900F 919, as it's known in the USA, was also a Hornet in other markets.
I had the pleasure of actually owning this bike, and loved it (here's my reflection on owning the Honda Hornet 900). It's just such an easy bike to ride at all speeds — the real magic of many four-cylinder standard bikes, bikes which from many brands have the same feeling of being hard to stall in low RPMs, able to be piloted at near walking pace in fourth gear without breaking a sweat.
Like the littler Hornet, the Honda 919 / CB900F Hornet comes with just enough stuff, without making the bike over-expensive. It was around in the era of the CBR929RR, CBR954RR, and even the first CBR1000RR Fireblade, but the 919 was based on the older 918 cc engine from the last-gen CBR900RR, but adding fuel injection.
Interestingly, the Honda Hornet 900 didn't make a ton more peak power than its much smaller sibling the Honda Hornet 600. In fact, it makes just ~10 more horsepower (and even fewer more kilowatts!). The difference of course is that the power peaks lower (at 9000 rpm vs 12000 rpm), and that there's loads more torque — again, much lower down.
The Hornet 900 has twin front discs with four-piston calipers, non-inverted forks, and still has a low sticker price today. I still think it's a great bike, if you can trust yourself without ABS. (This bike was sold when there were "just" 6 billion people in the world, crazily enough… There are now more than 33% more people, and due to urbanisation and the rising middle class everywhere, many more of them are on the road. Times change!)
There were no more "big" Hornets after the CB900F, just the CB1000R. Which, luckily, is awesome (see my whole buyers' guide).
The 2nd gen Honda CB600F Hornet (2007-2013) — Sorry, US / Australia
But then there was the Honda CB600 Hornet made from 2007 to 2013. This one never made it to the States, but has been very popular in Europe and the UK for similar reasons to the original CB600. Americans may note that it looks like the 1st gen Honda CB1000R (which they DID get).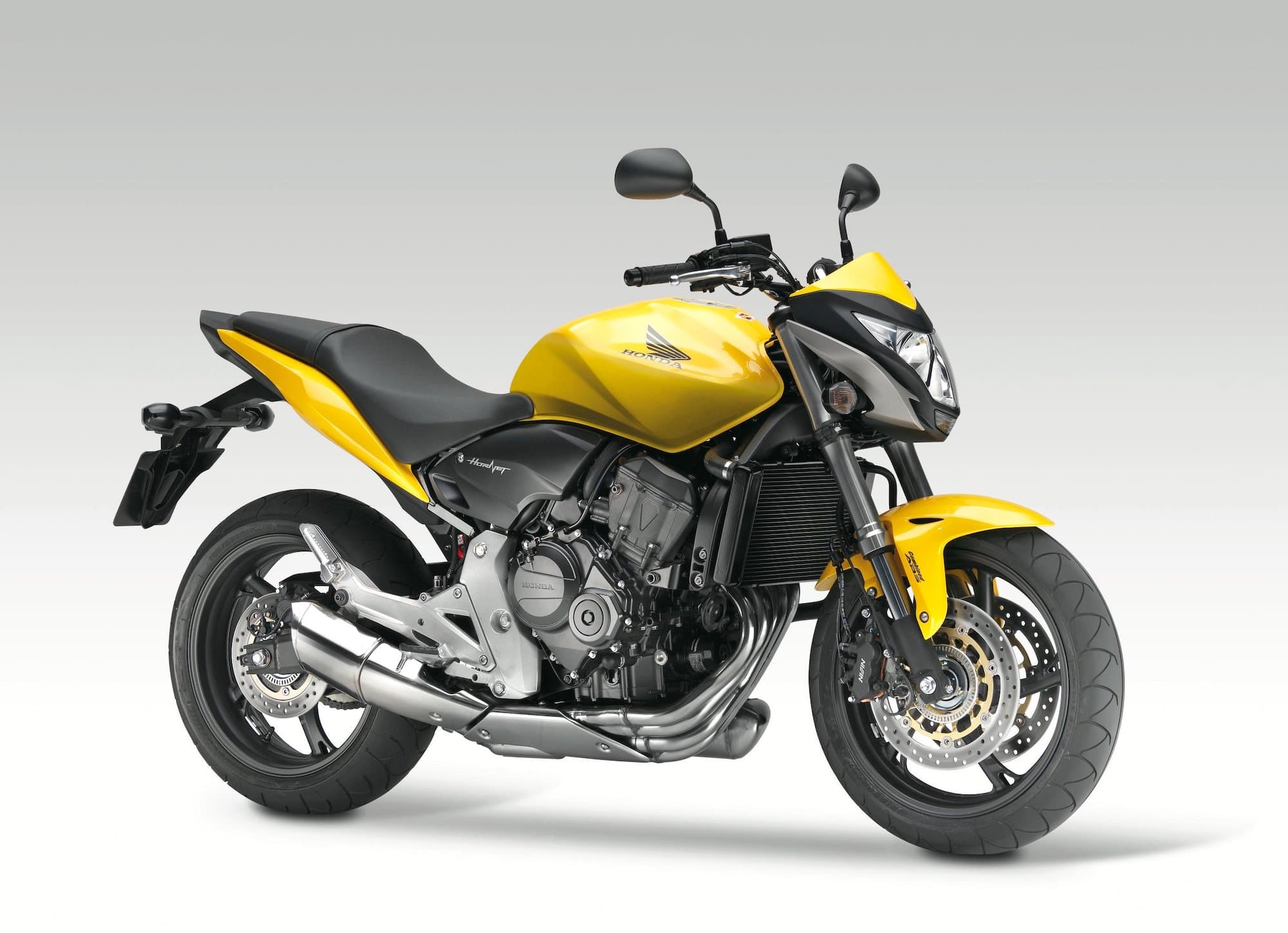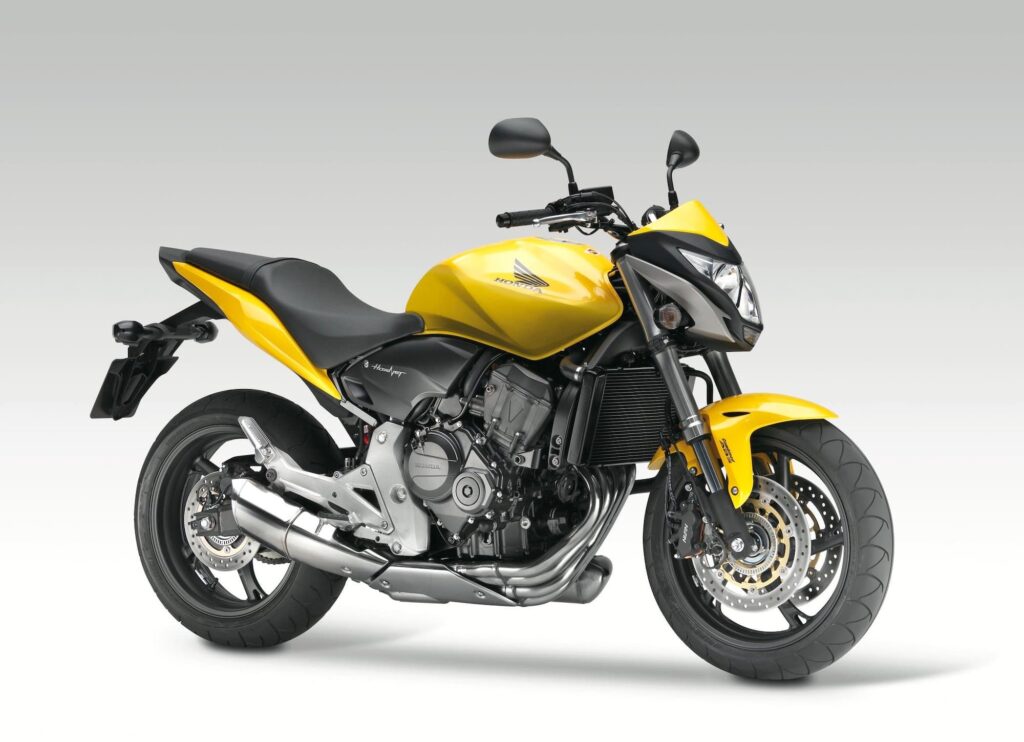 The 2nd gen Honda CB600F Hornet took its engine from the CBR600RR. It got fuel injection, projector headlights, and lots of plastic. Aesthetically it lost the classic good looks of the 1st gen, but not everyone likes round headlights!
Because this one never made it outside Asia and Europe (I don't think? I never saw any in Australia and the US, and they weren't in the major publications… but correct me if I'm wrong), people seeing the new CB750F may not realise that this is the Hornet that the newest model most closely resembles.
The 2nd generation Honda CB600F Hornet is everything the first one was. Other than aesthetic differences, it has a more powerful engine, the same great handling, and performs the same — easy to handle, easy to ride slow or fast, and still cheap.
On aesthetics — I like the round headlight of the first gen. But I've also been surprised by how many people vastly prefer the second gen. So I'm well aware that aesthetics are a very personal thing.
The second-gen CB600 Hornet came with some impressive upgrades, like an inverted fork (still non-adjustable), a lower centre of gravity thanks to its low-slung exhaust (even though it doesn't look as cool), and even optional ABS.
The Honda CB600F was replaced by the 2014 Honda CB650F.
The Non-Hornet: The Honda CB650R
One bike which I think echoes a lot of the CB600F Hornet, even visually, is the CB650R. I don't know why Honda didn't call this one a Hornet.
C'mon, round front head light, exposed front exhaust headers, and same general riding attitude. The CB650R is very Hornet-like, even in ride — it's quick but friendly. They have similar power specs too, the Honda 599 peaking at 98 hp at 12000 rpm, and the CB650R making 95hp at 12000 rpm. Can't we all get along?
Anyway, Honda CB650R isn't branded a Hornet. But for those looking for a relatively affordable, mid-spec naked sportbike with a four-cylinder engine, that's one of your best ports of call. (Actually, it's one of your only ports of call, along with the Suzuki GSX-S750.)
2023 Honda CB750 Hornet – Quick Specs
Here's a quick overview of the most important specs for the 2023 Honda CB750 Hornet.
You can't ride a spec sheet, but this is context for some of the below.
| Part | Honda CB750 Hornet Spec | Notes |
| --- | --- | --- |
| Engine Type | 755 cc Liquid-cooled Unicam 8-valve Parallel Twin with 270-degree crank | P-twin, unlike past 4-cylinder Hornets |
| Bore x Stroke (mm) | 87 mm x 63.5 mm | Not like any other motor out there |
| Compression Ratio | 11.0:1 | Mild / mildly sporty. But a Europe-spec bike is likely to require 95 RON fuel. |
| Max. Power Output | 67.5 kW (91 bhp) @ 9500 rpm | Decent power, leave open an A2 license detuned version, but not LAMS in most places (as it's over 660 cc) |
| Max. Torque | 75 Nm (55 ft-lb) @ 7250 rpm | |
| Fuel Tank Capacity | 15.2L | |
| Ride aids | Assisted slipper clutch, ABS, TC, RbW + ride modes, self-cancelling turn signals. USB-C port for phone, optional quickshifter | No cornering ABS, no cruise |
| Transmission Type | 6 speed Manual Transmission | No DCT option |
| Kerb Weight | 190kg | |
| Suspension Front | Showa 41mm SFF-BP USD, 130mm travel | Non-adjustable |
| Suspension Rear | Monoshock damper, Pro-Link swingarm, 150mm travel | Non-adjustable |
| Tyres Front | 120/70ZR-17 | |
| Tyres Rear | 160/60ZR-17 | Thin! |
| Brakes Front | Dual 296mm discs with Nissin radial mount 4-piston calipers | |
| Electronics | TFT screen, full LED lighting | |
2023 Honda Hornet — Quick Specs
How the 2023 Honda CB750 Hornet fits in with Other CBs / Hornets
The CB750 Hornet is not the world's most exciting motorcycle. But it looks like it'll be cheap, efficient, and fun, without being exceptional at anything — which is really what the Honda Hornet is all about.
Let's look at how those core concepts fit in with other Hornets of recent times.
Firstly, the engine. The engine of the new Hornet is a parallel twin rather than an inline four-cylinder engine. Is that OK? Sure, it's OK with me, but a parallel twin has a different feel from an inline-four. They don't "scream" the same way, for starters.
But it's worth stating the advantages of a P-twin. Just two cylinders means fewer valves to check, lighter weight (usually), and a narrower block. There's less to wear, too. On an inline-four, over the life of a motorcycle, there are twice as many explosions when compared to a parallel twin!
Some people talk about a parallel twin engine's "torque"-forward power delivery. I just want to mention that the amount of low-RPM torque and number of cylinders are absolutely not inversely correlated. For example, the Honda Gold Wing has TONS of low-RPM torque and has a six-cylinder engine. Same with V8 cars. Don't believe the marketing hype — inline fours can have lots of torque from down low. Ask any Suzuki Bandit owner, too.
That said, I do expect the first dyno runs to show that the CB750 will have a lot more torque down low than the Honda 599 / CB600 Hornet did, and not as much of a high-RPM rush.
In terms of visual design, the CB750 Hornet has a lot in common with the 2nd generation Europe only CB600 Hornet.
The CB750 Hornet has the same angular "streetfighter" design that came into fashion in the 2000s. It's not everyone's favourite, but it's at least narrow and efficient.
Comparing the CB750's general specs to that of the CB600, you can see that the larger capacity parallel twin is tuned for more torque, made lower in the rev range, and with less peak power. This is probably going to reflect people's general riding styles — though I think if you're looking for a sporty ride, you're going to get caught out by a rev limiter somewhere near 10000 rpm.
| Model | 2nd gen Honda CB600F Hornet | Honda CB750 Hornet |
| --- | --- | --- |
| Years | 2007-2012 | 2023+ |
| Markets | Europe / Asia only | Europe / APAC-only |
| Engine displacement (cc) | 599 | 755 |
| Peak power | 75 kW / 102 hp @ 12000 4pm | 67.5 kW (91 bhp) @ 9500 rpm |
| Peak torque | 64 Nm / 47 lb-ft @ 10500 rpm | 75 Nm (55 ft-lb) @ 7250 rpm |
Honda Hornet CB600 vs CB750 specs
Finally, ride componentry — chassis, suspension, and brakes.
The chassis is a steel diamond frame (rather than a high-tech alloy construction), but made of a lightweight design that's around 10% lighter (or nearly 2kg / 4.4 lbs) lighter than that in the CB650R, for example.
Honda uses the same spec of suspension as in the CB650R and CBR650R — there's a Showa SFF-BP (Separate Function Fork — Big Piston), which uses a separation damper in one leg and the spring in the other. It's non-adjustable. And the brake is similar too, with Nissin radial-mount four-piston calipers clamping down on 296mm discs. The CB650R / CBR650R have 310mm discs.
The Honda CB750 Hornet is among the growing legion of middleweight, mid-spec bikes that can take a quickshifter as an option. Hooray!
Honda CB750 Hornet Colour Options
The 2023 Honda CB750 comes in four colours. I'm sure Honda will add more colours as time goes on.
Graphite Black (metallic red flame frame, anodised red forks
Pearl Glare White (metallic red flame frame, anodised red forks)

Matte Iridium Gray Metallic

Matte Goldfinch Yellow
See pics below. I've ordered them in the order of what I think will sell the best to the least well. (I like yellow, but I'm a minority.)
Honda CB750 Hornet vs Competitors
The CB750 Hornet has a wide variety of competitors. Basically, it's every mid-spec middleweight standard sportbike out there. And it's a tough crowd!
This includes at least these models:
Suzuki SV650, now in its third major generation
Suzuki GSX-S750 (yes, another Suzuki)
Honda CB650R (yes, competition from even within Honda's own stable)
Yamaha MT-07 / XSR700
Kawasaki Z650
Triumph Street Triple S (the lower spec of the Street Triples)
Aprilia Tuono 660
Ducati Scrambler 800
I'll go through these one by one with a brief intro of how they're similar / different.
Here's a summary table with all the options.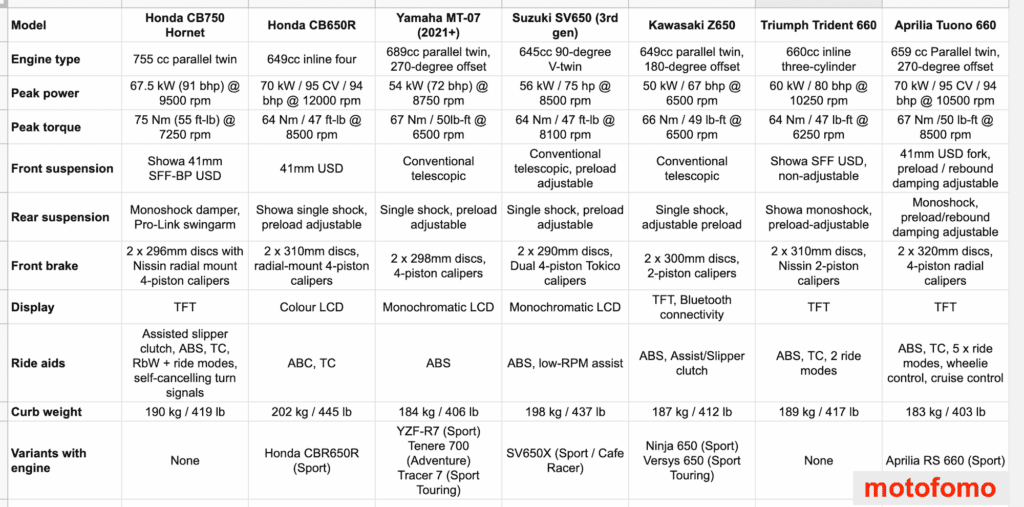 I don't want to go into these in massive detail (we'll be here all day, and new models keep coming out), so consult a separate article on mid-spec middleweight sport bikes.
But here's a quick slider you can flick through on what you can get right now.
Honda CB650R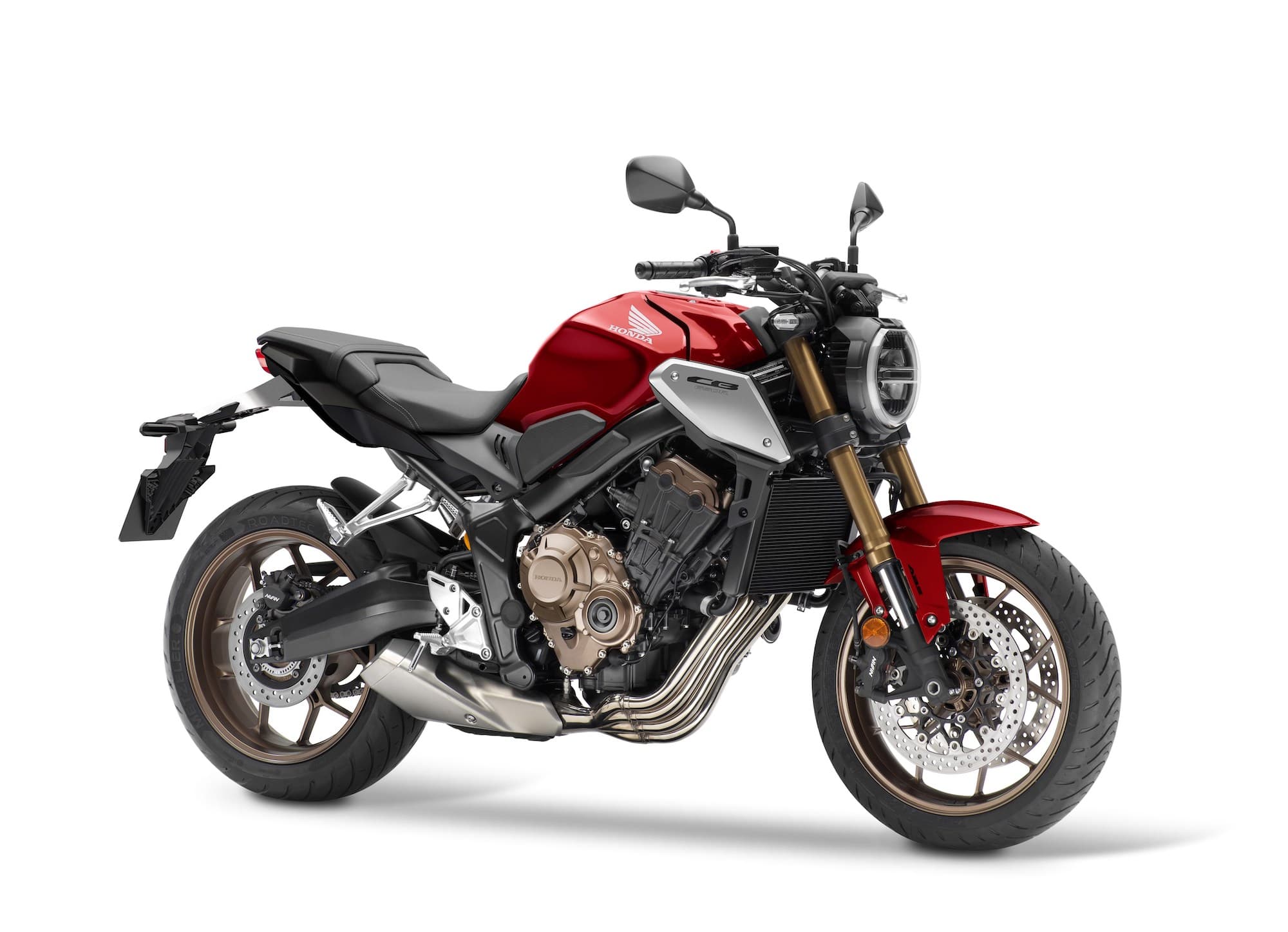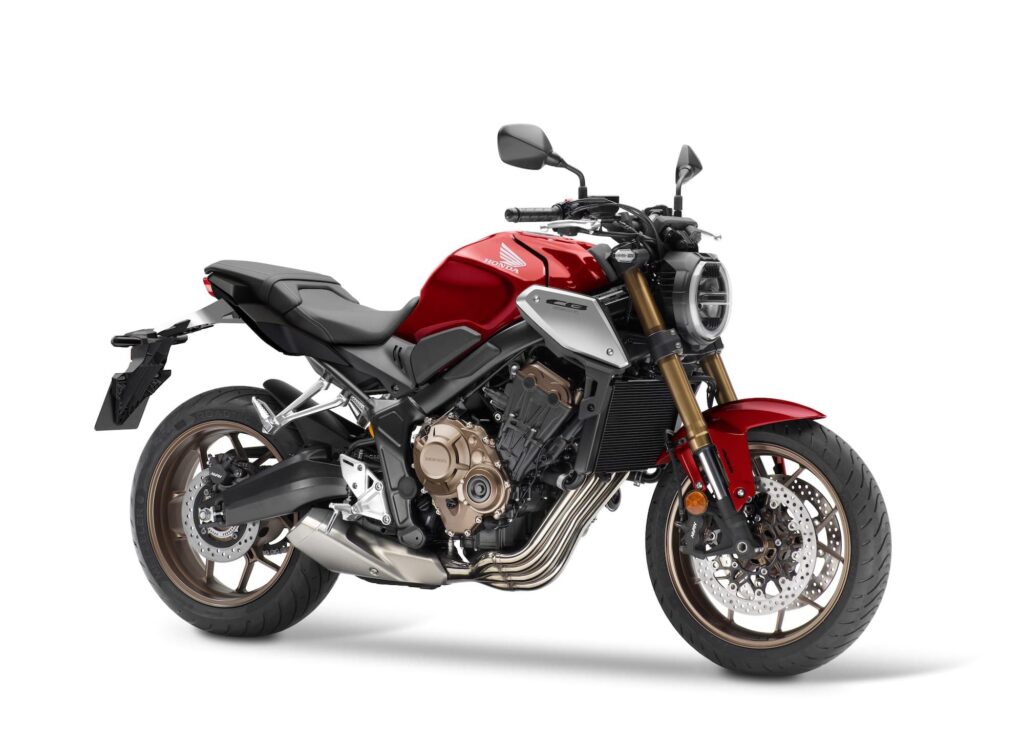 As mentioned above, the CB650R is an obvious alternative to the CB750 Hornet. Honda always does this, making competitors for its own bikes!
The CB650R is the latest in a long line of standard sport bikes from Honda. It's powered by a 649-cc liquid-cooled inline four-cylinder engine that likes to rev, though not quite in the same way as a high-power sport bike. It's a more everyday willingness that's very engaging when you're out for a weekend blast.
At peak, the CB650R makes 95 hp at 12000 rpm. This peak power means that it's also available in detuned A2 format in Europe. You can also get it in LAMS-approved format in Australia — unfortunately, the full-power version isn't available there.
Honda has improved the suspension over time, with the latest iteration having a Showa SFF-BP configuration. The brakes are capable, with Nissin four-piston radially-mounted calipers on 310mm discs.
The CB650R is pretty good. It's really the right amount of bike for a lot of people, if they weren't seduced by the CB1000R next to it for not much more! (Guilty.)
Yamaha MT-07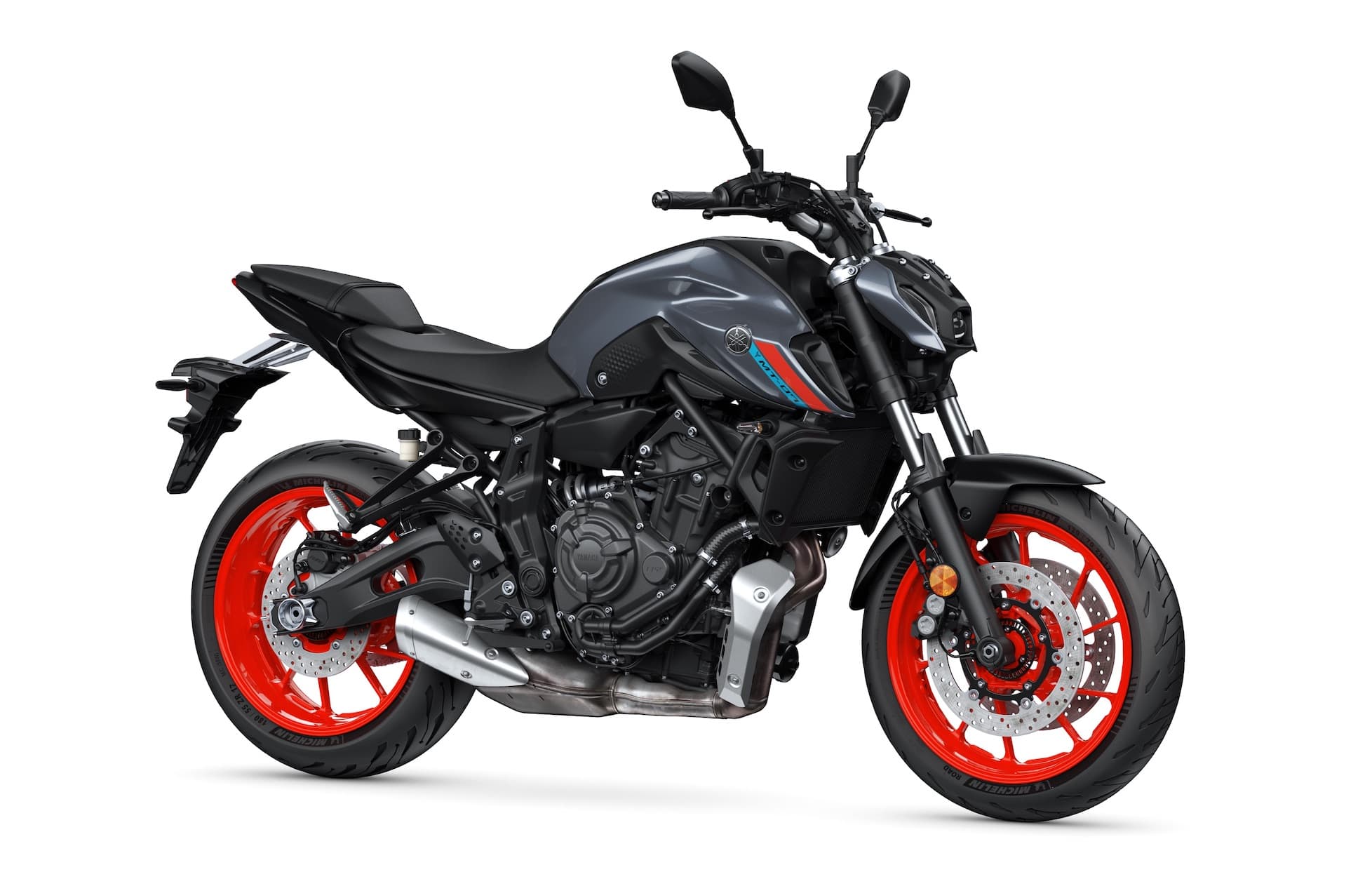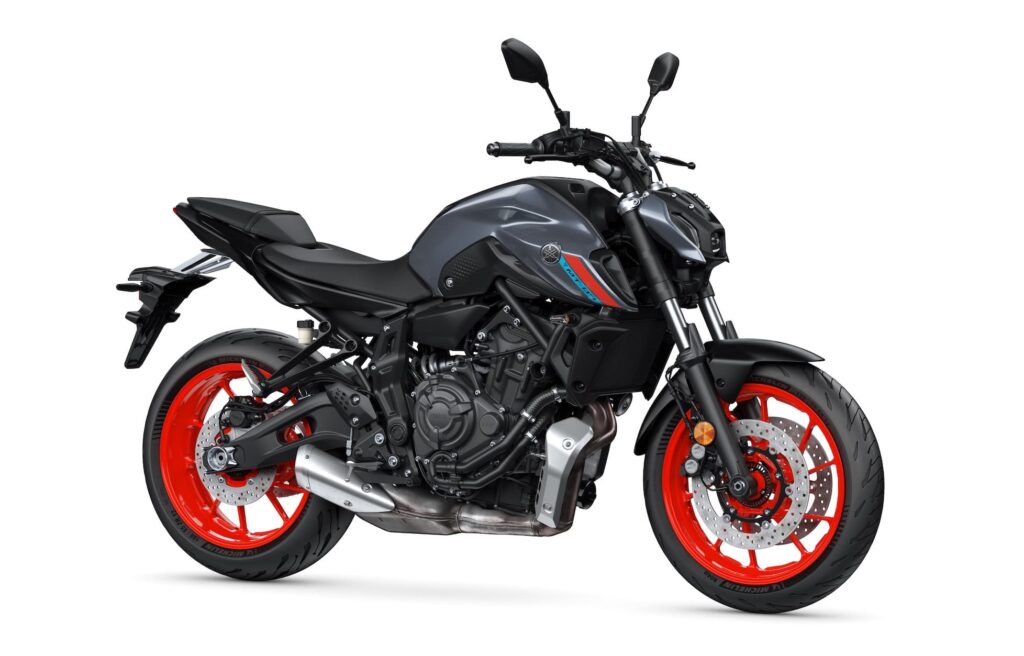 The Yamaha MT-07 is the bike that ostensibly inspired the latest crop of parallel twin middleweights. It just has so much in common with them!
The core of the MT-07 is the superstar "CP2" engine, which is a parallel twin with a 270-degree crank. It's a real winner of an engine — lightweight, powerful enough, and full of character, which is something increasingly hard to achieve with regulatory constraints. There have been many times I've thought a roaring Ducati was rumbling past, only to look up and see it was an MT-07 with a pipe on it.
Yamaha keeps improving the MT-07. The brakes on the 2021 model are a bit bigger, the LCD dash is improved (though still not a TFT), and they improved the look — though not everyone is a fan of the new headlight.
Suzuki SV650
The Suzuki SV650 is in its third decade of production. It's now in its third generation, and it hasn't been significantly updated since 2016, but it's also very affordable.
The SV650 is an iconic middleweight sport bike. It's powered by a 645-cc liquid-cooled 90-degree V-twin with dual overhead cams and four valves per cylinder. It has a very flat torque curve, with over 80% of peak torque from 2000 rpm to its 10500 rpm redline. And yeah, it kind of looks like a Ducati, and it's hard to think that's not intentional.
The SV650 is light on tech, with an LCD console, ABS, and that's about it. The suspension is conventional, there's no slipper clutch, and there's definitely no quickshifter.
But the SV650 is an iconic classic. The engine has loads of character, it's fast enough, and it's one of those bikes that many say you should own at least once.
Kawasaki Z650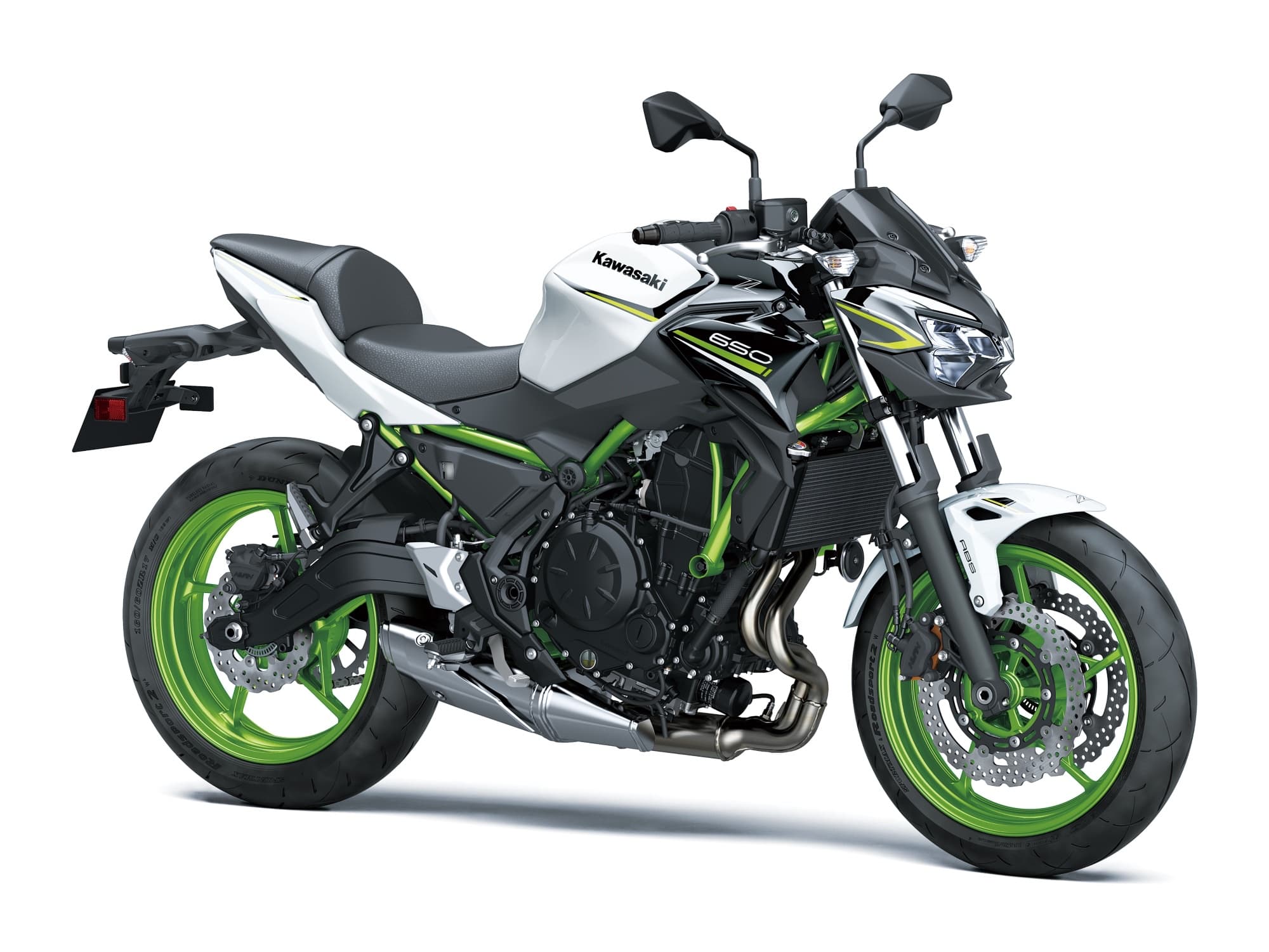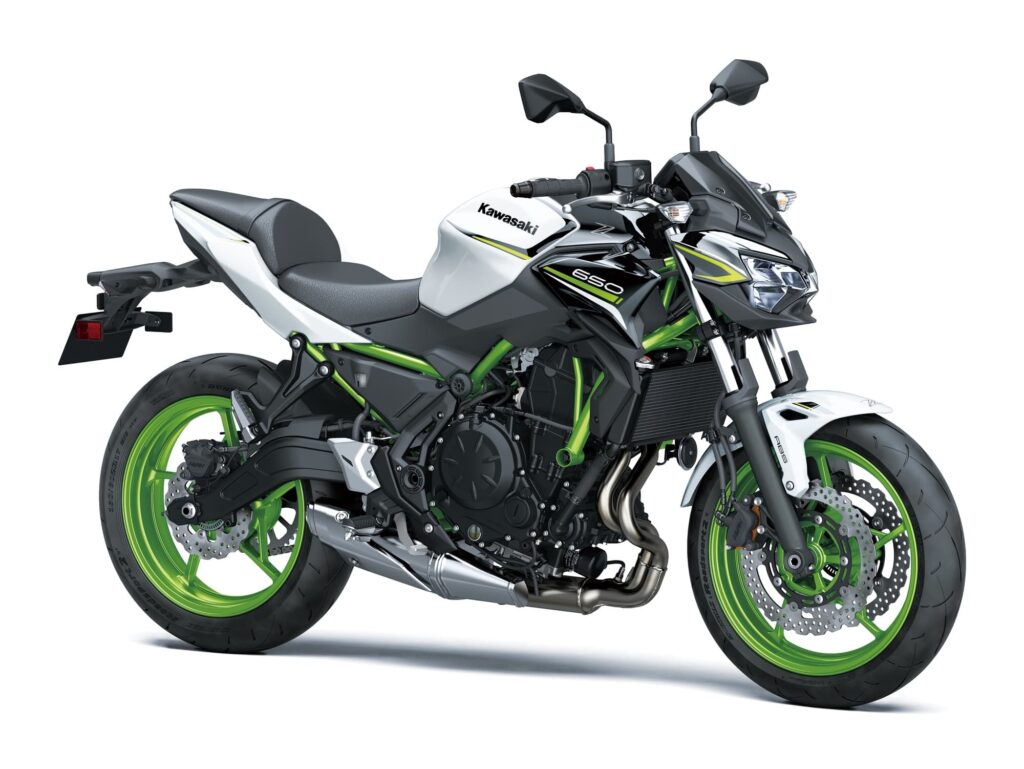 The Kawasaki Z650 is another everyday naked sportbike with a parallel twin engine. Kawasaki has been using this parallel twin format for ages, back to decades ago with the unbreakable ER5… probably earlier too but bikes of those generations are thin on the ground.
The Z650 is powered by the same parallel twin as in the Ninja 650. It's a 649-cc parallel twin with dual overhead cams, 16 valves, and a 180-degree firing order. It doesn't have as much instant character on demand as the Yamaha MT-07, but it definitely sounds good with a nice exhaust, and it has rock-solid reliability.
In terms of power and specs, there's very little that separates the Z650 and the MT-07, but the MT-07 is so popular that it might be easier to sell.
Triumph Trident 660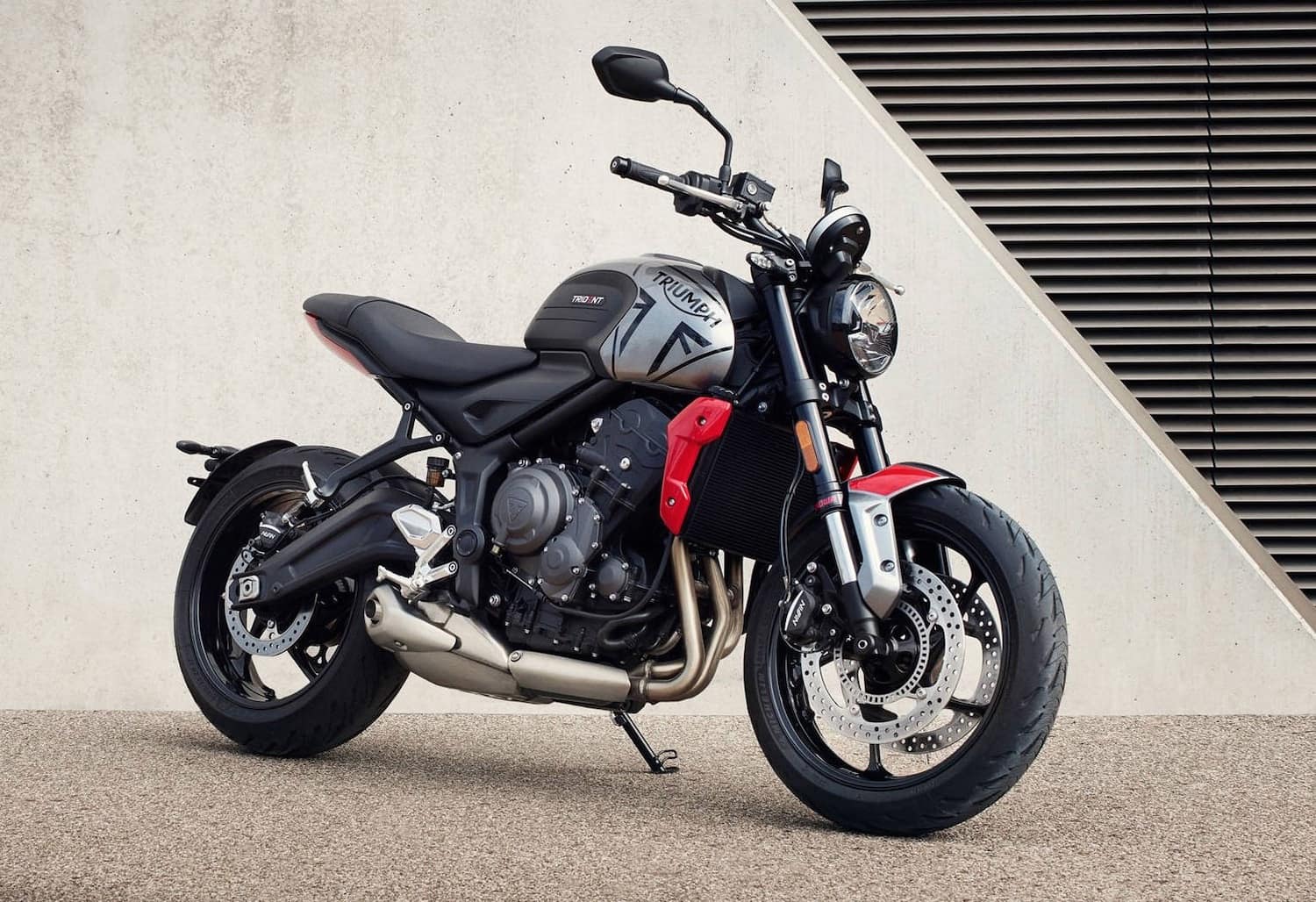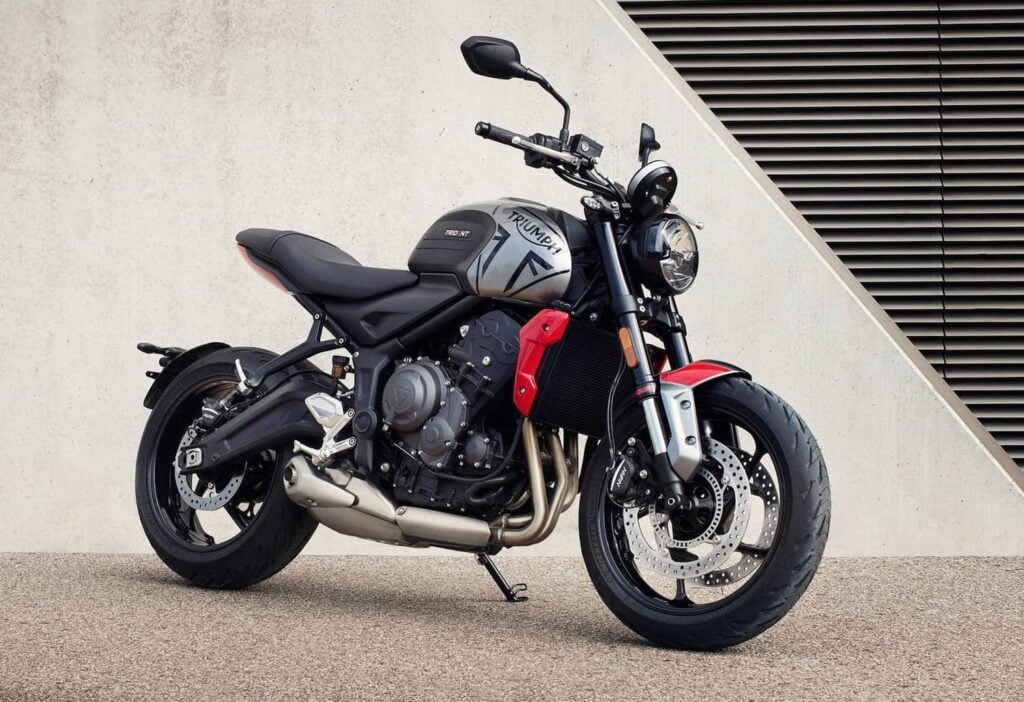 The Triumph Trident 660 is Triumph's new-ish entrant into the middleweight sport standard segment.
Like many Triumphs, the Trident 660 is powered by a three-cylinder engine, which by itself makes the Triumph very unique in this class. Yamaha and MV Agusta have some triples, but they're in the premium middleweight class.
The Trident 660's 60 kW / 81 PS engine peaks in power at a fairly high 10250 rpm, so this makes for a sporty ride. The ride componentry is competent but nothing special, with two-piston calipers on 310mm discs up front, and an inverted SFF fork that's not adjustable.
But the Triumph Trident 660 is everything the new Hornet wants to be — fun, capable, and affordable.
Aprilia Tuono 660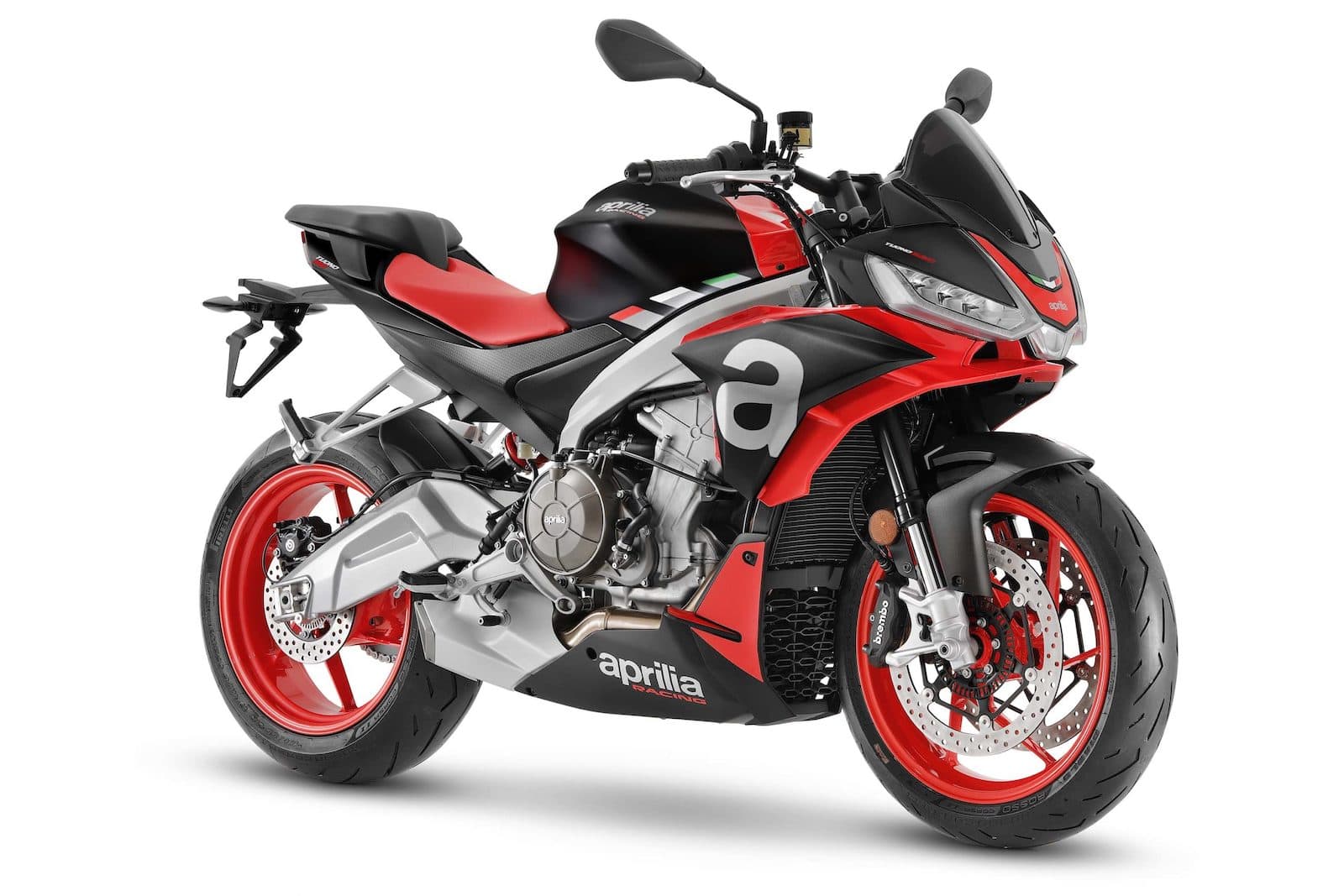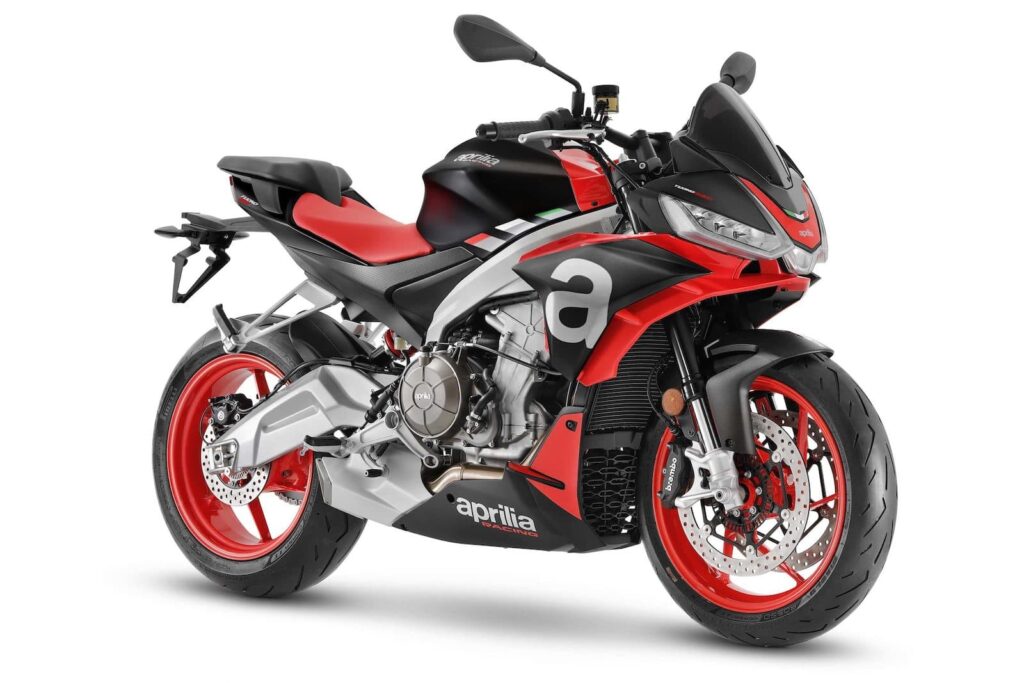 The Aprilia Tuono 660 is a high-end middleweight. It comes (if you tick all the boxes for options) with the kitchen sink of electronics, including cornering ABS and a quick shifter. Cruise control is standard!
The Aprilia Tuono 660 is actually almost a fully faired motorcycle. But it's only when you see it next to the Aprilia RS 660 that you realise… oh right, this is the "naked" one. Still, it has a headlight and side fairing. It's somewhere in the middle.
The Tuono 660's parallel twin engine is a pretty powerful one, making 100 horsepower at 10500 rpm. The rest of the bike is pretty high-spec too, with adjustable suspension front and rear, and four-piston Brembo calipers on the inverted fork.
So the Aprilia Tuono 660 sits somewhere between the middleweight and premium middleweight categories. It's mostly in the latter — but the engine is just a little smaller and less powerful than those bikes.
There are other contenders too — see a separate guide to middleweight sport naked motorcycles I'm putting together.
Wrap up
Honda has come a long way since the original CB750 "superbike". The latest CB750 Hornet isn't the same thing, but it combines a bit of all the elements of CB motorcycles and Hornets today.
The thing is, competition is tough. Yamaha's MT-07 is still the king when it comes to affordable fun. And new competitors keep coming up — Suzuki is also refreshing its middleweight twin for 2023, releasing the GSX-8S.
But if any of the past Hornets are anything to go by, I'm sure anyone picking up a CB750 Hornet won't be disappointed.