I regret parting ways with a Honda 919, also known as the Honda Hornet 900 in different markets, or just the CB900F. Honda made the 919 from 2001 through 2007.
I keep looking for replacements for my Honda 919 or alternatives, and so I'm sharing my notes here as a buyers guide.
The Honda 919 / Hornet 900 is a standard sport bike based on the Honda FireBlade's 919 cc four-cylinder liquid-cooled motor (from the last gen CBR900RR made between 1998-99, before the CBR929RR). It's the ancestor of today's Honda CB1000R, a great-looking bike.
I had my Honda 919 for just a few short months. In truth, I had to sell it — I was leaving the country. And I got a lot of fun out of it while I had it, putting on a few thousand miles (this was in the US) in those few months, riding all around California.
But even though I got that bike just because it was a practical option, it got under my skin really quickly.
Here's why I regret selling my Honda 919, and why I'll probably have one again (maybe as a track bike!), or some modern version of it, if the CB1000R lives up to expectations.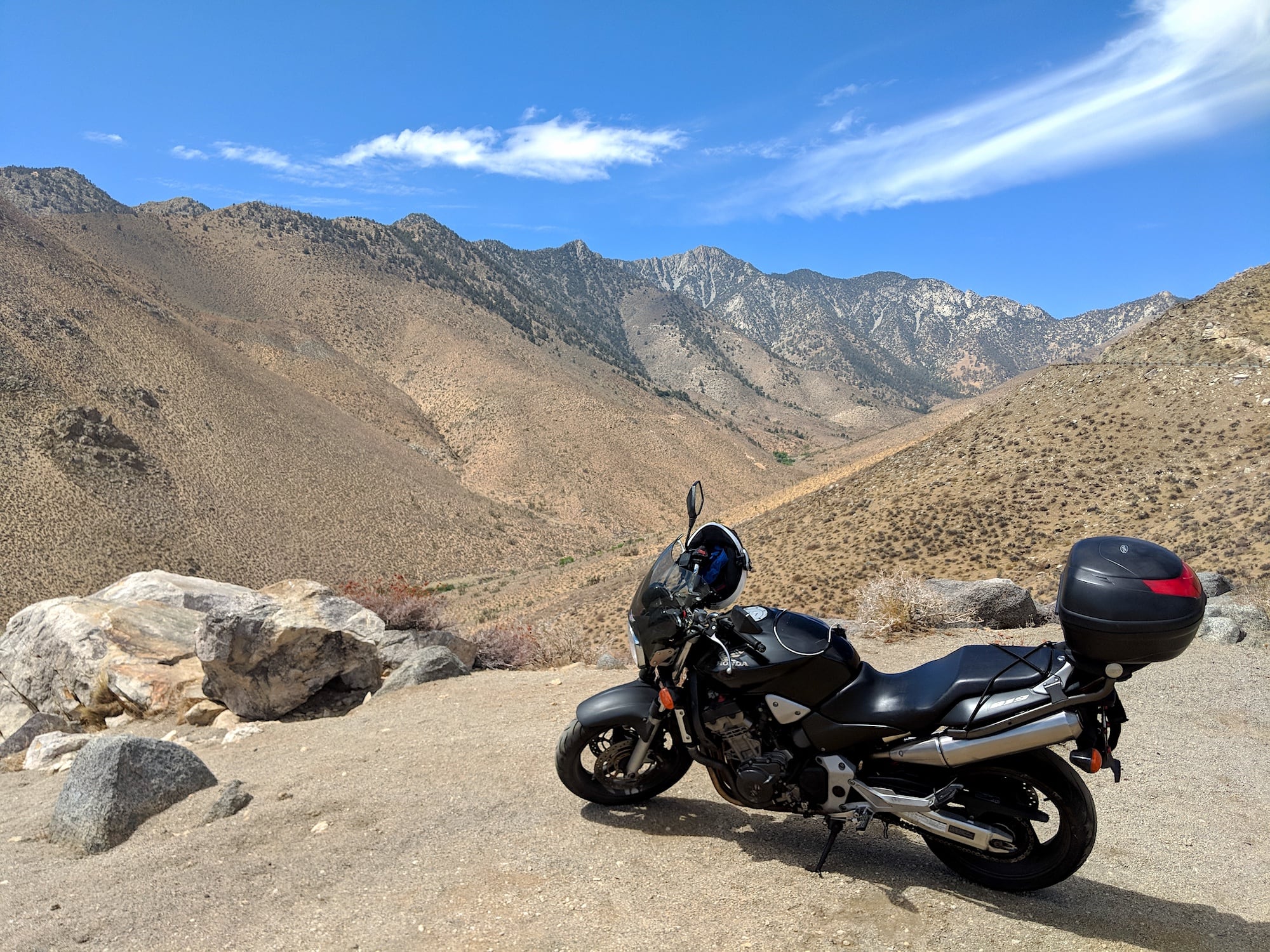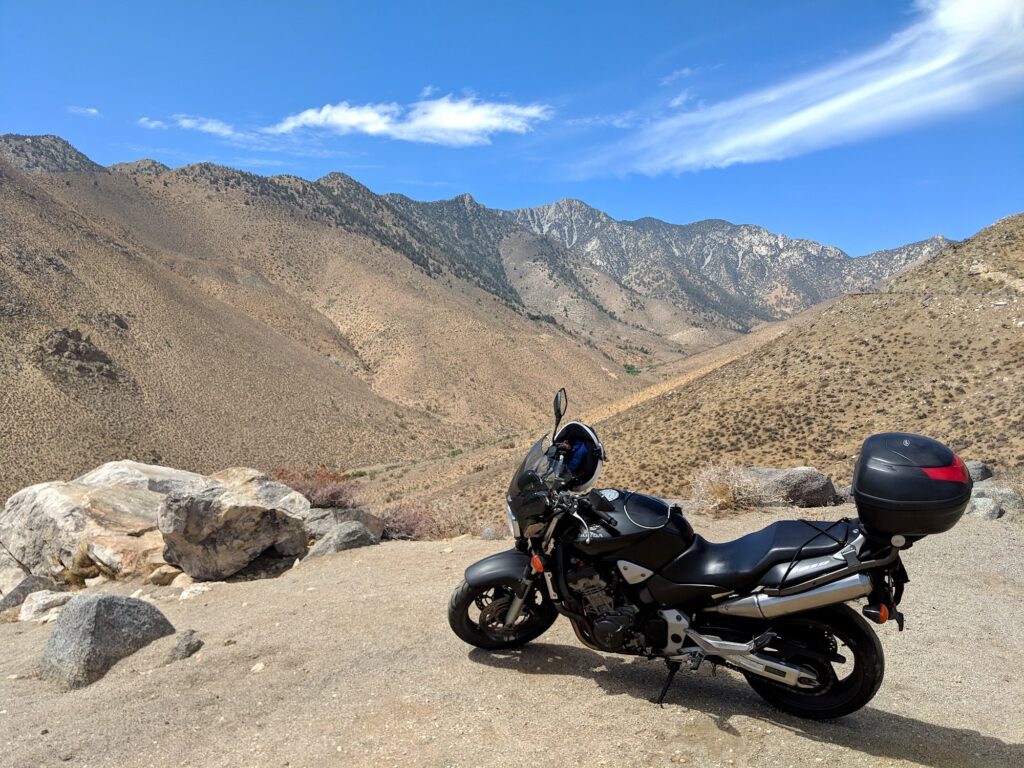 Are you obsessed with motorcycles?
Well, I am. That's why I created this site — as an outlet. I love learning and sharing what others might find useful. If you like what you read here, and you're a fraction as obsessed as I am, you might like to know when I've published more. (Check the latest for an idea of what you'll see.)
A Brief History of the Honda 919 — How We Got Here
Honda has a long history of building inline four-cylinder engines, dating back to times before the Internet, before cellphones, and in fact before portable music devices (I want to say "Sony Walkmans", but does anyone else remember what that means?)
The first CB900 with a passing resemblance to the Honda 919 / CB900F Hornet was the 1981 Honda CB900F. This was actually my first big bike.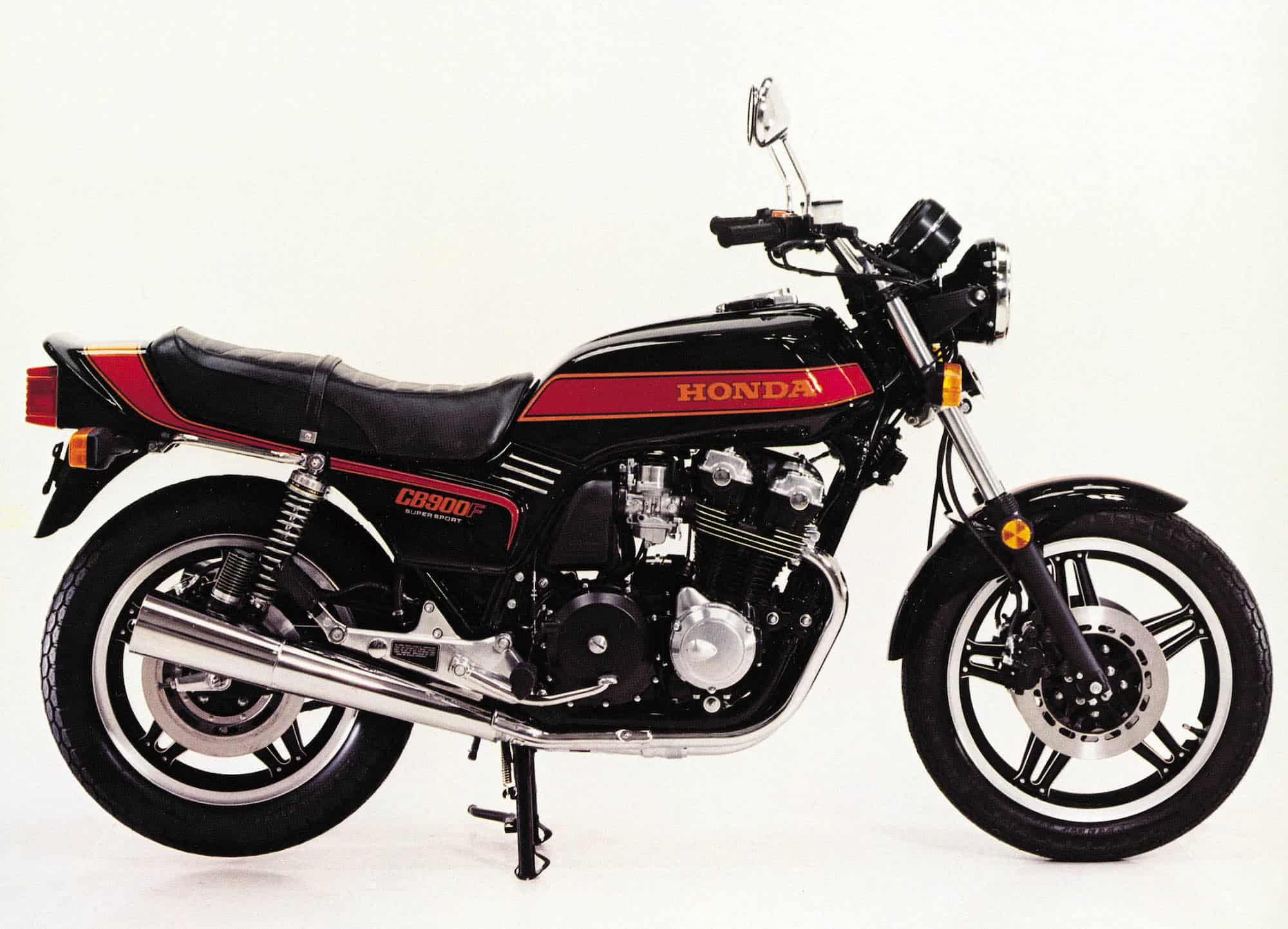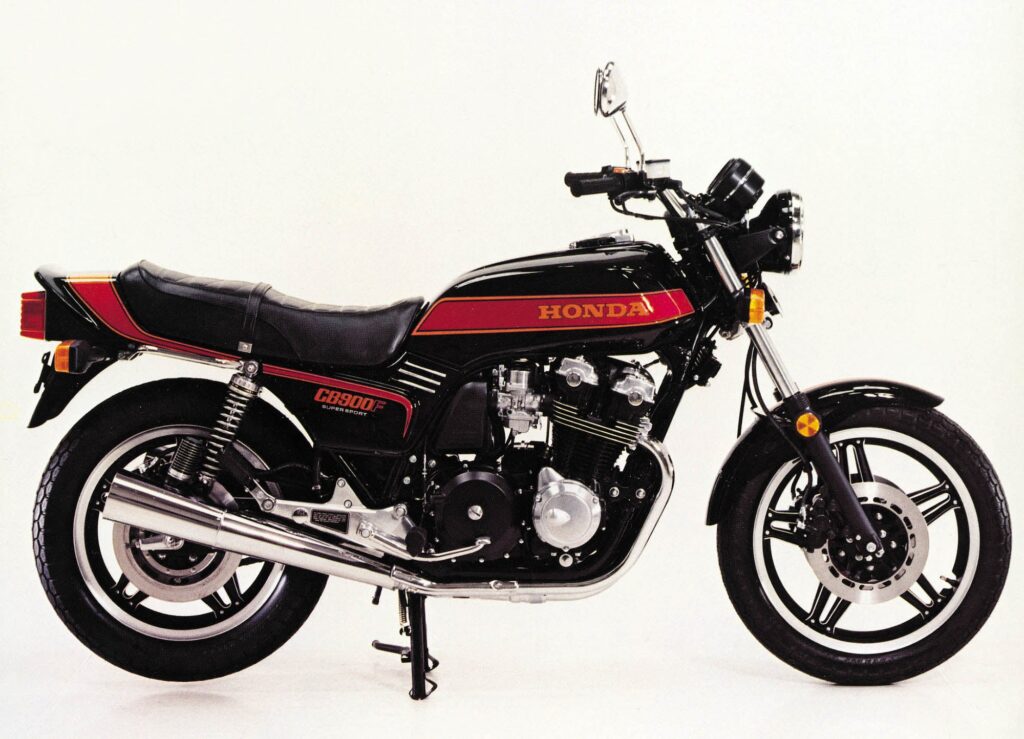 Like the 919, the original Honda CB900F was a four-cylinder standard. The engine was 902cc in capacity, had dual overhead cams, and 16 valves. It was a fast bike for the time — in fact, Honda called it a "Superbike" — and it was even used by police forces in a number of jurisdictions.
It was a cool bike, and is now a hipster favourite classic. It's (yet) another bike I wish I didn't sell, but life circumstances prevailed.
The next significant development before the Honda 919 was the arrival of the FireBlade series under Tadao Baba (see here for a history of the FireBlade) in 1993.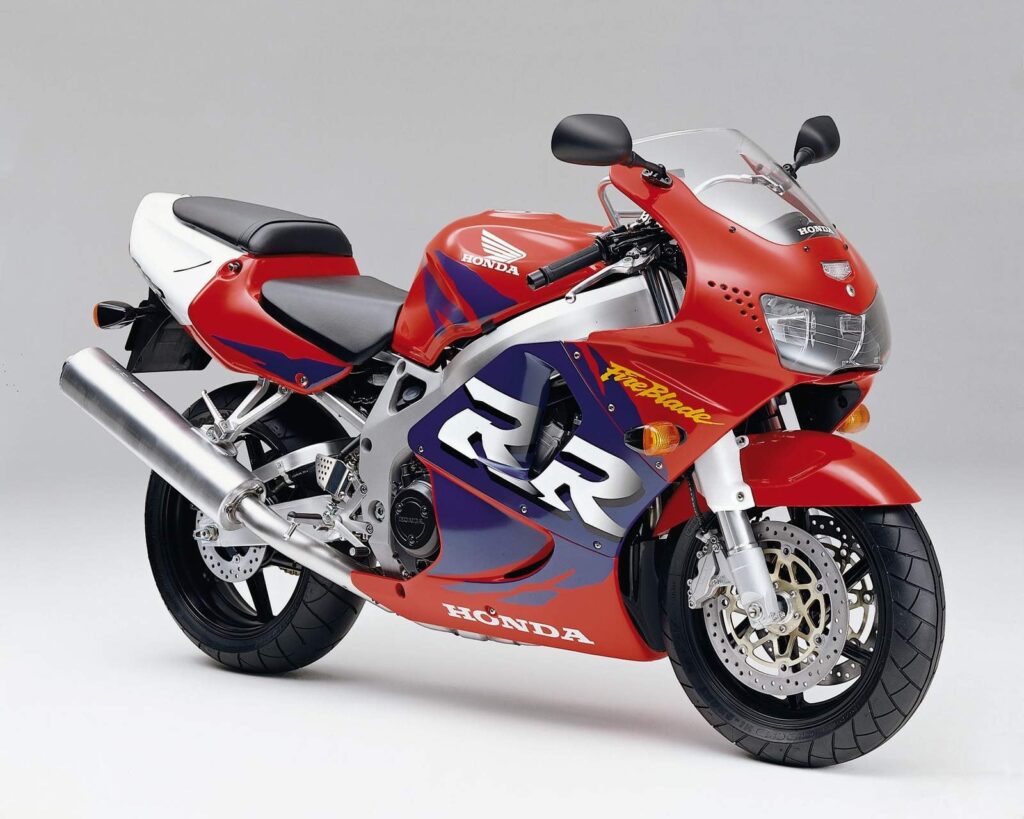 The FireBlade's project leader, affectionately known as Baba-san, focused on lightness and ease of use, and so shoehorned the big CBR900RR engines into nimble, compact frames. Those bikes have been continuously improved over time, and are still some of the most popular (though increasingly exclusive) superbikes available.
The version of the Honda FireBlade most related to the Honda 919 is the 1998-1999 model, which had a 919 cc engine — the first time the engine had increased in size from 893 cc since 1993.
Finally, right before the Honda 919, Honda released the Hornet — the small one. This was also called the Honda 599, and these days we know it as the Hornet 600 to differentiate it from the bigger bike.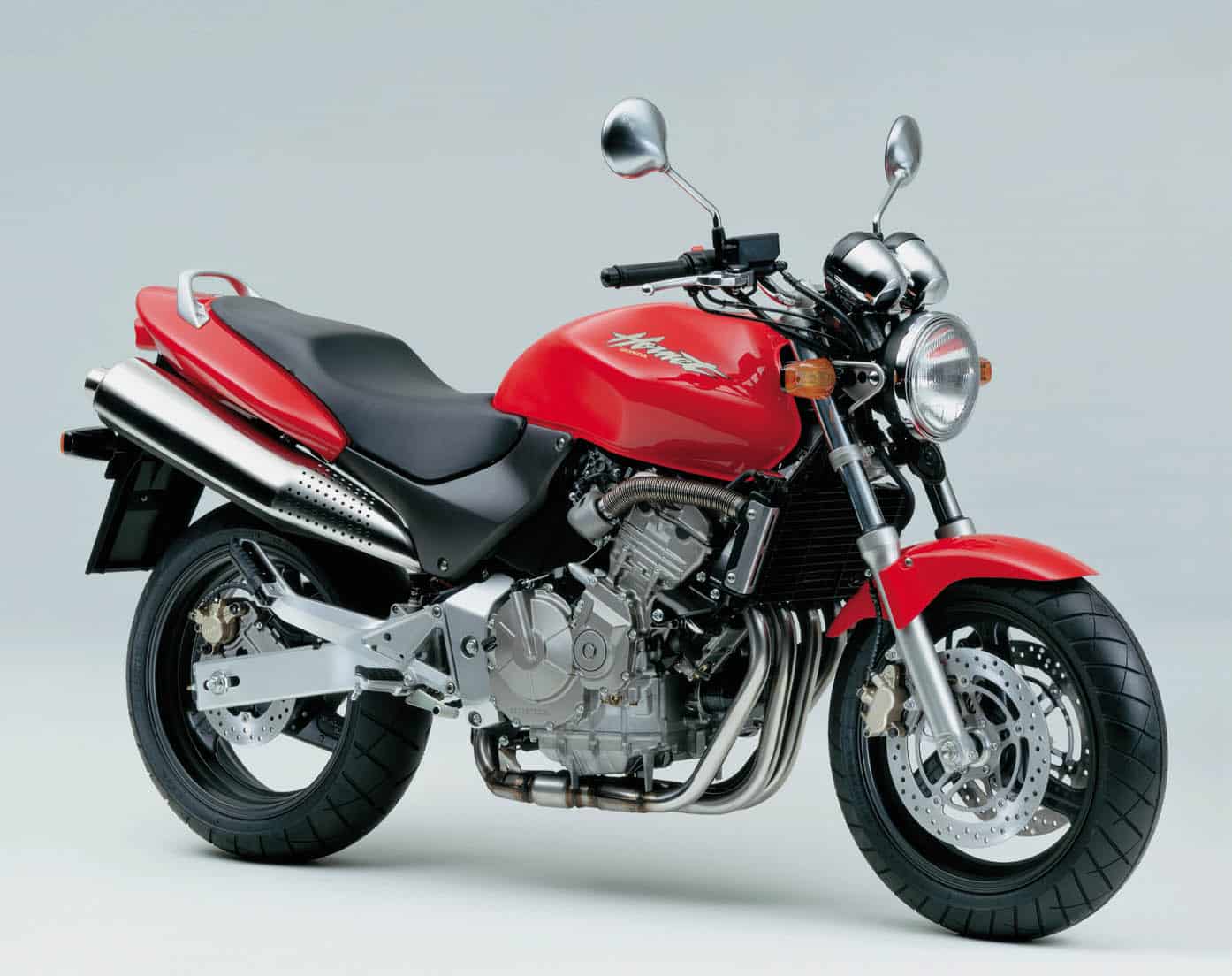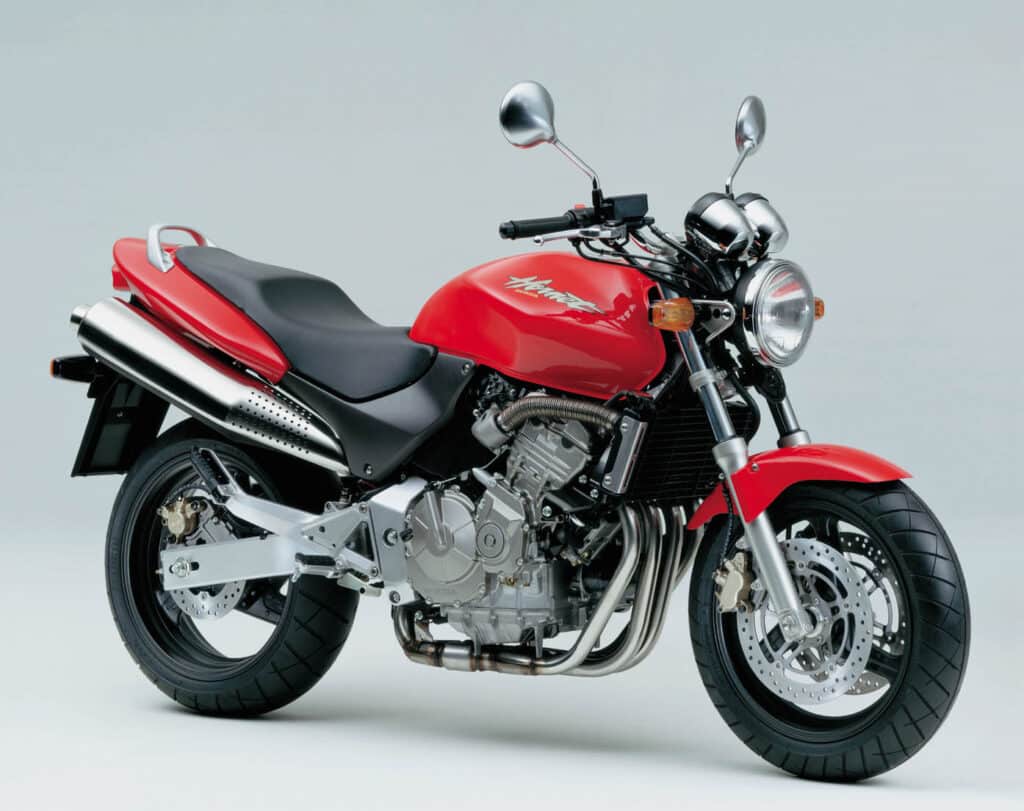 Like the Honda 919, the Hornet 600 (or Honda 599) was a four-cylinder standard bike based on a sportbike — the CBR600F.
Aesthetically, the Hornet 600 looks quite similar. It has an upright position, but the bars are narrow, keeping it nimble. The Hornet has under-seat exhausts, which were popular at the time (though not in favour now for a plethora of reasons). And in terms of character both bikes share a lot — revvy and sporty.
Then from 2001, Honda made the 919 available, and released a bike that punches way above its weight.
On Paper — the Honda 919's Specs
Spec sheets are boring, but they do give you insight into how a bike performs. Here are the core specs of the Honda 919, plus some insight into what it means.
For context, here's how the Honda 919 compared to the FireBlade with which it was related.
| Part | Honda 919 / Hornet 900 | 1998-99 Honda CBR900RR FIreBlade |
| --- | --- | --- |
| Engine | 919 cc liquid-cooled inline four-cylinder engine, DOHC, 4 valves per cylinder | 919 cc liquid-cooled inline four-cylinder engine, DOHC, 4 valves per cylinder |
| Fuelling | Fuel Injection | 4 x 38mm Keihin Carburettors |
| Bore x Stroke | 71 x 58 mm | 71 x 58 mm |
| Compression ratio | 10.8:1 (mild) | 11.1:1 (still mild for a sport bike) |
| Peak power | 81 kW / 109 bhp @ 9000 rpm (~20% down on power vs. the Blade) | 94.1 kW / 128 bhp @ 10500 rpm |
| Peak torque | 92 Nm / 67 ft-lb @ 6500 rpm (a lot lower down than the 'Blade) | 93 Nm / 68 ft-lb @ 10000 rpm |
| Front suspension | 43mm cartridge-type fork, non-inverted | 45mm Showa cartridge, non-inverted, fully adjustable |
| Rear suspension | Monoshock, 7-step adjustable preload | Pro-link Showa damper, fully adjustable |
| Front brake | 2 x 296mm discs, 4-piston calipers (adequate) | 2 x 310mm discs, 4-piston calipers |
| Wet weight | 220 kg / 485 lb (a bit heavy by modern standards) | 204 kg / 450 lb |
Honda 919 / Hornet 900 core specs
Torque curve of the Honda 919
It's hard to quite understand what the power delivery of a motorcycle is going to be. But in essence it's a combination of both a) the torque curve and b) how the bike is geared.
Firstly, you might wonder what it means to have detuned the FireBlade's motor. Honda thoughtfully provided the below torque curve comparing the power delivery of the 1998-1999 FireBlade's motor with that of the Honda 919.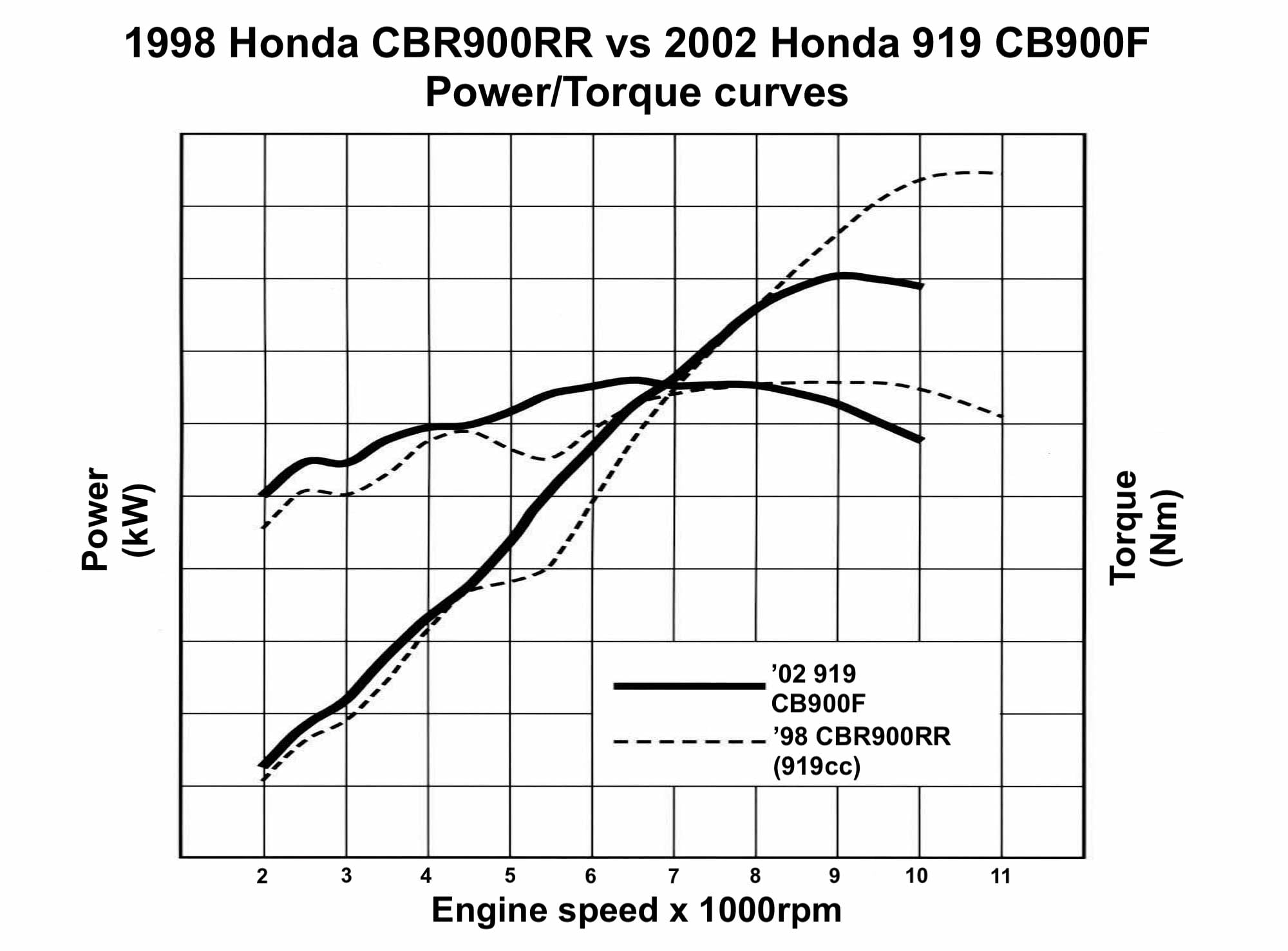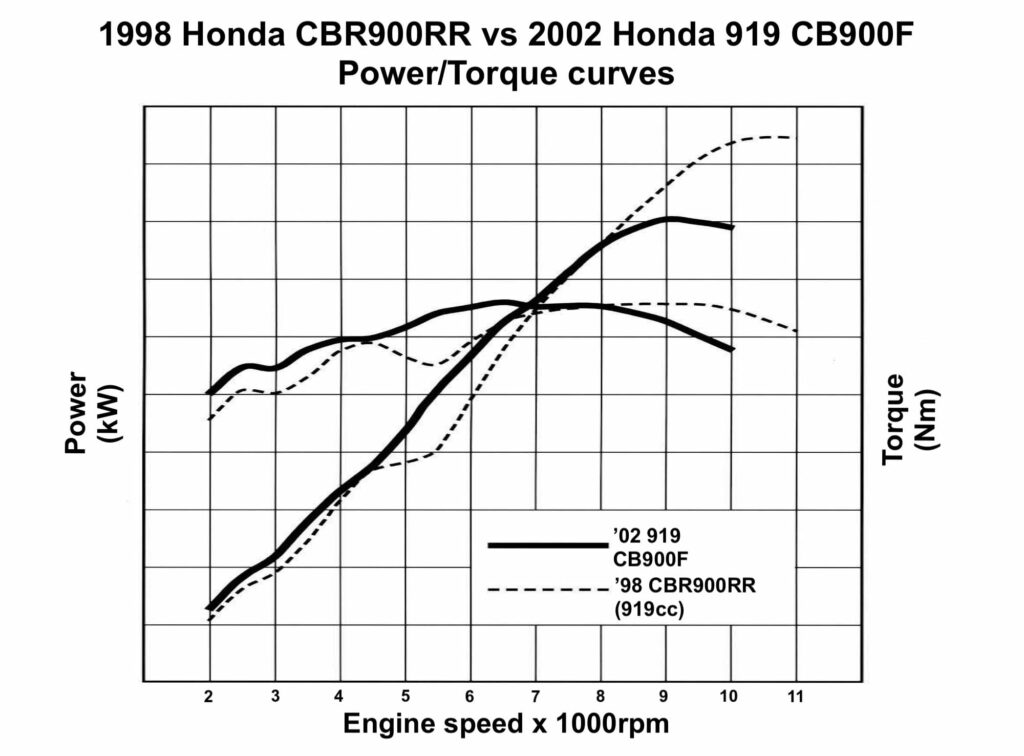 The above power and torque curves shows that Honda achieved exactly what it intended: More mid-range torque, and smoother power delivery, at the expense of a top-end rush which somewhat goes to waste in a less aerodynamic chassis.
Bear in mind that aside from different cams and breathing, the CB900F has fuel injection through four 36mm throttle bodies, different from the four 38mm Keihin carburetors on the FireBlade.
I really like the 100-120 horsepower range for many motorcycles, particularly in four-cylinder engines. When everything else (gearing, suspension, weight etc.) is done right, it often translates to bikes that are happy at any speed I like to go, and I may even see the redline in a couple of gears. The Honda 919 is smack bang in the middle of this range.
The CBR900RR and CB900F share a lot of engine internals. So the primary drive and the gear ratios are the same in both bikes. But the final drive ratio is different. The 'Blade has a 16:42 front:rear sprocket ratio, giving it a drive ratio of 2.625, and the CB900F has one more tooth on the rear, for a 2.688 ratio. It's a minimal difference, but it adds to the orientation of the CB900F being less oriented towards top-end speed.
Finally, the fact that the CB900F redlines a little earlier also limits how fast it can go (in theory) in top gear.
So what does this translate to? Well, the midband-oriented torque curve and slightly lower gearing means that the Honda 919 is just super easy to ride — unstallable, as I mention below. It doesn't chug down low and it still has enough top end for most reasonable everyday riding. It never felt slow to me, and I'm sure that even if I were to ride one today (after having ridden many faster bikes), it still wouldn't feel slow.
Why the Honda 919 / Hornet 900 is Special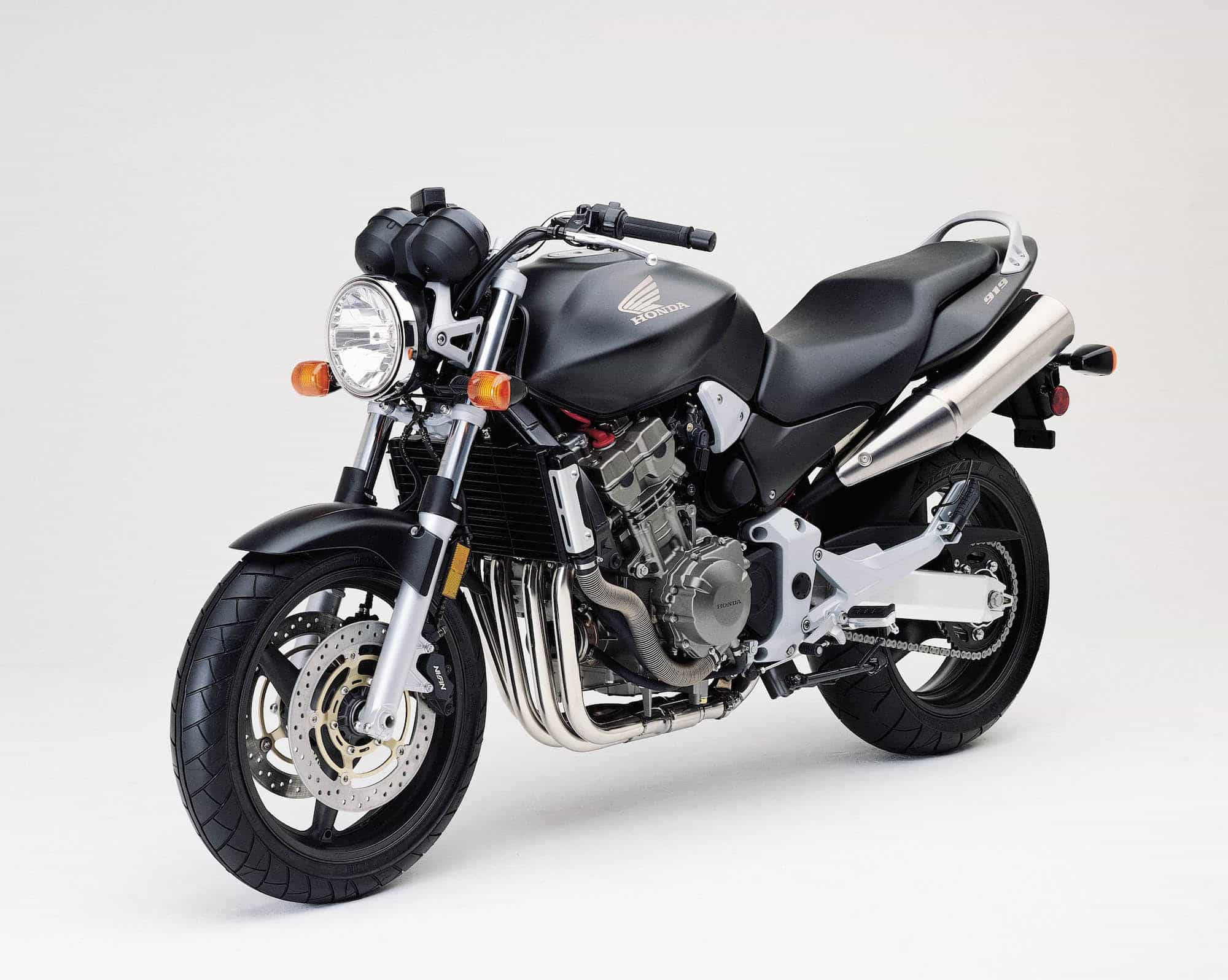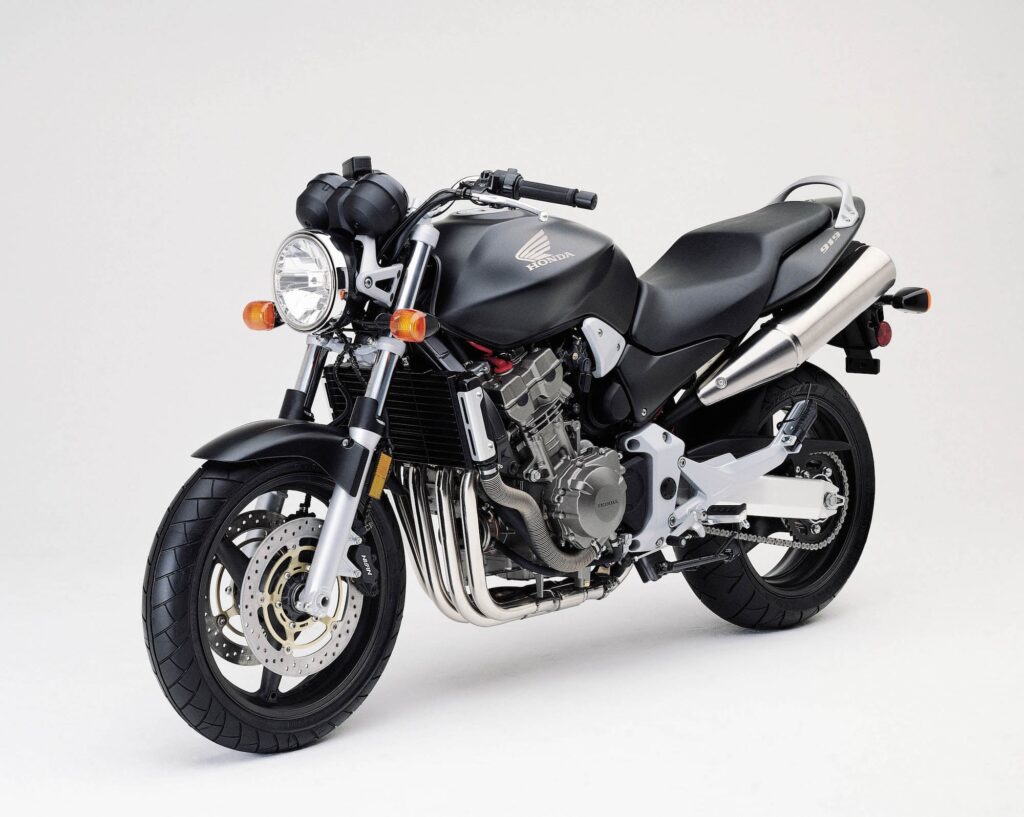 The guy who sold me my Honda 919, "Moto Mike", was so confident I'd like it that he told me I could ride it for a day before paying him. He gave it to me for a song (it was a repaired write-off), and before selling it to me, made me promise I'd sell it back to him when I was leaving the country!
While I was paying him, another guy in the store told me he thought it was the "best bike of all time". Now, many people give random opinions like this about just about every bike (seriously). But it was nice to hear at the time!
My initial feeling riding the 919 home was: "This bike rides better than I can ride it… so I need to become a better rider."
Up until then, I had mostly ridden bikes that were more utilitarian in nature. Nothing terribly agile and fast. So I was a little surprised by the Honda Hornet 900. Mine had a windshield and a top box, which made it look like an everyday commuter… but this thing ripped!
See, even without a top box, the Honda 919 looks like a standard bike. I mean, your knees are folded up a little and you are leaning forwards slightly, but still, the aesthetics tell you that it's a UJM and thus will be docile.
But the moment I rode away, I knew the 919 wasn't a docile bike. The three things I noticed almost right away were that
The bars are narrow. It has bars, sure, but they're not wide like on a Bonneville for example. You have to put a bit of pressure on them to counter-steer into curves. It's a feeling I'm now familiar with, riding bikes with clip-on bars.
The engine is rich in torque from down low, but pulls further high up than my air-cooled twins did. I could really rev the engine out and it was quite fun to do so.
The bike felt extremely "balanced". This is a subjective word that gets thrown around, but it's one that many owners of the 919 have shared. Basically, the chassis, weight, power delivery, and suspension all seem to be in harmony at everyday speeds. (I haven't taken it beyond 100 mph / 160 km/h so can't be sure what it's like up there).
Over the course of the months I had the 919, I did many things with it. I commuted through a few cities, I rode dirt roads until I got bogged in sand, and I spent a long time on California's sweeping hill roads and on the very boring straights. I had a blast.
I even did a bit of two-up, which I don't normally do — mostly because of the liability. But my partner was happy and even enjoyed herself on the ride!
After a lot of extended riding, I noticed a sneaky second thing about the Honda 919 — it is an extremely easy bike to ride.
After doing a few silly things like being accidentally in fourth gear while going 20 mph (30 km/h) up an incline, launching in second, or just lazily dropping the clutch too early, I started to think of the Honda 919 as "unstallable".
I had (and have since) ridden a bunch of twins that are not only easily stallable in gear, but sometimes just stall out if the revs drop too low and they're cold. Not the 919. Yes, this is somewhat because it has a four-cylinder engine, but it's something I liked about it anyway.
There are other things about the Honda 919 / Hornet 900 that make it easy to ride.
One thing was the handling. Naysayers may say "bah! conventional forks. Bah, non-adjustability. Bah, humbug", but they'd be wrong.
Perhaps if you're at the track and enjoy frequently getting an elbow down, the 919 in stock form would leave you very disappointed.
But I found the 919 very pleasant to push through curves and sweepers. It wasn't undersprung for my weight (a middleweight of 185 lb / 84 kg), and I never felt it was either uncomfortable on bumpy roads or bouncy when accelerating/braking. Basically, the 919's stock suspension responded as I think well-tuned suspension should — for someone of my weight.
If you're much lighter or heavier than me, though, you might want to get different springs, valves, or fluid. All of that will be cheaper than a bike with adjustable suspension, or replacing the suspension on the 919!
Even though the 919's narrow bars initially surprised me, I was very pleased to have them when lane-splitting. I never worried about hitting other cars. These days, on my R nineT, both the wide bars and the cylinder heads are liabilities, despite the bike's many other virtues.
On the highway, my 919 graciously had a windscreen (and also a dorky but incredibly useful rear box) that made riding a naked bike long distances totally manageable. Reviews like this one in Cycle World say that it's "buzzy" above 5000 rpm, but I never noticed. Maybe I just assume motorcycles vibrate.
Bikes in this power range can do over 140 mph / 200 km/h, but the combination of the slower pace of acceleration at the top-end and the fact that it's a naked bike means that you'll only do that on occasion because you feel like it, not because it's a nice place to be for long periods.
Competitors/Alternatives to the Honda 919
If you're looking for a Honda 919 / Hornet 900, then you might generally be looking for a three to four-cylinder sportbike from the 2000s.
In this case, I won't limit this list to simply what was available at the time when the 919 was released, but other bikes of the same genre.
Here are my favourites.
Triumph Speed Triple 1050 (2005-2010): This was the first version of the Speed Triple that still had the twin round front headlights, and it was the first Speed Triple to not be based on a Daytona. The three-cylinder engine makes a cracking 98 kW (131 bhp) at 9250 rpm — lots of power, and not too high up. Plus, they're really nice to look at, with the single-sided swingarm, snaky chassis, and under-seat exhaust.
Yamaha FZ1 (2nd gen, 2006-2016): I really like the second-gen FZ1. It doesn't look as good as the Honda Hornet 900, but yow, everything else about the FZ1 is better. Its engine is a fuel-injected 998cc 20-valve motor from an earlier Yamaha YZF-R1 that makes a massive 112 kW (150 bhp) at peak. It has adjustable suspension at both ends (with inverted forks up front), bigger brakes, and even came in a version with a half-fairing and windscreen.
Kawasaki Z1000 (2003-2009): This generation of Z1000 used a detuned engine from the ZX-9R, but bored out by 2.2mm for increased displacement and a big midrange torque bump. They're more powerful and have adjustable suspension — both the fork and shock are adjustable for preload and rebound damping. But you have to make friends with the edgy styling, a predecessor to modern-day Kawasaki "Sugomi" style (This is what Sugomi style is).
All the bikes above are competent. In fact, they're mostly better than the Honda 919 in terms of specs.
The best advice is to pick the one you like that's in the best condition.
Should you get a FireBlade or a 919?
If you're wondering "should I get a FireBlade or a 919?" well, I invite you think about the following few things.
Where in the rev range do you normally ride? If it's 3-8000 rpm, then get the 919. If you frequently (or frequently enough) ride at 7-12000 rpm, and love that top-end rush, then get the 'Blade.
How patient are you, or how deep are your wallets? Sportbikes tend to cost more than their naked counterparts because of higher-end components. On top of that, sportbikes are more likely to be thrashed or crashed. Your search for a FireBlade might take longer and cost you more.
Do you ride track, or race? If so, you'll enjoy the 'Blade. Less weight, better suspension, and a top-end motor just make that more obvious. That said, of course you can track a 919.
There are things about sportbikes I just always like. I like the way they look, and the imagination they evoke. I like cleaning them (and I hate cleaning naked bikes… bugs everywhere, after every ride!), and I like the feeling of gripping the tank with my knees and gently pushing on clip-ons.
But riding sportbikes is tiring. I'm often done after an hour. While I really enjoy that hour, sometimes it takes me thirty minutes just to get to the good roads… so it depends where you ride, and what condition you're in.
That's why in my stable I have a sportbike and a standard. And I'll always keep it that way (and maybe add a dual sport and a track-only bike to the mix).
Maintaining the Honda 919
Unsurprisingly, it's easy to maintain the Honda 919 / Hornet 900.
The service intervals are:
Change the oil and filter every 8000 miles / 12000 km
Inspect the valves every 16000 miles / 24000 km
Change the fluids periodically — brake fluid and coolant every 2 years, primarily
Aside from that — check it regularly for leaks and cracked hoses, keep everything tight and lubricated, and it'll last you forever.
Buying a Used Honda 919
What I haven't mentioned until this point is that the Honda 919 or Hornet 900 was cheap when it was released and is still cheap now as a used bike — especially considering how much you get!
It's hard to buy a Honda CBR900RR of the era, or many other sport bikes. Most of them have been crashed or thrashed (or both), and mint condition ones are deemed collector's items.
But the 919 is an underappreciated hero of past ages and you can still get one for a reasonable price. You'd pay US$3-4K for a good one, or in Australia you'd pay $5-6K, before much negotiation. For that, you get A LOT of bike.
The things I'd mostly look for on the 919 (aside from the usual suspects on the motorcycle purchase checklist) are
No dents in the tank — unless it's a very cheap bike. Don't think "Oh, I'll pull it out.". The damn tank dents easily when dropped. And the tanks are hard to fix and even harder to find for a reasonable price.
Good condition forks — the Honda 919 is a gentleman's hooligan bike and people wheelie them. Check for good seals.
Most recent maintenance done — you may not get a complete service history, but it'd be nice to know that the valves were inspected recently, and that the fluids are up to date.
Because they're an older bike, unless you're buying it from a maintenance obsessive, I'd plan on changing out the brake fluid and radiator coolant. Luckily, you can get Honda-branded fluids easily on eBay and they're some of the best. See here for the full list.
Epilogue
Honda no longer makes the 919, but it does make some modern alternatives, including the CB1000R, which I think of as a great bike in a tough crowd of litre-class sport bikes.
And as of 2023, there's the very different but similarly-named Honda CB750 Hornet (part of the "Hornet" timeline).
Nothing is ever quite the same, but there are options out there.