Whenever anyone talks about the Suzuki Hayabusa, it's normally a conversation that centers on it being powerful, designed to go fast, being heavy, or having looks that aren't for everyone.
Yes, people often think of the Hayabusa as a high-speed (but not the fastest) heavy-ish bike with unconventional, wind tunnel-derived looks. Nobody thinks of it (first) as a commuter or everyday bike.
But guess what? When you fall in love, as I did with the Suzuki Hayabusa, you fall in love, and find yourself inventing excuses to go out on the bike of your choice, just as an excuse to experience it and maybe for someone to notice it and ask you about it. I'm sure you know the feeling, whatever you ride!
So there are a few aspects of the Suzuki Hayabusa that are never mentioned, just because the power, weight, and style take center stage. These are little things that I love that make the 'Busa a tolerable everyday bike, even though it wouldn't be most people's obvious choice.
This article mostly applies to the Gen 1 and Gen 2 Hayabusa. I own a Gen 2 ABS. See more about the Suzuki Hayabusa generations here.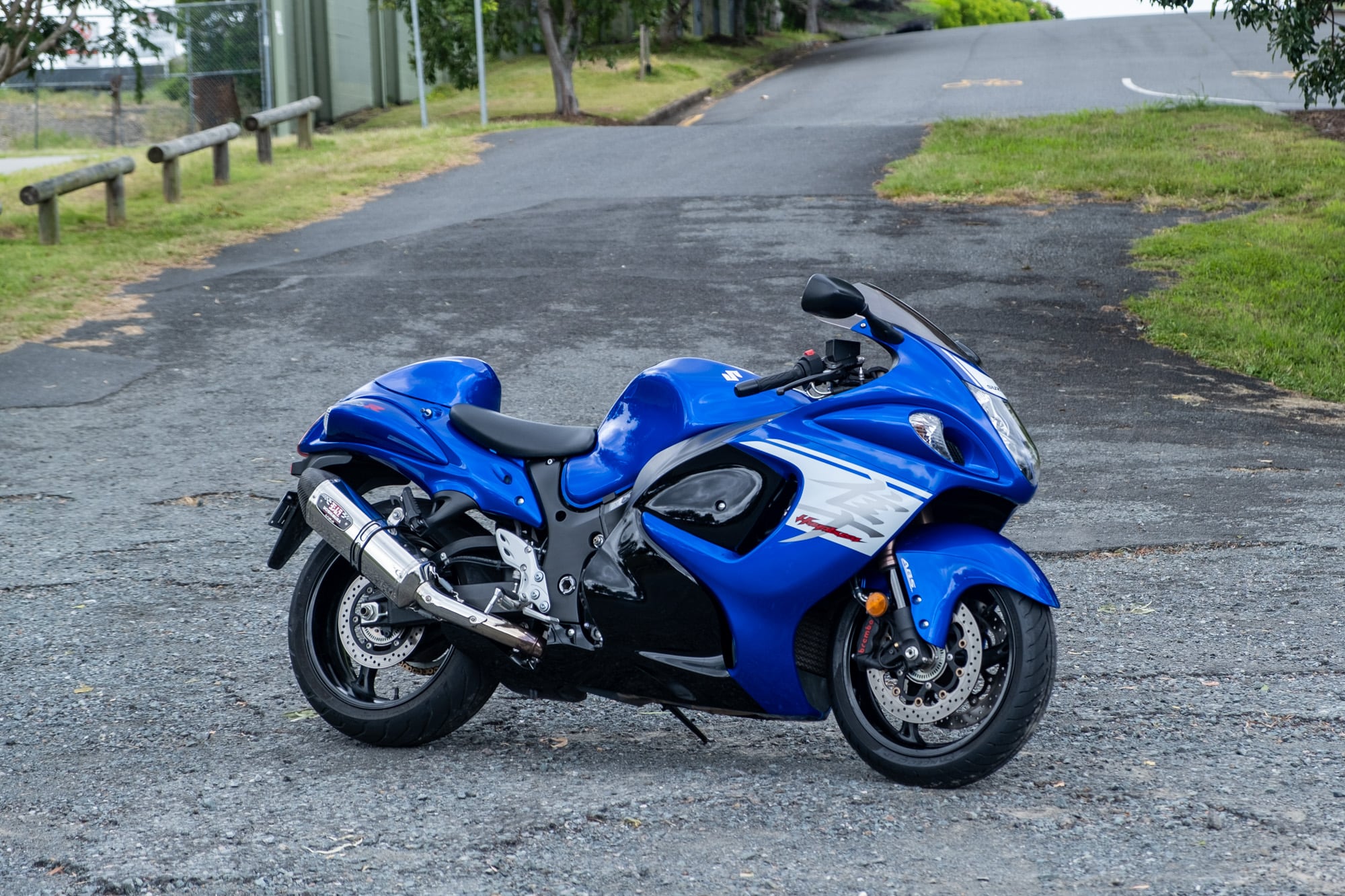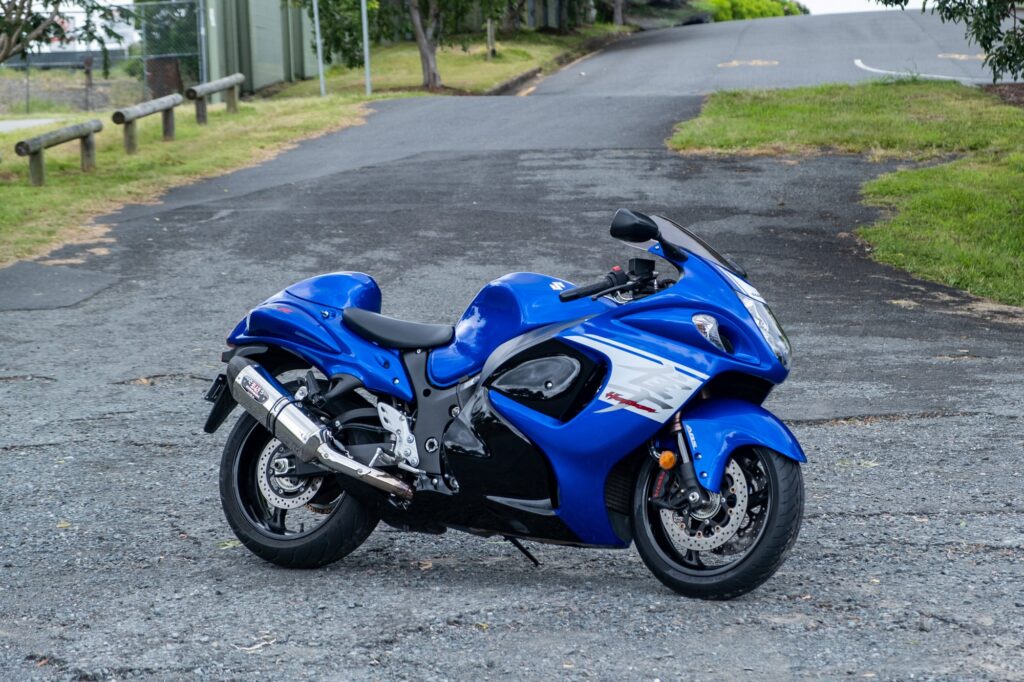 Are you obsessed with motorcycles?
Well, I am. That's why I created this site — as an outlet. I love learning and sharing what others might find useful. If you like what you read here, and you're a fraction as obsessed as I am, you might like to know when I've published more. (Check the latest for an idea of what you'll see.)
1. The Analogue Gauges — Temperature, Fuel, and more
Everything about the gauges on the Suzuki Hayabusa is right for me — and that's saying something as they're mostly analogue and so it's not like I can customise them.
I'm not really a fan of TFT displays. They can look good and be highly functional (e.g. on recent model Ducati bikes), but I feel like I'm staring at an iPad showing a work operations dashboard, and that's what I'm escaping by getting on a bike.
The gauges on the Suzuki Hayabusa are wonderful.
The aesthetics are great. The four gauges look so good — like a snapshot of the cockpit of an airplane — that they've been recreated (albeit more digitally) on the recent 2021+ Suzuki Hayabusa.
The fuel gauge works. It descends linearly from full to empty, and at the empty point an indicator light comes on. You simply can't take for granted that your bike even will have a fuel gauge, or that it will work well. I've had many fuel gauges that are digital and tend to flicker (e.g. between 5 and 6 "bars" full), or that seem full for ages and then drop to 1/4 full, or that tend to fail often (the fuel sender unit on my Ducati 1098S failed regularly, leaving me stranded once, and never able to trust it).
There is a big gear position indicator right in the middle. This is very useful information! There are still expensive new bikes made that don't have them standard (e.g. most models of the R nineT).
The analogue temperature gauge tells you only what you need to know. The temperature gauge on the Hayabusa sits nicely in the middle of the range, assuming everything is working. This includes riding around on warm days, even when riding slowly in traffic.
A bit more on the temperature gauge. Temperature is a funny thing — it's a number that humans have a very personal relationship with.
For example, if I told you "It's 100 degrees outside!" you'd know it's hot, particularly if you think in Celsius (funny story, I grew up in Celsius… so when I heard people on TV say "it must be 100 degrees", I thought they were being hyperbolic!)
So anyway, on bikes where I have a fancy digital gauge that reports 100-110 degrees C (or 200-220 degrees F), it's hard for me to remember that it's OK because it's a pressurised system with anti-boil and it's designed to operate at that temp.
But as an everyday motorcycle rider, I'd rather not know. I just want to know it's in the "OK" range, and that's what an analogue dial like the one on the Suzuki Hayabusa tells me.
2. The (included) Rear Hump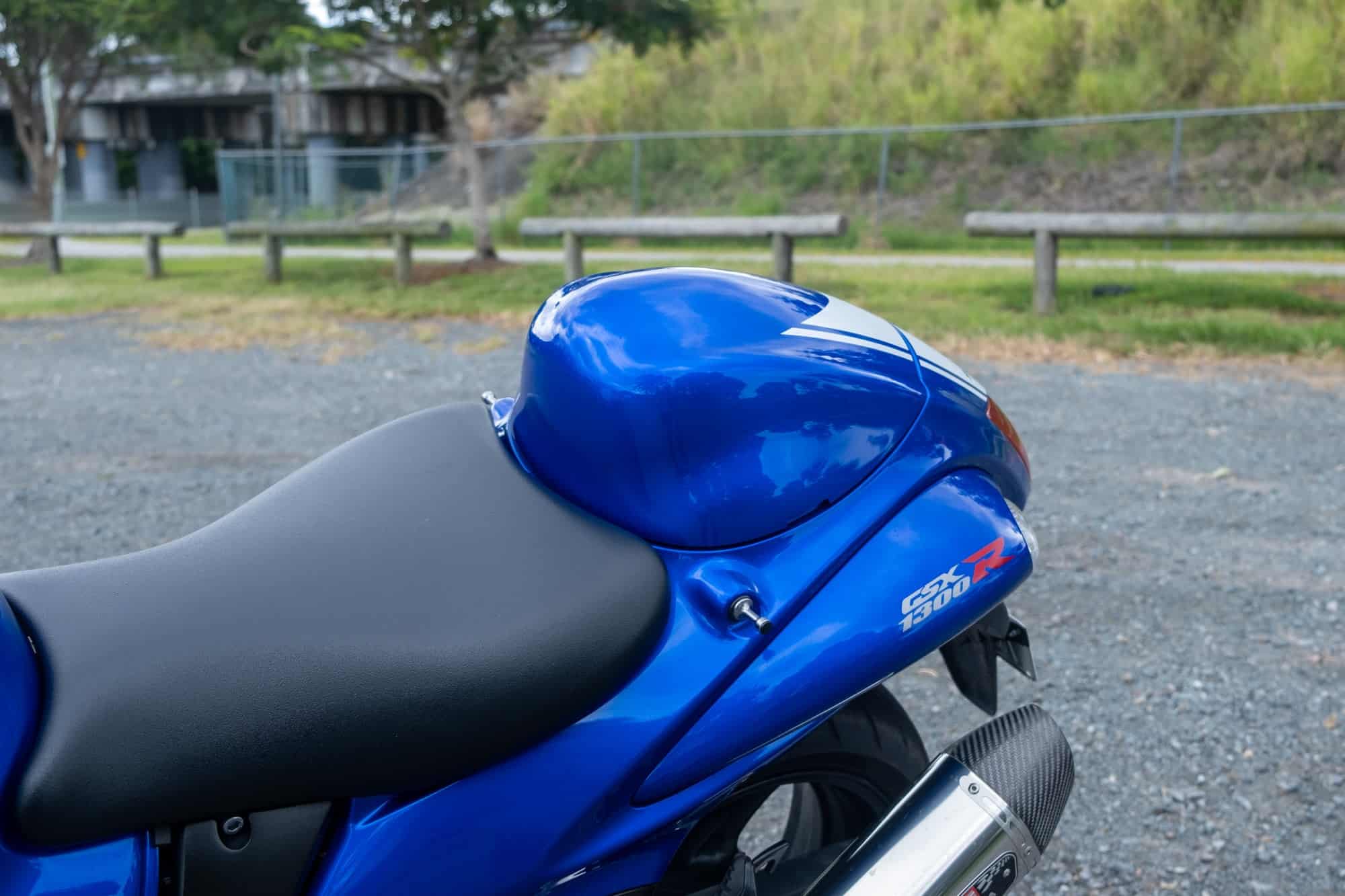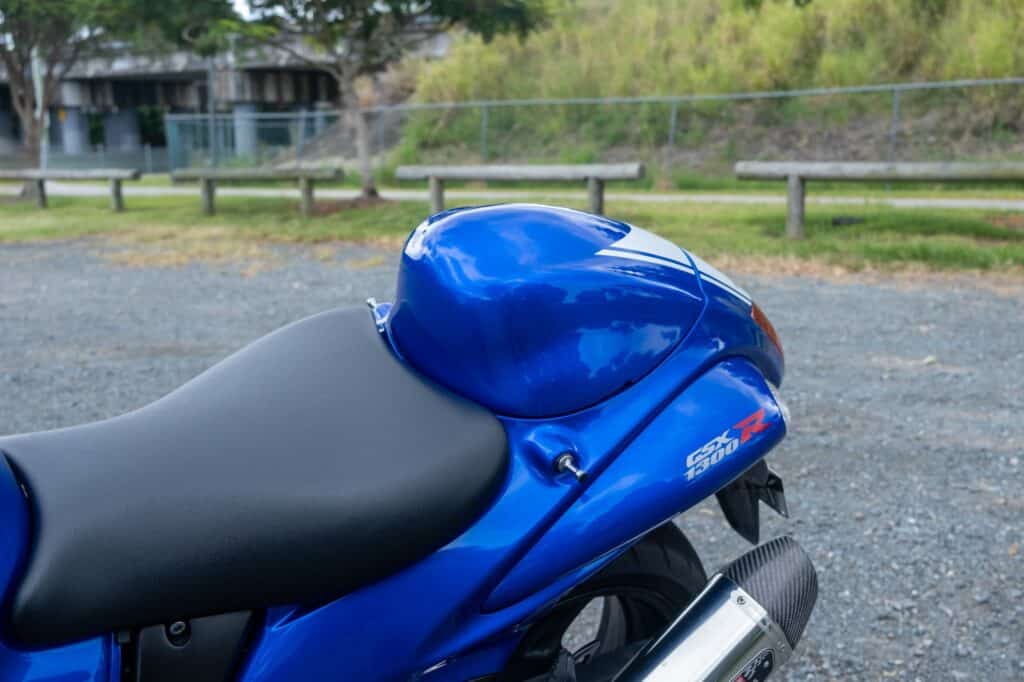 I love it how the Suzuki Hayabusa comes with a rear hump. And it doesn't just go over the rear seat; it replaces it!
The included rear hump means that it's easy to make your Hayabusa into a one-seater. This looks cool, and in some places, makes registration cheaper. Also, it takes away the option of giving rides. "Sorry, can't!" (This is subjective — I prefer not to take guests on sport bikes.)
On many motorcycles I've owned, I've had to scour second-hand sources for a rear seat hump, or buy a cheap (and cheap-feeling, but functional) one from a Chinese manufacturer. On the BMW I own, a rear seat hump is an accessory costing hundreds of dollars.
The only thing I don't like about the rear hump is that without modifying it, you can't also have the grab handle. The handle makes it much easier to move the big bike around a tight space (but it takes away from the lines… sigh).
3. The Characterful engine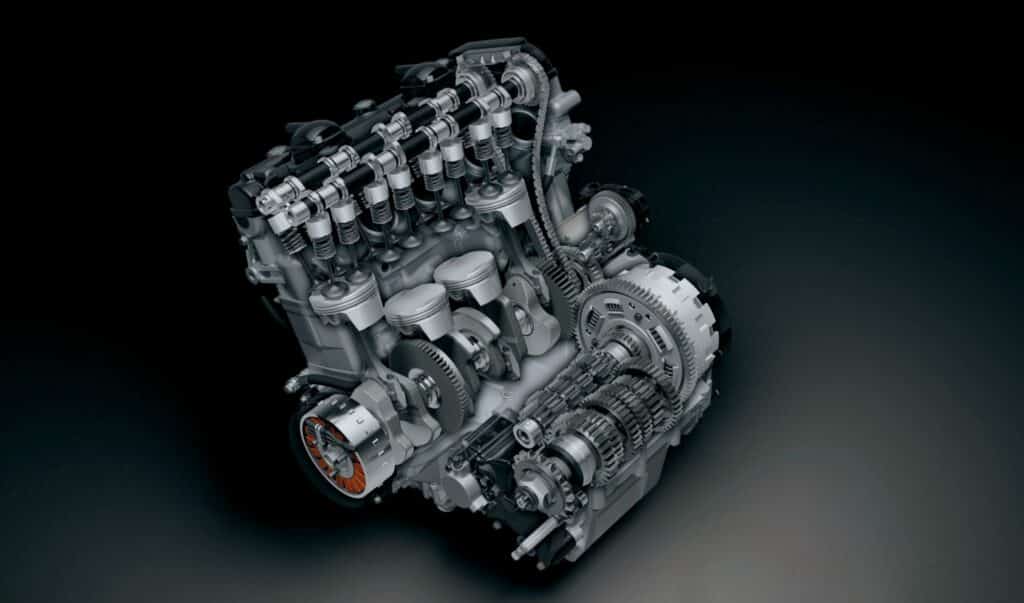 This is subjective and some people won't be convinced, of course. But I just encourage you to have an open mind about four-cylinder engines.
There's a truism among some motorcycle owners that inline four-cylinder engines are boring. And regarding the Suzuki Hayabusa everyone talks about how powerful the motor is, but I presume there are a bunch of V-twin die-hards that just ignore that because they assume its engine is boring.
People always used to tell me that the only inline-fours that were interesting were the crossplane ones like in the Yamaha YZF-R1 and the Yamaha MT-10. Early in my riding days, I just assumed I'd always have to be on a V-twin. I had to get a re-education.
While "engine character" is very subjective, there's some truth to the truism — some inline four-cylinder engines are boring. I've ridden plenty of motorcycles where the inline four cylinder engine was boring. I really loved my Honda Hornet 919, for example, but the engine was muted. But then, there are also plenty of twins and singles that are boring.
So it's not just about the engine format — there's much more to it (the cams, the intake/exhaust, the internal moving part lightness that leads to willingness to rev, the compression ratio, etc.), the , and the Hayabusa's engine is just one example of this.
Because the Suzuki Hayabusa has an inline four-cylinder engine that is full of character. It has a firecracker of a motor. The 1340cc inline four snorts and growls all the way from low RPMs up to its roaring ~9-10 000 rpm shift point. This is particularly true when it's equipped with an aftermarket exhaust. Mine came with Yoshimura pipes from the factory (it's a special edition bike).
It's hard to explain this without you getting on one and grabbing the throttle by yourself, so do that! If you're ever near where my 'Busa is parked, you're welcome to come over.
4. Pleasant Low-Speed Manners
I love that the Suzuki Hayabusa is fine with going slow. The engine doesn't lug and it doesn't get hot.
A lot of sport bikes don't like going slowly. I've ridden Ducati, Yamaha, and Honda liter-class bikes that chug below 3000 rpm, and which get obviously hot (you see the temperature gauge, feel the heat, and hear the fans).
"Going slowly" may not be relevant to you. If you live in the countryside, then you may rarely have to go below 60 km/h or 40 mph.
But I often have to go slowly, and I've found that litre-class sportbikes don't like doing things like
Going around roundabouts
Sitting at a traffic light for any period of time
Putting along slowly in traffic if I'm not able to lane-split
I don't enjoy or pursue those things, but they're a reality in my life, and the Suzuki Hayabusa does all these things with grace. The engine doesn't lug, the temperature gauge stays solid, it doesn't gush out heat all over my legs (even on warm days), and I can't even hear the fans when they come on, so that doesn't stress me out.
The only negative point in low-speed manners is that the Hayabusa is geared a bit too high for me to do U-turns without feathering the clutch. This is a small niggle, and not one I really mind (in the scheme of things).
5. Vertical Stacked Headlights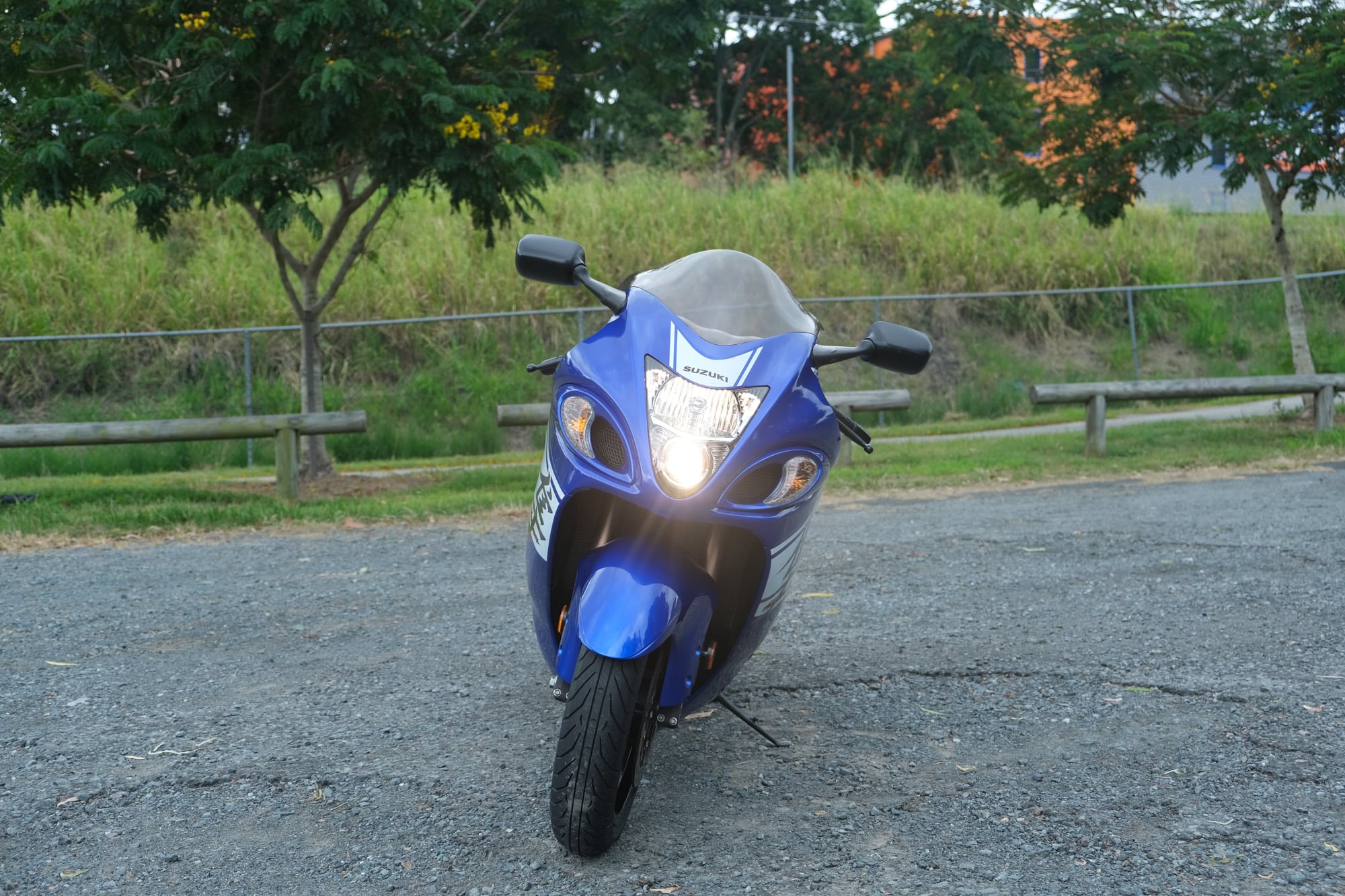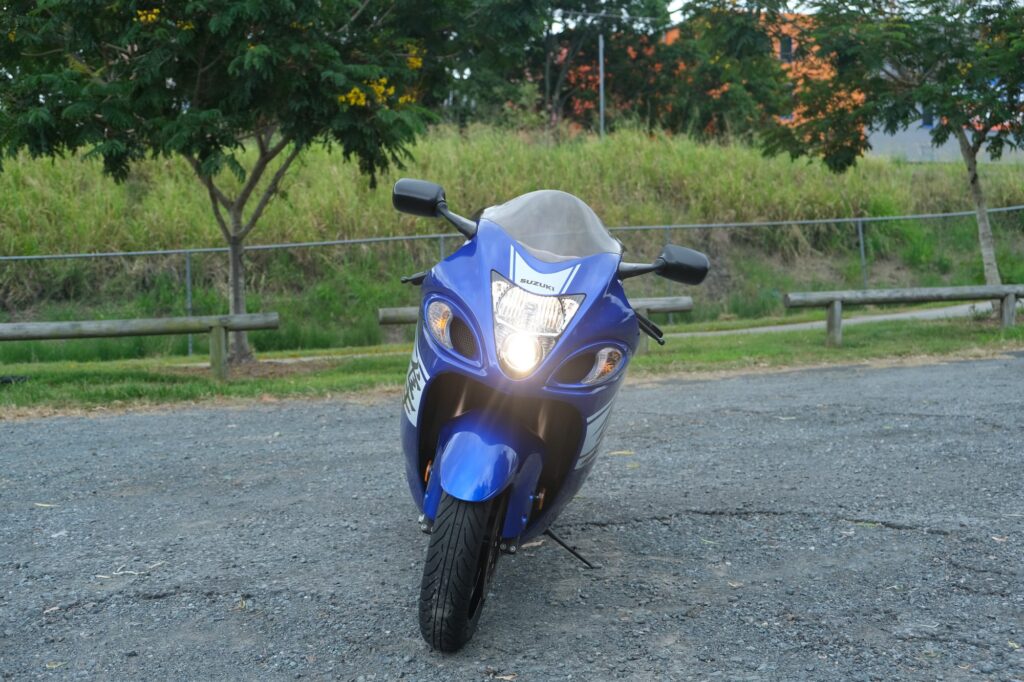 Many older generation sportbikes have asymmetrical front horizontal lights. In fact, most of my bikes have had asymmetrical lights.
There's nothing wrong functionally with asymmetrical headlights. In fact, from a design perspective, BMW made somewhat of a brand out of it.
But the main problem with asymmetrical horizontal lights is that it looks odd. People tend to tell me that I have a headlight out. Photos of asymmetrical horizontal lights at standstill with the lights on can look weird. I have to turn the high beam on, just for the photo to look normal (and then one is still brighter than the other).
Very few motorcycles have vertical stacked headlights. It tends to be a feature of just Suzuki motorcycles (including other street and sport bikes) and a few oddball Ducatis (e.g. the Ducati 999 superbike). But I like it.
(A few other bikes out there with vertical stacked lights are the new 2021+ MT-07 and MT-09, the Honda Grom, the Ducati Diavel. And of course many bikes avoid asymmetry with two lights that work the same way, or by having a single front light.)
6. No Weird Vibrations (And Actually Functional Mirrors)
Many reviews of modern motorcycles call them "buzzy" or "vibey". They're either always buzzier or vibier than riders would like (like the first-gen BMW S 1000 R), or have a buzz at a certain part of the rev range.
Vibrations are part of motorcycle life. Many bikes have them, no matter where they're from. Sometimes, I like vibrations — like on my big twins. Harley-Davidson owners can probably relate.
But there are two functional downsides to vibrations, as much as you might enjoy them:
Vibrations make mirrors less useful. Mirrors are particularly important on bikes where you lean forwards, I feel, because head checks require extra neck flexibility. I've had Ducati sportbikes with mirrors that were basically unusable.
Vibrations can make your hands go numb faster.
So, here's what I like about the Suzuki Hayabusa: It's not buzzy. The engine is very smooth, even though it's rip-snorting and full of character (see above), and has no weird buzzy bits.
And the consequence of low vibes is that I can actually see what's in my mirrors.
7. Reasonable Tyre Sizes
The tyre sizes for the Suzuki Hayabusa are reasonable and present many available options.
In the old days, Suzuki Hayabusas were alleged to chew through rear tyres, victims of the huge torque that the 'Busa motor puts out. Users would say they'd get 3-4000 km (2-3000 miles) out of a rear tyre before it needed a change.
This is no longer necessarily the case as tyre compounds have improved, so they'll last a long as they would on most sport motorcycles, relative to how you use them. You can expect to get 6-10000 km out of a rear tyre (4-6000 miles).
But it's also nice to know that you don't have to shell out big money for a weird size tyre. I expected the big, powerful Hayabusa to have a fatter tyre, but I was wrong. On the front, the Hayabusa wears a 120/70-17, and on the rear, it wears a 190/50-17. These are the same tire sizes that many litre-class sportbikes use.
Not all big-bore bikes have normal tyre sizes. Many newer bikes have 200-profile tyres (not "weird", but it reduces your options slightly, and they're more expensive). Then there are big muscle cruisers with 240-section tyres, and other crazy setups.
Sum up — But is the Suzuki Hayabusa practical?
No, the Suzuki Hayabusa not practical. But I don't think "practicality" is top of mind for many motorcycle diehards. The Hayabusa a lot of other things — fun, interesting, iconic, etc — and that's what we focus on.
There are definite downsides to riding a Suzuki Hayabusa everyday. It's heavy, it's long, and it isn't the most economical on gas (it's fine for its class, but it's a far cry from something like a Honda CBR500R).
But nonetheless, I hope that the above points help you realise that the Suzuki Hayabusa is actually not the most impractical bike. If you can handle the weight at slow speeds, want to ride sport bikes, and something about the big bird tickles you _ the Hayabusa just may be for you.