I have a confession to make: I go crazy for the Yamaha R1. This is why you should, too: Why — and how — to buy a Yamaha R1, formally known as the Yamaha YZF-R1.
The Yamaha YZF-R1 is one of those rare motorcycles that even non-bikers (who are still into motorsports) know about. It has an air of mystique about it. There are a few other bikes like this — "Road King", "Hayabusa", "FireBlade", "Panigale", and "Daytona" are just a few models people mention without having to say which manufacturer they come from. Saying you have an "R1" is another one of those.
But aside from branding, there's a lot about the Yamaha R1 that gets me going. There's the physical design, firstly — it has always looked great and unique, from the first model to the present day. There's the sound, whether of the 5-valve engine or of the "crossplane crank" iterations since 2009. And of course, there's that power and torque, which doesn't stop until you want it to.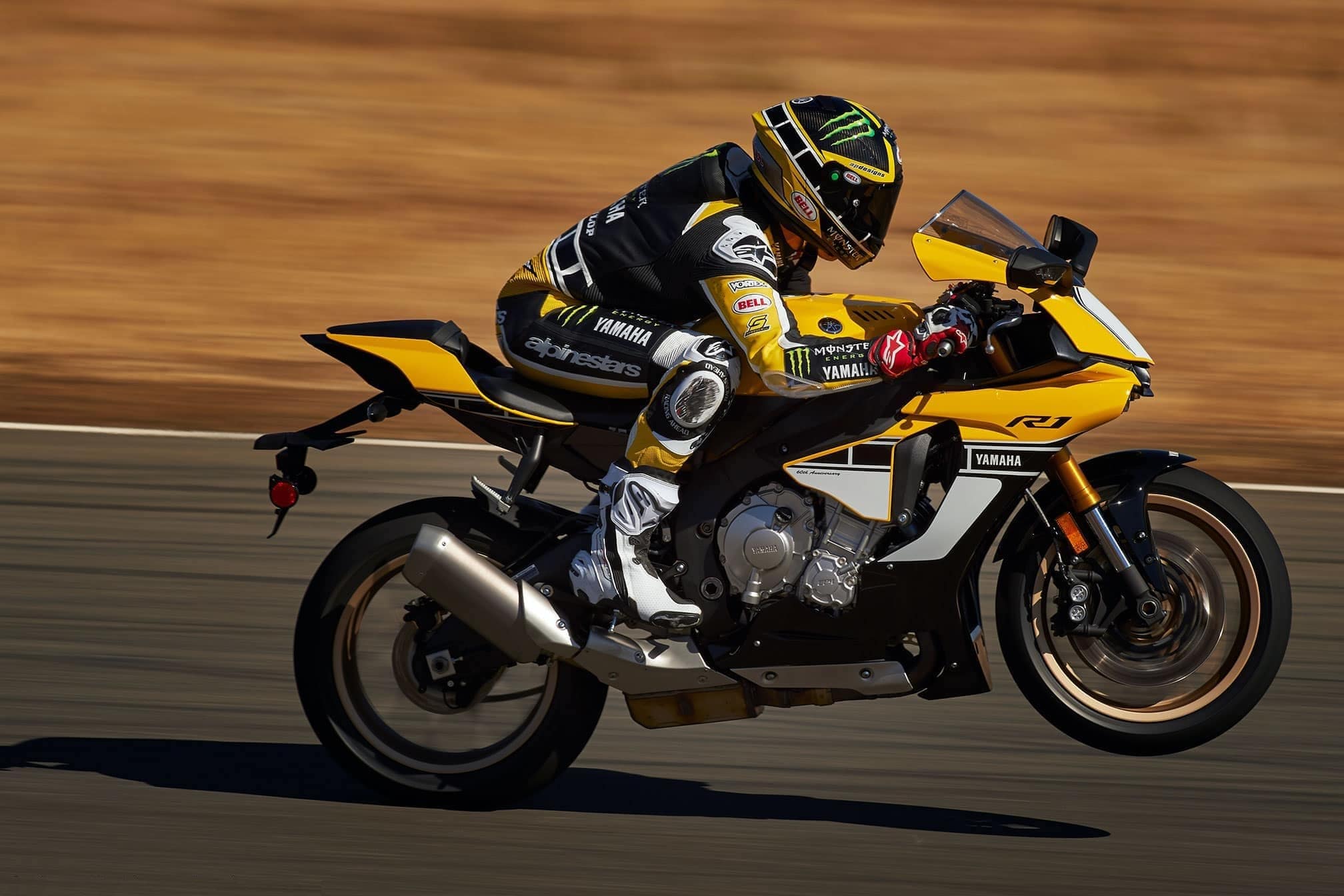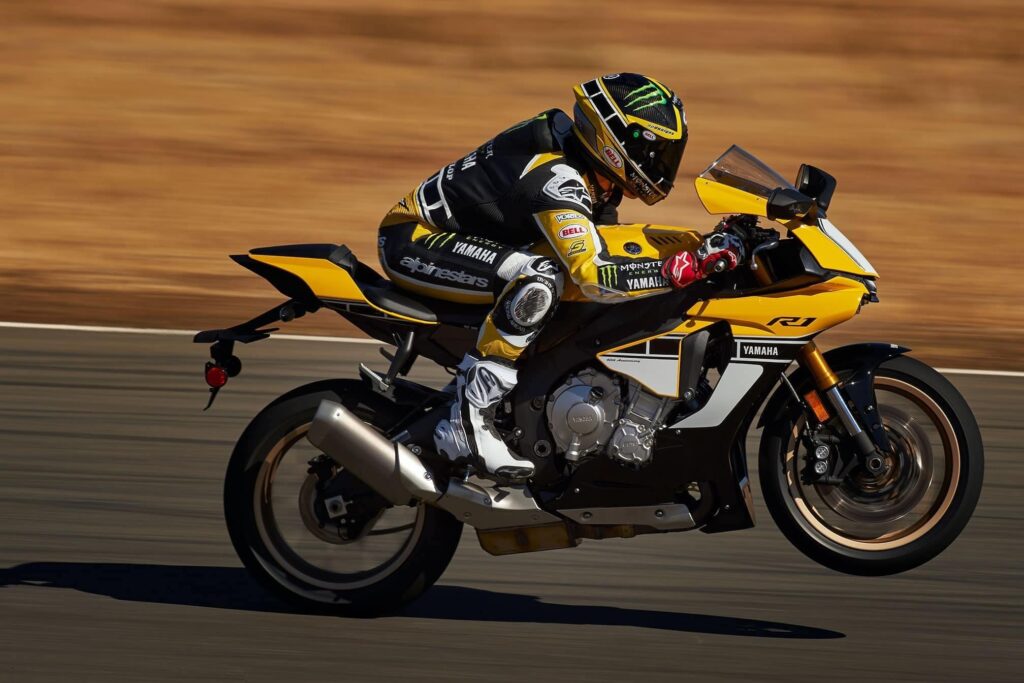 Buying a Yamaha YZF-R1 as your one bike is not a rational choice, with its high insurance cost, high-rpm power delivery, aggressive stance, and lack of luggage options.
But if you tend to buy motorcycles with your heart rather than your mind, then the Yamaha YZF-R1 might just be for you!
So this isn't just a review or a buyer's guide: it's a love letter to the Yamaha R1, one of those motorcycles that is iconic enough to be known to anyone who loves fast cars or great engineering. Looking at one, owning one and having the pleasure to work on one are almost as nice as riding them… well, not really. These are built to be ridden!
You might also be interested in my buyer's guide to the Yamaha YZF-R6, another iconic Yamaha bike.
This buyer's guide to the Yamaha R1 was originally published on March 10, 2020, but since has been extensively revised and re-written.
Are you obsessed with motorcycles?
Well, I am. That's why I created this site — as an outlet. I love learning and sharing what others might find useful. If you like what you read here, and you're a fraction as obsessed as I am, you might like to know when I've published more. (Check the latest for an idea of what you'll see.)
A Brief Bit of History — How we Got to the Yamaha YZF-R1
The older I get, the more people there are who are younger than me. So some people might not know just how we got to the YZF-R1, and I think it's an interesting bit of historical context
In the 1990s, the motorcycle that changed everything was the Honda FireBlade (with that capitalisation, which was dropped in the 2000s out of respect for the retirement from Honda of the original designer, Tadao Baba, in 2004). It was the motorcycle to beat.
Ducati also released the Ducati 916 Superbike for 1994. Aside from being a style icon, the 916 was piloted to many wins, helping Ducati win the Manufacturer's Championship at four Superbike World Championships ("WorldSBK") after its release, in 1994, 1995, 1996, and 1998. (Honda won the 1997 Manufacturer's Championship, with John Kocinski piloting a Honda RC45 / RVF 750, a 750-cc V4-powered bike.)
The Honda FireBlade helped the industry re-think what a superbike was. The chief engineer of the FireBlade project, Tadao Baba, wanted to create a bike that was as light as a 750 of the time, but much more powerful, while still having a chassis and suspension setup that was totally appropriate for the amount of power. He wanted a bike that would be a winner on the track as well as on the street. This was Honda's philosophy of "Total Control".
The result was a bike that was very powerful and light for its time, and known for being an excellent handler. It was far, far lighter than the other litre-class bikes of the day, like the Yamaha FZR1000 Genesis, and much more agile.
Yamaha tried to catch up with the Yamaha YZF1000R Thunderace, which used a similar playbook to the FireBlade — Yamaha took the motor from its FZR1000 Genesis and shoehorned it into a lighter chassis.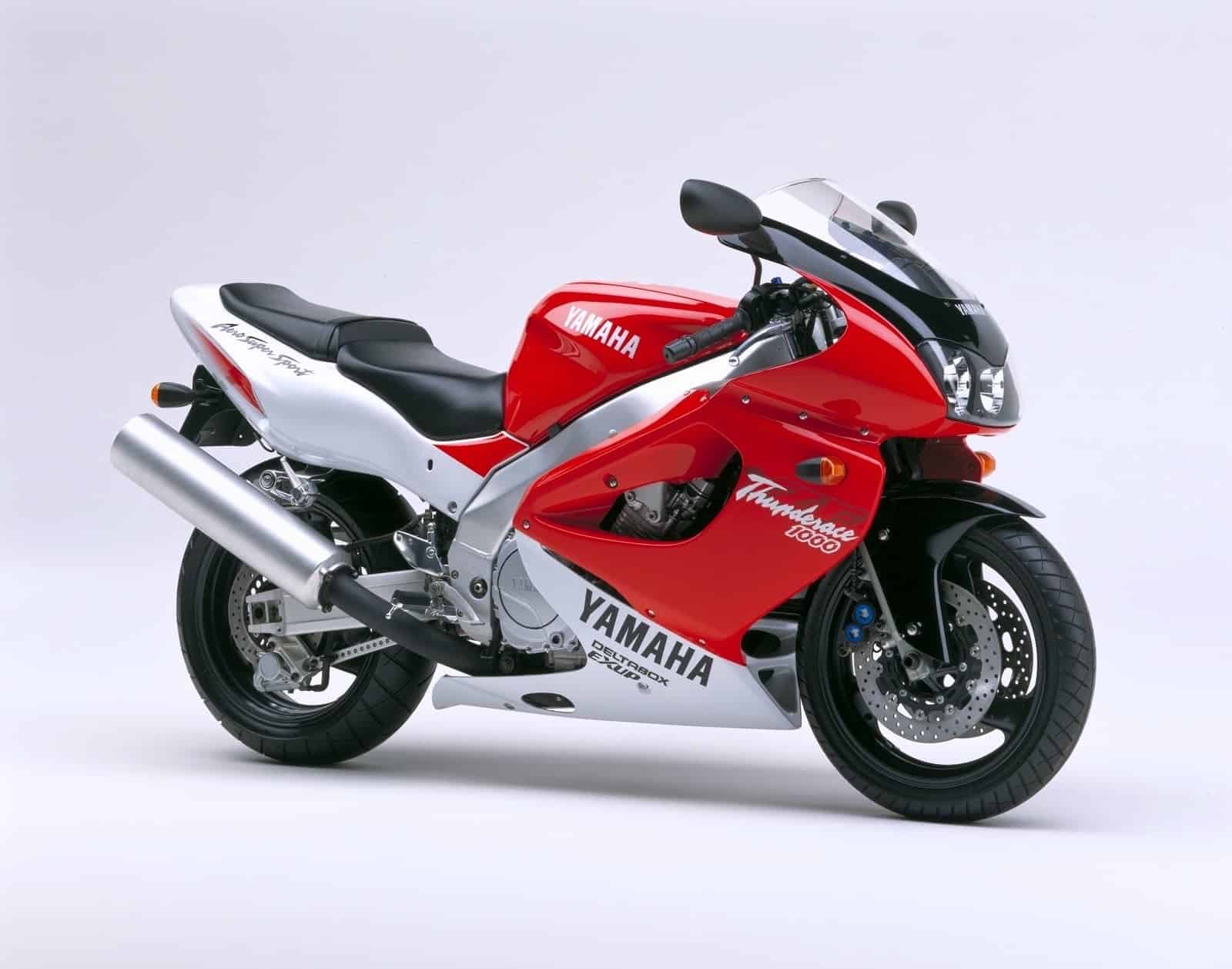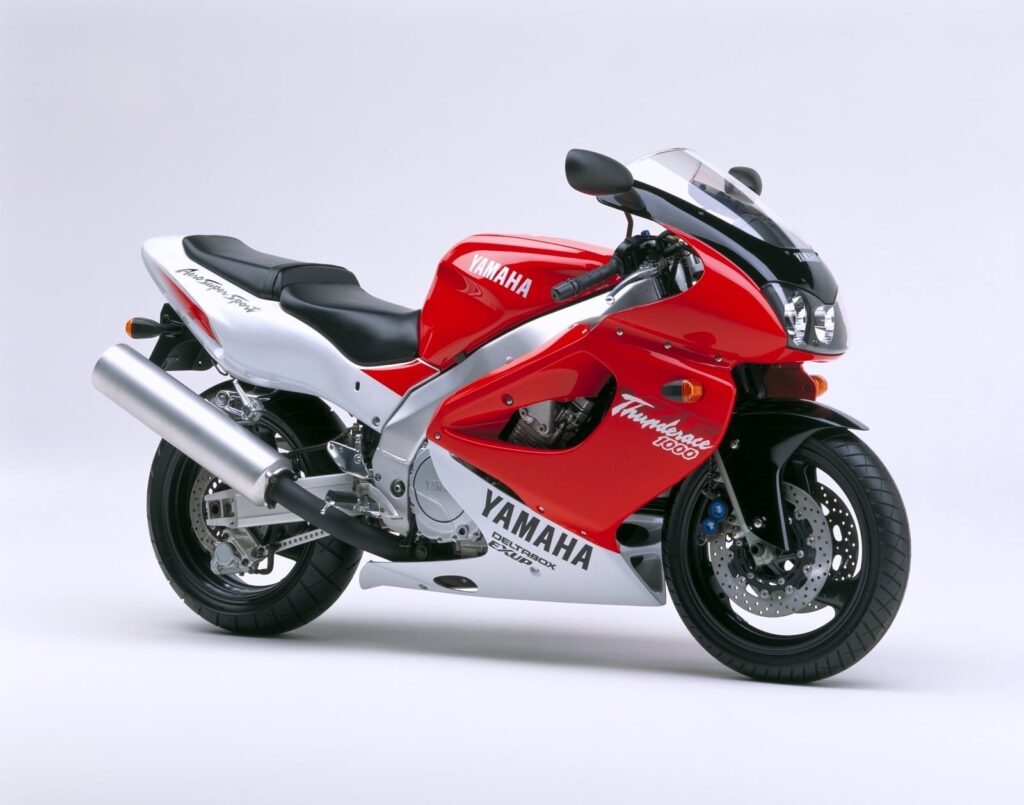 But the YZF1000R was neither here nor there, and in retrospect, is thought of as more of a "sport touring" motorcycle. Which is fine, but it wasn't enough to compete with the superbikes. Yamaha had to re-invent itself again.
And Yamaha launched the first-generation YZF-R1 to do just that. It succeeded, and Yamaha stole the limelight in the litre-bike category for many years – one could say until 2009, when BMW released the S 1000 RR.
Model History of the Yamaha R1 in a Nutshell
The Yamaha R1 is one of the most iconic motorcycles of all time. It's many people's "dream" motorcycle if you're into sport bikes. And even if you are not, it's hard to argue with the striking design and incredible power-to-weight ratio that R1s embody, and hard to acknowledge the things that make it unique.
But don't tell a motorcyclist to make decisions with anything but our hearts. (In fact, don't tell me what to do at all!)
While the original first-generation R1 was quite raw to ride, it became progressively easier to ride over time, until arguably in 2015 when it became a more track-focused bike. Generally, the Yamaha R1's model history is:
The Yamaha YZF-R1 project, along with those for the Yamaha R6 and the limited edition (early) YZF-R7, was led by Kunihiko Miwa, an engineering pioneer who is now one of Yamaha's senior executives.
Miwa-san described his approach to building both the R1 and the R6 as being one of "Bo compromises".
Unlike Honda's FireBlade, which was designed to give everyday riders a feeling of "total control", Miwa-san wanted to give the R1 and the R6 a feeling of "excitement".
It's amazing how this differing ethos bled into the R1 vs the FireBlade; the former was always known for being raw, and the latter always for being easy to ride. (Pick your poison, they're both lightning-fast, and you'll be measuring lap time and quarter-mile differences in fractions of a second.)
The 1998-99 1st Generation Yamaha YZF-R1 4XV: The Original R1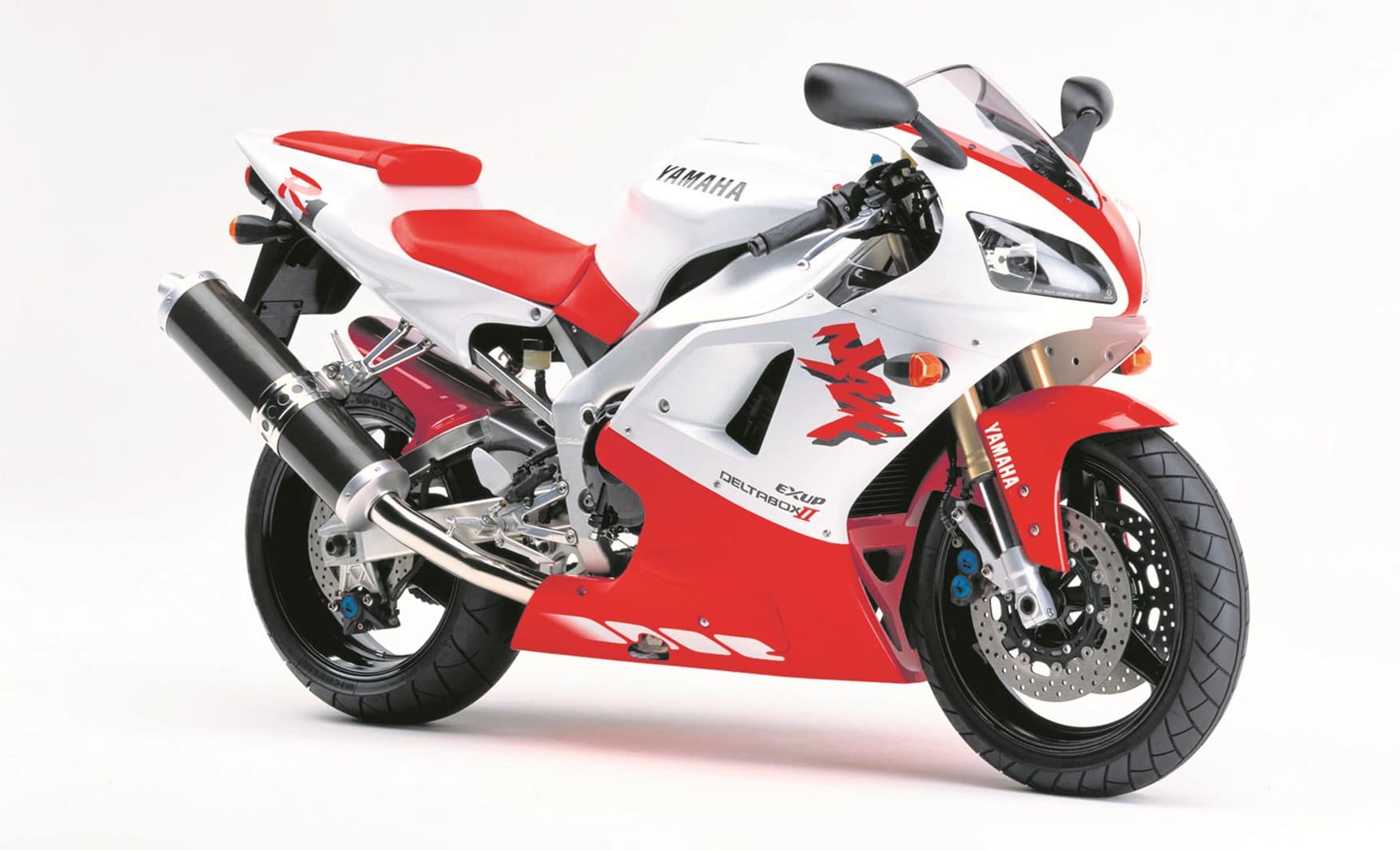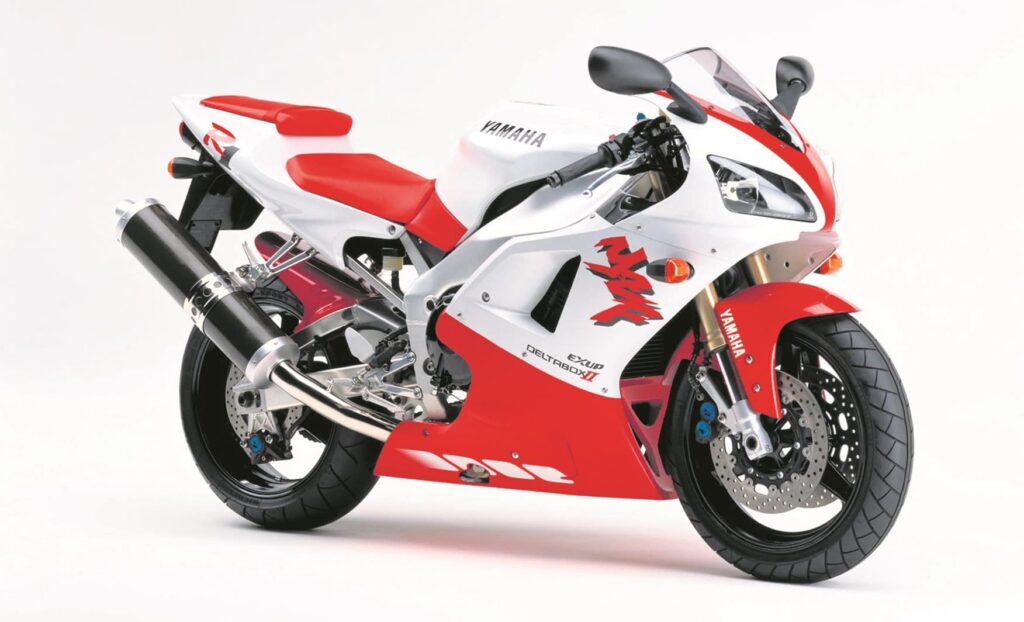 New for 1998-99 Yamaha YZF-R1:
The entire motorcycle — This is the 1st gen
The 'stacked' gearbox
As I mentioned above, Yamaha introduced the original Yamaha YZF-R1 to replace the YZF1000R Thunderace, and to compete with the FireBlade.
Like the Thunderace before it, the Yamaha YZF-R1 was an inline four-cylinder bike with five valves per cylinder, fed by four Mikuni carburettors.
But Yamaha changed a lot. They increased the stroke of the motor, upped the compression ratio, and gave the Thunderace a much-requested sixth gear. In the process, they managed to shave off over 20 kg (45 lb) of weight!
Here are the main changes — specs not mentioned are the same.
Item
YZF1000R Thunderace
YZF-R1
Capacity
1002 cc
998
Bore / Stroke
75.5 x 56 mm
74 x 58
Fuelling
4 x 38mm Mikuni carburettors
4 x 40mm Mikuni carburettors
Compression ratio
11.5:1
11.8:1
Peak power
106.7 kW / 145 hp @10000 rpm
109.5 kW / 148.8 hp @ 10000 rpm
Peak torque
80 lbf-ft / 108 Nm at 8500 rpm
80 lbf-ft / 108 Nm at 8500 rpm
Transmission
5-speed box, chain drive
6-speed box, chain drive
Front suspension
43mm fork (conventional) with adjustable preload and rebound damping
41mm KYB inverted fork (fully adjustable)
Rear suspension
Monoshock, rising rate adjustable preload and rebound / compression damping (fully adjustable)
KYB shock (fully adjustable), Truss-type aluminium swingarm, monocross system
Front brakes
2 x 320 mm discs, 4-piston calipers, axially mounted
2 x 298mm discs, 4-piston calipers
Tire sizes
Front: 120/70-17
Rear: 180/55-17
Front: 120/70-17
Rear: 190/50/17
Wet weight
224 kg / 494 lb
203 kg (448 lb)
Yamaha YZF1000R vs 1st gen YZF-R1 — Main changes
With ~150bhp (at the flywheel) and a low weight, the original R1 was like nothing that had gone beforehand. It was more powerful, lighter and more aggressively positioned than any other road motorcycle, especially the Thunderace, but also compared with the competition of the time.
(The first YZF-R1 is what relegated the Thunderace to the history books as a "sport touring" bike, something it was never intended to be. But it makes it a great choice for everyday riding, and an affordable one, too!)
The original Yamaha R1 added a sixth gear to the Thunderace, and sent its power to the ground via a stacked gearbox, which was its secret sauce.
"Stacked gearbox What's that" This was the major innovation of the original R1. By placing the gearbox above the crankshaft, Yamaha made the engine lighter and more compact than any similarly-sized engine previously. It was good for performance as well as handling.
The smaller engine also let the designers use a longer swing-arm to improve traction without increasing the wheelbase.
These early R1s are bona fide modern classics, with the red and white liveried bikes in particular being very collectible by the right buyers. But blue ones are cool, too.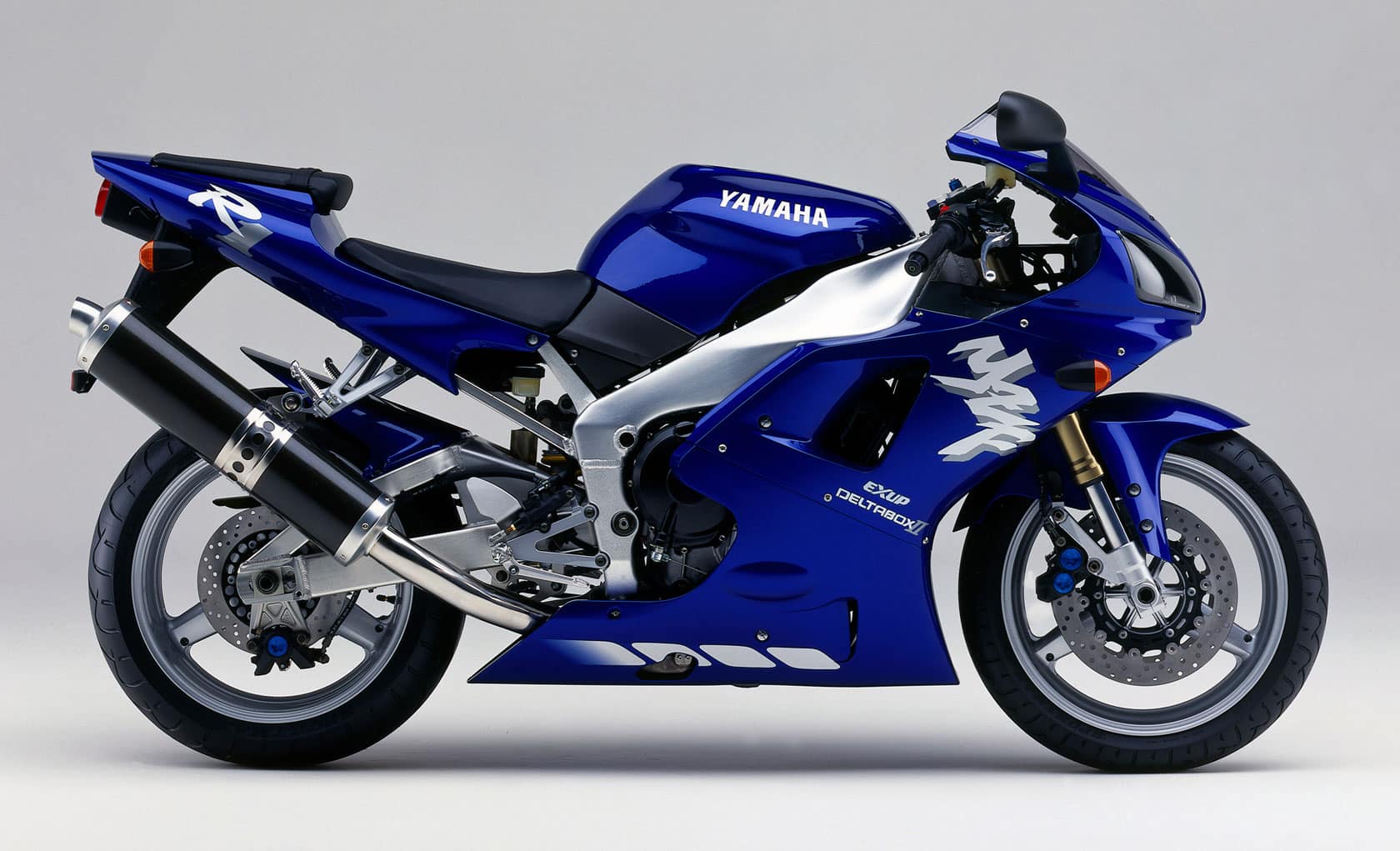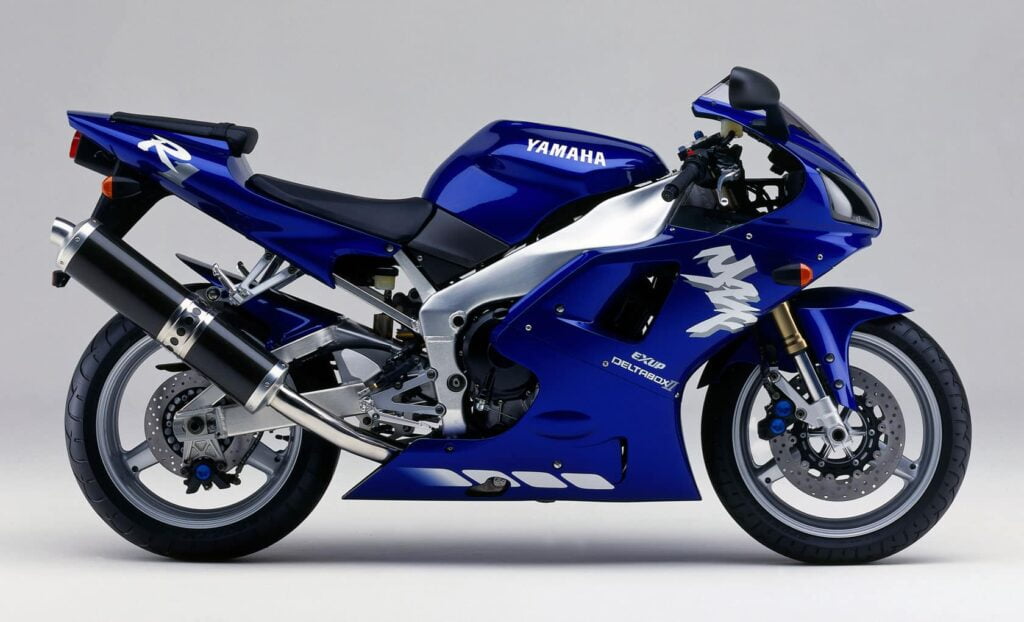 Unfortunately, it's very hard to find a 1998-1999 first-generation Yamaha R1, whether red or blue. These days, they're priced as collector's items.
Motorcycle buyers tend to ride motorcycles rather than just store them and look at them, so the original R1 is more a classic in sellers' minds than in the mind of most buyers. Yes, it's an awesome motorcycle, but one you want to ride. Sellers think you should probably just keep it in a showroom, and the over-inflated prices for them reflect this.
Basically, they're usually not great value to buy — if you intend to ride them. You will get a more rideable motorcycle for your dollar with a more recent model!
Besides pricing, the original first-generation R1 was quite hard to ride compared to later models. With a short wheelbase and power delivery not as refined as later models, it's easy to wheelie and generally quite wild.
The first gen does make you grin though, from the second you rev it and start thinking about the wheelies you'll pull on the freeway in third gear at 80mph.
Sorry, did I just talk you into getting one?? Good luck finding one in good condition but if you do, I doubt you'd regret it.
2000-2001 2nd Generation Yamaha R1 (5JJ): The Smoothest Carburettor-equipped R1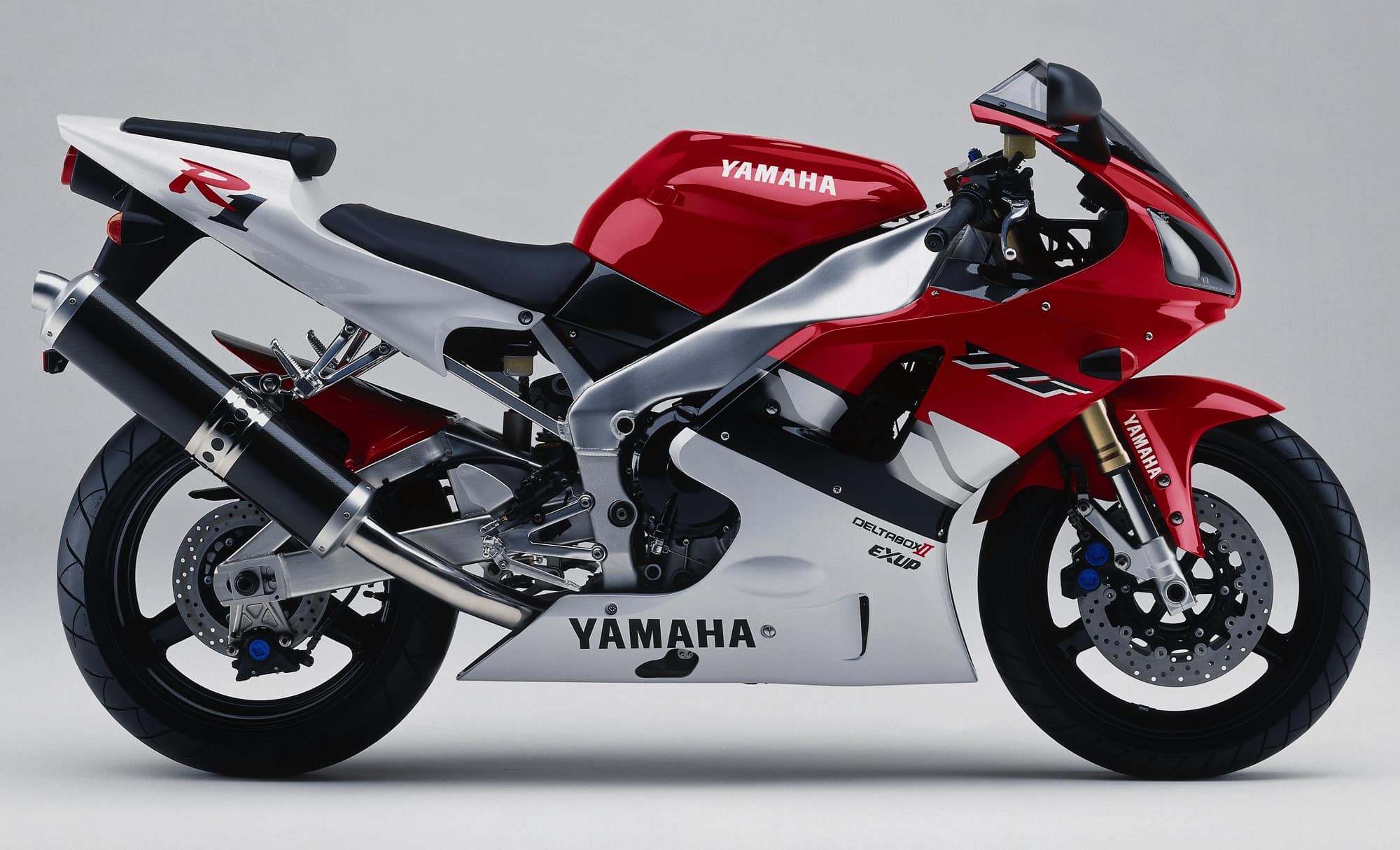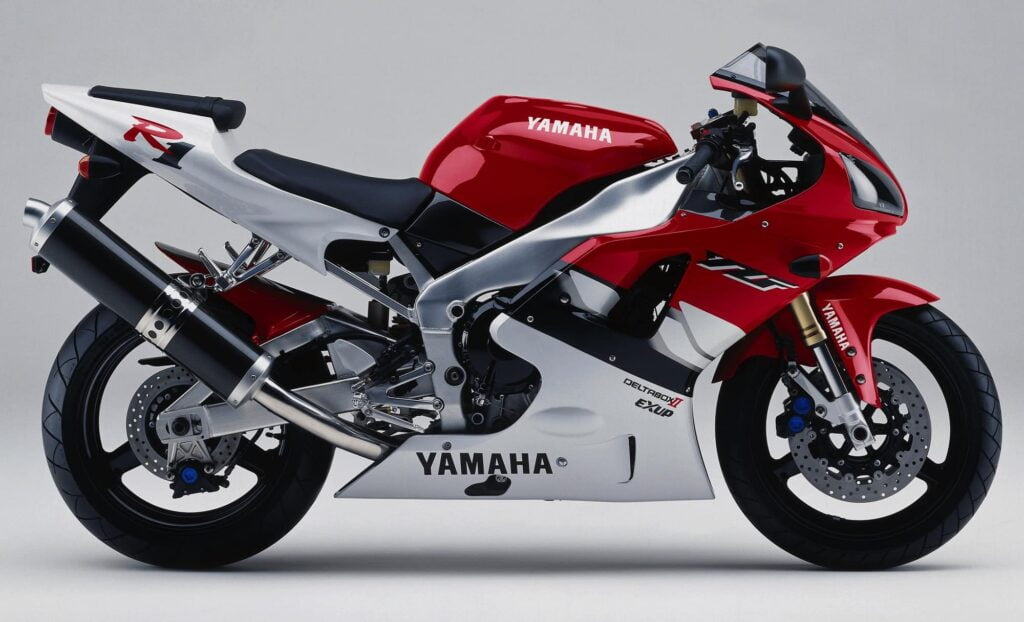 Changes for the 2000-2001 Yamaha YZF-R1:
Revised graphics, not as good if you're into the 80s thing
Motor/carb tune for a linear power delivery. So smooth!
Revised frame castings to make the chassis stiffer
Revised weight distribution, for more front bias
Titanium silencers (saving 2kg)
Brighter headlights
Yamaha didn't drastically change the 2nd generation R1, but it's noticeably different due to the visual overhaul. It's fundamentally the same bike — but looks different, is tuned differently, and is slightly lighter.
For the second-generation Yamaha R1, Yamaha tuned the carburettors to give it a smooth, flat torque delivery, with a corresponding linear power curve.
It tamed the wild, animal nature of the original R1. When you ride one of these, you'll notice that it pulls from 3000 rpm and then pulls, and pulls and pulls. When you ride one back-to-back with the first model you'll notice no "flat" spots, something hard to achieve through tweaking carburettors, unless you're a pro.
They also changed the styling slightly (a definite downgrade from the red seat of the original), and gave it bigger, wider headlights. The first-generation headlights were not bright enough.
The good news about the second-gen is that they're similar to the first, but not as high in demand, as they're not as classic.
If you get a 1998-2001 YZF-R1, just be prepared to deal with carburettors. Yes, they're easier to service, tune (with home tools), and even understand (though carburettors themselves can be a kind of wizardry). But carburettors do tend to need cleaning, de-icing, and all kinds of things most motorcyclists have forgotten about.
Don't forget the advantages of fuel injectors: more reliable, easier to map (in modern versions) for a flat torque curve, and more environmentally friendly (easier to set a tune that's bordering on lean).
You also can leave an injector-fuelled bike for longer without worrying about it. On carburettor-equipped bikes, you should drain the carbs if leaving them parked for a while (e.g., if you're buying an R1 as your track bike).
Revzilla had a great piece on why fuel injection replaced carburettors, and none of them are "because fuel injection goes faster".
2002-2003 3rd generation Yamaha YZF-R1 (5PW): The First Fuel-Injected R1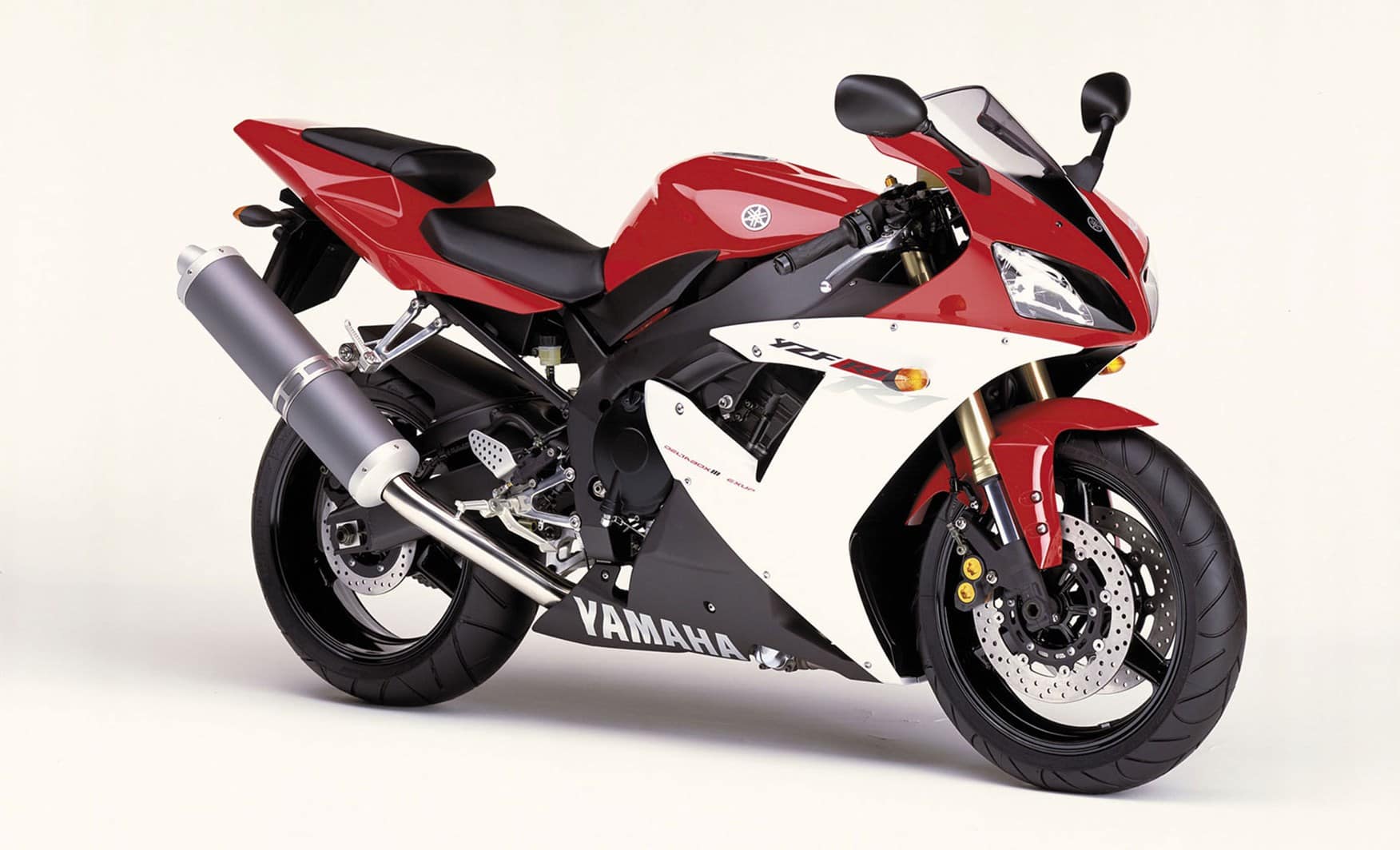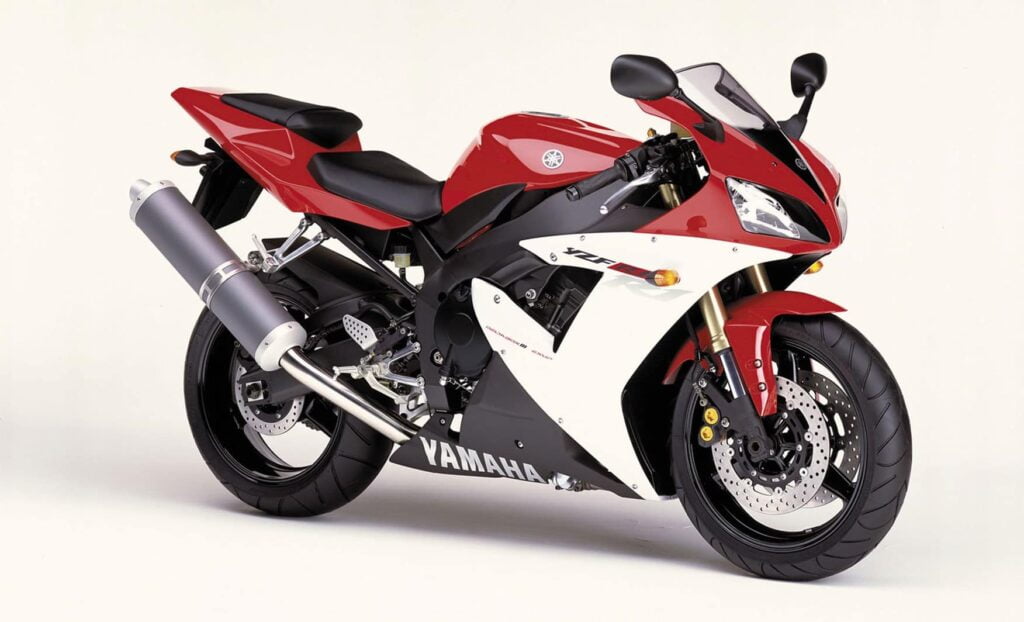 Main changes for the 2002-2003 Yamaha R1:
Fuel injection, using a hybrid "suction piston" system which gave the analogue response of a carburettor, with the precision of EFI
New styling, minimalist bodywork. Quit messing with perfection, Yamaha!
Silver colour option
Updated rear suspension and larger diameter front forks
This was the first real update for the Yamaha R1. The aim was to make it more refined, but that just made the competition's offerings more attractive (as they were more "bonkers").
The 2002 YZF-R1 is still based on the same engine block as the 1998-2001 models, with the same bore and stroke, capacity, compression ratio, and still based on a 5-valve-per-cylinder design.
Yamaha also gave the 2002 model a beefier fork, and upgraded the brakes to reduce unsprung mass.
| Years | 1998-2001 | 2002-2003 |
| --- | --- | --- |
| Fuelling | Carburettor | Fuel injection |
| Peak power | 109.5 kW / 148.8 hp @ 10000 rpm | 111 kW / 152 hp @ 10500 rpm |
| Peak torque | 108.3 Nm / 79.9 ft-lb @ 8500 rpm | 104.9 Nm / 76.7 ft-lb @ 8500 rpm |
| Front suspension | 41mm KYB inverted fork | 43mm KYB inverted fork |
| Front brakes | 2 x 298mm discs, 4-piston calipers | 2 x 298mm discs, 4-piston calipers, upgraded with aluminium pistons + sintered pads |
| Dry weight | 188 kg (414 lb) | 187 kg / 412 lb |
1998-2001 YZF-R1 vs 2002-2003 fuel-injected R1 specs
2004-2005 4th Generation Yamaha YZF-R1 (5VY): The First R1 with a 1:1 Power:Weight ratio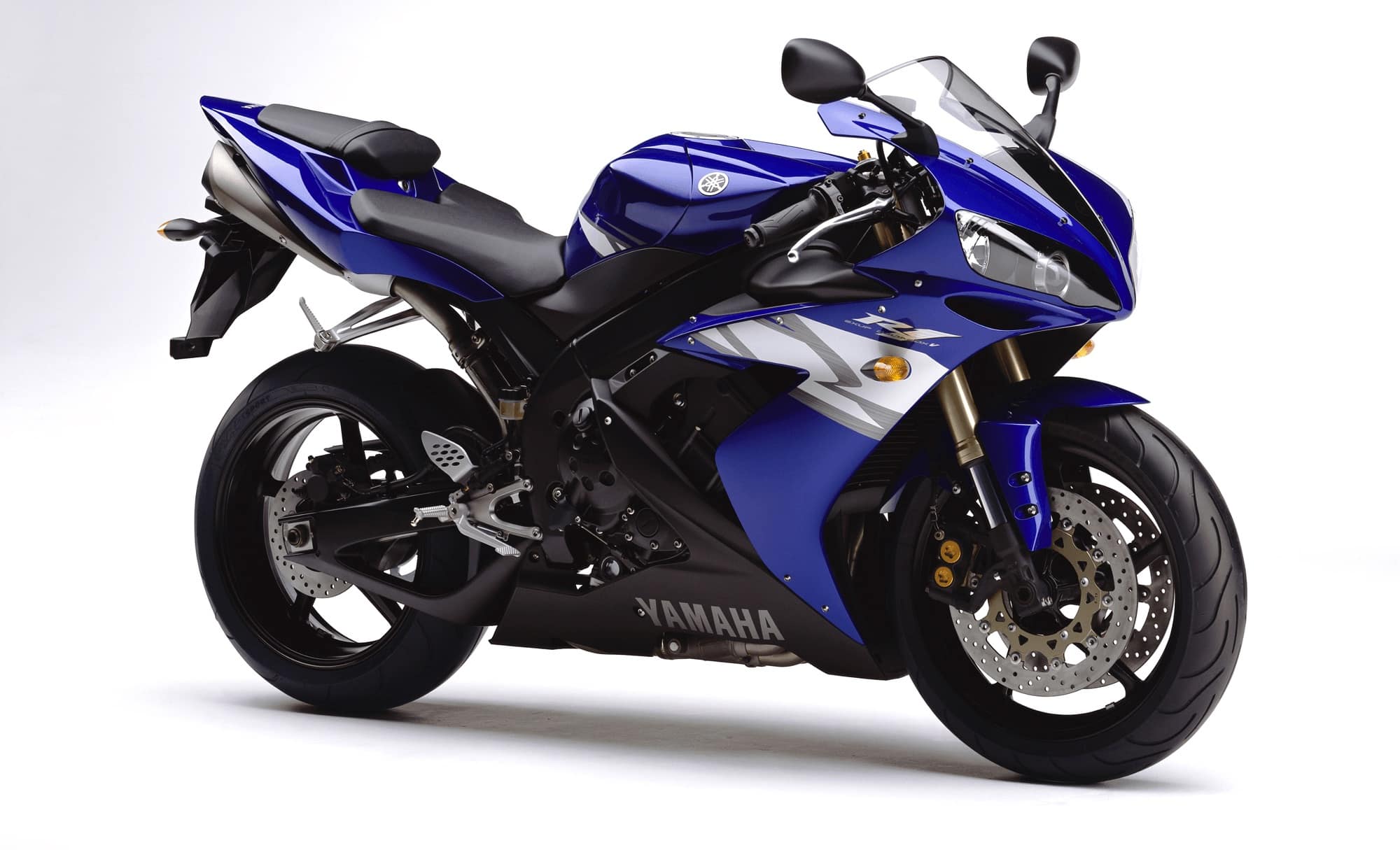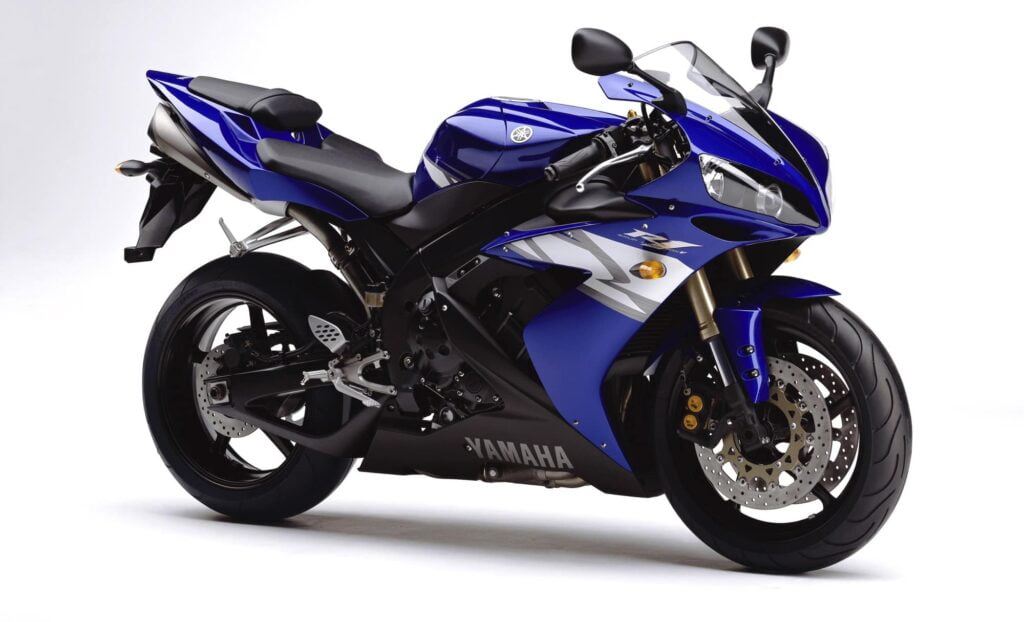 This was a really visually stunning version of the R1 (though you could say that about any of them). But that's not the whole story at all.
For the 2004-2005 YZF-R1, Yamaha created an entirely new engine. They shortened the stroke and increased the compression ratio, and let the 2004+ models breathe through ram air (see the intakes at the front of the bike). Thus, Yamaha squeezed out a healthy 20 hp increase in peak power, bringing it to 172 hp at 12500 rpm — or 180 hp with ram air. This is partly because the shorter-stroke engine could rev much higher — the previous engine peaked in power at 10500 rpm and had a cut-off at 11500.
Yamaha lightened a lot of parts of the internals of the engine to help it rev higher. It's not just the shorter-stroke / larger bore pistons. Yamaha also lightened the crank (where a large part of a bike's angular momentum is stored) by 16% and the clutch by 5%.
Yamah also shaved off a few kilograms (or a few more pounds) of weight off the 2004 R1, giving it a 172 kg / 379 lb of dry weight. This means it has a magical 1:1 power:weight ratio — provided you measure it in metric horsepower and kilograms!
Aside from that, Yamaha gave the 2004 model radial-mounted brake calipers on bigger discs, under-seat exhausts, and an adjusted geometry, reducing the tendency to wheelie.
Model
2002-2003 YZF-R1
2004-2005 YZF-R1
Bore x Stroke
74 x 58
77 x 53.6
Compression ratio
11.8:1
12.4:1
Peak power
111 kW / 152 hp @ 10500 rpm
126 kW / 172 hp @ 12500 rpm
(134 kW / 180 hp with ram air)
RPM cut-off
11500 rpm
13750 rpm
Fuelling
Fuel injection, 40mm throttle bodies
Fuel injection, 45 mm throttle bodies, dual valve
Peak torque
104.9 Nm / 76.7 ft-lb @ 8500 rpm
107 Nm / 81 ft-lb @ 10500 rpm
Front brakes
2 x 298mm discs, 4-piston calipers
Dual 320mm discs, Sumitomo 4-piston calipers (radial mount monoblock calipers from now on) + Brembo radial brake master cylinder
Wheels
3-spoke alloy
5-spoke alloy
Dry weight
175 kg / 390 lb
172 kg / 379 lb
2002-2003 vs 2004-2005 YZF-R1 specs
Yamaha also revised the gearing of the 2004-2005 Yamaha YZF-R1 vs its predecessors, which had kept the same gearing ratio from inception.
| Model years | 1998-2003 YZF-R1 | 2004+ YZF-R1 |
| --- | --- | --- |
| Primary ratio | 1.581 | 1.512 |
| Gear ratios | 2.5, 1.842, 1.5, 1.33, 1.2, 1.115 | 2.533, 2.063, 1.762, 1.522, 1.364, 1.269 |
| Final drive ratio | 2.688 (16:43) | 2.647 (17:45) |
Gearing change in 2004 YZF-R1
What does that translate to in reality? The net effect is that at low rpms, the 2004 model goes slightly faster (meaning more), and you have to rev it higher to get to the top speeds. All that changes the way the bike feels in subtle ways, but general consensus among riders is that the 2004 feels more "manageable".
Maybe most surprisingly, bucking the trend of how superbikes develop, the 2004 YZF-R1 is slightly more comfortable than its predecessor, with the foot pegs 7.5mm lower and 2.5mm forwards, and the bars 10mm higher.
2006: 4th Generation Yamaha YZF-R1, 50th anniversary Limited Edition… and also the SP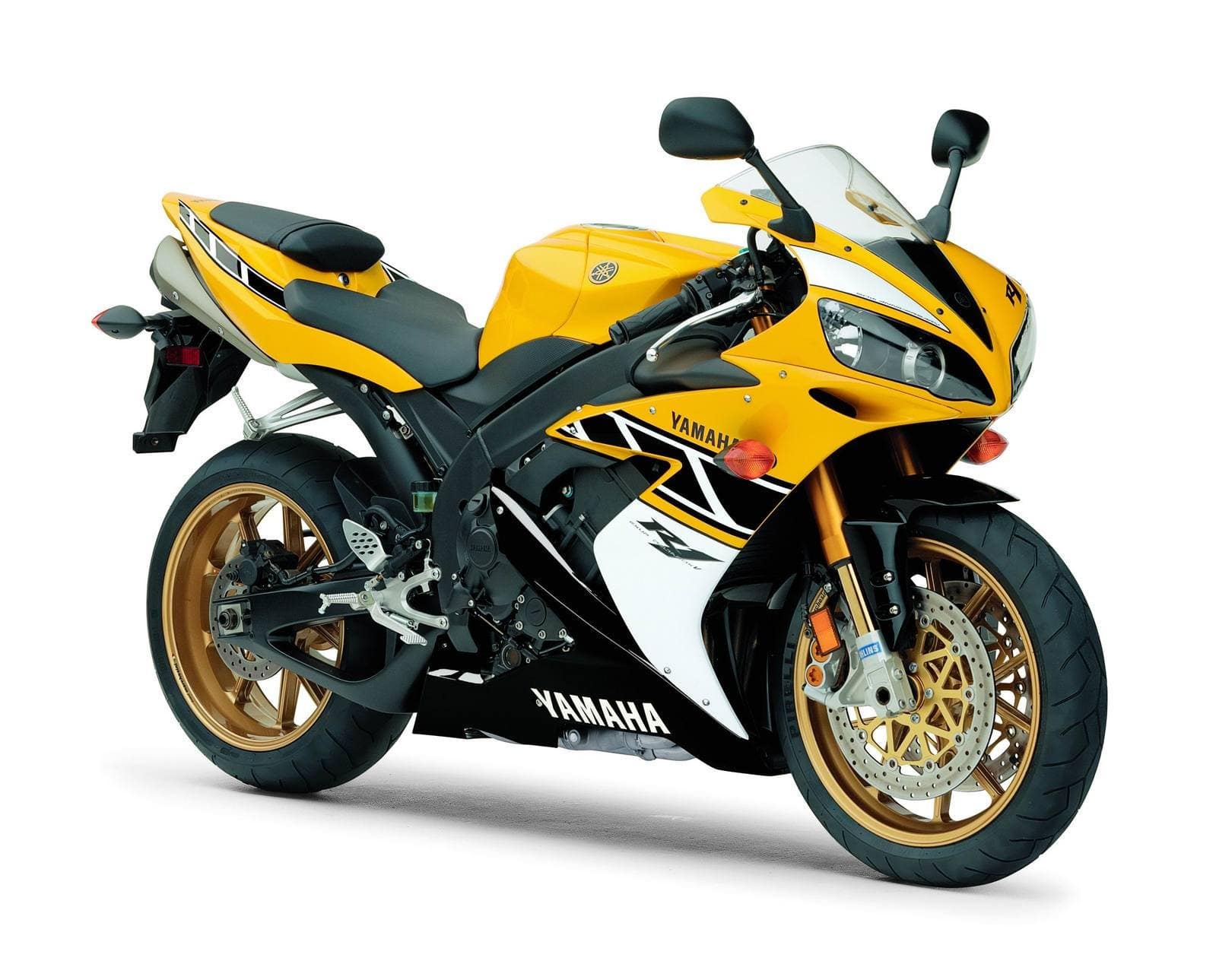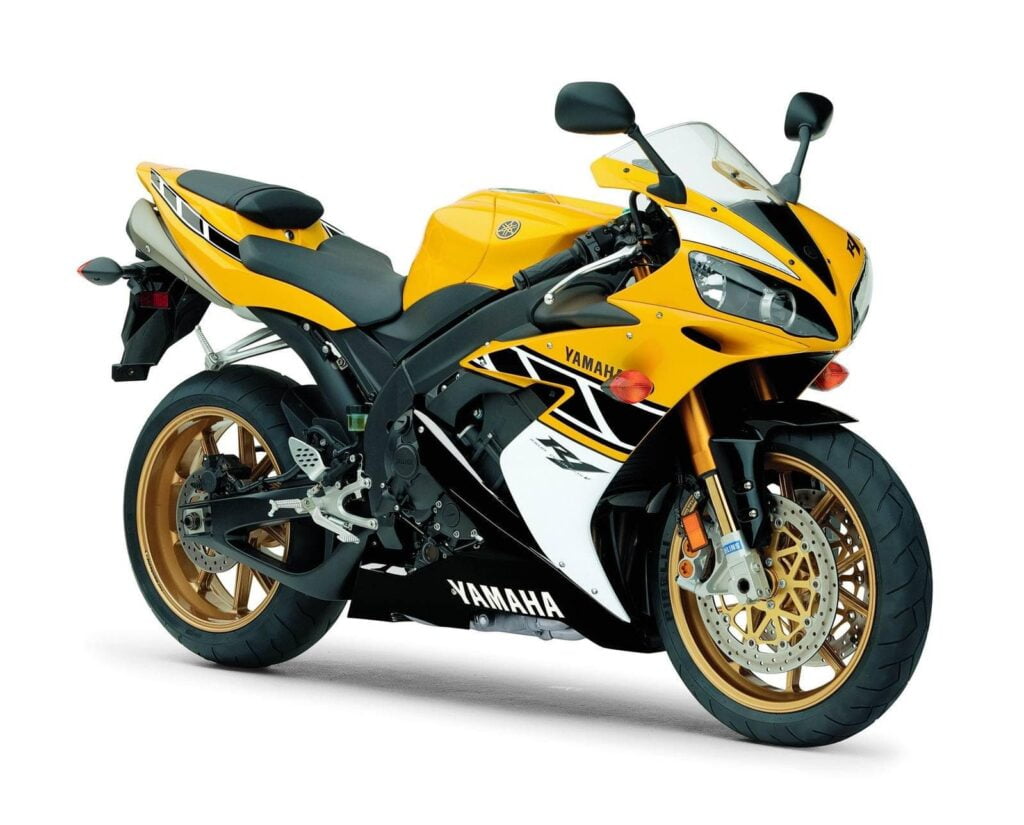 The main change to the 2006 was the introduction of the Limited Anniversary Edition, which means awesome yellow paint.
Have a thing for yellow too? Have a look at my huge gallery of yellow motorcycles here.
I kid. The 2006 Yamaha YZF-R1 has a host of changes aside from the colour scheme. But the yellow and black limited edition 50th anniversary R1 does look awesome, with its gold fork legs to boot.
Yamaha didn't change much for the 2006 models, only shortening the intake valve guides to reduce friction and boost airflow, raising the peak power by 3 bhp to 175 bhp at 12500 rpm.
In 2006, Yamaha also released a limited edition YZF-R1 SP (also known as the LE in some markets), a special model built for superstock racing. It had the same engine, but custom Öhlins (pronounced "euh-LINS") suspension, developed by the same team as the M1 MotoGP bike, and lightweight Marchesini wheels.
If that sounds familiar, it's because Ducati did the same thing with their SP/LE models — Öhlins and Marchesini. Yamaha was just taking a page out of their book.
| Year model | 2004-2005 YZF-R1 | 2006 YZF-R1 (Standard) | 2006 YZF-R1 SP / LE |
| --- | --- | --- | --- |
| Peak power | 126 kW / 172 hp @ 12500 rpm | 128 kW / 175 hp @ 12500 rpm | 128 kW / 175 hp @ 12500 rpm |
| Front suspension | 43mm KYB inverted fork | 43mm KYB inverted fork | 43mm Öhlins inverted fork |
| Rear shock | KYB shock | KYB shock | Öhlins shock, adjustable rear linkage (10mm span) |
| Wheels | 5 spoke | 5-spoke | Marchesini forged 10-spoke |
| Dry weight | 172 kg / 379 lb | 173 kg / 381 lb | 174 kg / 383 lb (from Öhlins fork) |
| Rider aids | None | Lap timer | Slipper clutch, Lap timer |
2004-2005 YZF-R1 vs 2006 and 2006 SP specs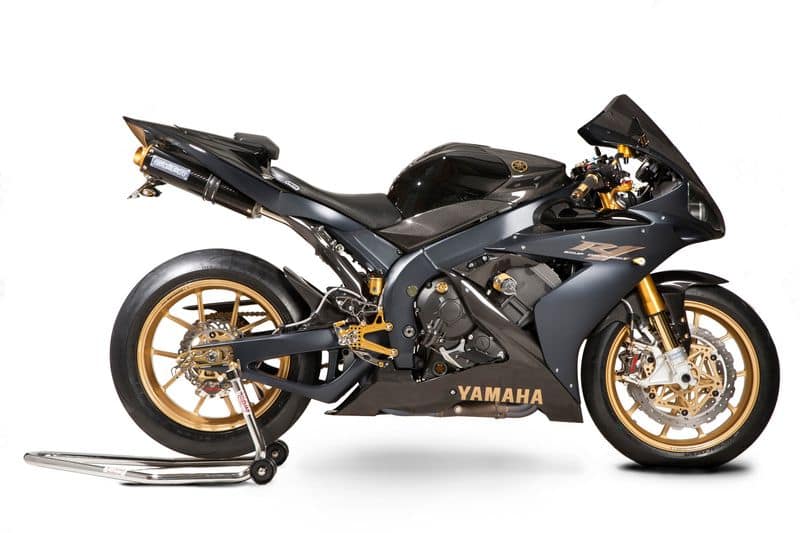 The context for the Yamaha YZF-R1 SP / LE is that Yamaha was starting to lose a little bit of glory to the competition. Suzuki had released the 2005 GSX-R1000, known these days affectionately as the "K5", and Kawasaki had upped the ante with its ZX-10R again. So Yamaha was feeling pressure, and thus released the high-spec SP / LE.
Only 500 of these were made in the US, and 500 for Europe. A few more went to other places, like Australia.
The 2006 50th Anniversary Edition (whether SP or not) of the Yamaha YZF-R1 used to be an affordable great-looking bike. But it has shot up in price as people have decided they're collector's items, too, especially since the R1M drew attention to the earlier limited editions. These days, I've seen 2006 models advertised for the similar prices to R1 models of just a few years ago.
2007-2008 5th Generation Yamaha R1 (4C8): Four valves again, and electronics galore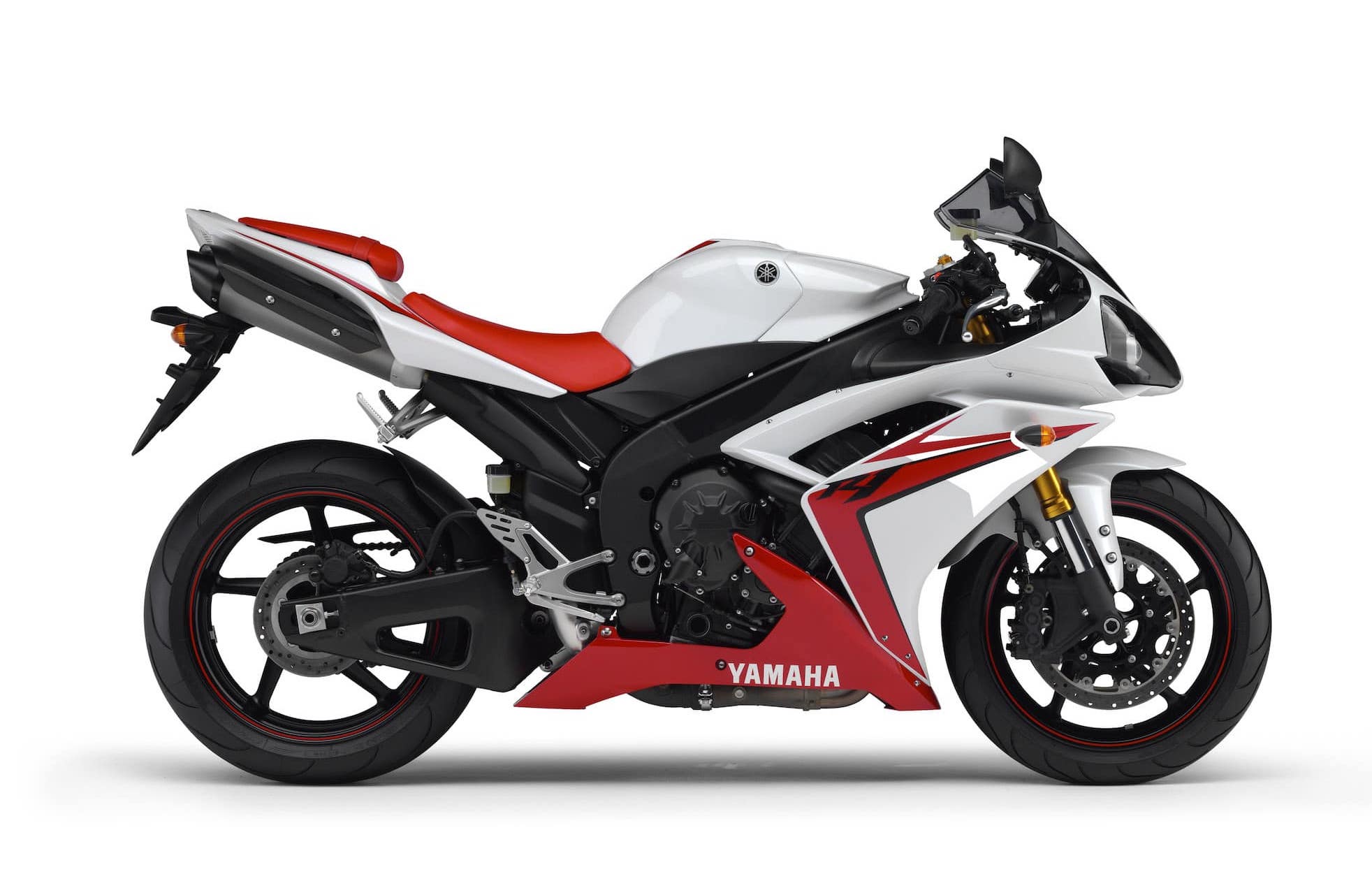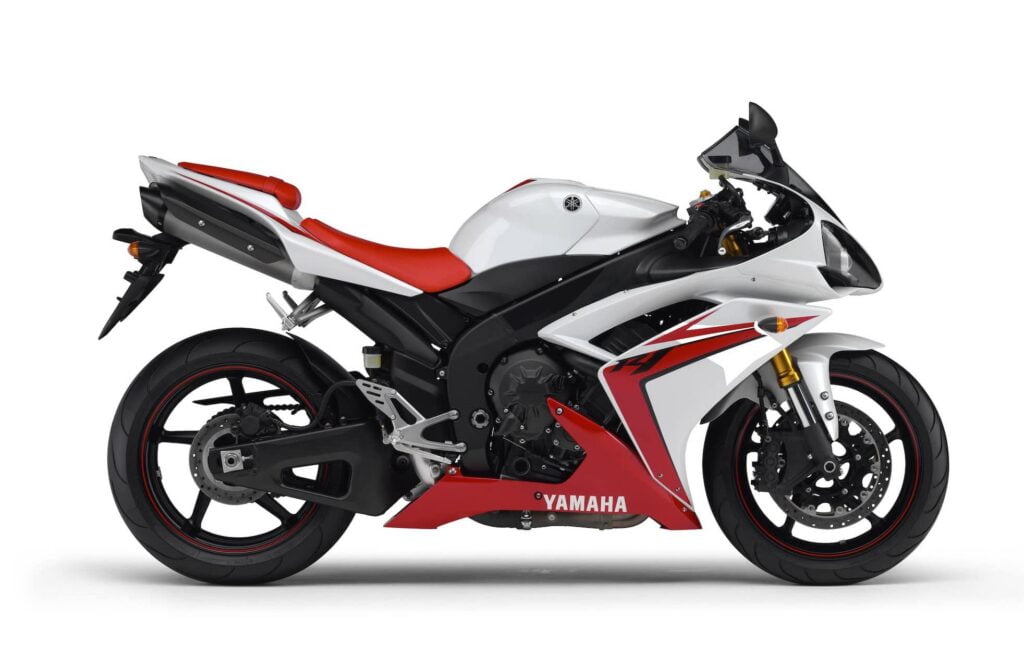 The 2007-2008 YZF-R1 is a special period in R1 history, because they ditched the five-valve-per-cylinder layout, but it was before the crossplane crankshaft revision to come in two years in 2009. Yamaha says that with the five-valve layout they were constricted in how they shaped the combustion chamber.
Visually, the 2007-2008 model looks quite like the predecessor. But Yamaha made quite a few changes to how the engine runs.
The engine bore and stroke is the same as the 2004-2006 engine, though Yamaha did up the compression ratio to help extract more power while also meeting emissions regulations.
Per one of their Product Managers, Derek Brooks: "It used to be, 'How can we add more power?'. Now it's, 'How can you meet the new exhaust emissions regulations and not lose horsepower?'" That was their aim with the 2007 model.
This was also the first year that Yamaha introduced two kinds of engine management tech: YCC-T fly-by-wire throttle (which came on the R6 earlier in 2006), and YCC-I variable length intake funnels, designed to improve performance as revs increase. In both of these, YCC stands for "Yamaha Chip-Controlled". Ooh, chips. Fancy!
"What's YCC-T and YCC-I?" Let's explain briefly.

YCC-T, also known as "fly-by-wire" or "ride by wire" (or sometimes just RbW — see our acronyms guide), means that there's no physical connection between the throttle cable and the throttle body butterflies. Instead, a sensor monitors the throttle position, and sends that to electronically controlled throttle bodies. This form of control is very common today, even on mid-range motorcycles.

YCC-I (Yamaha Chip-Controlled Intake) is more unusual. In this system, Yamaha added electronically controlled velocity stacks above the throttle bodies. The engine management system decides what length velocity stack suits the motor's present needs (higher torque or higher peak power), and modifies the velocity stacks between two positions (just two), 65 mm to 140mm.
Yamaha kept the under-seat exhaust for the 2007-2008 model as well, though would eventually ditch it for weight savings. Oh, and the dry weight of this generation did creep up to 178 kg (390 lb), but Yamaha managed to increase power to 178 hp to keep the 1:1 ratio. Anyway, it's 186 hp at peak with ram air at speed!
Aside from all the other stuff, this generation made the slipper clutch introduced in the 2006 SP / LE model as standard.
Years
2004-2005
2006
2007-2008
Compression ratio
12.4:1
12.4:1
12.7:1
Valves per cylinder
5
5
4
Fuelling
Fuel injection
Fuel injection
Fuel injection
Rev limiter
13750
13750
14200
Rider aids / tech
None
None
SP: Slipper clutch
YCC-T, YCC-I, Slipper clutch
Front brakes
2 x 320 mm discs, Sumitomo 4-piston calipers
2 x 320 mm discs, Sumitomo 4-piston calipers
2 x 310 mm discs, Tokico 6-piston calipers
Peak power
126 kW / 172 hp @ 12500 rpm
128 kW / 175 hp @ 12500 rpm (with ram air)
139 kW / 189 hp @ 12500 rpm (with ram air)
Peak torque
107 Nm / 81 ft-lb @ 10500 rpm
107 Nm / 81 ft-lb @ 10500 rpm
118.3 Nm / 87.3 ft-lb @ 10000 rpm
Yamaha spec changes 2004-2005, 2006, and 2007-2008
Yamaha revised the suspension on the 2007-2008 model, too, giving the forks thinner slider tube walls, larger diameter pistons, and increased bracket rigidity, and increasing the progressive damping rate of the shock from 8-14%, also adding high- and low-speed compression damping adjustability.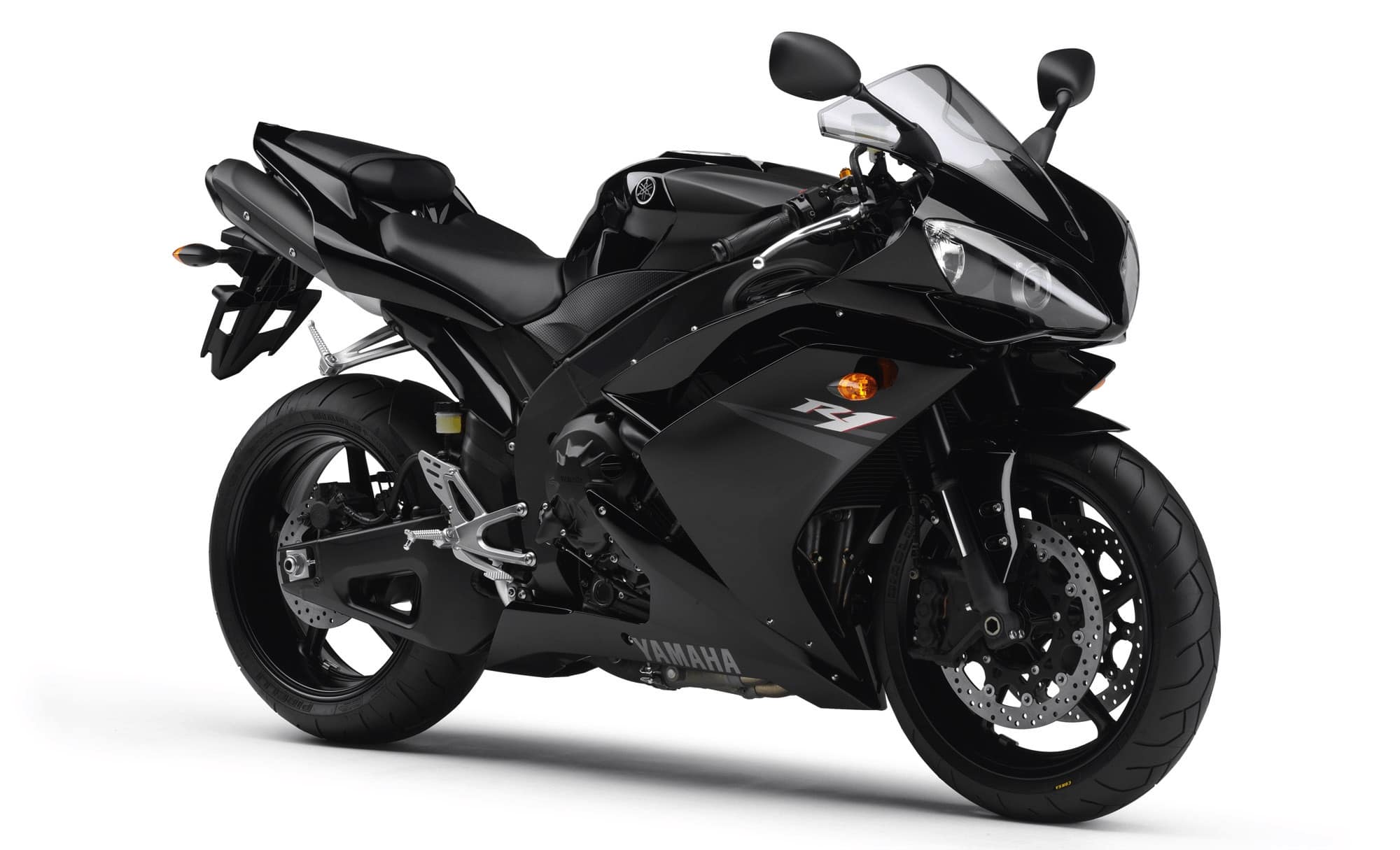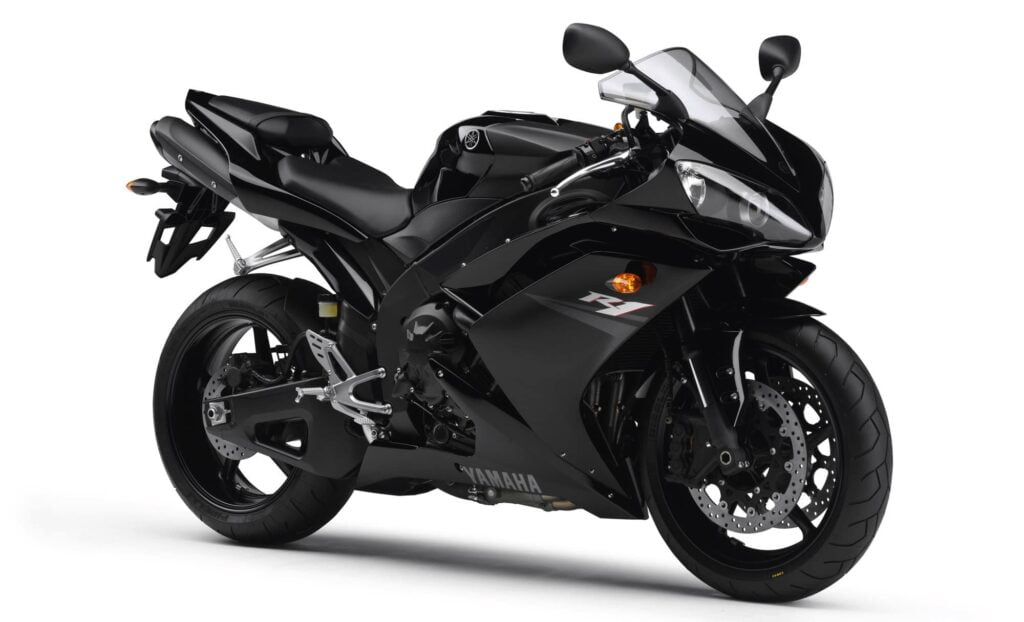 All great updates, but it would change forever with the 2009 "Crossplane" R1.
One caveat with the 2007-2008 generation is the fuelling. The fact that Yamaha corporate mentioned the challenge of meeting emissions regulations is a tell-tale sign: some riders complain that this gen of R1 suffers from poor low-rpm fuelling, some delays in throttle response, and hesitation under 4000 rpm. You can solve this by either getting it tuned (which a lot of R1 owners do with other mods) or by opening the throttle more.
2009-2011 6th Generation Yamaha R1 (14B): The Crossplane Crank engine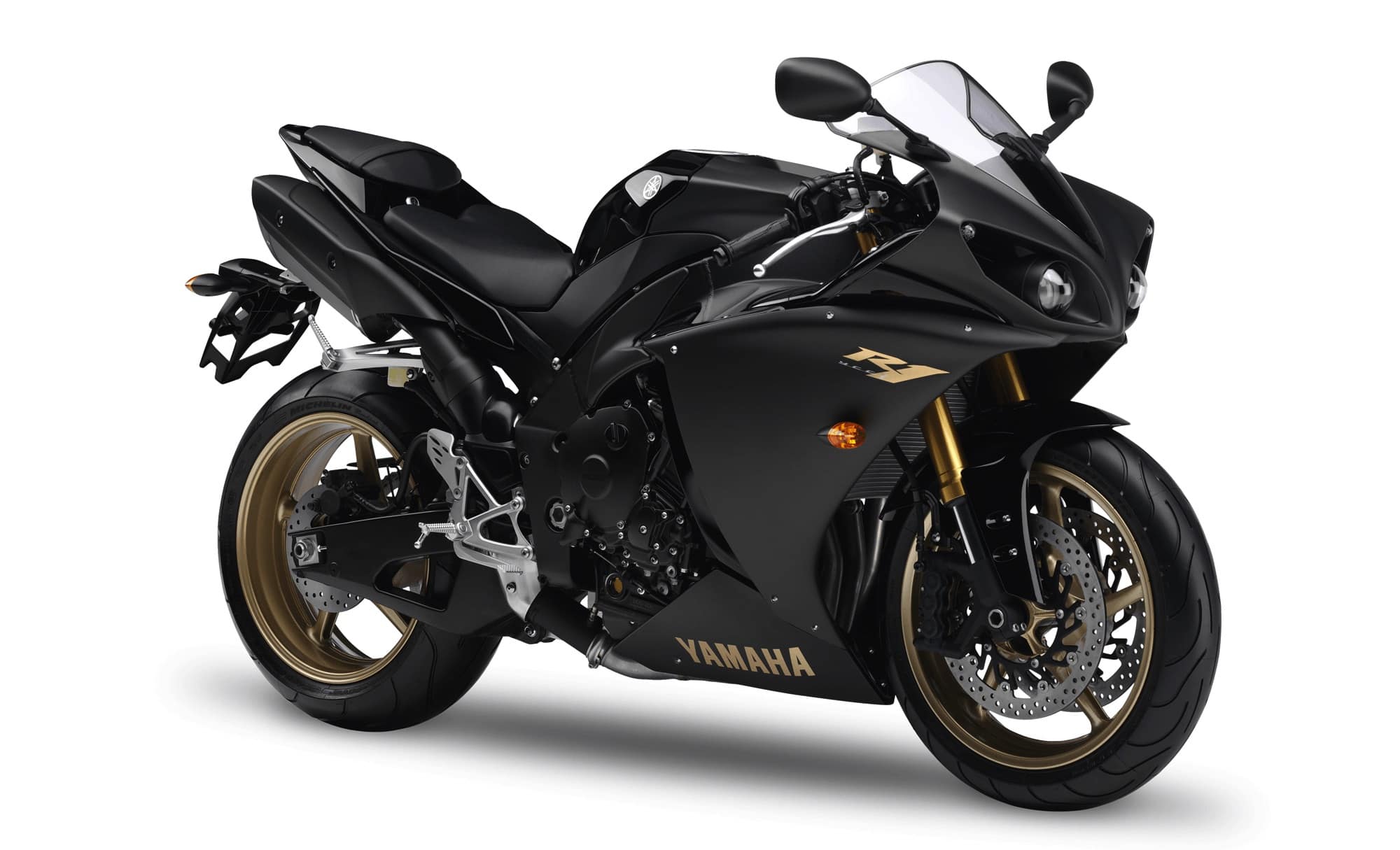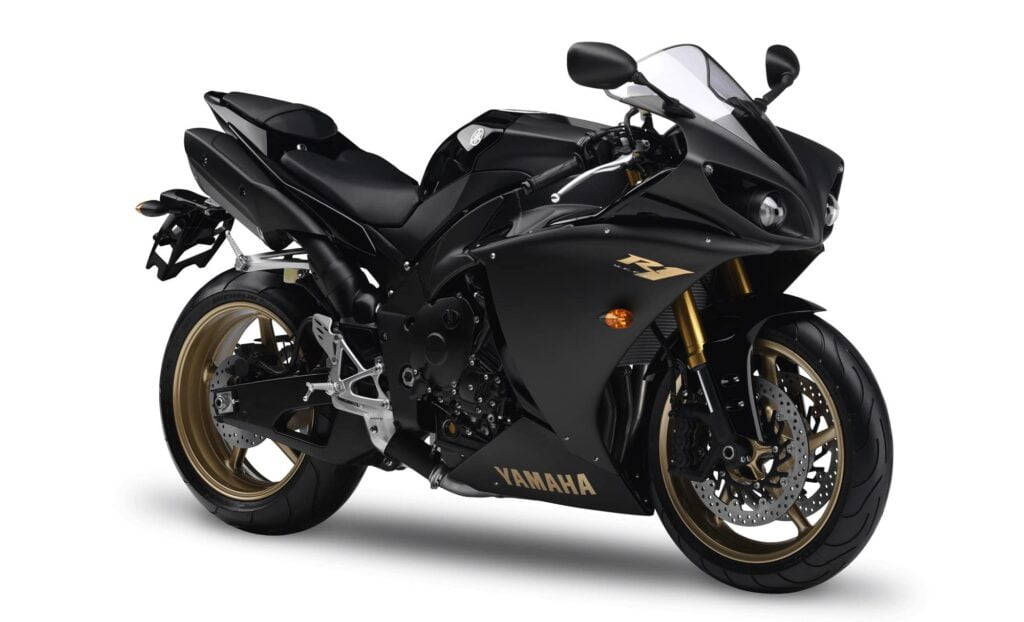 The 2009 model was one of the most significant updates to the Yamaha R1. Yamaha launched it at the Eastern Creek track, outside Sydney, Australia.
The "crossplane crank" motor, sometimes known colloquially as "big bang" (though this isn't strictly what it is — "big bang" motors fire pairs of cylinders simultaneously), and also branded CP4 (crossplane four) fires its pistons in a unique firing order in order to reduce inertial torque, and improve cornering.
The crossplane crankshaft was a defining moment for Yamaha. Yamaha brought the technology over from their MotoGP motorcycle, and thus became one of few manufacturers to have such a close tie between their road-going superbike's engine and the MotoGP special. Over a decade later, it's still unique in the motorcycling world, shared only by the MT-10, which got it a number of years later (once the FZ-1 had its run).
Some say a "crossplane" motor has an analogous feel to a V4 engine. They do share some qualities, in that they have four cylinders (like an inline four) but have a raspier, more guttural feeling, and a different firing order from most inline-fours, which normally have a high-pitched whine as the revs climb. But there are so many differences between motorcycles (tuning, exhausts, etc.) it's hard to say they're any more "same" than that both the CP4 engine and V4 engines are different from inline fours.
Also note that the concept of "Crossplane" crankshafts pre-dates Yamaha's use of it in the YZF-R1 by quite a bit (around a hundred years!). It's a common design component of V8 engines for the same reason — to produce a smoother engine. Cadillac and Peerless first proposed the crossplane design in 1915.
More on the crossplane crank below. But still on the motor, Yamaha increased the bore by 1mm and decreased the stroke by 1.4mm, keeping displacement at 998 cc but giving the motor a bit more rev, also increasing the rev ceiling to a hard limiter at 14200 rpm. Yamaha also gave the 2009 model secondary shower head-type fuel injectors.
Controversially, Performance Bikes magazine's back-to-back test of the 2007 vs 2009 R1 show that the 2009 R1 made less peak power AND less midrange than the 2007. On top of that, the R1 weighed 9 lbs (4 kg) more dry, per their tests. (Yamaha didn't claim a dry weight figure for the 2009 R1.
Yamaha changed out the KYB suspension for a Soqi fork, which isolates compression and rebound-damping functions. The Soqi shock also has high and low-speed compression damping, and has an easier-to-adjust preload adjuster that can be adjusted with an Allen wrench instead of a wrench.
Oh, and quietly, the 2009 model is the first R1 to not have an EXUP valve, a mainstay of Yamaha superbikes since the 1990's FZR1000. Instead, it has a three-way catalytic converter (which many people promptly remove… for track purposes, obviously.) But don't worry. They'll come back, stay tuned!
Model
2007-2008 R1 "4-valve"
2009-2011 R1 "Crossplane"
Motor
998 cc inline-four, conventional
998 cc inline-four, crossplane
Bore / Stroke
77 x 53.6 mm
78 x 52.2 mm
Fuelling
FI, 45 mm throttle bodies
FI, 45 mm throttle bodies, second showerhead-type injector
Ride aids / tech
YCC-T, YCC-I, Slipper clutch
YCC-T, YCC-I, Slipper clutch, Ride modes (A and B)
Peak power
139 kW / 189 hp @ 12500 rpm (with ram air)
139 kW / 189 hp @ 12500 rpm (Europe spec)
182 hp (US spec) (lower)
Front suspension
43mm KYB inverted fork
43mm Soqi fork, separate function
Rear suspension
KYB shock, piggyback reservoir, adjustable high/low-speed comp damping
Soqi shock, piggyback reservoir, adjustable high/low-speed comp damping. More easily adjustable preload
2007/08 to 2009/11 Yamaha YZF-R1 changes
How the Crossplane Crank motor works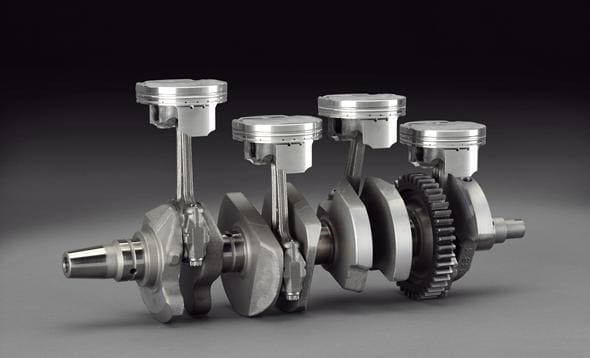 A typical inline four, like that found on the Yamaha R6 or any other inline-four liter-class sport bike (like the CBR1000RR) for example, has a 180-degree 1-2-4-3 firing interval. It's 1-pause-2-pause-4-pause-3-pause.
The firing interval on a standard inline four is:
Cylinder 1, then 180 degrees rotation
Cylinder 2, then 180 degrees rotation
Cylinder 4, then 180 degrees rotation
Cylinder 3, then 180 degrees rotation
Cylinders 1 and 4 are aligned (but take turns firing). So are cylinders 2 and 3, in the middle.
On the Yamaha R1's crossplane crank motor, the interval is modified:
Cylinder 1, then longer 270 degrees rotation
Cylinder 3, then 180 degrees rotation
Cylinder 2, then just 90 degrees of rotation
Cylinder 4 almost immediately afterwards! then 180 degrees again
This goes 1-pauuusse-2-pause-3-pa!-4-pause.
That unusual firing order is what gives rise to the R1's burble.
The "crossplane" concept is not unique to motorcycles. It actually comes from V8 motors, which is why some people think an R1 sounds like a V8.
The close spacing of the firing of cylinders 2 then 4 are what changes the torque profile. As RideApart puts it:
Basically, that means two cylinders fire with the normal degree of separation before two cylinders fire one after the other, creating a long bang. It's this long bang that gives the engine its unique character, sending a large pulse of torque to the rear wheel, then giving the tire plenty of time to regain traction before the next one comes around.
Why Crossplane for the R1?
The intention of the crossplane crankshaft in the R1 is to eliminate "inertial torque".
This is a problem in all engines, but becomes more pronounced in larger ones in particular.
Inertial torque is produced when the crankshaft doesn't spin at a constant speed over the course of a single revolution but rather speeds up and slows down at different points in each piston stroke.
In conventional inline fours, all four pistons stop moving up and down at the same time, every 180 degrees (every time one fires). That's because they're all aligned together. This means there's a point where everything's not moving and changing direction.
The R1's motor is designed so that this never happens. It fires one cylinder, then there's a long pause, then a second cylinder, then a medium pause, then the last two cylinders in quick succession. 1 – – 2 – 3 4 – 1 – – 2 – 3 4 – 1. The goal of this is to turn the crankshaft turns at a steadier speed over the course of each revolution.
On the YZF-R1's crossplane crank, there's always a piston moving — it's never at rest.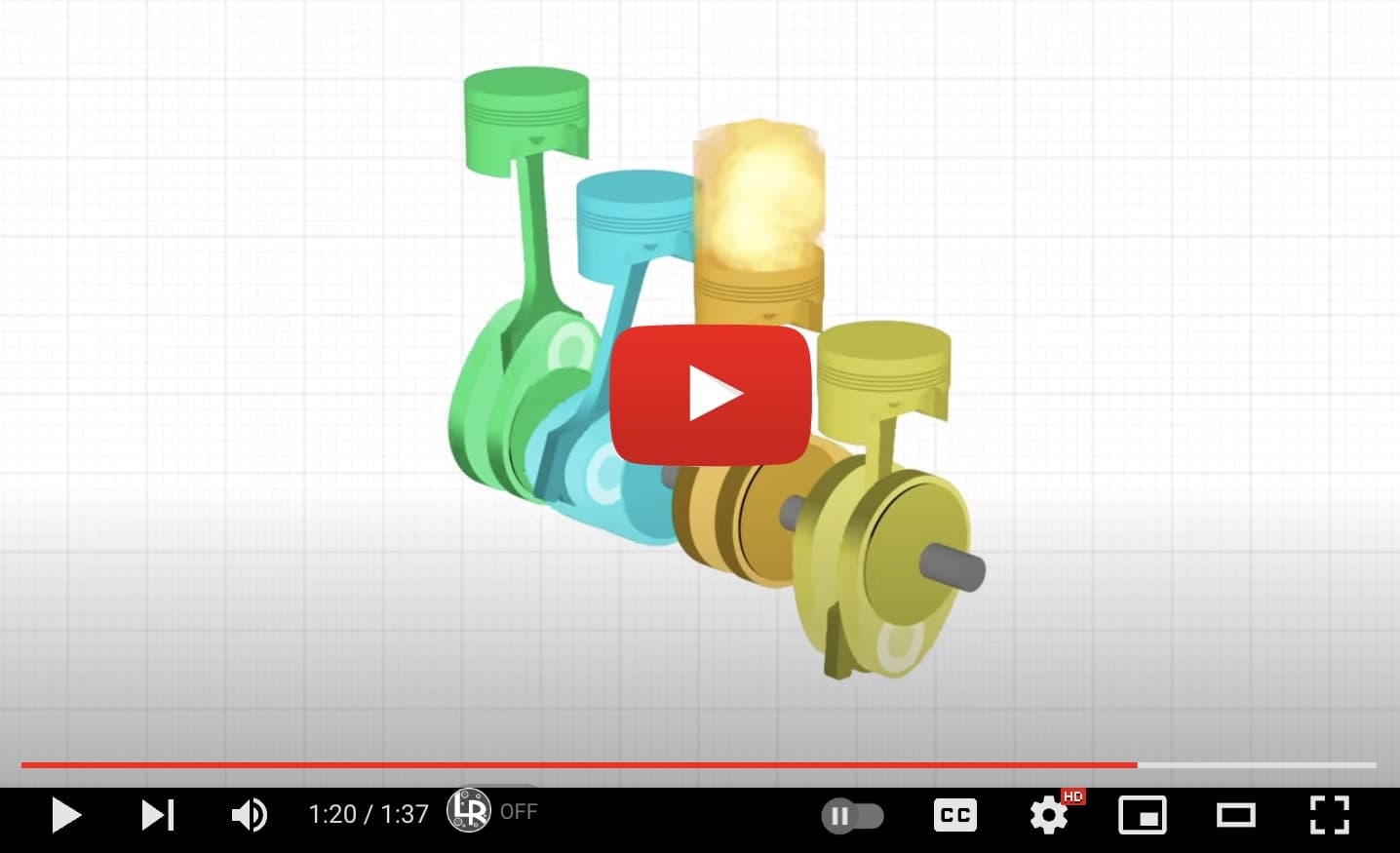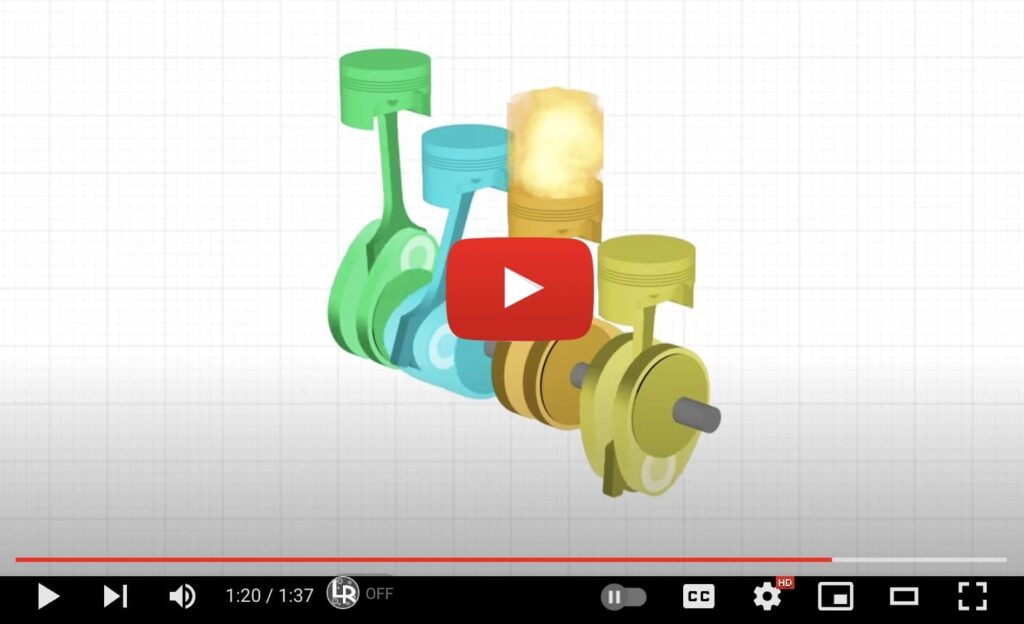 I don't pretend to fully understand the mechanics, but I know the effect is awesome, the technology is unique to Yamaha in motorcycles, and the sound is amazing.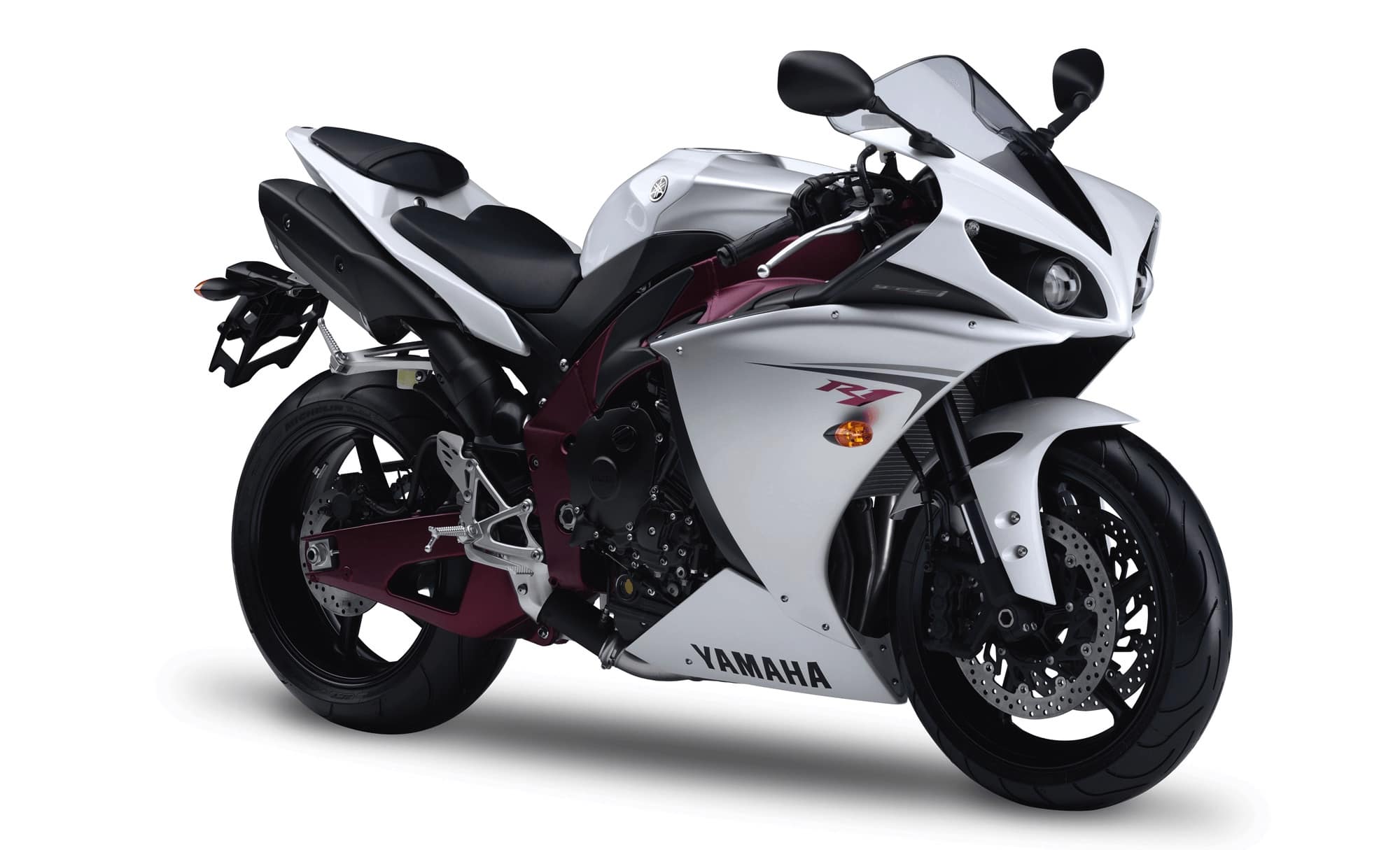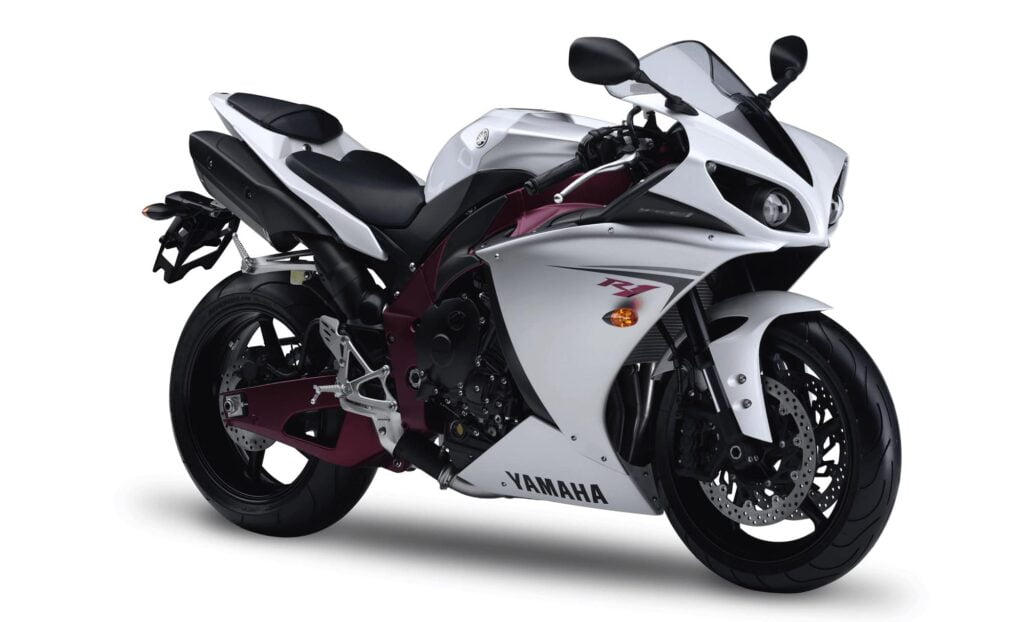 2012-2014 6th Gen Mk 2 Yamaha R1 (14BE): Hello, electronics
The 2012 Yamaha R1 was mostly the same as the 2009-2011 (see, the code barely changed, from 14B to 14BE), but added electronics to compete with what BMW was offering with the S 1000 RR.
See the buyers guide to the BMW S 1000 RR from 2009 to today.
For the 2012-2014 Yamaha YZF-R1, Yamaha added:
Seven-level traction control
Three levels of throttle response (a third ride mode, rather than the A and B modes of the 2009 model)
All that is to make the insane levels of power easier to use.
In theory, adding traction control to the R1 would be a relatively simple affair. I don't want to gloss over the many rounds of engineering work that Yamaha engineers put into every round of the R1! But the Yamaha R1 did already have ride-by-wire (which they call Yamaha Chip Controlled Throttle, or YCC-T).
The YCC-T system measures the difference between front and rear wheel speed, then considers throttle position, RPM, and gear. It even monitors lean angle (before a proper IMU was added) by reading changes in the rolling circumference of the tires. It uses all that to adjust injection and ignition when there's trouble to bring the motorcycle back to safety.
In practice, the traction control system gives riders confidence. At the highest levels, riders notice the TC light flashing when they power out of corners. That light says "yo, you were sliding out there. I got you." It doesn't cut the power out harshly or send you to bed for being naughty.
This gives you the confidence to go faster… and probably to dial down the TC level to 3 and 4, so you can slide the rear out of your $20K missile without ever letting off the gas.
You can note the front wheel speed sensor ring on a 2012-2014 YZF-R1. Normally this is the telltale sign of ABS, but these models did not have ABS.
Yamaha also released the Pearl White / Rapid Red livery for the 50th anniversary of Yamaha's racing (in the 2012 model year). Only 2000 of these were made worldwide.
2015+ 7th Generation YZF-R1 (2CR): New Engine, 200 hp, IMU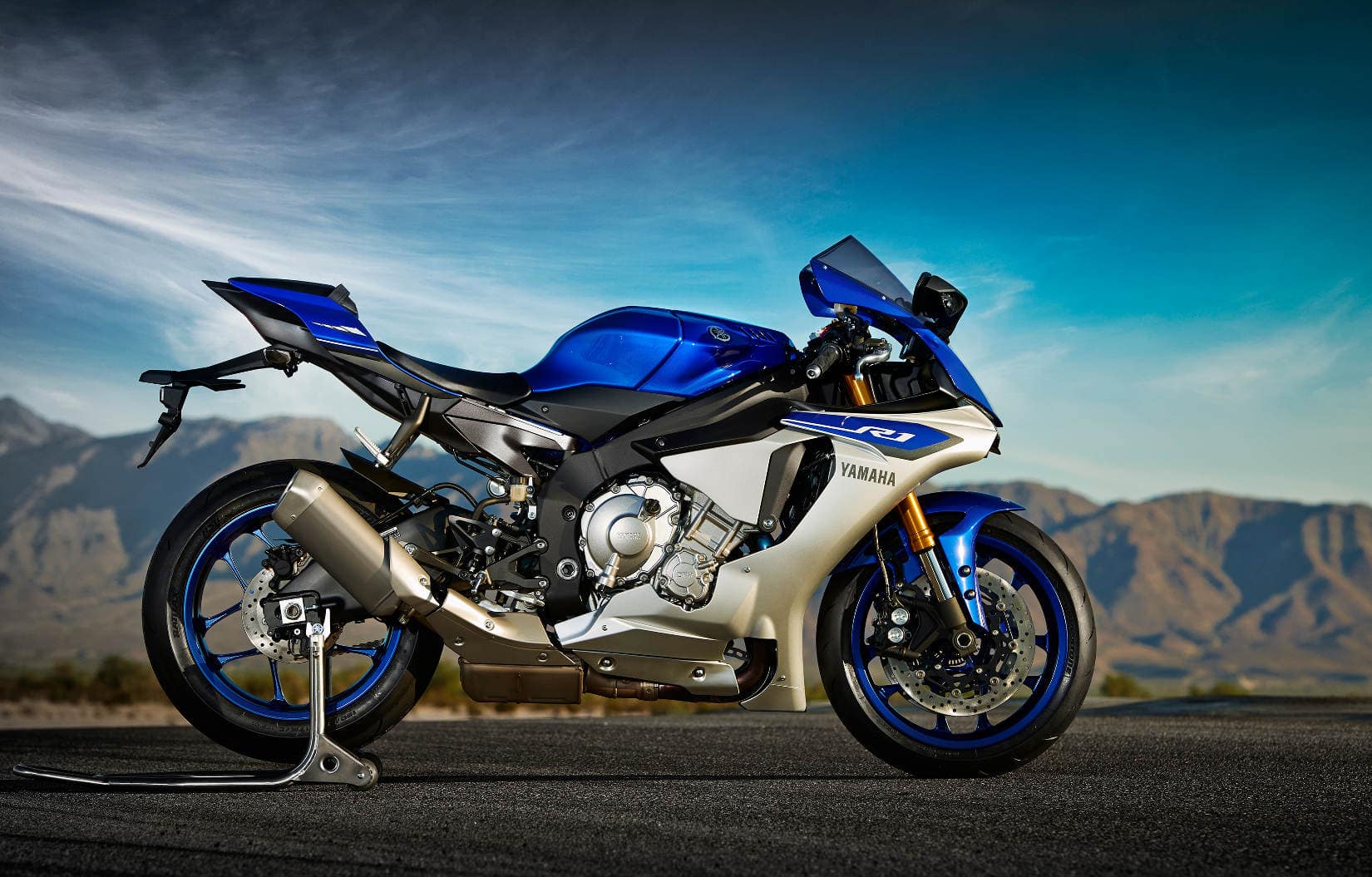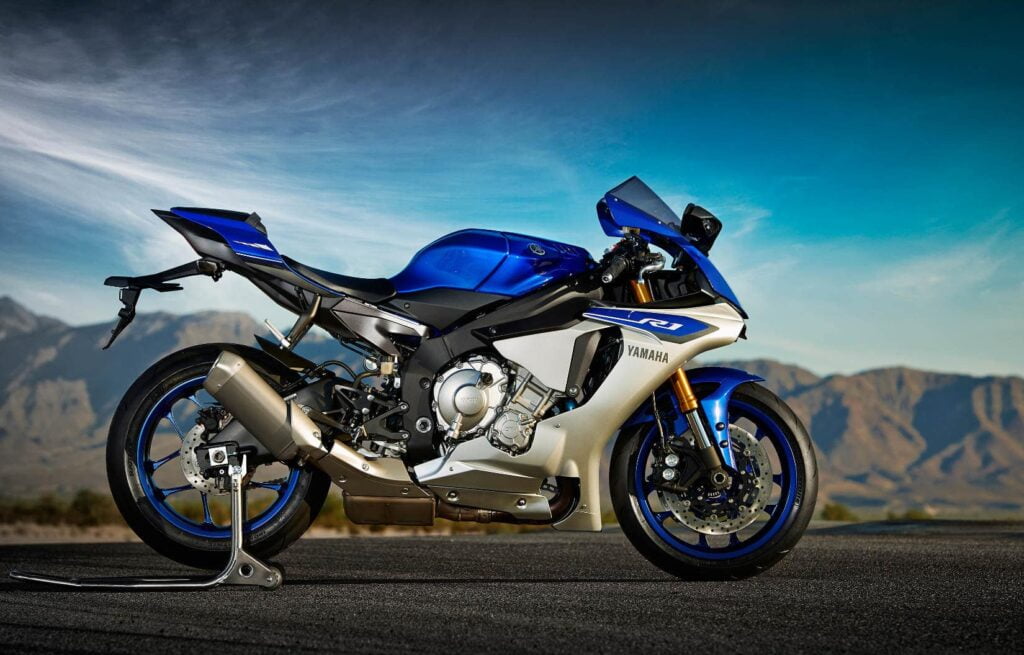 The 2015-2019 Yamaha YZF-R1 is a complete re-invention of the R1 again. And the R1M takes things to the next level with electronically-controlled suspension.
Many people describe the 2015-onward YZF-R1 models as being primarily for the track. The R1 has always been a bike, but people see the earlier ones as rideable on the street… less so the latest generations.
There's so much that's new about the 2015-onward YZF-R1 that it's hard to summarise. But here goes.
Firstly, Yamaha re-designed the engine. It has a wider bore and shorter stroke again, a higher compression ratio, and a higher redline, with the engine cut-off now at 14300 rpm, up from 13750.
Yamaha brought back the EXUP valve for the 2015+ gen. It opens up at 7500 rpm (when certain other conditions are met) and you can feel the bike kick into next year.
The 2015 R1 added a bunch of rider aids to tame the horsepower into a package that probably won't kill you as easily with its 200hp. And yes, it's still 1:1 in power:weight, with 443 pounds of weight (200kg exactly).
Primarily, Yamaha added a 6-axis Inertial Measurement Unit (IMU) that constantly senses chassis motion in 3D, creating controllability over traction, slides, front wheel lift, braking and launches. This is what gives the YZF-R1 "cornering ABS", which is now de rigueur on superbikes (and is trickling down to many other motorcycles).
See our complete list of motorcycles with an IMU / Cornering ABS.
Yamaha also gave the YZF-R1 "Unified Braking", which activates a bit of rear wheel braking when you use the front brake.
One nod to track-only spec is the "Circuit ECU" you could get for the 2015 YZF-R1. This lets you a) remove unified braking, and b) apply a tune for a custom exhaust to get more peak power.
Yamaha also gave the 2015 YZF-R1 a quick shifter, but up-only. (They rectified this in 2018 with an up-and-down quickshifter.)
Oh and finally, the 2015+ Yamaha YZF-R1 models all come with a TFT display.
Model
2012-2014 YZF-R1
2015+ YZF-R1
Bore and stroke (mm)
78 x 52.2
79 x 50.9
Compression ratio
12.7:1
13.0:1
Peak power
139 kW / 189 hp @ 12500 rpm (Europe spec) 182 hp (US spec)
13750 rpm engine cut-off
147 kW / 200 PS / 197 bhp @ 13000 rpm
14300 rpm engine cut-off
Ride aids
TCS, Power modes, Slipper clutch
IMU (Cornering ABS), TCS, Power modes, slipper clutch, wheelie mitigation, plus more
Front brakes
2 x 310 mm discs, Tokico 6-piston calipers
2 x 320 mm discs, Advics 4-piston calipers
Display
Analog + LCD
TFT
2015 YZF-R1 changes vs 2012-2014 YZF-R1
A quick word on the 2015+ YZF-R1's rider aids
Cornering ABS, inertial measurement units, and wheelie control strike fear into many traditional motorcyclists who yearn for something more old-fashioned and back-to-basics. That's fine, but here's another perspective, from Cycle World:
If we sound impressed with the engine, we are. But the inline-four's ace in the hole is Yamaha's electronics package.

Of all the systems we've sampled from BMW, Ducati, Aprilia, Kawasaki, and KTM, the R1's suite is the most transparent in operation.

Using excellent coding and multiple means to control power output, including fuel, throttle-butterfly angle, and ignition retard, Yamaha has made interventions incredibly hard to detect and therefore amazingly smooth and non-intrusive.

As a matter of fact, for intervention to become noticeable on a grippy mountain road, we had to toggle TC to a very conservative setting, while the SCS (slide control) was all but impossible to feel at a street pace.

Wheelie control provides the same sensation, until you shut it off completely, at which point you realize how much it is doing to tame wheelies.

Cycle World (my emphasis)
If you're curious about the YZF-R1's IMU but want to look at other, maybe cheaper alternatives, here's our guide to motorcycles with an IMU / Cornering ABS.
The latest generation R1 is an incredible motorcycle to ride. Like most of its predecessors, it's more set up for racing and fast riding rather than pottering around town. They're doing as much as possible to remain faithful to MotoGP bikes, while being practical (enough) to be street legal.
The seat height is 855 mm (34 inches), and the handlebars are below your seat which means you'll be in a very aggressive forward-leaning position.

If you're wondering "Can I commute on the R1?"… Well, if you have to. It's going to get hot and cantankerous and you'll be champing at the bit to wind out the throttle.
And "Can I do long-distance touring?"… Well, only if you're a diehard R1-nut who would get more joy out of that unconventional idea than out of a comfortable ride.
The only thing that makes the 200 hp engine "street-friendly" is the bevy of electronic rider aids, available incrementally since the 2012 model.
And rider aids aren't just for those who'll push the bike to their limits. For those who are occasionally ham-fisted on the controls or who don't know exactly where the limits are — i.e. the vast majority of the population — things like cornering ABS and traction control may just keep your bike and leathers in one piece for longer.
Changes to the 2015+ YZF-R1 (and R1M)
Yamaha incrementally improved the YZF-R1 since 2015. Here's how they've changed it.
Firstly, in 2016, Yamaha released the 60th Anniversary YZF-R1 in yellow and black.
It's the same basic bike, but with a yellow/black colour scheme you might recall from the 2006 50th anniversary R1.
This is, in my humble opinion, one of the best-looking versions of the R1 of all time. Also, just one of the best-looking motorcycles of all time!
If you want to get an R1 and can drop US$10K plus, I'd get one of these for the collector value. Ride it gently, do only some modifications (exhaust, ECU, braided lines) and own a piece of history.
It also has a standard Akrapovič muffler, bringing the weight down slightly.
Akrapovič? How do you pronounce that č? See here for my pronunciation guide to motorcycle words from other languages.
Yamaha made some other changes to the YZF-R1 and R1M (though the R1M got a few other specific changes — see below).
In 2018, Yamaha revised the R1 slightly, giving it an up and down quickshifter (previously just up), meaning the ECU matches engine speed for instantaneous downshifts. Yamaha also revised the launch control platform, and the wheelie control algorithm.
In 2020, Yamaha made more significant revisions.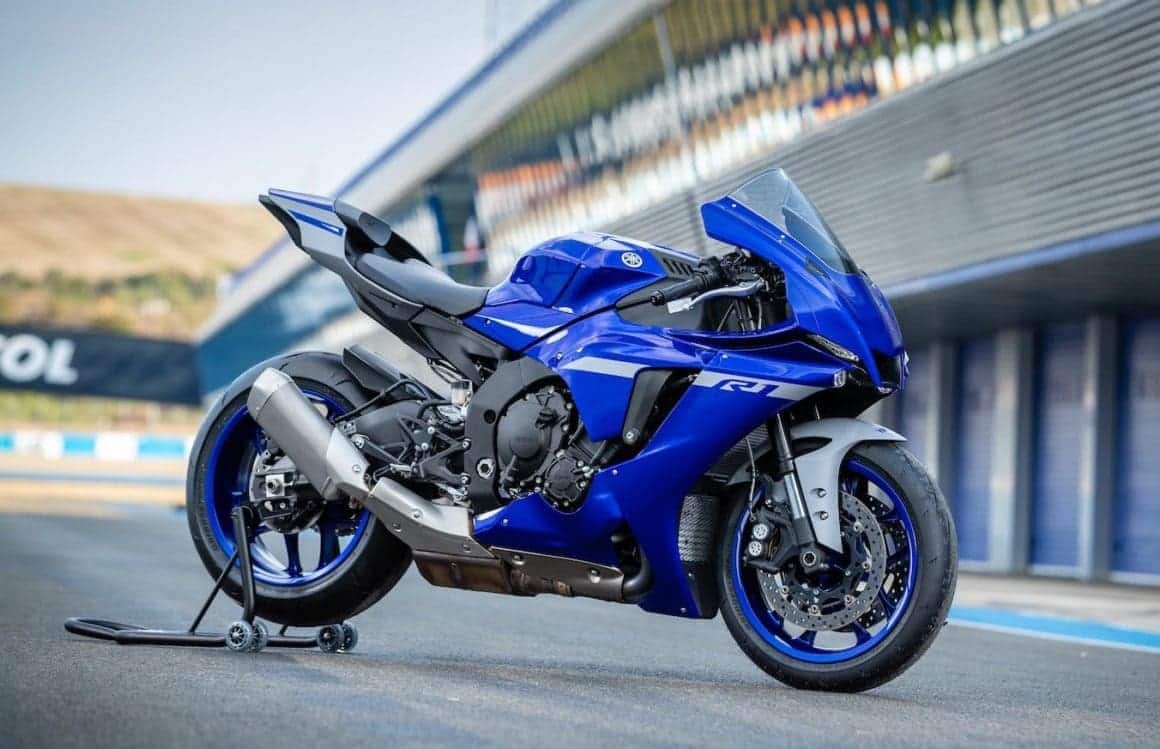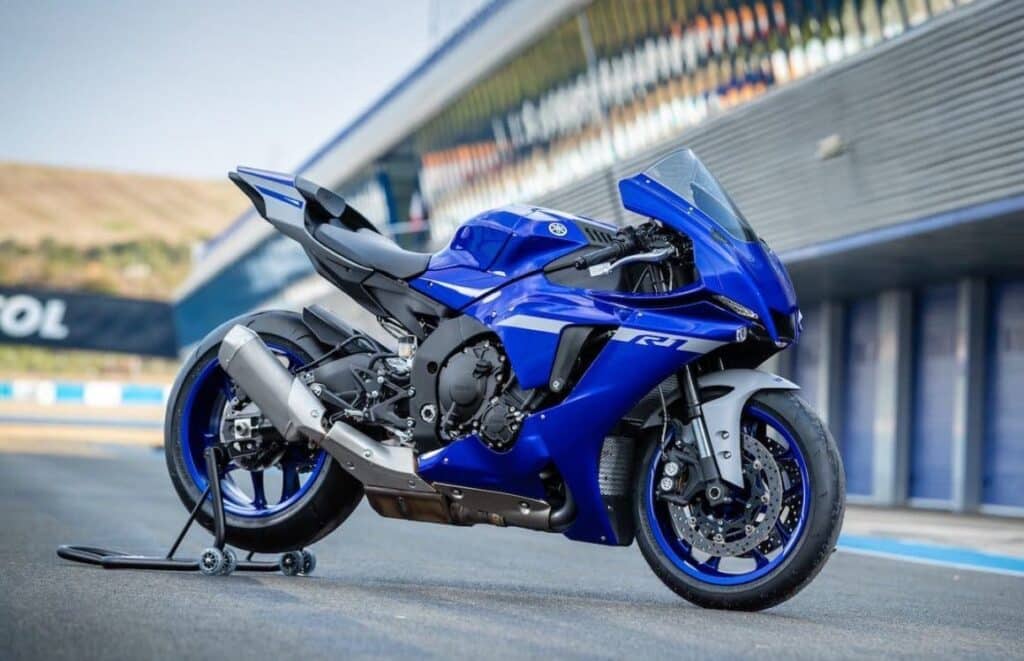 Yamaha refined the body work in the 2020+ YZF-R1 and R1M, as you can see in the image. They also made a bunch of changes to the engine, suspension, and ride aids:
Refined engine: Redesigned cylinder head, fuel injectors, finger-follower rocker arms, and camshaft profiles. Still producing the same 200 peak horsepower (197 imperial horsepower) at 13000 rpm
Better responsiveness: Enhanced mid-throttle performance thanks to the engine revisions + air box changes
Enhanced ride-by-wire: APSG ride-by-wire system with YCC-T, eliminating the throttle cable
Suspension: New internal shim stack design in the KYB fork, and revised shock settings
Extended rider aids — adding Brake Control (BC) and Engine Brake Management (EBM) to the six-axis IMU / Cornering ABS unit, allowing you to customise how the cornering ABS package responds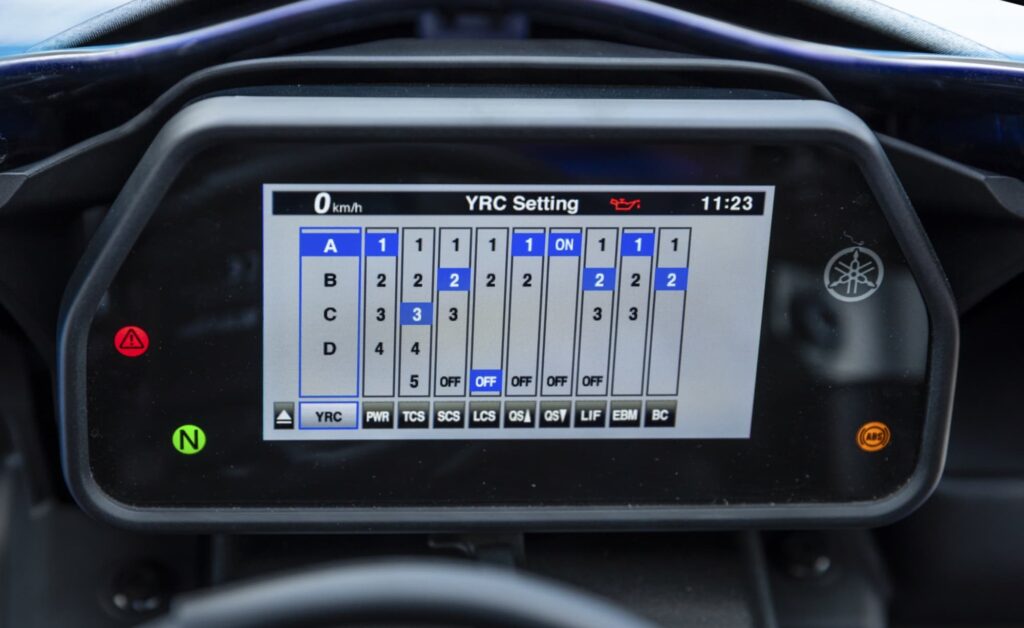 If you're really into electronics and can make the most of customising EBM and BC in addition to all the other rider aids, then the 2020+ R1 / R1M may be for you. But even mere mortals would like the down quickshifter of the 2018+ R1. After using it on many less-awesome bikes, it's hard to go back!
2015+ Yamaha YZF-R1M: Öhlins Electronic Suspension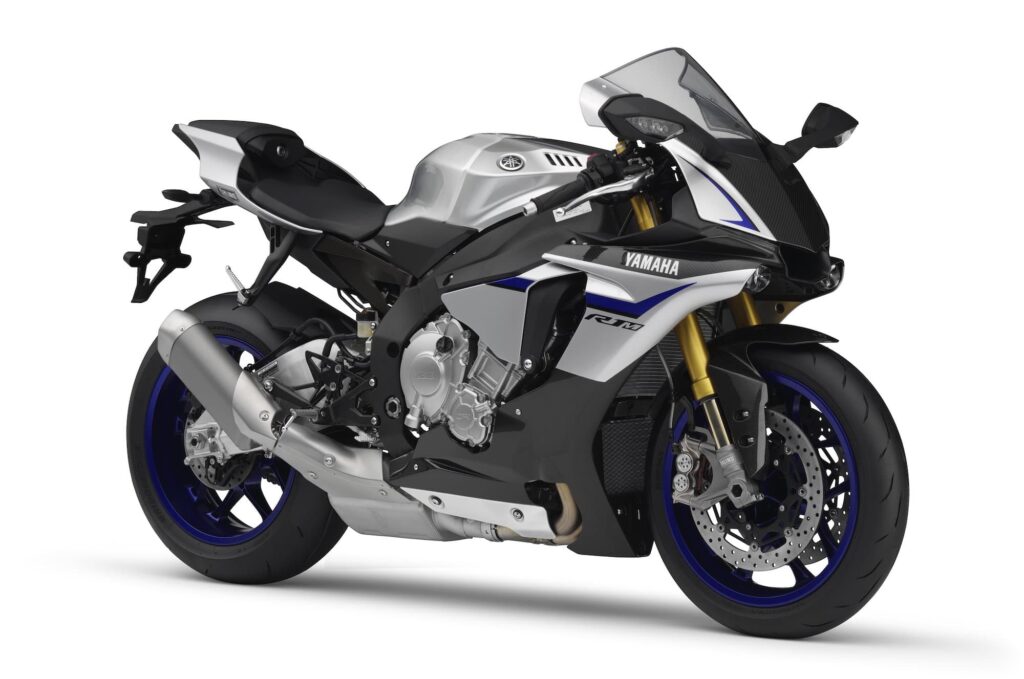 From 2015, in parallel with the YZF-R1, Yamaha started releasing the YZF-R1M.
The YZF-R1M is, to be reductionist, the same as the YZF-R1 but with electronic active suspension. There are a few more differences, but that's by far the biggest!
In 2015, Yamaha only made 500 units of the YZF-R1M available. But in future years they didn't cap it, and I'm not sure how many were made. Enough to not put individual numbering badges on them, anyway.
Generally, the YZF-R1M is distinct for having:
Öhlins electronic suspension front and rear, including manual and automatic modes. The rear shock is 4-way adjustable.
A wider 200-profile rear wheel (200/55-ZR17), rather than 190 on the base model
Yamaha's Communication Control Unit, to communicate with the bike through tablet or smartphone app and upload your settings for the various rider aids.
Yamaha's Y-TRAC data-logging program, for analysing things like throttle opening, speed, lean angle, brake pressure, engine rpm, and more, letting you overlay multiple laps or compare with your buddy.
Magnesium wheels, oil pan, cylinder head cover, and crank case covers.
Carbon fibre front fender and fairing
If you're wondering whether you should plonk down for the R1 or the R1M… Obviously, you want the R1M! Just kidding, not everyone needs it or wants it (it's ~30% more expensive after all). And it's really just an R1 plus electronic suspension and a data logger. So, most would wonder: Who exactly would benefit from dynamic electronic suspension?
After you've ridden a motorcycle with dynamic electronic suspension, it's hard to go back to a motorcycle that doesn't adapt itself to the conditions automatically. Some people are good at adjusting suspension for specific tracks and conditions, but some people would rather leave it to a computer.
If you really do want dynamic suspension, the R1M is actually one of the cheaper options, especially when placed next to the Panigale V4. So really, you're making a smart economic choice here.
Yamaha has steadily improved the R1M as well, over the years. The engine's the same but they've optimised the electronics, as well as keeping it compliant with emissions laws.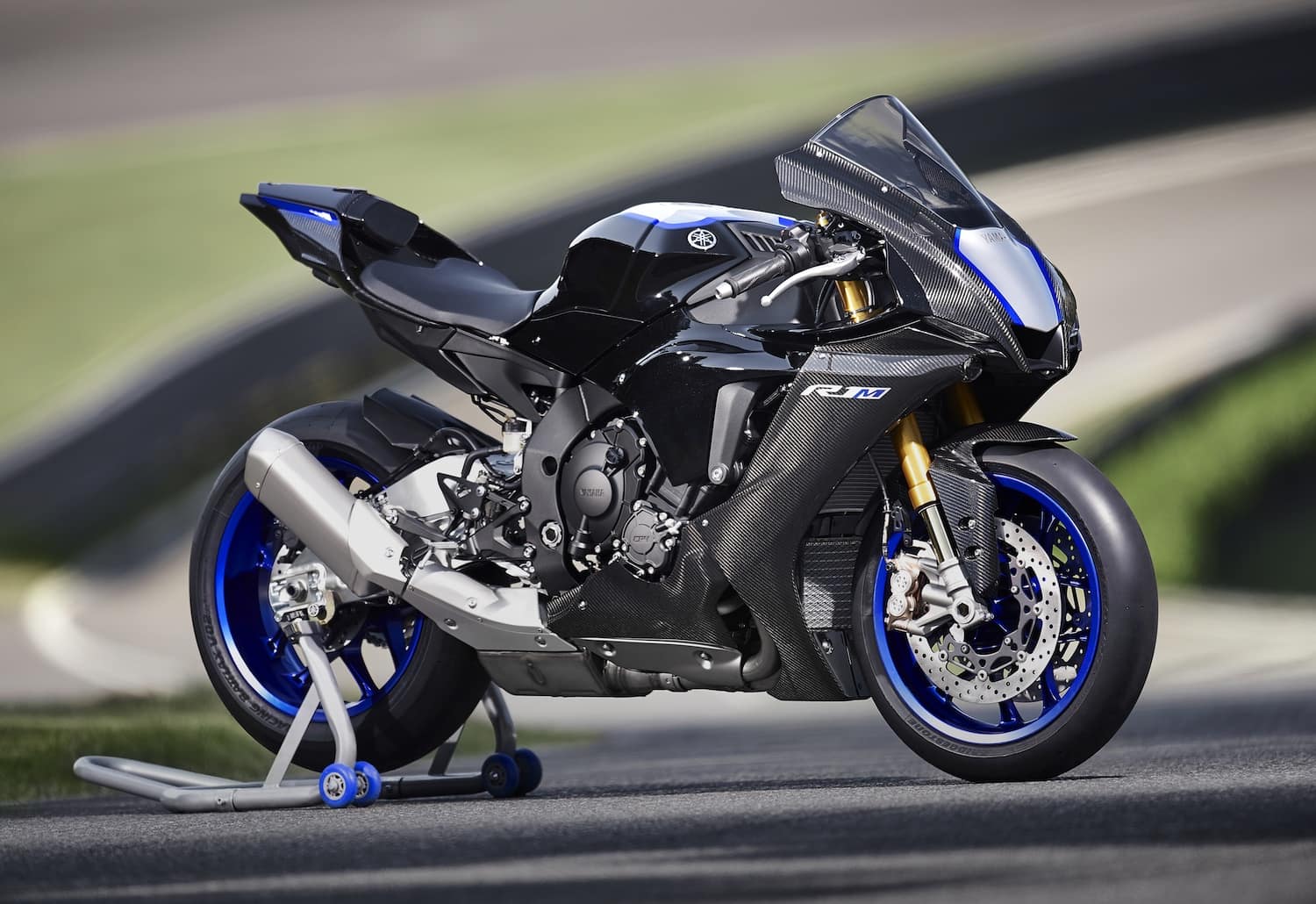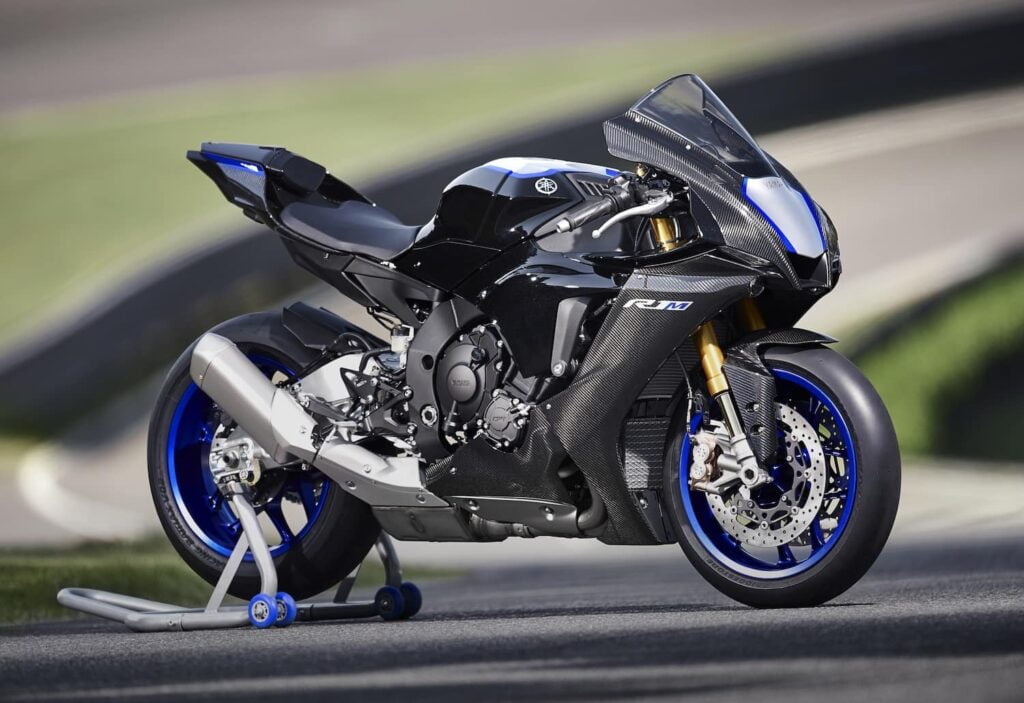 In addition to the changes they made to the YZF-R1 in 2018 and 2020 (see the above section), Yamaha made the following changes to the YZF-R1M
2018: Revised Öhlins electronic suspension — Smart EC 2.0, same as on the Ducati Panigale V4. The new system uses the Öhlins "Objective Based Tuning Interface", which adapts to your riding style (e.g. riding hard vs slow). Also the same updates as on the R1: Up and down quickshifter, a launch control system, and a revised wheelie control algorithm.
2020: New electronic suspension — a Öhlins NPX pressurised chamber fork, and an Öhlins ERS shock, both fully adjustable via the dash. Yamaha also reduced the gas pressure in the fork to stop cavitation. Plus the same changes to the YZF-R1, including the revised cylinder head, air box, and adding customisable BC and EBM to the repository of ride aids (See the above section)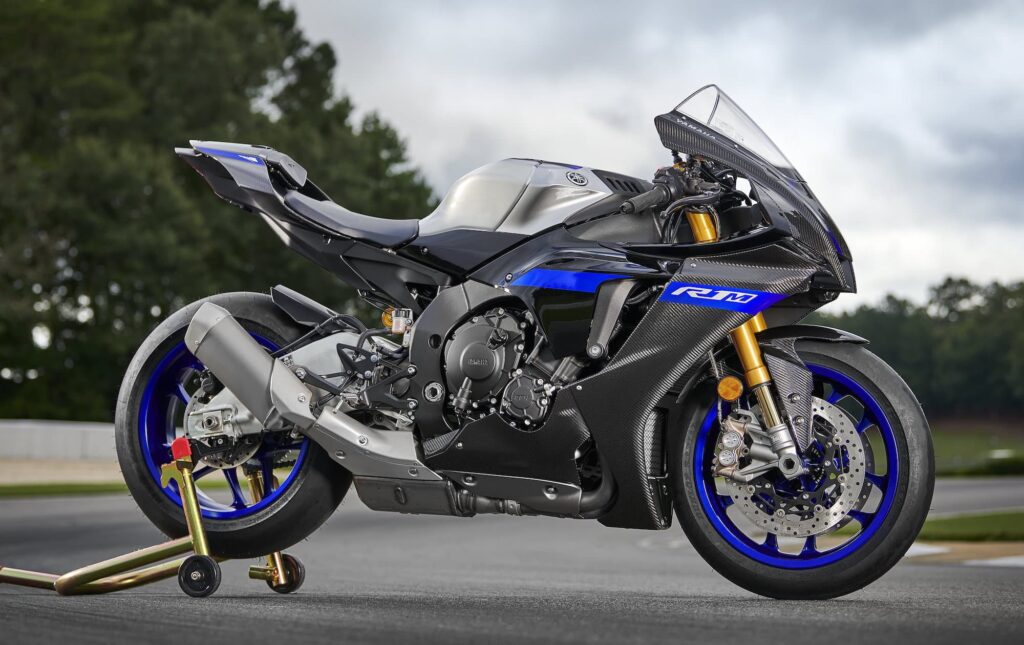 2023 GYTR Pro Special Edition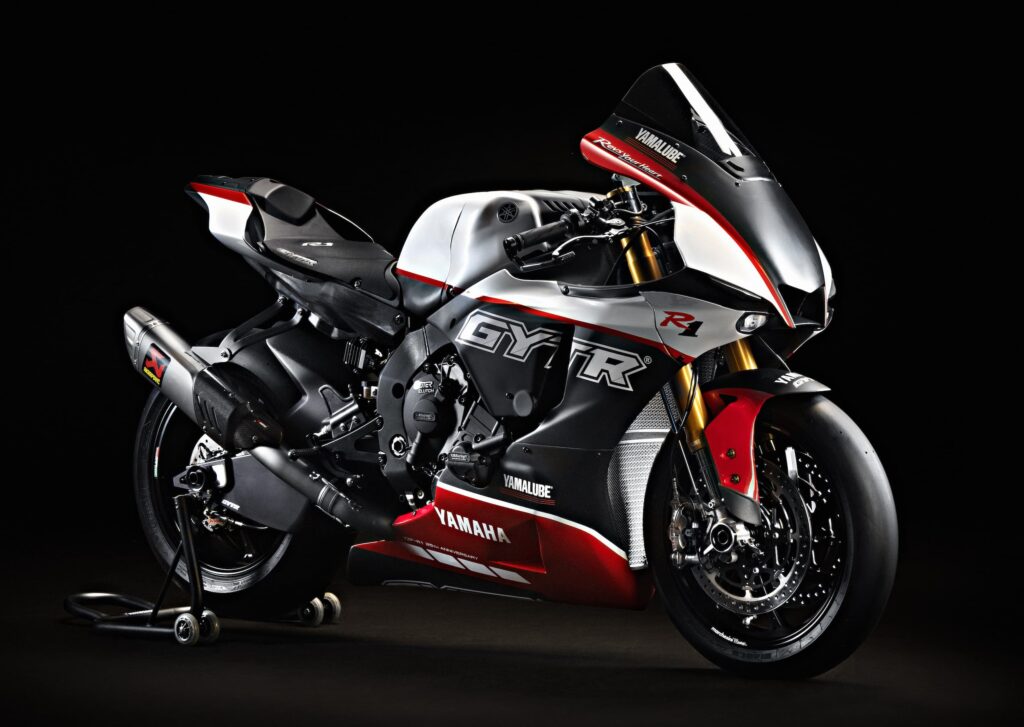 For the 25th anniversary of the Yamaha YZF-R1, Yamaha put together a special "GYTR PRO" performance version of the R1, loaded with race-spec components including a carbon rear subframe that hold a a modified fuel tank with a lower centre of gravity and the ECU, Öhlins FGR fork and TTX shock, an underslung swingarm used exclusively by Yamaha's racers, an an optional race ECU.
Yamaha made just 25 of these special editions. Buyers also get to spend a day at a race circuit with a team of Yamaha technicians.
What to check on the Yamaha R1: Known Issues and Problems
When buying any Yamaha R1, you do want to make sure all the standard checks have been done. Basics like tires, last major service, charging system and so on. I've put together a comprehensive motorcycle inspection checklist here which can save you thousands of dollars.
Apart from that, for the Yamaha YZF-R1:
Gearbox. This is mostly for older models but would apply to any R1 ridden hard. Check that it stays in gear under high revs, especially second and third gear. This is going to be quite hard with your test drive around the block, so maybe take it to a mechanic.
Head bearings. Check that there's no free play that usually comes from hardcore wheelies. You need to get the motorcycle up on to a stand and check for lateral and forward/backward free play. Any is bad!
Fairings. The fairings were thin on the earlier models, much thinner than most motorcycles (or modern ones). It's OK if they're cracked, it will happen, as long as it's not from a big crash. On all R1s, make sure they're the original fairings. It'll make it easier to sell.
What's the best used Yamaha R1 to buy?
This part is highly subjective! But below are some commonly held opinions about what models of Yamaha YZF-R1 to get.
There are three specific models of Yamaha R1 I'd recommend, plus the most recent one:
The original 1998 model: These are quite hard to find these days. But if you can find a clean model at a reasonable price, the original model is a classic and has enough performance to get you into a LOT of trouble. Get it in red/white. Buy this just to look at it, not to ride it. (J/k absolutely ride it, while internal combustion engines are still legal!) You'll pay about as much for this original in white/red as you will for a lightly-used very recent model.
The 2006 50th Anniversary Limited Edition model: These once were the best value for money, available for around $5K USD (for one with a few miles on it). But those days have passed. However, one look at the striking yellow/black graphics will have you hooked. This one has fuel injection, an under-seat exhaust (looks cool!) and well-tuned suspension.
Anything from 2009-2014, but preferably 2012-2014: This is the fabled "crossplane crank" motor that aims to deliver the high-end of a four-cylinder engine, with the low-end torque of a twin (more on this below). But I'd recommend the 2012-on years just for traction control, to keep you alive slightly longer. They'll still cost a lot ($8K+) but are a lot cheaper than a new one.
If you buy 2015 on, go for the oldest ones and try to get a good deal, because they're basically the same as the current motorcycle in 2020, other than the up-and-down quickshifter — which you can retrofit. Get a 2016 60th anniversary edition for the most attractive machine on the market!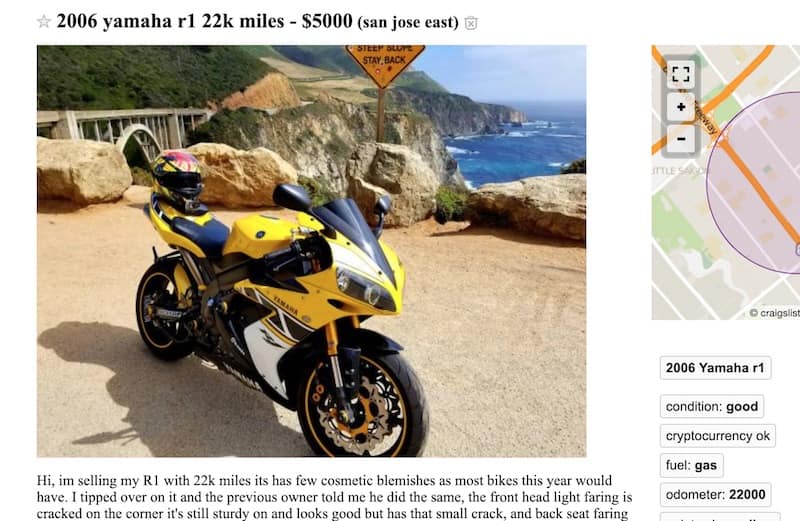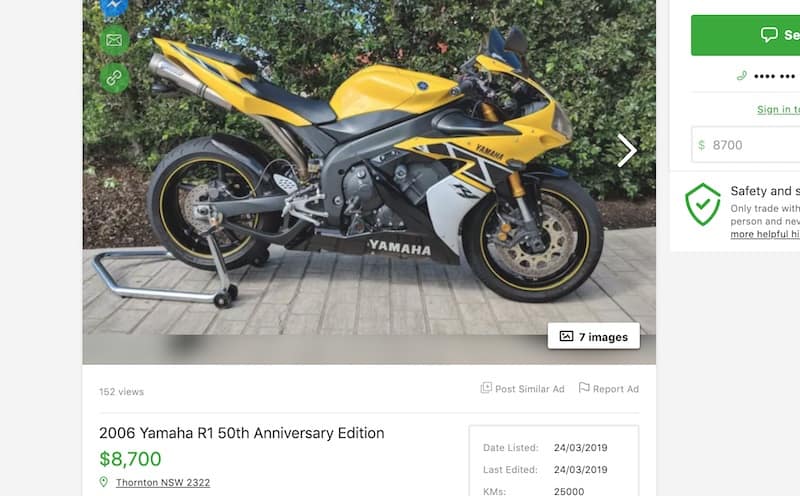 Buyer's guide for the Yamaha R1 — What to look for, and What to avoid
There isn't much difference between buying an R1 and buying any other 600-1000cc sport bike. They're powerful and they've likely been wheelied, raced and beaten to a pulp if they've lasted this long. And if they haven't got many miles on them, the owner probably considers them a classic.
Get one with original things: As with any sports motorcycle, you need to find one with original fairings and an original frame (no polishing to hide chipped paint and damaged metal). The exception I'd make here is to the exhaust and the tail.
Also, if you want one for the track, the fairings aren't as important. Just be aware of limited resale of track-only machines (because of a smaller market), and adjust your target price down accordingly.
Finding a clean, standard, early R1 is almost impossible, more than 20 years after the Yamaha R1 was born.
Acceptable modifications include:
Improved rear shock. Shocks tend to wear out, and old ones can be improved upon.
Re-valved forks. Refreshed forks, including seals, would be a must on an older model.
Exhaust, as long as a tune has been done. It's just a motorcycle people will want to have sing, so I can't fault people for that. When people modify exhausts, they usually eat the expense, so it's worth it if it's something you'd want to do anyway.
Tail tidy: Most motorcycles have hideous tails these days for compliance reasons. Let the previous owner wear the cost!
Sum up / What's next
Aside from the track-only YZF-R1 GYTR (for 2023), Yamaha hasn't made any updates to the YZF-R1 since 2020. In fact, the engine now dates back to 2015, since which point a few other manufacturers have debuted new engines, so an update from Yamaha is due.
If you're looking at buying one — well, I haven't met anyone who's regretted getting a Yamaha YZF-R1. Yes, there are alternatives — The Ducati Panigale V4, the Suzuki GSX-R1000R, the Kawasaki ZX-10R, the Honda CBR1000RR, the BMW S 1000 RR, and the Aprilia RSV4 — we're spoiled for choice.
But the R1 is iconic. Worst case, it's always going to be easier to sell a used R1, if you decide it's not for you. And if you bought a future classic… maybe for a profit!