In the late 1980s, and for a full solid decade after that, the star Yamaha sport bike was the Yamaha FZR1000 Genesis / EXUP, a big, heavy, thunderous sport (these days sport touring) bike that was one of the motorcycles that preceded the "liter bike" category that the Honda FireBlade helped define.
Then, some time after the FireBlade, Yamaha released the YZF-R1, and redefined the category again (properly reaching a "litre"). The other brands all caught up by the mid 2000s and since then each superbike has had its strong points.
But between the FZR1000 and the YZF-R1 there was another bike, the Yamaha YZF1000R, also known as the Thunderace in some countries. Thunderace! How could this be a bad thing? And yet Yamaha YZF1000R Thunderace is almost forgotten as it was only in the limelight for a couple of years before the R1 stole the show. Which is a shame because it's an awesome bike!
No, it doesn't have the fanciest suspension. Yes, it's a lot heavier than the YZF-R1, in sport bike terms. And no, it doesn't look as sharp.
But like other sport bikes of its time which we now think of as sport touring, the Yamaha YZF1000R is a hoot to ride, is comfortable enough for all-day riding, has a unique engine feel, and is blessed with classic looks (especially when treated well) that will have people admiring you in cafes. Isn't that what it's all about? No, but it does feel good…
See here for more about actual classic sport tourers from the 90s and 2000s.
Anyway, here's everything you might want to know about the Yamaha YZF1000R — the bike nearly, but not quite, lost between the EXUP and R1. And like many bikes in the middle, this one's "just right".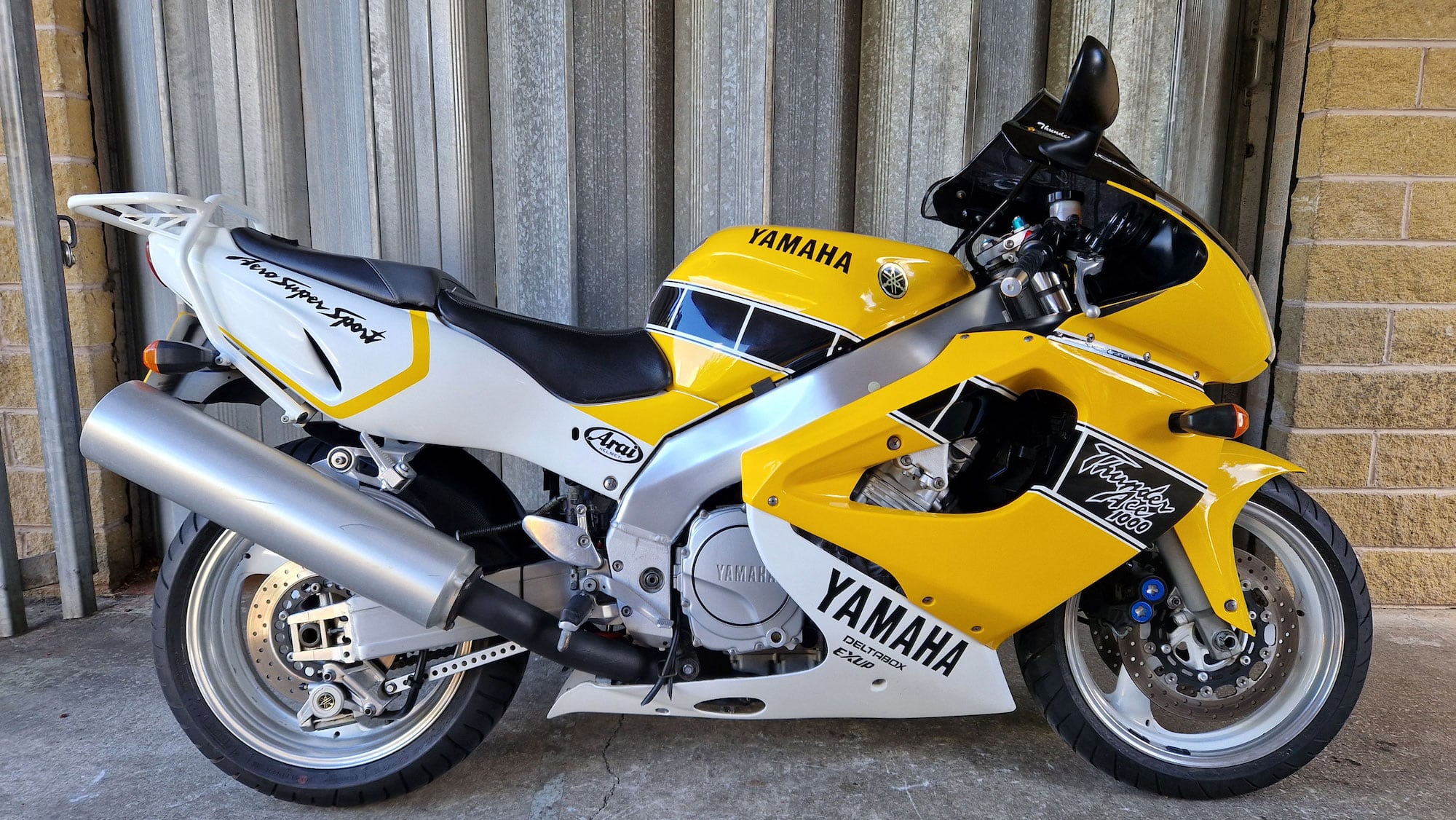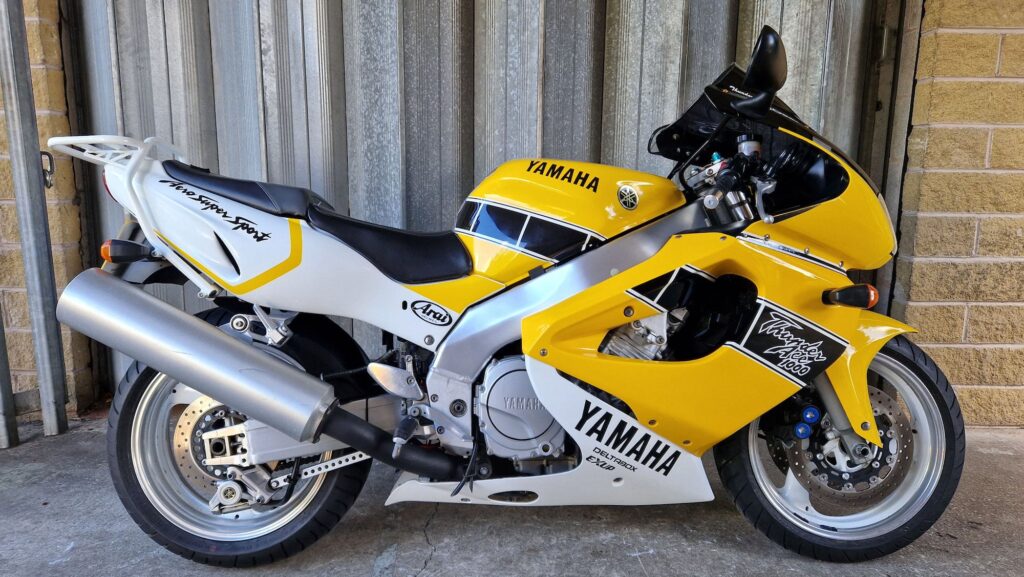 Are you obsessed with motorcycles?
Well, I am. That's why I created this site — as an outlet. I love learning and sharing what others might find useful. If you like what you read here, and you're a fraction as obsessed as I am, you might like to know when I've published more. (Check the latest for an idea of what you'll see.)
A Brief History of the Yamaha YZF1000R Thunderace
As I mentioned above, the YZF1000R Thunderace was a transitional bike that Yamaha released between the FZR1000 Genesis and the class-leading YZF-R1.
In the 80s and 90s, most sportbikes were quite heavy. The Yamaha FZR1000 Genesis, Suzuki GSX-R1100 (before the 1000), the Kawasaki ZX-11 were all powerful, fast, and heavy bikes, with wet weights in the 240-250 kg (530-550 lb) range. Some a bit more, some a bit less, but they were all a solid 25% heavier than the next class of literbikes which totally redefined what people expected from sportbikes.
Yamaha released the first FZR1000 in 1986, calling it the FZR1000 Genesis. Initially, Yamaha launched it with a 989 cc motor. Yamaha used the same 5-valve-per-cylinder design of as the FZ750, a design concept which they kept through to the first couple of generations of R1.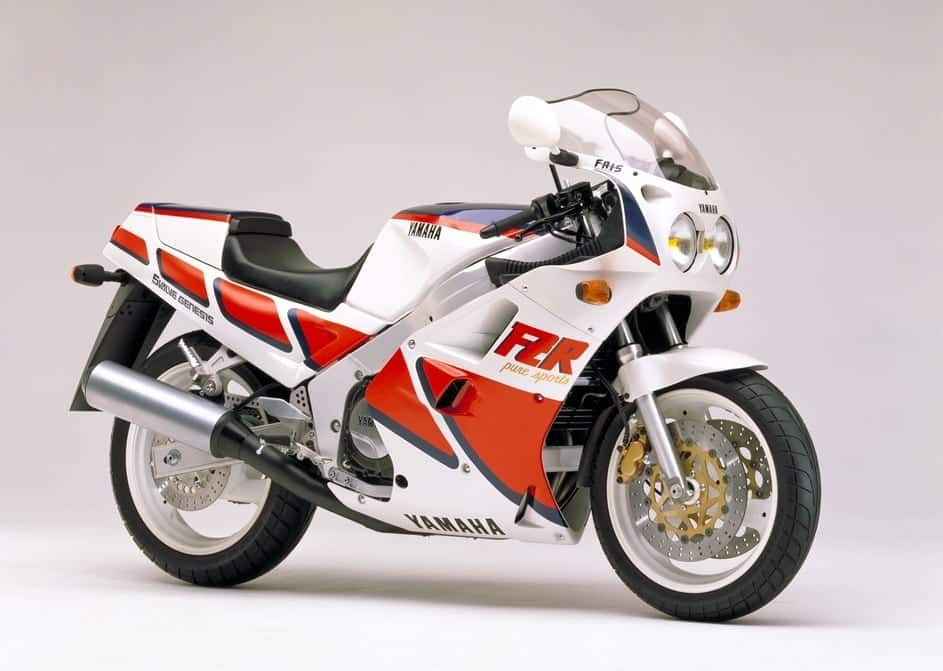 For 1989, Yamaha gave the FZR1000 a big redesign, blessing it with a new 1002 cc motor and a feature that they plastered on many sales brochures and fairings — "EXUP". EXUP stands for "EXhaust Ultimate Power". Ultimate! Not pulling any marketing punches, are you, Yamaha.
The EXUP system is a computer-controlled valve system that controls a variable restrictor valve in the exhaust. It takes inputs of engine speed, throttle position and motion, and gear position, and decides to either leave the valve closed or gradually open it up.
For example, near idle, the EXUP valve is nearly closed, and at full throttle and high RPM it's wide open.
The idea behind EXUP is appropriate exhaust back pressure at low-RPM and throttle stages to help with mid-range torque, but no back pressure when you've pinned the throttle.
The 1989-onward FZR1000 had the same name — FZR1000 Genesis. But because that model had a bigger motor with the new EXUP feature, people often talk about owning an "EXUP". Other Yamaha motorcycles also have EXUP systems. But if someone said they had an "EXUP", it usually means they had an FZR1000 made from 1989 onward.
Yamaha made more improvements to the FZR1000 over the coming years, adding an inverted fork and single headlamp design in 1991, then giving it another visual redesign (the final one) in 1994 with twin "fox-eye" headlamps, six-piston calipers, and gold-plated fork outers.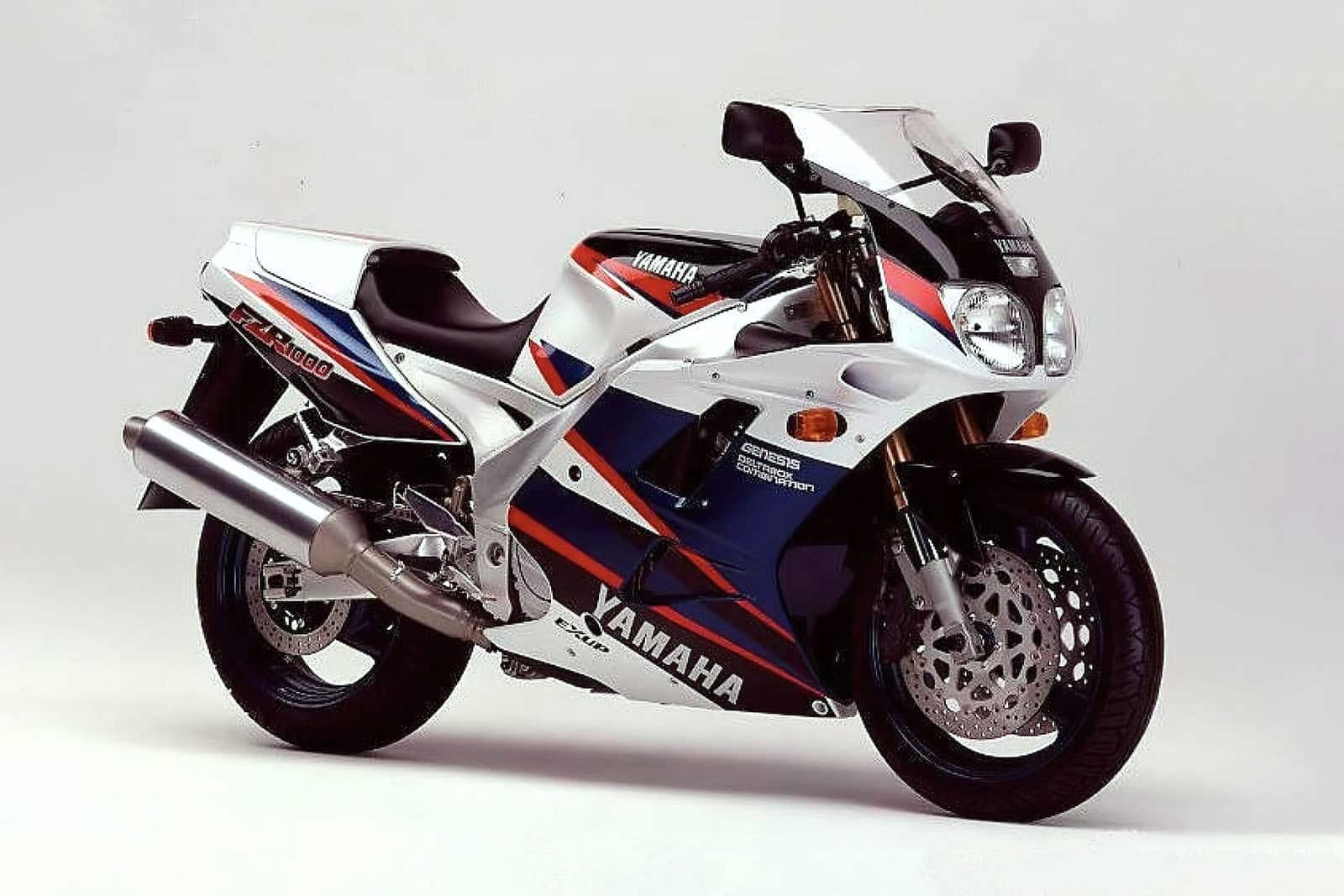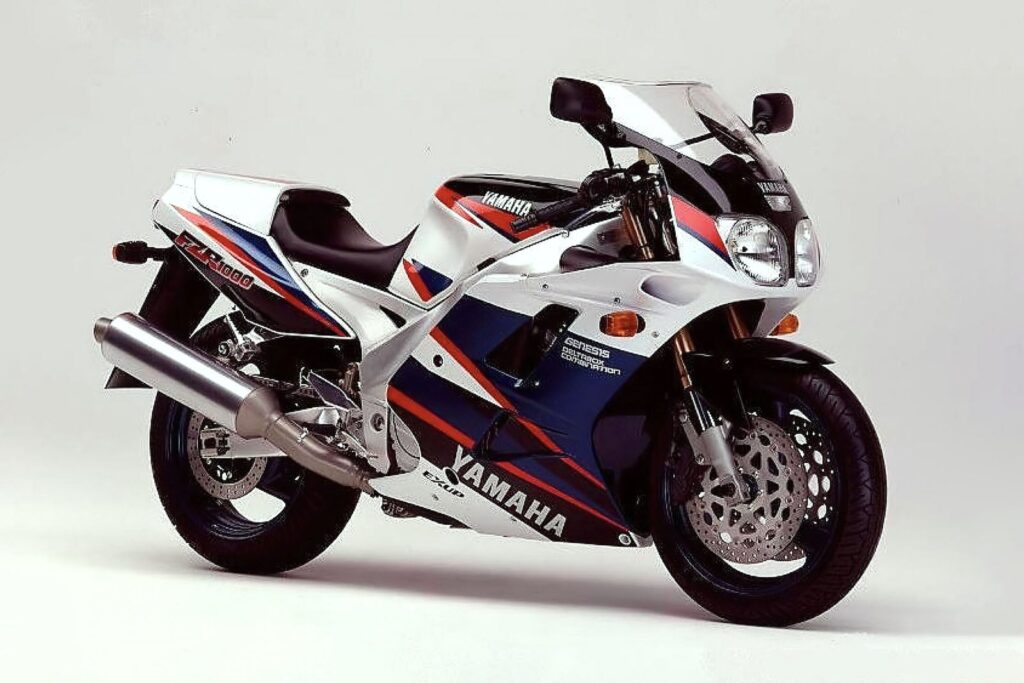 As cool as the EXUP was and is, and as much as I want to have my way with one (subject for another day), it was heavy in modern sportbike terms. Sure, it made 106 kW / 145 hp at 10000 rpm and that'll always feel pretty fast, but this bike weighed 236 kg / 520 lbs.
Oh, and that's not SO heavy. A VFR800 weighs about that much, and it's fine. A Hayabusa weighs about that much. Every cruiser over 900 cc or more weighs around that or more than that. So what's the big deal?
The big deal is that Honda had released the Honda FireBlade (with the capital B) under Tadao Baba's supervision. Honda released it for 1992. With only 206 kg / 454 kg weight fully fuelled — 30 kg or 66 lb less than the EXUP (claimed figures, but still a huge difference) — it felt like an entirely different class bike, agile and easy to pilot. But it was still fast, thanks to its 893 cc engine.
Anyway, the FireBlade changed the trajectory of big sport bikes. There was still a place for them — Honda kept making the CBR1000F and then the Blackbird alongside the FireBlade, after all. But people interested in balanced track performance started focusing on smaller, more nimble bikes.
That's the trajectory that gave birth to the YZF1000R: a quest to pack power and performance into a smaller, lighter chassis.
About the Yamaha YZF1000R Thunderace — What makes it special?
Even though the intention was to keep power and reduce weight, in retrospect, the Yamaha YZF1000R Thunderace is in a special group of mid-1990s sportbikes that seem heavy and underpowered if you look at them by today's standards. Why would you buy this when you could get a mid-2000s Yamaha R1 for similar money?
But for the standards of the time, the Thunderace was a cracker of a machine, which most people would struggle to push to their limits — especially on most public roads. It's actually geared a little forgivingly. When pushing it, you'd want to shift around 9500-10000 rpm on the Thunderace, which would put you around 100 km/h or 60 mph. This means that seeing second gear in everyday riding is actually possible, unlike most liter bikes!
You just have to look at videos like this one to see that the FZR1000 is fast enough.
To get a bike to do a zero-100 (zero to 60 mph) closer to 3 seconds you have to be adept at consistently launching (throttle / clutch), which means being open to failure… or have tons of rider aids, which the FZR does not.
Aside from power, there's a few things I like about the Thunderace and that make it quite special.
Firstly, it still looks cool. This is important. Yes, some bikes have retro appeal, like the "jello mold" (sorry, Brits/Aussies/Kiwis. I mean "jelly mould". It's all unnecessarily confusing) Honda CBR1000F (see below) or Ducati Paso of the late 1980s / early 1990s.
The Thunderace still looks cool. Here it is from another angle: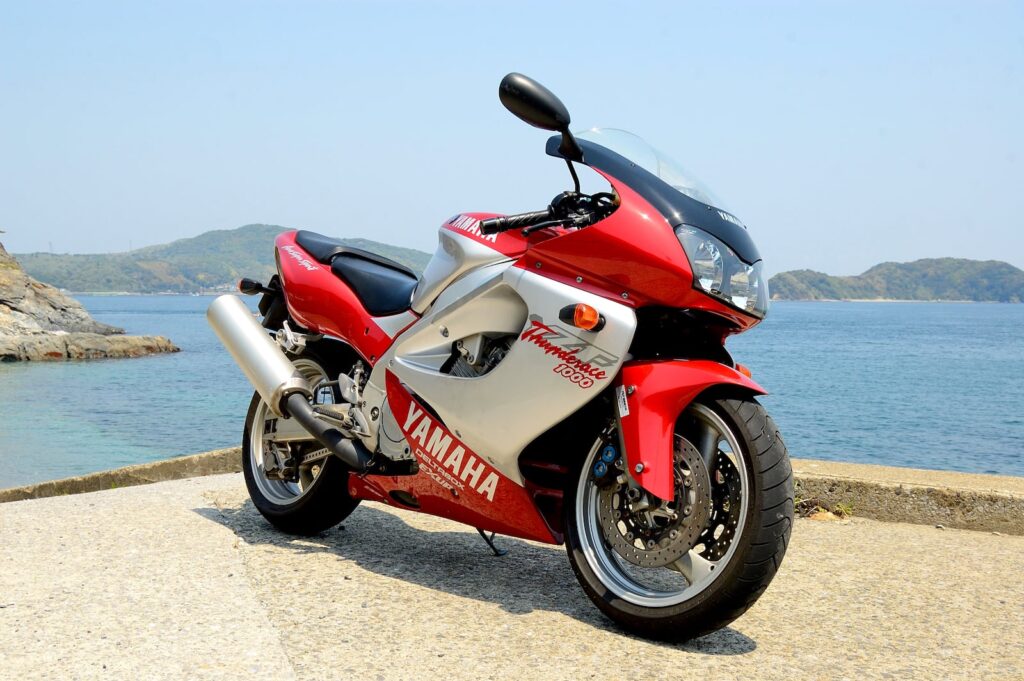 A few things that help it still look "cool" are:
Openings on the fairings, giving it a bit of a "I'm going forwards quickly" look.
A headlight shape that doesn't look line a toenail. There are many from the earlier generation that had a single just oval shape… look, once you see it, you can't unsee it.
An up-swept exhaust. It's heavier, but it looks fast.
Anyway. I think it looks cool.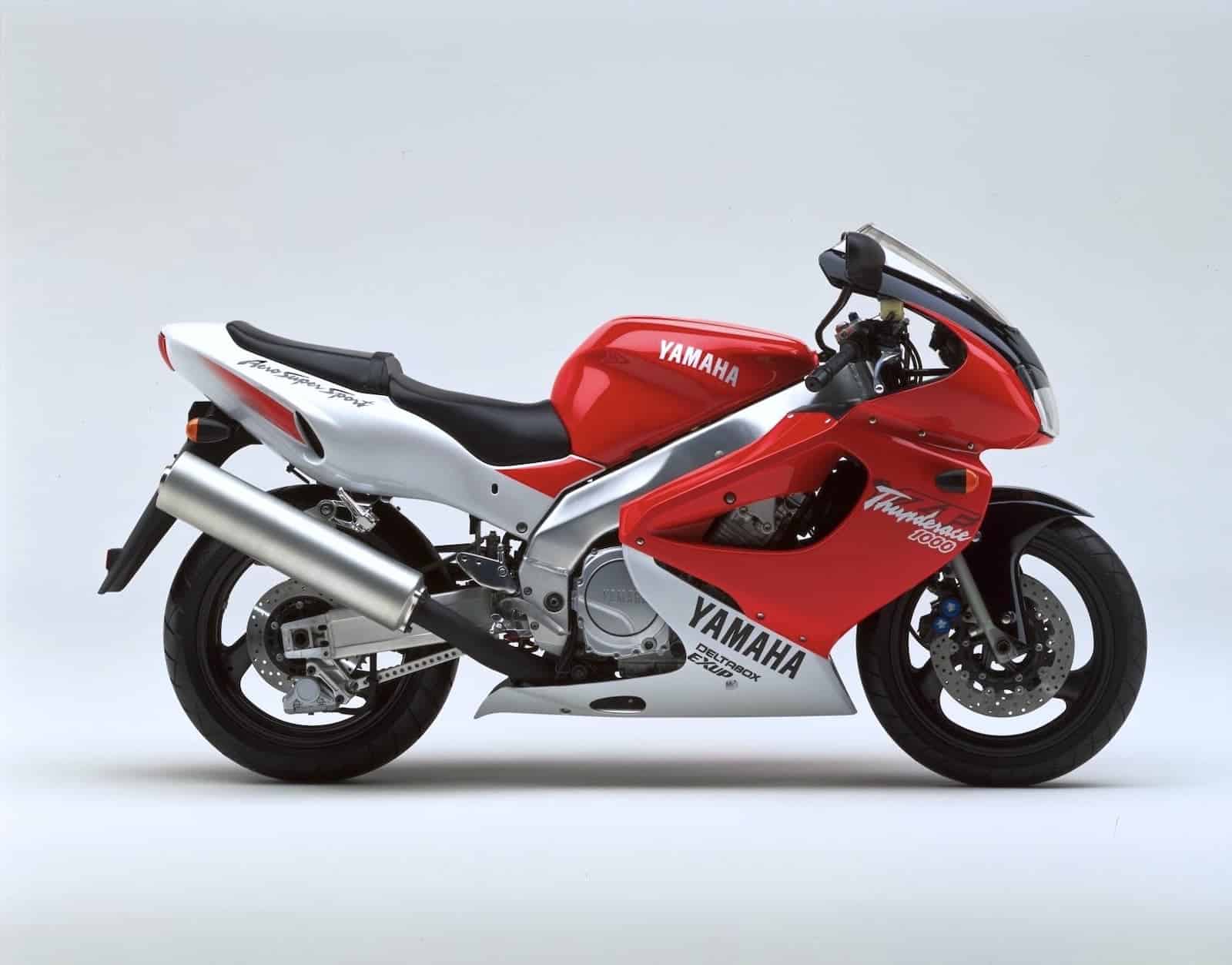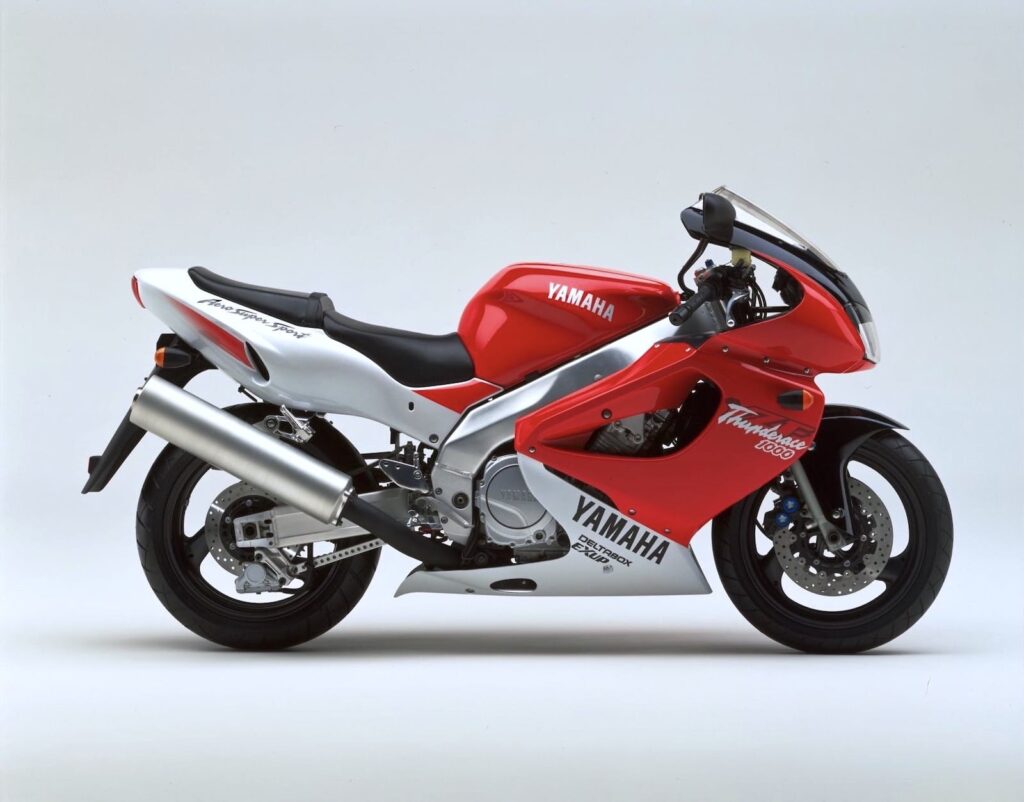 Another thing I think is cool about the Thunderace is the simplicity of the mechanical design. It's an old-school bike, with a cable throttle (no ride by wire… well, I mean, the cable is kind of a wire), and carburettor fuelling.
I do like fuel injection in principle. Fuel injected bikes are easier to store, which means that it's easier to have a couple of bikes (ain't life grand?) or to go on long trips and come back to your machine after three months. This is particularly true in parts of the world with different mixes of fuel that tend to gum up carburettors.
But fuel injection has its share of issues, including stop-start hesitation as it switches between open and closed loop mode on some bikes (see here for a longer explanation of that phenomenon) that almost mandates a tune on newer machines.
As bikes age and we make a transition towards them being too expensive to ride on public roads, I tend to go for older bikes with simpler tech. It's a bit like preferring mechanical watches or writing with a nice pen.
The one caveat is that ABS has saved my bacon a couple of times (nothing dangerous actually, just a couple of potential expensive bingles), so I do like it. But I can probably live without it…
The engine in Yamaha YZF1000R is also pretty special. It's of the 5-valve-per-cylinder generation, which yes does make maintenance 25% more annoying than on a 4-valve-per-cylinder design, but valve clearance checks are pretty few and far between on Yamaha bikes (even of this vintage).
Back in the 90s, as I understand it, emissions regulations weren't really hammering engine noise in particular, so a lot of bikes — like a few I've had, plus this Thunderace — have a burbling chatter from the engine that I don't hear often these days. Modern bikes can sound quite muted. Actually, to the uninitiated, it sounds alarming. But I like it, it sounds old-school.
Finally, even though this wasn't Yamaha's intention, the reality is that the FZR1000 Thunderace is more of a "sport tourer" than an all-out sportbike. This is bad if you want to do track times, but then you have the R1. For the rest of us who just want to spend all day on a bike and occasionally wring the throttle when we're pretty sure nobody is watching, sport tourers are awesome and my favourite category. If I could make them survive downhill dirt roads, and river crossings, they'd be all I'd ride.
Core specs of the Yamaha YZF1000R Thunderace (and how it stacks up)
Specs are meaningless… but they do give us a baseline for how to think about a bike, particularly next to other Yamaha classics you might be considering.
Here are the core specs of the Yamaha YZF1000R Thunderace.
Item
Spec
Notes
Engine
Inline four-cylinder DOHC, 5 valves per cylinder
A.k.a. "20-valve". Same motor as the Genesis before it. The R1 also kept 5 valves per cylinder (briefly).
Capacity
1002 cc
Slightly over literbike
Fuelling
4 x 38mm Mikuni BDSR38 carbs with TPS
Compression ratio
11.5:1
Mild compared to these days (13+ is the norm)
Bore / Stroke
75.5 x 56 mm
Standard for the time; these days bikes are shorter stroke, though the 1998 Yamaha R1 was longer stroke at 74 x 58
Peak power
106.7 kW / 145 hp / 143 bhp at 10000 rpm
Similar peak power and torque to the 1998 YZF-R1
Peak torque
80 lbf-ft / 108 Nm at 8500 rpm
Transmission
5-speed box, chain drive
Just five gears?? Weird
Front suspension
43mm fork (standard) with adjustable preload and rebound damping
Yamaha ditched the FZR's inverted fork for this standard fork. But the end result is a lighter bike.
Rear suspension
Monoshock, rising rate adjustable preload and rebound / compression damping (fully adjustable)
Front brakes
2 x 320 mm discs, 4-piston calipers, axially mounted
Decent, standard. They work better than the 6-piston calipers on the preceding FZR1000, per some people who had both.
Tire sizes
Front: 120/70-17
Rear: 180/55-17
Standard sportbike sizes
Wet weight
224 kg
494 lb, fine for a sport tourer (e.g. still lighter than a Kawasaki Ninja 1000)
Core specs of the Yamaha YZF1000R Thunderace
Riding the Yamaha YZF1000R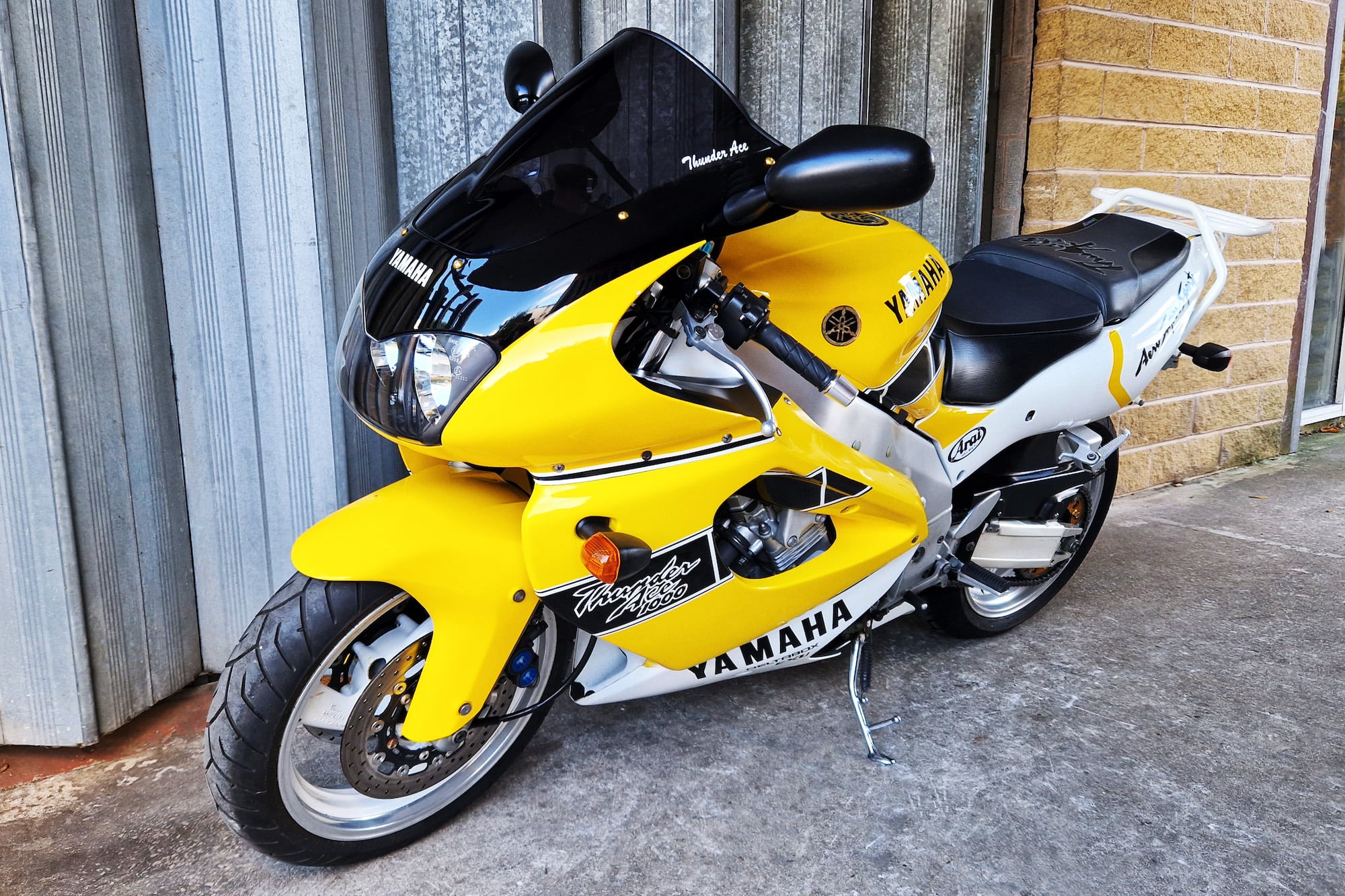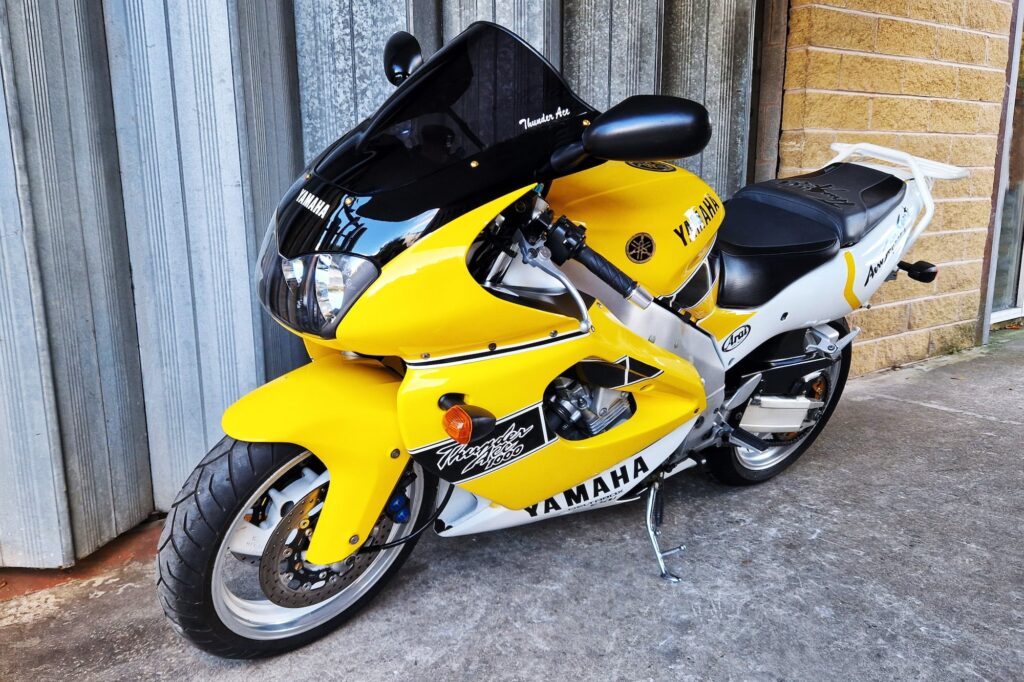 I think about the riding experience of any bike by starting with the "approach". What do I feel as I'm coming up to it?
The thing about bikes of this generation is that they look roomy and inviting. there are a few modern bikes that still feel like that — the bigger sport tourers like the BMW R 1250 RS or a Gold Wing of course. But they're a different class of bike these days, and they're also out of my price range.
The YZF1000R looks wide and plush. The seat looks comfortable, and even the handlebars don't look too far forward… though they are pretty far forward!
As soon as you get onto the YZF1000R, the feeling continues. That's when you can reach down onto the handlebars and see just how it's going to be.
The riding position is like any bigger "sport tourer" like the Suzuki GSX1300R Hayabusa — like mine, with Helibars on it, anyway — or similar. It's not like a liter-class sport bike. I don't feel immediately uncomfortable. But I know I would be after 30 minutes of being in traffic and trying to navigate between a bus and someone's minivan. Blergh.
Oh, speaking of riding position, I really like the cockpit of the YZF1000R. It's a thing I often mention — the aesthetics of what you're looking at as a rider are really important. Few TFTs really do the job for me (some are good).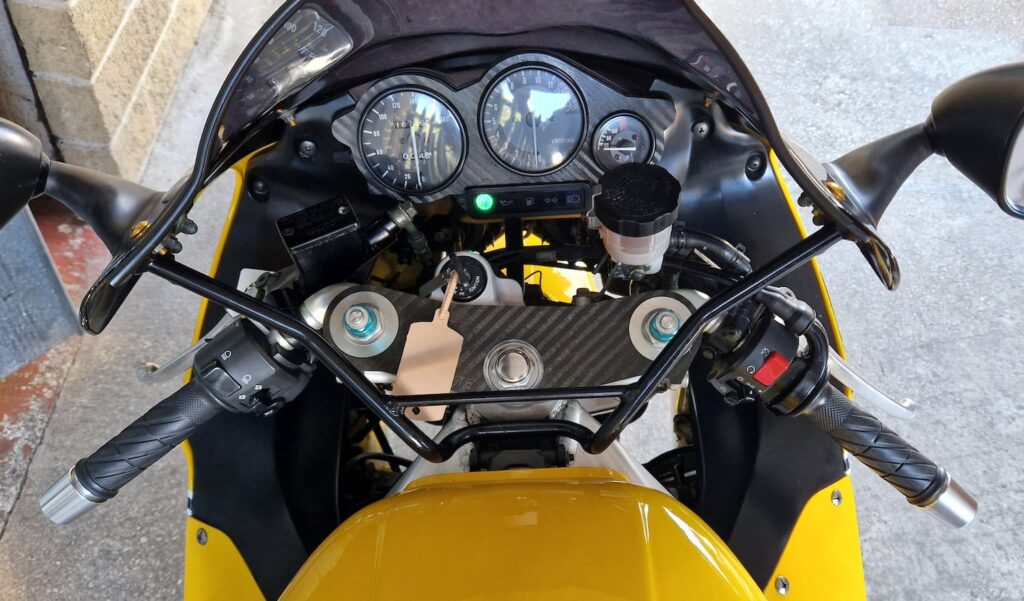 Once the YZF1000R is above 40 mph or 60 km/h and don't have to do a lot of low-speed maneuvering, the riding position is fine, and one that most people could keep for a while unless you suffer from chronic back or wrist pain, which does sneak up on us.
One thing that often trips me up on older bikes is the lack of a fifth gear. It's not like you technically need it — at 70 mph / 110 km/h you're doing around 4400 rpm — which feels right for a four-cylinder bike. You can always gear it down a notch or two if you like (see our guide to motorcycle gearing).
The inescapable truth about sport tourers is that they're particularly good at one thing — sport riding on the street. This means riding interesting roads outside cities. As much as I like sport tourers, I don't really like straight line roads on them, because the only thing I want to do in situations like that is go "Ok, let's see three digits (and not the friendly metric ones) line up" and then do that again a few times. Then that gets old.
So really, the Thunderace is most at home in countryside roads that aren't too tight. Once you're there — it'll be bliss.
Would I take the YZF1000R to a track? Sure, if I wanted to be that interesting and weird guy. But I have no idea how replaceable those fairings are (I'd warrant they're not), so I'd rather follow my general rule of tracking a bike I wouldn't mind crashing.
Maintaining the Yamaha YZF1000R — A Fly in the ointment
Over years, manufacturers have refined the prescribed maintenance schedules for motorcycles. Oil change intervals and valve service intervals have gradually expanded as materials and fluids have improved in quality.
But this early EXUP engine has a fairly rigorous maintenance schedule of an oil change every 6000 km (4000 miles) or 6 months.
Yamaha also specifies, unusually, that you should check / adjust the valve clearances every 42000 km (26000 miles), which is nice and long, or every 3.5 years (or specifically, every 42 months). I would politely ignore the recommendation to service the valves on a time interval, as it's almost unheard of, and just follow the distance interval.
The other bad news is that the YZF1000R has been around for a while, and many examples have been sitting in garages. So pitted forks, rusted chassis or cooling components, and dirty insides of tanks are pretty common. It's one of the caveat emptor aspects of buying an old used bike, and one reason why it's often easier on the wallet to get one from less than 10 years ago — you spend more initially, but you save on restoration expenses. Whatever floats your boat!
A lot of people on forums mention things like
Rusted exhaust headers which also gum up the EXUP valve. The EXUP valve can be removed for an aftermarket exhaust, but this comes at a cost to mid-range performance (thought it is still fine).
Burning oil. Hard to tell on a test ride, and doesn't affect every bike, but you should probably plan on keeping some oil to top it up with, and checking it every time you clean the chain.
Aside from that, I'd look over the standard motorcycle maintenance checklist. Look for things that tend to plague bikes that have been sitting, like pitted forks and corrosion inside the tank.
However, if your YZF1000R has been well-maintained and is free of the usual potential gremlins, you'll be fine… until that thing you didn't think to check sneaks up on you!
Alternatives to the Yamaha YZF1000R Thunderace
If you're buying and old, classic sport tourer… well, there are a few alternatives out there for your hard-earned dollar.
Firstly, you'd probably consider the FZR1000 EXUP that came before it, or the Yamaha YZF-R1 that came right after. The FZR1000 EXUP was a bigger, heavier bike. And the YZF-R1 is an awesome machine, but the first gen is now a collectible that'll cost you something like 2-3x what the Thunderace will cost. You can read about the EXUP above, and you can read about the YZF-R1 here.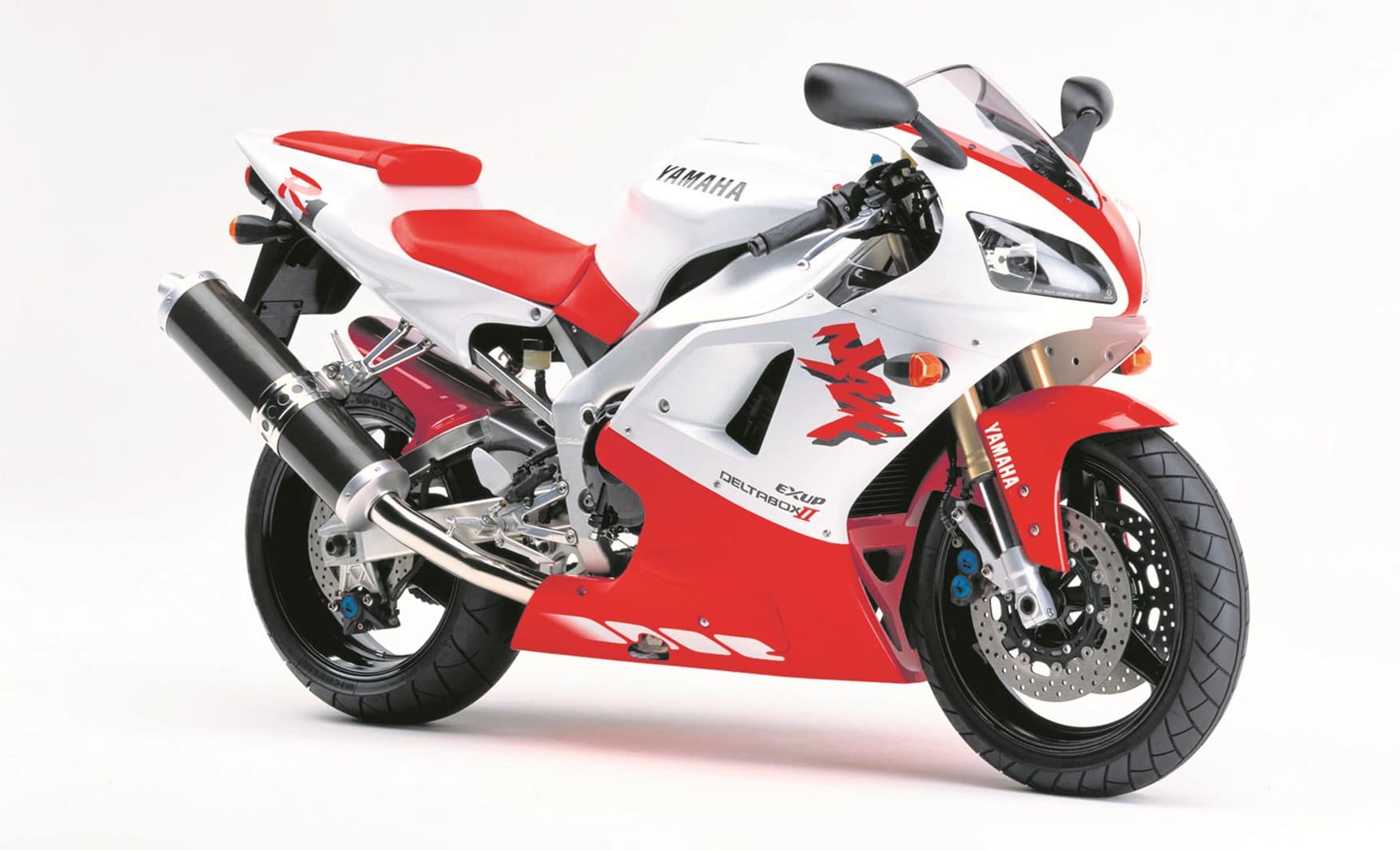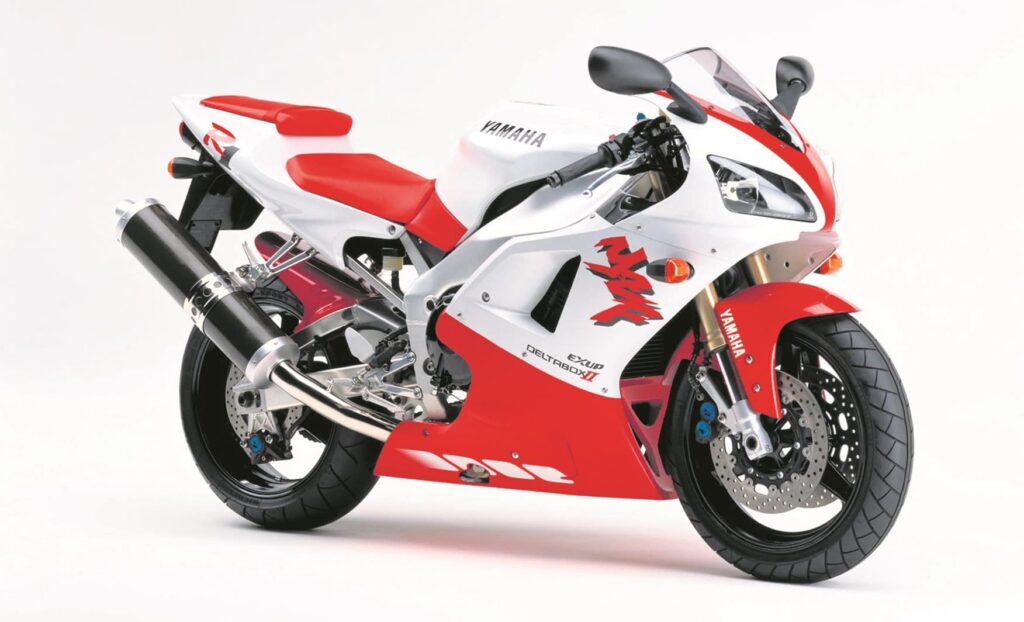 Anyway, they both could tickle your fancy if you find something in good condition — budget permitting.
Let's just look at three main contemporary sport-touring alternatives:
Suzuki GSX-R1100
Honda CBR1000F Hurricane
Kawasaki ZX-11 (and the ZZ-R1100)
Suzuki GSX-R1100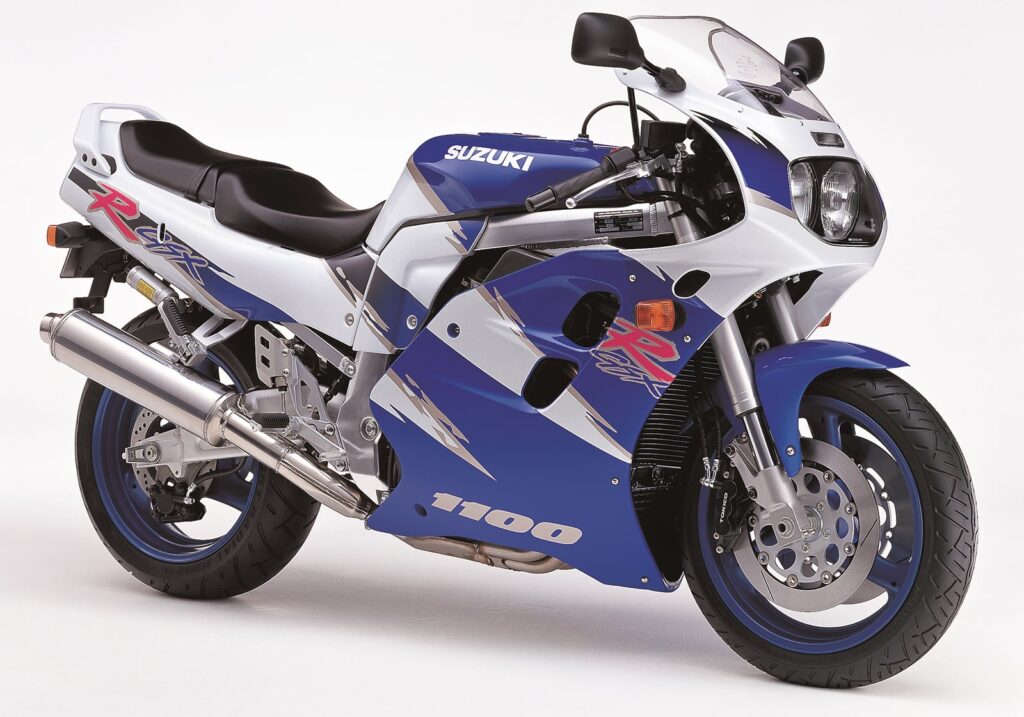 Suzuki first introduced the air/oil-cooled GSX-R1100 in 1986, but kept revising it over the years, adding displacement, chassis and braking improvements, and liquid cooling in 1993.
Back when Suzuki originally brought the GSX-R1100 to market, people thought of it as a powerful, fast bike, with good handling and relatively low weight. It has a competent chassis (that varied over the years in how easy it was to manage at speed), classic twin headlight looks, and a stomper of a motor, even when it was air/oil-cooled.
Over the course of the GSX-R1100's life, Suzuki added both power and weight (though shed weight in 1995), and this means that many year models respond differently. The early GSX-R1100s had too much flex in the frame, the later ones were too stiff.
But universally, they're all powerful, somewhat heavy bikes, with a "tough" reputation. They make a wicked sound and go like bananas. If you want an old classic sport bike, many different years of the GSX-R1100 have different levels of appeal.
Suzuki took a little longer to retire the 1100 in favour of the GSX-R1000, and then a little longer again to find its feet with the new 1000. But when they did (with the K5 model gixxer), they won a lot of new fans.
You could also look at an early model 1999-2007 Suzuki GSX1300R Hayabusa, which is a radically different bike (the first one had fuel injection!) — but early models are deemed classics and more recent models are more expensive.
Honda CBR1000F Hurricane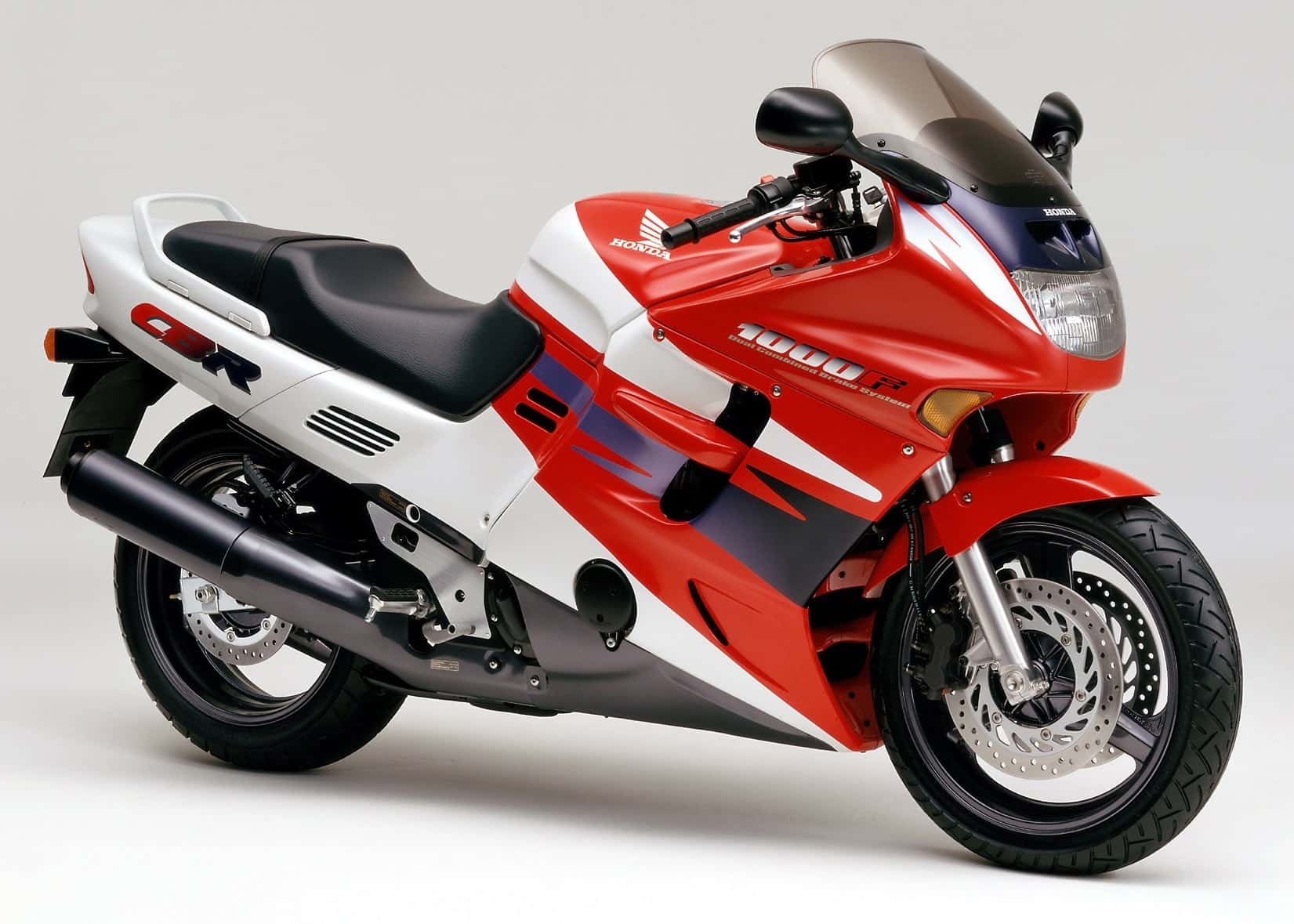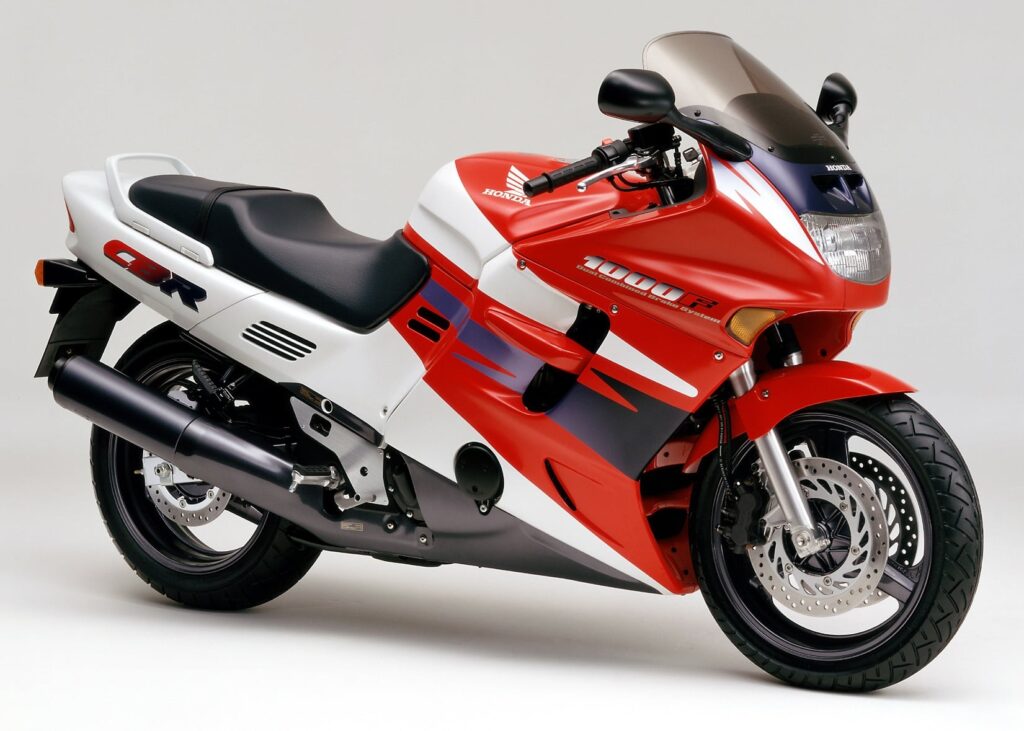 The Honda CBR1000F Hurricane is another big sport tourer of the era, much more intentionally a sport tourer. Honda sold this one alongside the FireBlade, acknowledging that there's a place for heavier, less powerful bikes, that can eat miles in comfort.
The CBR1000F is powered by a 998 cc liquid-cooled inline four that makes a bit less power than the YZF1000R, and it's in a chassis that's a lot heavier, with a reported ~273 kg (over 600 lbs!) of wet weight.
The CBR1000F is fast enough, though, just not balls-to-the-wall fast. Importantly, it's really comfortable too, and it has that jelly bean look which tickles me for reasons that are embarrassing to admit because I know just about everyone will disagree with me. I can't help it, OK.
There's also the more universally-liked Honda Blackbird, the bike that replaced the CBR1000F, which is more squarely in that different class of bikes that focus on high-speed, and evolved quickly into having fuel injection. If you're curious about that, go have a look at the buyer's guide here.
Kawasaki ZX-11 / ZZR1100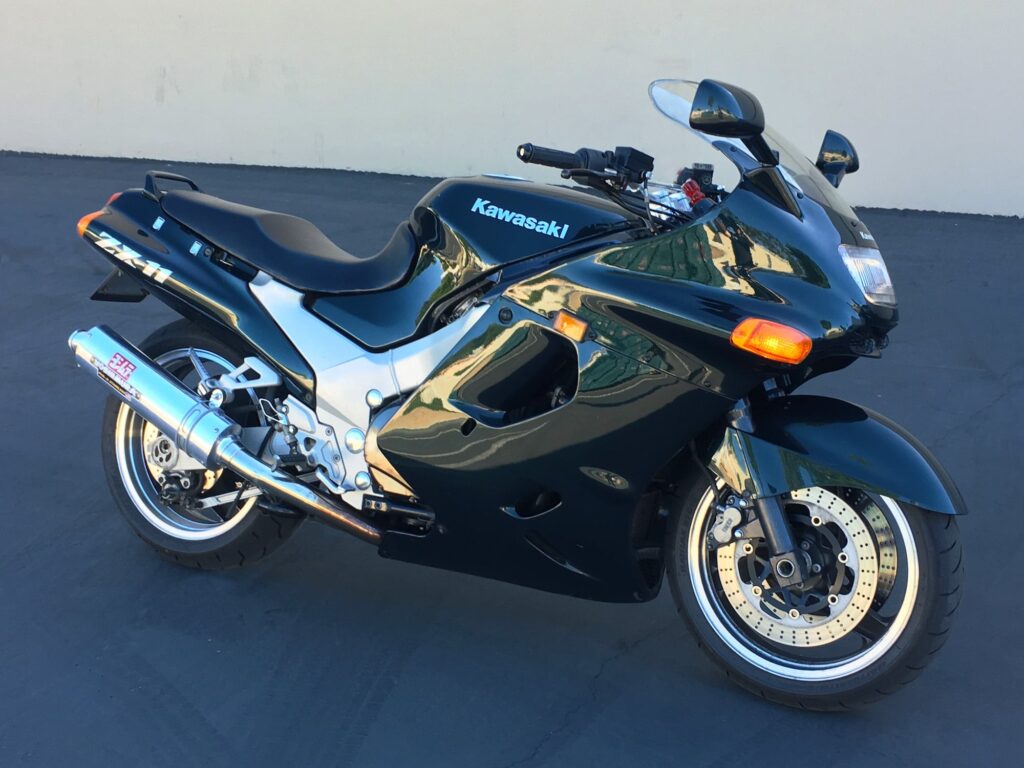 The Kawasaki ZX-11 (also known as the ZZ-R1100) is a fast bike. Well, it was at the time — this was the fastest production bike in the world, the one that Honda beat with its Blackbird, before Suzuki pantsed them both with the Hayabusa, after which everyone stopped competing. So it's a bit unfair to have the ZX-11 here and not the Blackbird… but the ZX-11 was around earlier.
The Kawasaki ZX-11 is one of early bikes that nearly looks modern enough to be new today. There are a few things that give away the old-school look, like a big fender at the front and that front headlight, too.
But quibbles about design aside, the ZX-11 is a force to be reckoned with. Its 1052 cc inline four-cylinder carburettor-fed engine makes 108 kW (147 hp) at 10500 rpm, and helps push the ZX to speeds well beyond legal.
It's quite comfy, too, and I still see models about. Like the Blackbird, because it has been eclipsed in the speed wars, they're affordable when they're available. And they're definitely fast enough.
Is the Thunderace for you?
Most people reading this are going to think of the Thunderace as a curiosity. There are better reasons to own many other bikes, like the R1 (the legend), the FZR1000 (the classic), or even just an alternative like the Blackbird.
But if you come across a Yamaha YZF1000R Thunderace in good condition, there's not much that'll disappoint you!