I've been on the hunt for an off-road-capable bike that can tackle the varied terrain of Australia's bush, be rock-solid reliable, and still fun and cool. Road riding in Australia is losing its appeal to me (with low speed limits and aggressive cameras, hefty fines, and increasing traffic everywhere), which means that I have to go offroad in the great brown land — on the track and in the bush.
Even if road riding, Australia has some pretty crazy roads. You can be on flattish dirt roads for ages, and suddenly be on a downhill muddy incline with big ruts and rocks. So, they're not roads where I might just think "Eh, I'll wing it with my sportbike and knobby tires"; that'd be miserable. And also, while you could do it on a big adventurer, there are definitely many times when a new-ish adventure rider would really be happy with less weight.
Luckily, times are good for those of us looking for adventure bikes with less weight. There's a huge range of middleweight adventure bikes out there. And oddly, Honda has been absent from this line-up for quite a while — until now, with the new Honda Transalp XL750.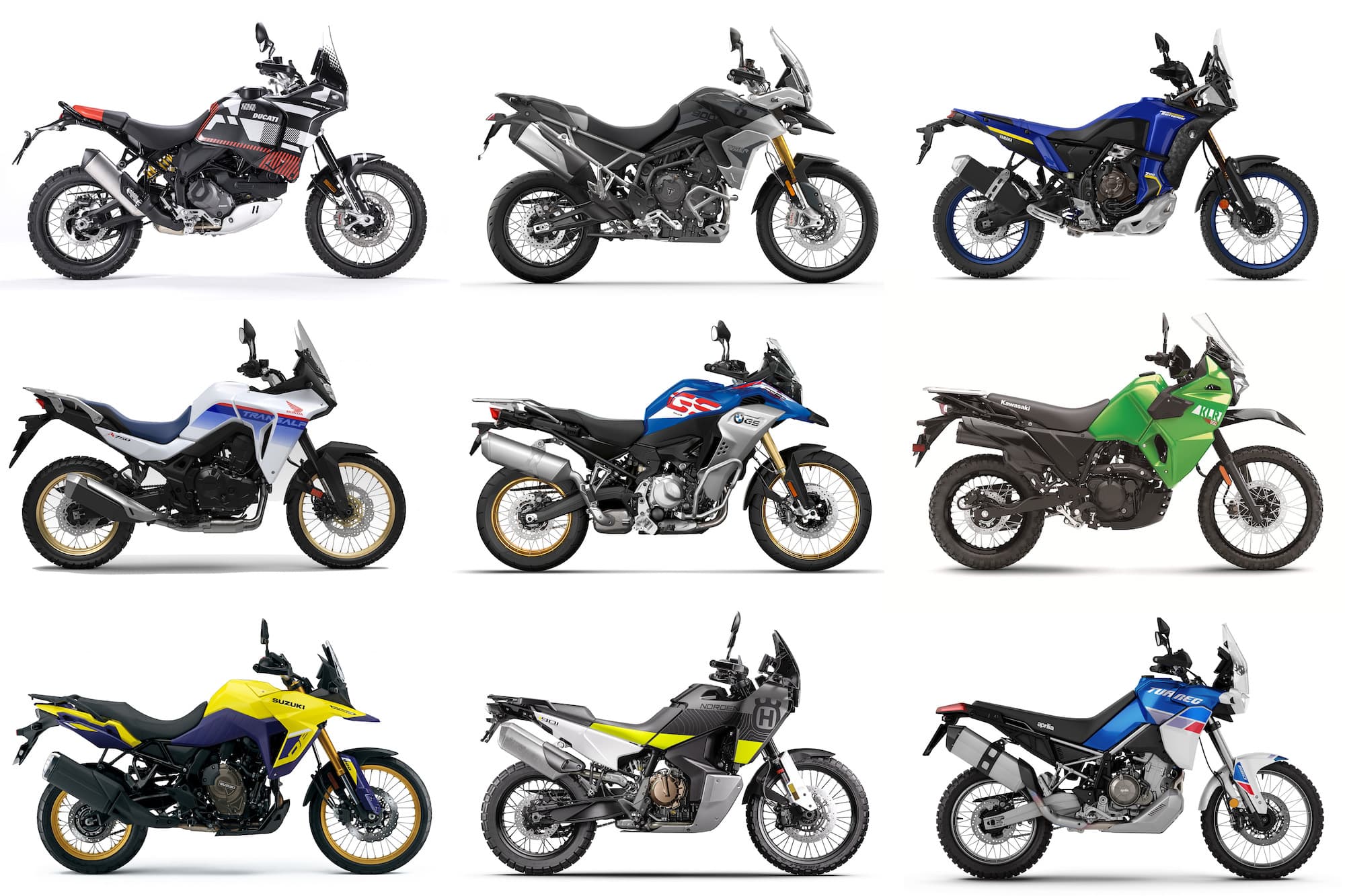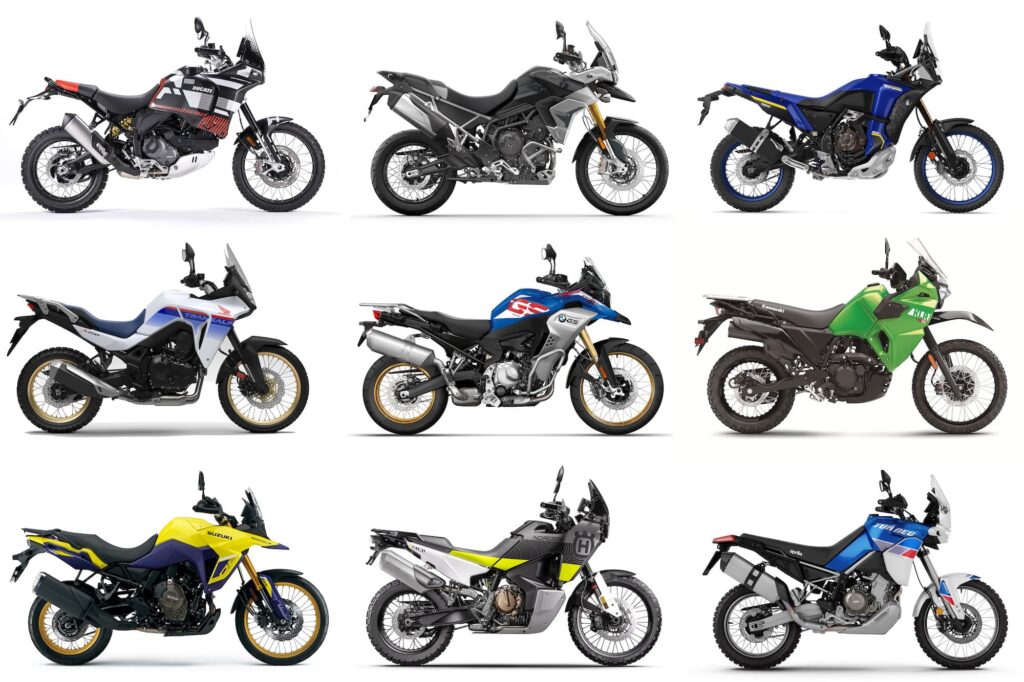 But if you're considering the Honda Transalp XL750 you might be wondering:
What's the history of the Honda Transalp? How did we get here?
What has changed between generations of the Transalp?
How does the Transalp fit into Honda's massive "adventure" line-up?
What are some alternatives to the Honda Transalp?
That's what I'll explore today. Enjoy!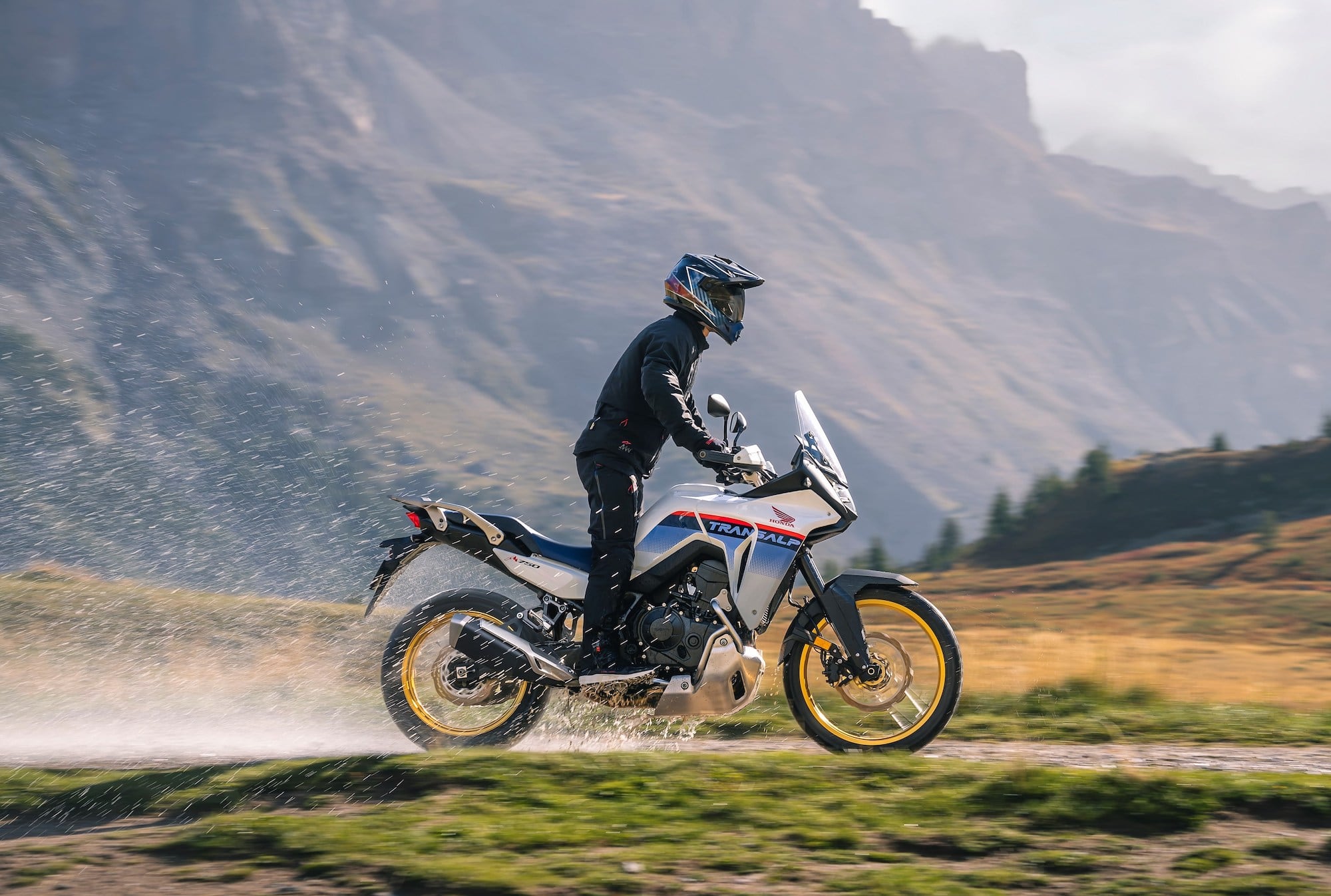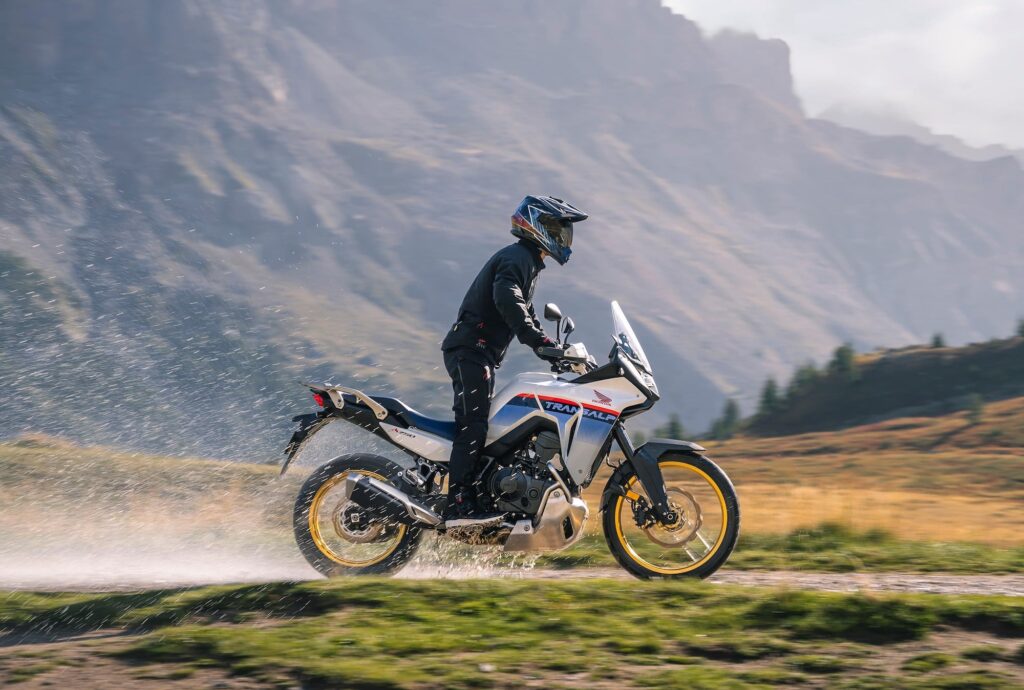 Are you obsessed with motorcycles?
Well, I am. That's why I created this site — as an outlet. I love learning and sharing what others might find useful. If you like what you read here, and you're a fraction as obsessed as I am, you might like to know when I've published more. (Check the latest for an idea of what you'll see.)
A Brief History of the Honda Transalp
Honda has been making adventure bikes for a long, long time. Oh, you thought BMW invented the category? Well look, they've done a lot for it, but Honda was a big player in the 80s, just in a different way.
Let your mind wander back to the 1980s. Hair was long, nobody had heard of the Information Superhighway (later renamed Internet), motorcycle engines came as big and as powerful as people could make them, and speed limits were suggestions rather than warnings of impending backbreaking fines attached to automated cameras (in less fortunate parts of the world).
In those times, there was already a bit of an "adventure touring" culture. Adventure touring was in its early days, just as I was in mine.
But basically, before the Transalp, we had already seen a few bikes suitable for on and off-road touring: The BMW R 80 G/S, the Yamaha XT600Z Ténéré, and various other bikes.
More importantly, adventure touring was more a sport of customisation. Many riders made their own rigs, getting a trail bike and adding bits to make it into something suitable for distance.
It was in this environment that Honda first released the Transalp, a bike with off-road pretensions but also on-road behaviour. Not too heavy, not too light-featured; just the right balance for a lot of time in the saddle both on the highways and on dirt and rocky roads.
Honda's PR at the time called the Transalp a "new concept touring bike". It wasn't entirely new, but it was newer than it is now. These days, adventure sport tourers are all the rage, and there's even a very wide selection of them with 21-inch front tires. Just check out the "alternatives" section.
Honda Transalp Generations guide (Gen 1, 2, 3, and 4)
Below is a table summarising the Honda Transalp generations.
I've grouped them by engine and name, though I know some things changed within generations (especially the first one).
Generation
Transalp XL600V (Gen 1)
Transalp 650V (Gen 2)
Transalp XL700V (Gen 3)
Transalp XL750 (Gen 4)
Years
1986-1999
2000-2007
2008-2012
2023+
Engine
V-twin SOHC
V-twin SOHC
V-twin
(Deauville engine)
Parallel twin, 270 degree crank
Capacity
583
647
680
755
Bore / Stroke (mm)
75 / 66
79 / 66
81 / 66
87 / 63.5
Fuelling
1986-1995: 32mm CV Mikuni carburettors.
1996-1999: 34mm
Carburettors
PGM-FI
PGM-FI
Power
37 kW / 50 hp at 8000 rpm
39 kW / 52 hp at 7500 rpm
44 kW / 59 hp at 7750 rpm
67.5 kW / 92 hp at 9500 rpm
Torque
53 Nm / 39 ft-lb at 6000 rpm
54 Nm / 41 ft-lb at 5500 rpm
60 Nm / 44 ft-lb at 6000 rpm
75 Nm / 55 ft-lb at 7250 rpm
Front Suspension
41mm fork, 200mm travel
41mm fork, 220mm travel
41mm fork, 177mm travel
Showa 43mm SFF-CA, 200mm travel, preload adjustable
Rear suspension
Monoshock, 187mm travel, preload adjustable (threaded collar)
Pro-link, 172mm travel
Pro-link, adjustable compression damping, 173mm travel
Pro-link, Showa monoshock damper, 190mm travel, preload adjustable
Front brake
1986-1996: Single 276mm disc, 2-piston caliper
1997-1999: 2 x 256 mm, 2-piston calipers
2 x 256 mm, 2-piston calipers
2 x 256mm discs, 3-piston calipers (ABS)
2 x 256mm discs, 2-piston calipers
Wheel sizes (front, rear)
90/90-21
130/80-17
90/90-21
120/90-17
100/90-19
130/80-17
90/90-21
150/70-18
Ride aids
None
None
ABS
ABS, TC, Ride modes
Kerb / Curb weight
~205 kg / ~450 lb
212 kg / 467 lb
219 kg / 438 lbs (ABS)
208 kg / 459 lb
Honda Transalp Generations
First generation Transalp 600V (1986-1999)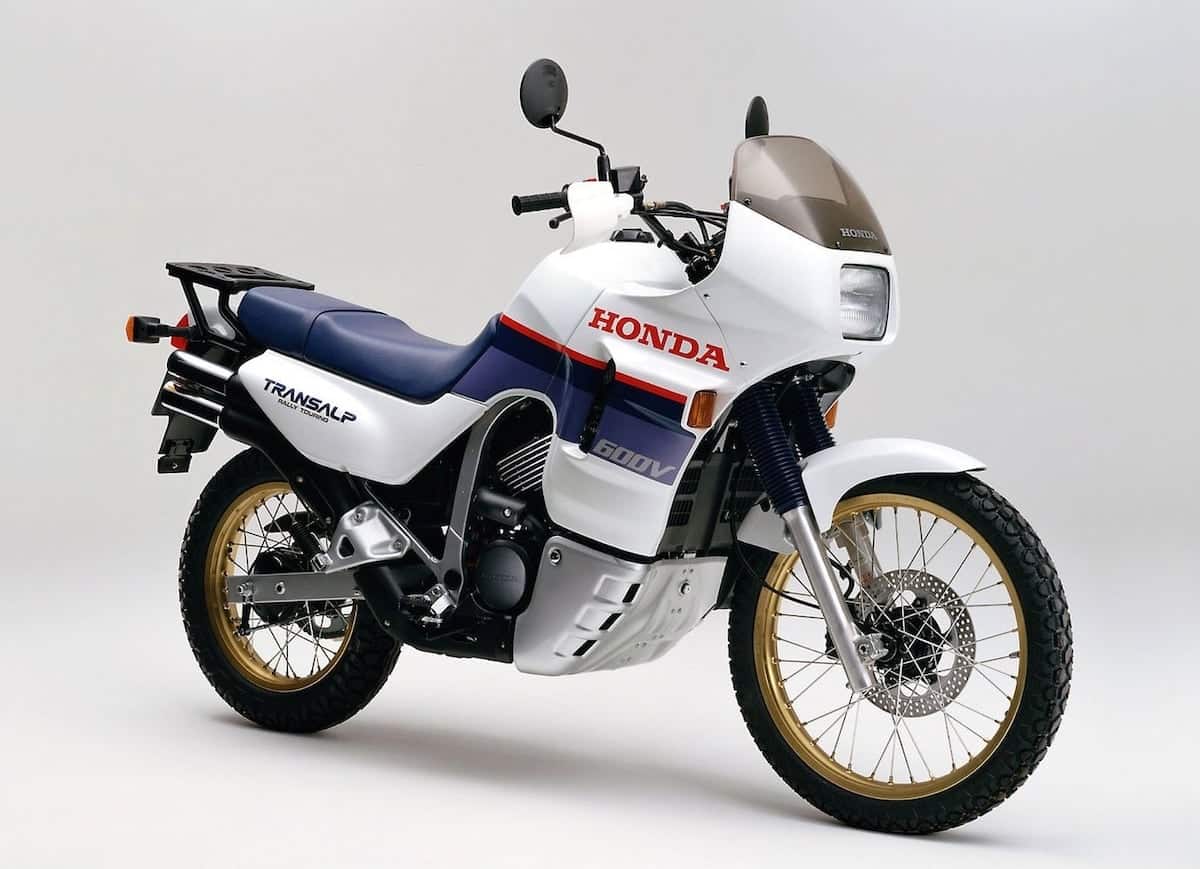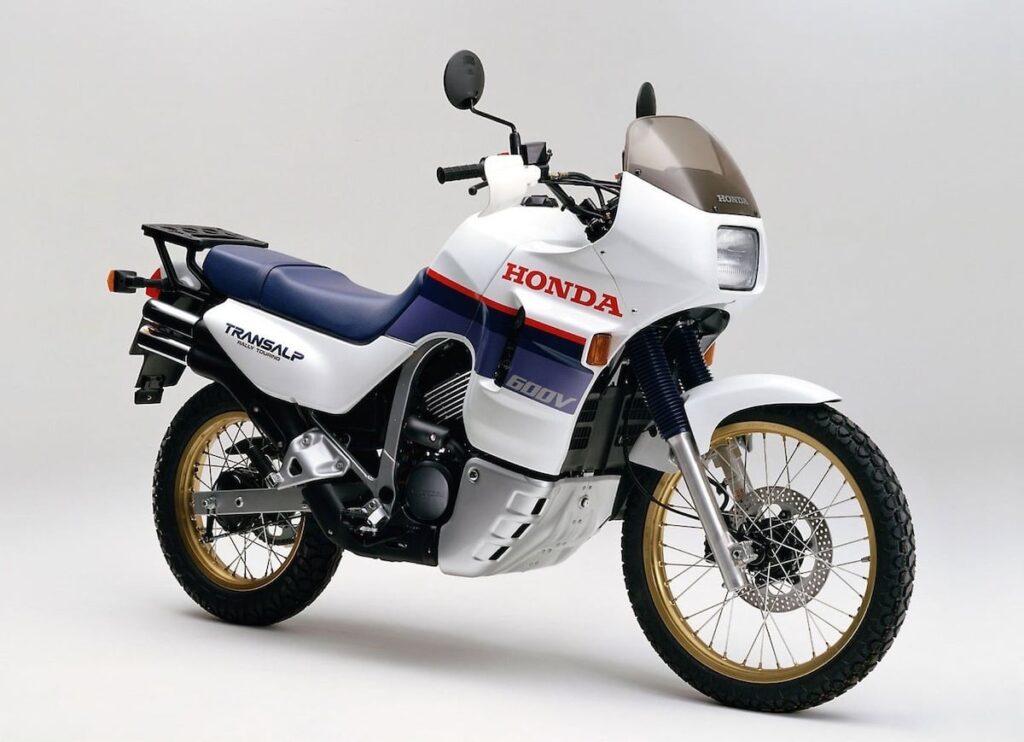 Honda introduced the first Transalp in 1986 with a 583 cc V-twin engine. Honda only brought it to the states in 1989 — so if you're holding out for the new Transalp, there's precedence!
Honda swapped out the rear drum in 1991 and gave it a new dash, then revised the look of the Transalp for 1994, giving it a more modern fairing. And they added a second disc brake for 1997.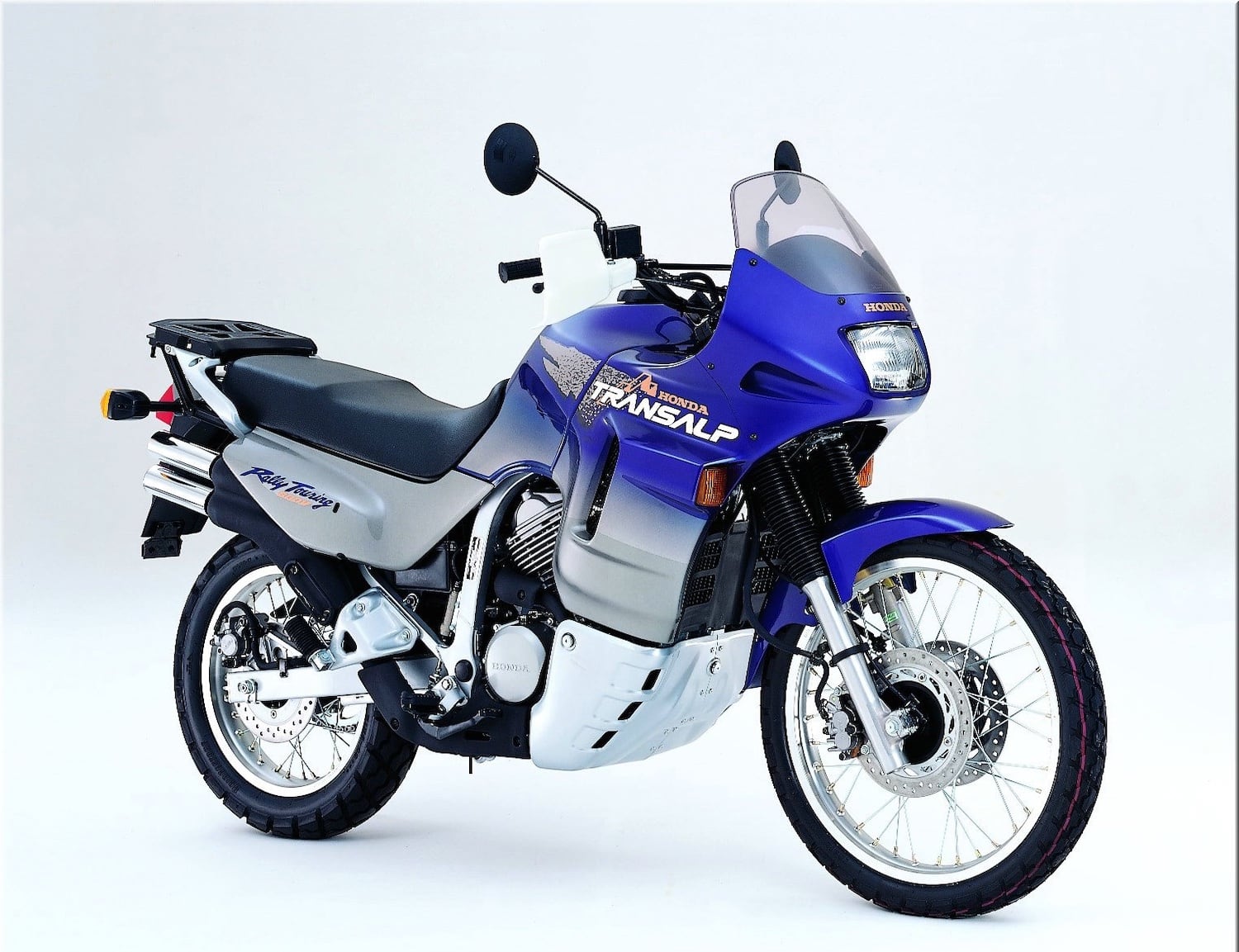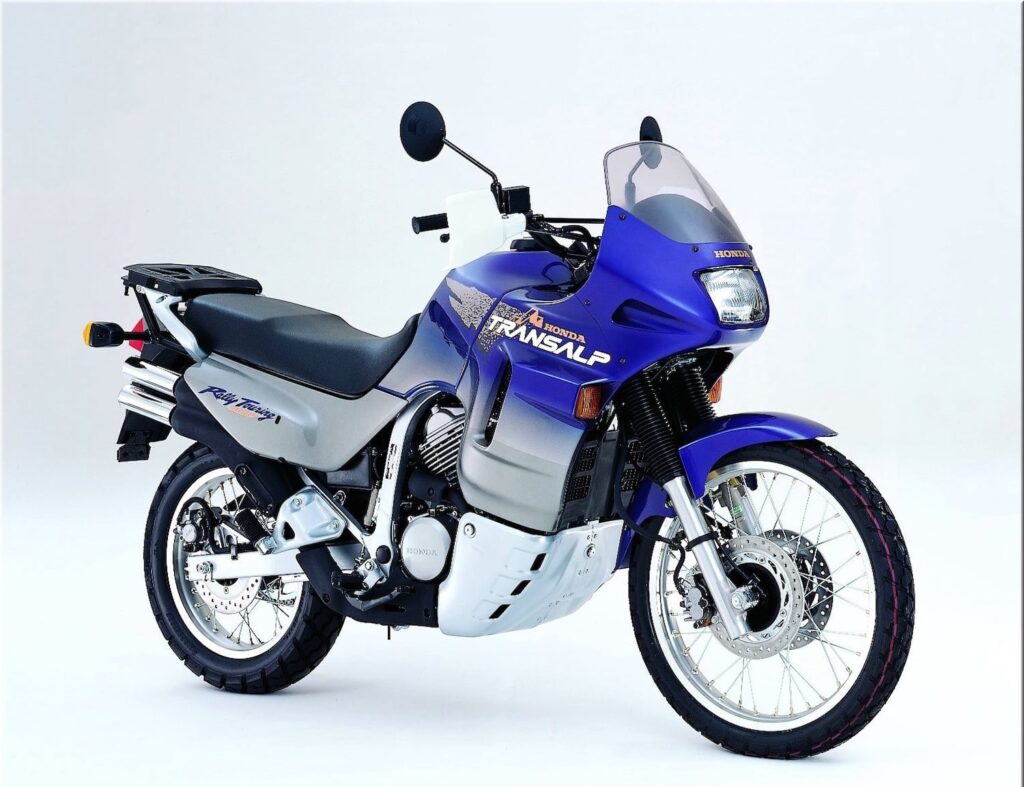 The original Transalp sold like hotcakes. Or crepes. They're very popular in Europe, and you can still see many even of this generation on your average European city street. They don't die, they're comfortable, they're powerful enough (unless you ask too much of it), and they're useful everywhere.
Honda XL400V Transalp (1991-1996)
Concurrently with the XL600V, Honda sold the XL400V Transalp, primarily for the Japanese market (due to licensing and registration benefits for under-400 cc motorcycles).
The XL400V has a 398 cc V-twin engine that makes 26 kW / 37 hp at peak. It's the same engine used in the Honda Bros 400 and Honda Shadow 400.
Despite the XL400V's lower power and lower spec (e.g. the single disc brake), it was quite popular when it sold, and is now a popular bike for export to some markets as it's cheap, versatile, and reliable.
Per most sources it seems it was sold between 1991 and 1996, but one commenter says it was sold from 1987.
Second generation Transalp XL650V (2000-2007)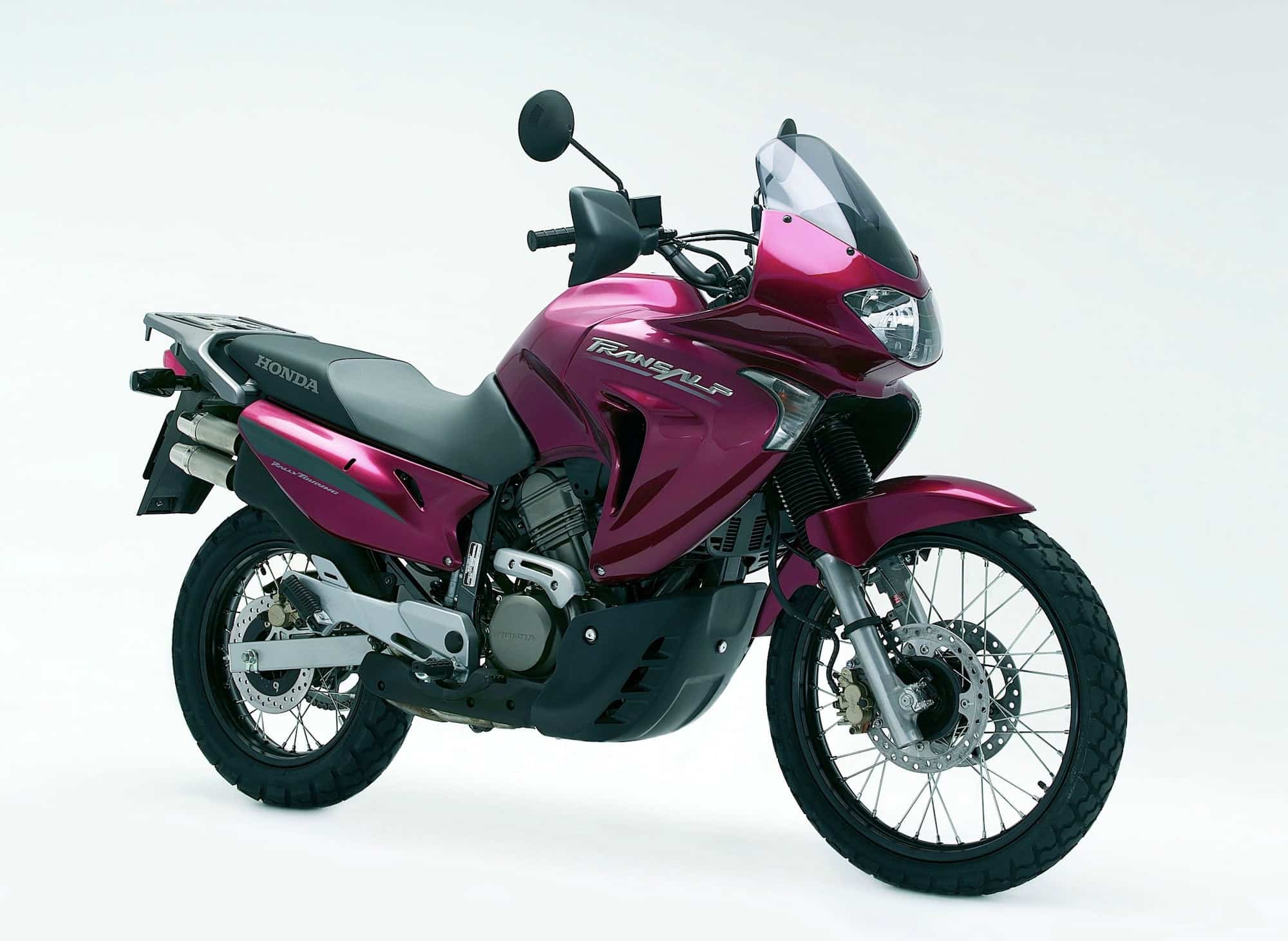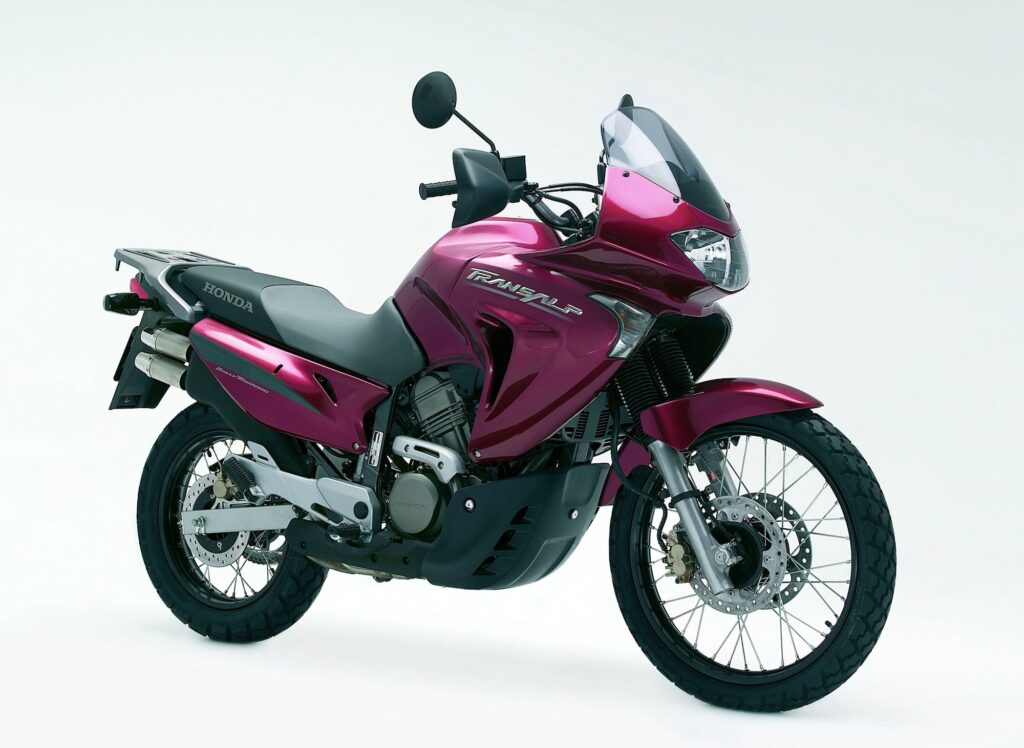 Honda released the second generation Transalp in 2000 with a 647 cc V-twin, a bigger engine from a bigger bore, plus a facelift.
The Transalp XL650V is the same basic bike as the trailing end of the first gen — a simple do-everything bike with an engine powerful enough, but not overwhelmingly powerful. It kept the 21-inch front tire.
But Honda revised the looks again for the XL650V as well. People didn't really like the looks of the early first gen, though of course someone like me looks at it now and thinks it's a classic. Still, the looks of the revised 1st gen and then the 2nd gen are more in line with what the market wants in an everyday bike.
Third generation Transalp 700V (2008-2012)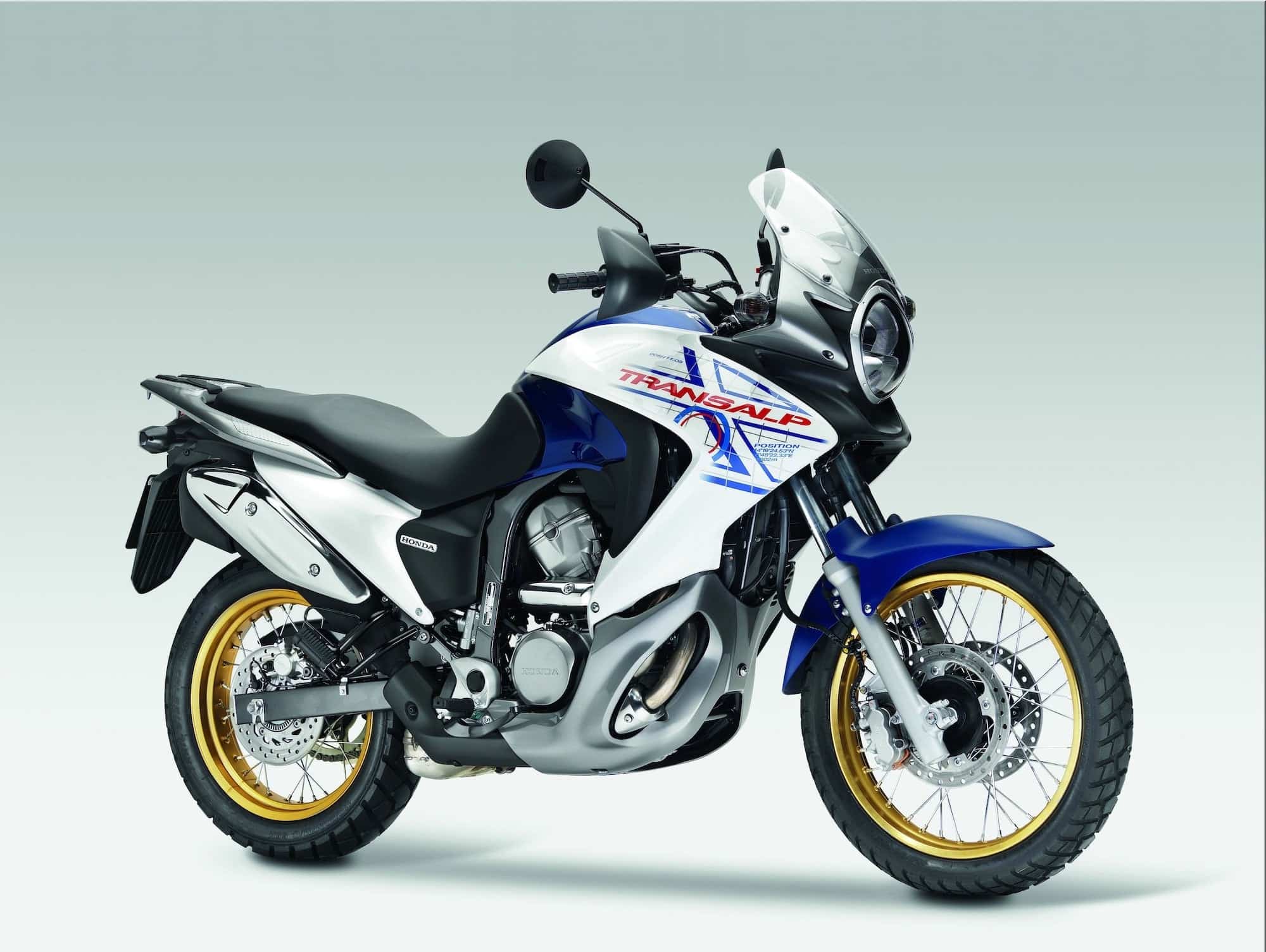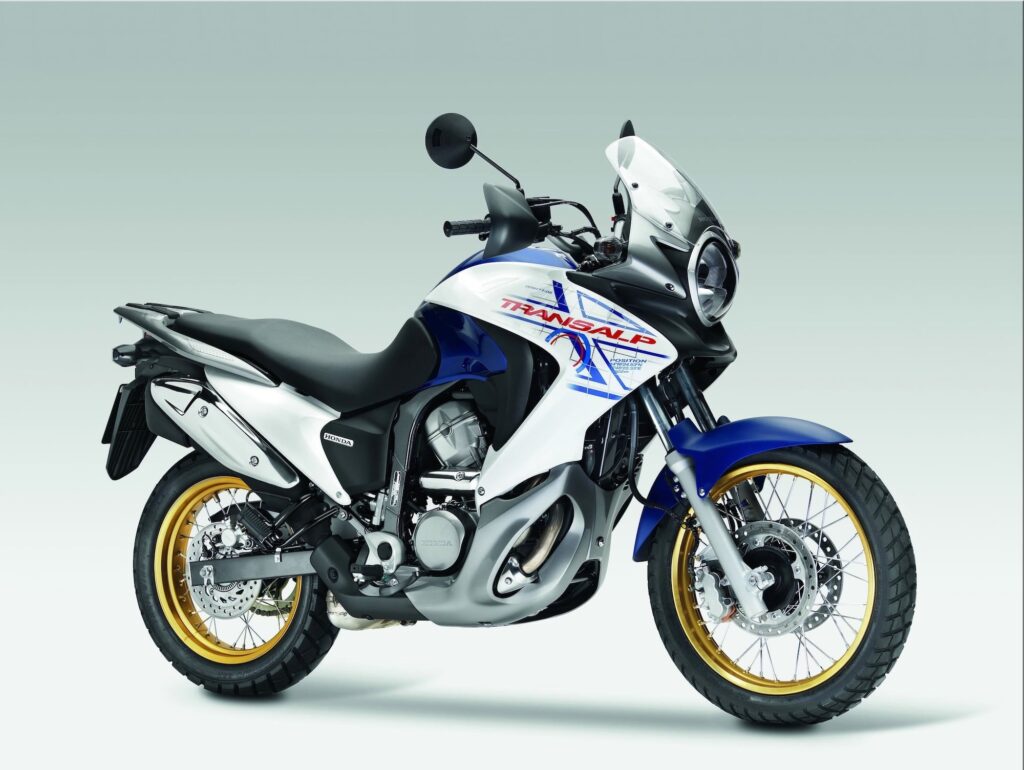 You maniacs! You blew it up! Well… it looks nice (especially in white, red, and blue), but Honda went a little too far with making the XL700V into an everyday commuter. Which it's great at, but which is against the spirit of the earlier models.
Essentially, Honda turned the XL700V into a competitor for the Suzuki V-Strom of the day. They increased the engine capacity, gave it optional ABS (a popular option by the way), and reduced the front tire size from 21 inches to 19 inches, acknowledging that this was being used as a road-going bike.
Honda also gave the Transalp a fuel-injected engine, which is a more welcome change if you've ever had to deal with leaking or gunked up carburettors.
Anyway, Honda sold the revised Transalp for a few years, but killed it off due to poor sales. It does have legions of fans, and is a great do-everything bike — just not as adventurous as the ones that came before it (or after it).
The 4th gen Honda XL750 Transalp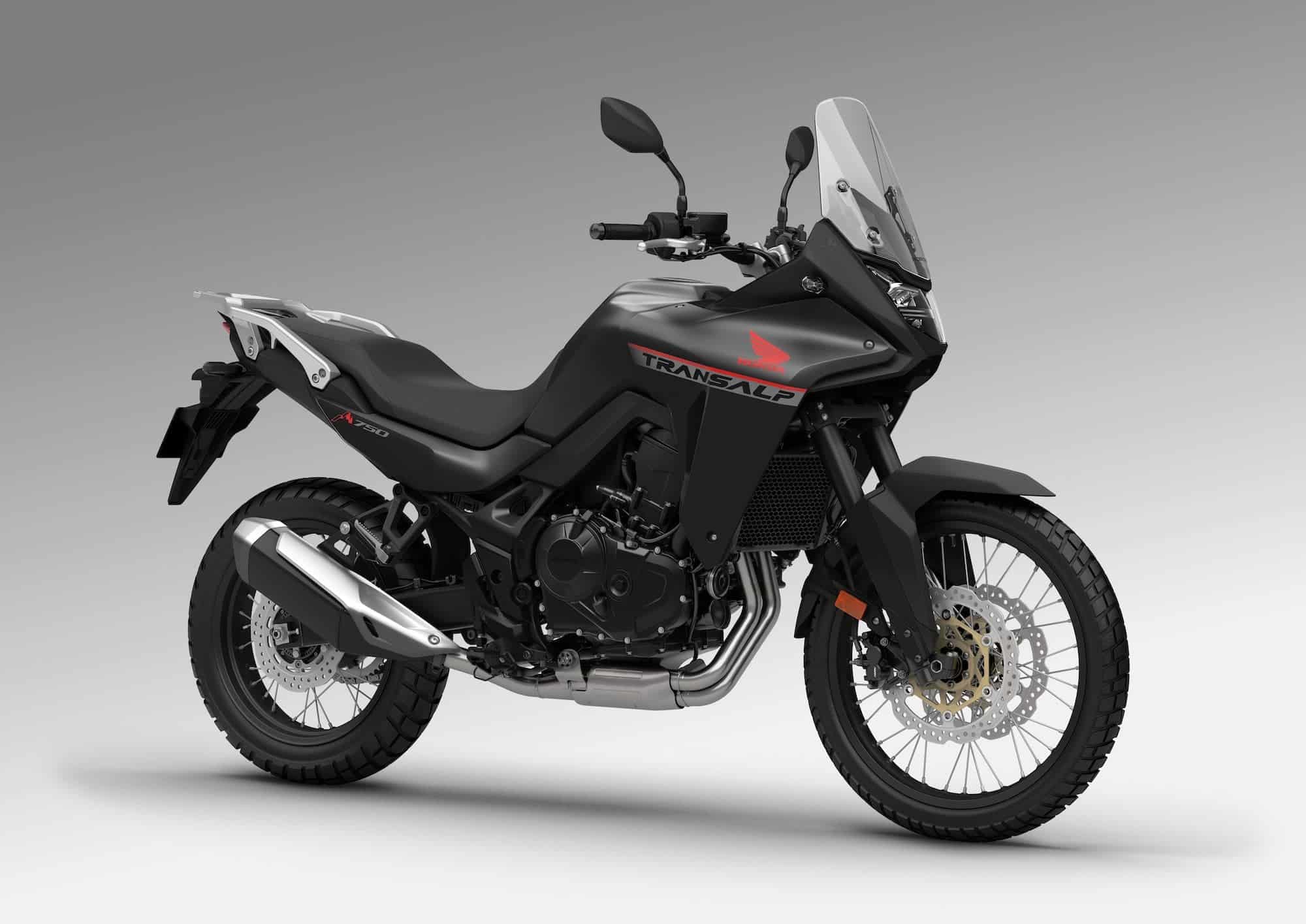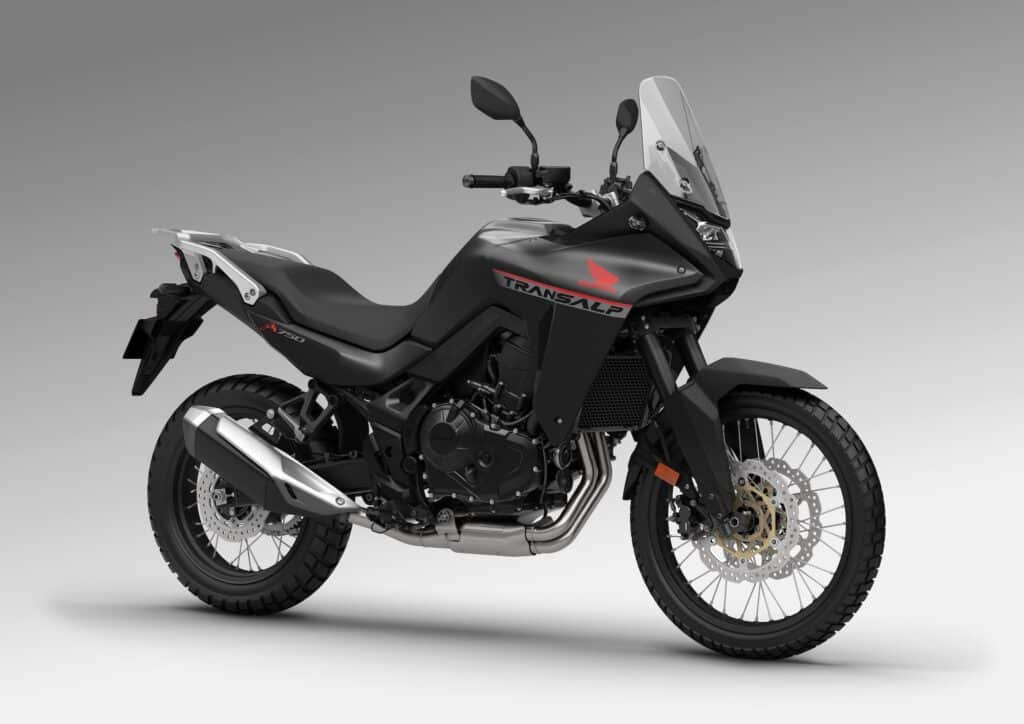 Then for the 2023 model year, Honda announced the latest XL750 Transalp at the 2022 EICMA. This time, they're not just competing with the V-Strom 650 (though they are competing with the simultaneously announced Suzuki V-Strom 800), they're also competing with the Yamaha Ténéré 700, the KTM 890 Adventure R, the Aprilia Tuareg 660… with the whole gamut of middleweight adventure bikes that are taking the market by storm.
You might notice that the 2023 Transalp doesn't have a "V" at the end of its name. It's just XL750. That's because the engine is now a parallel twin. It does have a 270-degree crank though, so it fires in the same order as a 90-degree V-twin and in theory should make the same sound.
Core specs of the 2023 Honda Transalp
You can't ride a spec sheet, but you can tape it to your fridge and dream about it… well some people may do that, anyway.
| Spec | Honda XL750 Transalp spec | Comments |
| --- | --- | --- |
| Engine type | Liquid-cooled SOHC ("Unicam") P-twin, 8 valves, 270-degree crank | Same engine as in the 2023 CB750 |
| Displacement | 755 cc | Not LAMS-friendly in most of Australia/NZ (660 cc limit). But in Europe there'll be an A2 low-power option |
| Bore / Stroke | 87 mm / 63.5 mm | |
| Compression ratio | 11.0:1 | Mild for a liquid-cooled engine |
| Peak power | 67.5 kW / 92 hp @ 9500 rpm | Similar to the CB750 |
| Peak torque | 75 Nm / 53 ft-lb @ 7250 rpm | |
| Drivetrain | Wet clutch, manual transmission, chain drive | Will need to carry chain cleaning rags. No DCT option. |
| Front suspension | 43mm SFF-CA – 200mm travel | Good travel for a middleweight, nothing mind-blowing |
| Rear suspension | Pro-link, monoshock, 190mm travel | |
| Front brake | 2 x 282 mm discs, 2-piston calipers | It'll get the job done |
| Wheel sizes | 21/18-inch spoked wheels | "Proper" off-road dimensions |
| Ride aids | ABS/HSTC + wheelie control, 5 ride-modes | Rear caliper can be switched off (in "User" mode |
| Capacity / range | 16.9 L / 389 km (est.) | Based on 23 km/l range, but may go up and down depending on conditions |
| Kerb weight | 208 kg / 460 lb | Not too heavy! |
Core specs of the Honda XL750 Transalp
What's missing from the XL750 Transalp?
Pretty much as soon as it was announced, internet commenters were asking: why doesn't this come with cruise control?
To be fair, the same criticism was levelled at the Suzuki V-Strom 800DE. And the most immediate contenders from Kawasaki and Yamaha also lack this.
I don't need too much fancy stuff on a middleweight adventure tourer. I don't need an IMU with cornering ABS (it's enough of a luxury to be able to switch off rear ABS if I need to), I don't need radar-enabled adaptive cruise, and I don't need active suspension.
But for those boring bits between fun bits, it's nice to relax the tension on my throttle hand. Yes, I usually do make do with something like a Go Cruise 2 (the clamp thing which you fasten on the throttle and sits against the brake lever), which is fine, but once you've used electronic cruise, it's quite hard to go back.
Aside from that — I don't think anything is "missing" on the Transalp. I do hope it comes, in basic trim, with protection for the most critical bits — the pipes / sump and hands.
Honda XL750 Transalp, CB500X, NC750X, CRF1100L, or CRF300L?
Good golly, how many adventure motorcycles does one manufacturer need to make? OK, we get it Honda, you are an adventure motorcycle maker!
Before even looking at the alternatives outside the market, I think it's worth analysing competition from inside Honda itself.
All of these bikes are very different, but because they are all at least somewhat "adventure"-esque (and more so if you put a few mods into them), they're all worth considering as alternatives to the Honda XL750 Transalp.
Here's every bike that Honda makes that is somewhat adventure-esque:
Honda Trail 125 — One of the miniMOTO line-up, powered by a 125cc air-cooled single and running on 17-inch spoked wheels. Has a cool semi-automatic transmission.
Honda XR650L — an old stalwart of a dirt bike, powered by a big 644cc SOHC air-cooled single, fed by carburettor, with long-travel suspension, and little else on the bike. Not updated in many years.
Honda CRF300L — A very capable dual sport, fed by a 286cc liquid-cooled single-cylinder engine, with long-travel suspension, a big 21-inch front wheel, and even ABS. Will probably take you the furthest (with the same amount of effort).
Honda CB500X — Honda's entry level everyday commuter and adventurer powered by the 471 cc parallel twin that they shoehorn into everything. Not too adventurous but people modify them. Honda updated it to get a 19-inch front wheel in 2019, but it's still more an everyday bike than an off-roader.
Honda NC750X — Another commuter with travel pretensions, powered by Honda's torque forward 745cc parallel twin, and with optional DCT. Has tons of storage space. Oh, the front wheel is a very road-oriented 17 inch.
Honda XL750 Transalp — Our hero!
Honda CRF1100L — The standard-bearer adventurer with a big 1084cc parallel twin, large adventure-sized wheels, and the kitchen sink of gear and accessories.
To pare down this list a bit, let's just look at the most relevant comparables to the Transalp — the CRF300L and the CRF1100L. Aside from the XR650L, the others don't have an off-road tire setup. And the XR650L is ancient. If you know you want a new thumper dirt bike and are looking at the XR650L, you probably won't be comparing it to other Honda offerings (maybe to a Suzuki DR650).
Now a table comparing them in summary. I've ordered them in small to large.
Model
CRF300L Rally
XL750 Transalp
CRF1100L Africa Twin
Type of riding
Dual sport
Adventure touring
Adventure touring
Engine type
Single cylinder
Parallel twin
Parallel twin
Engine capacity
286 cc
755 cc
1084 cc
Peak power
20.1 kW / 27 hp at 8500 rpm
67.5 kW / 92 hp @ 9500 rpm
75 kW / 101 hp at 7500 rpm
Peak torque
26.6 Nm / 19.6 ft-lb at 6500 rpm
75 Nm / 53 ft-lb @ 7250 rpm
105 Nm / 77 ft-lb at 6250 rpm
Kerb Weight
153 kg / 337 lb
(Rally, ABS)
208 kg / 460 lb
238 kg / 525 lb
(Adventure Sports)
DCT option
No
No
Yes
Ride aids
ABS
ABS, TC, Ride modes
IMU with ABS/TC, Ride modes, Cruise
Cruise control
No
No
Yes
Variants / Predecessors
* Rally variant (more distance gear)
* CRF250L (predecessor)
* XL700V in Europe (ended 2012)
* CRF1000L predecessor
* Adventure / standard models
Price
Affordable
Relatively affordable
Expensive, especially with add-on bits
Adventure offerings — CRF300L vs XL750 vs CRF1100L
Basically, any of these bikes will get you anywhere. They'll just do it in different amounts of comfort depending on where you're going.
The 286 cc single in the CRF300L may not sound like much, but it'll easily get you to over the speed limit. Well not if you're going up a steep incline and you have a passenger, maybe.
Still, even if you're doing some highway time, if you're not doing too much, then the CRF300L is a good pick for a lot of off-roading. There are lots of times going up hills with lots of rocks where I hear riders be relieved that they don't have much weight. And lower reciprocating mass (in a small engine) means lower inertia, which makes quick direction changes easier.
On the other side of the spectrum is the Africa Twin. It has cruise control! It has an IMU giving it cornering ABS and traction control! The latest versions even have Apple Carplay and Android Auto integration. And you can buy just about everything for it as an accessory.
But of course, it's heavier, which makes it relatively hard to pilot in between trees over big rocks, and harder to pick up when you drop it.
Oh that brings me to price. When it comes to an off road-capable bike, I often think about "What bike would I be OK covering in mud, maybe dropping, and generally abusing a bit?" I'm not made of money, so I tend to exclude new, expensive bikes. This "sweet spot" is where motorcycles like the XL750 Transalp shine.
Alternatives to the Honda XL750 Transalp
Because times are pretty good for the middleweight adventure line-up, I'm going to limit this list to middleweight adventure bikes that have a 21-inch front tire.
Yes, you can make the V-Strom 650 do crazy things if you want. You can do that with any bike, of course. But it's not a perfect comparison, and in a market where we're increasingly spoiled for choice, I want to narrow this comparison list to a reasonably small group.
The thing is, even in the "middleweight adventure group of bikes there's a wide range of prices and spec levels. At the top end you get things like cornering ABS and cruise. And at the bottom end (the humble KLR) the most advanced thing is ABS.
The most obvious alternatives that come to mind (middleweights, between 600 and 1000 cc, and with a 21-inch front wheel) are the following, with my detailed quantitative analysis of power, "stuff" level, and price as well.
| Bike | Power | "Stuff" level | Price |
| --- | --- | --- | --- |
| Aprilia Tuareg 660 | 😀 | Med-High | $$$ |
| BMW F 850 GS Adventure | 😀 | High | $$$ |
| Ducati DesertX | 😆 | High | $$$ |
| Honda XL750 | 😀 | Med | $$ |
| Husqvarna Norden 901 | 😆 | High | $$$ |
| Kawasaki KLR650 (3rd gen) | 😐 | Low | $ |
| KTM 890 Adventure R | 😆 | High | $$$ |
| Suzuki V-Strom 800DE (also new for 2023) | 😀 | Med | $$ |
| Triumph Tiger 900 Rally / Pro | 😀 | High | $$$ |
| Yamaha Ténéré 700 | 😀 | Med | $$ |
Middleweight adventure bikes
And further, the Honda Transalp is a "crossover" bike — it's like an SUV, intended to do everything, less focused than pure adventure bikes. I know, it's a sliding scale, and the definition of each bike is best stated as whatever you're doing with it. But I'm just saying the Transalp currently sits alongside the Africa Twin — just as it did in the past — and that helps position it.
So anyway, I think the best alternatives to the Honda XL750 Transalp are the affordable ones from the Japanese brands. These are great bikes but just lack the high-end niceties like the more powerful/higher capacity engines, cornering ABS, and cruise control that you get in bikes from the European brands.
Here they are. First a spec table, then slide through the pics.
| Model | Honda XL750 Transalp | Kawasaki KLR650 (3rd gen) | Suzuki V-Strom 800DE | Yamaha Ténéré 700 (World Raid) |
| --- | --- | --- | --- | --- |
| Engine type | Parallel twin, Unicam | Single-cylinder, DOHC | Parallel twin, DOHC | Parallel twin, DOHC |
| Capacity | 755 cc | 652 cc | 776 cc | 689 cc |
| Fuel tank size | 16.9L | 23L | 20L | 23L |
| Peak power | 67.5 kW / 92 hp at 9500 rpm | 28.5 kW / 39 hp at 6000 rpm | 62 kW / 84.3 hp at 8500 rpm | 54 kW / 73 hp at 9000rpm |
| Peak torque | 75 Nm / 53 ft-lb @ 7250 rpm | 51.5 Nm / 37 ft-lb @ 4500 rpm | 78 Nm / 57 ft-lb at 6800 rpm | 68 Nm / 50 ft-lb at 6500 rpm |
| Final drive | 6-gear, chain | 5-speed, chain | 6-speed, chain | 6-speed, chain |
| Front suspension | Showa 43mm SFF-CA, 200mm travel | 41mm Fork, 200mm travel | Showa fully adjustable USD fork, 220mm travel | KYB 43mm USD, fully adjustable, 230mm travel |
| Rear suspension | Showa Monoshock, 190mm travel | Uni-trak with adjustable preload and rebound, 185mm travel | Showa adjustable link-type suspension, 220mm travel | Fully adjustable monoshock, 220mm travel |
| Front brake | 2 x 282mm wave discs, 2-piston calipers | Single 300mm disc, 2-piston caliper | 2 x 310mm discs | Dual 282mm disc |
| Front wheel size | 90/90-21 | 90/90-21 | 90/90-21 | 90/90-21 |
| Rear wheel size | 150/70-18 | 130/80-17 | 150/70-17 | 150/70-18 |
| Tire type | Tubed | Tubed | Tubed | Tubed |
| Kerb weight | 208 kg / 459 lb | 207 kg / 456 lb | 230 kg / 507 lb | 220 kg / 485 lb |
Comparing alternatives to the XL750 Transalp
Kawasaki KLR650 (3rd gen)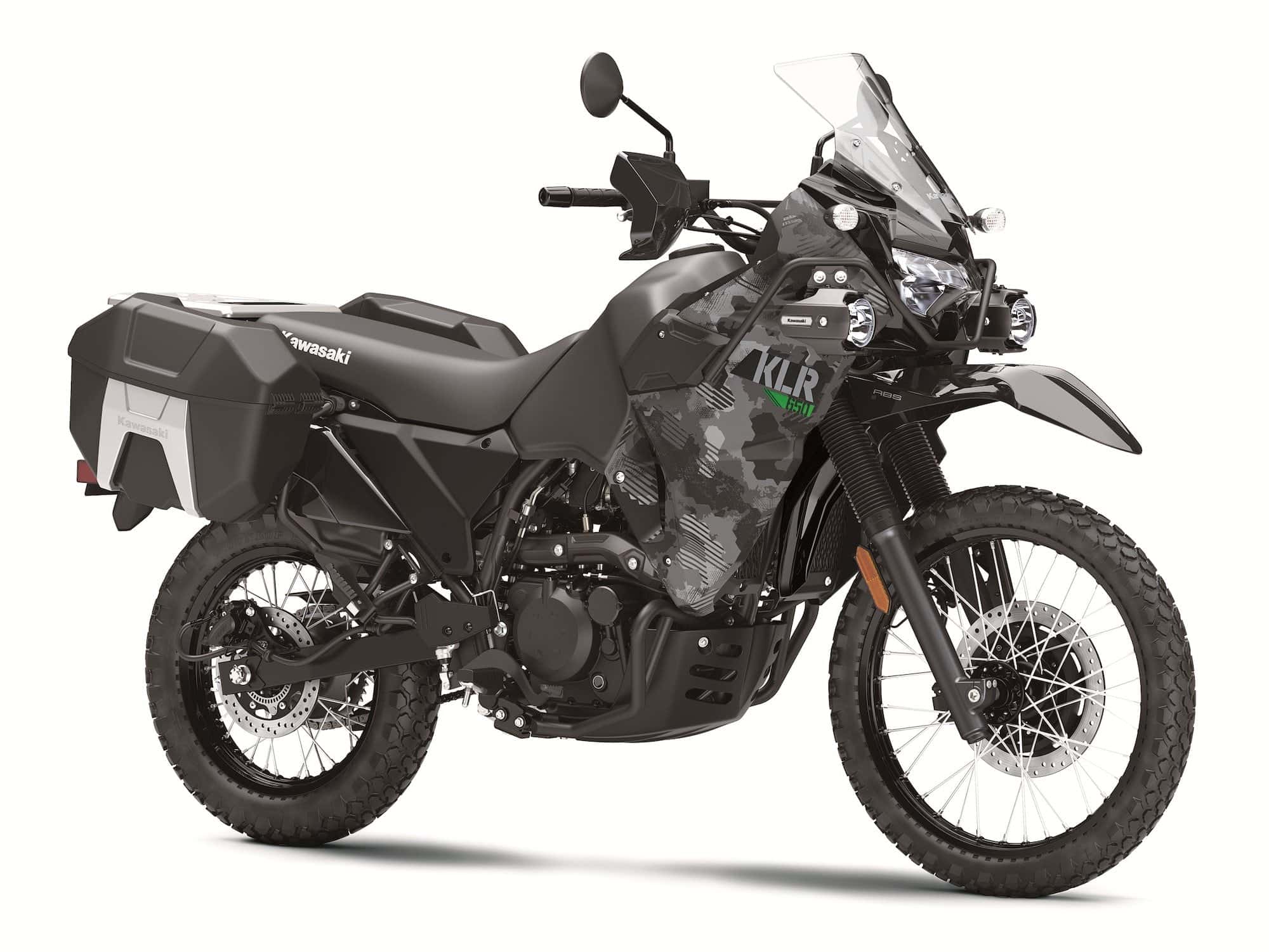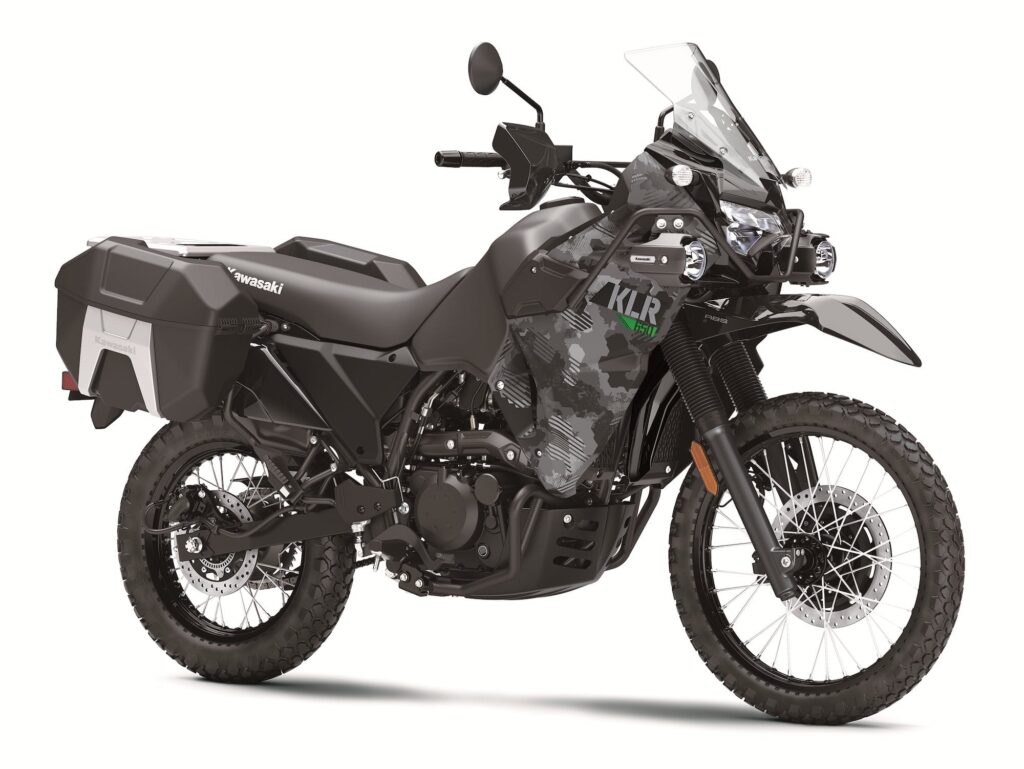 The Kawasaki KLR650, updated since 2021 to get fuel injection and ABS, is cheaper, simpler, and more unbreakable. Go onto ADVrider.com and see just how many adventure riders cut their teeth on a KLR650 (if not several).
The KLR650 is one of those bikes that's so simple it's iconic. The single-cylinder 652cc engine is definitely NOT powerful and the bike is quite heavy, which means you shouldn't expect this to be a ride that will get your heart racing. But the KLR will take you to the end of the world and back. It's a bike on many people's lists of one you should own at least once in your lifetime.
It's not a luxury bike, but it's cheap, and it's the one I'd be most comfortable about dropping. You could even save more money (especially on accessories) by getting an older-model KLR that someone else has done the works on.
Suzuki V-Strom 800DE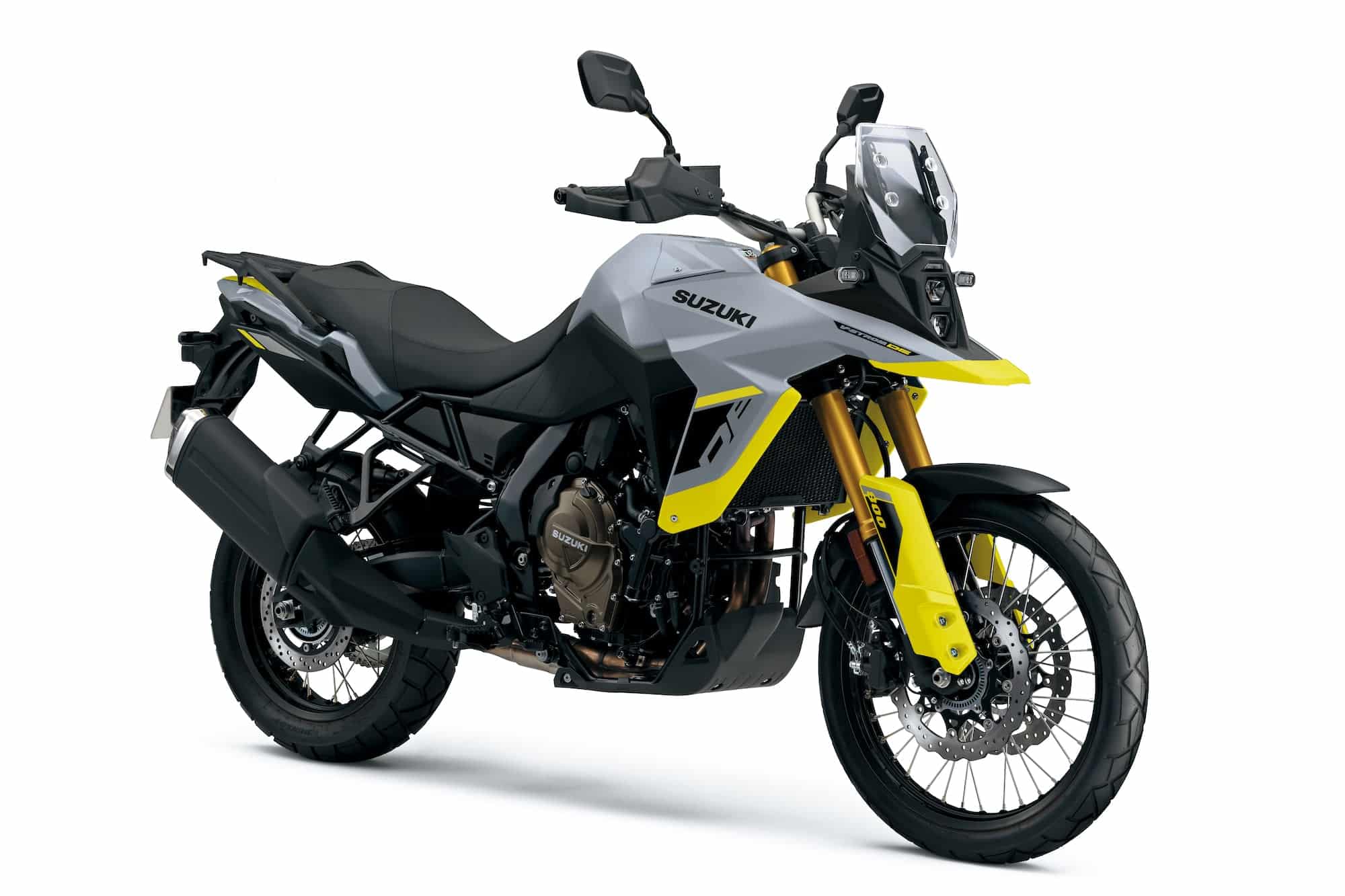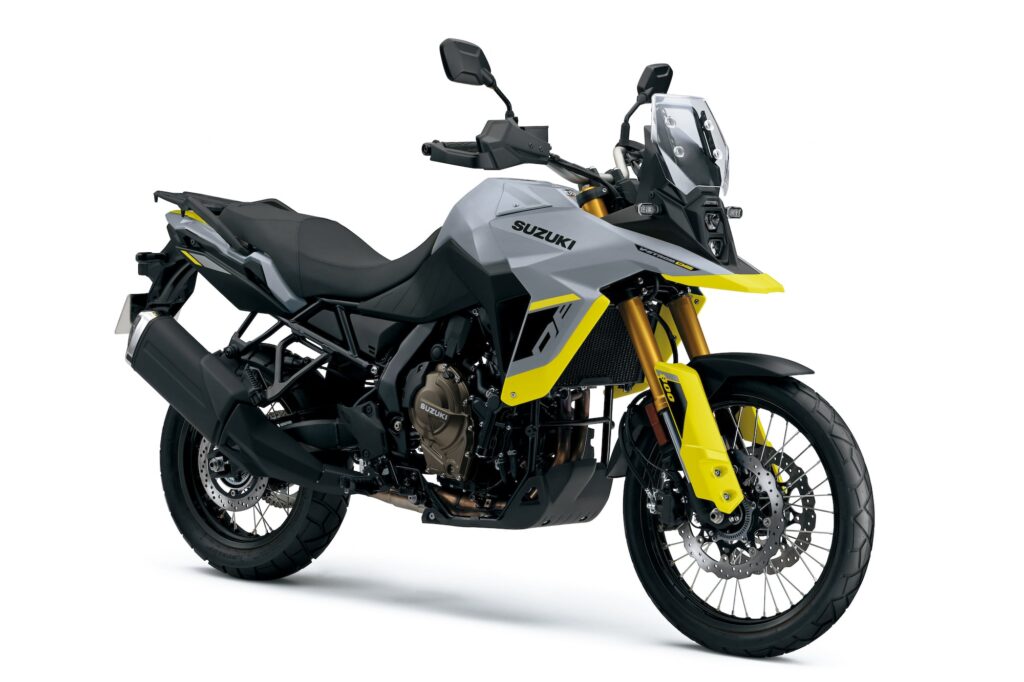 Suzuki announced the V-Strom 800DE at the 2022 EICMA, just as Honda announced the 750 Transalp. On paper, they're very similar bikes — similar sized engine, similar target market (Ténéré 700 buyers), and similar spec levels. This is the first V-Strom to not actually have a "V" engine, but the 270-degree crank means it won't feel dissimilar.

The Honda is slightly more powerful and slightly lighter, whereas the Suzuki gets some fancier gear, like adjustable inverted fork. Style-wise, I'm more of a fan of the Suzuki, partly because they invented this "beak" style (with the DR-Big back in the 80s). But both bikes are likely to be capable and reliable to the same degree.
The Suzuki V-Strom 800DE is a huge departure from the V-Strom 650 that preceded it. The engine is a P-twin rather than a V-twin, the front wheel is 21 inch rather than 19, and the whole bike looks much more ready for multi-purpose travel. So you could buy an earlier V-Strom, but it wouldn't be the same thing.
Yamaha Ténéré 700 World Raid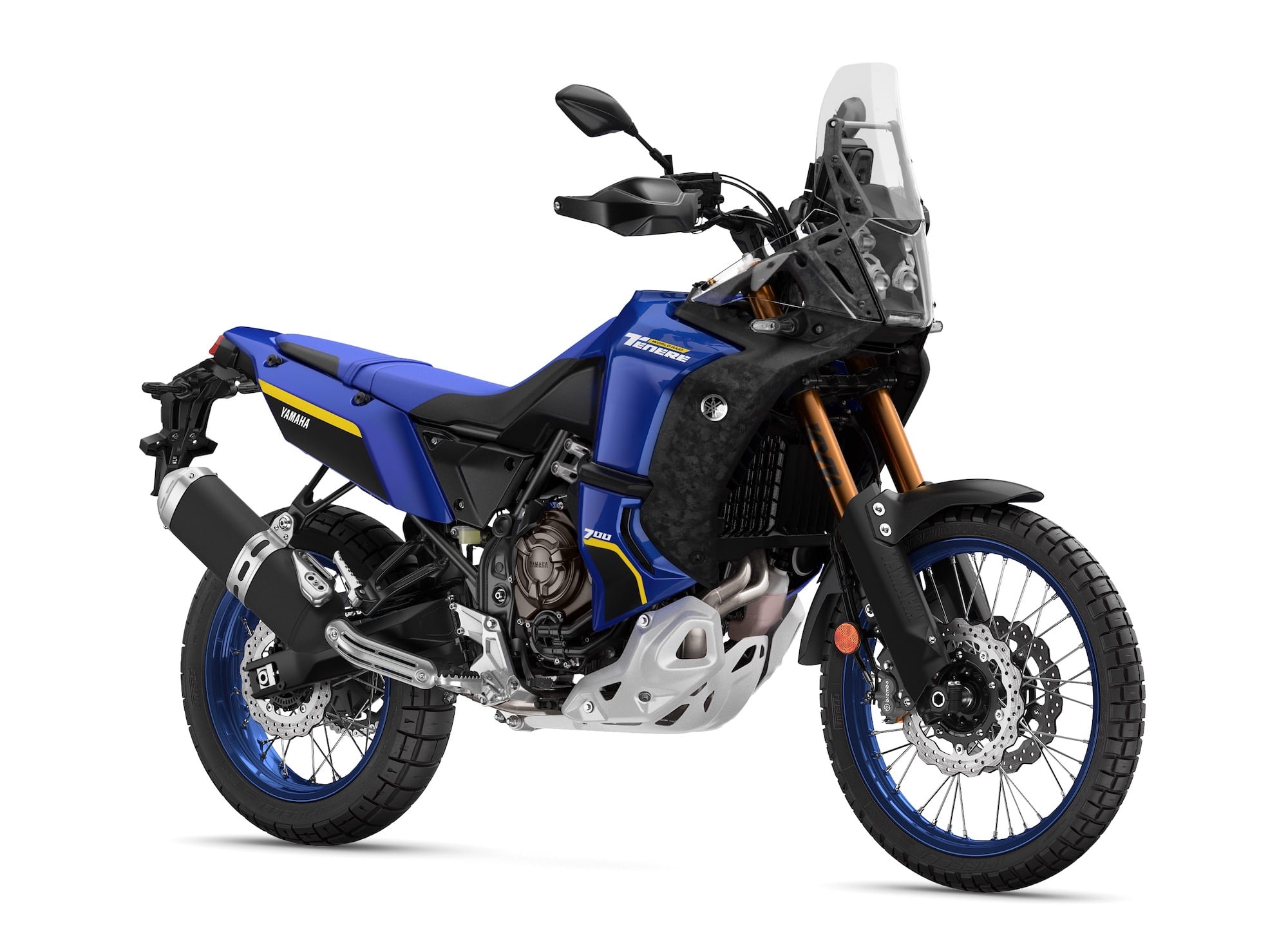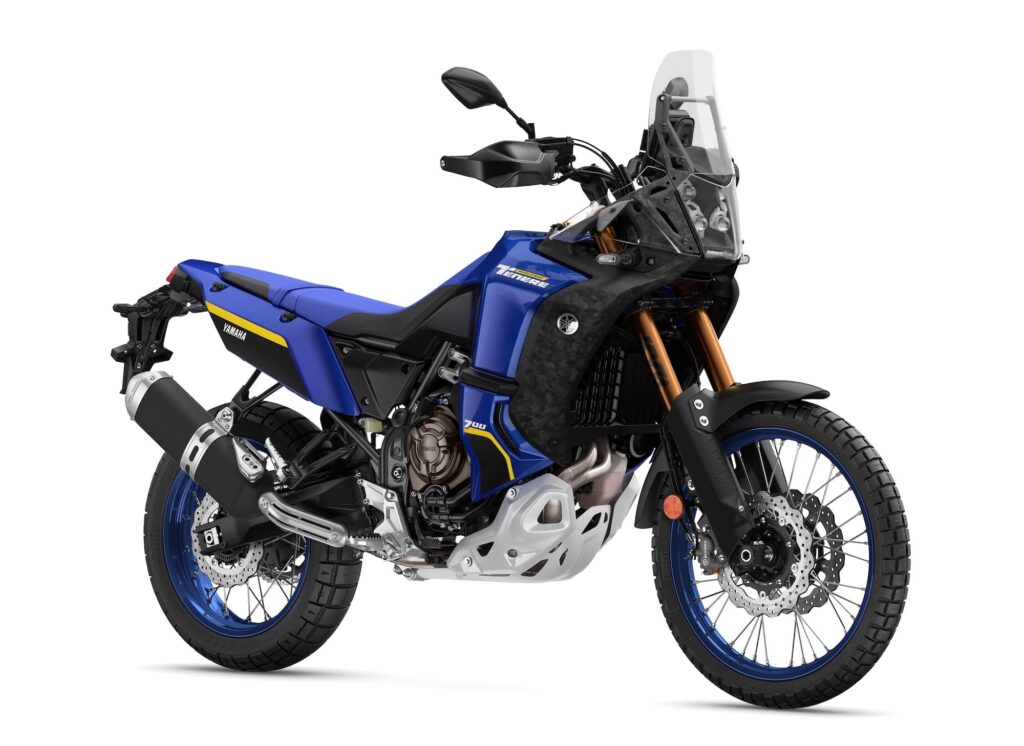 Yamaha built the middleweight adventurer to beat when it released the Ténéré 700 in 2019. Since then they've offered it in a few different versions, and the premium most available one is the World Raid, with a TFT display and a bigger tank. The heart of the T7 is the CP2 engine, which is lively and "just right" for a huge range of activities.
The Honda XL750 Transalp is decidedly more of a mixed-use bike than the Ténéré 700, with lower-spec suspension and less suspension travel (than the World Raid in particular), but it does have more power and manages to weigh less, too, something Honda doesn't always achieve.
The T7 is quite an expensive bike, but it's cheaper than its "big" adventure companions, as well as cheaper than the luxury middleweights from Ducati, BMW etc.
To be fair, the T7 is a more focused high-spec adventure bike than the XL750 Transalp, which is an "all-purpose" vehicle.
See more about the World Raid here.
Not all of these bikes are available in every market. But if they go well in launch markets (Europe / Asia Pacific), I'm sure they'll make their way to others.
If you want to see more about middleweight adventure bikes in general, I'm putting together a complete reference guide so you can see everything that's on the market.
What's Next?
Honda released two motorcycles on the same platform in 2022. I'm fairly confident in the next year or two we'll see a CRF750L Africa Twin based on the same engine. That would be a more direct competitor for the Ténéré 700. I'm guessing this because it's what they did in the past, and it makes sense.
But regardless, there are so many bikes out there right now that there's quite enough for us to just enjoy the present. If you've had any saddle time on middleweight adventurers — let me know what you think of them.