The first time I saw the Ducati XDiavel was a moment I won't ever forget. I thought: What on earth IS that thing? Huge rear tyre! Exposed turbine-style rear wheel! Long, low, mean style! The Diavel bikes are designed to grab attention, and they've definitely grabbed mine from the day they were launched.
Even if you suspect you don't know much about bikes (and we all are constantly learning), the Ducati Diavel and its sibling the XDiavel are pretty hard to miss. In fact, I think they're the most striking thing you can see in a Ducati showroom — maybe other than a superbike in tricolore regalia…
But they were launched a relatively long time ago, and there are a lot of models out there. I mean, when I started out, I didn't even know the difference between the Diavel and the XDiavel. Just an X, right? Well, sometimes… but it's complicated.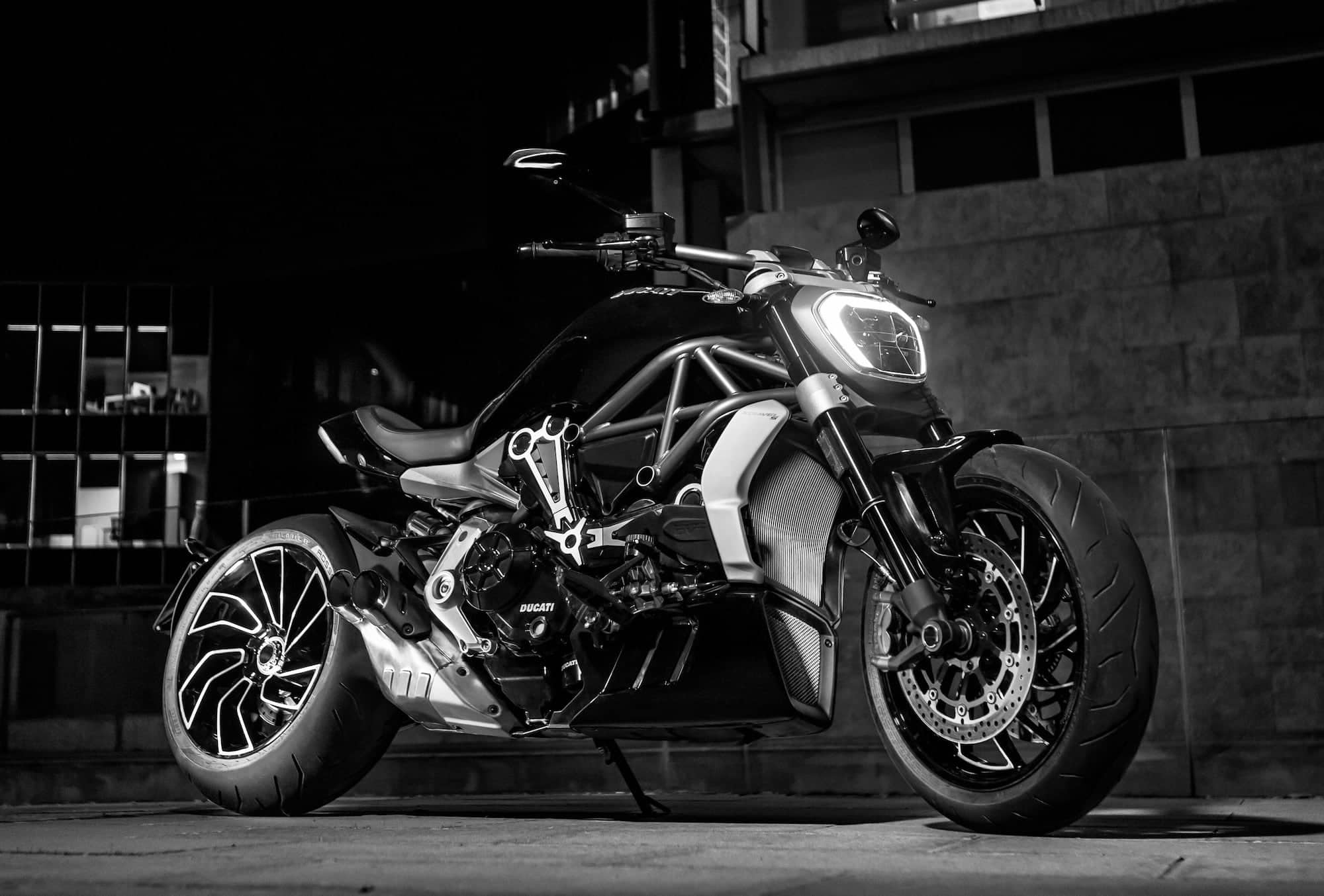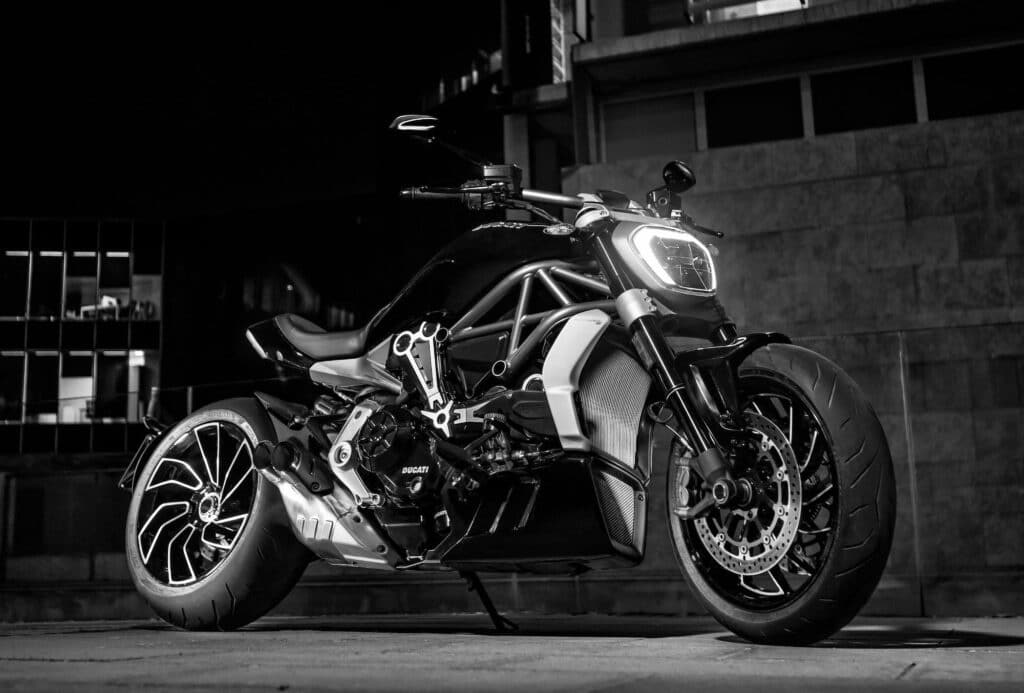 So if you're looking for a Ducati-style cruiser or muscle bike, you might be wondering the same things I was:
History of the Ducati Diavel / XDiavel — How did we get here?
Diavel/XDiavel generations: What are all the generations of the Ducati Diavel and XDiavel, and how are they different?
Diavel vs XDiavel: What are the similarities and differences?
What's Maintaining the Diavel / XDiavel like?
What are some other alternatives to the Diavel or XDiavel?
Problems and maintenance: What is owning a Diavel or XDiavel like?
Here we go.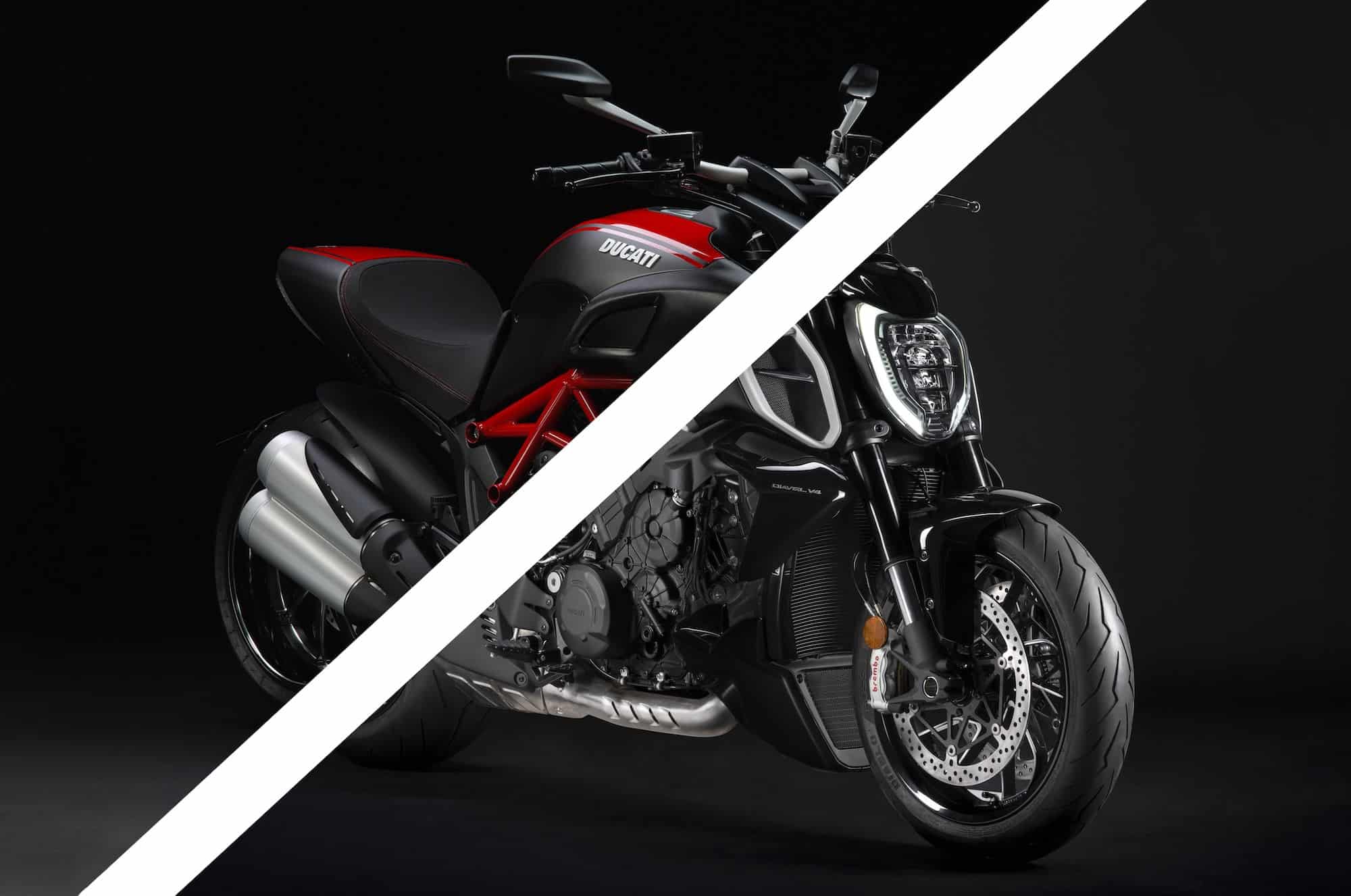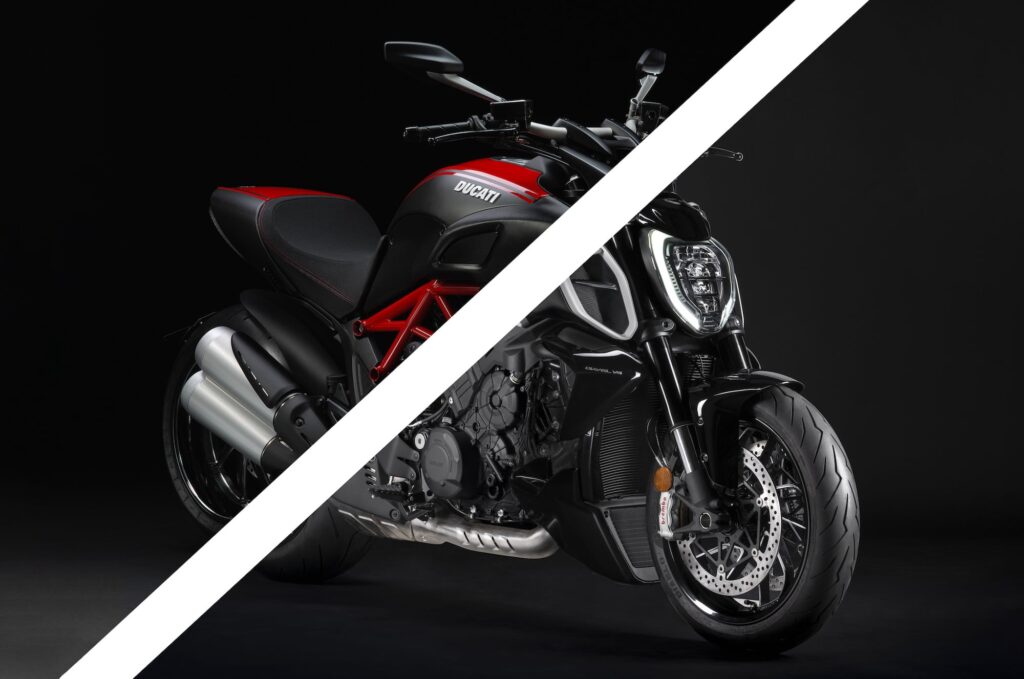 Are you obsessed with motorcycles?
Well, I am. That's why I created this site — as an outlet. I love learning and sharing what others might find useful. If you like what you read here, and you're a fraction as obsessed as I am, you might like to know when I've published more. (Check the latest for an idea of what you'll see.)
Diavel vs XDiavel — What's the difference?
The first thing I used to find confusing was the Diavel vs the XDiavel. They have similar names, are both expensive, and seem to have similar target markets. At some points they've been on the same part of the main Ducati website, though Ducati has changed that. They're still in the same part of other bits of the website.
But the Ducati Diavel and Xdiavel are different bikes, despite how much they share. They're awesome in different ways, and won't be for exactly the same potential customer. (It's a great time to be alive!)
The Ducati Diavel and XDiavel have a lot in common — but they're different in style and riding position, and even in spec.
Ducati calls them both "cruisers". It's true that they're both cruisier than the rest of Ducati's range. But the XDiavel has a much more traditional cruiser position.
The thing that the Diavel and XDiavel both share is that they're high-spec, high-power, heavy (for Ducati; light for any other brand of cruiser) muscle bikes that look awesome and actually handle well.
The main difference is that the Diavel has more of an upright riding position, with a 90-degree bend in the knee for medium-sized riders, whereas the XDiavel is more of a feet-kicked-forward cruiser.
Ducati slightly relaxed the geometry of the Diavel (non-X) as time has gone on. The latest models of Diavel are still vastly closer to the original Diavel than to the XDiavel, but the knee bend is less acute.
See the below images for a side-by-side comparison. Of course, they're all different riders but you can see the difference — at least the contrast with the XDiavel is obvious.
OK, on to the engine. The Ducati Diavel and XDiavel have played tag with which bike gets the better motor.
Ducati first released the Diavel in 2011 with the 1198 motor, then released the XDiavel in 2016 with the 1262 cc Testastretta DVT motor, which Diavel got in 2019. So, for a few years, the XDiavel had the edge. (There's no 1198 XDiavel, and no V4 XDiavel yet.)
While the 1198 and 1262 DVT motors make very similar peak power and torque, the DVT motor peaks much earlier, at 5000 rpm rather than 8000 rpm. Of course, those numbers don't tell the whole story and you have to look at the whole curve. See the below, compiled from a few data sources (different dyno runs); do not take it as gospel, but indicative of the difference between the motors.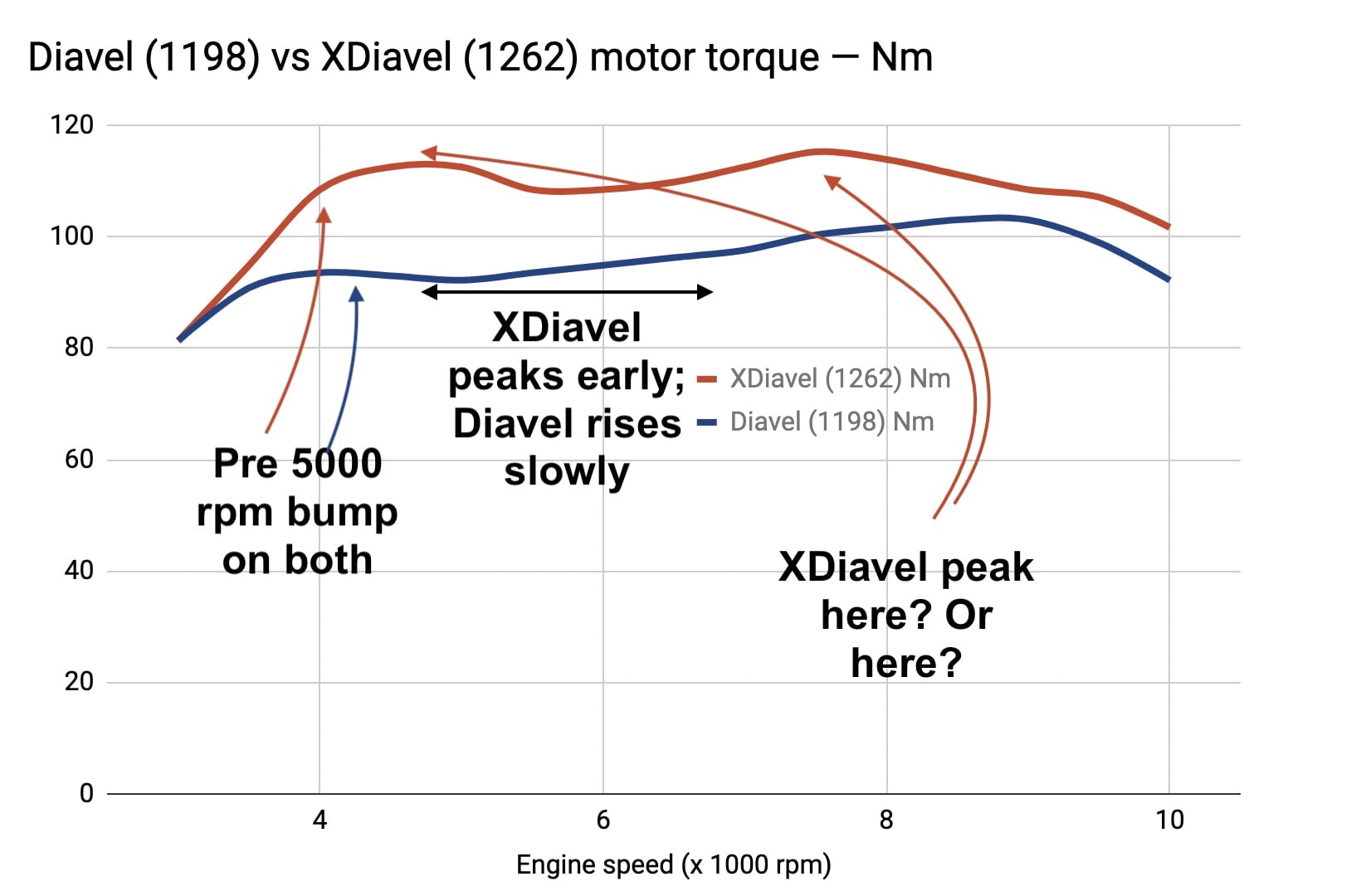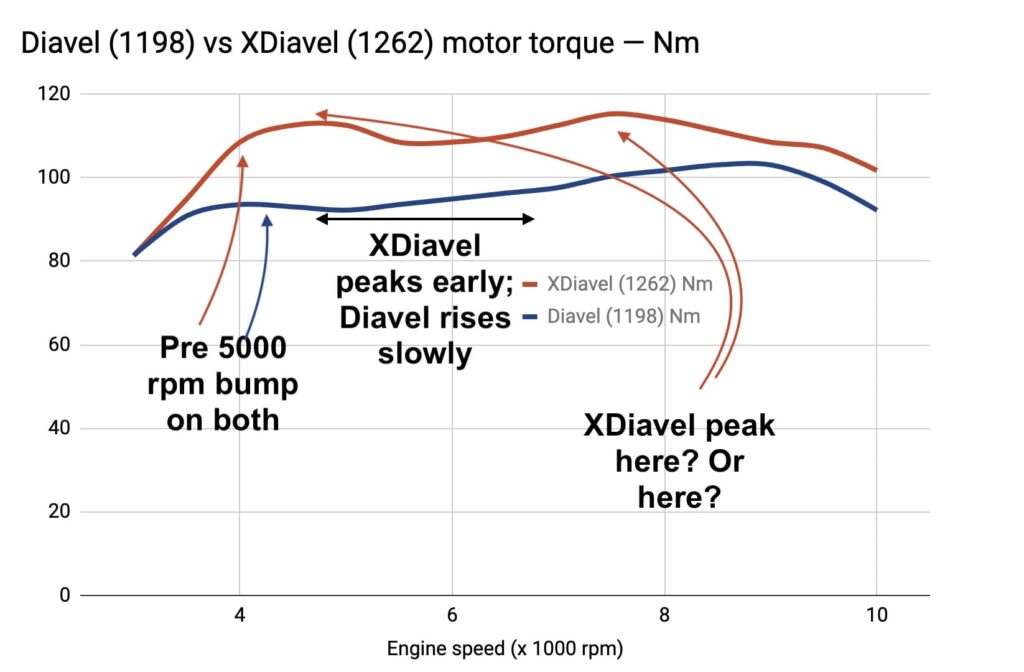 A few easy-to-make observations (as I've scribbled on there):
Neither bike is exactly low on torque.
Both bikes have slight dips in at the 5000-rpm point.
The XDiavel peaks early in torque and stays relatively flat (with a little dip), whereas the Diavel 1198 rises slowly (albeit it's still very flat!)
Where the XDiavel "peaks" in torque is insignificant. Some dyno runs show it around 5000 rpm, some around 8000 rpm. It doesn't matter because the numbers are very similar at either point.
So as great as the 1198 motor is, the 1262 DVT motor is even better. Whether you want to spend the money on a much more recent XDiavel or Diavel 1262 is up to you!
In terms of features overall — Neither the Diavel nor XDiavel can consistently claim to be the "high-spec" machine of the pair, by the way. They took turns this way.
The 2011 Diavel was the first bike on the market, so it had the edge by default for a while.
Ducati launched the 2016 XDiavel with a higher-spec and higher-capacity DVT engine, including an XDiavel S… which just had higher-spec brakes but the same suspension.
Ducati gave the 2019 Diavel the DVT engine, and also launched the Diavel S which has higher-spec Öhlins suspension, too. So the Diavel came back to the forefront.
Ducati launched the 2023 Diavel V4 with a higher-spec V4 Granturismo engine again, though no V4 S yet.
So what's next? Either the Diavel V4 S or the XDiavel V4, unless Ducati has decided to stop making an XDiavel (I doubt it). I'm not sure, but I can bet there are a lot of people who can't wait to find out.
The Diavel and XDiavel, with their high-performance specs and comfortable positions, are still very unique on the market. Yes, there are other cruisers out there with a similar riding position to that of the Diavel or XDiavel. Like the Harley-Davidson Low Rider S for a standard ride, or the Fat Bob (or more recently the Sportster S) for an XDiavel-like ride. But while each of those bikes has its merits, nothing has the power-to-weight ratio of the Ducatis.
History of the Ducati Diavel / XDiavel — How did we get here?
Because the Ducati Diavel has quite a unique overall concept, it's interesting to think back to the context for Ducati releasing the Diavel in 2011. What was going on? What were people thinking, eating, listening to, and riding?
Like nearly every motorcycle, the first 2011 Diavel pulled its inspiration and parts list from a few different places.
Let's start with the engine. It's an 1198cc Testastretta engine which originally came from the Ducati 1198 Superbike, then detuned for the Multistrada, then implanted into the Diavel.
The engine is the one 1198 cc Testastretta engine with a bore and stroke of 106 and 67.9 mm respectively. This engine is pre-Panigale. The engine in the 1199 Panigale was the first Superquadro engine with similar 1198 cc displacement, but a more aggressive oversquare design with bore and stroke of 112 and 60.8 mm — a different engine. (See below in the model guide for how the Diavel's engine compares to the same engine in the 1198 and other motorcycles.)
Ducati had already shoehorned the 1198's engine into the Multistrada, creating the first liquid-cooled Multistrada, completely outclassing the air/oil-cooled 1100 that came before it. That Multi 1200 was very well-received, by the way. Fans loved it, and it totally changed the direction for the Multistrada.
Ducati saw the Multistrada 1200's engine and thought "Let's have some fun with this," and decided to do so in a unique way by slotting it into a power cruiser.
What's interesting to me is that Ducati could have just put the 1200 motor in the Monster 1200 right away, like they did eventually. They probably knew that was going to happen, as they had done it with the past Multistrada motors. I suppose Ducati thought they still had life in the Monster 1100 framework, and maybe they were capitulating to Monster purists who insisted that the bikes be air/oil-cooled (the S4 line had arguably given way to Streetfighters). I don't know; just speculating based on what people say.
See the Ducati Monster 1200 buyer's guide, with a guide to the generational changes, and the S and R spec.
But no, Ducati decided to go an all new route and put the Multi 1200's motor into a rough-and-tumble power cruiser, or whatever you want to call the Diavel. The first 2011 Diavel has a beefy frame but still decently light weight, a fat 240-profile rear tyre, a bunch of ride aids, actually decent cornering clearance (as much as you'd need on this class of bike), and of course that kick-ass engine.
There wasn't anything quite like the Diavel at the time. And I'd say these days there definitely isn't. You could arguably say that the Ducati Diavel (or later XDiavel) is comparable to the Yamaha VMAX 1700, the Harley-Davidson V-Rod, or the Suzuki Boulevard M109R. But the Diavel has higher peak power, better suspension and braking, and lower weight than any of those — though those have their own merits, like lower-down torque on all of them, Suzuki's awesome looks and low-maintenance shaft drive, Yamaha's awesome V4 engine coupled with Yamaha reliability, or Harley-Davidson brand and value retention (the V-Rod models are just getting more and more expensive!).
Ducati stole the show with the original Diavel… well, literally nearly. They won second place with the popular vote of most beautiful bike in show in 2010 at EICMA (see our complete list of winners).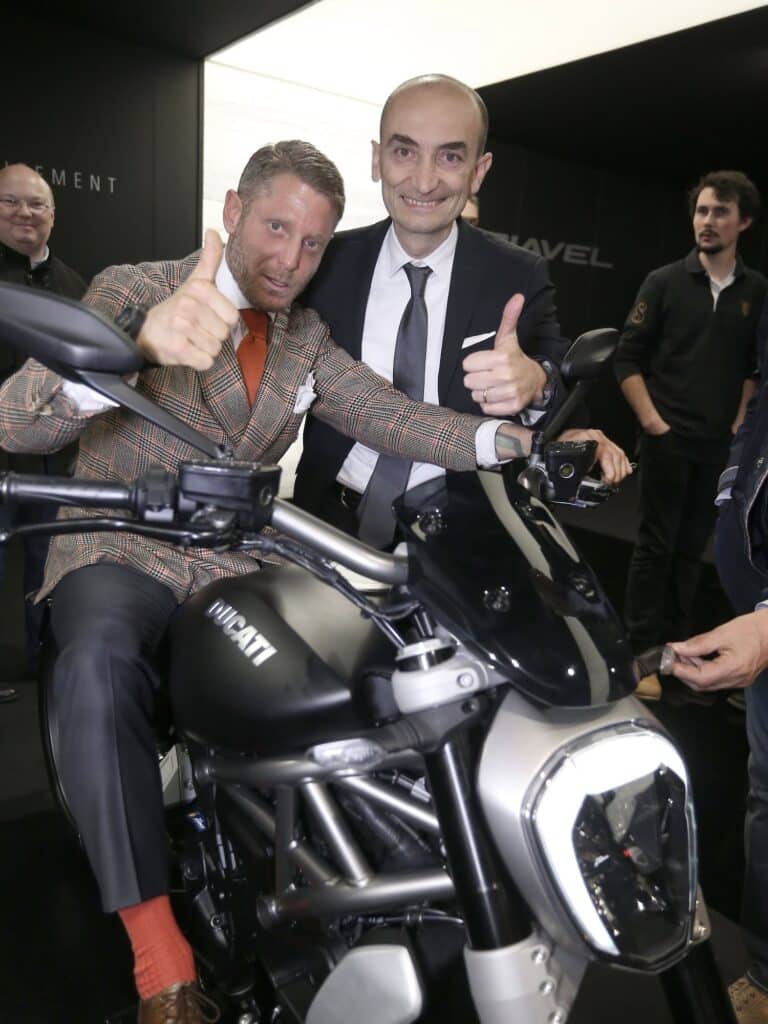 That changed in 2015, when Ducati released the 2016 model year XDiavel — a conceptually similar bike to the Diavel, but with a more raked out design, and the higher-spec 1262 cc DVT engine. It took home first prize in the EICMA popular vote.
Anyway, Harley-Davidson no longer makes the V-Rod, Yamaha discontinued the VMAX, and Suzuki hasn't updated the M109R ever, essentially (it doesn't even have ABS). Meanwhile, Ducati's still going strong with the Diavel brand.
OK, one more word on historical context. The Diavel technically isn't Ducati's original cruiser.
People older than I am might remember the Ducati Indiana, which was Ducati's first cruiser, released in the 80s. It was based on the engine from the Ducati Pantah 750, but shoehorned into a steel backbone frame with a generously raked-out fork, 18-inch wheels, pull-back bars, and a luscious seat.
You could say that the Indiana was the inspiration for the Diavel, but I'd more call it a cautionary tale. It's a fine bike but it just didn't really sell, not hitting the right note for either cruiser fans nor Ducati fans.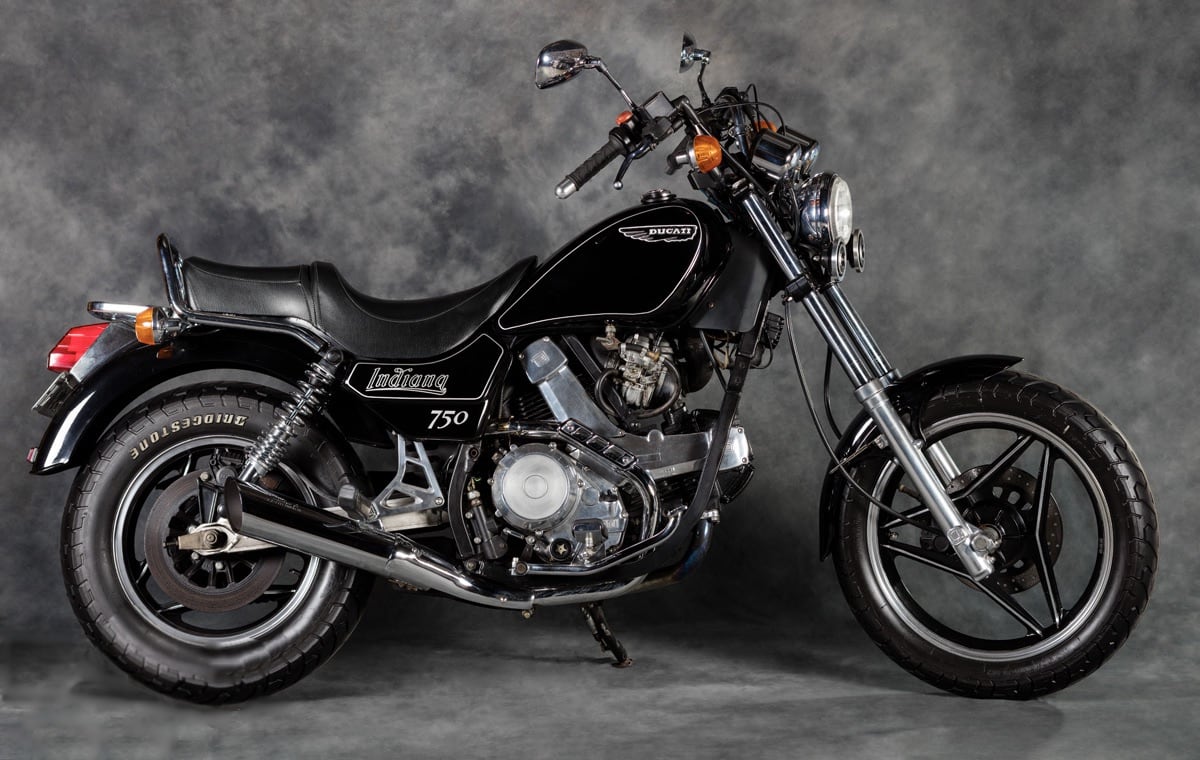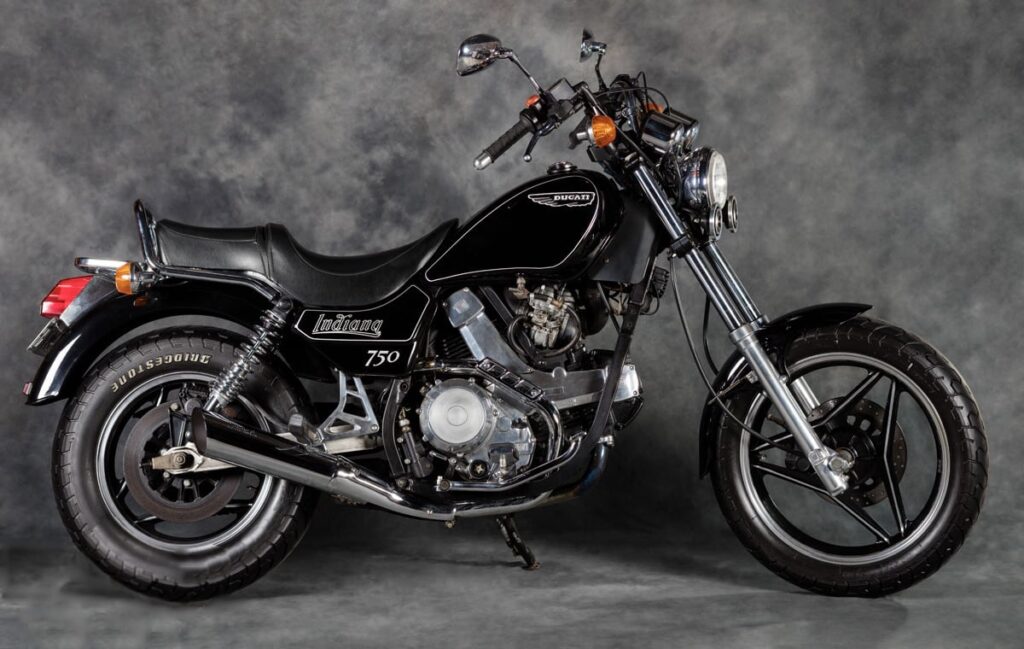 Oh, and lastly, the name "Diavel" means "devil". It's from the Bolognese dialect of Italian. I'm a bit of a language nerd, so this is interesting to me. Did you know that Italy has a bunch of different though closely-related languages? I first learned this when I visited Napoli and didn't understand some people speaking among themselves (and it wasn't just the accent).
Anyway, in standard Italian, you might have heard the word "diavolo", which is the same word, meaning "devil". You would at least have heard of pizza or pasta alla diavola, which means pizza or pasta served on a Testastretta-powered muscle sport bike.
Model History of the Ducati Diavel / XDiavel — In a Nutshell
Ducati has released the Diavel and XDiavel in distinct generations and major families of specs.
Ducati has a pretty powerful marketing team. They know what they're doing, and so don't just release "colour updates", but rather add on branded words like "Cromo", "Dark", "Black Star" and so on to their models. It all gets pretty confusing.
But the long and short of actual model changes is summarised below. I compiled the below from many press releases and manuals.

Model
Diavel 2011-2014
Diavel 2015-2018
XDiavel 2016+
XDiavel S 2016+
Diavel 1260 2019-2022
Diavel 1260 S 2019-2022
2023+ Diavel V4
Engine
1198 cc Testastretta 11°
1198 cc Testastretta 11° Twin Spark
1262 cc Testastretta DVT
1262 cc Testastretta DVT
1262 cc Testastretta DVT
1262 cc Testastretta DVT
1158 cc V4 Granturismo
Bore / Stroke (mm)
106 / 67.9
106 / 67.9
106 x 71.5
106 x 71.5
106 / 71.5
106 / 71.5
83 / 53.5
Compression ratio
11.5:1
12.5:1
13.0:1
13.0:1
13.0:1
13.0:1
14.0:1
Power
119 kW / 162 hp @ 9500 rpm
119 kW / 162 hp @ 9250 rpm
115 kW / 156 hp @ 9500 rpm
115 kW / 156 hp @ 9500 rpm
117 kW / 159 hp @ 9500 rpm
117 kW / 159 hp @ 9500 rpm
124 kW / 168 hp @ 10750 rpm
Torque
128 Nm / 94 lb-ft @ 8000 rpm
131 Nm / 96 lb-ft @ 8000 rpm
129 Nm / 95 lb-ft @ 5000 rpm
129 Nm / 95 lb-ft @ 5000 rpm
129 Nm / 95 lb-ft @ 7500 rpm
129 Nm / 95 lb-ft @ 7500 rpm
126 Nm / 93 lb-ft @ 7500 rpm
Final drive
Chain
Chain
Belt
Belt
Chain
Chain
Chain
Front brakes
2 x 320 mm discs, Brembo M4-34 calipers
2 x 320 mm discs, Brembo M4-34 calipers
2 x 320 mm discs, Brembo M4-32 calipers
2 x 320 mm discs, Brembo M50 calipers
2 x 320 mm discs, Brembo M4.32 calipers
2 x 320 mm discs, Brembo M50 calipers
2 x 330 mm discs, Brembo Stylema calipers
Front suspension
Marzocchi 50mm USD
Marzocchi 50mm USD, DLC-coated
Marzocchi 50mm USD
Marzocchi 50mm USD
Marzocchi 50mm USD, DLC-coated
Öhlins 48mm USD, TiN
Marzocchi 50mm USD
Rear suspension
Sachs monoshock
Sachs monoshock
Sachs monoshock
Sachs monoshock
Sachs monoshock
Öhlins monoshock
Sachs monoshock
Ride aids
Slip/assist clutch, DTC, ABS, ride modes
Slip/assist clutch, DTC, ABS, ride modes
Slip/assist clutch, Cornering ABS/DTC, ride modes, cruise control
Slip/assist clutch, Cornering ABS/DTC, ride modes, cruise control
Slip/assist clutch, Cornering ABS/DTC, ride modes, cruise control
Slip/assist clutch, Cornering ABS/DTC, ride modes, quick shifter, cruise control
Slip/assist clutch, Cornering ABS/DTC, ride modes, quick shifter, cruise control
Display
Tank mounted TFT, handlebar mounted LCD
Tank mounted TFT, handlebar mounted LCD
3.5-inch TFT
3.5-inch TFT
3.5-inch TFT
3.5-inch TFT
5-inch TFT
Wet/Kerb/Curb weight (90% full tank)
239 kg / 527 lb
* Carbon 5 kg / 11 lb lighter
239 kg / 527 lb
* Carbon/Titanium 5 kg / 11 lb lighter
247 kg / 545 lb
247 kg / 545 lb
244 kg / 538 lb
244 kg / 538 lb
236 kg / 520 lb
Minor service intervals (mi / km)
7500 / 12000
9000 / 15000
9000 / 15000
9000 / 15000
9000 / 15000
9000 / 15000
9000 / 15000
Major Desmo service intervals ('000 mi / km)
15000 / 24000
18000 / 30000
18000 / 30000
18000 / 30000
18000 / 30000
18000 / 30000
37280 / 60000
Ducati Diavel / XDiavel — Specs per generation
OK, that's it in a nutshell. Let's go through it in more detail.
Ducati Diavel Gen 1 — The Original Beast
This is the bike that started it all! Ducati announced the first Diavel in late 2010, which is why you see it as a 2010 bike in some publications.
Ducati gave the original Ducati Diavel the same 1198 cc Testastretta 11-degree engine that they gave the Multistrada 1200 the previous year.
As I mentioned above, this engine is different from the 1199 Panigale motor. They're actually both 1198 cc engines — but the 1199 Panigale has a different bore and stroke, and many other different features to make it a higher-revving, higher-power engine.
Ducati took the 2010 Ducati Multistrada 1200's engine and gave it a different tune for the 2011 Ducati Diavel. A few years later, they gave it a different tune again for the Monster 1200 and even the Monster 1200 S (and R, etc.)
Spec
1198 Superbike
Multistrada 1200
Diavel
Monster 1200
First model year
2009
2010
2011
2014 (later)
Peak power
125 kW / 170 hp at 9750 rpm
110.3 kW / 150 hp at 9250 rpm
119 kW / 162 hp at 9500 rpm
101 kW / 135 hp at 8750 rpm
(S-spec was higher)
Peak torque
131.4 Nm / 97 lb-ft at 8000 rpm
118.7 Nm / 86 lb-ft at 7500 rpm
128 / 94 lb-ft Nm at 8000 rpm
118 Nm / 87 lb-ft at 7250 rpm
(S spec was higher)
Compression ratio
12.7:1
11.5:1
11.5:1
12.5:1
Top engine speed
10700 rpm
10700 rpm
10800 rpm
10200 rpm
Specs of the 1198cc Testastretta engine in the Superbike, Multistrada, Diavel, and Monster 1200 (base model)
So, the original Diavel's engine is tuned somewhere between the 1198 Superbike and the Multistrada 1200 — leaning towards the sporty side. But much more aggressive than the tuning in the later Monster 1200 (and even the Monster 1200 S), interestingly.
The original Diavel came with some rider aids, like ABS, DTC, and ride modes via its ride by wire system.
Interestingly, the original Diavel came with a split display — LCD on the handlebars and a TFT on the tank. Well, this is interesting only if you don't do cruisers. Cruisers often have something on the tank and maybe something on the handlebars, too. Don't know why, as nobody wants to look down at a tank when they're riding.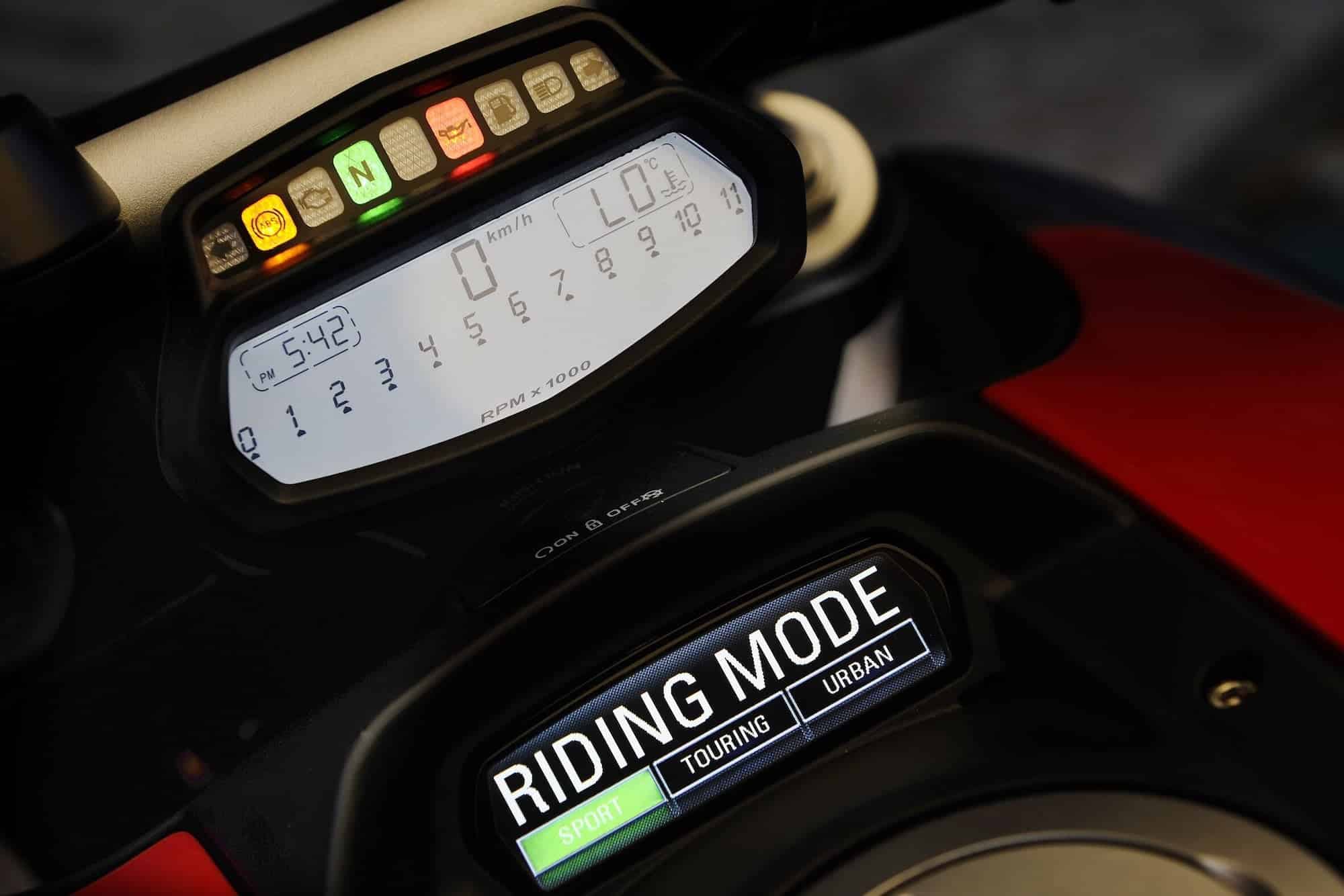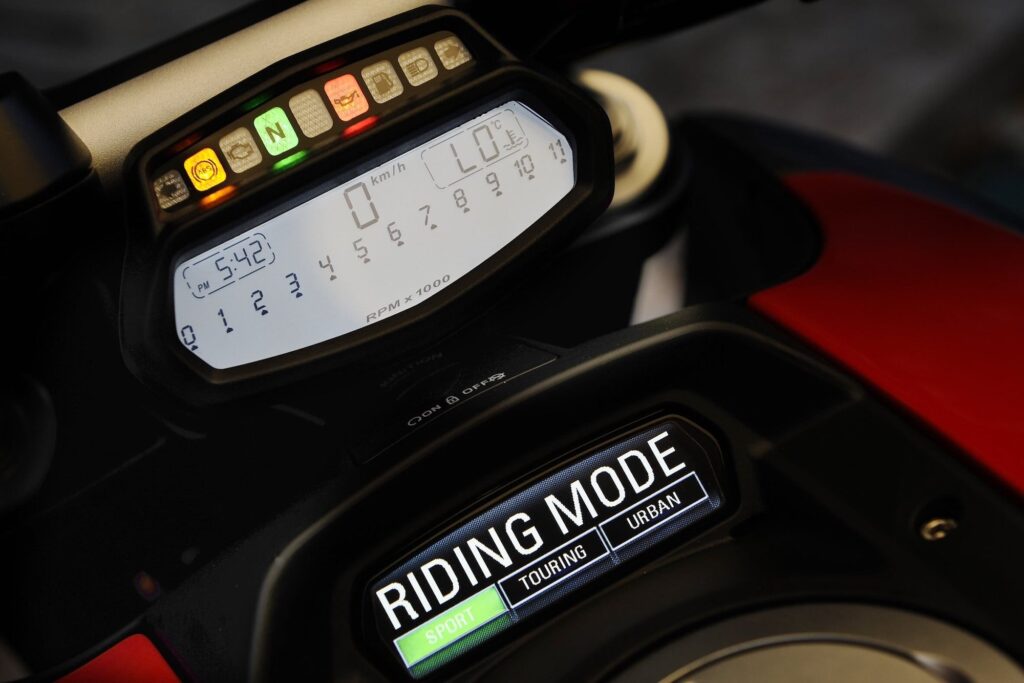 Gen 1 Diavel Model variants — Cromo, Strada, Carbon, AMG, Dark
Ducati released the first 2011-2014 Diavel in a couple of variations. — base mode, and Carbon. But they tacked on more variants later.
The variants are all very similar in spec. Technically, they differ only in a) some get a DLC-coated fork inner, and b) some get a lightweight Marchesini wheel set.
But by and large, the variants of the original Ducati Diavel are the same bike. Same engine, same brakes, and nearly the same suspension.
Variant
Base model / Cromo / Strada
Carbon, AMG
Dark
Years
Cromo: 2012
Strada: 2013-14
Carbon: 2011-14
AMG: 2012
2013-14
Front suspension
Marzocchi 50mm USD
Marzocchi 50mm USD, DLC-coated
Marzocchi 50mm USD, DLC-coated
Wheels
14 spoke light alloy
Marchesini forged 9-spoke, AMG design
14 spoke light alloy
Variants of the original 2011-2014 Ducati Diavel
None of them is particularly "collectible" in any absolute sense, though they may be limited in how many are available.
Flick through the below images. They all look very similarly awesome, so don't get lost! Focus on the wheels and colours and you'll notice differences.
Ducati Diavel 2nd Gen: Refined (And Euro 3) — 2015-2018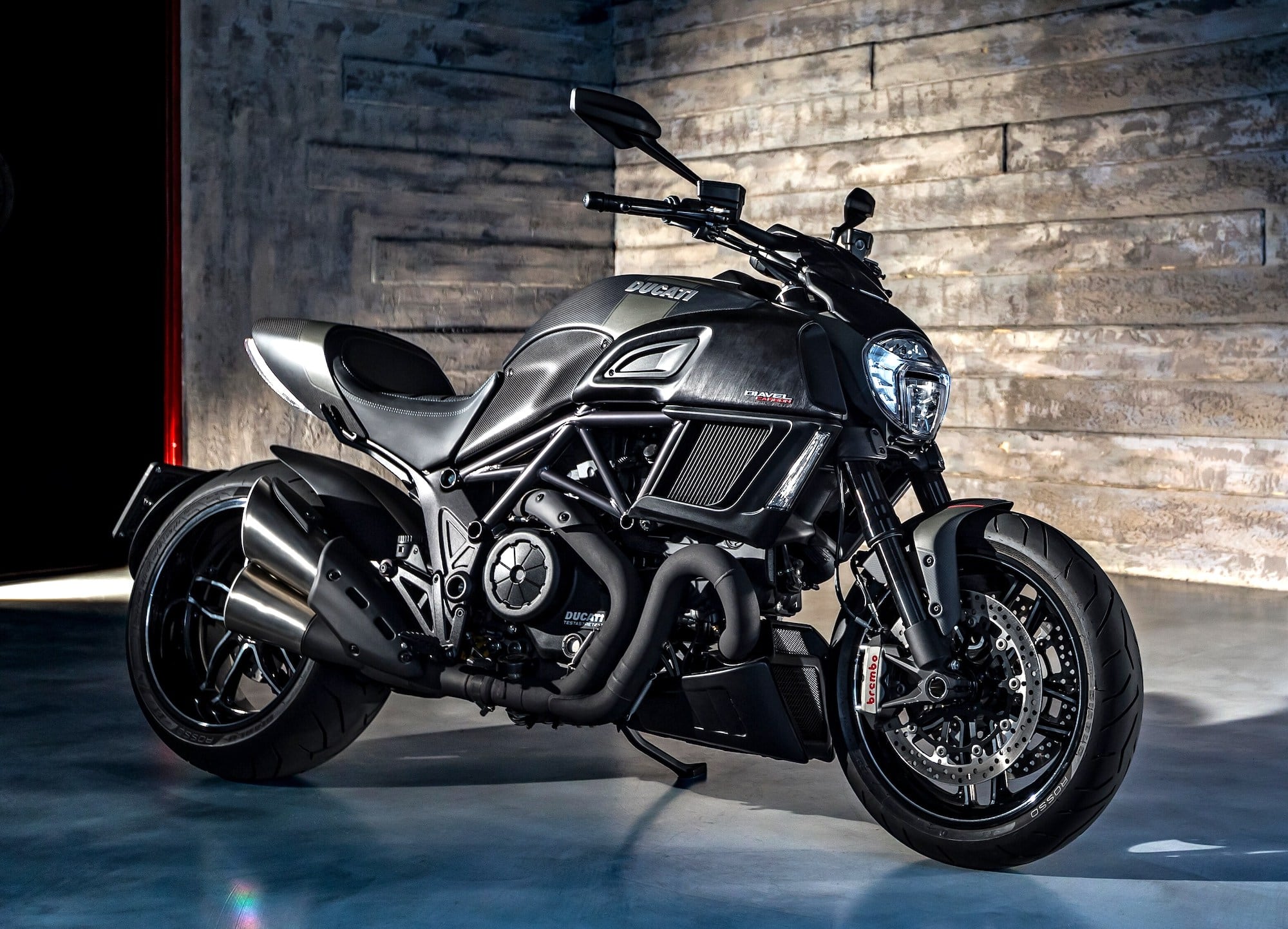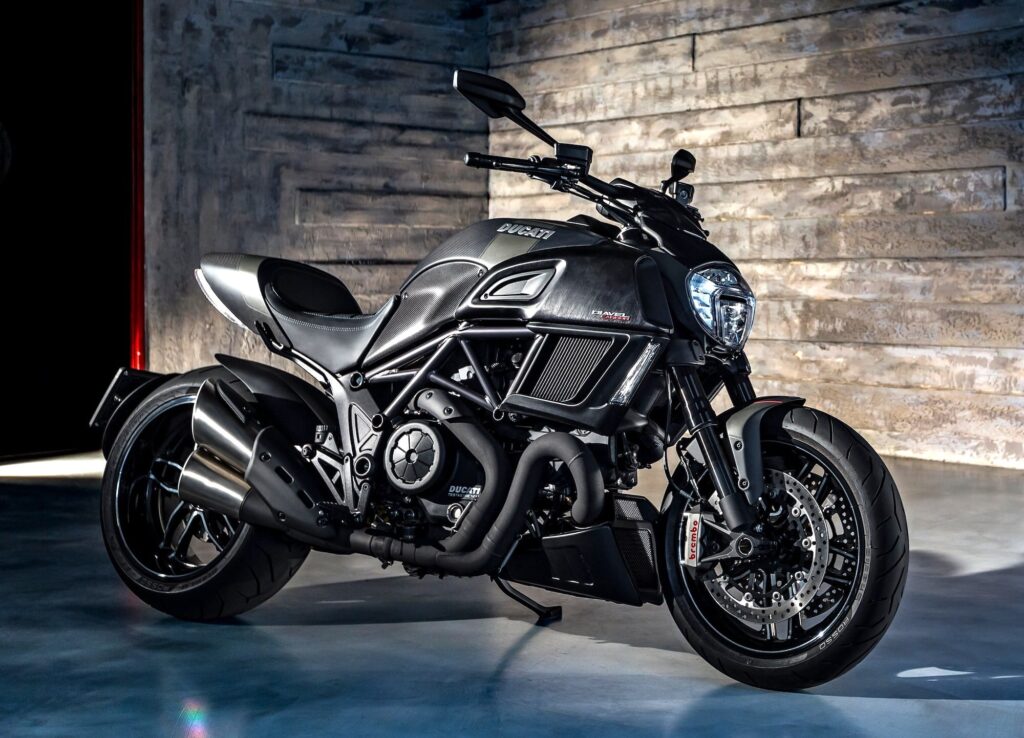 Ducati released an update to the Ducati Diavel for the 2015 model year. It's actually barely changed, just an update to comply with emissions regs, and a paring back of the model variants. And a nod that it would stay in production while Ducati released the XDiavel.
Conceptually, the 2nd gen Ducati Diavel is the same as the 1st gen. It's based on the same 1198 cc Testastretta 11-degree engine, tuned for ever so slightly more power and torque.
Nothing is massively new, other than the Euro 3 compliance, which brings with it a slight change in the way power is delivered.
But here's what changed for the 2015-2018 Ducati Diavel:
LED headlight
Higher bars, redesigned seat
DLC coating on fork tubes for all rather than just up-spec models
That's pretty much it. There's some more detail in the model variants, and more variants, too.
2015-2018 Ducati Diavel Model Variants
Like the original Diavel, Ducati released a few model variants for the 2015-2018 Diavel. But they also stopped some of them, like the AMG and the Strada.
I'm not sure why Ducati didn't keep all the variants of the Diavel. Maybe it's because they had the XDiavel to sell alongside the Diavel. So there were only three main variants: the base model, the Carbon, and the Titanium.
Variant details
Base model
Carbon
Titanium
Year introduced
2015
2015
2015. Limited to #500
Wheel
14 spoke light alloy
Marchesini forged and machined 9-spoke
Marchesini lightweight forged and machined 9-spoke
(Specs specifically mentioned "lightweight")
Carbon parts
Nil
Tank panels, seat cover, front mudguard
Seat cover, air intakes, radiator covers, front and rear mudguards, tank filler surround, mini windscreen, front sprocket cover
Titanium parts
Nada
Zip
Tank cover parts, rear seat cover (Carbon / Titanium), headlight cover
Model variants — Diavel 2015-2018
Essentially, they're all the same bike, but with increasingly lighter weight. You can tell them apart from their wheels. Ducati actually quoted the same weights for the Carbon and Titanium in specs, so I don't think the important part is really the weight, just the limited quantity of the Titanium (limited to 500).
Other than the fact that the Titanium was sold in limited quantities, each one stamped with their number, there's nothing shockingly unique about any model other than some aesthetic components.
2016 Ducati XDiavel / XDiavel S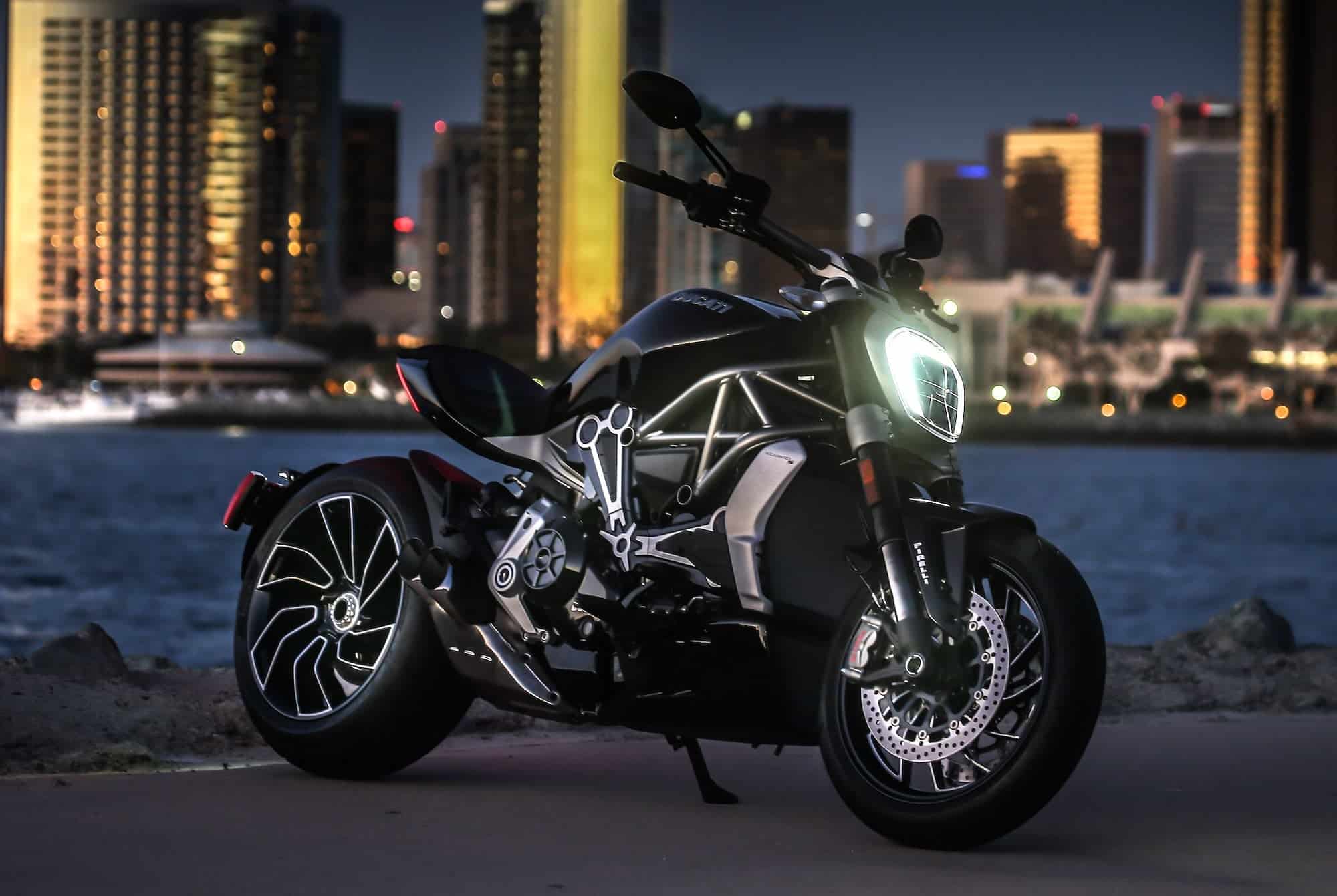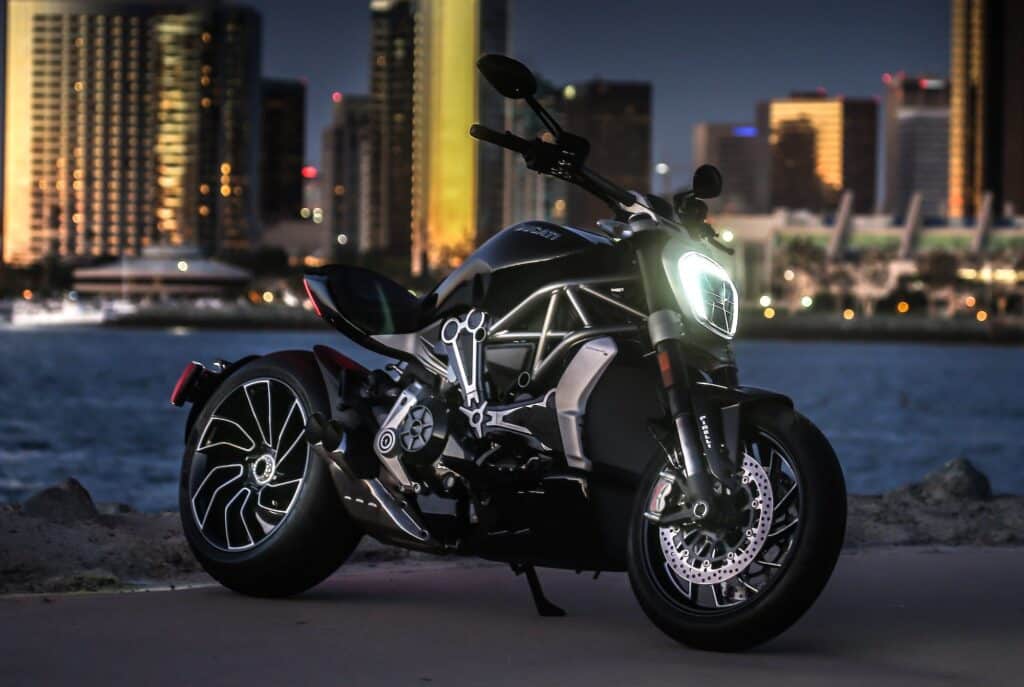 Ducati dropped a bombshell on the cruiser world with the XDiavel. This is not just a variation of the Diavel; it's a cruiser with a more traditional feet-kicked-forward riding position.
Of course, Ducati can't really easily win over a hard-core Harley-Davidson cruiser owner. There's a lot that makes Harley-Davidson very unique, like the dealer network, the breadth of the rider and workshop community, the customisability, the amount you can work a motor… I get it (I'd have maybe gone that way, if I didn't always think "Well either one of these bikes, or five of these others…").
But the rest of the XDiavel is very high-spec, different from every other cruiser on the market.
Ducati upgraded a lot on the XDiavel. Here's what's new with the XDiavel relative to the Diavel:
Feet-forward riding position
1262 cc DVT Testastretta motor, which makes a tad more power but which more importantly makes tons more low-down torque
A belt final drive (the Diavels all have chain drives)
Cruise control
Full Ducati safety pack, with an IMU (cornering ABS / TC)
Do you need more? This is an awesome bike. A friend of mine has one and a Multistrada. The Multistrada is his travelling bike, but his XDiavel is his bike for commuting, weekends, and generally "feeling awesome". That's it in a nutshell.
Other variants — S, Dark, Black Star, Nera
Ducati also released a few other spec packs of the XDiavel. There are a few different spec options, as well as different colour schemes.
Like other variants of the Diavel range, the XDiavel variants have more in common than they have that distinguishes them.
Below is a basic summary of the spec differences between them. There are other things, like aesthetics and a few bits of carbon fibre here and there, on the outside.
| Spec | Base model | Xdiavel S | Dark | Nera | Black Star |
| --- | --- | --- | --- | --- | --- |
| DLC coating on fork inners | No | Yes | No | Yes | Yes |
| Brembo caliper spec | M4-32 | M50 | M4-32 | M50 | M50 |
| Display | Base TFT | Bluetooth + infotainment system | Base TFT | Bluetooth + infotainment system | Bluetooth + infotainment system |
Spec differences between XDiavel variants
Mainly, if you're buying a used XDiavel, you'll probably gravitate towards the one that grabs you the most visually. I don't think anyone's going to choose them based on brake spec or DLC coatings, for example. Though you might enjoy the infotainment system on some XDiavels.
2019 Ducati Diavel 1260 / Diavel 1260 S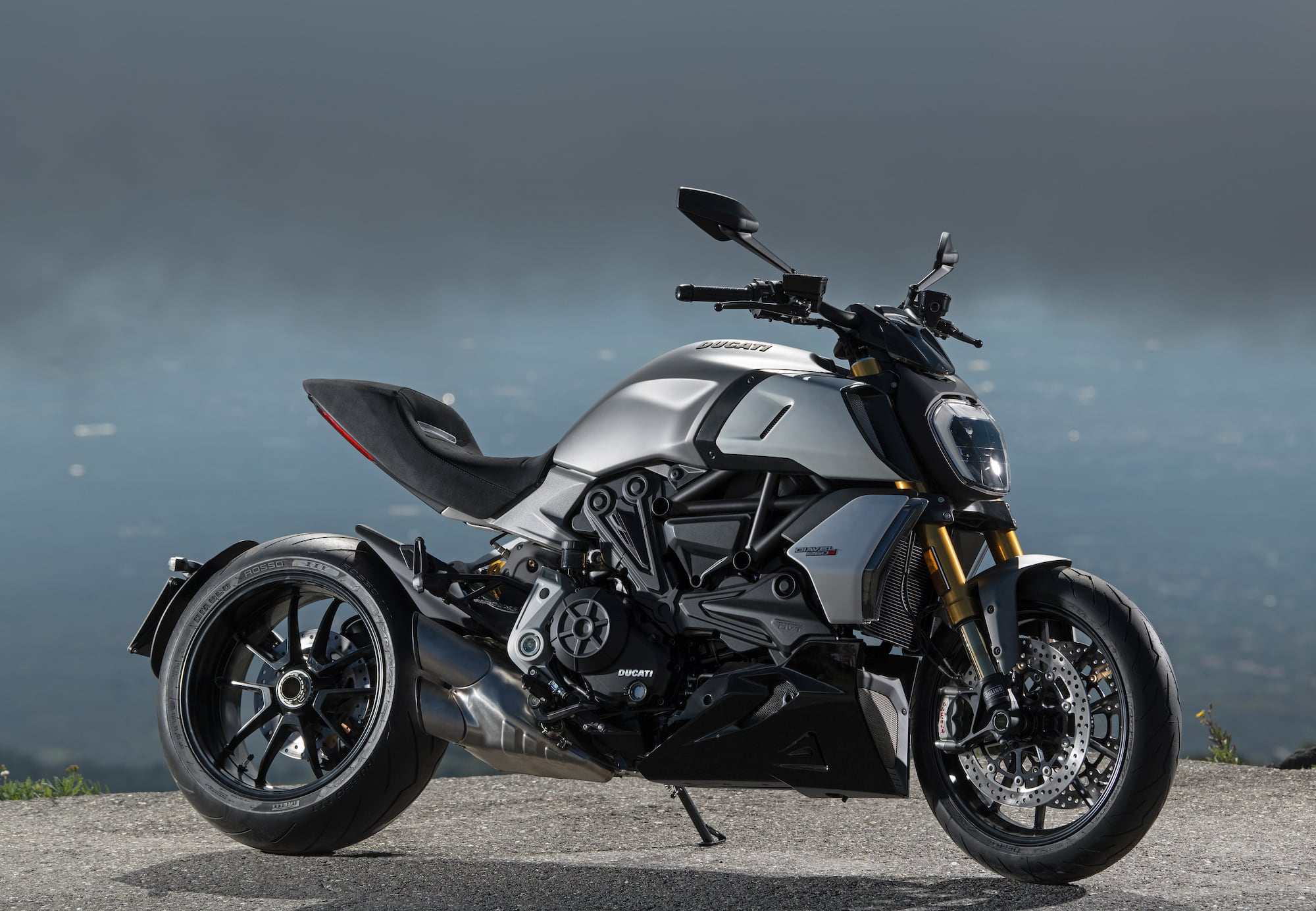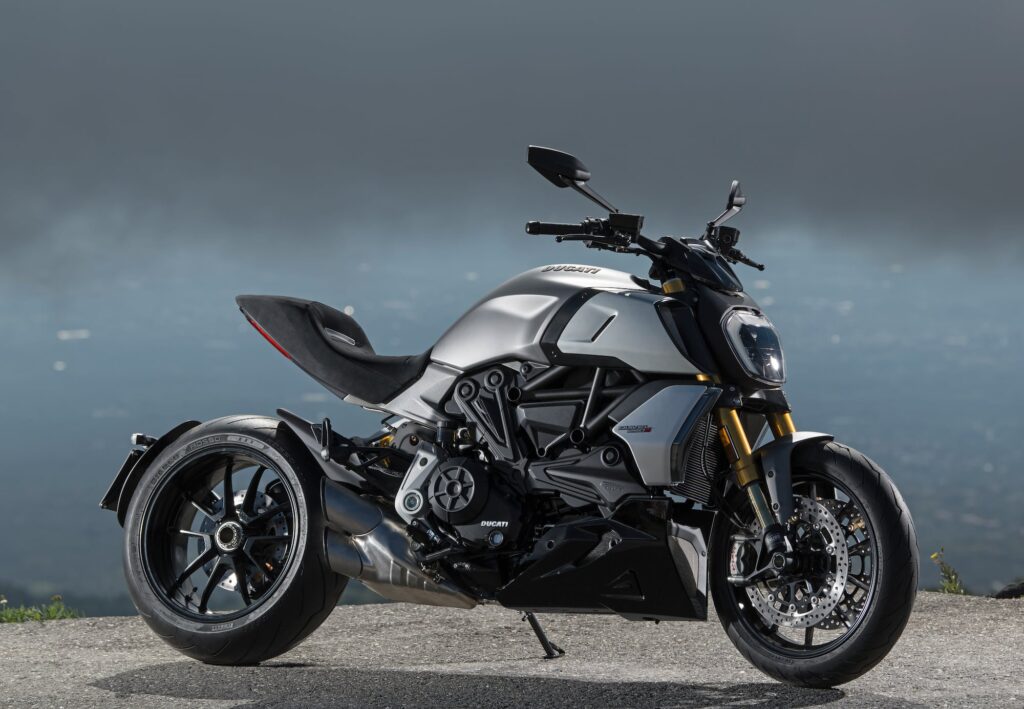 After a few years of teasing everyone with the awesome motor in the XDiavel, Ducati finally brought the 1260 DVT motor to the Ducati Diavel. They also upgraded the style a lot — it's a real treat to have the exhaust and cat converters not obscuring that gorgeous massive rear wheel on a single-sided swing-arm.
Standard on both the base Diavel 1260 and the Diavel 1260 S:
Front brakes: 320mm semi-floating discs, radial-mounted 4-piston calipers (caliper spec varies)
Suspension: Fully adjustable front and rear (spec varies)
Cruise control
Ducati Safety Pack (Cornering ABS / Traction control)
Hands-free
3.5-inch TFT display
Self-cancelling turn signals (indicators)
Other variants of the Diavel 1260 (S, Black and Steel, Lamborghini)
Ducati likes to release "S" models for its bikes (or SP, R, and so on). They usually have higher-spec brakes and suspension, and sometimes have a higher-power motor.
In years prior to the Diavel S, Ducati had done this with other premium bikes including the Multistrada, Monster, and Panigale, and had even done it with the XDiavel, but hadn't yet done it with the Diavel before the Diavel 1260. Why? Who knows!
| Spec | Base 1260 | 1260 S / Black and steel | 1260 S Lamborghini |
| --- | --- | --- | --- |
| Front suspension | 50mm Marzocchi USD | 48mm Öhlins, TiN treatment | 48mm Öhlins, TiN treatment |
| Rear suspension | Sachs monoshock | Öhlins monoshock | Öhlins monoshock |
| Front brakes | Brembo M4.32 | Brembo M50 | Brembo M50, painted red |
| Wheels | Light alloy, cast | Light alloy, cast and machined | Light alloy, forged and machined |
| Quick Shifter | Optional | Standard | Standard |
| Multimedia system | Optional | Standard | Standard |
Ducati Diavel 1260 variants
The 2021-model Diavel 1260 Lamborghini is a brand collaboration that also gets a unique colour scheme and lots of design details. It's a stunner! Let's have another look at it: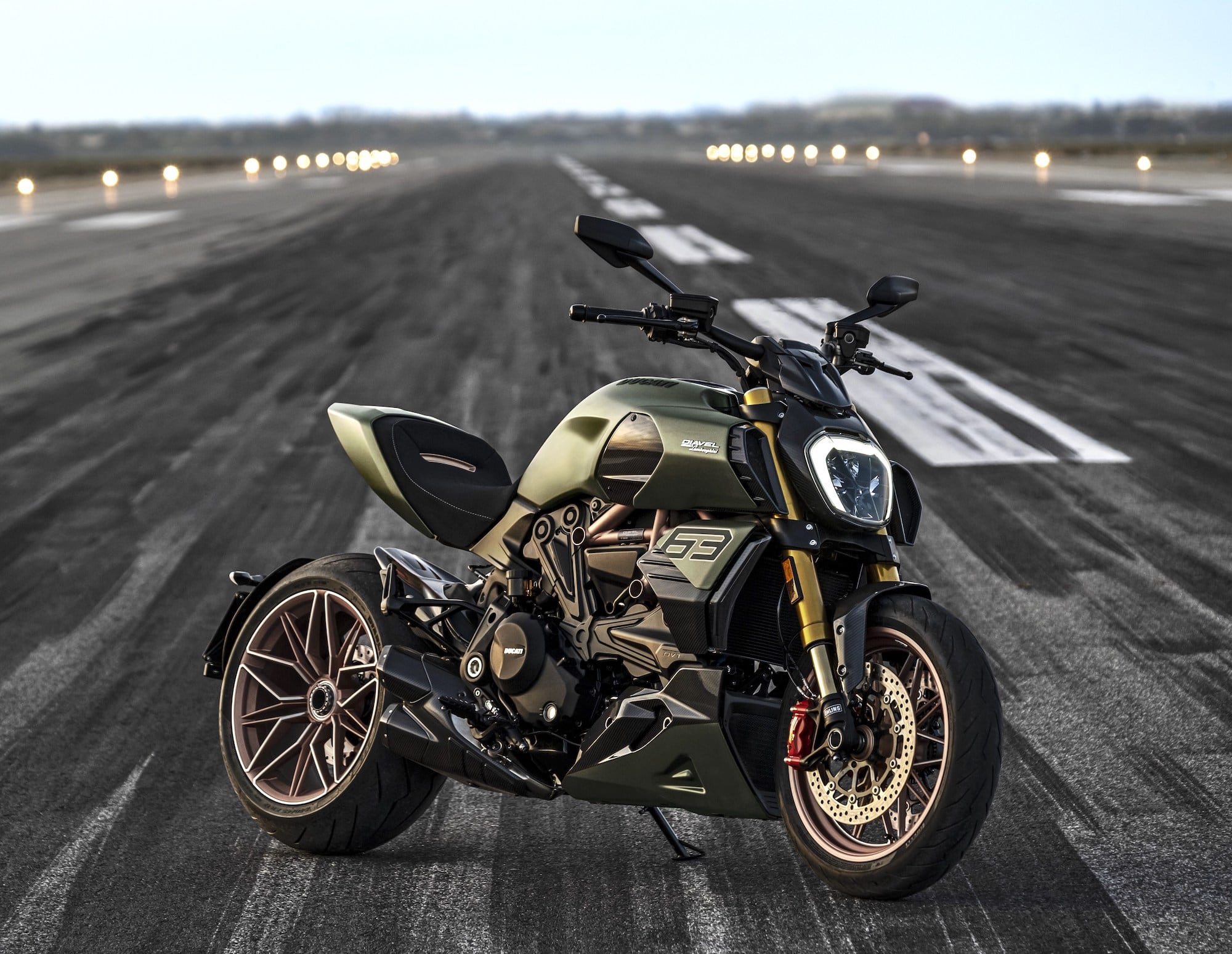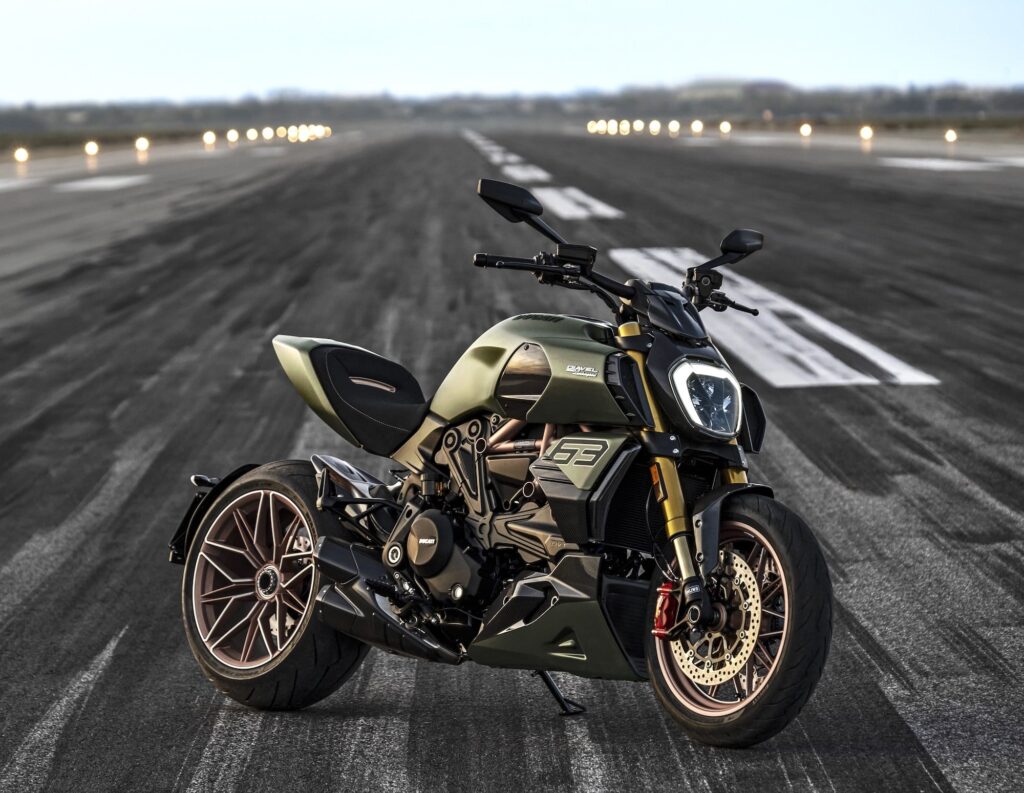 2023 Ducati Diavel V4 — The Beast, Returned!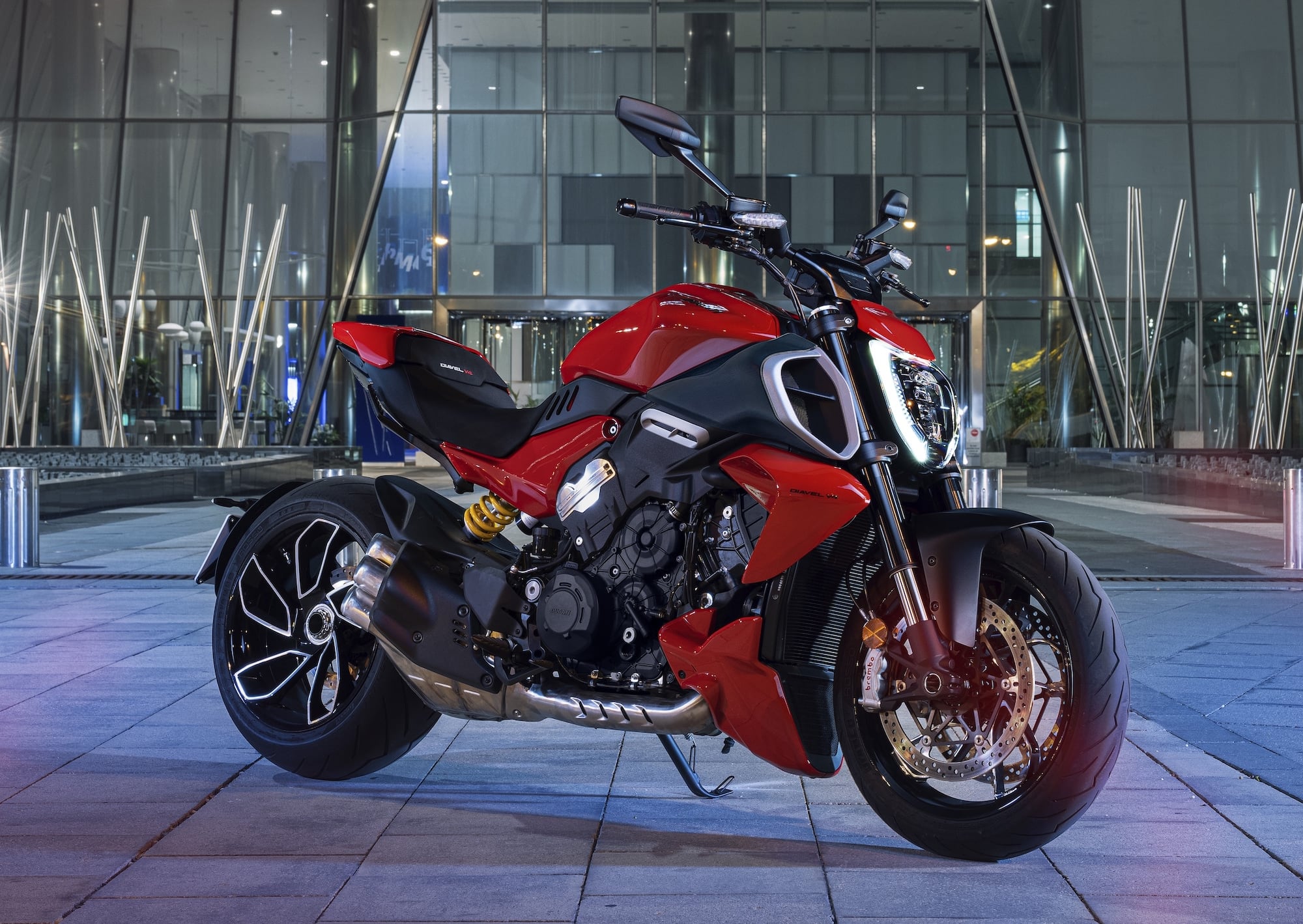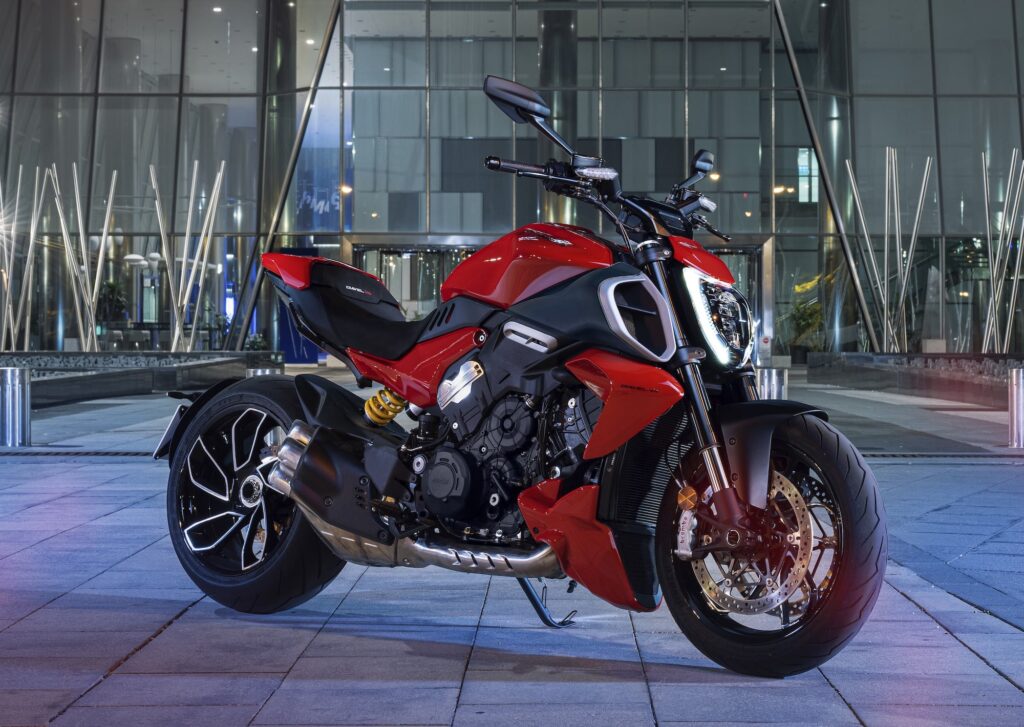 In late 2022, Ducati announced that they were bringing the V4 Granturismo engine to the Diavel V4. This makes the 2023 Ducati Diavel the fourth motorcycle to get the V4 engine that we first saw in the Ducati Panigale V4 for the 2018 model year.
OK, you might be thinking "this is just a warmed-over engine from the Panigale/Streetfighter, slightly bigger bore and detuned for torque". It's not, exactly. The Granturismo V4 engine derives from the Desmosedici Stradale motor, but is different from the Panigale motor in a few ways.
The GT motor doesn't have Desmodromic timing — it has regular spring-actioned valve closers.
The Granturismo motor has much longer service intervals —37280 miles or 60000 km, vs 15000 miles / 24000 km for the Superbike motor.
Spec
Desmosedici Stradale (Panigale V4 2022 spec)
V4 Granturismo (Diavel V4 2023 spec)
Motorcycles (so far)
Panigale V4 / S (not R), Streetfighter V4
Multistrada V4, Diavel V4
First year released
2018 (Panigale)
2021 (Multistrada)
Engine
Desmosedici Stradale V4 1103cc
V4 Granturismo 1158cc
Bore / Stroke (mm)
81 / 53.5
83 / 53.5
Peak power
158.5 kW / 215.5 hp at 13000 rpm
124 kW / 168 hp at 10750 rpm
Peak torque
123.6 Nm / 91.2 lb-ft at 9500 rpm
126 Nm / 93 lb-ft at 7500 rpm
Compression ratio
14.0:1
14.0:1
Gearing — Speed at 5000 rpm *
1. 1st gear
2. 2nd gear
6. 6th gear
1. 51 km/h
2. 65 km/h
6. 110 km/h
1. 41 km/h /
2. 56 km/h
6. 117 km/h
Service intervals
Minor: 7500 mi / 12000 km
Major: 15000 mi / 24000 km
Minor: 9000 mile / 15000 km
Major: 36000 mile / 60000 km
Specs compared
* Gearing takes into account primary drive, gearbox ratios, sprocket ratio, and tire size.
See here for a guide to Ducati motorcycle engines, from Desmodue onwards, including the V4 Granturismo.
There's a lot that's interesting about the Ducati Diavel V4. Let's start with the bit that holds it together — the chassis.
For the Diavel V4, Ducati moved on from the trellis frame almost synonymous with Ducatis of the last few decades. Ducati replaced the trellis frame with an aluminium monocoque frame. The evolution to a monocoque frame is a transition that Ducati began with the first Panigale superbike, the Ducati 1199 Panigale, a decade prior to the Diavel V4.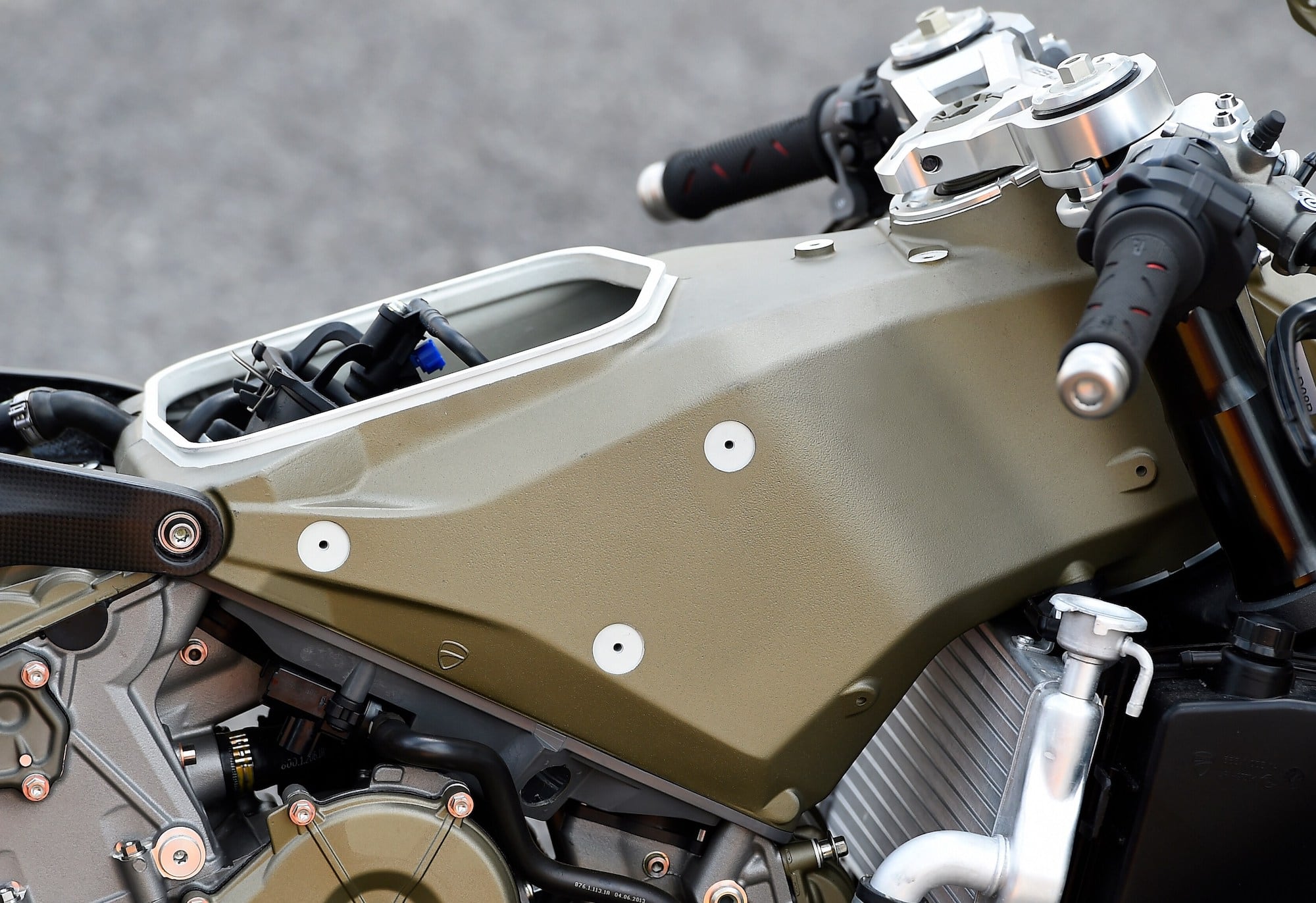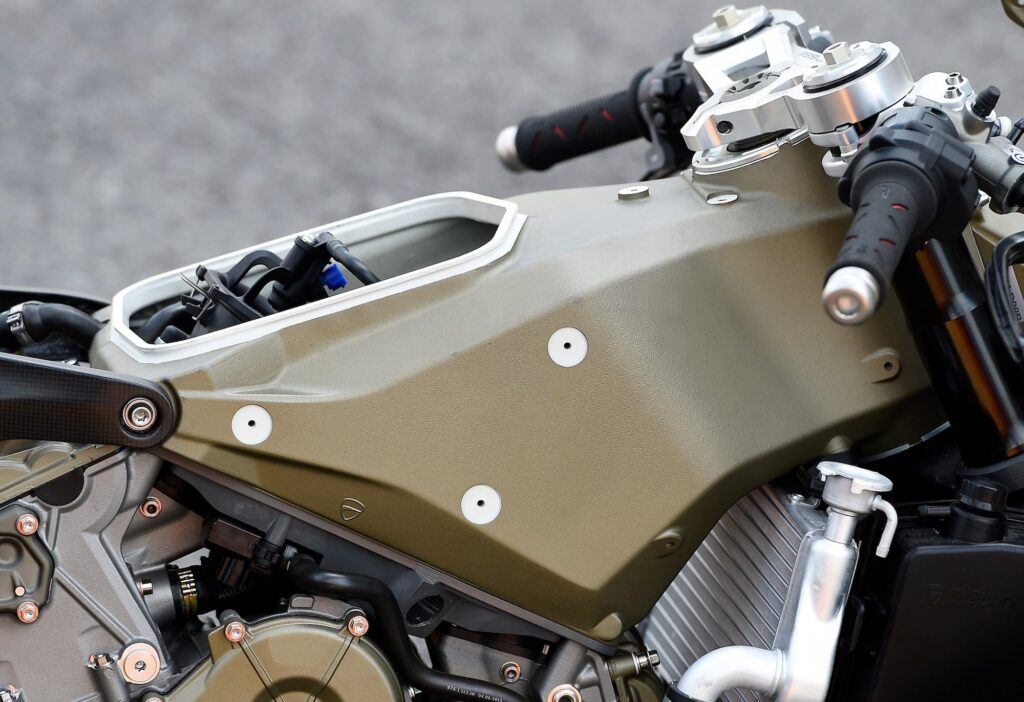 "Monocoque" means "single egg", which is a very un-sexy ("Egg"? C'mon) way of saying it's built out of a single unit. A monocoque chassis maximises the proportion of rigidity available with a given weight. It's more expensive to build, which is why you don't see many motorcycles with it.
Ducati has been migrating more and more motorcycles to the monocoque chassis, including the Ducati Multistrada V4 and the 2021 Ducati Monster. (Meanwhile, Ducati has migrated the latest generation of superbikes from the monocoque frame to what they call the "Front Frame".)
Onto the engine. The Ducati Diavel V4's engine is a stomper — many people describe the unit (also seen in the Ducati Multistrada V4) as one of the best engines of all time for a number of reasons, including feel, everyday usability, and low maintenance. There are a lot of great motors around, but the V4 Granturismo is definitely a great one.
To help keep emissions regulators at bay, it even has a system where it shuts off the rear bank of cylinders when stationary or under low load, e.g. low-speed navigating through traffic.
Just so you don't forget that the V4 engine is there, the Diavel V4 has a four-exit exhaust, which not everyone loves (I do, but I know others don't).
Ducati upped the ante with the braking system, improving the Brembo M50 calipers on the Diavel 1260 S to Stylema calipers on the V4. Doesn't leave much room to move for a possible V4 S — maybe Stylema R calipers?
The Ducati Diavel V4 gets a quick shifter standard — previously, this was exclusive to the "S" version.
Ducati also added their new "Wet" riding mode which has been creeping out to more and more models.
Maintaining the Ducati Diavel, XDiavel, and Diavel V4
Maintaining the Ducati Diavel / XDiavel is like maintaining any other liquid-cooled V-twin from Ducati.
The big service on any Ducati is the valve inspection. Actually, this is the big service on most motorcycles (other than dirt bikes where it's par for the course), because you have to crack the cylinder heads, which usually means removing the fairings and the tank, and sometimes dropping the oil, and then use very fine measuring instruments to make tiny adjustments that can massively affect how smoothly your engine runs.
Ducati engines that have Desmodromic valves are more complicated because there's an opener as well as a closer. So when one valve clearance is out of spec, it's likely that the other one is, too. On top of that, there are twice as many clearances to check!
Finally, most Ducatis have belt-driven cams, though this is a thing Ducati has been phasing out since the 1199 / 899 Panigale Superbikes.
To address Ducati's notoriously high maintenance requirements, Ducati made constant refinements to their engines over time to widen service intervals and reduce the amount of service required.
Here are the summarised differences in service requirements for each generation of Ducati motor:
| Engine | 1198 cc Testastretta | 1198 cc Testastretta Twin Spark | 1262 cc DVT | V4 Granturismo |
| --- | --- | --- | --- | --- |
| Bikes | Diavel 1st gen | Diavel 2nd gen | Diavel 3rd gen, XDiavel | Diavel V4 |
| Spark plugs / cylinder | 1 | 2 | 2 | 1 |
| Valve return actuation | Desmo | Desmo | Desmo | Springs |
| Cam drive | Belt | Belt | Belt | Chain |
| Minor service interval (mi / km) | 7500 / 12000 | 9000 / 15000 | 9000 / 15000 | 9000 / 15000 |
| Major service interval (mi / km) | 15000 / 24000 | 18000 / 30000 | 18000 / 30000 | 36000 / 60000 |
Maintenance requirements across Ducati Diavel / XDiavel models
On the first Ducati Diavel, oil changes were 7500 miles / 12000 km apart, with the major service 15000 miles / 24000 km apart.
Ducati extended this with the twin-spark motor to 9000 miles / 15000 km for oil changes, which is quite wide apart, and 18000 miles / 30000 km for the major service. They kept this for the 1262 cc DVT motor.
But then they upped the ante (in yet another way) with the V4 Granturismo engine.
One of the greatest things about the V4 Granturismo engine is how low-maintenance it is. Oil changes have the same interval, but the valve service interval for the engine is now a massive 37280 mi or 60000 km.
Just think that two decades ago, when the fast Ducati standard bikes were the ones based on Ducati superbikes, like the Ducati Monster S4, the Desmo service interval was every 10000 km / 6000 miles. That's a sixth of the current maintenance interval of Granturismo motors.
Yes, of course the maintenance now is more intense. There are two cylinder heads and twice the number of cylinders. But also, the Granturismo engine isn't a Desmo engine, so there are only 16 valves (and clearances) for the four cylinders. Not bad!
On top of that, there are no timing belts to change. Hooray!
Maintaining a big Ducati isn't cheap — with premium bikes comes premium mechanics and thus premium hourly rates — but I'd wager that if you put the same miles on an old Ducati as on a new one, and used the same mechanic, you'd spend less on the V4 than on the V2.
Alternatives to the Ducati Diavel / XDiavel
I have to say it's quite hard to write down realistic alternatives to the Diavel or XDiavel.
Most people reading this would say "pish posh" and that the other bikes don't hold a candle to the XDiavel. In terms of specs there's basically no comparison. But they're worth considering anyway because they're kind of / vaguely in the same mind space as tough and/or fast cruisers.
What these bikes all have in common is that.
They're premium, top-of-the-line high-performance cruisers for each brand.
They're not slow; but yes, the Diavel is faster.
Half them are also no longer in production. The M109R is still being made, but its days are numbered (it hasn't been updated in ages). The Triumph Rocket 3 is, however, very much still an option.
Here they are (in alphabetical order).
Harley-Davidson V-Rod / Night Rod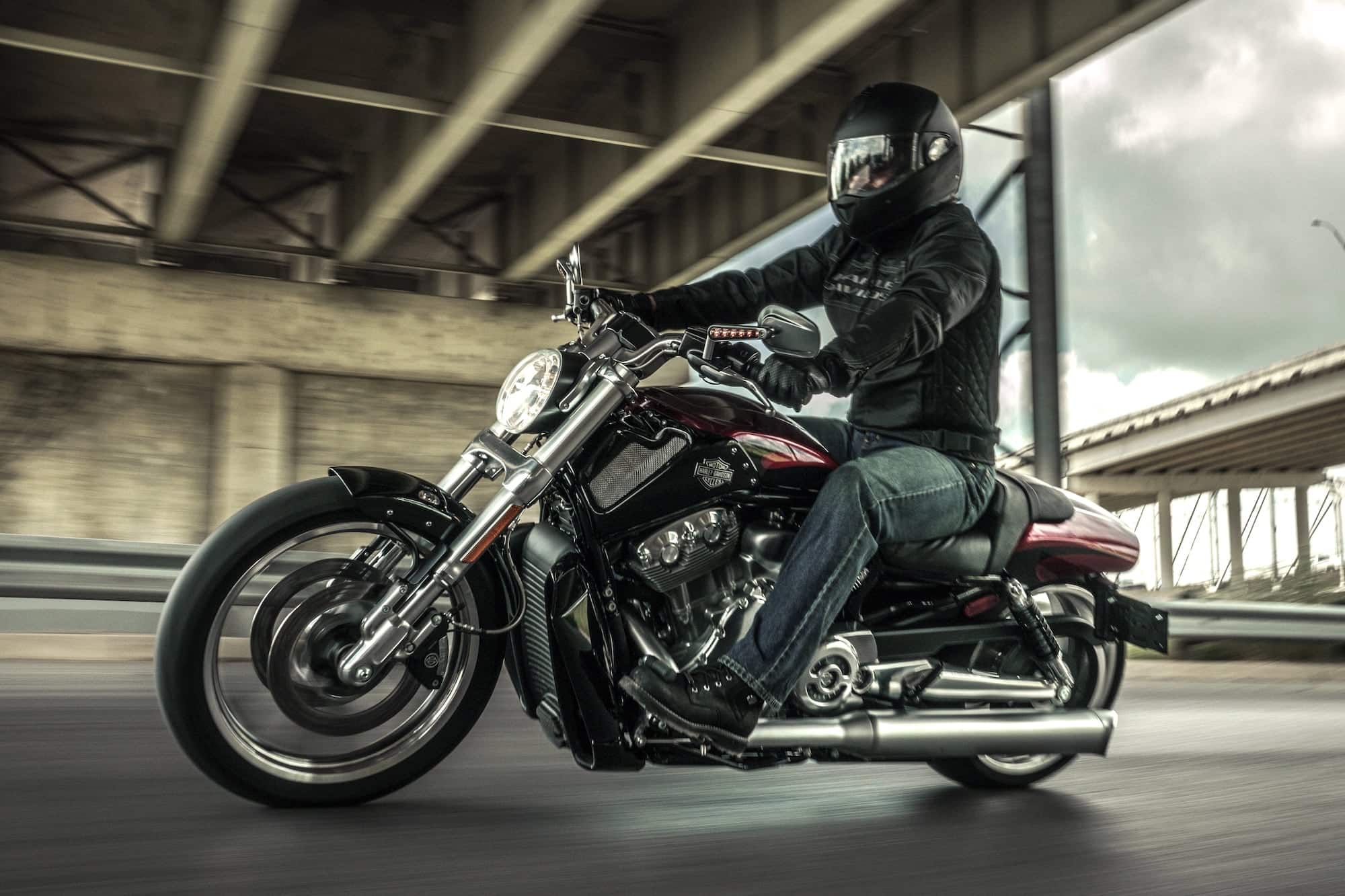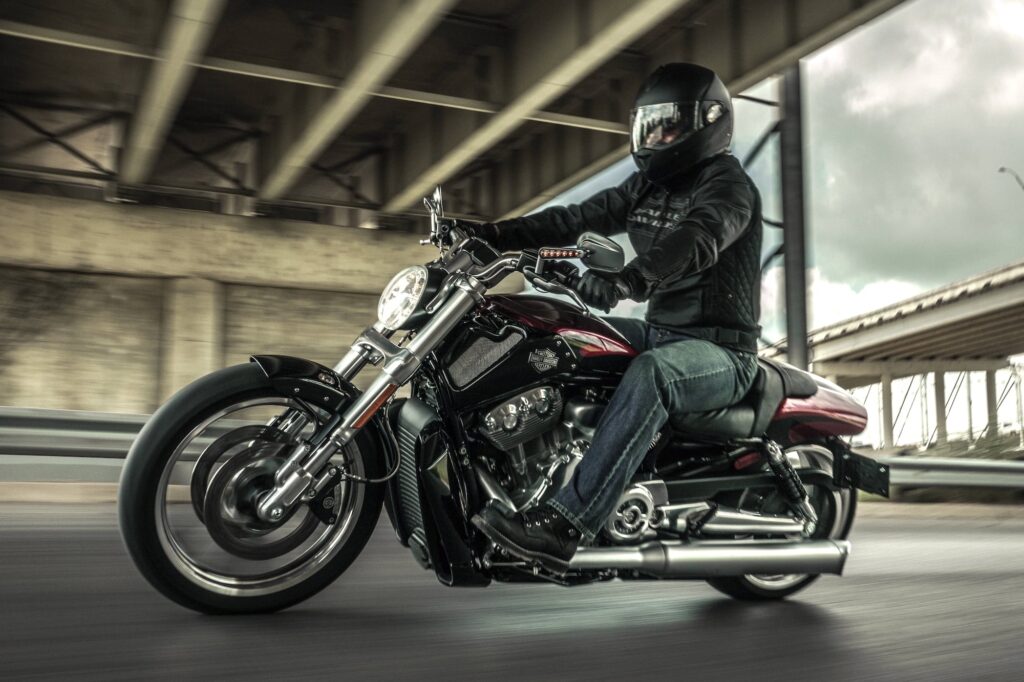 First up, the Harley-Davidson V-Rod, a bike which is polarising in the Harley-Davidson community for being so different, and which is polarising outside the H-D community for being a Harley-Davidson.
Still, many sport bike owners who'd "never own a Harley" (and may have never tried one) describe the V-Rod as being the Harley they'd own if they had to. I'd think many potential Diavel owners would have a look at the V-Rod at least.
In a nutshell, the V-Rod / Night Rod bikes are powered by the liquid-cooled "Revolution" V-twin, with a single overhead cam and four valves per cylinder. It's a rare bike in which Harley-Davidson doesn't just quote torque, but also power — the Night Rod for example makes a peak of 91 kW / 122 bhp at 8000 rpm, with peak torque of 113 Nm / 83 ft-lb at 6750 rpm. (Harley-Davidson does quote power on their more powerful bikes, like the ones with the Rev Max engines, e.g. the Harley-Davidson Sportster S.)
Of course, those figures are lower than that of the Diavel. And the V-Rod is much heavier too, weighing a whopping 305 kg / 673 lb in running order.
They have some high spec for cruisers, too, with inverted forks, twin brake discs with Brembo brakes, and a huge 240 mm rear tyre, same as on the Diavel and XDiavel.
The V-Rod and Night Rod in recent years always had forward controls. You have to go back to the 2000s to find mid controls (for just a few short model years too), making it comparable with the Diavel.
The appeal of the V-Rod is that it's a dead-cool bike, it's a Harley with all the things that come with it (brand recognition, dealers, easy to resell etc.), and prices for many of the more iconic V-Rod models are going up.
Suzuki Boulevard M109R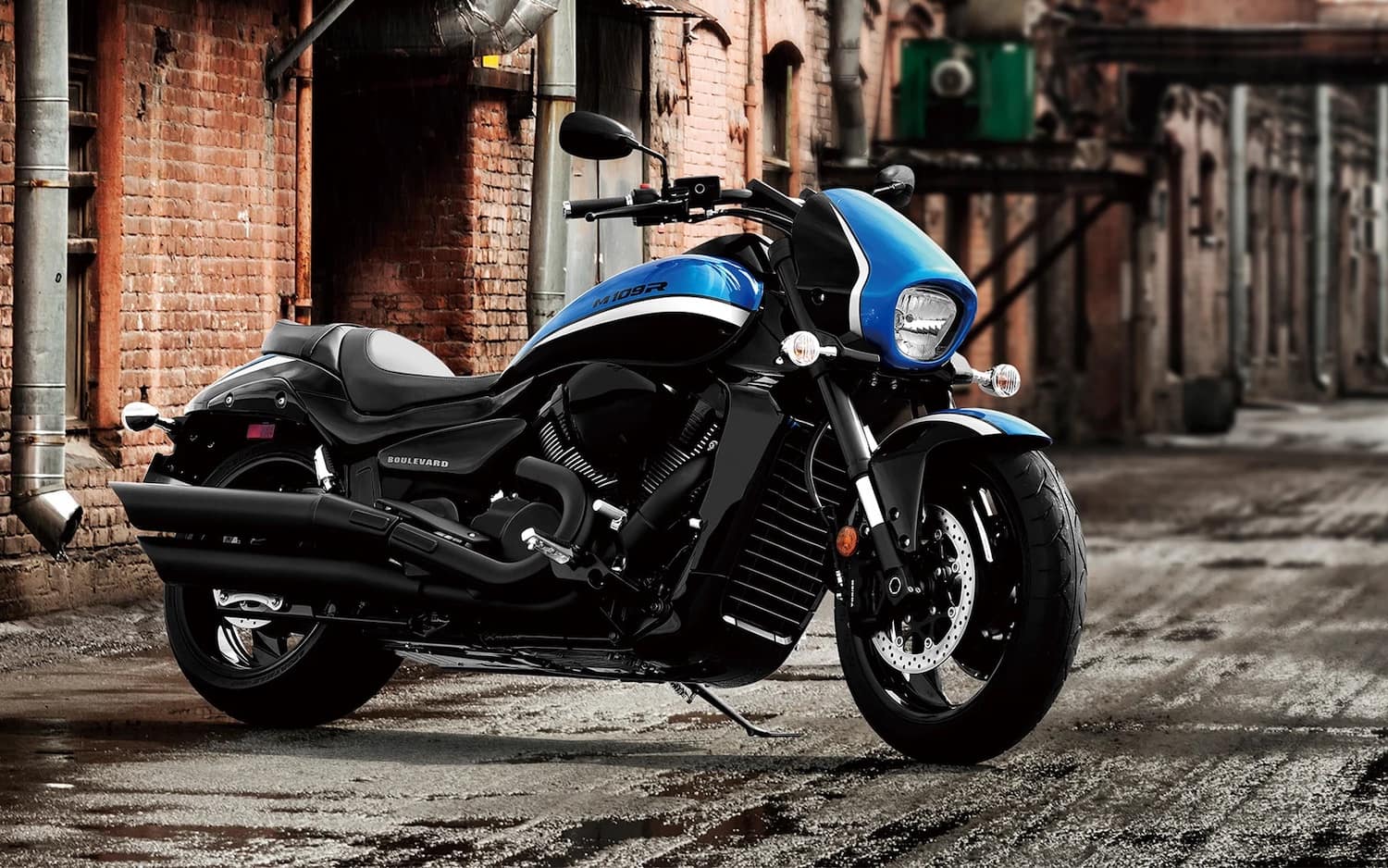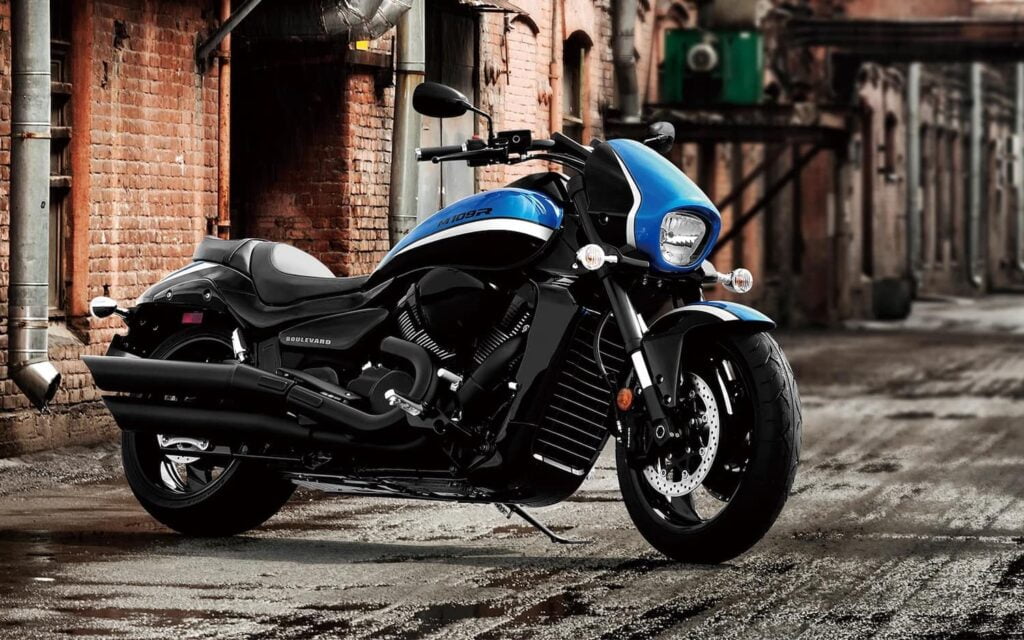 Finally, the venerable Suzuki Boulevard M109R, usually just known as the M109R or the "Nine" or the "Bully" to fans.
The M109R is another power cruiser, one of the few out of Japan, and the only one you can still buy new. Though mechanically it has gone unchanged for over a decade, and really, it's the same bike as the original, other than cosmetically.
The M109R is powered by a 1783cc (109 cubic inch) dual overhead cam 52-degree V-twin engine. It makes a claimed 92 kW (123 hp) at the crank at 5200 rpm, and puts power down through a shaft drive.
So the M109R is down on power vs the Diavel / XDiavel. And it's also heavier, weighing a massive 347 kg (764 lb) wet. It also lacks most niceties. The suspension isn't adjustable. There's no TFT display. And there are no rider aids — not even ABS.
But it's still a power cruiser. The M109R is fast and looks cool, especially in person. Like the Hayabusa, Suzuki seems to invest in the aesthetic element of the M109R, giving it great paint schemes that really draw the eye — see the compendium of some of the best here. And the M109R is a lot cheaper than the Diavel or XDiavel, too, especially used.
See more about the Suzuki M109R in our buyers' guide here.
Triumph Rocket 3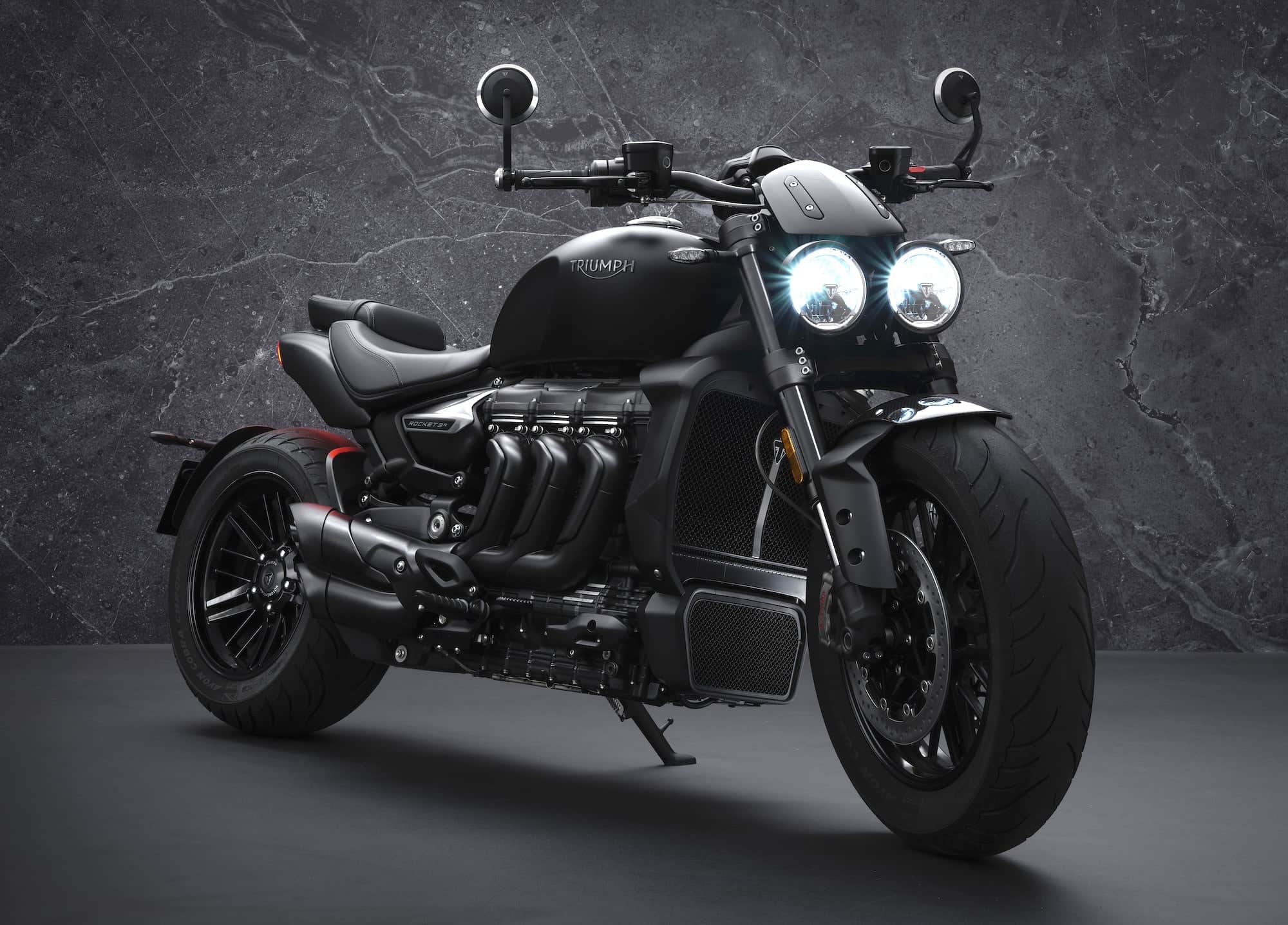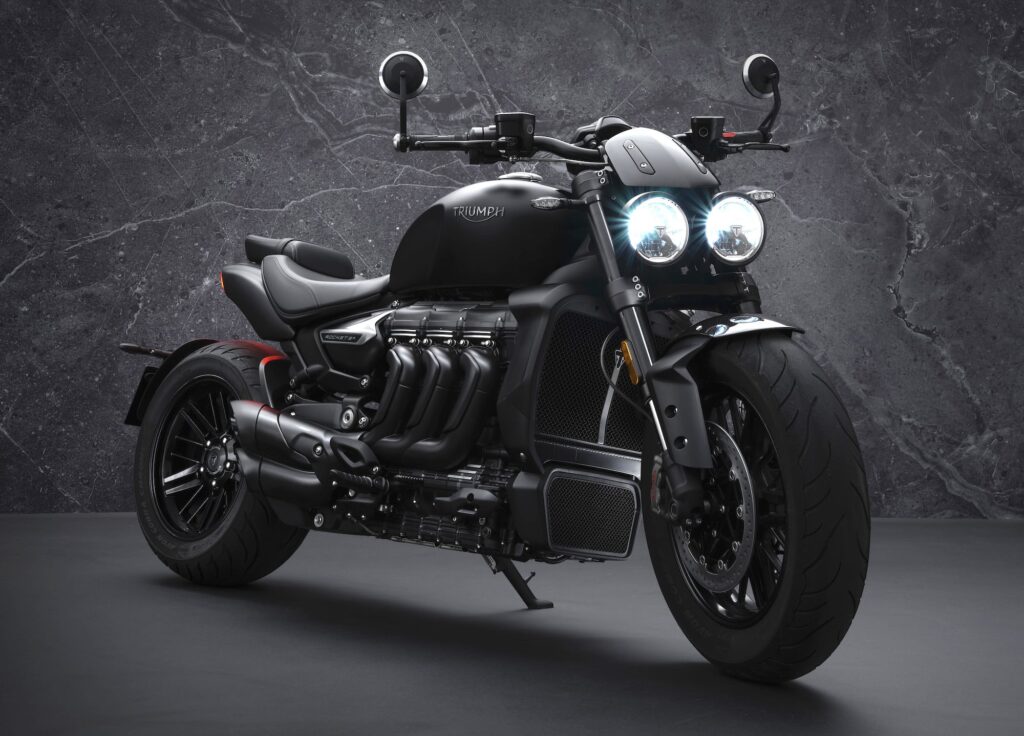 The Triumph Rocket 3 is an update to the previous Triumph Rocket III. Same concept — a comfortable, sporty cruiser with a high-power, high-torque 3-cylinder engine.
The engine is the centrepiece of the Rocket 3. It's hard to ignore. The 2500 cc capacity makes it the highest-capacity production motorcycle engine. The 221 Nm / 163 lb-ft from the engine is the highest amount of torque at the motor that you can buy. And it's not just a torque monster; the Rocket 3's motor makes an impressive 123 kW / 167 hp at 6000 rpm. This is a fast cruiser.
On top of that, the Rocket 3 looks great, with its exposed rear wheel, distinctive front headlights (which I was surprised to find are not a universally appreciated feature), and all-round aggressive position.
The Rocket 3 comes in a sportier R configuration, with forward handlebars and more rearward foot controls, and a GT, with more relaxed handlebars and forward controls. They're otherwise very similar motorcycles.
The Ducati Diavel / XDiavel motorcycles have, on the other hand, always had a weight advantage over the Rocket III / 3. In that sense, there's no contest. The latest gen Diavel V4 weighs 244 kg / 538 lb, and the Rocket 3 R (the lighter of the two) weighs 291 kg / 642 lb. Quite a significant difference.
The Rocket 3 motorcycles are priced quite similarly to the Diavel, and there's something to be said for each one. Yes, the Triumph has to be serviced more often, but it does have a shaft drive, which needs less attention than a chain. Horses for courses!
Anyway, as with any big, expensive motorcycle that costs what many spend on a house deposit, your heart is likely to play a big role in the decision, so it's best to go sit on them, listen to them, ride them if you can, and see what your gut says.
Yamaha VMAX 1700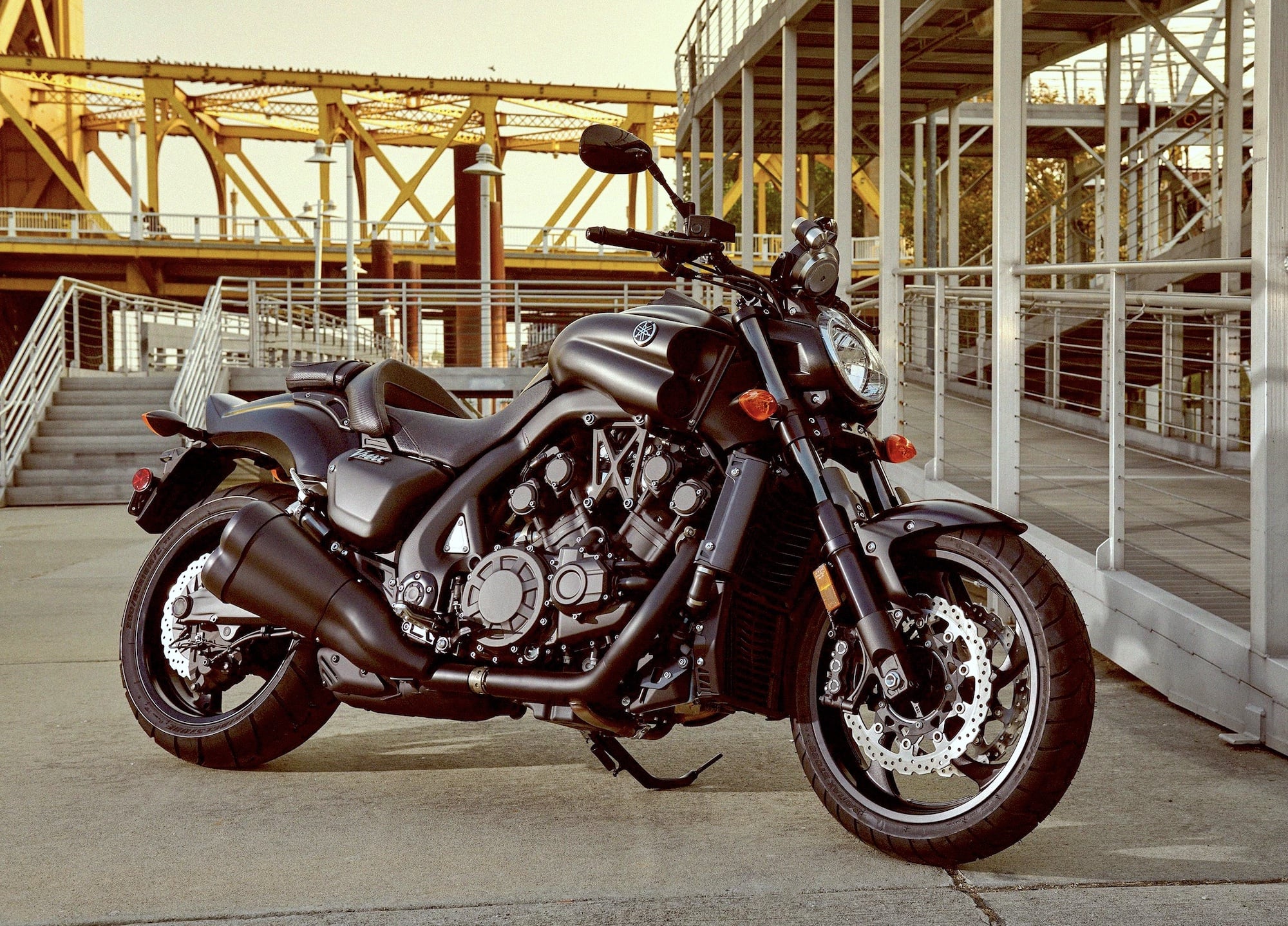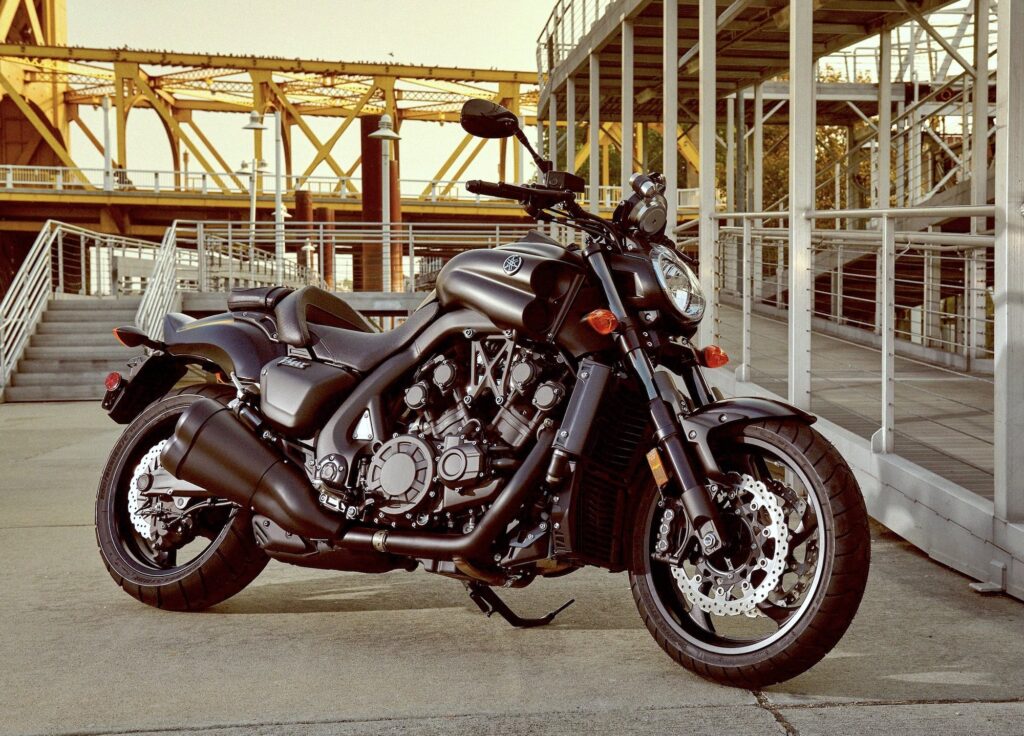 Next up, the Yamaha VMAX, the update to the original long-running V-Max (1200).
Yamaha stopped making the VMAX 1700 in 2017 or 2020 depending on which continent you ask. It had stayed the same since launch in 2009.
The VMAX is a power cruiser with a standard-ish riding position. The engine is a 1679cc liquid-cooled V4 that makes much more power on paper than the Diavel / XDiavel, with claimed 147 kW / 200 hp / 197 bhp at 9000 rpm and a peak of 167 Nm / 123 lb-ft of torque at 6500 rpm. Cycle World's dyno recorded 174 hp peak at the rear wheel. These are Hayabusa-level figures.
The fly in the ointment of the original V-Max was wallowy handling that almost required a bunch of suspension mods; the VMAX has handling that's fine and as much as you can expect from a heavy power cruiser. And that's its weakness — it's kind of heavy at 310 kg / 683 lb wet. I mean the Diavels are no spring chickens, but these are up there with many other cruisers (albeit with twice the power).
The VMAX's strongest selling point, to me, is that brand — specifically of the "VMAX". Like the Suzuki Hayabusa, it's known as a drag bike.
Wrap-Up
The Ducati Diavel has had a relatively short history compared to some other motorcycles I write about on this site, but it's already a classic.
If you've wandered into a Ducati dealer and seen that gleaming latest-model XDiavel or Diavel V4, but second-guessed whether it'd be worth mortgaging your house again, then hopefully the above guide will have helped you see just what you'd be gaining with a late-model one vs an earlier-model Diavel or XDiavel.
Definitely for me, I'd rather put my money towards an earlier bike, and save the rest for repairs and maintenance. But you can't really go wrong. These will all be classics as time goes on — the only question is whether they're the right one for you.