Aprilia surprised a lot of folks with their 660-class of motorcycles in 2021, starting with the RS 660. Aprilia hadn't made high-spec middleweights in a while, the last being the Shiver and Dorsoduro, based on a V-twin engine — a configuration Aprilia was more known for (these days they make a lot of V4s).
What's awesome is that Aprilia RS 660 isn't just another small bike; it's small and very high-spec, with top-notch components and the kitchen sink of electronics. That's not just unique for Aprilia's modern line-up, it's unique on the market.
See more here on the Aprilia RS 660.
But shortly after announcing the RS 660, Aprilia also announced the Tuono 660, and then the Tuareg 660. The Tuono 660 was predictable, but it's pretty cool of Aprilia to bring back the Tuareg name (which had been asleep for decades) and to make such a high-spec middleweight adventure motorcycle. If you're considering one, there's a fair chance you're considering the others, and wondering which one might be most appropriate.
So you're probably wondering the same thing I did — How do all the Aprilia 660-class motorcycles stack up against each other? What are the similarities and differences? And which one's for you?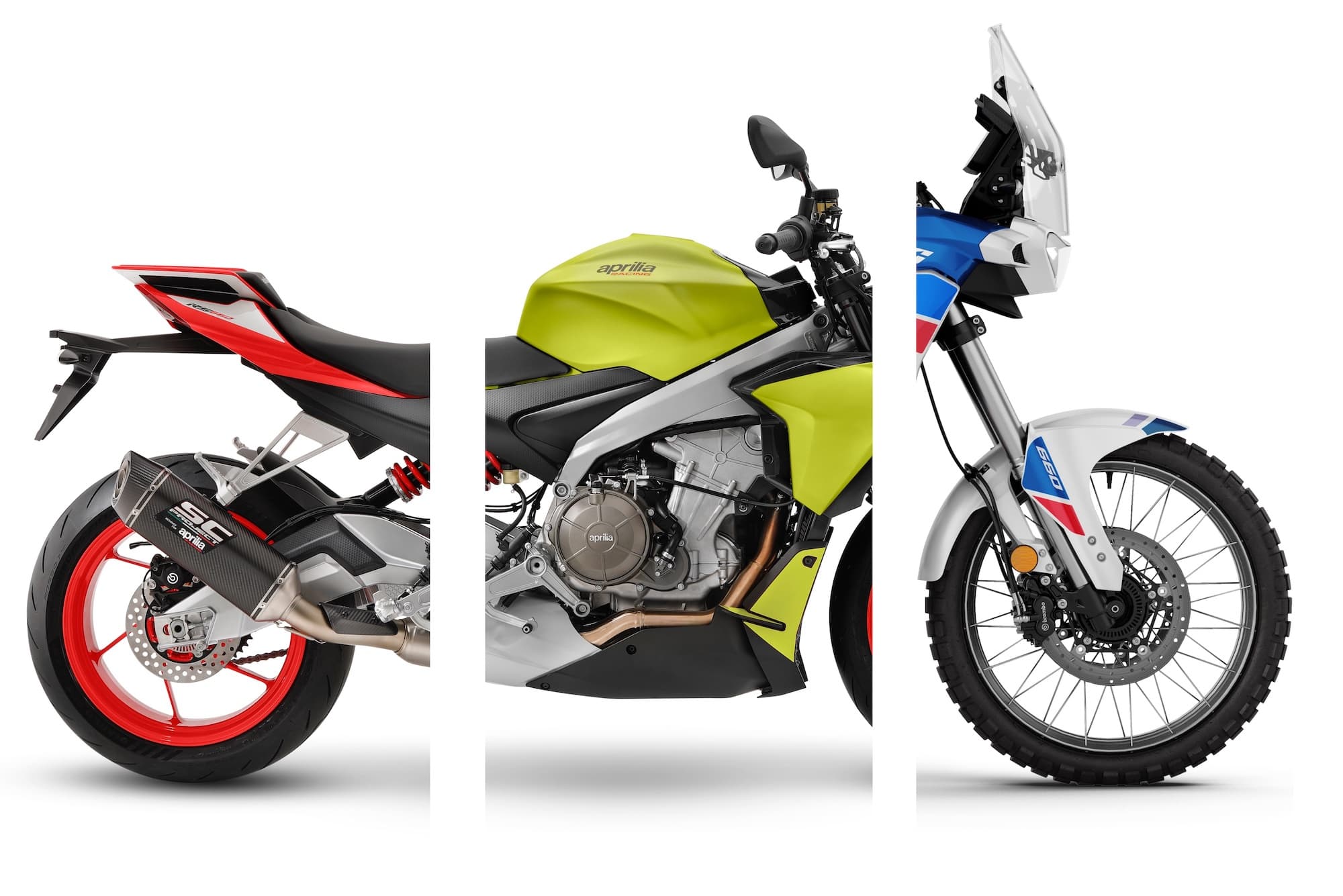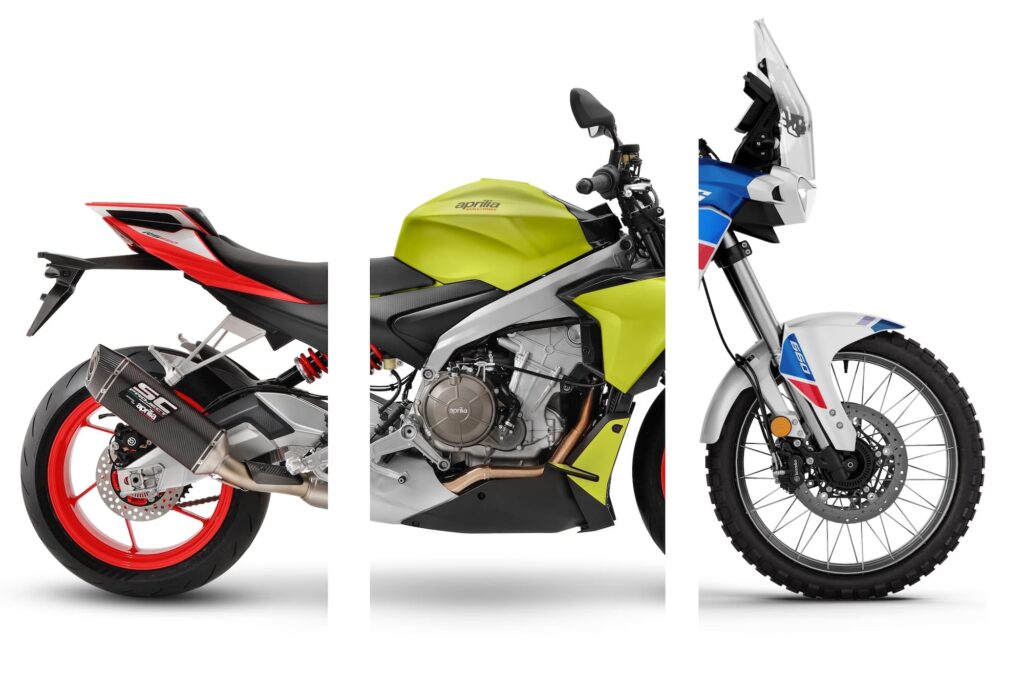 Are you obsessed with motorcycles?
Well, I am. That's why I created this site — as an outlet. I love learning and sharing what others might find useful. If you like what you read here, and you're a fraction as obsessed as I am, you might like to know when I've published more. (Check the latest for an idea of what you'll see.)
Aprilia 660 bikes — Overview & Context
In brief, Aprilia launched the 660-class of motorcycles with very deliberate, strategic intent. The capacity and power are designed to be approachable for first-time riders, and you can get them in LAMS-restricted (Australia / NZ) and A2-restricted (Europe) form.
The 660 motorcycles straddle two parts of the motorcycle market — entry-level middleweights like the Suzuki SV650 or Kawasaki Ninja 650, and high-end premium middleweights like the Ducati Monster 937 and Triumph Street Triple RS. It has a capacity close to the former, power somewhere in the middle, and specs and ride gear somewhere near the top. Interesting play!
Here's a very brief guide to which of the three motorcycles might be for you, if you're keen to dip your toe.
Pick the RS 660 if you just love sportbikes with fairings. You're a sport / street rider and maybe even want to use the RS 660 just for track days. You can also use the RS 660 for commuting, but you'll be more leaned over.
Pick the Tuono 660 if you love naked bikes and maybe want a more everyday machine. You're a sport/street rider but you do commute with your bike, and maybe want to spend a few days out in the countryside without a sore back.
Pick the Tuareg 660 if you're an adventurous kind who wants to cross creeks and go over rocky roads without worrying about mud flinging all over your plastics.
The difference between the RS 660 and Tuono 660 is the most subtle. They're very similar bikes; in fact, the Tuono 660 even has fairings (which you wouldn't always assume for a naked bike). The engine is in nearly the same tune and they have the same ride aids — nearly.
See here for all the other middleweight naked sport bikes available, including the Tuono (though it's not quite naked).
The difference between the RS / Tuono and the Tuareg is much more significant. The engine is tuned differently, and it has different gearing, wheels, suspension, brakes, and even ride aids!
So if you're thinking "I'll just get a Tuareg 660; it's like an RS 660 but it can do dirt roads", perhaps think again. Yes, they're based on conceptually the same engine, but in different states of tune, and pretty much everything around it is different, from the way the engine is mounted, to gearing, to suspension and even brakes. The difference is greater than you'll find between, for example, the Honda CBR500R and the Honda CB500X.
The Aprilia 660 Engine & Gearing in the RS/Tuono and the Tuareg
One thing that all the Aprilia 660-class motorcycles have in common is the engine.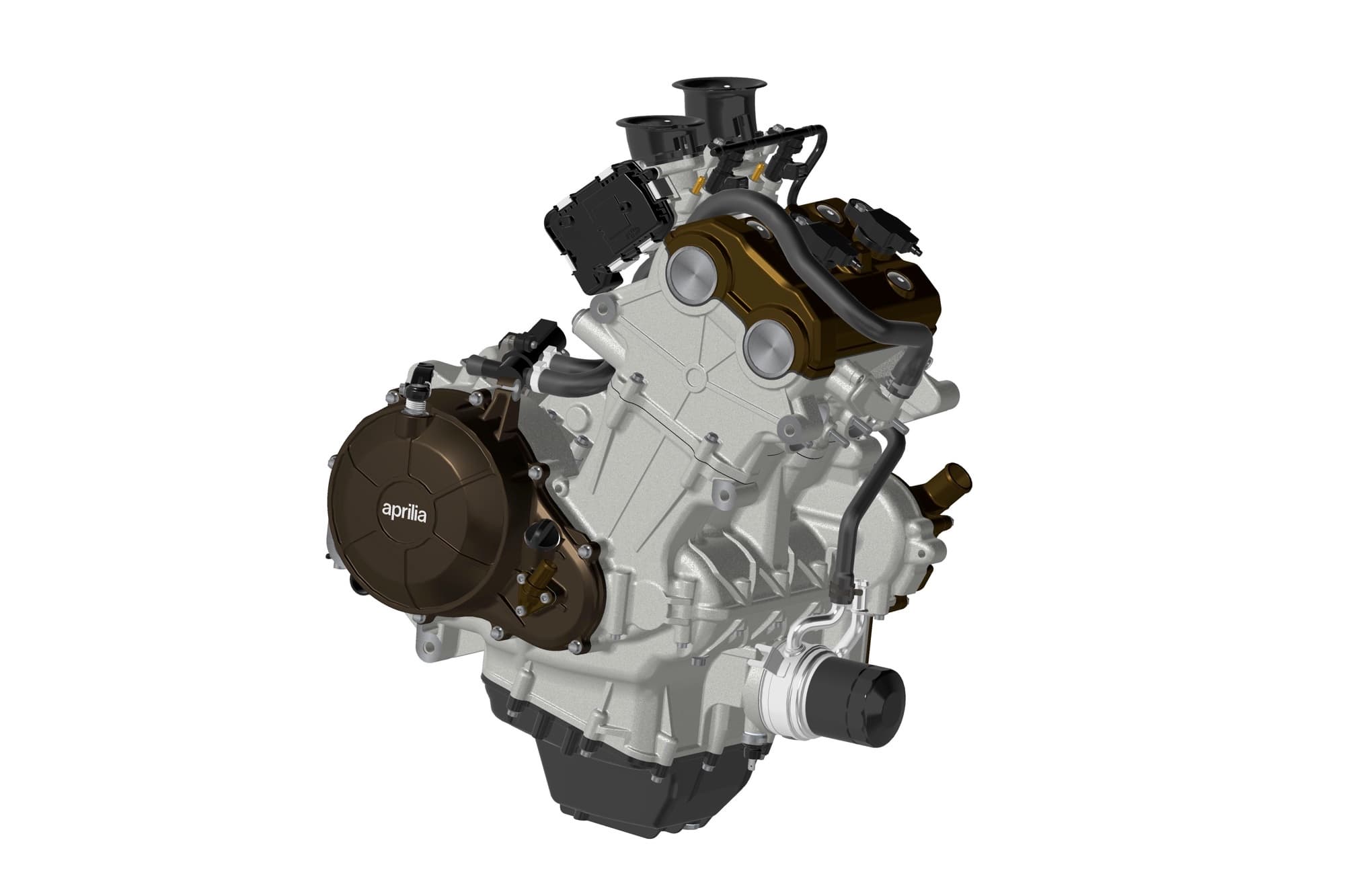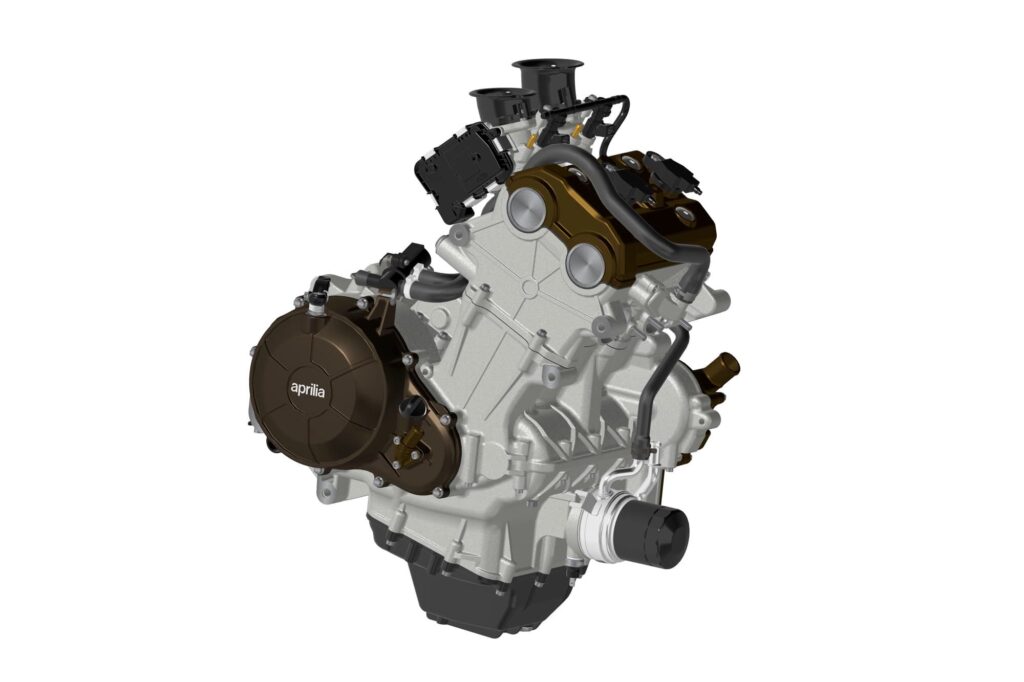 The engine in all three motors is fundamentally the same 659-cc parallel twin with a 270-degree crankshaft. It has dual overhead cams and four valves per cylinder.
Aprilia says it's derived from the 1078 cc V4 motor in the latest RSV and Tuono motorcycles, with the same 81mm bore, but a longer 63.9 mm stroke. On all motorcycles, the motor has a 13.5:1 compression ratio, but the engine is tuned for different power output.
The 660 motor, like many modern parallel twins, has a 270-degree crankshaft. This configuration of crankshaft means that there's no one point where both pistons are at rest — one of them is always in motion. In theory, this helps with traction. In practice, the most notable thing is that the RS / Tuono 660-class engine has quite a bark to it, even just with a slip-on exhaust.
These days, many motorcycles — including many of Aprilia's competitors — have 270-degree crankshafts. Yamaha has stuffed its CP2 block into every kind of bike other than a cruiser, KTM and Husqvarna use them, and even Honda and Suzuki have joined the fray recently. So this is right on trend.
See here for a list of motorcycles that have a 270-degree crank — it's an increasingly long list.
While the RS 660 and Tuono 660 have the same engine block, the Tuareg 660's engine has a few modifications:
Different camshaft profiles with ("optimised" lift for lower rpm torque)
Longer intake ducts
New filter casing, positioned between the headstock and the fuel tank, for easier changing of the air filter (useful for offroad riding)
New exhaust layout
A new ignition advance management algorithm to optimise combustion in different engine heat conditions
Different oil sump profile to increase ground clearance
The result is different power and torque output in the Tuareg. The Tuareg makes a tad more torque, but it makes more torque earlier. This makes the Tuareg usable at a broader range of rpms.
| Spec | RS / Tuono 660 | Tuareg |
| --- | --- | --- |
| Peak power | 73.5 kW (100 CV / 99 hp) @ 10500 rpm | 58.8 kW (80 cv / 79 hp) @ 9250 rpm |
| Peak torque | 67 Nm (49 ft-lb) @ 8500 rpm; 80% of torque available by 4000 rpm | 70 Nm (52 ft-lb) @ 6500 rpm, 75% from 3000 |
Aprilia RS 660, Tuono 660, and Tuareg — core spec comparison
On gearing, there is some difference in specs between the RS/Tuono and the Tuareg, again optimising the Tuareg for off-road work.
The clutch system is the same on all three bikes — they all have a slipper clutch. There is a difference in gearing though, in that the first gear and final drive ratios are shorter. But the rear tire is also larger in diameter, so that counteracts the lower gearing effect a little.
Spec
RS 660 / Tuono 660
Tuareg
1st gear ratio
17/46
13/37 (5% lower)
Final drive ratio
17/43
15/42 (10% lower)
Rear tire circumference
1.98m
(180/55-17)
2.10m (6% higher gearing)
(150/70-18)
Speed at 3000 rpm 1st gear
16 mph / 25 km/h
14 mph / 23 km/h (~10% slower)
Top gear cruising RPM at 70 mph / 110 km/h
5000 rpm
5300 rpm
Aprilia RS 660, Tuono 660, and Tuareg — core spec comparison
The net effect is that the Tuareg is geared around 10% lower.
Riding Position on the RS, Tuono, and Tuareg compared
When comparing the RS, Tuono, and Tuareg in store, the most apparent difference between them is the riding position. In a nutshell, the RS 660 is sporty (but not as much as a full-on track bike like the Yamaha YZF-R6), the Tuono is still sporty for a naked, but not as sporty as the RS 660, and the Tuareg is a comfortable upright tourer.
| Spec | RS 660 | Tuono 660 | Tuareg |
| --- | --- | --- | --- |
| Riding position | Sport / Sport touring | Sport standard | Adventure |
| Controls | Clip-ons (but not too low) | Handlebars | Big ol' Handlebars |
| Kerb weight | 183 kg | 183 kg | 204 kg |
Aprilia RS 660, Tuono 660, and Tuareg — Riding position
See the below image comparing the riding position for reference.


I've done my best to keep these photos in exactly the same scale, using the wheel size as a reference. But it might be off by 5-10%.
Still, this should give you an idea. Look at the handlebar positions in particular. The footpegs of the Tuareg are also further forwards.
Ride aids on the Aprilia 660 motorcycles
The spec level of ride aids is different on each bike. All of the Aprilia 660 motorcycles come with ABS and traction control, obviously — de rigueur for modern motorcycles.
But there are differences in the more high-tech stuff. In short, the RS 660 is fully loaded. The Tuono 660 can get up there with options, but the Tuareg cannot get an IMU even as an option.
| Spec | RS 660 | Tuono 660 | Tuareg |
| --- | --- | --- | --- |
| Slipper clutch | Yes | Yes | Yes |
| Ride modes | 5 (2 x track, 2 x road, custom) | 5 (2 x track, 2 x road, custom) | 4 (Urban, Explore, Offroad, Custom) |
| Quickshifter | Yes | Optional | Optional |
| IMU (Cornering ABS) | Yes | Optional | No |
Aprilia RS 660, Tuono 660, and Tuareg — core spec comparison
Do you really need an IMU? That's for you to decide. Off-road, you might just switch ride aids off! But on the road, an IMU can mean safely braking in a corner in adverse conditions. It's useful for new riders (I've seen it in action, saving lives).
However, to get an IMU, you need to step up in size and expense quite a lot, and look at bikes like the BMW F 850 GS, Triumph Tiger 900 Rally, and the Ducati DesertX. These are all bigger and more expensive — and heavier.
Frame, Brakes, Suspension, and Final Drive
The Aprilia RS 660 and Aprilia Tuono 660 have effectively the same suspension setup. But the Aprilia Tuareg 660 has very different suspension — longer travel and more adjustability.
Same story with the brakes. Same Brembo M4-32 radial-mount calipers on the RS and Tuono, but the Tuareg has simpler axial-mount calipers.
Aprilia RS 660 Front wheel, suspension, and brakes

Aprilia Tuono 660 front brakes and suspension

Aprilia Tuareg 660 front wheel, suspension, and brakes
| Spec | RS / Tuono 660 | Tuareg |
| --- | --- | --- |
| Front fork | KYB 41mm USD, preload and rebound damping adjustable | KYB 43mm USD, fully adjustable |
| Rear shock | KYB shock, preload and rebound damping adjustable | KYB shock, fully adjustable |
| Suspension travel (F, R) | F: 120mm (Tuono: 110mm), R: 130mm | F: 240mm, R: 240mm |
| Brakes | 2 x 320mm, Brembo radial 4-piston M4.32 | 2 x 300mm, Brembo axial 30/32mm double opposing pistons |
| Front tire size | 120/70-17 | 90/90-21 |
| Rear tire size | 180/55-17 | 150/70-18 |
Aprilia RS 660, Tuono 660, and Tuareg — core spec comparison
The net effect of the different frame, suspension, and wheels of the Aprilia Tuareg 660 is that it weighs 21 kg (46 lb) more than the Tuono or RS 660. But you need all that extra weight for a motorcycle that can survive offroad.
Aprilia RS 660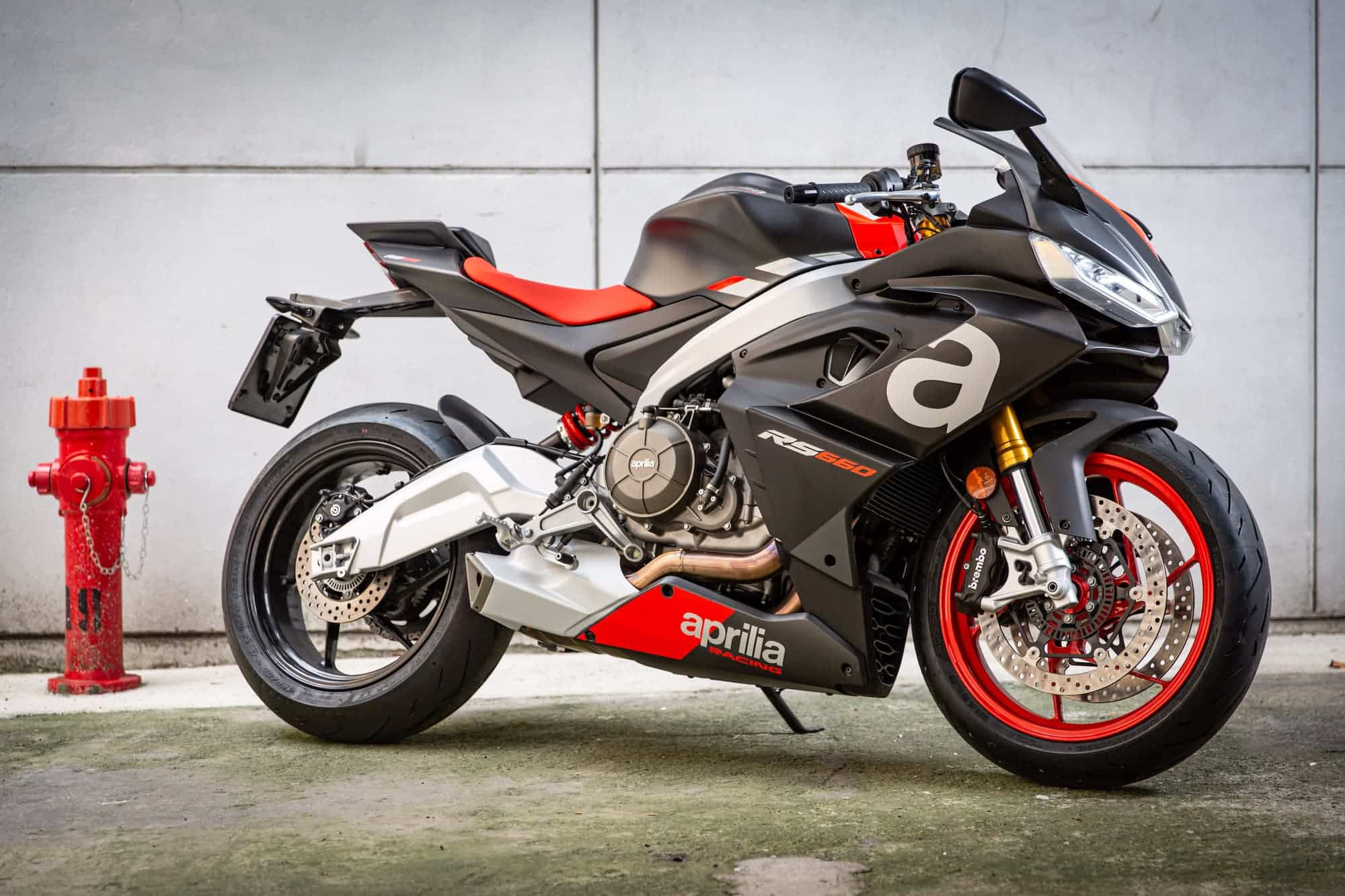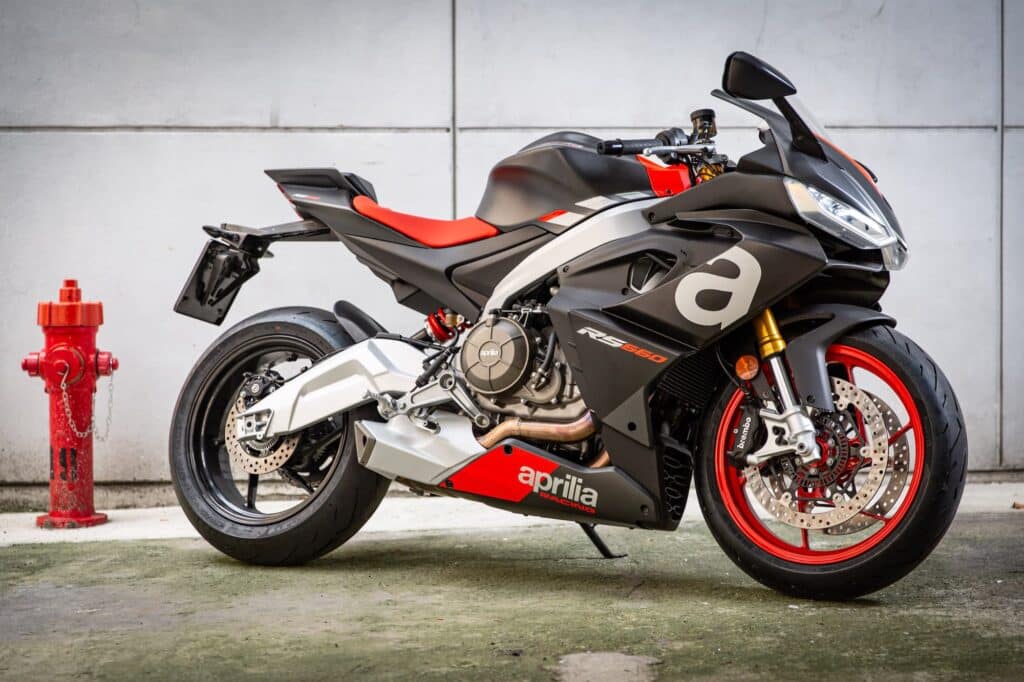 The first 660 to be announced was the Aprilia RS 660, a street sport bike with a surprising amount of power and high specification for a middleweight.
The core of the Aprilia RS 660 is the same engine (same state of tune) as that in the Tuono 660. It's a 659-cc parallel twin that makes 100 CV (metric horsepower, a.k.a. PS or just horsepower), or 99 imperial horsepower / 74 kW, at 10500 rpm.
Gearing always plays an important factor in what power or torque feels like. Suffice it to say that the RS 660 has as much handlebar pull as any 600-class sport bike, with two differences: 1. Peak torque comes on a lot earlier, and 2. you'll shift earlier — you'll reach redline at around 55 mph / 90 km/h.
Luckily, shifting is easy, as the RS 660 has a quickshifter!
Most engines of this approximate capacity (like the Ninja 650, SV650 etc.) are tuned for a moderate amount of power, somewhere around 70-75 hp. But the Aprilia engine is tuned for an impressive 100 hp. This makes it quite satisfying to rev out.
Aside from the motor, there are a few things that make the RS 660 special.
Firstly, it has quite a high tech spec. The RS660 comes standard with an IMU, which means it gets cornering ABS and traction control. Since the RS660 will be the first bike for many riders, every bit of safety can help!
Aside from an IMU, the RS660 comes with a standard bi-directional quickshifter, a slipper clutch, and a TFT display. Oh, and even cruise control!
Secondly, the ride components on the RS 660 are quite high-spec. It has a fully adjustable KYB fork, something rarely seen on middleweights, and a shock adjustable for rebound damping and preload.
Finally, the Aprilia RS 660 is light. At just 183 kg / 403 lb with a full tank of gas, it's lighter than the Yamaha MT-07, but quite a lot more powerful and feature rich. (More expensive, too, yes.)
Aprilia Tuono 660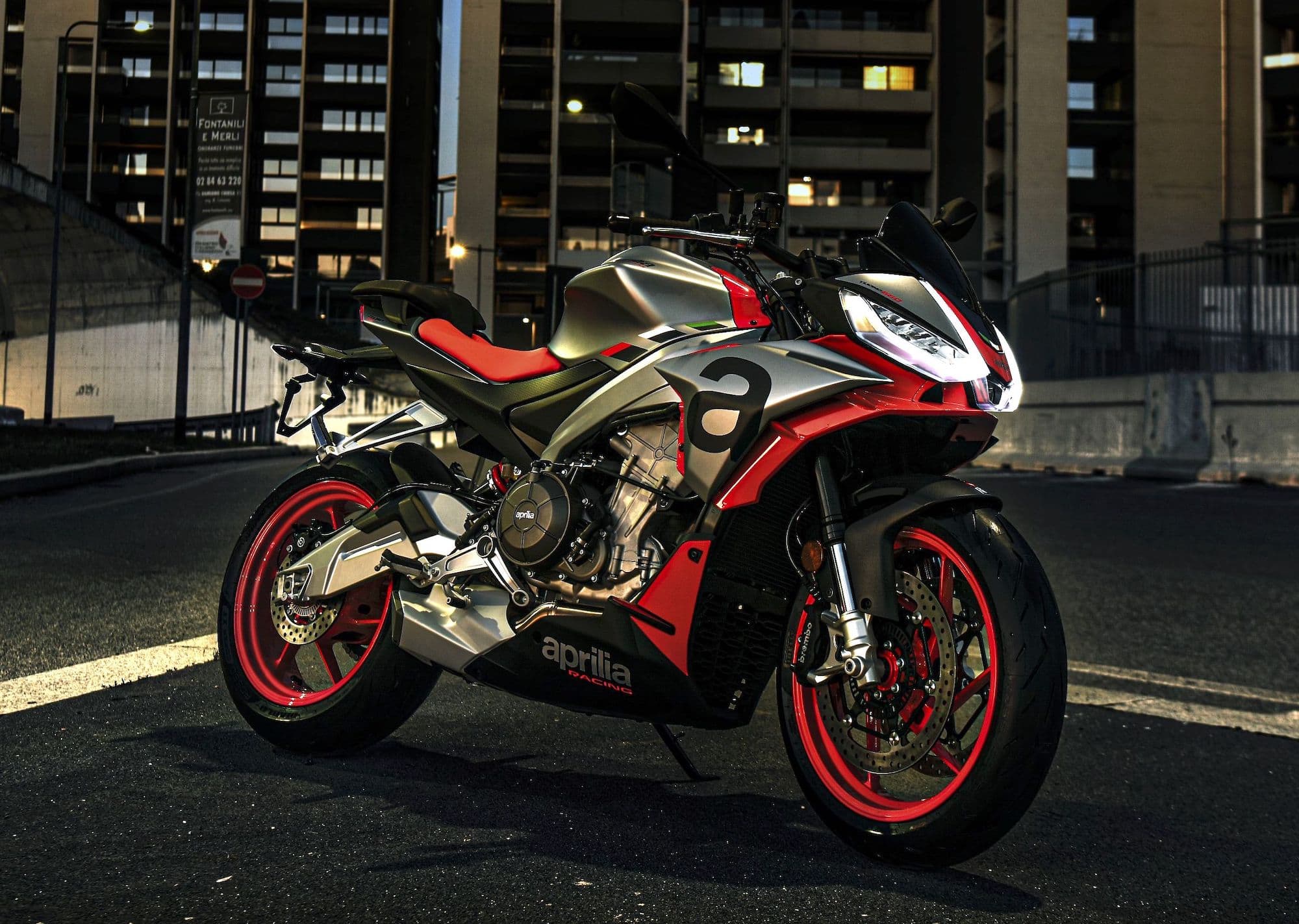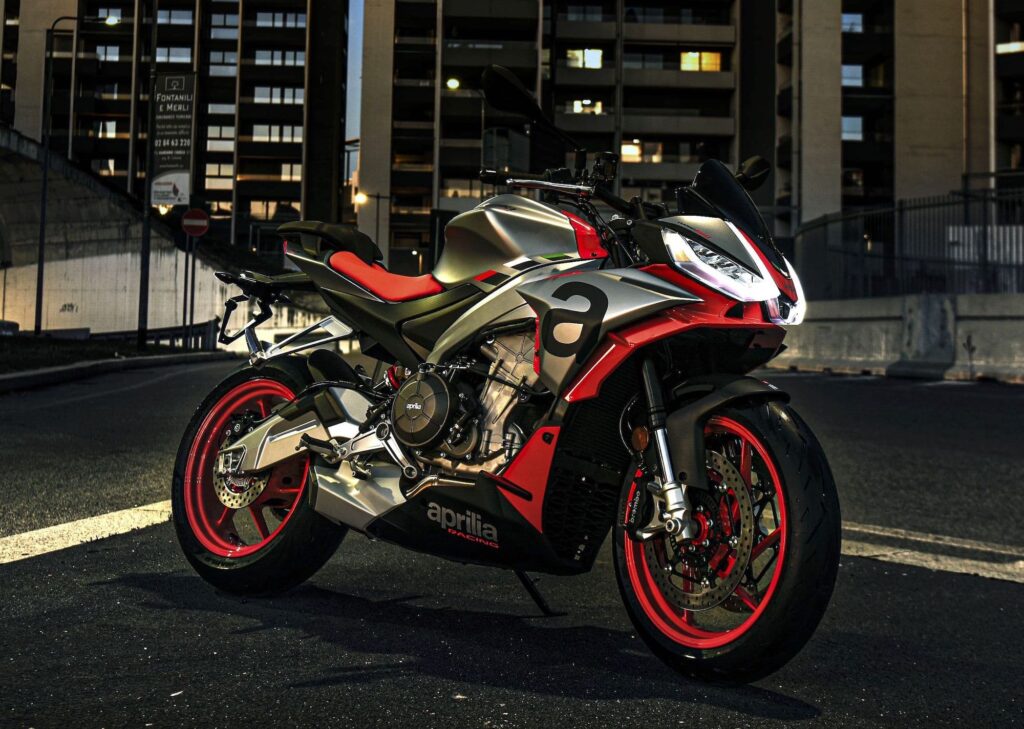 The Tuono is, like its bigger siblings, compared with the Aprilia RSV superbikes, the "naked" superbike.
But unlike the bigger Tuonos, the engine from its sport bike counterpart hasn't been de-tuned at all. It's the same motor!
Which is fitting, because the Tuono isn't really a "naked" bike. Have a good look at it: Yes, you can see the engine, but there's quite a comprehensive fairing around it, as well as protecting the rider from the elements up front. It's much more than a bikini fairing.
What really distinguishes the Tuono from the RS 660 is that it has handlebars, and some specs are optional — it doesn't come standard with a quickshifter nor with an IMU, though cruise control does remain standard.
The suspension and brakes are of effectively the same spec on the Tuono as on the RS (there's a quoted slight difference in fork travel, but that won't be noticeable in practise). And the quoted wet weight is the same, too.
Think of the Aprilia Tuono 660 as being a more everyday sport bike compared to the RS. The RS 660 does work every day (it's more comfortable than any 600-class sportbike), but the Tuono does so a little more easily, and still has every bit of sportiness (same engine, same weight) as the RS.
Aprilia Tuareg 660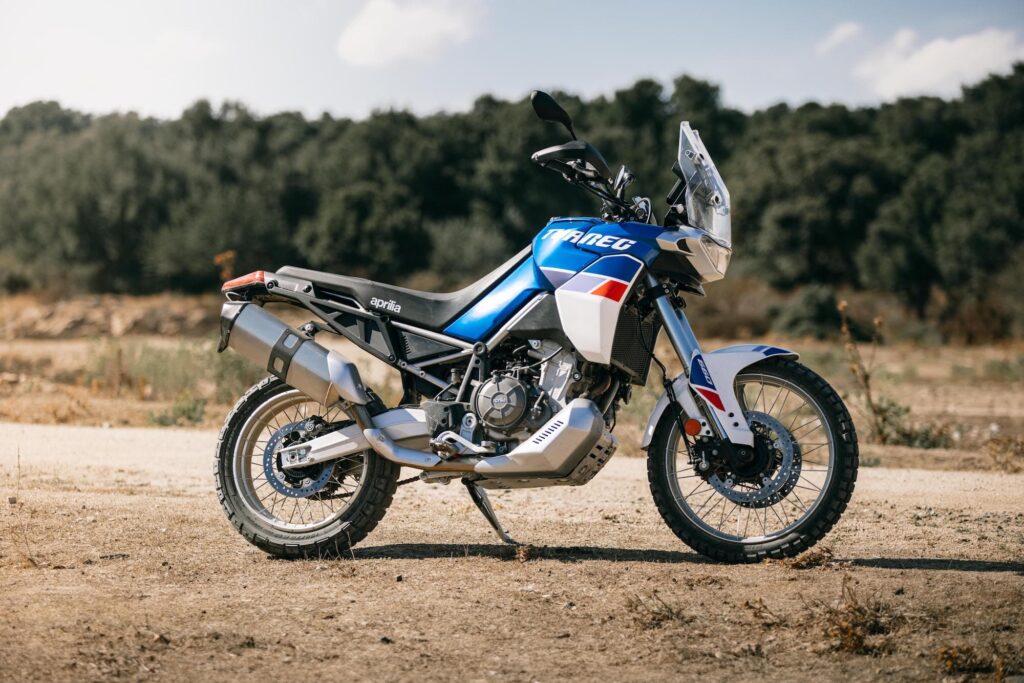 The Aprilia Tuareg 660 is the most strikingly different from the other two. You can tell as soon as you look at it. Aside from a 660 in the name, it looks completely different!
The Tuareg 660, in case it's not obvious, is another entrant in the burgeoning middleweight adventure motorcycle market, which is stacked with worthy competitors, many of which have a similar configuration engine — a middleweight parallel twin with a 270-degree crank.
The main differences between the Tuareg and the others in the Aprilia 660 class are that it has
A 21-inch front wheel and adventure-ready tires
Longer travel suspension that's higher-spec (stronger, with more adjustability)
A totally different frame designed to carry more weight and withstand greater shocks
Off-road protection
Like the RS and the Tuono, the Tuareg 660 is quite high-spec for a "middleweight" motorcycle. It's the only adventure motorcycle under 700 cc that has cruise control, for example!
One important difference between the Tuareg and the Tuono / RS is that the Tuareg has a totally different frame. This isn't just a Tuono with more protection! The Tuareg's frame is a solid structure made of high-resistance steel tubes and cast plates, with the rear subframe welded on, unlike the double beam die-cast aluminium frame on the RS / Tuono.
On the Tuono and RS, the engine is a load-bearing element — it structurally forms part of the frame. On the Tuareg, it's a stressed element.
The swingarm on the Tuareg is also longer, to increase stability. I suppose this is a bike people will want to wheelie less (though I'm sure you could!).
The combined effect of the stronger steel frame, the longer swingarm, the additional protection, and an extra 3L (0.8 US gallons) adds up to a wet weight of 204 kg for the Tuareg vs 183 for the Tuono or RS 660. This is a 21 kg / 46 lb difference.
See here for our Aprilia Tuareg 660 resources page.
One thing missing on the Tuareg 660 is cornering ABS / TC (there's no IMU, not even as an option). I'm not sure why exactly. Many other adventure motorcycles have it.
The brake specs on the Tuareg are also lower. They're still 100% capable of locking up the wheels, of course. Lower-spec brakes doesn't mean lower ability to stop, just less ability to dissipate heat, which becomes important when really blasting around, e.g. on a track or a day out in the canyons. The Tuareg is less optimised for those environments.
Also, a quickshifter is only an option. You wouldn't do much sport riding on a Tuareg 660, but a quickshifter does help take some work off your hands.
The final way in which the Tuareg 660 is different from the RS 660 and Tuono 660 is the range of accessories available, including panniers, lights, a centre stand, a tall windscreen, and more.
Sum up
Whether you choose the Aprilia RS 660 or the Aprilia Tuono 660 is likely to be a difficult choice. Are you going to focus just on sport riding, or do you want a bit of comfort?
But if you go to the showroom and are eyeing the Tuareg, you should know by now that you'll be in for a very different experience. The different engine tune, suspension, chassis, and riding position make for an entirely different bike.