So you want to buy a BMW S 1000 RR (or M 1000 RR), one of the best sports bikes — superbikes — of our generation.
What a time to be alive. How is it possible to spend around US$20K and get a bike that'll take you from zero-to-illegal in under three seconds, but also come with options like heated grips and cruise control?
That's what the BMW S 1000 RR is in a nutshell — blistering speeds, top-of-its-class specification at varying times (at times the most powerful, at times the lightest), completely beautiful, and still with comfort and keep-alive features that make it the best "everyday superbike" — if there can be such a thing.
And it is beautiful. Look at it here: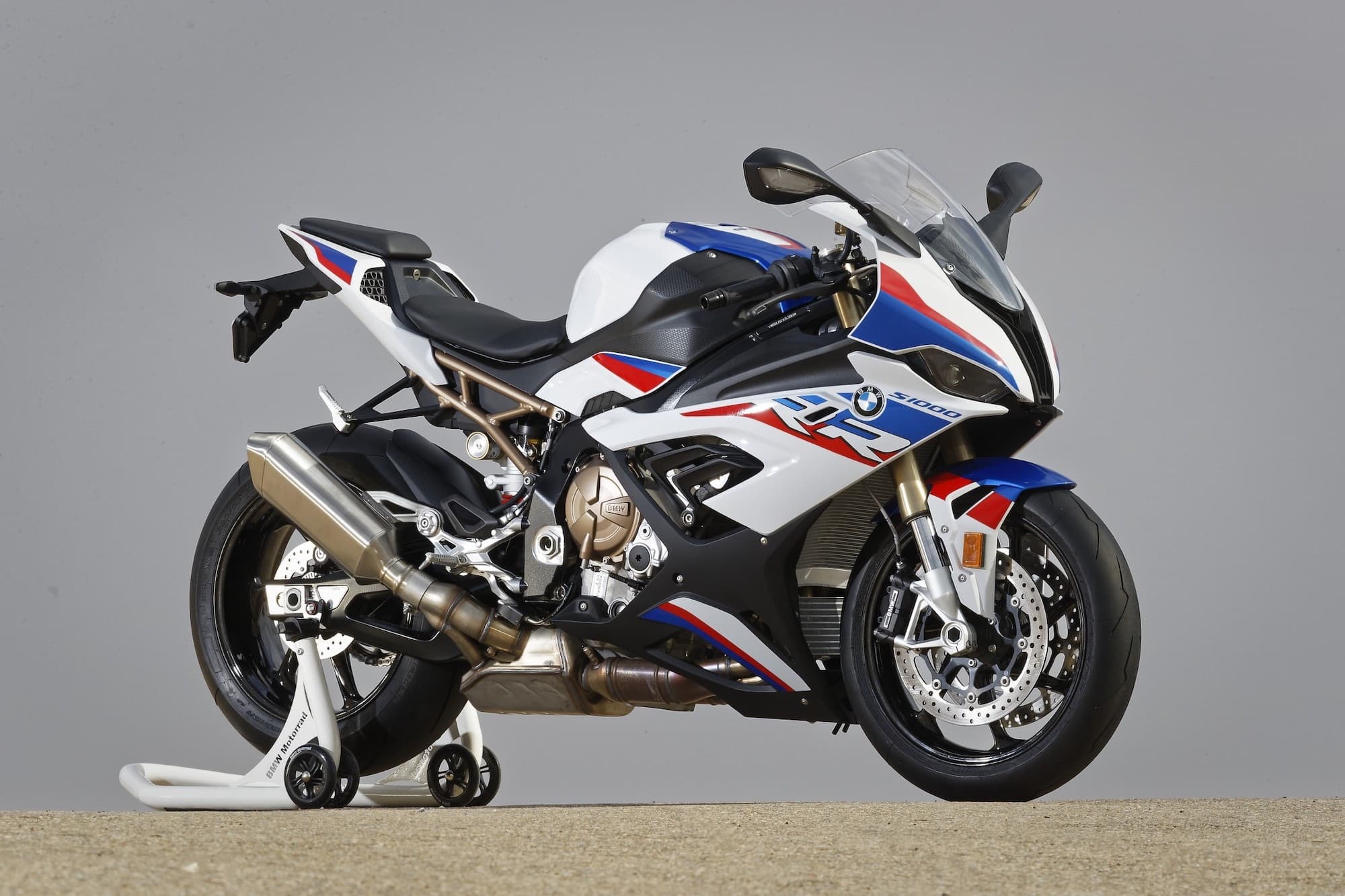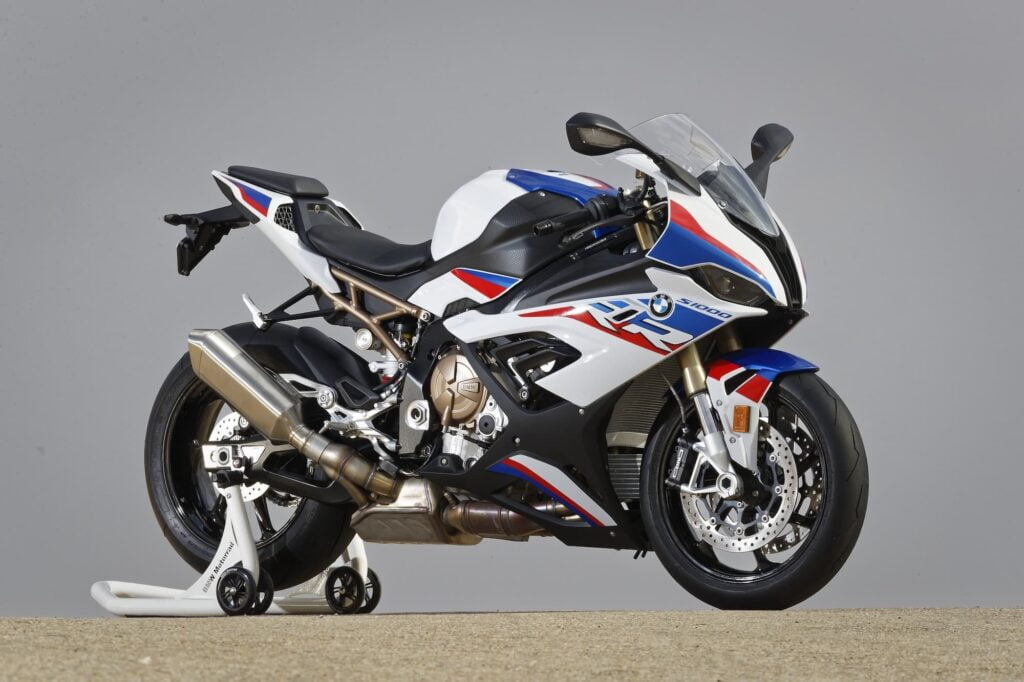 Every time I look at a BMW S 1000 RR (of any generation) I swoon and think about my S 1000 single-R and wonder… is the RR the one I really want?
Yes, yes it is. I lust after the S 1000 RR. If you're not sure you can lust after a BMW (some people tell me "Never a BMW!" as their impression is they still produce bikes that feel like tractors), then go watch this scene from Mission Impossible: Rogue Nation, put your qualms about all those extended head checks (and celebrities' personal lives) to one side, and just enjoy the well-filmed knee-down action.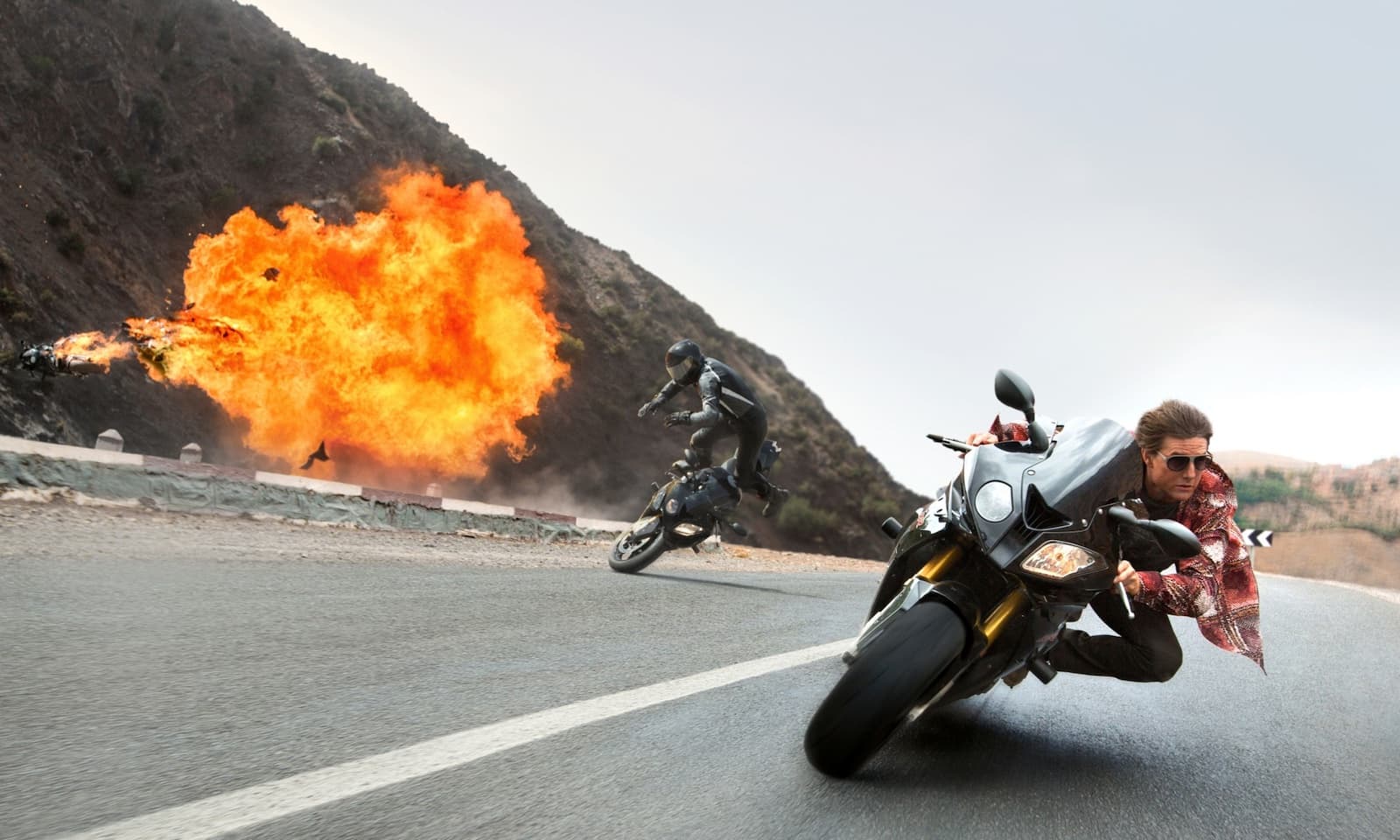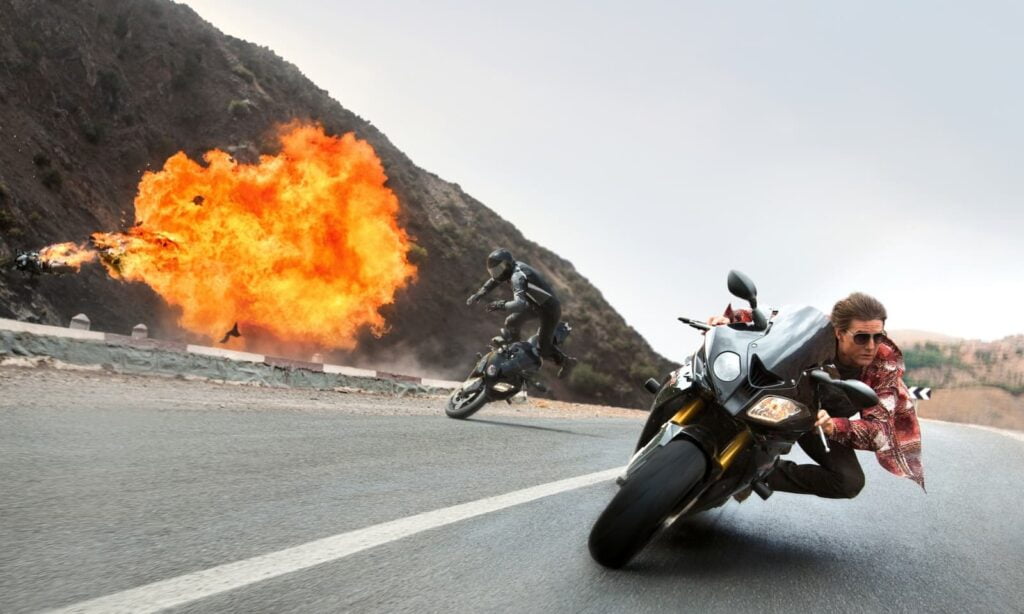 BMW surprised the motorcycling world when they released the first BMW S 1000 RR in 2009. It really changed how everyone perceived the brand — which was just what BMW intended.
BMW was at that point known for boxer twins and big sport tourers, with some (like the HP2 or the K 1300 S) getting pretty sporty, but nothing close to being a Superbike World Championship (WorldSBK) competitor.
But the S 1000 RR was just that, a full-on sport bike intended to compete in WorldSBK. Borrowing heavily from the Japanese playbook, the BMW S 1000 RR has a familiar sounding spec sheet: a 999 cc inline four-cylinder engine with dual overhead cams and four valves per cylinder, producing lots of power above 10000 rpm.
And there's more to the BMW S 1000 RR, too.
By the way, "S 1000 RR" is written like that — with spaces. People often write S1000RR or affectionately S1KRR or just RR (which is confusing as Honda CBR1000RR and CBR600RR owners use the same shorthand). Anyway, I don't get hung up on naming conventions or care at all, but just am sticking to BMW's convention.
Also note: From 2021, BMW has another motorcycle in the same range called the M 1000 RR. It's part of the same range, but more intensely track-focused.
Are you obsessed with motorcycles?
Well, I am. That's why I created this site — as an outlet. I love learning and sharing what others might find useful. If you like what you read here, and you're a fraction as obsessed as I am, you might like to know when I've published more. (Check the latest for an idea of what you'll see.)
Background of the first BMW S 1000 RR — How This Happened
So why did BMW make the first S 1000 RR? Simple: To compete in and win the Superbike World Championship (WorldSBK), the world's premier racing class for "production" motorcycles.
Long before the S 1000 RR, the idea of high-power sport bikes was culturally anathema to BMW.
In fact, they were cautious about exceeding the barrier of around 100 hp for many years. I can't find references (sorry), but I recall reading articles where they stated that you don't need more than 100 hp (or as they call them, PS, or Pferdestärke), on the street — a view I generally agree with. But "needing" more than 100 horses is different from "wanting" them…
Why enter the sportbike market at all? According to Hendrik von Kuenheim, the then second-generation president of BMW Motorrad, it was partly a business decision. "Some eighty five thousand 1000cc sportbikes are sold per year worldwide, and we want to gain a foothold in that segment," he told the press. BMW's goal was to get a 10% market share, mostly through stealing share from the dominant competitors.
So that was why BMW chose WorldSBK and not MotoGP. Per Markus Poschner, BMW's General Manager for the K and S series platforms, BMW chose to enter WorldSBK "… because it is the same bike racing that you can buy."
But before this, you'd be excused for thinking BMW would never even build a superbike. Project leader of the BMW S 1000 RR, Stefan Zeit, recalled: "When I started at BMW, I had an interview with Markus Poschner, and he asked me, 'What should BMW do next?' I told him a sportbike, and he said, 'No, BMW will never do this!'"
Poschner himself was a sportbike fan, though. He confessed that he had always dreamed of these bikes since starting at BMW, even though he didn't think BMW would go in this direction.
So Zeit still got the job, and Poschner himself oversaw the S 1000 RR project as General Manager of the new S platform.
Since building a superbike was a new thing for BMW, they had to benchmark the competition. There was no suitable internal benchmark. The bike they picked was the 2005-6 Suzuki GSX-R1000, known now affectionately as the K5.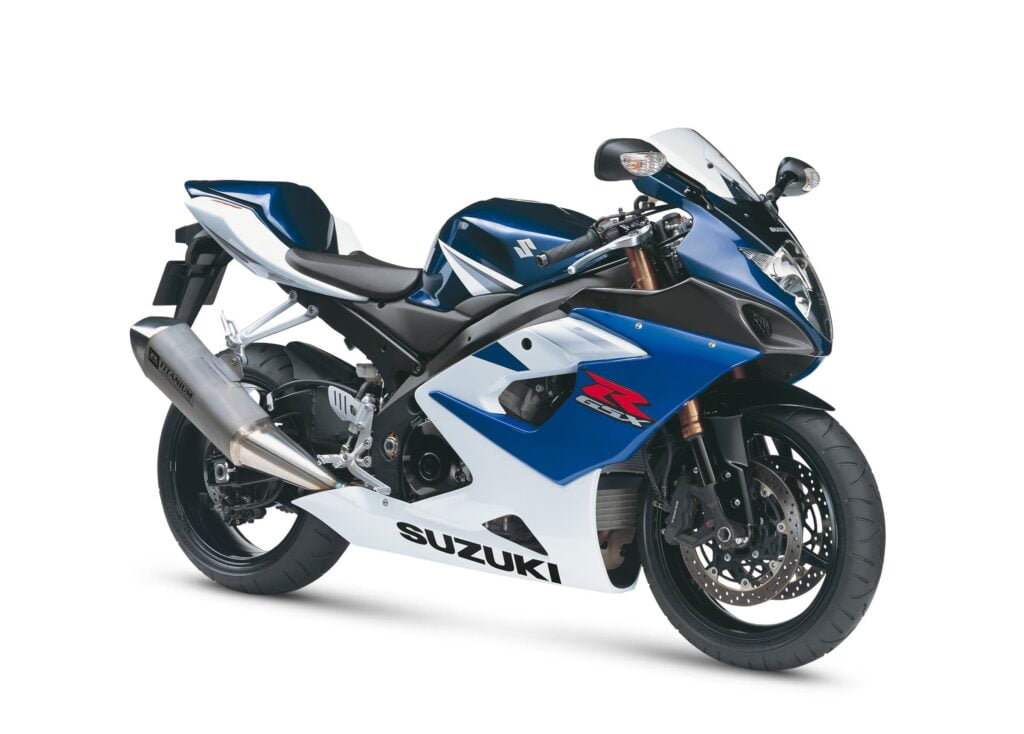 Why was the K5 Gixxer used as a benchmark for the S 1000 RR? It's a topic that merits a longer discussion, but in short, the K5's "long-stroke" 999 cc engine was/is well-known for producing a broad range of torque.

Additionally, the chassis of the K5 was perfectly balanced, giving the motor sharp steering without any trade-off in stability.

In fact, the engine was such a stunner that the same basic block is still used today in 999cc bikes from Suzuki like the Suzuki Katana.

The K5 is now a classic and hard to come by, especially stock and in good condition, so if you find one, send me a pic.
So BMW secretly began building its superbike. They were pretty mum on the project until an announcement in 2008.
In 2008, Peter Müller, BMW's VP of Development and Product Lines, surprised everyone by announcing at the Mondial du Deux Roues Motorcycle Show in Paris that BMW would enter a factory team into the 2009 WorldSBK.
"In 2007 BMW returned to road racing with the sports boxer after more than 50 years. In 2008 we will continue our activities in the Endurance category. At the same time we will be preparing our entry into the Superbike World Championship in 2009 with great intensity."
(2007? What "sports boxer?" He was talking about the BMW HP2, a race-tuned BMW R 1200 S. And the Endurance was the HP2 Enduro, a kind of stripped-down R 1200 GS.)
At the time, Müller didn't say what motorcycle would be entering. But BMW announced the first S 1000 RR was in pre-production early in 2009.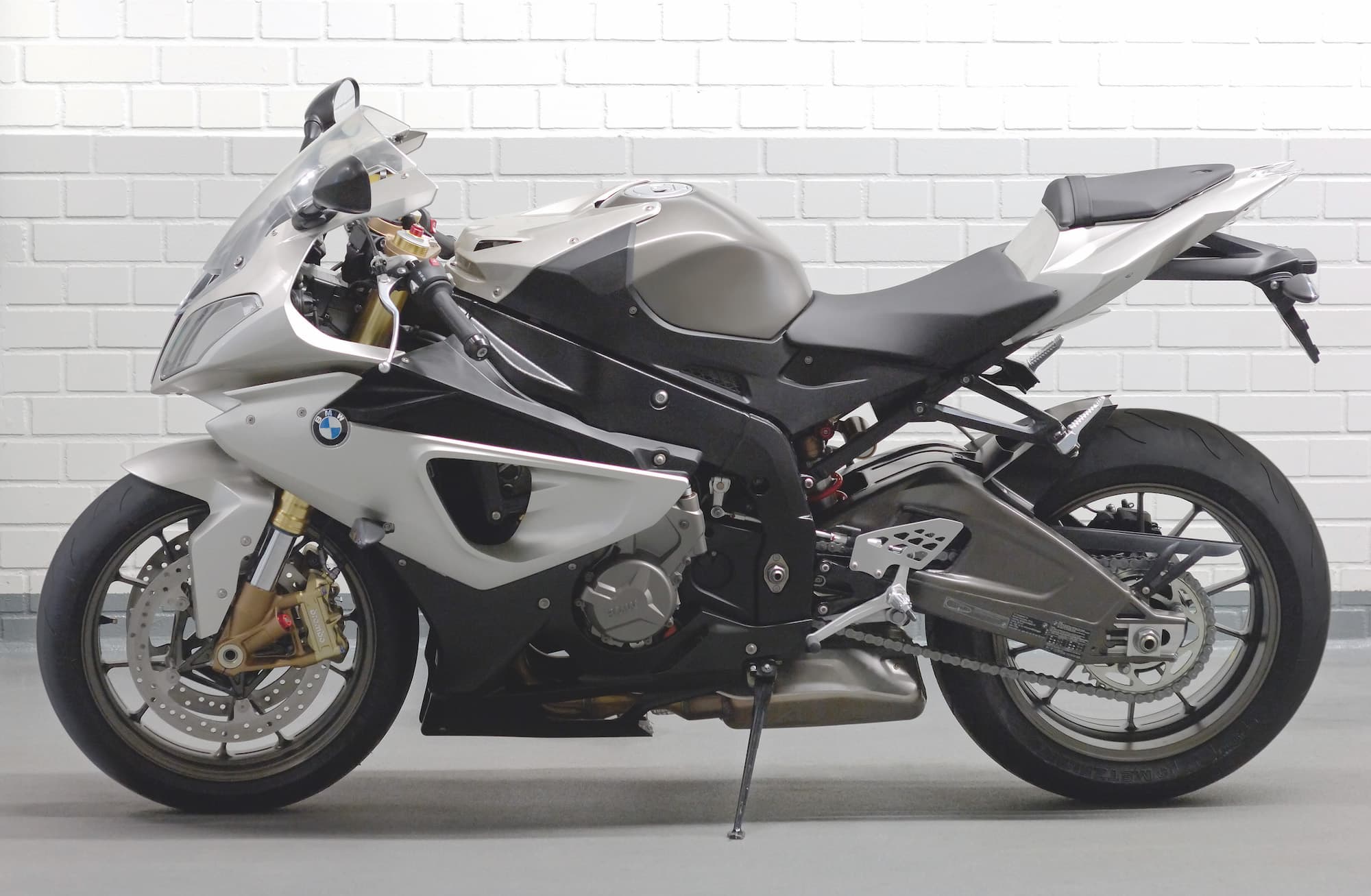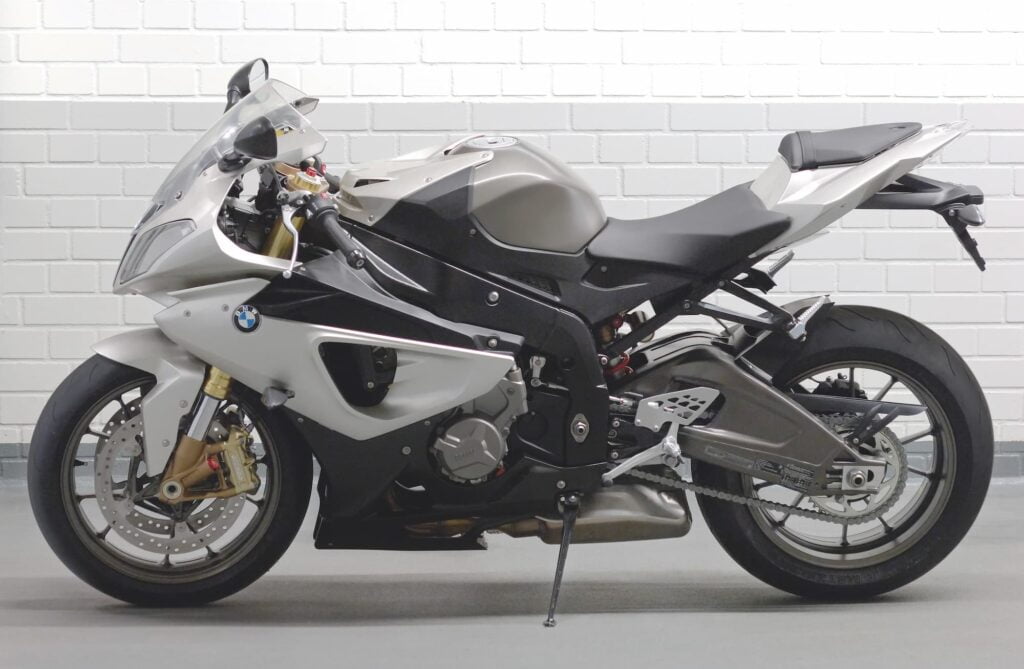 BMW made the first S 1000 RR in a lot of 1000 to satisfy World SBK homologation requirements.
But then BMW announced wider production of the S 1000 RR later the same year, in July 2009.
The first two riders BMW signed for their 2009 gambit were Australian Troy Corser (a former two-time World SBK champion) and Spaniard Ruben Xaus.
In that year, BMW came sixth in the manufacturer titles. Ducati won. Kawasaki, who came seventh, went on later to win for many years with their revamped ZX-10R.
BMW just wanted to play in 2009, but in subsequent years, they haver had a factory win, though they came close in 2012 by coming second. At the end of the 2013 season, they terminated their factory involvement, saying they wanted to focus on consumer bikes.
People still race the BMW S 1000 RR of course — that's what it's made for and what it's best at. But there's no more factory BMW team in WorldSBK.
What makes the BMW S 1000 RR unique?
If you look at the BMW S 1000 RR and compare it to most other superbikes you may think it's just another 1000cc inline four-cylinder engine in a sportbike chassis with USD forks and so on.
Other superbikes tend to have something unique about them, like
The V-twin (and later V-four) engine of the Ducati superbikes, and the single-sided swing-arm
The cross-plane crank of the Yamaha YZF-R1
The V-four engine of the Aprilia RSV4
So what makes the BMW S 1000 RR unique? A few things, some of them applicable to racing, and some at the consumer level.
Power (and torque)
Firstly, the 2009 BMW S 1000 RR led in both claimed and tested power, a nice data point to lead with.
BMW not only claimed to make the most power at the crank in 2009, its measured power at the dyno was the highest for its class.
How did BMW achieve this class-winning power? By keeping that torque curve going higher (remember, torque x rpm x a multiplier = horsepower).
All the other manufacturers' production literbikes peaked in power before 12,500 rpm, whereas BMW peaked at 13000 (or a shade over, per the dyno). BMW got to these high RPM figures with a high-speed, extra-sturdy valve drive with individual cam followers and titanium valves.
Akrapovič, the exhaust manufacturer, did its own apples-to-Äpfel dyno comparison. The order is very slightly different, but BMW is still on top in both metrics.
Akrapovič? How do you pronounce that č? See here for my pronunciation guide to motorcycle words from other languages.
Here's a chart summarising both sets of figures — claimed and measured power. It's in kW (I'm sorry, those who think in hp or ps), but I promise the chart is the same shape, no matter the metric.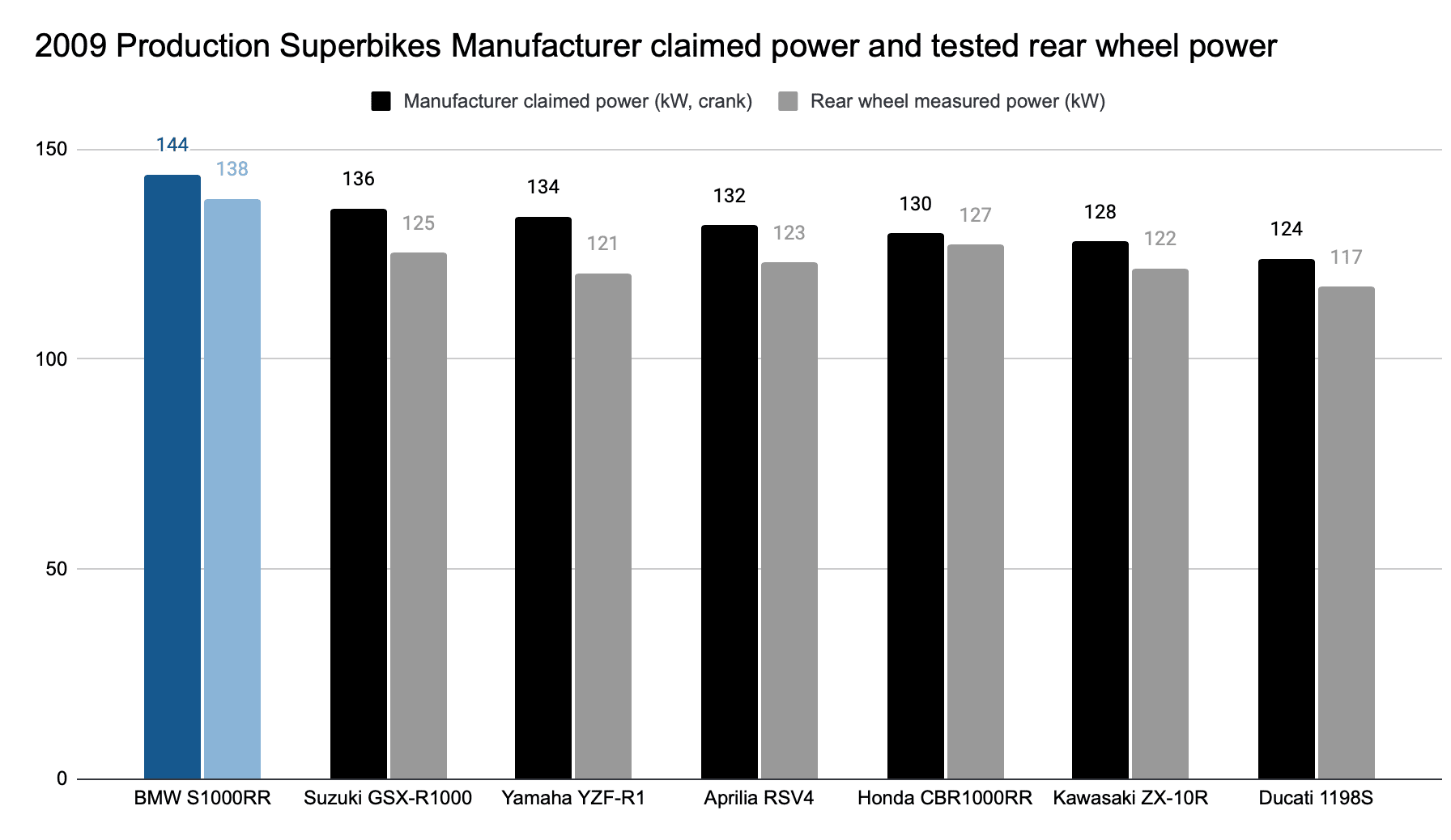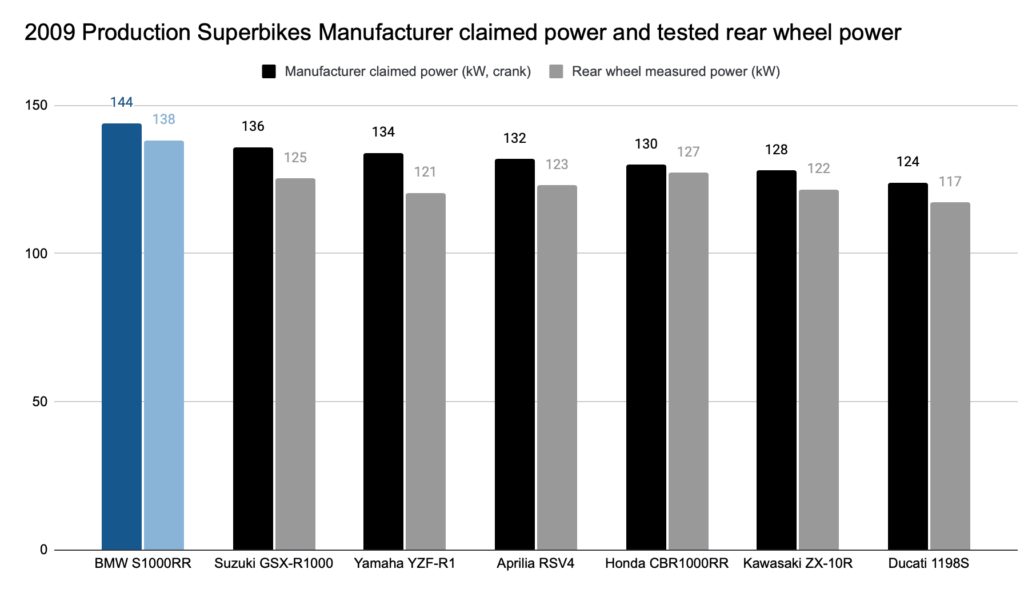 BMW hasn't won all the horsepower awards since 2009, but it did set a new high bar.
More importantly, the S 1000 RR's broad torque curve became a well-loved feature — something BMW learned, no doubt, partly from studying the K5 GSX-R1000's virtues.
Rider aids
The 2009 BMW S 1000 RR was a rare production superbike with optional ABS and Dynamic Traction Control, which is traction control that takes lean angle (and later, cornering acceleration) as an input.
BMW's system was unique in that it was lightweight, weighing only 2.5 kg / 5.5 lb. Other brands (e.g. Honda with its CBR1000RR) had ABS as an option, but it was less often chosen because of the considerable added weight (up to 10 kg / 22 lb).
Ducati was also very early in 2012 with acceleration-aware traction control from the IMU. Other brands were earlier with cornering ABS, but when BMW made it an option in 2017, it was retrofittable back to 2012, thanks to the advanced hardware.
Design/aesthetics
Some people like to look at their motorcycles, not just ride them!
The BMW S 1000 RR has a very unique front-end design with its asymmetrical headlights. BMW said this gave it an "enduro-racer" look.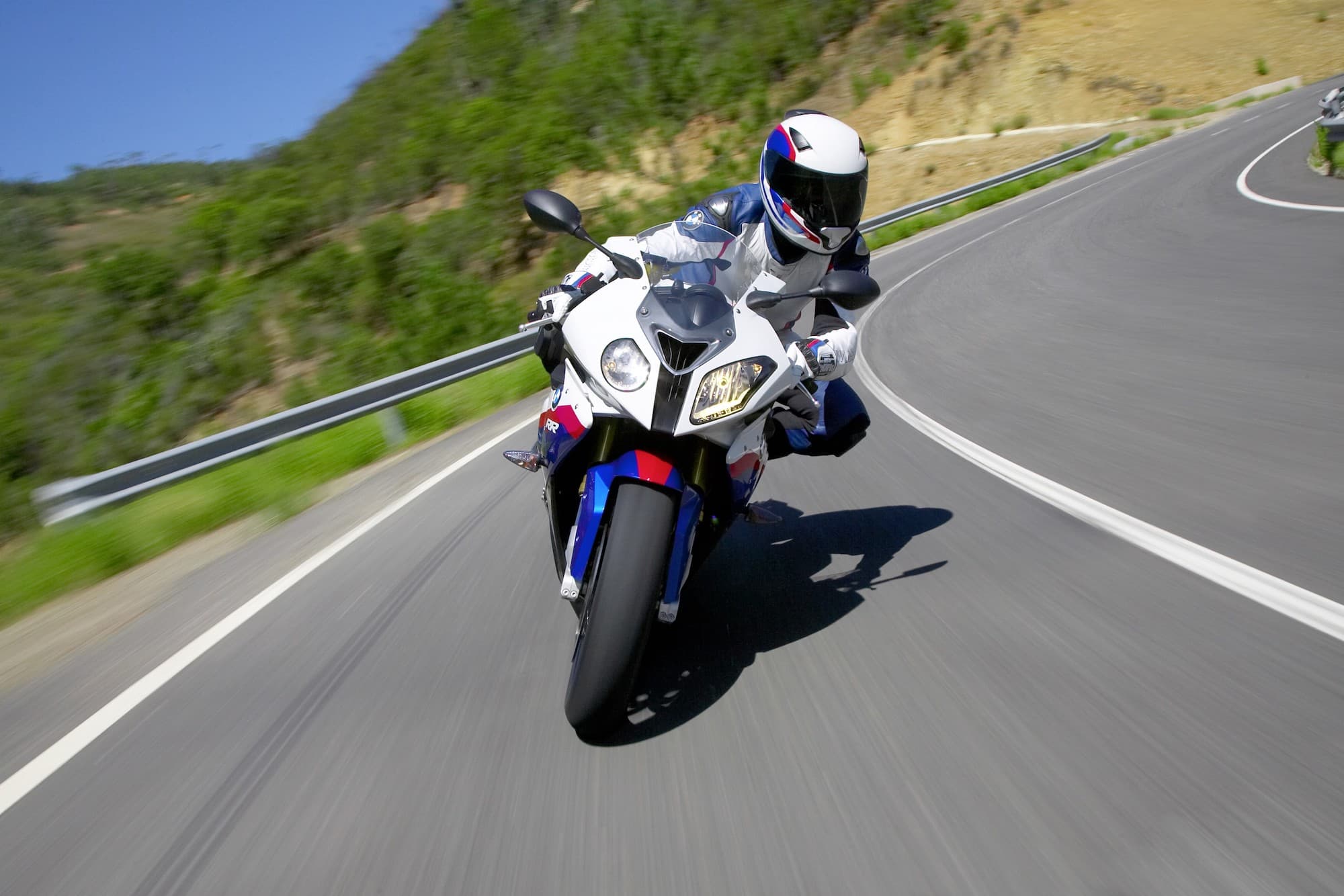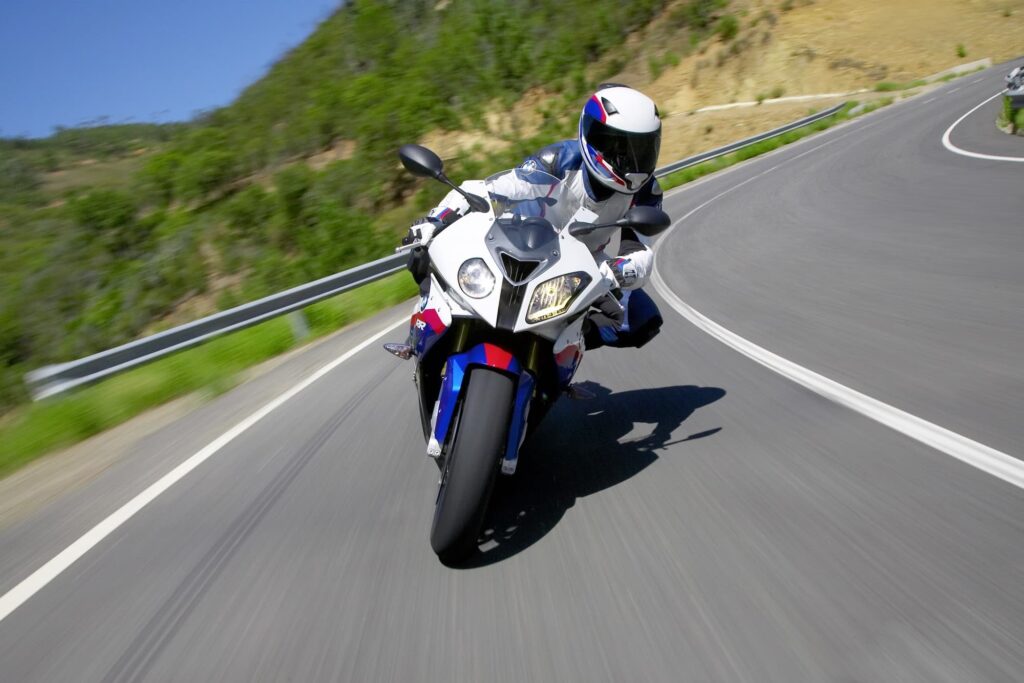 Not everyone likes it, of course, and BMW ditched it in the 2019 generation. I would be more dismayed if the 2019 gen didn't look so good. (Pics below in that section!)
Comfort tech
OK, this wasn't a feature of the 2009 model, but it's worth mentioning as it makes subsequent year models unique.
The original BMW was a basic superbike, aside from the above features.
But more recent models have had factory options like heated grips (from 2012) and cruise control (from 2015).
On a superbike that's still very lightweight, these are unusual options that are still not available on every manufacturer's offerings.
BMW S 1000 RR Generations and Year-by-Year Model Changes
A question many have when shopping for the S 1000 RR is "which is the best model year? Which one should I buy?"
I'll get to that below, but here's a summary table of the core specs of each year model of the BMW S 1000 RR.
Rather than list every year, I've listed four major generations of S 1000 RR. They all share the same basic format of engine (a 999cc inline four, liquid cooled, 16-valve motor), but there were distinct evolutions.
Aside from power and weight, I've added a highly summarised list of features and options that make each generation unique.
Under feature and tech, assume that each generation has what the previous gen did — i.e. the list is incremental.
S 1000 RR Generation
(Years)
Power & Torque
Wet Weight
Features/Options
New Tech
Gen 1 (2009-2011)
* 142 kW (193 hp) @ 13000 rpm
* 112 Nm (82.5 lb-ft) @ 9750 rpm
204kg/450 lb with Race ABS
* Race ABS
* Ride modes
* Optional DTC
* Optional quickshifter
* Lightweight titanium valves and cam followers
* Exhaust interference pipe butterflies
Gen 2 (2012-2014)
* 142 kW (193 hp) @ 13000 rpm
* 112 Nm (82.5 lb-ft) @ 9750 rpm
206.5 kg/456 lb with Race ABS, 90% fuel
* Tighter twistgrip angle
* 45-tooth rear drive (up from 44)
* Improved speed display
* Optional HP exhaust, race data logger
* Optional heated grips
* Lean angle-aware DTC
* Retrofittable cornering ABS
* Optimised torque curve & ride modes
* Steering damper
* Better suspension geometry

Gen 3 (2015-2018)
* 145 kW (199 hp) @ 13500 rpm
* 113 Nm (83 lb-ft) @ 10500 rpm
204 kg (450 lb)
* Standard race ABS, ASC
Pro riding modes — DTC, launch control
* Optional cruise control
* Riding Modes Pro includes "ABS Pro" (cornering ABS) from 2017; retrofittable to 2015+
* Optional DDC
* Optimised head, new intake crankshaft
* Lighter valves
* Lighter exhaust
* Bank angle sensor (IMU)
Gen 4 (2019-2022), EU5
* 152 kW (207 hp) @ 13500 rpm
* 113 Nm (80 ft-lb) @ 11000 rpm
197 kg (434 lb) — huge weight reduction
* Optimised for at least 90% of torque between 5500 and 14500 rpm
* DDC
* Standard ABS pro
* Pro modes option adds configurable modes and launch control
* Quickshifter standard
* Standard DTC including wheelie function
* Symmetrical design — no more " winking" design
* ShiftCam – Variable Valve Timing
* "Flex frame" – load bearing frame
* 6.5-inch TFT
* M Endurance Chain (2020+)
M 1000 RR (2021+)
* 156 kW (212 hp) @ 14500 rpm
* 113 Nm (80 ft-lb) @ 11000 rpm
192 kg (423 lb)
* Higher 13.5:1 compression
* Titanium exhaust (3.7kg lighter)
* Optimised for power from 6000 to 15100 rpm (for the track)
* Carbon winglets, high windscreen
* Many lightweight components
* Higher rev limit of 15100 rpm
* 2-ring forged pistons
* Pankl titanium rods (2023)
* Machined intake ports & new intake ducts

Gen 5 (2023+)
* 154 kW (210 hp @ 13750 rpm (Europe)
* 113 Nm (80 ft-lb) @ 11000 rpm
197 kg (434 lb), or less with Race / M packages
* Broader peak torque
* Slide Control (power sliding)
* Brake Slide Assist
* Winglets (like the M RR)
* Top engine speed of 14600 rpm
* Steering angle sensors
* Shorter secondary gear ratio
BMW S 1000 RR generations, including the M 1000 RR
BMW S 1000 RR Generation Differences in Detail
Here's a detailed overview of each generation of BMW S 1000 RR and also the M 1000 RR (a 2021+ model that's part of the same series)
The BMW S 1000 RR hasn't changed fundamentally since its launch. It has always had a 999cc liquid-cooled 16-valve inline four-cylinder engine making north of 140 kW (190 hp).
But a lot has changed along the way, including
Engine internals and tuning (and peak power and torque figures, as well as how broad the torque curve is)
Frame/chassis materials and design (and weight)
Ride aids and riding technology
Options (what was available, and what became standard)
Graphics and exterior design
I'll go through these in detail below.
BMW S 1000 RR Gen 1 (2009-2011)
Key specs for the first gen S 1000 RR:
142 kW (193 hp) @ 13000 rpm
112 Nm (82.5 lb-ft) @ 9750 rpm
204 kg/450 lb with Race ABS
Optional ABS, DTC
Power modes include Rain, Sport, Race and Slick
I won't rehash all of the above — this was the Gen 1 S 1000 RR that set the standard for years to come.
The first gen S 1000 RR was unique for its class-leading power, its lightweight ABS and DTC, and its asymmetrical front-end design.
The ride modes were quite complex, impacting many factors, including maximum power in different gears, throttle response, the availability of wheelie protection or anti rear wheel lift, and when DTC intervened.
The DTC on the first-generation BMW S 1000 RR was advanced for the time. Depending on the ride mode you were in, it worked by interrupting power based on the angle at which the bike was leaning.
In Rain, Sport, Race, and Slick modes respectively, DTC would restrict power when you were leaned over 38, 45, 48, or 53 degrees. In addition, the degree to which they'd intervene (cut power) would reduce as modes became more aggressive.
The ride modes also affected how much a bike could wheelie or lift the rear wheel (stoppie). In rain mode you couldn't, and in slick mode you could do 5-second wheelies at most — a restriction that annoyed some early adopters of the S 1000 RR. You'd have to turn off DTC to do away with that restriction.
Some riders who ride the bikes very aggressively also didn't like the way DTC would turn on and off mid-lean as your angle changed. So even in slick mode, they'd prefer to have no DTC at all.
The first gen did lack heated grips, though. And you can't add later generation heated grips to the first one, so your only option for your cold hands is aftermarket heated grips (like Oxford heated grips).
BMW S 1000 RR Gen 2 (2012-2014)
Key specs/changes for the 2nd gen S 1000 RR:
142 kW (193 hp) @ 13000 rpm
112 Nm (82.5 lb-ft) @ 9750 rpm
206.5 kg/456 lb with Race ABS, 90% fuel
Tighter throttle twist angle (a common mod done on the gen 1)
Lower gearing — 45-tooth rear sprocket, vs 44 on gen 1 (another common mod)
Improved display with a more legible tachometer, and dimmable LCD
Some cool visualisations like a "Best Lap in Progress" indicator, when the integrated GPS detects you're doing well
Optional heated grips
Lean angle-aware DTC
Retrofittable cornering ABS (made available in 2017)
The second gen BMW S 1000 RR had the same engine, but weighed slightly more as a result of emissions restrictions.
The focus of the S 1000 RR was a few chassis tweaks to make the bike handle better. These were:
A new frame with a revised steering-head angle of 66.1 degrees (US: 23.9) degrees (previously 66, or in the US 24)
Shorter wheelbase (1422.7 mm, 9.3 mm down from 1432 mm)
Wider range of damping adjustment in the fork, thanks to a new internal structure and springs
Mechanical adjustable steering damper
BMW also reconfigured the throttle to need less twist, changed the drive ratio (from 17:44 to 17:45), and added a third power mode standard.
BMW also improved the DTC in the 2012-2015 model, refining it from the 2009-2011 version.
BMW's DTC system from 2012 onward takes input from more advanced sensors. The sensor array is good enough that you can retrofit 2012+ models with "ABS Pro", BMW's name for cornering ABS, when it became an option from 2017, via enabling codes (see this guide, which discusses the retrofit option).
BMW refined the way DTC worked intervened, allowing more slip in race and slick modes. Slick mode deactivates wheelie control altogether in the 2012 model, whereas in the first gen, slick mode let you do wheelies of up to five seconds.
The 2012+ BMW S 1000 RR also got an optional USB-equipped race data logger to download everything you need to analyse your laps later.
The second gen still had an asymmetrical headlight design and the analogue tachometer. But BMW improved the display for better legibility of the speed display, also letting you dim it, and adding more functions like "best lap in progress" or "speed warning" if you need it.
BMW HP4 (2012-2013)
The BMW HP4 is a race-focused bike, released in mid 2012 (see press release) for the 2012-2013 model years. It's distinct from the BMW HP4 Race which was released in 2017 for that year only (see below).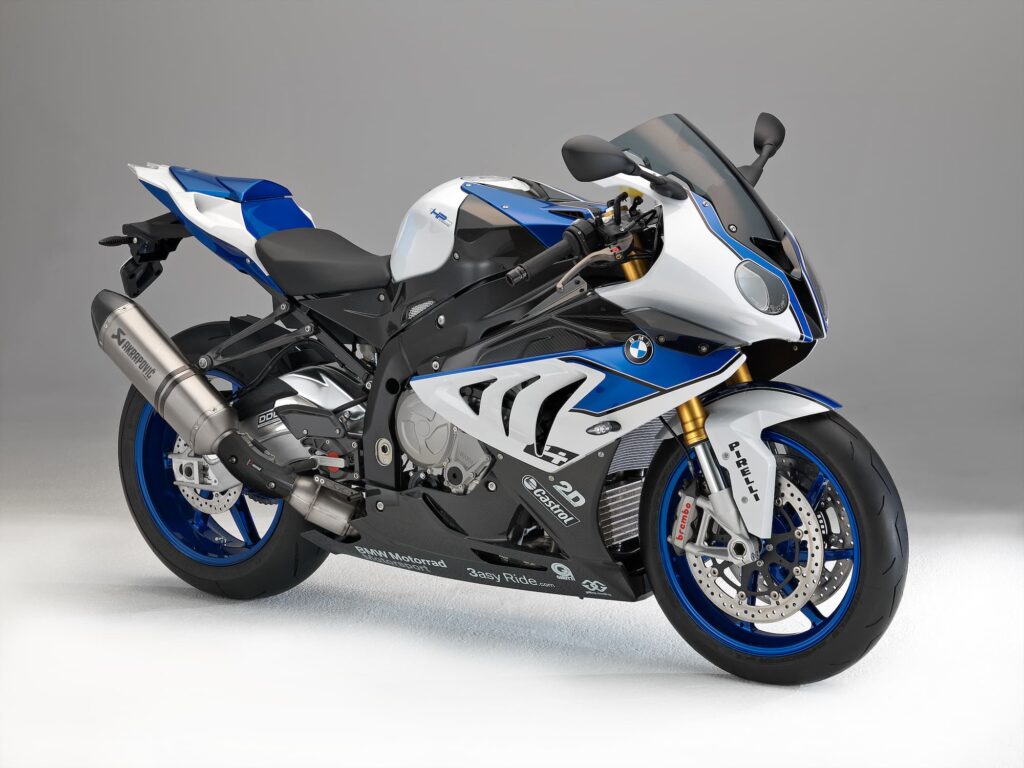 Core specs for the 2012-2013 BMW HP4 are:
142 kW (193 hp) @ 13000 rpm (same)
112 Nm (82.5 lb-ft) @ 9750 rpm (same, but with more midrange)
199 kg DIN unladen (7.5 kg lighter)
200-width tyre
Dynamic Damping Control (DDC)
Launch control
The HP4 is technically a successor to the boxer-powered HP2 Sport, which in turn had more in common with the boxer sport bike the BMW R 1200 S. But the HP4 is the first four-cylinder HP bike.
The BMW HP4 is heavily based on BMW S 1000 RR. It shares the inline four-cylinder engine, with the same specs on paper, but with tuning to increase midrange torque between 6000 and 9750 rpm. The engine also has the same throttle response and full power output in all ride modes (but other characteristics change, like ABS/traction control).
But the BMW HP4 is much lower weight (199 kg DIN unladen, vs 206.5 kg for the 2012-2014 S 1000 RR, both including ABS), due to lighter 7-spoke forged alloy wheels, a lighter sprocket carrier, a lighter battery, carbon parts, and a lighter titanium exhaust.
It also comes with a lot of race-focused tech, like Race ABS, standard DDC, Launch Control, race information on the console, a shift assistant, and more.
A quick word on DDC
That DDC — Dynamic Damping Control — was a huge differentiator for the HP4. It became standard in the next gen S 1000 RR from 2015. The DDC feature adjusts suspension damping automatically based on road characteristics and riding style, helping you stay in contact with the road over bumpy and uneven roads.
The DDC system doesn't just measure speed and acceleration/ deceleration. It takes input from an IMU that can also feed it information about pitch and lean angle. Because the BMW HP4 has an IMU already, BMW offered in 2014 the ability to retrofit these bikes with cornering ABS (ABS Pro in BMW nomenclature).
The HP4 was the first bike to race with front and rear electronic damping. This is now a de rigueur feature on high-end sportbikes.
Launch control is another feature that BMW added first to the HP4, and later to the S1KR.
BMW also added Race ABS with an enhanced "slick" mode. The internal "IDM" setting configures Race ABS with specific parameters, obtained from experience on the track, to optimise the HP4's ABS for track use.
The BMW HP4 also came with a larger 200/55-17 tyre, vs the 190/55-17 tyre on the S 1000 RR.
Finally, the HP4 came with lots of aesthetic changes, e.g. different windscreen, LED turn signals, various stickers, carbon fibre bits, etc. If you want even more, the HP4 Competition package added a few more nice bits, like a spoiler, different wheel colours, and hinged levers.
In 2014, BMW started letting you retro-fit cornering ABS to the HP4 from 2012.
Aside from that, the BMW HP4 is what you expect: a race bike that you can still register and ride on the roads.
Just in case you're wondering — yes, the BMW HP4 has heated grips. But no cruise control.
The BMW HP4 was made for two years, and was later most directly succeeded by the BMW HP4 Race in 2017.
BMW S 1000 RR Gen 3 (2015-2018)
In late 2014, BMW announced a new revision for the S 1000 RR for the 2015 model year, with more power again, a slight weight reduction, and a host of technological features, which would be improved upon again slightly in 2017.
Core specs for the gen 3 S 1000 RR:
145 kW (199 hp) @ 13500 rpm
113 Nm (83 lb-ft) @ 10500 rpm
204 kg (450 lb)
Higher compression ratio engine (13.3:1, vs 13.0:1 up to 2014)
The 2015 update was the first time BMW made major updates to the S 1000 RR's engine — and many other parts.
The higher power came partly from letting the engine rev higher through a new cam profile, lighter valves, and associated redesigns of the ports, airbox, and velocity stacks.
But BMW didn't just improve top-end power; they focused on producing a broad spread of torque from 5000rpm all the way up to 12000 rpm (though not as impressive as the even flatter torque of the 2019+ ShiftCam engine).
The 2015 BMW S 1000 RR also got many improved rider aids.
BMW added a "Race Package" from 2015, which gave the user DDC (a more advanced version, from the HP4), launch control, a pit limiter, and cruise control.
The 2015+ model also got its first "User" mode on top of "Slick" and the others, where the user is able to customise all the rider aids.
In 2017, BMW made a small change to the S 1000 RR when they made cornering ABS (which BMW calls ABS Pro) standard. Shortly afterwards, BMW made ABS Pro available as a retrofittable option to earlier models from 2012 onwards. (Many took them up on this as it only cost around 400 Euro/500 USD — check that "ABS Pro" shows up on the dash if you're buying a used one.)
The 2017+ models also had DTC as standard, and came with a single seat as standard.
The Gen 3 S 1000 RR is my personal favourite for a few reasons.
Even though the later Gen 4 was more powerful AND lighter, it doesn't make enough of a difference to me. The Gen 3 is a lot cheaper on the used market and is incredibly well-equipped.
Secondly, the 2017/2018 Gen 3 comes with cornering ABS, and often has cruise control and heated grips, because people often buy all the options on premium bikes. This means that for most practical purposes, the Gen 3 S 1000 RR has everything I could possibly want in a motorcycle.
Finally, I prefer the analogue white-faced tachometer of the Gen 3 S 1000 RR. This is a personal preference. The TFT on the Gen 4 is great looking, but ultimately, it reminds me too much of my phone and of technology — something I'm trying to leave behind when I'm riding (or taking part in any kind of leisure).
(I reserve the right change my tune on this in 10 years time when TFTs are ubiquitous and I've caught up, psychologically.)
BMW HP4 Race (2017)
The BMW HP4 Race is another race-focused version of the BMW S 1000 RR, an evolution of the BMW HP4 made between 2012-2013. Only 750 were made, all in the year of 2017.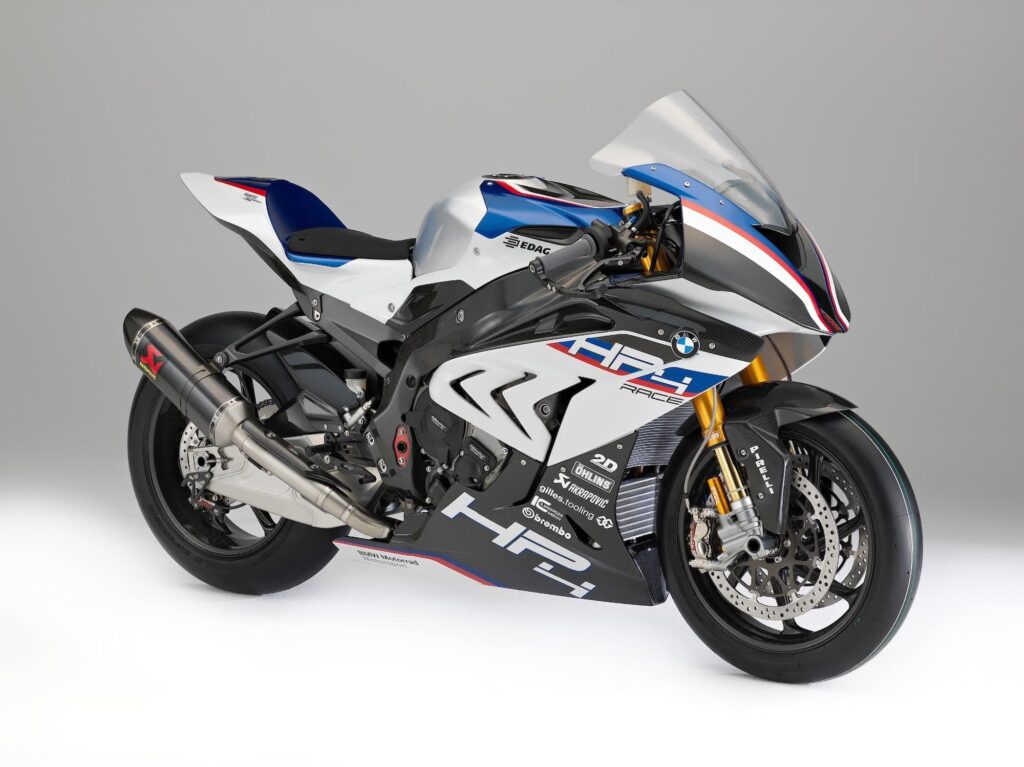 Unlike the previous HP4, the HP4 race has a significantly higher power engine than the standard 2015-2018 BMW S 1000 RR.
Also unlike the HP4, the HP4 Race is not road legal.
In addition, it's shockingly light at 171 kg fully fuelled. To put that in perspective, there are many 300-400cc bikes that weigh more than that. Of course, they are road legal, but this should give you a mental frame of reference.
Here is a table of differences between the 2017-2019 model S 1000 RR and the BMW HP4 Race, for perspective.
| Part | BMW S 1000 RR (2017) | BMW HP4 Race |
| --- | --- | --- |
| Engine max power | 146 kW (199 PS / 196 bhp) @ 13500 rpm | 158 kW (215 PS / 212 bhp) @ 13900 rpm |
| Engine max torque | 113 Nm (83 ft-lb) @ 9500 rpm | 120 Nm (89 ft-lb) @ 10000 rpm |
| Wet weight (90% DIN unladen) | 204 kg (450 lb) (road legal) | 171 kg (377 lb) (track prepared) |
| Frame material | Aluminium alloy | Carbon fibre |
| Wheels | Light alloy | Carbon fibre (30% lighter) |
| Front suspension | 46mm USD fork, fully adjustable | Öhlins FGR 300 |
| Rear suspension | Aluminium double strut swingarm, fully adjustable | Öhlins TTX36 GP |
| Front brakes | 4-piston radial calipers on 320mm discs | Brembo GP4 PR with 320 T-type steel discs |
| Battery | 9 Ah | 5 Ah lithium ion |
| Exhaust | Standard, with catalytic converter | Lightweight full titanium |
| Transmission ratios | Standard street-optimised (first two gears 1:2.65, 2.1) | Close ratio track-focused (e.g. first two gears with ratios 2.38 and 2.0) |
| Shift pattern | Standard shift | Reverse shift pattern ("GP shift") |
| Unique Rider aids | Standard ABS, ABS Pro (optional), Optional quickshifter, Ride modes (street oriented, optional customisable) | HP Shift Assistant Pro, DTC (later intervention), EBR(+/-7), 4 customisable ride modes, data loggers, dash with mechanic side |
BMW S 1000 RR Gen 3 (2017-2019) vs BMW HP4 Race core differences
The engine itself is hand-crafted by a small team of experts at BMW in Berlin. There are a number of changes that contribute to its increased power and torque:
New intake and exhaust camshafts for larger intake and exhaust valve strokes, with adjusted valve opening times and new springs
Optimised intake silencer and carburetion
Two level variable intake funnels (varying shorter intake passages and longer ones at different engine speeds)
Lower weight crankshaft (200g lighter)
Higher-strength milled connecting rods (made by Pankl)
Increased oil supply and a different oil spec
Higher pressure radiator (and no fan)
Many of the other changes are noted above.
(If you have an HP4 Race, send us a photo of your pride and joy!)
BMW S 1000 RR Gen 4 (2019-2022)
Core specs for the Gen 4 S 1000 RR are:
152 kW (207 hp) @ 13500 rpm
113 Nm (80 ft-lb) @ 11000 rpm
197 kg (434 lb) — huge weight reduction
In case you were wondering, yes, the BMW S 1000 RR in 2019 is both more powerful and lighter — in fact, the weight of the S 1000 RR is the lowest it has ever been. With the M package it's an absurdly low 193.5 kg.
Aside from power and weight, another marquee features of the 2019+ BMW S 1000 RR is that ShiftCam engine. ShiftCam is BMW's name for variable valve timing (VVT). The tech means that they alter the valve timing and stroke, allowing the engine to breathe differently depending on its load.
Implementing ShiftCam means that BMW's 2019+ S 1000 RR produces ~90% of its peak power from 5500 all the way through 14500 rpm.
BMW also made chassis improvements in the Gen 4 BMW S 1000 RR. They implemented what they call the Flex Frame, increasing the load-bearing function of the engine, and improving the ergonomics as a result, by
Making the fuel tank leaner
Improving support under the seat and by the knees
Optimising contact surfaces for the knees (for comfort AND grip)
Redefining the rider triangle (slightly different)
Other marquee features are
Standard DTC (actually standard from mid last gen, 2017, and before that an option)

Standard quickshifter (previously an option)
ABS Pro (available in the last gen, but from 2017 onward) as part of "Riding Modes Pro", which also added a pit lane limiter and launch control
Optional Dynamic Damping Control (DDC)
More adjustable features — Race Pro 1-3 configurable modes
A TFT display
Redefined front-end
The 2019 BMW S 1000 RR has different brakes to the earlier versions. They're no longer made by Brembo and are now made by Hayes, an American company (owned by Brembo), apparently chosen after blind testing. The rear caliper is still made by Brembo.
Note — BMW recalled the Hayes calipers S 1000 RR. The calipers may leak when parked. It's slowly and doesn't cause the brakes to fail, but riders would notice fluid marks on the rim, tire, or ground. As part of the recall, the caliper would be replaced by the same Nissin caliper that came standard in the 2021+ models.
BMW also changed the analogue tach + LCD to a full-colour TFT display. While it looks cool and clean, I will miss the white dial. (Am I already old? Perhaps I've just dropped too many a phone and see all screens as fragile… in reality, I've also had CAN bus bikes fail to start when an analogue tacho was broken.)
Oh and of course, the 2019+ S 1000 RR loses the "winking pirate" look of every model up to 2018. RIP. But with DRLs on, it looks awesome.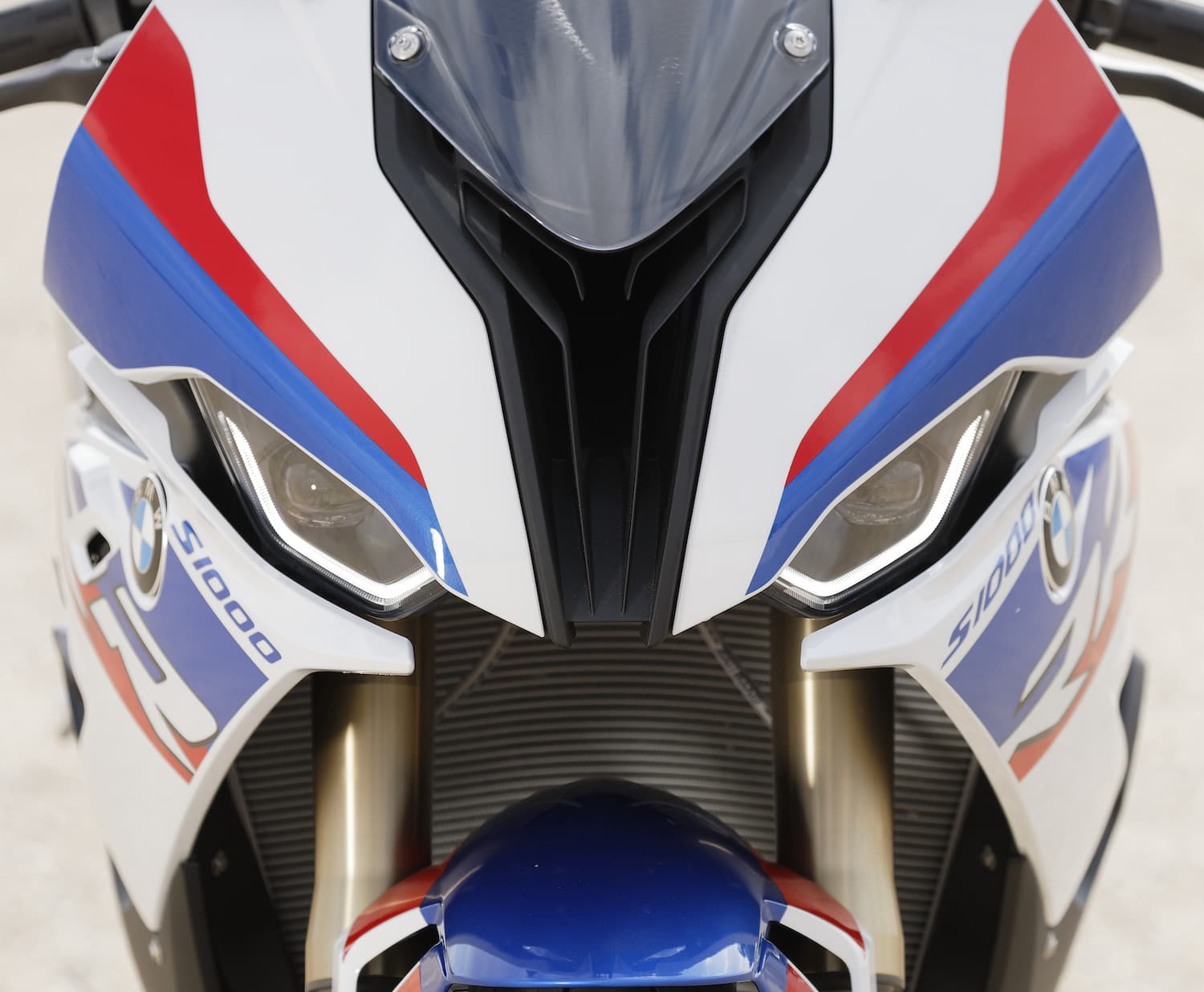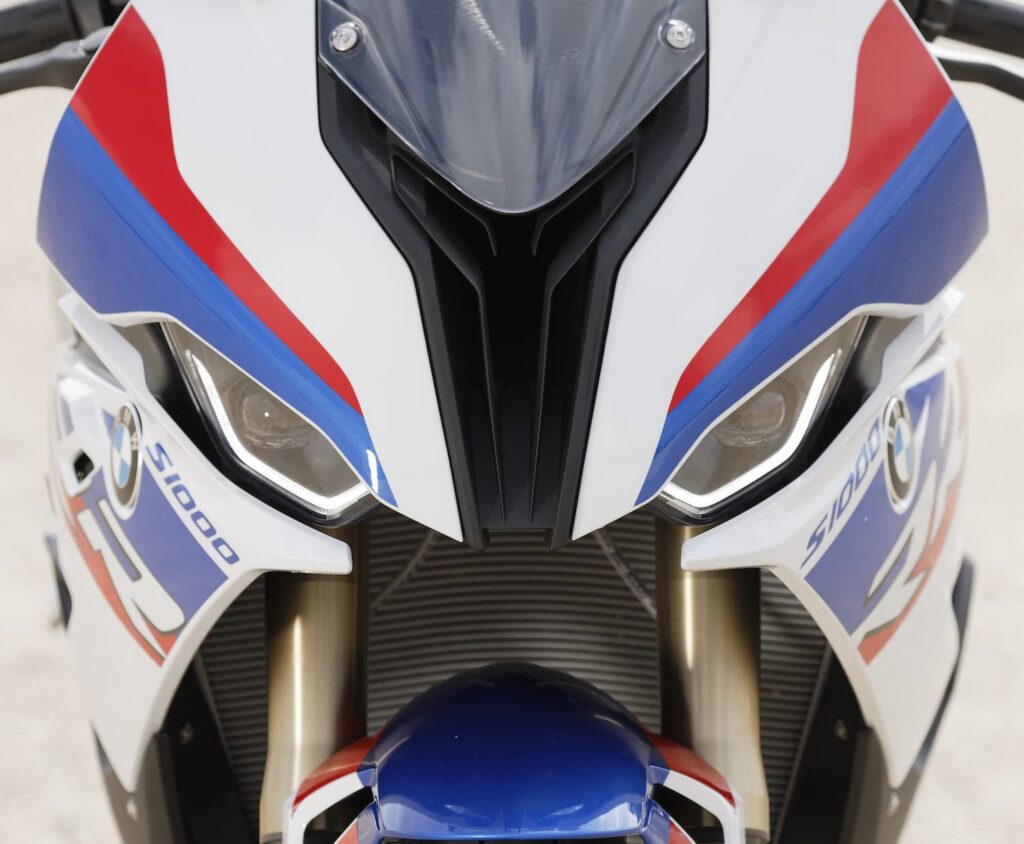 From late 2020, the latest BMW S 1000 RR has also been available with the M Endurance chain, a low-maintenance chain with a very hard diamond-like coating on the rollers. See more about the M Endurance chain here.
BMW M 1000 RR (2021+) — Even more track focus
From 2021, BMW introduced another motorcycle to the S 1000 RR range — the M 1000 RR.
Because it's a high-spec, track-oriented bike, I wouldn't consider the M 1000 RR to be the "latest" S 1000 RR. For the vast majority of people who aren't either a) very high-budget racers or b) collectors, it isn't a sensible choice.
But the M 1000 RR is based on the same foundation and is part of the same series of "S" bikes, and so deserves a mention.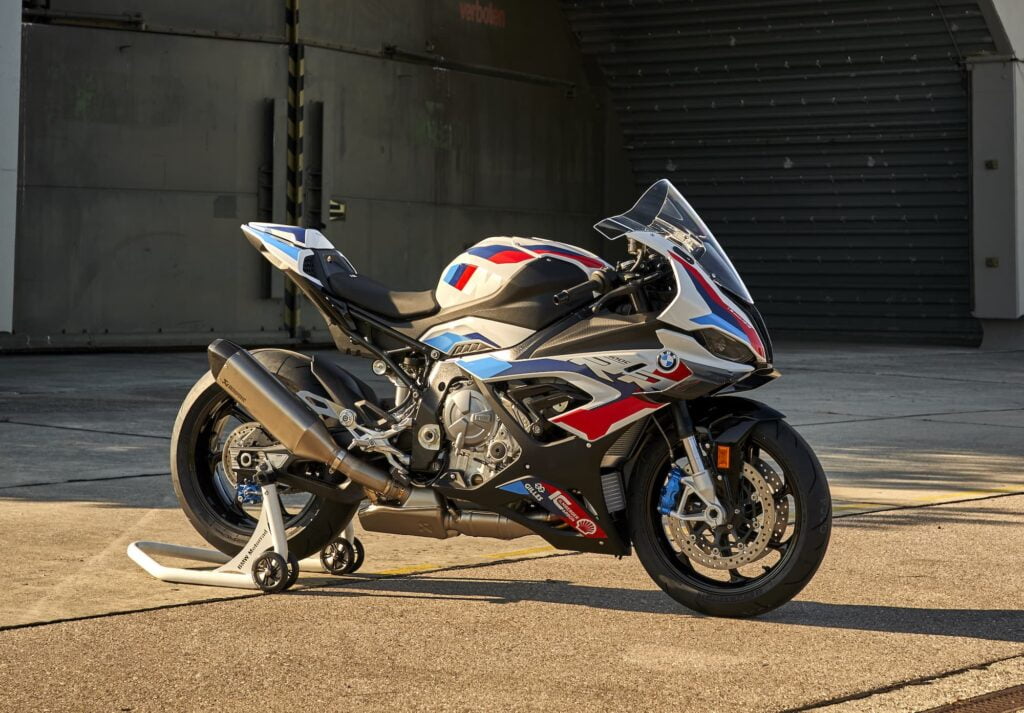 Anyone familiar with motorsports would be familiar with the iconic M range from cars — the BMW M3, M5 and so on. Well, 2021 is the first year that the M range has included motorcycles. Remember this and tell your (or someone else's unwitting) grandkids!
Bear in mind that the 2019 S 1000 RR is available with an M package that significantly reduces the weight. The M 1000 RR is even lighter than the S 1000 RR + M package, and has its own M package that reduces its weight even more (though not by as much).
In a nutshell, the BMW M 1000 RR is very similar to the last generation S 1000 RR, but is
Slightly more powerful: 156 kW / 212 hp at 14500 rpm (vs the 152 kW / 207 hp at 13500 rpm of the previous). Note it has the same peak torque, and the peak power comes at higher revs.
Higher revving, to a ceiling 15100 rpm (with the help of the revised engine internals, letting it get higher peak power)
Equipped with an increased compression ratio to 13.5
The higher power, higher-revving engine in the M 1000 RR comes thanks to many revised engine internals: 2-ring forged pistons (12g lighter — but with pistons, ever gram counts), an adapted combustion chamber, and slimmer and lighter rocker arms.
In addition, the M 1000 RR has a faster valvetrain. The valves are made of titanium (light weight), have a new spring assembly, and slimmer and lighter rocker arms than on the S 1000 RR.
Other changes that lead to the M delivering higher power include:
Camshafts optimised for the higher power/higher rev range (but still delivering a broad spread of power between 6000 and 15100 rpm)
Revised intake ports and new duct geometry
An anti-hopping, self-reinforcing clutch
MUCH lighter titanium exhaust (3.657 kg lighter)
M Winglets and high windscreen, for better traction (no, the screen is not for touring in comfort)
M brakes (made by Nissin) — a change from the Hayes-made brakes of the 2019 S 1000 RR
Lightweight Marzocchi forks
M carbon wheels — lightweight
All these speed-first features mean that the M 1000 RR has an MSRP of US$32,495, nearly double the MSRP of the base model $16,995. (Adding further options to each raises the price of each.)
The high ticket price of the BMW M 1000 RR makes it more expensive than a Ducati Panigale V4S ($28,395), or a Yamaha YZF-R1M ($26,099).
For 2023, BMW updated the M 1000 RR.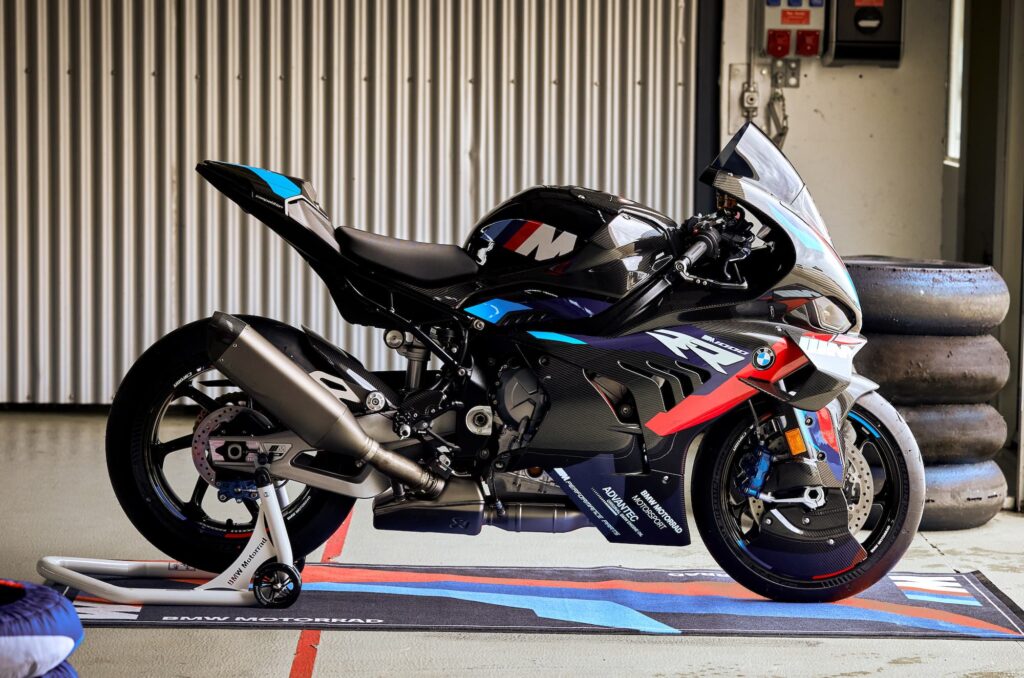 The 20230-onward M 1000 RR is based on the same engine as before, but with improved aerodynamics to increase the top speed from 306 to 314 km/h (190 to 195 mph). On top of this, general high-speed performance is physically less taxing for riders.
BMW achieved this by implementing a new carbon fibre fairing with a higher windscreen, and a lightweight, rigid front fairing. It's all made of carbon fibre.
BMW also revised the winglets to generate more downforce both while upright and while banking.
At the front wheel section, BMW implemented brake cooling air ducts made of visible carbon fibre, optimised for air flow around the fork legs and calipers, and also optimised the wheel covers for lower air resistance.
Aside from that, BMW made some aesthetic revisions to the M Carbon Wheels, to the rear section, and seat.
BMW S 1000 RR Gen 5 (2023+) — Slide Control
In late 2022, BMW announced the 5th gen BMW S 1000 RR, for model year 2023 onward.
Core specs of the 5th gen BMW S 1000 RR:
Peak power of 145 kW / 210 hp at 13750 rpm (Europe spec — US TBA) — slightly more power, slightly lower
Peak torque of 113 Nm (80 ft-lb) at 11000 rpm – same, but BMW says there's a broader spread of torque
Weight of 197 kg / 434 lb, same (and lower in Race or M spec)
The 5th gen BMW S 1000 RR has the same ShiftCam engine as in the 4th gen BMW S 1000 RR, but BMW has implemented a few things from the M 1000 RR (which came after the 4th gen), including
New airbox (still with variable intake funnels)
Revised intake ducts with advanced channel geometry, through with a cast surface (the M RR has milled surfaces)
Winglets! Because you really felt like you were missing out.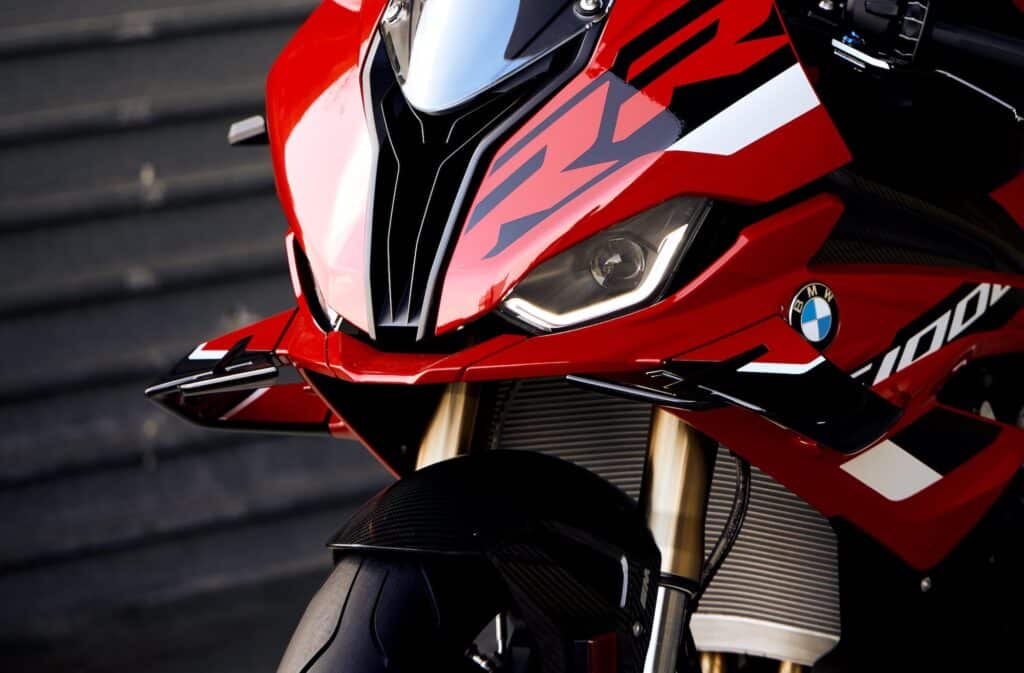 BMW added a new tech feature of "Slide control" to the 5th gen S 1000 RR. Just in case you didn't feel like enough of a superhero with the IMU that the S1KR has had since the 3rd gen, BMW added a steering angle sensor to help control how you power slide!
The new S 1000 RR measures steering angle as well as lean angle and wheel speeds to calculate slip angle at the rear wheel, to control the amount by which you drift.
Here's how slide control works. The BMW IMU / ECU interprets measures slip angle and compares it with the set value per the DTC settings. If the computer thinks you might go past maximum slip, the slide control system moderates the amount of drive to limit slip.
And yes, the amount of slide control / drift angle is configurable via DTC settings.
BMW added a separate (but related) "Brake Slide Assist" function to the 5th gen.
Brake Slide Assist also uses the steering angle sensors. Its goal is to control the drift angle under braking. But rather than varying rear wheel drive, the brake slide assist function limits braking, and also controls rear wheel slip via the engine drag control function (MSR).
The 2023+ RR has a few new improvements on existing features:
Standard Hill Start Control. All RR models get this in the base package now. The Ride Modes Pro adds Auto HSC for a little more automation, detecting gradients and implementing HSC under certain conditions.
Improve Shift Assistant Pro. BMW improved the quickshifter, implementing your shift request via a "torque model" and thus letting you use it in all situations. They also improved the mechanism. It's now easier to change to race shifting, too.
BMW also refined the chassis geometry, flattening the steering head by 0.5 degrees to 66.4 degrees rather than 66.9, and reducing the offset of the triple clamps by 3 mm. The goal of this, and a few other changes, is to subtly improve riding position and feedback from the front wheel.
Alternatives to the BMW S 1000 RR
It's hard to be succinct about alternatives to the S 1000 RR because a) there are quite a few and b) they're all amazing.
Also, each of these superbikes has evolved considerably during the years. So it's hard to compare one year to another.
But here goes — a very succinct summary of the other superbikes you could spend your well-earned money on.
Ducati 1198S, 1199S, 1299S, V4S: These were the Ducati superbikes and Ducati Panigale-named superbikes that existed in the time the S 1000 RR has been around. You'd pick an early Ducati if you like the power and torque characteristics of a V-twin (lower revving, less peak power), and maybe the sound, and a later V4 if you're into that mechanical superbike roar. The Ducatis also have incredible aesthetics. Both the Ducati and S 1000 RR are comparable in terms of rider aids (year for year), though the Ducati never got the S1KRR's heated grips or cruise control. But beware, Ducatis generally cost more to service when it comes to valve service because of difficult access to more heads and more valves (due to the desmodromic valvetrain).
Yamaha YZF-R1 "Crossplane". Yamaha has been making its crossplane crankshaft-equipped R1 since 2009 too, coincidentally. The 2015 version was built for even more power, and got a six-axis IMU with cornering ABS, two years ahead of the S 1000 RR (which got it in 2017, retrofittable to 2015). You'd pick the R1 for that unique engine and sound and for even wider service intervals (40000 km +). The R1 never got heated grips or cruise control.
Honda CBR1000RR Fireblade. Since the first 2004 CBR1000RR, Honda has always been a bit lower on the power and features than its competitors, only getting an IMU as of the 2017 model year for example. You'd pick the Honda if you're after legendary Honda reliability or if you're tickled by the history of the Honda FireBlade. But otherwise it stacks up comparably with the S 1000 RR on power and torque delivery, and the BMW outclasses it in tech and functions. As of 2021 though, the CBR1000RR-R SP is a very expensive and exclusive bike.
Aprilia RSV4, RSV4 R, RSV4 Factory, RSV4 R APRC, RSV4 RR. You'd buy an Aprilia RSV4 if you want a V4 engine. It's an incredible machine. You give up a bit in terms of comfort — it's smaller, with a more aggressive position. In recent years the 1100cc RSV4 has been more powerful AND lighter than the BMW S 1000 RR. Cornering ABS and cruise control since 2017.
Kawasaki ZX-10R. The ZX-10R has won a lot of WorldSBK championships in recent years and make. It was also early with tech like IMUs and advanced traction control. From 2016 onward, they've been extremely track-focused, and do away with anything that isn't about lap times, so don't expect heated grips (but they did get cruise control in 2021).
Suzuki GSX-R1000. Another iconic sportbike — recall that the 2005 model was a primary inspiration for the first S 1000 RR. The latest 2017+ Gixxer is comparable in power (150 kW/202 hp) and weight (201 kg/443 lb) with the latest S 1000 RR. The 2017+ Suzuki superbike has quite an advanced engine too, with variable valve timing equipped. But the latest standard Gixxer lacks cornering ABS (despite having an IMU for traction control), uses a full monochromatic LCD rather than TFT, and doesn't come with even a shock quickshifter. The higher-spec R model does have cornering ABS, bi-directional quick shifter, but not fancy features like cruise control or heated grips.
I apologise for the brevity/glibness of the above. Aficionados of each of the brands will know a lot of nuance has been skipped.
But the reality is that there's really no wrong answer. In terms of track times, all the of the above bikes are better bikes than I am a rider, and I suspect that's the same for most people. So you're likely to make the choice of which bike based on personal preference and what's available.
If you're after a BMW S 1000 RR, you probably already know it's the only one for you!
BMW S 1000 RR vs S 1000 R vs S 1000 XR — Should you just get one of those?
An inescapable question is "Should I just get an S 1000 R? Or an S 1000 XR?"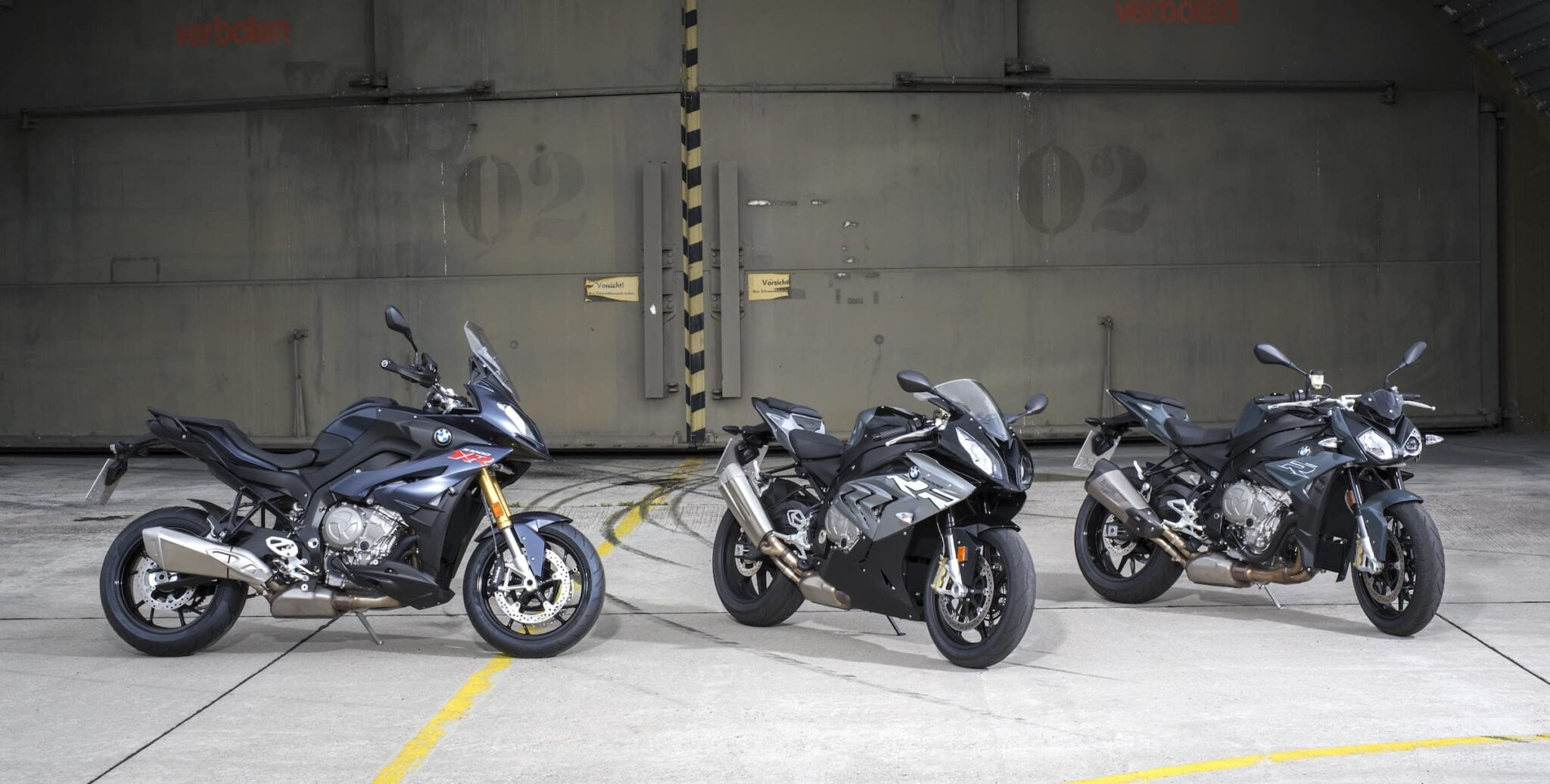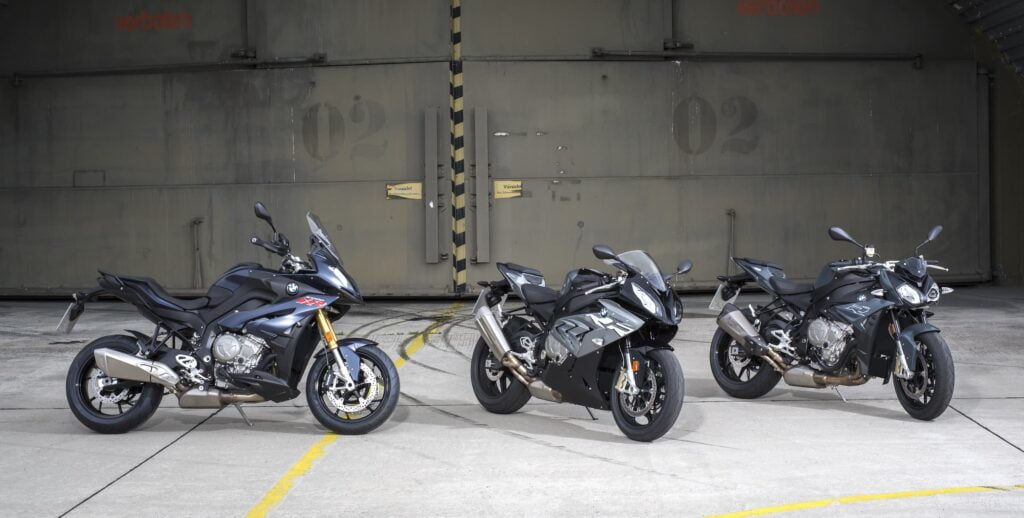 The answer is likely: yes, it's quite likely you "should" get an XR or R. Unless you're really, really committed to the track, or you just can't stop looking at S 1000 RRs (guilty), the other bikes are more appropriate a lot of the time.
I admit that sometimes — often — we make decisions about motorcycles with our hearts. I can't fault that. Many people would rather buy an S 1000 RR and then make it work for touring rather than buy a S 1000 XR, which is more purpose-built for it.
But there's no question that the S 1000 R or S 1000 XR are extremely capable machines, able to keep up with full-on sportbikes in most off-track riding by most people.
Let's look at how the pure specs stack up, just so you know. I'll look at a generation of used bikes – the previous gen.
Spec
2017-2018 BMW S 1000 RR
2017-2018 BMW S 1000 R
2017-2020 BMW S 1000 XR
Power
145 kW (199 hp) @ 13,500 rpm
121 kW (165 hp) @ 11000 rpm
121 kW (165 hp) @ 11000 rpm
Torque
113 Nm (83 lb-ft) @ 10500 rpm
114 Nm (84 lb-ft) @ 9250 rpm
114 Nm (84 lb-ft) @ 9250 rpm
Compression ratio
13.0:1
12.0:1
12.0:1
Weight (DIN unladen)
208
205
228
Suspension
* 120/120mm travel
* Optional DDC
* 120/120mm travel
* Optional DDC
* 150/140mm travel
* Optional dynamic ESA
Ride aids
* Cornering ABS
* Race package, including "User" mode, launch control, pit lane limiter
* Standard quickshifter
* Standard DTC
* Optional DTC
* Riding modes pro includes "User" mode and launch control
* Optional DTC
* No "User" modes
External features/ options
* Clip-on handlebars
* Single-seat as standard
* Handlebars
* Reduced fairing, no wind protection
* Tall windscreen
* Handlebars, Upright seating
* Hand guards
* Navigation mount
* Factory luggage options
Comparing specs of one generation of the BMW S 1000 RR, S 1000 R, and S 1000 XR
The differences are increased in the next revision of models. The 2021+ S 1000 R and S 1000 XR got different gearing (ratios inside the gearbox) to the S 1000 RR, which further changed the way they responded to their own power curves.
The power and weight specs, in a nutshell, mean that you get the same peak torque, but earlier, on the S 1000 R and the XR. This means you'll get to use its peak power more often — you'd have to wait until higher in the torque curve to get to the same power on the RR.
Here's how the power and torque curves compare — it's a chart from my buyers guide to the S 1000 R: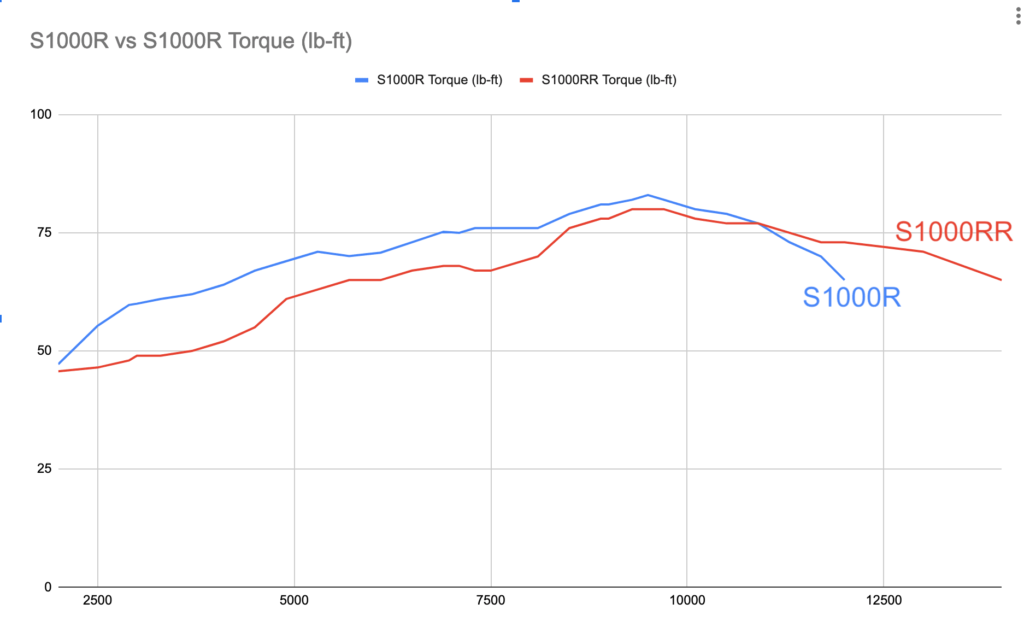 So the S 1000 R and S 1000 XR have a clear advantage in everyday torque availability.
But it's not to say that the RR is unrideable in everyday life. In fact, this is one of its virtues. Its broad spread of torque and comfort features like heated grips and cruise control mean that it is useable every day — for a superbike.
When testing these bikes, it wasn't until I sat on them and took them for rides that I really appreciated how they felt. To me, the following was entirely subjective, but it might help you.
S 1000 RR: I love the race track crouch position on the RR, even though it's a small bike. It feels like wearing a well-fitted suit (actually, one better than any of the suits I've owned). But I felt that the S 1000 RR — like most sport bikes — was happiest when I was leaning it over, imagining my knee was inches from the ground (it's usually a lot further away). I feel annoyed on highways (argh, chicken strips! People on the internet will mock me!), and frustrated/angry in traffic, darting between cars in an attempt to assert myself, watching the green light, and blasting off all the time. (I have this reaction on most sport bikes I ride.)
S 1000 R: I don't mind freeways on the single R. I pop on cruise control and generally relax into it. Commuting, I'm less stressed. The engine doesn't get as hot (thanks in part to the lower compression ratio). But when I want to get on it, I find it extremely easy to hit triple digits (no matter the unit) without even bothering to shift more than once. Around neighbourhoods, I can forget I'm in fourth gear sometimes. The S 1000 R is an everyday hooligan's bike. See my buyers guide here.
S 1000 XR: I feel like a gentleman on this bike, poised for a long-distance journey. The effect of an upright body position is very relaxing… I never have to get off bikes with this position other than to refuel. Dynamic ESA makes bumpy roads seem like a smooth racetrack. Luggage doesn't look out of place, and a centre stand makes lubing the chain just so easy. The XR is a bike I'll grow into one day, but I'm not there yet. See the buyer's guide here.
For me, naked bikes like the single R are the perfect balance. The main caveat is that they lack that "Dear god, what is that gorgeous work of art??" level of beauty that only the sportiest of bikes can achieve.
You really should sit on each one and maybe take them for a brief ride to figure out where your balance is. Factors like your age, the health of your spine, your flexibility, how and where you like to ride, and whether or not sport bikes are "been there, done that for you" are all important.
Choosing between them is subtle, but choosing well can make the difference between a keeper and a bike you own for less than six months. Which is fine, but changing bikes costs time and/or money that not everyone has to spare.
Maintaining the S 1000 RR
If you're buying a used BMW anything, make sure you buy one with a complete maintenance log. BMW buyers can be quite fussy and expect the log to be complete.
The maintenance schedule for the S 1000 RR hasn't changed fundamentally in the years since launch.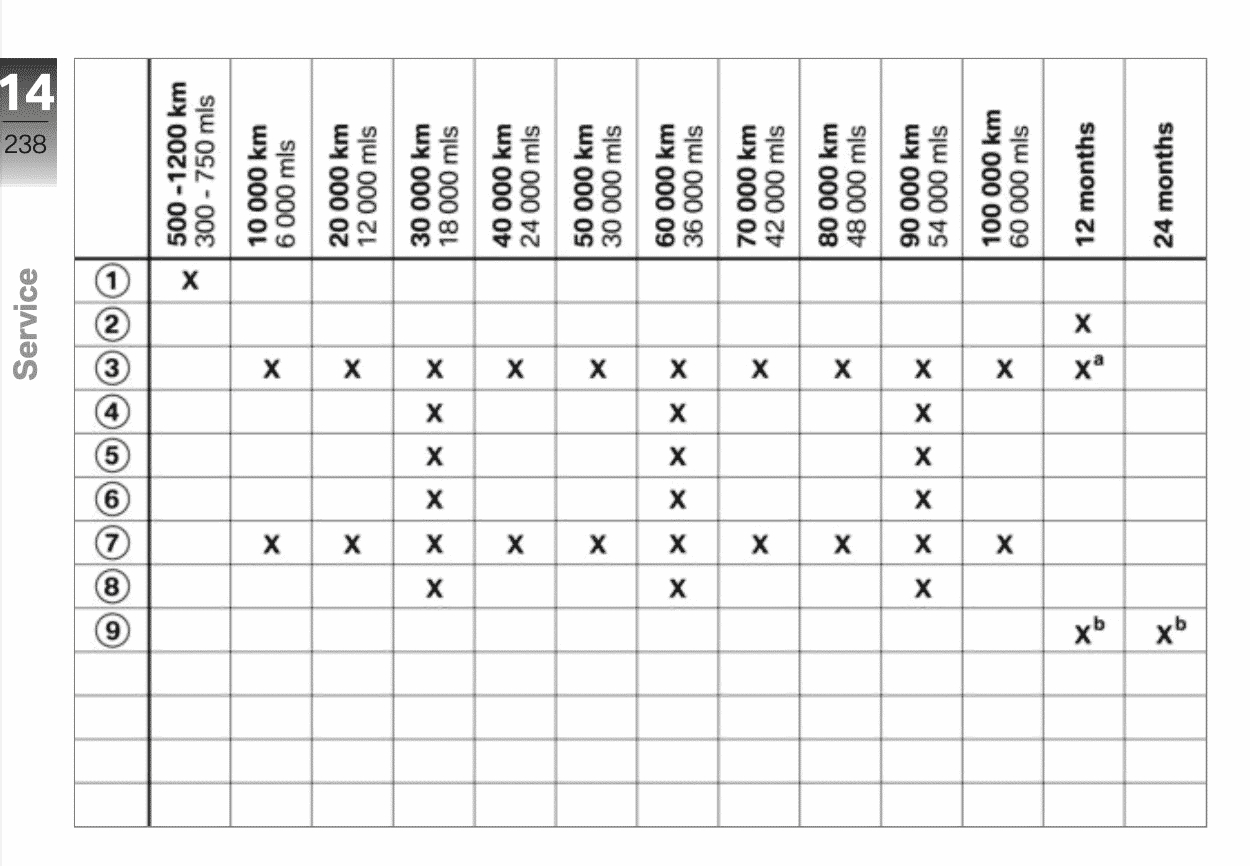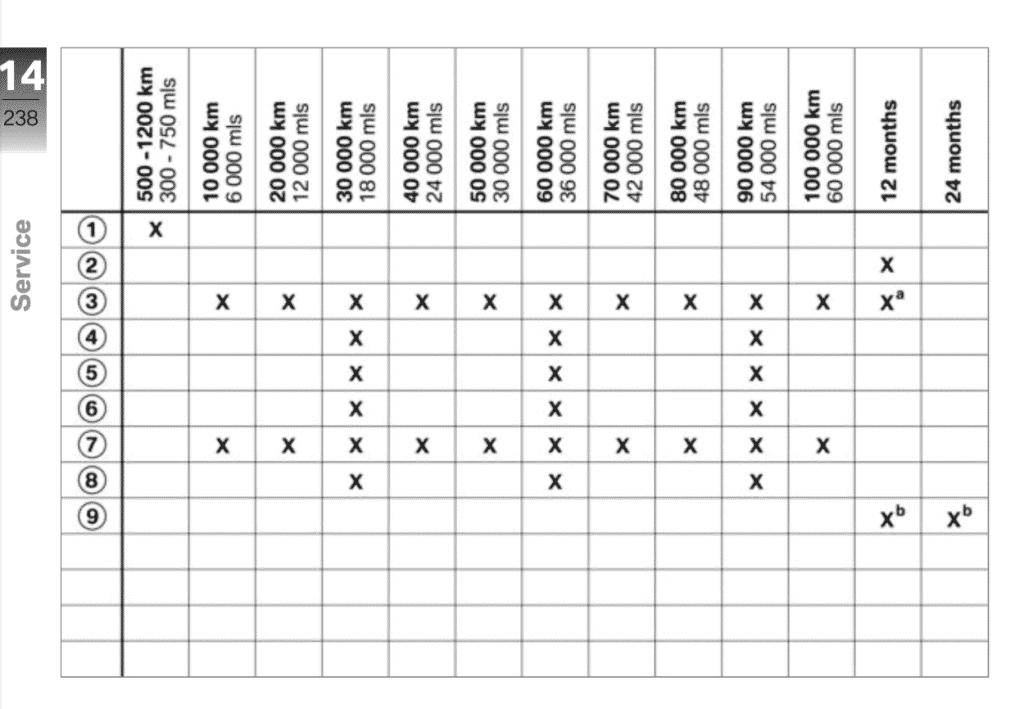 The general highlights are
Do an annual service every year, checking everything and all fluid levels, and greasing external parts (BMW dealers would also check error codes)
Every 10000 km (6000 mi), change the oil and filter, and the air filter
Every 30000 km (18000 mi) change the spark plug, check the valves, and change the fork oil
Every 2 years flush the brake and clutch fluid fluid
The maintenance schedule doesn't even mention changing the fluid, but conventional wisdom is to do so every four years.
The one thing to look out for buying used is a noisy valve train. You'll know you have this because instead of a purring inline four-cylinder engine, the bike will sound like a tractor.
The two possible (common) causes of this are a poorly adjusted cam chain tensioner, but it can also be a problem with the camshaft itself.
If it's the former, it's resolvable, and BMW may do it themselves on their coin. But if it's a problem with the camshaft, it's higher risk, and there are some stories of engine failures. If the top-end is noisy and the previous owner hasn't resolved it, it would be safer to walk away, unless you're confident you can resolve it yourself..
Aside from that, the S 1000 RR engine is a very reliable motor, something not only owners, but many mechanics attest to.