There are always those motorcycles you look back on fondly and wonder: why did I get rid of it? The first one of these was my first big motorcycle, the Honda CB900F Bol d'Or. But the most recent motorcycle that I miss is my "Colgate" striped red and silver BMW R 1200 S.
The perverse thing is that I wondered if I'd miss it even as I was listing it for sale. At the time, I knew I wasn't in love with it. But I miss it anyway.
Before buying the BMW R 1200 S (on eBay, flying down to pick it up and riding it home!) I knew very little about it. I had googled a few reviews but hadn't found anything truly useful. So, here's everything I learned about it to share with you.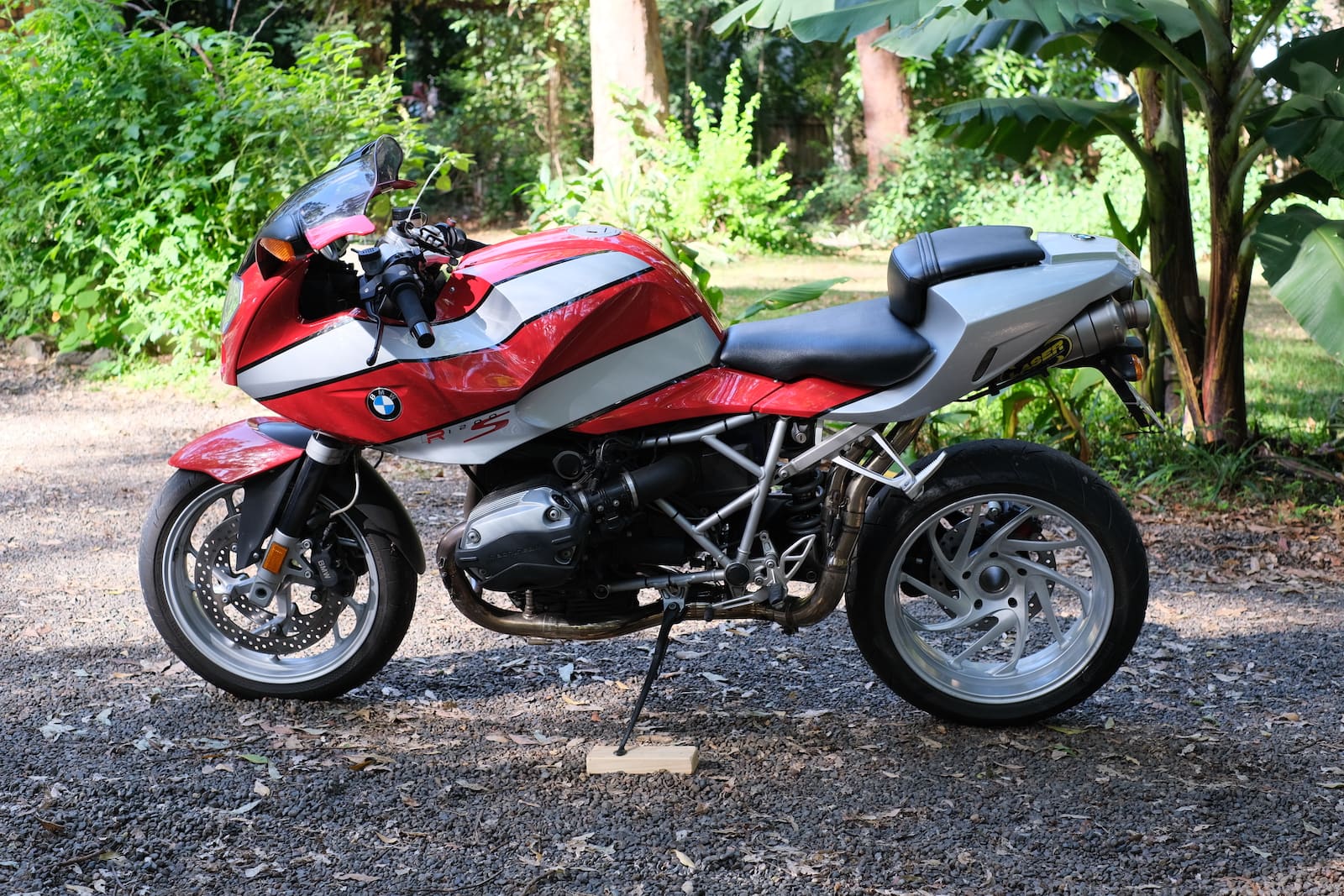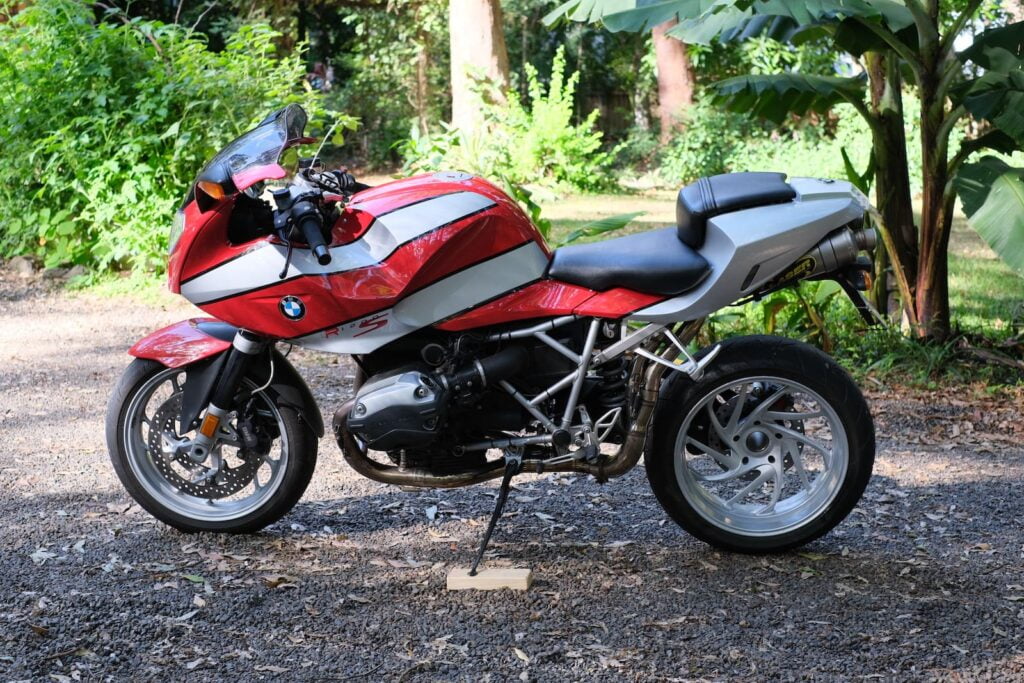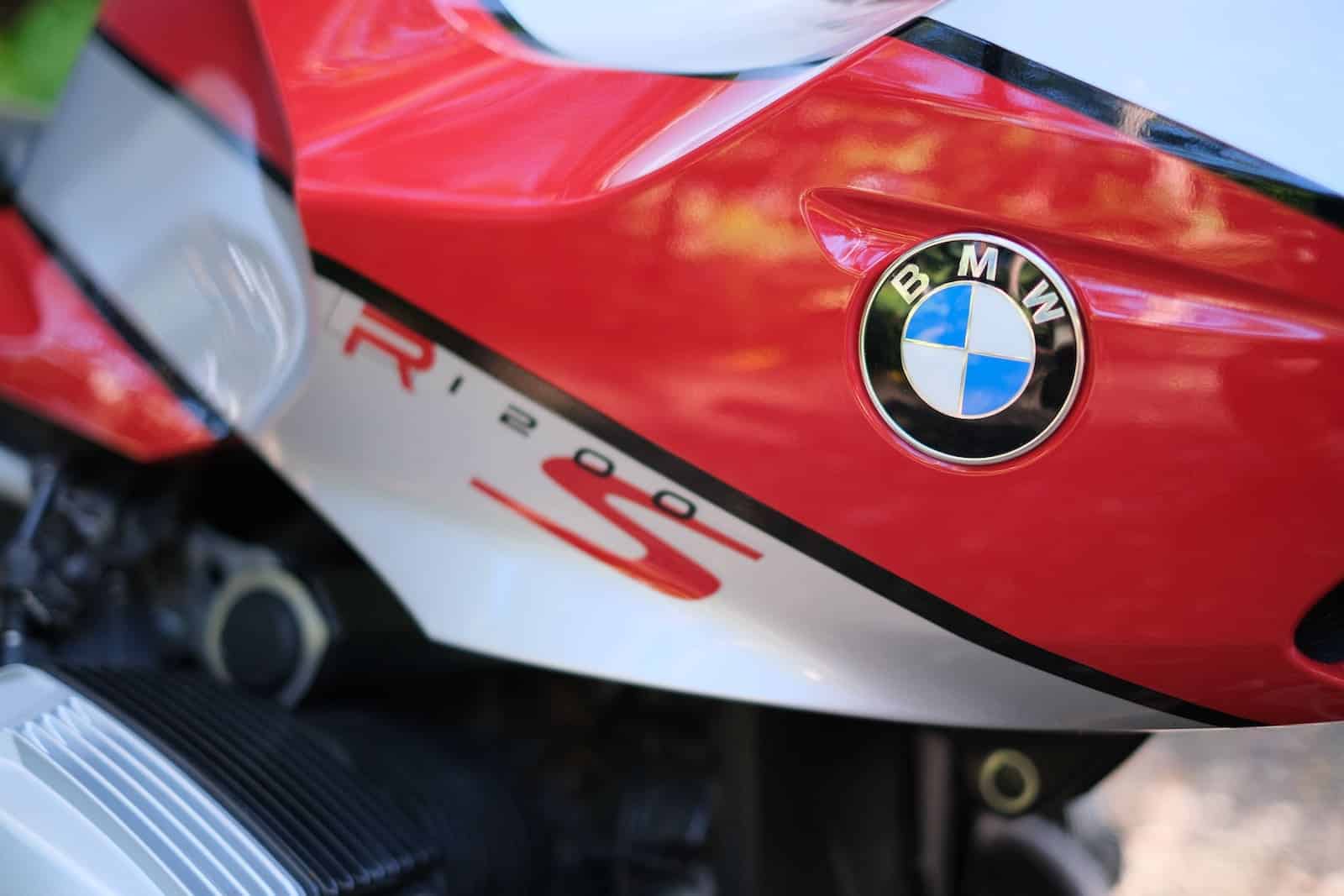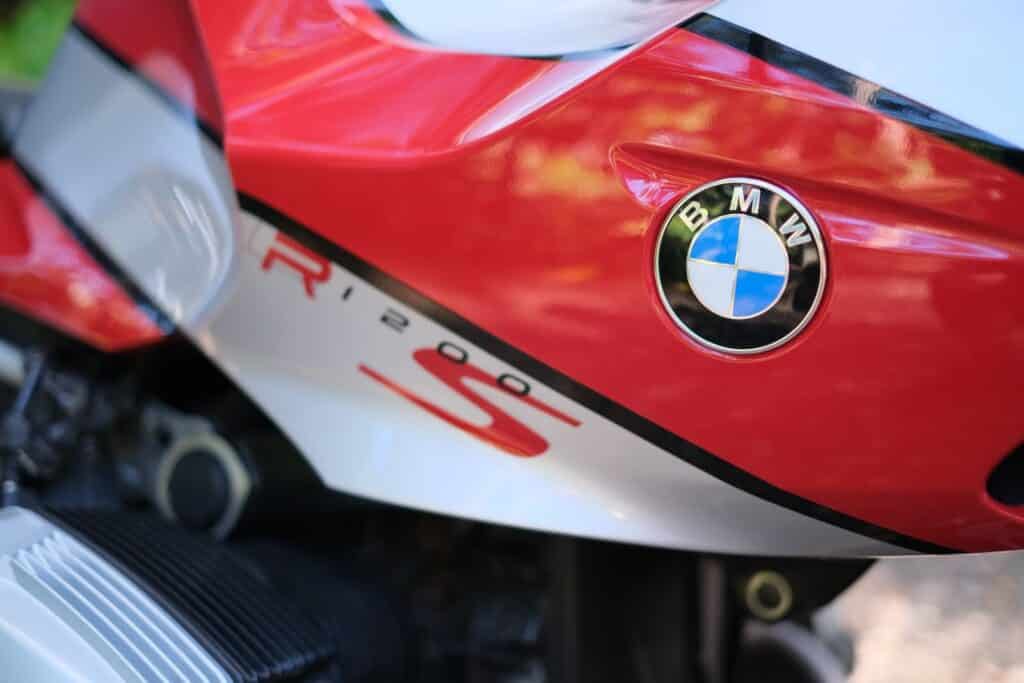 Are you obsessed with motorcycles?
Well, I am. That's why I created this site — as an outlet. I love learning and sharing what others might find useful. If you like what you read here, and you're a fraction as obsessed as I am, you might like to know when I've published more. (Check the latest for an idea of what you'll see.)
Specs of the BMW R 1200 S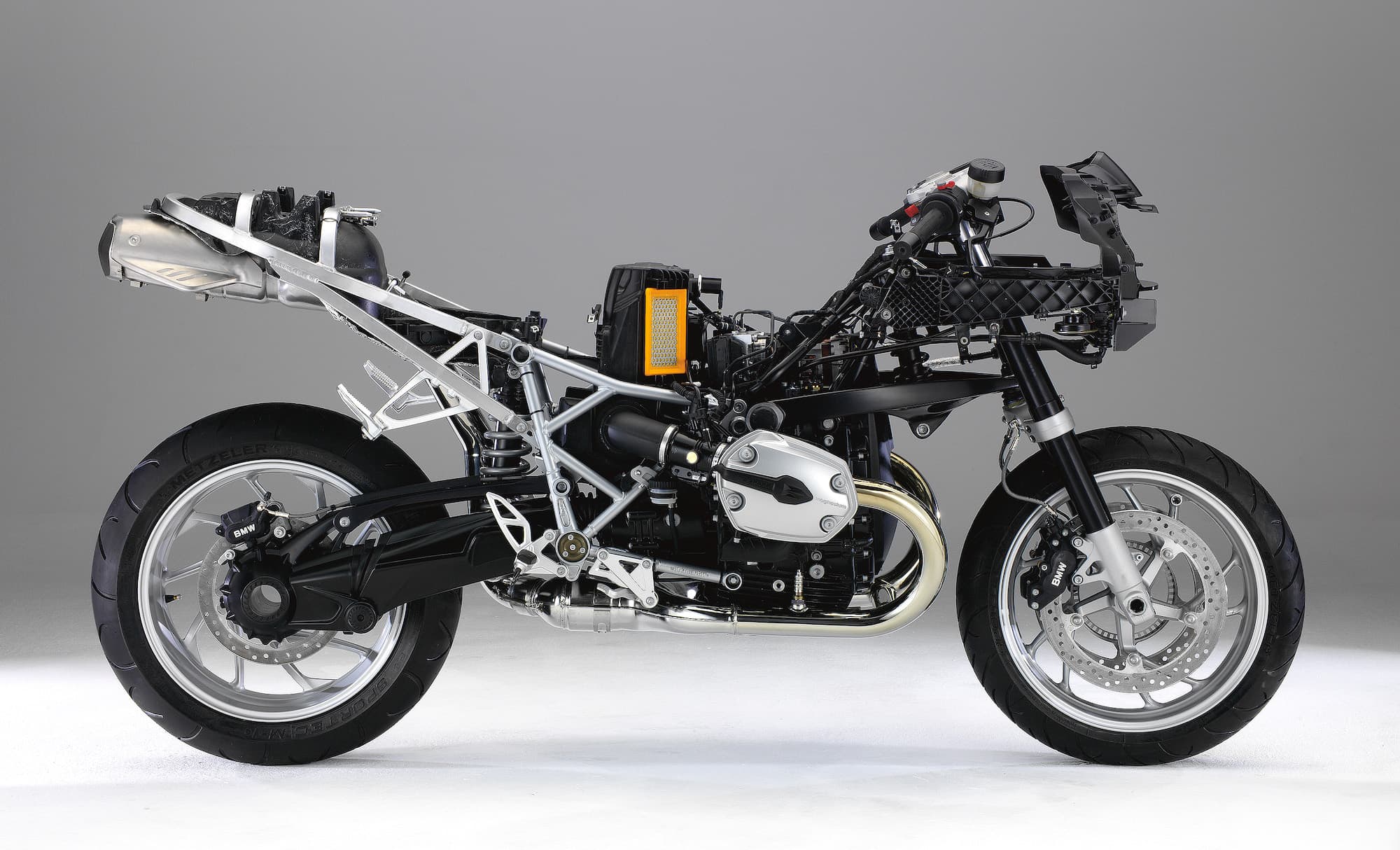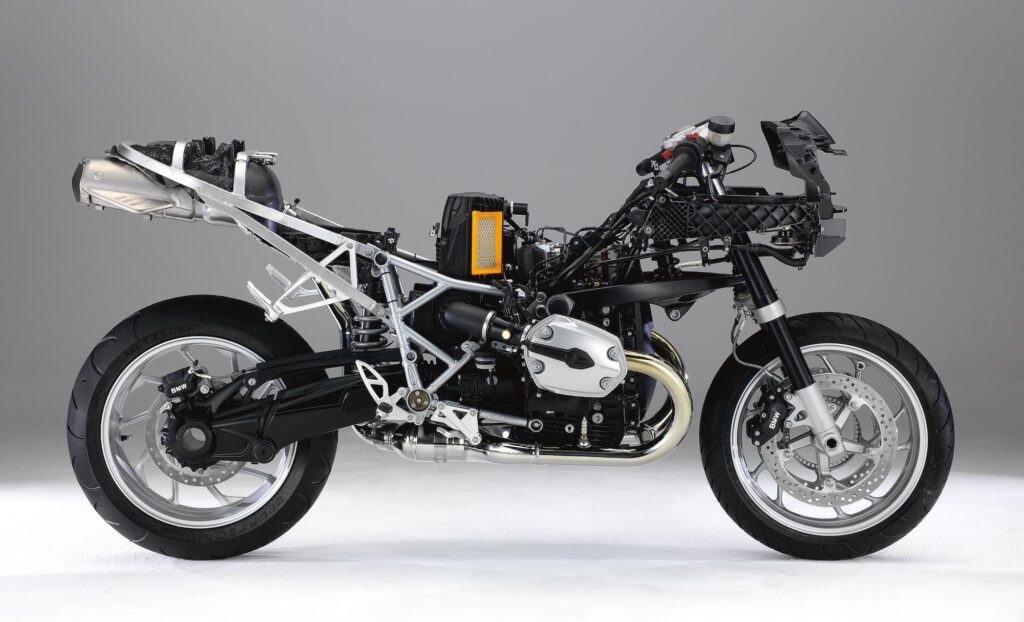 Here they are, the basic specs, without going into exhausting detail. It was released only in one model year — 2006.
Engine: A 1170cc horizontally opposed ("boxer") twin, pushrod-actuated valves (i.e. no overhead camshaft), air-cooled, fuel-injected
Drivetrain: Single-plate dry clutch, shaft drive, single-sided swing-arm
Power: 89 kW (122 hp) @ 8250 RPM
Torque: 112 Nm (83 ft-lbs) @ 6800 RPM
Wet weight: About 220 kg fully fuelled/with all liquids
Options: 6″ rear wheel and wider profile tire, ABS, heated grips, upmarket Öhlins suspension. BMW offered an Akrapovič exhaust later as an option.
Tank capacity: 17 litres (4.5 gallons), with 4 litres (1 gallon) reserve, at which point the range starts counting down (from about 80 km/50 miles)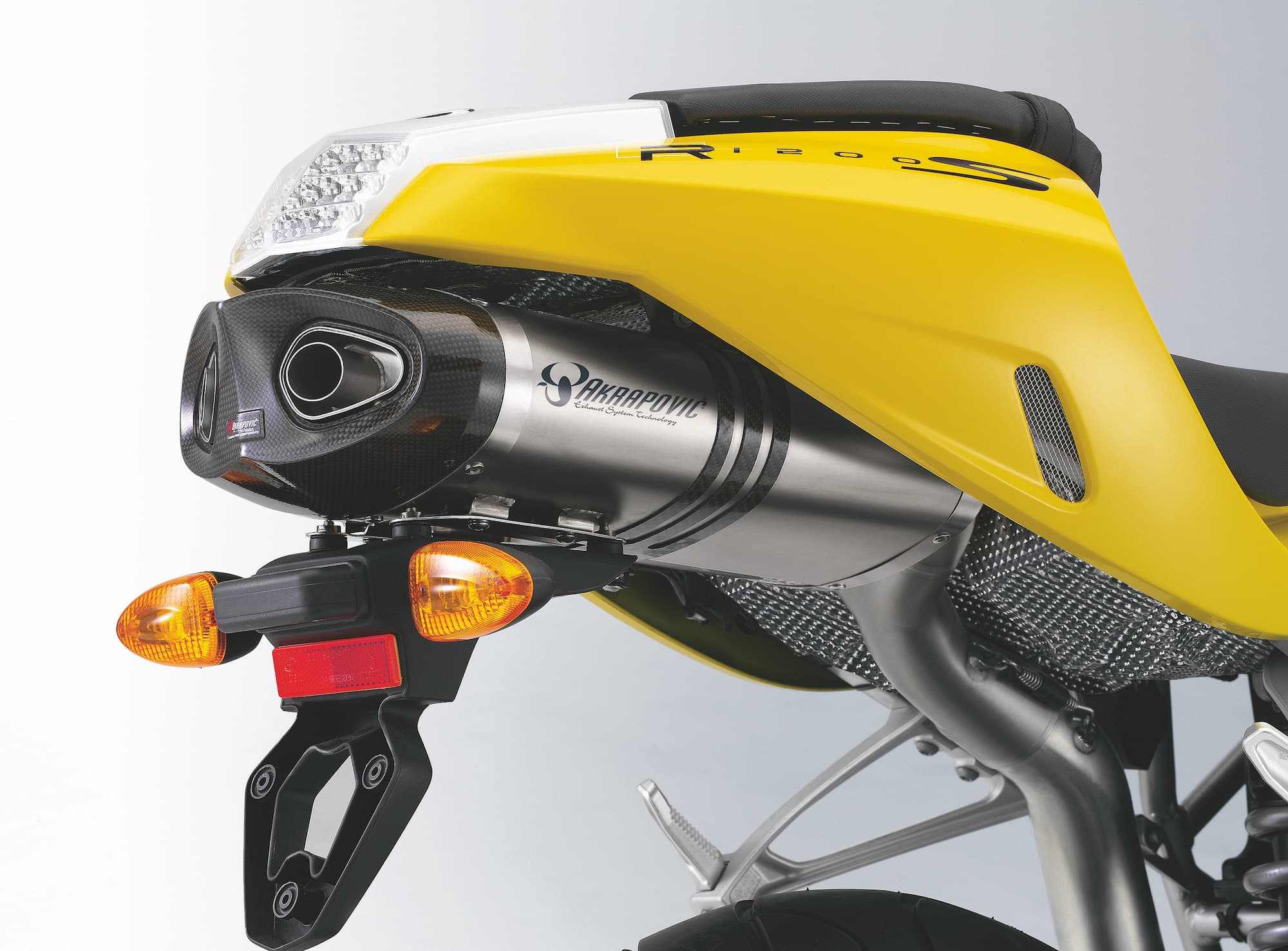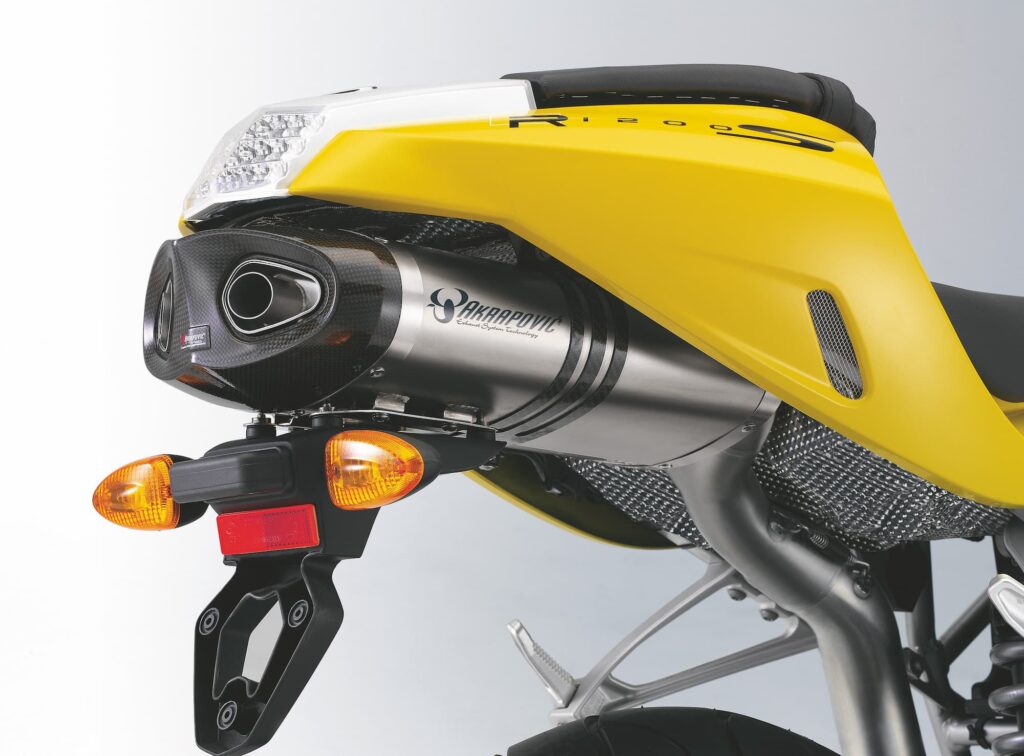 The particular model I have came with a full Laser exhaust system, which is a not-uncommon mod on this motorcycle, a Power Commander III, and heated grips. It didn't have ABS, though the ABS system apparently works quite well. I bought it with 45 000 km (about 30 000 miles) on the odometer, but only 500 km after it had received a full service.
Specs are boring, but what's really interesting about the R 1200 S is the interesting combination of specs that it has.
It's a sport bike, but with a shaft drive and optional ABS.
It has a fairly considerable 120 horsepower at the crank, but it's air- and oil-cooled.
It has a gorgeous single-sided swing-arm, but it's not a Ducati! (Nor an MV Agusta, a Kawasaki H2 bike, or VFR800)
It's the combination of unique features that made the R 1200 S quite special.
A Brief History of the BMW R 1200 S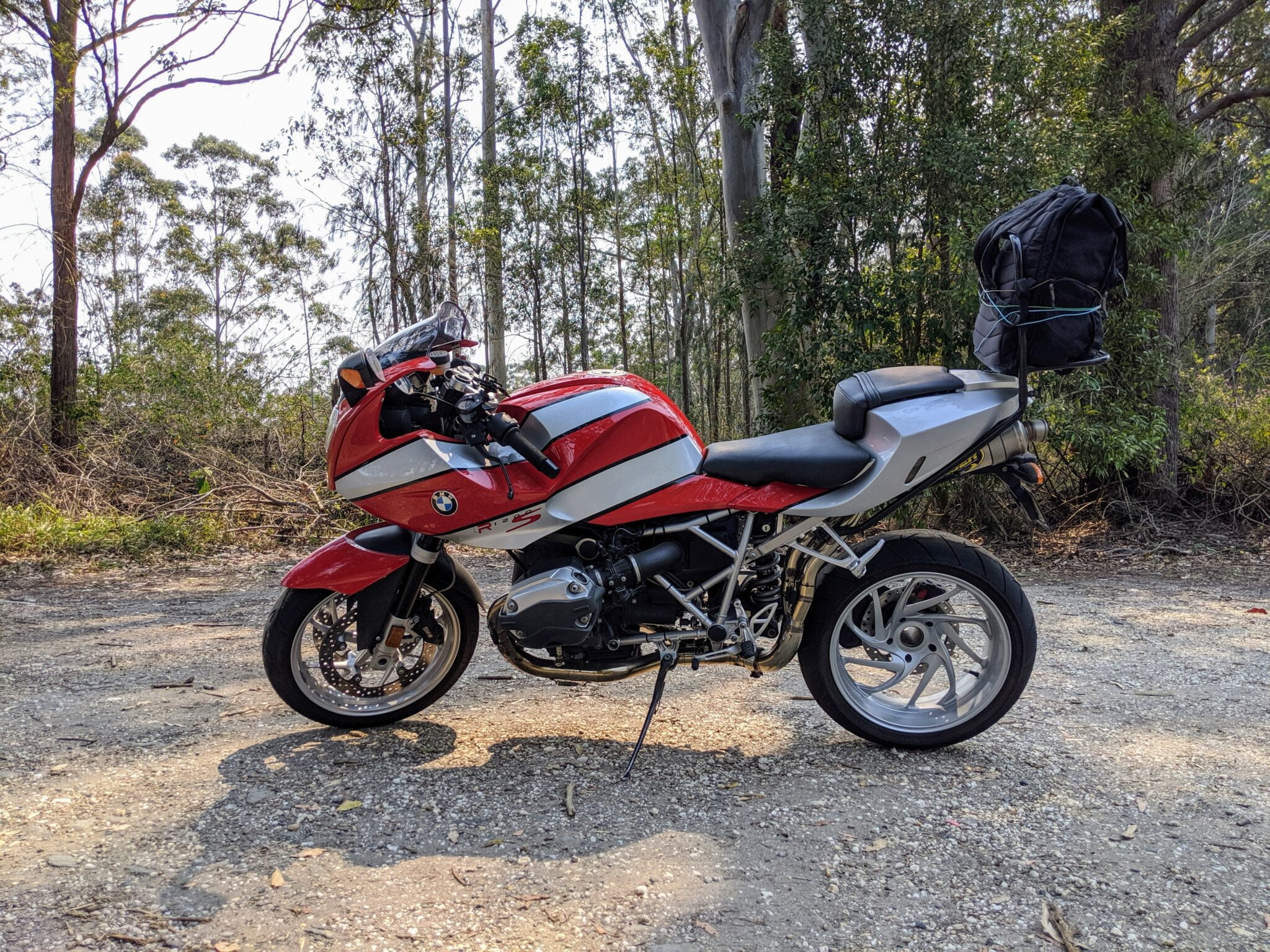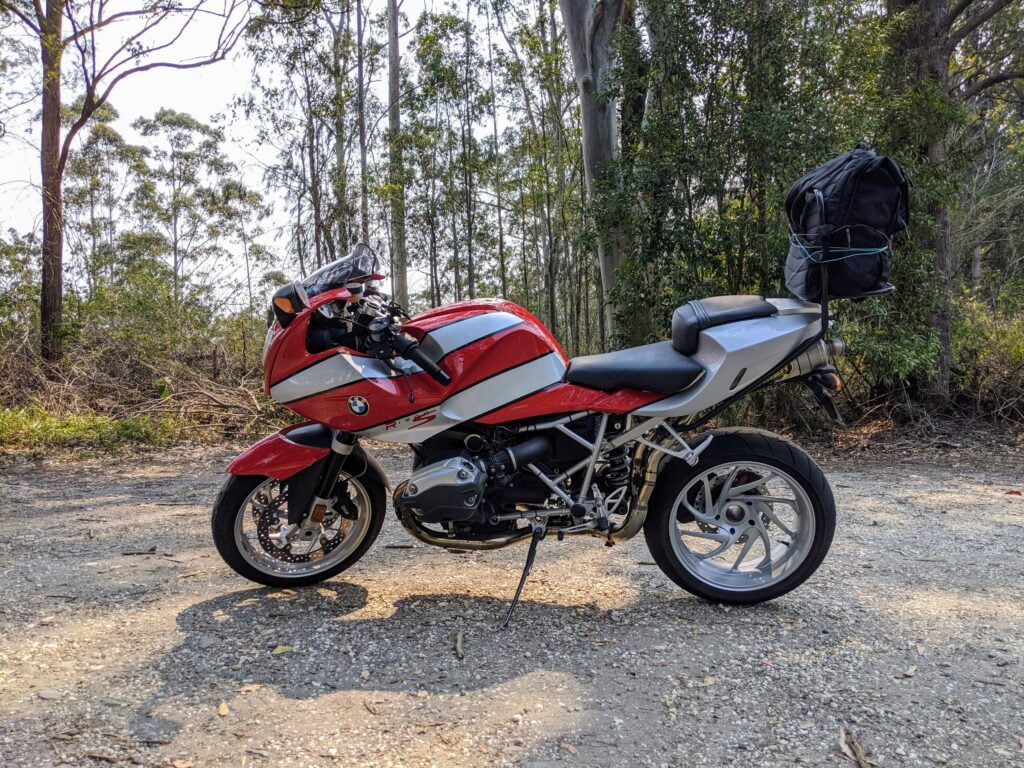 BMW has rarely made sporty air-cooled boxers, and today in 2020, there is nothing quite like the R 1200 S in there. The closest thing in recent times was the BMW R Nine T Racer, which was only sold between 2017 and 2019. But BMW in modern times puts all its sporting eggs in to the S 1000 and M 1000 baskets.
Here are some other modern air-cooled motorcycles you can still buy new — for now. They're in short supply!
The predecessor to the BMW R 1200 S was, predictably, the R 1100 S. This was another sporty boxer engine motorcycle, but more really a "slightly sportier" version of the decidedly touring-oriented R 1200 RS.
The R 1100 S was slower (100 hp), heavier by about 10-20 kg fully fuelled, and had a more upright position. But the R 1100 S was made for longer (1998-2005) and was thus more successful commercially as a stand-alone model.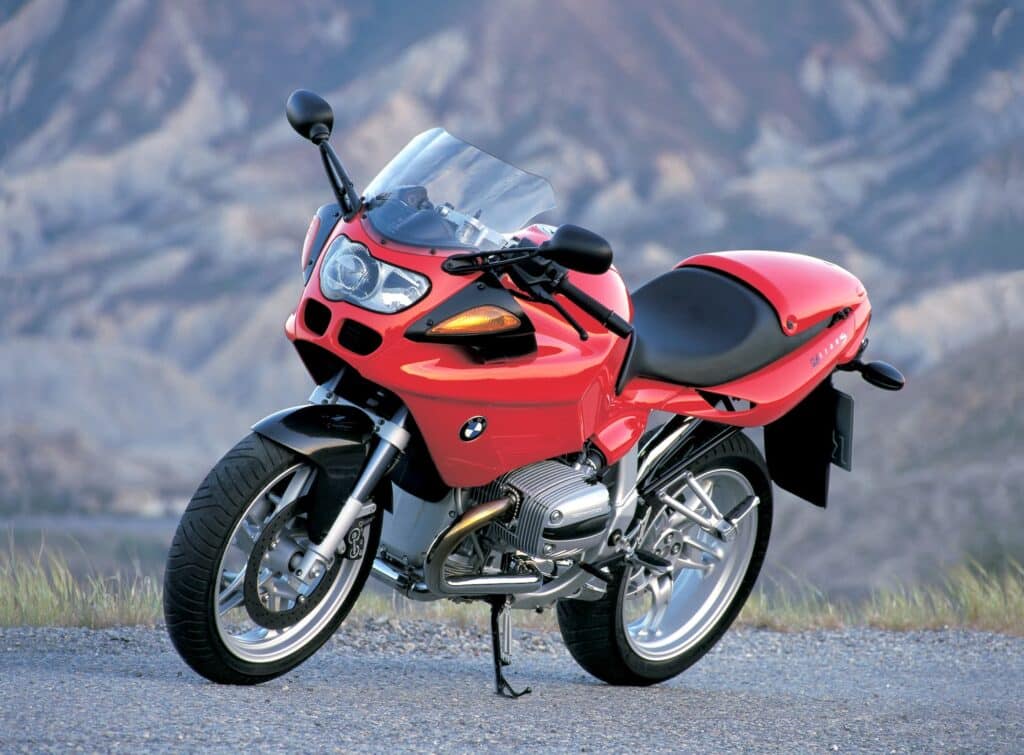 The immediate successor to the BMW R 1200 S was the BMW HP2 Sport. These produced around another 10 hp with slightly less weight, thanks to many improvements in the engine, wheels, suspension, and more.
I mean it's not exactly a successor. The BMW HP2 Sport is actually just part of the BMW HP2 line, and one that happens to be based on the R 1200 S.
The HP2 Sport was produced from 2008-2012, and was the last focused boxer sports motorcycle from BMW, as they focused on the much more successful (and better in basically every technical way) S 1000 RR.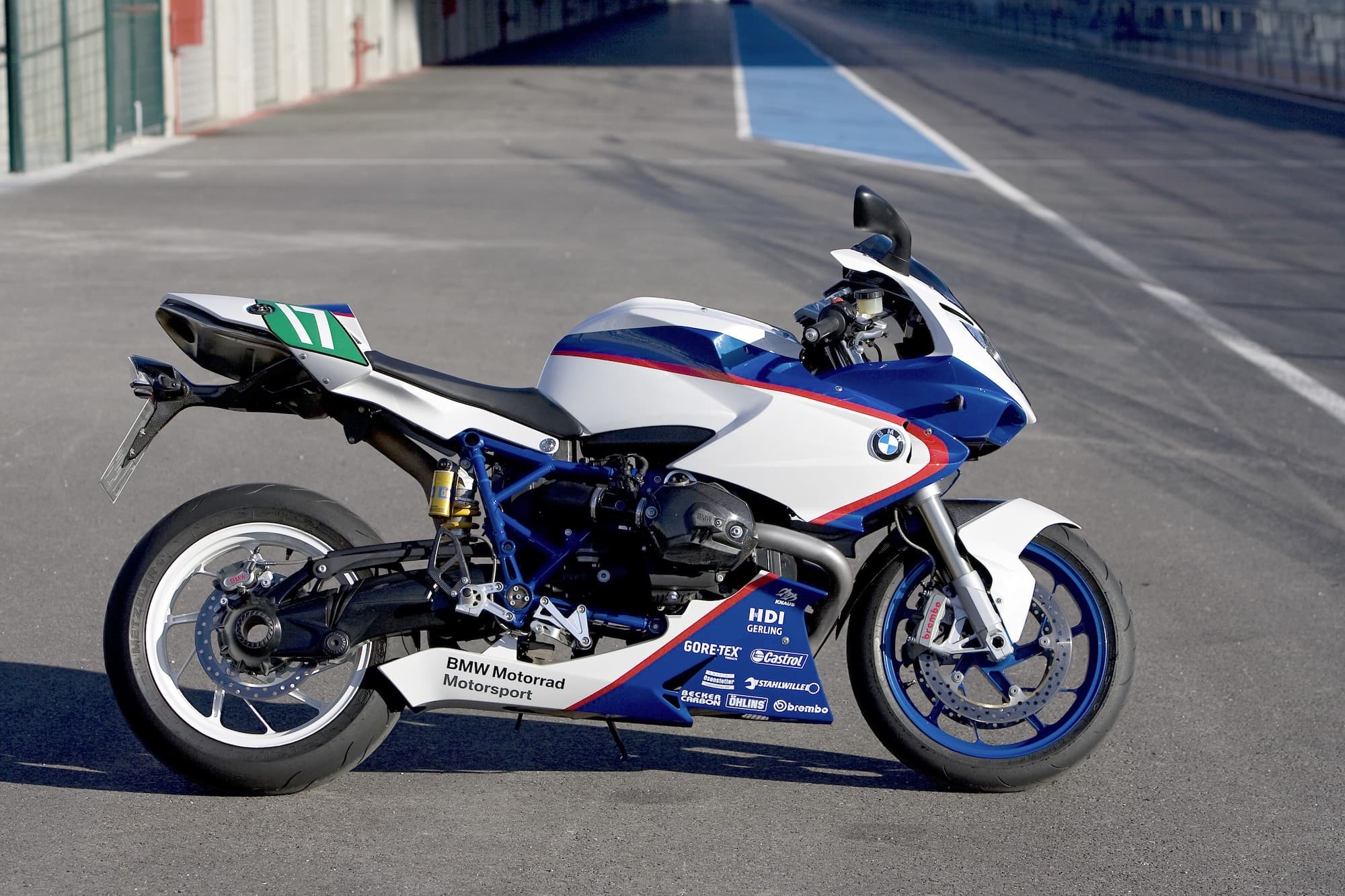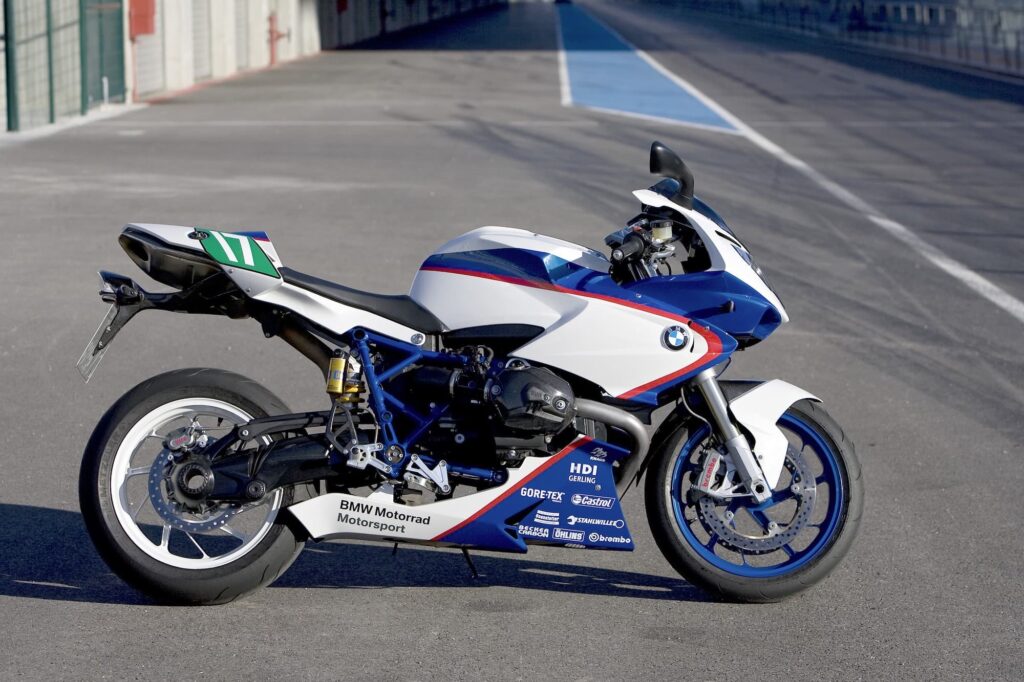 The modern alternative, the BMW R 1200 RS is a more "sport-touring" type motorcycle, with a more relaxed riding position. It's still a quick and engaging bike, but it's just not as focused as the earlier sports motorcycles.
The R 1250 RS, similar to the previous R 1200 RS, has a more upright position, and being more modern, it comes with fancy features like panniers and Bosch "Cornering ABS" to save you from doing the wrong thing (which, honestly, we constantly do).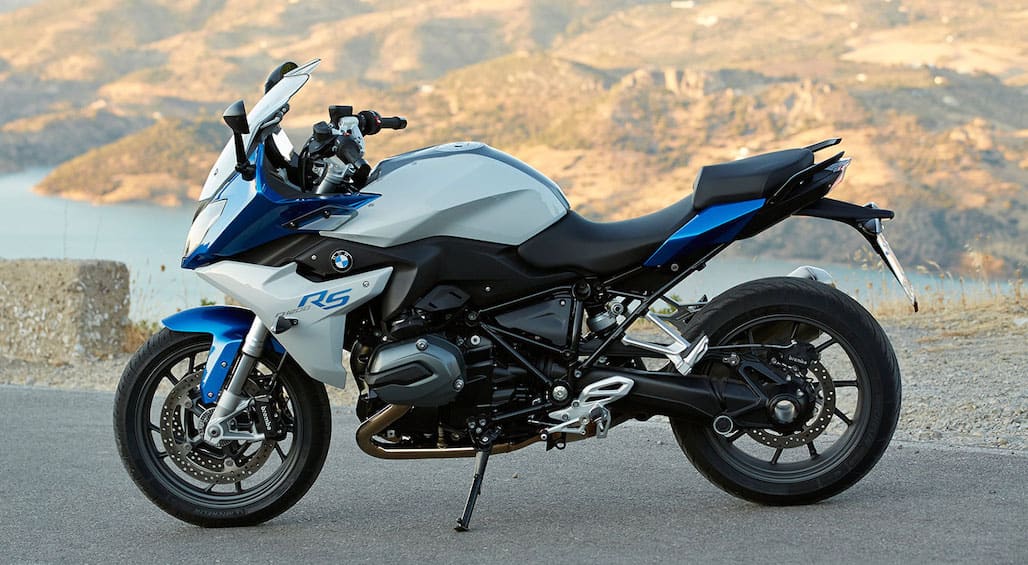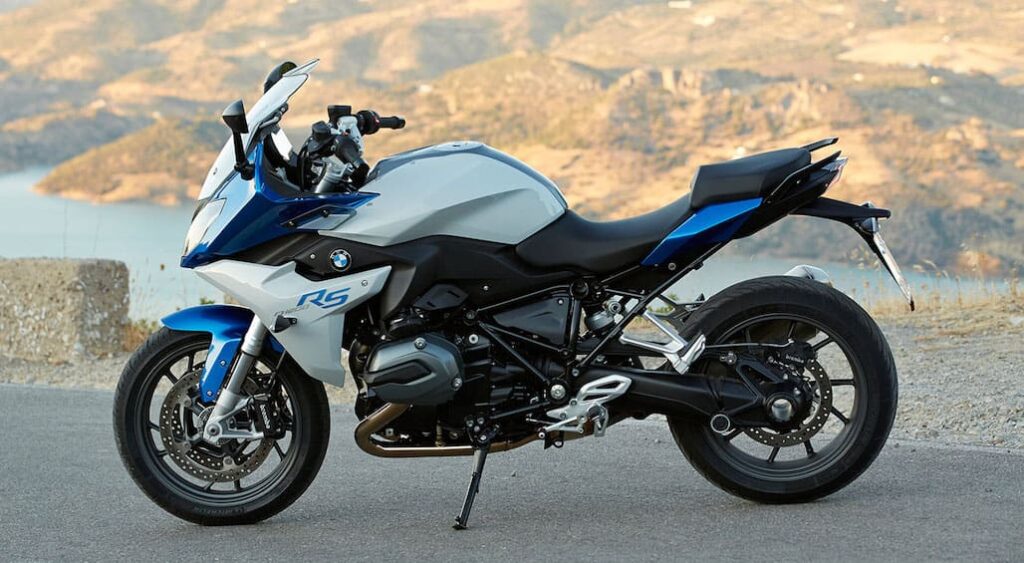 Another modern alternative to the R 1200 S was the BMW R nineT Racer.
The BMW R nineT Racer superficially looks similar to the R 1200 S in some ways. It, too, has a 1170cc air/oil-cooled boxer engine (though with a double overhead camshaft now), is shaft-driven, with a dry clutch, and has a sporty chassis that looks (to me) really beautiful.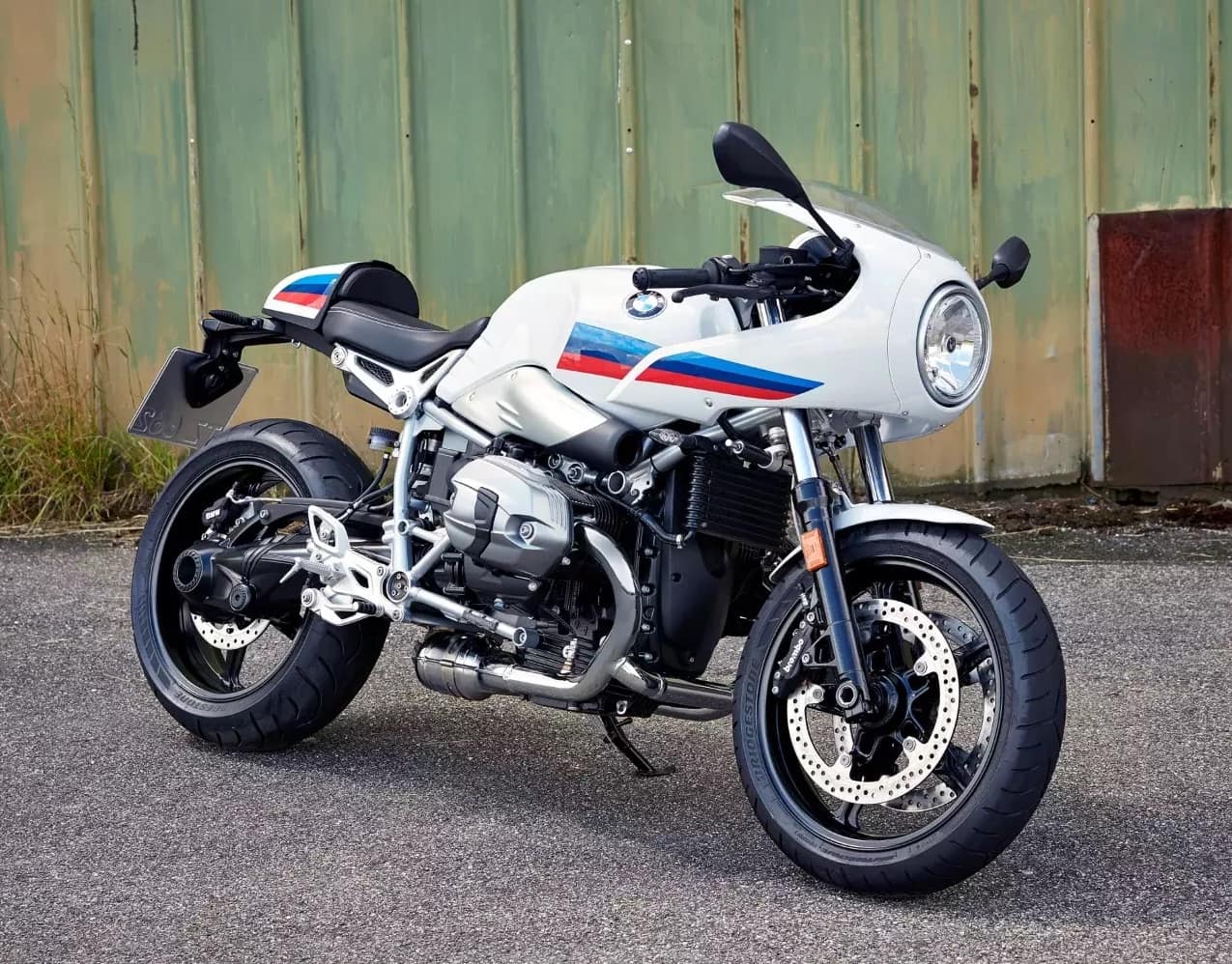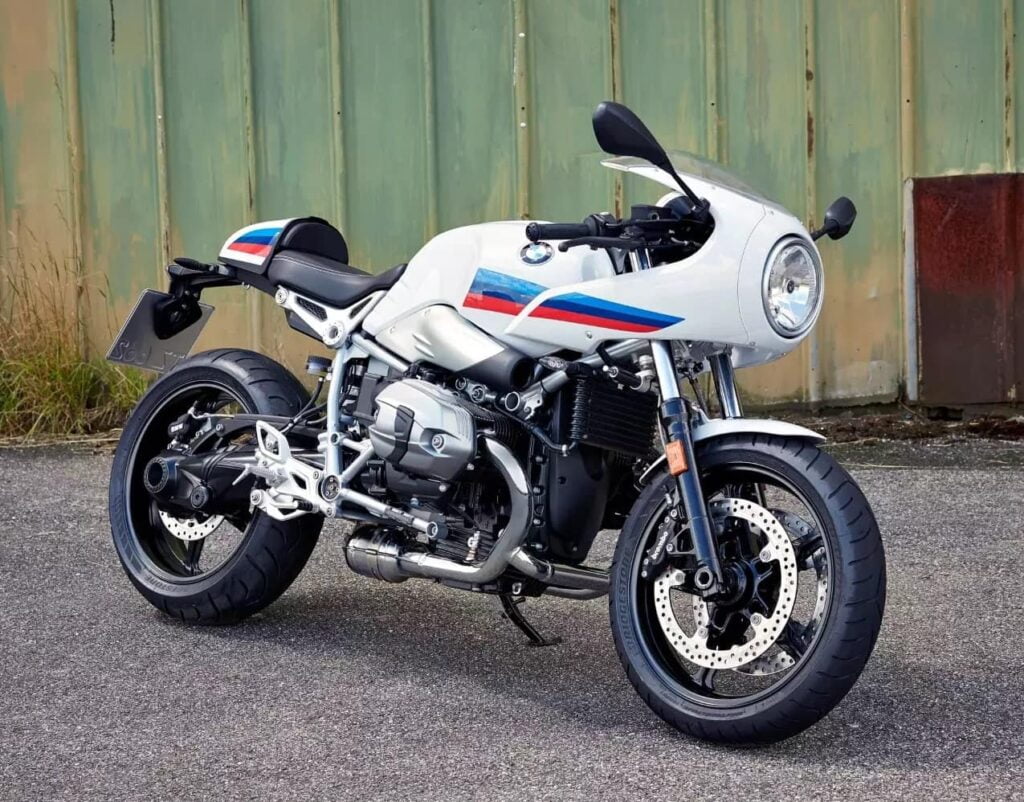 The BMW R nineT Racer also came with a few upgraded bits over older motorcycles like ABS (though no traction control, and definitely not an IMU). But they also lost the Duolever front-end suspension, switching it for an unexciting non-adjustable and conventional (non-inverted) fork setup.
The BMW R nineT Racer is/was a beautiful bike. But it suffered from having a riding position that is a bit too aggressive for the target market. My perspective is that people after a sports bike would get the much more capable S 1000 RR, and people after something vintage and nostalgic would likely be a bit older and would be happier with the traditional R nineT upright bikes. So the R nineT Racer was only sold between 2017 and 2019.
I checked out a BMW R nineT Racer that had HeliBar risers on it. While on many sport bikes they just adjust a position by around an inch (or 20-30 mm), on the R nineT Racer they move the riding position nearly 3-4 inches upward (around 10 cm) and towards the rider! That's the extent of the changes they think are necessary. With that change in place, I found the R nineT Racer quite comfy.
Regardless, the R nineT Racer has a loyal following on Facebook — I have no doubt it's well-loved by its fans.
The BMW R 1200 S Compared to its Peers (at the time)
When you read comparisons of the BMW R 1200 S online, it's often compared to the Ducati 999, its contemporary. This seems like kind of a crazy comparison to me. The 999 is both more powerful (140 hp) and a LOT lighter (can't find reliable specs, but about 20-30 kg lighter it seems).
The Ducati 999 is an evolution of the line of motorcycles that began with the Ducati 916, a motorcycle which set standards in both race-ability and style.
Someone buying a used BMW R 1200 S, like me, is directly comparing the R 1200 S to motorcycles like the following:
Ducati Supersport 1999-2007: This seems the most sensible comparison to the BMW. It's another "premium" motorcycle, sporty but also designed to go the distance. They make less power (e.g. 63 kW/85 hp for the 1000DS variant), but are loaded with character, look amazing, and are very fun to ride.
Honda VFR800: Honda's venerable V4 sports tourer, equipped with VTEC from 2002 and smoothed out by 2006/7. These make a bit less power (about 75 kW/100hp), but are one of those motorcycles that people say make them fall in love with motorcycling all over again.
BMW R 1200 GS: The full-on adventure version of BMW's boxer twin. Almost needs no introduction. These are one of the most popular motorcycles of the last 20 years for their comfort and versatility. They hold their prices too, mostly because they look and smell like adventure.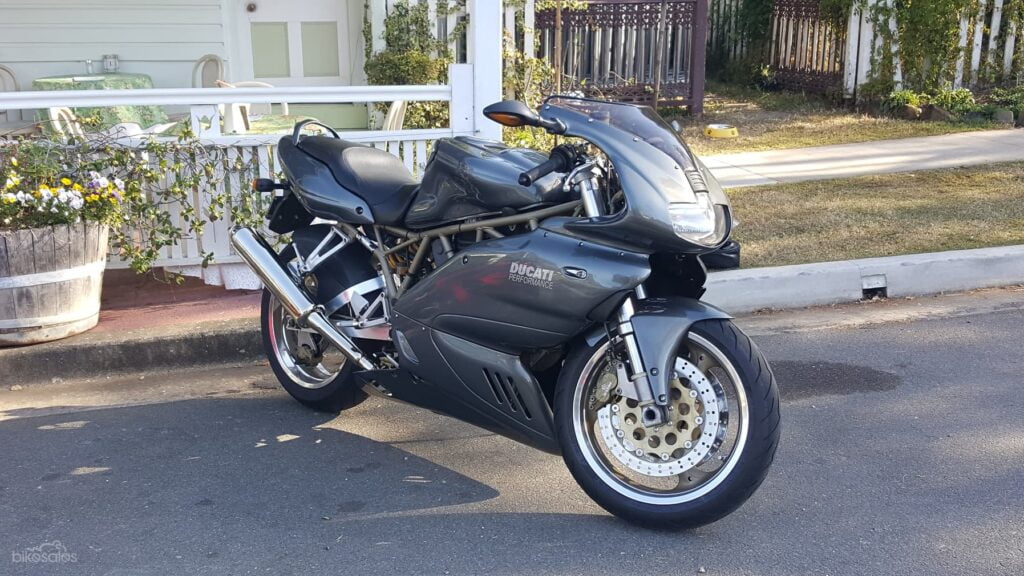 There are others too, like BMW's naked R 1200 R, from Ducati's sport-touring range (which are far more "sports" than "touring").
Compared to all of those — well, the BMW has advantages and disadvantages.
Advantages of the BMW R 1200 S Over its Peers:
Engine simplicity: The R 1200 S is an almost-naked opposed twin with no liquid cooling. There's very little to fix, and it's easy to access. If you need to do a valve job there's nothing to remove and you can do it very quickly compared to a Ducati, for example. The Honda, too, will need all its fairings to come off, and then you have four cylinders and two heads.
Sportiness: Compared to the BMW R 1200 GS, the R 1200 S is a lot sportier. The R 1200 S is much more suited to, for example, a track day or a day out in the mountains. Of course, the R 1200 GS is no slouch and a good rider could keep up. It was on my shortlist (but they're always expensive, and I didn't see a good one come up at the time I was looking).
Style: There is almost nothing like the BMW R 1200 S on the market in terms of style. I'd put it up there with the Ducati Panigale!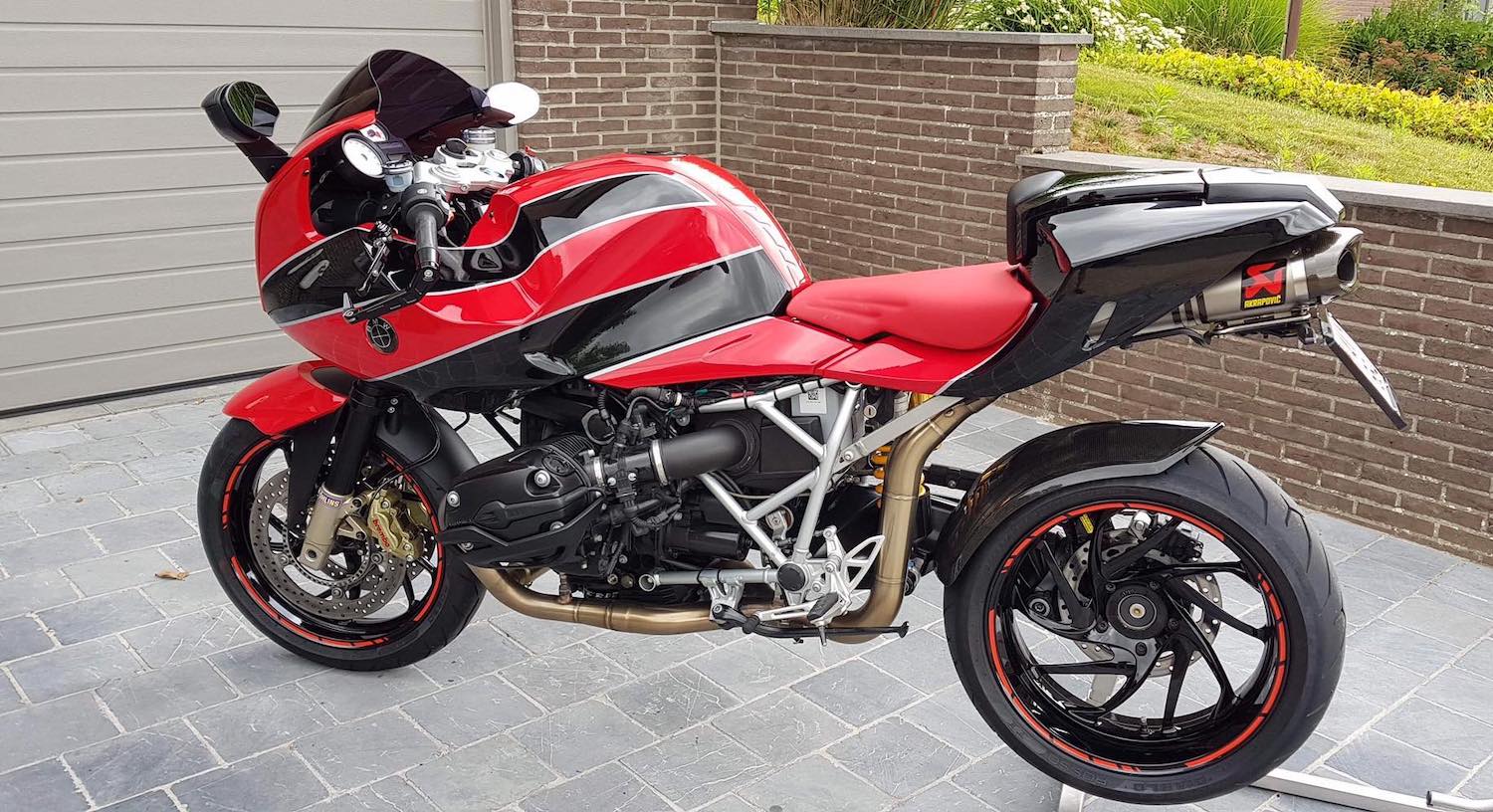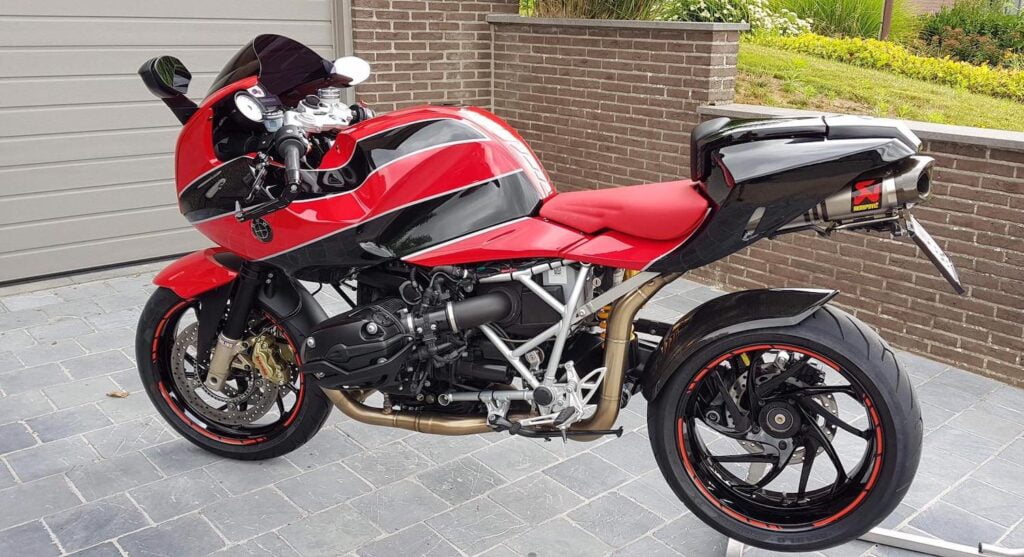 What the BMW R 1200 S is like to ride
In summary: The BMW has loads of character, ample power for the street, but is happy cruising around 60-80 km/h (40-50 mph) without you feeling like it's under-revved. It's comfortable enough for long distances, and… it sounds amazing.
The BMW R 1200 S is a sports motorcycle, but it doesn't have the top-end high horsepower that leaves you desperate to wind out the revs.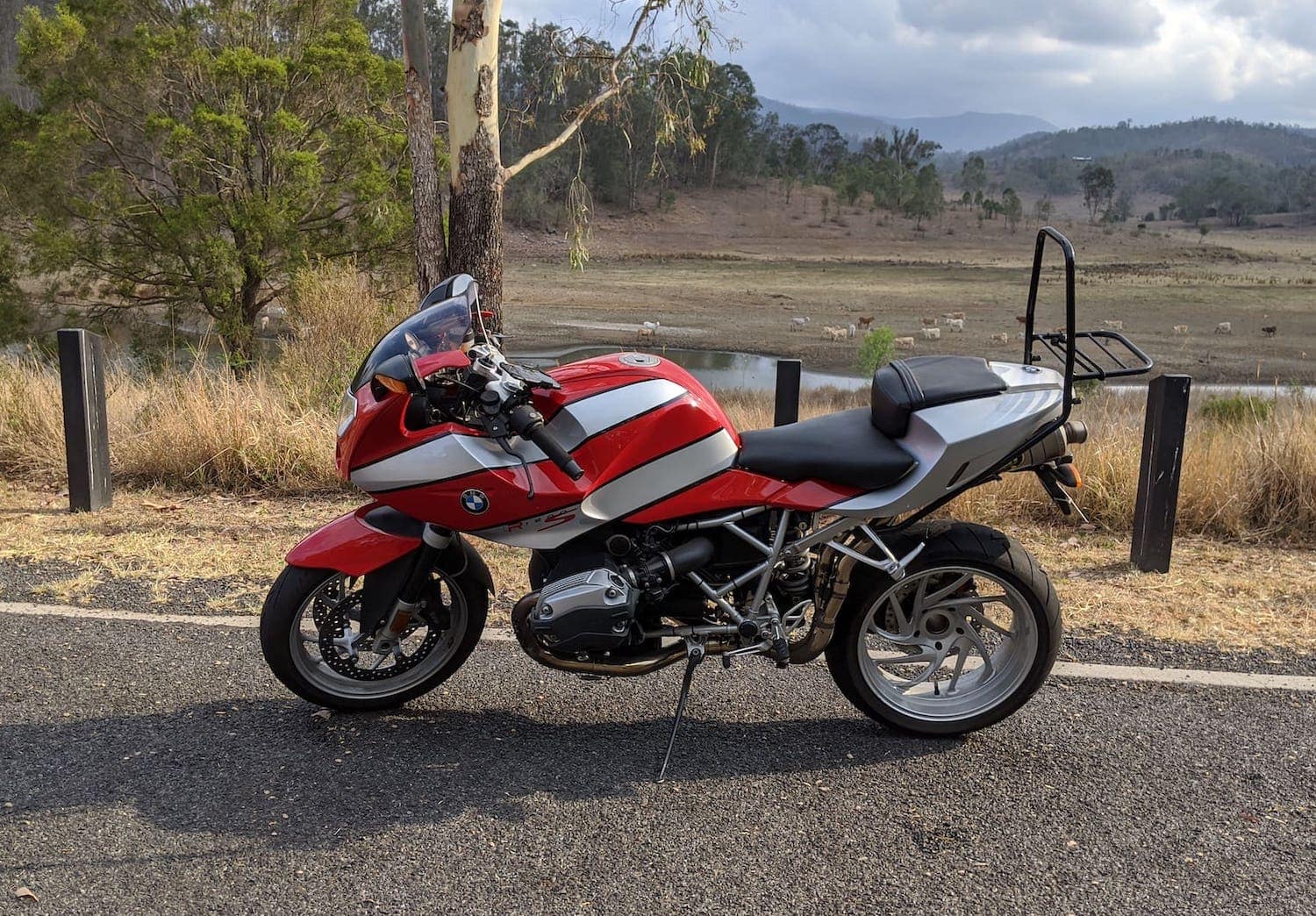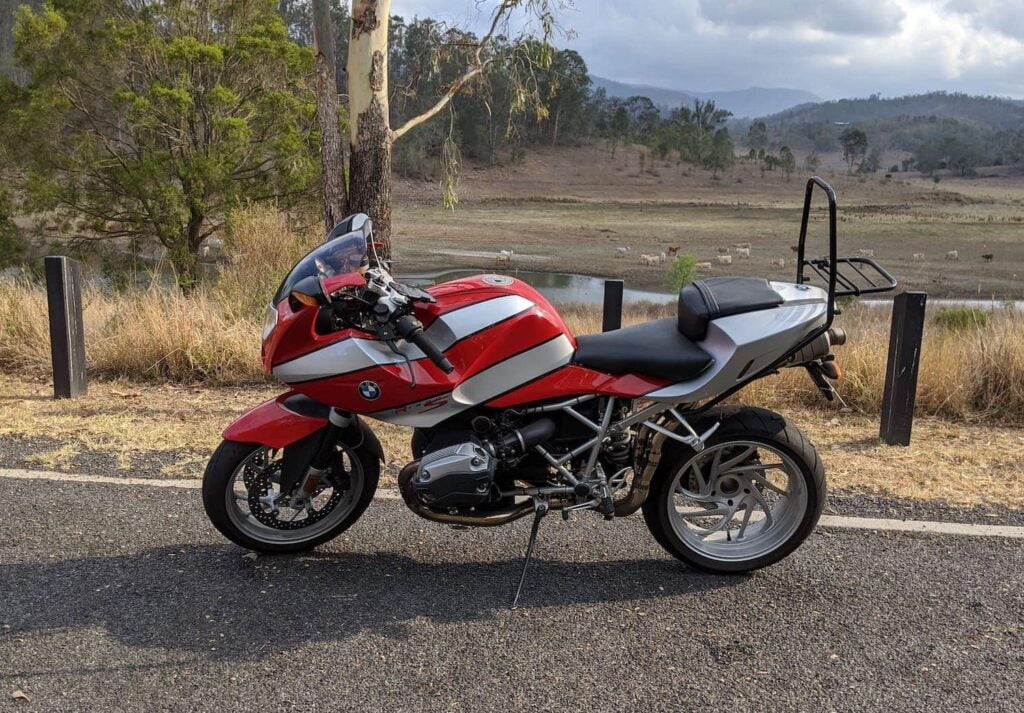 Riding position and comfort of the BMW R 1200 S
The riding position of the BMW R 1200 S is forward-leaning, but not so aggressive that it hurts your back or wrists. I'm a 40-year-old man who is 183 cm (6 foot) tall and I did a 600 km (400 mile) day without any issues other than general fatigue.
You can really improve the comfort of the BMW R 1200 S with squishy gel grips, like Grip Puppies, and a Cramp Buster to keep the throttle in the same place for long periods without wearing out your wrists.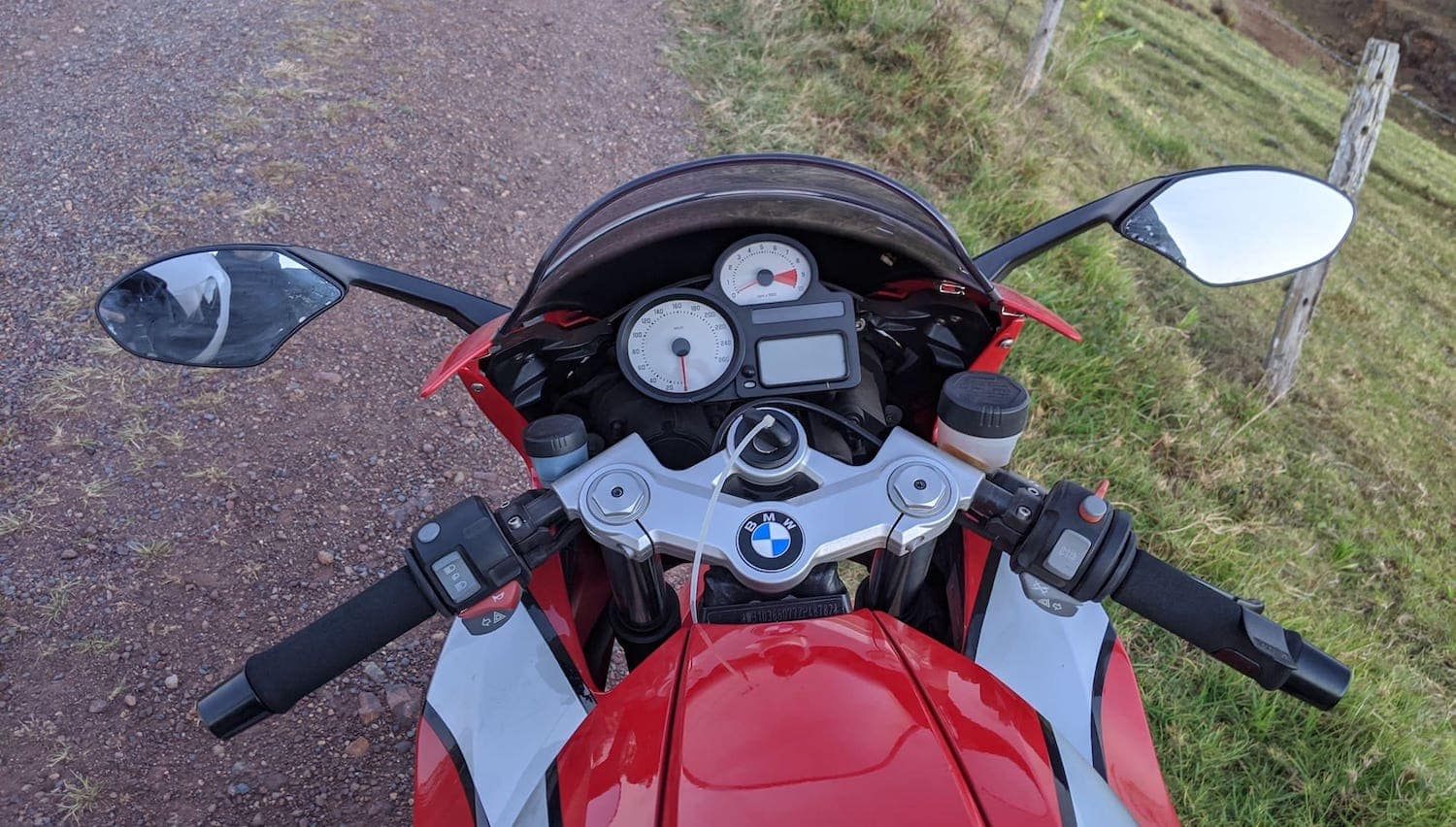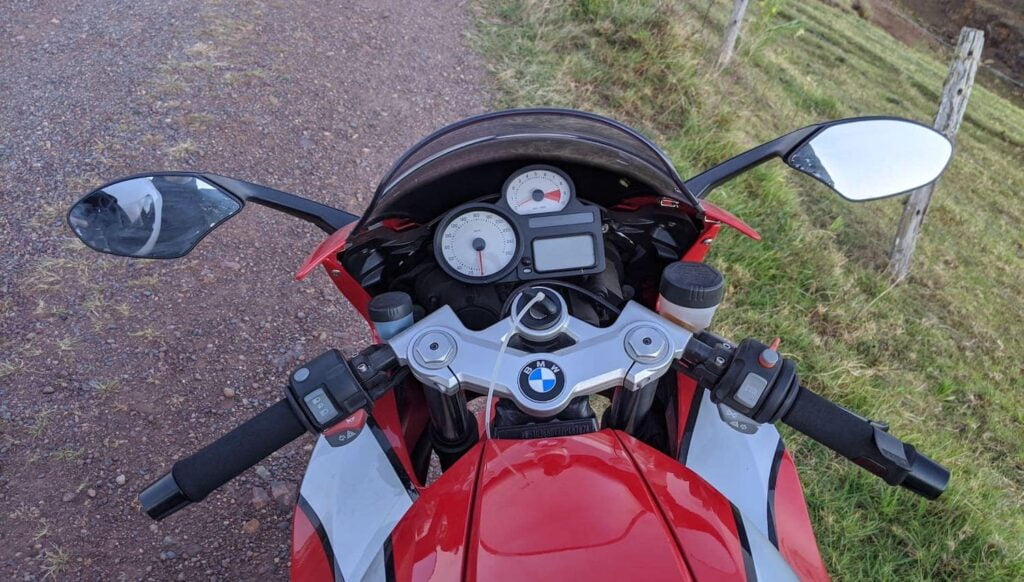 The R 1200 S' controls are about 10 cm / 4 inches higher than the seat position. This means that you don't have the feeling you have with some extreme motorcycles (like the Yamaha R1) that you're in a racing "jockey" position, with a flat back and your bum high in the air. It's comfortable but sporty.
The BMW R 1200 S doesn't get too hot. Some people have experience with exhausts under the seat and think that'll make them bake, but I have ridden the R 1200 S on days when it was 35 degrees outside (90F) in full gear, and even though I was warm, it wasn't my backside that was particularly so.
Power/torque delivery of the BMW R 1200 S
Again, I'm riding one with an exhaust and a PCIII, which affects the torque delivery and might bump up the peak power. But man, what power! Definitely more than enough for street riding.
All my riding has been street so far, with a mixture of traffic, highways, and back road mountains. (No track yet.)
Torque comes on strong from very low — as low as 2000 rpm. This is in contrast to some reviews I've read where they've said it's "wheezy" below 6000 rpm. I'd never describe it like that.
By about red-line in second gear you're doing 100 km/h (60 mph), but the natural shifting point is a little below that. Basically, it's unlikely you'll see the red-line in second gear in legal street riding.
Versatility of the BMW R 1200 S — street, highway, and sport/track riding
At highway speeds the R 1200 S is happy cruising in sixth gear at about 3,000 rpm. You can accelerate quickly enough to pass while staying in sixth, but I always enjoy the jump of torque by downshifting back to fifth. Down to fourth and you might get a bit of wheel lift, something I don't really like to do on a highway.
In traffic, the BMW R 1200 S is comfortable enough. It wouldn't be my choice for an hour-long commute through traffic, but then I'd always look for work/home closer than that, personally. It's not quite as agile as a smaller motorcycle (e.g., my Ninja 650) and I don't always want to push it between the lanes in Australia, which are narrower than what I was used to.
In sporty riding, the R 1200 S is a lot of fun. It's a little heavy to turn compared to a lighter sport bike like a Yamaha R6, but it turns fine.
Sound of the BMW R 1200 S
In general, the sound of the R 1200 S with the twin sports exhaust is BOOMING.
I've owned a number of twins, including Ducati bikes (90-degree L-twin) and Triumph motorcycles with a 270-degree crank, and the BMW's sound signature is a bit different. What they have in common is that they purr at idle and have a booming exhaust howl on throttle.
But V-twins, L-twins, and parallel twins with a 270-degree crank have that "lumpy" roar that is a lot more aggressive than the R 1200 S's sound. In comparison to something like a Ducati superbike with a Termignoni exhaust system, the sound from the R 1200 S is docile and gentle.
My Ducati 1098S made me angry, like I was going to war. My BMW R 1200 S made me calm in comparison.
The other difference between the R 1200 S' exhaust note and that of a Ducati is that the BMW's rhythm is more controlled. All my Ducati motorcycles seem to have slightly lumpy idles, occasionally missing a beat. The BMW idles like a turboprop warplane. I think of it like a Messerschmitt.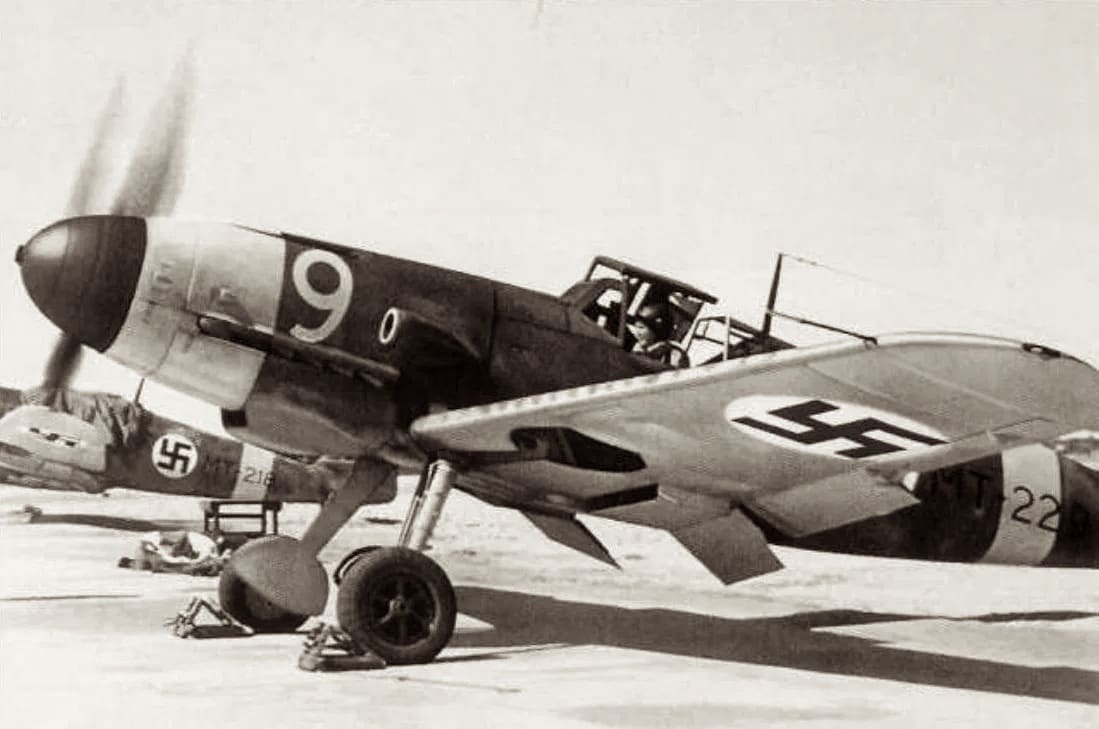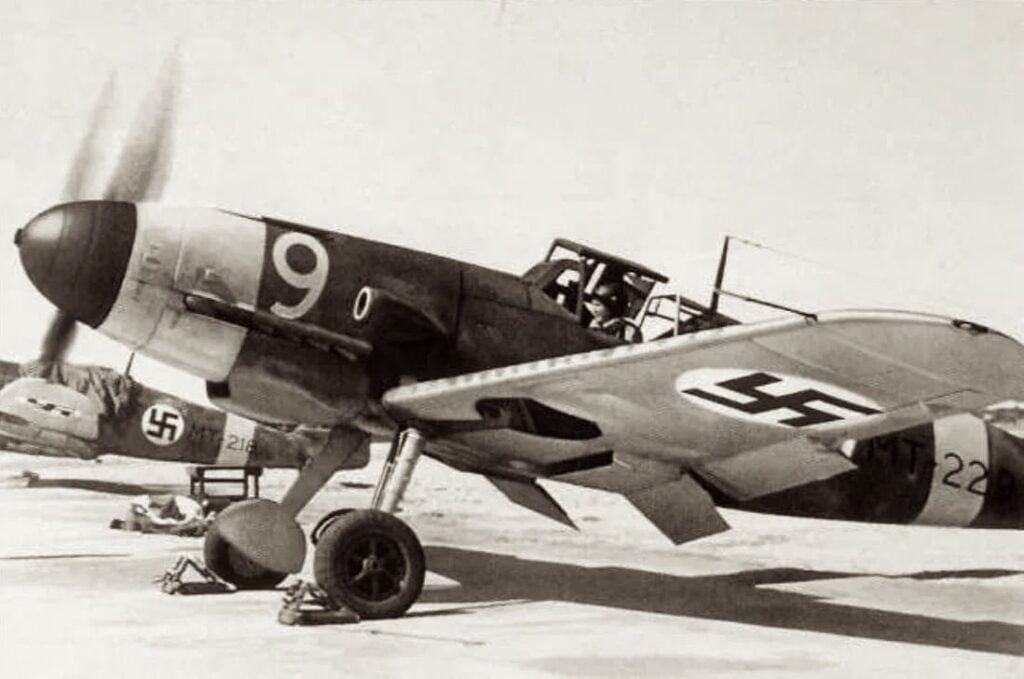 Even though the R 1200 S has a dry clutch, it doesn't have the rattly sound that a Ducati does. The clutch is in-line with the engine and the rear wheel — it's like a car's clutch.
"Character" of the BMW R 1200 S
The R 1200 S has a lot of character. LOTS. Not as much as a Ducati superbike, but those have so much character they become at times unpleasant to ride (on the street).
The most character-filled motorcycles I've ever owned were Ducati ones. It wasn't just that they were cantankerous bastards that broke down inexplicably, it was the sound — a throaty roar from parking lot speeds all the way to highway speeds. It was as true of the humble Ducati Monster as it was of the Ducati Pre-Panigale Superbikes.
The vibration of Ducati bikes is also part of the character package. Riding a Ducati Monster down the highway means hearing and feeling the visceral roar of the engine at any RPM point.
The BMW doesn't have that much character, but it's in the same league. Here are three reasons why the R 1200 S has a lot of character:
The sound is amazing. It's a huge twin engine with (quite often) a sports exhaust. Even though it doesn't have that V-twin offset rumble, it's still a great, blasting sound. The sound gets particularly intense as the revs wind up.
The seat rumble is very obvious and sometimes even soothing. One thing that's identical with other big twins is what the rumble of the engine is like. It is calming, almost soporific (not a great thing for long rides).
The engine wants to kick the motorcycle over! This is unique (or common) to longitudinally mounted engines, but the torque from the engine wants to tip the motorcycle over. If you've ridden another boxer, or a flat four or six from BMW or Honda, you'll know what this feels like. When you rev it at a standstill the whole bloody thing moves!
It is rare and looks very unique… This is for everyone who cares what other motorcyclists think. When you show up to any event people will stare at your machine, from the beautiful bodywork and frame, to the massive exposed rear wheel, to the chrome pipes. This BMW was only made for one year and few people have seen them.
For all these reasons, I'd love to keep mine — I'll only replace it with something equally interesting but in a different direction.
(Spoiler — I eventually replaced it with a BMW R nineT.)
Maintaining the R 1200 S — the maintenance schedule (simplified)
Maintaining a BMW is a bit different because the owner's manual clearly expects you to take it in for regular maintenance! But the maintenance is actually pretty easy. The only vaguely complicated things are greasing the final drive and gearbox.
But the R 1200 S is mostly just like any other motorcycle. Even the valve inspection is easy… once you're good at it, you can do the whole job in less than an hour (this is no Ducati, where it took me a full day under supervision!)
MaxBMW has a good guide on doing the valve inspection on an R 1200 GS of the same generation here.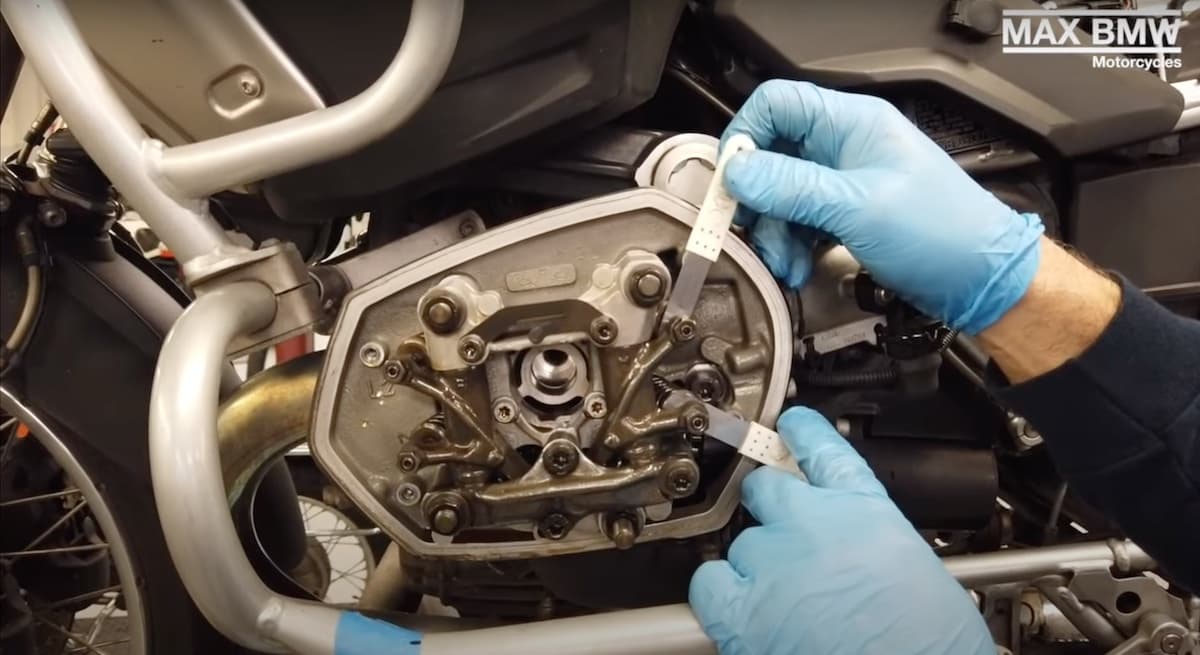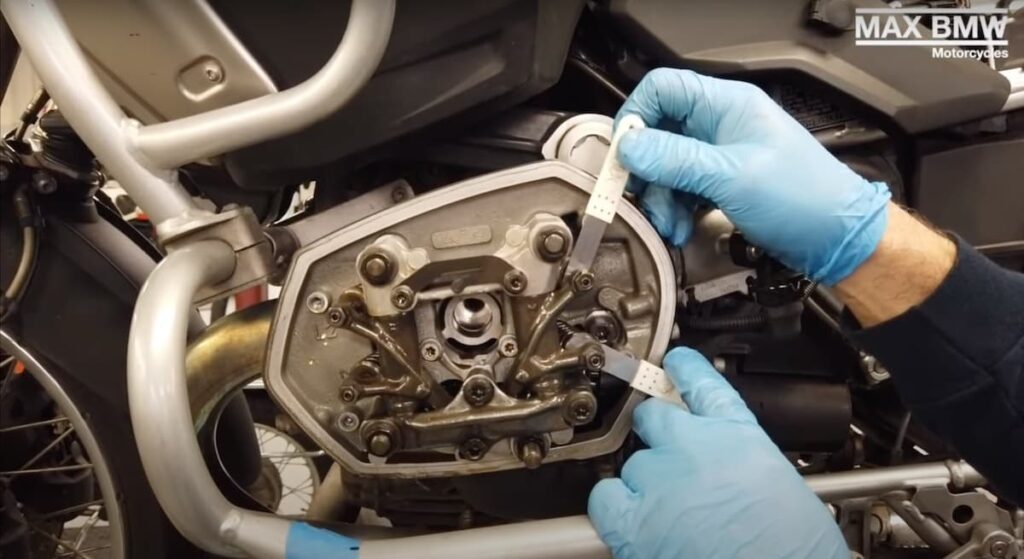 Here's the simplified maintenance schedule for the BMW R 1200 S. (See here on maintenanceschedule.com for the full schedule.)
Every 6 000 miles/10 000 kilometres
I'll put this in descending order of complexity.
Change oil + filter
Adjust valve clearance. Thankfully you can always see the cylinder heads — this ain't no Ducati!
Change oil of final drive and gearbox
Inspect clutch. Can do this through a test, no need to dismantle the bike.
Inspect brake pipes, hoses, connections
Check/replace brake pads and discs
Change brake fluid
Check cables for kinks/chafing
Check/adjust throttle synchro
Every two years, if you haven't done the 6 000 miles / 10 000 km
Change oil of final drive
Change oil of gearbox
Change brake fluid (note: This isn't in the BMW guide, but nearly every manufacturer says to change brake fluid every 2 years)
Then every 24 000 miles / 40 000 kilometres
Replace generator belt (here's my how-to — mine snapped at 48 000 km; I think the previous guy didn't do it)
Replace spark plugs
What to pay for a BMW R 1200 S
The BMW R 1200 S is somewhat rare (especially in the USA) but they're not massively desired. You can find them on the market, typically with north of 40,000 miles.
For one with ABS and heated grips, I'd pay about US$6,000 or A$10,000 (they're a bit more expensive in Australia due to shipping/import taxes). This is the lowest price you'll find, really. You can easily pay more! Here's one I found in Australia that I really wanted but which was impractical to get.
You'll pay more for things like an exhaust system, Öhlins suspension (in particular), a power commander, and good maintenance.
They don't come up for sale that often, and when they do, they're not often nearby.
Most owners of the R 1200 S have an inflated sense of what they're worth. They think that they're collectors' items, when in fact they're just rare. It's not unusual for me to see one with 50,000+ miles or 80,000+ kilometres with a ridiculous price — they won't sell for those prices. You can either enter into a discussion with the seller, or move on.
Why did I sell the BMW R 1200 S?
As much as I loved the BMW R 1200 S, I sold mine. (Here are the details from when I put it up for sale — but it's now sold.)
In a nutshell, it was beautiful to look at, and enjoyable to ride. It was my introduction to sport bikes and it showed me just how much I could like them. It gave me a taste and I wanted more!
But on the other hand, the R 1200 S always seemed a little too "gentlemanly" for me. It just didn't have the buckets of character I was hoping for from it.
There's a lot you can criticise about anyone who parts with an R 1200 S. Owners could easily point and say: I didn't spend enough time with it; it's not the bike, but the rider; or any other criticisms. There's validity to all of them, to a degree.
In the end, there's an acid test for any motorcycle I own — how much I hate to see it leave. When I saw my Ducati Monster 900 leave, I nearly shed a tear. But when my R 1200 S left in the hands of the right owner, I thought "it's going to a better place".
The new owner since emailed me with photos from track days and with praise for the bike… it really did go to a better place. And that's where a bike belongs. Sadly, he passed away a couple of years later. I considered buying the bike back from the estate, but it went to another happy owner — and that's for the best.
It's not to say I don't miss its gentle character. I see R 1200 S models for sale online and think: should I go back? I'll have that feeling again in the future. But when I sold the R 1200 S, it was because I wanted to ride something more raucous.
And that's what I did — read my review of the Ducati 1098S next.