I have a confession to make: I go crazy for the Yamaha R1. This is why you should, too: why (and how) to buy a Yamaha R1.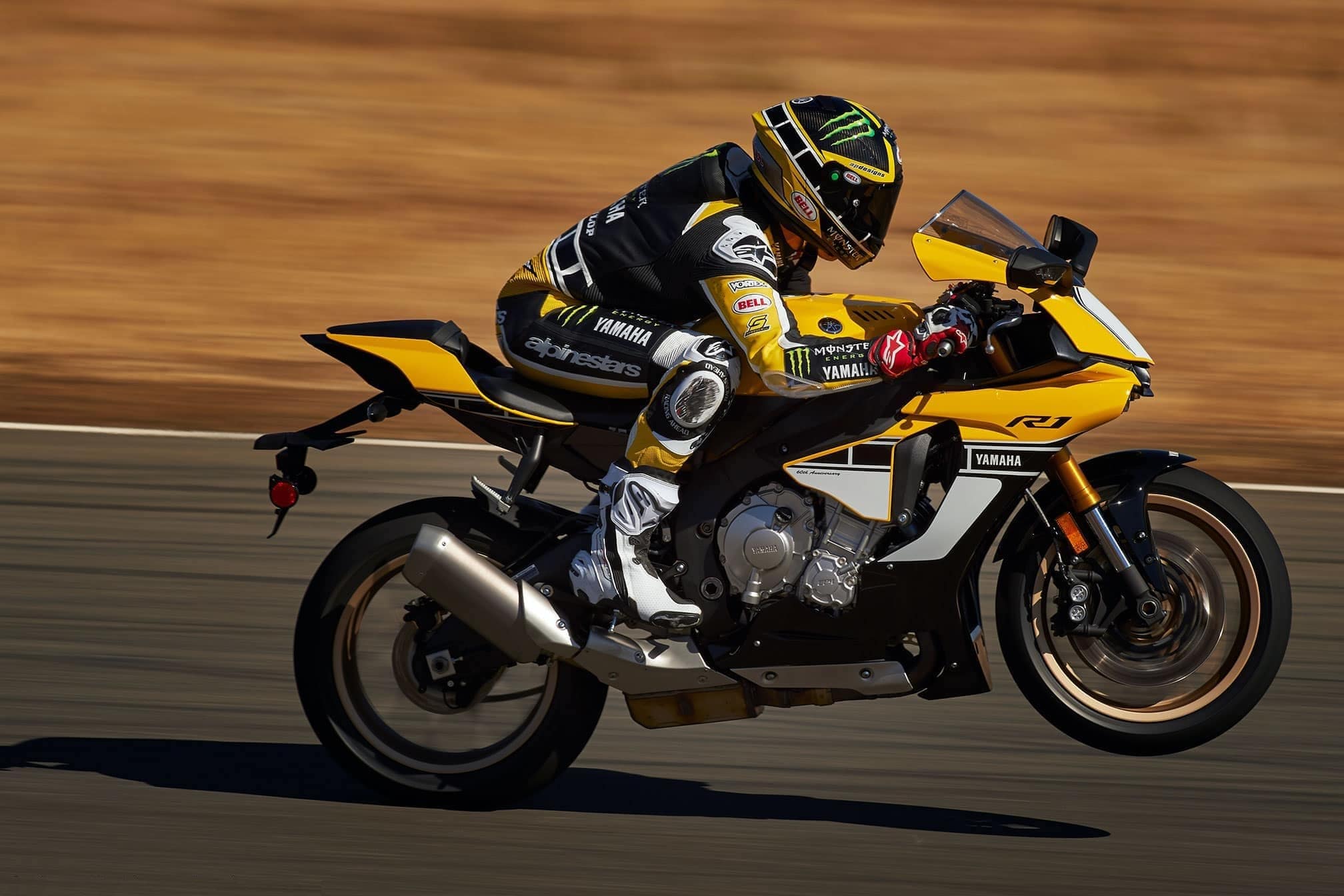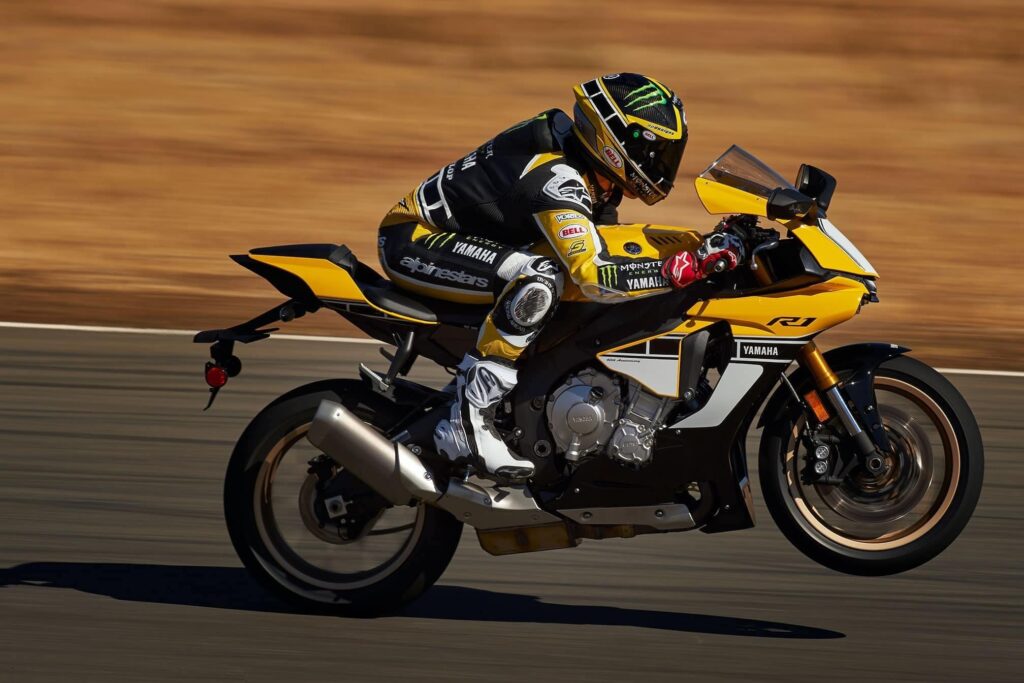 I go nuts for the Yamaha R1's raw power. For that roaring sound, especially when they took it to berserk levels with the "crossplane crank" in 2009. For the name R1, that says "I'm one of the fastest motorcycles you can buy." For the physical design. For the feeling that I'm riding something completely inappropriate for public roads.
No, the R1 is not a rational choice, with its high insurance cost, aggressive stance, and lack of luggage options.
And if you're remotely like this, then the insanity of the Yamaha R1 might just be your match made in heaven.
So this isn't just a review or a buyer's guide: it's a love letter to the Yamaha R1, one of those motorcycles that is iconic enough to be known to anyone who loves fast cars or great engineering. Looking at one, owning one and having the pleasure to work on one are almost as nice as riding them… well, not really. These are built to be ridden!
This is a collection of my research notes on the fabled R1 from riding them, visiting stores, checking out bikes, reading reviews and spec sheets, and scouring forums. If you're new to my buyer's guides, you might also want to check out my first one: my guide to buying a Ducati Monster. Enjoy!
Are you obsessed with motorcycles?
Well, I am. That's why I created this site — as an outlet. I love learning and sharing what others might find useful. If you like what you read here, and you're a fraction as obsessed as I am, you might like to know when I've published more. (Check the latest for an idea of what you'll see.)
Model History of the Yamaha R1 in a Nutshell
The Yamaha R1 is one of the most iconic motorcycles of all time. It's many people's "dream" motorcycle if you're into sportbikes. And even if you are not, it's hard to argue with the striking design and incredible power-to-weight ratio that R1s embody.
But don't tell a motorcyclist to make decisions with anything but our hearts. In fact, don't tell me what to do at all.
While the original first-generation R1 was quite raw to ride, it became progressively easier to ride over time. Generally, the Yamaha R1's model history is:
The Yamaha R1 project (as well as the Yamaha R6 and the limited edition R7) was led by Kunihiko Miwa, an engineering pioneer who is now one of the senior executives at Yamaha.
Miwa-san described his approach to building both the R1 and the R6 as being one of "no compromises".
Unlike Honda's FireBlade, which was being designed to have a high power-weight ratio, but a focus on giving everyday riders "total control", Miwa-san wanted to give the R1 and the R6 a feeling of "excitement".
It's amazing how these differing ethos bled into the R1 vs the FireBlade; the former was always known for being raw, and the latter always for being easy to ride. (Pick your poison, they're both lightning-fast, and you'll be measuring lap time and quarter-mile differences in fractions of a second.)
What's the best used Yamaha R1 to buy?
There are three specific models of Yamaha R1 I'd recommend, plus the most recent one:
The original 1998 model: These are quite hard to find these days. But if you can find a clean model at a reasonable price, the original model is a classic and has enough performance to get you into a LOT of trouble. Get it in red/white. Buy this just to look at it, not to ride it. (J/k absolutely ride it, while internal combustion engines are still legal!)
The 2006 50th Anniversary Limited Edition model: These once were the best value for money, available for around $5K USD (for one with a few miles on it). But those days have passed. However, one look at the striking yellow/black graphics will have you hooked. This one has fuel injection, an under-seat exhaust (looks cool!) and well-tuned suspension. If you don't care about the yellow (or hate it), get a 2004-2005 model.
Anything from 2009-2014, but preferably 2012-2014: This is the fabled "crossplane crank" motor that aims to deliver the high-end of a four-cylinder engine, with the low-end torque of a twin (more on this below). But I'd recommend the 2012-on years just for traction control, to keep you alive slightly longer. They'll still cost a lot ($8K+) but are a lot cheaper than a new one.
If you buy 2015 on, go for the oldest ones and try to get a good deal, because they're basically the same as the current motorcycle in 2020 (other than the R1M). Get a 2016 60th anniversary edition for the most attractive machine on the market!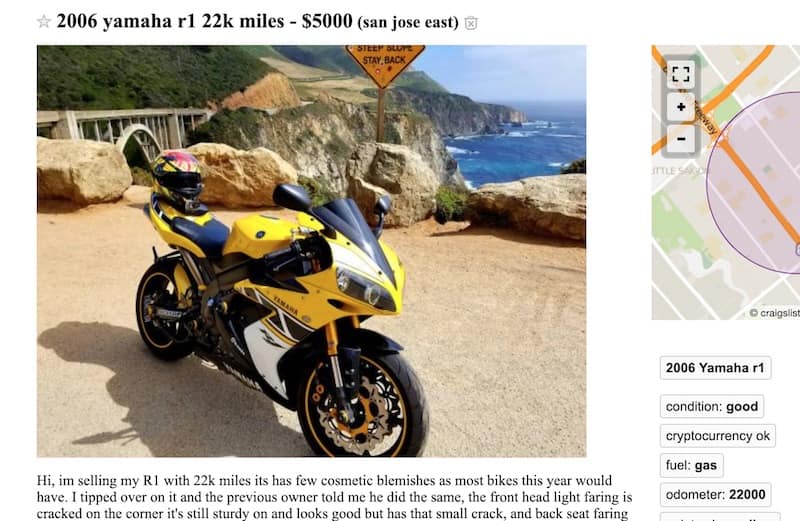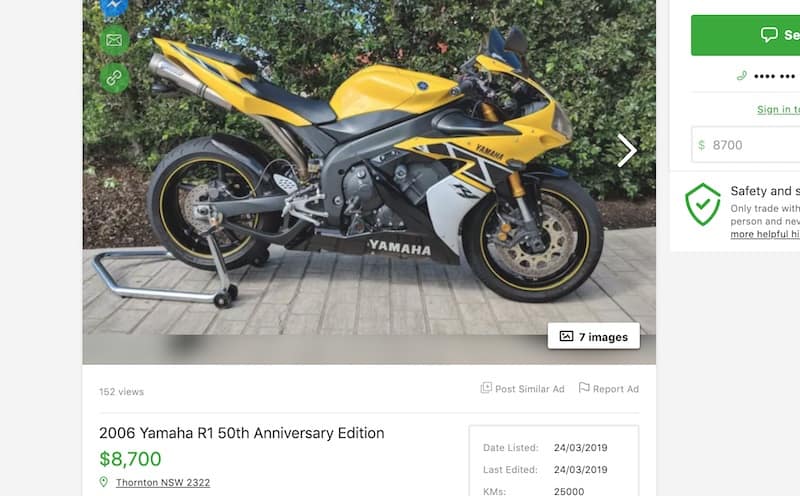 Buying guide for Yamaha R1s — what to look for, and what to avoid
There isn't much difference between buying an R1 and buying any other 600-1000cc sportbike. They're powerful and they've likely been wheelied, raced and beaten to a pulp if they've lasted this long. And if they haven't got many miles on them, the owner probably considers them a classic.
Get one with original things: As with any sports motorcycle, you need to find one with original fairings and an original frame (no polishing to hide chipped paint). The exception I'd make here is to exhaust and the tail.
Also, if you want one for the track, the fairings aren't as important. Just be aware of limited resale of track-only machines (because of a smaller market), and adjust your target price down accordingly.
Finding a clean, standard one is almost impossible, more than 20 years after the Yamaha R1 was born.
Acceptable modifications include:
Improved rear shock. Shocks tend to wear out, and old ones can be improved upon.
Re-valved forks. Refreshed forks, including seals, would be a must on an older model.
Exhaust, as long as a tune has been done. It's just a motorcycle people will want to have sing, so I can't fault people for that. When people modify exhausts they usually eat the expense, so it's worth it if it's something you'd want to do anyway.
Tail tidy: Most motorcycles have hideous tails these days for compliance reasons. Let the previous owner wear the cost!
What to check on the Yamaha R1: Known Issues and Problems
When buying any Yamaha R1, you do want to make sure all the standard checks have been done. Basics like tires, last major service, charging system and so on. I've put together a comprehensive motorcycle inspection checklist here which can save you thousands of dollars.
Apart from that, for the Yamaha R1:
Gearbox. This is mostly for older models but would apply to any R1 ridden hard. Check that it stays in gear under high revs, especially second and third gear. This is going to be quite hard with your test drive around the block, so maybe take it to a mechanic.
Head bearings. Check that there's no free play that usually comes from hardcore wheelies. You need to get the motorcycle up on to a stand and check for lateral and forward/backward free play. Any is bad!
Fairings. The fairings were thin on the earlier models, much thinner than most motorcycles (or modern ones). It's OK if they're cracked, it will happen, as long as it's not from a big crash. On all R1s, make sure they're the original fairings. It'll make it easier to on-sell.
The 1998-99 1st Generation Yamaha YZR-R1 4XV: The Original R1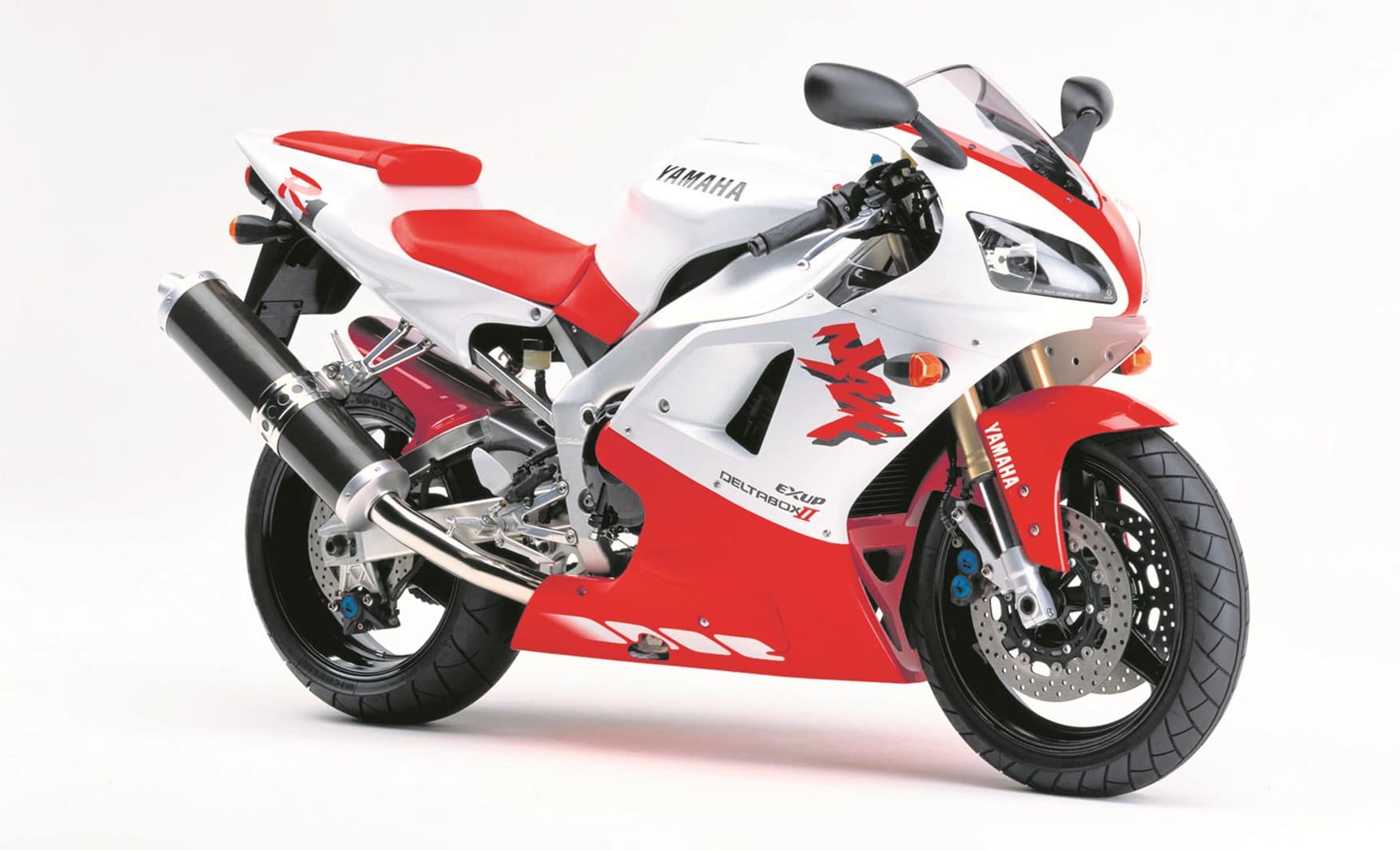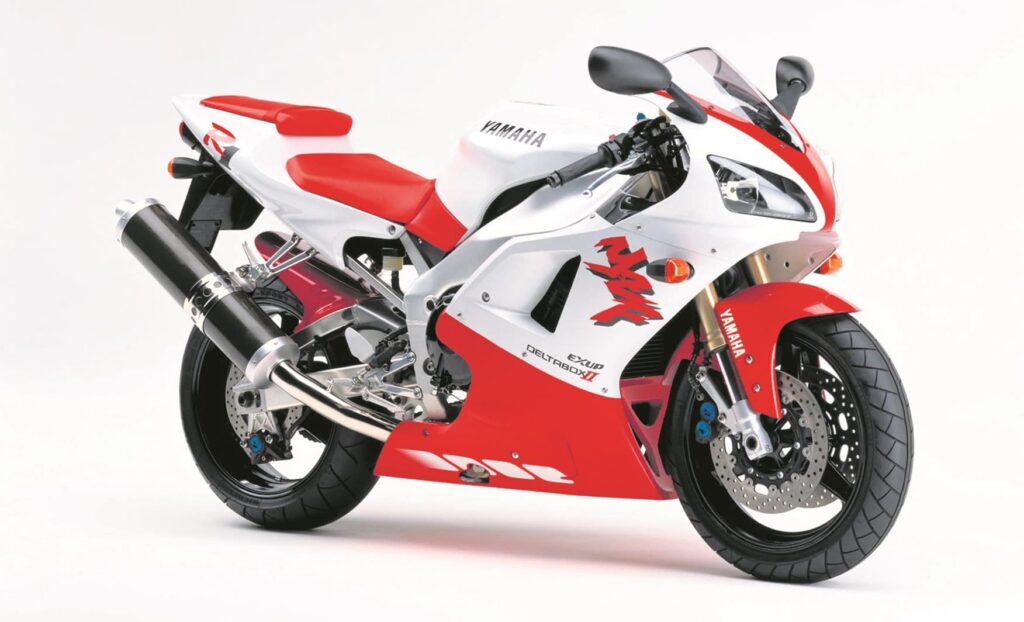 New for 1998-99 YZF-R1:
The entire motorcycle
The 'stacked' gearbox
In the 1990s, the motorcycle that changed everything was… the Honda FireBlade (with that capitalisation, which was dropped in the 2000s out of respect for the retirement from Honda of the original designer, Tadao Baba, in 2004). It was the motorcycle to beat.
Yamaha tried to catch up with the Yamaha YZF1000R Thunderace, which took the motor from its FZR1000 Genesis and shoehorned it into a lighter chassis. But it was neither here nor there, and Yamaha had to re-invent itself.
And Yamaha launched the YZF-R1 to do just that. It succeeded, and Yamaha stole the limelight in the liter-bike category for many years – I'd say until 2009, when BMW released the S 1000 RR.
But back to the R1. With 150bhp (at the flywheel) and a 177kg dry weight, the original R1 was like nothing that had gone beforehand. It was more powerful, lighter and more aggressively positioned than any other road motorcycle.
The original R1s produced a healthy 130hp (110kw) at the rear wheel, with power delivered by a 998cc 5-valve per cylinder design, via a chain drive and a six-cylinder stacked gearbox which was its secret sauce.
About the 'stacked gearbox': this was the major innovation of the original R1. By placing the gearbox above the crankshaft, the engine was lighter and more compact than any similarly-sized engine ever. It was good for performance as well as handling. The smaller engine also let the designers use a longer swing-arm to improve traction without increasing the wheelbase.
These early R1s are bona fide modern classics, with the red and white liveried bikes in particular proving very collectable by the right buyers.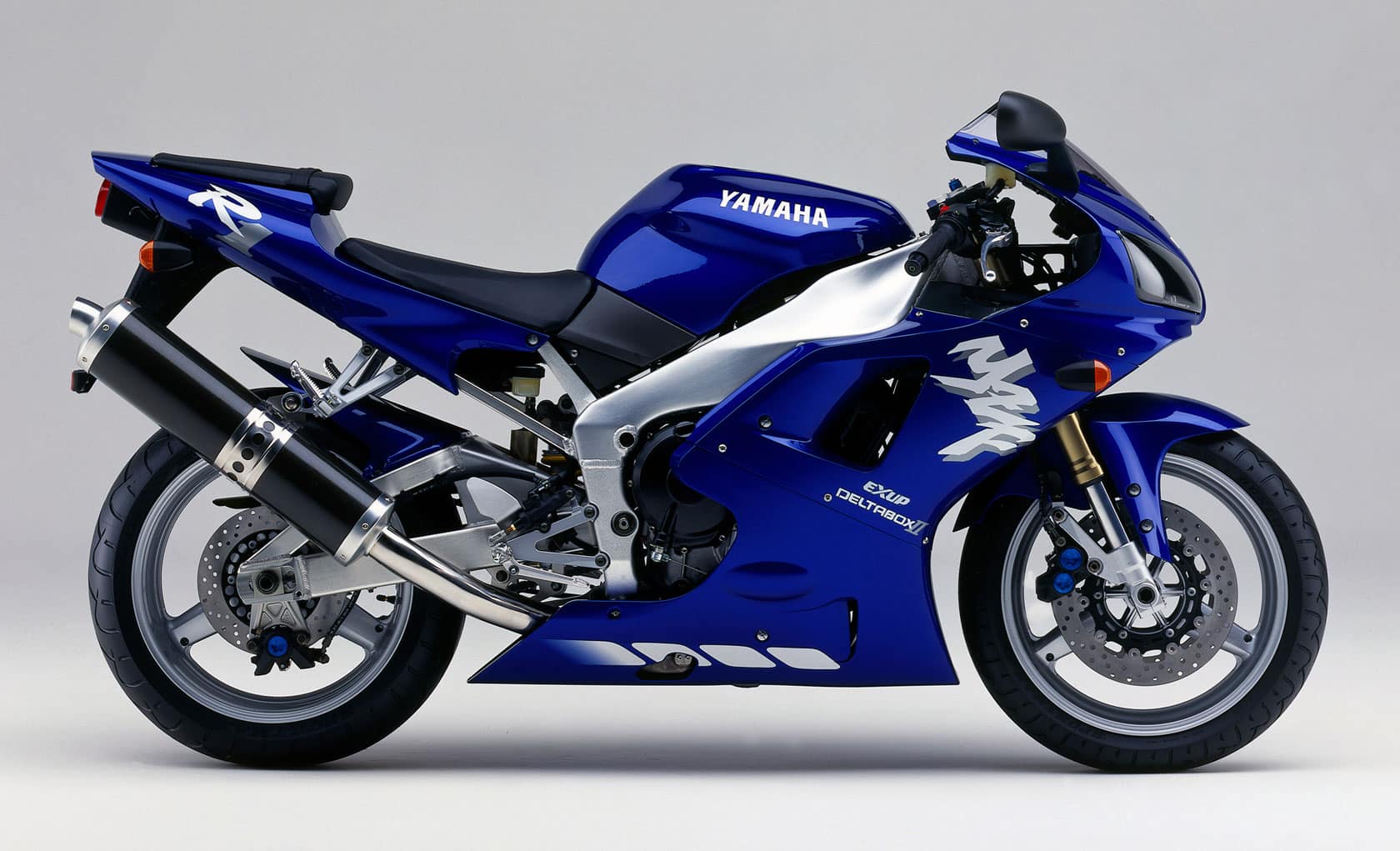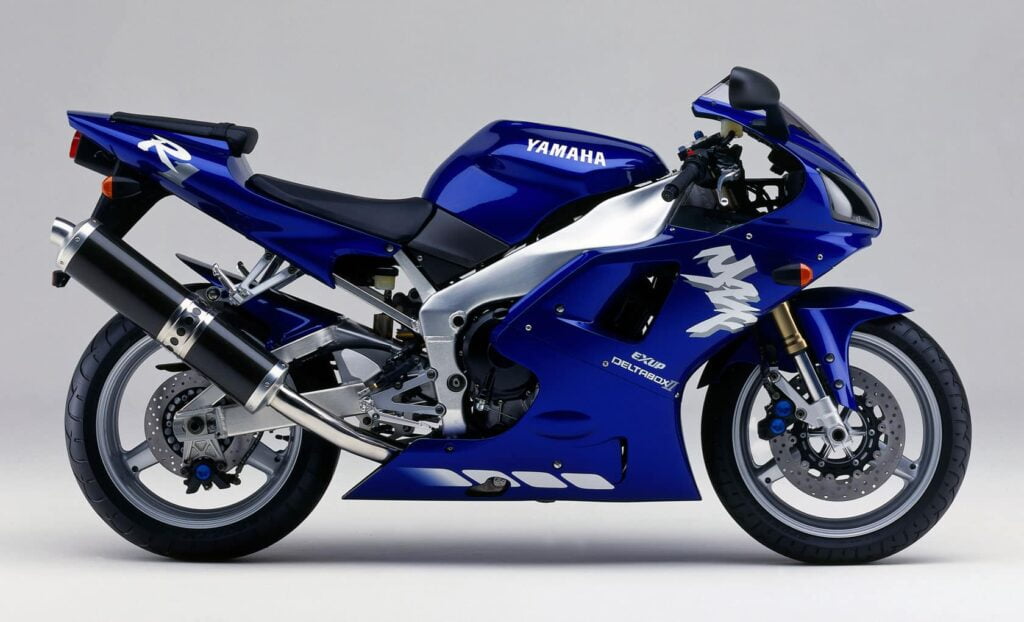 Buying a 1st generation Yamaha R1
Unfortunately, it's very hard to find a 1998-1999 first generation Yamaha R1, and when they're listed they're either thrashed or priced too high.
Motorcycle buyers tend to ride motorcycles rather than just store them and look at them, so the original R1 is more a classic in sellers' minds than in most buyers'. Yes, it's an awesome motorcycle, but one you want to ride. Sellers think you should probably just keep it in a showroom, and the over-inflated prices for them reflect this.
Basically, they're usually not great value to buy. You will get more motorcycle for your dollar with a more recent model — unless you're a collector!
Besides pricing, the original first-generation R1 was quite hard to ride compared to later models. With a short wheelbase and power delivery not as refined as later models, it's easy to wheelie and generally quite wild.
The first gen does make you grin though, from the second you rev it and start thinking about the wheelies you'll pull on the freeway in third gear at 80mph.
Sorry, did I just talk you into getting one?? Good luck finding one in good condition but if you do, I doubt you'd regret it.
2000-2001 2nd Generation Yamaha R1 (5JJ): The Smoothest Carburettor-equipped R1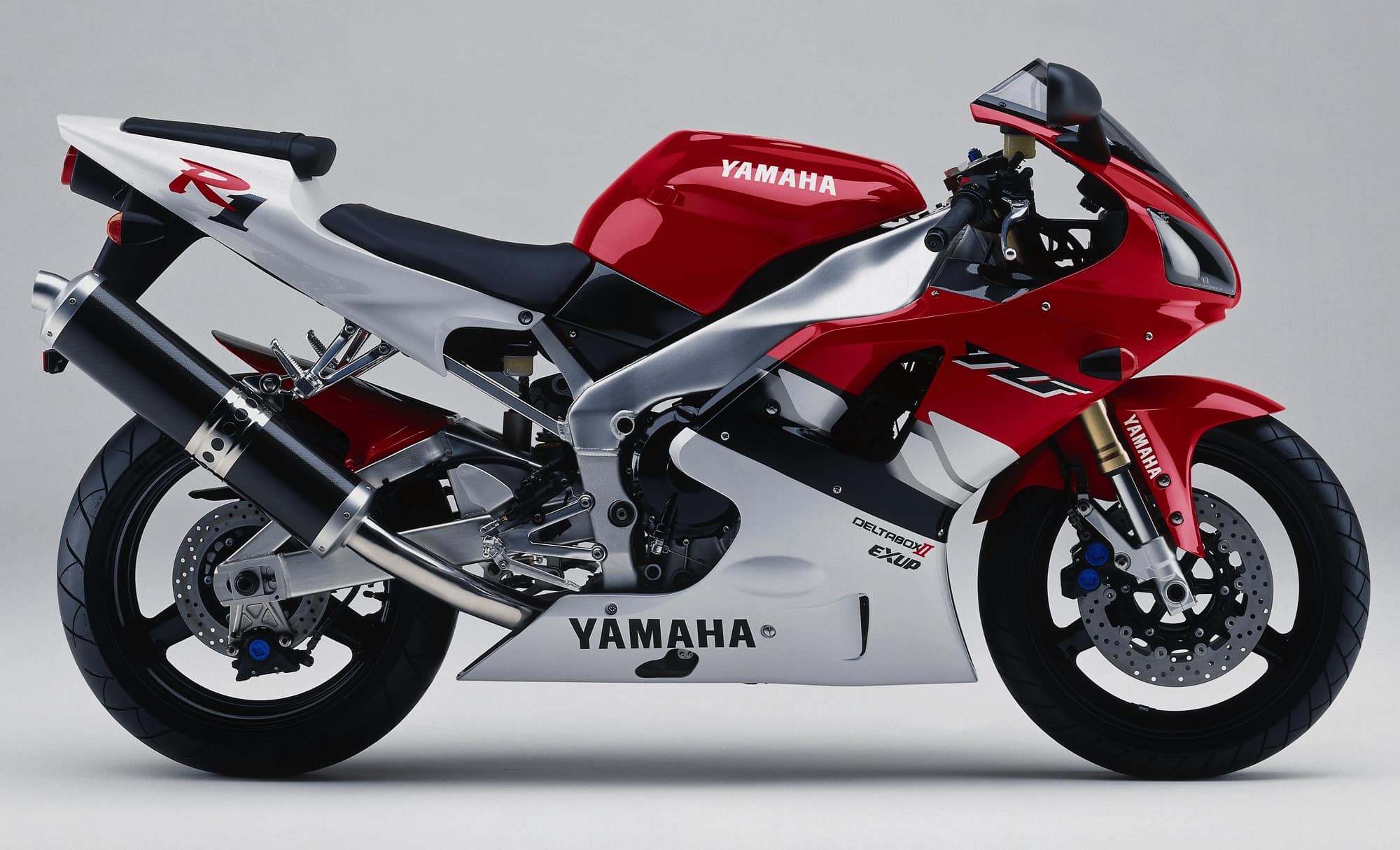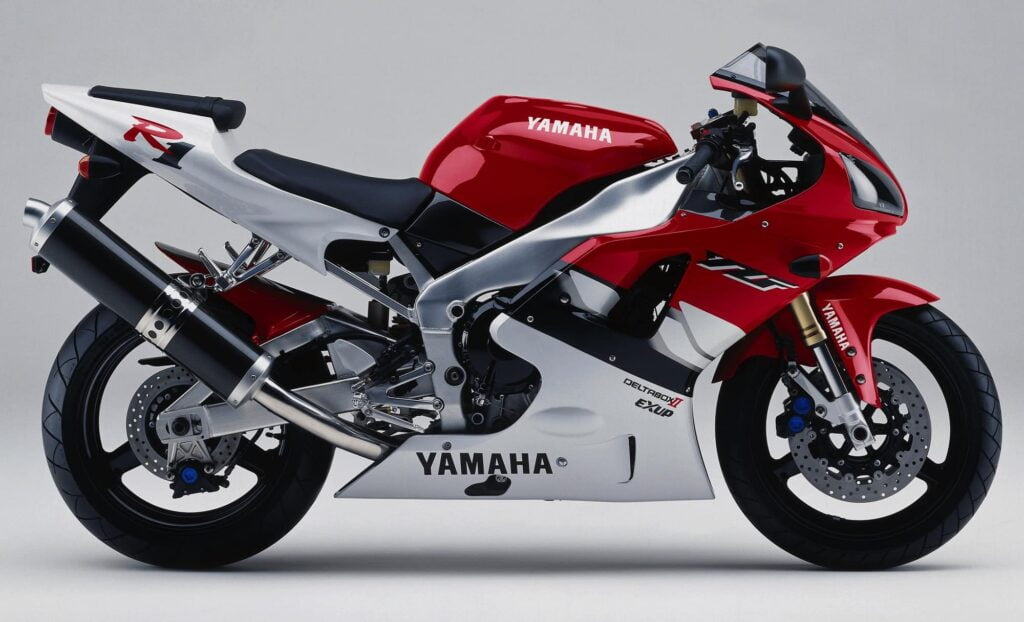 Changes for the 2000-2001 Yamaha R1:
Revised graphics, not as good if you're into the 80s thing
Motor/carb tune for a linear power delivery. So smooth!
Revised frame castings to make the chassis stiffer
Revised weight distribution, for more front bias
Titanium silencers (saving 2kg)
Brighter headlights
For the second generation Yamaha R1, Yamaha tuned the motor to give it a smooth, flat torque delivery, with a corresponding linear 45 degree power curve.
It tamed down the wild, animal nature of the original R1. When you ride one of these you'll notice that it pulls from 3,000 rpm and then pulls, and pulls and pulls. When you ride one back-to-back with the first model you'll notice no "flat" spots.
They also changed the styling slightly (a definite downgrade from the red seat of the original), and gave it bigger, wider headlights. The first generation headlights were not bright enough.
Buying a 2nd generation Yamaha R1
You can actually find these online! And they're not terribly in demand, because they're not quite as classic as the first generation, and they have carburettors.
"Boo," you think. "I'll get a more recent model with fuel injection." This is a common response: fuel injectors are more reliable, don't need using a choke, and are easier to do a clean power curve on, using a dyno and a Power Commander.
But think of the advantages of carburettors.
Easier (or cheaper) to service. You can even do it yourself, cleaning them all.
Easier to tune. You buy a jet kit. Bam! Takes you a few hours.
Easier to understand. No computer/electronics!
Don't forget the advantages of fuel injectors: more reliable, easier to map (in modern versions) for a flat torque curve, and more environmentally friendly (easier to set a tune that's bordering on lean).
You also can leave an injector-fuelled bike for longer without worrying about it. On carburettor-equipped bikes, you should drain the carbs if leaving them parked for a while (e.g. if you're buying an R1 as your track bike).
Revzilla had a great piece on why fuel injection replaced carburettors, and none of them are "because fuel injection goes faster".
2002-2003 3rd generation Yamaha R1 (5PW): The First Fuel-Injected R1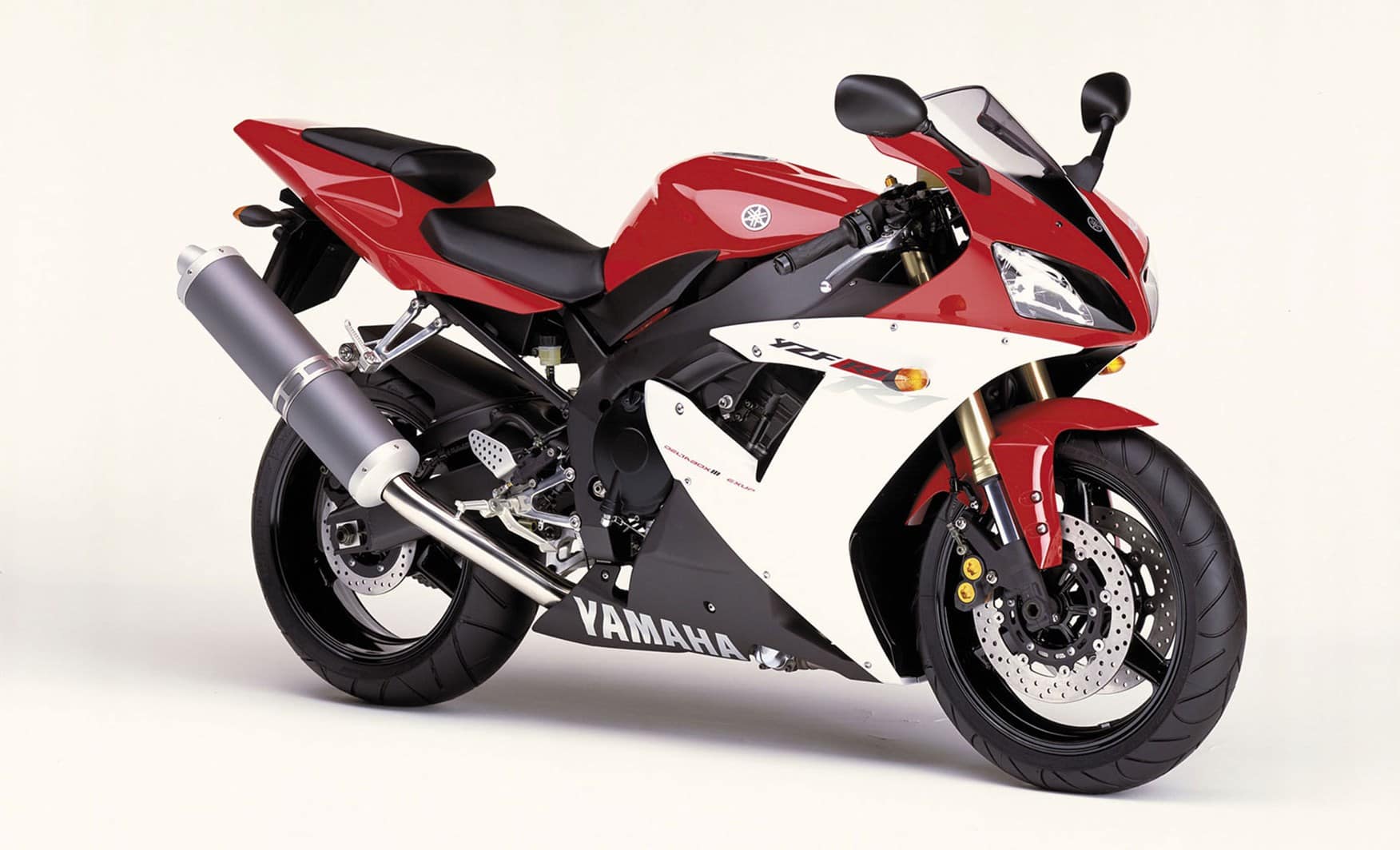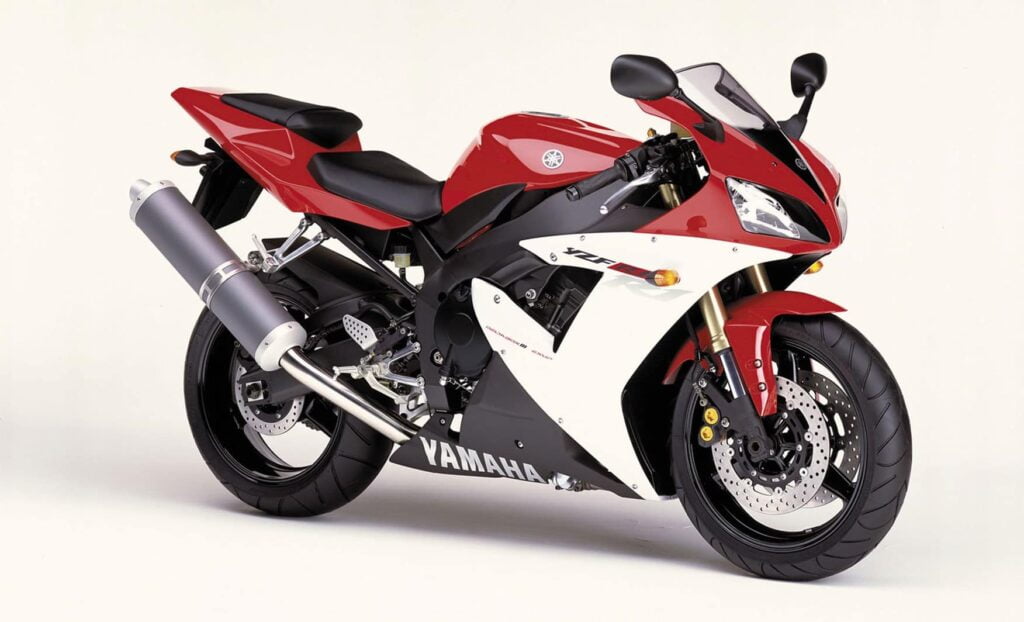 Changes for the 2002-2003 Yamaha R1:
Fuel injection, using a hybrid "suction piston" system which gave the analogue response of a carburettor, with the precision of EFI
New styling, minimalist bodywork. Quit messing with perfection, Yamaha!
Silver colour option
Updated rear suspension and larger diameter front forks
This was the first real update for the Yamaha R1. The aim was to make it more refined, but that just made the competition's offerings more attractive (as they were more "bonkers").
2004-2005 4th Generation Yamaha R1 (5VY): The First R1 with a 1:1 Power:Weight ratio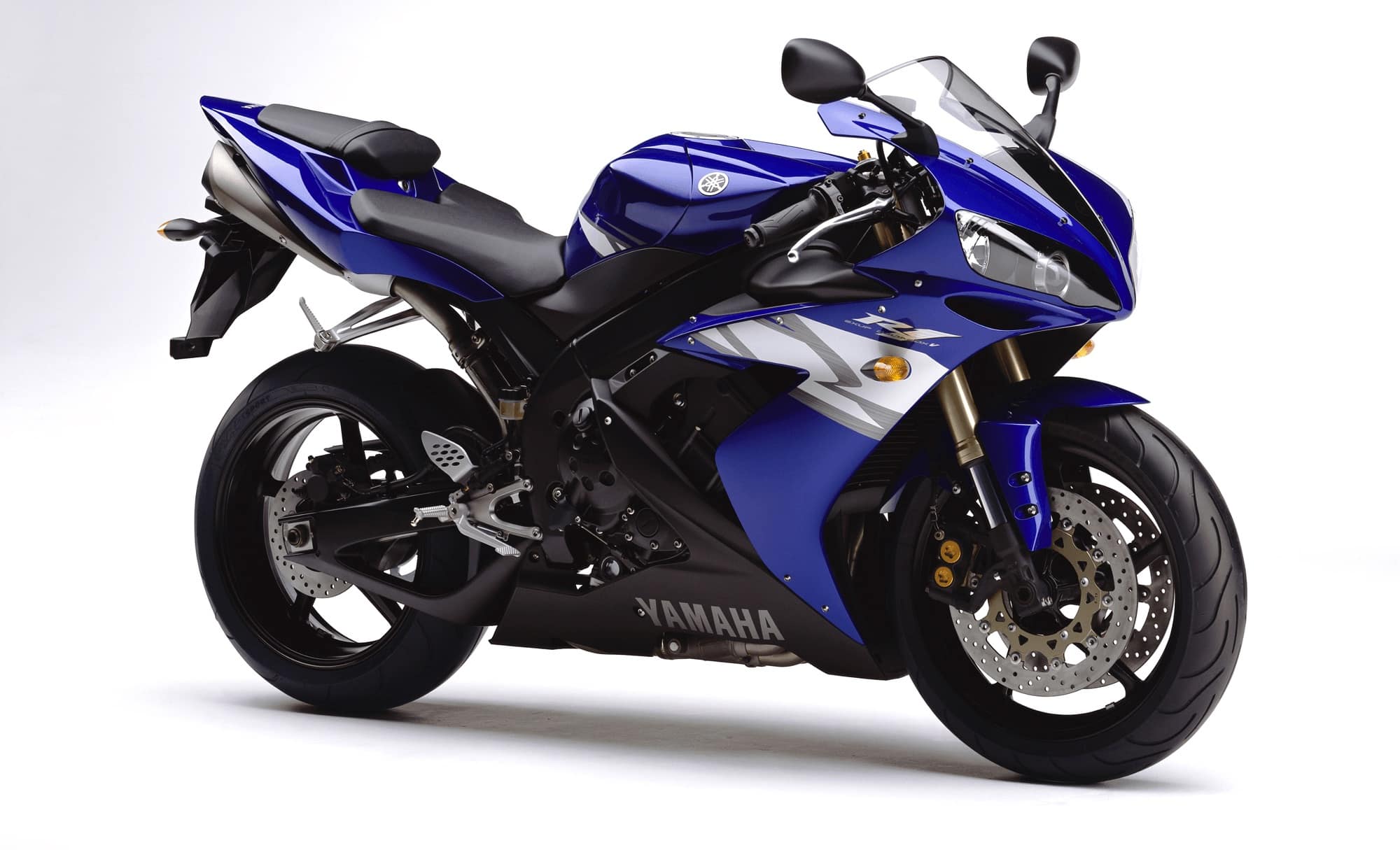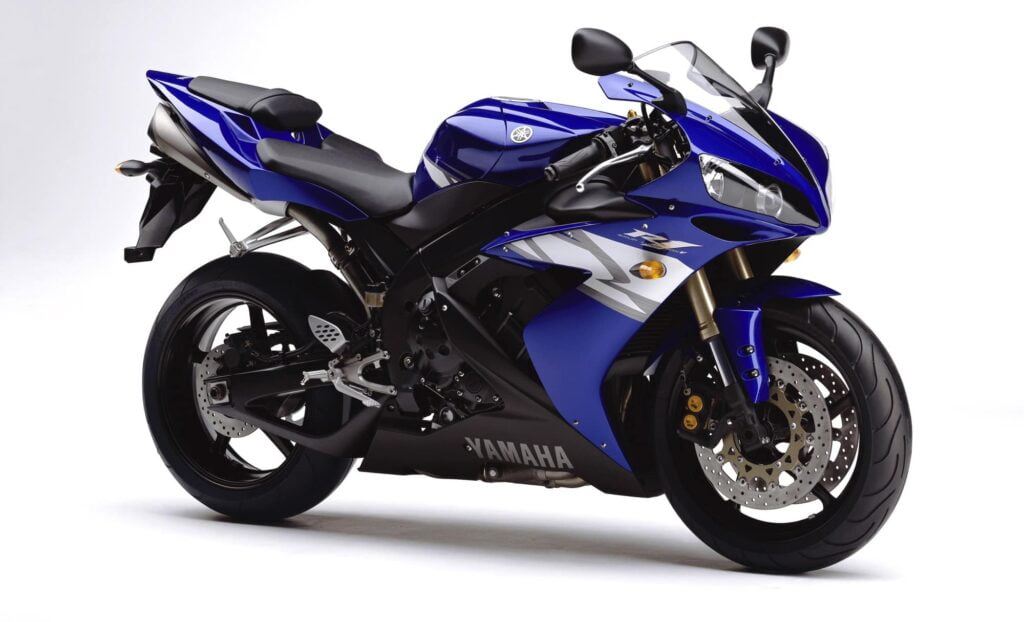 This was a really visually stunning version of the R1 (though you could say that about any of them).
New for the 2004 Yamaha R1:
Moar power! 172 hp, a more than 20hp increase!
Adjusted geometry, reducing tendency to wheelie
Under-seat exhausts, which look the business
Radial-mounted disk brakes
OK, so that magical 1:1 power:weight ratio only works if you're partly imperial (172 hp), partly metric (172 kg). Never mind that, it's still awesome.
They increased the horsepower in two ways.
Engine: They reduced stroke to enable higher RPM, and thus power output. Peak power is now higher, around 2000 RPM more than previous R1 models.
Ram air intake: The R1 in 2004 introduced an intake to force air into the engine. Horsepower actually increases with speed, for a peak of 180hp using the scoop. 172hp is just what they measured on the dyno.
Bloggers all around thought the 2004 R1 was a huge improvement on predecessors, which they said was amazing considering how much they loved the predecessors.
Downsides of the 2004 R1:
Tall gearing: this made it practical, but much more civilised than the competition.
2006: 4th Generation Yamaha YZF-R1, 50th anniversary Limited Edition… and also the SP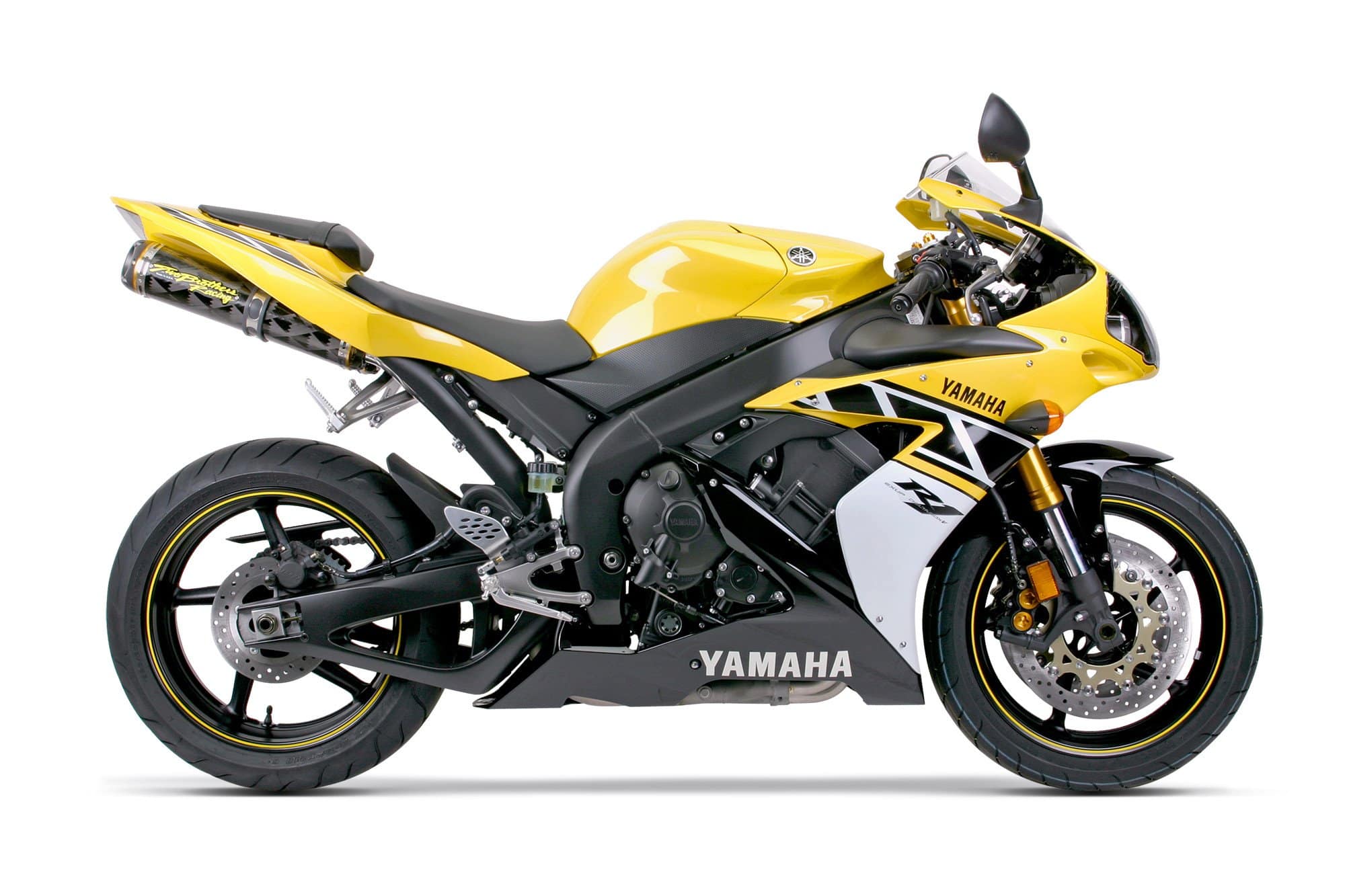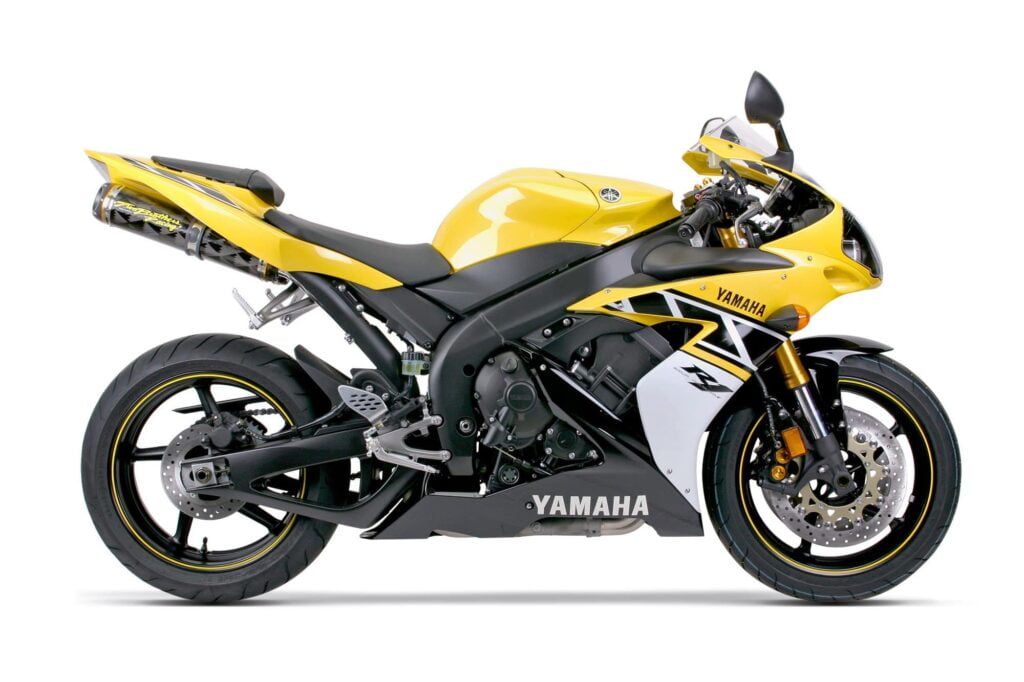 The main change to the 2006 was the introduction of the Limited Anniversary Edition, which meant awesome yellow paint.
I kid. 2006 was also the year they brought in the first racing edition, which was amazing. But the yellow and black limited edition R1 does look awesome.
This model also had
20mm longer swing-arm, to move weight forward
Gold fork legs (did you notice?)
Intake adjustments, adding 3hp
Slipper clutch
An integrated lap timer
The YZF-R1SP: This was a special model of the R1 made in 2006 built for superstock racing. It had the same engine, but also had
Custom Öhlins (pronounced "euh-LINS") suspension, developed by the same team as the M1 MotoGP bike
Custom forged aluminium Marchesini wheels
A slipper clutch
Matt black paint with gold wheels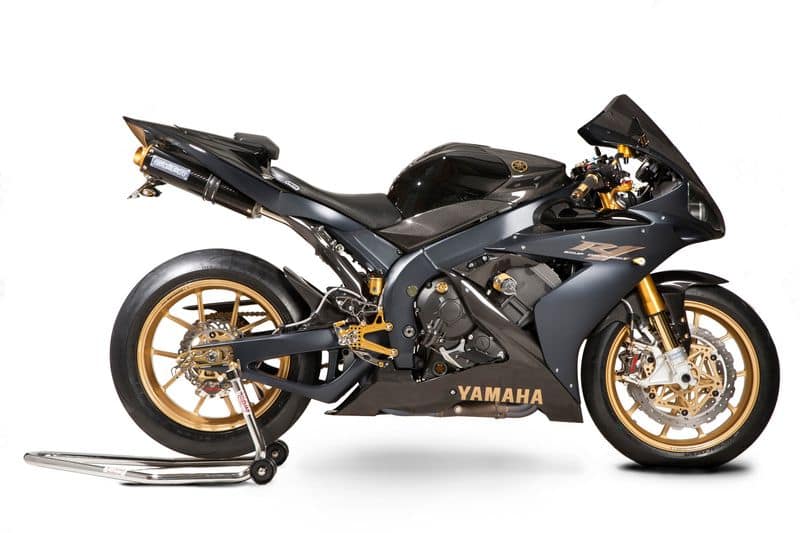 Only 500 of these were made in the US, and 500 for Europe. A few more went to other places, like Australia.
2007-2008 5th Generation Yamaha R1 (4C8): Four valves again, and electronics galore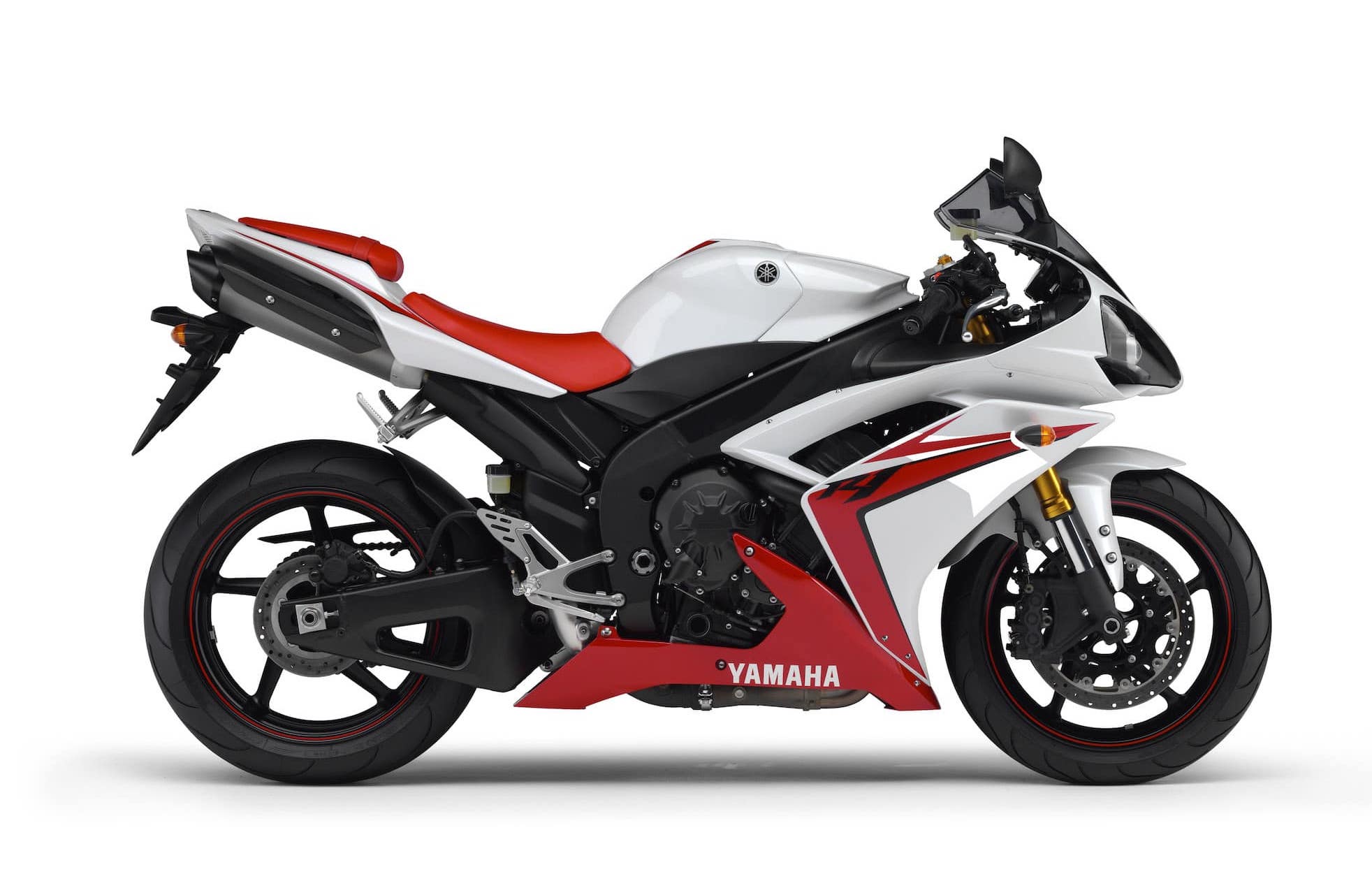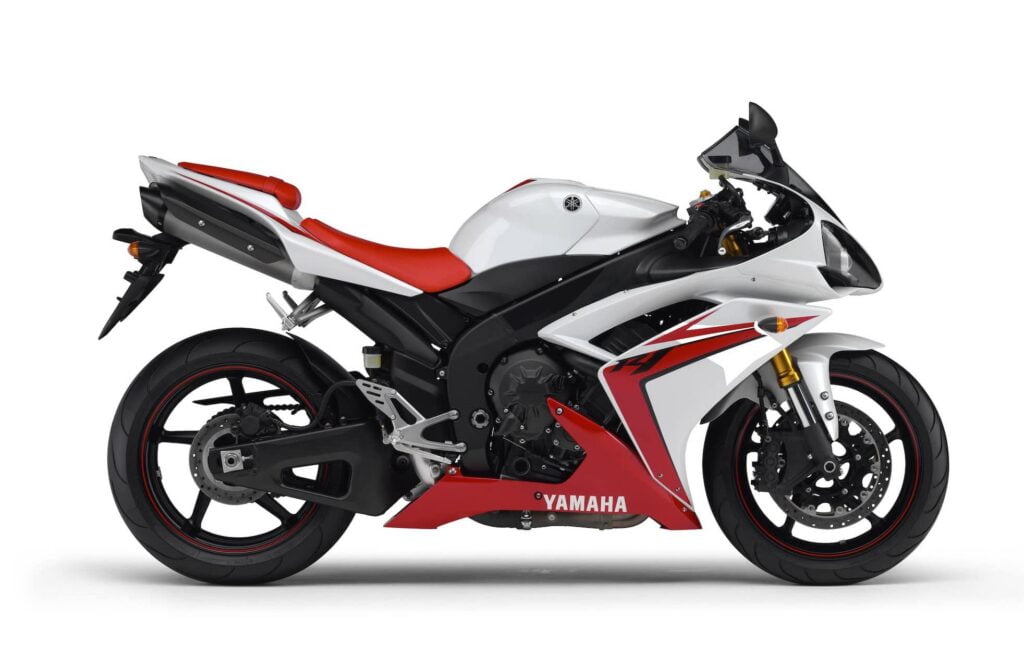 There were some pretty significant updates in the 2007 Yamaha R1. These included:
Only four valves per cylinder: a first for a while! They had had five valves per cylinder from the beginning.
YCC-T Fly-by-wire throttle (which came on the R6 earlier in 2006)
YCC-I Variable length intake funnels, designed to improve performance as revs increased
Slipper clutch, for improved speed in downshifting
New aluminium swing-arm
Six piston front brakes, up from four, though reducing disc size by 10mm
Increased dry weight, up to 178kg (390lb), but with maintained 178hp (or 186 hp with ram air at speed)
New bodywork, exposing more of the engine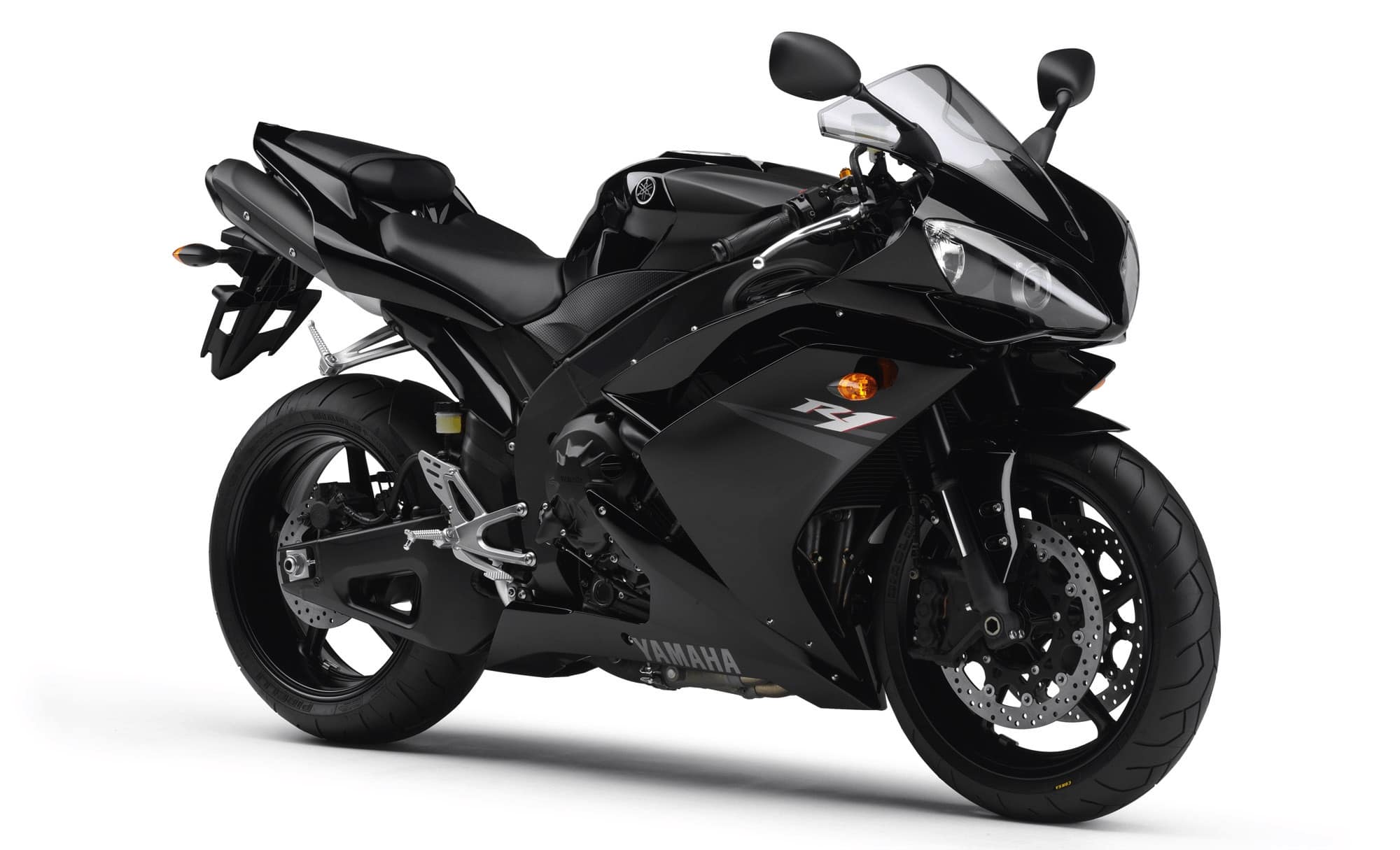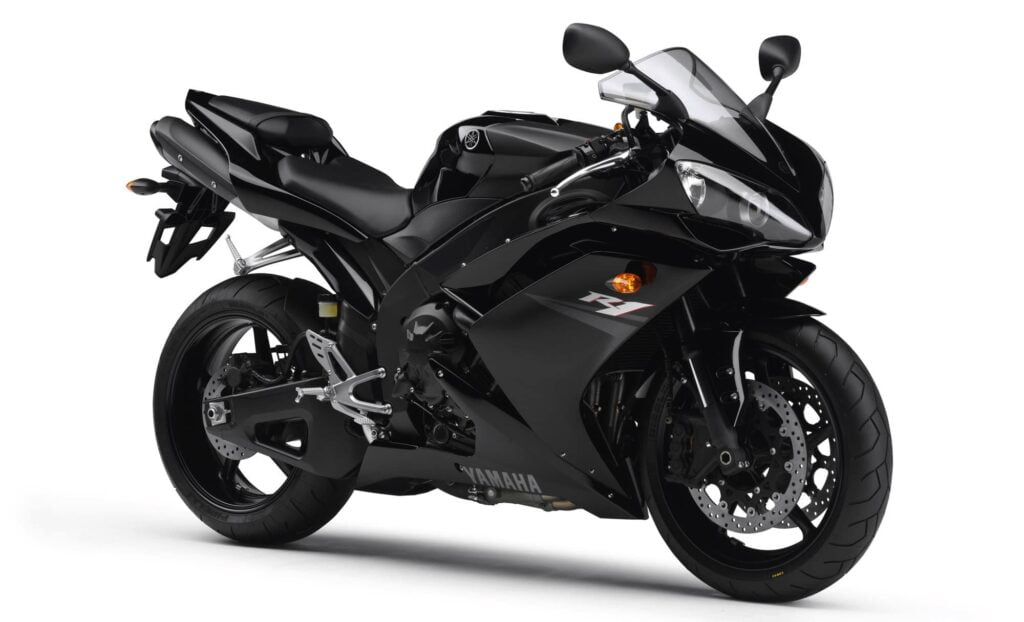 2009-2011 6th Generation Yamaha R1 (14B): The Crossplane Crank engine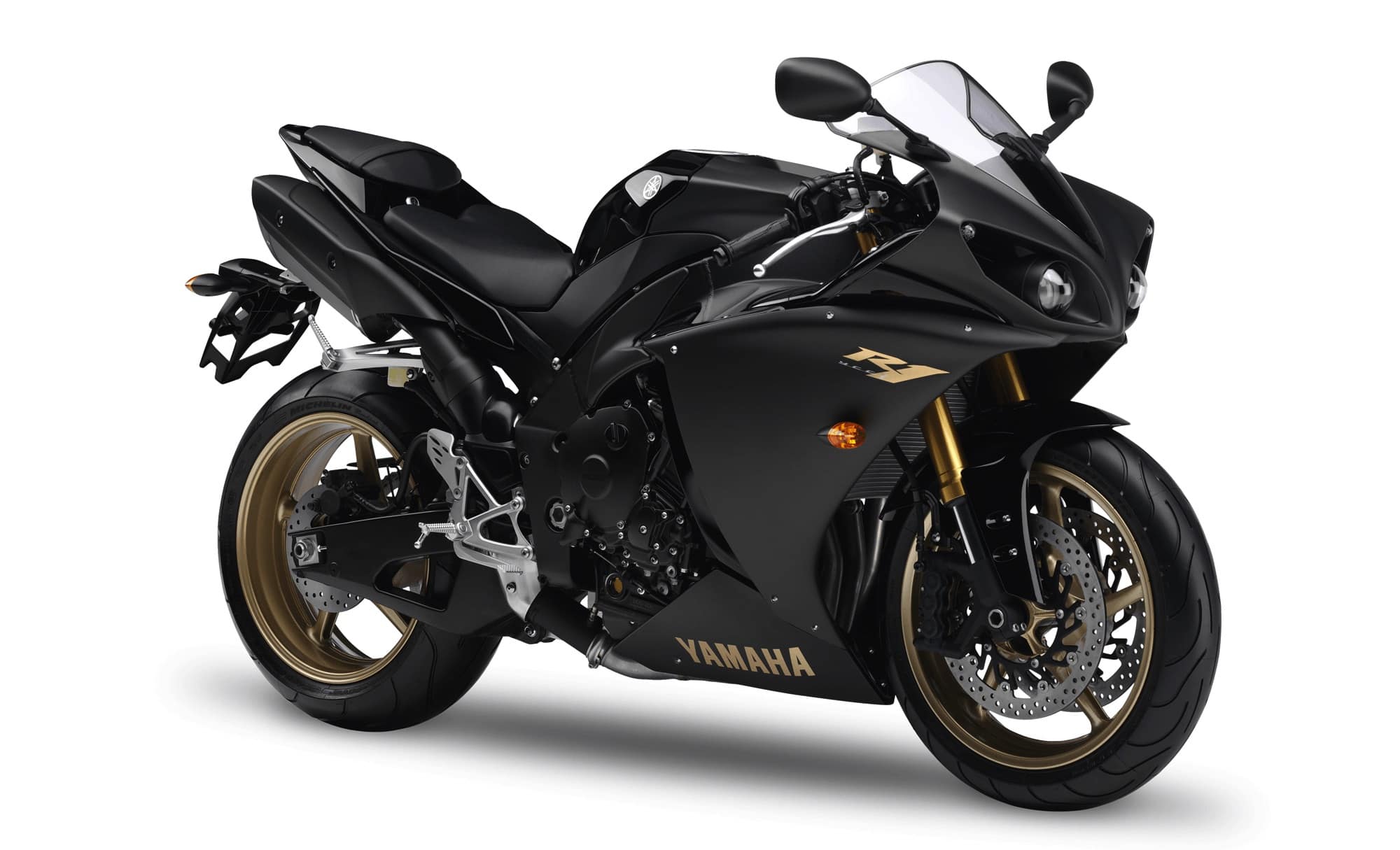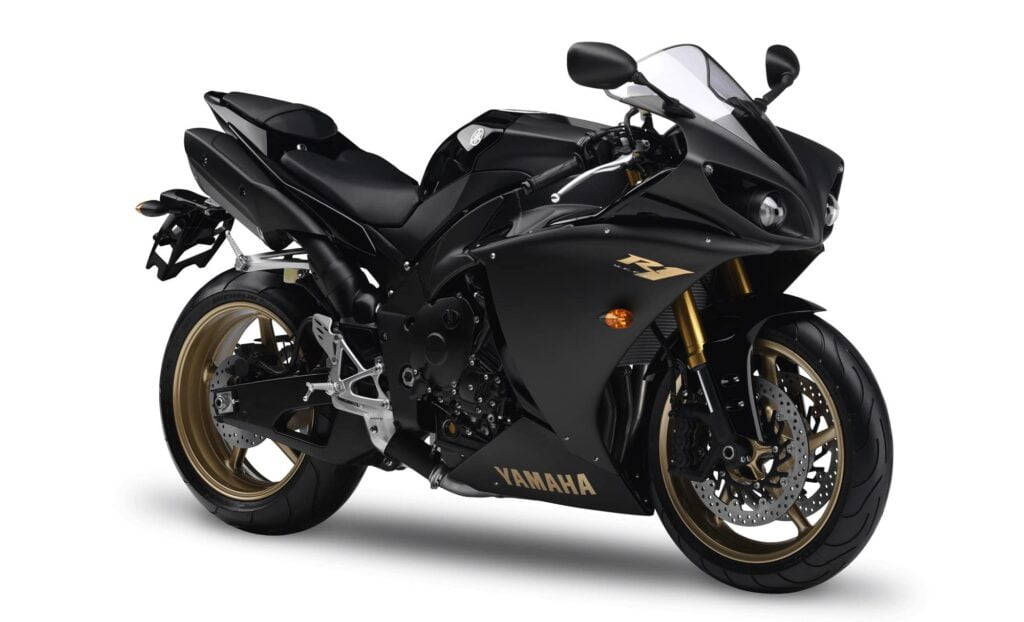 This was one of the most significant updates to the Yamaha R1.
The "crossplane crank" motor, sometimes known colloquially as "big bang" (though this isn't strictly what it is), and also branded CP4 (crossplane four) fires its pistons in a unique firing order in order to reduce inertial torque, and improve cornering.
The crossplane crankshaft was a defining moment for Yamaha. Over a decade later, it's still unique in the motorcycling world, shared only by the MT-10.
Some say it has an analogous feel to a V4 engine. They do share some qualities, in that they have four cylinders (like an inline four) but have a raspier, more guttural feeling. But there are so many differences between motorcycles (tuning, exhausts, etc.) it's hard to say they're any more "same" than that both the CP4 engine and V4 engines are different from inline fours.
Main changes for the 2009 Yamaha R1
"Crossplane Crank" motor, with a unique firing order for inline-four engines
Bulbous, more aggressive design
New paint – red frame on the white motorcycles
Peak power (with ram air) dropped to 179hp.
How the Crossplane Crank motor works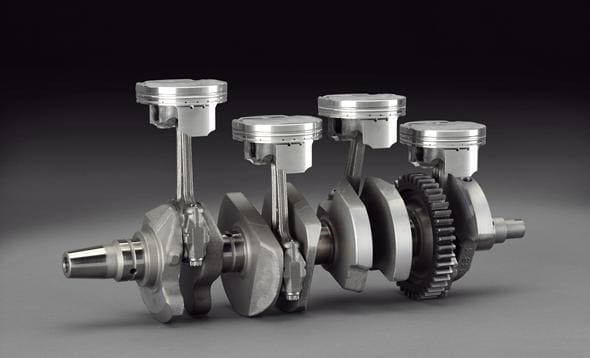 A typical inline four, like that found on the Yamaha R6 or any other inline-four liter-class sportbike (like the CBR1000RR) for example, has a 180-degree firing interval.
The firing interval on a standard inline four is:
Cylinder 1, then 180 degree rotation
Cylinder 2, then 180 degree rotation
Cylinder 4, then 180 degree rotation
Cylinder 3, then 180 degree rotation
So every piston fires every two rotations of the crankshaft.
Cylinders 1 and 4 are aligned (but take turns firing). So are cylinders 2 and 3, in the middle.
On the Yamaha R1's crossplane crank motor, the interval is modified:
Cylinder 1, then longer 270 degrees rotation
Cylinder 3, then 180 degrees rotation
Cylinder 2, then just 90 degrees of rotation
Cylinder 4 almost immediately afterwards! then 180 degrees again
That unusual firing order is what gives rise to the R1's burble.
The "crossplane" concept is not unique to motorcycles. It actually comes from V8 motors, which is why some people think an R1 sounds like a V8.
The close spacing of the firing of cylinders 2 then 4 are what changes the torque profile. As RideApart put it:
Basically, that means two cylinders fire with the normal degree of separation before two cylinders fire one after the other, creating a long bang. It's this long bang that gives the engine its unique character, sending large pulse of torque to the rear wheel, then giving the tire plenty of time to regain traction before the next one comes around.
Why Crossplane for the R1?
The intention of the crossplane crankshaft in the R1 is to eliminate "inertial torque".
This is a problem in all engines, but becomes more pronounced in larger ones in particular.
Inertial torque is produced when the crankshaft doesn't spin at a constant speed over the course of a single revolution but rather speeds up and slows down at different points in each piston stroke.
In conventional inline fours, all four pistons stop moving up and down at the same time, every 180 degrees (every time one fires). That's because they're all aligned together.
The R1's motor is designed so that this never happens. It fires one cylinder, then there's a long pause, then a second cylinder, then a medium pause, then the last two cylinders in quick succession. 1 – – 2 – 3 4 – 1 – – 2 – 3 4 – 1. The goal of this is to turn the crankshaft turns at a more steady speed over the course of each revolution.
I don't pretend to fully understand the mechanics, but I know the effect is awesome, the technology is unique, and the sound is amazing.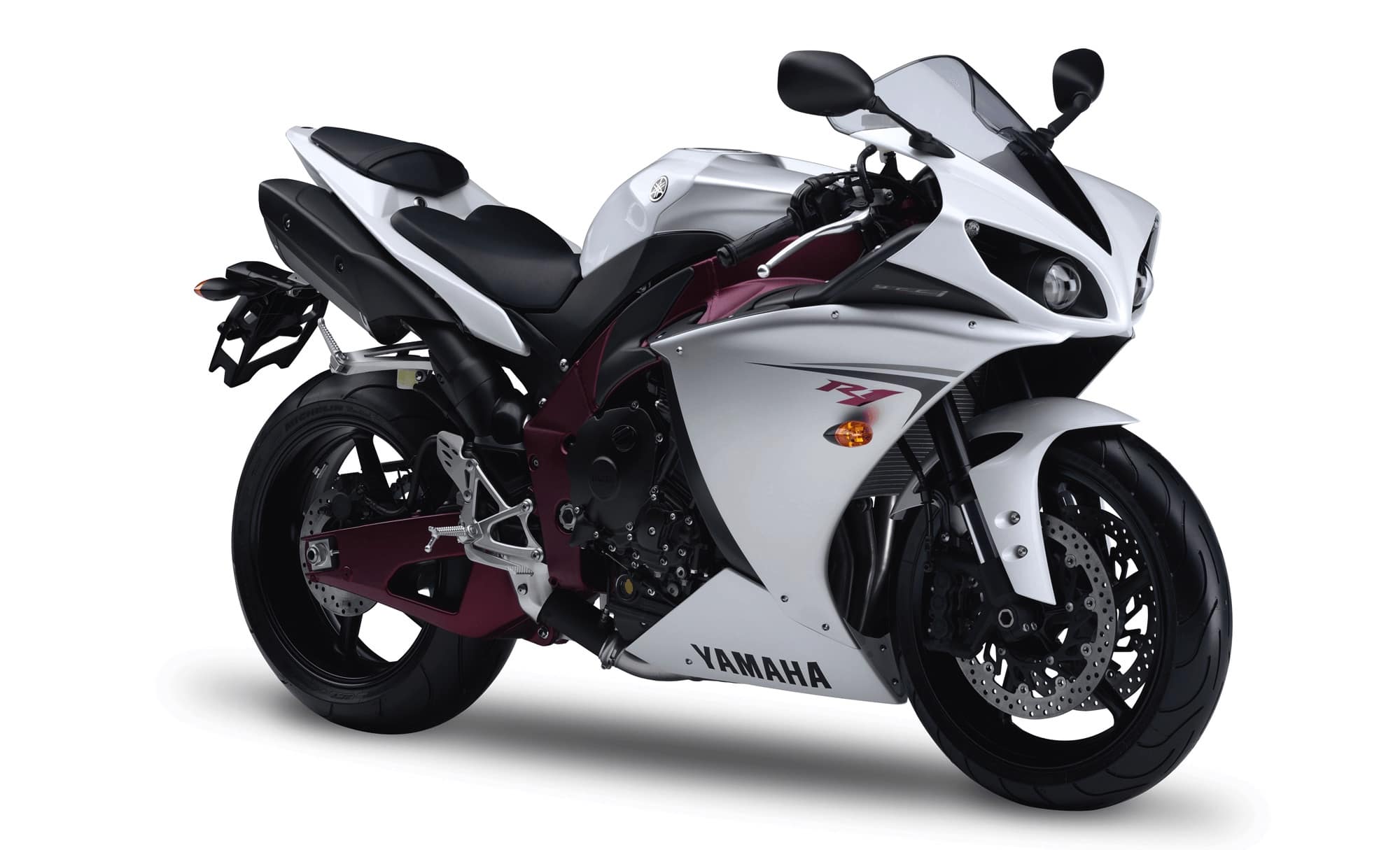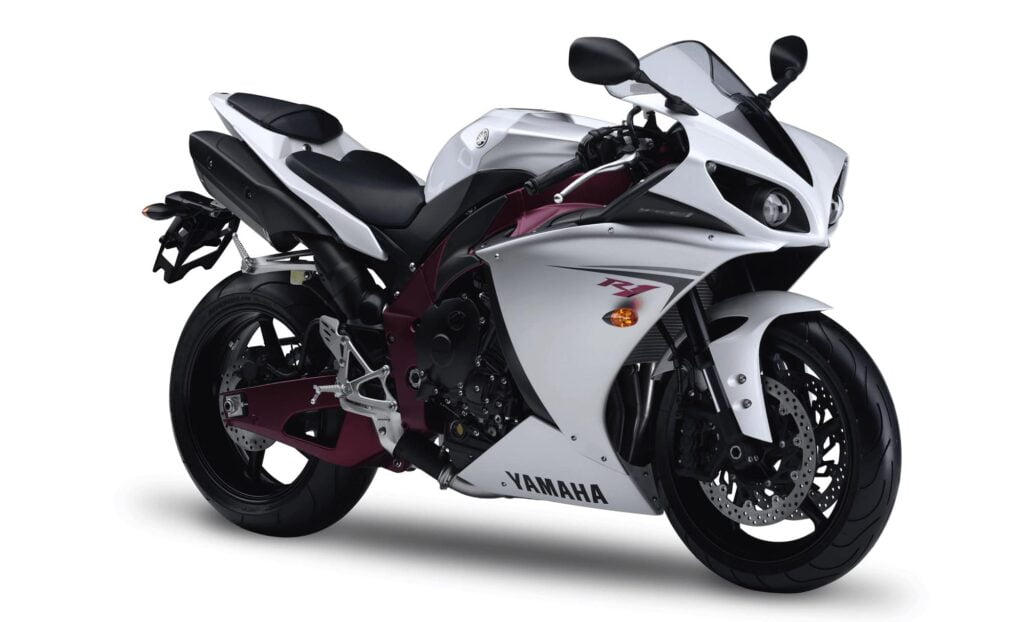 2012-2014 6th Gen mk 2 Yamaha R1 (14BE): Hello, electronics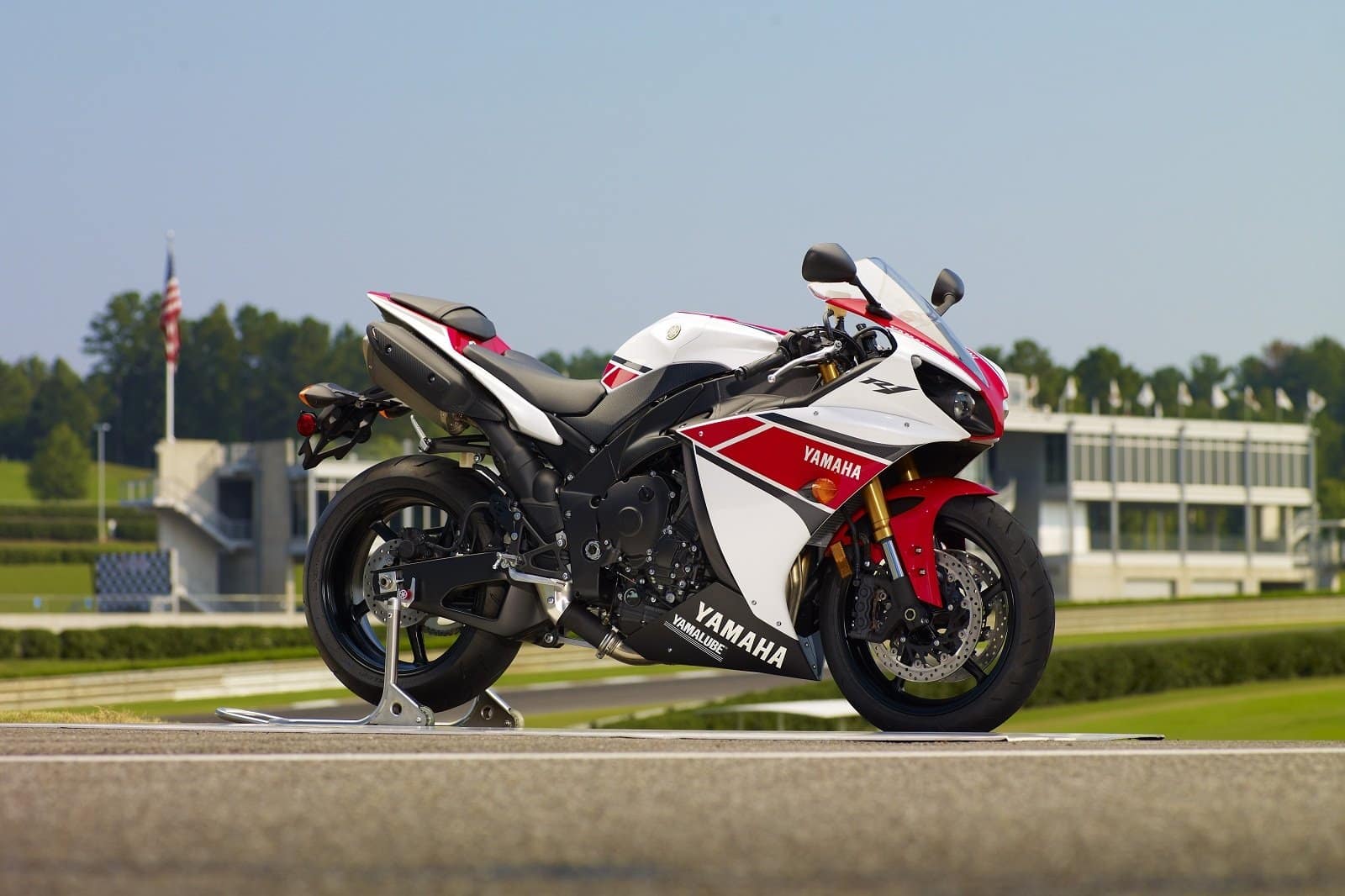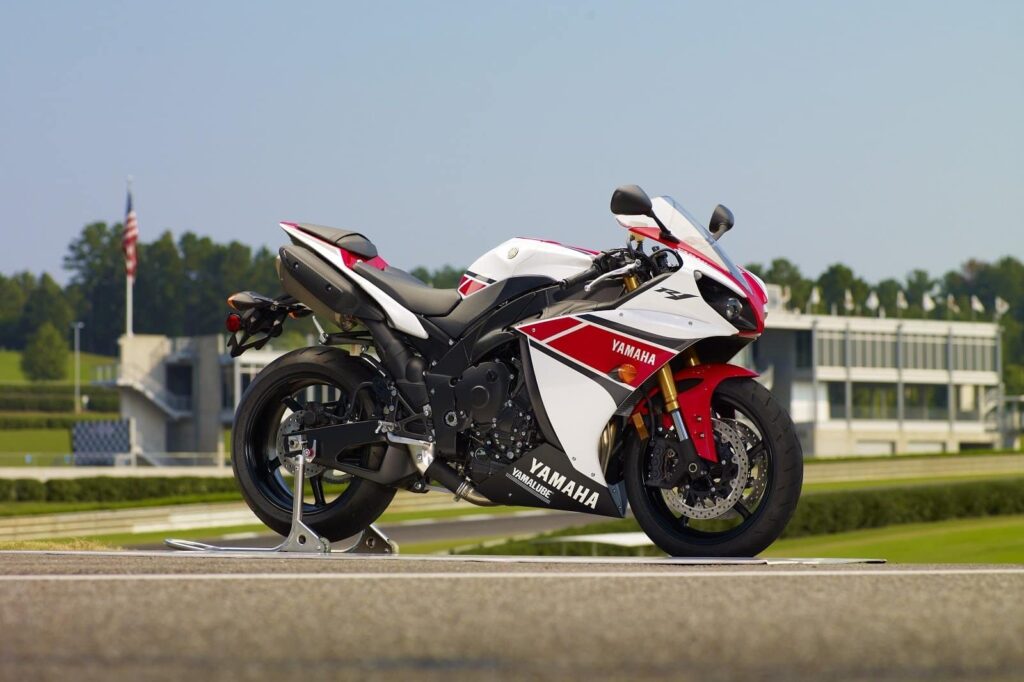 The 2012 Yamaha R1 was mostly the same as the 2009-2011 (see, the code barely changed, from 14B to 14BE), but added electronics to compete with what BMW was offering with the S 1000 RR.
See the buyers guide to the BMW S 1000 RR from 2009 to today.
Changes for the 2012 Yamaha R1
Seven-level traction control
Three levels of throttle response
The pearl white livery for the 50th anniversary of Yamaha's racing
All that is to make the insane levels of power more easy to use.
In theory, adding traction control to the R1 would be a relatively simple affair. I don't want to gloss over the many rounds of engineering work that Yamaha engineers put into every round of the R1! But the Yamaha R1 did already have ride-by-wire (which they call Yamaha Chip Controlled Throttle, or YCC-T).
The YCC-T system measures the difference between front and rear wheel speed, then considers throttle position, RPM, and gear. It even monitors lean angle (before a proper IMU got added) by reading changes in the rolling circumference of the tires. It uses all that to adjust injection and ignition when there's trouble to bring the motorcycle back to safety.
In practice, the traction control system gives riders confidence. At the highest levels, riders notice the TC light flashing when they power out of corners. That light says "yo, you were sliding out there. I got you." It doesn't cut the power out harshly or send you to bed for being naughty.
This gives you the confidence to go faster… and probably to dial down the TC level to 3 and 4, so you can slide the rear out of your $20K missile without ever letting off the gas.
2015-2019 7th Generation YZF-R1 and YZF-R1M (2CR): 200hp! Which you don't need but really want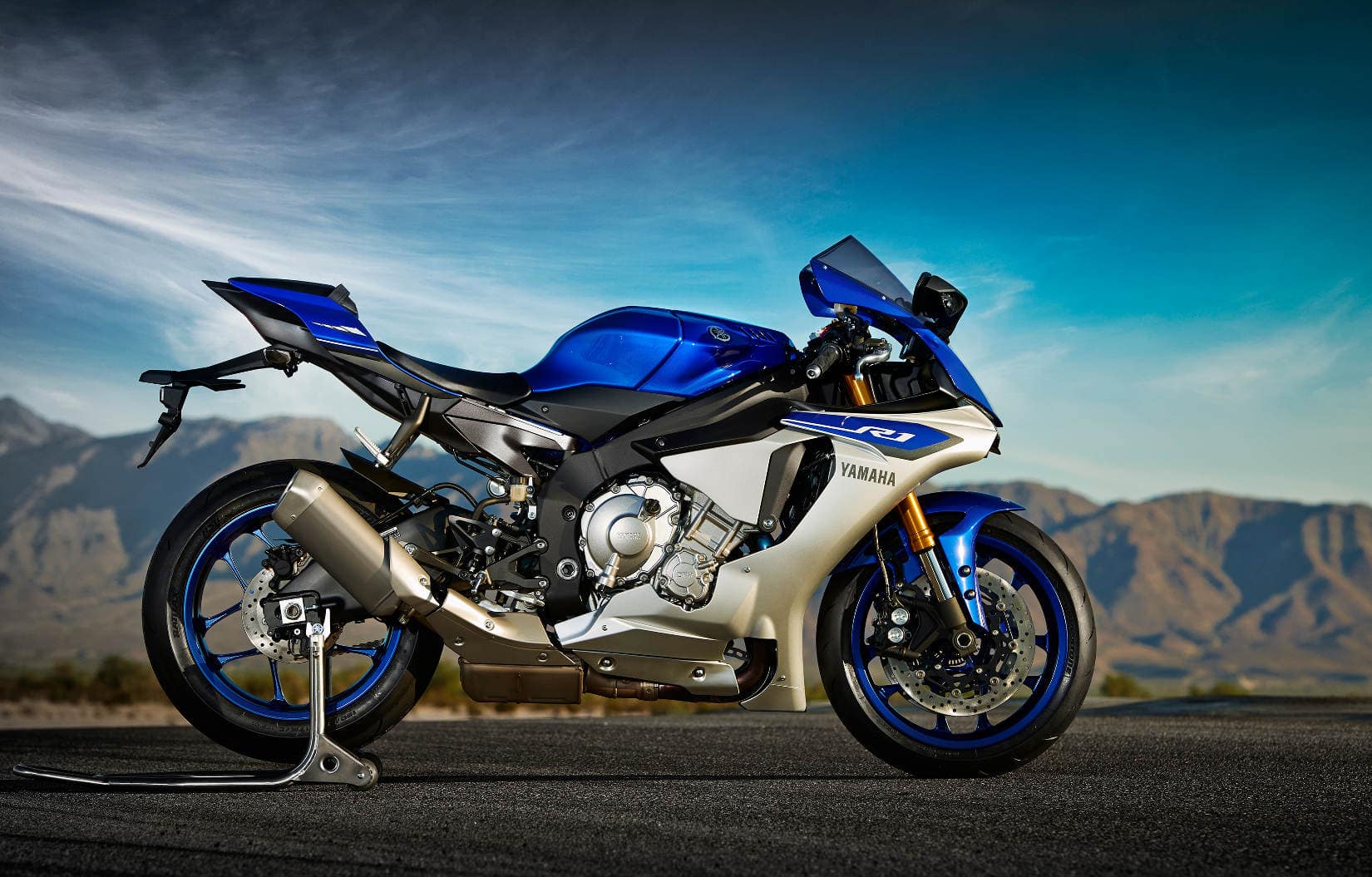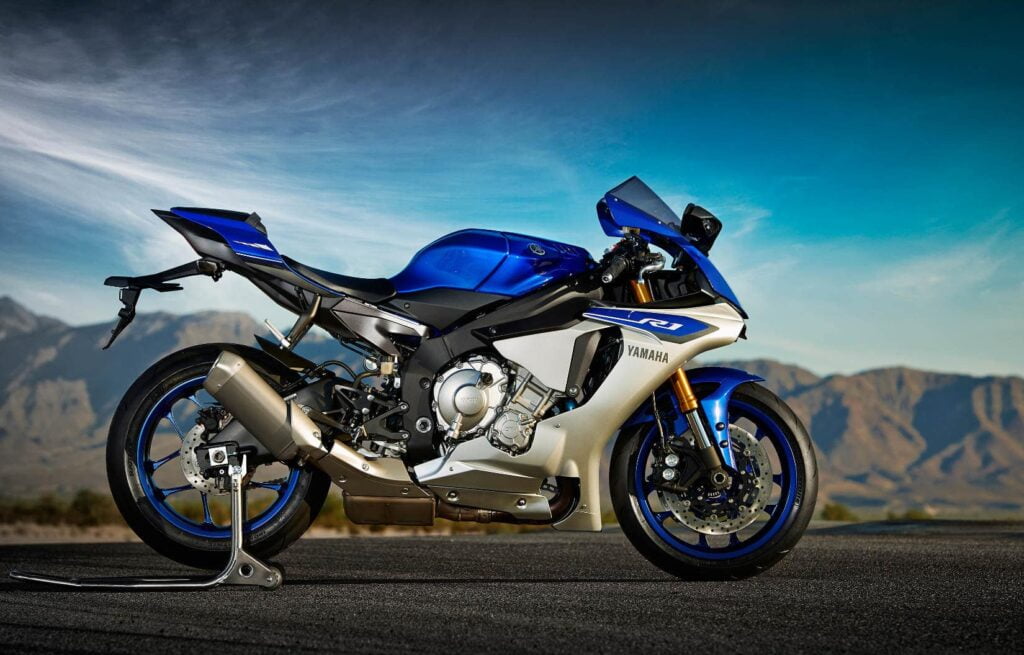 The 2015 R1 added a bunch of rider aids to tame the horsepower into a package that probably won't kill you as easily with its 200hp. And yes, it's still 1:1 in power:weight, with 443 pounds of weight (200kg exactly).
They added a 6-axis Inertial Measurement Unit (IMU) that constantly senses chassis motion in 3D, creating controllability over traction, slides, front wheel lift, braking and launches.
They also added
Revised engine, with crazy-sounding things like lighter titanium rods, larger-diameter valves and revised cam timing. The redline is up to 14,500 from 13,750.
Sophisticated electronics read-out, telling you things like front brake pressure, fore/aft g-force
ABS and Unified Braking
Ride modes, e.g. "street" or "race". (But what about street racing? C'mon)
Lap timer
Slightly shorter wheelbase (with the same swing-arm:chassis length ratio as it's predecessor)
A quick shifter
New KYB inverted fully adjustable front forks
Cast magnesium wheels
If you're freaked out by all the electronics, take these comforting words from Cycle World:
If we sound impressed with the engine, we are. But the inline-four's ace in the hole is Yamaha's electronics package.

Of all the systems we've sampled from BMW, Ducati, Aprilia, Kawasaki, and KTM, the R1's suite is the most transparent in operation.

Using excellent coding and multiple means to control power output, including fuel, throttle-butterfly angle, and ignition retard, Yamaha has made interventions incredibly hard to detect and therefore amazingly smooth and non-intrusive.

As a matter of fact, for intervention to become noticeable on a grippy mountain road, we had to toggle TC to a very conservative setting, while the SCS (slide control) was all but impossible to feel at a street pace.

Wheelie control provides the same sensation, until you shut it off completely, at which point you realize how much it is doing to tame wheelies.

Cycle World (my emphasis)
The latest generation R1 is an incredible motorcycle to ride. Like most of its predecessors, it's more set up for racing and fast riding than pottering around town. They're straight-up MotoGP race replicas with the only additions to make them road legal being mirrors, a quiet exhaust, lights, and licence plates.
The seat height is 86cm (34 inches), and the handlebars are below your seat which means you'll be in a very aggressive forward-leaning position.

If you're wondering "can I commute on the R1?"… well, if you have to. It's going to get hot and cantankerous and you'll be champing at the bit to wind out the throttle.
And "Can I do long-distance touring?"… well, only if you're a diehard R1-nut who would get more joy out of the insanity of it than out of a comfortable ride.
The only thing that makes the 200hp engine "street-friendly" is the bevy of electronic rider aids, available since the 2012 model.
Launch control limits revs to 10K for race starts, and lift control tries to keep the front wheel in contact with the road. Traction control and ABS is controlled not just by wheel speed but by wheel angle. And throttle sensitivity is adjustable.
All of these rider aids mean that this 200hp machine may actually be safer than a fully analogue R1 from ten years prior, even with the power increase.
2015 YZF-R1M: Limited run homologation special
From 2015, Yamaha started releasing homologation models known by 'M' after the R1 name.
The M models are special, only a thousand of which are made each year.
In 2015 the M model was distinct for including
Öhlins electronic suspension (even better than the KYB on the regular R1), including manual and automatic modes
Yamaha's Communication Control Unit, to communicate with the bike through tablet or smart phone app and upload your settings for the various rider aids.
Yamaha's Y-TRAC data-logging program, for analysing things like throttle opening, speed, lean angle, brake pressure, engine rpm, and more, letting you overlay multiple laps or compare with your buddy.
Carbon fibre to shed weight
2016: 60th Anniversary Edition Yamaha R1
The 2016 model was part of the 2CR range, but with special paint and a few special specs. The yellow/black colour scheme from 2006 is back! They somehow managed to make this one look even better than the 2006 50th anniversary R1.
This is, in my humble opinion, one of the best-looking versions of the R1 of all time. Also just one of the best looking motorcycles of all time!
If you want to get an R1 and can drop US$10K plus, I'd get one of these for the collector value. Ride it gently, do only some modifications (exhaust, ECU, braided lines) and own a piece of history.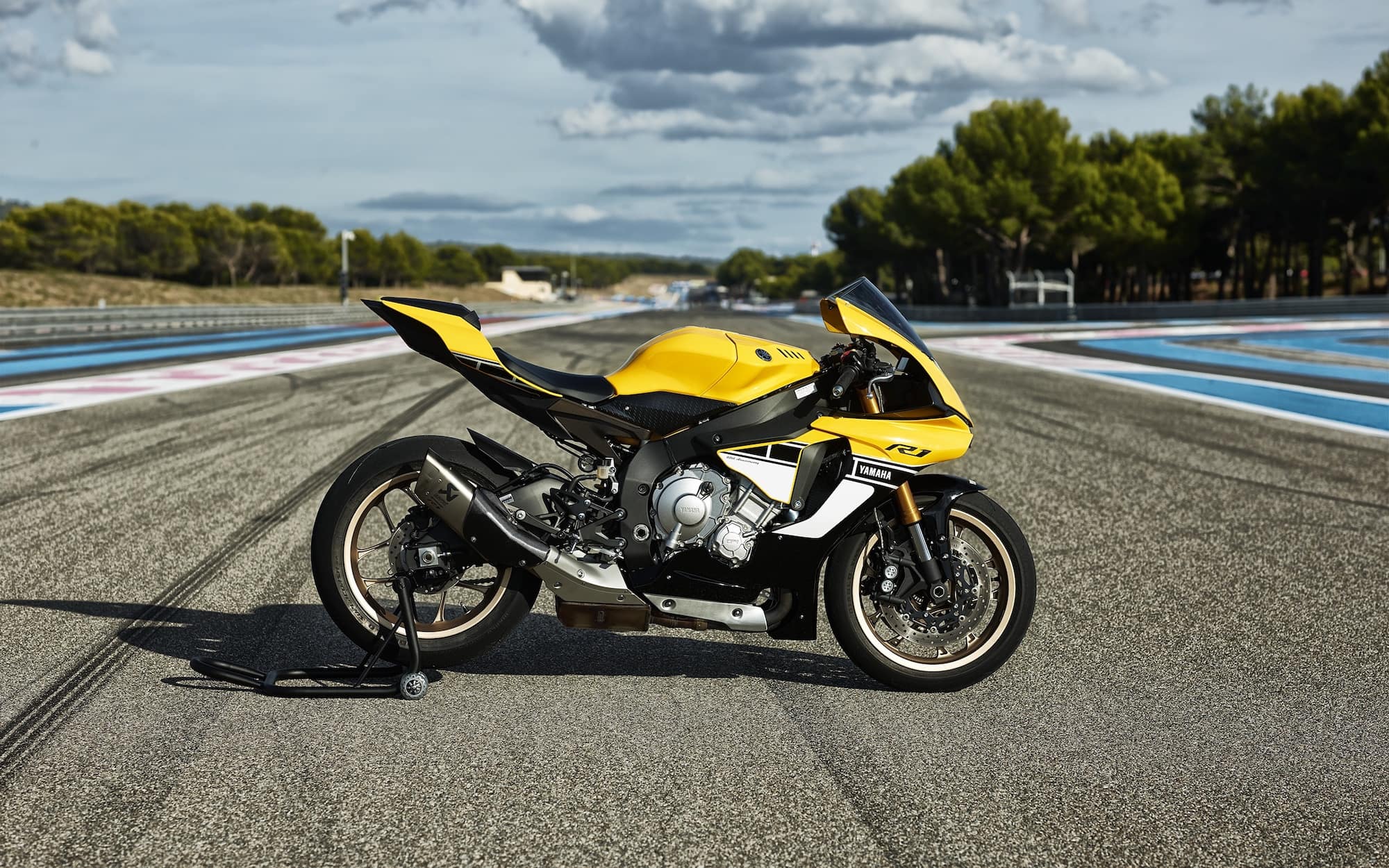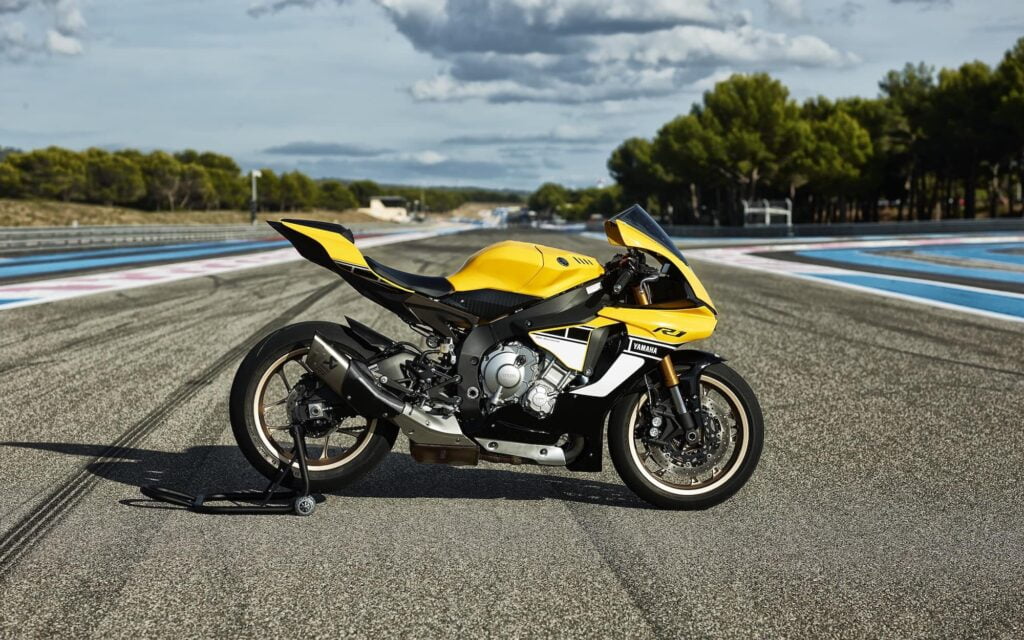 New for 2016 model
Standard Akrapovič muffler, bringing the weight down slightly
199 kg wet weight
Yellow and black "Anniversary edition" livery
Akrapovič? How do you pronounce that č? See here for my pronunciation guide to motorcycle words from other languages.
Nothing much else new. Really, mostly a paint scheme, and a standard performance muffler.
But it looks great. Here are more pics of the 60th anniversary edition yellow and black Yamaha R1!
2020+ Yamaha YZF-R1 and R1M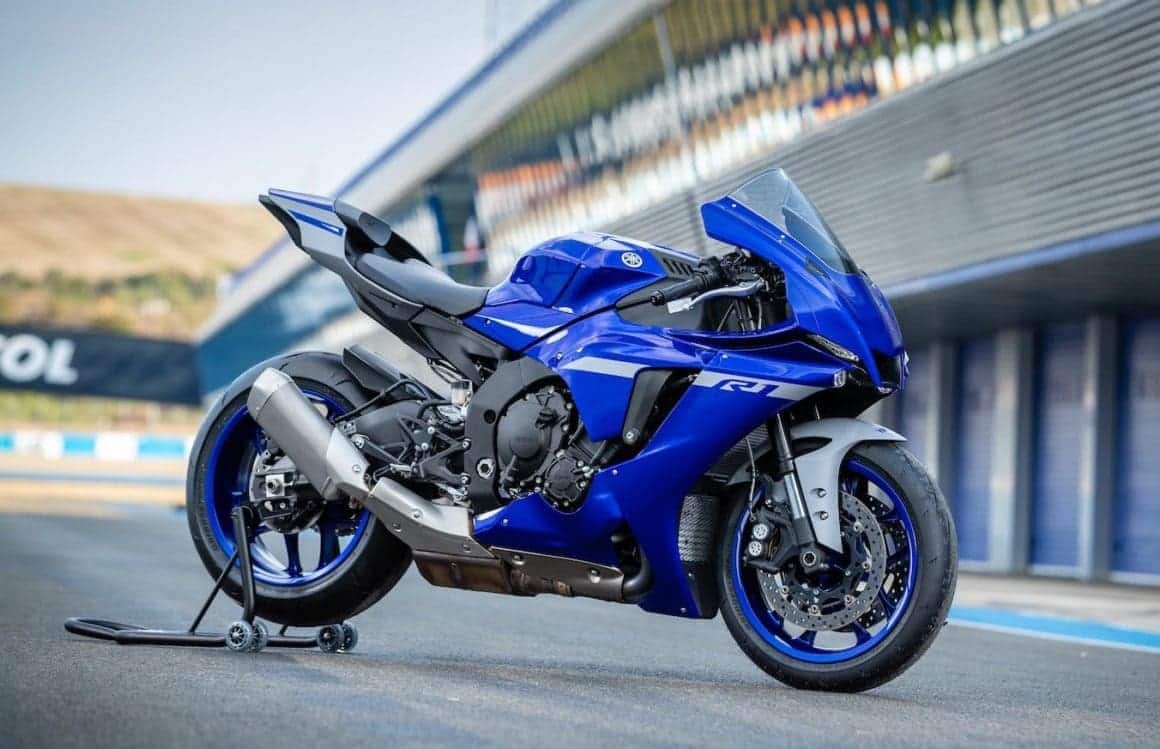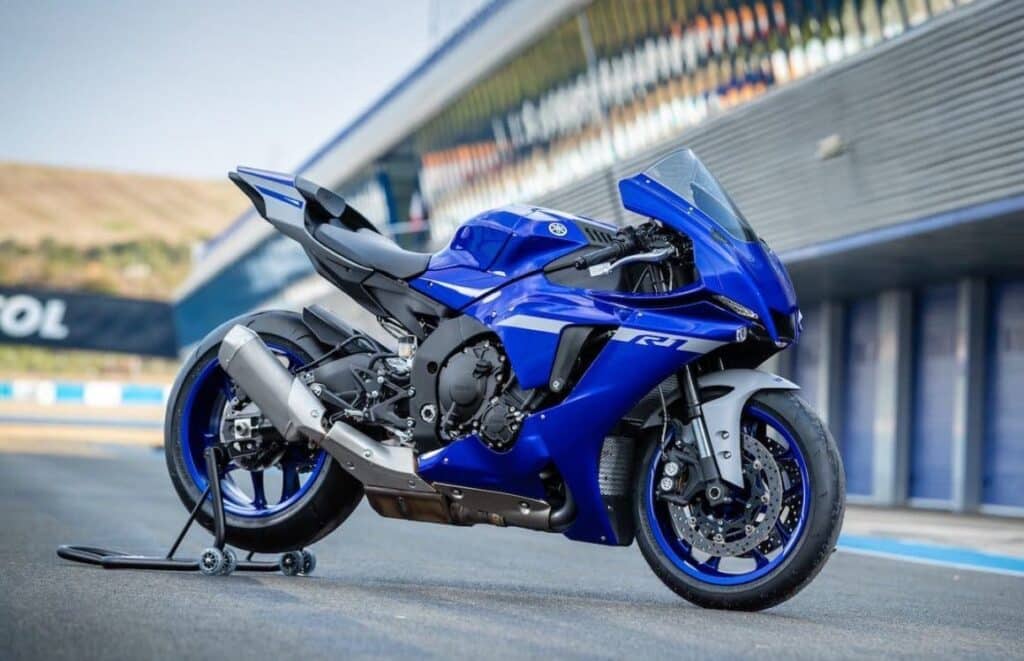 In 2020, Yamaha redesigned the R1. Thankfully it hasn't yet fallen victim to ever-tightening emissions restrictions.
I have only ogled 2020+ R1s and haven't ridden one 🙁 Hopefully that will change. But this guide is more about buying a used R1, not a new one. If you want a new one, you know who you are, and you don't need a guide!
Changes and improvements for the 2020 Yamaha R1 are:
Refined engine: Redesigned cylinder head, fuel injectors, finger-follower rocker arms, and camshaft profiles. Still producing 147 kW / 197 hp (approx. same as previous gen… ok slightly less) despite all the internal changes
Better responsiveness: Enhanced mid-throttle performance thanks to the engine revisions + air box changes
Enhanced ride-by-wire: APSG ride-by-wire system with YCC-T
Rider aids — adding Brake Control and Engine Brake Management (EBM) to the six-axis ECU/ABS (really just revised cornering ABS)
Suspension: The R1 YB upside-down front fork with new internal shim stack design, and the R1M gets new electronic suspension — a Öhlins ERS NPX front fork with integrated gas cylinder and optimised rear shock settings.
2020 R1 vs R1M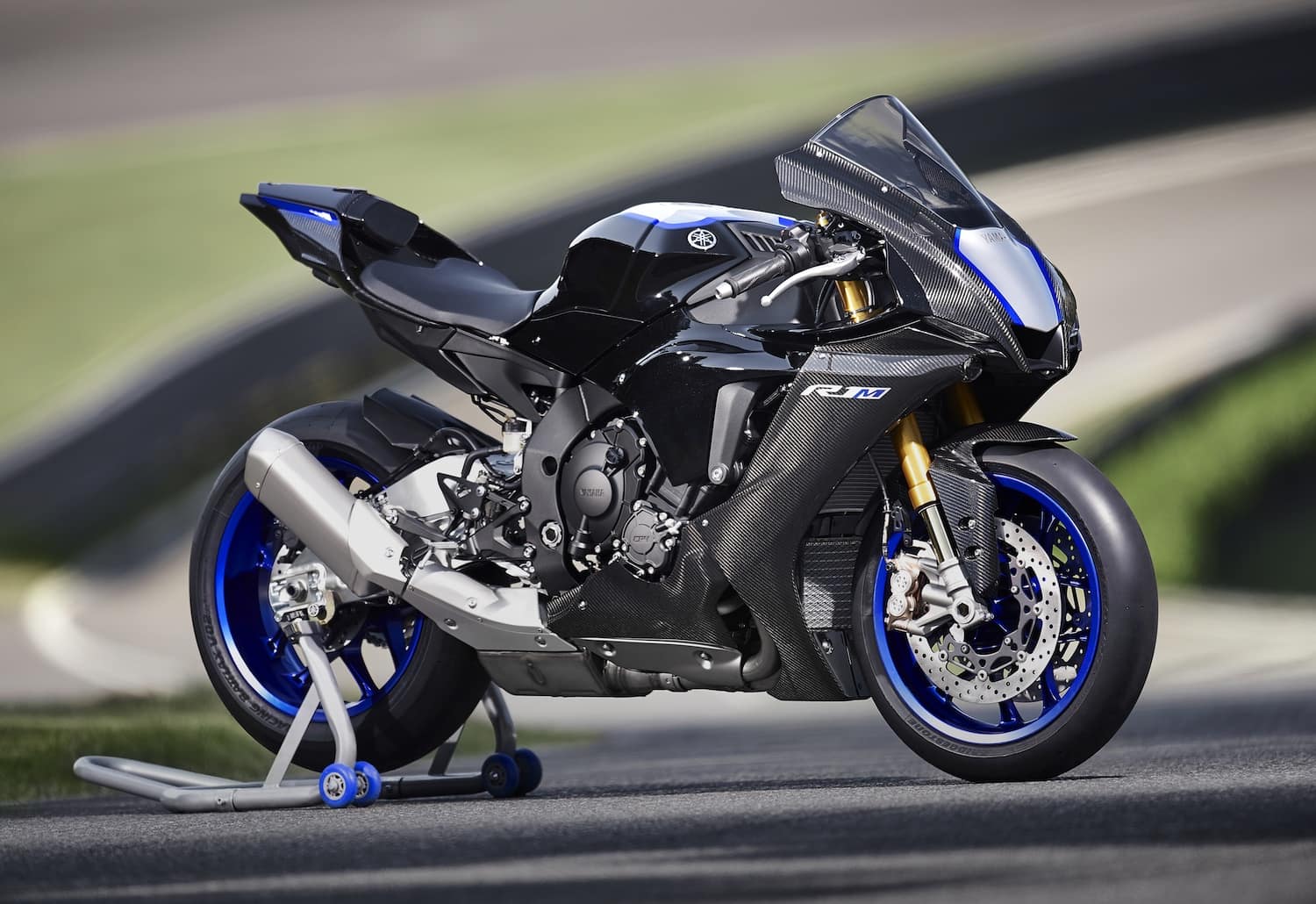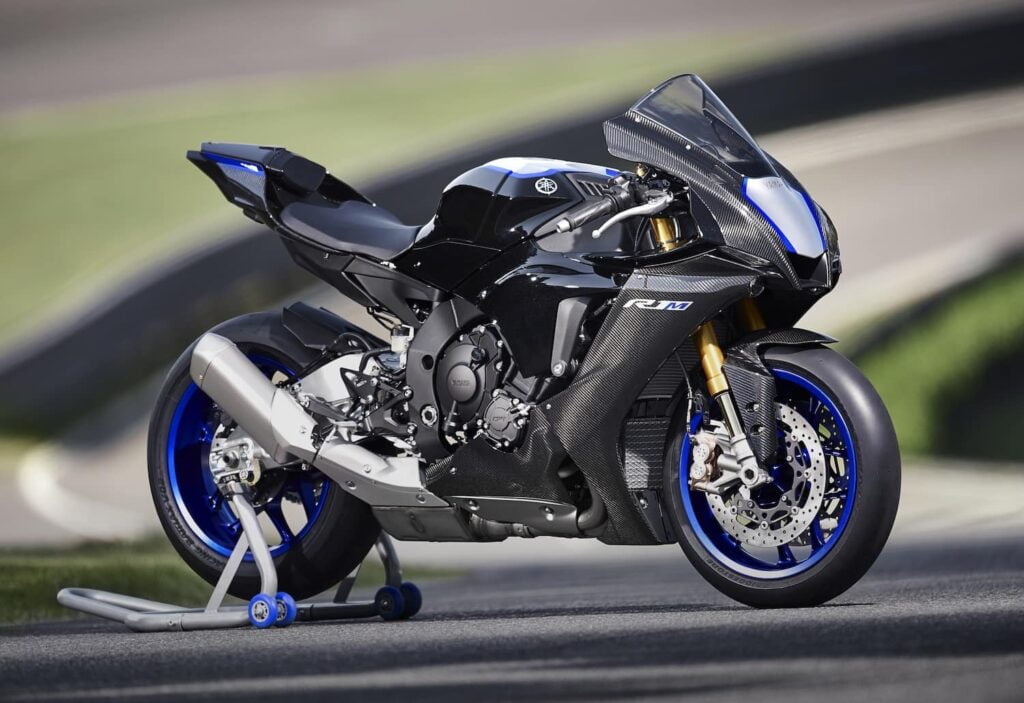 Obviously you want the R1M! Just kidding, not everyone needs it or wants it (it's ~30% more expensive after all). And it's really just an R1 + electronic suspension and a data logger. So most would wonder: is it even worth it?
My personal bike (currently a BMW S 1000 R) has dynamic electronic suspension. And let me tell you — it's hard to go back.
The main differences between the R1M and the R1 are:
Electronic Racing Suspension: This is the big one. The R1M has always used electronic suspension, but in 2020, it gets an Öhlins NPX fork, along with revised shock settings to compliment the new fork. Suspension settings can be adjusted from the dash. This is unavailable on the R1.
Communication Control Unit: This is a data logger for recording track times — it's standard on the R1M, and an option on the R1; and
A carbon fibre tail cowl and carbon fibre colour scheme on the fairings
That's it. Same engine, same brakes, same controls. You decide if it's worth the premium.