This is an overview of the Triumph Thunderbird models from 1995 to 2018 — sporty roadsters, and more recently cruisers and even a bagger incarnation.
Triumph used to make the Thunderbird way back in the day, before the John Bloor / Hinckley motorcycle reincarnation of the Triumph and Thunderbird brands. The first Triumph motorcycle with a Thunderbird name was made as early as 1949. Those days are long gone, and the only thing the motorcycles have in common (aside from the name) is that they have fewer than four cylinders and are very easy on the eye.
But Triumph reintroduced the Thunderbird name in 1995 as part of the Hinckley reinvention of the brand. Then there was a reinvention again in 2009, repurposing the Thunderbird brand as a cruiser!
The Triumph Thunderbird has always been a little outside the mainstream of Triumph's motorcycle core brand. Of course, everyone associates Triumph with the Bonneville, and then perhaps with the Speed or Tiger family, or maybe some other of the middleweight/1200-size twins, depending on your poison of choice.
But Triumph has been in the cruiser game for a long time, and the Thunderbird brand is so strong that it has been revived a few times — and probably will be again.
A few of these Thunderbird motorcycles look similar, even to attentive viewers. Like many standards and cruisers, the differences are subtle, so the following is a brief guide to the modern Triumph Thunderbirds made at the Hinckley factory.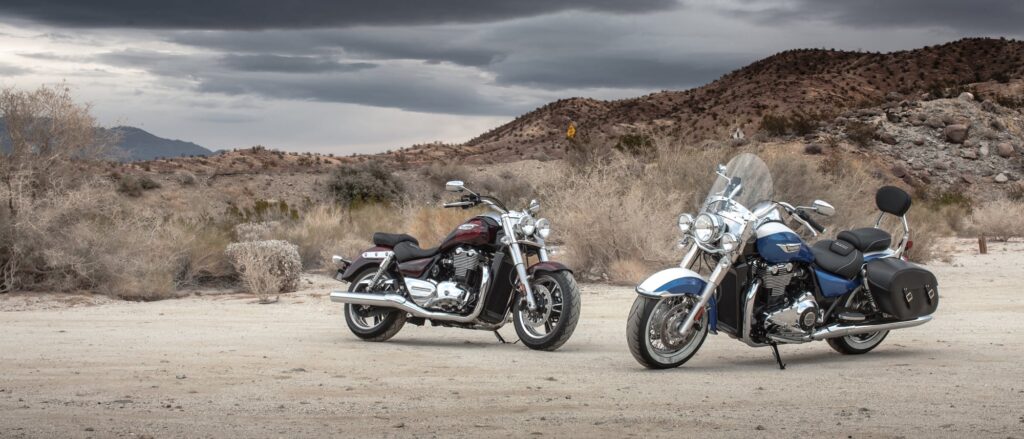 Are you obsessed with motorcycles?
Well, I am. That's why I created this site — as an outlet. I love learning and sharing what others might find useful. If you like what you read here, and you're a fraction as obsessed as I am, you might like to know when I've published more. (Check the latest for an idea of what you'll see.)
Triumph Thunderbird Motorcycles — In A Nutshell
This is a quick guide to the Hinckley era of Thunderbird motorcycles.
Before the Hinckley era, Triumph made "Thunderbird"-branded motorcycles a number of times. It was first made as a 650cc parallel twin from 1949 to 1966, then re-made from 1981-1983 (by the workers cooperative that bought out the failed Triumph company) as a twin based on the T140 Bonneville. Then when the cooperative also went into receivership, the Thunderbird took a nap.
The Triumph Thunderbird motorcycles used to be standards, but eventually evolved into foot-forward, floorboard-equipped cruisers like the Triumph Thunderbird LT.
In 1995, the now Bloor Holdings-owned Triumph company launched a Thunderbird — the Triumph Thunderbird 900.
The first Triumph Thunderbird of the modern era was a triple, and is so different to the others that it doesn't make sense to have it in a comparison table, as the others have so much in common.
The 1995-2004 Triumph Thunderbird 900 is a relaxed "roadster", in modern terms. It has a modestly sporty engine, but only a single 320mm disc up front with a 2-piston caliper, non-adjustable forks, and a 16-inch rear tyre. It handles more lazily than its sportier competition, like its own stablemate the Triumph Speed Triple, and is quite heavy with a wet weight of around 238 kg (525 lb).
Triumph added a lot more Sport to the 900 with the Thunderbird Sport in 1998. The bike was still heavy, but a lot feistier.
Things changed when Triumph reinvigorated the Thunderbird brand from mid 2009 with the new bike powered by a twin and endowed with a more relaxed riding position.
Here's a quick summary table of the modern Triumph Thunderbird motorcycles:
Model
Thunderbird 900
Thunderbird Sport
Thunderbird
Storm
Commander
LT
Overview
Roadster
Sporty Roadster
Cruiser
Cruiser
Cruiser
Bagger
Launch year
1995
1998
2009
2011
2014
2014
Engine
885 cc Triple
885 cc Triple
1596 cc Twin
1699 cc Twin
1699 cc Twin
1699 cc Twin
Gears
5
6
6
6
6
6
Peak power
69 PS / 68 bhp / 51 kW @ 8000 rpm
83 PS / 82 bhp / 61 kW @ 8500 rpm
84.5 PS / 83.3 bhp / 62 kW @ 4800 rpm
98 PS / 97 bhp / 72 kW @ 5200 rpm
94 PS / 93 bhp / 69 kW @ 5400 rpm
94 PS / 93 bhp / 69 kW @ 5400 rpm
Peak torque
72 Nm / 53 lb-ft @ 4800 rpm
76 Nm / 56 ft-lb @ 6500 rpm
149.5 Nm / 110 ft-lbs @ 2400rpm
156 Nm / 115 ft-lbs @ 2950 rpm
151 Nm / 111 ft-lb @ 3500 rpm
151 Nm / 111 ft-lb @ 3500 rpm
Wheel /tyre type
Spoked rims, tubed tyres
Spoked rims, tubed tyres
Cast rims, tubeless tyres
Cast rims, tubeless tyres
Cast rims, tubeless tyres
Wire-spoked, tube tyres
Suspension
* 43mm fork, non-adjustable
* Preload-adjustable monoshock
* 43mm forks, fully adjustable
* Fully adjustable monoshock
* Showa 47mm fork
* Showa twin shocks, adjustable preload
* Showa 47mm fork
* Showa twin shocks, adjustable preload
* Showa 47mm fork
* Showa twin shocks, adjustable preload
* Showa 47mm fork
* Showa twin shocks, adjustable preload
Braking
Single 320mm disc, 2-piston caliper
Twin 320 mm discs, 2-piston calipers
Twin 310mm discs, Nissin 4-piston calipers
Twin 310mm discs, Nissin 4-piston calipers
Twin 310mm discs, Nissin 4-piston calipers
Twin 310mm discs, Nissin 4-piston calipers
Front tyre
110/80-18
110/80 R17
120/70 ZR 19
120/70 R 19
140/75 ZR 17
150/80 R 16
Rear tyre
150/80-16
160/70 R17
200/50 ZR 17
200/50 R 17
200/50 ZR 15
180/70 R 16
Rake/Trail
27 deg / 106 mm
27 deg / 106 mm
31.2 deg / 151 mm
31.2 deg / 151 mm
30.1 deg / 135.2mm
29.9 deg / 132.7 mm
Wet weight
238 kg (525 lb)
238 kg (525 lb)
339 kg (746 lb)
339 kg (746 lb)
348 kg (767 lb)
380 kg (838 lb)
Triumph Thunderbird range — Core Specs
From 2009 until the end of the Thunderbird line (for now) in 2018, the Thunderbirds have been parallel twin-powered cruisers.
They're not the most powerful bikes, nor the largest capacity. Though they've had other titles, like "largest parallel twin", according to Triumph.
But with twin front headlights, unique looks, easy servicing, and lots of torque and character, the Thunderbirds have had a place of their own in the cruiser market. There's a lot that's unique about them, and they have legions of loyal fans.
Of course, when buying a cruiser, buyers tend to buy either 1. "Harley-Davidson" or 2. "other". I mean, HD has the lion's share of the market. So it's quite hard for a motorcycle brand to have more than one or two cruisers in the line-up — even though there's just so much in the "other" category that's worth looking at, with some incredible pieces from every major manufacturer.
That difficulty of getting a meaningful slice of the "other" market is presumably why Triumph retired the line of Triumph Thunderbirds in 2018. With bikes like the Rocket III and then the Rocket 3 with their massive triples, and also the Triumph Speedmaster and Bonneville Bobber motorcycles (powered by the smaller 1200 parallel-twin motor), it would be hard for another cruiser to have much breathing space even among Triumph's lineup.
But considering that Triumph has resurrected the Thunderbird brand a couple of times, it may just do so again, and maybe in a totally different style. Electric? Who knows. (Proceed to hurl salt at me! I half think it'll happen.)
Triumph Thunderbird 900 (1995-2004) — The Roadster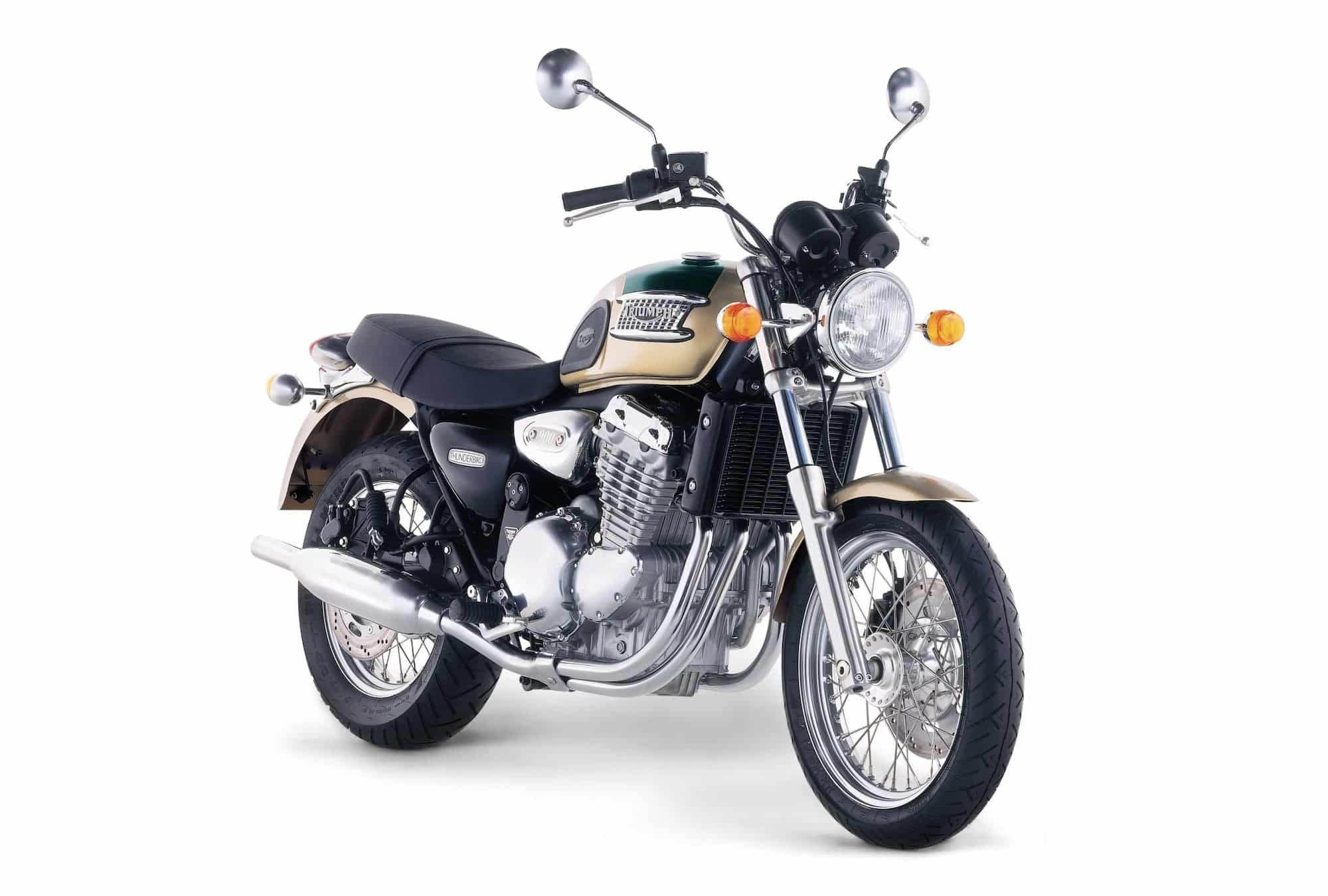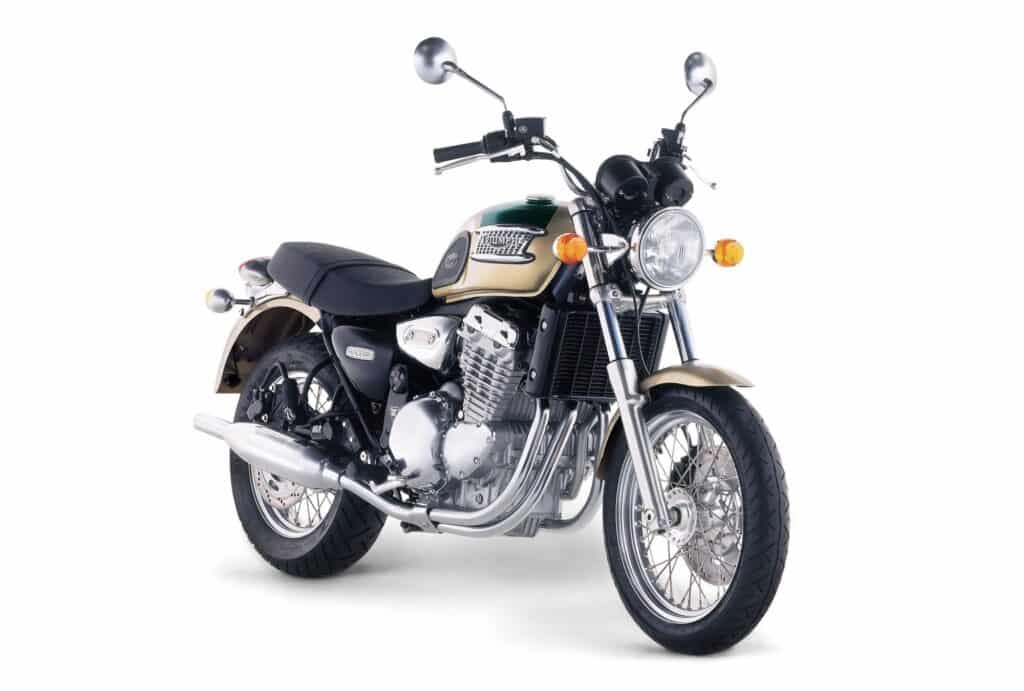 The first Triumph Thunderbird of the modern Hinckley era was actually a three-cylinder bike, the Triumph Thunderbird 900. Triumph released this bike for the 1995 model year.
It was based on the 885 cc triple engine from the Triumph Daytona and Speed Triple, but tuned for a lot less power (and more midrange). At peak, it made around 51 kW (69 PS / 68 bhp) at 7300 rpm – around 60% of what the Daytona made.
Like other motorcycles of the era, the Triumph Thunderbird 900 is carburettor fed — in this case fuelled by three Mikuni carbs.
Many other aspects of the bike were downgraded from its sporty siblings. Front suspension is non-adjustable, and the front brake system is made up of a single 320mm disc and a two-piston caliper.
The final clue that this isn't a sport bike is the tyre combination — 18 inch up front, and 16 inches at the rear. Looks good, but it's not designed for quick turn-in.
The Triumph Thunderbird 900 does look good, though. And you can still find some for sale at reasonable prices as it never became a "cult" bike.
Triumph made the Thunderbird 900 through to 2004, after which they took a brief break. It's getting old, but you can still find a few for sale about the place.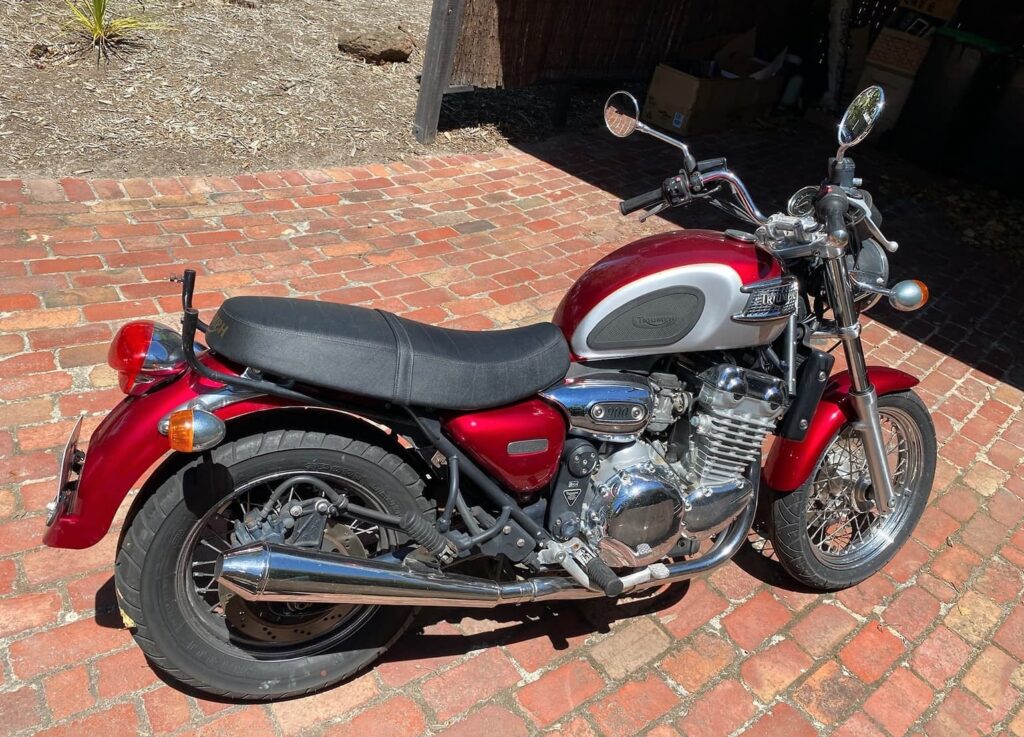 Triumph Thunderbird Sport (1998-2004) — The Sportbike
Triumph also made a "Triumph Thunderbird Sport" from 1998-2004. If you're after an original Thunderbird 900 — this is the one to get!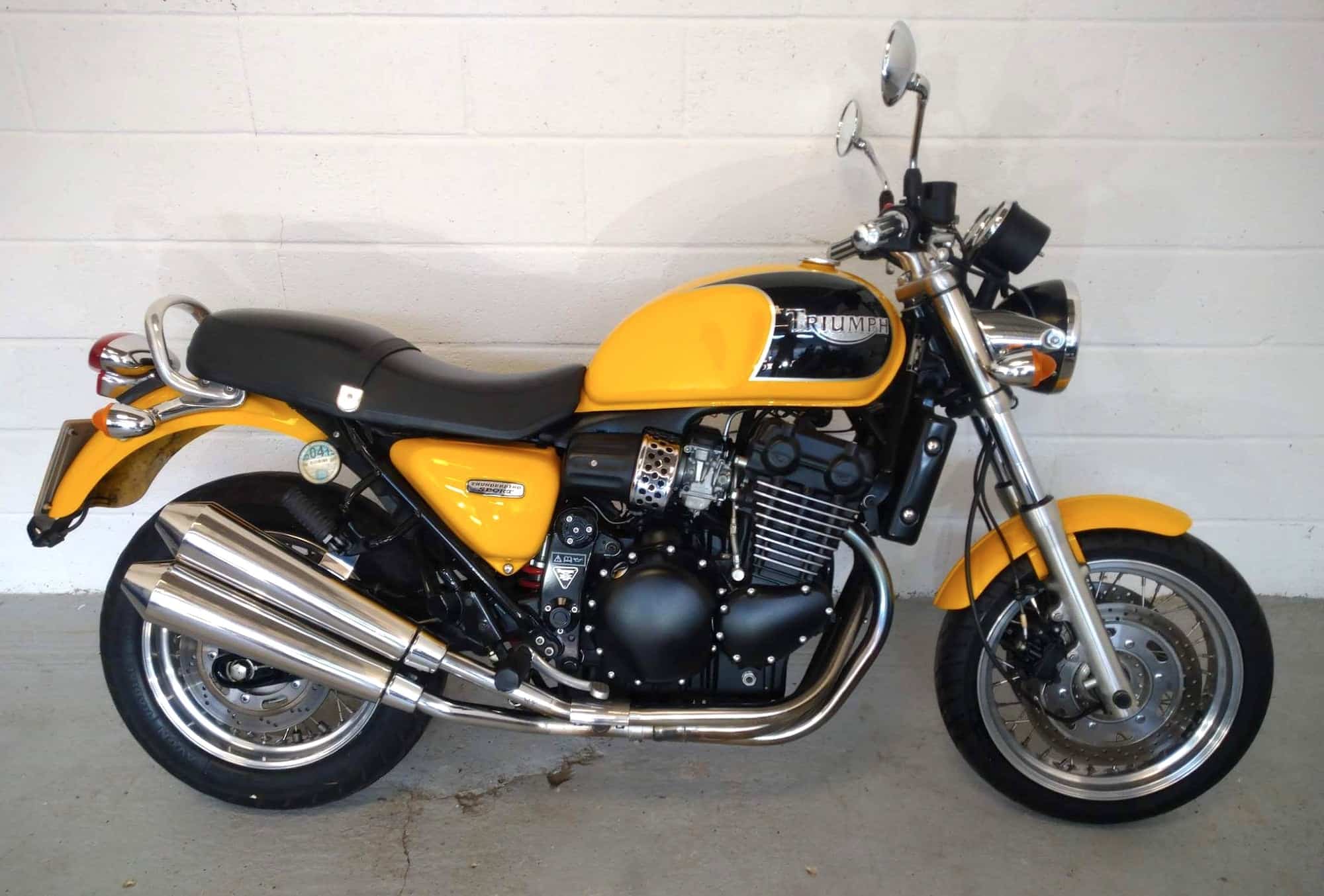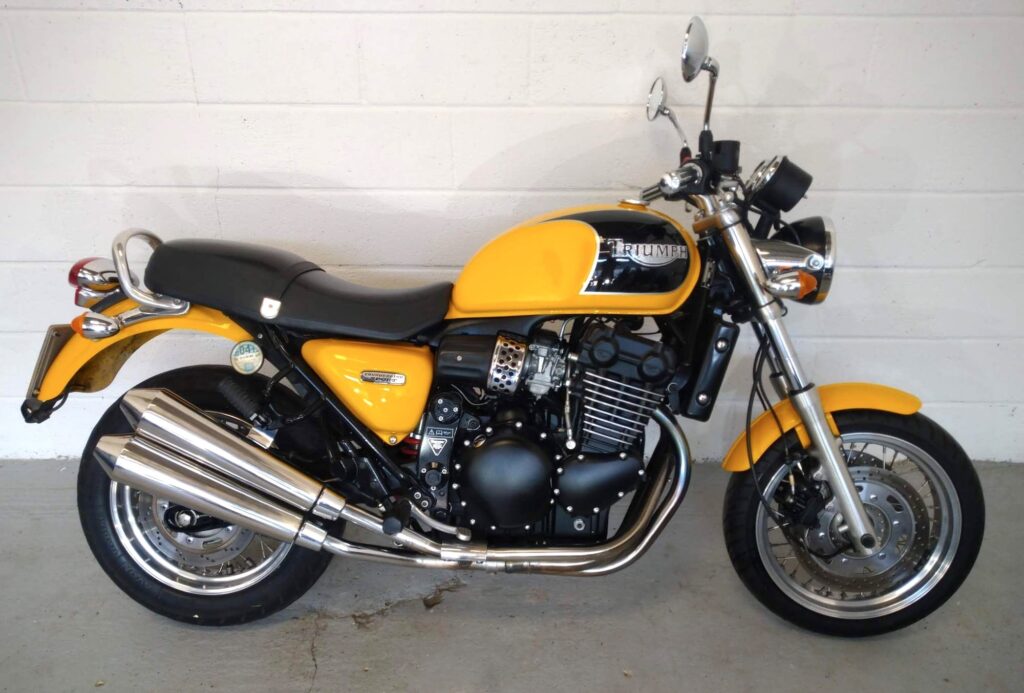 The Thunderbird Sport is a much sportier upgrade over the original Thunderbird. Triumph made the following changes to the Triumph Thunderbird to earn the "sport" moniker:
Engine power increase of nearly 20% — torque and power both delivered a little higher up
17 inch wheels on both ends (rather than an 18/16 combination) — still with tubed tyres
Twin front discs (still 2-piston calipers)
Fully adjustable suspension front and rear, an upgrade from non-adjustable fork and monoshock only adjustable for preload
Less chrome/stitching, more black
A lot of what Triumph did brings the Thunderbird seemingly in line with the Triumph Speed Triple. But the Speed Triple was tracking the development of the Triumph Daytona (which already had a fuel-injected 955 cc engine by 1997), whereas the T-bird Sport stuck with the 885cc carburettor-fed engine of the previous gen — just spiced up.
The Thunderbird Sport is still fed by three 36mm Mikuni carburettors, and it works fine. The engine is responsive from very low, and it makes usable torque from 2000 rpm. In low gears there's no hesitation as you flick the throttle to get the revs up.
The suspension improvement is noticeable particularly at higher speeds. The Thunderbird Sport rides more smoothly than the base model, and absorbs bumps and road imperfections with grace. The brakes are much more appropriate for slowing you down from the Sport's higher speeds, too.
Triumph Thunderbird (2009-2010) — The First Cruiser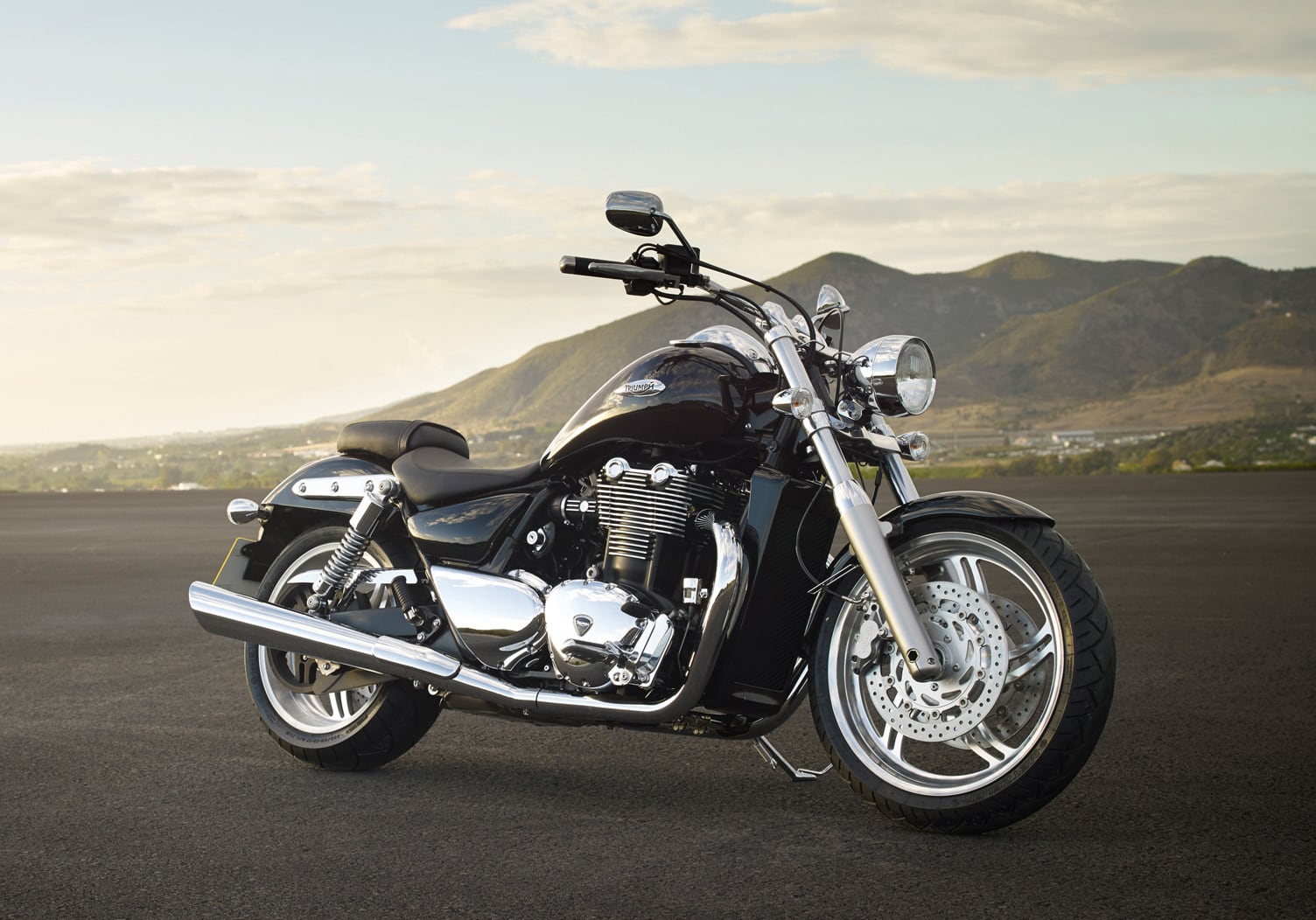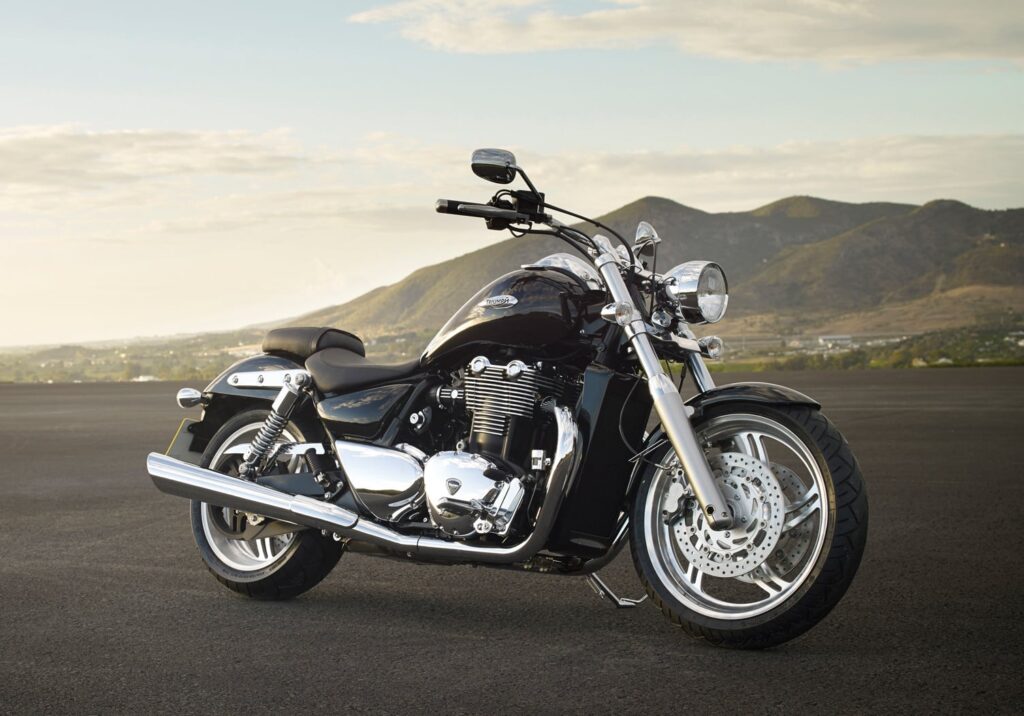 After the Triumph Thunderbird 900 and Sport both ambled off down a dusty road and into the sunset, Triumph sat on the Thunderbird brand for a few years, before bringing it back again with the Triumph Thunderbird in mid 2009. The new model is called just that — the Triumph Thunderbird.
The Triumph Thunderbird is a cruiser. It has a foot-forward position, though it's not a committed tourer or bagger (see the lack of floorboards).
The heart of the 2009/2010 Triumph Thunderbird is a liquid-cooled fuel-injected 1596 cc parallel twin. It has a mild compression ratio of 9.7:1 and a torque-forward design that means it reaches peak torque at a very low 2400 rpm. This twin pulls from very, very low. Like many Thunderbirds (and cruisers), this one drives the rear wheel with a belt.
Triumph built this Thunderbird with a 270-degree firing order, something it had been doing with the early air/oil-cooled Triumph Scrambler motorcycles, and which from 2015 has been universal across Triumph's parallel twin motors. The idea is that it should be like a 90-degree V-twin in character, but of course every engine and motorcycle is different. Nothing in the cruiser world has the shake of a Harley-Davidson, which is either a con or a pro depending on what you're after.
You need all that low-end to torque haul the Triumph Thunderbird's considerable weight. It weighs in at 339 kg (746 lb) fully fuelled, and you can almost tell just looking at it — it's long and looks like it's hewn out of a solid chunk of steel. (For reference, the huge Suzuki Boulevard M109R weighs a similar 347 kg / 764 lb fully fuelled.)
Ride gear is pretty basic on the Thunderbird, as it has been in every incarnation since. There are twin 310mm discs with four-piston Nissin calipers on non-inverted forks that have no adjustability.
But unlike the earlier Thunderbird 900 (or Thunderbird Sport), the p-twin Thunderbird is a cruiser, not a sport bike. So you're unlikely to be slamming it through the gears or banking down through mountain passes unless you're willing to risk running out lean angle and falling off the side of the road…
Triumph Thunderbird Storm (2011-2018) — The Power Cruiser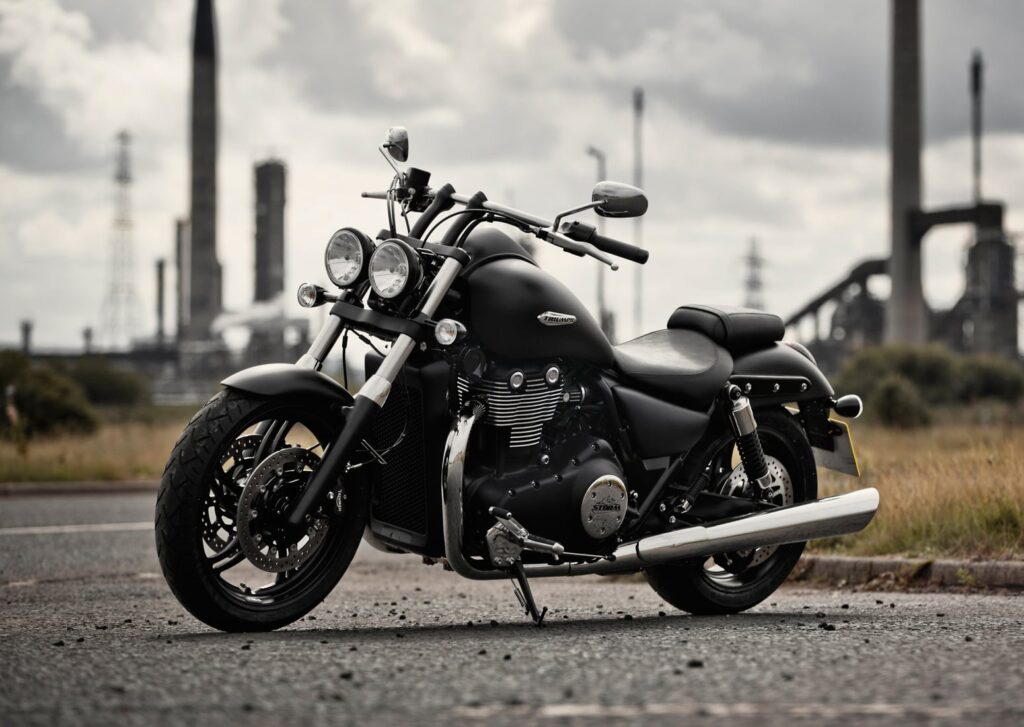 Just a couple of years after releasing the Thunderbird, Triumph released the Thunderbird Storm. Among the cruiser variants, this is the most popular — though people often change out the seat.
Initially, when selling the Storm, Triumph sold an accessory big bore kit to bring capacity up to 1699 cc. Well, they did away with the formality of that process and made that capacity standard with the Storm and with every Triumph Thunderbird thereafter.
Along with more capacity comes a tad more power and torque, both at the peak and all over the rev range.
Triumph also re-did the style a little of the Thunderbird, making twin front headlights the new standard.
Triumph also released the Thunderbird Nightstorm, which is essentially the same bike but blacked out to save you the trouble.
The rest of the ride gear stayed the same — the Storm has the same brakes and suspension as the standard 1600cc Thunderbird, and weighs about the same, too.
The Triumph Thunderbird Storm is the bruiser of the Thunderbird range. It has the most Thunder, and perhaps also the most bird, if it's an aggressive one. This isn't just because it has more power and torque on paper; the engine itself is more revvable and has a louder bark to it, and the demeanour of the bike — from its rake and trail, to blacked out engine — tends to bring out your wild side.
Just look at it! You don't get on that and putter around country lanes. (Well, you can…)
Triumph Thunderbird Commander (2014-2018) — The Newer Power Cruiser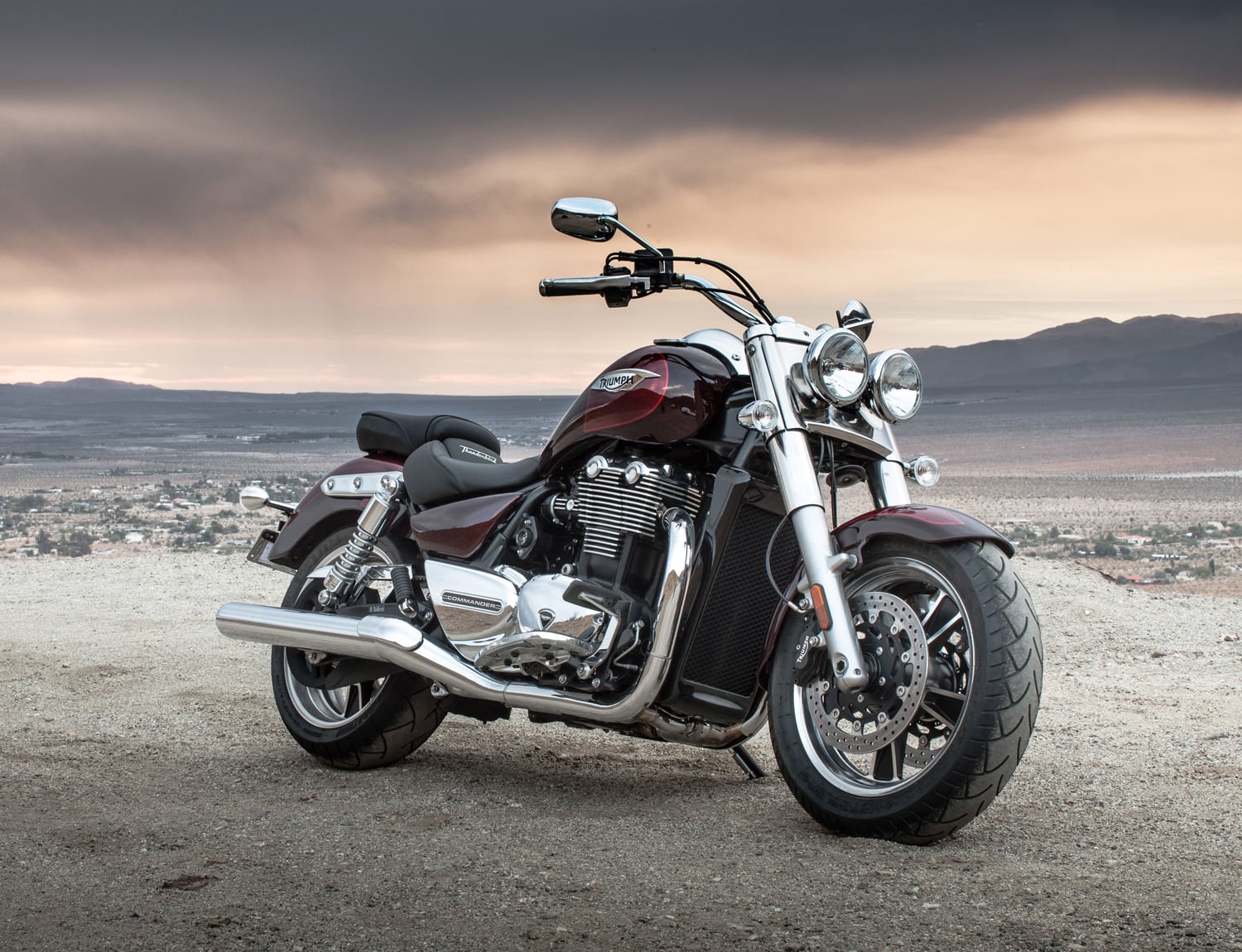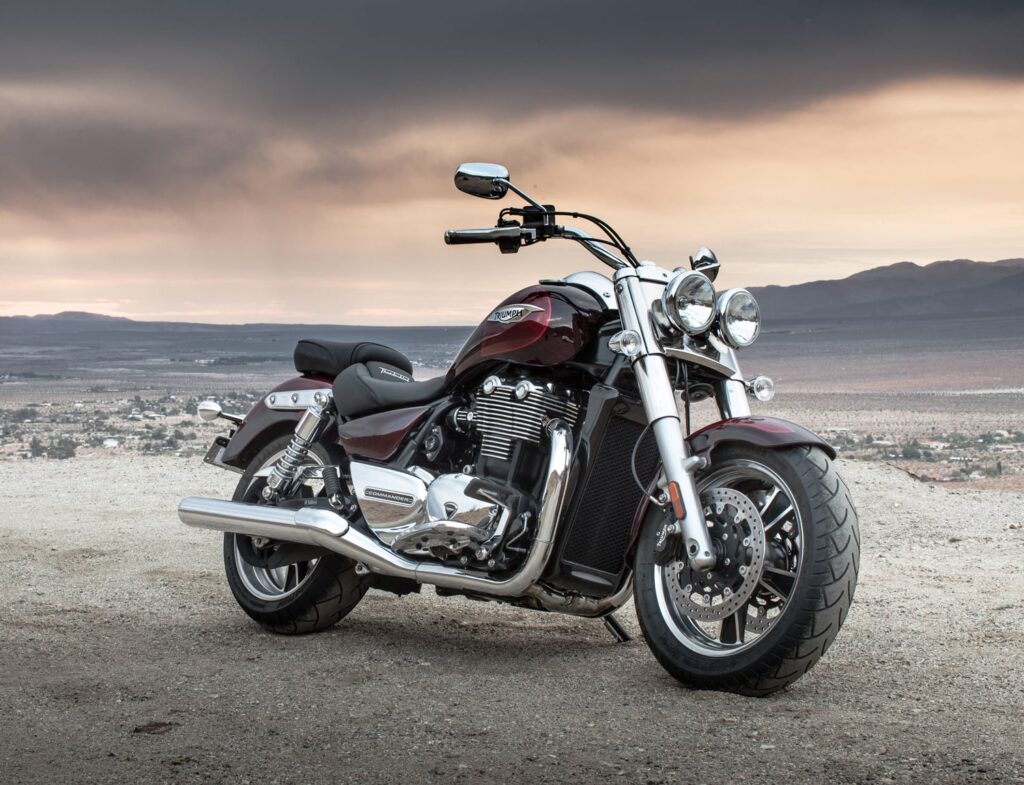 In 2014 Triumph released a newer power cruiser — the Triumph Thunderbird Commander, alongside the LT, below.
The Commander looks a lot like the Storm at first blush. When you sit on them, you can feel a little of the difference under your seat and in the reach to the handlebars.
But you can differentiate between the Triumph Thunderbird Storm and Commander like this. The Commander (when compared to the Storm):
Has a more comfortable seat (which you can change out of course on the Storm)
Has more relaxed pull-back bars
Has slightly less punch from the engine; it's more relaxed
Has floorboards
Has more chrome and less black
Has no tachometer
Handles a little less well (due to the wheel/tyre size)
The below two images of the Storm and Commander aren't at exactly the same angle, but show some of the above differences visually.
Basically, the Triumph Thunderbird Commander is a more relaxed, armchair-like cruiser, whereas the Storm is more likely to get you to behave badly. However, both can be both bikes to anyone. Buying used, condition is more likely to be important, and you can make either bike do whatever you want.
Still, if I had my 'druthers, I'd pick the Nightstorm. Yow!
Triumph Thunderbird LT (2014-2018) — The Bagger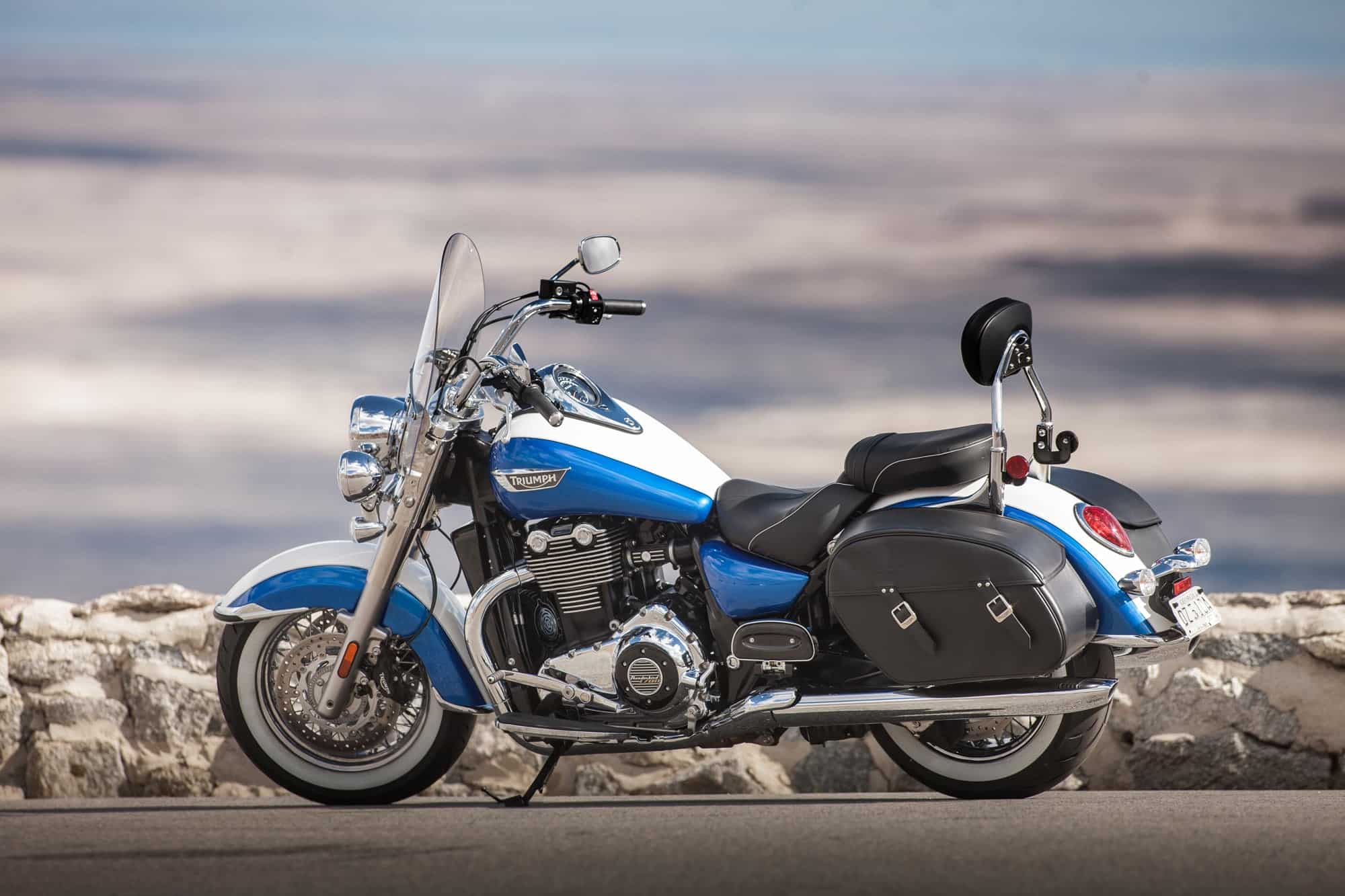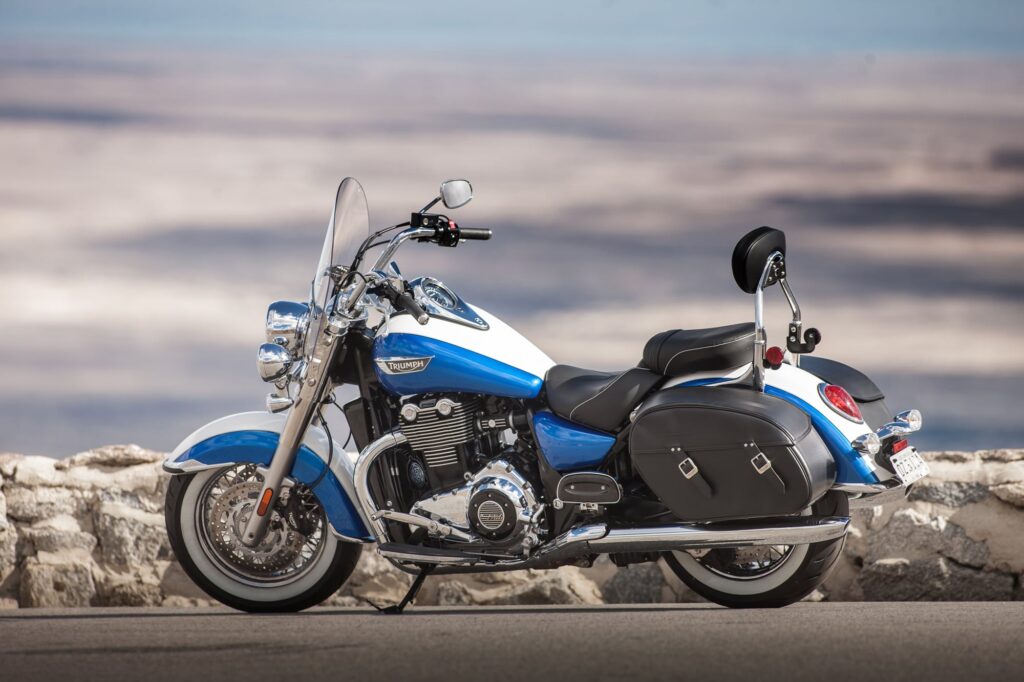 Finally, Triumph also released the Thunderbird LT at the same time as the Commander, in 2014.
The Triumph Thunderbird LT is a bagger. It comes with a sissy bar/back rest, touring bags, crash bars, floor boards, and a windshield.
The wheels are also wire-spoked and take tubes. And the stock tyres are white-walled… and you'd better hope they stay that way when they get replaced!
The Triumph Thunderbird LT has the same power as that in the Commander, with the same state of tune. But the motorcycle feels a little slower. This is partly because it's carrying more weight, partly the slightly more relaxed tyres, partly because of the psychological feel of a bike with floorboards and a shield.
Although as a counterpoint, the LT has a slightly more aggressive rake/trail spec than the Commander — typical of tourers vs cruisers.
The Triumph Thunderbird LT is aimed squarely at the American distance-travelling cruiser buyer. It had quite a battle ahead of it to beat Harley-Davidson or even Yamaha at their games, but at least it's unique — a liquid-cooled parallel twin in a market full of V-twins, with Harley-Davidsons all being air-cooled.