I say this a lot, but we really do live in the golden age of motorcycling. And also of television, and ice cream, and whatever other poisons of choice you may have. But staying on topic, the Aprilia RS 660 is a great example of just how good life can be.
Sometimes manufacturers deliver a bike that's just what everyone was clamouring for. Lightweight? Check. Powerful enough? Check. Sporty but comfortable? Check, check. High-spec gear on a middleweight? Absolutely check.
So for sportbike tragics (like me) looking to downsize without giving up fun, street riders who want a bit of comfort and less easy speeding tickets, or people looking for a cracker of a first bike — which is a LOT of people — the RS 660 is everything.
Plus, look at it.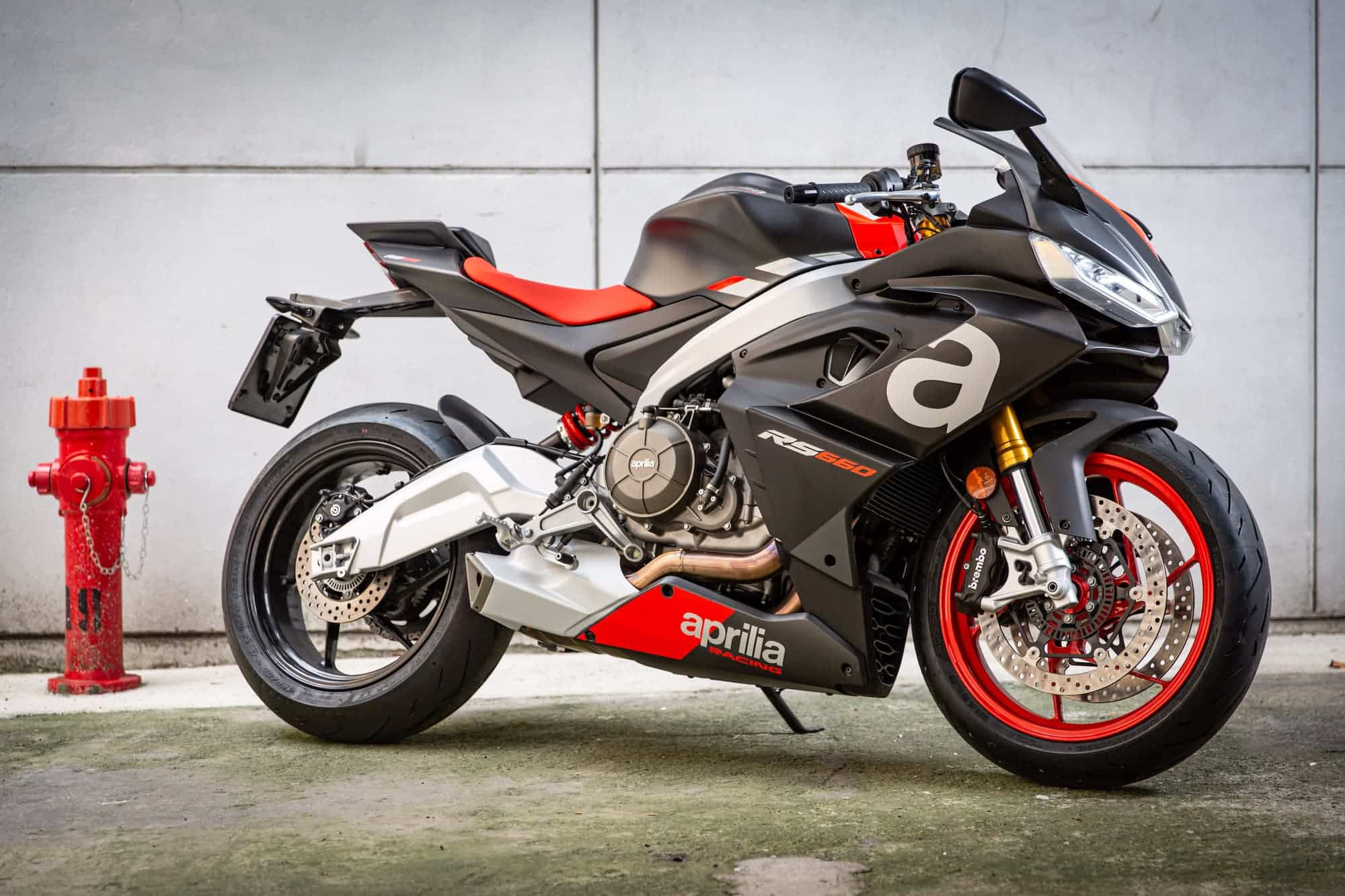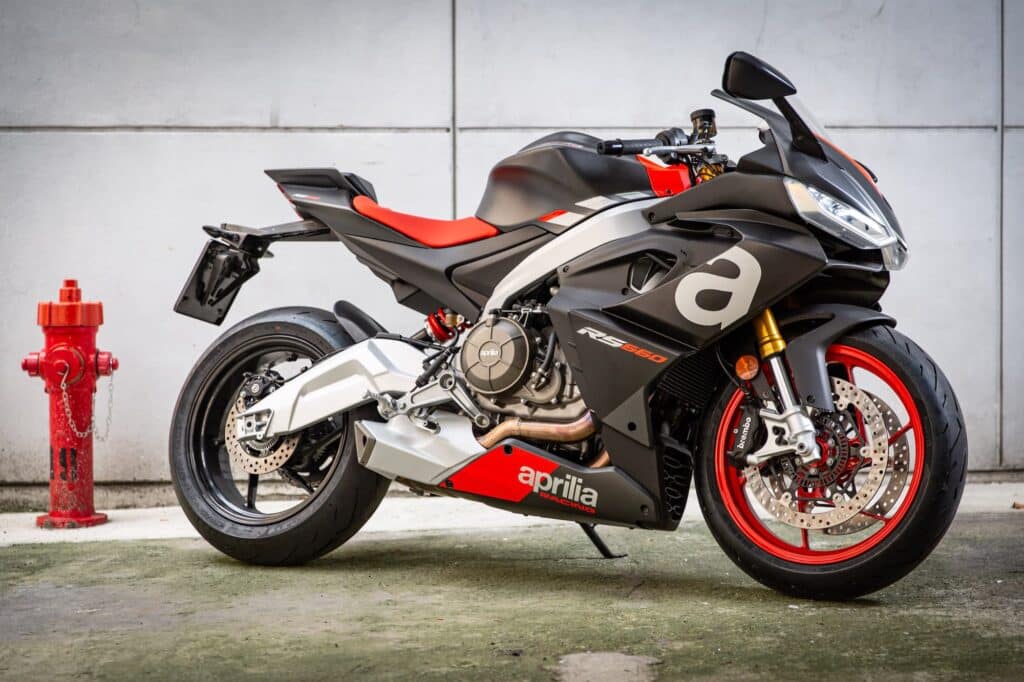 Are you obsessed with motorcycles?
Well, I am. That's why I created this site — as an outlet. I love learning and sharing what others might find useful. If you like what you read here, and you're a fraction as obsessed as I am, you might like to know when I've published more. (Check the latest for an idea of what you'll see.)
Aprilia RS 660 — Quick Spec Sheet
You can't ride a spec sheet, as I always say, but it helps see the Aprilia RS 660 in context. Here's a condensed version of the spec sheet with a bit of contextual explanation.
| Part | Aprilia RS 660 spec |
| --- | --- |
| Riding position | Sport/sport touring (more aggressive than a Yamaha MT-07, less than a YZF-R7) |
| Engine | 659cc liquid-cooled DOHC 8-valve parallel twin, 270-degree crank (similar to MT-07) |
| Compression ratio | 13.5:1 (high for a street bike) |
| Peak power | 73.5 kW (100 CV / 99 bhp) @ 10500 rpm |
| Peak torque | 67 Nm (49 ft-lb) @ 8500 rpm; 80% of torque available by 4000 rpm |
| Front suspension | Kayaba 41mm USD fork with preload and rebound compression adjustability |
| Rear suspension | Monoshock with preload and rebound compression adjustability |
| Front brakes | Double discs, 320mm, Brembo M4.32 calipers. Radial pump, metal braided brake lines (standard on high-end street bikes) |
| Tyre sizes | 120/70-17, 180/55-17 |
| Ride aids | 6-axis IMU including cornering ABS, traction control, etc. 5 ride modes, quickshifter, anti-hop clutch |
| Other electronics | TFT display, cruise control (rare on a sportbike) |
| Dry weight | 169 kg |
| Wet weight | 183 kg (very light!) |
Aprilia RS 660 — Key specs
The Wonderful Lightness of Being (an Aprilia)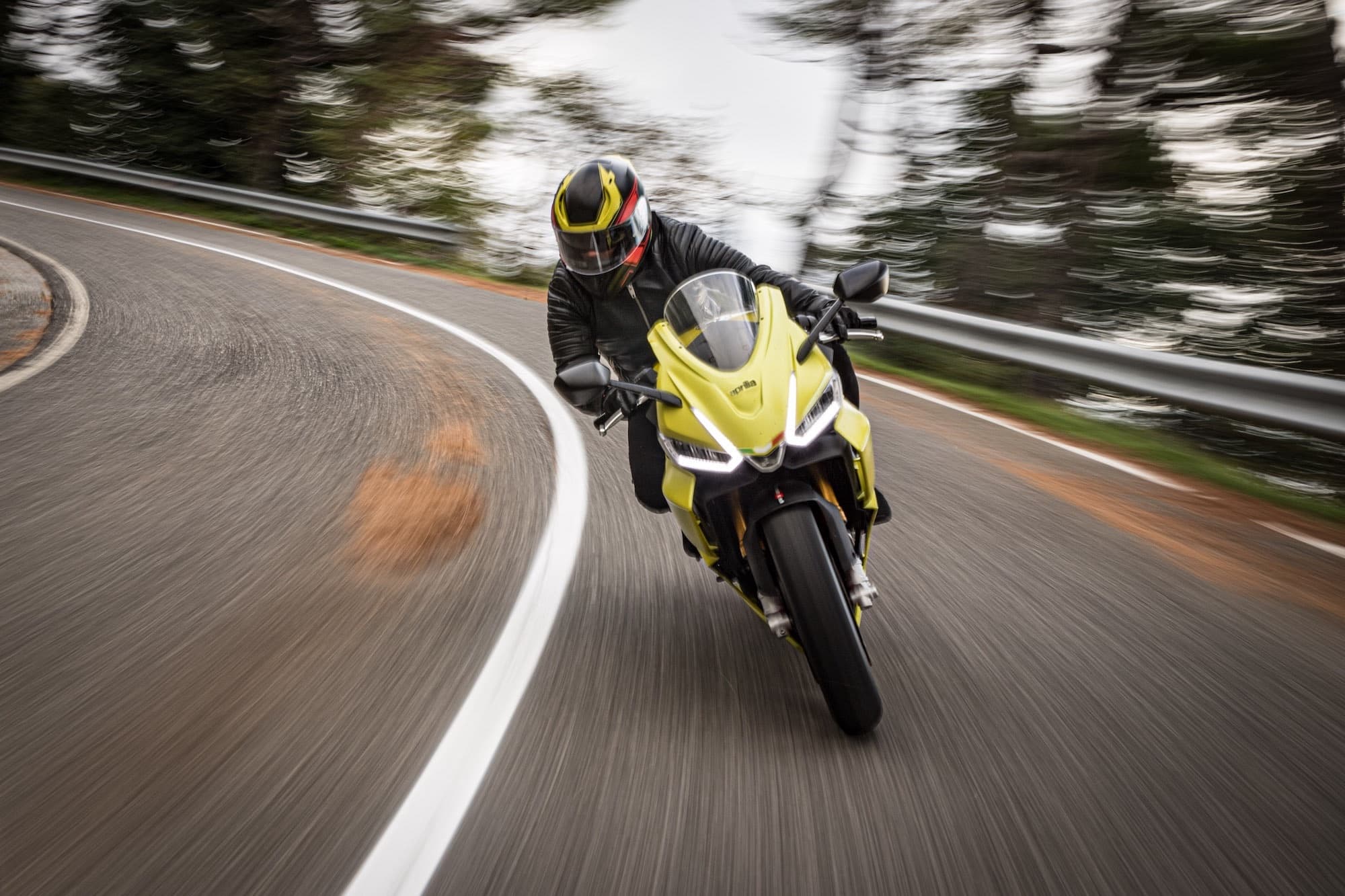 It's a special experience riding the Aprilia RS 660. It's even a special experience to just sit on one.
As we mentioned in the introduction, when buying a bike, riders typically have had a choice of either high-spec components or a middleweight motorcycle. The Aprilia RS 660 gives us both. Happy days!
The first thing you notice, sitting on the RS 660 is that it's light. It feels like a much smaller motorcycle, like a KTM RC 390. There are superbikes that have nearly this low weight, but you have to pay around twice the price (though you do get around twice the power), and they're still heavier.
In numerical terms, the weight of the RS 660 is 183 kg (403 lb). Here's how it compares to the direct competition:
| Motorcycle | Curb weight (wet weight) |
| --- | --- |
| Aprilia RS 660 | 183 kg 404 lb |
| Yamaha YZF-R7 | 188 kg / 414 lb |
| Triumph Street Triple RS | 191 kg / 421 lb |
| Kawasaki Ninja 650 | 192 kg / 423 lb |
| CFMOTO 700 CL-X | 196kg / 432 lb |
| Suzuki SV650X | 198 kg / 437 lb |
| Honda CBR650R | 207 kg / 456 lb |
Curb weight of middleweight sport bikes
In motorcycles, every kilogram (or pound) counts in terms of how easy it feels under your seat and how confident you feel throwing it into corners. The lightness of the Aprilia RS 660 inspires a lot of that confidence.
On the road, the lightness and riding position make the Aprilia RS 660 very easy to ride. This includes for beginners, whether you live in the US and can ride anything as your first bike, or whether you have a restricted version as is available in the UK, Europe, and Australia/New Zealand.
Another feature that helps the RS 660 handle well is what they've done to lower the centre of gravity — inclining the engine forwards, and positioning the exhaust manifolds below the engine.
The Engine — Sporty, but not overwhelming
As a middleweight engine, the RS 660's parallel twin never produces gobloads of torque — but of what it does produce, it does from relatively low. So the Aprilia RS 660 is never struggling or choking.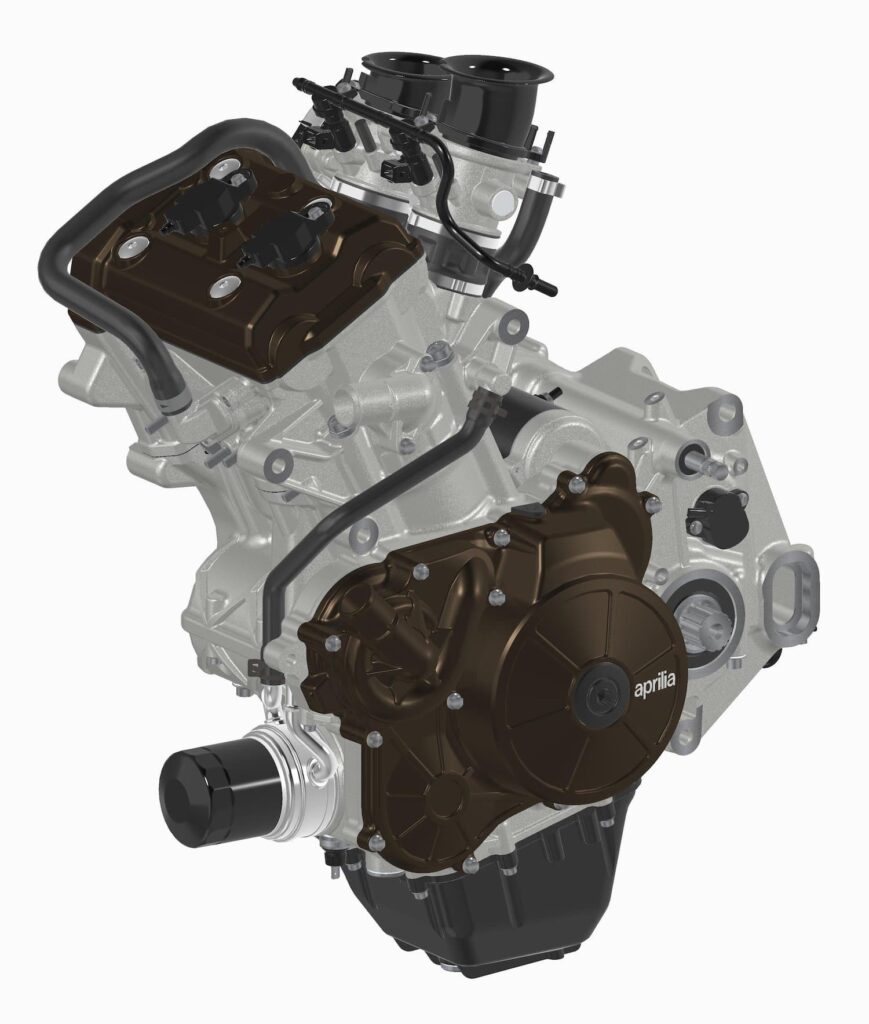 That said, the engine does lack in low-end torque compared to entry-level middleweights like the Yamaha MT-07 or Suzuki SV650. This is one of the aspects in which riding the Aprilia RS 660 feels like a middleweight Ducati V-twin — it's happy down low but it still likes to get up there in revs when you get the chance.
Speaking of V-twin — this is something the engine of the RS 660 and its peers is often compared to. The parallel twin has a 270-450 degree firing order (so it's bang-2-3-bang-5-6-7-8), which makes it feel like a lot of 90-degree V-twins with similar firing orders.
The easiness of revving the engine is partly how you know that the RS 660 isn't just an entry-level motorcycle. It doesn't come with some learner-friendly niceties like the SV650 does, like Suzuki's "RPM Assist" function that tries its hardest to prevent you from stalling at launch.
If you're considering the RS 660 against other middleweight sportbikes as an everyday bike, think of how you normally ride. Where do you sit in the rev range? There are riders who live between 3-6K rpm, doing a lot of launches and navigating between traffic on a commute. And then there are riders who live more between 3-8K, redline the tachometer at every launch, and have longer commutes with fewer stops. Those thoughts may lead you to either a bike with a 2-6K rpm happy zone, or 3-8K rpm zone, like on the RS 660.
See the below composite illustrative torque curves for better understanding.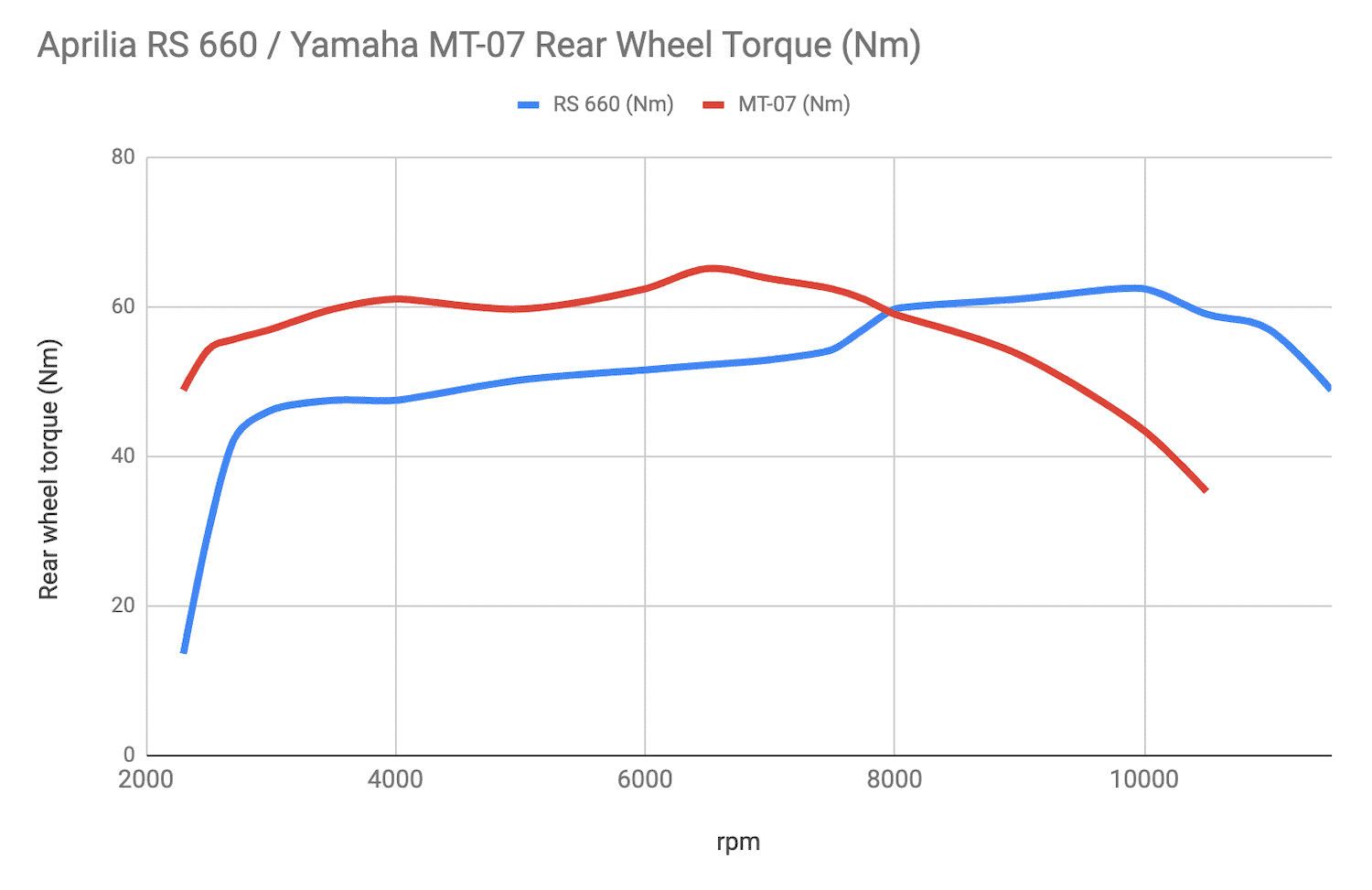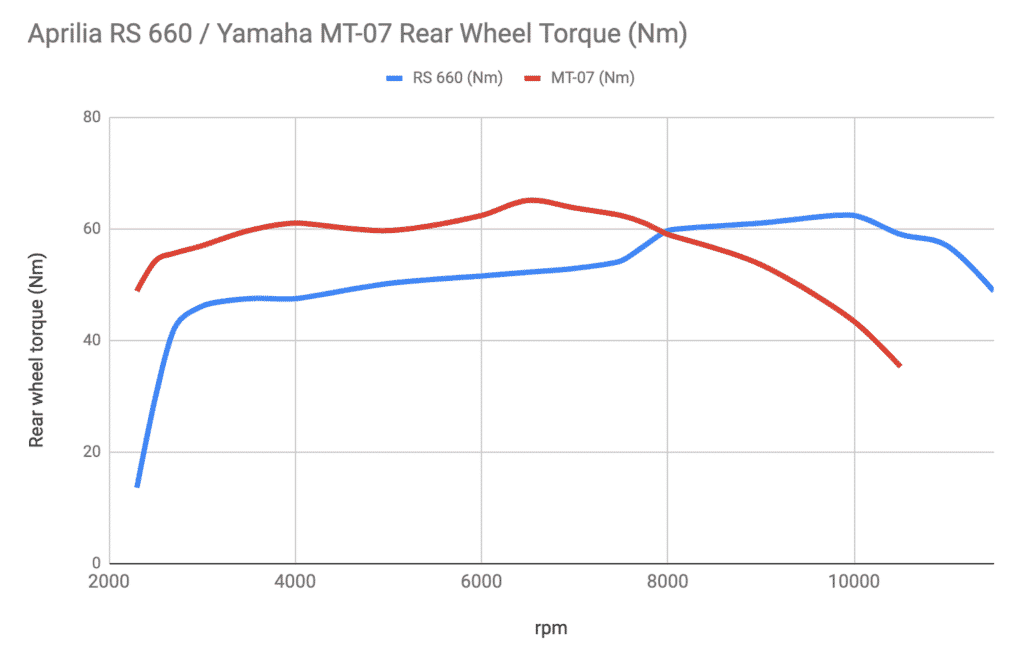 Aprilia has done quite a lot to help their engine rev more feely and make that power. A few of these things are hollow camshafts, cylinders offset from the crankshaft to minimise internal friction, and oversquare pistons.
The Aprilia RS 660 geared quite aggressively, so you shift out of first gear just to get to 100 km/h (~60 mph). This would hurt your sprint times if you didn't have that up and down quickshifter, which comes as standard on the RS 660.
See here for more about motorcycle gearing — and our in-house calculator includes the Aprilia RS 660.
In terms of thrust, the RS 660 feels substantially faster than other middleweights when pegged at full throttle in the first few gears. Basically, it has similar pull to a Yamaha MT-07 or Suzuki SV650, but the torque remains flat higher in the rev range, so you don't shift as early.
Electronics galore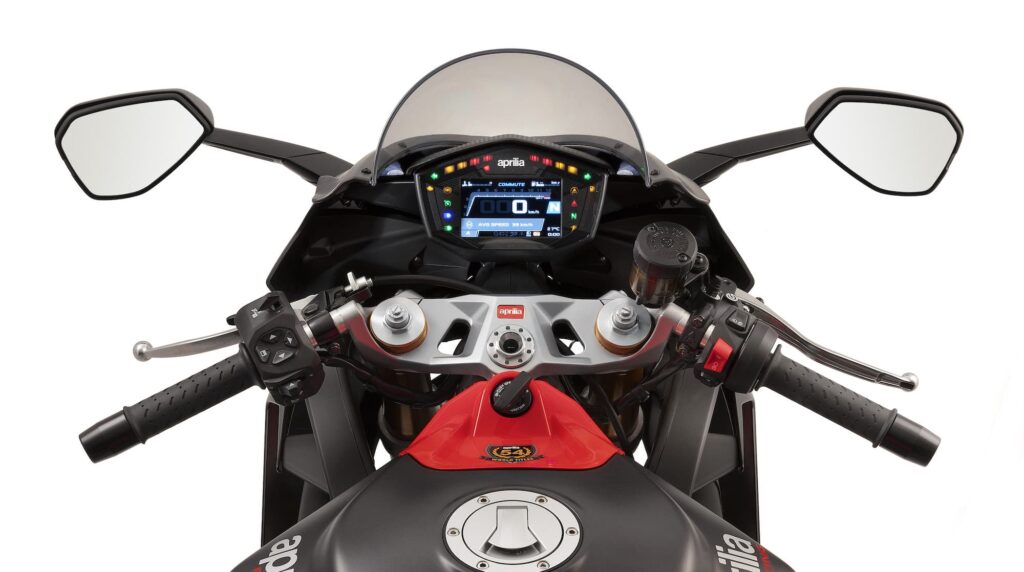 Middleweight motorcycles rarely have advanced electronics. On most middleweights, you just get ABS.
Even the Yamaha YZF-R7, an obvious competitor for the Aprilia RS 660, only has ABS. No cornering function Not even ride modes! Not that they're the most important thing in the world, but it's a thing that the R7 doesn't have.
The Ducati Supersport 950 S, a more expensive, more powerful, and generally more premium motorcycle than the Aprilia RS 660, doesn't have cruise control (to the chagrin of many owners).
But the Aprilia RS 660 has both those things cornering ABS, and cruise control.
Cornering ABS for the RS 660 (and other 660 motorcycles) is via the Continental 6-axis IMU (inertial measurement unit), which recognises what the bike is doing on a number of different angles with respect to the road.
The Continental inertial platform lets the RS 660 have cornering ABS, lean angle-sensitive traction control, and even wheelie control.
A middleweight with decent ride gear
The Aprilia RS 660 has good suspension and braking, without being truly superbike level.
First, the brakes. Up front there are twin Brembo M4.32 calipers on twin 320mm discs. Brembo M4.32 calipers are radial-mounted monoblock calipers. They're good, and almost standard on "middleweight" sport bikes from good brands. You'll find them on bikes like the Ducati Panigale 959, or on a 2017+ Triumph Street Triple R.
The front suspension is a Kayaba USD fork. It's not fully adjustable, but you can adjust it for preload and rebound damping. The same goes with the rear shock.
The Aprilia RS 660 comes standard with a quick shifter. You might almost expect this, but remember that on a (much more expensive) Ducati Supersport, for example, you have to buy the (significantly more expensive) S version for the quick shifter to be standard.
A special note on the quick shifter: it's electronic. And via the quick shifter only, you can configure your RS 660 for a reverse shift pattern, which many find more useful on the track (e.g. so it's easier to shift up a gear while exiting a corner without moving your body).
Colour options for the Aprilia RS 660
The Aprilia RS 660 was released for 2021 in three colour options: Apex Black, Lava Red, and Acid Gold. These are pictured below.
We suspect that the "Acid Gold" colour scheme will be the least popular but also the most iconic in 20 years time. Choose wisely!
Maintaining the Aprilia RS 660
An important part of motorcycle ownership is the maintenance. A relatively cheap bike might have hidden costs in its maintenance schedule, e.g. frequent and relatively expensive/time consuming valve inspections (like old Ducatis).
The Aprilia RS 660 has
10 000 km (6 200 mi) basic maintenance intervals: at which point you change the oil and filter, lubricate moving parts, and check everything for leaks
20 000 km (12 400 mi) major maintenance intervals: adjusting the valve clearance, replacing spark plugs and air filter, plus everything in the minor interval.
Aprilia also recommends that you replace the fork oil every 40 000 km (24 900 mi). Italian motorcycle manufacturers tend to recommend this.
See here for all the details in the maintenance schedule.
Note that early on in the days of the Aprilia RS 660 in 2021, there were some reports of a broken connecting rod in the crankshaft that sometimes broke, with 308 units recalled due to the possibility of it happening again (recall PA2ZZQ2107). There hasn't been a recall since.
Aprilia RS 660 vs Tuono 660 and Tuareg 660 — Core Specs Compared
If you're considering the Aprilia RS 660, you're probably also considering the Tuono 660 — and perhaps the more recently announced Tuareg, too.
Here's a much more comprehensive overview of the differences between the Aprilia RS 660, Tuono 660, and Tuareg 660.
The RS 660 and Tuono 660 share a lot. They're both sportbikes, and they differ mostly in riding position.
But the Aprilia Tuareg 660 is a very different animal, and you'd be mistaken to think it's the same as the other bikes but in different clothing.
If you're thinking "I'll just get a Tuareg 660; it's like an RS 660 but it can do dirt roads", perhaps think again. Yes, they're based on conceptually the same engine, but in different states of tune, and pretty much everything around it is different, from the way the engine is mounted, to gearing, to suspension and even brakes. The difference is greater than you'll find between, for example, the Honda CBR500R and the Honda CB500X.
Spec
RS 660
Tuono 660
Tuareg
Riding position
Sport / Sport touring
Sport standard
Adventure
Controls
Clip-ons
Handlebars
Big ol' Handlebars
Peak power
73.5 kW (100 CV / 99 hp) @ 10500 rpm
70 kW (95 CV / 94 hp) @ 10500 rpm
58.8 kW (80 cv / 79 hp) @ 9250 rpm
Peak torque
67 Nm (49 ft-lb) @ 8500 rpm; 80% of torque available by 4000 rpm
67 Nm (49 ft-lb) @ 8500 rpm; 80% of torque available by 4000 rpm
70 Nm (52 ft-lb) @ 6500 rpm, 75% from 3000
Final gearing
17/43
17/43
15/42 (10% lower)
Engine mount points
Three (engine is load bearing)
Two (engine is load bearing)
Six (engine is not load bearing)
Ride modes
5 (2 x track, 2 x road, custom)
5 (2 x track, 2 x road, custom)
4 (Urban, Explore, Offroad, Custom)
Suspension travel (F, R)
120mm, 130mm
110mm, 130mm
240mm, 240mm
Brakes
2 x 320mm, Brembo radial M4.32
2 x 320mm, Brembo radial M4.32
2 x 300mm, Brembo axial 30/32mm calipers
Tyres
Pirelli Diablo Rosso Corsa II
120/70-17, 180/55-17
Pirelli Diablo Rosso Corsa II
120/70-17, 180/55-17
Pirelli Scorpion Rally Str
90/90-21, 150/70-18
Colour schemes
Acid Gold, Apex Black, Lava Red
Acid Gold, Concept Black, Iridium Grey
Acid Gold, Indaco Tagelmust (blue), Martian red
Quickshifter
Included
Optional
Optional
Fuel capacity
15 L
15 L
18 L
Kerb weight
183 kg
183 kg
204 kg
Aprilia RS 660, Tuono 660, and Tuareg — core spec comparison
The Aprilia Tuareg also comes with a lot more options for adventure travel, like a center stand, rugged luggage, an even taller windscreen, and additional lights.
Competitors to the Aprilia RS 660
If you're considering a high-spec middleweight sportbike, then you're in luck — it's a burgeoning market.
Here are the other bikes we'd consider.
Yamaha YZF-R7 (2021+): Yamaha has been playing catch-up in the market, but they really managed to shock people by releasing the YZF-R7. It's more than an MT-07 — it's higher-spec. But it's no R6, so don't let that "YZF" confuse you. The YZF-R7 has great ride components, but doesn't have an IMU, cruise control. It's also lower power by about 25%. See here for our full take.
Honda CBR650R: Among middleweights, this was already our favourite when it came out in 2019. It has only improved, and the latest CBR650R is everything the original was, but with better suspension by default — though still non-adjustable. The Honda CBR650R is almost as powerful as the RS 660, and has a four-cylinder engine that'll remind you of supersport bikes when it gets up there in revs. But it doesn't have ride modes, cornering ABS, or cruise control. And it's much heavier. Although it's a lot cheaper. See here for our full review.
CFMOTO 700CL-X Sport: Yes, a bike by CFMOTO. Have a look here and prepare to be surprised by what a Chinese manufacturer is offering at a reasonable price in a presumed attempt to get market share. The CFMOTO 700CL-X Sport has a few components that are higher spec than the Aprilia (e.g. it has Brembo M50 brakes, and more adjustability in the suspension), but it's not as powerful, the engine has a traditional 180-degree crank, and it doesn't have cornering ABS via an IMU (but it does have cruise control).
Frankly, all of those competitors lack something significant. The YZF-R7 lacks power and rider aids. The CFMOTO lacks power and rider aids, making up for an uncool brand with better components than the R7. The CBR650R lacks high-level components and rider aids, but at least it's powerful and has a fun inline four.
And above all, all of the above alternatives lack the Aprilia RS 660's lightness — by a significant margin.
What others said
Here's a roundup of what peer publications have said about the Aprilia RS 660.
"If you were to consider an amalgam of total mass, accessible and usable engine power, chassis response, cutting edge rider aid technologies and ergonomics as a form of holy grail, then Aprilia has designed and built an altar for you."

Bikereview.com.au
To call the 2021 Aprilia RS 660 anything but a game changer is an understatement, even with a couple minor teething issues. In a traditionally budget-minded class, reflected in paired-down components, technology and performance compromises, the RS 660 is trailblazing its own path. In essence, it's the sportbike we always needed — real-world ergonomics, an energetic parallel-twin producing useable power, a stellar chassis and a swath of top-shelf electronics.

Rider magazine
The RS 660 is the child of Aprilia's open-class superbike technical expertise combined with everyday functionality and comfort, making it an enticing option to the supersport-curious. Yet it's wickedly entertaining and capable of educating even the most experienced riders. Think scaled-down RSV4 1100 Factory performance in an approachable package. It's a fresh and unique take on the middleweight supersport segment. And it's freakin' awesome.

Cycle World
Convinced yet? Hmm. Well, I did just buy another Hayabusa….