Sometimes I forget that I once owned a BMW K 1200 RS. It was a weird bike that I mostly bought for my friend John to ride around California with me. But it left an indelible impression, as many odd bikes do.
My friend John bailed on the trip, but I don't begrudge him for it. I enjoyed an excuse to buy a bike and sold it for a small profit, on top of a few rentals I made via Riders Share in its early days. And later, John later lent me his Suzuki SV1000S for a month without blinking. Friends.
Anyway, the BMW K 1200 RS is a weird old bike. It's heavy. It's not too powerful, though it's no slouch. And as BMW is wont to do, it combines many eclectic things: an inline four-cylinder engine, horizontally/longitudinally mounted and powering a shaft drive, a single sided swingarm and looks that are good from some angles (though not all) and options like ABS and cruise control before most people even knew they were things we wanted (we didn't, back then).
Truth be told, that's kind of how I found the RS. I did a search for "luggage" and "ABS" on Craigslist in San Francisco, and this was the cheapest bike I found within a few miles. It was listed for $2700 with 33K miles (53000 km… wow, sounds like a lot more!) on it, the ABS worked, but it needed a front tire. I rode it and thought "That feels weird… but whatever. Let's go!", and took it home.
But despite its weirdness, the BMW K 1200 RS is what got me into sport tourers. I liked leaning forwards a bit, I liked revving the engine (slowly), and I really liked the weight underneath me. It's what led me to the Hayabusa.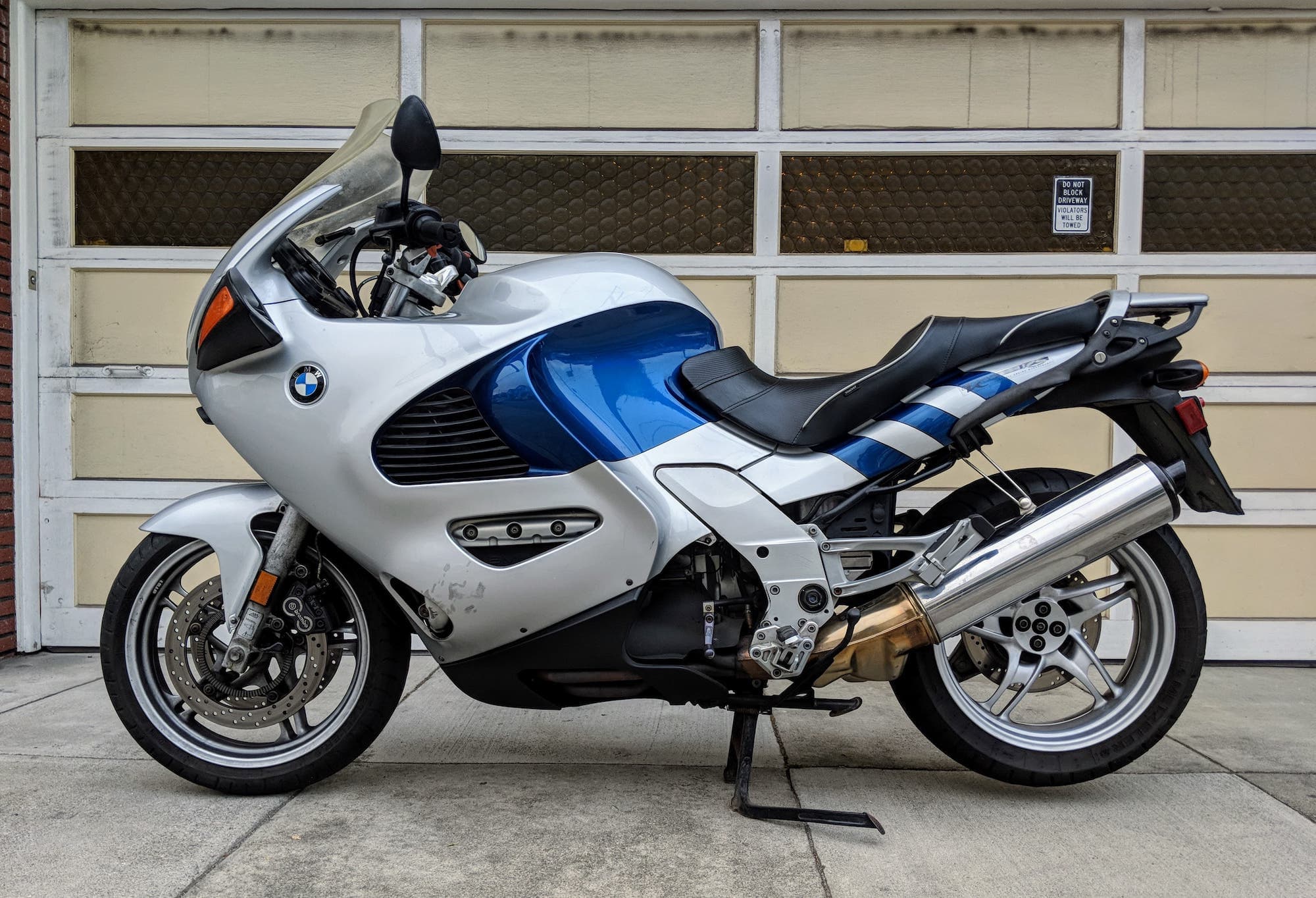 Are you obsessed with motorcycles?
Well, I am. That's why I created this site — as an outlet. I love learning and sharing what others might find useful. If you like what you read here, and you're a fraction as obsessed as I am, you might like to know when I've published more. (Check the latest for an idea of what you'll see.)
About the K 1200 RS in brief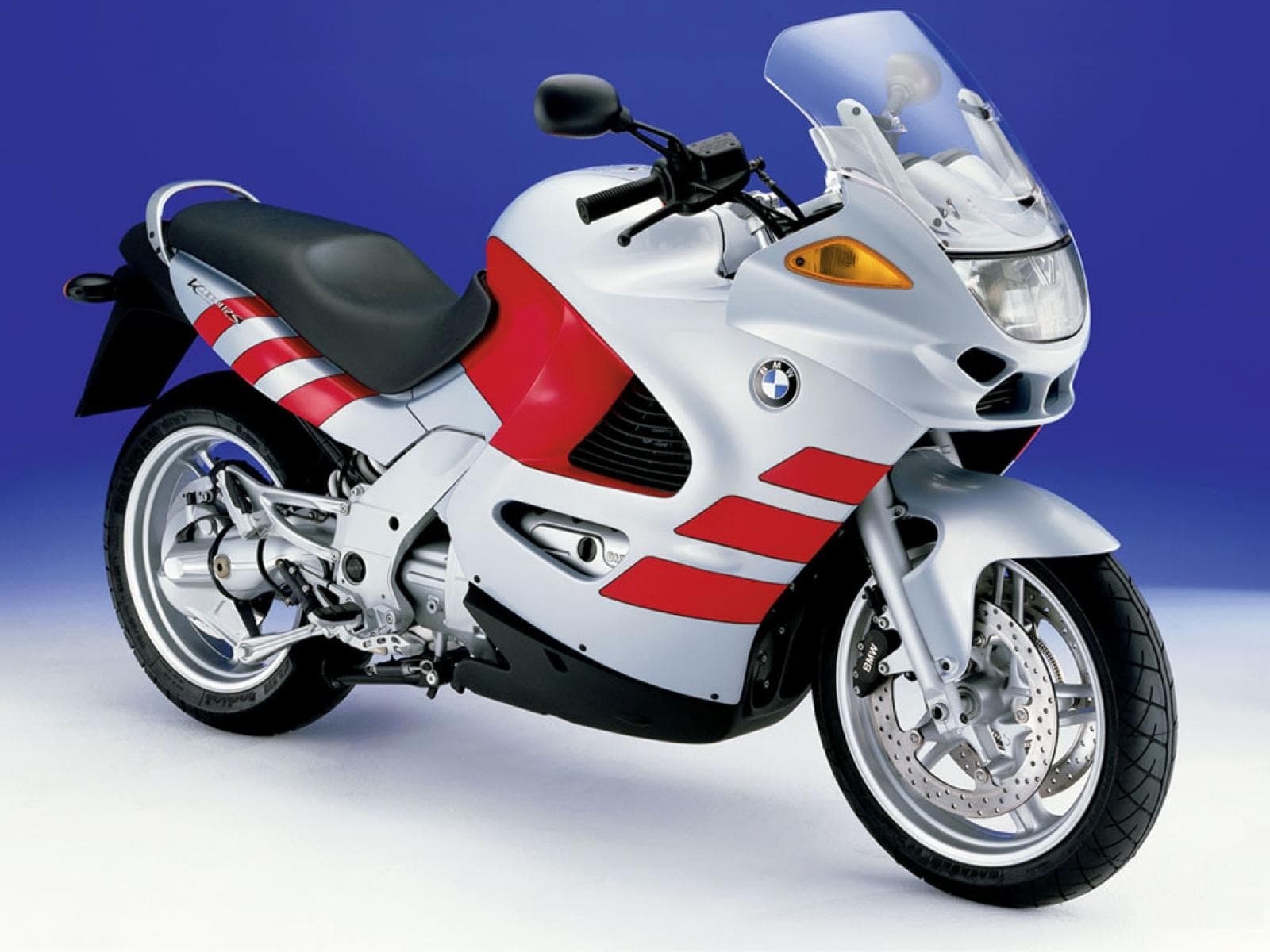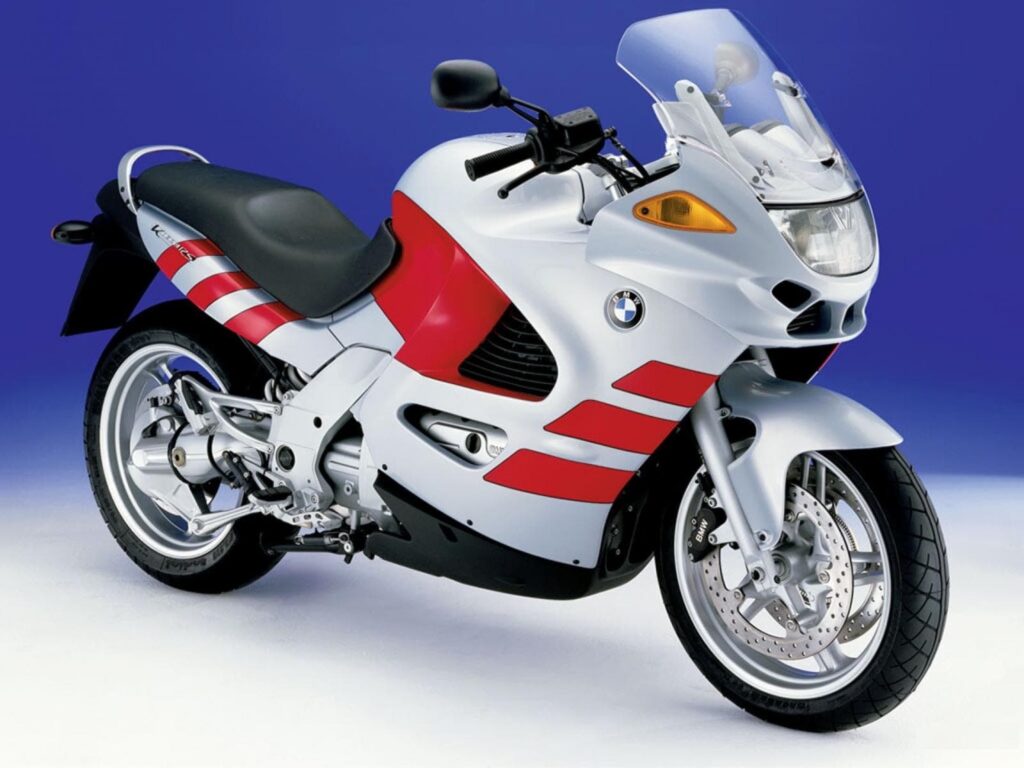 BMW introduced the K 1200 RS in 1996. It was based on a revamped version of the K 1100 RS, conceptually a similar bike, but whose 1092 cc engine made a lot less power and revved lower.
BMW increased the displacement from 1092 cc to 1171 cc using a crankshaft with 5mm more stroke. They also gave it more revving ability with lighter pistons and valves, plus tuned it for more power with a higher 11.5:1 compression ratio (vs 11.0:1) and ram air, all of which give the K 1200 RS 30 more horsepower (23 more kW) peak. Quite a lot!
The engine in the K 1200 RS is an 1171cc liquid-cooled inline four-cylinder engine with dual overhead cams and four valves per cylinder. Sounds pretty "sport", I know. It makes decent power, too, peaking at 97 kW (130 hp) at 8750 rpm. Though you'd rarely get there, as it makes a lot of torque, and from down low — peaking at 117 Nm (86 ft-lb) at 6750 rpm. For context that's just a lot of torque, in "big twin" territory — more than a Road King of the era had. (But you wouldn't be buying the Road King on specs!)
(Note: I've read in some places that this is the UK/US/Rest of world spec, but that Germany and France sadly got one restricted to 100 hp).
I've read back in the day that BMW liked to keep things under 100 hp, claiming that was all you needed in a motorcycle. Times have changed, obviously, but the K 1200 RS was radical for blasting past that ceiling.
The BMW K 1200 RS is a sport tourer — a breed of motorcycle almost dead these days (although Suzuki did just release their GSX-S1000GT). Sport tourers are everyday long-distance bikes that look a bit like sport bikes. The K 1200 RS does indeed have a forward-inclined riding position and a willing engine. But on top of that it has a shaft drive, a tall screen, and is easy to find with options like luggage and cruise control.
But the BMW K 1200 RS definitely not a sportbike — it's way too heavy and not powerful enough. Even at the turn of the millennium when these were being sold, the BMW K 1200 RS was about 50% heavier than most sport bikes (like an early-gen Yamaha YZF-R1) and only made around 75% of the power.
Nonetheless, you can look at it and tell… it's supposed to remind you of a sportbike. You know this because it's not the three other categories selling well at the time — cruisers, standards, and dirt bikes. Adventure bikes were still a small thing, and adventure sport tourers were still in their embryonic stage.
The BMW K 1200 RS is in that class of bikes best described by its members: like the FJ1200/ FJR1300, or Kawasaki Concours / GTR1000. They're in the "Heavy, but stable; go fast, but comfortable" category of bikes that seem appropriate for the police highway patrol.
In fact, the K 1200 RS was a police bike in several shires of the UK, as well as in a few other Northern European countries including Denmark, Sweden, Finland, and Poland.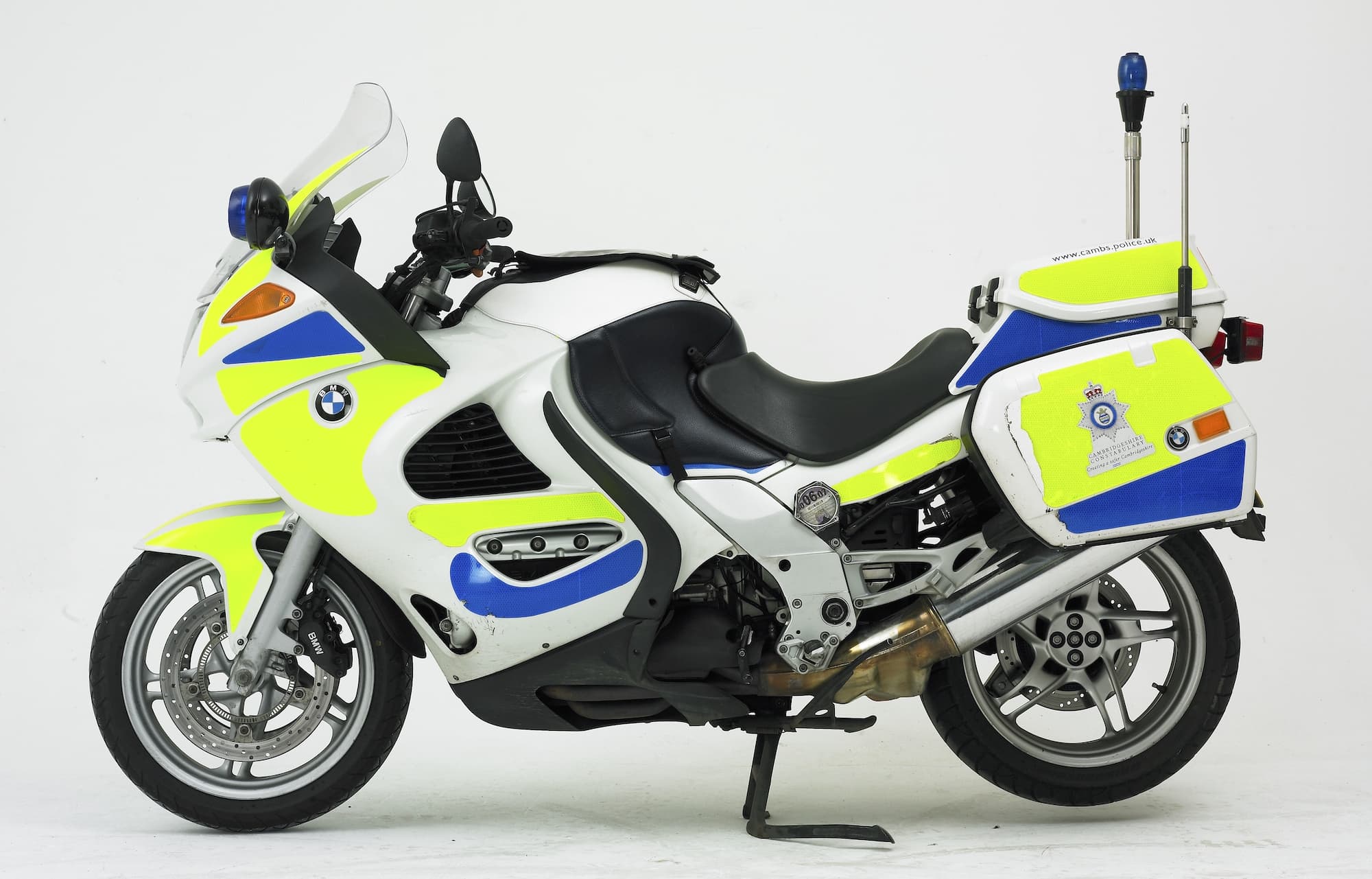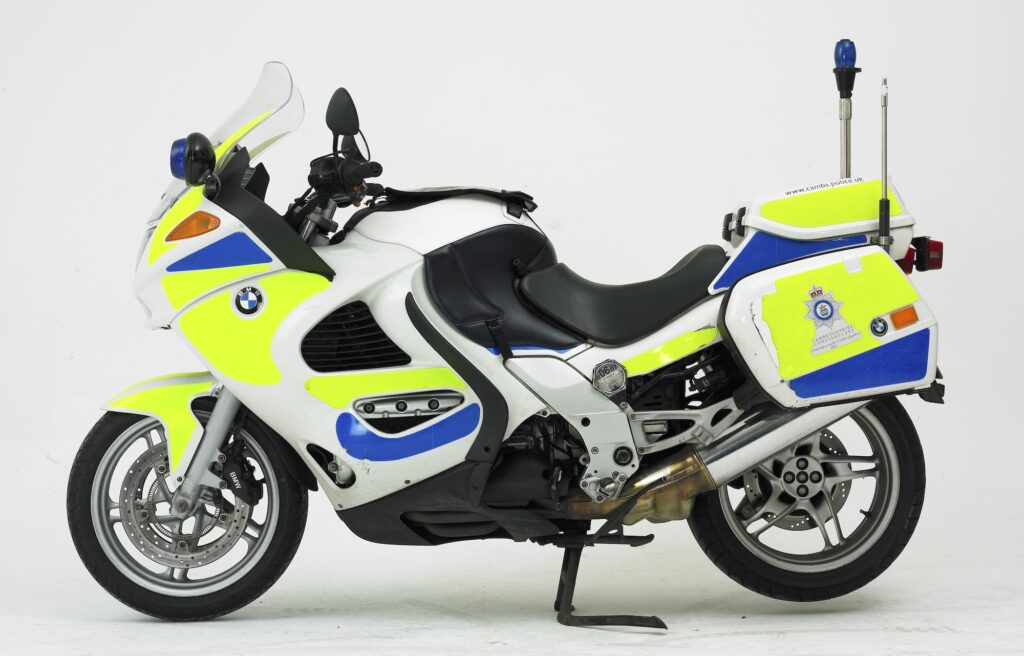 The BMW K 1200 RS was kind of a departure for BMW. It was kind of a stepping stone for BMW to go into three different directions.
But the K 1200 RS was also the end point for this particular class of sport tourers. There was a K 1200 S after it and a K 1200 LT, but no more inline four-cylinder based bikes in the "RS" sport touring line.
Core specs of the BMW K 1200 RS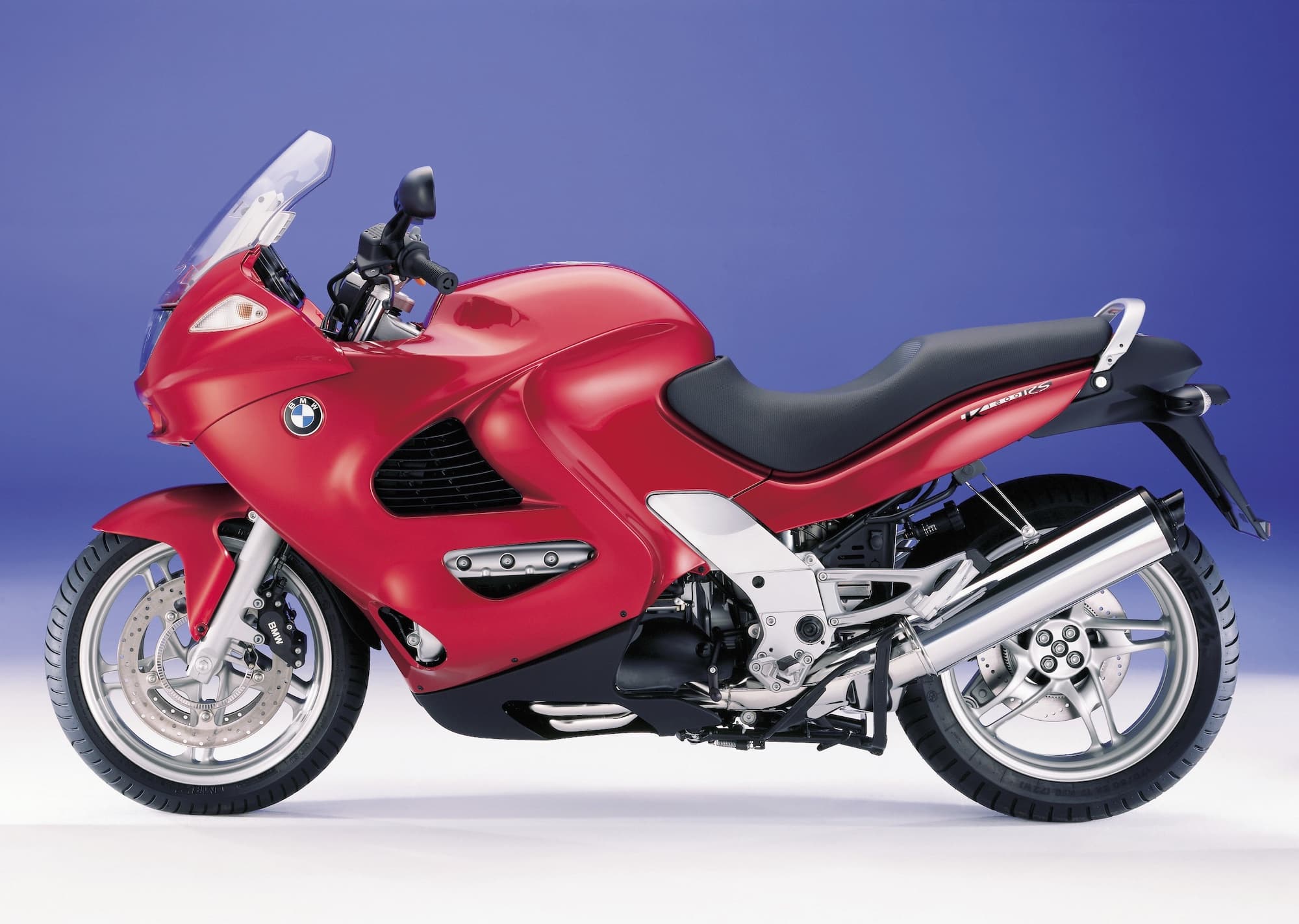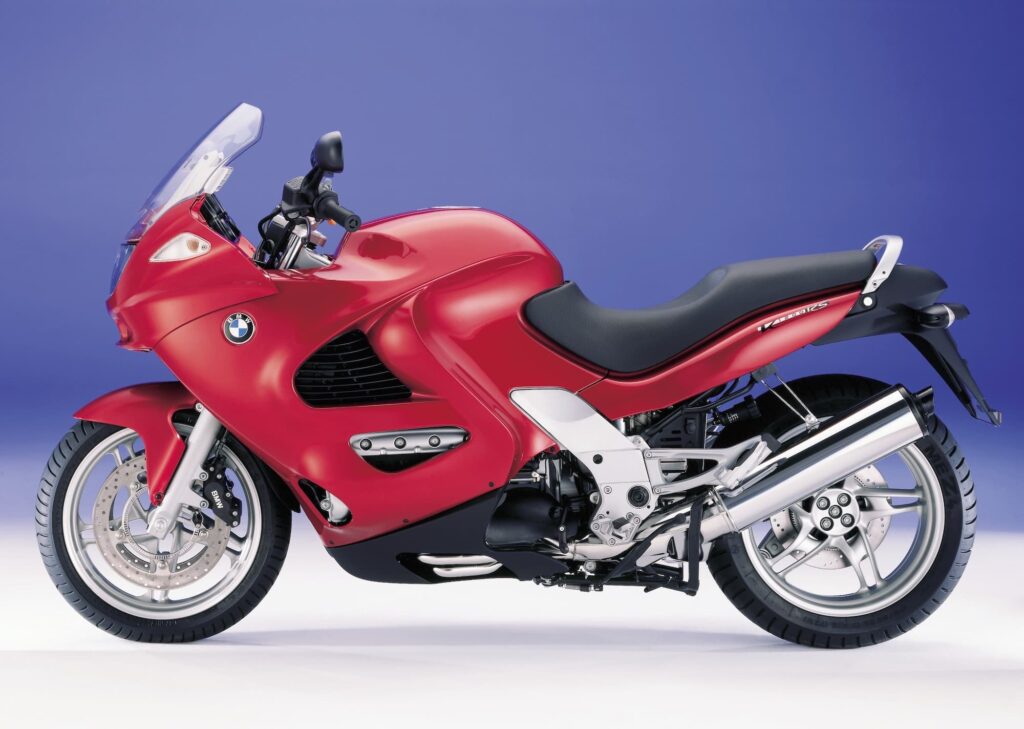 Let's talk briefly about specs of the K 1200 RS and put it into context.
| Part | Spec | Notes |
| --- | --- | --- |
| Engine capacity | 1171 cc | Longer stroke version of the K 1100 RS engine (5mm longer) |
| Engine design | Liquid-cooled inline four-cylinder, DOHC / 4 valves per cylinder, longitudinally/ horizontally mounted | |
| Bore / Stroke | 70.5 mm x 75 mm | Long-stroke engine (undersquare) |
| Compression ratio | 11.5:1 | |
| Peak power | 130 PS / 128 bhp / 97 kW @ 8750 rpm | Most powerful BMW at launch |
| Peak torque | 117 Nm / 86 ft-lb @ 6750 rpm | Very torque!! So torque |
| Front suspension | Telelever 35mm forks | |
| Rear suspension | Paralever, preload and rebound damping adjustable | See more about Paralever here |
| Front brakes | 2 x 320mm discs, 4-piston Brembo calipers | |
| Fancy bits | Optional cruise control, ABS, heated grips | Standard BMW fare these days, but pretty awesome back then |
| Wet weight | 285 kg / 628 lb | Yow, heavy! But typical of tourers (similar to an FJR1300) |
BMW K 1200 RS specs
The engine in the K 1200 RS lies flat and on its side. This means it's part of the "flying brick" generation of motorcycles that BMW started decades earlier with the K 100 RS, so named because it just looked like there was a brick in that bikini fairing.
See here for more about BMW motorcycle engine history.
The combination of a flat-lying engine and a shaft drive means that like on modern boxer Beemers, when you give the throttle a blip, the bike kicks over gently to one side. Character! Don't tell me BMWs don't have character. Weird character maybe, but even weird is character.
Riding the BMW K 1200 RS
I rode the BMW K 1200 RS quite a bit, determined to get some value out of it. I threw it around NorCal's back roads, commuted with it, and generally tried to get a complete impression of it.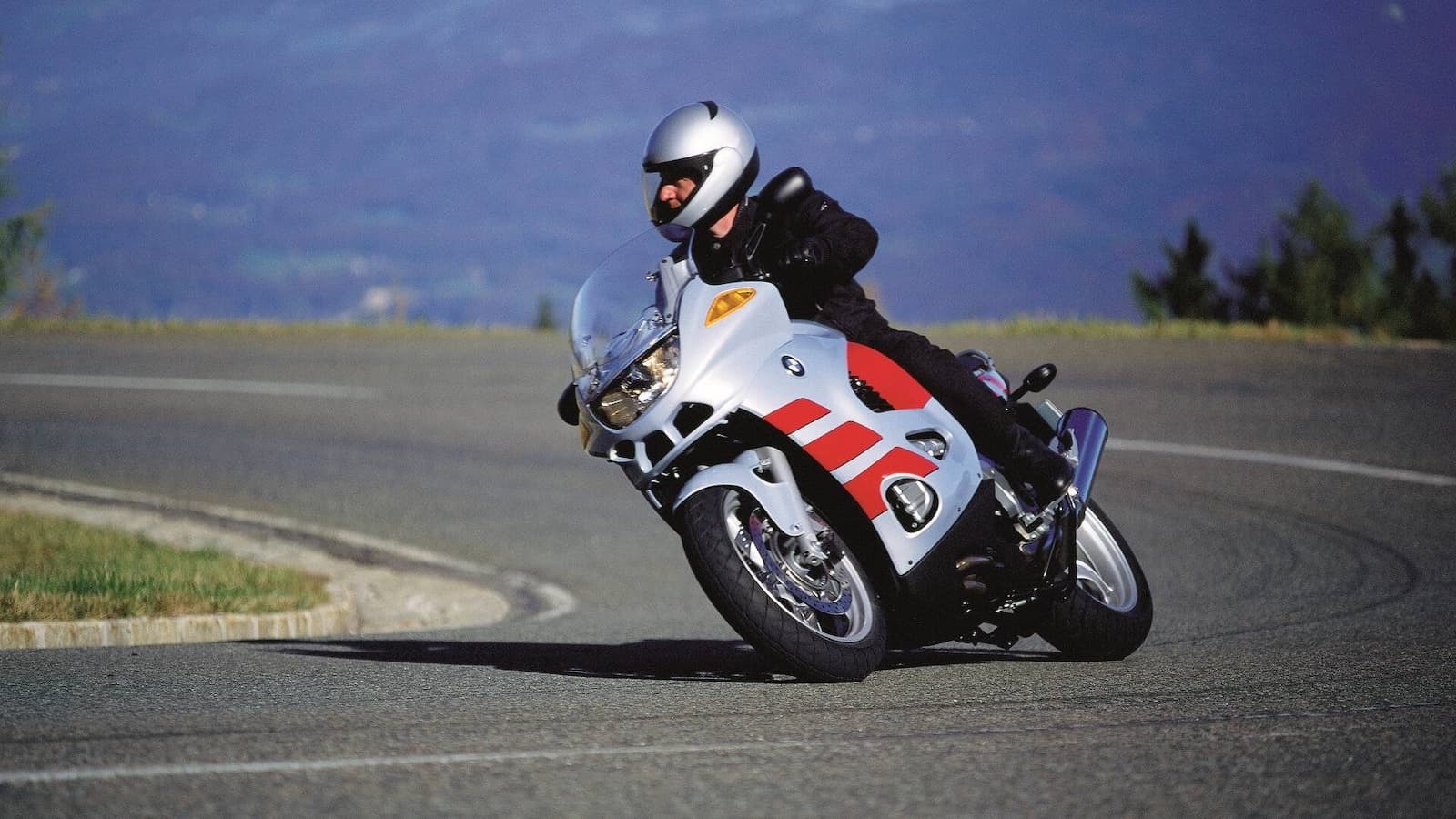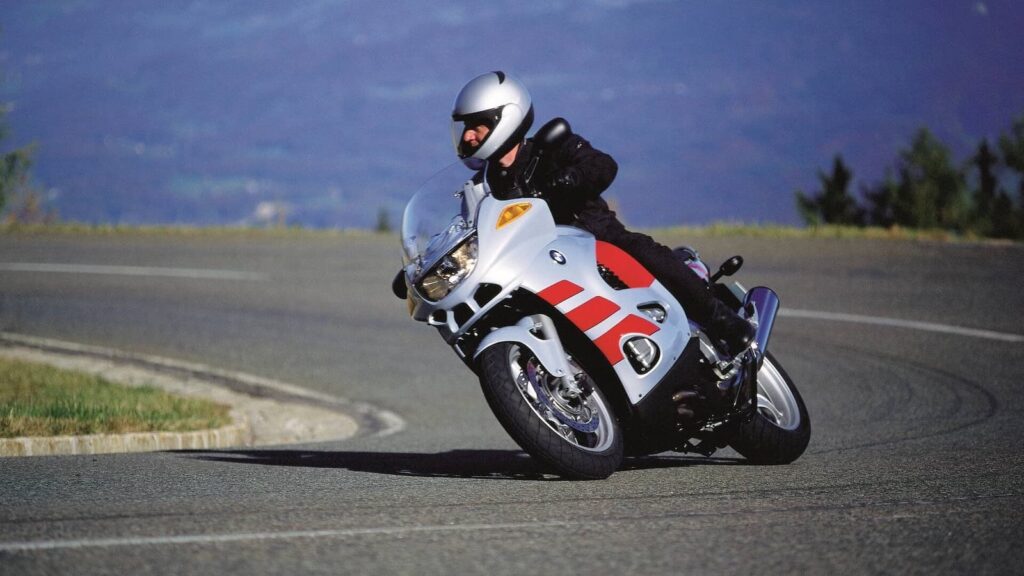 If you haven't noticed yet, I describe the K 1200 RS as "weird". This is very subjective — it was just weird for me. I think it'd still be weird for most people, though. (But if it's your only bike and you've had it for ages… then every other bike is weird!)
The first thing I noticed was the paddle shifters for the turn signals. I noticed these because the guy letting me take it for a test ride didn't explain them to me! To BMW (or Harley) owners, this is obvious, I suppose.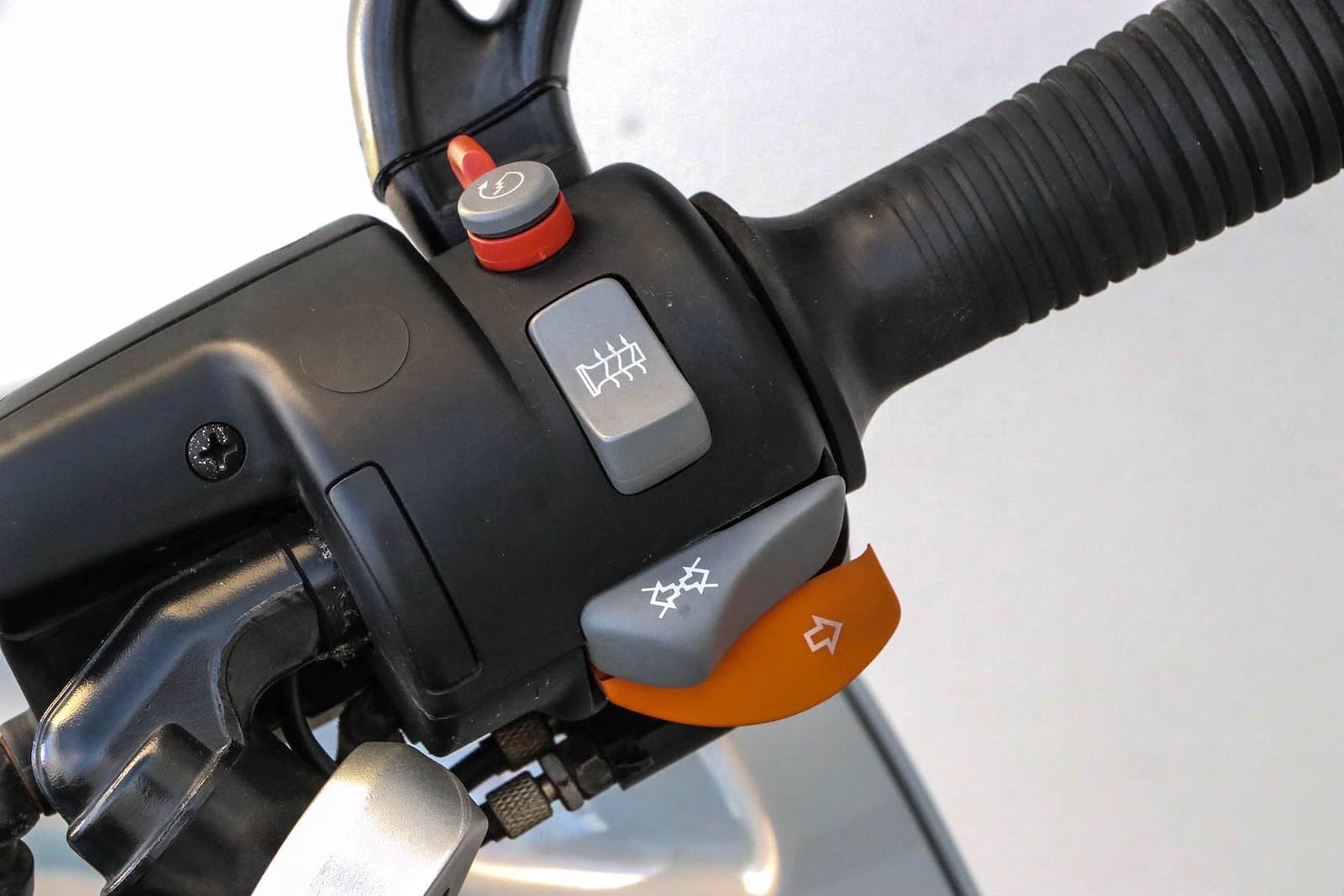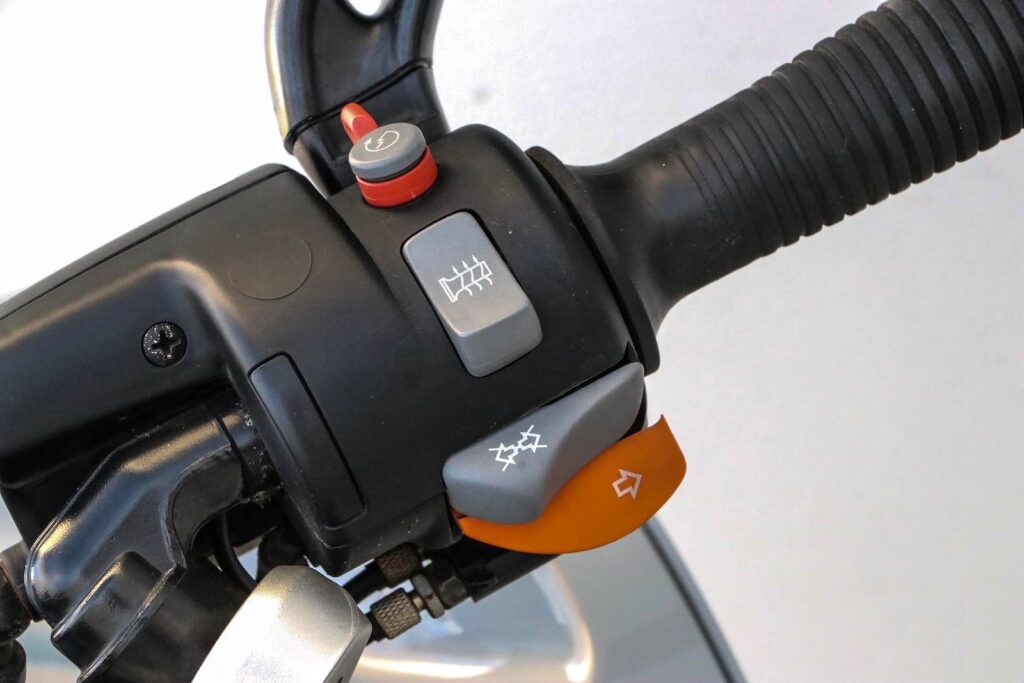 All BMWs of the time (and Harley and some other brands) had these paddle shifters. They did until the early-mid 2010s. After that, BMW shifted to what they call a "comfort" turn signal switch, which is a regular left/right/cancel button on the left controller.
Truth be told, I don't really care. I find the paddle shifters just as intuitive as any other bit of a motorcycle's controls. I like buttons (and dials) too. My main complaint was that switching between bikes was a bit annoying, as muscle memory kicked in. Secondly, there's more things that might fail, though it hadn't, of course.
Speaking of dials, I do really like the instrument cluster of the BMW K 1200 RS. Here's a pic of it.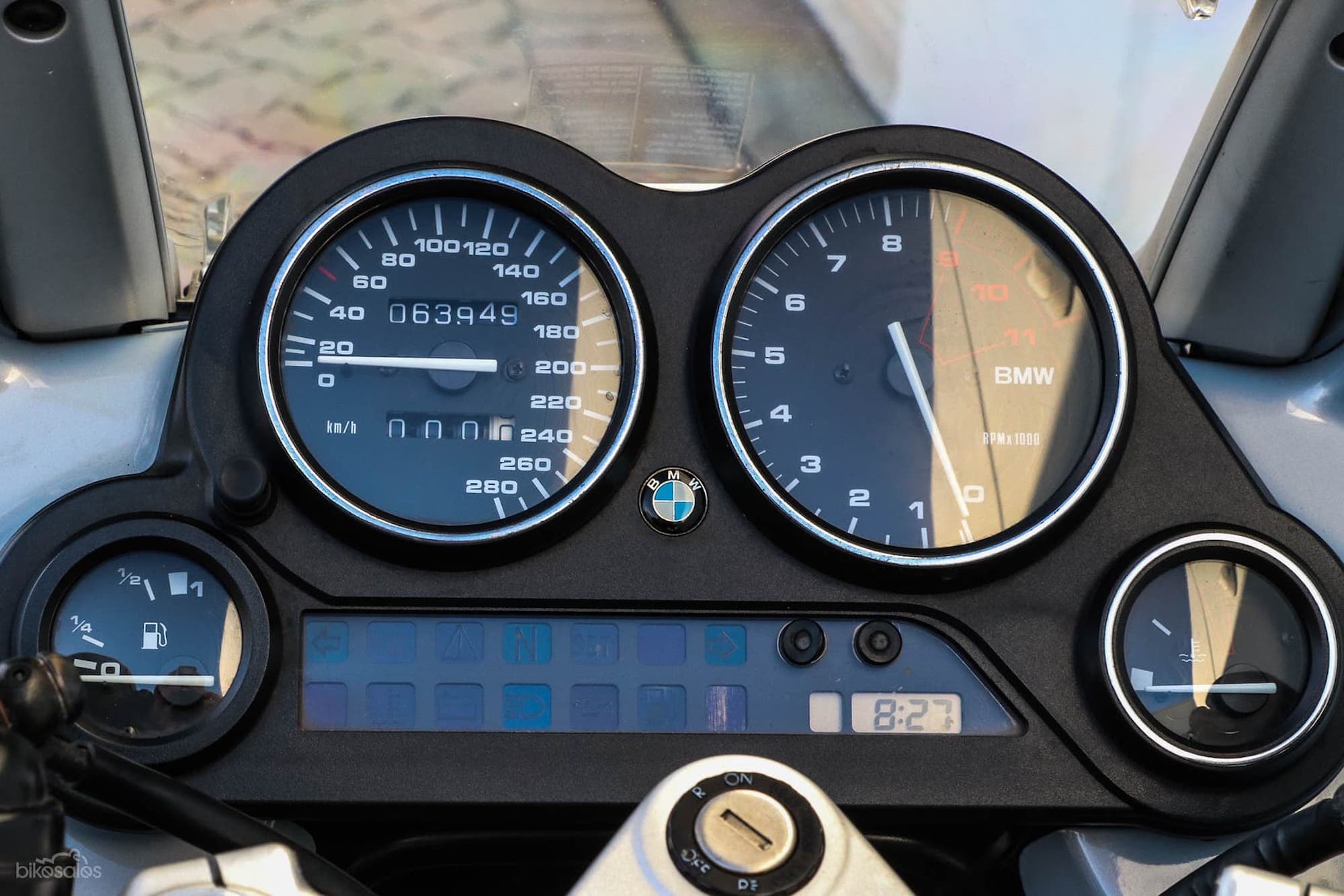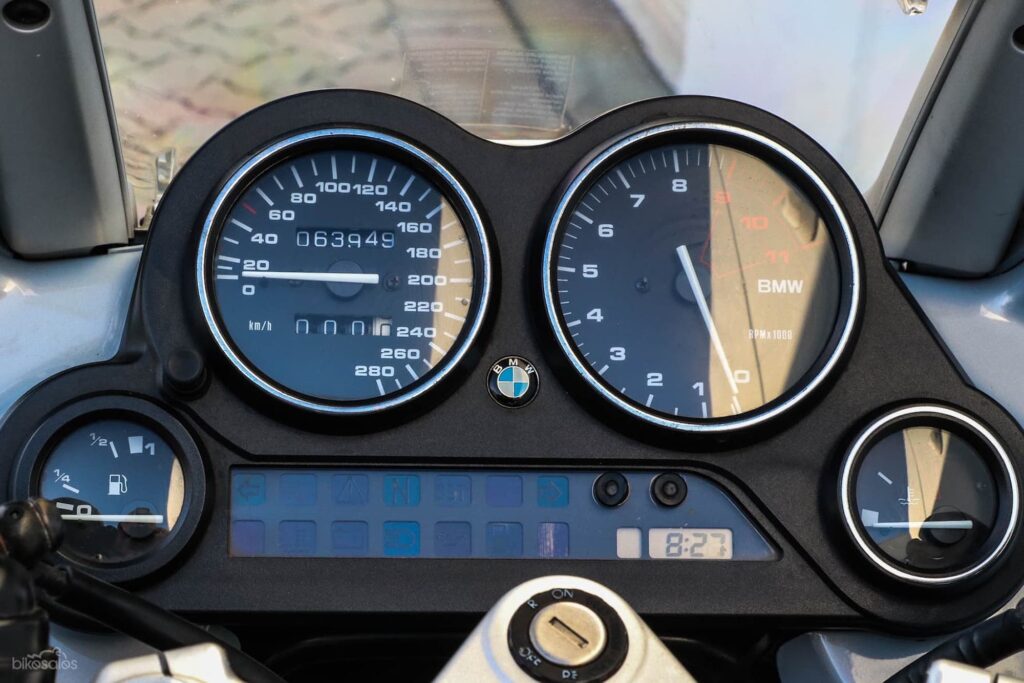 Ah, look at that dash. Big analogue gauges. Fuel and temperature gauges. Just like on my much more modern Hayabusa — and one of the weird reasons I love the thing. Although this one looks much more like a 1960s Space Shuttle simulator.
Secondly, I noticed that my BMW K 1200 RS didn't handle like other motorcycles I had ridden before. But that's because I hadn't ridden bikes so heavy, nor with a Telelever front suspension.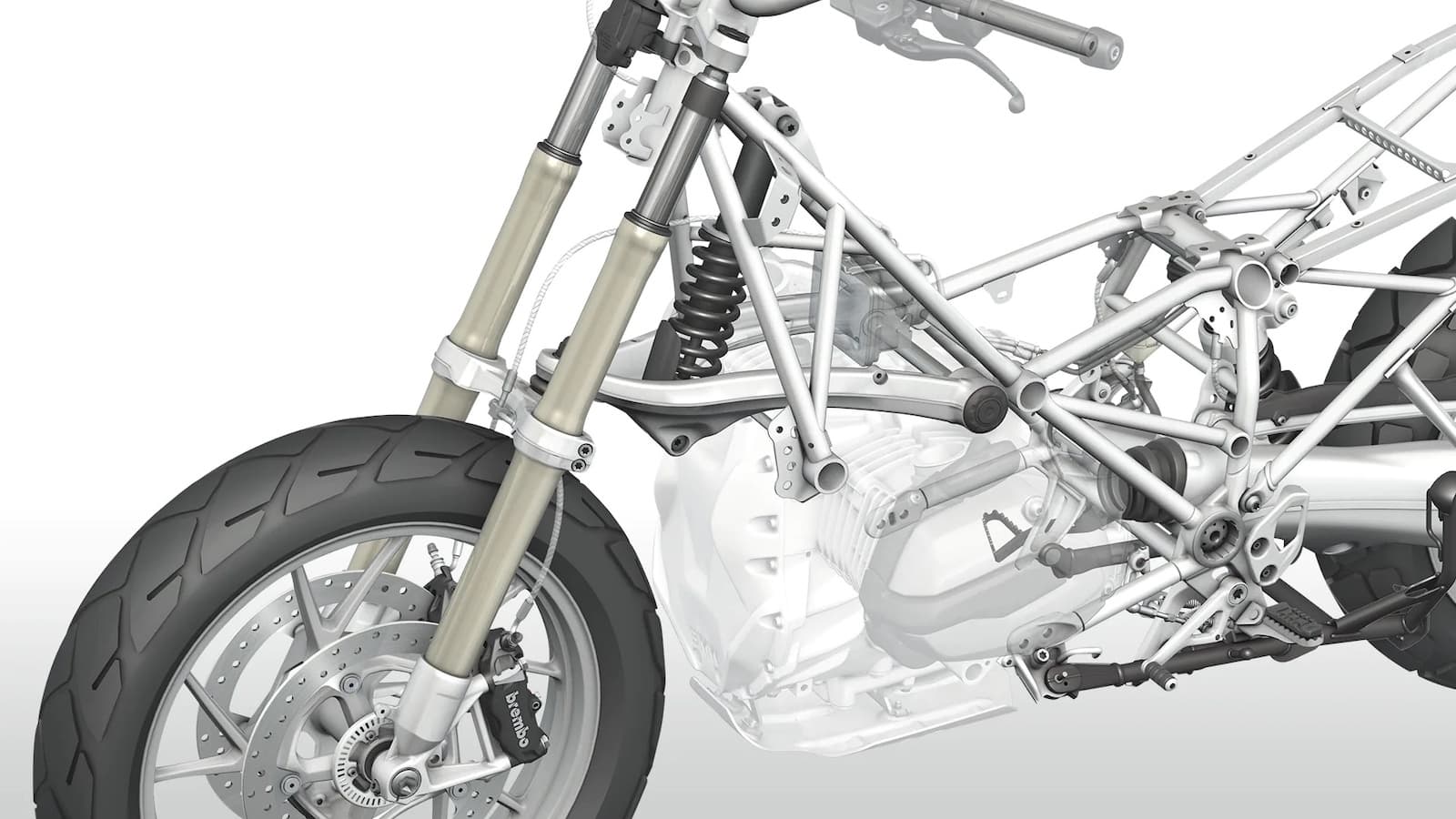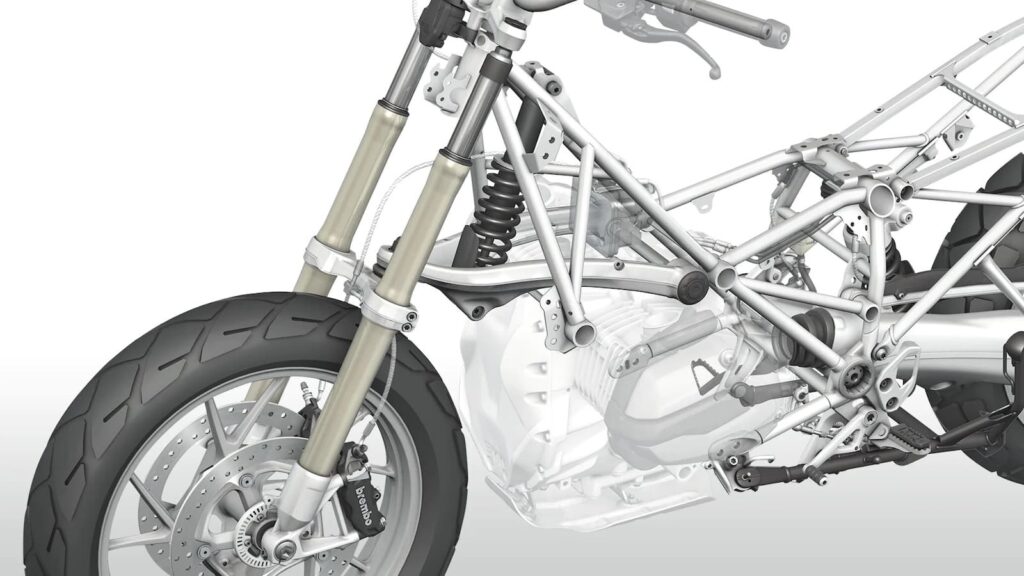 Telelever works by using a single spring/shock unit at the front. The spring/shock is supported by a wishbone. The fork tubes still slide, but they don't do any damping. The fork is essentially just there for holding the wheel and brakes in place.
The effect of Telelever is quite interesting, particularly on a heavy bike. The goal of suspension tuning is to optimise for stability, traction, and comfort. Telelever helps achieve this because the suspension geometry adjusts under braking and acceleration, keeping you level at all times — it greatly reduces "dive".
For example, when you brake heavily with a Telelever setup, the front strut compresses, but the forks (which are further out from the pivot point of the Telelever wishbone) compress less. This pushes the forks out, increasing the rake. This helps with a feeling of stability.
Unfortunately, this can also lead to a feeling of "vagueness" in the front-end. I think it just feels different from other bikes. I'm not a racer so I don't know the exact feeling of connectedness that racers want from the front-end of their motorcycles. I do know that BMW did put Telelever in one race bike, the HP2, but that was a short-lived experiment before the BMW S 1000 RR firmly captured our hearts with its conventional forks (and some other virtues I suppose).
Enough about other BMWs. Let's talk about the K 1200 RS' engine.
The next thing I noticed that was different about the K 1200 RS was the engine. At first opportunity on my test ride, I grabbed the throttle. I didn't get a "whoosh", but a determined surge forward that kept going. I was hooked! Four-cylinder bikes became my new thing.
When commuting, I frequently noticed how easy it was to go fast on a K 1200 RS. Small bikes let you know they're going fast very viscerally (the smaller they are, the more visceral the feeling). But big sport touring bikes commit a bit of sorcery by feeling the same way they do at low speeds to how they do at freeway speeds. No matter what the pace, you turn the throttle and it goes forwards.
In theory, the K 1200 RS has a top speed over 120 mph. I never pushed it over 100, but it was much more comfortable there than any other bike I had owned.
Finally, let's talk about comfort.
There's something BMW always manages to do well, and that's to build bikes that ergonomically suit a lot of different people. It's partly from good conception and partly through adjustability. The K 1200 RS is a bike like this.
The moment I sat on it, I thought "ahh". So that's what sport tourers feel like! I was leaning forwards, though not so much — my hands were definitely above tailbone height. But I wasn't in a "sit up and beg" position like I was on my other sporty touring bike, my Ducati Multistrada 1000DS (yes, I have a thing for weird old bikes).
I really like the sport touring riding position. There's a meandering thread of bikes I ride that are generally pointing towards 120-150 hp (90-120 kW) bikes that weigh around 220-230 kg (500-522 lb), on which I'm leaning forwards but not committing myself in full tuck. Yes, I just described the Ninja 1000 and the GSX-S1000. Or maybe I'll modify my Hayabusa…
Should you get a BMW K 1200 RS?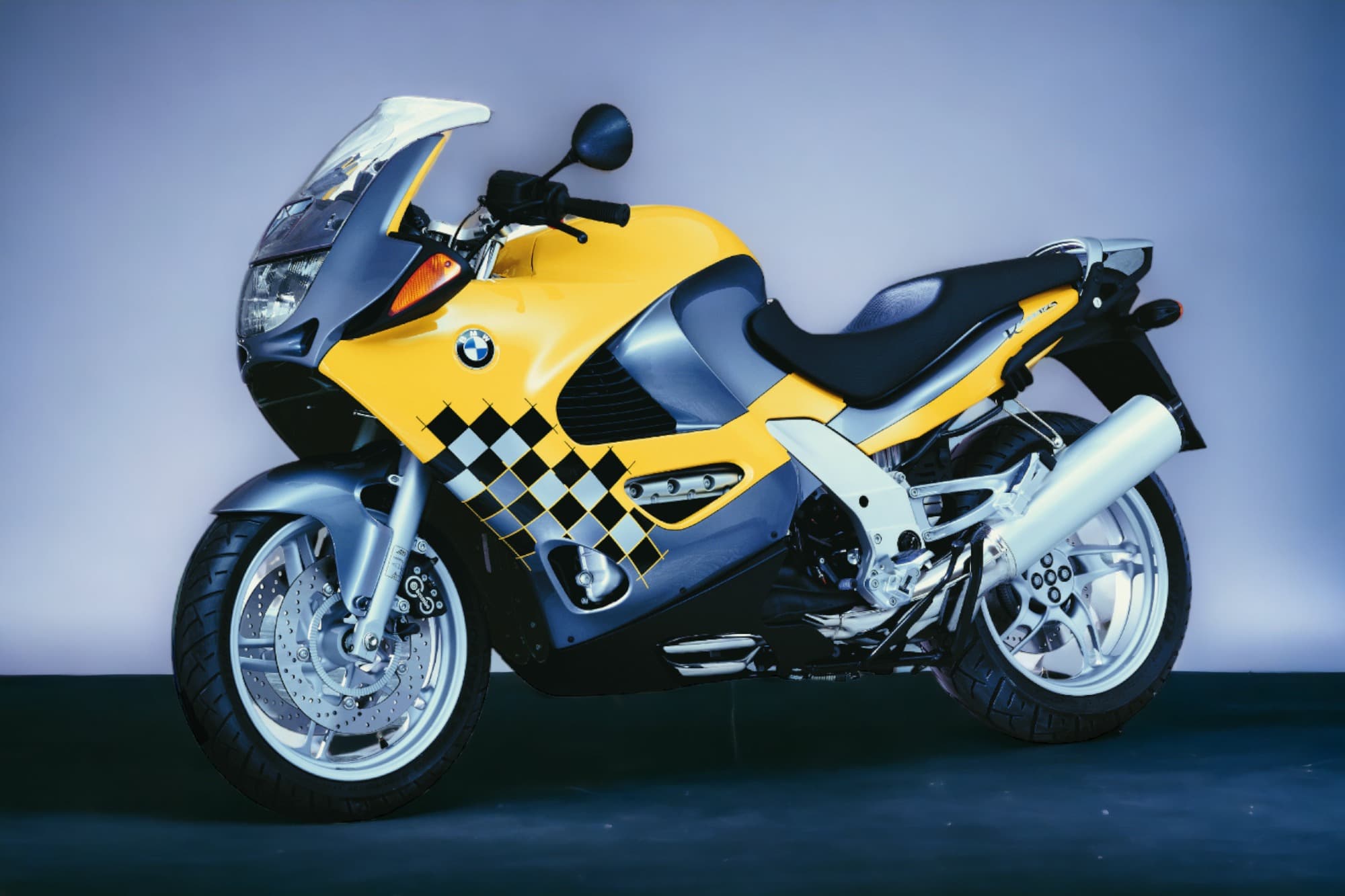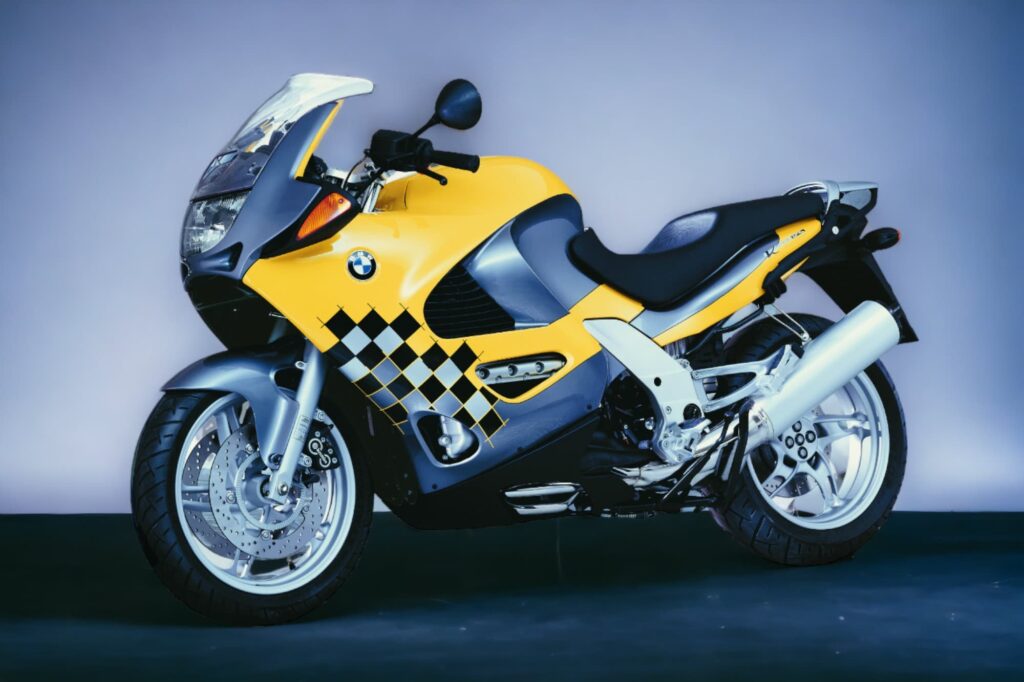 In a word: No. In two: Probably not. But in more words: Sure, if the opportunity presents itself, and you're into weird things.
The only reason I'd suggest you get the BMW K 1200 RS would be if it were your 20th bike and you were starting a museum. Or if you just think it's weird in that typically BMW way and you want one (I don't blame you) despite the ticking time bomb of the ABS.
The thing that ails most old motorcycles is that bits of them inevitably fail even short of total engine failure.
A few things that might blow on your old K 1200 are
The ABS controller. If you have servo-assisted brakes (later years only — I believe 2002 onward for the K1200), then you'll be left with residual braking power only. This will feel like braking in a car when it's off — it'll work, but you'll need a lot more pressure. Sometimes brake failures can be caused by sticking calipers or master cylinders, or just a leak. But an ABS controller failure basically means you either dump ABS or invest thousands of dollars into a replacement.
The stator coil. It tends to go on most old bikes at some point. Luckily you can send these to be rewound by a sparkie.
Suspension units. Again, you can probably get these rebuilt… but pulling bits off a fully faired bike that's nearly 300 kg is an annoying or expensive endeavour.
The other thing to note about the K 1200 RS is that you can get many of its benefits in other bikes.
If you want a sport touring bike with Telelever / Paralever suspension, get a later R 1200 bike, like the R 1200 RT or even the more recent R 1250 RT. But you'd miss out on having a four-cylinder engine. (The R 1200 RS has conventional forks.)
If you want a bike with a four- (or six-) cylinder engine, get one of the later K 1300 or even K 1600 bikes, the latter of which are definitely just "touring" and not really "sport". (The K 1200 bikes were fine, but they're annoying to work on from some perusal of forums, and these days the price difference isn't huge.)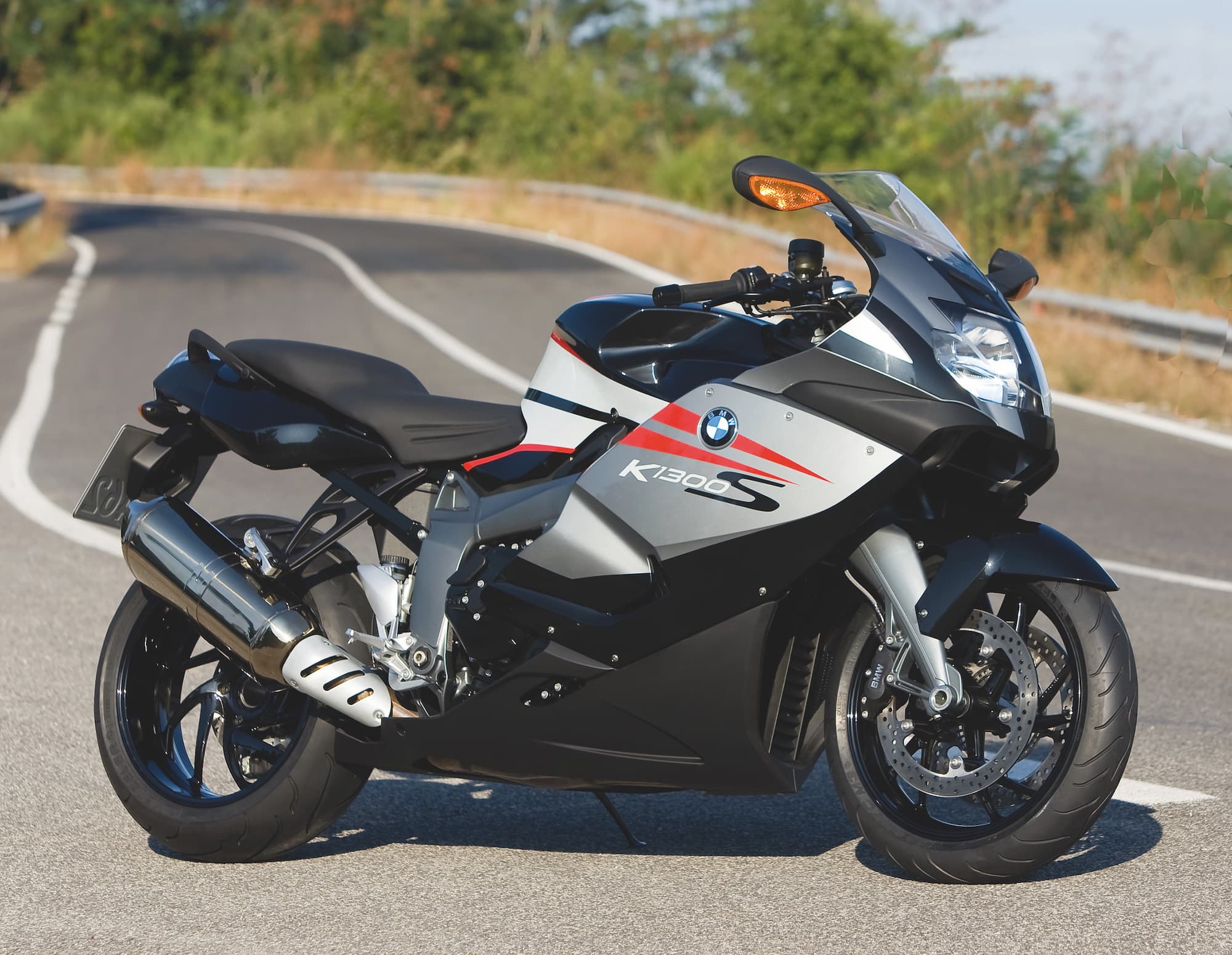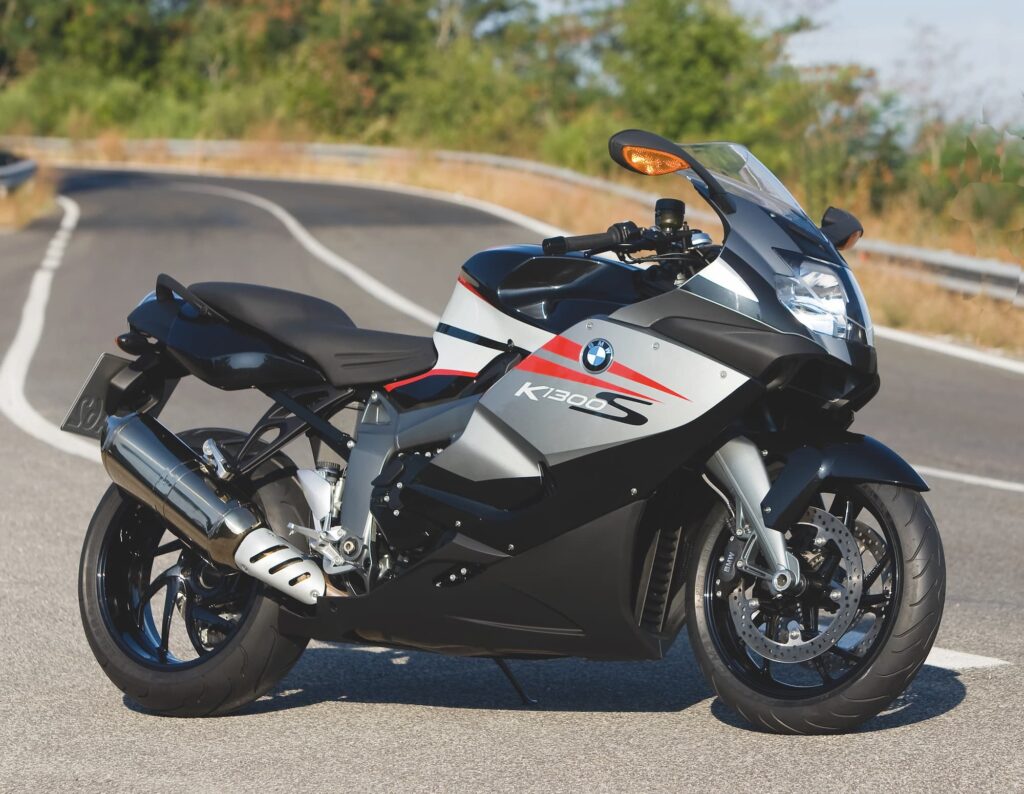 But still, you'd miss out on having one of the "flying bricks". The K 1200 S and later have transversely mounted engines.
And if you just want a sport tourer with a shaft drive that's super reliable — I'd point you at the Yamaha FJR1300. There's a reason they've barely changed over the years and still very popular with police departments who beat them to death and still eke out very long service lives out of them.
But you'd miss out on Paralever / Telelever. That, and you'd look even more like a cop!
Look, if you want all those things, or just want a piece of museum history… well then, maybe the BMW K 1200 RS will serve you well.
Here's one I saw in a local classifieds ad that reminded me they exist. They do look nice from certain angles…