It always starts like this: an affordable, iconic bike shows up at a local dealer and I think "Oooh, should I get it?". In this case, it was a 2006 BMW R 1200 GS, a seemingly affordable segment of the long BMW GS line.
Equipped with panniers, heated grips, ABS, with relatively low mileage and being in good condition, I thought: is this it? Is it really time for me to finally get a GS?
It rode well during the test and I liked it. It felt like driving a diesel Toyota Hilux. But I was plagued with the usual questions about an unfamiliar bike. I knew very little about the GS series other than a) they're awesome, b) they're usually expensive, c) naysayers say "my dirt bike/Africa Twin/KLR is better", and d) "something something Ewan McGregor".
So here's what I wanted to know
How did the BMW GS (one of the most popular designations) evolve over the years?
How is it different from the earlier R 1150 GS, and later R 1250 GS?
Which model years of the GS series are best, and which ones should I avoid?
Can you really go off-roading on them, or are they "too much bike"?
What's the maintenance like on the GS series?
Which BMW GS is the "value pick"?
So after a lot of reading, sitting on bikes, a few test rides, poring over forums, and talking to dealers (some of them know stuff), here's what I've learned: my full guide to the BMW GS Boxers, from the R80 G/S to the R 1250 GS (and beyond). I'll keep this updated.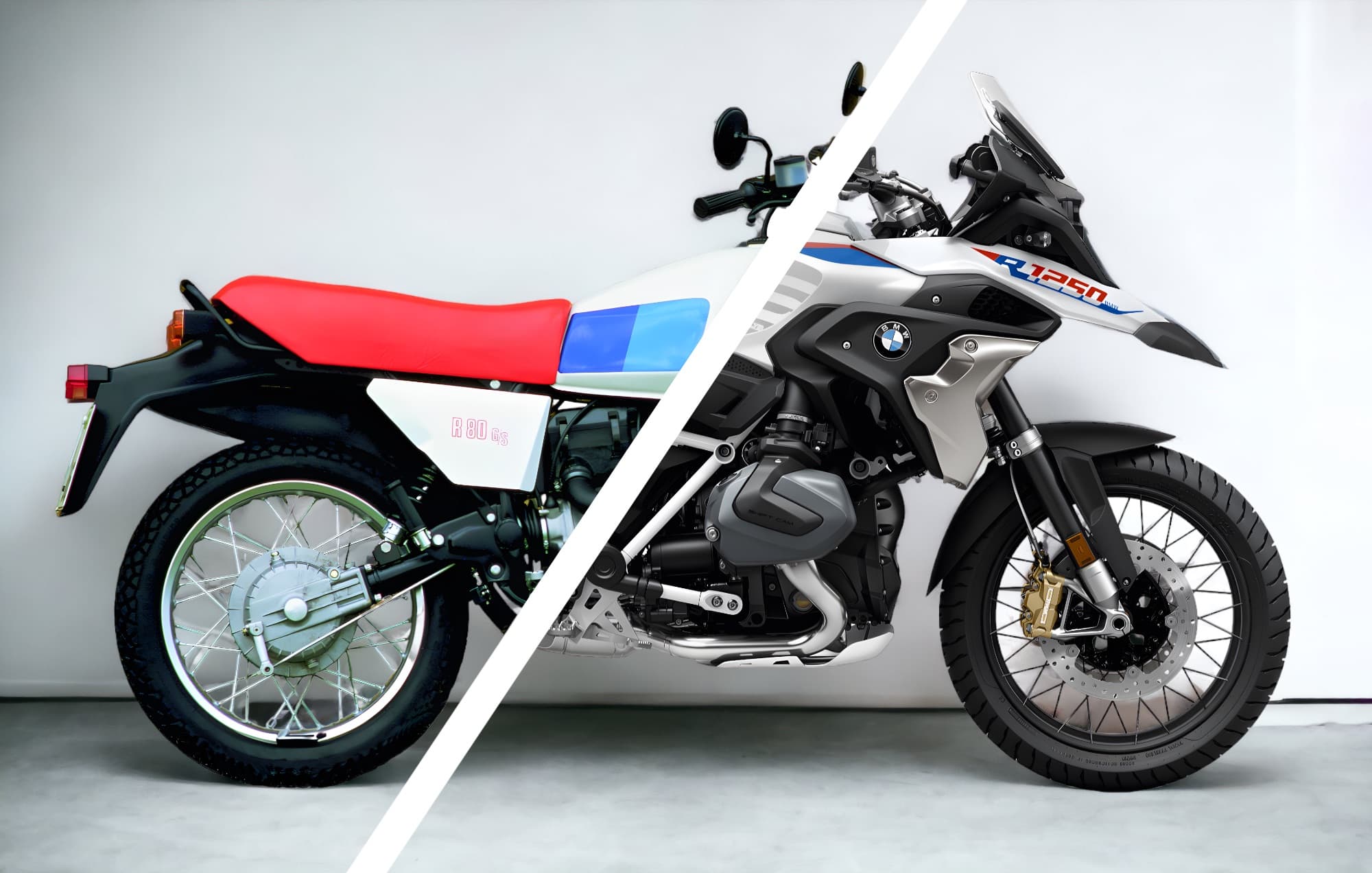 Are you obsessed with motorcycles?
Well, I am. That's why I created this site — as an outlet. I love learning and sharing what others might find useful. If you like what you read here, and you're a fraction as obsessed as I am, you might like to know when I've published more. (Check the latest for an idea of what you'll see.)
A Brief History of the BMW GS range
The BMW R – GS motorcycle range is almost synonymous with the "adventure" motorcycle market. This isn't to say that it's necessarily the best, but it's among them. For people who like the character of the boxer twin and other aspects of the brand, there's no competition. (But there is competition in general — see the end section).
The BMW R – GS motorcycles' history is also interwoven with the history of BMW boxer engines and how they've evolved over time. So see the guide to BMW engines to get a better understanding of things like "airhead", "oilhead", and so on.
The GS has a long and storied history which has been told by many and much of which isn't relevant. If you're a BMW geek, you know it already, and this guide isn't for you.
But the GS has been around for so long it's almost irrelevant to think about what came out before it. There were definitely enduro motorcycles before, and other motorcycles shoehorned into enduro format, plus the motorcycles that formed the basis of the first G/S.
The fact is, though, that it's getting very hard to find BMW GS models older than the 1100. Yes, you can find the R 100 GS, R 80 GS and R80 G/S, but they're generally at "collectible" prices, and people include the time and money invested in restorations.
One can see examples of the BMW R 1100 GS, but they're often high mileage. The R 1150 GS is also rare, but at least I occasionally find them with less than 100,000 km.
Here's a brief history of the GS range, which started as the G/S range.
BMW presented the first R80 G/S in autumn 1980. It was, compared to modern GS motorcycles, a pretty simple affair with only one goal: to be able to be ridden on-road and off-road.
The R80 G/S came with a number of innovations compared to the R65 on which it was based (sharing a chassis). The most significant of these was a single-sided swingarm/driveshaft. This was called the "Monolever" suspension design. BMW iterated on this with the R 100 GS, introducing the Paralever system, still used today.
The dual-purpose intention of the R80 G/S was the source of name G/S, which means "off-road"/"road" (see below for a further explanation).
From the R 100 GS, BMW changed the name from G/S to GS, redefining it as more of a "road tourer" at the time. Through to today, there have been many iterations on the big boxer, with it dancing back towards being large big enduro bike again.
Initially, all BMW G/S and GS motorcycles were powered by boxer twins. This is the engine configuration they're known for, and it's the focus of this guide. But from 1993, BMW introduced its first variant — a single cylinder-powered F 650 GS "Funduro".
The BMW F 650 GS "Funduro" was quite a significant step for the Bavarian brand. In fact, it wasn't even made in Germany. Its engine was made by Austrian engine manufacturer Rotax, and the motorcycle was assembled by Aprilia in Italy.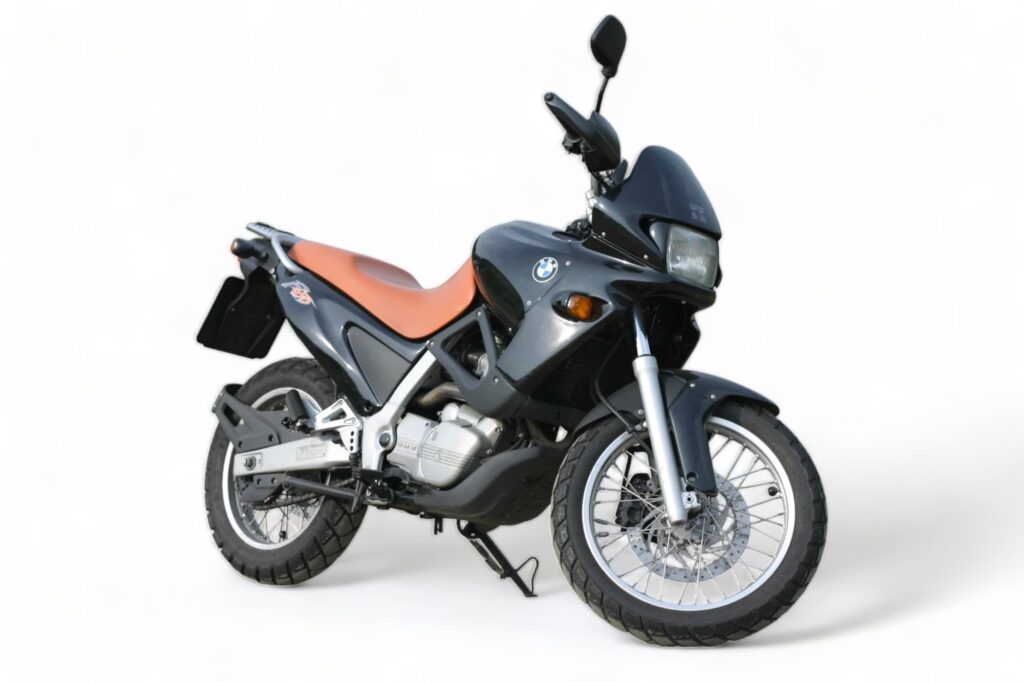 The F 650 GS Funduro was BMW's first chain-driven motorcycle in decades. It started a mini line of single-cylinder chain-driven enduro bikes. BMW replaced the F 650 GS Funduro with the F 650 GS non-Funduro from the year 2000, bringing all manufacturing and assembly back in-house.
BMW kept iterating on this line, releasing a few more variants with different degrees of off-road capability, culminating in the BMW G 650 GS Sertão, which was sold until 2012.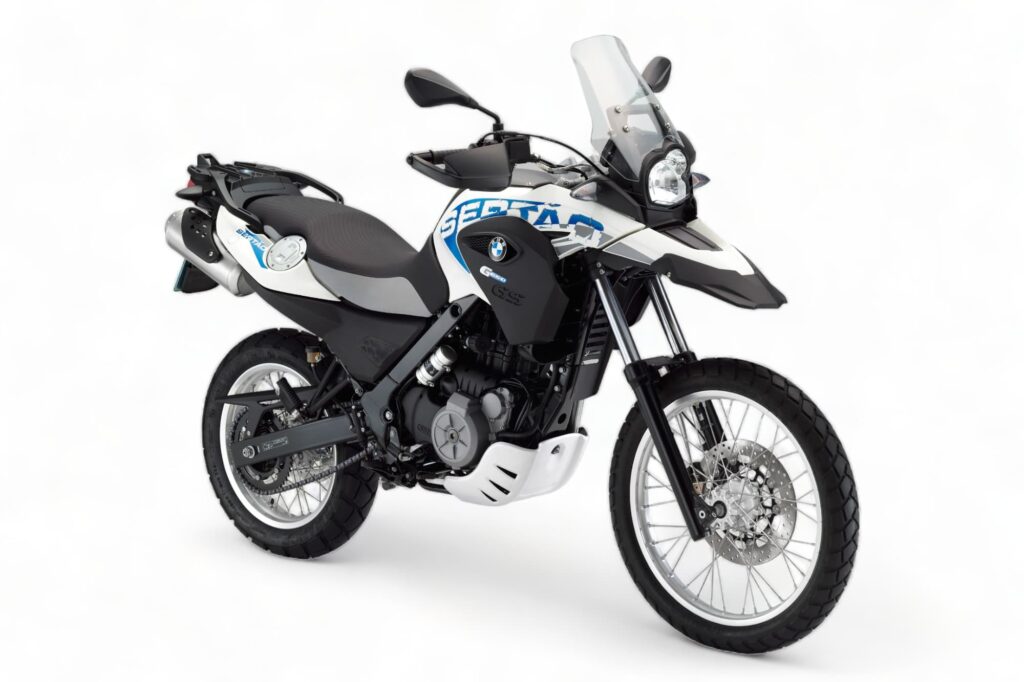 BMW discontinued its big thumpers after the Sertão. There's the BMW G 310 GS, an entry-level GS-branded motorcycle, but it's really more of an upright commuter (which you can of course take adventuring — it's just not explicitly designed for that), and not a "thumper" really.
The single-cylinder BMW GS bikes are now affordable entries into the adventure motorcycling world. They're a little heavy, but they're high-quality and well-liked, and quite affordable — especially considering the brand. I'll put up a separate guide on them soon.
While BMW was making its singles, they expanded the line of mini-GS bikes to include twin-cylinder engines. BMW launched the first of these, the first F 800 GS, for the 2008 model year, selling it in parallel (get it?) with the singles at first.
The first-gen BMW F 800 GS was powered by a 798-cc liquid-cooled parallel twin. At first, BMW made a big deal out of the 360 degree firing offset in the engine. This meant the pistons moved up and down together, but they took turns firing. This gives the engine much the same sound and character as the big boxers.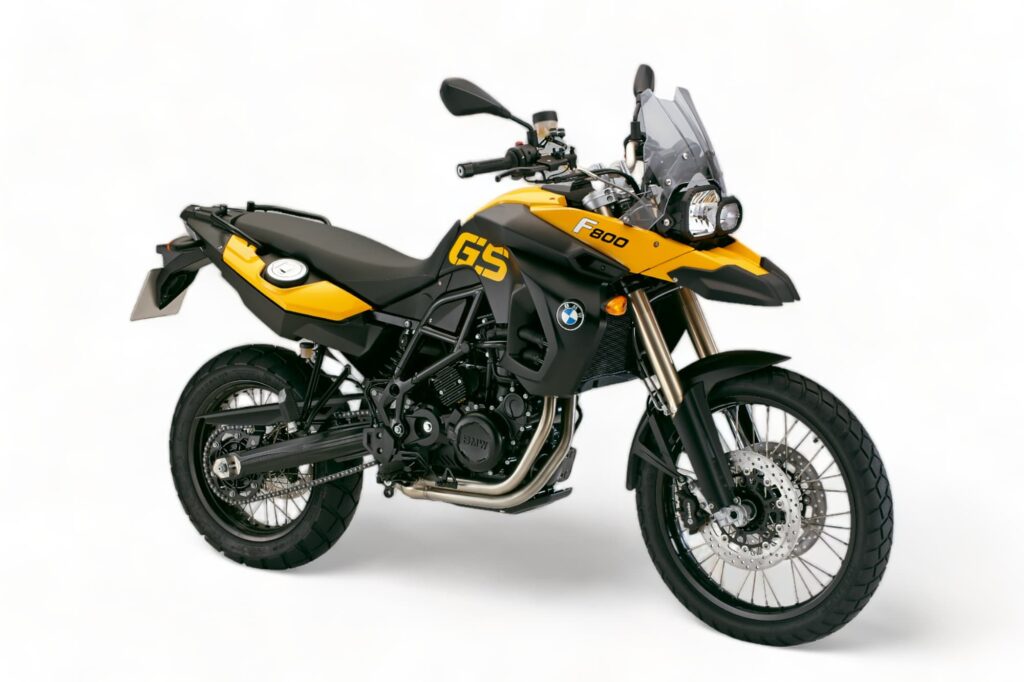 Alongside the F 800 GS, BMW re-released the F 650 GS as a parallel twin… also powered by a 798-cc engine, but detuned for lower performance. The rest of the bike is lower spec too. This was when the F 650 GS (single) became the G 650 GS, by the way.
It's interesting to note that BMW perceived the association between its own brand and the sound and feel of the boxer twin to be so strong that they went out of their way to give a parallel twin the same character — but only initially.
BMW has iterated constantly on the F 800 GS line, also introducing the F 800 GS Adventure. With the BMW F 800 GS, BMW didn't just expand the engine size, they moved to a 270-degree crankshaft firing order, as is the style these days.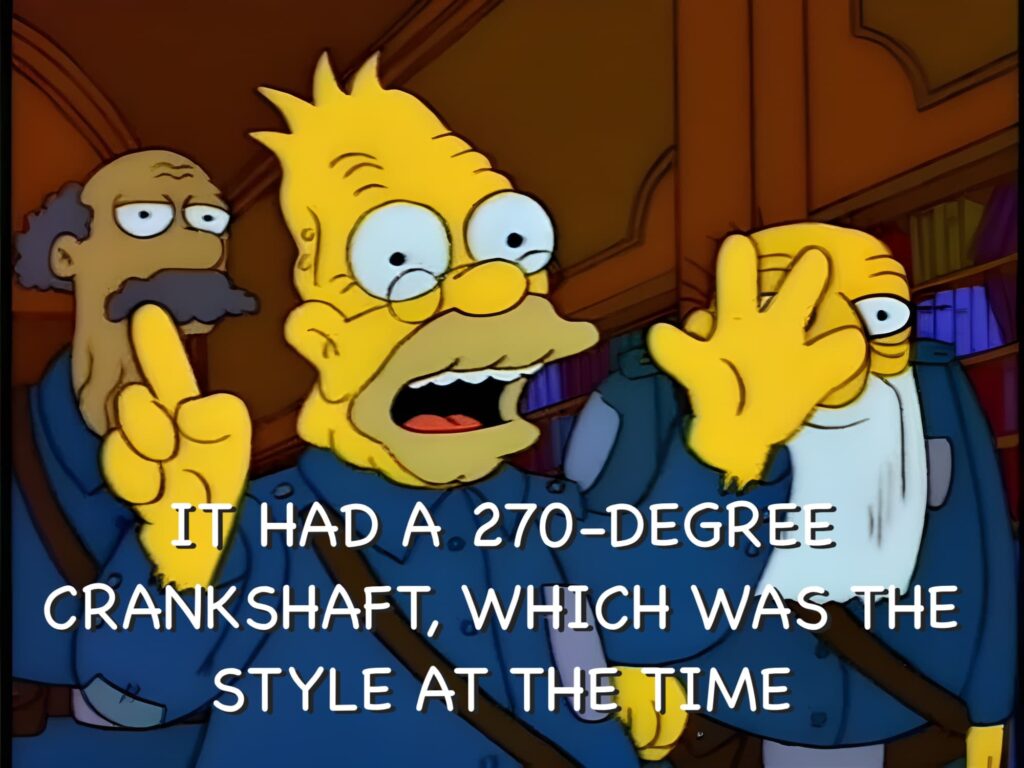 Here is more about the 270-degree crankshaft and why it's kind of a big deal.
In late 2023, BMW upped the ante again and released the F 900 GS, based on the same parallel twin in the F 900 XR middleweight adventure sport tourer.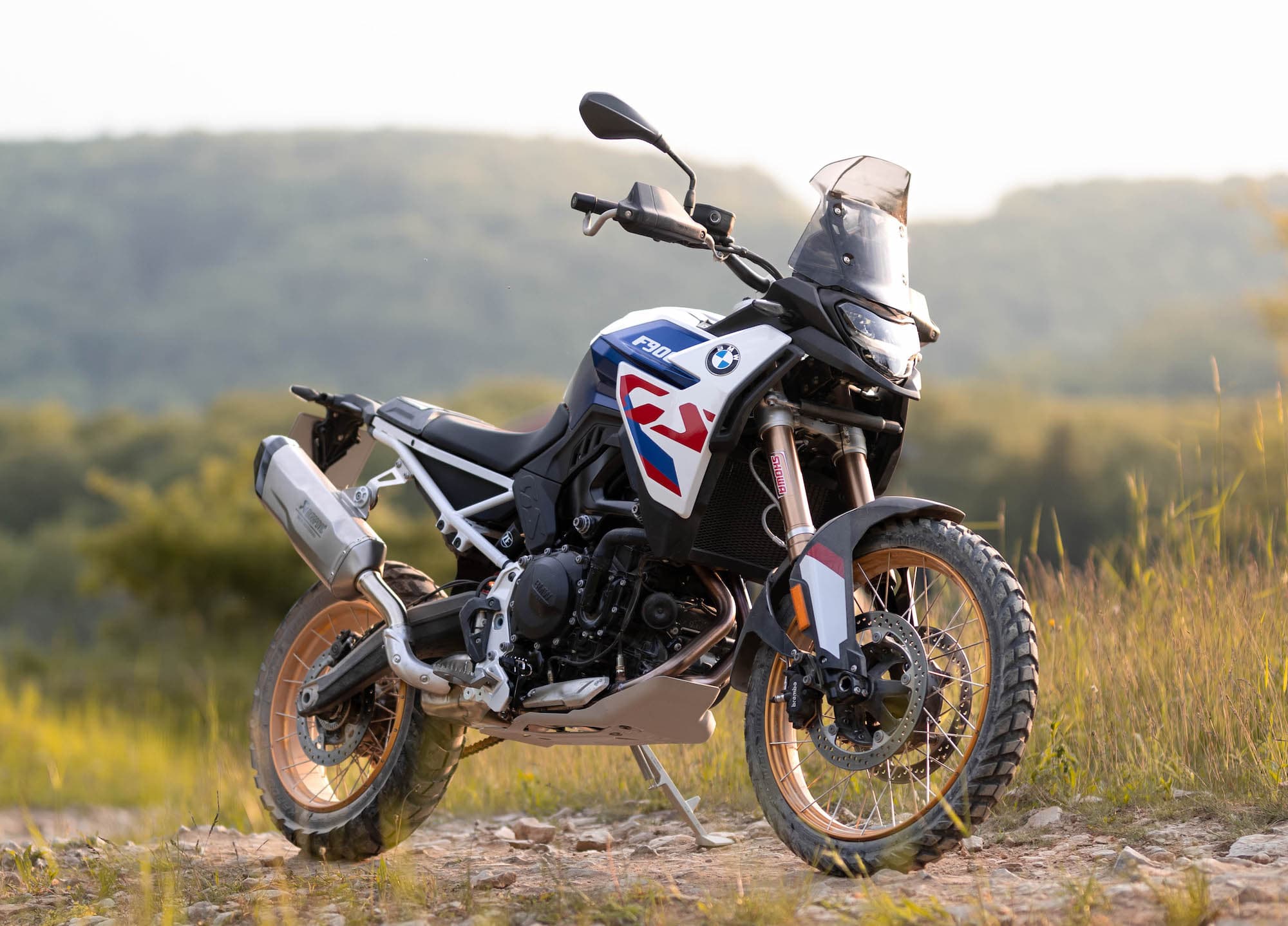 Concurrently with the F 900 GS, BMW released the lower-spec F 800 GS, replacing the outgoing lower-spec F 750 GS, but having little to do with the earlier F 800 GS. Ah, BMW and their naming conventions — they definitely don't make it easy for us.
Needless to say, the parallel twin F-GS motorcycles are worthy of their own, separate guide, too!
But the universal theme among the F-GS parallel twin bikes — particularly the higher-spec ones, and especially the Adventure models — is that many experienced riders think they're the better motorcycle than the flagship boxer-powered bikes. It's an "if you know, you know" type of situation — there are no right answers, of course.
The parallel twins are lighter, narrower, still very torquey/powerful (you can do 100 mph / 160 km/h with two people and luggage — plenty for most people), and very high-spec.
There have been (and still are) BMW GS motorcycles with single-cylinder engines, parallel twin engines, and boxers of course, and air cooling, oil cooling, and liquid cooling. The most modern GS bikes even have variable valve timing.
There have also been other GS-inspired motorcycles from BMW, like the BMW R nineT Urban G/S, and the G 310 GS, which has GS notes but is really marketed as a commuter.
The spec level has changed dramatically over the years. Below are the earliest and most recent GS motorcycles, for example, in a comparison table.
Item
Original BMW R80 G/S
BMW R 1250 GS Adventure
Notes
Engine
Air-cooled boxer, two valves per cylinder
Liquid-cooled boxer, four valves per cylinder
So much has changed… but it's still a boxer!
Engine Capacity
798 cc
1254 cc
Peak power
37 kW / 50 hp
100 kW / 136 hp @ 7750 rpm
Obviously more power
Gears
5
6
+1
Final drive
Shaft
Shaft
Samesies!
Suspension
Telescopic forks / Monolever
Telelever / Paralever
Big changes
Weight (kerb)
186 kg / 410 lb
(sources vary, but around this)
268 kg / 591 lb
Quite a lot heavier
Ride aids
Your hand / Brain / None
All of them (other than radar)
Still no radar
BMW R GS series evolution
I'll update this when the BMW R 1300 GS is released. I expect radar, at least.
Engine Evolution
Even though the big BMW GS bikes have always been boxer powered, there's a lot that has evolved under the hood.
The specs don't tell the whole story, but at least they'll provide an overview so you can see how the major numbers and features have changed.
Item
R80 G/S
R 100 GS
R 1100 GS
R 1150 GS
R 1200 GS
(Hex)
R 1200 GS
(08-09)
R 1200 GS
(Cam)
R 1200 GS (Wet)
R 1250 GS
Engine capacity
798
980
1085
1130
1170
1170
1170
1170
1254
Bore
84.8
94
99
101
101
101
101
101
102.5
Stroke
70.6
70.6
70.5
70.5
73
73
73
73
76
Cooling system
Air
Air
Air/oil
Air/oil
Air/oil
Air/oil
Air/oil
Partially liquid
Liquid
Compression ratio
8.2:1
8.5:1
10.3:1
10.3:1
11.0:1
12.0:1
12.0:1
12.5:1
12.5:1
Knock sensor
N
N
N
Adv only
Y
Y
Y
Y
Y
Valves per cylinder
2
2
4
4
4
4
4
4
4
Valve drive
?
?
Single cam, pushrods
Single cam, pushrods
Single cam, pushrods
Single cam, pushrods
DOHC
DOHC
DOHC, ShiftCam
Gears
5
5
5
6
6
6
6
6
6
Peak power
37 kW / 50 hp @ 6500 rpm
44 kW / 60 hp @ 6500 rpm
55.4 kW / 74.3 hp @ 6750 rpm
62.5 kW / 85 hp @ 6750 rpm
74 kW / 100 hp @ 7000 rpm
77 kW / 105 hp @ 7500 rpm
81 kW / 110 hp @ 7750 rpm
92 kW / 125 hp @ 7750 rpm
100 kW / 136 hp @ 7750 rpm
Peak torque
57 Nm / 41 lb-ft @5000 rpm
76 Nm / 56 lb-ft @ 3750 rpm
97 Nm / 71 lb-ft @ 5250 rpm
98 Nm / 71 lb-ft @ 5250 rpm
115 Nm / 85 lb-ft @ 5500 rpm
115 Nm / 85 lb-ft @ 5750 rpm
120 Nm / 88 lb-ft @ 6000 rpm
125 Nm / 92 lb-ft @ 6500 rpm
143 Nm / 105.5 lb-ft @ 6250 rpm
Reference
CW (2012)
CW
CW
BMW (DE)
BMW
BMW
BMW
BMW
BMW
BMW R – GS Boxer engine evolution
Chassis / Body Evolution
Aside from the engine, BMW also made significant updates to the chassis of the BMW GS motorcycles
This includes changes to the wheel sizes, suspension, and brakes.
| Item | R80 G/S | R 100 GS | R 1100 GS | R 1150 GS | R 1200 GS | R 1250 GS |
| --- | --- | --- | --- | --- | --- | --- |
| Front suspension | Fork | Fork | Paralever | Paralever | Paralever | Paralever |
| Rear suspension | Monolever | Telelever | Telelever | Telelever | Telelever | Telelever |
| Front brake | Single disc | Single disc | Twin discs | Twin discs | Twin discs | Twin discs |
| Front wheel size | 21-inch | 21-inch | 19-inch | 19-inch | 19-inch | 19-inch |
| Reference | CW (2012) | CW | CW | BMW (DE) | BMW | BMW |
BMW R – GS Boxer engine evolution
Evolution of BMW Ride Aids in the R – GS series
In the beginning, for over a decade, the only ride aid was your throttle hand, which is fine, unless yours tends to malfunction, as mine does…
The chronology of ride aids is a little dizzying, so I've tried to pull in everything from the press releases into this one section. So much is hidden in little announcements called "facelifts" which you might assume were just paint scheme revisions, until you read the details…
The first BMW R – GS motorcycle with any ride aids was the R 1100 GS, which came with optional ABS.
This continued with the R 1150 GS, which in its later years adopted "whizzy" servo-actuated brakes in the bikes with ABS. They work well, but when they fail, you lose most braking power — not just ABS. (See below for a discussion of this, the expense in replacing it, and other options.)
BMW kept the servo-actuated brake system in the 2004-2007 BMW R 1200 GS. From the 2008 R 1200 GS, BMW updated the ABS system to a quieter, more reliable one. At the same time, the 2008 GS was the first with traction control, which BMW calls Automatic Stability Control, or ASC.
The 2008 model year was also the first year with optional electronically adjustable suspension, termed "Enduro ESA". You could change the suspension settings — on/off-road, preload level, and damping level — using the buttons on the handlebar. Neat! (Note that it's not "Dynamic" suspension.)
The 2010 "Camhead" R 1200 GS kept optional Enduro ESA, plus ABS and ASC.
The 2013 liquid-cooled R 1200 GS brought with it more tech. BMW introduced ride-by-wire, introducing ride modes, which affect power delivery, ABS, ASC, and the settings of the also-new semi-active suspension.
BMW also upgraded the suspension tech in 2013, replacing optional Enduro ESA with optional Dynamic ESA active suspension. The Dynamic ESA system monitors travel of the front and rear wheel, and adapts damping automatically to suit the conditions.
The 2013 model's ride by wire also meant that cruise control became an option for the first time.
Finally, the 2013 R 1200 GS got a slipper (what BMW calls "anti-hop") wet clutch, replacing the old dry single-plate clutch.
During the 2013 model's tenure there were a few interim updates.
From model year 2015, BMW made available keyless ride, as well as Shift Assistant Pro (up and down clutch-less shifting, a.k.a. a quickshifter), as options.
From model year 2016, BMW made available ABS Pro to the R 1200 GS.
Riding Modes Pro gave the R 1200 GS massive tech improvements, most notably ABS Pro and Dynamic Traction Control (DTC), both of which work with an Inertia Measurement Unit (IMU), providing what other brands call "cornering ABS".
Riding Modes Pro brought with it Hill Start Control to help avoid launching in tricky situations. And in Europe, it gave "dynamic brake light".
The 2017 R 1200 GS kept the same partially liquid-cooled engine, so it was an intra-generational update. But this was the first new year to explicitly get "Riding Modes Pro" as one of the options in packages.
BMW also updated Dynamic ESA in 2017, calling it "Next Generation", notably introducing an automatic self-levelling function to compensate any load (effectively automatic preload).
BMW in 2017 also introduced a judder damper on the transmission output shaft for smoother shifting.
Finally, BMW introduced an optional TFT display in the 2017-2018 R 1200 GS as part of its connectivity suite.
The 2018 update to the R 1200 GS Adventure brought with it all the updates to the 2017 GS, but more safety equipment, including optional emergency call and connectivity.
BMW also added the quick shifter (Shift Assistant Pro) as a component of the Dynamic package, and keyless ignition as part of the Touring package.
From 2019 and the R 1250 GS / Adventure, BMW made standard Hill Start Control, keeping Riding Modes Pro optional.
BMW also updated their optional ESA system, calling it Dynamic ESA "Next Generation", performing the same function as before, but refined.
BMW updated the safety equipment in the 2019 R 1250 GS, introducing an optional "Intelligent Emergency Call" that calls for help if it detects a crash.
The TFT display became standard from the 2019 R 1250 GS.
From 2021, BMW made ABS Pro standard, and introduced Hill Start Control Pro as an option.
And from 2024, Intelligent Emergency Call is a standard feature on the R 1250 GS Adventure.
BMW R80 G/S (1980-1987) — The First Enduro
It all started in 1980 with the first BMW R80 G/S.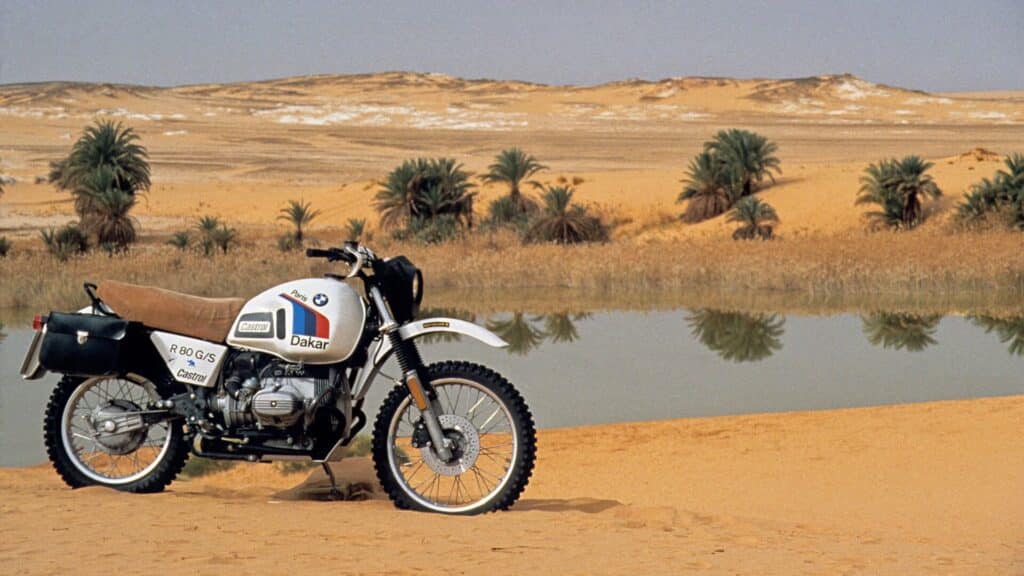 The BMW R80 G/S was the first BMW G/S / GS — a motorcycle designed explicitly to serve dual purposes well. Retrospectively, we acknowledge it as being the first BMW purpose-built "adventure bike".
And look at that thing! The R80 G/S was built to cross a desert in comfort. And indeed it did, winning various enduro rallies.
Very small note — the R80 G/S is written like that, with the "R" stuck to the "80", and the G/S with a slash between it.
"What's with the slash in 'G/S'?" you cry. "I thought it was just GS." You're right. BMW changed that a while ago.
But we're discussing syntax, the etymology of G/S itself is interesting and telling. The G stands for Gelände, which means grounds, premises, terrain, or country. The S stands for Straße, which means road.
Together, G/S or Gelände/Straße it is understood to mean "Offroad/Road", which captures the dual nature of the G/S spirit. Haben Sie richtig verstanden? Dies ist ein Motorrad, das überall hingehen kann! (German speakers: yes, my Deutsch is a work in progress…)

From the R 100 GS, BMW decided that the "S" now stands for "Sport" (which is a word shared by German and English).
The original BMW R80 G/S was powered by an air-cooled 798cc boxer engine. It had a five-speed gearbox and put power down through a shaft drive.
The combination of a boxer engine and a shaft drive were two features that the BMW G/S or GS line has kept to this day.
After releasing the G/S, BMW started racing with it, and with quite a degree of success. BMW won the Paris Dakar rally in 1981, with French pilot Hubert Auriol at the helm. He won again in 1983, and came second in 1984.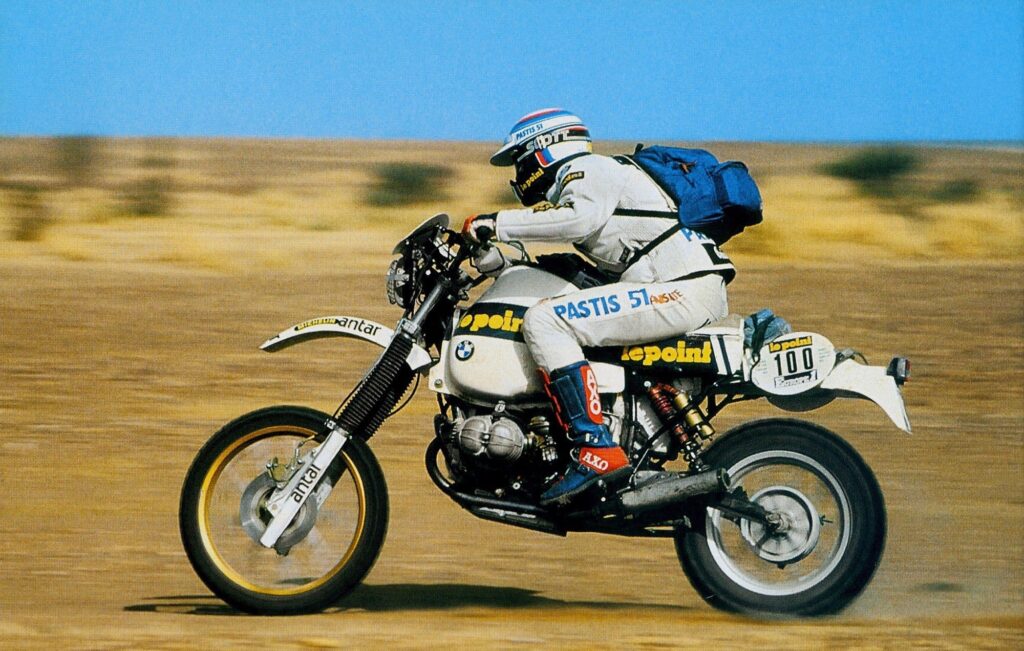 At the time, some found the R80 G/S confusing. It wasn't a dirt bike, and it wasn't a road bike. What was it for? People didn't get that it was meant to be a bike that was meant to be able to handle both the highway and the dirt well — even though the hints were right there in the name.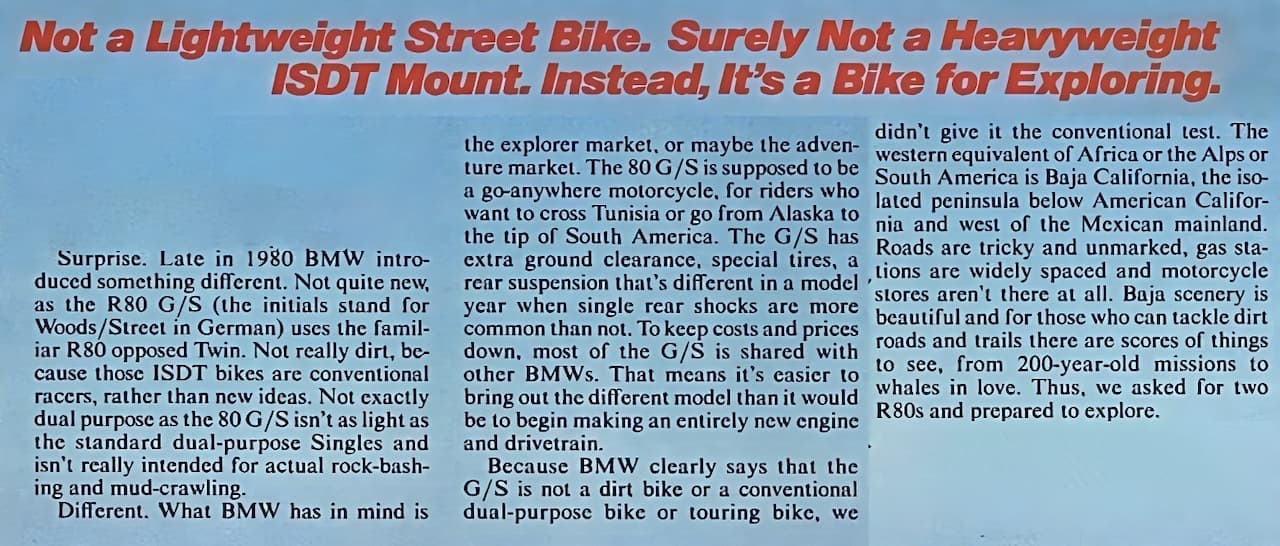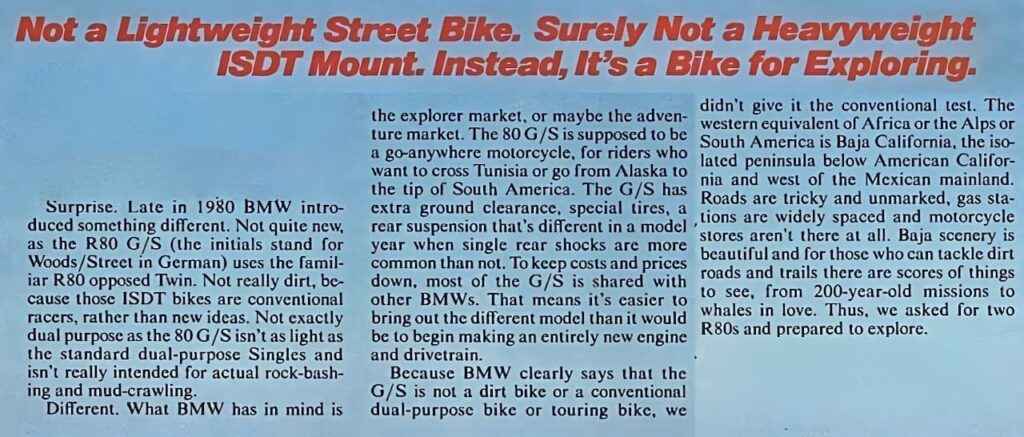 The first BMW GS wasn't a perfect adventurer out of the gate. It had a relatively small fuel tank (19 L / 5 US Ga), which is not tiny, but which isn't enough to get you through remote areas. And, like many entry-level motorcycles, people deemed it lower spec than necessary for adventure.
However, the G/S (and later GS) became BMW's most successful line.
These days, original BMW R80 G/S motorcycles go for a pretty penny at auctions, to the point where you would only want one if you have a particular affinity for it. I often see some older individuals rolling around on them (particularly in Europe), and I always give them a thumbs up. They seem to enjoy it. I hope it's worth the oil consumption and various leaks they have to attend to — the joys of any old bike!
If you really like the style, then you can get a modern equivalent of it. But the bike I'd recommend may surprise you.
The modern BMW R – GS shares some things with the original G/S, but there's a bike that's more reminiscent. If you're looking for a bike of that general design, you're looking for the R nineT Urban G/S, part of the air-cooled R nineT range. (And yes, the Urban G/S has a forward slash in its name, just like its historical predecessor.)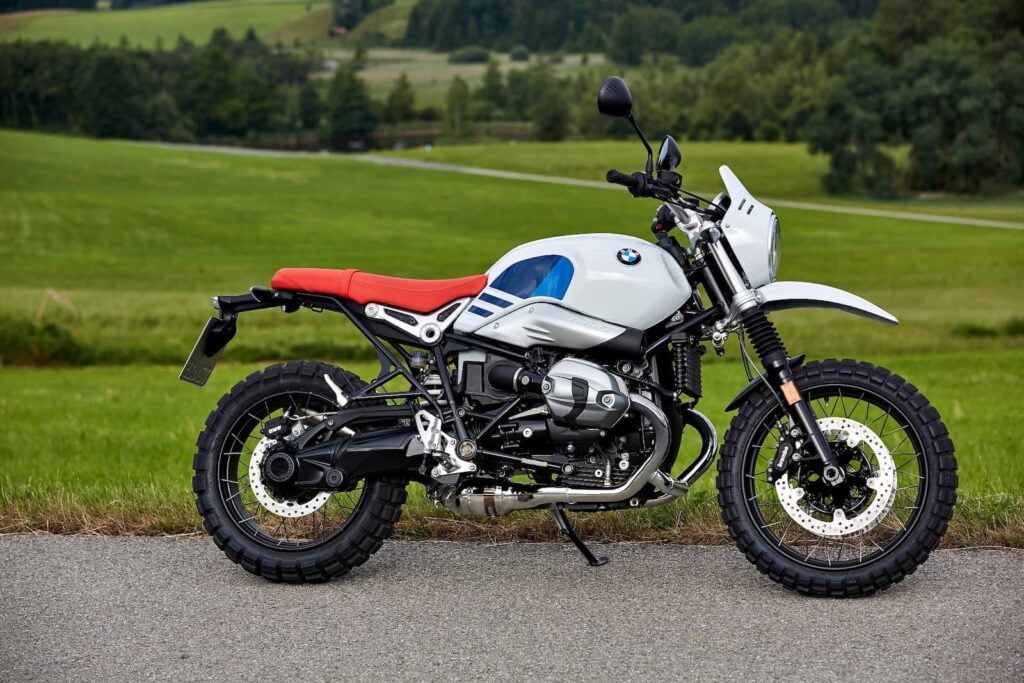 Of course, the Urban G/S has a 19-inch front wheel and is heavier, but still, it's a cool and good-looking bike. Plus, it's faster! Plenty of people have taken them off-road, just because they want to. Who's going to stop you? (Note, it may void your warranty, if it's still a new bike.)
BMW R 100 GS (1988-1996) and R 80 GS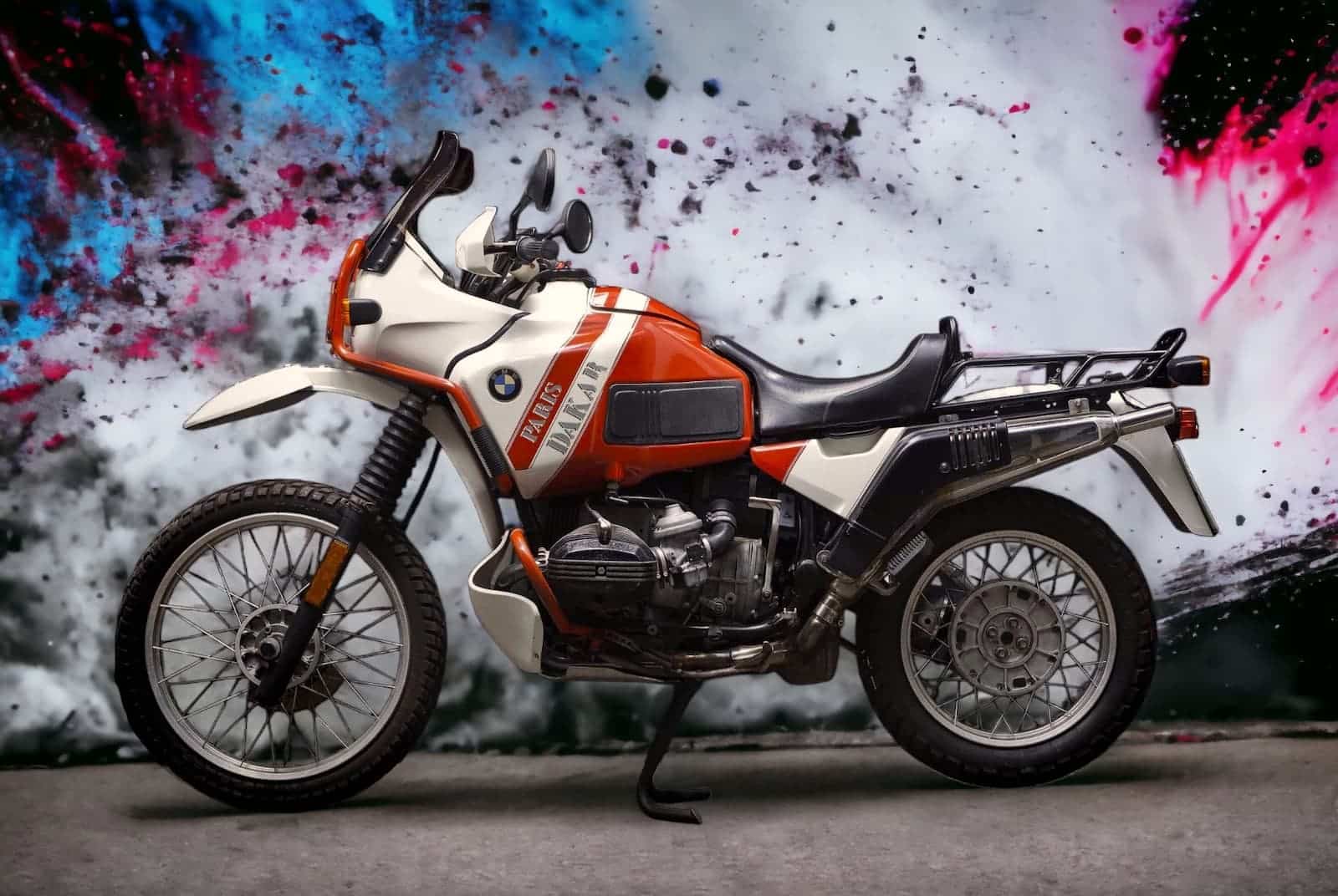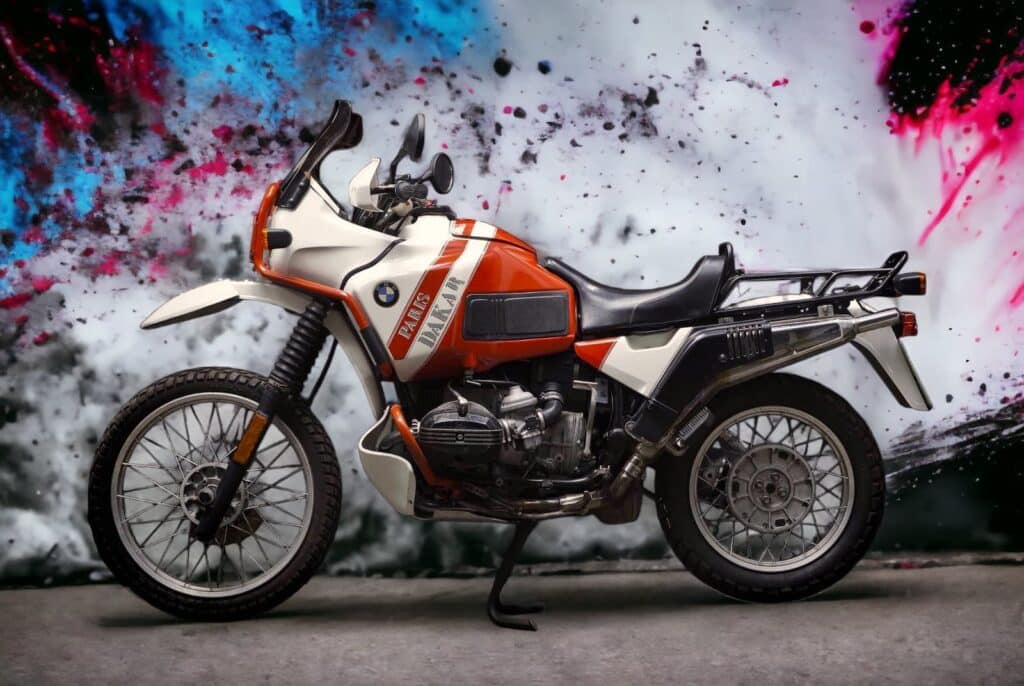 In 1988, BMW updated the R80 G/S with the R 100 GS. They dropped the slash, and the S now stands for "Sport" rather than "Straße".
BMW upgraded the engine and the suspension, giving it a fork that could better handle off-road duty, and the all-new Paralever rear suspension (more on this below). Also, the R 100 GS was the first to get tubeless tires on spoked rims, a fan favourite feature of the bike to this day.
BMW kept the R80 G/S in production, but updated the naming to GS, just like on the R 100. The R 80 GS also got Paralever suspension, alongside the 100.
I've seen the R 100 GS referred to as the "R 1000 GS". This is no doubt because people think the 1000 on its side is its name.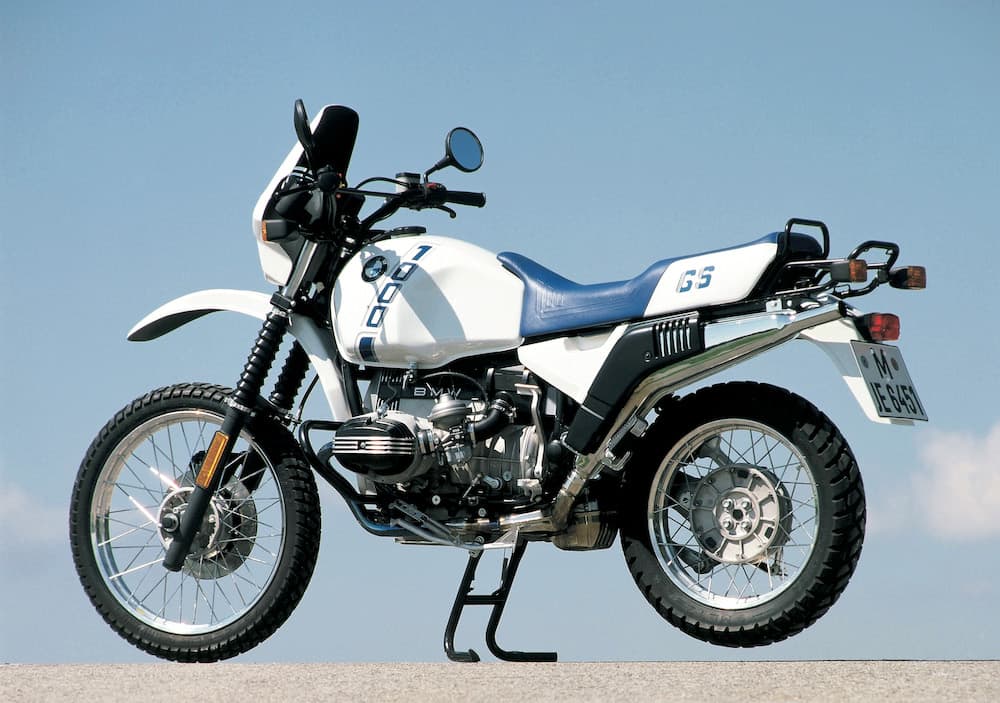 The BMW R 100 GS inherited the adventurous spirit of the R80 G/S before it. But people still weren't used to this kind of thing at the time. Cycle World said "The GS is a strange bike, teetering on the brink of bizarre," and told a story of having to explain what it was to a bunch of confused onlookers. No, it's not a dirt bike; no, it's not a custom; no, it's not terribly expensive (ah, those were the days, before inflation and AI ate our lunches).
The BMW R 100 GS instilled (and still instils) in its rider a sense of adventure. You get on board its high seat and think "Right, where am I off to now?" It has loads of clearance, an easy-going and versatile engine, and of course a huge front wheel. It's much closer to being of dirt bike proportions than many of its successors, and really does feel like a dual sport that won't murder you on the highways.
But despite that, the R 100 GS is just as versatile as many GS bikes that came after it, and does equally well on the roads — just like its name implies it should.
On the suspension. At the rear, the R 100 GS is the first GS to have a Paralever rear drive setup. Paralever is designed to substantially reduce the "chassis jacking" up-and-down movement of the chassis against the suspension, which usually occurs when the throttle is opened or closed on a shaft-drive motorcycle.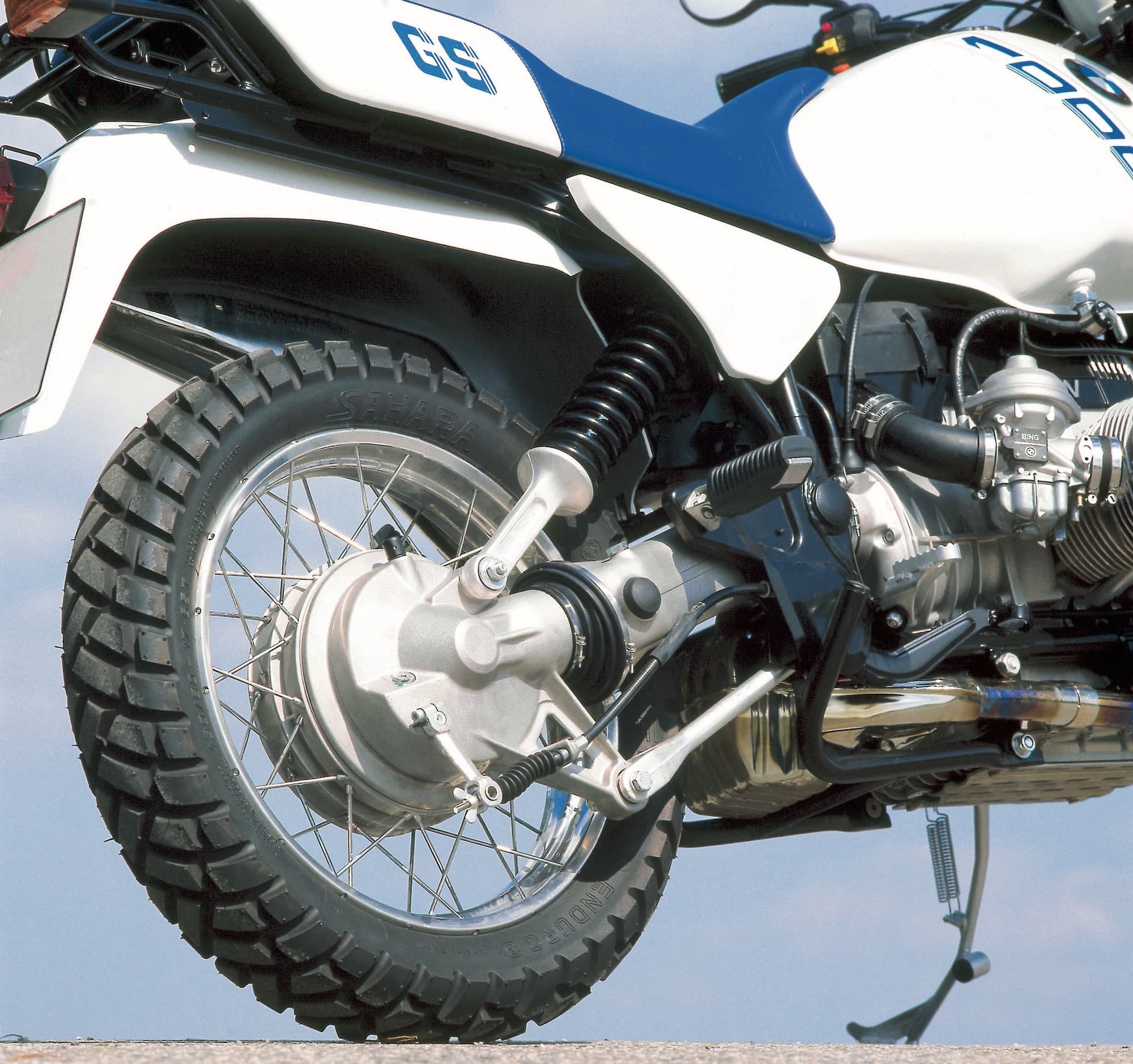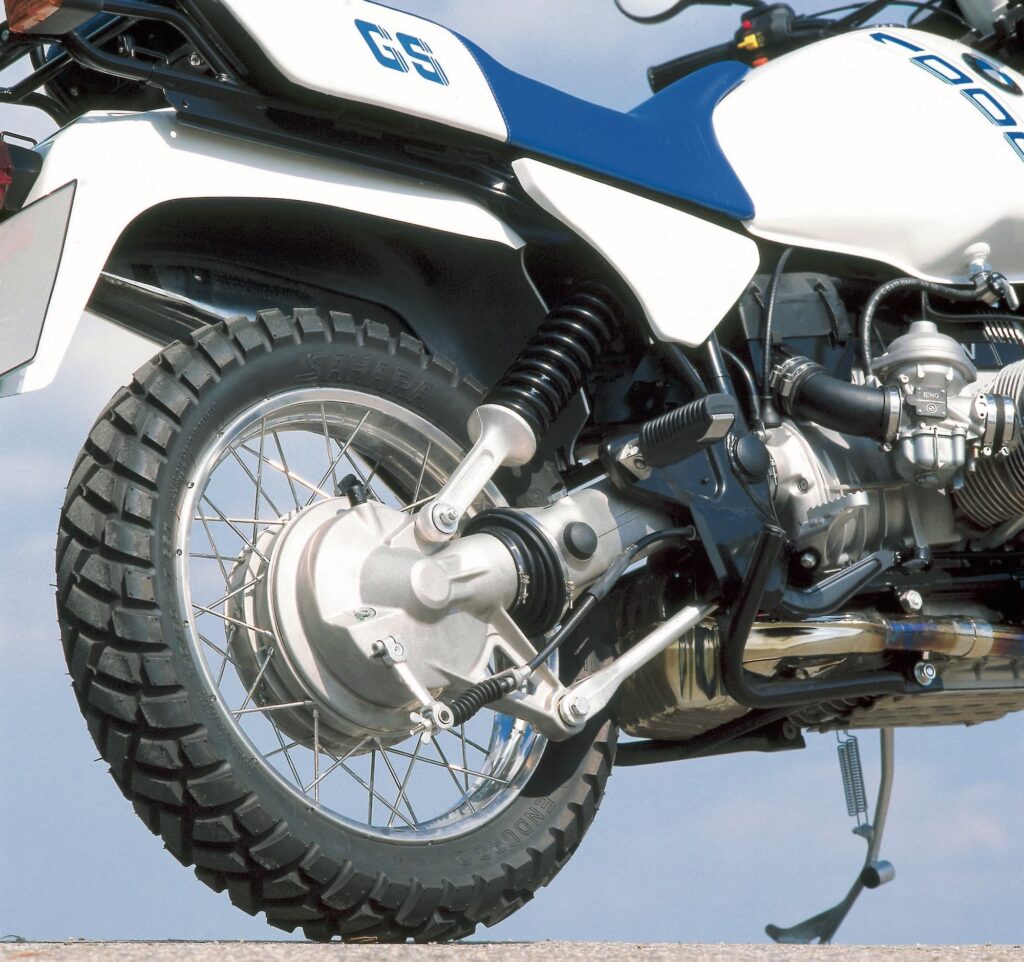 Paralever is quite an interesting piece of tech. The concept behind "Paralever" wasn't new in motorcycling, but BMW was the first to commercialise it in a production road bike. Many radical new suspension designs have come and gone over the years. But BMW still uses Paralever (and Telelever, mentioned soon) today.
See here for more about the Paralever suspension setup and how it works.
At the front, BMW replaced the Fichtel and Sachs-built front fork with a Marzocchi unit with more travel, rigidity, and damping flexibility. This performs a lot better. But by the next model, BMW would replace this with a Telelever front end.
BMW R 1100 GS (1994-1998)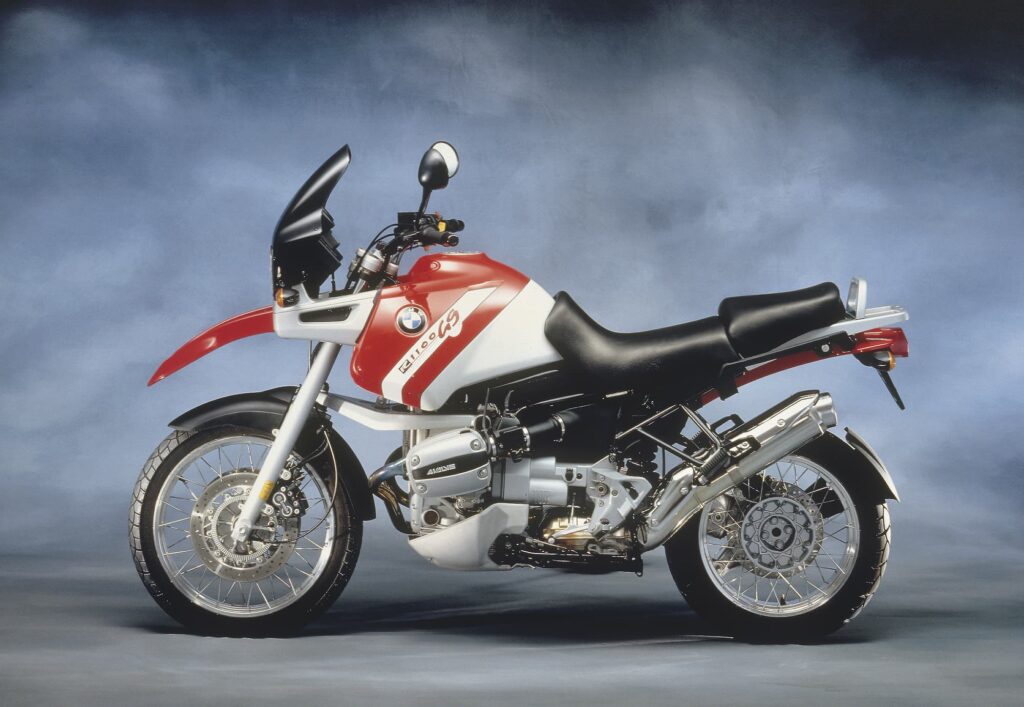 The next major update to the GS line came with the BMW R 1100 GS.
There's a lot that's new about the BMW R 1100 GS: a bigger, oil-cooled, four valve per cylinder engine, Telelever front suspension, and twin disc brakes (with optional ABS).
Let's start with the engine in the R 1100 GS, which was shared with the R 1100 RS (though detuned for the GS).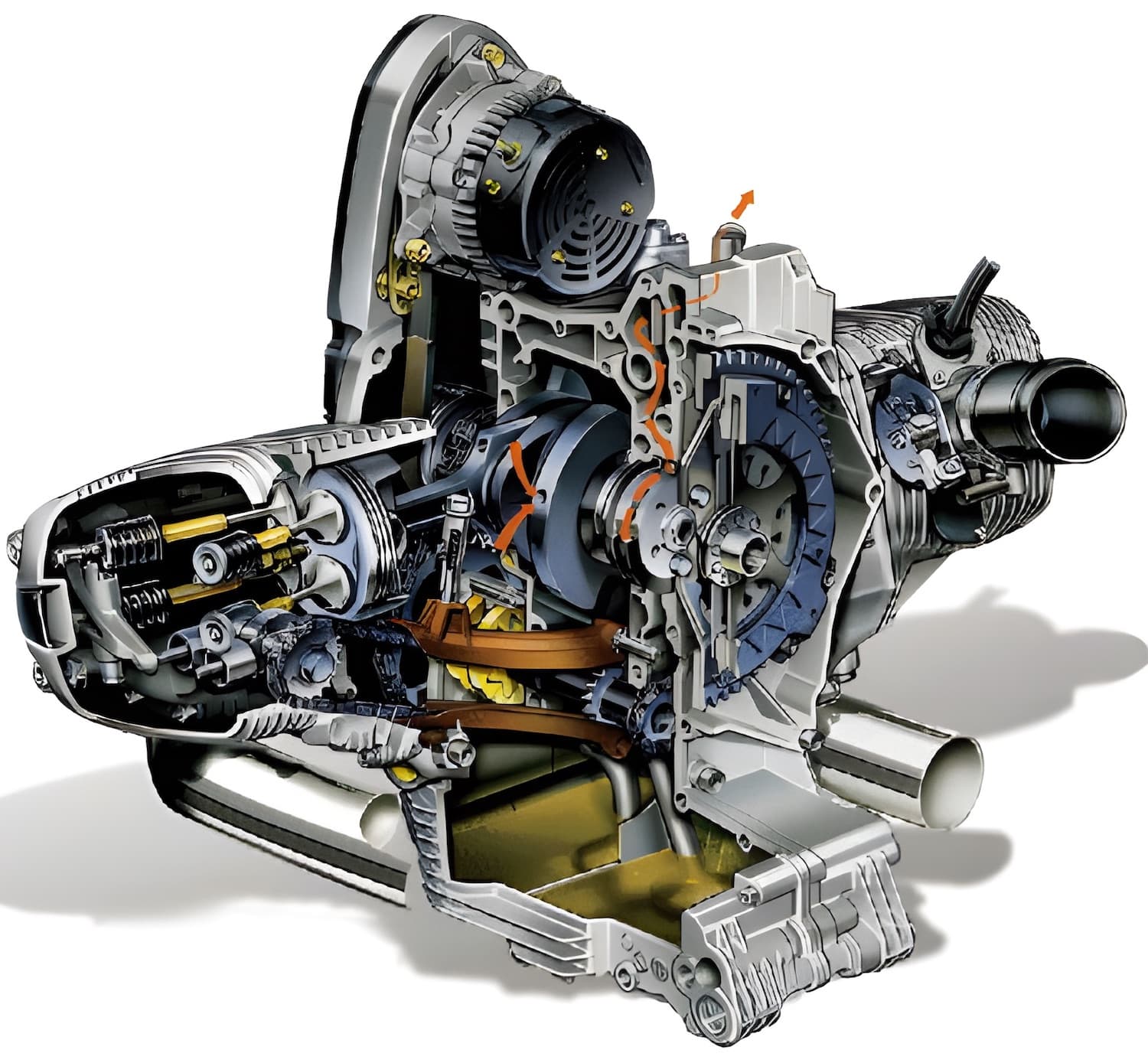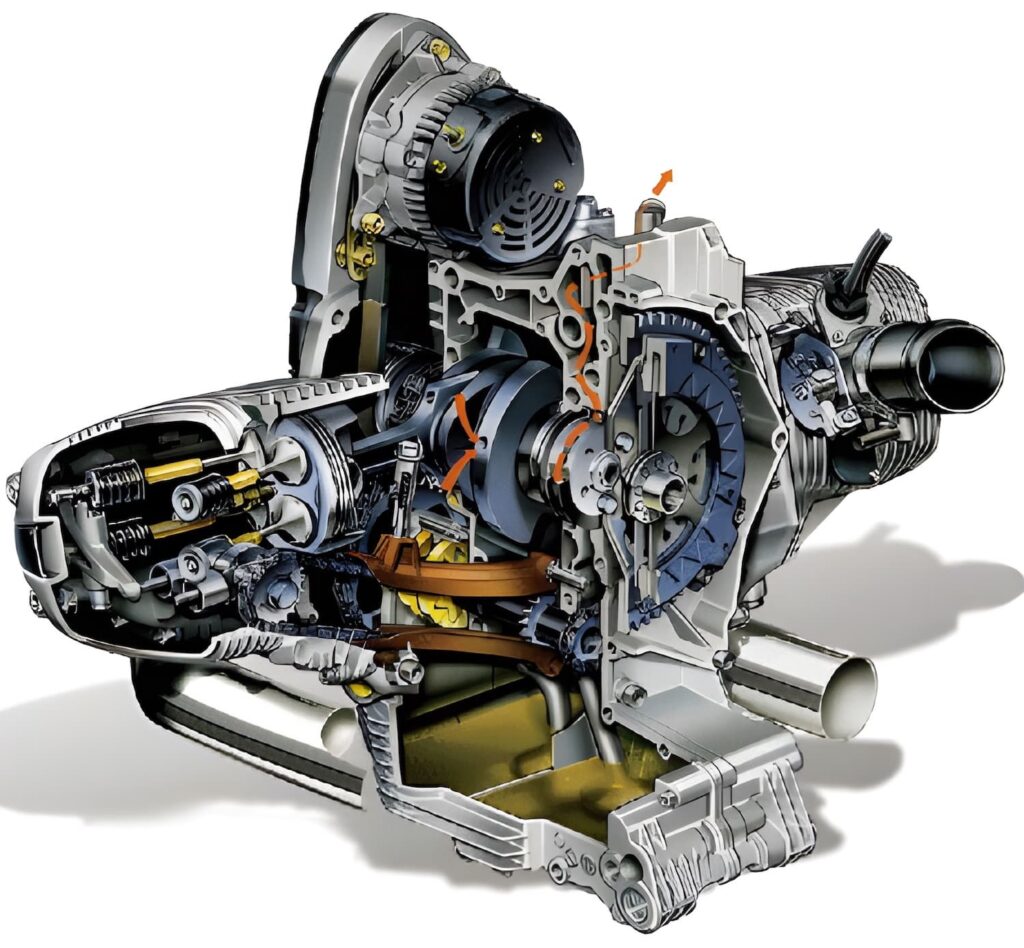 BMW increased the engine capacity to 1085 cc (up from 980 cc) by increasing the bore in each cylinder by 5mm. This increased the need for cooling.
But it was becoming hard to cool the head with just air cooling as valve size increased for the bigger engine. Cycle World explained (this is a bit beyond my ken) that BMW kept the angle between the intake and exhaust valves small, to provide a compact combustion chamber without an intrusively tall piston dome. This meant space was limited. So BMW introduced oil circulation to cool the head — thus creating the first oil-cooled BMW boxer engine. That's right, this is the first "Oilhead"!
See the guide to BMW engine types here — Airheads, Oilheads, and more.
The R 1100 GS is also the first GS to be fuel injected.
Secondly, BMW updated the brakes. Previously, the R 100 GS had a single front brake disc, and a rear brake drum. This became a triple disc setup on the R 1100 GS.
| Item | R 100 GS | R 1100 GS |
| --- | --- | --- |
| Front brake | Single 285 mm / 11.2 inch brake disc, 2-piston caliper | 2 x 297 mm discs, 3-piston calipers |
| Rear brake | 200mm brake drum | 250 mm disc, 3-piston caliper |
Braking changes between the R 100 GS and R 1100 GS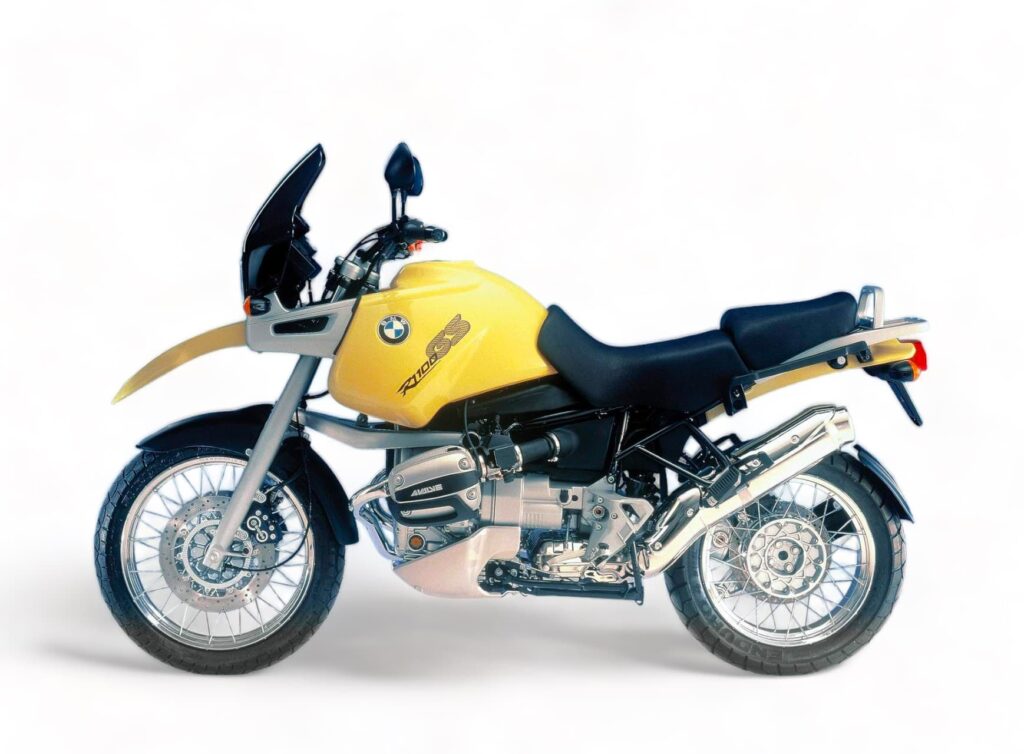 Thirdly, the BMW R 100 GS turned out to be the last GS bike with a 21-inch front wheel. BMW changed the dirt bike-like 90/90-21 on the R 100 GS to an 110/80-19 tire on the R 1100 GS. Every BMW GS bike since has had a 19-inch front wheel.
Finally, the R 1100 GS got Telelever front suspension, replacing the front fork.
Telelever front suspension is a wishbone setup. It is made up of three primary components:
Telescopic fork legs like before
An A-arm (also known as a wishbone, or trailing arm)
A central spring shock absorber / damper
The telescopic forks still absorb bumps, but they don't do as much. Their main job is to be able to slide without sticking. Thus, there's oil in there, and a fork seal, but its only job is to lubricate, not to damp. (Nonetheless, the fork seal can leak, and you should attend to it.)
The A-arm and the spring strut do all the shock absorption and damping.
There are a few advantages to the wishbone geometry. Firstly, you can tune it to greatly reduce dive. In practise, BMW motorcycles with Telelever suspension have very little dive, even under hard braking, which means that the riding experience is much more stable. Neat!
Secondly, there's less unsprung mass. You don't have to have things like springs, heavy oil, and cartridges in the strut. This makes for better traction and more responsiveness. However, there is more mass elsewhere, due to the A-arm.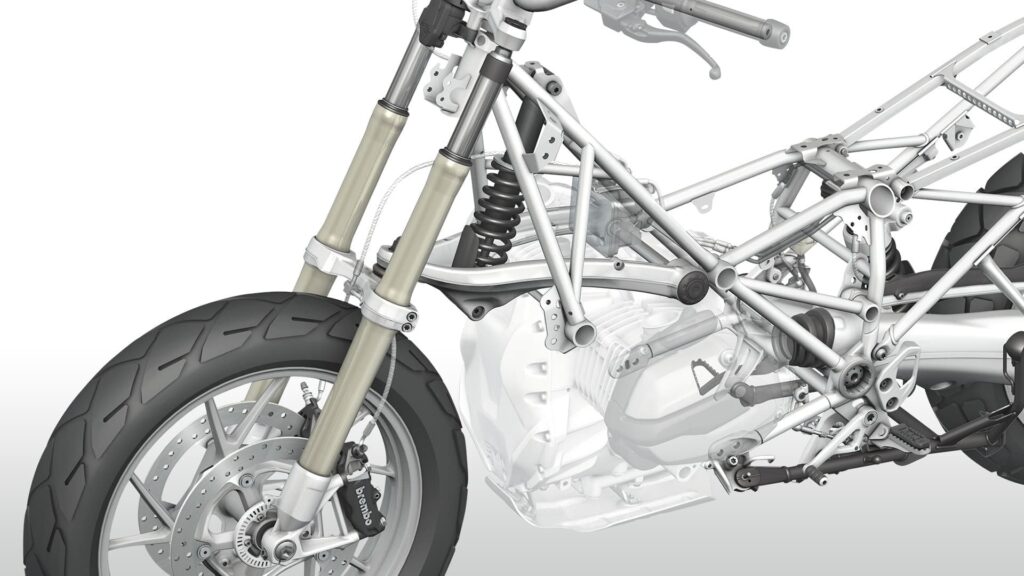 Finally, since there's just one shock absorber / damper, there was only one component that needed to be updated when tech updates came, like ESA (on later models).
However, not everyone is a fan of the Telelever system. Some don't like the lack of dive, feeling like it removes front-end feeling.
BMW themselves don't use Telelever everywhere. They used to use it on their sport bikes, but that ended with the BMW HP2 Sport — the S 1000 RR series went back to inverted telescopic forks.
1999-2005 BMW R 1150 GS / Adventure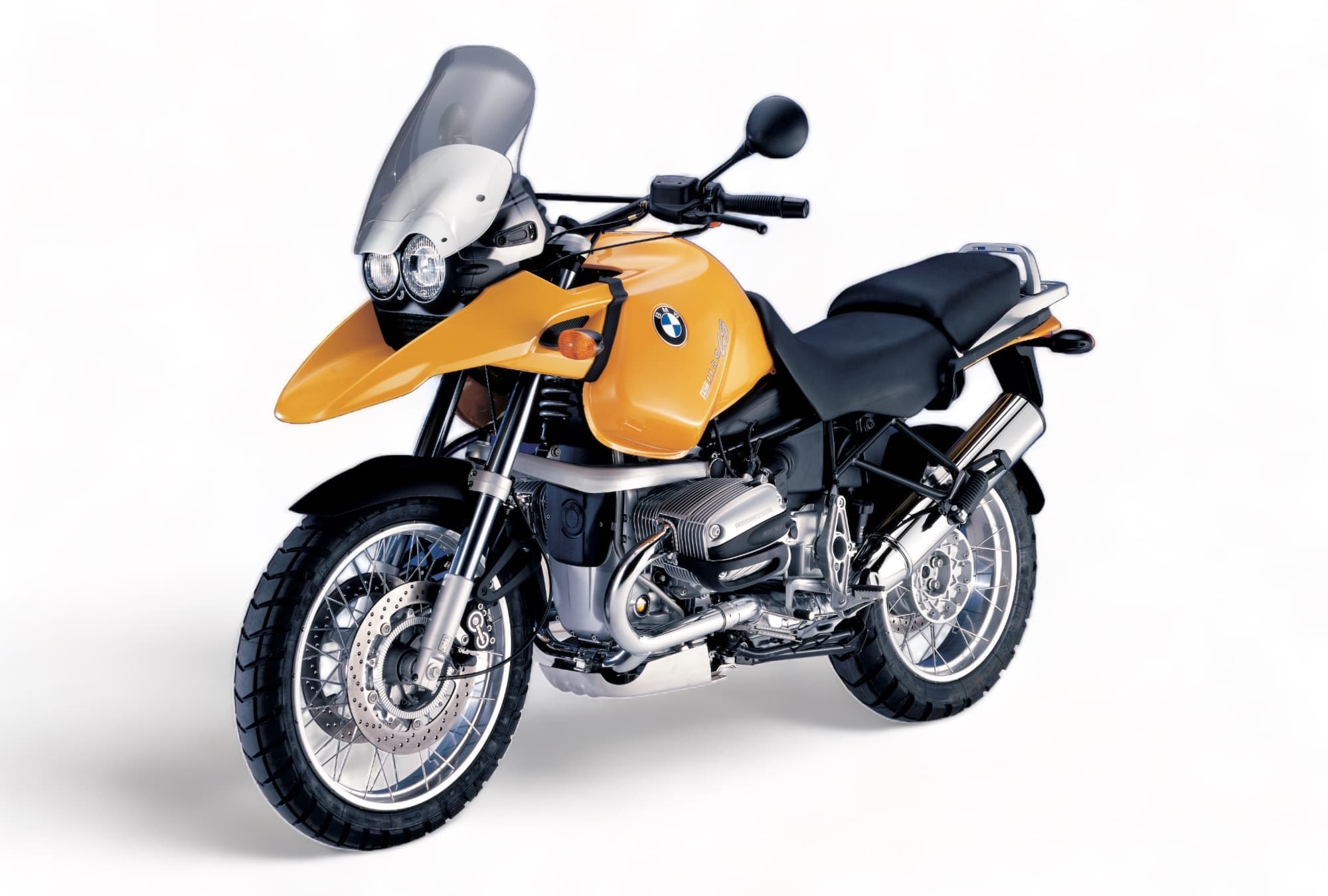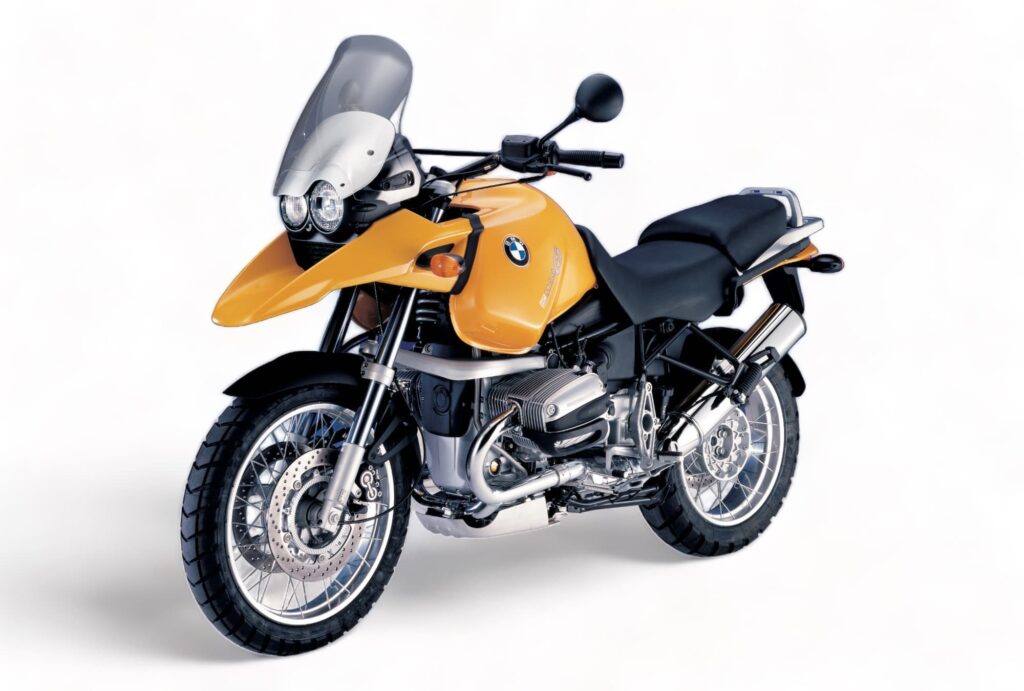 BMW released the R 1150 GS for model year 1999, replacing the R 1100 GS.
The R 1150 GS is one of the affordable sweet spots in the GS lineup. It's a bit of an unsung hero — eclipsed by the later generations of R 1200 GS which have customers' "share of mind" because the name has been around for so long, people mistakenly think of the 1150 as being a lumbering dinosaur that's underpowered and too old-fashioned. Which is why you can get it for a song.
See my full guide to the BMW R 1150 GS and R 1150 GS Adventure here.
While it's not a "perfect" motorcycle by any means (there is no such thing! Well, other than whatever I am / you are currently obsessed with), the R 1150 GS has a lot going for it. It's certainly interesting.
The BMW R 1150 GS continued the short-lived "Oilhead" engine line. It has four valves, with a single chain-driven camshaft, activating the valves via pushrods and rocker arms. But BMW increased the capacity with a 2mm bore increase, for total capacity of 1130 cc.
BMW also gave the 1150 lighter magnesium valve covers, straight from the R 1100 S, plus new camshafts for the torque-forward tuning.
In terms of the drivetrain, BMW finally gave the GS a six-speed gearbox. It's a small thing, but when every other bike you've had has had six gears, it feels odd to have one without it. There's a hydraulic clutch controlling it.
The other main improvement of the R 1150 GS over its predecessor is in general aesthetics. It got an improved nose, and twin headlamps — which many people modify for additional illumination. The R 1150 GS is otherwise a lot like its predecessor, and either one is a good bet, depending on condition.
But we've come this far without mentioning the elephant in the living room: the Adventure variant of the BMW R 1150 GS.
BMW R 1150 GS Adventure
This was the first officially named "Adventure!" BMW released the Adventure model in September 2001.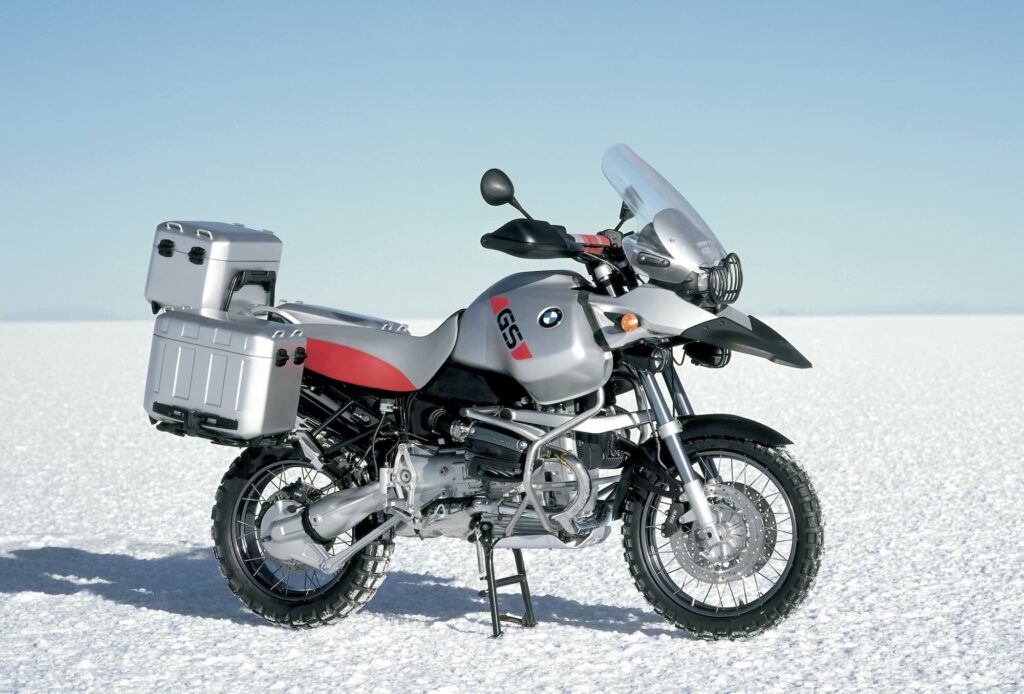 The BMW R 1150 GS Adventure has a number of distinct benefits over the base model.
Firstly, it has a ~30% bigger tank (30L / 7.9 US Ga), for longer range. Yes, this makes it heavier with the tank full, but you don't have to fill it all the time.
Secondly, it has different 1st and 6th gear ratios, for improved off-road and highway performance.
Thirdly, the GS Adventure has longer-travel suspension — 20mm (0.8 inch) more on each side.
Fourthly, the R 1150 GS Adventure has an engine knock sensor, so you can use lower grade fuel where premium isn't available.
The R 1150 GS Adventure is a really nice bike to look at, in my relatively unsolicited opinion. It just looks like a giant, old-school industrial power tool, in a good way. This is a jackhammer designed to break through continental plates.
It has both the downsides and upsides of that aesthetic. The downside is that it's heavy — over 600 lbs (or 270 kg) with all gear fitted and the tank full. Yikes! I haven't dropped one, but apparently, it's not a fun affair, especially with the cylinders and crash guards in that precarious place. I imagine many owners keeling over would rather just jump out of the way, especially if it's just on sand or mud. Very different affair to a lightweight bike where you'd stick your leg out and move on.
The upside is that it's very rugged. Provided you can pick it up and get it upright again, it tends to keep going. There are many high-mileage examples you can buy second hand for a steal. (Just bear in mind that and old bike will have generic old bike problems, like wheel bearings, creaky / notchy suspension, a cantankerous drivetrain, and so on.)
Oh, and the R 1150 GS Adventure was the first bike credited with kick-starting the craze for adventure motorcycles. This is the bike that Ewan McGregor and Charlie Boorman rode to make the film Long Way 'Round! (Yes, other bikes can do it, and no doubt better in many people's opinions. But this is what they rode.)
Side note: the BMW R 850 GS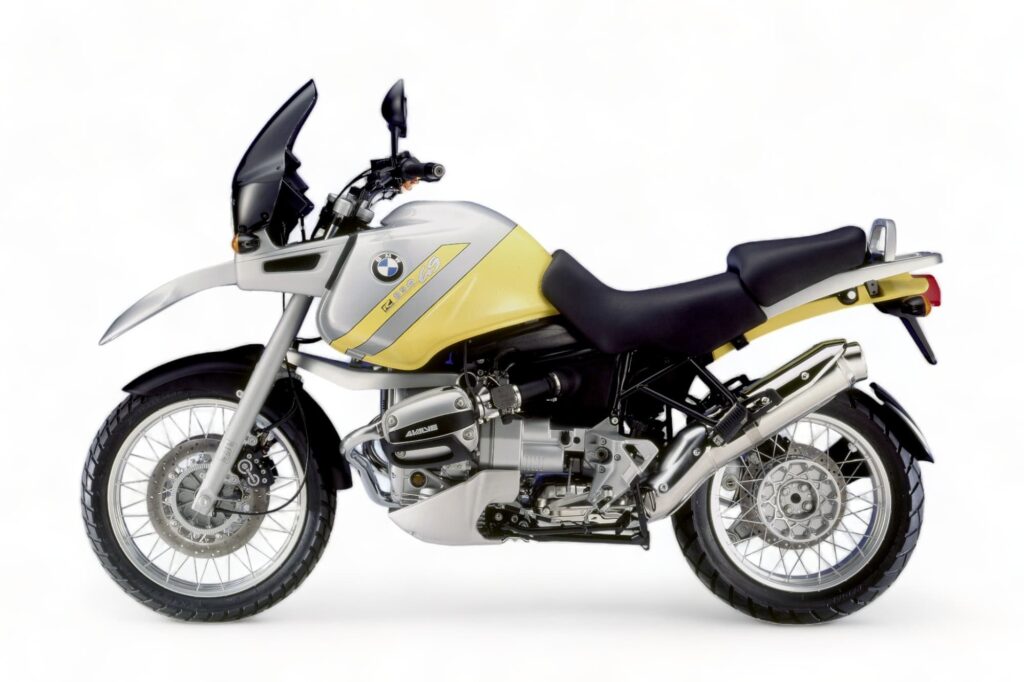 A short-lived experiment within BMW was the "small" boxer, part of the same "oilhead" generation as the R 1150 GS.
The R 850 GS was powered by an 848 cc boxer twin that made 51 kW / 70 CV. It was also available in A2 license form in Europe.
It shares Telelever / Paralever suspension with its bigger sibling, as well as dual disc brakes, a 19-inch front wheel, and fuel injection. Unlike the 1150, it only has a 5-speed transmission.
Even though A2 licensing sells bikes, the little boxer was short-lived, only selling for two years. BMW had tried this previously, with the R 65 GS, and that hadn't lasted more than a few years, either — just selling for three years, between 1988 and 1990.
The R 850 GS has its share of fans, as do other small enduros, like the Ducati Multistrada 620 i.e.. But it is a niche product.
2004-2010 BMW R 1200 GS 1st gen, "Hexhead"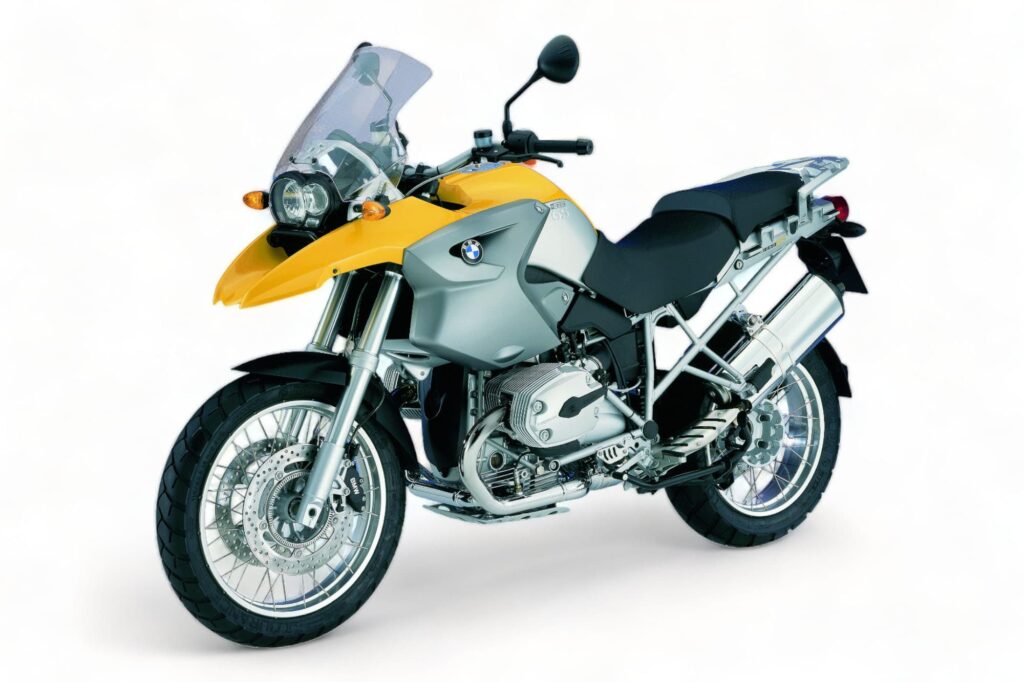 The year 2004 represented a watershed moment for the BMW GS line: the arrival of the BMW R 1200 GS.
Because BMW made the BMW R 1200 GS for so many years with the same name — despite significant changes all over — it has a lot of brand power. So even early models with high miles / kms tend to go for large amounts!
It's not just for brand value, because the first-gen BMW R 1200 GS represented a large number of significant changes over the R 1150 GS.
Here are the changes in a nutshell:
Item
R 1150 GS
2004 R 1200 GS
Engine
1130 cc "Oilhead"
1170 cc "Hexhead"
Peak power
62.5 kW / 85 hp @ 6750 rpm
74 kW / 100 hp @ 7000 rpm
(2008 spec increased)
Peak torque
98 Nm / 71 lb-ft @ 5250 rpm
115 Nm / 85 lb-ft @ 5500 rpm
Tank capacity
22 L / 5.8 US Ga
20 L / 5.3 US Ga
Weight (full tank)
Dry weight: 228 kg / 503 lb
Full tank: 249 kg / 549 lb
Per owner's manual
Dry weight: 211 kg / 465 lbs
DIN unladen: 225 kg / 496 lbs
Per owner's manual
Knock control
Adventure model only
All GS models
Rear suspension
Paralever
Paralever Evo
Front suspension
Telelever
Telelever
R 1150 GS vs R 1200 GS core spec change
Firstly, the new "Hexhead" motor increases peak power and torque by 18%. BMW also introduced a balance shaft to quell vibrations. This debuted in the R 1200 GS.
The balance shaft runs on friction-free bearings and is positioned within the countershaft that drives the camshafts. The balance is outside the oil-bathed zone through a seal.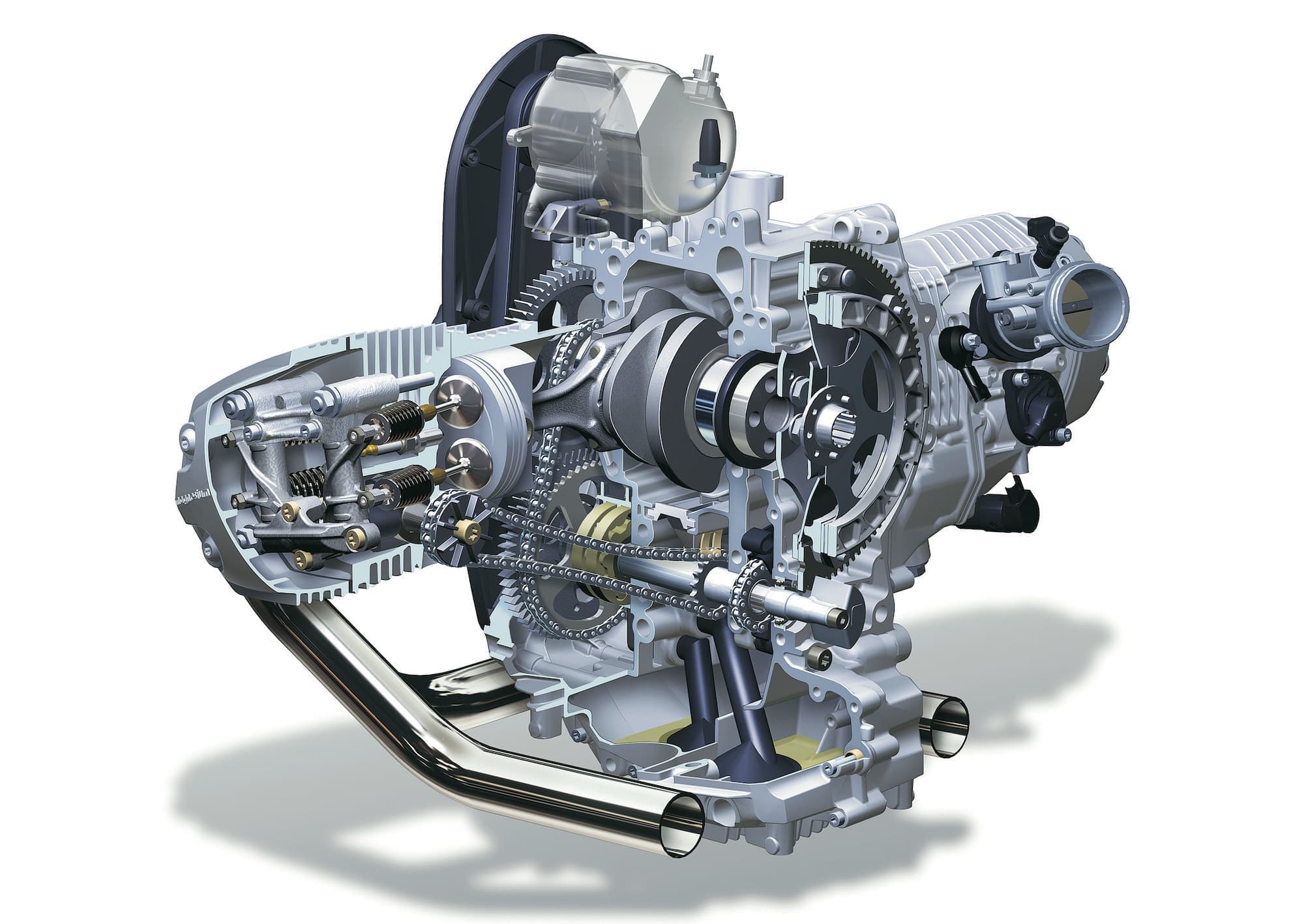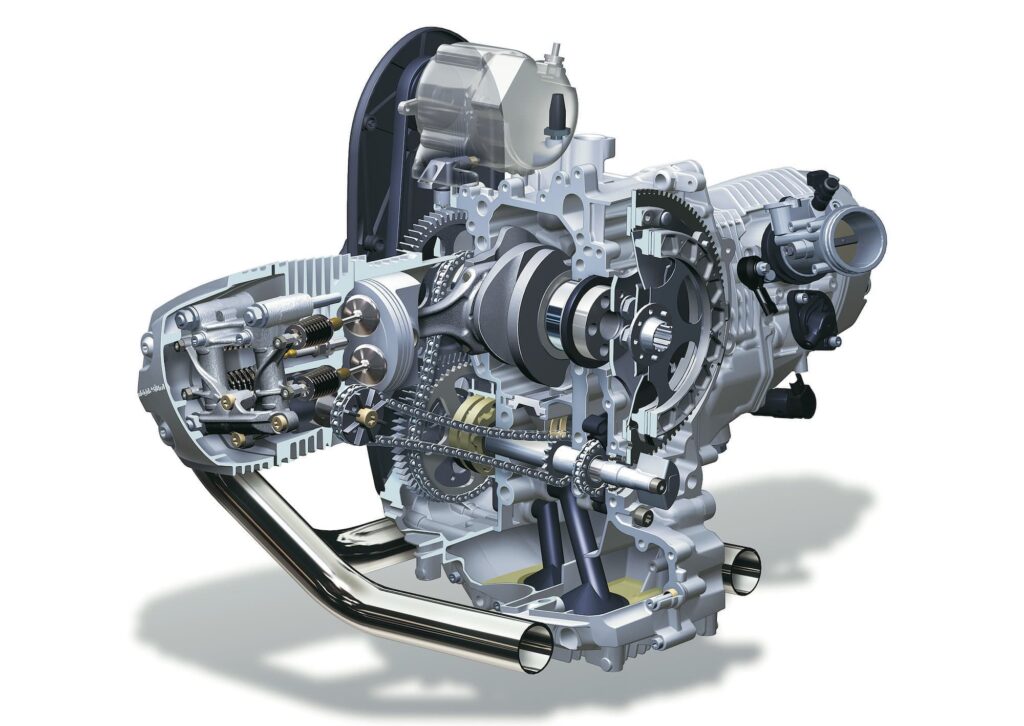 Secondly, BMW managed to reduce the weight of the GS by 30 kg (66 lb) by removing the gas tank. (Just kidding, to see if you're still with me!)
BMW reduced the weight by:
Redesigning the gearbox (implementing helical gears)
Optimising the weight of the crank case and cylinder heads through redesign and new casting tech
Reducing fuel capacity slightly
Fact checking the claims: The strange thing is that despite BMW's claim of a 30 kg drop in weight, it's hard to see how they reached that figure. Per BMW's own specs that they cite in their manuals (you can get them here), dry weight drops by 17 kg, and fully fuelled weight drops by 24 kg.
In the press release, they mention weight savings from various items. I added them up. The following list is in the order they appeared in the press release.
Part
Weight saving (kg)
Notes
Engine
3
Per press release
Crankshaft
1
From narrower design
Crank case
1.4
Thinner walls
Exhaust
3.6
Based on 10.7kg being 33% lighter
Alternator, battery
2.2
All together
Gearbox
3.25
Weight reduced to 13 kg per press release,
a reduction of 20% per MTZ Worldwide ("The New Boxer Engine")
Front and rear wheels
1.7
Rear wheel 1.6; front 0.1
Total
16.1 kg
Acceptable rounding error to 17 kg
Weight reduction in the R 1200 GS
But anyway. The R 1200 GS is lighter.
BMW kept the crankshafts below the valves and the drive of valves via tappets and rocker arms, just as in the R 1150 GS. So, this generation of R 1200 GS kept screw and locknut type valve adjusters.
Thirdly, BMW improved the gearbox significantly, implementing high-strength helical gears. This both improved gear shift smoothness and drastically reduced weight (by 13 kg or 29 lb).
BMW also revised the Paralever system. The design in the R 1200 GS is "Paralever Evo", with the second shaft relocated to above the driveshaft / swing arm. This gives all the benefits of the Paralever system (reduced torque jacking) but with more ground clearance. (Again, you can find how Paralever works in this article.)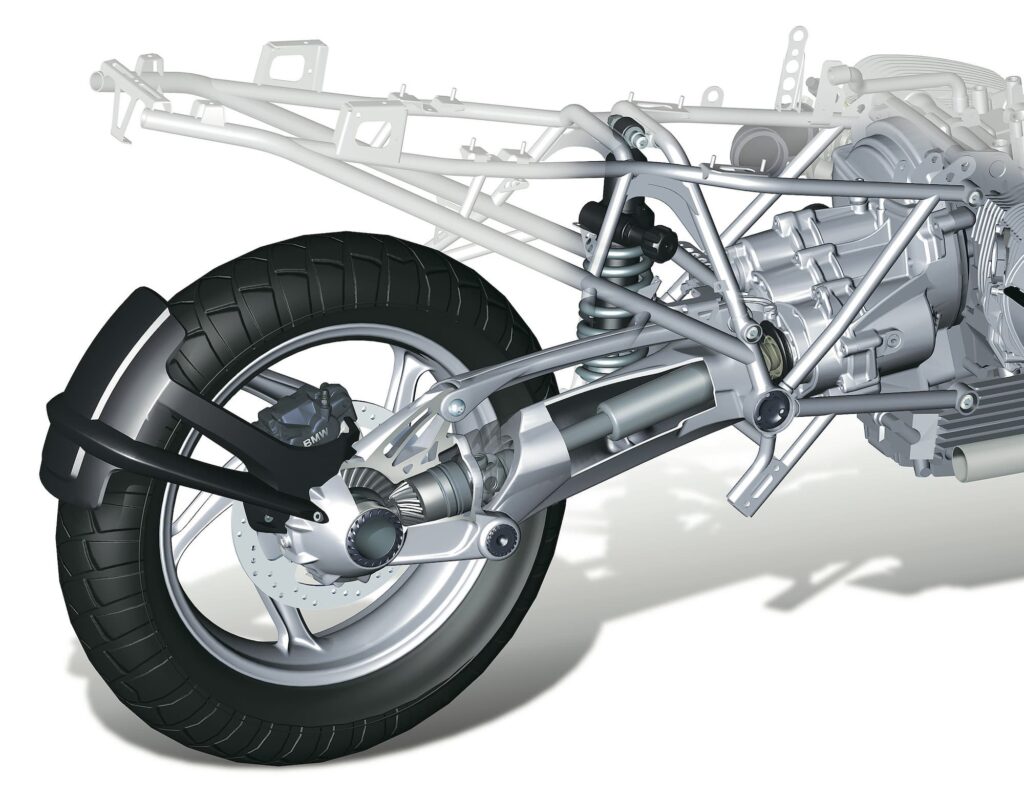 The 2004-2006 models of the BMW R 1200 GS continued the tech in the last-model R 1150 GS and have an old style of servo-assisted braking known as "Whizzy" brakes. It came with the ABS model, but is a servo-assisted braking system that works independently of ABS.
Whizzy brakes aren't really favoured among owners because it is a system that tends to fail — and when it does, you're left with almost no braking power. You can repair it, but there are very few people who still repair it (used to be that a few dedicated techs would let you send them a unit and they'd fix it for you, then send it back), and replacement units cost thousands.
BMW quietly removed the "whizzy" brake system mid to late 2007. If you're after an R 1200 GS with ABS, I'd look at ones that do not have whizzy brakes.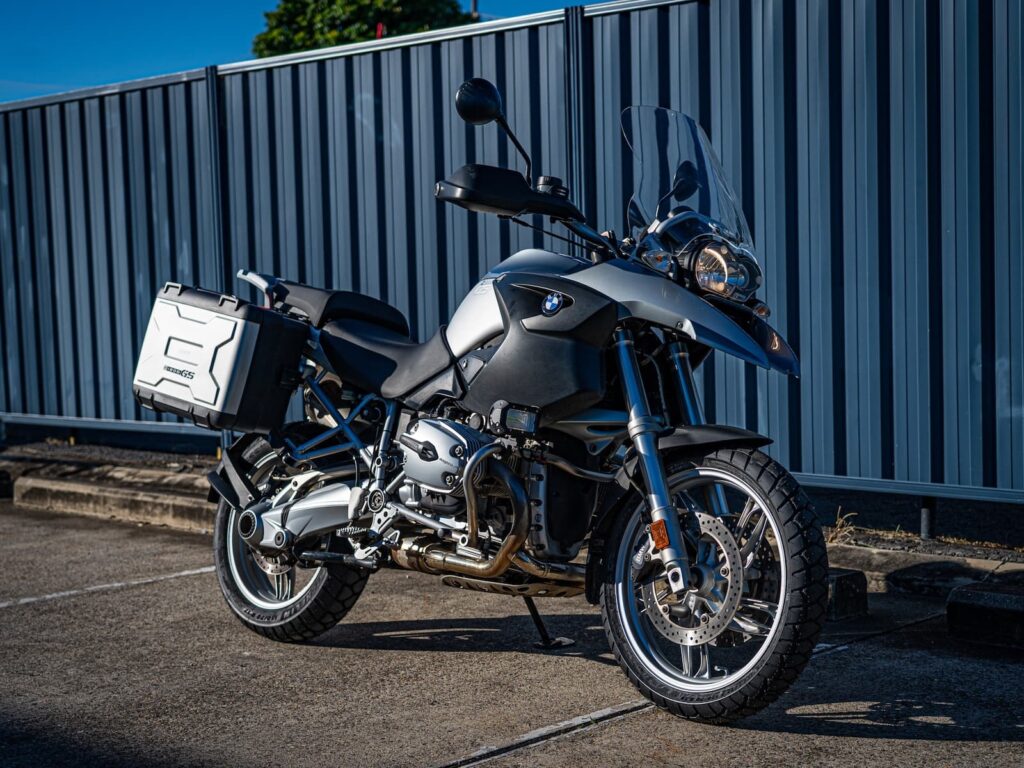 An alternative is to remove ABS altogether. At this stage, repairing the ABS system would cost half the price of a used motorcycle, and removing it wouldn't cut that much value off the bike.
Aside from quietly removing the whizzy brakes (seriously, BMW did not make mention of it), the 2008 update to the BMW R 1200 GS brought a number of other updates, including slightly more power (due to a slightly higher peak engine speed), different gear ratios, improved suspension, revised ergonomics, and a few more upgrades.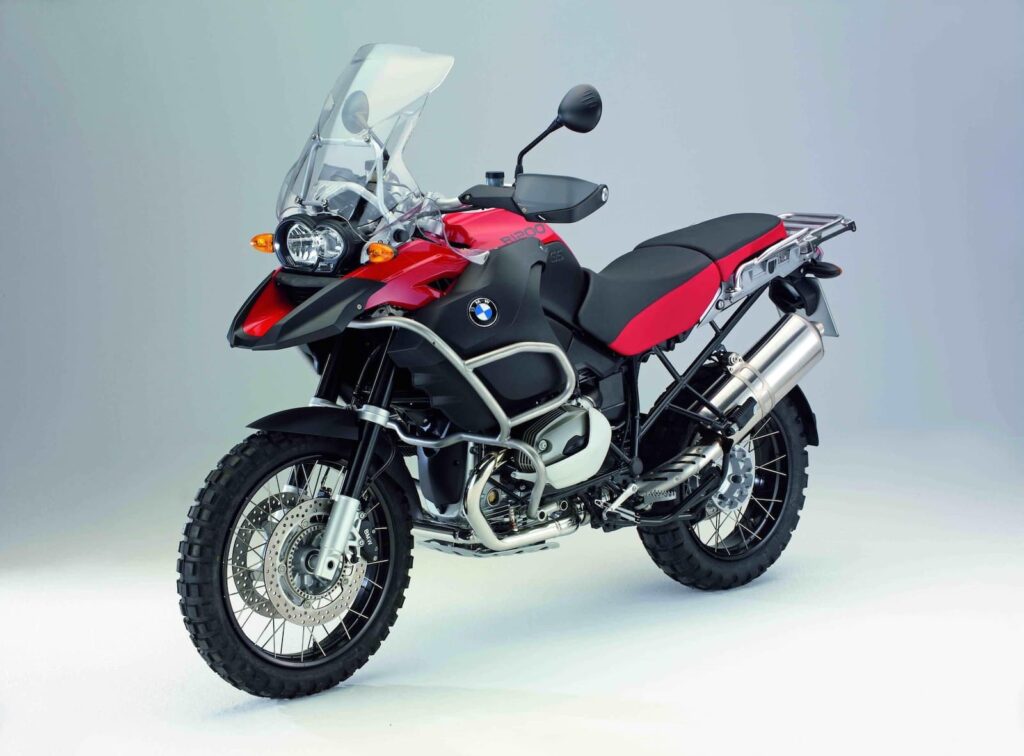 Below is a summary of changes in the 2008-2009 R 1200 GS.
Item
2004-2007
2008-2009
Brakes
Old style, "whizzy" servo-assisted
Revised, lower failure rate
Peak power
74 kW / 100 hp @ 7000 rpm
77 kW / 105 hp @ 7500 rpm
Peak torque
115 Nm / 85 lb-ft @ 5500 rpm
115 Nm / 85 lb-ft @ 5750 rpm
(slightly higher up in the rev range)
Compression ratio
11.0:1
12.0:1
Primary transmission ratio
1.823
1.737
Gear ratios
2.277, 1.583, 1.259, 1.033, 0.903, 0.805
2.375, 1.646, 1.296, 1.065, 0.939, 0.848
Note: Press release was incorrect
Final drive ratio
2.28
2.91
Suspension
Standard
Enduro ESA
Changes in the 2008 R 1200 GS
One notable change is that the 2008 BMW GS was the first one to have electronic suspension adjustment — what BMW called "Enduro ESA".
By pressing the suspension button, you could set your rear preload between on-road and off-road modes, choosing different load states (which change the rear suspension's preload setting) and damping responsiveness.
2010-2013 BMW R 1200 GS / Adventure 2nd gen, "Camhead"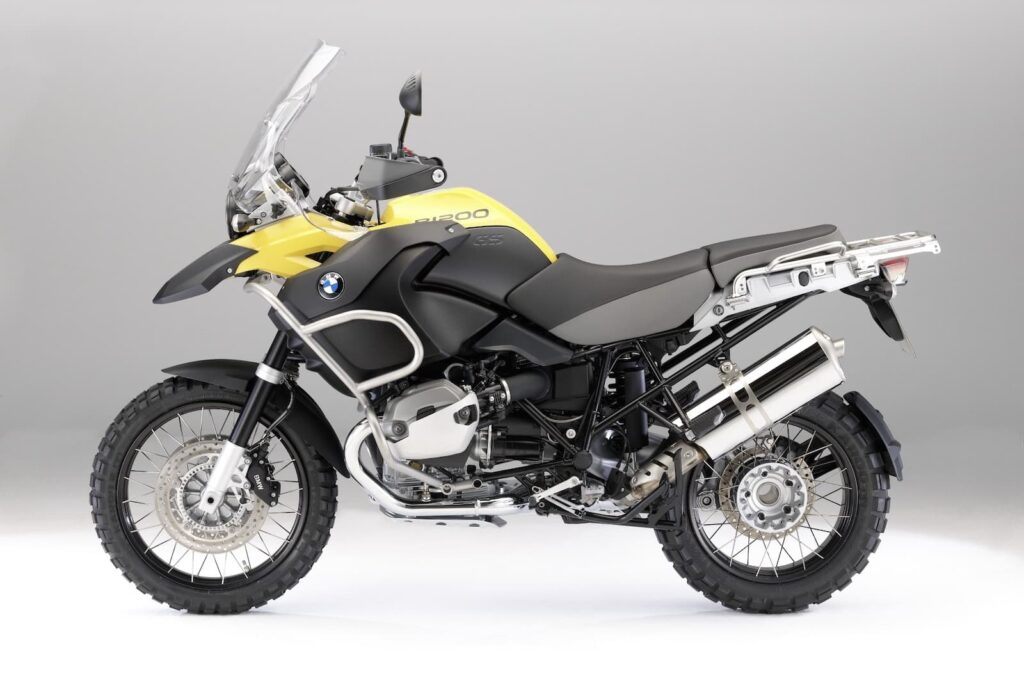 In late 2009, BMW announced a major update to the R 1200 GS and Adventure, both at the same time.
The banner update was to the engine — this was the first GS with a dual overhead camshaft (two per cylinder, that is) setup, the so-called "Camhead" design. This is the same engine used in today's BMW R nineT. So if you're worried about spare parts on older bikes, considering the R nineT's popularity, you can rest a little easier!
BMW had pioneered the Camhead engine in the HP2 Sport. So there was no question as to its pedigree and sportiness. Though of course it was detuned in the GS, compared to the HP2, a sport bike.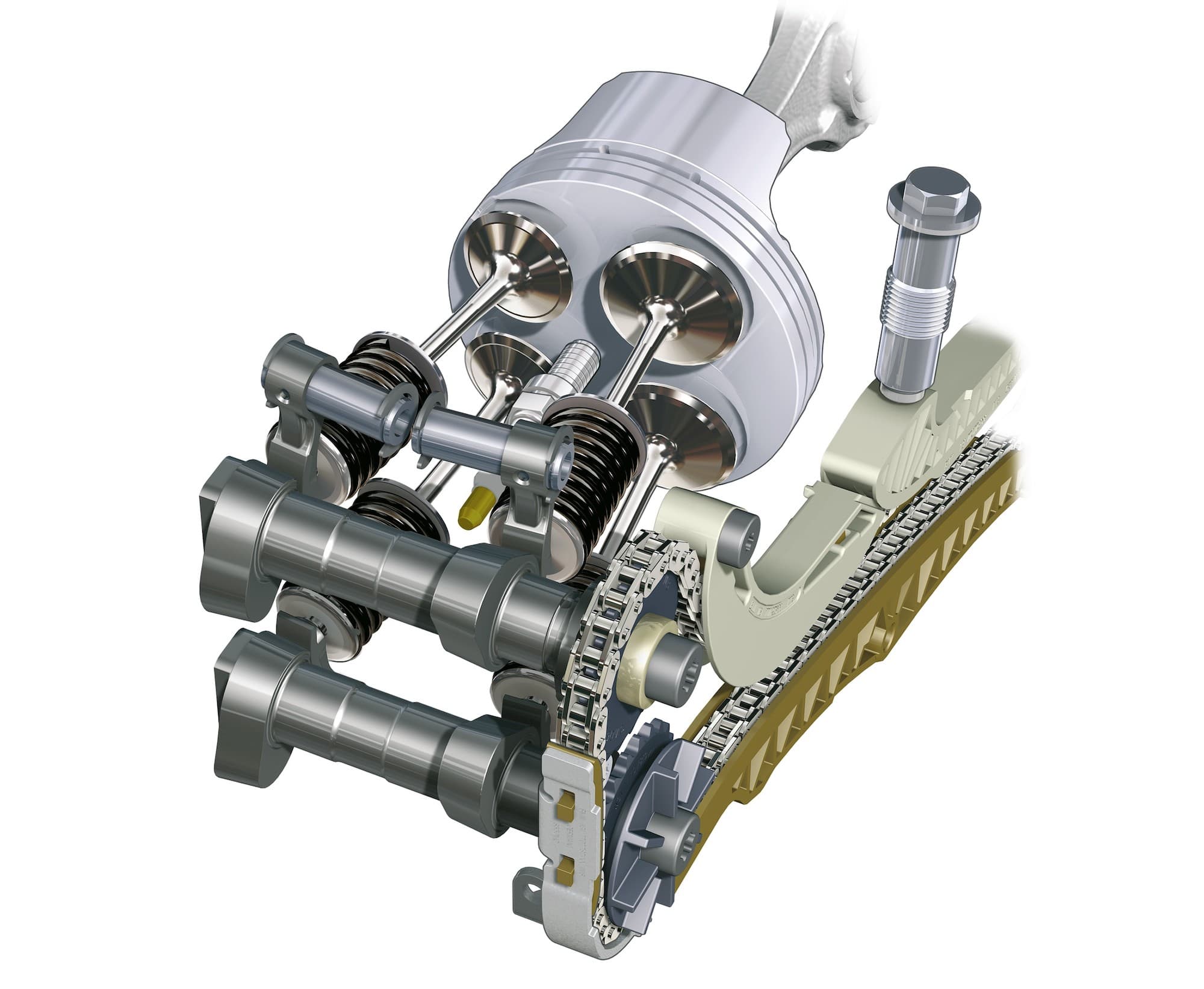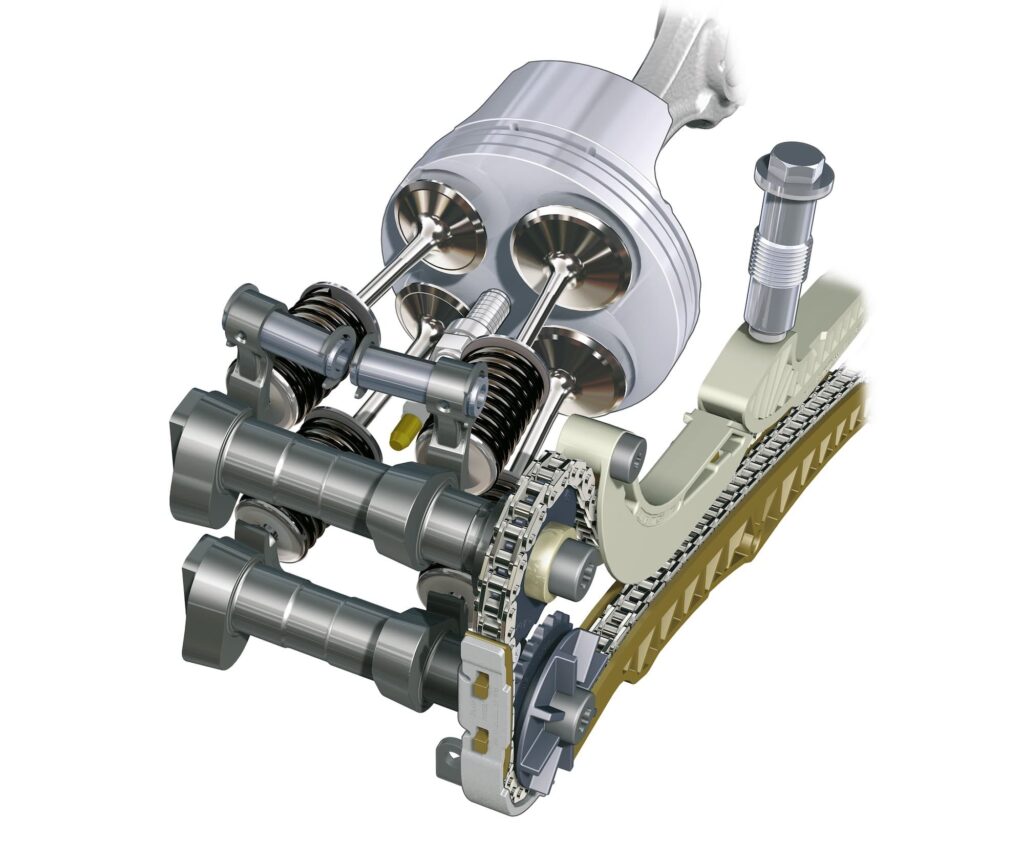 The dual overhead camshafts are driven by a chain, and run much lighter rocker arms. This lighter setup is able to spin up more easily, helping BMW raise the rev ceiling and thus peak power.
While BMW borrowed the engine from the HP2 Sport, they kept the design of the R 1200 GS motor twin spark, as it had previously been. The HP2 Sport's motor has a single spark plug per cylinder.
The Camhead motor still has the 6000 mile / 10000 km service intervals of the earlier motor, but the method you use to adjust the cams is more complicated. The engine has a shim and bucket system, so you need more spare parts, time, and fiddling. It's not hard, mind you.
BMW kept the optional "Enduro ESA" electronic suspension on the Camhead GS that it had introduced in 2008. It's not active suspension, but you can change important settings with the push of a button.
Aside from the modern engine, changes on the 2010 BMW R 1200 GS were relatively minor. BMW introduced an electronically controlled exhaust flap to modulate exhaust back pressure, tweaked the secondary transmission ratio, and revised the aesthetics.
2013-2018 BMW R 1200 GS 3rd gen "Wethead / Wasserboxer"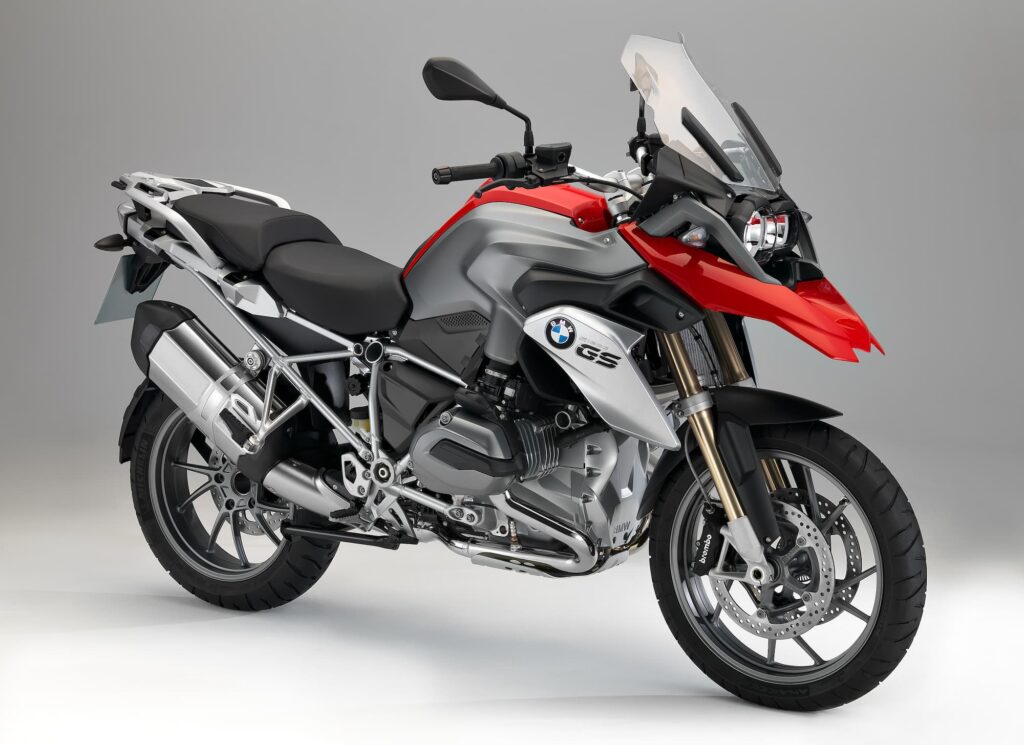 BMW made some huge changes for the 2013 BMW R 1200 GS. Primarily, BMW made the leap to liquid cooling (even though it's only "strategically liquid cooled"… 35% according to their own metrics). But BMW made some other huge changes, too, including active suspension, and riding modes.
Informally, the liquid-cooled GS has been known as the "Wethead", which doesn't sound very good, "Wasserboxer", a term not unique to BMW, or "Showerhead", a term also used for other motorcycles. Anyway, you're likely to hear any of the three.
Here's a summary of the changes in the 2013 R 1200 GS below.
| Item | 2010 R 1200 GS | 2013 R 1200 GS |
| --- | --- | --- |
| Engine type | 1170 cc "Camhead" | 1170 cc "Wasserboxer" |
| Cooling | Air/oil | "Strategic" Liquid |
| Peak power | 110 hp | 92 kW / 125 hp @ 7750 rpm |
| Brakes | Axial-mounted calipers | Brembo Monoblock radially-mounted calipers |
| Suspension | Optional Enduro ESA | Optional Dynamic ESA |
| Clutch type | Dry | Wet, slipper ("anti-hop") |
| Final drive side | Right | Left |
| Throttle | Cable | RbW (with optional ride modes) |
| Cruise control | No | Optional |
Summary of changes from the 2010 to 2013 R 1200 GS
The 2013 BMW R 1200 GS was the first to introduce riding modes, which let you set engine and ride aid response through the handlebar controls.
Riding modes these days are so de rigueur that you can increasingly find them middleweight bikes that some may consider "beginner" motorcycles (e.g. the Suzuki GSX-8S). But many riders may not realise how recent an innovation ride modes are. They became popular around the same time as ABS.
The first bike to introduce riding modes was the 2010 Ducati Multistrada 1200S, and it was a revolutionary concept that Ducati used as a centrepiece for its marketing. "Four bikes in one!"
The 2013 R 1200 GS came with riding modes as an optional extra — Rain, Road, Dynamic, Enduro, and Enduro Pro. In later model years, BMW started offering some riding modes as standard, and others as add-ons ("Riding Modes Pro").
But while riding modes are commonly seen, active suspension is still less widespread. High-end, top-of-the-line motorcycles have it, but even high-end middleweight motorcycles typically only have partially active suspension, e.g. just the rear shock.
Anyway, let's look at the engine. Liquid cooling! BMW suspected riders wouldn't receive this change well, and so were anxious to point out that the "Wasserboxer" engine is just strategically liquid cooled.
You might also like this article looking at air/oil vs liquid cooling.
The project leader for the 2013 R 1200 GS, Antonius Ruhe, was very aware of BMW riders' sensitivity to departing from air cooling. "We remained faithful for 30 years and came up against the engine's thermal limits. It was time to strike out!" (See this interview on Pistonheads, though that quote is from elewhere.)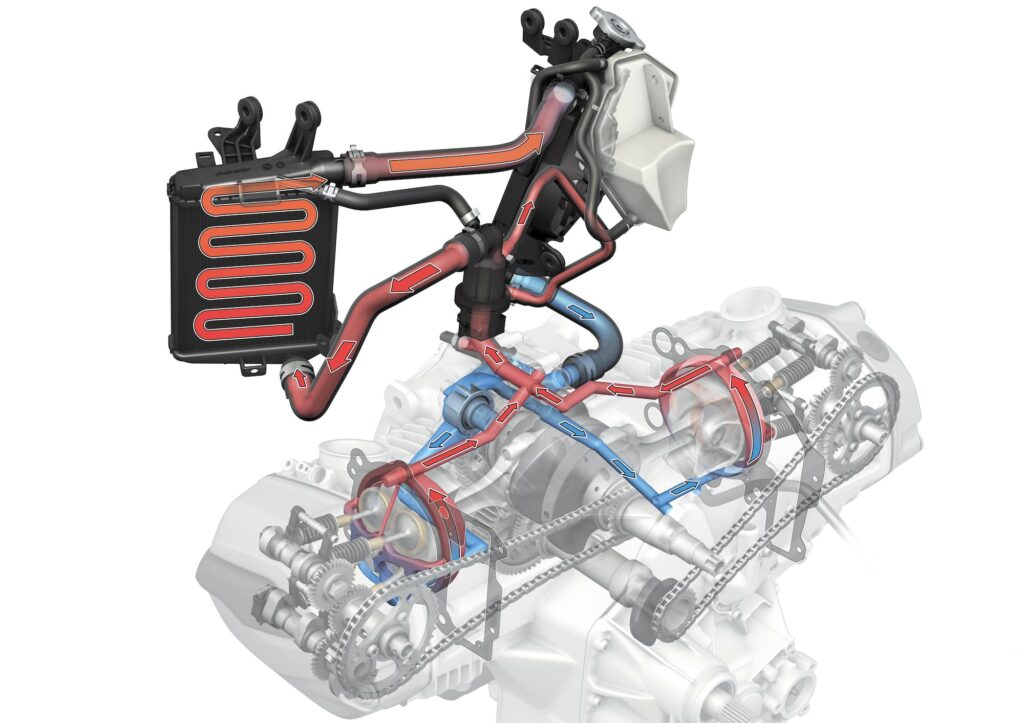 BMW also enlarged the valve sizes on both the intake and exhaust. This exacerbates the cooling problem, which is part of the reason why liquid cooling had to come to the rescue.
BMW also did a masterful job of hiding the radiators. This wasn't just a styling exercise. The Telelever suspension up front demands it — you need room for the A-arm, right where the radiator goes.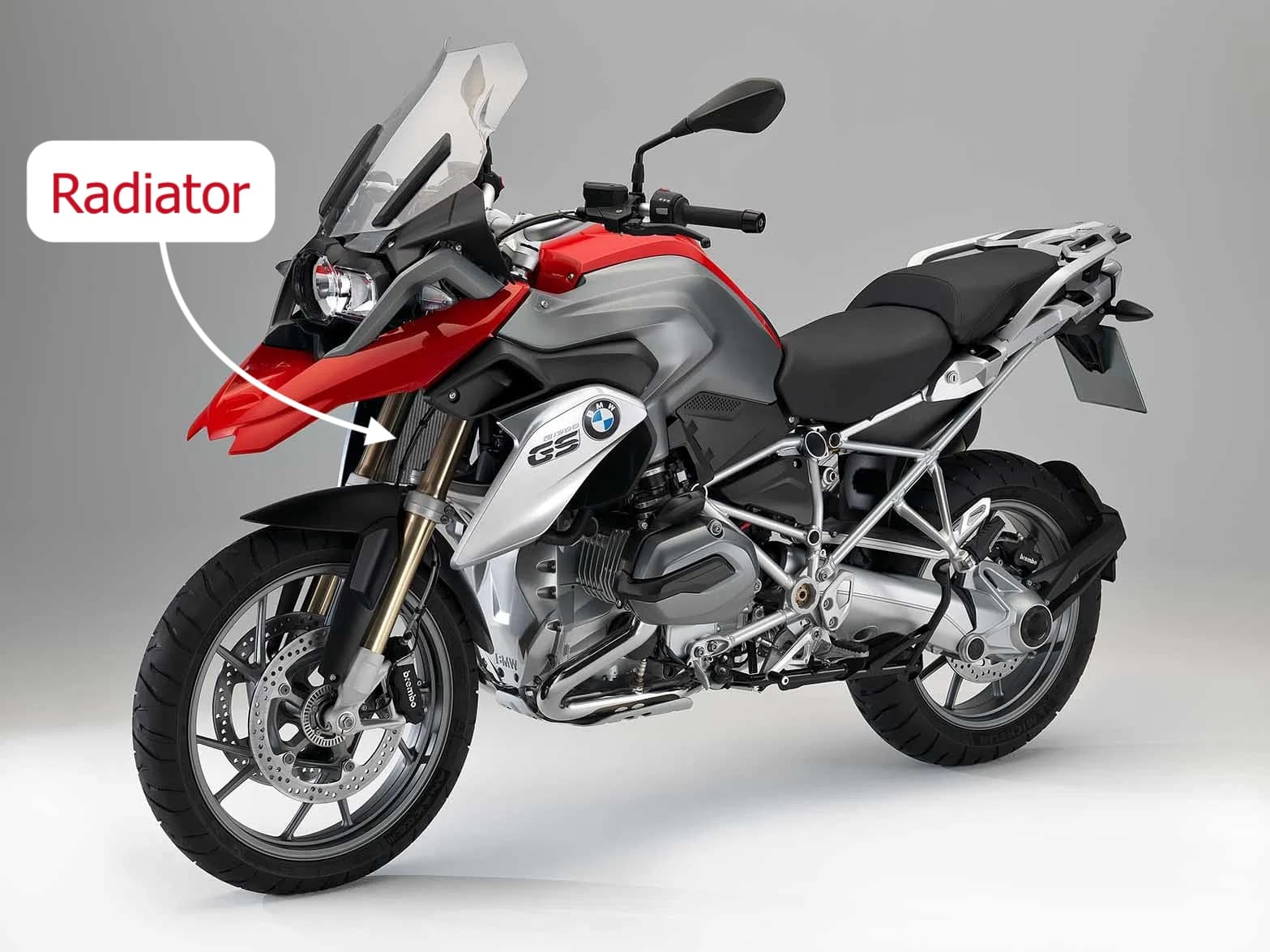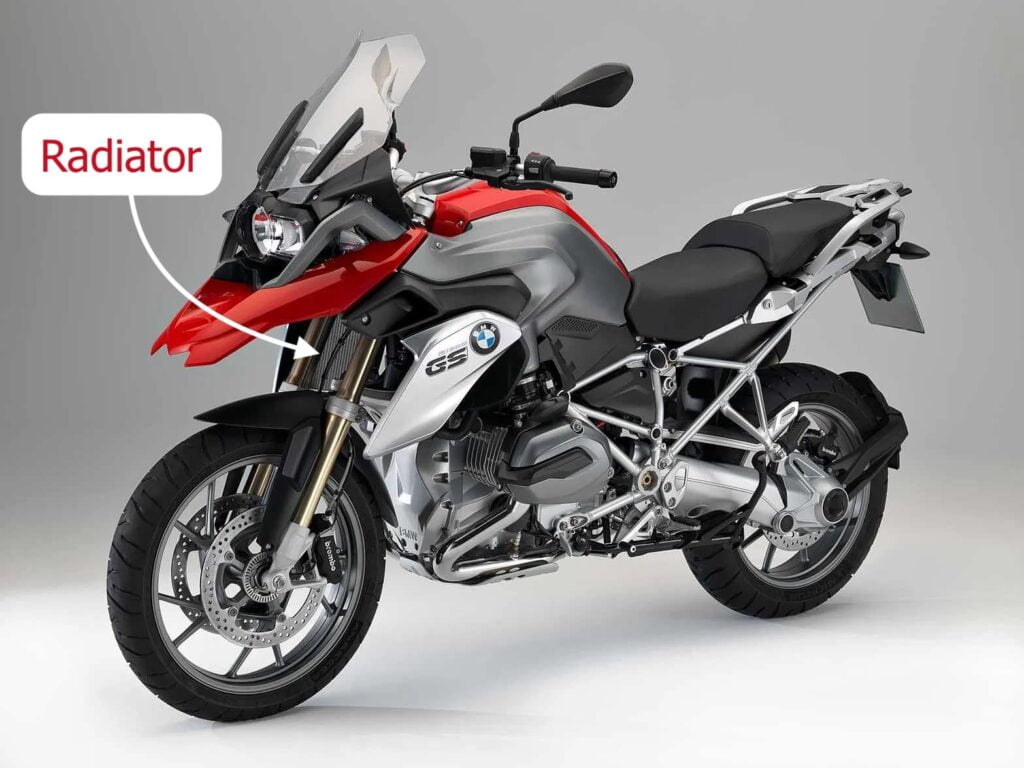 BMW claimed that it would be quite difficult to damage the radiators in the event of a crash. You'd crash onto the handlebar and cylinder head, they said. Still, crash bars are a popular option (falling onto a cylinder head is also not great).
BMW also swapped out the previous generation's big friction disc dry clutch with a smaller, multi-disc wet clutch that also has slipper functionality. Unlike the dry clutch, which could only be serviced by splitting the bike in two (6-10 hours, depending on a mechanic's skill / experience), the wet clutch can be serviced through the engine's front cover. A huge change!
The liquid-cooled R 1200 GS still has a Paralever rear end. But from 2013, BMW switched it to the left hand side of the bike. My guess as to the reason for this, before looking it up, was that it would be so that photos of the bike facing "forwards" (most of the world reads left-to-right) would show the exposed rear wheel.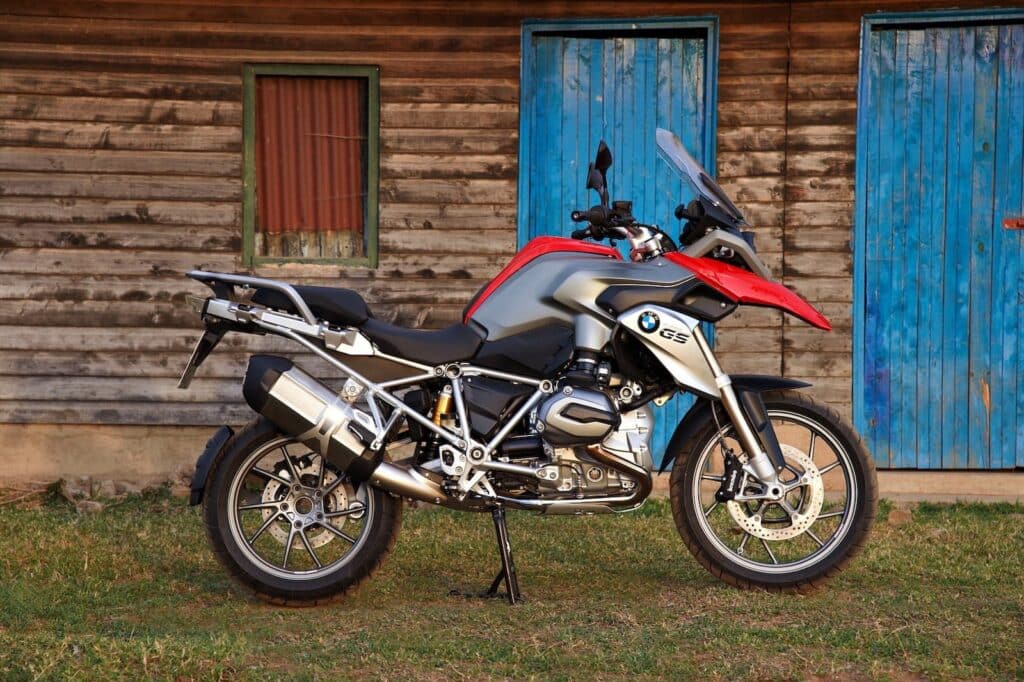 … And, aha! Here's a reference for the aesthetic motivation for moving the driveshaft. The project leader, Antonius Ruhe, said in an interview with MCN (not available online)
"We moved the exhaust to the right side because when the motorcycle is being ridden off-road and riders need to get off and walk alongside in deep mud, this stops them getting burnt if the bike falls over. The swingarm is now on the left because it looks better from a styling point of view when the bike is resting on the side stand. It really is that simple."

Antonius Ruhe, Project Leader for the 2013 R 1200 GS, Motorcyclenews.com
I also imagine there's a weight balance question of the swing-arm and exhaust. But who am I to second-guess a Project Leader?
As a second side note, the BMW R nineT, which retains the earlier twin-cam air/oil-cooled motor, also retains the driveshaft on the right hand side.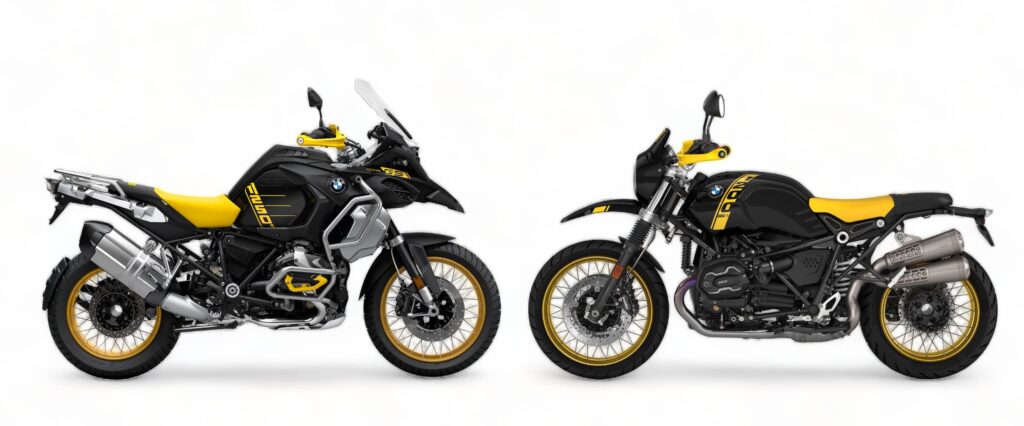 On to the suspension: BMW introduced optional semi-active suspension, "Dynamic ESA", in the 2013 R 1200 GS. It monitors vertical movement in the front and rear wheels and adapts damping automatically through electrically controlled valves.
Dynamic ESA also changes the way in which it responds depending on the riding mode in which you are. For example, in "Road" or "Dynamic" mode (BMW tends to abuse the word "Dynamic". Everything's "dynamic"), Dynamic ESA has tighter, harsher damping, optimised for fast riding on smooth roads.
From the 2014 model year, BMW also updated the "Adventure" line. They sometimes updated the GSAs at the same time as the base model, and sometimes delayed it by a year.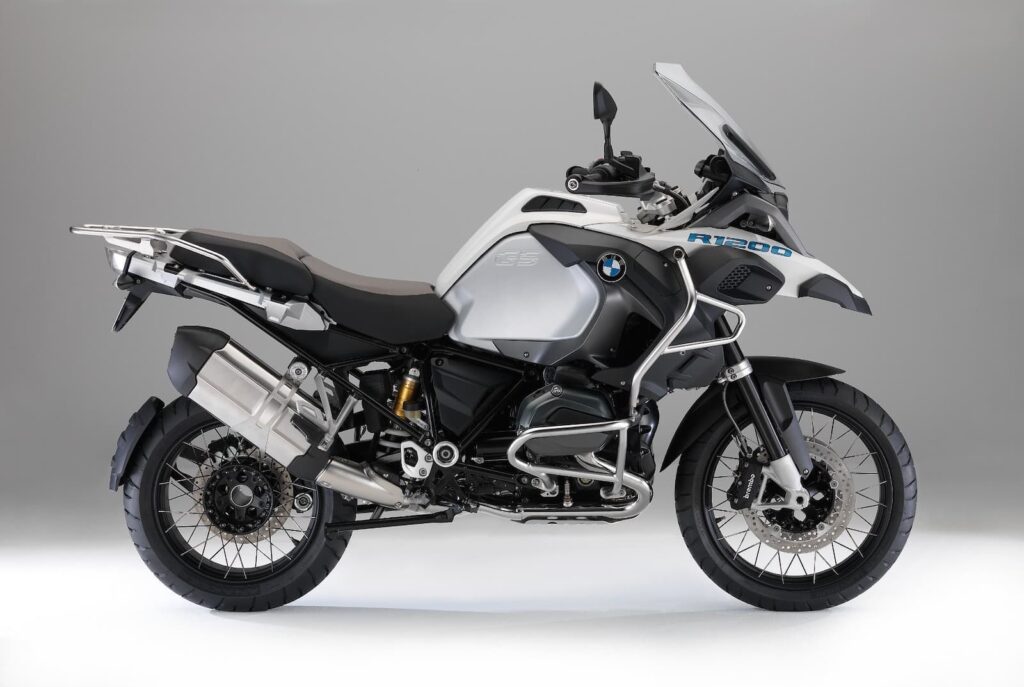 BMW gave the GS Adventure the typical treatment, with:
20mm longer suspension travel at the front and rear, adding 10mm ground clearance
A 30-litre fuel tank (up from 20L). In US or UK Gallons that's… well look, it's 1.5x more either way
Wider enduro footrests
More flywheel mass and an additional vibration damper
Modified geometry for improved handling
Dynamic suspension and cruise control remained as optional add-ons, though.
During the tenure of the 2013 R 1200 GS and 2014 R 1200 GS Adventure, BMW made some updates along the way.
From model year 2015, BMW made available keyless ride, as well as Shift Assistant Pro (up and down clutch-less shifting, a.k.a. a quickshifter), as options.
From model year 2016, BMW made available ABS Pro to the R 1200 GS, bringing with it ABS Pro and Dynamic Traction Control (DTC), both of which work with an Inertia Measurement Unit (IMU), providing what other brands call "cornering ABS".
See here for other motorcycles with cornering ABS.
Riding Modes Pro brought with it Hill Start Control to help avoid launching in tricky situations. And in Europe, it brought "dynamic brake light".
2017 Update to the BMW R 1200 GS / Adventure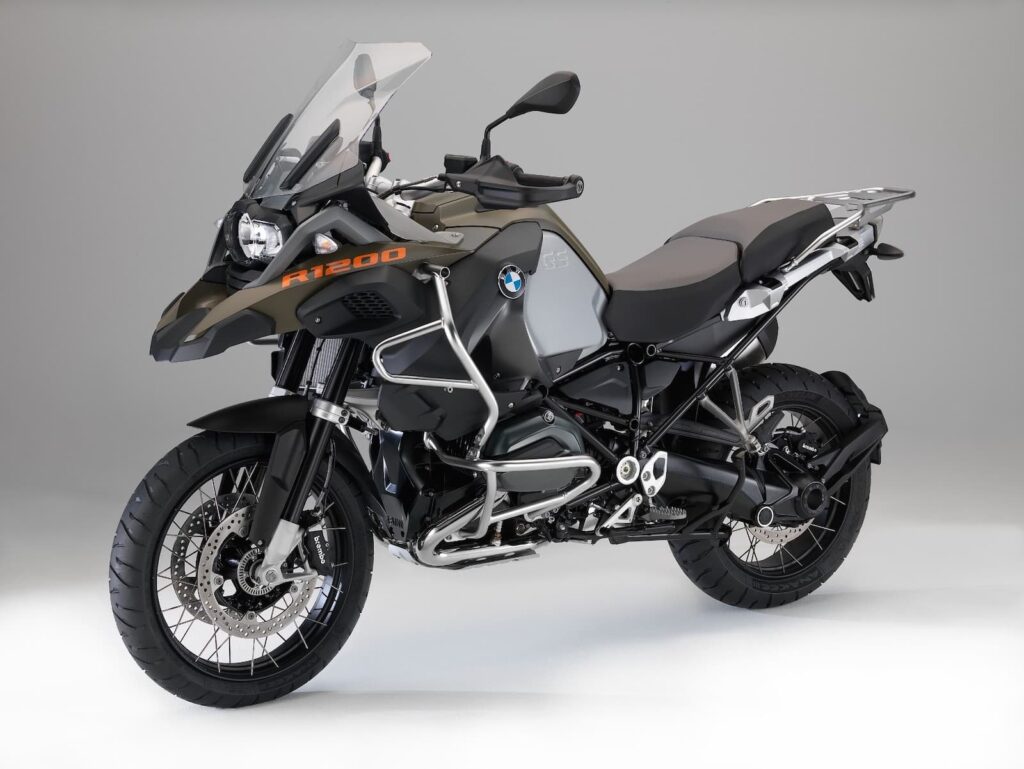 BMW made an intra-model update to the R 1200 GS in 2017. It's based on the same engine, with the same power/torque specs, but with Euro 4 compliance.
BMW had quietly introduced Riding Modes Pro, a quick shifter, and keyless ignition in the earlier years, but made them part of the official packages for the 2017 R 1200 GS.
BMW also started offering named variants of the R 1200 GS, like the Rallye and the Exclusive, with various option sets as standard, and different paint schemes.
Alongside these updates, BMW updated Dynamic ESA to be "Next Generation", with fully automated self-levelling — i.e. automatic preload adjustment based on detected load.
BMW updated the R 1200 GS Adventure from mid-2017, for MY2018. The GSA got all the same updates, but a few new tech options:
Optional "Connectivity" (which is actually better described as a 6.5-inch TFT display) — also made available for the R 1200 GS
Optional Emergency Call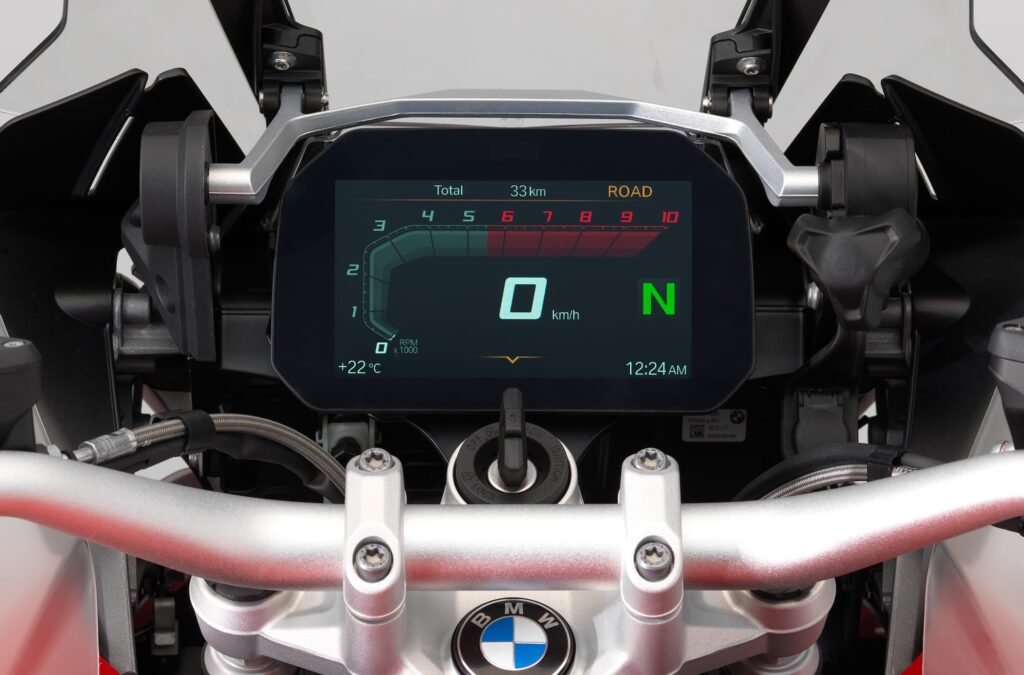 TFT displays are pretty common these days, even on mid-range models, reaching the point of saturation. But they used to be special. Give me gauges, any day… maybe other than for the speedometer, so I can switch between metric and imperial units, should the need arise.
Aside from that, BMW updated the aesthetics of the 2017 R 1200 GS. It's really quite a looker.
2019-2023 BMW R 1250 GS / Adventure "ShiftCam"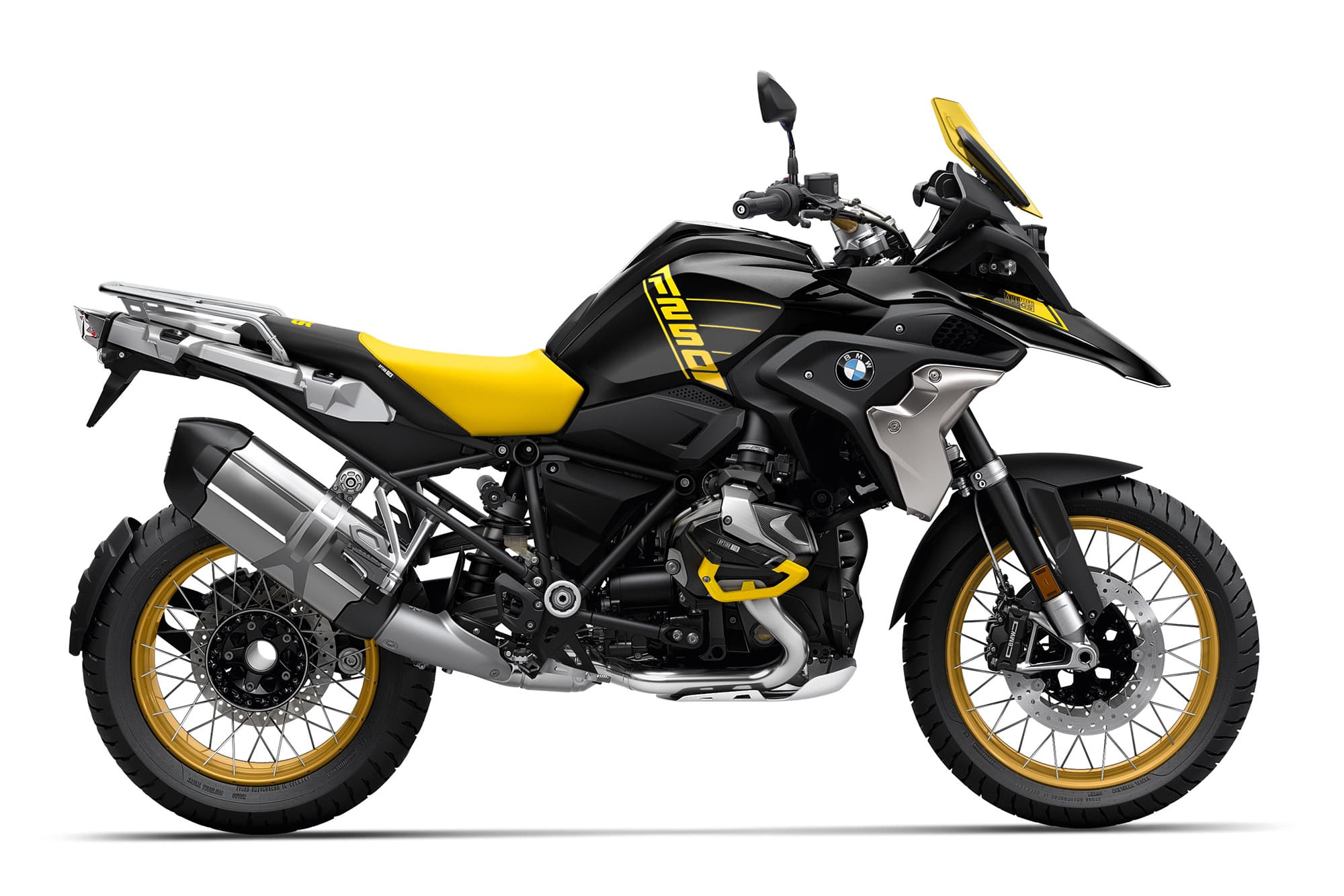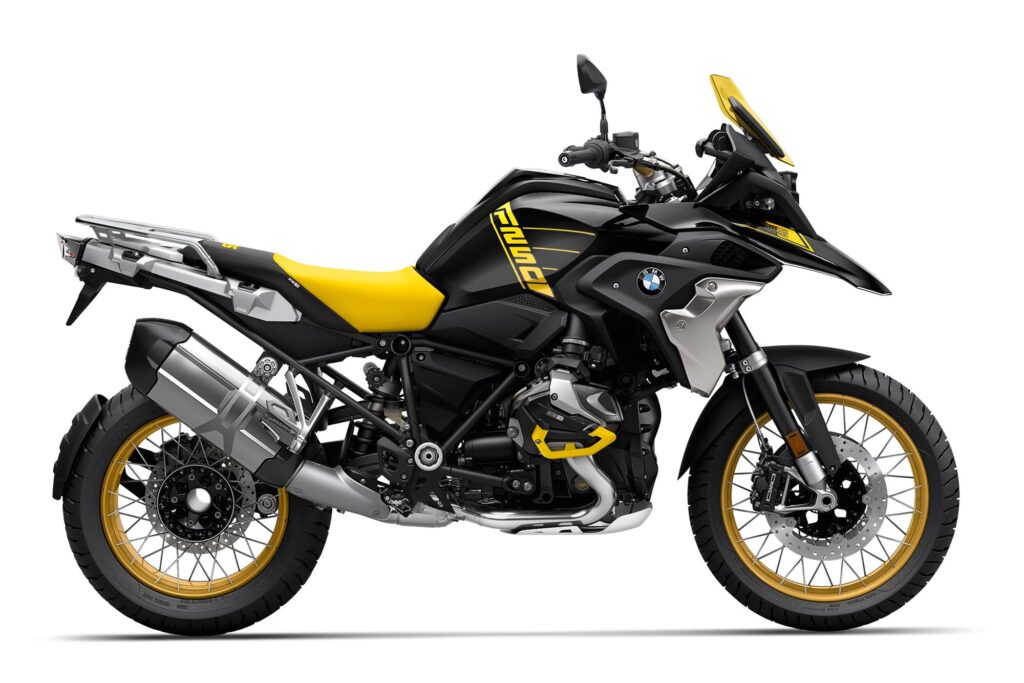 For 2019, BMW updated the R 1250 GS considerably. BMW increased the capacity of the engine for the first time in over a decade.
But they also went further, introducing variable valve timing (ShiftCam), adding complexity in a bid to meet emissions requirements without sacrificing bottom end torque or top end power, and also quietly abandoning any talk of "partial liquid cooling". We're all used to liquid cooling by now, presumably.
So how does ShiftCam work? The general principle of variable valve timing in any motorcycle is that the ECU takes inputs from a number of places — engine speed, throttle position, gear, and maybe more — and makes a decision about which cams to use. The various cams have different timings and stroke, to alter the way the intake and exhaust valves open. This enables better breathing at high RPM, and smoother response at low RPM.
On the R 1250 motor, only the intake cams have VVT.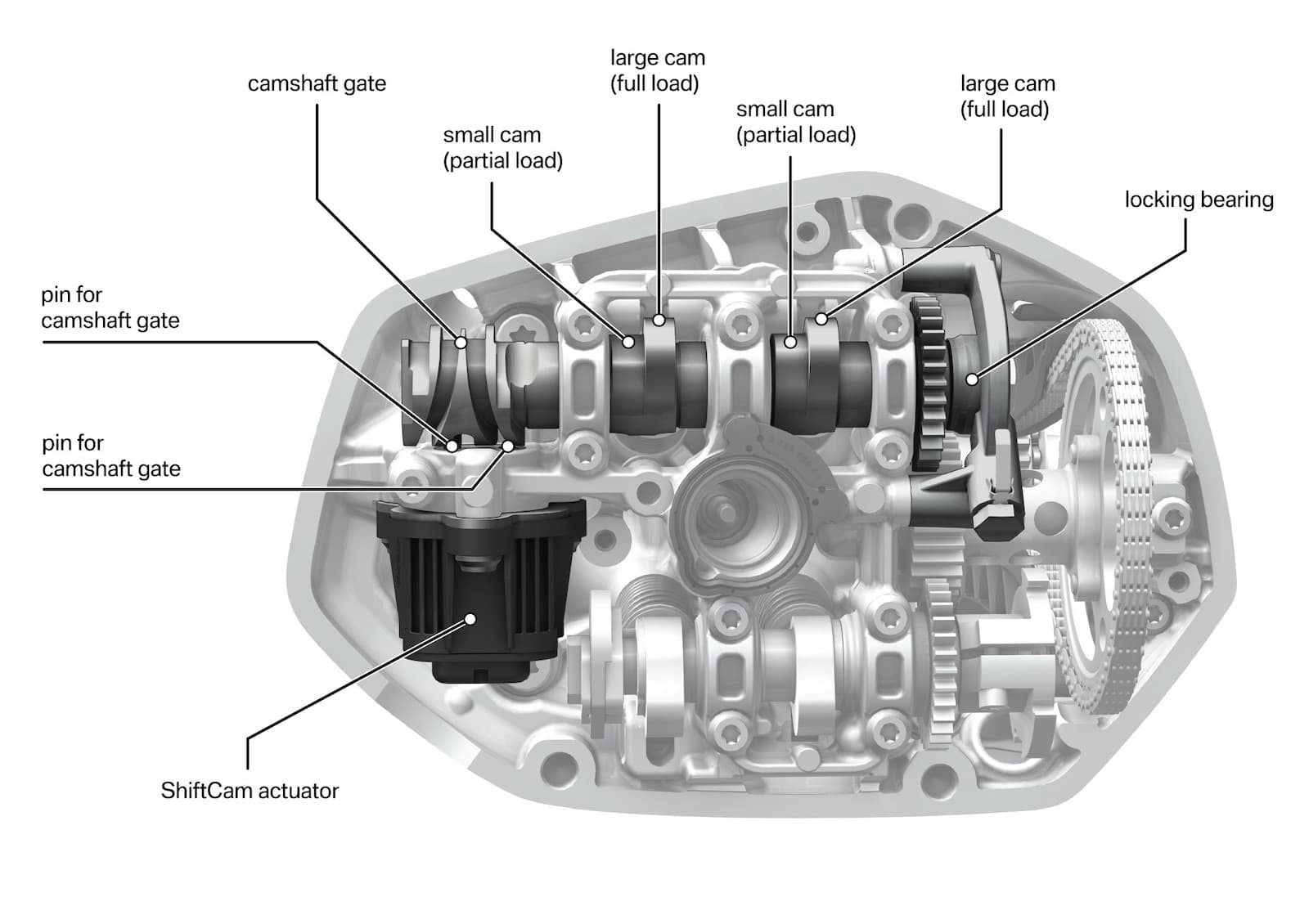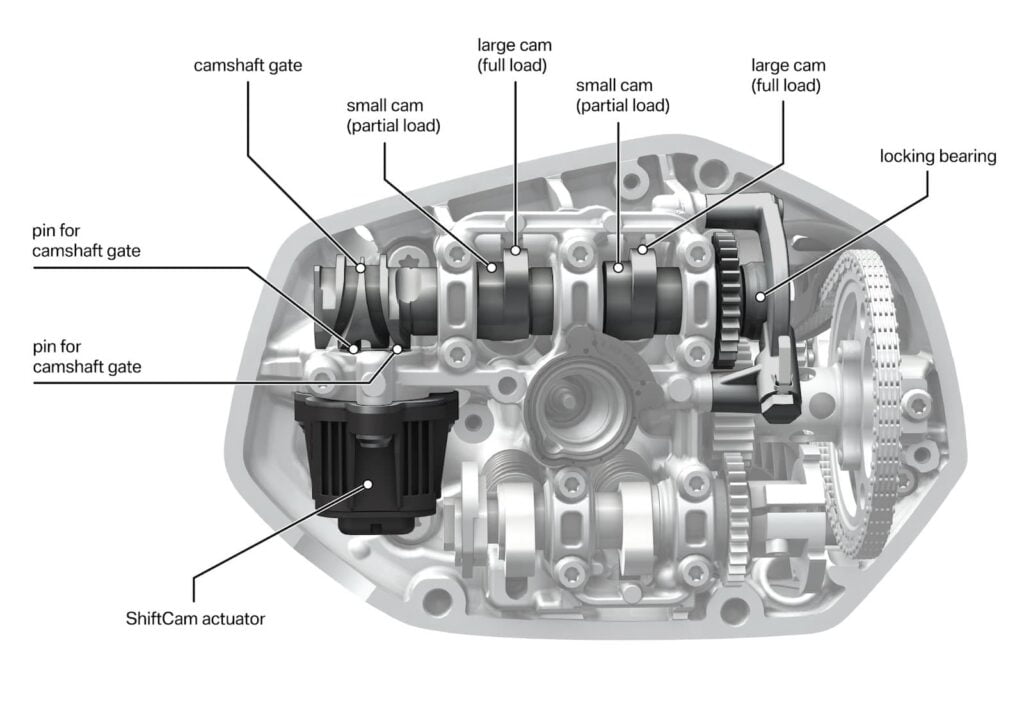 BMW initially kept ABS Pro as optional, but later made it standard on the 1250 models. From 2021 model years (check your specific build), all 1250 bikes come with standard cornering ABS or "ABS Pro" as BMW calls it.
Also worth noting is that from 2021, it's "Integral ABS". The front brake lever also partially applies the rear brake. The rear brake pedal only applies the rear brake.
The 2019+ BMW R 1250 GS keeps optional Dynamic ESA "Next Generation" that it had brought to the R 1200 GS a couple of years prior.
The TFT display is also standard on all 2019+ models. As much as I yammer on about liking gauges (especially white-faced ones), I really like the colours and contrast of the BMW TFT displays.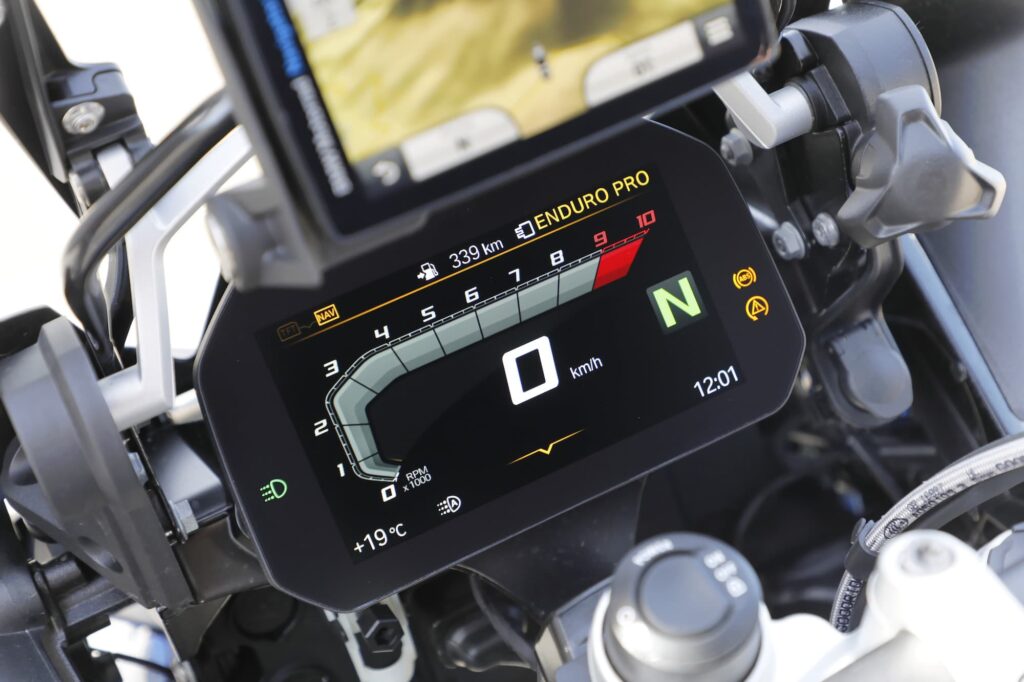 One interesting new feature for the R 1250 GS was "Intelligent Emergency Call", a system that automatically calls BMW in case of an accident. You drop your bike, and get a call from BMW saying "Are you OK?" The call comes to your bike. There's quite a few comical examples of people dropping their big tourers in the dirt and hearing "Hello? Hello?".
Later, BMW made Intelligent Emergency Call a standard feature.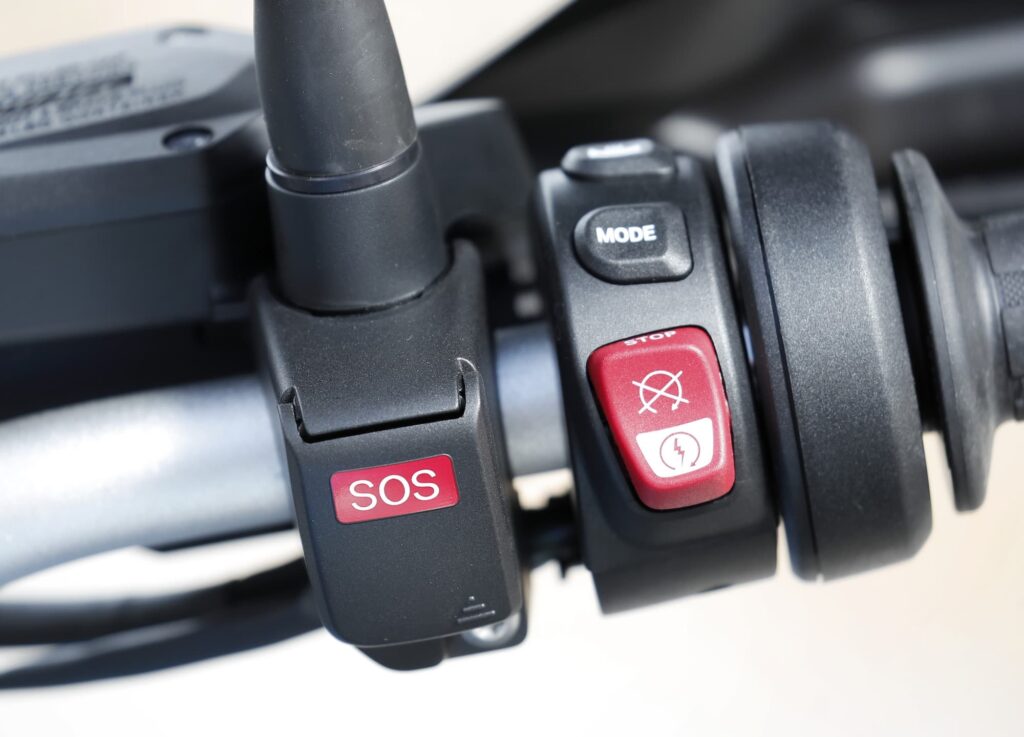 Which BMW R – GS to get?
I started this research out thinking "Any R 1200 GS will do", then thinking "maybe I should get one of the most recent, but slightly old air/oil-cooled ones".
As I did my research and took more test rides, I started to realise just how much depth there is in there! Now, I actually kind of have no idea, and am just waiting for a good deal on anything to slap me upside the face…
I definitely appreciate the last of the Hexheads, the 08 / 09 models. They're early enough for me to be able to do the service (screw and locknut adjusters), and recent enough to be not too long in the tooth, and not as heavy as the 1150.
Then again, the long valve service intervals of the liquid-cooled GS bikes is appealing!
A few people who've ridden both the late model 1200 and the 1250 say that naturally, the 1250 has more performance, but they'd never have noticed if they hadn't ridden both, and the recent 1200 has everything you'd need. If you like having all the features, and plenty of power, a 2017 R 1200 GS is the value pick.
As for the most recent ones — they're always way out of my price range. Alas, they're for looking, not touching. But one day, I'll get a heavily used one — let me know if you want to part with one.
Alternatives to the R – GS
It's inevitable that your might start to wander towards other bikes geared towards long-range mixed-use adventure travel. The GS defined the market for many years, but it has stiff competition from every direction these days — Suzuki with the affordable V-Strom 1050DE, Honda with its venerable Africa Twin, and even Harley-Davidson's Pan America, which has been very well received.
I'll do a full feature on big-bore adventure tourers soon, but here's a quick overview (including the BMW, which is first alphabetically).
BMW R 1250 GS
The BMW R 1250 GS (pictured above in limited HP colours) is a high-power, high-spec, and very capable adventure tourer, designed to be at home on highways or on dusty 4×4 paths. It's powered by a 1254 cc liquid-cooled boxer twin with variable valve timing (the "ShiftCam" engine). It's available in base trim, and up-spec "Adventure" trim which comes with a lot of options as standard, taller suspension, and a 30-litre long-range fuel tank. (See the resources page here.)
Ducati Multistrada V4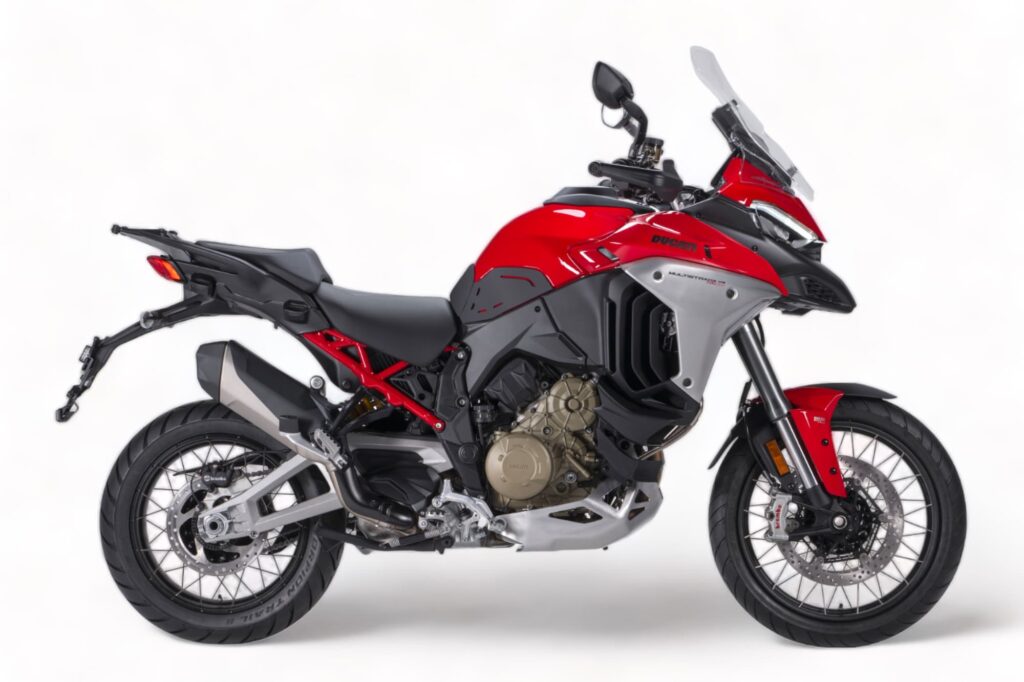 The Ducati Multistrada has evolved, over the years, from being a road-oriented sport motorcycle to a mixed use weapon. The latest incarnation, the Ducati Multistrada V4 (see the resources page), is powered by Ducati's V4 Granturismo motor, which makes impressive power of 125 kW / 170 hp at 10000 rpm) and has super long 36000 mile / 60000 km major maintenance intervals. The V4 has loads of things that make it special, including active "Skyhook" suspension, and radar-based adaptive cruise control.
Honda Africa Twin CRF1100L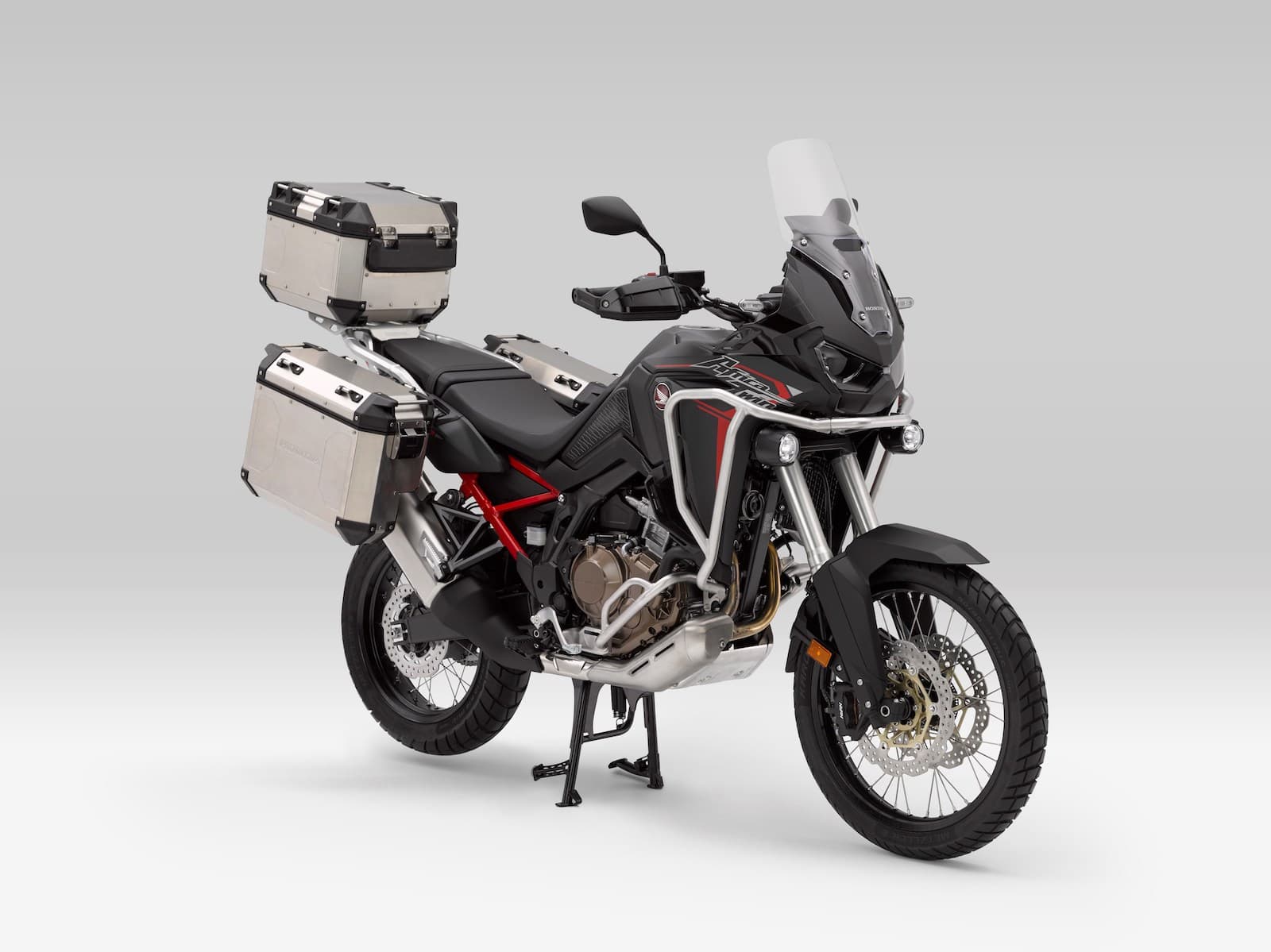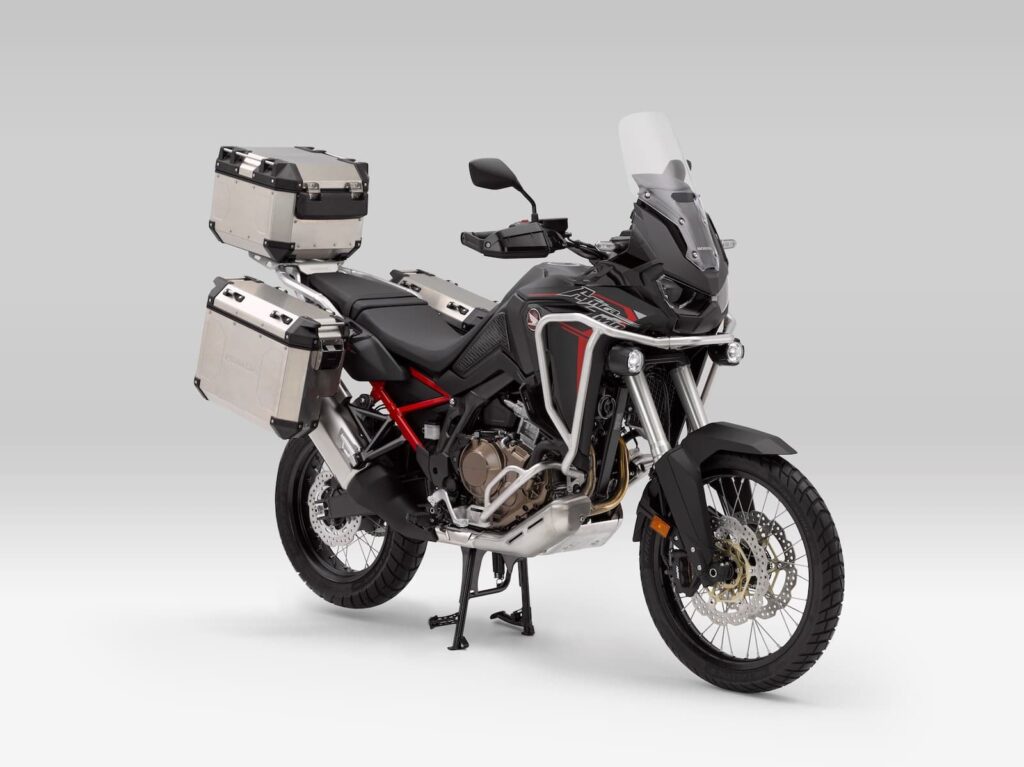 The Honda Africa Twin is Honda's revival of an iconic brand that put them on the map as adventure touring manufacturers. The 2016+ models are powered by a parallel twin "Unicam" engine which has a 270-degree crankshaft, and has loads of torque and character. The Africa Twin has a 21-inch front tire and comes with tubes in some configurations, which is something to be aware of. The 1100+ model has cruise control and a 6-axis IMU for cornering ABS.
KTM 1290 Super Adventure S / R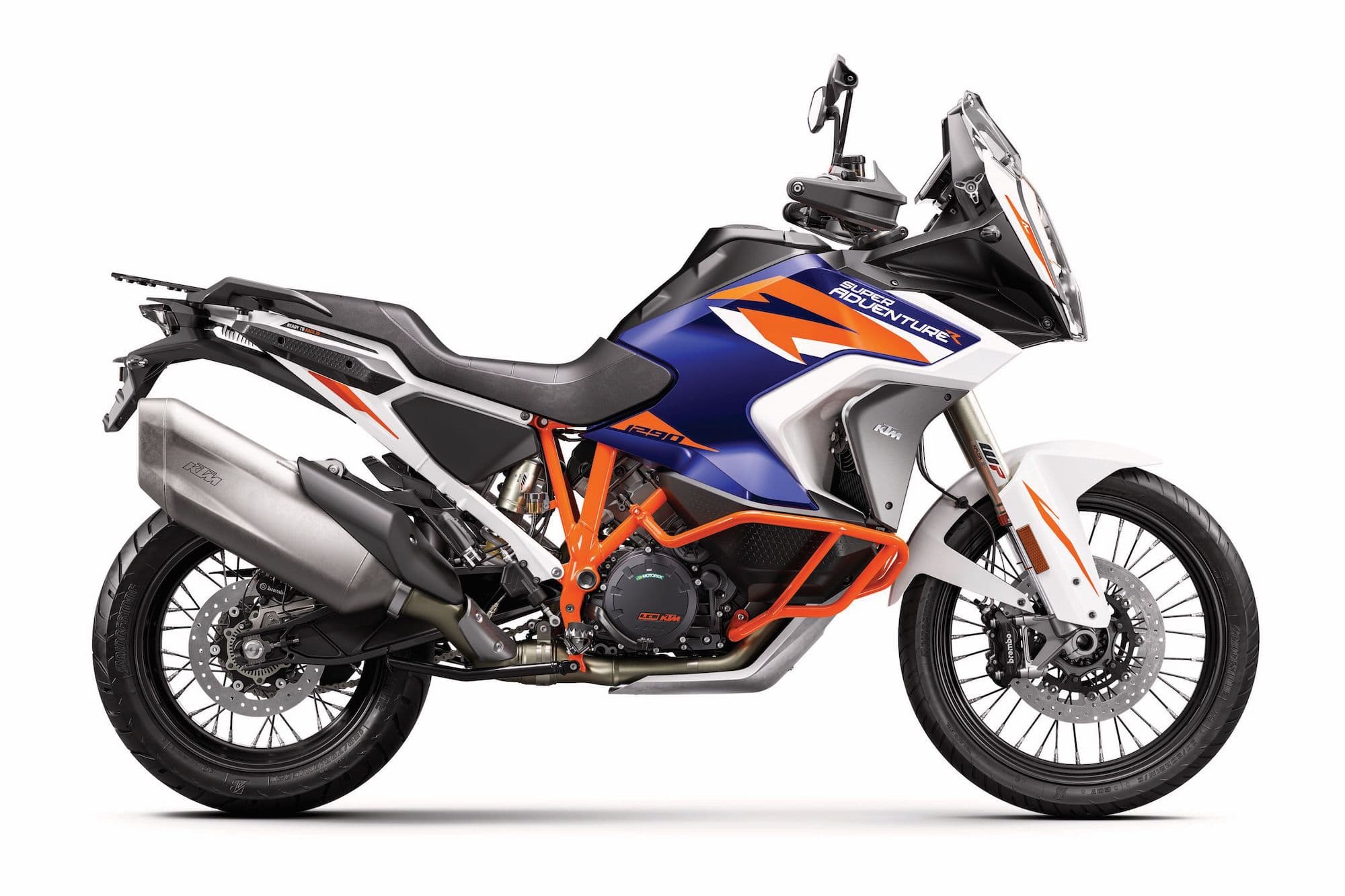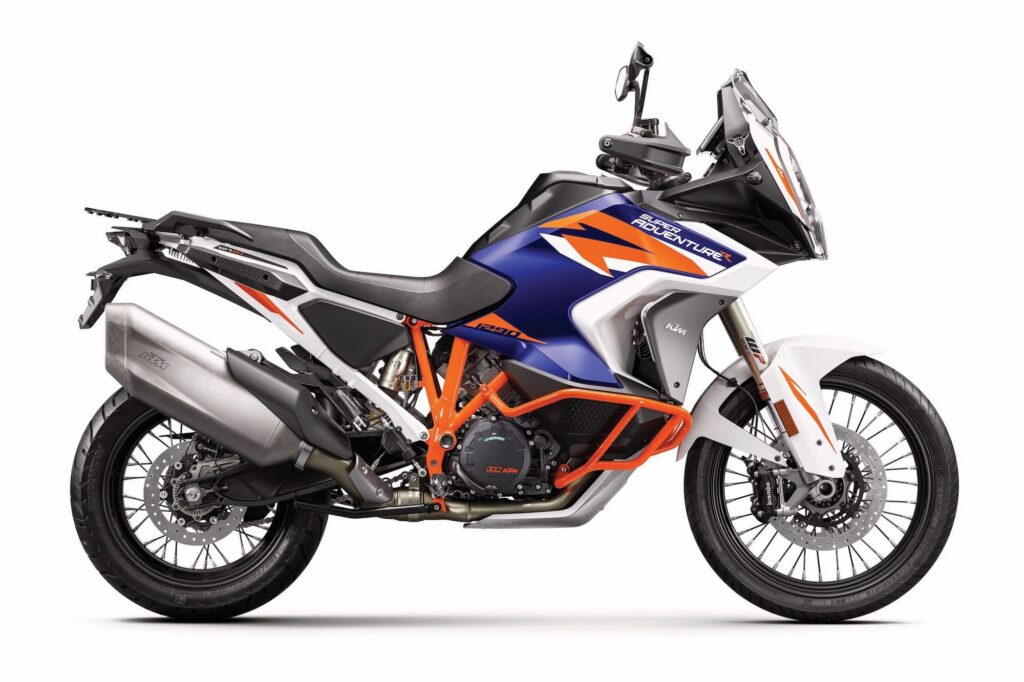 The KTM 1290 Super Adventure S and R are the bikes that most riders describe as something spanning "berserk" to "crazy". Both bikes are powered by the LC8 V-twin, a 1301 cc liquid-cooled high-power beast that also powers the 1290 Super Duke R. It makes 118 kW / 160 hp @ 8750 rpm, and gobloads of torque. The S is the street bike, with a smaller front rim, semi-active suspension, and radar-supported active cruise control, and the R is the off-road adventurer with long-travel suspension (non active), both rims spoked with a 21-inch front wheel, and a shorter screen.
Suzuki V-Strom 1050DE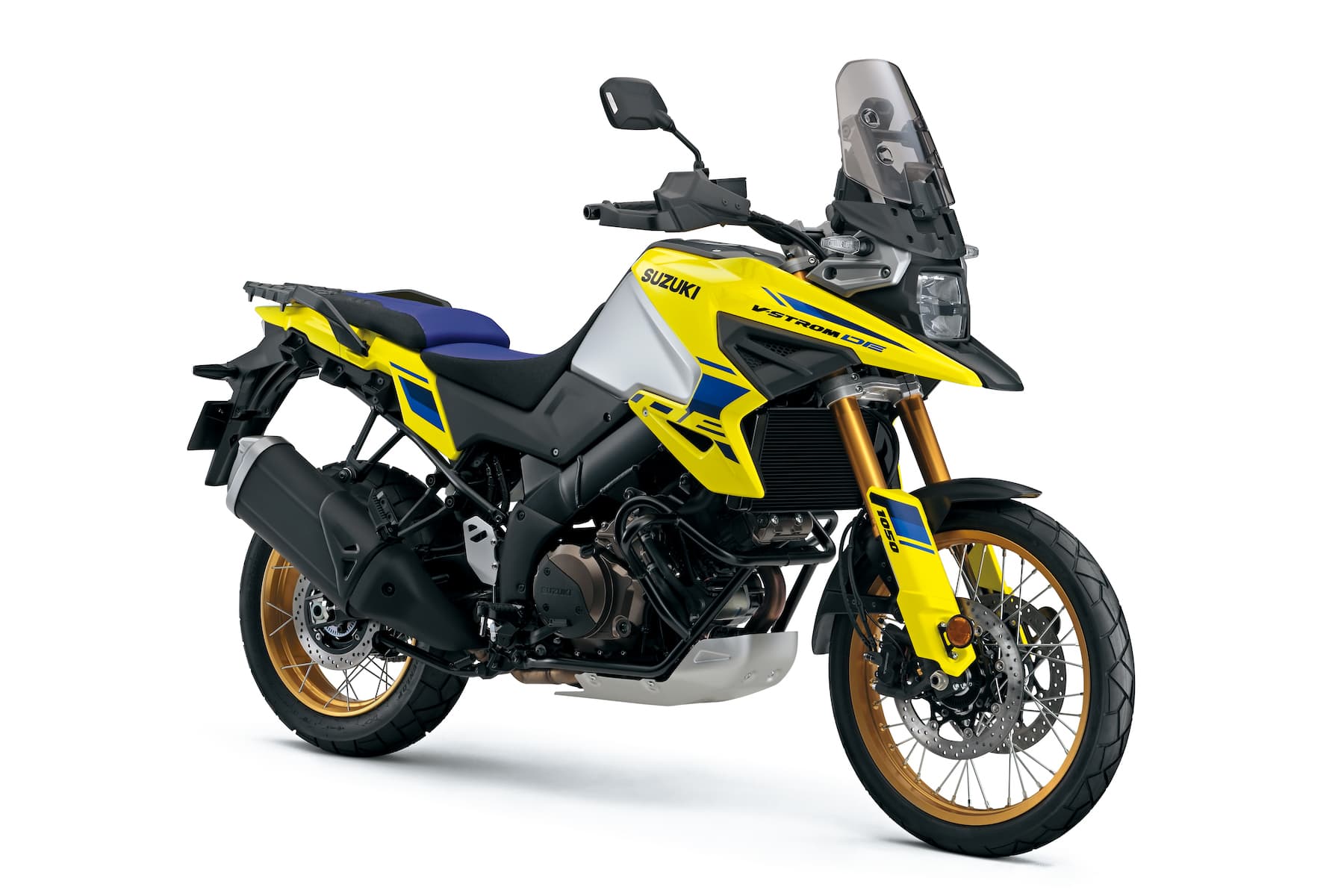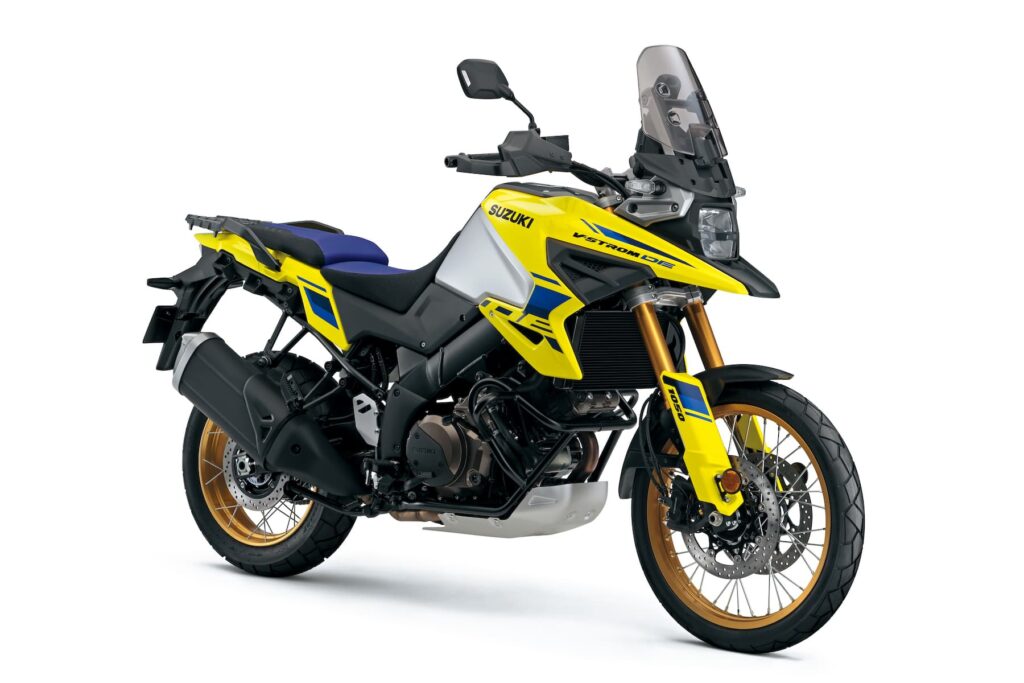 The Suzuki V-Strom 1000 and 1050 have always been budget contenders in the adventure touring market, but this doesn't mean they're not capable and very well-equipped — plus stylish! For 2023, Suzuki updated the 1050, granting it a 21-inch front wheel and letting you disable rear ABS for better off-road work. Otherwise, it's the same V-twin powered adventure bike with a motor that traces back to the iconic Suzuki TL1000S.
Triumph Tiger 1200 Rally / Explorer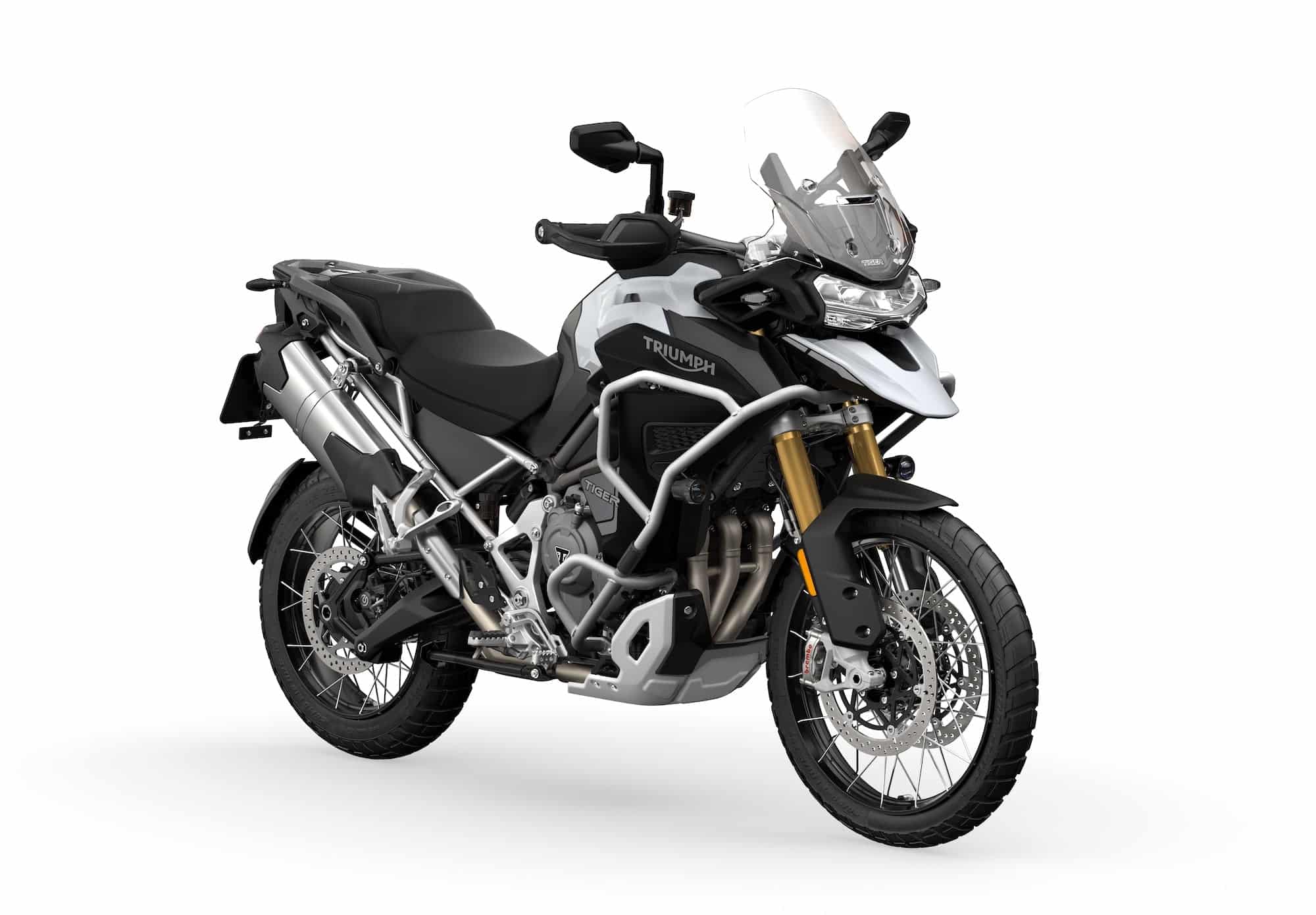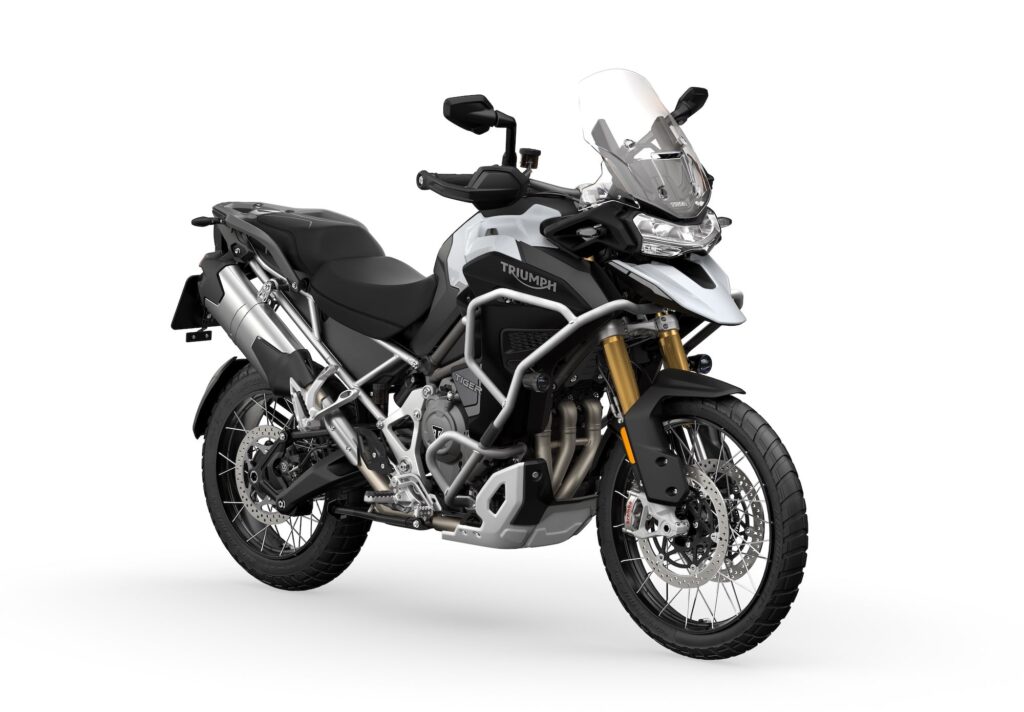 Triumph has been making the big triple-powered Explorer for many years, but in recent years has made concerted efforts to make it more off road-ready. The Rally Explorer (and Rally Pro) replace the XE and XC models, and they're the same concept — a big adventure tourer powered by an 1160 cc triple, powering the rear through a shaft drive, a relative rarity in this class. The Rally models have a 21-inch front wheel, still with a tubeless tire.
Yamaha Ténéré XTZ1200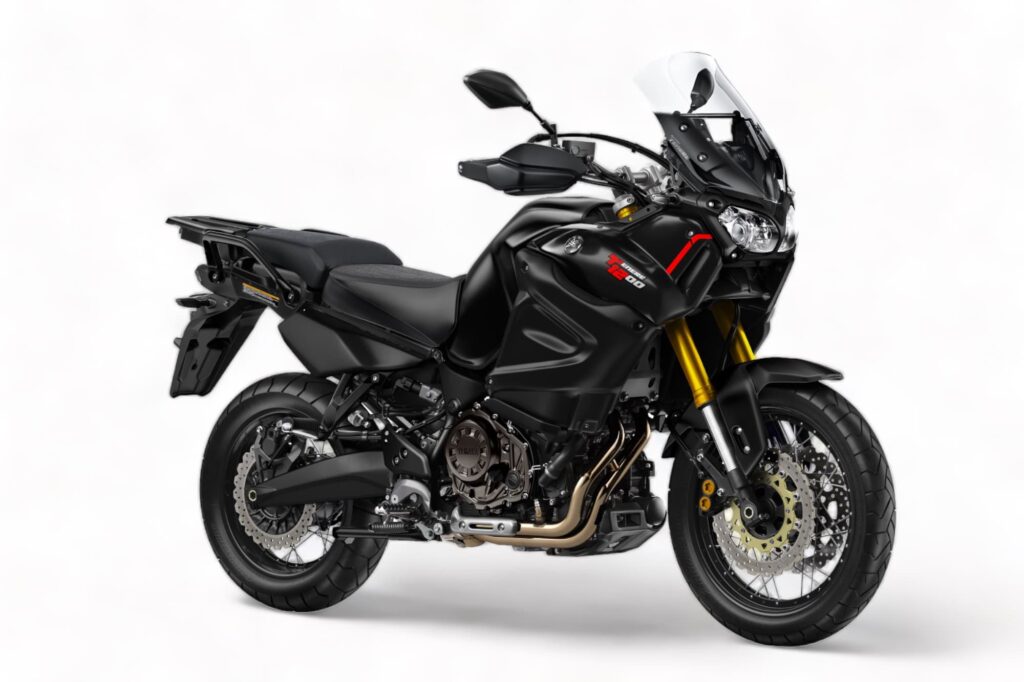 The Yamaha Ténéré XTZ1200 is almost forgotten next to its middleweight sibling, the Ténéré 700, but for a long time was the secret alternative to the GS. It's powered by an 1198 cc big bore parallel twin and puts power down through a shaft drive. The ES version lets you electronically control rear preload and front and rear damping. Aside from the option of ES, the XTZ1200 hasn't had major updates since 2014 and has been discontinued in some markets.
The Future — BMW R 1300 GS
In June 2023, BMW rolled the millionth BMW G/S or GS off the rollers. (I'm not sure whether this includes the Urban G/S, but it might…)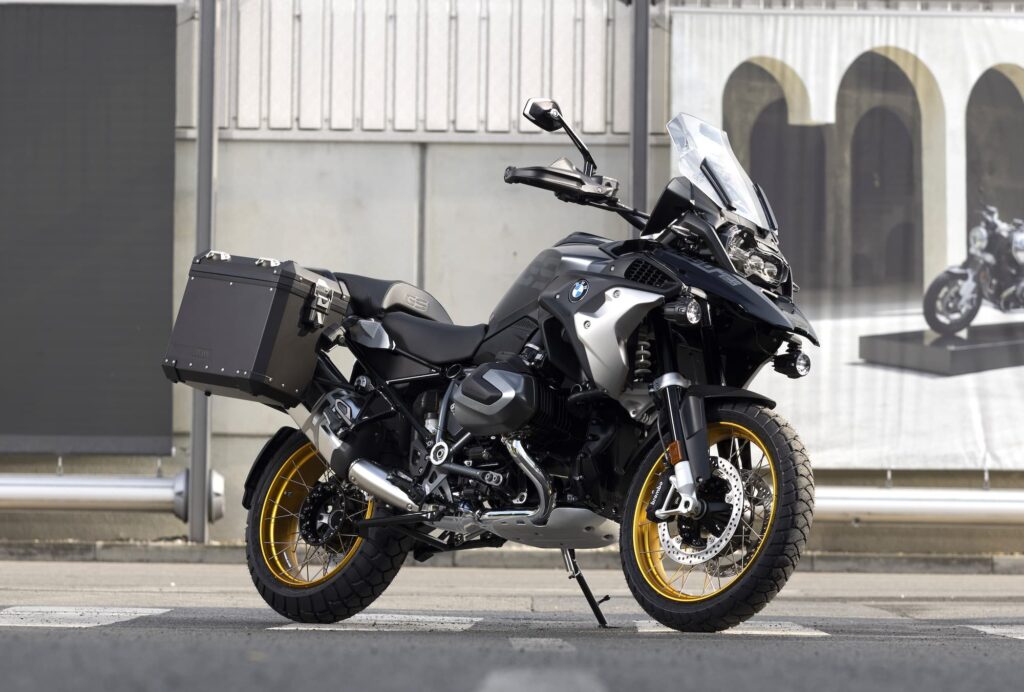 BMW also said that the R 1300 GS will be formally launched in September 2023.
There are no details yet, other than the name. Personally, I'd guess more capacity, a hair more power, more midrange torque, compliance with some new emissions standard, and an optional radar-supported adaptive cruise control.
See here for the list of motorcycles available with adaptive cruise control.
BMW has adaptive cruise control on two disparate ranges of bikes so far (the R 1250 RT and the R 18), so the GS seems next. We'll see!