This is a buyers guide to the Yamaha FZ1 (the first generation known as the FZS1000 in some markets), both generations of which pit an R1 engine with handlebars against your willpower and self-restraint. Good luck.
The Yamaha FZ1 line is one of the last naked sport bikes in that glorious period of motorcycles without rider aids (though some markets got optional ABS) and not yet overly constrained by emissions regulations.
Back when I was a lad, the Yamaha YZF-R1 was the "it" bike. It's still one of them. I mean there were a few sport bikes that everyone lusted after, but the "R1" was definitely one of the bikes that everyone knew by just that short name.
See the Yamaha YZF-R1 Buyer's guide.
But then anyone thinking about the R1 also knew about the Yamaha FZ1: the same bike (mostly), but repackaged into something more everyday accessible, a new kind of everyday crazy.
If you're wondering about the Yamaha FZ1, you're probably wondering:
What makes the Yamaha FZ1 special? How's it different from the R1?
Which to get — the earlier carburettor-fed version, or the later fuel-injected one?
What's the difference between the Yamaha FZ1 and the R1?
Should you just get the later MT-10?
What alternatives are there to the FZ1 and how do they stack up?
Here we go.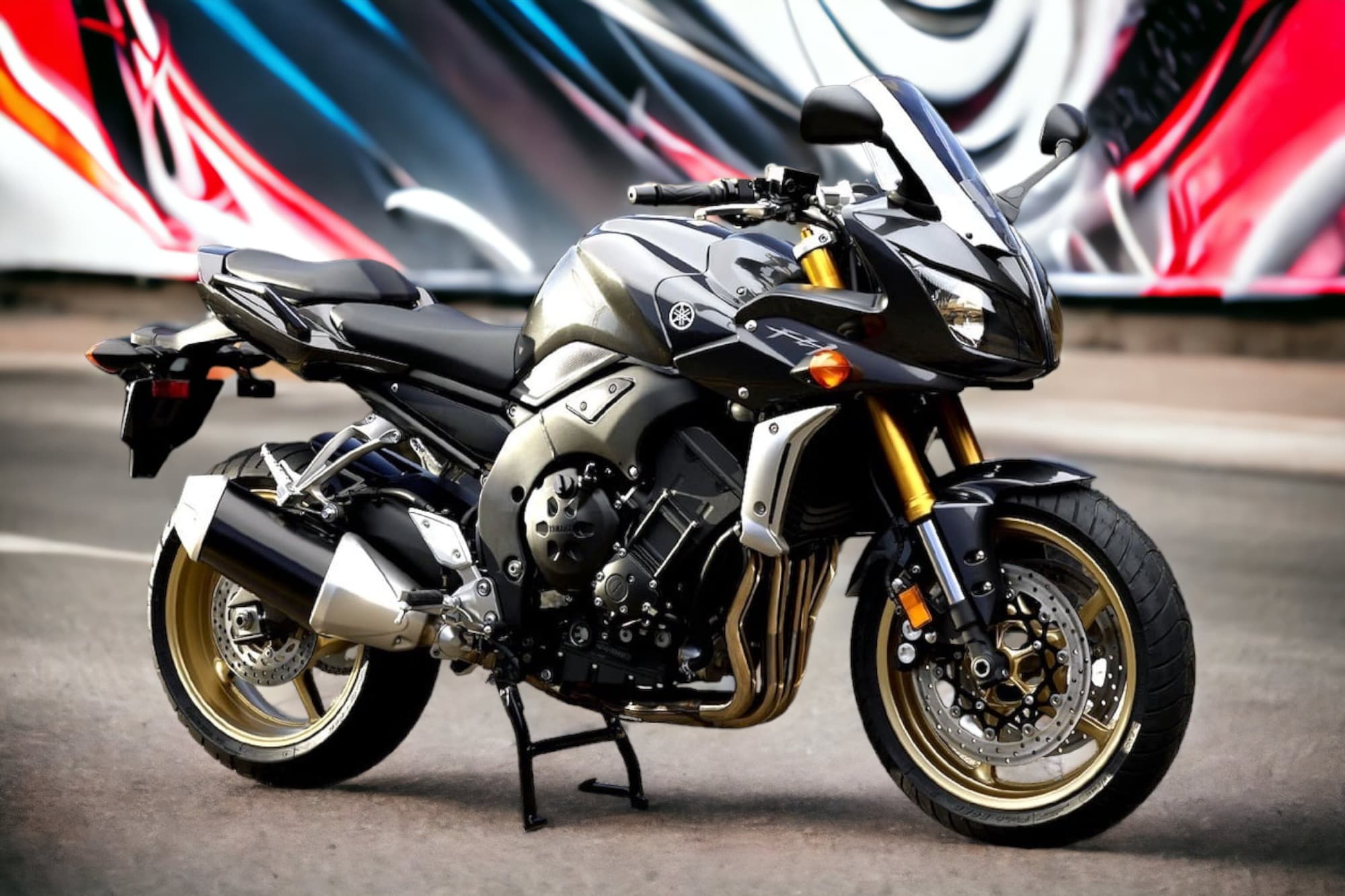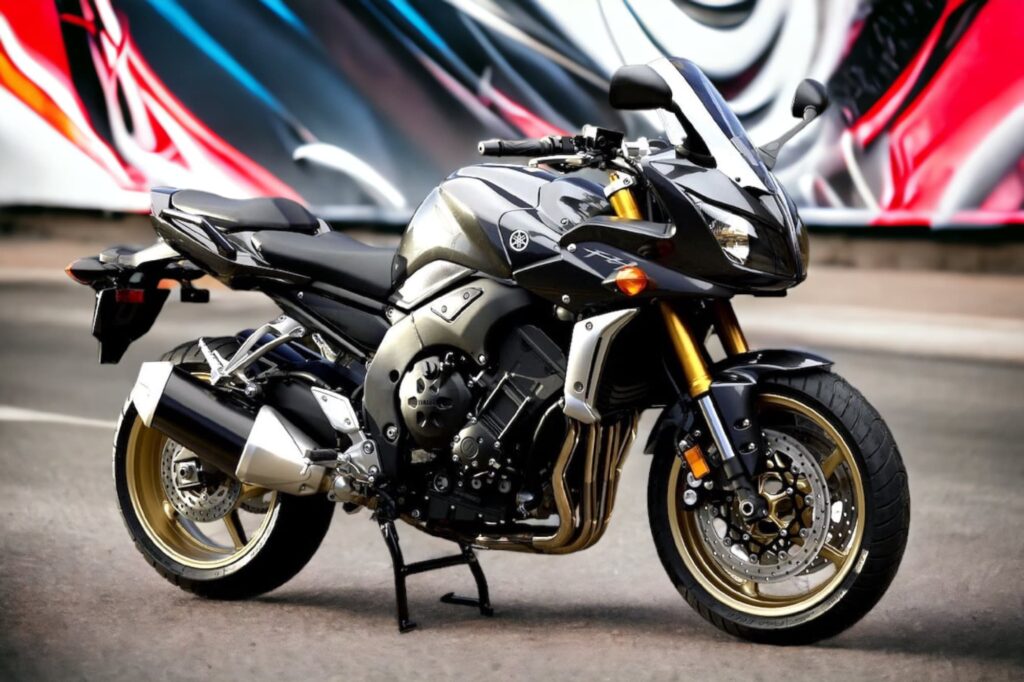 Are you obsessed with motorcycles?
Well, I am. That's why I created this site — as an outlet. I love learning and sharing what others might find useful. If you like what you read here, and you're a fraction as obsessed as I am, you might like to know when I've published more. (Check the latest for an idea of what you'll see.)
Yamaha FZ1 / Fazer — A Brief History
The Yamaha FZ1 is a high-performance naked sport bike. It's a class of bike we know well now, with a bunch of competitors, but it hasn't always been exactly as it now is.
Anyone who has been around for at least a couple of decades in the motorcycling world knows about the Yamaha R1. That's its short name; its full name is actually Sir Yamaha-san YZF-R1 The First.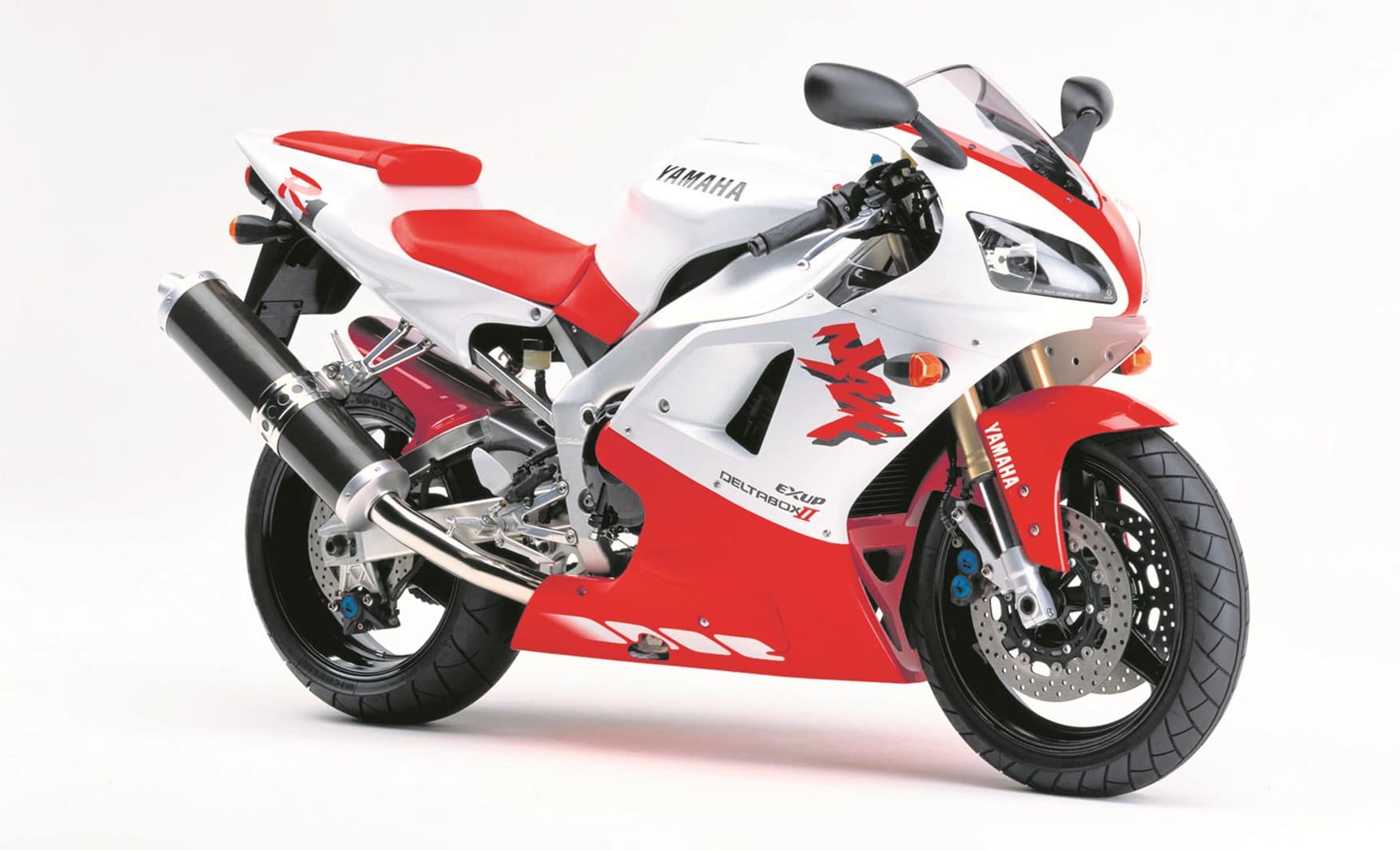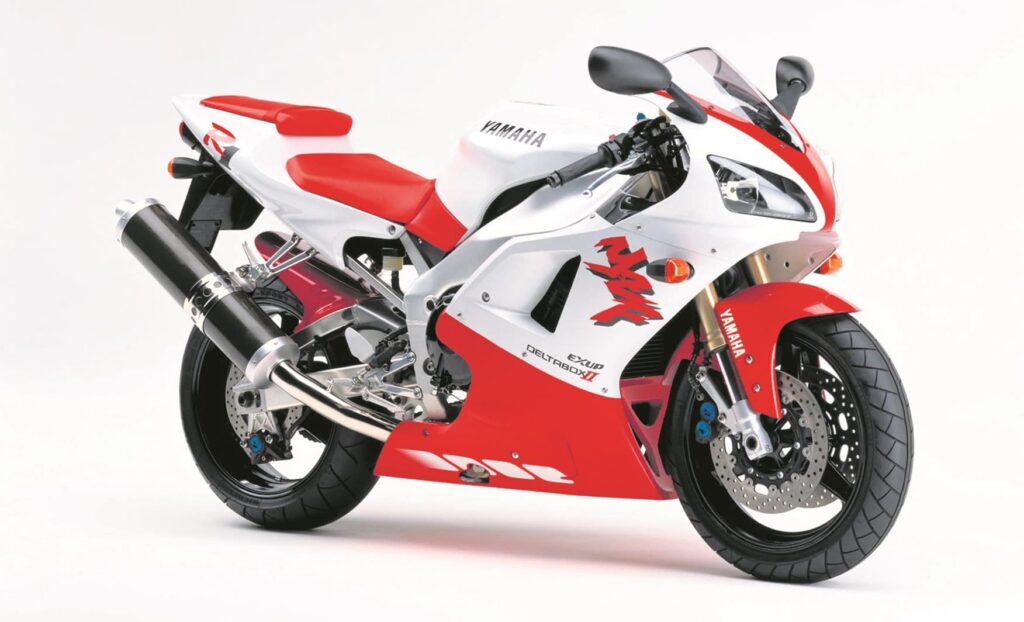 Yamaha has been making the R1 since 1998. Before that, they had other big bikes, like the YZF1000 Thunderace, and then before that, other things like the Yamaha FZR1000.
Before the Yamaha Fazers, Yamaha did make standard four-cylinder bikes. But the closest thing to the Fazers was the XJ900, also known as the "Diversion", probably because they needed to make it seem more fun.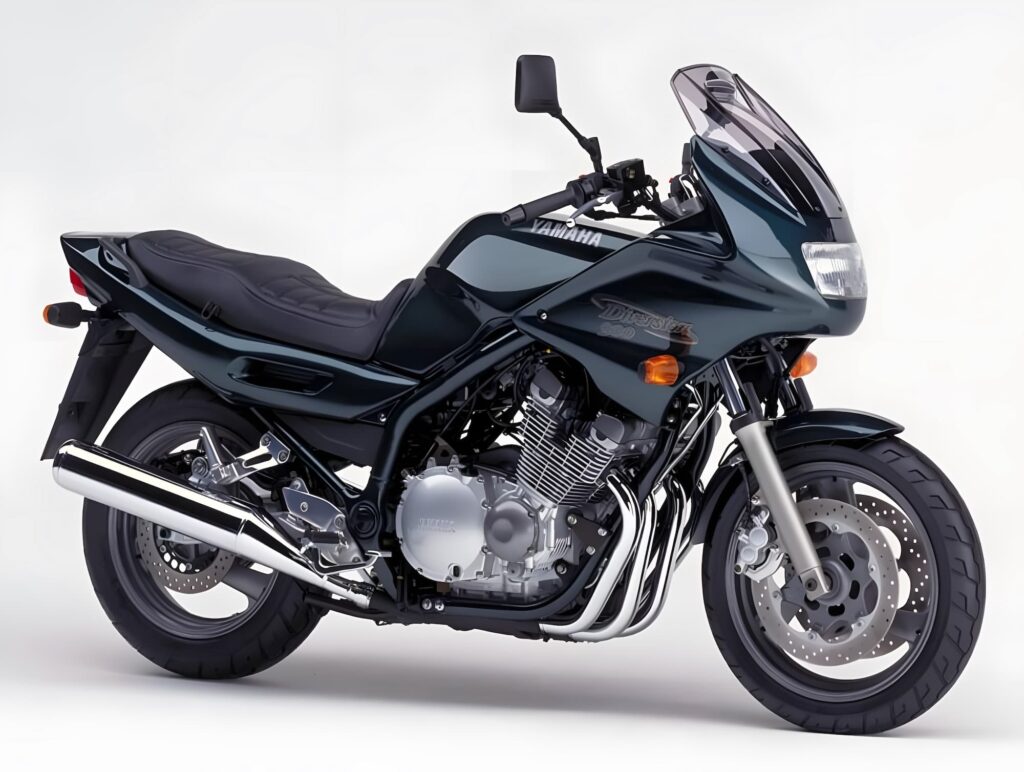 The Diversion is a fine bike, solid and dependable with its shaft drive and indomitable engine (there are still many on the road today), but it's not designed for thrill-seekers.
What makes the Yamaha FZ1 special is that it's comfortable and ostensibly practical — but it's still very high-powered, and with the soul of a sport bike. Yamaha did de-tune the R1s motor for both generations, but the FZ1 is still a high-rpm bike with a satisfying wail.
These days, we think of this class of high-powered naked sport bikes as "Streetfighters". There's the eponymous Ducati, the Yamaha MT-10, the KTM 1290 Super Duke R, and so on. They have loads of power and generally the very latest of everything. Even the tendency to de-tune a naked bike for torque has been gradually diminishing.
The "streetfighter" class isn't just a change of name; it also reflects a bit of a change in personality. In the past, naked versions of sport bikes got significantly less power, and lower spec riding gear. At the same time, they became much more accessible, both in terms of being easy to ride, and being easy on the wallet, too.
Within Yamaha, these days, we know this class of bike as the Yamaha MT-10 (and especially the SP), which takes the "Crossplane" R1 engine and puts it into a streetfighter / naked sport touring package. But the FZ1 had a long and glorious history before it. And they're still awesome, so it's worth looking at why.
I checked out a Yamaha FZ1 at a dealer in Cairns, Australia — a place known mostly for diving and rainforest, but with a few loops of amazing squiggly-line roads with perfect tarmac — and it took me back to those glory days. It was a 2007 2nd gen model that was almost stock — without even an aftermarket muffler!
Generations of the Yamaha Fazer — FZS1000 and FZ1
There are two main generations of the Yamaha FZ1 — the 1st gen, which is carburettor-fed, has a steel downtube frame, and conventional forks, and second-gen, which is fuel-injected, has an aluminium twin spar frame, and inverted forks.
1st gen GZ1 / FZS1000 Fazer RHS

2nd gen Yamaha FZ1S Fazer
Here's how they stack up on paper.
Item
Generation 1
FZ1 (US), FZS1000/Fazer 1000 (Europe) / S
Generation 2
FZ1 (Global) / FZ1-S Fazer / FZ1-N
Years
2001-2005
2006-2015
Engine
998 cc, 20V in-line four
(From 1st-gen YZF-R1)
998 cc, 20V in-line four
(From 2002 YZF-R1)
Peak power
105 kW / 143 PS / 141 bhp @ 10,000 rpm
110 kW / 150 PS / 148 bhp @ 11,000 rpm
Peak torque
106 Nm / 78 lb-ft @ 7,500 rpm
106 Nm / 78 lb-ft @ 8,000 rpm
Bore / Stroke
74 x 58 mm
77 x 53.6 mm
Compression ratio
11.4:1
11.5:1
Fuelling
Carburettor (Mikuni BSR37 x 4)
Fuel injection
Front suspension
43mm conventional fork, fully adjustable
Inverted fork, fully adjustable
Rear suspension
Monoshock, fully adjustable
Monoshock, fully adjustable
Front brake
2 x 298 mm discs, Monobloc caliper, axially mounted
2 x 320 mm discs, monoblock calipers, radially mounted
Frame
Steel, double downtube
Aluminium twin spar, engine as stressed member
Weight (faired)
232 kg / 512 lb
221 kg / 487 lb
Source
Press release (MD)
Ride review (MD)
Gen 1 vs Gen 2 of the Yamaha FZ1
A bit more detail on each generation below.
1st gen Yamaha FZ1 / FZS1000 Fazer (2001-2004)
Let's start with the good: The first gen Yamaha FZ1, known as the FZS1000 Fazer in Europe, is a good bike.
The 2001-2005 FZ1 took the motor from the early carburettor-fed Yamaha YZF-R1 into a conventional double-steel cradle frame. It looks benign, like the early Suzuki Bandit or any other Japanese-made commuter bike. But it is impressive, despite the milquetoast promise of its spec sheet.
The engine is a 5-valve-per-cylinder roaring beauty. There's something about the way a 20-valve motor screams that is unique. You can't detune this much anger. And yes, while it makes ~20% less peak power than the R1, its 141 bhp at the crank (per the spec sheet) is obviously nothing to be sneezed at.
Similarly, the ride gear on the original FZ1 / FZS1000 Fazer is basic, with a conventional (non right-side-up) fork and axial-mounted (though monoblock) calipers. But who cares. It keeps it to a budget, and is fine for what the FZ1 is meant to be — the bike you zip around mountain paths on, not the one you take to the track.
See here for more about understanding suspension specs, and here for more about brake specs.
Despite all the above, the first-gen FZ1 was not that well-received. The motorcycling world was still gaga over the power of the original R1, and so were disappointed when the comparatively bland first-gen FZ1 was detuned to the degree it was.
Not everyone, though. Cycle world called it their "Bike of the Year" in 2001, and easily ranked it the best of the class, compared to the Ducati Monster S4, Kawasaki ZRX1200R, and Suzuki Bandit 1200S. In 2004, they named it Best Street bike, beating another wide range of competitors.
It's not perfect. The weight is carried a little high, and it can be a little thirsty if you enjoy revving it out… but both of those traits are not uncommon in early sport bikes.
But what's still special about the first gen FZ1 / FZS1000 Fazer is how much it got it right. It's a blisteringly fast, upright sport bike, that does double duty as a curve ripper and as a commuter or travel motorcycle.
These days, that formula is much less rare. Even Yamaha has repeated it a number of times, with the MT-10 and the well-balanced Tracer 900 GT. Let's just not forget whence we came!
2nd generation Yamaha FZ1 / FZ1S Fazer (2006-2015)
By the second generation, the whole world united around the branding of the FZ1. Although there are two now — the naked Yamaha FZ1, and the semi-fairing-equipped FZ1S Fazer.
The second generation FZ1 took the engine from the 2004-2006 fuel-injected Yamaha YZF-R1, and detuned it, but not by as much as the first gen.
This engine is still a 998cc DOHC 20-valve (five valves per cylinder) inline four-cylinder engine. It's liquid-cooled and fuel-injected.
The 2nd gen FZ1's engine was also the last of the five-valve engines — The 2007-8 YZF-R1 went back to four valves per cylinders, and the 2009+ Yamaha R1 got the famous Crossplane crank engine. (See more about the evolution of the R1 in our buyers guide.) The successor to the FZ1, the MT-10, took the crossplane crank engine, too.
So this means that if you're not he kind to regularly rev beyond 10,000 rpm, you're likely to enjoy the engine more in the FZ1.
| Spec | Yamaha R1 2004-2006 | Yamaha FZ1 2006-2015 |
| --- | --- | --- |
| Peak power | 126 kW (171 hp) @ 12500 rpm (more with ram air) | 108 kW (147 hp) @ 11000 rpm |
| Peak torque | 107 Nm (79 ft-lb) @ 10500 rpm | 106 Nm (77 ft-lb) @ 8000 rpm |
| Compression ratio | 12.3:1 | 11.5:1 |
| Redline | 13750 | 12000 rpm |
| Wet weight | 185 kg / 408 lb | 221 kg / 487 lb |
| Front suspension | 43mm Kayaba inverted fork, fully adjustable | 43mm fork, fully adjustable, 5.1 inch travel |
| Rear suspension | Single shock, fully adjustable | Single shock, adjustable preload and rebound, 5.1 inch travel |
| Front brakes | Dual 320mm floating discs, 4-piston calipers (radial mount) | Dual 320mm floating discs, 4-piston calipers |
Comparing the FZ1 to the Yamaha R1 (2004-2006)
In essence, the tuning of the 2nd gen FZ1's motor means it makes roughly the same peak torque — but 2 500 rpm lower than in the R1, and petering out a little earlier. But the chassis is heavier and the ride components are a bit lower spec.
The tuning came from modified cams, combustion chamber, and exhaust, along with a changed compression ratio.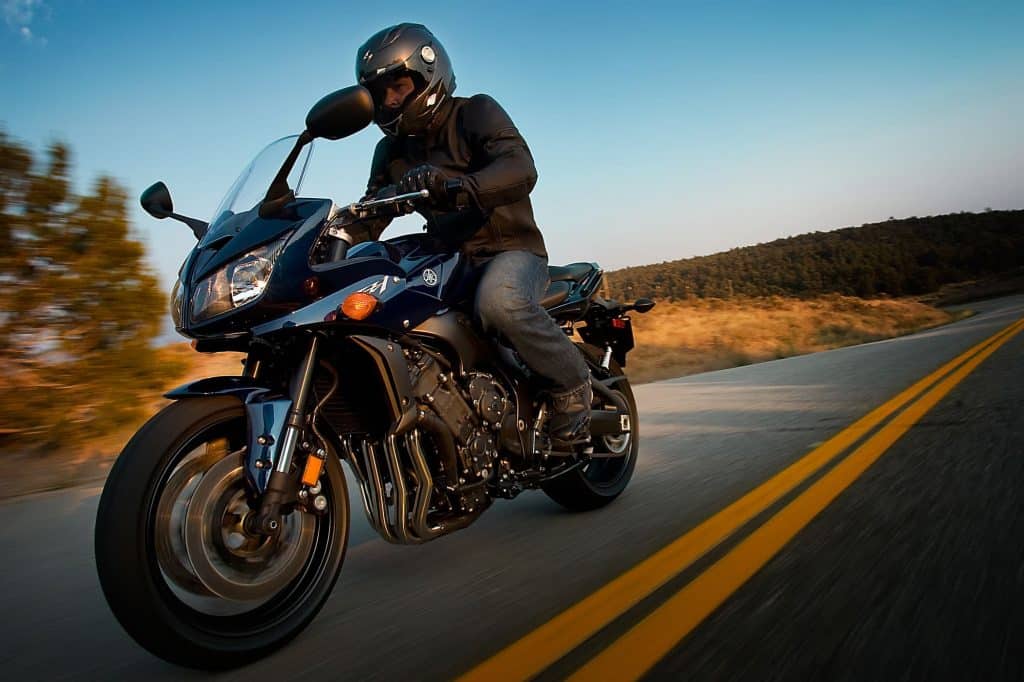 Let's talk about the frame. It's not the sexiest part of motorcycle reviews, but it's important, for handling as well as weight!
In the 1st gen FZ1, Yamaha used a steel twin downtube chassis. Basic, strong, and heavy. But for the 2nd gen, Yamaha upgraded the chassis to an aluminium twin spar chassis that doesn't use down-tubes, and instead relies on the motorcycle as part of the frame (as a "stressed member")
The second gen chassis is considerably lighter, and is a large part of the reason why the 2nd gen FZ1 is so much lighter than the 1st gen — and more powerful, to boot.
More about the body. The 2nd gen FZ1 also came in naked bike format, quite popular in Europe. This made it a direct competitor for motorcycles like Honda's 1st gen CB1000R, and the Ducati S4Rs.
The Yamaha FZ1 in naked trim is known as the FZ1-N in markets where both were sold, and the semi-faired one as the FZ1-S Fazer.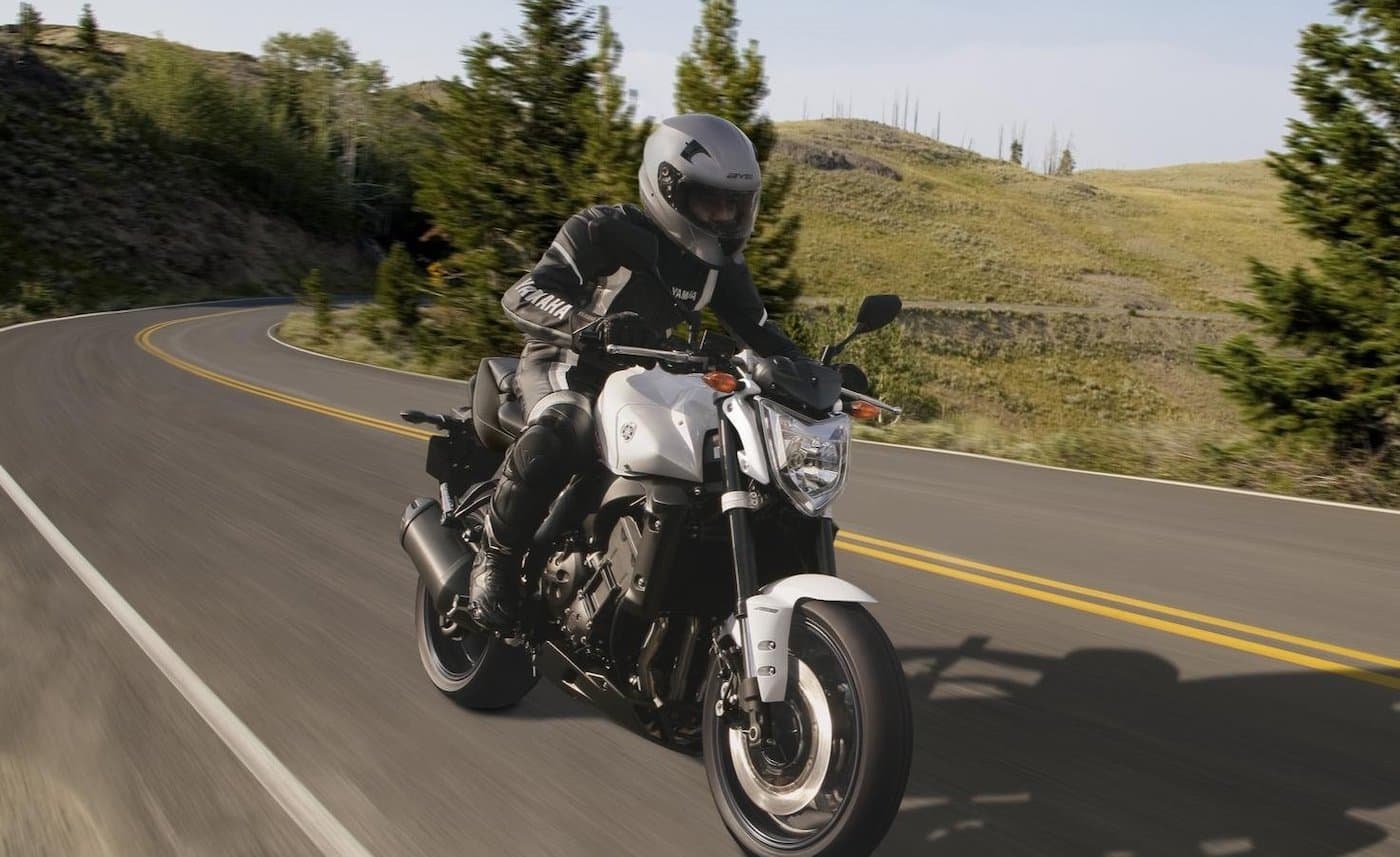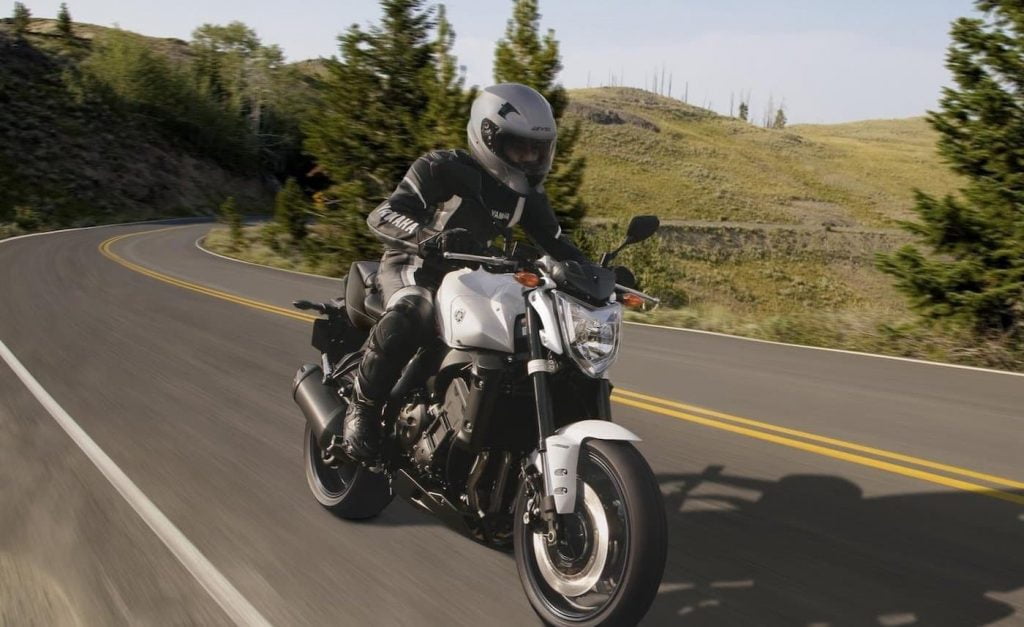 The very first years (2006, 2007) of the Yamaha FZ1 had a problem that was familiar to many people who have tried out fuel injected motorcycles — poor fuelling. But Yamaha ironed this out by 2008.
If you have an early model and the fuelling bothers you, an ECU remap or fuelling module (like a Power Commander) would fix the issue. So, when buying used, it'd be safe to put some money aside for that.
The 2008-onward model also came with optional ABS – but you'd be hard-pressed to find many for sale with the option.
Yamaha also gave the FZ1 (in both trims) an under-damped shock that was fitted with a very hard spring. Yamaha never addressed this. So many committed owners of the 2nd gen Yamaha FZ1 get the front suspension re-tuned (different springs, and valves) and just fit a new aftermarket shock.
Maintenance on the Yamaha FZ1
Both models of the Yamaha FZ1 have the same service intervals. In the US, oil changes are every 4 000 miles / 6 000 km, and in Europe / APAC, it's every 6 000 miles / 10 000 km. I suppose it'd be safe to take an average of the two…
Yamaha has a long history of having different service schedules for Europe and the US, generally in the pattern shown above.
The major, valve service interval, is every 26 600 miles (US) or 40 000 km (Europe), which are close together if you do the conversion. There are twenty valves to service, remember!
Otherwise, keep inspecting it for leaks, worn parts, and general lubrication condition, and the FZ1 is typically Yamaha reliable.
Alternatives to the Yamaha FZ1
There are a few alternatives to the FZ1. They all have their virtues and loyal followings — back then, as now, I'd say there are few (or no) "bad" bikes.
But they had different personalities, and so suited different buyers.
I think most people considering the Yamaha FZ1 would be considering another Japanese naked or semi-faired sport bike in the price range in which it finds itself today.
I'd compare the Yamaha FZ1 to the
1st gen Honda CB1000R
Kawasaki Z1000 / Ninja 1000
Aprilia RSV-R Tuono (V-twin, early gens)
You could stretch your wallet — also in the direction maintenance — and consider something like an MV Agusta Brutale or Ducati Monster S4R, but they're getting to be quite different motorcycles in terms of price, character, and spec level (the S4R is getting collector prices). The below bikes are bargains for the performance they offer.
Here's how they stack up in terms of specs.
| Spec | Honda CB1000R (1st gen) | Kawasaki Z1000 / Ninja 1000 | Aprilia Tuono 1000 |
| --- | --- | --- | --- |
| Engine | 998 cc inline four-cylinder | 1043 cc inline four-cylinder | 998 cc 60-degree V-twin |
| Peak power | 92 kW / 123 hp @ 10000 rpm | 101.5 kW / 138 hp @ 9600 rpm | 96 kW / 130 hp @ 9500 rpm |
| Peak torque | 100 Nm / 74 ft-lb @ 8000 rpm | 110 Nm / 81 lb-ft @ 7800 rpm | 101 Nm / 75 lb-ft @ 7250 rpm |
| Curb weight (Naked) | 217 kg / 478 lb (non-ABS) | 221 kg / 487 lb | 204 kg / 449 lb |
Alternatives to the Yamaha FZ1
1st gen Honda CB1000R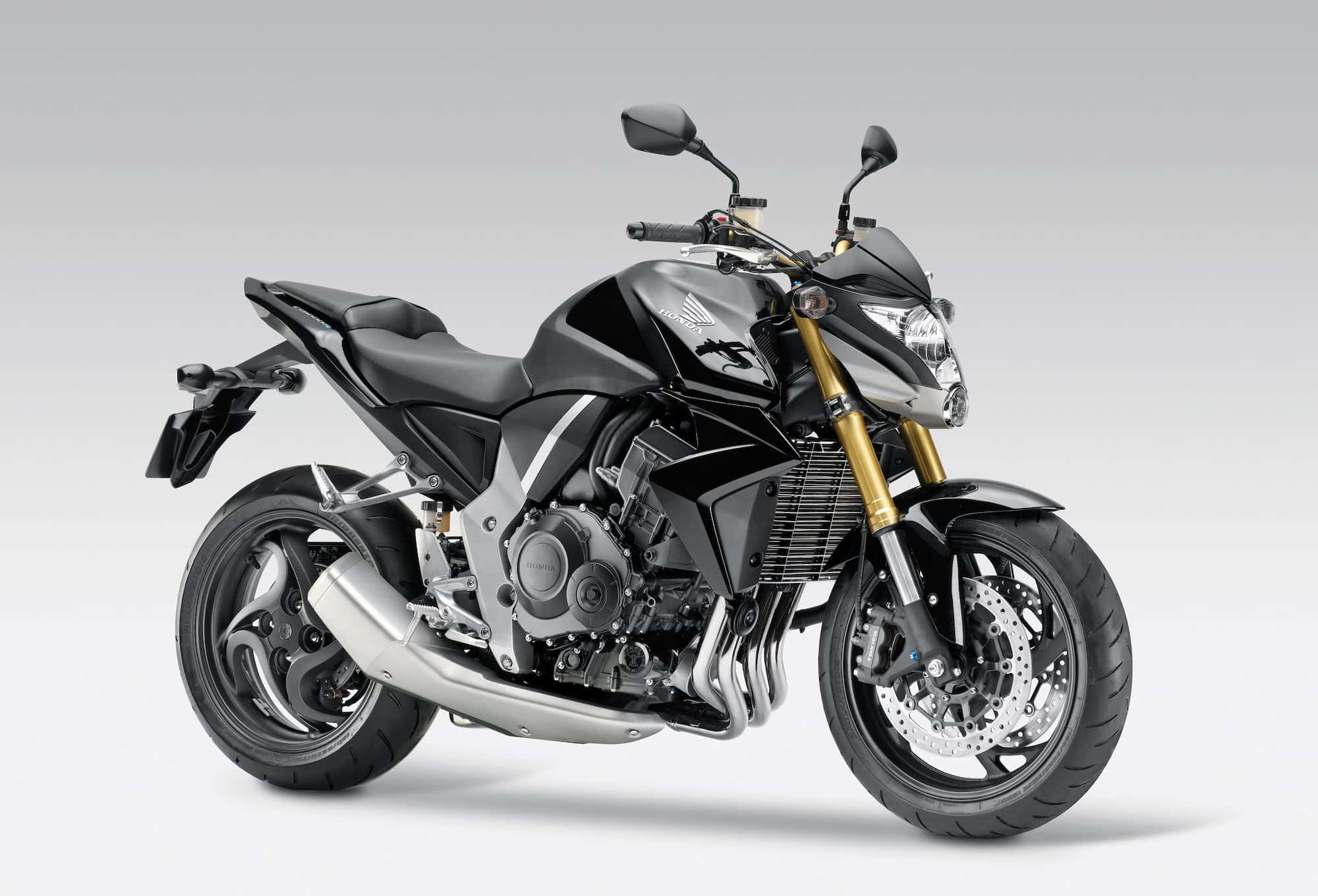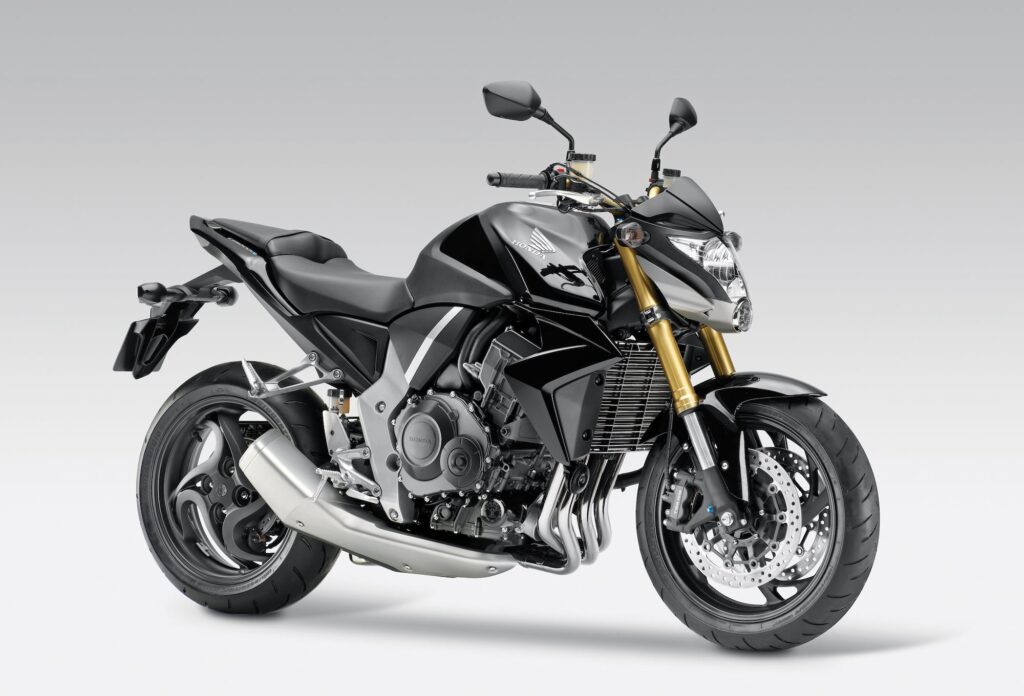 See the Honda CB1000R buyer's guide.
The Honda CB1000R replaced the CB900F Hornet (a.k.a. the 919), taking the motor from the 1st gen Honda CBR1000RR, but detuning it considerably to a peak of 92 kW / 123 hp at 10 000 rpm.
In fact, the 2nd gen CB1000R kept the same engine geometry, just re-tuned it for more peak power.
The original CB1000R has a projector-style headlight and a striking single-sided swing arm, something rare from Japanese brands. The suspension has a lot of adjustability, and it's a bit of a bargain buy these days for what you get.
Kawasaki Z1000 / Ninja 1000 (2010+)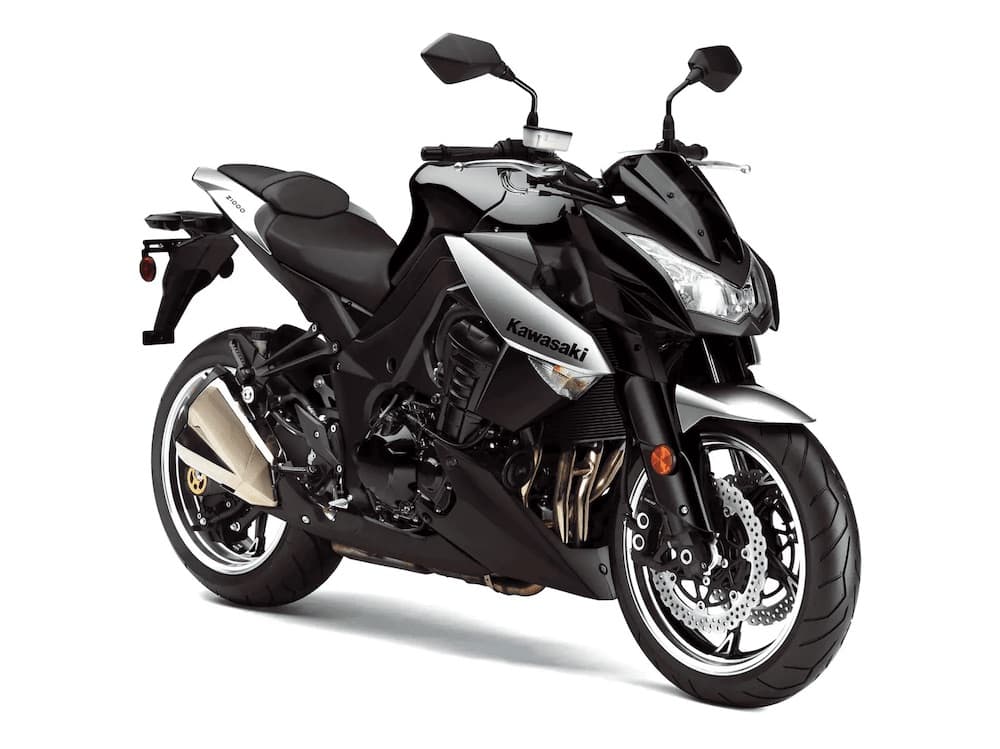 See the Ninja 1000 Buyer's Guide.
Kawasaki has made the Z1000 since 2003. From 2003-2009, it had a 953 cc inline four, but Kawasaki enlarged it to 1043 cc for 2010. Kawasaki got the newer, higher-power engine a year earlier than the Kawasaki Ninja 1000.
The 1043 cc motor is legendary, so much so that Kawasaki hasn't changed it significantly in a decade, and still uses it in three of its primary bikes (the third being the Versys). In the Z1000, it has always made around 101 kW / 138 hp at around 9500 rpm, though that has shifted slightly with emissions revisions.
ABS has been standard since 2010. In some markets, the Z1000 is no longer available, and has been replaced by the Z900.
Aprilia RSV-R Tuono (1st / 2nd gen)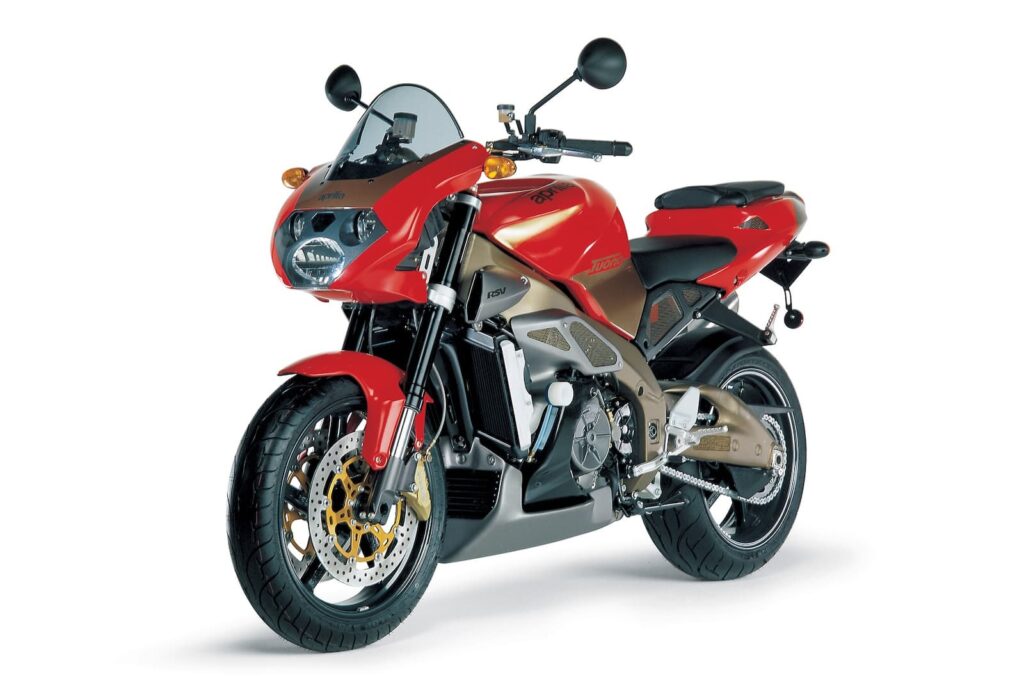 From 2002 to 2010, Aprilia made its Tuono streetfighter in V-twin format, using a Rotax 60-degree liquid-cooled engine.
The first gen RSV-R Tuono, in particular, is well-liked, for being tuned for having torque lower down. It made peak power of 96 kW / 130 hp at 9500 rpm, with peak torque of 101 Nm / 75 lb-ft at 7250 rpm.
f you can find a Factory model (2003-2005), you get high-end suspension and brakes, an Öhlins speeding damper, and forged alloy wheels.
They're in short supply now, but they're not too expensive when you do find them, mostly as they're a bit of a niche model that has a reputation for electrical shenanigans.
Wrap up
Even after looking at the Yamaha FZ1's competitors, it's hard not to be drawn to the Yamaha FZ1, especially the second generation, with its lighter weight, higher power, and tantalisingly low-maintenance fuel injection.
It just does gives so much for the money — power, comfort, character, and reliability. Fast forward ten years and you get ride aids, but it's hard to get the same amount of character out of modern motors.
I hesitate to publish this because I'm still looking for one that's "just right". But if you have one, let me know!