There's something about middleweight adventure sport tourers. Wind protection, heated grips, comfortable seating, but a rev-happy engine and quick steering, oh my…
"Adventure sport touring" motorcycles have taken the place of most of the "sport touring" class of the 1990s/2000s. There has been a recent resurgence, like with the Suzuki GSX-S1000GT (and others), but bikes like the Yamaha Tracer 900 / GT and Yamaha Tracer 9 / GT are much more common, as are their competitors like the Triumph Tiger 900 range, BMW F 900 XR, and Ducati Multistrada 950 and V2.
These are all bikes that have capacity that's "just under a litre", with a comfortable seating position, a commanding view of the road, decent wind protection, an occasional hint of off-road orientation (maybe in one of the alternative models), and — in the middleweight class — universally around 100 horsepower or 75 kW, give or take.
And by the way, "middleweight" probably needs to be redefined, soon, as there's a ~650 cc class of middleweights that has been around for a long time and which is also getting attention from a few manufacturers.
I always liked the Yamaha Tracer 900 GT (in particular the GT). In fact, my only criticism of it was that it was a bit too easy to ride. I found it a bit unexciting, because it is so capable — there's no difficulty in taking it to 100+ km/h on winding roads and riding non-stop between refills without ever getting tired.
So I've kept my eye on it. At some point, I'll get tired of trying to make the wrong bikes work and settle into an adventure sport tourer like the Tracer 900.
Now, from 2021, Yamaha updated its line of CP3-driven motorcycles. The Yamaha Tracer 900 GT (along with the MT-09 and XSR900) was updated, and replaced by the Tracer 9. Suddenly the bike in its topmost spec is significantly more expensive.
Looking at it, I know of course the engine is different and it gets more ride aids.
But I couldn't help but wonder in more detail:
Amid the marketing hype touting every feature, what exactly is new and what's not so new on the Yamaha Tracer 9?
Are the other add-ons for the Tracer 9 GT spec (suspension, luggage) worth it?
Is the older used Yamaha Tracer 900 now the better buy?
Should I now be looking at some of the alternatives to the Tracer 900 / 9?
Here's a detailed analysis.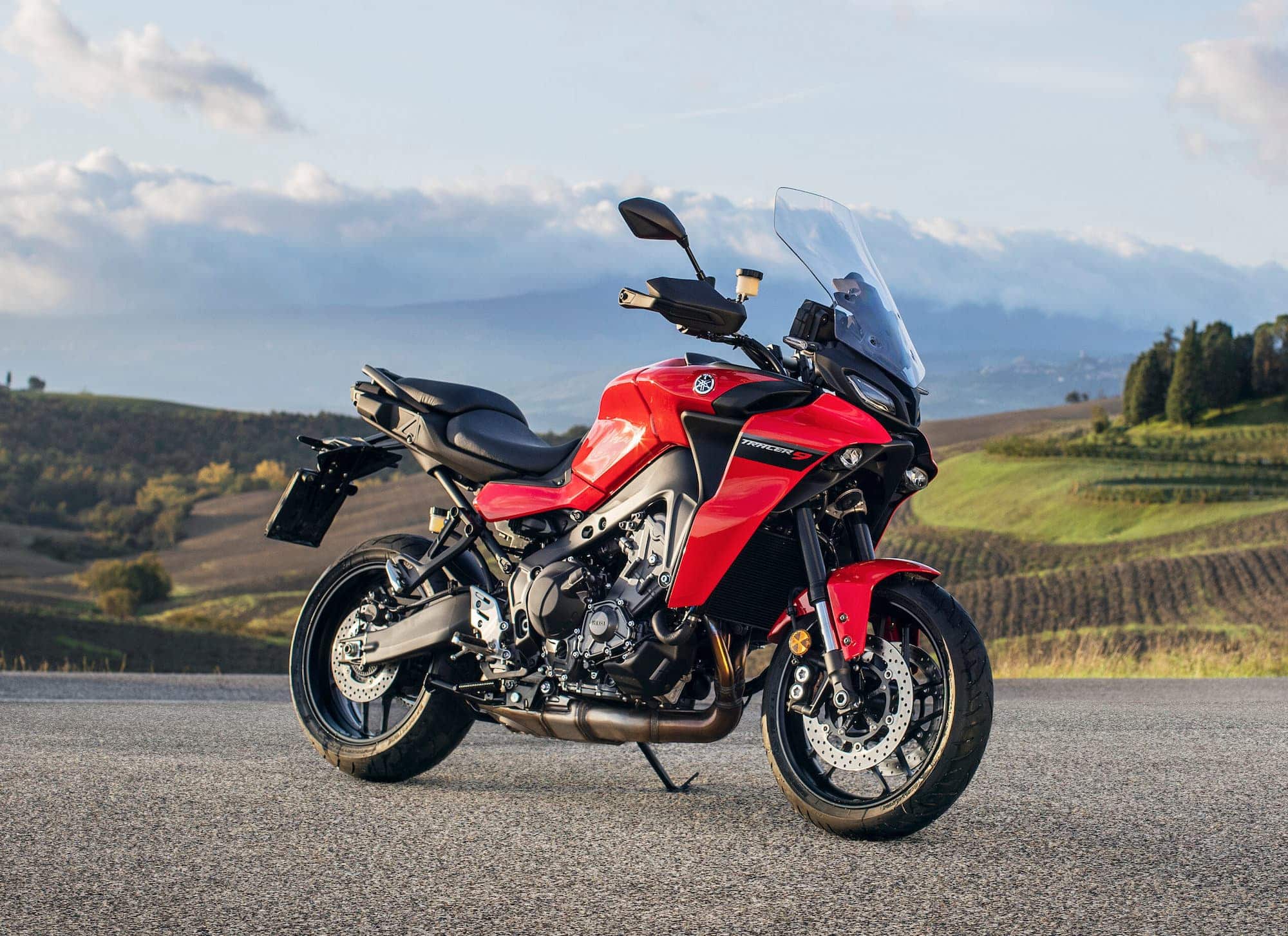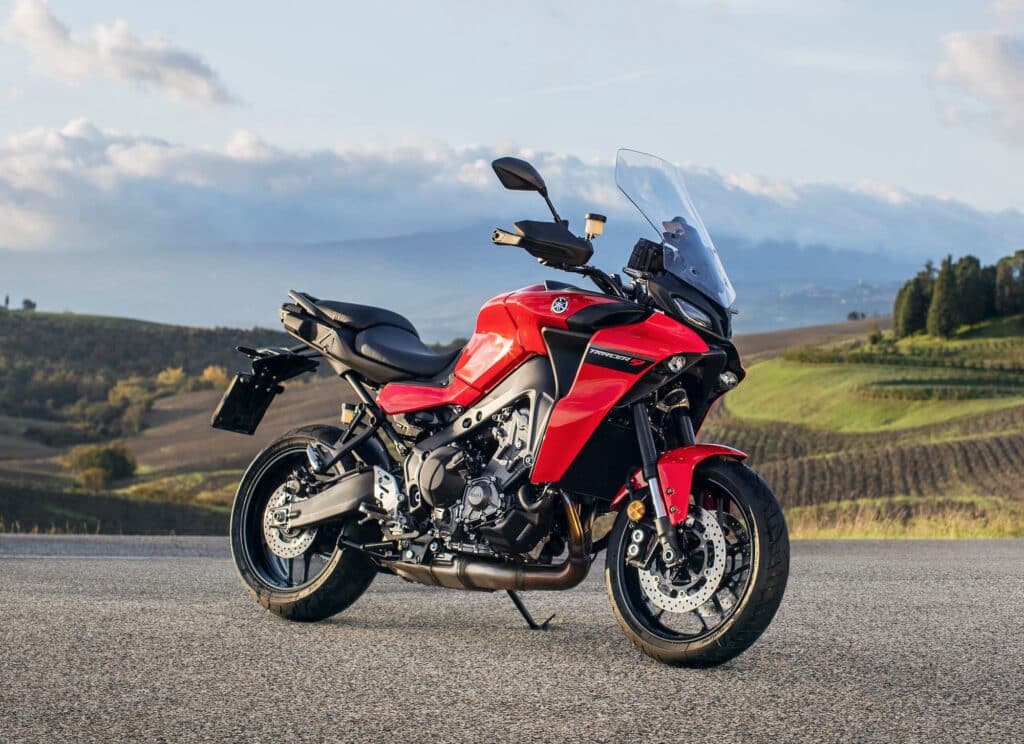 Are you obsessed with motorcycles?
Well, I am. That's why I created this site — as an outlet. I love learning and sharing what others might find useful. If you like what you read here, and you're a fraction as obsessed as I am, you might like to know when I've published more. (Check the latest for an idea of what you'll see.)
How we got here — A Brief History of the Yamaha Tracer
There are very few manufacturers who use inline three-cylinder engines (triples) in motorcycles. The three main ones are: Triumph, MV Agusta, and more recently, Yamaha.
Triumph has been doing triples for a long time. In the previous incarnation of Triumph, there was the Triumph Trident (different from the modern Triumph Trident) which also was the BSA Rocket (different from the current Triumph Rocket). And in modern times, triples are one of the mainstays of Triumph's line-ups, from the entry-level Trident through to the superbike-spec Triumph Speed Triple 1200 RS.
MV Agusta is another manufacturer that makes three-cylinder bikes from race bikes through standards / streetfighters, all the way to adventure tourers (the MV Agusta Turismo Veloce). MV Agusta is a smaller (although very well-loved) Italian brand that produces a bunch of extremely good-looking motorcycles and firecrackers of engines. But because they're a smaller brand, if/when things go wrong, getting work done (especially warranty work) can be less convenient, and parts usually take longer to arrive.
Finally, there's Yamaha. Yamaha has done a wide range of motorcycle engines in the past. They've also done some things that few others have done at scale, like their "Crossplane" inline four in the Yamaha YZF-R1 (2009-onward), or muscle cruisers with V4 engines (the Yamaha V-Max 1200 and VMAX 1700). Like Honda, Yamaha tries some interesting stuff.
So in 2014, Yamaha launched the Yamaha three-cylinder FZ-09 standard/sport bike, these days known as the MT-09.
Yamaha launched the FZ-09 to replace the FZ-8, a four-cylinder standard. They look kind of similar, but are very different bikes to ride.
Spec
Yamaha FZ8
Yamaha FZ-09 (2014)
(Non-Tracer)
Notes
Engine type
Inline four
Inline triple
One fewer cylinder
Capacity
779 cc
847 cc
More capacity
Peak power
78.1 kW / 105 bhp @ 10000 rpm
85 kW / 113 bhp @ 10000 rpm
More power
Rev limit
11500 rpm
11300
Similar
Wet weight
211 kg / 465 lb (sans ABS; add 1 kg or 2 lb for ABS)
188 kg / 414 lb (sans ABS; add 1.5 kg or 3 lb for ABS)
Less weight
Core specs — Yamaha FZ8 vs FZ-09
The Yamaha FZ8 is a great bike (and a great used buy, these days a bit of an unsung hero). But the FZ-09 is more powerful and lighter. It is, in the words of most owners, a wheelie machine.
Yamaha announced the first Yamaha Tracer — the MT-09 tracer, also known as the FJ-09 in the US — on 4 November 2014 for the 2015 model year.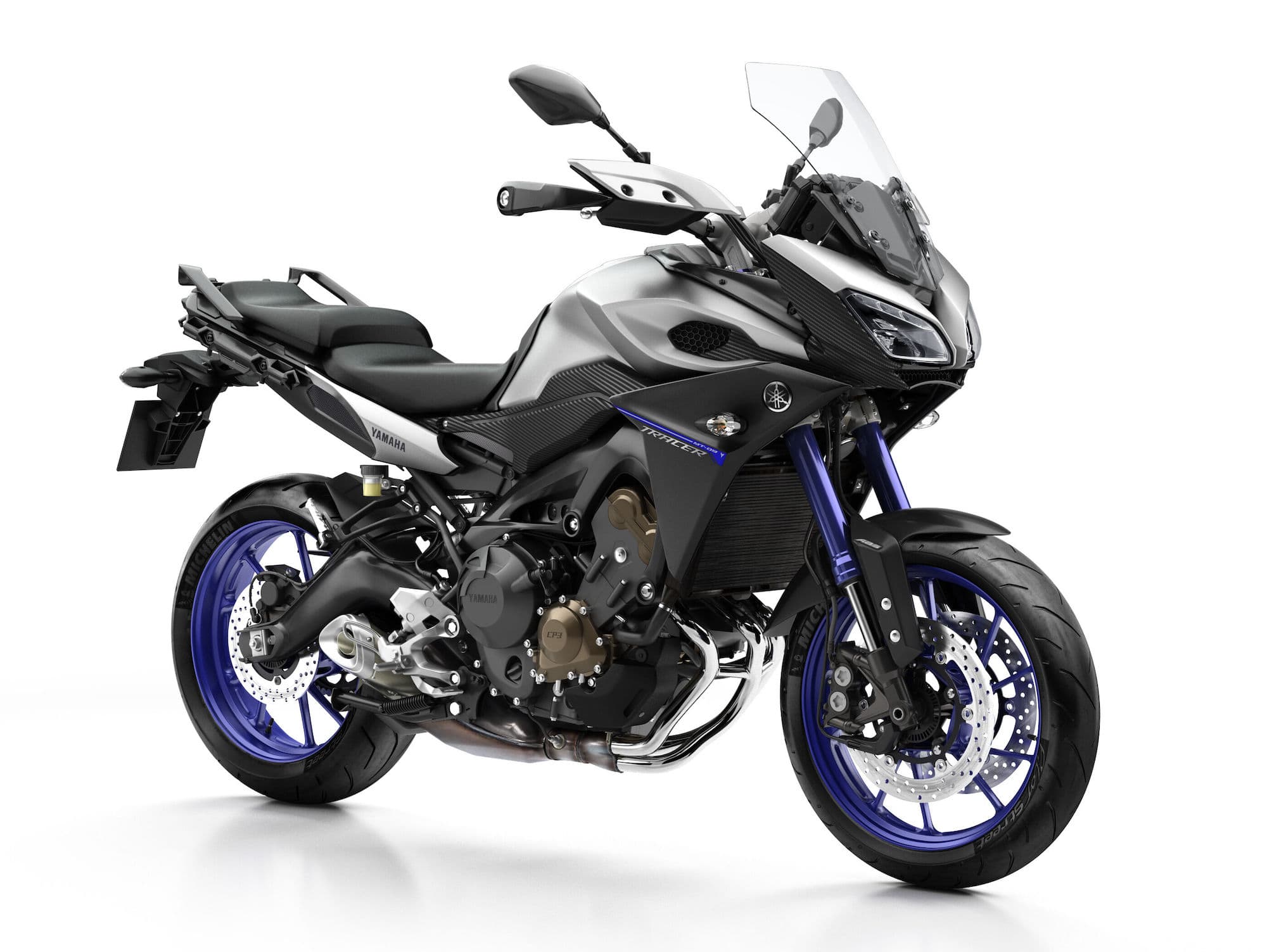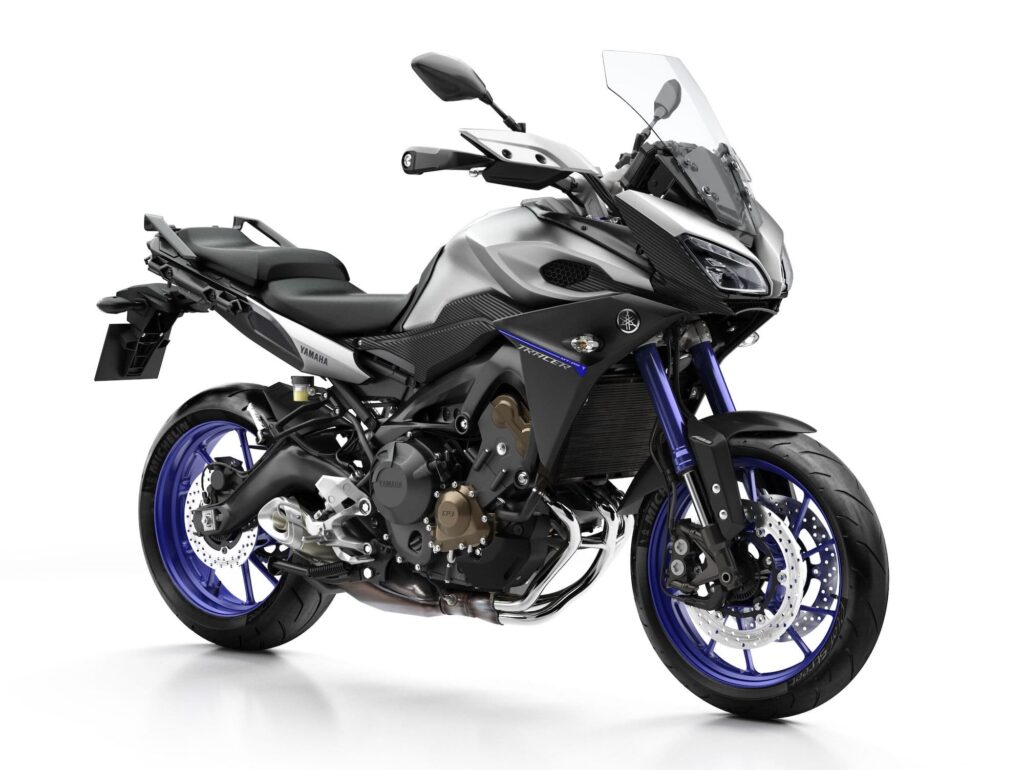 The Yamaha Tracer used (and still uses today) the exact same engine as its FZ-09 stablemate. It's the same 847 cc triple, code-named the "CP3", tuned for the same power and same torque. I note this repeatedly because in nearly every other upright adventure sport tourer, manufacturers change the power delivery, opting for mid-range torque over top-end power.
The "CP3" designation means "Crossplane 3". Yamaha also calls it their "Crossplane Triple". More on this engine and the "Crossplane" naming below.
It's worth mentioning a bit of context of what else was available on the market for "adventure sport touring" motorcycles of the time. There was very little direct competition in the middleweight segment. The Kawasaki Versys 1000, Ducati Multistrada 1200, and V-Strom 1000 are all big-capacity, heavier, and more premium (especially in the case of the Ducati) adventure / sport touring bikes.
In the middleweight category:
Triumph had been making the Triumph Tiger 800 since 2010. The Triumph Tiger 800 is based on a long-stroke 799 cc triple, a longer-stroke version of the original 675 engine. The original Tiger 800 also came in a standard model and an XC, which came with more protection, 21-inch spoked rim, tubed tires, and longer travel suspension (just mentioning this as Yamaha never did this with the Tracer).
Honda had been making the VFR800X, the upright tourer based on the same V4 as in the VFR800F. It's a great bike, similarly powered but heavier, and with a more complicated engine than anything inline when it is time to do a valve service. It's no longer sold.
BMW had faithfully been producing their F 800 GS, and the even more road-focused F 700 GS. Both were based on the same 798cc parallel twin, but the bikes had different states of tune and gear. BMW launched their adventure-spec F 800 GS Adventure in mid 2013.
MV Agusta had announced their Turismo Veloce 800 in 2013… though it didn't make it to the market until 2015 (slightly after the arrival of the Yamaha Tracer 900 / FJ-09). The MVATV is also powered by a triple and has roughly the same power specs as the Tracer, but generally has higher-end equipment (higher end suspension, brakes, standard cruise control, etc.). MV Agusta never went the "adventure" route.
So you could say that the Yamaha Tracer was most heavily inspired by the Tiger 800.
Anyway, enough about other bikes. The first Tracer 900 (a.k.a FJ-09 in the US and MT-09 Tracer in Australia) is basically a Yamaha FZ-09 but more… all-day.
Yamaha took the triple engine and chassis from the FZ-09 and added the following changes:
New suspension — with stiffer springs and stronger damping, plus adjustability in preload and rebound damping at front and rear
ABS / Traction Control (wasn't previously a standard feature in the FZ-09, though it later became one)
A more advanced LCD cluster (from the Super Ténéré)
More wind protection, including an adjustable screen
Basically, the first Yamaha Tracer 900 is an "all-day FZ-09 / MT-09".
See here for my full ride review of the 2021 Yamaha MT-09 SP.
Since the first Tracer 900, Yamaha has changed the name (standardising it worldwide, eventually), released a GT version, revised internal and external bits, and changed the engine once. More on this evolution of the Yamaha Tracer below.
The many names of the FJ-09 / Tracer 900 / MT-09 Tracer
In a nutshell, when Yamaha first released "this bike" for 2015, they gave it a few names:
Yamaha FJ-09 in North America (not to be confused with the FZ-09, the standard sport bike)
Yamaha MT-09 Tracer in Australia (not to be confused with the MT-09, the standard sport bike called the FZ-09 in the US)
Yamaha Tracer 900 in Europe
Yamaha kept making the bike in these various names around the world for the 2016 and 2017 model years.
For 2018, Yamaha standardised the naming worldwide, calling it the Yamaha Tracer 900. At the same time, they released the Tracer 900 GT — again, with the same name worldwide. They kept this naming convention through 2020.
Bear in mind that the Tracer 900 models all had an 847cc engine, which rounds down to 800 technically (but it's just a name).
For 2021, Yamaha released the Yamaha Tracer 9, which is based on the updated 890 cc triple engine. The Tracer 9 and Tracer 9 GT have the same name everywhere.
Here's a summary table:
Bike type
2014-2017 USA
2015-2017 Europe
2015-2017 Australia
2018-2020 Global
2021+ Global
Adventure tourer
FJ-09
(2015+)
Tracer 900
MT-09 Tracer
Tracer 900 / GT
Tracer 9
Standard / Sport bike
FZ-09
MT-09
MT-09
MT-09
MT-09 (no change)
Yamaha FJ-09 / Tracer 900 / MT-09 Tracer naming conventions
How the Yamaha Tracer 900 / 9 has Evolved (in detail)
There are two levels for looking at how the Tracer has evolved over time.
First, there are the headline differences between the Yamaha Tracer 900 and Yamaha Tracer 9, including the GT models.
Here's a table of how the Yamaha Tracer 900 /GT evolved to the Tracer 9 / GT / GT+:
Spec
2015-2020 FJ-09 / MT-09 Tracer / Tracer 900 (including GT)
2021+ Yamaha Tracer 9 (including GT and GT+)
Engine
Gen 1 CP3 — 847cc inline-3 (triple), DOHC, 12-valve
Gen 2 CP3 — 889cc inline-3 (triple), DOHC, 12-valve
Bore & Stroke
78.0 x 59.1
78.0 x 62.1 (3mm longer stroke)
Compression ratio
11.5:1
11.5:1
Peak power
85.8 kW (116.6 PS / 115 bhp) @ 11000 rpm
87.5 kW (119 PS / 117.4 bhp) @ 10000 rpm (basically the same)
Peak torque
87.5 Nm (64.5 lb-ft) @ 8500 rpm
93 Nm (69 lb-ft) @ 7000 rpm (more torque, lower)
Gear ratios 1st / 2nd
1st: 2.667 (40/15)
2nd: 2.000 (38/19)
1st: 2.571 (36/14)
2nd: 1.947 (37/19)
Brakes
2 x 298 mm
2 x 298 mm
Rider safety
ABS and traction control
IMU-driven ABS and traction control, plus slide control and lift control (huge improvement in safety features)
Ride modes
3 modes
4 modes
Yamaha Tracer 900 vs Tracer 9 — Core changes
Second, we'll look specifically at the extra things you get in Yamaha Tracer base spec vs GT of each model. This includes 2023+ Yamaha Tracer 9 GT+, which gets radar-assisted adaptive cruise control, putting it among a select few motorcycles with adaptive cruise for 2023.
Note: The Yamaha Tracer 9 GT+ is a 2024+ model in the US. It came to other markets a year earlier.
Spec
Tracer 900 / FJ-09 / MT-09 Tracer
Tracer 900 GT (2019-2020)
Tracer 9
2021+ Tracer 9 GT
2023+ Tracer 9 GT+
Curb / Wet weight
210 kg (463 lb)
215 kg (474 lb)
213 kg (470 lb)
220 kg (485 lb)
223 kg (492 lb)
Suspension
41mm USD forks, preload-rebound adjustable
Preload/rebound adjustable rear shock
41mm USD forks, fully adjustable (compression in left leg, rebound in right leg)
Preload/rebound adjustable rear shock
41mm USD forks, preload-rebound adjustable (Rebound in right fork leg only)
Preload/rebound adjustable rear shock
KYB fully-adjustable electronically controlled suspension

KYB fully-adjustable electronically controlled suspension

Wheels
Standard
Standard
Spin-forged (1 kg / 2.2 lb lighter)
Spin-forged (1 kg / 2.2 lb lighter)
Spin-forged (1 kg / 2.2 lb lighter)
Displays
LCD
Single TFT-LCD
Dual 3.5-inch TFT
Dual 3.5-inch TFT
7-inch TFT
Rider safety
ABS and traction control
(3-way from 2017)
ABS and traction control
IMU-driven ABS/TC
IMU-driven ABS/TC
Active cruise control, IMU-driven ABS/TC/Cruise, Radar-assisted linked brake

Ride modes
3 modes
3 modes
4 modes
4 modes
4 modes
Quick shifter
No
Yes (up-only)
Optional (up/down)
Yes (up/down)
3rd gen (can do downshifts under load)
Cruise control
No
Yes
Yes
Yes
Yes — Active
Lighting
Standard
Standard
LED
LED + cornering lights
LED + cornering lights
Added accessories
n/a
Heated grips, side cases, center stand
n/a
Heated grips, side cases, centre stand, protection
Heated grips, side cases, centre stand, protection
Tracer 900 GT vs Tracer 9 GT and GT+ — Core changes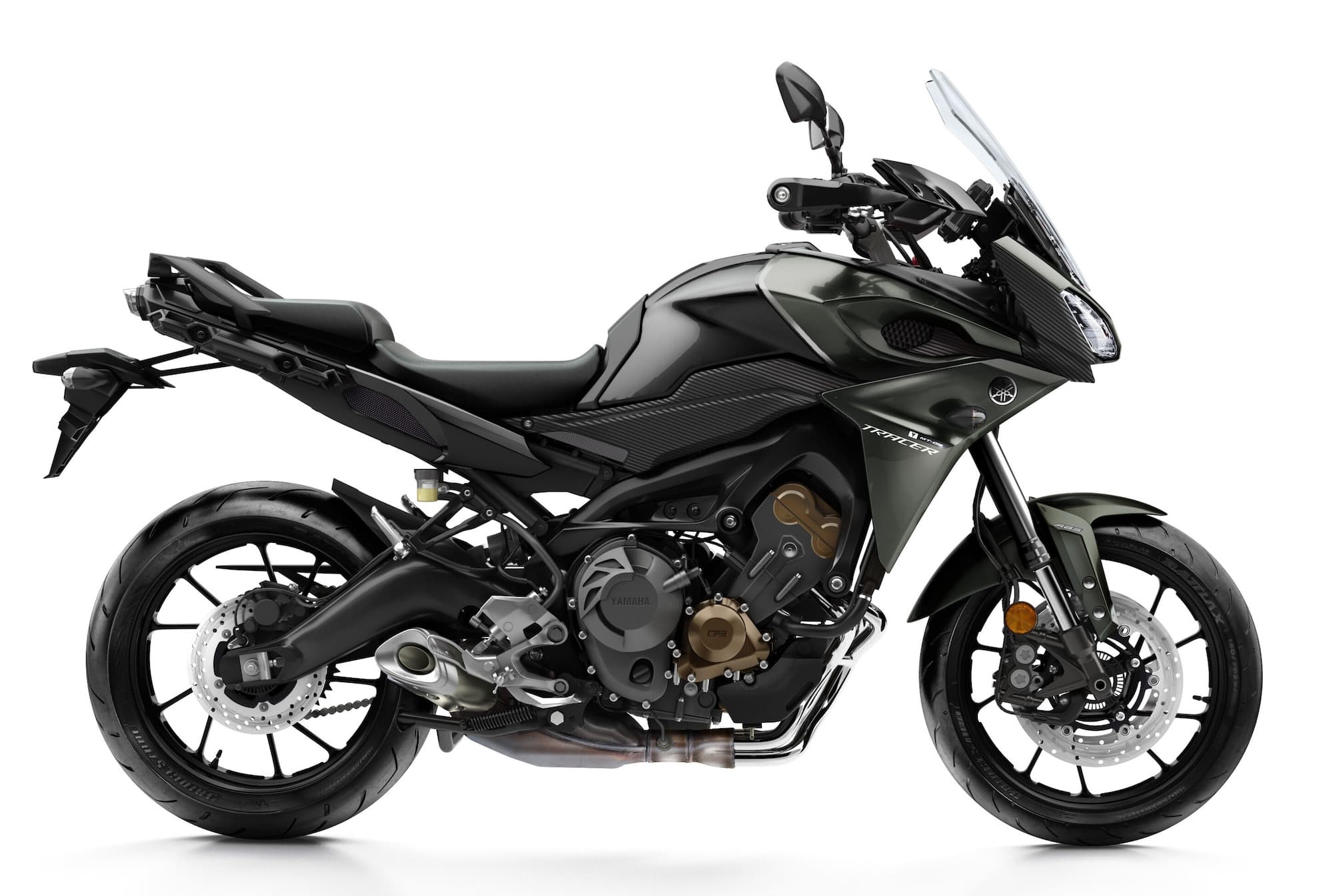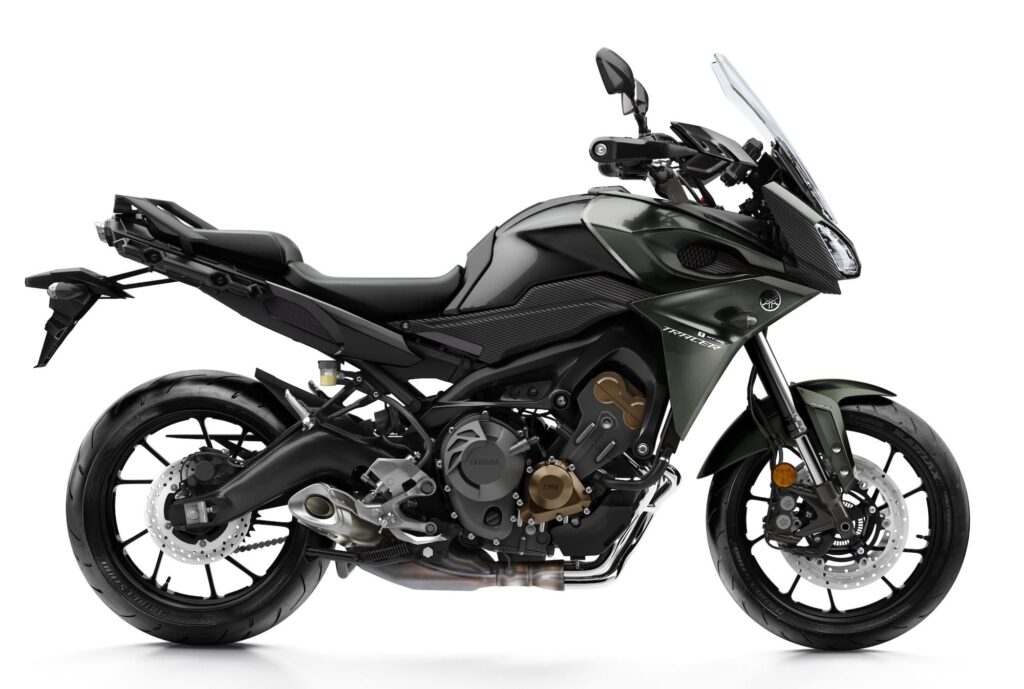 How the Engine has evolved — Yamaha Tracer 900 (847 triple) vs Yamaha Tracer 9 (890 triple)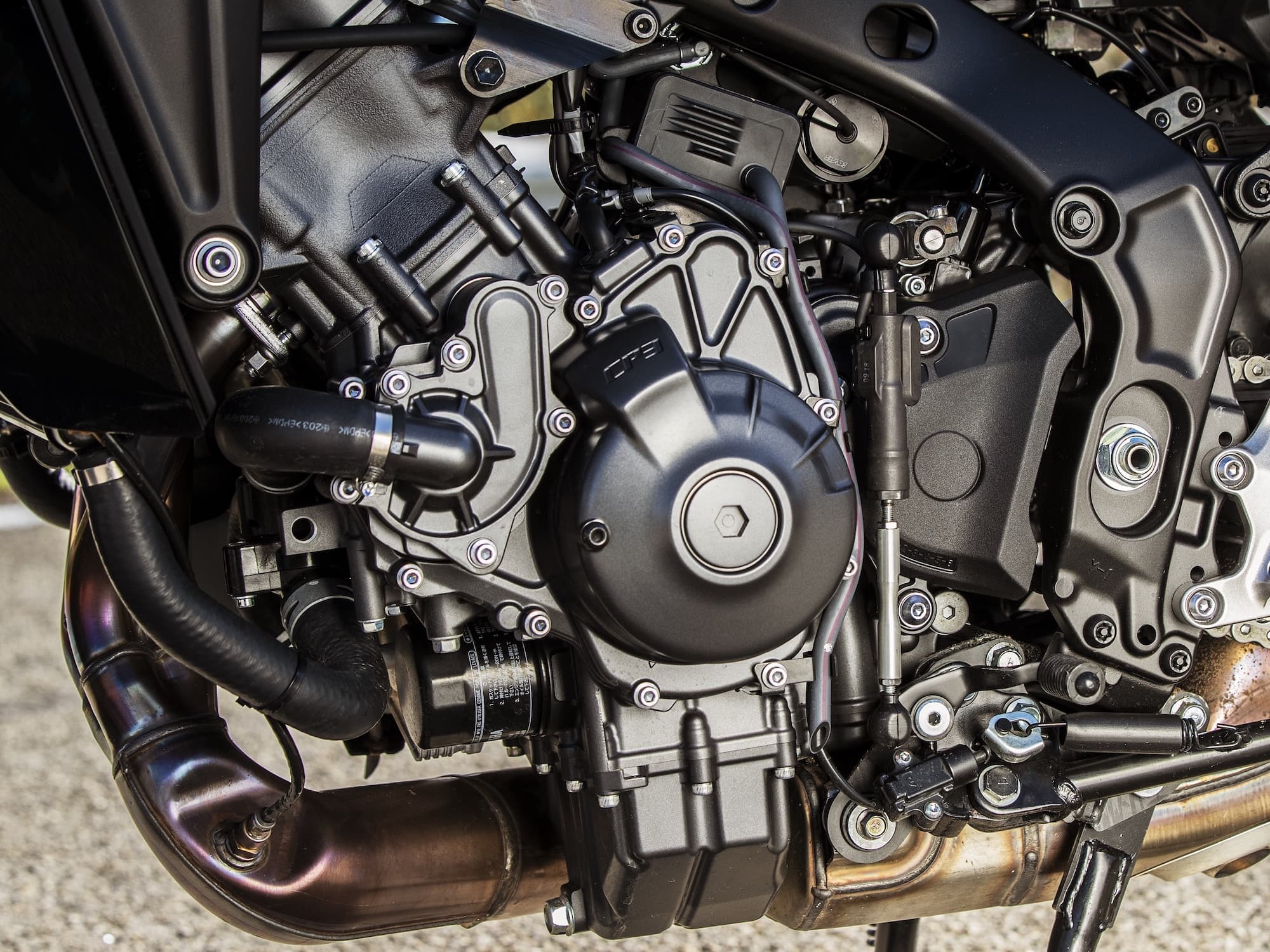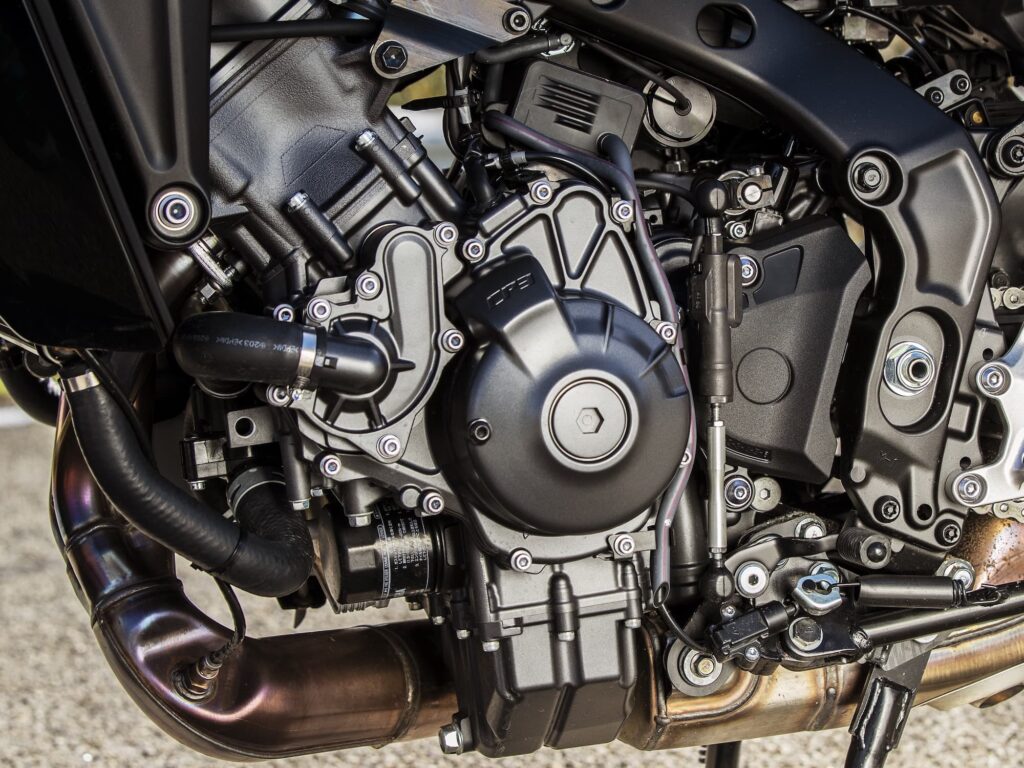 The headline feature (for some, anyway) in the Yamaha Tracer 9 GT is the new engine. Like its predecessor, it's a "nearly 900 cc" inline 3-cylinder 12-valve engine with dual overhead cams, liquid cooling, and a revvy character.
Yamaha calls the Yamaha Tracer 900 / 9's motor the "CP3" engine, meaning "crossplane three-cylinder". The word "crossplane" is borrowed from their marketing for the 2009+ Yamaha YZF-R1 engine (also seen in the MT-10). In the inline-four engine, it denotes a different firing order to the conventional one seen in other inline fours. But the CP3 engine has an even firing order — 240-240-240 degrees between each cylinder top-dead centre, giving a firing order of bang-pause-bang-pause-bang-pause.
By contrast, the 2020+ Triumph Tiger 900 uses a more unusual, unevenly spaced firing order for their engine, which they call the "T-plane". They say the firing order is "1-3-2", with 180-270-270 degrees between each cylinder firing, giving a bang-short pause-bang-longer pause-bang-longer-pause.
Also like its predecessor, the engine in the Yamaha Tracer 9 GT is exactly like the one in the revised 2021 Yamaha MT-09 and 2022 Yamaha XSR900. Same engine, same power spec, same everything.
This is a different approach for Yamaha compared to other manufacturers, who usually re-tune the engine for their larger sport tourers. For example, Kawasaki re-tuned the engine in the Versys 1000, making it more torque-forward compared to the Kawasaki Ninja 1000.
But what does the engine change mean in reality? The increase in peak power is marginal.
The real reason is usually emissions. As emissions restrictions get tighter, it becomes harder for manufacturers to squeeze the same amount of power from the same engine. They have three choices: 1. retire / replace the motor, 2. hope the market accepts loss of performance, or 3. improve the motor within their limits.
Yamaha chose path three, lengthening the stroke by 3 mm, increasing the displacement, and letting Yamaha tune the motor for marginally more power and overall, much-improved torque.
They also dropped peak rpm from 11200 to 10500, perhaps a consequence of the longer stroke.
Here's how the torque curves for the two engines look in reality. I used data from two similar dyno runs, done by Cycle World in 2020 for the MT-09. I also compared these to a few other charts and they look similar.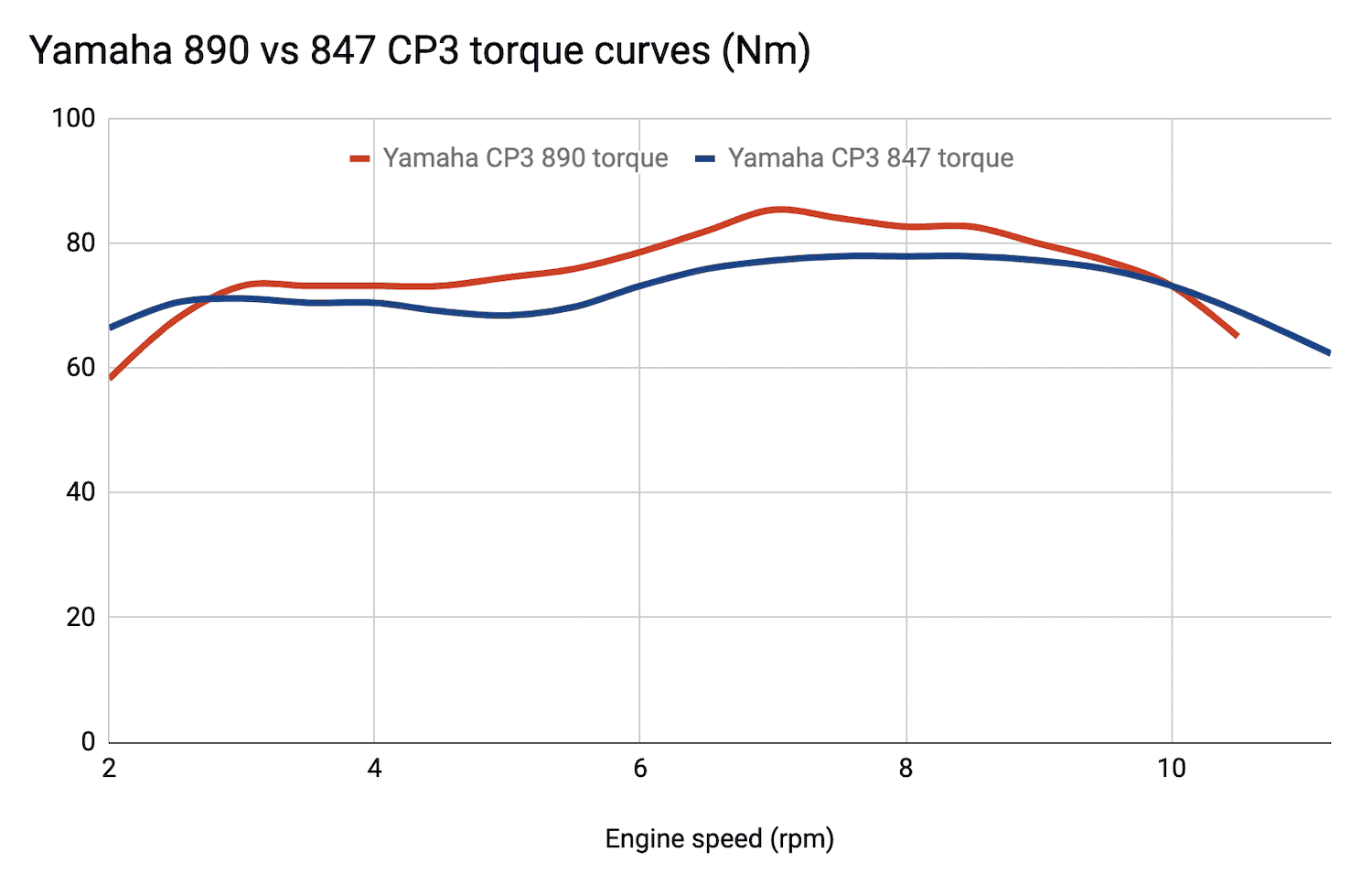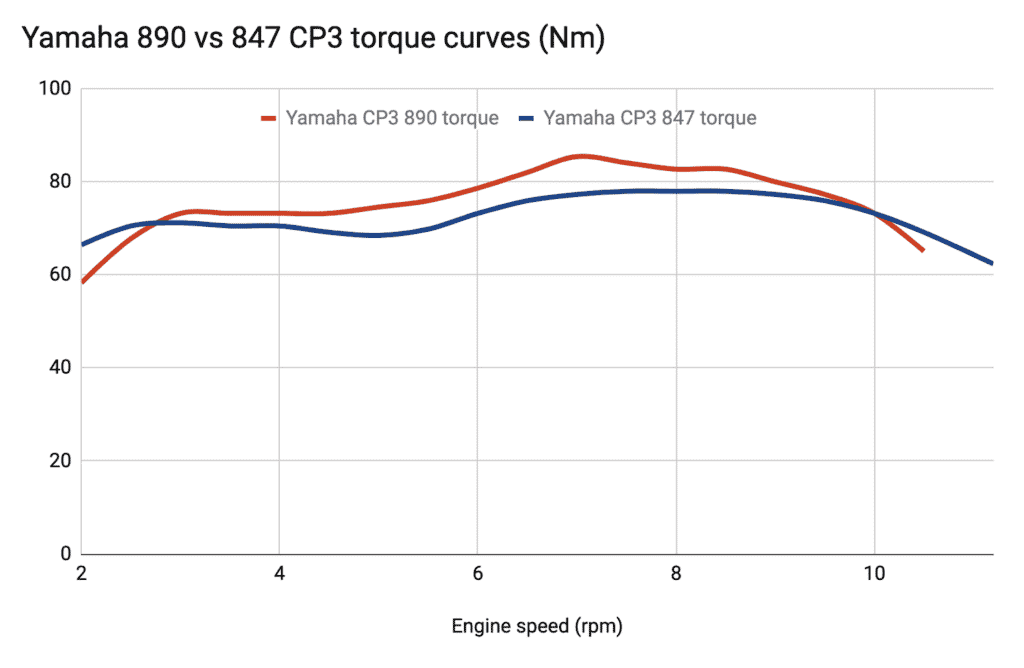 The interesting things are that:
Torque way down low on the 847 is better than on the bigger engine, but things even out before 3000 rpm (this could be just different dynos, but I saw it on a few runs)
For most of the rev range, the bigger 890 engine makes 5-10% more torque.
The 890 engine quits earlier.
So overall, which is the better motor? The fact is, they're both great. Both generations of the CP3 engine have really flat torque curves with just a bit of sport bike spunk between 6-9000 rpm if you feel like playing.
That's the Yamaha Tracer (and the Yamaha triple engine) in a nutshell: practical but still a cracker.
Display evolution: LCD, TFT, and twin TFT, and single TFT again
Both the Yamaha Tracer 9 GT and Tracer 9 base model (in Europe) get a twin 3.5-inch TFT display.
Previously, the Yamaha Tracer 900 base model had a monochromatic LCD, whereas the Tracer 900 GT got a single TFT.
The 2023+ Tracer 9 GT+ gets a single TFT again.
Here's what they all look like (click through). Personally, I don't mind the LCD, but the twin TFT is also cool, a bit like looking at the sunglasses of a fighter pilot.
The dual TFT is a pretty unique configuration in motorcycles in general as well as in the class. It gives me the feeling of looking at something other than a phone screen, which I enjoy.
The display on the Tracer 9 GT+ brings with it a couple of new tricks, like smartphone connectivity, that can let you take calls or listen to music, and integration with Garmin navigation when you have the Motorise app.
Suspension evolution: More control, more electronics
The original Yamaha Tracer 900 already had upgraded suspension compared to the MT-09 that it replaced, with increased damping, and adjustable preload and rebound damping on both the fork and rear shock. The Tracer 900 GT has higher-spec suspension again, with adjustable compression damping on top.
The Yamaha Tracer 9 (base model) also has the same suspension as the base model 900, it seems, with adjustable rebound damping only.
But the Yamaha Tracer 9 GT goes a lot further with semi-active suspension. The 2023 GT+ also has this.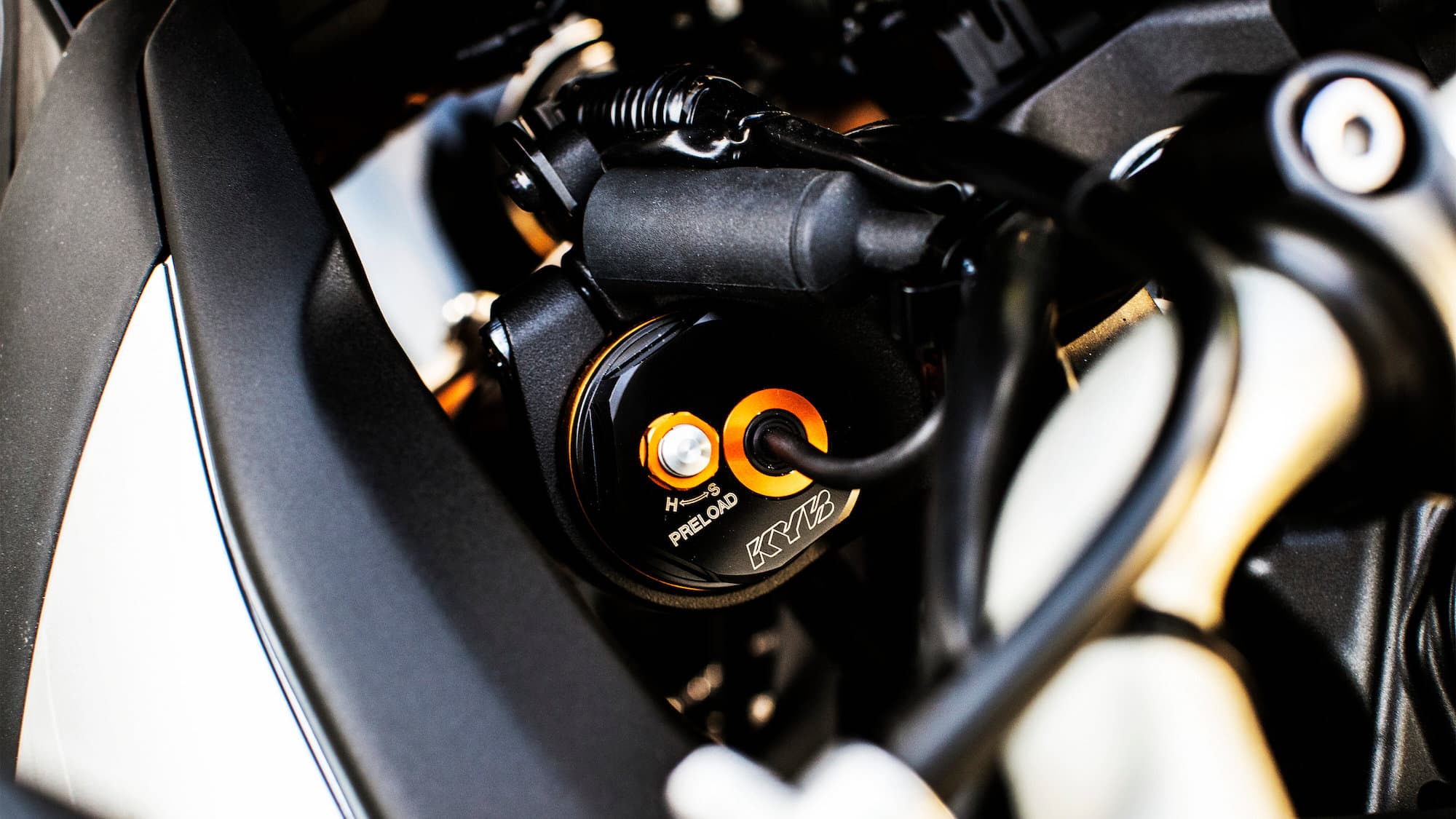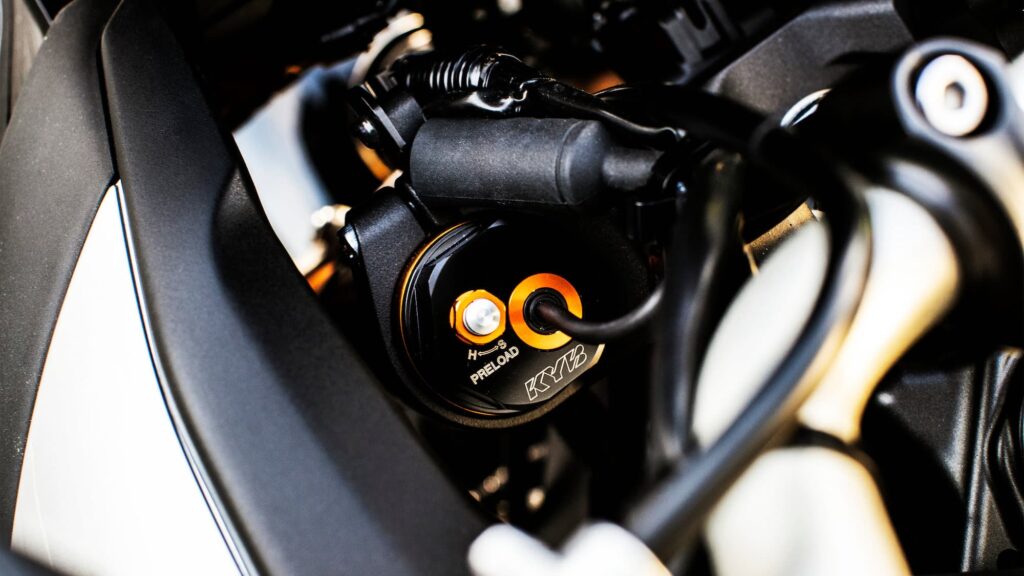 So, what exactly is "semi-active" suspension? It's a term that gets bandied around.
On the Tracer 9 GT, you still adjust fork and shock preload manually. But damping is controlled via the ECU and Suspension Control Unit ("SCU").
The suspension is made by KYB and is called the KYB Actimatic Damper System (KADS). They pioneered it on the Yamaha Tracer 9 GT.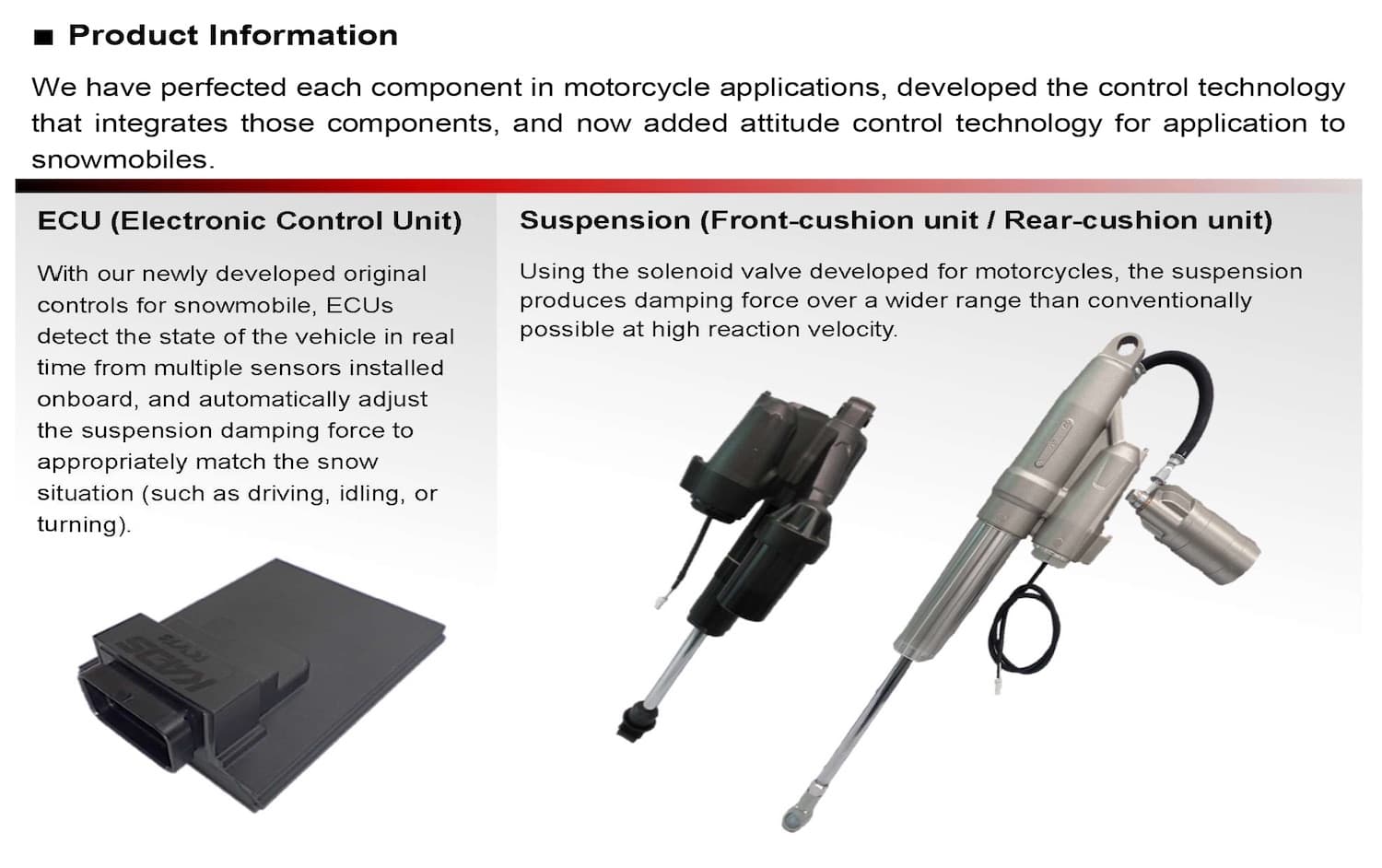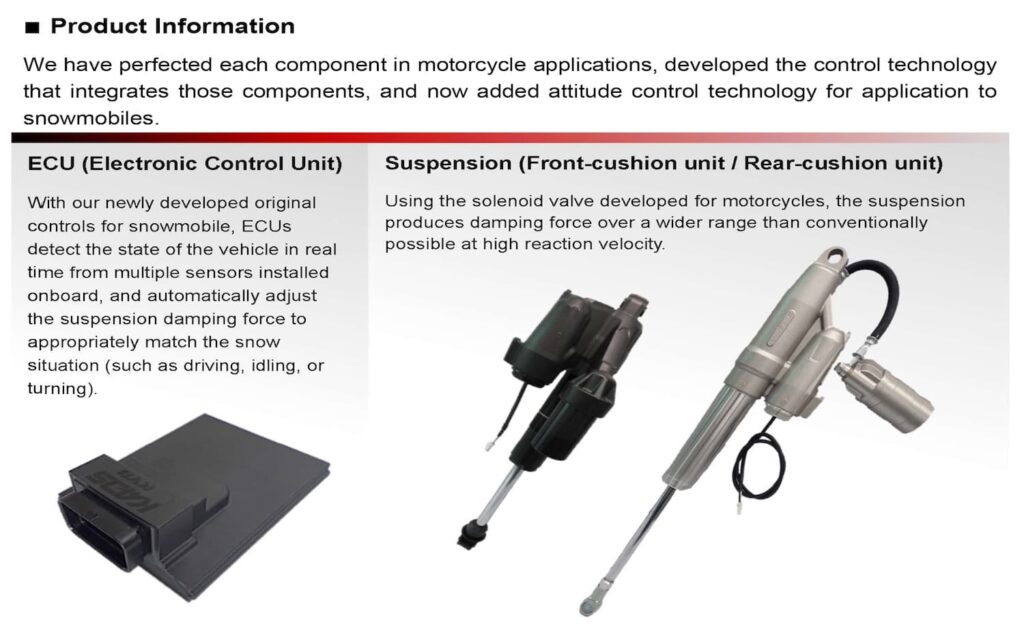 In KADS, the SCU takes inputs from the six-axis inertial measurement unit and controls damping settings via the hydraulic unit, aiming to identify load and riding conditions to give an even amount of damping whether the piston is moving slowly or quickly (the solenoid system can make very fast adjustments to damping settings).
The effect of KADS is to stabilise the chassis when accelerating, braking, or cornering. KYB says they aim to give you a sensation of being grounded to the road. They call this "Ground-Hook", which the more cynical among us might think of as a marketing reaction to Sachs' "Skyhook" suspension.
You set the suspension setting via the "SUS-MODE" setting using the mode switch. There are two modes — a-1 ("Sport", with increased damping, for smoother roads) and A2 ("Comfort", with softer damping, for rougher roads).
In real-world riding, most people find A2 more practical. If you're on a track (or a road you know to be perfectly smooth), then A1 would be your ticket.
Safety equipment: ABS, the IMU, and… Radar in 2023
Like its stablemates the 2021 MT-09 SP and the 2022 XSR900, the new Yamaha Tracer 9 GT gets a six-axis IMU (Inertial Measurement Unit), which means it gets cornering ABS and traction control.
Yamaha was pretty early to the IMU game, but only in their superbike, the YZF-R1. The Yamaha R1 got its IMU first in the 2015+ generation.
But Yamaha has been slow to add an IMU to other bikes. Others in the CP3 class have it (like the 2021+ Yamaha MT-09 and 2022+ Yamaha XSR900), but few others do.
More importantly, the other premium middleweight adventure motorcycles that are alternatives to the Tracer 9 all are equipped with an IMU. So Yamaha is in line with the competition here — and ahead in a few other aspects.
One thing that makes the Yamaha Tracer 9 GT unique is that the KYB suspension control unit also takes inputs from the IMU to manage damping settings.
The 2023+ Yamaha Tracer 9 GT+ also gets radar-assisted adaptive cruise control, which helps you set a following distance to avoid having to constantly tweak cruising speed. See below on this.
Finally, the Tracer 9 GT+ gets radar-linked assisted unified braking (UBS, for Unified Brake System). If you turn it on, you get some pretty nifty new safety technology.
The UBS takes input from the radar and the IMU, as well as information about the motorcycle's speed and rider inputs. The UBS intervenes to:
Avoid a collision, increasing braking pressure if the amount the rider is applying is not enough
Better distribute braking pressure between the front and rear brakes for more stable braking
Modulate braking force when leaned over to avoid slippage (which sounds like a more active version of cornering ABS).
So the Tracer 9 GT+ brakes have active systems not just for the throttle but also for the brakes. This is taking motorcycle safety to another level — though some might be wary of that level of intervention.
Note that the UBS only works if it's on and when you're braking. It's not an active collision avoidance system. It doesn't apply brakes unless you're already squeezing the lever; in that situation, it modulates brake pressure to better suit the situation. If you're concerned, you can turn UBS off.
Cruise Control and Radar-Assisted Adaptive Cruise Control
I always liked the Tracer 900 for being one of the more affordable middleweight sport tourers with cruise control. (See other affordable/mid-range motorcycles with cruise control.)
The 2019 model Tracer 900 GT had cruise control, though the standard model did not. But the 2021+ Tracer 9 base model (where available… not everywhere gets it) has cruise control, as does the GT, obviously.
Yamaha upped the ante in 2023 by adding adaptive cruise control (ACC) to the highest-spec Tracer GT+.
Adaptive cruise control works like on other motorcycles with the system. You set your cruise speed as normal. But a radar will intervene with the set cruise system in the following ways:
As well as setting a cruising speed, you can set a following distance, so you don't have to constantly adjust your speed to match vehicles in fast-moving traffic. The ACC system slows down to keep distance manageable, and accelerates once the coast is clear — as long as it doesn't detect any unsafe conditions
When there's a vehicle ahead that is going too slowly or that will get too close based on current acceleration, the ACC system sets an alert to request rider intervention.
You can deactivate the ACC system by holding the clutch for more than a second or rolling the throttle forward (beyond the normal end of rotation).
The Yamaha Tracer 9 GT+'s new 7-inch TFT (replacing the twin TFT meters on the standard GT) has new functionality to show the status of the ACC system.
The Yamaha Adaptive Cruise Control system has a few other tricks up its sleeve.
You can shift gears when using Yamaha's ACC, as long as you use the quick shifter (which is of a new generation on the GT+). You can also do this on most other adaptive cruise control-equipped motorcycles, as long as they have a quick shifter (not all of them have one, e.g. the R 18 B / Transcontinental, and if you can do a shift while holding the clutch in for only 1.5 seconds on the R 18 B / Transcontinental, good for you!)
The adaptive cruise control system's radars is an input not just to the throttle, but also to the unified brake system (UBS). When UBS is switched on, the Tracer 9 GT+ will automatically apply brakes to avoid collisions. Next-level safety!
(See the other motorcycles with adaptive cruise control here.)
Alternatives to the Yamaha Tracer 900 / Tracer 9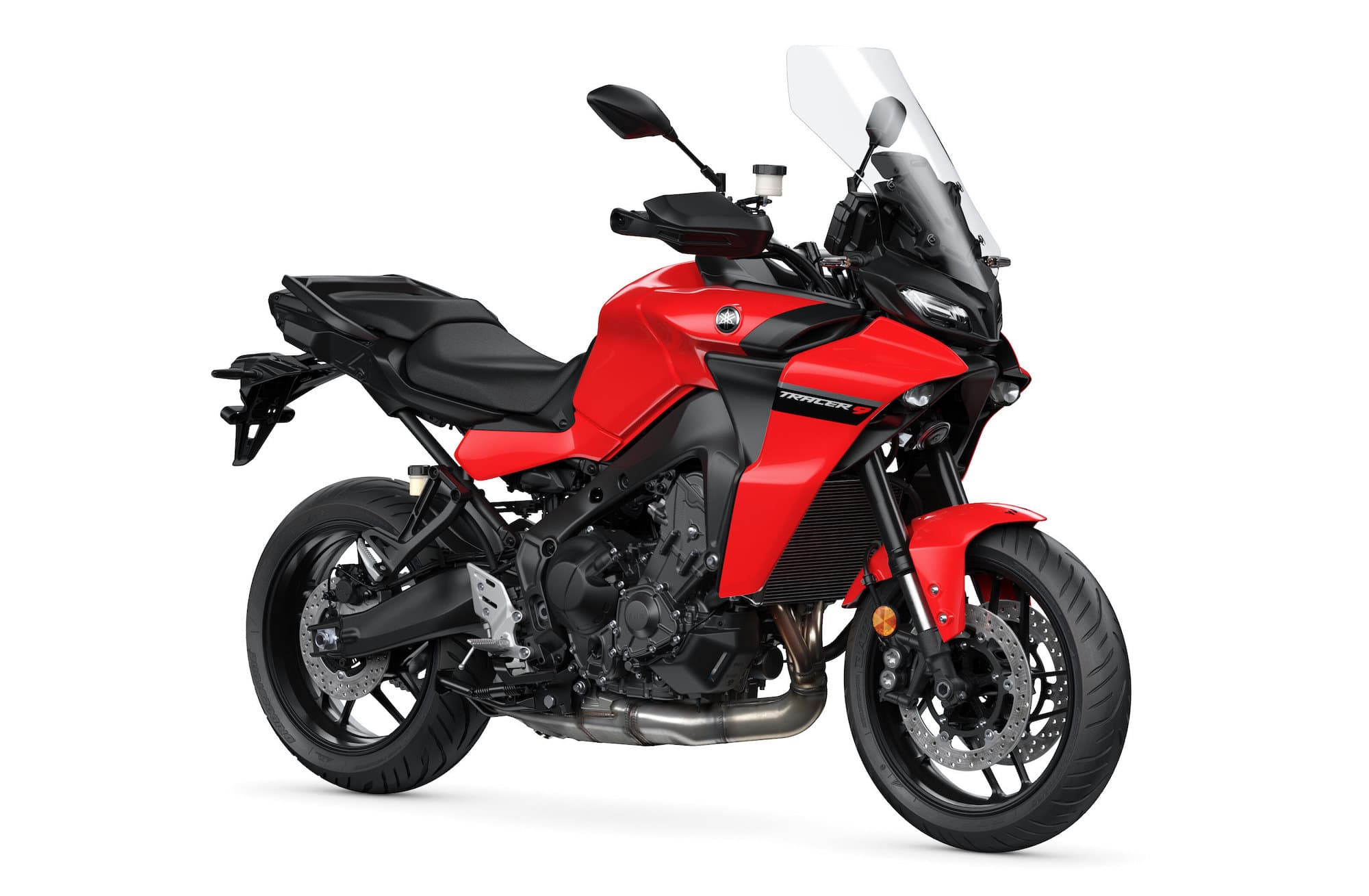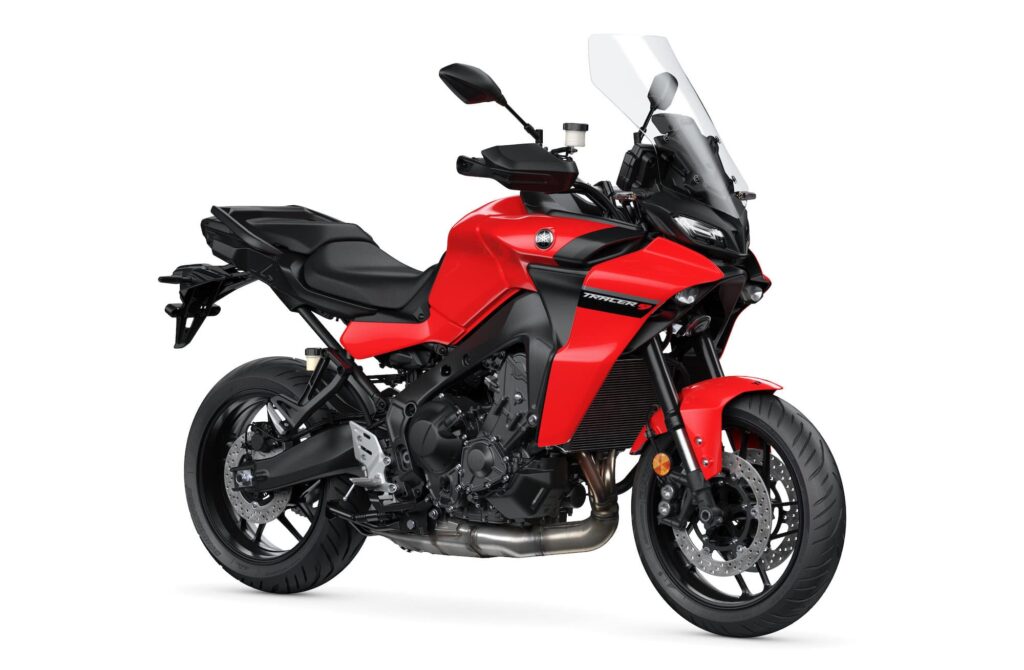 If you're looking at the Tracer 900 / Tracer 9, then you're probably considering other middleweight adventure sports motorcycles.
Basically, I'd put these as motorcycles that
Are between 800-1000 cc in capacity
Make around 100 hp (give or take not too much)
Weigh around 220 kg / 485 lb
Are more sport-focused (in their wheel/tyre setup and suspension travel) rather than "adventure" focused.
The reason I have to be so specific is that there are a bunch of smaller adventure bikes (the 650-700 class) as well as larger full-size adventure bikes (generally 1000 cc or above). There's something for everyone!
Here are the main contenders:
Triumph Tiger 800 / 900
Ducati Multistrada 950 / V2
MV Agusta Turismo Veloce 800
BMW F 900 XR
To keep things simple, I'm comparing the Yamaha Tracer 9 GT spec (which is the only spec available in the US and Australia — though Europe gets both) with the higher spec equivalents from other brands, and the most recent models, otherwise this would be a massive matrix.
If you're persnickety you'll notice I didn't include the Kawasaki Versys 1000. It's just a bit too big and heavy. This is despite the fact that I think of the Yamaha Tracer 9 (and other triples) as an alternative to the Versys 1000 — because the Versys 1000 is kind of unique with its four-cylinder engine.
Model
Yamaha Tracer 9 (2021+)
Triumph Tiger 900 GT / Pro
(2020+)
Ducati Multistrada 950 / V2
BMW F 900 XR
MV Agusta Turismo Veloce 800
Engine
890 cc triple, "CP3"
888 cc triple, "T3 crank"
937 cc V-twin "Testastretta"
895 cc parallel twin
798 cc triple
Peak power
87.5 kW (119 PS / 117.4 bhp) @ 10000 rpm
70 kW (95 PS / 94 bhp) @ 8750 rpm
(2024+: 80 kW / 108 PS @ 9500 rpm)
83 kW / 113 CV / 111 bhp @ 9000 rpm
77 kW (105 PS / 103 bhp)
81 kW / 110 CV / 108 bhp @ 10150 rpm
Peak torque
93 Nm (69 lb-ft) @ 7000 rpm
87 Nm (64 lb-ft) @ 7250 rpm
(2024+ 90 Nm / 66 lb-ft @ 6850 rpm)
94 Nm / 69 lb-ft @ 6750 rpm
92 Nm / 68 ft-lb @ 6500 rpm
80 Nm / 59 lb-ft @ 7100 rpm
Display
Dual TFT (2021+ all models)
TFT
TFT
TFT
TFT
Suspension
* Front and rear adjustable preload / rebound
* Semi-active (GT spec)
* Marzocchi fully adjustable 45mm fork
* Marzocchi adjustable RSU, electronically adjustable (not active)
* Fully adjustable on standard
* Skyhook semi-active on S version
* Non-adjustable inverted fork
* Dynamic ESA, preload/rebound adjustable shock
* Sachs semi-active front and rear (Lusso)
Ride aids
IMU, Cruise, QS
IMU, Cruise, optional QS (Standard on Pro version)
IMU
IMU, Cruise (Select package), QS (Premium)
IMU, Cruise, QS
Special features
* GT spec has standard luggage, protection, center stand, heated grips, cornering lights
Pro version has electronically adjustable rear shock
* S version has Skyhook suspension, cornering lights, cruise control, quick shifter
* Premium package includes active suspension, ABS Pro
* Lusso for all premium features
* Radius Cx clutch in even higher-spec SCS versions
USA MSRP
$14999 (GT)
$16600
$17895 (S)
$14990 (Premium)
$20400 (Lusso)
Middleweight (800-1000 cc) adventure sport touring motorcycles
Right away, looking at the above, what stands out is that the Yamaha Tracer 9 GT is still the value pick of adventure sport touring motorcycles. You get a LOT of features for your dollars!
OK, let's look at them all in more detail. I managed to find press photos of all these bikes in red so no brand has an unfair "red = faster" advantage. (Or maybe red is worse to you, I don't know, but at least this way they're all even.)
Triumph Tiger 900 GT / Pro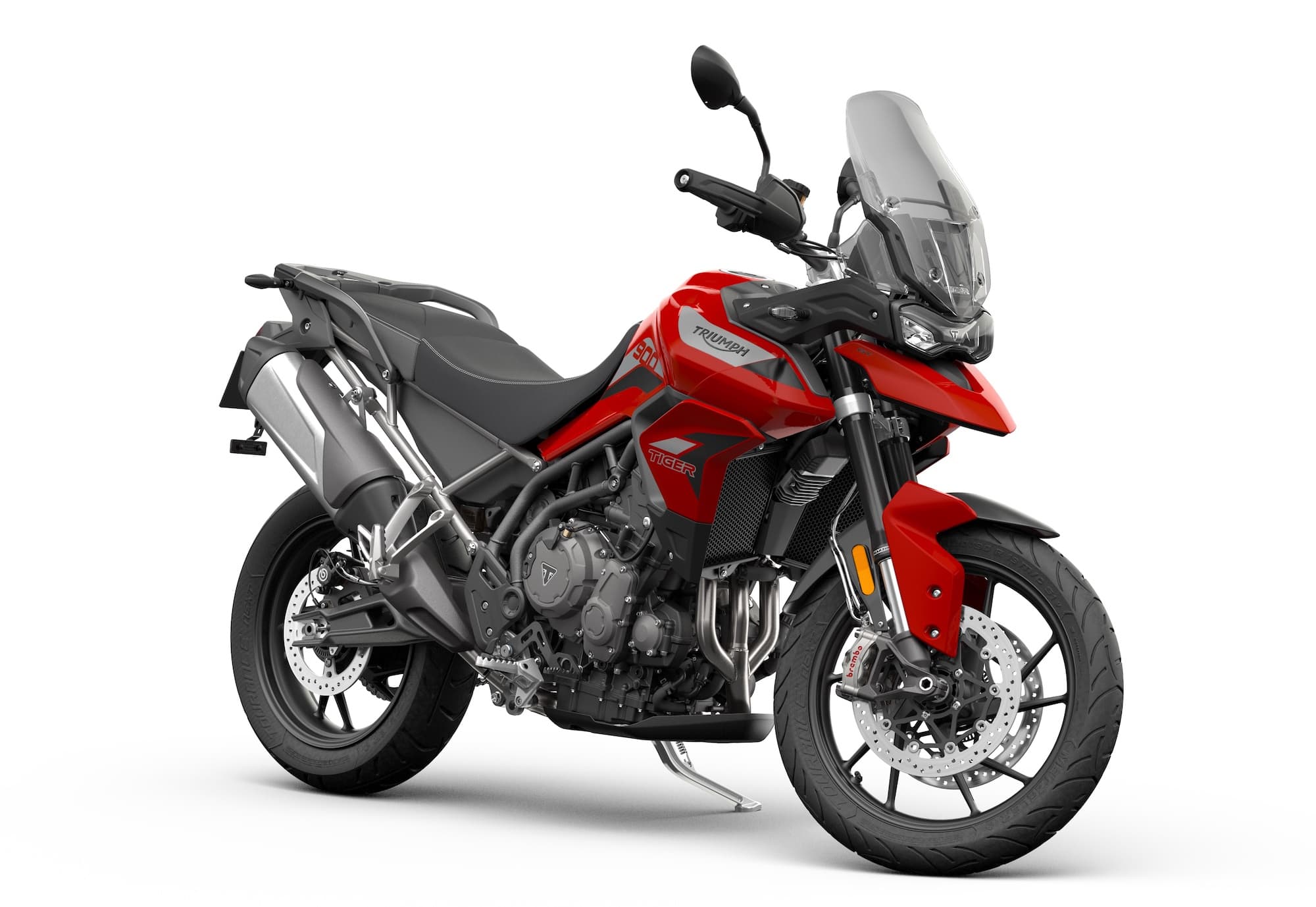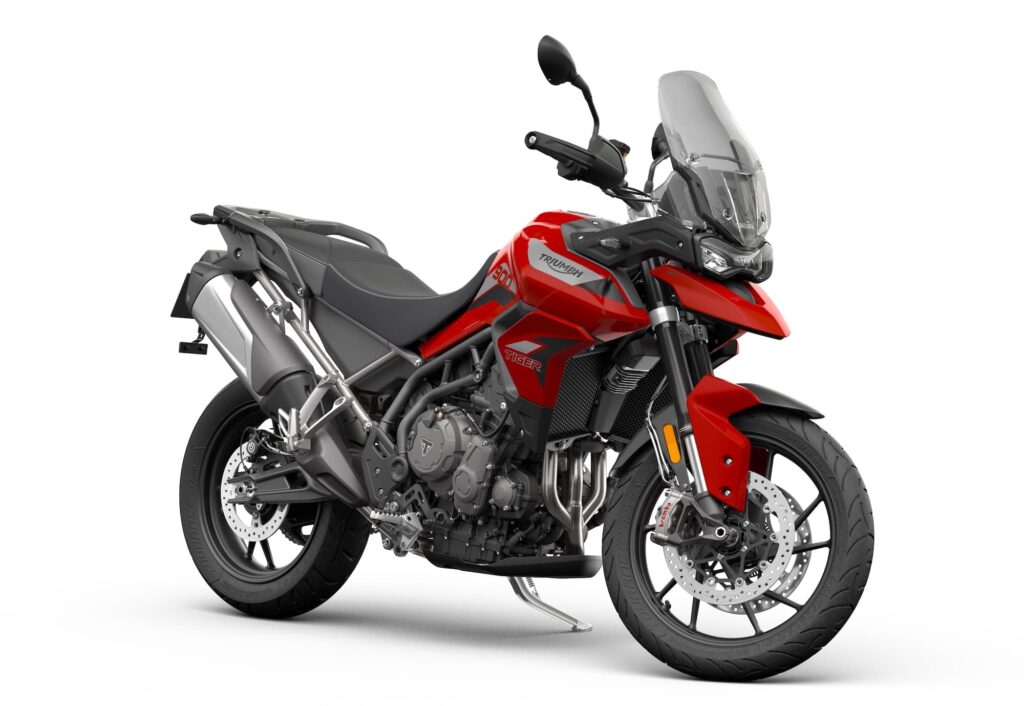 The Triumph Tiger 900 GT is the first motorcycle I think of when thinking of alternatives to the Yamaha Tracer 9 — mostly because of its engine. After all, the Tiger 800 was the most obvious alternative to the Tracer 900.
The Tiger 900 motorcycles are all based around the same engine — an 888 cc triple. It's very similar to the CP3 motor in the Yamaha Tracer 9, but with one difference — the unusual 1-3-2 (compared to the Yamaha 1-2-3) firing order, with 180 degrees between crankpins 1 and 3, then 270 degrees to pin 2, then 270 degrees back to 1. Triumph calls this "T-Plane".
The stated goal of T-Plane is to give the bike more low-end torque without sacrificing top-end power. But you can't forget that it just gives the Triumph motor a unique character which makes it harder to directly compare the Tiger 900 with other bikes.
The Tiger 900 GT is the road-going version of the Tiger range — the off-road/adventure version being the Tiger 900 Rally. And the GT Pro is the higher-rated version of the same bike with a few features that bring it nearly on par with the Yamaha Tracer 9 GT.
The Triumph Tiger 900 is a wonderful bike, but you can't ignore that even though it's higher-priced, it's significantly down on power, and doesn't come with active suspension. If those are important to you, give it a miss.
But if you like Triumph's triples (and they do them well!), then this is the one for you.
The 2024 range of the Tiger 900 is made up of three motorcycles only, including the Tiger 900 GT and the Tiger 900 GT Pro. For 2024, Triumph increased power output by 13 per cent by helping it rev higher — without a cost to low-rpm torque — thanks to new pistons, a higher compression ratio, and optimised breathing (intake, camshafts, and exhausts).
Ducati Multistrada V2 / S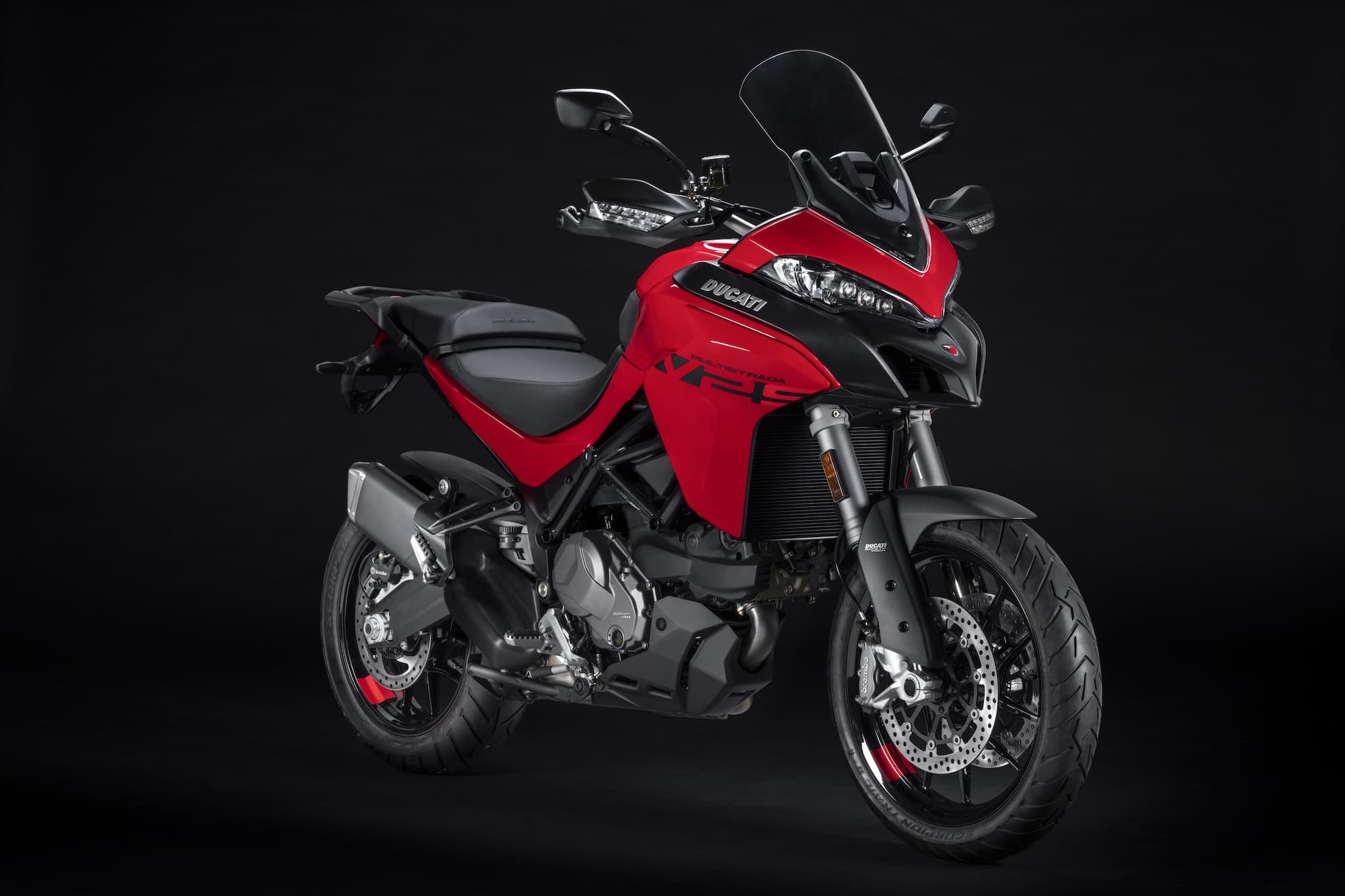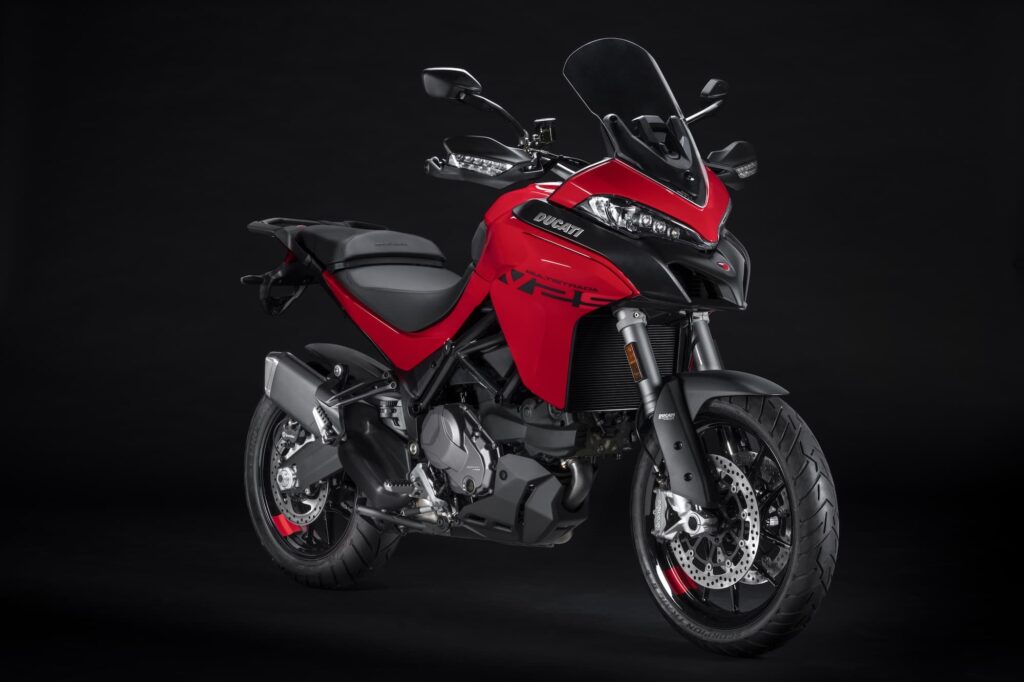 I love me a Multistrada. I had an early one, and I really like the later ones too — though they've lost a bit of the rawness of the air/oil-cooled era… which is probably a good thing for their stated usage.
Ducati was very early in the "sport adventure touring" segment. In some ways, they kind of own it, in the same way that BMW has staked a claim in the more adventure segment with its R – GS line.
The latest Multistrada V2 is an evolution of the Multistrada 950, which was Ducati's way of coming back down from the ever-increasingly large-capacity liquid-cooled Multistradas with a 1262 cc V2 and most recently a V4 engine.
The V2 is based on the same 937 cc liquid-cooled L twin that we see in a wide range of Ducati bikes, from the Supersport to the new 2021 Ducati Monster 937.
The Multistrada V2 is a very capable bike in base form. But the one most people would really want is the V2 S, which comes with a few basics I'm a bit miffed aren't on the V2, like a TFT display and cruise control, or even cornering lights.
An upgrade that I'm less surprised only comes on the S version is "Skyhook" suspension, which aims to keep the Ducati Multistrada always upright, as if hanging from a hook in the sky above it. (It's completely the opposite of the Yamaha Tracer 9 GT's "Ground-hook" suspension, by the way.)
Anyway, if you're a Ducati fan or love a high-revving V-twin, the Multistrada is the bike for you. But you'd need the S version, and spend a lot more, and you still wouldn't have saddlebags.
BMW F 900 XR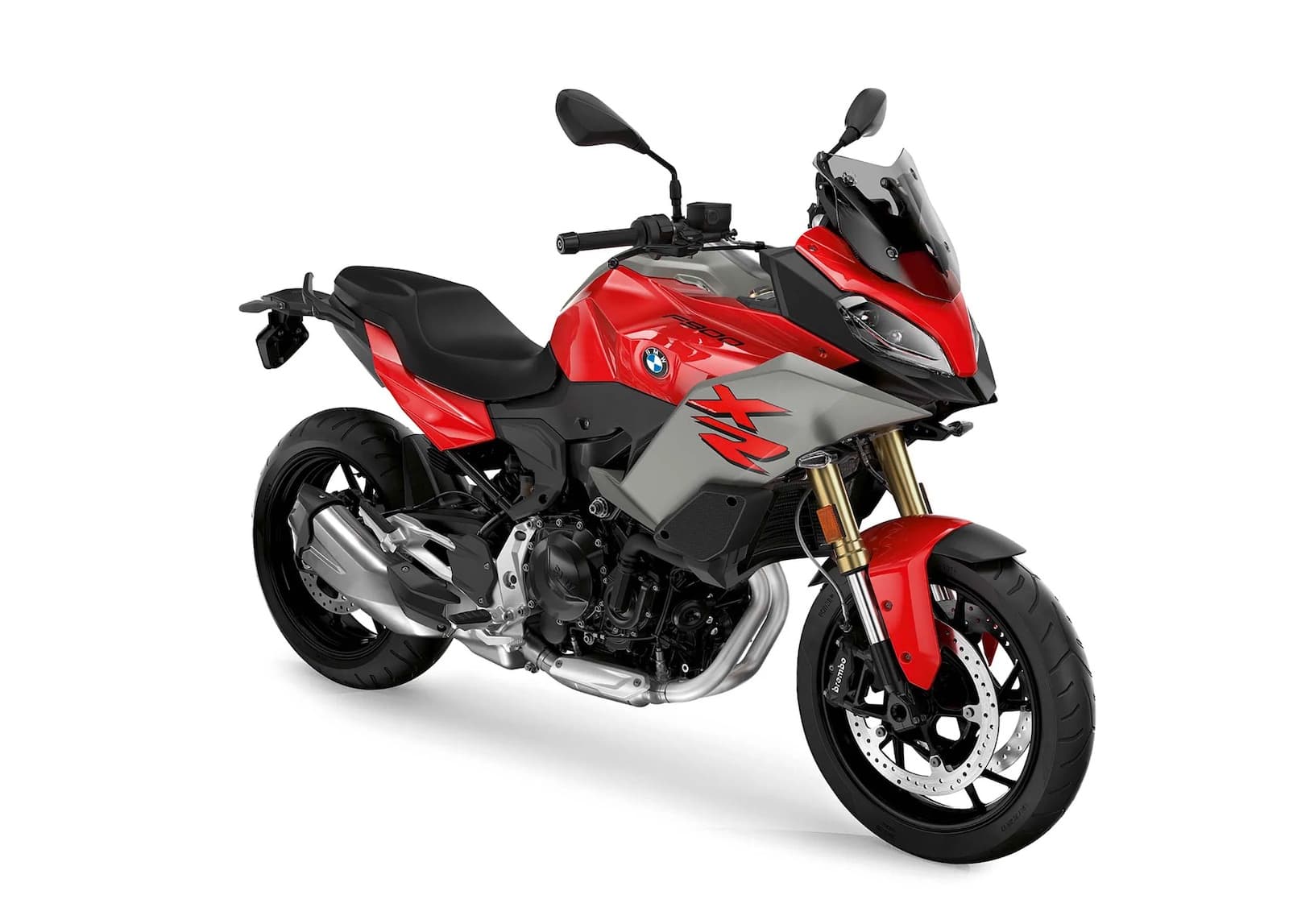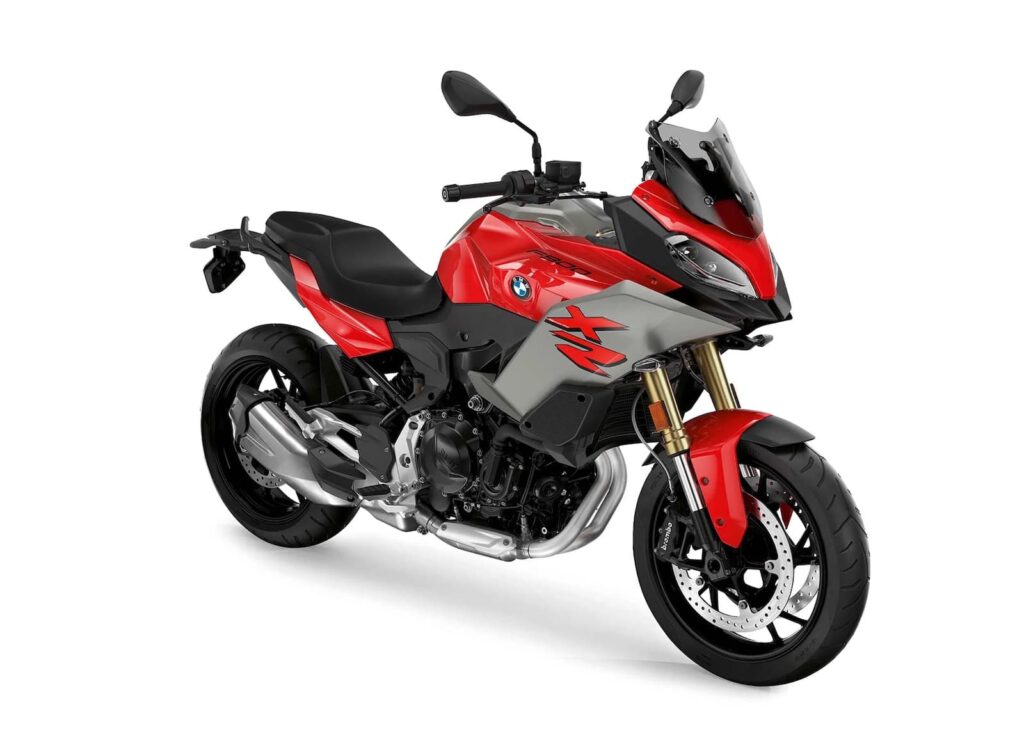 I first rode a BMW F 900 XR when I went to get an F 900 R and realised that the R model doesn't have cruise control in Australia. Wah!
Anyway, the F 900 XR was also very interesting. This is BMW's "do-all" middleweight. It has a very lively 895 cc parallel twin in a road-goading package with simple good looks and just enough spec for a wide variety of things.
It's got a $12590 MSRP, but in the US you really want at least the "Select Package", an additional $950, which gives you cruise control, cornering ABS, and heated grips — but still no centre stand (let alone luggage). And you'd need the $2400 premium package (replacing the Select package) if you want dynamic suspension — and it only dynamically adjusts the shock.
I like the BMW, and it's very easy to ride, and I'm a BMW fan. But even with the premium packages it falls a little short on spec compared to the Yamaha Tracer 9 GT. Besides which, I didn't find the ride that thrilling — just functional.
MV Agusta Turismo Veloce 800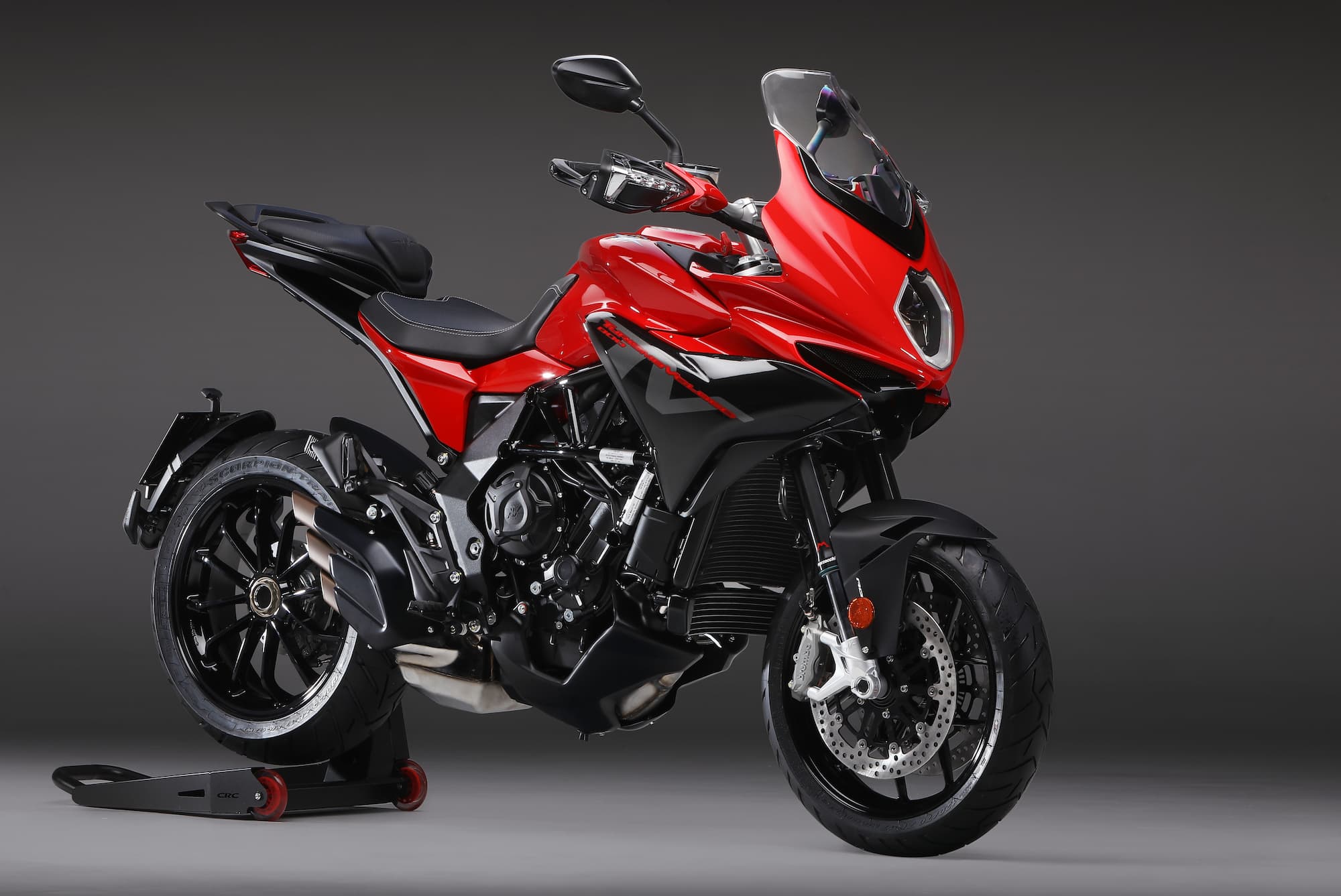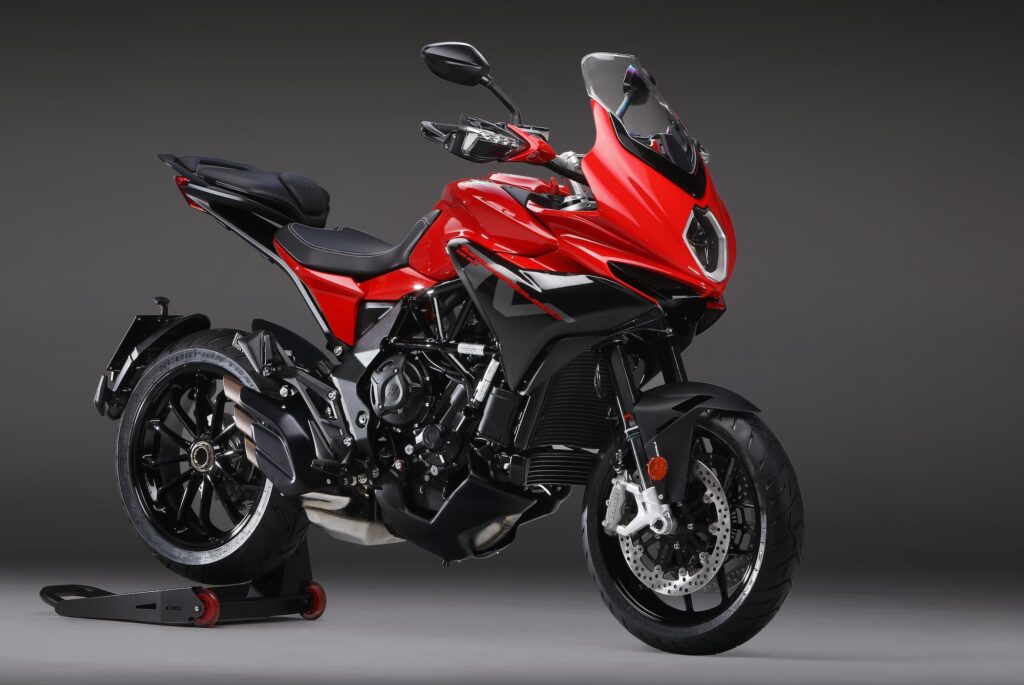 Yow! The MV Agusta is, unsurprisingly I suppose given the brand, the most exciting-looking of the series.
Like the other bikes in this comparison, you have to get at least the "Lusso" spec to get a few of the options to make it a level playing field with the rest of the tourers.
If you pay even more (a few grand more), you can get the "SCS" version which has a Radius CX automatic clutch.
The MV Agusta's 798 cc triple is the same one that MV Agusta uses in higher-end sport bikes, up to the Superveloce for example. But in the Turismo Veloce it's detuned to make lower power, focusing on mid-range torque.
I really like the MV Agusta Turismo Veloce for its style, but the riding experience is very similar to that of a Tracer, in part because of the triple engine. Dyno runs show them working very similarly – a wide plateau of torque from 3000 rpm to the redline.
So I'd only pick the MV Agusta if a) I were dead-set on the brand/style, and b) I had dealers near me if I needed warranty work or special parts.
My take: Which is the best value bike?
Like I said, I'm constantly drawn back to the Yamaha Tracer. Out of all of them, now that there are a few on the used market, I'd look at a 1-2 year old Tracer 9 GT that someone bought intending to ride around the country until sense got the better of them. A bike like that would only have a few thousand Ks or miles on it and would look new, but the owners would sell it at a big discount.
I've ridden the other bikes in the segment and there's something to like about all of them.
A few things that make the Yamaha Tracer 9 GT a uniquely good bike to ride are the active suspension, the unique display layout (it's what you look at all day!) and acclaimed Yamaha reliability with extremely wide service intervals to boot (42000 km / 26600 mile between valve services).
The only part where I feel a bit let down by the Tracer 9 is in style. Not in an objective sense — I mean, it's not ugly — it just doesn't have a style that screams at me with uniqueness or inspiration.
Yes, it looks good in red. Let's look at it again: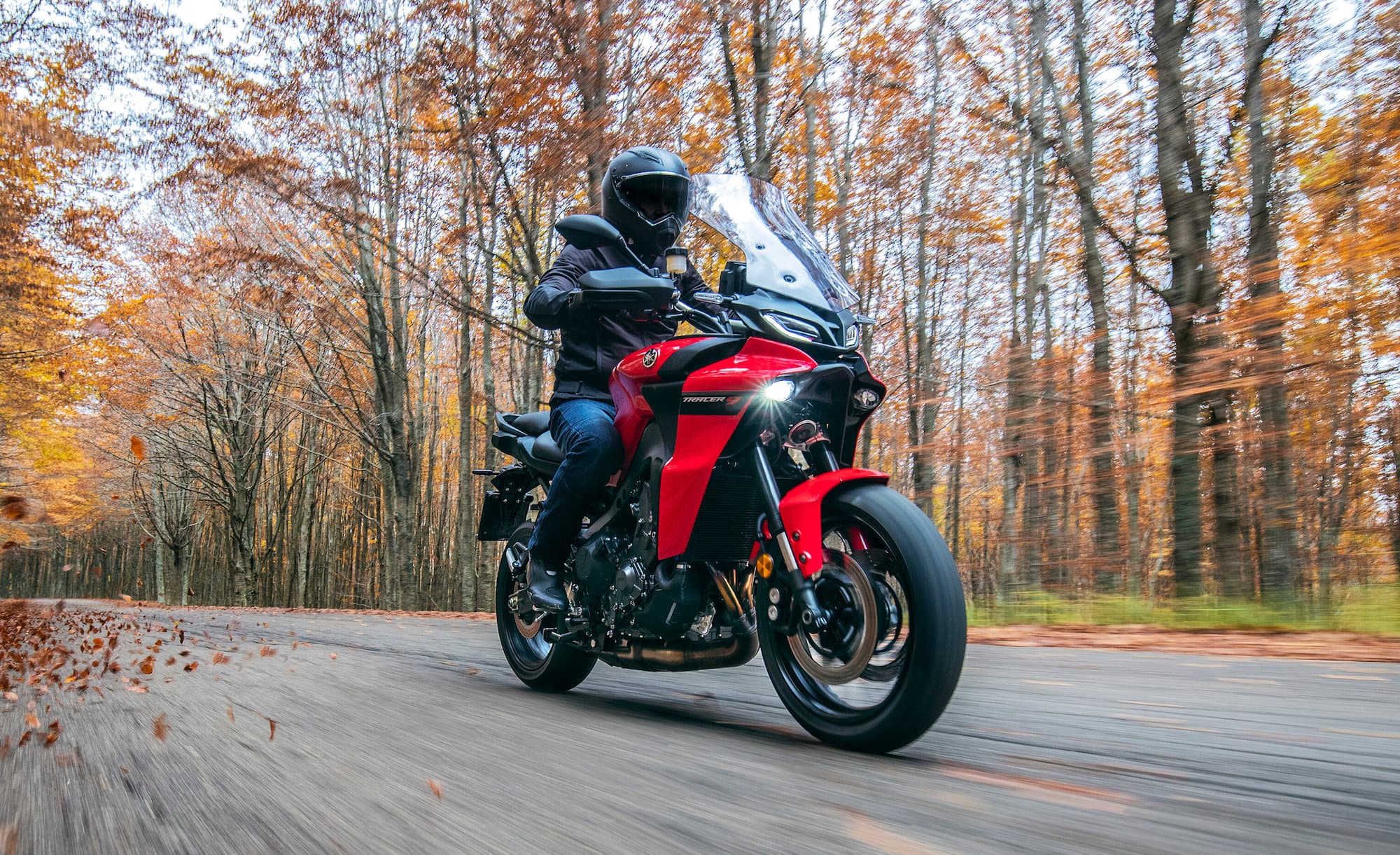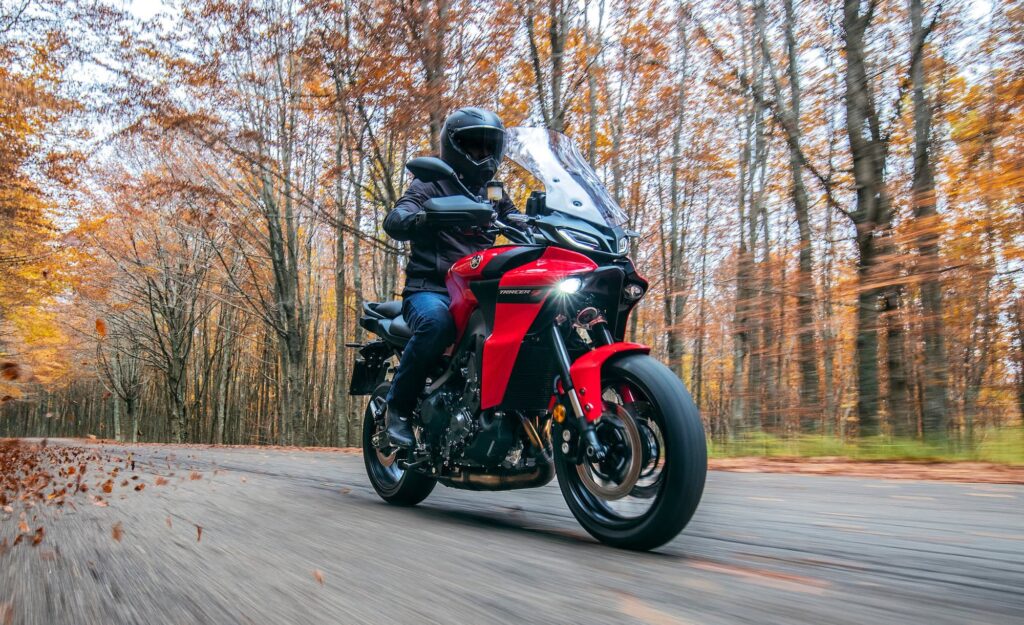 And I get it, it's hard to make an adventure sport tourer look particularly cool.
But Ducati does it to a degree, and MV Agusta does it even more. My only consolation is that even those bikes fall short in style compared to their sportier or naked stablemates, so maybe it's just too hard a task for anyone. Making practical sexy is always going to be a challenge.
The best part is that the Tracer looks pretty good. It's not going to rock your world like the latest superbike or shiny cruiser, but it looks pretty good. Anyway, enough about this.
The Tracer can do a bit of nearly everything. It's sporty and comfortable, relaxed and still exciting.
Something from this class will end up in my garage very soon, and it's a tough call between the Tracer and the others — but I still lean this way.