A while ago, I got interested in buying a Honda CBR600F or one of its successors. I had seen people talking about an "F2", or "F4", or comparing various bikes with the Hornet, and I thought: what's the deal? What are all these models and how are they different?
So, I started exploring them all, inspecting them, and visiting official sources from Honda and old press releases I dug up. So here it is: My complete guide to buying a used CBR600F or a CBR650F, with as official stats as possible.
The Honda CBR600F, CBR650F, and CBR650R are known as being "balanced". In a nutshell, this means that the engine is matched well to the chassis, and it's easy to ride in a variety of conditions, from everyday milk runs to track day shenanigans.
This focus on usability contrasts this series of bikes with the more race-oriented 600-cc super sport motorcycles, like Honda's own CBR600RR, or the competitors like the Kawasaki ZX-6R or Yamaha YZF-R6. Those bikes are definitely usable every day, but they're not optimised for it.
See the Honda CBR600RR buyers guide.
Basically, the CBR600F is the "everyday sport motorcycle" that can do it all. It doesn't feel compromised, and does all those things well.
Nonetheless, when Yamaha released its R6 in 1998, they really showed what "no compromises" could mean.
Still, there is a place in many people's hearts for motorcycles like CBR600F, enough for Honda to keep trying to bring the concept back – in different ways, adapting to the times.
This post was initially published on March 25, 2019, but has been significantly updated in late 2022 with official stats, a lot more photos, and a lot more detail.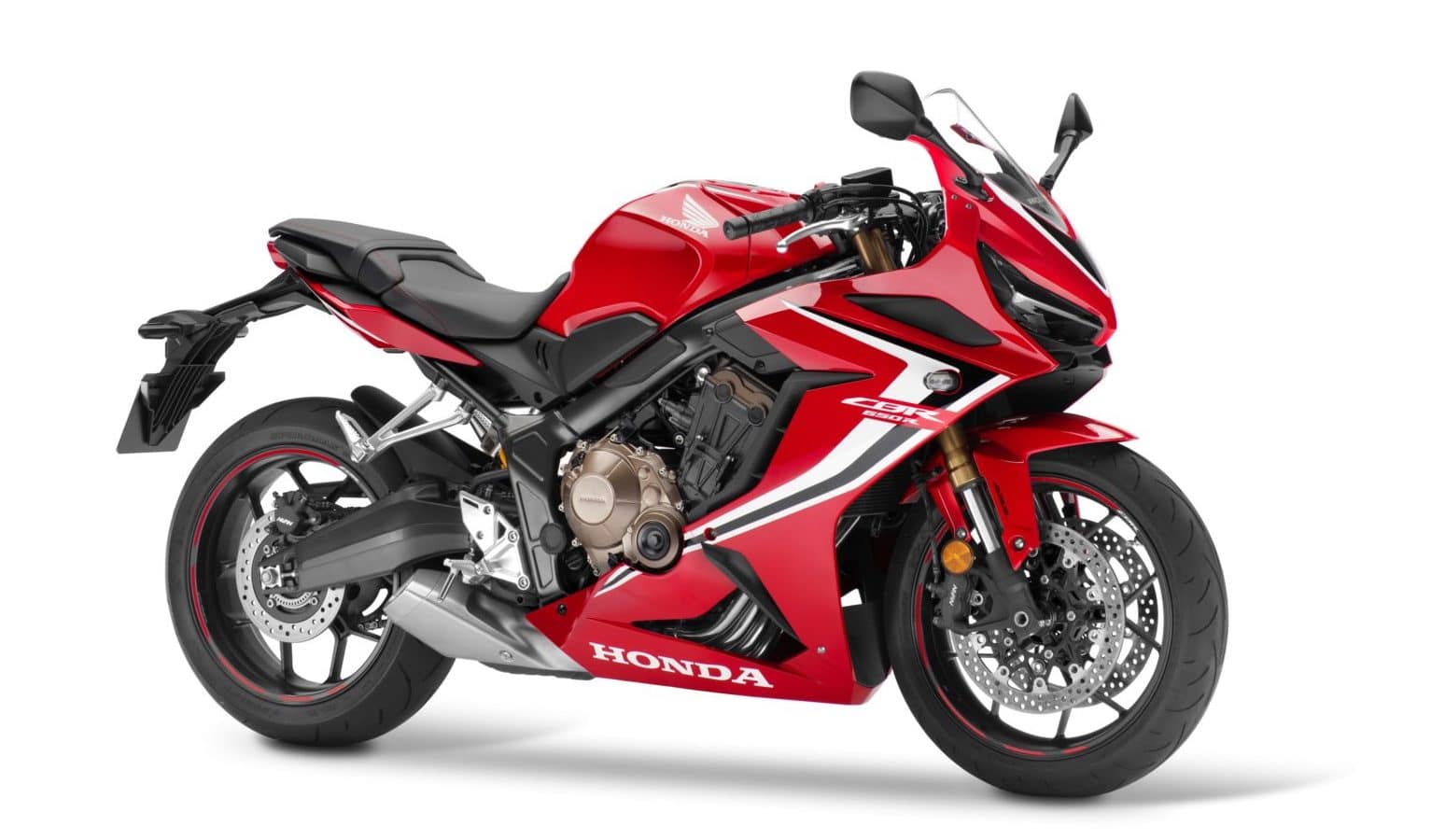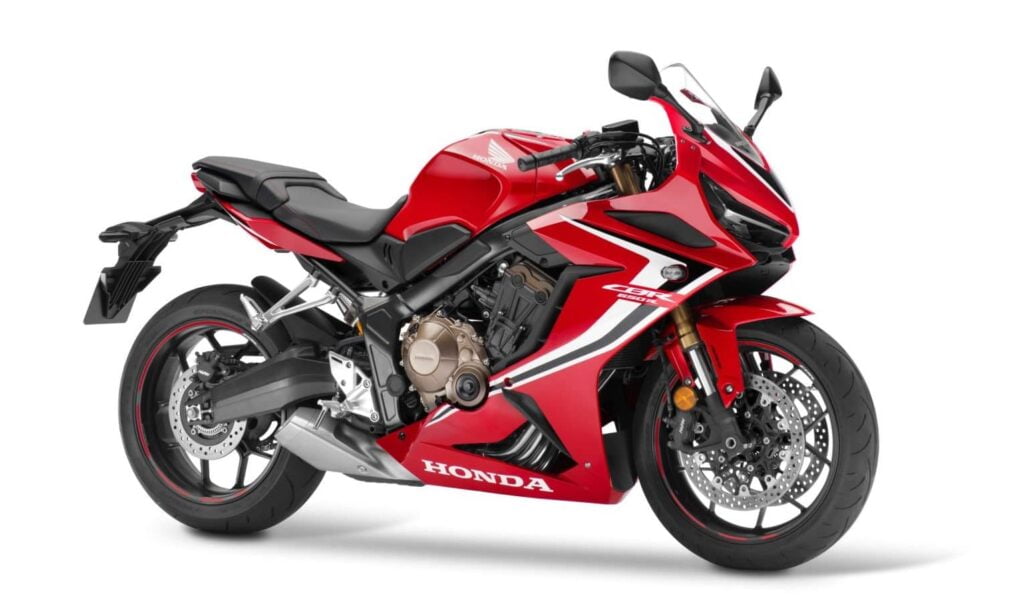 Are you obsessed with motorcycles?
Well, I am. That's why I created this site — as an outlet. I love learning and sharing what others might find useful. If you like what you read here, and you're a fraction as obsessed as I am, you might like to know when I've published more. (Check the latest for an idea of what you'll see.)
Why a Honda CBR600F, and not a CB600F or CBR600RR?
Firstly, why a CBR600F: The CBR600F (and its descendants) is one of those motorcycles that suits the sporty at heart, but who wants a bike that is fun for everyday riding.
Ask anyone who's had one and they'll describe them as being an excellent balance: lightweight, manoeuvrable, with plenty of horsepower and yet comfortable, torquey enough down low to be practical in the city, and stylish.
In case you're curious, CBR actually stands for "City Bike Racing". Never mind that CBR600RR stands for "City Bike Racing… Race Replica", somewhat of a contradiction. By the time the 600RR range was released (in 2003), the "CBR" was more of a brand name than an acronym.
So why not a CBR600RR, or a CB600F? They are similar bikes, but with different areas of focus:
The CBR600RR is the "race replica" 600-cc motorcycle, much more oriented towards the track. While it's comfortable, it's not as street-friendly (with a more aggressive position, compact frame, and higher-tuned torque curve). They're awesome motorcycles, even just to look at, and of course many do ride them as daily riders. But they're of less interest to the larger portion of average buyers, as they're aggressive and expensive, and like to live between 8000 and 14000 rpm. (See here for our CBR600RR buyer's guide)
The CB600F is the "naked" version of the CBR600F. They're sometimes marketed as the Honda Hornet. The CB and CBR actually share many common features, though the CBR generally had higher spec parts like brakes and suspension. But as a naked bike, the CB is just a little less oriented towards sustained higher speeds, due to the wind blast. I considered putting them together into one guide, but the complexity of doing that is that the years they were each released were slightly different, as were the engine tunings and specs. So, I'll write one separately.
If I had to pick which of the above motorcycles in the Honda 600cc range was most iconic and appreciated by the greatest number of people, it would be the CBR600F.
What's a Honda CBR600F like to ride?
The Honda CBR600F never produces a stratospheric amount of torque, but it definitely pulls when you get above 6000 rpm. Importantly, neither does it completely lag down low, nor stall easily.
The CBR600F's rise in torque is steady, very unlike other 600s that give you a rush of power 8,000 rpm and then scream their way to a redline as high as 16,000 rpm. If that sounds good (it kind of gives me the tingles just thinking about it), maybe you want a Yamaha R6!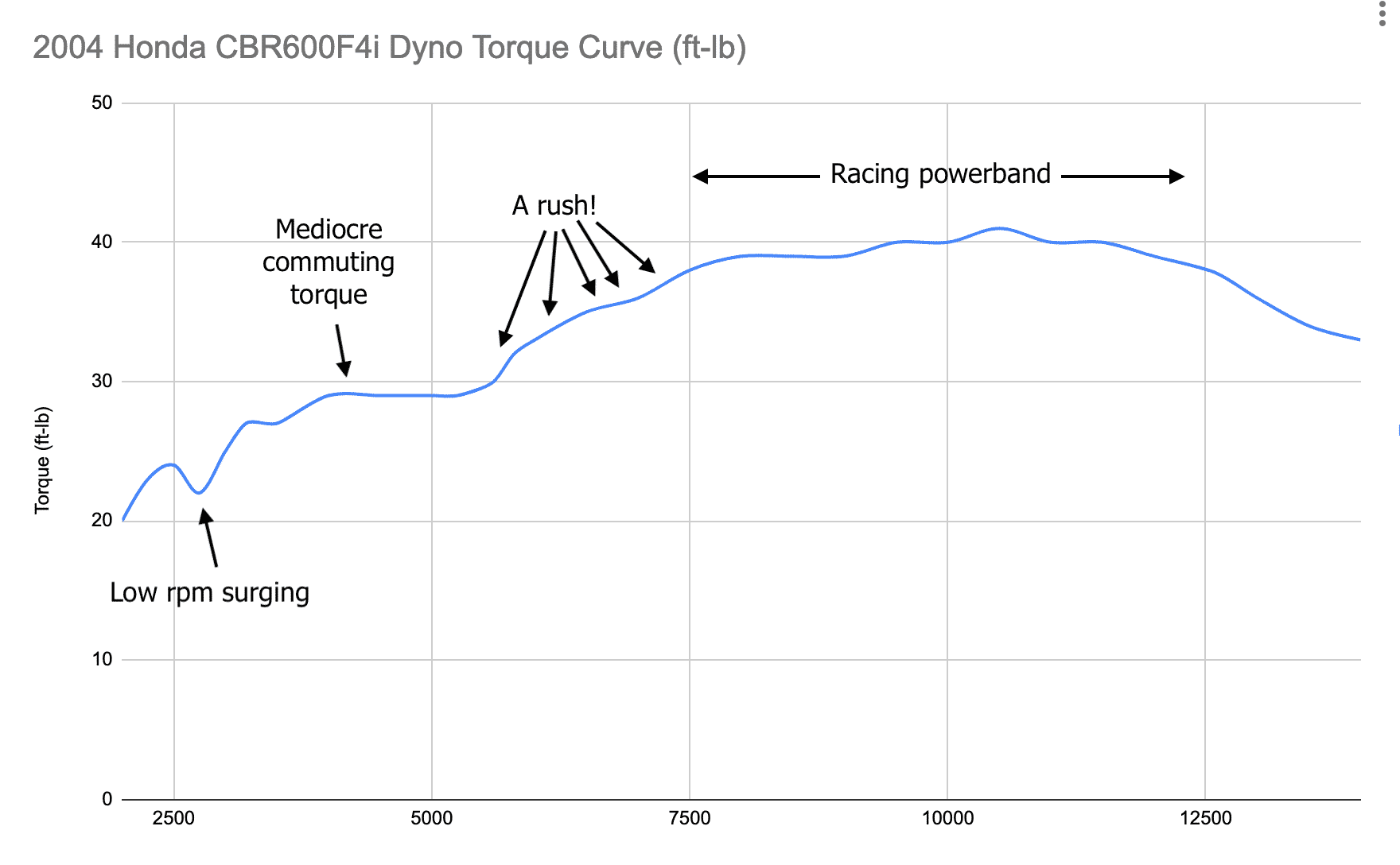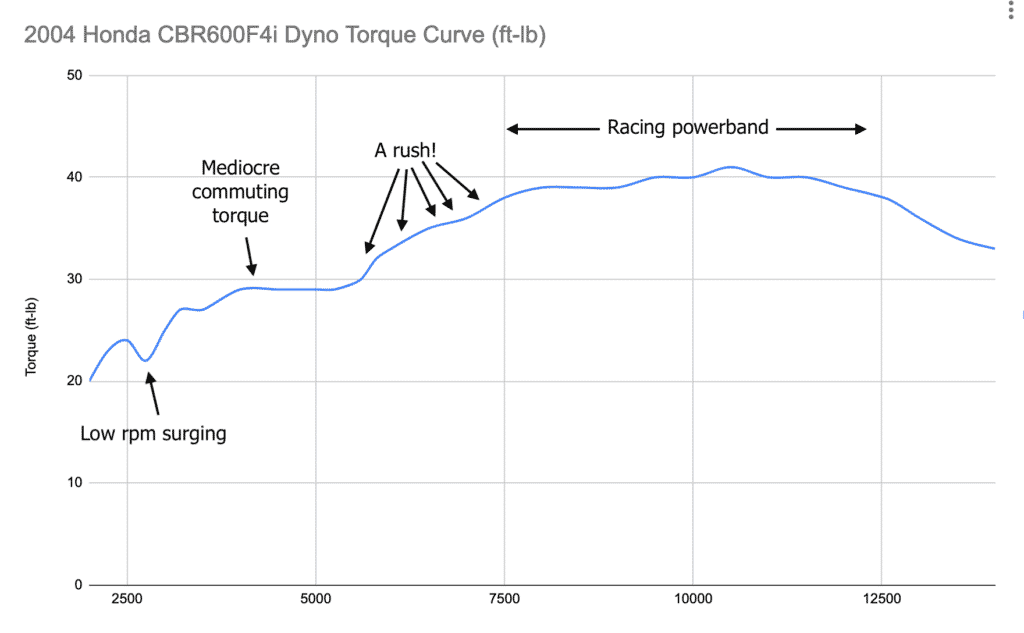 Above is the torque curve of the CBR600F4i. It's indicative of how power is made in most of the CBR-F series.
Around town, the CBR is docile, but not weak. In general traffic rev ranges, it's making about 30 lb-ft of torque. This is more than any 300cc motorcycle makes at its peak. It's also about 2/3 of a much "torquier" motorcycle, like a Triumph Scrambler or your average mid-sized Ducati Monster. So, it's fine!
Once you get the revs up to about 7,000 rpm, you're basically at peak torque. And it's not hard to get up there once you decide to let it rip a little. From that point, you are rewarded with a large, satisfying plateau of torque and power (remember, power = torque x rpm), all the way to a pretty high redline… depending on your motorcycle of choice, of course.
The CBR600F was always comfortable. It doesn't have handlebars, but the clip-ons aren't too low. Have a look below at the model guide and you'll notice that for most models here, the clip-ons are about the height of the top of the tank.
Go have a look at any sports motorcycle (like the R6) and you'll notice it's QUITE different.
For example, consider the latest in Honda's street bike series, the CBR650R, compared with the most recent CBR600RR.

The geometry of the CBR600RR is so different. It has lower clip-ons, higher foot-pegs, a more aggressive tank, and even a higher seat.
The more relaxed position means the F is just easy to manoeuvre in everyday life. You can take it to the shops, pootle about the countryside, or fly it along a twisting road with the same ease. The power band makes you feel like you're in control.
A CBR600F also feels at home on the highway. The fairing is comfortable; you don't have to race-tuck behind it like you do on an RR (or you might be forced to do, depending on your body). The engines rev at a docile 5-6,000 rpm, and there's a peaceful feeling knowing that you don't have to downshift to get into the torque band. You're already there!
Quick buying guide for a CBR600F — Best models of CBR600F
The early CBR600F models were always considered fast, sporty bikes. Thus, the majority have been raced, either on the street or on the track. They're not monsters with torque, but they can be wheelied. And many of them have been crashed and left out in the sun, and then many others are restoration models that may be too expensive.
The main two models of CBR600F I would recommend you look at are the CBR600F4 and the CBR600F4i. These are in the sweet spot of used bike prices and are pretty high-spec.
The CBR600F4 was the last of the carburettor-fed original models of CBR600F. The reasons for which it's a good one to get is: it's lightweight, it has a high spec of suspension and brake components, it has a reasonable maintenance interval, and it has a lot of the gremlins from earlier models ironed out.
The CBR600F4i was very similar, but added fuel injection and came in a sport variant. Fuel injection means one less thing to service. On an old motorcycle that has been sitting (common for motorcycles of this vintage), having fuel injection means one less thing to clean and prepare before you go.
The 2019 Honda CBR650R is the closest reincarnation of the CBR600F4i. It's fast, sporty without being extreme, and not sedate. It has a broad, very usable power-band, and is engaging to ride.
I actually don't mind the 2011-2013 Honda CBR600F (if it's sold in your region), but it will be very hard to on-sell. So only get it if you can get a bargain.
If you're interested in why I would love to buy a Honda CBR650R (if I could get a full-power one), read my full review of the CBR650R here.
The Original Honda CBR600F Hurricane (1987-1990): Nice, but an Aging Classic
Honda released the original CBR600F in 1987. It was a ground-up design, and the effect was an instant hit — people considered it to be a bike that was sedate at low speeds but that tempted you to wind out the tachometer past 6000 rpm where the fun started.
The original 1987 Honda CBR600F set the tone for later models, being sporty but gentle, and having the perfect power band for a wide variety of roads, from tight corners to longer straits.
Despite this "sporty but gentle" feeling, the Honda CBR600F was intended to be – and was — a quick and affordable motorcycle, though not a track bike. Its specs reflect its street intentions. It has moderately high power, has good suspension and brakes, and is easy to handle.
| Model | CBR600F "Hurricane" |
| --- | --- |
| Years | 1987-1990 |
| Displacement | 598.5 |
| Bore x Stroke (mm) | 63 x 48 |
| Compression ratio | 11.3:1 |
| Fuelling | Carburettors, 32mm round-slide |
| Peak power | 62 kW / 83 hp @ 11000 rpm |
| Peak torque | 42 lb-ft @ 8500 rpm |
| Redline | 12000 rpm |
| Front suspension | Showa 37mm conventional fork, adjustable air pressure |
| Rear suspension | Showa monoshock, preload / rebound damping adjustable |
| Front tire | 110/80-17 |
| Rear tire | 130/80-17 |
| Front brake | 2 x 285 mm discs, 2-piston calipers |
| Wet weight | 208 kg / 458 lb |
| Valve service intervals | 8000 mile / 12000 km |
Honda CBR600F1 vs CBR600F2 changes
The visual design of the original CBR600F was cool at the time, then evolved into relatively ugly compared to its successors, and these days, it looks "retro". People call it the "jello mold" (or "jelly mould" if you're from outside the US), a lot like the CBR1000F. Cycle world called it "nothing less than breathtaking" back in 1987, so this design had its day. I like it for now. It'd certainly be a talking point, if that's important to you.
The original CBR600F is cool, but it's pretty basic, so know that you'd be getting a limited bike. In stock trim it only made a peak of 62 kW / 83 hp at 11000 rpm, which while fun enough, is significantly less than later versions that are easier to find. Mind you, at the time, it was considered very fast. And considering the ageing chassis and ride gear, it is the right amount of power for the bike.
The front suspension is non-adjustable, and like a few successors after (until the F4), it just has 2-piston calipers — though, many say they do the job!
And the old-design engine, which has threaded adjusters for the valves, has relatively short valve service intervals of 8000 mi (12000 km), which is half that of its immediate successor, the CBR600F2. (Some sources report it as 5000 miles, but the manual also confirms it's 8000 miles.). Yes, valve services are less frequently needed as time goes on, and they're easy enough to do with adjusters rather than shims, but still, this is annoying.
That's strike one against hunting for an original CBR600F. The other things are that they're old, hard to find with original fairings, and might get "collector" prices. So unless you're building out a Honda museum, it's hard to recommend the original F over some of the later models.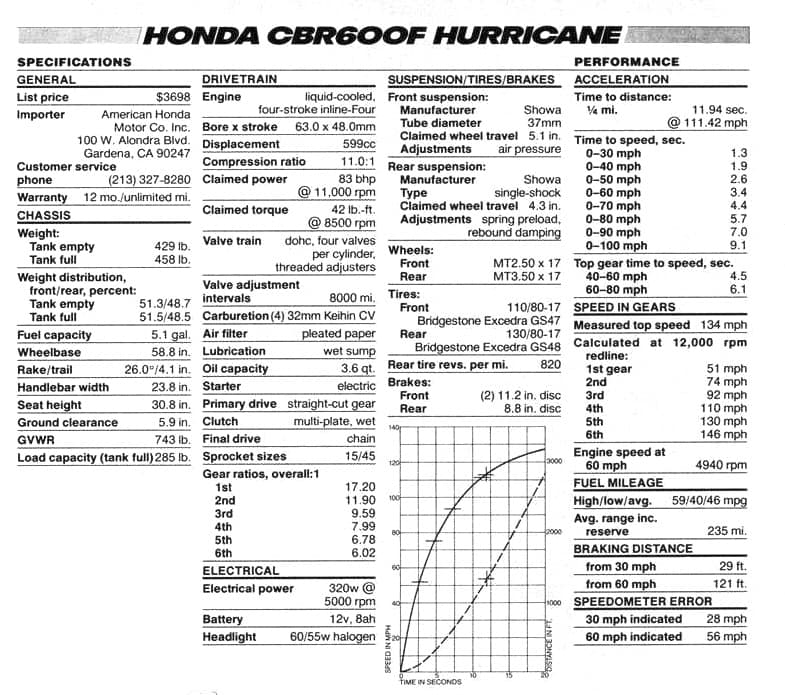 Honda CBR600F2 (1991-1994): Reasonable service intervals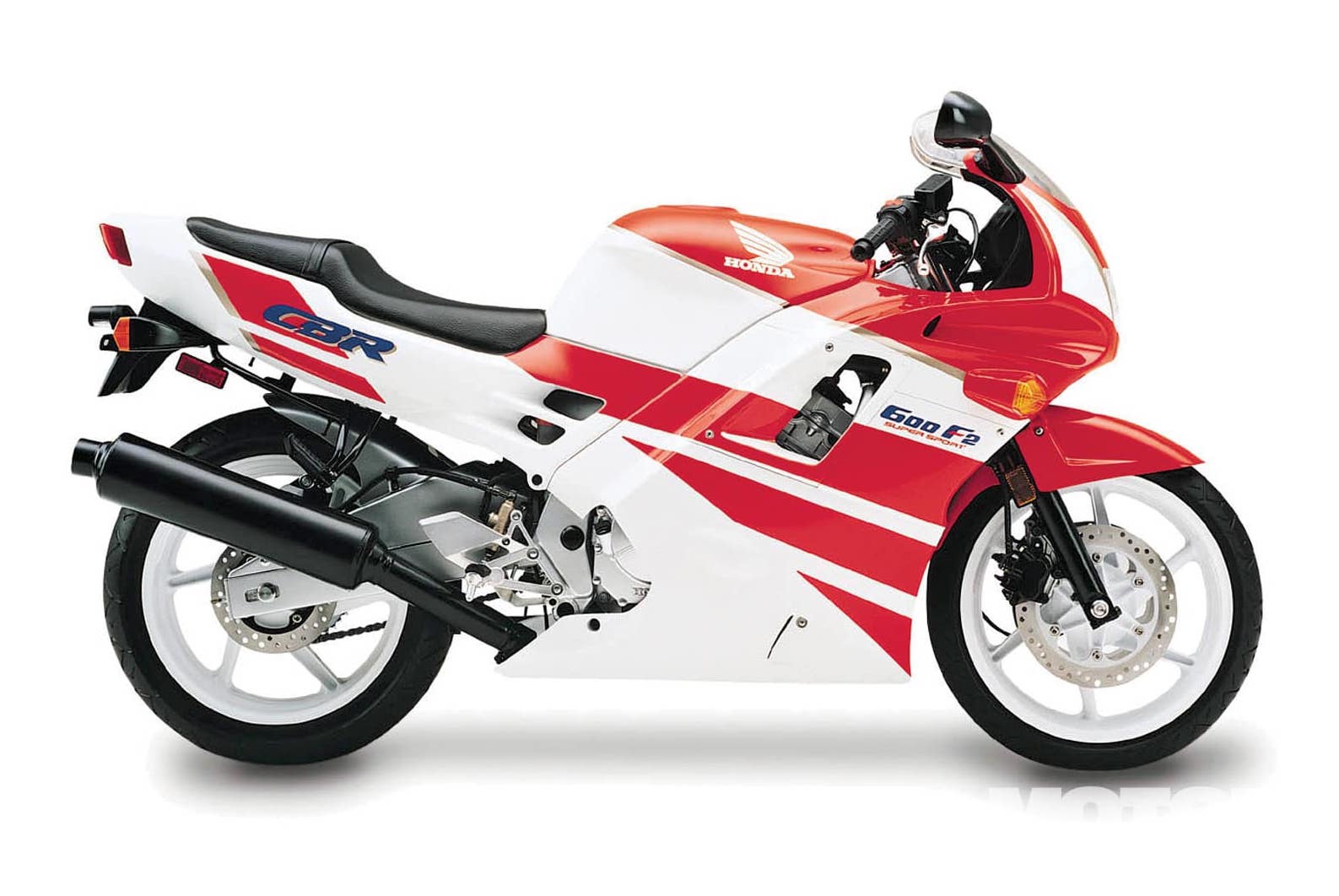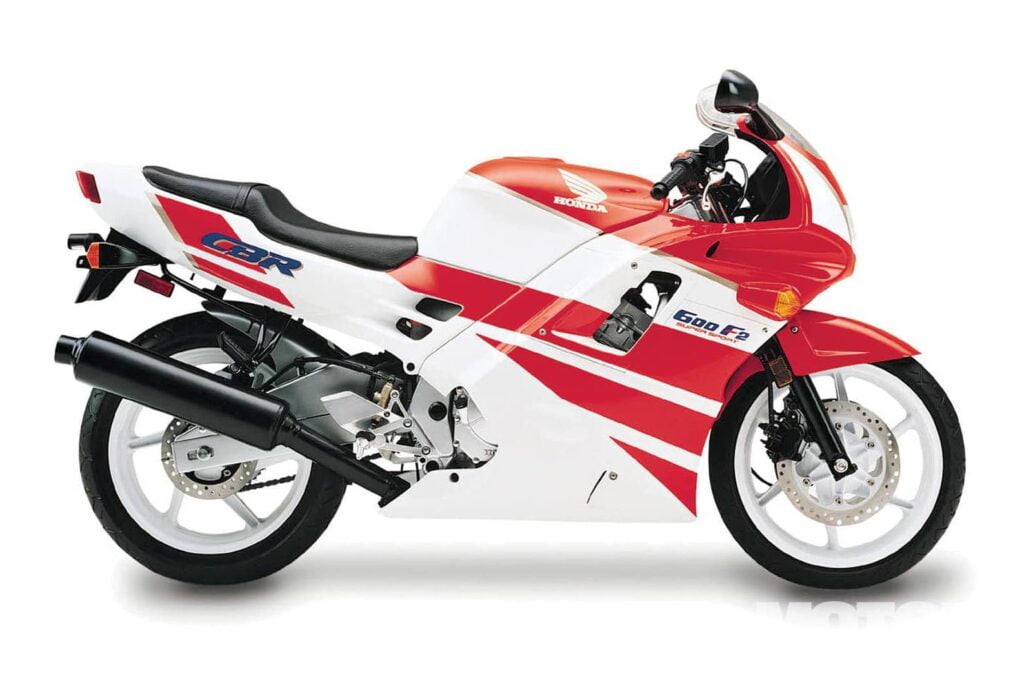 Honda made a dramatic update to the CBR600F in 1991, essentially starting from scratch — Honda said that the CBR600F2 shares no parts with the F1. They gave the new bike a new engine, new suspension, new tires, new brakes… it just bears the same name, though they dropped "Hurricane", too!
Oh, and you might also notice that they modernised the visual design. It's still pretty retro-looking by today's standards, but it was on its way.
Honda rebuilt the CBR600 in an attempt to keep its position at the top of the class. By 1991, Kawasaki had released the ZX-6 (a.k.a. ZZ-R600), a more street-oriented sport bike with nevertheless a powerful engine. This kept pressure on Honda to up the game.
Like the earlier version, the CBR600F2 is an excellent balance between real-world rideability and high-performance handling.
The core of the change is a much shorter-stroke engine, which is tuned to make almost 25% more power than the engine in the original Hurricane. Honda lightened the insides of the engine (pistons, crankshaft, connecting rods), and reduced the valve angle from 38 to 32 degrees, allowing them to raise the redline from 12000 rpm to 13000, helping the engine make more power.
Another change to the insides was that Honda upgraded the original rocker arm type valve actuators to shim-under-bucket valve actuators. This allowed Honda to extend the valve service interval from 8000 miles (12000 km) to 16000 miles (24000 km), an interval that Honda still uses today for most of its liquid-cooled bikes. So the F2 was the first of the CBR600F series to be in the modern age!
But Honda didn't stop at the engine, altering the suspension, brakes, and even the frame — keeping a twin-spar configuration but altering the geometry.
Honda made some updates to the CBR600F2 in 1994 for that year and 1995, changing the shock for a Showa unit with more adjustability and a fully-adjustable Showa monoshock, which they kept for the CBR600F3.
If you're after a CBR600F2, they're around, but in dwindling numbers. There's nothing that's particularly collectible about them, so pay whatever it's worth for a model that has been well-maintained.
Here are the changes to the F2 vs the original CBR600F.
Model
CBR600F "Hurricane"
CBR600F2
Displacement
598.5
600.0
Bore x Stroke (mm)
63 x 48
65 x 45.2
Compression ratio
11.3:1
11.6:1
Fuelling
Carburettors, 32mm round-slide
Carburettors, 34mm flat slide CV
Peak power
62 kW / 83 hp @ 11000 rpm
75 kW / 100 hp @ 12000 rpm
Peak torque
42 lb-ft @ 8500 rpm
64 Nm / 47 lb-ft @ 10500 rpm
Redline
12000 rpm
13000 rpm
Front suspension
Showa 37mm conventional fork, adjustable air pressure
41mm conventional fork, preload adjustment
1994: Showa with external rebound and preload adjustment
Rear suspension
Showa monoshock, preload / rebound damping adjustable
Monoshock, preload and rebound adjustment
1994: Showa monoshock, fully adjustable
Front tire
110/80-17
120/60-17
Rear tire
130/80-17
160/60-17
Front brake
2 x 285 mm discs, 2-piston calipers
2 x 276 mm discs, 2-piston slide-pin calipers
Wet weight
208 kg / 458 lb
206 kg / 455 lb
Valve service intervals
8000-mile / 12000 km
16000-mile / 24000 km
Honda CBR600F1 vs CBR600F2 specs
Honda CBR600F3 (1995-1998): More power, More Smoothness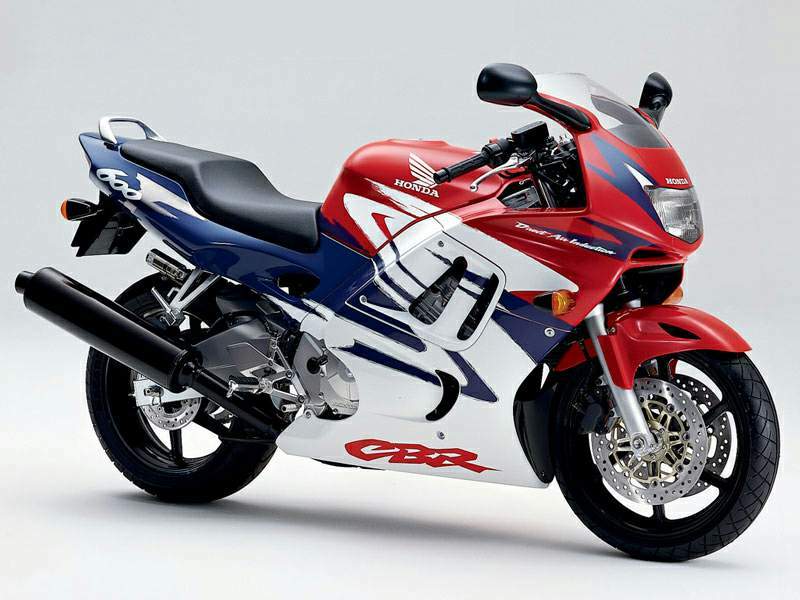 The CBR600F3 brought with it a number of improvements, but nothing drastic — it has the same engine at its core, but with low-friction internals and improved fuelling, plus updated suspension from the 1994-1995 CBR600F2. Oh, and ram air induction, which Honda finally discovered for itself.
Visually, the CBR600F3 looks a lot like the F2.
But beneath the skin, Honda managed to squeeze out a few more ponies out of the CBR600F3's motor, while also managing to flatten the torque curve.
While the specs don't look like much, Honda made enough modifications to the CBR600F2 to make it seem almost "lethargic" compared to the F3.
Honda improved the breathing at both ends, increasing the carburettor size, shortening the intake tracts, and changing the exhaust unit for a 4-2-1 system.
Inside the engine head, Honda increased the compression ratio, and implemented new low-friction piston rings, lighter connecting rods, and smaller diameter crankpins. All of this is to reduce reciprocating mass, which really gives the F3 a more lively motor.
In 1997, Honda improved on the CBR600F3 again with a few more changes to the engine head, squeezing more power out of the engine.
Below are the changes to the CBR600F3 vs the F2 (the aspects not mentioned, e.g., the engine geometry, suspension and brakes, are the same).
Model
CBR600F2
CBR600F3
Compression ratio
11.6:1
12.0:1
Fuelling
Carburettors, 34mm flat slide CV
Carburettors, 36mm Keihin + Ram air
Peak power
75 kW / 100 hp @ 12000 rpm
77 kW / 105 hp @ 11500 rpm
1997+: 81 kW / 110 hp
Peak torque
64 Nm / 47 lb-ft @ 10500 rpm
64 Nm / 47 lb-ft @ 10500 rpm
1997+: Revised for smoother throttle curve
Brakes
2 x 276 mm discs, 2-piston calipers
2 x 296 mm discs, 2-piston calipers
Red line
13000 rpm
13300 rpm
Honda CBR600F2 vs F3 specs
If you're after a CBR600F3, then like the F2, you shouldn't pay much — pay whatever the going rate is for an old bike that has been well-maintained and that has original fairings and paint. In other words, there's nothing particularly desirable about the F3.
Although one more interesting edition of the Honda CBR600F3 is the Smokin Joe's replica, with a paint scheme and decals modelled after the RC45 race bike piloted by Miguel Duhamel.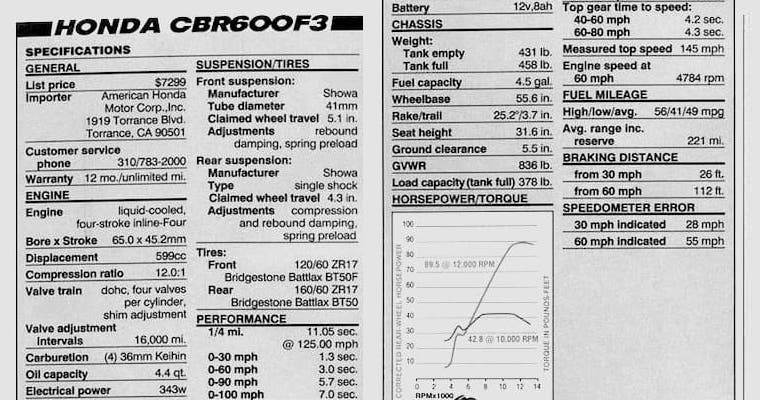 Honda CBR600F4 1999-2000: Lighter, and much-improved handling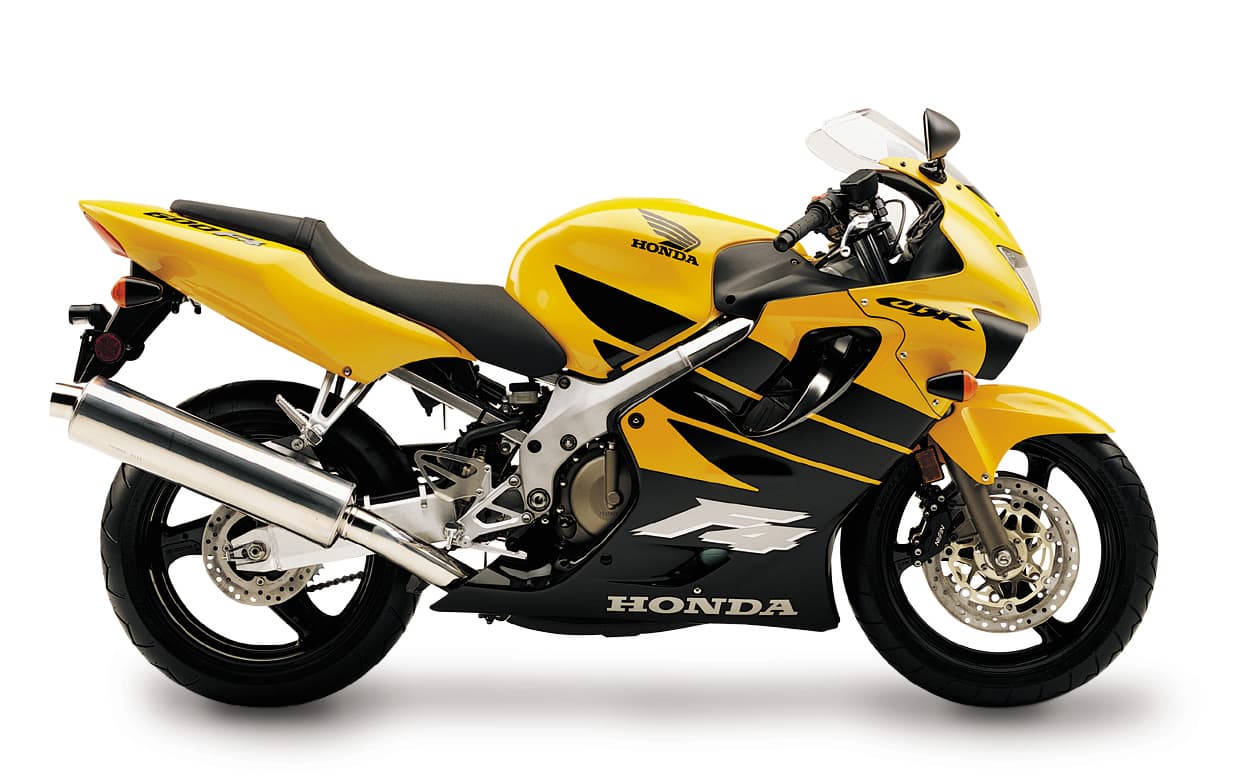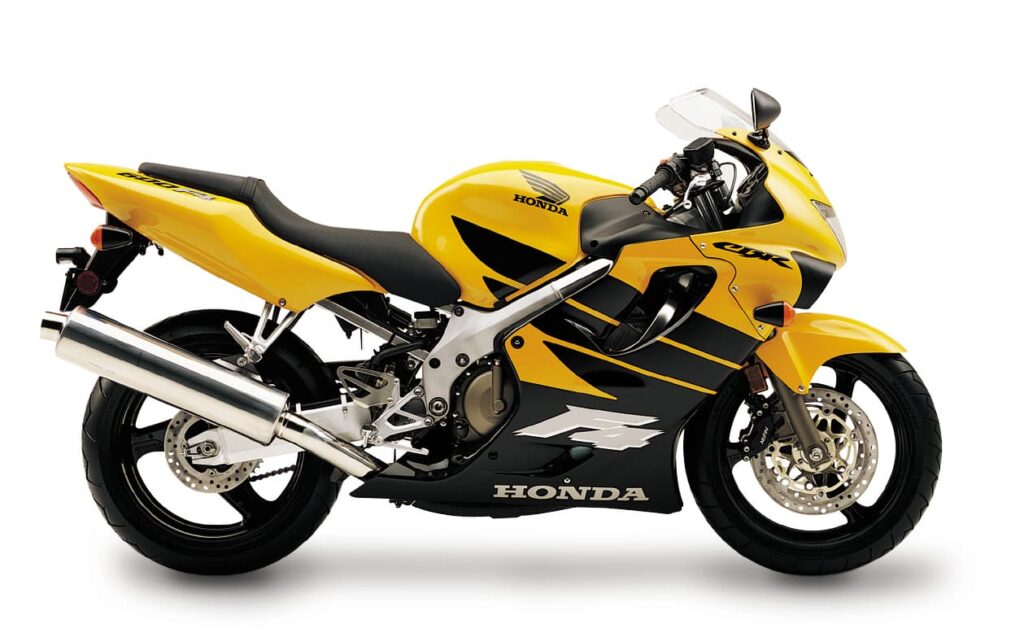 Like yellow bikes? Have a look at my huge gallery of yellow motorcycles here.
The Honda CBR600F4 was the last carburettor-equipped CBR600F. This is probably the most popular model other than the CBR600F4i.
Honda updated a lot for the CBR600F4, starting with the motor, but also updating the suspension and brakes. And visually, Honda updated the CBR600F4 to a style that Honda kept for a good decade afterwards. Today, I think the CBR600F4 / F4i (they look the same) still look great.
By the F4 iteration of the CBR600F, most of the earlier gremlins were ironed out, too. They also managed to make it a lot lighter. With better suspension, braking, and lighter weight, the F4 handles a lot better than its predecessors.
Honda managed to lop off over 15 kg / 30 lb of dry weight by using an aluminium twin-spar frame rather than the steel-frame of the CBR600F4's predecessors.
Honda redesigned the engine of the CBR600F4, using bigger bore but shorter stroke, for less overall reciprocating mass. This lets the engine rev more easily, but the redline is the same, at 13500 rpm with a rev limiter at 13700 rpm, same as before.
To fuel the new engine, Honda used new 36.5mm Keihin downdraft flat-slide carburettors. Honda also changed to coil-on-plug rather than mounted stick coils.
The improvements to the engine don't result in a ton of increased power over the F3, but the "seat of the pants" dyno does feel like it pulls harder (to many).
Honda improved the brakes, finally moving to Nissin four-piston calipers on the same 296mm semi-floating rotors. Nobody complained about the old 2-piston calipers, but the new ones are better!
And finally, the fully adjustable front and rear suspension with a bigger 43mm fork is about the best you can get from conventional (non-inverted) forks. Later iterations of the CBR-F line have inverted forks, but they lost the adjustability of this generation.
Here are the specs of the CBR600F4 and how it changed vs the CBR600F3.
| Model | CBR600F3 | CBR600F4 |
| --- | --- | --- |
| Bore x Stroke (mm) | 65 x 45.2 | 67 x 42.5 |
| Fuelling | 36mm Keihin carburettors | Keihin 36.5mm downdraft flat-slide CV carburettors |
| Peak power | 77 kW / 105 hp @ 11500 rpm | 81 kW / 110 hp @ 12500 rpm |
| Peak torque | 64 Nm / 47 lb-ft @ 10500 rpm | 65 Nm / 47.7 lb-ft @ 10500 rpm |
| Front suspension | 41mm Showa conventional fork, preload / rebound damping adjustment | 43mm HMAS conventional cartridge fork, fully adjustable |
| Rear suspension | Pro-link Showa shock, fully adjustable | Pro-link HMAS monoshock, fully adjustable |
| Front tire | 120/60-17 | 120/70-17 |
| Rear tire | 160/60-17 | 180/55-17 |
| Front brake | 2 x 296 mm discs, 2-piston calipers | 2 x 296 mm discs, 4-piston axial calipers (34/32) |
| Dry weight | 406 lb dry | 373 dry |
Honda CBR600F3 vs F4 specs
CBR600F4i 2001-2006: The one to get! Fuel Injection, The Works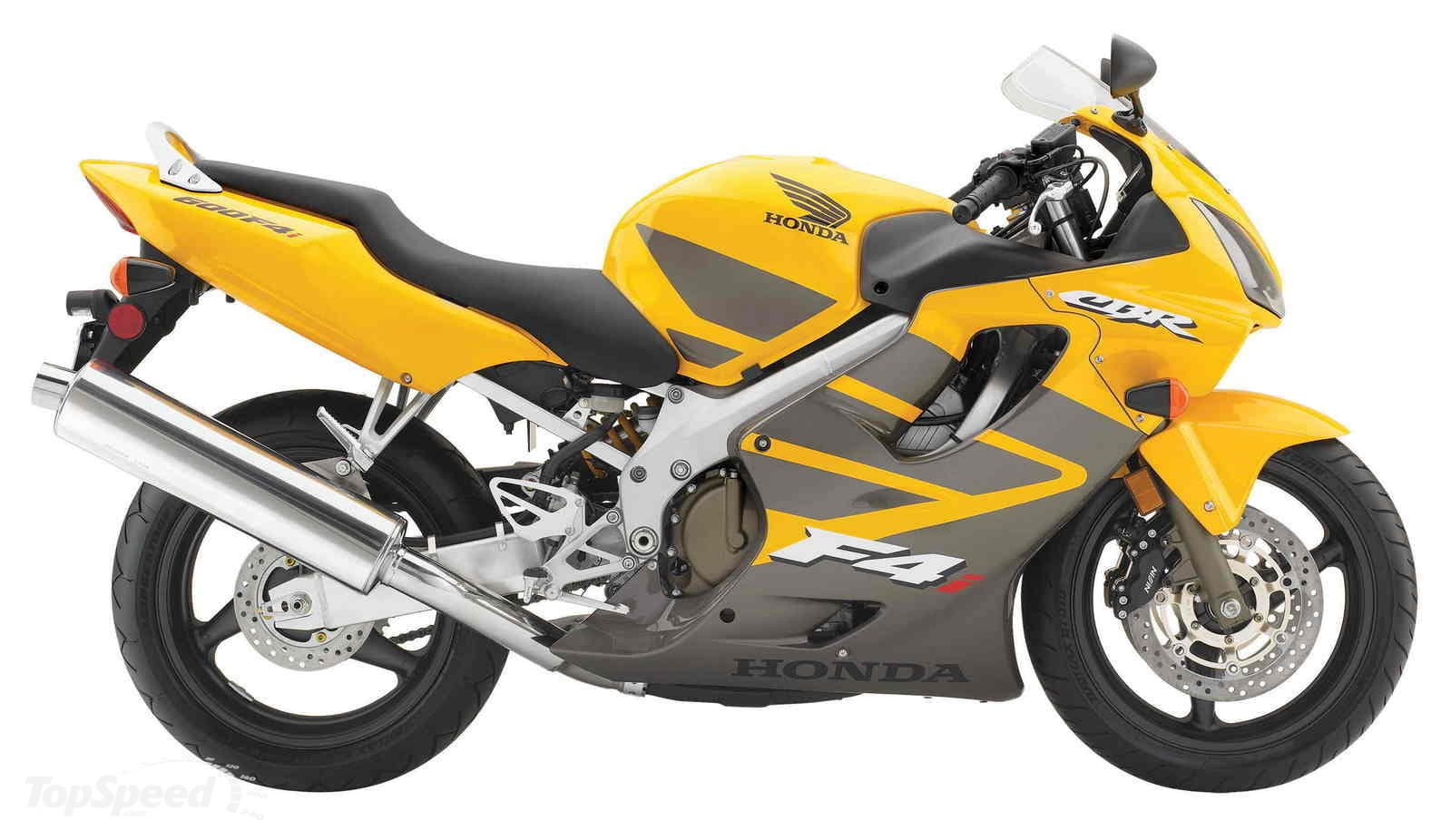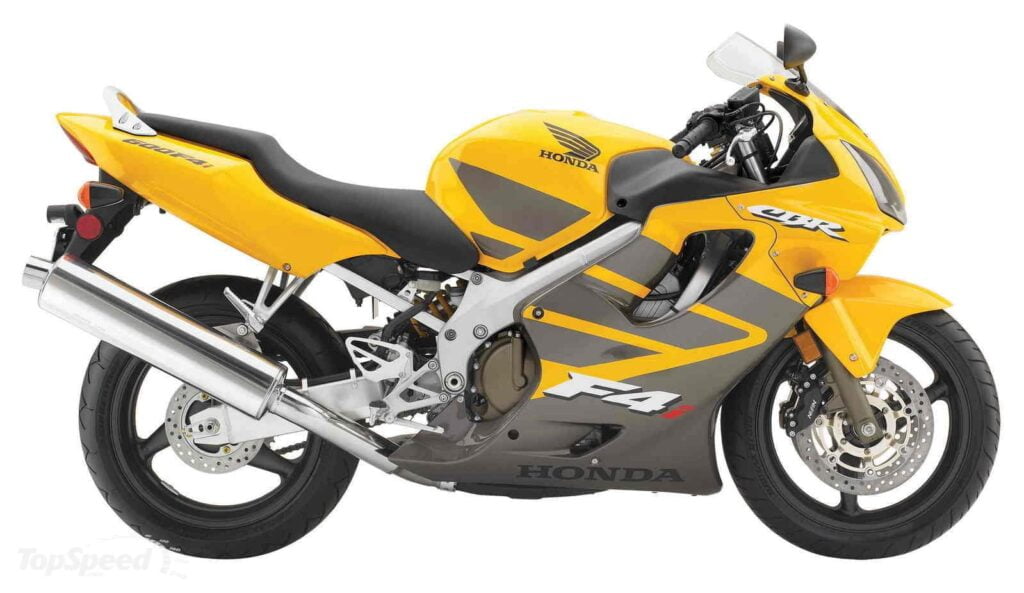 The Honda CBR600F4i was the first fuel-injected CBR600F. It's also probably the best value on the used market, and the motorcycle to get. I almost regret writing this because it's the one I want. Stay away from them, they're mine! (Just kidding… I already found one.)
The CBR600F4i is a nice sweet spot because it has fuel injection (carbs are fine… until they're gummed up, or iced over, or leaking, etc.), good fully-adjustable suspension, good brake calipers, and still is more comfortable than the CBR600RR which came during its tenure.
By 2001, most bigger displacement sportbikes had received fuel injection a couple of years earlier, like the Honda CBR929RR for example. So manufacturers were starting to trickle this tech down to the 600cc class, partly for emissions control and partly for ease of tuning.
Fuel injection has always had a bad rap for "on/off" behaviour. Honda combatted this with what they called the "dual throat" fuel injection system, a first for Honda. This system was injectors joined in pairs, a design that Honda hoped would cure the snatchy issues of previous fuel-injected sport bikes, like the RC51 SP-1. The ECU was also upgraded against those machines, measuring throttle, cam and coolant — more streams of data to process.
The result is that fuel injection is very smooth on the F4i. No snatchiness. It's totally predictable at every point in the rev range.
OK, so apart from fuel injection, you'd be tempted to think that not much else changed between the CBR600F4 and F4i. But you'd be wrong. There are quite a number of subtle tweaks between these distinct generations.
Honda redesigned the valvetrain to let each intake valve rest on two springs on a hardened seat, and lightened the cam sprockets. Honda also made some changes to the piston rings and air transfer holes for less friction and internal pressure. The effect of these changes is that Honda was able to increase the redline by 700 rpm, letting the motorcycle make peak power for longer.
Honda also made some tweaks to the drivetrain, including replacing the 7-plate clutch with an 8-plate clutch, which along with some other changes to the clutch, made shifting easier and more predictable. Honda also shortened the fifth and sixth gears, and added a 46-tooth rear sprocket to replace the 45-tooth one of old, all to increase acceleration in the top gears. Top speed is the same, as peak power is the same and the aerodynamics are the same.
Otherwise, Honda kept everything intact on the CBR600F4i from the F4, including the chassis, suspension, and many other parts.
According to official specs, the CBR600F4i makes the same peak power and torque as the CBR600F4. Cycle World reported that on the dyno, the F4i made a bit less mid-range power. But all this is just details — performance will mostly be down to condition and the tune of the bike, plus aftermarket additions.
Model
CBR600F4
CBR600F4i
Fuelling
Carburettors
PGM-FI (4 x 38mm throttle bodies)
Redline
13500
14200
Peak power
81 kW / 110 hp @ 12500 rpm
81 kW / 110 hp @ 12500 rpm
Brakes
2 x 296 mm discs, Nissin 4-piston calipers
Same spec but flatter brake rotors, and molybdenum/anodic oxide-coated pistons and Teflon-coated rollback seals
Wet weight
197 kg / 435 lb
373 dry
200 kg / 440 lb
CBR600F4 vs CBR600F4i specs
The Sport variant
Honda also introduced a "Sport" version of the 2001 CBR600F4i in some markets. Some markets (e.g. Europe, Australia) only got the F Sport version.
The distinctions between the sport and the standard model are that the Sport version got split seats rather than a single seat (and also no grab rail, lacks a centre stand, and has different decals.
Both models were marketed in the US and many Asian countries. Australia and Europe only got one model — thankfully, the Sport model, with split seats (I just think it looks cooler).
After 2006, the Honda CBR600F4i was retired, and the whole F line was temporarily retired while Honda focused on the CBR600RR, which had been released in 2003.
The return of the CBR600F in 2011 was actually the release of a slightly different model that didn't quite feel the same to most people.
CBR600F 2011-2013: "The Faired Hornet"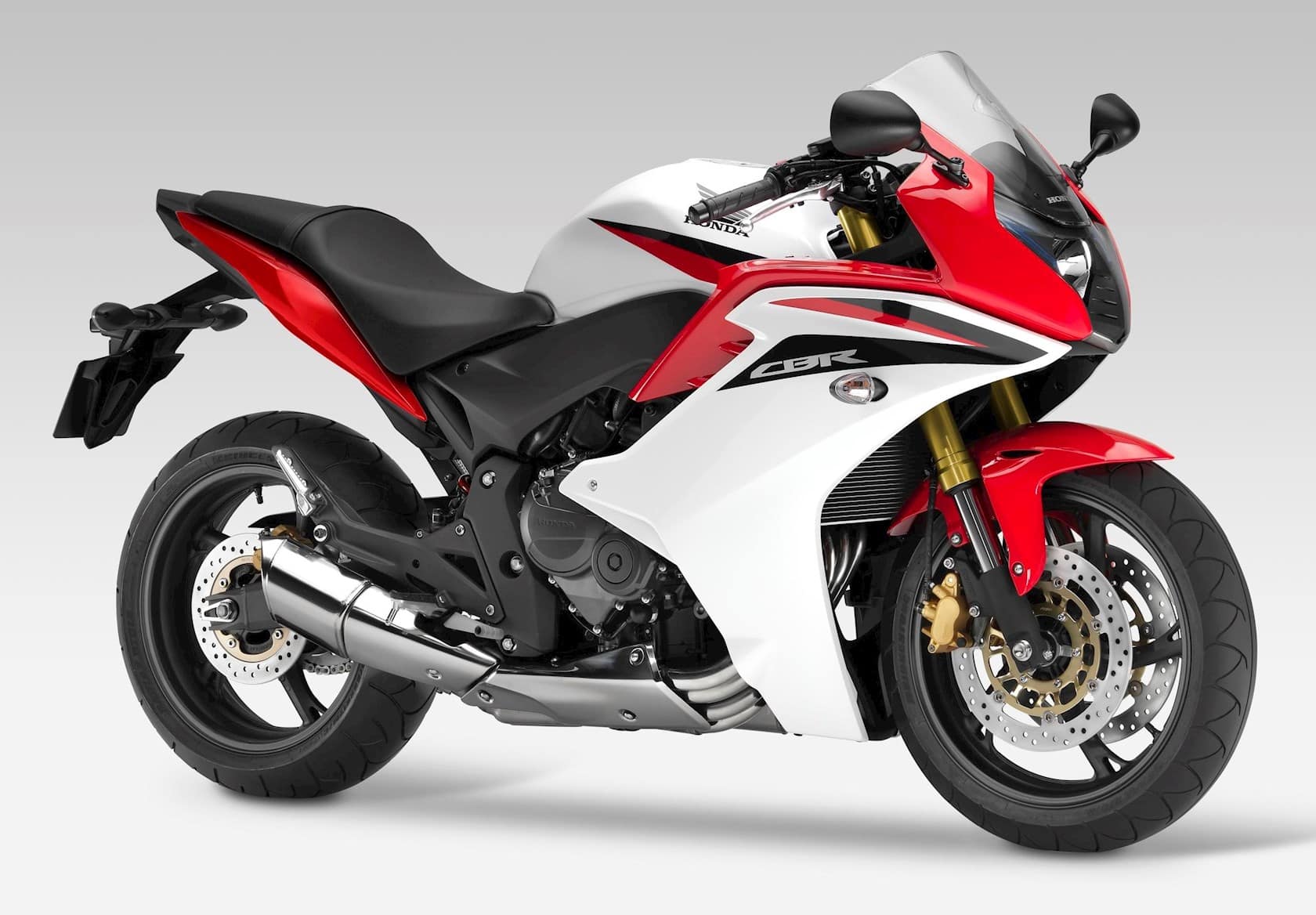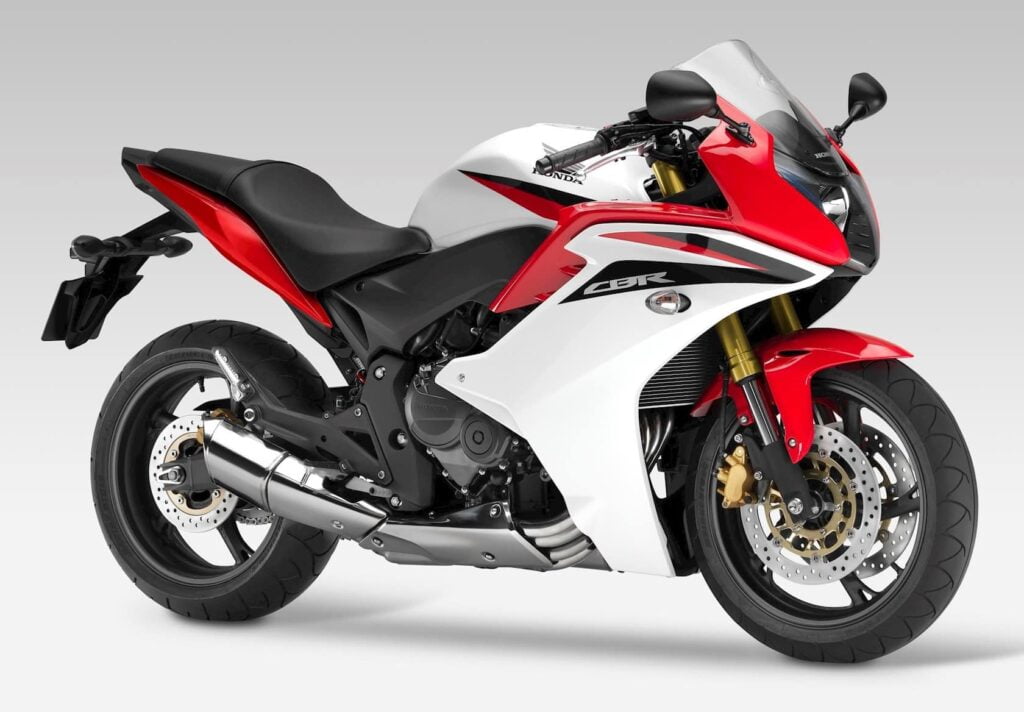 Honda released the 2011-2013 Honda CBR600F in Europe, but was not released in the USA. Some missed it, but some criticised it as being a "faired Hornet" (of the second generation).
The 2011 Honda CBR600F was a re-imagining of the F models in the post-RR era. Gone were the days of Tadao Baba and his philosophy of bikes that could do everything. Honda had released the CBR600RR and for commuters they wanted to release a sporty four that didn't share the complexity or cost.
But the end result is that the Honda CBR600F, while "fine", is a far cry from the intensity of the CBR600F4i. It's nice to have a bike that can do it all. You can't switch bikes mid-ride! The problem is, it's hard to sell "fine".
In reality, the CBR600F filled the same gap as bikes like the Suzuki SV650S: a faired, comfortable sports motorcycle. It even has a bunch of options including heated grips, ABS, a higher screen and luggage.
It also looks nice. But to my eye, it does look like the fairing was an afterthought.
For the engine in the 2011-2013 Honda CBR600F, Honda kept the same basic block as in the CBR600F4i — same dimensions, same compression ratio. But produces less peak power, has lower suspension specs, and simpler 2-piston calipers.
Still, the 2011 Honda CBR600F can boogie. The 100 peak horsepower is nothing to sneeze at — it's more than the current CBR650R, for example! And the CBR600F still did have an inverted cartridge fork with at least preload adjustability.
Nonetheless, Honda waited for the next iteration, the CBR650F, to bring it to the US.
Model
Honda CBR600F4i
2011-13 Honda CBR600F
Years
2001-2006
2011-2013
Peak power
81 kW / 110 hp @ 12500 rpm
75 kW / 100 hp @ 12000 rpm
Peak torque
65 Nm / 48 lb-ft @ 10500 rpm
64 Nm / 47 lb-ft @ 10500 rpm
Front suspension
43mm HMAS conventional cartridge fork, fully adjustable
41mm inverted HMAS cartridge fork, tension and preload adjustable
Rear suspension
Pro-link HMAS monoshock, fully adjustable
Monoshock, adjustable tension and preload
Front brake
2 x 296 mm discs, 4-piston axial calipers (34/32)
2 x 296 mm discs, 2-piston calipers
(ABS: 3-piston calipers)
Honda CBR600F4i vs Honda CBR600F specs
CBR650F 2014-2018: More Torque, Less Power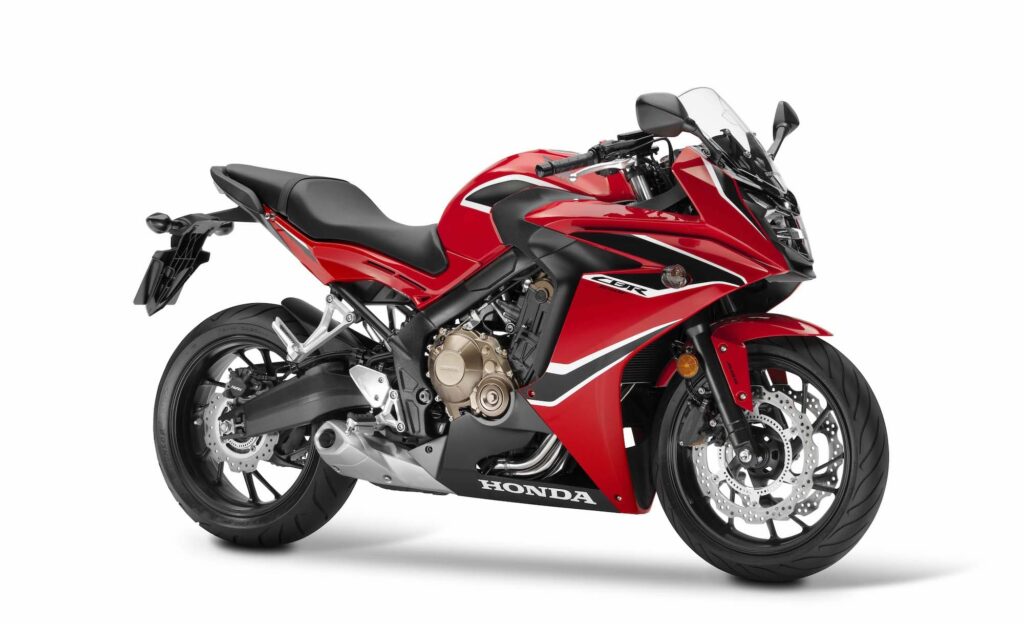 The CBR650F was another evolution of the trend towards making the CBR-F series more oriented towards everyday riders. Honda said it's "all-new" — a 100% new motorcycle for Honda.
There's just so much that's different about the Honda CBR650F, it almost doesn't make sense to talk about specs. But we will! And rather than compare it to any particular model, let's just compare it to all the models of the past.
The engine in the CBR650F is obviously bigger than the past engines, and on paper it does look like Honda took the CBR600F4i's motor and gave it a 4.5mm longer stroke. But who knows. The end result is that it's a 649cc motor anyway. Honda gave it a tune to produce decent torque all the way through the RPM, peaking lower than the older, sportier models.
Honda also gave the CBR650F many lower-spec components than its RR brethren. It has a steel frame again (rather than aluminium), a conventional, non-adjustable fork, a shock adjustable only for preload, and very basic twin-piston axial mount front brakes.
There are a few improvements that everyday riders will appreciate though, like the clear digital display and the popular ABS option. What's a few more pounds? It's already well into the 460-pound range (over 208 kg).
The CBR650F is one of those motorcycles that people describe as "fun". Whenever I read "fun", I often suspect it… it's one of those marketing terms that seems more like an absence of "outrageous" or some other strong word. So, the CBR650F is easy and civilised to ride, but has a bit of bite when you need it. It wouldn't be your weapon of choice to wring out on a straight, but like the VFR800, it'll slice through traffic with nary a whimper.
Unfortunately, the fact that it's so middle-ground means that the CBR650F lost a lot of the cachet that earlier models had. Of modern incarnations of the CBR, the CBR650F is one of the least enticing. For this reason, even while this model was available, I'd prefer the earlier 2011 CBR600F. The even earlier CBR600F4i would be even better (it's what I ultimately chose).
The Honda CBR650F isn't a bad bike. If one comes up for a decent price, and you have no intentions of doing track days (other than for fun), then I'd snap it up. I'd definitely see if I could tune it on a dyno for more top-end power, and also consider improving the front brake situation, though I don't know how.
Honda made some improvements to the CBR650F in 2017, increasing top-end power a bit, and implementing a Showa Dual Bending Valve fork. Otherwise, it's the same bike.
From 2019, Honda dramatically changed the CBR-F with the CBR650R.
Part
CBR650F Spec
Capacity
648.7
Bore x Stroke (mm)
67 x 46
Compression ratio
11.4:1
Peak power
64 kW @ 11000 rpm
2017: 67 kW / 89 bhp @ 11000 rpm
Peak torque
63 Nm / 46 lb-ft @ 8000 rpm
2017: 64 Nm / 47 lb-ft @ 8000 rpm
Suspension
41mm conventional fork, non-adjustable
2017: 41mm conventional fork, Showa Dual Bending Valve
Rear shock
Monoshock, 7-stage preload
Core specs of the 2014-2018 Honda CBR650F
CBR650R 2019-present: Return of the King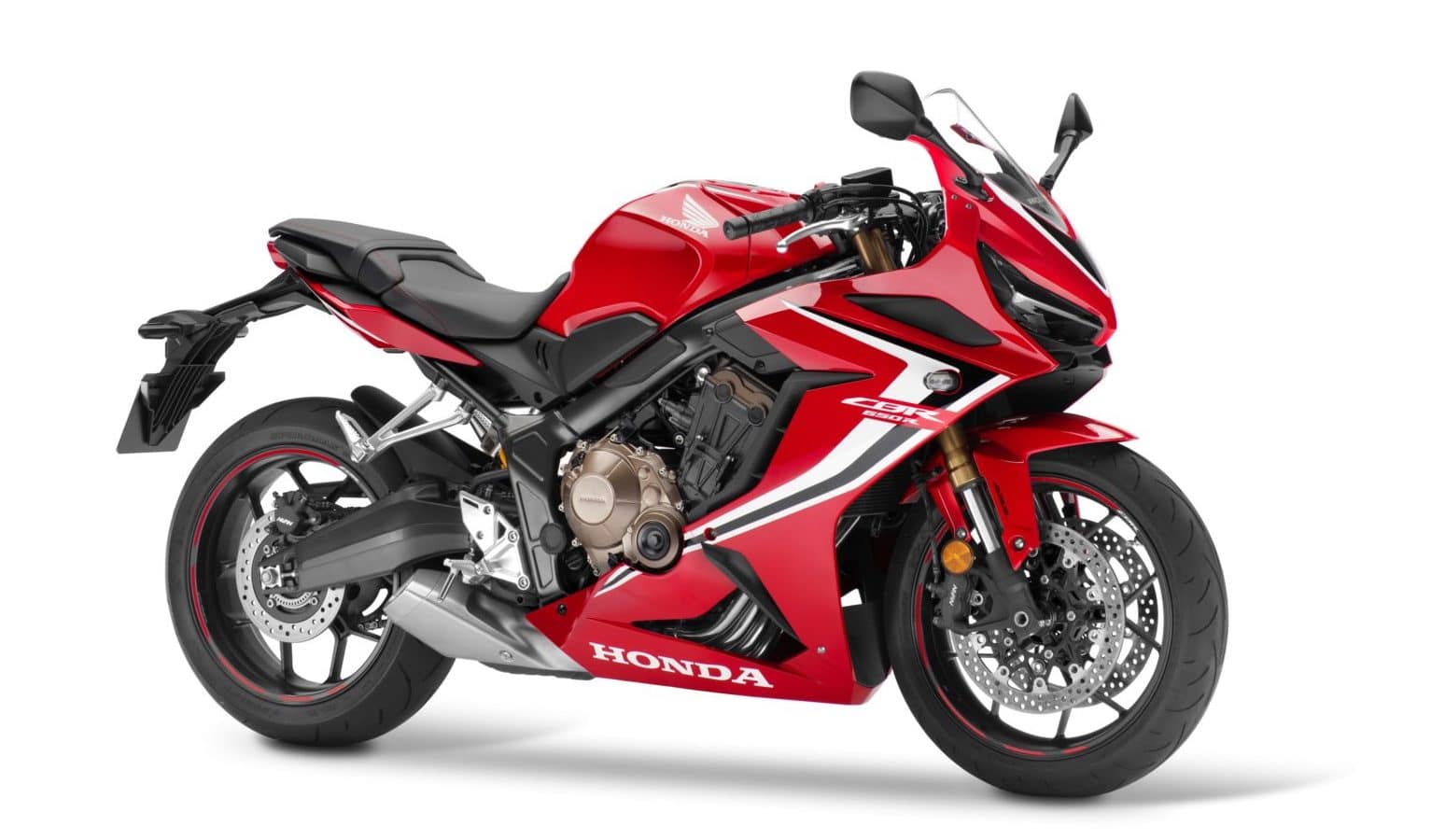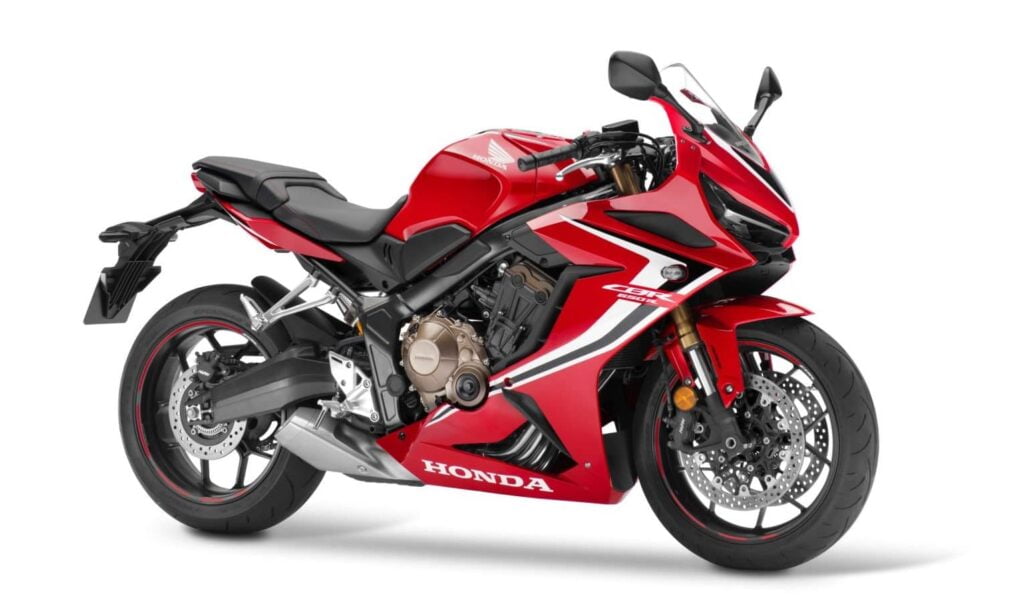 The CBR650R continues the same spirit as the CBR650F (and CBR600F), being a street-ready alternative to the more focused RR machines.
It's also the motorcycle that I'd recommend if you can't find a decent CBR600F4i. In fact, I wrote a whole guide to why I'd buy one! (Unfortunately, I couldn't as it turns out Australia doesn't import them in full power spec, and the cost to re-tune one brings the whole package into the territory of many other, more enticing motorcycles.)
Honda made some good changes to the CBR650F to produce the CBR650R. It's still an "F" bike at heart, even though Honda gave it an "R".
The core engine is the same, with the same bore and stroke, but with a higher compression ratio. So, the CBR650R makes more power.
But Honda chose to also make the CBR650R a bit more aggressive. It has a more forward riding position… a lot more aggressive than a naked bike, but still a long way short of a Fireblade.
The CBR650R also gets ABS and even traction control as part of its ride aid suite.
Honda also gave the CBR650R a slipper clutch. Bikes of this class don't really need them, but they do help with ham-fisted downshifts, or just having a bit of fun!
The CBR650R develops real power, closer to its CBR600R predecessors. But still falls short of high-revving, high-power 600cc sport bikes like the R6. And that's intentional — you'll find many motorcycles with a UK/Europe A2-restricted version that make 94 hp. A restricted motorcycle can only make 47 hp at peak, and by the rules, the unrestricted version can't have originally made more than twice that.
Many who buy a restricted Honda CBR650R think "No problem, I'll just de-restrict it". Unfortunately, this isn't so easy. You do have to do some intricate work, and also reprogram the computer. Essentially, I'd bank on taking it to get it dyno-tuned.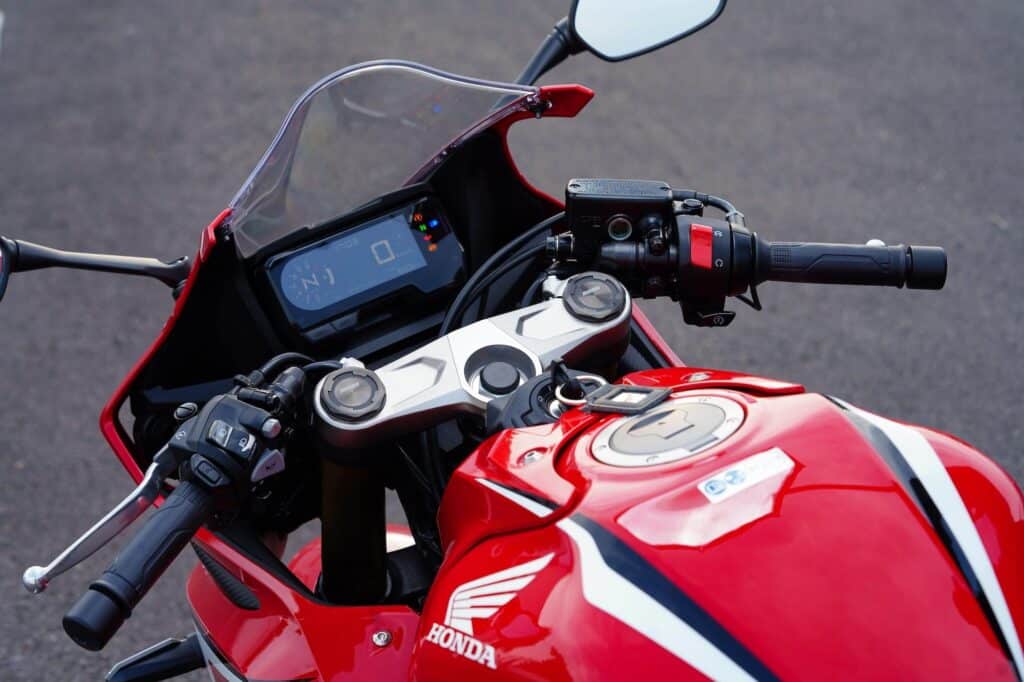 I really like the Honda CBR650R. It's one of those bikes that you can satisfyingly ride up to the redline, even in a couple of gears (not in every country in the world), and regularly rev above 10000 rpm in everyday riding without losing your license or being silly.
In fact, the Honda CBR650R is one of the last-standing middleweight inline four-cylinder bikes. The only other one is the Suzuki GSX-S750 (a naked sport bike), whose days seem numbered.
Honda made just a few updates to the CBR650R in 2021. Apart from tuning the engine a bit differently for emissions reasons, the 2021+ model also got an upgrade of its suspension from SFF to SFF-BP.
Model
CBR650F
CBR650R
Compression ratio
11.4:1
11.6:1
Peak power
64 kW @ 11000 rpm
2017: 67 kW / 89 bhp @ 11000 rpm
70 kW / 94 hp @ 12000 rpm
Peak torque
63 Nm / 46 lb-ft @ 8000 rpm
2017: 64 Nm / 47 lb-ft @ 8000 rpm
64 Nm / 47 lb-ft @ 8500 rpm
2021+: 63 Nm / 46 lb-ft @ 9500 rpm
Front suspension
41mm conventional fork, non-adjustable
2017: Showa Dual Bending Valve
41mm inverted Showa SFF
2021+: SFF-BP
Rear suspension
Monoshock, 7-stage preload
Monoshock, 10-stage preload
Front brake
2 x 320mm petal discs, Nissin axial-mount 4-piston calipers
2017-2018: Revised
2 x 310mm petal discs, Nissin radial-mount 4-piston calipers
Wet weight
213 kg / 470 lb
207 kg / 456 lb
208 kg / 458 lb
Sources
2014 Press Pack
2017 Press Pack
2019 Press
2021 Press Pack
Honda CBR650F vs CBR650R specs
In 2024, Honda made some more updates to the CBR650R.
Yes, Honda updated the style, releasing the CBR650R in HRC colors. That's not all, but it's significant!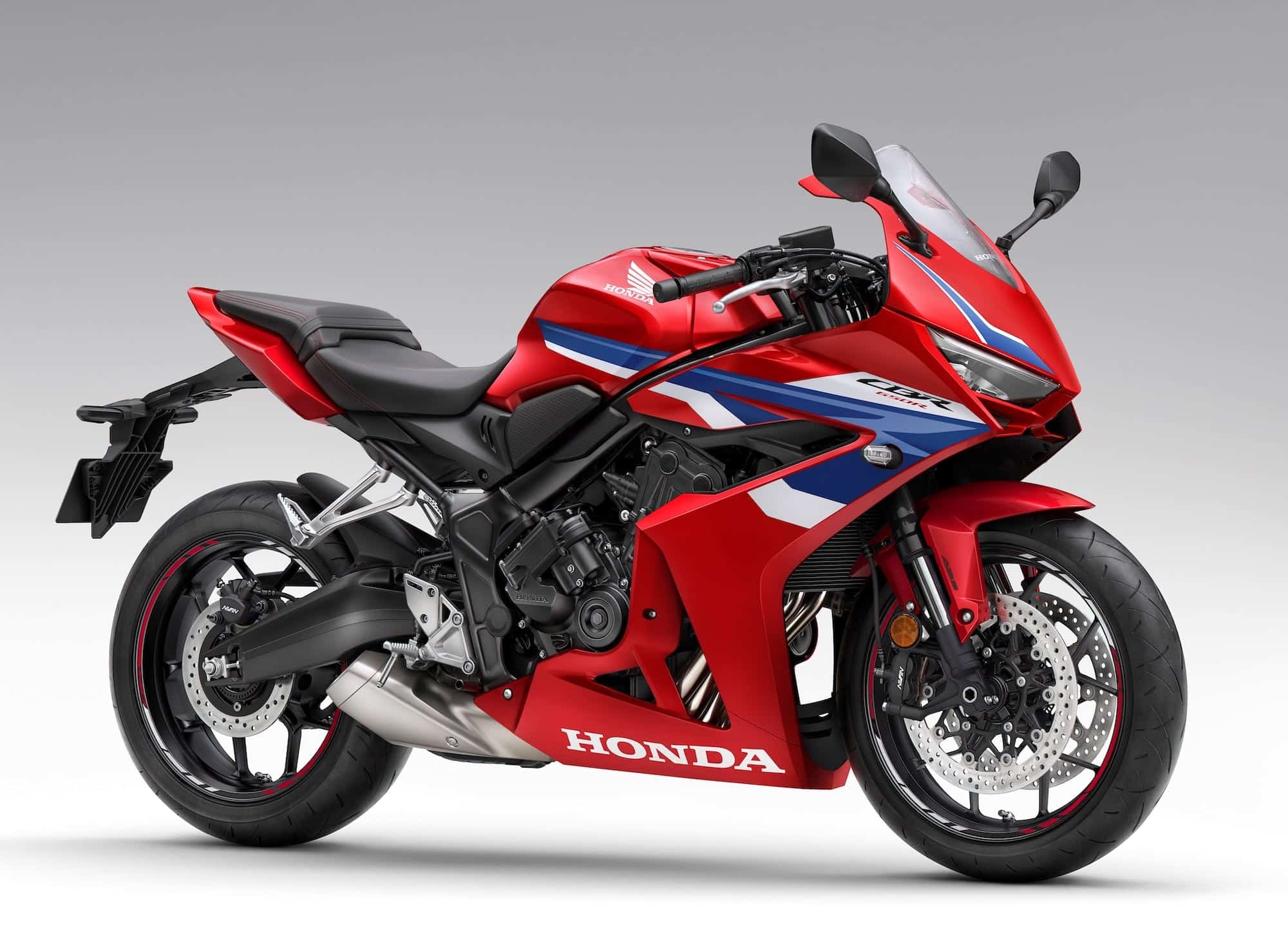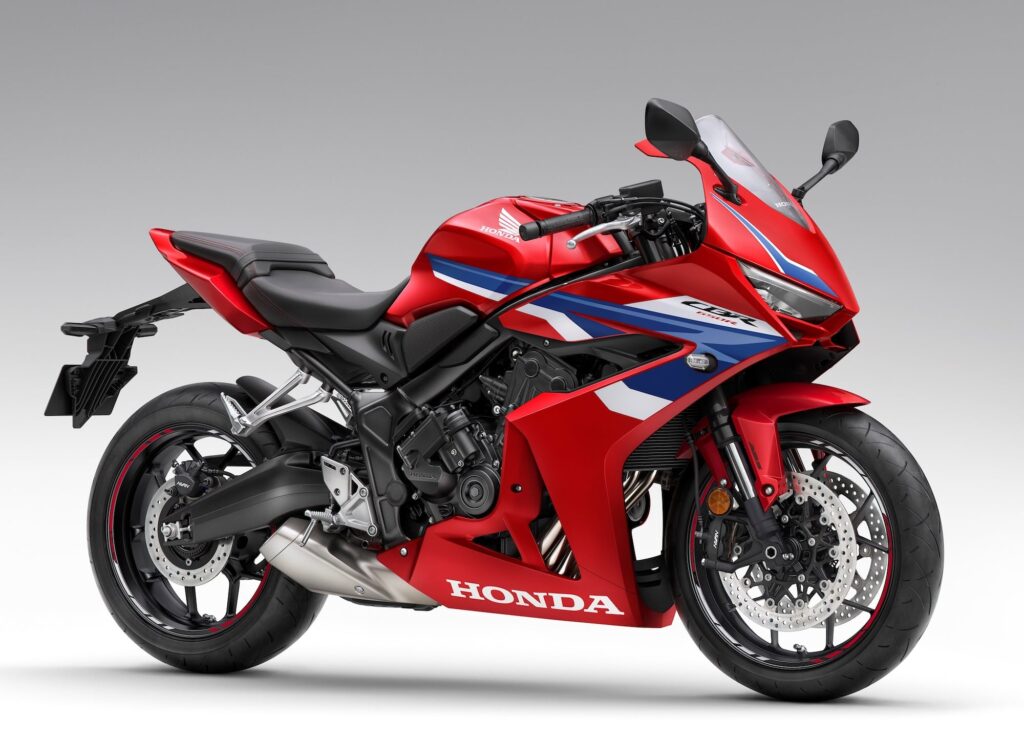 More importantly, Honda decided to bequeath the 2024 CBR650R (and CB650R) with their new "E-Clutch" technology as an option.
The E-Clutch is a fully automatic clutch, combining the technology and benefits of quickshifters and Honda's own DCT technology. This means that you don't need to use the clutch lever at all — you just change gears with the shift lever. The end result is that you get smooth up and down shits anywhere in the rev range, and never have to use the clutch lever, not even when pulling away or coming to a stop.
The bikes still have a clutch lever, though, for flexibility and ease of mind, especially when switching between bikes.
Known problems with the CBR600F variants
There were a number of issues that most early models of CBR600F shared.
Before buying any Honda CBR600F variant, do the standard checks I mentioned in my comprehensive used motorcycle checklist. Go over the suspension, look for rust in the tank, and check that everything works!
Apart from that, check these known problems have been addressed:
Exhaust down-pipes: These tend to rust on the joins from 4-2 and then 2-1. Check the underside in particular. This happened most often on early models.
Sticky petcock: The F and F2 had this issue, while the F3 or F4 did not (and obviously not the F4i, as it had no petcock due to being injected). Get a petcock off one of those to replace it in the carburettor.
Hydraulic cam chain tensioner: Many failed. The best fix is to replace them with a billet manual unit from APE Race Parts. The stocker was noisy and prone to failure while the manual unit is less expensive, easy to install and adjust.
Regulator/rectifier: Reputedly 'made of cheese' on early Honda motorcycles. These keep failing particularly on the F to F3, so the best thing is to upgrade the unit completely. Check battery voltage at 5,000 RPM. If it's not anywhere near 14.5V, the regulator is dead. You can easily fit a GSXR1000 or a Yamaha R1 rectifier in its place, by buying one from eBay.
Epilogue
After doing a lot of research and looking at a few bikes, I eventually settled on a Honda CBR600F4i. I sadly only sold it when I had to leave the country for a while. I miss it!
I hope you liked this detailed buyer's guide to the Honda CBR600 / CBR650 series. Leave a comment if you have more questions, or drop me a line to say thanks!