This is a buyers guide to the Honda CBR1100XX Super Blackbird, Honda's hypersports/sport bike announced late 1996, and made for model years 1997 to 2006. It's usually just known as the Blackbird, but affectionate fans will either call it their 'bird (not to be confused with the Hayabusa, also a "bird"), or sometimes the "CBR XX".
The Honda CBR1100XX Super Blackbird first got my attention when I overheard my local dealer telling a customer about the effect of engine displacement. He was explaining that displacement was just one indicator of power by showing two Hondas in his showroom, the air-cooled CB1100 alongside the CBR1100XX Super Blackbird. They're too bikes that are similar in displacement, but couldn't be more different: the Blackbird literally makes more than twice the power.
The CBR1100XX took over duty from the Honda CBR1000F, but it's quite a different bike. Whereas the CBR1000F is a comfortable sport tourer, the XX is a more leaned over, committed sport bike.
The CBR1100XX is powered by a 1137 cc liquid cooled inline four-cylinder engine with dual overhead cams and four valves per cylinder. It makes considerably more power, peaking at a claimed 164 bhp (122 kW) at 10000 rpm, and tons of torque all through the rev range, peaking at 92 ft-lb (124 Nm) at 7250 rpm.
Final drive is via a 6-speed transmission with a hydraulic wet clutch and a chain drive.
Honda attempted to replace the CBR1100XX with the Honda VFR1200F, but most fans weren't really convinced.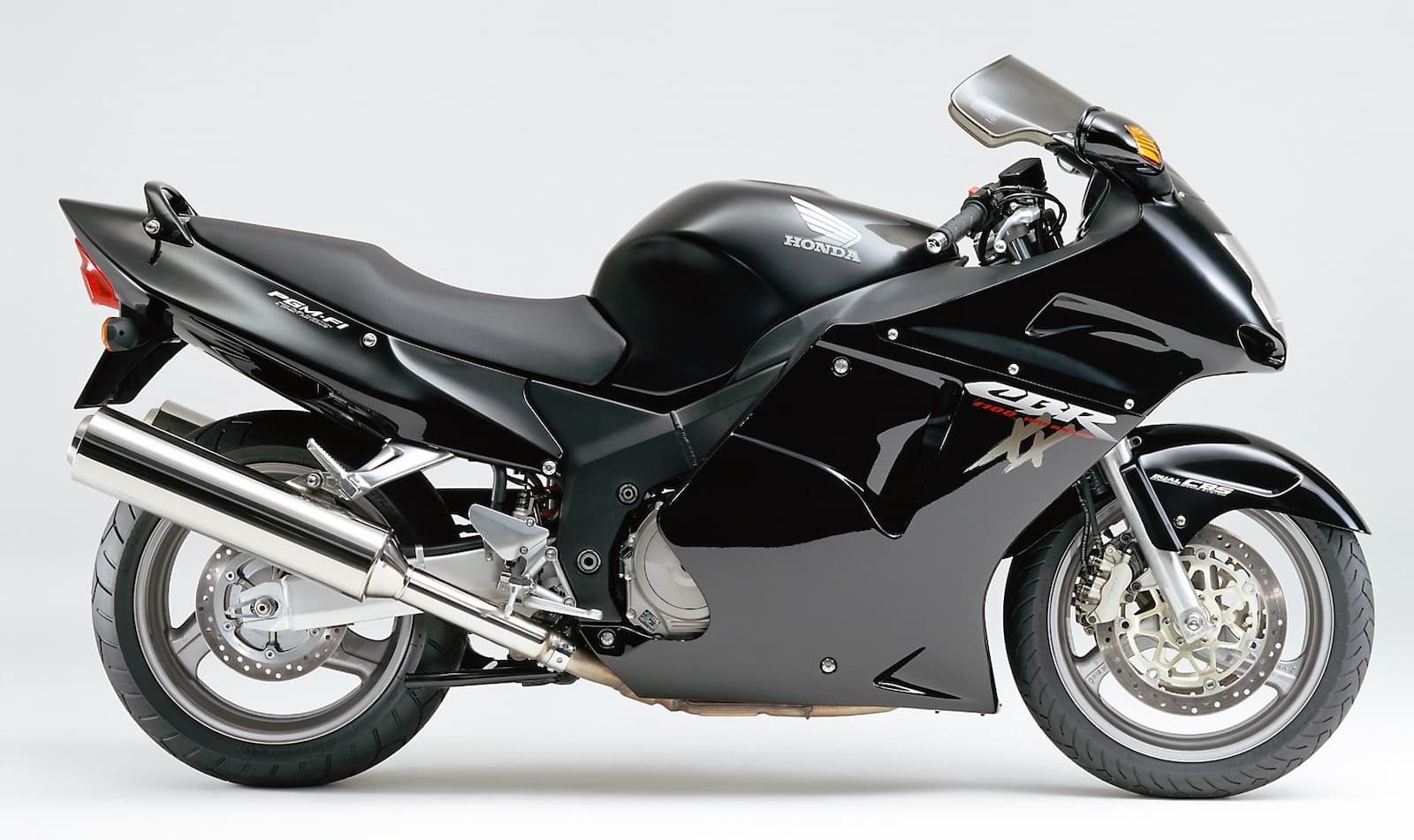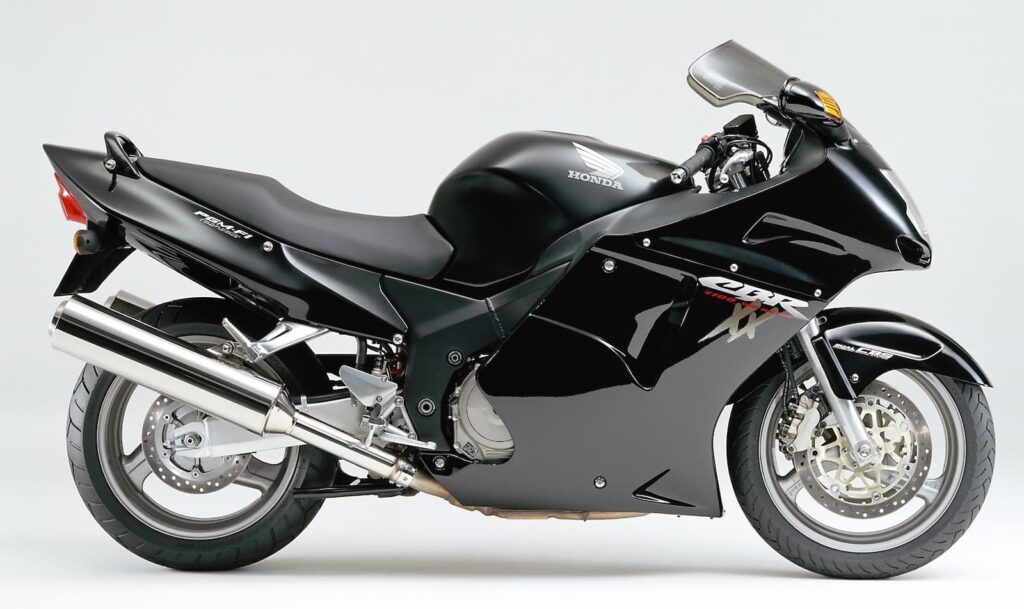 Are you obsessed with motorcycles?
Well, I am. That's why I created this site — as an outlet. I love learning and sharing what others might find useful. If you like what you read here, and you're a fraction as obsessed as I am, you might like to know when I've published more. (Check the latest for an idea of what you'll see.)
Core specs of the Honda CBR1100XX Blackbird
You can't ride a spec sheet, which is why I throw a little commentary in there. Here are the core specs of the CBR1100XX without overwhelming you in facts.
Part
Spec
Comments
Model years
1997-2006
1997-1998: Gen 1 (Carb)
1999-2006: Gen 2 (EFI)
Engine capacity (cc)
1137
More than 1100! Rounding down for the name
Engine configuration
Inline four-cylinder, DOHC, 16 valve
Fuelling
1997-98: Carburettors — 4 x 42mm Keihin
1999+: Fuel injection
Bore / stroke (mm)
79.0 x 58.0
Both wider and longer than the CBR1000F. Still undersquare / long-stroke
Compression ratio
11.0:1
Peak power (kW / bhp) @ rpm
119.7 kW / 164 bhp @ 9500 rpm
Most published dyno runs report around 140 hp at the wheel
Peak torque (Nm / ft-lb) @ rpm
119 Nm / 88 lb-ft @ 7250 rpm
Loads of torque!
Front suspension
43mm HMAS cartridge forks
No fork adjustability
Rear suspension
Pro link with gas-charged HMAS damper, stepless adjustable rebound damping
Front brakes
2 x 310 mm discs, 3-piston calipers
Clutch system
Wet clutch, hydraulic
Final drive
Chain
Wet weight
1997-1998: 252 kg / 556 lb
1999+: 255 kg / 563 lb
Slightly higher weight for revised 1999 model with PGM-FI
Front tyre size
120/70-17
Rear tyre size
180/55-17
Standard "sportbike" size. Fatter profile than CBR1000F.
Ride aids / electronics
None
Does electric start count?
Honda CBR1100XX Super Blackbird — Key specs
About the Honda CBR1100XX Blackbird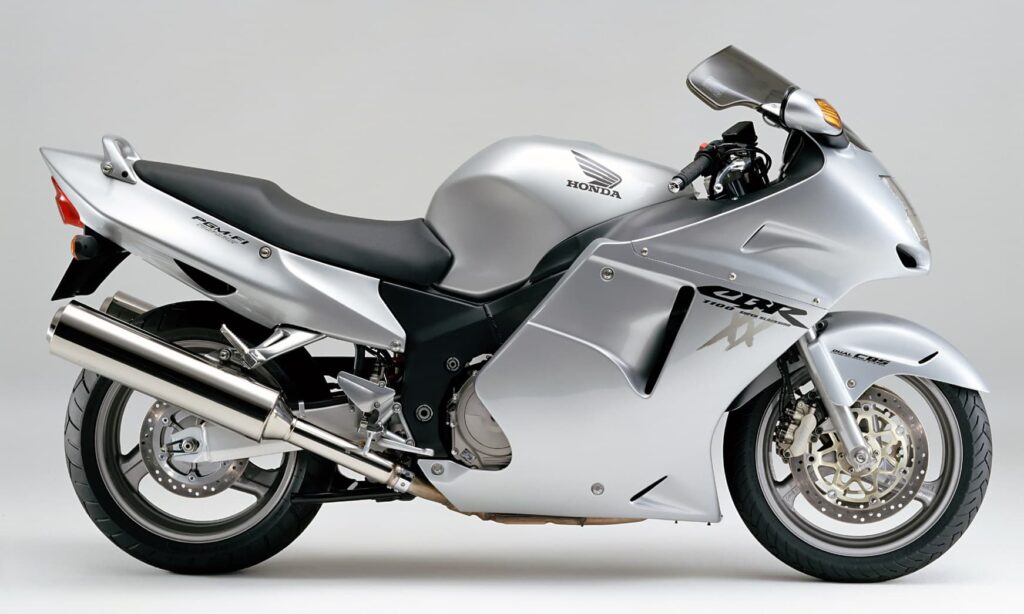 Ah, the 1990s. The days of the "speed wars", when manufacturers were clamouring for the title of top speed, when restrictions hadn't been enforced by an informal agreement, and when motorcycle chassis could sometimes not keep up — leading to some motorcycles (like the Suzuki TL1000S) being dubbed "widowmakers".
The Suzuki TL1000S is a crazy good bike, despite the reputation. Read the buyer's guide here.
The Blackbird never got this kind of reputation, though. Even though the Blackbird promises a whopping 165 bhp at the crank and some 140 bhp at the wheel with no rider aids, the rest of the bike kept up fine. It was — and remains — a bike that's very easy to ride both at low and high speeds, always balanced, and always "smooth". Classic Honda!
The Honda CBR1100XX Super Blackbird was an instant classic when it was released. These days it's a bike appreciated by a few, but forgotten by many in light of shinier, newer, higher-spec mega motorcycles.
But the existence of technically "better" bikes doesn't take away from the fact that the Super Blackbird was and still is a well-built package.
These days, many make the mistake of classifying the Honda CBR1100XX Super Blackbird as a "sport tourer". By this they mean that it's not a sport bike, but rather a bike to cover great distances at high speed and in relative comfort.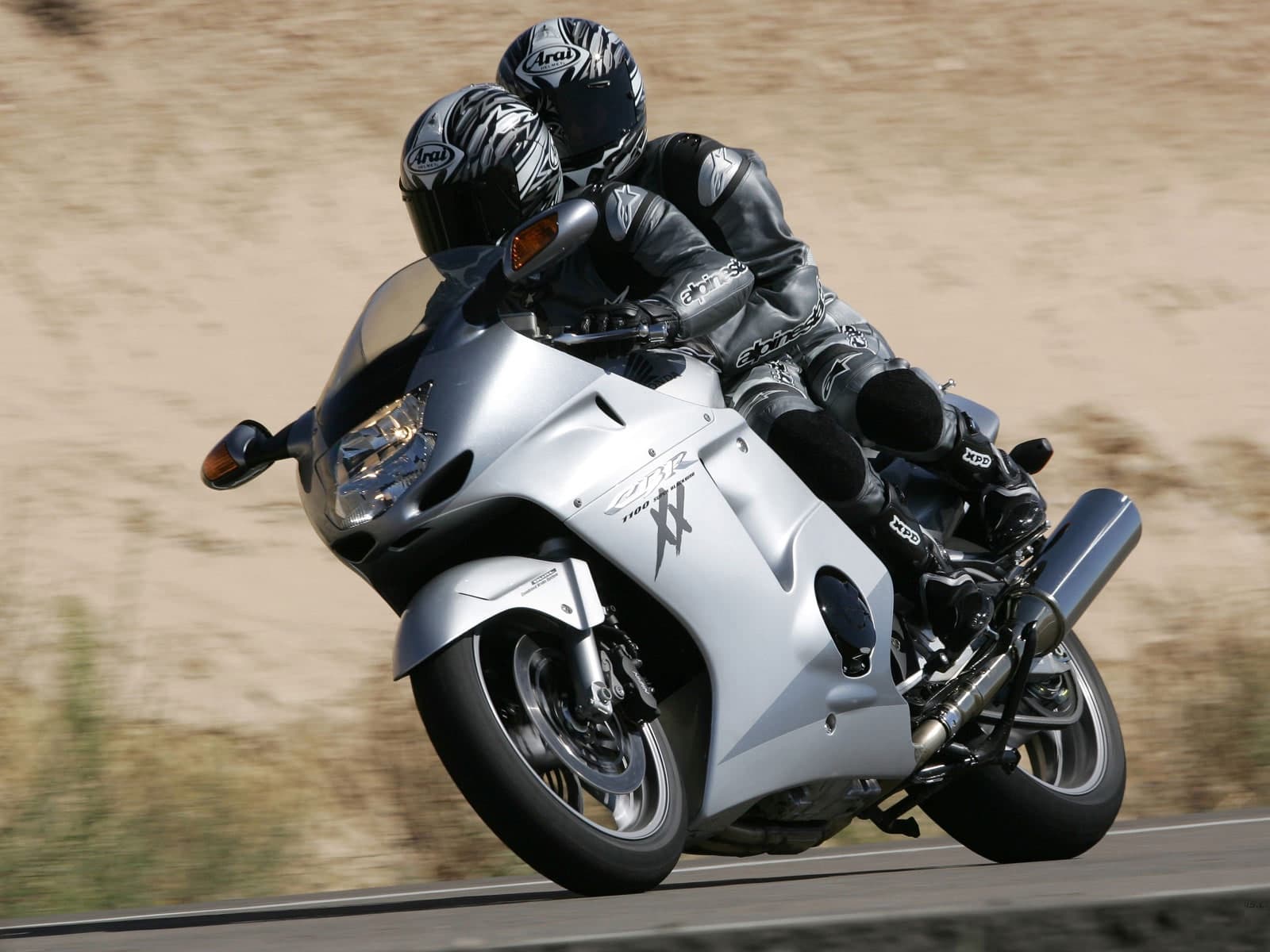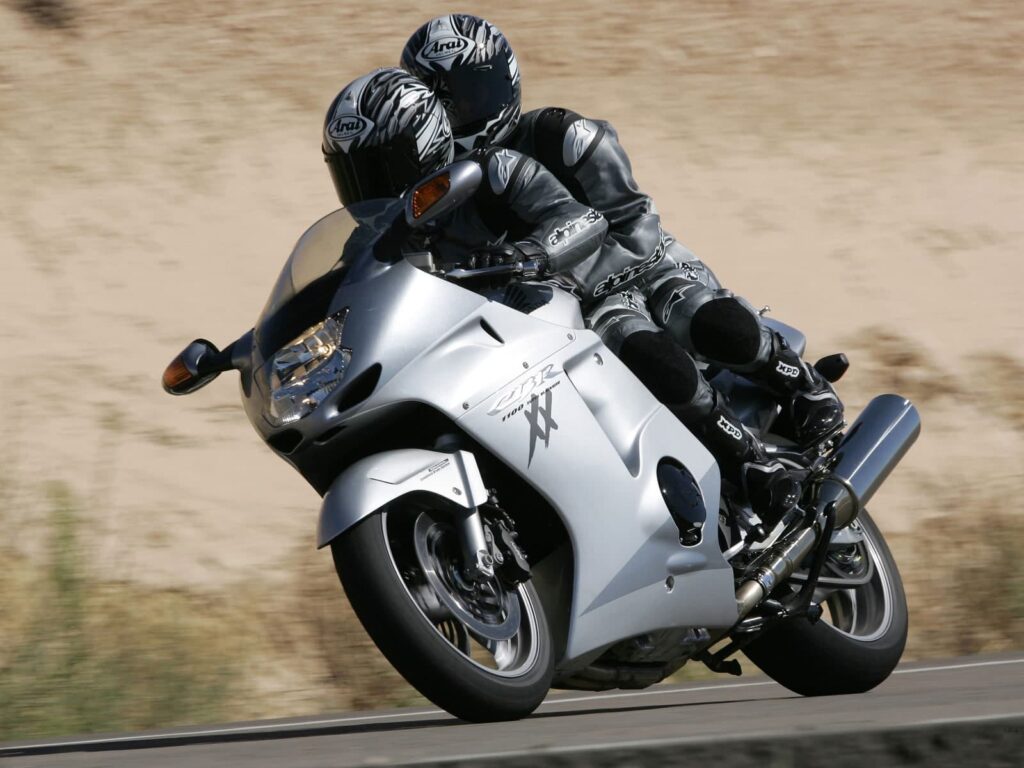 True, the CBR1100XX is a lot heavier than its contemporary FireBlade or any other supersport. After all, during its tenure Honda released the Honda CBR954RR FireBlade, still the lightest of the superbikes they've made… ever. And despite the extra weight, it's not a whole lot more powerful. (The 954 was rated for about 150 hp at the crank, and other superbikes made more.)
And also true is that you can throw bags on the Honda CBR1100XX and cover distance in comfort and high speed. The weight actually helps with stability, especially in areas of high wind.
But the Blackbird a little too aggressive to be a tourer. My first reaction to sitting on a Super Blackbird was "Wow, this thing is long!"
The wrist position is low, the foot pegs are high, and you're not really in a position engineered for long-term comfort. You're not bunched up like on a superbike, but still… this is a far cry from a Road King.
Still, it's more comfortable than a Fireblade. Here is the riding position for the two combined, the image a composite from Cycle Ergo.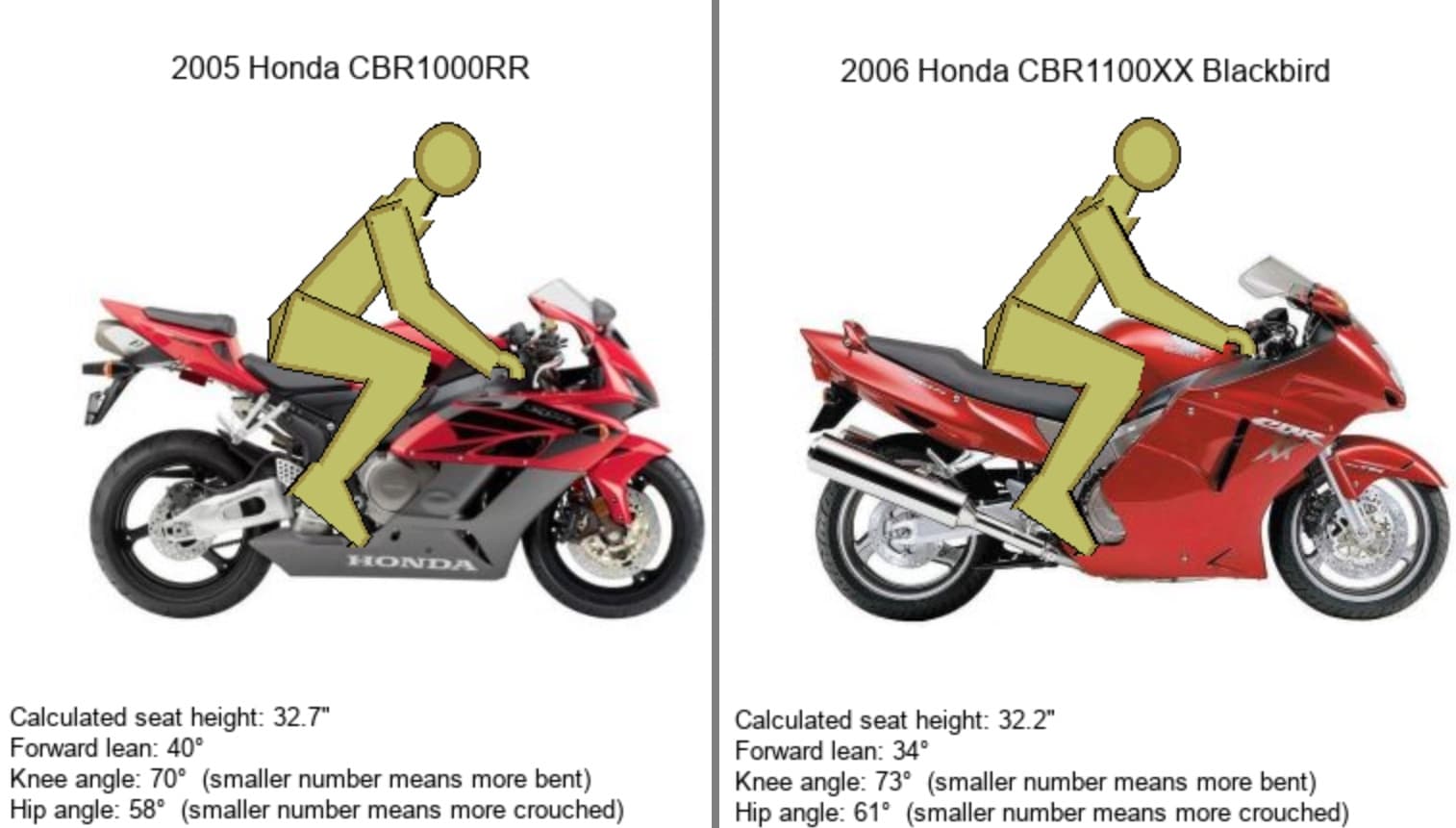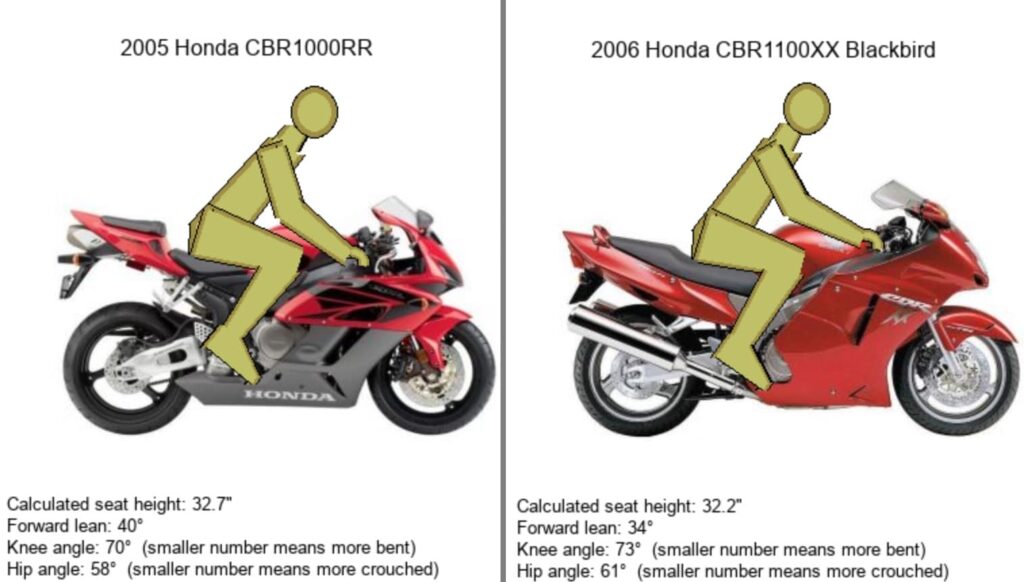 Part of what makes the CBR1100XX such a popular bike is that the engine makes it so.
Yes, other superbikes of the time made more power. And they still do, obviously. But the CBR1100XX isn't tuned exclusively for high-end power, but rather for a torque curve that makes it very versatile.
Below is a composite of rear wheel torque from data from a number of dyno runs. It's indicative, but you can see the shape of the torque curve.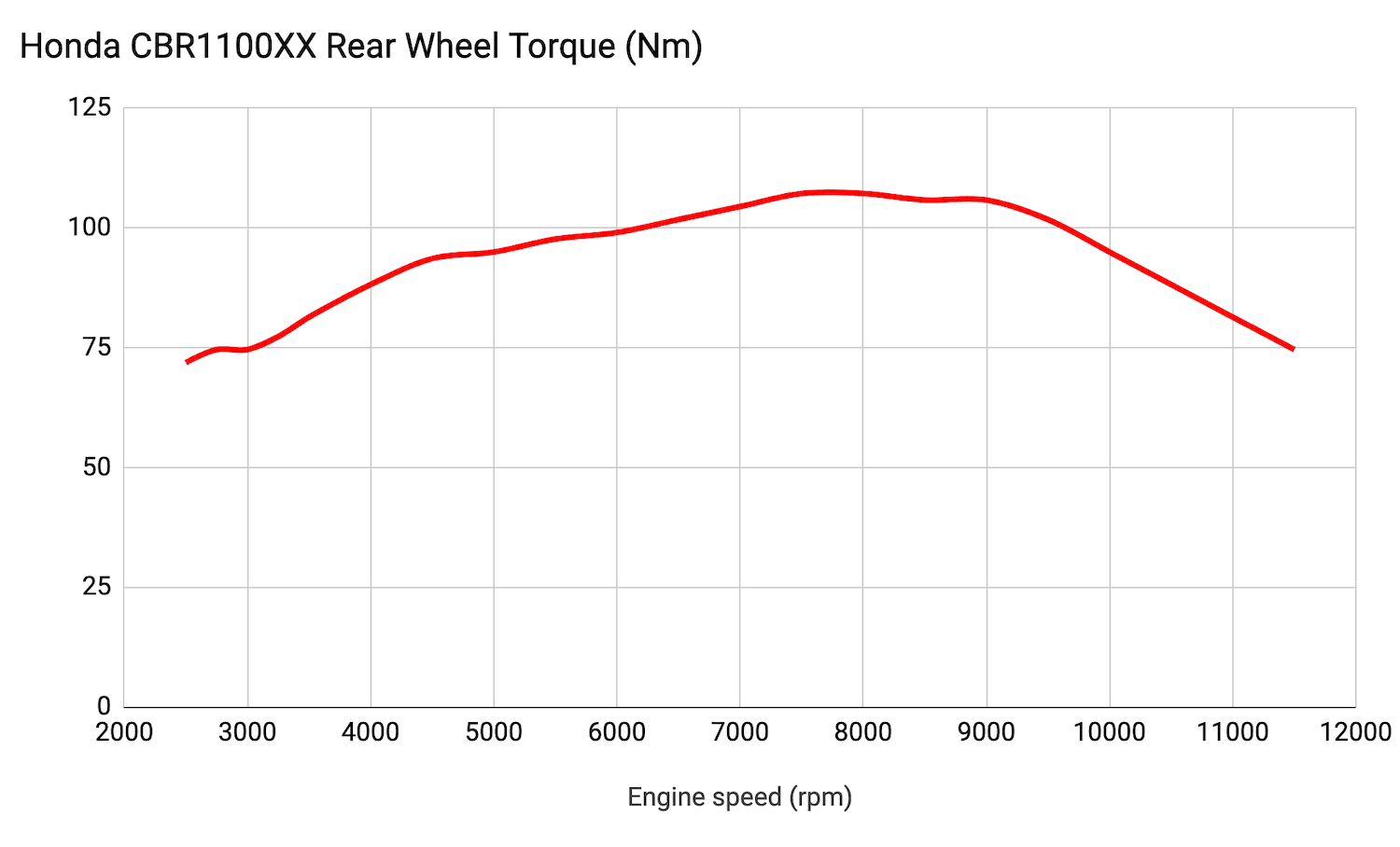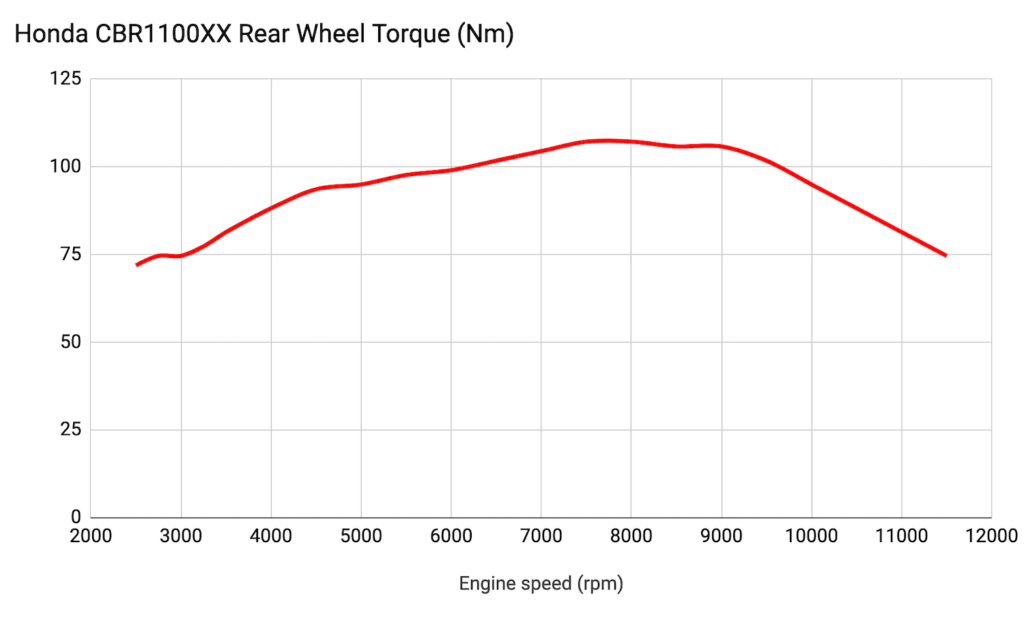 Even though the Honda CBR1100XX is in its peak torque band between around 6500 and 9500 rpm, it still makes over 2/3 of that peak at 3000 rpm — and the torque figure already a lot more than middleweight bikes. All this makes riding the CBR1100XX smooth and easy from idle all the way to the redline.
By the time you want to shift at 9500 rpm, you'll be doing around 100 km/h or 60 mph — if you even made it that far. So you COULD short shift it a couple of times and enjoy that torque curve in a couple of gears. See our gearing calculator for more analysis.
There are some unusual design choices on the Super Blackbird, despite it being a super-premium class-leading bike.
Firstly, the front brake calipers are three-piston. Why not four? Seems an odd choice. Riders don't complain though, so maybe that's the end of the story. It's not a bike that one would take to the track other than to have fun on something unusual (just not to win races).
See here for our FAQ on motorcycle braking systems, talking about discs, calipers, and more.
Secondly, the suspension is not adjustable at the front. Again, most users don't really complain, and by the time you buy one you're likely to need to do a rebuild anyway — so budget a few hundred extra bucks for springs, fluid, and seals. You'll get everything out of the suspension that you need.
Finally, the linked brakes. It's not to everyone's tastes, but you can also consider it a quirk of the era. You can get de-link kits as well and that'll help with low-speed manoeuvering.
But the one thing we can all get behind (I think) is the visual design. It has stood the test of time. Even the third gen Suzuki Hayabusa seems to have taken some design cues from the Blackbird, from the nose at least.
Common Problems with the Honda CBR1100XX Super Blackbird
Here are some common problems that the Blackbird may have if you're looking at one used.
Firstly, as an older motorcycle, the Honda CBR1100XX may suffer from the usual things any old motorcycle may have — pitted forks, a rusty chain / sprockets, rust in the tank, old tyres, and so on. Check our used motorcycle inspection checklist.
Some things you can expect to show up on the CBR1100XX in particular are
Cam chain tensioner — Many Hondas are afflicted by noisy cam chain tensioners that get rattly. Some were replaced under warranty, but you might have to change it again, along with the chain. It's actually doable by the home mechanic.
A failing charging system (either stator coil and/or regulator/rectifier — the coil sometimes takes the reg/rec out with it). Check the voltage before starting and with it running to be safe. Plan on it failing at some point or replace the parts pre-emptively. This isn't unique to the Blackbird; it just happens on older bikes, especially if the charging system has been taxed.
Old suspension — budget replacing the springs and oil, and the seals while you're at it. It'll make a huge difference to handling, especially as the Blackbird is long in the tooth.
Aside from that, the Blackbird engine is known to be one that's bulletproof with regular service.
Per the maintenance schedule for the Honda CBR1100XX Super Blackbird, you change the oil every 8000 miles / 12000 km, and check the valves / change the plugs every two oil changes.
Changes to the CBR1100XX Blackbird
The Honda CBR1100XX Blackbird did not change between launch and the subsequent model year. It was the same carburettor-fed superbike.
But in 1999, Honda made a number of significant changes, adding the following to the Blackbird:
Fuel injection (Honda's PGM-FI). 1999+ Honda Blackbirds are fuel-injected. This means easier tuning and also less trouble if you leave it sitting, particularly if there's ethanol in your fuel. By far this is the biggest change. There's a high-pressure fuel pump inside the fuel tank (which is different).
Ram air. The 1999+ Blackbirds have ducts that redirect air from the intakes on the upper cowl.
Larger front wheel bearings and a different wheel and rotor.
Smoother clutch, reducing plates from 9 to 7
More powerful stator (460 watts rather than 390)
Upgraded front fork valving
There were many other smaller changers in the 1999 model — see here for a catalogue of them.
In 2001, Honda also added a digital dash to the Super Blackbird.


So which one would I get? I'd get a 1999-2000 Super Blackbird, for fuel injection and those delicious analogue clocks. But any fuel injected year would be my pick.
Alternatives to the Honda CBR1100XX Super Blackbird
If you're considering buying a Super Blackbird, then by all means pick one up if it's in good condition, starts and idles fine, and all the electrics are sound.
And loyal owners of the Honda CBR1100XX have either been super happy with their bike forever, describing it as the best bike they've ever owned — or they've been patiently waiting for a replacement. Blackbird owners didn't accept the VFR1200F as a replacement as it was just too much an entirely different bike.
Honda Blackbirds are usually pretty cheap when they become available. They're a great bike, but don't have the super desirable pull of an old literbike or a Hayabusa. Don't hate me, Blackbird owners! Since the Hayabusa stole the "top speed" title in 1999 right before the rules were changed, the Blackbird was always known as the "also ran". But it meant that it wasn't developed like other bikes were and was revised without being retired.
It also means that Super Blackbirds with similar mileage and condition tend to go for less than the Hayabusa.
The main two alternatives to the Super Blackbird I'd propose are both non-Hondas: the Suzuki GSX1300R Hayabusa and the Kawasaki ZX-14 or ZX-14R.
Both of those bikes are large capacity hyperbikes (or sport tourers, if you insist). They're similar in weight to the Blackbird, but have much more power — as if you need it! They also have better suspension, braking, and more rider aids.
For the furthest along the spectrum, get a recent Kawasaki ZX-14R "Performance" edition, which was the only version released in many markets. Aside from that 200 bhp engine, you'll get Brembo M50 brake calipers, fully adjustable Öhlins front and rear suspension, ABS, traction control, and ride modes. If you could want anything more, I'm not sure what it'd be.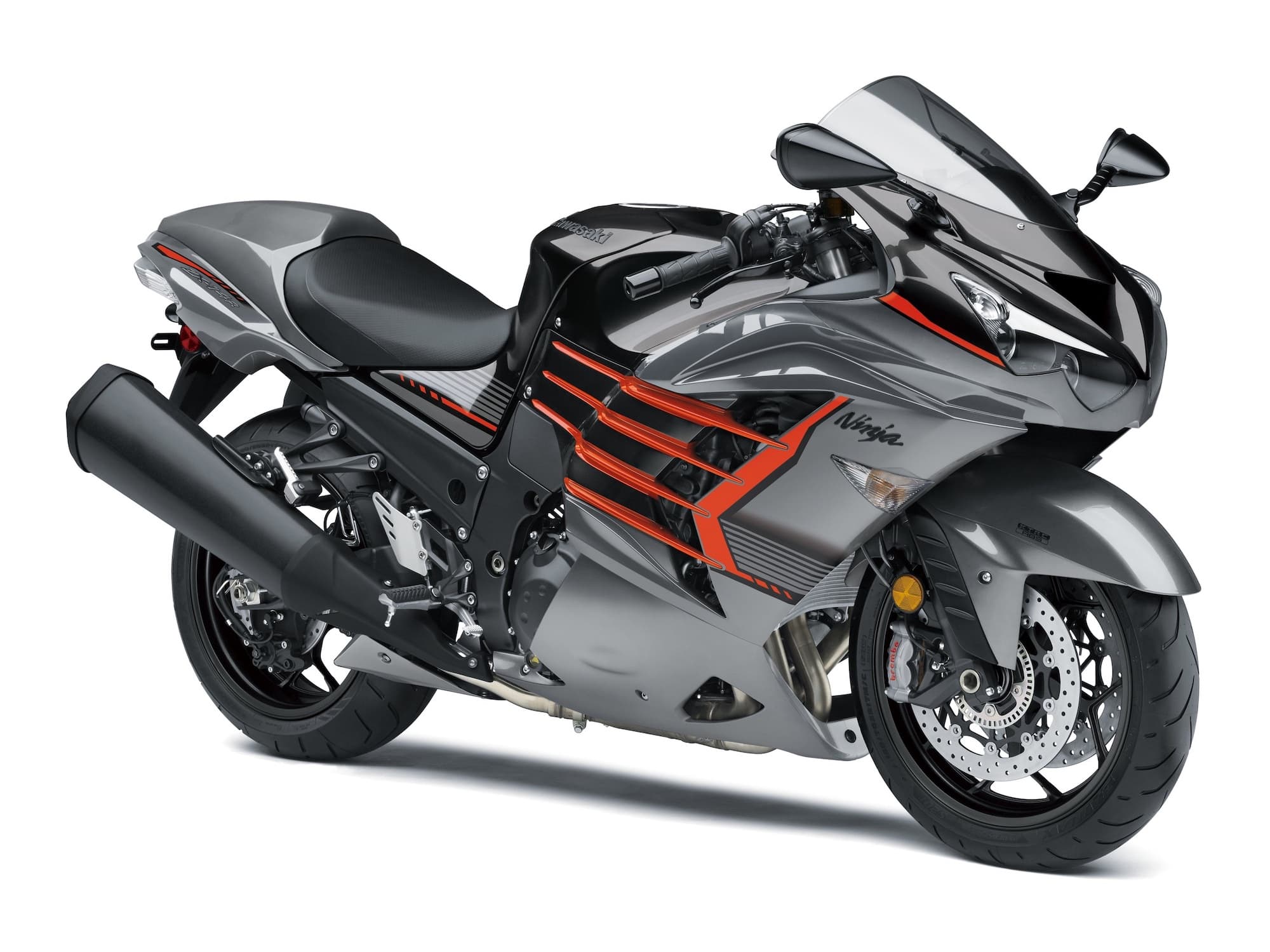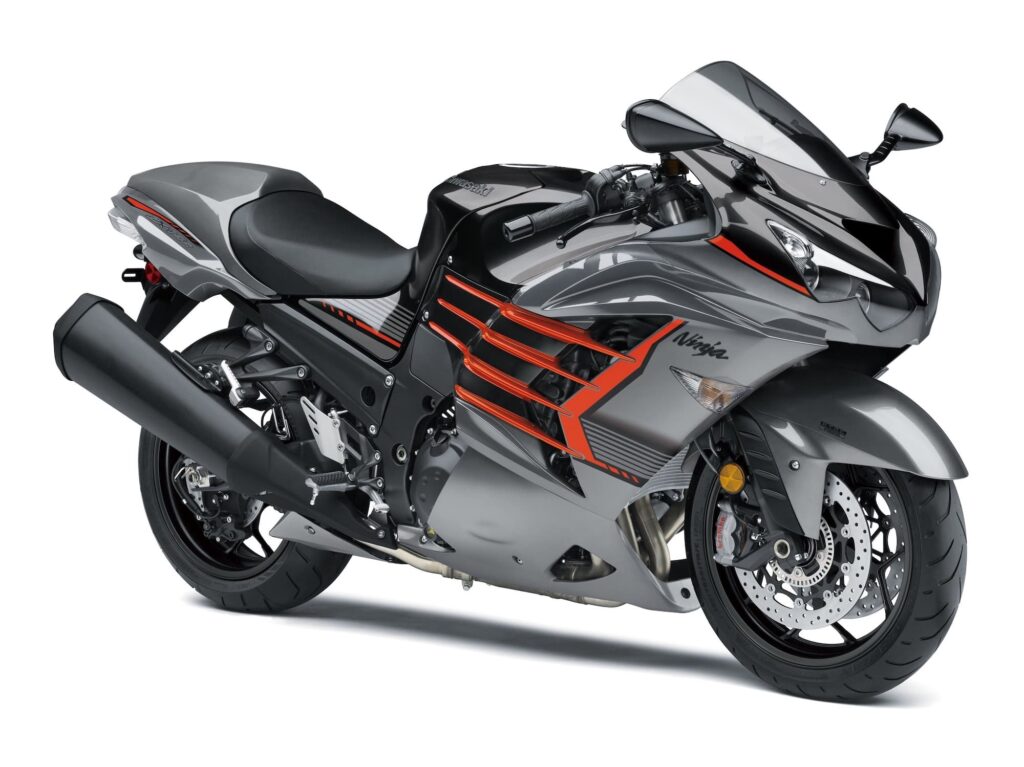 Of course, you'd pay a lot more for the privilege of a recent model. But every time I see a ZX-14R, I reconsider all the life choices that led to me not owning one right now. (I nearly did, several times.)
The Kawasaki ZX-14R hasn't been updated in a while. Kawasaki does make hyperbikes (the supercharged H2 line), so may not update the ZX-14R, and it'll get cheaper, and maybe more unique over time.
Despite the technical advantages of the later models, if you pick up a cheap older Blackbird and give it a once-over (also rebuilding the forks, and maybe replacing a few bits for peace of mind), you're definitely going to be happy.