I found the Ninja H2 range with all its letters confusing, and so read everything I could find, and spoke to dealers, until I figured it out. Here's what I found.
The Kawasaki Ninja H2 range (well, also the Z H2) is Kawasaki's range of motorcycles that are famous for their commercially available high-power supercharged 998cc engine.
There are some things common to all of the H2 range. They all have the same base engine concept — a supercharged 998cc liquid-cooled 4-cylinder 4-valve engine — although the H2R's engine shares so few components it might as well be totally different.
The chassis is similar across the H2 range, too, with a stunning trellis frame and a single-sided swing-arm (which only the hyper-naked Ninja Z H2 loses).
But other things change between models in the Kawasaki H2 range, like some engine internals (changing the compression ratio and the strength of the cylinder heads), supercharger pressure, and external components.
I find the nomenclature and recent history a bit confusing. There are so many letters! Which Ninja H2 is the best to buy? Which have the most features, and which models were produced when? This is what I was trying to find out, and this is the result of my search.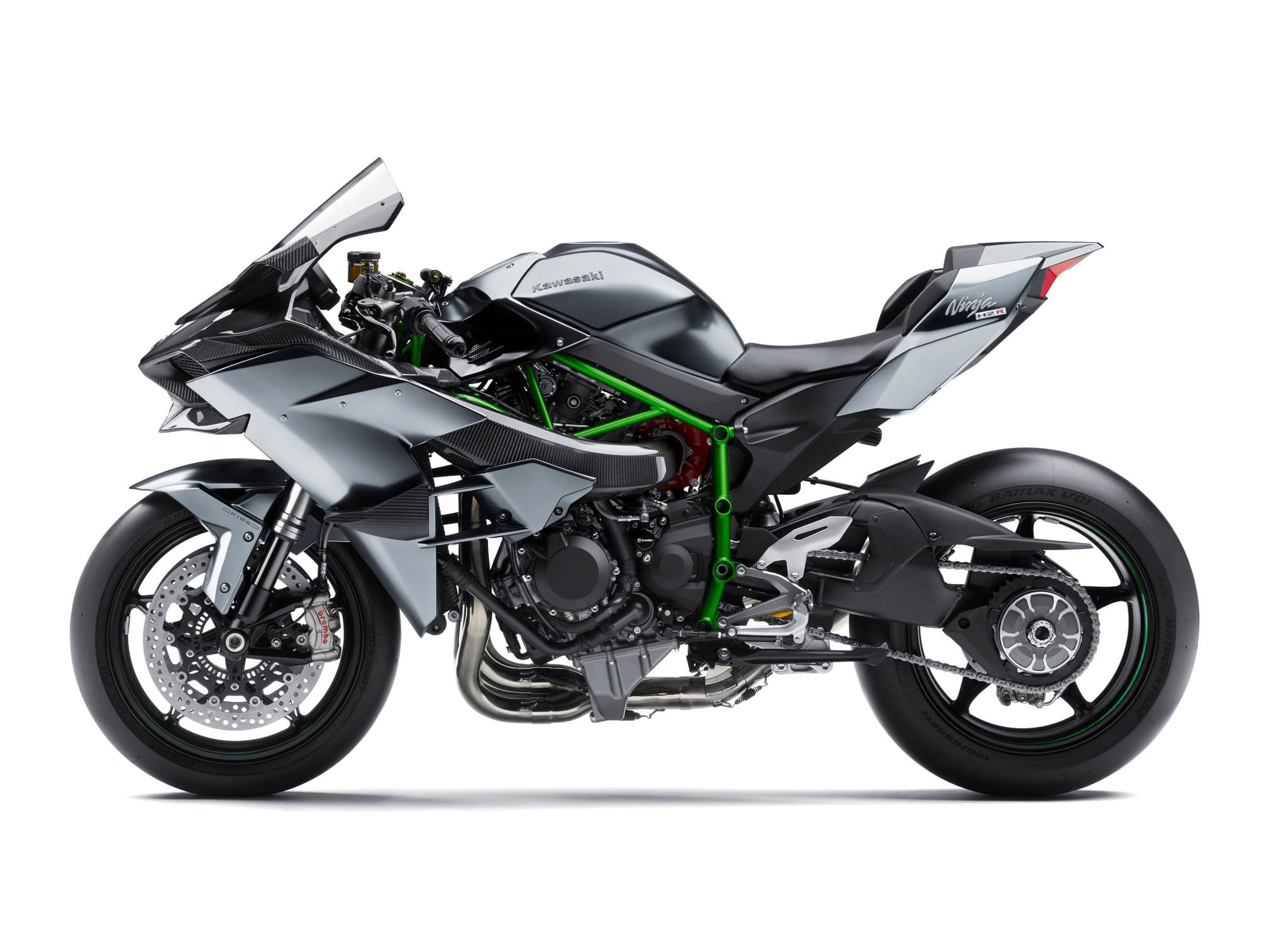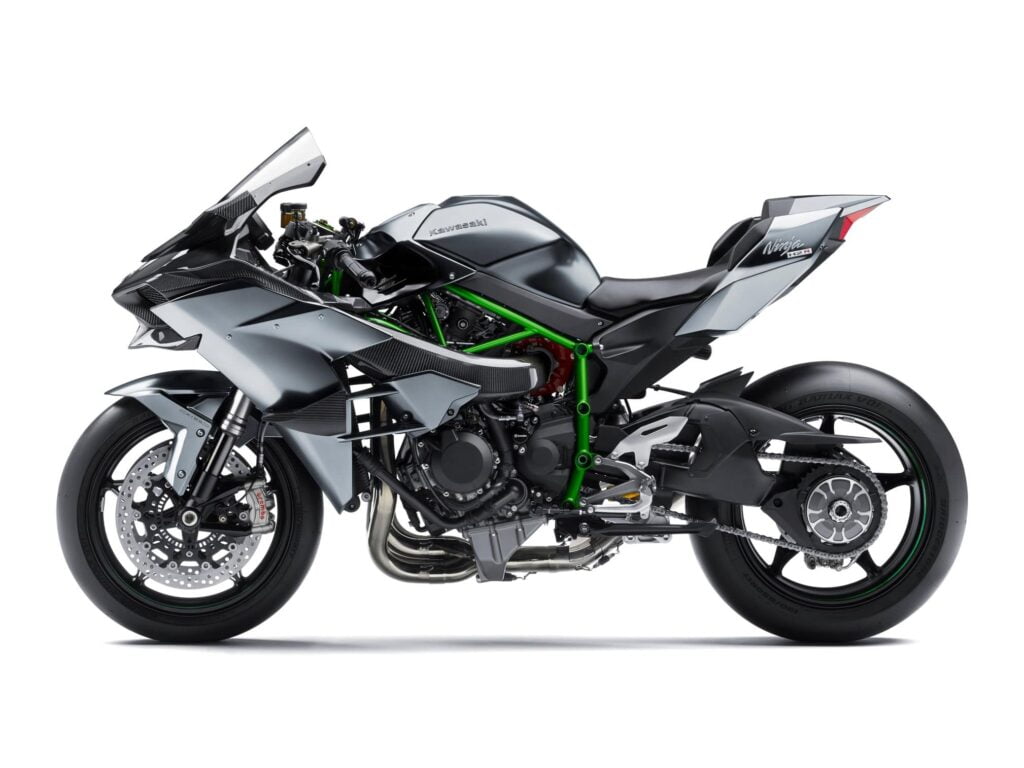 Are you obsessed with motorcycles?
Well, I am. That's why I created this site — as an outlet. I love learning and sharing what others might find useful. If you like what you read here, and you're a fraction as obsessed as I am, you might like to know when I've published more. (Check the latest for an idea of what you'll see.)
Kawasaki Ninja H2 Motorcycle Range in brief
In brief, there are four kinds of Kawasaki Ninja H2 motorcycles:
The Ninja H2 supersport range ("Hypersports" if you follow Kawasaki's naming): The Ninja H2 and the barely-different H2 Carbon (2015+)
The Ninja H2R track-only, super high-power range (2015+)
The Ninja H2 SX sports touring range: H2 SX, H2 SX SE, and H2 SX SE+ (2018+)
The Z H2 naked muscle bike (2020+) (a Z, not even a Ninja, but I feel like it belongs here)
There are also "Performance" editions with further upgraded brakes and suspension.
More detail on all these below.
Kawasaki Ninja H2 and Ninja H2 Carbon — The Sport Bikes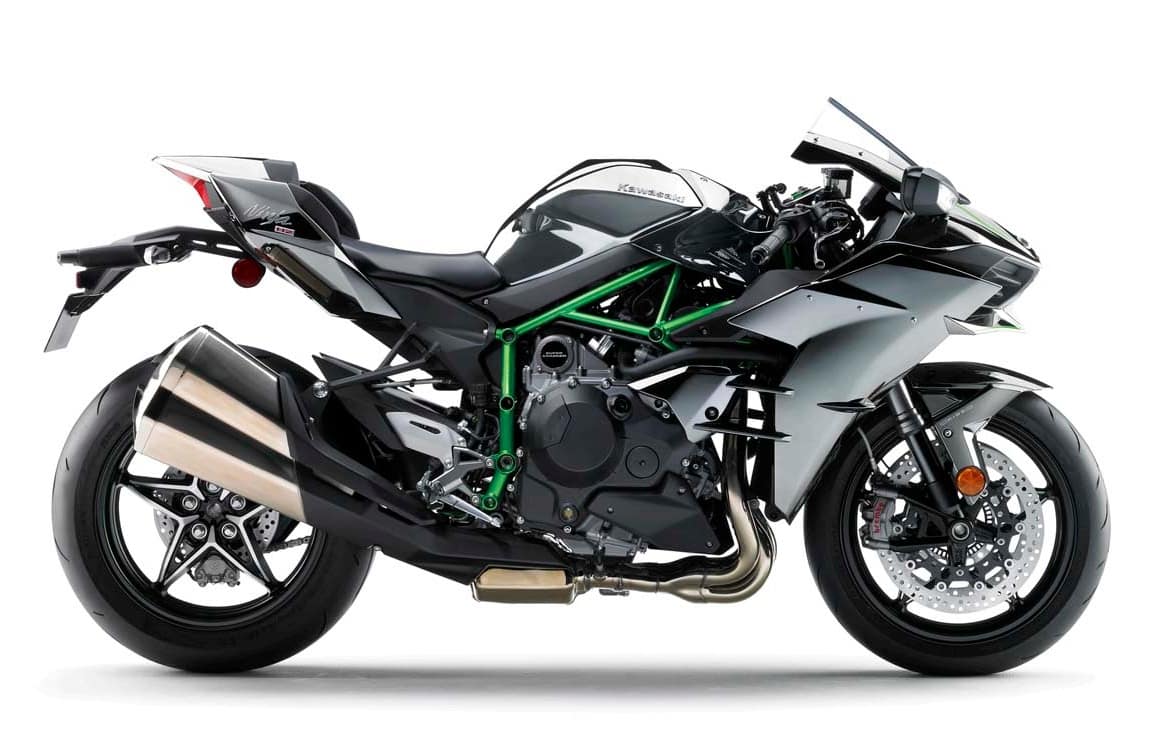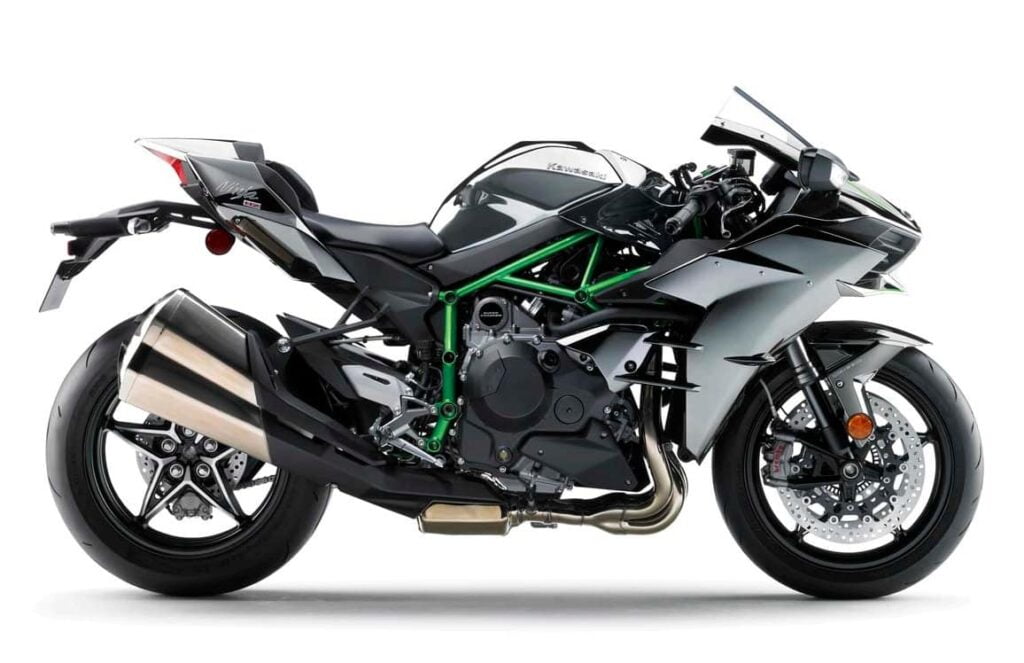 The Ninja H2 was the first model in the Kawasaki Ninja H2 range. It was released in 2015 to much acclaim as being a production supercharged sport bike (not the first one in history, but the first in recent history).
The first 2015 Ninja H2 weighed 227 kg (501 lb) dry and 238 kg (525 lb) wet (full of liquids and fuel and with tyres) — making it no lightweight compared to other sportbikes.
Yes, the original Ninja H2 was objectively powerful at 150 kW (200 hp), but it was still a heavier motorcycle for something that's pure "sports" in modern times.
By contrast, just for example, its contemporary the 2015 Kawasaki ZX-10R, which made a very similar 147 kW (197 hp) of power, was over 15% lighter at 201 kg (443 lb). Of course, it made its power differently, but that discussion is for another time.
The Ninja H2 and H2 Carbon are the street-legal sportbikes of the H2 range. They have a sport riding posture, superchargers, and massive amounts of power and torque. But they're both street-legal, unlike the attention-grabbing H2R.
The H2 Carbon is barely different from the H2, with a carbon-fibre cowl, a colour change, and a numbered stamp. But it's more exclusive, which matters to the select few buyers who put a deposit down for them.
The original 2015 Kawasaki Ninja H2 makes 150kW (200 hp) on a dyno, or 157 kW (210 hp) at speed. The peak of the torque curve is at 10,500 rpm.
It already came with a whole bunch of rider aids, including KTRC (Kawasaki's abbreviation for their branded traction control) and KIBS (Kawasaki's name for ABS). But the original 2015 models lacked Kawasaki's cornering ABS (KCMF).
Model history of the Kawasaki Ninja H2 and H2 Carbon — How it changed over the years
There have been some revisions to the H2 and H2 Carbon over the years — some minor, some major.
2016: Added an assist/slipper clutch. The original clutch was very heavy, but the newer one gave 40% lighter pull and stronger engagement.
2017: The H2's electronics was revised to get KCMF. This is Kawasaki Cornering Management Function, their name for a 5-axis IMU that gives lean-angle sensitive braking and traction control. It also got an Öhlins TTX rear mono-shock, improved rear suspension. 2017 was also the first year of the Ninja H2 Carbon, only 120 of which were made.
2018: No changes (but this was the year the Ninja H2 SX was released)
2019: Big update. The 2019 models got a power bump up from 150kW to 170 kW (200 hp to 228 hp), without ram air. With ram air, it's even more! These changes came from a revised air filter, intake, spark plug, and ECU tuning. They also got Bridgestone RS11 tires, and Brembo's new Stylema callipers, which have superior cooling to the outgoing Brembo M50 callipers. 2019+ models also got self-healing paint.
2020: No changes apart from minor paint details.
There are rumors of a more powerful 2021 Ninja H2, but I'm not sure yet, and COVID might change that or cause it to be delayed.
Kawasaki Ninja H2 vs Ninja H2 Carbon — What are the differences?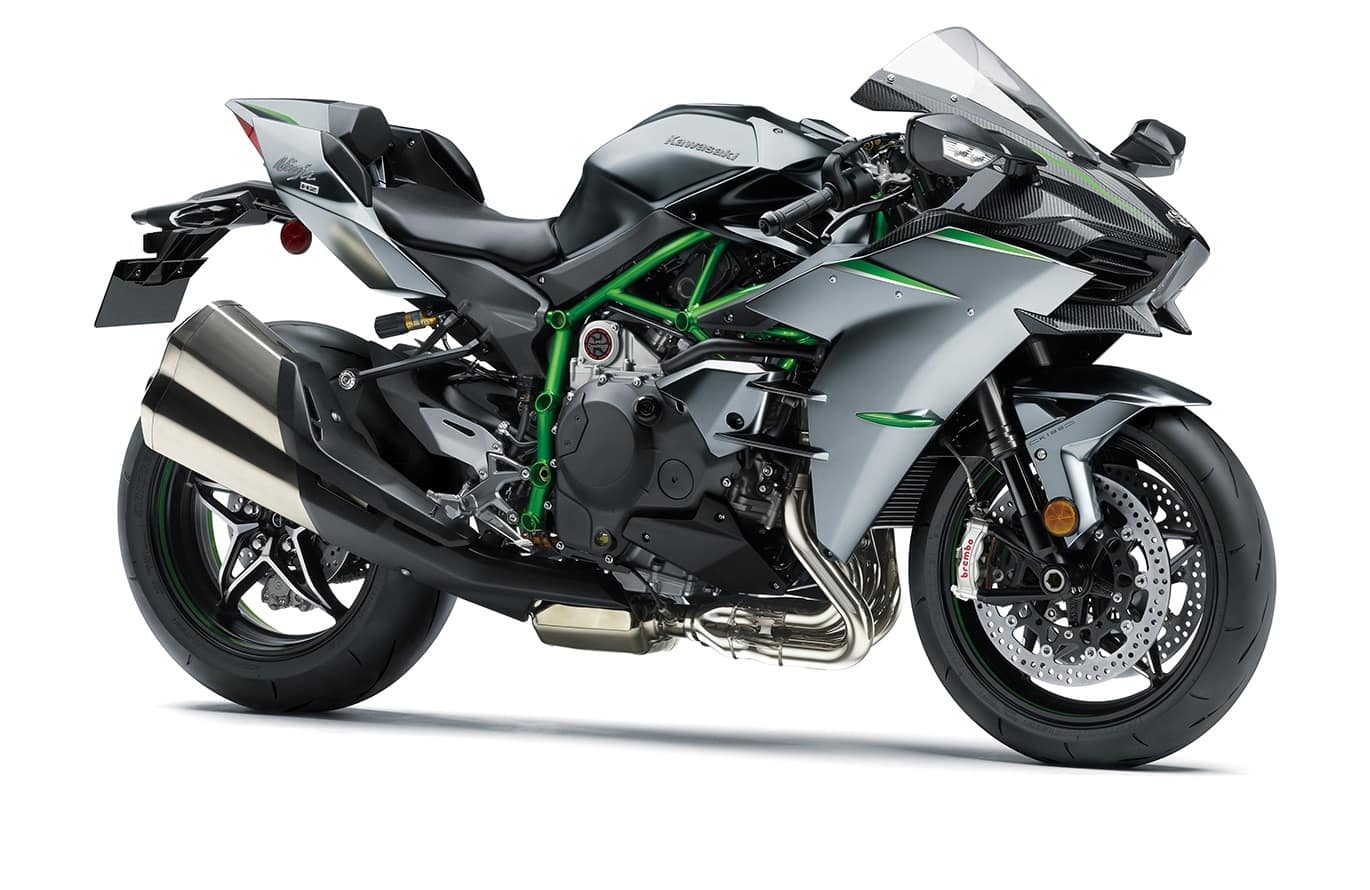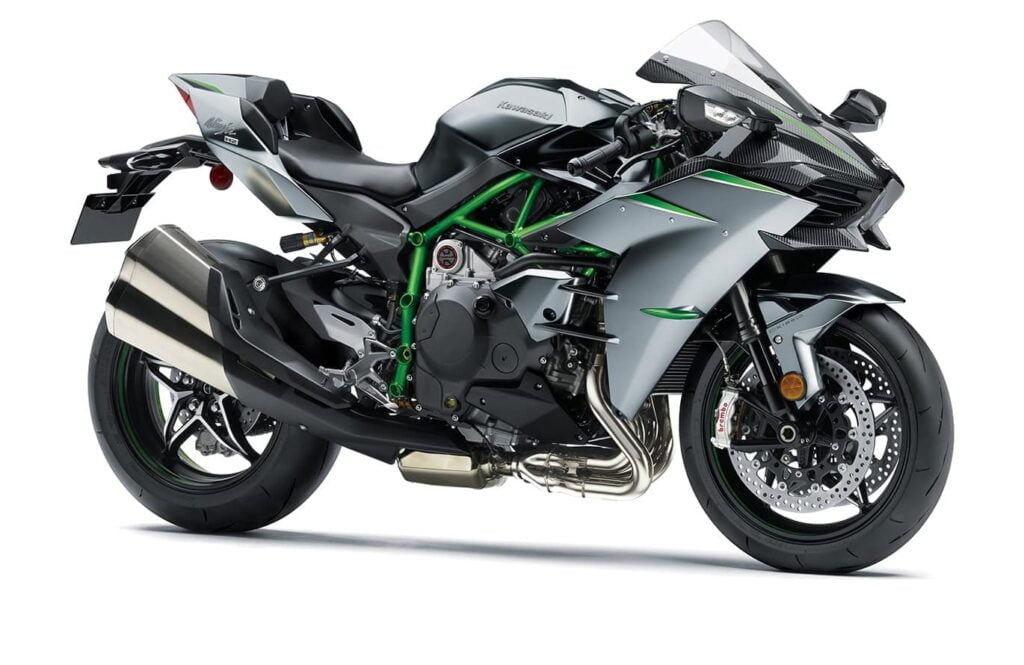 Reading the word "Carbon" I wondered: what are the differences between the H2 and the H2 Carbon? Is it lighter, for example? (It's not.) Does it have better components like tyres, suspension, or electronics? (It doesn't.)
It turns out the differences between the H2 and H2 Carbon are minor.
The Ninja H2 Carbon has, on top of what's offered by the Ninja H2:
A carbon fiber upper cowl, similar to the one used the track-only H2R
Special silver-mirror paint with a matte element
Individual numbering, with a serial number stamped on the supercharger plate
The weights, according to the spec sheets on Kawasaki, are identical.
The price is also different. The 2020 Ninja H2's MSRP is US$29000, whereas the MSRP of the 2020 Ninja H2 Carbon is US$32500. A premium of $3500 for a bit of carbon fibre, paint, and a number, is a lot of money… but those who pay premium probably wouldn't mind spending a bit extra for some exclusivity.
Ninja H2R — Track Only, Not Street Legal (2015+)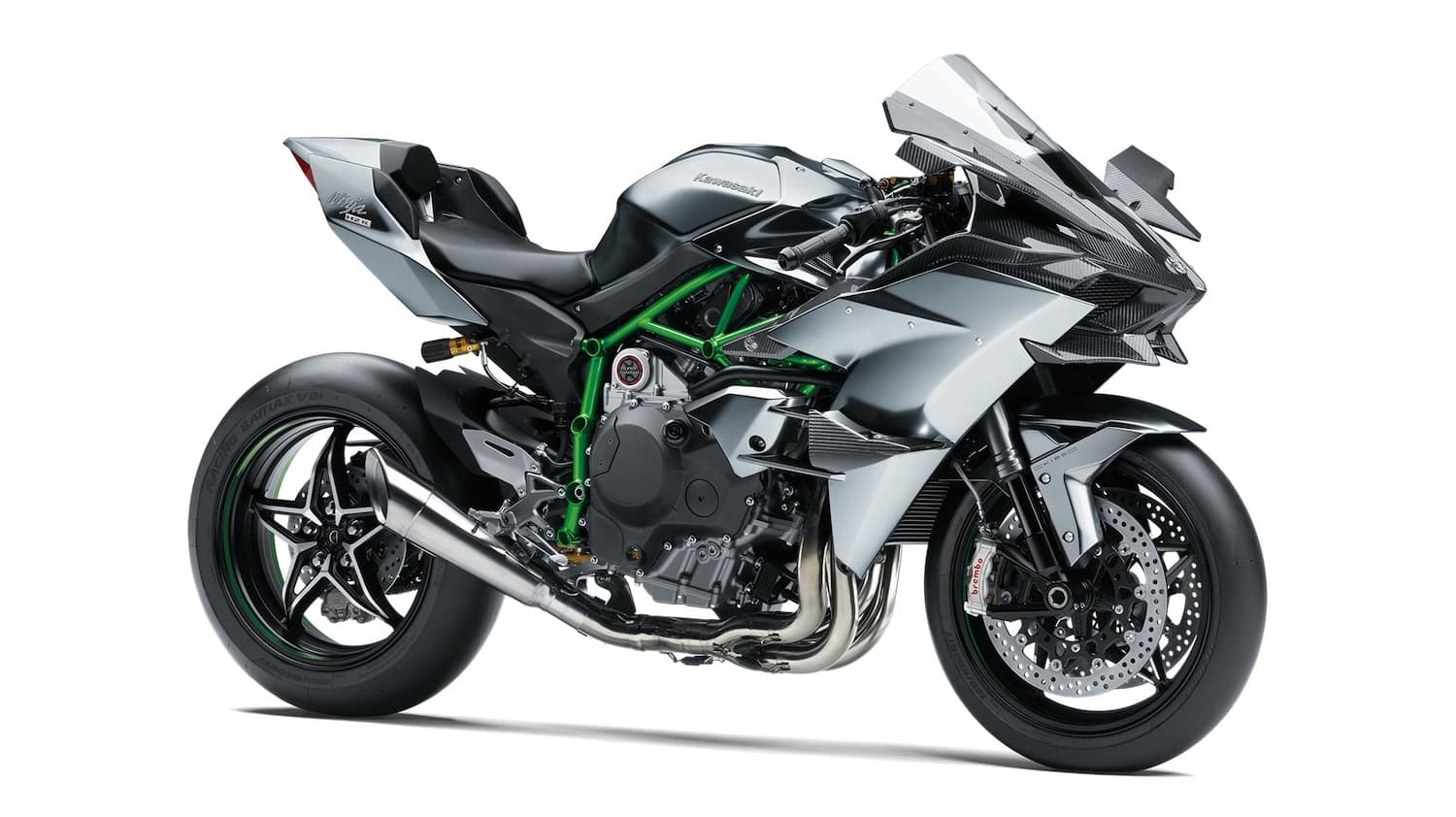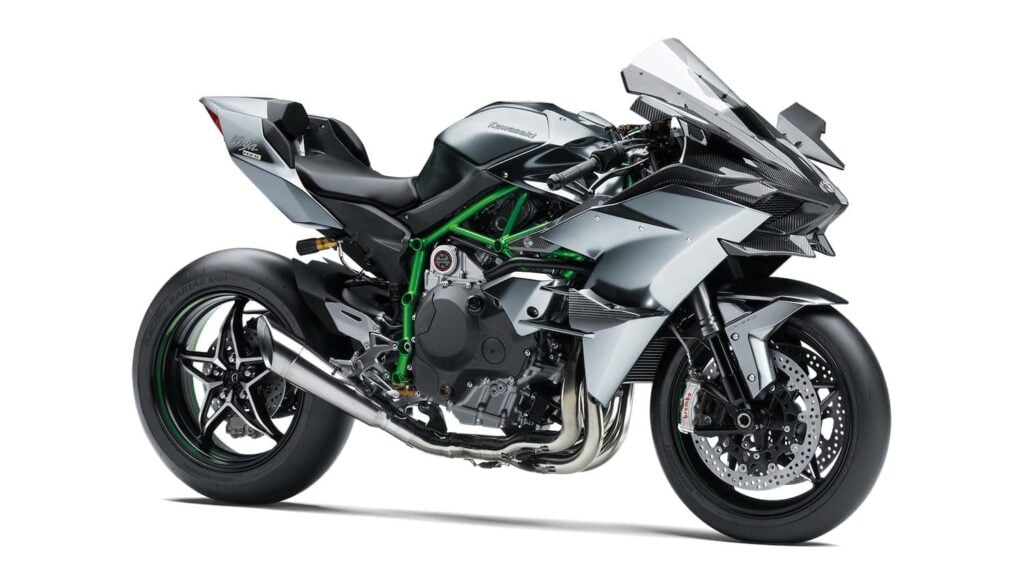 The Ninja H2R is the most extreme of the Ninja H2 range. It's not street legal (track-only), and it's obscenely powerful!
The first Ninja H2R was also released in 2015, alongside the Ninja H2.
The original 2015 Kawasaki Ninja H2R made 230 KW (310 hp) on the dyno, or 243 kW (326 hp) at speed with ram air.
This absurd amount of power is much more, for example, than the other already absurdly powerful motorcycles on the market, like the Yamaha YZF-R1, the Suzuki Hayabusa, or another from Kawasaki's range, the ZX-14R.
Needless to say, it's extremely fast. To prove this point, on June 30, 2016 Kenan Sofuoglu reached 400 kmh (249 mph) on the newly built Osman Gazi Bridge in Turkey (a massive bridge that's over 2km long). The bike was stock, had special Pirelli tires to cope with the speed, and the pilot was wearing a special one-piece leather suit to cut down on drag.
The main differences between the 2015 Ninja H2R and the Ninja H2 are:
Much lighter — 216 kg (476lb), vs 238 kg (525 lb) for the Ninja H2 — thanks to lighter frame and exhaust components and carbon-fibre bodywork
ABS that can be disabled
A high-performance exhaust system (with accompanying tune of course) that produces 120dB measured using standard procedures… way above legal limits
Taller gearing (two less rear teeth)
Different engine internals — Kawasaki is mum on the details, but engine parts are not interchangeable with the H2, and you can only order H2R parts once you prove you're a verified owner
Lower 8.3:1 compression (vs 8.5:1), presumably with corresponding higher supercharger pressure (though this is my educated guess)
Slightly more aggressive geometry: 0.5cm shorter wheelbase, some minor adjustments to rake and trail
Bridgestone, Racing Battlax tires only (you're not even allowed to replace them with others)
Required service inspections are required every 15 hours of engine operation above 8,000r/min (rpm) (and the display will count down to this)
a US$50,000 price tag on the original (the 2021 model is now US$55,000).
On top of things it has, the Kawasaki Ninja H2R also lacks things necessary to make it road legal, like turn signals, mirrors, and a license plate holder.
It's safe to say that most readers of this blog aren't in a position to buy an H2R. If you are, great. But most humans, in general, aren't! The H2R is so exclusive it's almost invitation-only.
Every year, Kawasaki allows a few people to pre-order the Ninja H2R on a first-come, first-served basis.
There's no warranty on the H2R, unlike the regular Ninja H2.
Evolution of the Ninja H2R — Changes year by year
Just like the Kawasaki Ninja H2, the H2R also changed slightly year by year.
2016: New clutch with slipper/assist function, just as on the Ninja H2.
2017: Updated electronics with a five-axis Bosch IMU (Kawsaki's KCMF – cornering ABS and traction control), plus an instrument panel that shows you lean angle. New up-and-down quick-shifter, new Ohlins TTX shock with remote preload adjustment, and a different linkage with an updated leverage ratio.
2018: No changes
2019: Engine is unchanged. Brembo Stylema callipers, and a full TFT dashboard with Bluetooth connectivity. Also added "Highly Durable Paint".
2020: No changes
So in summary, the engine of the H2R hasn't changed since launch. 2019 was the last real update, but the only things that changed were brakes, a better display, and better paint. The most meaningful update was in 2017 when KCMF was added.
How does the Kawasaki Ninja H2R make so much more power?
This is what fascinates me most about the H2R. How can an engine that shares a naming convention with the Ninja H2, an already very powerful engine, make 50% more power (comparing 2015 figures)?
Kawasaki is very secretive about the internals of the H2R. But here's what I've been able to gleam.
Firstly, it seems clear that the H2R is not just a "race" version of the H2. Nor is the H2 a "de-tuned" version of the H2R.
Per Rideapart, "The H2R is simply not an H2 with a different, more aggressive tune and stronger head gasket—far from it. It's, in fact, built in a special facility off the assembly line. All hand built with particular care, it took the plant roughly one business day to produce a single H2R."
Here are the differences
Higher supercharger boost — speculations of 35 psi, vs 20.5 psi for the Ninja H2
Open racing exhaust with slash-cut tip, no emissions components, and no muffler
The H2's impeller is driven by planetary gears, achieving a maximum of 130,000 ROM (no, that's not a typo… it's 9.2x the motorcycle's crankshaft RPM).
The supercharger uses a 69mm 12-blade impeller carved from billet aluminium, pushing over 200 litres of air per second into the engine, at 2.4 bar.
Different ECU mapping — the H2R has a much more aggressive mapping, tuned for its different camshafts and exhaust. Needless to say, you can't just bung the H2R ECU onto an H2 as it'll "blow the internals" according to some journos.
Different cam profiles
Different clutch
Different head gaskets
Ninja H2 SX range (2018+) — The Sport Tourers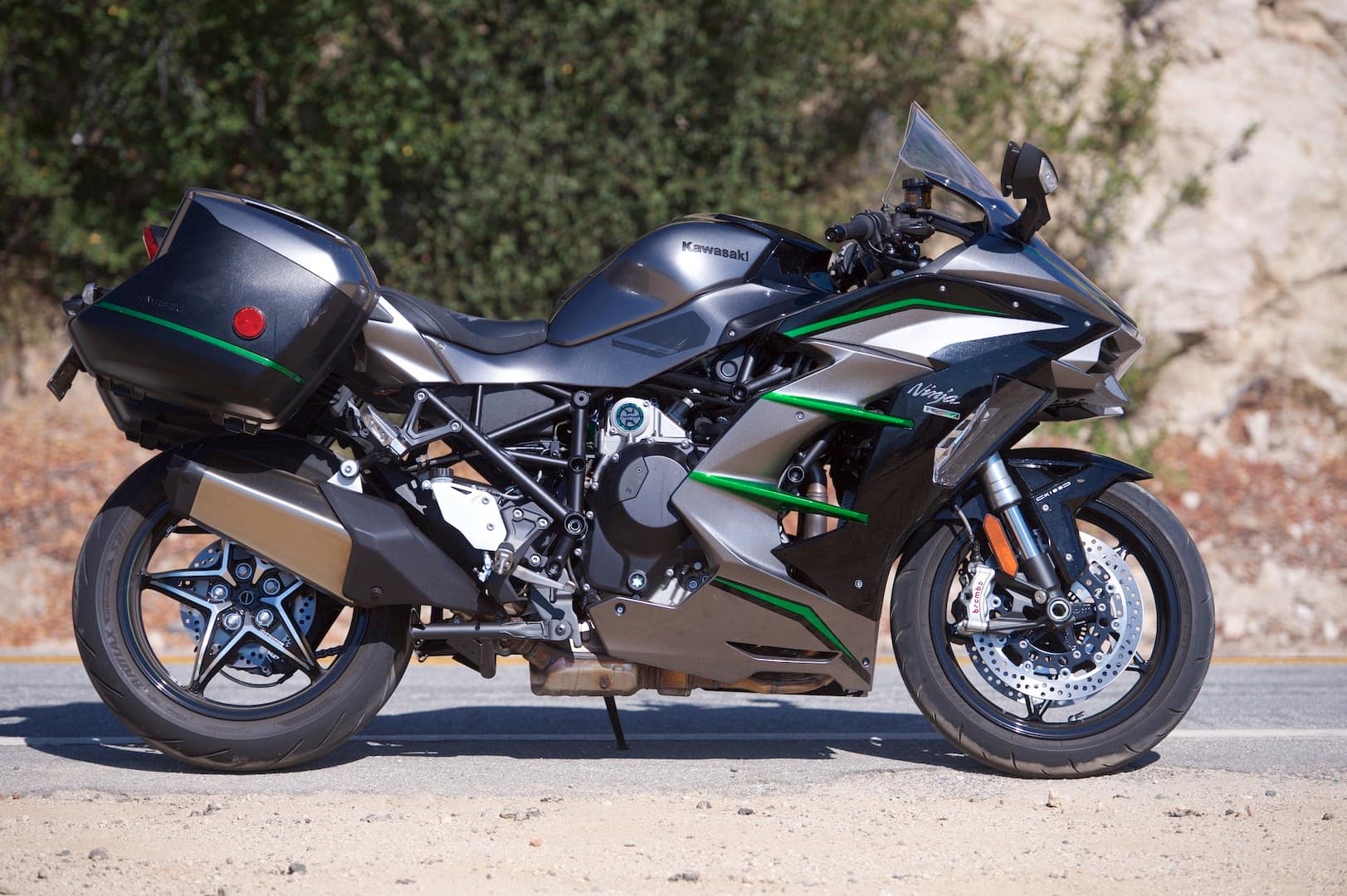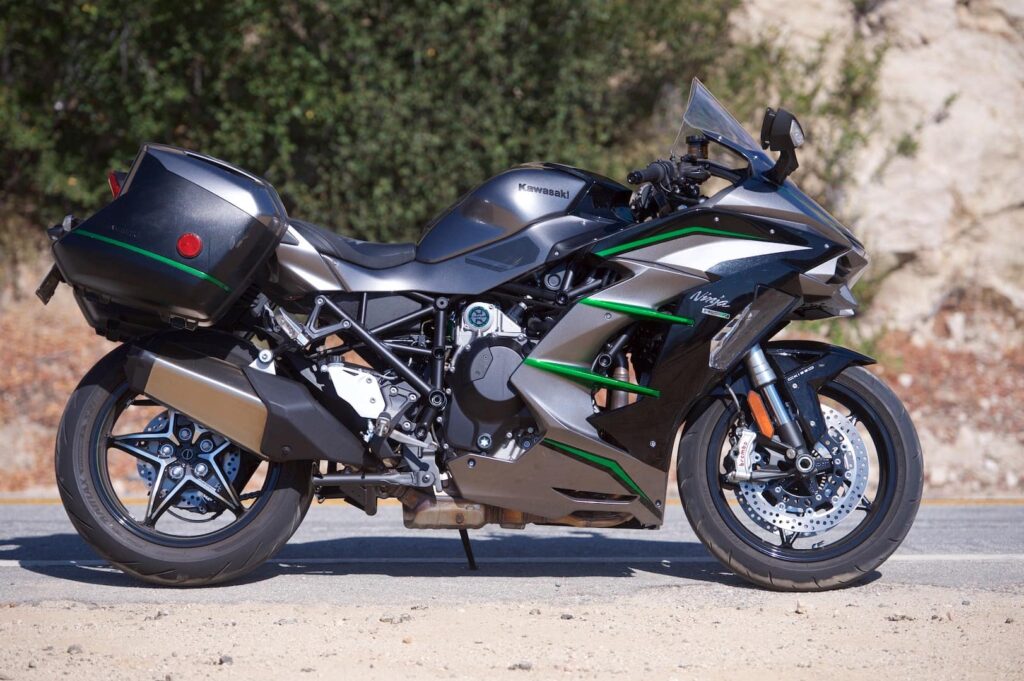 The H2 SX range are the sport touring versions of the Kawasaki H2. They have a much less aggressive riding posture than the Kawasaki H2 does, and a slightly less powerful motor than current H2 motors.
This sport touring range includes the SX, the SX SE (which has a few more options as standard), and the SX SE+.
It's the sports tourer that most people will want to buy (unless you like to go really fast all the time… do you? DO YOU? Because you can with this!). It's more practical, and still bonkers enough.
You might ask yourself "why the heck would I need a supercharged sport touring machine?" Similar questions were asked before the launch of the Hayabusa in 1999. That was no slouch, with a 1300cc 130 kW (175 hp) engine. The Kawasaki ZX-14R followed suit and then did the BMW equivalents.
The original Ninja H2 SX was released in 2018. It debuted with KCMF (cornering ABS), which the Ninja H2 had acquired the previous year.
The main differences between the Ninja H2 SX and Ninja H2 in 2018 were that the Ninja H2 SX has:
Retuned engine producing 147 kW (197 hp) — slightly down on power, but up on mid-range torque. Came from a different cylinder head, camshafts, crank and pistons, a higher compression ratio (11.2:1 v 8.5:1, for fuel efficiency), different supercharger impeller and plenum chamber. The motor is actually 3kg lighter than the H2's engine.
Luggage (side bags)
Taller screen (though it's not adjustable, unlike the Ninja 1000)
Heated grips
Cruise control
Longer wheelbase from a steering head that has moved forward, and a longer single-sided swingarm
More steering lock from the steering head moving forward
A more upright touring position, similar to the Ninja 1000 — lower pegs, taller clip-ons
Repositioned engine, tilted forward in the frame, and reinforced larger tubing with extra tubing at the rear
Less engine heat than the standard H2 (thanks to the retuning)
A heavier wet weight of 256.1kg (564.5 lb), 18kg heavier than the standard Ninja H2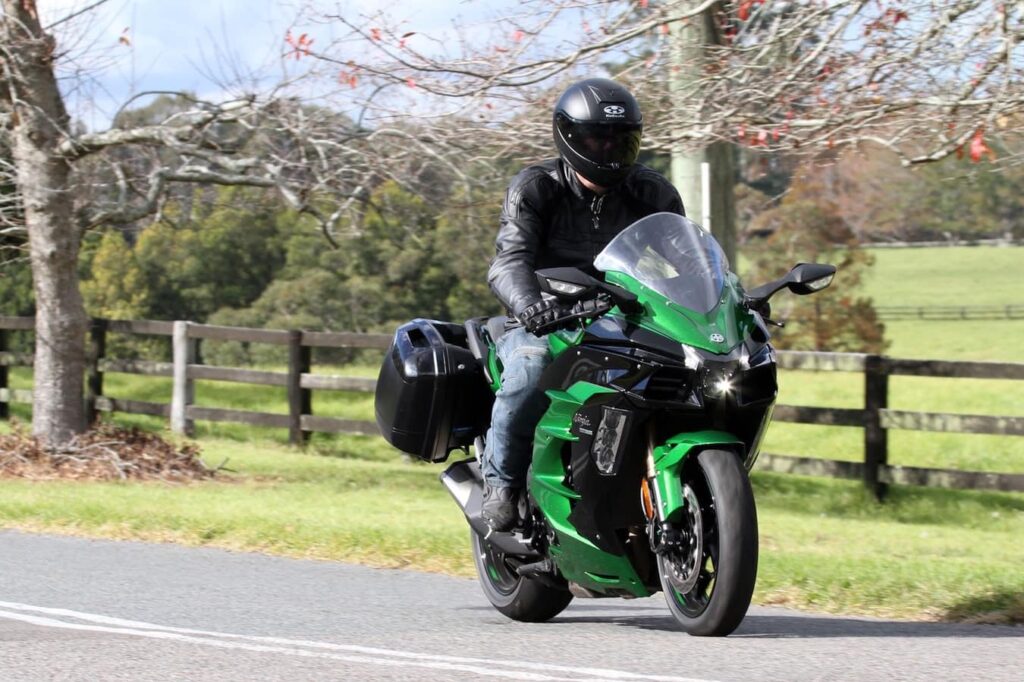 The engine of the H2 SX (and other variants in the sport touring range) has not changed since launch in 2018. While the Ninja H2 got a power bump in 2019, the H2 SX did not — and didn't in 2020, either.
There were rumours that the 2022 model would have the a new Bosch radar system for active cruise control, which ended up being confirmed! See below.
Difference between the Ninja H2 SX and H2 SX SE
See what I mean by lots of letters in the Ninja H2 range?
In 2018 the Ninja H2 SX SE also has
Full-colour TFT (standard H2 SX has a standard LCD), with selectable display modes (Touring, Sport)
Launch control (KLCM, Kawasaki Launch Control Mode), preventing wheelie-ing when you launch hard
Cornering lights
Machined wheels
Two-way quick-shifter (above 2,500 rpm)
Centre-stand
2019 Kawasaki Ninja H2 SX SE+
More letters! Well, a "+" sign. Sometimes it's written Ninja H2 SX SE Plus.
In 2019, the Kawasaki Ninja H2 SX SE was updated and replaced by the Ninja H2 SX SE+. The updates included
Active electronic suspension: a 43 mm inverted Showa cartridge fork and a BFRC lite rear shock — same as on the Ninja ZX-10R sportbike, except also with electronically adjustable preload.
Riding modes: Sport, Road, Rain or Manual, adjusting settings for traction control, and electronic suspension. You can also customise them in "manual" mode.
Brembo Stylema monoblock callipers. These were also added to the 2019 Ninja H2 and H2 Carbon.
Smartphone connectivity — you can control a bunch of stuff via Kawasaki's Rideology app.
Highly durable self-repairing paint that repairs itself from everyday light wear and tear.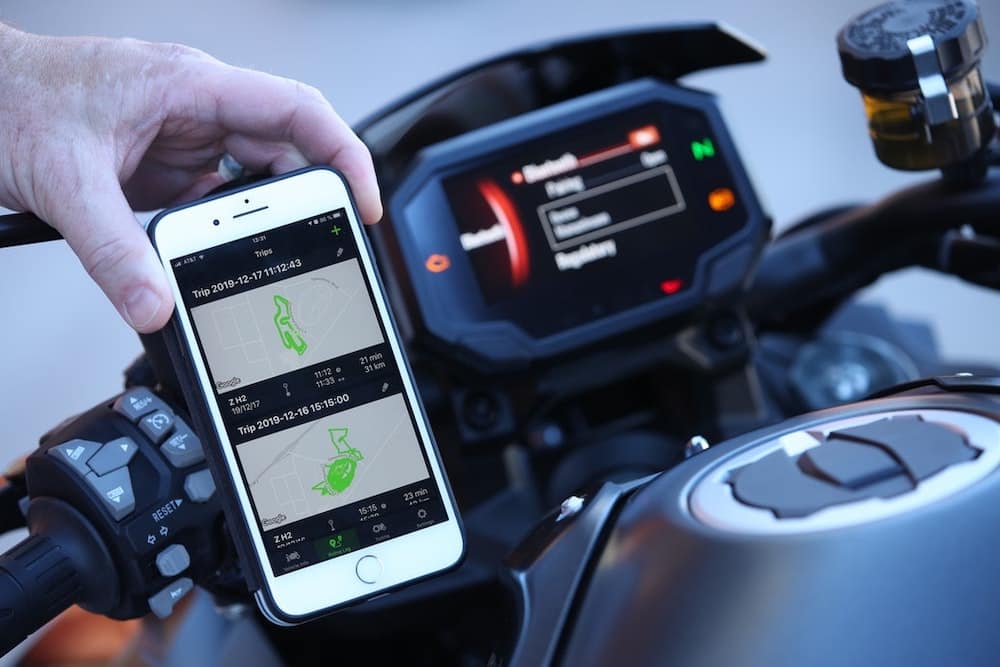 2022 Kawasaki Ninja H2 SX SE — Radars (and more tech)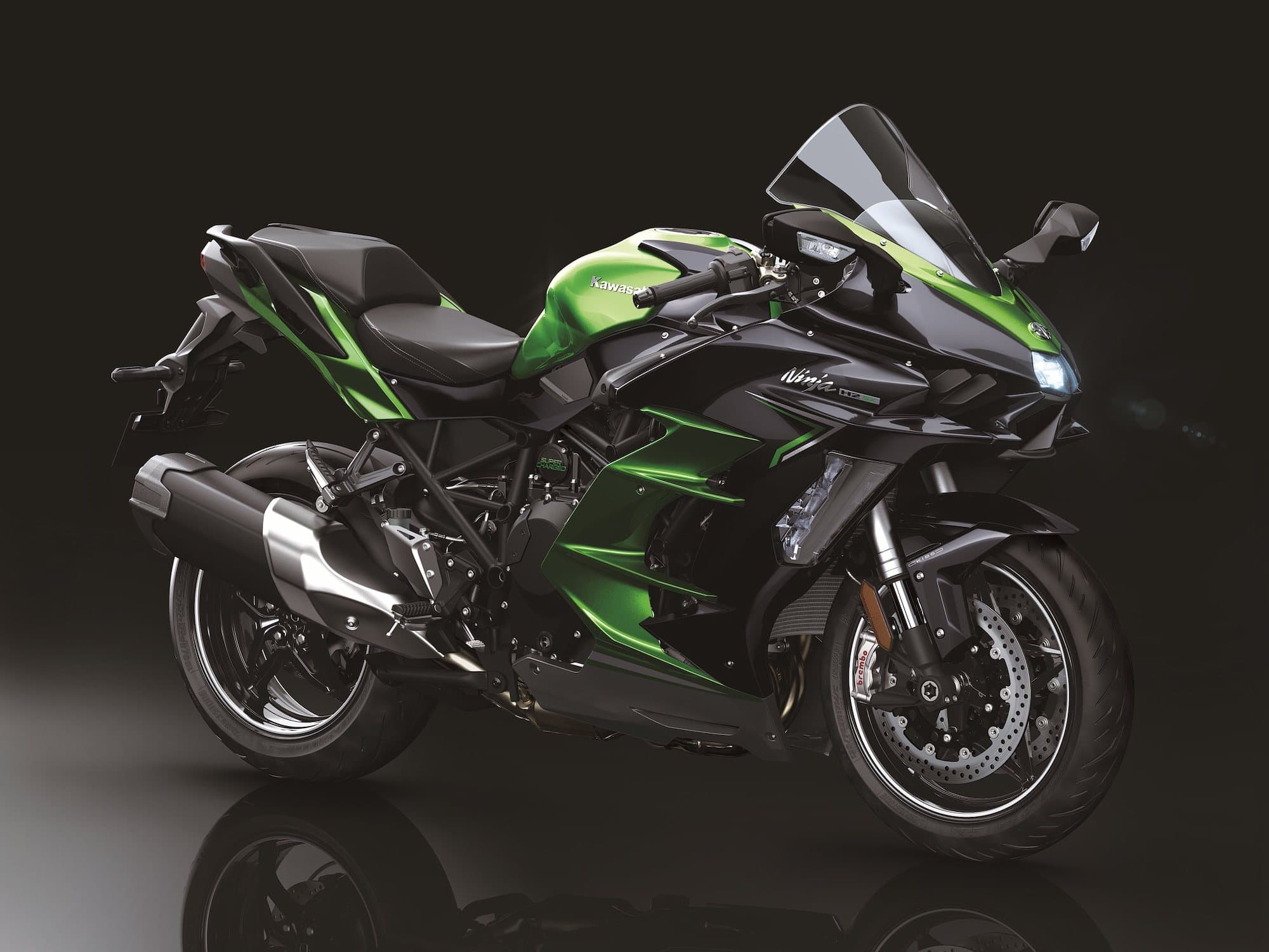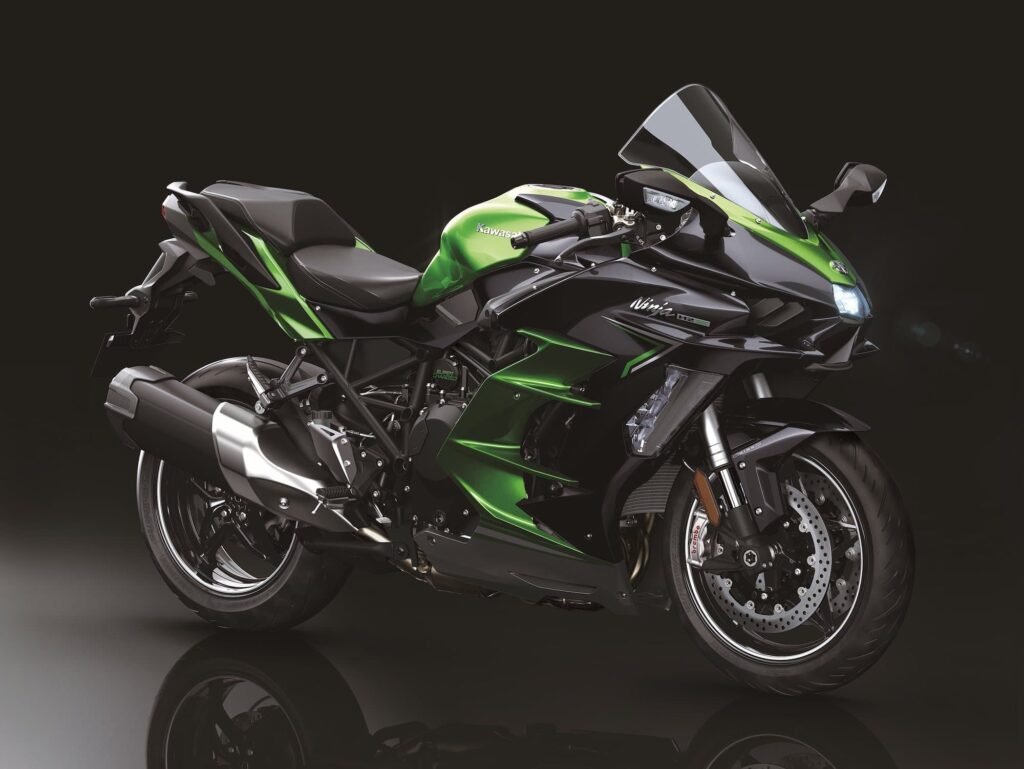 For 2022, Kawasaki updated the H2 SX again, but now it's just called the Ninja H2 SX SE.
The 2022 Kawasaki Ninja H2 SX SE is fundamentally the same as previous years, but the headline change is the radar-based "Advanced Rider Assist System", termed ARAS in Kawasaki nomenclature.
The 2022-onward radar-assisted safety brings to the table
Adaptive Cruise Control (ACC)
Forward Collision Warning (FCW)
Blind Spot Detection (BSD)
The goal of ARAS is to let you, the rider relax a little, alleviating the stress of maintaining a certain distance with the vehicle in front.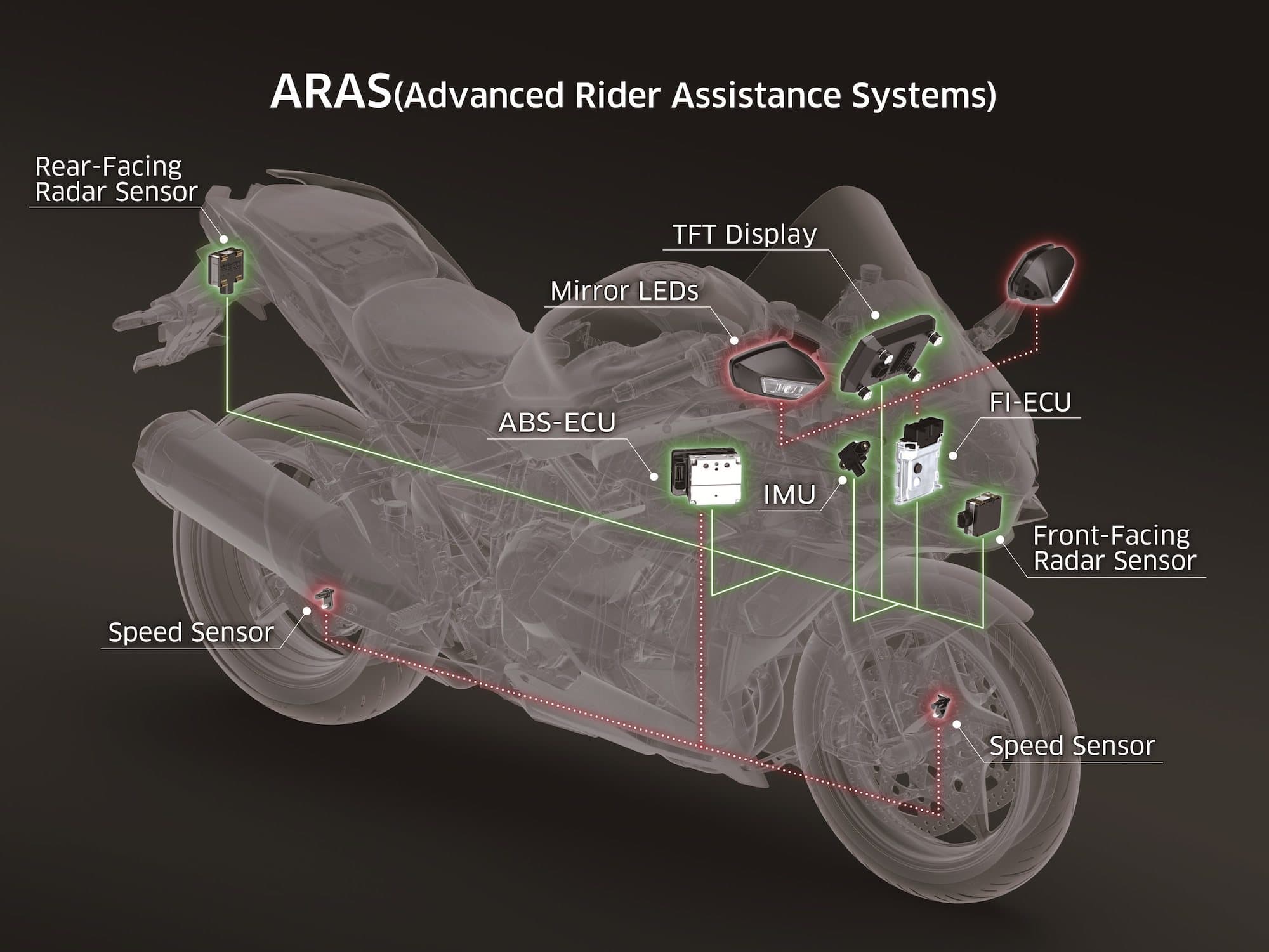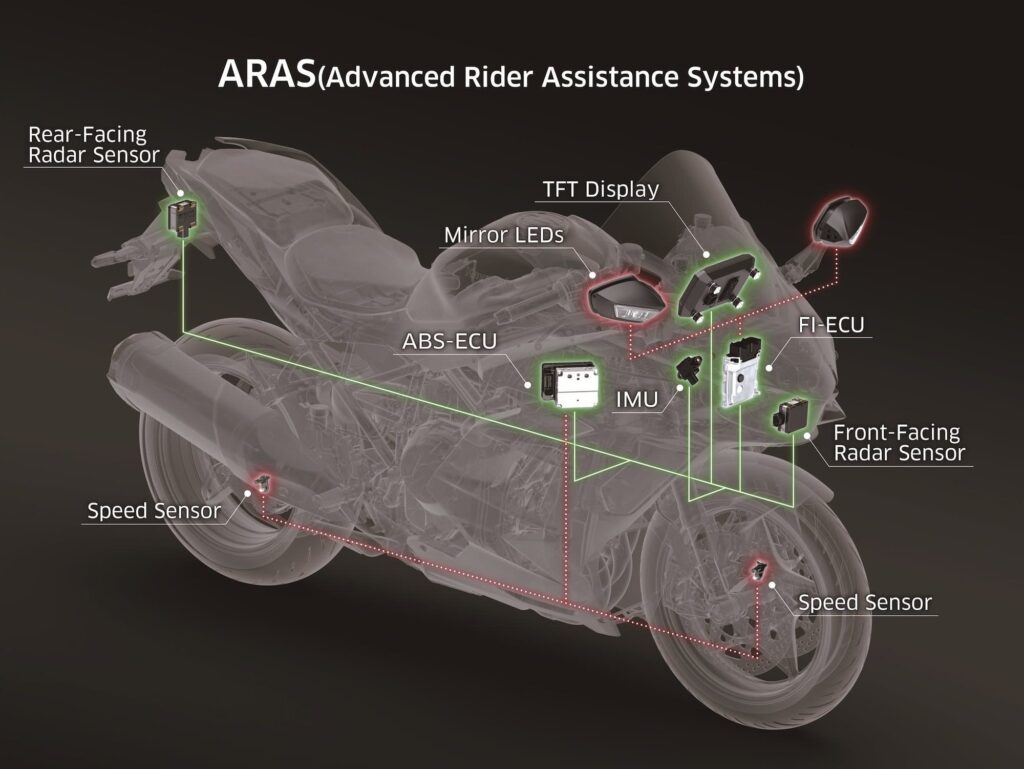 The system, when on, works like a normal cruise control system — except that it takes into account vehicles nearby when adapting the speed of your motorcycle. So if you set it to 70 mph and there's a car in front that's doing 68 mph, the system will taper off speed to maintain a safe distance, rather than blindly driving you into the car's rear.
If there's no vehicle in front, it works like regular cruise control — you have to disengage it yourself in all the normal ways.
The other related functions, Forward Collision Warning and Blind Spot Detection are more intuitive, basically keeping a lookout and flashing warnings if you're accelerating towards a slower-moving object. There's even a warning for when the system thinks you're going to be rear-ended by a fast-moving vehicle behind you.
The suite of radar-assisted ride aids on the Kawasaki H2 put it in unique territory as one of the first motorcycles with adaptive cruise control. See our complete guide to motorcycles with adaptive / active cruise control here.
The second major change is that the active suspension has been updated to Showa Skyhook EERA. The 2019 H2 SX SE+ had active Showa suspension, but not Skyhook.
The 2022-onward H2 SX SE also gets
Tire Pressure Monitoring System (TPMS)
Vehicle Hold Assist (VHA) — already seen on other Kawasaki bikes
A 6.5 inch TFT
A wider-seat
And a bunch more features
Kawasaki Z H2 — The Naked Muscle Bike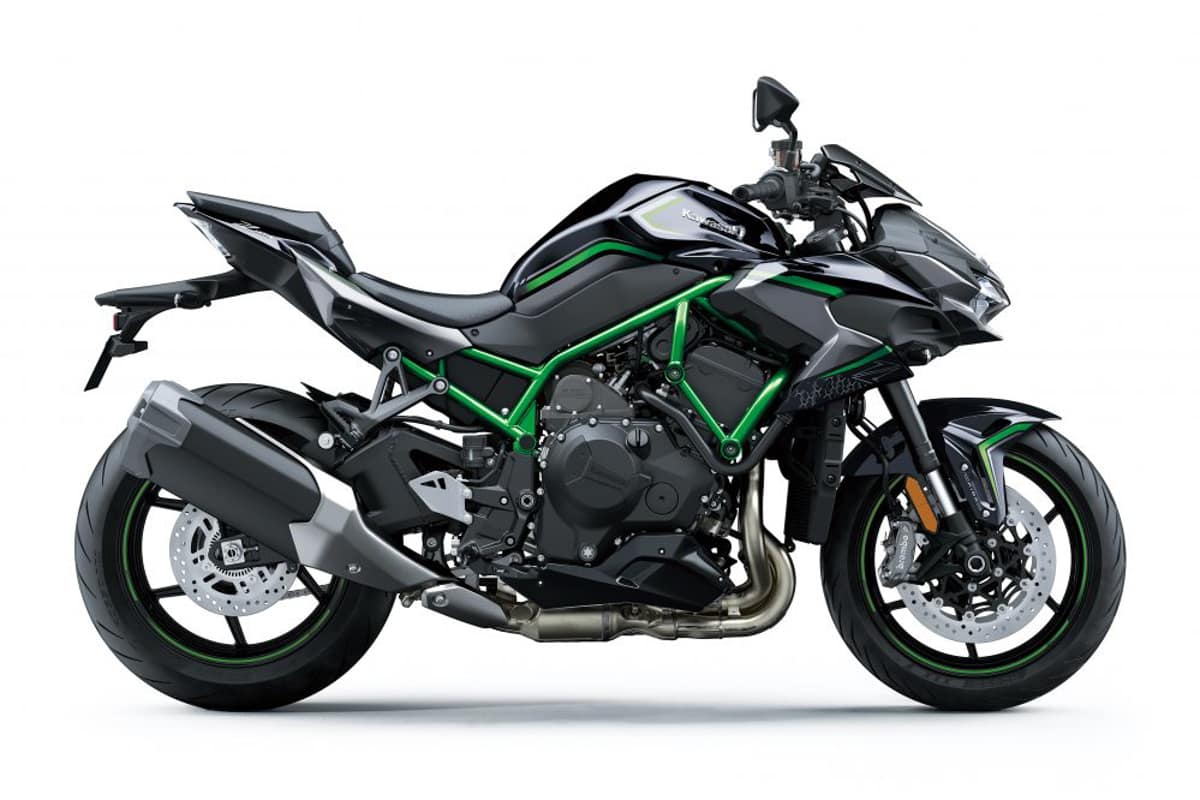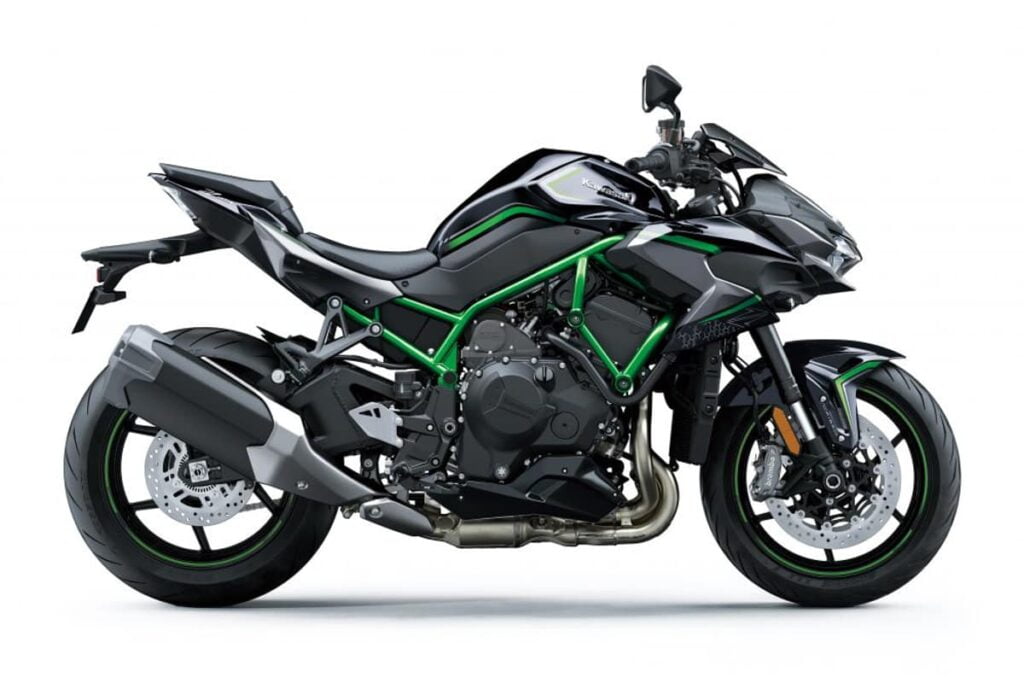 In 2020, Kawasaki released its Z H2 — their naked/streetfighter version of the supercharged H2.
The Z H2 is a Ninja H2 SX without a fairing and with handlebars, if you will.
At the heart of the Z H2 is the H2 SX's supercharged 998cc motor, although it's been re-tuned for the Z to give more mid-range thrust, making its whopping 101 ft-lb of torque at just 8500rpm (1000 fewer revs the H2 SX requires), with a slight drop in power.
The re-tuned engine from the Ninja H2 SX still produces similar peak power to the original 2015 Ninja H2, though, with 147 kW (197 hp) at the crank. It uses the 69 mm impeller "balanced" supercharger from the Ninja H2 SX's motor. All this means that the Z H2 makes more power than most of its contemporary rivals.
For example:
The BMW S 1000 R makes a claimed 121 kW (165 hp)
The Yamaha MT-10, with an in-line crossplane four, makes 118 kW (158 hp)
The Suzuki Katana makes 110 kW (140 hp)
The Aprilia Tuono V4 makes 130 kW (175 hp)
The Ducati Streetfighter V4 makes a claimed 153 kW (208 hp) — slightly more… get one of these!
There's a stack of IMU-controlled electronics to stop the engine tying everything in knots including three riding modes, lean-sensitive traction control via a six-axis IMU, ABS, and launch control.
The new Z also weighs a significant 17 kg less than its H2 SX brother (239 kg claimed kerb weight against 256kg for the SX) with much of that saving coming peeling off the bodywork.
Other major differences in the Kawasaki Z H2 (compared to the Ninja H2 SX) are:
A double-sided swingarm (every Ninja H2 has a single-sided swing-arm)
Brembo M 4.32 calipers (lower spec), vs Stylema in the latest Ninja H2 SX, with smaller front rotors
Suspension isn't electronically adjustable (although it is adjustable by hand)
No heated grips
It's cheaper! (US$17K MSRP)
The Z H2 still comes standard with touring things like a quick shifter and cruise control.
Z H2 Performance (a.k.a. Z H2 SE) — Better brakes & suspension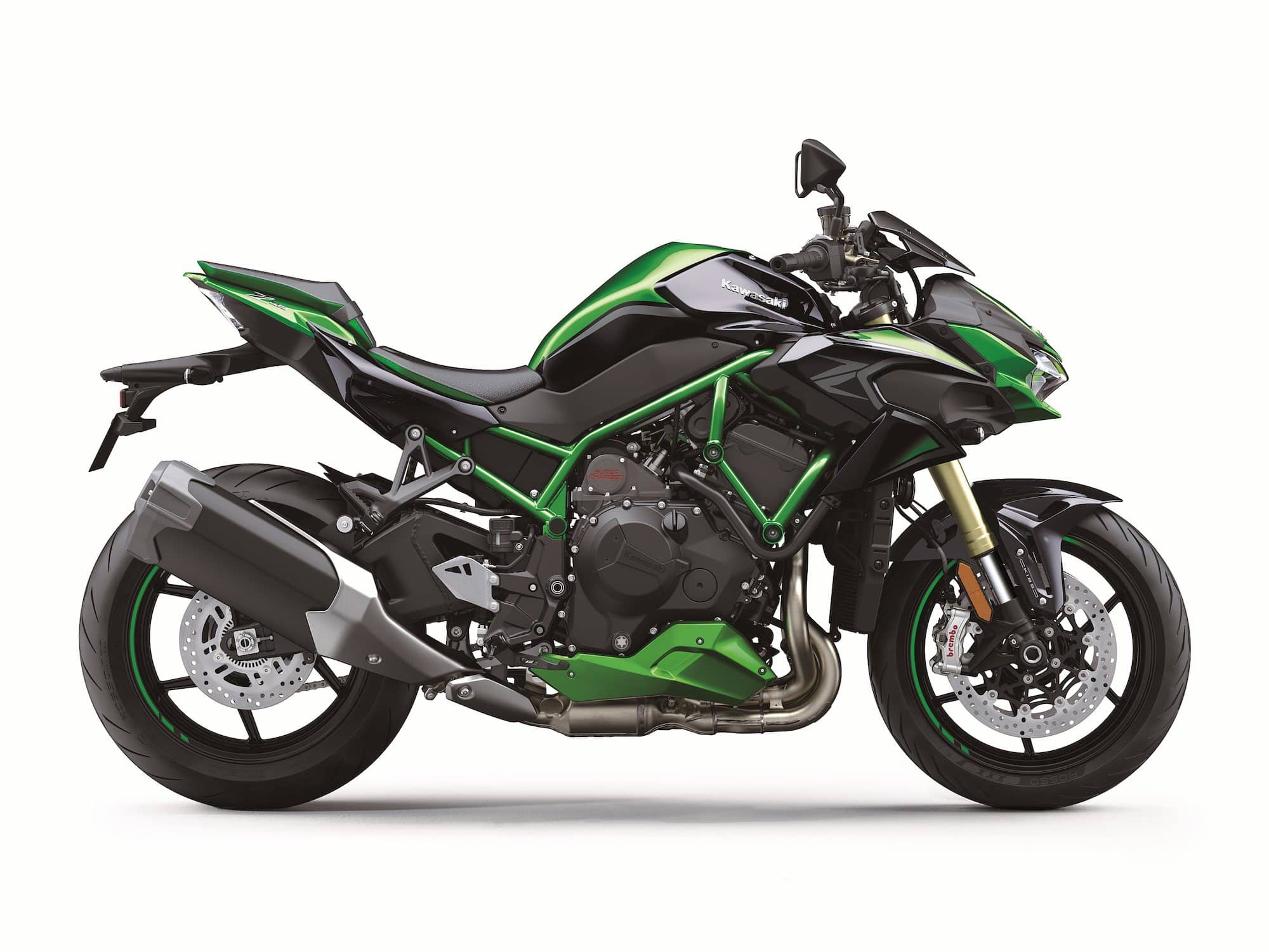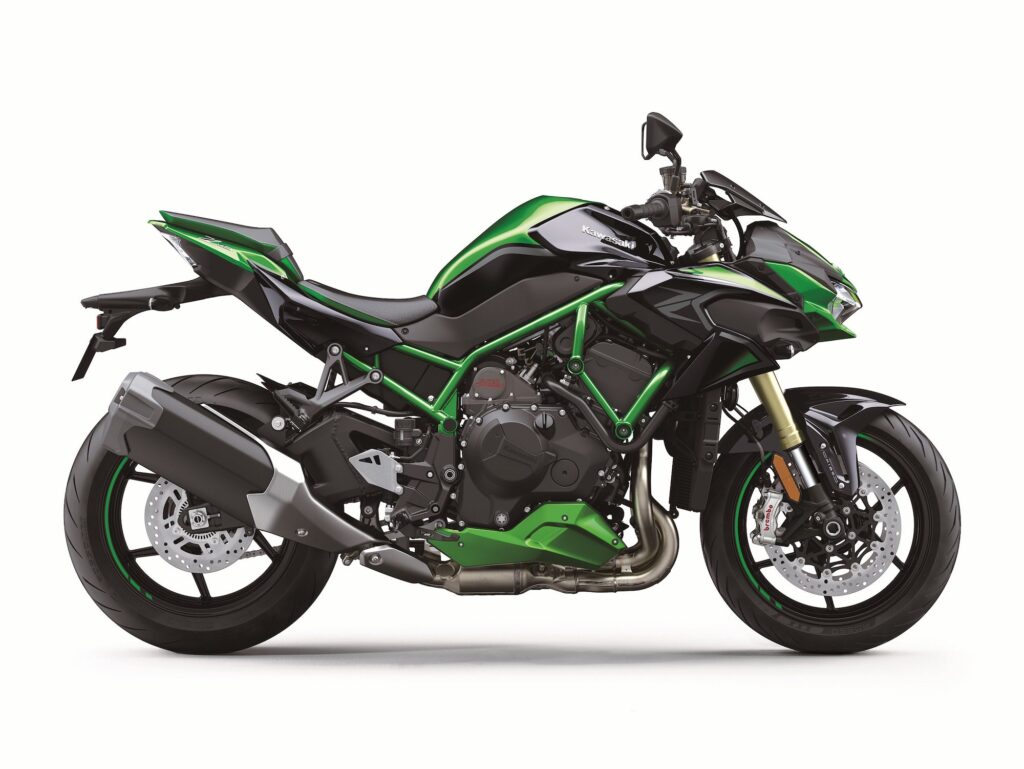 The Kawasaki Z H2 Performance (a.k.a. Z H2 SE in some markets) is identical to the Z H2 base model, except it gets the following improvements:
Braking: Brembo Stylema calipers (same as the H2 SX) on larger 320mm discs
Suspension: KECS, or Kawasaki Electronic Control Suspension — a Skyhook system, similar to the SX SE again.
Skyhook is worth a mention. It's a Showa suspension system that's making its way onto more motorcycles, like the 2021 Kawasaki Versys 1000.
Skyhook suspension's goal is to keep the motorcycle more level under hard conditions, tethering it virtually to the sky. It does this by measuring suspension stroke speed, acceleration, wheel speed, and braking pressure, and adjusting damping to compensate for the conditions.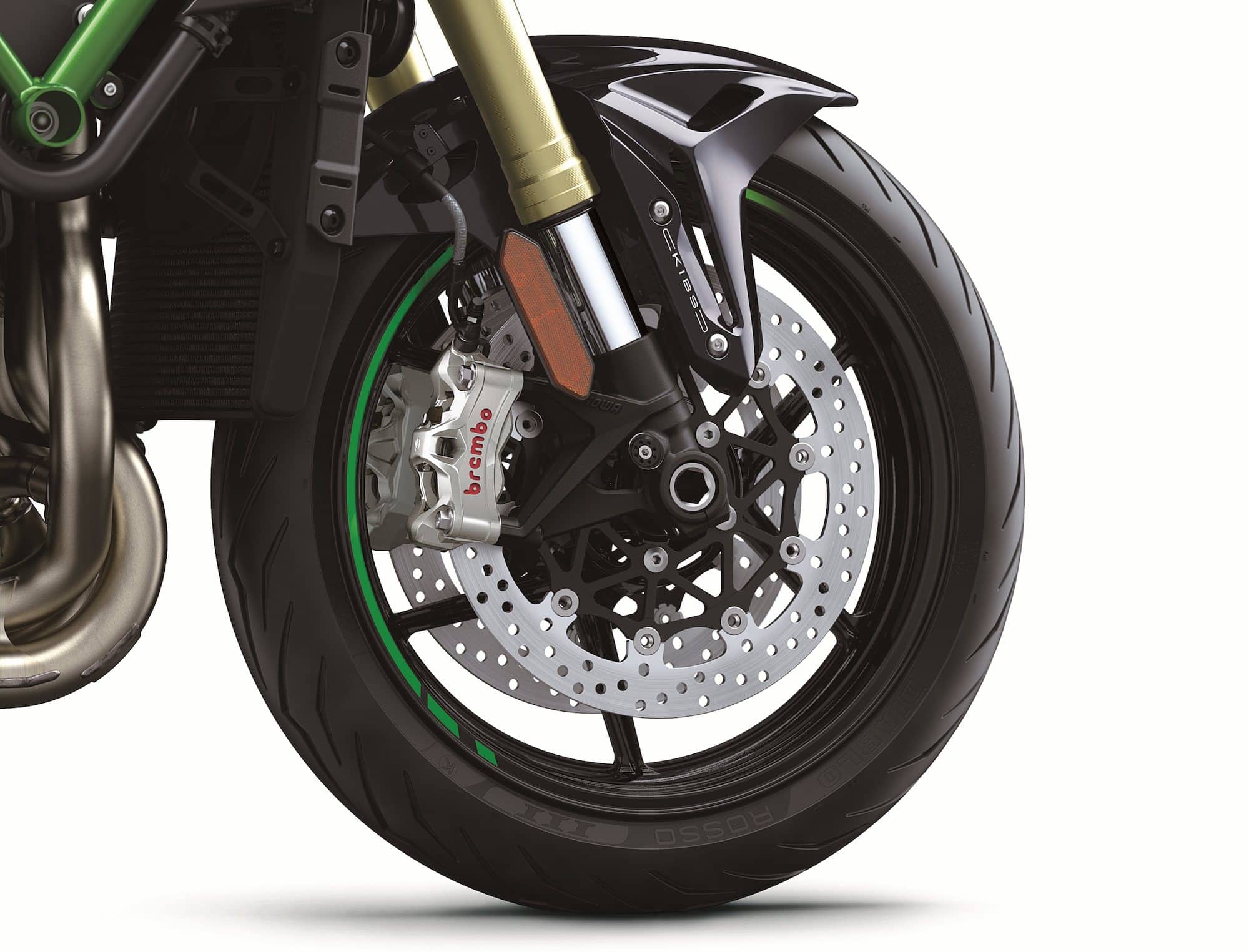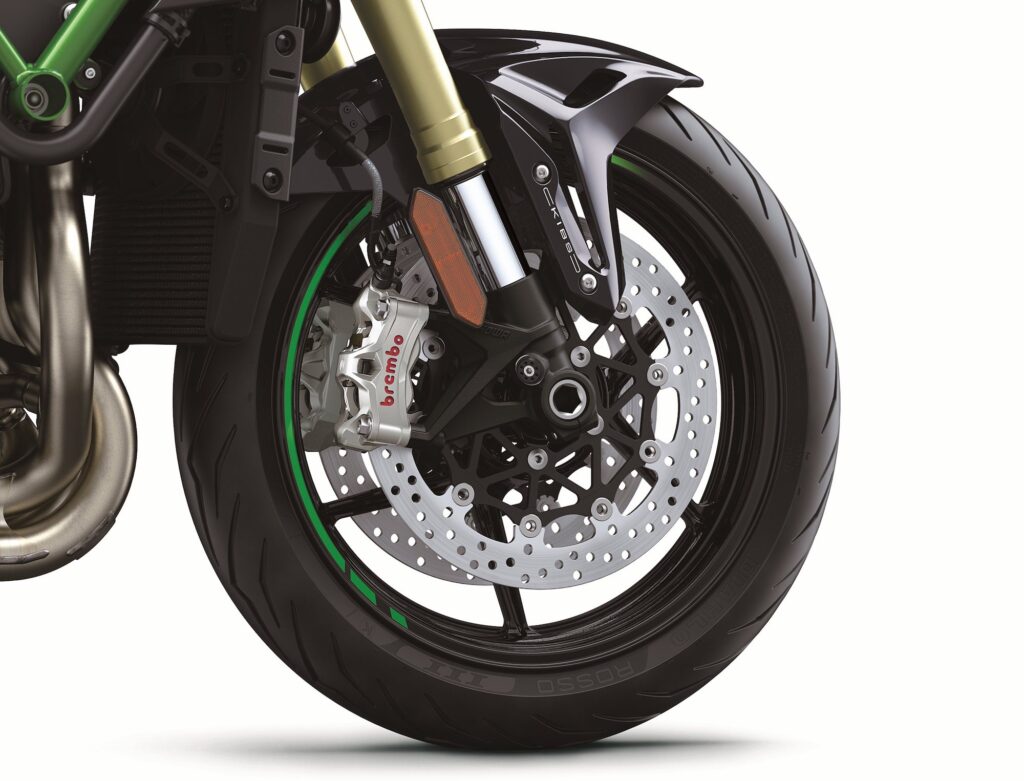 Kawasaki's Showa Skyhook tech can adjust damping via a solenoid valve that operates with as little lag as one millisecond.
You can adjust damping quality via the TFT dash, and also adjust preload in the rear electronically.
Aside from the upgraded suspension and brakes, the Z H2 SE is the same as the standard (ludicrous) Z H2.
Kawasaki "Highly Durable Paint" (self-healing paint) (2019+)
This is the name for Kawasaki's self-healing paint. This is just a quick word on a feature I JUST learned about, reading about the H2 range.
"Self-healing paint" sounds crazy, right? Well, it's not magic. But it's a step towards it.
Kawasaki's "Highly Durable Paint" (their name for it) has a special top coat that allows certain types of light scratches that occur through normal wear-and-tear to repair themselves. This means the finish is always very high. (It won't take care of big scratches, like those caused by getting keyed.)
According to Kawasaki, the paint-self heals with "microscopic soft and hard segments within the top coat working like a chemical spring, creating a trampoline effect that absorbs many impacts". Not sure what this means, but it sounds to me like it's a resilient plastic.
Kawasaki Highly Durable Paint is being applied to more of the Kawasaki range, including the latest Ninja 1000 SX, Versys 1000, and more high-end motorcycles.