This is a guide to the history of the classic Honda FireBlade from the first CBR900RR FireBlade through to the current CBR1000RR Fireblade.
The Honda FireBlade / Fireblade (it underwent a subtle name change) has been an iconic sport bike since its inception. When it was launched, it helped introduce the concept of the "liter" class bike — a powerful, lightweight, and manageable sport motorcycle that could be used on the street and track.
Today, the latest CBR1000RR models (with more letters after them) are much more track focused, but still are class-leading in many ways.
"The concept of the first FireBlade is what still survives today: fun to ride, easy to control, and this is what I am most proud of. We had a sticker on the original bike — Total Control — and that was always the idea." – Tadao Baba, 2008
This is a guide that was hard to write because it's about so much more than me and how much I like the FireBlade, a machine I've had a crush on since I first heard its name, in the late nineties (I was late to the party).
But if you're interested in any 'blade of any years, you're probably wondering the same things I have, which have been
What's so special about the Honda FireBlade / Fireblade?
How has it changed over time?
How does it stack up to competitors?
Let's dive in deeper.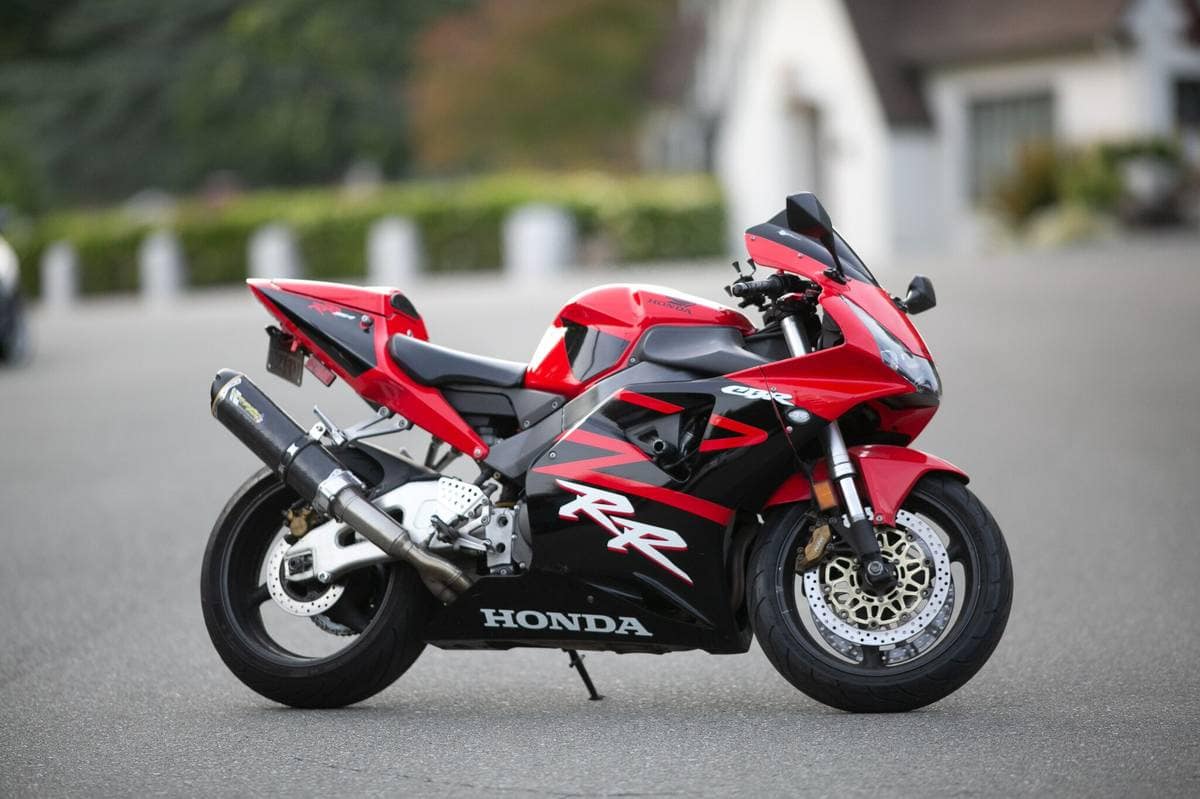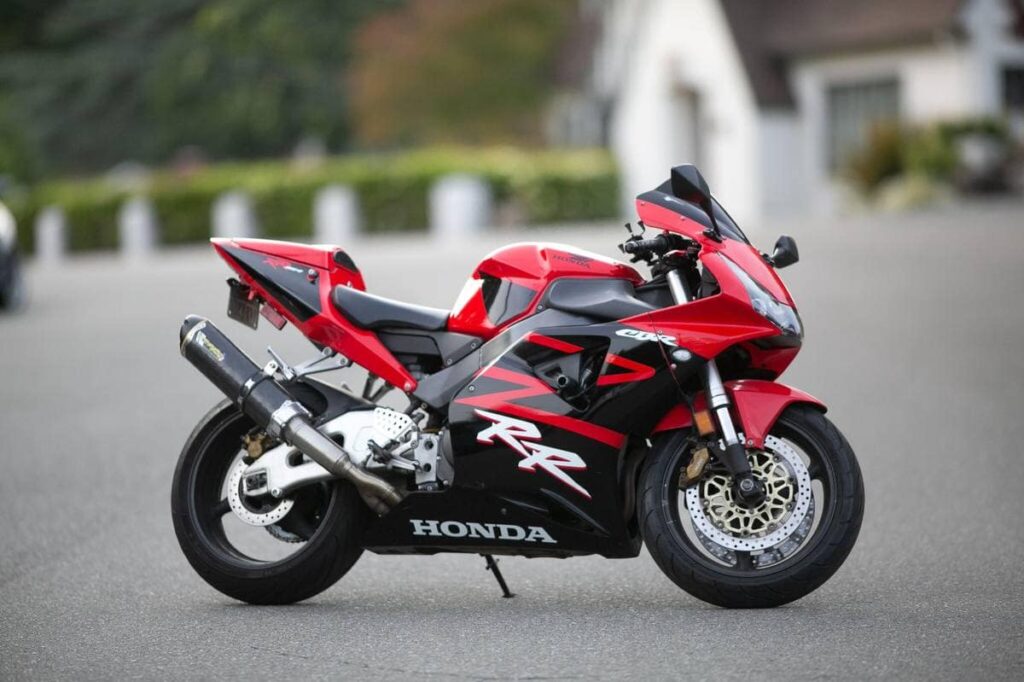 Are you obsessed with motorcycles?
Well, I am. That's why I created this site — as an outlet. I love learning and sharing what others might find useful. If you like what you read here, and you're a fraction as obsessed as I am, you might like to know when I've published more. (Check the latest for an idea of what you'll see.)
Brief Introduction to the Honda FireBlade / Fireblade
For most of the 1990s, the Honda CBR900RR FireBlade was the Japanese sports motorcycle to beat. The Ducati 916 was winning World SBK, of course.
Even today, riding an old 'Blade is an invigorating, raw experience. They have ample power, precise handling, and are more comfortable than most modern race-replica motorcycles, including the modern CBR1000RR.
If you get the chance to ride a 90's FireBlade, apart from riding a piece of history, you'll see that old motorcycles have stood the test of time — provided you're riding one that's well maintained.
The same spirit is carried to the modern Fireblade (note the change of capitalisation of 'b' — more on this below!). They're powerful, yet accessible, embodying the spirit of "Total Control". The ergonomics are sporty, but not as extreme as some competitors like the Yamaha R1. Unlike a 600cc sportbike, they don't need to be pushed into the high end of the RPM range to feel the power… but if you do, you'll be rewarded with more.
I've written a few motorcycle guides based on motorcycles I've owned and loved. If you like the FireBlade, you might also want to read my guide on the Yamaha R1.
How did the Honda FireBlade get its name?
I've read many accounts of how "FireBlade" is a poor translation of the Japanese word for "lightning". Some variants of the story say it was a mis-translation via French.
However, I can't find any evidence for this. I don't know much Japanese, but I do know kanji (as I know Chinese) and French, and I can definitely tell you: no variant of the characters for "fire" and "blade" become "lightning", or vice versa. If I'm wrong on this I'd love to know.
Considering Honda's other names — Firestorm, SuperHawk, Gold Wing, Transalp (those are the official ways they're written) — I think it's safe to say that Honda seems to likes names that are two words glued together and probably just decided to name it FireBlade.
The last motorcycle to be named a FireBlade with a capital "B" was in 2002, the CBR954RR. After Tadao Baba left Honda, every subsequent model was a CBR1000RR Fireblade.
The change in capitalisation was (allegedly) a small token of appreciation for an influential designer who continues to fight today. He still thinks the most "fun" FireBlade of all time was the last one he made.
Brief History of Tadao Baba and the Original FireBlade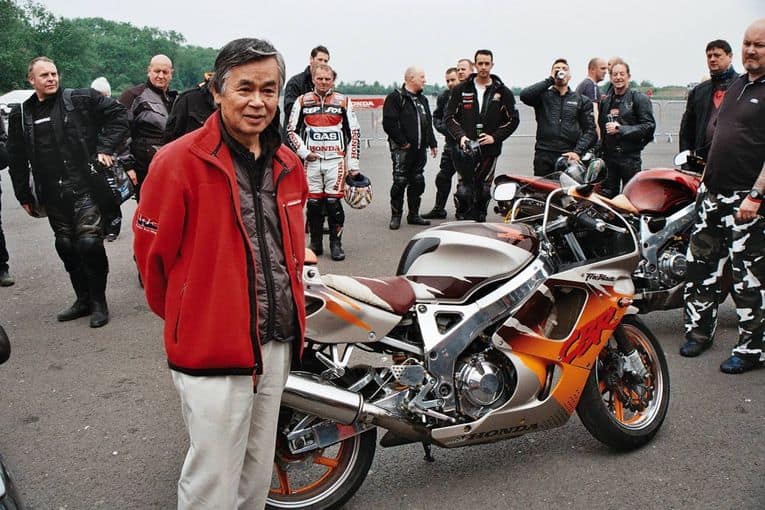 The original Honda CBR900RR FireBlade was designed by Tadao Baba (affectionately known as Baba-san) who wanted to create "a fun to ride, easy to control machine."
"We had a sticker on the original bike—Total Control—and that was always the idea. That character, which still lives on today, makes me very happy. The key to a good bike is that it must be fun to ride, that's why the Blade is successful." – 2009 interview with Tadao Baba
A "fun to ride, easy to control" machine is still the concept behind the current Fireblade.
Baba-san's mission was to build a motorcycle that was not just fast, but also comfortable. In fact, there was one specific comfort goal: it had to be able to beat the RVF750 in the Suzuka 8 hours Endurance Road Race.
Baba-san's story is interesting and deserves a mention.
Tadao Baba originally joined Honda in 1962 at the age of 18, right out of high school, with no technical qualifications. He started on the factory floor, making crankcases and cylinder heads for the CB72 and CB77. Three years later, he moved to the R&D section to become a test rider. In 1970, he won the Japanese 125 championship, and Honda's founder and owner Soichiro Honda noticed him.
Baba-san picked up engineering skills without ever getting a degree. In 1972, he was promoted to Vice Project Leader and moved to manufacturing. His role was to improve the handling, stability and carburettor settings on development models.
In 1987, when Yoichi Oguma took over Honda Racing Corporation, Baba-san was asked to return to the R&D department to lead Honda's new sport motorcycle project.
"Gentlemen, today you are going to ride a bike that will change the face of supersports." — Baba-san at the CBR900RR's launch
This was Baba-san's first solo project. "Of course I was nervous," he said. "It was my first project, but I was also confident too. I told people at the time this new bike would change the thinking for sportbike design, that it would be fun both in corners and a straight line." Big words! I suppose he can say this now though, with history vindicating him.
At the time he started the project in the late 80s, Honda's range was already kind of full. There was the 600 sportbike range, there was a VFR with a 750cc engine, and a CBR1000F with 1000cc capacity. So to try something different, Baba proposed to take a motorcycle with the dimensions of a 750, and increase bore and stroke to near 900cc.
To make things harder, Baba set a goal to get the weight under the 600cc motorcycles of the time! This definitely kept the engineers on their toes, as they were constantly under pressure to shave weight off the CBR, targeting 190kg (419lbs) without fluids.
"I think it is fair to say I was very stubborn when it came to the FireBlade's weight. Sometimes you have to show someone your leadership through being calm, but I did also get angry…" – Tadao Baba
There was good reason for targeting the low weight — it wasn't totally arbitrary. At the time, in the late 80s, there were several 1000cc-class motorcycles, including the Yamaha FZR1000, the Suzuki GSX-R1100 and Honda's own CBR1000F. These motorcycles made over 90kW of power, but also weighed north of 220kg — dry (without oil, petrol and other fluids).
The commonly accepted knowledge was that litre-class bikes were fast but not as nimble; 600cc motorcycles were nimble but not as fast. Baba-san didn't think this should be the case.
"'How can these be called sports bikes when they are so very big and heavy?' They didn't deserve the name." – Tadao Baba
Baba-san's engineering team got to their target weight (beating it by 5kg for a final dry weight of 185kg) by using computer-aided-design (CAD) and mass-centralisation techniques for the first time in a road motorcycle. This how everyone designs motorcycles now (omg, computers??), but the FireBlade was the first to be designed this way.
Baba-san and his team finished the prototype in 1989, two years after launching the project. Baba-san was so confident that the test riders would love the motorcycle that he announced it by saying: "Gentlemen, today you are going to ride a bike that will change the face of supersports."
The first FireBlade launched in 1992 and was a stunning 41kg (90 lbs) lighter than the nearest competitor. It wasn't until 1998 that the competition caught up with the Yamaha R1.
The next two iterations of the FireBlade were attempts at catching up with the competition. First came the 929 cc 'Blade, a direct response to the Yamaha R1. Honda didn't rise to meet the R1's displacement immediately, hoping to press on with their message of balanced reliability.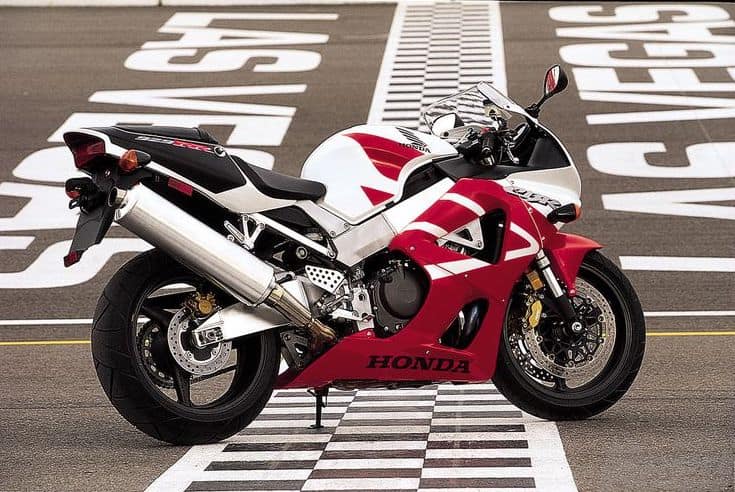 Then there was the 954cc FireBlade, which was Baba's finest work, and what he retired on.
In 2004 Tadao Baba retired, handing the reigns of the FireBlade project to Kyoichi Yoshi, who brought us the first CBR1000RR Fireblade, with a lowercase "b".
There's a lot I want to take away from Tadao Baba's career, as notes for my own (and for others).
There's value in starting in an industry you love at the ground level. Even if you have no experience. Passion and hard work take you a long way, as long as you're bright.
Take a strong position. Tadao Baba didn't come up with something revolutionary. He just said "it should be lighter!" And like many visionary leaders, he pushed people until they delivered it. It sounds like he was a cantankerous type to work for, but it made for leadership that changed the face of the industry.
I think that's enough. I'd love to impact an industry the way he did.
Generation 1 CBR900RR-N/P FireBlade "Round Eye" (1992-1993)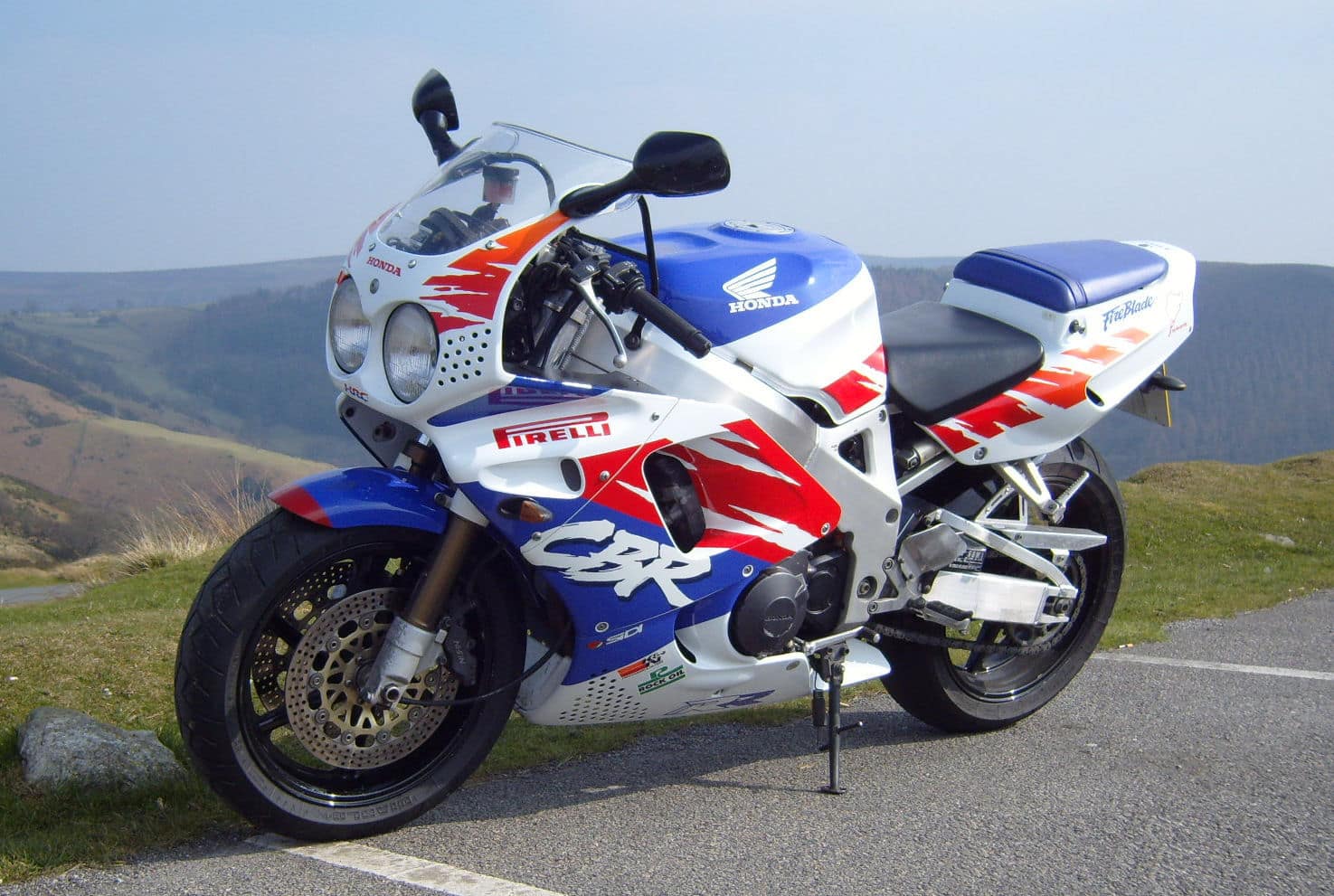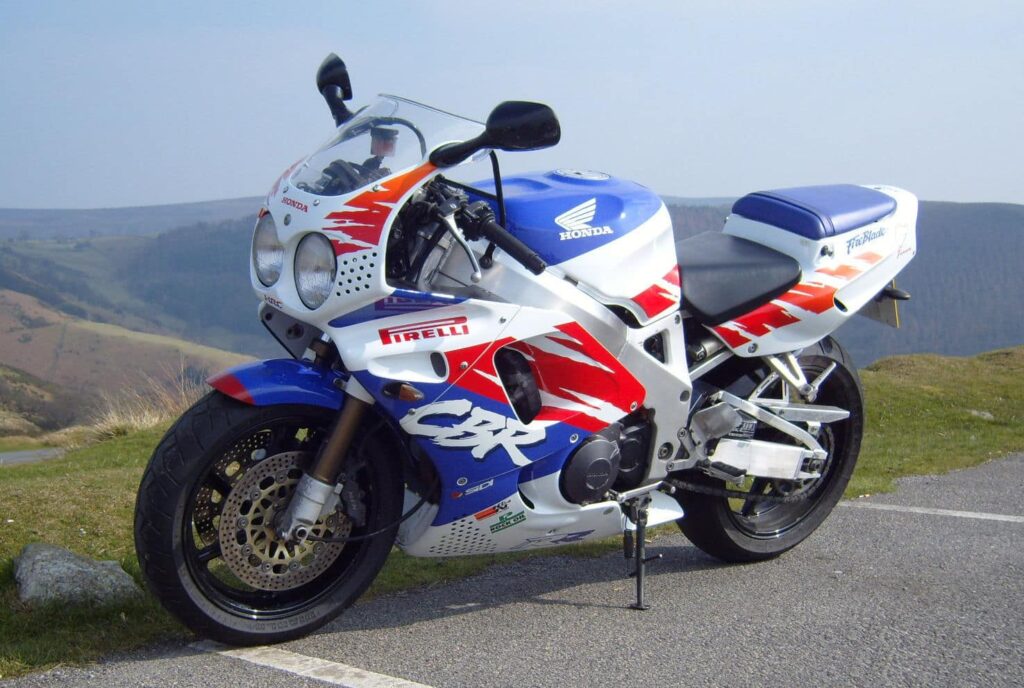 "For the image, the first Blade is the best one. It has the best memories for me." — Tadao Baba, designer of the original Honda FireBlade
This is the original CBR900RR that started it all. Here are the most important specs:
Super light 185 kg / 408 lb dry weight (205 kg / 453 lb fully fuelled). Featherweight for the time and actually quite light by modern standards (things like ABS and emissions-conforming exhausts are heavy). For example, a 2019 BMW S1000RR weighs a similar 183kg (although it would stomp all over the old 'Blade in absolutely every other dimension).
Power: Claimed 91kW (122bhp) @ 10,500rpm. Dynos by Cycle World showed between 84 kW (114 hp) and 87 kW (118 hp) peak power at the rear wheel.
Torque: Claimed 88 Nm (65 lb-ft) @ 8,500rpm. Dynos showed a similar result of around 64 lb-ft at the rear wheel.
16 inch front wheel: A change from most sports motorcycles, and a choice to save weight. Gave it twitchy steering, and was upgraded to a 17 inch on later bikes.
Speed holes in the upper and lower fairing.
The lightness of the original FireBlade was its headline feature. This was at the time of the air/oil-cooled Suzuki GSX-R1100 and the Yamaha FZR1000. The first-gen Honda CBR900RR weighed 35 kg / 76 lb less than the FZR and 43 kg / 94 lb less than the GSX-R.
The effect of this lighter weight meant that in track testing, riders were easily able to beat the more powerful but heavier bikes. See this excerpt from the 1992 Cycle World Superbike Shootout for example.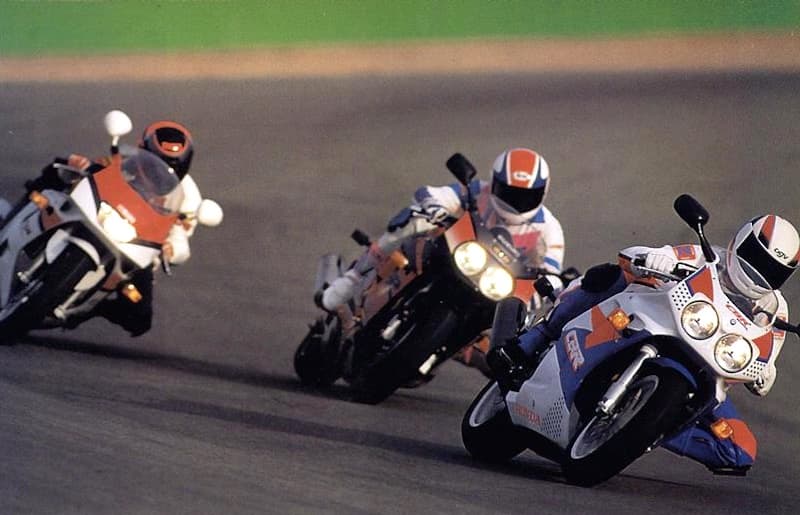 "Right out of the box, the CBR began to assert itself… we put [Associate Editor] Canet on each of the bikes to see how quickly he could lap the 2.5-mile, nine-turn racetrack (Willow Springs International Raceway). The results were impressive: On the CBR, he turned a best lap of 1 minute, 31.9 seconds, more than a second quicker than he could manage on either of the other two bikes… How could the Honda be that much quicker? Easy: It's small and it's light."

(Cycle World Archive, subscription required)
They and others had similar conclusions about the CBR on the street. It's light, thus easy to ride.
Baba-san had some pretty unusual ideas to promote his vision of light weight and easy turning.
The first crazy idea Baba-san had was a 16-inch front wheel. In his words:
"The CBR750RR had 17-inch front wheel, but with the 900 we saw we could have the same height with 16-inch wheel and tyre and have better handling, quick turning but lighter weight. Always we want lighter weight!" – Tadao Baba
This was interesting, but it didn't last, by the way, even during Baba-san's time.
The second unusual idea Baba-san had was the holes in the fairings. These also disappeared by 1996. They were apparently to allow air to pass through to allow the motorcycle to turn more easily. A dubious claim, but whatever.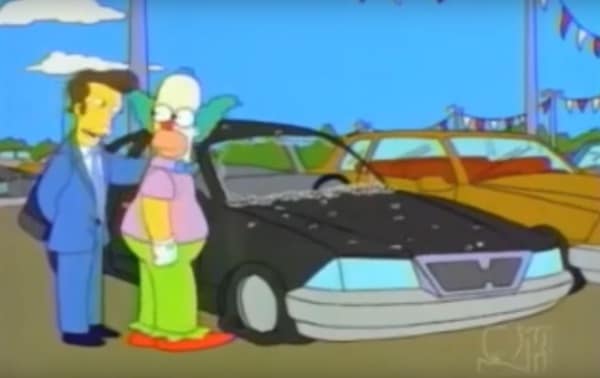 The original CBR900RR is a raw, visceral experience compared to modern sport motorcycles.
It offers a fully analogue experience that most modern motorcycles won't give you. Probably except for the few still being built without any electronics.
Riding an original CBR900RR (if you should be so lucky) is still a lot of fun. It doesn't have the meaty mid-range of a modern 1000cc, or the rush of top end power (it won't rev anywhere near as high, redlining at a gentle 11,000 rpm… lower than where many sport standards bike finish up), but there's still good, strong torque everywhere, steadily increasing past 8 and 9,000 rpm. The throttle isn't as smooth as on a new motorcycle, but if well lubricated, the cable works fine.
It has a large fuel tank that is easy to grip on, but makes it feel meaty compared to modern super sport bikes. Nonetheless, it's the kind of size that disappears quickly as you pick up speed, and it's still very easy to tip into corners. Later incarnations reduced the tank size.
Finally, that analogue riding experience — something hard to find these days. One look at the cockpit is enough to tell you that this is like riding an ancient fighter plane. Nothing between you and the road but a bunch of cables and pistons.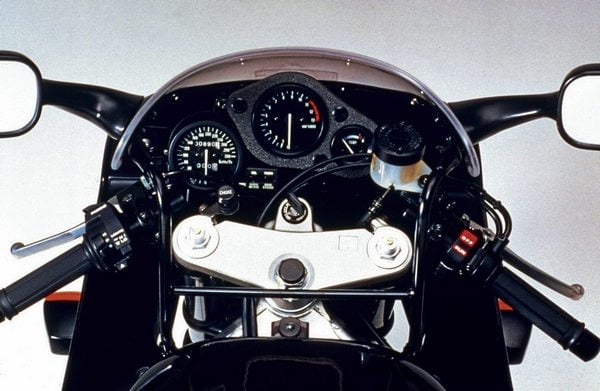 Probably the most striking thing about the old FireBlade is how quickly the party is over. By 11000 RPM, you've hit the redline. Torque has already started dipping by then anyway, and you'll want to shift by 10K. This means that the power delivery is somewhat like a modern "middleweight" sport bike like a Yamaha MT-09 (which has a near identical-sized engine, incidentally).
There were a couple of upgrades to the CBR900RR during its tenure before it became a totally revised motorcycle, the CBR929RR.
It's very hard to find an original CBR900RR. They're definitely "collectors", the kind that people take to shows and won't ride much for fun. You would have to expect to fly across the country to get one, whatever country you're in, and pay a premium price for one that has been well maintained or perfectly restored.
The next iteration, the "Tiger Eyes", is more easily found.
Generation 1.2: CBR900RR-R/S (1994-1995) "Tiger Eyes": Lighter, no more round eyes, better suspension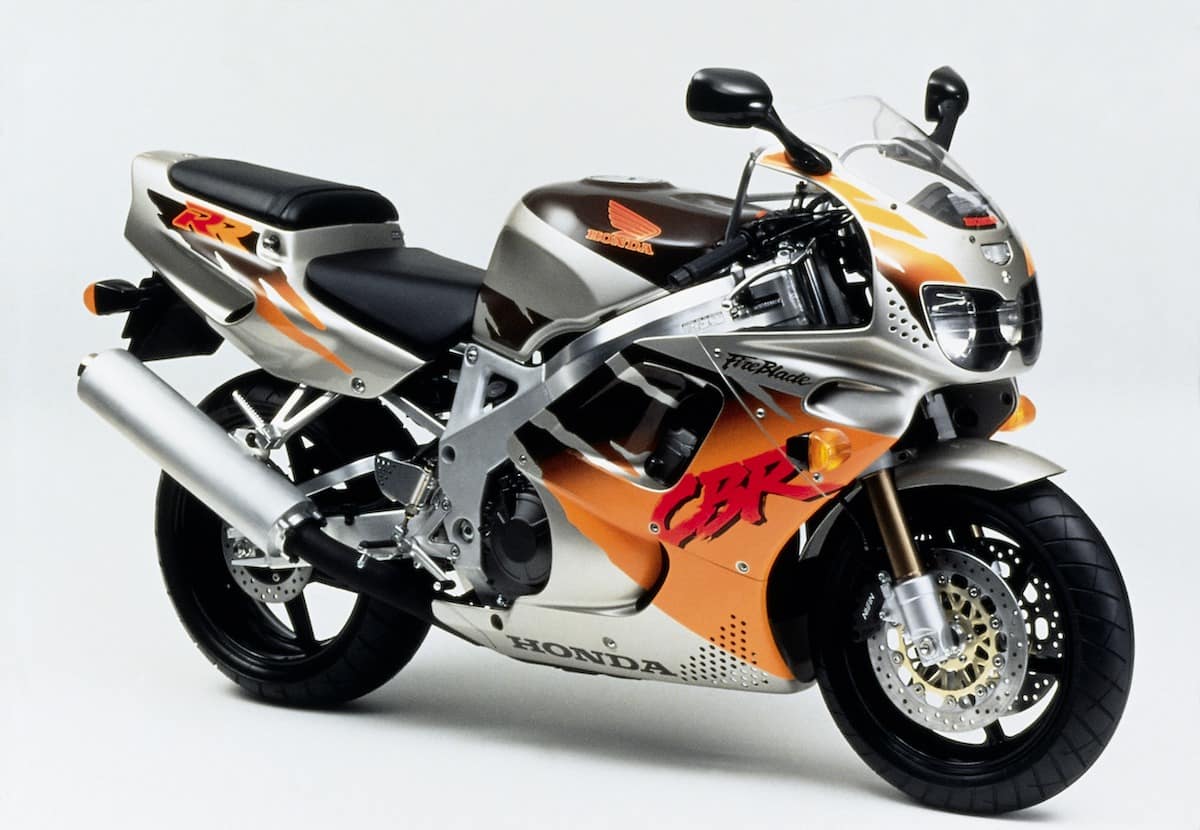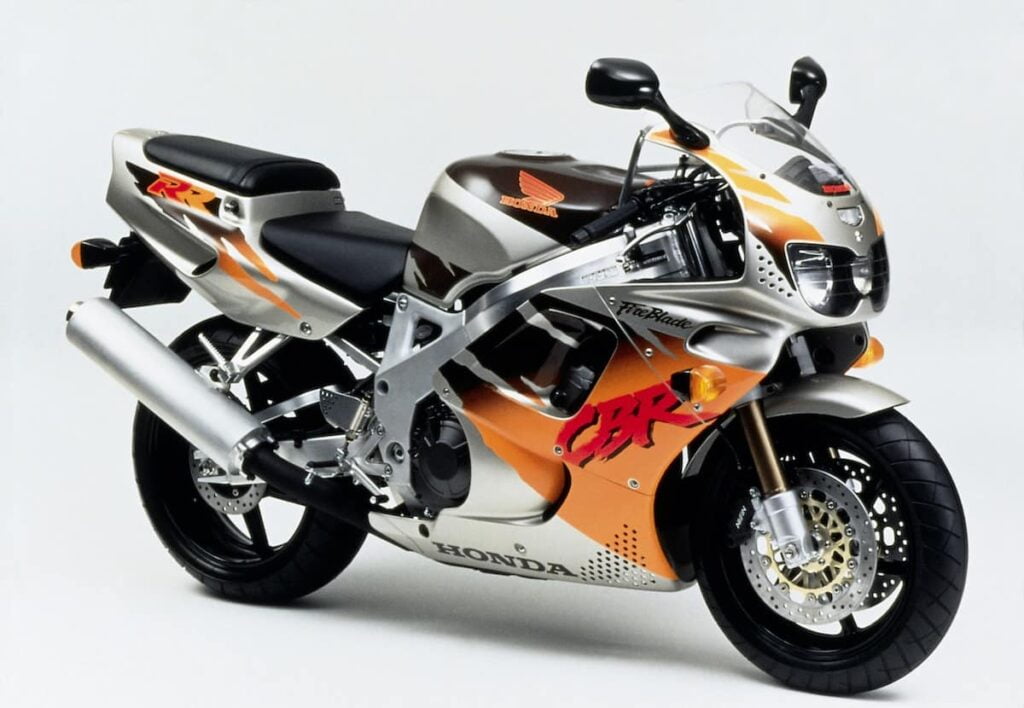 Major changes in the R/S "Tiger Eyes" model over the original:
Same overall weight at 185 / 408 lb kgs, but with weight further down. Honda changed the upper cowl stay from steel to aluminium, and the cylinder head cover from aluminium to magnesium.
Front fork is now adjustable for compression damping
Revised look — "tiger eyes", with improved lighting.
The Tiger Eyes model has the same basic engine, though Honda did revise the shifting mechanism.
Honda also modified the fuelling to increase efficiency, lighten the motorcycle. Honda also improved the lighting.
If you're thinking of buying a 1994 or 1995 Honda FireBlade, just know that there were these slight improvements, but nothing significant enough to make it specifically desirable. On the other hand, it's less "original" than the classic launch model, so as a collector it will eventually have less value.
My personal recommendation would be that if you want a 90s model, get the 1996 one — coming up next!
Generation 1.3 CBR900RR T/V: The 918cc Engine (1996-1997)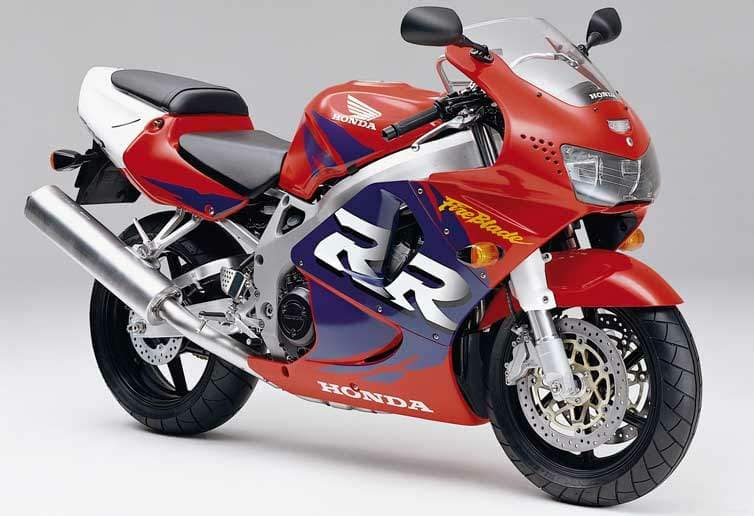 Even though this model got more engine capacity, it was considered part of the same generation of CBR900RR FireBlade. It didn't get a different name like CBR919RR for example. By the way, this same engine block was later used in the Honda 919 / CB900F Hornet, though that motorcycle has fuel injection and was tuned more for mid-range torque.
In 1996, Honda lightened the frame even further, while making it more rigid. They also changed the fuel tank shape and thus the riding position.
Major spec changes:
918 cc (sometimes cited as 919 cc) motor displacement, up from 893cc, from boring out the existing motor by 1mm
Increased power by 5kW (8 hp) at the crank to 97kw (130hp), at 10,500 rpm
Increased torque of 5Nm (3 ft-lbs) to 92Nm (68 ft-lbs) @ 10,000 rpm
Lower weight: 182 kg / 401 lb (3 kg / 7 lb less) dry
No more "speed holes" in the lower fairing
The 918 cc motor makes this generation of CBR900RR the first one that feels… fast. I mean, they're all fast. And they got a LOT faster in later years. But before the 918, the CBR900RR felt more "balanced", like the power delivery was intentionally muted. Maybe I've gotten used to 120hp+ motorcycles (where 100hp feels like the appropriate amount in everyday life… how lucky we are!)
This is now a motorcycle you really enjoy taking to its redline and shifting then. Just be warned… 97 kW / 130 hp (at the crank) is a LOT of power, and there aren't many roads where you can even take it to the redline in first gear. Let alone second or third! It's something I saved for very, very quiet roads… and admittedly not very curvy ones because I wouldn't want to ding up a classic motorcycle for which it's getting hard to get fairings.
Even though it got a little lighter, this edition of the CBR900RR felt big and comfortable. Positively roomy next to the Yamaha YZF-R1 that came out in 1998.
Generation 1.4 CBR900RR (1998-1999)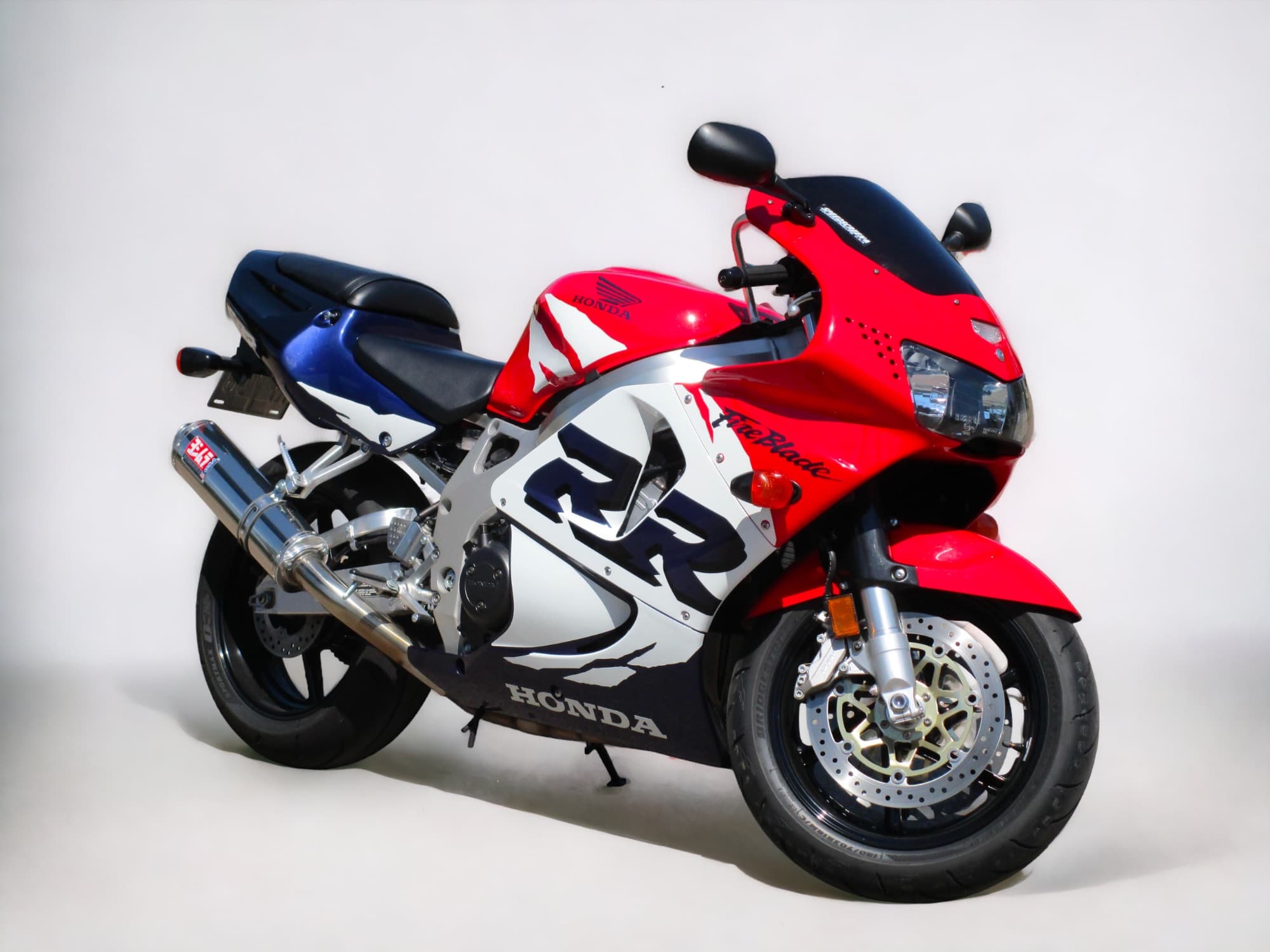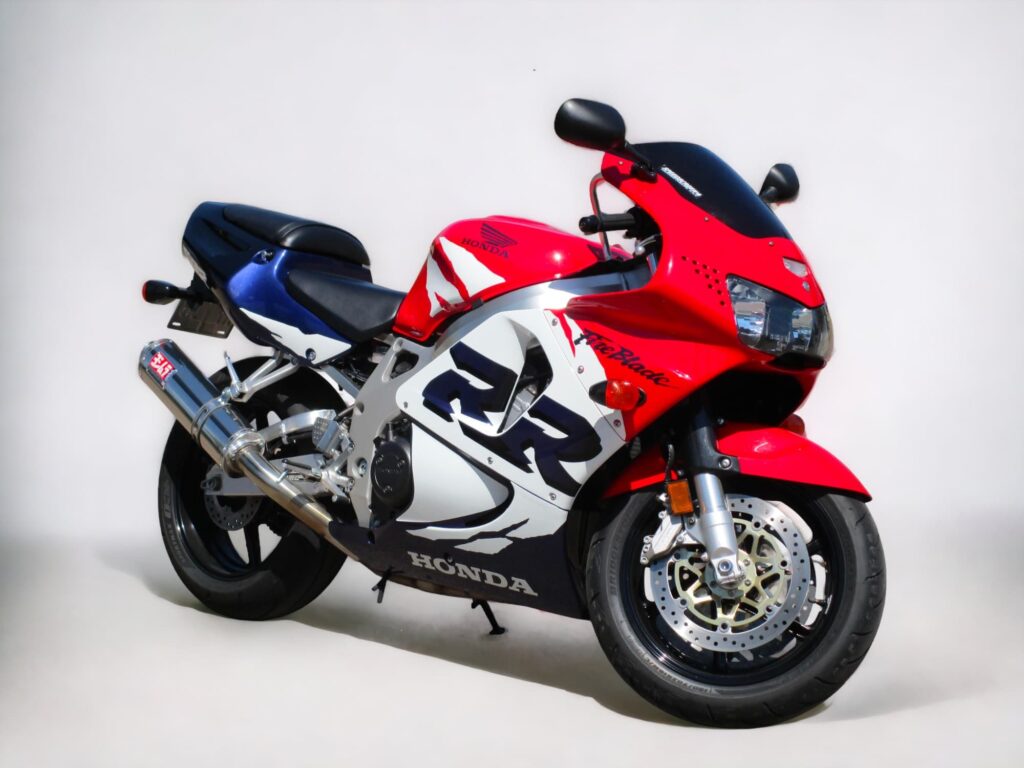 The last generation (1998-1999) CBR900RR was released at the same time as the Yamaha YZR-R1, and so it was relatively ignored by the media. 900ccs was old news!
But Honda made a lot of revisions to the 1998 CBR900RR. In fact, 80% of the engine internals were new, in an effort to minimise weight and reduce friction. Power and torque were about the same (some sources place it at 1 or two units more, but it's nothing noticeable).
This was also the last Honda FireBlade to be carburettor-fed.
However, the Yamaha YZF-R1 had created a new standard of litre-class motorcycles which even today, in 2019, is still the standard for fast sports motorcycles.
The really big change came in 2000, with the CBR929RR.
The second generation CBR929RR (2000-2001)
Honda and Tadao Baba released the CBR929RR as a direct response to the Yamaha YZF-R1. It wasn't enough to close the gap, though.
There were lots of improvements over the outgoing Honda CBR900RR with the 918 cc motor:
Fuel Injection: Honda calls this PGM-FI. No more choke for cold startups; just hit the start button. You can ride these off immediately without worrying about whether the choke is out or in.
Slightly more aggressive riding position: Slightly more aggressive than the older CBR. Bars are narrower and lower, and the pegs are just a bit further back. The tank is much narrower and easier to grip on, and thus the shape of the motorcycle is less bulbous.
Lower weight: 434 pounds (196kg) fully fuelled; 14 pounds lighter than the R1. This is a light motorcycle; much lighter than modern ones which are weighed down by having to meet emissions standards.
A 17-inch front wheel: Finally! Better handling.
Inverted forks: Originally discounted by Baba-san for being too heavy
The CBR929RR is of an early generation of fuel-injected bikes that was still very easy to ride in a variety of situations. It has a lot more low-end torque than a more modern CBR600RR, depending on the speeds you can actually pootle about in 2nd or 3rd gear.
The CBR929RR's clip-ons are low, but not too low, and the feet are not too high up. Because brakes are feather-light and the clutch is light enough too (just not light by modern standards), it's not exhausting to ride. The trick is to keep your shoulders retracted and your back straight, and it's comfortable enough.
On highways / freeways, even though the position of the CBR929RR is more aggressive, it has enough legroom to be comfortable, and short enough reach to the bars. Wind protection is the same as the earlier model, even though the fairing is more slanted — and many have been fitted with bigger screens by now.
There's mild vibration at faster (75 mph / 120 km/h) highway speeds which will blur the mirrors, but you can counter this by speeding up more and thus not assuming nobody is catching up (don't do this). Riding the CBR is tiring after a couple of hours, but not agonizing.
On windier roads, the CBR929RR comes alive. It's light — lighter than most modern superbikes, and even lighter than most 600 cc motorcycles. But it has such a meaty midrange that it's like flicking a total beast through every corner. You feel you can do no wrong. Every turn is easy to execute, it's one of those machines that just goes where you want it.
The power band of the Honda CBR929RR is totally flat — Honda nailed fuel injection on the first try. It doesn't pack the massive mid-range of the R1, but it's got plenty of power.
If you keep your commute under an hour, and have at least half of it back roads, the CBR929RR is perfect for you. Any more freeway time and I'd consider a VFR; any more traffic time and I'd rather be on my CBR600F4i, or even a new CBR650R.
The third generation FireBlade: The 2002-2003 Honda CBR954RR: "The Wheelie Machine"
Firstly, dang! Look at that thing! This FireBlade is a thing of beauty.
"It was the last CBR I designed, and as a total package this was the best Blade I ever made. Lovely handling, engine and power delivery, it's my favourite bike to ride."
The CBR954RR, or the CBR900RR as it was known in some markets (but otherwise the same), was a huge step forward for the CBR range.
Here's what changed vs the Honda CBR929RR:
More peak power: 113kW / 154hp @ 11,250rpm (rev limiter at 12150)
More peak torque: 101Nm / 75ft-lbs @ 9,000 RPM. (It has a fairly flat torque curve all the way from 3,000 rpm)
Lighter: 192kg (424 lbs) fully fuelled, though some scales show readings with a few kg of difference. For comparison, the dry weight was 168kg (370lbs); lighter than Honda's own CBR600F4i of the time.
And a special note… this FireBlade would be the lightest one that Honda would ever make. Others got more powerful, but this was the lightest. If lightness is what you crave, then the CBR954RR is for you.
The new CBR was an improvement on all fronts.
It still wasn't as powerful as the R1 or the GSX-R1000. Baba-san insisted that displacement wasn't everything, and wanted a bike that was light more than anything else.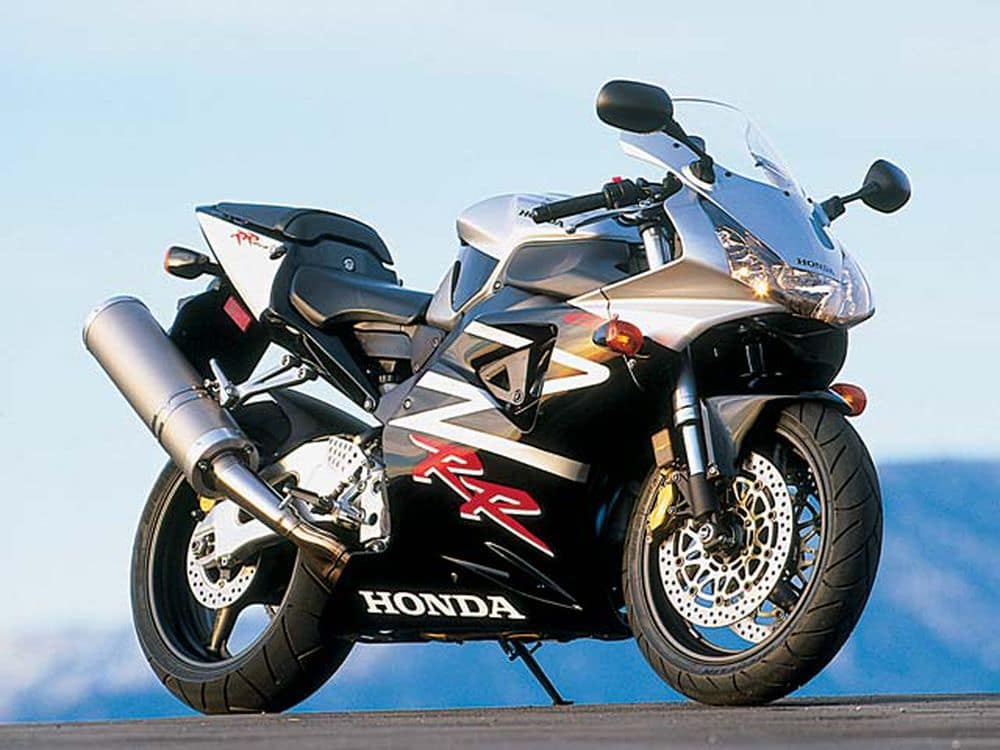 Still, the CBR got a displacement bump through, again, a re-bore of the cylinders. The head is now getting a bit thin… with only 1.5 mm of metal between each cylinder!
But aside from that, Baba-san's engineering team re-worked the chassis, the engine block, the swing-arm's design, brakes… everything. Everything to make the FireBlade even more of what it already was: light, precise, and powerful enough. (As if 154hp was just "enough"…)
The CBR954RR is also comfortable. At the time, the GSX-R1000 was known as being the "comfortable" option in liter-class superbikes.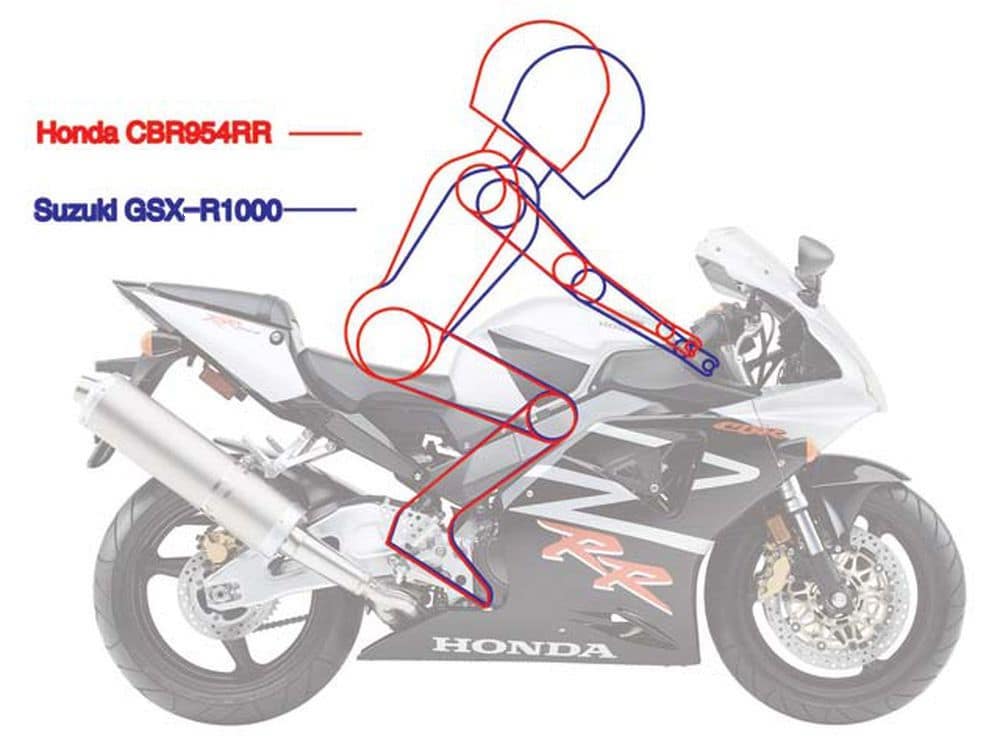 For a superbike, the CBR954RR is surprisingly practical. It's easy to start, and is comfortable enough to commute on without crippling your wrists. It's still an "all-day sports motorcycle", as the original CBR was intended.
The Honda CBR954RR even has a lot of storage space! The space under the rear "seat" is big enough to store a lock and chain, and even to cram in some wet weather gear if you need. This is highly unusual for sports motorcycles.
The CBR954RR is even more comfortable than the CBR929RR because it has a shorter tank, so you're leaned over a bit less to reach the bars.
Similar to the Honda CBR929RR, it's comfortable enough to ride on highways all day, as long as you're riding fast enough so you're supported by the wind. This would be a shame, but it can be done.
And as you'd expect, it's the windier roads or the track where the Honda CBR954RR comes alive. It's crazy light — one of those bikes that feels toy-like when you're at standstill. Again, it leaves you feeling like you can do no wrong.
Some enhancements that people make to the Honda CBR954RR are:
Lower tire pressures: Keep tyre pressures of 36 in the back and 34 psi in the front. Never mind the official recommended pressure figures, which are much higher.
Steering damper: A steering damper helps take some of the extreme edge off the steering.
The Honda CBR1000RR Fireblade: 2004 and beyond
In 2004, Baba-san retired from Honda, after decades of service.
After his departure, the Honda FireBlade line was renamed to Fireblade (change of capitalisation), and the first model released after his departure was the CBR1000RR.
Because the motorcycle changed so significantly after 2004, it deserves a totally different guide.
But here is a quick overview of how those changes happened.
Seventh-eighth generation (2004-2005): A redesign, but with almost totally new parts. An all-new 998cc had new bore and stroke, and made a claimed 128 kW (172 hp), though this was disputed (it produced a much lower 102 kW/136 hp at the rear wheel).
Eighth generation (2006-2007): Higher power from a re-tuned engine, plus less weight.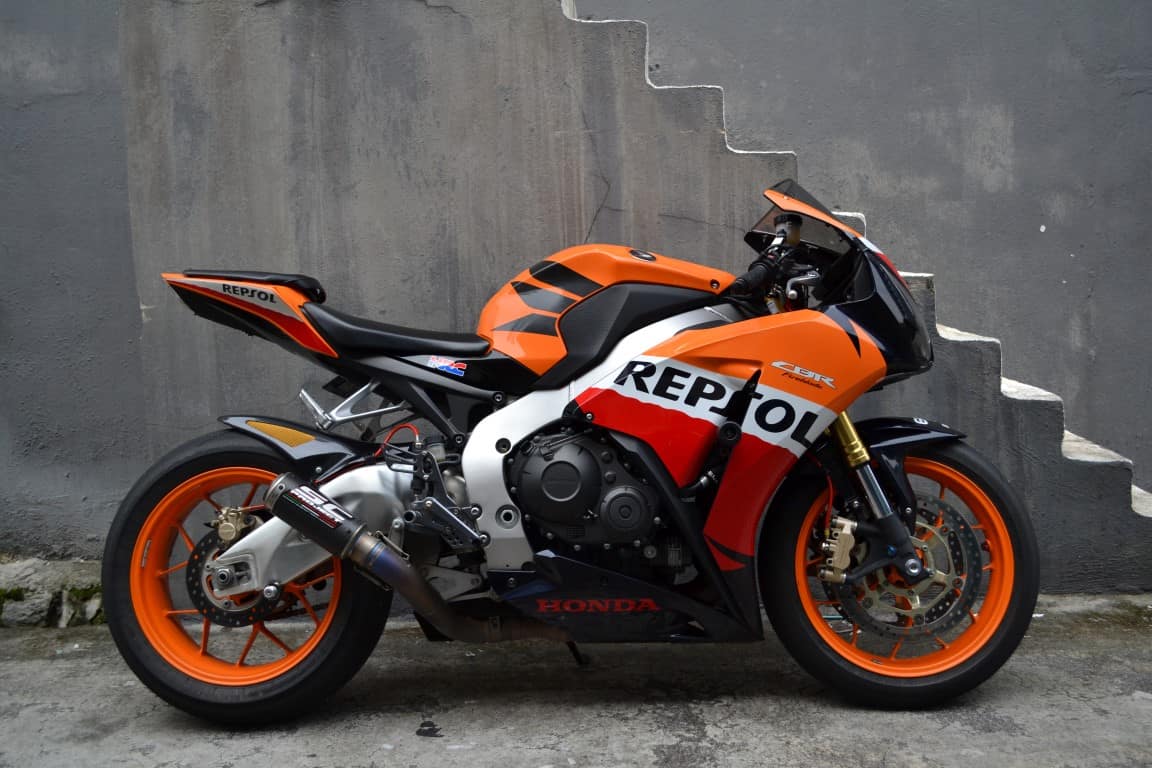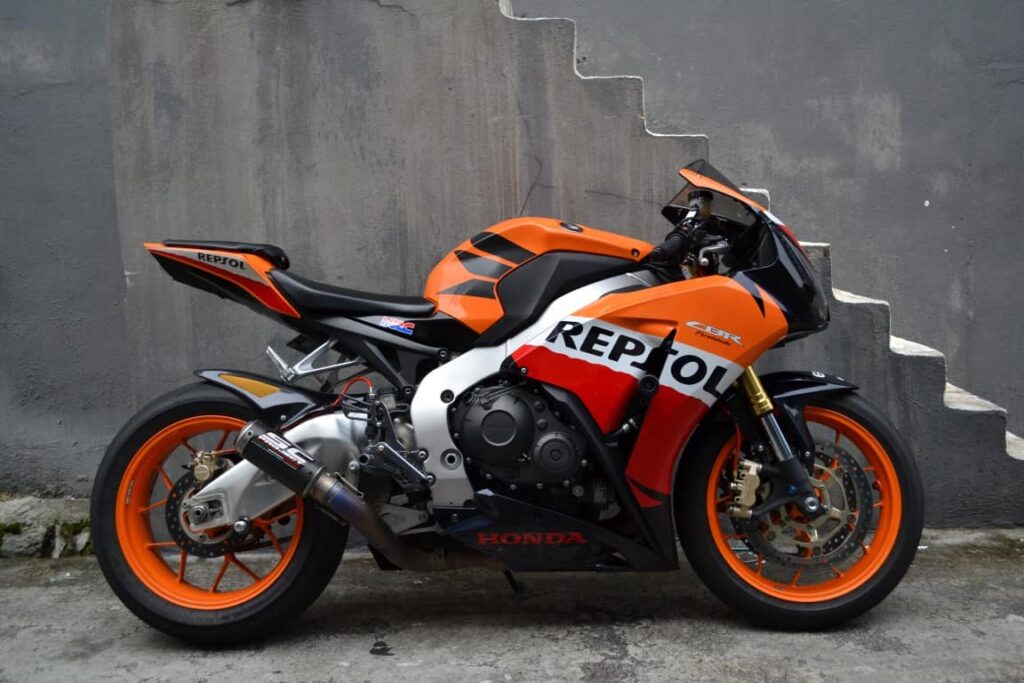 Ninth-twelfth generation (2008-2016): The 2008 model got another all-new motor, this time 999cc, with a redline of 13,000 rpm. This engine made 115 kW (154hp) at 12,000 rpm. ABS became an option in 2009, and, but no more electronics were added.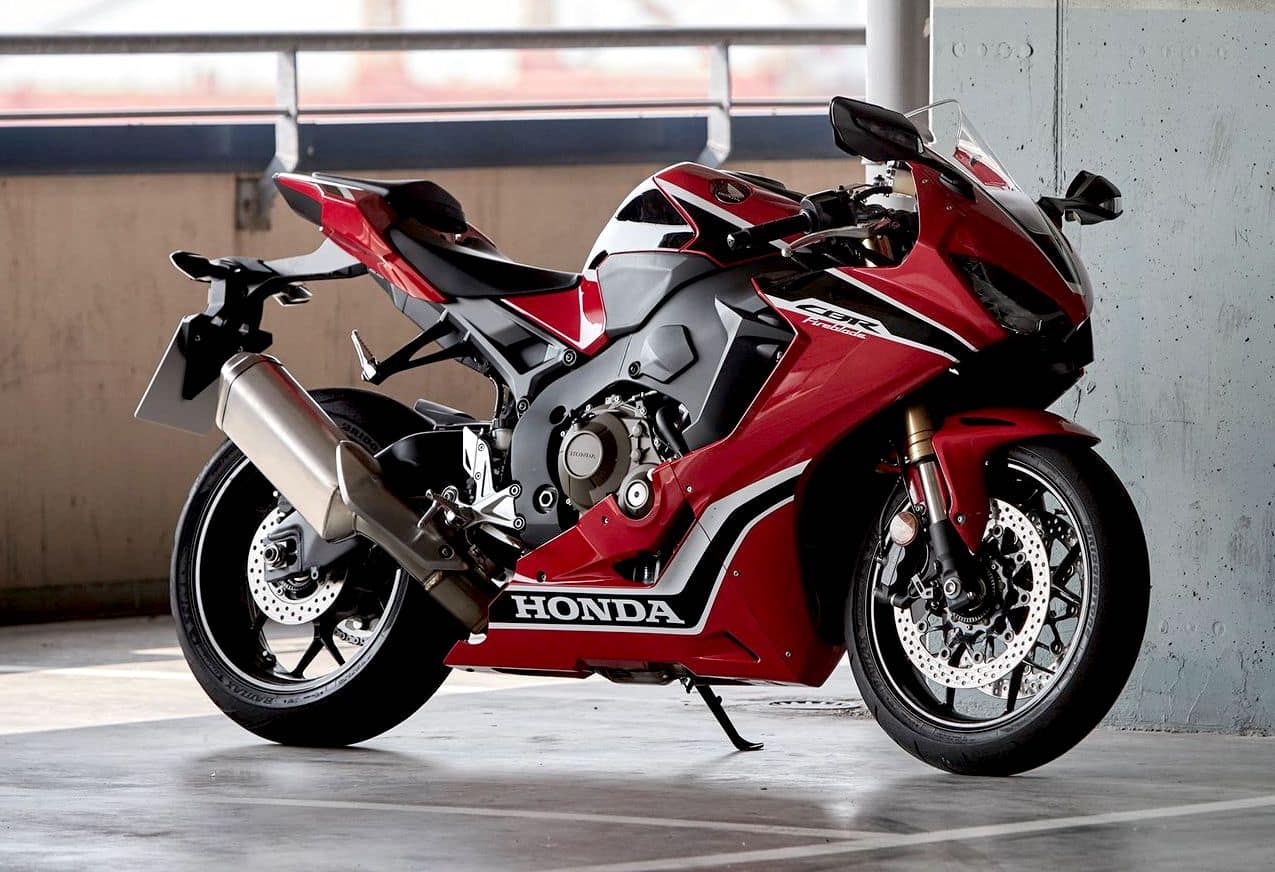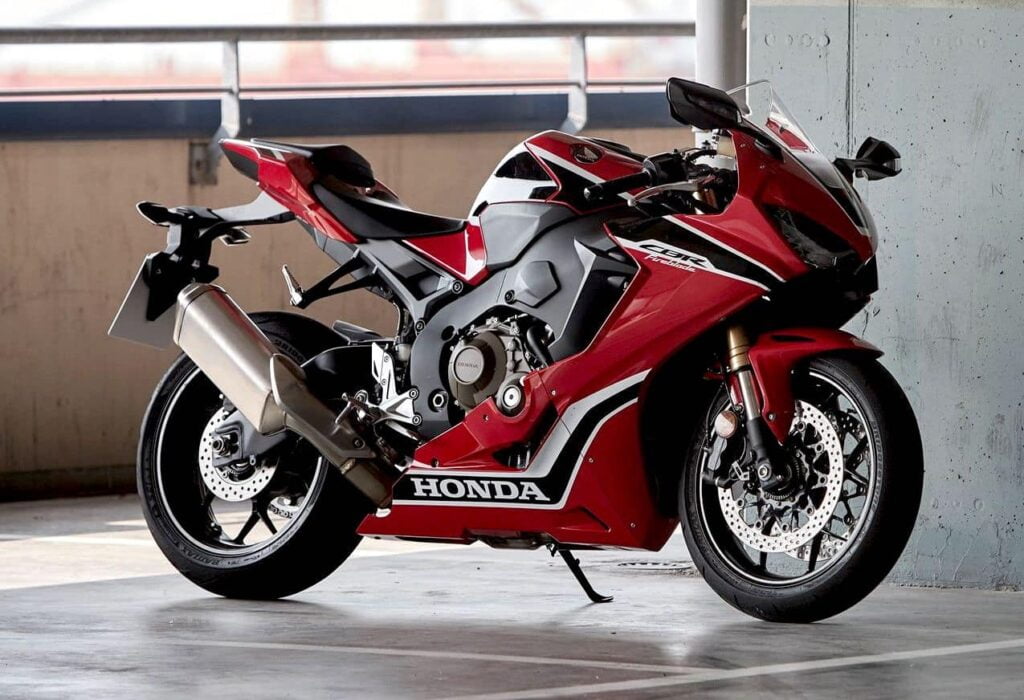 Previous edition: 25th anniversary (2017-2020): Re-tuned engine with 141 kW (189hp) and an all new ride-by-wire electronics package, with traction control + wheelie control. In 2019, the systems were separated so you can wheelie without worrying about losing traction.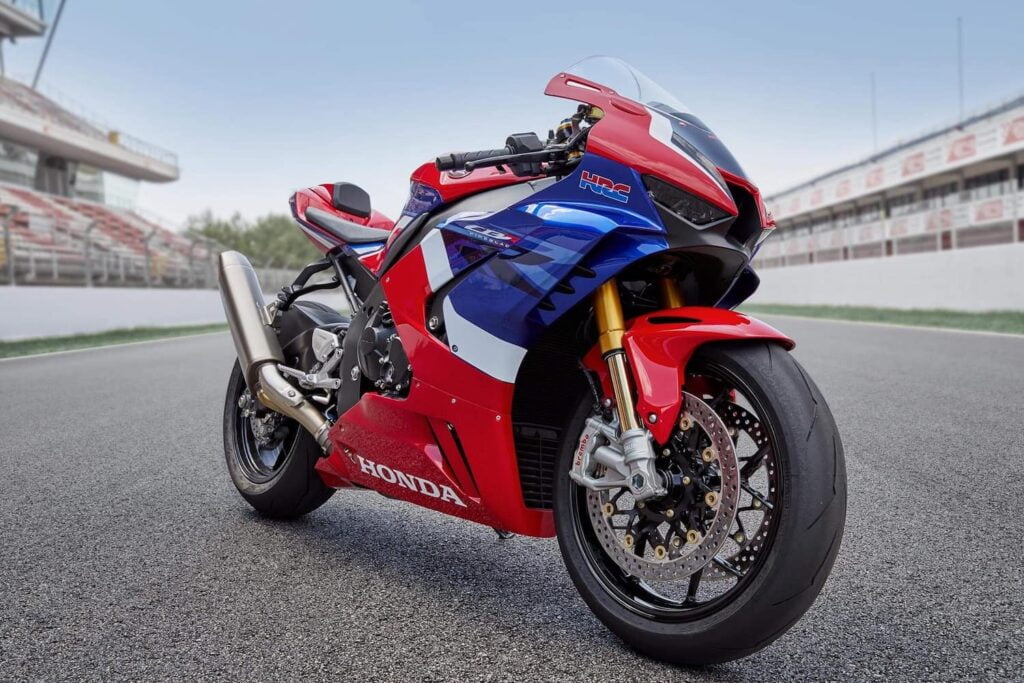 Current edition CBR1000RR-R/SP: 2021+: The Fireblade gets more letters… and a total overhaul! From 2021, Honda re-built the CBR1000RR to be even more race-oriented, calling it "street legal, but track ready" on their website. It's a huge revitalisation and a reorientation for the brand, one that got a lot of riders quite excited. It gets a bunch more power (160 kW/216 hp), an IMU for cornering ABS and traction control, lots more engine and chassis upgrades, a sweet display, and of course, winglets.
It's amazing to think we're now 25 years past the introduction of a motorcycle that defined the open class. But here we are, and the latest CBR1000RR doesn't pull any punches!
What to check for on a used Honda FireBlade
There are a whole host of checks you have to make on any old motorcycle. I've made a comprehensive checklist here, to avoid repeating myself in guides. This is the exact same checklist I've used many times!
On Honda FireBlades, you need to be aware of a few specific things:
Check those front forks aren't weeping. People wheelie the #*($ out of them. You're probably going to do the same. Pay extra close attention to those front forks!
Make sure the fairings fit flush. If they don't, then it's a cheap bodywork kit. I wouldn't accept anything but original bodywork, or replaced genuine Honda bodywork.
Make sure the charging system works. Here's how to test the charging system. I mentioned that in the comprehensive checklist, but it bears repeating for the FireBlade.
Listen to that cam chain tensioner. If it's noisy, you're going to have to replace it.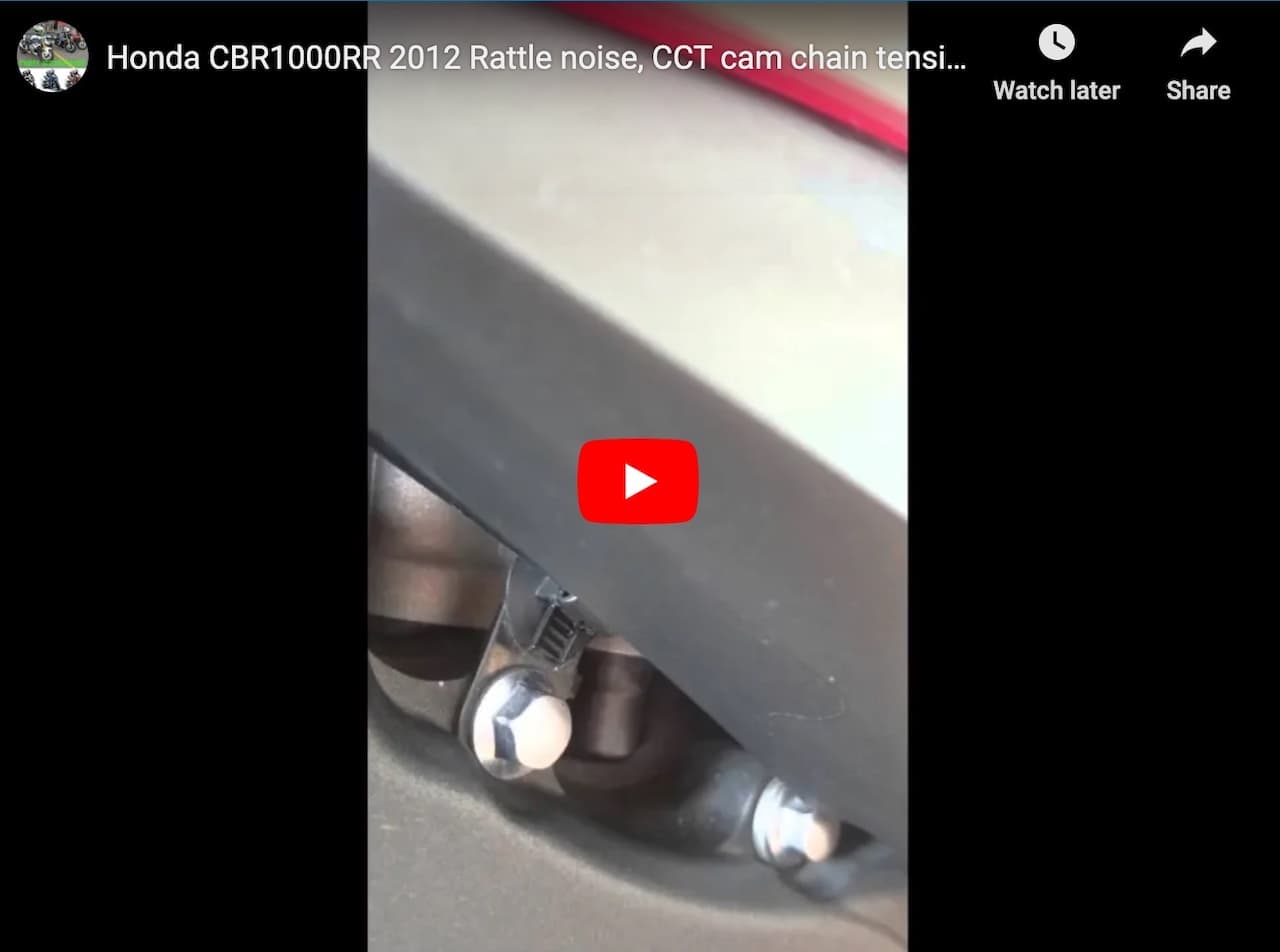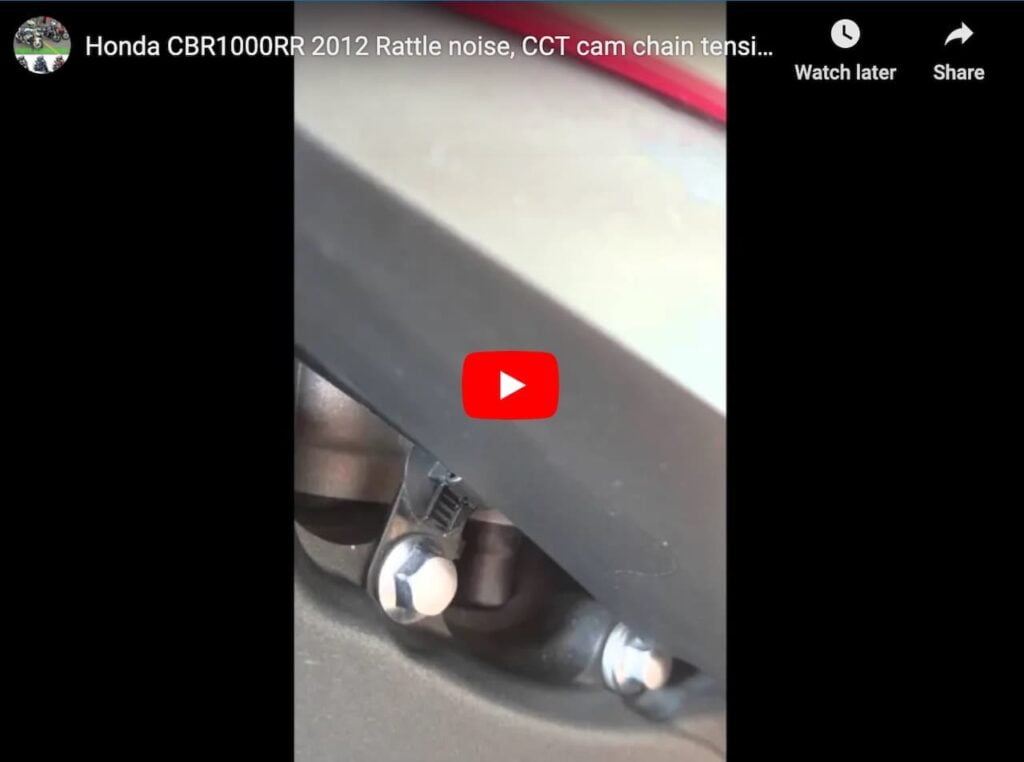 Wrap up
If you liked this guide, head over to my contact page to drop me a line saying thanks!