MotoHunt has a simple but lofty ambition: to give you everything you need to find and buy a motorcycle. Michael Masouras is the brains (and avid motorcyclist) behind the site, and here are my notes from an enthusiastic and inspiring chat with him recently.
Michael is many things, but foremost he's a friendly, ambitious and humble guy. Michael previously worked at Google as an Engineering Manager (in addition to many more years of similar experience), so knows his way around building products.
So as Michael began to have the urge to leave the corporate world and do something for himself, the most appealing notion to him was to create something in the motorcycling space.
The result is MotoHunt, a next-generation marketplace whose goal is to make it easier for buyers to decide to buy a motorcycle, by providing all the information you need in one spot. Not just price, photos and whatever description the seller decides to provide, but specs, riding notes, and more.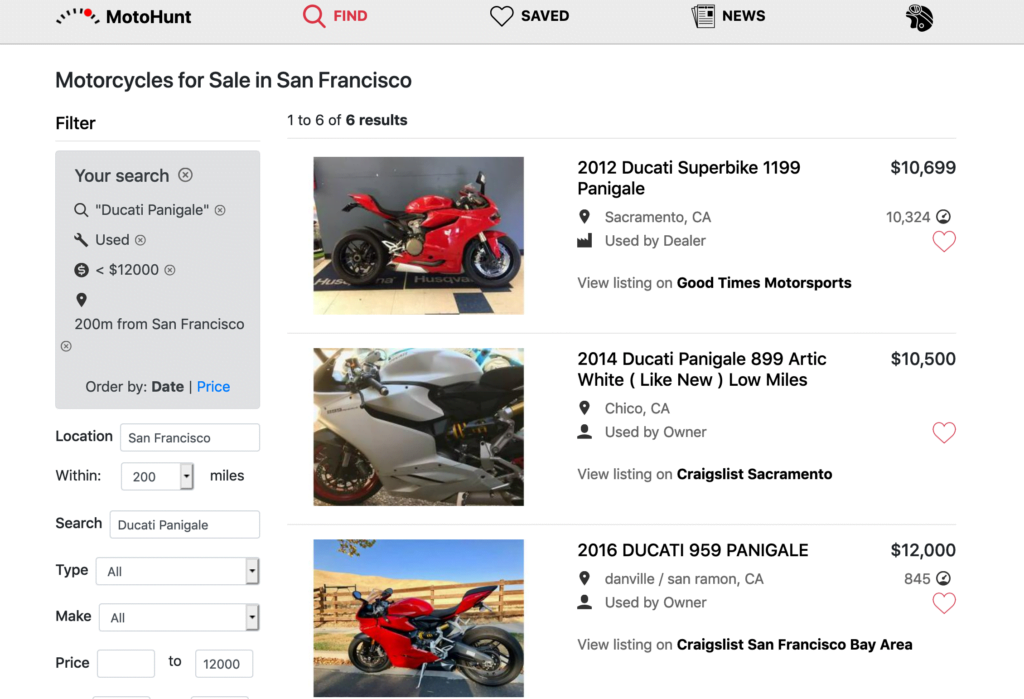 At least, that will come soon. For now, MotoHunt is a very rich and comprehensive search tool that lets me really easily find specific models anywhere in the US. It's fast, responsive and a pleasure to use.
It also fills a gap for people like me who are looking for very special motorcycles, like a good version of a green Kawasaki ZRX1200R, or a clean Ducati Monster S4RS that hasn't been wheelied too much. I used to have to set up alerts in every regional Craigslist, plus randomly browse dealer websites. No more! So I love the idea.
Here are notes from my conversation with Michael on where MotoHunt came from and where it's going.
Are you obsessed with motorcycles?
Well, I am. That's why I created this site — as an outlet. I love learning and sharing what others might find useful. If you like what you read here, and you're a fraction as obsessed as I am, you might like to know when I've published more. (Check the latest for an idea of what you'll see.)
How long has MotoHunt been your primary thing?
Almost a year now. It started when I left google. I wanted to do something with motorcycles.
Actually, the first thing I started was called "Couchride".
What's "Couchride"?
Ah… the fact that you have to ask was part of the problem. I don't think the name made it very obvious what it was.
It was basically a news aggregator for motorcycles. It was actually just one product on another product I was building, an arbitrary platform for niche interests (e.g. audio equipment, another passion I have). But Couchride or the platform didn't work out on its own.
At the same time, I was building other things that were going to be part of Couchride. There was going to be reviews, events, and classifieds. But classifieds was big enough to be a business on its own with the most opportunity, so I decided to focus on that.
We kept the news aggregator, but now it's part of MotoHunt, rather than the other way around.
Why build another motorcycle classifieds site?
Well, I really like looking at classifieds sites, checking out prices, looking at photos and reading descriptions. But I see there as being a lot missing out there. [Editor's note: me too! Window shopping is part of the joy.]
Here's what I think is missing from other classifieds sites.
Firstly: breadth. The market is really separated. There's Craigslist [in the US] for private listings, and CycleTrader for dealers. I did my own analysis and each website owns 90% of each market respectively. So it's like consumers have to choose who they want to buy from and then go to the site they want.
Editor's note: It's similar in Australia. Gumtree for private listings, and Bikesales for dealers, with only a small amount of overlap.
That's just an example. There's so much more that could be done for users in terms of experience.
For example, when you're buying a motorcycle you have to read reviews. You see "ok this motorcycle is for sale" and then have to go to a bunch of other sites to see what it's like. What's it like to ride? What are the known issues? What should it cost? It takes a lot of research. Why don't we do that for you?
Or you might want other information about the vehicle that's in the public domain. There's so much. You could get manufacturing information. Information about any recalls. Safety concerns. It's all out there, but right now the onus is on the buyer to go looking.
For motorcycles, there are a few websites out there that give you horsepower and weight information. But that's not necessarily the information you need to make an informed purchase. Say you're buying a Ducati. They need regular service, and it can be expensive. If you're going to need a major service that's going to cost you a thousand bucks in a year, you want to know that before you buy.
Another bit of information we want to provide to buy sellers and buyers is price competitiveness. We want to help sellers set a reasonable price, and help buyers know when a price is good. This innovation has reached the car industry, but not the motorcycle industry.
Basically, if you land on a listing, you want to know: Is this a good deal or not?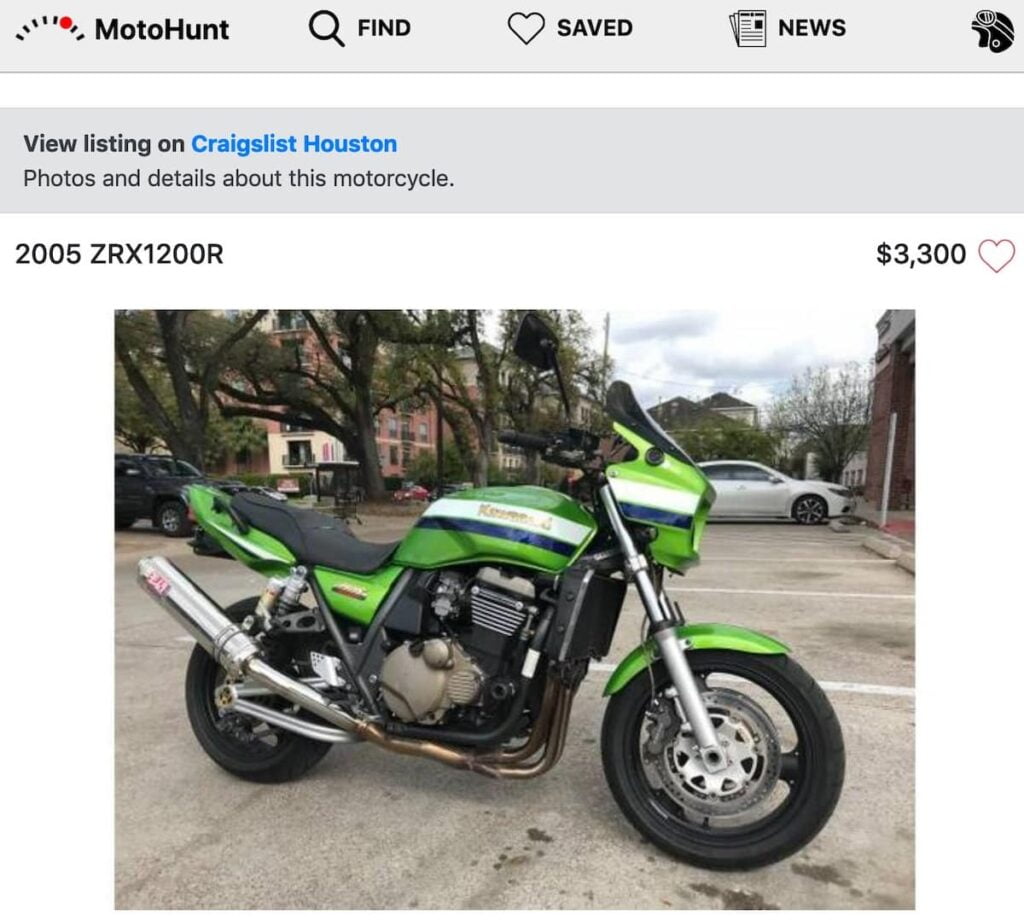 Were you working on Couchride at Google?
Not really, I played around for a bit, but didn't launch anything. There were a couple of reasons for this.
Firstly, I really like to focus on whatever I'm doing. When I was at Google I was focusing on my day job. And when I wanted to focus on this project, I wanted to focus on this exclusively — so I quit.
Secondly, it's also a moral issue. You want to be giving whoever you're working for your full attention. And you want them to know that you're doing that.
How did you realise Couchride wasn't working and that you needed to do something else?
I launched Couchride, advertised it, and got a little traffic. But I couldn't get anyone to come back. The retention was very low.
None of the products we launched (on the platform to aggregate news) got much traffic.
Besides, it wasn't very satisfying. Being an aggregator like Google News wasn't very satisfying compared to the depth I can get with MotoHunt.
So MotoHunt has been more successful?
Right now we're growing primarily through advertising, and doing better and better in Google Search rankings, but SEO is a very long-term game. There are definitely things we have planned to improve our SEO.
Adwords is a very efficient way to get users though. Buying something is a task, and people often start by searching.
Right now, we're aggregating data from dealerships, Craigslist and other sites. In the future, we hope dealerships will list on our site directly. The value-add is to put information at their disposal that they'd otherwise have to work really hard to include in a listing.
There's a weird thing that happens in big companies with collaborative cultures: Nobody wants to be a cowboy. When a large group of people work together, people tend to voice pre-conceived notions about how to do things, instead of what they really want to do.
To private sellers, we want to offer the transparency that dealers provide. We want to help them do the tests themselves and to show the value that it can add to a listing. It's not much at all — if you're selling for $8-10,000, $2-300 for tests isn't much.
What's been harder than you expected in launching and growing MotoHunt?
The hardest thing has been working with dealerships, to build trust.
I don't know if it's harder than I expected, because I expected it to be hard. The hardest part is how to communicate and work with people in an environment where they're numbed to sales pitches.
It sometimes seems like an antagonistic relationship from the outset. Dealerships are wary and sceptical. They tend to jump to the conclusion that there's something you want and there's a catch.
Why do you think dealers are sceptical?
They're sceptical partly because of precedent. They might not have been treated well by other startups offering them services. So it takes time to build trust. I am getting closer with some of them, and partnering with some as well that haven't been served by various services online.
Many dealers see a platform like ours in a negative way, as a "cost of doing business". So it's hard to change the conversation to a positive one, like "oh wow this is a brand new avenue to find people".
From our perspective, we just want to work with dealers and help. Give a high-tech free resource that websites should have. But it takes a lot of persuasion to get dealers on side. This initial hill is pretty hard to climb.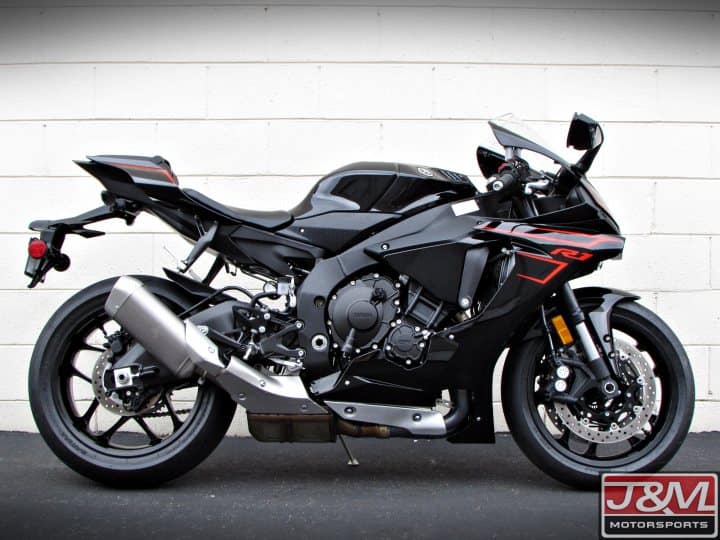 Apart from a lot of pitching, have you had to adapt the way you work?
Definitely.
In a big company, you are always reacting to what other people want. People want reports, they have problems you have to solve, or they are organising stuff you have to work around. Things constantly appear in front of you.
Then one day I left, and suddenly I just had a blank sheet of paper. There were no reports to do, but instead, there were one thousand other things I could do. So I had to decide for myself: what would I do next?
I can't afford to do stuff for fun. One or two "fun" things and you lose steam!
This kind of intelligence and data, bringing the world in front of you and enabling you to make good decisions, is what computers are made for.
But isn't going solo about that… doing stuff that's for "fun"?
Yes, but it's more than that! It's about a feeling of control, that I'm doing things for me, and for other people.
More than that, it's about the ability to test our ideas, without heavy-handed negotiating environment where you have to convince a lot of people. I get to try a lot more stuff more quickly and at lower cost. And see if it works!
There's a weird thing that happens in big companies with collaborative cultures: Nobody wants to be a cowboy. When a large group of people work together, people tend to voice preconceived notions about how to do things, instead of what they really want to do. People say "we should test this" or "we should get more data before making a decision" because those are the safe, "right" things to say. Nobody says "Come on, let's try it, and if it doesn't work, we'll fix it!"
Now, I do things that are blatantly reckless. On a whim I would make a software update that would be a serious thing. I just decide "I need this feature now. I'm just going to update the database. If it doesn't work, I'll roll it back!"
Because it's so early. My perception of the product is so different to the users' perception. So I constantly test and see what sticks.
And some of the things I do are wrong, and I learn, and I won't try them again.
MotoHunt is made to help you find the motorcycle that you want.
More than anything else outside the corporate environment, I like this pace. I launch something. I constantly evaluate: Do people use it? Is it useful? Will it have problems? I try to think ahead: because the problems I think it will have are probably the ones it'll end up having!
How will you make money with MotoHunt?
The core part of MotoHunt — the ability to list — will be free. But there will be optional value-added services.
It's a bit like Google Search. Everyone's in it. But if you want to be at the top, you have to pay.
When you pay you get access to the other value-added services, like specs, reviews, and priority in search.
The most valuable thing I want to add is data to the listings, and then market the data that I get out of managing the database. Even the dataset I have now, from scraping, is incredibly rich.
On the one hand, we definitely want to help sellers and buyers know what a reasonable price is for a motorcycle. Right now, people have very limited tools. They just know a motorcycle model, the mileage and general condition. There are used price guides, like NADA and Kelleys Blue Book, but these are extremely limited. Rather than be useful, because they're such blunt instruments, they reinforce the current environment of lack of transparency.
There are all these cartels out there with a ton of data that's closed off to the public. They're cartels of data. I can open up a business intelligence (BI) back-end that makes really useful data available to sellers and buyers everywhere so they can price their vehicles accurately and make better decisions.
What's next?
Ultimately I get a kick out of building great products. I'm not design-oriented, but I am very focused on user experience, maximising the value people get. I want to create great experiences. It's not perfect, but MotoHunt already works. People search and find the thing they're looking for. This kind of intelligence and data, bringing the world in front of you and enabling you to make good decisions, is what computers are made for, and that's why I'm building this site.
MotoHunt is made to help you find the motorcycle that you want. It will only get better from here.
---
I really enjoyed my chat with Michael and hope to have more. If you have any questions, let me know so I can add follow-up answers to this site.