Motorcycling is a money pit of a hobby. But what great hobby isn't? Hey, at least it's not yachting. Or gambling!
For those of us who aren't just swimming in cash, you're probably wondering — "What's a way of making money from motorcycles to justify my hobby?"
And if you're struggling to think of something to do — here are a few unusual motorcycle business ideas below — these aren't everyday ones people tell you like "Go become a content creator on YouTube" or "Try flipping motorcycles". I'll go over some commonly-mentioned business ideas at the end, and why they're not for me (and may not be for you).
Enjoy!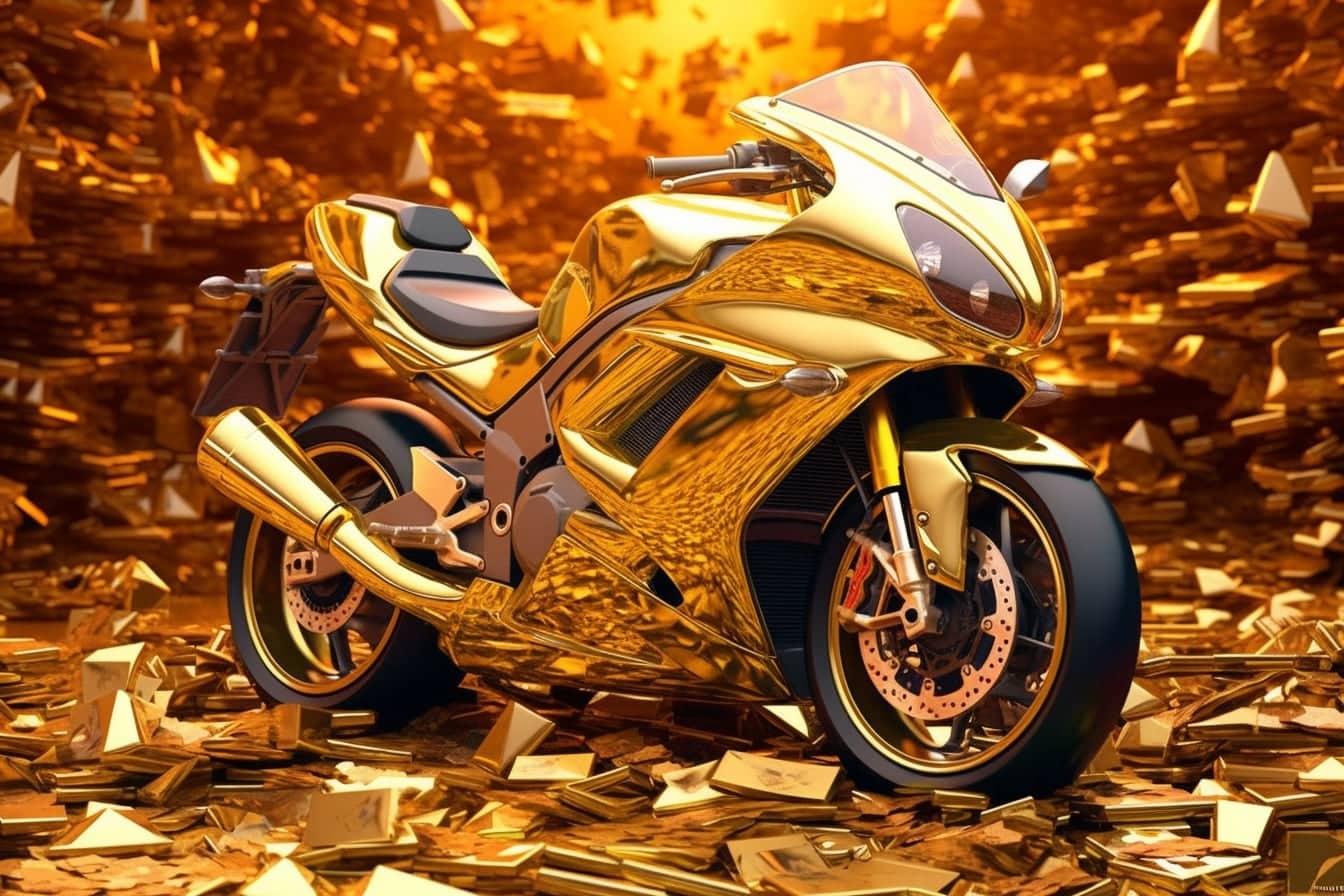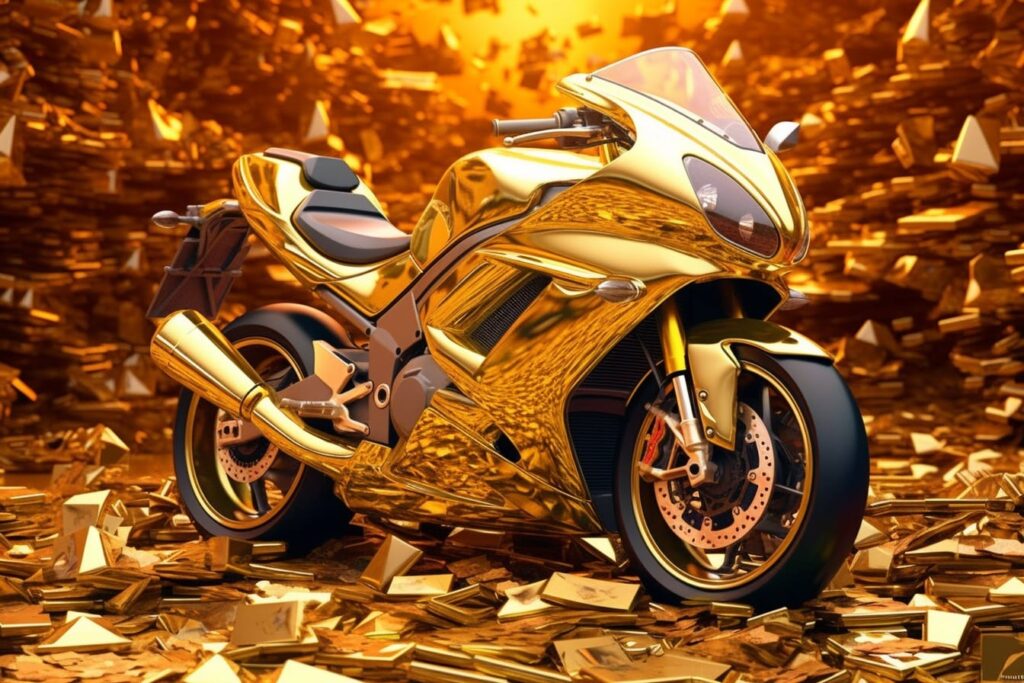 Are you obsessed with motorcycles?
Well, I am. That's why I created this site — as an outlet. I love learning and sharing what others might find useful. If you like what you read here, and you're a fraction as obsessed as I am, you might like to know when I've published more. (Check the latest for an idea of what you'll see.)
Overview of these Motorcycle Business Ideas
Before I get into the list of motorcycle business ideas, below is some general advice on business. I don't mean to write this like some kind of MBA-level treatise. I just want to be very real about business as a word of warning, so the below is heavily biased with my approach to business.
The first thing I want to say is that whatever motorcycle business idea you choose, make sure you're first comfortable a) with business in general, and b) with the industry.
Firstly, be comfortable with business in general. Starting and running any business is hard compared to having a regular job. You have to deal with things like
The stress of trying to recoup investment costs
The difficulty of marketing a product, even if it's good (nothing "sells itself")
Seasonality — the stress of having "good months" and "bad months"
Forces outside your control, like competition, market trends, and irrational consumer behaviour
Unexpected calamities like natural disasters, product failures, system failures (like a website going down), or even war breaking out (this hurt some Ukranian entrepreneurs who make products I use)
All of these can hurt not just your business, but you emotionally. If you already work for yourself, you know what I'm talking about… sometimes, despite the joys of having no boss, I long for just a steady, modest amount of pay.
Secondly, before embarking on a motorcycle business idea, be familiar with the industry of that business in general. Or become familiar by talking to people in it.
If you want to start a motorcycle photography business, then be familiar with the photography industry. If you want to start a motorcycle restaurant or cafe, then be familiar with hospitality. And so on.
Of course, first-time business owners never know an industry well. We didn't know online media before we started our online media business. So we did a lot of research, talked to people in it, took courses, and still didn't make a cent for the first two years.
So, alleviate that risk by doing your research on any motorcycle business idea and having fail-safes, like money saved up or a job you can find easily.
That said, running a business is a fun, crazy adventure. I've never learned as much from any course or job as I have learned trying my hand at — and usually failing to do well — my own things.
Below is a list of motorcycle business ideas that I think I'd do if my situation were different. For example, if I were staying in one place longer, or if I had the patience to deal with customers of an e-commerce product.
Hospitality: Open a Motorcycle Cafe or Restaurant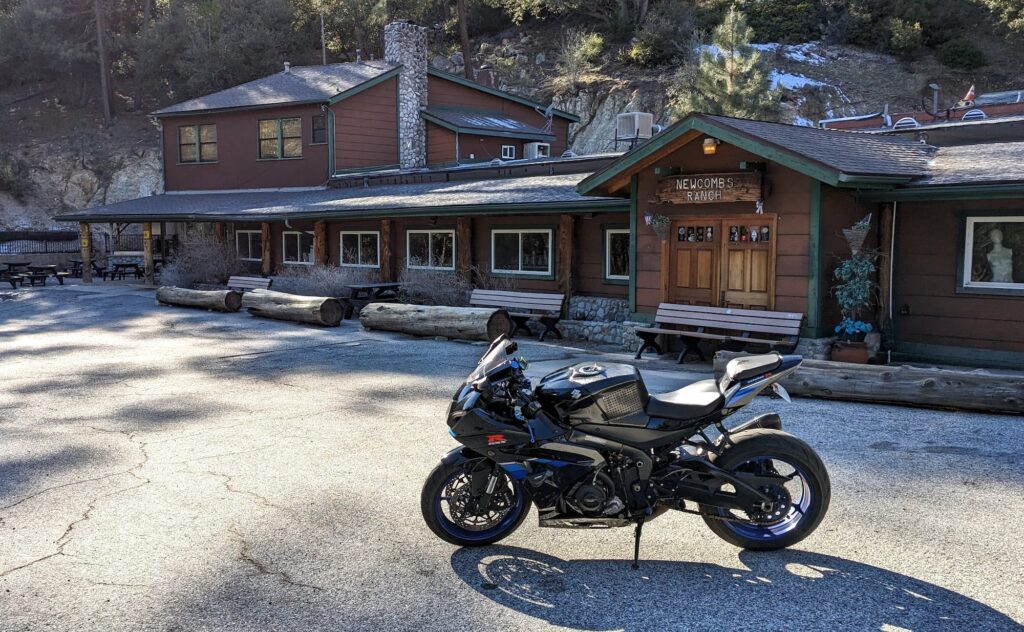 One of my fantasy motorcycle business ideas — and I'm not alone in this, by any means — is to own a motorcycle cafe along a winding road. A destination. Rent or acquisition cost would be relatively cheap (because it's so out of the way), but people would make it a destination, so you'd regularly have customers when the weather is nice. I'd put in gas/petrol and chargers, basic food and coffee, and that's it.
Of course, the logistics would be hard, but whatever. The more motorcycle cafes / restaurants / other destinations, the better!
The caveat is that the hospitality / the food-and-beverage industry is quite hard. Don't be fooled too much by the fantasy. Do what I did one day and go to talk to a bunch of cafe owners about the difficulties, and be prepared to work there yourself.
One business owner once told me, when I was investigating cafes for the sake of cafes: "Don't open a cafe imagining you'll spend a lot of time making coffee. Open a cafe if you're prepared to spend a lot of time sweeping floors." It's no cakewalk. But for the right person, it would be very rewarding.
There are, of course, destinations that you can buy right now.
One motorcycle cafe / destination that used to be bustling was Newcomb's Ranch in the Los Angeles Forest. It has been closed for a number of years, after the owners passed away and the children didn't want to take over, so it has been put up for sale. This gorgeous location is quite expensive (I heard they're asking between US$4-8M from various sources), and unfortunately, the logistics (carting produce in and waste out) would be hard. But it'd be worth it.
For a location like this, rather than a restaurant, I'd make it just a café and drinks / snacks venue, plus a showroom for high-end goods and new product releases by motorcycle manufacturers. Maybe Keanu Reeves (who frequents the area) can buy it, make it a display room for his Arch motorcycle brand, and hire you as a manager. Pitch it to him!
E-Commerce: Create a Motorcycle Product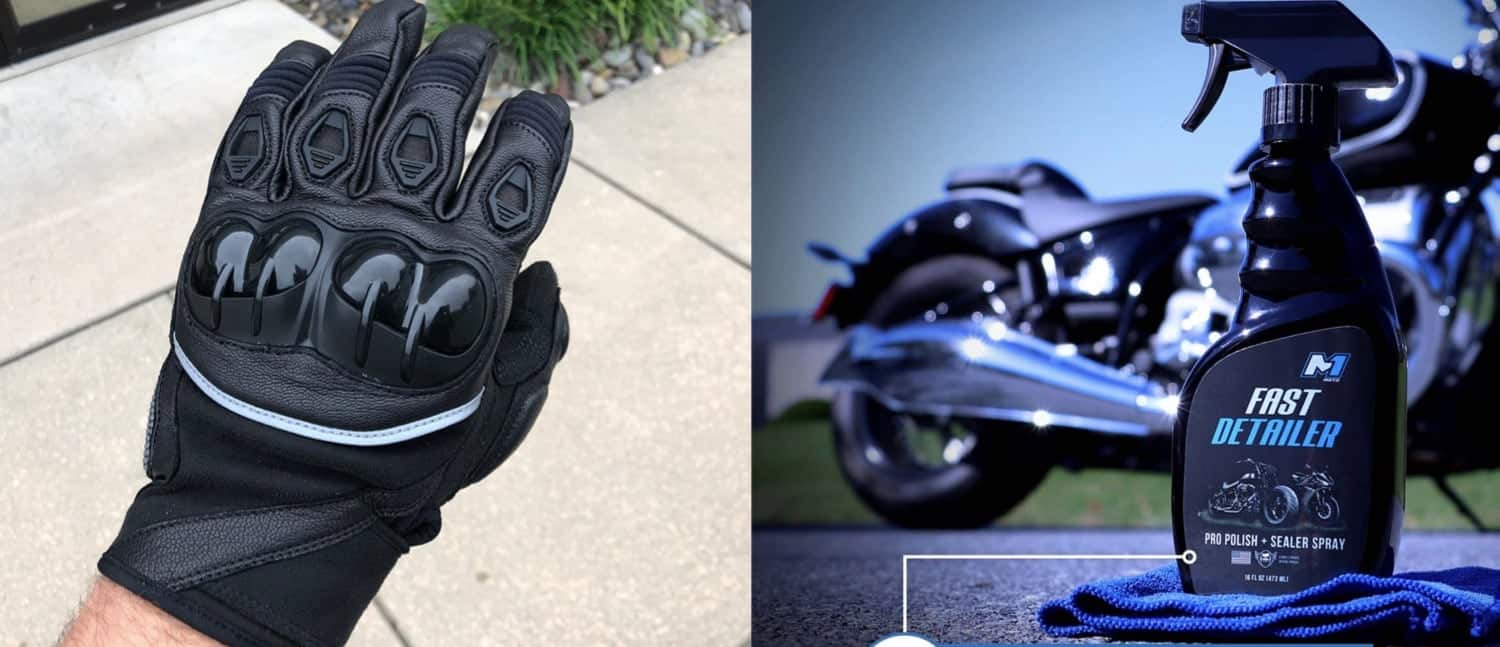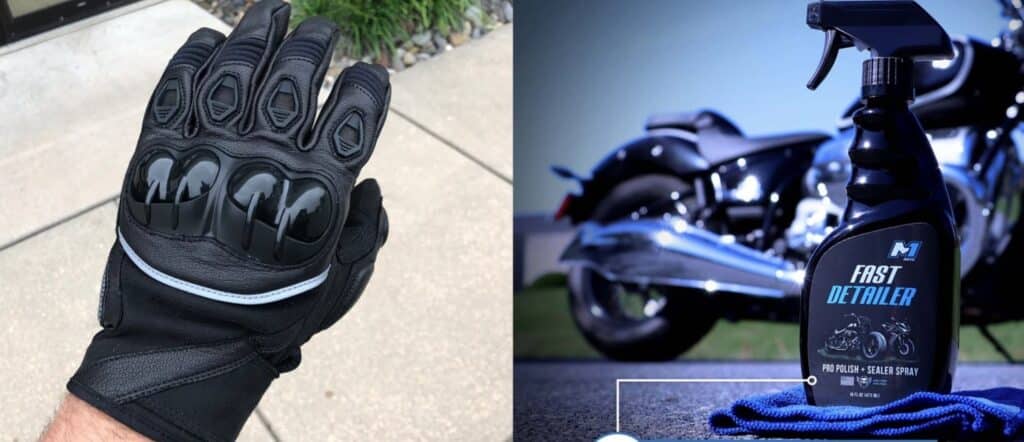 Every motorcyclist has thought of one — some product that would be easy to manufacture and easy to sell. The longer you're in motorcycling, the more ideas come to your head.
Personally, I've thought of (but not made) the following motorcycle business ideas:
A motorcycle outfit that looks like a suit and tie, but which is armoured and made of abrasion-resistant material. No, it'll never match up to leather, but it'd be awesome to ride on the Distinguished Gentleman's Ride. Or heck, make one out of leather!
A small transparent display, like an HUD, that sits above the windscreen and shows the current speed and RPMs.
A compact motorcycle tool that has hex keys, Torx keys, wrenches, and screwdrivers. But nothing else.
A key pouch that holds all the keys except one, so they don't scratch up the area around the ignition. Make it nice and high quality, like out of leather, with no external sharp bits.
Sean Kerr of Bikes n Beards / SRK Cycles did this a couple of times, with "M1 Moto Gloves" and also with a motorcycle cleaning product, his "M1 Fast Detailer" (pictured above).
You don't even have to be very clever to come up with an e-commerce motorcycle business idea. You can find products that exist, but get them designed more for the purposes of motorcycling. For example: A multi-tool for motorcyclists, a poncho for motorcyclists, a portable drink cooler for motorcyclists… these are just the first ideas.
A word of warning from someone who has made and sold things online: Making a product is easy (It really is! So many manufacturers are happy to ship you samples for low costs), and shipping is relatively easy. Marketing it is 95% (if not more) of the challenge. Marketing is the art of getting your product in front of consumer's eyes and getting them to drop cash.
If you plan on making a product, make sure you have a very clearly defined strategy for getting it out to people — like, make sure you know bloggers, social media people, or people with email lists, or that you have your own marketing channel (like Sean did).
Service: Rent Out a Motorcycle (Not Your Pride and Joy)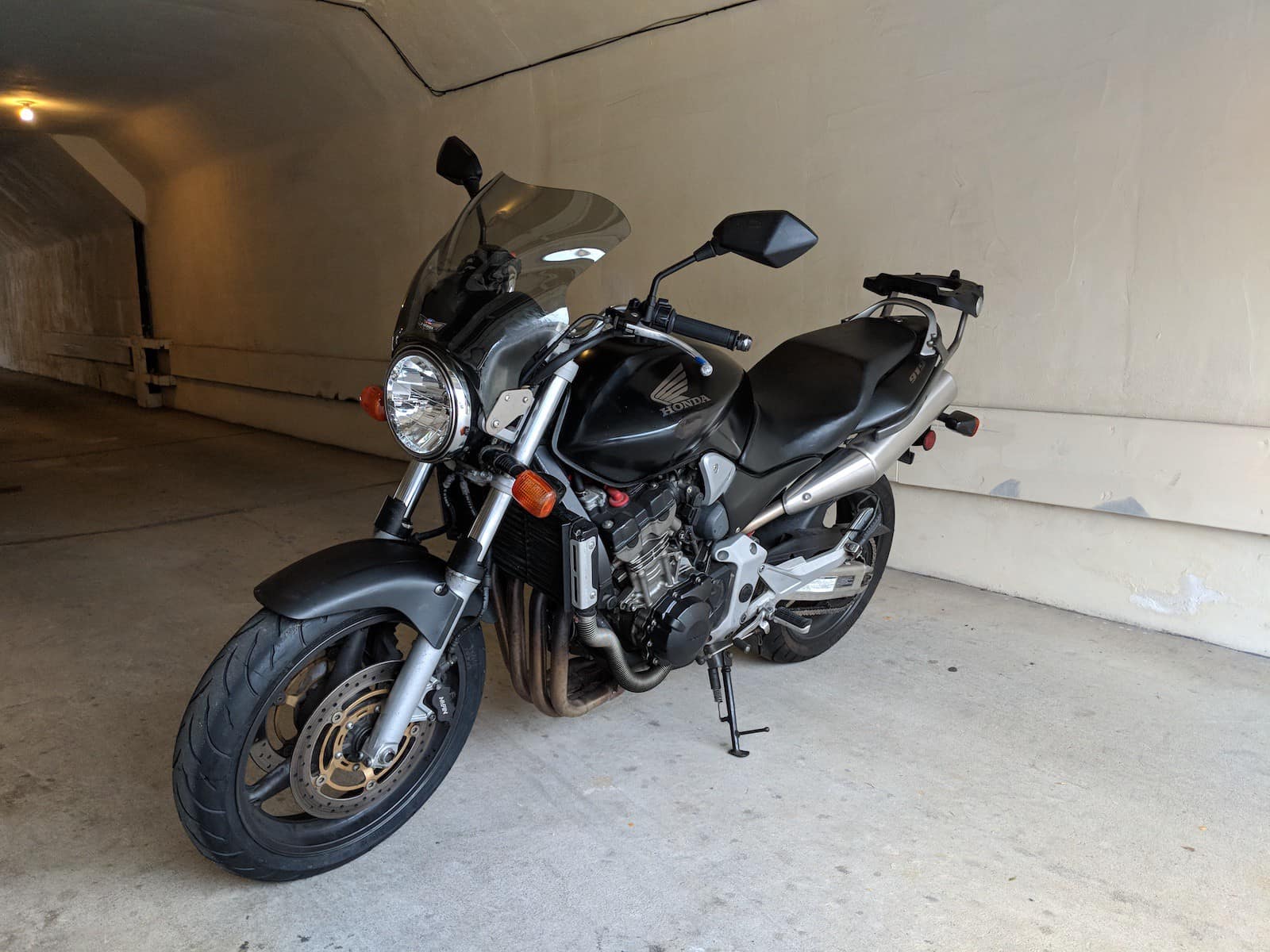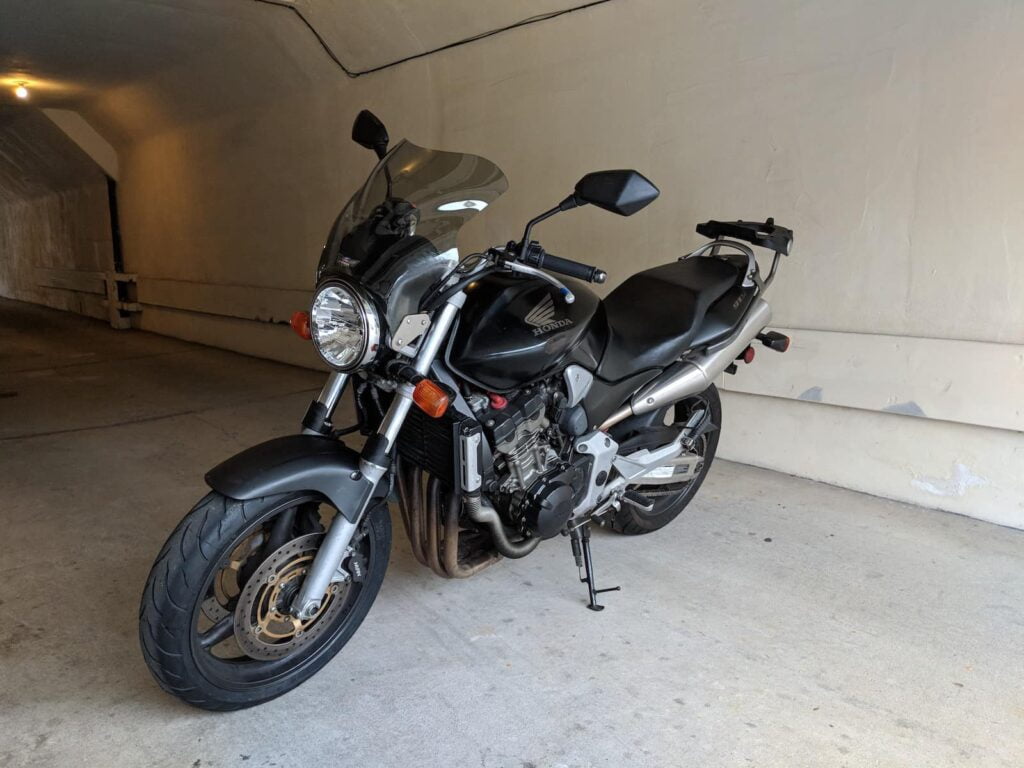 OK, so you want to justify owning a Ducati Panigale V4S as a daily commuter — I'm not saying you should rent out your pride and joy!
But maybe if you have a second, older bike — one that's still fun and that's popular with tourists — one motorcycle business idea to help manage its ownership costs is to rent it out to visitors.
The best, option, of course, is to find a motorcycle that's cheap, dead reliable, and in high demand by a wide variety of motorcyclists. This is likely to be a middleweight "adventure sports" motorcycle, something like a Kawasaki Versys 650 or a Honda CB500X, with luggage and a few options for travel, like heated grips and a phone mount.
Then put it up on a platform like Riders Share for a competitive price. When someone rents it, you get money, and you will probably make a friend. I've used Riders Share many times (both as an owner and as a customer) and loved it. I've also used Twisted Road, but only as a customer (I also like it).
Note: I don't suggest renting out your motorcycle privately, e.g. over Facebook Marketplace. It's all fun and games until there's damage and an insurance claim.
Also see: My experience of Riders Share as an owner renting out my own bikes, here.
Service: Create a Motorcycle Storage Facility / Warehouse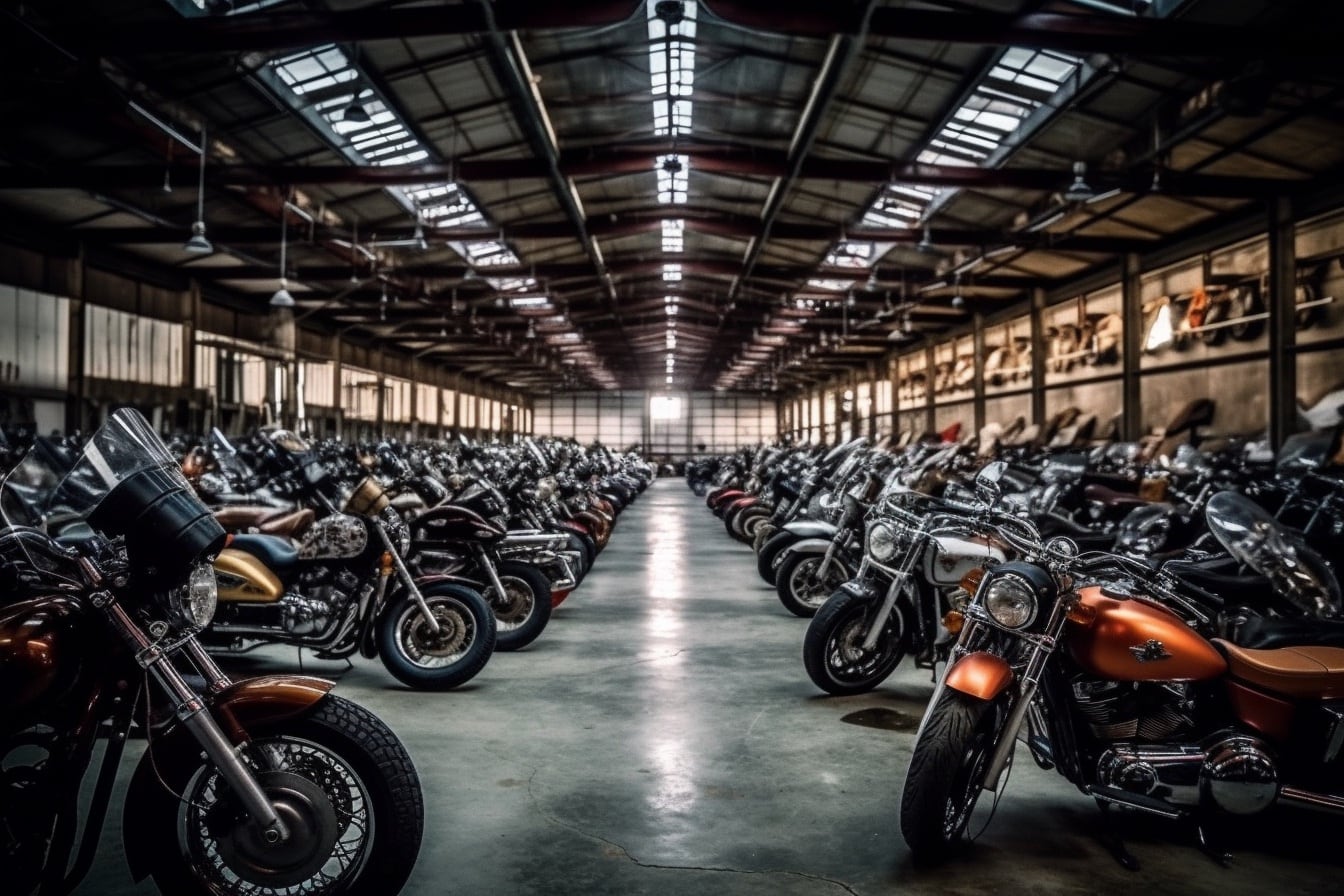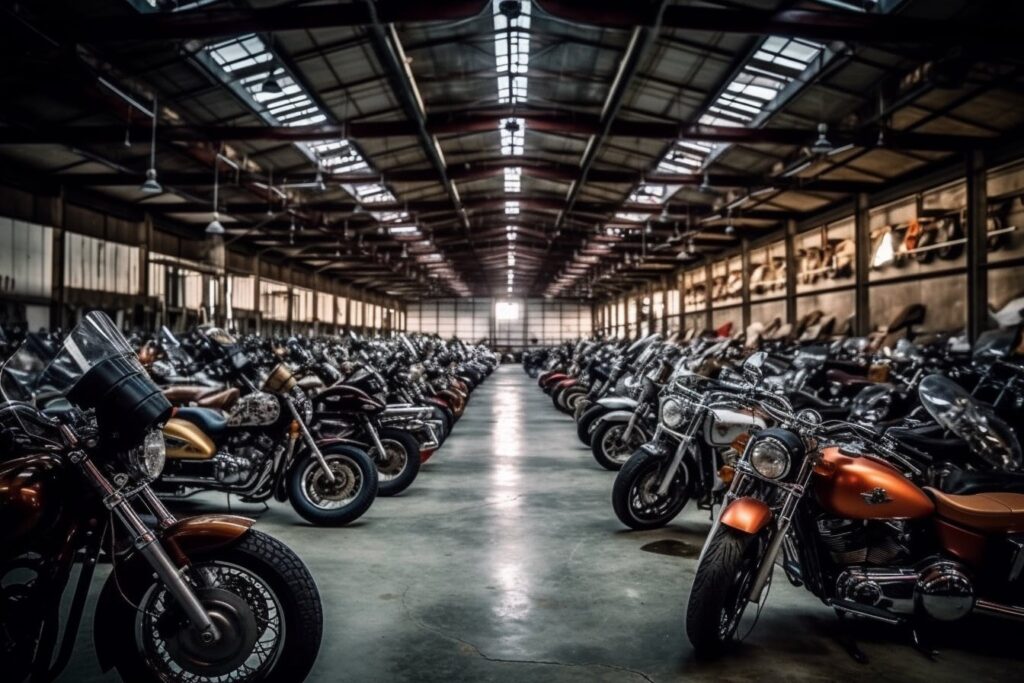 For the motorcycle fanatic, one of the main things that impedes us (aside from money) from buying more motorcycles is garage space. Be the solution to that problem.
Rent a warehouse — ideally accessible by public transport, and not too far out of the city — and repurpose it as valet motorcycle storage. Price it low, and price for volume. Then, market it just to motorcyclists. Watch the money roll in.
You can go further by offering services like keeping the motorcycles trickle charged, or getting them maintained for them when the time is due. Want to really cash in? Help owners who want to sell their bikes list their motorcycles for sale, and manage inspections on their behalf, for a sales commission.
Make sure you have comprehensive insurance, and make sure that the motorcycles that come in have insurance, too. Do your diligence. Doesn't take much to ruin your reputation if someone claims that you scratched up their pride and joy.
Job: Become a Motorcycle Riding Instructor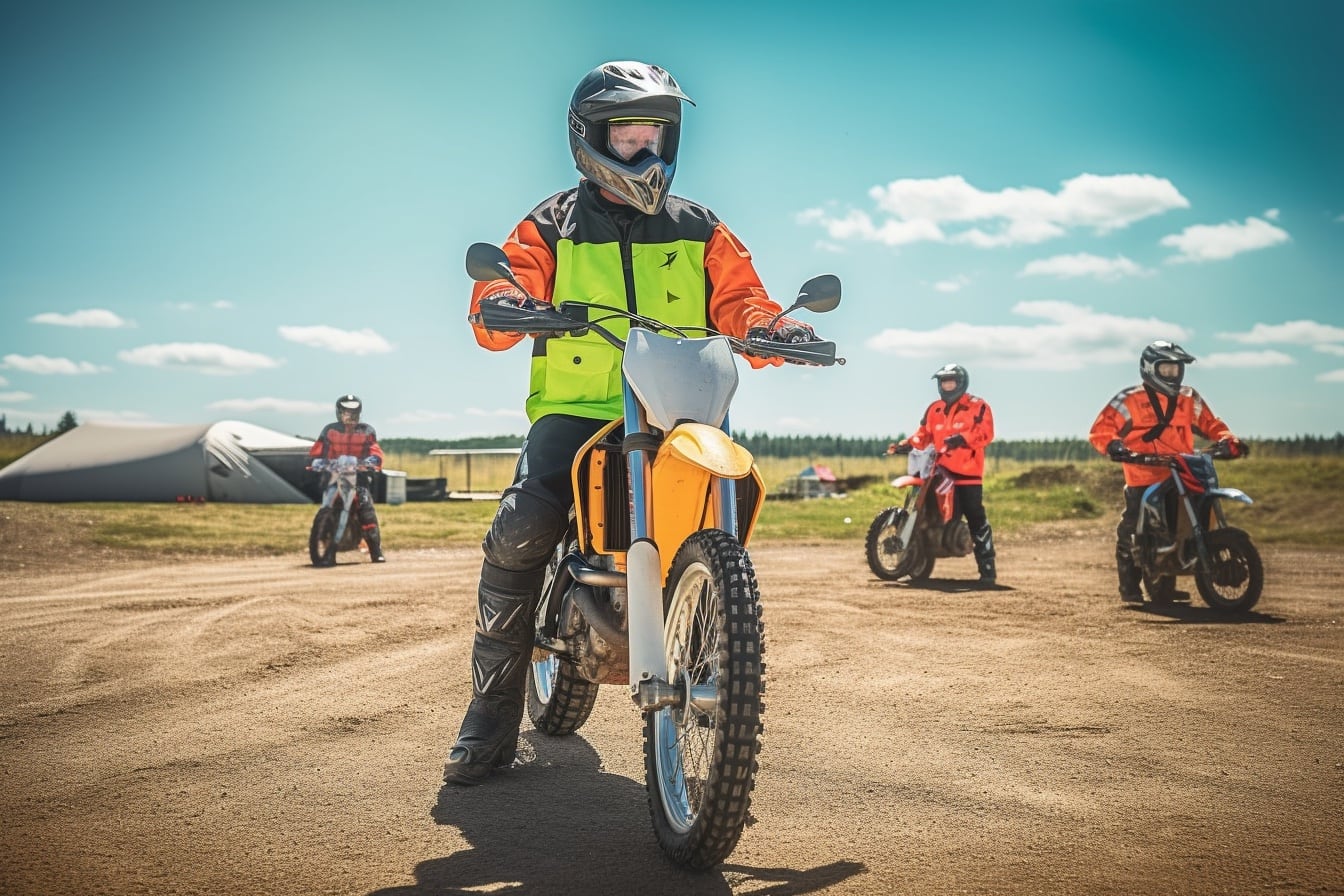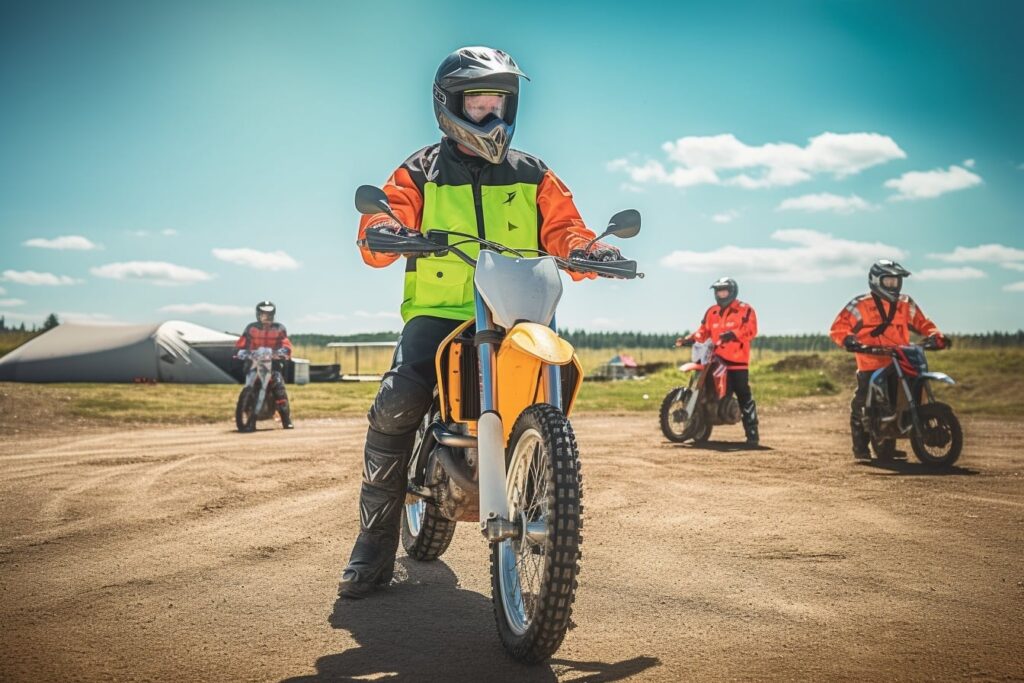 This isn't a path to making a lot of money with motorcycles; but it's a day job, at least. Or a retirement option! Have you ever thought about becoming a riding instructor?
You don't have to be a track superstar to be a riding instructor, though it would help. In much higher demand are the kinds of people who organise everyday rider training for beginner riders.
Teaching is a difficult job. I've only tried my hand at it (teaching English while abroad for a little while), and decided then and there that teaching isn't for me unless it's a thing I'm really passionate about.
Luckily, I'm passionate about motorcycles! If you are, and you think you enjoy coaching people and showing them something you love, then you might be a good motorcycle riding instructor.
The scheme is different in every country, but generally you have to first do a training school in being an instructor, then teach under someone, and then finally work as an instructor on your own. In some cases, you can only work at the school at which you did your training.
I liked this article in MCN (based in the UK) which makes it clear that you don't do this job to become a millionaire. You do it because you enjoy it. And if you enjoy going to work… well, then you're ahead of the vast majority of people with jobs. To me, that's true wealth.
Service: Motorcycle Trips on Airbnb Experiences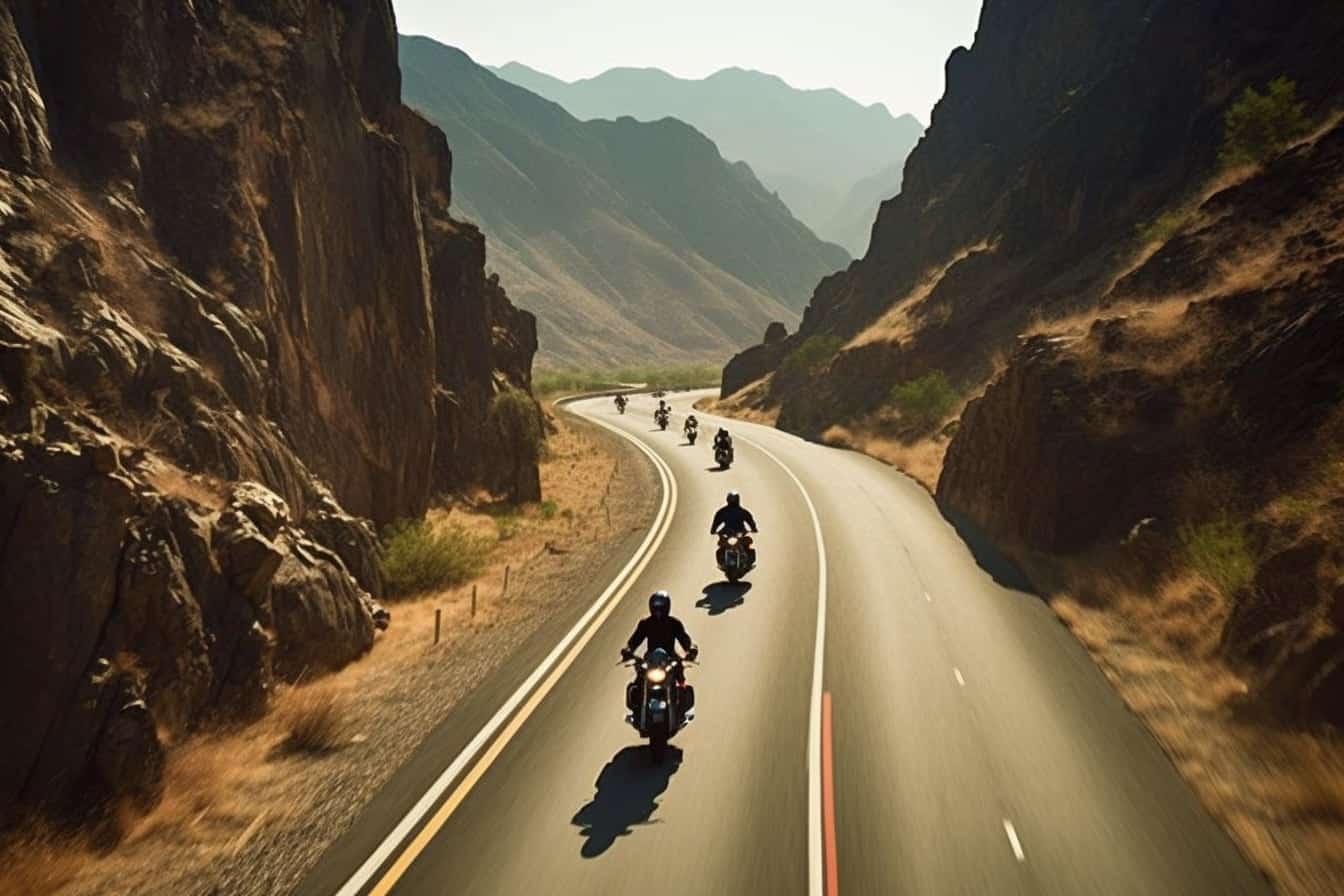 Do you fancy yourself a good host? Do you have good knowledge of your local area? Then set yourself up as a motorcycle tour guide on Airbnb experiences.
I've used a number of Airbnb experiences and really like them as a way of getting introduced to some aspect of local culture with a personal touch.
I really like this kind of business when it gives a bespoke tour to a difficult region, like remote parts of the world, where one would be best served with an adventure-style motorcycle.
To do this well, you have to have insurance that covers a passenger, plus have gear for them. And it probably needs to be business insurance.
If that sounds complicated, you can also own motorcycles to rent them out through a partner like Riders Share (who will take care of the insurance), offering discounts for people who come through your group, so you can combine it with that motorcycle business idea.
Job / Service: Mobile Motorcycle Mechanic
This one is just for those who are already motorcycle mechanics.
I've met a few mobile motorcycle mechanics in my life. They had incredible setups — an entire rig and lift in the back of a large van, every tool you could imagine, and some high-power tools that most personal mechanics don't have (like a rattle gun).
Mobile motorcycle mechanics do have to set up the van, but the set up cost would be similar to (or less than) the set up cost of a shop.
And the beauty is that you can charge the same hourly rate (or similar) as a motorcycle mechanic in a shop, but you can work your own hours, never pay rent, and you get access to a whole bunch of customers who can't bring their bike to your shop. (This was me, once, when I took my clutch apart and couldn't get the damn thing together again without special tools.)
Service: Motorcycle Purchase and Registration for Foreigners
One thing that's hard about doing a motorcycle tour in a foreign country is getting a motorcycle for a reasonable amount of money.
In most countries, to insure a motorcycle locally, you need to be a resident. This means you need to have properly migrated to the country or region, at least short-term. This is the case in Europe, for example, which is what makes buying a motorcycle in Europe as a foreigner so complicated.
One service for which I'm particularly grateful is the kind of service that buys, stores, and even sells a motorcycle on your behalf. These are far and few between, as it's a very difficult business to run profitably. Even the owners of those businesses say that if you're planning on owning a motorcycle for anything less than a month, it's better to rent — and pay over 100 euros a day!
Two of the businesses that exist that are like this are
Both of these are in the Schengen area. They have businesses to which they register a motorcycle, they help you with insurance, and they even house your motorcycle between seasons. Plus, they're run by honest, great people, both of whom I've had the pleasure of chatting with.
However, that's just two businesses. I want to see services like this everywhere! In the US, in Australia, and in Central Asia.
But I understand it's hard to set up. Insurance is always the tricky bit.
Here are some other tips for riding motorcycles in the US in general. These are things I learned the hard way!
Other Motorcycle Business Ideas
There are definitely other ideas out there. Some of them seem obvious, but I haven't mentioned them. Here they are, and why I didn't!
Content creator / Blogger: Fun, but increasingly expensive, and actually very high-risk. Sure, you know Fortnine, Common Tread, and so on, but guess what: They spend tens of thousands of dollars in producing every video, and there was a long period in which they made content you never heard about. There are also tons of content creators you've never come across. I don't suggest "Blogger" to most people because writing articles is very difficult. I started out thinking I was good at writing, and I wasn't; years later, I think I've figured it out, and I still don't make that much. And guess what, AI will eat my lunch in a couple of years time. My days are numbered.
Flipping motorcycles: A classic motorcycle business idea, but not a good one for most people. People who do it well make it seem easy, but you don't hear about failure stories. It's very hard. You make a few hundred bucks on a few, then a few grand on one, and woohoo you're doing well, and then you lose some money on others. It takes time (so much shlepping), patience (so much dealing with people), and diligence, and it's super competitive because a bunch of other people are also bargain hunting. If you're an extremely good buyer and seller (I've met a few people like this), then maybe you should get a dealer's license and set up shop. But frankly, if you're a good buyer and seller, there are much more profitable things to trade.
Becoming a motorcycle mechanic: I love my mechanics. I wish I could become one. But it's such hard work to become one — years of training and then low pay as an apprentice — and then to make the business work means you have to fight forces like rent, marketing, pricing, and so on. Plus, is it just me, or are most motorcyclists — despite the fact that we fork out bucketloads on the machines — cheapskates when it comes to servicing? That's the hard part about selling repair or maintenance services. If I have to sell something expensive, I want it to be ice cream, not medicine.
Food delivery: This is, for me, the worst part of motorcycling: Riding in a city, in traffic. Stop-start, high-risk, high-aggravation. Plus, it's best done on small motorcycles, which is just a small part of the motorcycling experience. And e-bikes are a much smarter idea in most cities. I'd deliver food on a superbike to someone on a winding road if they ever wanted me to though… but it might not get there in one piece.
Generally speaking, the lower the barrier to entry (i.e. the higher the possibility of any competitor launching), and the higher the risk, the worse the business.
One particularly cool motorcycle business idea about which I don't know much is becoming a custom builder. I know very few shops that specialise in doing work on commission: They get a motorcycle from customers, then build them, and charge for the lot, including labor. This is "ice cream". But you have to be an artist and a businessperson at the same time. This article from BikeEXIF has a more comprehensive overview.
Any other ideas? Ideas are free and easy. Execution is everything. If there's something you'd like to see more of (or that you've done), write me a note or drop me a comment. I'd personally love to see more of the motorcycle business ideas above to become a reality, so I can enjoy the products and services… so would welcome your thoughts.