Being the proud owner of a Gen 2 2018 Suzuki Hayabusa (see my buyer's guide to the Hayabusa), I'm aware that the Gen 3 Hayabusa is an upgrade to the outgoing model in some significant ways.
But the slight downgrade in power (due to emissions restrictions), largely unchanged engine configuration, and limited upgrades have caused many to ask the question: Is the new Hayabusa too expensive?
While nobody claims that it's a bad bike, many think it's not enough of an improvement to warrant an upgrade, and that the competition is perhaps too strong.
Of course, that doesn't deter those who'll stop at nothing to own an iconic brand like the Hayabusa.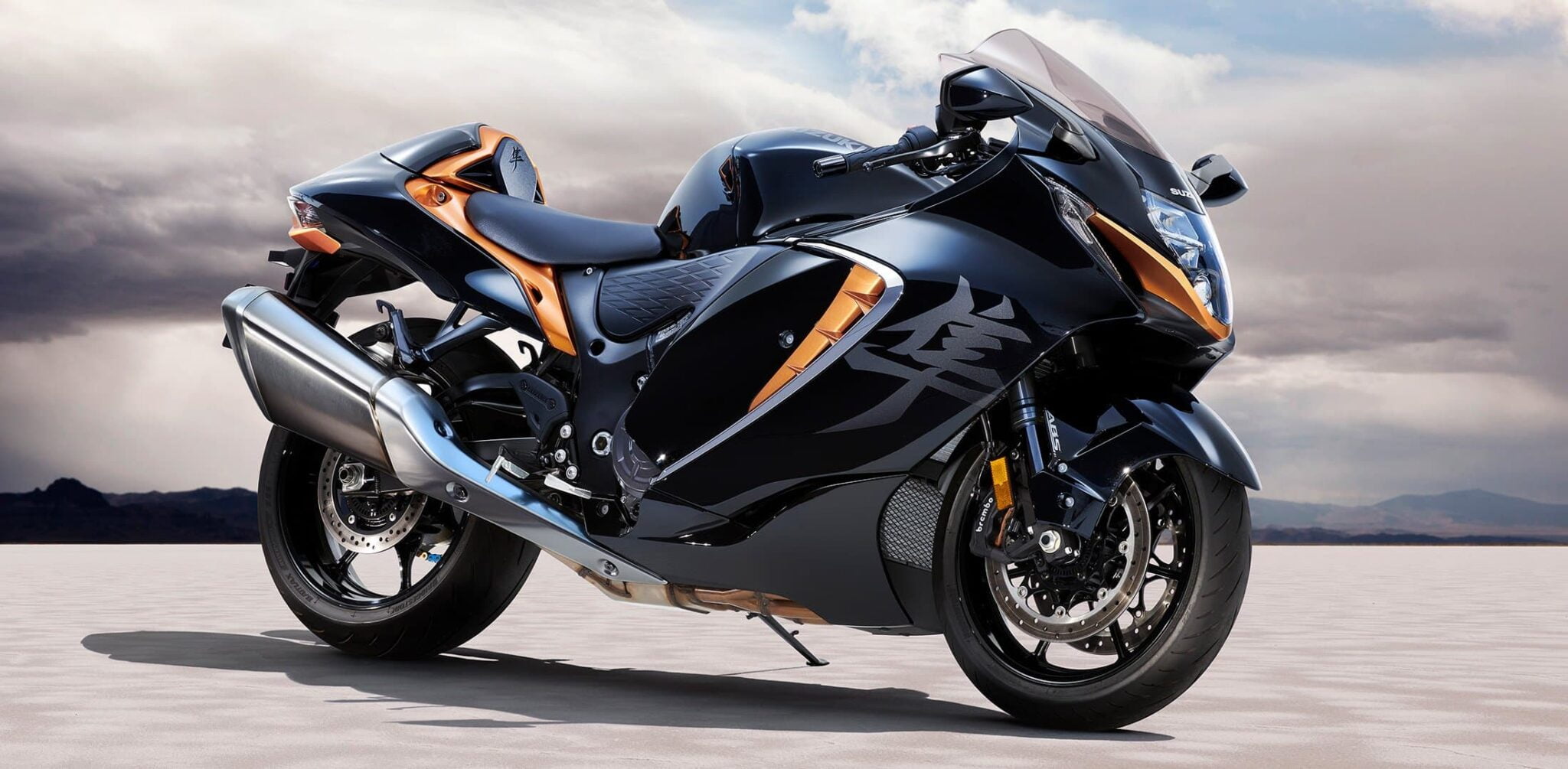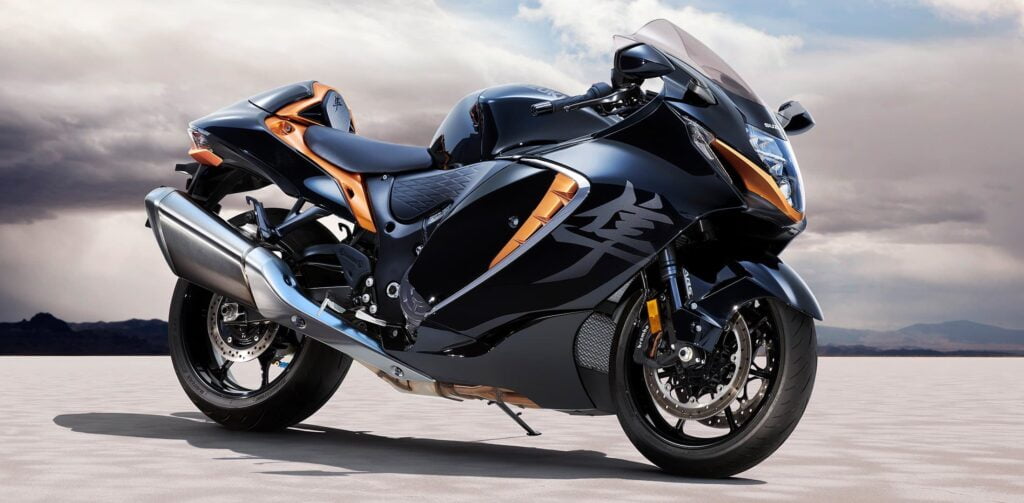 Let's analyse these claims in turn. I personally prefer the Gen 2 with ABS for a number of reasons (price being among them), but I think it's still worth examining these questions of how competitive the pricing of the Gen 3 Hayabusa is.
Quick note about me — yes, I'm a motorcycle tragic, but in my spare time I'm also a management consultant for high tech companies, i.e. a huge nerd when it comes to business, money, and finance. I'm not a trained economist, which luckily means I have no qualms about pretending I am one without qualifying it heavily.
So I want to consider three important aspects of pricing the 2021 Suzuki GSX1300R Hayabusa: Inflation, competition, and the value of improvements.
Are you obsessed with motorcycles?
Well, I am. That's why I created this site — as an outlet. I love learning and sharing what others might find useful. If you like what you read here, and you're a fraction as obsessed as I am, you might like to know when I've published more. (Check the latest for an idea of what you'll see.)
The inflation argument: How has the Suzuki Hayabusa's pricing changed with the dollar?
Like it or not, the world is subject to something unfortunate called "inflation". This is (to criminally oversimplify) where the price of everything generally goes up. (Here's a blog post I wrote on on my personal blog about why inflation happens explained very simply).
Along with prices, of course, the value of different currencies has changed. But if we assume you've stayed in the same country (not a safe assumption for me, but it is for most people), then here is how the price of the Suzuki Hayabusa has changed since 1999.
I've tried to find like-for-like prices, looking at old magazine reviews for the original prices, usually before on-road costs.
Notes:
There's some variance in UK prices reported — UK Superbike claimed the 1999 'Busa was 7,999 GBP on the road, while other sources said it was 8,299 or even 8,499 before other costs. I've taken the middle ground.
I found an Australian source for 17,490 RRP, and another that claimed it was 17,800 (without specifying, but I think that would have been out the door). The 2021 price for the 2022 model is 27,690 out the door, so I'm estimating around 26,390 before on-road costs (of stamp duty, CTP, registration, and a delivery fee).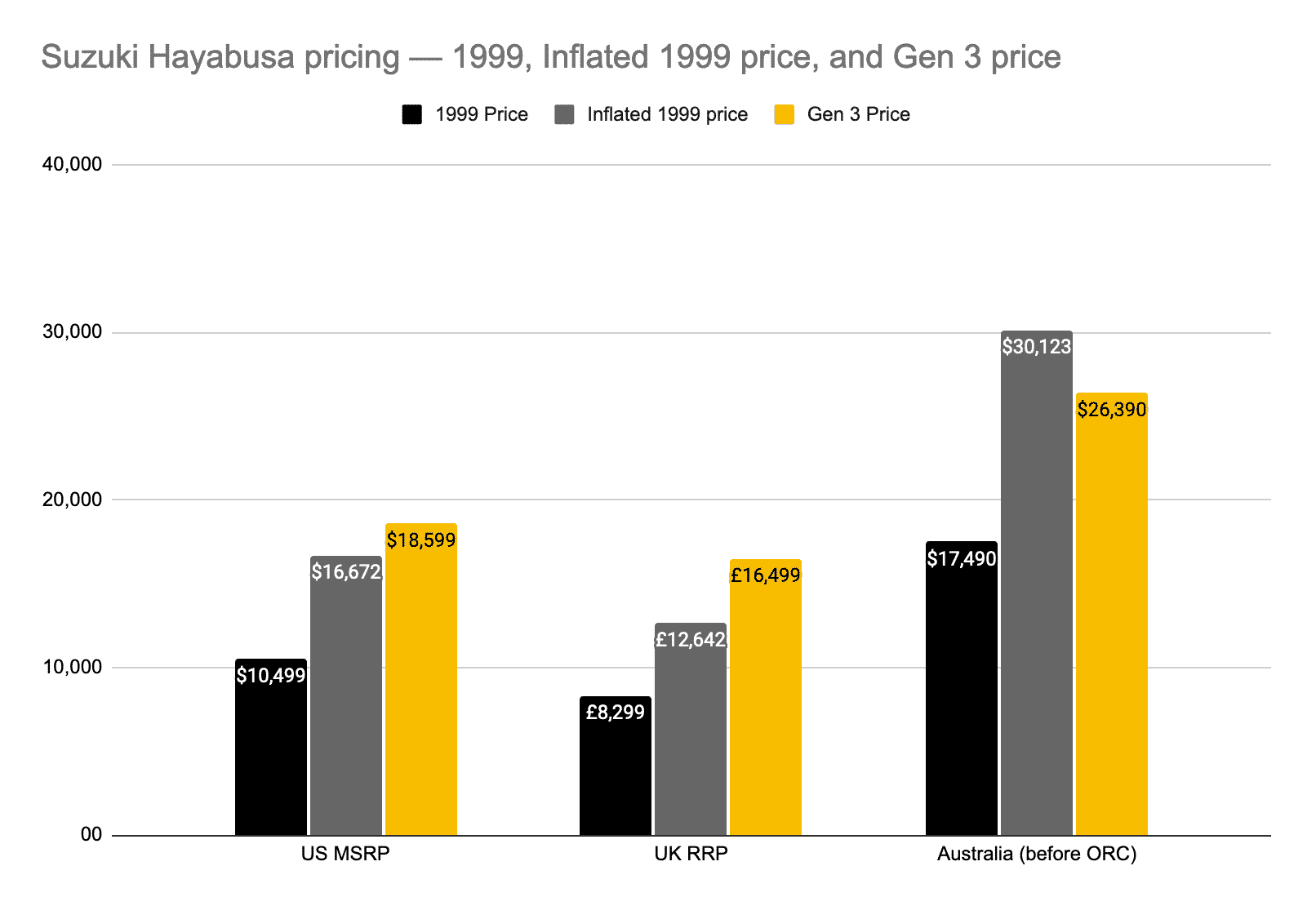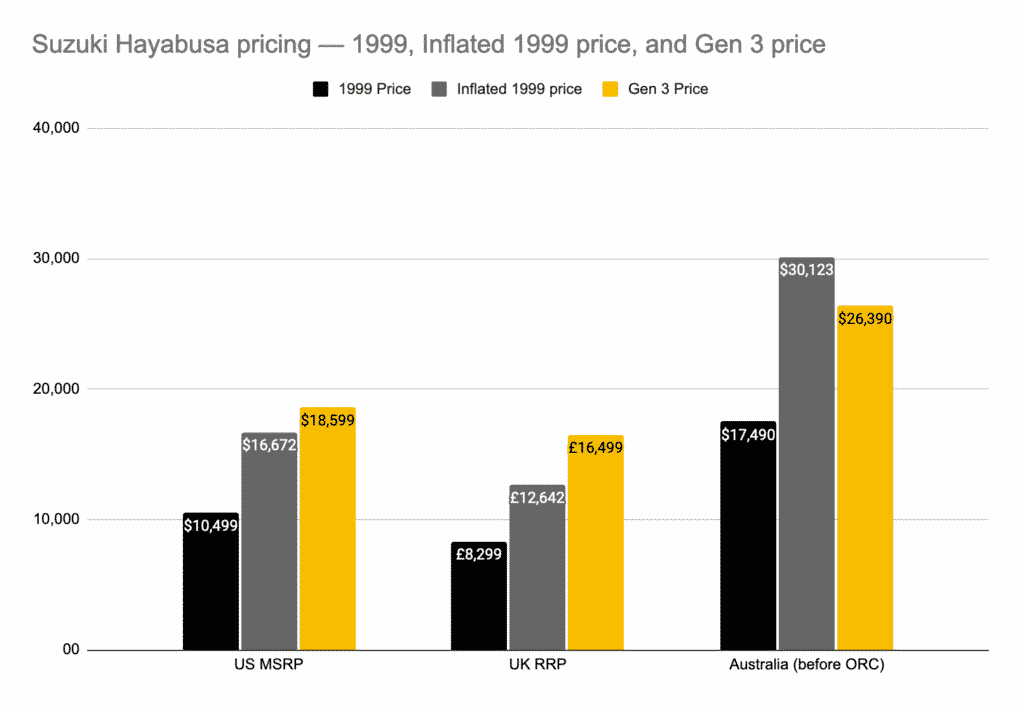 So what's the takeaway from the above?
In the UK and the US, the new 2022 model is more expensive. In the UK it's significantly more expensive than the inflated price for the 1999 model.
In Australia, the new 2022 Hayabusa is cheaper than the inflated 1999 price.
Of course, inflation rates are different in each country (Australia has had more of it), and currency values have fluctuated vs the JPY. And you have to also consider what the price is relative to the outgoing 2020 model (but we'll get to that in a bit).
But at the end of the day, in Australia, relative to the average consumer's wallet, the Gen 3 Hayabusa is slightly cheaper than it was in 1999. I think that's worth noting. In the US and the UK, you're paying more. So you have to consider whether you're actually getting more motorcycle.
Alternatives: Is the Gen 3 Hayabusa Too Expensive vs the Competition?
Competition is a second way of looking at pricing. So how does the 2022 Hayabusa's pricing stack up against the main alternatives?
Those alternatives are
New or near-new Gen 2 Hayabusas
The Kawasaki ZX-14R
Kawasaki Z H2 SE+ (the sport tourer of the H2 range)
And… that's it. There are no other high-power sport touring motorcycles (that are this "sporty" anyway).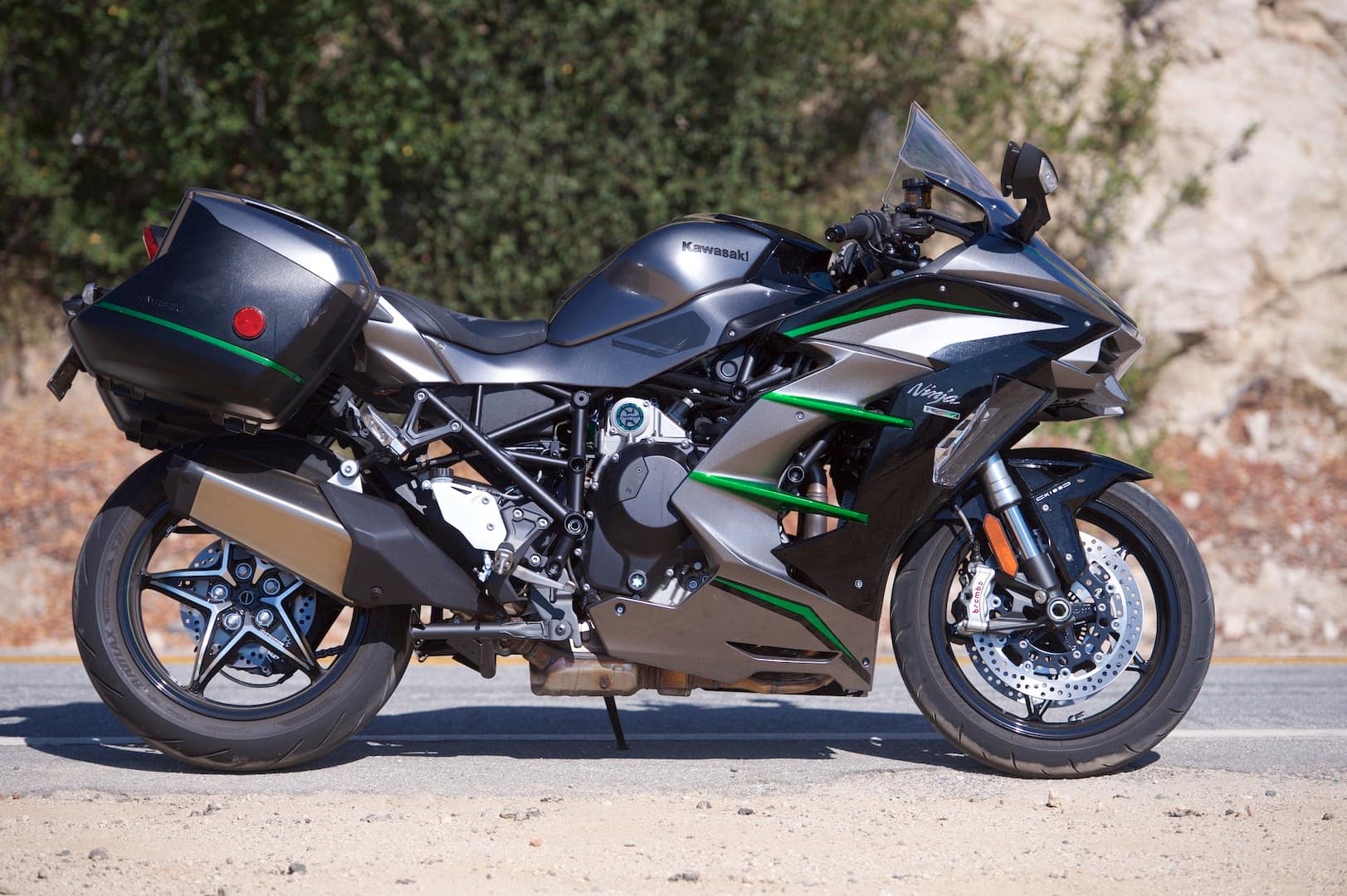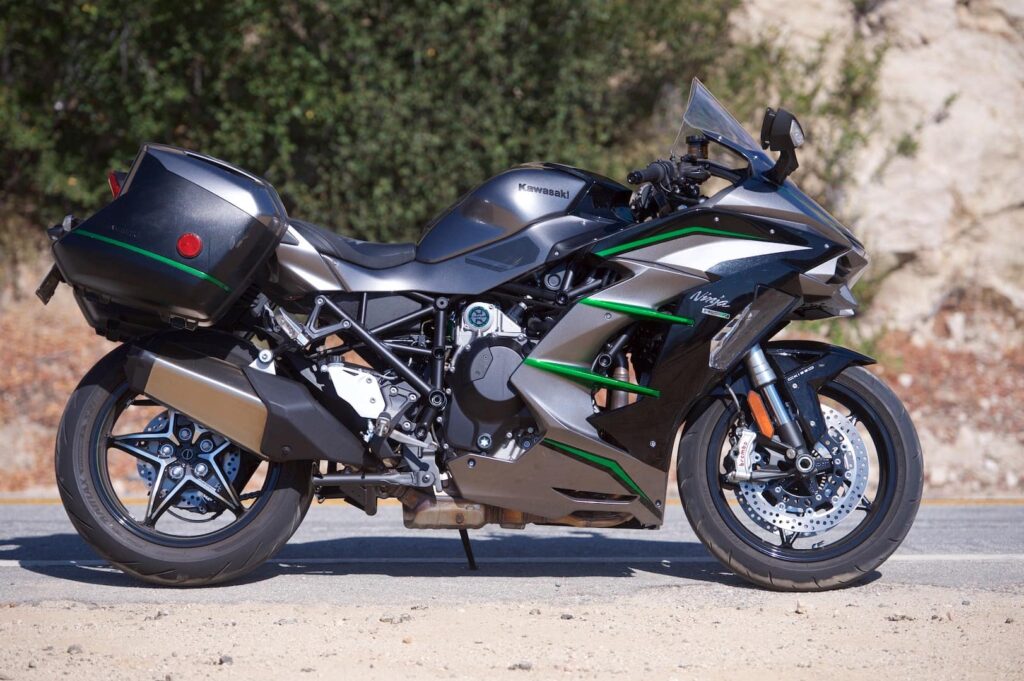 Here's how the prices stack up across three markets: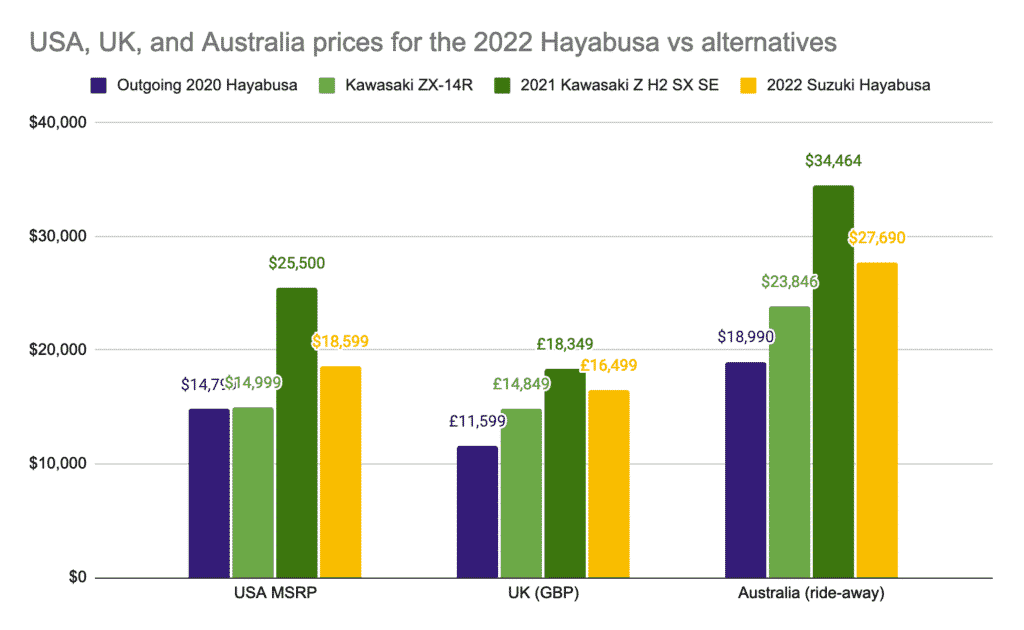 Of course, you have to bear in mind that these are significantly different motorcycles.
The Gen 2 Hayabusa was made up to 2020 (or earlier, in Europe). It didn't change since 2013. It was a fairly basic motorcycle in recent years, the most advanced feature being ABS. And that's it! Yes, it has fully adjustable suspension, but there's little that makes it unique apart from the iconic brand and style. The main caveat — these are getting harder to find, especially new (they're almost all gone).
The Kawasaki ZX-14R is an altogether more advanced motorcycle since 2017. It has traction control and ride modes, a more advanced digital display, full Öhlins suspension, and Brembo M50 brakes, and of course a more powerful engine. It goes faster. The main thing the ZX-14R lacks is the brand of the Hayabusa. (Also, some prefer the style of one over the other)
The Kawasaki Z H2 SE spells the death knell of the ZX-14R… it's significantly more powerful thanks to its supercharged engine, and also comes with the option of touring add-ons like luggage. It has a full IMU in recent years, cruise control, electronic suspension, and all kinds of other options that make it one of the most advanced motorcycles on the market. On top of that, it has sharp, modern styling, with a single-sided swing-arm and gorgeous exposed frame. It's also a lot more expensive.
The Gen 2 Hayabusa was unavailable for sale when the Euro4 emissions standards were enforced as of 31 Dec 2018, so you can only get a 2018 Hayabusa in Europe.
What's my take-away? If you can't get an old Gen 2 'Busa, aren't married to the Hayabusa brand, and don't want to spend top dollar, then the Kawasaki ZX-14R is your next best bet. It's just a great bike, and it's 10-20% cheaper than the new Gen 3 Hayabusa. It lacks a few things the new Busa has, like an IMU and a speed limiter, but it's indisputably great anyway.
Value: What is the value of the Gen 3 Hayabusa add-ons?
Let's go over everything important that changed with the 2022 Suzuki Hayabusa and try to ascribe a finger-in-the-air value to them.
Here are the new things that the Gen 3 Hayabusa gets:
A sophisticated computer (called Suzuki Intelligent Ride System or SIRS), which means ride-by-wire with a six-axis IMU, which lets the new Gen 3 Hayabusa get:

Cruise control, and even a speed limiter (first on a motorcycle)
Motion Track Brake System, which is what Suzuki is calling their cornering ABS function
Hill hold control, applying a rear brake when you stop on an incline
Ride modes (Suzuki Drive Mode Selector Alpha), including multiple user settings
Traction control, including lean-angle aware traction control (Suzuki's Motion Traction Control System)

A standard quickshifter — bi-directional with two modes of operation
Launch control to help you win at the traffic light Grand Prix
Engine braking control with multiple settings
Emergency stop signal (flashing the brake light when you hit the brakes at high speeds)
Low RPM assist, in case the 'Busa is your first bike, and Suzuki's one-touch easy start system
A colour TFT LCD Panel which shows many things, including your lean angle
Upgraded Brembo Stylema brakes (same as on the Panigale V4, and an upgrade on Brembo's previous M50 calipers) on a 10mm larger diameter 320mm rotor
LED lighting everywhere
So, you have to ask yourself… is all that worth the extra cash? Which means a) you think it's worth it and b) you actually want that stuff (not everyone does).
In particular, it's worth looking at the 2017+ ZX-14R, which also comes with a sophisticated electronics package. It lacks an IMU, but the ZX-14R does have traction control, ride modes, and a more powerful engine. It also has Brembo M50 calipers and Öhlins suspension front and rear.
To some people (like me), too many add-ons are a net negative. For me, I prefer the old model's tech for two reasons.

Firstly, I like motorcycles that don't artificially make me a better rider — people who get used to quickshifters, IMUs, and linked braking risk developing lazy habits that won't transfer to a no-frills bike whose most advanced feature is electronic ignition. Even the self-cancelling indicators on my old 8th gen VFR made me lazy!

Secondly, I like my motorcycles to have simpler, home-repairable parts.

Both of these preferences make me prefer the "middle golden years" of motorcycles that have EFI, maybe ABS, but nothing else other than high-quality components.
I also don't want to overlook the things that the new Gen 3 Hayabusa did not get. These are improvements that many would have expected. Things like
More power out of the motor. Claimed power went down by 6hp. Even though there's more midrange most of the way through according to dyno tests, this bike is about top speed. Most expected Suzuki to increase displacement in the Gen 3 Hayabusa but they did not.
Active electronic suspension. I don't particularly love it (it just makes for expensive repairs 20 years later), but many premium motorcycles have it these days.
More classic design. The new Hayabusa looks fine, but it's a style departure from Gen 2. I love the dials and the bulbous lines of all Hayabusas before. Don't ruin it!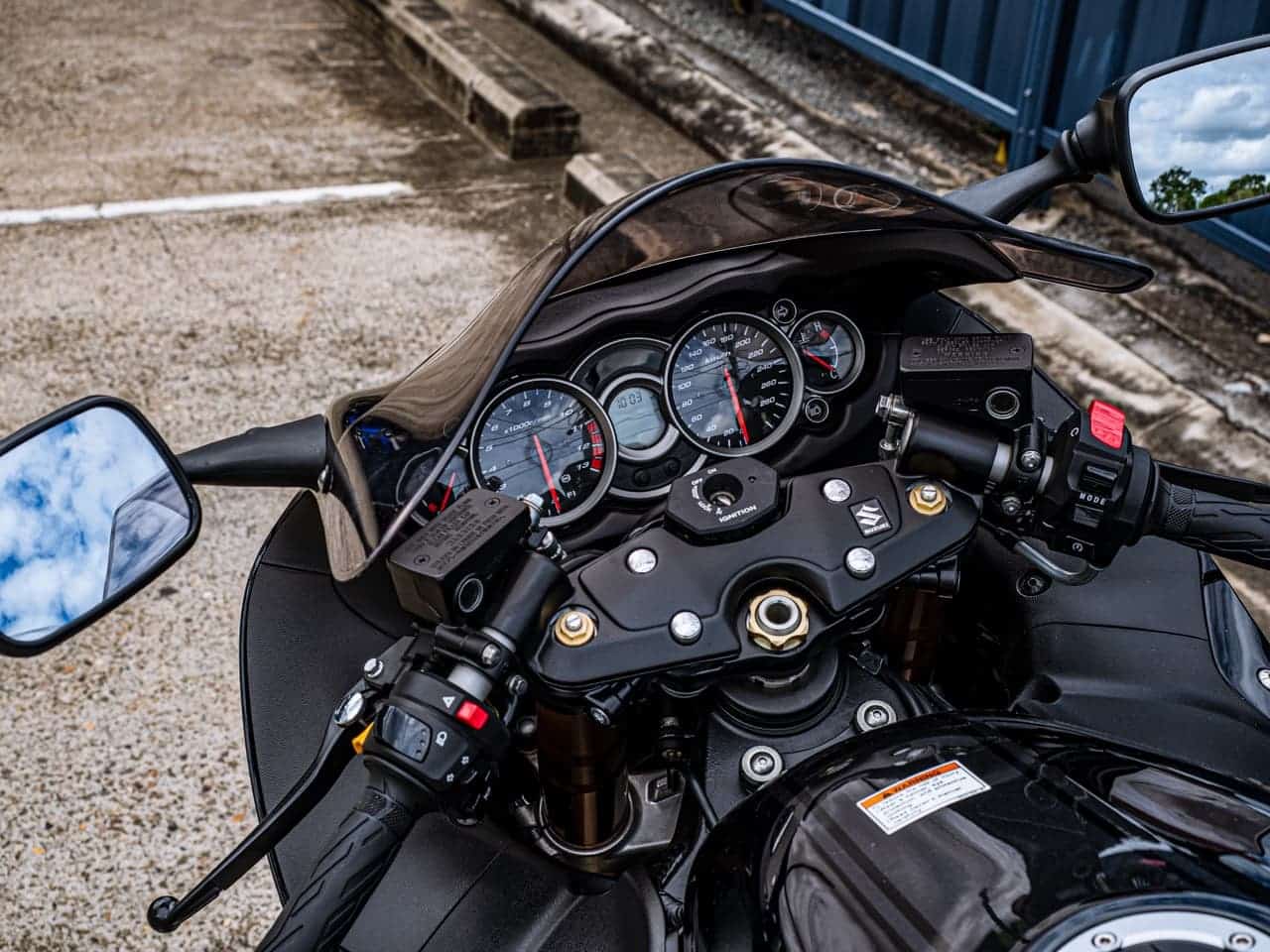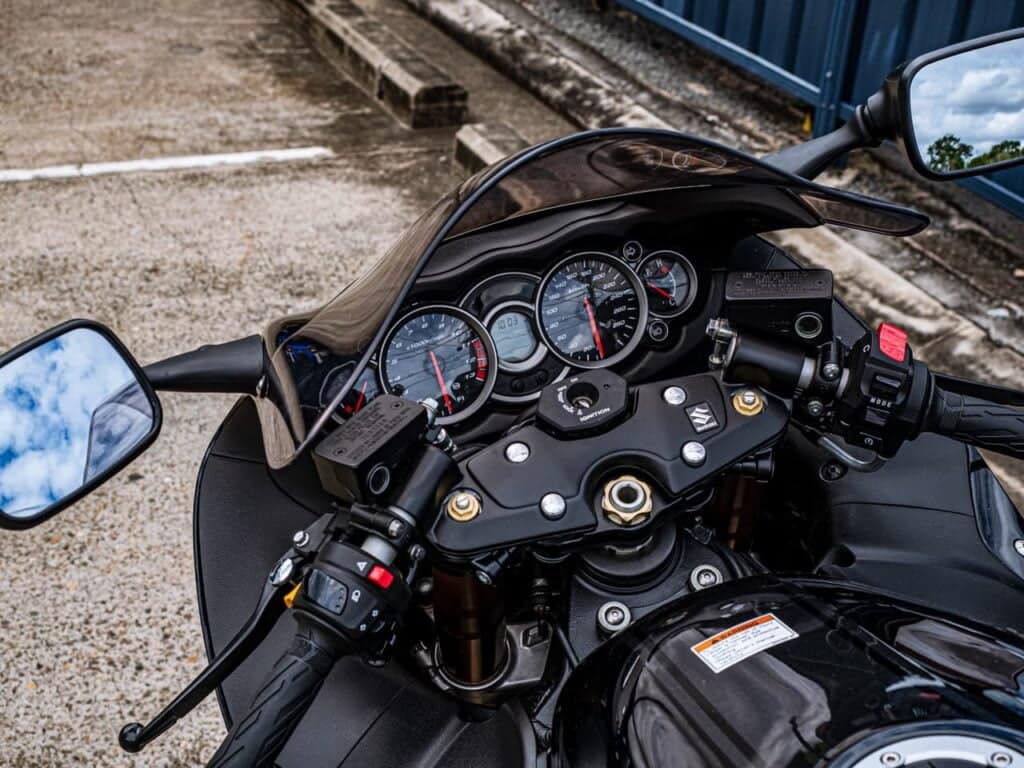 Reality check: Do you want anything other than a Hayabusa?
The final thing that's always worth asking is: is this even a discussion? Many people want either a Hayabusa or nothing, and that's why they're upset at the pricing.
If you scoffed at the idea of getting a ZX-14R ("I want the real thing"), or have been looking at Hayabusas since they first came out, or have ever mentioned Hayabusa to a friend and seen their eyes light up and want more of that… then you just want a Hayabusa. In that case, Suzuki knows that they can push you a bit more without you being totally outraged.
That's the value of branding — Suzuki knows that the word "Hayabusa" carries with it as much gravitas (to certain buyers) as "Panigale", "R1", or "911", and those are the buyers to whom they're pre-selling the bike before it has even arrived.
Personally — as I mentioned above, I like that the Gen 2 Hayabusa has less stuff. While I love a high-tech bike (like my S1000R that I've since sold), I sometimes feel like an IMU is artificially making me a superhero. It's definitely safer, and many riders prefer it, but I'm in this game for the learning curve.
For me, I am not passionately obsessive about brand, but I do enjoy the raised eyebrows people give me when I say "Hayabusa". I have an ego, I'm not a monk! That said, if the choice were between a low kilometre, well-priced ZX-14R, or a thrashed Hayabusa, I'd pick the Kawasaki. I'm sure 200+hp would make me feel better pretty often.
One thing that's indisputable is that the Gen 3 Hayabusa is a very attractive machine — which is why I included it in the list of 2022's most attractive motorcycles. You have to see it in person. You just might be convinced!