Everyone has one — their own personal list of the best-looking motorcycles, the coolest bikes, or their dream list of machines to ride, to perhaps own, or maybe just to sit on and dream. This is my own highly subjective list, just a fun one I put together, basically a little museum of pics to look at.
If you want to see what was on last year's list, here's the list of the best-looking motorcycles for 2021.
If you're like me, then you can appreciate a bike that's gorgeous to look at even if it's totally impractical to own. You might notice a lot of sport bikes below — fast, high-revving, track-focused bikes that are cool to own, but not the most rewarding outside a track (or roads in the middle of nowhere).
I try to keep a very broad mind when it comes to what makes the most beautiful motorcycles. I scan all the manufacturers and see beauty in everything. Luckily, it's everywhere!
But nonetheless, this is a very subjective list of good-looking motorcycles. You might disagree with some of it and that's fine. Or wonder how I've missed something (please tell me).
But here goes — my own list (in alphabetical order) of the best looking motorcycles available as 2022 model years. I try to keep it to one model per brand, though that's hard with a few of them.
See the all the lists of best-looking motorcycles if you want to look at other pretty pictures:
Got another one to tell me about? Drop a comment or contact me and let me know. No wrong answers, we get to talk about good-looking motorcycles, and everyone wins.
Are you obsessed with motorcycles?
Well, I am. That's why I created this site — as an outlet. I love learning and sharing what others might find useful. If you like what you read here, and you're a fraction as obsessed as I am, you might like to know when I've published more. (Check the latest for an idea of what you'll see.)
Aprilia Tuono V4 Factory
Few streetfighter-style bikes get the blood boiling like a V4 Tuono. And in Factory colours it's hard to look away — my heart comes into my throat.
Of course, the Aprilia Tuono V4 Factory isn't just one of the best-looking motorcycles. It's one of the best motorcycles!
Like other streetfighters, the Tuono V4 aims to be an "everyday superbike". This isn't a naked bike or a sport standard — it's its own thing. You might note, for example, that it still has a fairing that's attached to the frame.
The Tuono V4 and V4 Factory are, like the RSV4, based on a 65-degree 107cc DOHC 16-valve V4 engine. In the Tuono bikes, it makes a peak of 129 kW (175 PS/CV or 173 bhp) at 11350 rpm, with peak torque of 121 Nm (90 ft-lb) at 9000 rpm. The bikes have a whole host of Aprilia ride control systems, achieved via ride-by-wire and a six-axis IMU.
The V4 Factory doesn't just have that Aprilia Black colour scheme (that alternates glossy black with red elements), it also has semi-active Öhlins suspension and forged aluminium wheels.
The Aprilia RS 660 has a lot in common with the V4. It's the bike I actually want, but the V4 is the one I'm looking at in the showroom.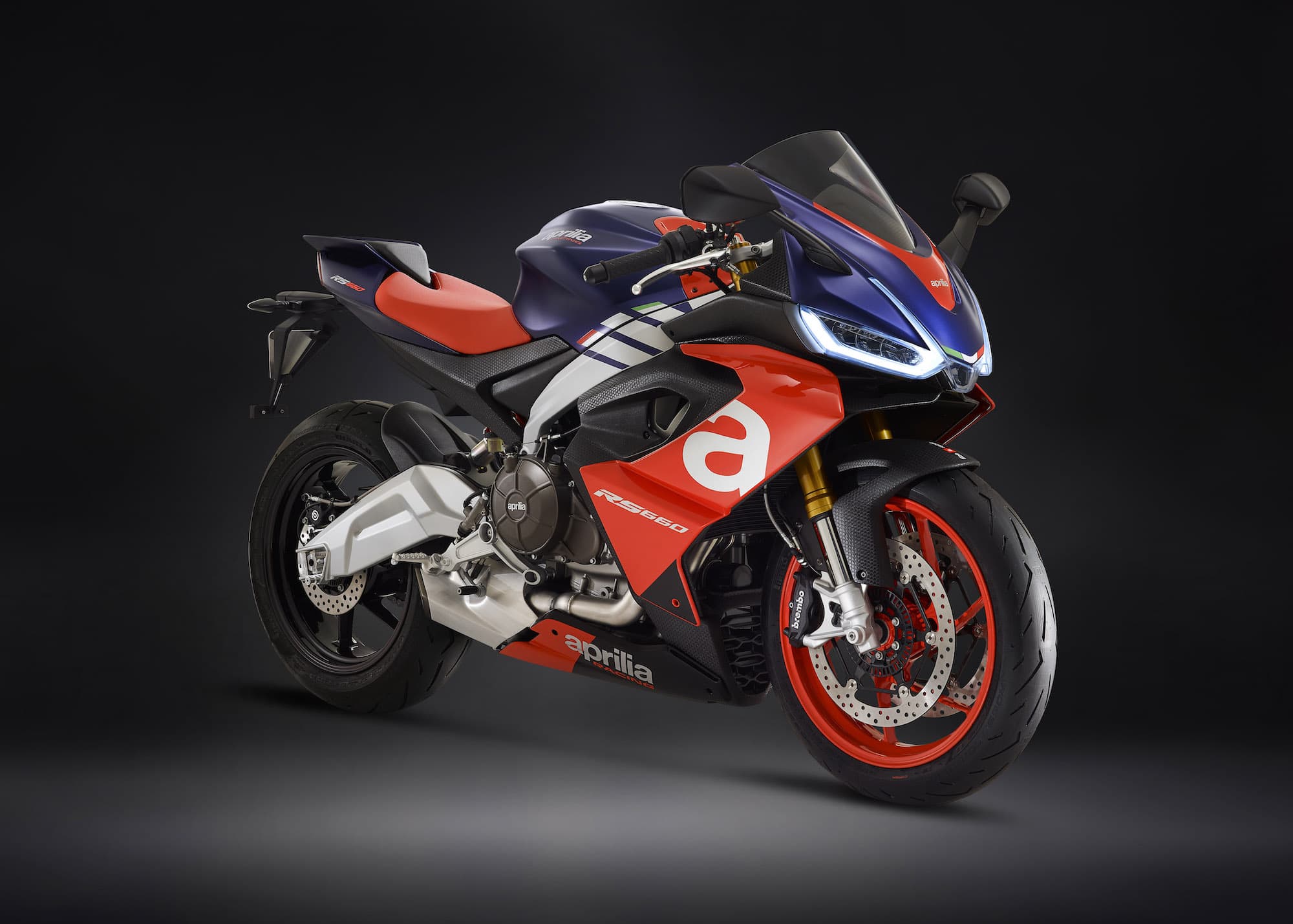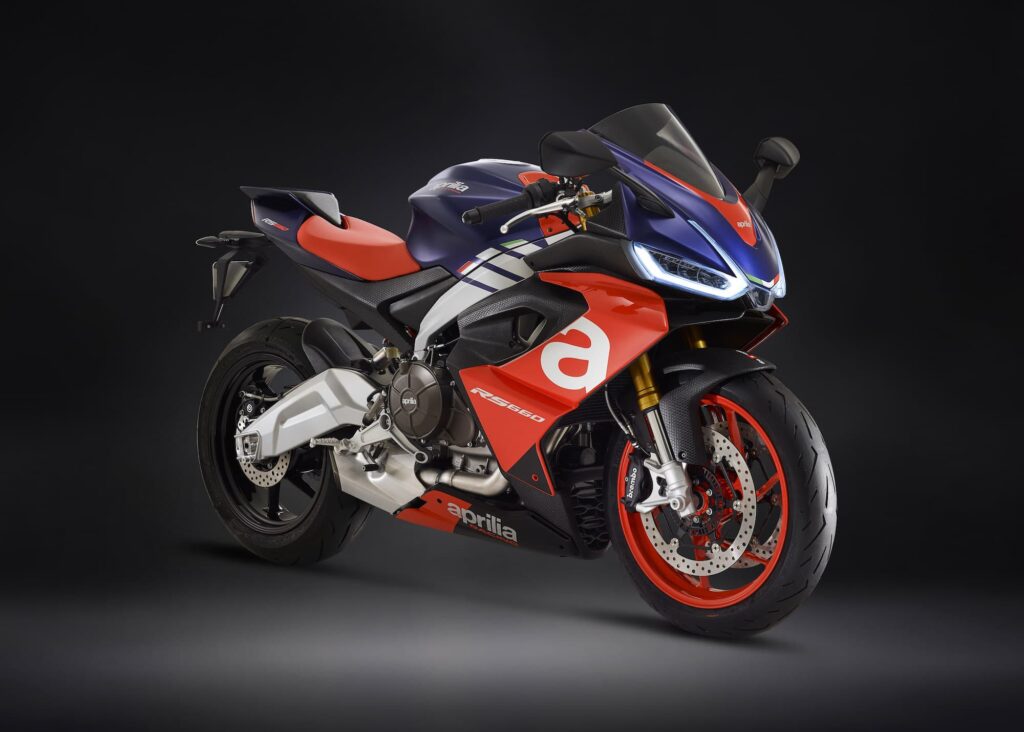 Once you've managed to get your heart out of your throat, lets move on…
BMW R 1250 GS Adventure — 40th Anniversary Edition
The R-GS bikes have been around for a while. They've always been very attractive motorcycles, but it's only when you see one in person that you really appreciate how good-looking they are. They look purpose-built, high-end, and tough.
And in 40th anniversary special edition colours, I think the 2022 BMW R 1250 GS Adventure is one of the best-looking motorcycles in the adventure segment, as well as overall. Again, you have to see it in person! It's like a beautifully sculpted tank.
The 2022 BMW R 1250 GS Adventure (or GSA as it's affectionately known) is based on the same 1254 cc liquid-cooled boxer twin as its immediate predecessors. The ShiftCam (variable valve timing) engine makes peak power of 100 kW (136 PS / 134 bhp), but of course this bike isn't about power.
Aside from that, the GSA is the same bike we've come to know and love from BMW — a very expensive premium motorcycle that you'll spend a lot of money on accessorizing so you can have all the nice stuff like Pro riding modes, adaptive LED lights, and a heated seat.
BMW makes many other bikes that are easy on the eye, but I think the venerable GSA deserves a turn.
See the complete guide to the BMW GS Boxers, from the R80 G/S to today, here.
Buell Hammerhead 1190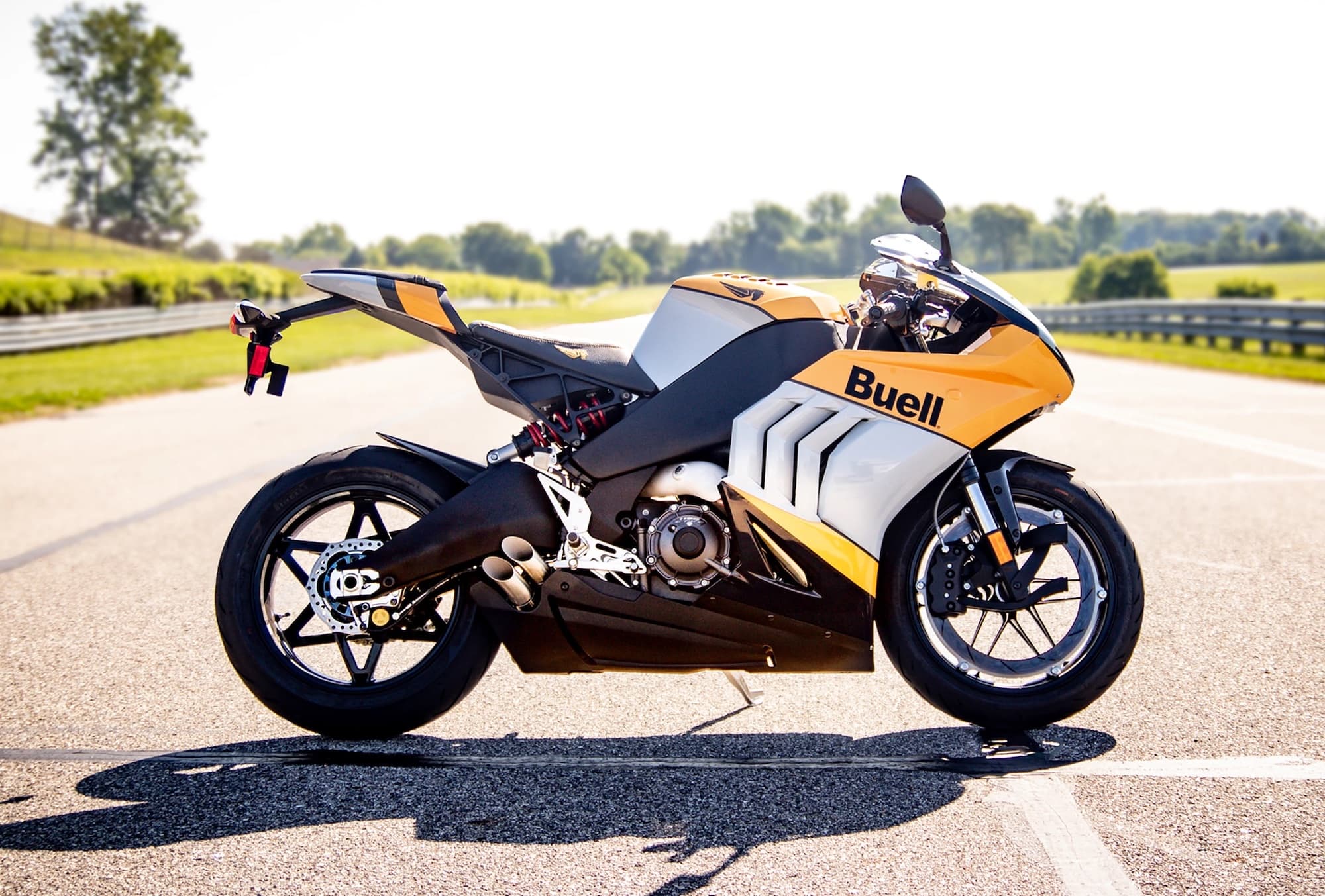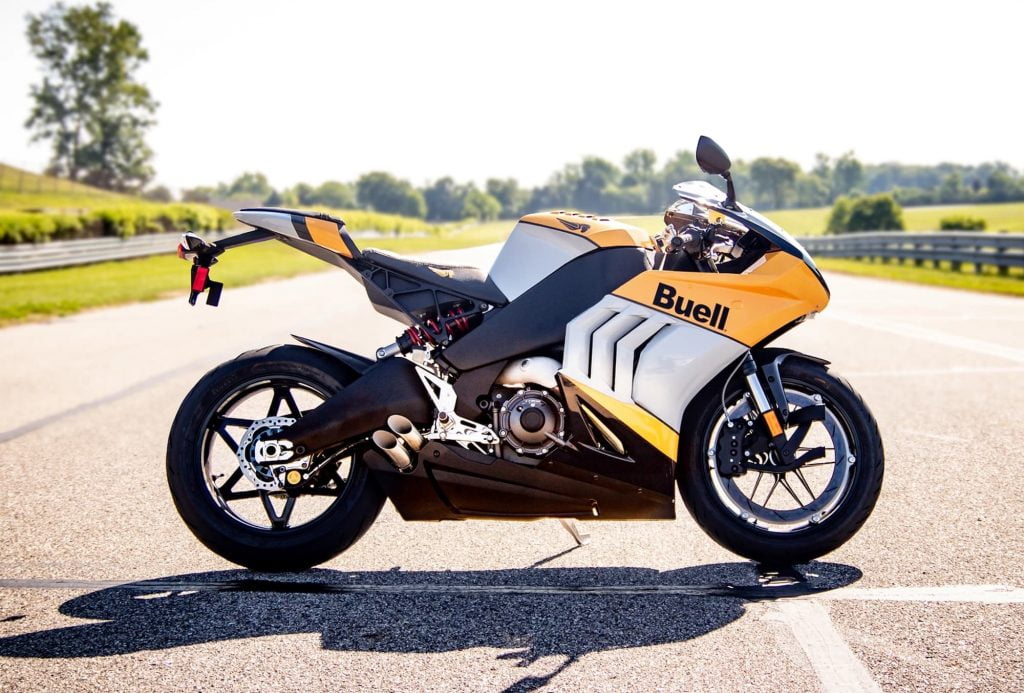 Buell and EBR sportbikes have always been some of the most unique and best-looking motorcycles around.
The Buell brand has a very interesting history. It was started by Erik Buell, an ex-Harley-Davidson engineer. Harley-Davidson gradually took over the company, then wound it down after a management change.
Erik Buell subsequently founded Erik Buell Racing (EBR), which also released several motorcycles under the EBR brand, before filing for receivership, with the company being taken over by Liquid Asset Partners for liquidation.
Now, the EBR company (still owned by Liquid Asset Partners) acquired the Buell brand again, and is releasing some models with a few updated parts and new names.
The Hammerhead 1190 is derived from the EBR 1190RX sport bike. It's based on the ET-V2 engine, a 72-degree liquid-cooled V-twin. With a 13.4:1 compression ratio, it makes a claimed 185 hp (138 kW) at 10600 rpm, making it a very high-revving and powerful V-twin.
With a 419 lb (190 kg) wet weight, a similar weight to the high-spec BMW M 1000 RR, and a bike that Cycle World crowned "Best Superbike" in 2011, I think many are waiting for the Hammerhead 1190 with bated breath.
Ducati DesertX
The Ducati DesertX was released late in 2021 for the 2022 model year.
It's a very unique motorcycle, both in terms of concept and for how attractive it is. It's not just another Scrambler variant (like the Desert Sled), nor is it a warmed-over Multistrada 950 (though it does share the same engine, the 937 cc Testastretta 11-degree L-twin).
Stylistically, the Ducati DesertX is very unique — and definitely currently the best-looking enduro in this publication's opinion. It has twin front headlamps — themselves a rarity in motorcycling these days (though you'll see them on the Triumph Rocket 3 and the Moto Guzzi V85TT, both of which have graced these pages).
The Ducati DesertX was a blank-slate project by Ducati to build a purpose-built enduro motorcycle. It's based on a new trellis frame, with long-travel suspension (fully adjustable Kayaba gear) and 21/18 front/rear wheels — unprecedented for Ducati.
The gearing is different to other bikes with the same motor too, both within the gearbox and in the final drive.
Braking is provided by Brembo M50 calipers, which until not long ago were superbike spec.
Electronics for the Ducati DesertX is also enduro-specific, with two ride modes dedicated to off-road performance: Enduro and Rally. Even the display has a Rally mode. And you can deactivate cornering ABS, should you need to for off-road work.
For 2022, the Ducati DesertX comes only in one livery option — Star White Silk. Luckily, it's a winner — this is one good-looking Ducati.
See here for our full take on the Ducati DesertX and how it's different to other adventure bikes, including those in Ducati's line-up.
Ducati Panigale V4 SP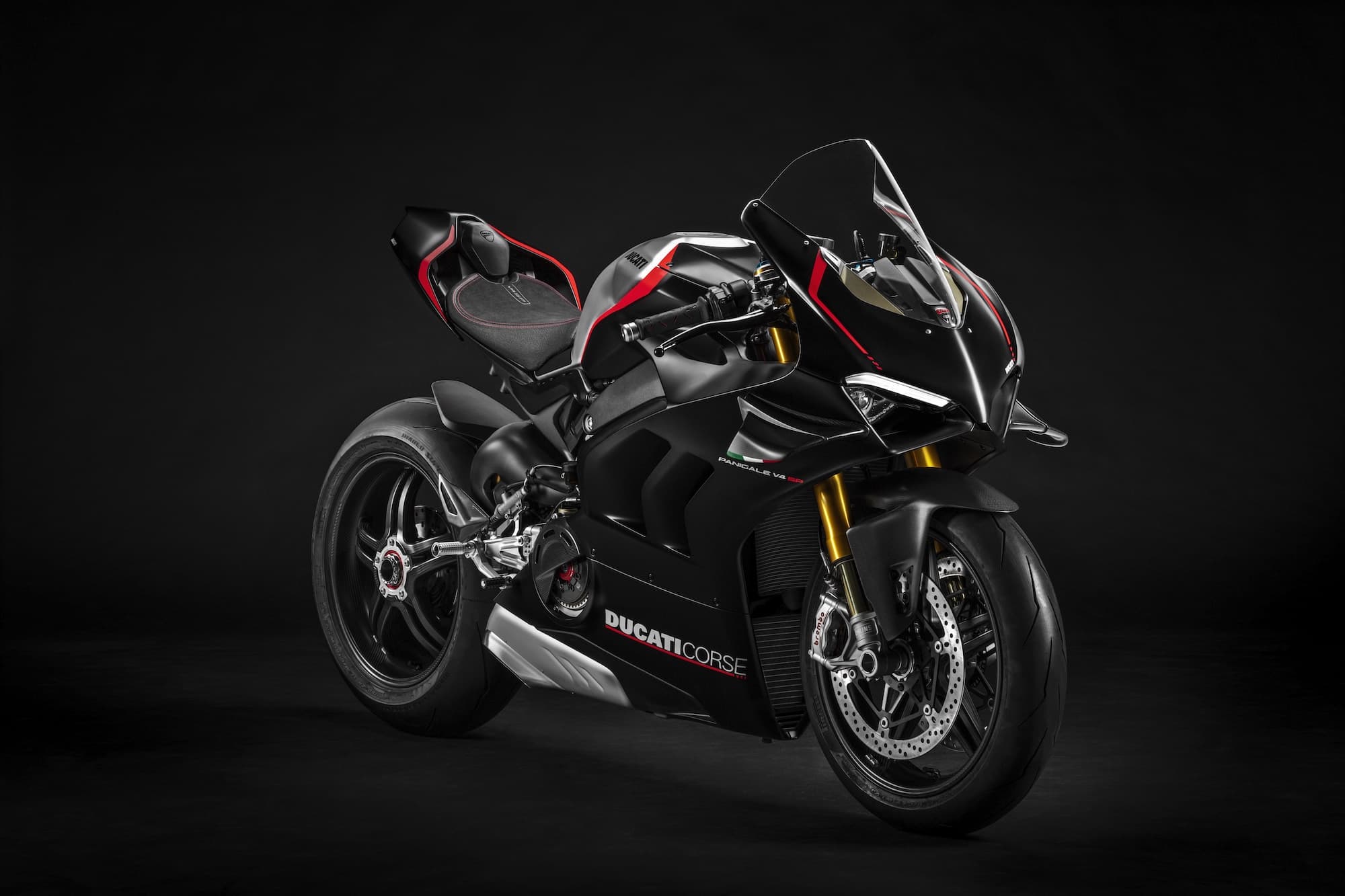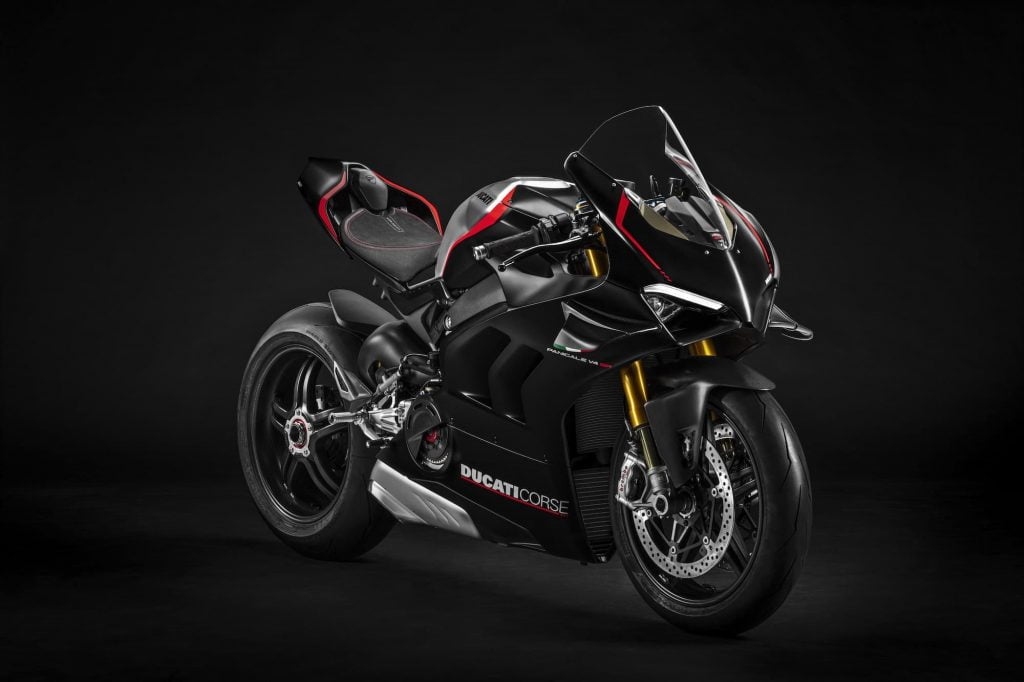 Every Ducati Panigale has been easy on the eye, so to include a Panigale in a list of the best-looking motorcycles seems like cheating.
But the Ducati Panigale V4 SP is not just a warmed over Panigale V4. It combines the best of the V4R, which is made for racers, the V4S, the ultimate "everyday Panigale", and even the Superleggera, to create something really special.
The Ducati Panigale V4 SP incorporates the following from its stablemates:
The 1103 cc Desmosedici Stradale V4 engine from the Panigale V4 and V4S (but not V4R, which has a 998 cc engine)
Fully adjustable active Öhlins suspension and steering damper from the V4S (neither the base model nor the R have electronic suspension)
Brembo Stylema R calipers, unique to the V4 SP (the others have regular Stylema calipers)
Carbon fiber wheels from the Superleggera
Extremely attractive design from all of the above
All in, the Ducati Panigale V4 SP is not just a good-looking bike, it's also a very unique one — sure to be a collector's item worthy of display in my cafe (when that happens).
Harley-Davidson Sportster S
I still think this is the best-looking motorcycle in Harley-Davidson's line-up, though as usual, many good-looking machines from Harley-Davidson's extensive line give it strong competition.
We first saw the Sportster S in sneak preview form a couple of years ago as the Custom 1250, but Harley-Davidson released the Sportster S in 2021.
There's a lot that's special about the Sportster S. But in a nutshell, it's a big break from the Sportster line, introducing a liquid-cooled relatively high-power engine (the Revolution Max 1250T engine, similar to that in the Pan America 1250) into a lighter frame, with competent suspension (fully adjustable forks!) and modern rider aids like cornering ABS and cruise control.
See more information about the Harley-Davidson Sportster S here.
On a personal note, the Sportster S is a strong contender to be my next Harley-Davidson. It ticks a lot of boxes! See my ride review here.
Indian Chief
The revamped-for-2022 Indian Chief comes in a number of flavours — the standard Chief, the bobber, both those in Dark Horse incarnation, the Super Chief, and Super Chief Limited.
But they're all flavours of the same basic concept, and all are very good-looking motorcycles — especially the basic models.
The base model Chiefs have an 111 c.i. (1811 cc) air-cooled V-twin engine that makes peak torque of 108 ft-lb at 3200 rpm. The Dark Horse models have an 116 c.i. (1890cc) engine that may not sound like much more, but which peaks at 120 ft-lb of torque at 2900 rpm — a lot more, and slightly lower!
The whole line comes with ride modes, cruise control, and ABS as an option or standard — quite a lot of technology for air-cooled cruisers.
Honda CB1000R Black Edition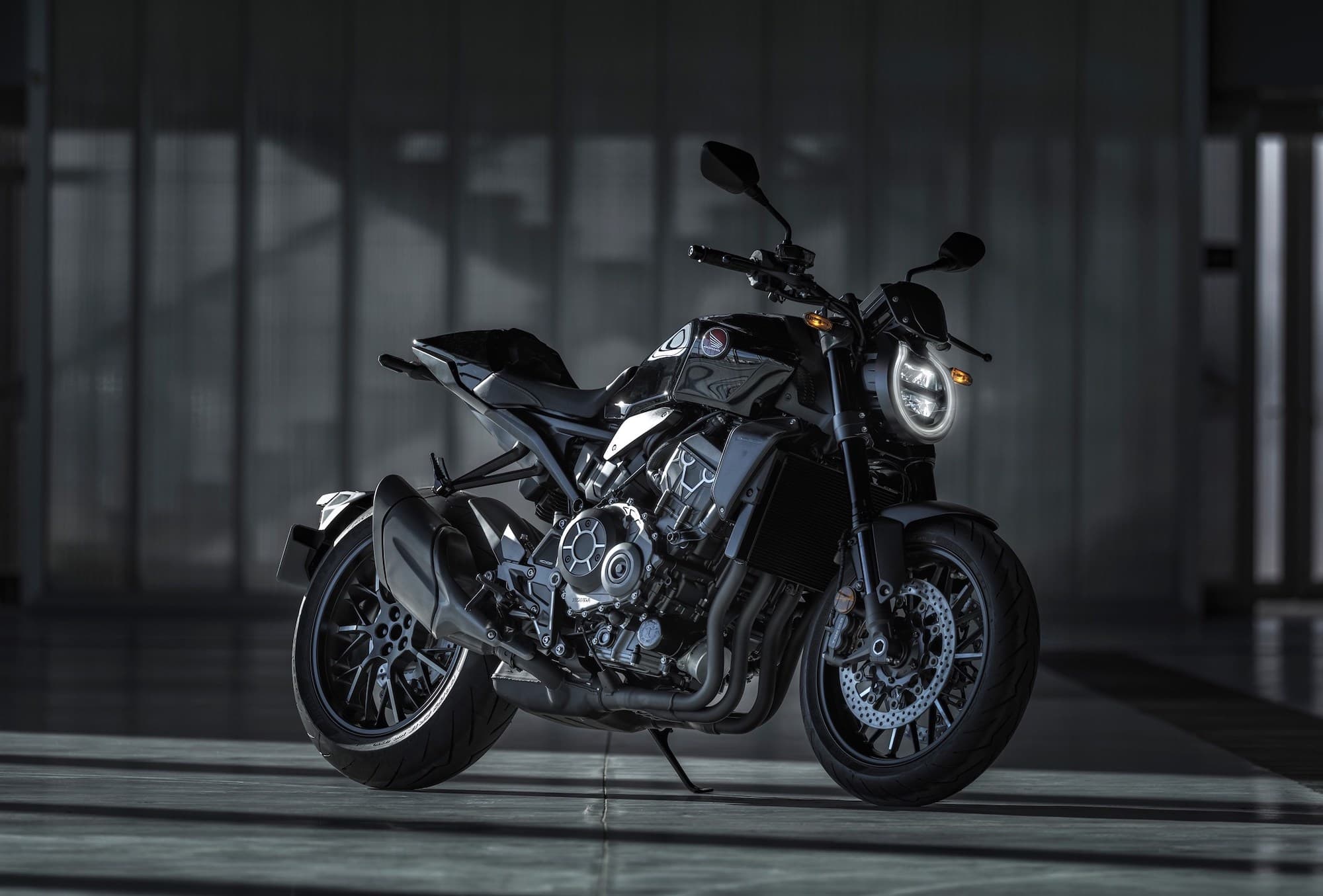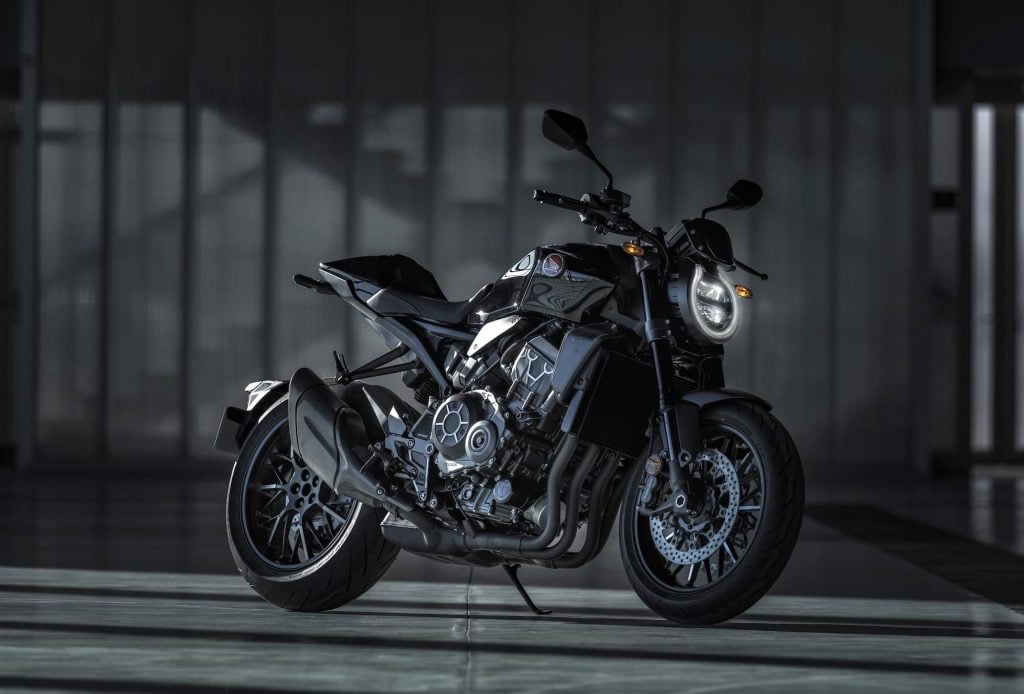 Honda has been making its CB1000R "Neo Sports Café" since 2018. It has always been a good-looking bike, even though it hasn't been a class leader in the naked motorcycle segment, with bikes like the Yamaha MT-09 SP (not a great looking bike… but a great one to ride!) and BMW S 1000 R taking top honours.
But I've always thought the CB1000R has been the best-looking motorcycle in the naked sports segment, with its nod to retro in the round headlight, swooping exhaust headers, and the single sided swingarm.
I've always thought of the Honda CB1000R as a bit of an underdog, actually. Here's a longer exploration as to why.
The Black Edition is the same Honda CB1000R at its core, with a 998cc liquid-cooled DOHC 16-valve engine. With an 11.6:1 compression ratio, it makes peak power of 107 kW (143 hp) @ 10500 rpm, and peak torque of 104 Nm (77 ft-lb) at 8250 rpm.
But the new CB1000R Black Edition looks the business. It has black everywhere — the headers, the fork stanchions, radiator shroud, airbox covers, exhaust, and muffler. Where there's paint, it's deep graphite black colour. Black is cool, and so the CB1000R is a very cool motorcycle.
The CB1000R also has new seven-spoke cast aluminium wheels, and comes standard with a few accessories, like a wind deflector, a passenger seat cover, and a quick shifter.
Husqvarna Svartpilen 401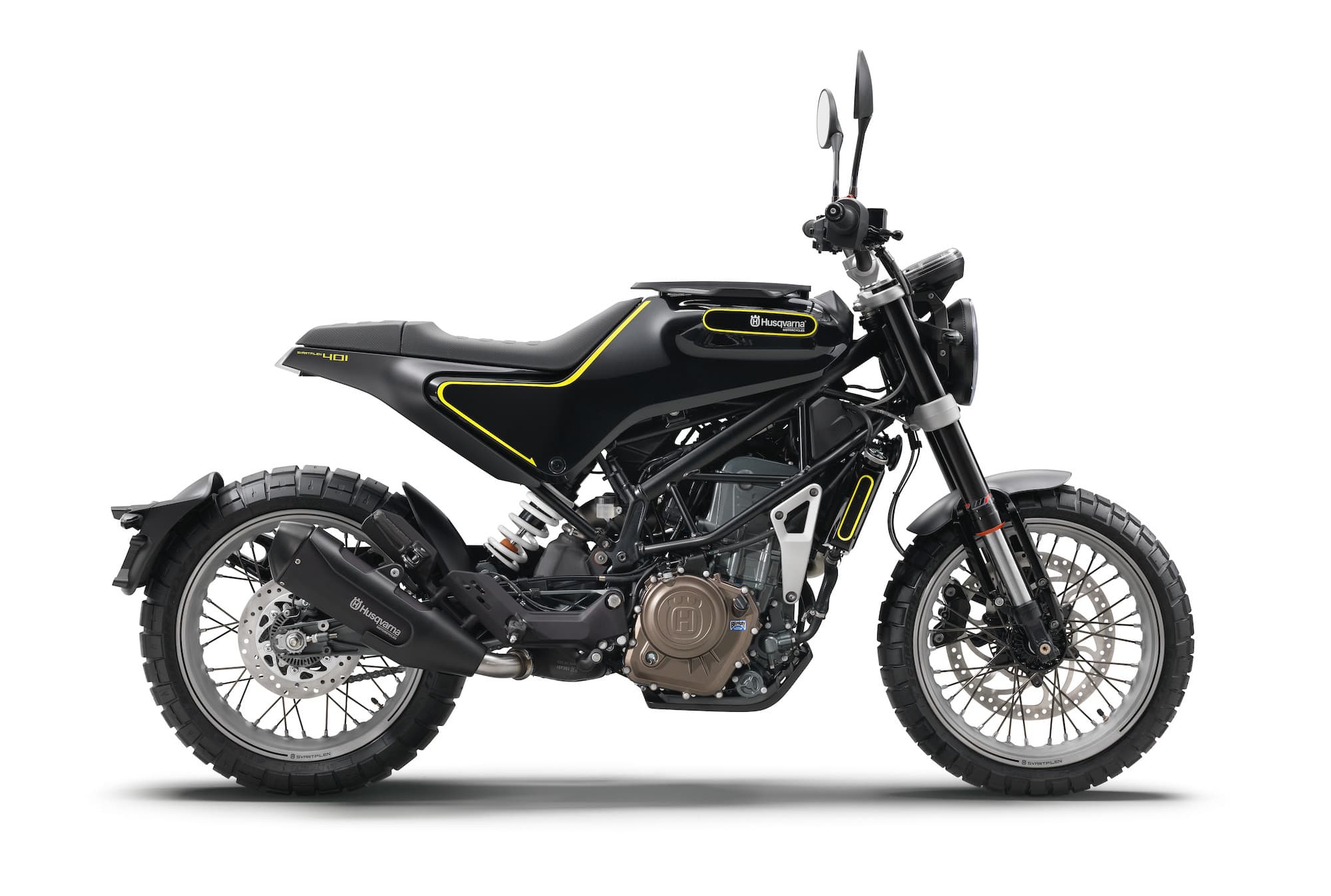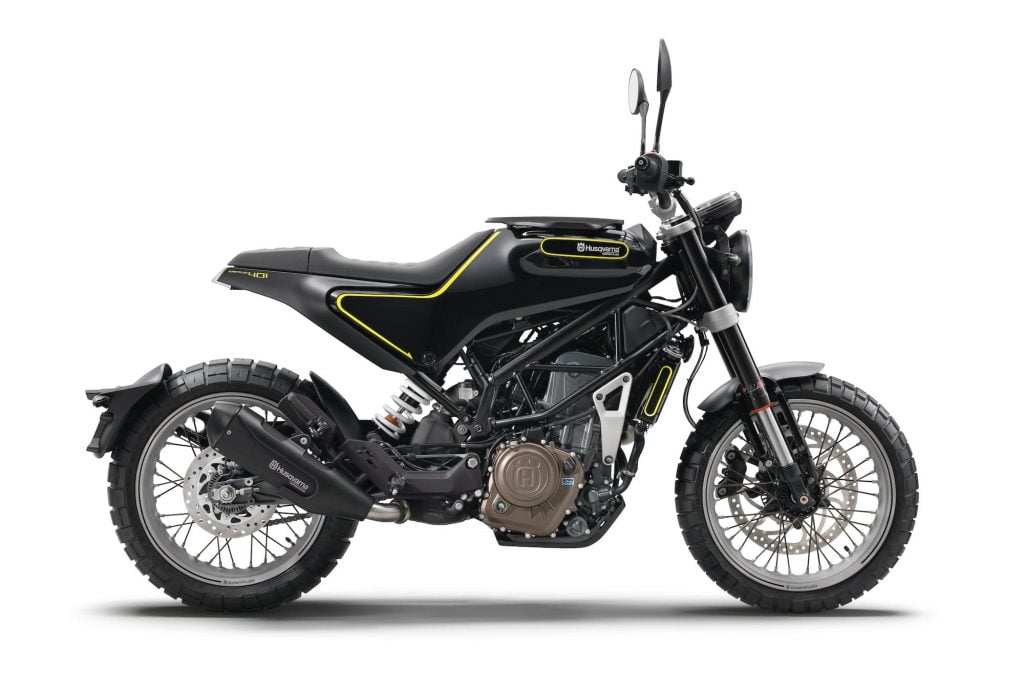 The Husqvarna Svartpilen 401 shares the same engine as the 390 Duke/ RC 390 (which is below)… but wow, Husqvarna really went to town with the design! This makes it, I think, the best-looking motorcycle in the entry-level segment.
The Svartpilen 401 is a scrambler-style motorcycle by Husqvarna, the Swedish brand owned by Austrian company KTM — which is why the two companies share so much technology.
The engine is the same 373 cc liquid-cooled fuel-injected single-cylinder engine that powers the KTM 390 series. It makes a peak of 32 kW (44 hp) at 9000 rpm, a great powerband for most urban use.
But Husqvarna totally changed the design, giving the Svartpilen 401
A gorgeous dark steel trellis frame, exposed up to the forks
A sleek exhaust system
Pared-back styling, with a clean tail
Wire spoke wheels and adventure-ready knobby tyres
But most importantly, there's a huge jump in finish quality between KTM motorcycles and the 390 KTM motorcycles. In person, you can see a lot of attention to detail in the seat, tank, triple clamps, radiator shroud, levers, fuel cap, and exhaust — which looks aftermarket, but isn't. It all adds up to a very attractive bike.
Kawasaki Z900RS SE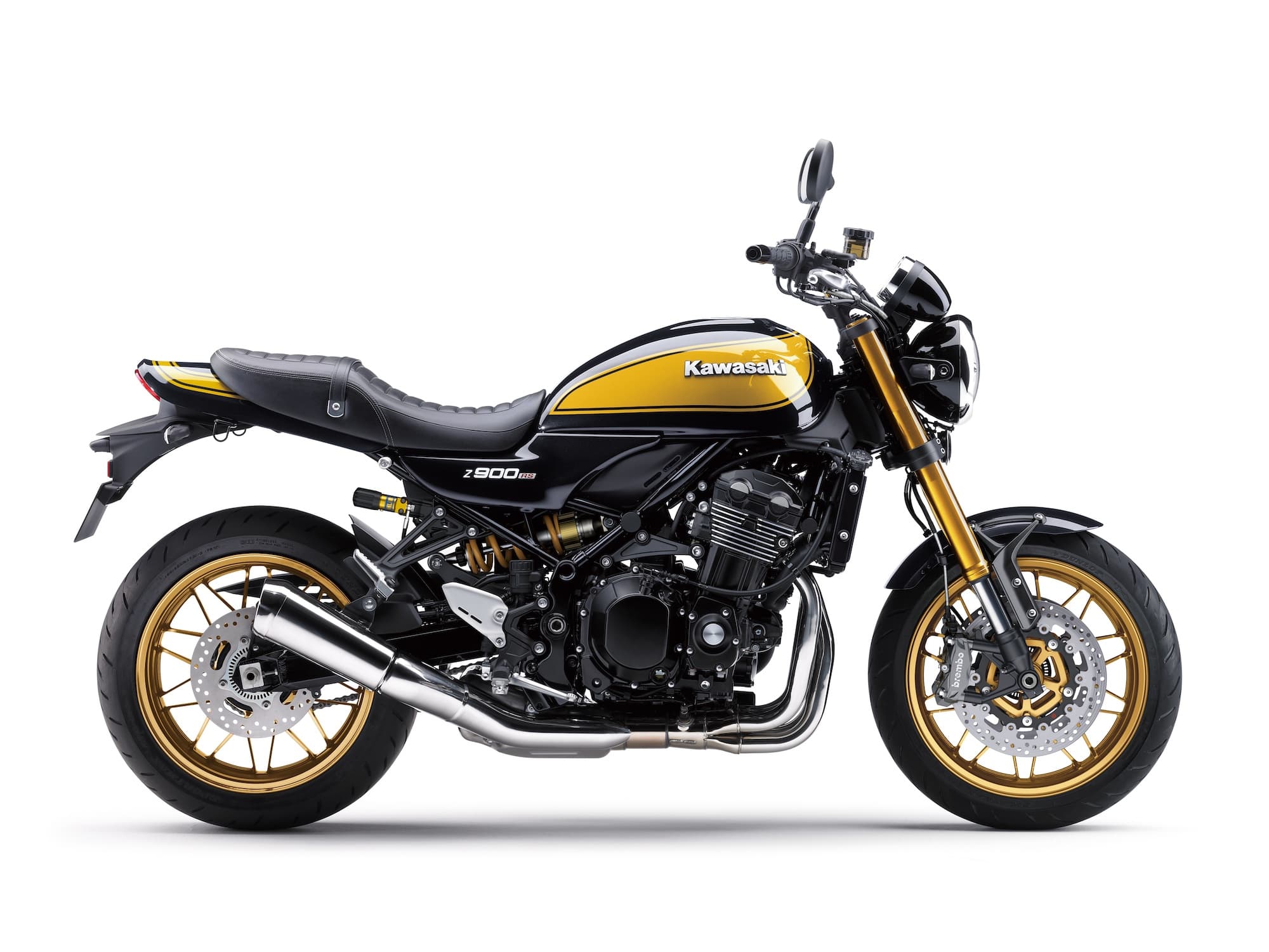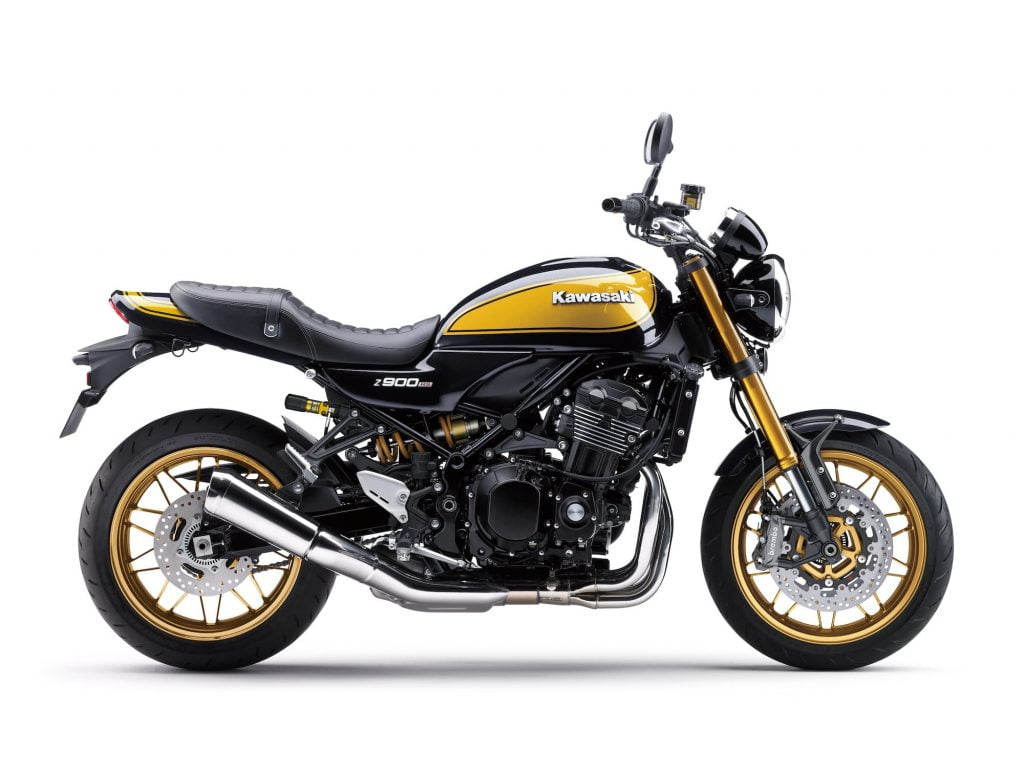 The Kawasaki Z900RS and Z900RS Café have always been very good-looking motorcycles. But while Kawasaki has just released new colour schemes for the past few years, they've gone and increased the spec for 2022.
The 2022 Kawasaki Z900RS shares the same foundation as previous years. It's a retro-inspired standard bike with a 948cc liquid-cooled DOHC 16-valve inline four-cylinder engine.
It uses the same basic block as in the Kawasaki Z900, but it's tuned more for mid-range torque, at the expense of a little top-end power (that can be brought back with an exhaust and tune — see my guide in "Z900 vs Z900RS"). Nonetheless, in stock form it makes a healthy 75 kW (100 hp) at 8500 rpm — plenty for most folk.
The 2022 Z900RS SE gets, on top of an attractive "Yellow Ball" paint scheme:
300mm brake discs gripped by Brembo M4.32 radial-mounted monoblock 4-piston calipers
An Öhlins S46 gas-charged rear shock with remote preload adjuster, and adjustable rebound damping
New settings in the fork (which is already fully adjustable), plus attractive gold colour on it
So the 2022 Kawasaki Z900RS SE is not just a (very) good-looking bike — the SE model has some improvements that would be welcome by many, especially the rear shock.
KTM RC 8C and RC 390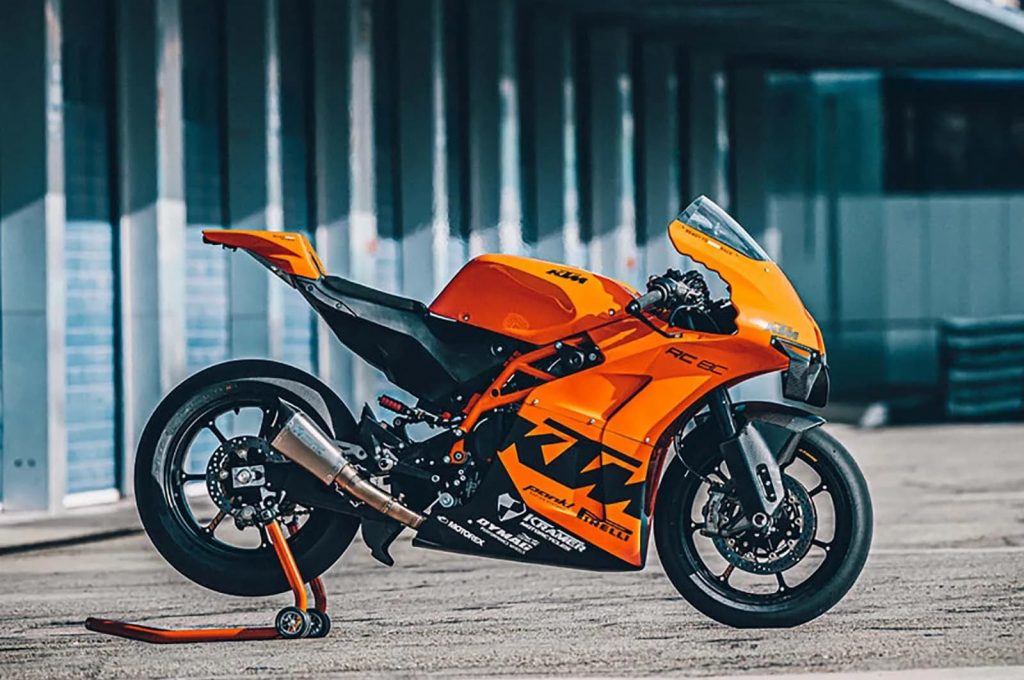 The KTM RC 8C is a limited-edition middleweight track bike (see, no mirrors!) based on the LC8c 890cc engine that powers the KTM 890 Duke and 890 Adventure bikes.
Part of that is what makes it so attractive, I know — it's so pared back.
Shame, because the middleweight specs means it'd make such a great street bike… maybe with a few lower-spec components so it'd be affordable (US$38,999 for a track bike makes this quite an exclusive toy). And that's aside from the fact that it's one of the best-looking motorcycles available from KTM right now (they've always done sportbikes well).
The LC8c engine in the RC 8C makes a claimed 93 kW (126 hp) and a peak 101 Nm (74 lb-ft). The engine in unchanged form from the KTM 890 Duke, but the RC 8C has a ram air system, an Akrapovič Titanium muffler, and a custom stainless steel exhaust.
The rest of the bike has high-end components as well, supporting its track destiny, like WP APEX Pro fully adjustable suspension front and rear, an adjustable steering damper, and Brembo Stylema calipers — extremely capable brakes for a bike with a dry weight of 140 kg (309 lb)!
If you can't quite muster the cash for an RC 8C, the entry-level KTM RC 390 has a lot in common style-wise, and is a riot to ride around a track. The RC 390 is another contender for being one of the best-looking motorcycles in the learner segment.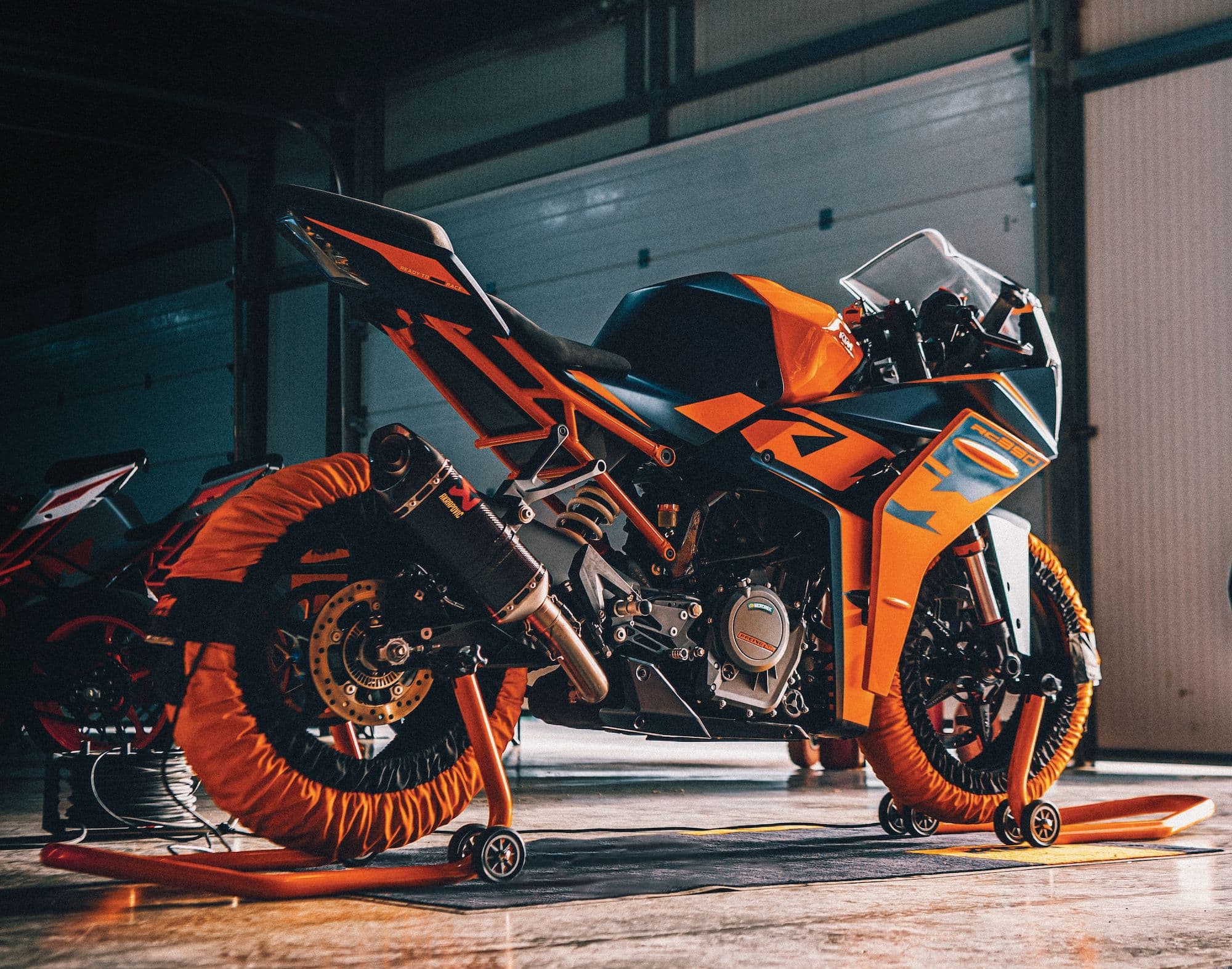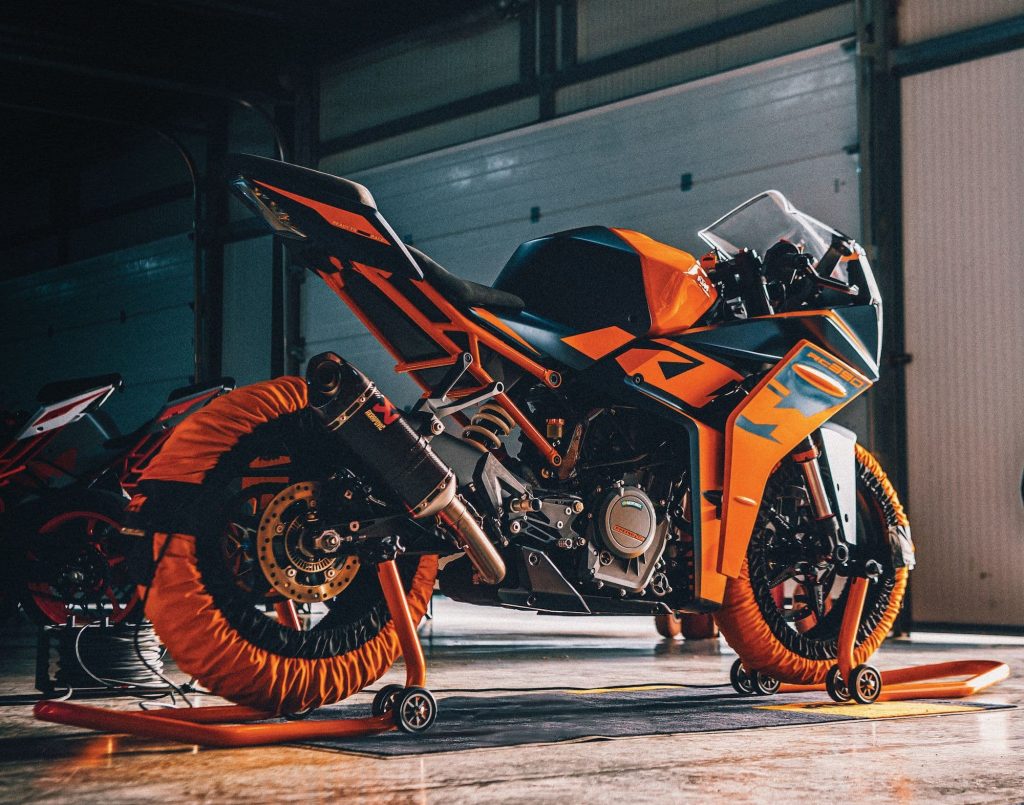 The 2022 model RC 390 isn't just attractive; it also has huge weight savings vs the outgoing model, particularly in unsprung mass (with a 3.4 kg reduction there). And the front suspension is adjustable for compression and rebound. Very few entry-level bikes have that level of adjustability!
The 2022 RC 390 model also has a TFT display, keeping up with the Joneses.
Read more about changes to the 2022 model KTM RC 390 here.
Moto Guzzi V85 TT
Moto Guzzi has always made some of the best-looking motorcycles, even though they haven't been at the forefront of the technology wars.
Many of their bikes, like the V7 or the California, have been good-looking in a traditional sense, like older Harley-Davidsons.
But the Moto Guzzi V85 TT is just a crazy-looking machine and I can't take my eye off it, particularly in Giallo Mojave livery (I guess I just like yellow…). It has those striking colours, the dual round front headlights, and lots of details that are fun to let your eye wander over.
See our resources page for the Moto Guzzi V85 TT.
The Moto Guzzi V85 TT is a middleweight adventure bike that still is very Moto Guzzi at heart, with an air-cooled longitudinally mounted V-twin engine and a shaft drive. The 853cc engine makes a modest 59 kW (80 CV, 79 bhp) at 7750 rpm, with peak torque of 80 Nm (59 ft-lb) much lower at 5000 rpm.
Despite the low-tech foundation, it has a lot of modern technology in there, like cruise control, power modes, a TFT display that can connect to your phone, and of course ABS.
MV Agusta Superveloce Ago
As I mentioned when introducing the Panigale V4 SP, to mentioning anything by MV Agusta in a list of the best-looking motorcycles seems like cheating. After all, they are self-proclaimed purveyors of "motorcycle art".
But the Superveloce 800 Ago is something special.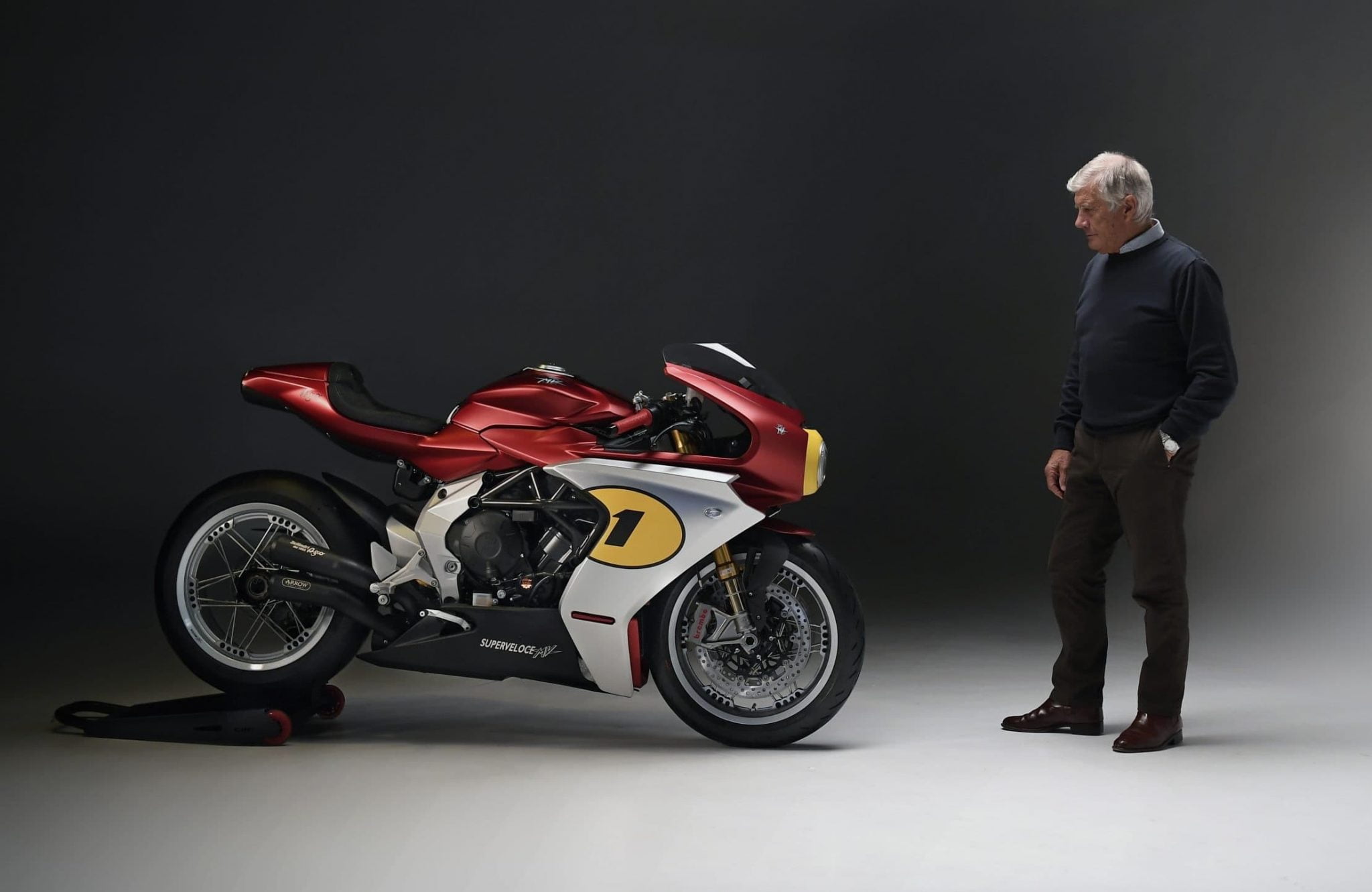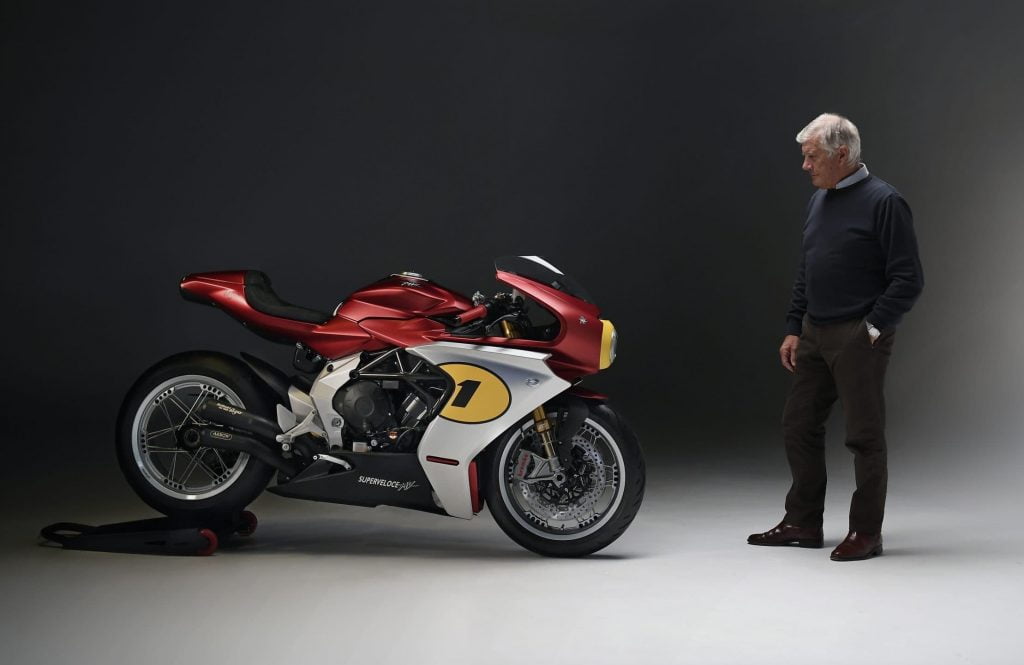 This is a regular MV Agusta Superveloce 800 (itself already stunning) but made in a limited edition. The Ago is named for Giacomo Agostini, a Grand Prix racer who spent many years riding MV Agusta bikes.
But it's not just an attractive paint job — the Superveloce Ago has actual performance upgrades.
The MV Agusta Superveloce range of motorcycles are all based on MV Agusta's 798cc inline three-cylinder engine platform. It's a DOHC 12-valve engine that makes a peak of 108 kW (145 bhp) at 13000 rpm.
But the Ago edition gets these updates:
Fully electronically managed Öhlins Nix fork and Öhlins TTX shock (the standard Superveloce 800 has Marzocchi fork and a Sachs shock)
Carbon fibre for most body parts (other than the fuel tank)
Wire wheels with a unique spoke layout and design
Machined aluminium upper triple clamp, shift pedal, and brake pedal
Road-approved Akrapovič exhaust system
It's not just me that thinks the Ago is special, it also won the Motociclismo award for the "Most Beautiful Bike of Show" at the 2021 EICMA (see here for my full archive of winners of the "Most Beautiful Bike" award).
If you didn't manage to snag one of the 311 Superveloce Ago models (corresponding to the number of victories Giacomo Agostini had), then don't worry — there's still the standard Superveloce 800 you can order, and it's not half bad!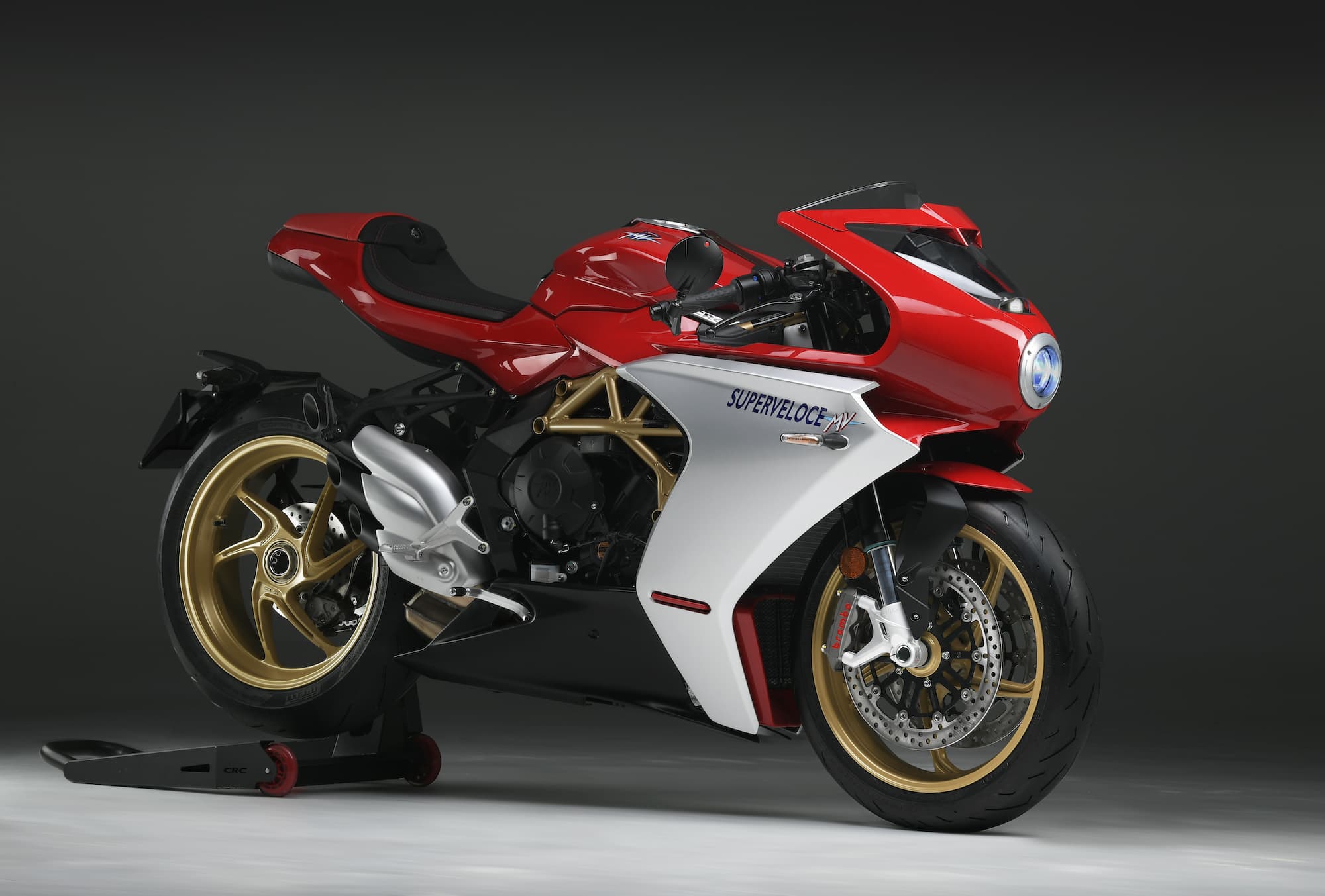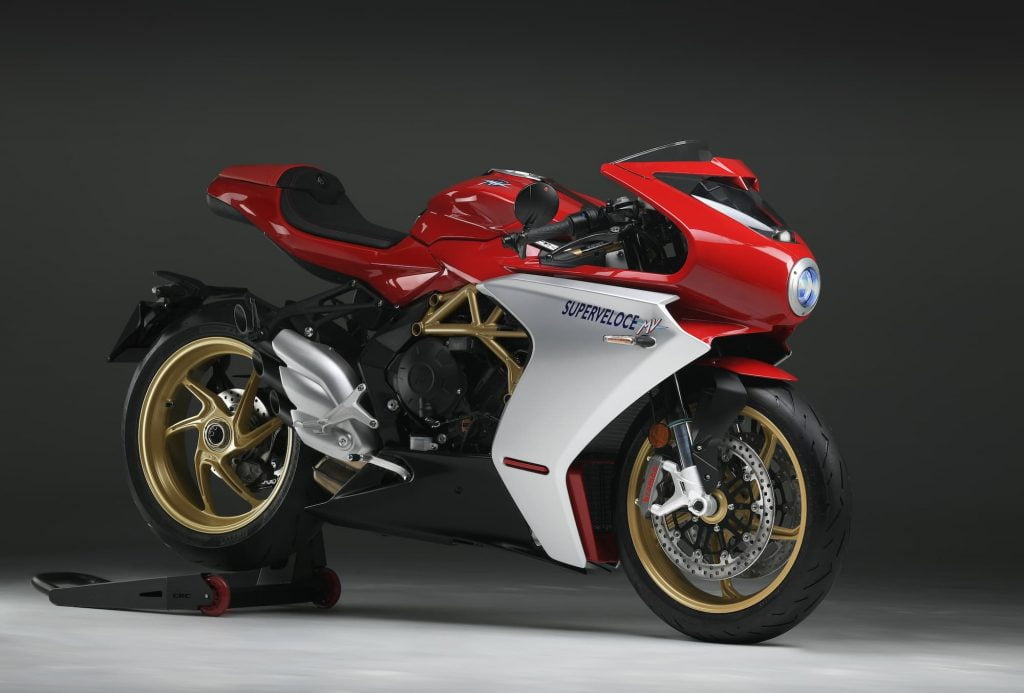 Suzuki GSX1300R Hayabusa ("Gen 3")
I snuck this into last year's list because I heard it was coming, but this is actually a 2022 model, already in many people's hands in the 2nd half of 2021.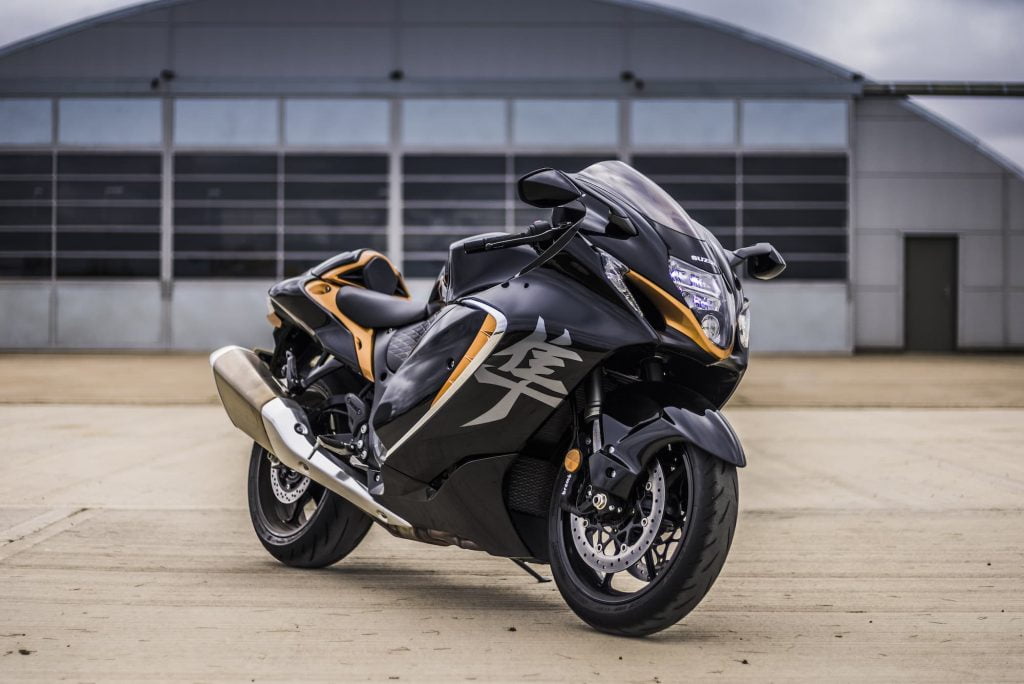 The 2022 Suzuki GSX1300R Hayabusa is the third generation in the Hayabusa line. As with the previous bikes, the 3rd-gen Hayabusa looks like it was designed for one thing primarily: top-end speed. And therein lies a lot of its attractiveness! It has a very purposeful design.
But the 3rd gen Hayabusa is not just a warmed over 2nd gen — the 3rd gen is significantly different.
The engine is fundamentally the same, an 1340 cc inline-four that's liquid cooled with DOHC and 4 valves per cylinder. In base form, the 2022 Suzuki GSX1300R Hayabusa makes slightly less peak power than its previous model, no doubt due to emissions regulations (look at those huge cans!)
But that's largely irrelevant, as few and far between are Hayabusas that aren't modified, at least with a full exhaust system and a tune.
The 2022 Suzuki Hayabusa also has
All new bodywork with a newer, sharper look than the rounder 2nd gen
An IMU that gives cornering ABS and traction control
Other ride aids, like cruise control and even a speed limiter
Slightly more comfort through an adjusted positioning of the bars
Improved braking — Brembo Stylema calipers (de rigueur, these days)
A revised dash with a mixed digital and analogue display
The 2022+ Suzuki Hayabusa is still what it always as heart — a fast sport bike that handles well, and has a meaty torque curve that's more usable than a highly-strung literbike.
Triumph Speed Triple 1200 RR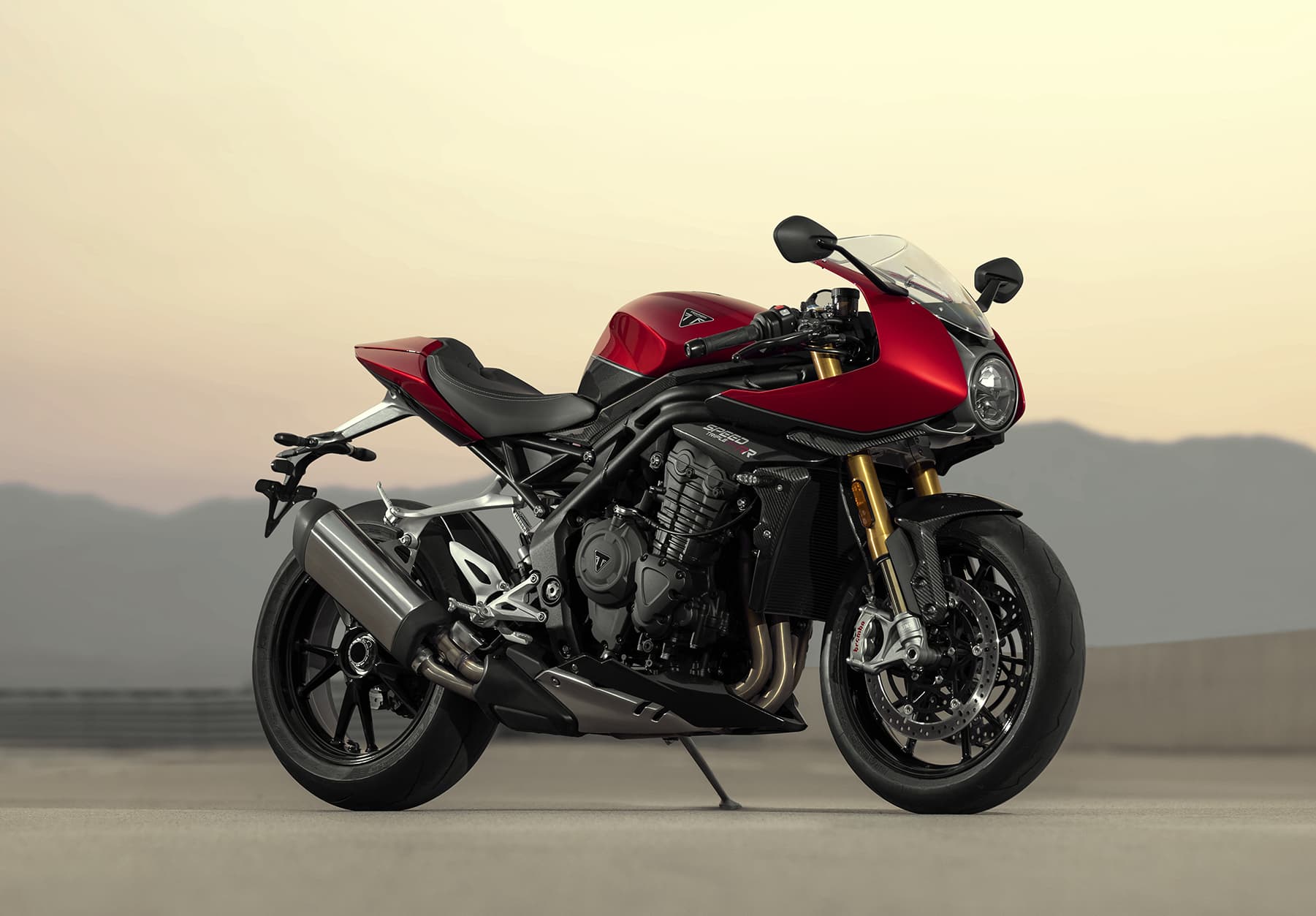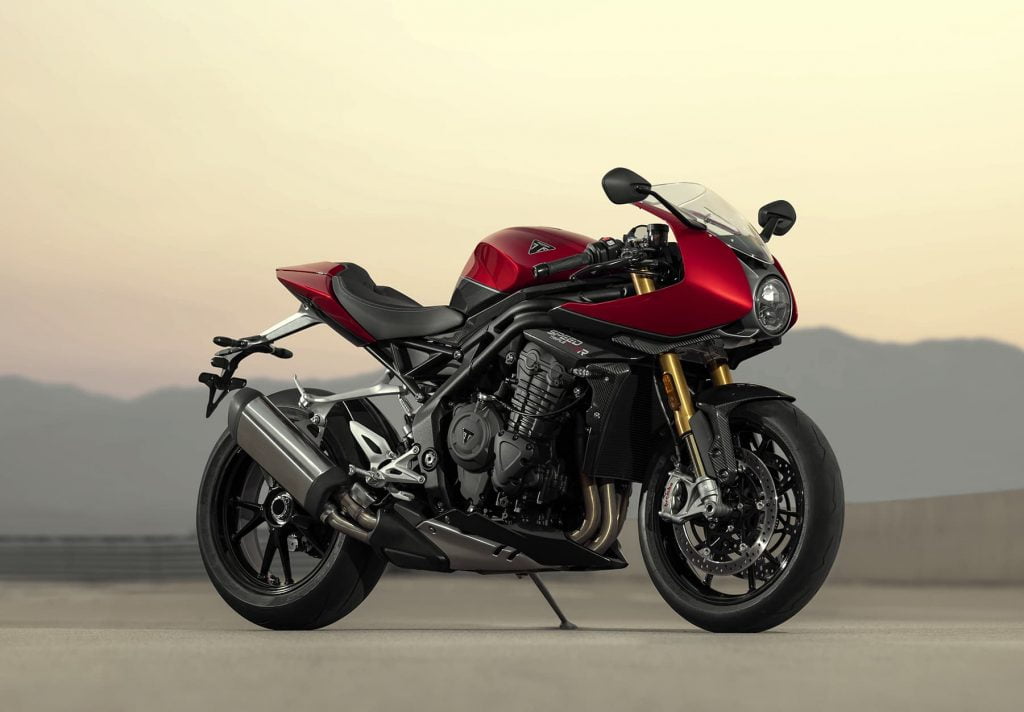 Despite my best efforts to broaden my horizons, there are always a few "café racer"-style bikes in my list of the best-looking motorcycles.
In past years we've featured the Triumph Thruxton R, another good-looking bike, but this year I'm happy to include a bike from a different part of Triumph's range — the Speed Triple 1200 RR.
The Triumph Speed Triple was, originally, the standard/naked version of the Daytona superbike. But that hasn't been the case for over a decade after the Triumph Dayton 955i was discontinued in 2006. Since the 1050 motor, the Triumph Speed Triple has been a streetfighter or sport standard in its own right.
Things have come full circle, and Triumph have put fairings back onto the highest-spec Triumph Speed Triple RS, and bring to us the Speed Triple RR — with clip-on handlebars to boot, stickier Pirelli Diablo Supercorsa SP V3 tyres, and last but not least, Öhlins Smart EC 2.0 electronically adjustable semi-active suspension.
I'm sure it won't be the last Speed Triple track-focussed superbike we'll see, but as the first, this one will be a collector's item.
Yamaha YZF-R7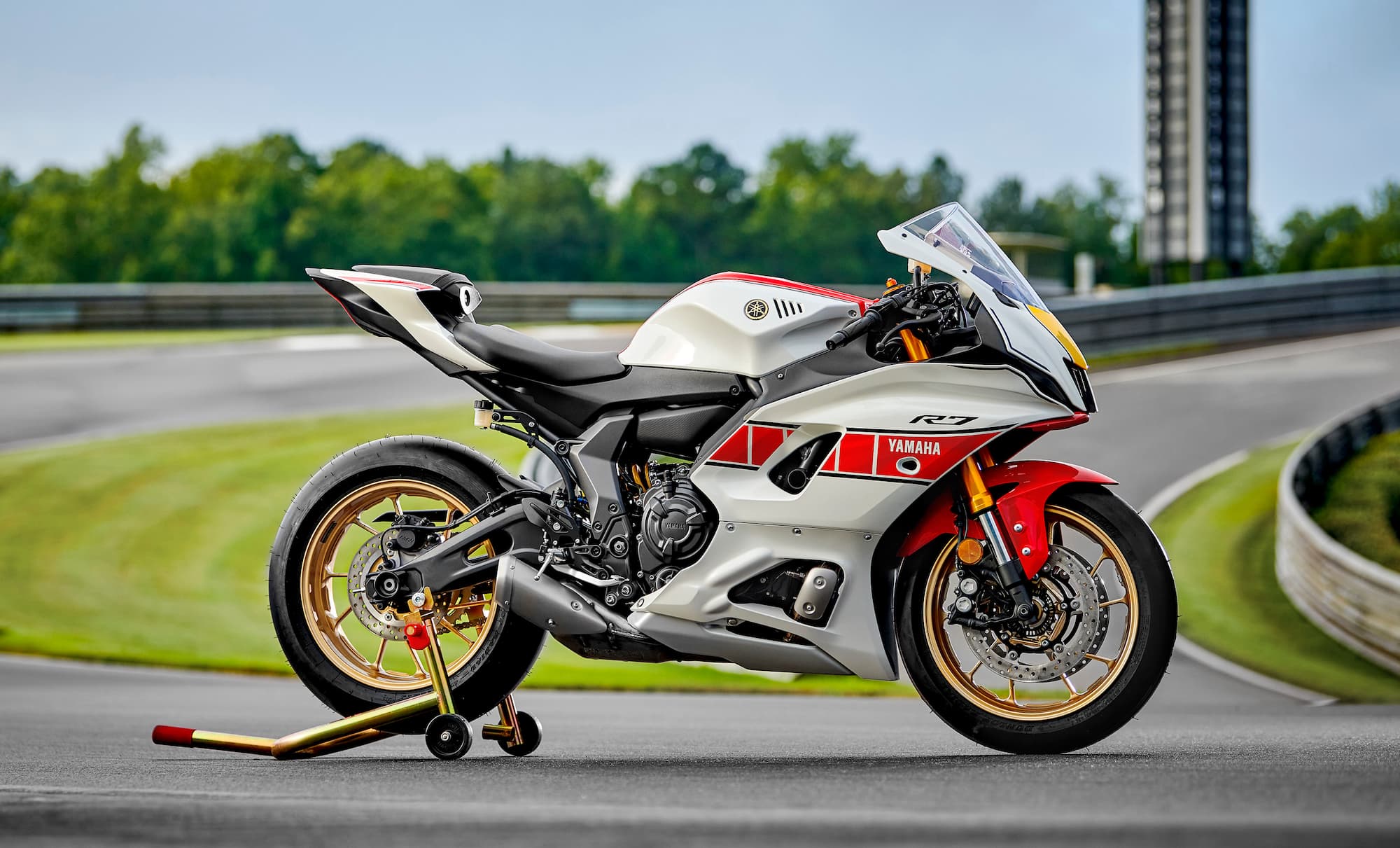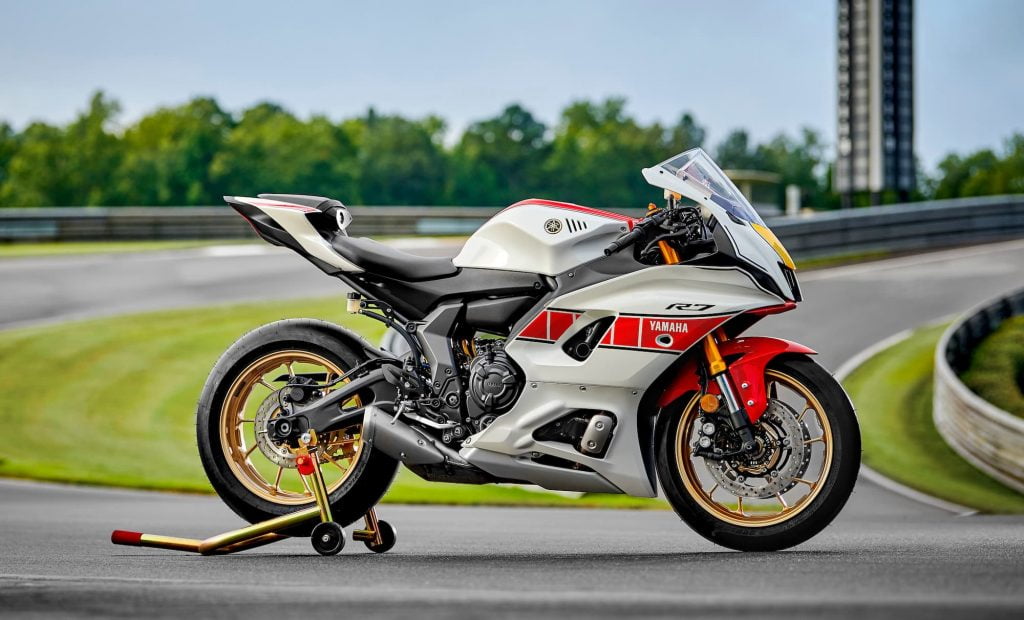 The Yamaha YZF-R7 caused quite a stir in 2021 for effectively replacing the very popular YZF-R6, an inline four-cylinder motorcycle with a screaming high-end, with a bike powered by a parallel twin — the same CP2 motor that debuted in the FZ-07 (now known as the Yamaha MT-07), and considered a mid-range (or even entry-level) motor.
A few Yamaha faithful also were upset that the R7 shared the same name as an iconic race bike that was made twenty years earlier.
But like the Triumph Speed Triple 1200 RR above, the Yamaha YZF-R7 got a few improvements besides the fairing and clip-on handlebars. The YZF-R7 has a fully adjustable inverted fork, radial-mounted calipers, and a Brembo radial master cylinder.
And perhaps most flatteringly, the YZF-R7 has a style similar to the YZF-R6. But the riding position is slightly more comfortable, and of course the top-end speed down the straights won't be as high with the lower peak power of the parallel twin.
Aside from that, the YZF-R7 is also the best-looking motorcycle in the CP2 range (though they all have their charms… if you're an adventure bike person, then the Ténéré 700 is your poison!), and in 2022 livery is one of the nicest-looking bikes for the model year.
See our full take on the Yamaha YZF-R7 and what makes it special here.