I'm a huge fan of the 300-400cc class, included in which is the 2022 KTM RC 390. It's a class of bikes that's fun, versatile, and still fast — you can take all these bikes past 90 mph (150 km/h), at which speeds you had better be wearing trousers if you fall off.
I've long aspired to trade down in power and weight, and I've had my eye on the RC 390 as one of the key contenders.
But the problem is that small bikes have until recently been basic and cheap. Even though they have the style of their bigger siblings, the "learner legal" class of motorcycles has always suffered somewhat from having cheaper components.
Until the 2022 KTM RC 390. Here are five reasons why this motorcycle breaks the mold somewhat and delivers something should even make more experienced riders raise an eyebrow.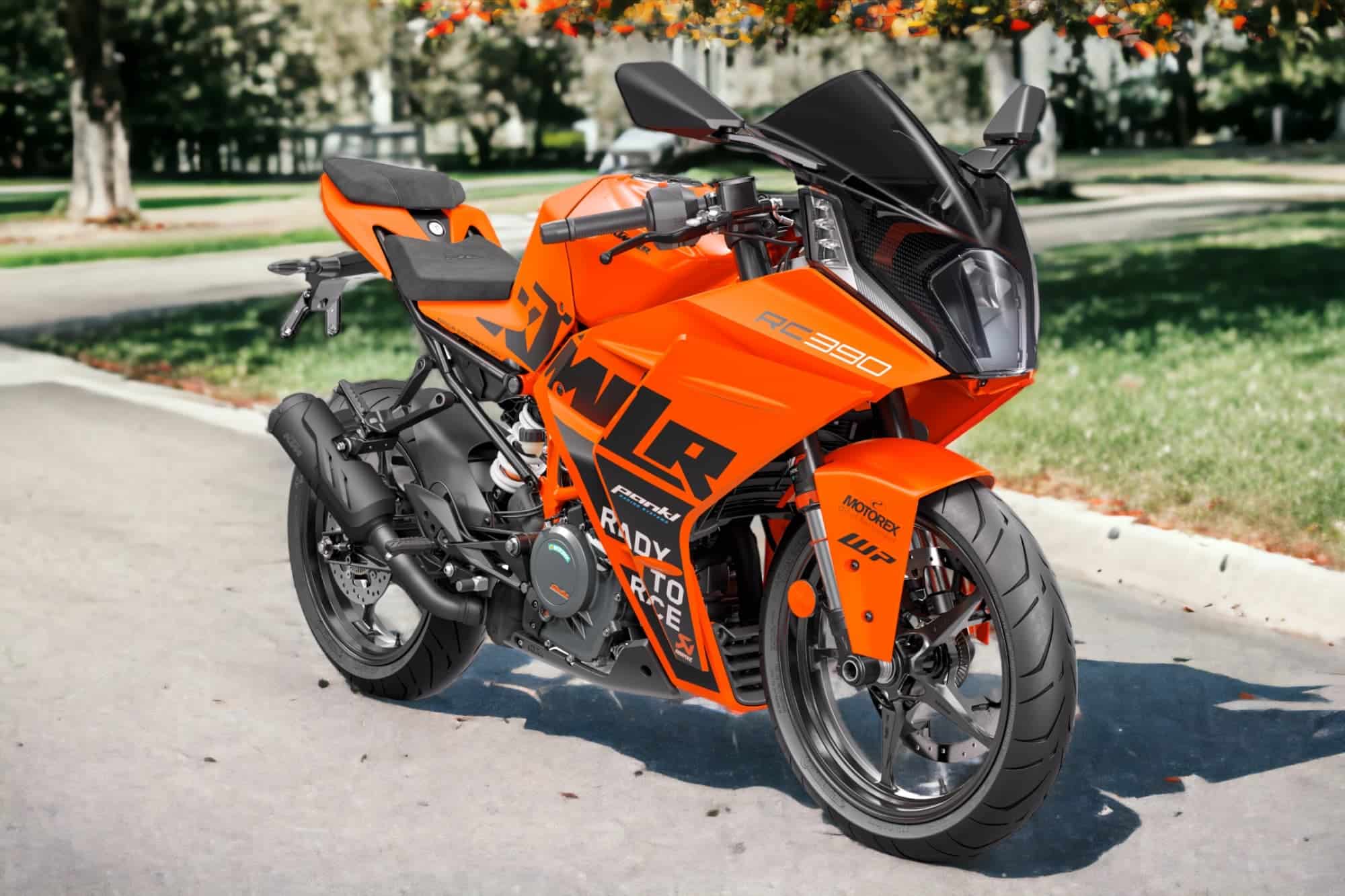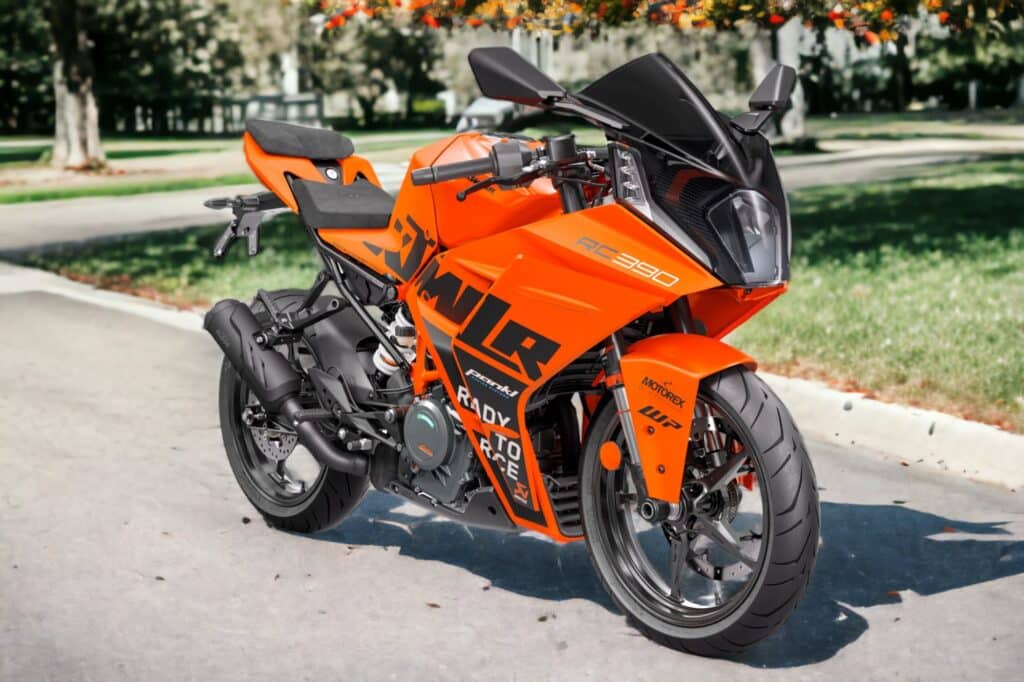 Are you obsessed with motorcycles?
Well, I am. That's why I created this site — as an outlet. I love learning and sharing what others might find useful. If you like what you read here, and you're a fraction as obsessed as I am, you might like to know when I've published more. (Check the latest for an idea of what you'll see.)
The 2022 KTM RC 390 in a nutshell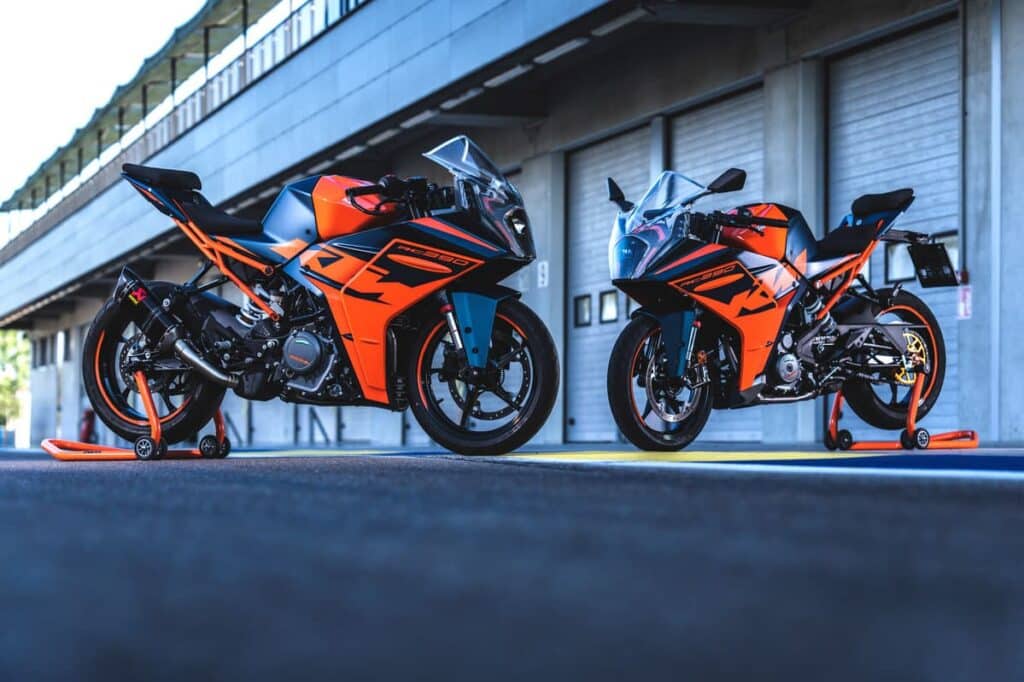 In a nutshell, the RC 390 is a welcome (if somewhat overdue) revamp of the KTM RC 390 that many were expecting since the overhaul of the 2021 KTM 390 Duke.
The core of the bike hasn't changed that much. The 2022 KTM RC 390 is still powered by a 373cc liquid-cooled single-cylinder 4-valve engine. It makes peak power of 32 kW (44 hp) as before, but torque peaks at 37 Nm (27 ft-lb), a shade higher than the 35 Nm (26 ft-lb) of the outgoing model.
But in the age of increasing emissions restrictions, we welcome any minor increase in power from the same engine. Even a non-decrease is welcome!
What's new is the ride-by-wire system. Coupled with the new IMU, this means that the new RC 390 gets more precise engine mapping, and traction control and braking that gets lean angle and other ride dynamics as inputs.
Adjustable Front and Rear Suspension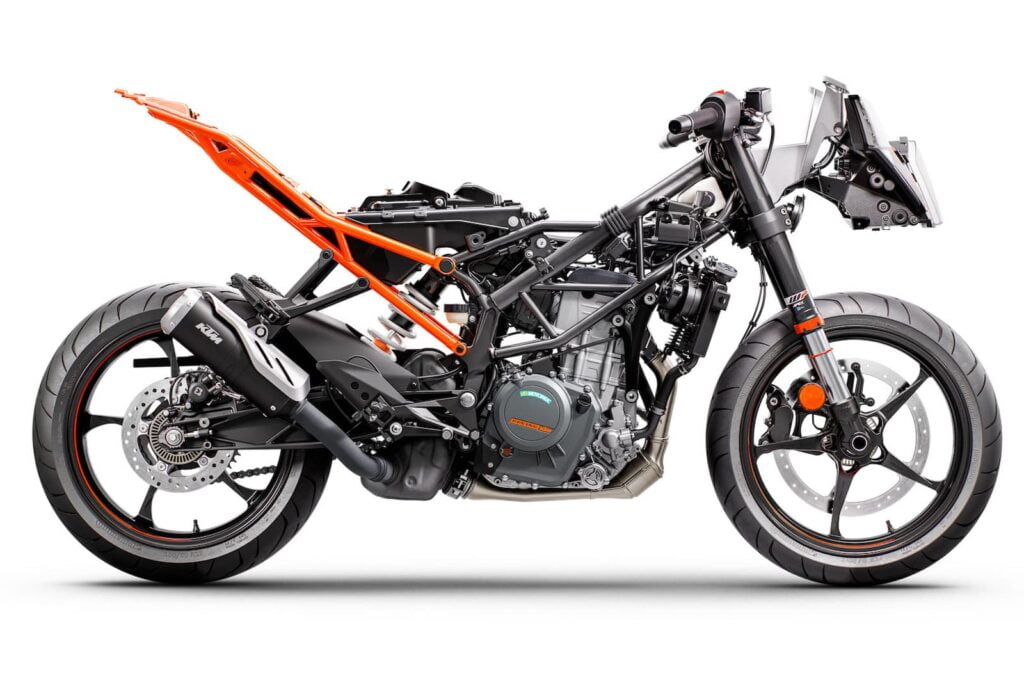 Cheap bikes typically have almost zero suspension adjustability front and rear. If you're lucky, you might get spring preload adjustability on the rear shock.
The original RC 390 only had spring preload adjustability in the rear shock.
The 2022 KTM RC 390 has WP Apex suspension front and rear that has
Adjustable compression and rebound damping in the front forks (30 clicks for both compression and rebound damping)
Adjustable preload and damping (five settings) in the rear shock
The settings are also sportier from the get-go, making the RC 390 an even better candidate for track days.
An IMU with cornering ABS and traction control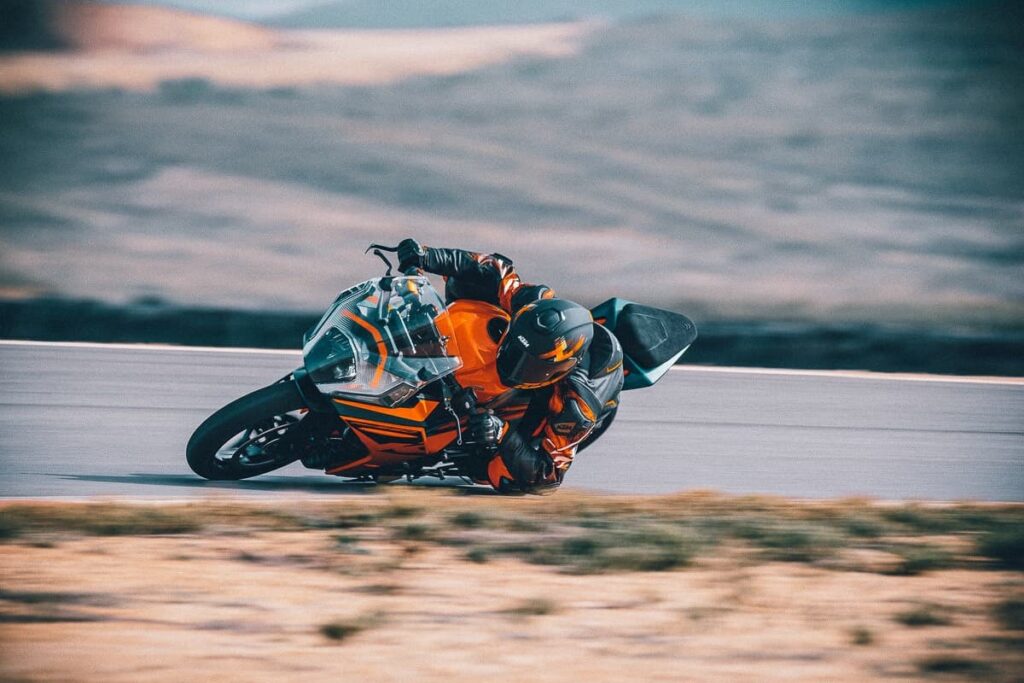 If you're a tech buff, you'll know the value of an IMU or "inertia measurement unit".
See my full article on the benefits of an IMU and a list of other bikes with it available.
An IMU detects when the bike is pitching, leaning, or tilting in any direction, and feeds that data back to the computer and ABS systems, which then can modulate the amount of power and braking pressure.
In the RC 390 (as in most bikes), an IMU gives the motorcycle lean angle-aware traction control and "cornering ABS".
Basically this means that if you're leaned over and you ham-fistedly grab the brakes, your bike won't suddenly stand up, or slide out from under you.
Previously, only the top brands like Ducati and BMW had cornering ABS, and it was only available on the best bikes, like the BMW S 1000 RR. These days, having cornering ABS available on an entry-level and affordable motorcycle like the RC 390 is really special.
Lighter Chassis and Wheels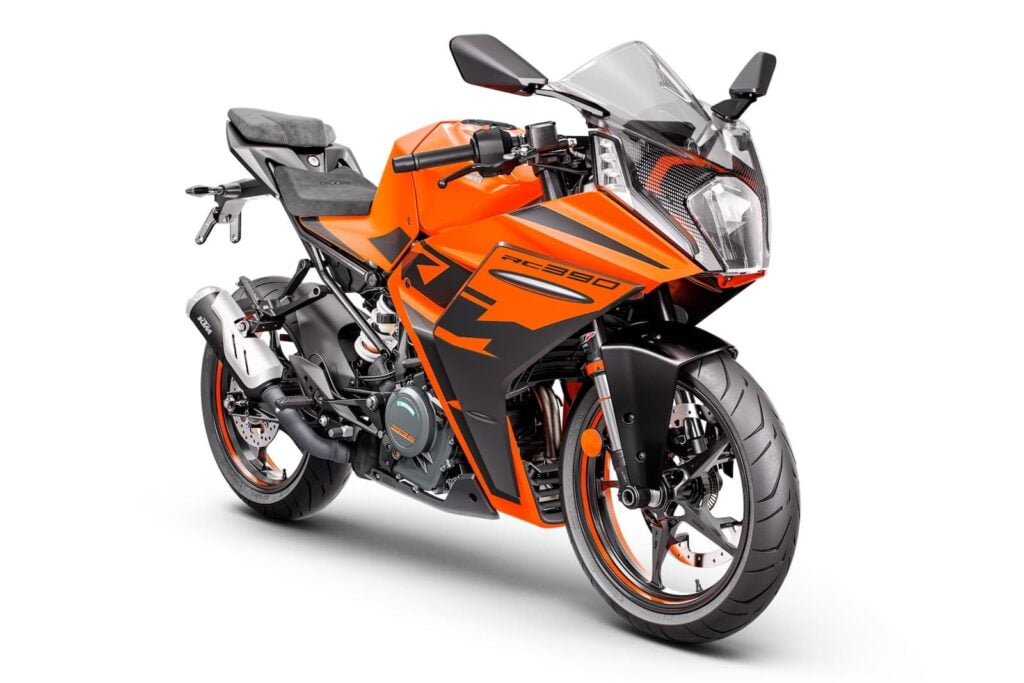 Less weight is good, but less unsprung weight is even better.
The new 2022 KTM RC 390 has an all new wheel design, which adds up to a total of 3.4 kg in reduced unsprung weight. The new braking system shaves an impressive 960 g off the front wheel.
See here for a deep dive into unsprung mass — what it is, how to reduce it, and why.
The frame has been updated too. The 2022 KTM RC 390 still has that gorgeous trellis frame — but it has been redesigned for the 2022 model, making it even lighter (by 3.3 lb or 1.5 kg).
Race-ready controls (clip-ons and quick shifter)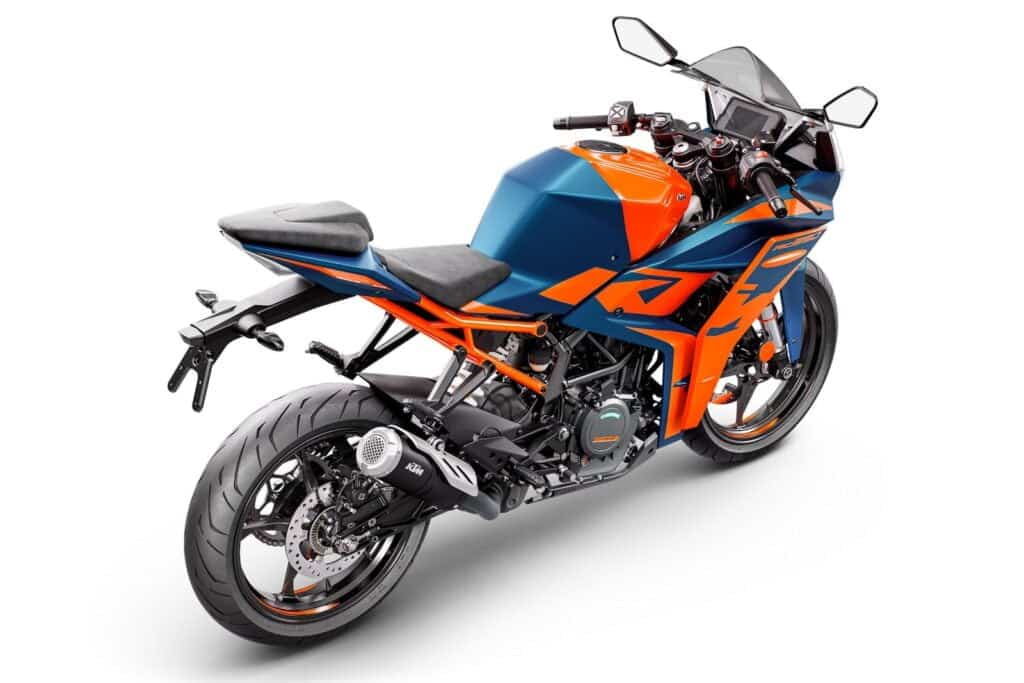 The KTM RC 390 has always been a sporty bike, but its riding position hasn't been too aggressive. It does double duty as a fun everyday bike as well as one that you can take to the track.
The new 2022+ KTM RC 390 is more aggressively both a track bike and an everyday bike via clip-ons which have 10mm of adjustability. Adjustability of 10mm may not sound like much, but it's nice to have options.
The new RC 390 also has a quick shifter, but it's optional.
A TFT Display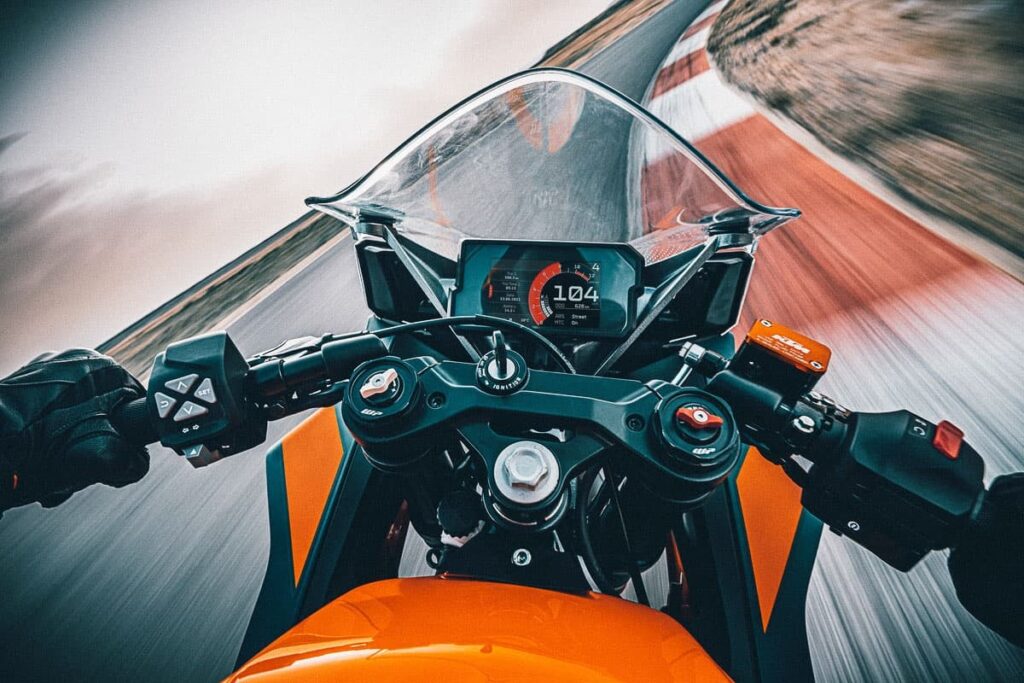 Finally, the new 2022 KTM RC 390 has a TFT display. Just another previously premium-only part that now is making its way down to affordable bikes.
Other bikes in the KTM 390 line have had a TFT display for years, so it's nice to see this on the race bike.
The TFT display means the 2022 KTM RC 390 also gets access to the KTM MY RIDE app, which means you can do race-critical things like change the song that's playing and take a call to say "Can't talk; racing."
Other new stuff
There's plenty of other new stuff on the 2022 KTM RC 390. It's just that not all of it is as special as the above.
A few of those nice things (becoming increasingly standard on bikes of all price points these days) are:
LED headlight and tail light, with daytime running lights (DRLs as people call them)
Sweet new colour schemes, as pictured above
The bodywork is held on by fewer screws, meaning it's easier to both change and remove/replace when needed.
Better cooling
The 2022 KTM RC 390 may have full ride by wire, but it doesn't yet have cruise control. I say "yet" because I do see this an inevitability. Even the humble CFMoto 700CL-X has cruise control.
But if you're really keen, you can install an aftermarket unit that plugs into the RbW system by Veridian Cruise, who specialise in the area. See more about that option in the article on aftermarket cruise controls.