I've always been a fan of underdog brands. In the 70s and 80s it was (in some parts of the world) less "cool" to be a fan of Japanese motorcycles; now they're decidedly mainstream and well-respected.
These days, there's a new wave of Chinese-made and Chinese-branded motorcycles, including from CFMOTO. The CFMOTO 700CL-X range is one that has caught my eye — in particular the 700CL-X Sport, which is more aggressively specified.
In most parts of the world, Chinese-made motorcycles has meant small-capacity, air-cooled, old-tech single-cylinder bikes. They're agrarian in style and ride. China also manufactured other motorcycles, but they did this either as a third-party manufacturer for other established brands, or as white-label manufacturers for younger startups (like CSC Motorcycles in the US or Braaap in Australia).
But in recent years, a few Chinese brands have been exporting higher and higher-quality motorcycles from China to other markets. One of these is CFMOTO.
See here for all the other middleweight naked sport bikes available.
Even the larger CFMOTO motorcycles exported to western markets have have been sold as "affordable" motorcycles. A classic example is the CFMOTO 650NK, whose MSRP is around 30% less than its competitors in the "entry-level middleweight" segment. It's nearly as good as the Kawasaki Z650 (though not quite as powerful and missing a few nice features), looks nice, and is a lot cheaper.
But the 700 CL-X Sport might change that positioning of CFMOTO motorcycles as "cheap". Here's why.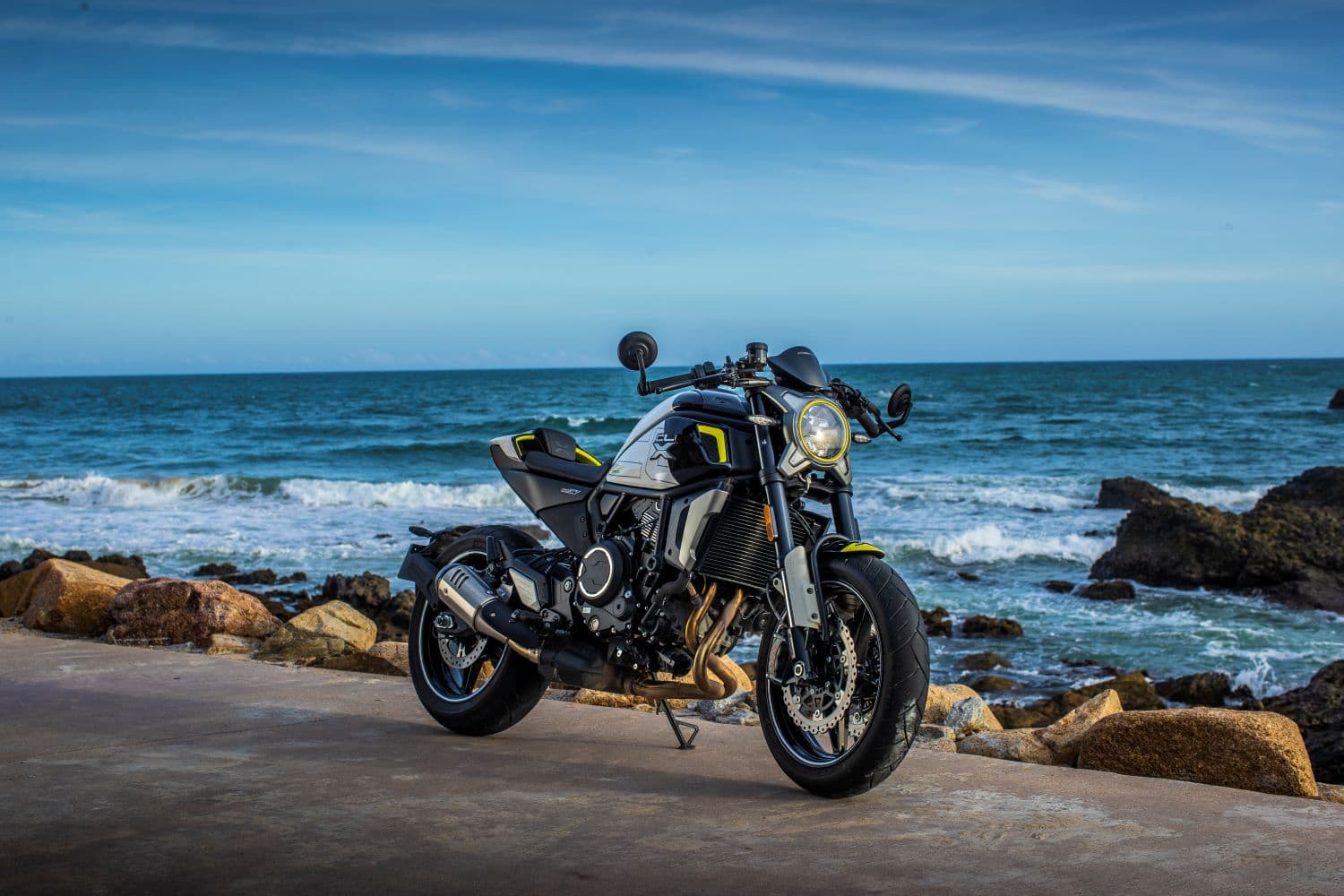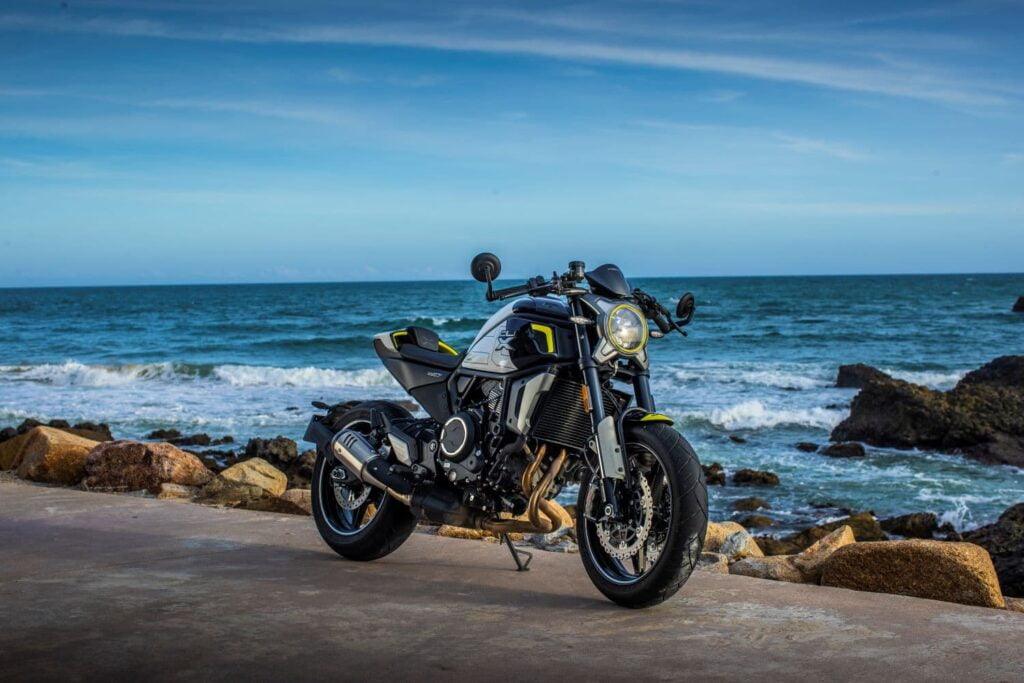 Are you obsessed with motorcycles?
Well, I am. That's why I created this site — as an outlet. I love learning and sharing what others might find useful. If you like what you read here, and you're a fraction as obsessed as I am, you might like to know when I've published more. (Check the latest for an idea of what you'll see.)
Why Consider the CFMOTO 700CL-X Sport — In a nutshell
In a nutshell, I think the CFMOTO 700CL-X is the first compelling motorcycle (for experienced riders) to be available from CFMOTO.
The reasons I like it are that
It has a good, full-power motor with enough beans to have fun (not one that's restricted for learner compliance)
It's a good-looking bike!
The suspension is fully adjustable and decent spec
The braking is high-spec (in fact, superbike spec from a few years ago)
It has advanced electronics, including cruise control, DRLs, and self-cancelling turn signals
The price is very attractive — especially as it comes with a 3-year warranty
But to make the decision to pick up a CFMOTO motorcycle you have to overcome a few things, including hesitation about buying from a less well-known manufacturer, and also putting aside your obsession with your brand/bike of choice (whether you're a committed Ducatista, a Hayabusa-or-nothing rider, or whether I'll pry your postie bike from your cold, dead hands…)
Look basically, I know, "CFMOTO"? It hasn't yet become a brand that people fantasize about. It may never get there. But that's part of the reason for which you get a lot more bike for your hard-earned money.
But if you could put that to one side, for a lot of people — maybe even me — the 700CL-X Sport is a bike that makes me think: Hmm, Brembo Stylema calipers? Adjustable suspension? And cruise control? At very least, I hope some of those features trickle up to the YZF-R7…
Here's a longer exploration.
The 700CL-X engine — Unabashedly Full Power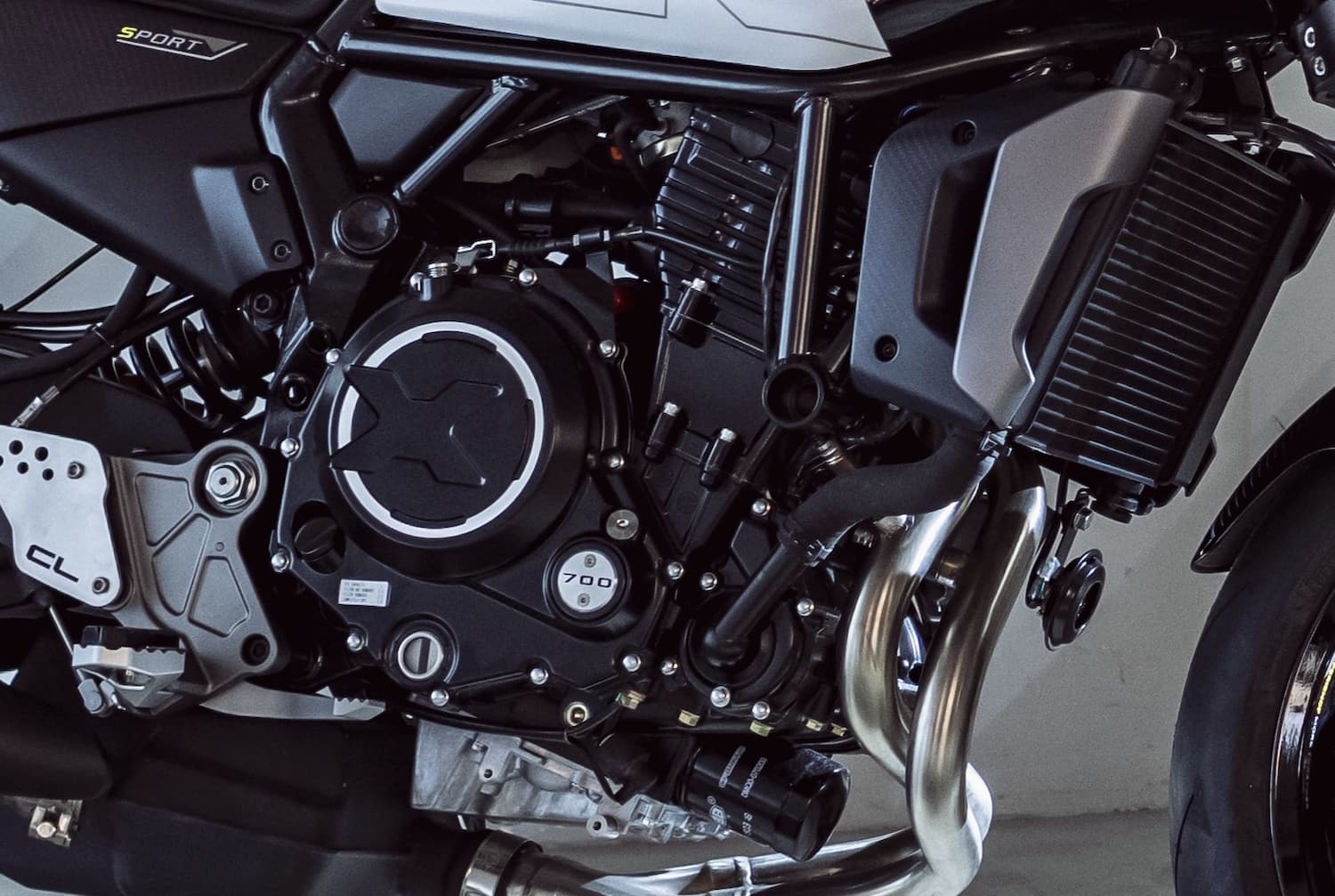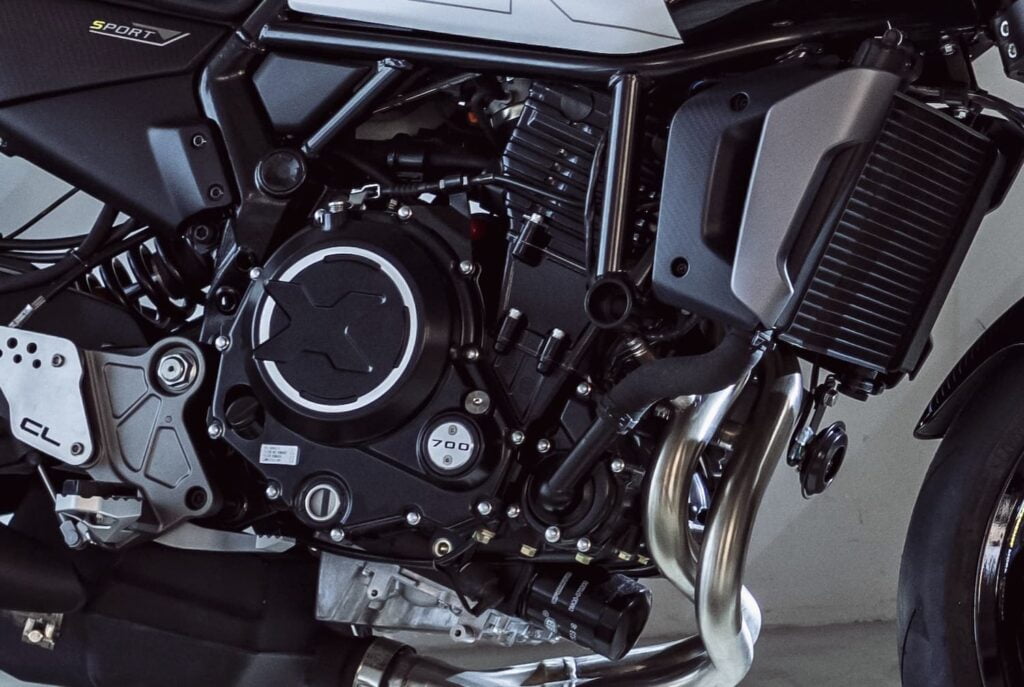 The 700CL-X engine (shared with the Heritage and Adventure models) is a 693cc liquid-cooled parallel twin with dual overhead cams and eight valves. It's above the capacity limit (660cc) in Australia and New Zealand that would qualify it for being tuned as a learner-legal motorcycle — so CFMOTO have given themselves free reign to tune it as a full-power bike for the whole market.
Of course CFMOTO can still detune the engine to make it A2-legal in the UK.
The engine has a bore and stroke of 83 x 64mm. So it has the same bore as the 650NK but 4mm more stroke, giving it the 44 cc displacement bump and a higher compression ratio of 11.6:1 (vs 11.3:1).
See my guide to displacement, bore, and stroke.
But CFMOTO says their engine is "all new", not just a longer-stroke 650NK engine. A couple of bits of tech in the 700CL-X engine that are not present in the 650 engine are forged pistons and split connecting rods.
In unrestricted form, the CFMOTO 700CL-X's engine makes 55 kW (73 hp) at 8,500 rpm, with peak torque of 68 Nm (50 ft-lb) at 6,500 rpm. It puts power to the ground through a 6-speed transmission with a slipper clutch.
That's right, a slipper clutch! The Kawasaki Ninja 650/Z650 got one in 2017 (an "assist and slipper" clutch), but neither the Yamaha MT-07 nor the Suzuki SV650 have one. (The Yamaha YZF-R7 got one, though.)
A slipper clutch helps with clutch and throttle control, and also reduces rear-wheel slip when you downshift really aggressively — as you might do when riding on the track.
The new 2021 CFMOTO 650NK SP also has a slipper clutch — but until this year, it hasn't had one.
The 700CL-X Sport Design — Unique, and Easy on the eye
KTM and CFMOTO's partnership, announced in 2017, means they share technology, manufacturing, and even access to design resources.
So many of CFMOTO's latest motorcycles are being designed by KTM's in-house design team, Kiska. Of course, KTM's designs are pretty controversial — but luckily Kiska pares it back for CFMOTO, so the 700CL-X Sport has more universal appeal.
It's easy to say where the CFMOTO 700CL-X Sport got its inspiration. It basically has contemporary "cafe racer" styling — a naked bike with lower clip-on handlebars and a round headlight.
Its looks are reminiscent of those of the Suzuki SV650X, Ducati Scrambler Café Racer, and a few other bikes in the segment.
But the 700CL-X remains unique, not least of which because of its high-spec components.
The 700CL-X Suspension — Fully Adjustable
The 700 CL-X bikes come with adjustable suspension.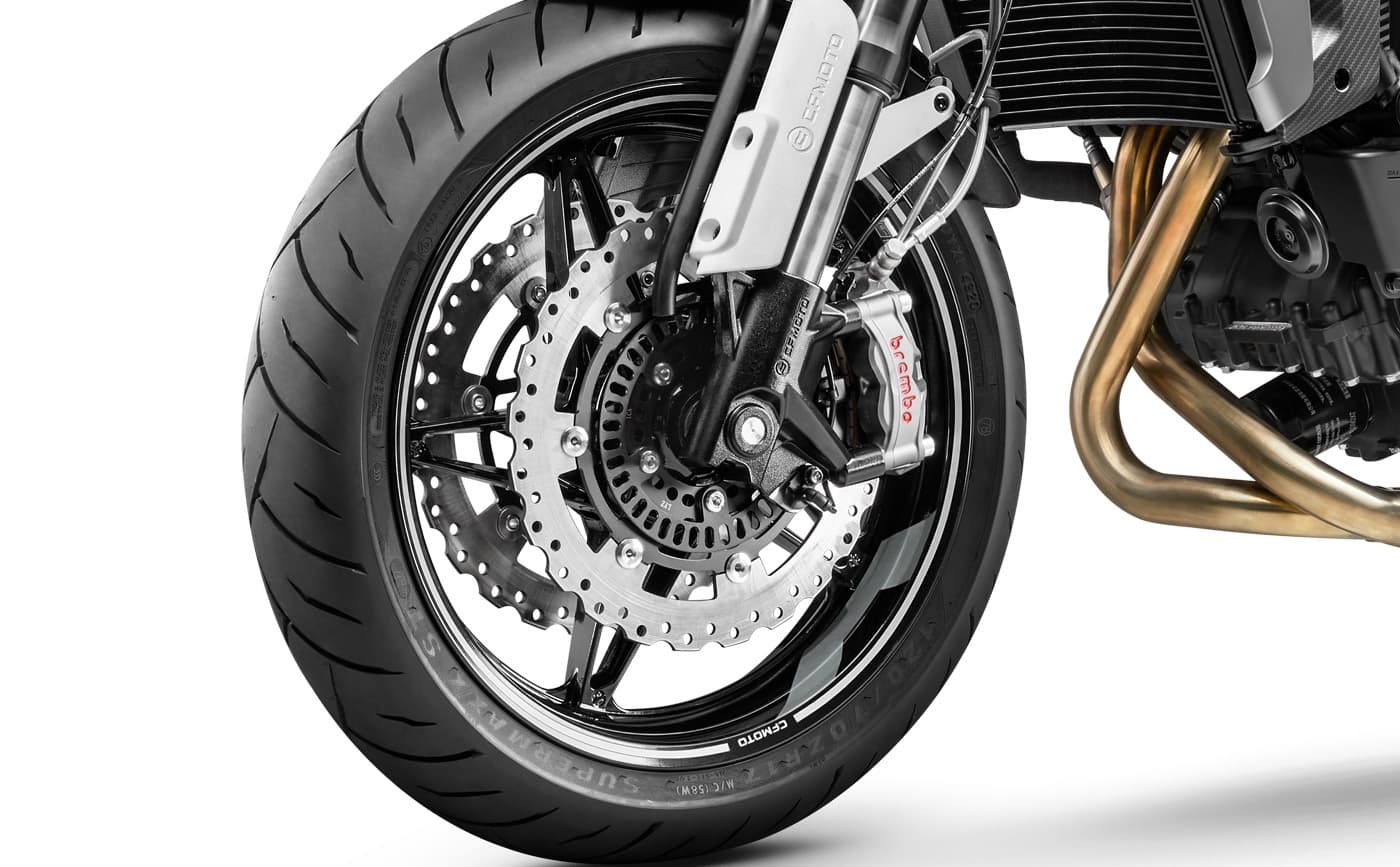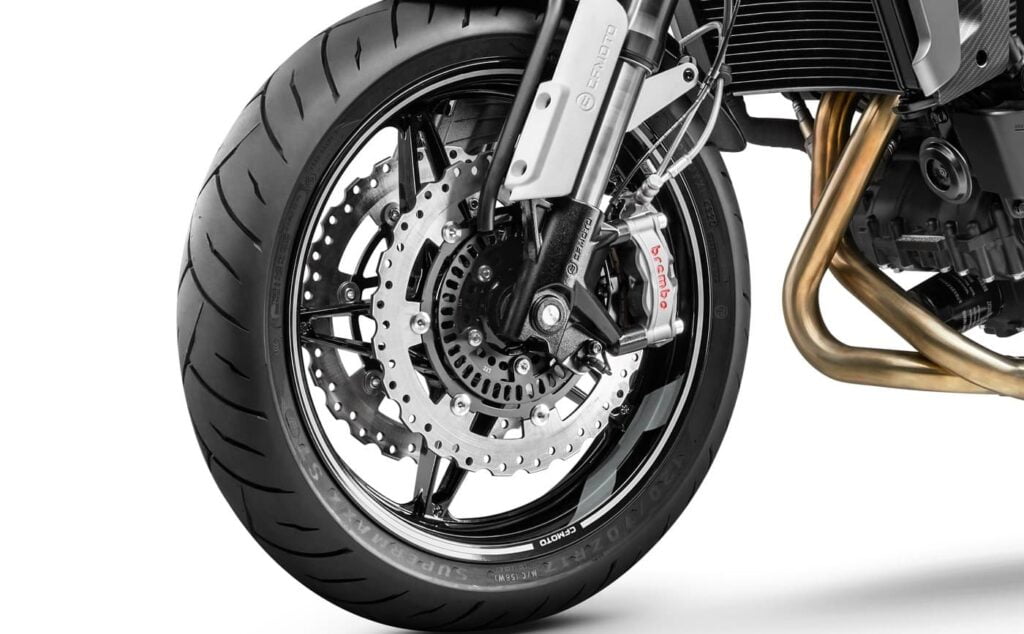 On many motorcycles built to a price point, you'd be lucky to get preload adjustability on the rear shock, and no adjustability on the front forks.
On the CFMOTO 700CL-X motorcycles, you get 41mm KYB inverted forks, with adjustable preload, rebound and compression. You adjust preload and compression damping on the front left fork, and preload and rebound damping on the front right.
And the rear shock is also a KYB monoshock with adjustable preload and rebound damping.
This is an impressive specification for the affordable motorcycle market and it's likely to er… shock the competition.
The only other middleweight sport motorcycles with adjustable suspension are the Yamaha YZF-R7 (the 2022 version) and the Aprilia RS 660. Both of those motorcycles command a 50%+ premium over the CFMOTO 700CL-X.
There's also the Triumph Street Triple R and RS, which straddle the space between nakeds and sportbikes.
Other motorcycles with adjustable suspension are usually the high-end standards with bigger engines, or committed 600cc sportbikes like the Honda CBR600RR.
There is an increasing market for high-spec middleweight motorcycles, and it's nice to see an "affordable" motorcycle in the category.
700CL-X Sport Braking — Race Spec
The CFMOTO 700 CL-X has good, race-spec brakes, equal to those on some other high-end middleweight sport bikes — some of which have nearly twice the asking price.
On other CFMOTO motorcycles, braking is competent. For example on the 650NK SP, the highest-end 650NK, braking is done by J. Juan 2-piston calipers on twin front-discs.
Even on the CFMOTO 700CL-X Heritage (the sibling to the Sport), there's only a single front disc, gripped by a J. Juan 4-piston caliper. It's adequate for less aggressive riding, but the brakes on the Sport are far superior to those on the Heritage (or Adventure).
On the 700CL-X Sport there are Brembo Stylema brake calipers on twin 300mm discs.
Brembo Stylema calipers are very high-end calipers — seen on top-end superbikes like the Ducati Panigale V4. Enough said. Brembo Stylema calipers are radially mounted monoblock calipers with four pistons.
Having Brembo Stylema calipers on board doesn't necessarily mean you'll stop more quickly. It means that the braking system will act more predictably when under stress — e.g. at the track.
See our full guide to understanding brake specs on motorcycles for more.
Note: Previous spec sheets for the CFMOTO 700 CL-X said it had Brembo M50 calipers, which are already race spec (seen e.g. on the Triumph Street Triple RS, Ducati 1299 Panigale, and many other high-end bikes), but CFMOTO upped the ante again to Stylema units.
700CL-X Electronics — Cruise control, LED lighting and more
I'm a sucker for cruise control. It's not just for highway plodding, it's also good for keeping children, construction workers, and my license safe when going through low-speed zones.
It's pretty remarkable to see the CFMOTO 700CL-X motorcycles with standard cruise control. Middleweights with cruise control! The 700CL-X motorcycles weren't the first, but they're among the cheapest.
The ride-by-wire system means you also get two on-the-fly switchable ride modes — economy and sport.
In terms of lighting, you get not just LED lighting, but also:
Adaptive brightness (that turns on or off according to the ambient brightness — though stays on in some markets I'm sure)
DRLs — one of those things that other brands sometimes make you pay more for
Self-cancelling turn signals. Is this a luxury tourer?
All of those features also make me nervous, mind you — more things to go wrong. But a three year warranty would set my mind at ease.
Pricing of the CFMOTO 700CL-X Sport — Surprisingly low…
In Australia, one of the markets where the CFMOTO 700CL-X Sport is available, the bike is priced at $10490 ride-away. That translates to an MSRP of around $9500.
At current exchange rates, that's around $7K USD, 6K EUR, 5K EUR, or 50 Lakh in India. Of course, that's before taxes (which are significant in Europe) and it's assuming somewhat constant exchange rates.
But it's an indication of the fact that CFMOTO are pricing a highly-specified bike at 20-40% less than the immediate competition.
Other Incarnations of the CFMOTO 700CL-X
The CFMOTO 700CL-X comes in three forms: Heritage, Adventure, and Sport.
Here are what the other two look like:
All of the model variants come with the same engine making the same power. The engine is ride-by-wire in all of them, with cruise control as a standard feature.
Heritage: This has an upright riding position and handlebars. It's lower spec — it has single disc brake with a J.Juan calliper, rather than the Brembo Stylema calipers on twin discs on the Sport.
The Adventure: This has wire spoked wheels, saddlebags and a little windscreen. It also has a single disc brake with a J. Juan calliper.
Personally, I'd like to see twin discs on the Heritage, and the Brembos if possible (but that's less important).
As it stands, I'm much more a fan of the Sport — thought don't be surprised or angry if I put some handlebars on there!
700CL-X Weight — The Expected Amount.
The claimed wet weight of the CFMOTO 700CL-X Sport is 196 kg (432 lb). This is neither light nor heavy; it's median for the class.
Here are the curb weights of some of the contemporaries of the 700 CL-X Sport:
| Motorcycle | Curb weight (wet weight) |
| --- | --- |
| Aprilia RS 660 | 183 kg 404 lb |
| Yamaha YZF-R7 | 188 kg / 414 lb |
| Triumph Street Triple RS | 191 kg / 421 lb |
| Kawasaki Ninja 650 | 192 kg / 423 lb |
| CFMOTO 700 CL-X | 196kg / 432 lb |
| Suzuki SV650X | 198 kg / 437 lb |
| Honda CBR650R | 207 kg / 456 lb |
Curb weight of middleweight sport bikes
So in the category, the Aprilia is a featherweight and the YZF-R7 isn't far behind.
However, the Ninja 650, the 700CL-X, and SV650X are all in the same ballpark, with the 700CL-X in the middle.
Of course 1. claimed curb weight isn't always the same as what a bike weighs on scales, and 2. weight isn't everything — how the weight is positioned in a bike has a big impact on how it handles.
Finally, people are unlikely to choose between those motorcycles based on weight alone.
But it's nice to see that weight hasn't ballooned out of proportion to meet a budget.
Who is CFMOTO?
Some of you might be wondering who CFMOTO is.
In a nutshell, CFMOTO is a Chinese powersports company. It's privately owned, and listed on the Shanghai Stock Exchange.
There's an inevitable "political" question when it comes to buying things from China. It's hard to see through the noise and form an opinion that isn't xenophobic or narrow-minded.
Political discussions about Chinese products usually branch off into a number of related things, like worker rights and conditions (stemming from the bad old days, not relevant in China for decades, of "sweatshops"), the risks of offshoring manufacturing, what the CCP is doing and how that's related to companies and individuals, and people's perceptions of reliability (see more on this below).
It's a big topic, and impossible to really cover completely even if you do a PhD in the matter, but the most I could ask is that you try your best to develop nuance in your opinion. A single visit to a Chinese factory (I've visited a few in different industries) or a conversation with someone who works in China can be very informative.
You can read more about an overview of CFMOTO here, including some references for the political question.
Commentary — CFMOTO Reliability and Warranty
There's a tendency for people to assume that the CFMOTO bikes aren't reliable.
There's so much bias and guesswork in talking about reliability that it's very hard to extract truth from fiction. We all come into this analysis with certain experience with Chinese manufacturers (e.g. of cheap components we got from eBay or Aliexpress), and it's natural to assume that quality control may not match the brands with the best reputations for reliability, like Yamaha.
I've actually visited Chinese factories in a former life (working in online trade for other companies and for myself), in the mid-2010s. I've seen them and they're as clean and good as any workshop you'd find anywhere else.
So if there's poor quality control, it could be anywhere along the supply chain — an unscrupulous or lazy QC manager, a purchaser hurrying a manufacturer and not paying them enough, or an importer/seller not doing checks and instead relying on people to complain (and then just refund them; voilá, QC done).
Many journalists remember the 1980s (not me; I'm not that old!) when people were similarly skeptical of Japanese brands. Nowadays, if anyone says "jap crap", most of us will consider that to be a narrow-minded view.
So many journalists hope that Chinese motorcycle manufacturers are coming of age, and in 20 years time we will maybe consider them to produce vehicles as high-quality as anyone else.
For some early evidence of this possibility, we can look at the CFMOTO 650 range, on which there were no safety recalls, and which people have owned long-term with no serious issues (e.g. this review from motodeal).
Mark Hinchliffe of Motorbikewriter.com's biggest quotidian complaint was that the turn signal switch didn't have a positive enough engagement, and he had to check it was activated. He also said the fuel gauge wasn't terribly accurate, but a fuel gauge on a cheap bike is a luxury (not even my BMW R nineT has one), and an accurate fuel gauge is something I only expect on premium tourers.
However, the 700 engine is allegedly all-new. If there is any borrowed tech from KTM, I'd be on the lookout for any leaks, hose failures, high temperatures, or funny noises, and bring them to the attention of the dealer immediately. It'd be safest to get the shop you buy it from do all the service in the first few years during the warranty period so there can be no questions of whether the right oil was used, etc.
The 700CL-X comes with a three year unlimited kilometer warranty, though they may revise that down if you buy it later.
Consider also that many other established manufacturers with decades (or even over a hundred years) of history still don't have reputations for always building the highest-quality motorcycles. Every brand has their lemons, even today, with recalls from the biggest brands in the world. If you're going to sit astride a series of explosions, something's likely to go wrong!
One important factor in choosing to buy new, though, is that the resale value of CFMOTO motorcycles has been poorer than for those from premium brands. CFMOTO motorcycles don't yet tug at most owners' heartstrings. So a reasonable plan would be to buy one new, ride the snot out of it for two years, then decide if you want to keep it long-term, or sell it while it's still under warranty.