I'm a huge fan of the Ducati Monster, as you may know from this piece. And the pinnacle of the air-cooled Monsters was the Monster 1100.
And the best air-cooled Monster 1100 was the Ducati Monster 1100 EVO.
Ducati Monster 1100 models are more common, but the EVO is less common, and the EVO from this generation was rare as hen's teeth.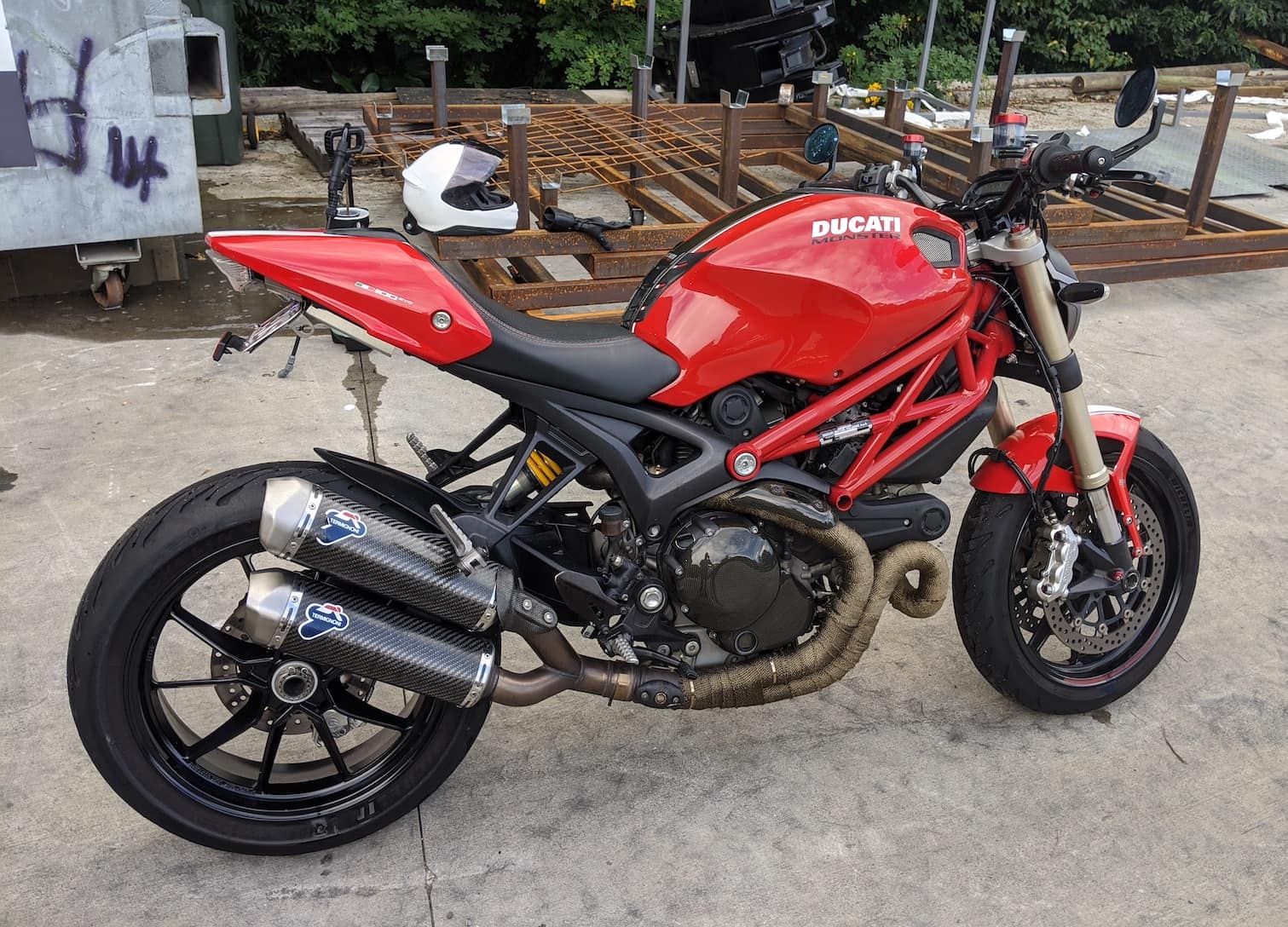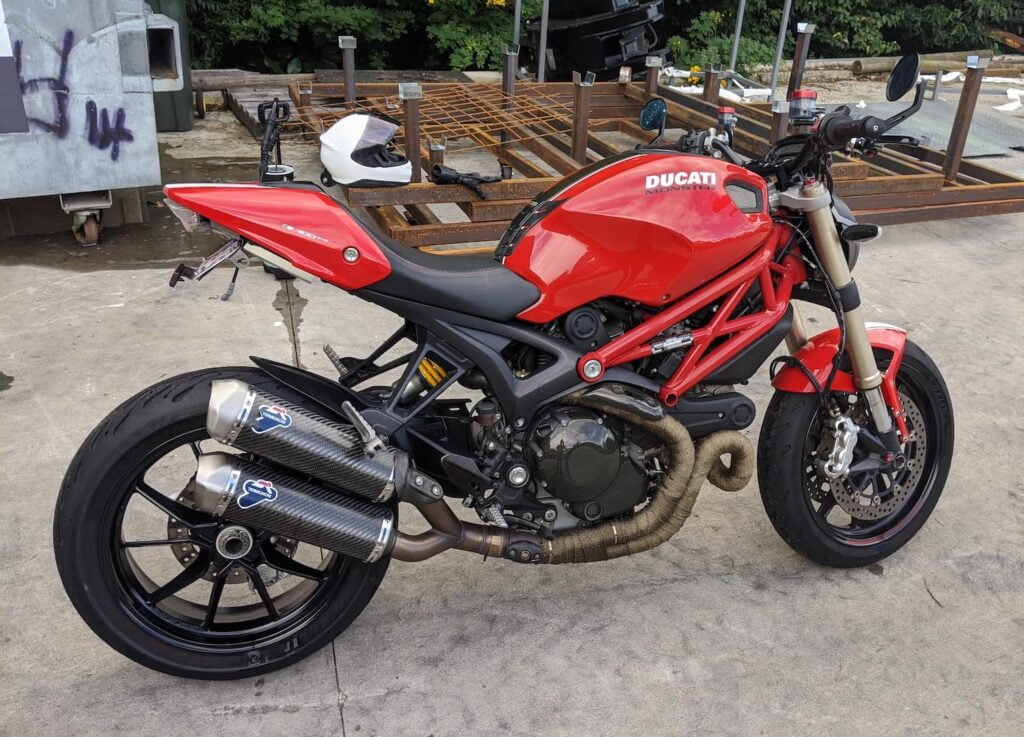 I went and checked one out a couple of weeks ago. Didn't buy it — with some regrets (it was a good deal at A$8,000 — maybe $1,000 too expensive for me to pounce on it without a second thought) — but I thought I'd extend on my piece on the Ducati Monster by writing a little more about why I love the Monster 1100 EVO so much, and why I'd get one.
I now see Monster 1100 EVO motorcycles listing for $10K+ and I kind of really do regret not picking it up!
Are you obsessed with motorcycles?
Well, I am. That's why I created this site — as an outlet. I love learning and sharing what others might find useful. If you like what you read here, and you're a fraction as obsessed as I am, you might like to know when I've published more. (Check the latest for an idea of what you'll see.)
Why the Ducati Monster in general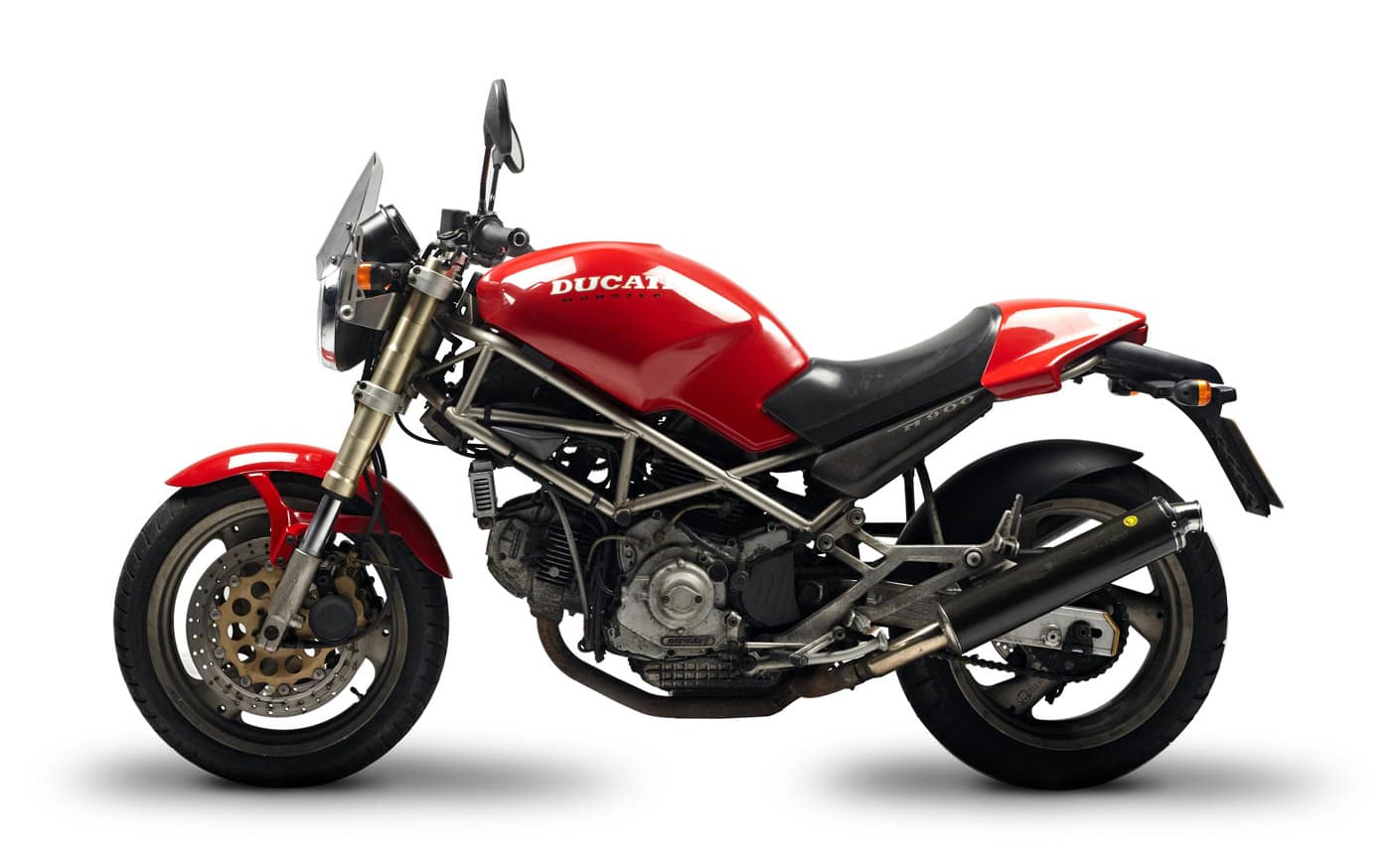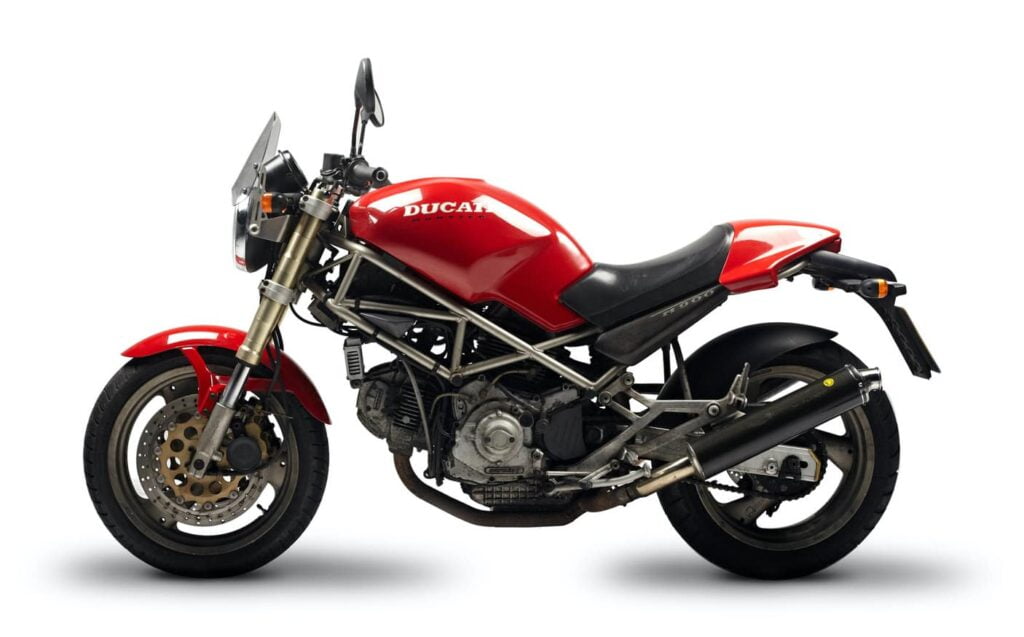 Let's start with the assumption you want a Ducati Monster. If you don't, you may as well close this article down (or go read about why get a Yamaha R6).
People like me, who grew up in the nineties, grew up with the Monster as being the naked bike to get.
It was the bike that inspired the venerable Suzuki SV650 (see my buyer's guide), a fine motorcycle that's perfect for people who want something that does a lot of what the Monster does at a lower price point and that they won't cry as hard about crashing at the track (it'll be sad, for sure, but the plastics are cheaper to replace).
The Monster also re-defined what a "naked" bike could be.
Before the Monster, there were of course motorcycles without fairings. Fairings were a relatively modern innovation.
But the Monster was more of a sportbike without fairings. They have a natural forward-leaning position so that even with bars you're in more of a crouch than you would be on a Bonneville, for example.
The Monster also had a V-twin engine. Most motorcycles other than Harley-Davidsons did not. Even if a few did, they did not have air-cooled V-twin engines.
So that's what the Monster is in general: A naked sportbike with a lightweight v-twin engine and very little visual fuss.
Why the Monster 1100 EVO
In a nutshell: The Monster 1100 EVO is an a Ducati monster with ABS, ride modes, and traction control, Ohlins suspension, but retaining an air-cooled motor.
ABS comes standard on the Monster 1100 EVO. So while it's sometimes called a Monster 1100 EVO ABS, I think that's redundant.
If I had to own just one Monster forever… I'm not sure which one I'd pick. Right now, I have my eye on a few, but I'm moving garages and so trying (desperately) not to pick up additional stock, ignoring all the best deals out there!
As I described in my article on the Ducati Monster, there are a few specific characteristics that are the essentials of the Monster.
For me, the non-negotiables are: a naked design, a torquey v-twin engine, light weight for its class, and a trellis frame.
The thing is — these requirements of fundamental Monster-ness have evolved over time.
Once upon a time I'd have said "Monsters must be air-cooled". But there are some terrific water-cooled machines, including the really well-balanced 821 on which my own Hyperstrada is based (for me, 100-120hp is my sweet spot).
Another time I'd have said "you don't have to have a single-sided swing-arm to be a Monster". After all, the very first Ducati Monster M900 had a double-sided swing-arm.
But when Ducatis look as good as they can with only one side on the swing-arm, why not!
So the non-negotiable characteristics of a Ducati Monster are
Naked design
Trellis frame
V-twin motor (I bet I'll eat my words when they release a V4 one!)
Mid-high revving, usable power-band in the engine
Dry clutch
But the extras are
Single-sided swing-arm with exhaust over the wheels
Air-cooling only
Termignoni exhaust system
Those things are what make the Monster 1100 special.
The Monster 1100 EVO adds to that with ABS, traction control, and ride modes. Many of them also come with the Termignonis, as owners invest in their expensive machines.
The only strike against the EVO is that it let go of the dry clutch and replaced it with a wet clutch.
Thus, the 1100 EVO became the first large-size Ducati Monster to have a wet clutch. The next in line, the Monster 1200, made the wet clutch standard across the entire line.
There's nothing technically wrong with a wet clutch — in fact, the vast majority of motorcycles have them. The only thing I don't like about a wet clutch is that it's a bit more annoying to replace (every 25-50,000 kms when you have to replace them) because you have to drain the engine of oil, and have to seal the case a bit better.
But for many, the "clatter" of a dry clutch is what makes a Ducati quintessentially a Ducati.
What's the "EVO" about?
A few Ducati motorcycles came out with an "EVO" designation.
EVO is a trademarked term (which is why it's capitalised… it's how they write it). But in principle it's shorthand for "evoluzione" which is Italian for "evolution" (if I may state the obvious).
"Evoluzione" is a reference to the fact that the engine is "evolved" slightly. It's still a two-valved engine (as opposed to the Testastretta Evoluzione on the 848/1098 Superbikes).
It's a bit hard to find what exactly is different about the EVO engine in the Monster 1100 Evo vs the regular Monster 1100 and Monster 1100S, but here's what I've found
Total power output is 100hp on the 1100 EVO vs 95hp on the 1100/1100S
Lighter flywheel, similar to that in the 848 EVO
Better exhaust system
Redesigned inlet ports and combustion chamber shape
More "extreme" camshaft profile with more valve lift
New pistons with higher compression profile (11.3:1 vs 10.7:1 on the 1100)
Improved head cooling and lubrication system
Outside the engine, many of the components of the EVO have been lightened to reduce the overall weight.
As I mentioned, ABS comes standard on the EVO Monster. But it doesn't come at the penalty of extra weight: The ABS system means that the Monster 1100 Evo ABS is the same weight as the standard Monster 1100 at 169kg dry. (It's 1kg heavier than the 1100S, but I think 1kg is an almost unnoticeable price to pay.)
In a nutshell, the Monster 1100 EVO is my pick of the litter because it's the last of the air-cooled monsters, but has enough technology to keep me upright.
Buying a Monster 1100 EVO today
These days (2020+), buying a Ducati Monster 1100 EVO is getting quite difficult. Prices on old air-cooled Ducati Monsters are going up, especially for those with ABS, and especially as a result of supply shortages in 2020/2021.
One possible alternative is the modern Ducati Scrambler 1100. These use the same engine base but have more advanced electronics. It's not as high-revving, but it makes more torque down low. And with a performance exhaust and tune, you might just get closer to the same horsepower levels as the Monster 1100 of old. But you'll also have — for better or worse — rider aids like traction control and a six-axis IMU.